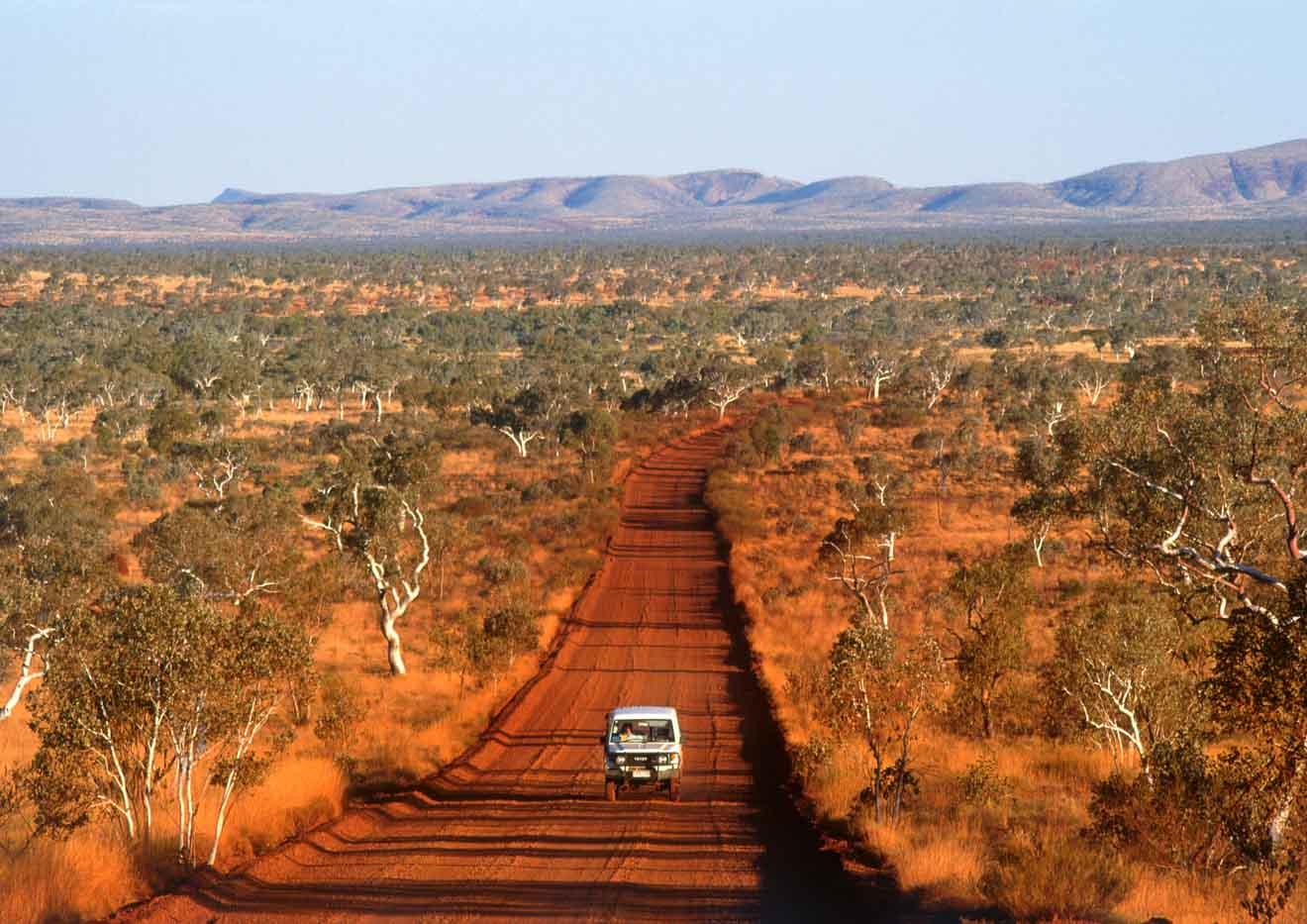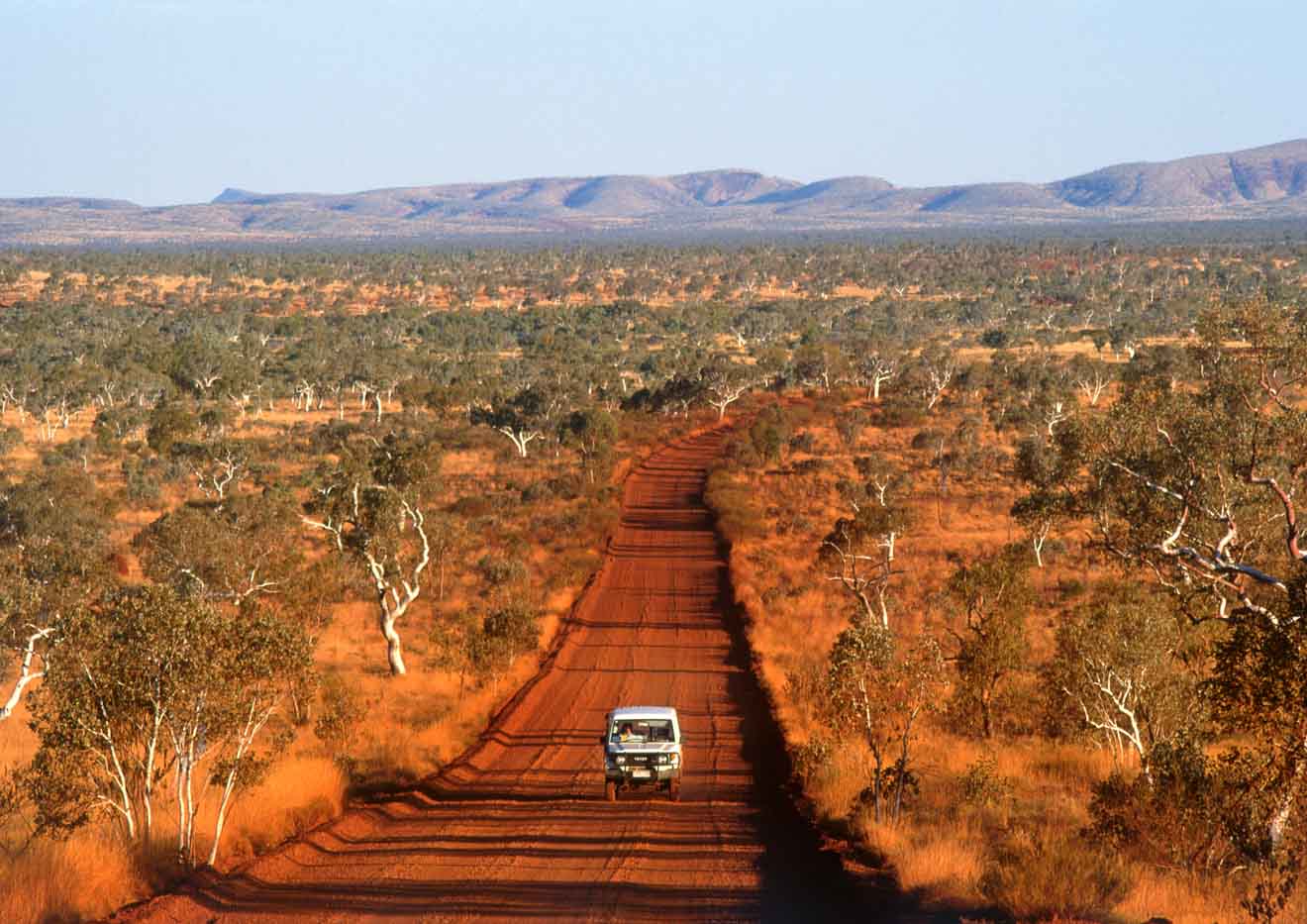 The Northern Territory is vast. There's a lot of open space and very long, dusty roads with not a lot to see in between. Travel from Darwin to Alice Springs though, and you'll be treated to some of the best sights Australia has to offer, including unique outback towns, sacred Aboriginal sites, and rocky red landscapes that you won't find anywhere else in the world.
Taking this unforgettable drive from Darwin to Alice Springs isn't for the faint-hearted. It's more than 1,500 km of driving into the horizon, with some stretches of road where you won't come across another soul for a couple of hours. But that's all part of the fun!
I loved my time in the outback, and I'm here to let you in on all of the secrets so that you'll fall in love with it too. As well as exploring the options of how to actually do this journey, in this six-day road trip itinerary, I'll detail how to get to Alice Springs from Darwin in just two days, before spending four days exploring the awesome Red Centre!
PRO TIP: Don't forget to plan for a couple of days in the capital of the Northern Territory before this adventure as there are loads of things to do in Darwin and plenty of day trips to take from town as well!
How to Travel From Darwin to Alice Springs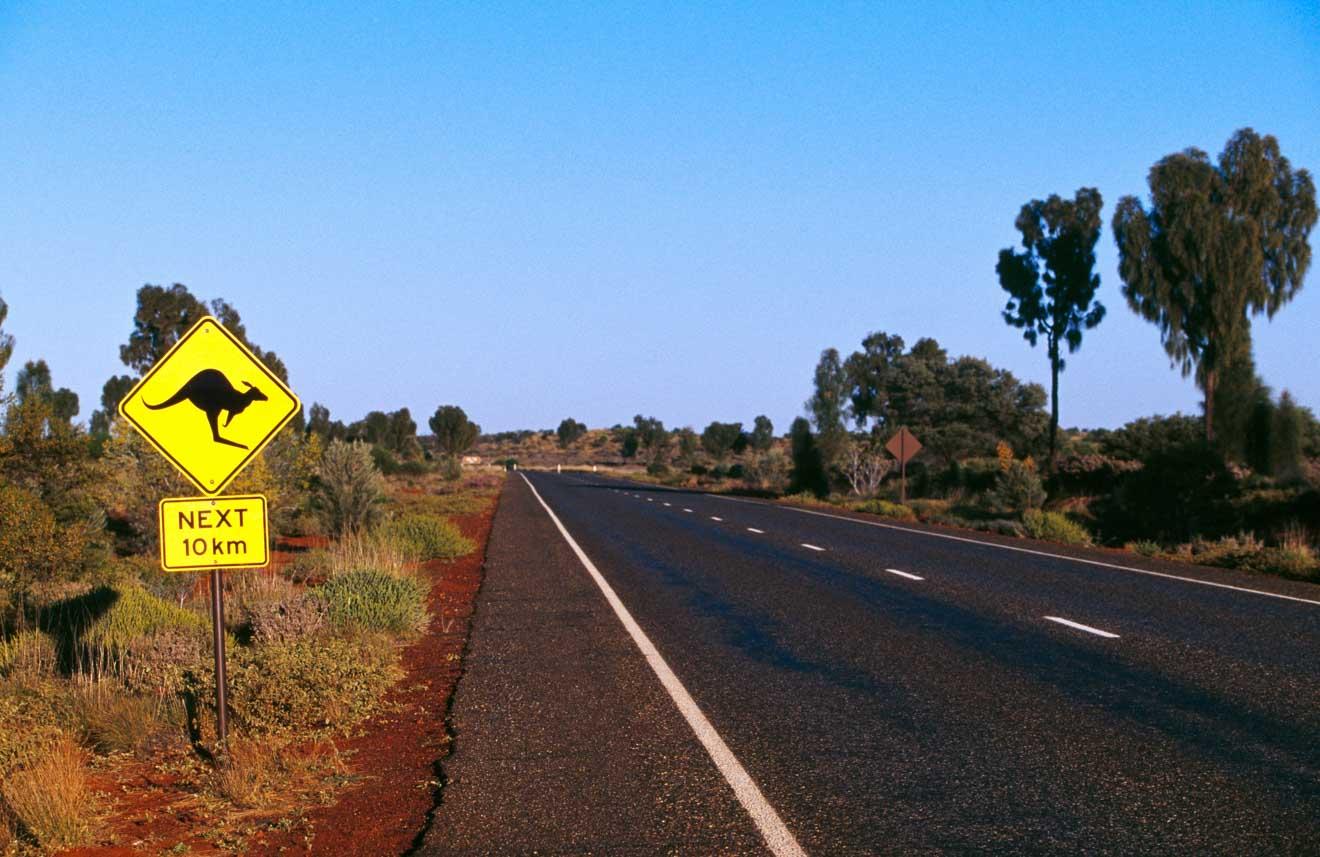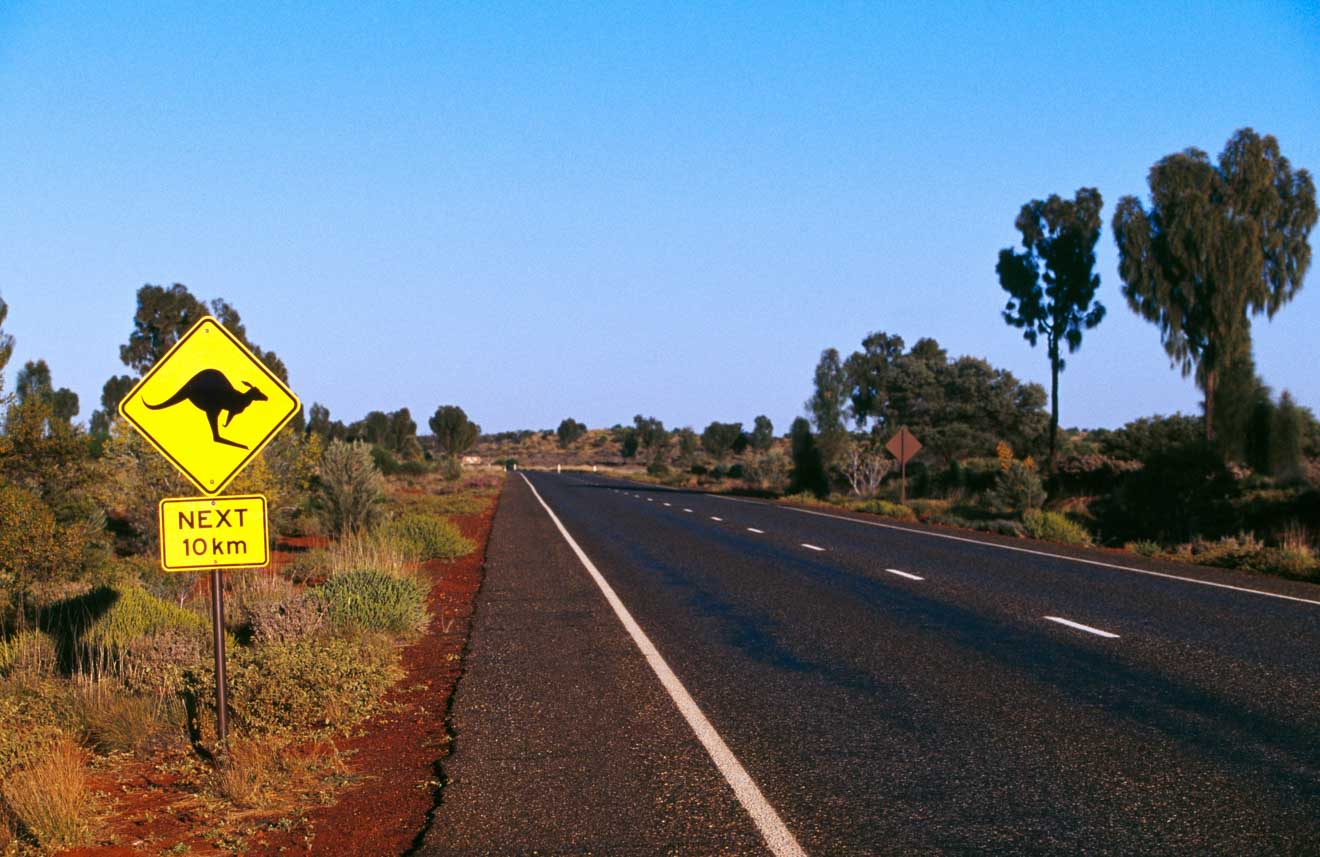 The Australian outback! What a place! But how to tackle it? That's the question!
By Car
Renting a car for two or three days with full insurance will cost around $450 depending on the season. Although this may seem a little high, you have to factor in the one-way fee that rental companies will add. You'll also need to consider the cost of flights to get back from Alice Springs to Darwin which can potentially add $300 to your budget.
If you're driving from Darwin in your own car, all you need to worry about is petrol costs. It's no secret that petrol almost doubles in price as you get closer to the Red Centre, so stock up while you can, and make sure you leave Darwin with a full tank. I spent just shy of $300 on petrol one-way (travelling in a 1996 Ford Falcon), but how much you spend will completely depend on your car's efficiency.
DURATION: 2-3 days
PRICE: ~ $750
By Train
The Ghan is one of the most sophisticated and well-known train routes in Australia, and it just happens to run from Darwin to Alice Springs and eventually onto Adelaide. This is no normal train ride though! Guests are treated to luxurious cabins, gourmet three-course meals and 5-star service onboard. Scheduled trains run the route once or twice a week depending on the season, and the whole journey takes two days, with a night spent on board. You'll need to book your cabin in advance on The Ghan website.
DURATION: 2 days
PRICE: From $1,100 per person including gourmet meals and beverages
By Bus
Travelling on the Greyhound Australia is probably the cheapest method to travel from Darwin to Alice Springs. Buses leave daily and take around 22hours to reach the centre. The bonus with these, as well as the low price, is that you can buy a hop-on-hop-off ticket which allows you to jump off in an outback town on the way.
DURATION: 1 Day
PRICE: From $210
With a Tour
Booking a tour from Darwin to Alice Springs is definitely the most hassle-free way of heading into the outback. Most tours will include a stop at the Devils Marbles, and a few days to explore Uluru and Kings Canyon. Generally, tours don't offer a return route from Alice Springs to Darwin, so you'll need to factor this into your budget as well. The tour I've linked to below offers a budget-friendly 5-day camping trip to the Red Centre, but if you'd rather just pay for a 2-Day tour that doesn't include Uluru, you can do that too.
DURATION: 5-Days
PRICE: From $700
By Plane
Direct flights to Alice Springs from Darwin are also an option, but you'll miss out on a few of the top spots in the Northern Territory like Edith Falls and the Devils Marbles. Flights are notoriously expensive to this part of Australia, with a minimum cost of $500 for a 2-hour return flight. To access Uluru and Kings Canyon from Alice's airport, you'll either need to rent a car from the airport or join a tour. 
DURATION: 2-hours
PRICE: From $500 return
The Ultimate Darwin To Alice Springs 6-Day Itinerary
If you do choose to travel by car, (which I'd highly recommend by the way!), here's a step-by-step itinerary for that'll have you soaking in all of the best attractions along the way, plus a few bonus days in Uluru and Kings Canyon.
Day 1: Darwin to Daly Waters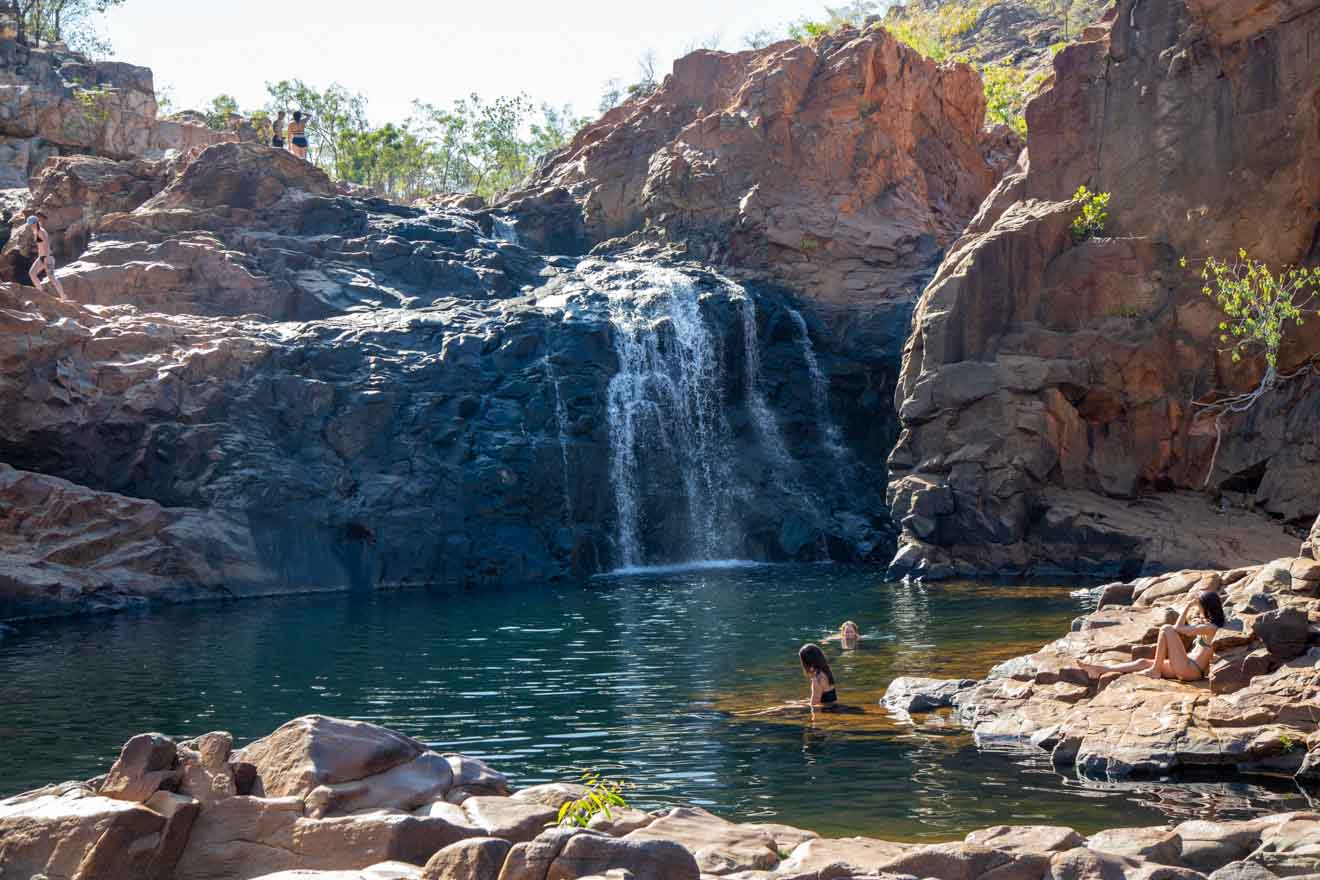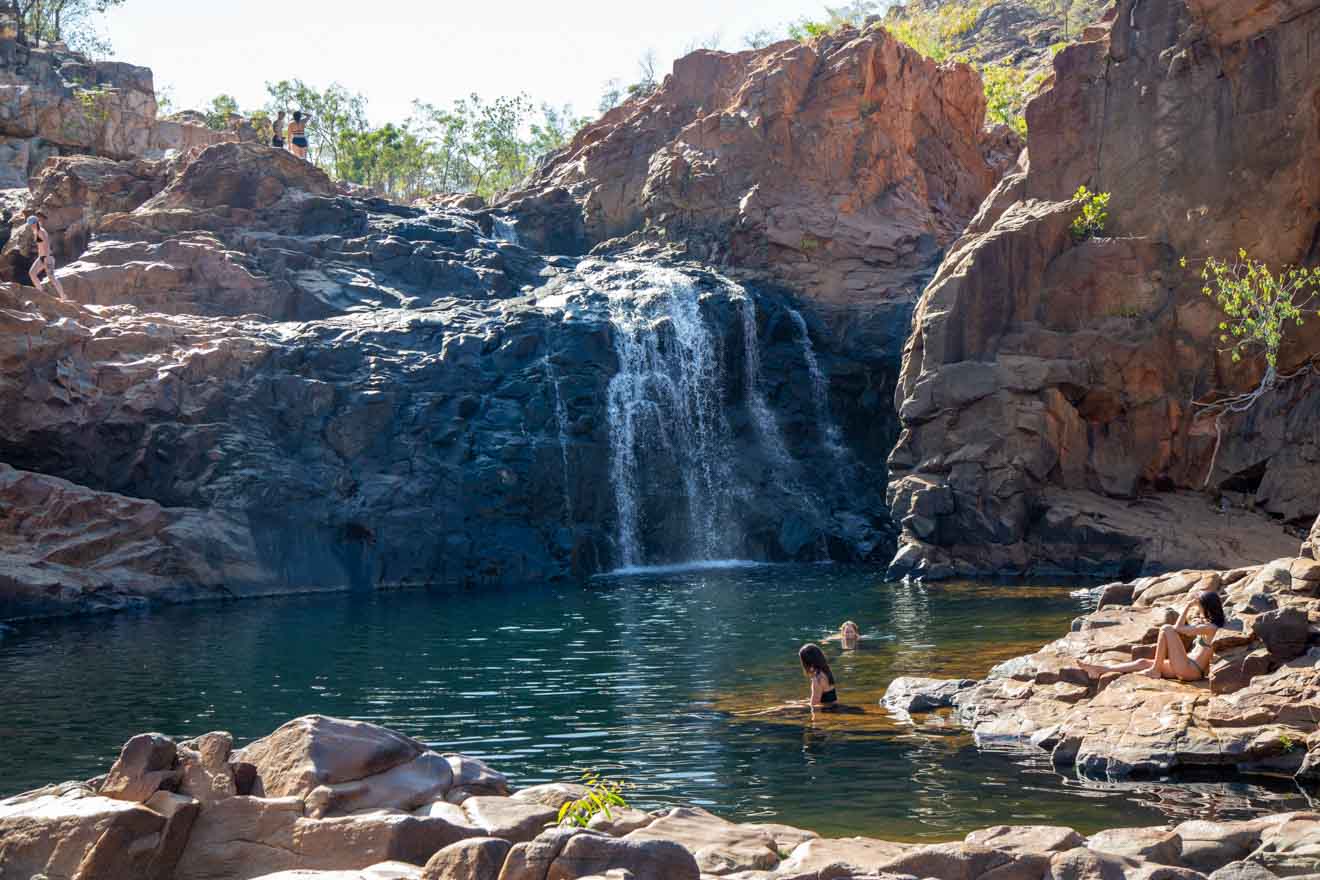 Today will be your first taste of the great Australian outback!
Driving time: 6 hours
Distance covered: 600km
An early start is in order today to travel the huge 600km along Highway 1 to the small town of Daly Waters. To break up the driving, here are a few places I recommend stopping during today's drive:
Where to Stay in Daly Waters
Daly Waters will be your first experience of an authentic Australian outback town. There's not much here except a pub, a highway inn and a small general store, but it does the trick to relax, re-energise and get ready for the big drive tomorrow. The best place to stay in town is the Daly Waters Pub which also doubles up as a motel, caravan park and campsite. Prices start from $15 for an unpowered campsite to $175 for a deluxe cabin.
Day 2: Daly Waters to Alice Springs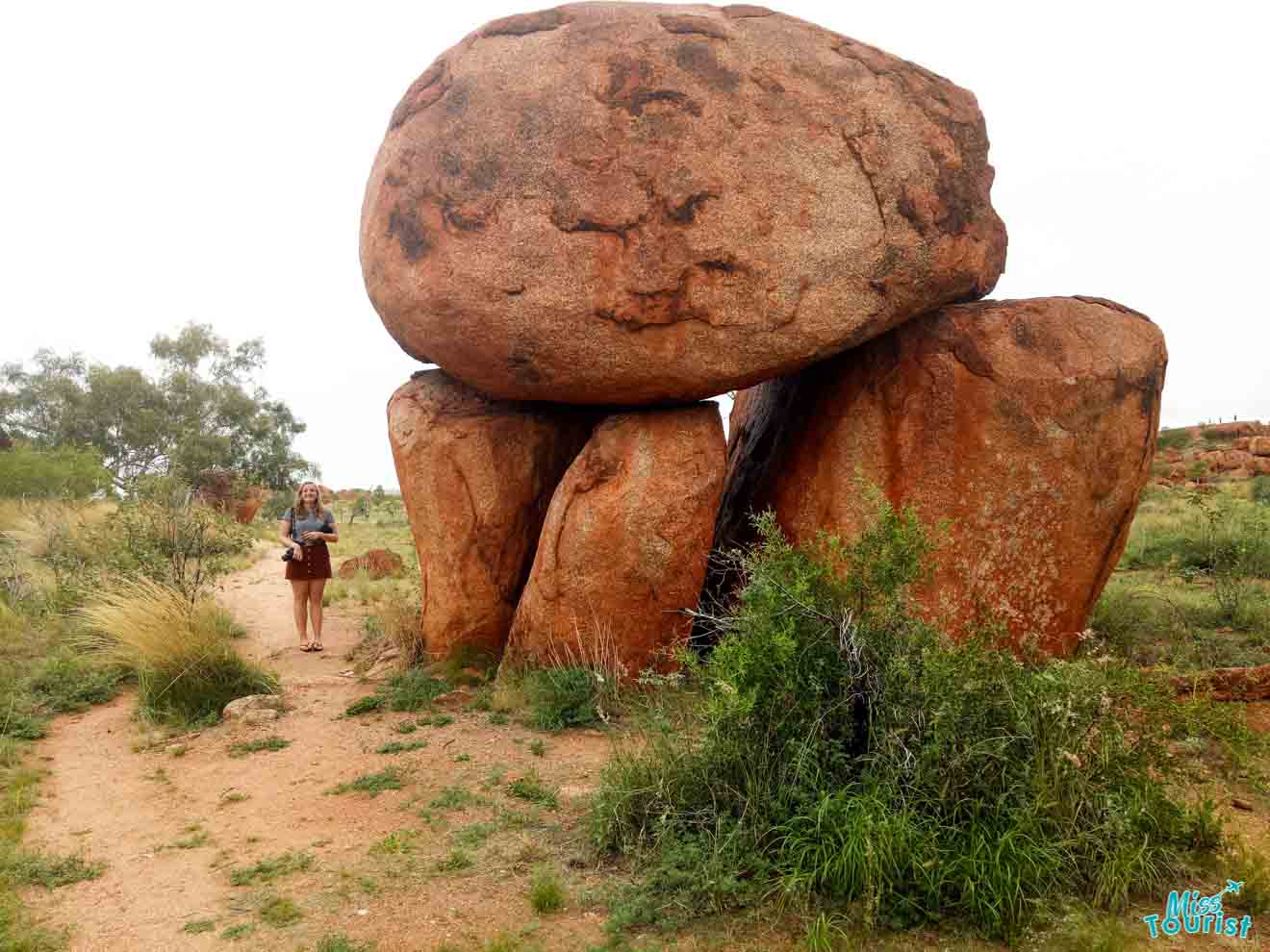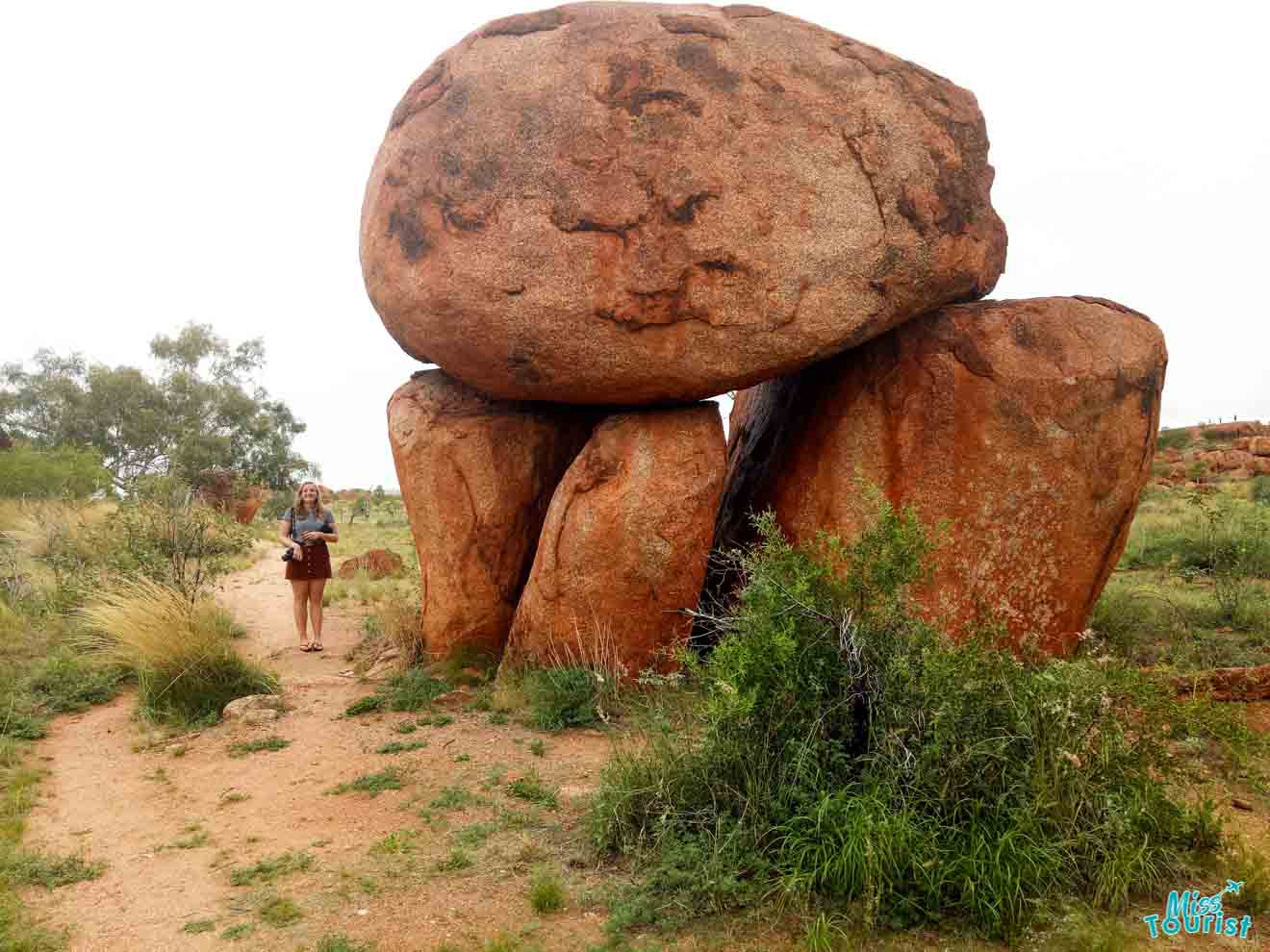 Driving time: 9 hours
Distance covered: 900km
Today is all about driving, driving and more driving! Unfortunately, that's just a drawback to the outback, things are REALLY spread out! So today, it'd be good to get up as early as possible to start the 9-hour drive to Alice Springs.
PRO TIP: It's always a good idea to sort out your entertainment for the ride before you set off! Radio signal is generally pretty poor in these remote regions, and so is the internet. I always made sure I had plenty of podcasts and playlists downloaded ready for the big drives like this one!
About halfway through the drive, the Devils Marbles make a pretty interesting lunchtime pitstop and are the perfect place to stretch your legs. Peppered across the desert floor, these round granite rocks or 'marbles' are millions of years old and it's quite amazing how some of them are balanced so precariously on top of each other!
ATTENTION: The Devils Marbles are protected under the Northern Territory Aboriginal Sacred Sites Act, so pay attention to any signs indicating where you can and can't walk!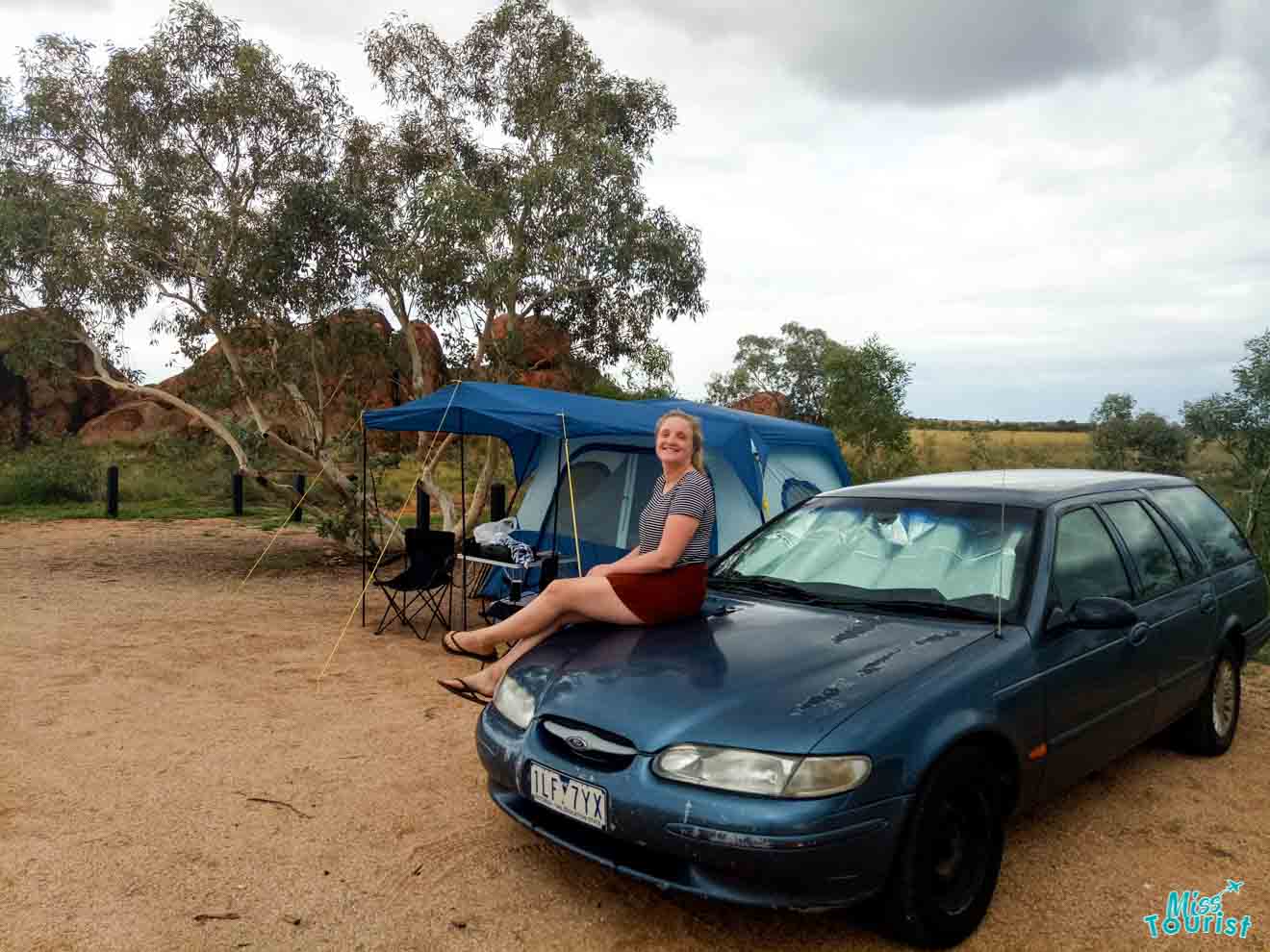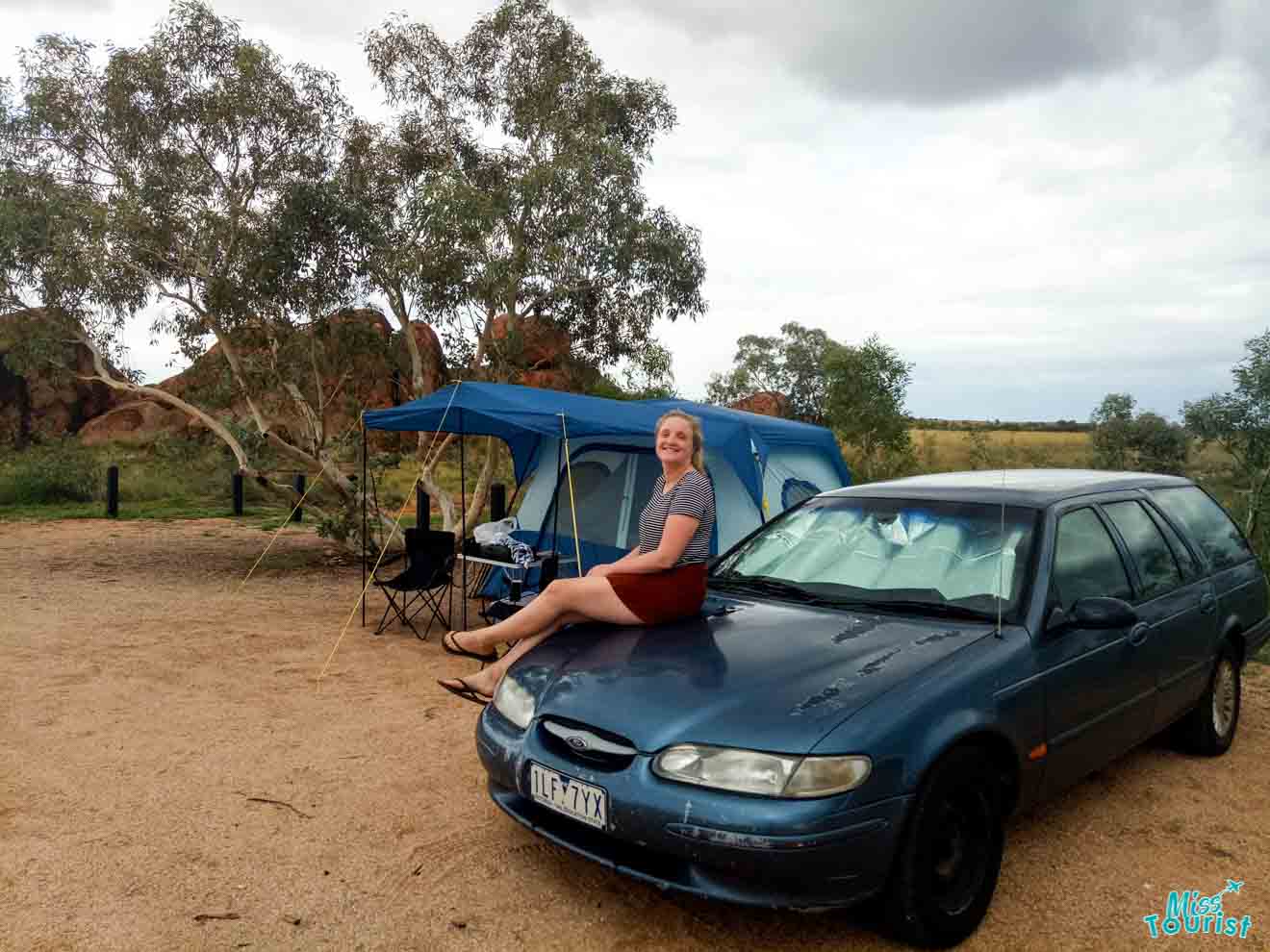 Our camping spot by the Devil's Marbles
PRO TIP: There aren't many things to see between Daly Waters and Alice Springs, which is why I've included today as a pretty hefty day of driving. If you'd rather split the 900km over two days of driving (which I'd recommend) there's a campsite right next to the Devils Marbles that costs $5 a night. Facilities are very basic, with no shower and just a drop toilet, and payment is done via an honesty box!
Where to Stay in Alice Springs
If you do make it the full drive today, then you can spend the night in Alice Springs! As the gateway to the Red Centre of Australia, there's heaps of choice when it comes to accommodation here.
Day 3: Alice Springs to Uluru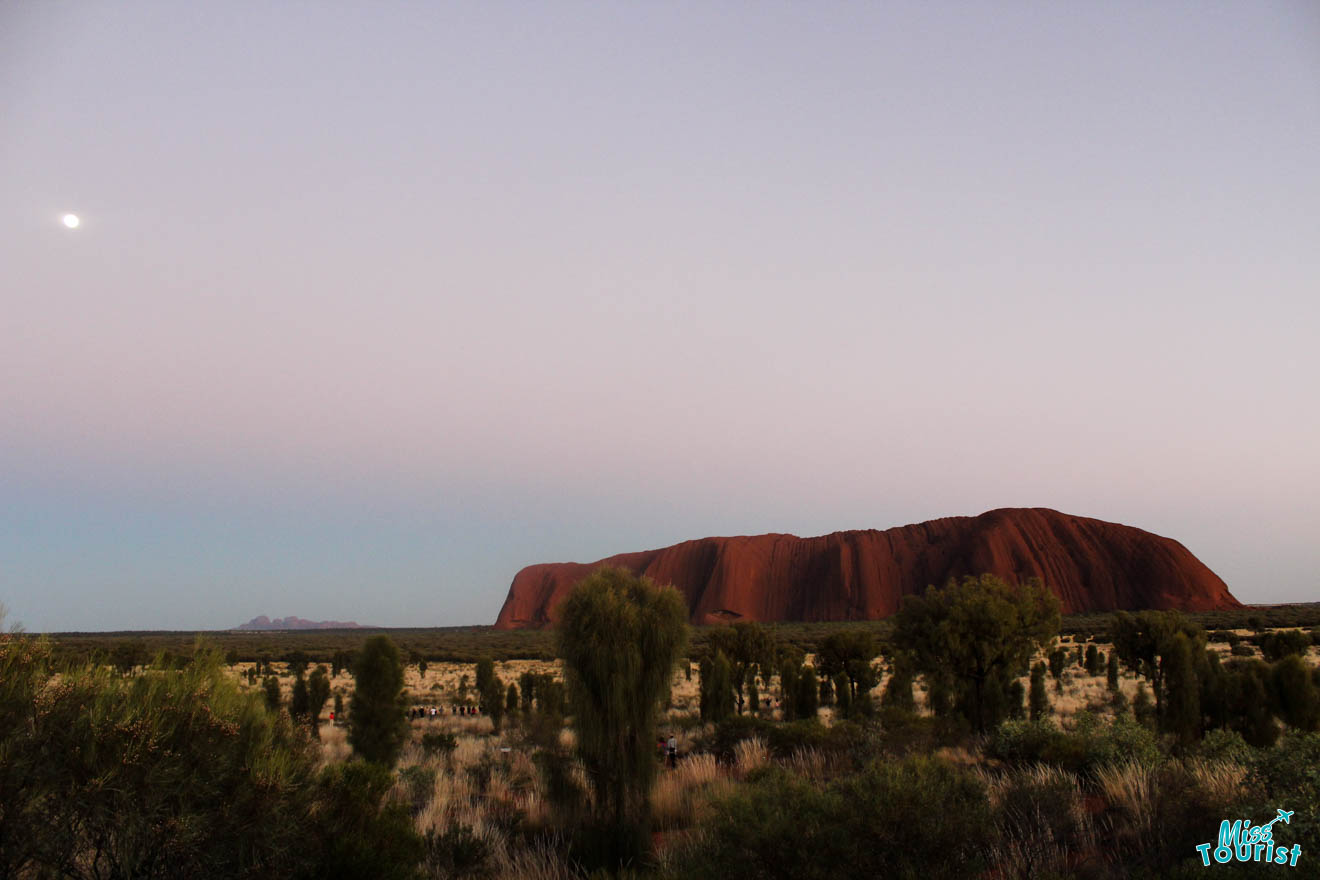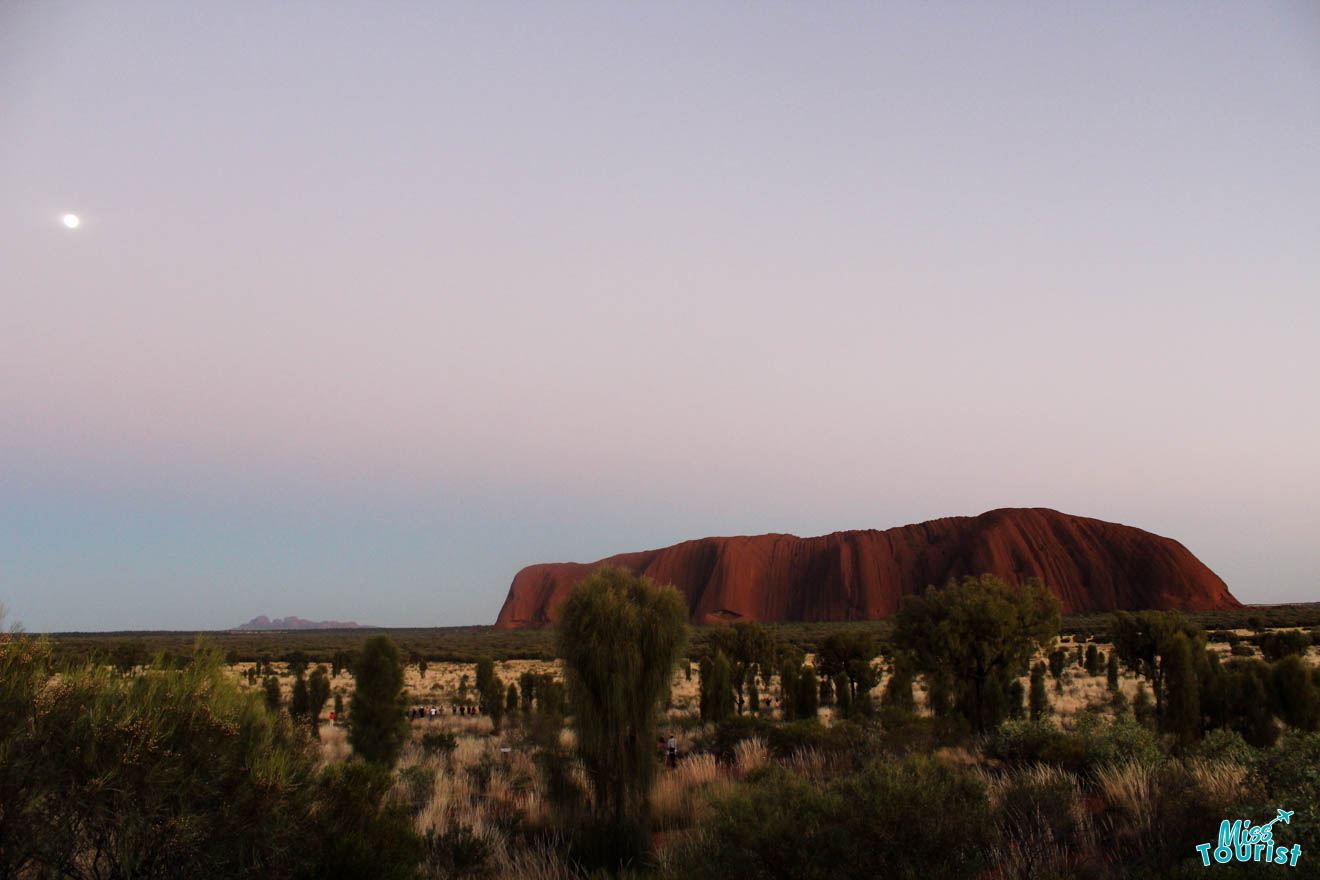 So you've made it to Alice! So now what? An adventure into the Red Centre, to see the iconic red rocks of Uluru, Kata Tjuta and Kings Canyon!
Driving time: 5 hours
Distance covered: 470km
Waking up in Alice Springs, you can spend the morning exploring the town. There aren't loads to see here, and travellers are usually too excited to get to Uluru to explore the town. But, if you do have the time, here are a few things to do:
Once you've seen enough of Alice Springs, it's time to head to the main event – the stunning Uluru! I'd recommend setting off from town at lunchtime so you can reach Uluru in time for sunset!
If you've flown into Alice Springs, or would rather take a tour from here into the Red Centre, there are options for this too! This 3-day camping tour will have you spending your nights camping under the stars and your days on spectacular hikes. For a more in-depth experience, on this 5-day 4WD tour you'll be led by a knowledgeable guide, who will take you to the Red Centre's biggest attractions, as well as on a journey through lesser-visited West MacDonald Ranges.
PRICE: From $440
Where to Stay near Uluru
There's only one place you can stay if you want to be as close to Uluru as possible, and that's the Ayers Rock Resort. Luckily, there's a range of accommodation options here, from budget-friendly campgrounds to luxury apartments.
Everything is at a premium price here because it's such a popular attraction in Australia, which means the cheapest, unpowered campsite goes for $40 a night. For luxury stays, you'll want to take a look at the glamorous self-contained Emu Apartments and for something a little more mid-range (for this part of Australia) try The Lost Camel Hotel.
Day 4: Explore Uluru and Kata Tjuta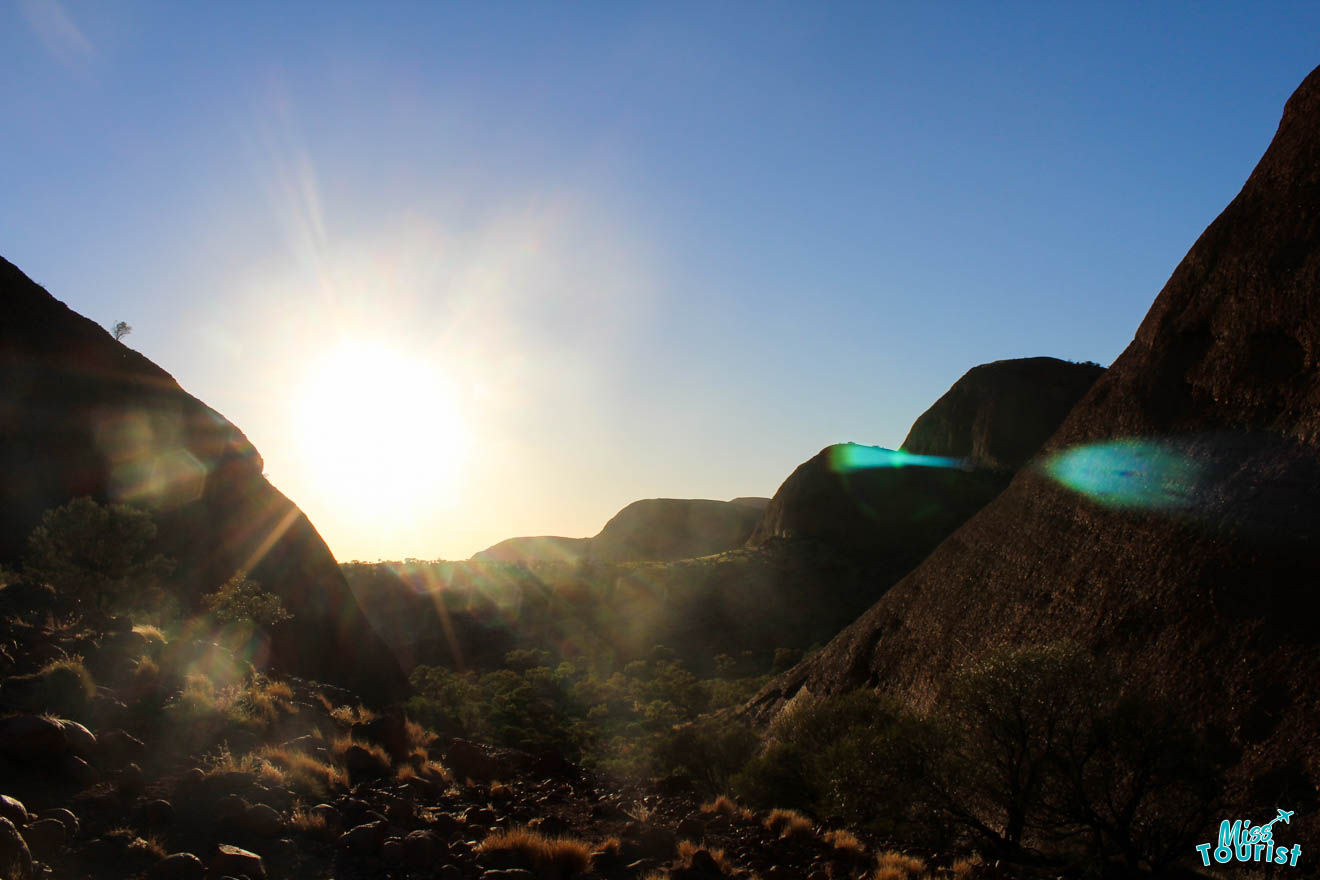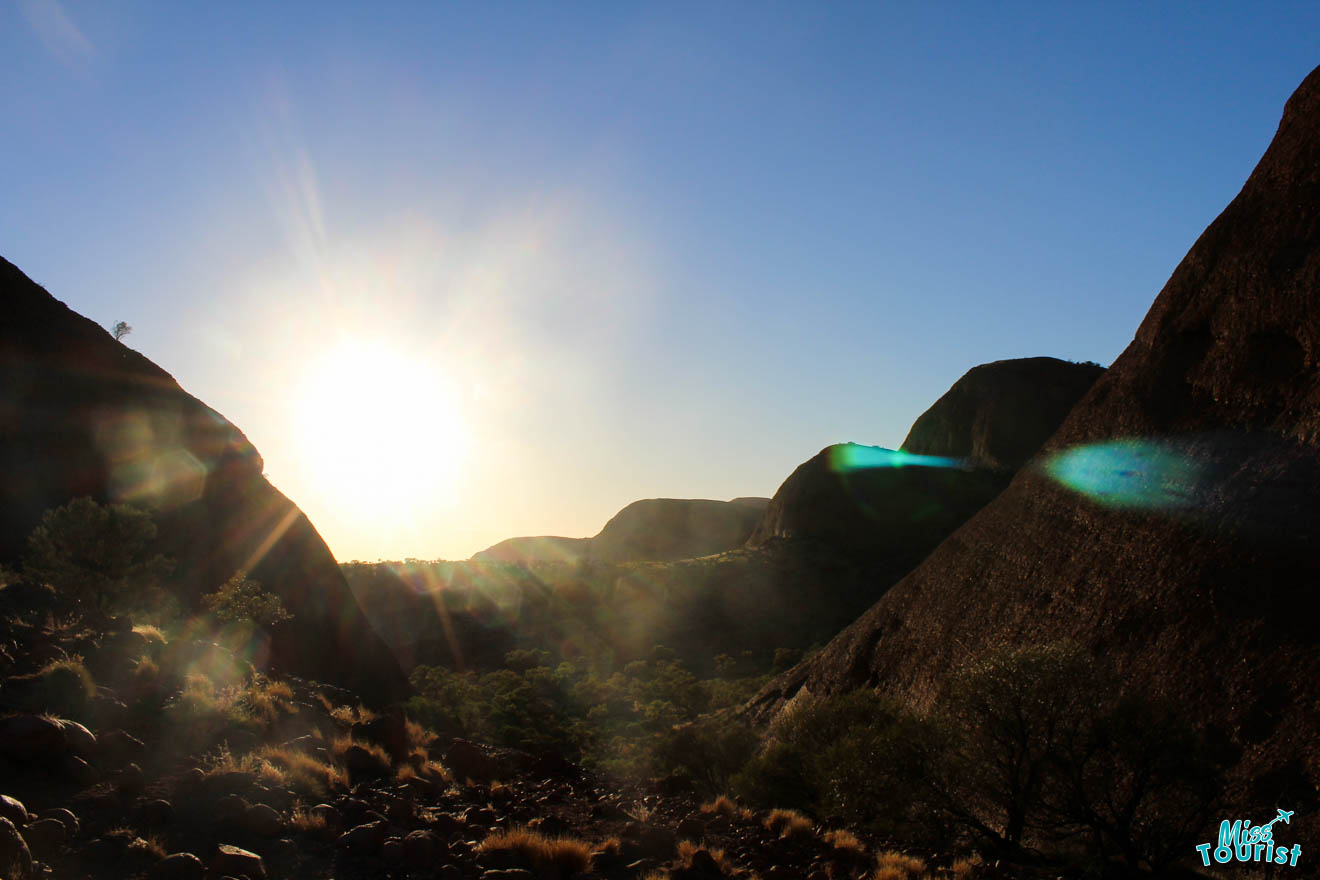 Driving time: 1 hour
Distance covered: 40 minutes
Spending two nights in Uluru will give you plenty of time to get a closer look at Ayers Rock, and head over to the nearby Kata Tjuta (The Olgas), a gorge made up of huge red boulders. Here are a few of my personal highlights from my time in the Red Centre:
PRICE: $80
Day 5: Uluru to Kings Canyon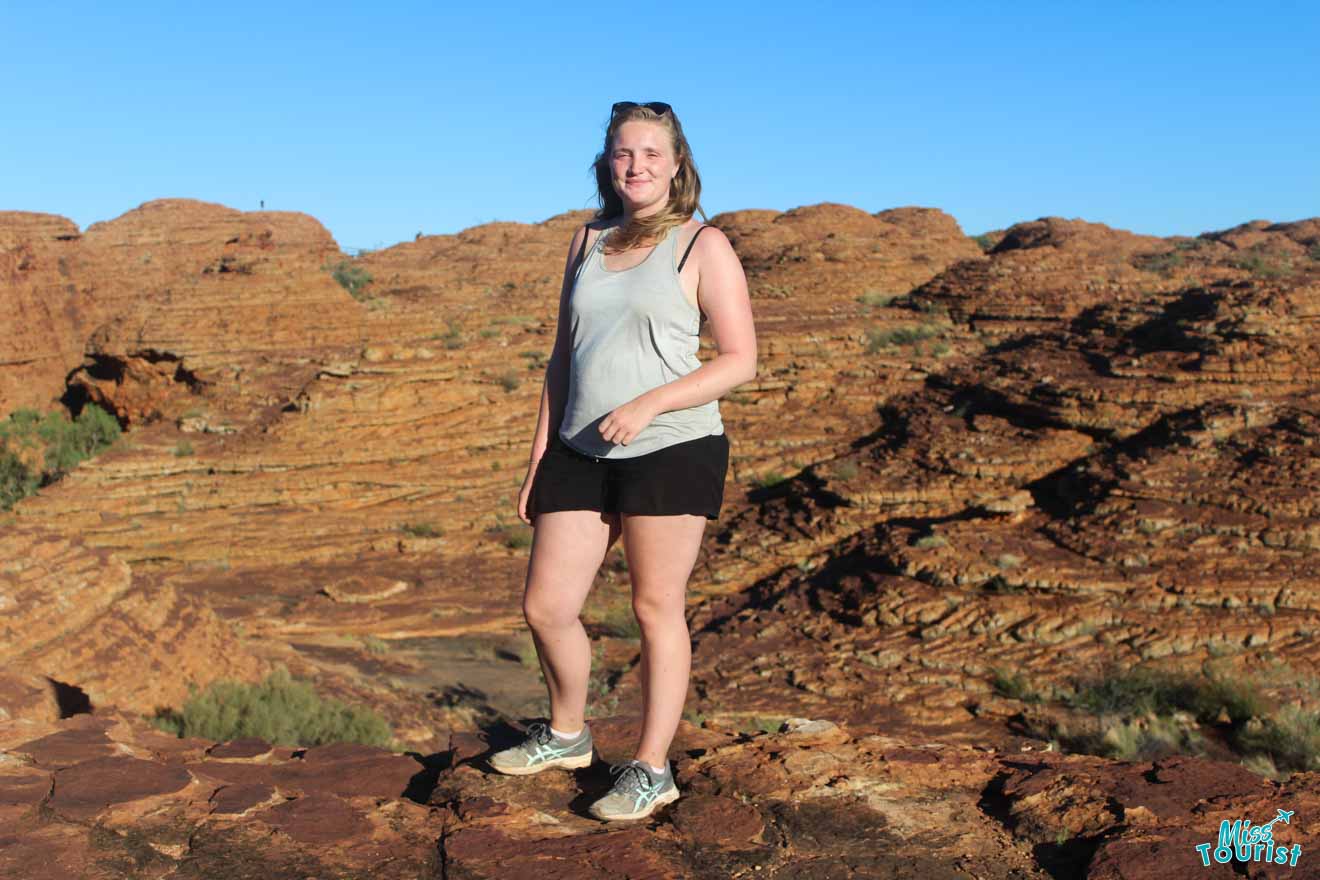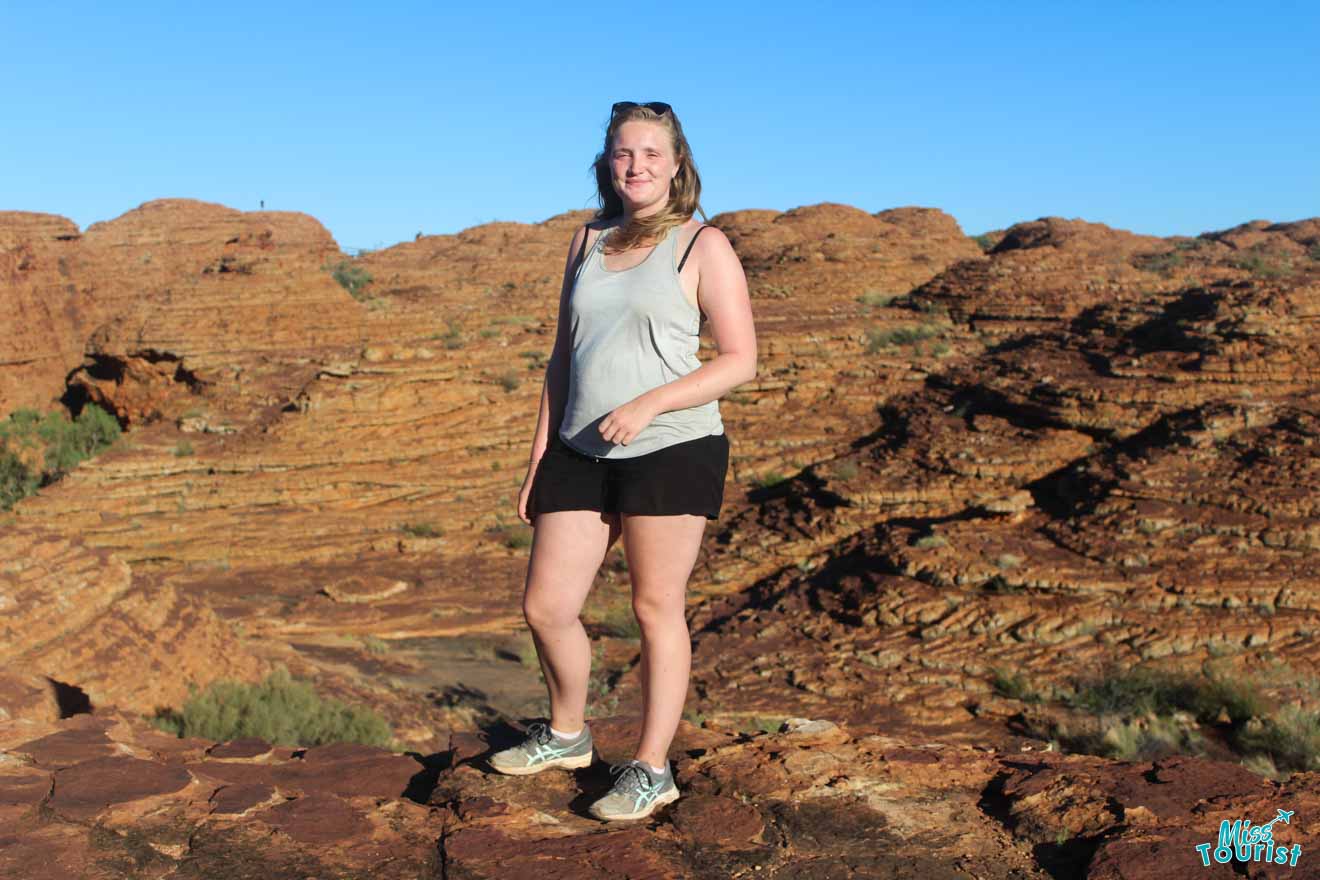 Driving time: 3 hours
Distance covered: 300km
I know this is a bit of detour from Uluru, but it's SO worth it!
About a three-hour drive from Uluru is the breathtaking Kings Canyon. And while not everyone will include it on their Darwin to Alice Springs trip, I can confidently say that it was my favourite experience in the Northern Territory!
Another early start is needed today so that you can reach Kings Canyon before the heat of the day starts to set in! Tackling the 6km Rim Walk is the most popular way to spend the day at Kings Canyon and it will take between 3-4 hours to complete. After the initial 500 steps, the walk is relatively easy and the scenery is awesome! The hike will take you to the edge of the canyon, through the Lost City of sandstone domes and down into the beautiful Garden of Eden. You'll be sleeping well tonight, for sure!
Where to Stay in Kings Canyon
Like Uluru, Kings Canyon is dominated by a large resort that tries to accommodate most budgets. Kings Canyon Resort offers up a choice of campsites for $25 per person per night, glamping tents, resort rooms and deluxe spa rooms that start at around $450 a night.
Day 6: Kings Canyon to Alice Springs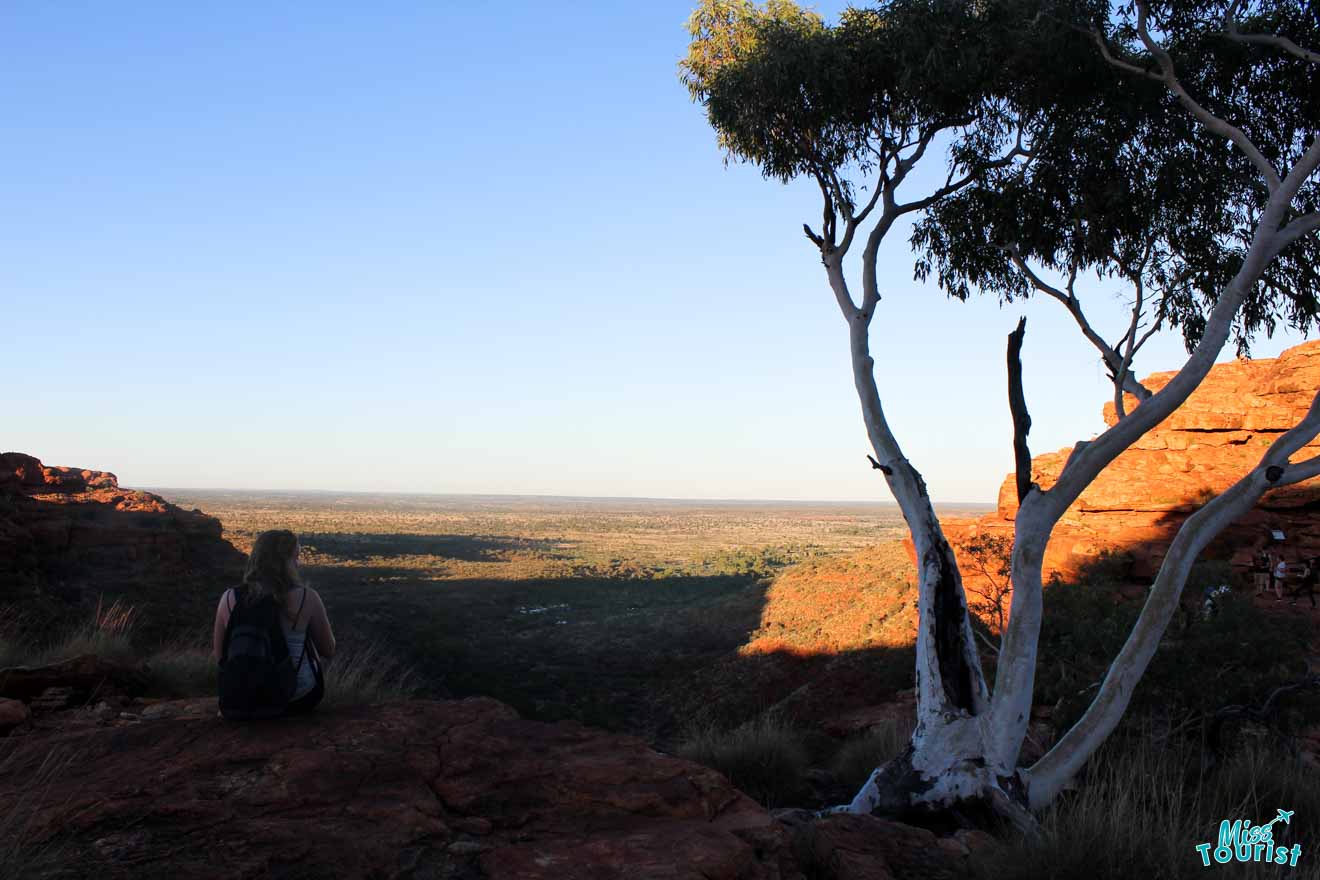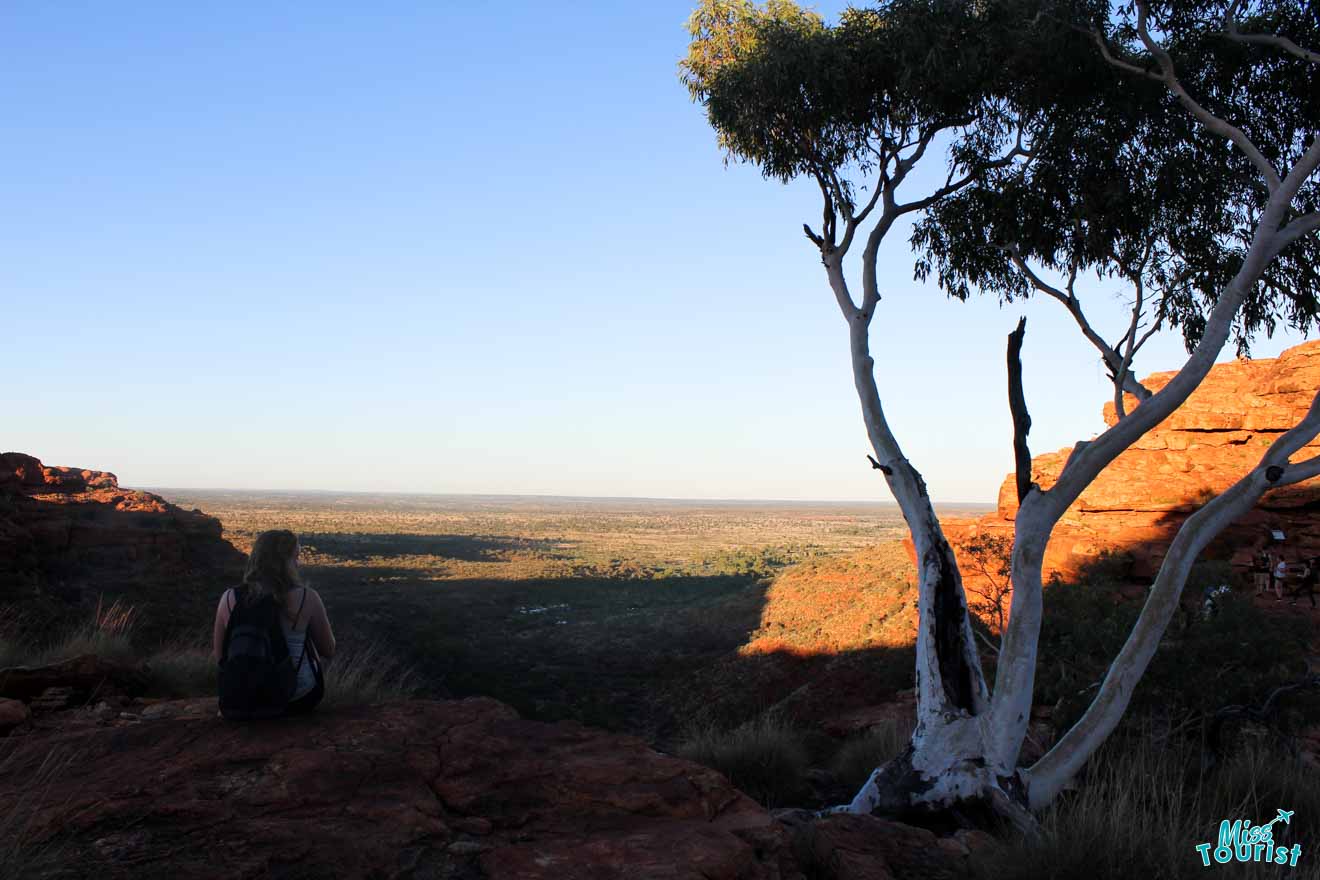 Driving time: 3.5 hours
Distance covered: 330km
You can have a well-deserved lie-in today, before making the three-hour drive back to Alice Springs, where the road trip will, unfortunately, come to an end!
How to Get From Alice Springs to Darwin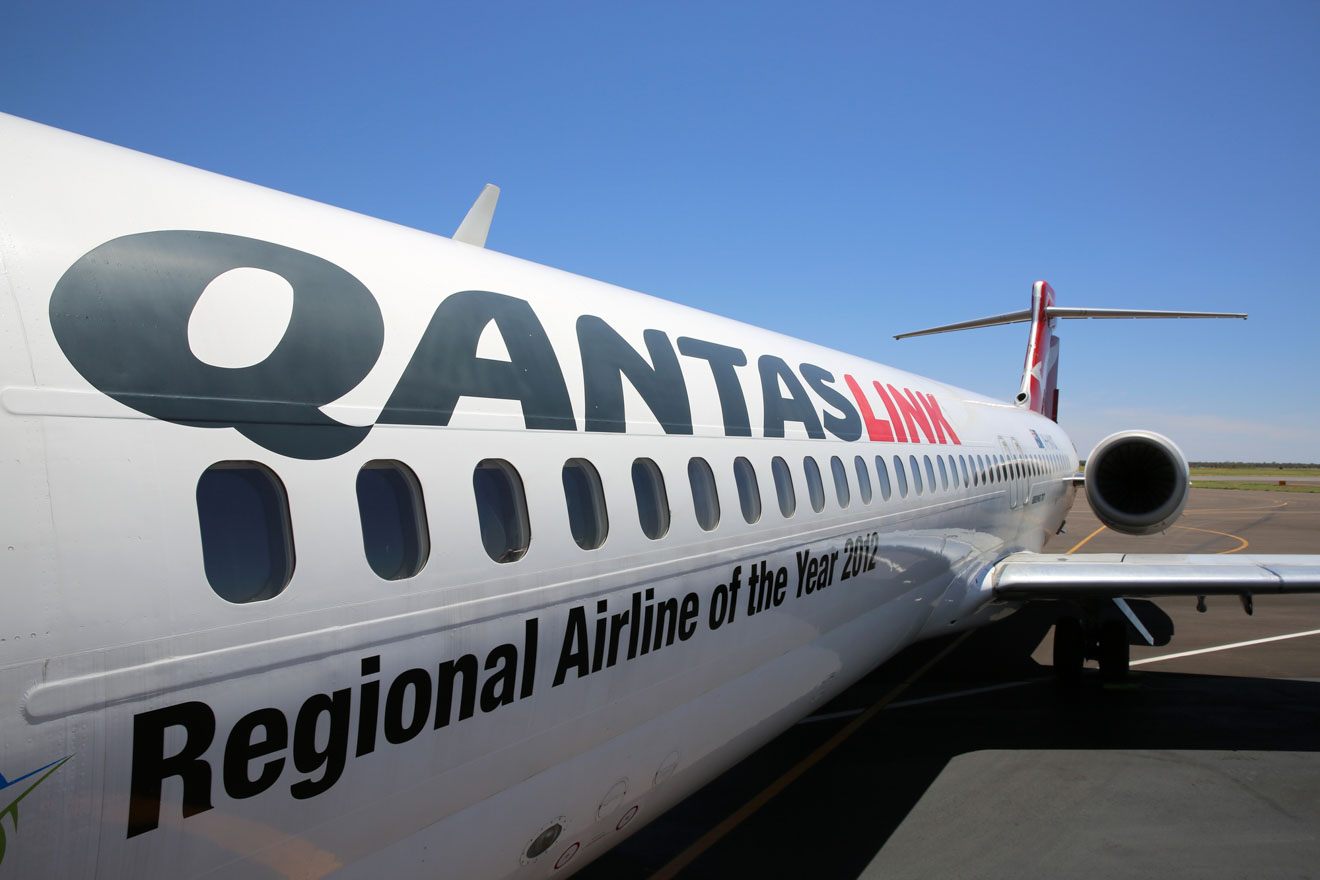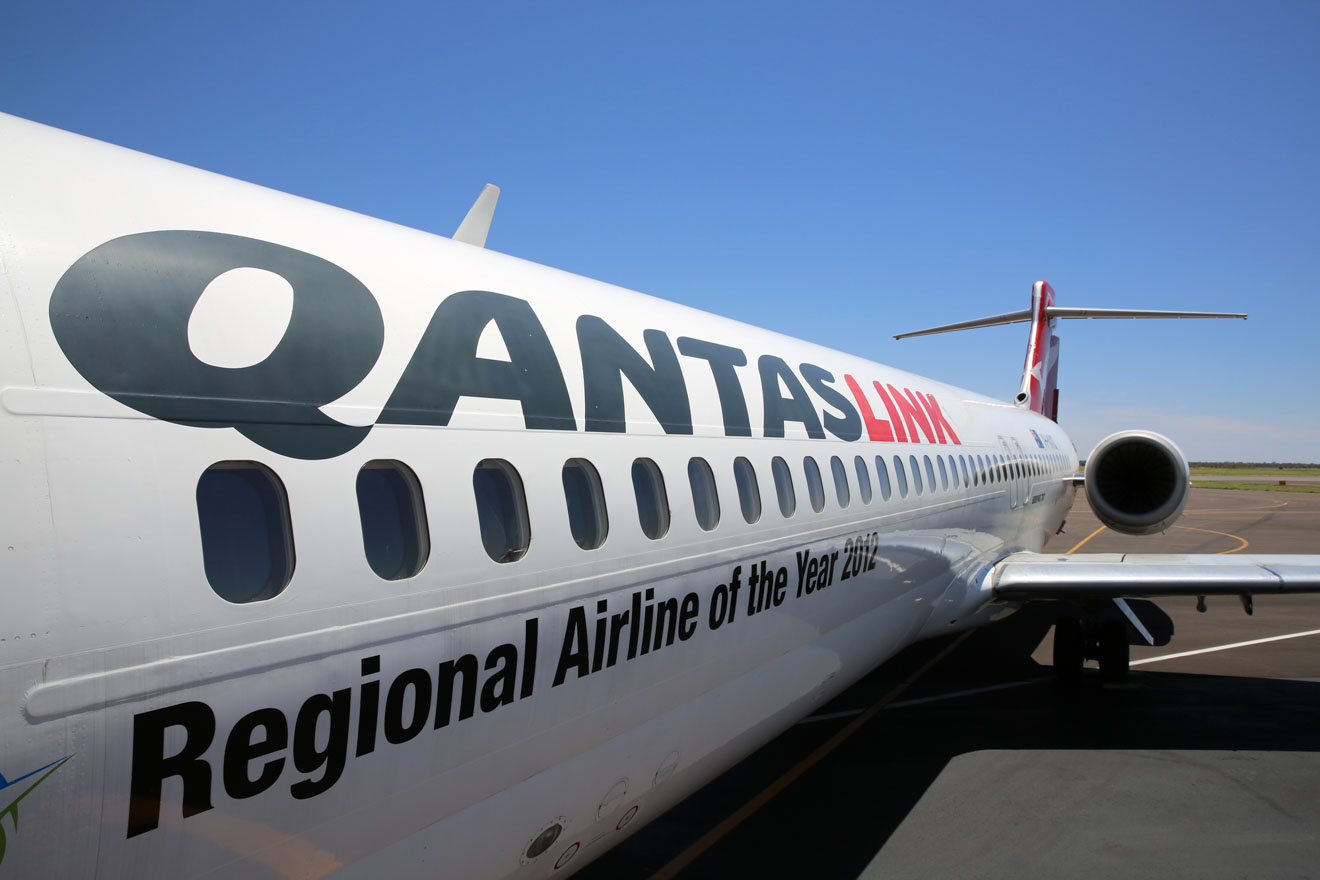 Travelling back from Alice Springs to Darwin can be done by rental car, The Ghan Train, Greyhound bus or by booking a flight, all of which I've described in more detail at the start of this post. If you're not heading back into the Northern Territory, diving south will take you within reaching distance of Wilpena Pound in Flinders Ranges and eventually to Adelaide, another fantastic region to explore in Australia!
| | |
| --- | --- |
| 🤩 Range of activities: | Medium |
| 🚗 Avg car renting price: | $450 |
| 📅 How many days: | 6 days |
| 🎤 Guided Tour: | Alice Springs |
| ☀️ Best time to go: | March – May |
Conclusion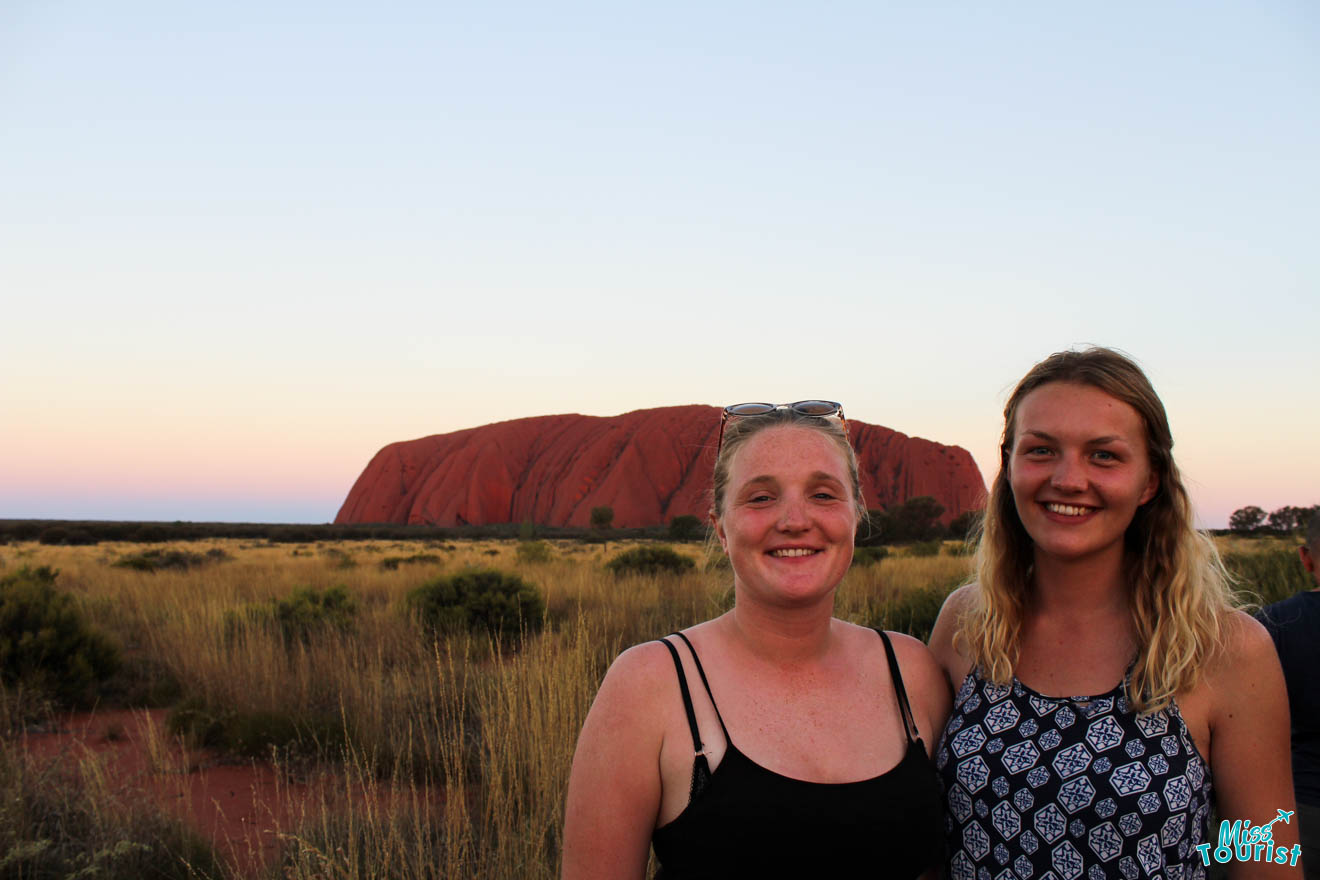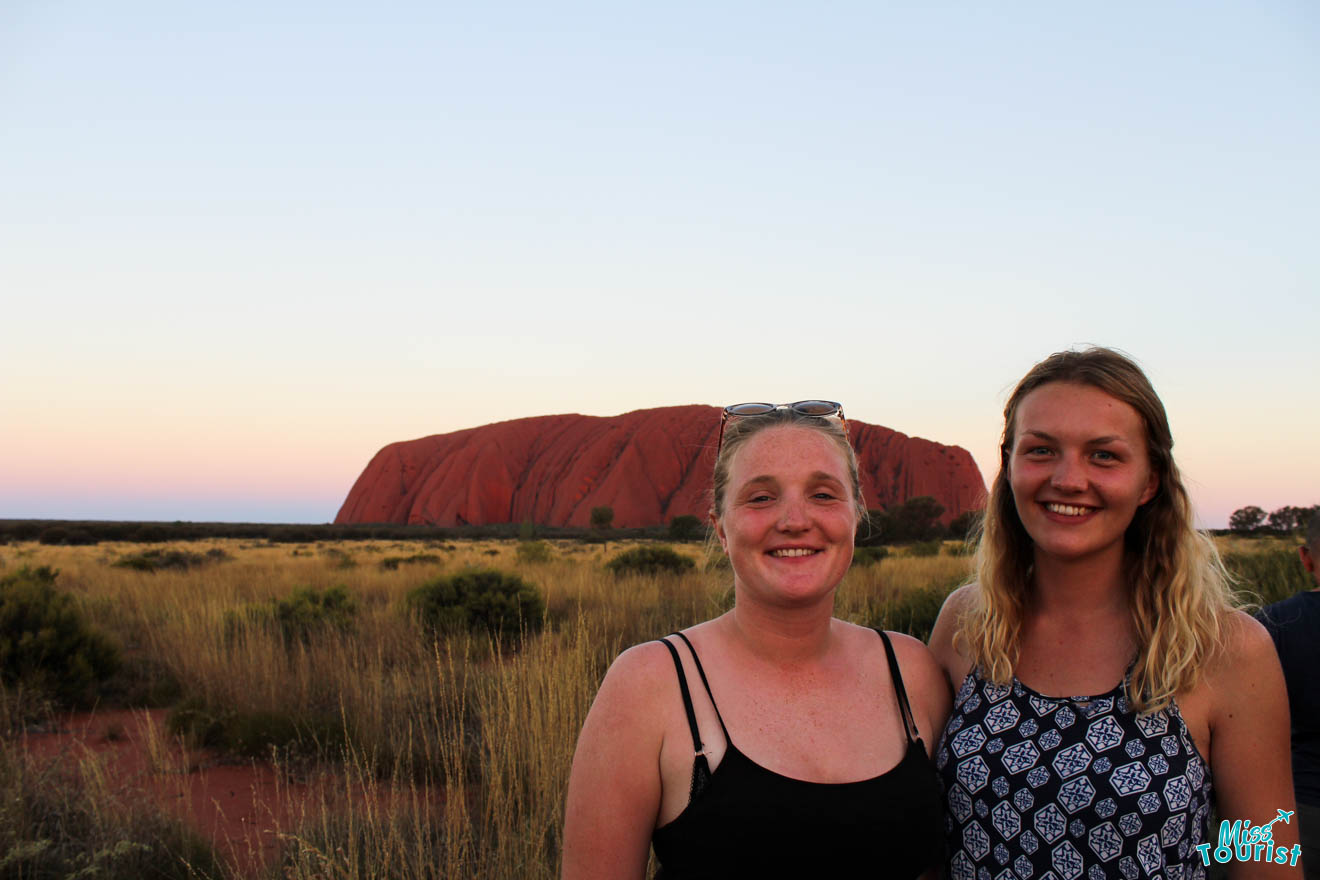 Aside from heading to Arnhem Land, heading deep into the Red Centre from Darwin is the most rewarding thing that you can do in the Northern Territory and possibly even Australia. The reason I enjoyed my holiday here so much is that it's just SO different to anywhere that I've been before! The scenery, the landscapes, the people, the culture… there's something new to see and to learn every single day.
Hopefully, I've made it a little easier for you to plan your adventures from Darwin to Alice Springs. In this post, I've outlined a day-by-day itinerary starting from Darwin and ending in Alice Springs six days later. I've also included where to stay and some of the best activities to do in the area!
If you're looking for road trip inspiration in Australia, I've also put together posts on a 7-Day Itinerary Western Australia Roadtrip and a 3-Day Great Ocean Itinerary too. And if you need any more information about Darwin, Alice or anything in between, let me know in the comments below.
Enjoy your time in one of the best spots in Australia!
Lily
---
Pin it for later!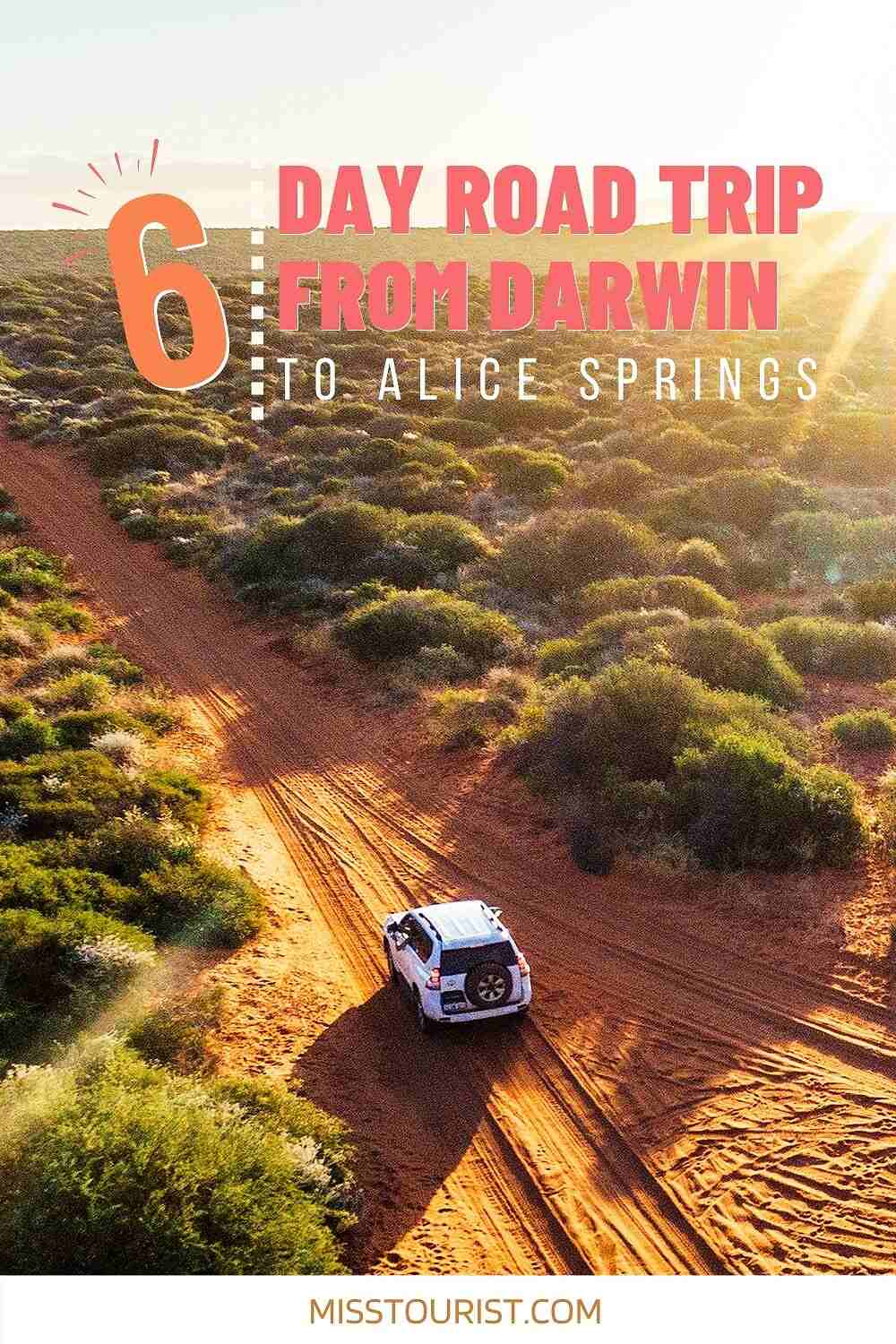 Pin it for later!