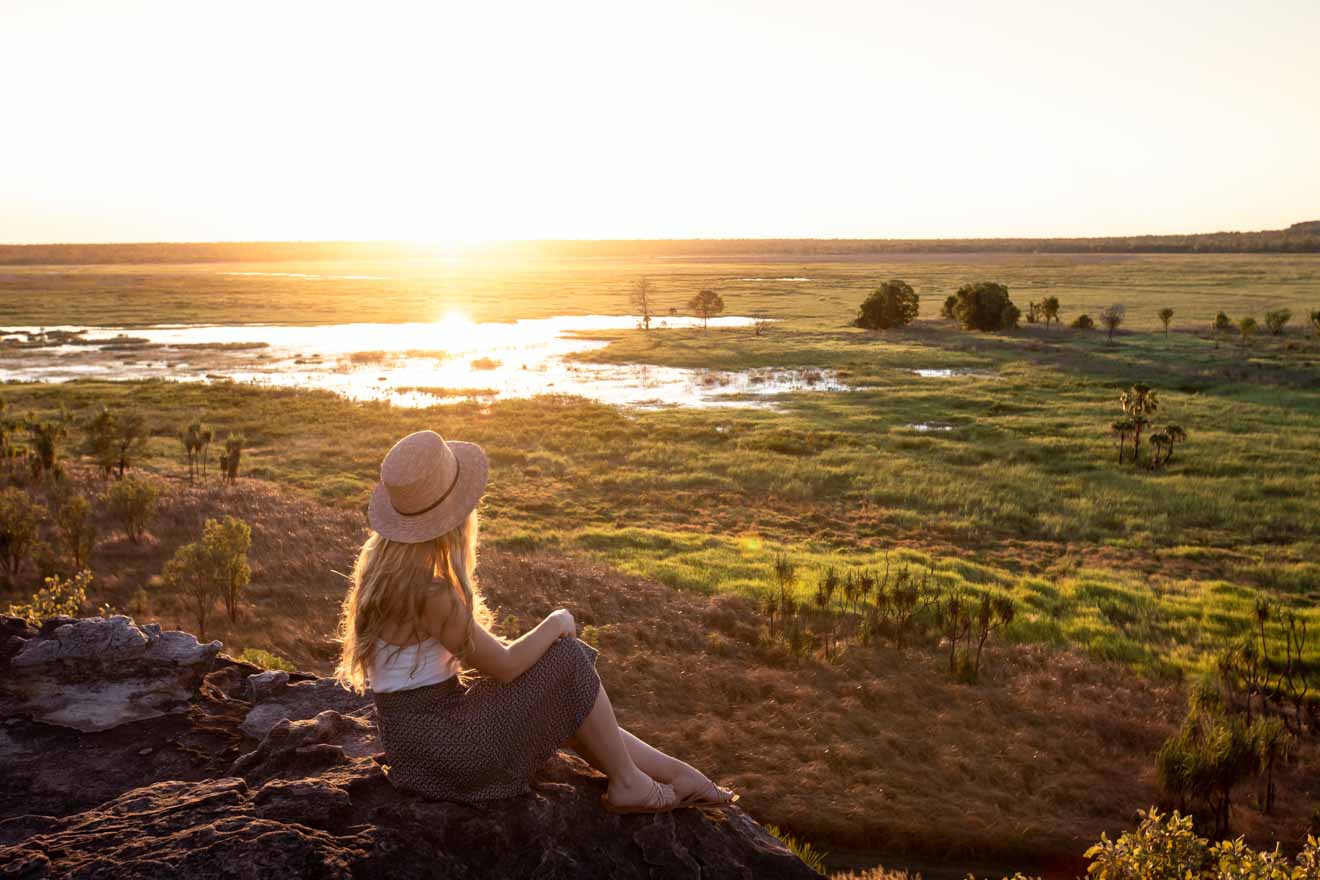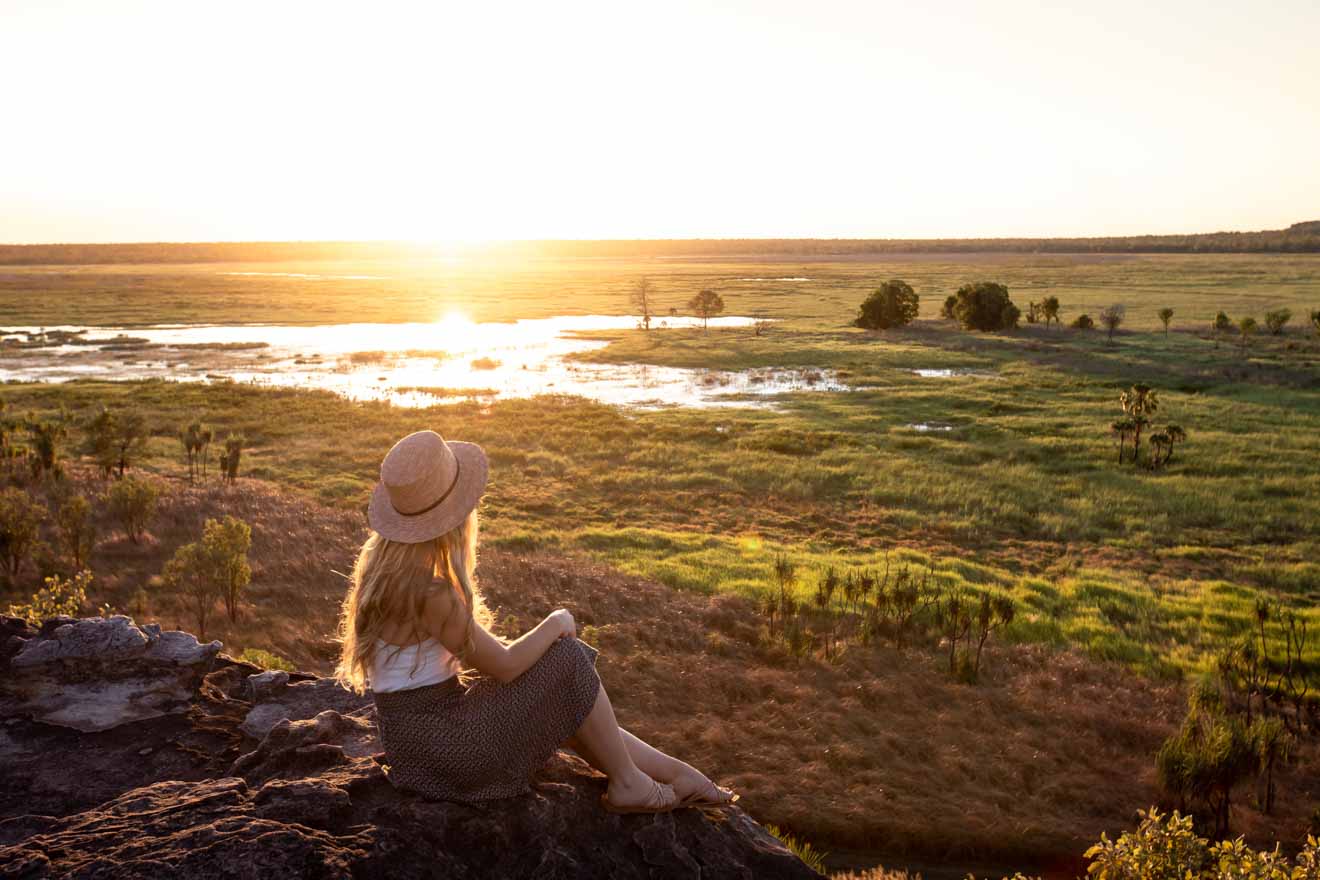 If you're anything like me, you probably first saw the beautiful Kakadu National Park when it was made famous in Crocodile Dundee. If not, then here's your introduction to this stunning corner of Australia!
Kakadu is Australia's largest national park and encompasses more than 20,000km2 of rugged bushland, breathtaking waterfalls, ancient rock art, remote camping spots and many, many crocodiles. In 1981, the park received it's status as a World Heritage Site and has remained a world-famous destination for its unique environment and cultural importance ever since!
This vast wilderness sits about a three-hour drive from the Northern Territory's capital city, and while it is doable in a day trip from Darwin, there are so many amazing things to do in Kakadu National Park, that I'd really put aside at least three days or even a whole week for your trip.
Your time in Kakadu can be spent swimming in natural infinity pools, discovering hidden waterfalls, bushwalking through the untouched territory, cruising along croc-infested waters and finding rock art thought to be 15,000 years old! If you're up for the adventure of your life, read on for my tips and tricks of exploring Kakadu National Park including everything to see and do, where to stay and how to get there!
Kakadu National Park Entry Fees
Once you're in Kakadu, all of the main sights and attractions are free of charge. You will be asked to pay an entry fee to the park, however, to help with the upkeep of the park and its public spaces. Prices depend on the season, but start from $40 per adult and last for 7-days. It's easiest to book your entry pass in advance on the Park Australia website.
1. Bushwalk Through Kakadu National Park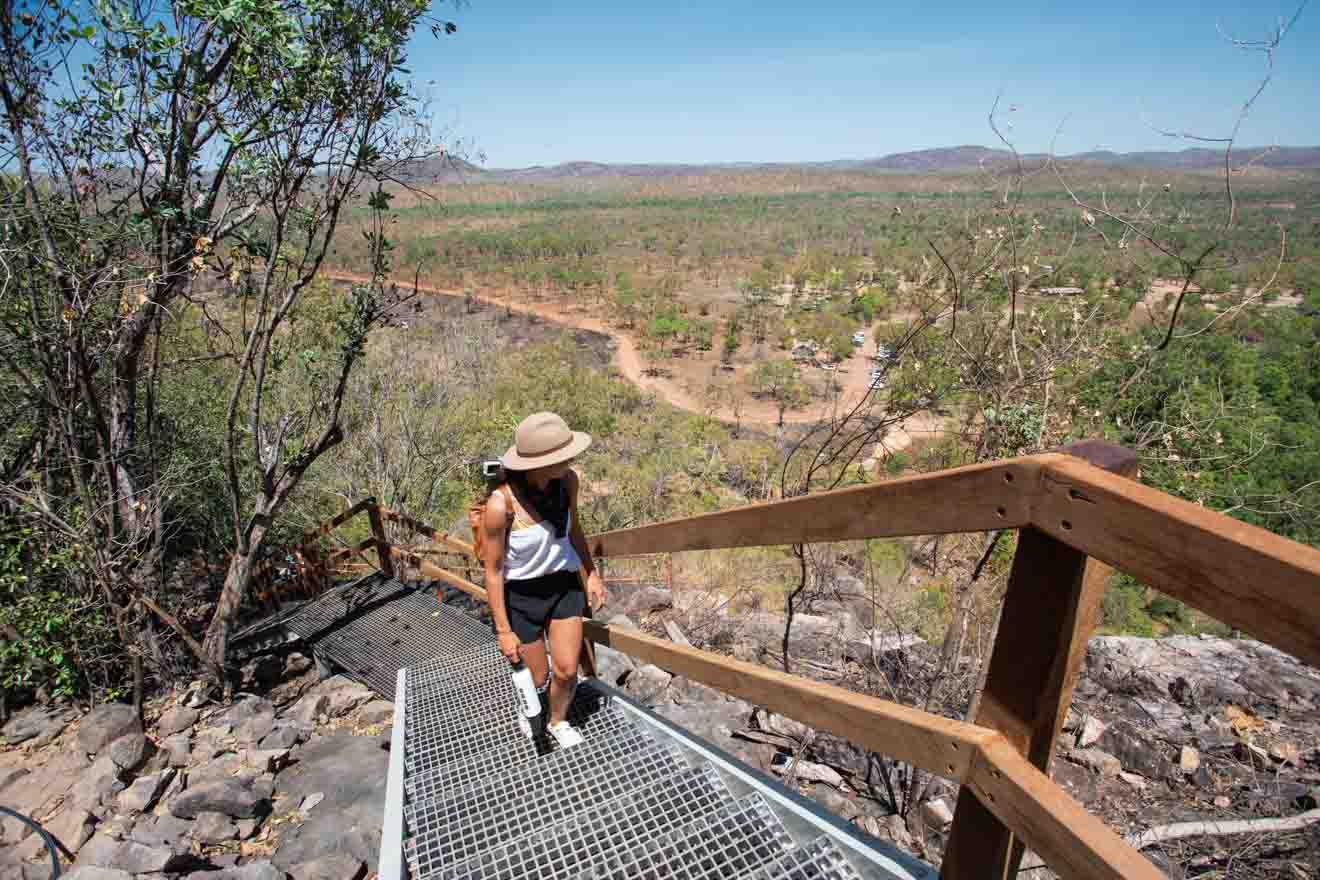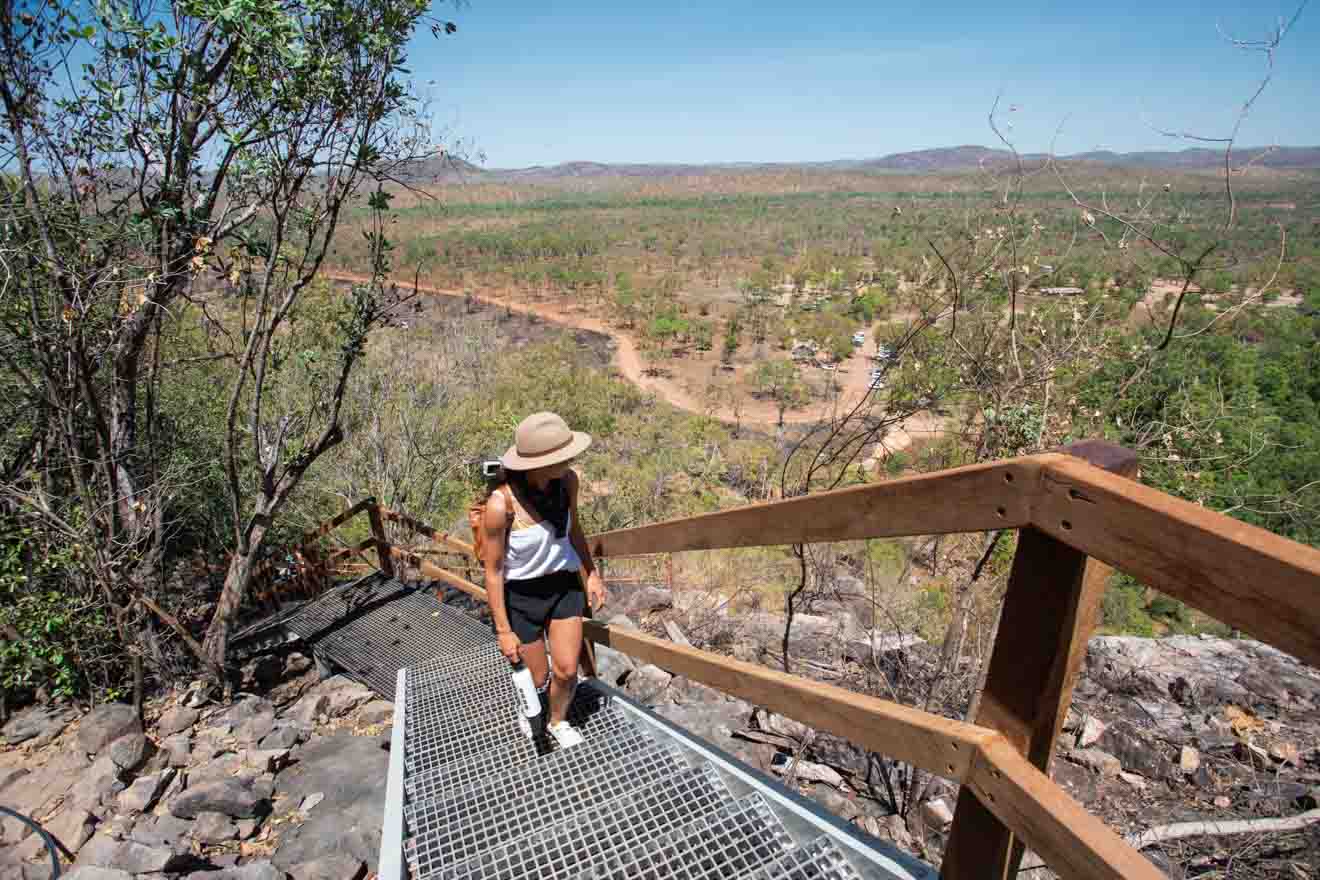 Access: Mixture of 2WD and 4WD depending on the trail.
One of the most rewarding things to do in Kakadu is to find a quiet walking trail and spend the afternoon exploring! There are more than 30 walking trails to choose from ranging from easy morning strolls to challenging multi-day hikes. To escape the crowds on some of the more popular trails, head down to the southern regions of Kakadu where you'll find the Yurmikmik Walks. Follow signs to Boulder Creek Walk and you'll probably have the whole place to yourself! I'd say that you need a moderate level of fitness to complete this 5km return walk, especially if you want to make it to the stunning Yurmikmik Lookout for views to die for!
2. Check Out The Rock Art at Ubirr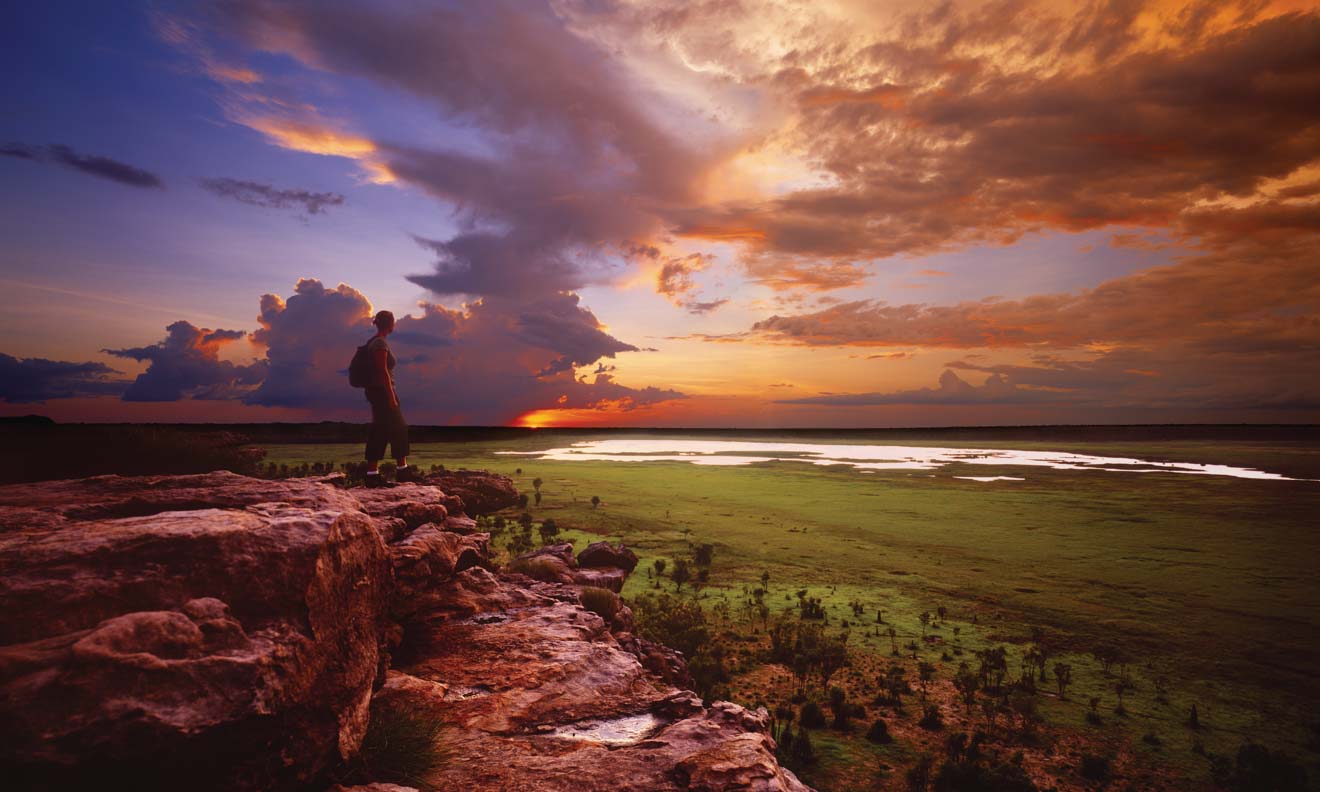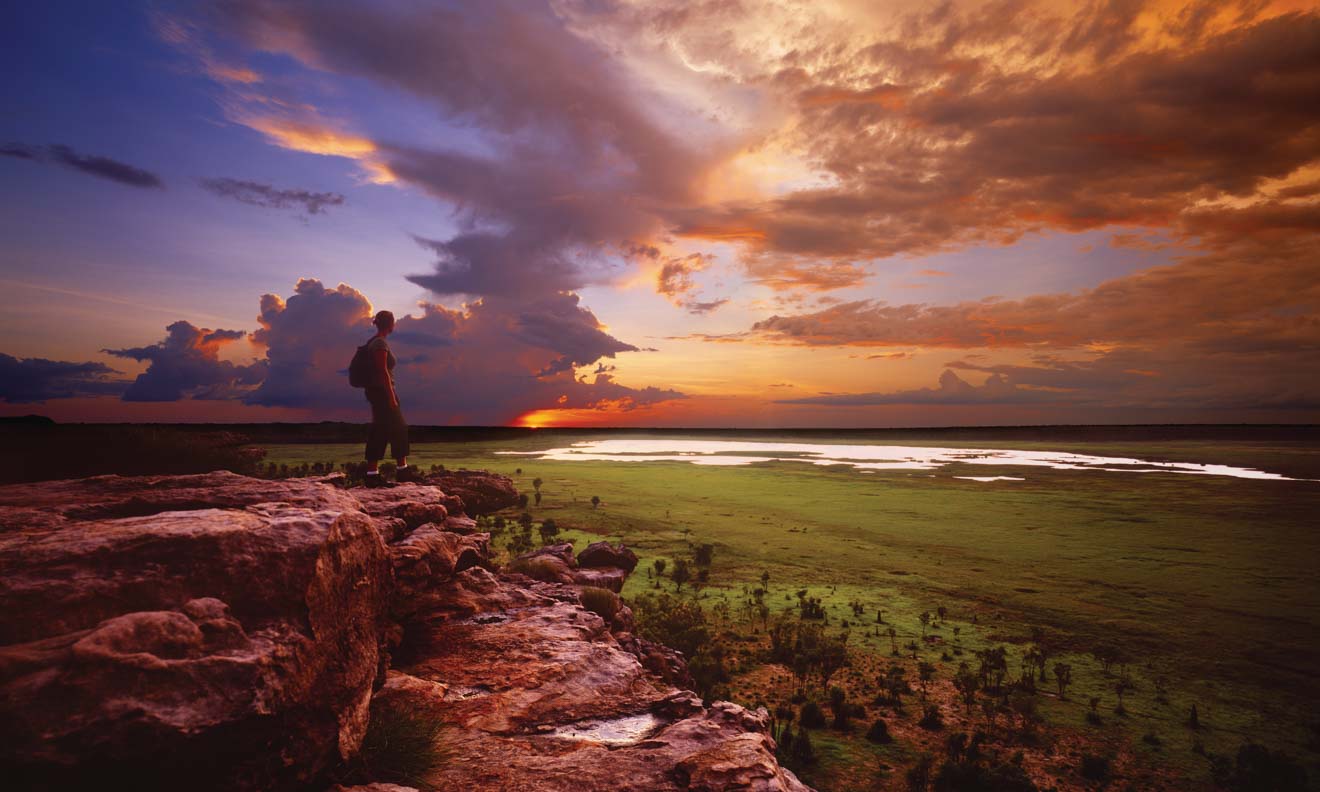 Access: 2WD during the dry season, 4WD during the wet season
Ubirr is one of the most famous of the 500 known rock art sites in Kakadu National Park, known for its unique rock art style featuring x-ray paintings. To see the art, simply follow the 1km boardwalk that takes you past the three main galleries: Namarrgon Sisters Gallery, Rainbow Serpent Gallery and the Main Gallery. It'll take you about an hour to complete the walk and an extra 30-minutes if you choose to walk up to the lookout point (which I'd highly recommend at sunset by the way!)
TOP TIP: During the dry season, daily free activities are held by local rangers at some of the park's most popular activities. In the past, this has included a free tour of the rock art at Ubirr. Don't forget to stop by at the visitor information centre or check out their website before you go for an updated schedule of free events.
3. Cruise Along Yellow Water Billabong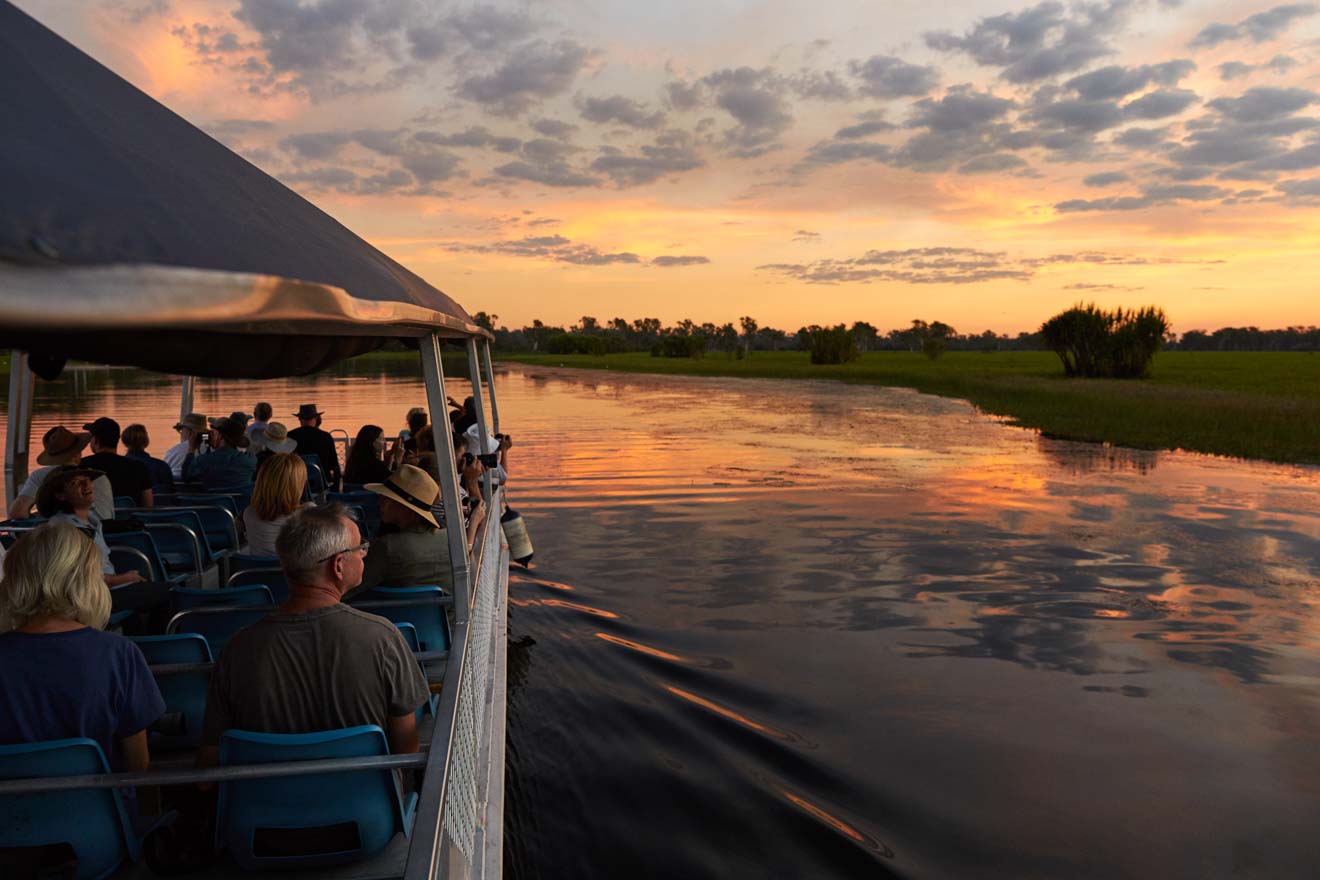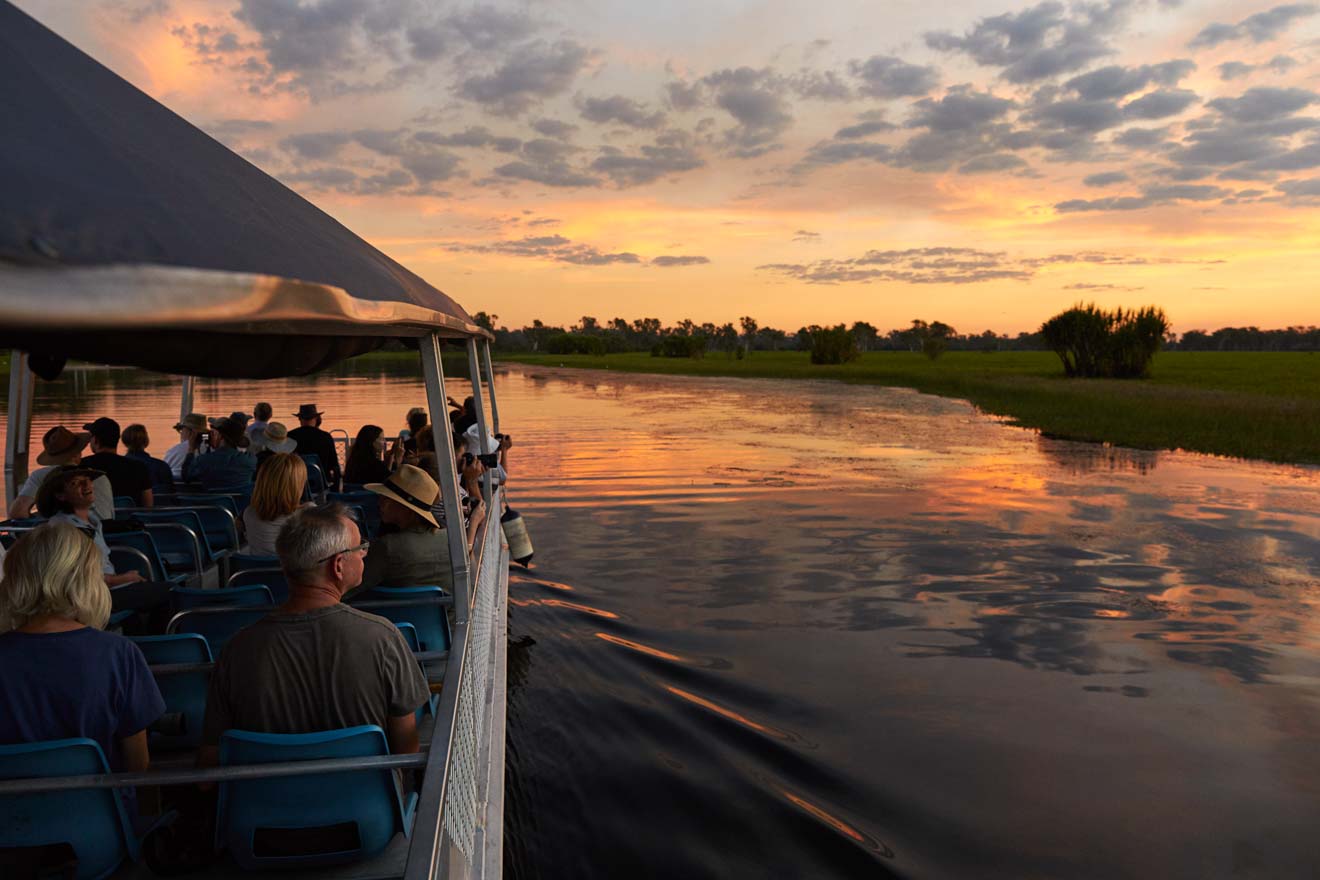 Access: 2WD during the dry season, during wet season park up at the Cooinda Lodge and jump on a shuttle bus.
Kakadu is home to numerous billabongs, but none are as famous as the spectacular Yellow Water that's surrounded by paperbarks and littered with water lilies (and the odd croc of course!). The best way to see Yellow Water is by taking one of the award-winning cruises that travel along the water where you'll get a closer look at the area's unique flora and fauna. Cruises do operate all year round, and in the dry season, you'll be able to get off and explore the floodplains by foot too!
PRICE: From $80 per person
4. Spend an Afternoon Birdwatching at Mamukala Wetlands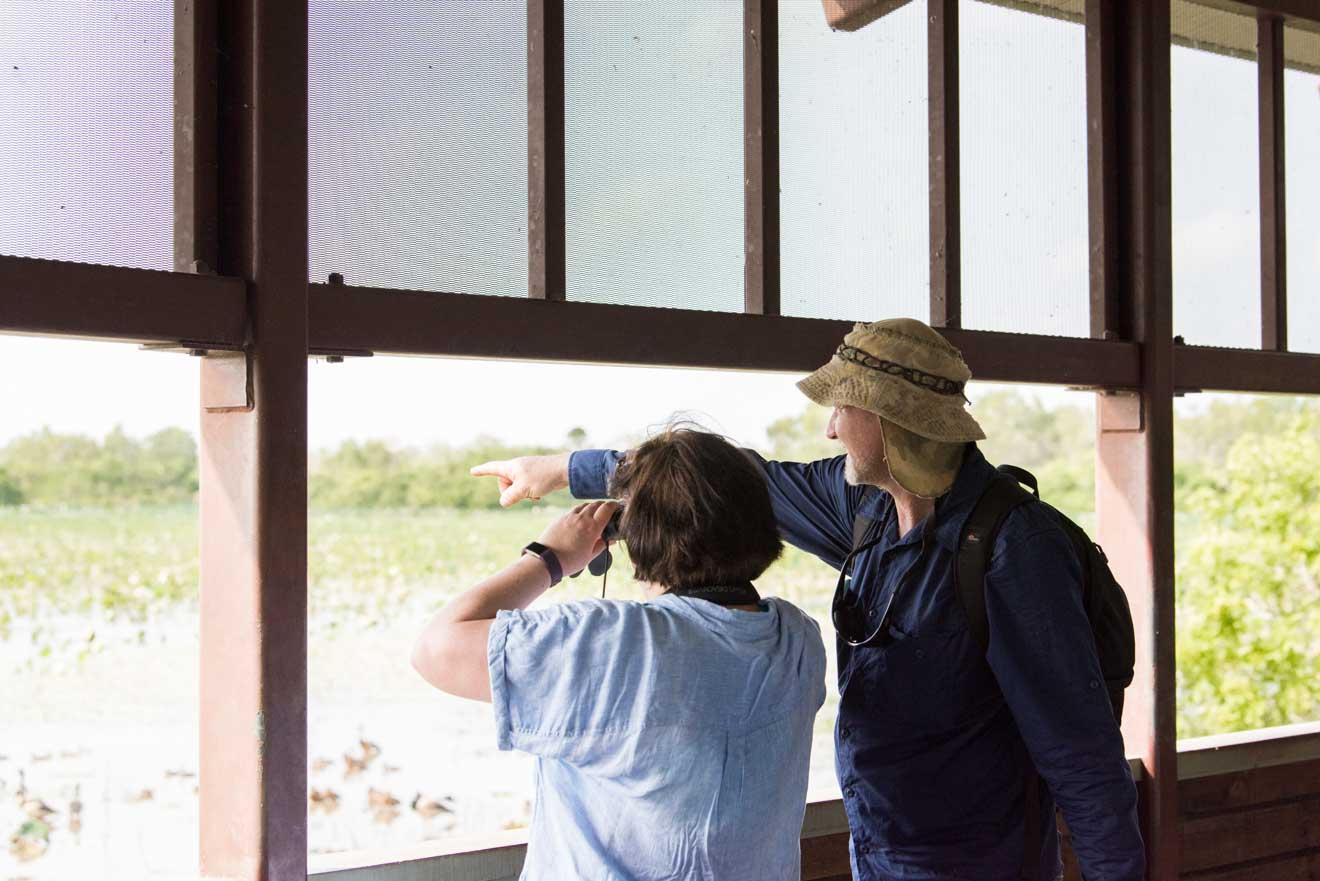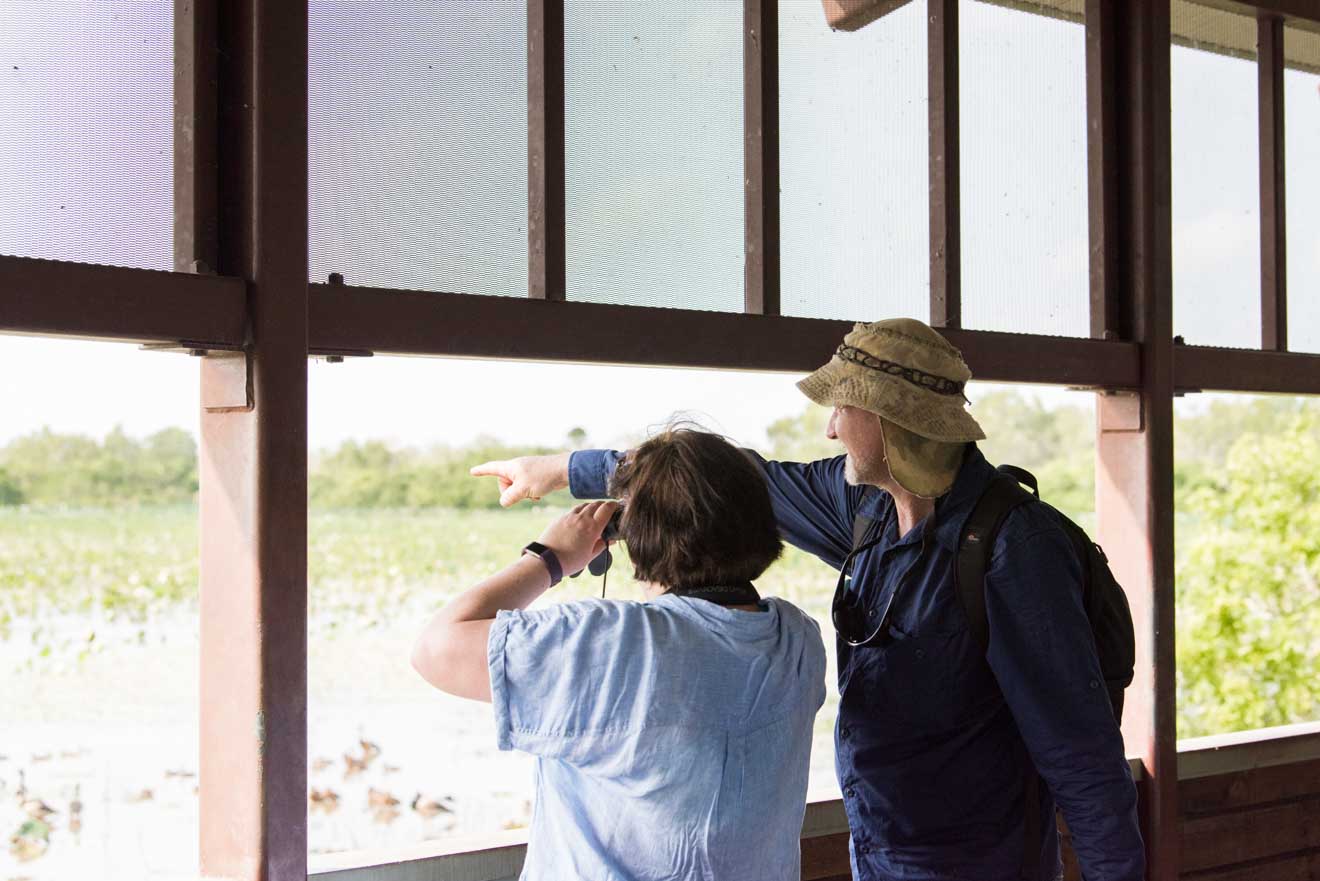 Access: 2WD year-round
Kakadu is home to more than 280 native species of bird, so it'll come as no surprise that bird-lovers flock here from all over the world! The Mamukala Wetlands is the best place in Kakadu to go bird watching, and there's a handy platform and an observation deck to view them!
Throughout the year you'll be in for a chance to spot comb-crested jacanas, kites, cormorants, finches and kingfishers, but for a truly spectacular experience, you're going to want to visit sometime between September and November. During these months, thousands of honking magpie geese come to dig for water chestnuts, something that's quite amazing to see!
5. Enjoy a 4WD Drive Adventure to Kakadu's Famous Waterfalls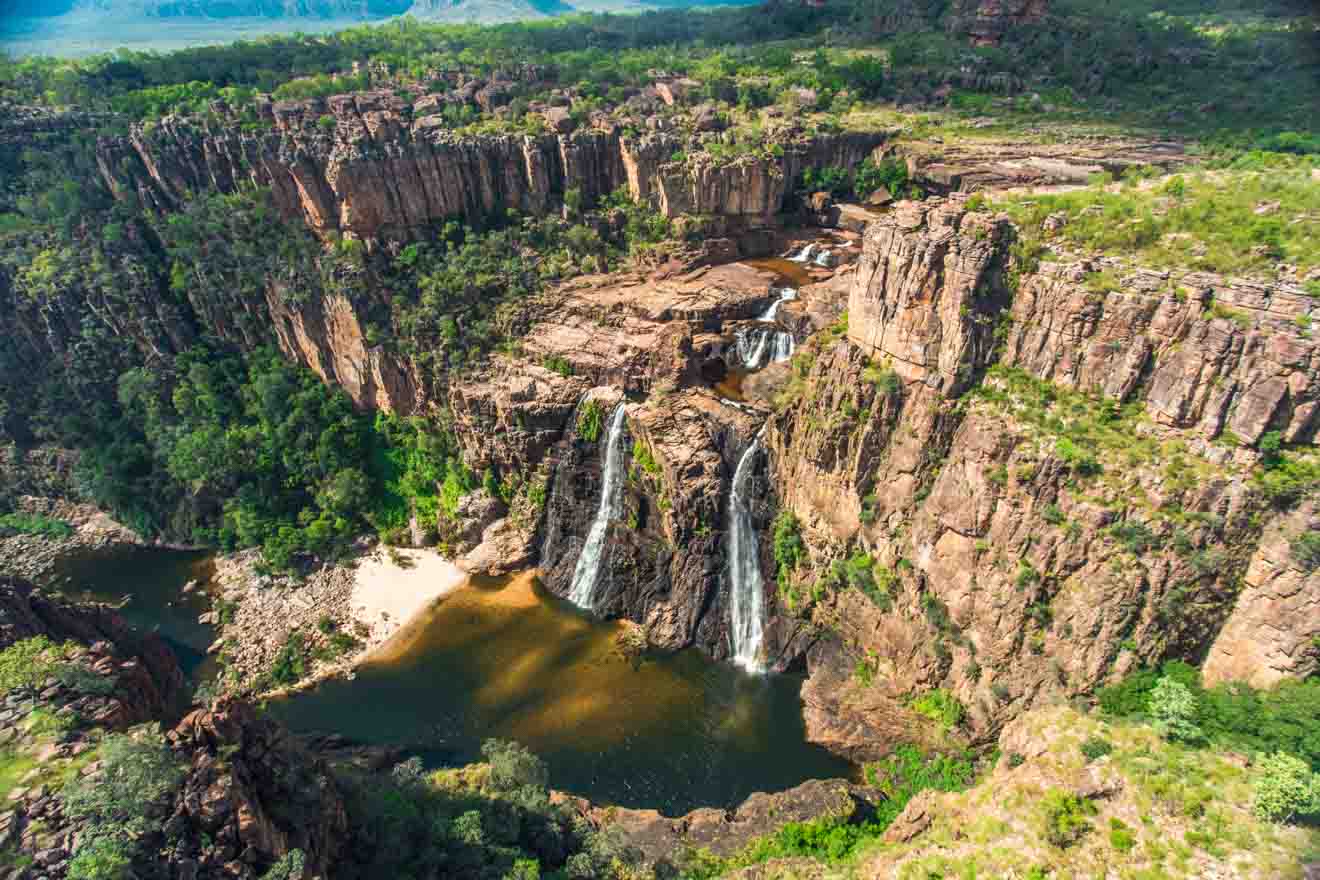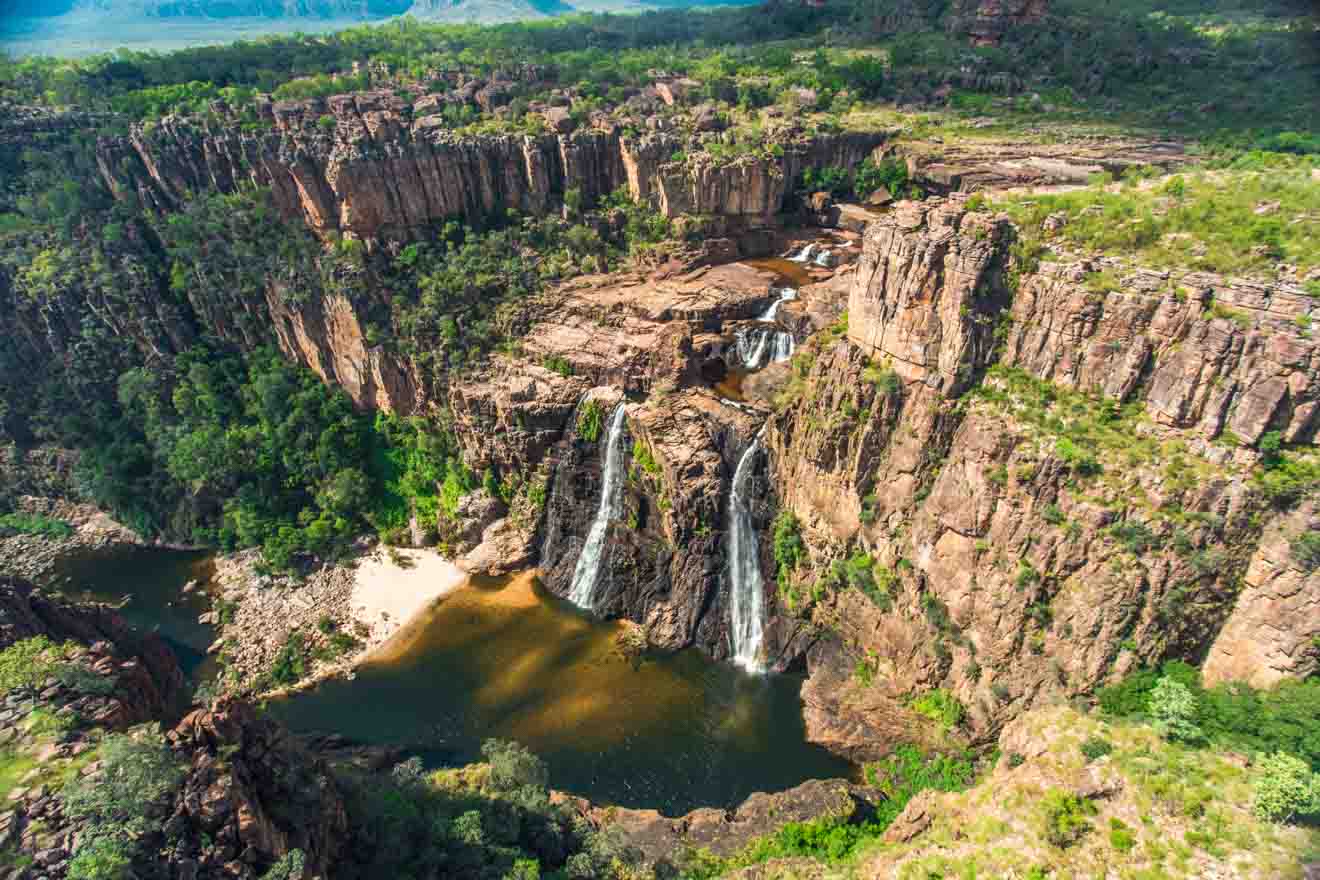 Access: 4WD only (you'll need a snorkel on your vehicle to get to Twin Falls)
Jim Jim Falls and Twin Falls are two of the most talked-about attractions in Kakadu and aren't to be missed during your visit! If you can, I'd highly recommend making it round to both of them because they are both as majestic as each other! Jim Jim Falls is surrounded by tall cliffs and deep plunge pools, and is most active just after the wet season, whereas Twin Falls gushes tonnes of water all year round from a 220m drop!
If you don't have a 4WD of your own, it's definitely worth joining a day tour to the falls. The tour that I've linked to below leaves from Jabiru and spends the whole day exploring the falls giving you plenty of time to enjoy the hikes and swim in the water!
PRICE: From $230
6. Find the Famous Crocodile Dundee Movie Location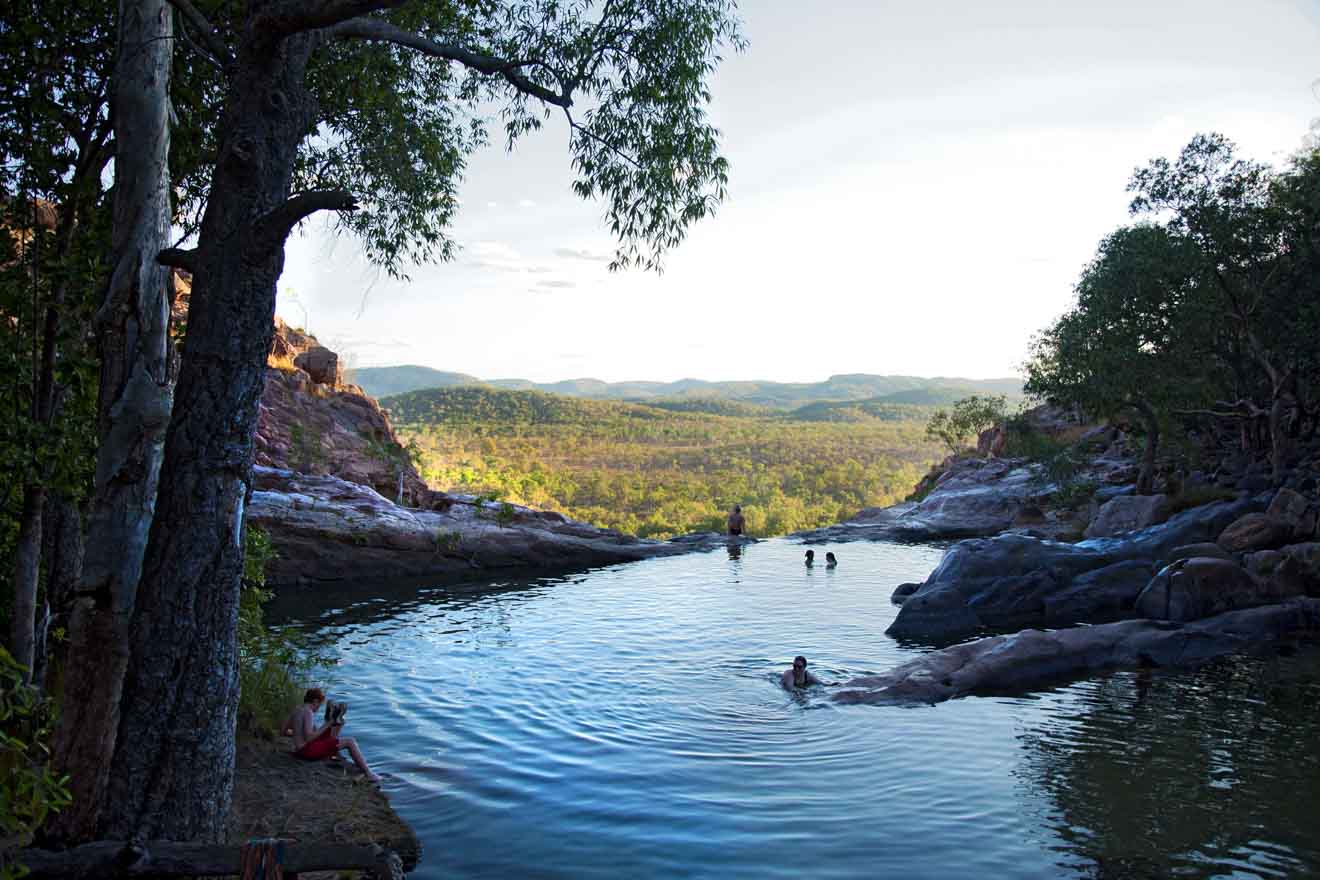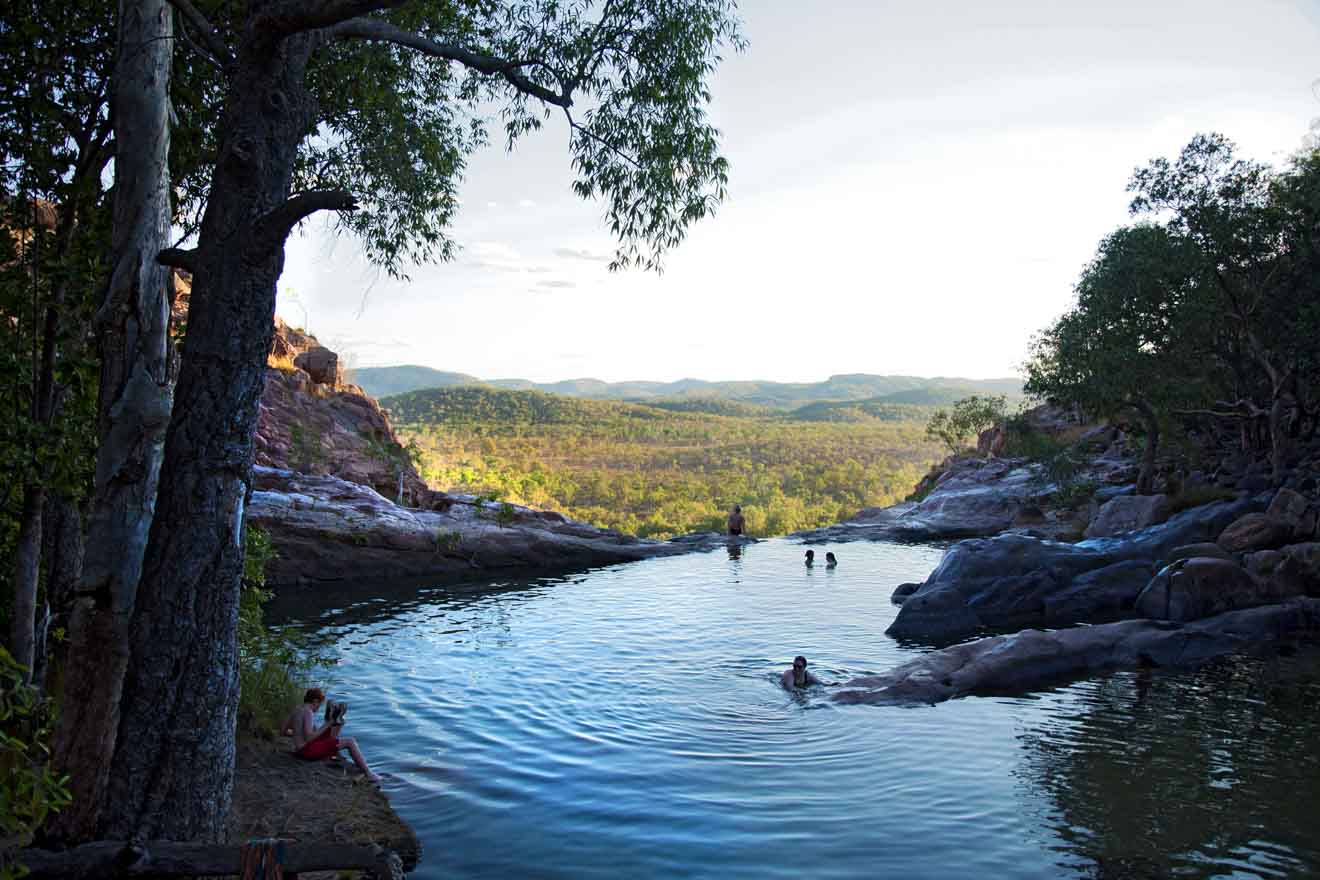 Access: 4WD only, inaccessible in the wet season
You might recognise the Gunlom Plunge Pool from the movie, Crocodile Dundee! It's a stunning natural infinity pool that sits at the base of Waterfall Creek. To reach it, you'll first need to take a two-hour drive from Jabiru, before completing the 1km walk to the pool to take a dip. Oh, and don't forget to tackle the short 30-minute walk to the top of the falls, for insane views over Kakadu!
7. Discover Even More Rock Art at Nourlangie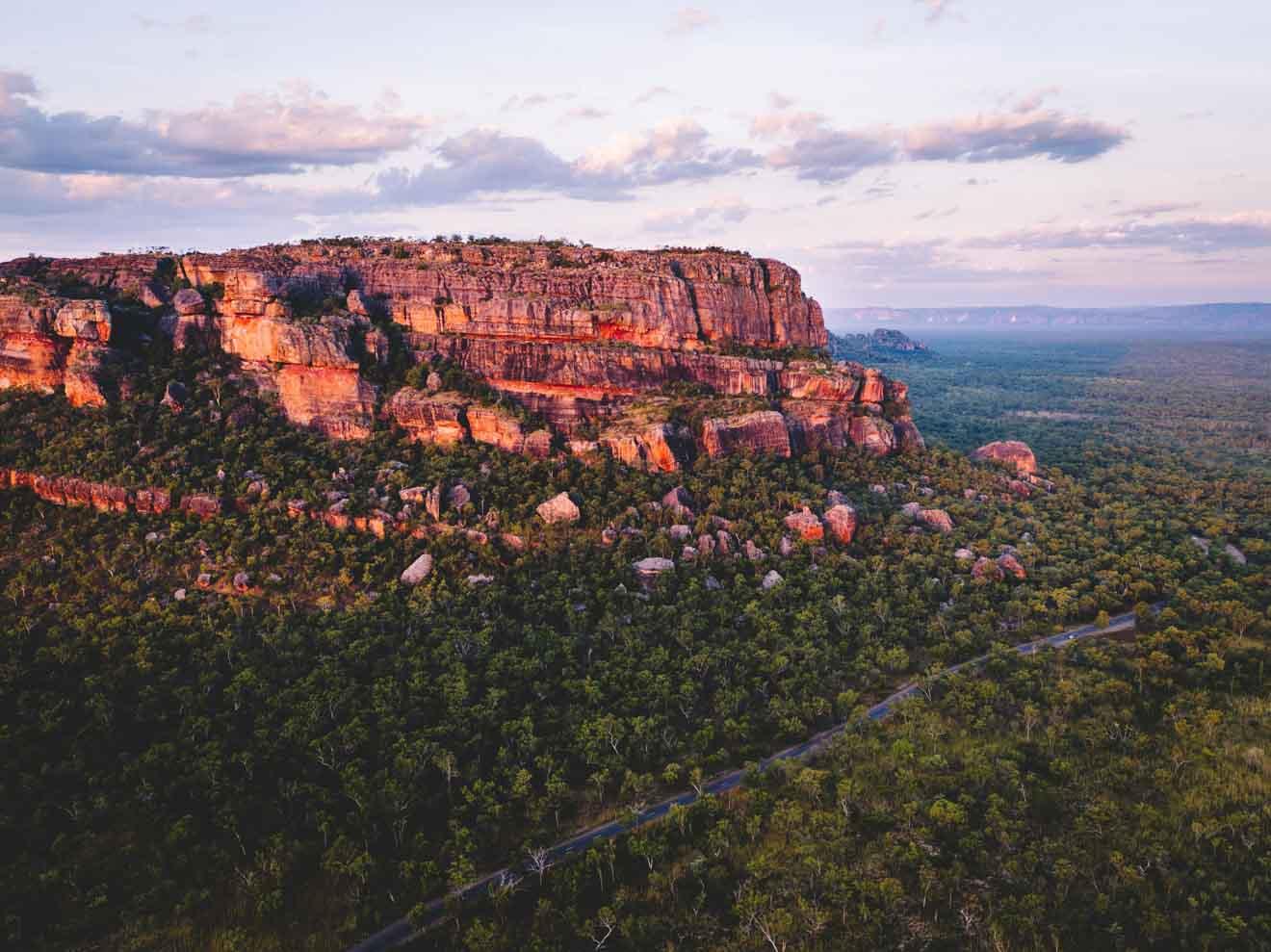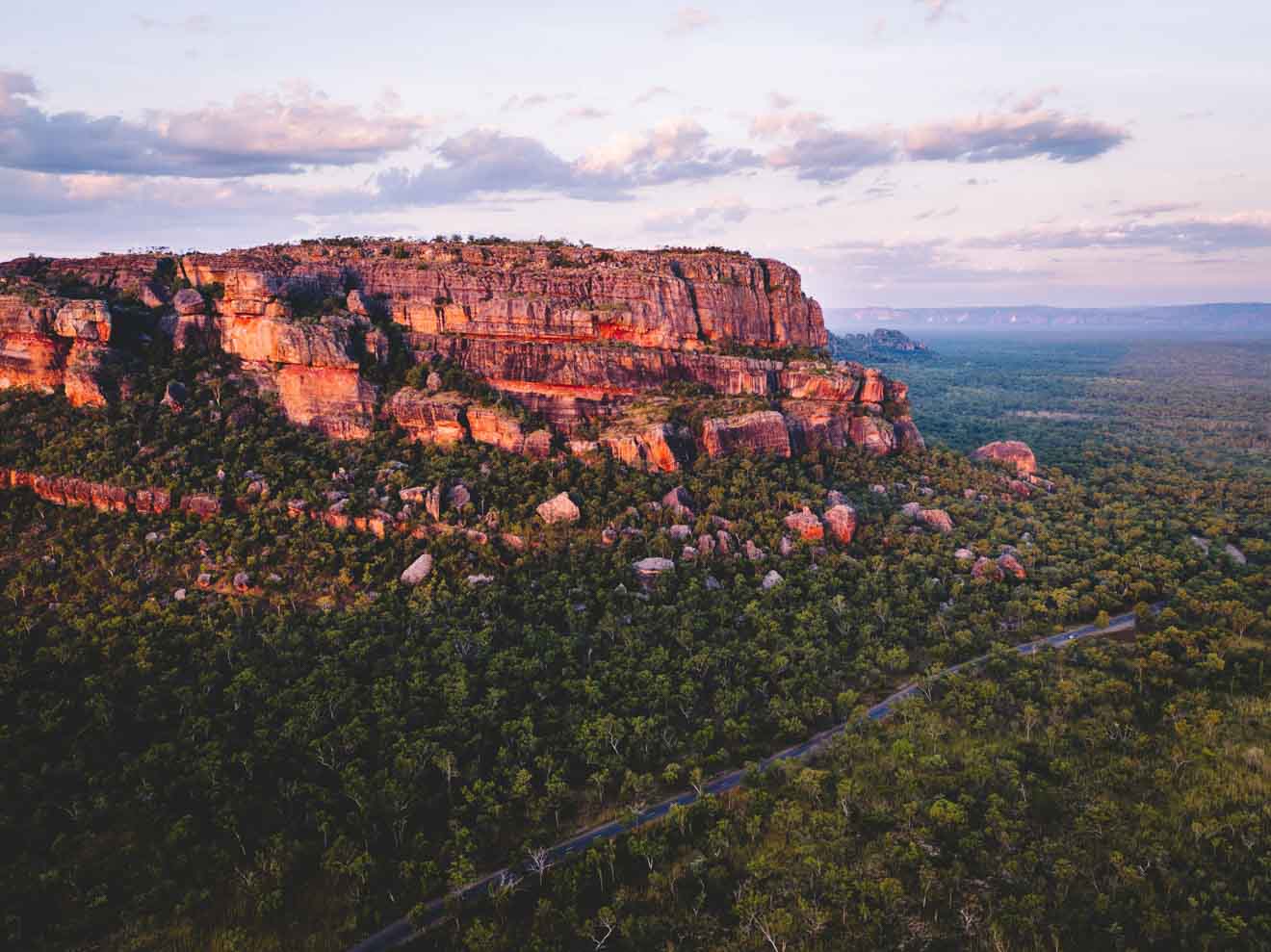 Access: 2WD access all year round.
After visiting Ubirr, you might be wondering how much more rock art there is to see…the answer is, a lot more!
Every site in Kakadu has its own unique style, and if you have time, I'd suggest making the quick 30-minute drive to Nourlangie. Like Ubirr, this place has a handy 1.5km walk that leads you around the art known for its Dreamtime figures and the famous Nyamboli Freeze.
If you're considering taking a tour, the one below includes time to stop at this fascinating rock art gallery!
PRICE: From $280 for a day trip from Darwin including Nourlangie and a cruise on Yellow Water Billabong.
8. Challenge Yourself and Hike to Koolpin Gorge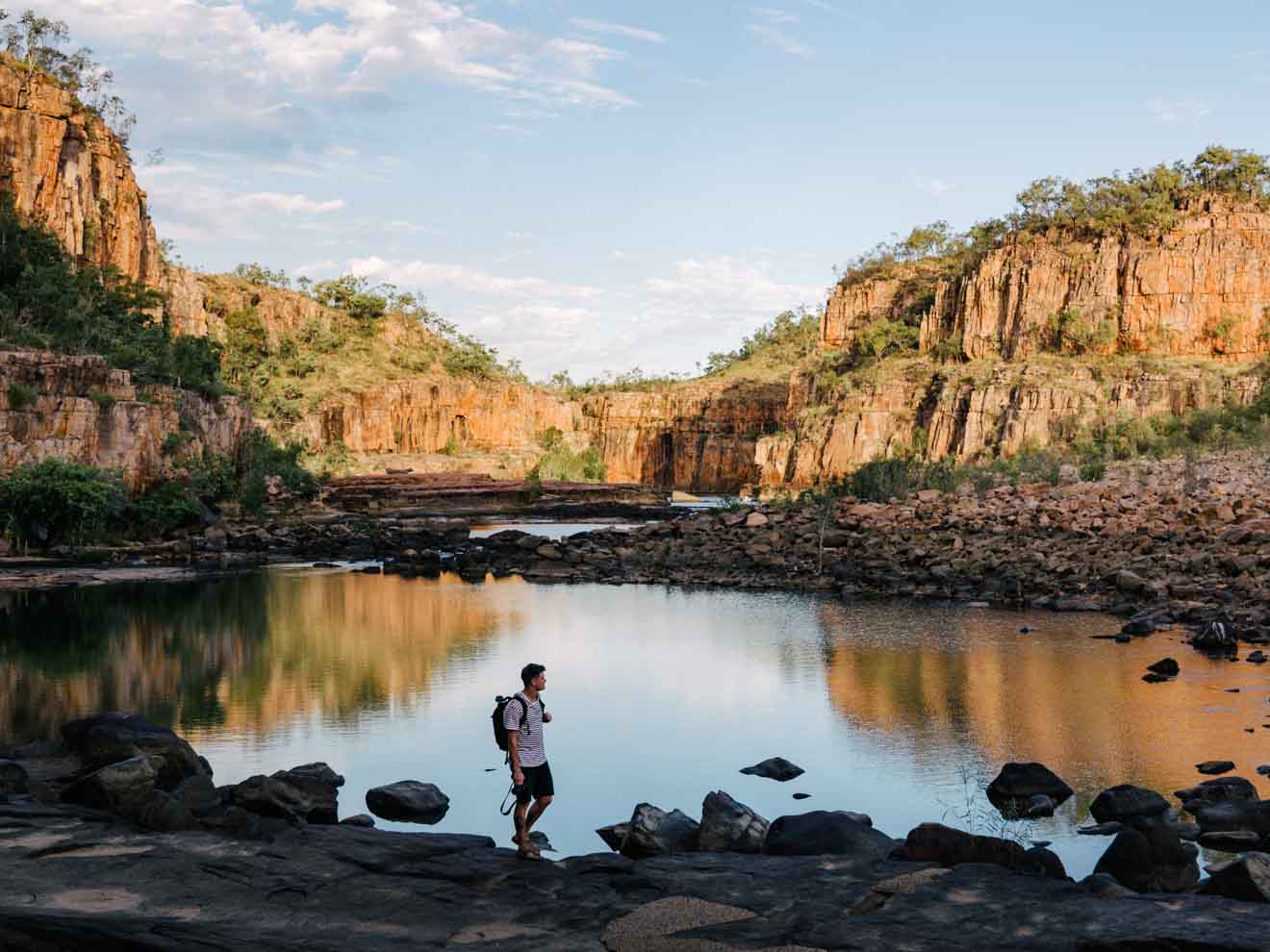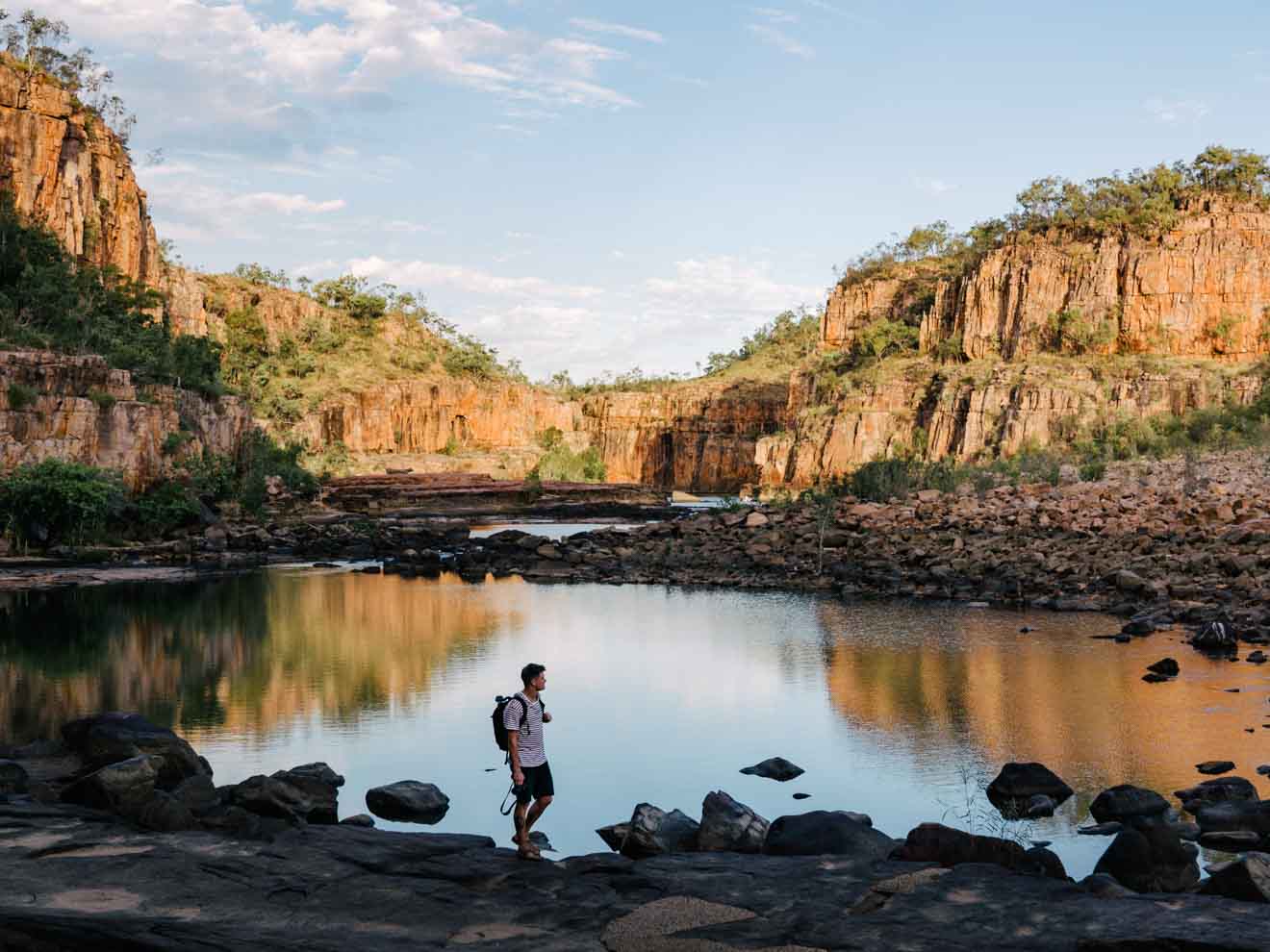 Access: Mixture of 2WD and 4WD
Koolpin Gorge is one of those off-the-beaten-track attractions in Kakadu National Park that not many people get round to seeing. Those who do make the effort to see it, however, will be rewarded with hidden waterholes, untouched waterfalls and endless sandy beaches to explore all to yourself.
TOP TIP: Located in a slightly more remote area of Kakadu that's protected for its biodiversity, you'll need to apply for a free permit to explore and camp here. I'd recommend doing this early as only a limited number of vehicles are allowed access each day.
9. Treat Yourself To a Scenic Flight Over Kakadu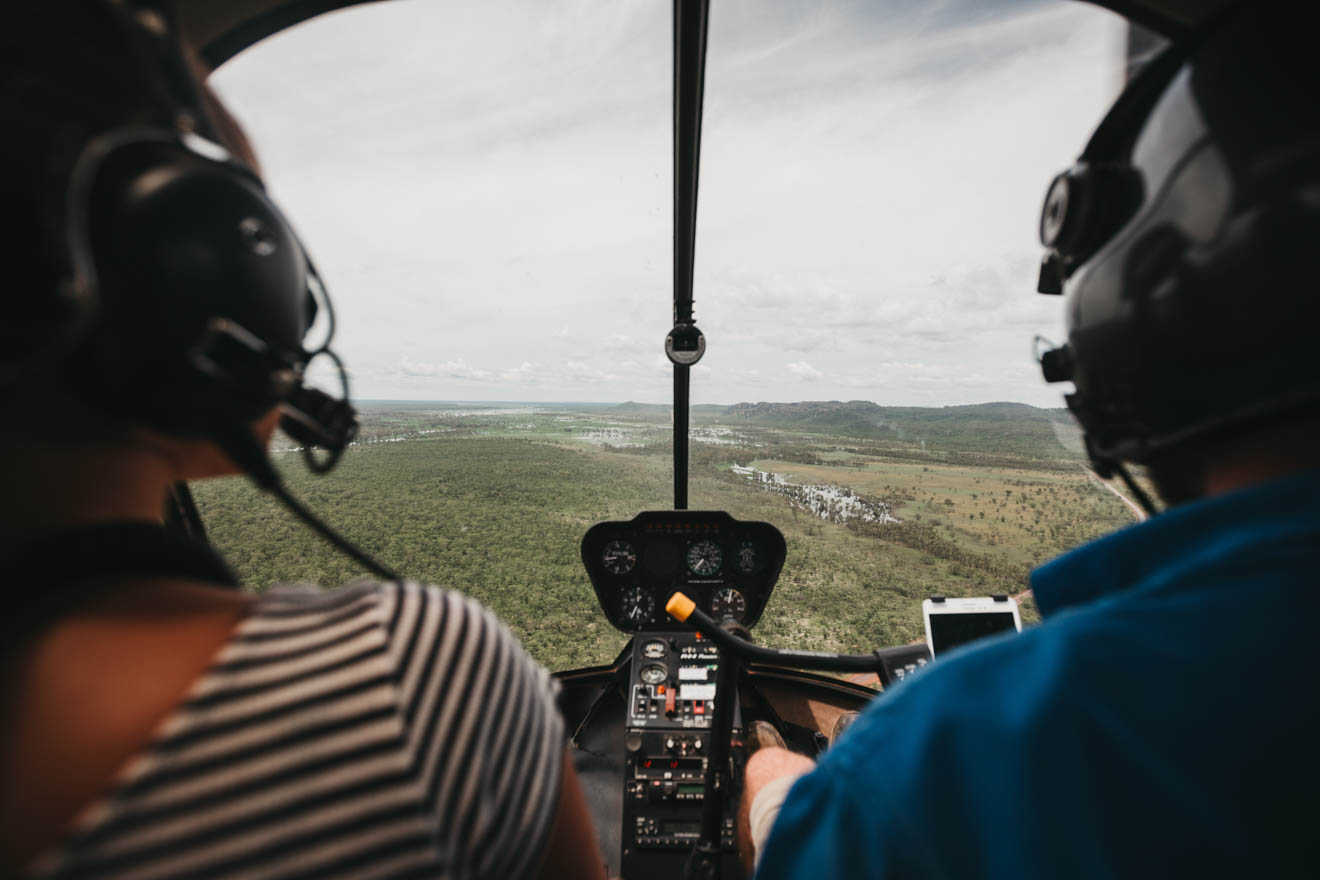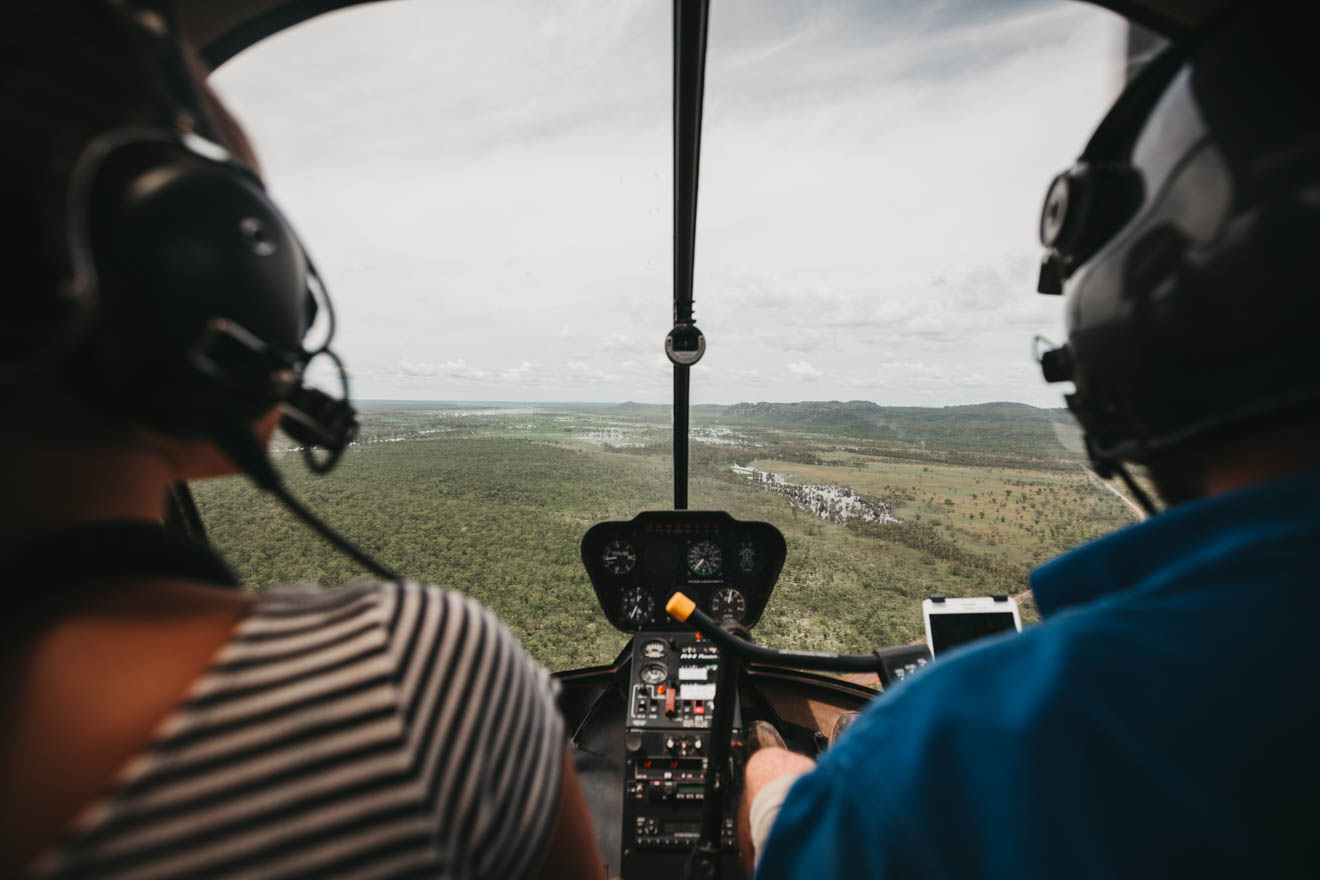 As the largest national park in Australia, one of the best ways to appreciate Kakadu's immense size is by flying over the top of it! You can do this on a 30-minute or 60-minute flight that leaves from the main town of Jaribu. Take in the views of the many waterfalls, gorges and rugged landscapes of Kakadu National Park and its neighbouring Arnhem Land.
PRICE: From $160 for 30-minutes
10. Take The Plunge At Barramundi Gorge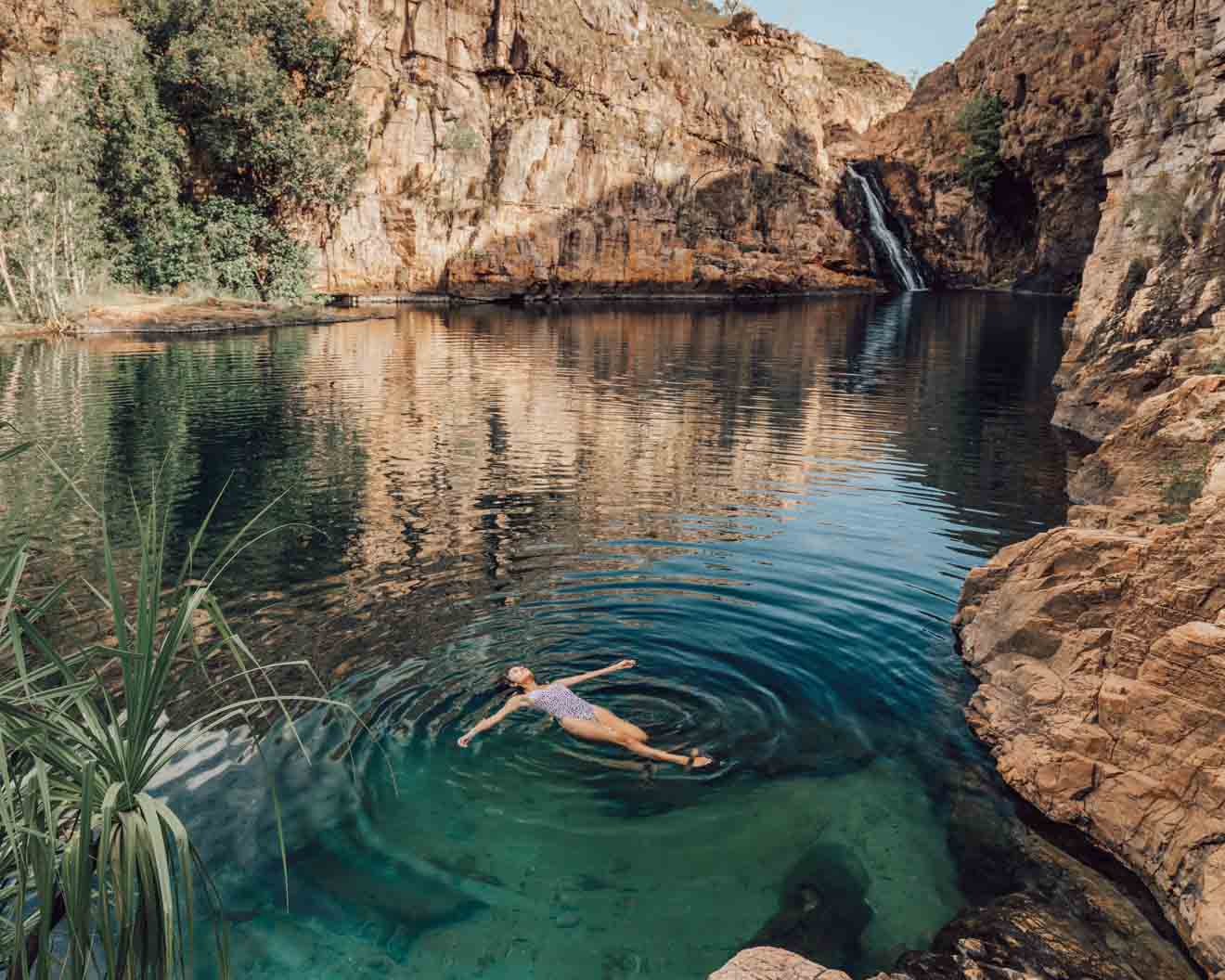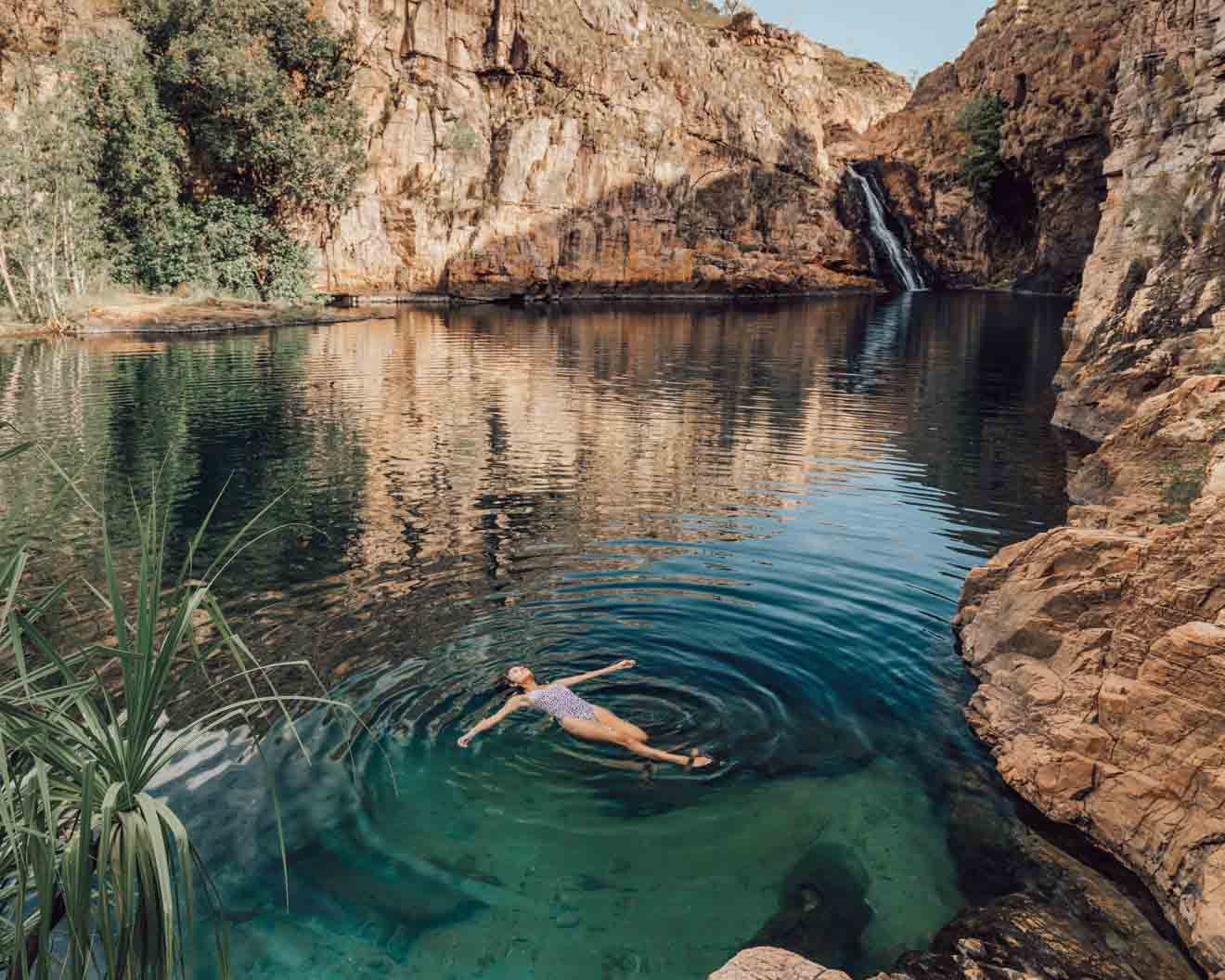 Access: 4WD only, inaccessible during the wet season.
Also known as Maguk, this secluded swimming hole, surrounded by monsoon rainforest, is one of those hidden gems worth making the extra effort to see. It's only about 90-minutes south of Jaribu, but most of that is along an unsteady dirt track! Park up and follow the 1km-long track through the creek and the pandanus forest to a waterfall and a peaceful plunge pool where you can enjoy a refreshing swim.
| | |
| --- | --- |
| 💯 Top attraction: | Ubirr |
| 🧒 Kid-friendly attraction: | Mamukala Wetlands |
| 🏞️ Top outdoor activity: | Gunlom Plunge Pool |
| 🚶🏽‍♂️ Best free activity: | Koolpin Gorge |
| 🛥️ Top water activity: | Yellow Water cruise |
| ☀️ Best time to visit: | April – October |
| 📅 How many days: | 3-5 |
Useful Information About Kakadu National Park
How To Get To Kakadu National Park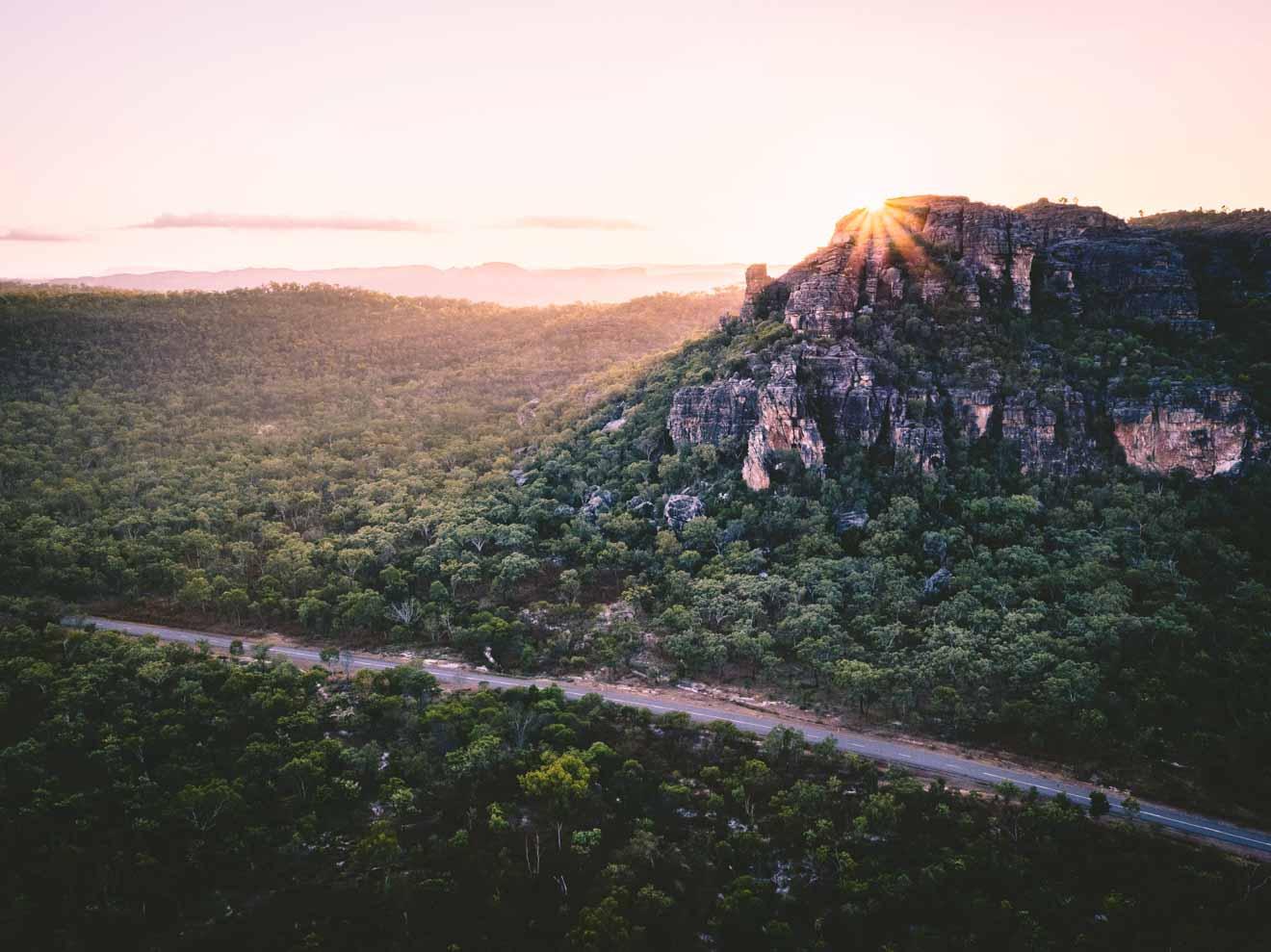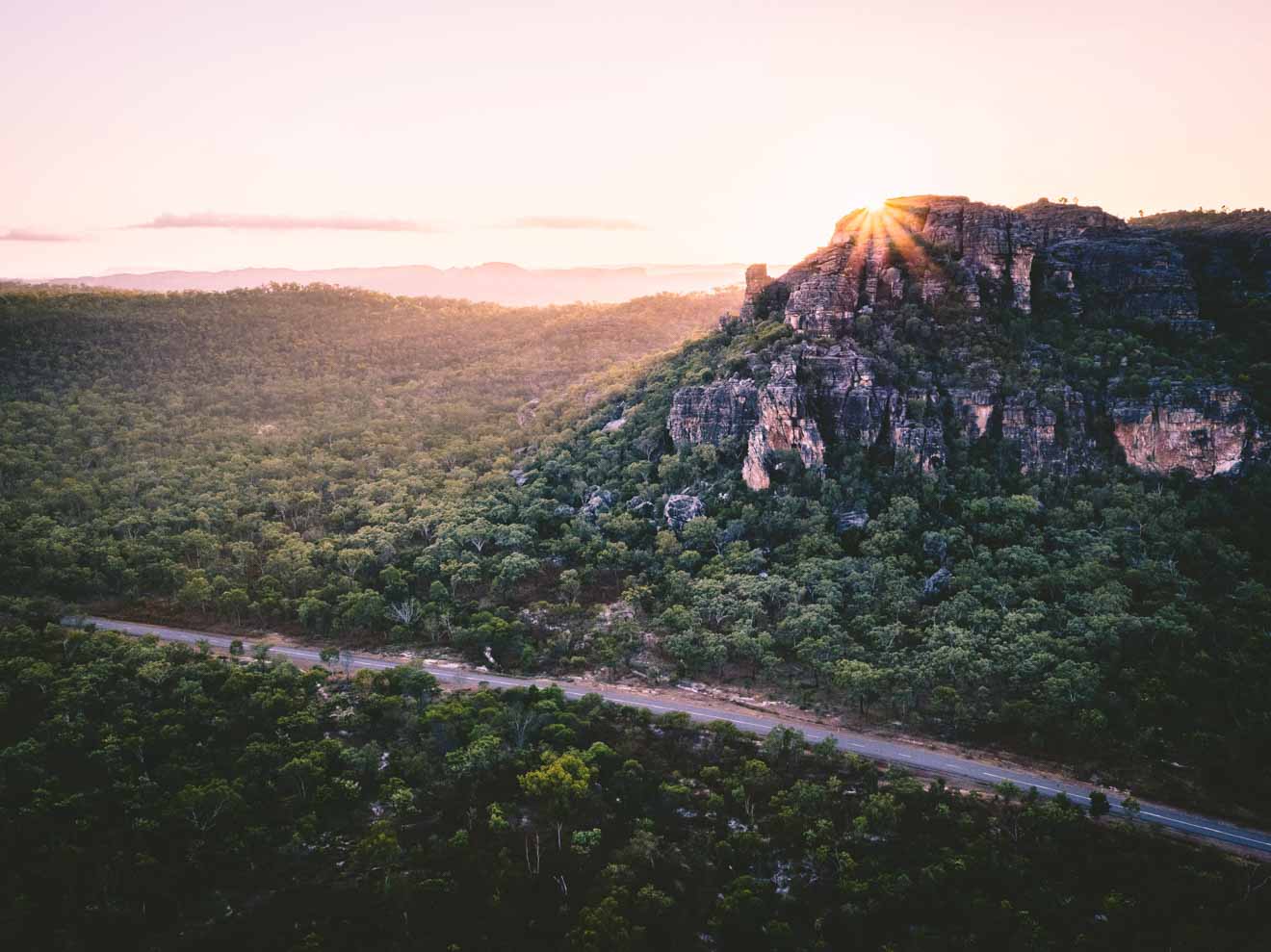 Despite its remote location, getting to Kakadu isn't as hard as you think. First of all, it's a good idea to get to Darwin, whether that means booking a flight from any of Australia's big cities or road-tripping your way to the Northern Territory. From here, you can choose to drive into Kakadu National Park or join a tour.
Getting to Kakadu National Park By Car
It takes just 90-minutes to reach Kakadu from Darwin, along well-maintained and sealed highway roads. Although some of the park's attractions are accessible via 2WD, I'd highly recommend renting a 4WD to give you the freedom to explore as much of Kakadu as possible!
TOP TIP: Roads are prone to flooding in Kakadu, especially during the wet season, so it's always a good idea to check the conditions of the road before you travel, especially if you're in a 2WD.
Getting to Kakadu National Park With a Tour
If you're not so confident driving a 4WD or just want a hassle-free trip to Kakadu, joining a tour will probably be the best option for you. There are loads of options available, whether you're looking for a quick one-day tour or a luxury five-day adventure. Ideally, I'd recommend opting for at least a three-day tour to explore absolutely all of the things there are to do in Kakadu National Park and experience some really unique sights!
PRICE: From $1,400 for a 5-Day camping tour to Kakadu and Katherine Gorge
Where To Stay in Kakadu National Park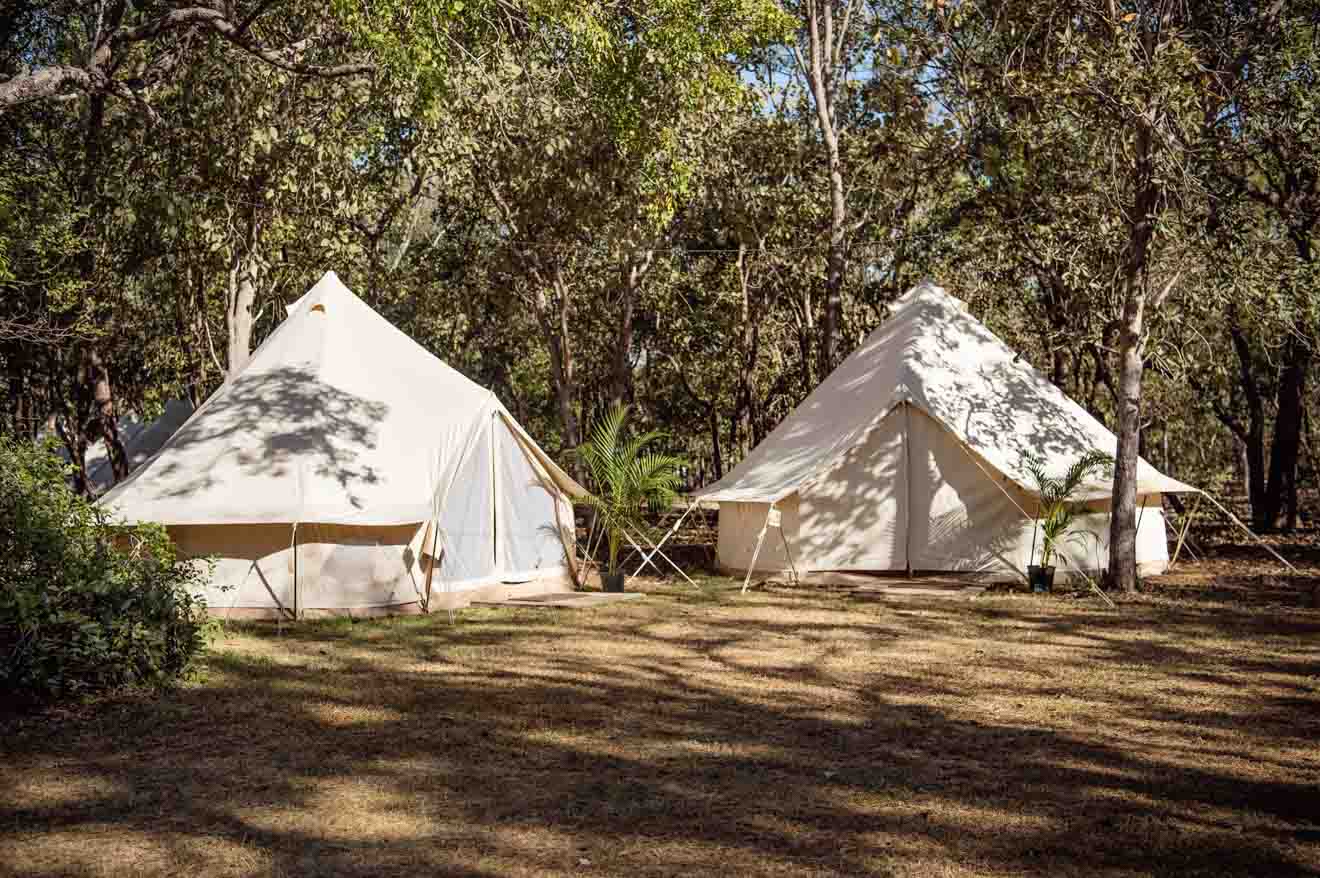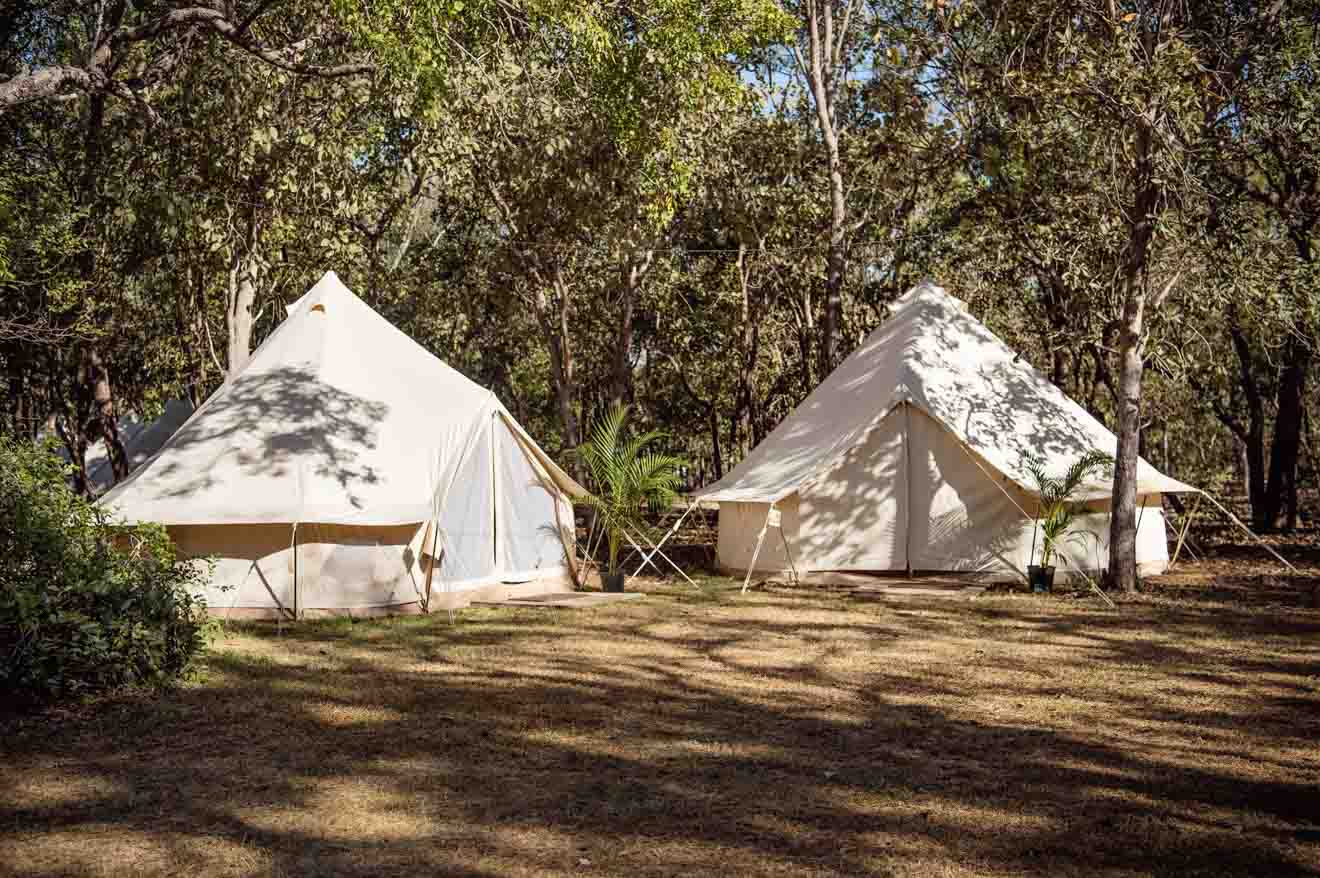 Accommodation in Kakadu National Park is varied and spread out! No matter where you decide to stay, you'll still need to travel quite large distances each day as attractions are quite far apart from each other. I've picked out a range of accommodation that will suit all sorts of budgets, so you can pick the right one for you and worry about travelling in between later!
Luxury (240 AUD and up):
Luxury lodges in Kakadu National Park are unrivalled around the country, and the Bamurru Plains is considered to be the most luxurious of the bunch! Sitting just on the edge of Kakadu, guests are treated to one of just ten safari bungalows that look out over the floodplains. Surrounded by nature and with top-notch service, the outback doesn't get much better than this! Not far away is the Wildman Wilderness Lodge where luxury glamping tents are equipped with modern ensuite bathrooms and guests share an infinity pool too!
Middle (85 to 190 AUD):
Sitting right next to one of Kakadu's biggest attractions, Yellow Water Billabong, Cooinda Lodge Kakadu is in a perfect location for busy days of exploring. Rooms range from budget dorm rooms to superior lodges, and there's a stunning poolside area for all guests to enjoy as well! Anbinik Kakadu Resort is another great mid-range option offering a choice of small cabins and double rooms, with access to a shared garden, and barbeque area.
Budget (up to 85 AUD):
As always when it comes to the outback, the best budget options in Kakadu are the many camping spots and caravanning sites peppered across the lands. If you're travelling with a caravan, you'll find sites with hookups at Aurora Kakadu Resort and Anbinik Kakadu Resort for about $45 a night.
For an even more budget-friendly stay, the basic campgrounds at West Alligator Head, Jim Jim Billabong and Maguk are next to some of the top attractions in the park and you couldn't wish for a more peaceful stay! It's between $5 to $10 per night per person, and while all sites have drop-toilets, only a handful like Merl and Gunlom have showers.
You'll find loads of information on all of the campsites in Kakadu National Park in this super useful online guide!
When to visit Kakadu National Park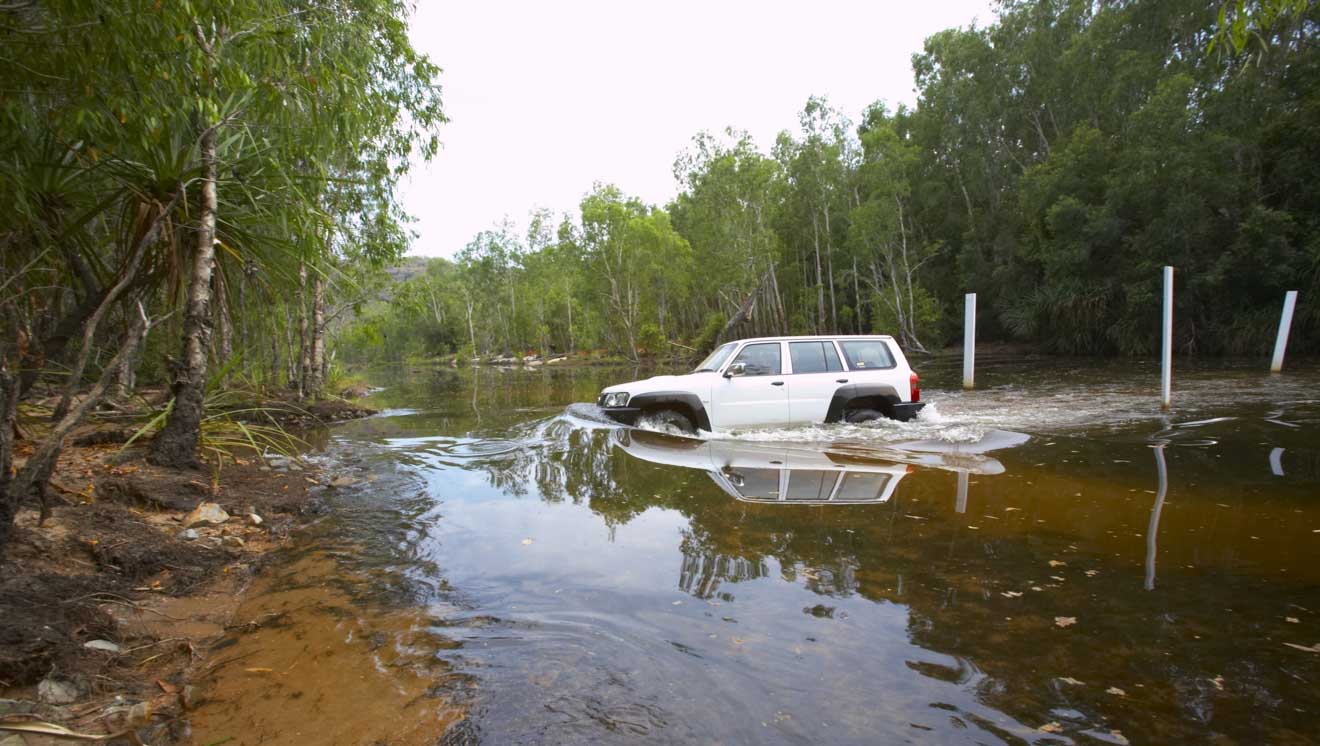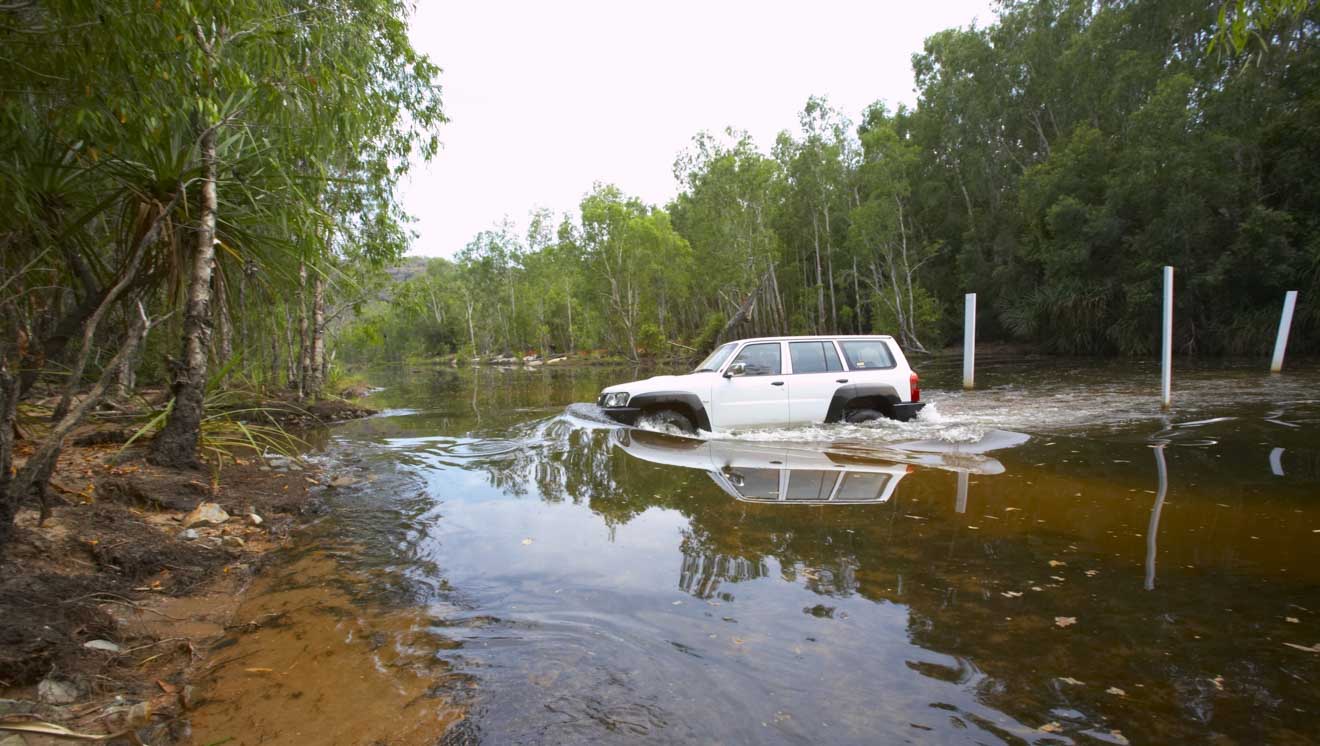 When you choose to travel to Kakadu National Park will have a huge impact on where you can drive and what you can actually see. The Northern Territory enjoys two main seasons: the wet season that runs from November to March and the dry season that takes place from April to October.
It's generally understood that the best time to visit Kakadu is during the dry season as almost all of the roads and attractions will be open and the temperature hovers around 28 degrees with little rainfall. You can still choose to visit during the wet season, and a pro to this is that they'll be way fewer tourists about! But, you need to plan ahead, rent a 4WD and be prepared for some areas of the park to be closed.
Conclusion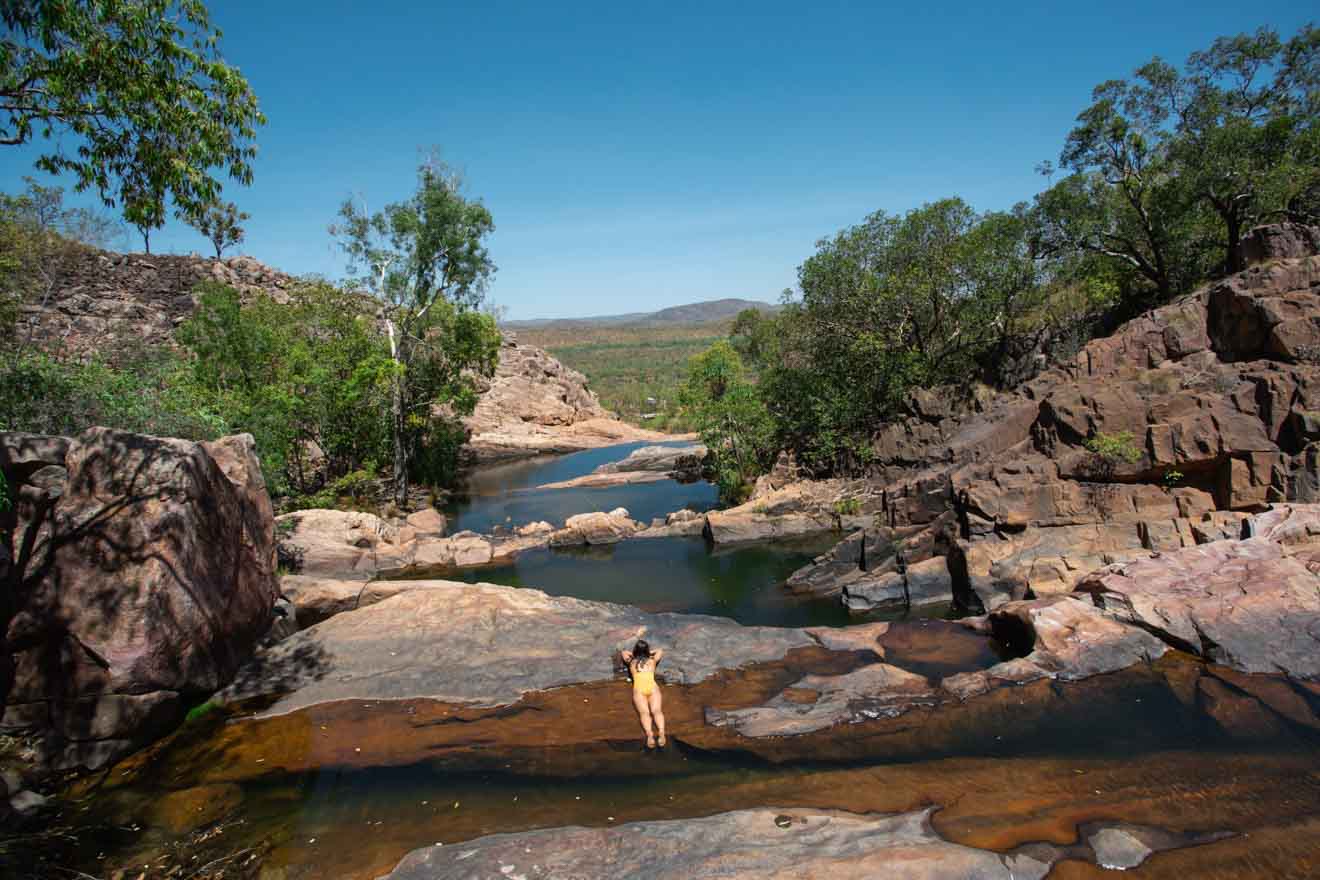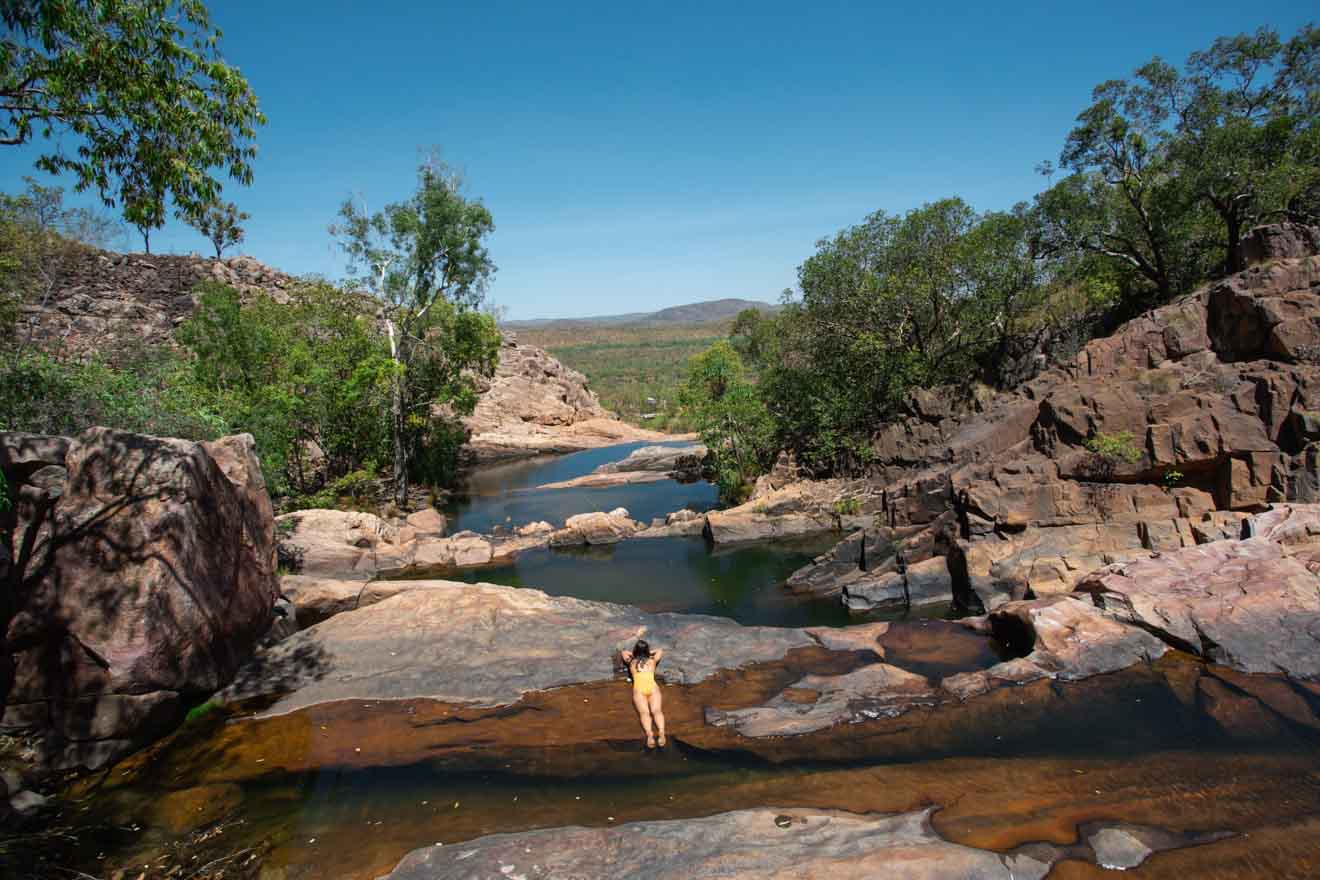 Whether you're visiting Kakadu National Park on a day trip from Darwin, or as part of a longer road trip from Darwin to Alice Springs, there's no doubt that you're going to be amazed as to what you find there!
I hope that this guide to everything that there is to do in Kakadu National Park has inspired you to plan and book your trip. As well as a list of the best things to do in Kakadu, I've also provided a few tips on where to stay, how to get there and pointed you in the right direction with some of the best tours to Kakadu as well.
Hopefully, I've covered everything you need to know here, but if not, just leave a comment below and I'll get back to you with any more information you might need.
But for now, happy planning!
Lily
---
Pin it for later!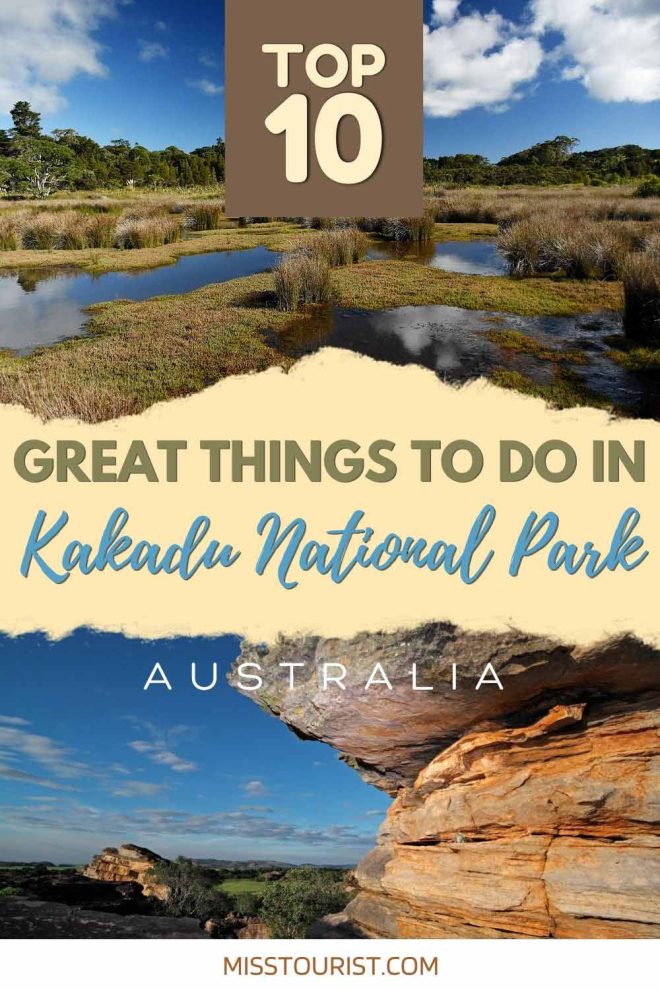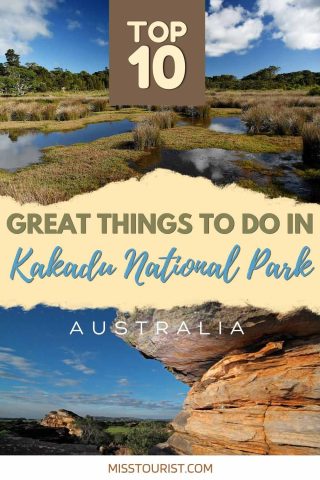 Pin it for later!