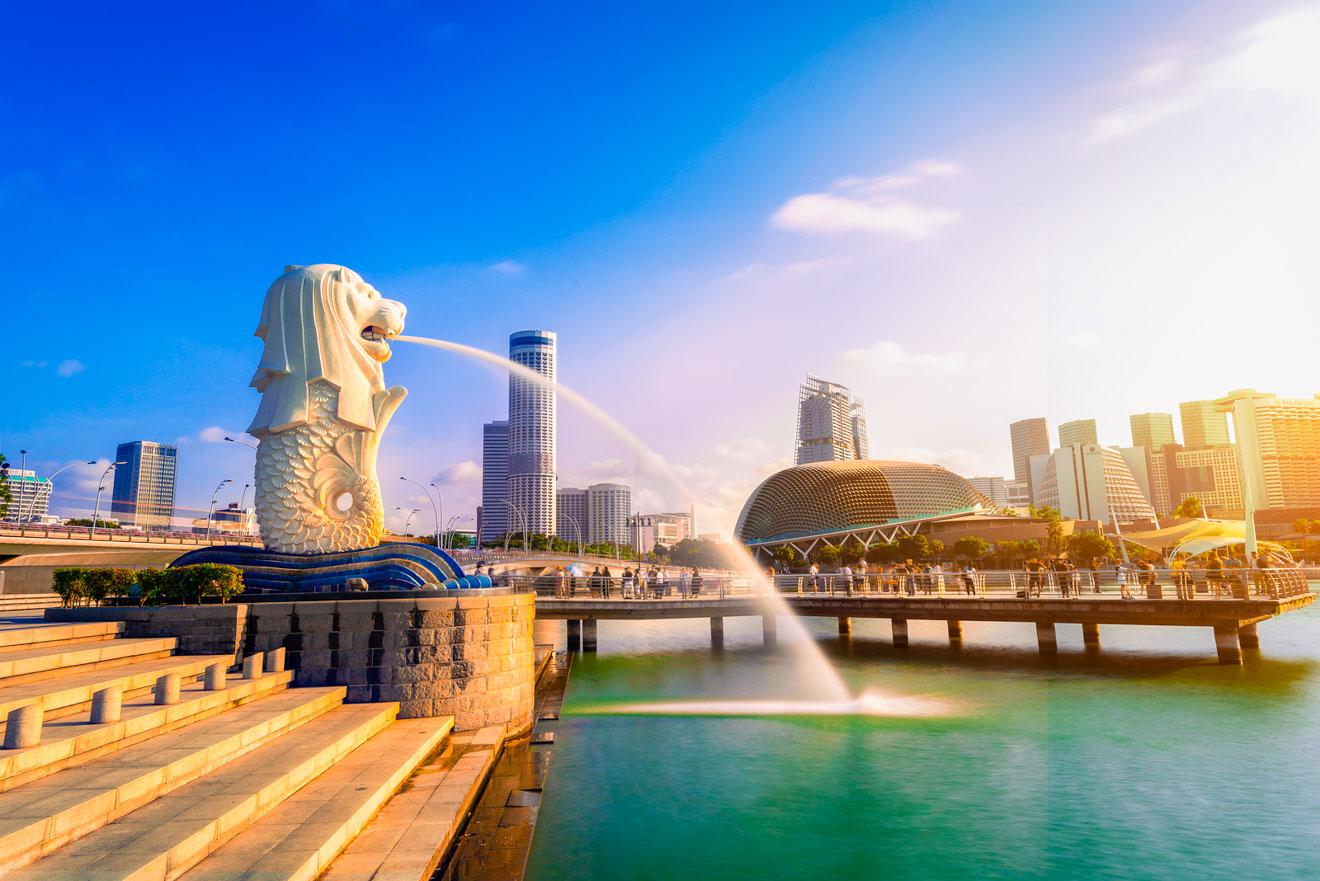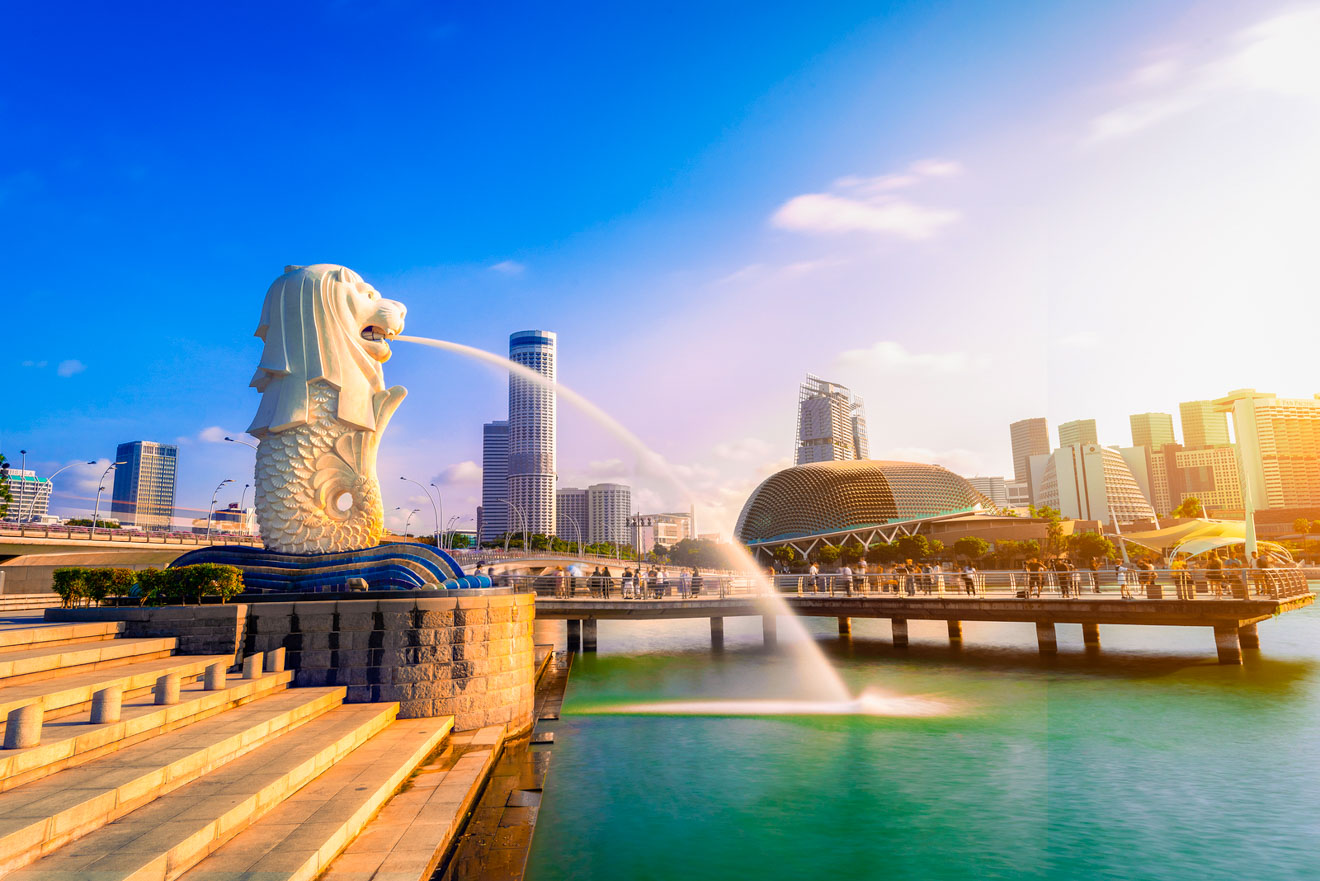 Singapore is one of the most urbanized, diverse and developed city-states in Asia and it will surely amaze you right from the start. Every corner of the city has something special to offer and the untouched nature together with the tall buildings are perfectly combined in a unique city that will make for the perfect vacation.
If you are planning your visit to Singapore in the near future, prepare yourself to be amazed as you pass through all the different areas of the Garden City. Expect an amazing mix of big and small, authentic temples and luxury hotels, malls and traditional markets and more!
Now the big question is: where to stay in Singapore? Fear not I have made the best area and hotel guide that will help you decide which one to book! Marina Bay, Chinatown and Little India are all waiting for you, so start packing!
If you're in a hurry…
Check out this shortlist of the best hotels if you don't have the time to go through the whole post. All of them are located in Marina Bay, the top area to stay in the city for first-timers
Here is a map that will help you visualize all the areas that I will be talking about in the post: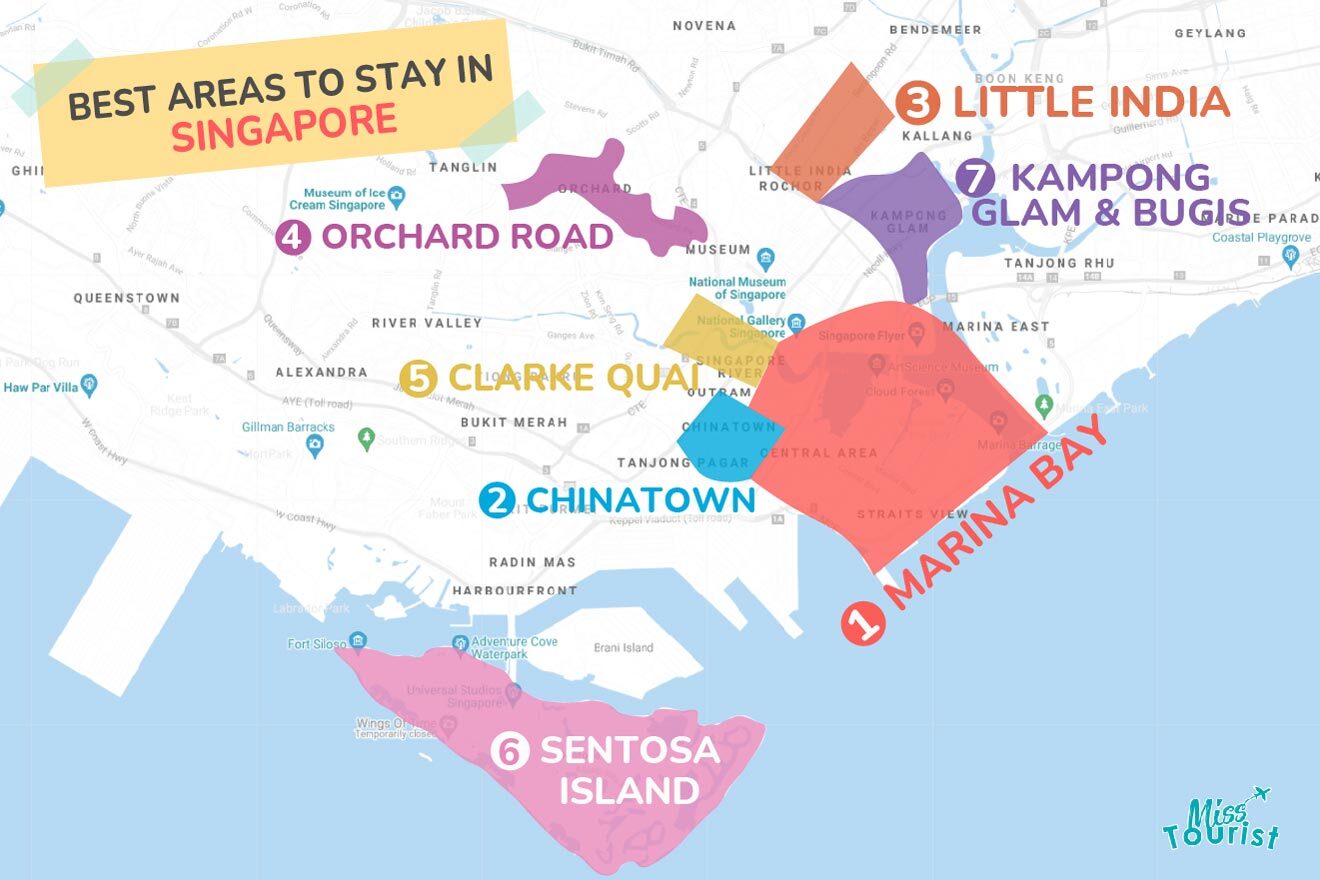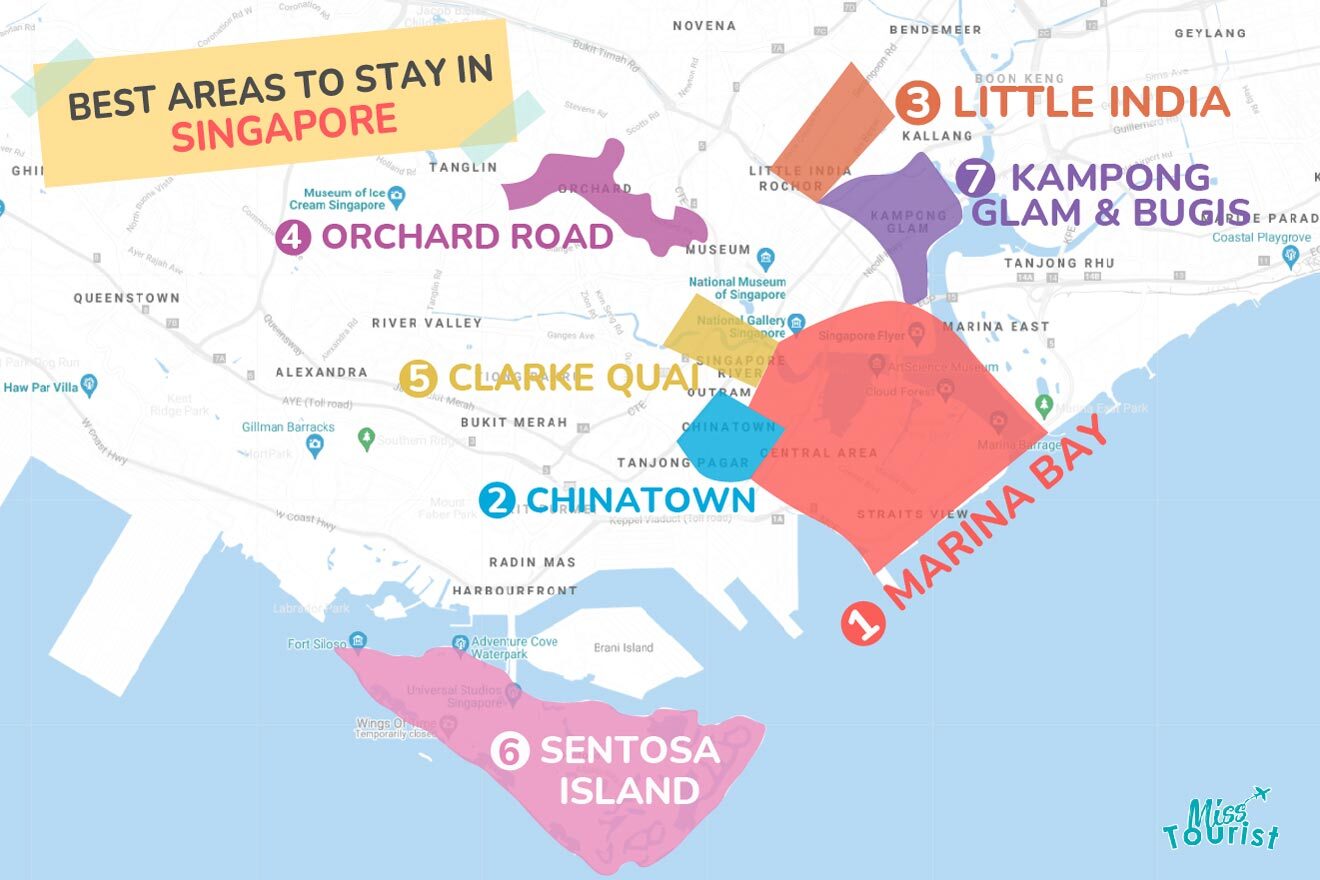 1. Marina Bay – where to stay in Singapore for the first time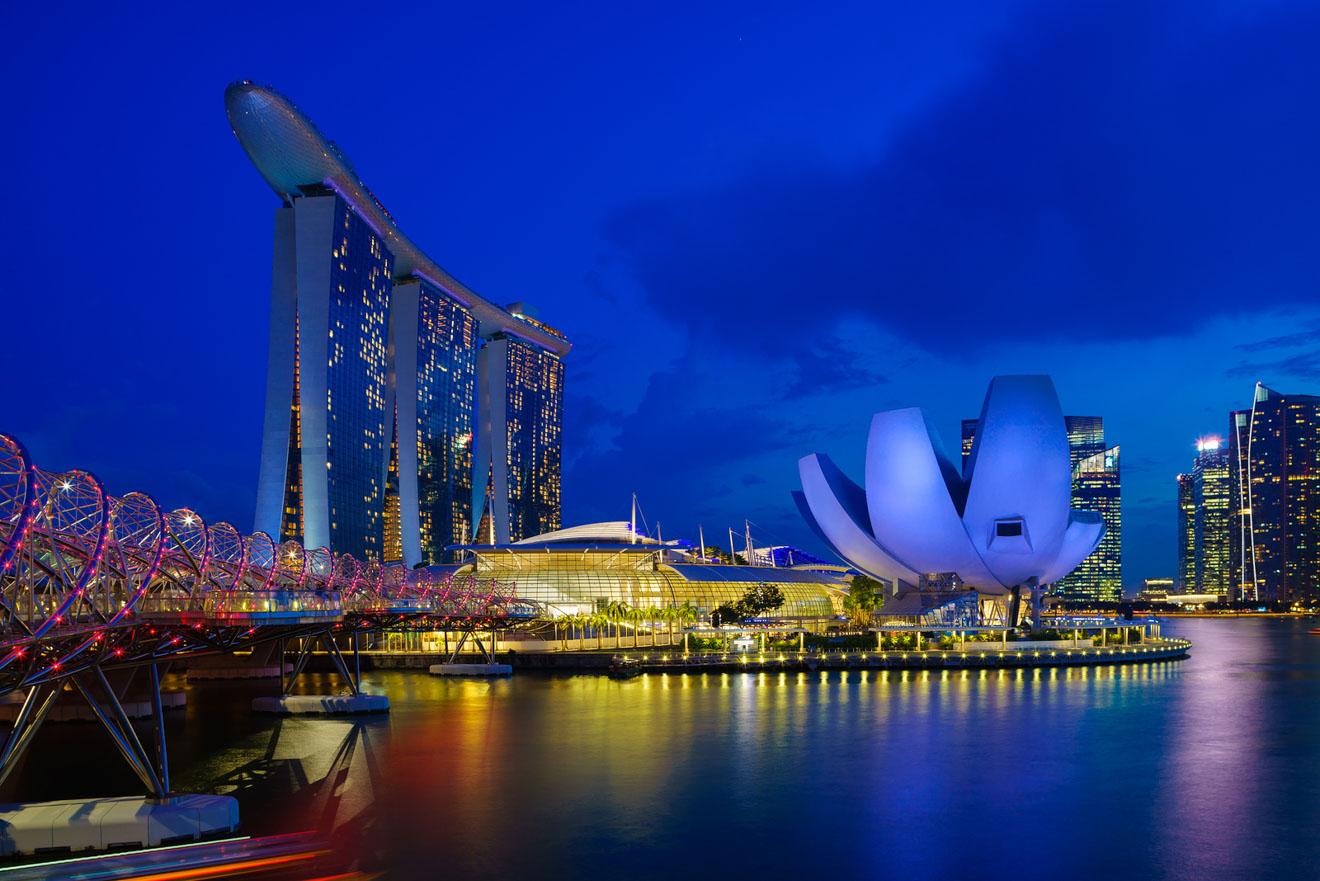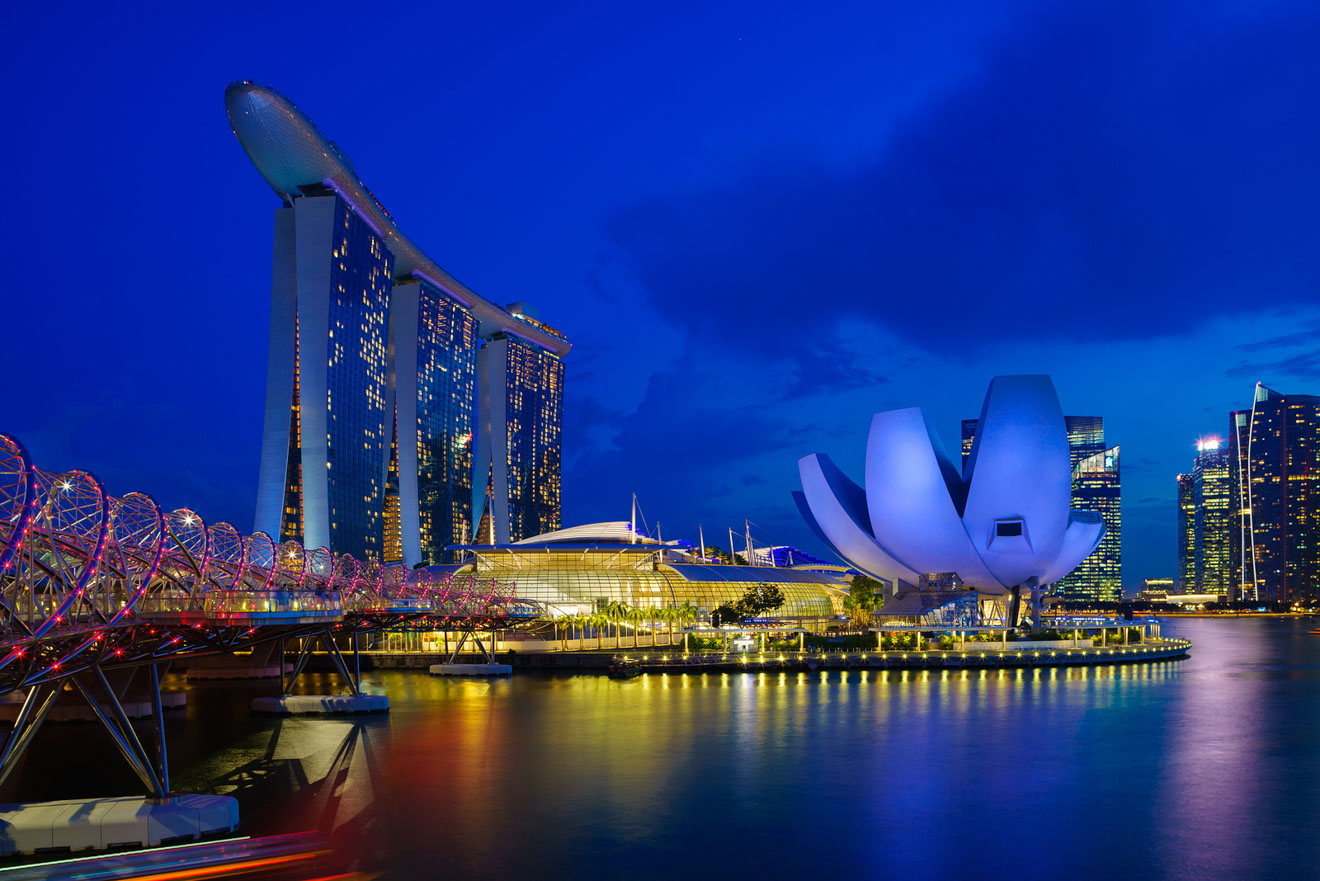 If you want to be astounded by fabulous skylines, rooftop pools, world-class hotels and restaurant options and high quality entertainment in Singapore, Marina Bay is your place to be!
If you are visiting the city for the first time and want to make the best out of your experience in Singapore, Marina Bay is definitely a must-visit and the best location where to stay in Singapore! This is one of the city's most famous and desirable neighborhoods!
It is located right in the heart of the city and you may have already seen epic pictures of its skyline in magazines and travel guides. You will have everything your heart desires in Marina Bay: from top-quality food spots and bars to shops, casinos, pools, and amazing views over the town!
And if I were you wouldn't stop my Asian adventure here! There are many other amazing places to visit and one of my favorites is Kuala Lumpur, the capital city of Malaysia!
You will also find the Central Business District in this area and one of the things that you shouldn't miss here is to take a picture at the Sands SkyPark! Also, let's not forget about the ArtScience Museum or Merlion Park where you can see the symbol of Singapore – a half-lion, a half-fish statue called "Merlion", and, of course, paying a visit to the world-famous Gardens by the Bay!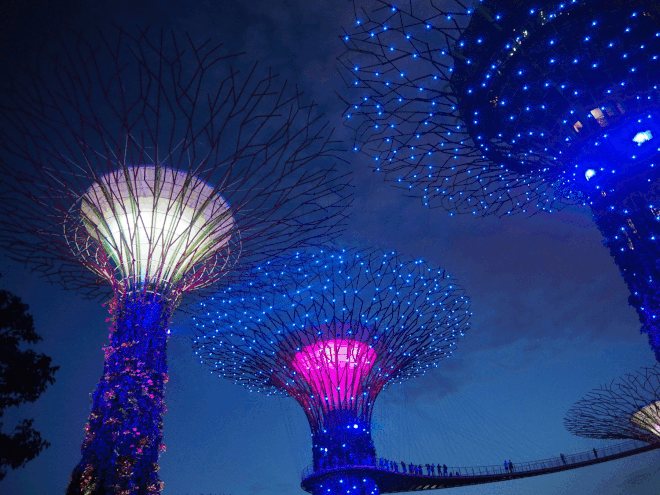 NOTE: With the exception of Marina Bay Sands Hotel (the one with the famous infinity pool), the most recognized hotel in the country, the rest of the hotels I am recommending are in the surrounding area, as close to Marina Bay as possible. I highly recommend booking them in advance, as everyone will want to be as close as possible to the attractions in Marina Bay.
Here is my list of hotels in the Marina Bay area: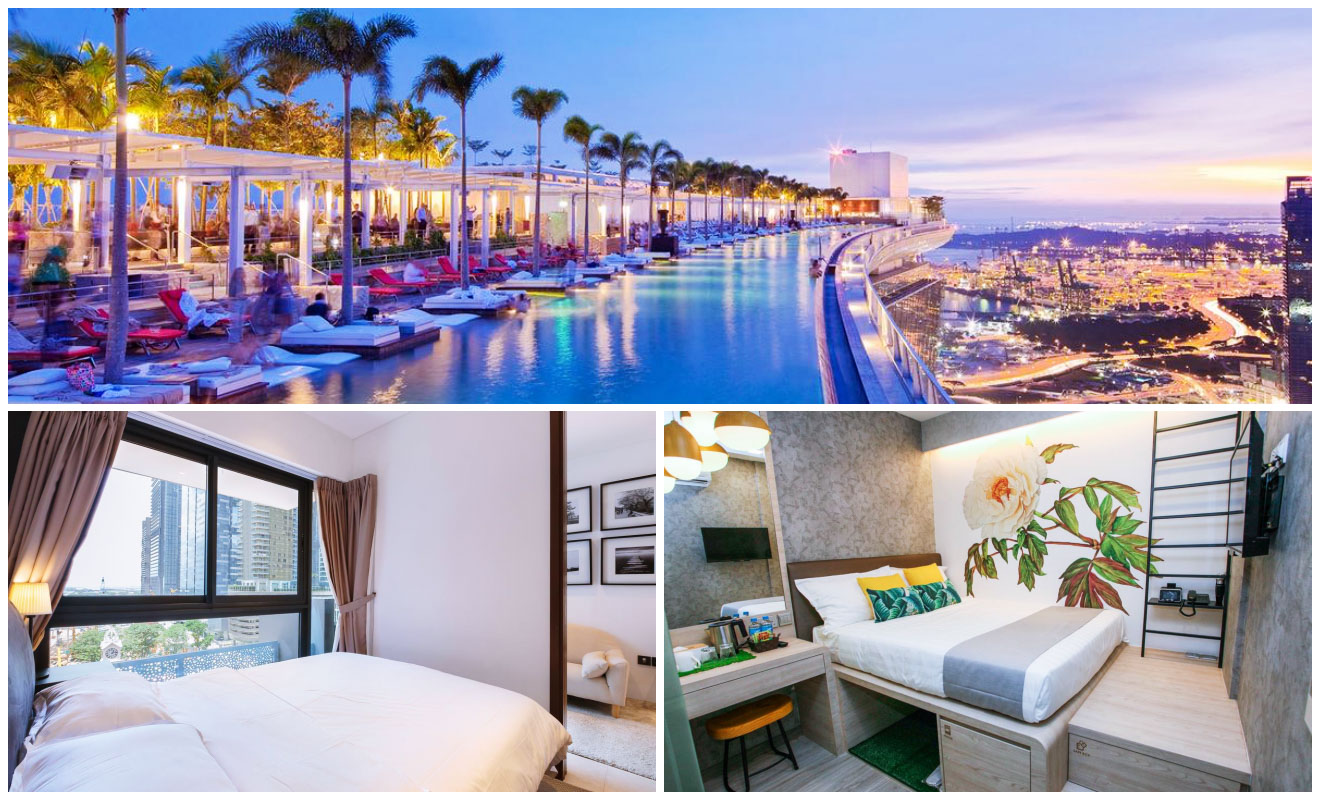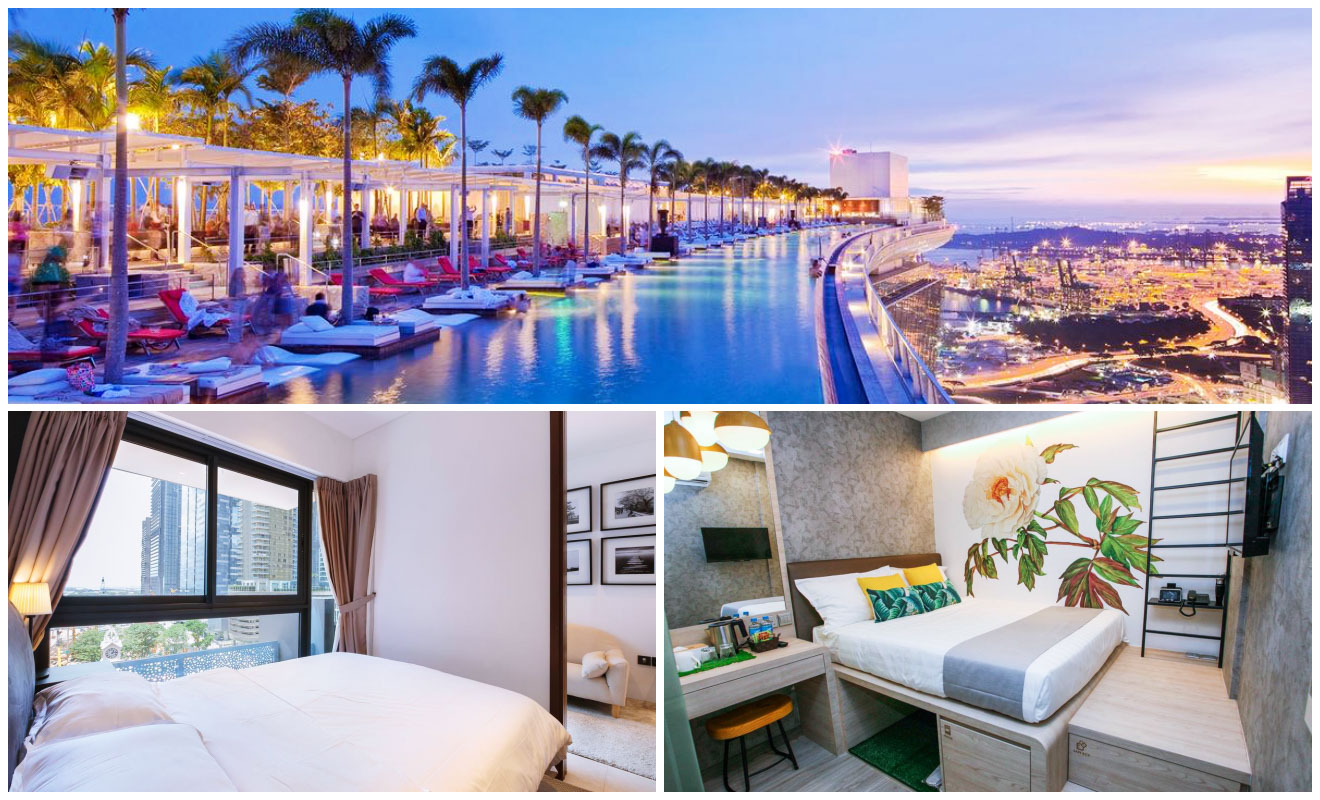 Luxury (US$300 and up)
Marina Bay Sands – An icon and one of the top hotels in Singapore, considered even a symbol or landmark of the city! You will be impressed by its superb rooftop infinity pool, 20 restaurant options, and a cool, modern casino. The rooms are absolutely gorgeous and it provides all the facilities you may need to feel like a real queen/king during your stay in Singapore. It's centrally located, near the Gardens by the Bay!
The Raffles – Another iconic, boutique hotel in downtown Singapore! Regardless if you stay there or not, you should definitely at least pass by it, as the Raffles preserves a piece of Singapore's history and heritage. The Raffles was opened in 1887 and is one of the few 19th-century hotels in the world that are still open!
The Fullerton Bay Hotel – A 5-star hotel located in this beautiful area of the city and one of the best luxury hotels in Singapore! This great accommodation also has a rooftop pool and a bar where you can relax and admire the beautiful view over the city. With big windows and luxury facilities, I am sure this hotel will be the perfect choice for your stay in Marina Bay!
Middle-priced (from US$160 – US$270)
Oakwood Premier – This hotel has elegant rooms, an incredible swimming pool with some of the best views of the skyscrapers and a fitness center, all this and more will wait for you at this cool accommodation. You can order some room service if you're too tired but there's also a restaurant a bar that you should definitely check during your stay here!
Scarlet Singapore – Wondering where to stay in Singapore for a great value for the money? This property is my second recommendation because of the tidy and well-decorated rooms. This lovely 4-star hotel offers free Wi-Fi, a flat-screen TV, and even a rooftop restaurant with delicious food and an outdoor hot tub! Perfect for a pleasant stay in Singapore for a good value.
Budget (up to US$160)
Because Marina Bay is such a luxurious destination, it is a bit hard to find budget accommodations in the area – but still not impossible! Here are 2 options with great reviews for travelers that are visiting this city on a tight budget:
Wink Capsule Hostel – A modern hostel that offers its guests all the amenities you might need! The accommodation is equipped with air-conditioning, free wifi, a shared kitchen, and a bathroom. So when you're not out exploring the streets in Singapore, you can rest assured that you'll enjoy the comfort you need here.
Champion Hotel City – Another great choice for any tourist on a tight budget. This hotel is only 400m away from the riverside area, so you will get to Marina Bay in no time. All rooms come with private bathrooms, flat-screen TVs, kettle, wi-fi for no extra cost, and more!
Things to do in Marina Bay:
Explore the stunning Gardens by the Bay nature park
Catch the best city views from the

Singapore Flyer observation wheel

Admire the exotic plants at the Flower Dome in Marina Bay
Learn new things at the flower-shaped ArtScience Museum
Check out the modern botanical gardens at the Cloud Forest
Take many pictures at the Supertree Grove
Go on a mini-segway tour to see the main sights of Marina Bay
Visit the Central Business District
2. Chinatown – for the authentic atmosphere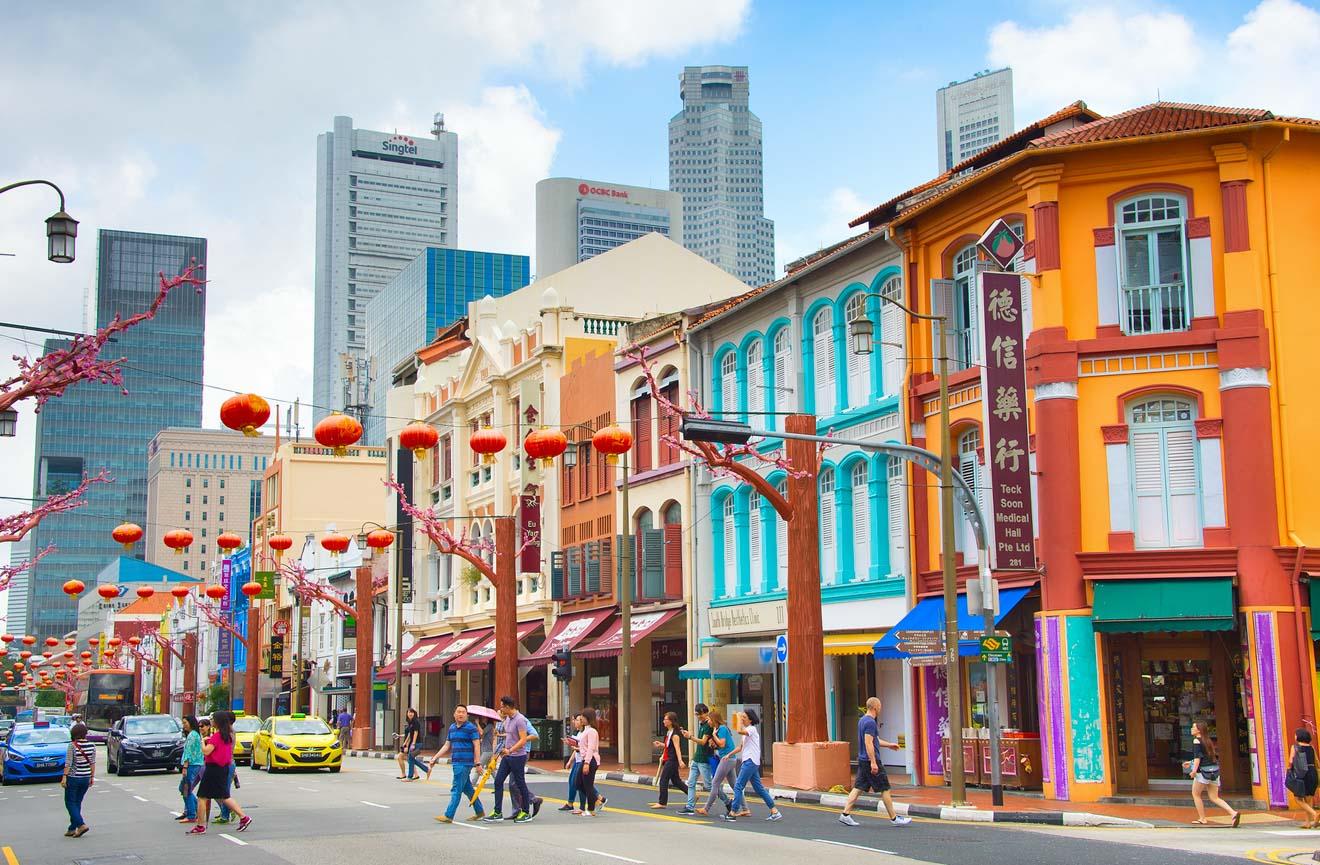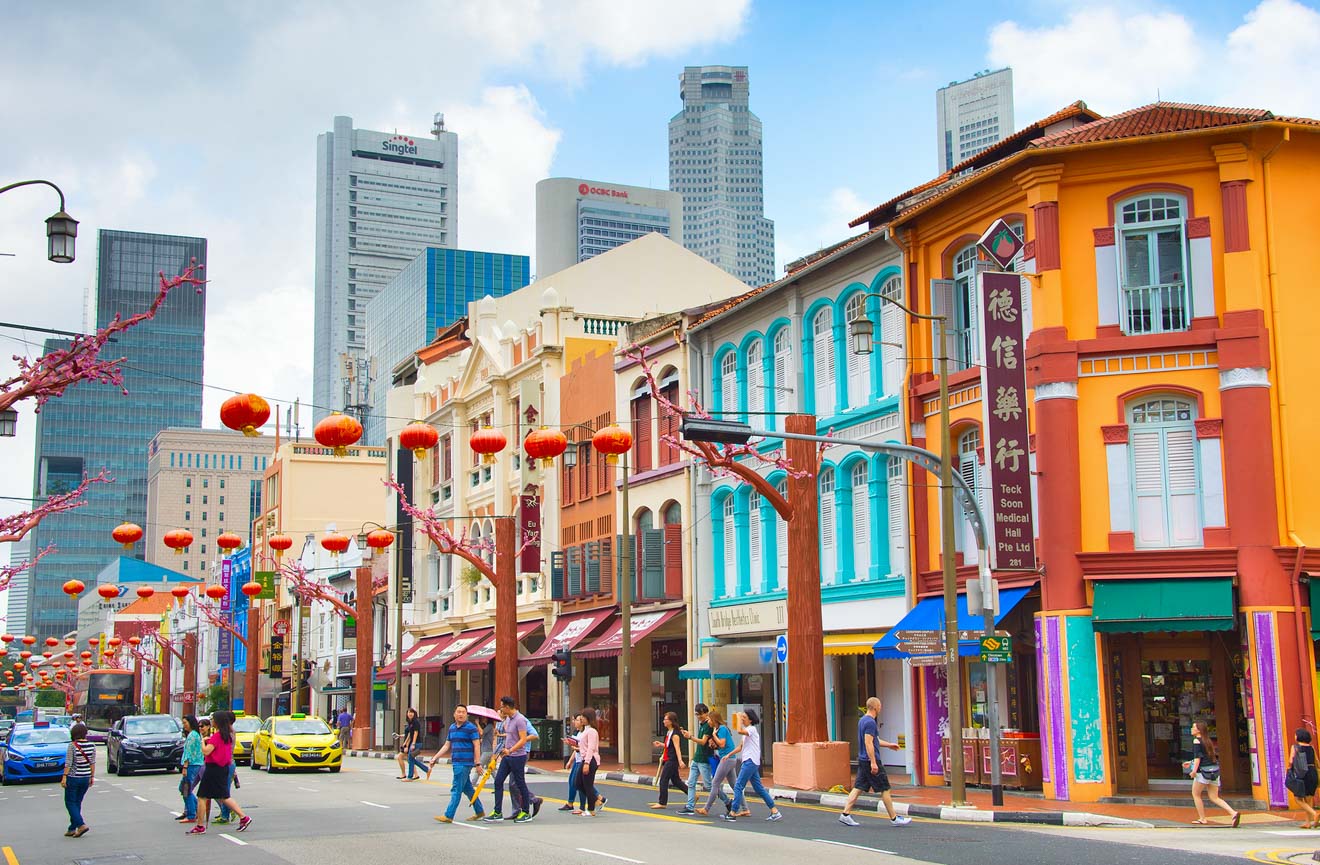 If you are searching for the most authentic Singapore experience, then Chinatown should be your first choice!
As you might expect, Chinatown is a colorful, vibrant, and diverse neighborhood in the city, where different people, religions, and cultures are combined in order to create harmony and to provide an authentic and unaltered Asian experience! Singapore's Chinese quarter is a mix of temples and mosques, traditional restaurants, and unforgettable nightlife!
Besides taking a walk on the colorful streets of Chinatown, some other things you can do there include having a delicious, cheap Asian meal at the numerous street food stalls or at the Chinese Night Market, taking a look into the small, authentic shop houses, visiting the oldest Chinese temple in the city (Thian Hock Keng Temple) and more. Plenty of exciting options!
You will never get bored in Singapore's Chinatown, I promise!
If you decide to make this unique neighborhood your base during your stay in Singapore, here are my recommended hotels: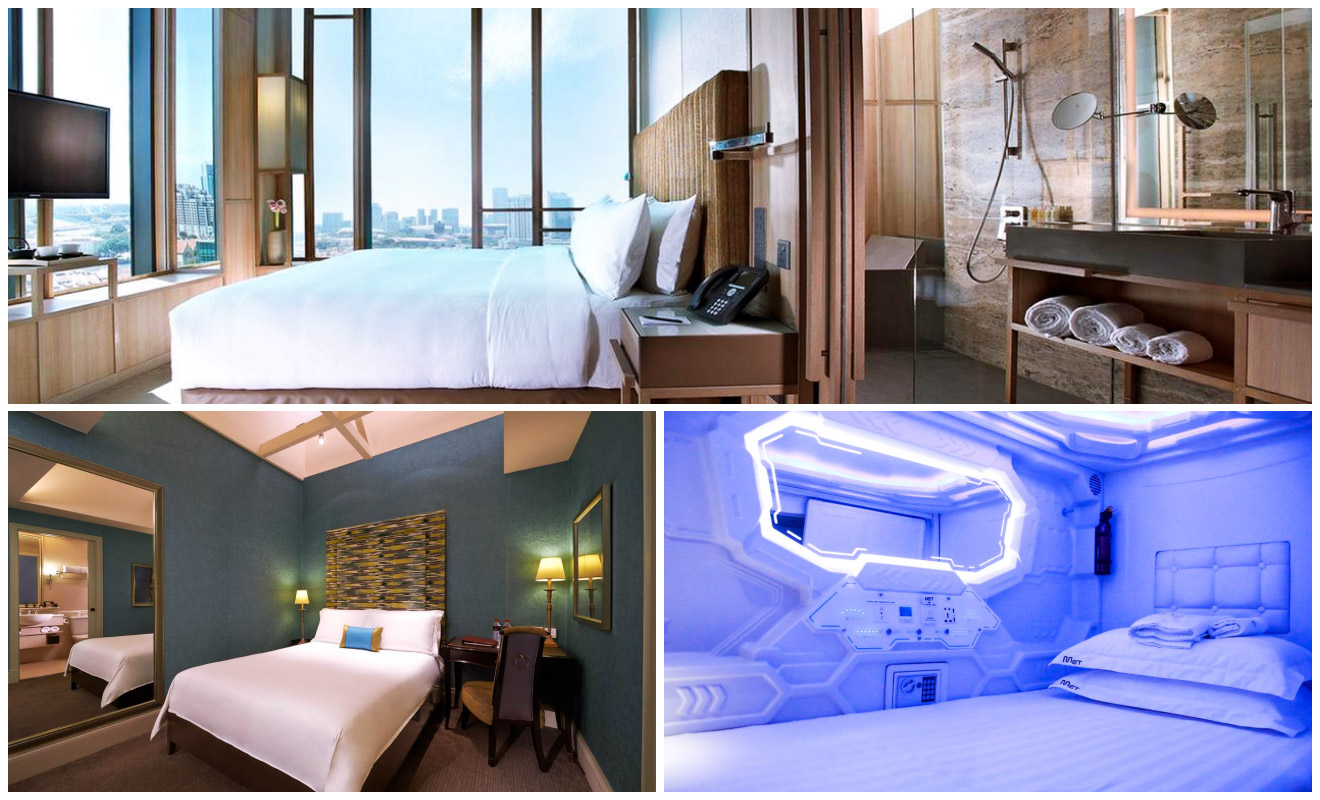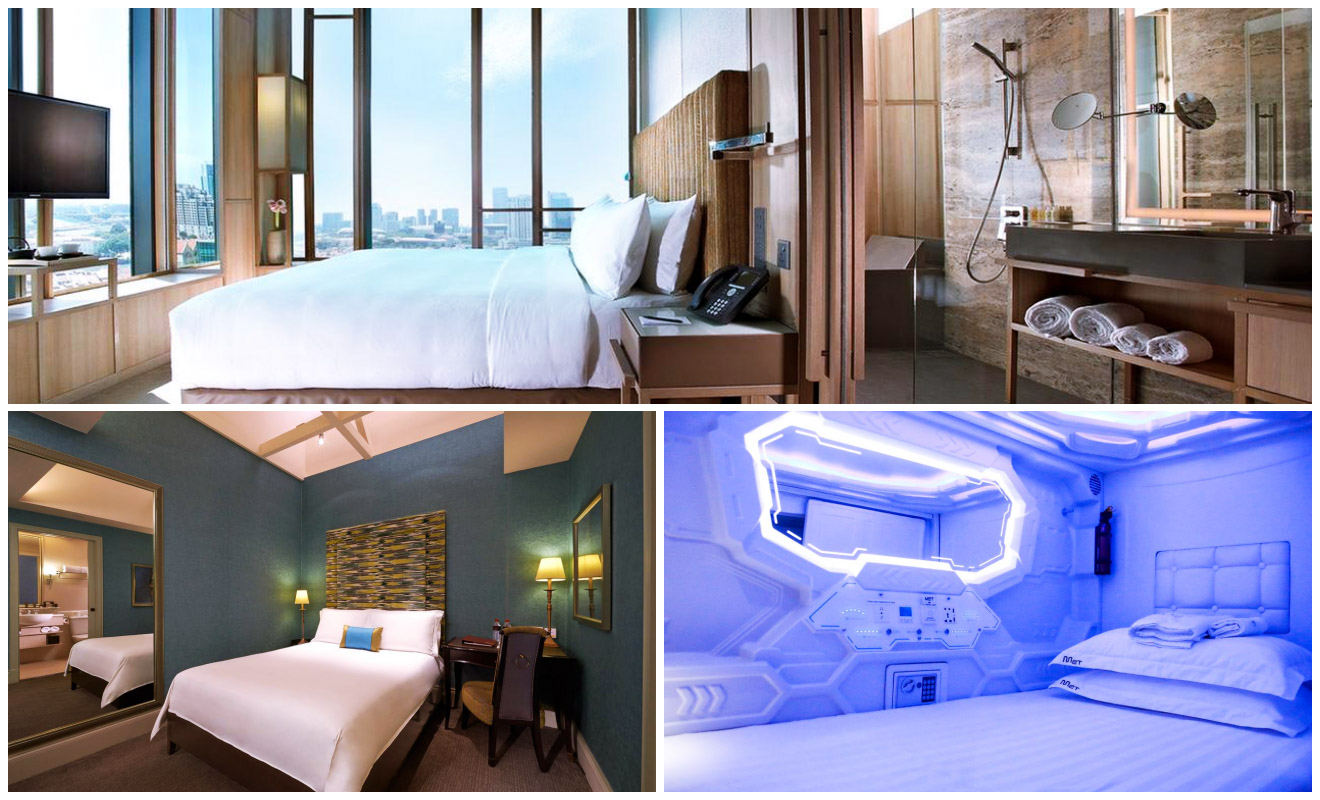 Luxury (US$200 and up)
Parkroyal on Pickering – One of the most gorgeous five-star hotels in Singapore, Chinatown that awaits you with an entire wellness floor that has an outdoor pool, spa, and a gorgeous garden! Their on-site restaurant serves delicious Southeast Asian and International food and you can even party in the evenings on top of the hotel at Orchid Club lounge!
Oasia Hotel – is a gorgeous 27-floor boutique hotel located right in the heart of Chinatown district, Singapore, close to countless awesome attractions. You will surely enjoy the outdoor pool, relaxing terrace, cool bar, and an in-house restaurant that serves delicious food. The hotel has an amazing contemporary design and great facilities that will help you feel right at home in Chinatown!
Middle-priced (from US$110 – US$170)
Scarlet Singapore – This is one of the best middle-priced hotels in Chinatown Singapore with a great value for money. The boutique-style rooms are simply gorgeous and the rooftop restaurant and outdoor pool are a great bonus for a great stay in the city! Plus, the rooms are very clean and nicely decorated!
Heritage Collection – A modern and chic accommodation where you can relax and rest before heading out to explore the city! Located just a 5 minute walk away from the Chinatown metro station, this hotel also has a flat-screen tv, free wifi, and laundry facilities.
Budget (up to US$120)
The Bohemian Chic – My first recommendation for cheap hotels in Chinatown Singapore. You will be glad to know that this accommodation has a great games room and a nice shared lounge where you can connect and make friends with other people staying there! The rooms are nice and tidy and they have a shared bathroom. Plus, the property is very close to an MRT station!
Cube Boutique Capsule Hotel – Offering family rooms with private and shared bathrooms, this budget hotel is super modern! You'll have access to a shared lounge where you can watch tv or play video games. The rooms also have a tv and air-conditioning.
Things to do in Chinatown:
Visit the Buddha Tooth Relic Temple and the Sri Mariamman Temple
Have fun on a night-tour of Chinatown
Shop for goodies at the Lau Pa Sat food market
Learn new things about the city at the Chinatown Heritage Centre
Admire the architecture of the Masjid Jamae mosque
Go for a stroll in the Duxton Plain Park
Eat a cheap and delicious meal at Liao Fan Hawker Chan, a Michelin star restaurant
3. Little India – where to stay in Singapore on a budget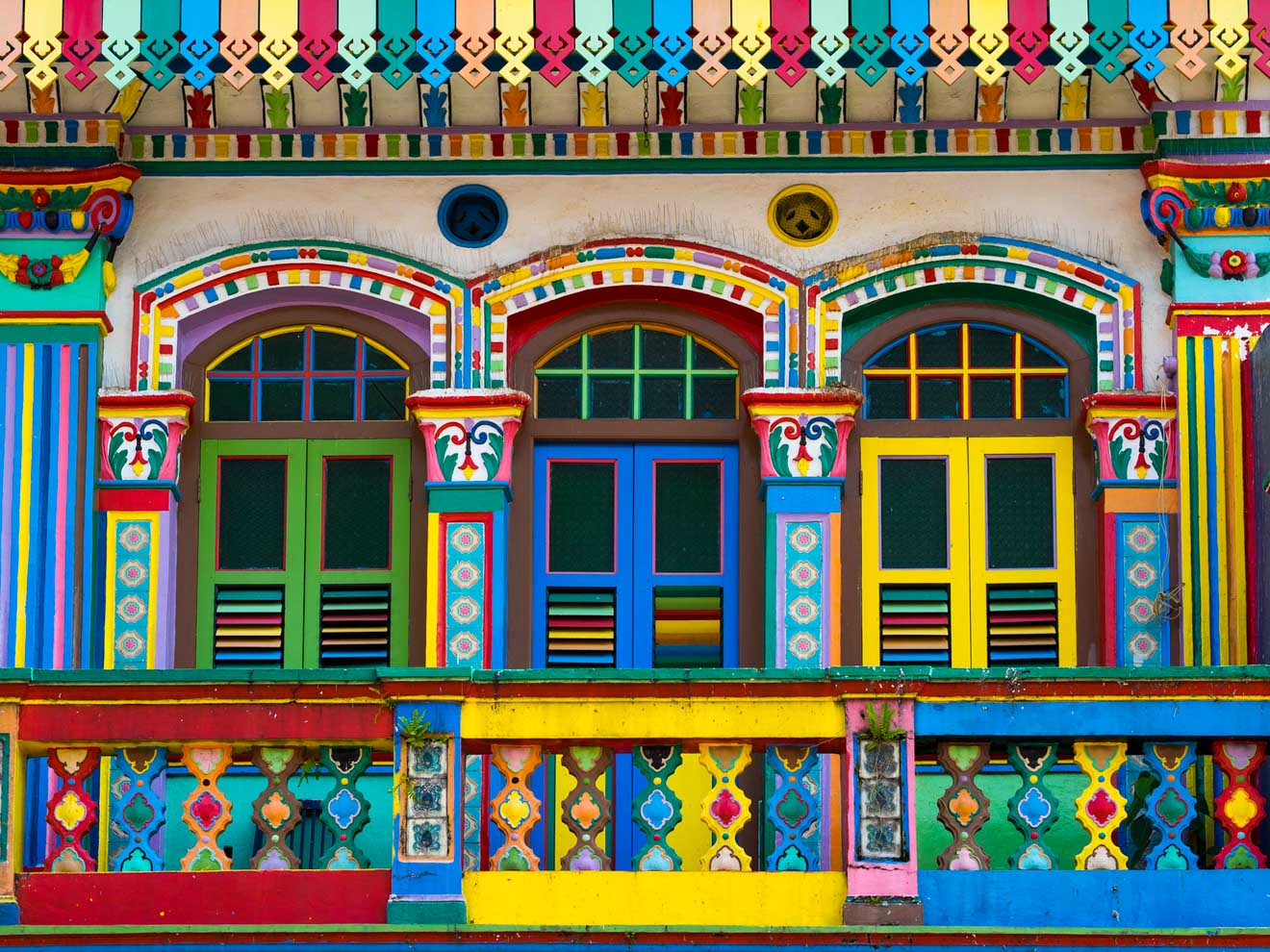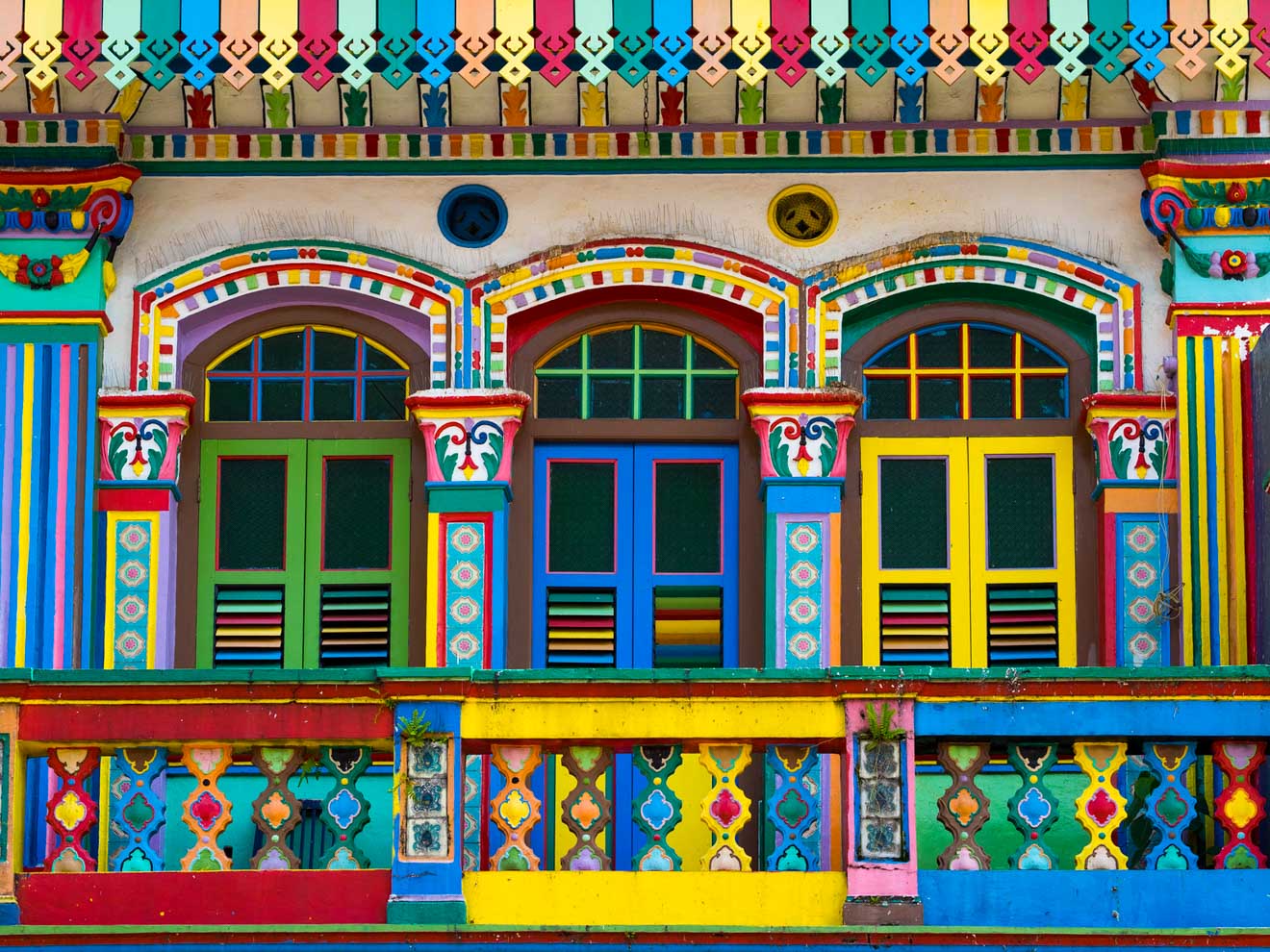 If you want to stroll through colorful shops and buildings and be enticed by exotic smells and traditional music, then Little India is the perfect corner of the city for you!
When you first step into "Little India", Singapore's Indian neighborhood, you might have the feeling you have stepped into another country. This lively neighborhood is full of colorful houses, delicious smells of curry cooking, and all kinds of shops that sell traditional Indian spices, fabrics, and more.
Some activities that you can do in Little India include an authentic, inexpensive shopping experience at Mustafa Shopping Center (open 24/7), a walk on the main street of the neighborhood (Serangoon Road), and, of course, a visit to the oldest Hindu temple in the city – Sri Mariamman Temple!
Little India is also a great place for budget travelers and backpackers, as you will find many cheap accommodations and hostels here, as well as more expensive hotels. And if you're looking for more amazing places in this part of the world I think you will love Langkawi Island in Malaysia!
If you are convinced that this vibrant part of the city is the best choice for you, you can see below my recommended list of places to stay in Singapore, Little India: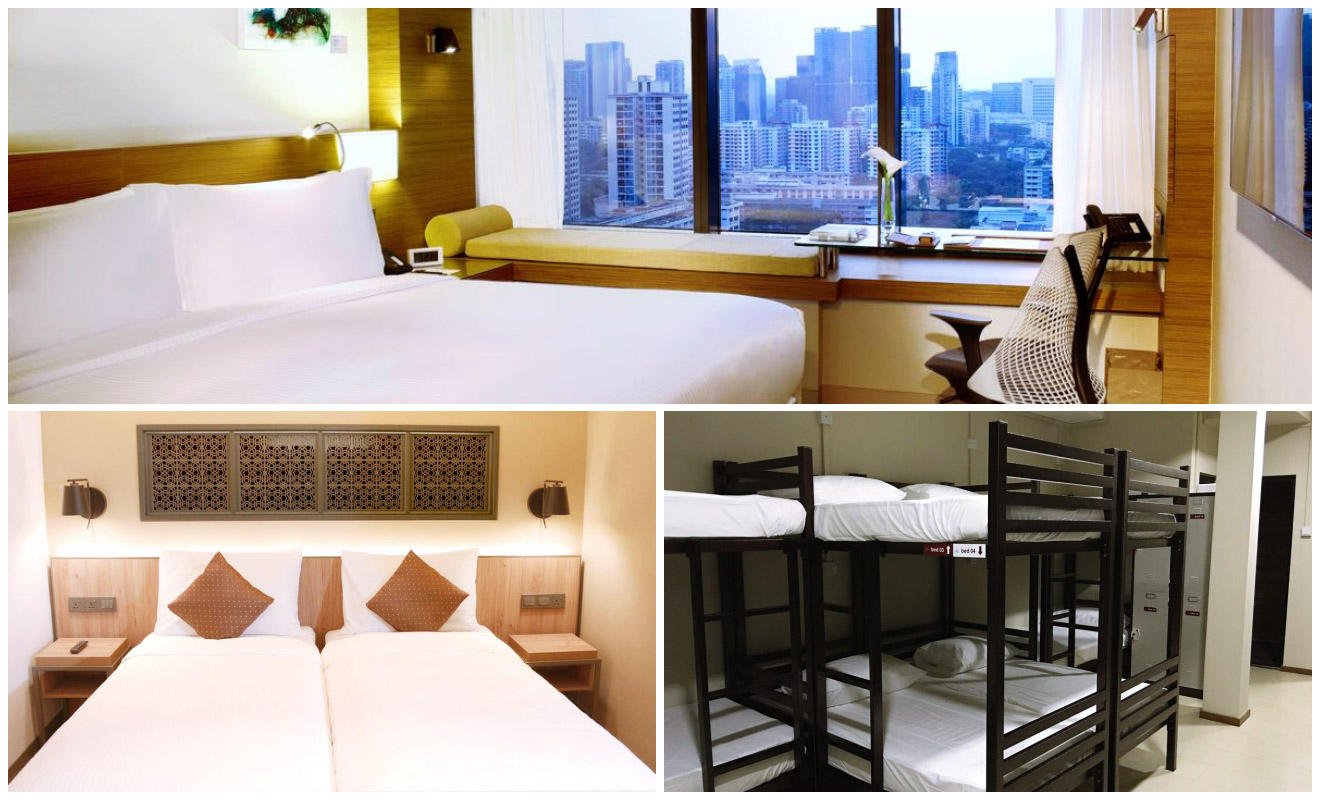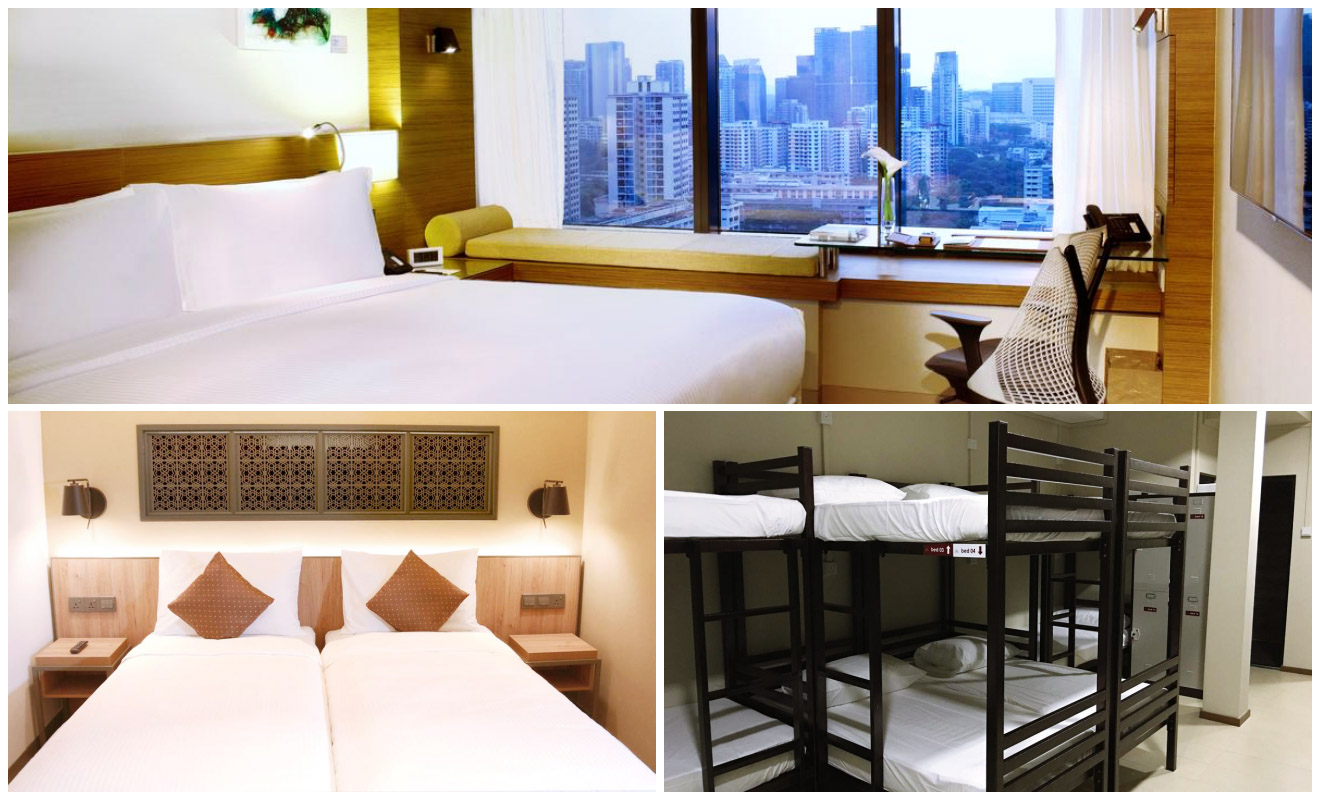 Luxury (US$170 and up)
One Farrer Hotel – A great 5-star accommodation and one of the best hotels in Little India, Singapore, located right in the heart of the neighborhood, above Farrer Park MRT Station. When deciding on which type of accommodation you want, you can choose from spacious rooms, suites, and villas, depending on your budget and preferences. Needless to say that the rooms are simply gorgeous and the service is extremely good!
Middle-priced (from US$110 – US$170)
Aqueen Heritage Hotel – One of the most wonderful 3-star hotels in Singapore, located only 650m away from Mustafa Centre and 1 km away from City Square Mall. The rooms are clean and tidy and private bathrooms are equipped with everything you may need for a pleasant stay in the city. Plus, it's close to a MRT station, so it offers easy access to the rest of the city!
Hilton Garden Inn – Chill by the outdoor swimming pool and enjoy the city views at this modern hotel. Get settled up in your room, which has a flat-screen tv and air-conditioning, and order some room service if you don't feel like going out!
Budget (up to US$110)
Adamson Lodge – This is my first budget recommendation in Little India for people who are searching for cheap accommodation in Singapore. This accommodation is only 700m away from Mustafa Centre, close to a MRT station and it comes with various types of rooms, fit for one, two or six people. Plus, you will also get free Wi-Fi!
Citadines Rochor – A stunning budget hotel that has a modern design and all the amenities you need! Admire the city views from the ceiling-to-floor windows and fix something up for yourself in the kitchen if you don't want to hit the restaurants!
Things to do in Little India:
Find out new things at the Indian Heritage Centre
Discover the uniqueness of Little India during a food & cultural tour
Take some nice pictures at Tan Teng Niah villa
Shop for cool clothes and food at Tekka Centre
Visit the Sri Veeramakaliamman Temple
4. Orchard Road – best area to stay for shopping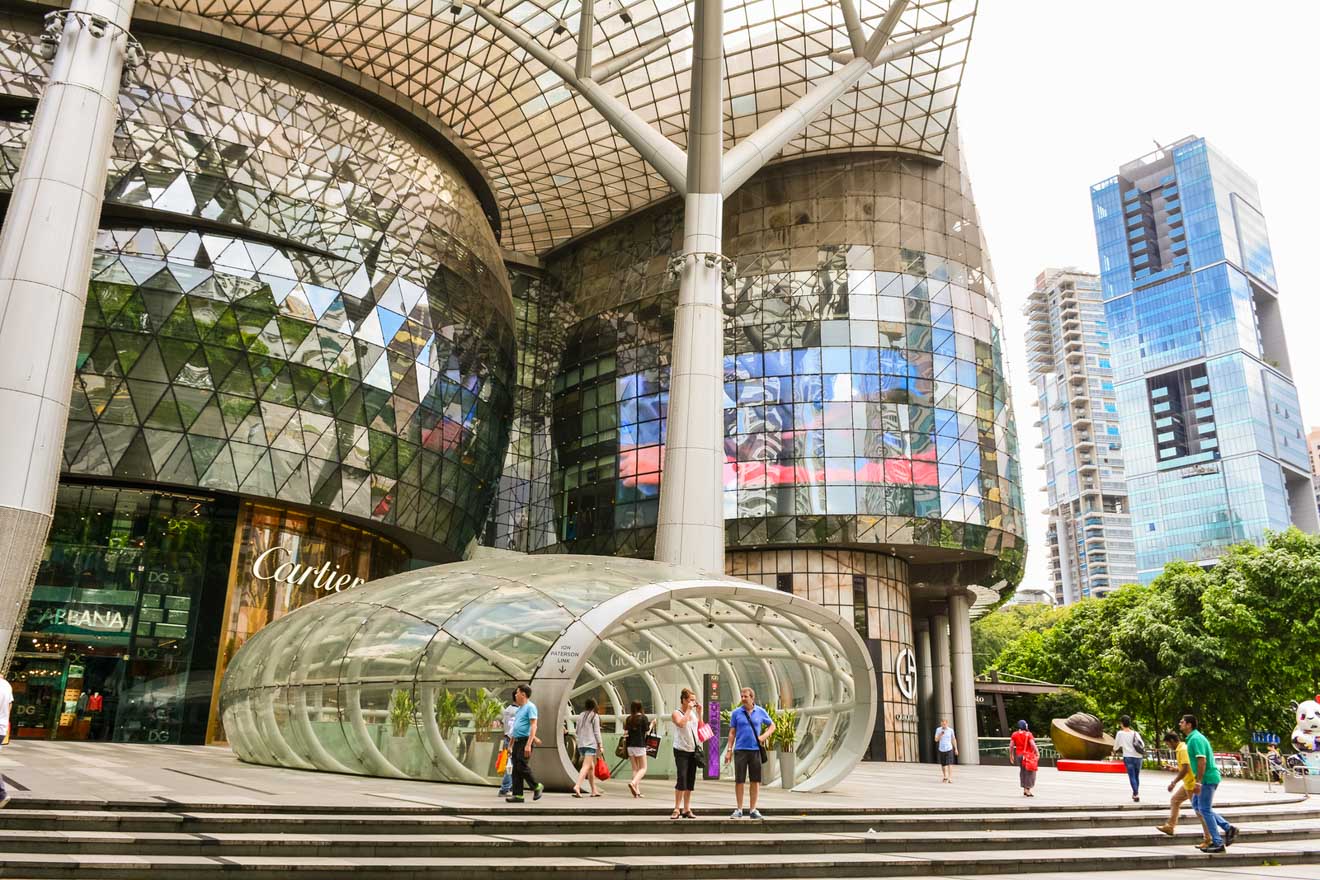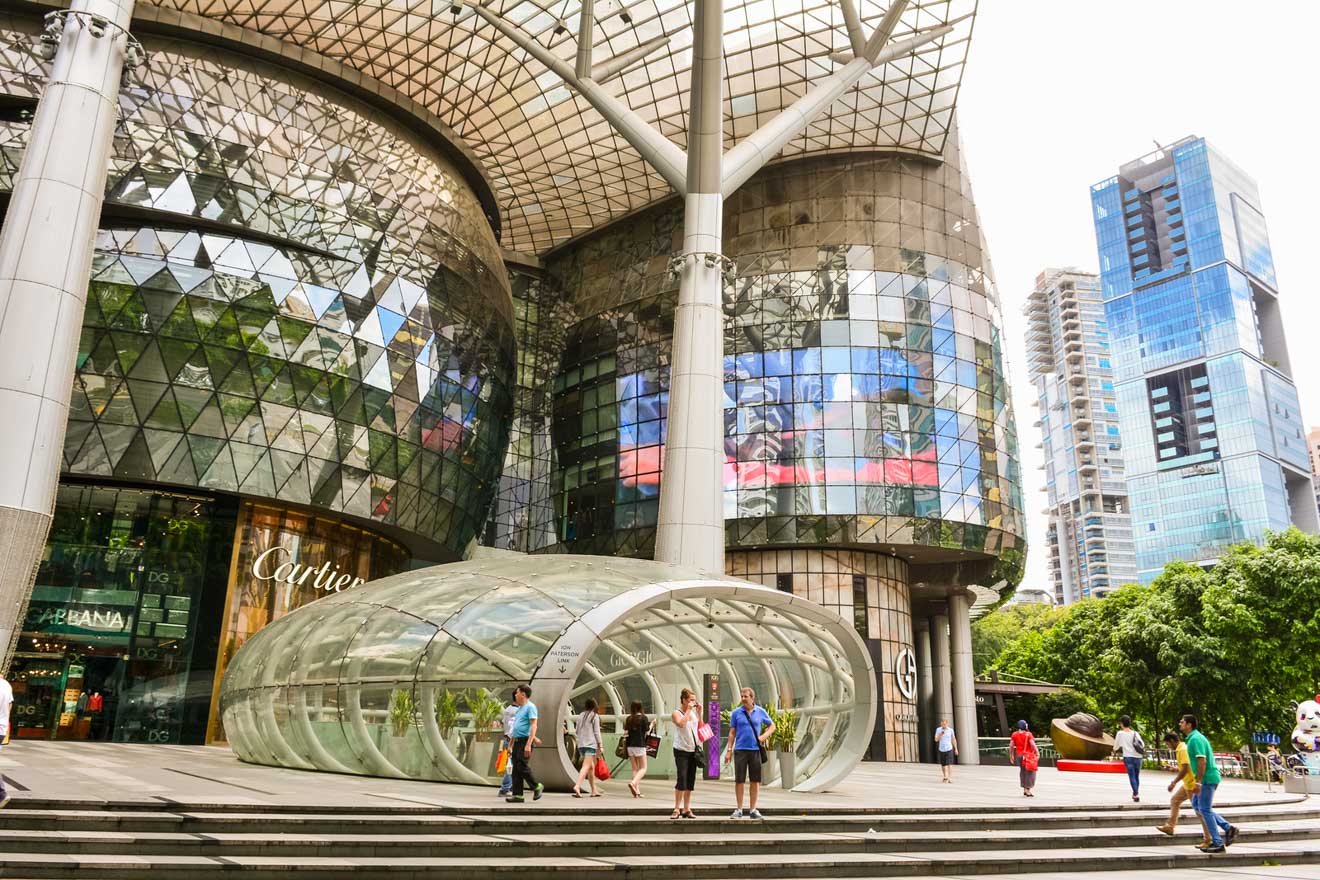 Looking for some shopping options? If you love designer stores and want to enjoy the best shopping experience of your life, then Orchard neighborhood is the right choice for you!
Orchard Road is a famous one-kilometer long street in Singapore where you can shop until you drop in amazing stores for every taste – from high-end designer shops to small, inexpensive ones.
Thus, Orchard Road shopping center is the shopping core of Singapore and the place where you will find a wide range of hotels for different tastes and budgets. Of course, there are also many great food places, cinemas and other entertainment sources in this area, so you will be close to whatever you may need.
Too much shopping didn't hurt anyone, but if you find yourself a bit too tired and want to see other attractions I recommend visiting the National Museum, the Botanical Gardens, or the beautiful National Orchid Garden!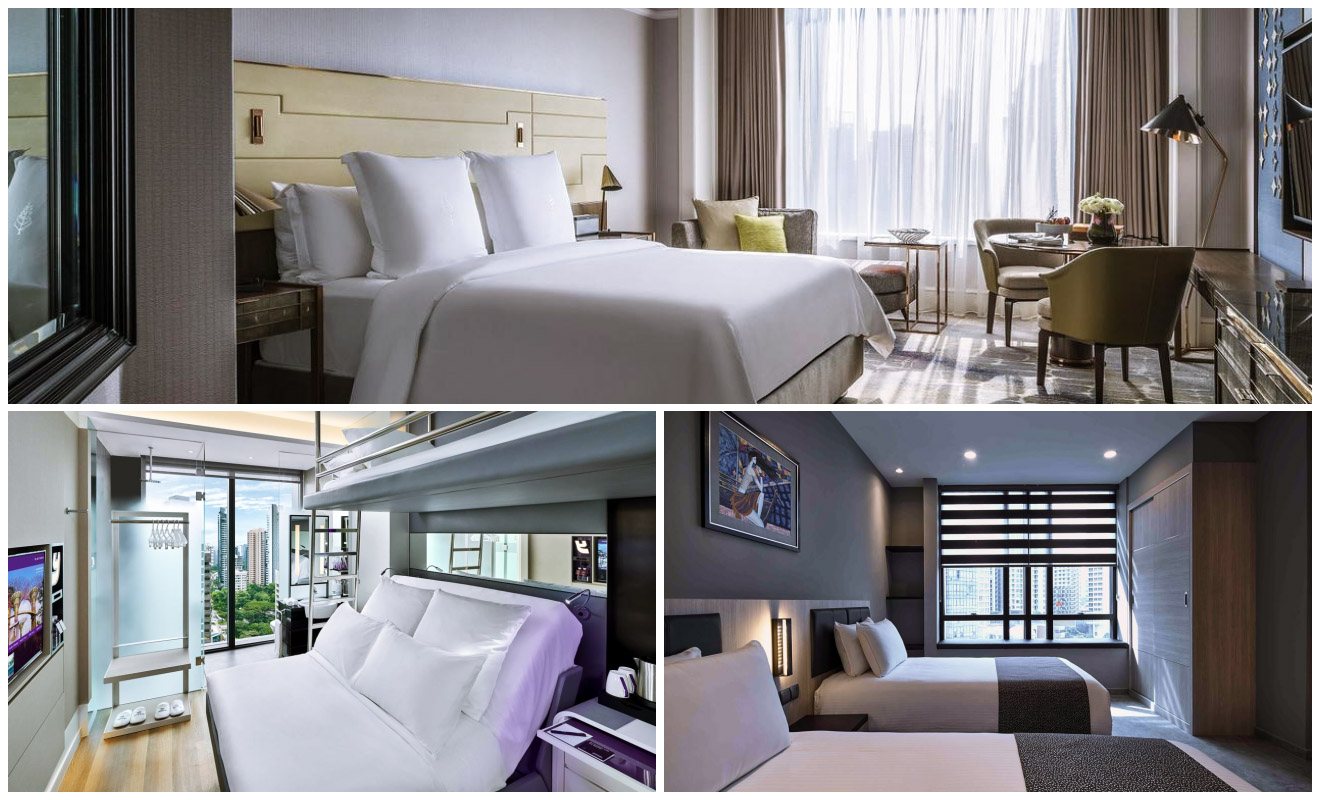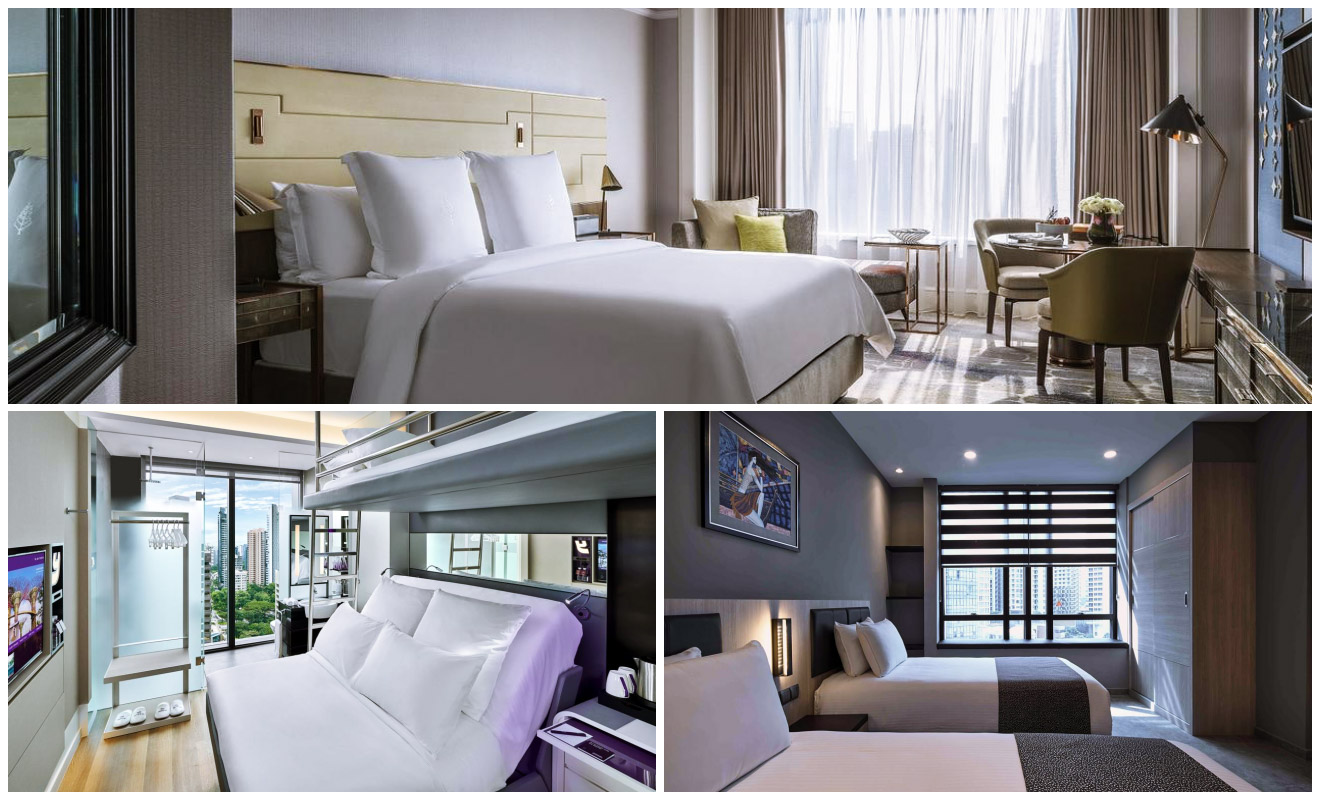 Luxury (US$250 and up)
Four Seasons Hotel Singapore – My first recommendation for luxury travelers and one of the best hotels in Orchard Road Singapore, close to the famous shopping street. This beautiful 5-star hotel awaits you with spacious, sunny rooms and world-class service that will make you feel amazing. During your stay in Orchard Road, you can benefit from spa treatments, you can use the 24-hour gym or you can play tennis if you want.
The Quincy Hotel – A gorgeous 4-star hotel in Orchard Road located only 5-minutes away from Orchard boulevard, the renowned shopping street. One of the best parts about this hotel is the infinity glass pool that offers an amazing view over the city! The rooms are simply amazing and I am sure you will feel like royalty there!
Middle-priced (from US$150 – US$190)
Yotel Singapore – A great Orchard Road hotel with accessible prices and a good value. The in-house restaurant provides delicious food and you can relax in the outdoor pool after a day of exploring this wonderful city. All rooms have a flat-screen TV, free Wi-Fi, and even a seating area.
Holiday Inn Express – Enjoy the free breakfast at this cool hotel on Orchard Road that has a fitness center and a bar. There's a small garden with a terrace where you can relax after a full day of sightseeing, or you can go up to your comfortable rooms if you need some privacy!
NOTE: Unfortunately, there are no budget-friendly hotels in this area but don't worry because you can always stay at The Bohemian Chic or at the Cube Boutique Capsule Hotel closeby in Chinatown!
Things to do in Orchard Road:
Shop until you drop at the Ion Orchard Road Mall
Spend a fun day at Trapped Escape Room Singapore
Escape the city noise at the Botanical Gardens
Treat yourself with s a shopping session at one of the luxury stores
Go on a hop-on hop-off bus tour of Singapore
Visit the Pop Fine Art Gallery near Orchard Road
5. Clarke Quay – where to stay in Singapore for nightlife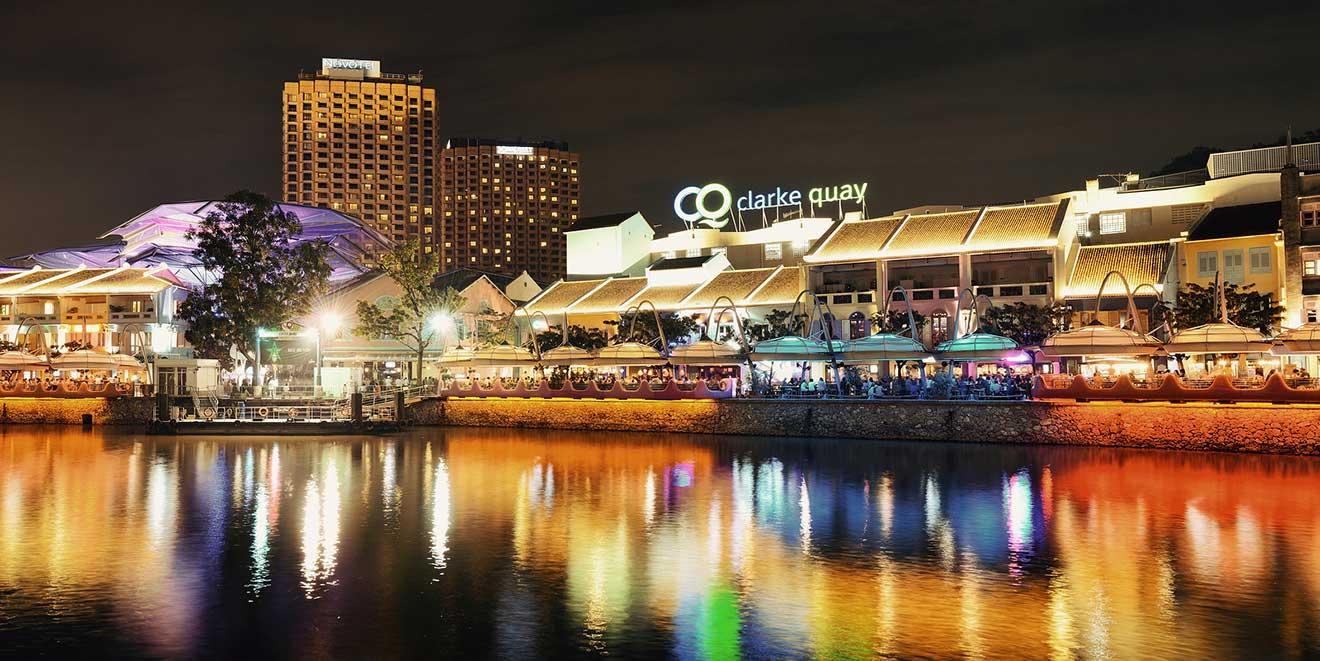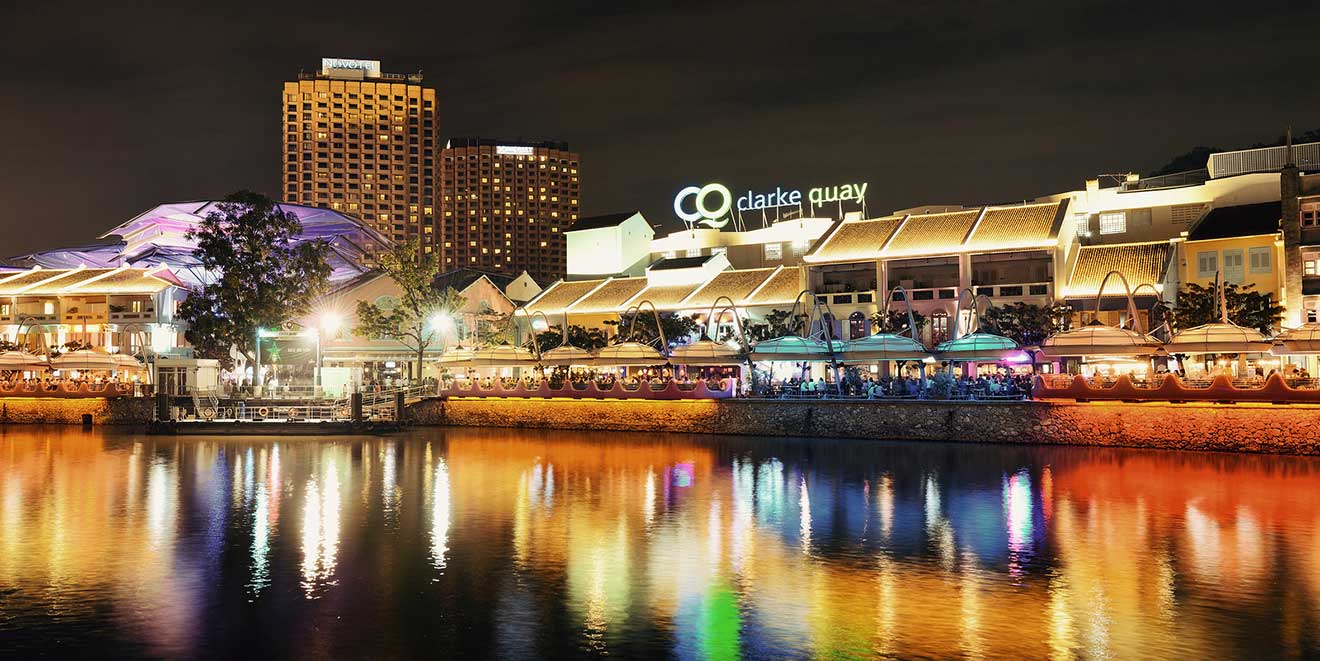 Clarke Quay, Singapore is a great area for people who want to enjoy the wild part of the city and its nightlife scene.
Clarke Quay is close to the riverside as well and it's the place where you'll find countless awesome pubs, clubs, and bars. Regardless if you just want to enjoy one cocktail or dance until the sun goes up, you'll surely find something for your taste here!
When you're not out and about partying you can visit some of the attractions in this area which include the Asian Civilizations Museum, Hong San See Temple, 1-Altitude Viewing Gallery (where you can enjoy a great 360-degree view of the city!), and the National Art Gallery, just to name a few.
But you know what I always say! Don't get too caught up in all the attractions, take a moment to just walk around the area, admire those stunning views of the Singapore River and just take it all in! You're pretty lucky if you've got the chance to visit it!
Luxury (US$200 and up)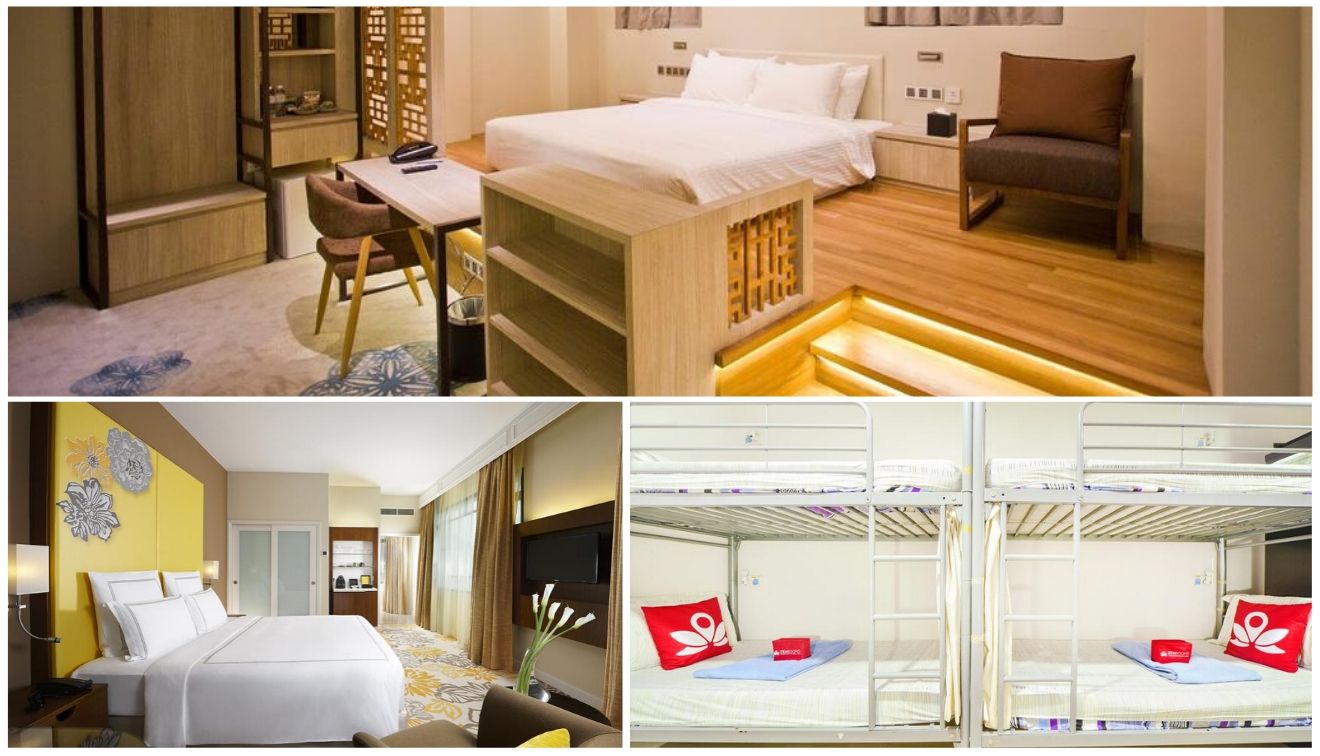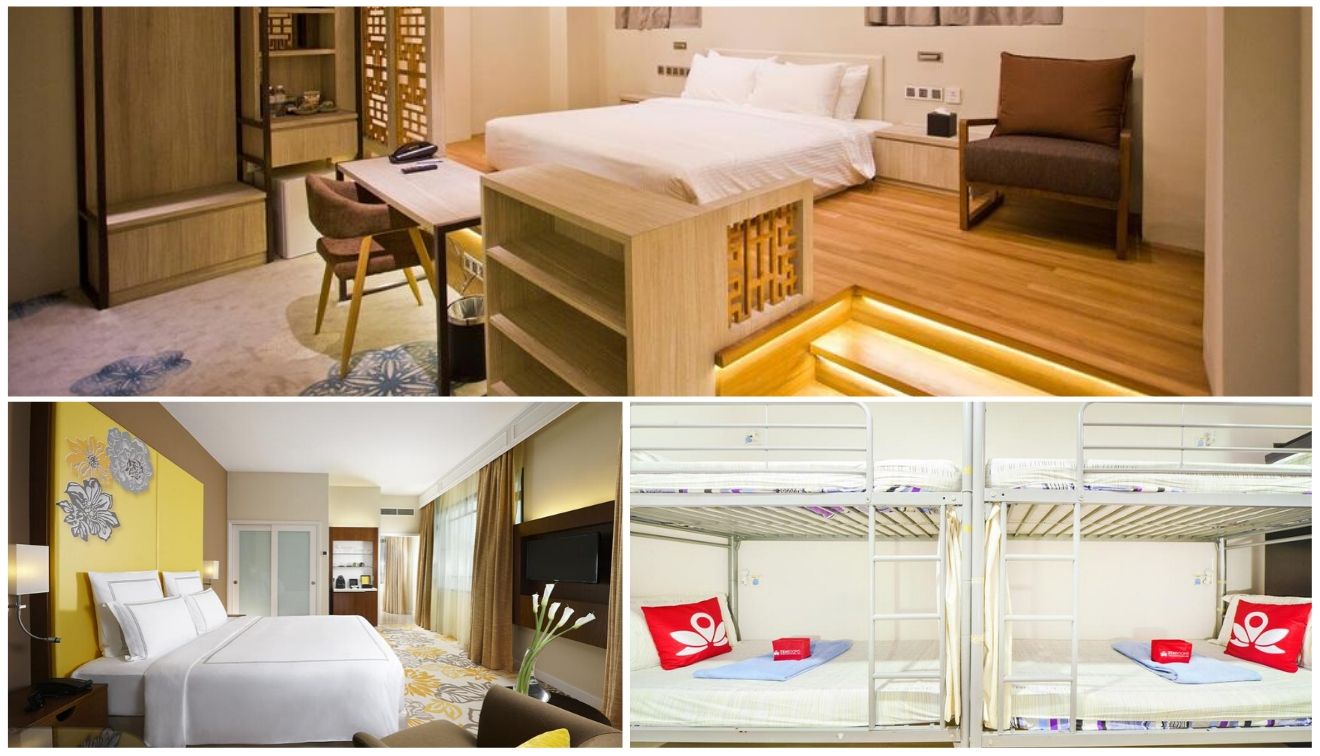 Swissotel Merchant Court – In case you're looking for a super, luxury hotel in Singapore that's walking distance to a shopping street and many attractions and restaurant options, this one is for you! The level of luxury here is just insane and I'm sure you'll just love it – outdoor swimming pool, on-site restaurant, and more!
Park Regis Singapore – This boutique hotel is another great option as well, located only a short walk away from the Singapore river! It offers 4-star service and everything you might need for a pleasant stay in this part of the city!
Middle-priced (from US$110 – US$170)
The Quay Hotel – In case you're looking for a great hotel in Singapore that offers excellent value for the money, this one is for you! It's only a short walk away from the main attractions in this district. It has a 3-star service and the rooms are very cute and clean. Plus, it also has an on-site restaurant!
Zen Rooms Boat Quay – Here's another excellent hotel in Singapore in case you want to be close to countless shops, attractions, and the Singapore river as well! The rooms are simple but very comfy, perfect for a good night's sleep after a full day of exploring the city!
Budget (up to US$110)
River City Inn – If you're looking for a great, budget option in this district, then search no more, as you just found it! This one's perfect for an affordable trip to Singapore, as you'll only be a short walk away from a shopping street and other awesome attractions!
Knn Capsule Hotel – I love how modern this capsule hotel is! All the elements are super futuristic and the cabins have air-conditioning! There's also a lounge area where you can chill and a sun terrace.
Things to do in Clarke Quai:
Have a drink at Yin Bar and enjoy the nightlife scene
Listen to some live music at Warehouse bar
Enjoy a delicious dinner at Muchos restaurant
Go on a cruise tour on the Singapore river
Drink shots all night at Chupitos Shots Bar
Explore Fort Canning Park
Try the G-Max Reverse Bungy or GX-5 Extreme Swing if you're brave enough
6. Sentosa Island – where to stay near Universal Studios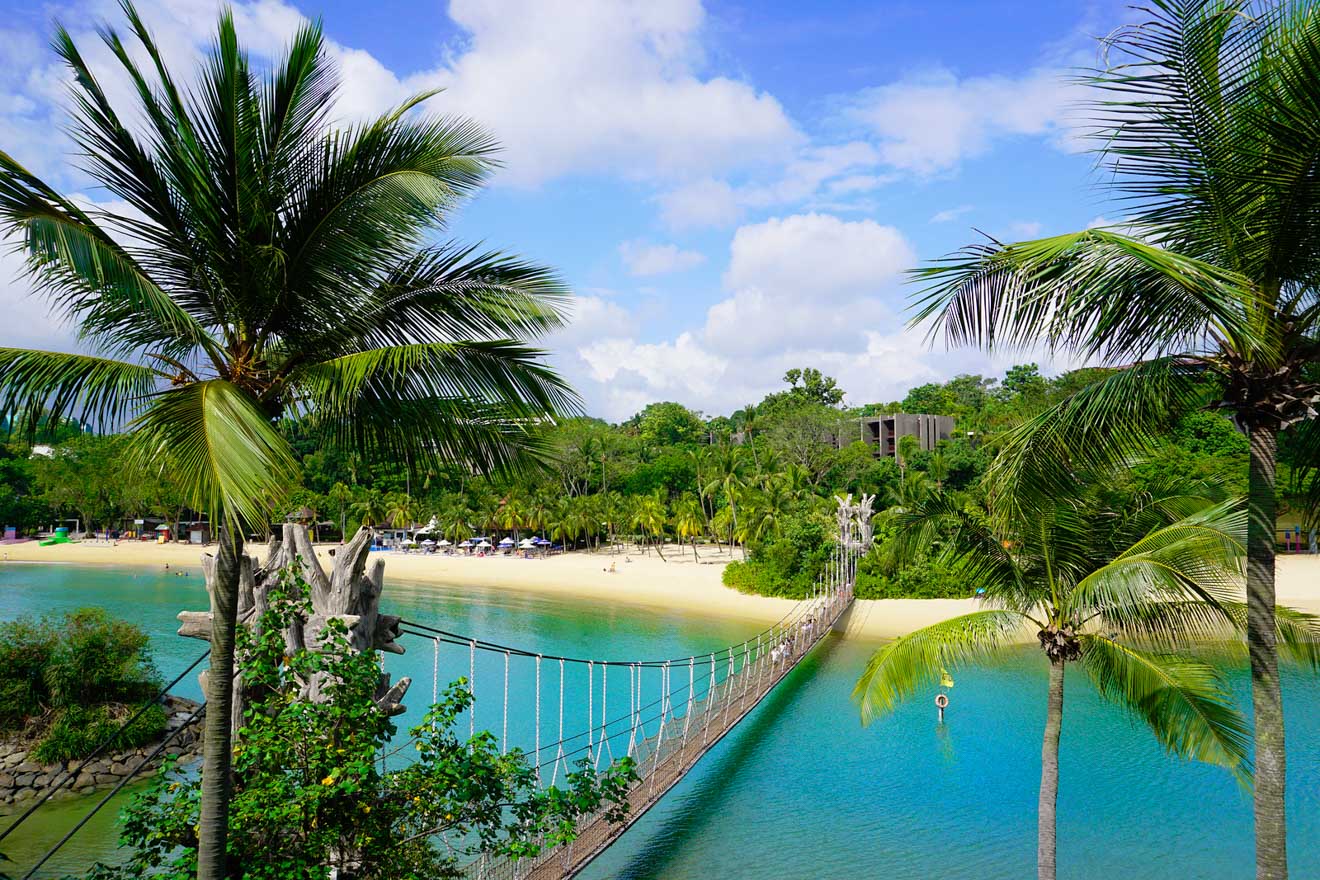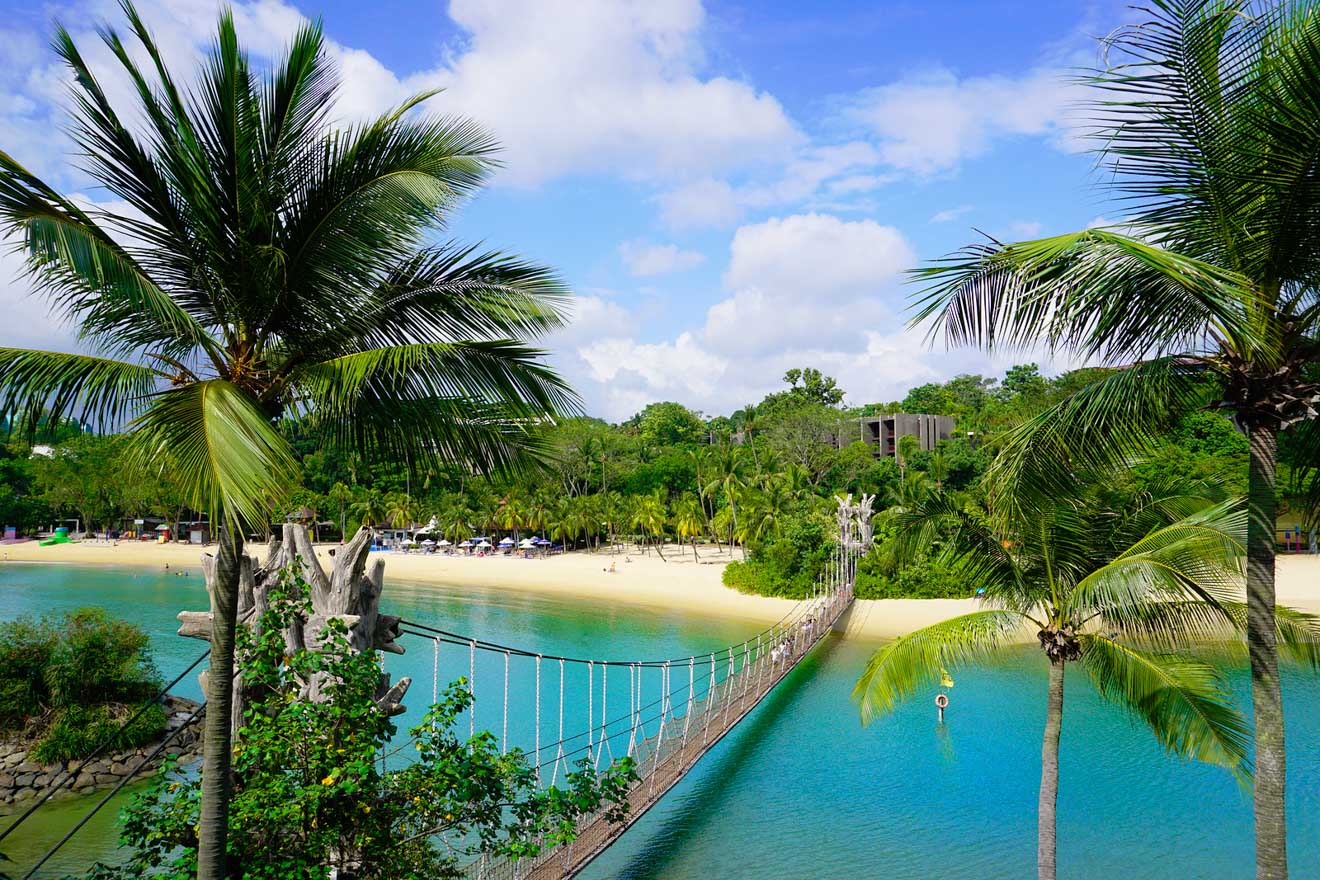 Wondering where to stay in Singapore with your family and kids? Sentosa Island is your answer! If you love golden beaches, peaceful islands, and theme parks and you want to be a bit farther away from the hustle and bustle of the city, then Sentosa might be the perfect choice for you!
Sentosa is actually a small island located in the Southern part of Singapore, full of awesome sites and attractions. This beautiful place will provide a wide variety of activities, from strolling on the white sand beaches to visiting marine museums or admiring the landscape from a cable car.
Some other Sentosa attractions that you can see here include the biggest oceanarium in the world (S.E.A. Aquarium), and a few theme parks. And, of course, you have to visit Universal Studios Singapore, one of the best things to do on the island!
Sentosa Island is my recommendation for any kind of traveler, including families traveling with children, as this magical place is fit for both adults and kids. Here are the hotels that I recommended, all of them with great reviews and facilities.
NOTE: Unfortunately, for Sentosa island there aren't any good middle-priced or budget hotels, as it is mostly a luxurious destination.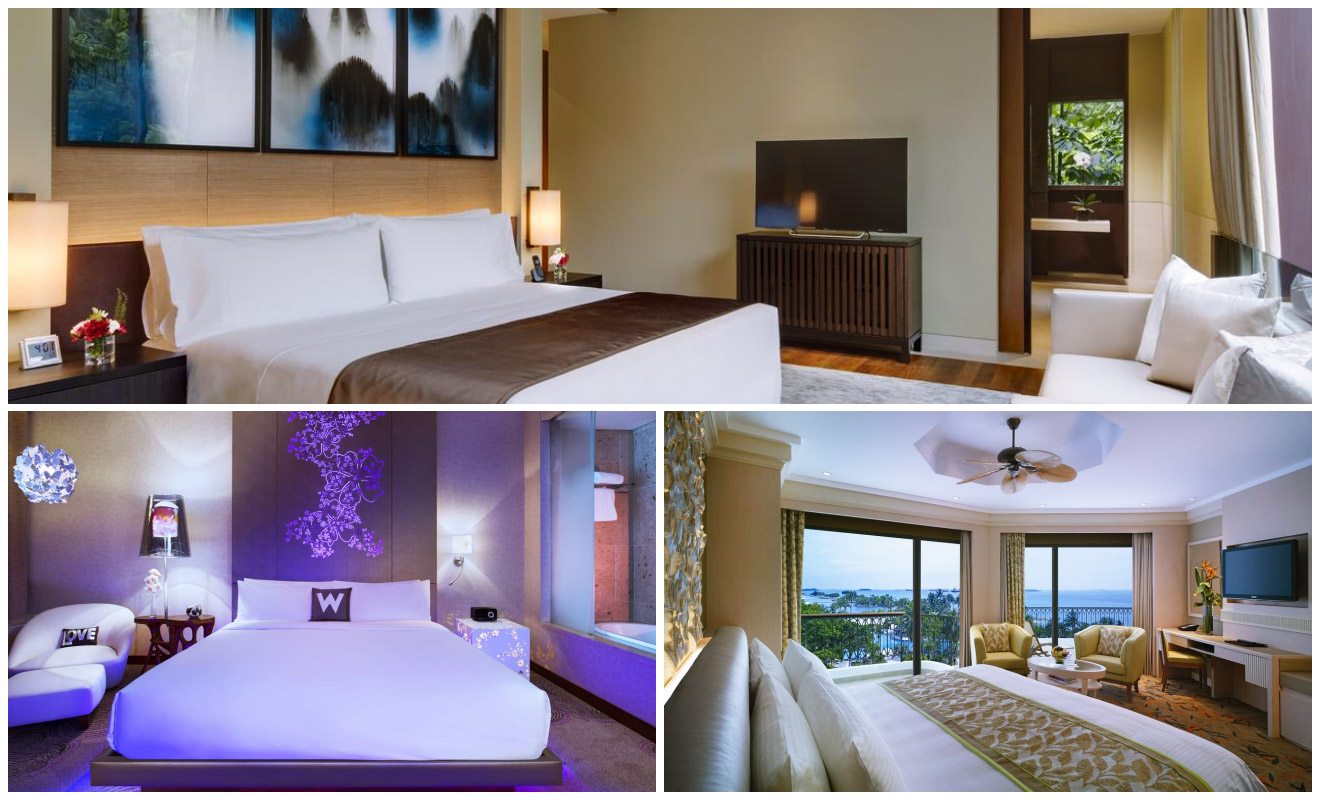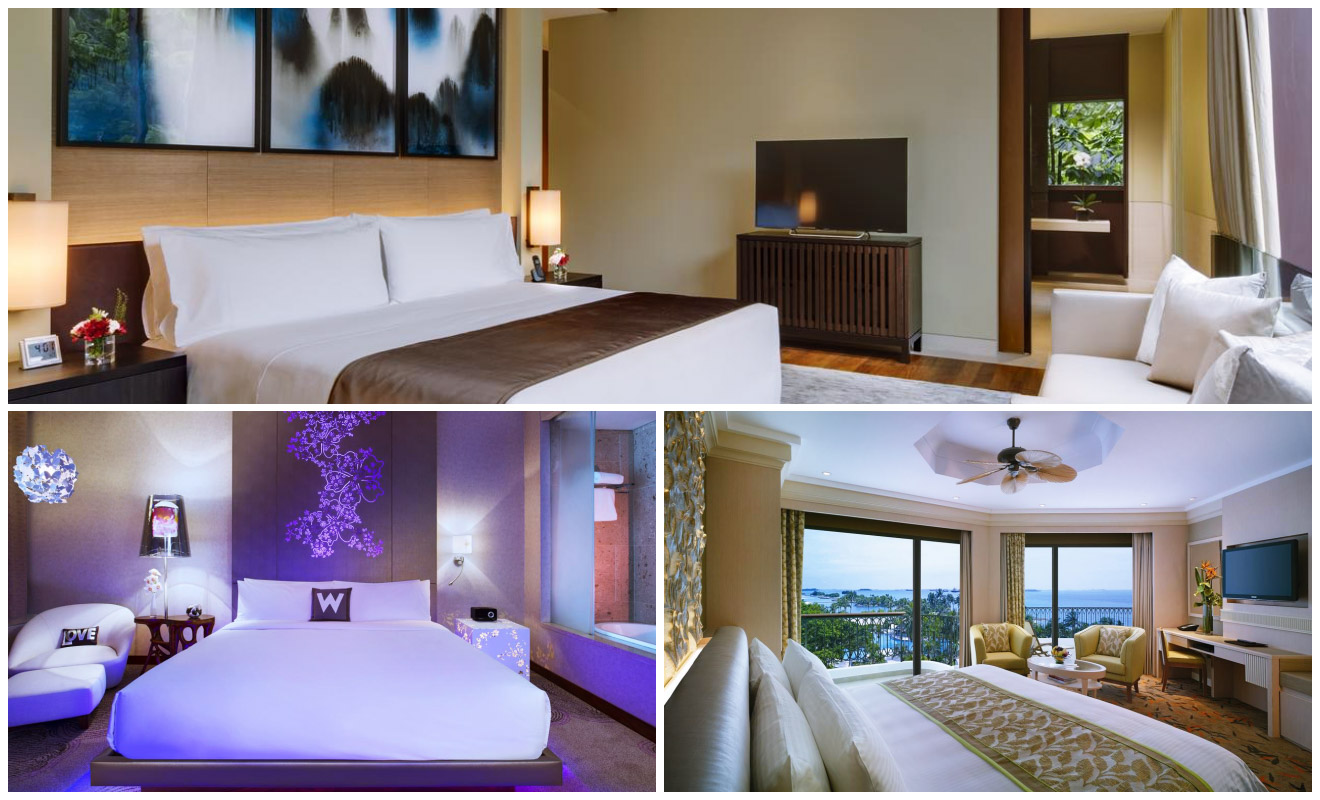 Luxury (US$200 and up)
Capella Singapore – An amazing 5-star family hotel on the island and the best place to stay in Singapore if you love the beach! This hotel provides world-class services and is located only 5 minutes away from the beach, within the rainforests of the island. It awaits you with 3 outdoor pools and an excellent spa where you can relax and unwind at the end of the day. The décor is carefully chosen and all rooms have sea or garden views.
W Singapore Sentosa Cove – is one of the top Sentosa island hotels and it has a great pool, spa, and fitness center that you can use during your stay. Plus, you can use their shuttle services to get to the most important attractions, including Universal Studios Singapore!. Plus, you have 4 dining options and many other amazing facilities!
Shangri-La's Rasa Singapore – Located within walking distance of the beach and to Universal Studios Singapore as well, this family hotel offers high-quality services for a luxury stay on the island. This is an amazing Sentosa resort and spa and the outdoor pool, spa, and fitness center are great! Each room has a private balcony with fantastic views and the all-day buffet is delicious! Plus, this is one of the best child-friendly hotels in Singapore!
Things to do in Sentosa Island:
Visit the Universal Studios Singapore amusement park with the kids
See the cutest animals at the S.E.A Aquarium
Spend a whole day at the Adventure Cove Waterpark
Check out the Madame Tussauds Singapore Museum
Have fun at the Skyline Luge Sentosa luge and Skyride system
Relax and enjoy the sun on Palawan beach
Watch the light show at Wings of time
Go on a sunset sail tour
7. Kampong Glam & Bugis – best neighborhood for foodies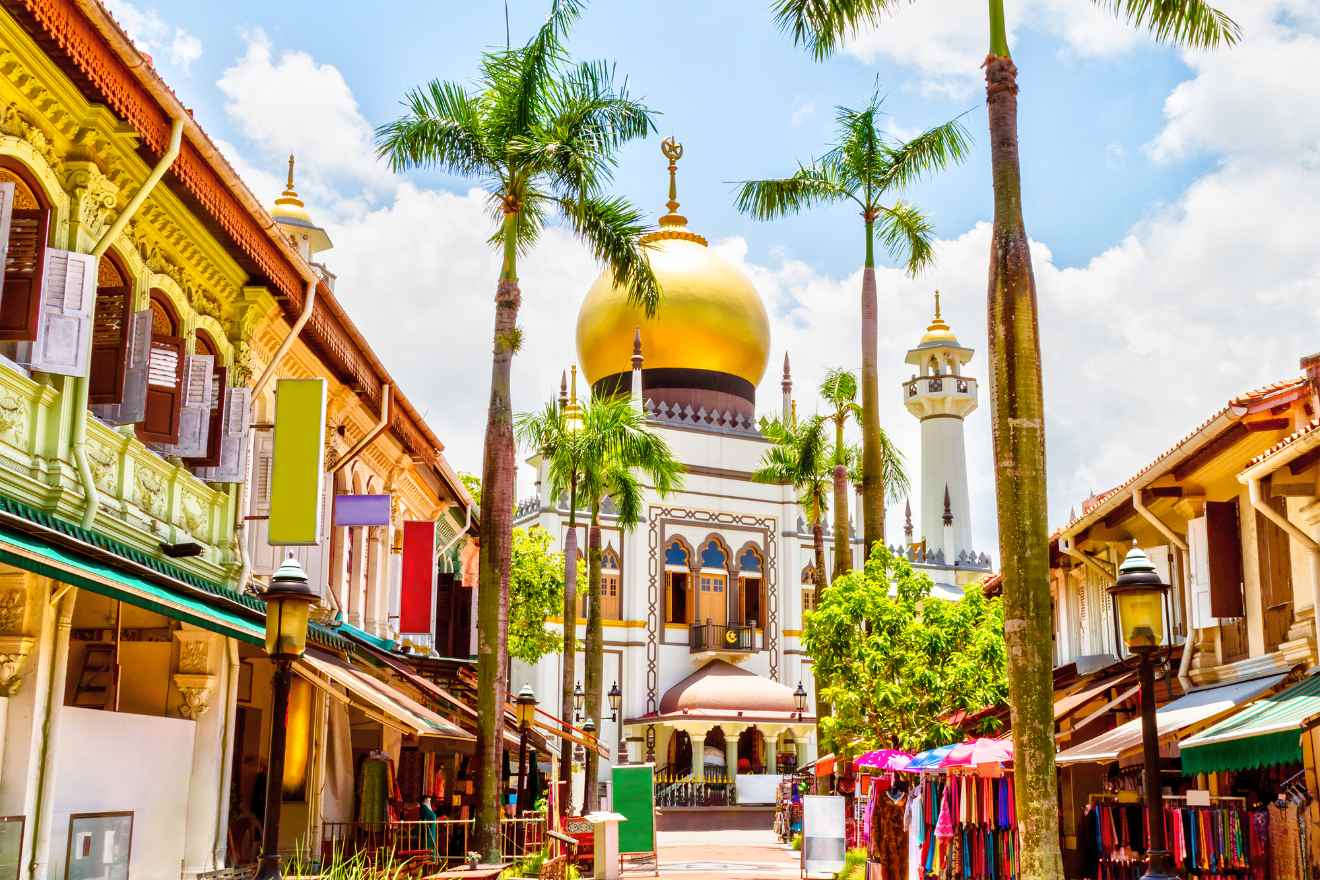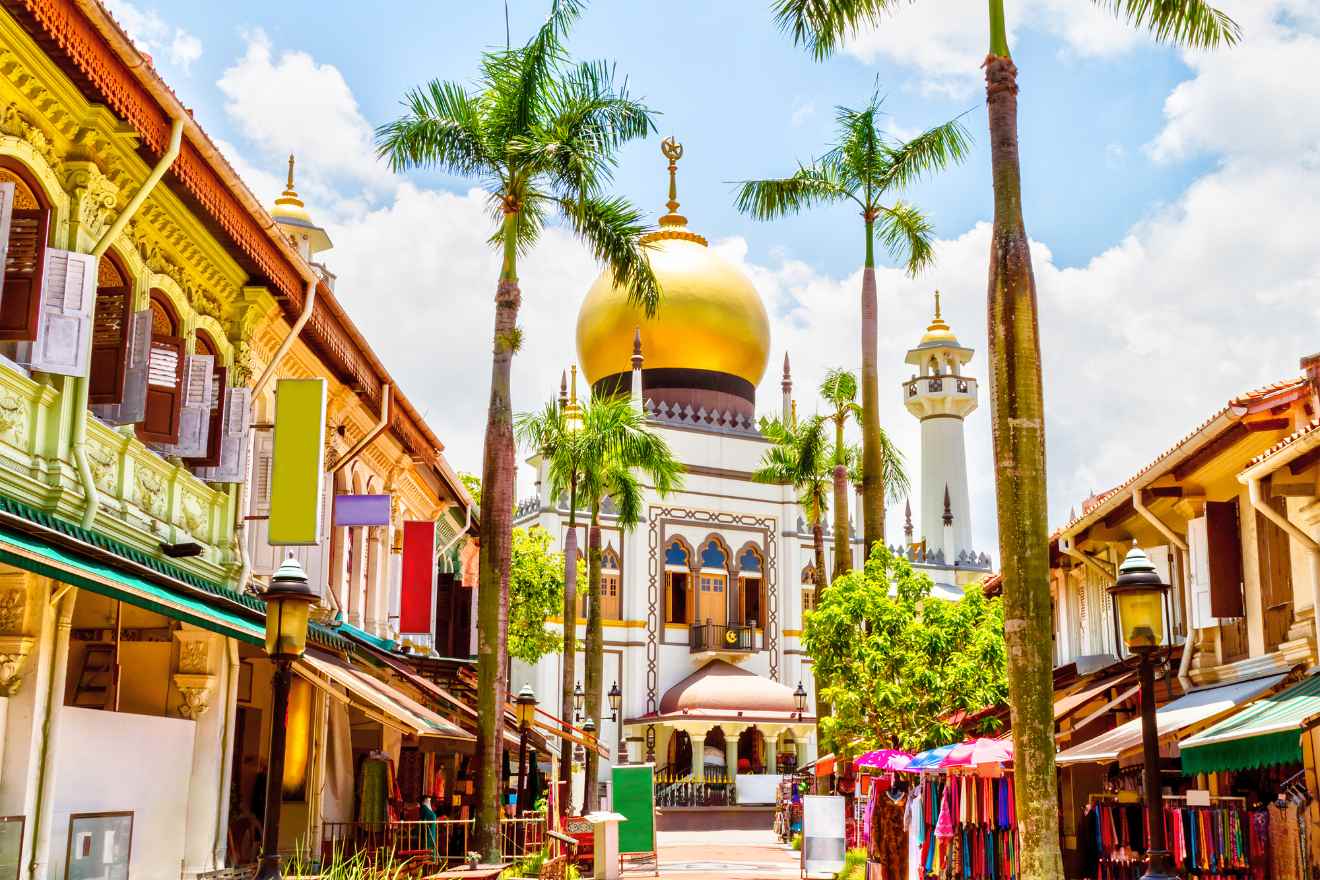 The thrill of visiting a new city is that you get to try all different kinds of food, from traditional to weird dishes that maybe you haven't even heard of! If you're looking where to stay in Singapore to do just that, then these 2 areas that are located super close to one another will be perfect for you!
Kampong Glam is also known as Arab Street and it's not only a paradise for foodies who are dying to try different types of dishes but it also hosts lots of small boutique shops, trendy cafes, and street art.
Yep, these 2 areas are the dream for anyone who likes taking pictures! The colorful houses, buildings, and shops will make a stunning backdrop. And while you're out there exploring the streets make sure you stop at the numerous flea and food markets, they are perfect for small lunch breaks and for souvenir shopping.
Let's find the best hotels for you here: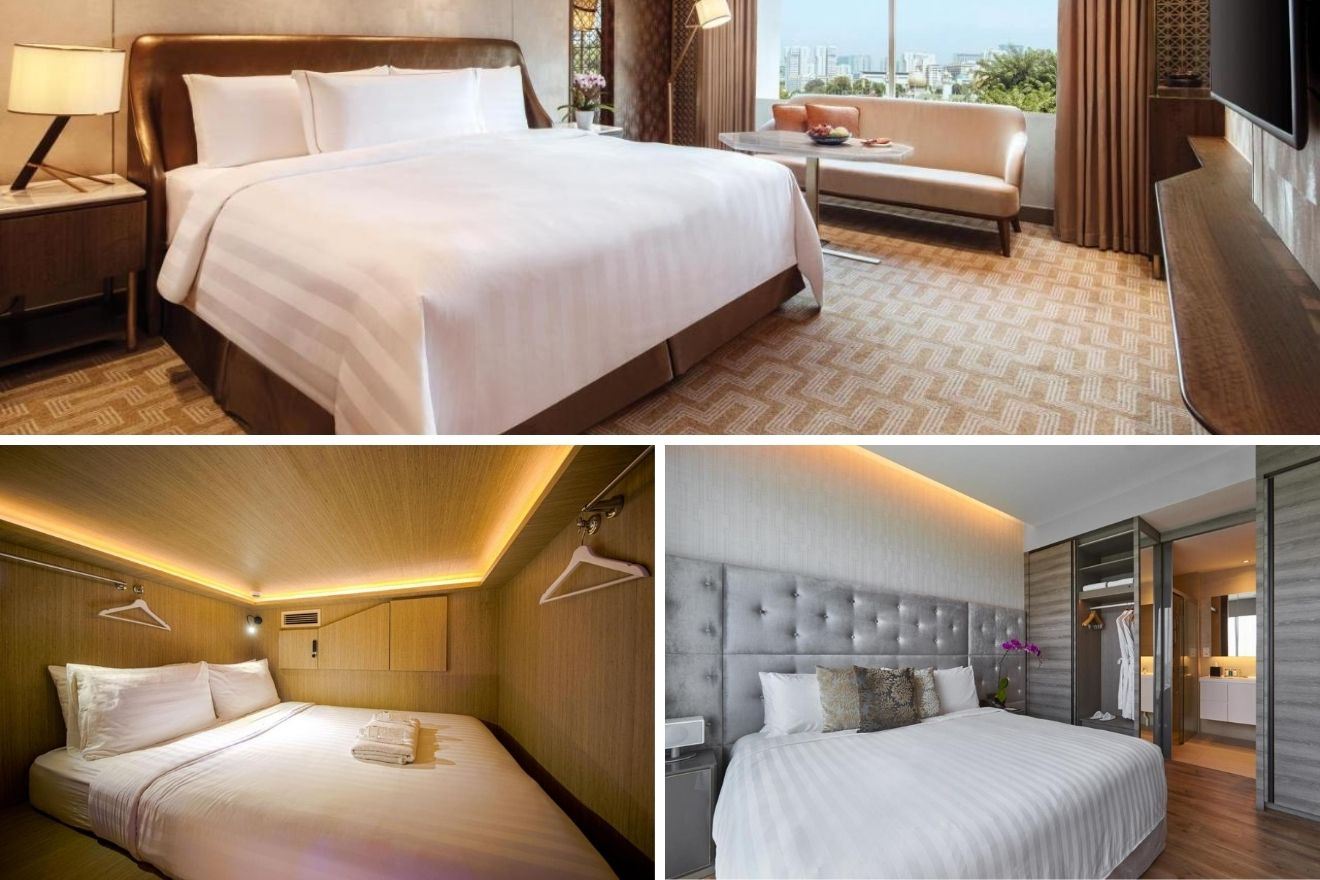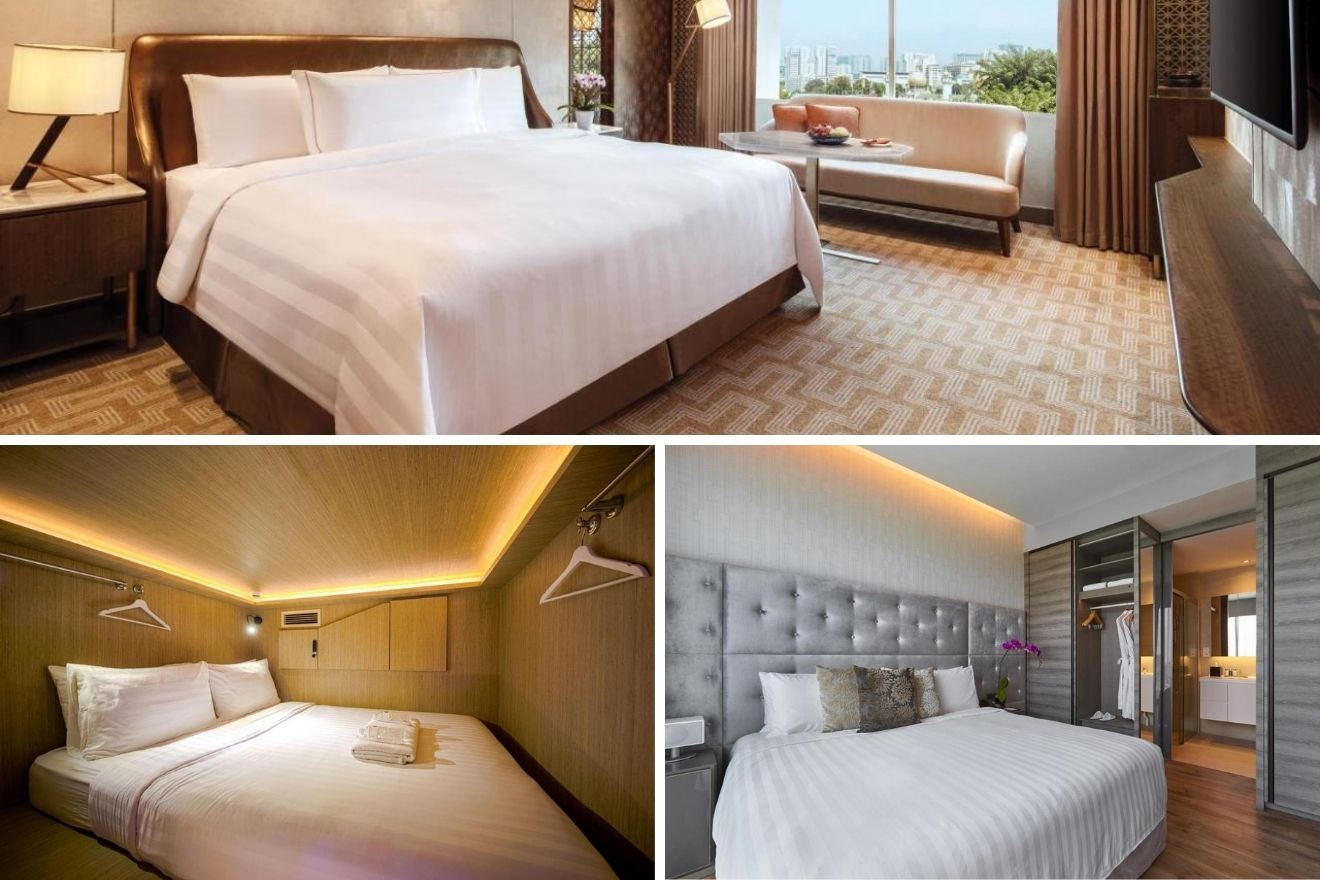 Luxury (from US$220)
Pan Pacific Serviced Suites – This 5-star condo-hotel offers the ideal setting for a luxurious stay in this neighborhood! The hotel is actually made of gorgeous apartments and you'll also have access to an outdoor pool, a fitness center, and more. Plus, it's super close to Bugis MRT station!
Andaz Singapore – Fancy a drink by the pool with a stunning view of the City? You got it! This stunning hotel sure knows how to make its guests happy! Just look at those ceiling-to-floor windows! Relax for a bit in the rain shower, change your clothes and head up to the rooftop bar for an epic sunset!
Mid Range (US$130 – US$200)
Parkroyal Hotel – Wake up to a stunning view of the city in the comfortable rooms of this modern hotel that has a restaurant. Grab your coffee, eat some breakfast, and head to the spa for a relaxing day. The accommodation also has a swimming pool so grab a swimsuit!
The Sultan – I love the design of this boutique hotel! It's so unique and the rooms are super instagrammable! You'll find most attractions in the area within walking distance. The accommodation also has a terrace and it offers free wifi for its guests.
Budget (up to US$130)
Cube Boutique Capsule – If you're looking for an affordable hotel to stay in this area then look no further than Cuba Boutique! It has so many amenities, including air-conditioning, a library, and a bar. So grab a drink and head to the patio to make some new friends!
The Pod – Another awesome budget hotel that features capsule bedding with personal lockers. The accommodation has free wifi and it offers a daily buffet breakfast. You will have access to a shared bathroom and free usage of laptops in the business pods.
Thinga to do in Kampong Glam & Bugis:
Admire the beautiful Sultan Mosque
Learn new things at the Malay Heritage Centre
Take the kids to MINT – Museum of Toys
Buy tons of souvenirs on Arab Street
Eat delicious food from the North Bridge Road Market and the Arabic Market
BONUS 1: Best hotels for families in Singapore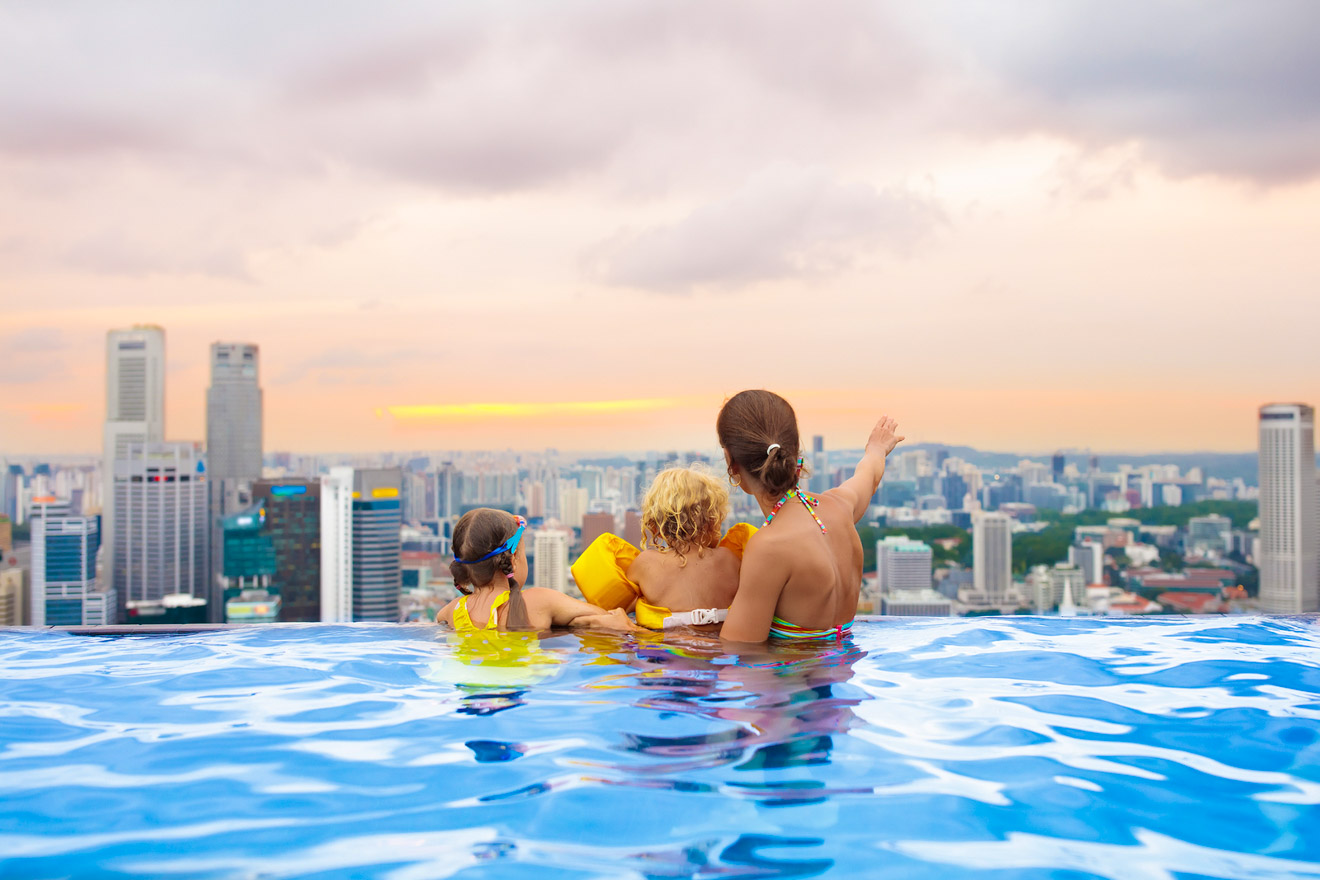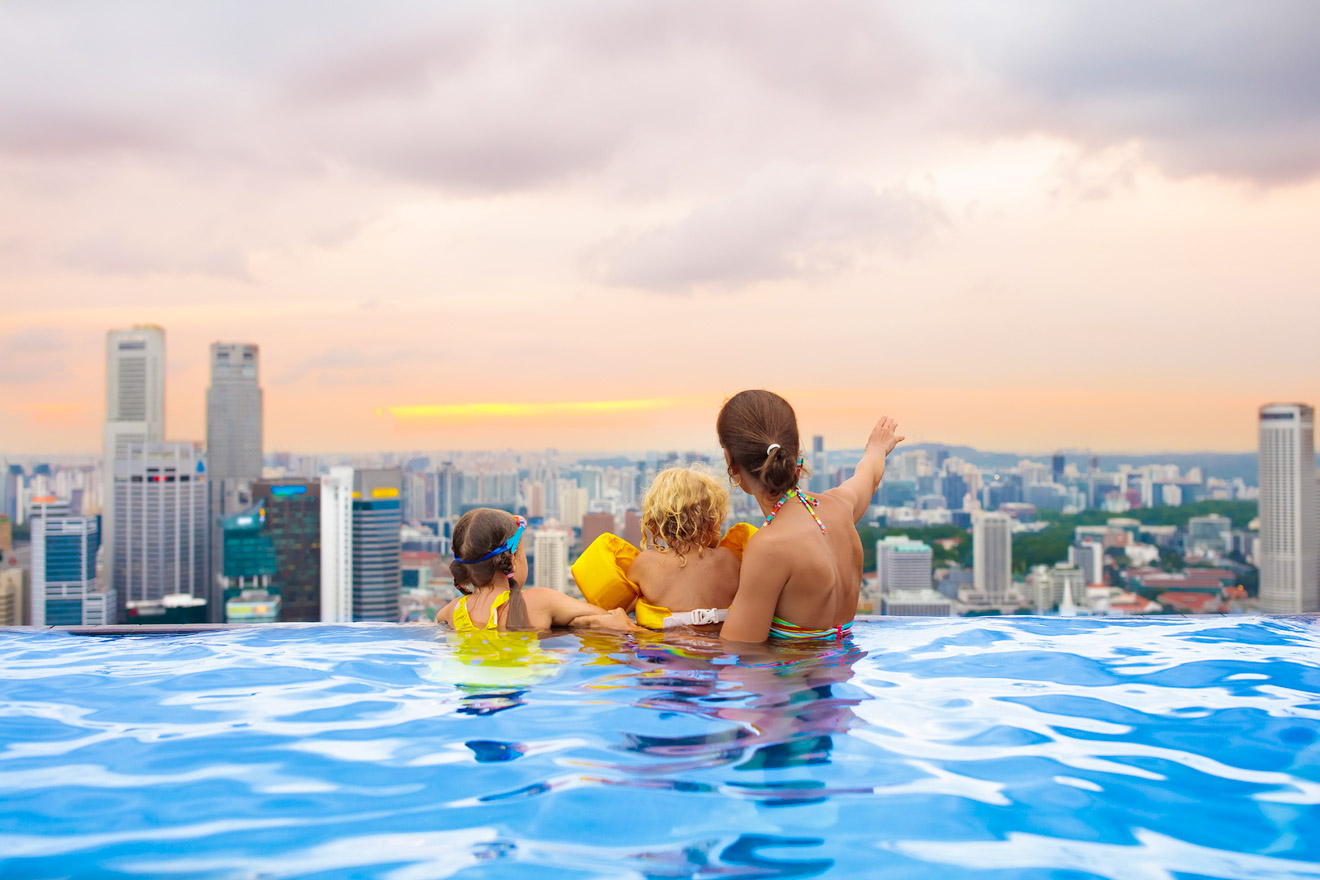 Although Singapore is so unique and diverse it can provide fun activities for all kinds of young people, it is also a great place for a family vacation!
If you are visiting Singapore with kids, you can find a wide range of amazing, child-friendly hotels scattered all around the city. Here are some of the best kid-friendly hotels all around Singapore: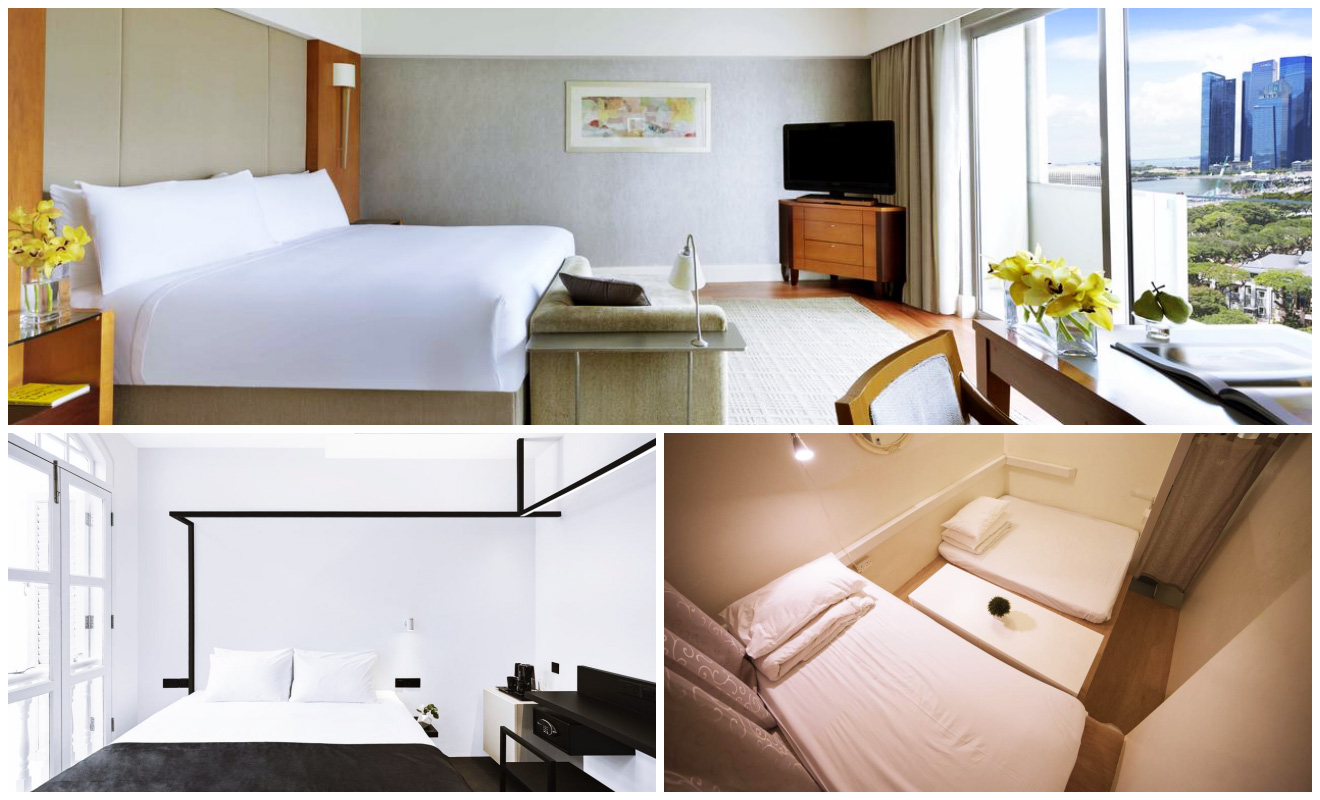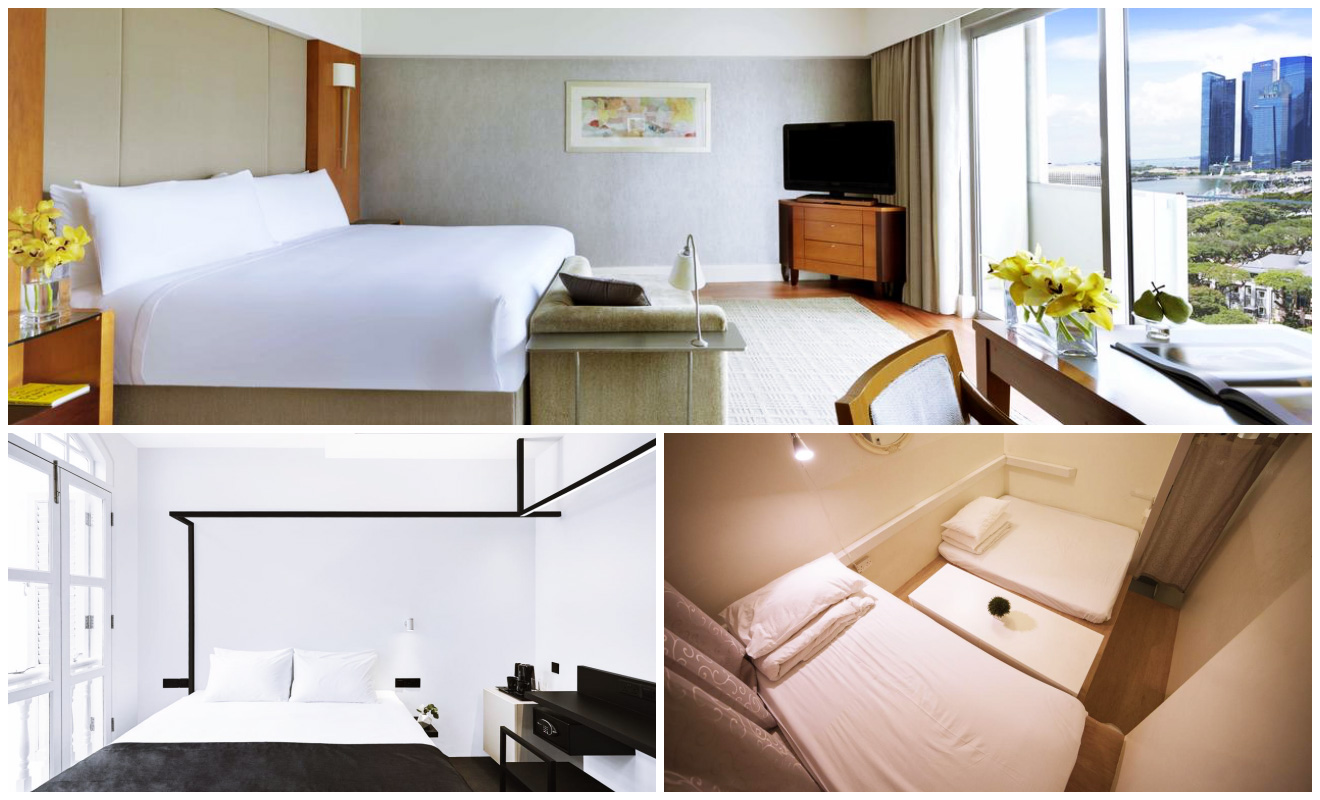 Luxury (US$230 and up)
Fairmont Singapore – an excellent luxury hotel and an ideal family accommodation in Singapore. You can, of course, choose from different types of rooms depending on your preferences and the number of members in your family, but regardless of your choice, you will be greeted with excellent service, friendly and helpful staff, and gorgeous rooms! An excellent luxury stay in Singapore!
InterContinental Singapore – My second luxury recommendation for Singapore and a beautiful child-friendly 5-star hotel in the city. This hotel is not far from the Marina Bay area, with easy access to all the most exciting attractions, and the rooms are decorated in a very stylish way. Plus, the rooftop garden is a very nice spot to relax and admire the city! Please check out more about my personal experience staying in InterContinental here.
Village Hotel – Spend a fun day with your kids by the swimming pool of this great hotel that has free wifi and a fitness center. For the days when you are too tired, you can cozy up in the family rooms, order some room service, and have a cute movie night!
Middle-priced (from US$120 – US$170)
Jen Singapore Tanglin – A place perfect for families who are searching for a good middle-priced hotel that offers great value for money. The rooms are spacious, clean, and simply amazing – perfect for your stay in Singapore! With the 2 swimming pools on-site, I'm sure you'll have a great time with the kids!
Iyf Funan – Enjoy your family trip to Singapore and stay at this modern hotel that has spacious rooms! This is a sustainable property that has private bathrooms, free wifi, and air-conditioning. Some rooms also have a balcony so you get to admire those unique city views from where you're staying as well!
Budget (up to US$110)
Blanc Inn – A great option and one of the most convenient cheap hotels in Singapore for a family! It's perfect if you are traveling on a tight budget and still want to make the best out of your Singapore vacation. This hostel is located within walking distance of Little India district and it awaits you with pretty rooms, free Wi-Fi, and shared bathroom facilities. You can check out more about it in the Booking description!
Hotel Classic by Venue – Elegant and chic! This hotel will be perfect for your family trip, especially if you're traveling on a budget. It has family rooms equipped with a flat-screen tv, free wiki, and parking spots.
BONUS 2: Best hotels near Singapore Changi Airport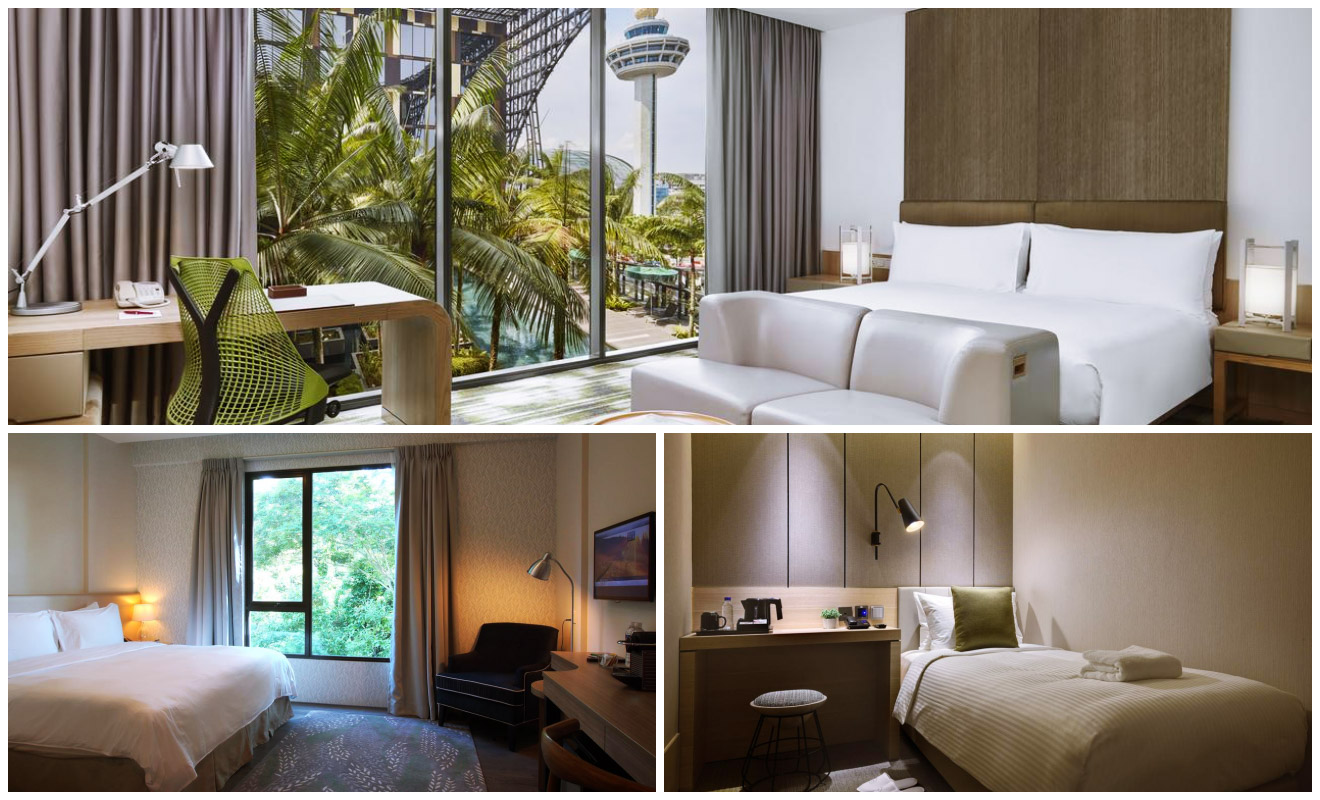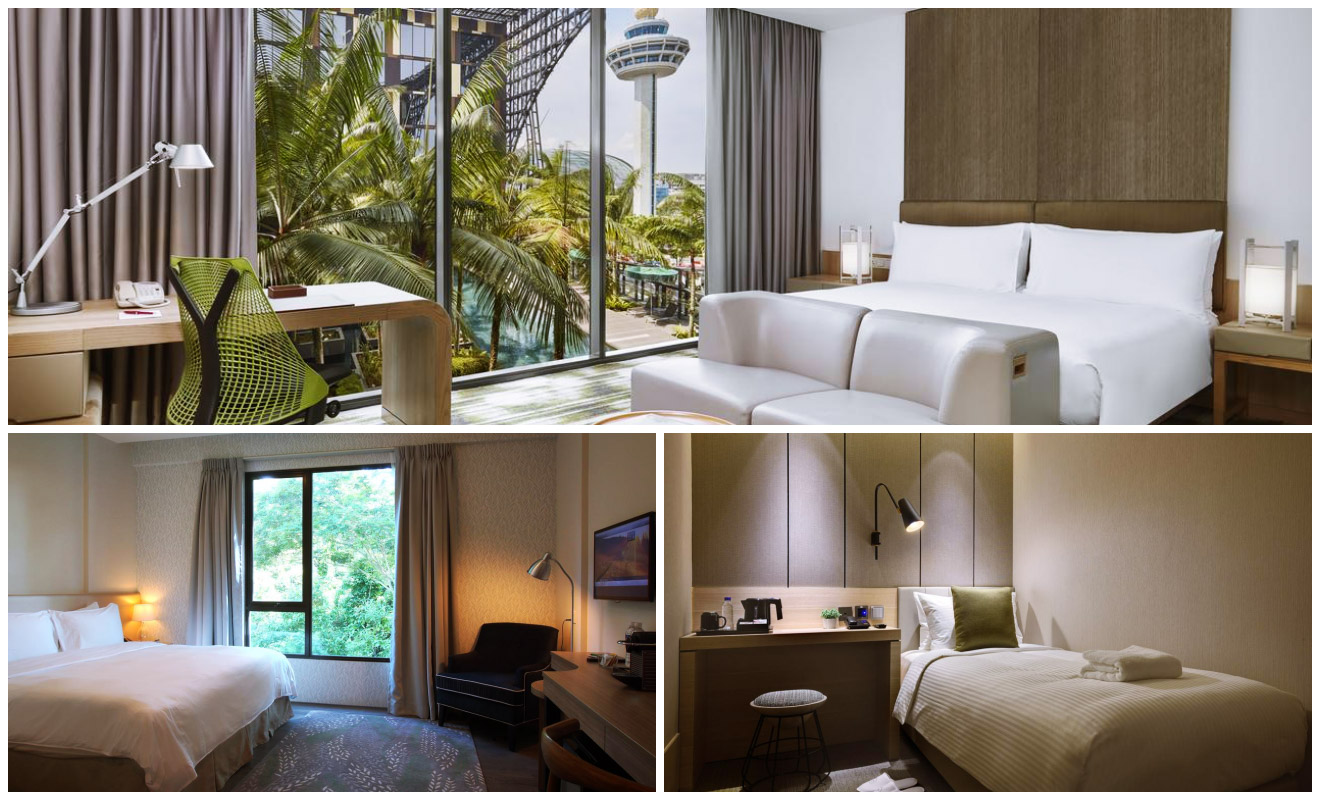 If you are in Singapore only for a short stay or if you have a very early/late flight, then you may be interested in booking a room near Changi Airport! The airport is 24 km from the city center, so picking a hotel that's nearby might be a wise solution.
Here is my recommended list of Singapore hotels near the airport:
Crowne Plaza Changi Airport: An amazing 5-star Singapore airport hotel that will provide an excellent stay within the airport. The rooms are super stylish and you can also relax in the outdoor pool or use the fitness center during your stay there. Plus, the rooms are very spacious and you can choose between 2 restaurants with amazing food!
Capri by Fraser: What better way to relax after a long flight than spending some time by the pool, swimming, drinking and just enjoying the weather! This hotel is located a 5-minute drive away from the airport, and it offers room service and free wifi. There's also a gym on-site and a restaurant.
Frequently Asked Questions about Singapore
🇸🇬 WHICH IS THE BEST AREA TO STAY IN SINGAPORE?
Marina Bay is the best place to stay in Singapore, as this is where you'll find some of the biggest attractions in the city, unique buildings, and amazing hotels like Marina Bay Sands.
🤔 ARE 3 NIGHTS IN SINGAPORE ENOUGH?
I think 3 days could be enough but if you want to visit many attractions and really get a feel of the city I would recommend staying 5 or 6 days.
🤩 WHAT'S THE BIG HOTEL IN SINGAPORE?
Marina Bay Sands is Singapore's iconic resort, which has luxury accommodations, shopping stores, and a rooftop infinity pool that offers some incredible city views.
💰 HOW MUCH IS TO STAY IN A HOTEL IN SINGAPORE?
Singapore is notorious for being expensive but that doesn't mean you can't find a bargain (like some of the hotels in this post). Averge costs for Singapore hotels is $300 for Luxury, $160 for mid range and $70 or less for budget.
Conclusion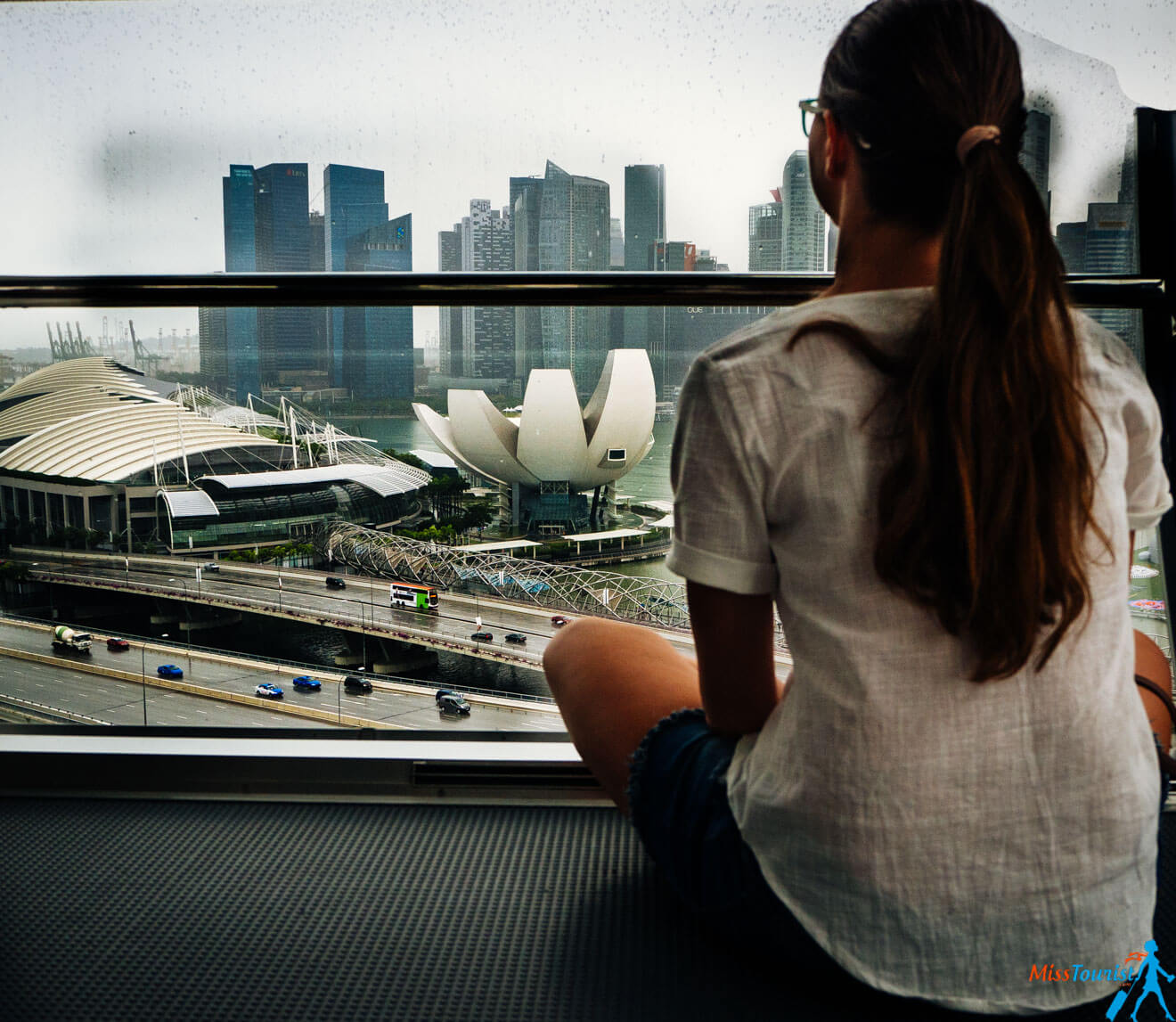 That was my guide with neighborhood recommendations for your stay in Singapore, with carefully chosen hotels for each of them. I also recommended here some great hotels for families traveling to Singapore and even airport hotels in case you are staying in the city only for a little bit.
I hope this list of hotels grouped by budget will help you find the perfect accommodation in Singapore for you and your preferences. But if you're still finding yourself not knowing which hotel to book, here are my top 2 favorite hotels, both located near Marina Bay:
Singapore is a great destination all year round, as the weather is good and you will never run out of things to do, so it is totally worth it to plan a vacation there! What I highly recommend is booking your hotels in advance no matter when you're going, this destination is beyond popular! People from all over the world come here!
For more travel inspiration for your trip to Singapore, you can check out my article about 13 Best things to do in Singapore.
As always, if you have any questions you can leave them in the comments below, I am happy to hear from my readers!
Yulia
---
Pin it for later!
Pin it for later!