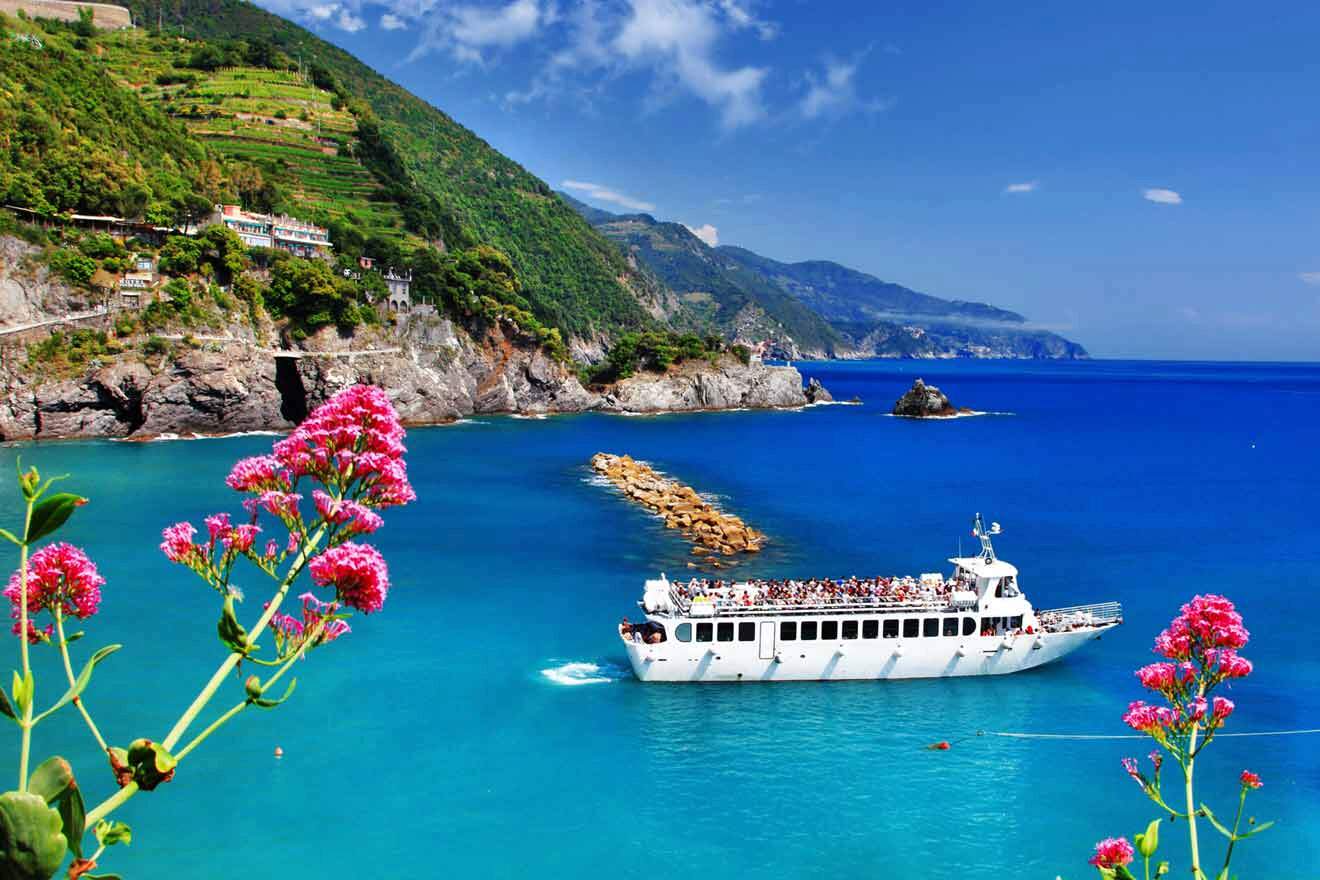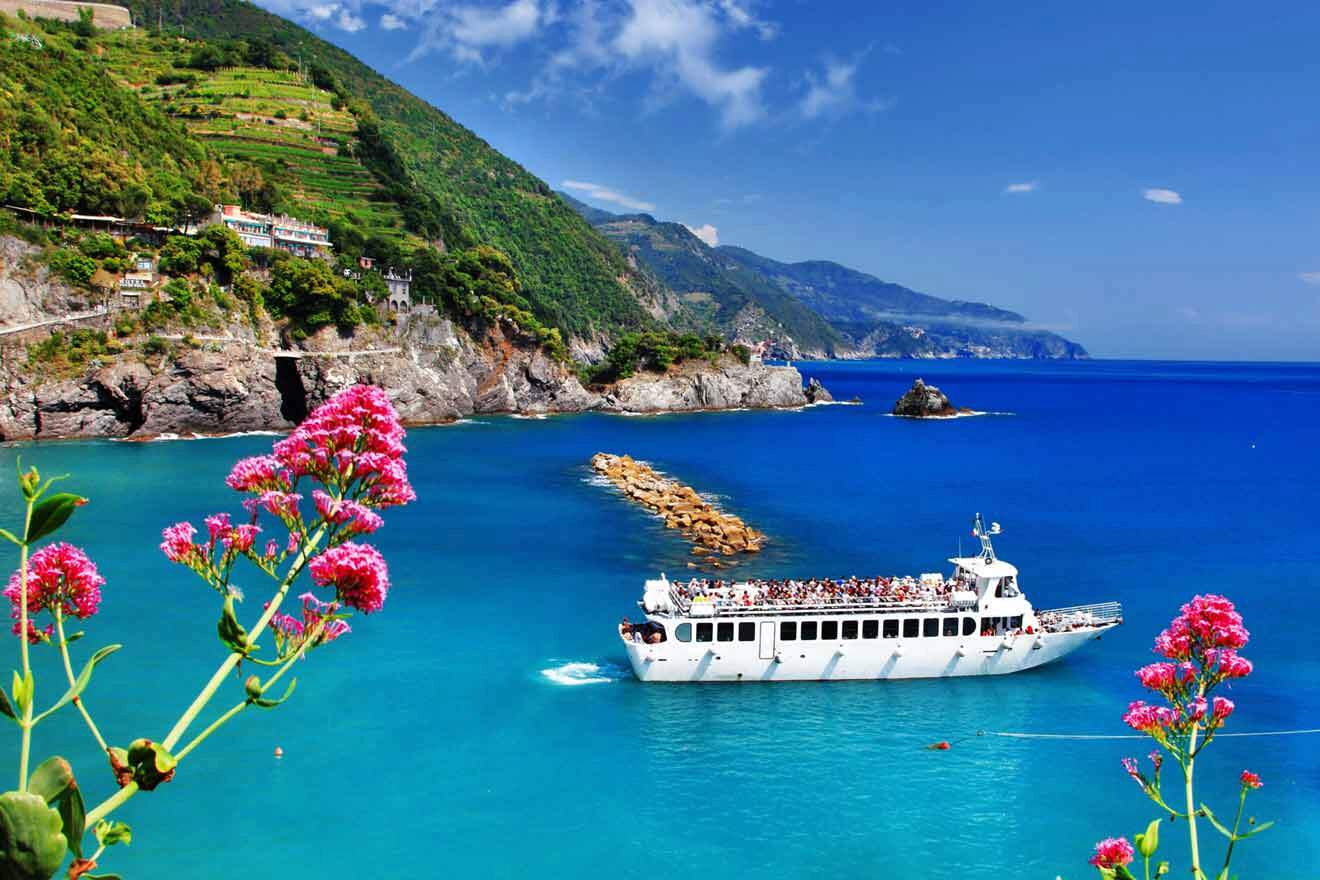 Cinque Terre for sure is one of the most popular tourist destinations in Italy and what better way to experience these colorful villages and its charms than by taking a Cinque Terre boat tour?!
You might think that all these tours have the same itinerary and there is no need for a whole list – you're wrong. There are many different options offered, some include snorkeling, there are combo tours, sunset view options as well as kayak rides. So there is a lot to choose from.
But don't you worry! As your trusty guide, I decided to spend some time investigating and reading reviews so that I could compile a list of top-tier options. It was a fun task and definitely made me want to reserve a boat ride myself.
It's important to remember just how insanely popular Cinque Terre really is, and you best believe that people look at boat tours first when planning for their trip. So, to make sure you don't miss a spot, I recommend you book your tours in advance!
Let's dive in!
If you are in a hurry
Here are the top Cinque Terre boat tours:
1. Take a popular Cinque Terre ferry trip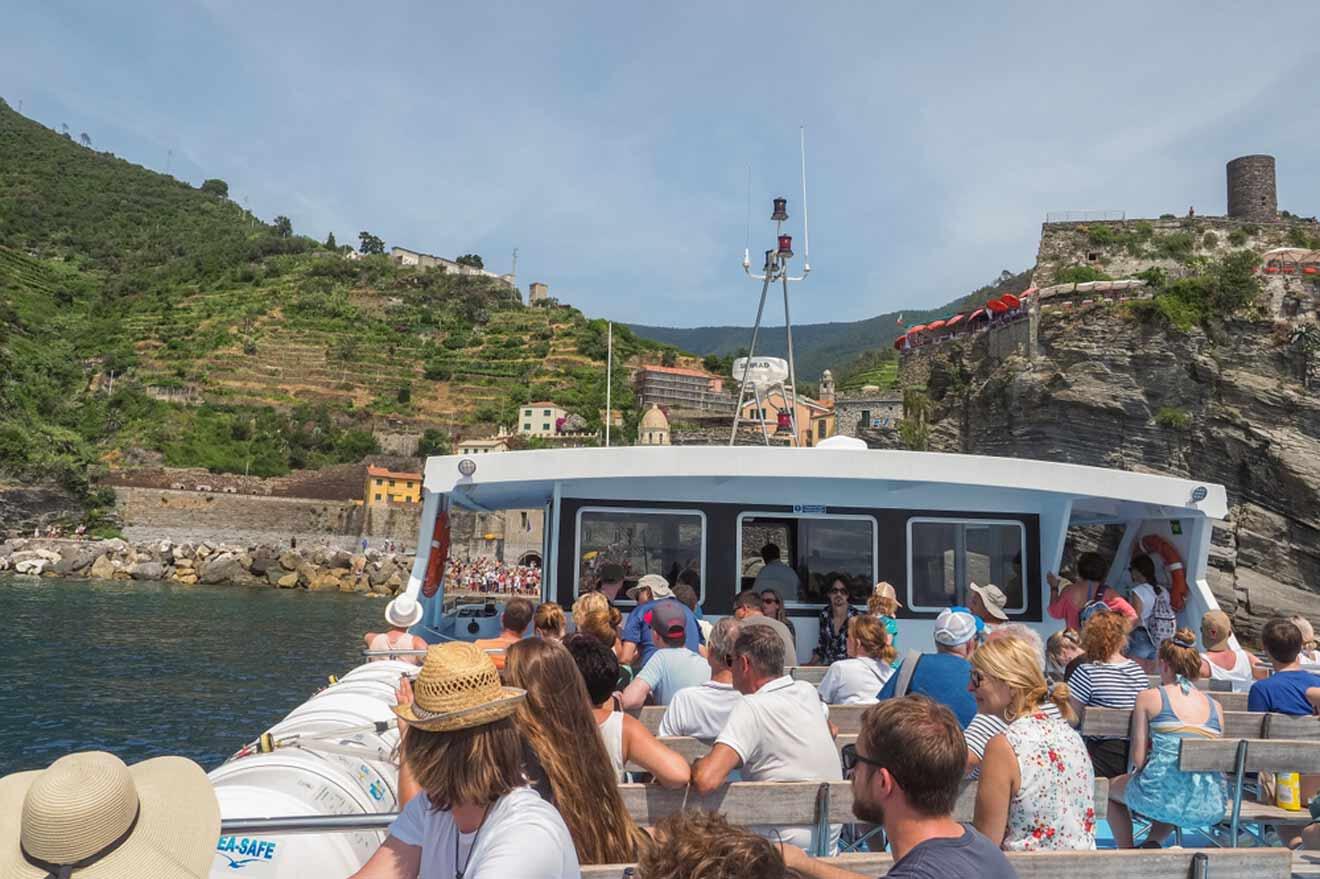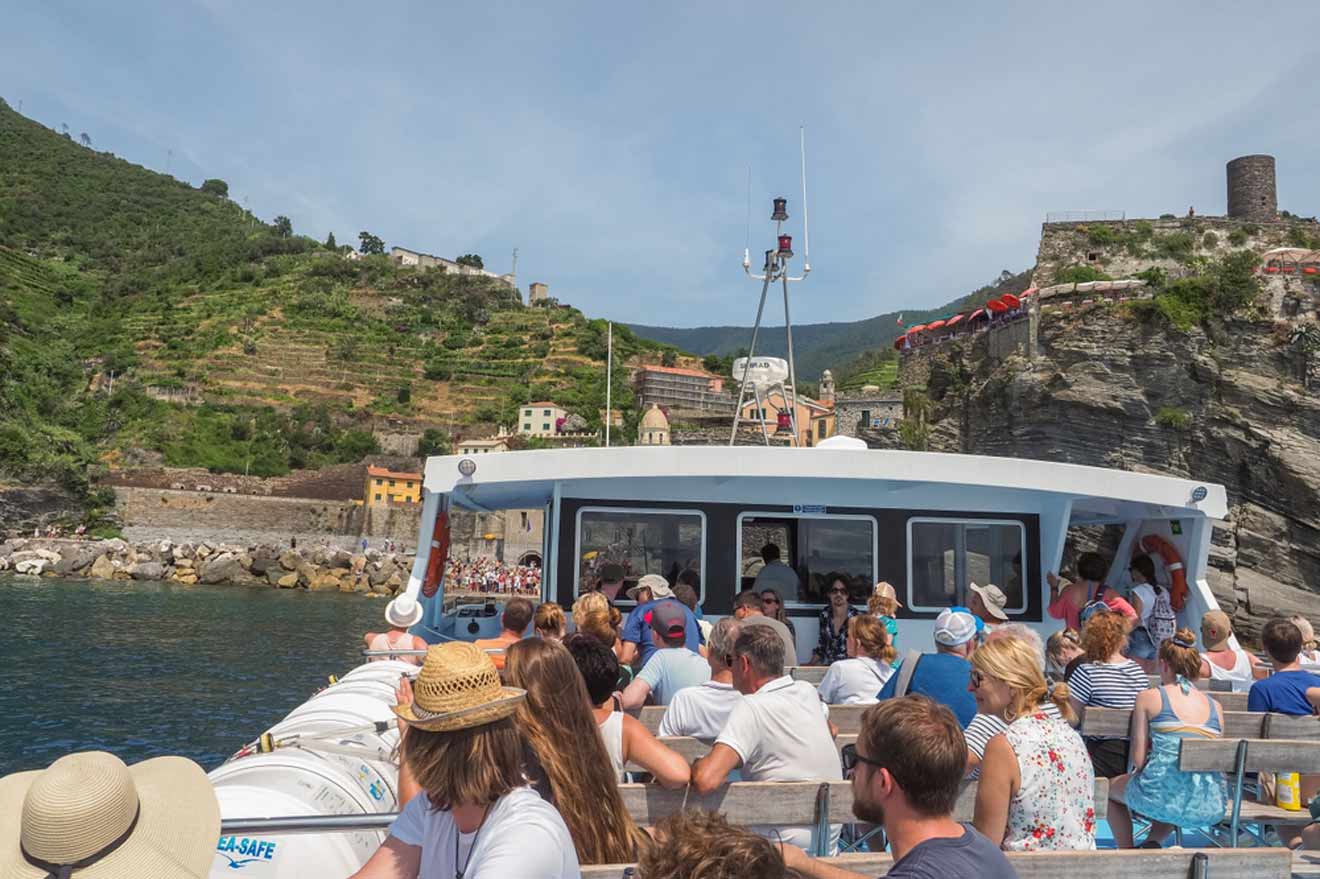 Duration: 8 hours
Price: from €64
Why you should take it: the most popular Cinque Terre coast tour
With this popular tour, you can experience Cinque Terre villages in a ferry boat. Rugged cliffs and picturesque villages make for a great memory and you can see them up close and personal.
You'll set sail from the La Spezia port and see the picturesque little village of Portovenere and the even more beautiful island of Palmaria right across. As you make your way to the opening village of Cinque Terre, Riomaggiore, the stunning views and beautiful coastline will leave you entranced. The terraced vineyard landscape and colorful houses make it a UNESCO World Heritage Site.
Your tour guide will lead you to the towering San Giovanni Battista church, then afterward you'll have some free time to venture through the ancient streets of Monterosso al Mare. Vernazza, the luscious pearl of the Cinque Terre is the last stop before you finish your journey.
2. Explore the Cinque Terre coastline on a kayak tour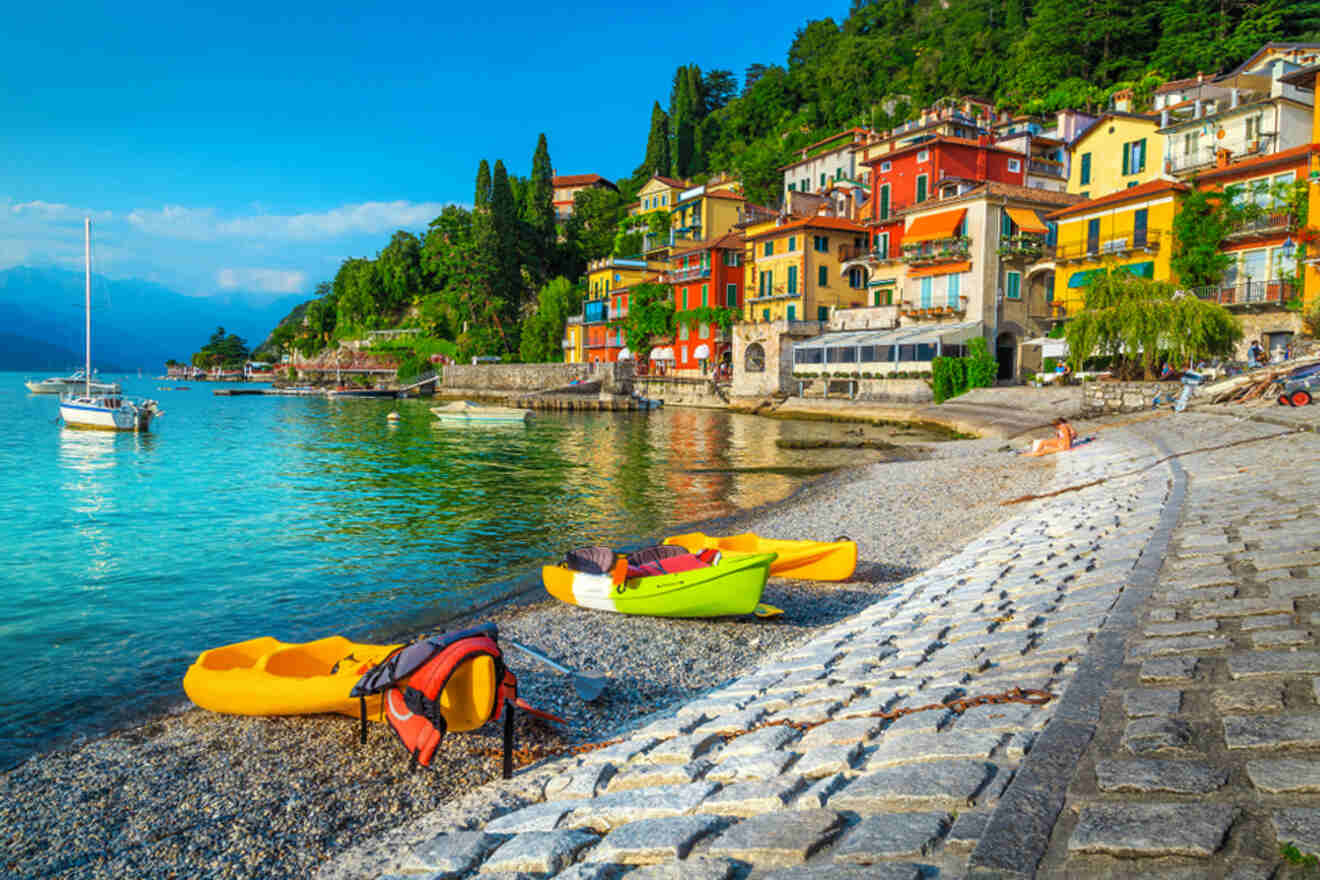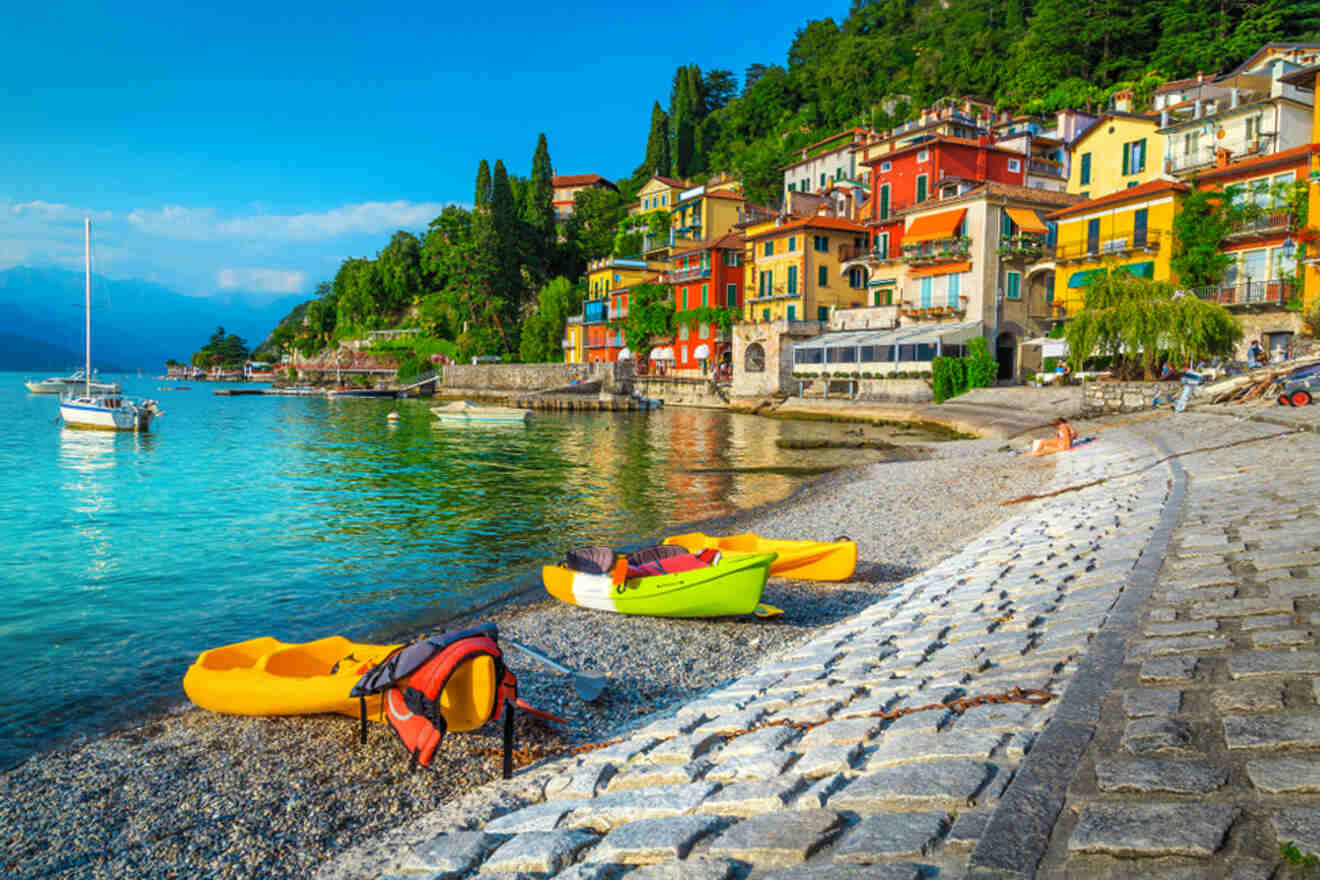 Duration: 2 hours
Price: from €65
Why you should take it: kayak & snorkel combo
This tour is the perfect choice for active travelers that want to get their daily dose of workout. You'll have a chance to explore Cinque Terre towns and snorkel in the Ligurian Sea!
The meeting point is Bagni Stella Marina Beach Bar. You'll cruise past Monterosso al Mare village to get up close and personal with its fascinating history then reach the beautiful crystal clear waters of Portetto bay in no time; here you'll make a stop for snorkeling. All the gear needed is provided by the tour company free of charge – plus their stable and comfy kayaks guarantee tranquility even for rookie sailors.
After this day trip, you'll go back to your Cinque Terre hotel room exhausted but full of unlimited positive energy and long-lasting memories, I can promise you that.
3. Join a Cinque Terre sunset boat tour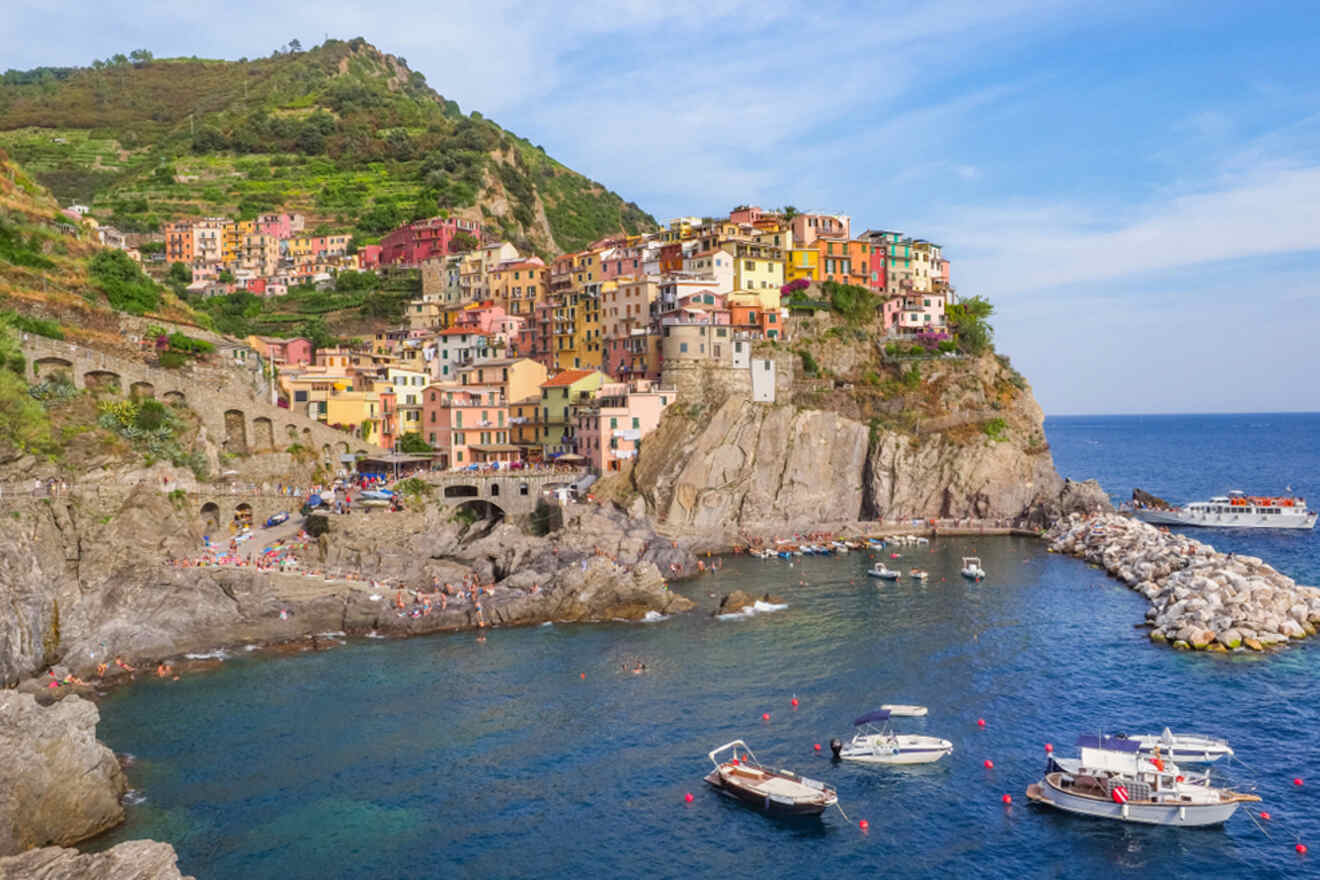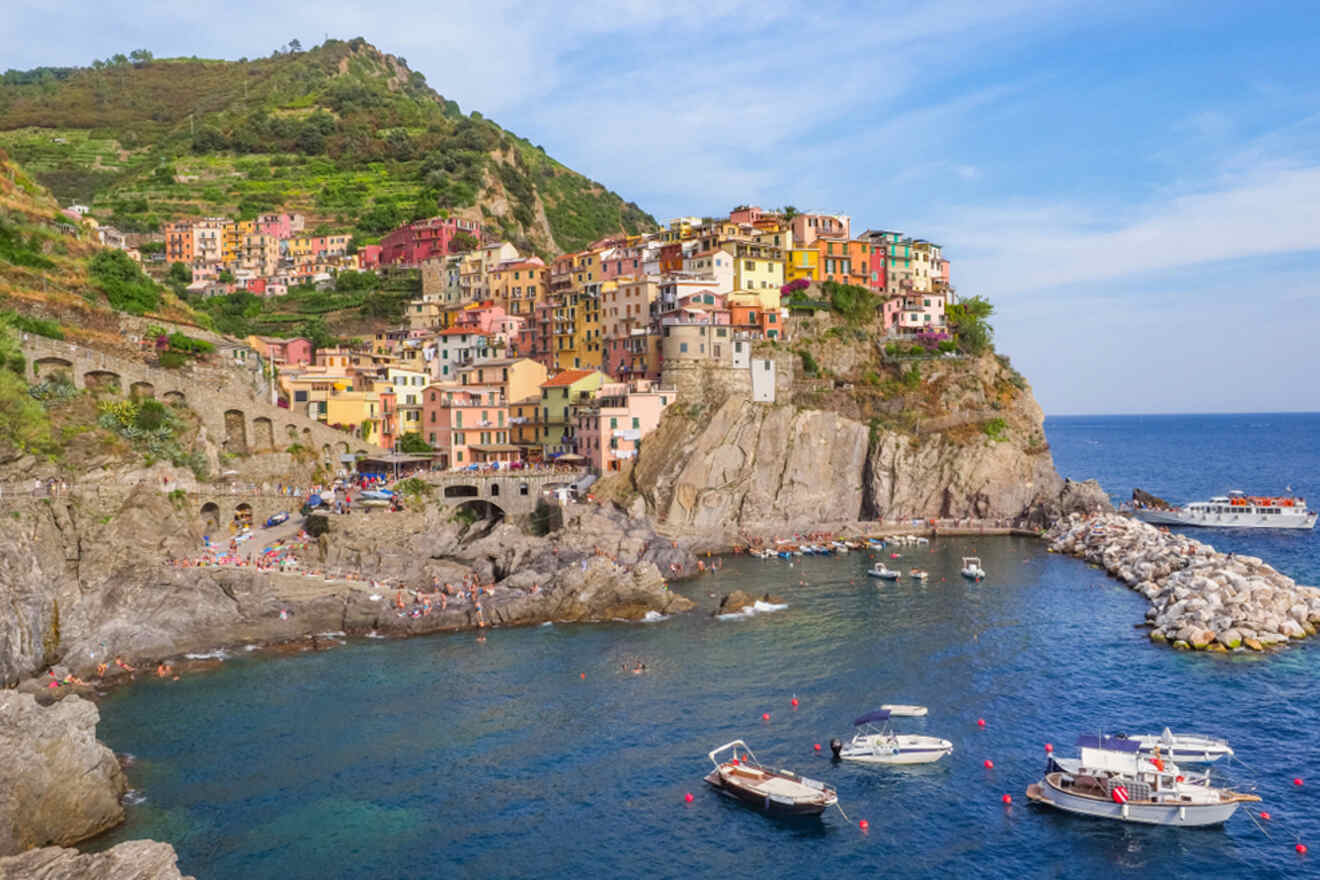 Duration: 3 hours
Price: from €130
Why you should take it: sunset tour of 5 villages
The best boat tours are the ones that include sunset vistas, and this one is no exception! You'll take in a breathtaking sunset view of colorful fishing villages on this special small-group boat tour departing from the Monterosso Pier.
Float past colorful villages like Corniglia, Manarola, and Riomaggiore for some gorgeous photo opportunities. And make sure to drop anchor at the charming Vernazza for exploration around narrow streets before jumping back on board and making your way home.
You'll get to sip on local wine as you witness enchanting vistas – all while being surrounded by no more than 10 fellow travelers! Plus have access to snorkeling gear for an extra intimate experience under the sun.
And if you look for a total VIP experience regarding sunset tours, this private sunset cruise option can grant you just that. Explore nearby islands at your own pace and according to your specific wishes.
4. Embark on a speedboat cruise of the Italian Riviera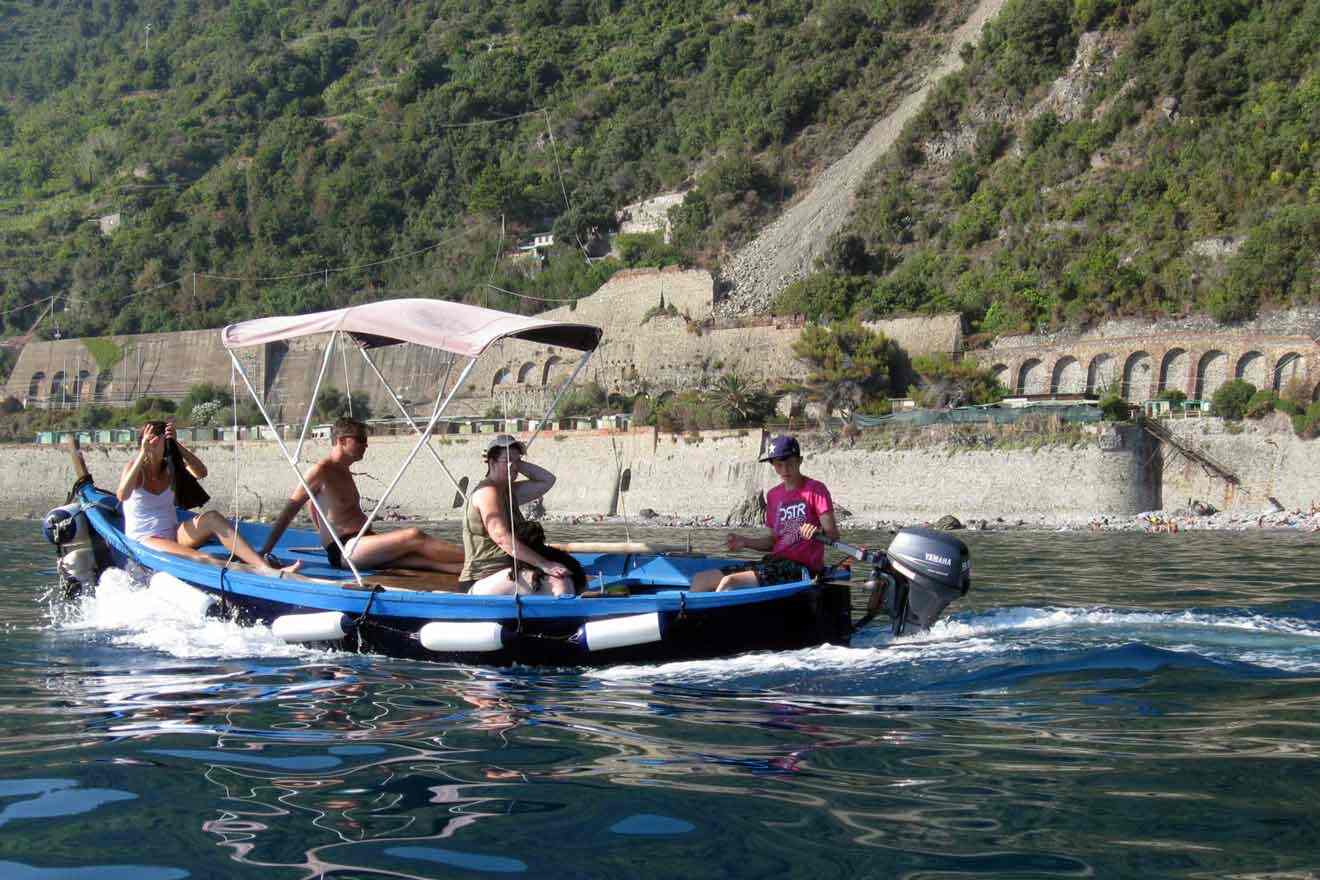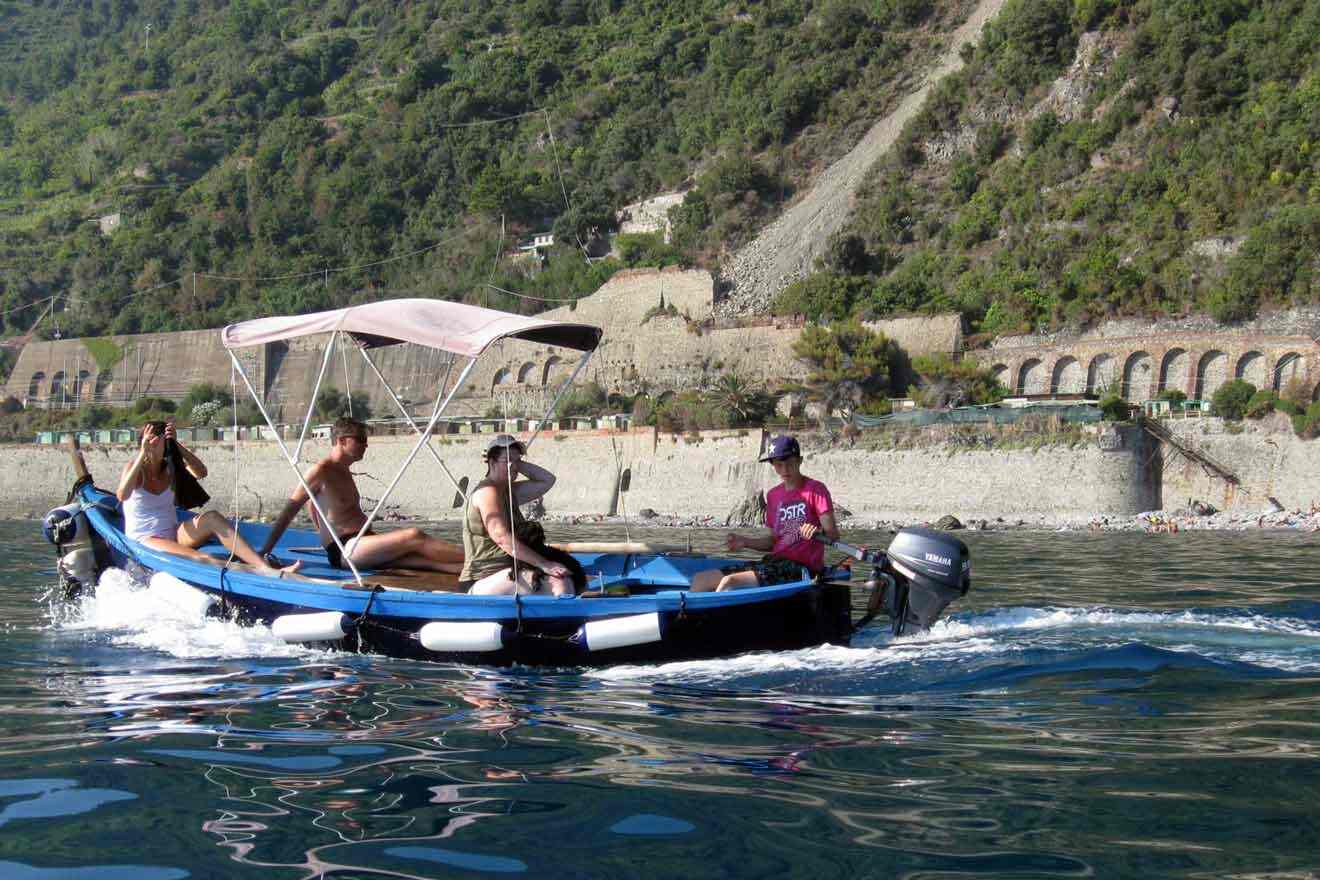 Duration: 4 hours
Price: from €120
Why you should take it: exciting speedboat adventure
With this tour, you can sail through the grandeur of all the villages and experience a visual feast, from dramatic cliffs to serene beaches and secluded coves! The tour will last for approximately 4 hours, and it's a ride in a speedboat that departs from La Spezia.
The first stop is Portovenere and Le Bocche, an impressive strait situated between the town and Palmaria Island – such a natural beauty! Once you're there, make sure to visit San Pietro's Romanesque church. One more awesome part of the tour is swimming in Cinque Terre National Park waters. And the very end of this exciting excursion is Monterosso al Mare – a lively gem amongst an otherwise untouched landscape.
When in La Spezia, be sure to indulge yourself with some local food like freshly caught fish.
5. Enjoy a ride in a traditional Ligurian gozzo
Duration: 2.5 hours
Price: from €120
Why you should take it: unique boat design and sunset views
This traditional tour option will take you on a journey of bliss. You'll get to sail along the Cinque Terre's gorgeous coastline aboard a classic wooden vessel that was carved by a renowned shipwright.
You'll have a chance to taste local delicacies like snacks with some Prosecco and beers – all handpicked for your pleasure – as you get the inside scoop about this historic region from an experienced tour guide at your service.
As you cruise through the rugged coastline, you can put all worldly worries and daily stress aside to bask in mother nature's beauty. Immerse yourself further with photo opportunities presented before Riomaggiore's exquisite architecture. All throughout the boat ride, you'll enjoy an ambient, personalized playlist specially brewed just for you!
6. Go on a private boat tour of Cinque Terre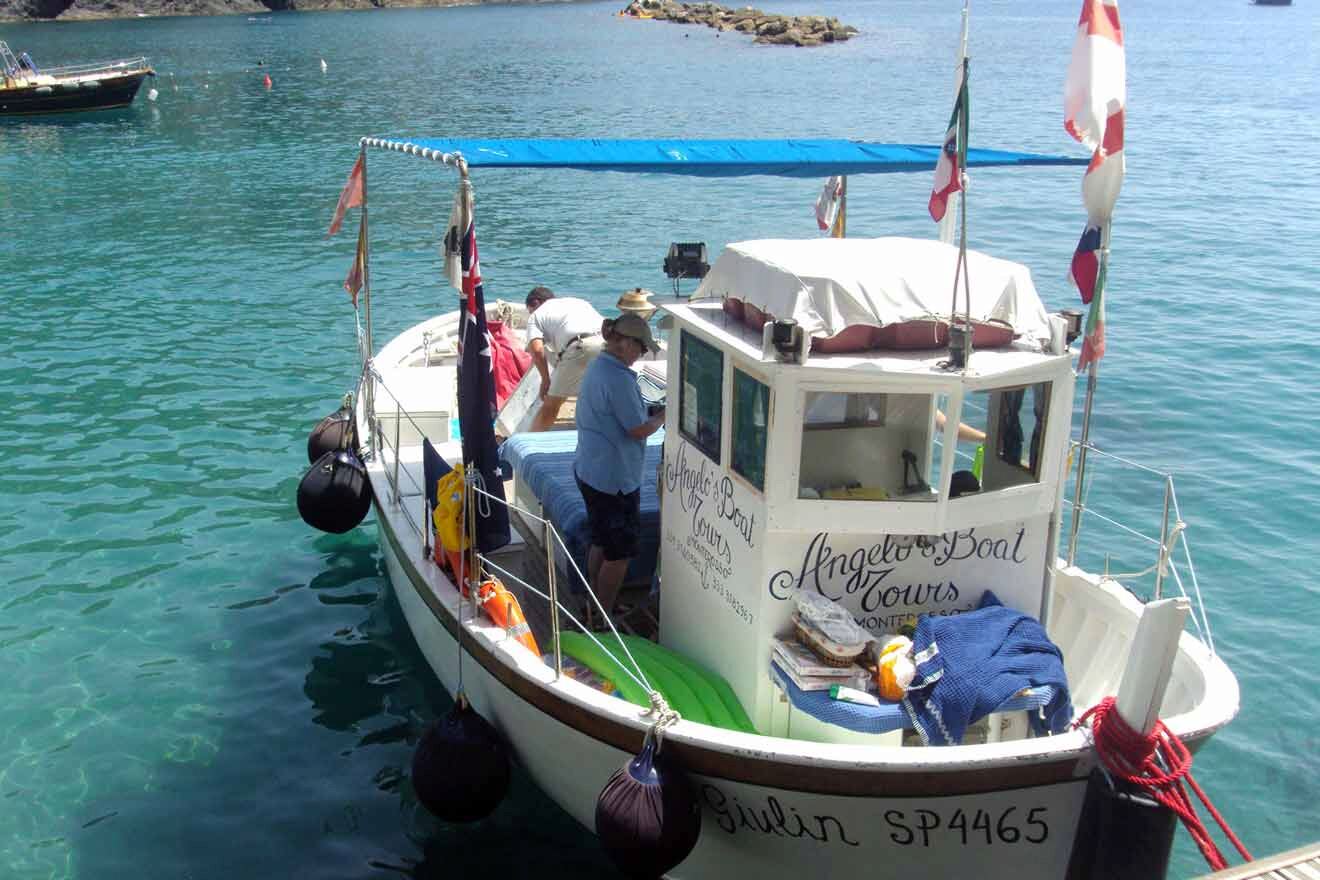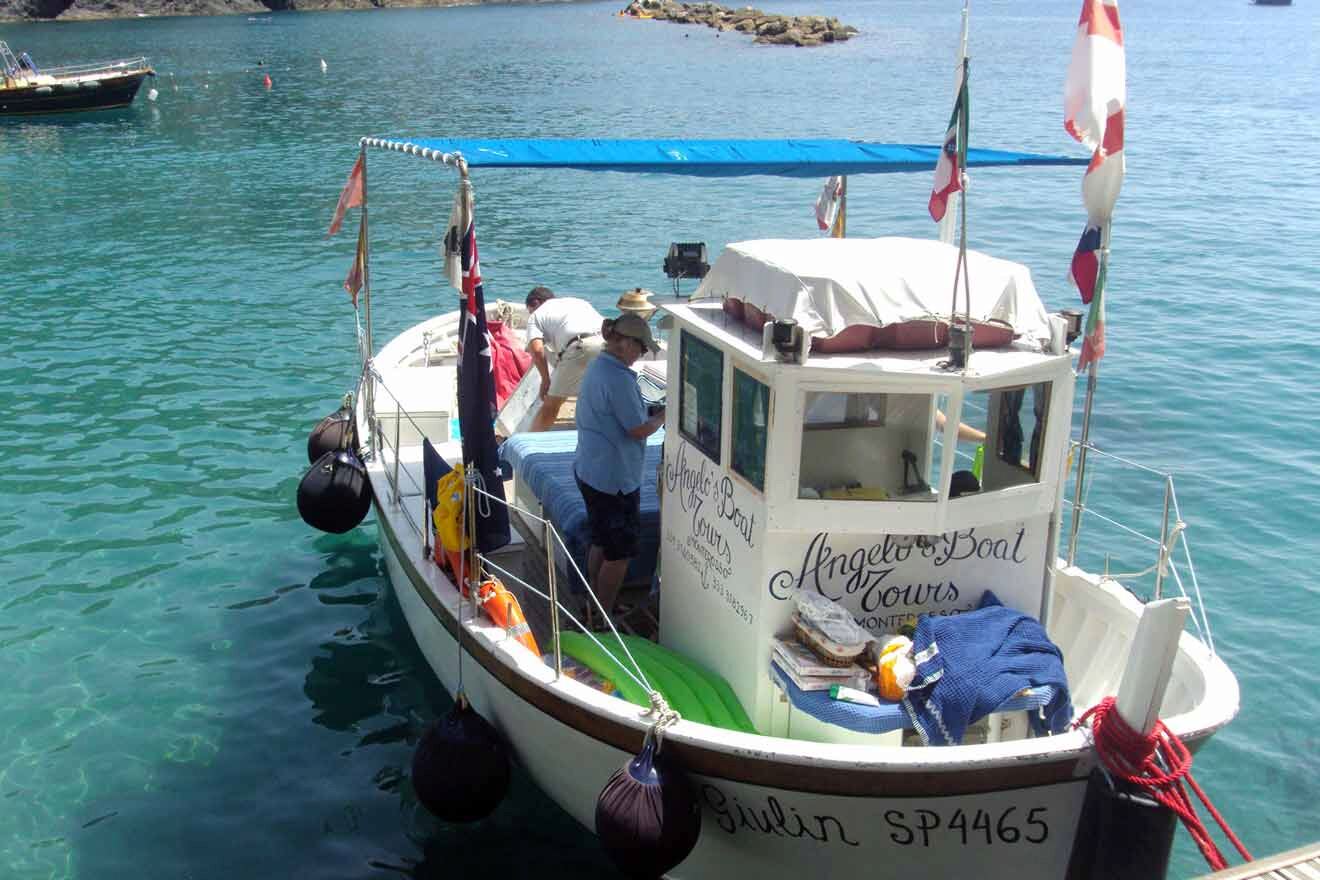 Duration: 2 hours
Price: from €400
Why you should take it: private and immersive experience
Private tours are just what every traveler needs to experience any travel destination and even more so when it comes to water activities. You don't have to worry about boat rental or any of the tedious details.
With this private tour, you'll depart from Monterosso aboard a classic Ligurian gozzo and get an unbeatable experience of the Cinque Terre! Everything will be taken care of, so you only have to kick back and soak in spectacular vistas on the massive sundeck. There is also an option of diving into the turquoise sea to uncover its hidden treasures – either way, you won't want to miss cruising past all 5 village coasts with plenty of photo ops along the way!
To wrap up your journey, you'll have delicious lunch prepared just for you, not to mention the selection of refreshments like water, local wine, and beer throughout your trip.
7. Visit both Cinque Terre & Porto Venere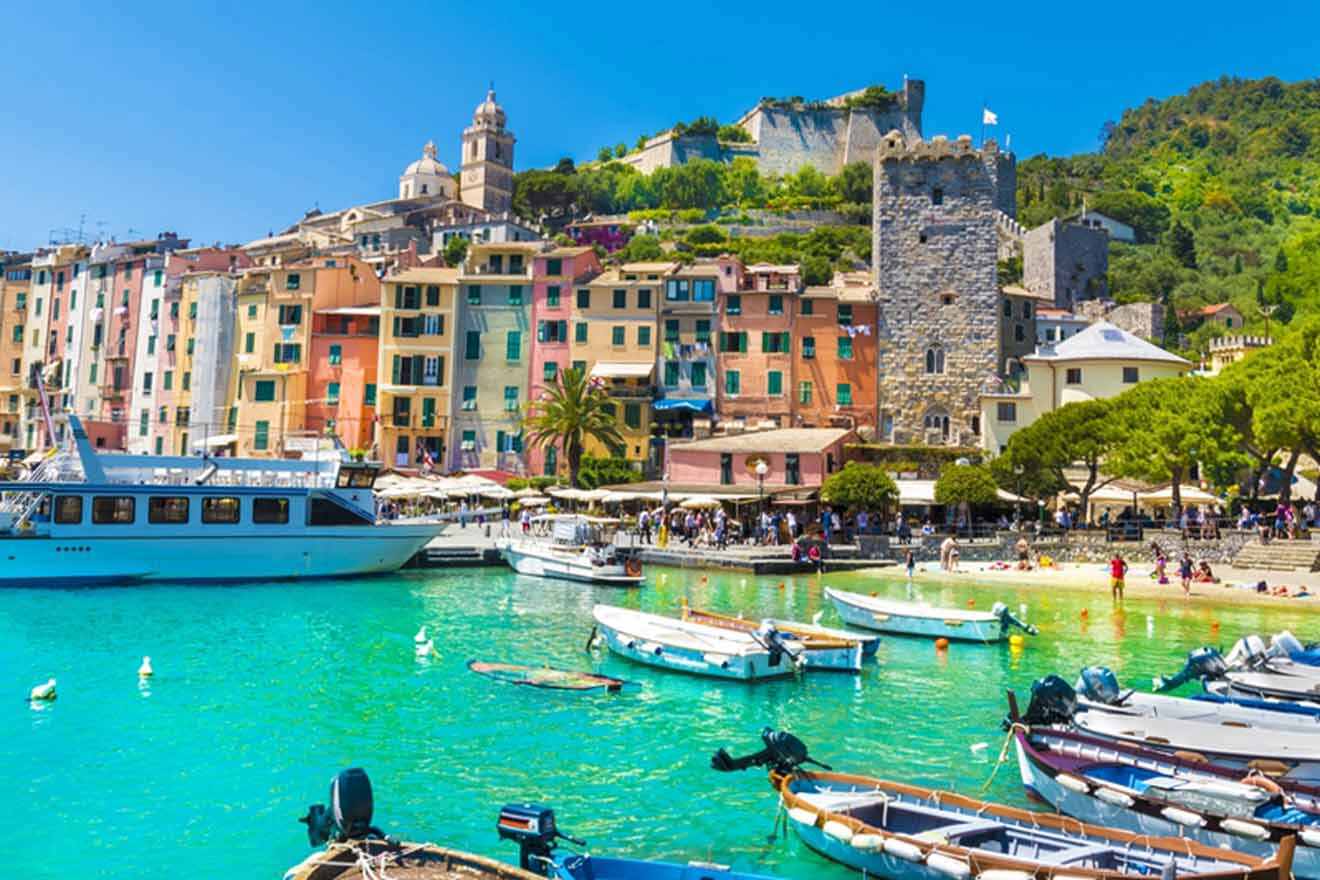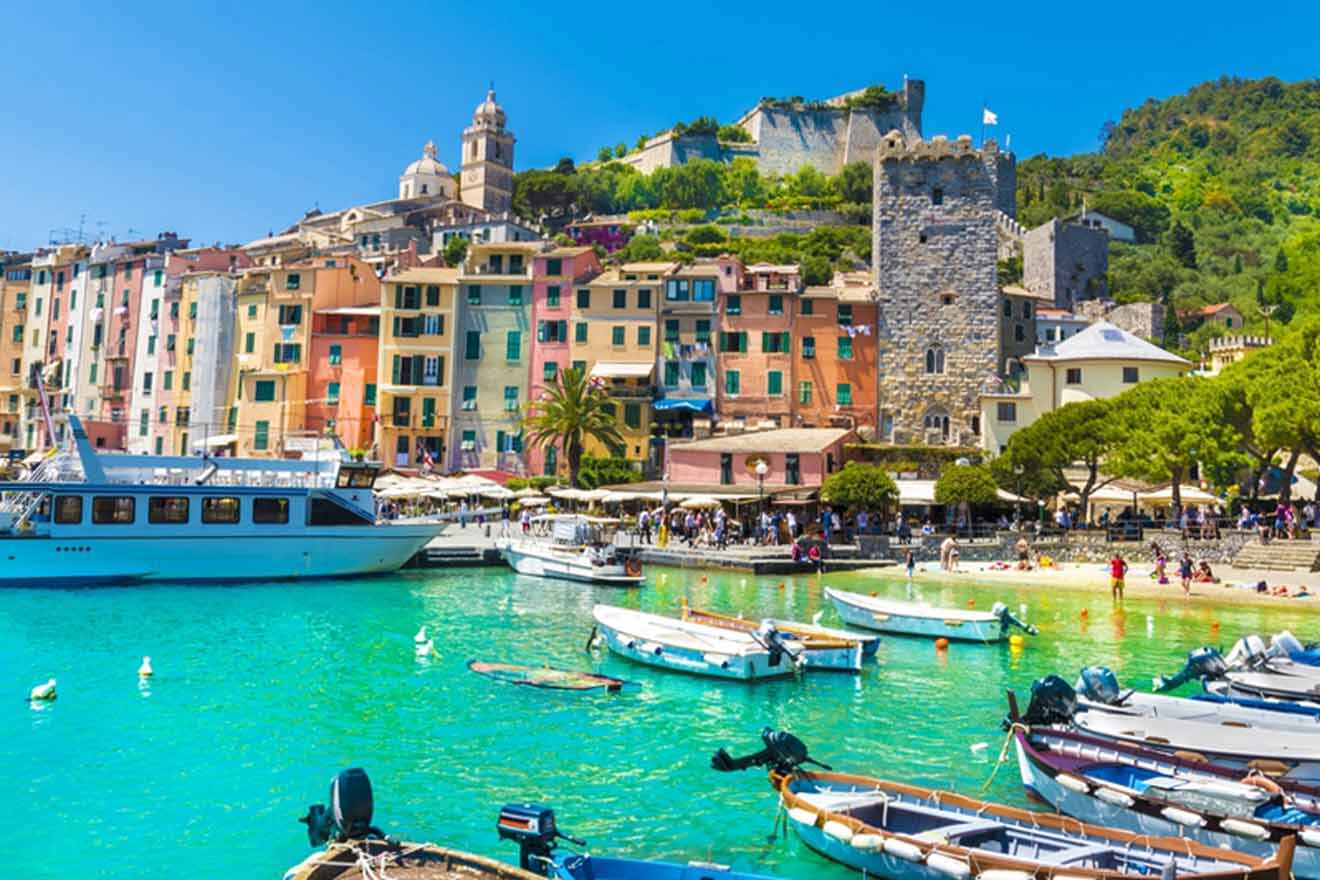 Duration: 5.5 hours
Price: from €194
Why you should take it: longer combo day trip
If all of the other options seem too short for your taste, I'm bringing you an awesome day boat trip that will give you the chance to soak up Cinque Terre and Porto Venere in all its glory.
Forget about avoiding the land-based crowds and get ready to go swimming, exploring, and discovering with plenty of time for relaxing onboard as you jump through waves! Beyond that, a special restroom along with a freshwater shower is provided so you can freshen up after having gone out for a cool dip in the Mediterranean. The professionals will handle all the boat chores while you relax!
Try out some delicious specialty dishes like focaccia or gorgeous fresh pesto while conserving precious space when it comes to packing since snorkeling equipment is provided too.
8. Learn to make pesto & sail through Cinque Terre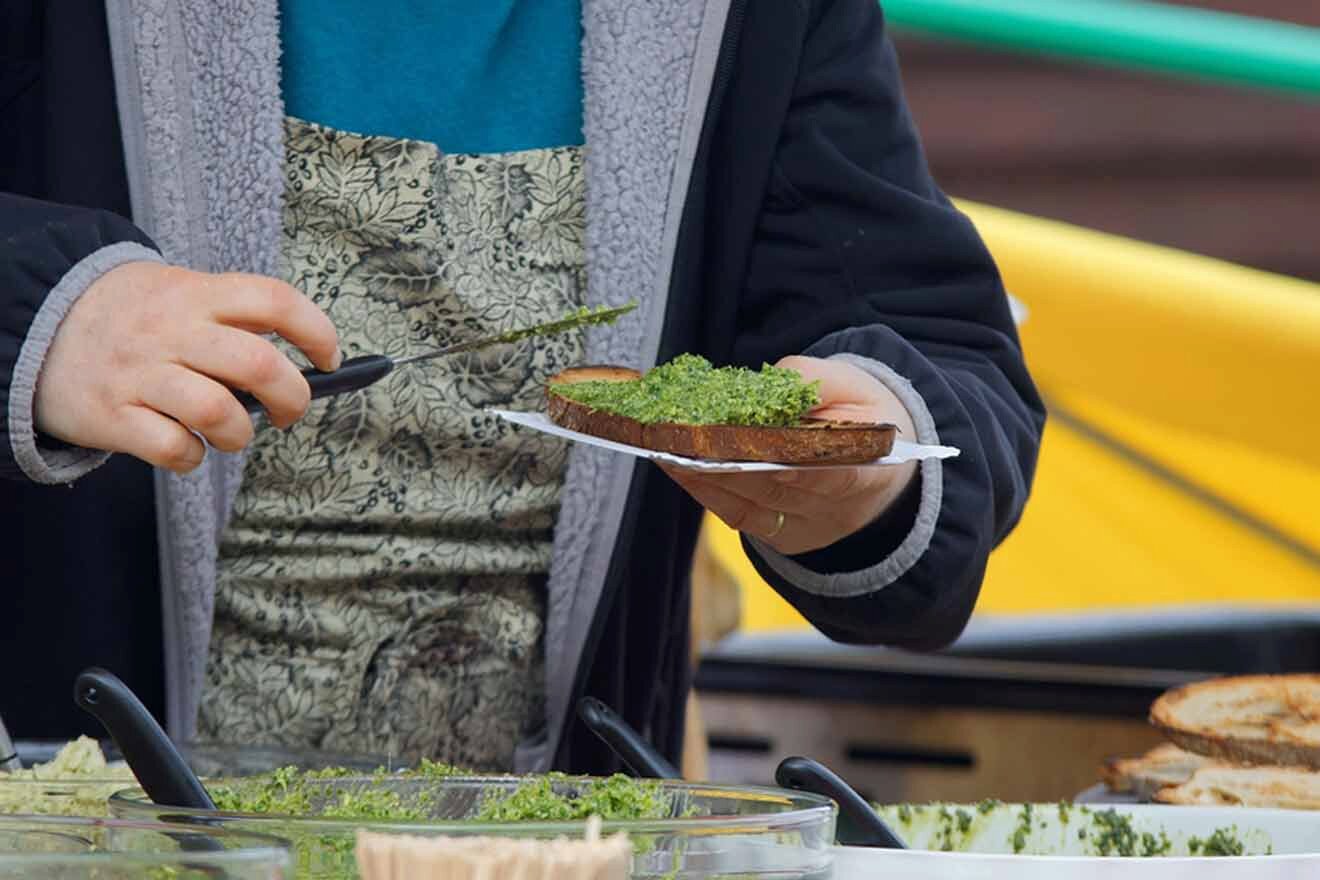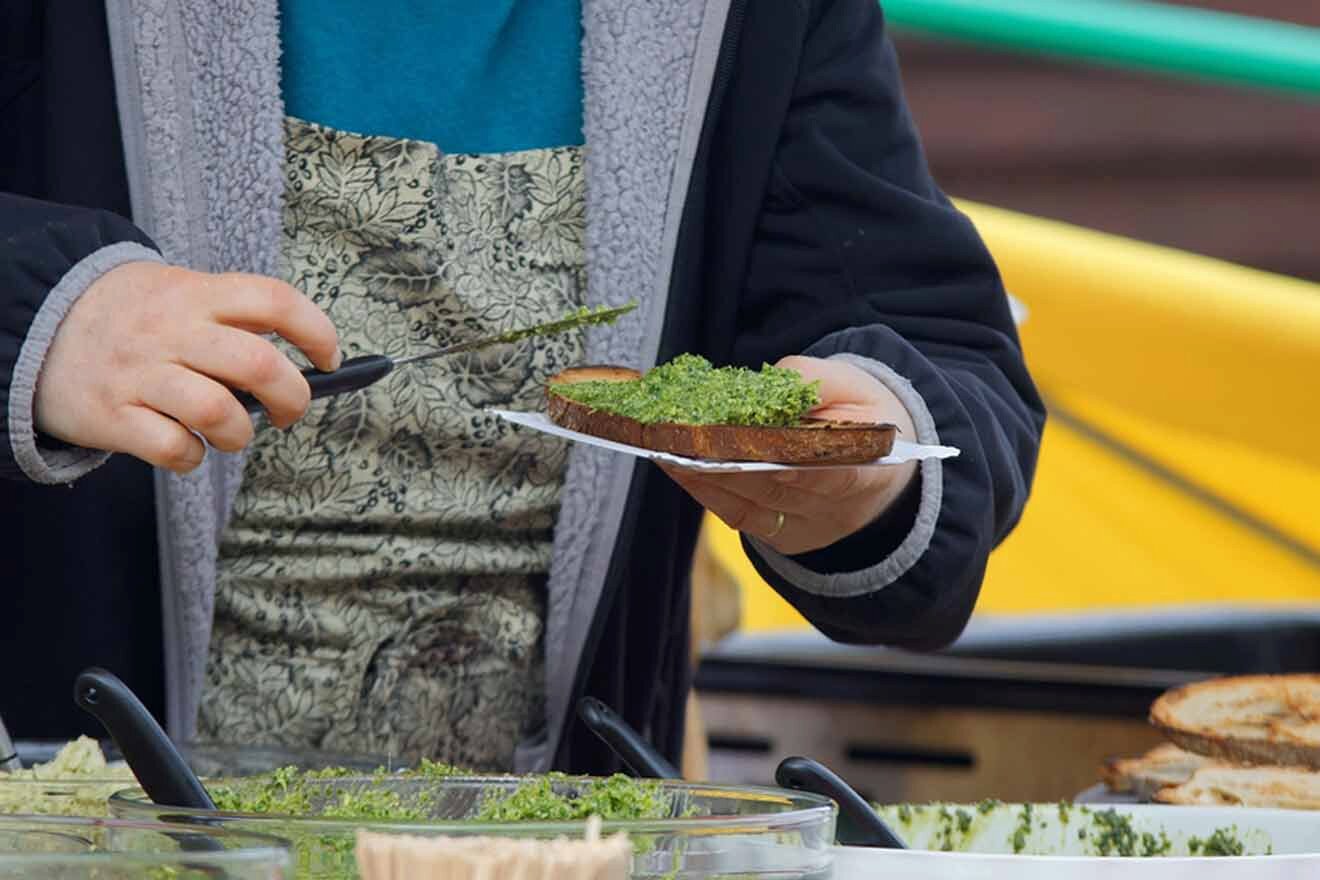 Duration: 4 hours
Price: from €260
Why you should take it: includes a pesto-making class
Head over to marvelous Cinque Terre with this 4-hour tour from Manarola! You'll get a taste of its beautiful sights while indulging in a pesto demonstration, taking a boat cruise along the coast, and grabbing lunch. And what better way to spice up dinners back home than demonstrating your newly acquired Pesto making skills?!
You'll meet at the train station with your crew and head to Vernazza. There is a veggie meal option on this tour which also makes it a convenient option.
You'll also see stunning scenery up close by cruising around by boat – perfect for everyone from little kids to grandparents! At the end of it all you have yourself an exclusive Cinque Terre trail pass so you can delve into more amazement if ever you wish.
9. Relax on a cruise around Cinque Terre National Park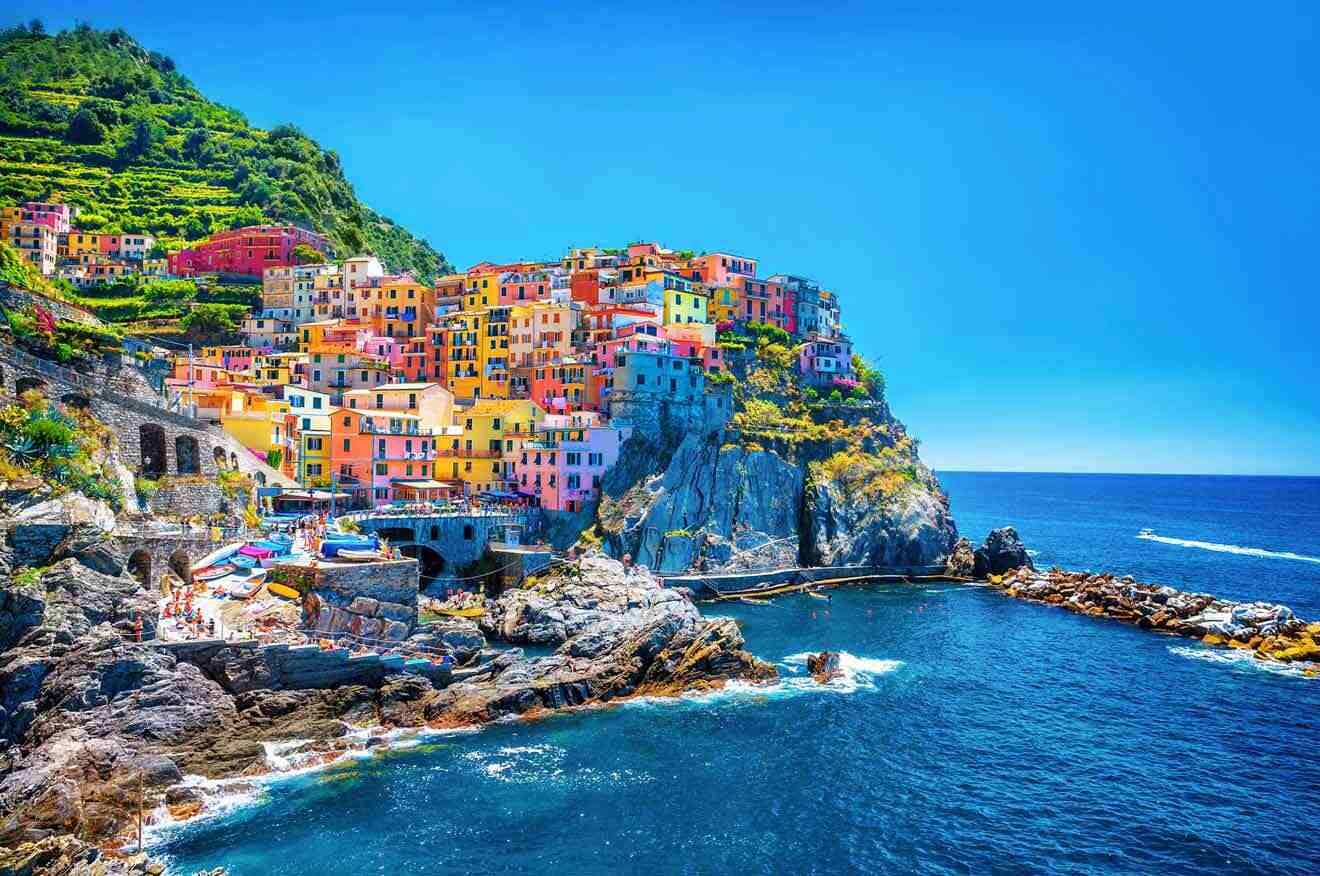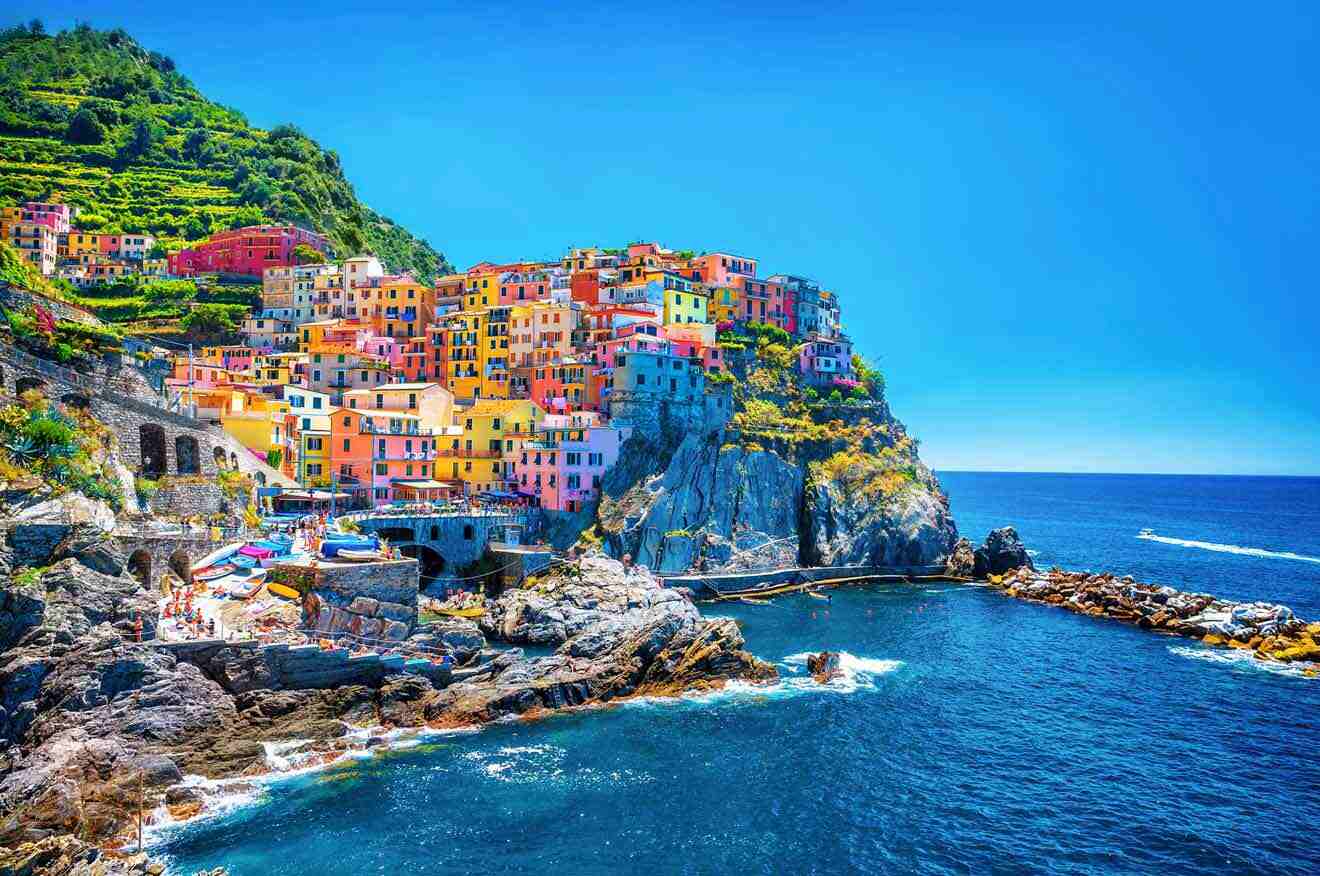 Duration: 2 hours
Price: from €95
Why you should take it: slow pace cruise to Cinque Terre National Park
Setting sail from Manarola, you'll be welcomed onboard with a drink and embark on an incredible journey around the entire coastline of the Cinque Terre National Park. From verdant vineyards to golden beaches, it's bursting with color!
Don't forget your swimming gear as there will be plenty of opportunities for taking some refreshing dips in the crystal-clear Ligurian sea – if you're lucky, you might even catch a glimpse of playful dolphins surfing across the shimmering surface. When back aboard, ready your camera for pictures of villages across this colorful terrain as the tour guide provides detailed commentary.
What else? Oh yes – local wines and snacks are all supplied onboard to make your experience even better. Sounds amazing if you ask me!
FAQs about your Cinque Terre boat tour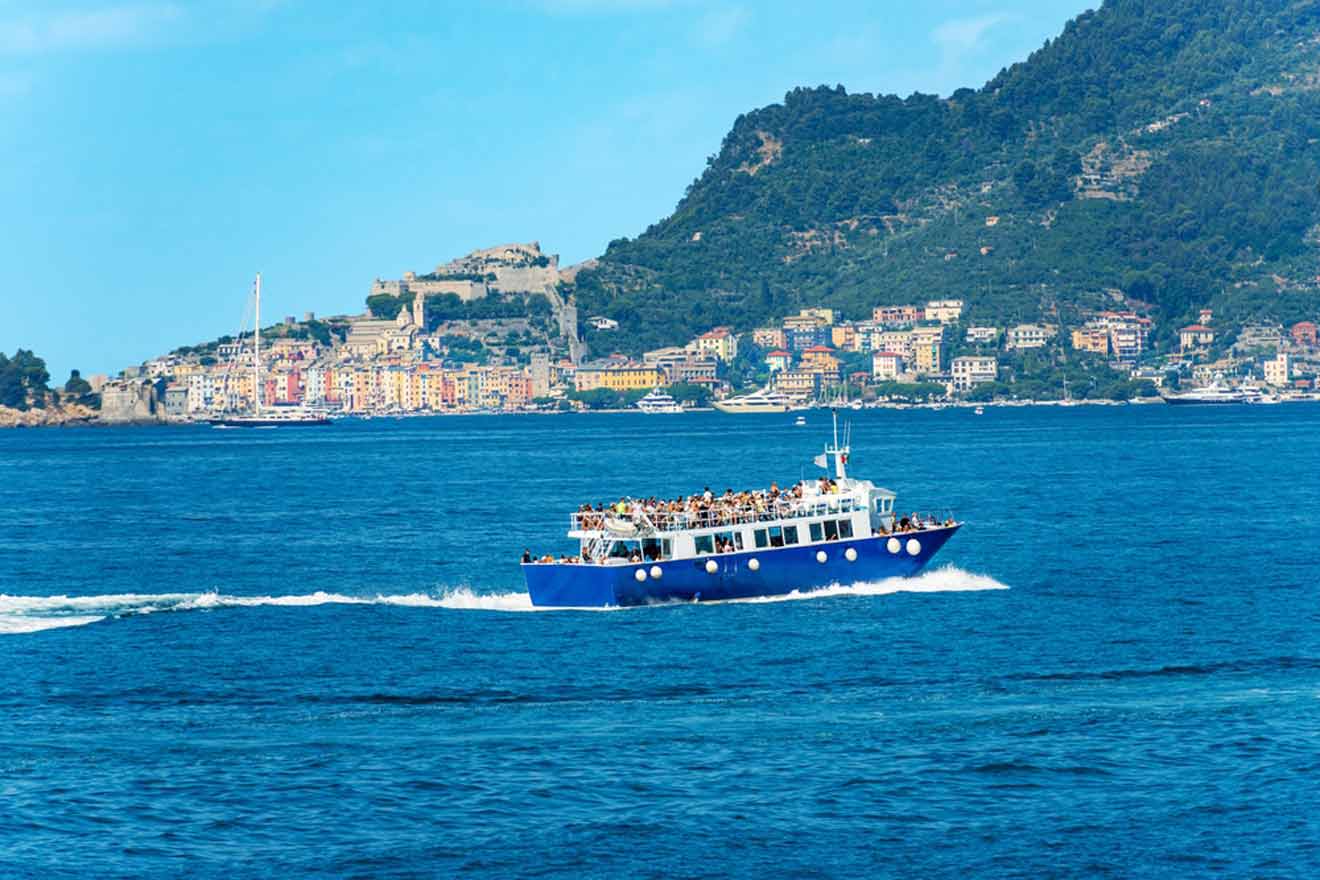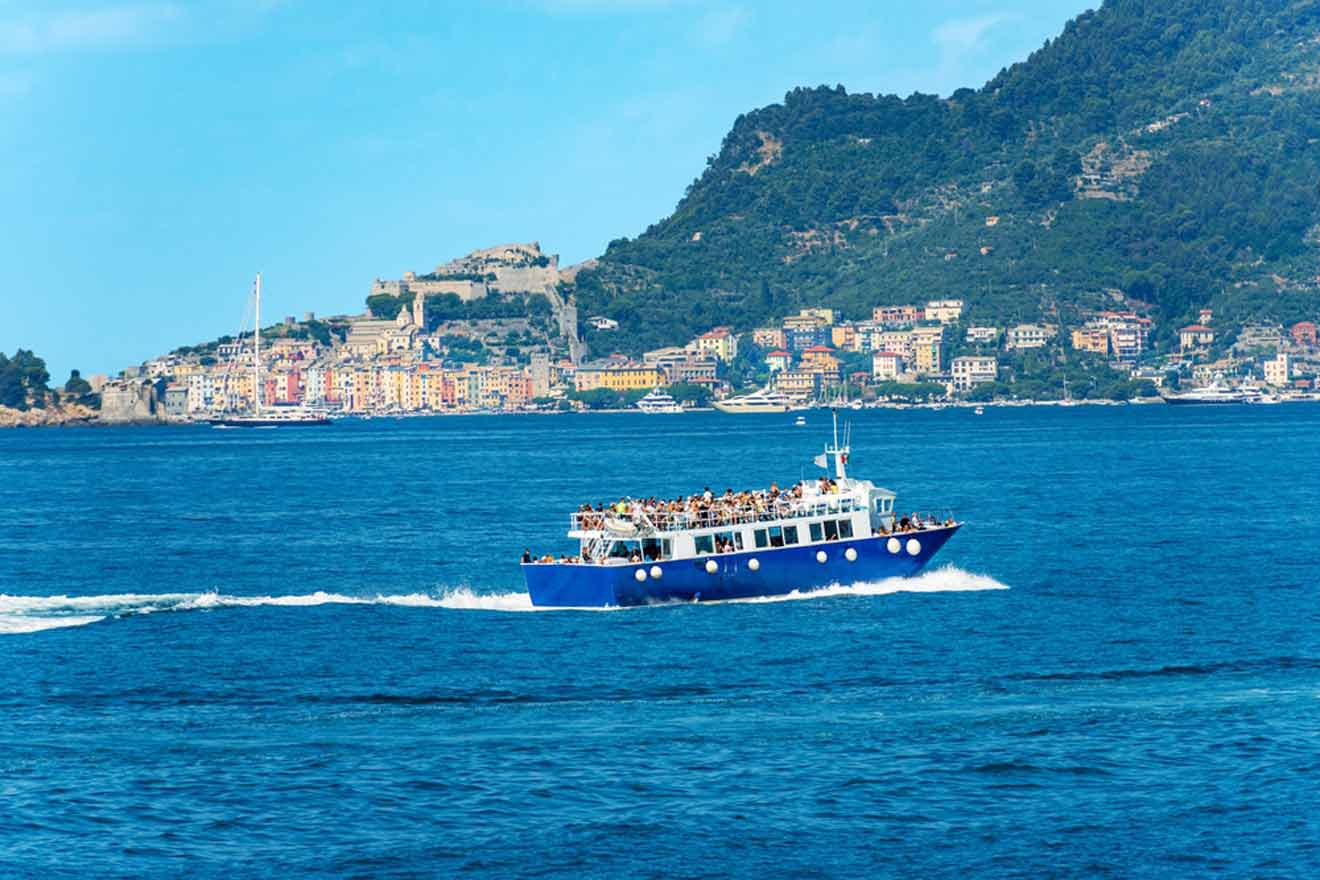 Conclusion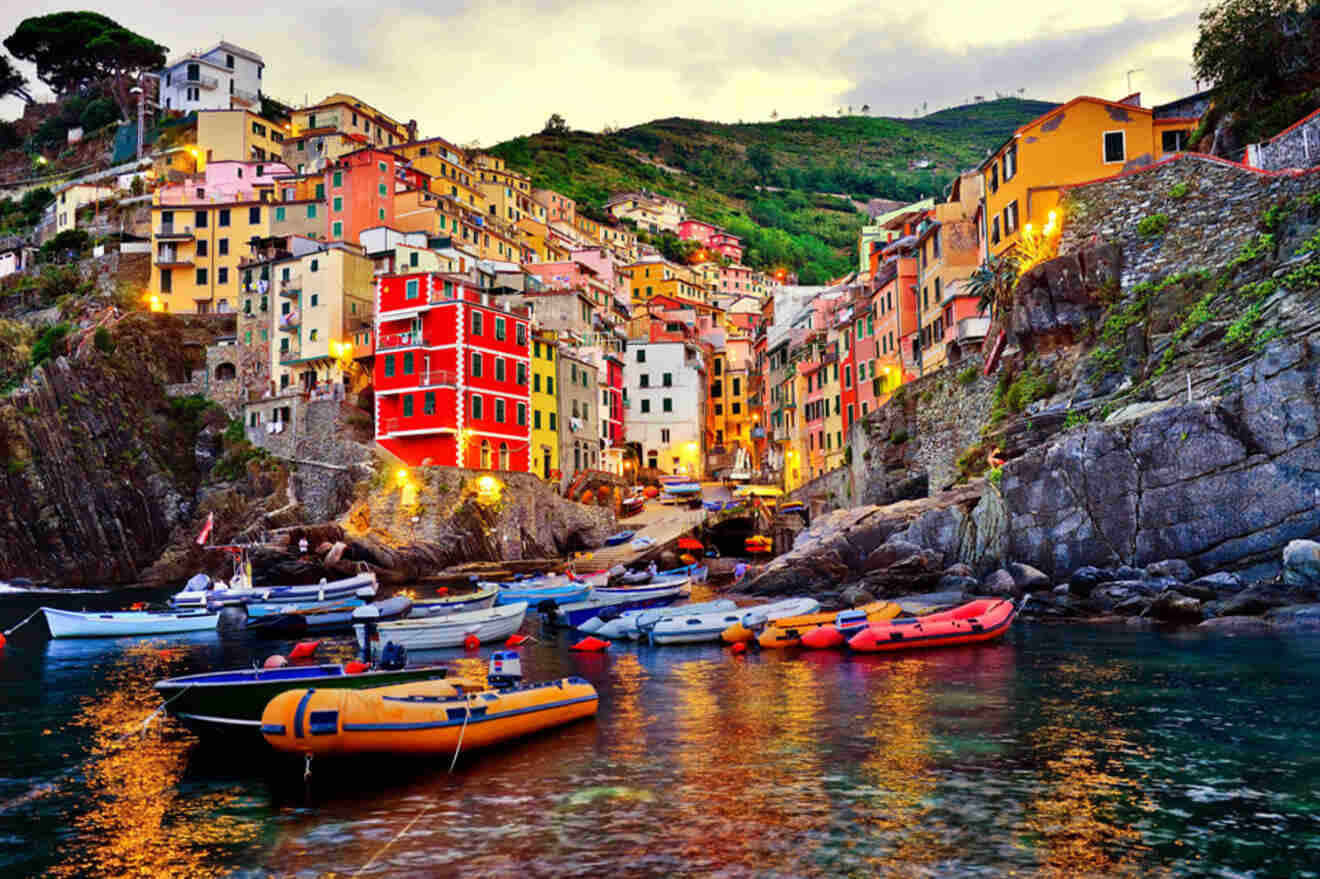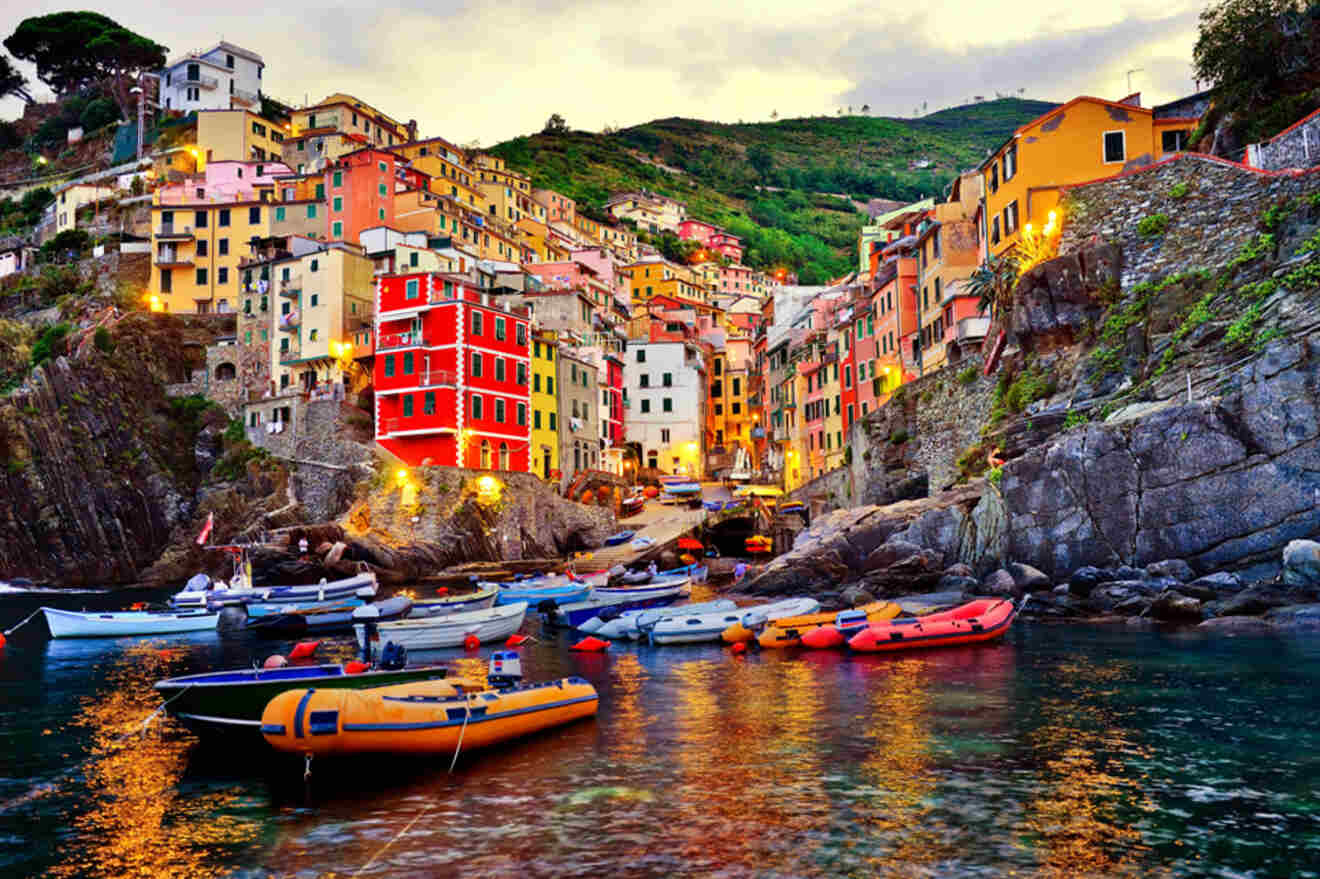 There you go, my dear water lover! You have a whole list to help you with the perfect Cinque Terre boat tour for you! Hope you find this guide useful and that it inspired you to visit this beautiful location.
From small boat rides, traditional wooden ships, and kayak adventurers – I'm sure every person can find something that meets their needs.
Make sure to plan well and play it safe. People are crazy about these boat rides so spots tend to fill up pretty quickly. So, I advise you to book your tours well in advance to avoid disappointment!
Have you already experienced a boat ride in Cinque Terre? Do you have something to add or ask? Or perhaps you just wish to chat with a fellow traveler? Whatever the case might be I'd love to hear from you. Make sure to drop me a comment below!
Happy sailing,
Angelina
---
Pin it for later!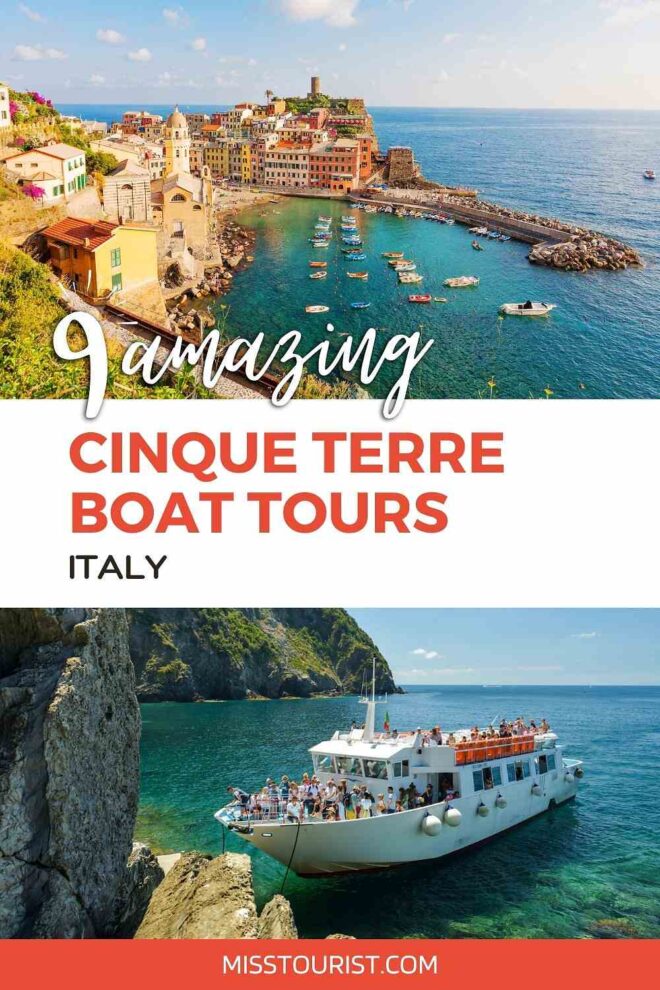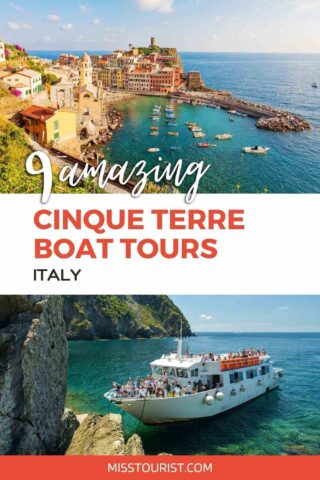 Pin it for later!