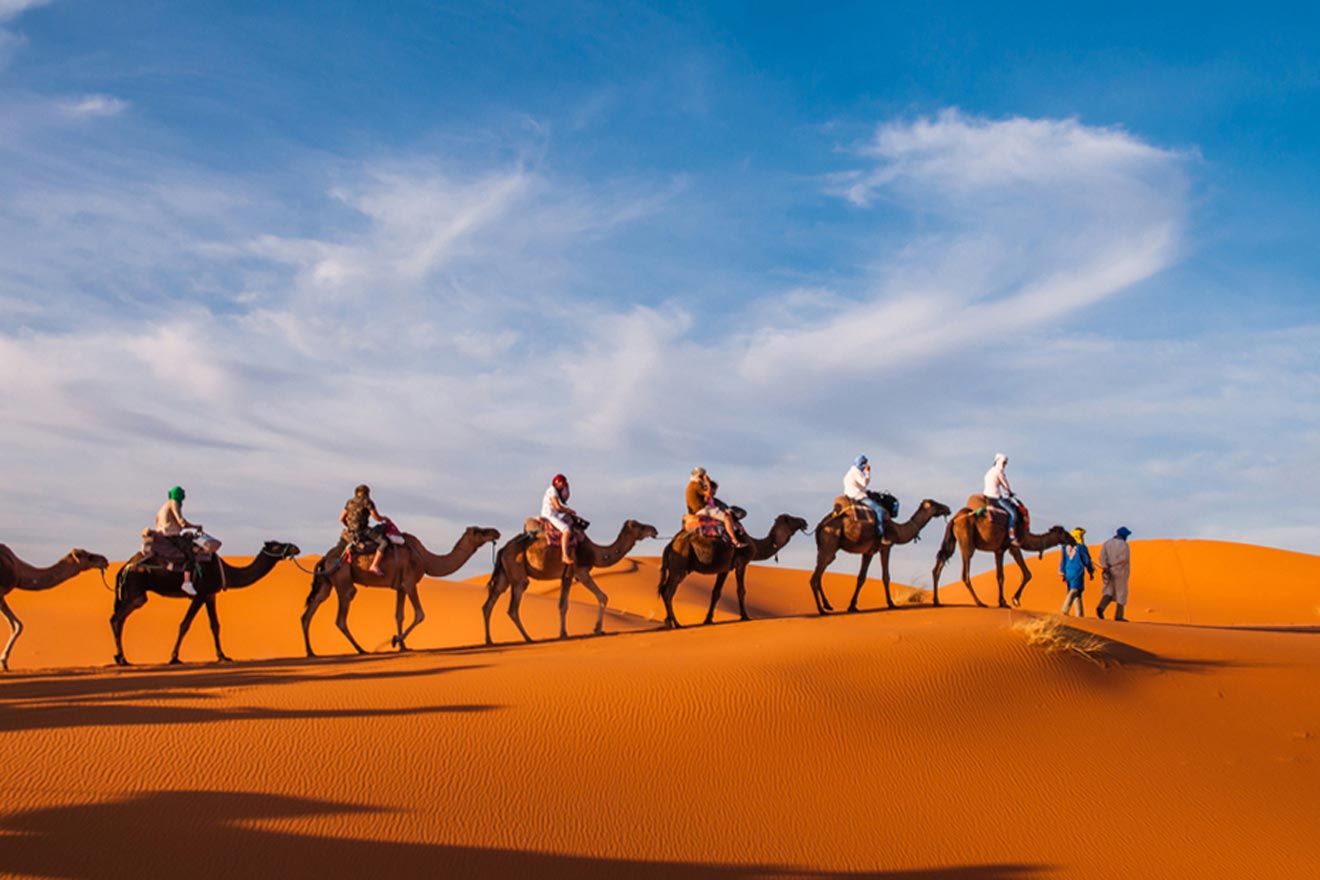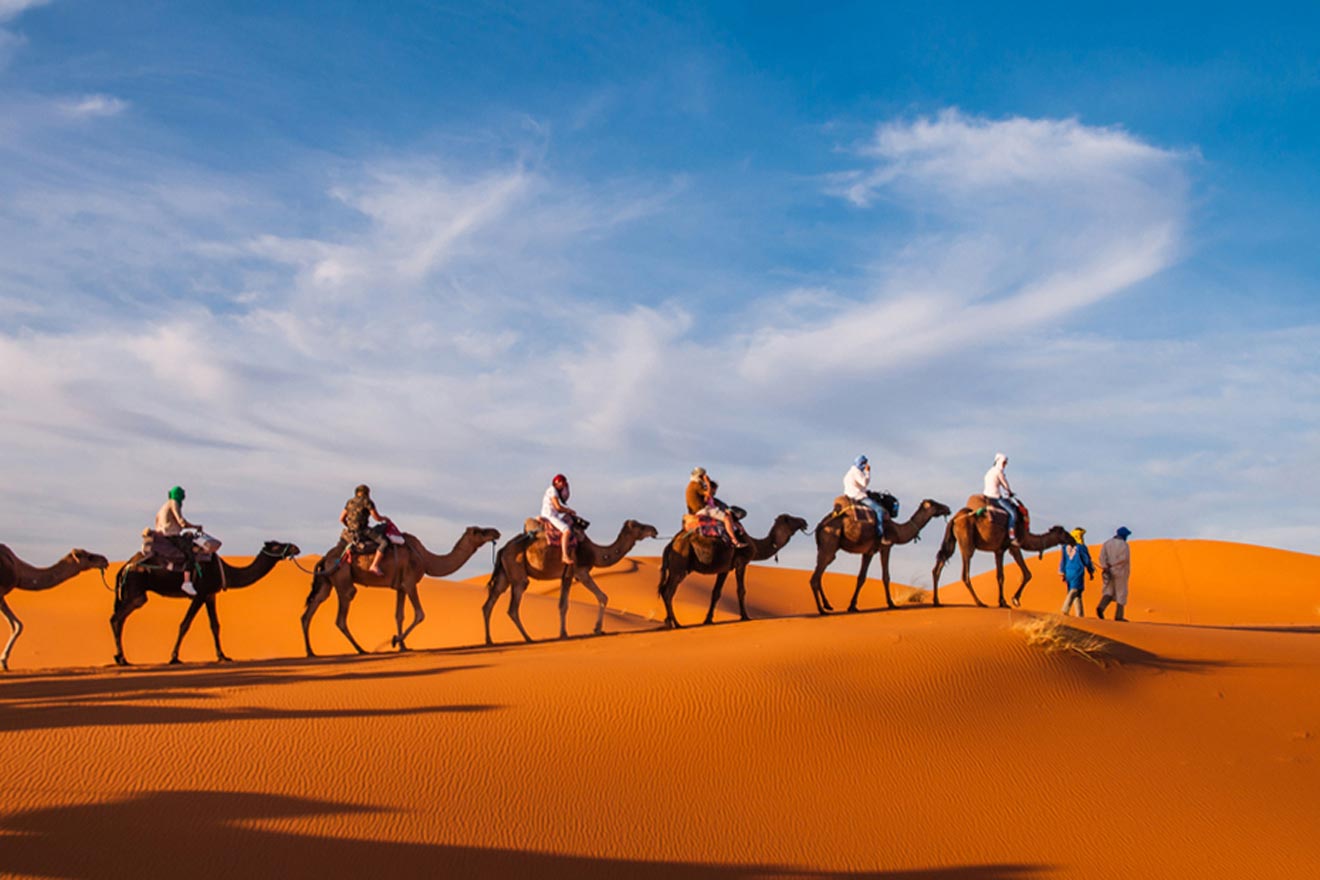 Marrakech is a place where the old and new come together, where modern hotels stand beside ancient medinas, and where the scent of spices wafts through the air. So, Marrakech tours are the perfect way to dive into the rich culture and history of this exotic city.
From strolling through the winding alleys of the medina to sipping mint tea in a traditional riad, there's no shortage of experiences that will leave you spellbound. Take a hot air balloon ride over the desert at sunrise, explore the vibrant colors and aromas of the souks, or take a cooking class with a local chef to learn how to make authentic Moroccan dishes. With so many options to choose from, the possibilities are endless.
After hours of research, I've found the crème de la crème of Marrakech tours that will take you on a thrilling adventure. There are free options as well for those on a budget!
So, make sure to book in advance and secure your spot on the trip of a lifetime.
Now, let's dive in and discover the best tours from Marrakech!
If you are in a hurry
If you don't have time to read the whole post, check out the main tours to visit Marrakech:
Here are the main tours to book in advance:
1. Join a walking tour of Marrakech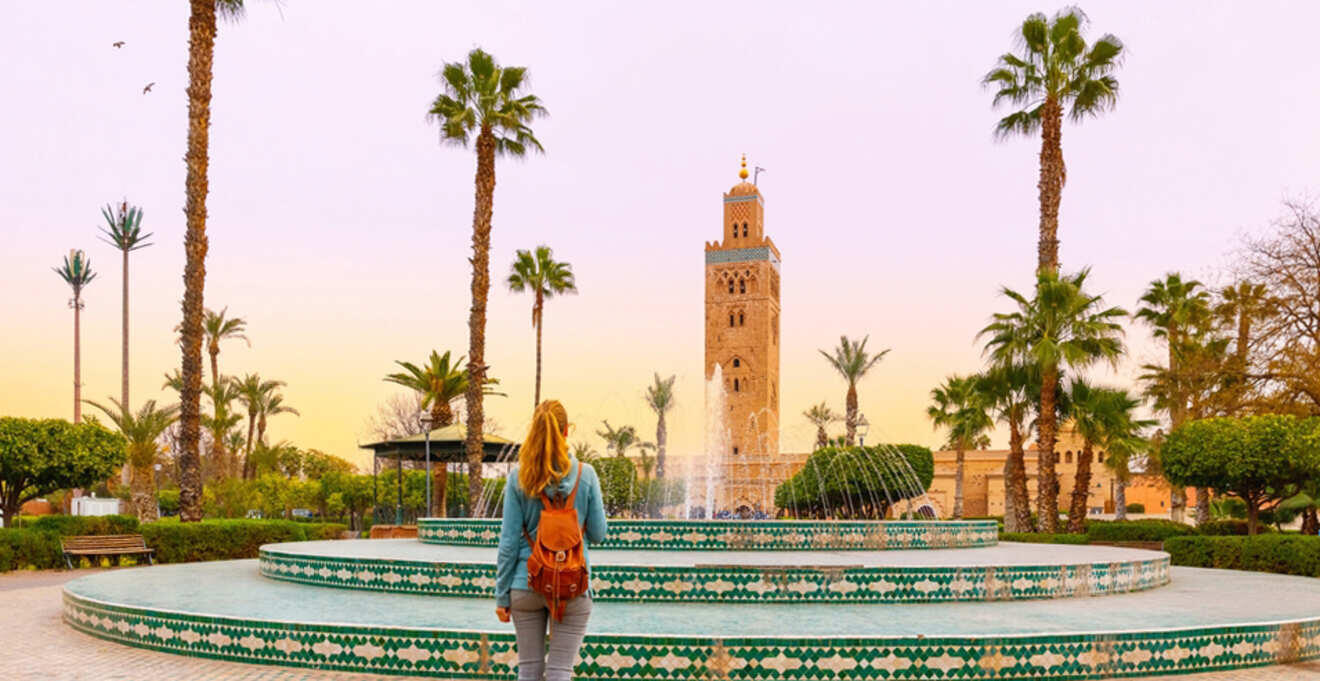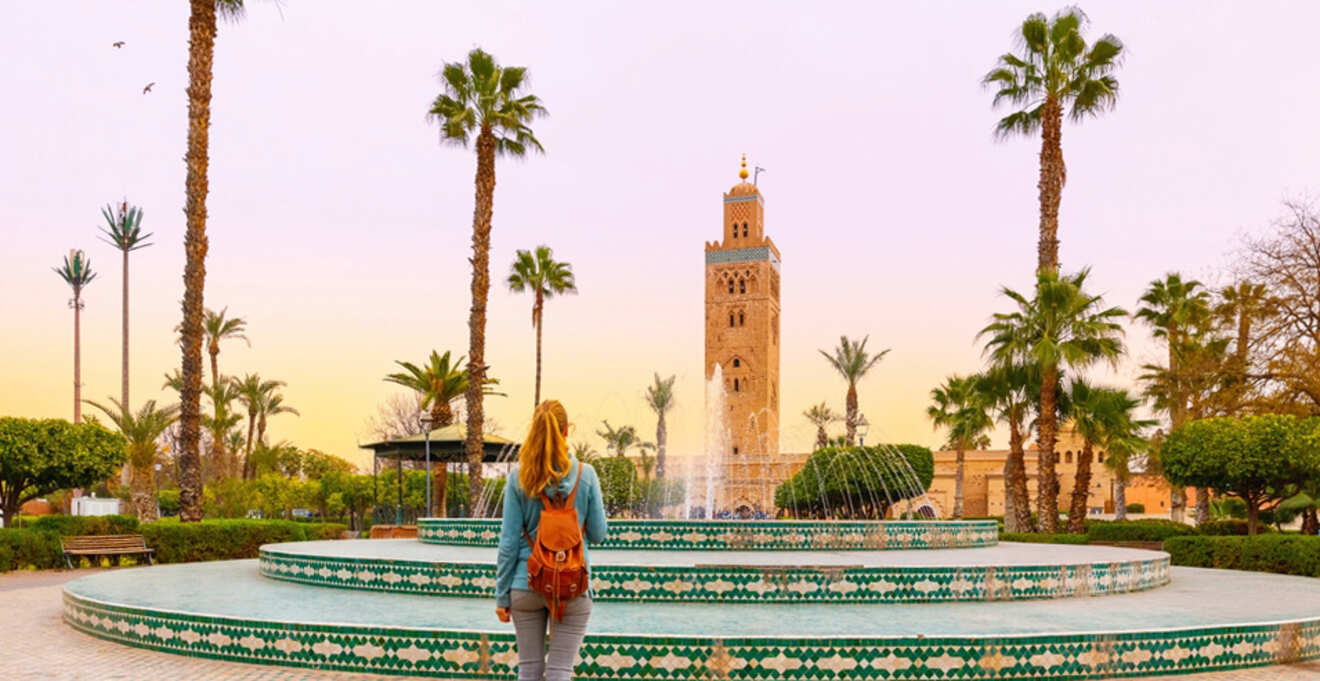 You've finally made it to your Marrakech hotel, dropped off your bags, and now it's time to get out there and explore the city!
Your local guide will take you on a journey through time as you learn about the fascinating history behind iconic landmarks like the Koutoubia Mosque, Bahia Palace, and Jemaa el-Fna square.
For the outgoing adventurers, there is a half-day group tour (3 hours) that's sure to be a blast. If you prefer a more personalized experience, a 4-hour private tour offers a one-on-one experience with your own personal guide, so you can explore at your own pace and get all the insider tips and recommendations you need. The private tour offers 2 tour times (9 AM and 2 PM) to fit your schedule like a glove.
But if you really want to get immersed in the Marrakech lifestyle, a full-day tour is the way to go. There is a free tour for budget-savvy travelers out there as well.
As you can see, Marrakech has an option for everyone, but my personal favorite is the half-day group tour because you will get to explore the Medina of Marrakech (which is a UNESCO World Heritage Site) and also meet fellow travelers.
2. Take a stroll in the souks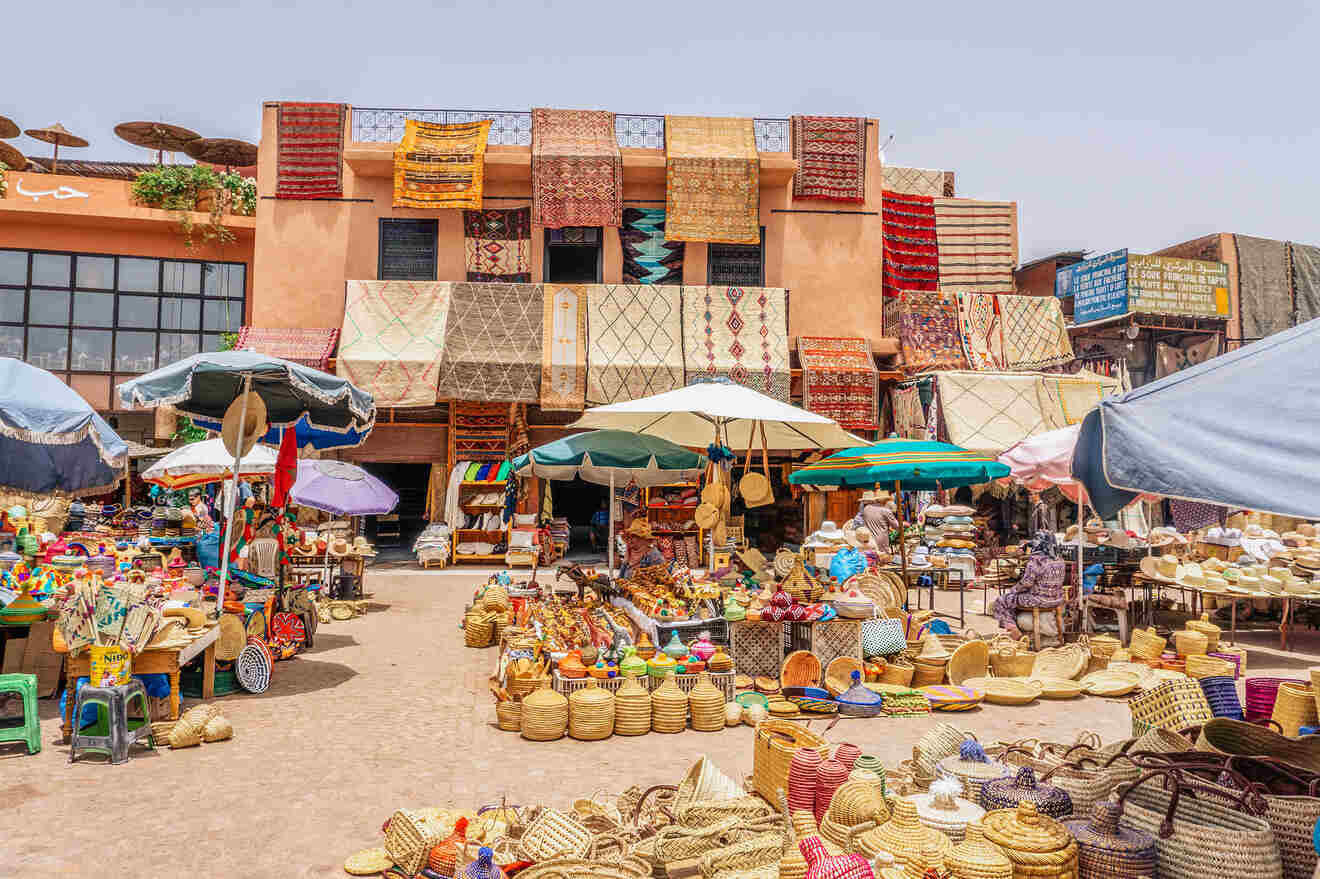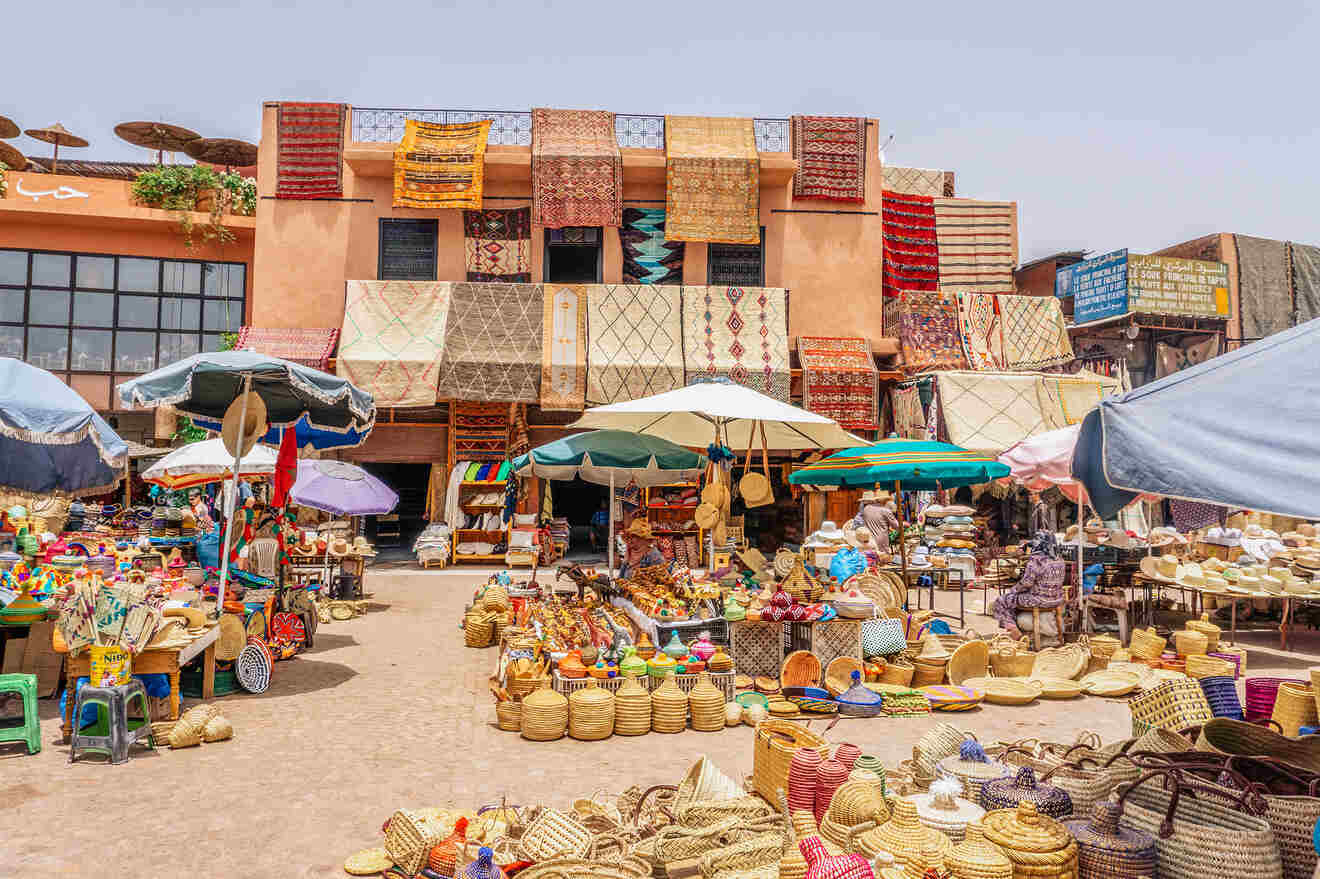 Want a shopping adventure like no other? Join this private tour for a maximum of 15 people, and let your guide lead you through the bustling souks of Marrakech, where you'll discover a world of vibrant colors, tantalizing scents, and endless treasures.
Explore the maze-like alleyways and hidden corners, where you can haggle over souvenirs and shop for traditional handicrafts, rugs, shoes, and more. Learn about herbal medicines, watch a carpet weaving demonstration, and see where leather hides are dyed.
This 2-hour guided tour ensures you won't get lost in the labyrinth of souks, and you can even tailor your itinerary to suit your preferences. You can choose between a morning or afternoon departure.
If you love meeting new people and sharing experiences, the 3-hour group tour might be perfect for you, or if you're looking to save some cash and still have a great time, why not try the free option?
3. Have a wild ride on a quad bike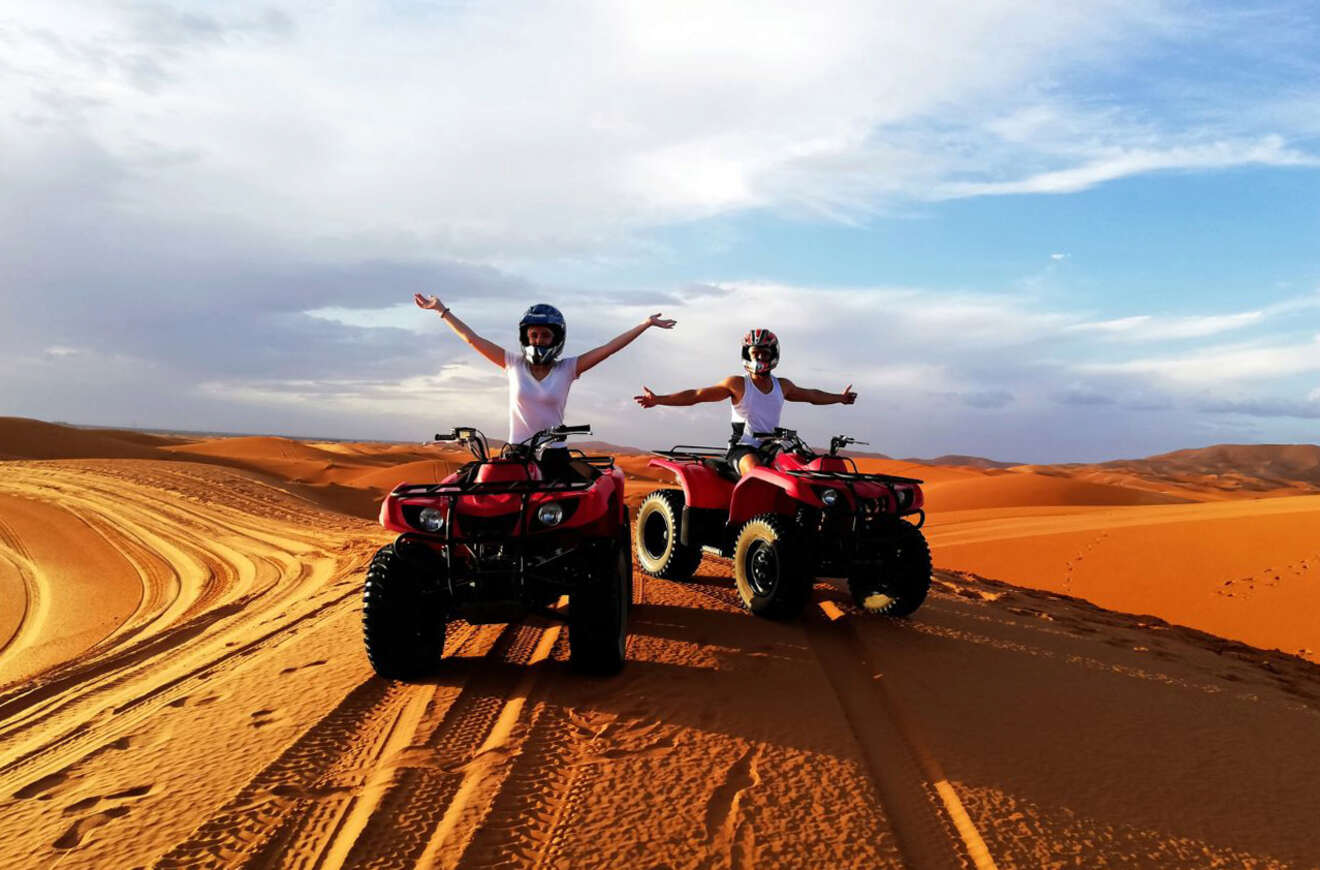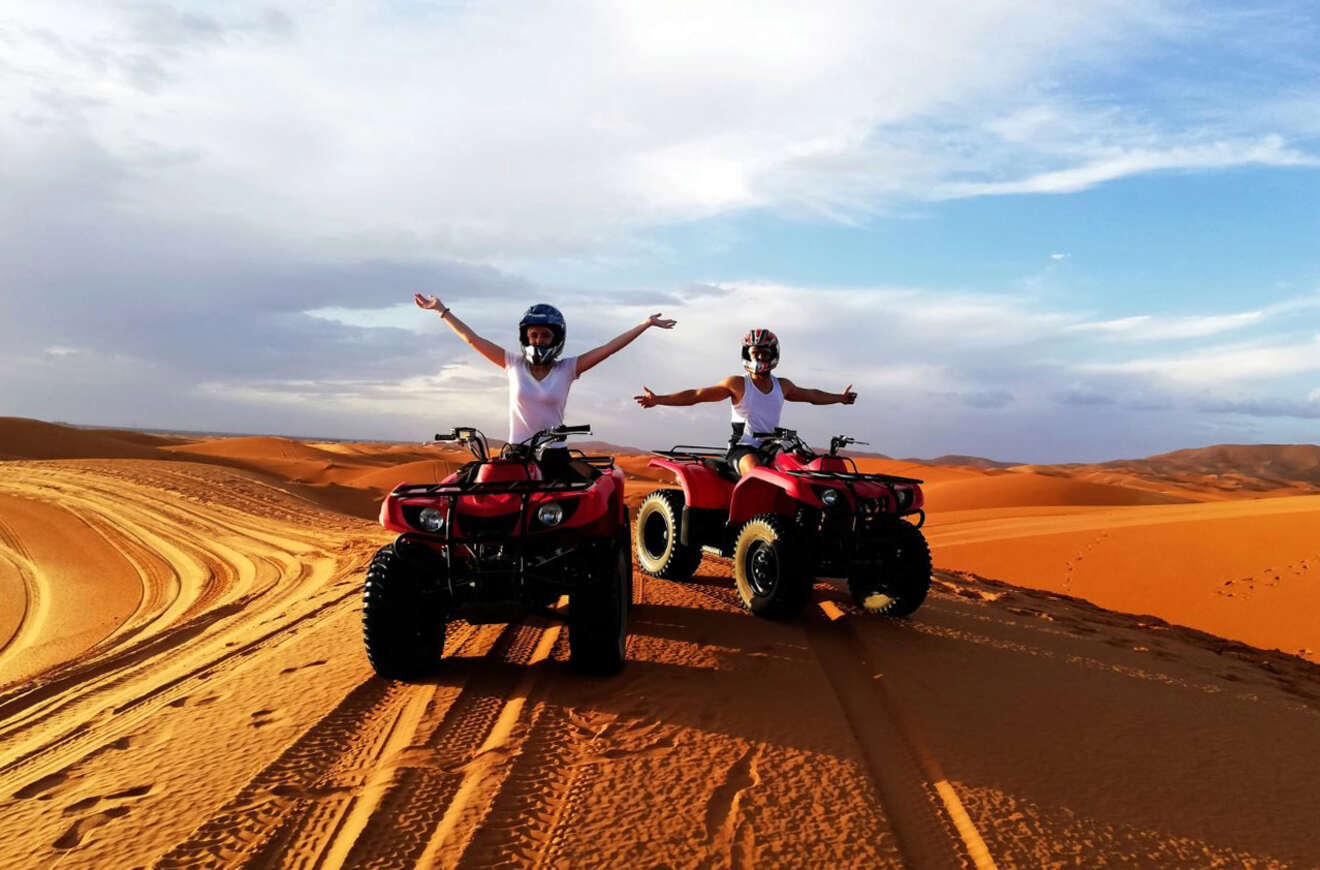 This thrilling quad bike desert tour is the perfect way to explore the local culture of Jbilets Desert, all with a knowledgeable local guide by your side.
You're only 30 minutes away from Marrakech (transport provided), so you can experience a whole new side of the city and get to know the locals.
Riding a quad bike in the desert is an adventure like no other! The wind whips through your hair as you rev up the engine and kick up sand with each turn. You feel the rush of adrenaline as you speed over dunes and maneuver through narrow paths.
You'll also get to visit traditional Berber villages where you can stretch your legs, sip mint tea, and enjoy Berber hospitality.
Are you a fan of palm oasis? Then you have to check out this quad bike tour that will take you on a wild ride through Palmeraie!
4. Ride a camel through the desert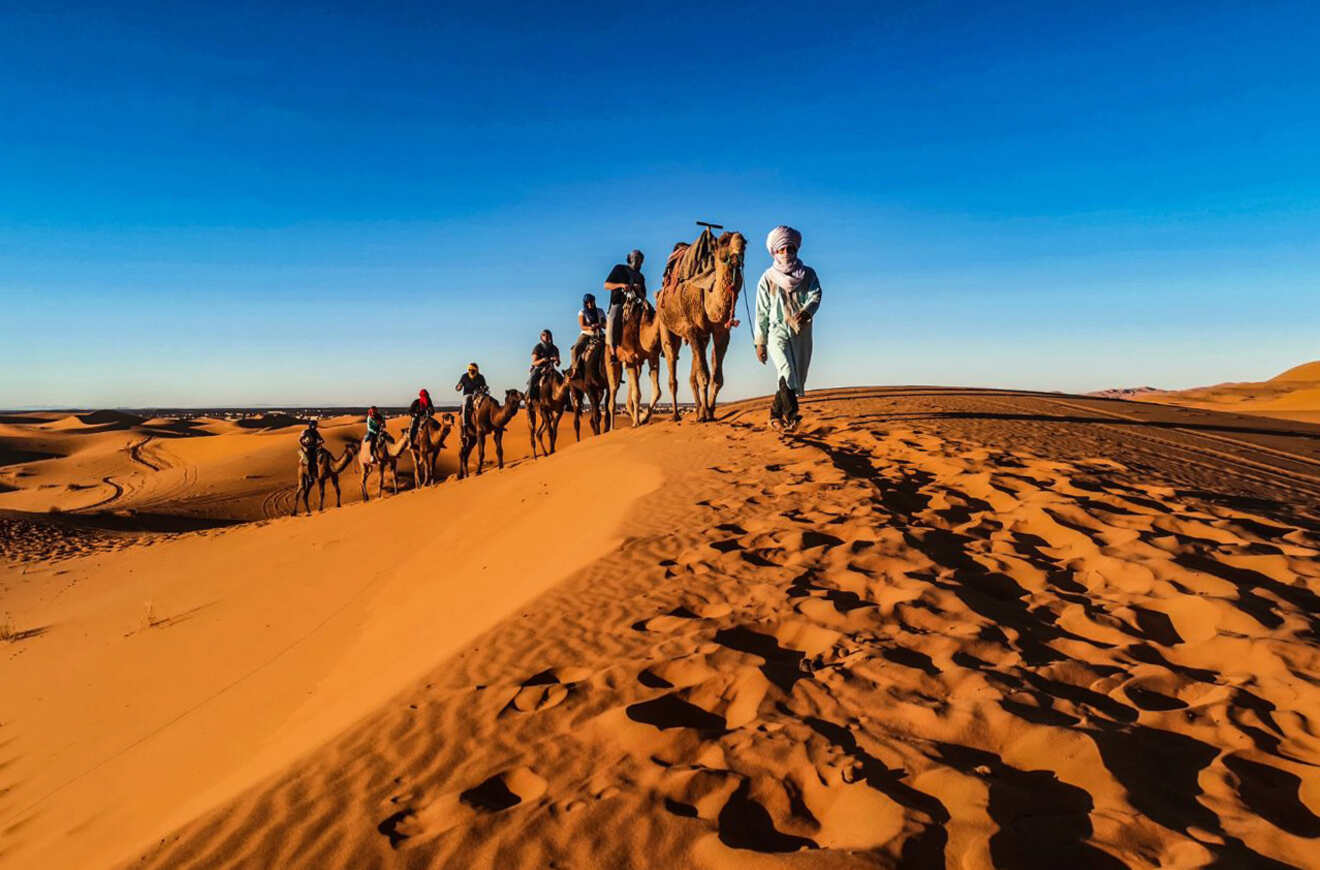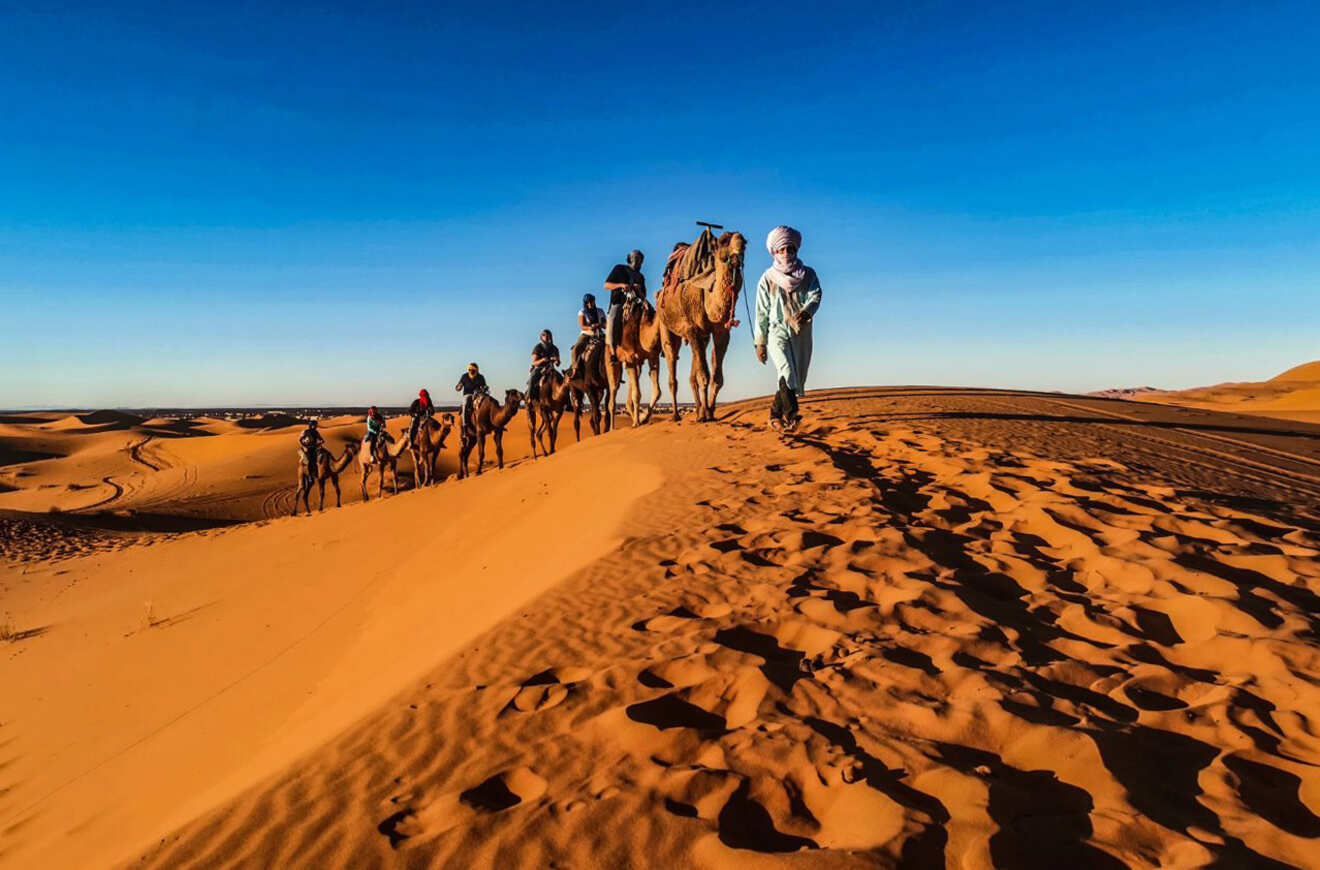 Your day trip from Marrakech begins with a hotel pickup from your hotel, then heads south towards the stunning Agafay Desert. Watch the scenery change from city life to greenery as you make your way to the large village of Imlil at the foot of the high Atlas Mountains.
Get ready for a unique experience as you embark on a 30-minute camel ride and enjoy the stunning views of the surrounding landscapes. After your ride, take a break and learn about the local Berber culture and their way of life while sipping on delicious Moroccan tea.
If you want to sweep your loved one off their feet, a sunset camel ride is just what you need. For those of you who want to take it up a notch, why not indulge in a 3-course dinner under the stars? With a camel and quad bike tour, you can experience the best of both worlds!
5. Climb the Atlas Mountains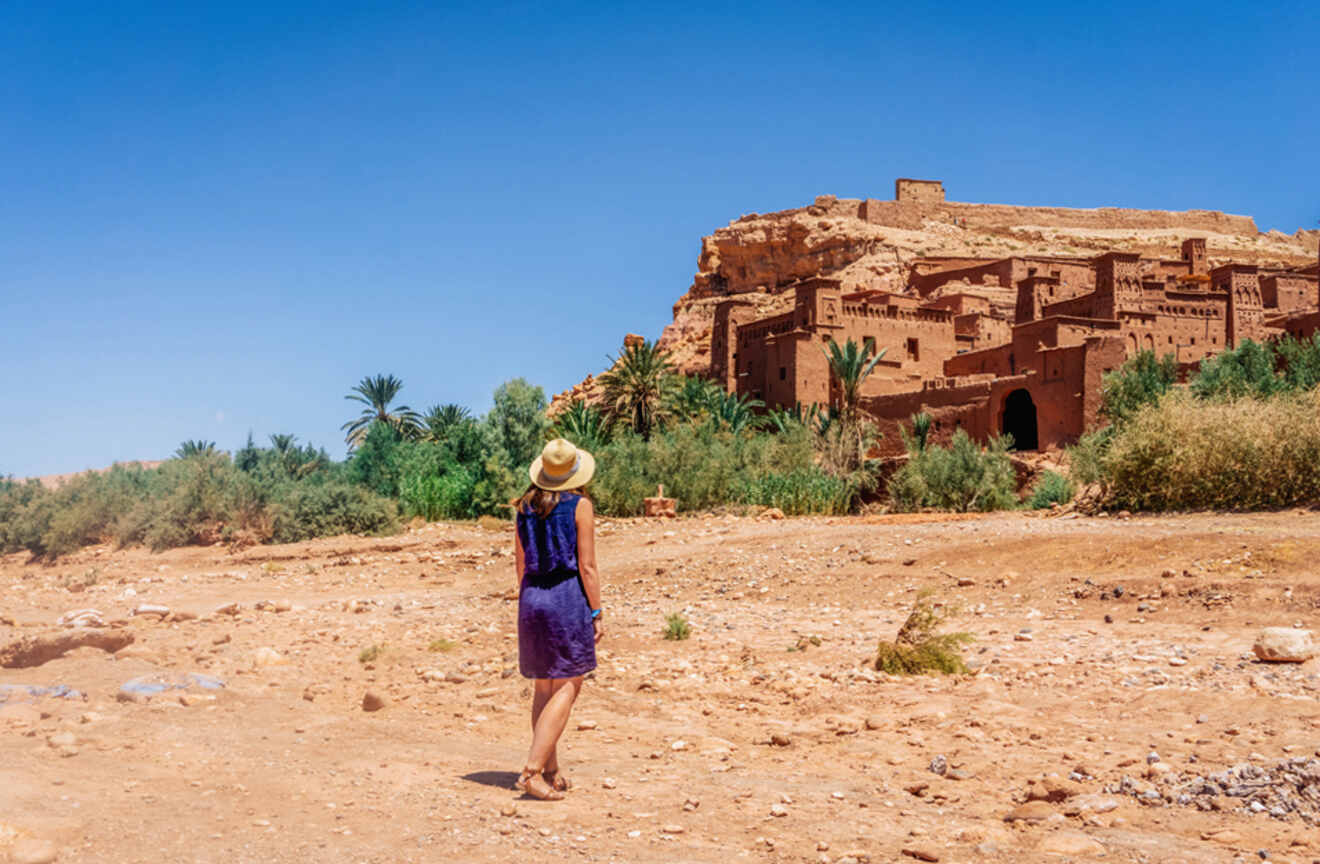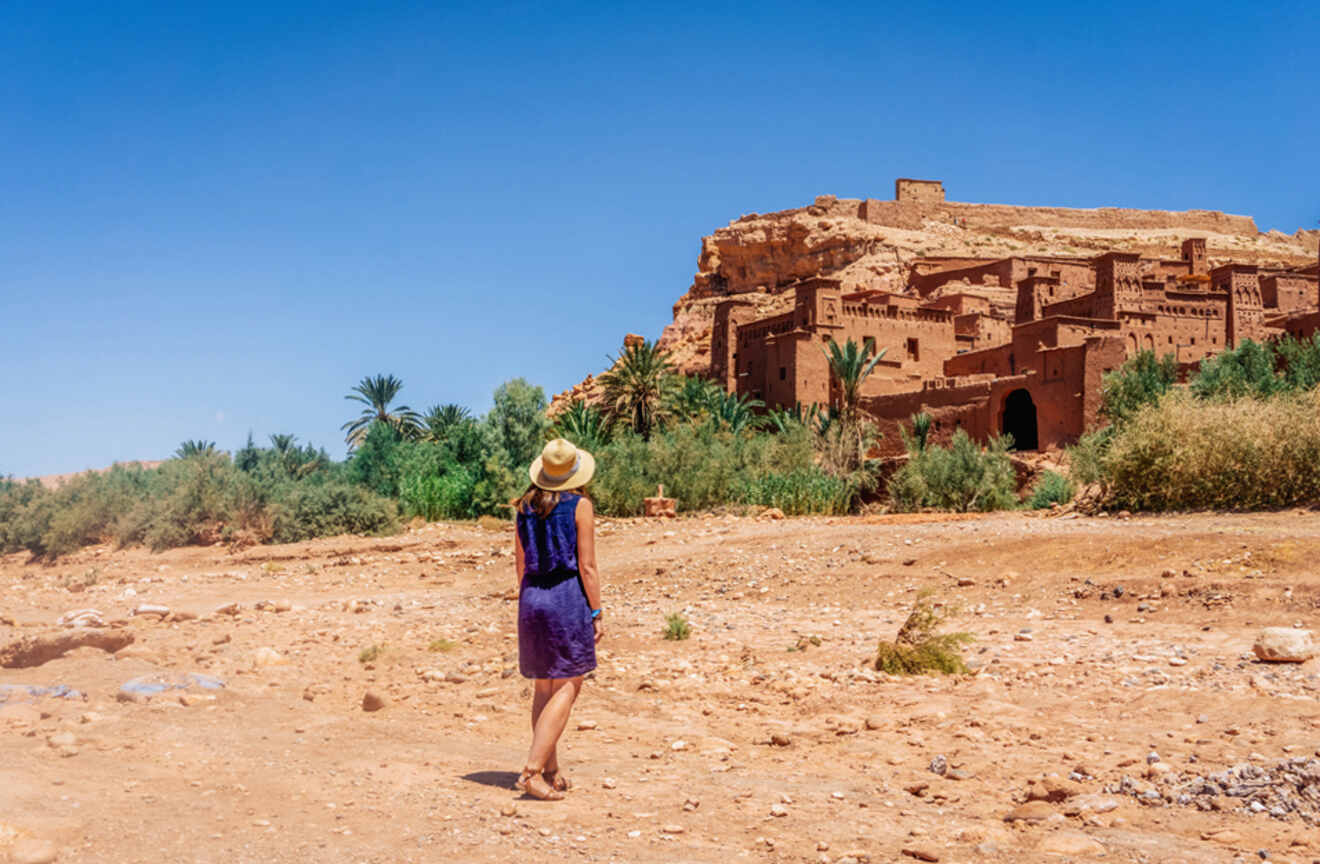 Get ready for an unforgettable day exploring the stunning Atlas Mountains on a full-day tour from Marrakech! Your knowledgeable guide will take care of everything so you can fully enjoy the experience. Travel in comfort with hotel pickup and drop-off included.
Start your day with a scenic camel ride and then enjoy a cup of delicious traditional tea and cake in the beautiful Imlil Valley. Next, visit a traditional Berber family in Ait Souka and learn about their everyday life, customs, and culture.
This tour is perfect for anyone who wants to escape the bustling city and immerse themselves in the natural beauty of Morocco.
The half-day tour (5 hours) is perfect for those who want to explore Morocco's natural wonders without spending the entire day. And all of you camel enthusiasts, don't miss the Atlas camel trek tour, where you'll experience the Atlas Mountains day trip from the comfort of a camel's back. 
6. Visit Ouzoud Waterfalls: tour with a boat ride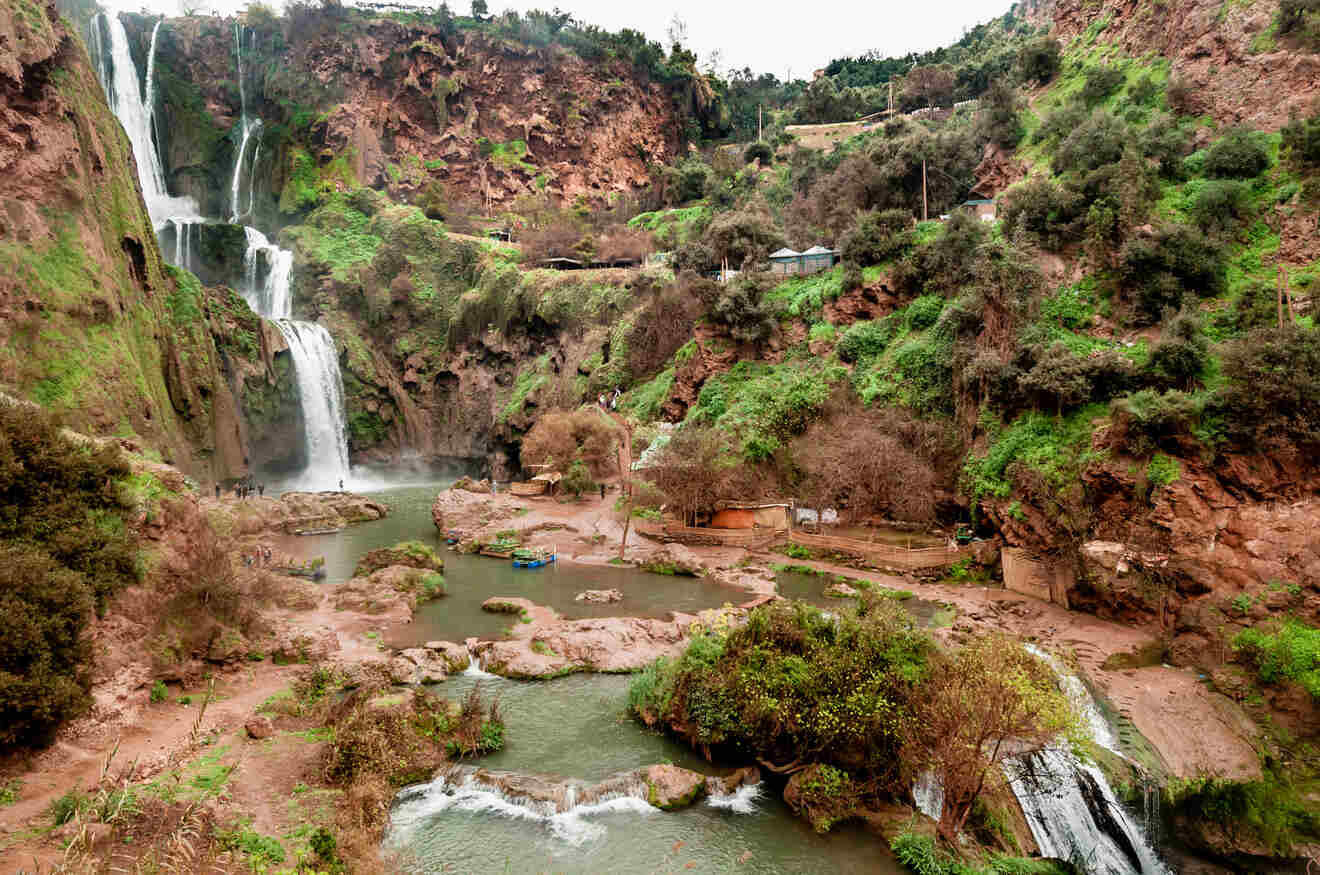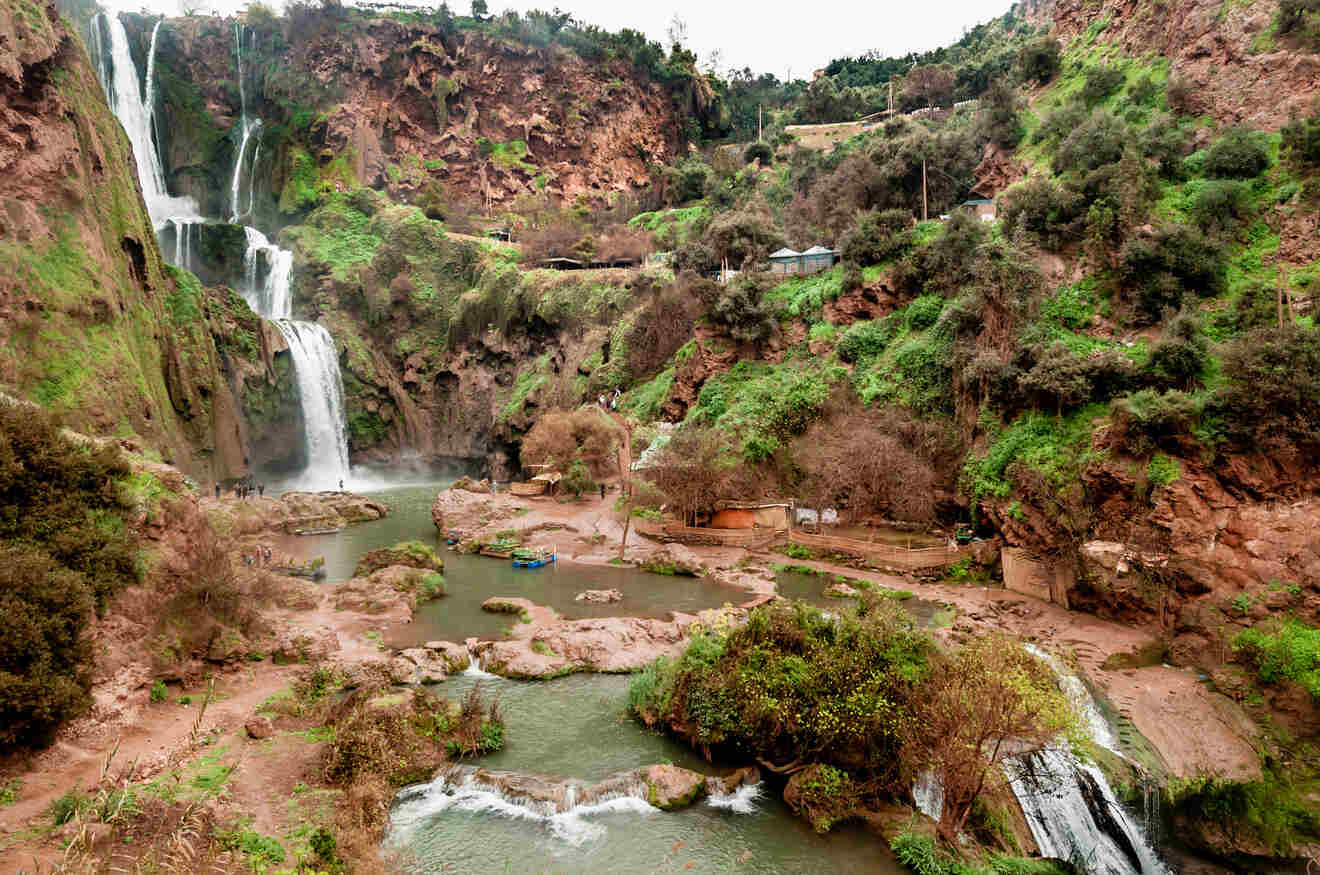 This day trip from Marrakech will take you to breathtaking Ouzoud waterfalls. Get ready to be blown away by the charming traditional towns and traditional Berber villages of the Grand Atlas along the way. And don't forget to take in the gorgeous views of the ancient olive trees shading your path to the waterfalls!
Once you arrive at Ouzoud, get ready for a blissful 4-hour adventure in nature's playground! Keep your eyes peeled for the mischievous monkeys that swing around the area, and take a dip into the crystal clear waters for a refreshing swim. For an extra thrill, upgrade to the optional boat ride for just US$10 and cruise around the falls like a true boss!
Are you a free-spirited adventurer who likes to roam at your own pace? Then this tour is the perfect match for you! You'll get the best of both worlds with pre-booked transportation and the freedom to explore independently.
7. Learn to cook Moroccan dishes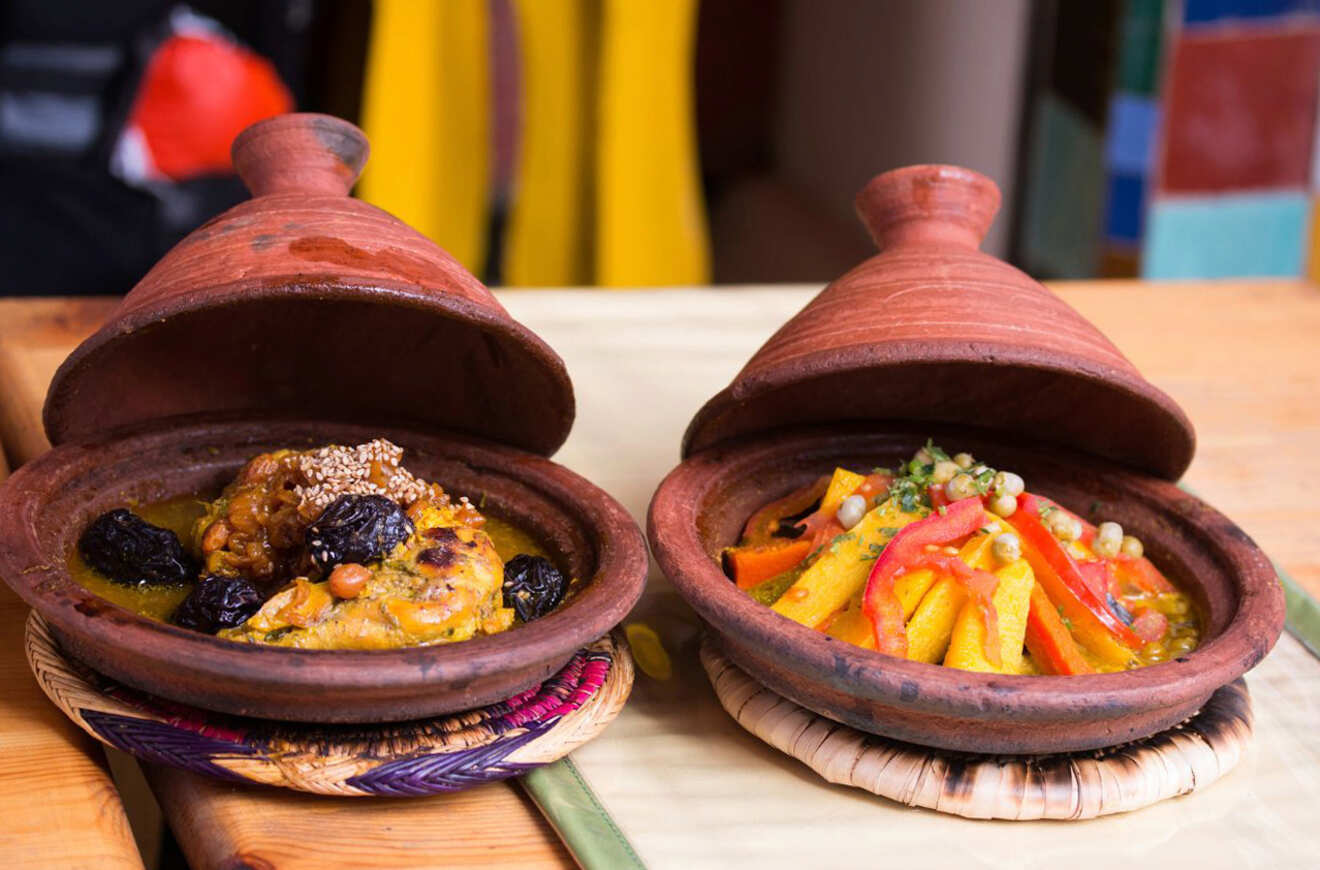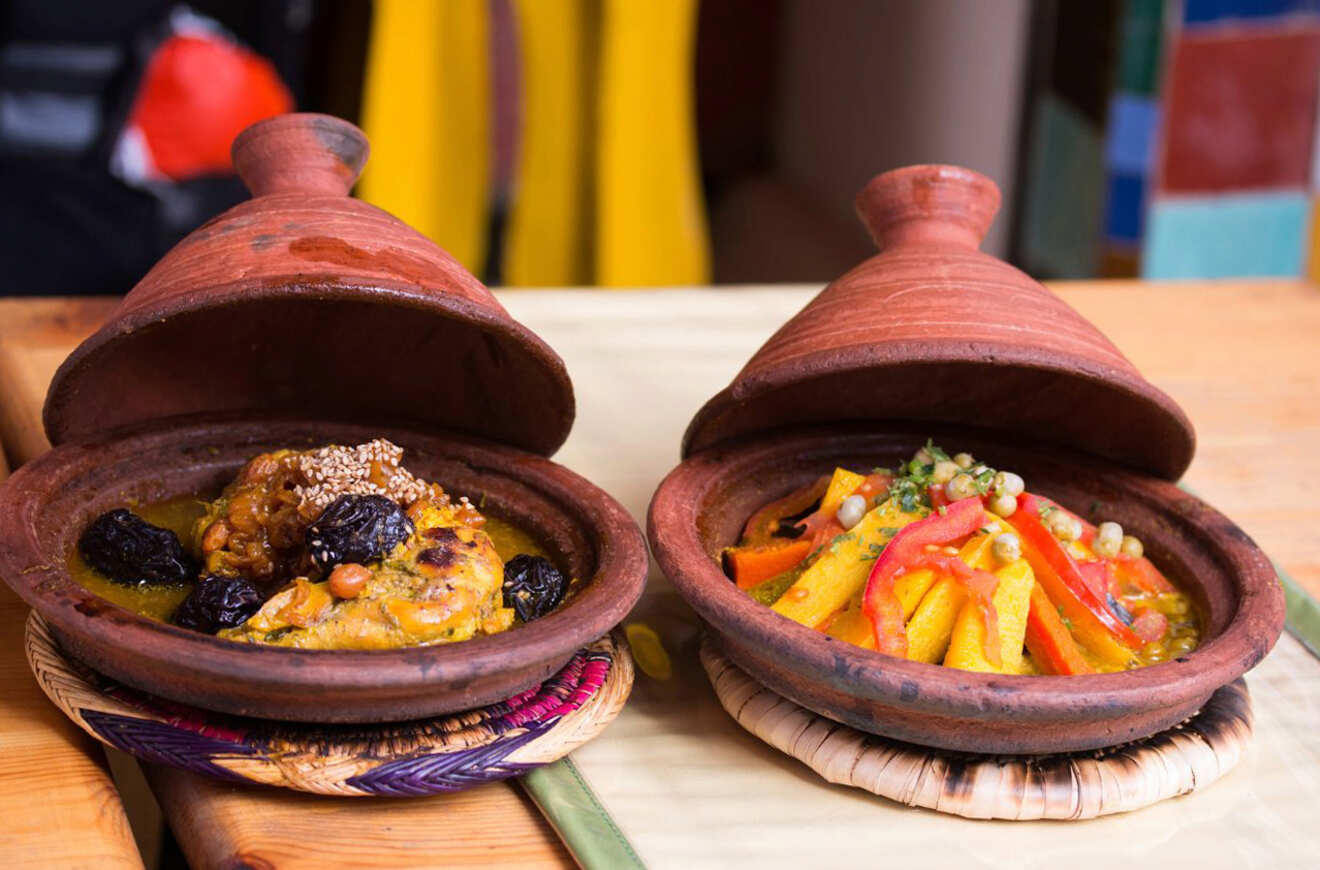 Experience the ultimate Moroccan food tour with a local twist and discover the most delicious local delicacies in Marrakech! Join Khmisa and Kawtar, 2 Moroccan food enthusiasts, for an unforgettable culinary adventure.
During this tour, you'll explore the vibrant Medina and visit some of the best-hidden gems for authentic Moroccan cuisine. From aromatic tagines to fluffy couscous, you'll get to savor the most mouth-watering dishes that have been passed down from generation to generation.
This tour is all about immersing yourself in the local culture. You'll have the opportunity to interact with locals, learn about the history and traditions of Moroccan cuisine, and even try your hand at cooking some dishes yourself!
Short on time but still craving a taste of Moroccan cuisine? No problemo! I got just the tour for you – and it only takes 1 hour!
8. Take an off-the-beaten-path ride in a private sidecar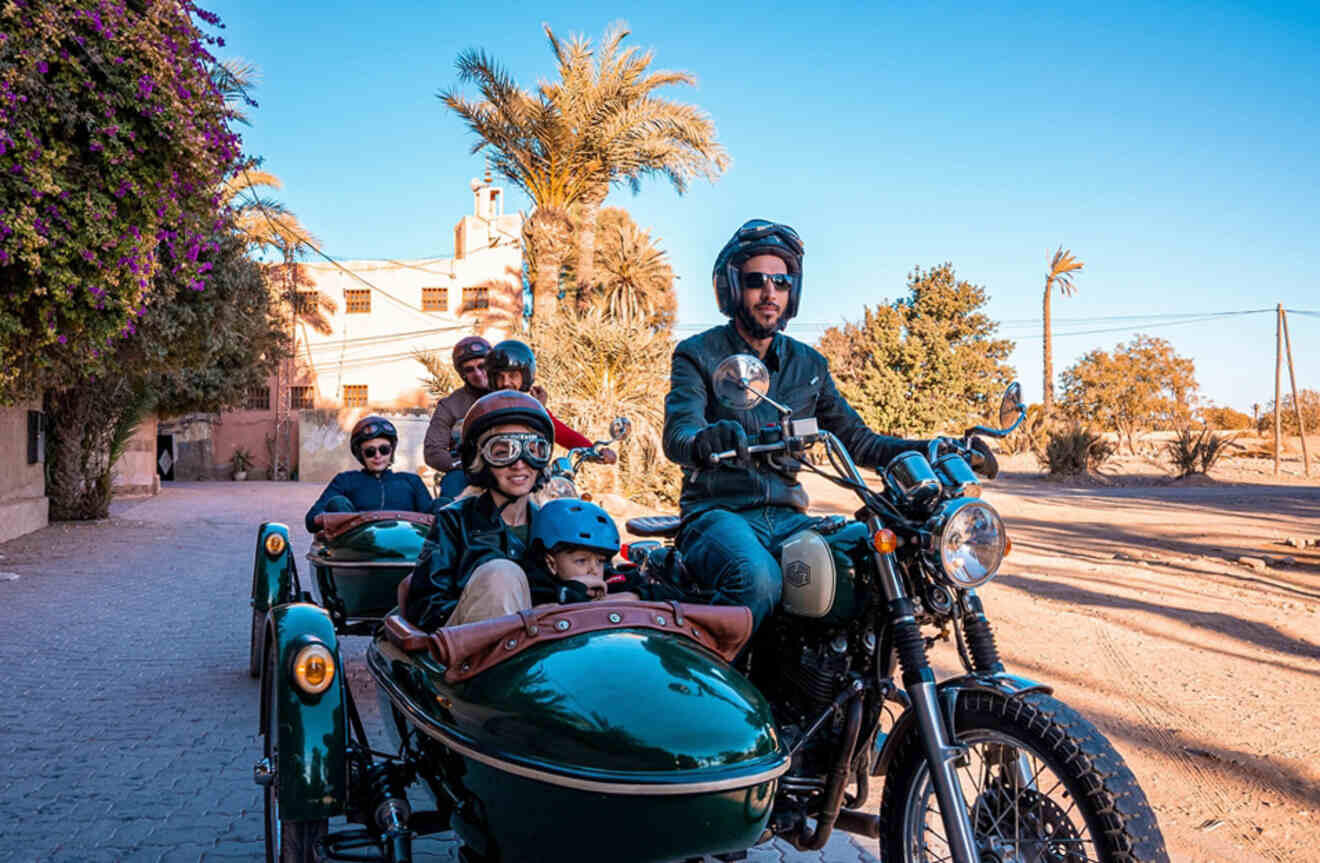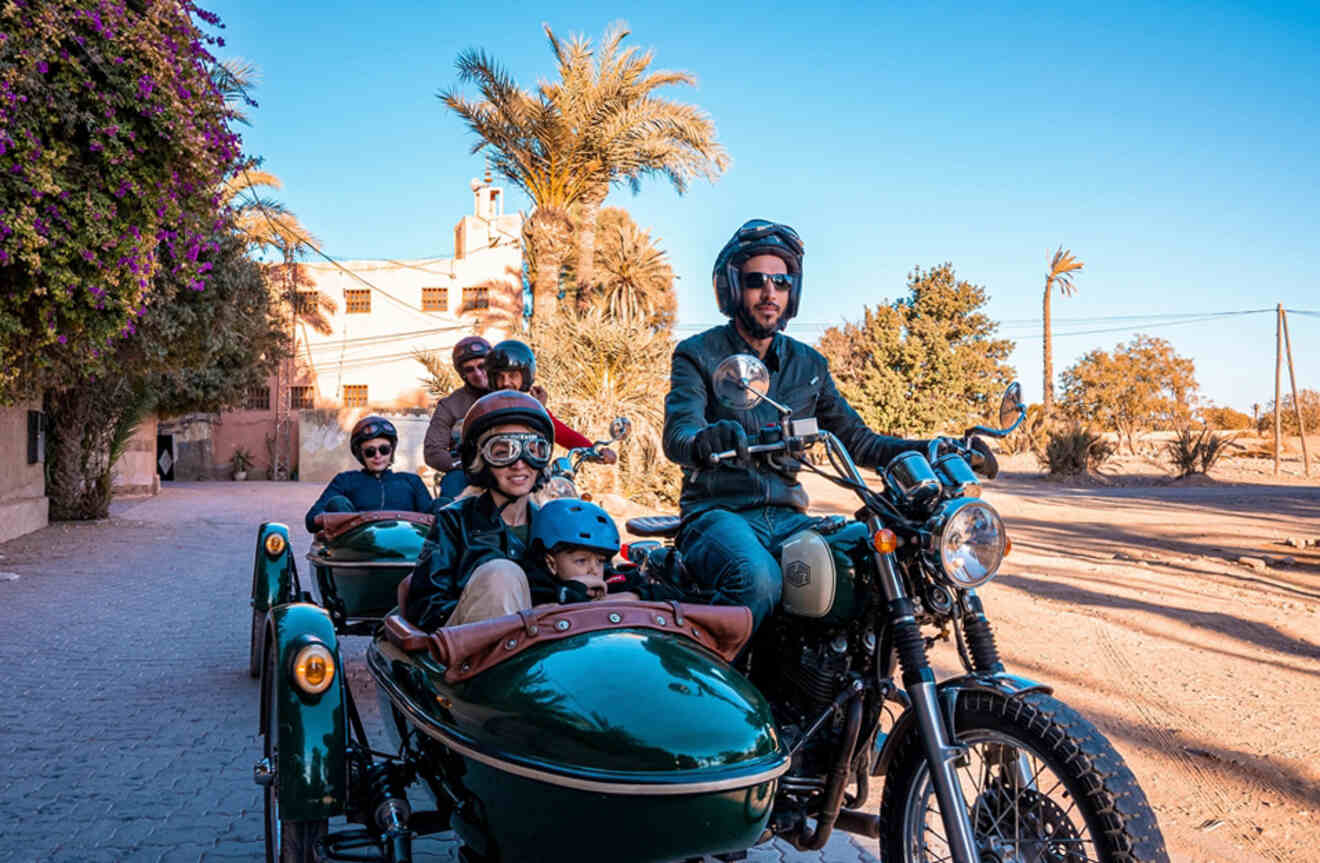 Perfect for the adventurous traveler looking for something unique, this private 3-hour tour will take you on a ride through the back streets and hidden-away spots that tour buses can't reach. With your knowledgeable local guide by your side, you'll learn about Marrakech culture and see the city from a whole new perspective.
And the best part? This tour is tailor-made according to your personal interests! Whether you're interested in history, architecture or just soaking up the vibrant atmosphere of the city, tour operators have got you covered.
Safety is the top priority, so helmets, bottled water, and rain gear are provided for your convenience. So why settle for a boring tour bus when you can ride in style and explore Marrakech like a true adventurer?
9. Admire the sunset in the desert over a delicious dinner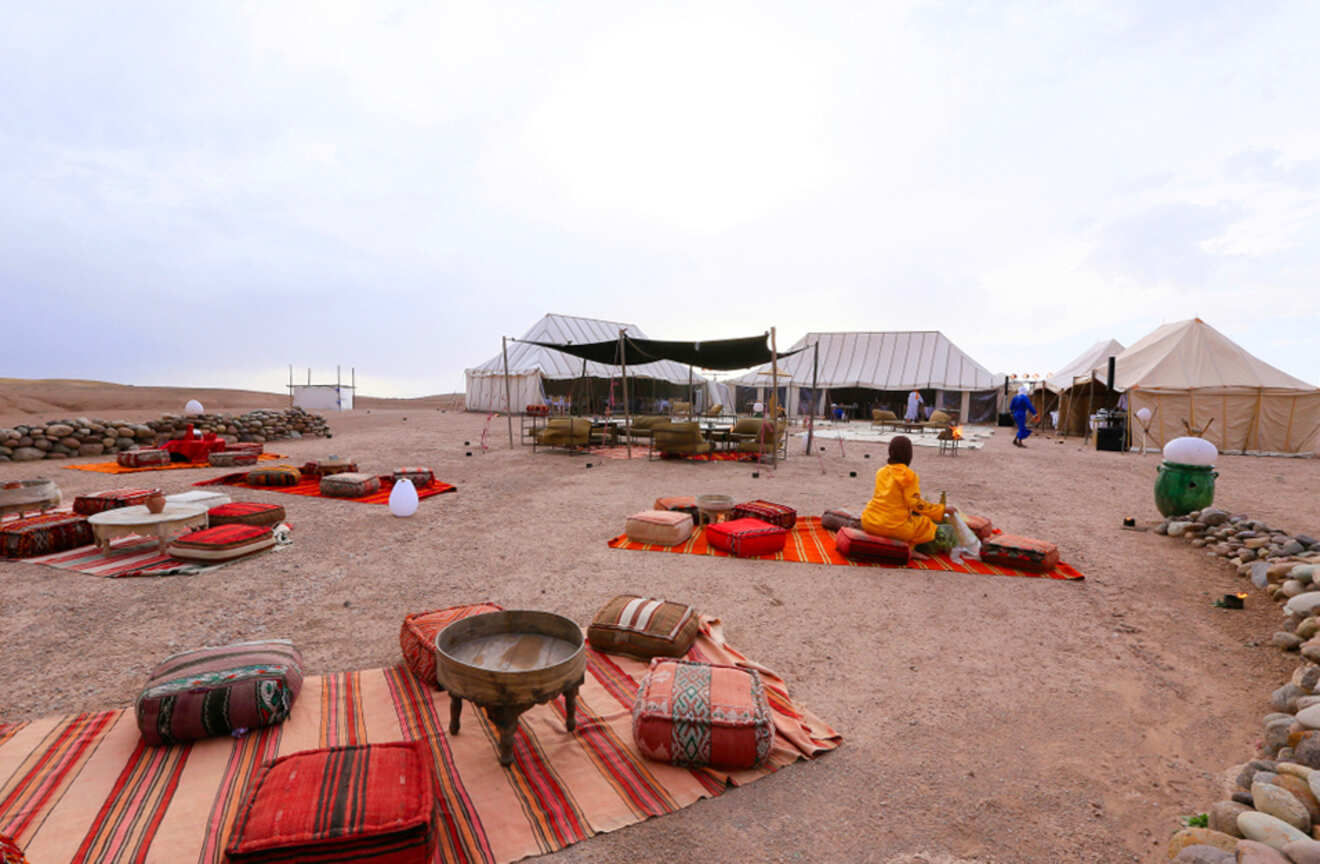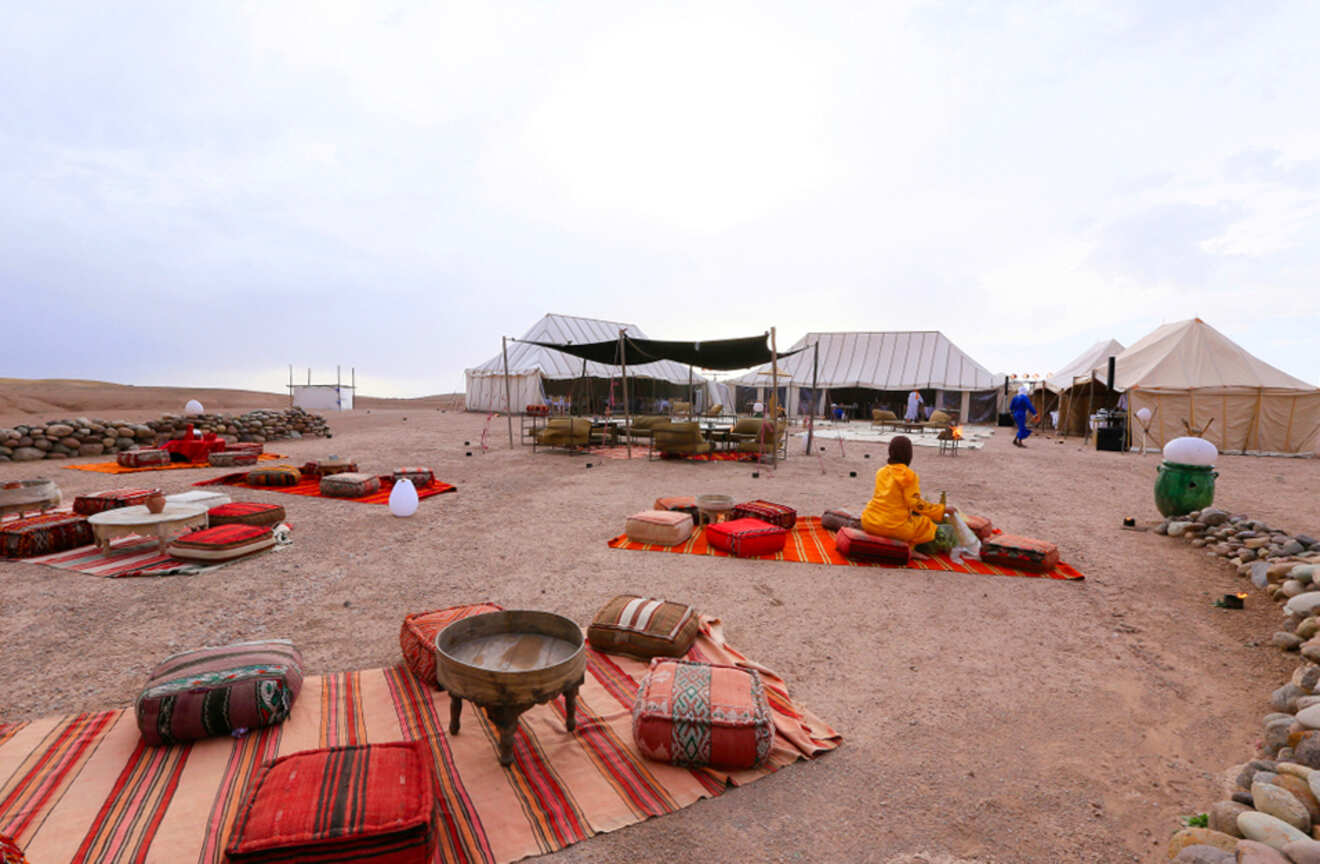 This 4-hour desert tour from Marrakech takes you to the breathtaking Agafay Desert Camp.
Watch in awe as the sun sets over the desert, painting the sky with hues of orange, pink, and purple. Experience the warm embrace of true Arabian hospitality as we welcome you with open arms to our traditional nomad tent.
Under the starry sky, you'll enjoy a feast for the senses with authentic Moroccan cuisine. Savor the flavors of Harira, a delicious traditional soup, along with a mouthwatering salad, succulent beef and chicken tagine, and seasonal fresh fruits. And let's not forget about the tea – the perfect complement to your meal.
If you are looking for tours from Marrakech that include camel rides through desert dunes along with a tasty dinner in Agafay – there is an option for you as well.
10. Take a hot air balloon ride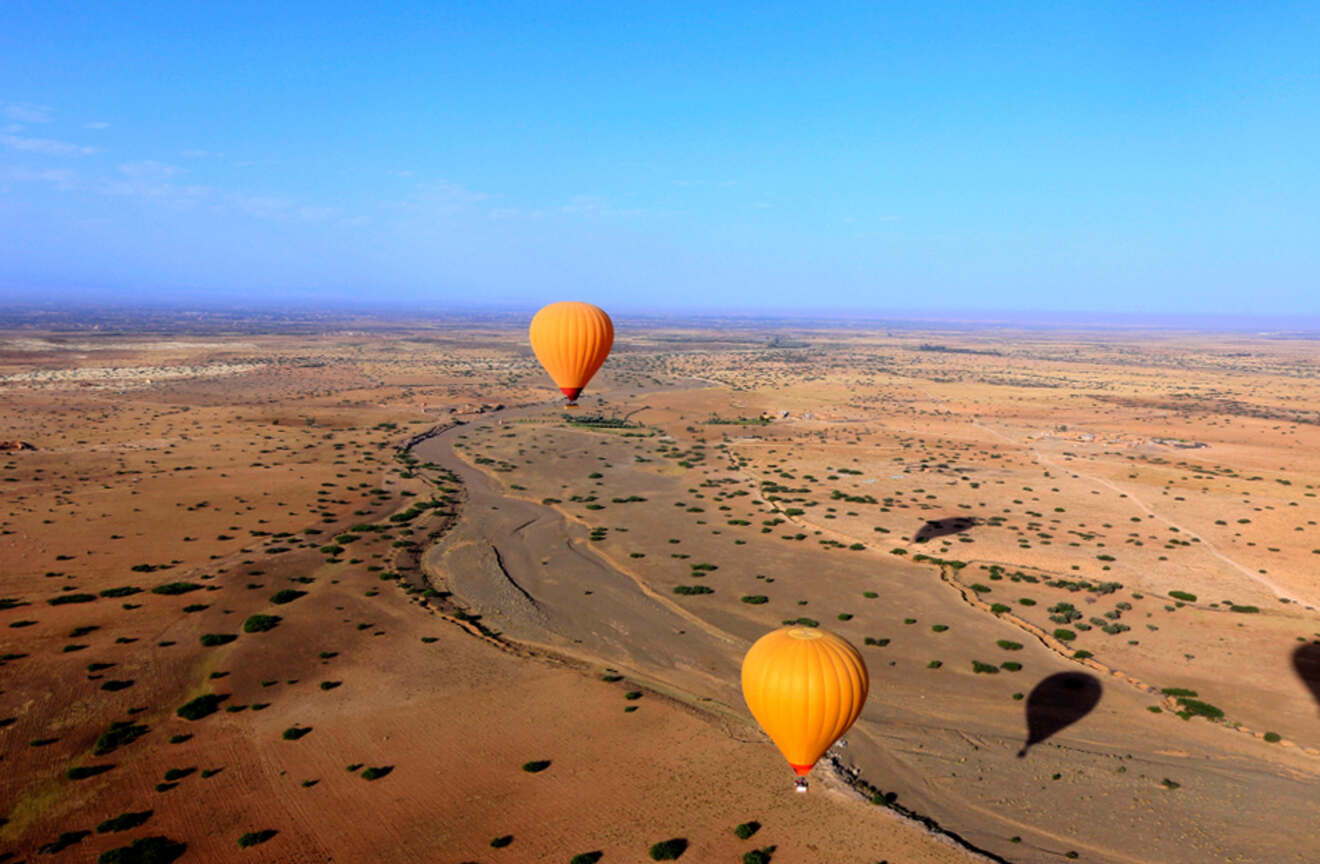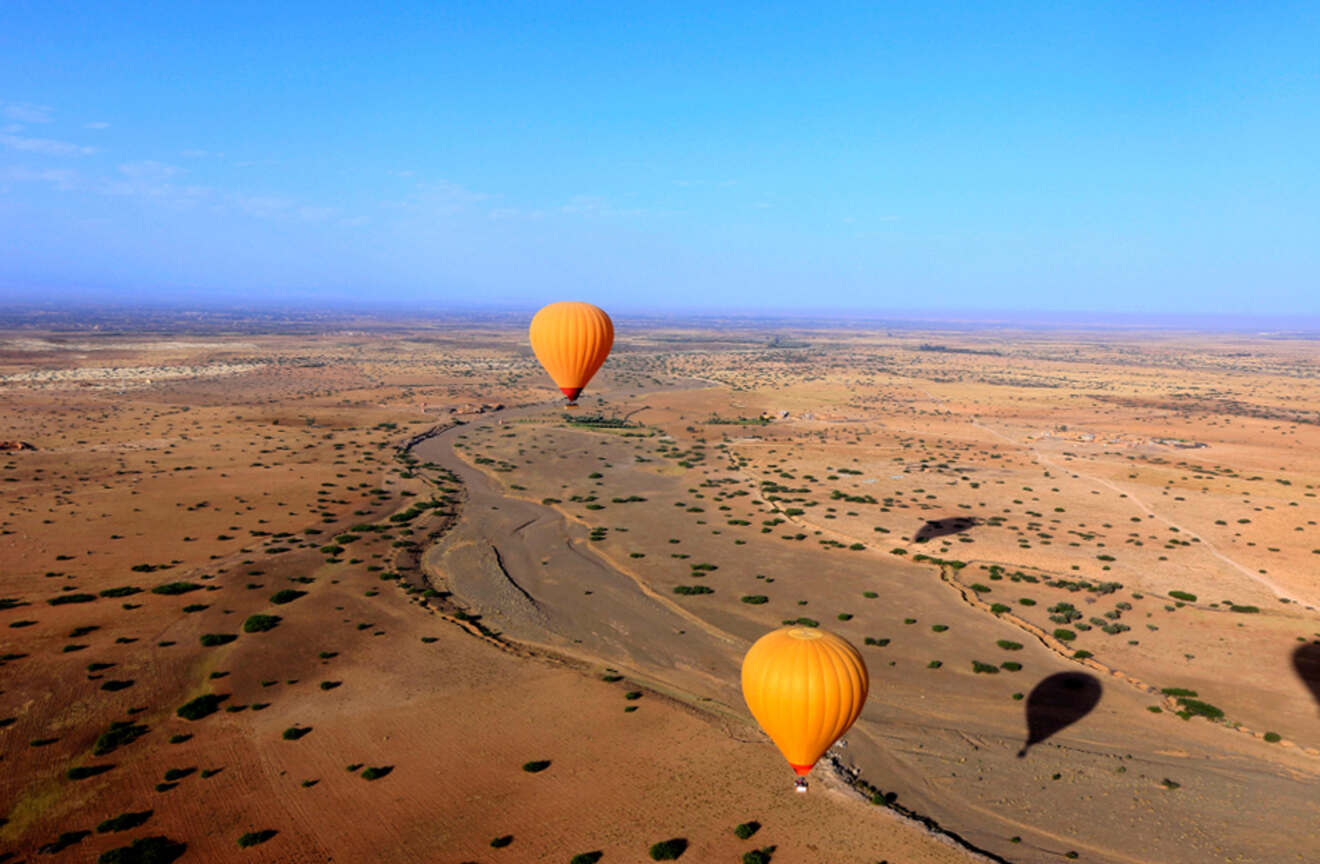 Are you ready for a once-in-a-lifetime adventure? Rise above the red dust and palm groves of Marrakech as you soar through the air in a hot air balloon.
Join a small group of fellow travelers and your veteran pilot for a magical experience. With live commentary from your pilot, you'll soak up the sights and sounds of the majestic open landscapes below as you glide through the sky.
After your 4-hour balloon ride, refuel with a delicious and authentic Berber breakfast in a traditional Moroccan tent. Savor the flavors of this delicious meal as you bask in the beauty of your surroundings.
To make your experience even more enjoyable, there are door-to-door round-trip transfers from your Marrakech hotel. No need to worry about Marrakech transportation – just sit back, relax, and enjoy the ride!
FAQs about Marrakech tours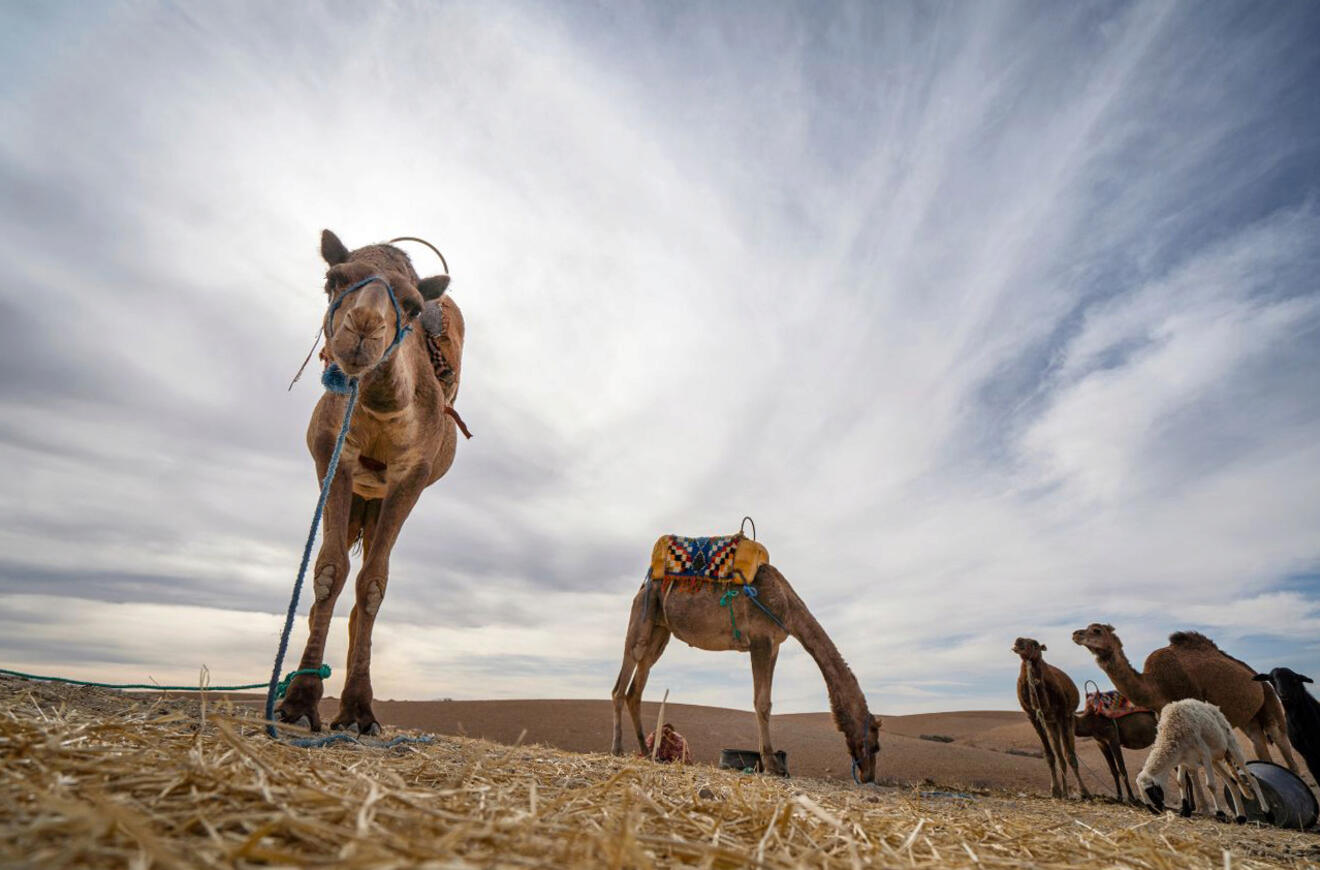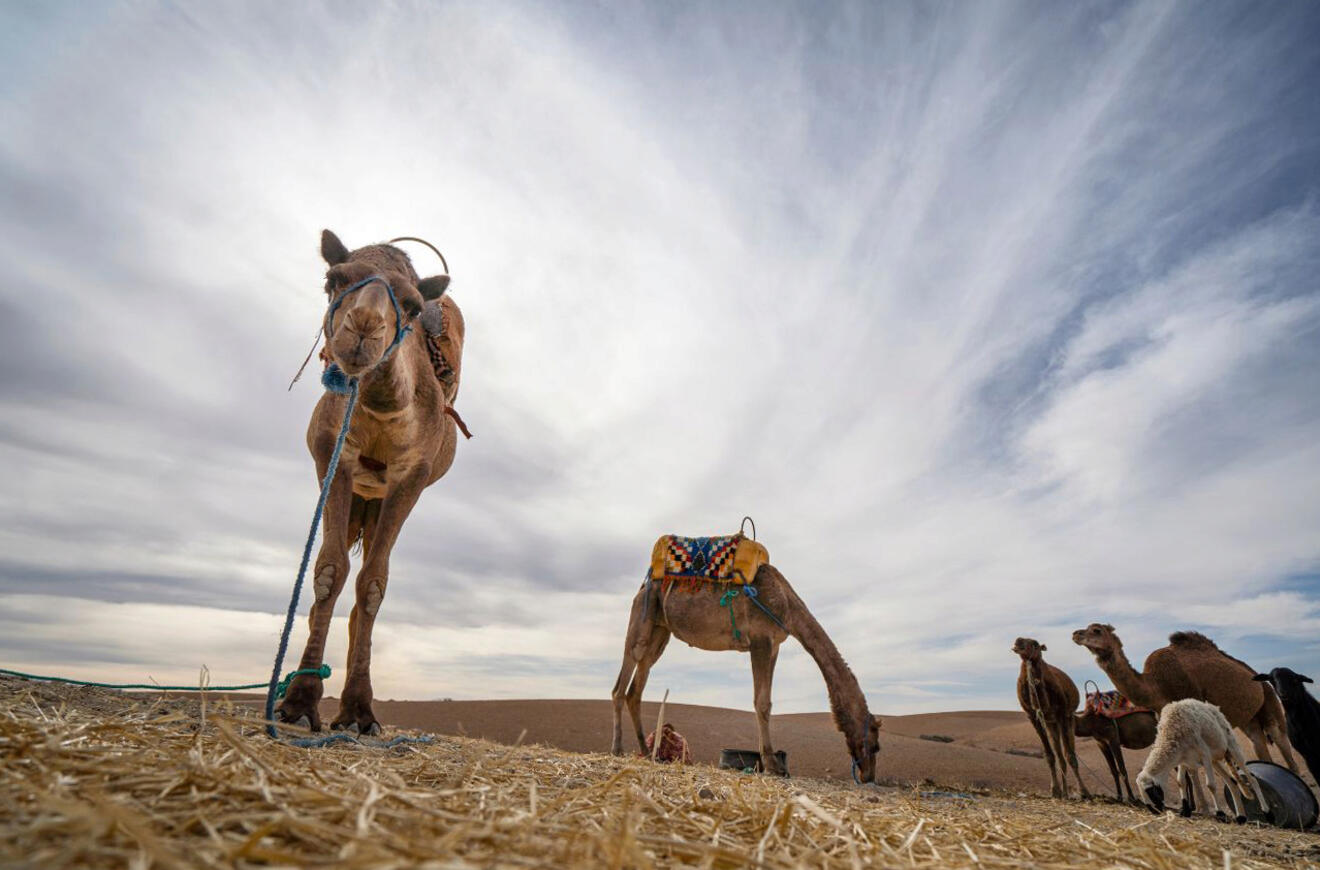 📅 How many days is enough for Marrakech?
Plan for at least 2-3 days to indulge in cooking classes, souk strolls, and walking tours. But for those with more wiggle room, extend your stay to explore the breathtaking day trips and desert tours that you can't afford to miss!
🧭 Do you need a tour guide in Marrakech?
👚 What should I wear in Marrakech?
Keep it modest by covering your shoulders and legs, especially above the knees. Not only will you respect the local culture, but you'll also look chic while doing it.
🚶‍♀️ Is it easy to walk around Marrakech?
Yes, and I recommend taking a walking tour through the city center. And if you feel like taking a break, hop on a "kutche" (horse carriage), waiting for just a stone's throw away from the lively Jemaa square.
Conclusion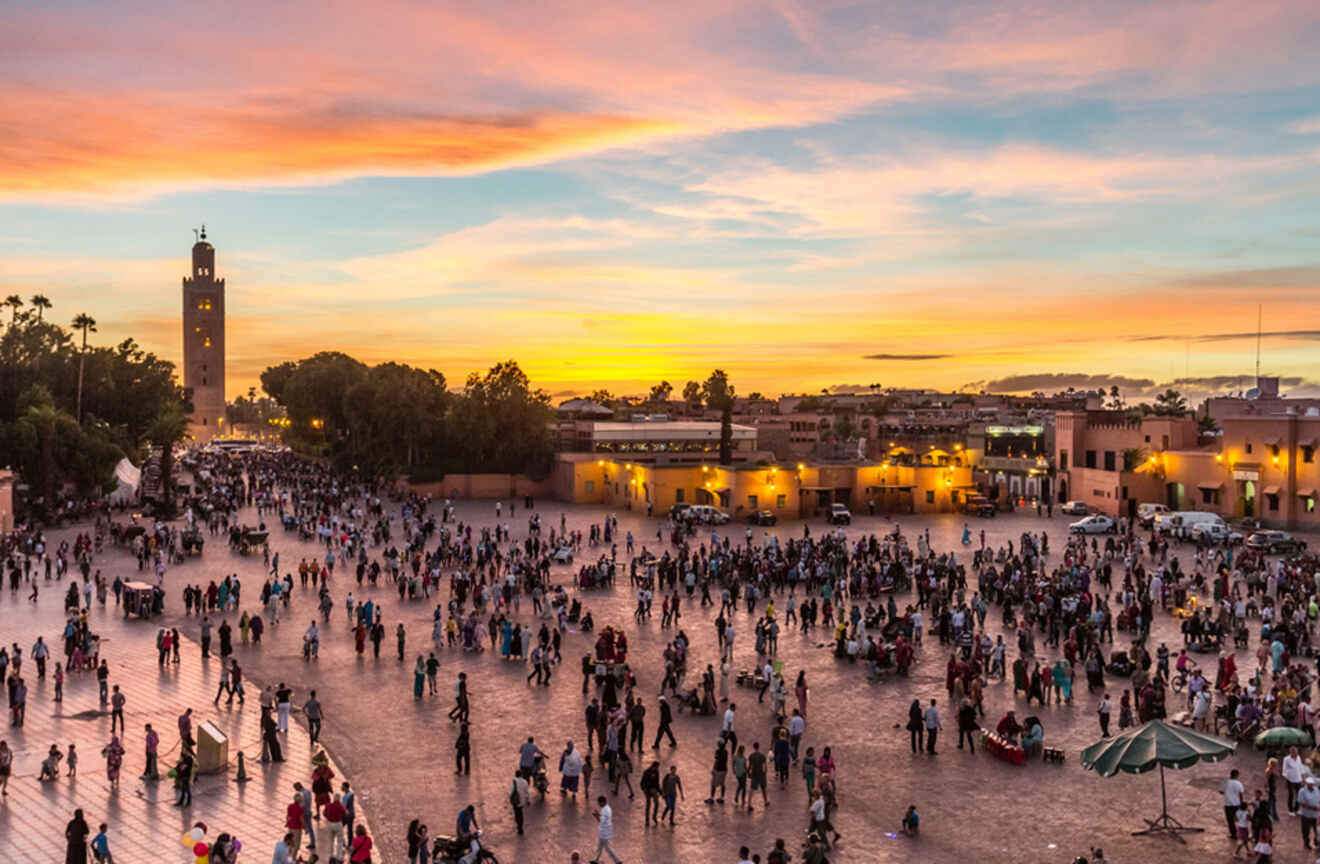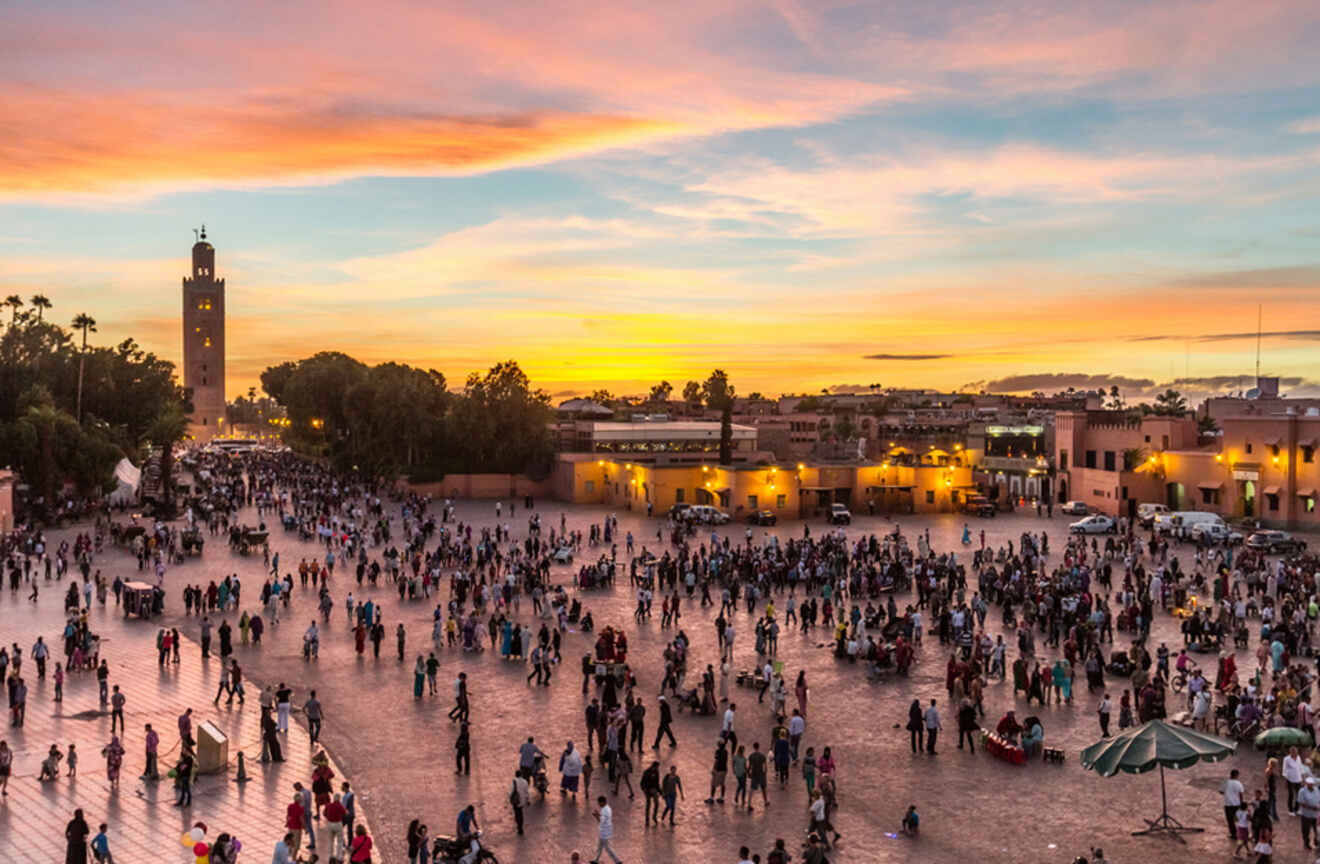 I hope that this article on Marrakech tours has inspired you to explore this vibrant city and all the unique experiences it has to offer.
Marrakech is a city that will capture your heart with its lively energy, rich history, and colorful culture. Whether you're a first-time visitor or a seasoned traveler, there's always something new to discover.
From cooking classes to hot air balloon rides, and palm trees tours to Marrakech desert tours, there's a Marrakech tour for everyone.
So what are you waiting for? Start planning your Marrakech adventure today and book your tours in advance to secure your spot and the best deal!
And don't forget to leave a comment below with your favorite Marrakech tour experience – I can't wait to hear from you.
Safe travels and farewell for now,
Angelina
---
Pin it for later!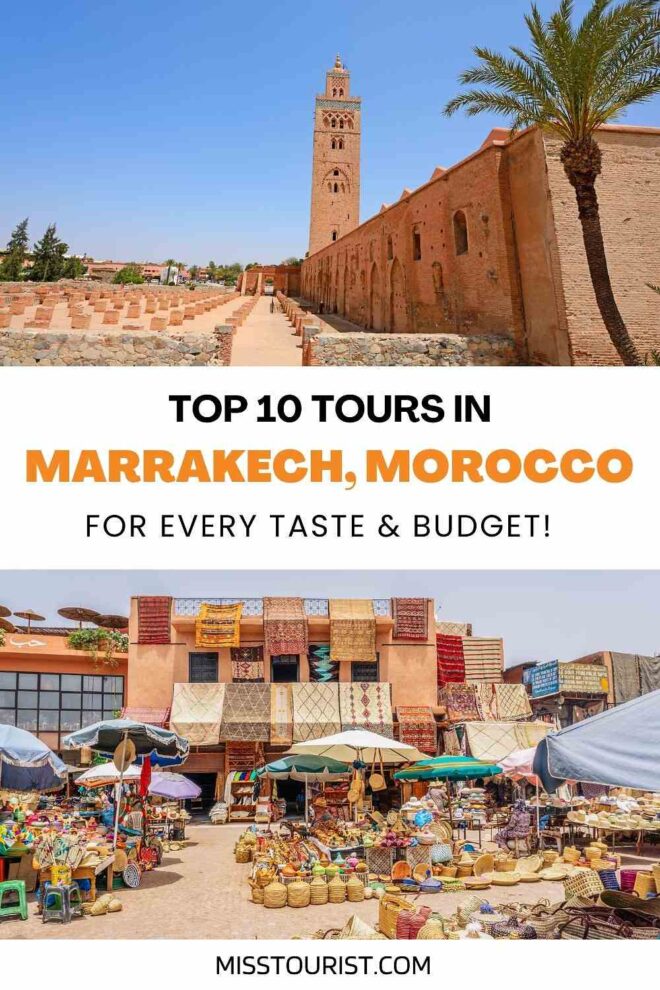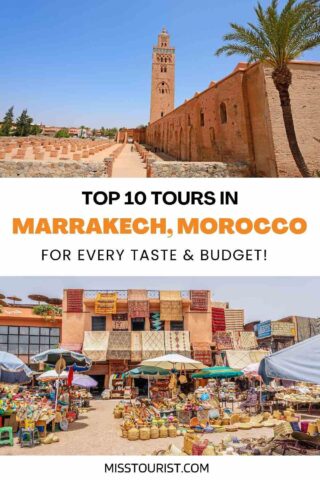 Pin it for later!