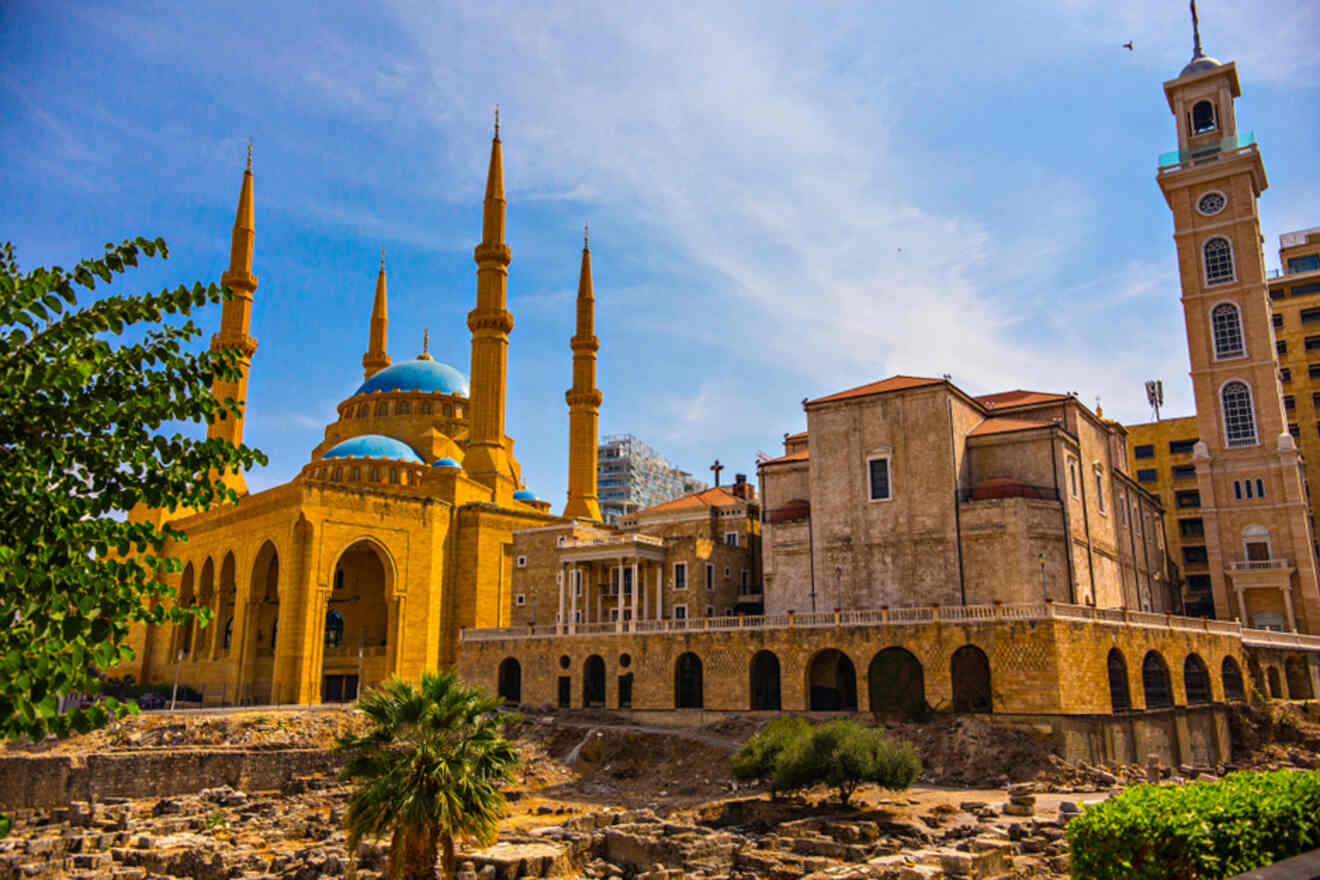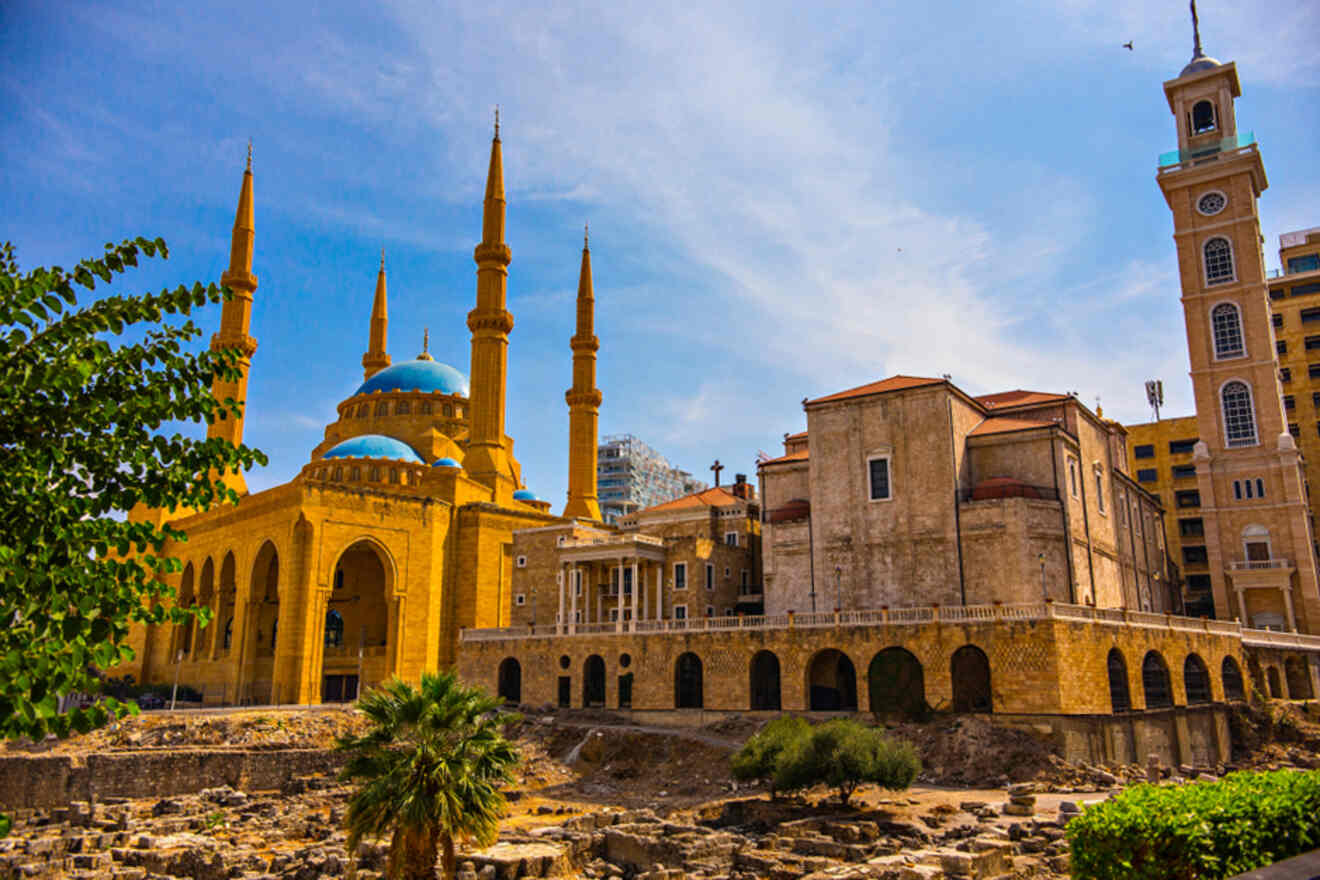 Ah, Beirut. The most beautiful, eclectic, enchanting, and undeniably addictive city in the world! Once named the "Paris of the Middle East," Beirut has been beguiling visitors for many decades.
This glittering Phoenician city is a must-visit destination! With its troubling yet intriguing and rich history, incredible food, jaw-dropping landscapes, and people who will invariably invite you in for iftar, you won't want to leave this place – trust me, I've spent around 40 months of the last 10 years in this gorgeous country, and it never disappoints.
That's why I feel like I MUST write this post on all the best things to do in Beirut! I'll share all the local secrets that most people just won't tell you!
I'll also let you in on the best day trips and places to visit from Beirut with a fun bonus section!
Don't forget to book your activities and hotels in advance! Beirut is a popular destination, and hotels become especially expensive last minute, so book quickly for the best prices!
Yalla, my friends! Let's get into all the things to do in Beirut that will make you come back again and again 🙂
If you are in a hurry
Beirut welcomes many keen travelers every year from the Middle East and beyond, so it's best to book your trip a few months before you go!
Here are the main things to book in advance:
And here are the best hotels: InterContinental Phoenicia Beirut (luxury), Grand Meshmosh Hotel (mid-range), Hostel Beirut (budget)
1. Take a boat tour at Raouche (Pigeon Rocks)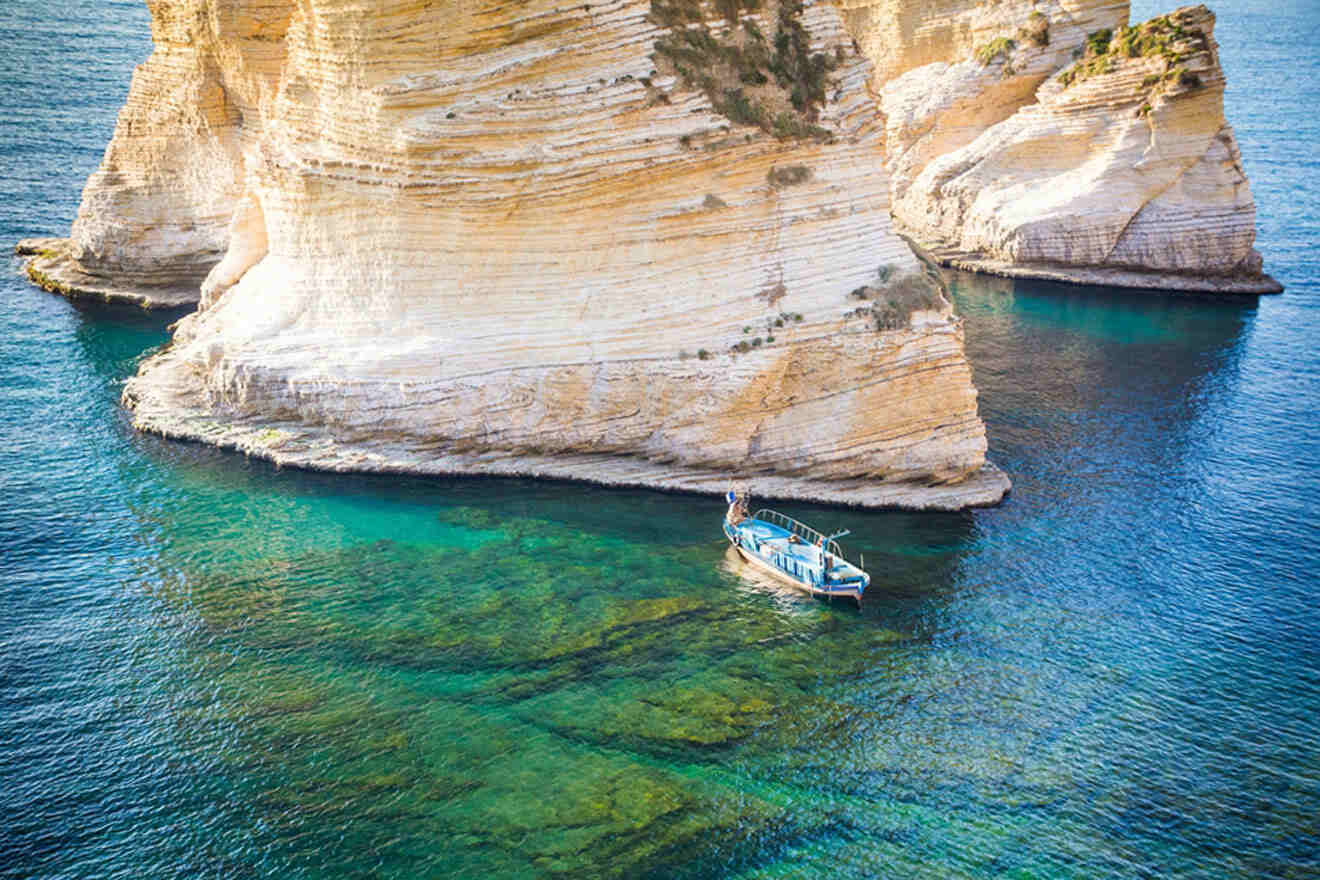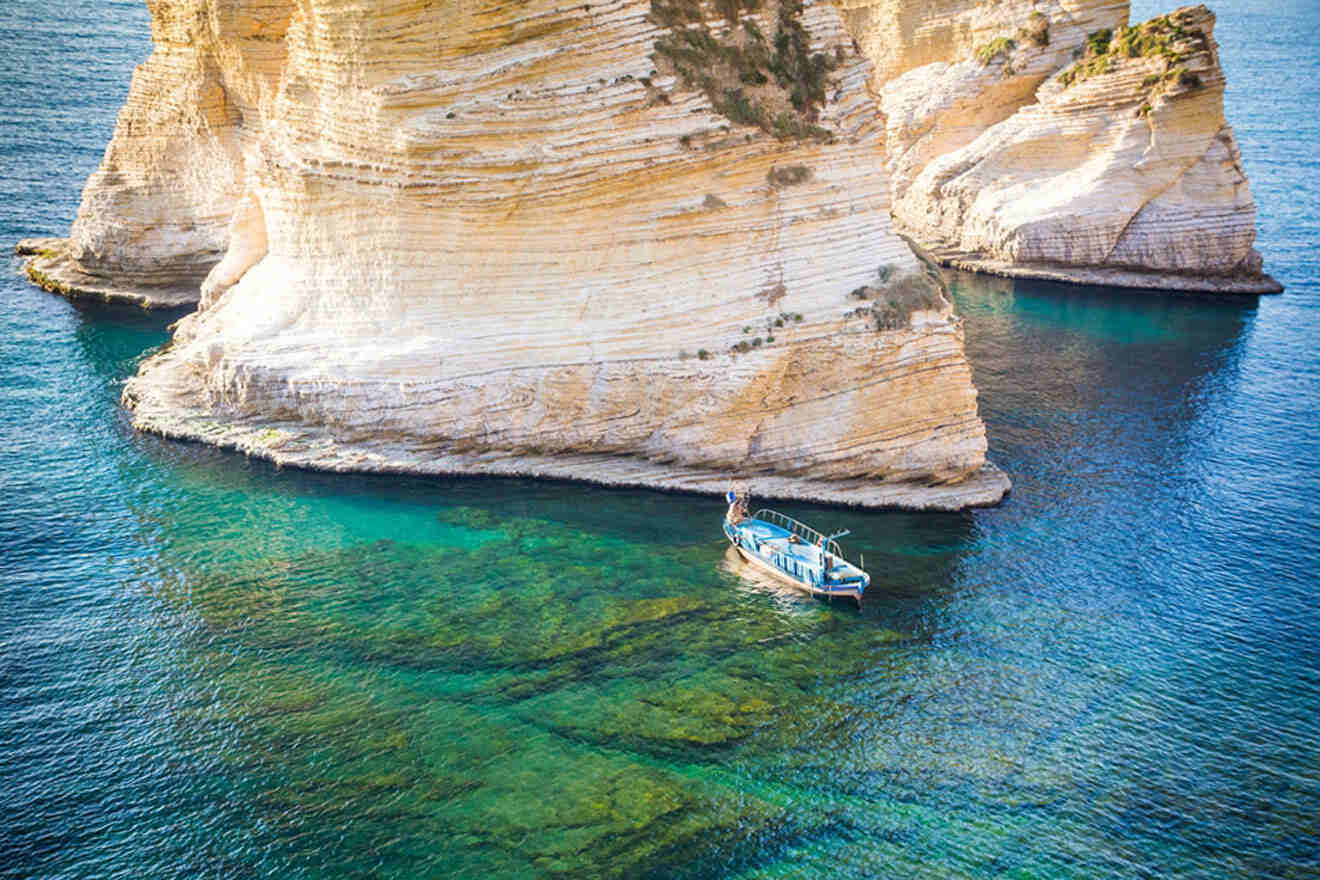 Raouche is one of those places you'll remember forever. Located on the eastern side of Beirut on Corniche el Manara, this is a place that can be explored at any time of day!
If you choose to go during the day, you'll get the most amazing experience of Beirutis enjoying argileh on the sidewalk and gorgeous sunshine, and if you go in the evening, you'll be met with a beautiful sunset and serene, balmy weather. Whatever floats your boat!
The Pigeon Rocks, a massive rock formation in the seas just off the shore of Raouche, were formed by an earthquake and have been around since the 1200s. If these rocks could talk, they would have a thousand stories!
Taking a boat tour is definitely the best way to see these babies up close. Plus, you'll get a complimentary bottle of wine to enjoy while you zoom around – now that, if nothing else, would convince me!
PRICE: US$84
2. Hang out at Zaitunay Bay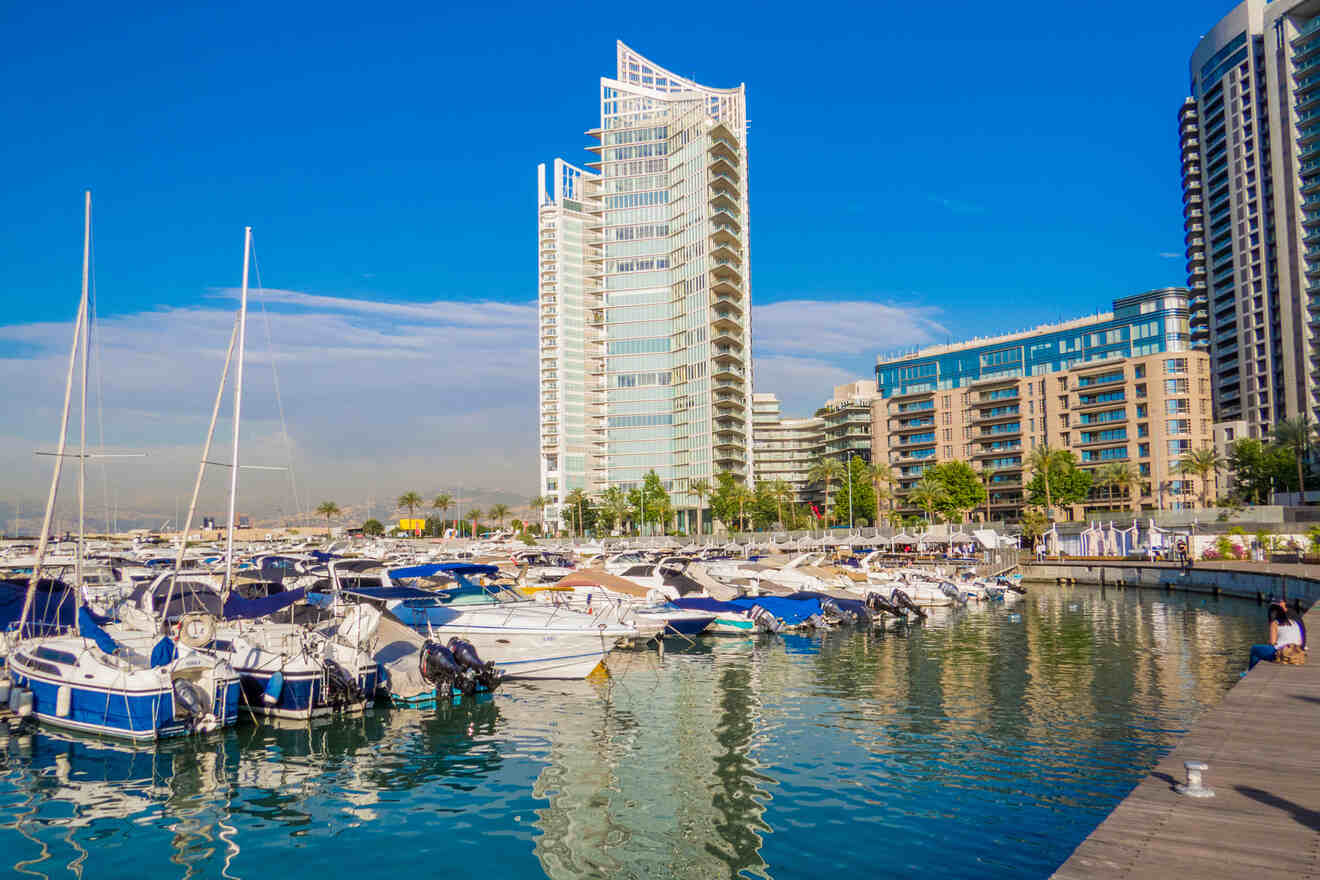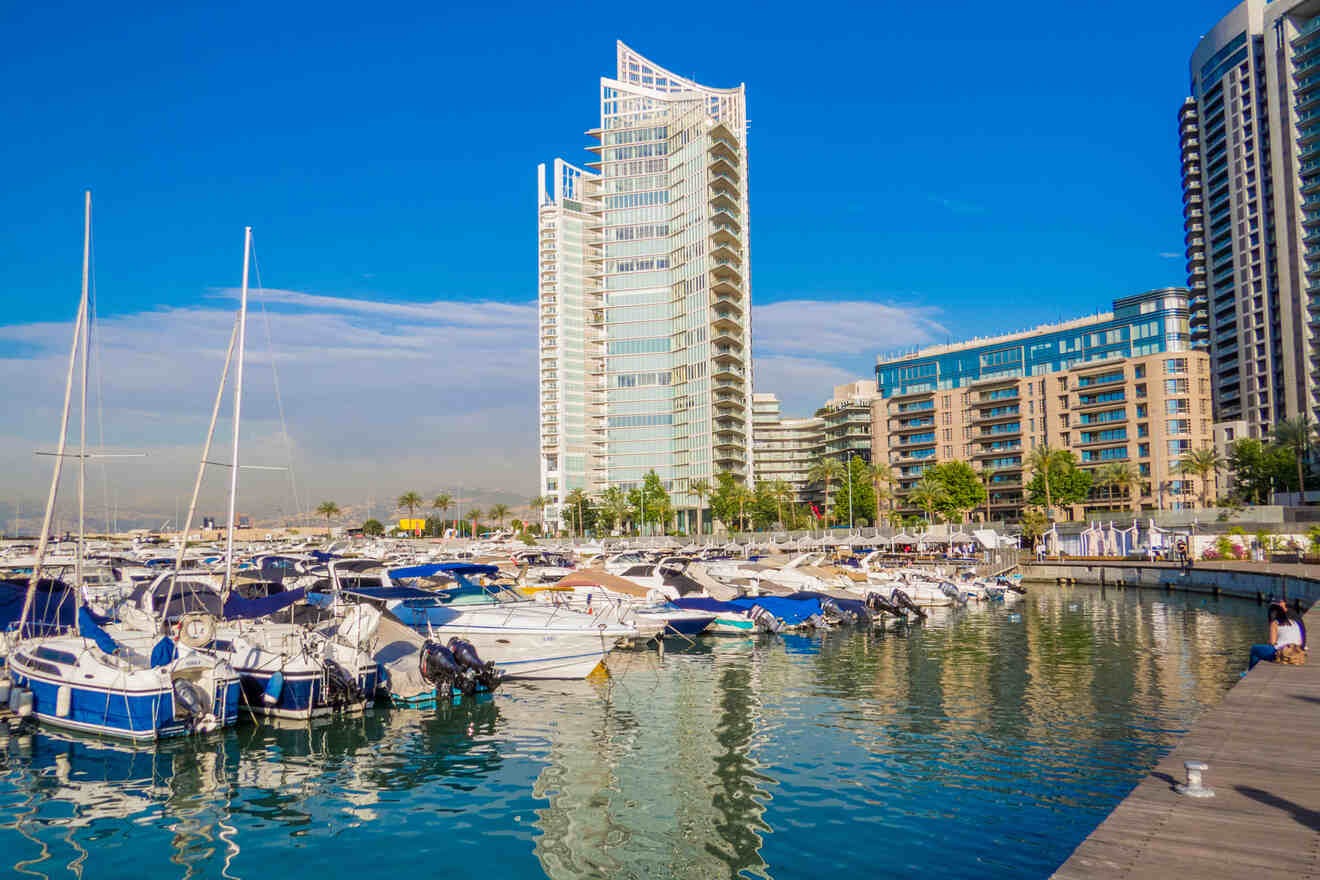 If you fancy feeling a bit fancy, Zaitunay Bay is the place for you! Located right on the Beirut Marina, there are some really cute little restaurants (including Em Sherif, arguably the best food in the area – but a bit pricey, so bring those dollars!)
In fact, pretty much all the restaurants here (apart from a couple of places) are actually relatively expensive. So make sure you fancy it up and dress to impress to fully appreciate the experience!
In general, most people hang out at Zaitunay at night. This is because all the buildings behind the marina light up beautifully, and the lights glitter across the water in such a mesmerizing way!!
And if you don't want to spend money, you don't have to! You can take your lover, have a romantic wander over the boardwalk, and look at all the pretty lights 💒
3. Visit one of Beirut's famed museums
After the infamous port explosion in 2020, many of Beirut's oldest and most beautiful cultural places were almost completely destroyed. But now, after a lot of effort from the community, many of these places have reincarnated and still live on – a true tribute to Beirut, the city that never dies!
Thankfully, Beirut's most stunning museums have also made a strong comeback!
3.1 Nicolas Sursock Museum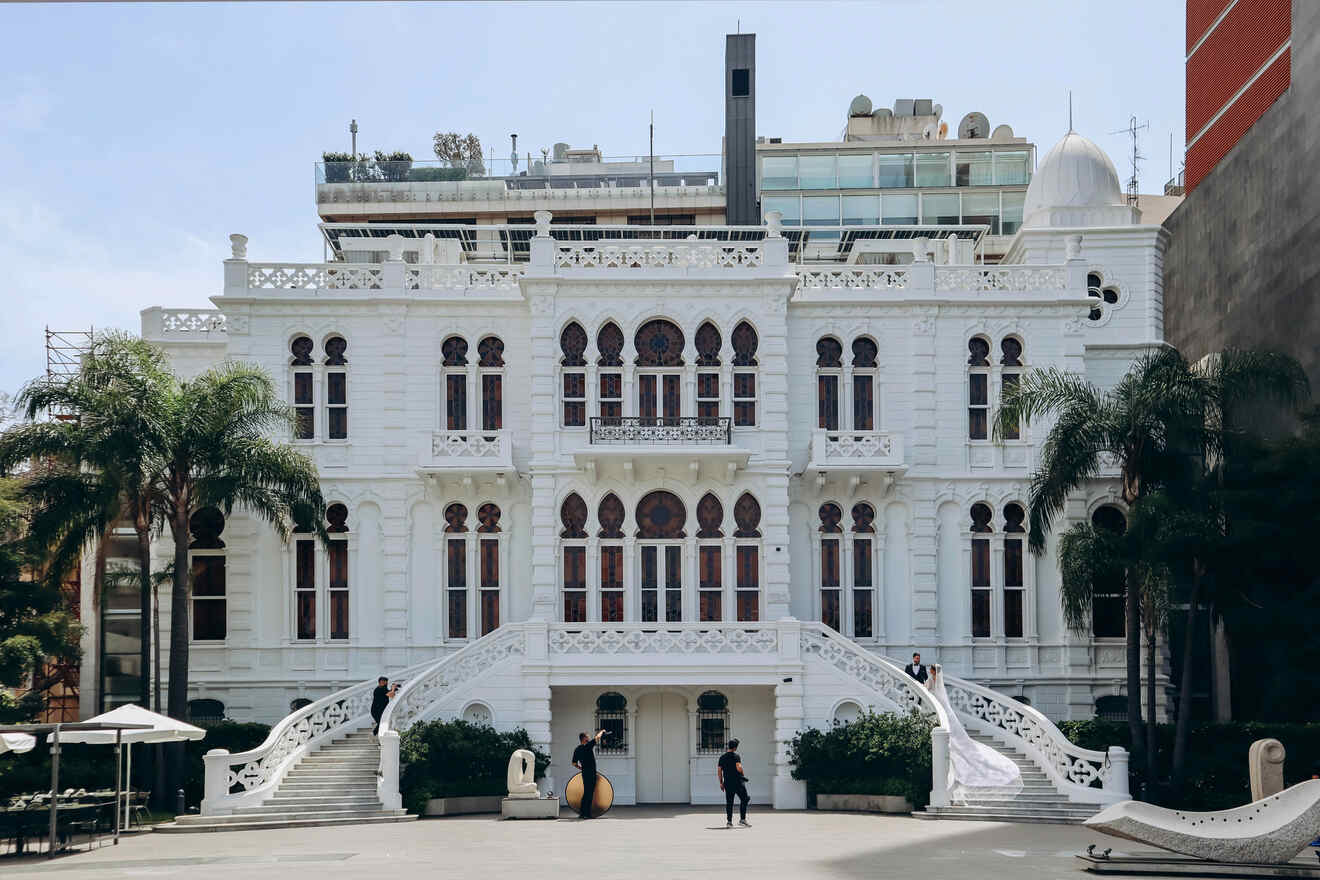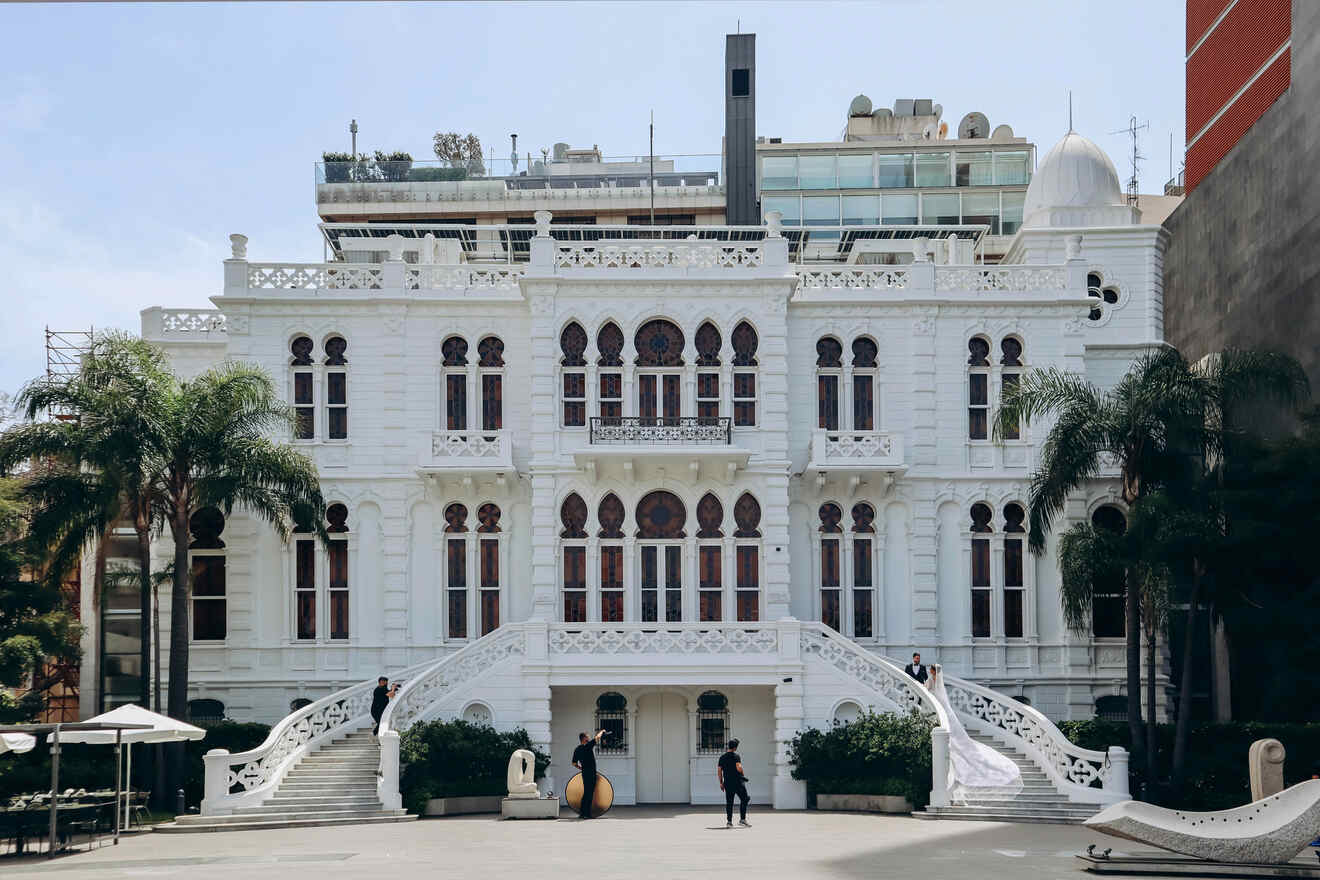 Sursock is a stunning art museum located in Achrafieh, deep in the heart of Beirut. It's set on the MOST beautiful street lined with swaying trees, and as you come up to the building, you'll honestly be shocked at the stained glass windows!
The museum holds some really gorgeous contemporary artworks and art galleries, and they also do programs every month intended to educate visitors on the importance of art as a culture of experimentation and rebirth in Lebanon.
Built in 1912, this building was destroyed almost completely after the explosion in 2020, with those stunning windows being ripped out along with everything else. Now, after the rebuilding effort and Lebanese communities coming together, it's coming back to life!
NOTE: At the time of writing, Sursock is still closed – but it should reopen by the end of 2023, so if you're planning a trip to Beirut, put this in your calendars!
PRICE: Free
3.2 MIM Mineral Museum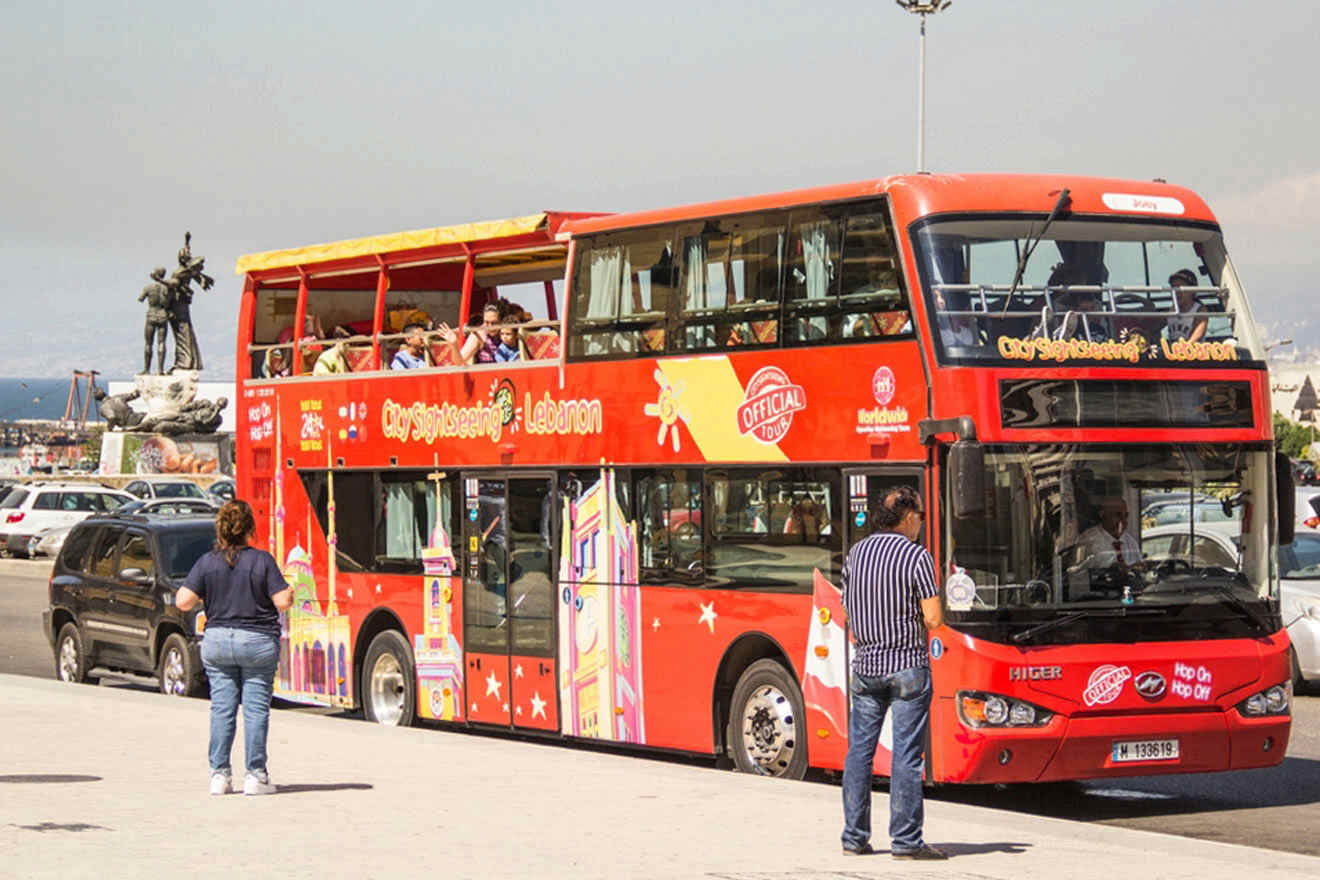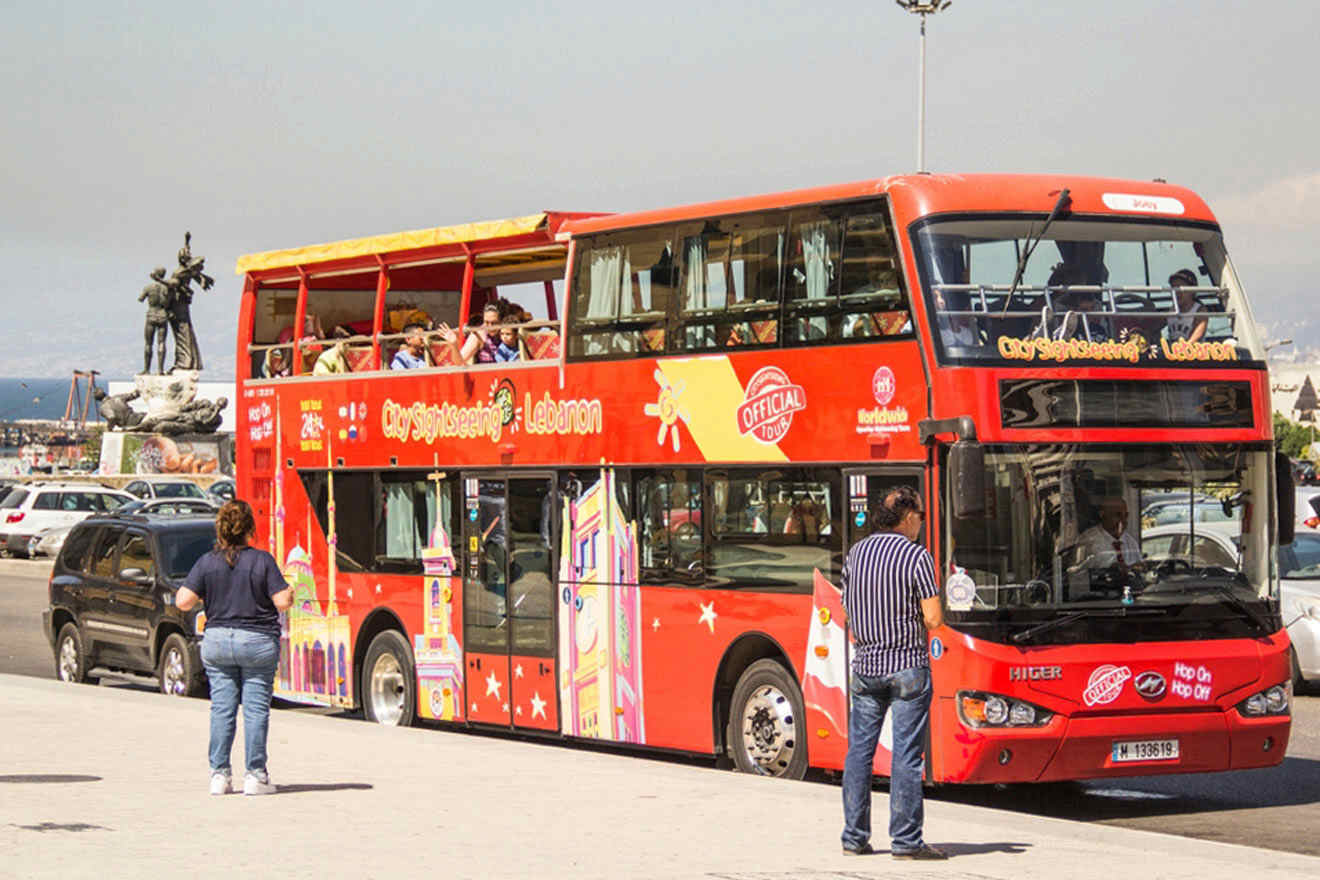 If you're into fun rocks and geology, MIM will do it for ya! A private museum dedicated to stunning minerals, they have one of the most impressive mineral exhibits in the world! There are almost 2,000 unique crystals and minerals here!
This is actually a great place to take the kids! Even if you're not a mineral aficionado, trust me, you don't need to be – you'll marvel at everything! They also have a cute little gift shop where you can buy beautiful replicas for your home 🙂
You can visit the museum as part of the hop-on hop-off bus tour, which is a great way to see all the best sites in 1 day. City sightseeing with the opportunity to see some of the rarest minerals in the world? Yes, please!
PRICE: US$25 for the bus tour + US$1-2 for basic entrance
3.3 National Museum of Beirut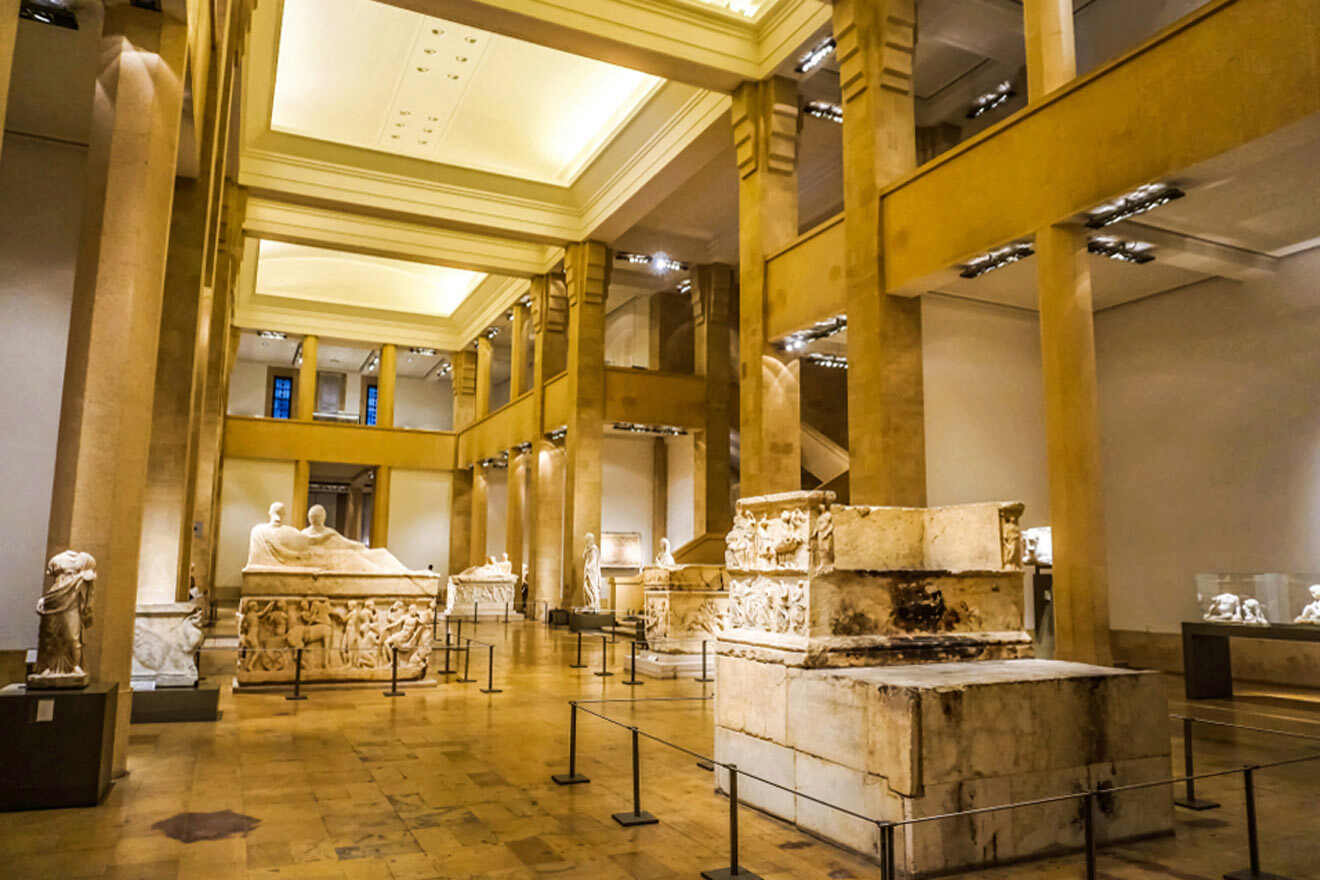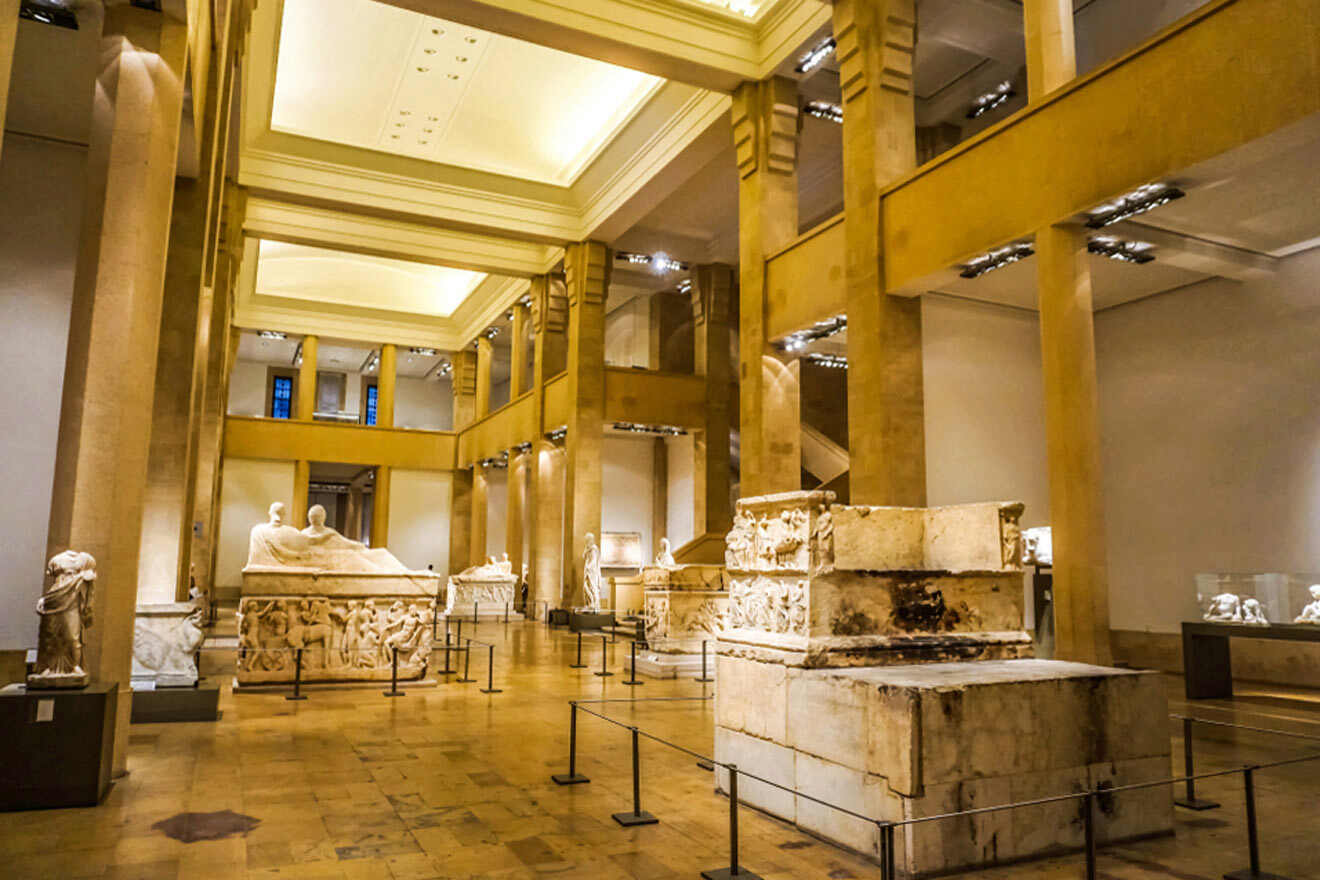 Archeology lovers unite! The National Museum of Beirut is an archaeological museum within walking distance from MIM, and you'll get to see artifacts from different eras and ancient civilizations!
It's SUCH a cool place, and it's often completely empty, so you may even get the whole place to yourself! You'll be surprised at the sheer variety of archeological pieces from all across the globe at this tourist landmark.
PRICE: US$1-2 for basic entrance
3.4 Beit Beirut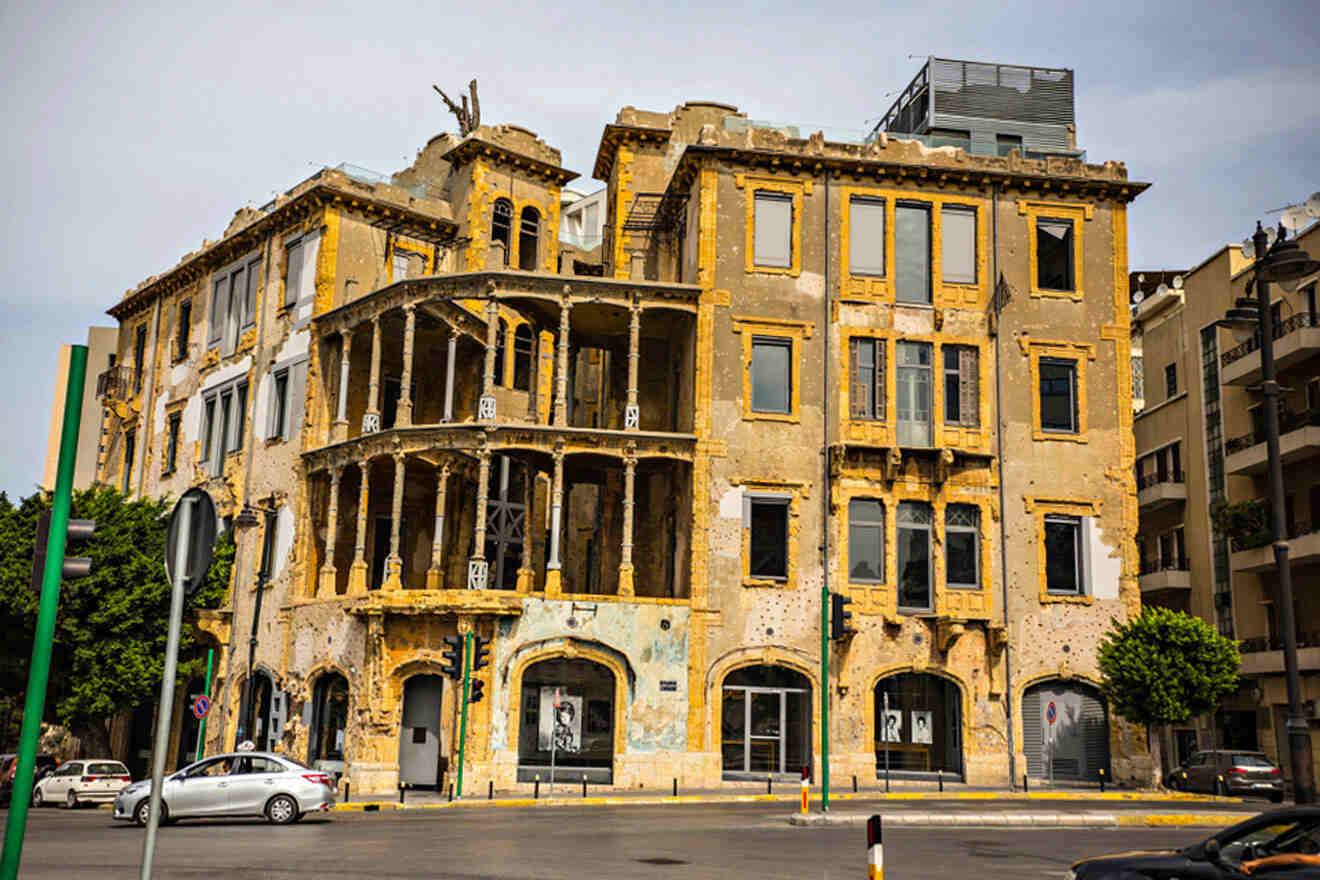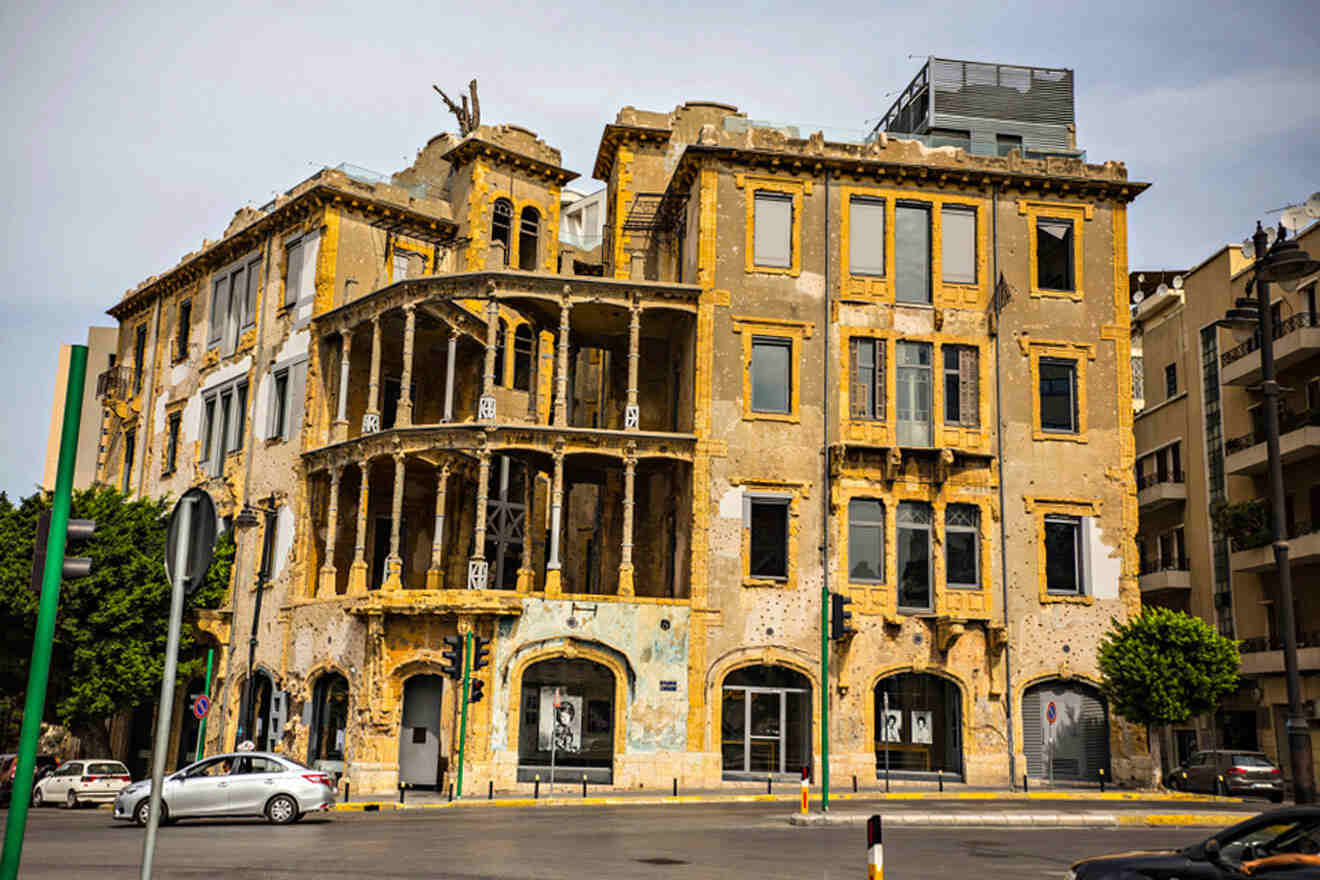 A tribute to the Lebanese Civil War, Beit Beirut is a true gem on the green line of Beirut. They serve as a cultural space for exhibitions and historical research, and there are often amazing people giving talks there, as well as really impressive artist appearances!
Beit Beirut is the most astonishing building and was used during the war as a sniper spot – something you'll definitely see and understand when you go. It was set right at the midpoint between East and West Beirut, so it has seen many tragedies throughout its existence. I highly recommend you go to Beit Beirut!
PRICE: Free
4. Have the best breakfast of your life!
Ok, listen, if you're not a breakfast person, you need to become one. Seriously, I mean it! You'll never have breakfast like it anywhere else because, let's be honest, Beirut does it better. It may even convince you to postpone your return flight (which, from experience, I know all too well!)
Here are the most AMAZING breakfast locations in Beirut!
4.1 Barbar
Mankoushe is a whole memory on its own for me. It's basically a folded breakfast pizza calzone filled with pretty much anything you like, and the dough is 1,000 times better than any dough you'll find, even in Italy! You can't visit Beirut without trying one!
The best mankoushe you'll ever find is at Barbar in Hamra! Barbar is not a sit-down restaurant, it's kind of a fun food kiosk, so you basically order your manakeesh (plural of mankoushe) and just eat it on the street. Don't think, do!
My ABSOLUTE favorite mankoushe is cheese, with more cheese. The cheese is traditional Lebanese cheese (akkawi) and mozzarella, and if you ask for za'atar you'll get the most pungent, spicy aroma that you will die for. I promise.
You can also have your mankoushe with turkey, ground beef, or just classic za'atar on its own. The options are endless!
4.2 Abou Hassan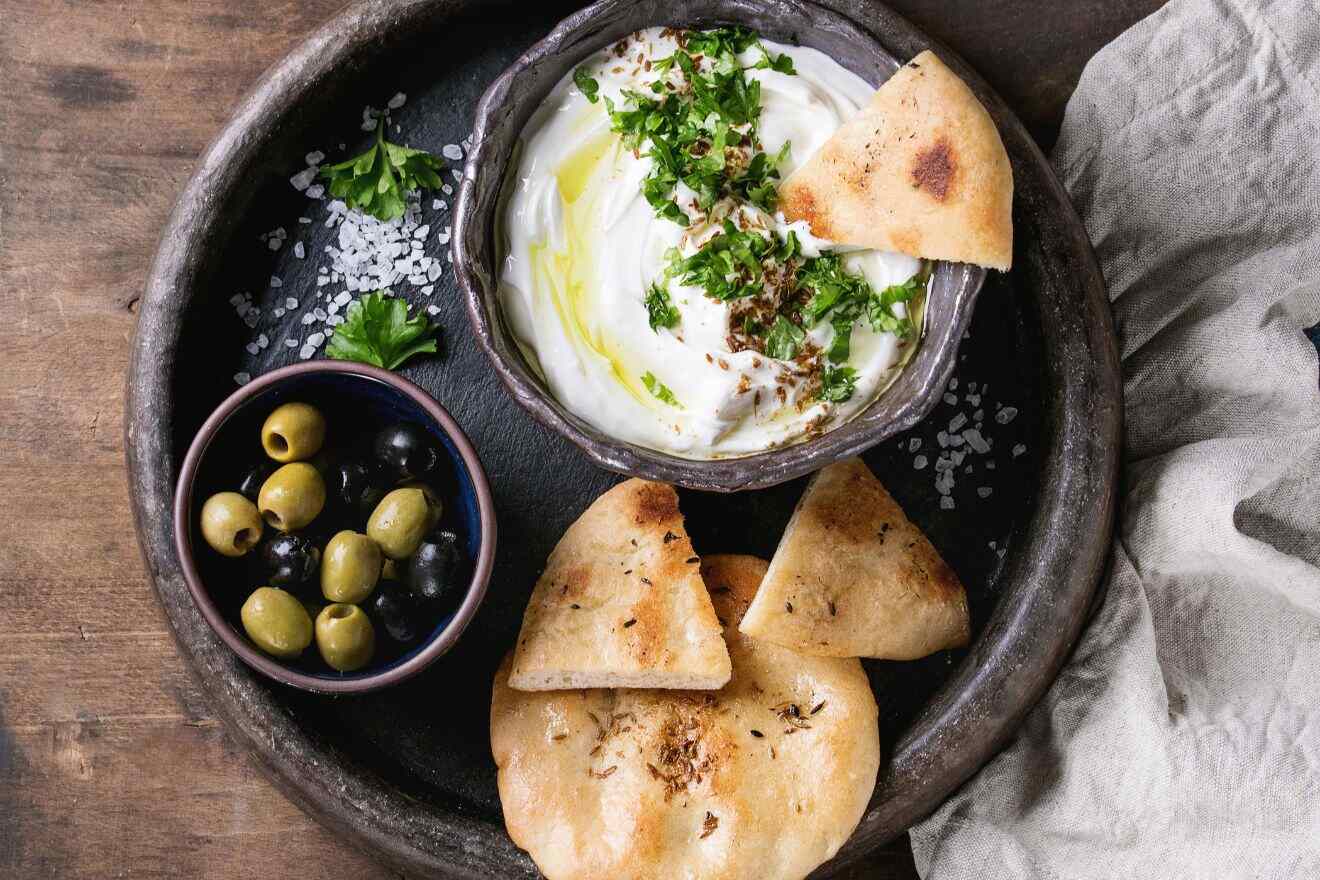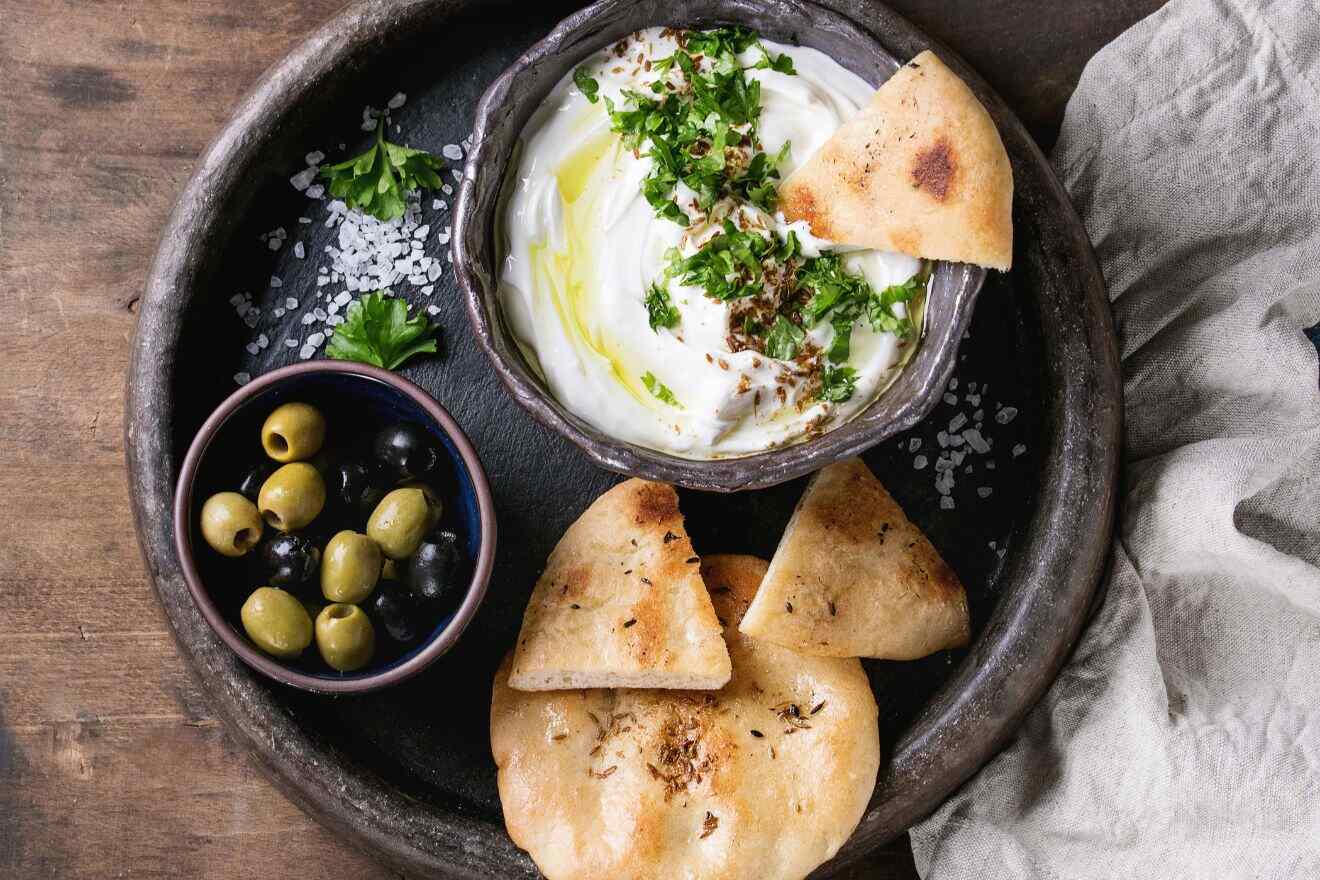 Traditional Lebanese breakfast should be your first port of call in Beirut. Abou Hassan has 2 locations in Beirut – one in Bourj Hammoud in west Beirut and one at the end of Hamra near the corniche.
Whichever one you choose, ding ding ding! You're a winner! Seriously though, they're both just excellent and super cheap as well, so if you're working on a budget, it's the perfect place for sustenance. My husband and I love spending a lazy Sunday in Hamra Abou Hassan, it's so relaxed and in a beautiful, leafy area, and the Lebanese cuisine is a HUGE bonus!
Expect fatteh bi laban (yogurt with chickpeas), eggs with halloumi and soujouk (spiced sausage), pickled cabbage, foul (beans), fresh mint with tomatoes and olives, hummus for days, and fresh bread made on-site! YUM!
PRO TIP: When looking for places to eat in Beirut, always go for the ones that don't look like much from the outside. Seriously, they're always the best!
4.3 Em Nazih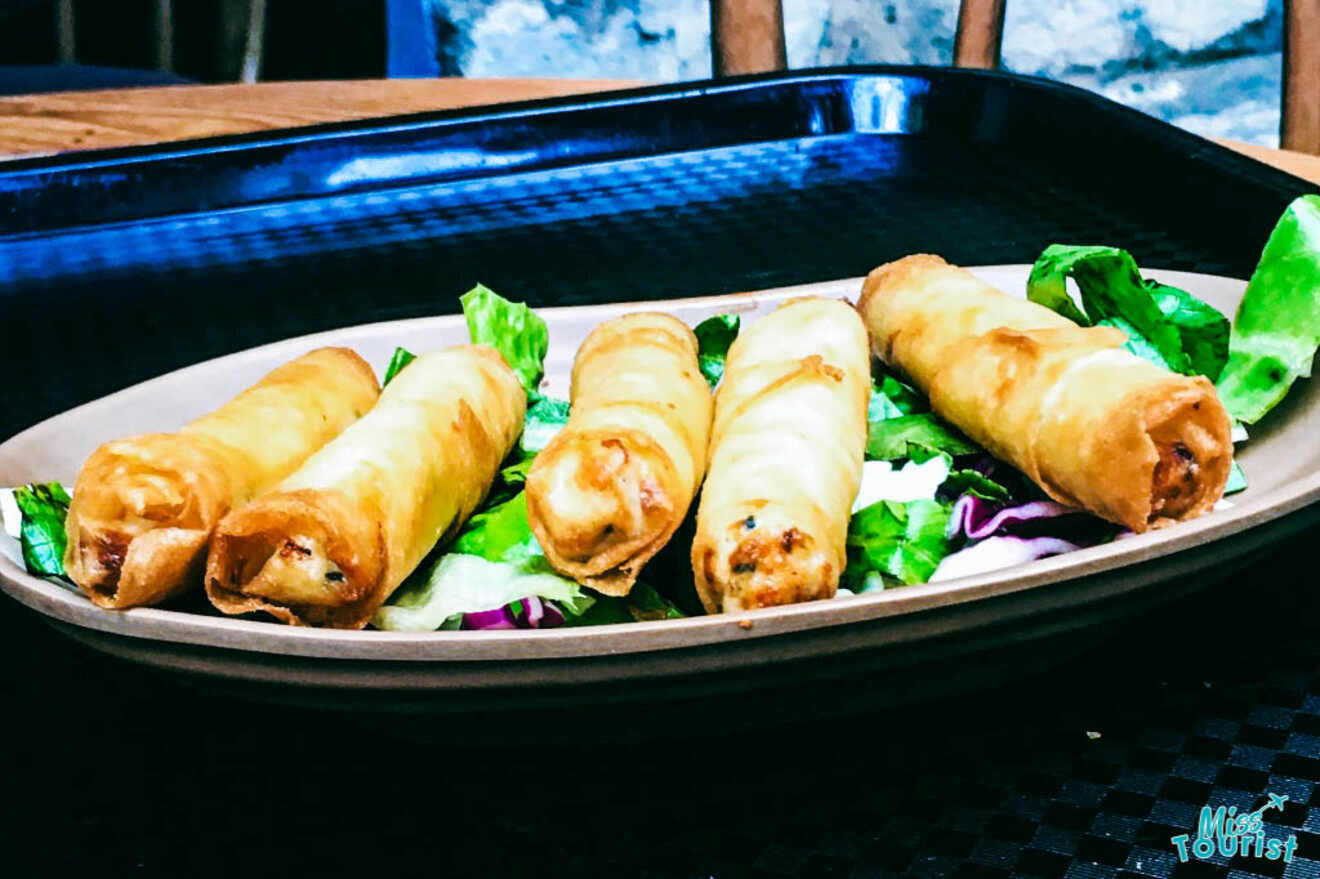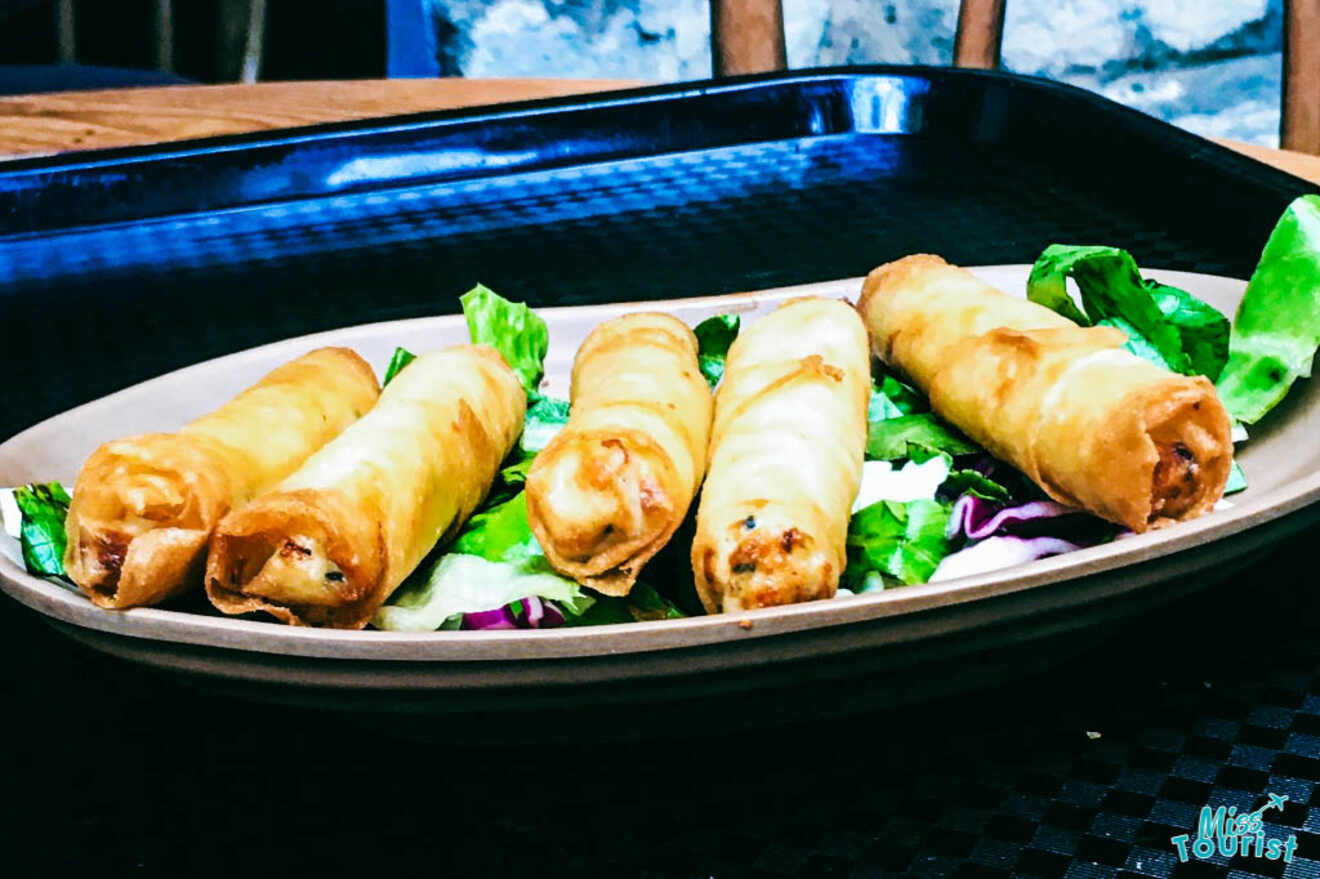 If you're the kind of person who likes to find ex-pat communities while traveling, Em Nazih on Hamra Main Street in the city center should be your go-to meeting place! There's free Wi-Fi as well, so it's a great place to have a nice filling breakfast and get some work done.
They have all your Lebanese classics, just like Abou Hassan, but they also have a fun drinks selection and a great vibe! Once you're done, you can play tawleh (Backgammon) with one of their boards or chat with some ex-pats and challenge them to a game of chess!
4.4 Mezyan
You can literally go to Mezyan at any time of the day and night, I just had to include it here! Mezyan is a restaurant off Hamra Street that serves the most delicious classic Lebanese food, including black cumin potatoes and batata harra (spicy potatoes), grilled halloumi with pomegranate molasses, rakakat jibne (cheese rolls), and so much more!!
If you go there around lunchtime, I also highly recommend checking out their wine list. A cheeky glass of local Lebanese wine with your cheese rolls? Ooooh yes! 🍷🧀
5. Marvel at Al Amin Mosque & St. George Orthodox Cathedral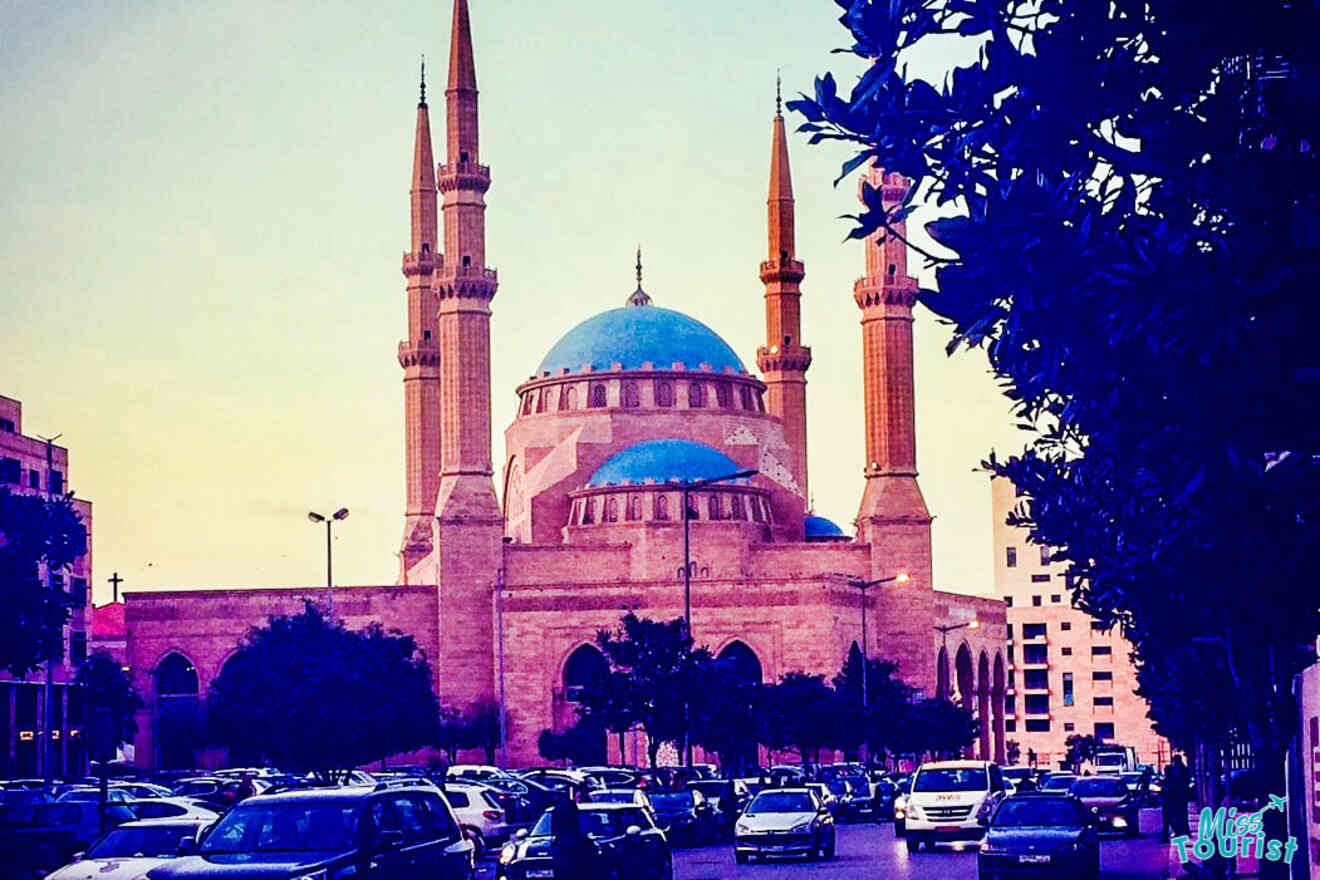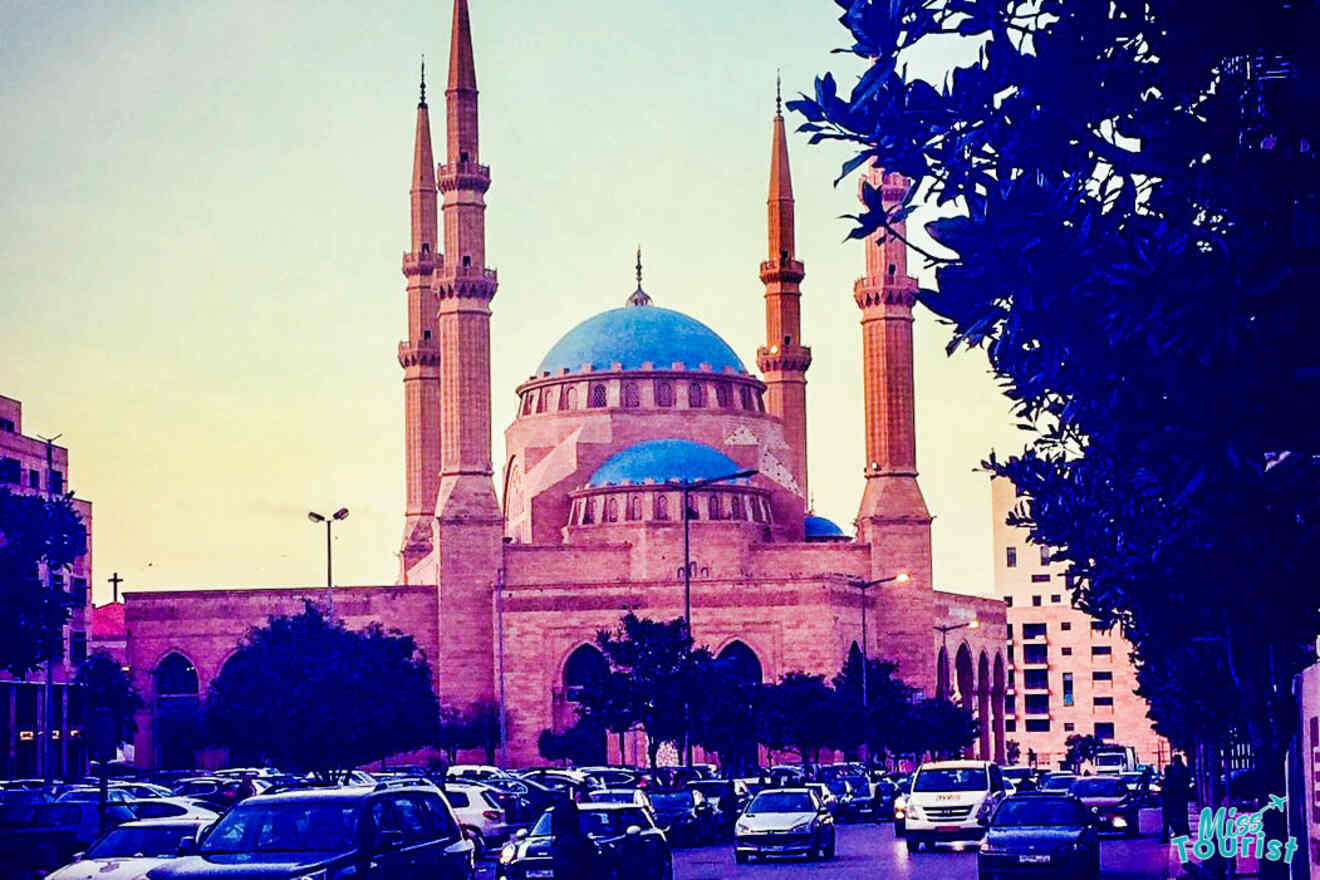 Head over to Martyrs Square for a glimpse of Beirut's most famous mosque and cathedral! The Mohammad Al-Amin Mosque (the Blue Mosque) was built in true decadence by the late prime minister Hariri after the Civil War, and it is still one of the most astonishing buildings in the city!
Facing the square known locally as Al Burj (Martyrs Square), the area is the central square that leads to all corners of Beirut, and it is so named after the 1916 executions that took place here.
The mosque is so beautiful, and if you go inside, you can marvel at the Islamic art and intricate architecture and even have a chat with the Imam, who, if you ask very nicely, will sing the call to prayer and translate it just for you!
Next, head round to the back of the mosque, and there you'll find St. George, a Greek Orthodox cathedral that happens to share a wall with Al-Amin. This symbol of coexistence and harmony is tantamount to the Lebanese way of life – sharing, no matter where you're from, the hardships of life – and it's also just a really beautiful church to visit.
PRO TIP: If you walk just a few minutes from the square, you'll find Beirut's old abandoned cinema, The Egg, a building full of so much history that lends an aura of Beirut's glorious past. You can also visit the old Roman baths! The Roman baths have been deliberately conserved, and it's free to walk around!
PRICE: Free
6. Head downtown to Aswaq Beirut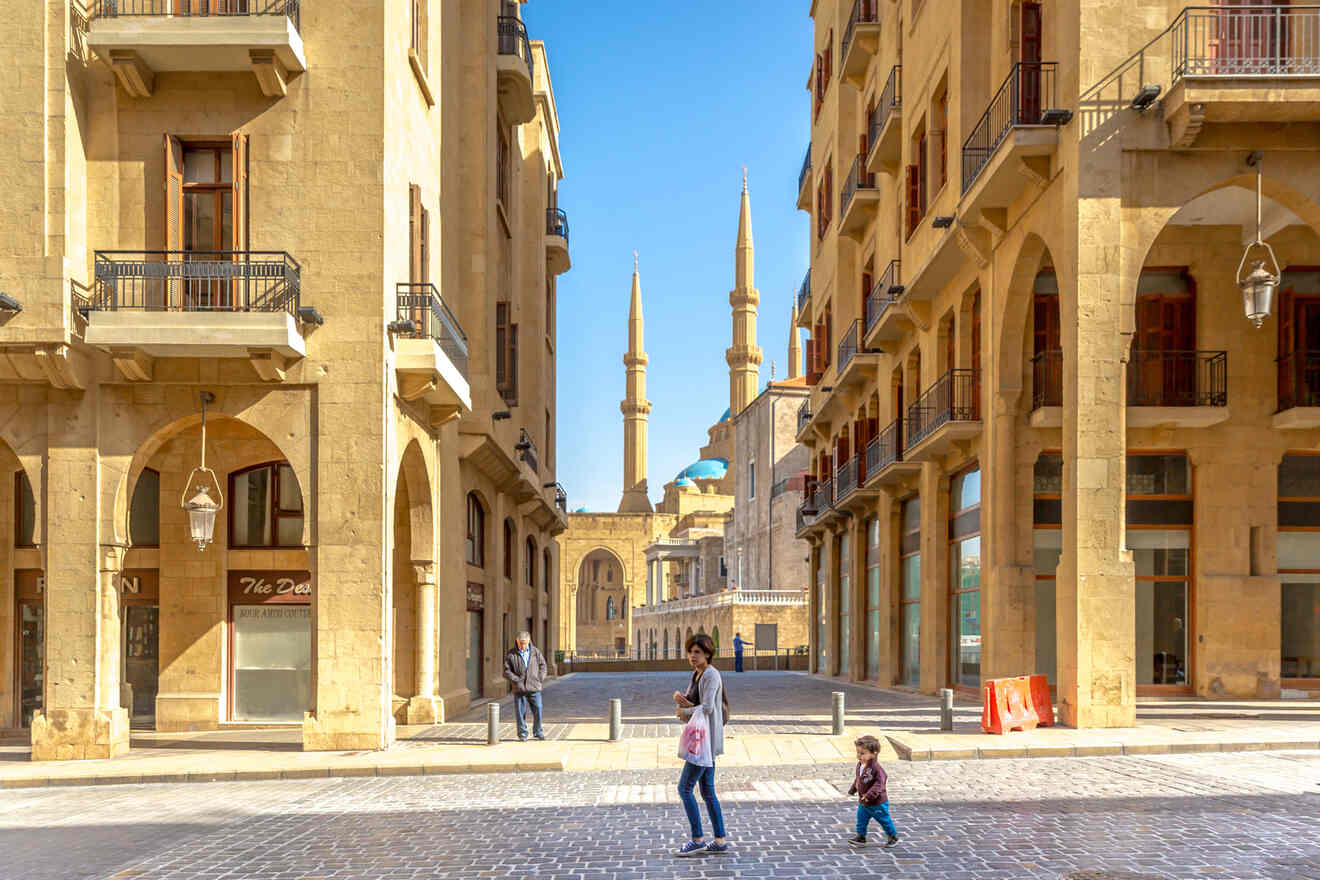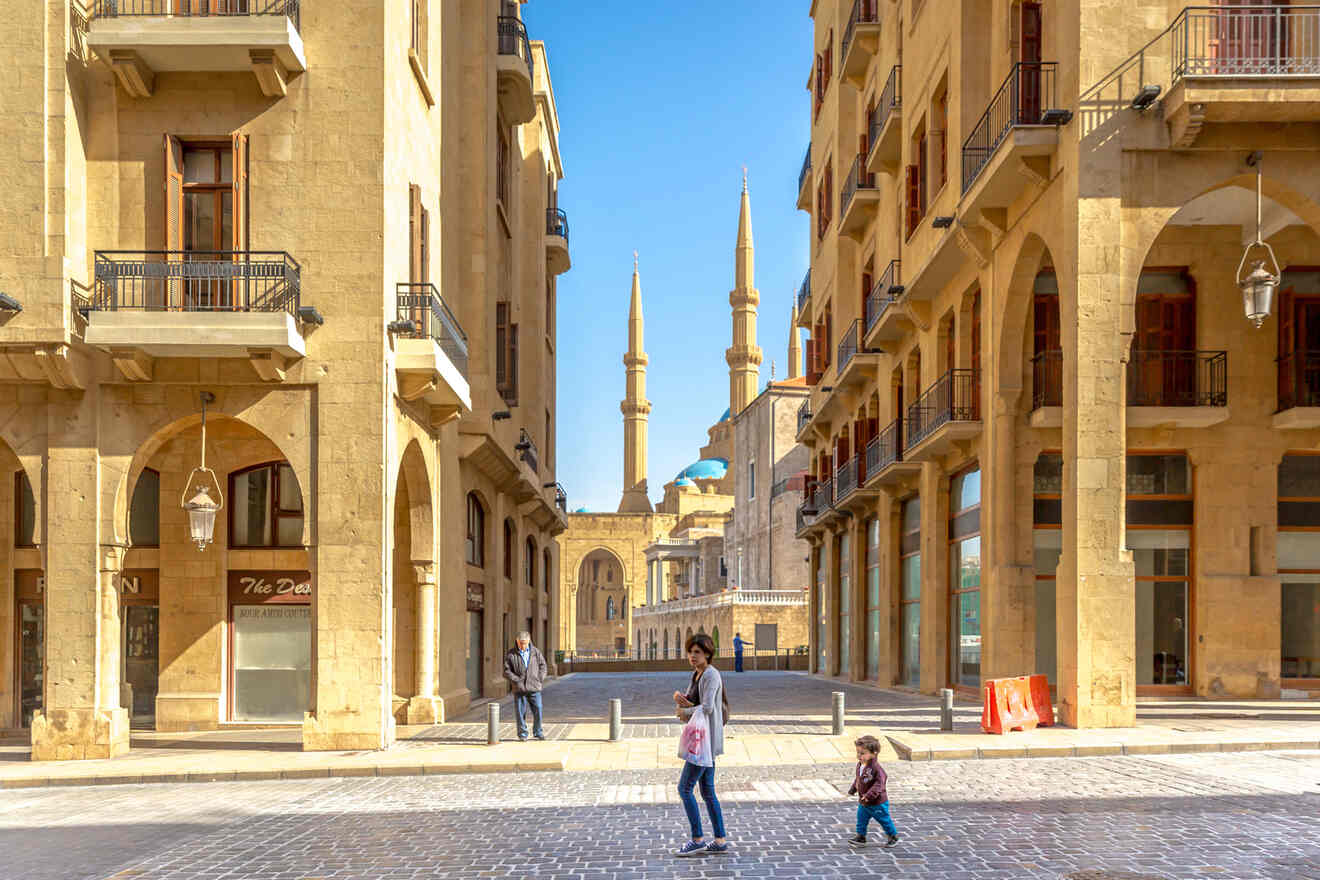 Calling all shopaholics! Luxury shops, Parisian-style local restaurants, and the dawn of Lebanon's most modern district: Downtown Beirut!
Downtown Beirut and Beirut Central District have been contested for a long time. Fighting against forced urbanization and modernization of the city, many people are profoundly against the new builds that popped up Downtown.
However, despite this honorable attempt to reclaim Beirut's past, Downtown lives on, and it's full of deluxe shops, Aswaq Beirut (the Beirut souks), and cute little cafés where you can sip your tea and enjoy people-watching. While it's not exactly true Beirut, and it doesn't represent Lebanon in any way, it's still a nice area to come and have some respite from the chaos of Beirut city.
There's also a cinema here that shows English-language movies! If you're craving a coffee that isn't quite as strong as your typical Lebanese coffee, you can stop in at the Starbucks next to the cinema and think of home.
In the Downtown area, on the walk from Martyrs Square, you'll also find Beirut's only remaining Mamluk building, Zawiyat Al-Imam Al-Ouzaii, a small mosque that is over 500 years old! Get some eerie age-old vibes at this mosque – just be respectful while you're there since it's a working mosque, and the noise resonates very loudly!
If you're looking for traditional souks, check out Souk Al Ahad! Now this flea market represents Lebanon! 🤪
PRICE: Free, unless you want to buy a fancy watch!
7. Buy a classic Lebanese shawarma
Hungry again? Of course, you're in Beirut – eating is what we do best here! You absolutely CANNOT come to Beirut without having shawarma, it's just the best thing there is and makes for an excellent to-go meal!
The best places to get shawarma are Makhlouf or Basterma Mano, both in Bourj Hammoud! My personal favorite is Makhlouf because they are SO generous with their shawarmas it's crazy – but if you fancy trying a basterma shawarma (spiced, cured beef), then I highly recommend Basterma Mano!
Prices are relatively cheap for both, so it's an excellent thing to do while you're exploring!
Want to experience the best food that Beirut has to offer? Honestly, you can't get better than home-cooked Lebanese food! This class is so fun, and you'll get a true taste of Lebanese food – made with love!
PRICE: US$142 for the class, US$2 for a shawarma
8. Get your jog on at Corniche el Manara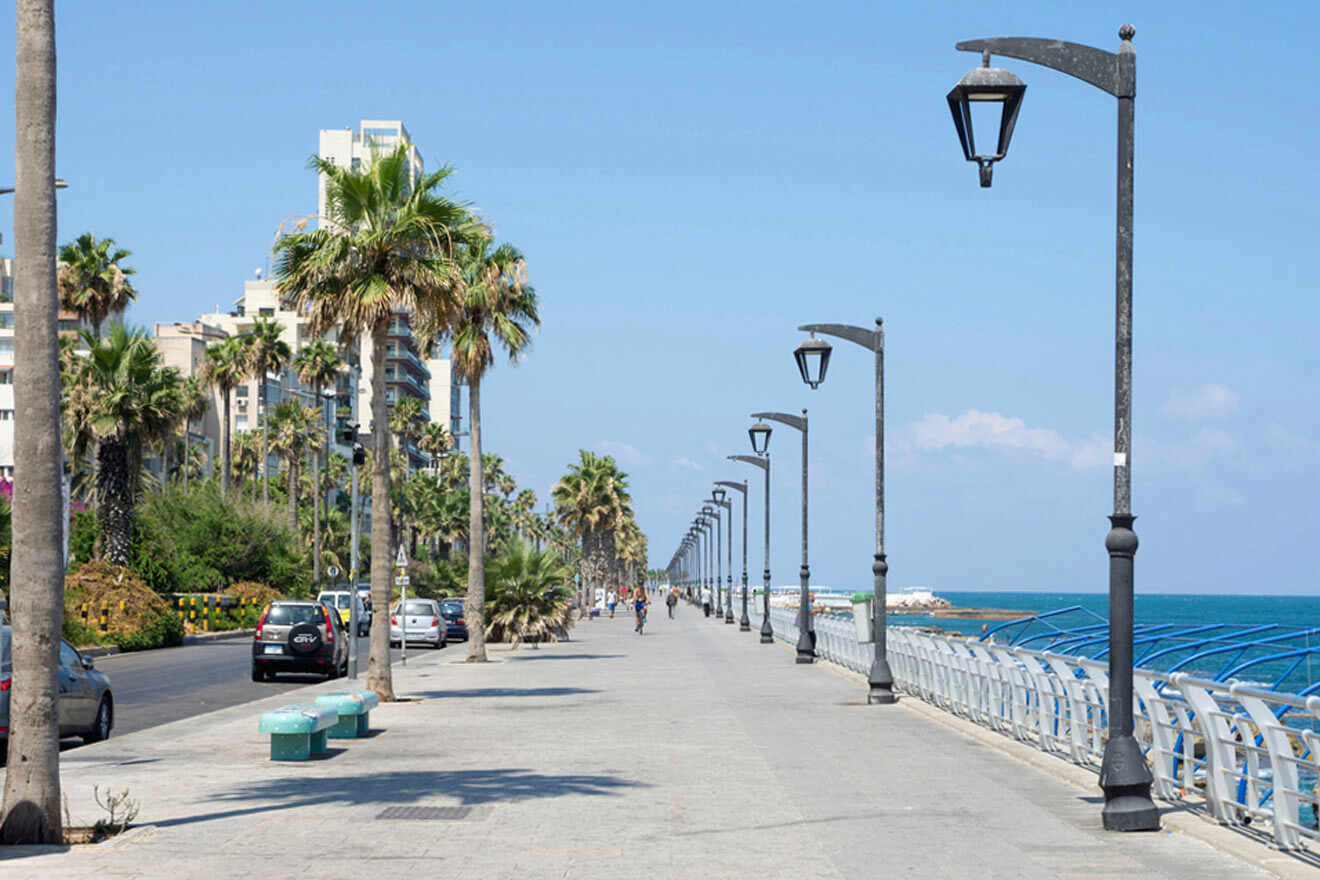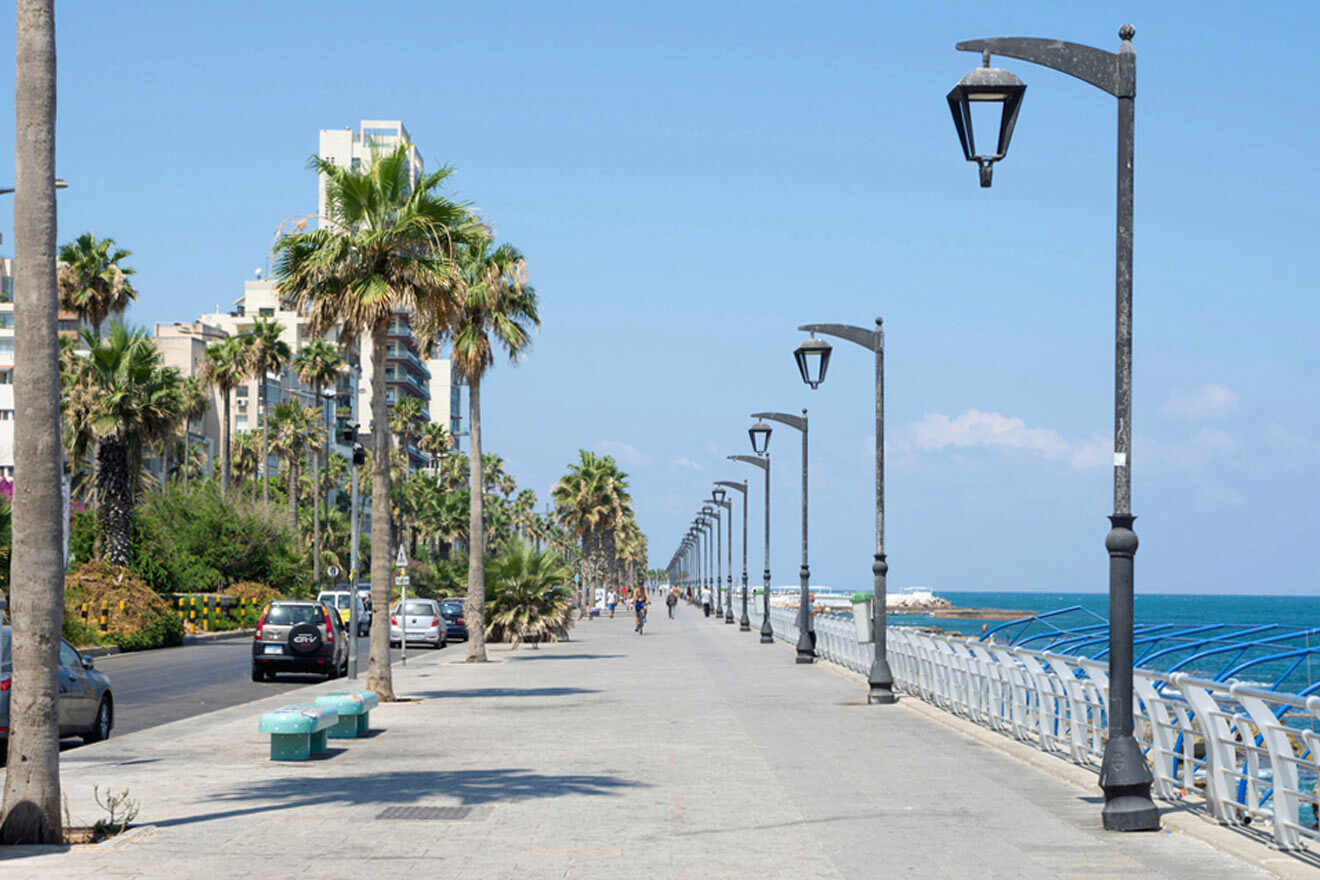 For all those who love a good seaside promenade, you should definitely go to the Corniche in Ain El-Mreisseh. It's basically just a really long boulevard, about 3 miles (5 km), with the most INCREDIBLE views not just of the Mediterranean Sea but also of Beirut and the highway region that stretches up to Jounieh!
Many people choose to walk, jog, chill, or cycle Beirut Corniche! If you want to cycle, definitely check out Beirut by Bike – you can rent bikes by the hour, so you can cycle down the Corniche to your heart's content!
It's a really beautiful place to see the sunset, and if you cycle right to the end, you'll end up in Raouche where you can grab that boat tour!
PRICE: US$5 per bike
9. Spend the afternoon in Mar Mikhael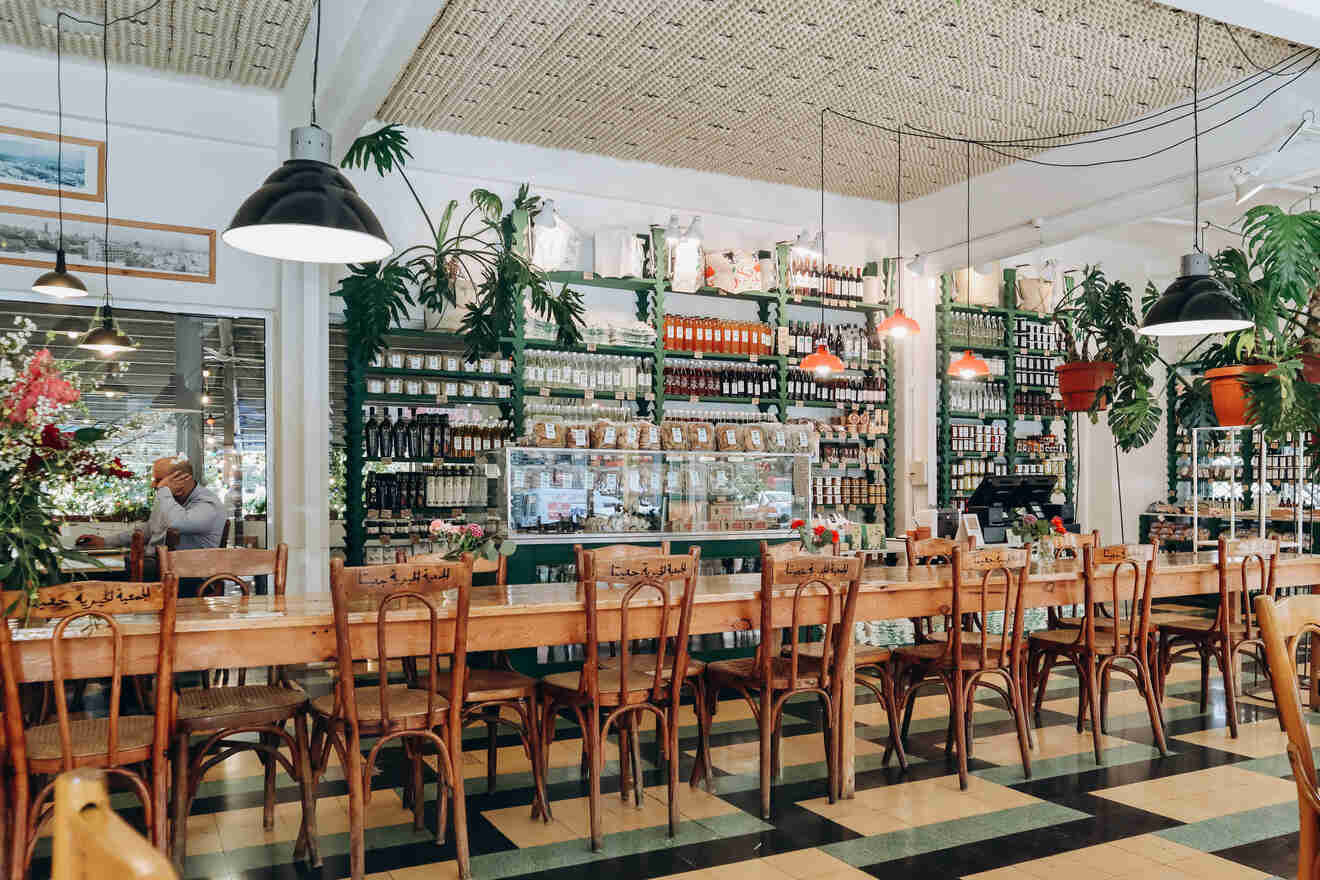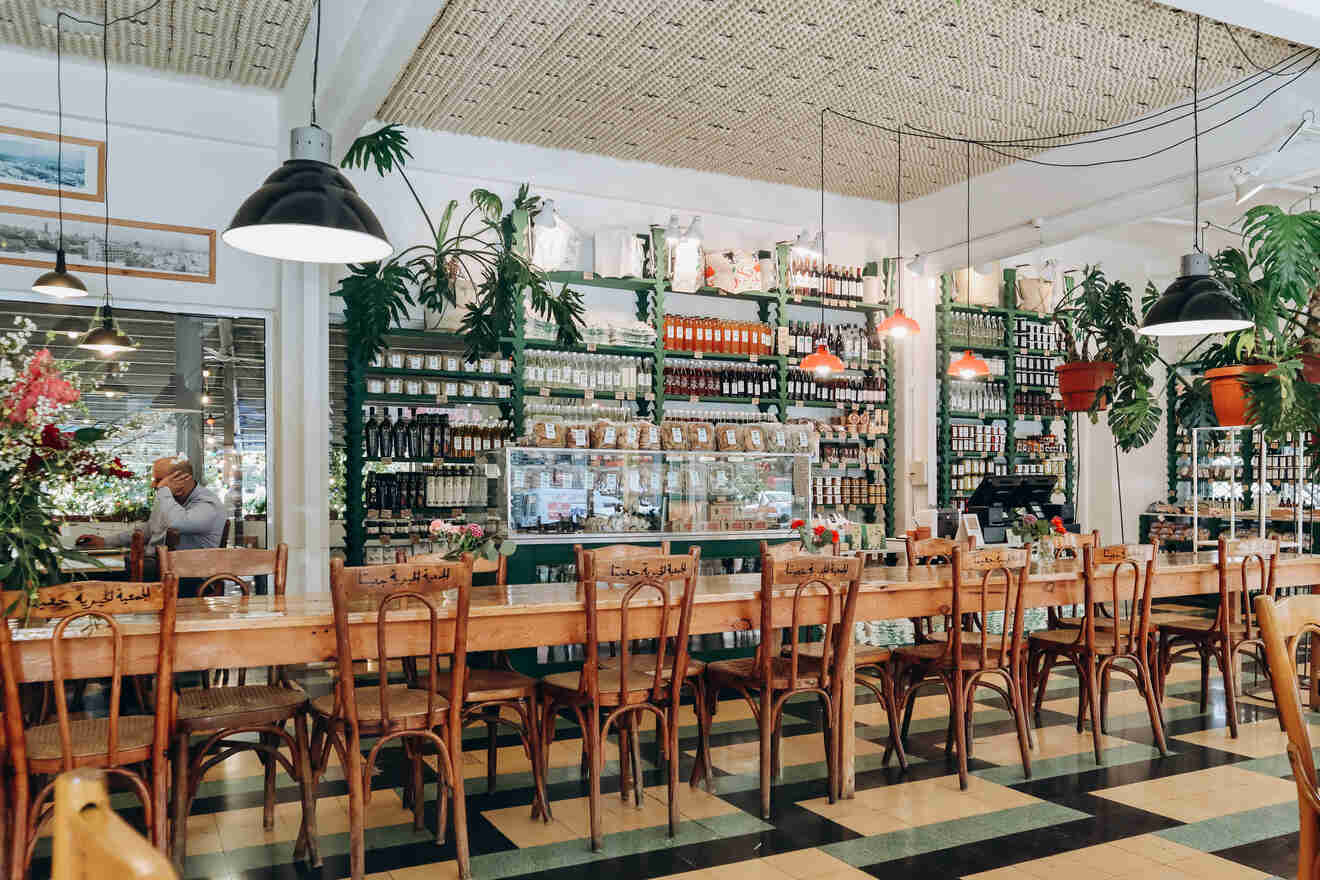 Mar Mikhael is the area around Armenia Street in West Beirut. This is a paradise for those who love to chill with a beer or a glass of wine and just people-watch! You can also find some amazing fast-food restaurants around here (obviously, more amazing food), and the crowd is young and fun!
The best place to hang out in the afternoon is definitely Sole Insight. Just up some (steep) steps from Armenia Street, it's run by Beirut's own free spirits! Bohemian in style and feel, Sole Insight serves up homemade vegetarian food, and it's just so nice to chill there. Plus, there's free Wi-Fi!
While you're there, you should also check out Souk El Tayeb on the way to Gemmayzeh Street from Sole Insight. This farmers market will bring you the freshest locally-grown produce every Saturday! Go, make friends, try some baladieh tomatoes, and get excited!
If you're going for a wander around Beirut anyway, why not go on a walking tour? Seriously, this is probably the best way to see the city from a local's perspective, and you'll get all the important insights that you otherwise wouldn't!
TOUR PRICE: from US$40
10. Spend the evening in Hamra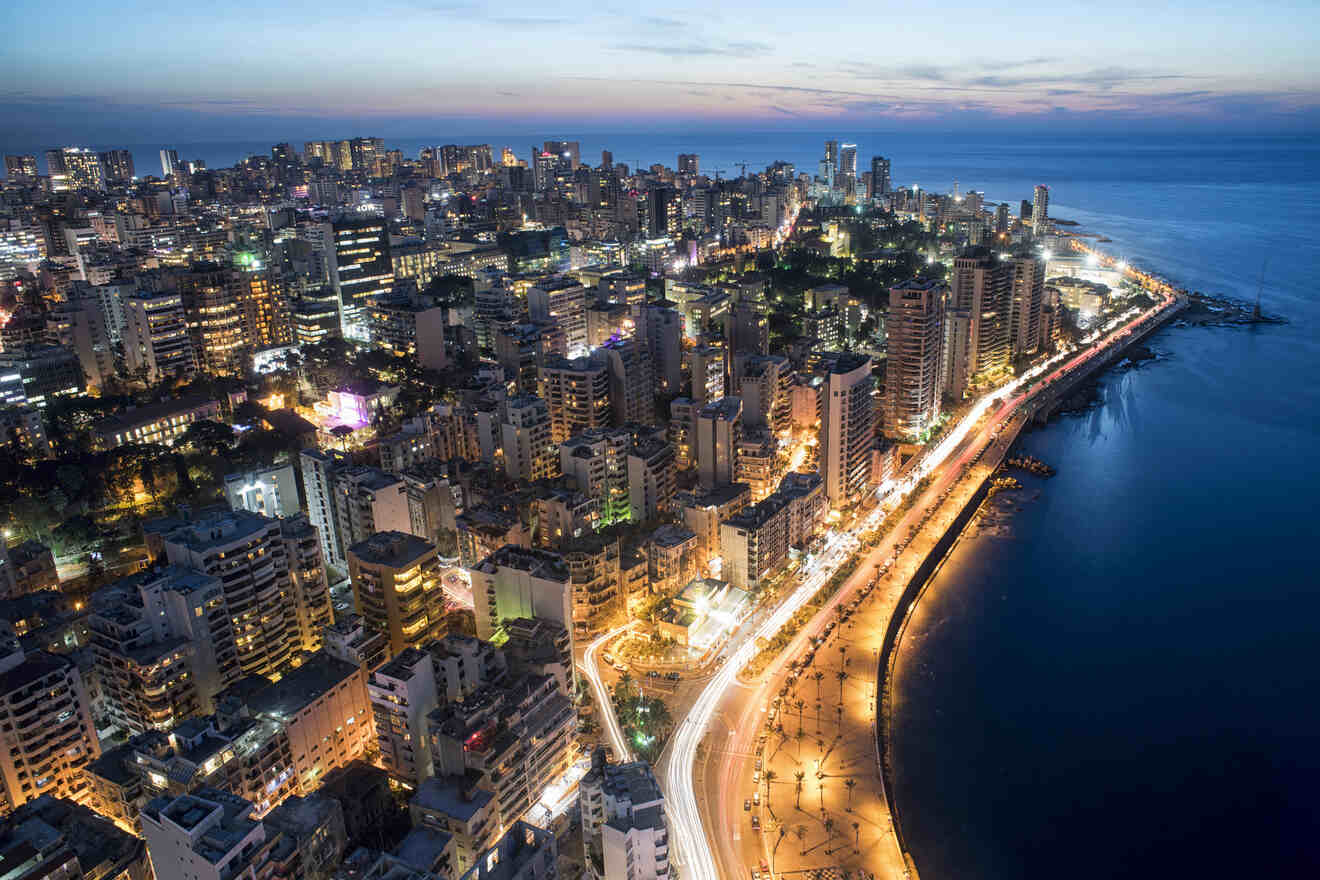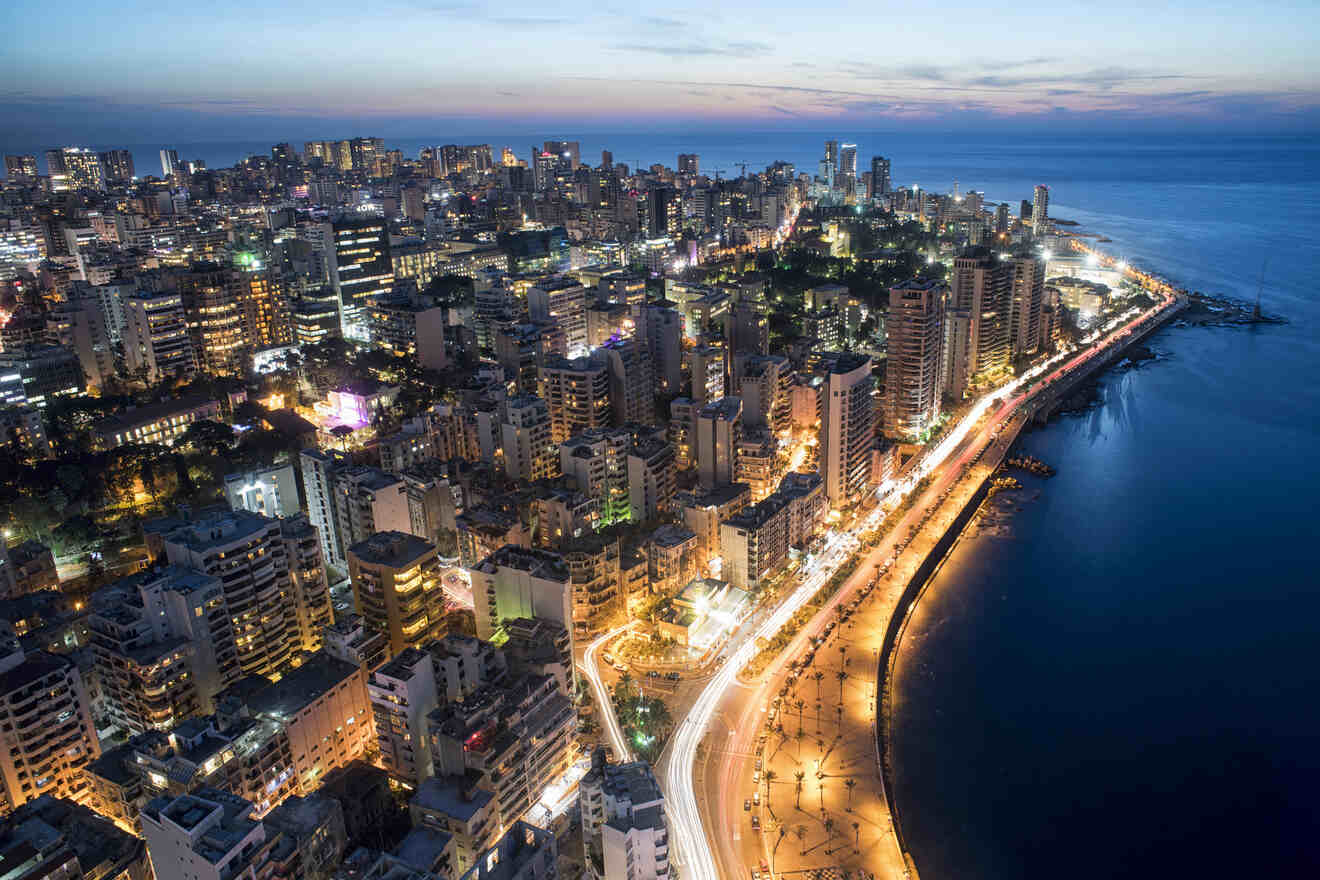 And now for our final stop: Hamra! You'll find lots of upscale bars and restaurants in this area, so you can easily spend the whole night here just having fun and enjoying Beirut nightlife and good vibes! This is also a student area, so expect lots of young'uns from the American University!
My favorite place to hang out in the evening is Neighbors. The staff there will quickly become your friends, and honestly, the clientele is just fun Beirutis sipping Arak (which is a bit like Pastis but nicer) and just having a chill time.
If you're looking for luxury and upscale fanciness, definitely stop by the Bayview Hotel and head straight on up to the top floor, where you'll be greeted by a gorgeous Beirut skyline and the best Gin Basils you'll ever taste!
For a more low-key experience, Luna's is your best bet. Luna's Village is a super chill spot with a cute leafy garden, amazing vegan food (vegan cheese rolls? YES), and a nice budget menu. It's a tranquil spot and a bit of a respite from the craziness that is Beirut! Plus, free Wi-Fi!
BONUS: 4 amazing day trips from Beirut
Since you're already in Beirut, why not explore Lebanon? When you're visiting Lebanon, you'll see what a teeny tiny place it is, so it's easy to explore, but the best way to do it is with one of these amazing day trips!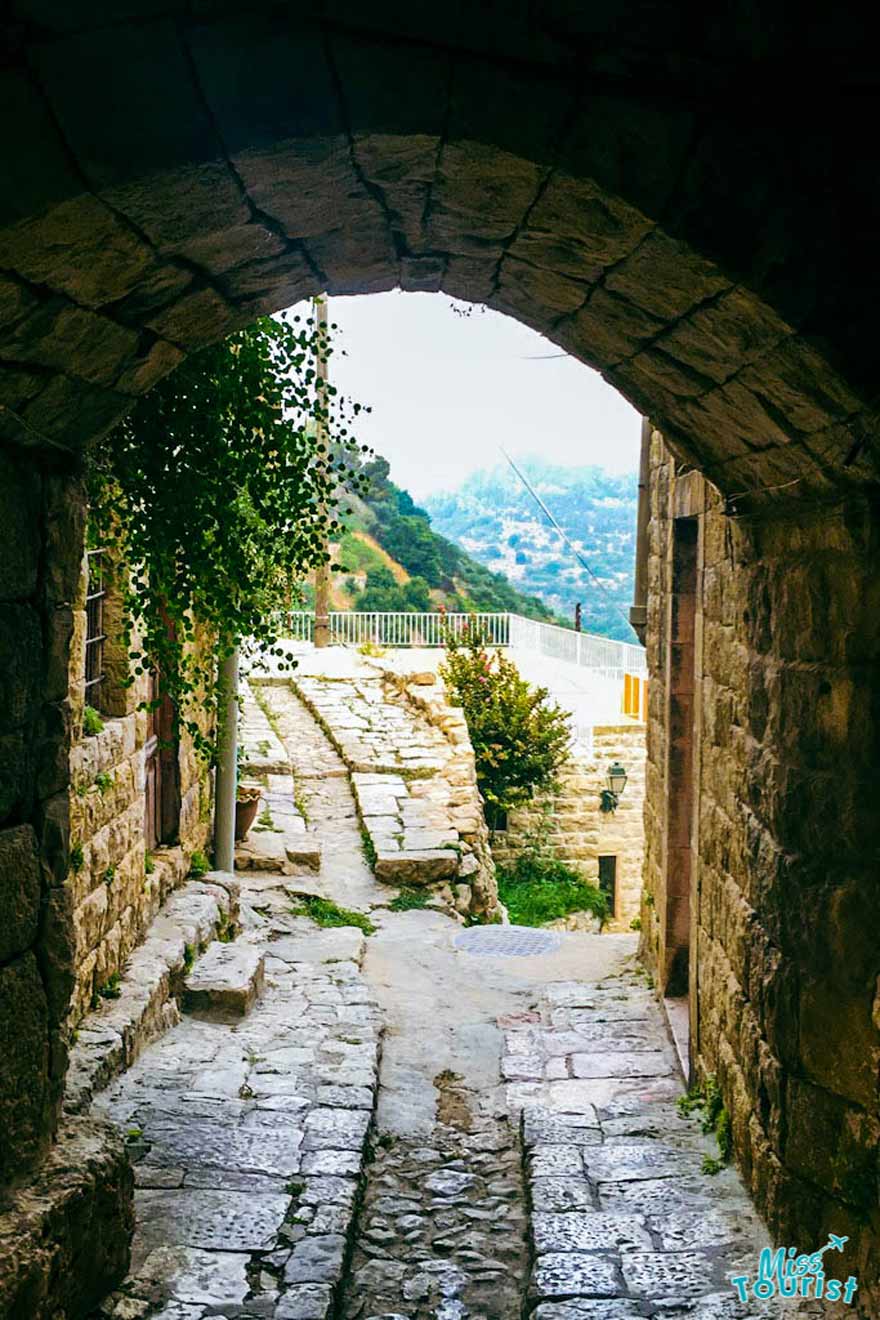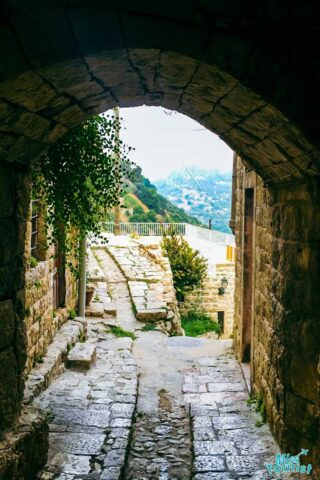 1. Beiteddine & Deir El Qamar
Located in Christian and Druze, Lebanon, Beiteddine is a gorgeous palace right in the mountains! You'll explore the villages around it and just have the best time. Deir El Qamar is a MUST-visit, it's got so many teeny little streets and corridors that drizzle into the mountainside, and you can buy the most amazing local honey there! Price: US$95
2. Baalbek & Wineries
No trip to Lebanon is complete without a trip to Baalbek in the Bekaa Valley, the Roman ruins, the open-air museum, and UNESCO World Heritage Site near the Syrian border, and before you ask, yes, it's totally safe! You'll also visit the wineries between Baalbek and Beirut and try some of Lebanon's famous wines 🍷 Price: US$95
3. Jbeil: Tour of Byblos and Harissa
Just a short 1-hour drive from Beirut, there are some real hidden gems! You'll visit Jeita Grotto, the ruins of Byblos (one of the world's oldest cities), and take a peaceful moment with the Virgin Mary at Harissa! Everything is taken care of for you, and you even get lunch. Best trip ever! Price: US$60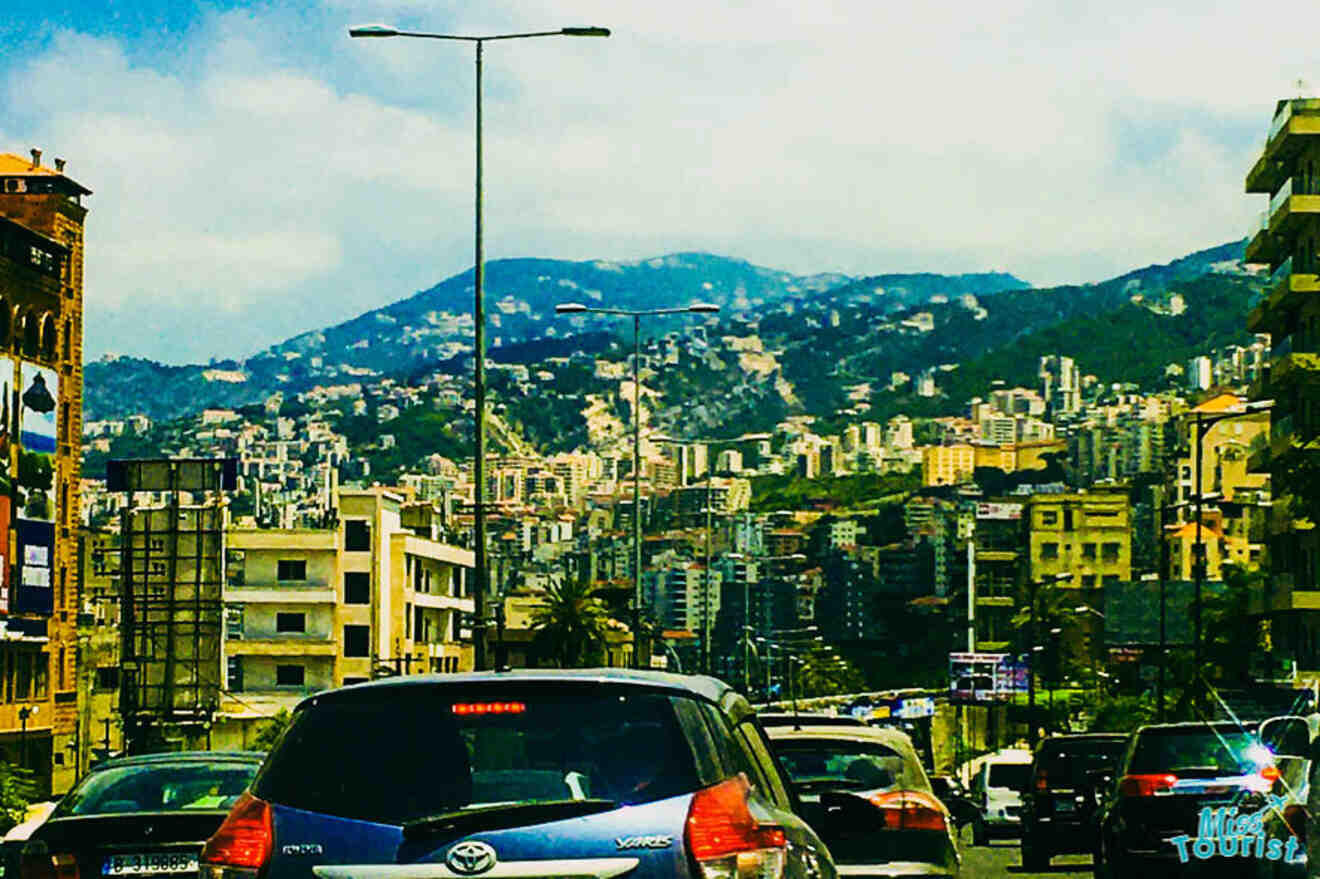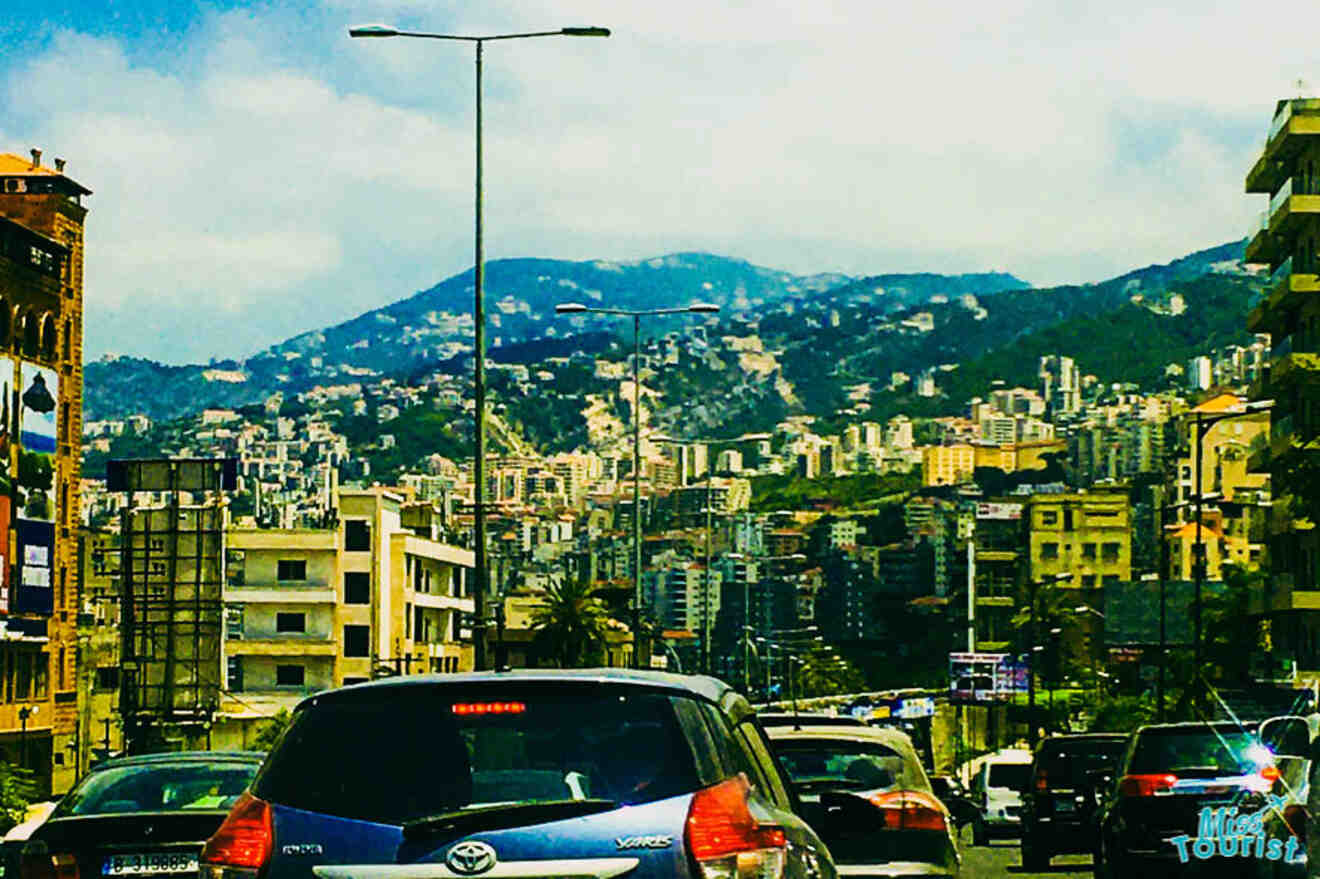 4. Saida & Tyre
Saida and Tyre, located in the south of Lebanon, are the most beautiful towns! Ancient ruins, the best falafel you'll ever eat, and all the culture you can handle in a day! You'll also visit Maghdouche, which is the area my husband is from, so I can confirm that it makes an excellent day trip! Price: US$65
5. 3-Day All Sites
Only in Lebanon for a few days? This is the best way to get as much in as possible! You'll explore everything essential, and all your entrance fees are taken care of. You can literally do the above 3 tours but all in one package! Price: US$250
Practical Information
Ok, guys, this is the important part! Beirut is a really complex city, and if you don't know what you're doing, it can get a little confusing! Thankfully, your gal is here to save the day, so stay tuned while I tell you everything you need to know!
Where to stay in Beirut
Phew! Now you've got your itinerary sorted you'll need somewhere fun to stay! I've been a local Beirut lover for a long time now so I've got all the best spots up my sleeve. Read on!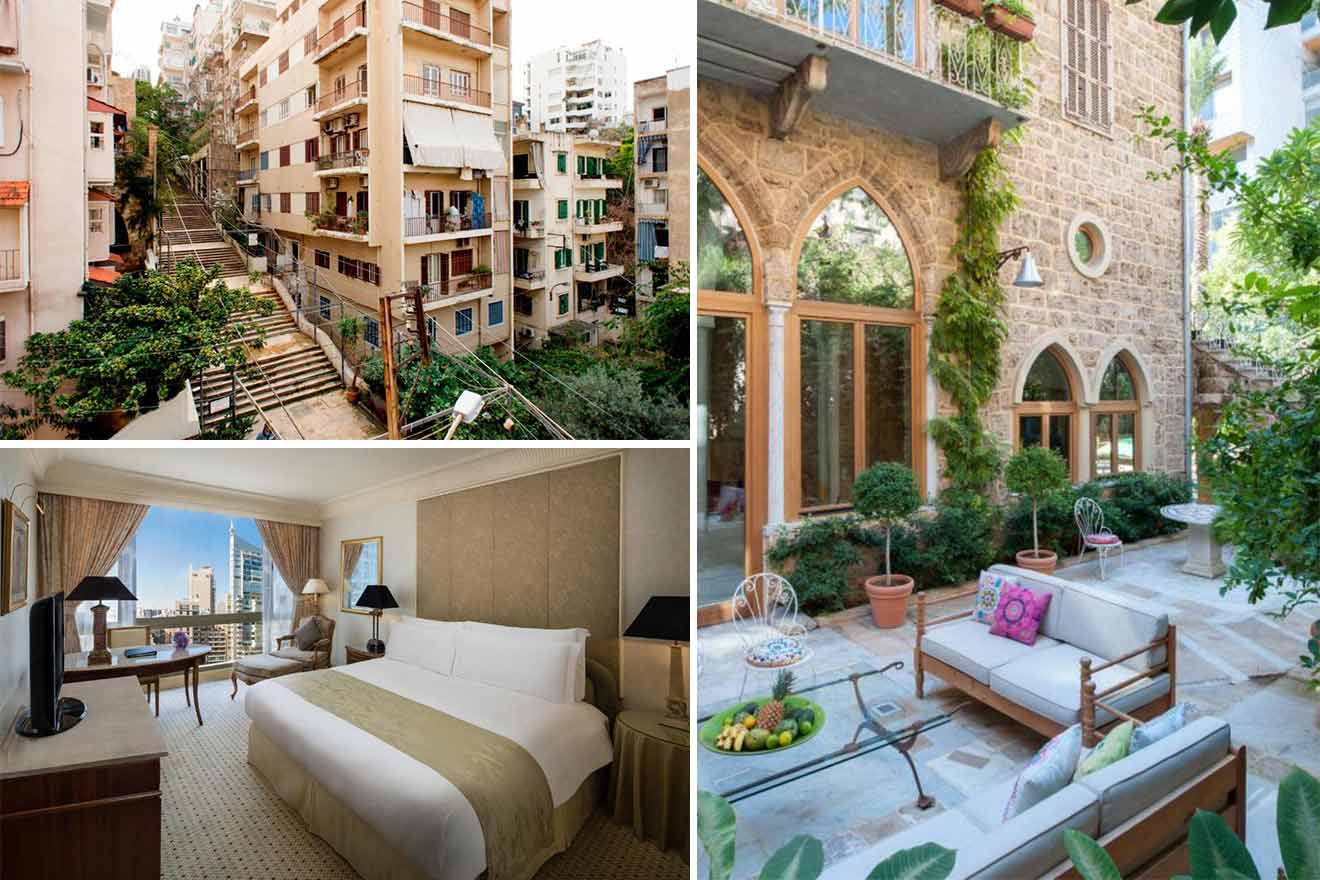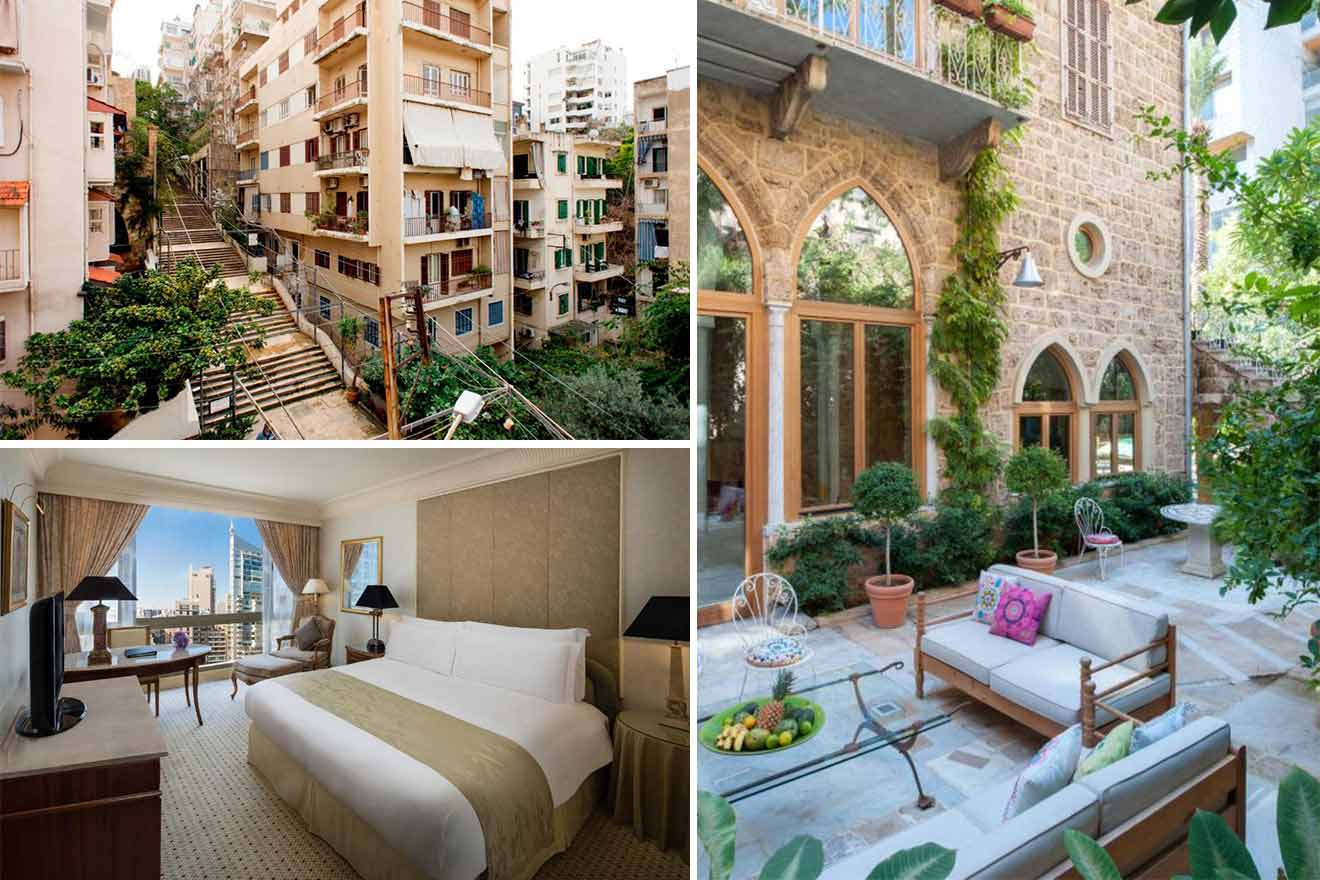 Luxury (US$200 and up)
Arthaus Beirut – Wallah it doesn't get better than Arthaus! This place is stunning, and it's in a traditional Lebanese-style building on the cobbled streets of Gouraud Street, which just makes it even better! Expect a pool, magical service, and intimate rooms 🙂
InterContinental Phoenicia Beirut – the Phoenicia is an absolute classic. Well-known for its swanky clientele and incredible views, this place is the ultimate dreamy vacation destination. Full-service spa, anyone?
Mid Range (US$50 – US$200)
Grand Meshmosh Hotel – I've stayed at Meshmosh near Saifi Village so many times, it never disappoints! Meshmosh is Lebanese for apricot, so expect cute hotel vibes! It's got hostel-style dorms as well as private rooms, and the home-cooked food is just amazing.
Charbel's Airbnbs – Gotta love connections! Charbel owns a bunch of AMAZING Airbnbs, all of them are so beautifully styled, and they're all in great locations. My husband and I stay in Charbel's Airbnbs often, and he provides anything you need, including sim cards!
Budget (up to US$50)
Luna's Village – Remember that gorgeous bar and café I mentioned earlier? This is the place! They provide really nice accommodation literally above the garden, it's super quiet, and the rooms are clean, private, and comfortable. Call them to book!
Hostel Beirut – Ah, Hostel Beirut. This is the BEST hostel I've ever stayed in! They are so nice, and you'll make friends so quickly here! The dorms are really comfortable, and you can even get Arabic classes here. I highly recommend it for solo travelers!
How to get around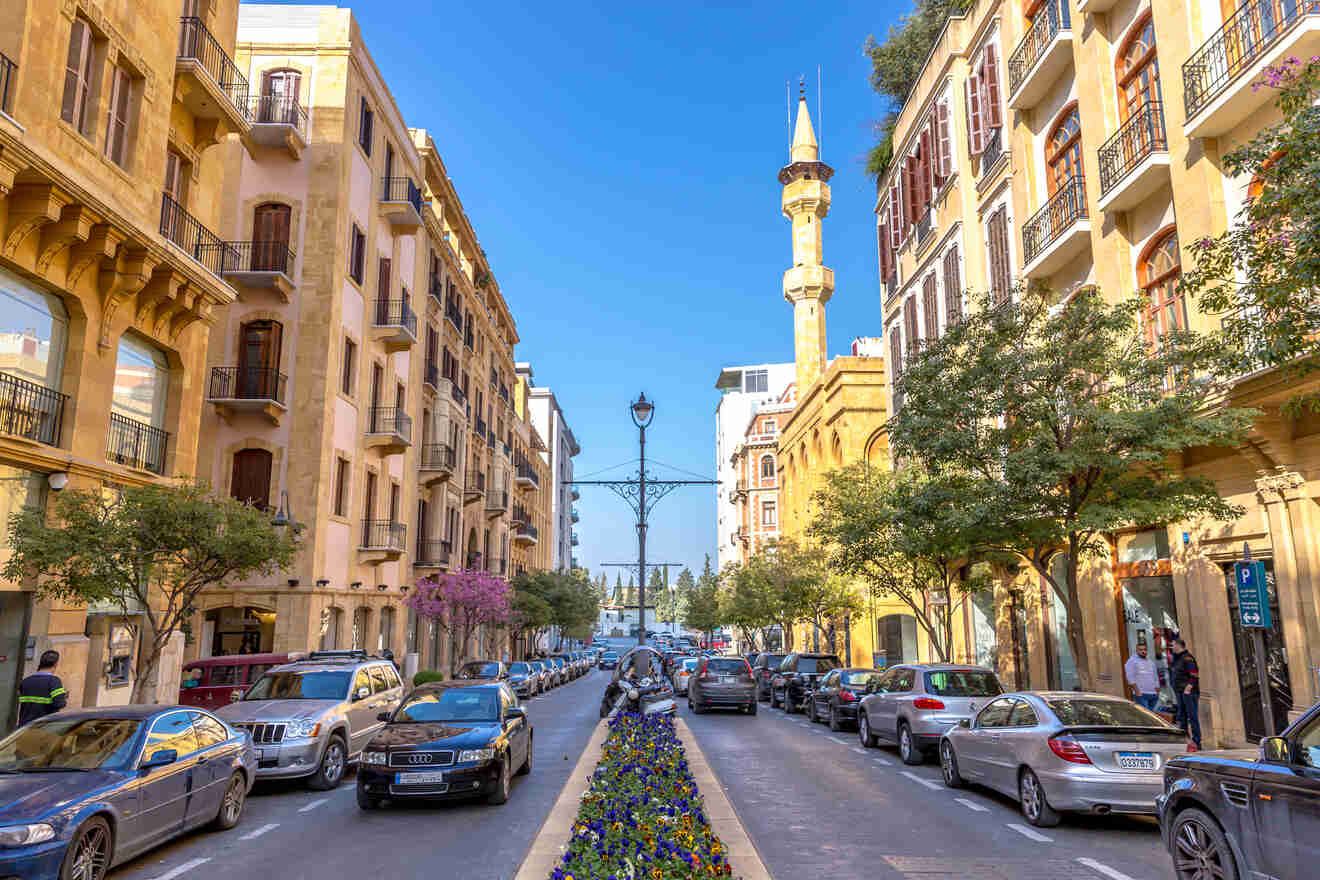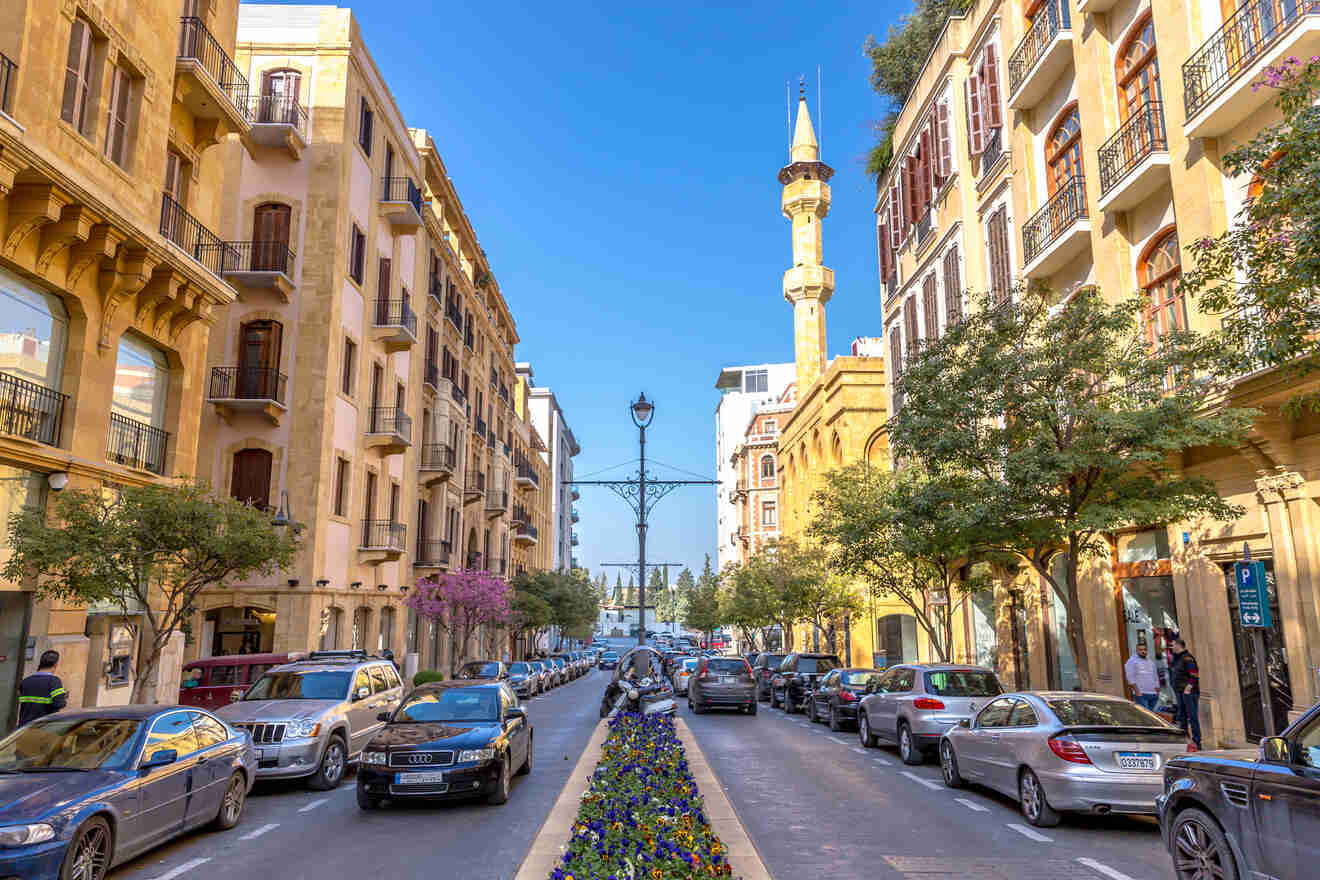 Ok listen, technically there are buses in Beirut, but I don't recommend using them at all. Definitely use the buses on the highway to go out of Beirut, these are great. But honestly, the ones in the city just aren't worth it – they're pretty cramped, and the drivers sometimes have a death wish, so steer clear!
The only form of public transportation inside the city is services. A service is basically just a shared taxi that you can grab in the street. All you have to do is look out for the red number plates! Number plates have different colors in Lebanon, so it's good to remember what they mean!
Red number plate – public transportation (taxi, buses)
Green number plate – rental cars
White number plate – regular cars
You can also recognize a service from the state of the car! If it looks like it could do with an MOT, that's a good indicator that it's a taxi 😂
Once you've flagged down your service, even if there's someone already in there, just tell the driver where you want to go, and he'll either say yes or just drive on. Don't panic if he drives on, just flag down another! This isn't typically considered rude in Lebanon, so don't get mad either 🤪Uber is an excellent choice – don't listen to people who tell you not to use it, they're amazingly reliable, and the drivers invariably speak English (or at least a bit of French), and they're actually far more comfortable than your typical service.
Something you'll need to bear in mind is that traffic is a bit of an issue in Lebanon. Expect big queues at random times of the day and lots of unnecessary (but fun) honking. Everything in Beirut is mad, but it's also endearing and delightful to be a part of life there. Just let it sink in – you'll be hearing honking in your dreams!
One final thing about driving – don't rent a car unless you've driven in a country like Lebanon before. You have to always have your wits about you when driving in Lebanon, and it's so easy to have an accident if you don't understand how things work. Plus, sometimes the traffic lights don't work! The locals know how to deal with this, but you probably don't, so just use PT!
Money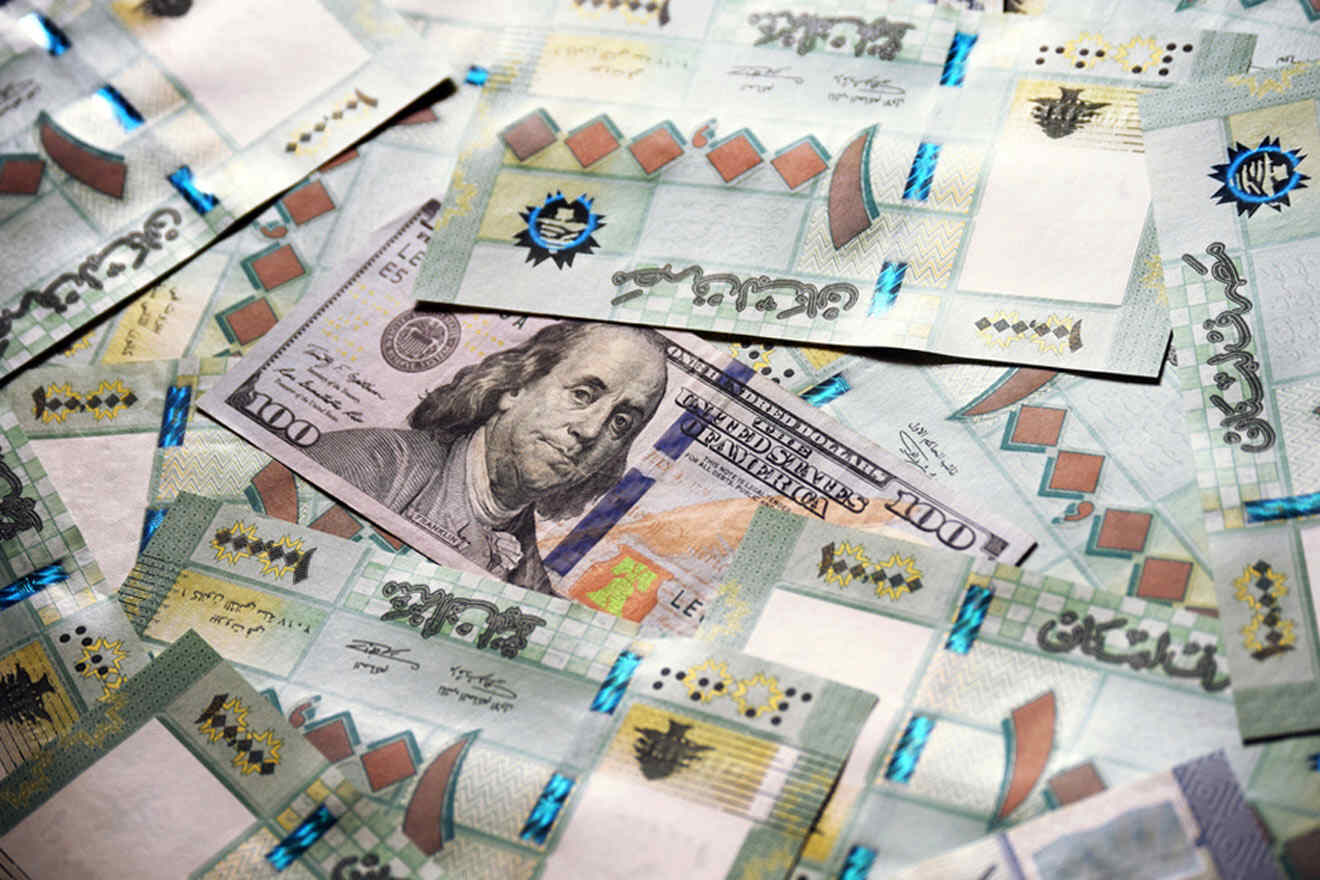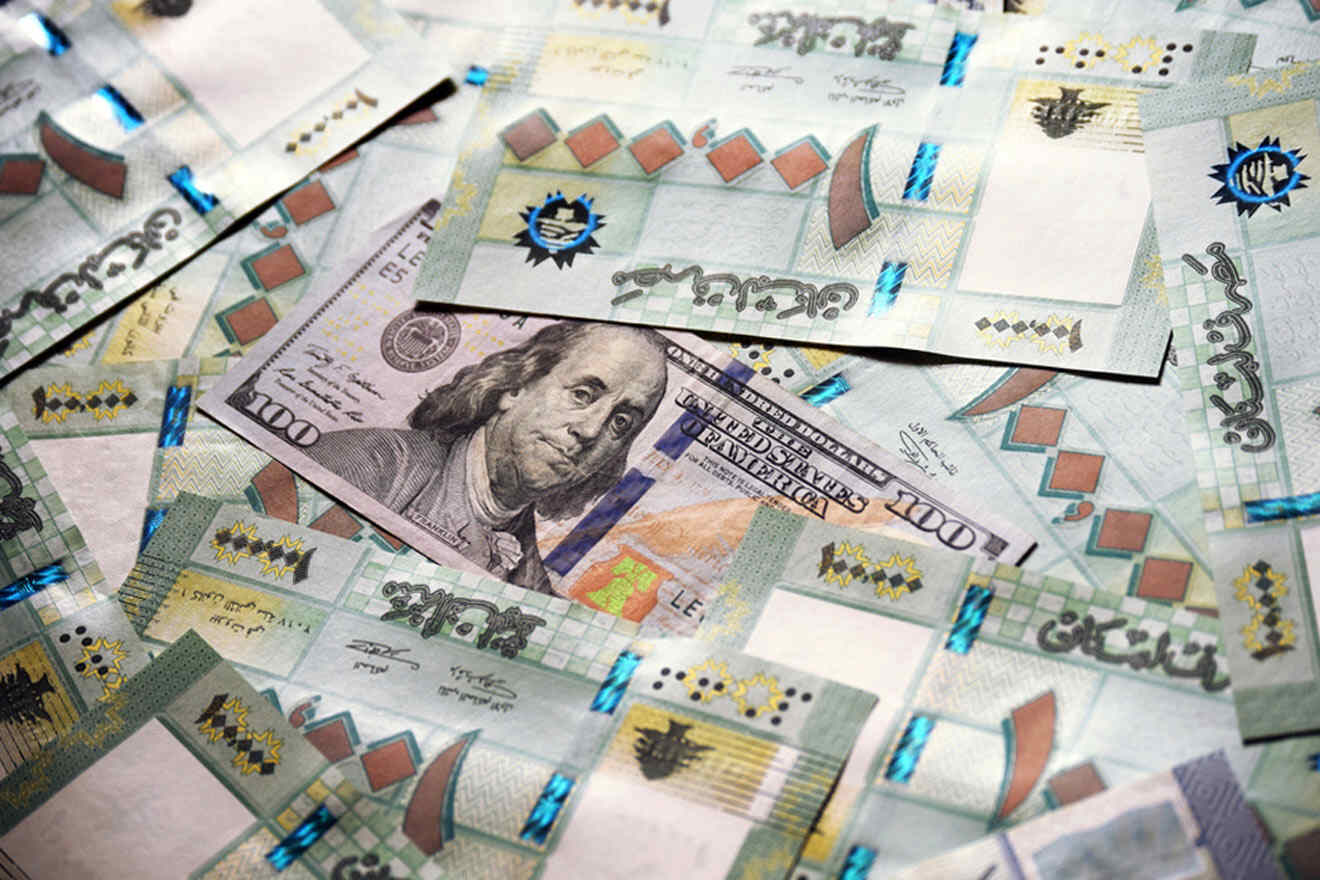 One thing to always remember in Lebanon is that cash is king!! You won't be able to use your card anywhere, and even if you come across a place that allows you to use your card, DON'T DO IT! Seriously, the exchange rates are crazy because of the economic crisis, so use cash and call it a day.
Speaking of cash, you can use dollars if you wish, but it's usually more prudent to use Lebanese Lira. You probably won't be able to get Lira in your home country, so just bring dollars with you and take them to an exchange store!
HOWEVER, the exchange rate fluctuates significantly every day, so check this website for an updated rate on the day you go to exchange money. That way, you know the rate when you go, so nobody can rip you off! You can go to any exchange store you see, and there are Western Unions in every neighborhood.
Don't use the ATMs either – seriously, just bring enough cash for your trip and if you run out and need more, use Western Union to send money to yourself, and you can pick it up from any store. ATMs will charge a HUGE commission, typical of Lebanese banks – can't be trusted!
Due to the economic crisis in the country, rates will be changing all the time, and that means prices will change all the time, too. Service drivers may haggle with you, just stand your ground, and you'll be fine! If you're not a born haggler, just take an Uber they won't haggle with you 🙂
Essentials you need to know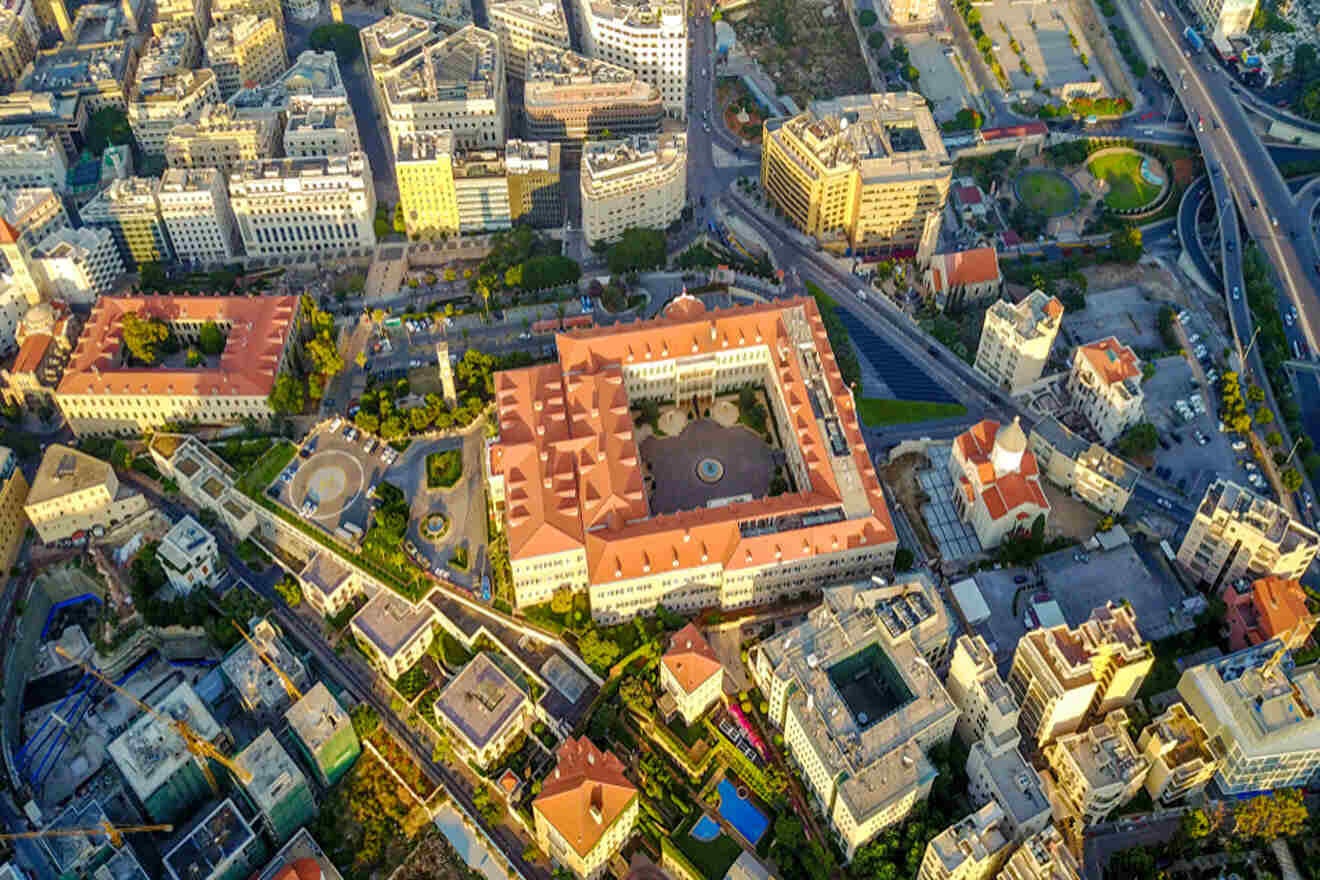 Don't put toilet paper down any toilet in Lebanon. Or anything else – seriously, don't. There are trash bins to put tissue etc., but the plumbing systems just aren't built for it!
Many places don't have 24/7 electricity. Every building (pretty much) has a generator or 2, but it's very rare to get full electricity that doesn't go out at all. Expect a few shortages and just go with the flow! Hotels do have electricity, so you should be good there!
Do not drink tap water. Please, please buy bottled water and use that. You can get super sick from it, so just play it safe and don't even use tap water to brush your teeth unless you have a strong stomach. It's totally fine to shower in, though!!
Lebanese people are SO nice it's crazy! If you ever get lost (which is inevitable in Beirut, to be honest), just ask someone, and they'll probably walk you there themselves.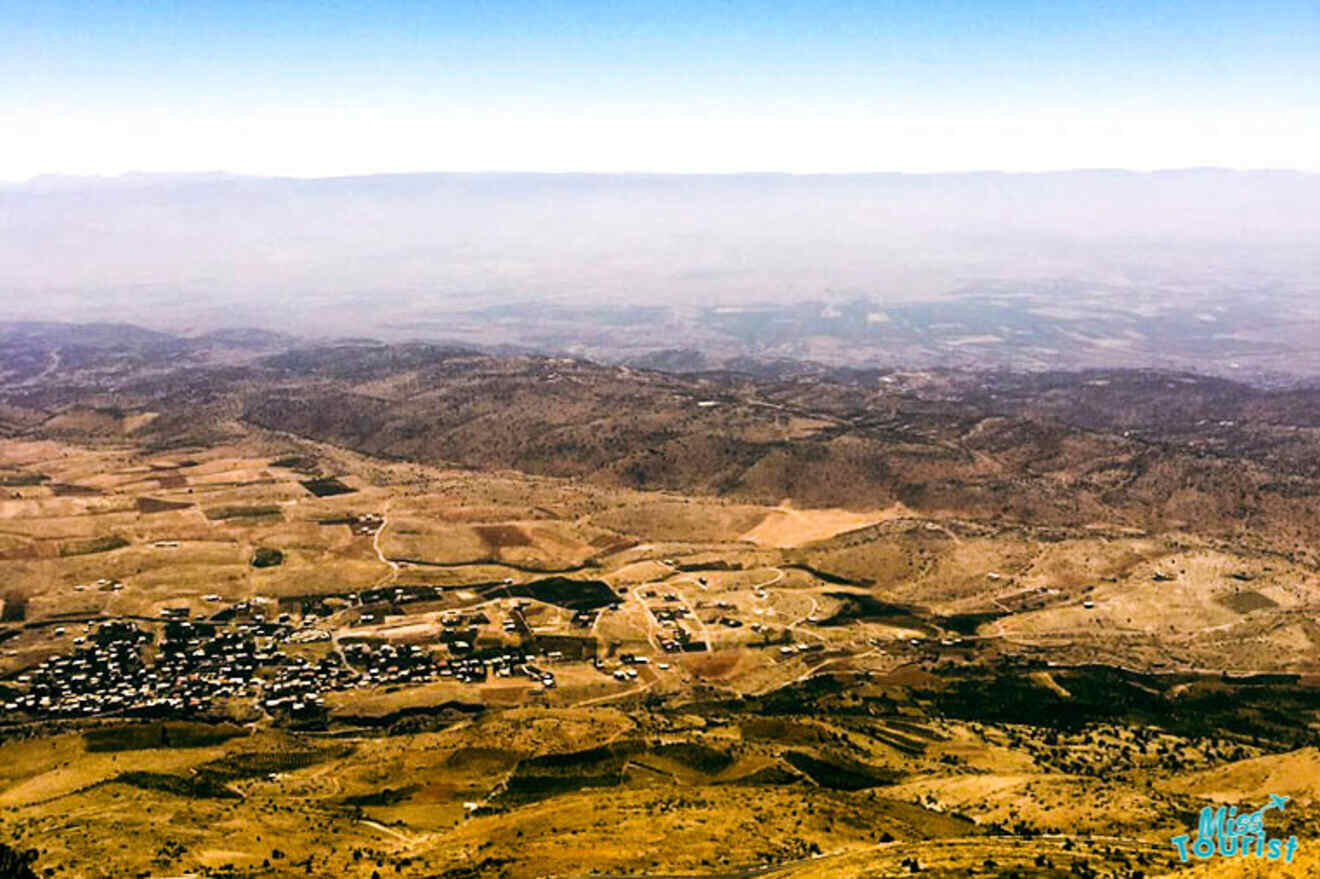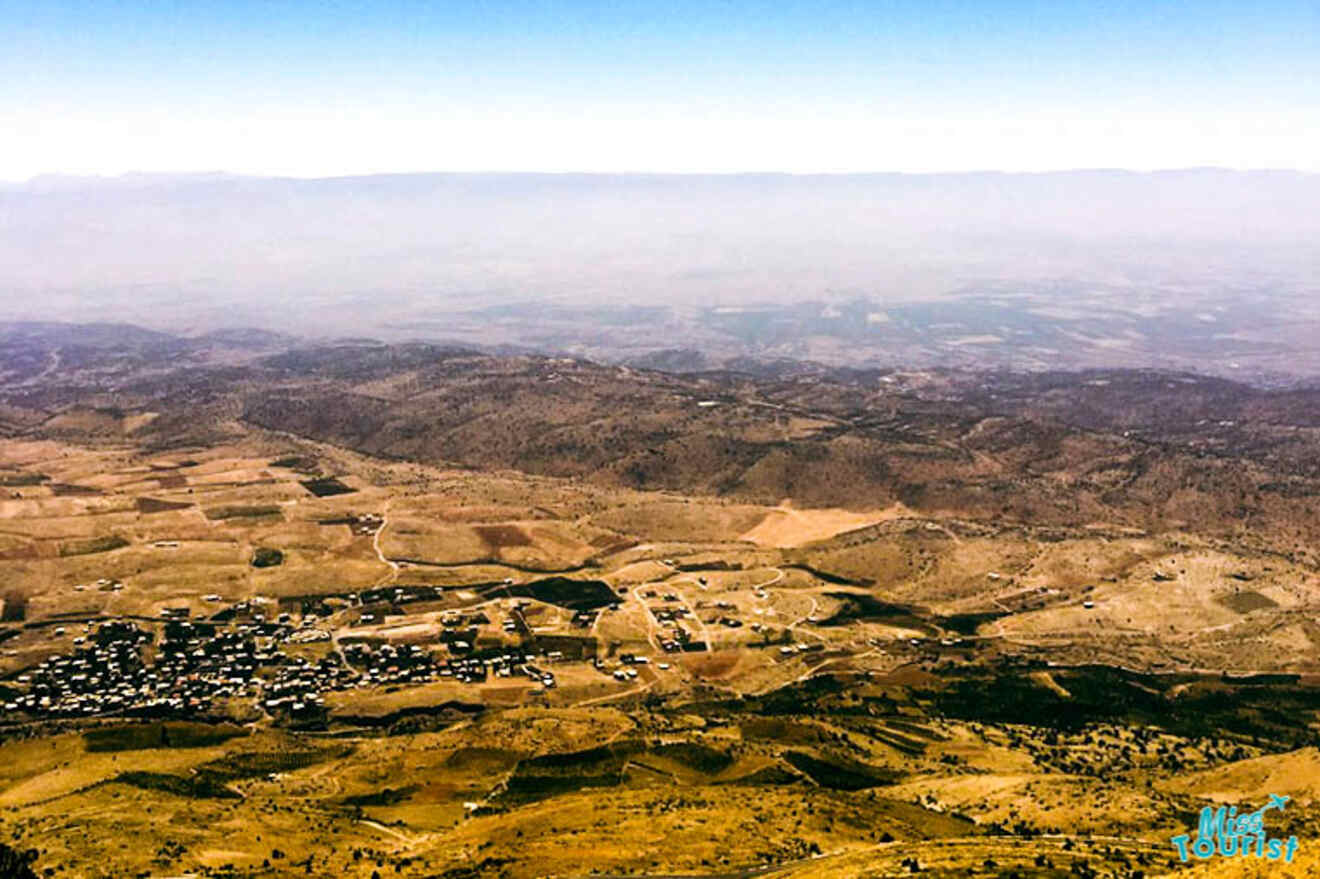 Beirut (and Lebanon in general) is SUPER safe, so you'll be fine on your own, in a group, or however, you're traveling. That being said, don't wander around in the middle of the night if you're a woman, you'll get unwanted attention. It's nothing serious, just people looking at you (staring isn't considered rude in Lebanon), but it might make you feel uncomfortable.
If you spot children in the street selling things, don't buy anything from them! They're part of mafia gangs who use children to make money, and the kids don't get the money for themselves. If anything, buy them a mankoushe instead!
Pretty much everyone speaks English or French as well as Lebanese Arabic, so in terms of communication, you'll be totally fine. However, they LOVE it when you try to speak Arabic, so learn a few phrases!
If you want to venture into mosques or churches, make sure you dress appropriately! Women, that may mean you need to cover your head in the mosque, but if you don't have a scarf, they'll have a few to spare in the entryway, just ask someone!
When walking around, watch where you're going! Sidewalks are often blocked or broken, so expect to walk on the road sometimes. Don't worry, this is totally normal, and drivers expect to share the road with pedestrians!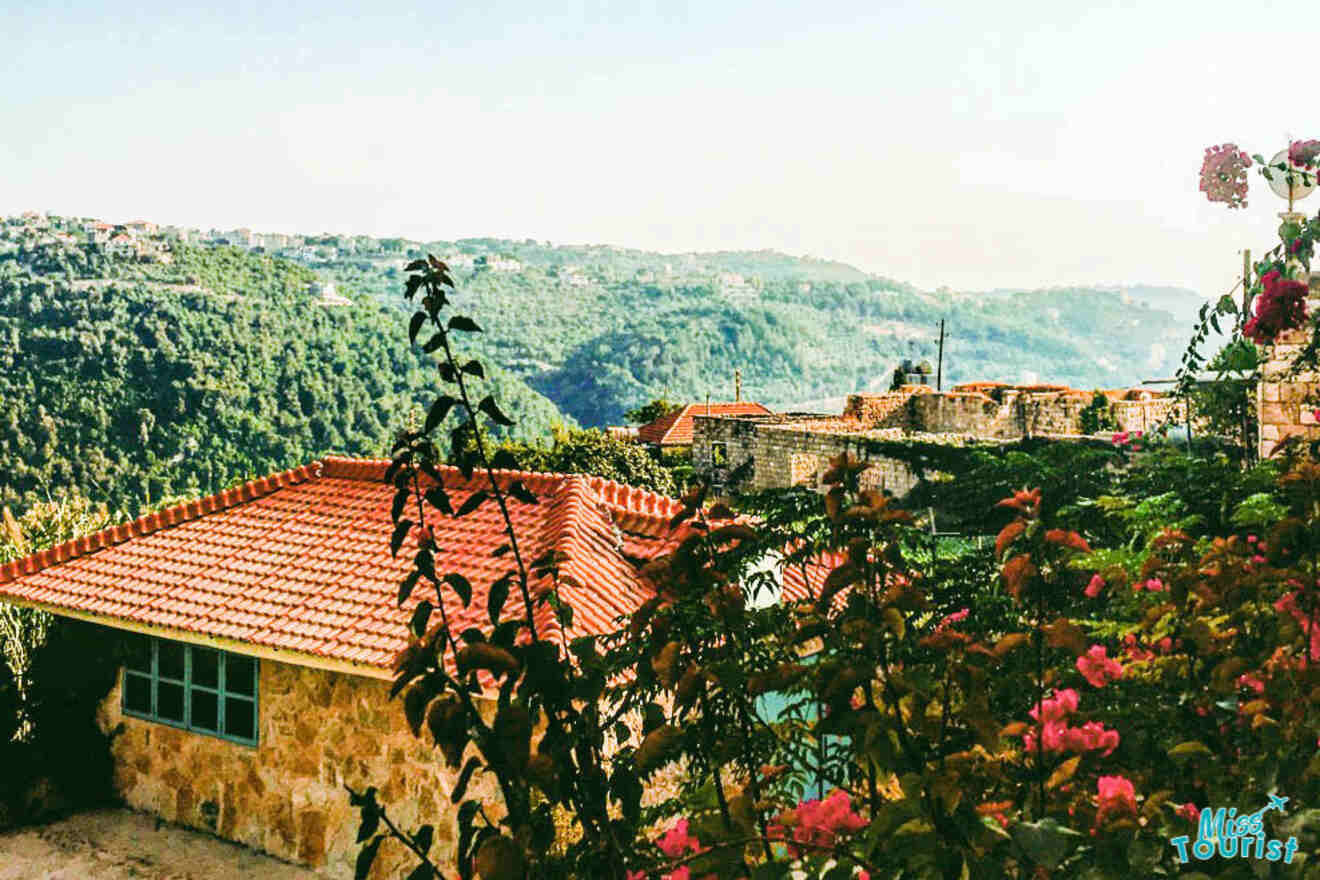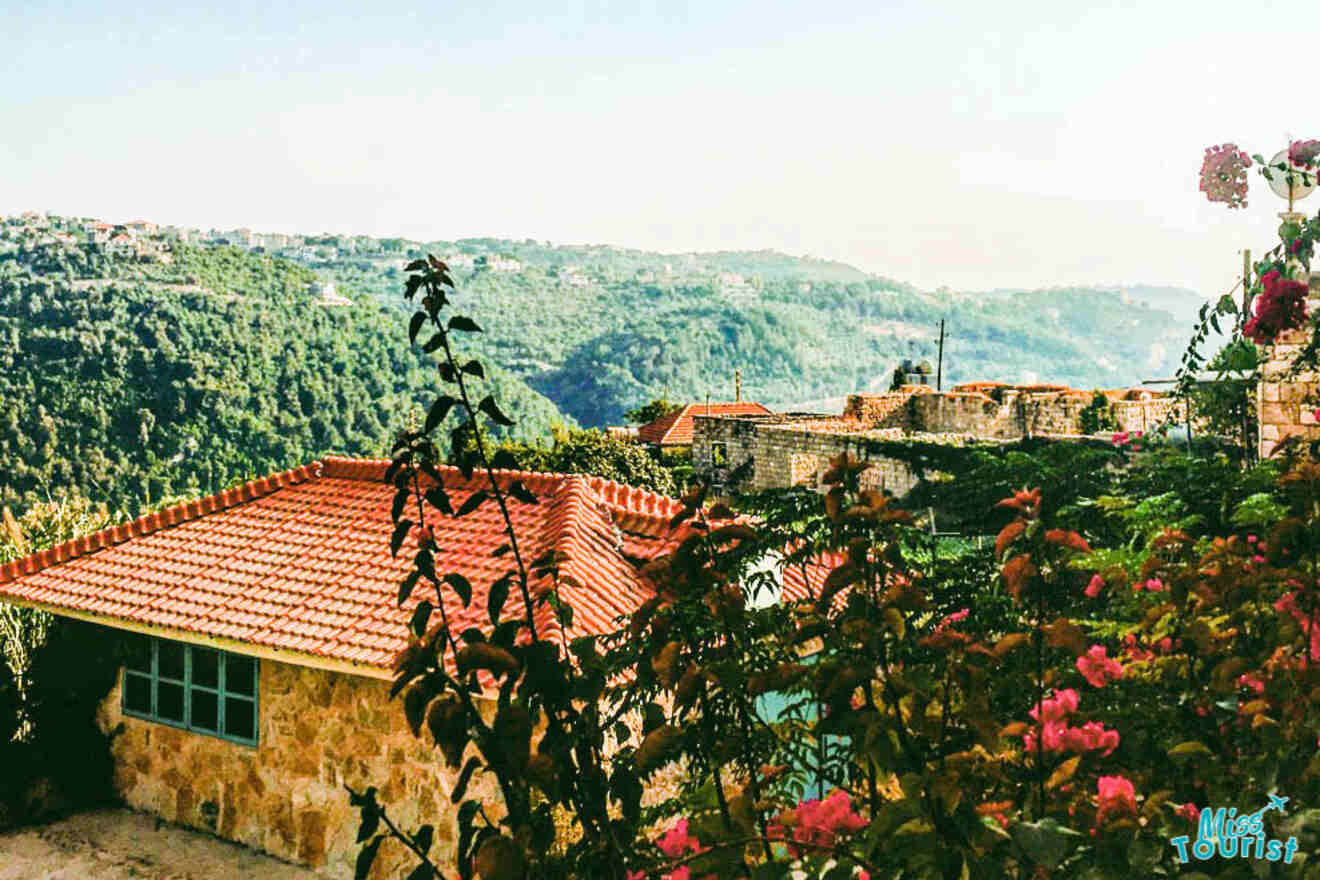 Speaking of which, keep in mind that crossing the road takes a bit of bravery. Take your time when crossing, and when you see an opening, go!
Lebanon, in general, isn't really wheelchair friendly 🙁
Lebanon timings are different from what you might be used to! If someone says to meet up at 9 AM, expect them to be more than fashionably late. Keeping time is for the weak in this country!
If you've got Israeli stamps in your passport, you probably won't be allowed to enter Lebanon! The 2 countries aren't exactly the best of friends, so just bear this in mind before you go.
Finally, don't let all these Lebanon-isms stop you from taking the trip! It's SO worth it, just bear all this in mind, and you're good to go!
All about sim cards
There are only 2 cell phone providers in Lebanon: MTC Touch and Alfa. Both are good options, just go into any phone shop in Beirut, ask for a sim card with either one, and they'll activate it for you. Donso! You'll need to provide your passport to get one.
As with everything in Lebanon, prices change all the time, so just ask your hotel how much it should be and then take that to the shop!
FAQs about things to do in Beirut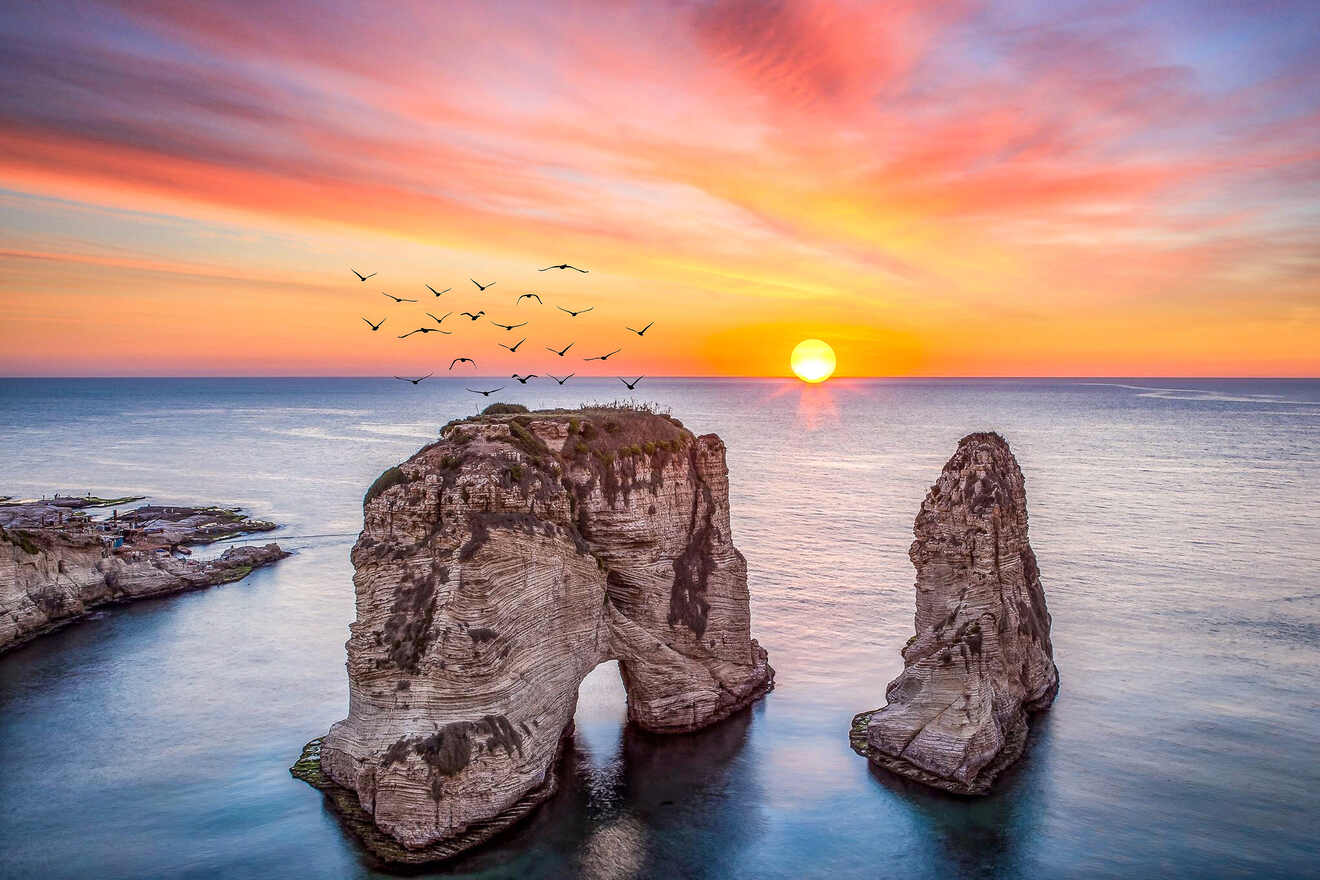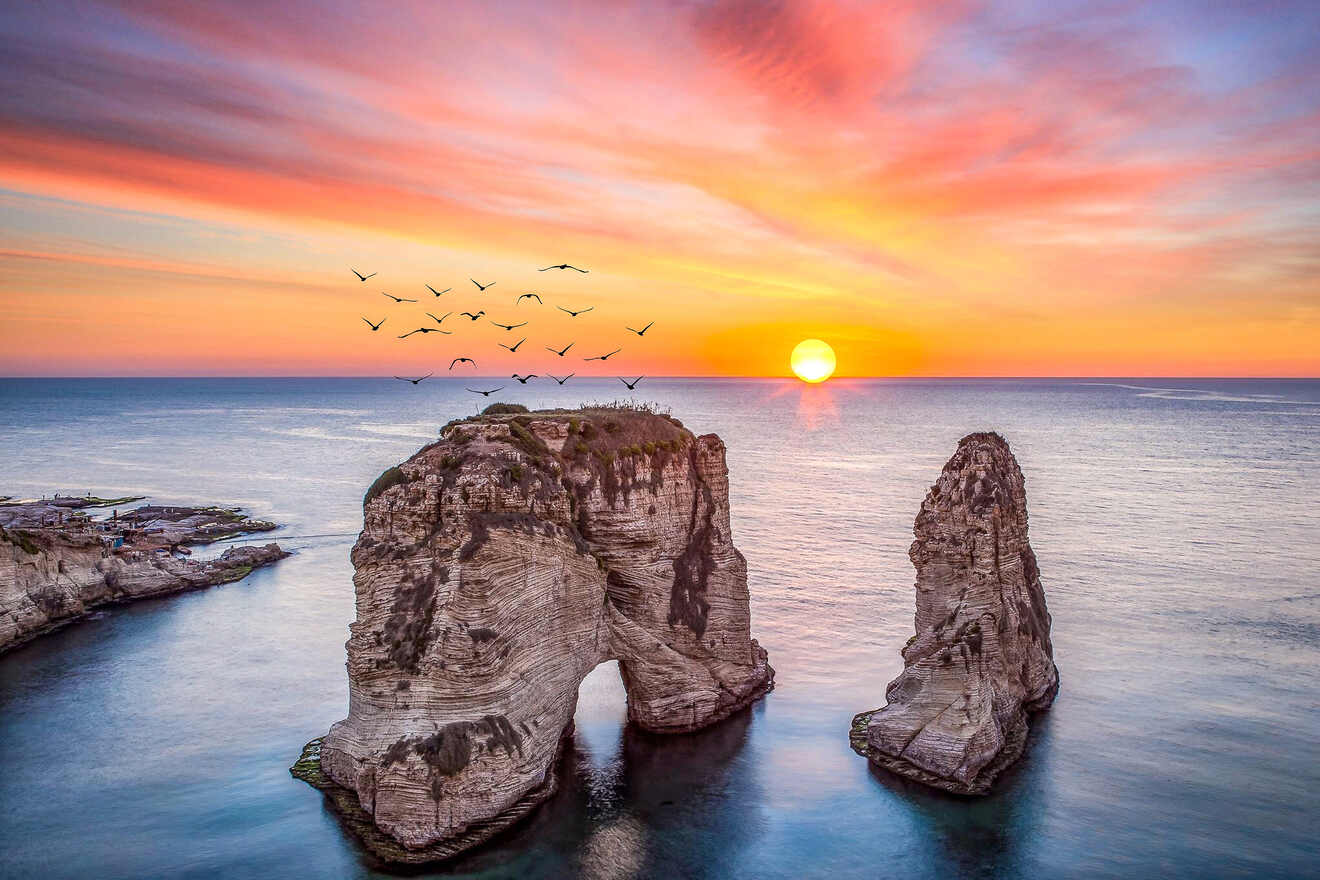 Conclusion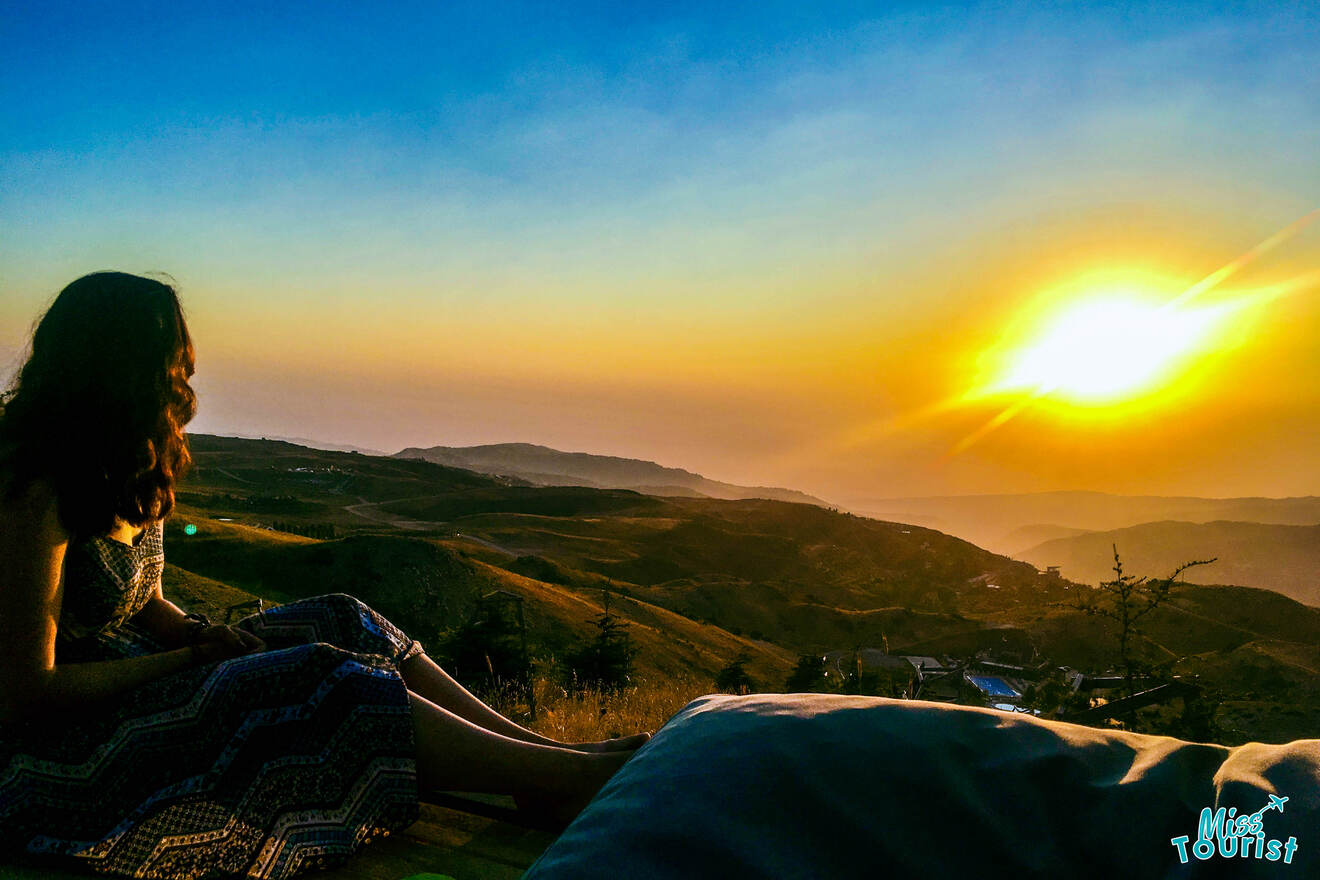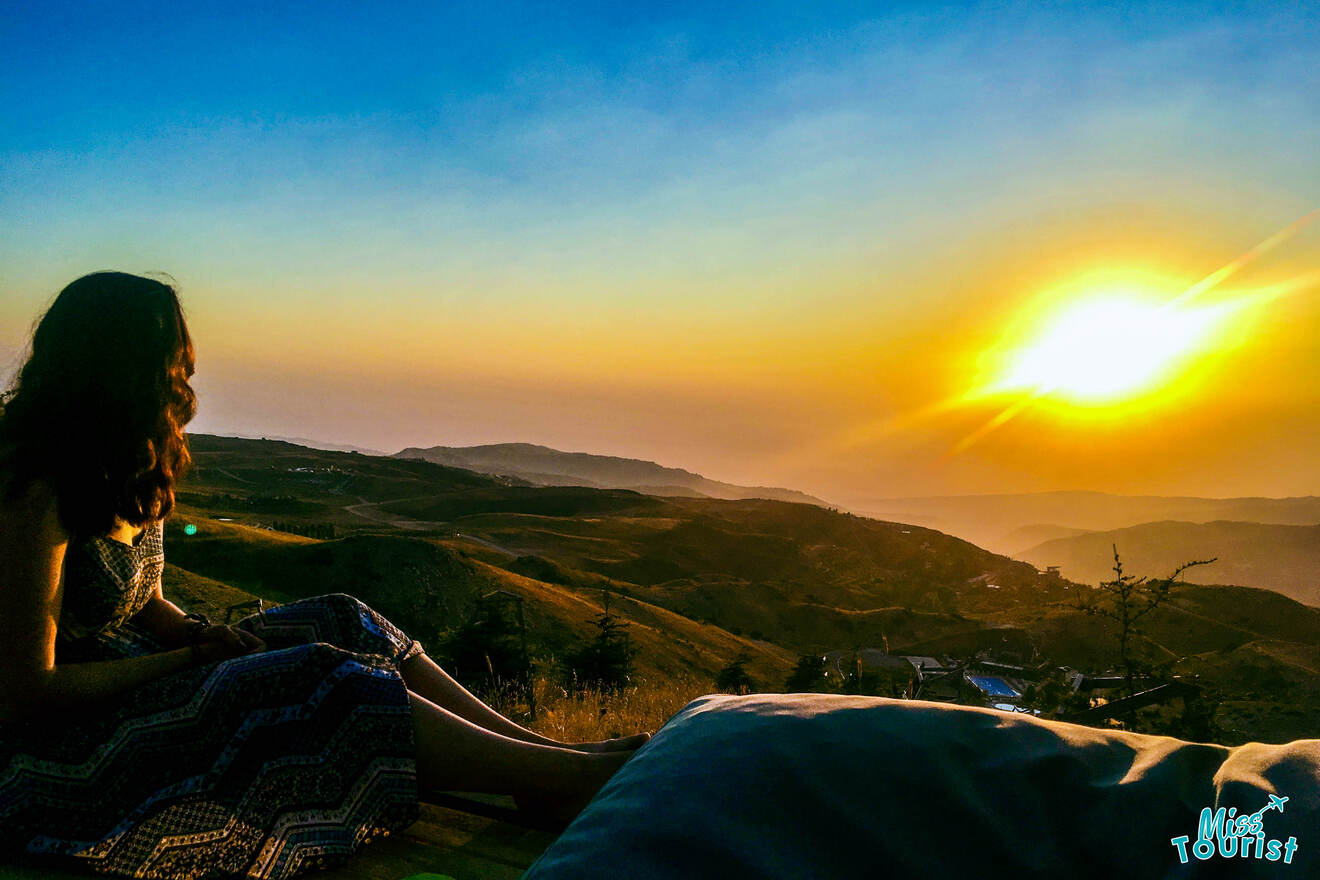 There you have it! All the best things to do in Beirut for every taste and budget. Seriously, this place has had my heart for so long, it's such a relief to share that with you guys!
Here are my absolute FAVORITE activities in and around Beirut, just in case you weren't convinced!
Don't forget to book up your hotels and activities quickly, and remember that last-minute booking can make your trip much more expensive, especially for hotels!
Hope you have an AMAZING trip, just hit me up if you have any questions! I'll be happy to help you out!
Allah Ma'ak!
Lizzie
---
Pin it for later!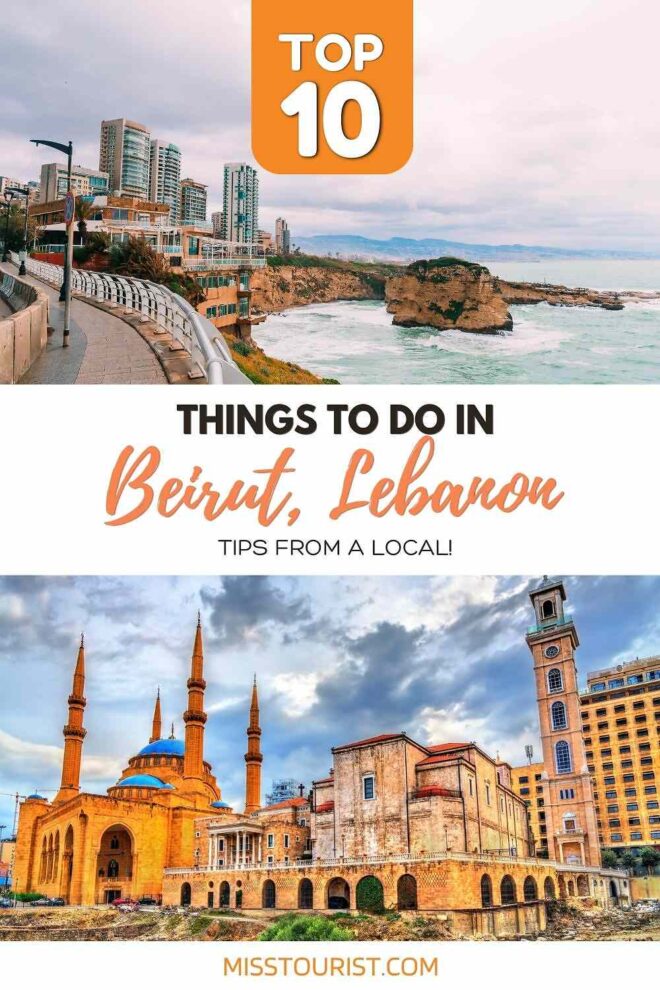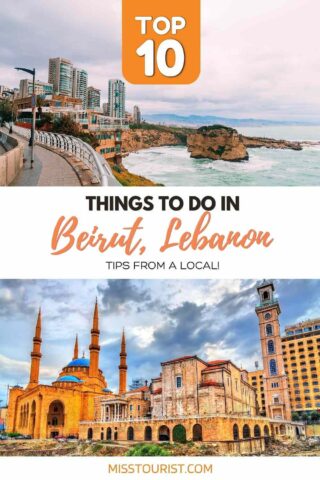 Pin it for later!