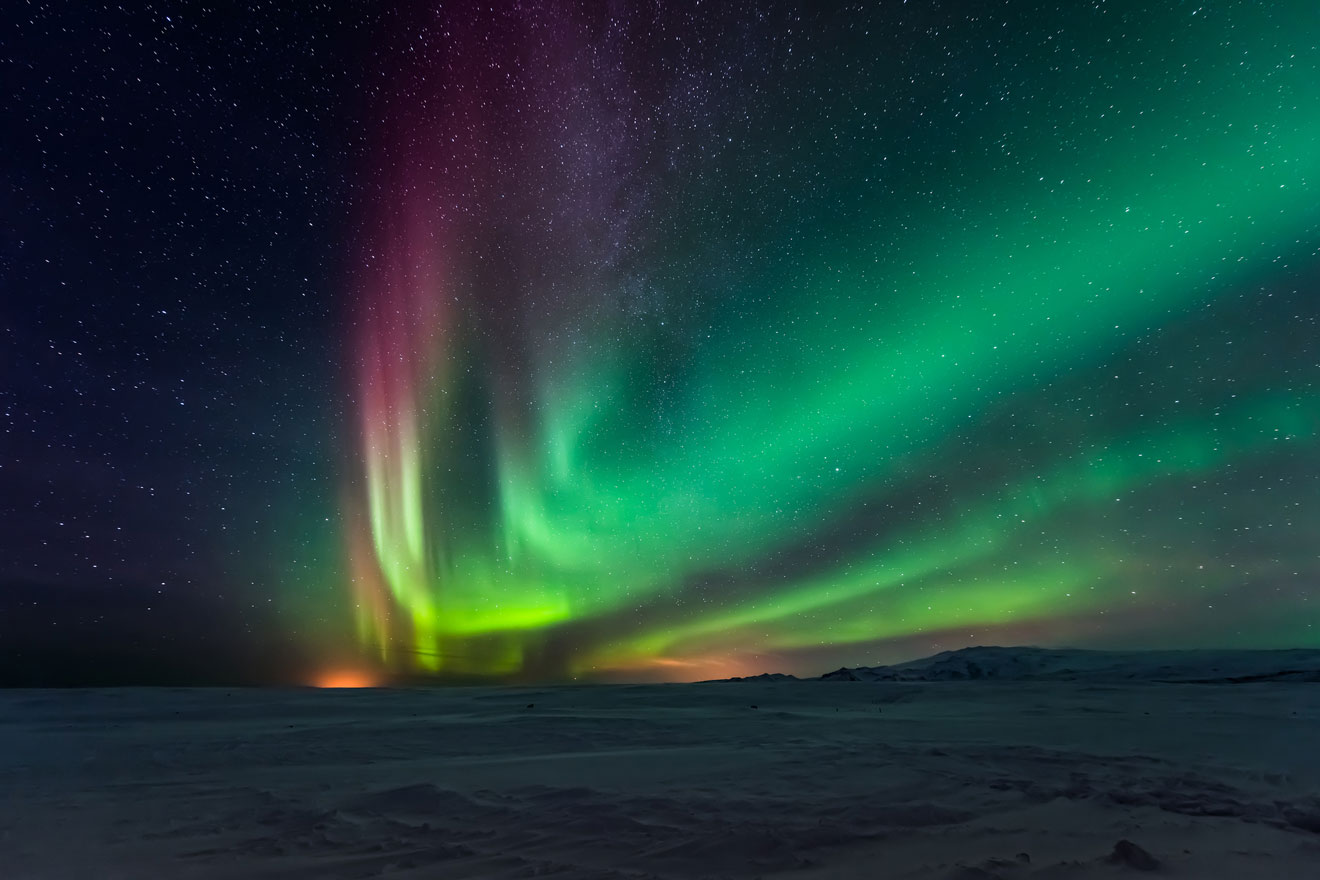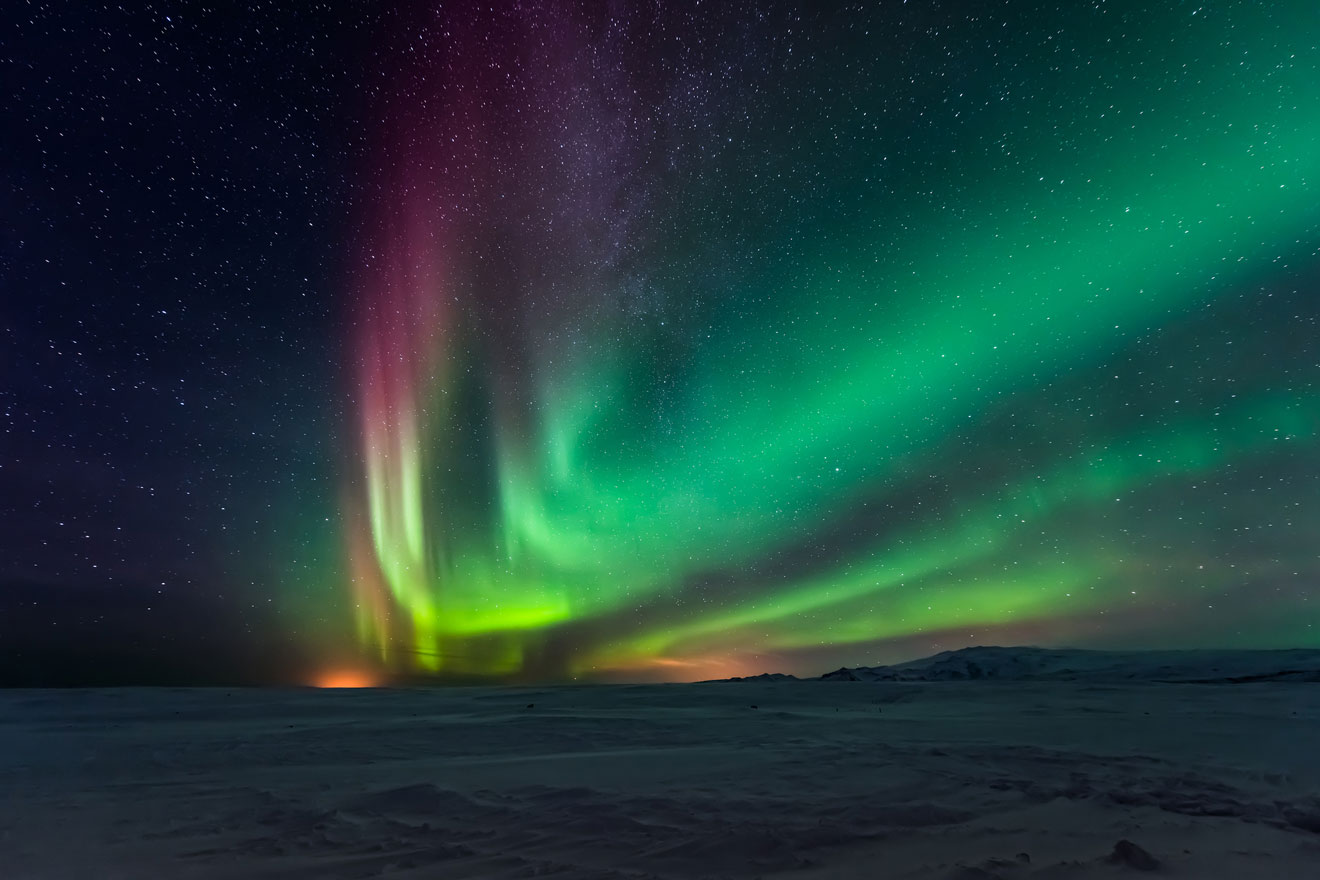 The Northern Lights are probably the most common reason why people visit Iceland during winter times and I totally understand them!
There are a few things to take into consideration if your dream is to witness the Northern Lights and this article will give you all the necessary information about where and how to see it, how much are the tours, how to take epic pictures of it and more!
The Northern Lights (also called Aurora Borealis) are dancing colorful waves in the sky. The phenomenon is caused by electrically charged particles from solar explosions that travel to Earth's upper atmosphere at great speed.
The Northern Lights can be green, red, pink, yellow, blue, and white! The most common color and the one the naked eye can see better is green. When the aurora shows up in the sky they have different colors. That is related to different gases such as oxygen and nitrogen which are part of the particles from the solar explosions.
Let's start, here are the best places to see Aurora Borealis (from a person who lives in Iceland for 3 years now and LOVES the Northern lights):
1. Reykjavík City – Grotta Lighthouse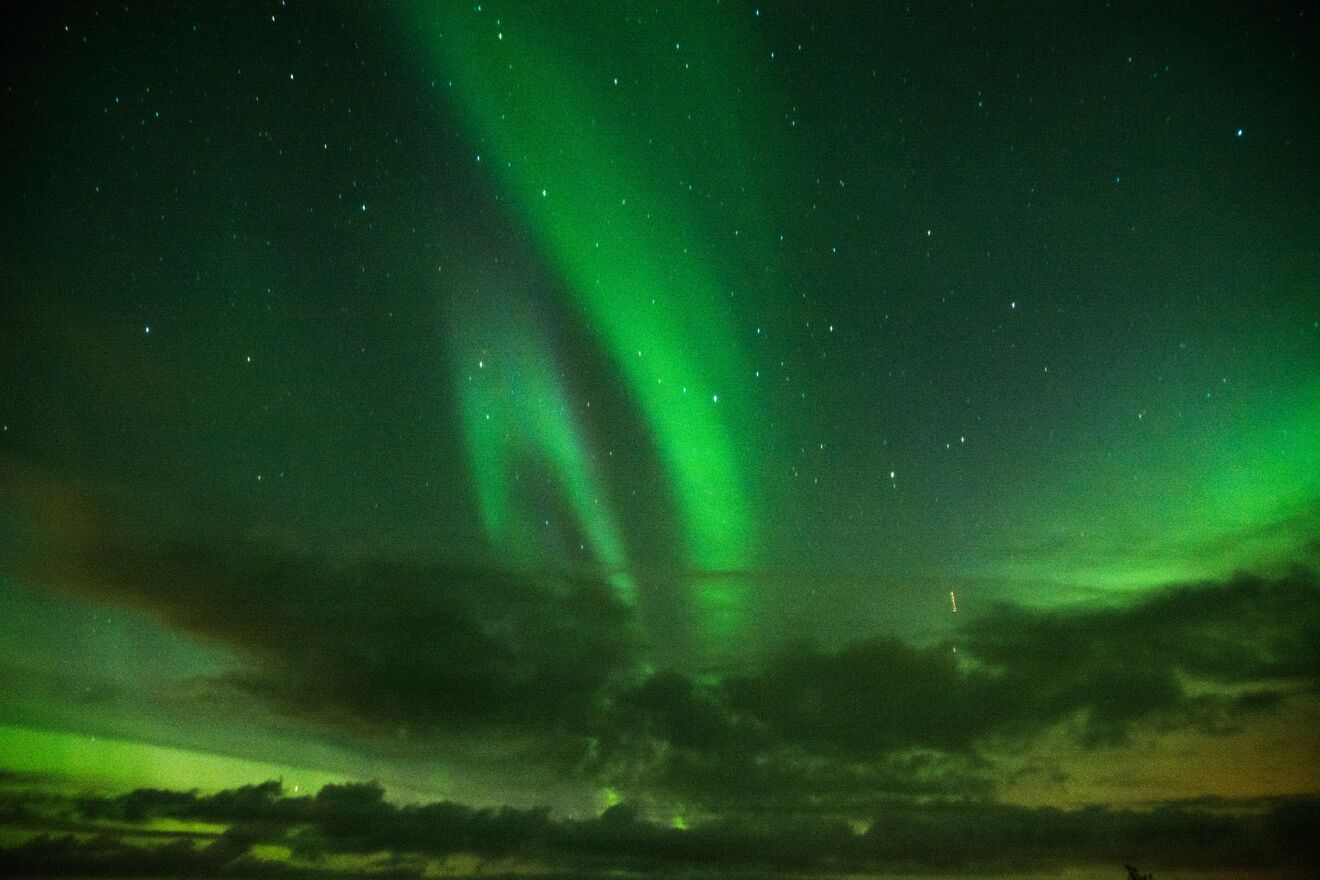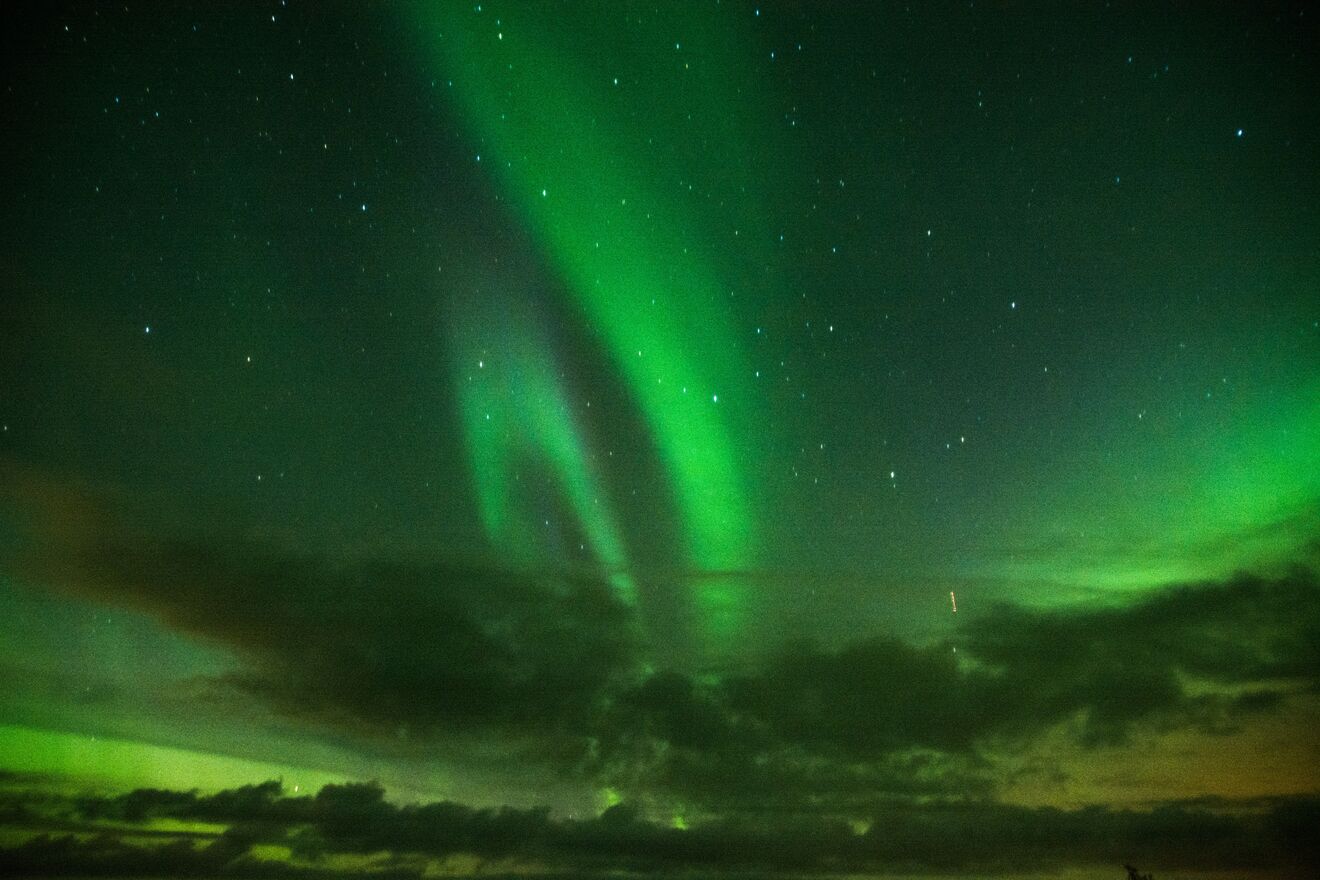 Even if Northern lights are better to see outside of cities (because of the light pollution), there is one place in Reykjavik where the city lights are not a big issue.
Grotta Lighthouse is the most commonplace to see the Northern Lights if you are in the city. Typically, you should be in a remote place with no light but in Grotta Lighthouse it can get dark enough to be able to see the Northern Lights.
When the forecast looks good, you can definitely head to Grotta Lighthouse and then you just need to play the patience game as the Northern Lights don't have a specific time to dance in the sky.
One thing though: Grotta is becoming super famous and if you decide to go here, you will definitely see several cars parked with people waiting just like you.
Where to stay in Reykjavík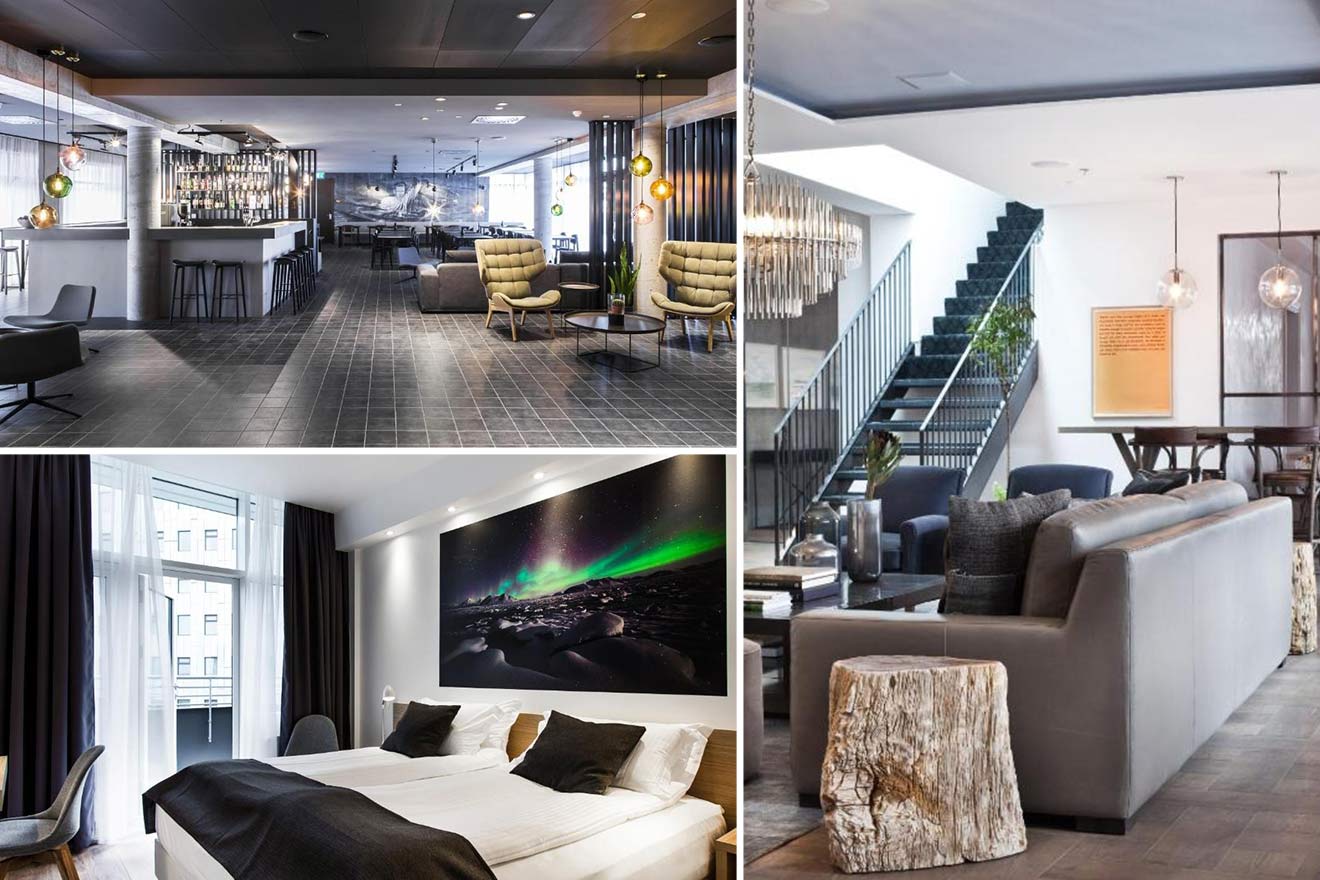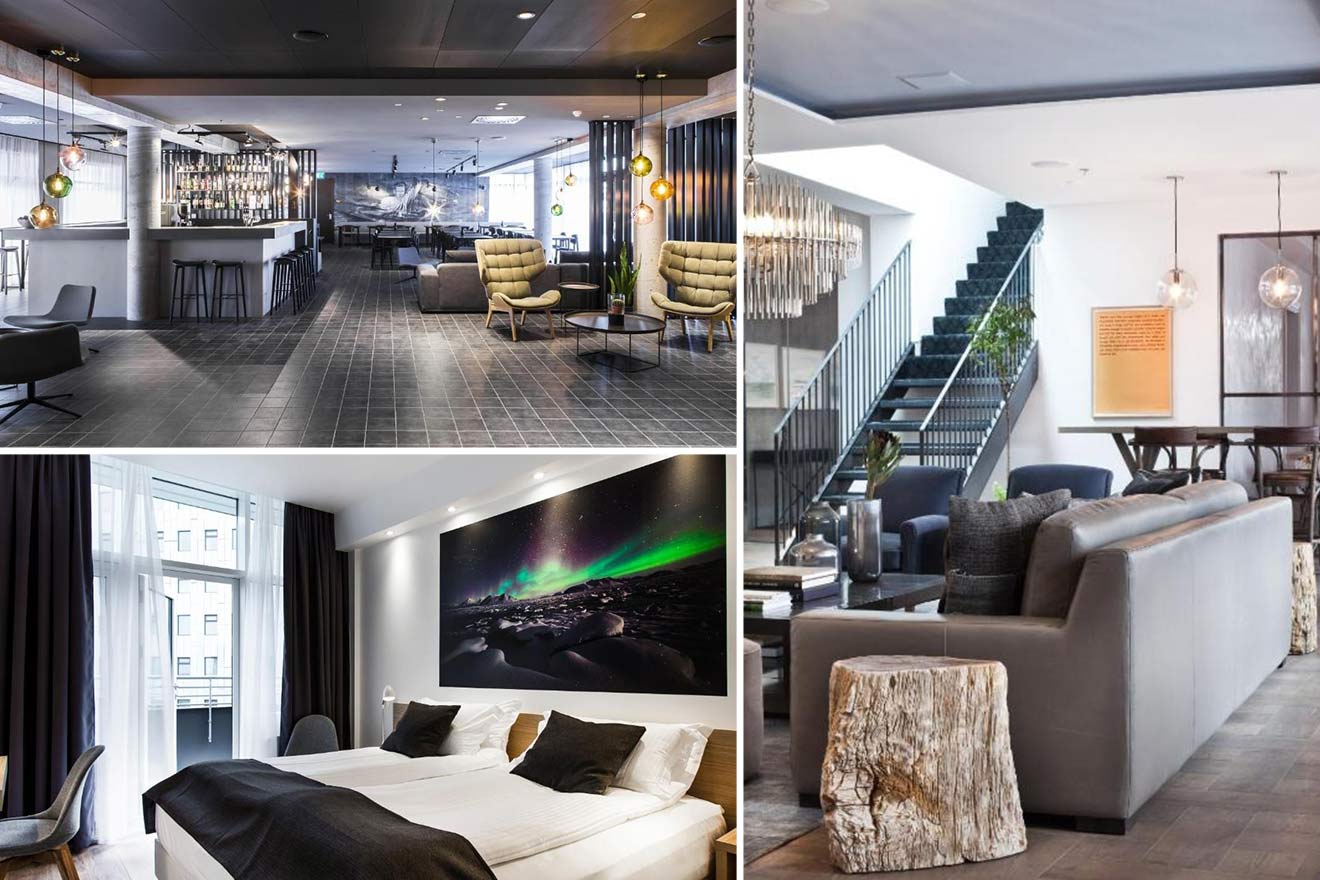 As you will definitely need to spend at least a night in the place I am recommending, here are some accommodation tips to go with it as well:
Luxury (US$220+)
Here are three great options, all of them very well located in Reykjavík city center. Sand Hotel by Keahotels, Black Pearl Apartment Hotel, and The Reykjavik Edition (brand new hotel).
Middle-Priced (US$110 – US$220)
If you want to be located in the city center, comfort and breakfast are important but you don't want to spend a lot of money, these two hotels are very good: Skuggi Hotel by Keahotels, and Center Hotels Laugavegur.
Low-Budget (up to US$110)
There are good and comfortable hotels in Reykjavík, such as Storm Hotel by Keahotels, and Hotel Cabin.
2. South and East Iceland
If you happened to be on the road when the weather decided to be favorable to the Northern Lights, here are some nice spots where people usually see the Lights in the South and East of the island:
2.1 Thingvellir National Park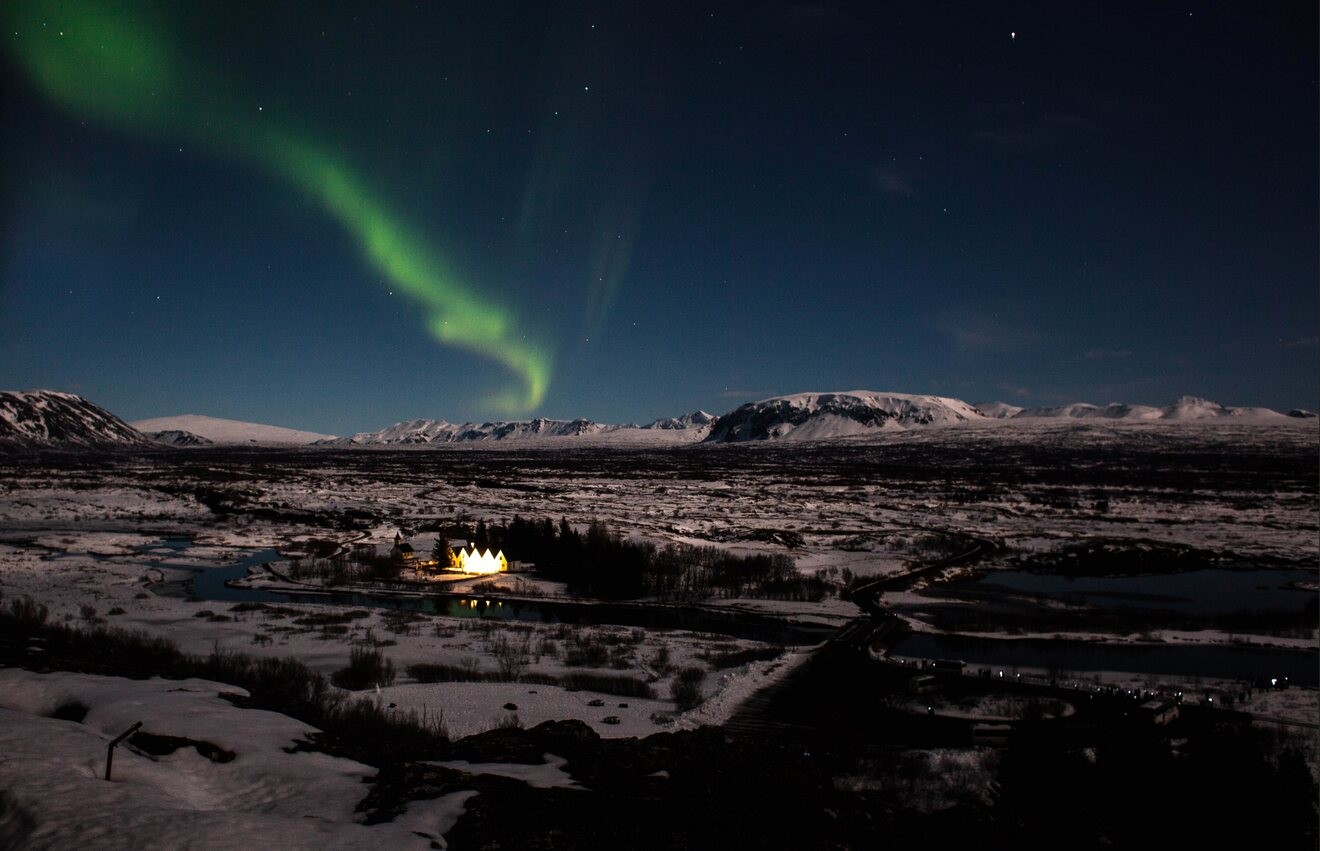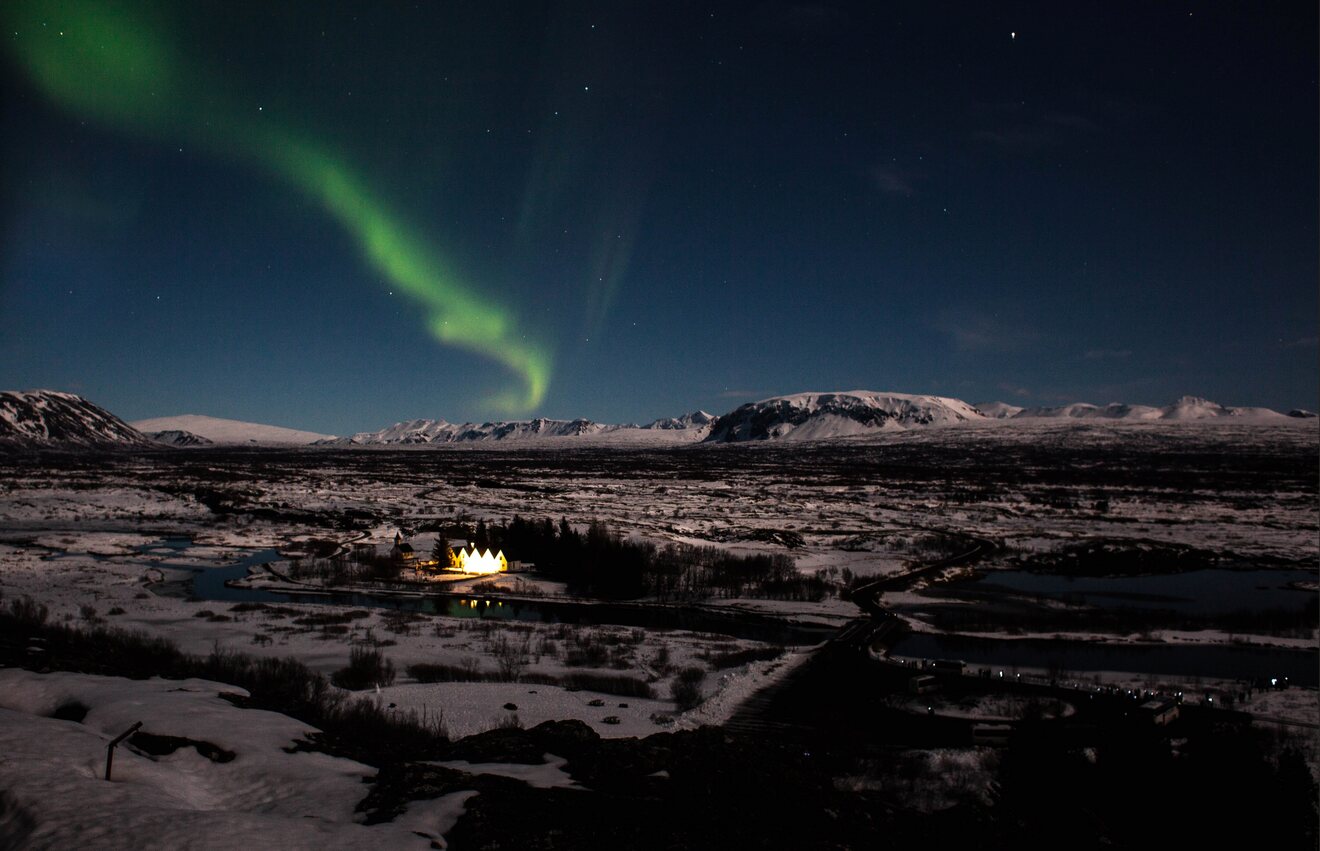 Located in the Golden Circle area, in Iceland, this is one of the most famous places to go and hunt for Northern Lights! The National Park can get very dark at night, so be careful with lakes and small rivers.
PRO TIP: Try to keep yourself on the main road and find a parking lot where to leave your car, and don't go too far from it.
2.2 Skogafoss Waterfall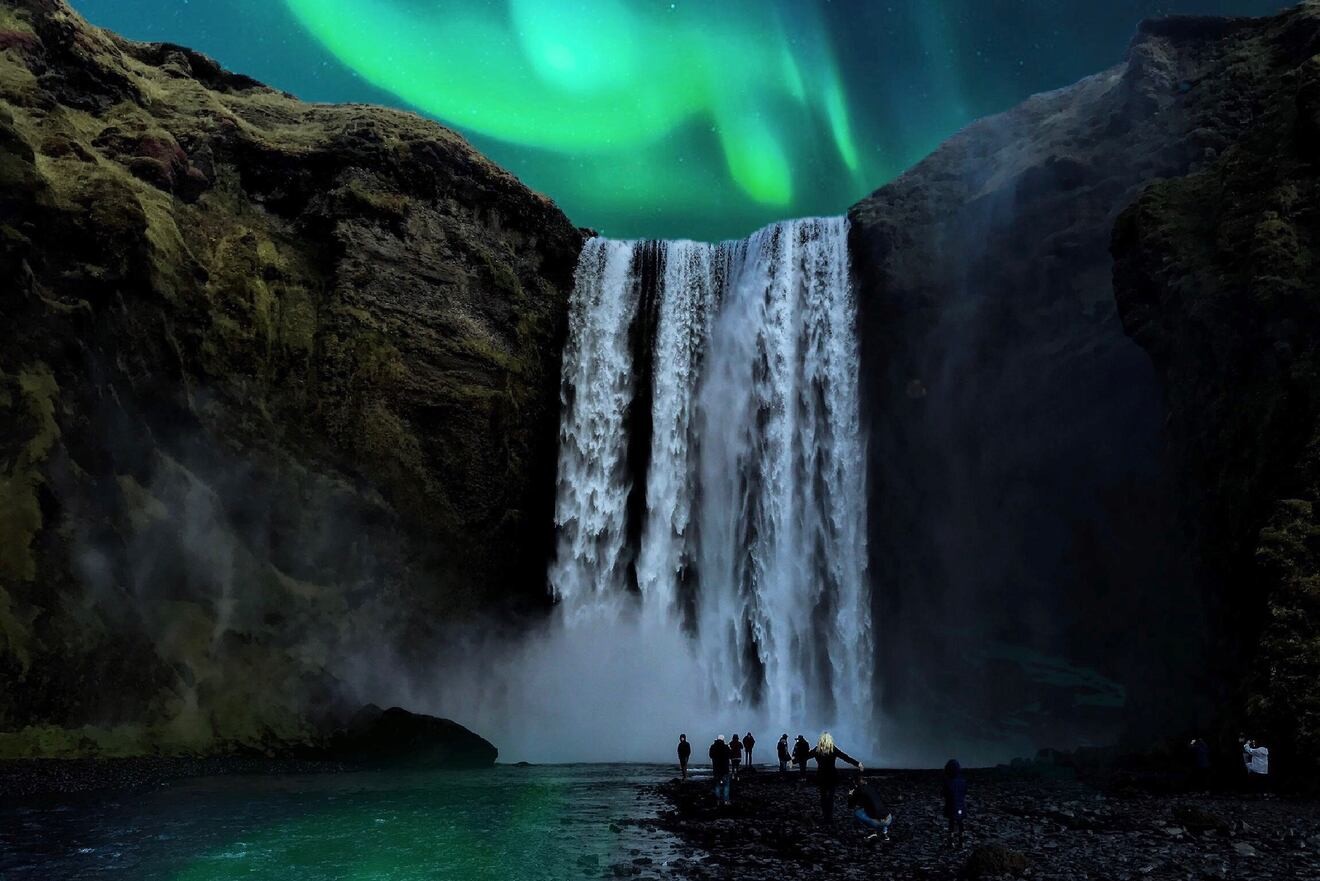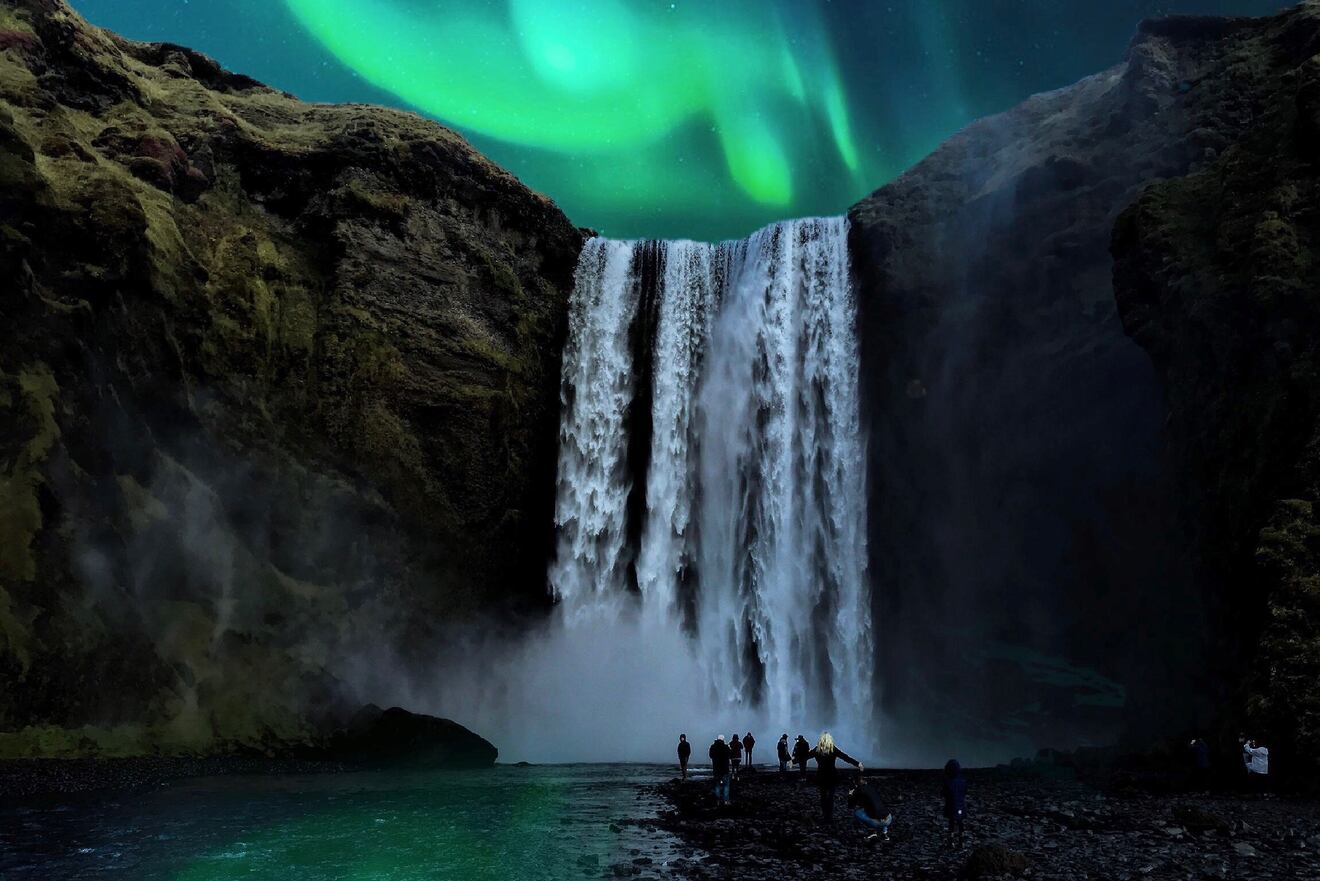 Skogafoss is an iconic place for the Northern Lights in South Iceland. I'm sure you saw uncountable Northern Lights pictures on social media with Skogafoss for sure.
When taking pictures of the sky but still have the waterfall in the picture, you will definitely create a very beautiful and artistic photo!
2.3 DC3 Plane Wreck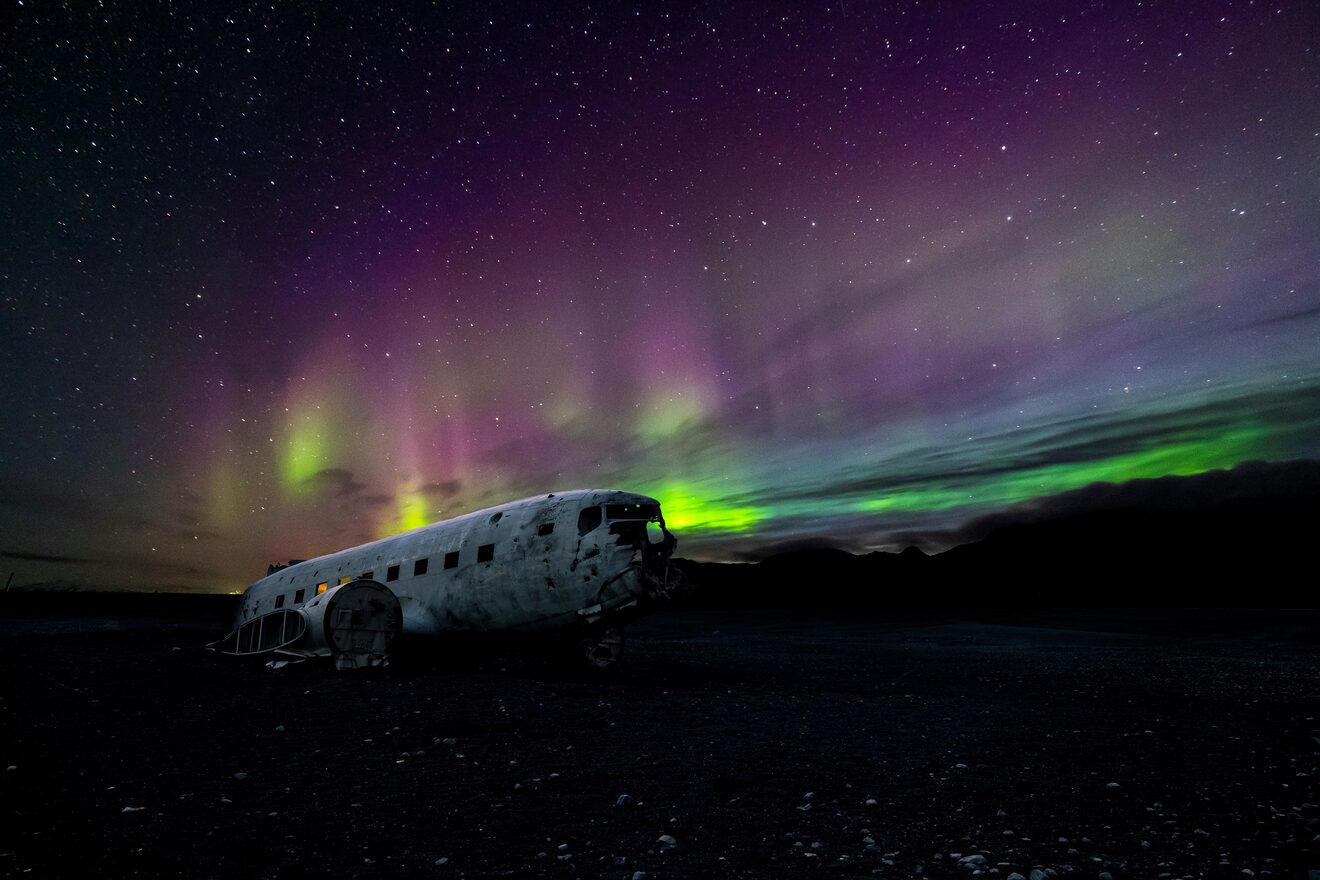 Here is another place that people really like to take Northern Lights pictures at. If you decide to go to DC3 Plane Wreck, remember that you need to walk at least 2h (one way) to reach the plane wreck. Once there, everything is going to be pretty dark so don't forget to take a flashlight with you.
2.4 Reynisfjara Black Sand Beach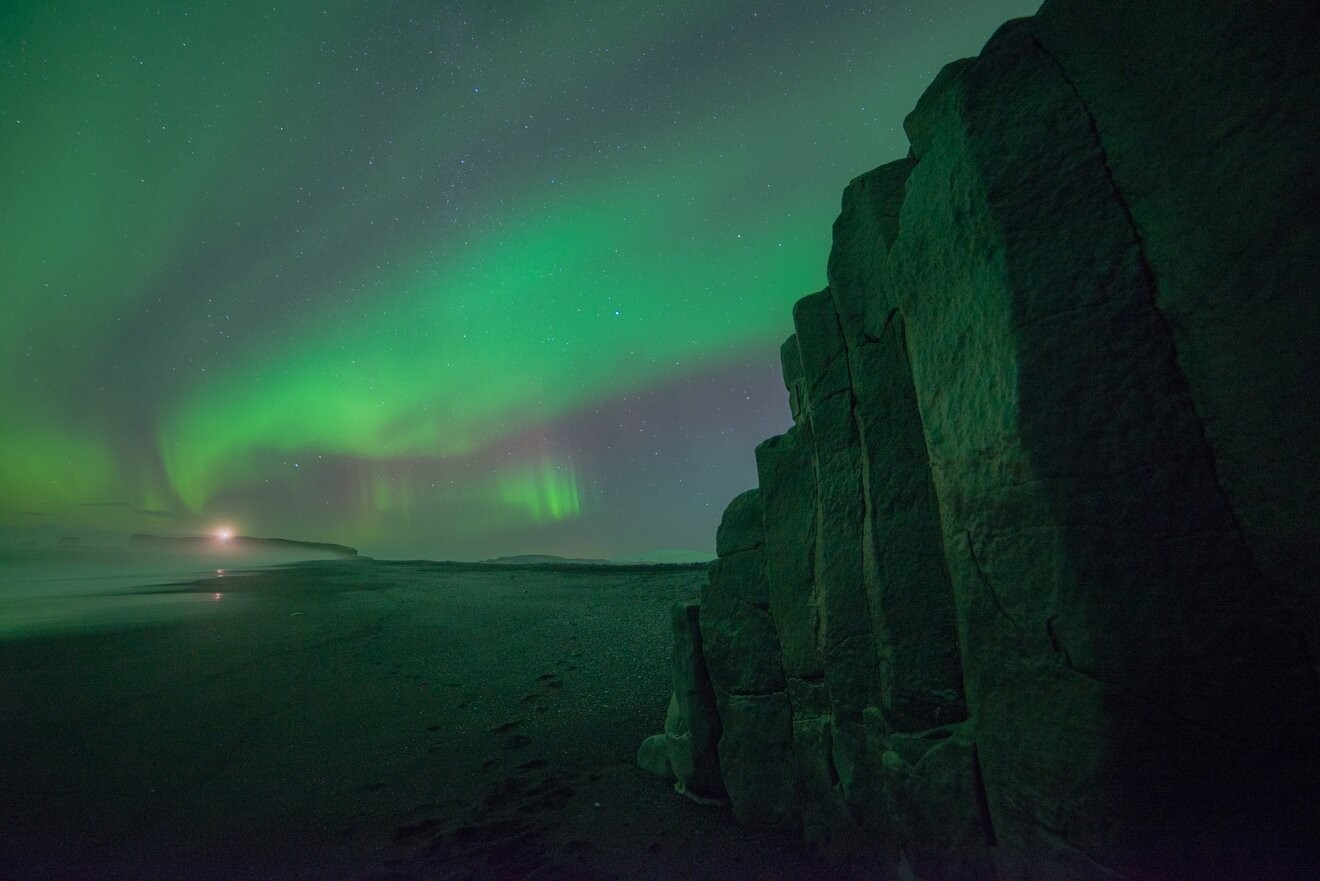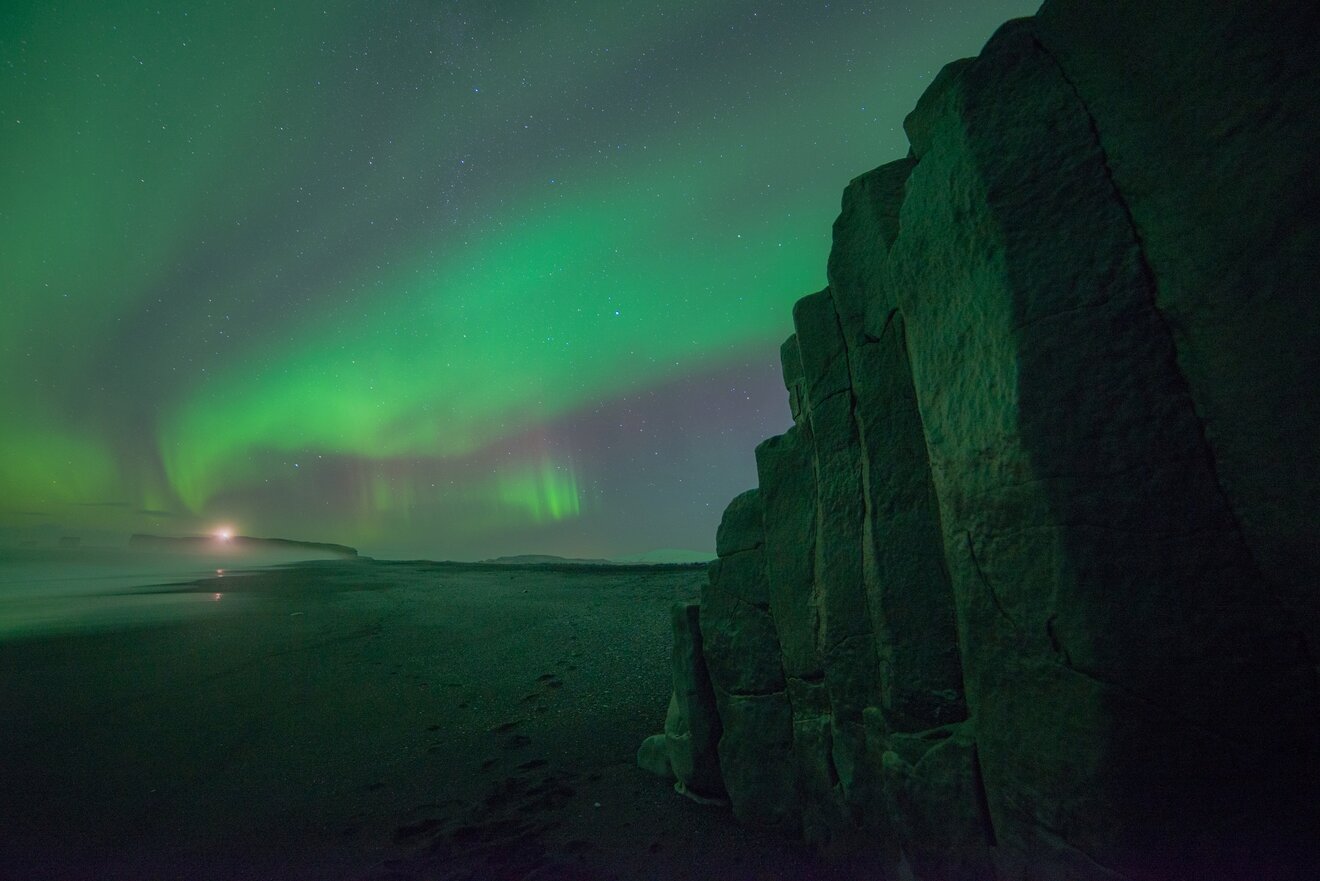 The most famous of the black sand beaches in Iceland, its stunning basalt columns and ocean makes the perfect combination to see the Northern Lights in Iceland.
On a clear night and a great aurora forecast, your photos will be amazing!
2.5 Jokulsarlon Glacier Lagoon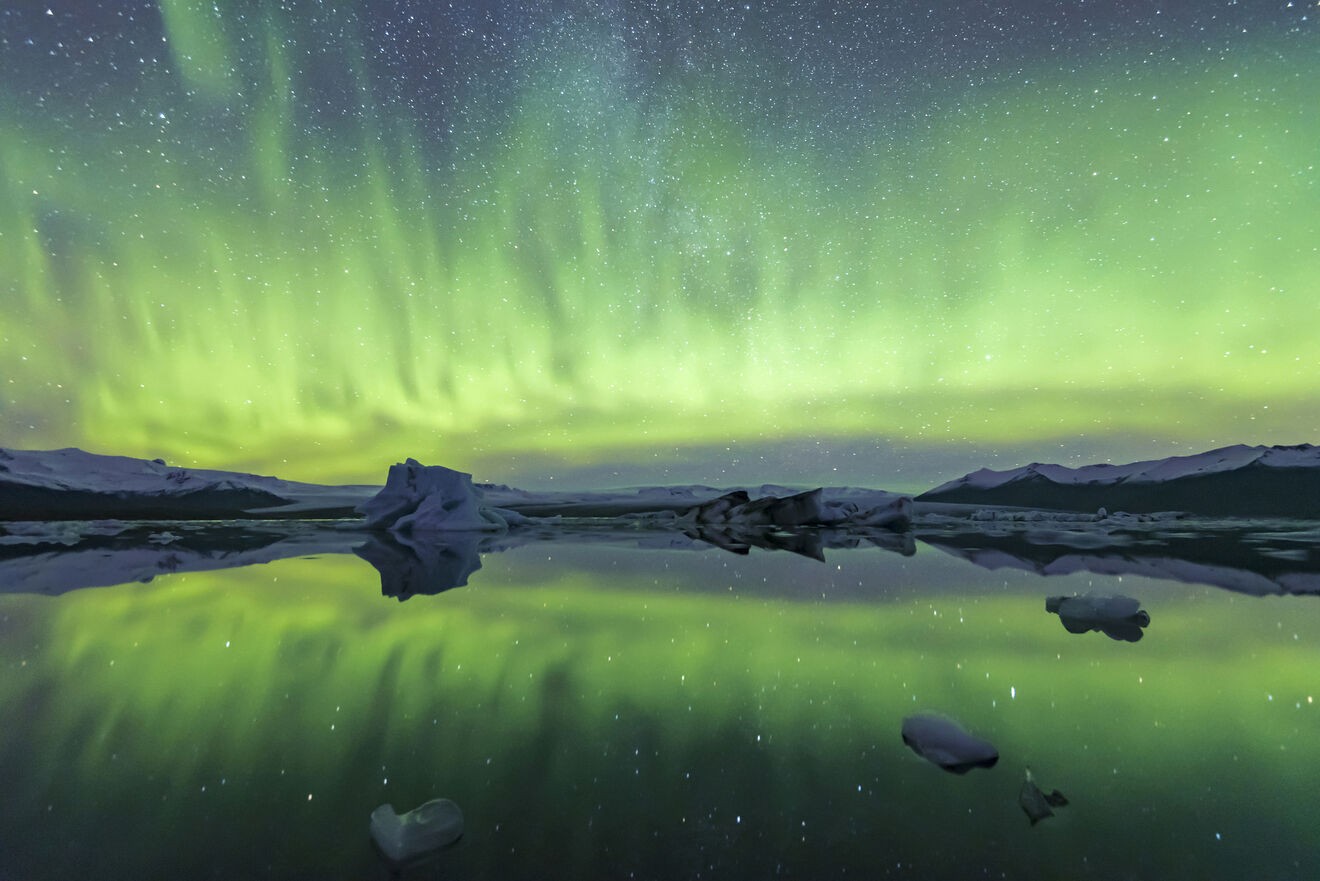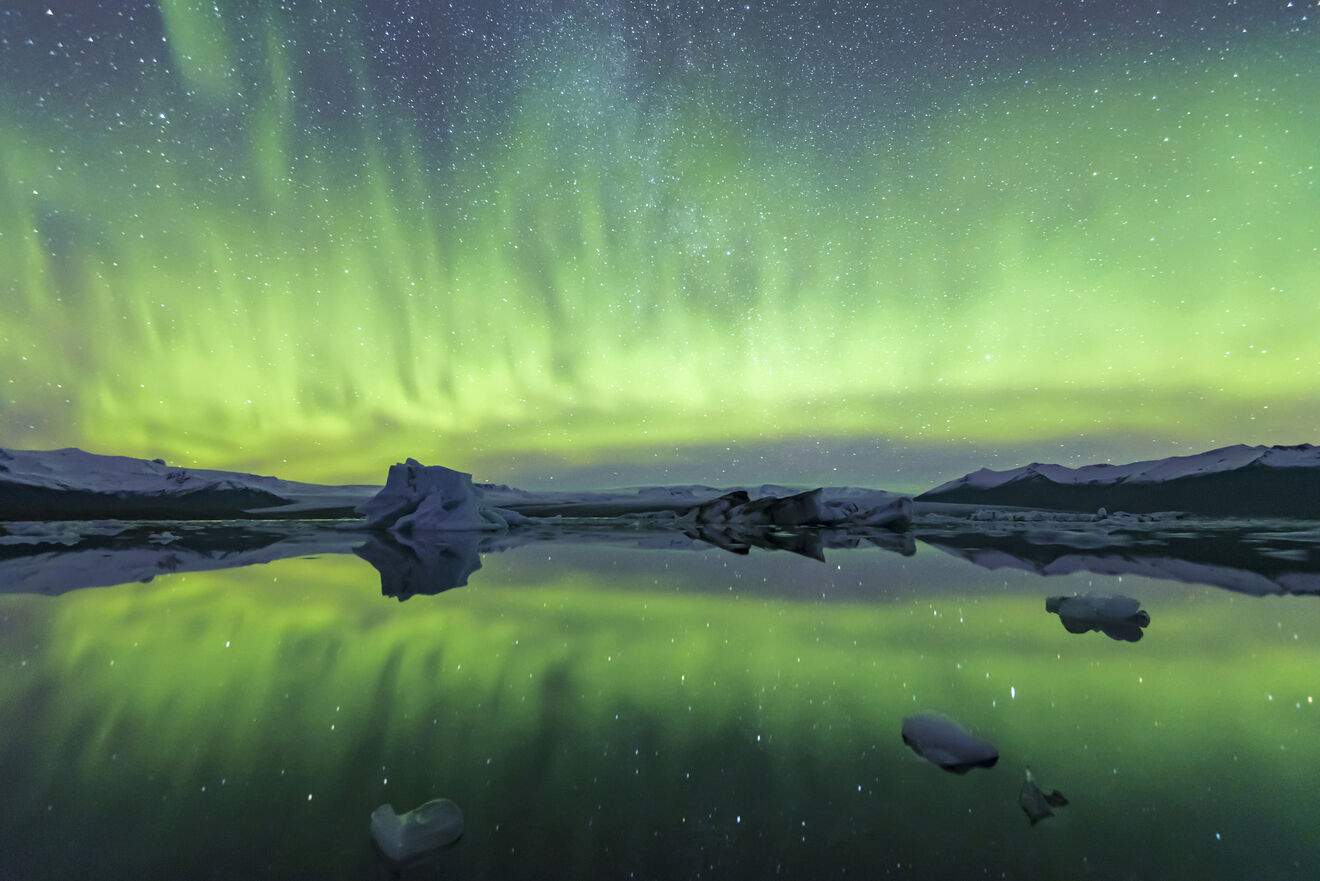 When the sky turns green and you see its reflection from the lake, the views are mesmerizing!
Located in East Iceland, it is also one the most magical places to see the Northern Lights in Iceland dancing in the sky. Take as many pictures as you want, but don't forget to enjoy the dancing lights with your own eyes.
Where to stay in South and East Iceland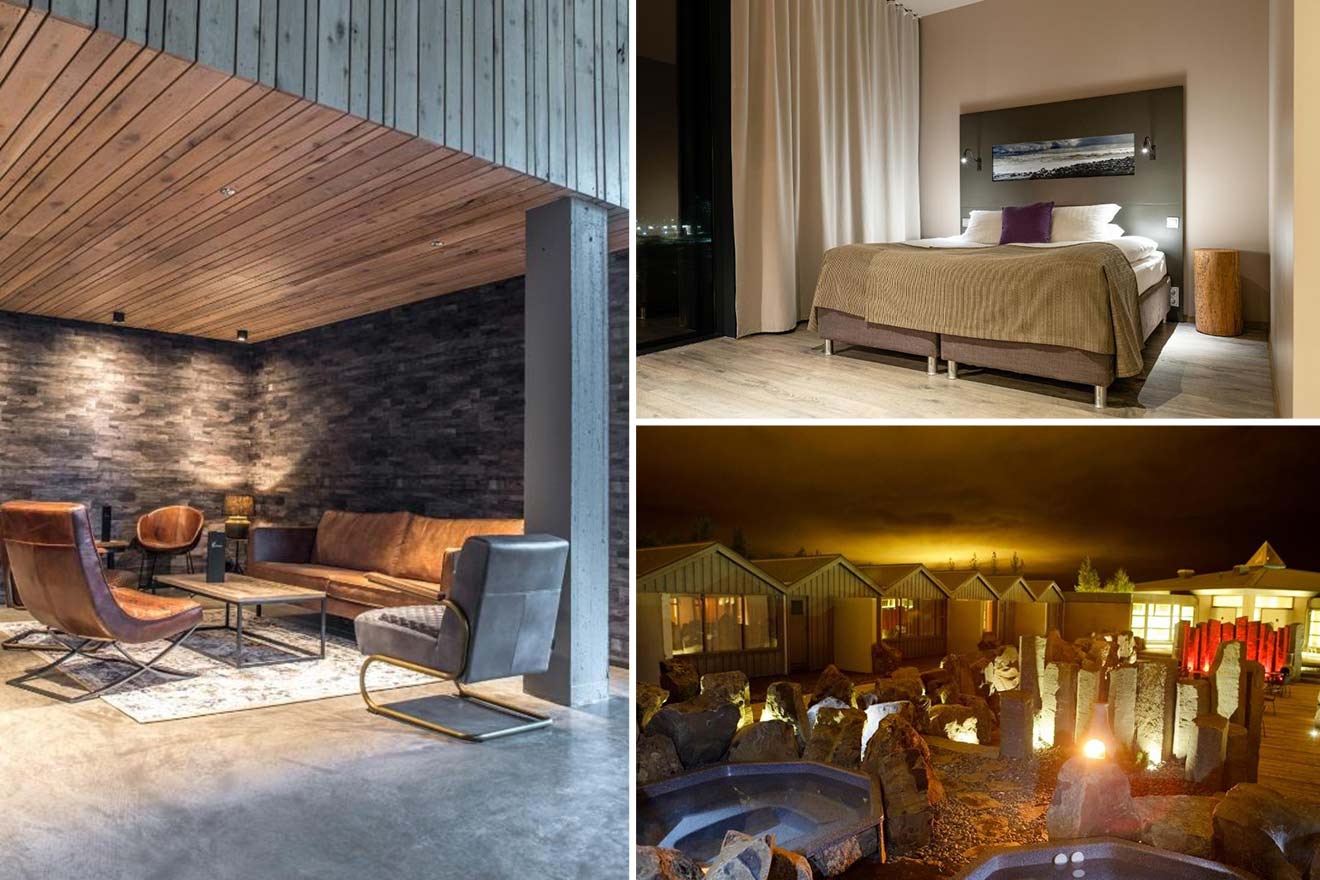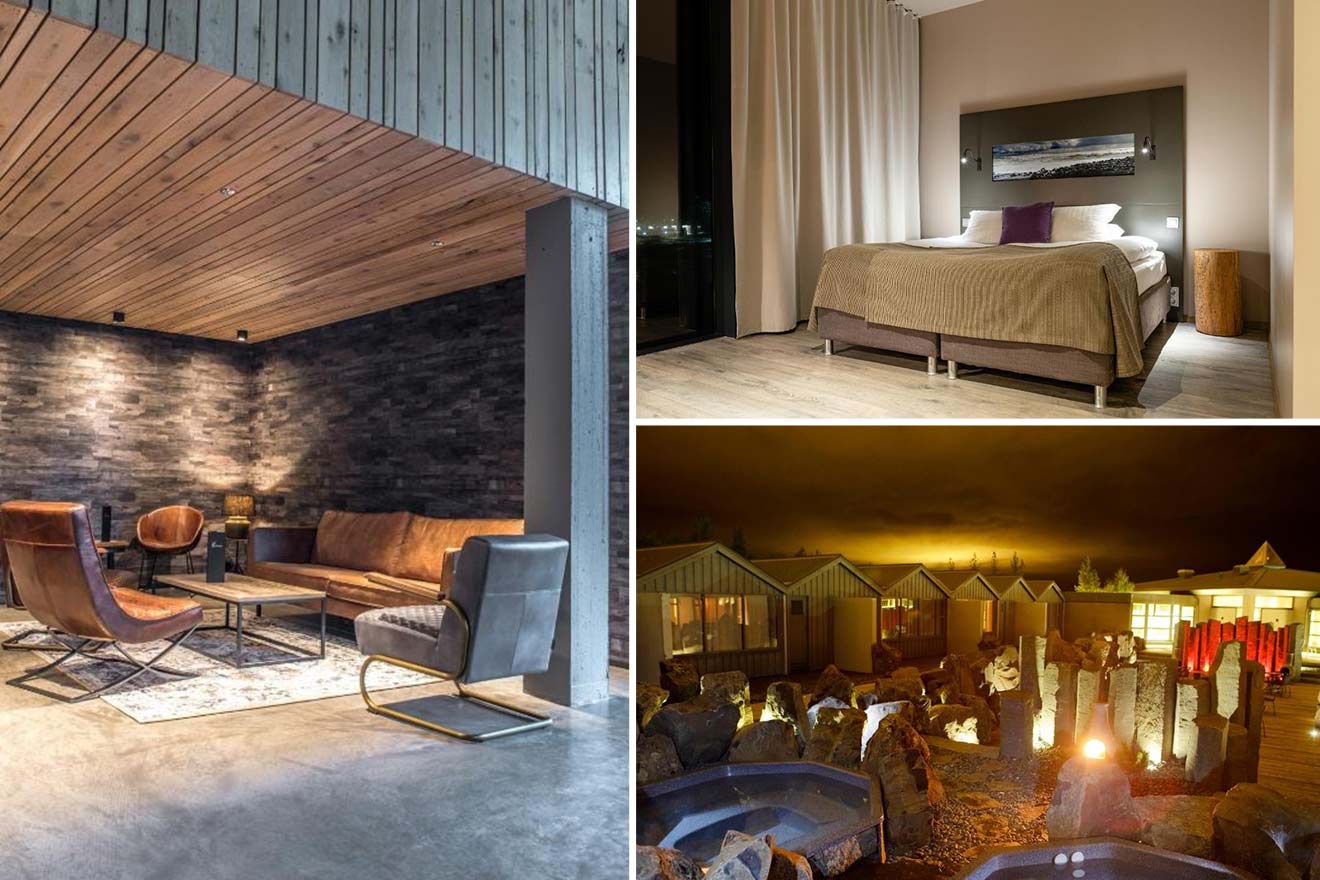 Here are some great accommodation options where I recommend spending the night:
Luxury (US$223+)
Hotels with great views: Hótel Kría, and Hotel Vík í Mýrdal.
Middle-Priced (US$111-US$223)
Here are my suggestions: Icelandair Hotel Fludir, Landhotel, and Hótel Dyrhólaey.
Low-Budget (up to US$111)
It is not common to have low-priced accommodation around Iceland unless it's a guesthouse, for example, Guesthouse Carina.
3. North and West Iceland
Last but not least, I have 2 suggestions on where to see the Northern Lights in the North (duh!) and West sides of the country.
3.1 Godafoss Waterfall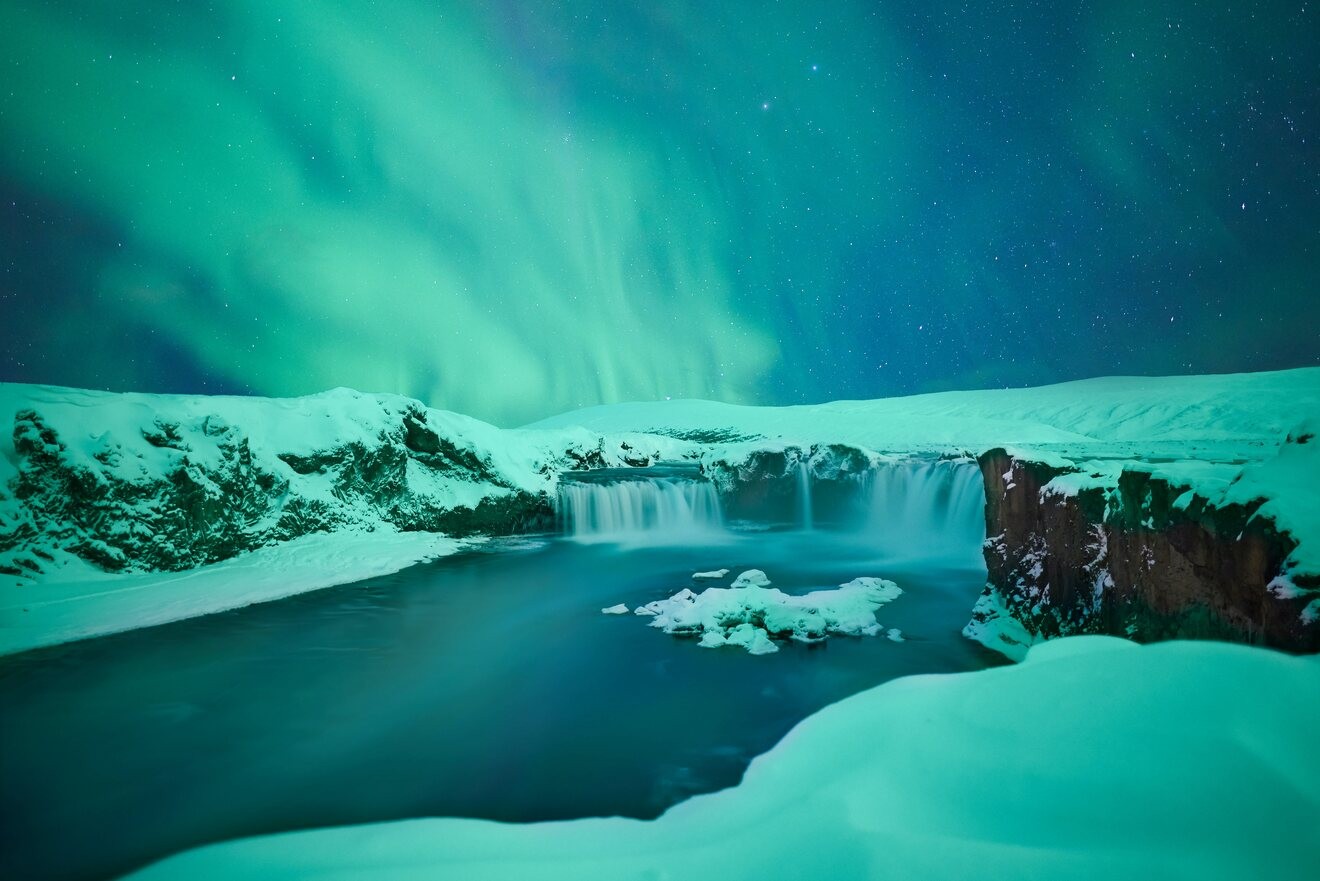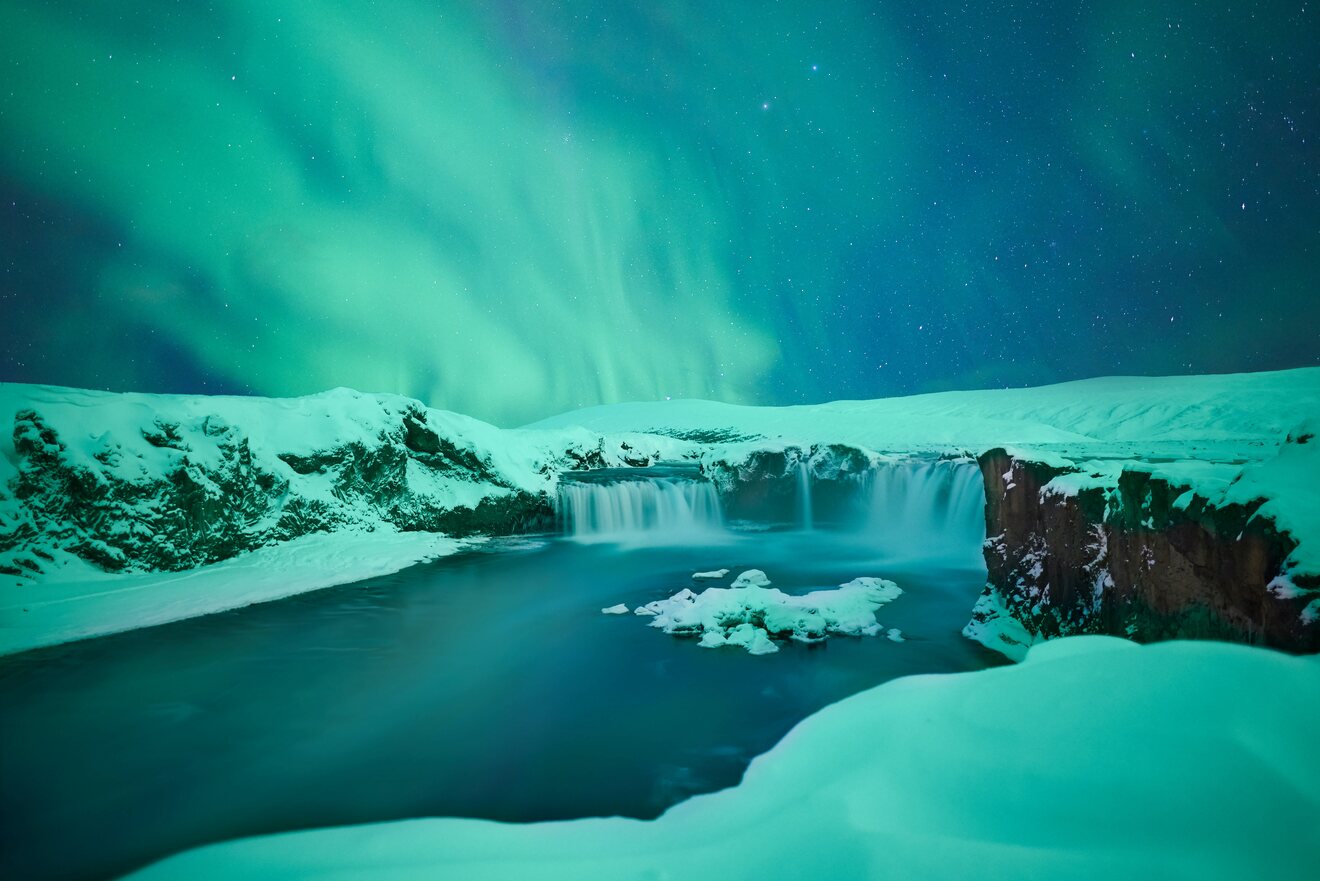 The most famous waterfall in North Iceland can be a great background to see the Northern Lights and to take some pictures at. By the way, check out our post on 10 Best waterfalls to visit in the country, Godafoss definitely made the cut! 😉
3.2 Kirkjufell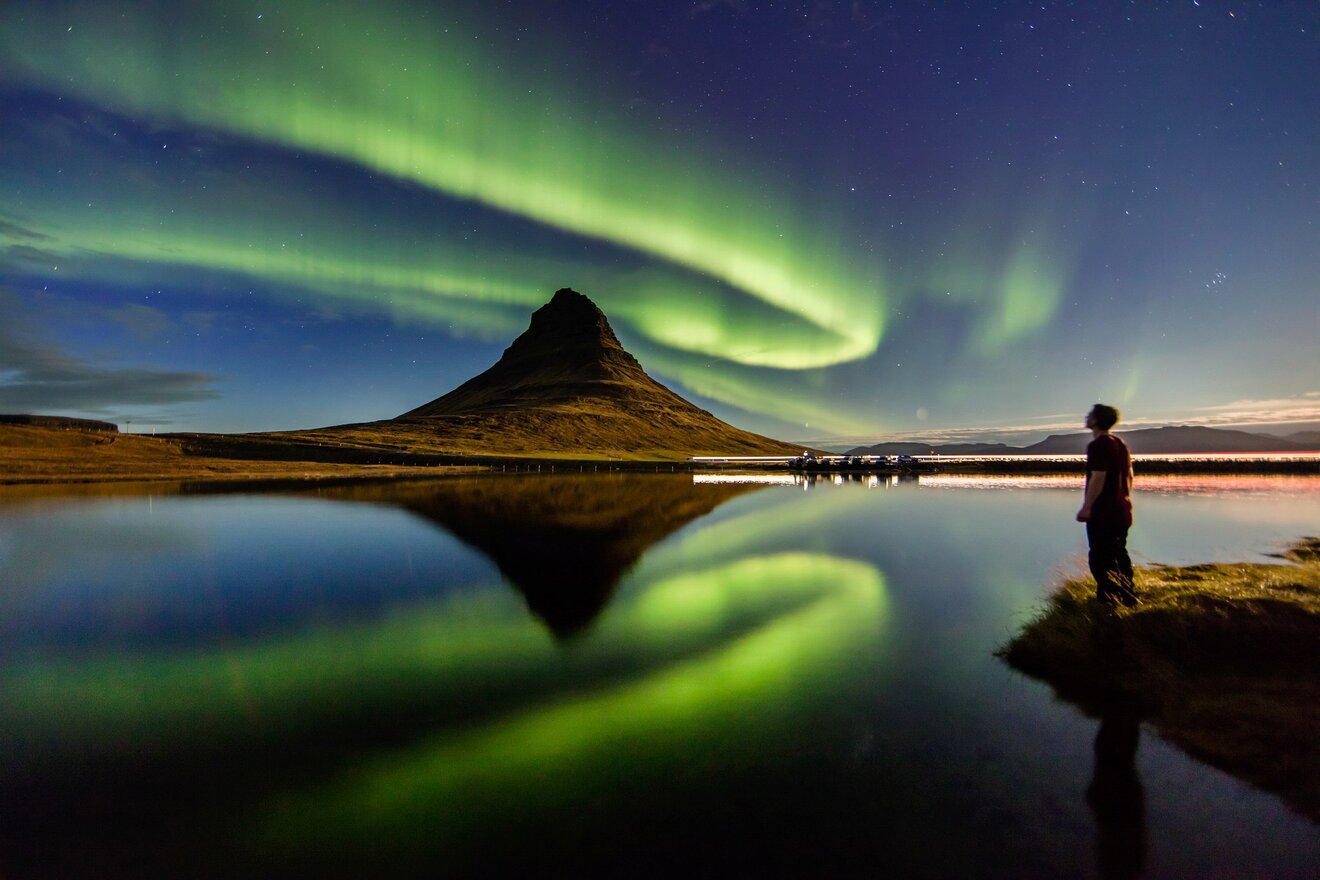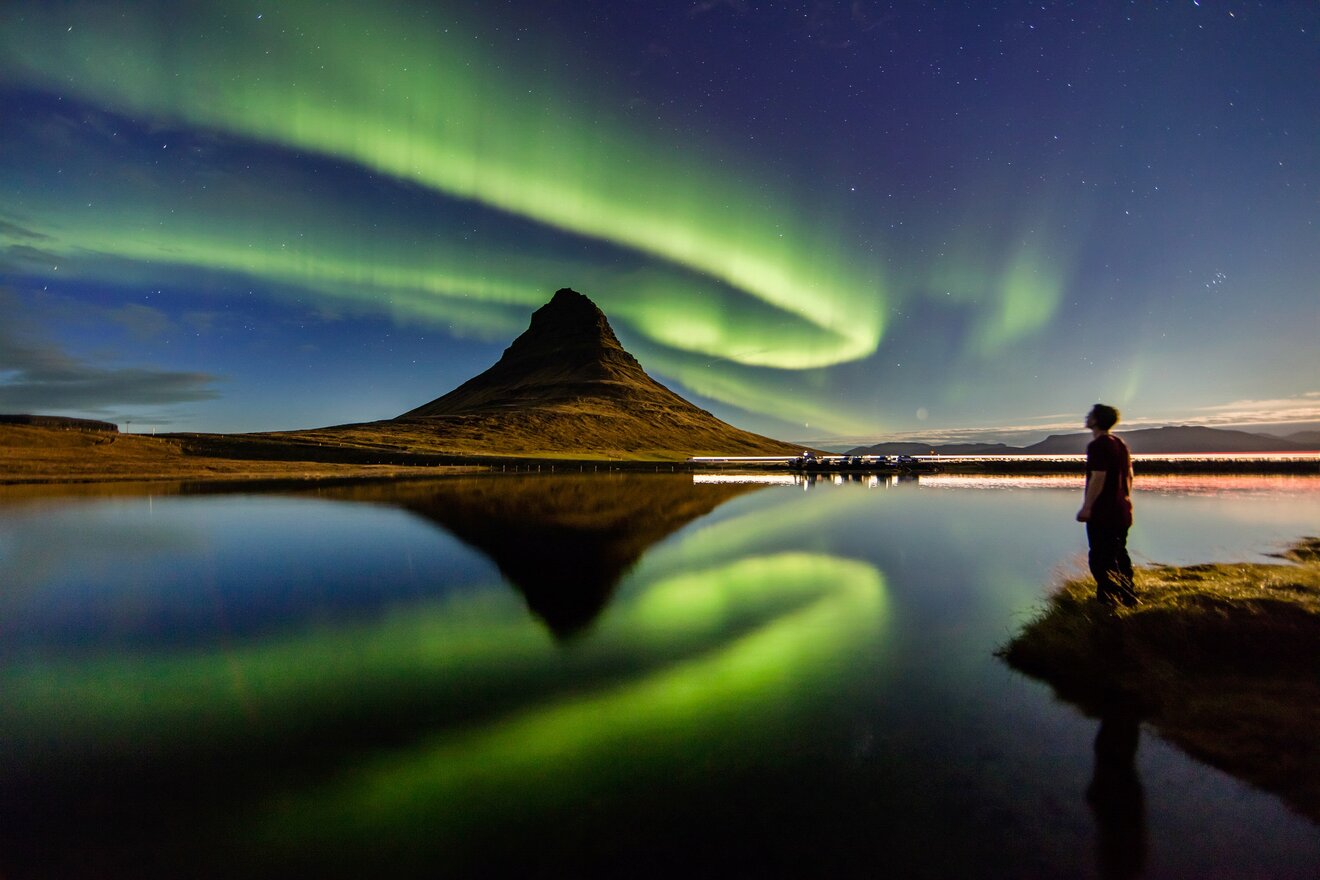 Kirkjufell is a famous mountain in West Iceland. You can't go near the mountain as it's only possible to hike by professionals. However, on the other side of the road you will see a waterfall, Kirkjufell Waterfall, and that is the perfect place to take pictures of the Northern Lights. Just go to the top of the waterfall. From there, you will be able to have an angle that includes the waterfall and the mountain – great pictures are guaranteed!
Where to stay in North and West Iceland
For North and West, it is a bit hard to divide the accommodation into price categories. But the ones I can definitely recommend are Hotel Kea by Keahotels, Hotel Akureyri, and Helgafell. Check the rates for your dates to see the prices!
Other info about Aurora Borealis in Iceland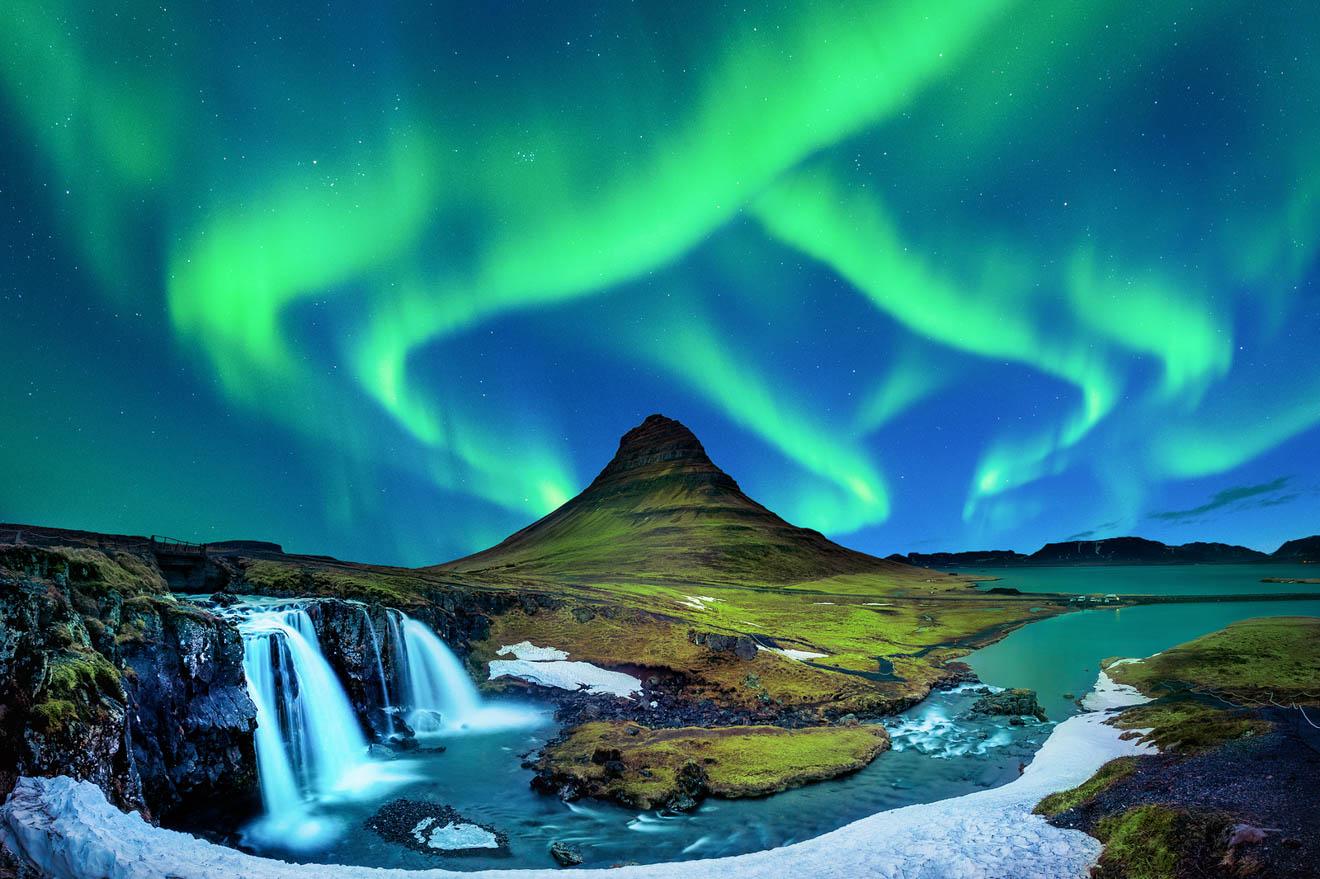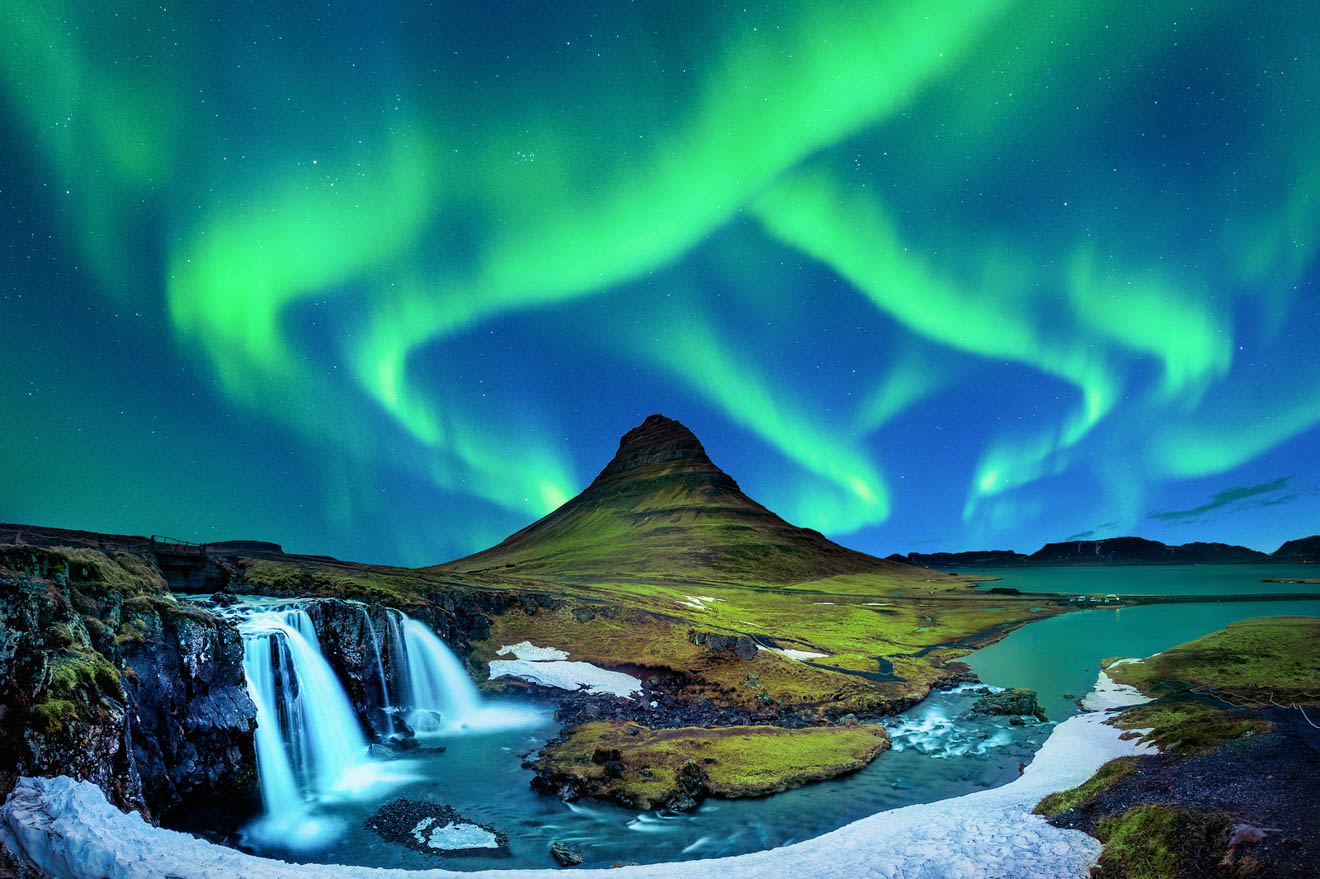 Now that you know where are the best places to see the Northern Lights in Iceland, here are some facts and information you also need to know on when and how to see/hunt for the amazing Aurora Borealis.
When is the best season to see the Northern Lights?
This is a natural phenomenon that occurs all year round but in order to be able to see the Northern Lights, you first need to have dark skies and no clouds. This means that the Northern Lights season in Iceland is during wintertime.
The best months for this are from the beginning of September to mid-April. The darker the sky, the better. Sometimes it is also possible to see the Aurora Borealis in mid-August, but this is VERY very rare.
PTO TIP: The full moon is not your friend in this case as you need the conditions to be as dark as possible.
The Aurora Borealis forecast tells you how strong the Northern Lights are and what is the probability of seeing them each night. Remember that they are better seen to the human eye if they are very strong. In case this doesn't happen but it's a good night to see them, use your camera to do it (I will explain how you should take pictures of the Northern Lights below).
How to catch the Northern Lights?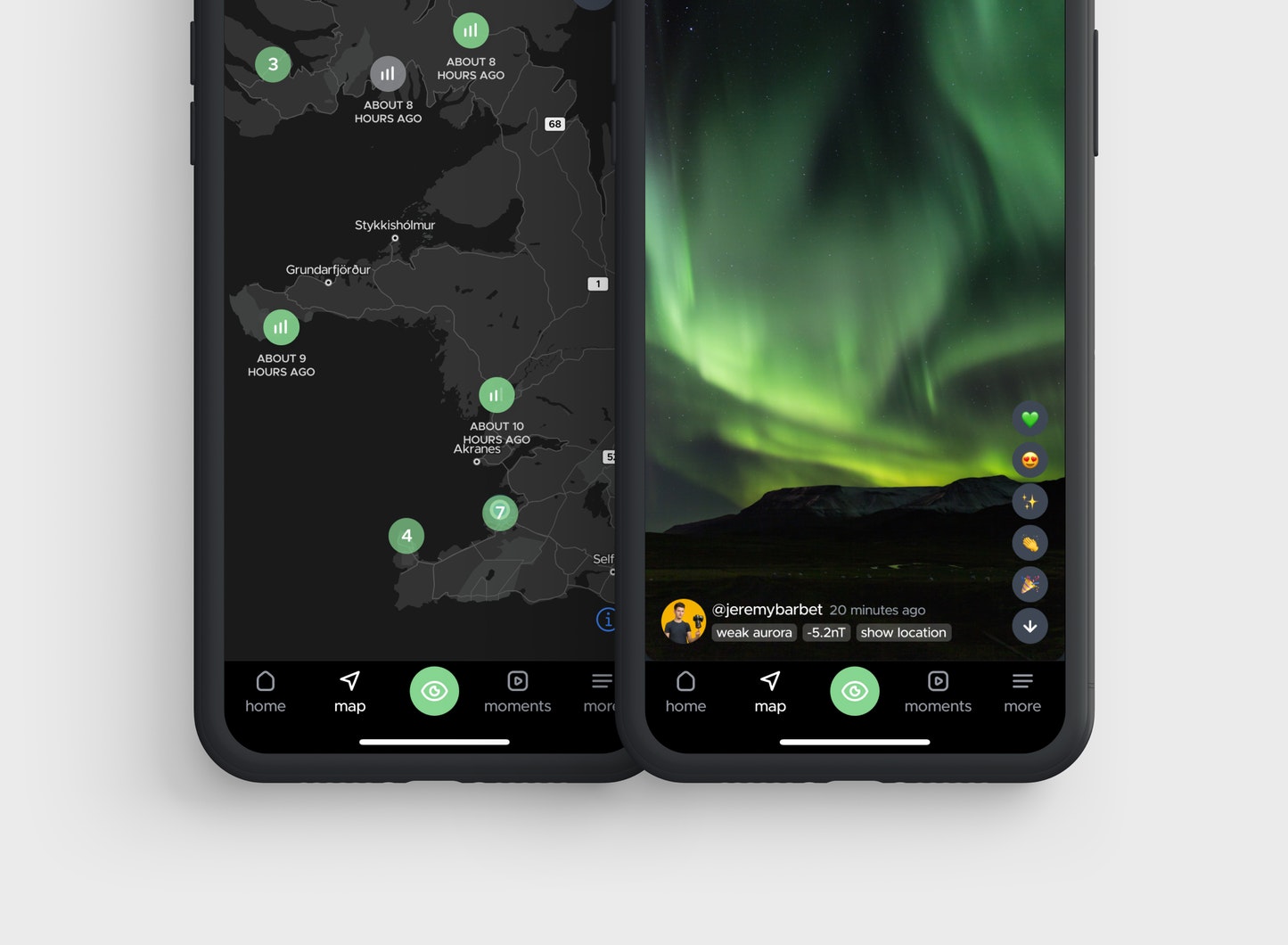 Look at the sky, make sure to look around – sometimes they appear on your back and you don't realize it!
First, check the weather and Northern Lights forecast – here is an amazing app that will help you not miss it! Check where it can be less cloudy and then head to one of the places I have referred to at the beginning of this post (after you see that the skies are clear). Once at the location, simply wait. The phenomenon can appear at 9 pm, 10 pm, or even midnight, who knows. Patience, my friend!
To tour or not to tour?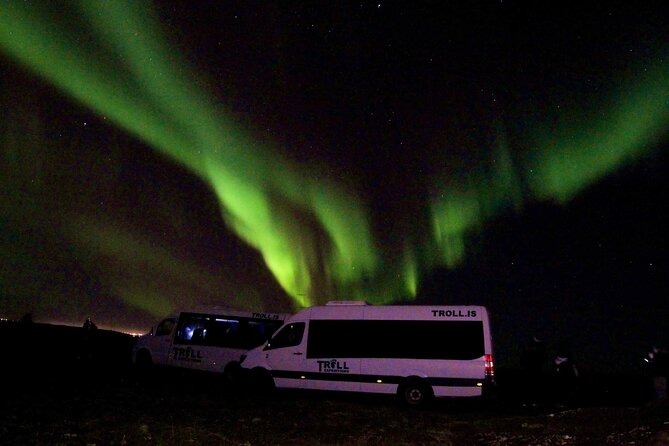 Let's say you don't feel confident enough to drive yourself in order to look for the fantastic Aurora Borealis.
In fact, if you are staying in Reykjavík or Akureyri, there are plenty of guided Northern Lights tours that can take you to better places to see them. Usually, these tours don't go more than 40-minute away from the city center, but as you will be going with an experienced guide, you are in good hands – they know where and how to spot it.
You can go on a mini-bus-guided Northern Lights tour for USD$86 or on a super jeep for USD$144, or even join a private tour for USD$1,000.
By joining a guided tour you don't need to worry where you should go. Before the beginning of the tour, the guide will check the forecast and decide where to go (there is no pre-approved plan as it is decided on the spot based on the weather on that day).
Also, to make this a comfortable tour, usually the guides have hot chocolate to keep you warm.
Then, you can also have a guided Northern Lights tour via boat. The main difference between going on a guided tour by boat instead of a bus, is the fact that you will be in the ocean and there will be less light pollution. I have found these 2 two for you in this case – first one, second one.
Back to the tours in Reykjavík, tour operators run regularly between September and April but sometimes they need to be canceled due to weather conditions. In this case, they will give you another chance to reschedule the Northern Lights tour for another night (they will usually not refund you if the tour took place, but the Northern Lights did not appear).
Best apps to check for the Northern Lights forecast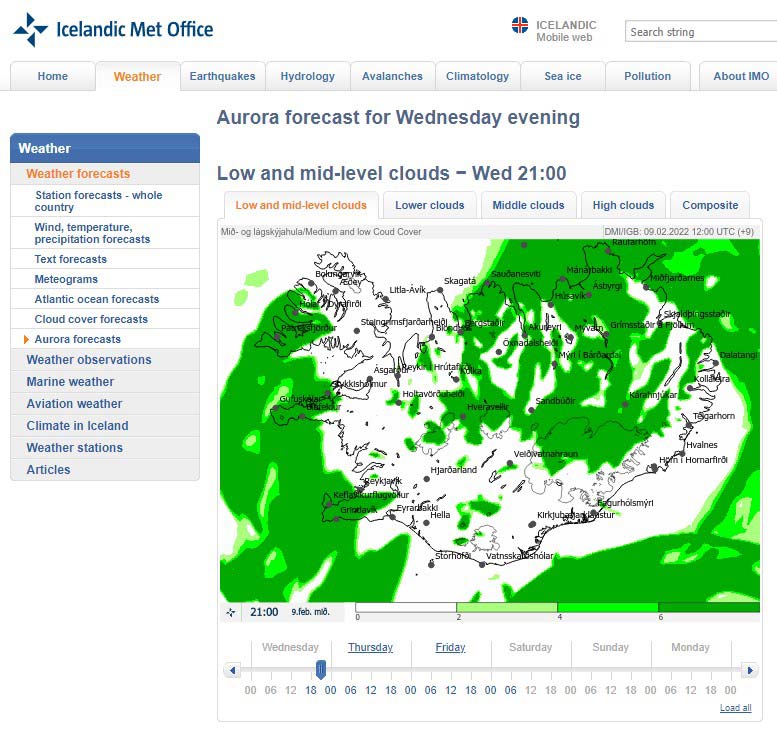 There are a few apps that I strongly recommend to check the Northern Lights forecast – Aurora App (for iOs, and Android) and Hello Aurora (for iOS, and Android).
My favorite is Hello Aurora because it is super user-friendly. You also can set notifications and if someone is seeing the Northern Lights in Iceland, they can use the map and share where they are, how cool is that?
Lastly, you can also browse the Icelandic Met Office website, Vedur.is, which has a page just for Northern Lights that tells if that night will be clear sky and what is the aurora KP. This KP is basically the changes and how strong they can be.
What to pack for a Northern Lights hunt?
The night has arrived and the forecast looks good. You are super excited and really want to go outside to hunt for Northern Lights. But, hey, you must keep yourself warm. Nights are very cold, and if it is windy, even colder.
Here is your packing list for a Northern Lights hunt:
Wool as first layer clothes
Winter hat
Gloves
Wool socks
Warm footwear
Snow/Waterproof clothes
Windproof clothes
Hot chocolate/coffee/tea mug that keeps your drink warm for a long time
Blanket (in case you need to step inside the car and wait a bit longer for the Northern Lights)
Face mask or Balaclava if it is really cold
Pssst! We also have a super detailed post on what to pack for your trip to Iceland – it is sorted by gender and also the season!
Learn how to take pictures of the Northern Lights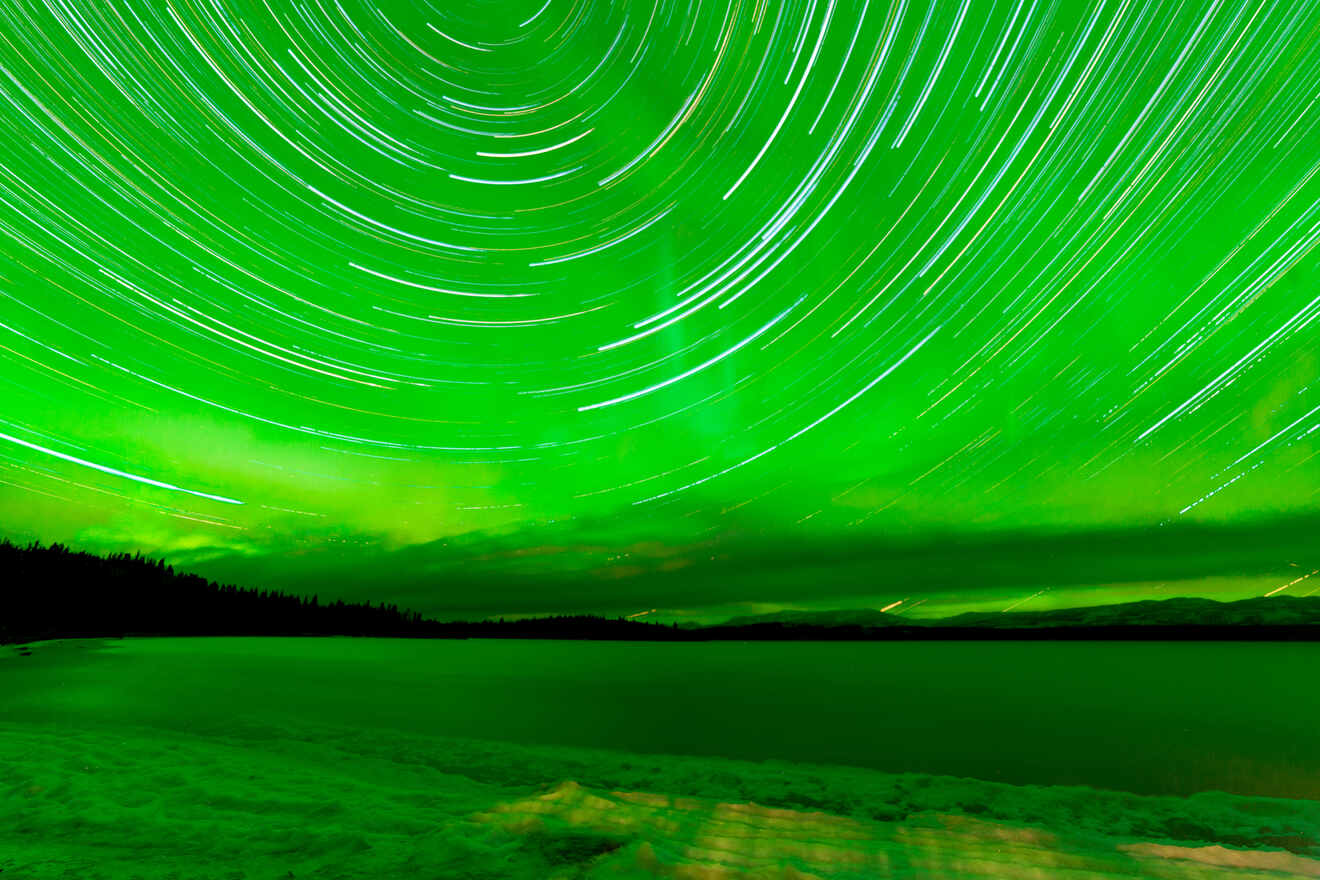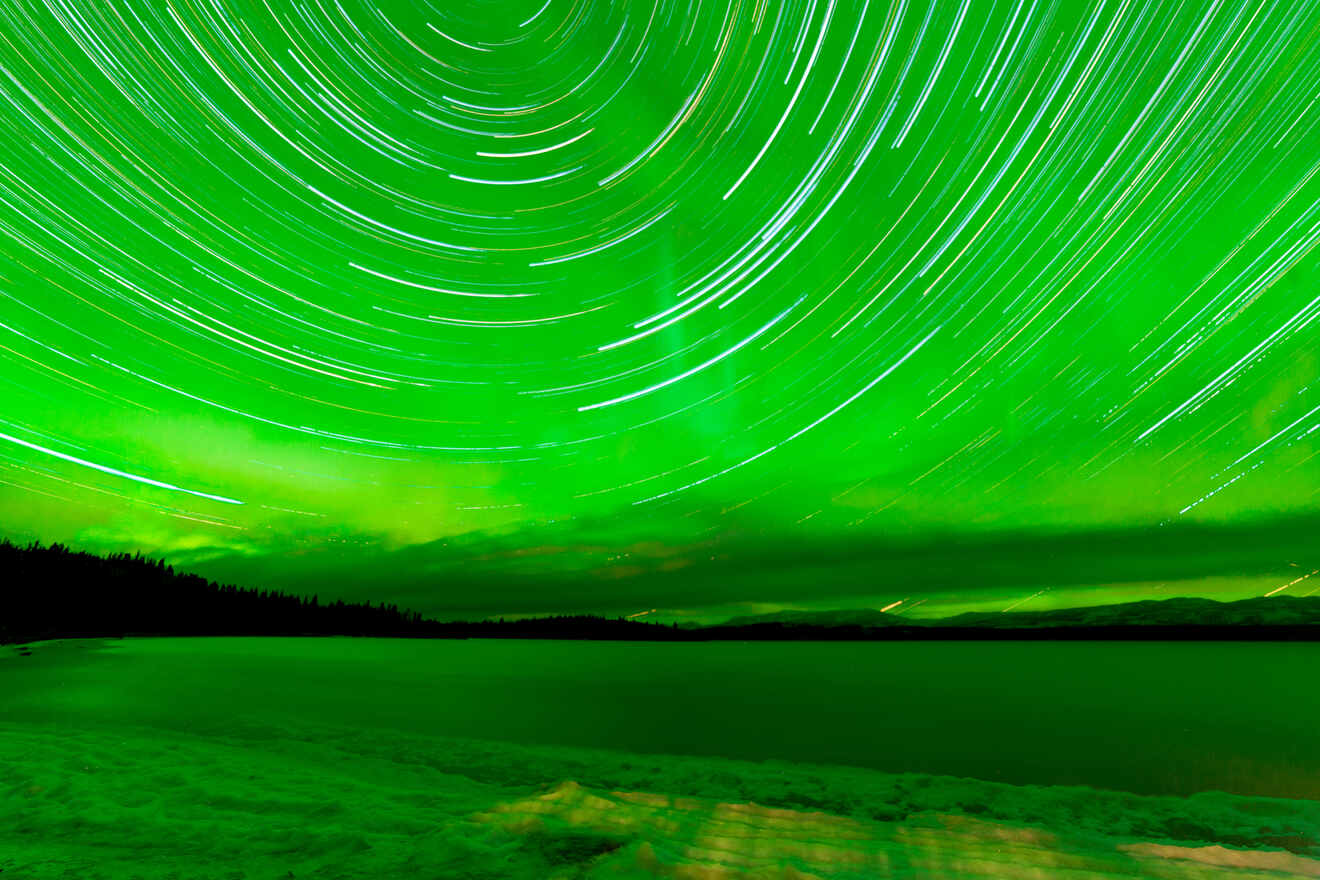 Now, how to take pictures of these beautiful dancing lights in pitch black and night sky?
Here is the checklist with the basics to prepare an amazing Northern Lights photoshoot:
Dark sky – Avoid places with light pollution. The darker the place, the better
Tripod/something to make your camera or phone stable – You will need one in order to keep your phone and/or camera steady as you will need to take long exposure photos and avoid them being blurred.
Batteries – People usually forget about this but, in fact, as it can get really cold at night, your battery can run out quicker than you would like. Make sure you have a few more just in case.
If you have just your phone, you can use the "Night Mode" settings. You don't have that and you feel adventurous, go to manual mode, and here is the settings checklist that works better for Northern Lights photos:
ISO – should be around 800 and 3200
Aperture f/2.2 – f/4
Shutter 1/40
Flash off
There are no specific settings you need to use but with this information, you can now play a little bit around with your camera and see what settings work better.
Other countries where you can witness this phenomenon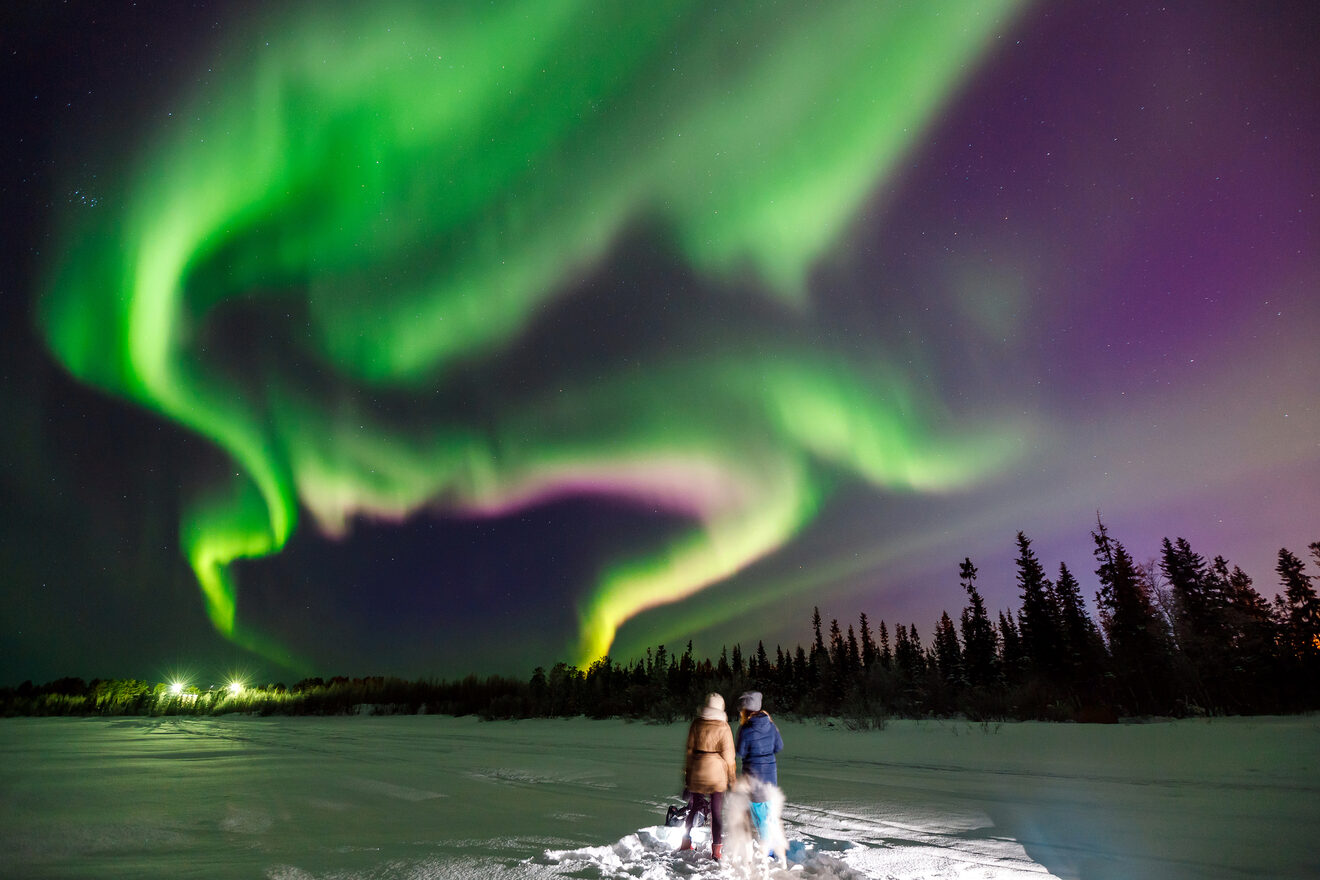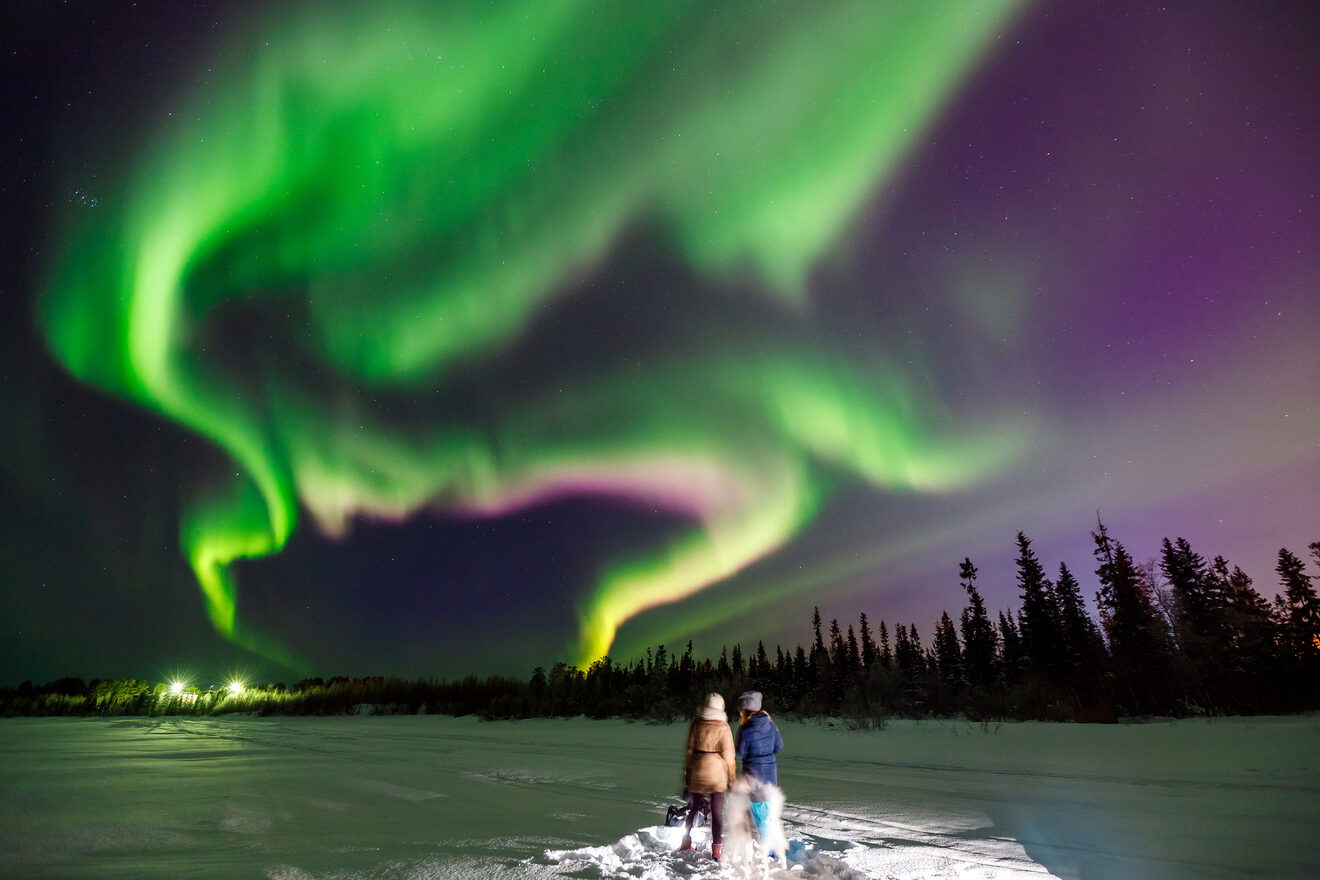 Iceland is not the only place where you can see the fantastic Aurora Borealis. There are other countries known to be very good if you want to hunt for Northern Lights.
They are Norway, Sweden, Greenland, Finland, Russia, USA (Alaska) and Canada. But hey, not all the cities and villages are good to see the Northern Lights in these countries.
Here are my recommendations:
Norway: Svalbard, Bodo (Bodø), Tromso (Tromsø), Trondheim, and Lofoten Islands
Sweden: Porjus (Laponia), Kiruna, and Jukkasjarvi (Jukkasjärvi)
Greenland: Ilulissat, Kangerlussuaq, and Sisimiut
Finland (better in Finnish Lapland): Rovaniemi, Saariselka, and Luosto ski resort
Canada: Yukon
| | |
| --- | --- |
| 📅 Best Months for Northern Lights: | September – April |
| 📍 Best Spot near Reykjavík: | Grotta Lighthouse |
| ✈️ Unique Place: | DC3 Plane Wreck |
| 📷 With a Waterfall: | Skogafoss |
| 📱 Best App: | Hello Aurora |
| 🚌 Tour Cost: | US$90 |
Conclusion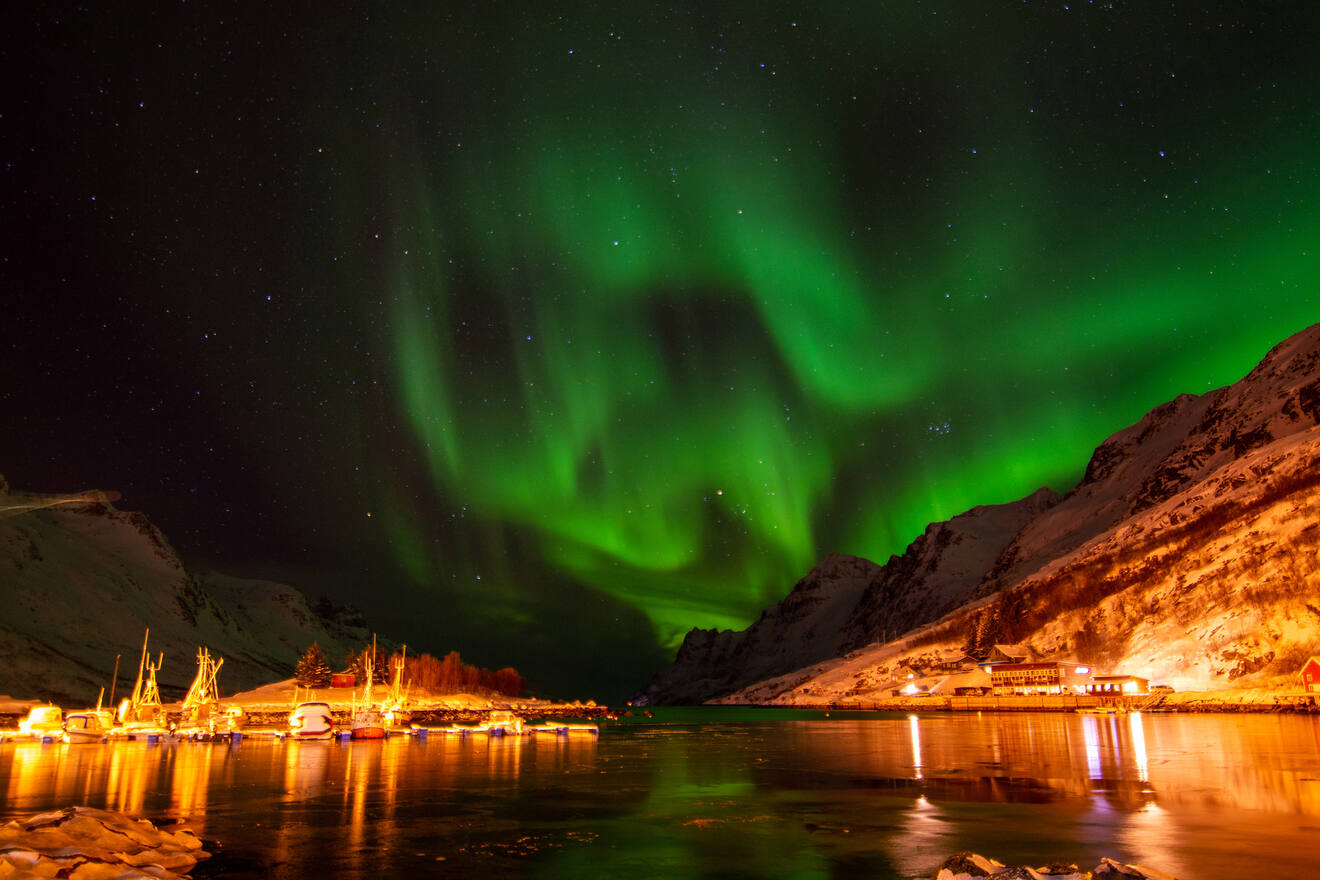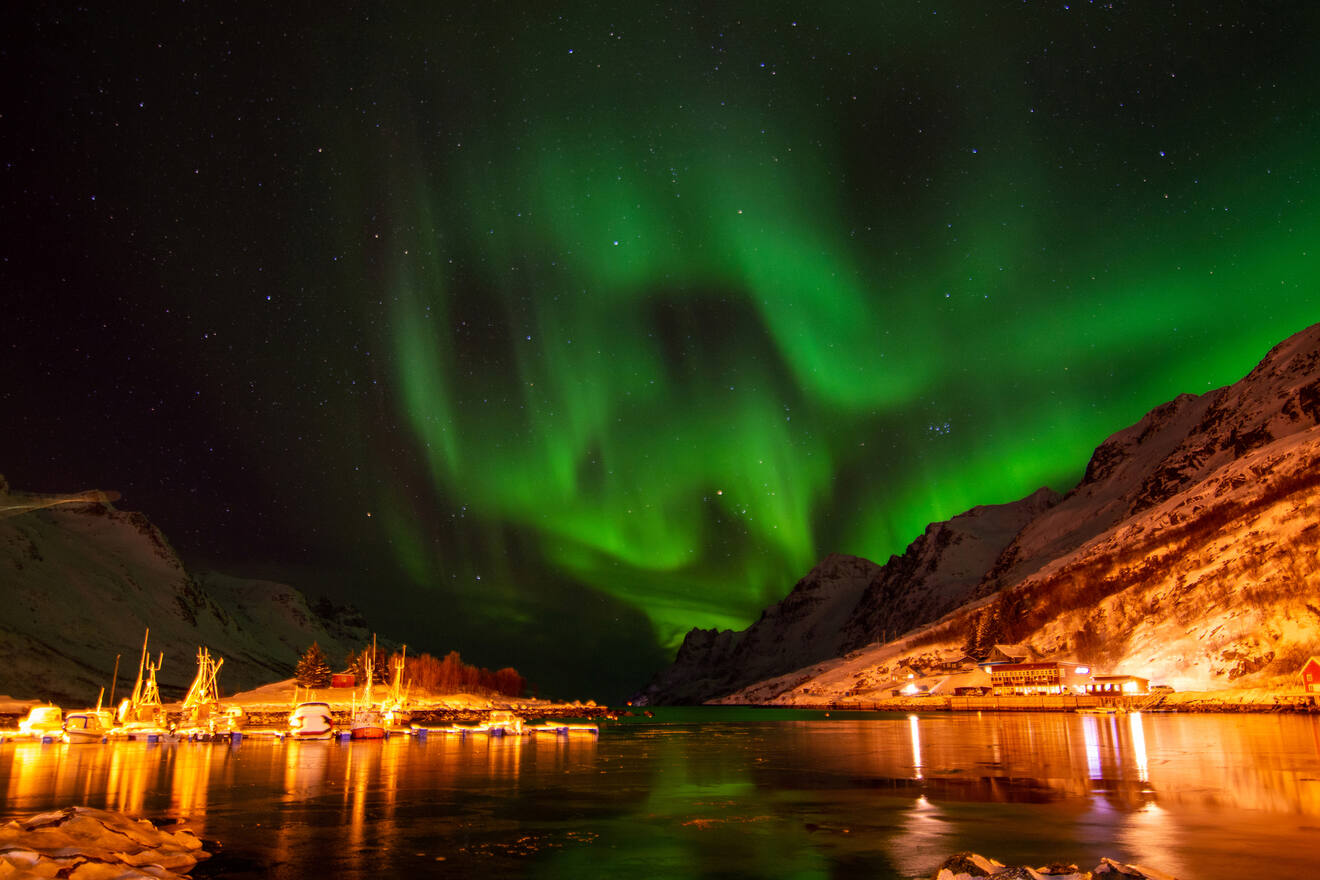 Thanks for reading this post, you now know all about the best places to see the Aurora Borealis in the Island of Ice and Fire, what to wear for the hunting adventure, and how to take the best pictures ever.
This natural phenomenon is indescribable and, for me, no matter how many times I see the Northern Lights it always feels like the first time!
I hope the post was useful to you in planning the epic part of your trip and I also hope you will be able to witness the magic with your own eyes!
Catia
---
Pin it for later!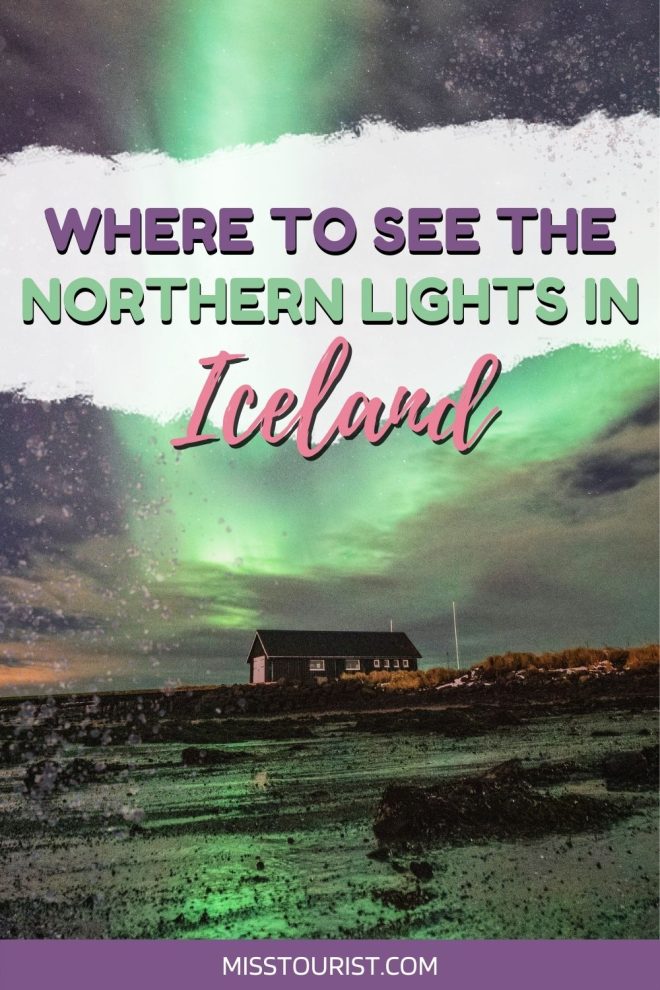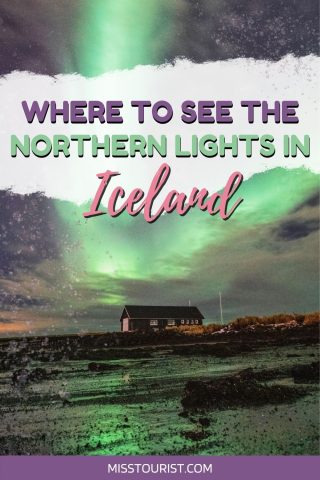 Pin it for later!