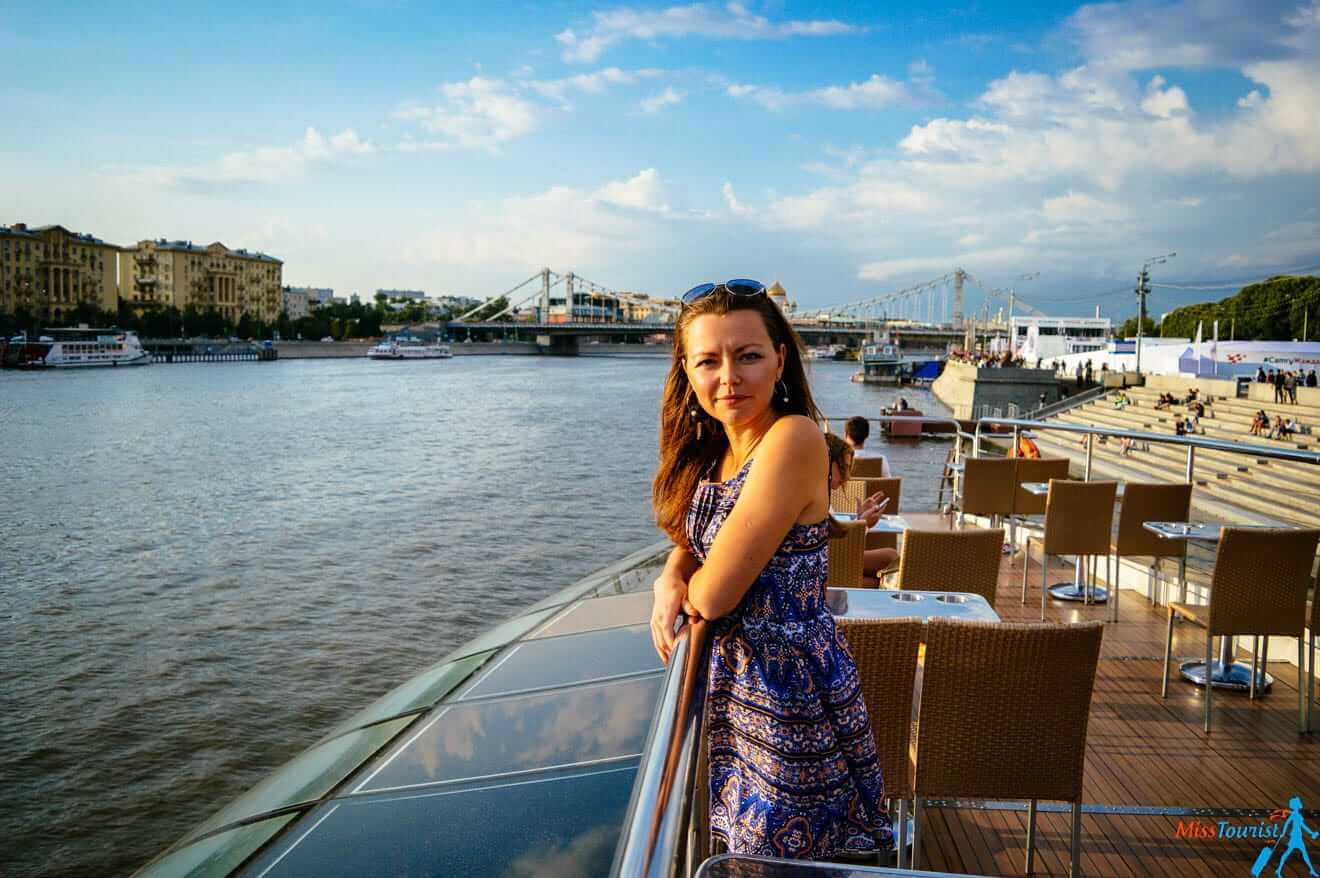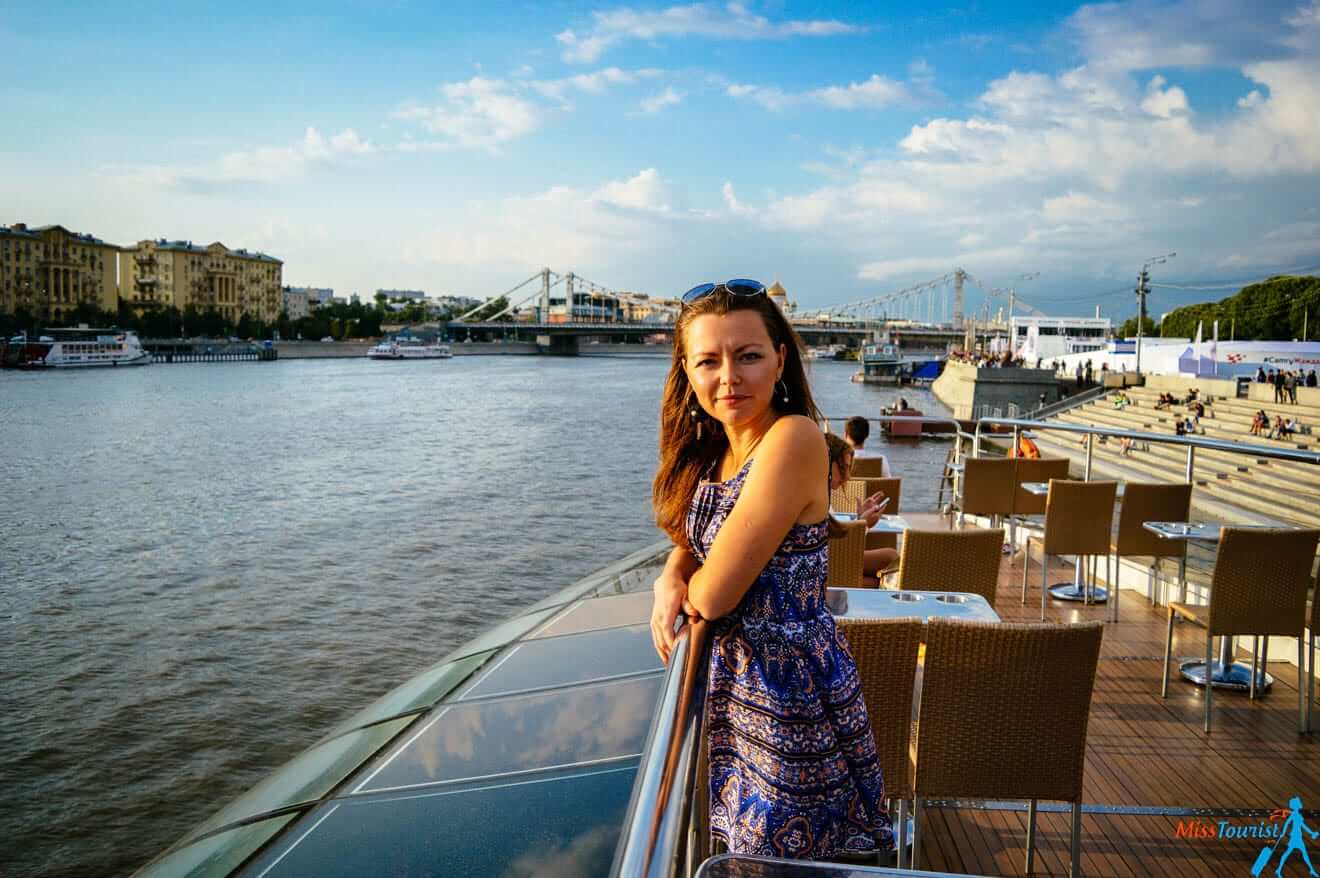 Hello there, dear traveler! Since you're here, I assume you must have decided to visit Moscow, which makes me very happy because it's the city that I proudly call "home".
As a travel blogger, I'm always on the move, so it goes without saying that it has now been quite hard to pinpoint where HOME is for me. However, if someone asks, I always say it is Moscow!
I highly recommend you come to visit, not because it's my hometown, but because it is truly a remarkable city full of exciting activities – make sure to read the Unmissable things to do in Moscow!
Moscow is indeed a huge city, and the districts themselves are pretty big, too, so it can be a bit confusing for tourists to decide which are the best areas to stay in!
I am writing this post as I've read other online articles written by non-locals and noticed that they were often misleading – wrong names, recommending the district without more explanations in terms of location, and none of them properly explained the way Moscow is structured!
So here is my ultimate guide to where to stay in Moscow!
If you're in a hurry
Here are some best hotels and apartments in the center if you want to book something quick:
Here is a gif that shows 1 – Moscow overall (yes, it is big!) 2 – Moscow inside the ring (that's where I'd recommend staying) 3 – Red Square (the heart of Moscow).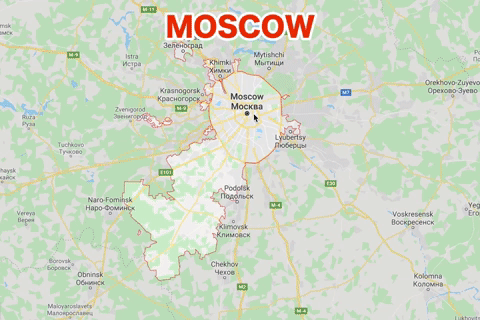 NOTE: Although in this post I refer to the areas as "districts", you might encounter them under the name "rayon" – which means "district" in Russian.
1. Inside the ring/city center – Where to stay in Moscow for tourists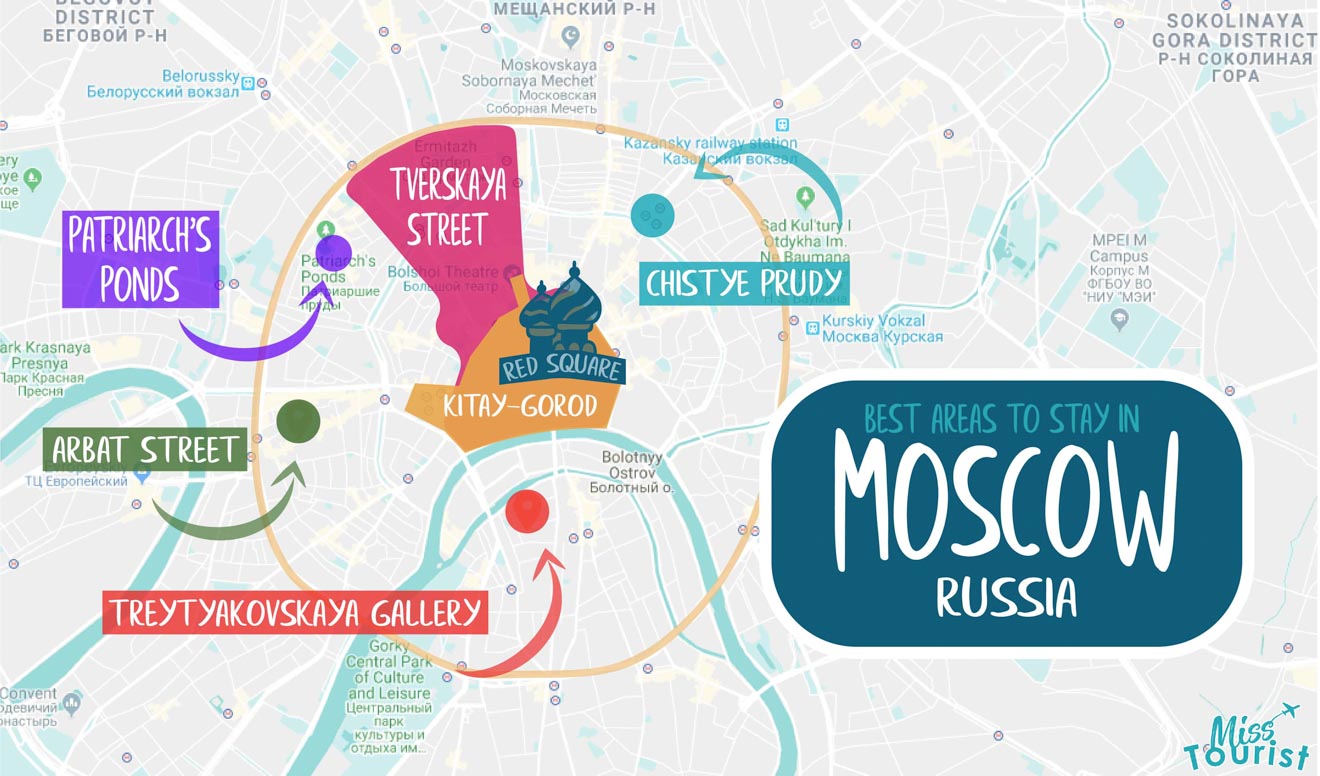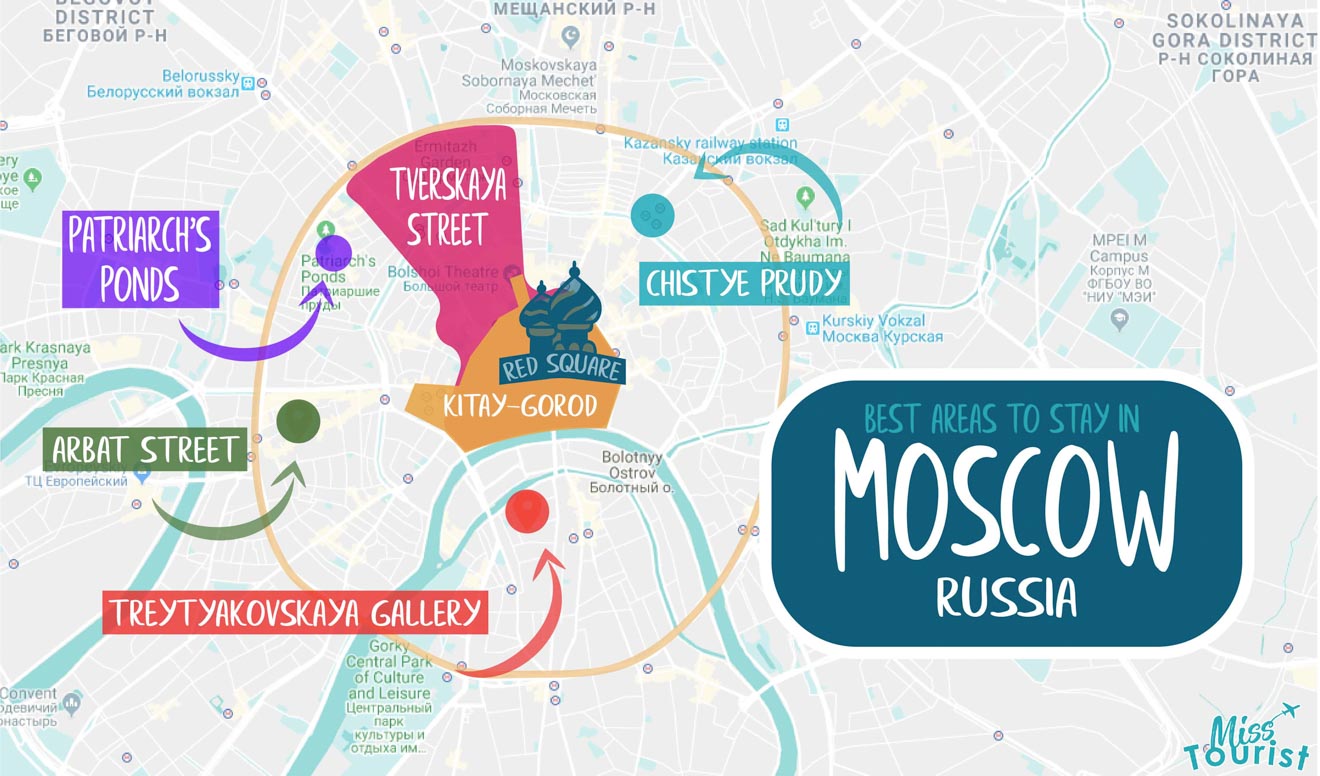 By "the ring", I mean the metro ring – please see the picture above. I think it's great because it's super convenient; you can get almost anywhere in 15 minutes by metro and in 40 minutes walking.
Because Moscow is so big and its tourist attractions are naturally not all located in the same place, we usually consider everything inside the metro ring to be the city center.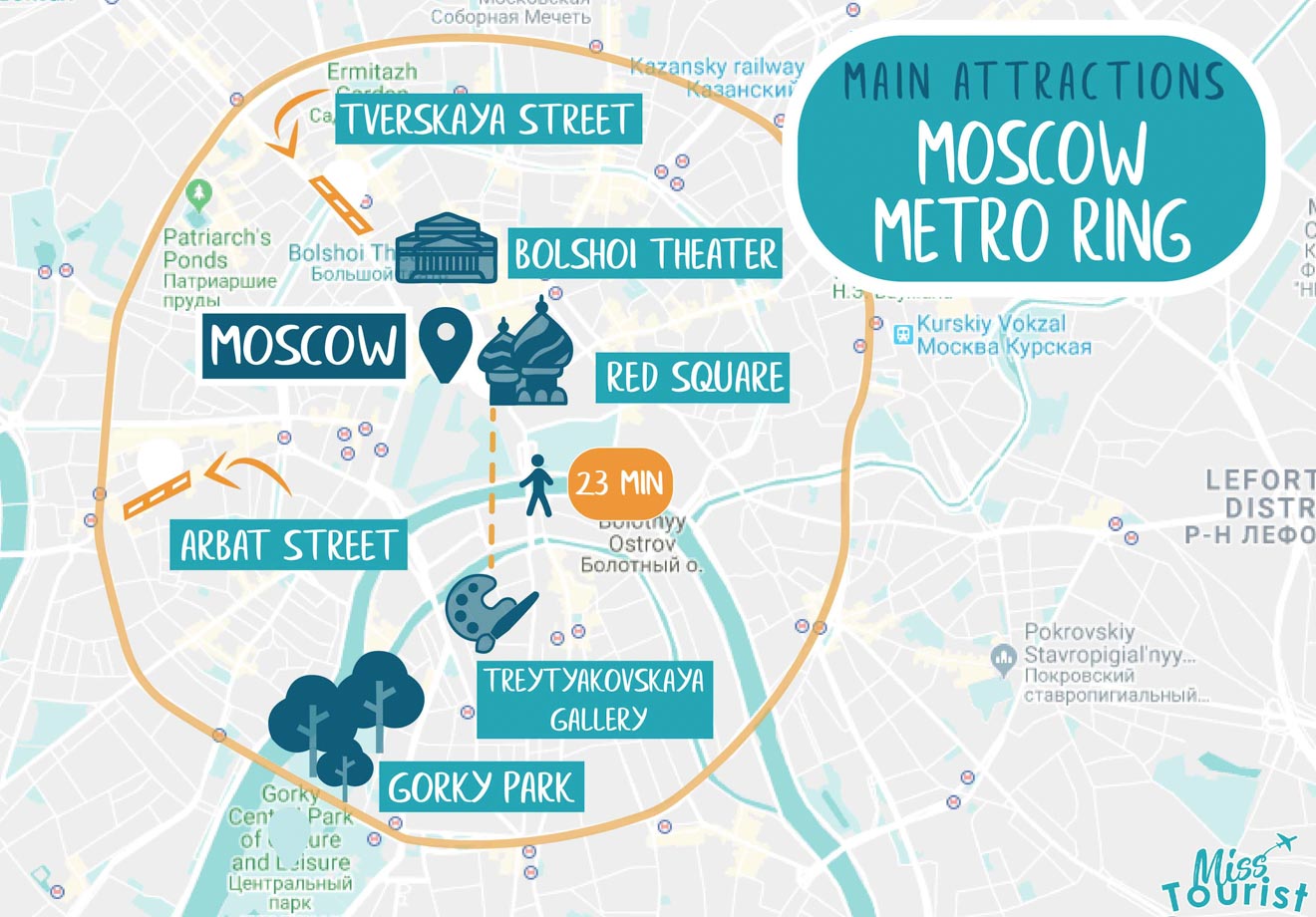 In this section, I break down the ring into 5 sub-sections where I can recommend places for you to stay – with hotel names, attractions nearby, types of travelers I think they would be best for, and, of course, prices!
1.1. Kitay-Gorod – Where to stay in Moscow for the first time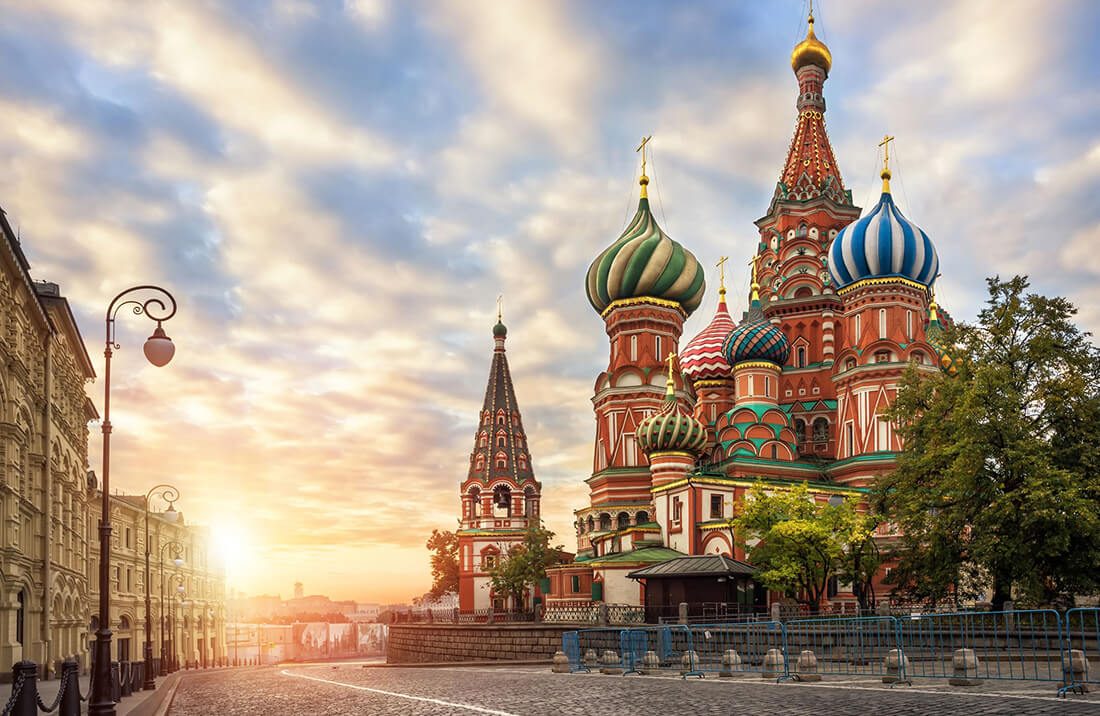 Technically, Kitay-Gorod is part of the Tverskoy District (which I will talk about right below), but I made a separate section for it. This is where you can find Red Square, and I know that most people prefer to stay as close as possible to this landmark. While you're here, don't miss its Saint Basil's Cathedral!
I am going to give you exact hotel recommendations below (they all have great reviews, I hand-picked them!), but if you wish to keep looking on your own, I recommend checking out Nikolskaya, Pokrovka, or Varvarka streets – all of them are in the heart of the old historic center.
Before we jump into more details in terms of accommodation, it's worth noting that the Tretyakovskaya Gallery (our famous art gallery) is only a mile away from Kitay-Gorod.
The gallery is one of the worthy tourist attractions to visit but also a very calm neighborhood, perfect not only for travelers with kids but also for couples and solo adventurers!
Here are the best hotels in Moscow city center: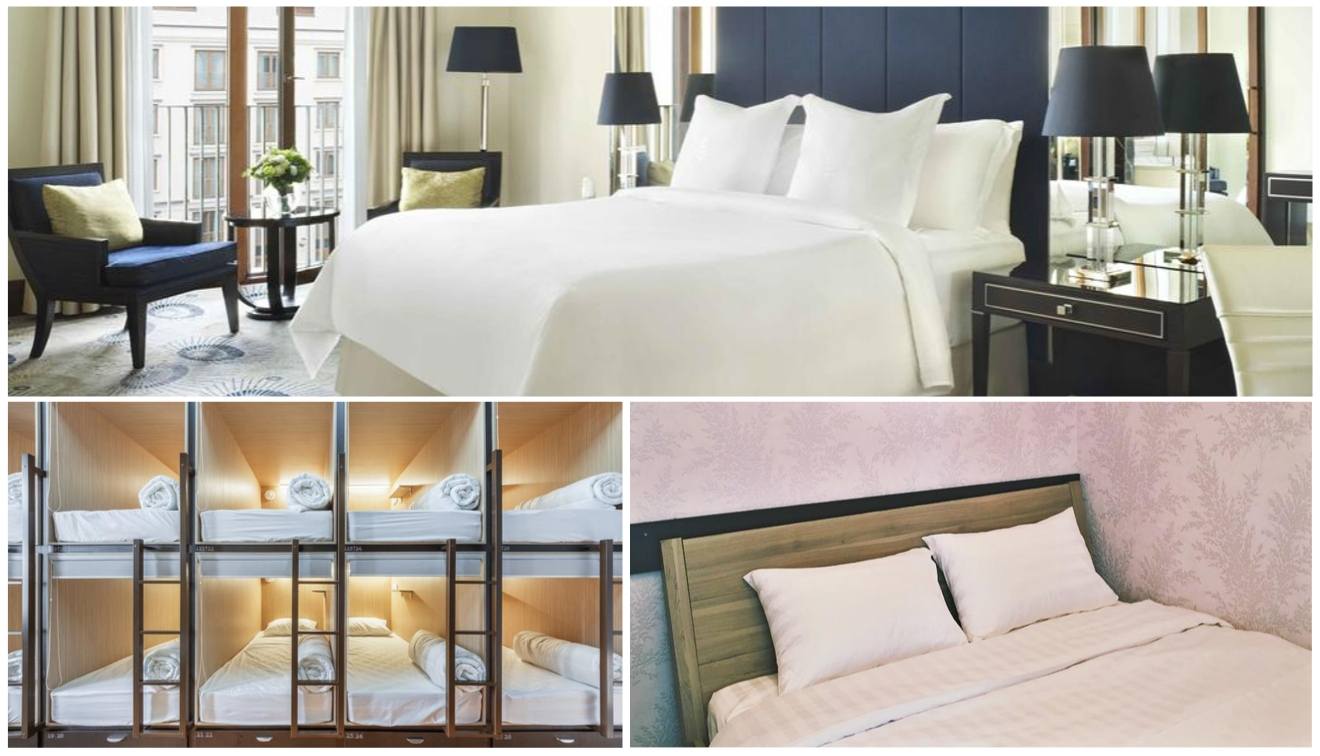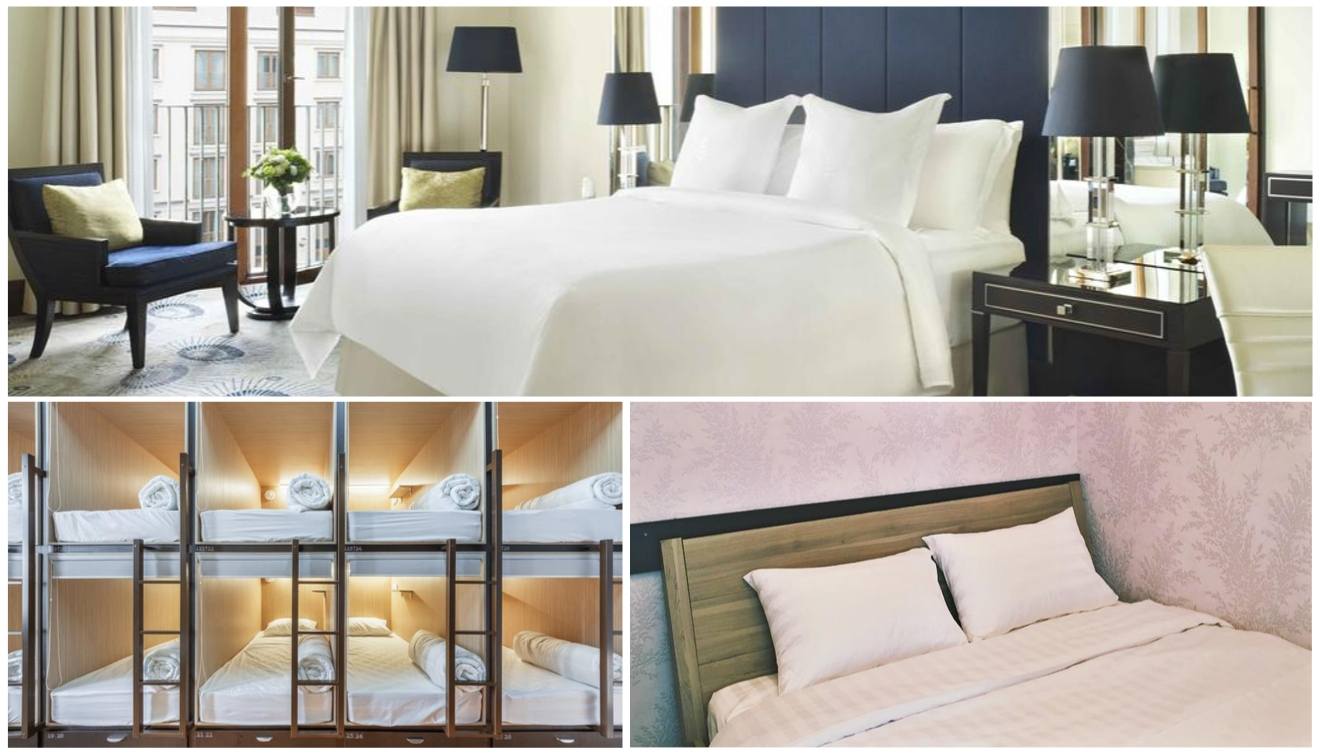 Luxury (US $200 and up)
Four Seasons Hotel Moscow – This is a wonderful Moscow hotel option located on the premises of the former historic Moskva Hotel that now provides elegant rooms and service to their guests. Being so close to the Kremlin, this hotel also has the best view of it!
The St. Regis Moscow Nikolskaya – This sophisticated hotel has lovely and spacious rooms with warm-colored décor, great views of the Kremlin, and it also comes with free personalized butler service.
Middle-priced (from US $90 to US $200)
Mirros Hotel Moscow Kremlin – A great hotel located in a 19th-century mansion with classic-styled comfortable rooms and lovely views of the Kremlin.
Design Hotel Senator – This is an elegant hotel with allergy-free rooms, a bar, and a relaxing lounge for the guests to share, conveniently located within walking distance from the Kremlin.
Budget (up to US $90)
Voyage Hotel & Hostel –

This is a very bright and colorful hostel with many rooms, a nice common area, and a kitchen.

Hostel 5Nebo – This is a trendy capsule-styled accommodation filled with delightful colors and modern furniture to make your stay nothing less than perfect!
1.2. Tverskoy District – Best place to stay in Moscow for nightlife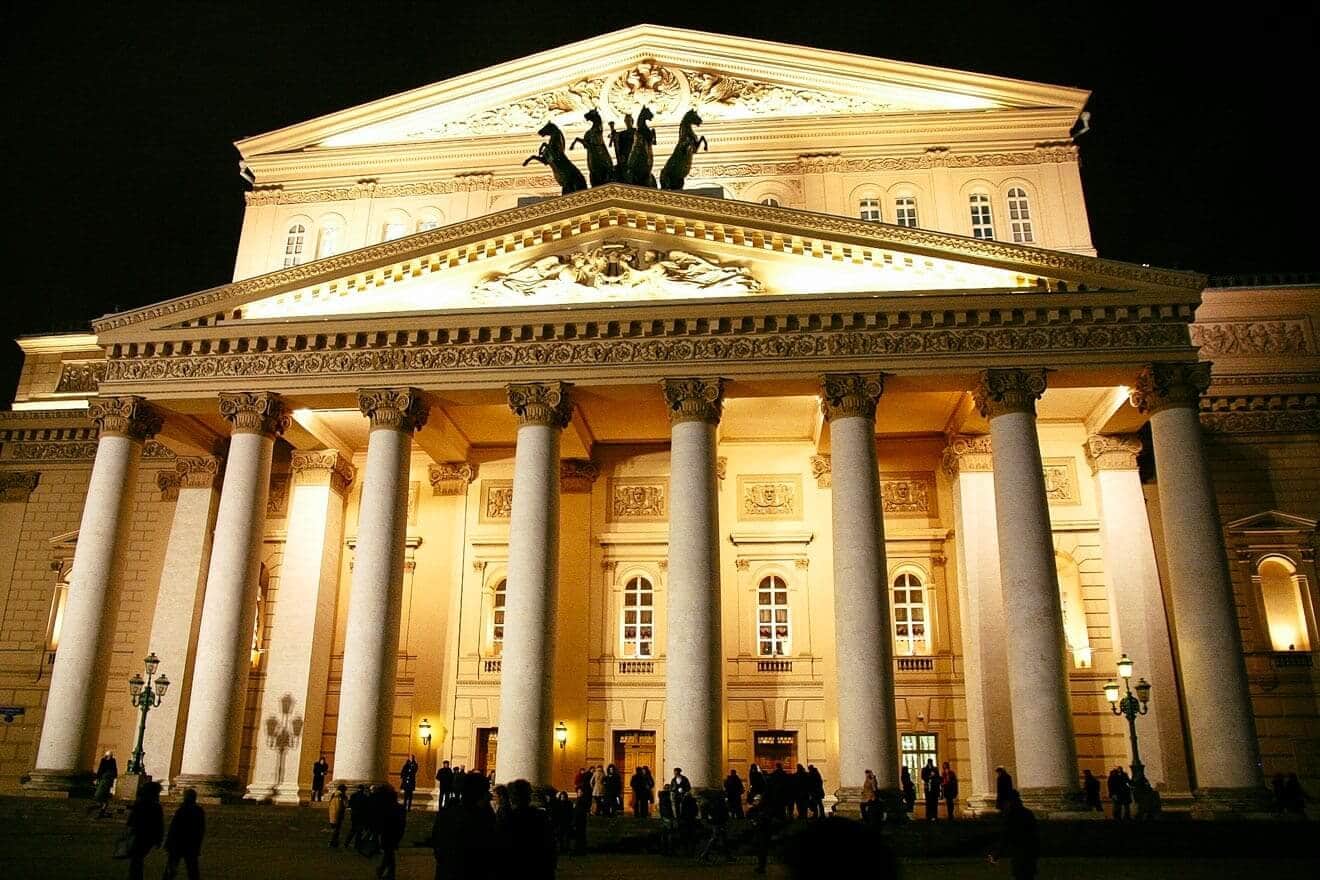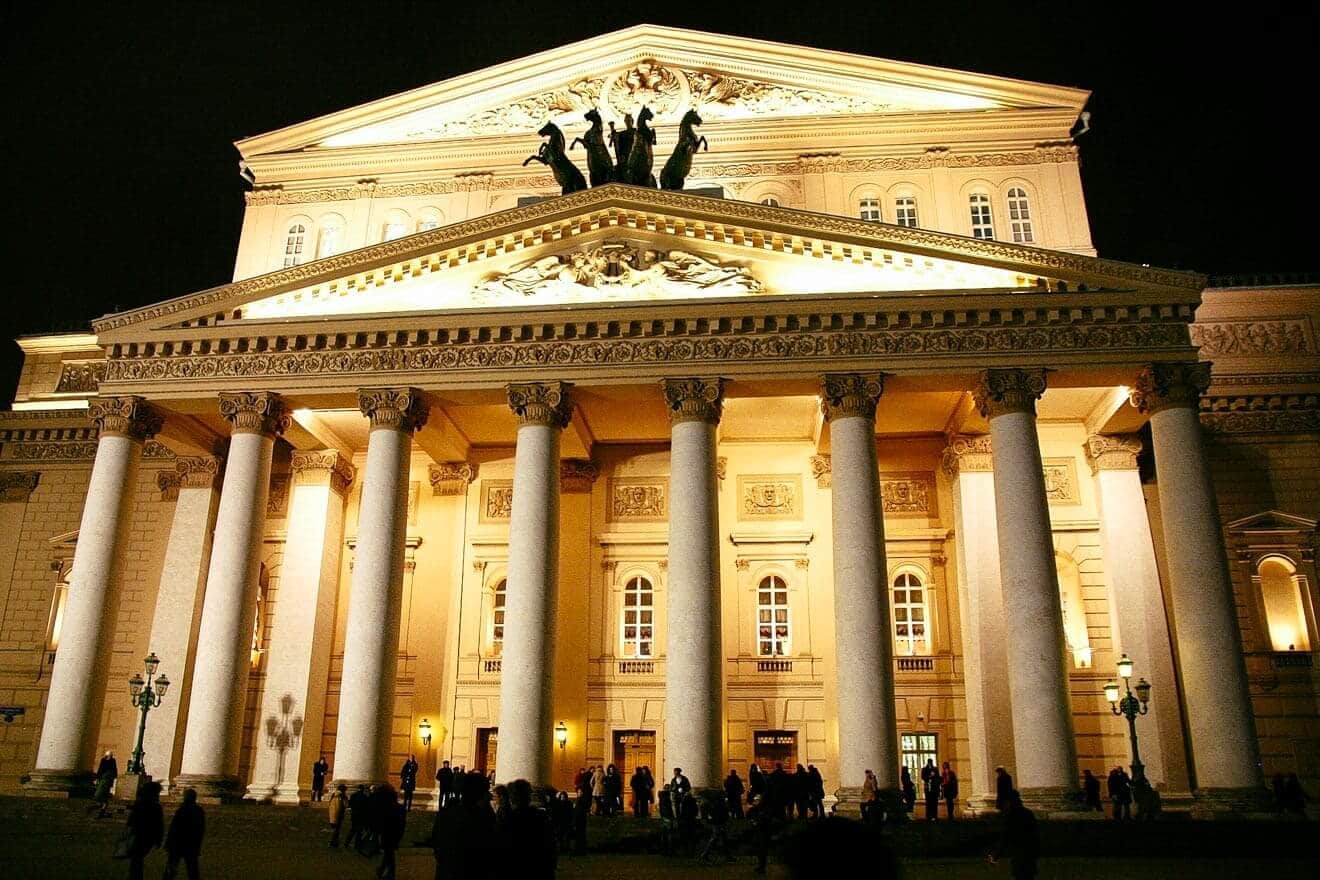 Tverskaya street is by far the most famous street in Moscow. It's also one of the best places where to stay in Moscow for its luxury boutique hotels and the famous Bolshoi Theatre (within walking distance to the Red Square!).
Another great attraction in the city center is the Hermitage Garden, the popular local park known for its cultural events such as opera, ballet, and sometimes even concerts!
If you want to search for a good hotel yourself, I recommend looking for one on the part of Tverskaya Street that is around Red Square – the street is very long (like, say, Broadway in NYC).
Also, it's the best area for nightlife and you'll find clubs, bars, and fine dining restaurants on every corner!
FUN FACT: The area is also well-known for Hotel Metropol and its notable appearance in the book "A Gentleman in Moscow", by Amor Towles. I highly recommend you read it before traveling to Moscow, not only because it's a great novel, but also because reading it will make your experience considerably more interesting!
Here are the best hotels near the Red Square in Moscow in the Tverskoy district: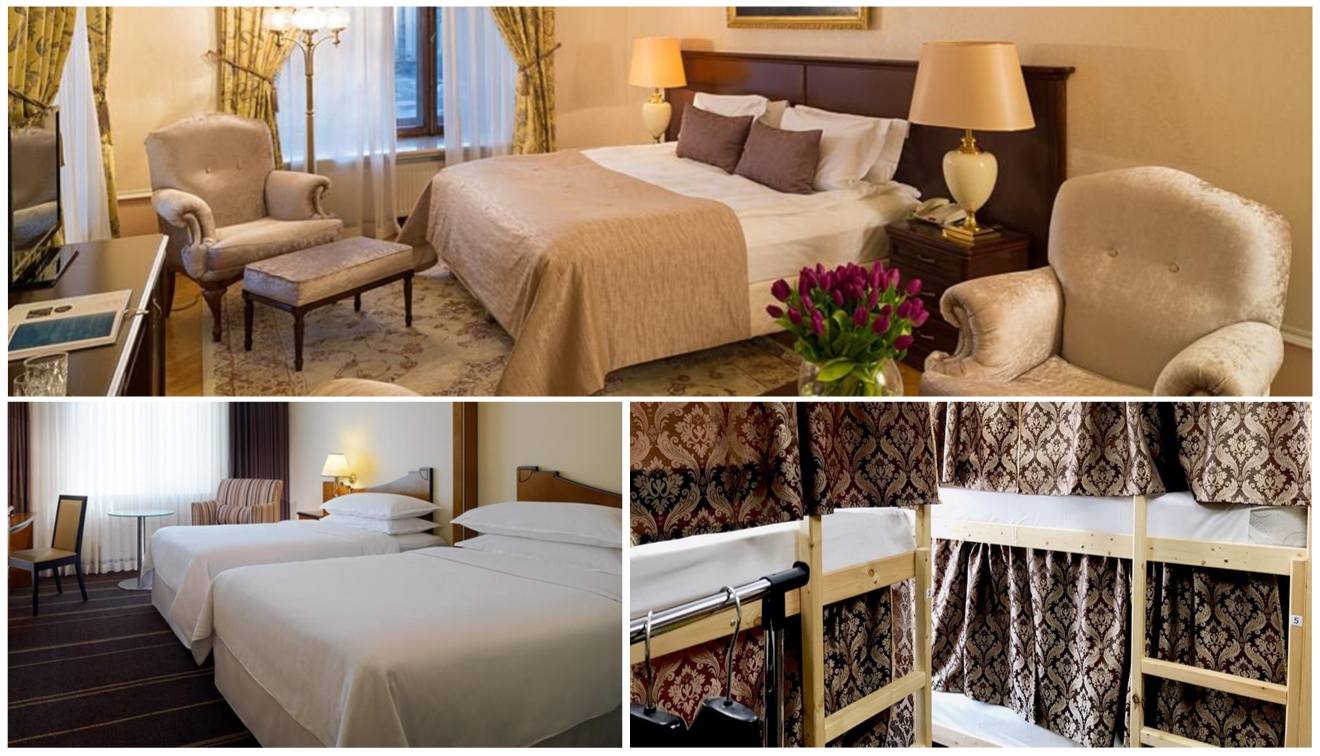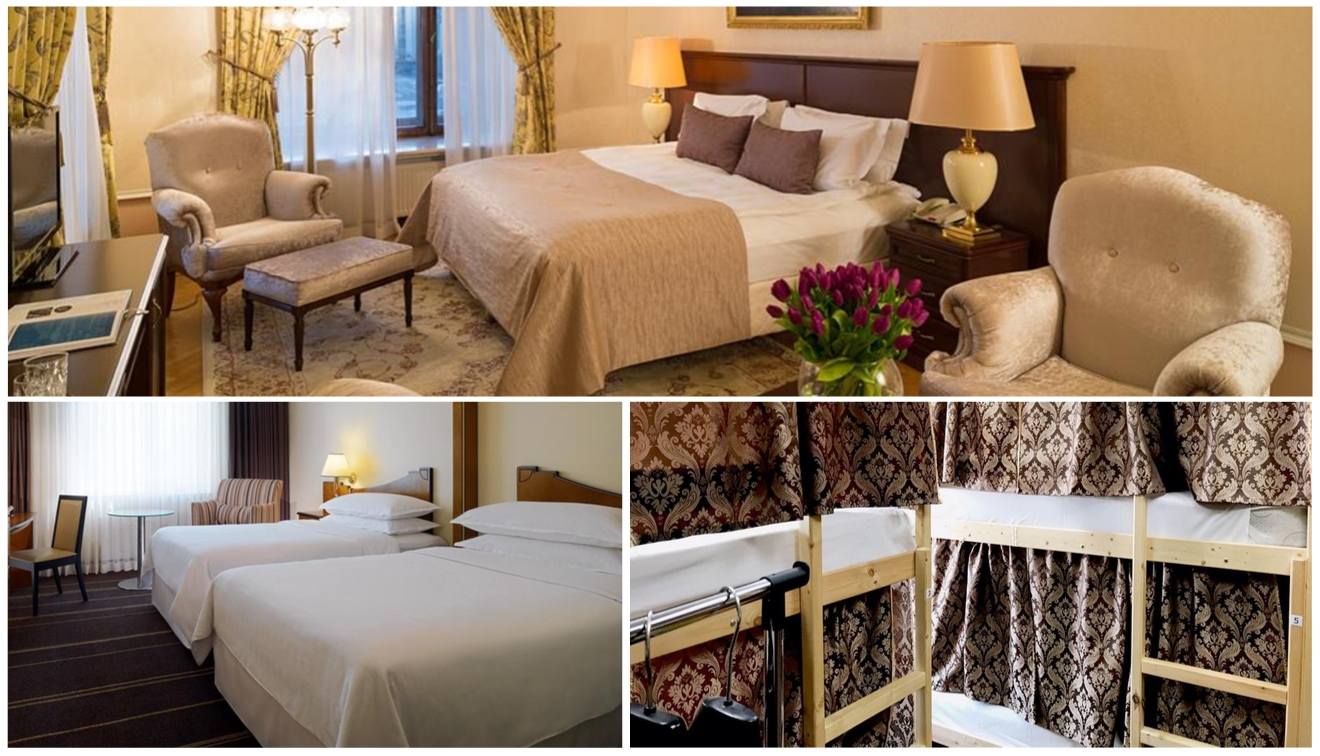 Luxury (US $200 and up)
Metropol – This is a historical, famous hotel in Moscow for its mention in the novel "A Gentleman in Moscow"! It has an indoor swimming pool, and all its rooms have large windows, perfect for admiring the overwhelmingly beautiful city views!
Moscow Marriott Grand Hotel – This is a classic and elegant-styled hotel with spacious rooms whose interior designs feature Art Deco elements and which include cable TV with international channels. Did I mention its sublime indoor swimming pool?!
Middle-priced (from US $55 to US $200)
Sheraton Palace Hotel Moscow – This is a great spacious hotel with Sheraton Signature Sleep Experience beds, soundproofed windows, and a 24-hour gym. It also has a strategic location; the Red Square is within walking distance!
People Tverskaya Street Hotel – This hotel has remodeled interiors, cozy rooms with modern furniture and décor, and air-conditioning systems to help you relax during your stay.
Budget (up to US $55)
Hotel Wood Street – A small hotel located within walking distance from the Moscow metro station and 30 minutes from Saint Basil's Cathedral. With a simple look but all the facilities you may need, it's your perfect budget accommodation!
Hostel "Red Moscow" – This hostel has a unique design in each room or dorm and has a shared dining area and bathrooms. If you are traveling with kids, you'll be happy to know that the hostel has an indoor playground as well!
1.3. Arbat Street – Where to stay in Moscow for a historic feeling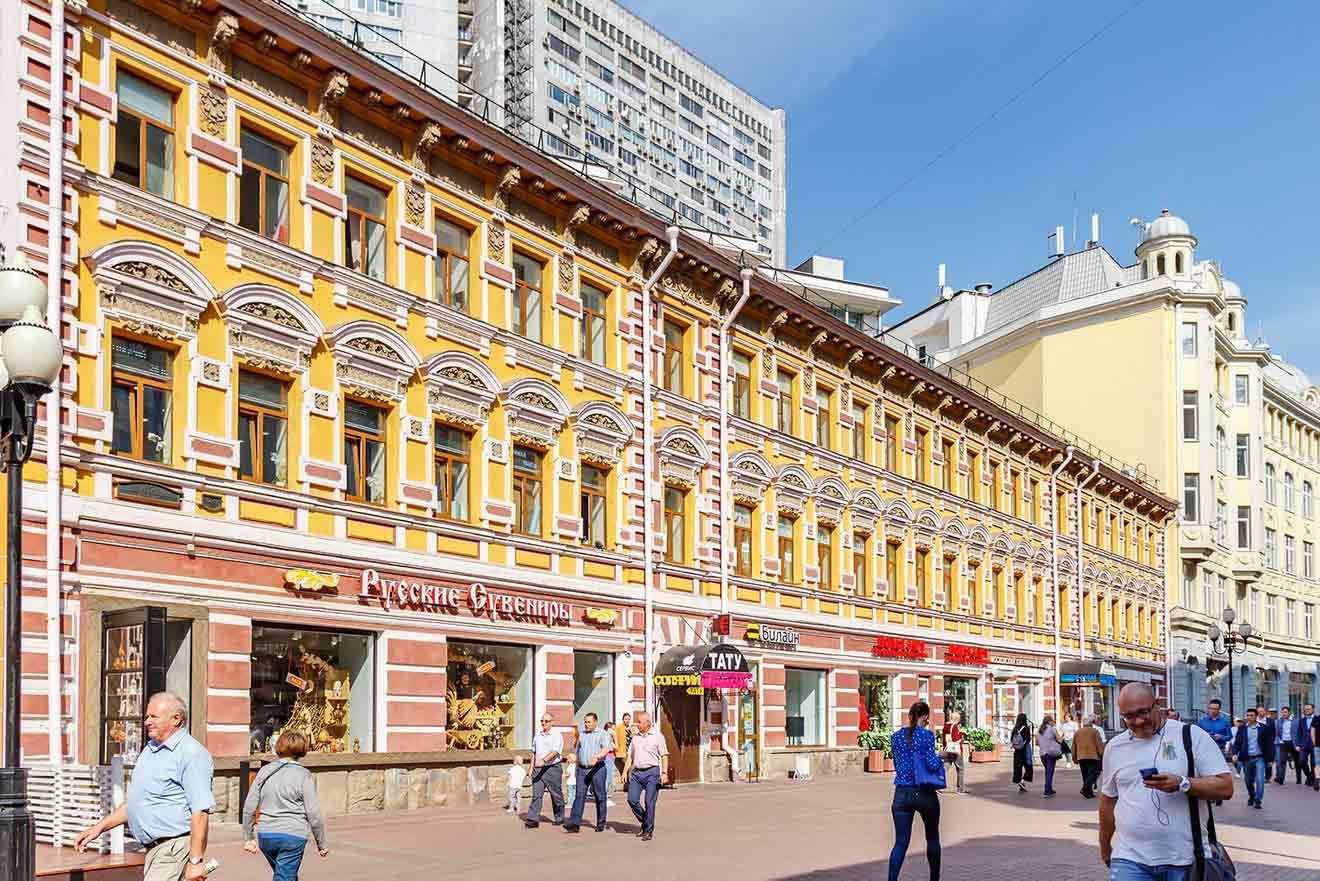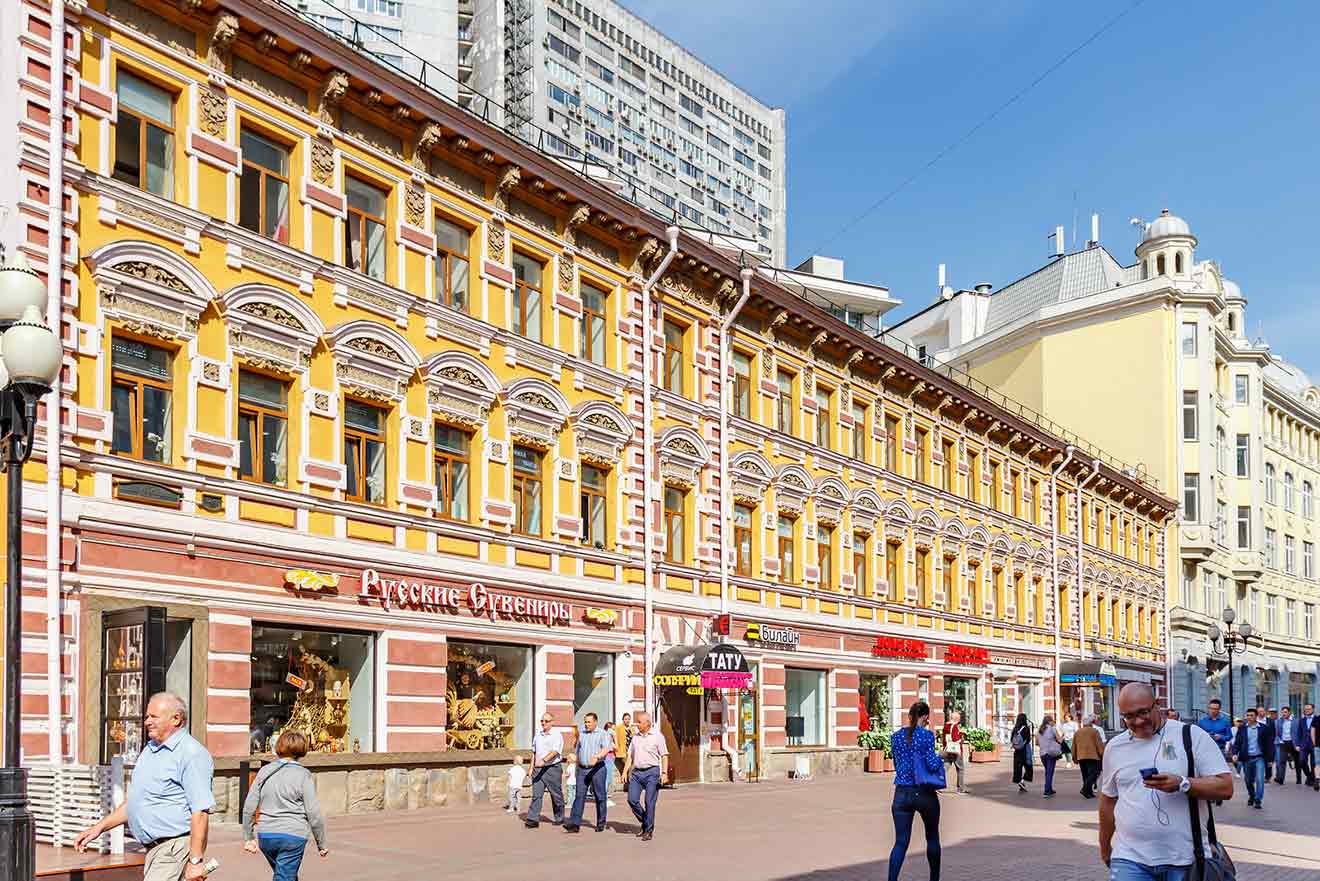 Arbat Street is famous for being the oldest pedestrian street in the Russian capital! Basically, this shopping street is our version of Times Square (although we still have a long way to go, so don't expect too much!).
You will find many bars and restaurants, lovely historic buildings, street artists, and souvenir stalls here! Below you can find the best hotels located on Arbat Street for your stay: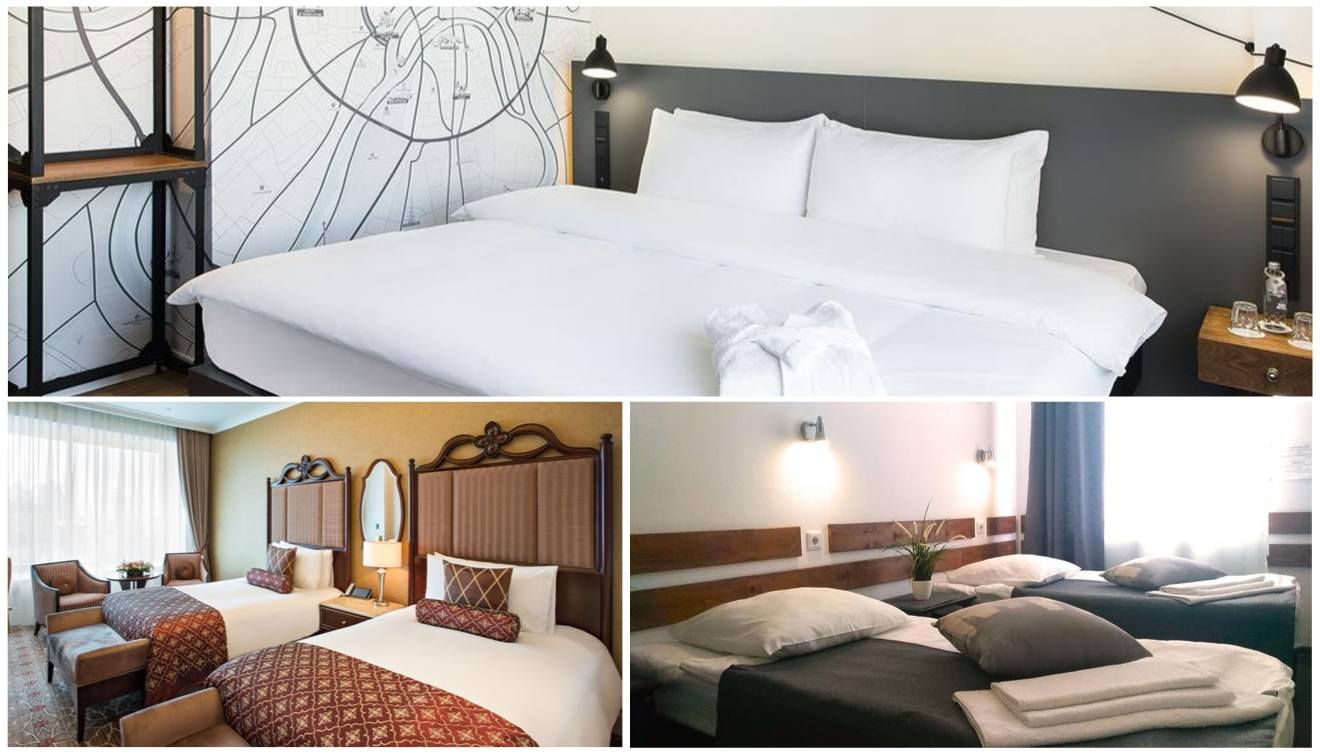 Luxury (US $160 and up)
Lotte Hotel Moscow – This is one of the best Moscow luxury hotels with spacious rooms and special touch panels to manage the lighting, temperature, and even the TV!

It's also within walking distance to the subway station to easily reach the city center.

Azimut Hotel Smolenskaya Moscow – This is a fancy and excellent hotel in Moscow located inside a 23-story building and whose executive lounge on the top floor will give you breathtaking skyline panoramic views of the city to enjoy.
Middle-priced (from US $50 to US $160)
Pentahotel Moscow, Arbat – This is a pet-friendly accommodation with a great fitness center and terrace for the guests, and you can also ask for bike rentals onsite to go on a cycling adventure around Moscow!
Golden Ring Hotel – This is a great and modern hotel with elegant rooms and 2 fantastic restaurants with panoramic city views!
Budget (up to US $50)
People Business Novinsky Hotel – It is the perfect hotel located inside a historic building that will leave you amazed by its spacious, comfortable, and modern rooms.
Hostel Arbat 42 – This one is a wonderful hostel option, with every room having basic facilities but with a clean and modern look and free WiFi. Each bed has a safe, and you can even book a cheap private room if that's your preference.
1.4. Patriarchie Ponds/Presnenskyi – Best place in Moscow to chill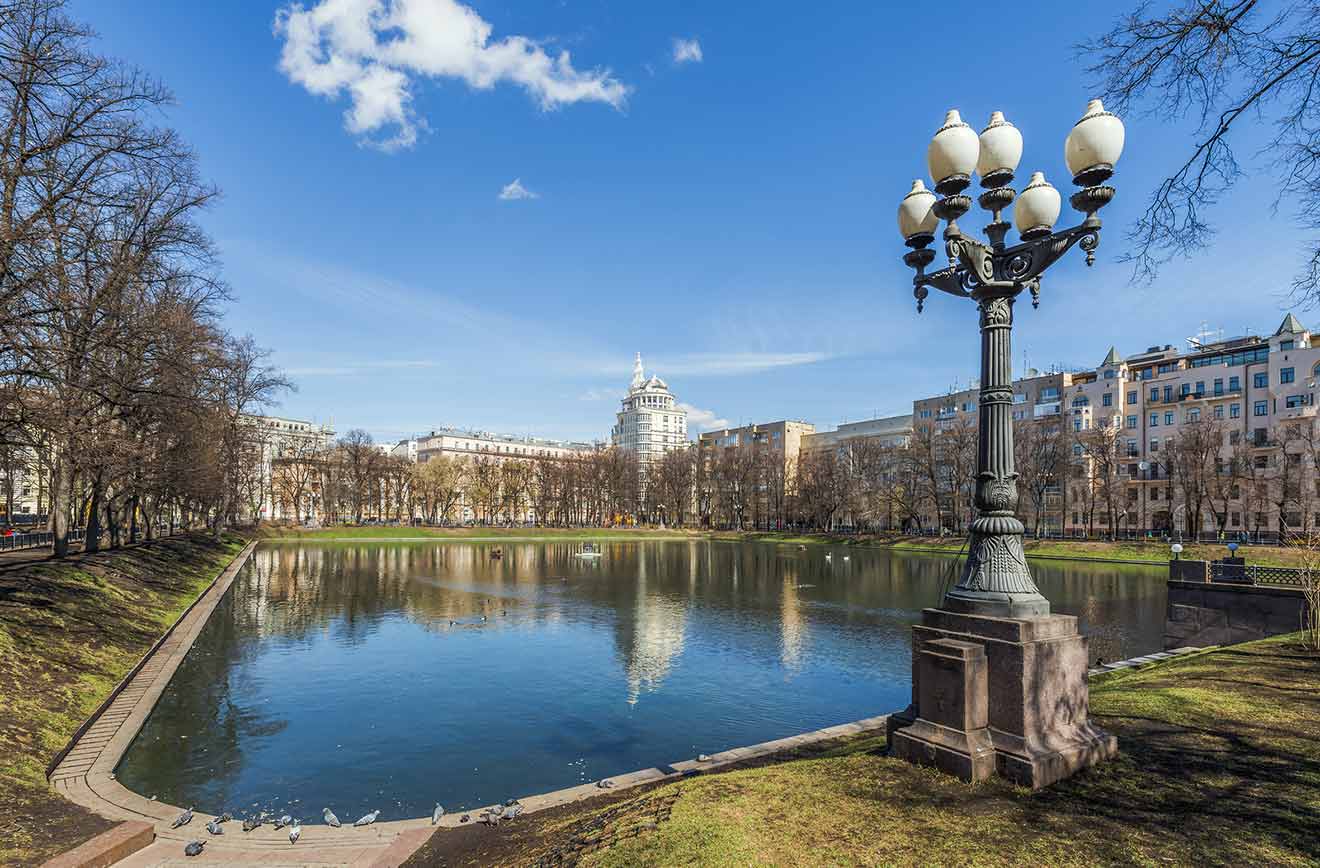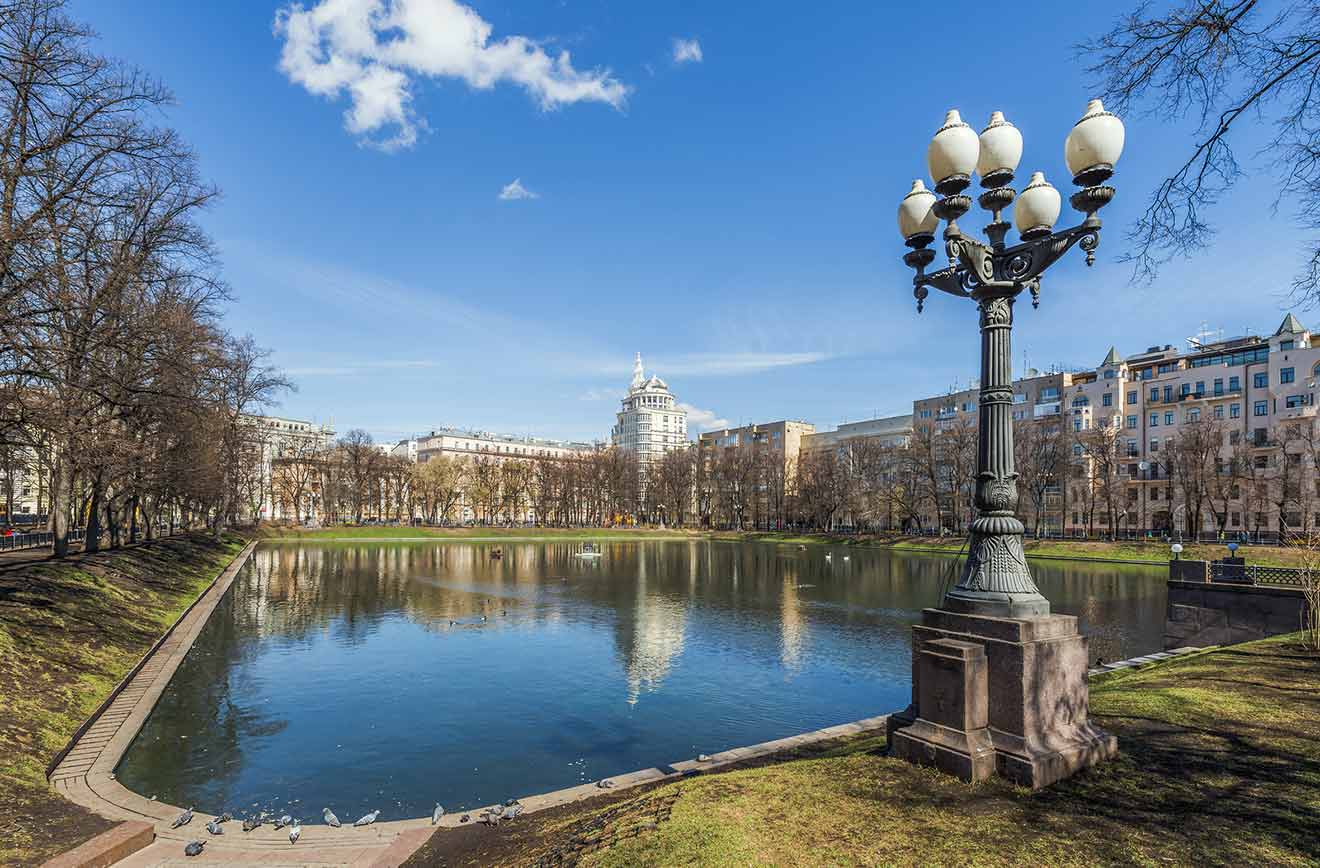 The Patriarchie Ponds area (or "Patriki", as we sometimes call it), located in the Presnenskyi District, is a great trendy neighborhood in Moscow.
With its hip cafés and tranquil atmosphere, it is a lovely option for both families traveling with kids and for friends looking to go out and have some fun together at the end of the day.
It is very famous among locals, and is growing in popularity with tourists, too! It is also an interesting place to be in the evenings during the summer, as all the Lambos parked around the area make it feel like a true vanity fair.
If you want to stay in the Presnenskyi district, here are the best places I can recommend: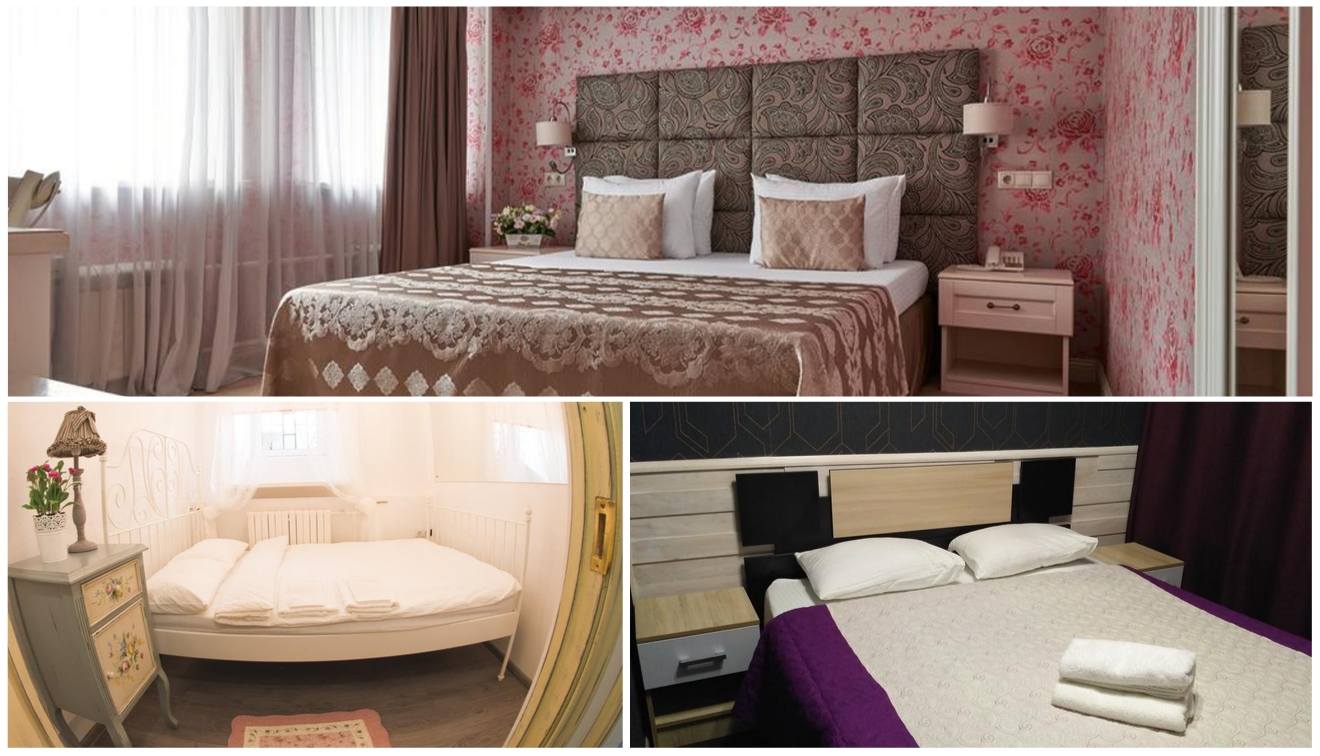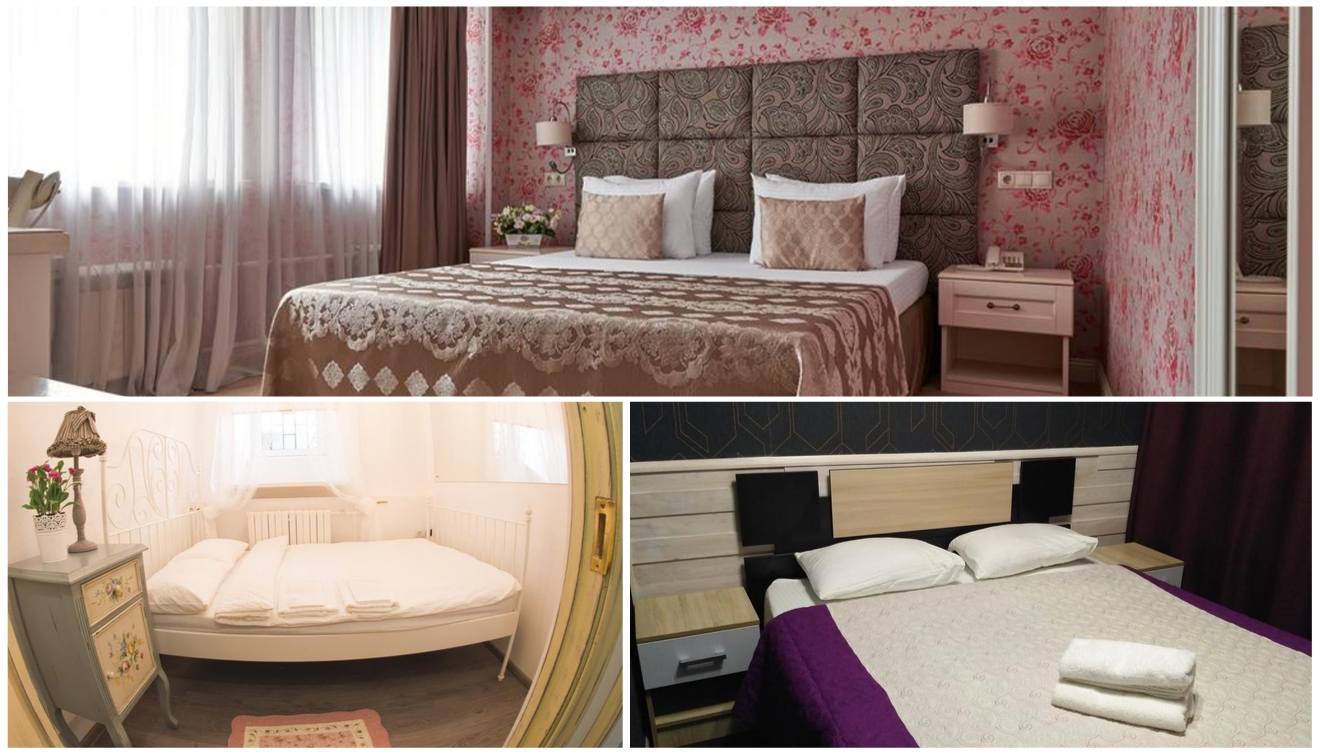 Luxury (US $160 and up)
Hotel De Paris – It is an exquisite hotel whose Provence style and light-colored floral interiors will make you feel as if you were in a whole other country!
Design Hotel Sofit – This is a modern and stylish hotel with a terrace and shared lounge for all guests and air-conditioning in each room.
Middle-priced (from US $55 to US $160)
Hotel Begemot Mayakovskaya – A good choice for accommodation in the area with small but very comfortable rooms that also include a small fridge, a private bathroom, and a flat-screen satellite TV.
Design-hotel Tchaikovsky – This excellent accommodation has spacious rooms and modern furniture to make you feel comfortable and at home while also providing guests with flat-screen TVs and air-conditioning.
Budget (up to US $55)
Gorod Patriarshie Hostel – It is a fun, special hostel with individual décor in each room but all very well kept and spacious enough to ensure the guests' privacy and comfort.
Cheers Capsule Place – This is a capsule-style accommodation in the city where all rooms have air-conditioning; there's a shared bathroom and kitchen, and also the amazing free Wi-Fi we all know and love.
1.5. Chistye Prudy/Basmanny – Where to stay in Moscow to live like a local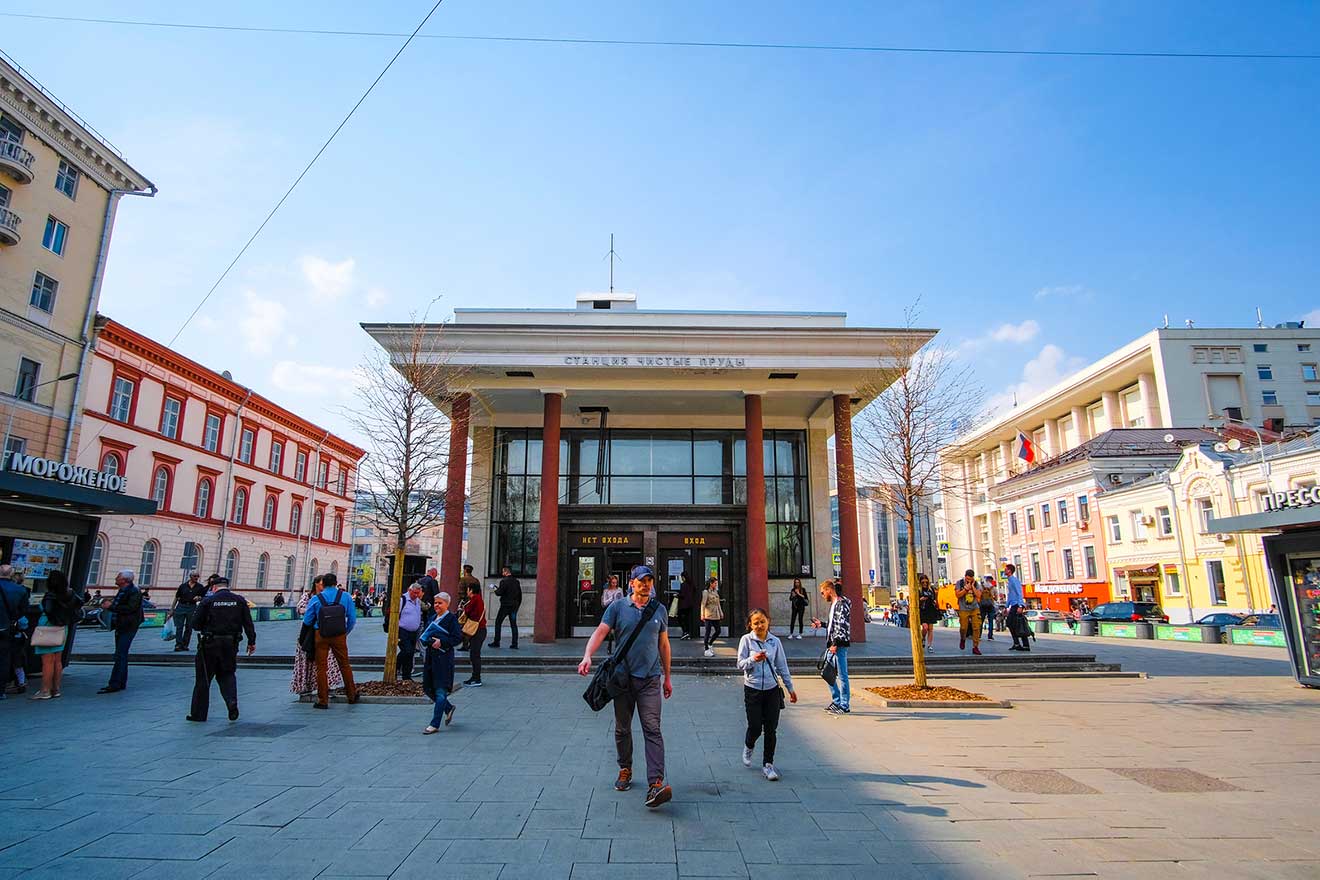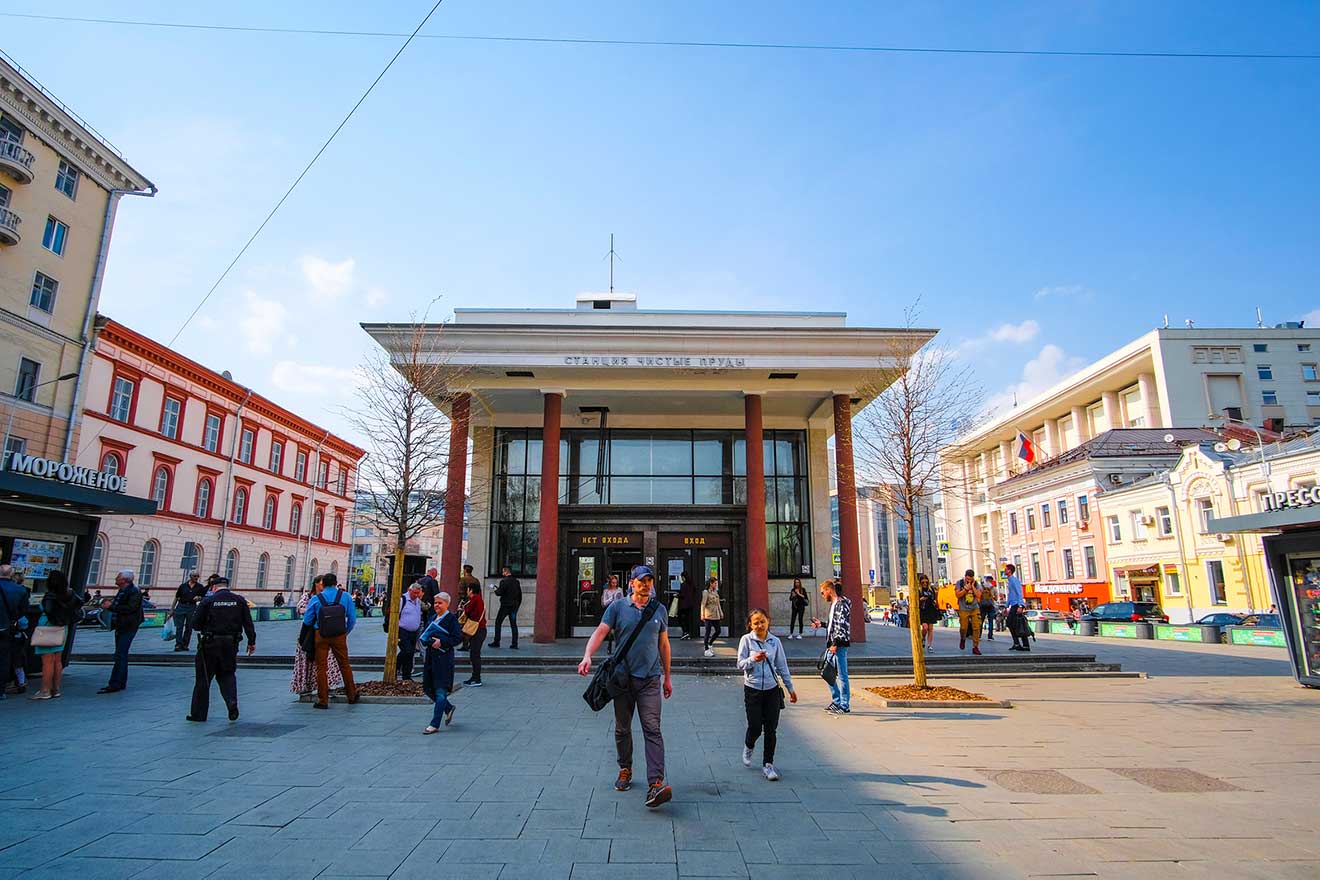 This is a quiet side of the district, and it is still very close to the Kremlin!
If you want to find a laidback ambiance and nice family restaurants, I suggest you go to this area – it is very quiet and peaceful during the day and you won't be disappointed.
Now let me share my recommendations in the district of Basmanny: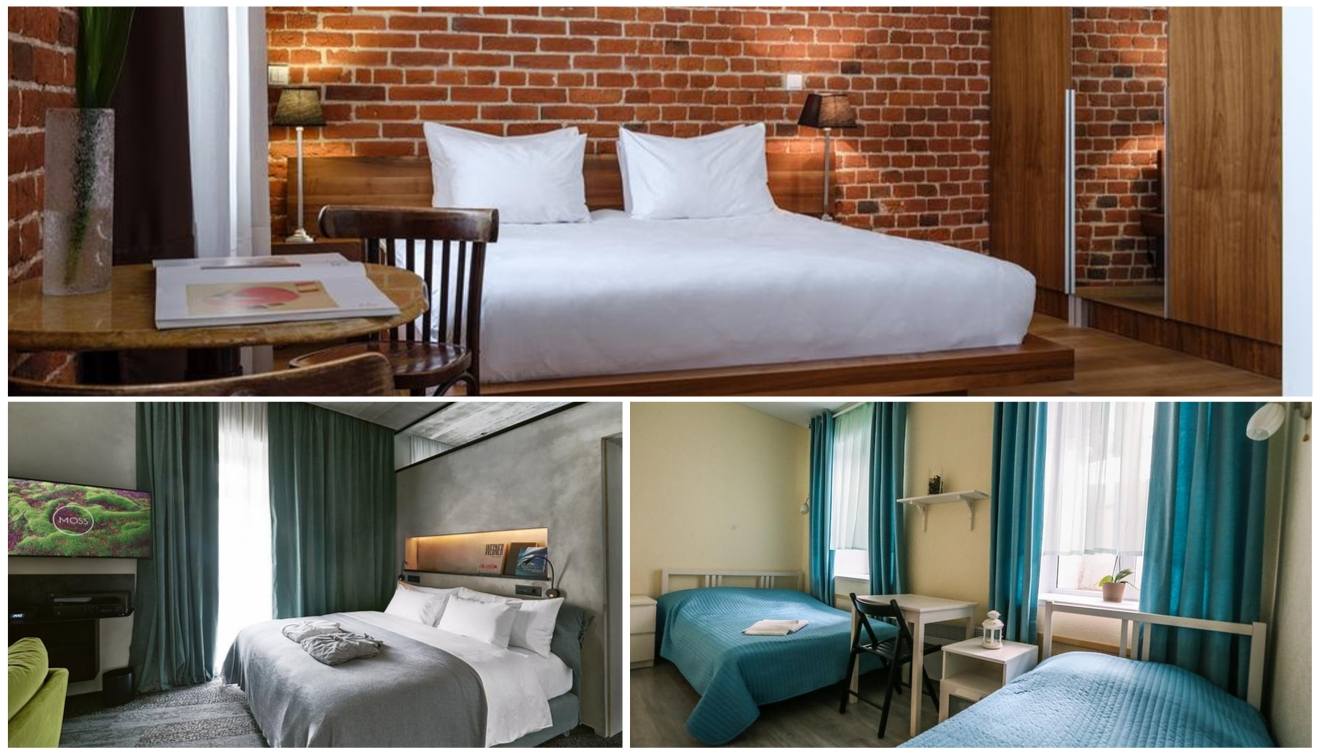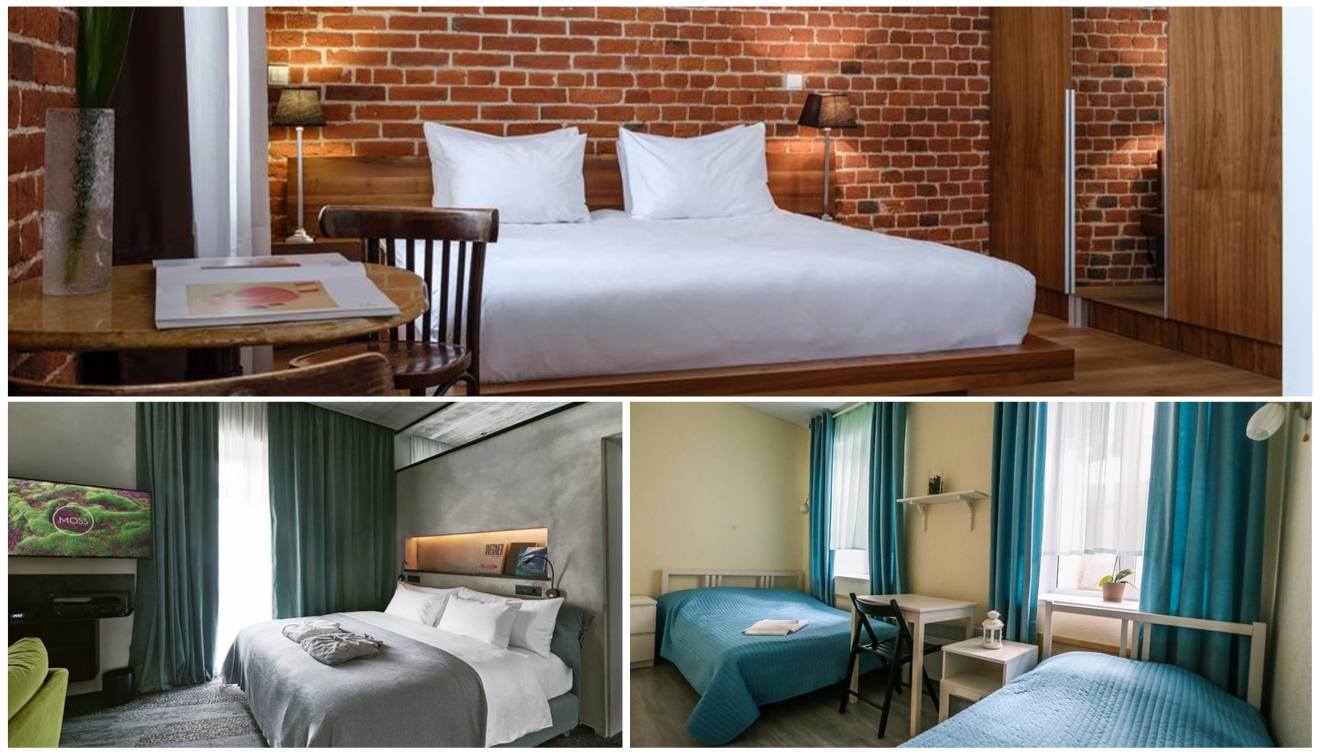 Luxury (US $150 and up)
Mercure Moscow Baumanskaya – This is modern and luxury hotel is the perfect match of Soviet and Western contemporary style. Modern rooms and facilities and an authentic bar set the tone here. Also, the interior decor is beautiful, and you're definitely in for a treat.
Moss Boutique Hotel – A fancy boutique hotel in Moscow with spotless rooms, an on-site restaurant, a great fitness center, and free bikes to help you move around the city.
Middle-priced (from US $55 to US $150)
Minima Kitay-Gorod – This is a cozy hotel situated right in the heart of Moscow, about 100 meters away from the metro station, 50 meters from different bars and restaurants, and a 7-minute walk from the Red square.
Loft Hotel H11 – The rooms are not big, but highly comfortable and also in a perfect location – this hotel is hidden between the narrow streets of the Kitai Gorod historical area!
Budget (up to US $55)
Orange Hotel Chistye Prudy – All I can say is that the rooms are unique and the staff is super friendly. Moreover, this hotel is located in the city center and near several museums. The rooms are clean, cheap, and functional. What else could you need?
Heritage Hostel – A nice and clean hostel with bunk beds and a safe in each unit as well as beautifully decorated bathrooms.
2.

Outside Moscow City Center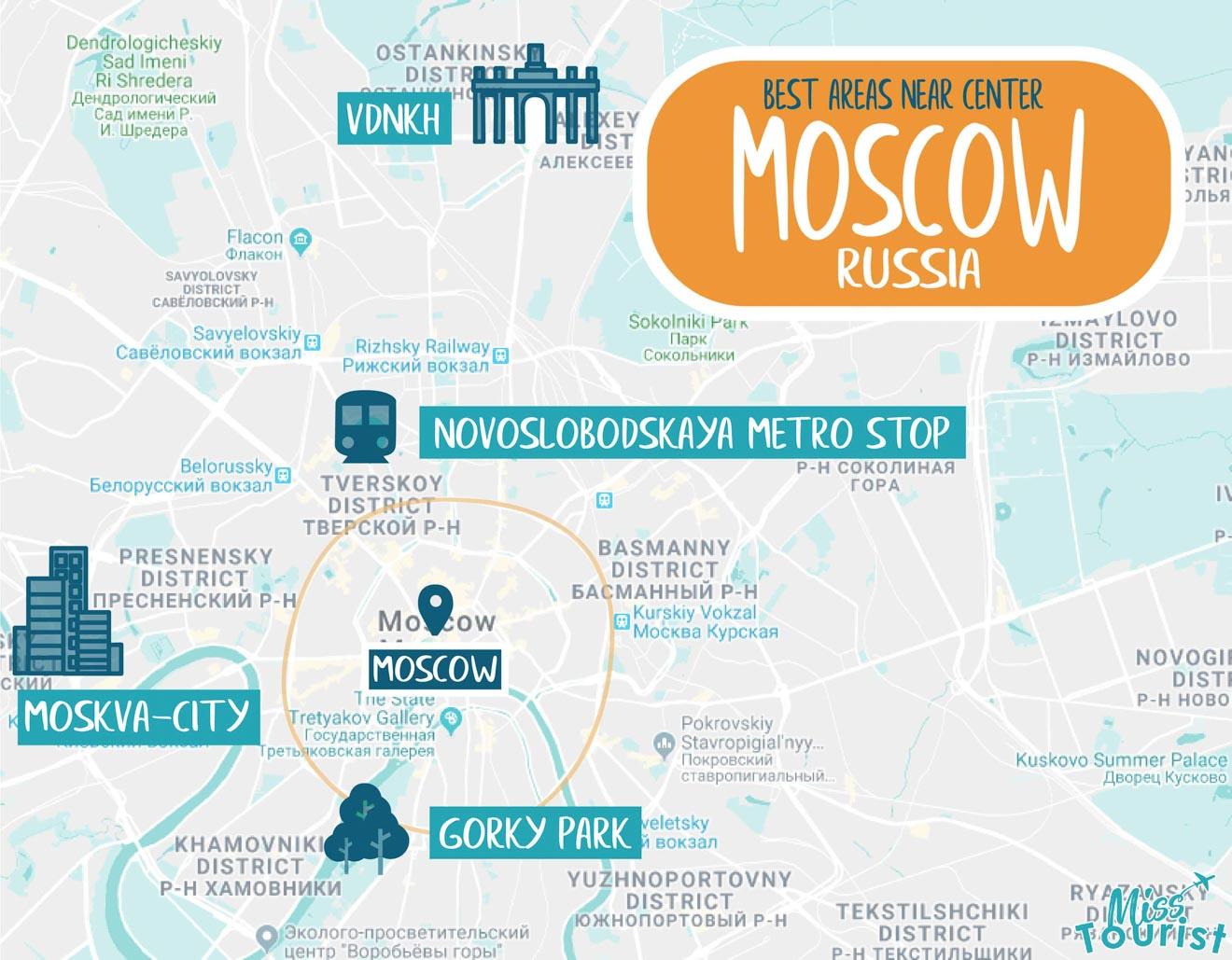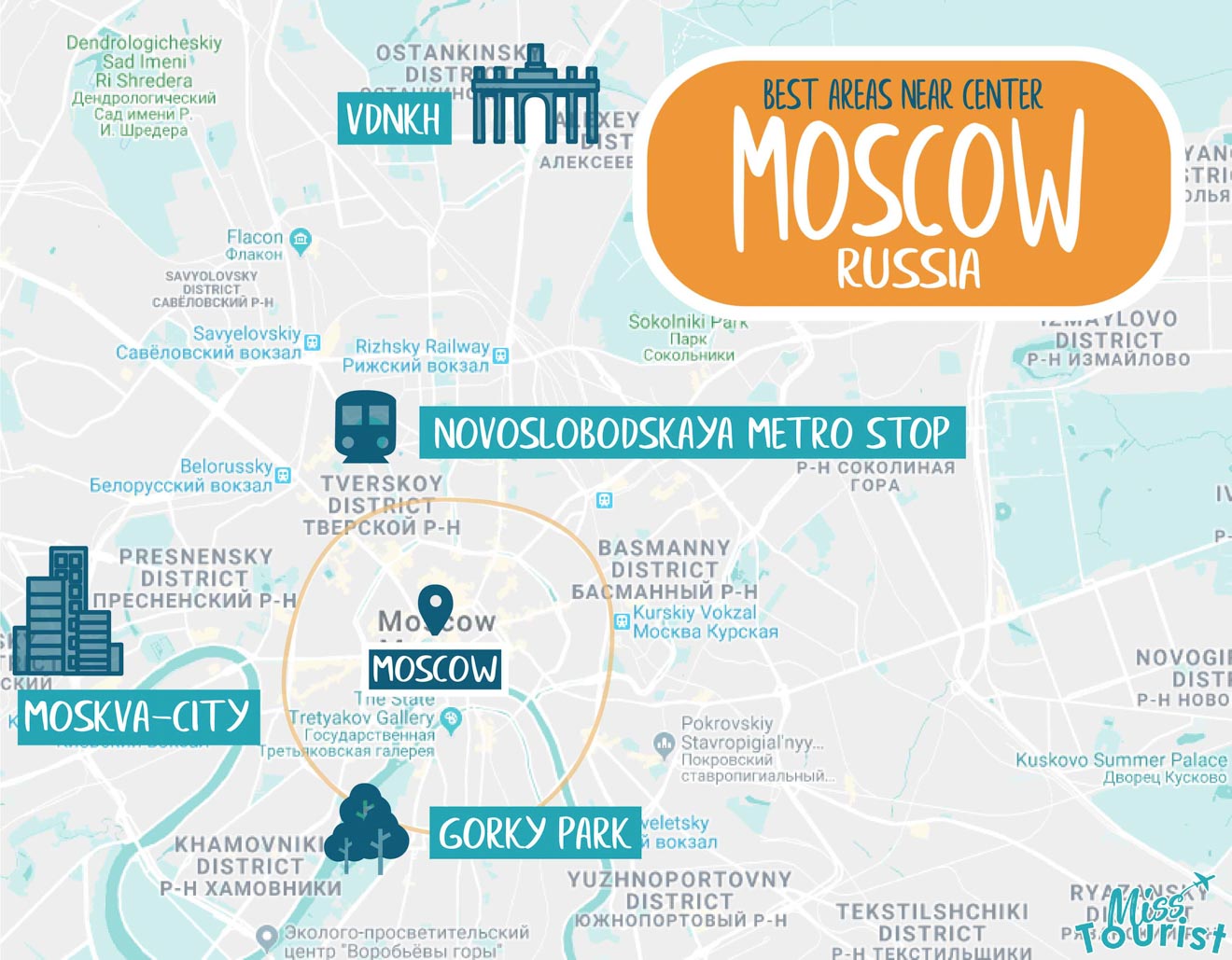 In my opinion, the areas mentioned above are the most convenient for tourists, but if you are booking late, you might end up not having good options.
While the 2 areas below are outside the city center, it's very easy to get to the Kremlin and other central locations.
Don't worry, Moscow is safe, and public transportation is one of the most efficient ones globally, so reaching Red Square will only take 20-25 mins.
For this part, I only recommend accommodations that are very close to the metro, so by staying a bit outside of the main tourist areas, you will have more options to fit your budget!
2.1. Near Gorky Park (Hamovniki District) – Best place in Moscow for families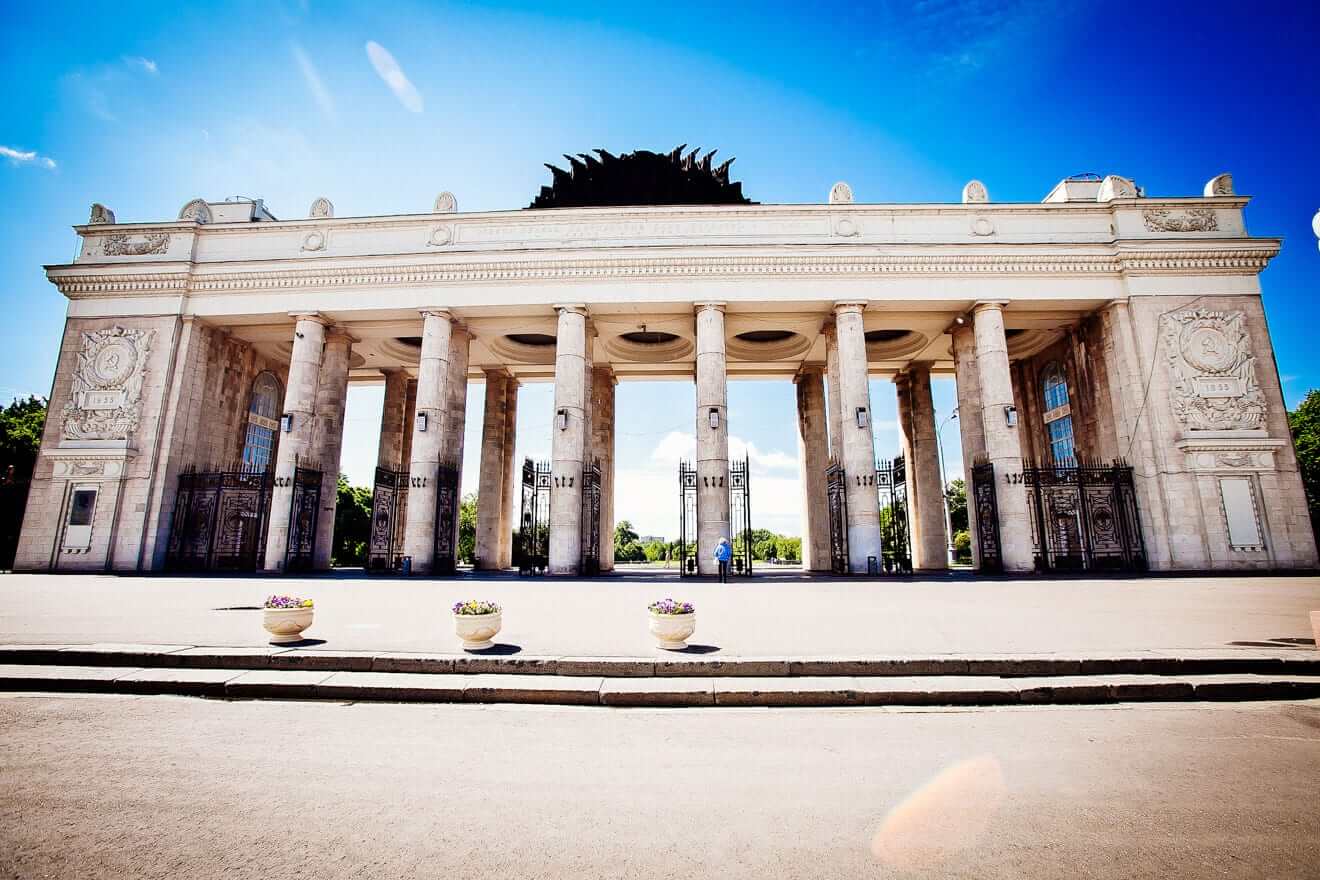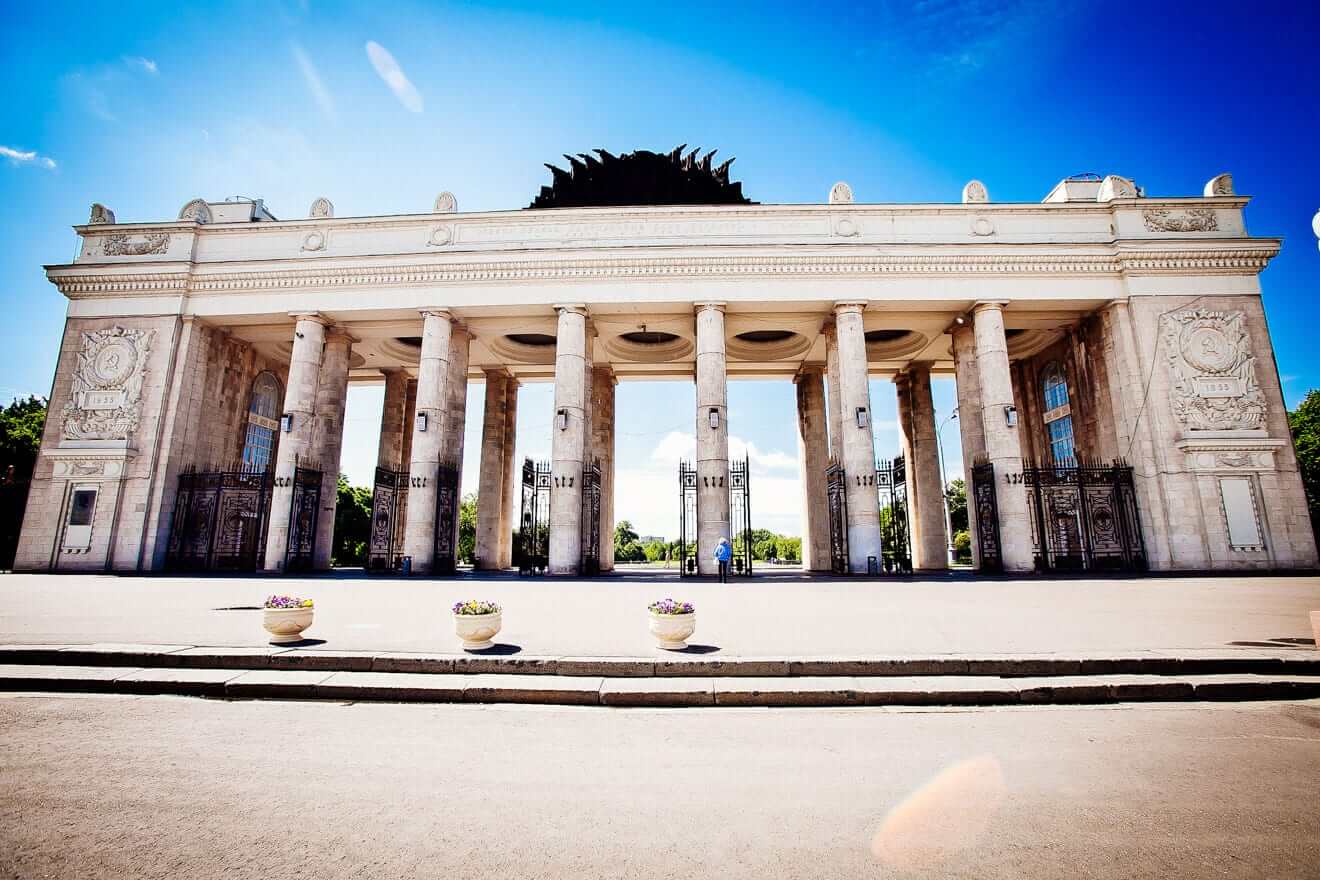 The lovely Gorky Park is the central and biggest park in Moscow, a cultural and leisure spot for both locals and foreigners!
Today, the park is an eco-friendly recreational zone where you can find fun aerobics or salsa classes, an open-air cinema theatre, and more. Many exciting things happen there every day during the summer – big events (like festivals) take place here almost every weekend.
It turns into a 15,000 square meter ice rink for the entire family to have fun on during the winter! I recommend visiting it, regardless of whether it's winter or summer!
FUN FACT: The name might sound familiar to you as the park was the inspiration for the Scorpions song "Wind of Change" and was also used as the main location for the American movie "Gorky Park".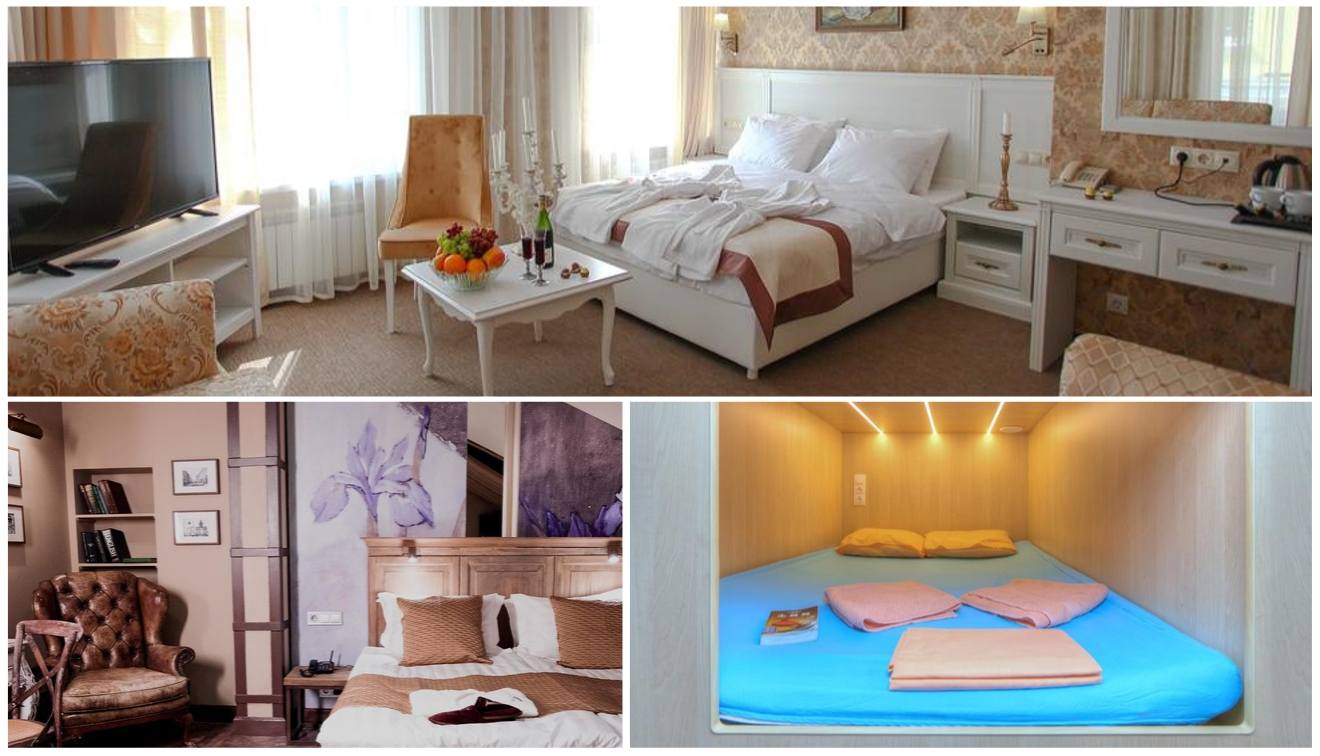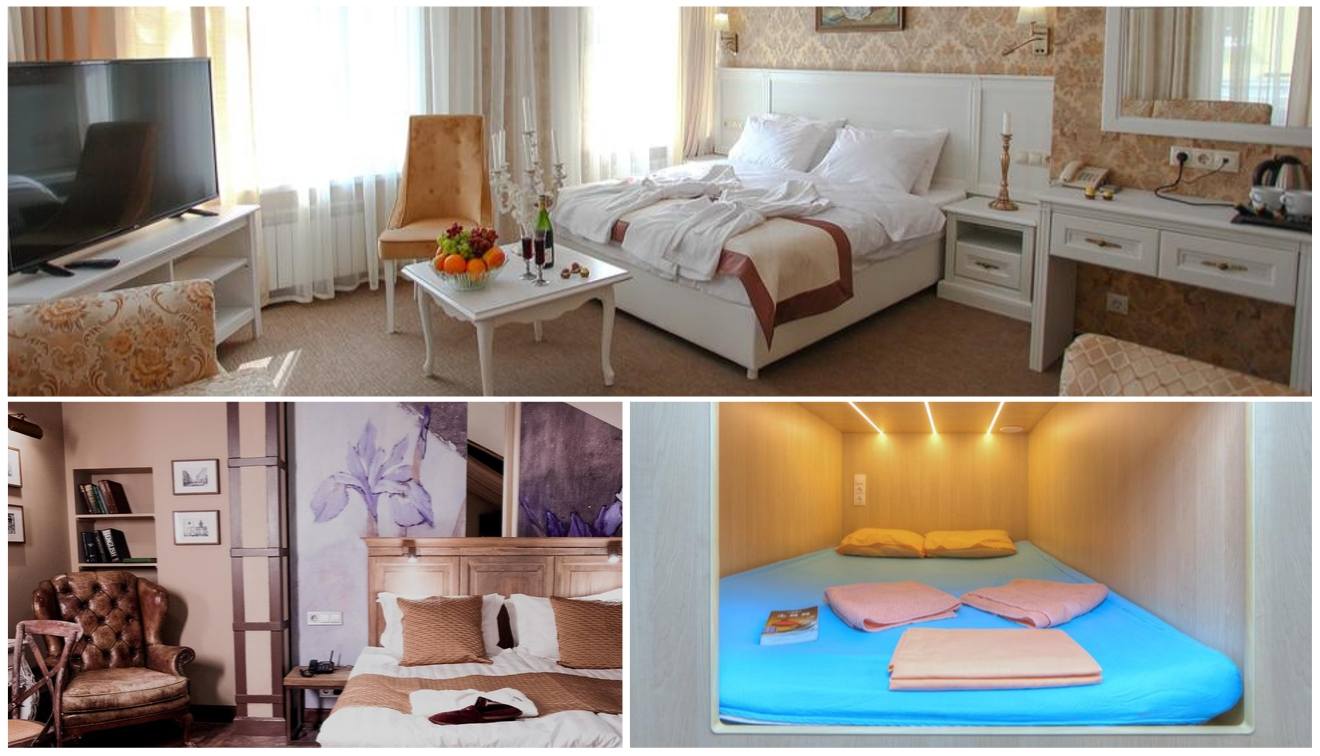 Luxury (US $160 and up)
Tchaikovsky Hotel – This hotel is inside a historic building, and the décor gives you a feel of being in a palace while also offering a lovely on-site bar and air-conditioned rooms.
Courtyard by Marriott Moscow City Center – This Moscow accommodation has modern and classic-style non-smoking rooms, all with a flat-screen TV, a work desk, and a great city view.
Middle-priced (from US $55 to US $160)
Boutique Hotel Arbat 6 – This is a unique, family-run hotel with tasteful design and décor in each spacious room, all providing big bathrooms and free WiFi throughout the property.
Hotel Element – This hotel is only a few minutes away from the Kremlin and other popular attractions in Moscow and offers its guests air-conditioned rooms with a flat-screen TV and stable free WiFi.
Budget (up to US $55)
Boxtel Hostel – As the name suggests, you will pretty much be sleeping in a box or pod; these have individual lights and ventilation, plus two sockets to recharge all technological items.
Caps Hotel on Ostozhenka – This is a great option when it comes to cheap hotels in Moscow with private rooms or single beds and shared bathrooms. Despite the low price, the rooms are incredibly modern and beautiful, and you won't regret staying here.
2.2. VDNKh – Best place in Moscow near the Russian Exhibition Center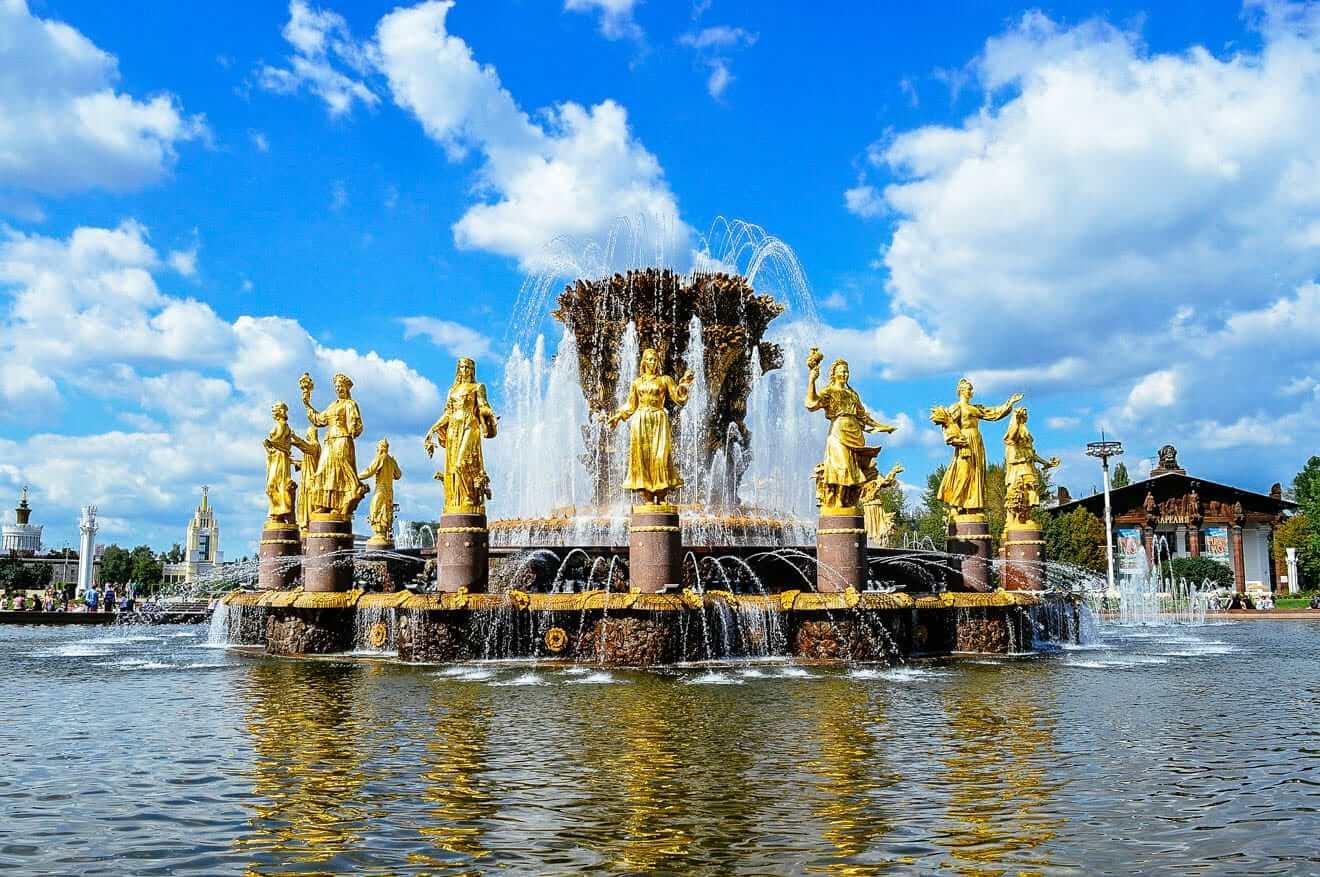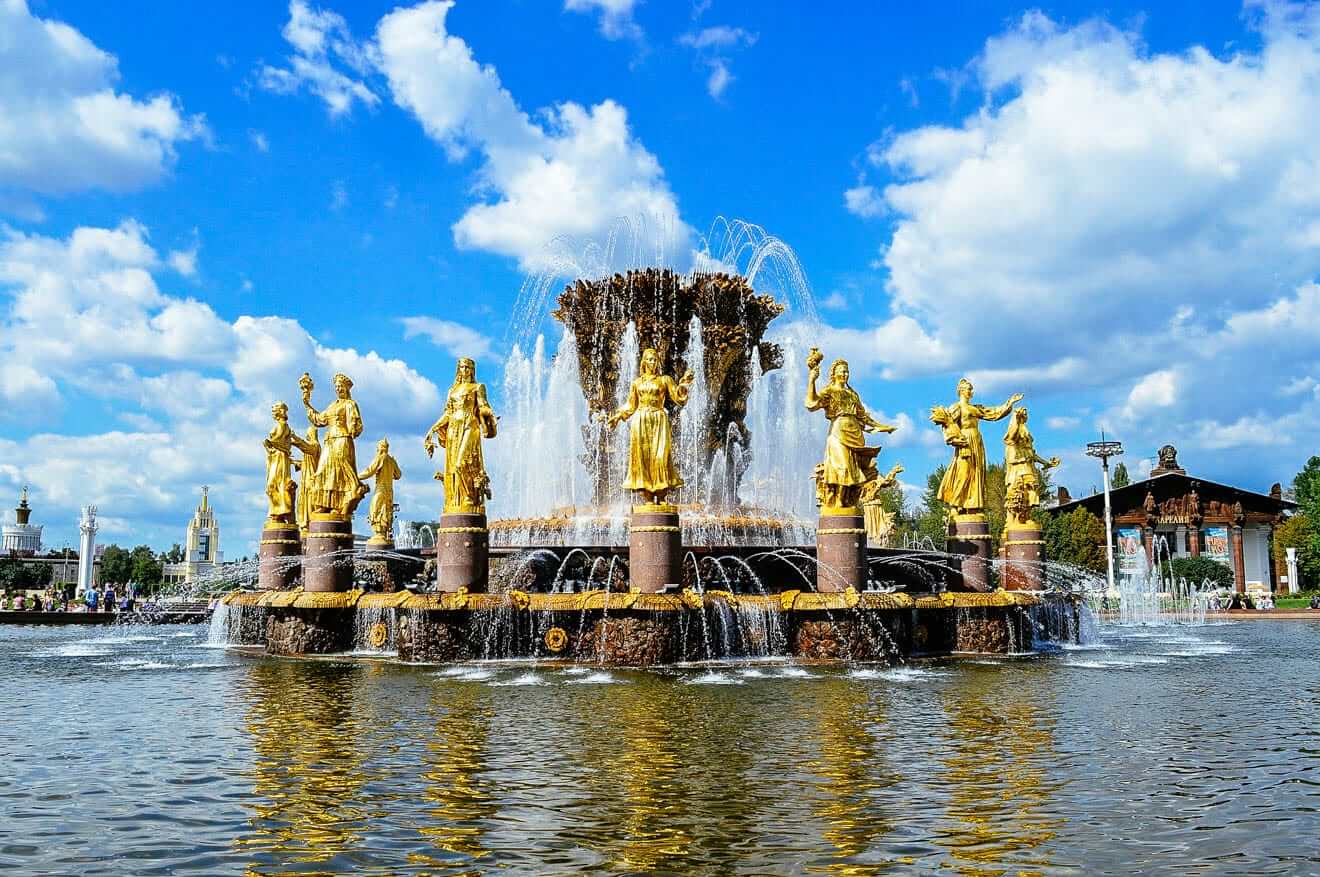 Vystavka Dostizheniy Narodnogo Khozyaystva (VDNKh), which means something like "Exhibition of Achievements of National Economy", is the big, famous Soviet park used as both a trade show location and an amusement park.
The united park complex is made of the VDNKh, Moscow Botanical Garden, and the Ostankino Park.
It's one of the top attractions I recommend you visit in the city, which is precisely why I also mention it in my article on Things to do in Moscow.
NOTE: I did not find any luxury style hotels near the metro station here, but there are some great middle-priced and budget options for VDNKH: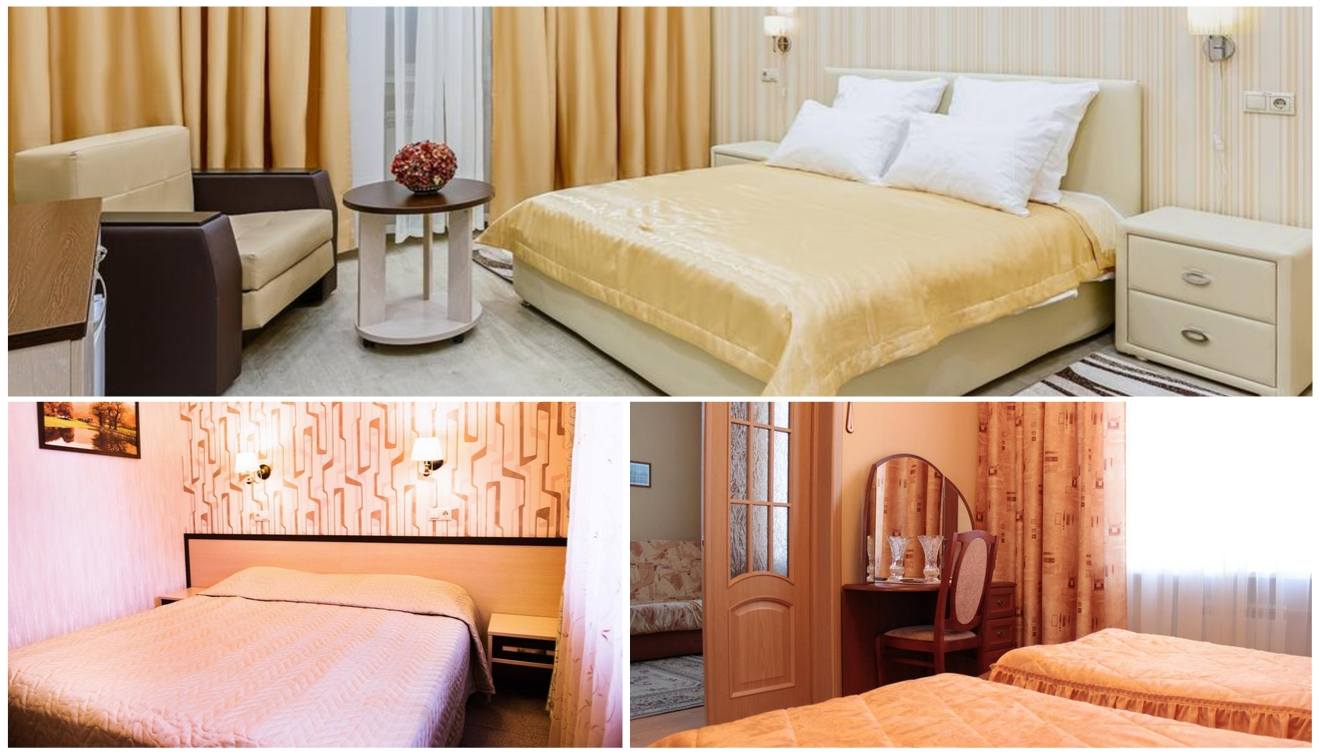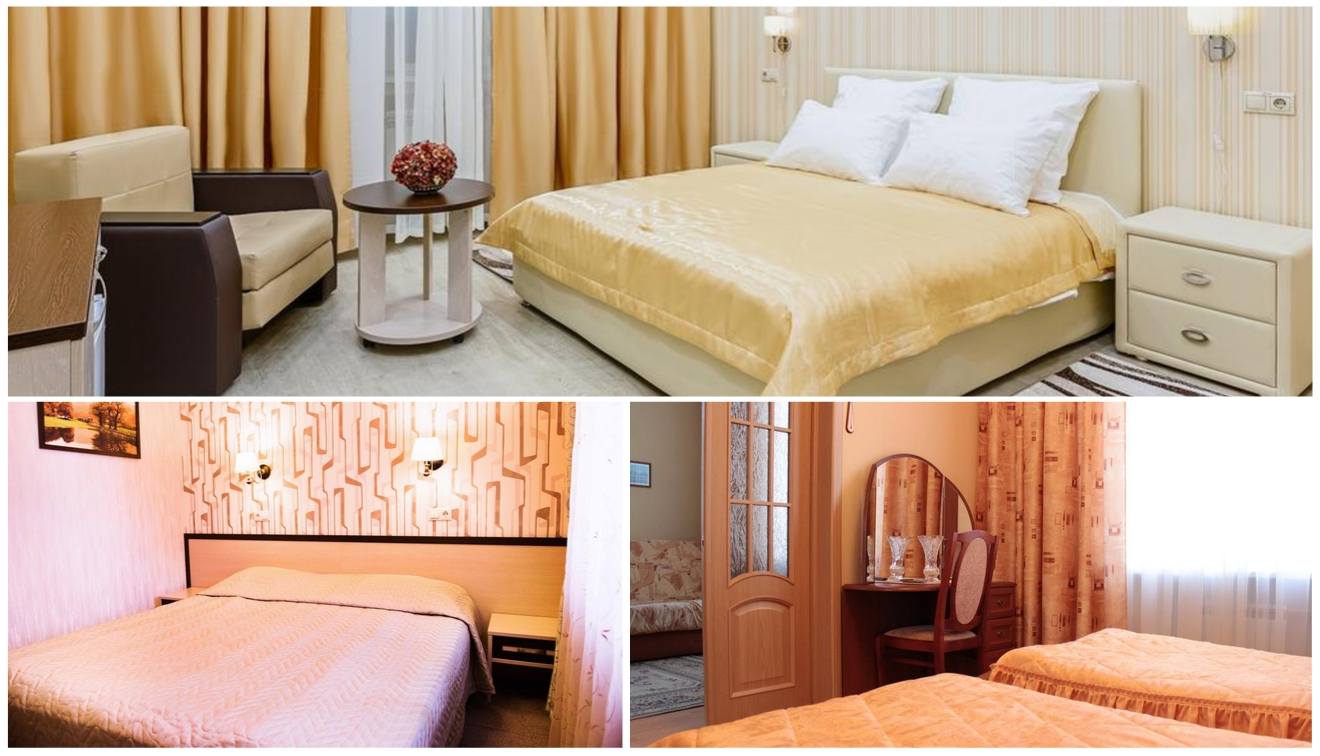 Middle-priced (from US $55 to US $160)
Derzhavniy Hotel – This hotel has traditional and simply decorated rooms with bright and comfortable furniture and is less than a 5-minute walk from the VDNKh station.
Affonykate hotel – It is an elegant yet classic-styled hotel that offers spacious rooms, all of which include a flat-screen TV, free WiFi, and a minibar.
Budget (up to US $55)
Zolotoy Kolos – This hotel is only a 5-minute walk from the metro station and has classically furnished rooms with a TV and fridge for all guests.
Yaroslavskaya Hotel – This hotel is in a green area and has bright lovely rooms with classically styled décor that include a TV, a fridge, and a private bathroom.
---
NOTE: If you still did not find anything suitable for you in the suggestions above, an accommodation that is located in further away areas is still completely fine and safe! The only thing to consider is it will take you a bit longer to get to the city center (around 40 minutes, if you're close to Moscow metro). If you need a hotel near the airport, keep reading!
---
3. Where to stay near the Moscow airports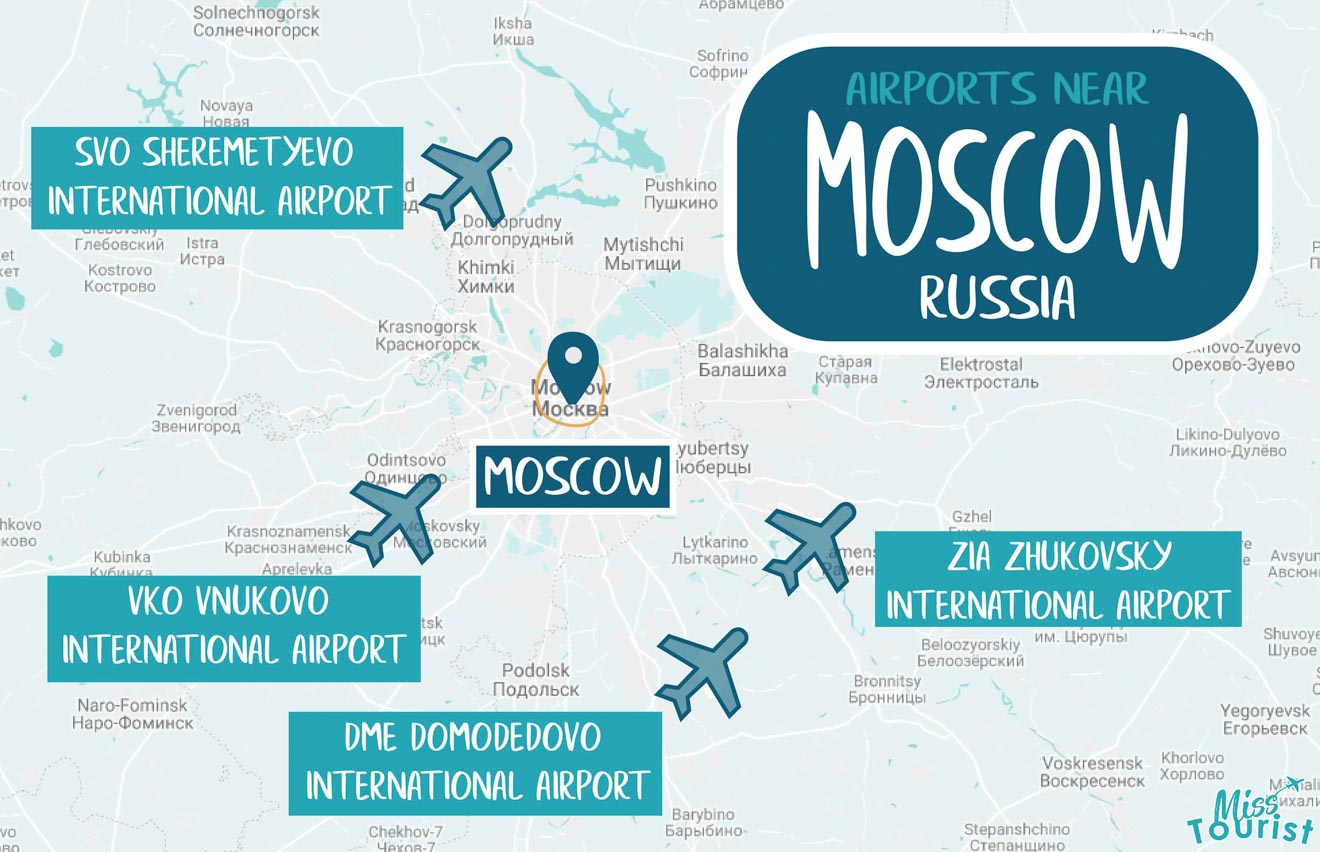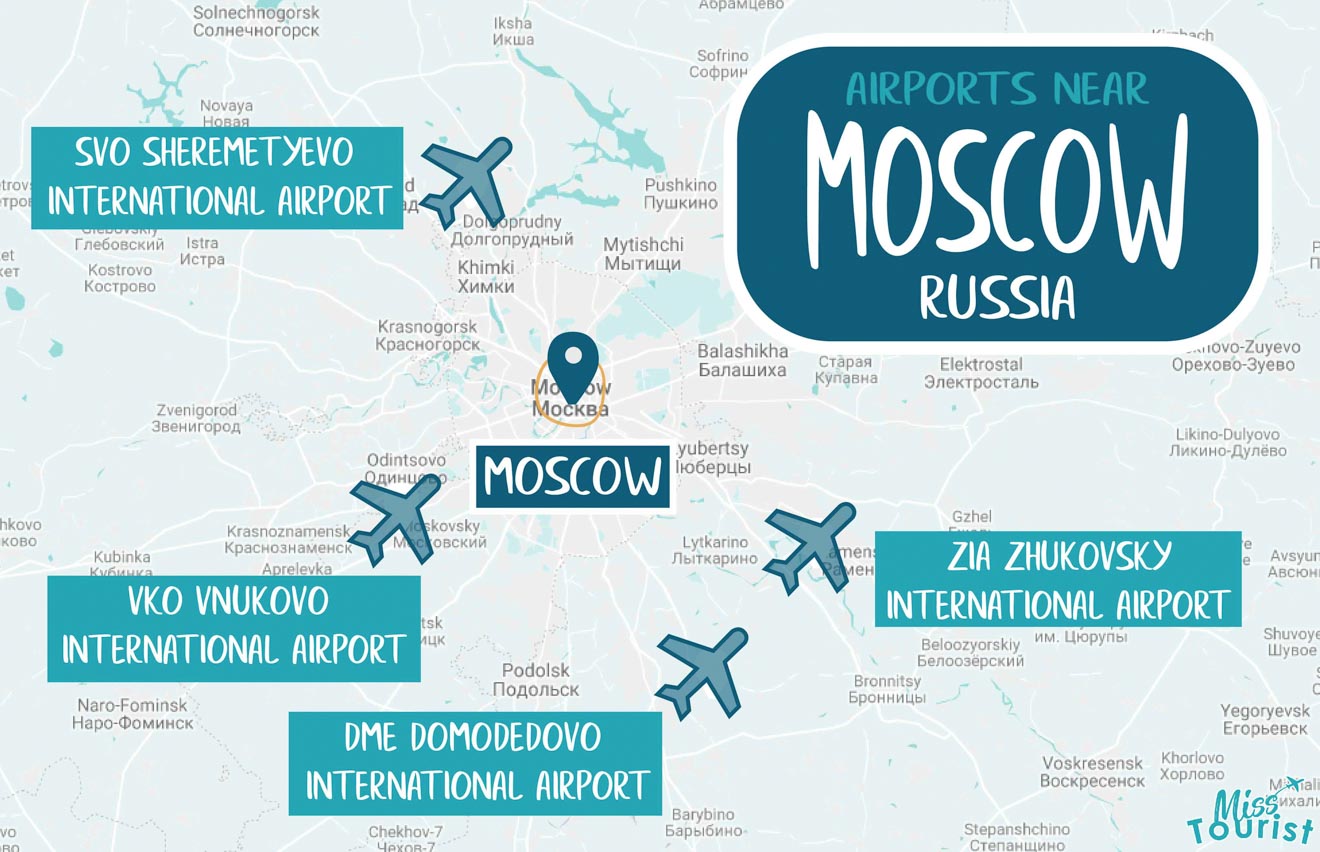 If you are stopping by Moscow as a transfer point between travels or simply if you need to catch an early flight, you might prefer to spend the night as close as possible to the airport.
The most important fact to mention here is that Moscow has no less than 4 destinations to land! SVO is the biggest one, but (because they're all international) you might be arriving or departing from any of them.
Below I will share some fantastic, hand-picked hotel options near each of the airports:
3.1. SVO Sheremetyevo International Airport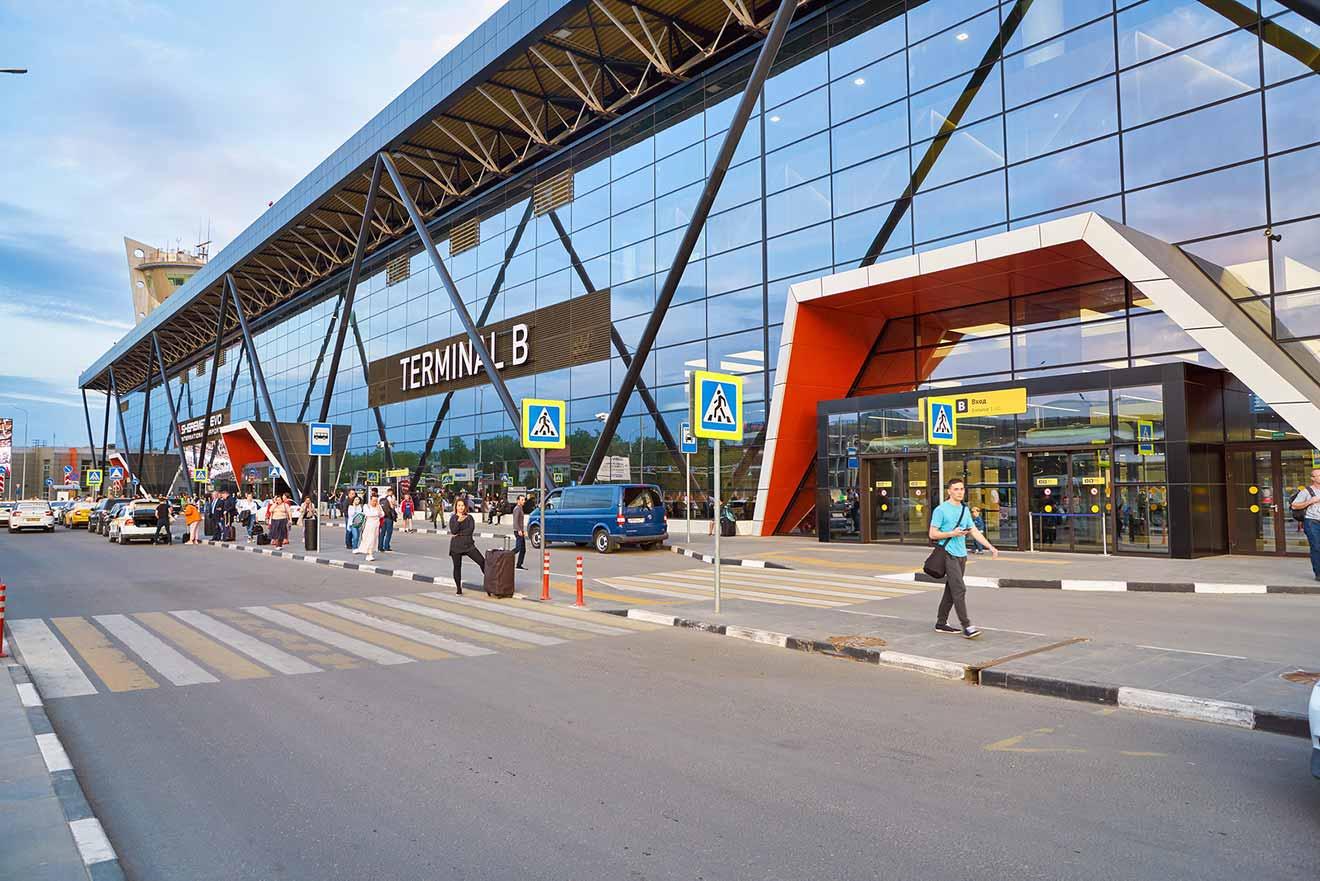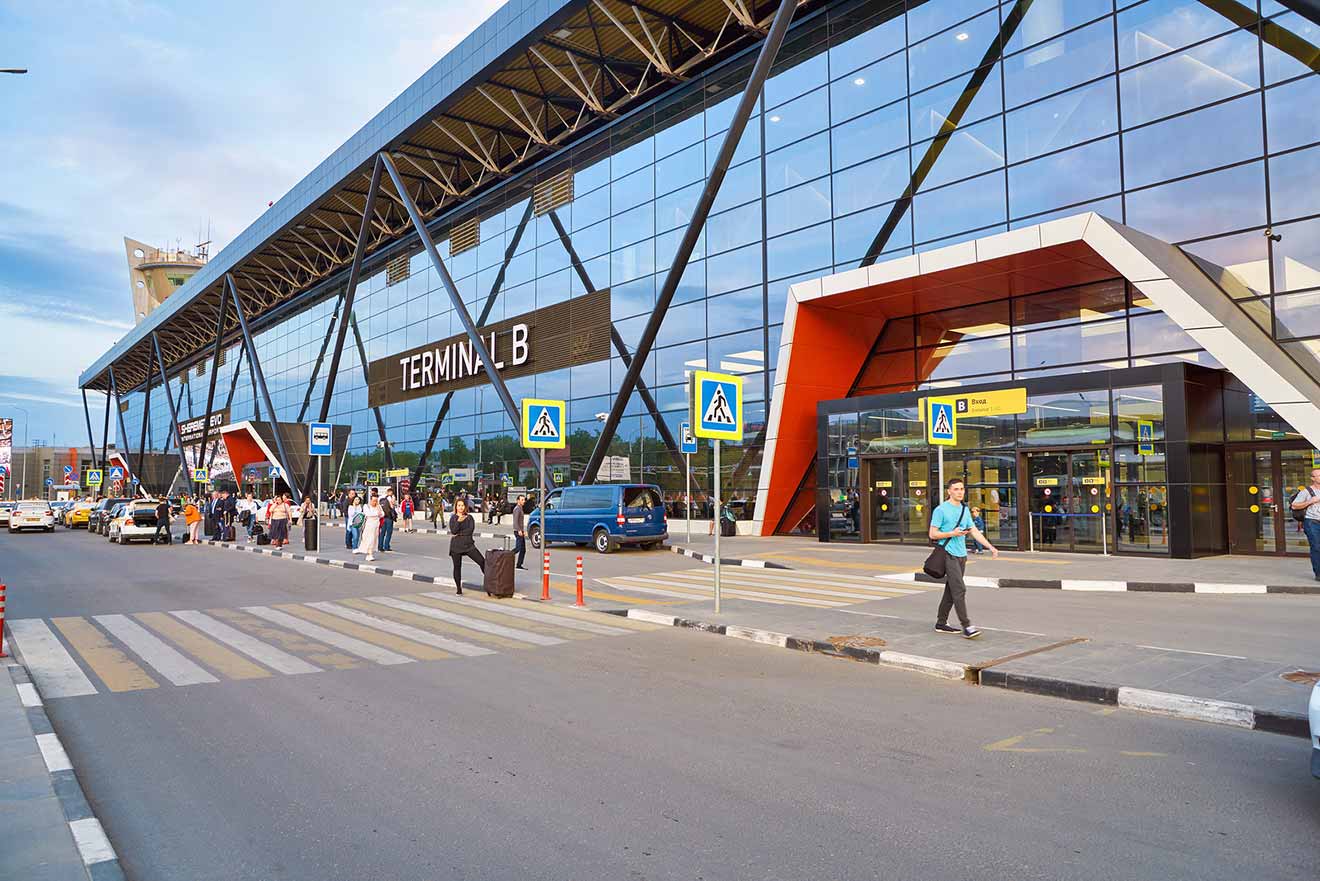 Sheremetyevo is the biggest out of the four main international airports in the city – and the busiest one of them all in Russia! Did you know that it was built as a military airbase and then turned into a commercial infrastructure?
These are the best places to stay near SVO:
(Luxury) Radisson Blu Hotel Moscow Sheremetyevo – Radisson hotels are very well-known worldwide for their superb quality of service and stunning rooms. If your transfer is in Sheremetyevo and you love having the best service, then this should be your luxury choice!
(Mid-range) Holiday Inn Express Moscow Sheremetyevo – This is a very good middle-priced, 3-star hotel where you will feel comfortable and where you will have great chances of relaxing during your transfer. Book this one if you want to stay close to Sheremetyevo!
(Budget) Sheremetievo-Transit Hotel – A great budget option near the terminals with free shuttle service for guests and luggage storage space. Each room comes with air-conditioning, an electric teapot, a private bathroom, and a closet.
3.2. DME Domodedovo International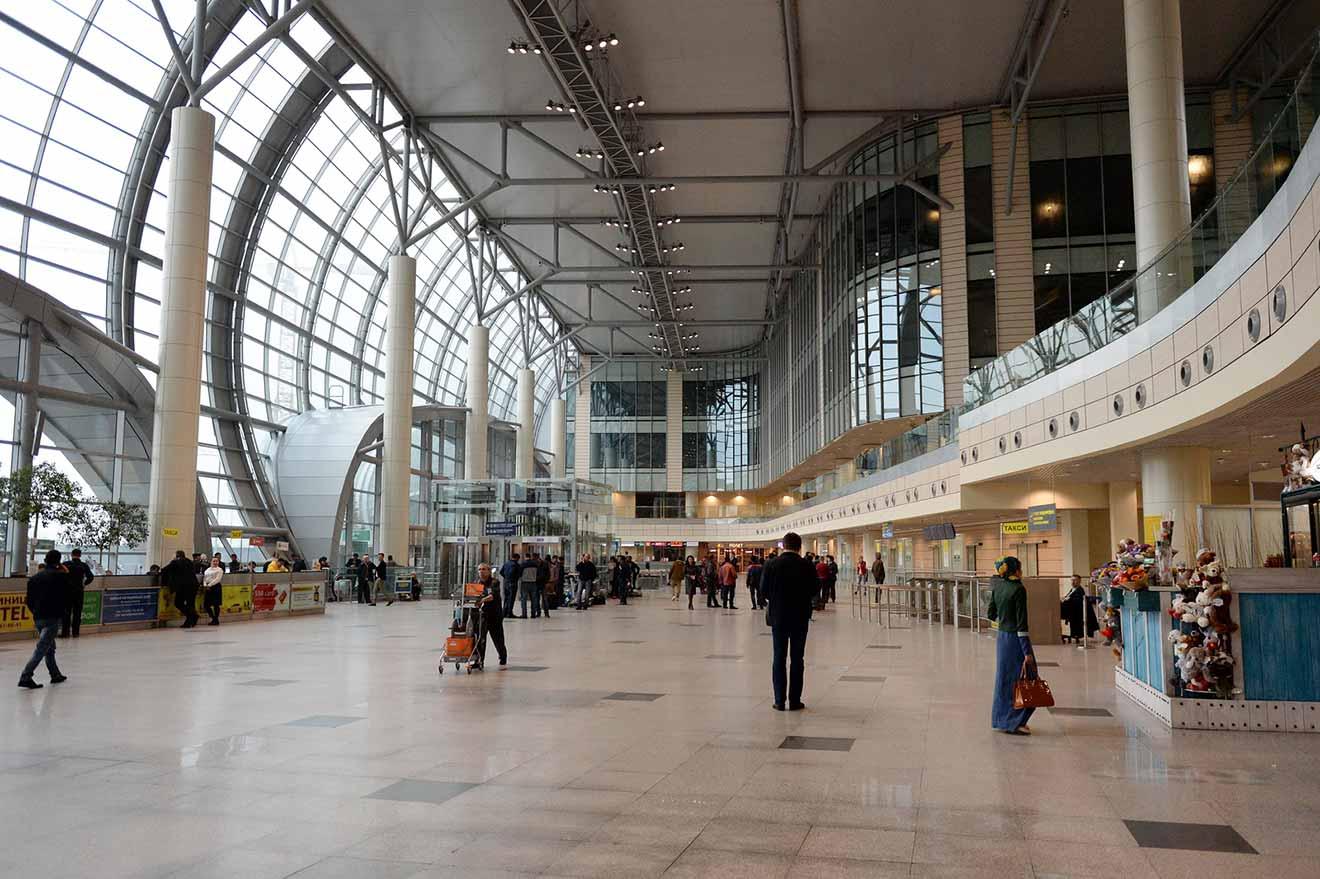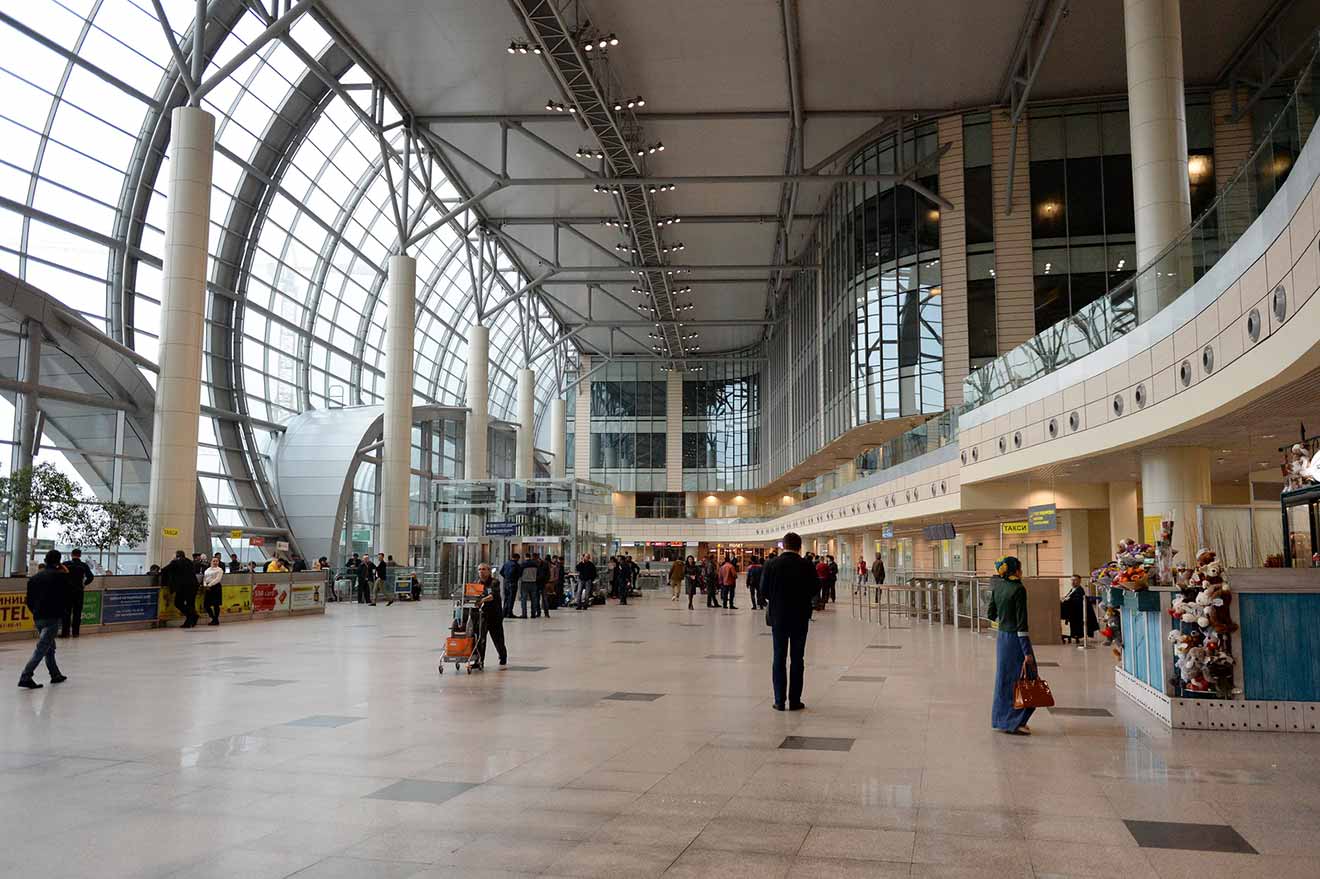 Domodedovo International now serves as a base for flights for some of the biggest companies, such as British Airways, Emirates, and Swiss International.
Because these airlines have been moving their headquarters from one place to another, Domodedovo and Sheremetyevo are now fighting over first place in terms of the busiest landing destination in Moscow.
Below you can find the best hotels near the DME airfield for your stay:
(Luxury) Airhotel Express – This hotel is located right inside the terminal; no need to go anywhere! The prices are not extremely high, so it can be a very convenient choice if you have a flight to catch from Domodedovo.
(Mid-range) Hotel Aleksandriya-Domodedovo – This hotel is situated outside of Domodedovo International, but it has a free shuttle bus that you can use! The rooms are very clean and comfortable, and the price is much lower, so if you want to travel but spend as little money as possible, I strongly suggest you stay here!
(Budget) Air by DPH – A nice budget hotel that offers free shuttle service to the different terminals and has an on-site garden that every guest can enjoy. All rooms come with air-conditioning, a flat-screen TV, and some rooms even have river views.
3.3. VKO Vnukovo International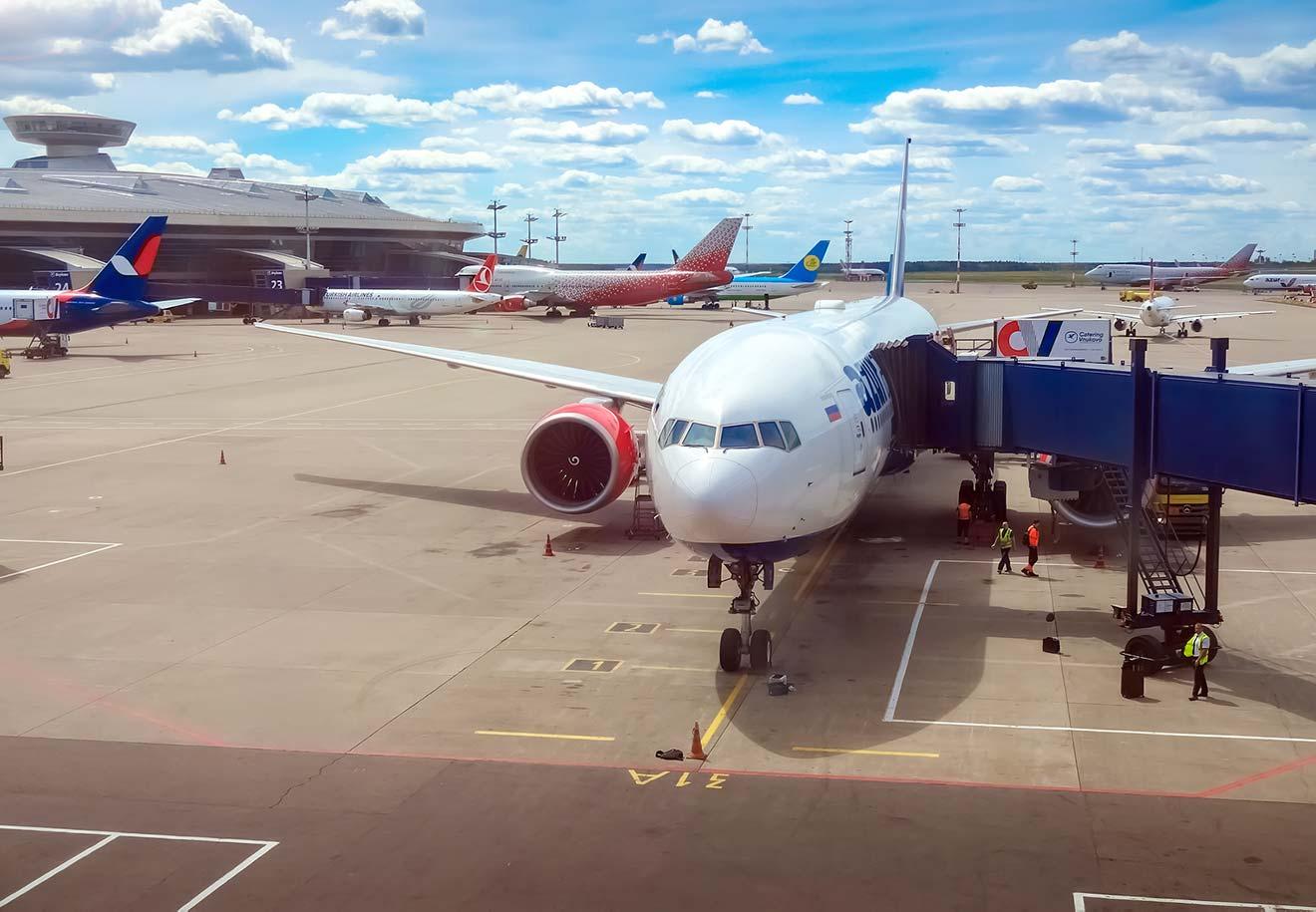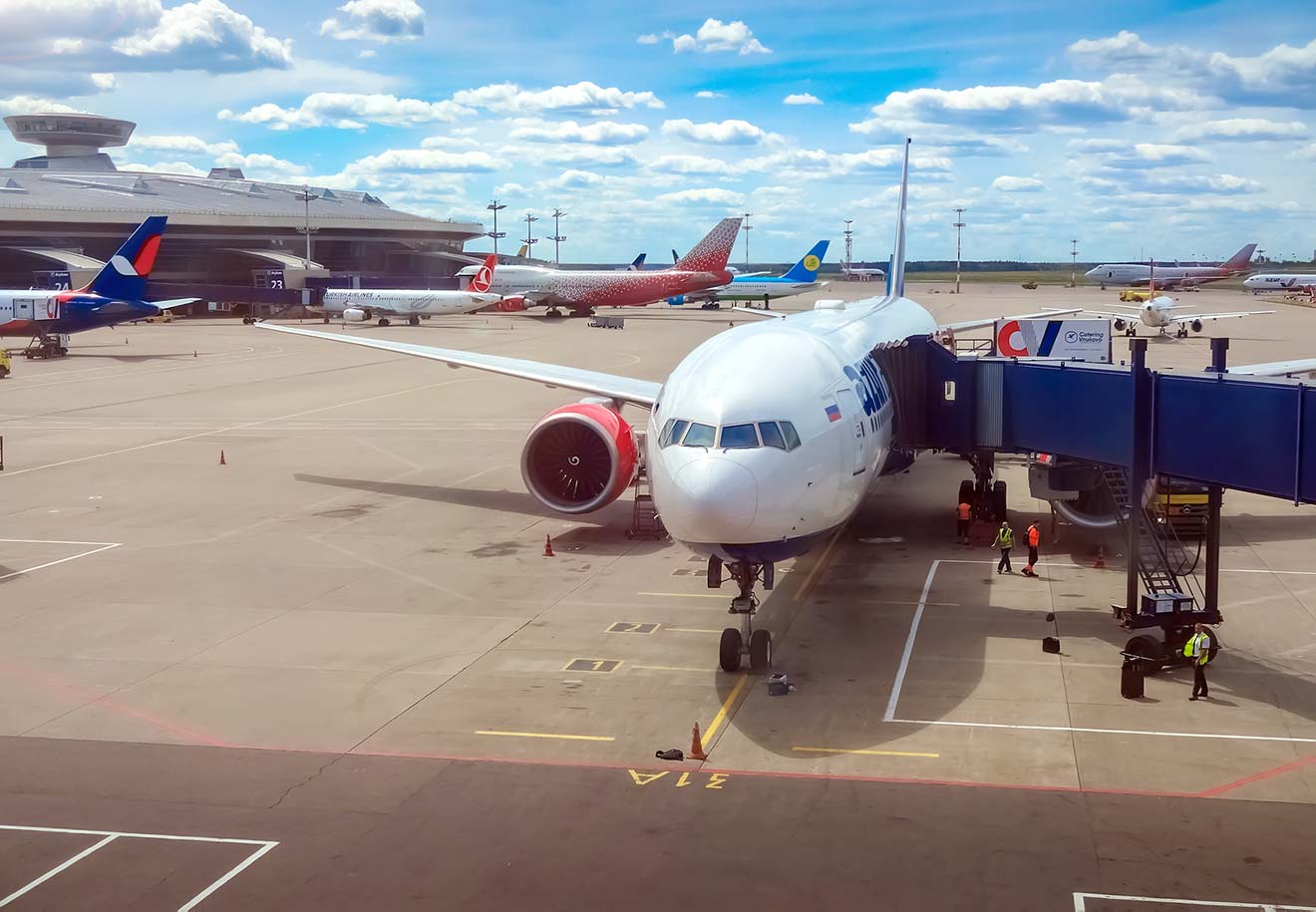 Vnukovo International is the third-busiest air station in Russia and also the oldest operating one.
If you want to stay near Vnukovo, here are the best places to stay in:
(Luxury) DoubleTree By Hilton Moscow – Marina – This hotel offers an on-site SkyLounge with panoramic views, a Turkish hammam, an indoor pool, and a spa. All the rooms have air-conditioning, a flat-screen TV, a wardrobe, and free WiFi.
(Mid-range) Sokol-Hotel – This affordable 3-star property is located right next Vnukovo. Their rooms are fully-equipped, they're clean and enjoyable, and free WiFi is all around the property!
(Budget) Vnukovo Atlantis – Three words: nice, clean, comfortable. Situated only minutes away from Vnukovo, they even offer a free shuttle bus to your terminal. All in all, a good price for good quality!
3.4. ZIA Zhukovsky International Airport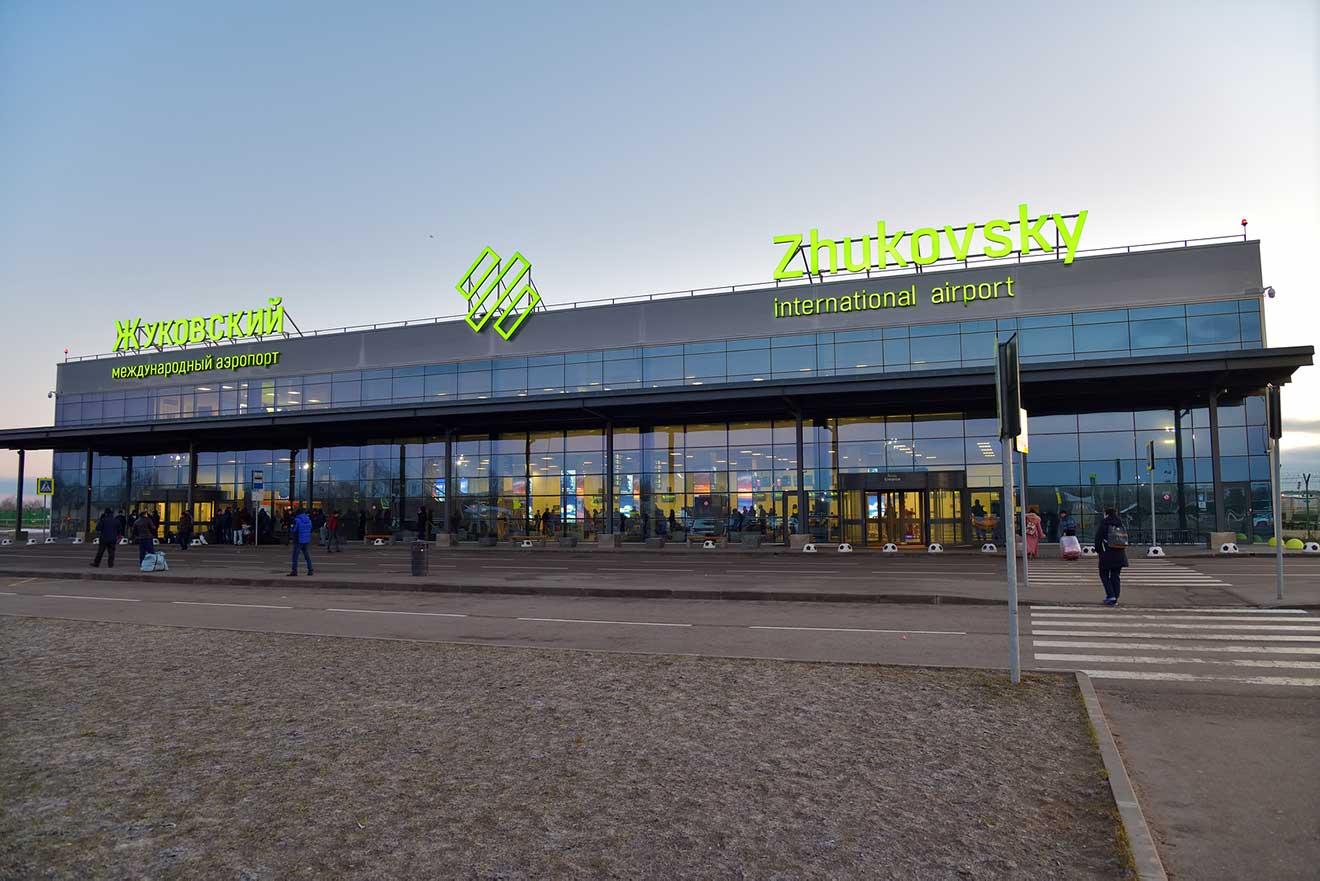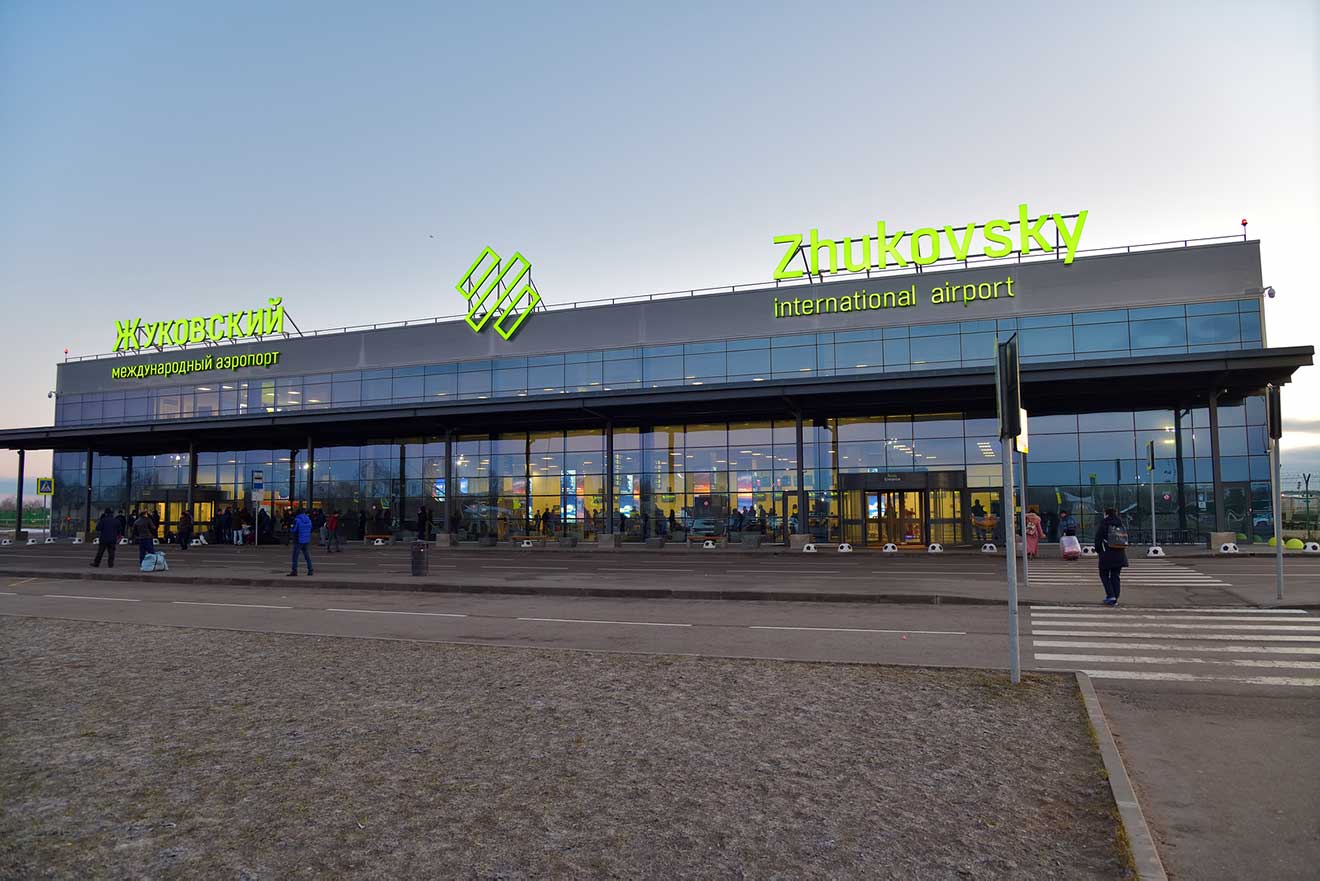 Zhukovsky International Airport used to be known as the "Zhukovsky Airfield" and was mostly used as a USSR aircraft testing area. There is now a terminal there which was made for low-cost flights.
Here are the best hotels I recommend in the area:
(Luxury) Villa Marybelle – With a private beach area right over the Moscow River, this beauty of a villa will have you forget you are near an airport. The facilities of this spacious and elegant villa include a living room that has a fireplace, and on the outside grounds there is a BBQ area.
(Mid-range) Hotel on Molodezhnaya 5/1 – This small Inn has a terrace and a bar on-site where you can enjoy the lovely well-kept garden. There is also a shared lounge and kitchen for the guests, and free Wi-Fi in all the areas.
(Budget) Mini Hotel Salonka Garden – It is a cozy house converted into a small inn, which makes you feel at home without actually being home. The area is well-known for hiking and skiing, so make sure to ask for seasonal activity rental equipment and have some fun!
Frequently asked questions about hotels in Moscow
📍 What is the best area to stay in Moscow?
The whole ring in Moscow's city center is nice. But, the best area is Kitay-Gorod, where the Kremlin and the Red Square are located. You'll find boutique hotels like The St. Regis Moscow and affordable ones with premium facilities like Design Hotel Senator.
🛏️ How long to stay in Moscow?
Spending 2 to 3 days in Moscow is enough to see the main attractions and scratch the city's surface. If you want to discover more of the city, then make sure to stay around a week since Moscow is a massive city.
👪 Where to stay in Moscow for families?
All things considered, the area near Gorky Park is the best place in Moscow for families. My personal luxury property is the Courtyard by Marriott Moscow, but if you want to save money, then the Hotel Element is a great place for travelers with kids.
🥳 Where to stay in Moscow for nightlife?
Tverskoy is the best place in Moscow for nightlife. Here, you'll find plenty of fine dining restaurants; bars open until late, and some clubs towards the ring. Stay at Metropol for a luxurious experience or at Sheraton Palace Hotel for an affordable stay.
🔴 What to avoid in Moscow?
Komsomolskaya Square is the area you should avoid. Not because of crime reports but because of homeless people and pickpockets roaming around the district. However, it's not by any means a no-go zone and, rather, just be careful with your belongings.
---
Conclusion
This has been a very detailed article with the best areas in the city, so you can decide which is best and where to stay in Moscow! I tried my best to make this post easy to follow and as helpful as possible, and I am quite proud of how it turned out!
NOTE: When planning your trip, my main recommendation is to always book your hotel in advance, because the best places with excellent prices usually get sold out insanely fast!
My personal pick when staying in Moscow are:
Moscow is one of the most developed cities globally – and it's constantly evolving! Now that I have shown you some amazing options for hotels, check out my post on 18 Unmissable Things to Do in Moscow, so you can see how many activities and adventures await you in the city!
I hope this article was helpful for you!
May you have fun on your trip to Moscow, and if you have any questions or comments, please leave them below and I will gladly answer!
Yulia
---
---
Pin it for later!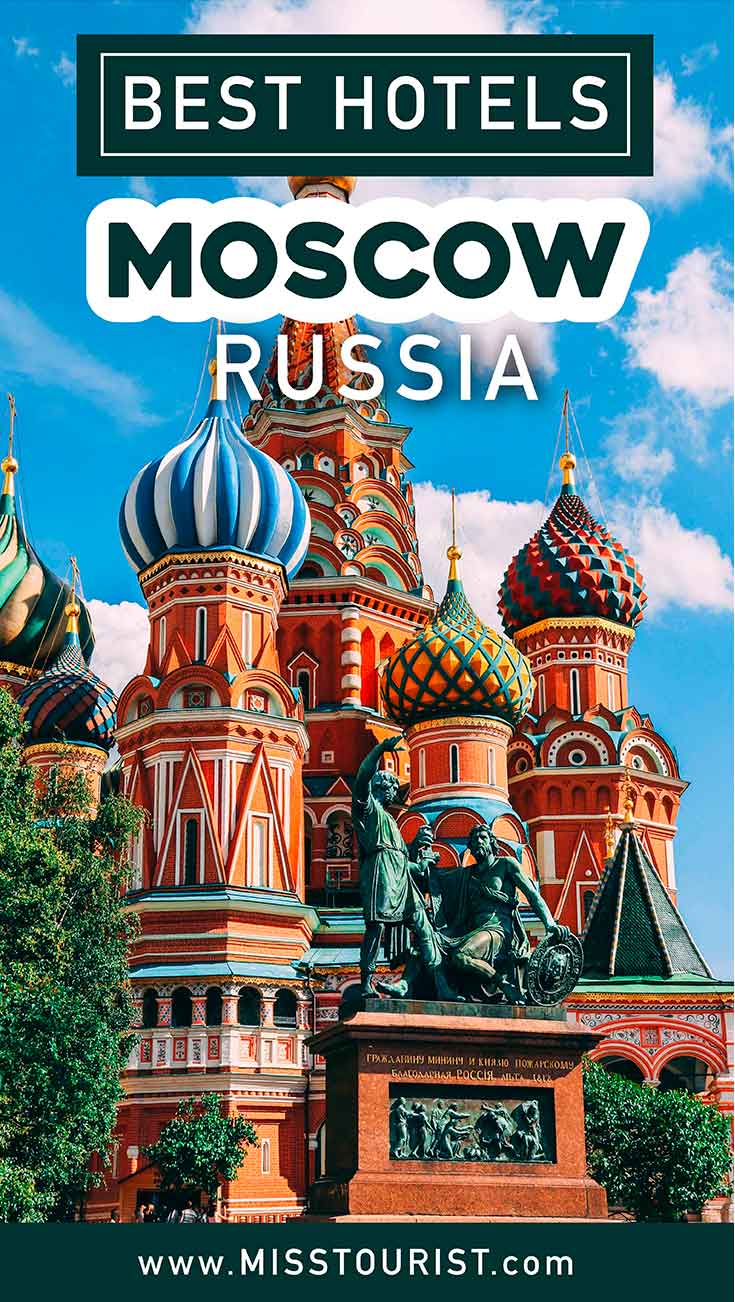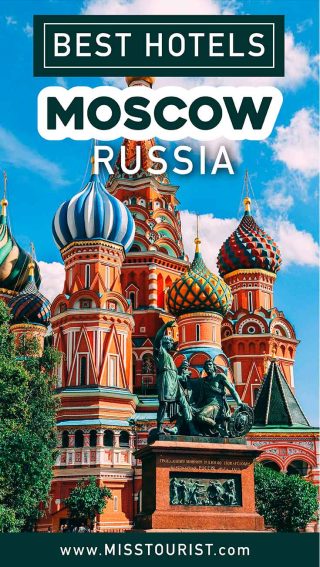 Pin it for later!