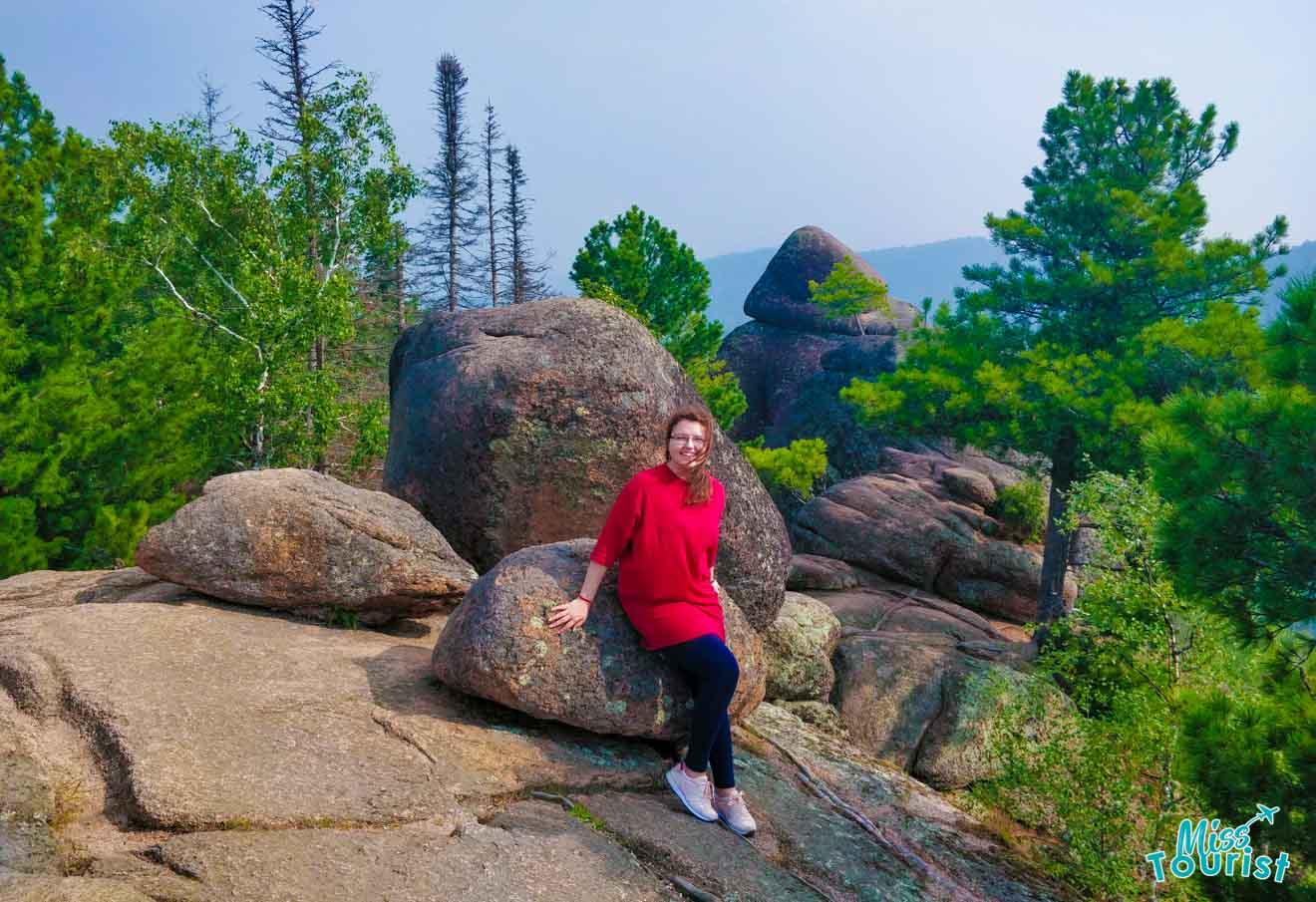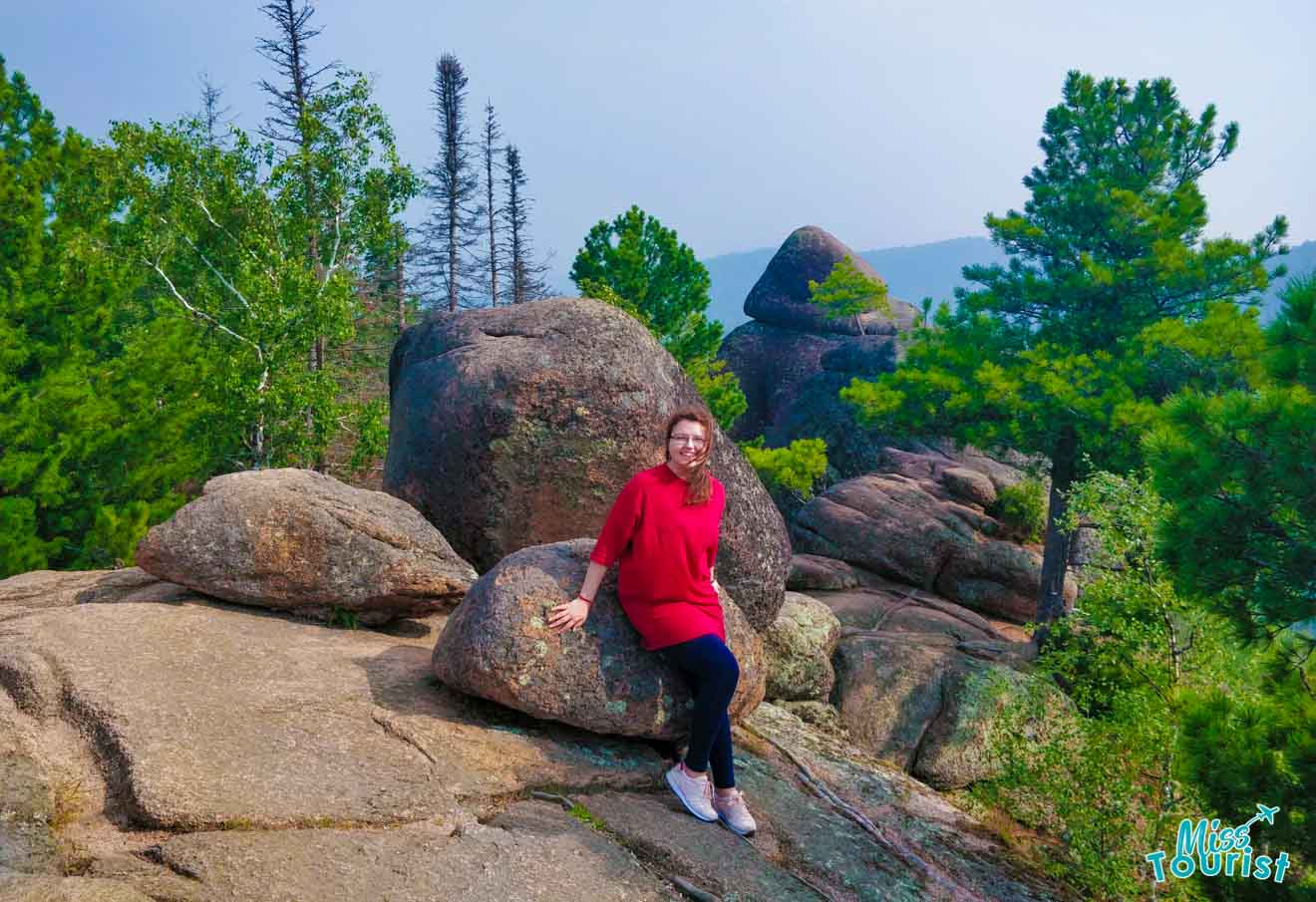 Siberia is located far, far away. Although I am Russian myself and I live in Moscow, Krasnoyarsk Krai is still very far, even for me!
But what is Krasnoyarsk Krai or Krasnoyarsk region ("Krai" means "region") and why you should go there?
It is basically one of the main regions of Siberia. I have taken a trip around there myself and I simply loved it! And if you are planning to do the same, I know it might be challenging to plan a trip to Siberia. So, with the help of Siberian ministry of Tourism I organized a complete, exciting itinerary and I want to share it with you!
Siberia is famous all over the world for its exceptional climate and nature. Krasnoyarsk territory is the second largest region in Russia and the main federal state of the area. About 3 million people live there and I guess you can notice that it is a very small population for such a huge area! The thing about this region is that most people live in urban areas, that's why natural surroundings stay untouched and real!
Krasnoyarsk, Siberia is famous for its forests, rivers and mountains. The famous taiga biome is found here, the Yenisei River flows through all of this region and the Sayan Mountains are the biggest and most beautiful mountains of the area!
In my itinerary I have chosen the best places where you can enjoy the pristine nature, as well as immerse yourself in Russian traditions. At the end of each section (day) you will find detailed descriptions on how to get to the place from the destination in the previous day. I try to make the transportation section as detailed as possible giving you different options and listing the price for each as well.
Let's go!
Day 1. Start your trip in the city of Krasnoyarsk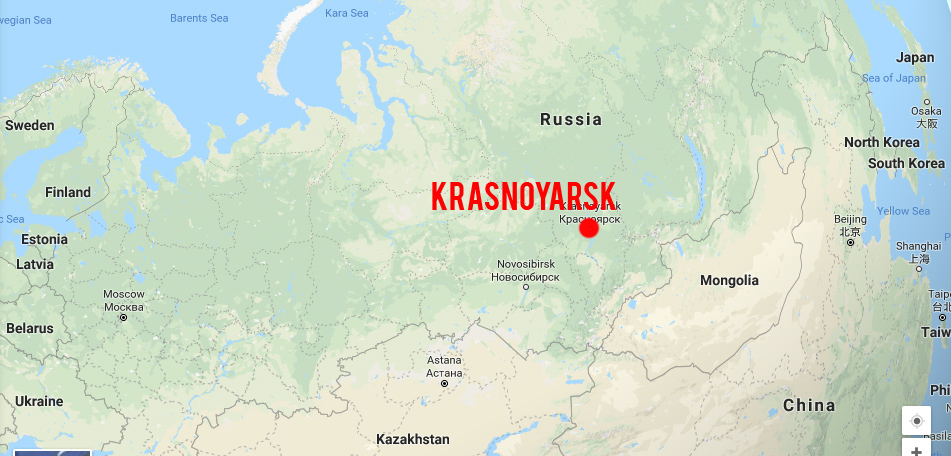 This is definitely one of my favorite cities in Russia!
I suggest spending the entire first day of your trip inside Krasnoyarsk.
Krasnoyarsk city is located 4,140km from Moscow. It is one of the biggest cities in Russia and the biggest city in the area (please read more about how to reach the city below). I was pleased to see that the city is very well-maintained. The streets look very new and the river embankment was recently reconstructed and equipped with beautiful wooden benches and swings. Plus, you will find more than 130 fountains in the city that make the atmosphere so special!
In March of 2019, Krasnoyarsk held the well-known Universiade games and because of that, the city was renovated and renewed.
Things to do in Krasnoyarsk, Russia
The main symbols of Krasnoyarsk that are very familiar to every Russian are the Komunalny Bridge and the Paraskeva Pyatnitsa Chapel! But apart from these two things, there are plenty of other sights to see in Krasnoyarsk.
Let me share my favorite places to visit in the city of Krasnoyarsk with you:
1.1 Walk along the embankment of the Yenisei River and see the Komunalny Bridge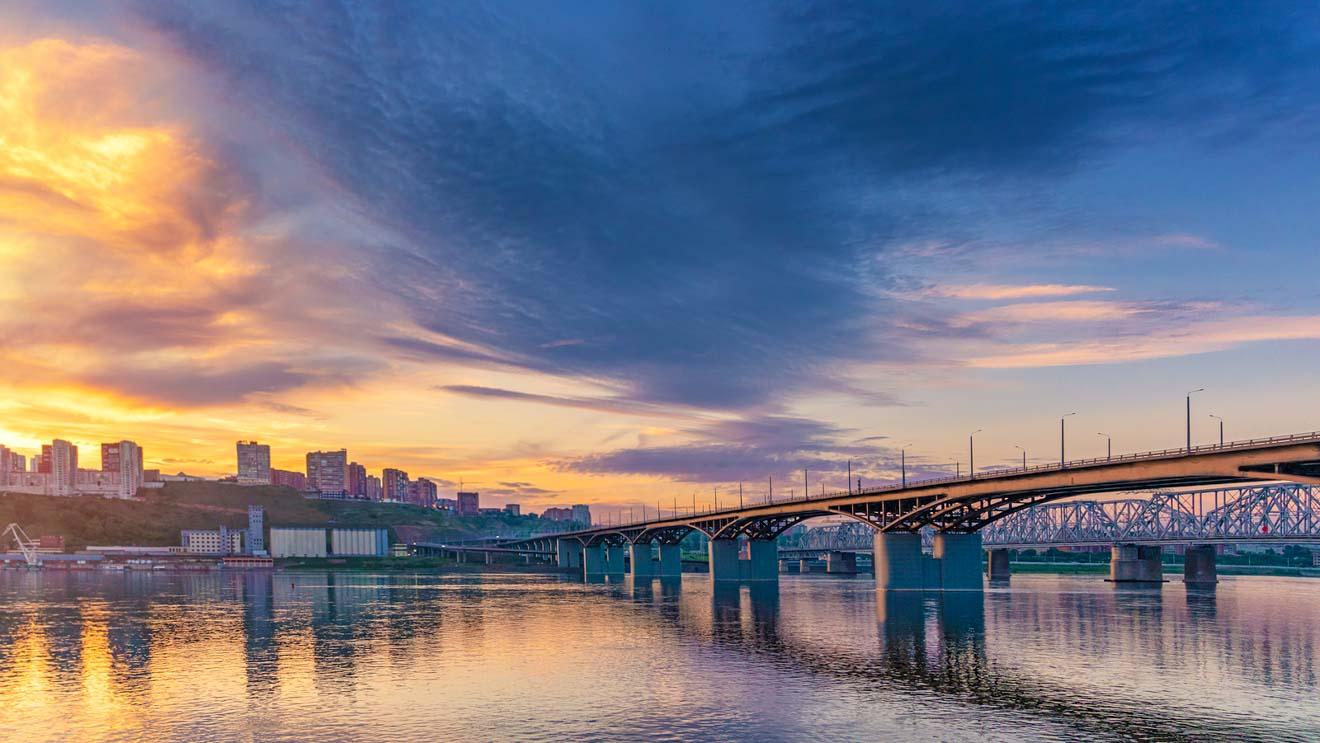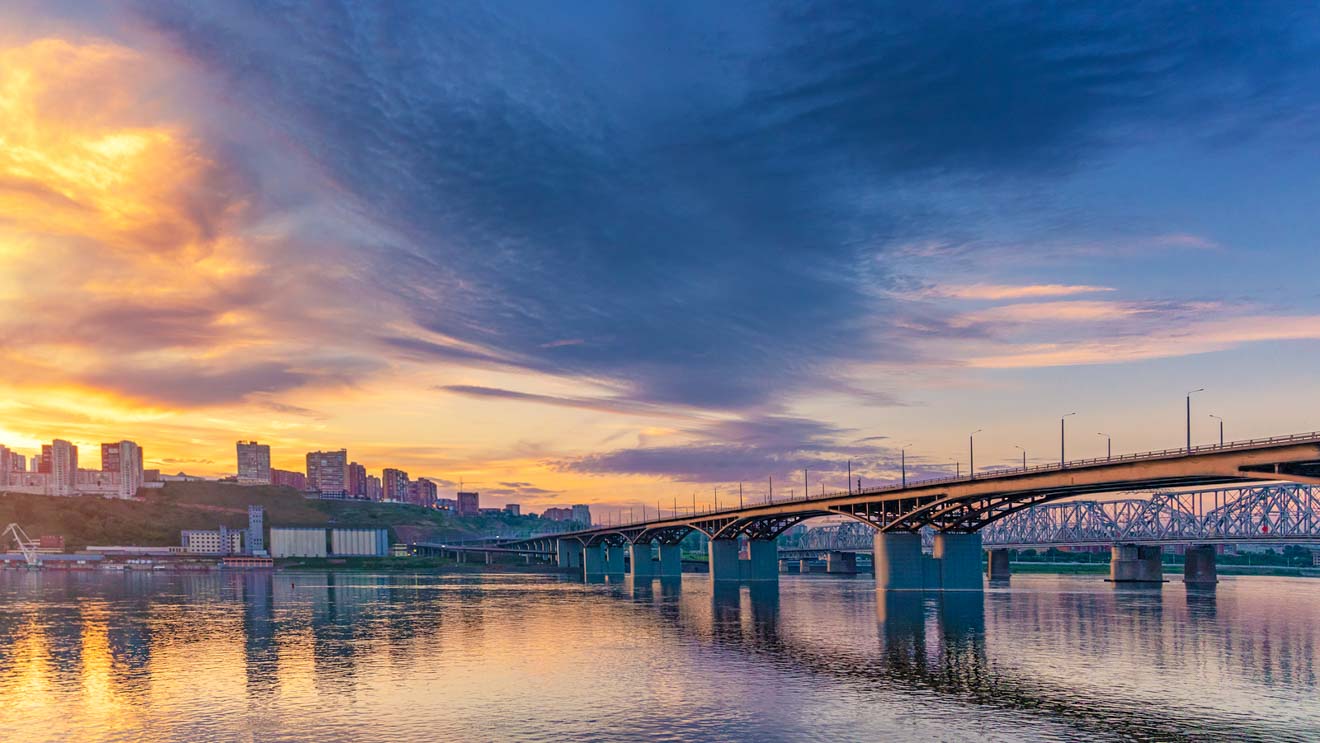 The embankment is a favorite place of Krasnoyarsk citizens to go on a date or just to take a walk. It offers beautiful views of the Yenisei River, of the bridges and of the islands. You can really spend a lot of quality time there! The total length of the embankment is about six kilometers.
The Komunalny Bridge is located somewhere in the middle of the walk along the embankment. It was built in 1950 using a very special type of construction that was studied by engineers from all over the world. Plus, at that time, it was the longest bridge in Asia!
FUN FACT: You can see the Komunalny Bridge on the 10 ruble banknote.
1.2 Pay a visit to Teatralnaya Square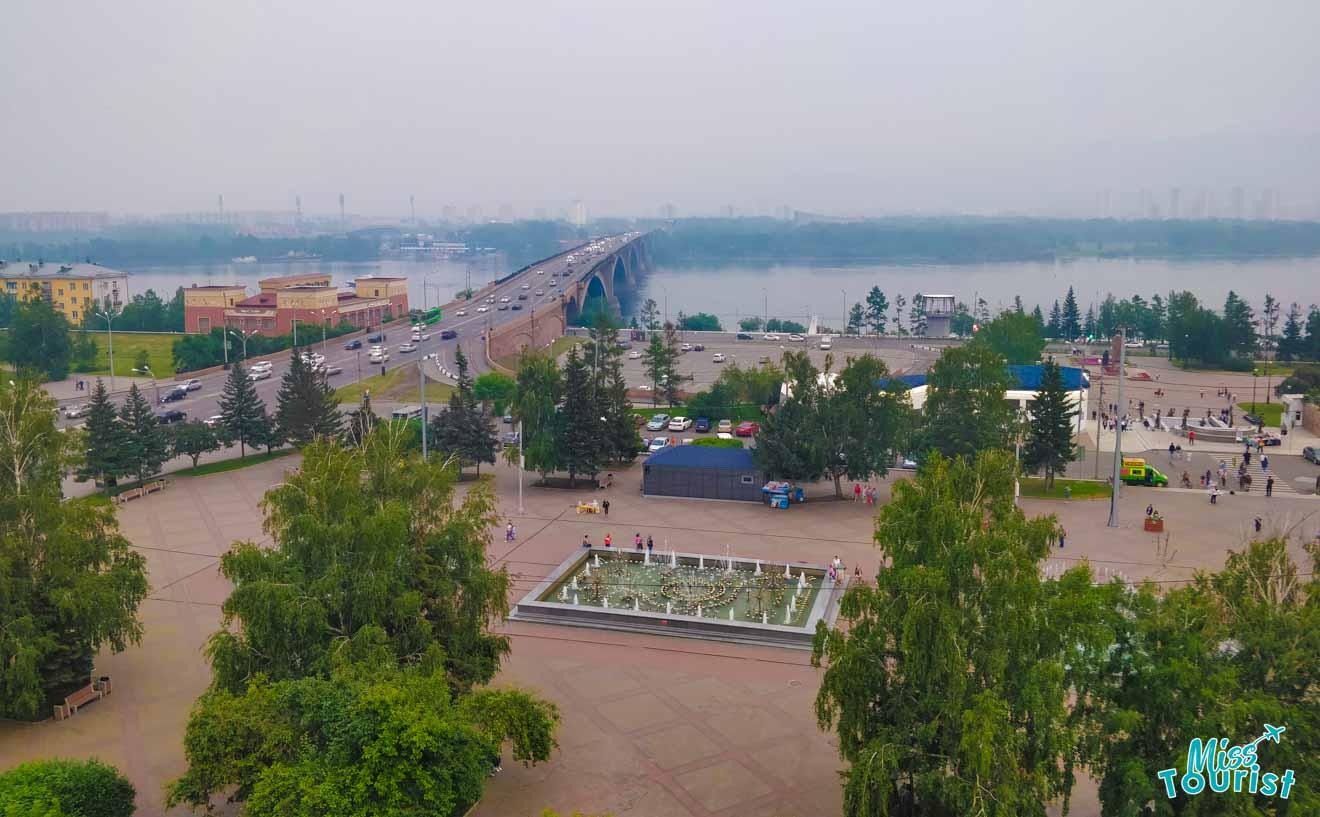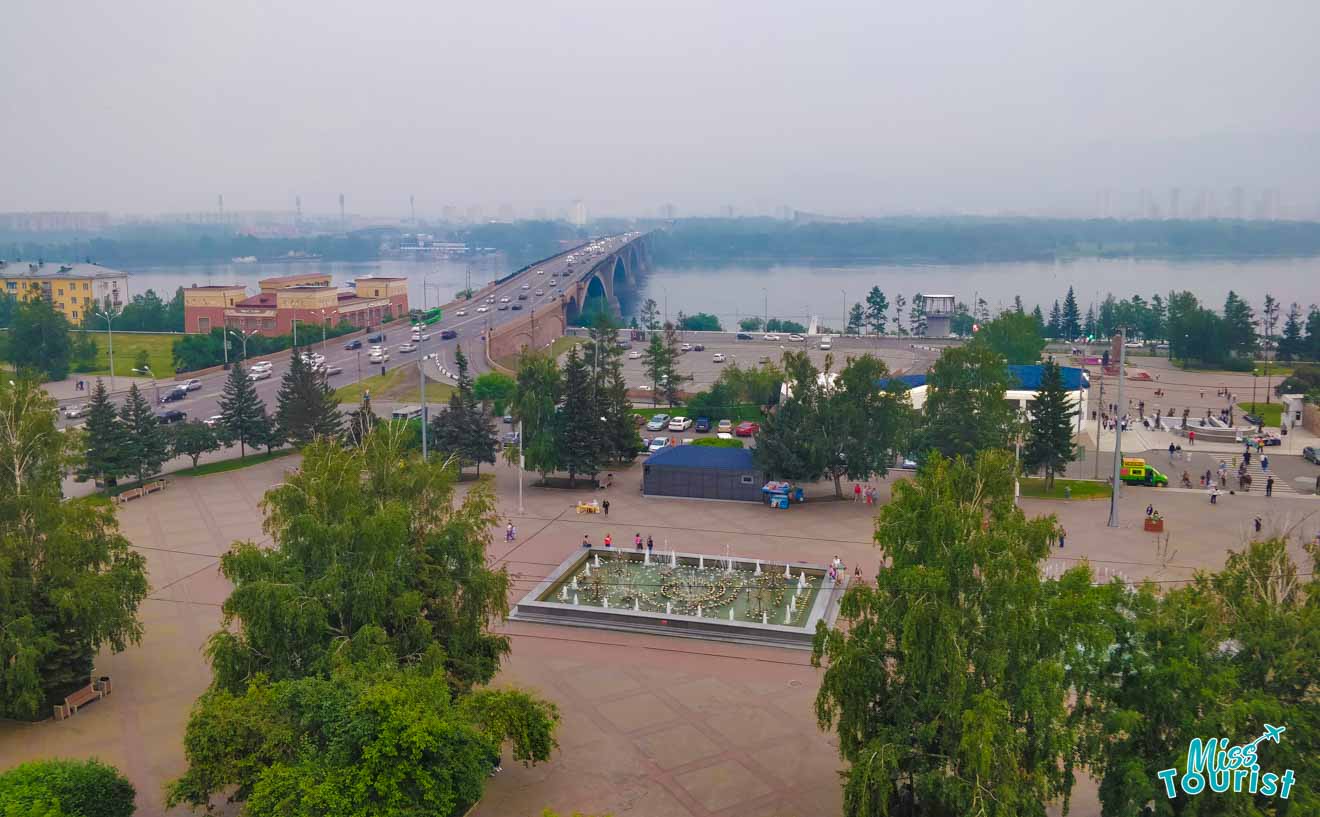 Teatralnaya Square is the heart of Krasnoyarsk!
It is located in front of the Opera and Ballet Theater, right near the Komunalny Bridge and all the city holidays and festivities are held here!
I stayed in Hotel Krasnoyarsk, which is located right in the middle of the square. From the windows of the hotel you get an amazing view of the Yenisei river, Teatralnaya Square and Komunalny bridge.
Around the Square you will find many hotels, fountains, and monuments, but you will also see a clock there. So what's so special about this clock? The locals call it "Krasnoyarsk's Big Ben" and it really reminds me of Big Ben in London!
Closer to the river bank, you will see a fountain with a man surrounded by seven ladies. This fountain is called the Rivers of Siberia. The man symbolizes the Yenisei River and the girls symbolize the other small rivers in Krasnoyarsk Krai. Each of the small rivers has a feminine name in the Russian language, which is why they have feminine shapes. I really loved the idea behind the fountain but I feel that it should be renewed a little bit!
1.3 Walk around the central streets of Krasnoyarsk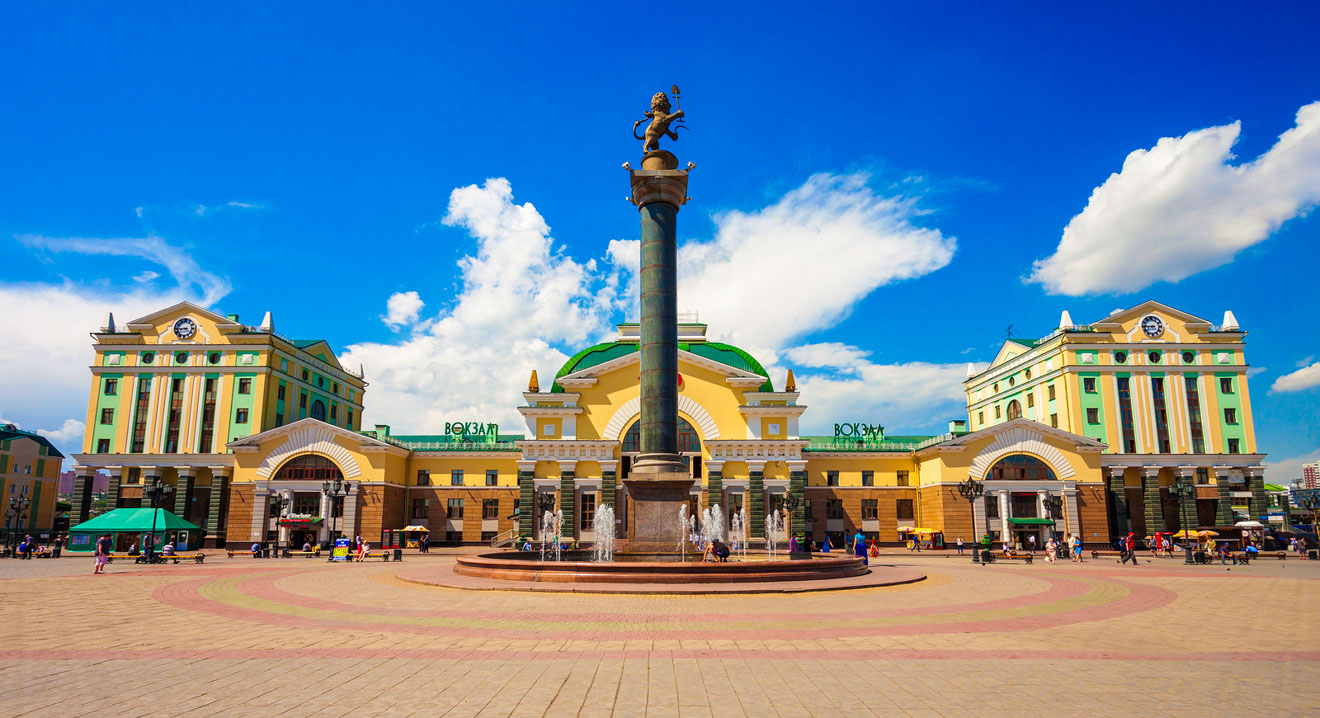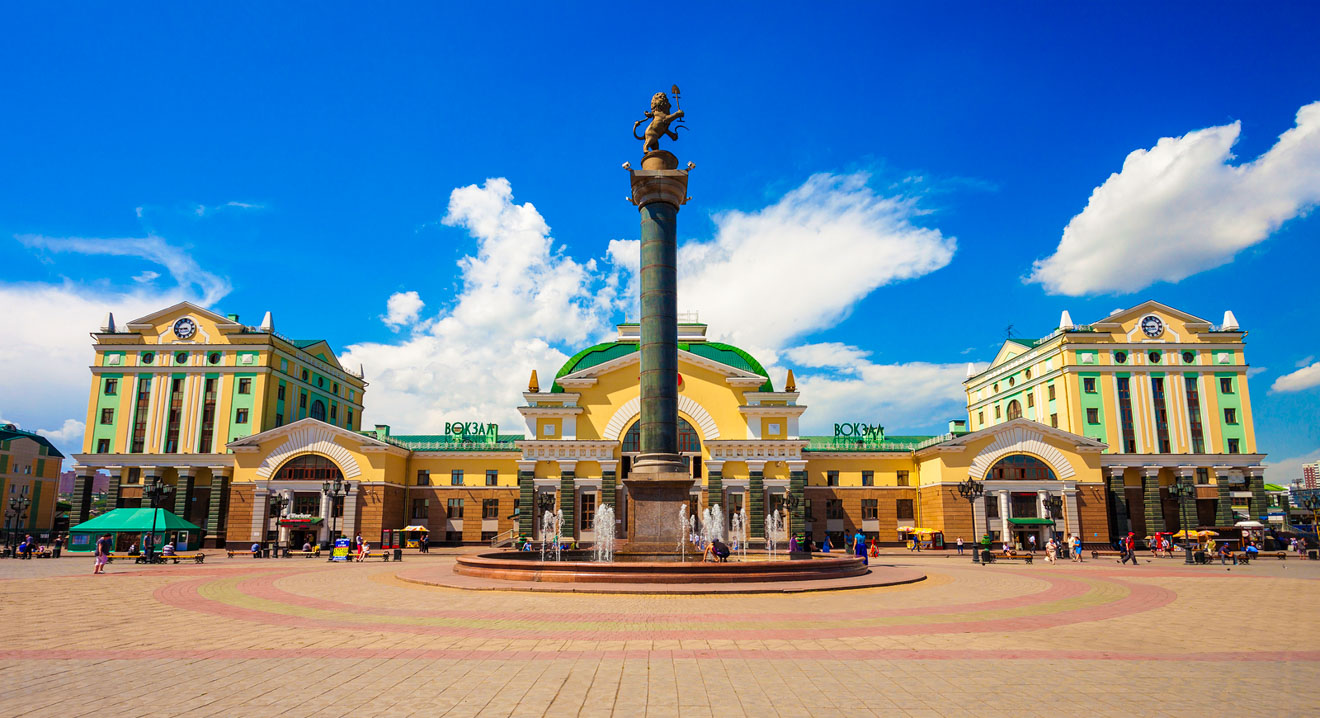 Whenever you get hungry or want to have a cup of tea, I recommend going towards Mira Avenue. This street is filled with many nice cafes and restaurants. You will see people walking around and enjoying the atmosphere of the city and I recommend you do the same!
PRO TIP: Very close to Mira Avenue you can find the Tourist information center (Lenina Street, 120). They can provide you with free maps, free Wi-Fi, and any information you might need about the city and the area. I suggest you to go there and get a visitor's card. The card is free of charge and it will give you discounts for several museums, tours, hotels, restaurants and cafes. For example, you can choose one of the restaurants and get a discount when you eat there. Or, if you have time, you can visit one of Krasnoyarsk museums.
Great places to eat in the center of Krasnoyarsk: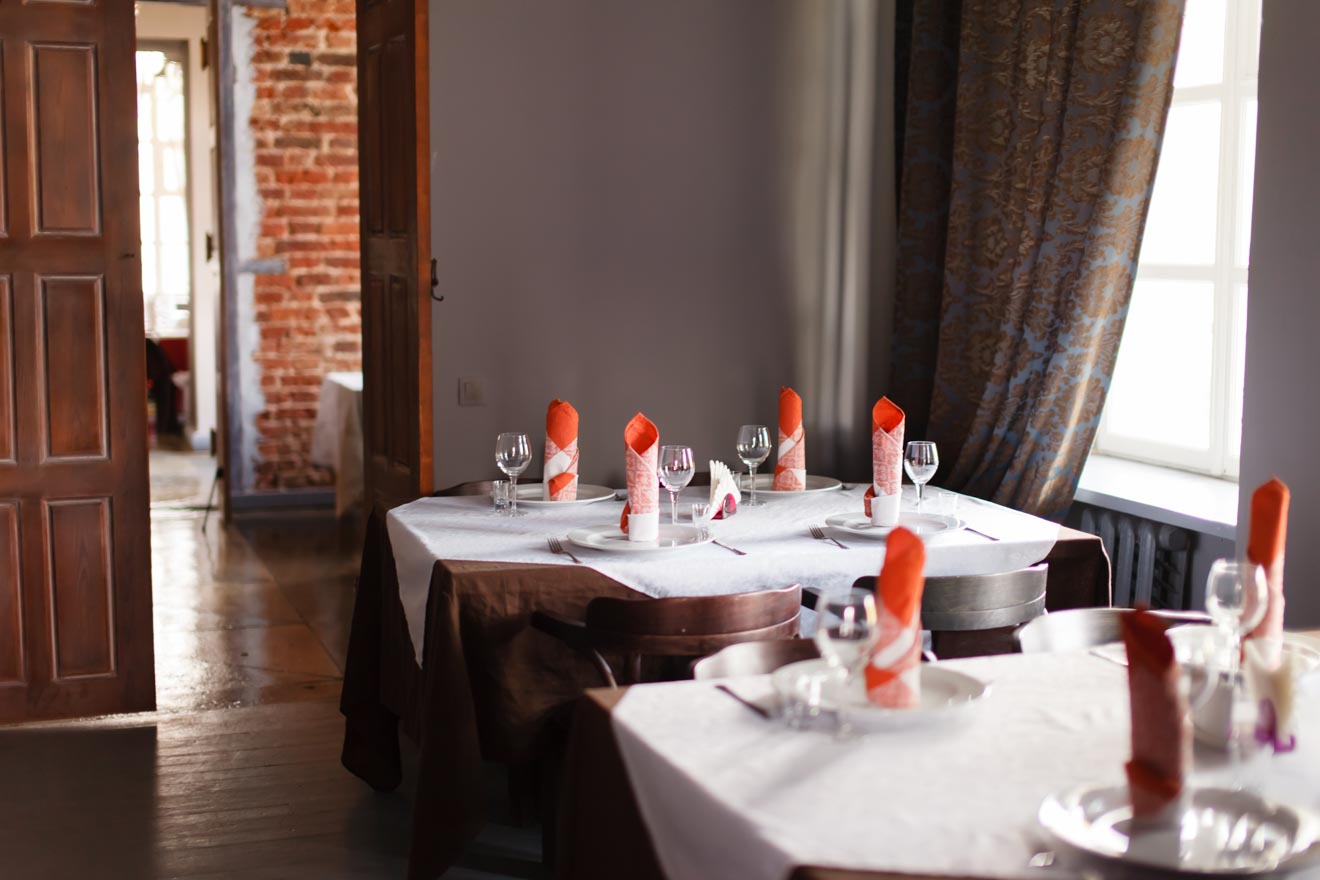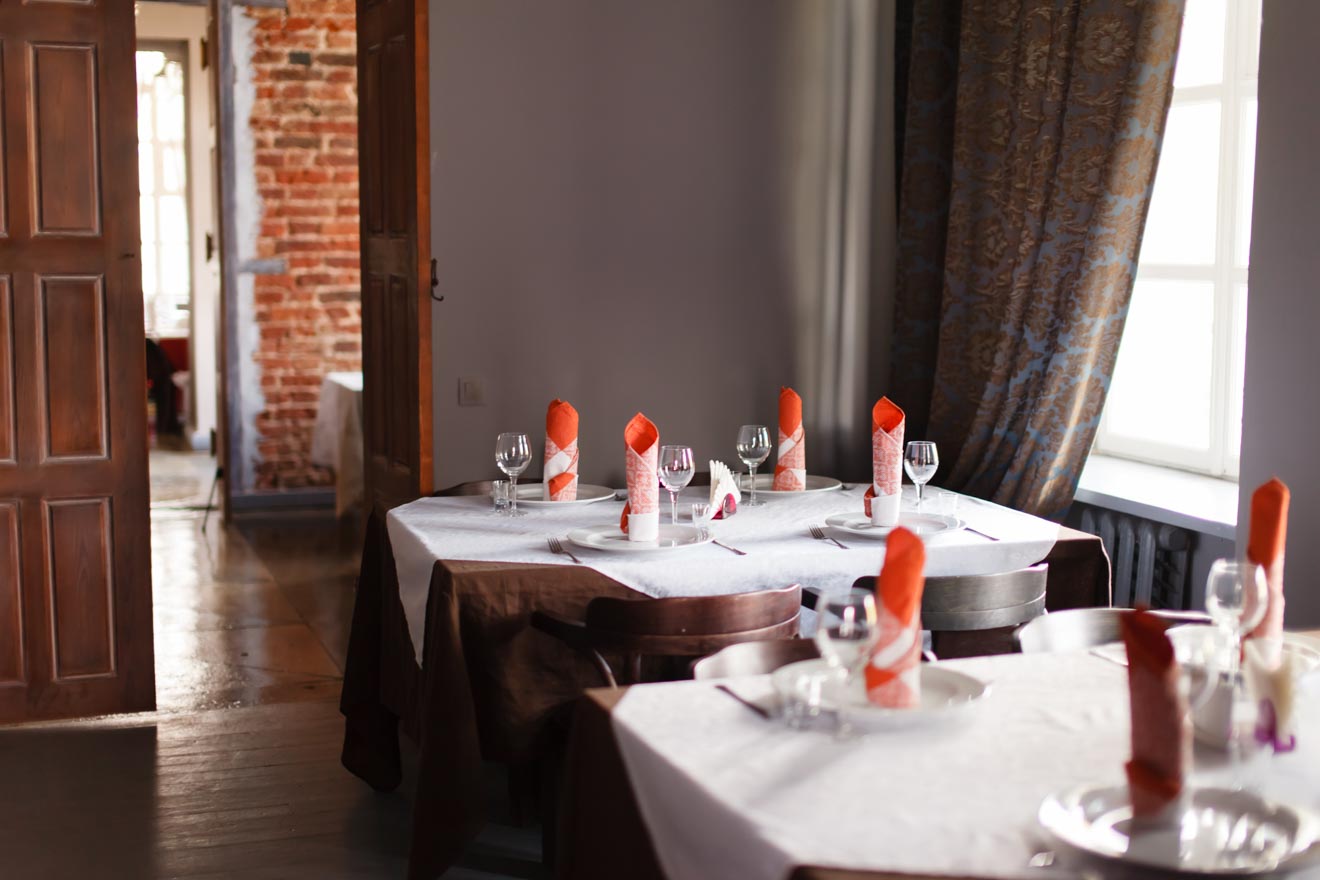 1.4 Don't miss visiting the Chapel of Paraskeya Pyatnitsa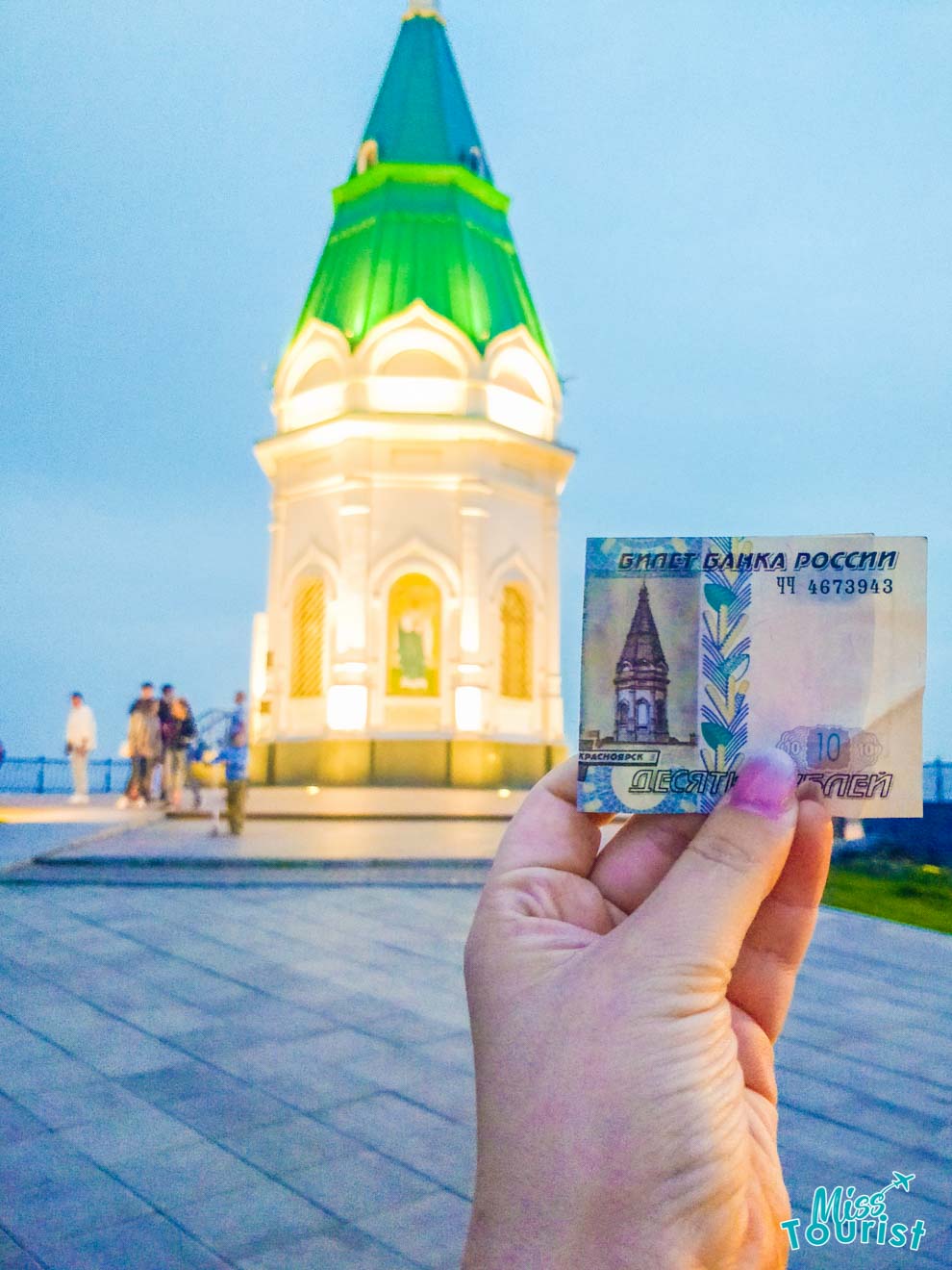 The chapel stands on top of Karaulnaya Mountain, which offers stunning views of the entire city.
This chapel is actually one of the symbols of the city!
It is visible from afar and it makes you want to climb the hill and enjoy this wonderful place. A nice park for walking is nearby. But I honestly find it a bit overrated that's why I put it as number 4 on the list.
NOTE: Paraskeva Pyatnitsa Chapel's picture is also placed on ten-ruble banknotes.
1.5 Meet the gophers at Tatyshev Island
Tatyshev Island is the best place for outdoor activities! Here you can walk, ride a bicycle or roller skate, have a picnic on the grass, and feed the gophers and ducks. And yes, this island is famous for its cute little animals – the gophers! So I recommend you prepare some light snacks like pieces of bread to feed these lovely creatures. They are very friendly!
Where to stay in the city – Best Krasnoyarsk Hotels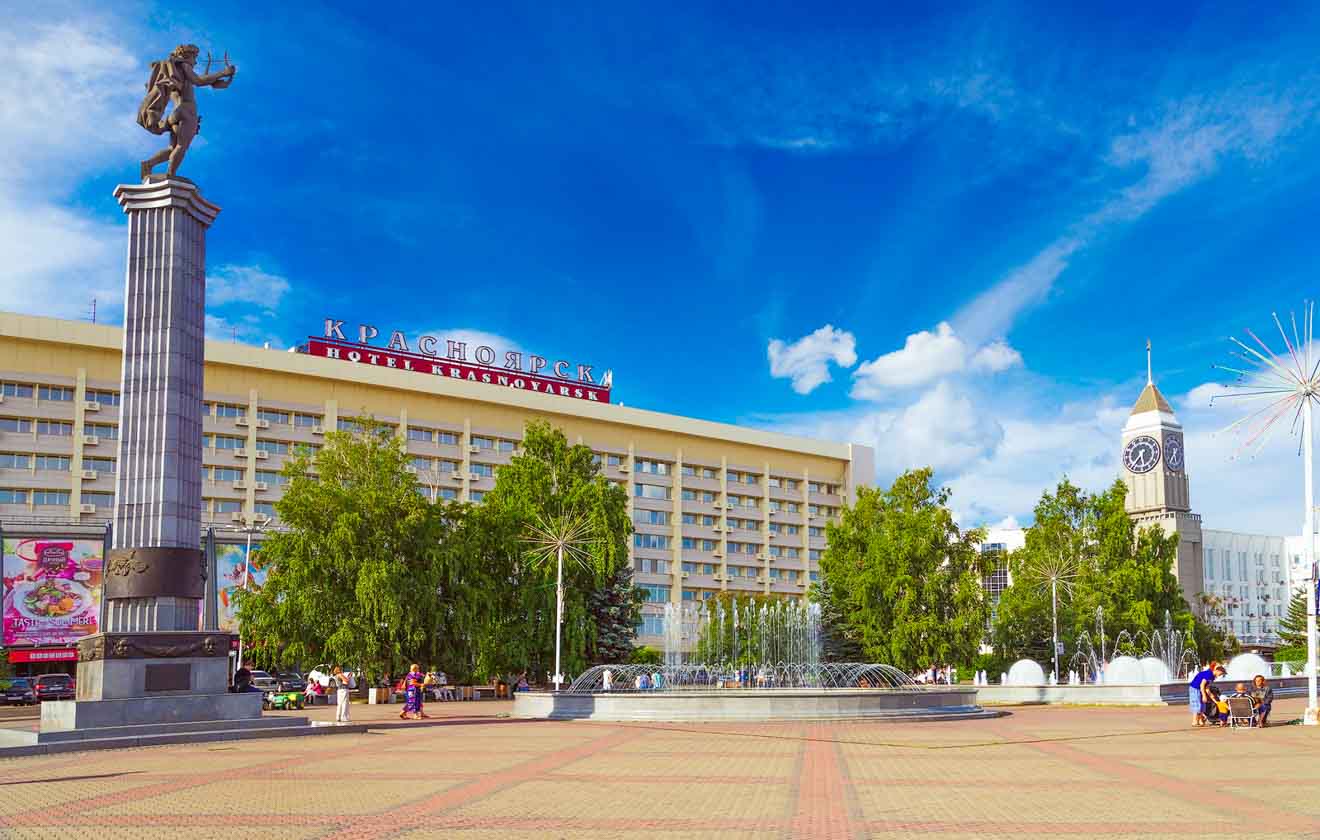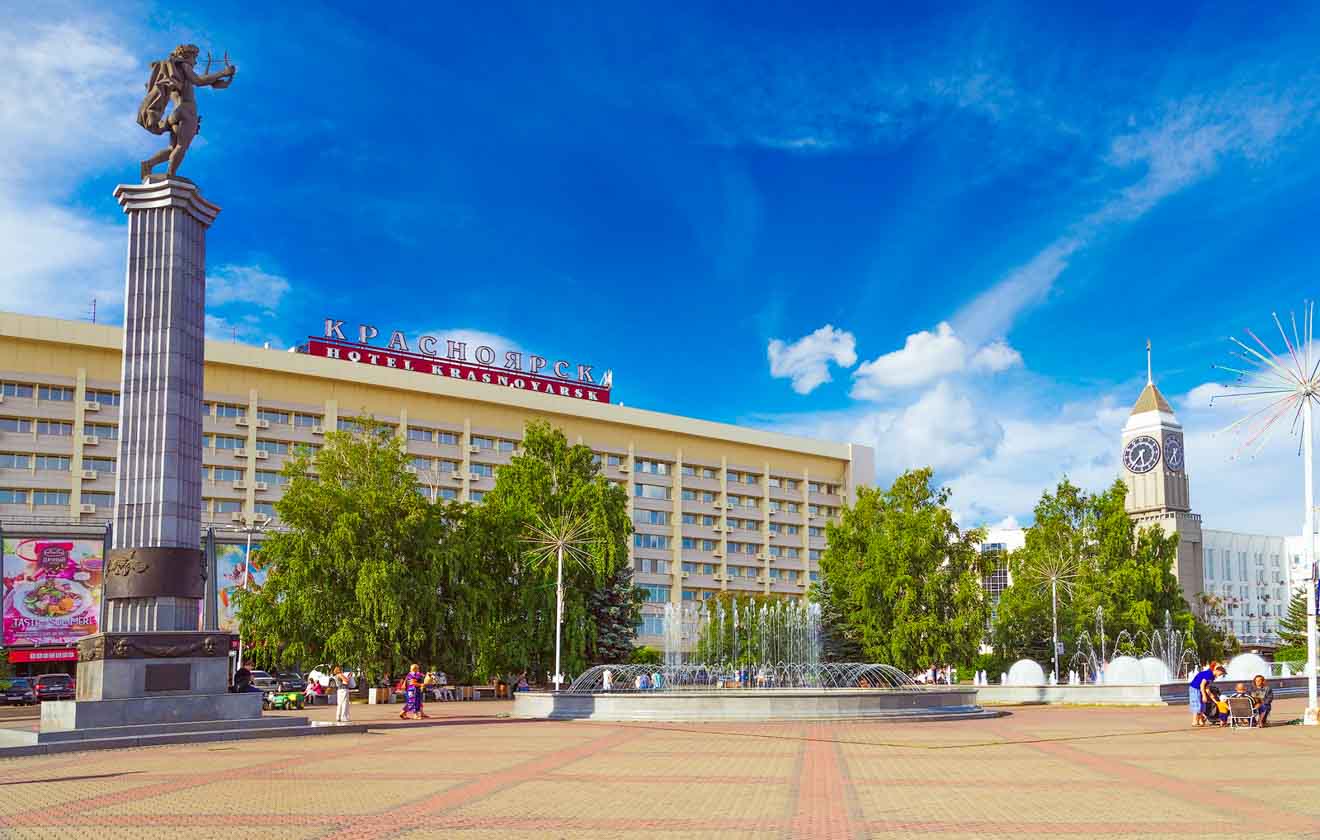 There are many great hotels in Krasnoyarsk that will make your stay comfortable! As I mentioned earlier, I stayed in the Hotel Krasnoyarsk, which is located right in the heart of Teatralnaya Square and it has a very nice view of Yenisei river and Komunalny Bridge!
Although, in my taste, the hotel is a bit old-fashioned, the rooms are clean and comfortable. The hotel's restaurant is open 24 hours and they offer pretty good meals. I can say that Hotel Krasnoyarsk is a good one for your stay as well!
UPDATE: Here is a separate post that is dedicated only to the accommodation in Krasnoyarsk, check it out for more options!
I have chosen few more good hotels in Krasnoyarsk for you: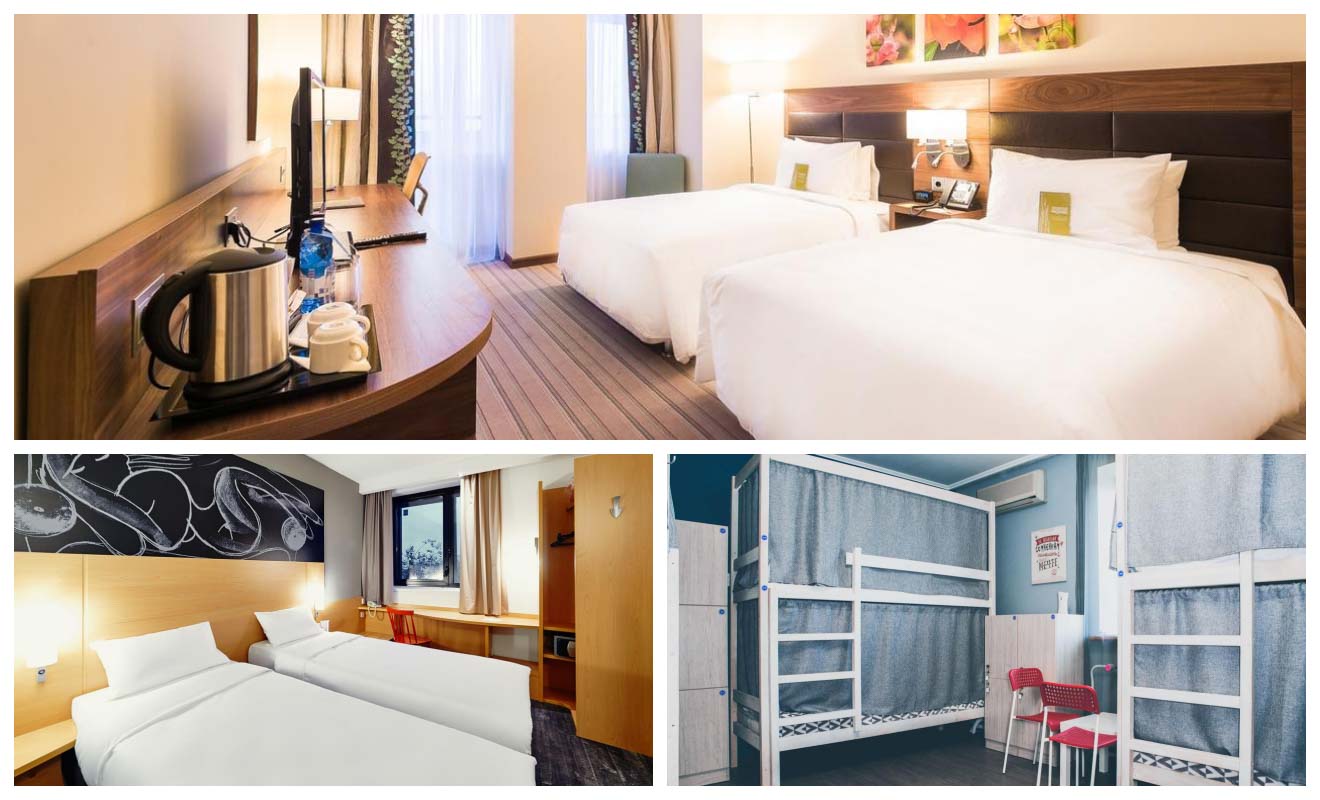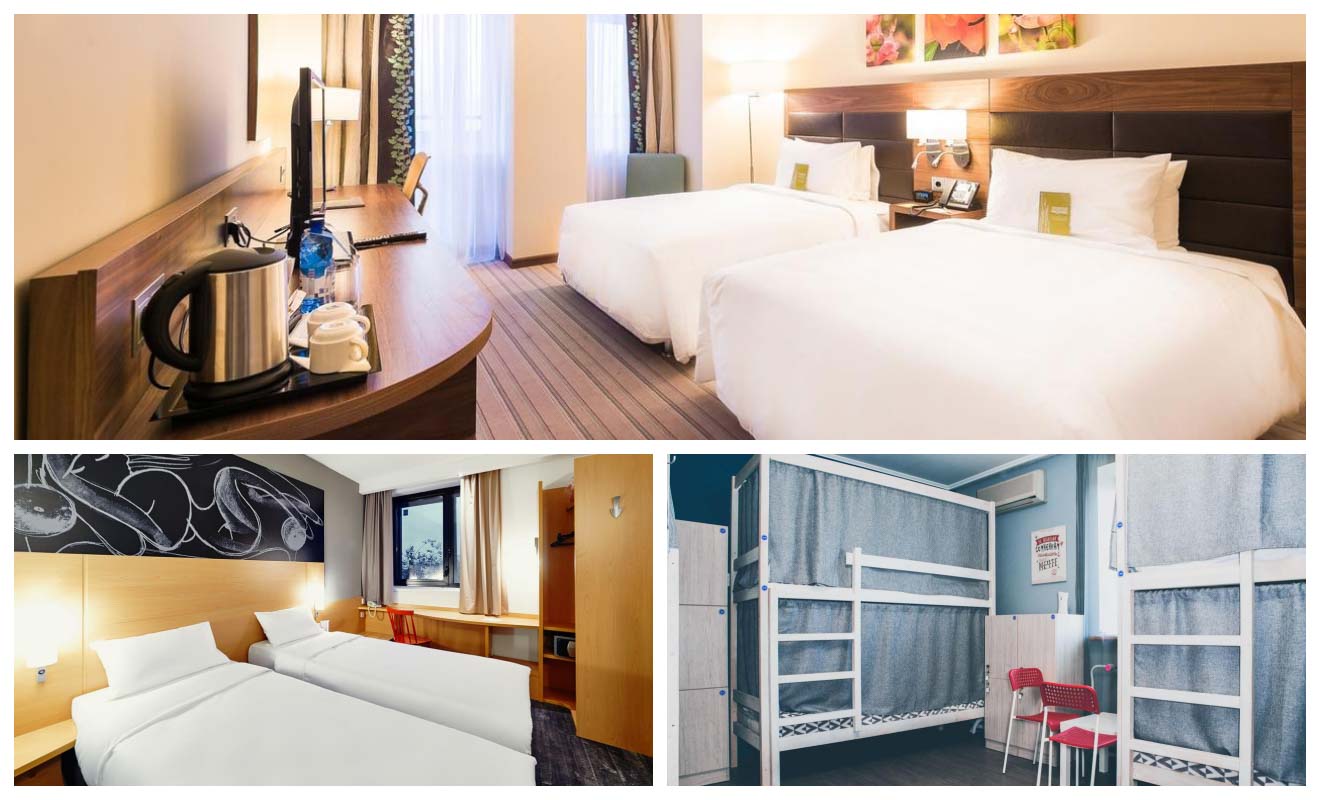 Luxury hotels ($160 USD and up): Hilton Garden Inn Krasnoyarsk is a great hotel with good service, just like all the other Hilton hotels around the world! This accommodation is located in the center of the city, which is super convenient! Another great choice is Soft Hotel. This one is also in the center of Krasnoyarsk, and its clean rooms and very helpful staff await your arrival. It has amazing reviews as well!
Middle-priced hotels ($55 to $110 USD): My first middle-priced recommendation is ibis Krasnoyarsk. Ibis hotels are very good hotels and are known everywhere for the quality of their services. Another very good recommendation is Dom Hotel Neo, which has a great location near the train station and very good reviews.
Budget (up to $55 USD): Enisey Hostel and Hovel Hostel are my hand-picked recommendations for anyone who is traveling in Krasnoyarsk on a tight budget. Both of them are clean and tidy, beautifully designed and they have very good locations!
How to get from Moscow to Krasnoyarsk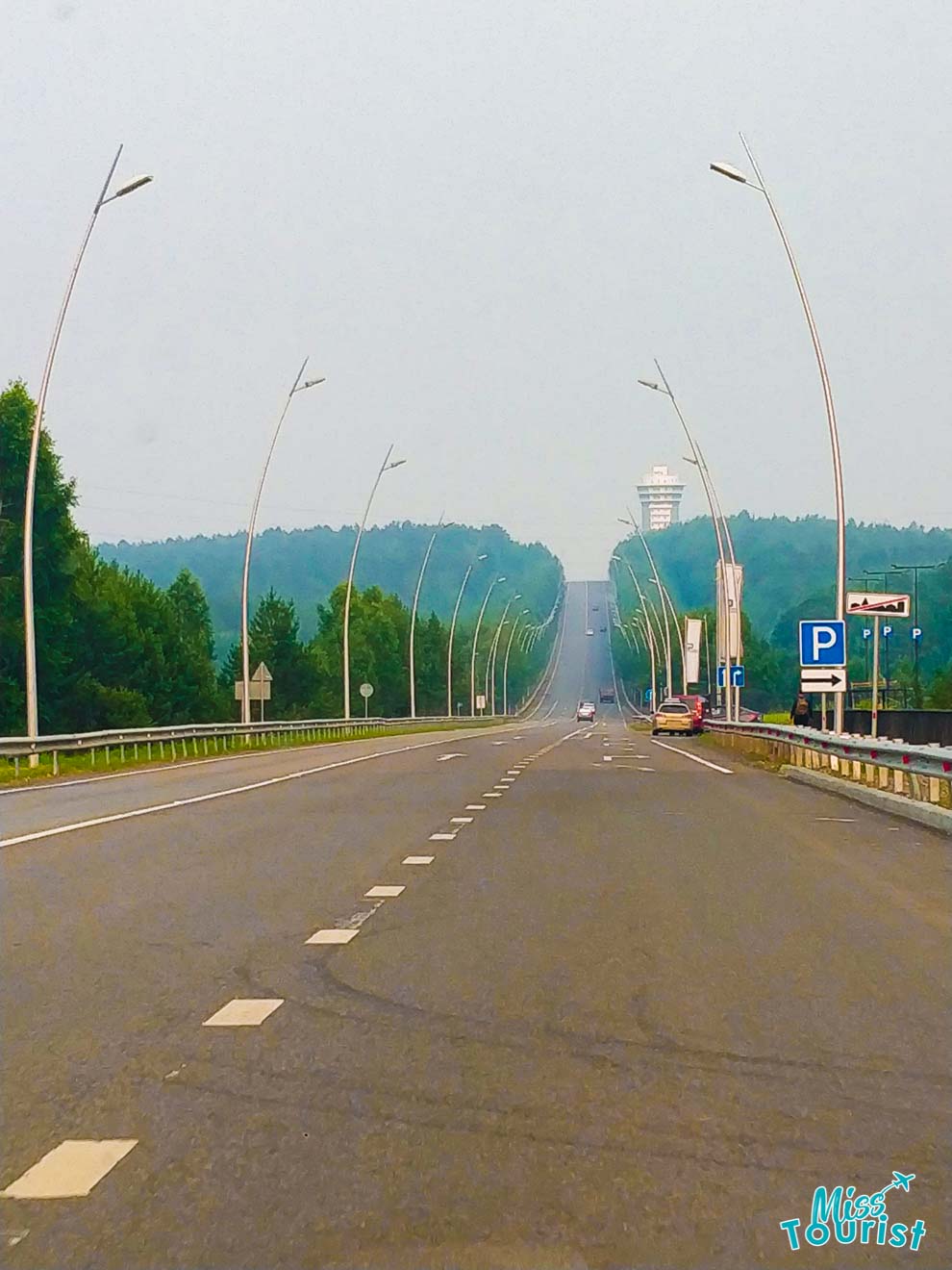 I went to Krasnoyarsk by plane from Moscow and I was very amazed with the new Krasnoyarsk airport! Here are all the ways in which you can get to the city:
By plane
It takes around 5 hours from Moscow. In my opinion, this is the best choice you can make for getting there! I recommend checking for the best flight options from your city on Skyscanner. An approximate, average price for a round trip flight is 15000 RUB ($225 USD).
By train
Going to Krasnoyarsk by train is the best choice for Trans Siberian route travelers! A trip from Moscow to Krasnoyarsk takes around 3 days so, even if you choose this option, I highly recommend you make stops on the way.
You can book your tickets here. An average price for a one-way ticket from Moscow to Krasnoyarsk is 8000 RUB (around $120 USD).
By car
Traveling by car in Russia is haaaard. The GPS directions from Moscow to Krasnoyarsk would be something like: "Go straight for 4,000 km and then turn right!". 😉
Due to the size of the country, traveling by car takes a lot of time and requires a lot of energy and patience. But, nevertheless, many Russians love car journeys a lot!
If you plan to travel by car, it would be very convenient for you to explore the area of Krasnoyarsk Krai. In case you want to rent a car in Russia and travel around the country, you can check the best deals for your dates here.
Day 2. Visit the beautiful places around Krasnoyarsk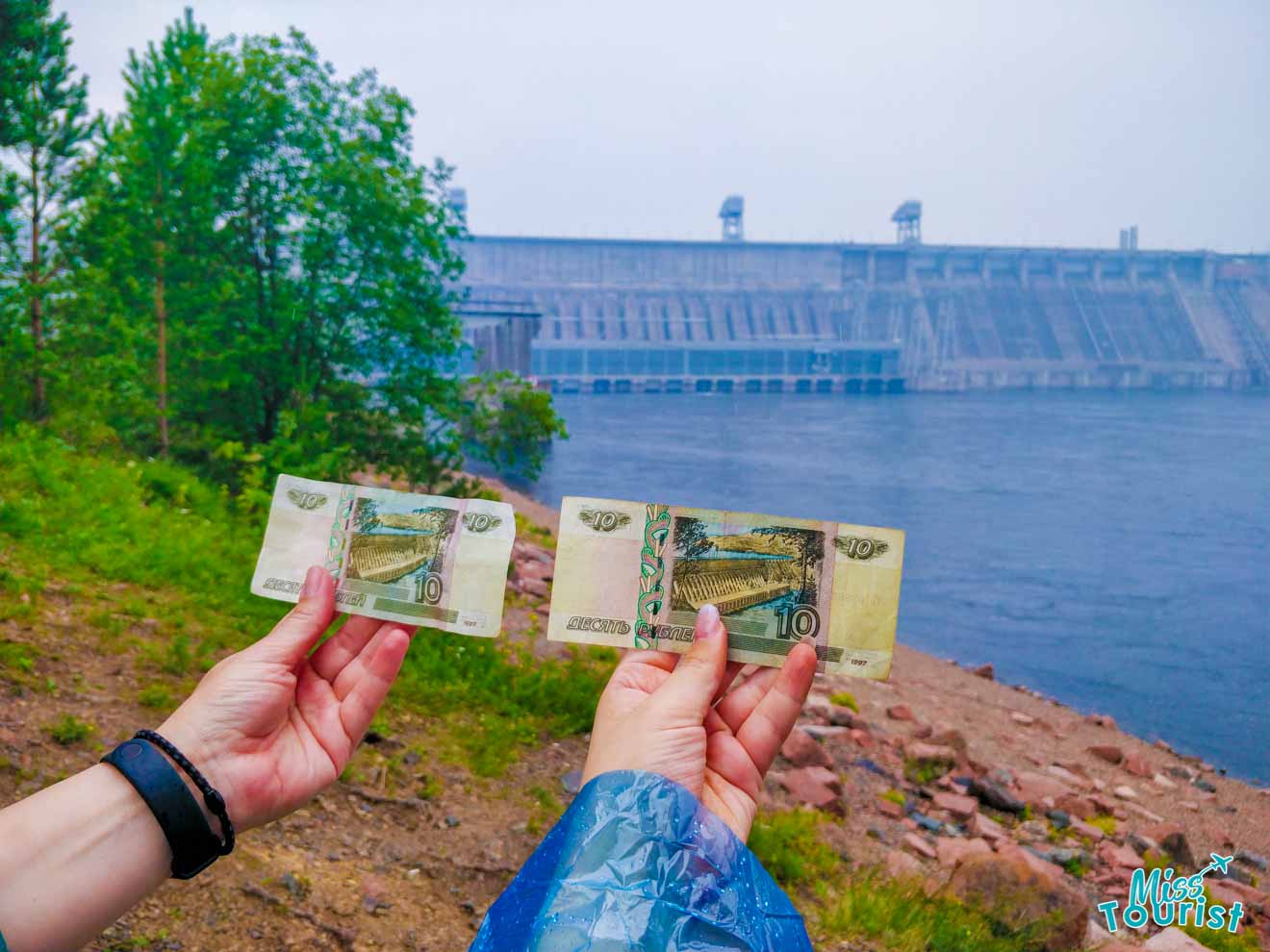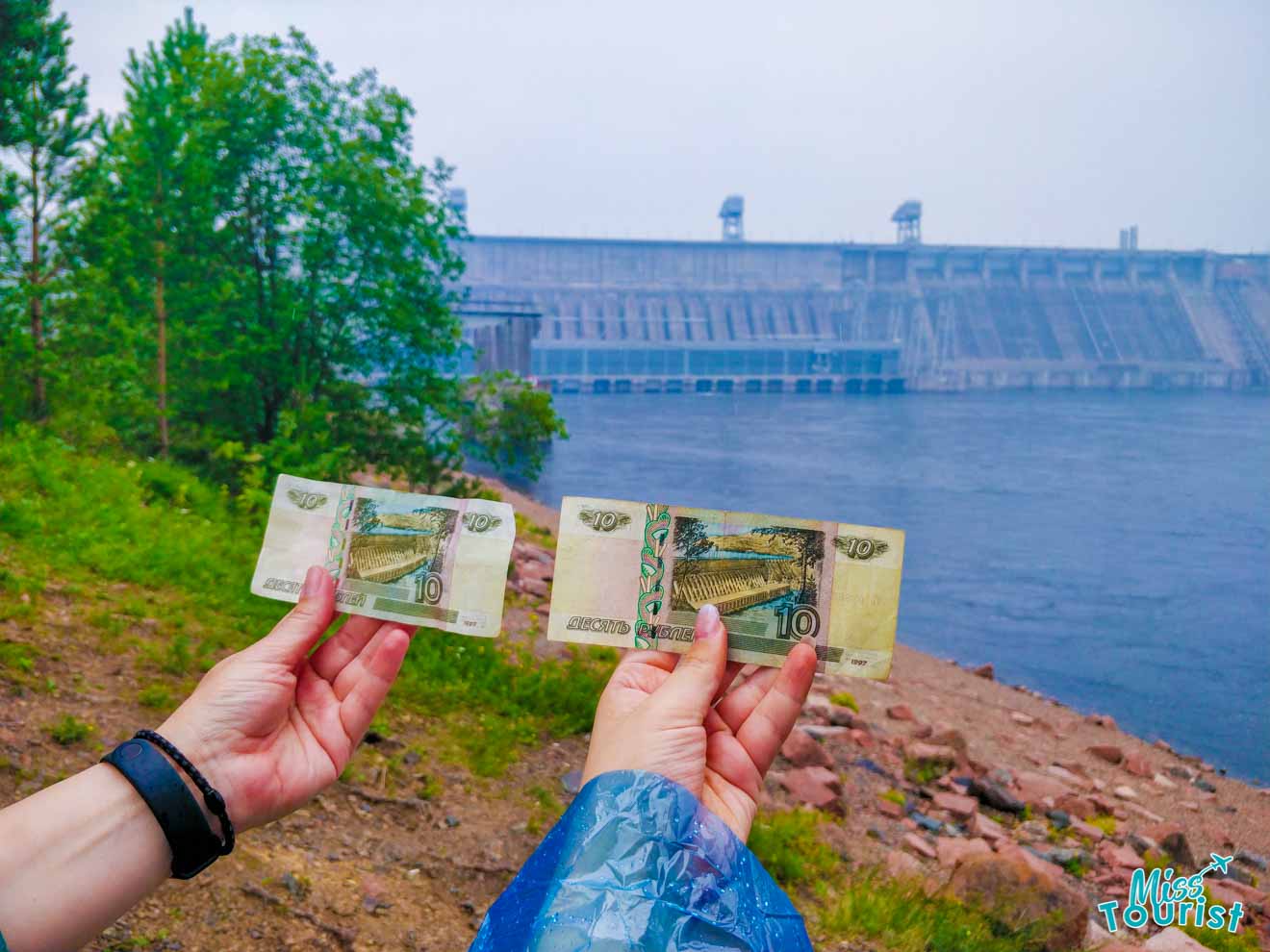 For the second day of this itinerary, I recommend going a bit outside of Krasnoyarsk and exploring the sights around there. In the evening you will come back to the city and spend the night in the same hotel as the day before.
Right near Krasnoyarsk there are many beautiful, unique spots that you shouldn't miss! My recommended places below are enough to spend an entire day visiting without getting bored or tired.
Take a look at my list below:
2.1 Tsar Fish Lookout
Tsar Fish Lookout is basically a viewpoint on a hill that offers a breathtaking view of Yenisei River and the hills around it!
By the way, the "Tsar Fish" or King Fish is a character from a local fairy tale!
A monument of this fish is standing on the hill itself. If you are curious to find out more about the tale, you can read about it here.
You can plan to spend around 20-30 minutes there.
FUN FACT: They say that if you make a wish and touch the moustache of the Fish, your wish will come true. I did, let's see if it will come true or not! 😉
HOW TO GET TO TSAR FISH LOOKOUT FROM KRASNOYARSK:
You can get there by car or by taxi from Krasnoyarsk. The distance is about 20 km. You can rent a car here or order a taxi here. The taxi ride will cost you around 350 RUB ($5 USD).
2.2 Divnogorsk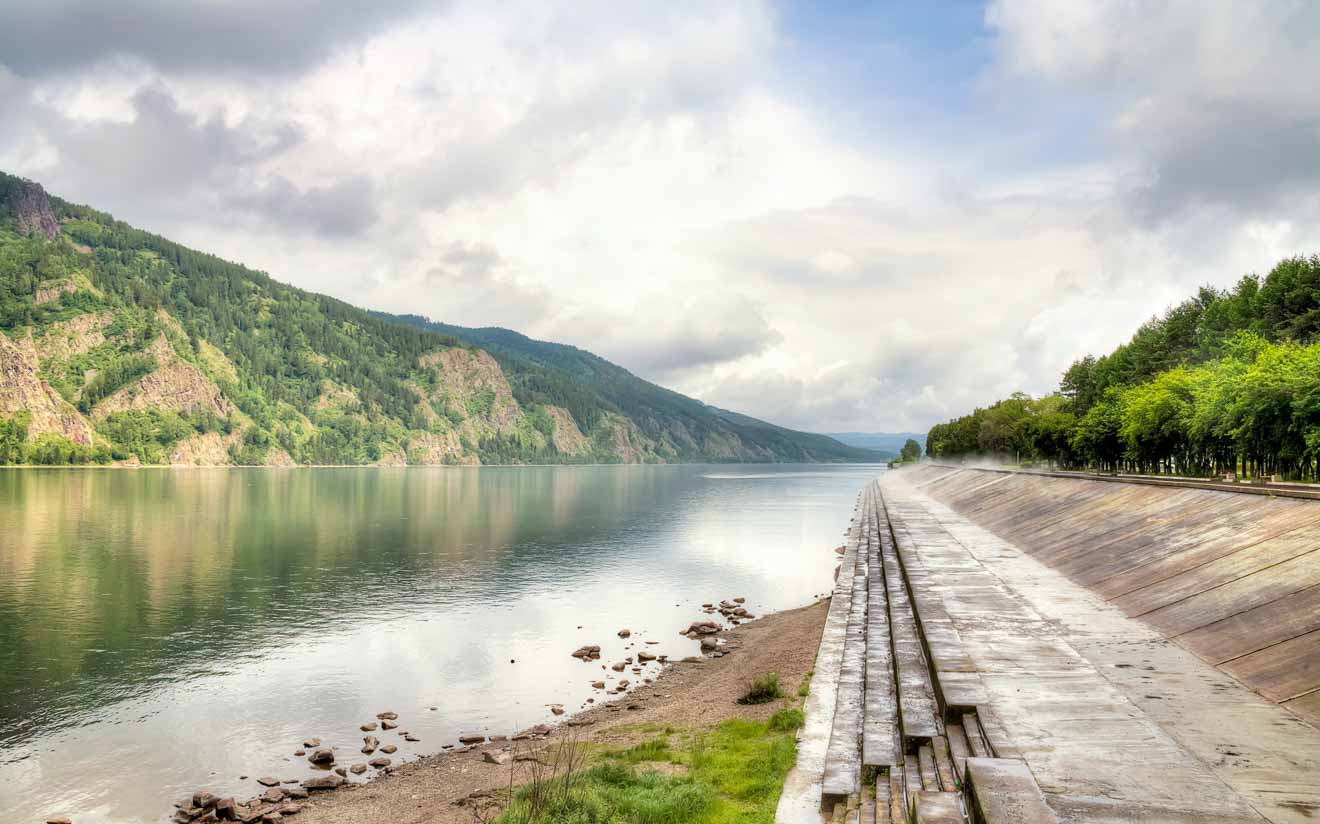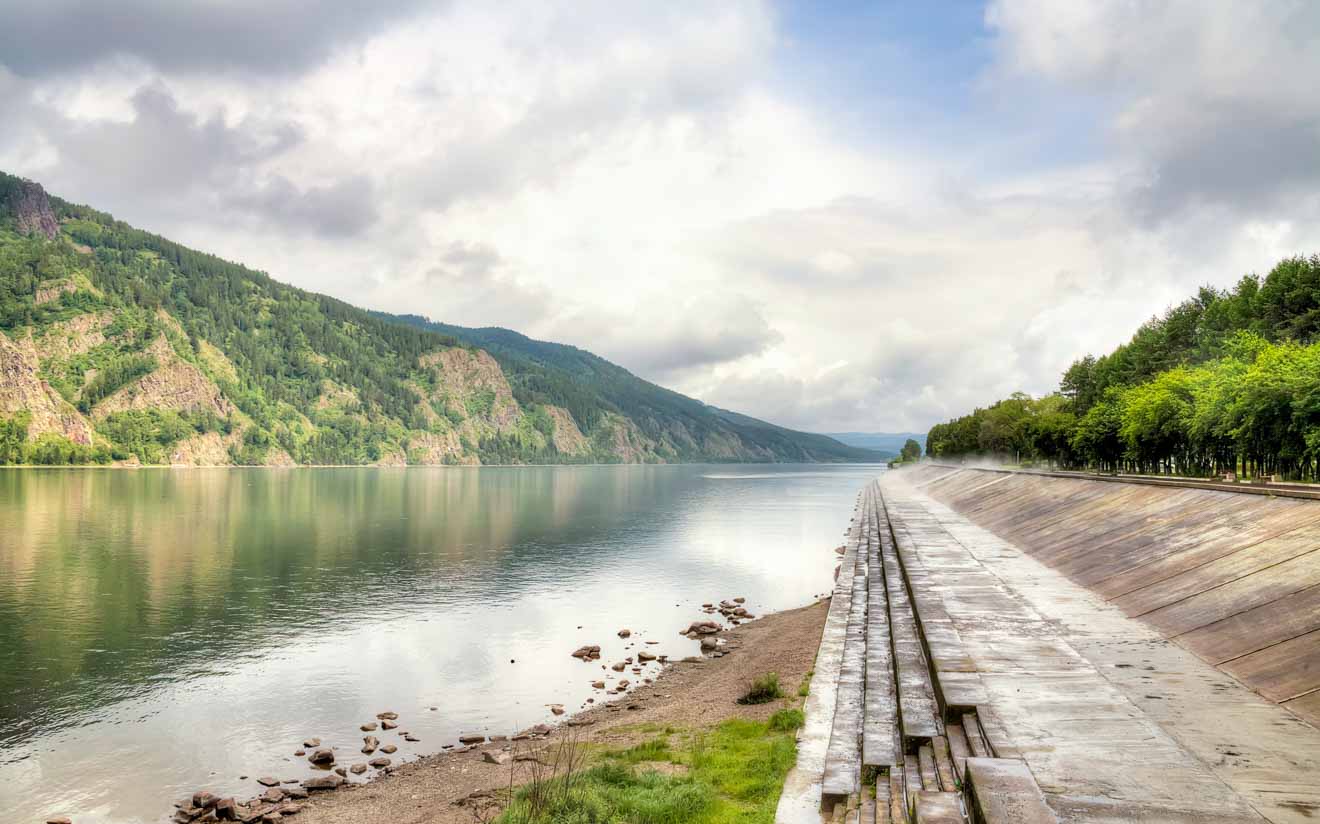 Divnigorsk is a small town located around 30 km from Krasnoyarsk. The town was planned and settled by the creators of the hydroelectric station and it has a special layout of 6 levels, all located on a hill, one on top of the other.
The lowest part of the city has a beautiful embankment with a very nice view of the surrounding mountains!
You can plan to spend about 1 to 2 hours there.
HOW TO GET TO DIVNOGORSK FROM KRASNOYARSK: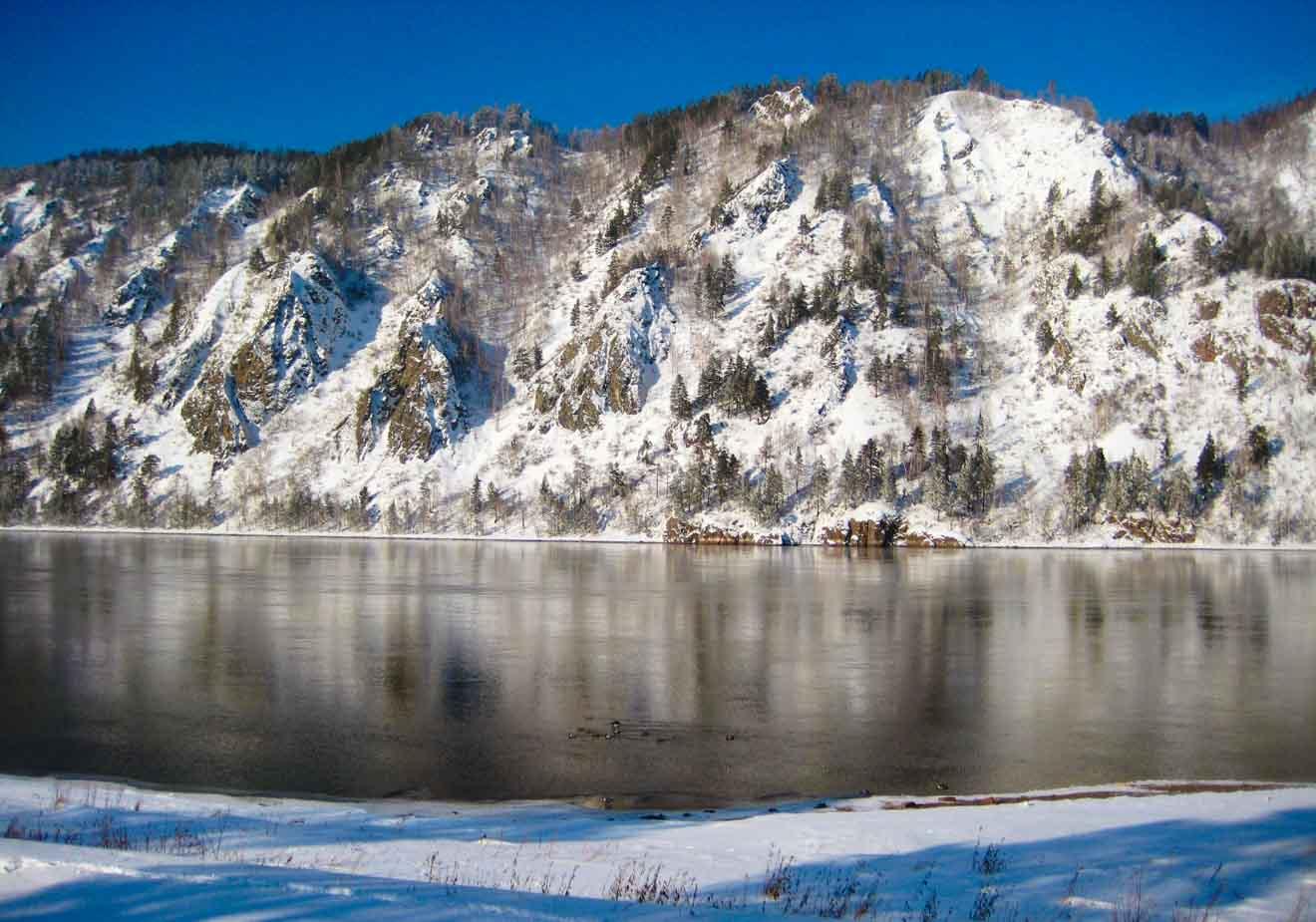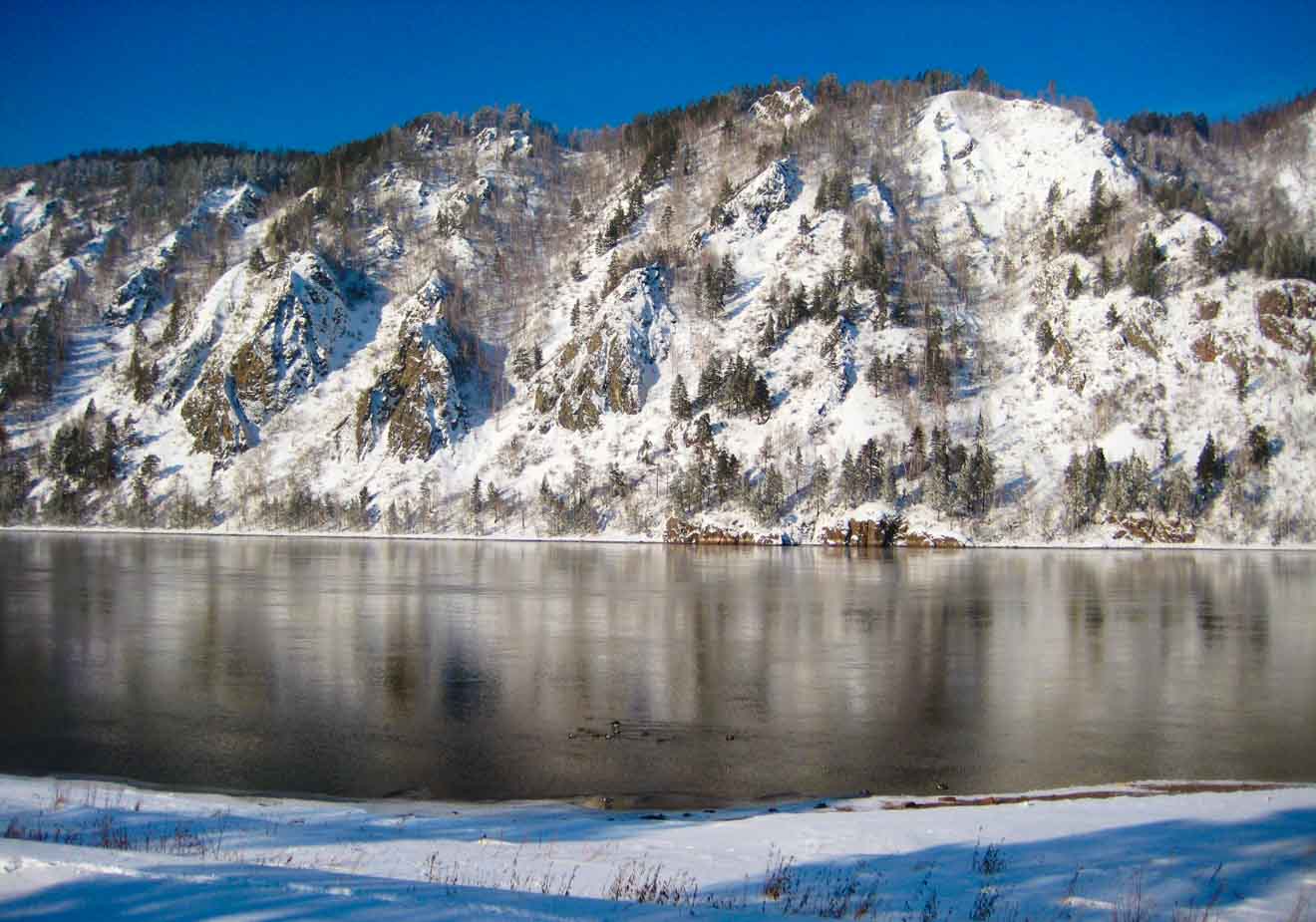 By boat (in the summer)
The boat ride takes around 40 minutes and the price is 350 RUB ($5 USD).You can check the timetable and buy a ticket at Krasnoyarsk River station.
Unfortunately, the tickets are not available online. So, what I recommend doing is going to the station and booking your tickets a few hours before the departure.
By train
It will take you 1 hour and the price will be around 100 RUB ($1.50 USD). You can only buy your ticket at the Krasnoyarsk Central train station. There is no need to book in advance!
You can see the updated timetable here.
By bus
The journey will take you 1 and a half hours and the price will be around 110 RUB ($1.50 USD). The buses depart from the Krasnoyarsk Bus station.
You can buy your ticket and check the timetable online here or at the station.
By car
If you decide to go there by car, it will take you about 1 hour. You can see the best rates for rental cars during your desired timeframe here.
2.3 Krasnoyarsk Dam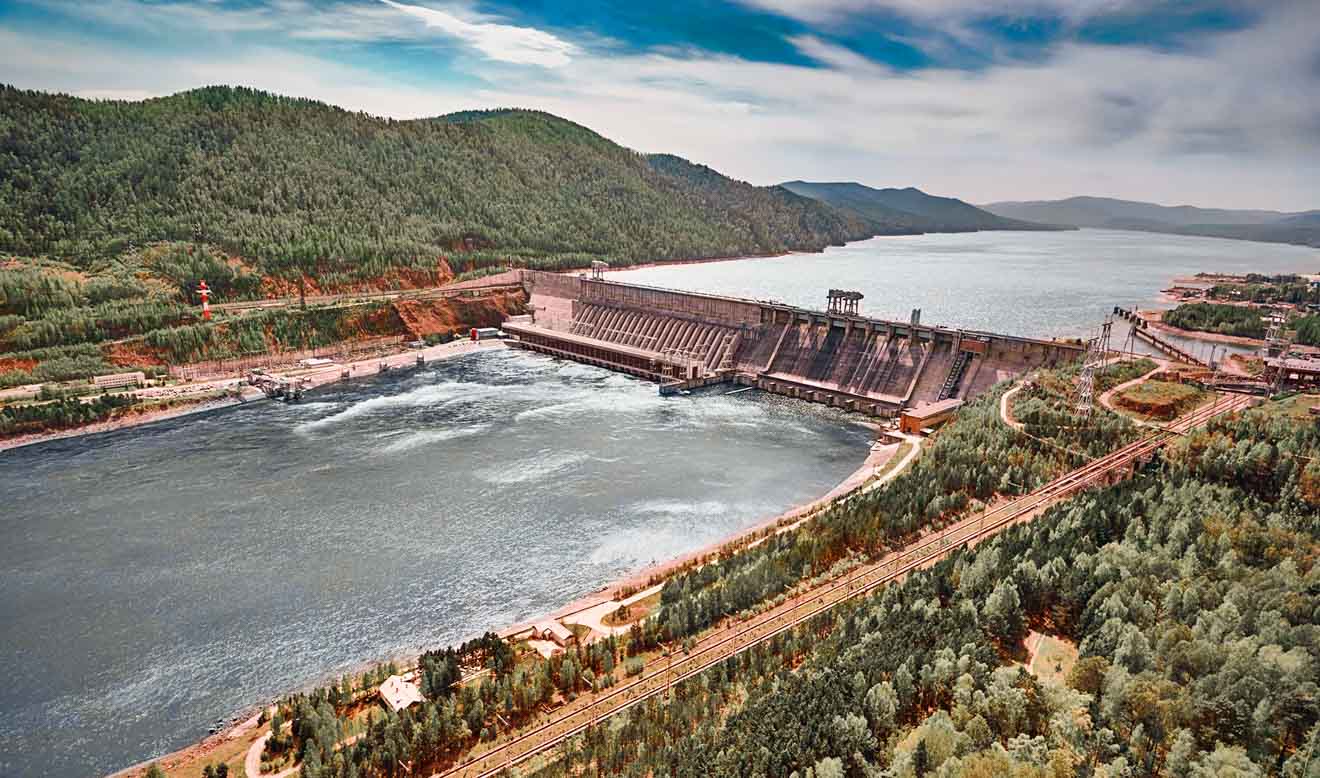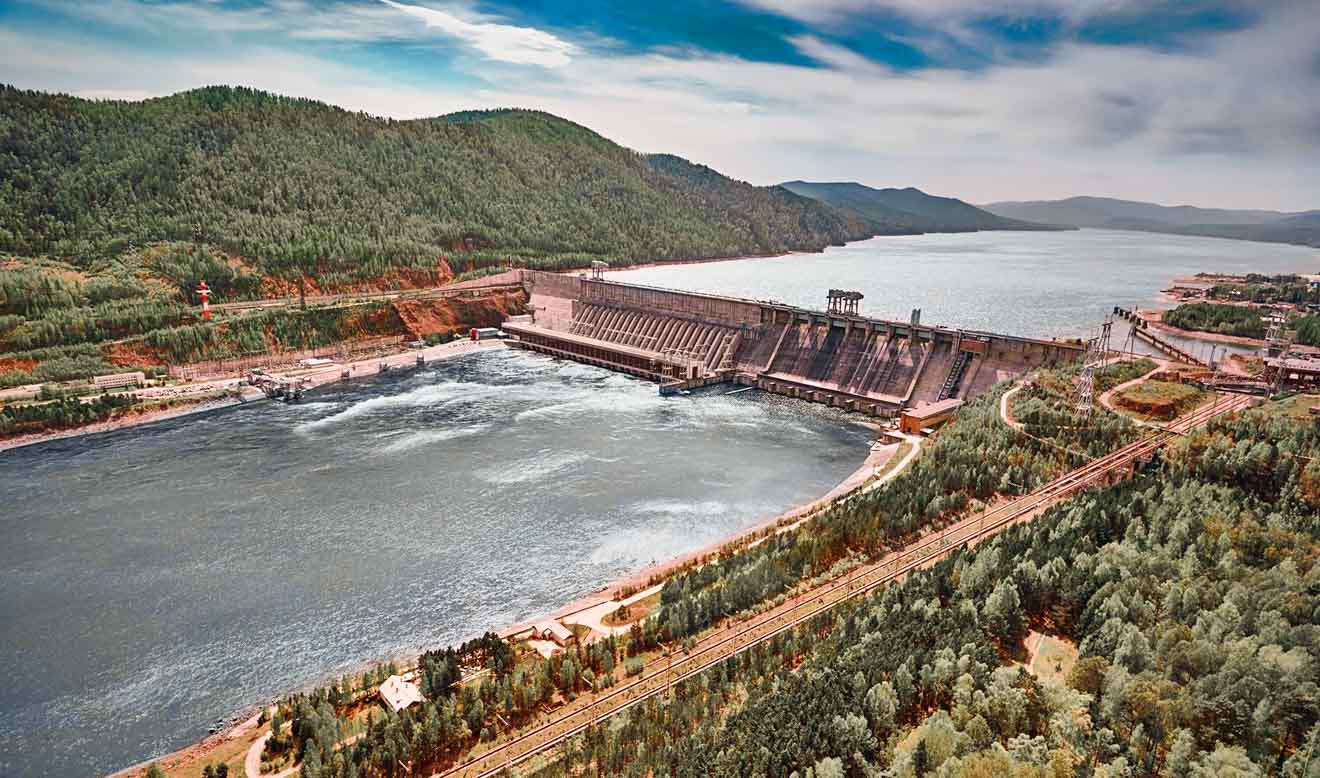 Krasnoyarsk hydroelectric station is located 30 km from the outskirts of Krasnoyarsk, near the city of Divnogorsk.
Krasnoyarsk Dam is huge – it is actually one of the biggest in the world!
Plus, the difference between the levels of the Krasnoyarsk Reservoir and the Yenisei River is breathtaking!
You can plan to spend about 30-60 minutes there.
NOTE: The Krasnoyarsk Dam is featured on ten-ruble banknote as well.
HOW TO GET THERE FROM KRASNOYARSK OR DIVNOGORSK: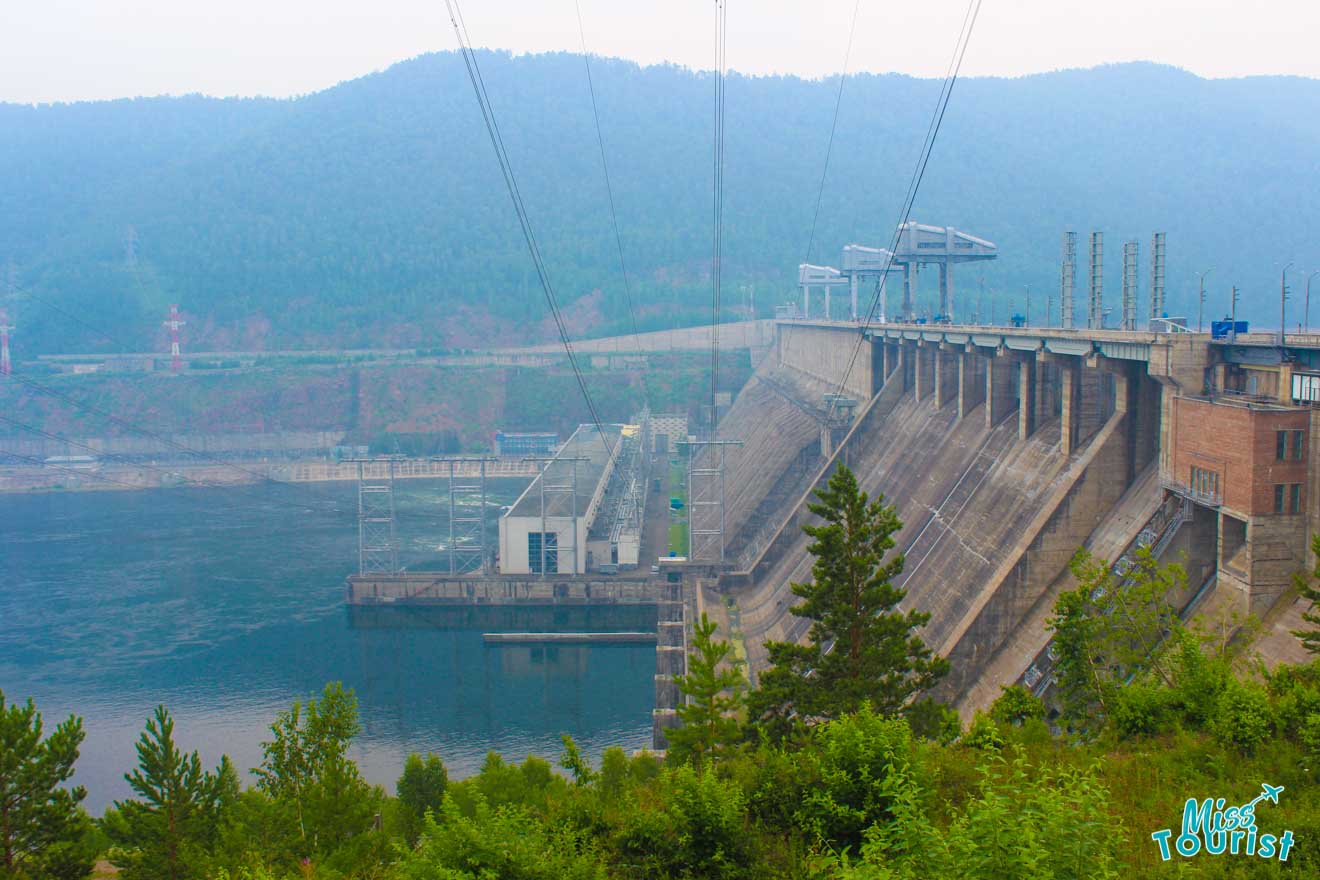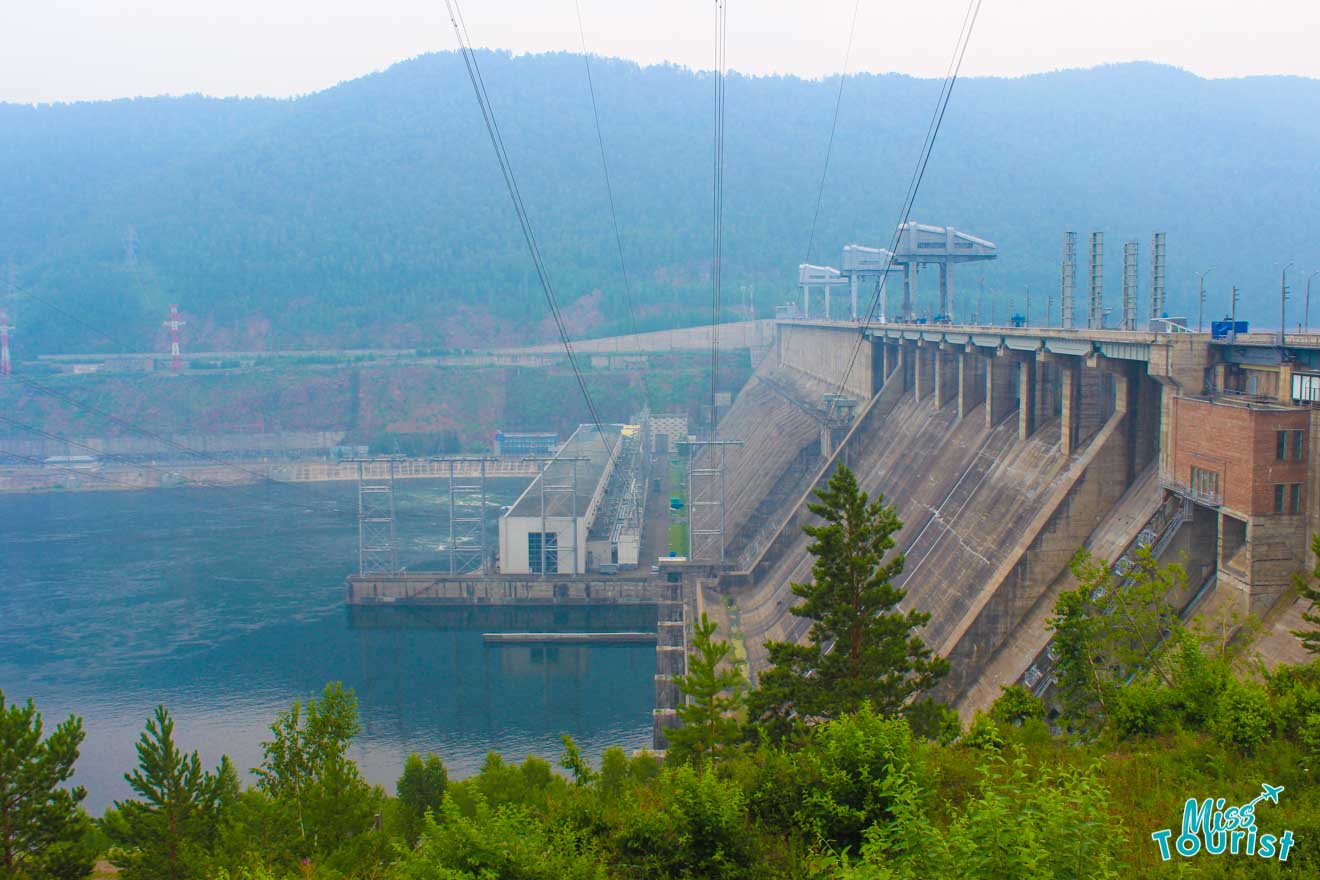 To reach the Krasnoyarsk Dam, you have to go to Divnogorsk first.
In Divnogorsk you can find a taxi here. It will take you around 10 minutes and the cost of a one-way taxi ride will be around 100 RUB ($1.50 USD).
Or you can choose to go by car. The distance from Krasnoyarsk is 45 km and from Divnogorsk is 7 km.
2.4 Swim in Krasnoyarsk Sea (Krasnoyarsk Reservoir)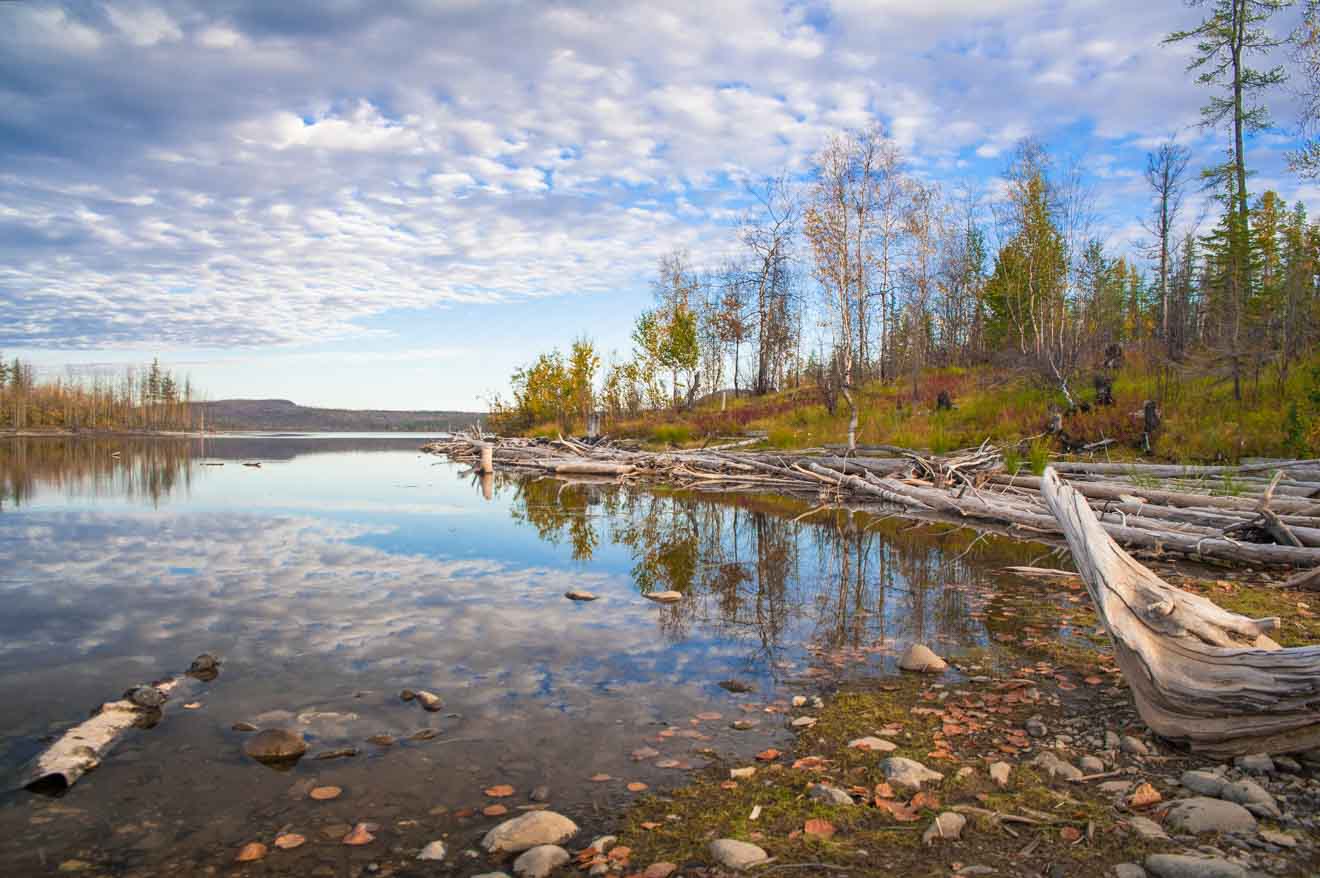 The Krasnoyarsk Sea is actually the same thing as the Krasnoyarsk Reservoir. It is called "Sea" because of its big size! You can have a nice swim there or you can take a ride on a boat and admire the surrounding natural beauty.
Actually, this is the largest freshwater reservoir in the Siberian region. It appeared during the construction of the Krasnoyarsk hydroelectric station. As a result of the creation of this artificial reservoir, the geography and the climate of the region have changed.
But, nevertheless, this is a favorite place of locals where they can swim and get a break from the summer's heat!
I took a few-hours-long yacht ride around the "sea" and I loved it! I suggest you to take a 1-hour tour here. An average price per person will be 5500 RUB ($83 USD).
PRO TIP: The Krasnoyarsk Reservoir is so big that you might get confused as to which side you should choose! I suggest you go to Admiral Tour Base. They offer a lot of activities, beautiful beaches, boats, yachts, restaurants and a hotel.
You can plan to spend the rest of the day here.
HOW TO GET TO KRASNOYARSK SEA FROM KRASNOYARSK DAM:
You can reach Krasnoyarsk Reservoir by car or taxi. The distance is only 8 km, so you can reach it within 15 minutes. You can check the best rental car deals for your stay here or take a taxi here.
The car journey will take you around 15 minutes and the cost of a taxi will be around 140 RUB ($2 USD).
Day 3. Spend a day in Stolby National Park-Reserve (National Reserve Pillars)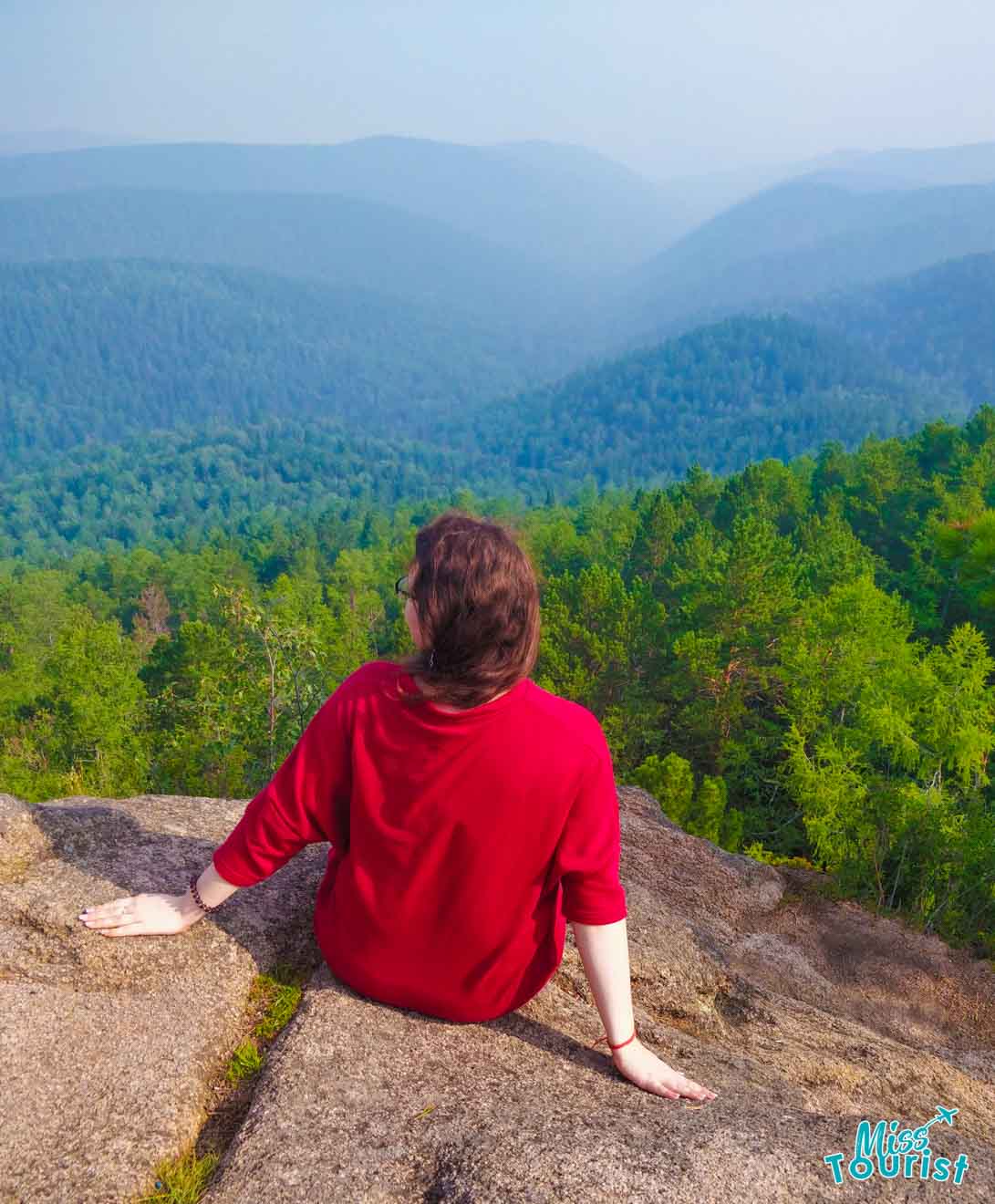 Stolby National Park Reserve is a very important, not-to-miss destination in Krasnoyarsk Area!
I definitely recommend you leave a whole day for this beautiful park! At the end of the day, you will spend the night in Krasnoyarsk as well.
Stolby Nature Reserve (unfortunately, their website is only in Russian, so you will have to use Google Translate to navigate it) is a favorite place for walks for all Krasnoyarsk citizens. More than 350,000 people visit it annually, so it's one of the most famous Russian reserves!
The park is well-known for its unique rock formations, which are called "pillars" or, in the Russian language, "stolby". They are bizarre rocks with strange forms and shapes. The part of the reserve that is open to visitors has many nice views from the top of the rocks.
If you want to do some hiking, Stolby National Park is the place to go!
Stolby National Park-Reserve is the only reserve in Russia created because of the initiative of the residents themselves and it was created to preserve a picturesque park from deforestation and the extraction of natural stone.
The name "Pillars" is not accidental either: the main attraction of the reserve is the rocks, which remind me of different shapes of people, animals and mythological creatures. A long time ago, there were some hunting trails here and the stone pillars were the only identification marks to find your way around.
Now hunting is prohibited there and the routes used by hunters back then became tourist routes.
The most popular walk is a circular route. It starts from the First Pillar, then it goes through the cliffs of the Granddaughter Pillar, Grandmother, Grandfather, Feathers, the Lion Gate, the Fourth, Third and Second Pillars and back to the First Pillar and Elephant Rock.
The route is very easy and you don't need any extra preparation for it, but I surely recommend you wear comfortable shoes.
ENTRANCE FEE: It is free of charge to visit Stolby Nature Reserve.
Should you visit it by yourself or take a guided tour?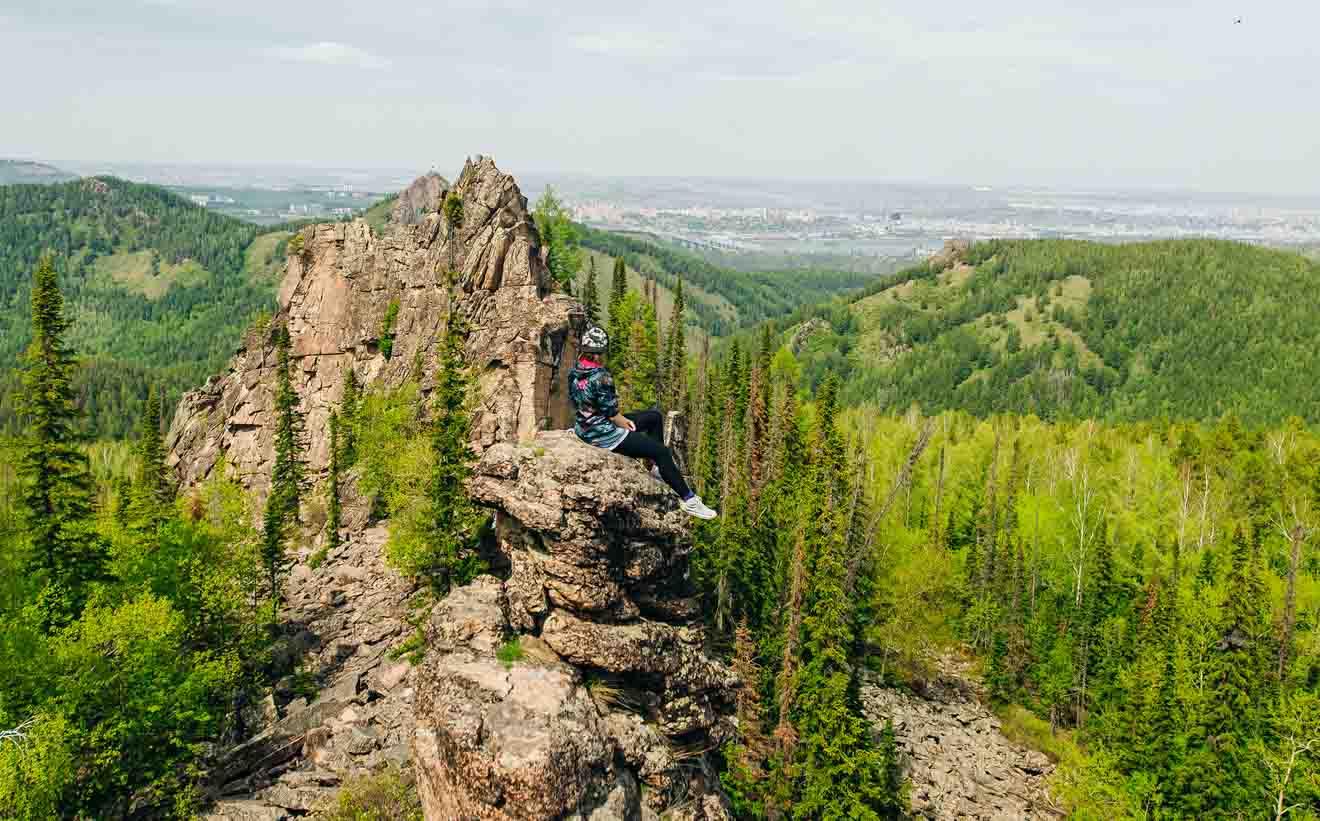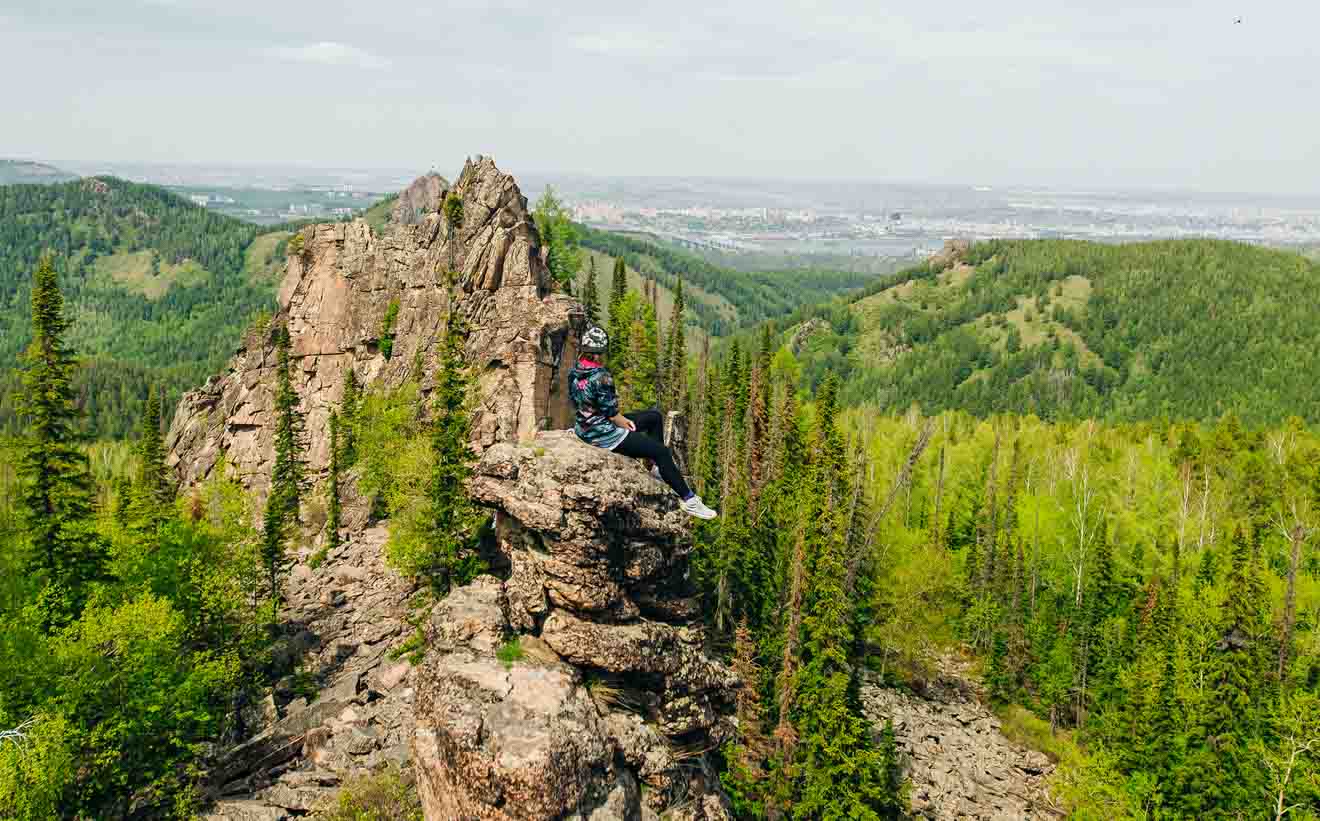 You can definitely have a walk around Stolby Nature Reserve alone and you will enjoy it a lot. But if you want to have the best experience and you aren't short on money, I recommend you to take a guided tour there! The guide will take you to the rocks that are easy to climb, will show you the best views and will tell you all the interesting legends about them.
You can book your tour here. Unfortunately, the website is only in Russian and you will have to use Google Translate to book your tour. You can send a request at the email mentioned on the site (stolby[at]mail.ru).
PRICE: The price for a 1.5-2 hour tour will be about 2000 RUB ($30 USD) for a group. Don't worry, they assured me that there are Engish-speaking guides available as well!
What is stolbism or Stolby climbing?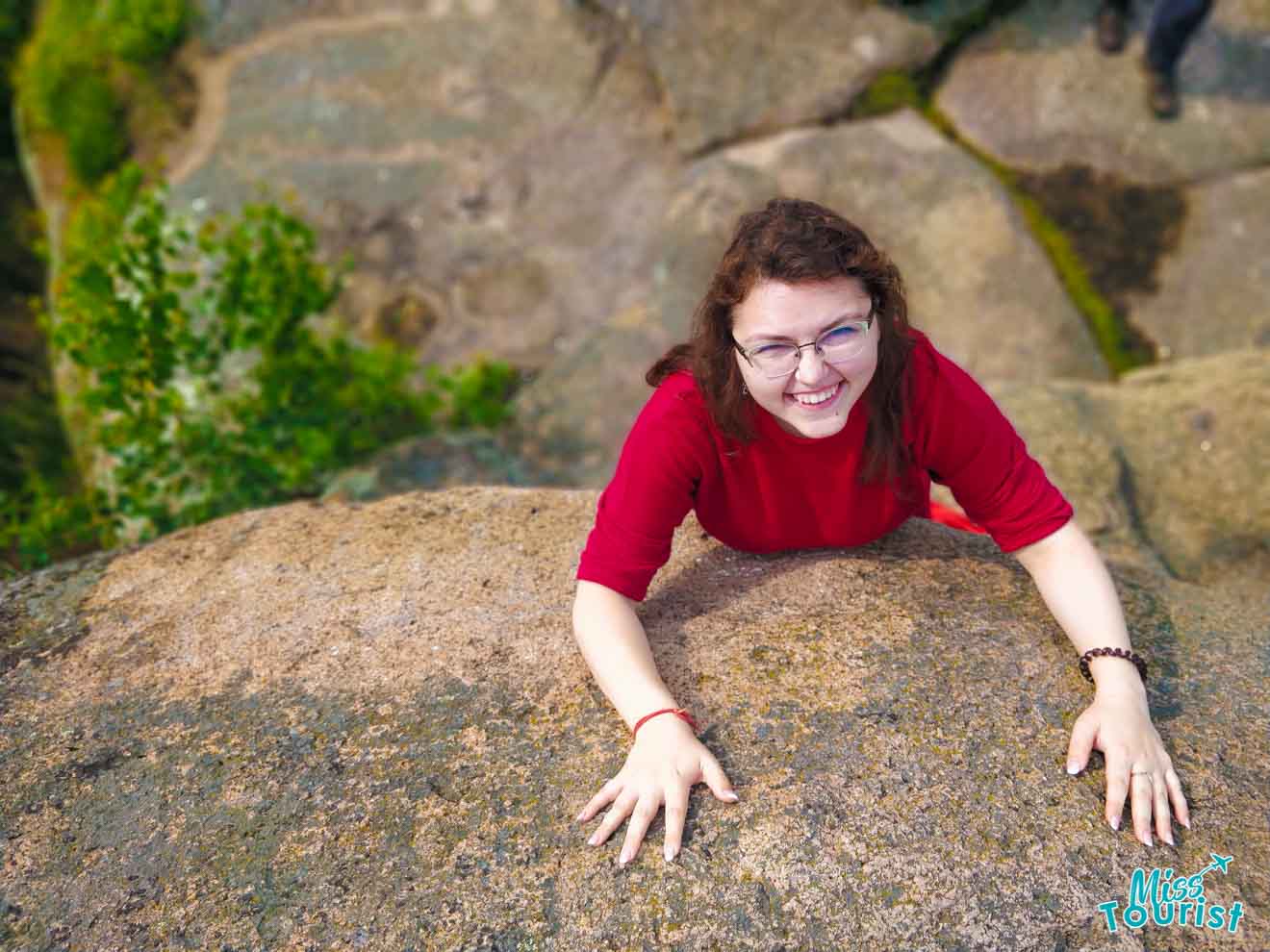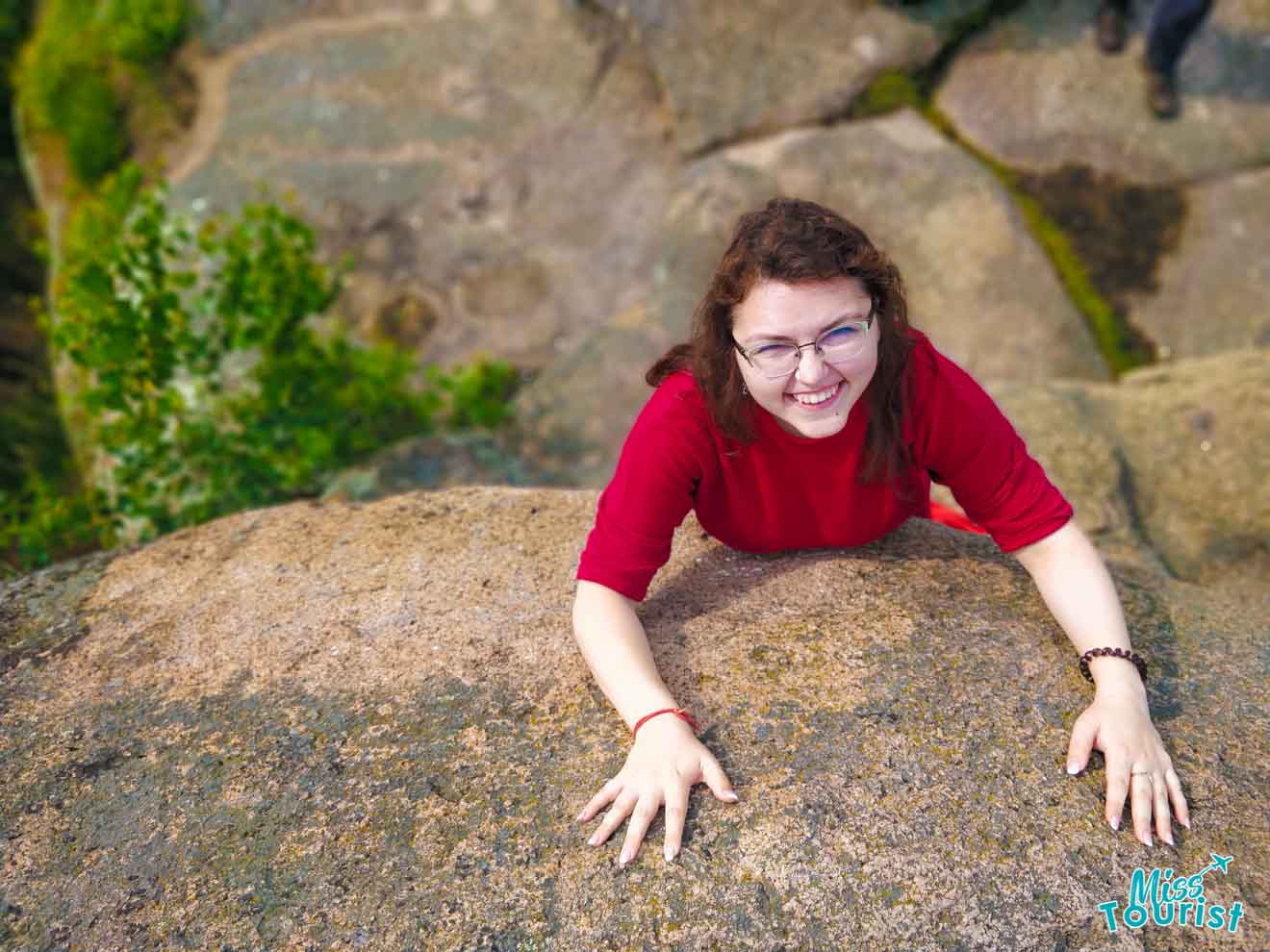 During your visit to Krasnoyarsk Stolby, you might run into people climbing the rocks. What is so special about these people? Well, the thing is they climb rocks and cliffs without any equipment! Not even ropes! Everything is free-style.
This movement is called stolbism. The people using the technique of stolby climbing are called "stolbisty".
Obviously the name of the stolby climbing movement comes from the name of the park. Why? Because this kind of climbing started right here! And then it spread out all around the world.
It is very interesting to see stolbists "at work". It looks scary and dangerous, but it's also kind of magical at the same time! If you have experience with mountain climbing, you might want to try climbing the rocks the same way the stolbists do. In this case, please have proper shoes for climbing! But if you are a newbie, I suggest you only climb those rocks that you feel comfortable with or book a guided tour.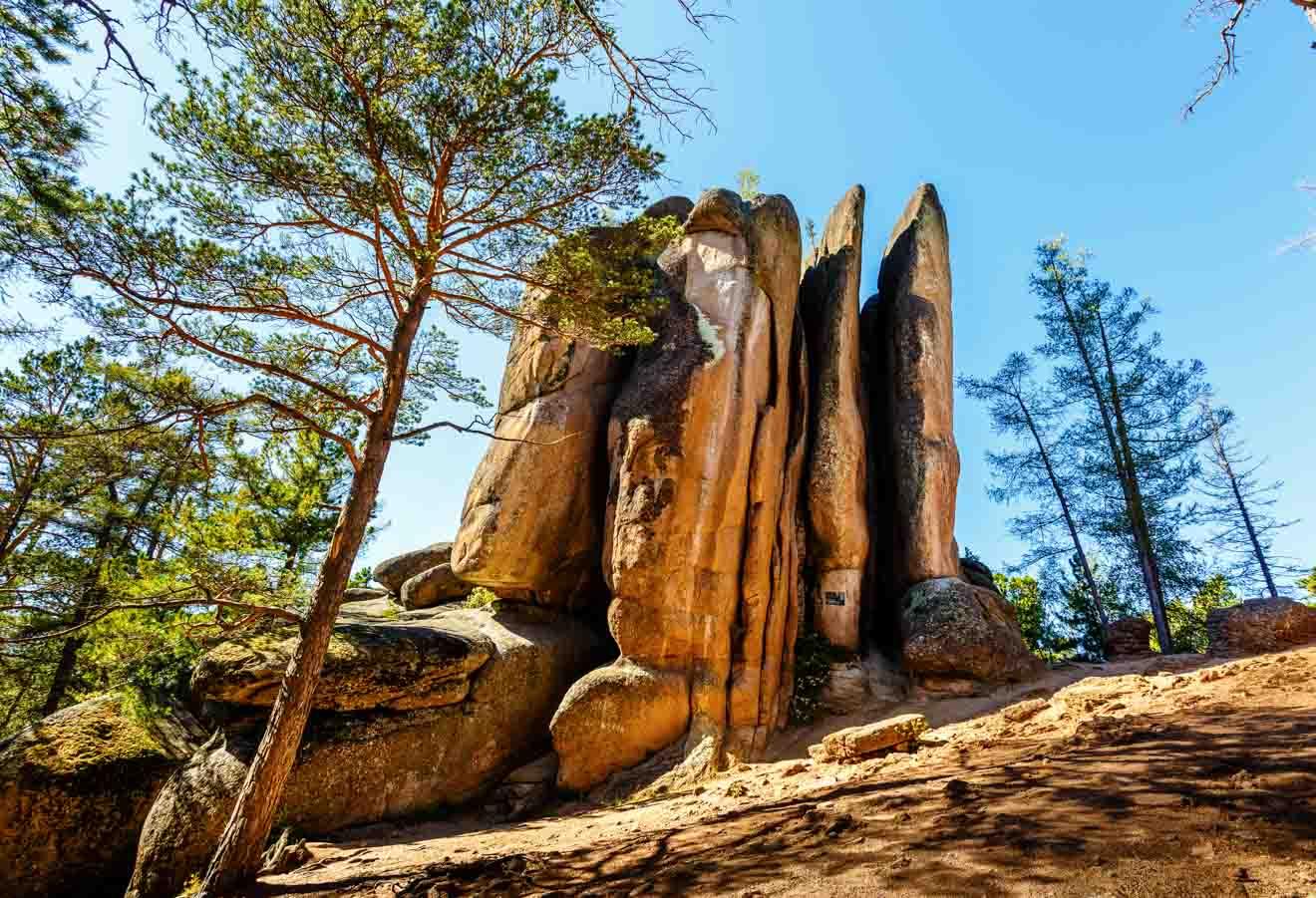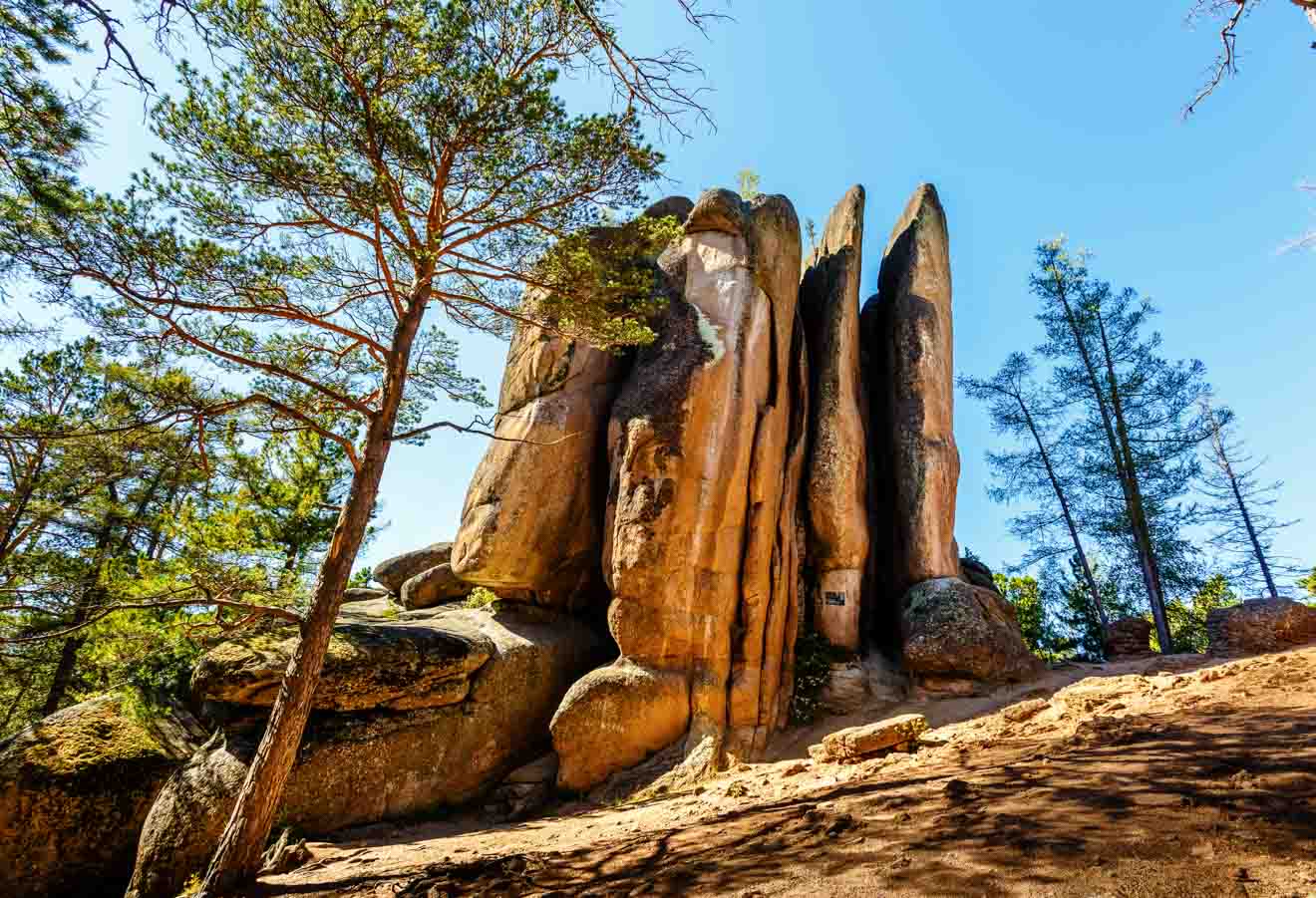 NOTE: This is a Natural Reserve protected by the government, which means camping in tents is forbidden there, as well as fires. You have to take care of nature and not damage or change anything. Just enjoy it!
NOTE 2: You might meet some wild animals there, such as bears or deer. It is very rare, but it happens! Also, please be aware of ticks! They are especially active at the end of spring and the beginning of summer. Make sure to have some insect repellent with you!
How to get to Stolby National Park from Krasnoyark
From Krasnoyarsk, you can take bus number 19, 78, 50, 50a or 50k, as well as 80 (only on weekends) and get off at "Turbaza" stop. The trip will take you around half an hour and will cost you 26 RUB ($ 0,4 USD). From there you will need to walk for about 2.5 km towards the main entrance.
Another alternative is to travel there by taxi. The taxi will cost you about 150 RUB ($2.50 USD) and you can book it here.
Day 4. Get a feeling of living in the 19th century in Shushinskoye Village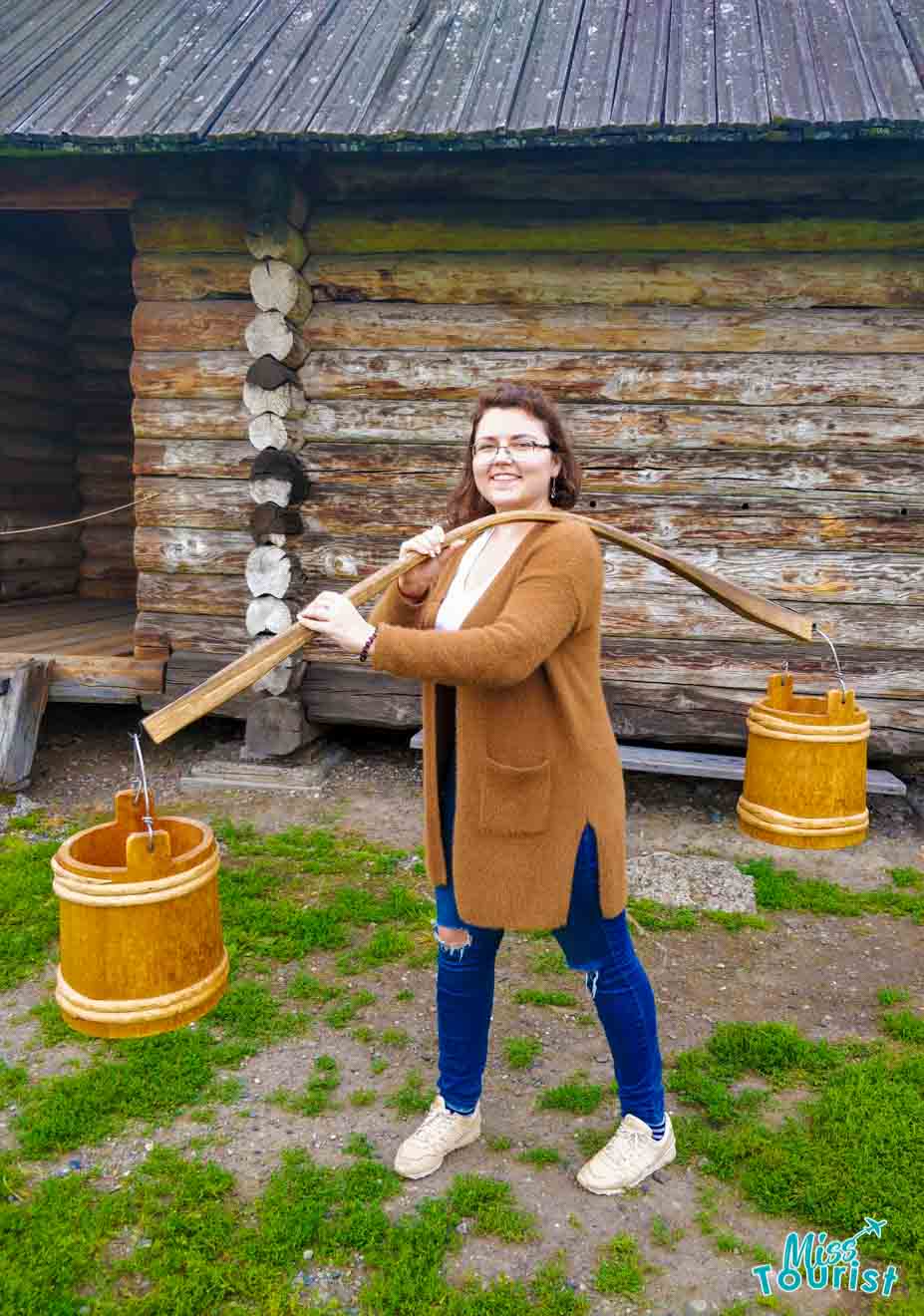 After spending the night again in Krasnoyarsk, leave early in the morning to avoid traffic jams in the city. You will have a very long day ahead of you! I advise you bring some snacks for the road.
Today we are traveling somewhere farther away, but I'm sure the trip will be worth it, as you will reach a beautiful National Park! The plan is to reach Shushinskoye and explore the authentic village there. Because the road is long (Russian distances are loooong), we will stay in a nice place for the night (or maybe for a couple of nights, it depends on how much time you have).
Shushinskoye is located in the south of Krasniyarsk Krai. I recommend you stop in Shushinskoye for a night on your way to Ergaki National Park Reserve.
For many decades, the ancient village of Shushenskoye was associated exclusively with the name of Lenin. The exiled Vladimir Lenin lived here for almost three years, got married, and even wrote his first big book! But today the main tourist theme here is ethnography.
What to see in Shushenskoye
4.1 Old Village Museum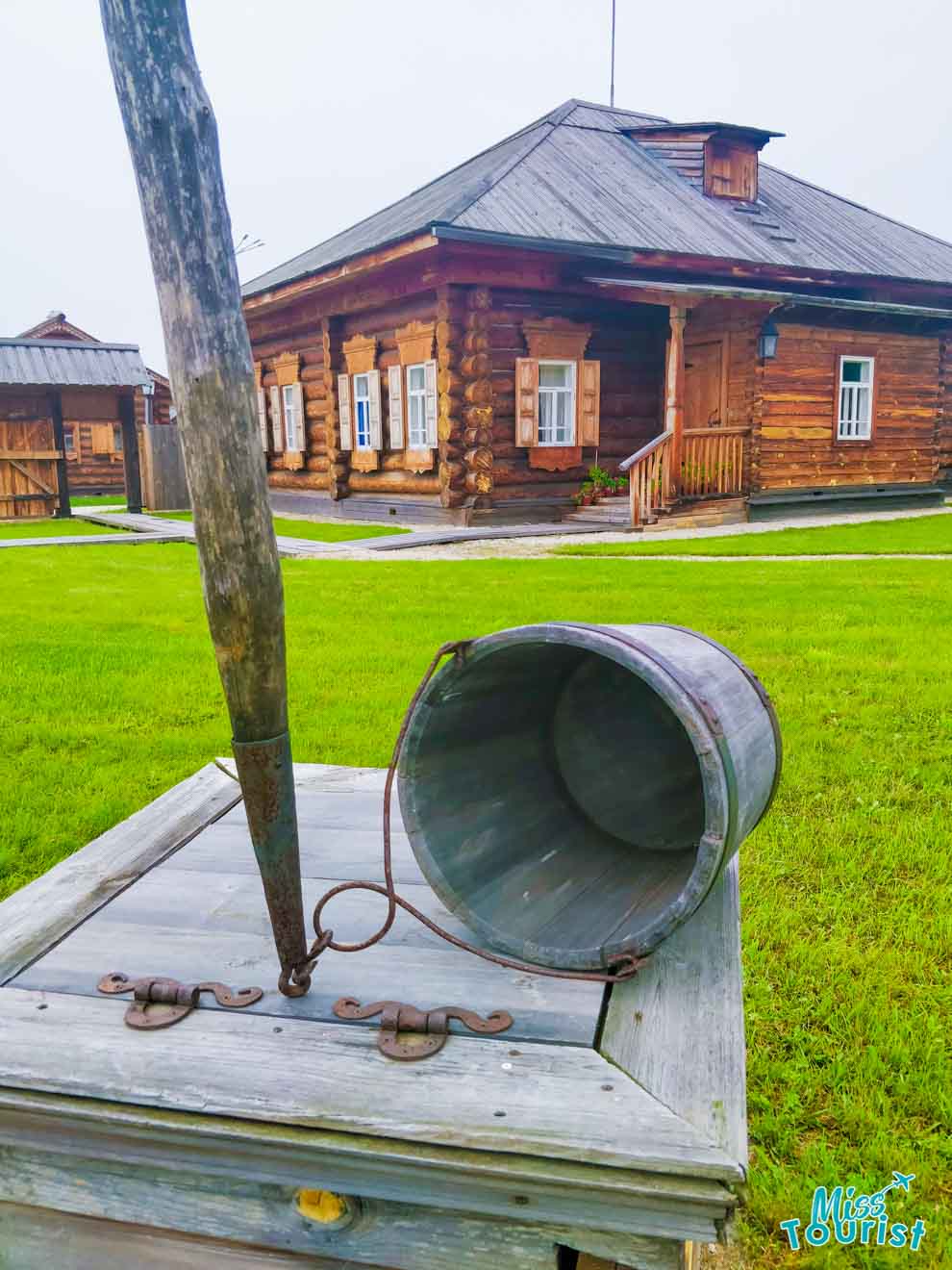 The Old Village Museum is the main sight of Shushenskoye. It is basically a quarter of the town filled with dozens of old village houses. It is an open air museum depicting a Siberian village of the late 19th century. In some of the houses the atmosphere is totally recreated according to how it was back in time. You can see yards, barns and baths as they used to be!
There are two Lenin houses in the museum quarter as well. Inside those houses you can see how he used to live and where he used to work!
IMPORTANT: Please note that a visit to the Old Village Museum is only possible with a guided tour. To get a tour in English, go to the museum's website and send them an email request before coming (mus[at]shush.ru).
The tours last for about 2 hours and they are quite informative. A tour with a translator will cost you 300 RUB ($4.50 USD) per person and 700 RUB ($10.50 USD) per group for a translator. The guides will talk mainly about the life of the citizens back in the 19th century and a bit about Lenin's life.
You can also take a masterclass in pottery for just 300 RUB there ($4.50 USD). And I definitely recommend it, as it's a lot of fun to try! They offer other kinds of activities as well; you can see a full list here (use Google Translate, as the website is only in Russian, unfortunately).
4.2 Mir Sibiri Festival (World of Siberia Festival)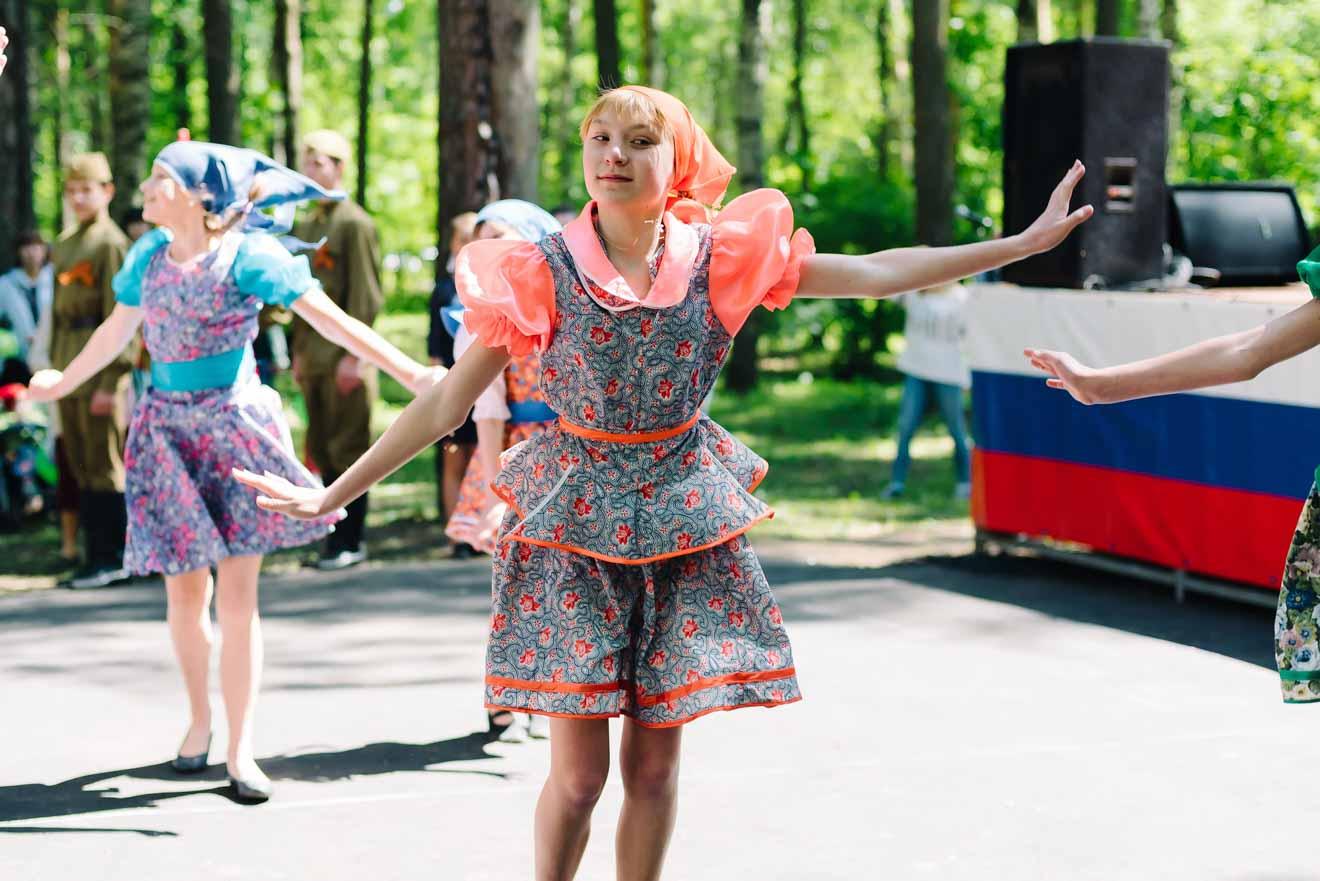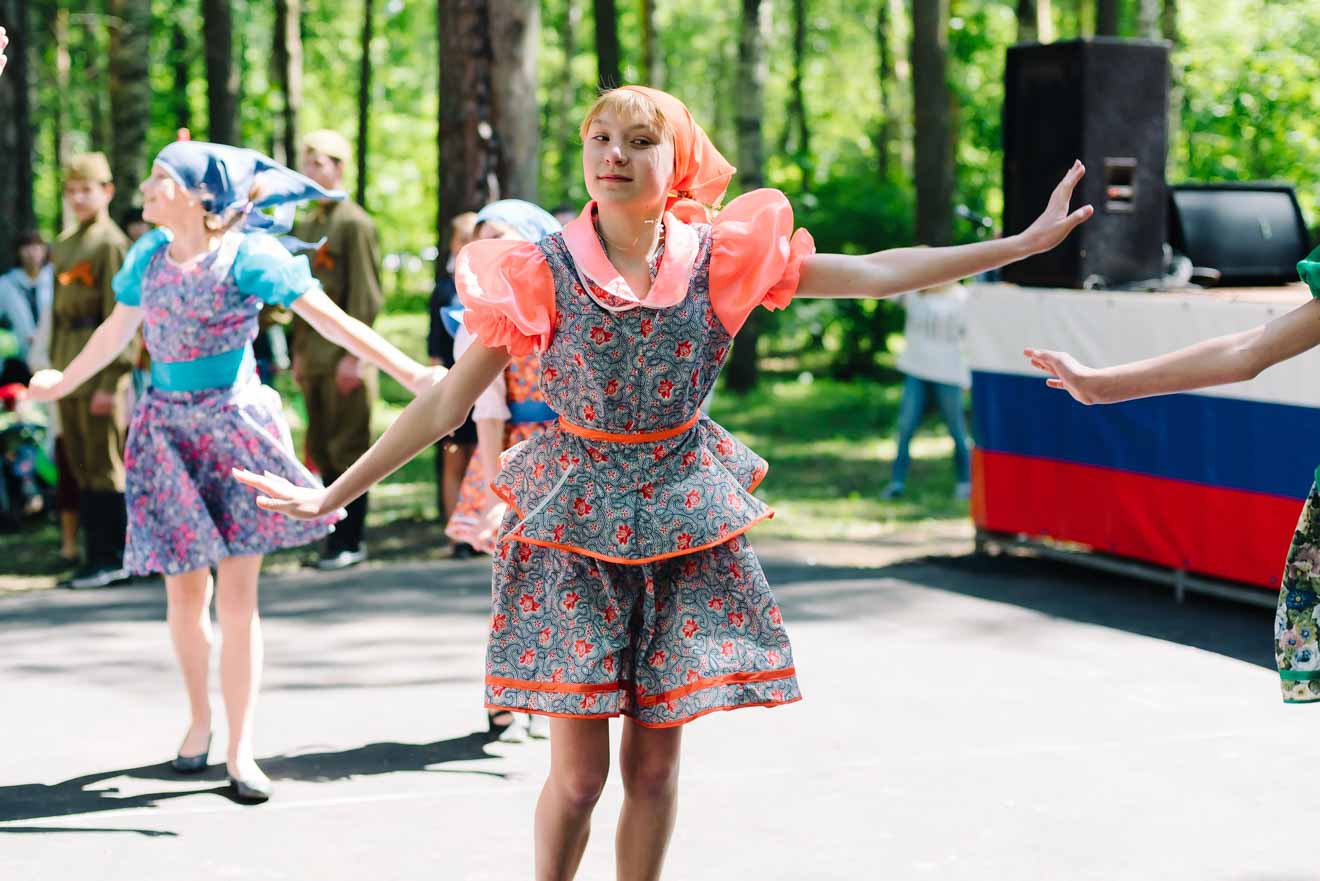 Every year in July, Shushenskoye hosts a big international festival of ethno music and crafts called Mir Sibiri.
For three days, the participants and guests of the festival immerse themselves in the cultures and traditions of the past and present. You can go there to enjoy the melodies and rhythms of exotic music and the sound of authentic instruments. The folk dances create a truly folk and genuine atmosphere!
You can find more information about the festival here.
PRICE: The festival entrance fee is free for visitors.
Where to stay in Shushenskoye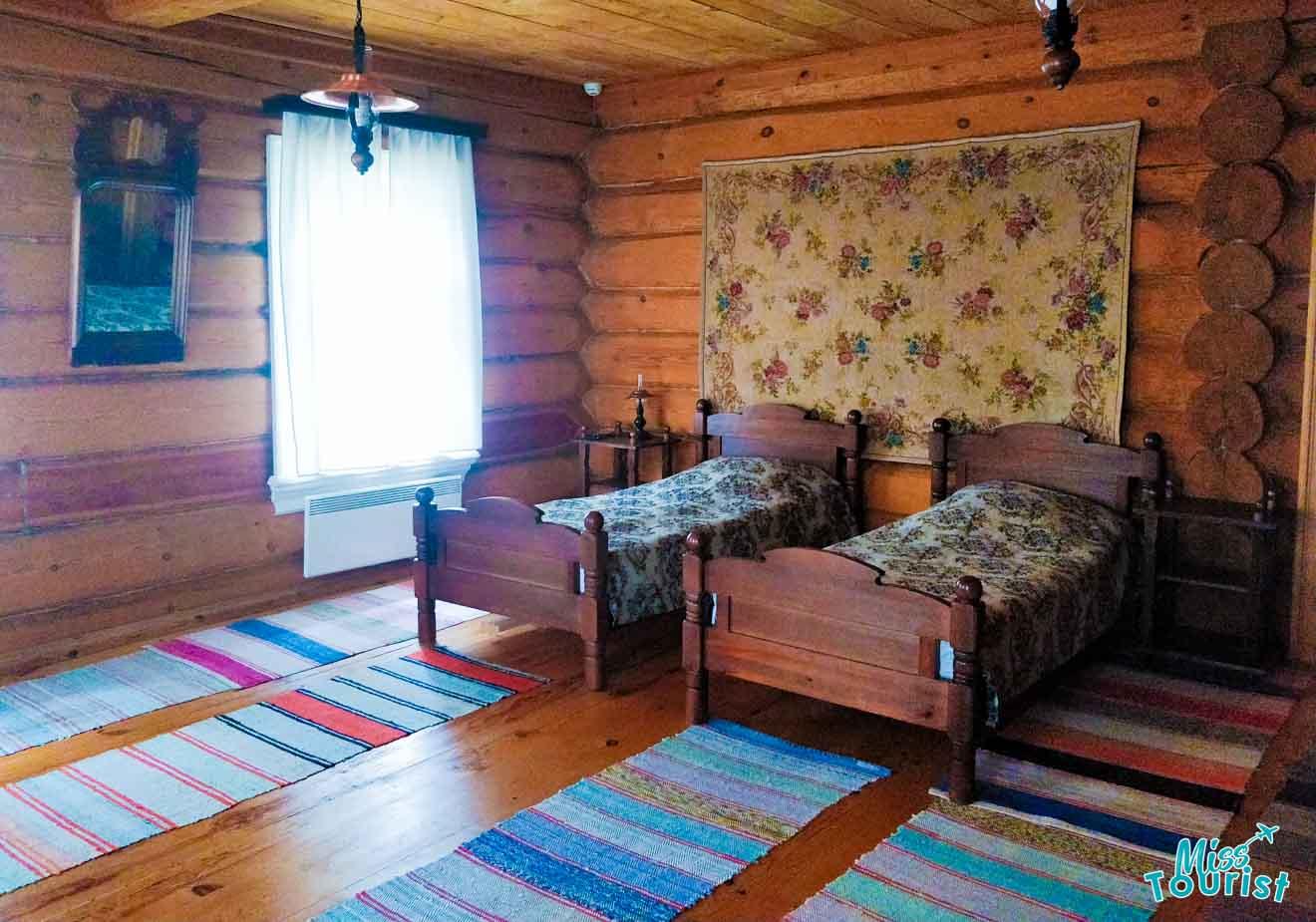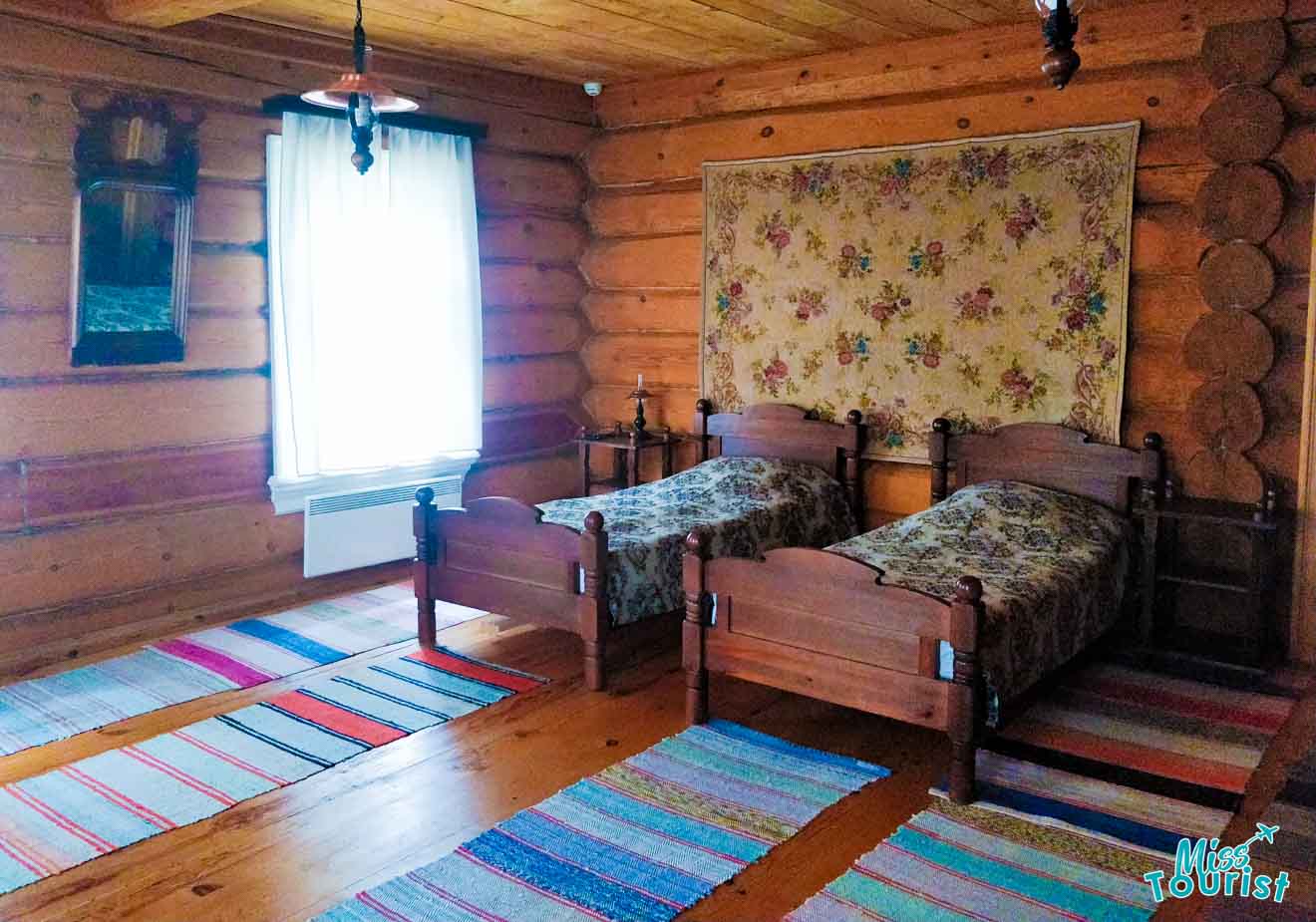 The best place to stay in Shushenskoye is right near the Old Village museum quarter. They recreated a few houses and called it The New Village. The houses look exactly the same as in the 19th century village, but they are equipped with modern comforts. You will have a TV, a shower and a kitchen inside your house. The prices are very affordable as well – around 2500 RUB ($38 USD) per night for a room but, of course, that depends on if you choose to stay in a room or in a house!
Unfortunately, they don't offer reservations through any booking platform and you will have to send them an email to book a room or a house ( newmuseum1[at]mail.ru).
How to get to Shushinskoye from Krasnoyarsk
By bus
You can get from Krasnoyarsk to Shushenskoye by bus. Travel time is around 9 hours and the price will be around 1500 RUB ($22.50 USD). You can book a ticket in advance here.
By car
The distance from Krasnoyarsk to Shushinskoye is about 500 kilometers, so the drive will take you around 6 hours. If you wish to rent a car for your trip around Siberia, you can check the best rates for your dates here.
Days 5-8. Admire the beautiful Ergaki National Park-Reserve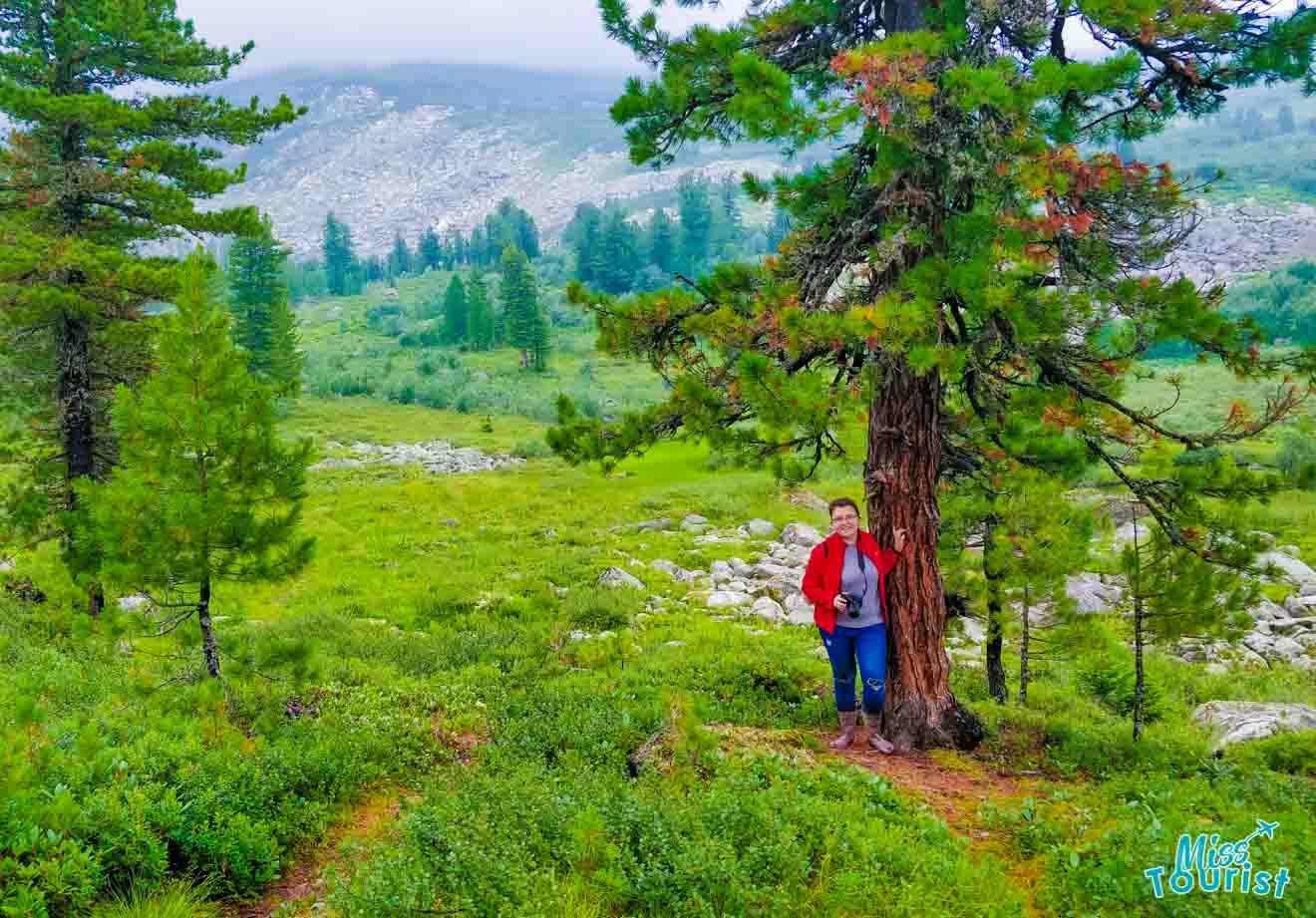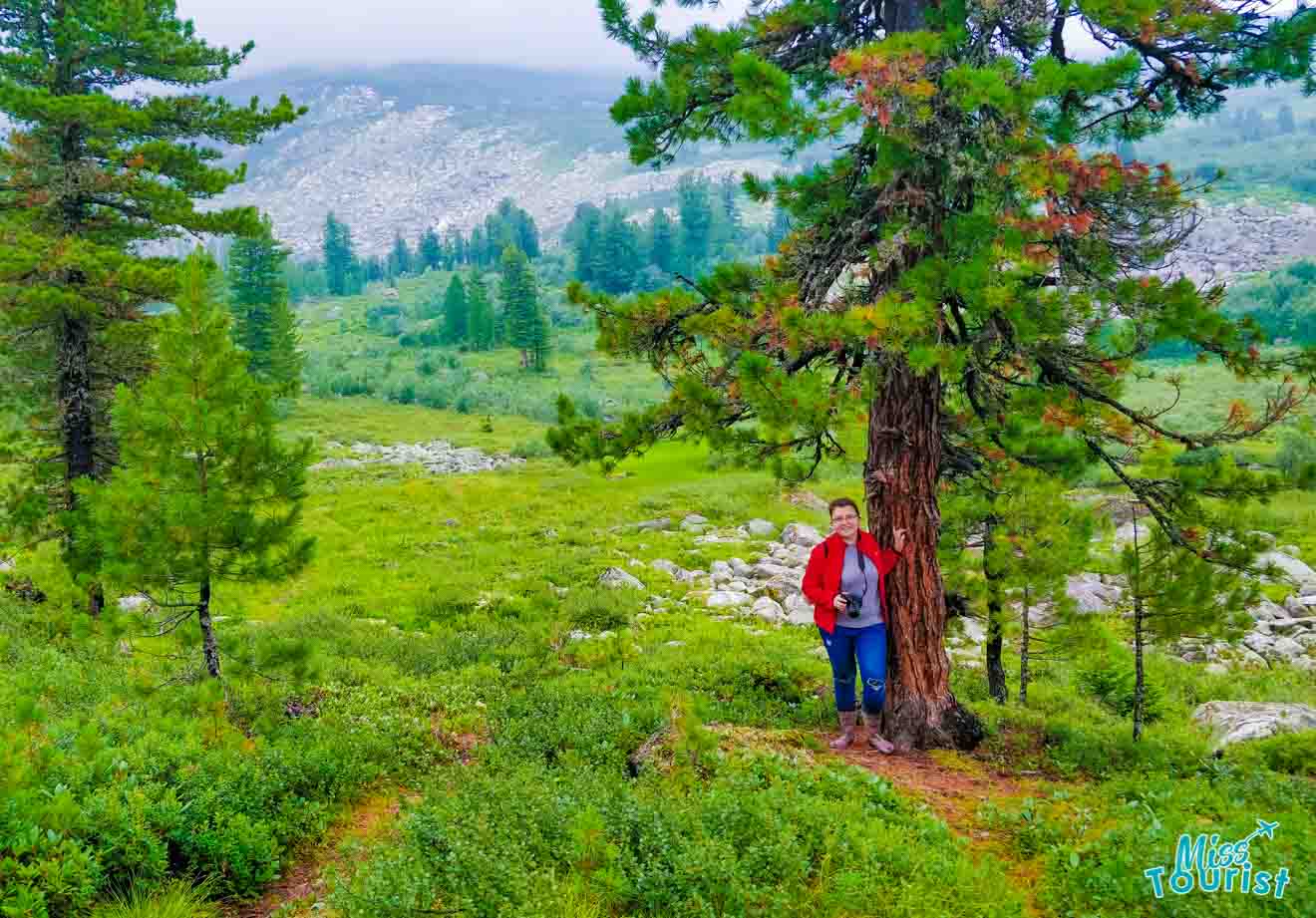 From Shushenskoye, proceed to the wonderful Ergaki National Park-Reserve and spend a few days there. This was my favorite part of the entire trip!
Ergaki National Park is definitely one of the most beautiful places in Krasnoyarsk Krai! Russian people even call it "the pearl of Siberia"!
The park occupies an area of ​​342,873 hectares and it is even considered to be one of the most beautiful Russian landmarks! There you will also see one of the ranges of the Western Sayan Mountains!
Every year, this National Park attracts a lot of tourists and artists. Ergaki is a very popular place for leisure and outdoor family recreation. It attracts a lot of climbers as well! In summer, there are large gatherings and climbing camps going on.
ENTRANCE FEE: Ergaki national park reserve is free to visit.
Best time to visit Ergaki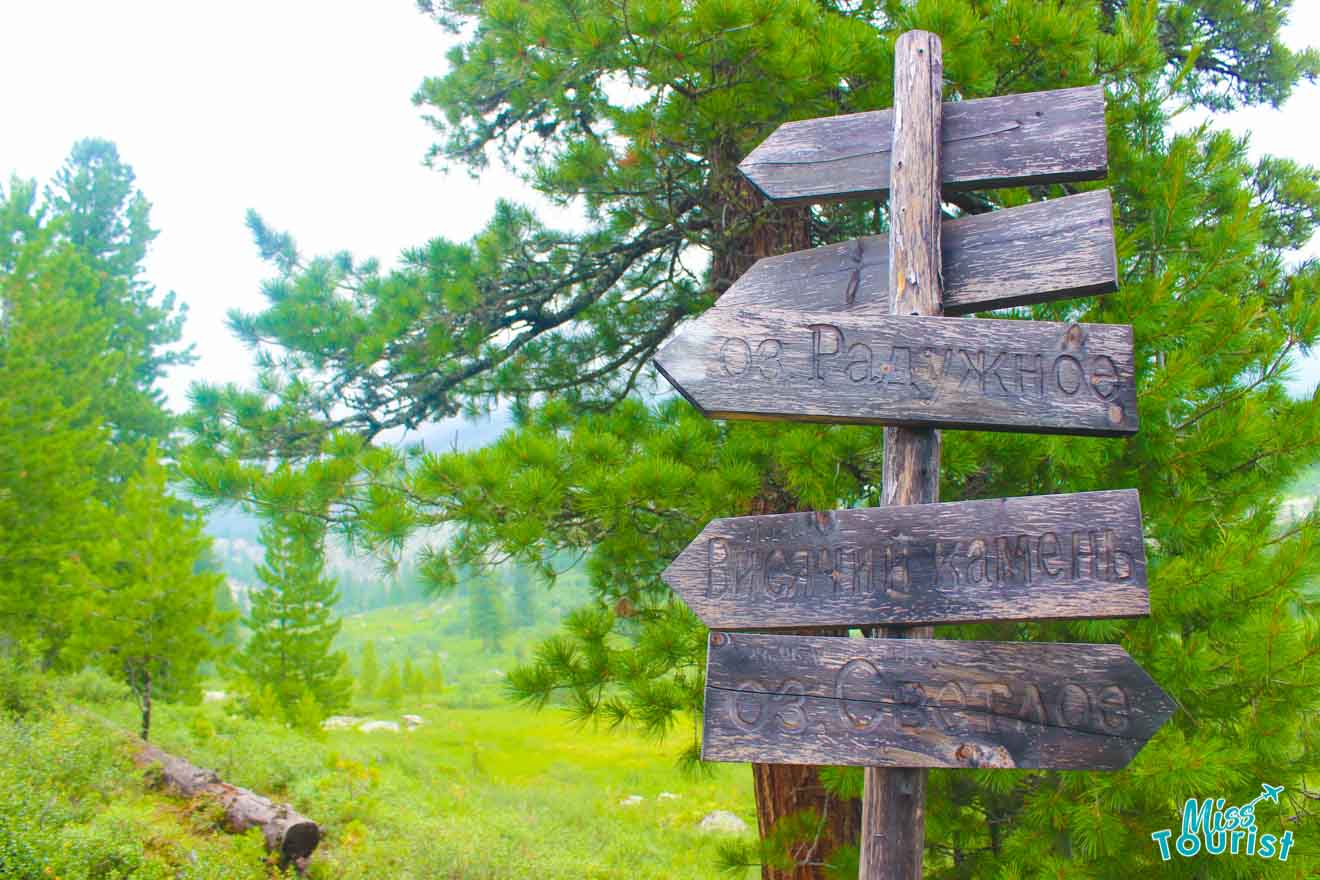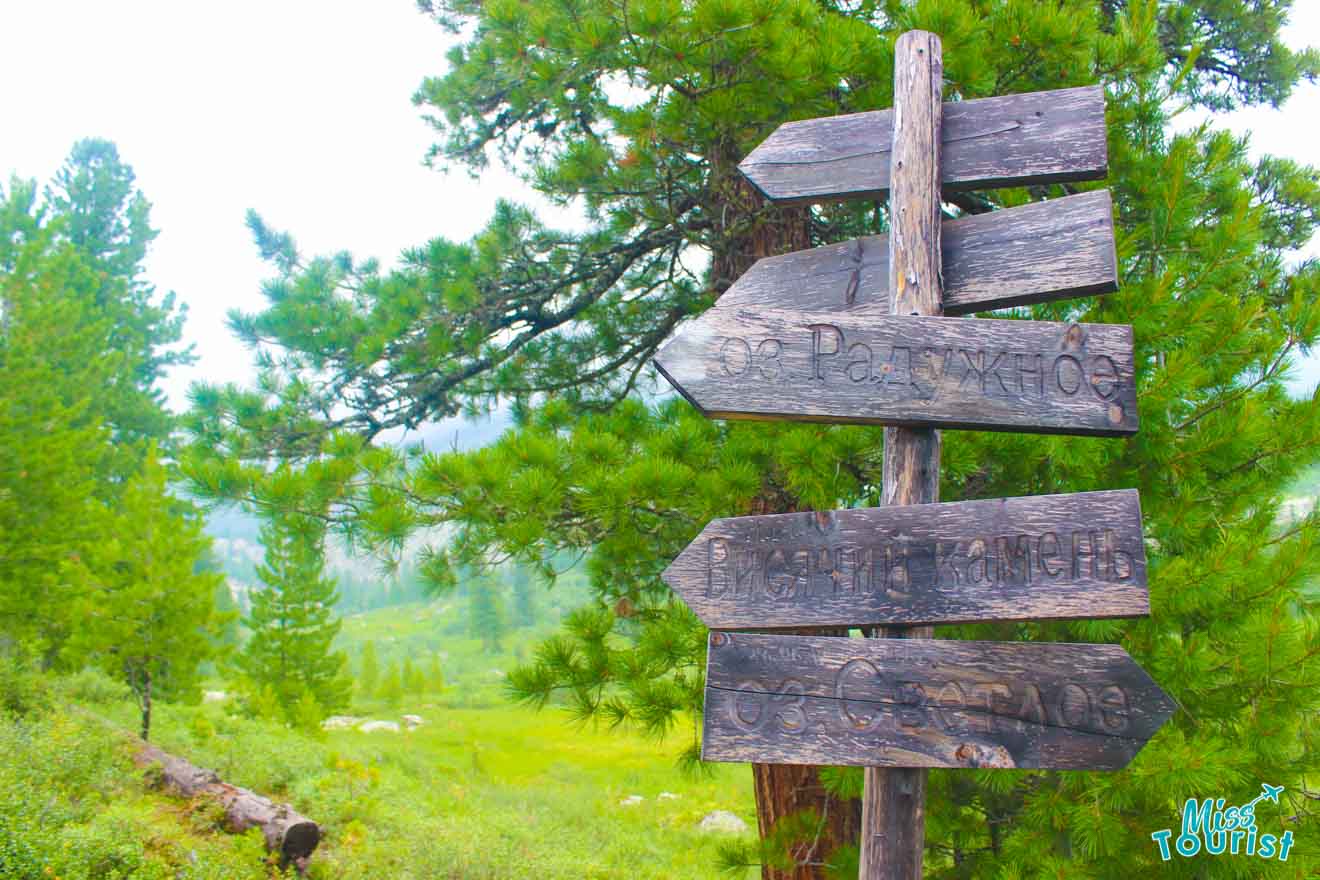 You can relax in the Ergaki National Park all year round. During winter it constantly snows, creating excellent conditions for off-piste, or backcountry, skiing. Actually, this is one of the best Krasnoyarsk ski resorts! Suitable weather for skiing and snowboarding starts from late September to mid-May. But in January the temperature can drop to –40°C, so I suggest you avoid visiting during this month!
Summer in Ergaki is cool, with frequent changes in temperature. In late June-July, it can rain for weeks. The best time to visit is in the first half of August. June-July is also a great time to visit the park, but make sure to pack a warm jacket, a hat, waterproof shoes, a raincoat, a swimming suit and a sun cream, because the weather in the mountains is very changeable! You can get theshoes and a raincoat from a hotel nearby if you prefer, but the rest you will have to bring with you!
Things to do in Ergaki Park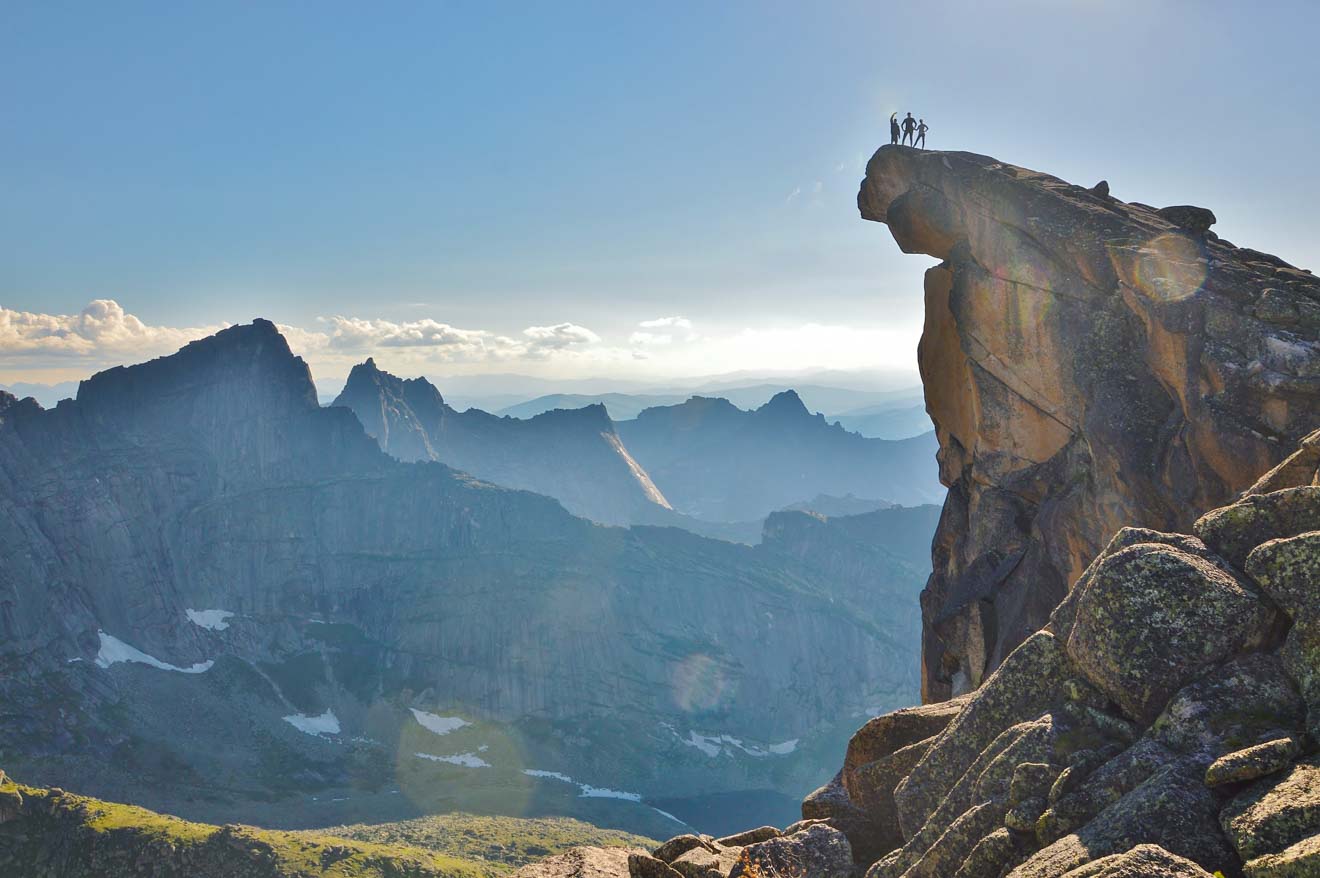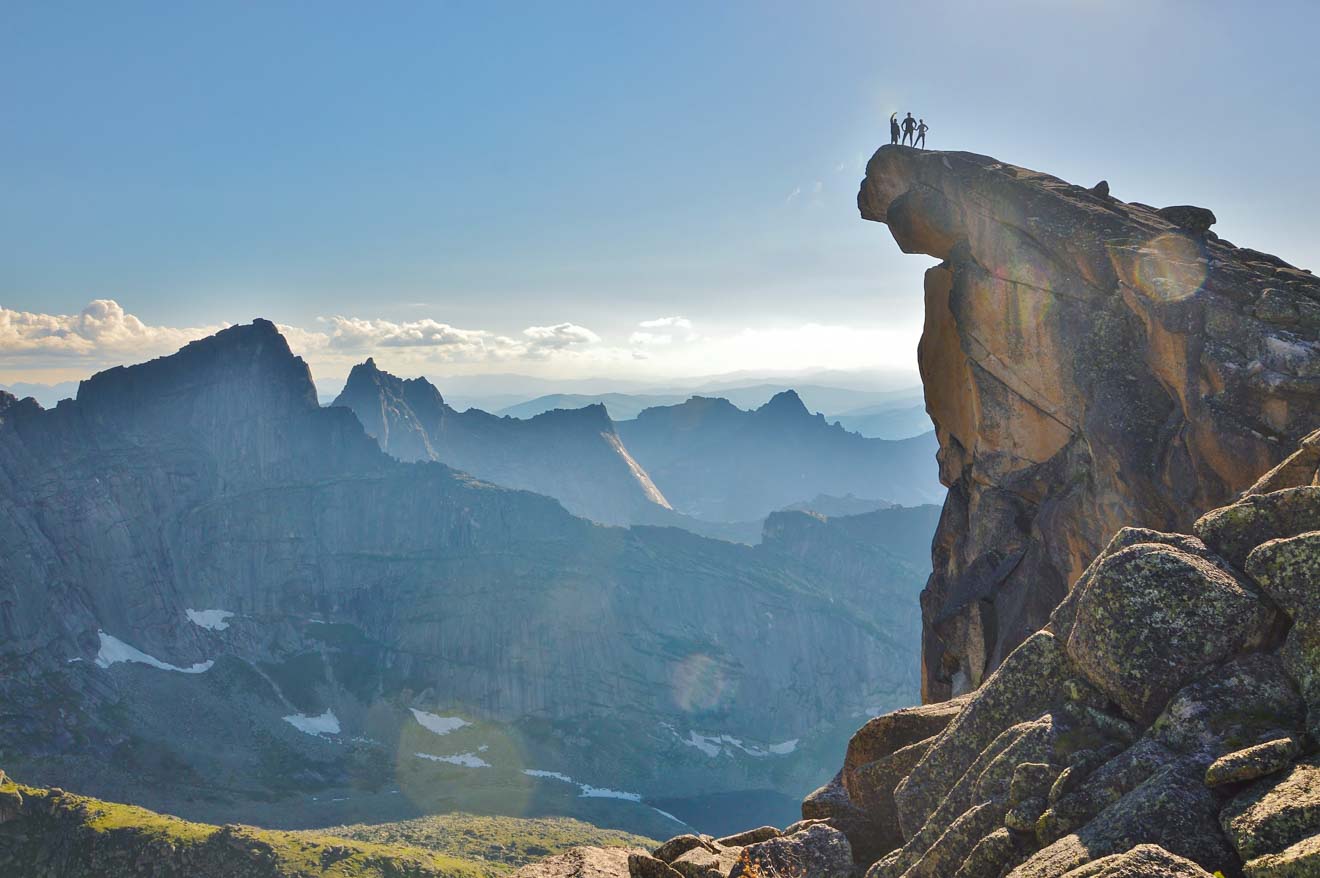 Ergaki Park is rich with sights that will thrill and amaze you: lots of majestic mountain peaks such as Zvezdny, Bird, Dragon Tooth; some complex passes such as Artists, Bliznetsy and Tumanny; a number of beautiful lakes (Bright, Mountain Spirits, Rainbow, Mramornoye) and, last but not least, many ringing waterfalls such as Mramorny, Bogatyr and Grace.
The "Hanging Stone" deserves a special mention here – it's a huge granite fragment lying on the edge of a cliff and never falling down! You can check out this video here if you want to understand better!
But how to choose which side of Ergaki is better?
You can download this map and plan your route according to the weather and the time you have available. But my recommendation is to go to the official website of Ergaki and book a tour (both the website and the tours are available in English).
You can check out all the available tours here. An average price for one person is 800 RUB ($12 USD). I recommend you meet the guides there and discuss with them which tour is more suitable for you depending on the length of your stay, your preferences and the weather conditions.
Should you visit by yourself or take a guided tour?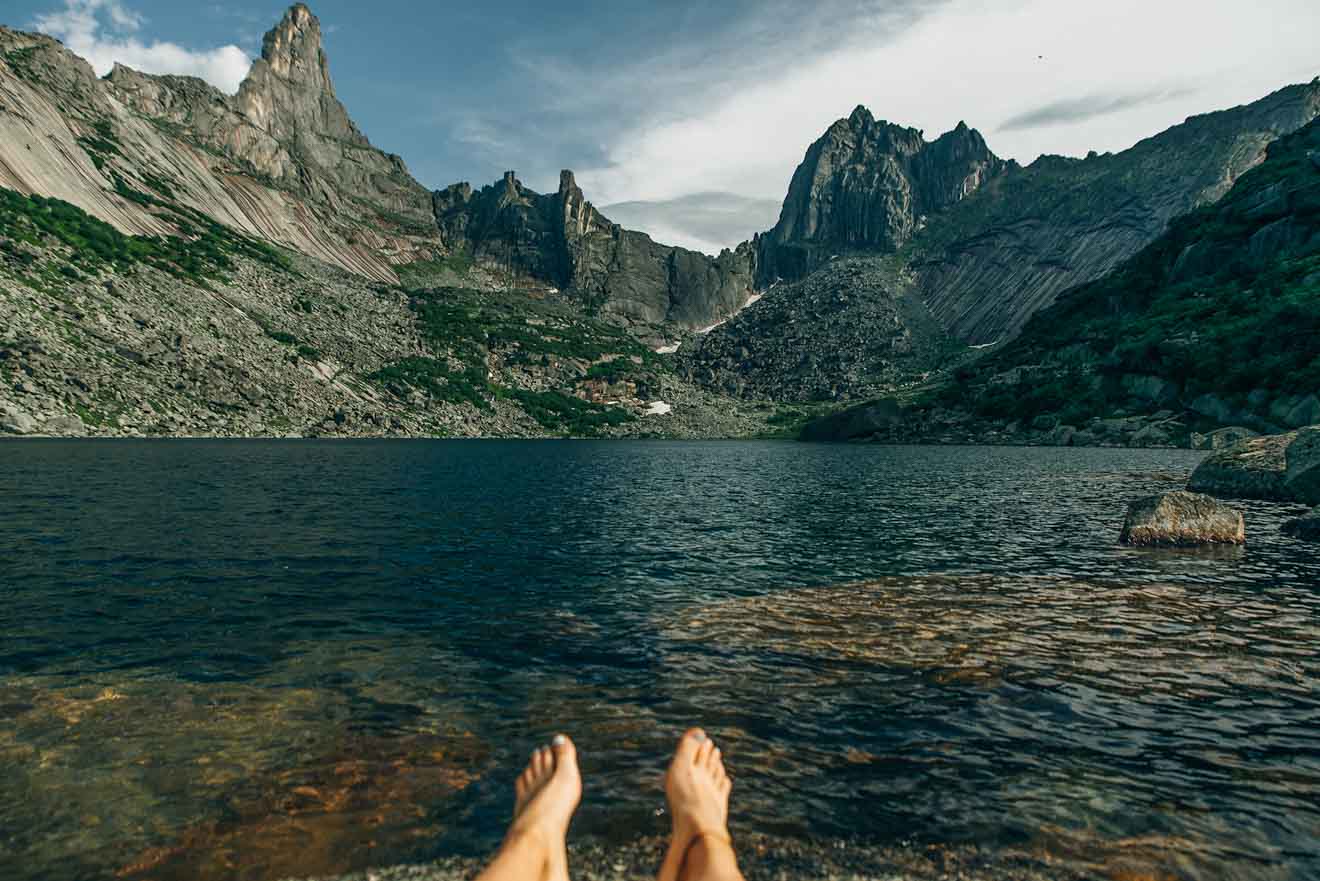 If you have a local person traveling with you or someone who can read Russian and communicate with Russian people, then going to Ergaki without a guide is surely an option. There are few routes which you can take, but you have to plan the routes yourself or go to the visitor's center and ask them to help you with it. Unfortunately, I couldn't find any routes online to share with you.
You will have to follow the different colored marks in order to stay on each route. During summer, there are a lot of Russian tourists on the routes so, if you get lost, you can always ask them where the nearest exit is!
But if you don't speak Russian, I strongly advise you take a guide from the Visitor Center of the Park, so you will have the best and safest experience there.
MY EXPERIENCE: I explored Ergaki together with a group of tourists and our guide. The weather did change a few times during one single day – it was sunny, then very foggy and then it was raining just within the 10 hours I was there!
Because of the rain, some parts were dangerous to climb and because of the fog some, views were unavailable and it would've been useless even to go see them. And the guide changed our route accordingly, so we had the best experience possible!
How long should you stay in Ergaki National Park Reserve?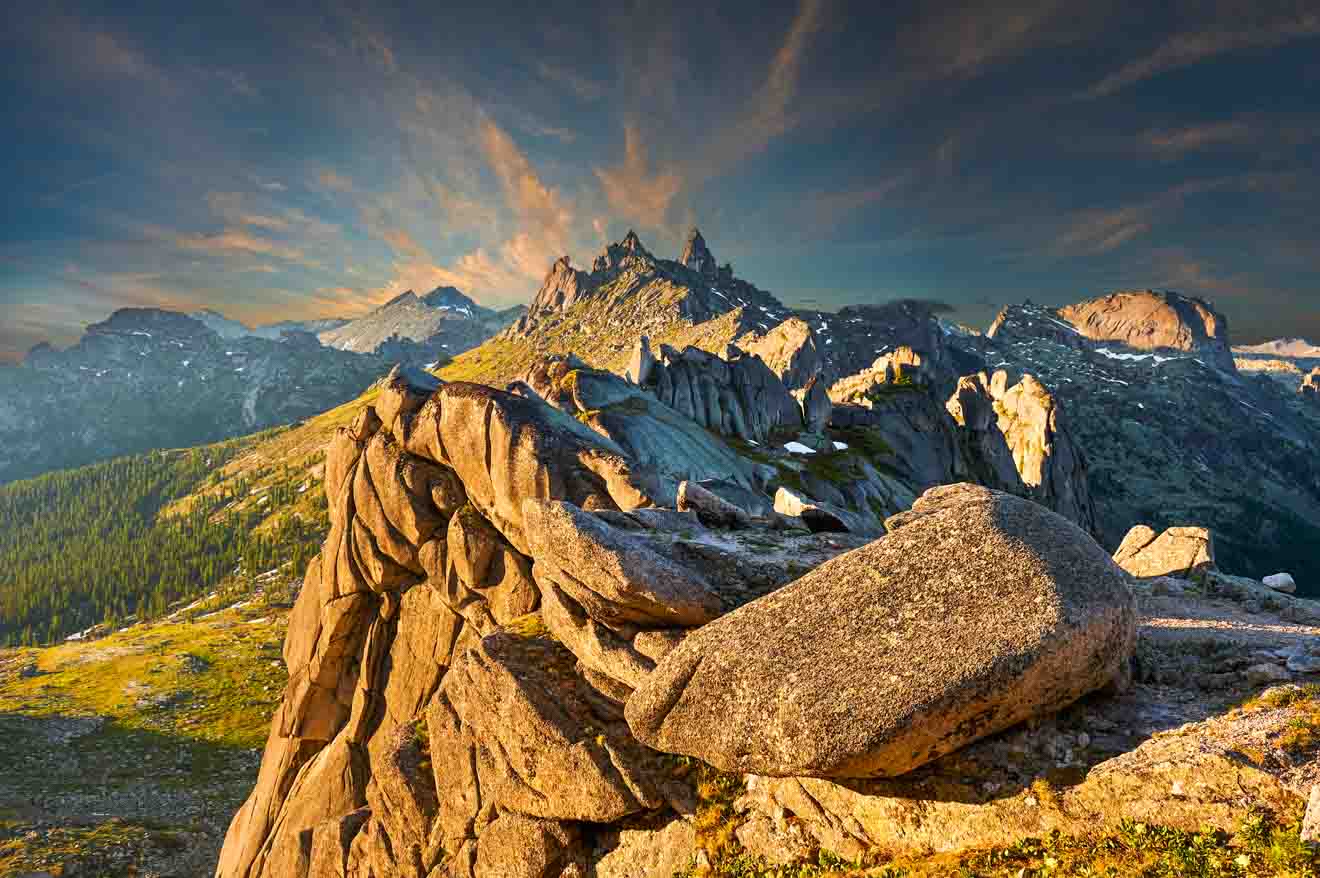 The park is so huge that you could easily spend a whole week there and every day you would see a different side of Ergaki! Unfortunately, I only spent one day there because I didn't have more time than that.
But I can still give you my suggestions:
1-2 days – too short, you only get a glance and you will definitely want more. Also, if you are unlucky with the weather, you won't get to see many things!
3-5 days – in my humble opinion, this is the perfect length for a perfect stay.
3-4 days with a tent: If you are planning to stay in your own tent, you will have to carry the tent, food and any other equipment with you. 3-4 days will be more than enough to make you extremely tired. Be prepared, as you will most probably be without any mobile or internet connection during the entire time of your stay!
4-5 days with a hotel room: If you are planning to stay in the closest hotel, then every day you will have to go back there. Within one day, you will see less beautiful spots, but you won't be that physically tired. 4-5 days is a perfect plan to spend in Ergaki Park if you stay in a hotel. You will cover most of the attractions and every night you will have a good night's rest in a comfortable bed with internet connection, so you can upload the beautiful Ergaki pictures to your Instagram!
6 days or more: Although there are many things to see in Ergaki and even 6 days is not enough, I don't suggest you stay longer than 6 days. Trekking is a tiring physical activity and after 5 days of continuous trekking you will need your rest. When you are physically tired you can't enjoy the beauty anymore because, basically, you don't have the energy for it! This is why I don't suggest staying in Ergaki Park for longer than 5 days.
Packing list for Ergaki Park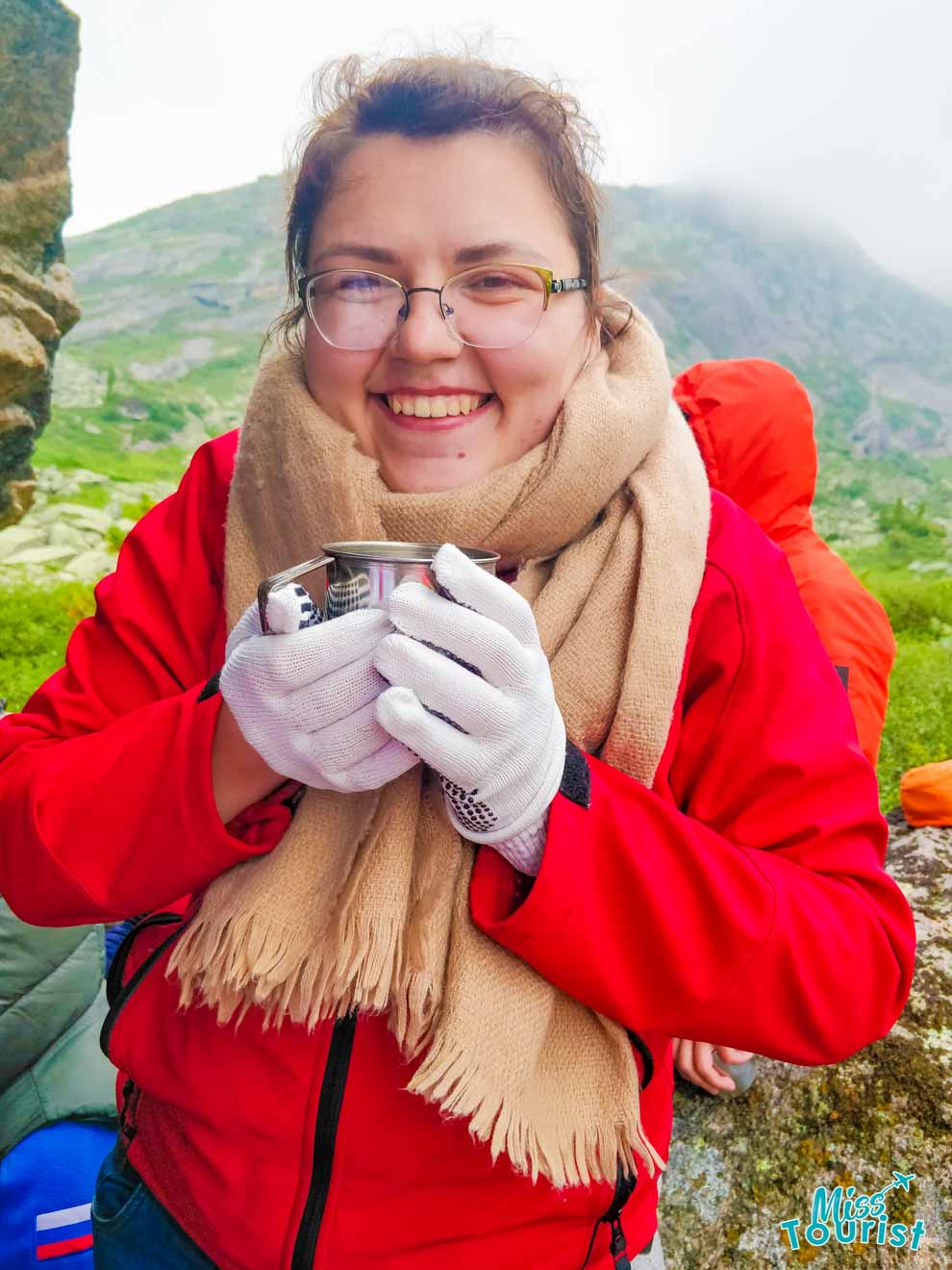 There are a few things you must take with you:
A Tele2 SIM card – this mobile operator is the only one that works in the area. In case you didn't prepare beforehand, you can buy a SIM card in the closest hotel – Free Raid. 
A trekking backpack – you can carry your spare clothes and other items and snacks in it
A water bottle – take an empty bottle with you, as all the water in the park is clear and drinkable.
Canned food – there are no cafes where you can buy food, so make sure you are prepared before you go.
Rubber boots – you must take care of your feet during the trek! There is a lot of mud, dirt and small lakes, so rubber boots are a must. In case you don't want to bring your own boots with you, you can rent them from the closest hotel as well.
A raincoat. Rain and fog in Ergaki are not uncommon, and the weather in the mountains changes very quickly, so you should always have a raincoat with you. For example, I used two polyethylene raincoats in one day because the first got torn in some bushes!
Comfortable clothes – physical activities require wearing comfortable clothes. I recommend tops and bottoms made of a durable, lightweight and windproof material.
Fleece jacket and a few pairs of socks – for cool weather. Plus, you can never have too many socks!
A pair of regular cotton gloves – you can use them on large stones to protect your hands, just like I did
Warm clothes – a sweater, warm pants, a knit hat, some thermal underwear, warm socks, a jacket. The mountains are cool in the evening. You should always be warm and dry!
Sun block – The sun's rays are strong in the mountains, so please protect your skin!
Insect repellent – There are usually only a few insects in Ergaki, but there have been a large number of midges, mosquitoes and horseflies during the last years in June-July
An individual first-aid kit – in case you need some specific medicines
A flashlight – optional
Where to stay near Ergaki National Park
There are a few options available near the park. I stayed in the closest hotel to the park, which is called Free Raid. This accommodation is nice, clean and comfortable. They offer rubber shoes and raincoats in case you don't have your own and, even if you don't stay there overnight, you can still rent these items! There is also a spa, a kids' playground, a café, a hookah bar and a beautiful lake nearby which you can explore on the hotel's boat. During winter, they even offer skiing and snowboarding equipment for you to use!
You can see some other accommodation options on the official site of Ergaki. The prices there are similar to the hotel I stayed in, but I am not sure if they can speak English or not.
How to get from Shushenskoye to Ergaki National Park Reserve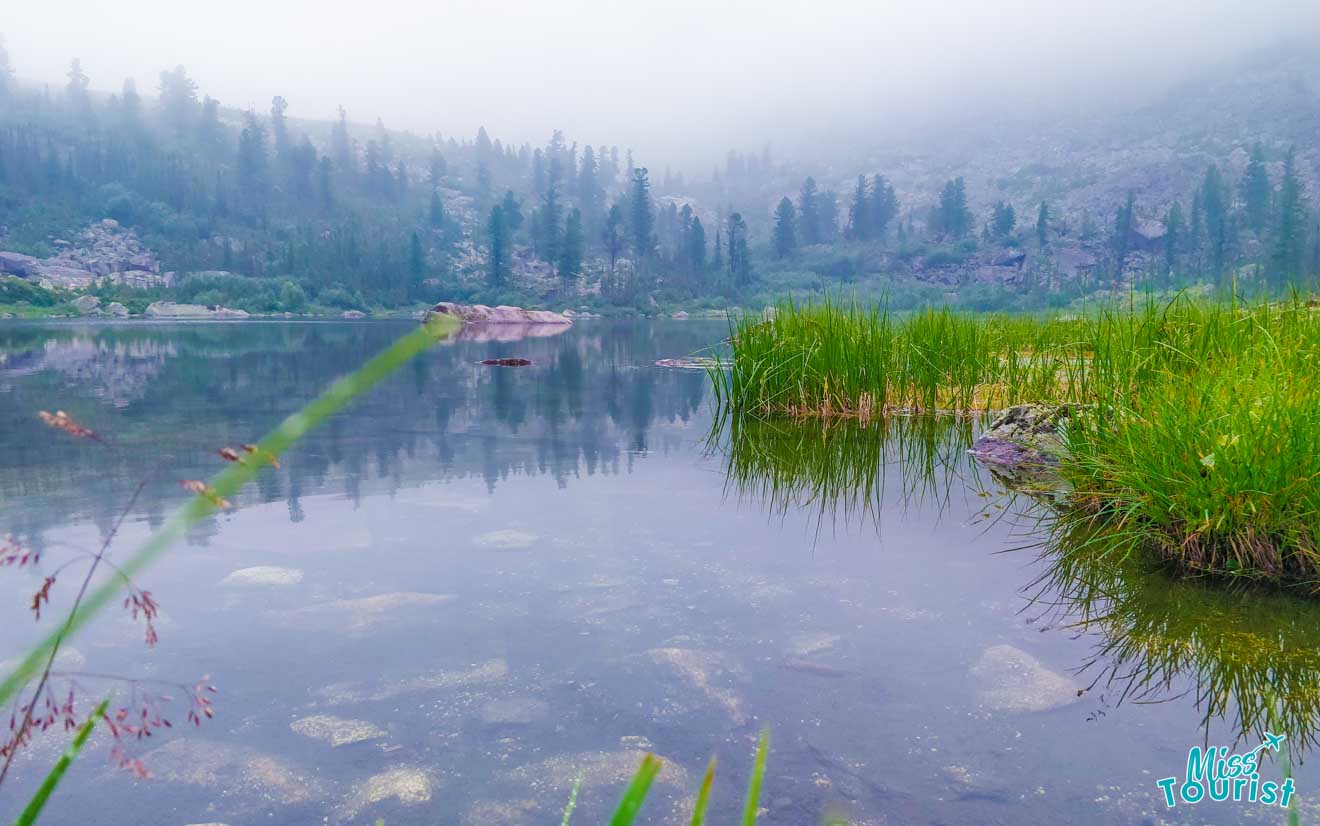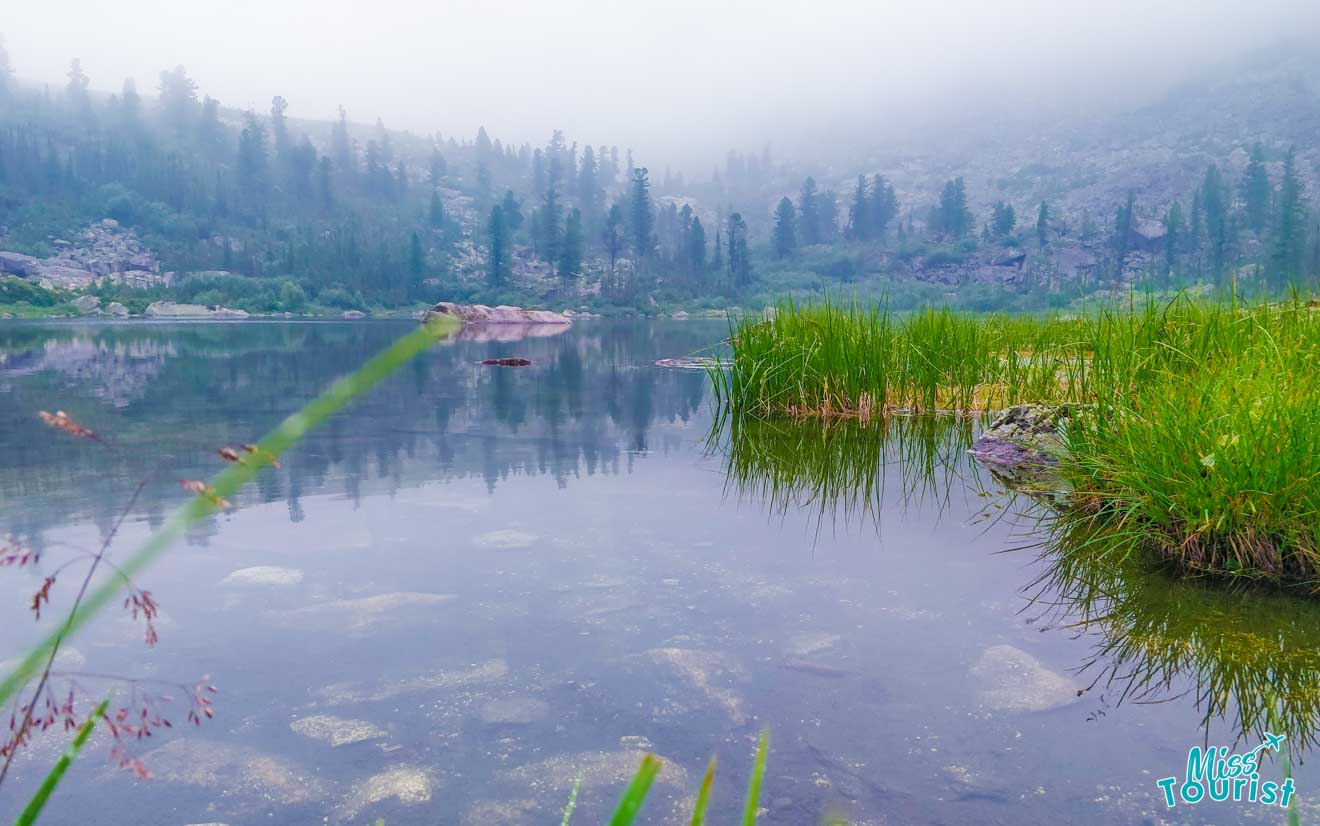 By car
The distance between these cities is 150 km. You can rent a car for your trip here.
By bus
You first have to go Abakan by bus (300 rubles, $4.50 USD) and then from Abakan to Ergaki Visitor Center by another bus (500 rubles, $7.50 USD). You can book your tickets online on this website here (the website is in Russian, so please use Google Translate to navigate it.)
Day 9. Visit the capital of Khakassia – Abakan
After a few days stay in the beautiful Ergaki area, you have two options: you can either take a flight to Moscow, or stay in Abakan for a night and then continue your way back to Krasnoyarsk (just like I did!).
Abakan is a small city and its population is less than 170,000 people. Even though there aren't a lot of things to do there, I have found a few attractions that are definitely worth visiting!
Things to do in Abakan
Visit the Dream Garden Park – This is one of the most remarkable places in Abakan! It's a garden full of sculptures and attractions and definitely a very lovely place that you must visit! The entrance fee is 200 RUB ($3 USD).
Pray in Spaso-Preobrazhensky Cathedral – The Cathedral is very beautiful, especially during the evening in clear weather. There are even some benches where you can relax nearby!
Take a picture with The Little Prince Sculpture – This is a sculpture of the Little Prince sitting on his planet and holding a rose. When you look at this sculpture, it seems that the Little Prince is so real and that is how Antoine de Saint-Exupery imagined him!
Where to stay in Abakan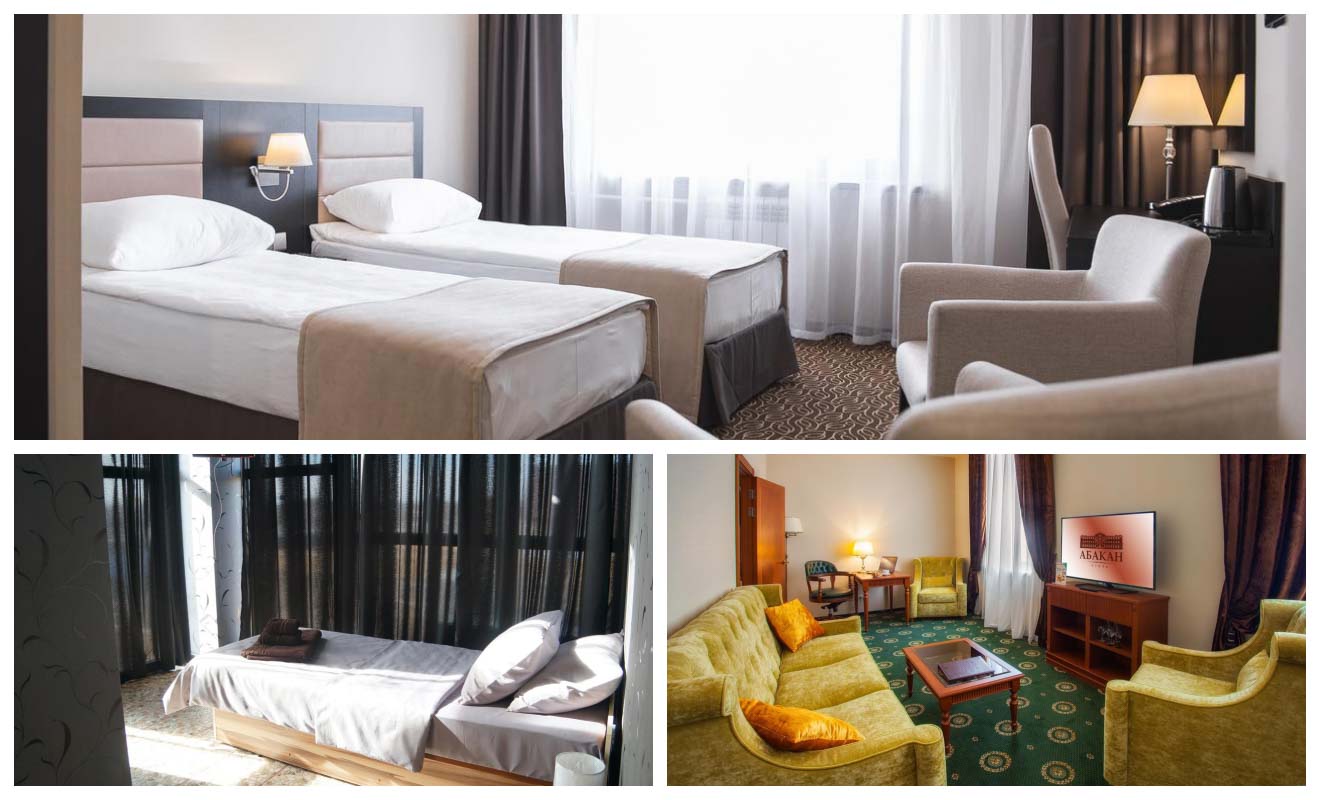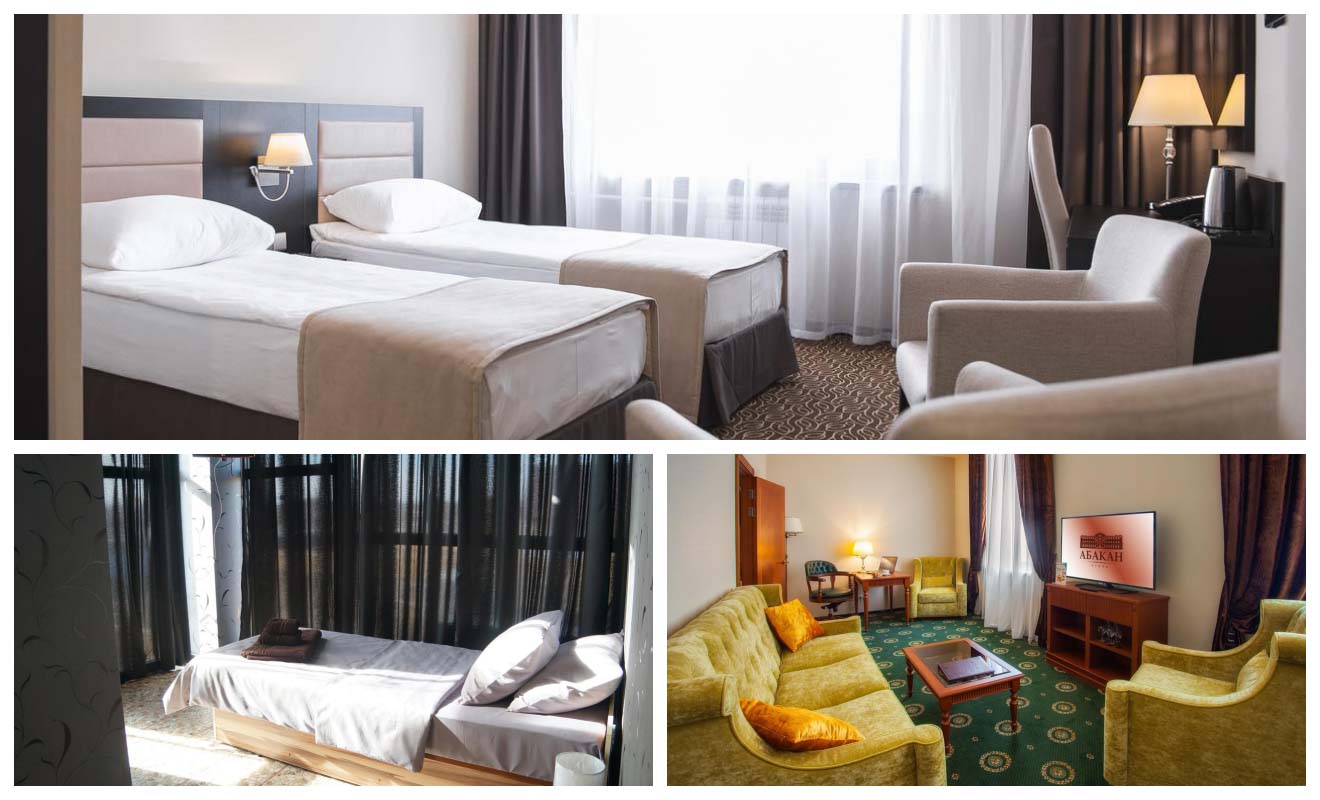 If you decide to spend the night in Abakan and then make your way back to Krasnoyarsk, here are my accommodation recommendations in the city:
Luxury ($160 USD and up): For a great luxury stay, you can book a presidential suite in Hotel Asia. Unfortunately, this is the only luxury option available in town! The suite has a few rooms and the service is simply great!
Middle-priced ($55 to $110 USD): One great middle-priced accommodation is Hotel Anzas. The hotel has a great location, not far from the railway station and very close to the city center. My other recommendation is Abakan Hotel. It's a great hotel with friendly staff, and was recently renovated, so you will have a comfortable stay there!
Budget (up to $55 USD): Guest House On Lihacheva offers you a lot of services for a very good price. It is located a bit far from the city center but, if you travel by car, it is a very good choice! For a very low budget (but still great!) trip you can stay in Nains Hostel. The location is very good, close to the train station, in the city center. The hostel is clean and comfortable!
How to get from Ergaki National Park to Abakan
By car
The distance is 200 km. You can find the best deals for car rentals for this trip here.
By bus
You can also go to Abakan by bus from the Visitor's Center in Ergaki. Travel time is about 3 hours and the price is around 500 RUB ($7.50 USD). You can see the timbe table of the buses at the Visitor's center. Online booking is, unfortunately, not available.
Day 10. Time to go back to Krasnoyarsk!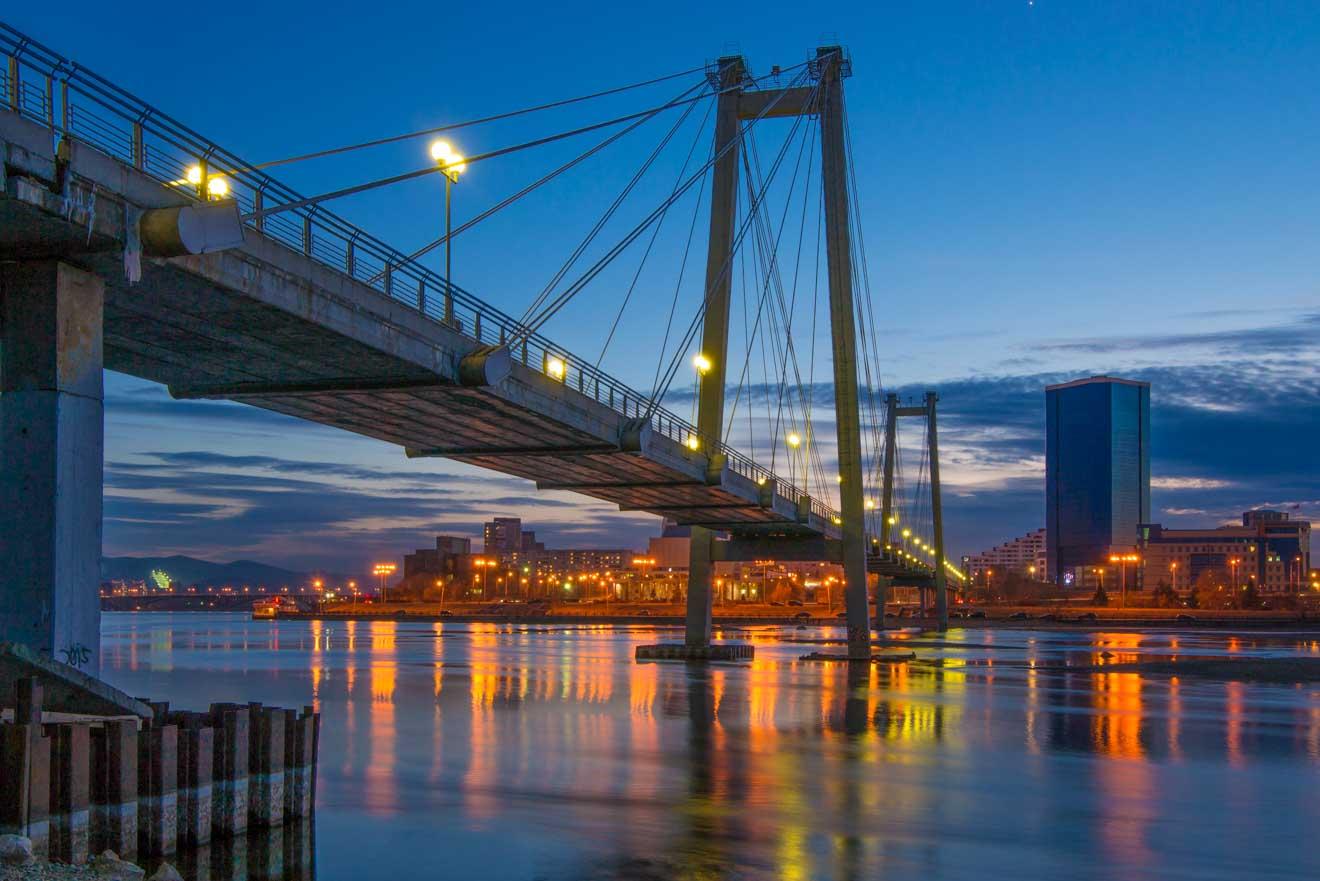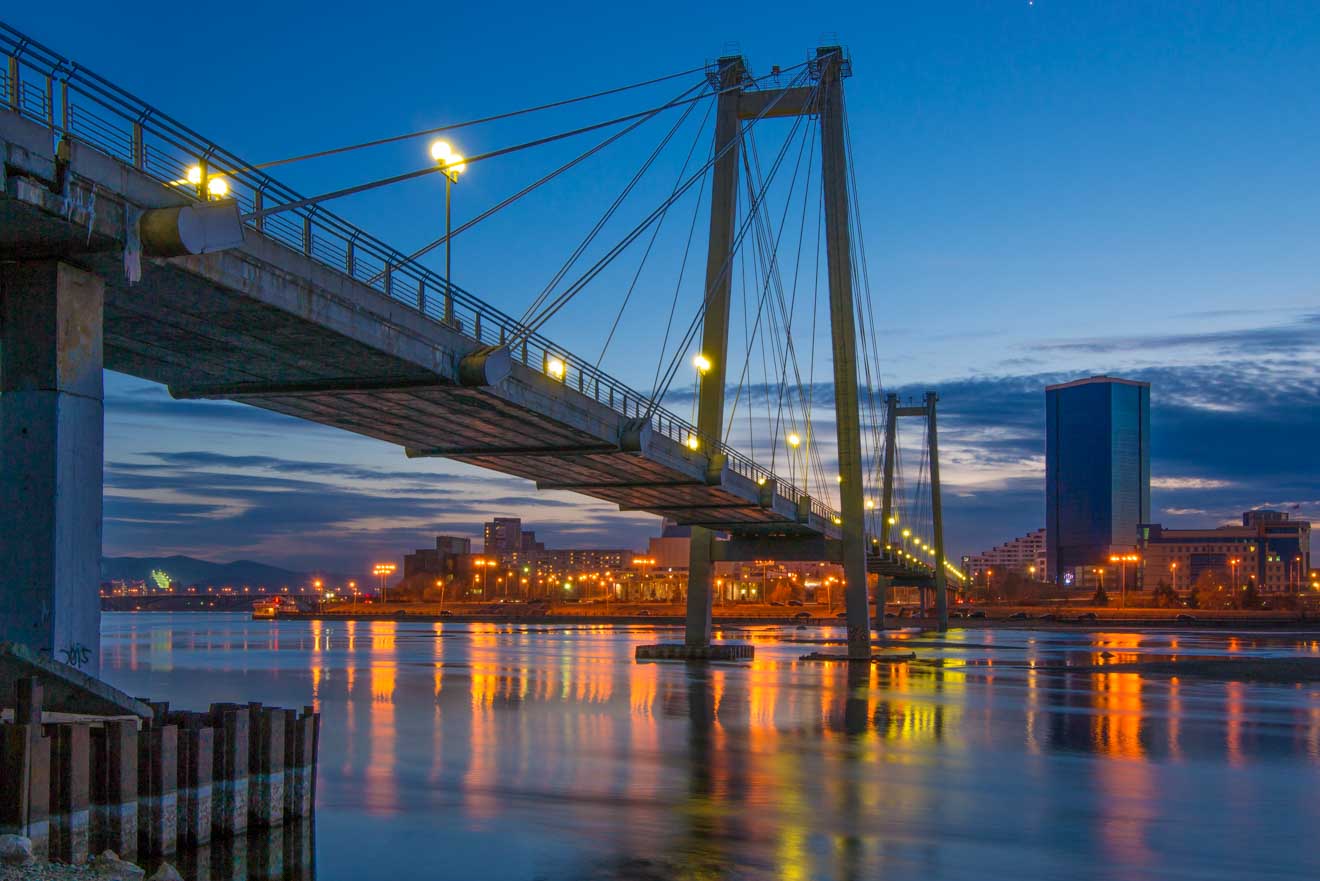 You made it to the last day of this amazing itinerary! Now it's time to end our trip and go back to Krasnoyarsk, where we started from. The distance between Abakan and Krasnoyarsk is 410 km. It is a long way that will take you about a 6 hour ride, so make sure to be rested and grab some snacks for the road!
There are a few options for getting from Abakan to Krasnoyarsk:
By car
As I mentioned, there are 410 km between the two cities and the trip will take you around 6 hours of driving.
By bus
Travel time is about 8 hours and the price is around 1300 RUB (~$19 USD). You can book your tickets online here.
By train
You can also take a train from Abakan to Krasnoyarsk. Travel time is 12 hours and the price is around 1500 RUB (~$22 USD). Book your tickets here.
By flight
Of course, this is the fastest and most expensive option out there! Travel time is 1.5 hours and the prices start at 3000 RUB ($45 USD). You can find the best offer for your dates by searching Skyscanner here.
| | |
| --- | --- |
| 👨‍👩‍👦 Family-friendly score: | Large |
| 🌳 Best for outdoors: | Stolby National Park Reserve |
| 🌊 Must visit attraction: | Krasnoyarsk Dam |
| 🌆 Best tour for history: | Shushinskoye village |
| ☀️ Best time to go: | June – August |
| 📅 How many days: | 10 |
BONUS – Practical information about traveling through Siberia
Now that you know everything about my itinerary through Krasnoyarsk Krai, I couldn't let you go without sharing some vital information about traveling through Siberia with you! Here is what you should know:
How long are the distances in Siberia?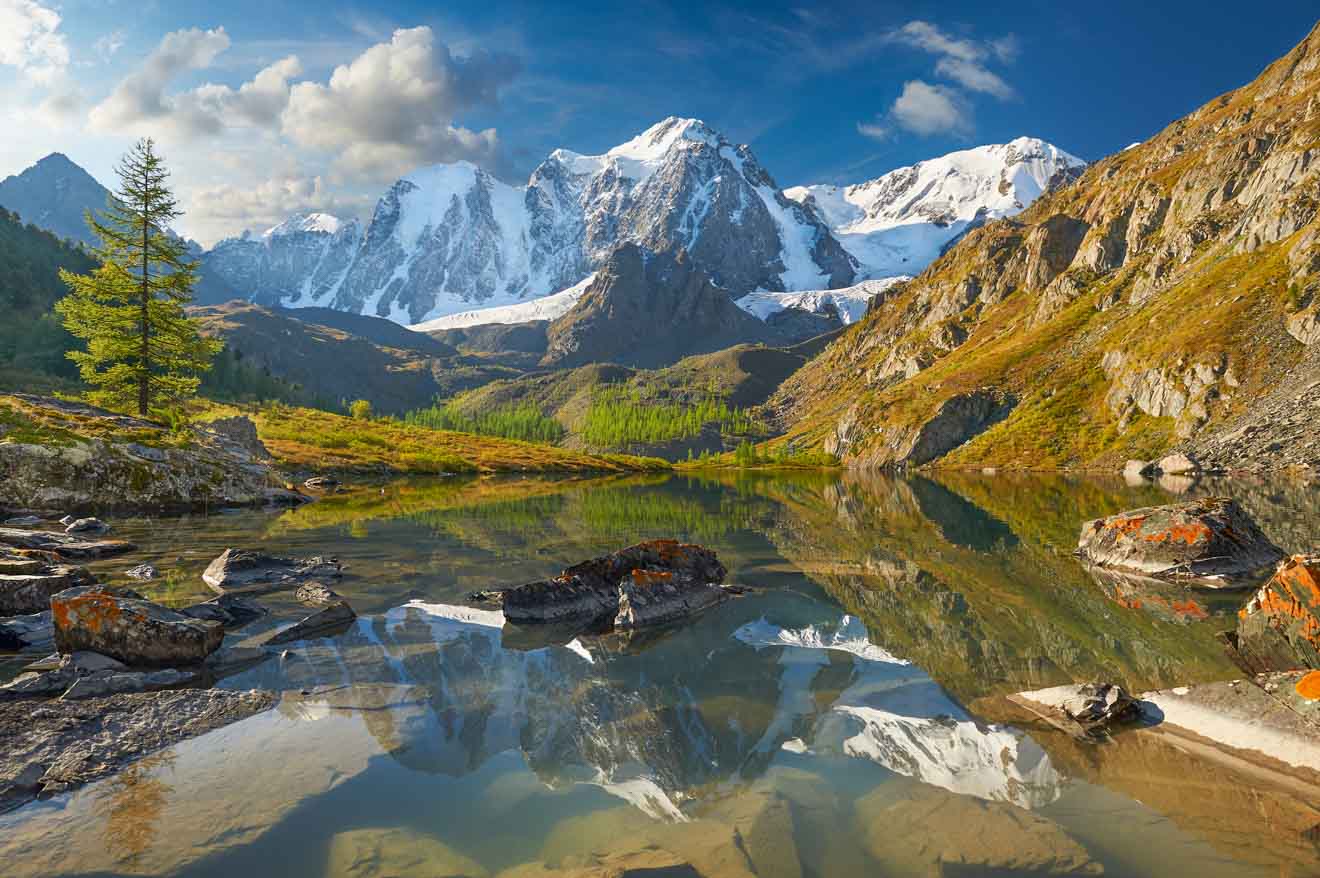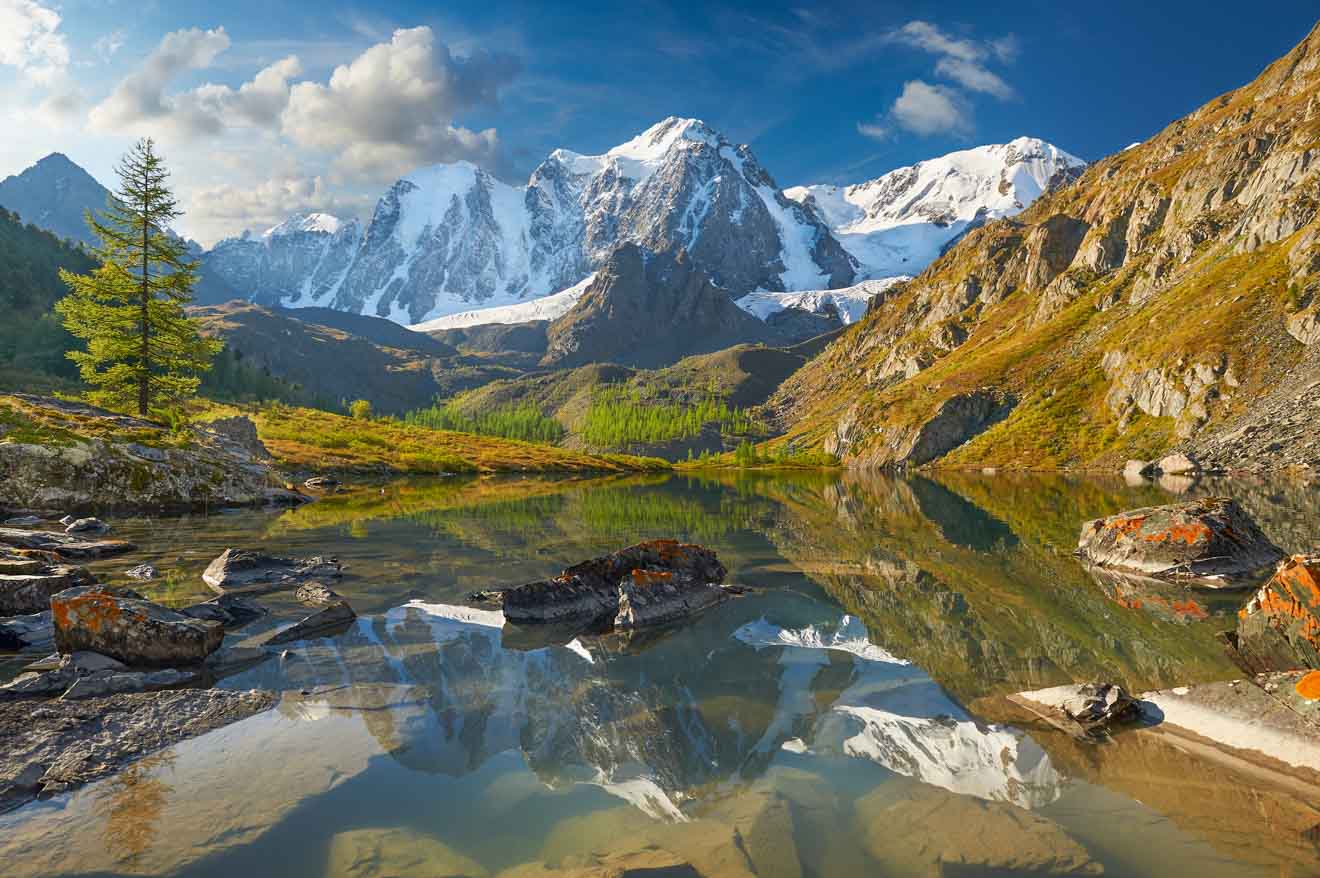 Please notice that this itinerary for Krasnoyarsk Krai will require you to travel a long distance. The region is so huge that it often takes hundreds of kilometers of travel to get from one place to another – but trust me, it is so worth it and unique!
During the whole trip, you will cover around 1 400 km on road, which adds up to a total of 23 hours of continuous driving. This is why I have chosen some beautiful places for you to stop at to visit local sights and spend a night to regain your energy. If you follow my proposed route, you won't be tired from driving!
If you plan to travel by bus, it might be easier for you as you can sleep on the way and you won't have to concentrate on the road.
But I still recommend you travel by car because the roads are good and you will have waaay more flexibility than with the buses!
Will I have Internet or good reception on my SIM card in Siberia?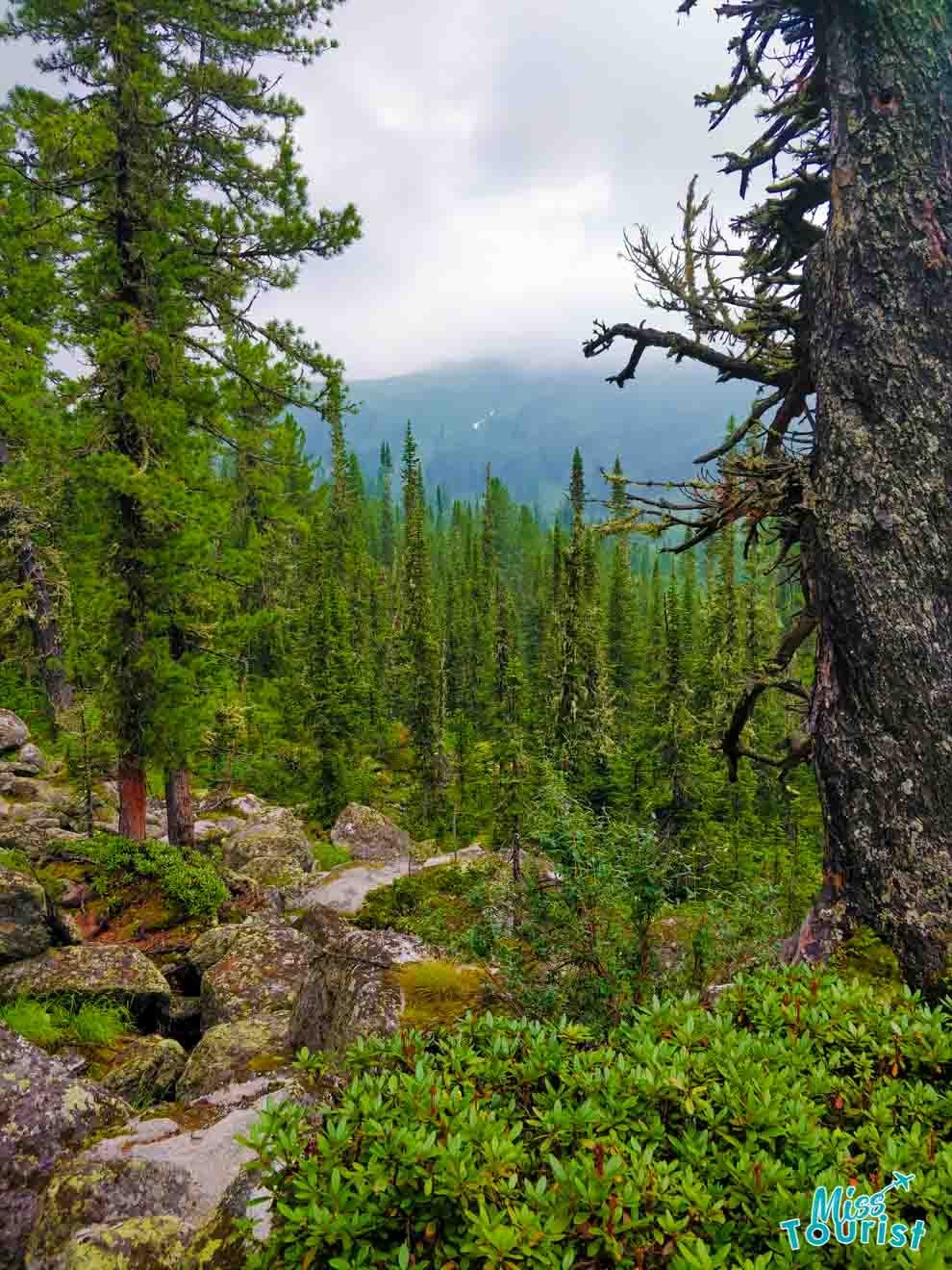 The main network providers in the region are Beeline, MTS, Megafon and Tele2.
An average plan will let you use 10 GB of mobile internet and 500 minutes to call to any Russian numbers.
IMPORTANT: All of these providers will have very good reception in the cities, but while you are traveling from one city to another, often times you will have no signal.
NOTE 1: It is difficult to find any mobile network connection inside Stolby National Reserve. While there, take a lot of pictures and upload them when you are back in the city!
NOTE 2: The only network provider that works in Ergaki National Reserve is Tele2. You can either buy your SIM card in advance or you can get it on the spot. Unfortunately, their website is only in Russian, so you will need to use Google Translate to navigate it.
How are the temperatures in Siberia?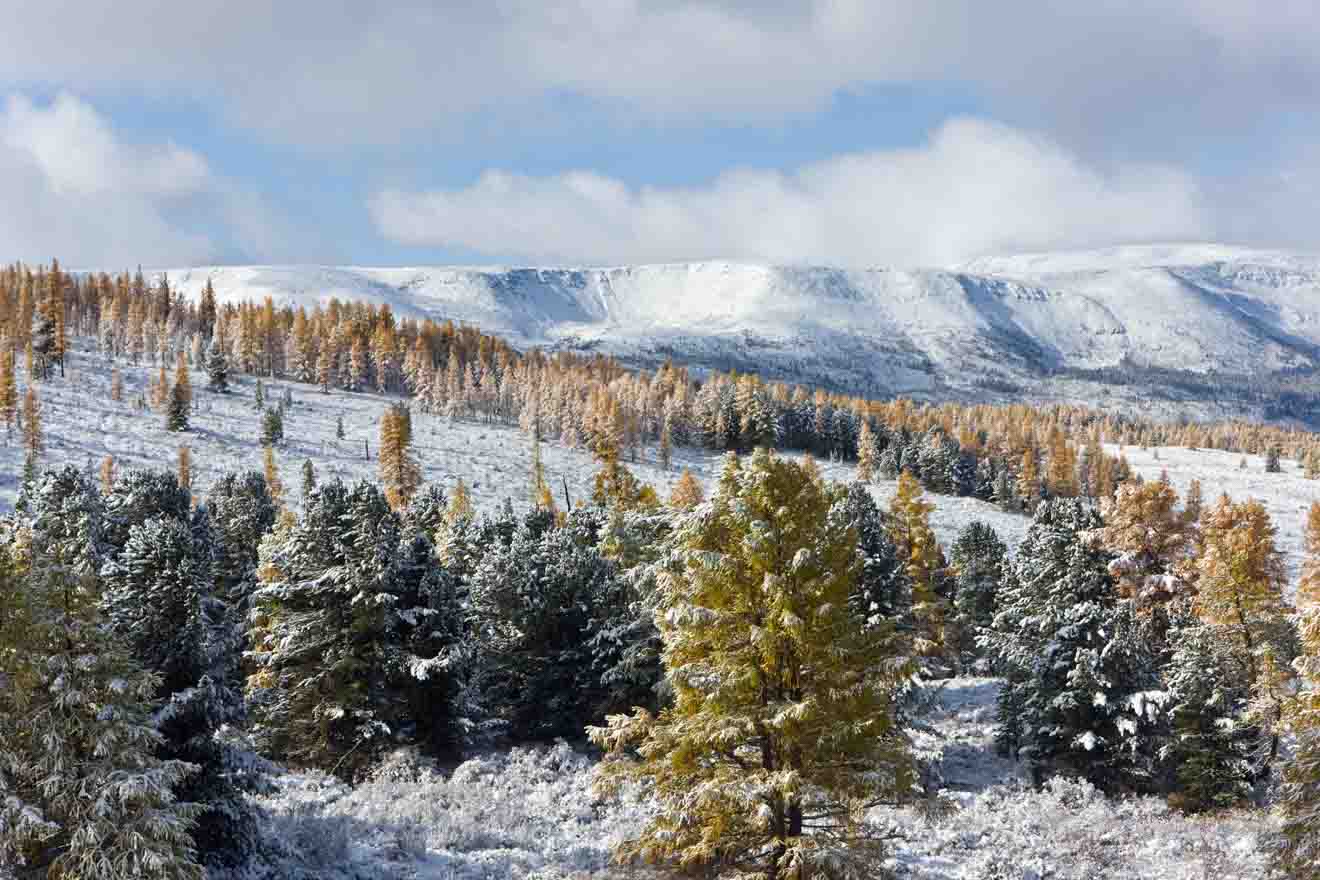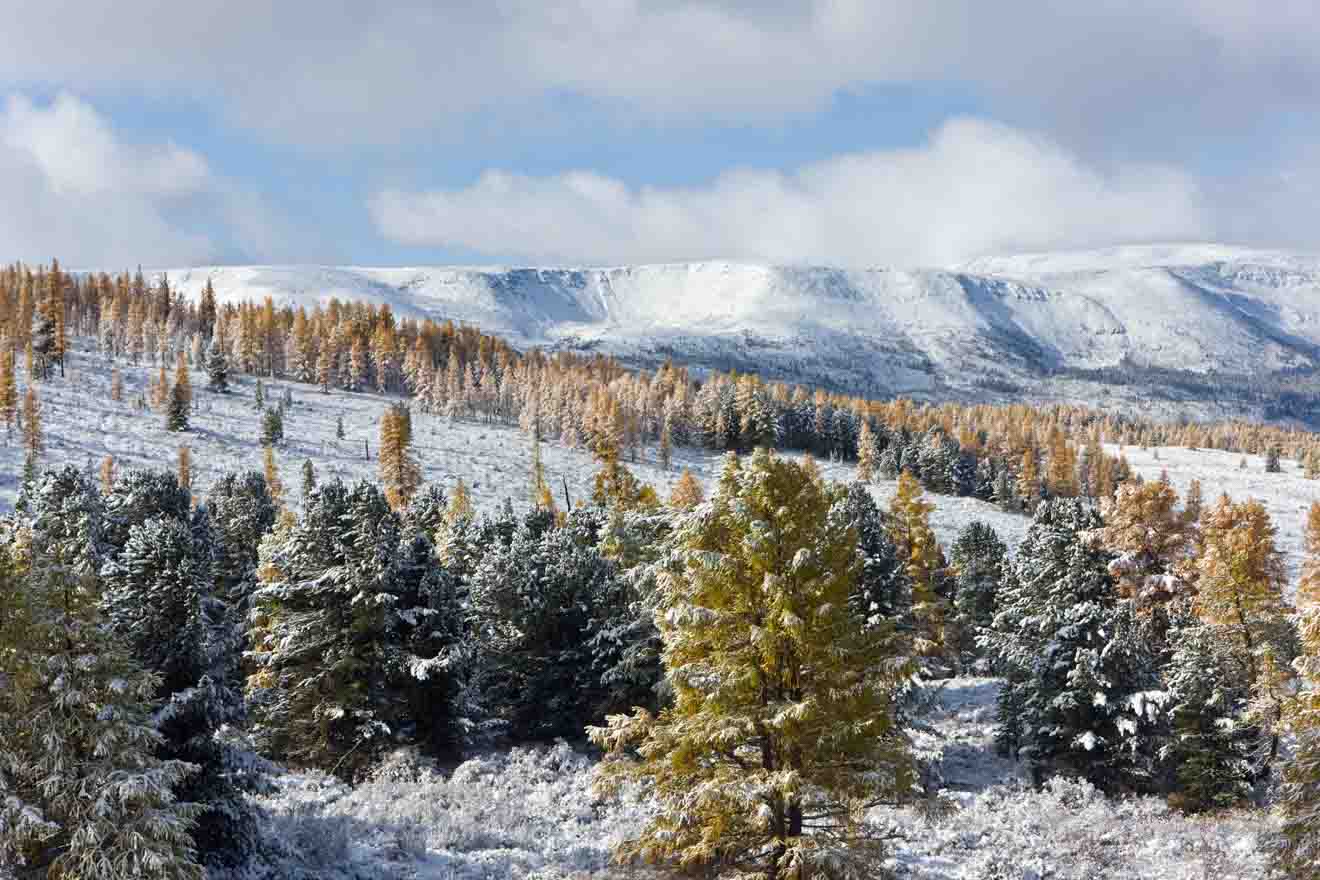 The region has continental weather. What does this mean? It means that, during winter, the temperature is very, very cold and in the summer it is very, very hot!
January is the coldest month, when the temperatures can drop down to -45C degrees.
In the summer, the hottest is the end of July, when the temperature goes up to +40C degrees. Although it sounds crazy, it is not! The place is very dry and the dryness of the air makes it a lot easier to bare such temperatures.
My recommendation is to visit the area in summer, the best time being in June or in the beginning of July.
NOTE: Due to the hot temperatures, sometimes there are forest fires in Krasnoyarsk Krai. I experienced it myself and the whole city of Krasnoyarsk was filled with smog. But there was no smell, nothing bad. The only downside was that it didn't look very nice in the pictures, as it looks like the city is covered with fog all the time.
How are the prices in Siberia?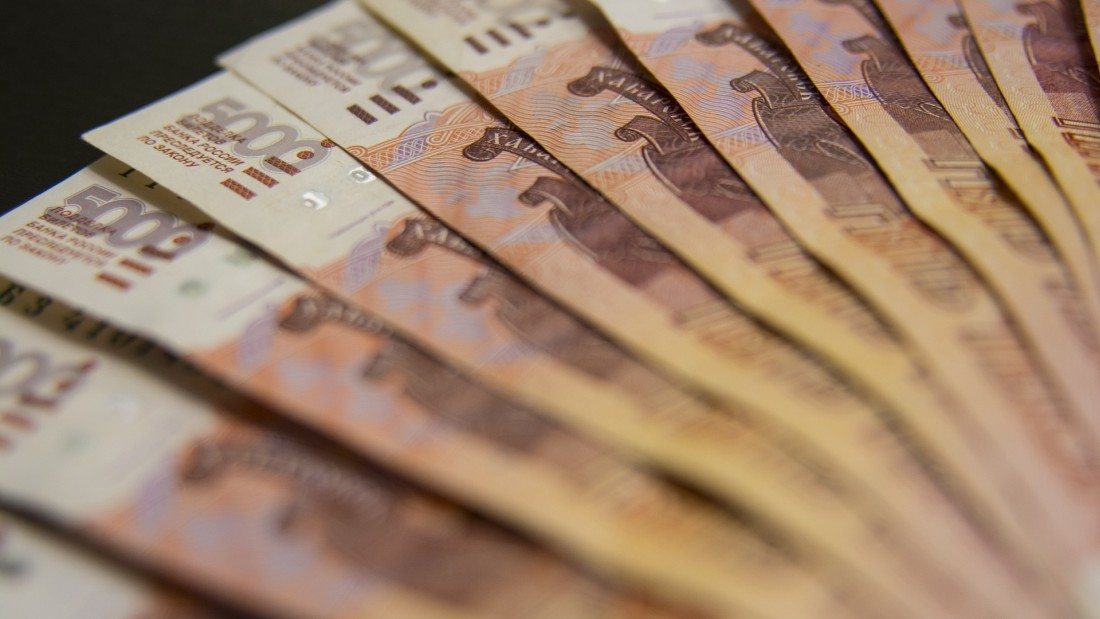 Siberia uses the same currency as in other parts of Russia: the ruble. 1 USD = 67 Russian rubles. Since this can vary quite a bit, please check the current exchange rate here.
You can easily exchange EUR or USD in most local banks.
99% of the places you will visit accept credit and debit cards, so you don't really have to carry a lot of cash with you. But I suggest you do keep with you around 1000 – 2000 RUB in cash, just in case!
NOTE: The trip I am recommending above is very, very affordable! The local prices are low, the price of gasoline (if you travel by car) is also very low. So the entire route is very budget-friendly!
Here are some price examples in the area:
Public transport in Krasnoyarsk – 26 RUB or $0,4 USD
A bottle of water – 30 RUB or $0.5 USD
Lunch in a café – 350 RUB or $5 USD per person
Dinner in a restaurant – 1200 RUB or $18 USD
1 liter of gasoline – 40 RUB ($0,6 USD)
You can check out more prices here.
All in all, is a trip to Siberia worth it?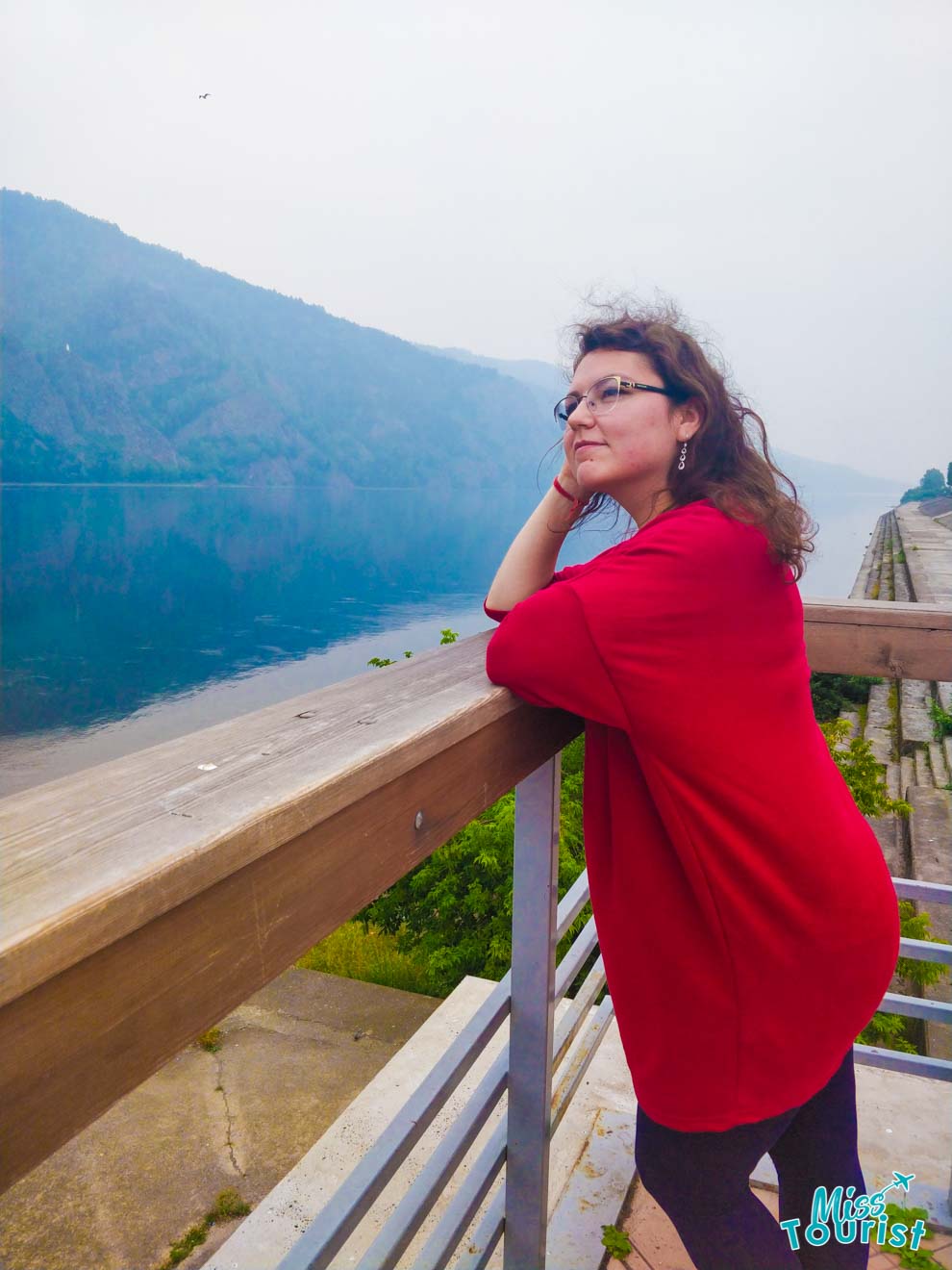 Oh, yes, definitely! The nature in Siberia is so beautiful!
Krasnoyarsk Krai is a territory where you can clearly see the diversity of Russian landscapes and experience the real local life outside of urban cities! If you follow my recommended itinerary, you will find yourself in places where hardly any tourists have been, and which are very authentic, charming and unforgettable!
Usually, when you hear about Siberia, you picture a cold and grey place, full of old houses and no modern progress. But when I arrived, I was mesmerized by the city of Krasnoyarsk and how contemporary and developed it was!
Afterwards, when I started exploring the nature around it, I found myself catching my breath at the beauty of the views! And the weather was very hot when I visited, around 30 degrees Celsius, so don't believe those who say that Siberia is always cold. In summer it is hot! 🙂
---
Conclusion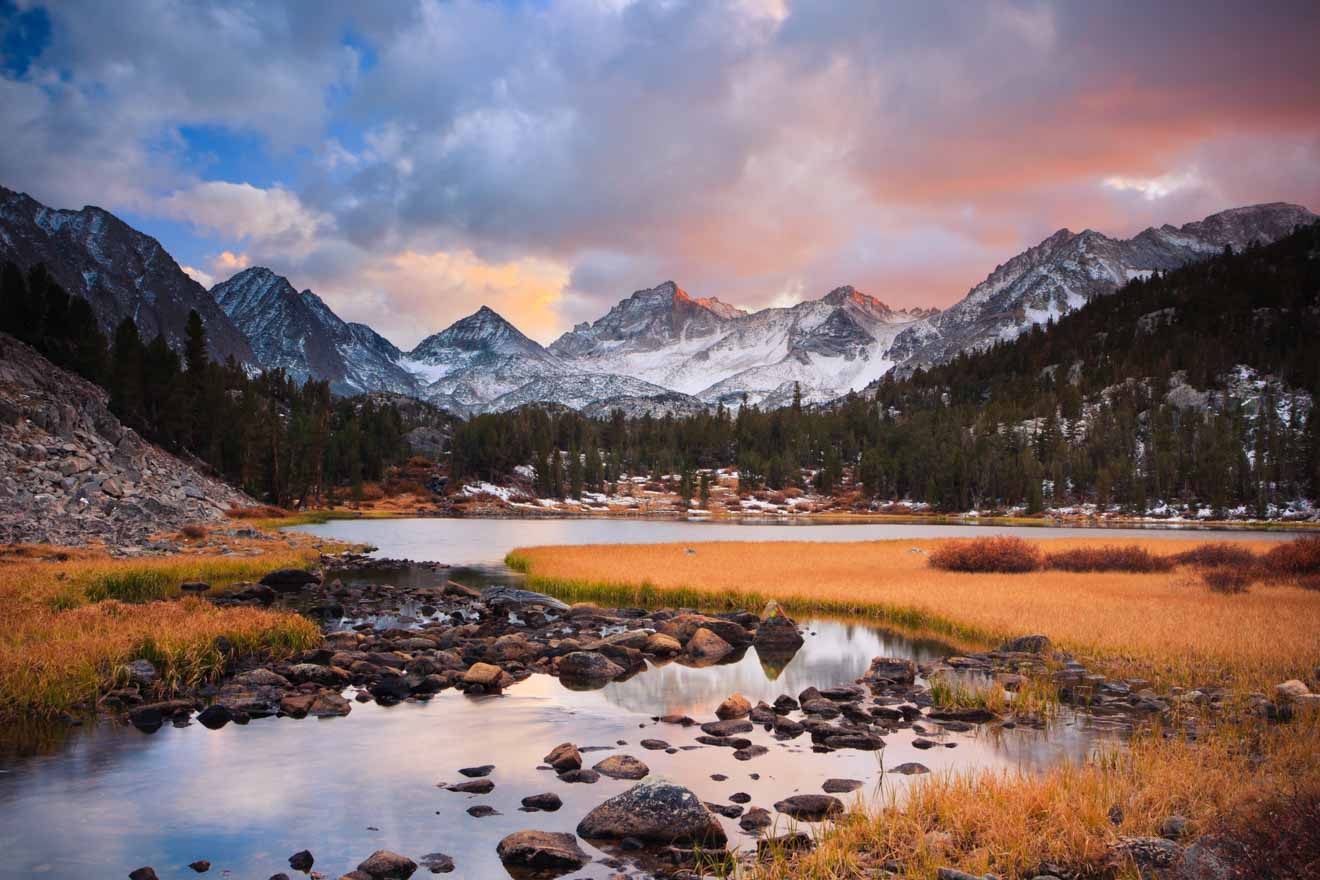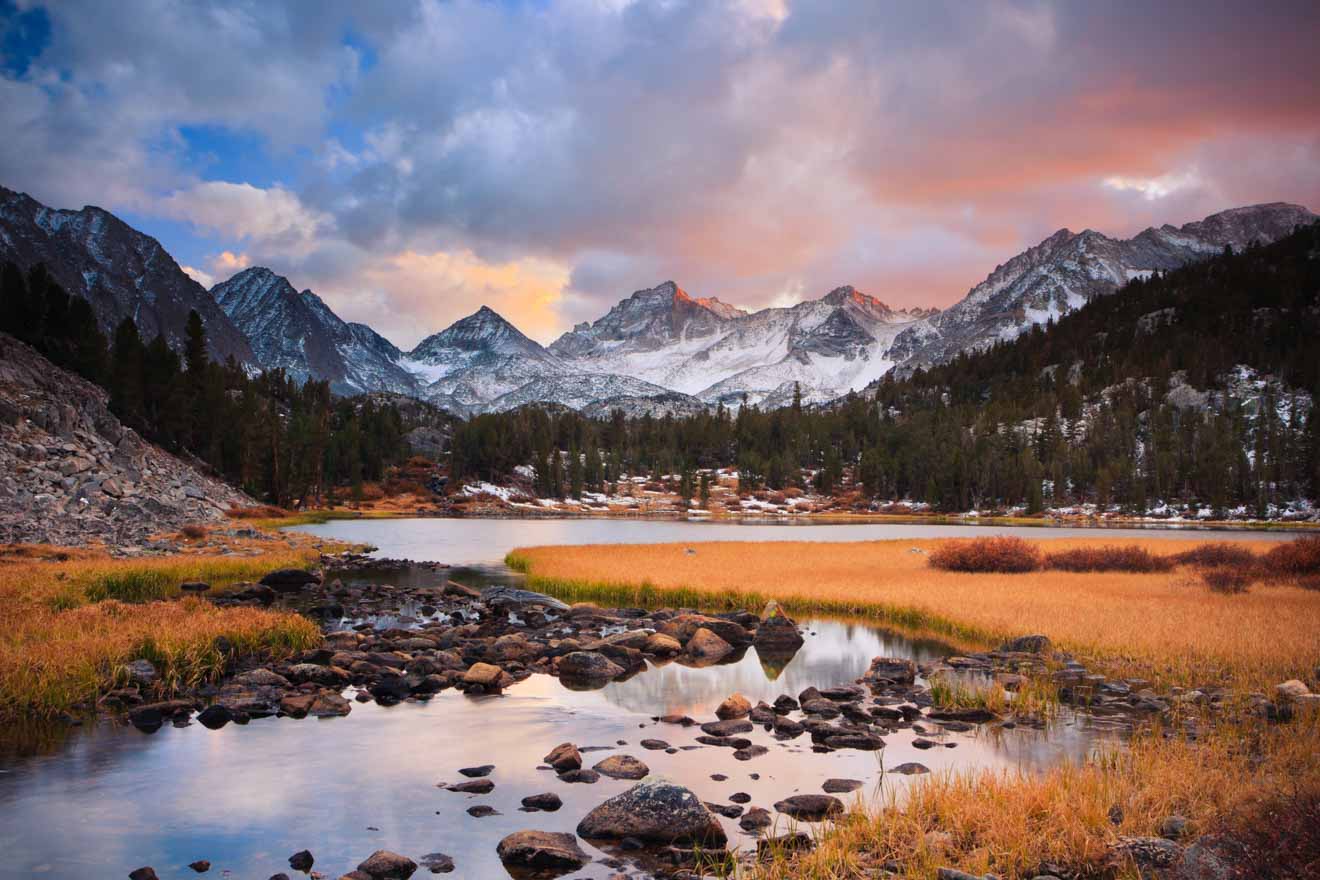 The itinerary that I created for you might not be the easiest one because of the long distances. But trust me, it's so worth it! And I hope my tips will make it much easier for you to explore and get around the area!
During this itinerary, you will see some absolutely breathtaking and authentic sights and you will make some unique memories!
Krasnoyarsk Krai is very affordable and, if you decide to do this trip, you will see that the people are extremely friendly and hospitable there, even if you don't know the language!
In the end, I just want to add that Krasnoyarsk Krai is surprisingly nice and wonderful and I truly hope you can have the same beautiful experience I had!
If you ever plan to spend some time in Moscow (where I live), I can help you make your stay unforgettable. I have a blog about Moscow where I share a lot of tips and tricks about the best sights, places to eat, places to stay in Moscow etc. – you can check it out here.
I hope you will have an amazing trip! If you have any questions, do not hesitate to leave them in the comments, I'm happy to reply!
Lilia
---
Pin it for later!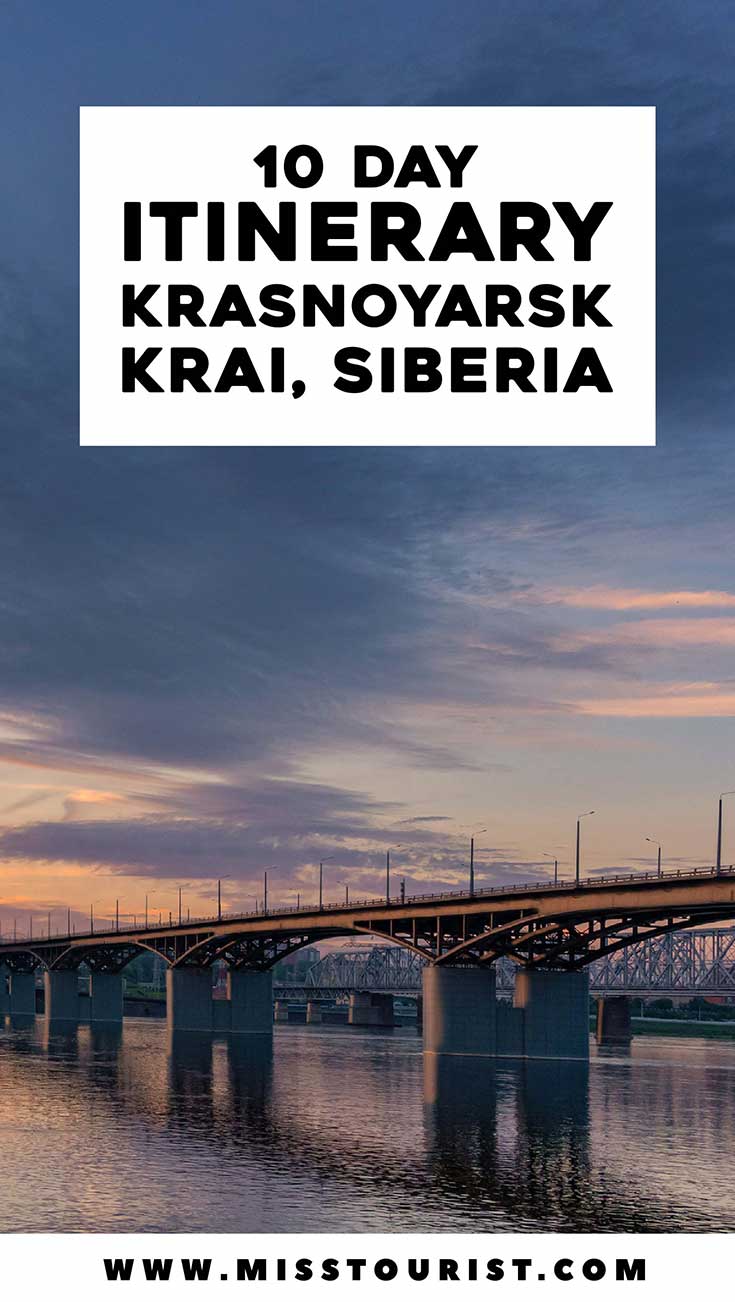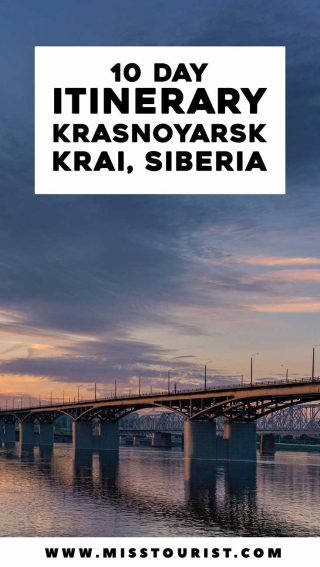 Pin it for later!