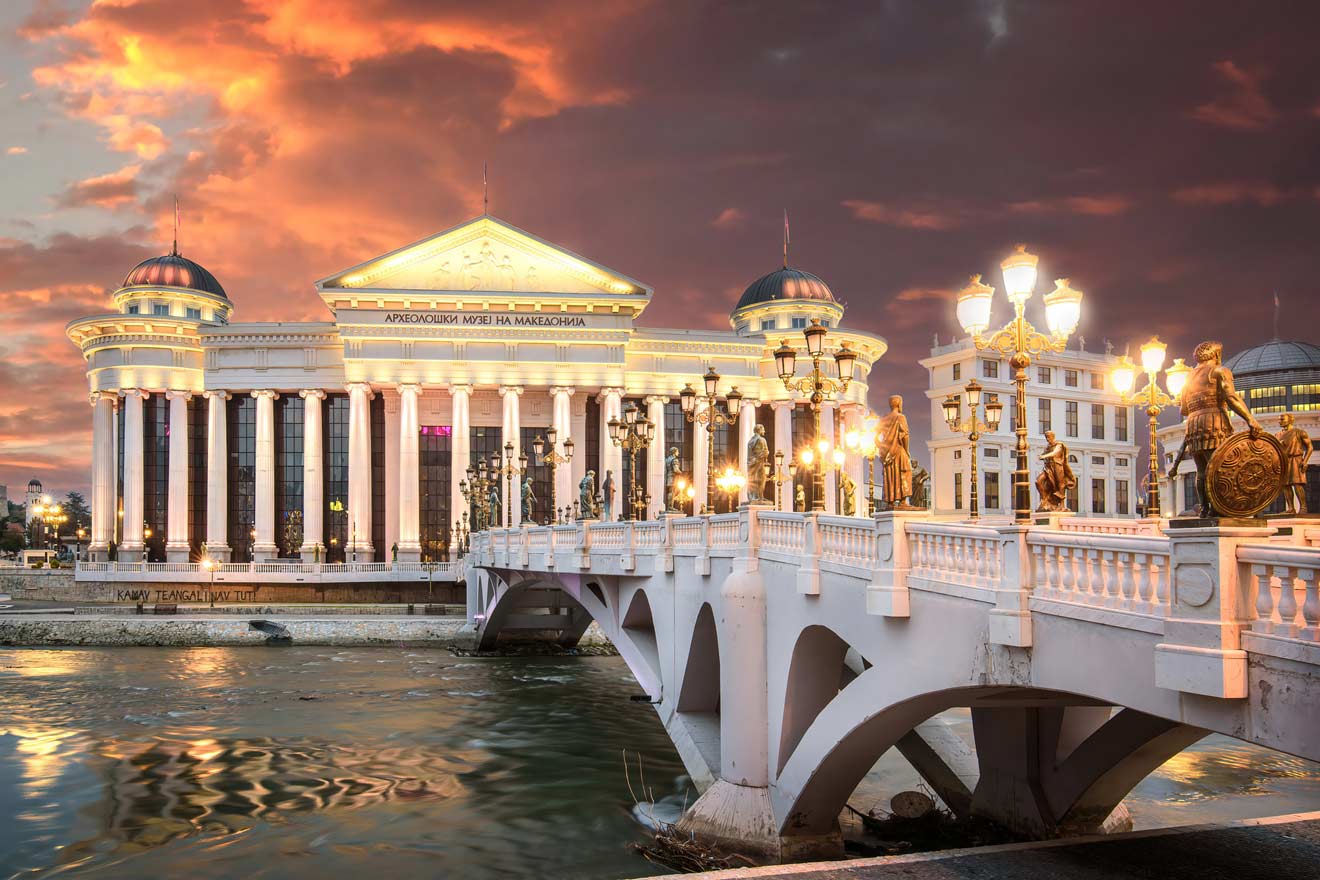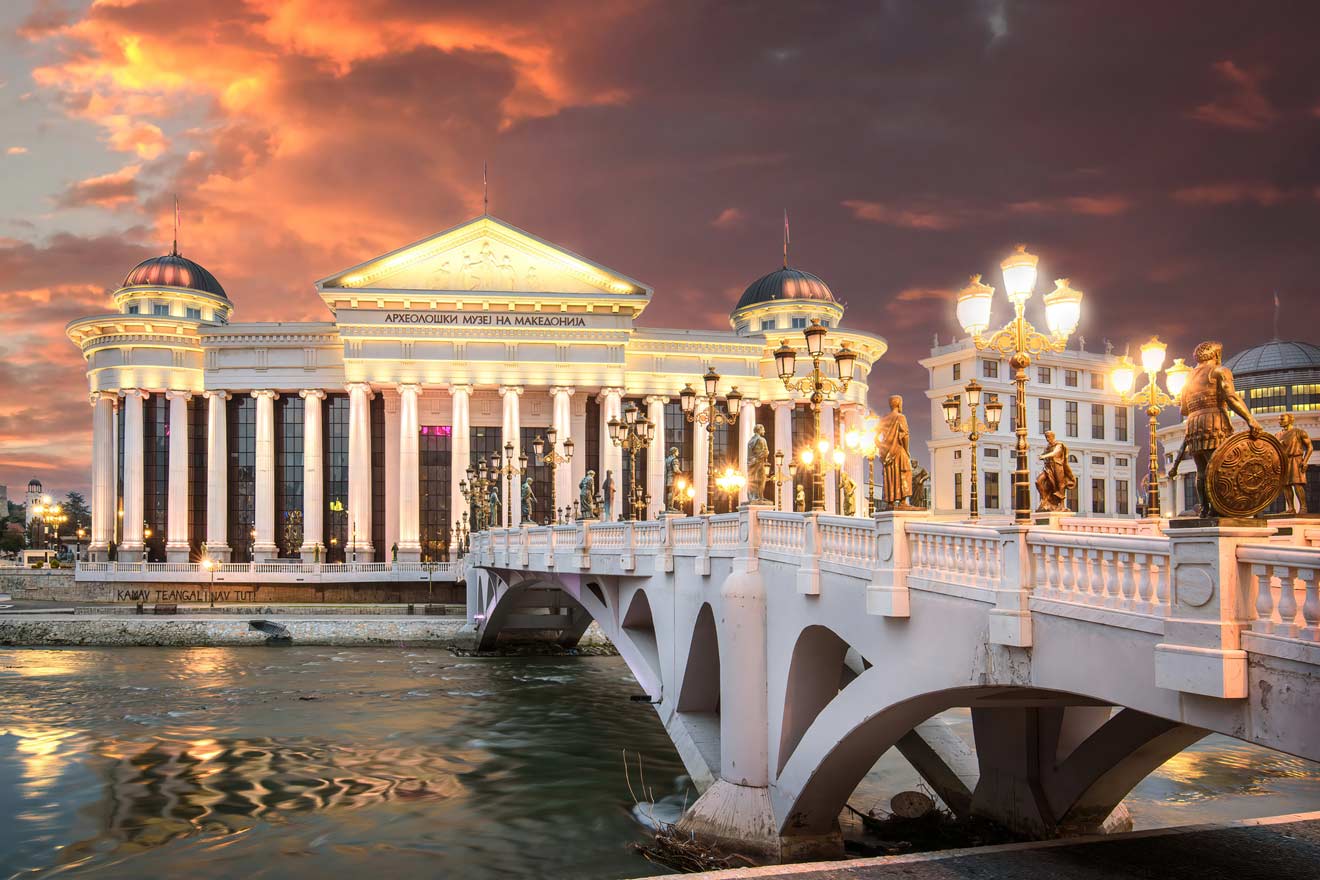 Skopje, the capital city of North Macedonia, is an urban city that you will either love or hate, rarely in between. There are so many great attractions but some stand outs include the brutalist architecture, along with the numerous monuments and the local food.
I lived and studied in the concrete city of Skopje, so I know it by heart. Therefore, if you're visiting Skopje, or if you're already there, get ready to read the ultimate list of the best things to do in Skopje.
For those of you who like to have everything planned in advance like myself, I added a bonus section where I list some additional tours, the best hotels, and some practical information to help you organize your trip.
Before I get into detail about the "city of statues," let me mention that Skopje is crowded throughout the whole year. This means that you better book those tours and hotels early to avoid missing out on some great opportunities 🙂
Now, let's go!
If you are in a hurry
This section is for those of you who like to jump straight into action! Here is a quick overview of the most important info in this post.
Here are the main things to book in advance:
And here are the best hotels: DoubleTree By Hilton (luxury), Hotel Senigallia (mid-range), Moodeight Apartments (budget)
1. Take a tour of the main attractions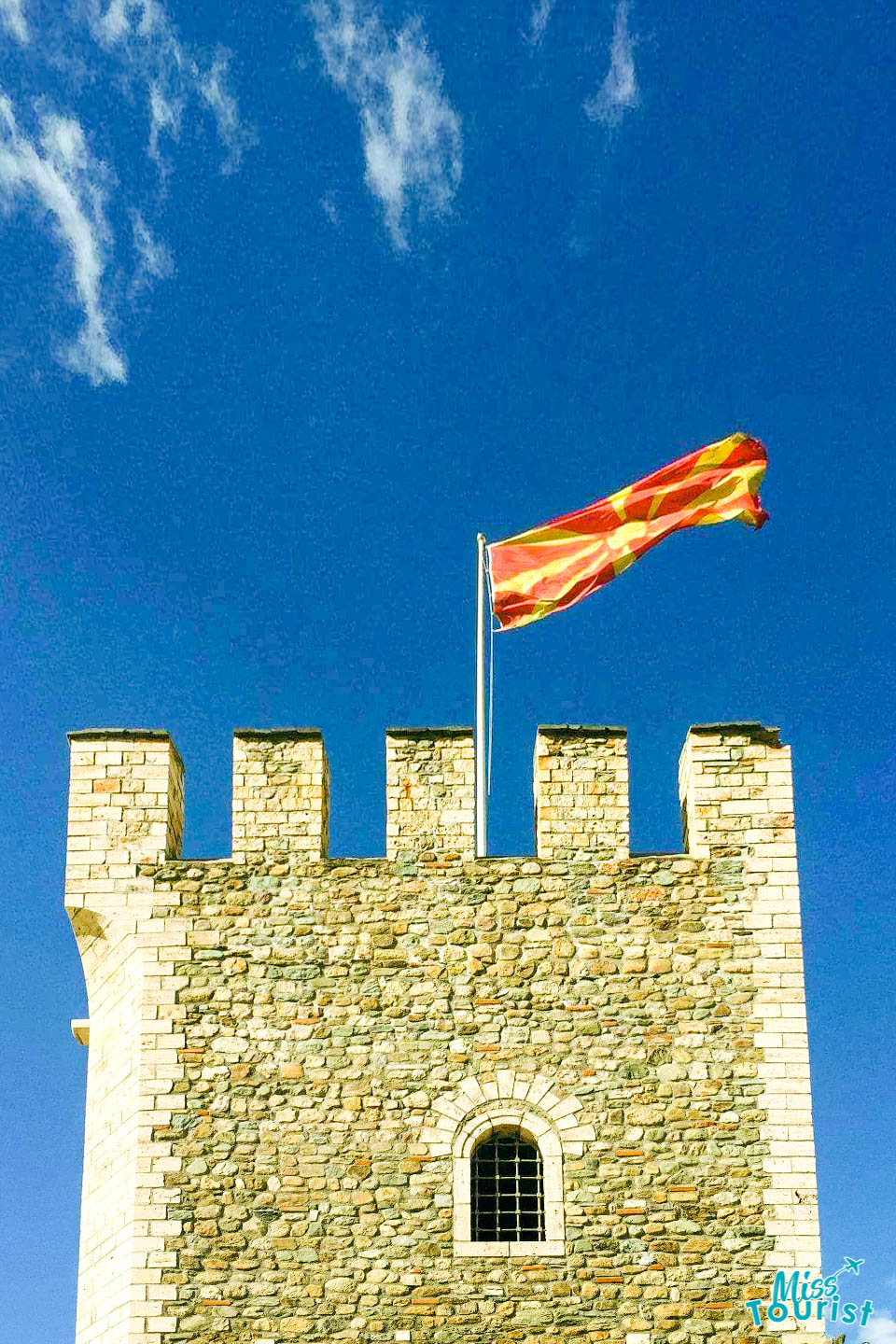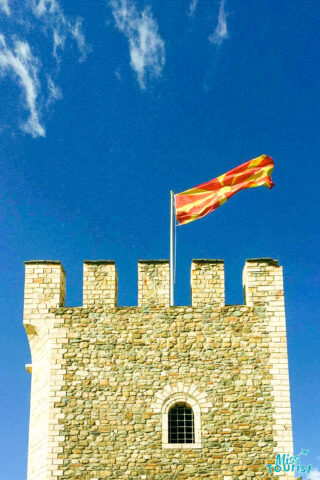 If you're in Skopje for a short visit, then it's absolutely worth it taking this tour. It covers all the popular attractions tourists must see in Skopje, from the Stone Bridge, Kale Fortress, the Old Bazaar, the Old Train station and other museums, to the Millennium Cross on Mountain Vodno and boat riding at Matka Canyon.
Macedonia was under Ottoman rule for 520 years! Even today there are many reminders of this period in Skopje such as the Mustapha Pasha Mosque, the Old Bazaar, and some of the most delicious food.
The most convenient thing about this 8-hour tour is that you will get picked up directly from your hotel, regardless of where you stay in Skopje, ride the cable car and explore Matka Canyon by boat at no additional charge.
PRO TIP: When you visit Skopje, make sure you don't book your tour for Mondays when museums are closed!
Considering everything you will get and the fact that your guide speaks 5 languages (Spanish, English, French, German, and Italian), I think that the cost of $120 per person is pretty fair.
PRICE: US$120
Reserve Your Spot on a City Tour
2. Hunt down major attractions in the city center
If you are in Skopje for a longer stay, then why not leisurely explore the narrow streets and find all the attractions by yourself?
The attractions below are just the 3 main ones you should see in the heart of Skopje, but since everything is within walking distance, I am pretty sure you'll get to see even more along the way.
2.1 Macedonia Square with Alexander the Great fountain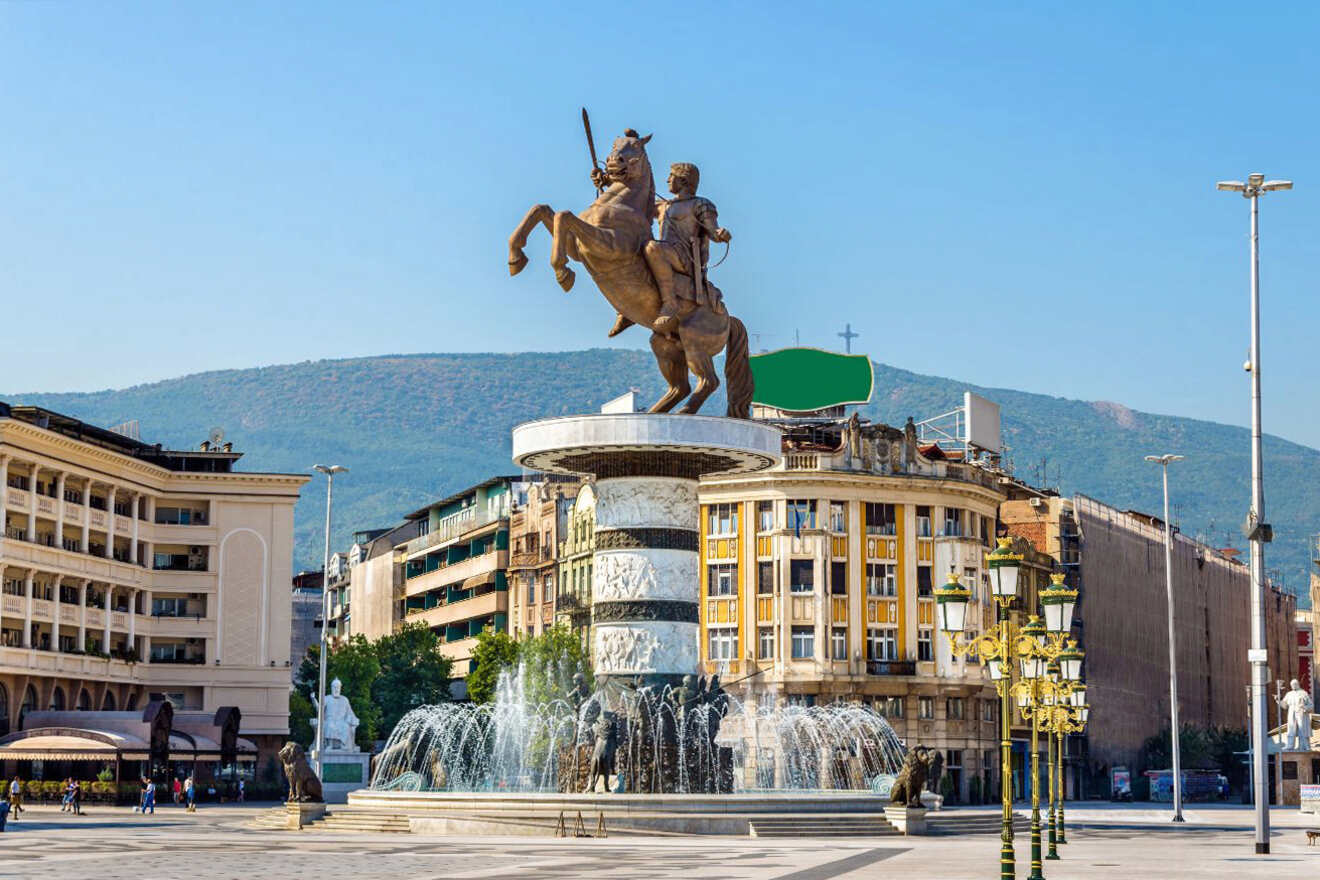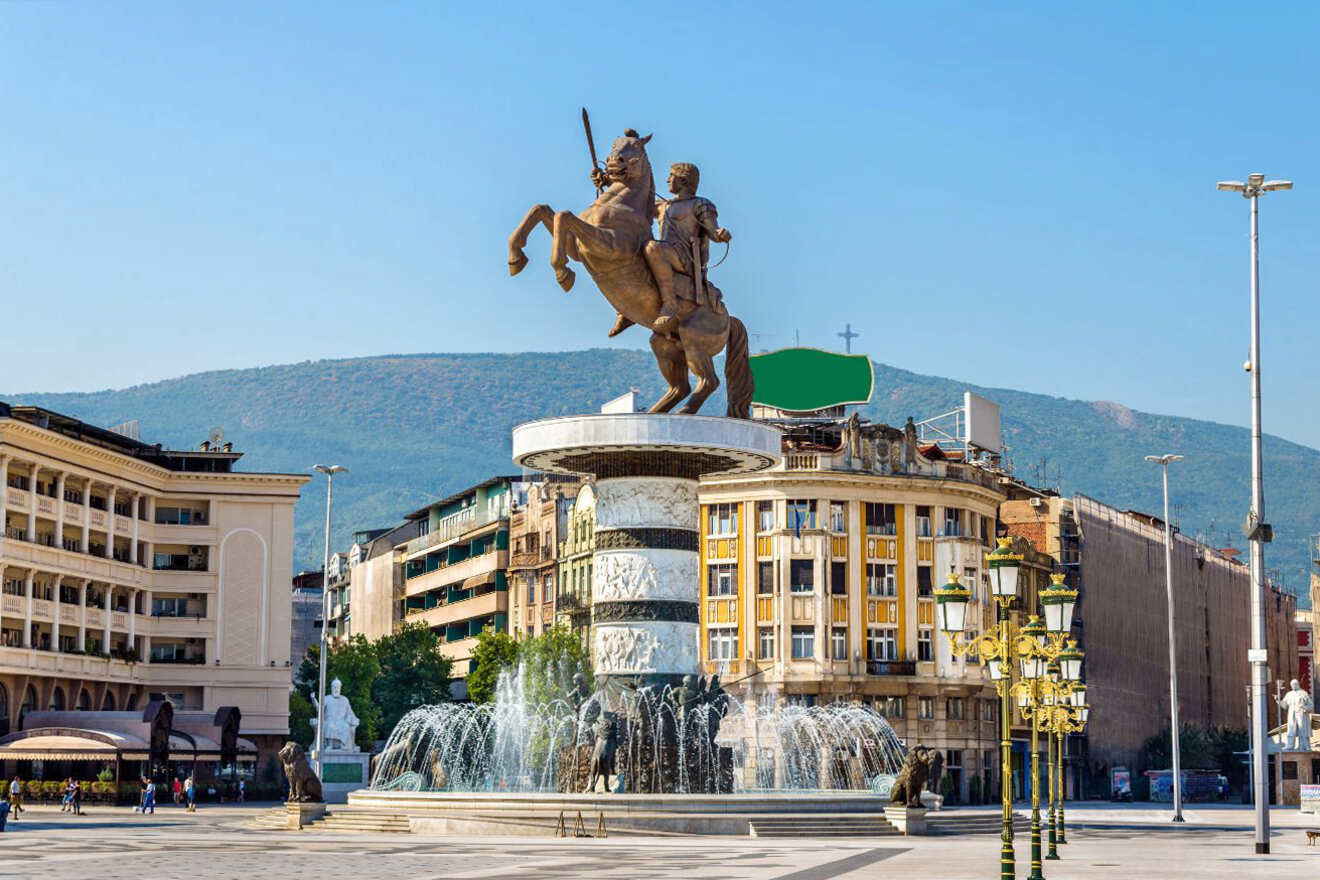 Macedonia Square (Ploshtad Makedonija) is the biggest square in the country, known for the gigantic fountain with Alexander the Great, surrounded by lion statues.
Macedonia used to be much bigger, but it was divided among Bulgaria, Serbia, and Greece back in 1913. The major consequence was the unacceptance of Macedonian identity and history. This breathtaking statue of Alexander the Great has been considered a provocation by Greece, so to avoid this notion, it is also known as the Warrior on a Horse.
Macedonia Square is where all the major political and cultural events take place when you expect to attract a large audience. It is also a central point and from there it is pretty easy to access everything.
PRO TIP: Don't miss the chance to observe the architecture of the city shopping center (GTC) located on the one side of Macedonia Square! The significance of GTC lies not in the stores but in its architecture of "concrete brutalism", which makes the shopping center a monument on its own.
2.2 Stone Bridge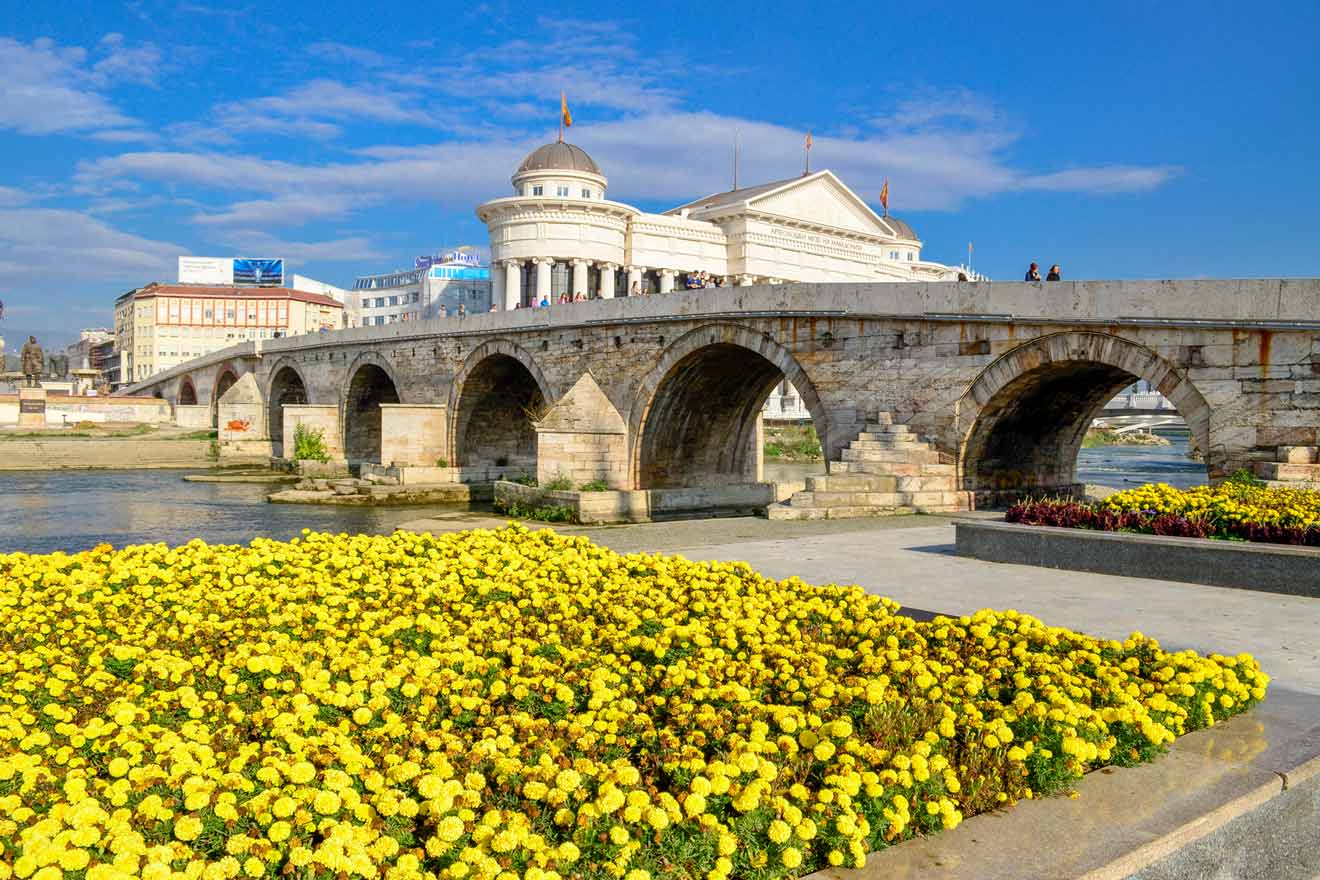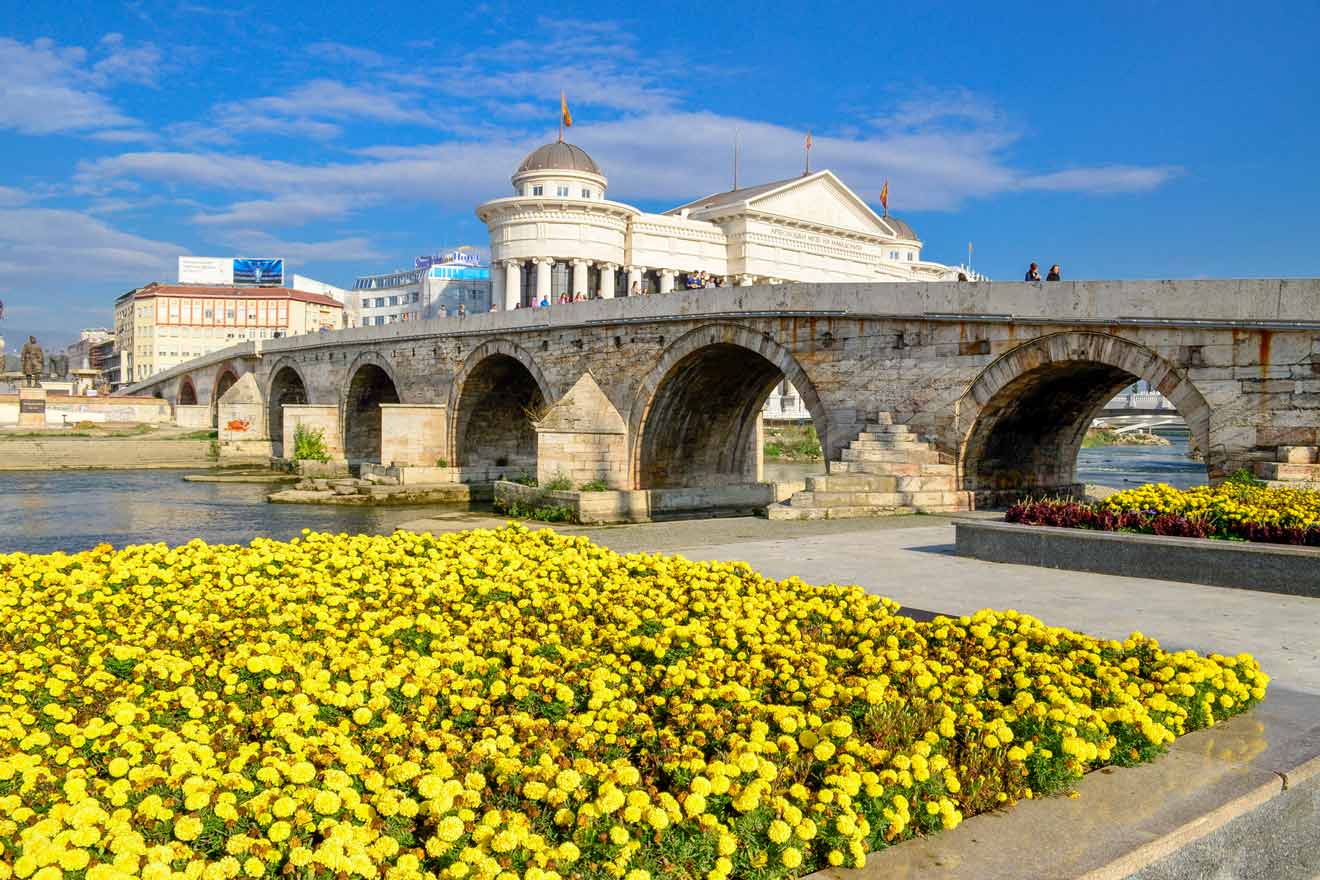 The Stone Bridge (Kamen Most) is just across from Macedonia Square. It is a beautiful stone bridge (reminiscent of Prague's Charles Bridge but smaller) that connects the two banks of Vardar River, which by the way, is the largest river in Macedonia.
Skopje's Stone Bridge was óriginally built on Roman foundations and was destroyed and reconstructed several times throughout history but keeping its original architectural style.
Today, Stone Bridge is the invaluable connection between "modern" and "Ottoman," or "historic" and "socialist" Skopje, more on which you'll learn in section 4 of this article!
2.3 Park of the Woman Warrior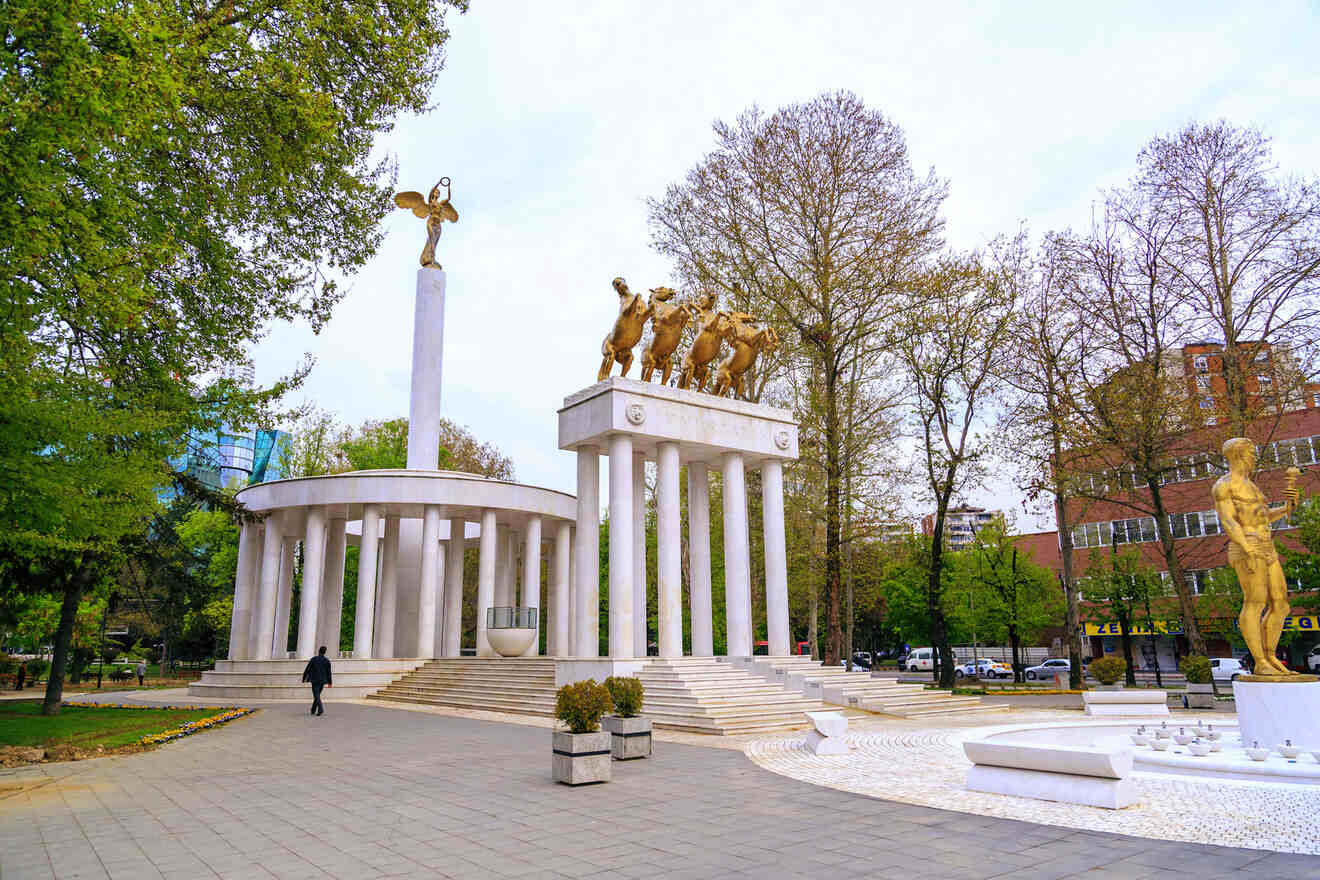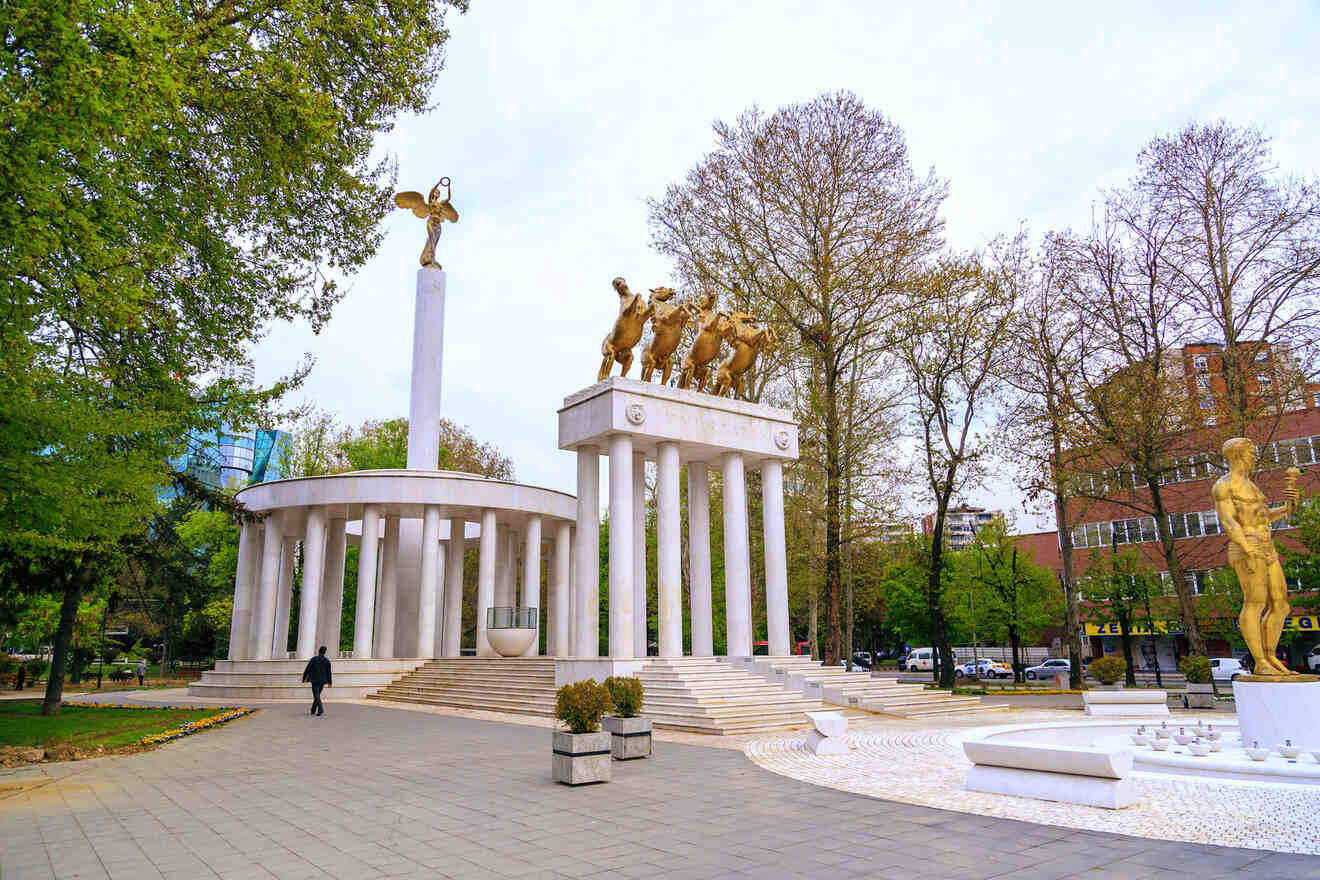 I love this park! It's not as big as the city park (see section 7) but it's a nice green spot amid the brutalist buildings and the hustle and bustle of the city centre.
To be honest, I don't think anyone knows why this park was named "Woman Warrior" because Macedonia has a rich history as a patriarchal country and does not have many female warriors to cherish. Nevertheless, even the statues there are so well incorporated with the scenery that you'll love sitting on the benches, observing the daily whereabouts of Skopje's residents.
PRO TIP: If you want to make your visit to Skopje even more interesting, then go on a statue hunt! Count and note down all the sculptures that you come across, and I promise you'll get bewildered by the number.
3. Visit the Mother Teresa Memorial House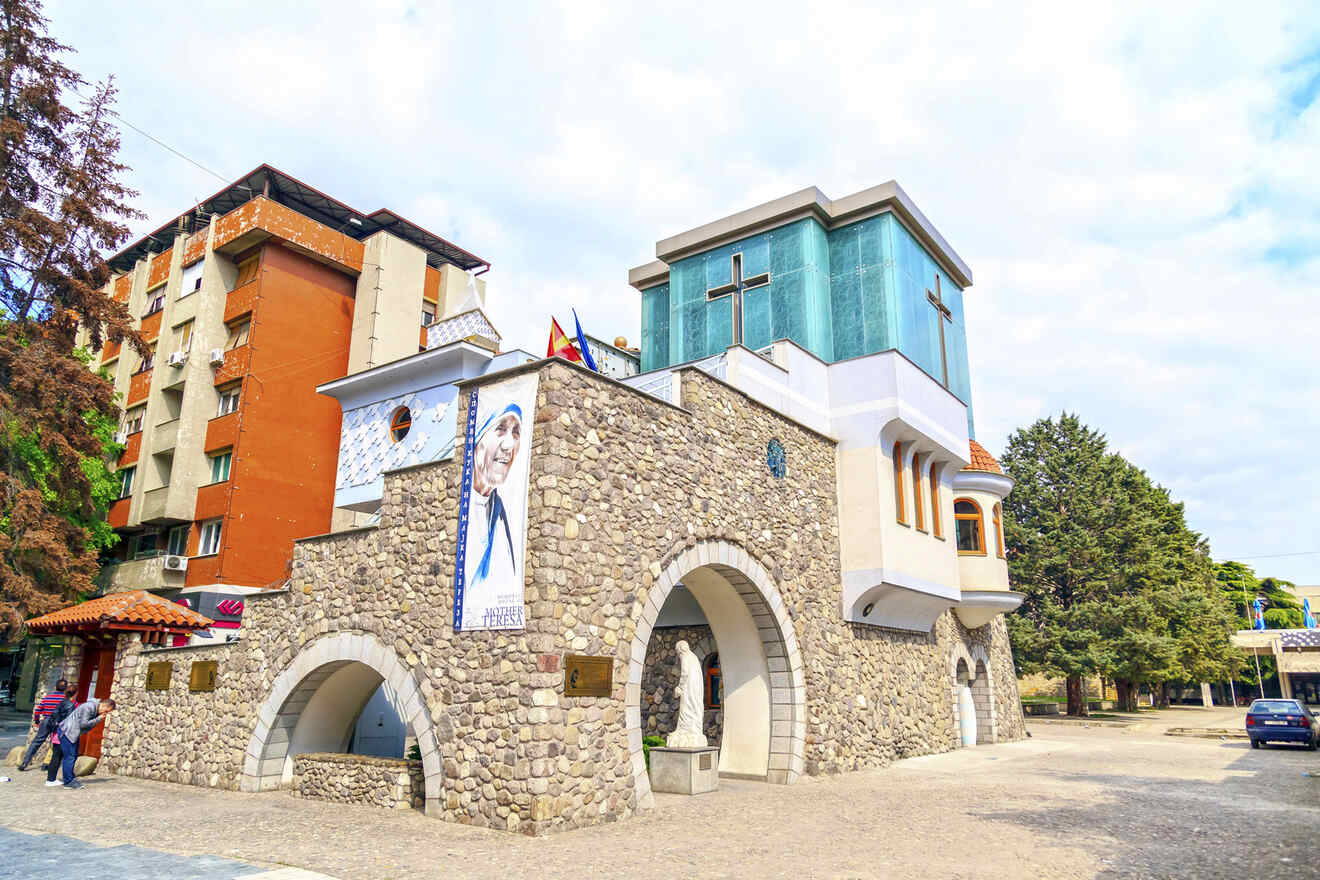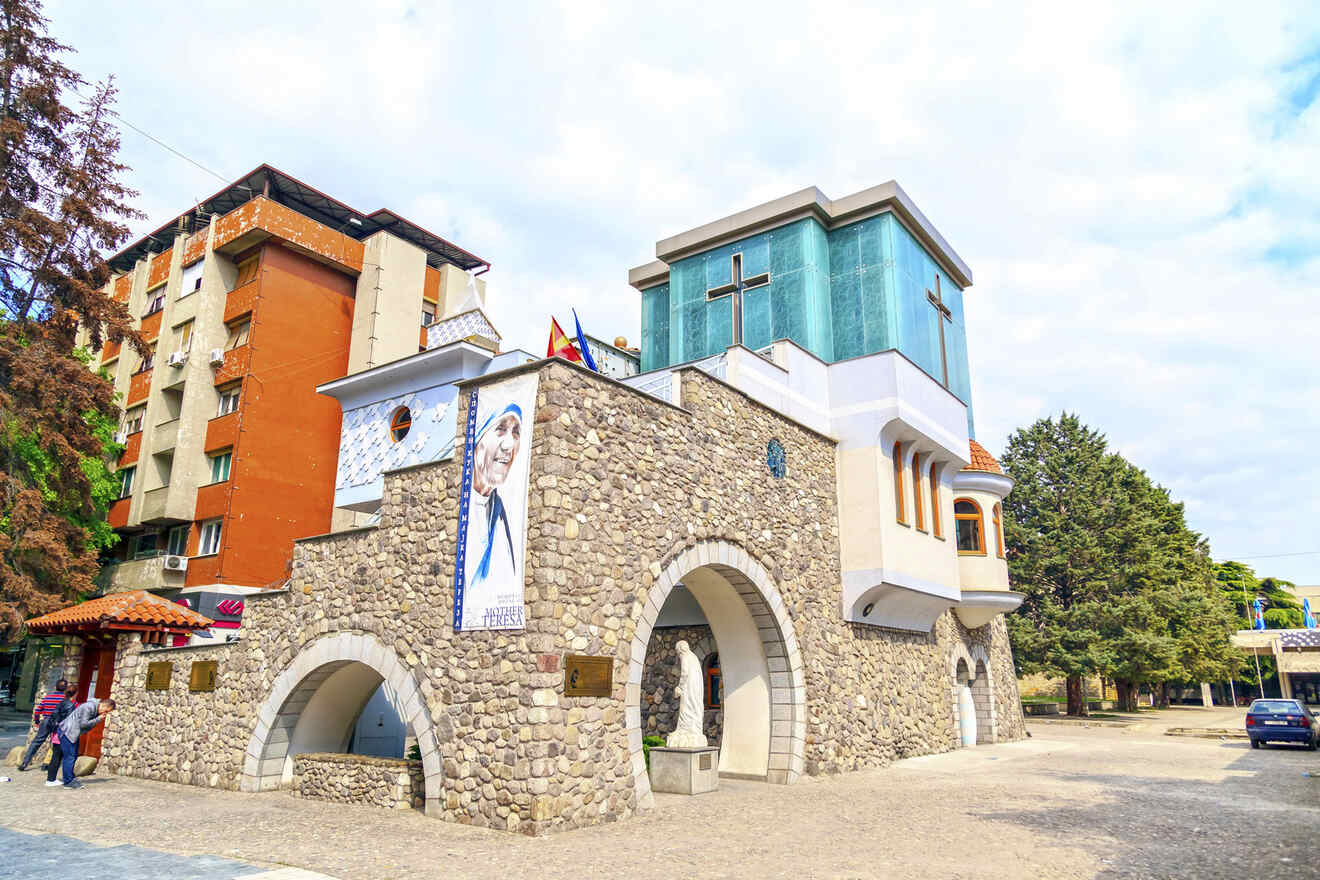 The Mother Teresa Memorial House is located within a 5-minute walk from Macedonia Square and the Old Railway Station, which is now a Skopje museum. This memorial center was built at the exact place where once the old Catholic church "The Sacred Heart of Jesus" stood.
It is dedicated to Mother Teresa (Agnes Gonxha Bojaxhiu), the altruistic missionary and one of the world's symbols of humanity, who received a Nobel Prize for Peace.
Not all of us can do great things. But we can do small things with great love. ~ Mother Theresa
The House of Mother Teresa is open Monday through Sunday, but you should check the official website to get the latest information on the opening hours.
The entrance is free, and a guide will welcome you to tell you all about Mother Teresa, her life, work, and legacy. However, if you are visiting in a group, it is recommended that you book in advance.
4. Feel like a local at the Old Bazaar
There is no other place on the Balkan Peninsula as remarkable as the Old Bazaar (Stara Charshija) of Skopje. Apart from its architecture which is predominantly from the Ottoman period, intertwined with some Byzantine architecture remnants, this part of Skopje is known for the market.
You can buy literally everything here, from clothes to gadgets. It is much cheaper and the local sellers are very hospitable.
To reach the crowded Old Bazaar from Macedonia Square, you just need to pass the Stone Bridge, walk for 5 minutes straight, and you will be there.
When here, you should grab the opportunity to learn about the city's history under the Ottoman rule, and see Chifte Hammam, Daut Pasha Hammam, Kurshumli An as well as the History Museum & Academy of Arts "Suli An". Here's a map, because I promise they are extremely difficult to spot unless you ask the locals, or take a tour.
In addition, locals cherish the Old Bazaar for the absolutely delicious Turkish food! So, don't miss out on enjoying a cup of Turkish tea/coffee, and try some traditional food like Turkish baklava, kebabs, or pide.
HACK: If you're looking to buy souvenirs or gold, the Old Bazaar is the right place – just make sure you bargain!
5. Visit the most famous museums of Skopje
If you are into museums, you won't lack them in Skopje because there are many, and most of them are close to one another. Indeed, it seems that Skopje was built with tourists in mind. So, here are the 3 main ones to see:
5.1 Museum of Macedonian Struggle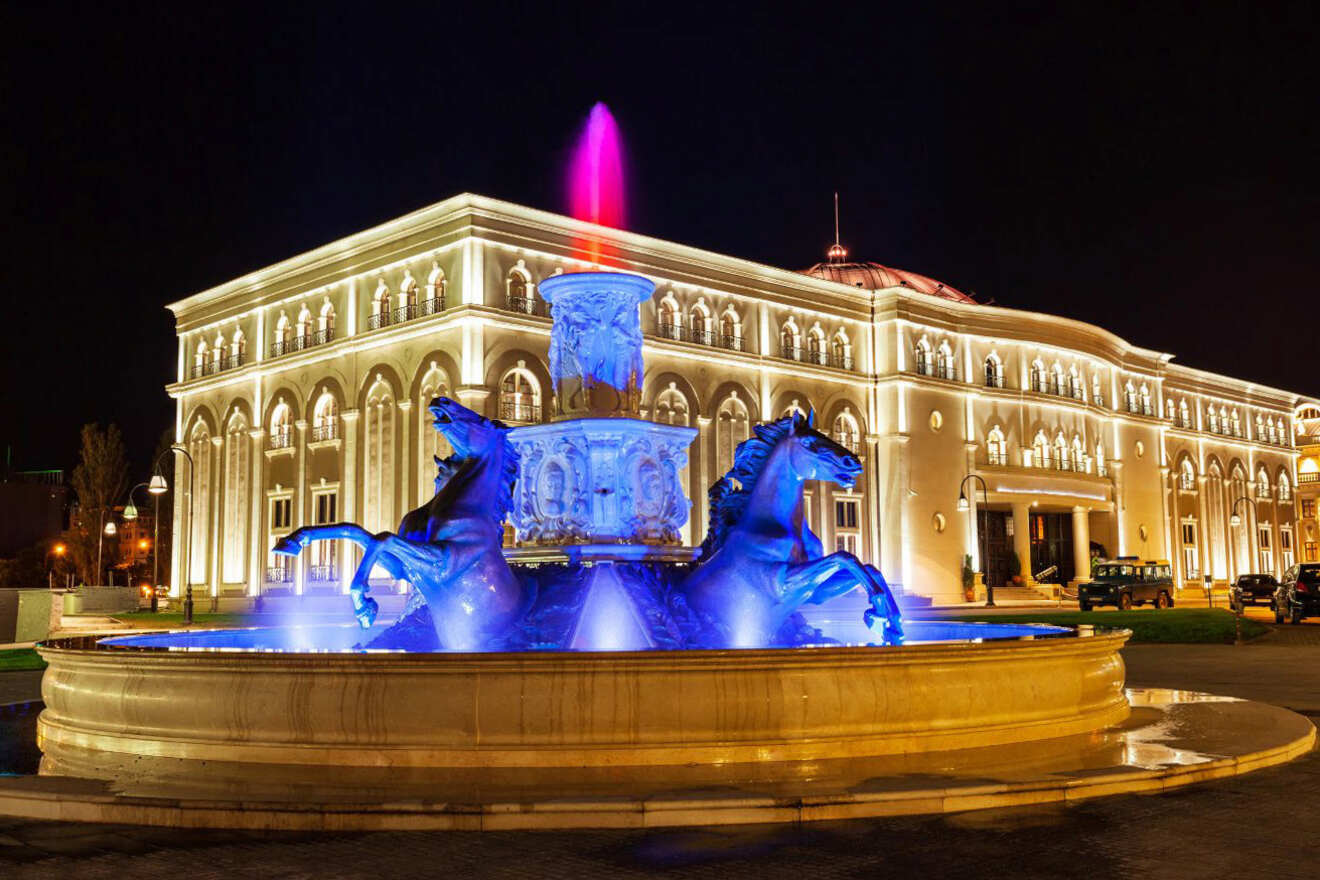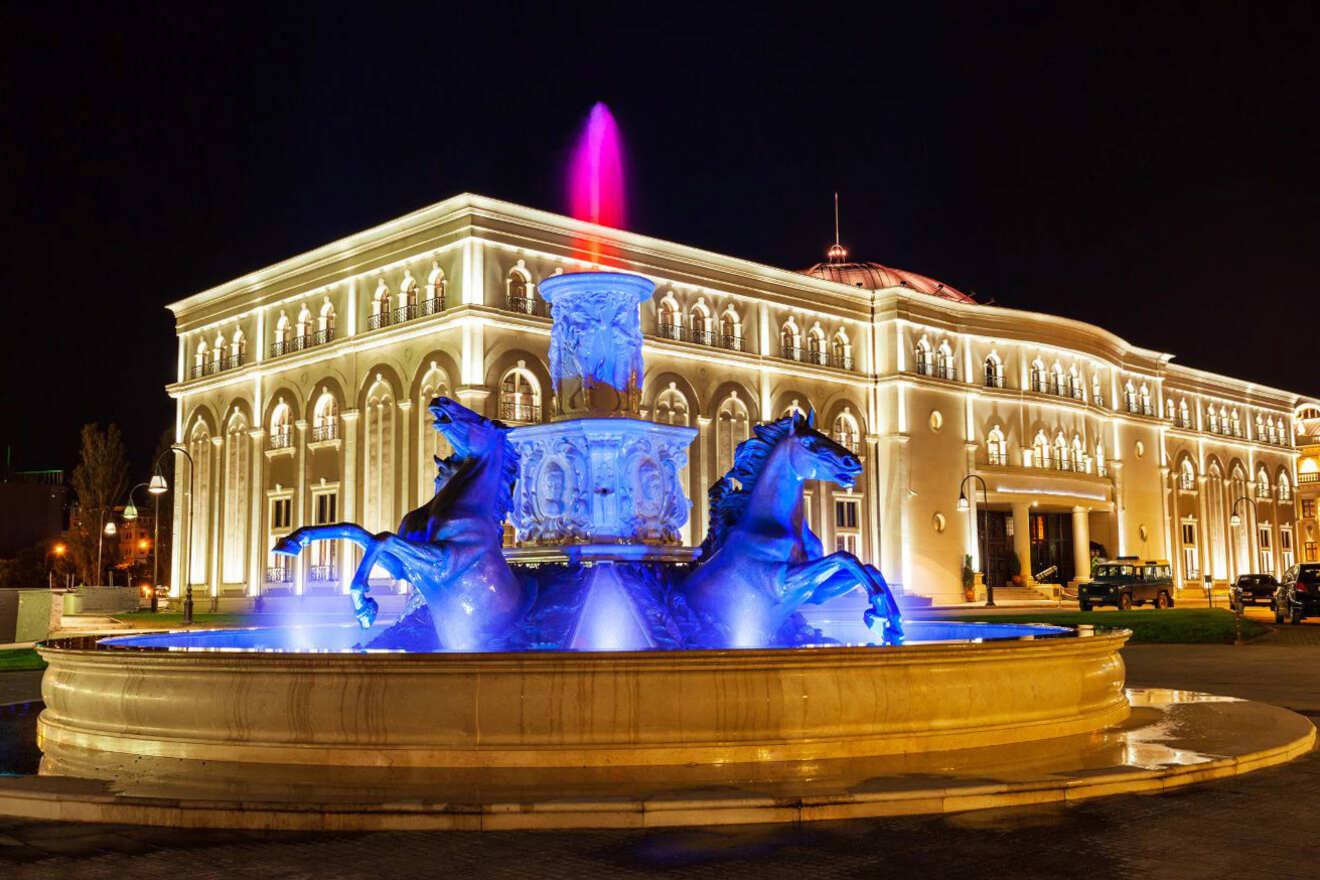 The Museum of the Macedonian Struggle is an extremely beautiful museum opened in 2011, located on the right river bank of Vardar River, next to the Stone Bridge.
It features the Macedonian struggle for Independence through exhibitions, starting from the period of resistance against the Ottomans, to the period when Macedonia broke apart from Yugoslavia and became an independent country in 1991.
When you arrive at the museum, you can either explore it on your own, ask the guides there to give you a (free) tour, or choose an audio guide available in English and French. The tour takes 45 to 60 minutes on average. You can buy tickets at the door, just make sure to check on the official website if the museum is open on your desired date.
PRICE: €5 for adults, €1 for kids
5.2 Archeological Museum of Macedonia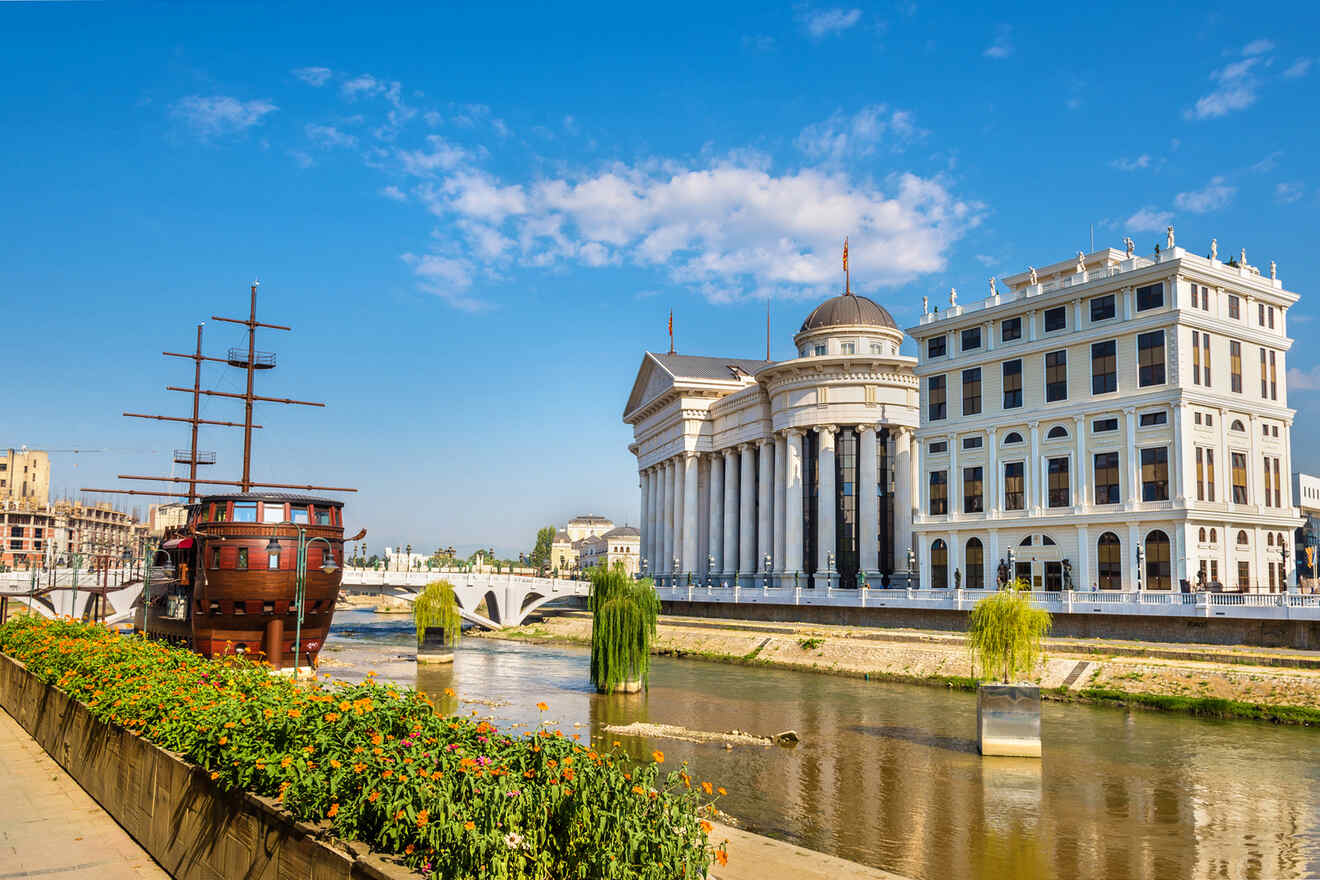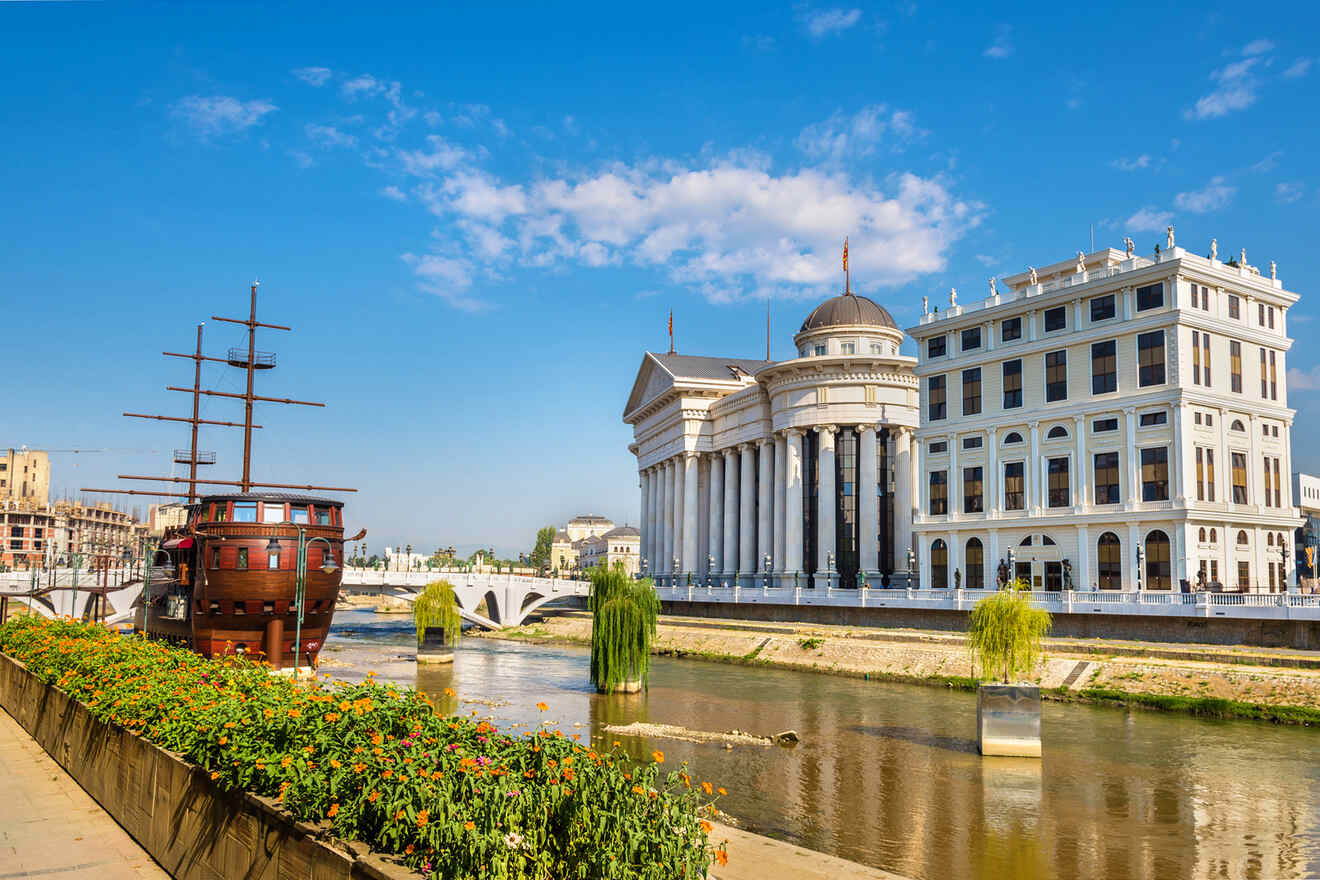 The Archeological Museum of Macedonia is located on the right side of Vardar River and is accessible by bridge from Vardar's riverbank.
This museum hosts approximately 7,000 cultural artifacts gathered from different archeological locations on North Macedonian territory. However, I suggest you see this museum only if you are into archaeology, as you may not find it as interesting as some other museums in Eastern Europe, unless you know a lot about the Stone, Bronze, and other Ages.
Anyways, you can check the opening hours on the official website and usually a ticket costs €3 (paid at the entrance). For groups above 6 people, you will need to book a tour in advance.
PRICE: €3
5.3 Holocaust Memorial Center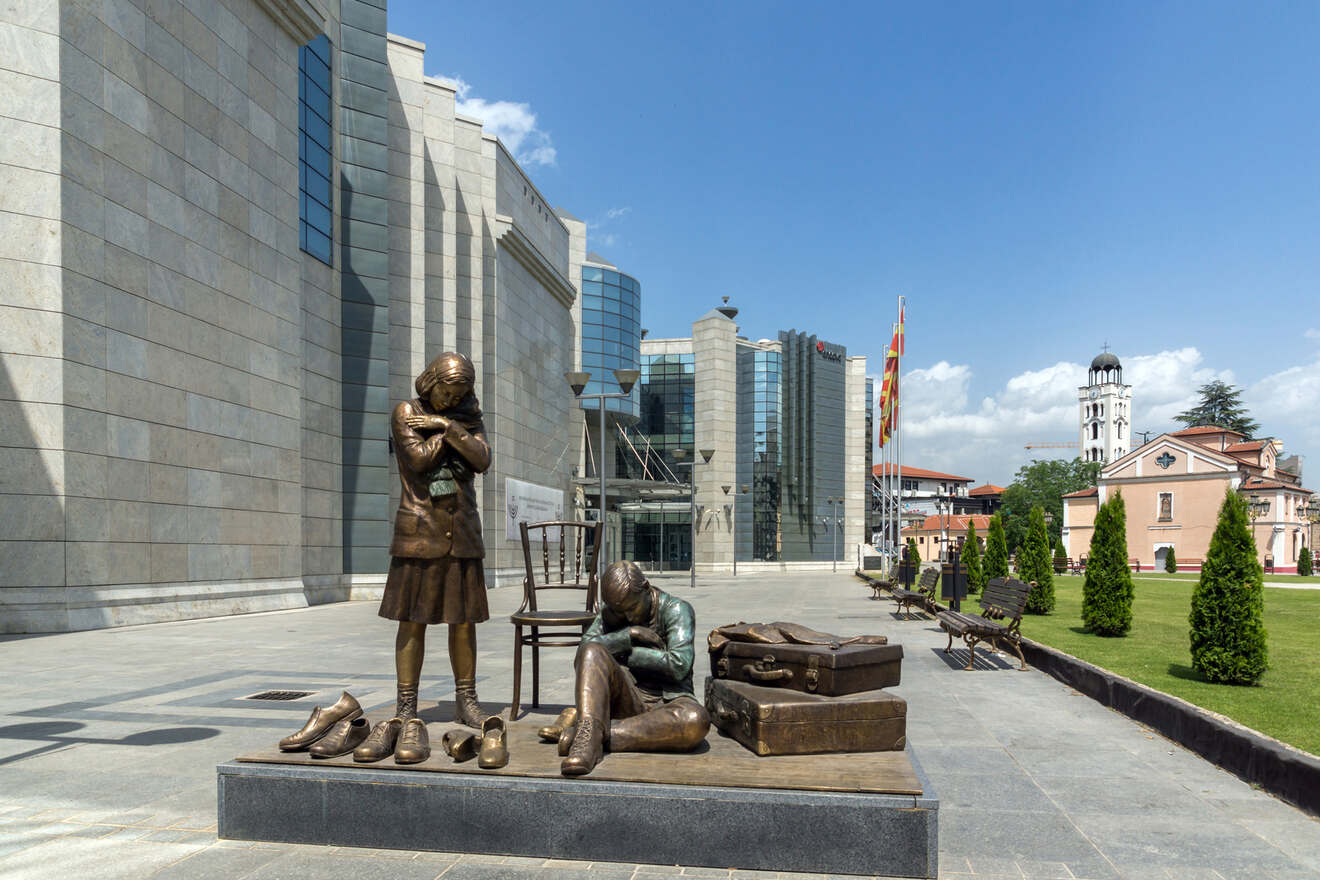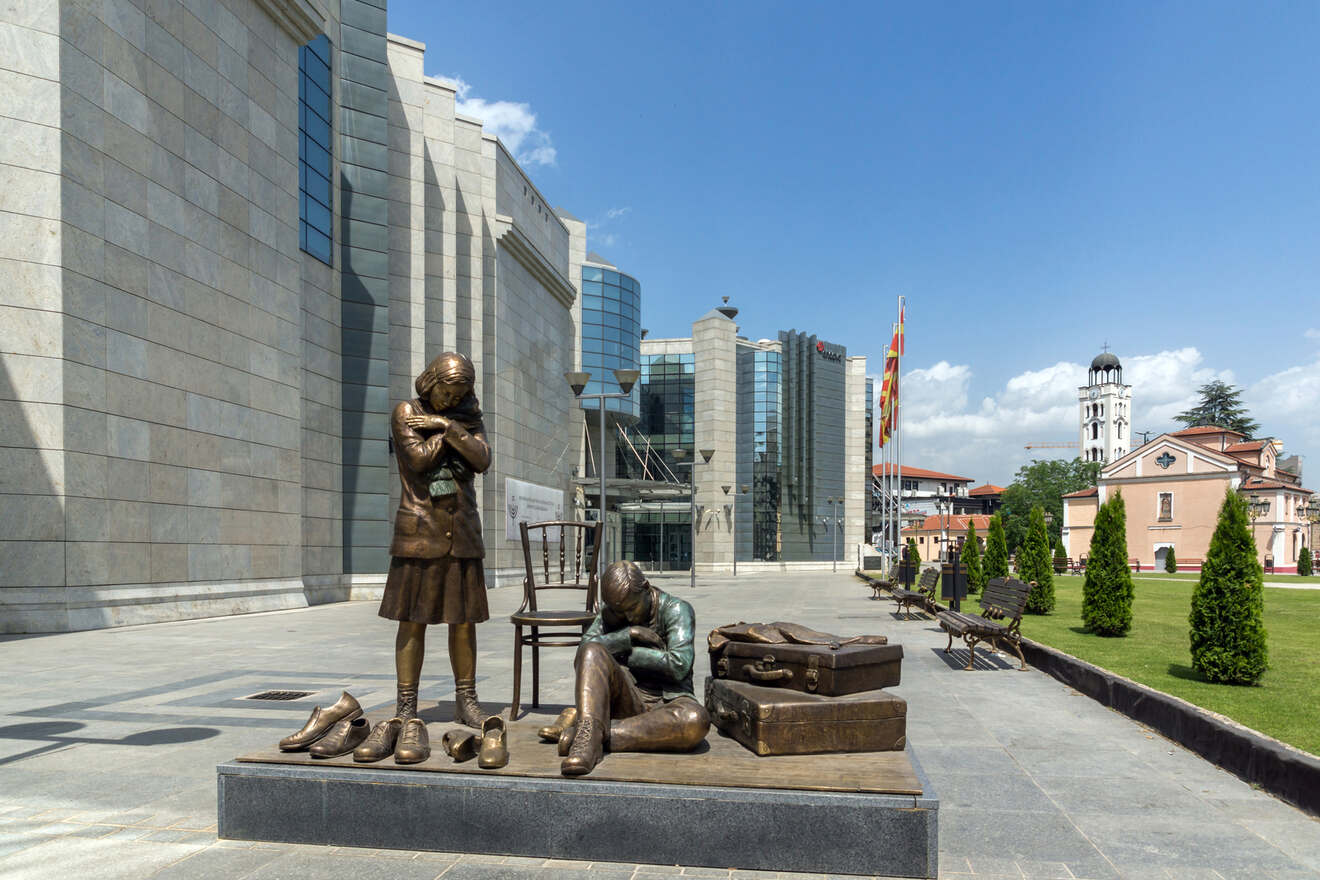 The Holocaust Memorial Center is located in what was once a Jewish Quarter in Skopje – just opposite the Museum of the Macedonian Struggle. This museum is a must-see if you ask me as it is one of the most well-thought museums in Skopje, and very information rich.
The guides there are really helpful and will provide answers to pretty much all of your questions related to the persecution of Jews during WWII.
What I really liked was the lobby floor, which had digital images of Macedonian Jews who died during the Holocaust and some of them featured mirrors. The thought-provoking mirrors were put there so that people can understand that anyone could have been part of these images!
After you watch the short informational movie at the museum's multimedia center, you are invited to see one of the original wagons that was used to transport Macedonian Jews to concentration camps in Europe.
Unfortunately, there isn't an official website for this memorial center and you can find out if it is open only by going directly to the museum. The entrance is free.
PRICE: Free
6. Admire the city skyline from Kale Fortress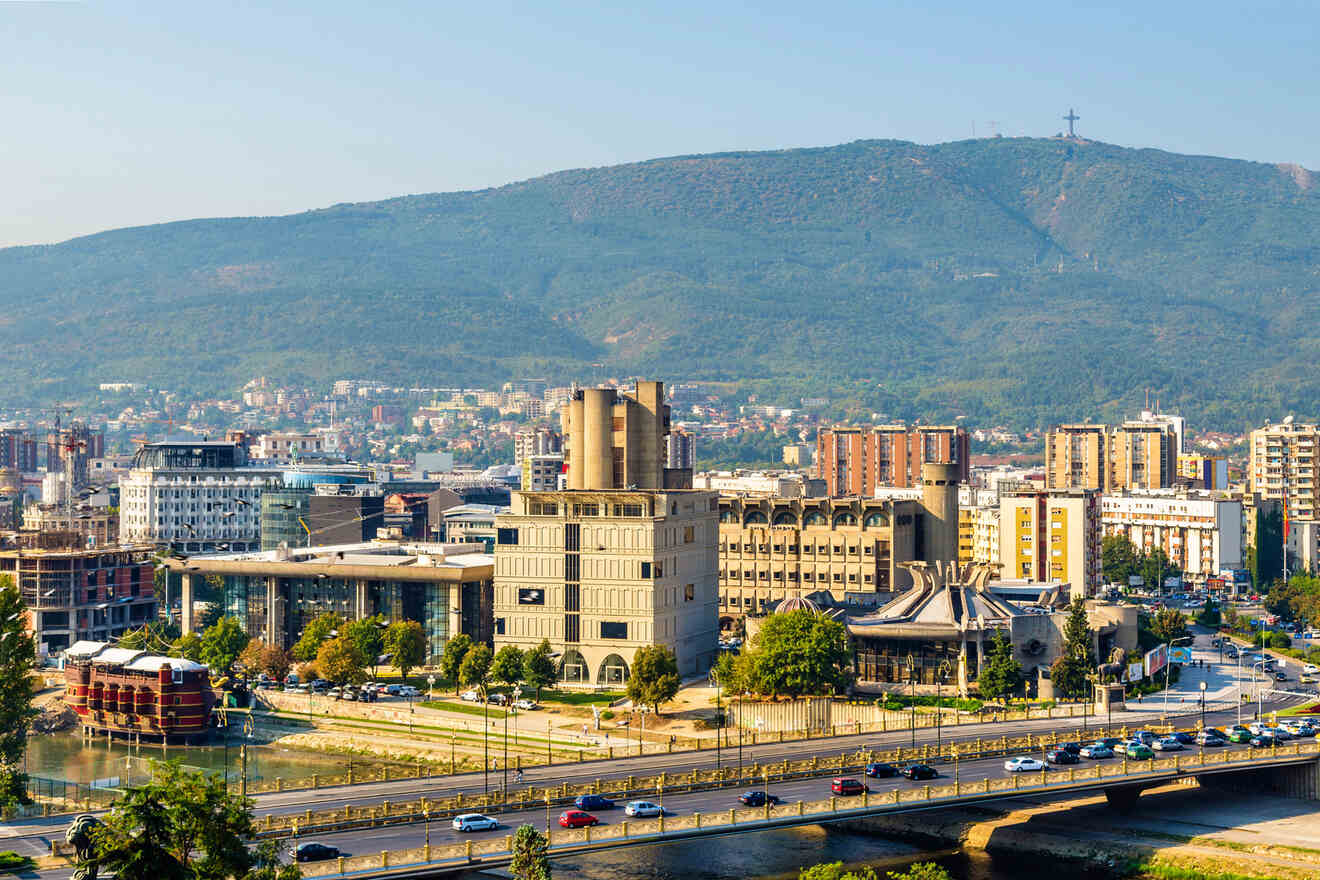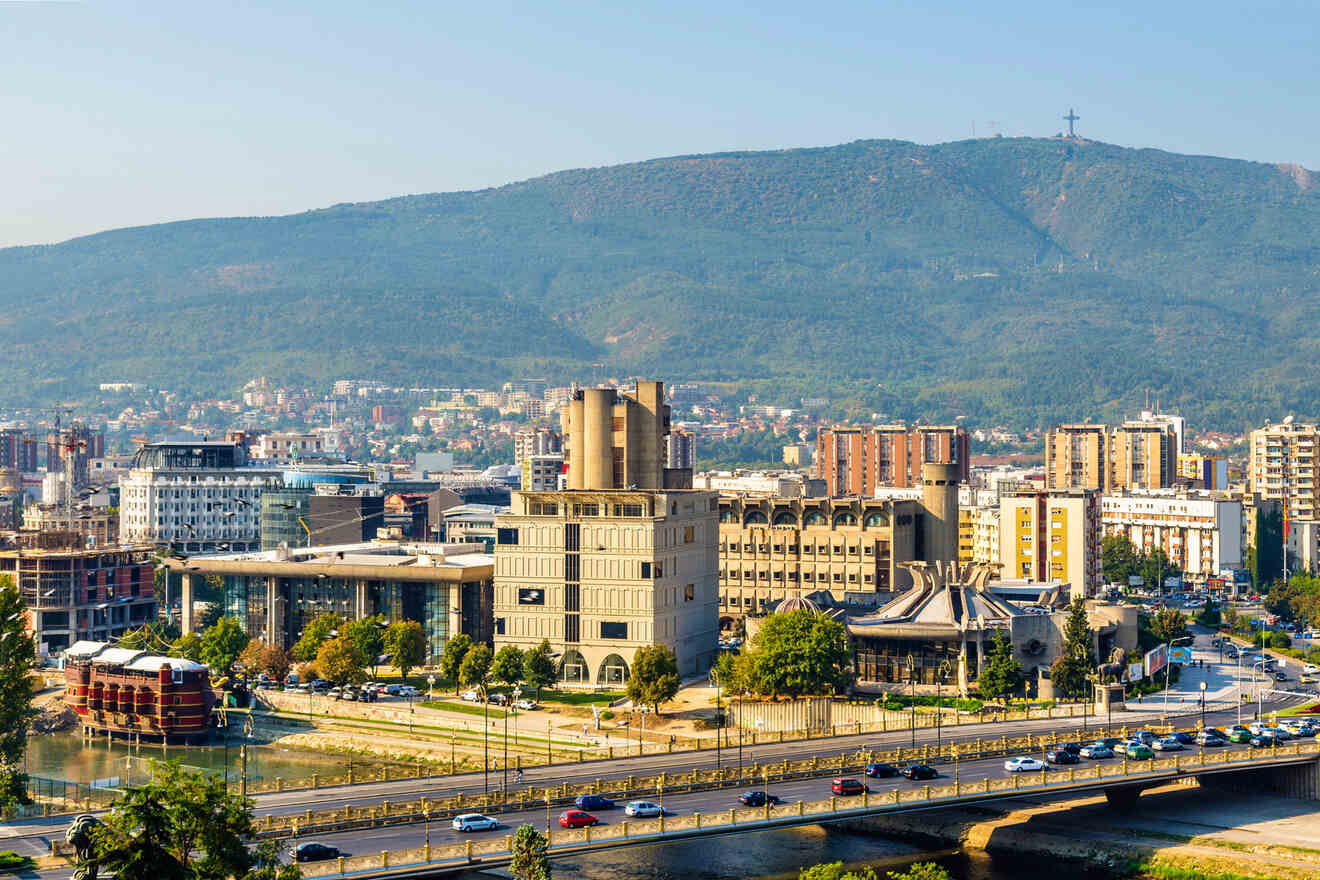 Kale Fortress is yet another thing to see in Skopje, although I personally don't find it as spectacular as some of the other things on my list. It dates back to the 6th century AD and was allegedly built under the rule of the Roman emperor Justinian I.
One thing I have to admit though – there is an amazing view of Skopje from Kale Fortress! Another thing to do on your way to the fortress to make your climbing worthwhile is to visit the church "Ascension of Jesus" and the mosque of Mustapha Pasha.
Both of these are located at the foot of the Skopje fortress but here are the map directions for your ease.
PRICE: Free
7. Relax at Skopje city park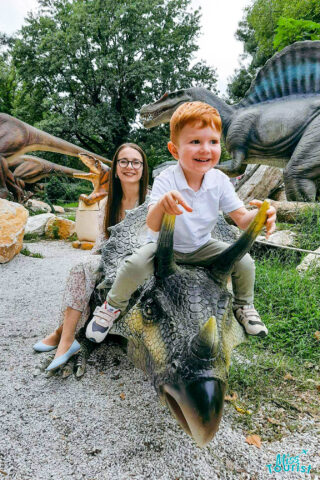 The city park (Gradski Park), which is located next to the Skopje zoo and the Dinosaur Park, is a great place to go for a stroll and relax from the busy streets of Skopje. There is a pleasant vibe and a lot of "to-go" spots where you can buy coffee, ice cream, popcorn, etc.
This city park is where all generations meet and have fun, so you should expect to see families with kids, senior citizens, teenagers, couples, people with pets, and of course, tourists.
There is a small lake with ducks inside the park, and there are tennis, volleyball and basketball courts nearby. When here, I strongly recommend going to the zoo and to the Dinosaurus Park because they are very nice.
The best time to visit the zoo is in September when the weather is not too hot or too cold so all the animals are out! It will take approximately 1.5 hours to see everything and the entrance fee is €1.5 for adults, free for children under 3.
The Dinosaur Park is much smaller so you would probably spend 30 minutes at the most, and the entrance fee is €1 for adults, free for children under 3.
Unfortunately, both the zoo and the Dinosaur Park don't have websites, so you will have to either call them or go directly there to find out if they are open.
8. Go wine tasting in Kartal Winery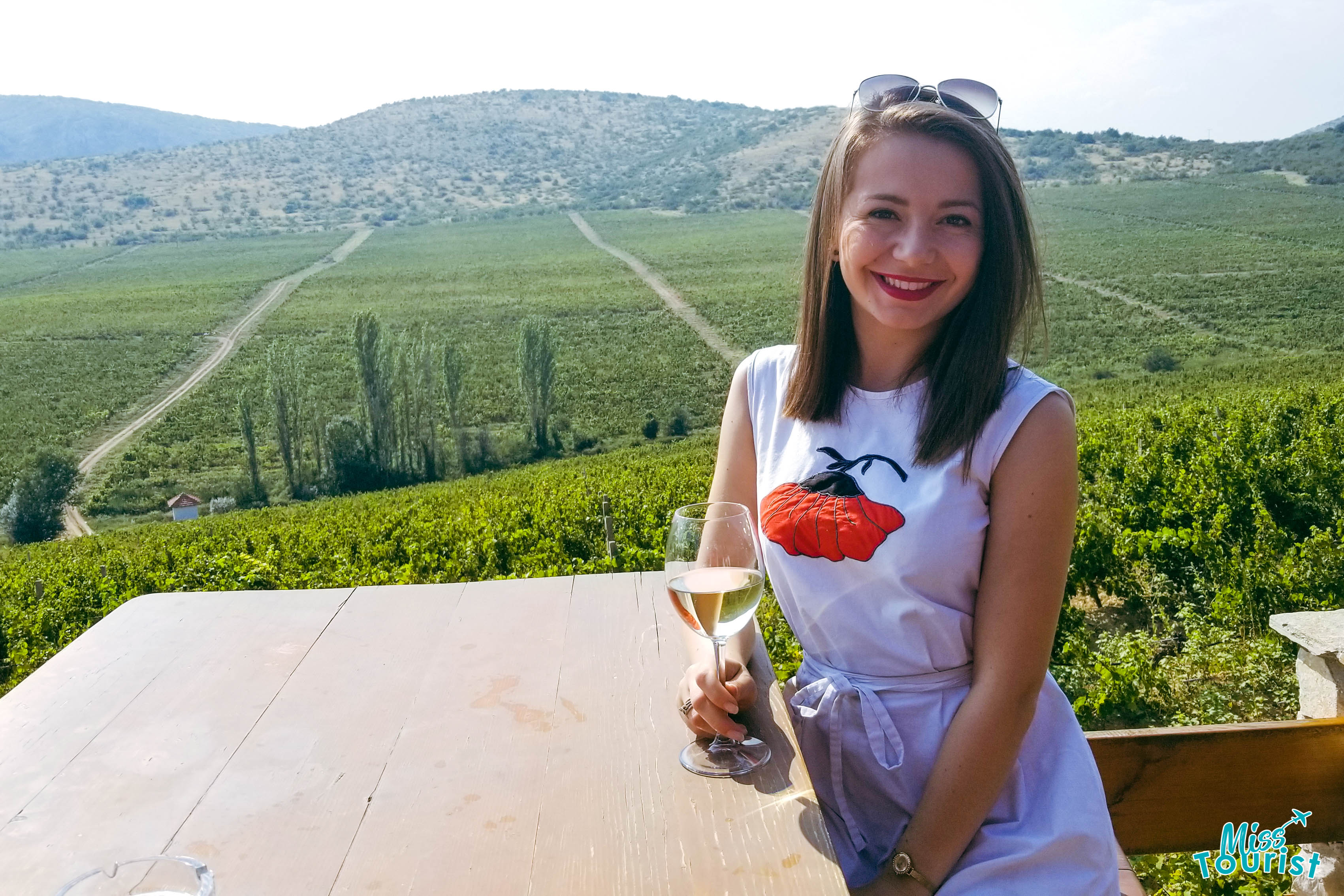 Kartal Winery is a small family-owned and operated winery, 5 km south-east from Skopje city center. I think this is a great thing to do in Skopje for the wine lovers, and especially if you want to try the local wines paired with local Macedonian food. The owner will also provide information on the winemaking process, and show you where and how it is made!
A real Macedonian household will always have wine and rakia at their house, and most of the time they are homemade! Producing wine and rakia at home is a custom and an important occasion among the elder (male) members of Macedonian families.
Nevertheless, to reach Kartal Winery, you will have to take a taxi or bus 41 from the bus station. If you want to visit some nicer wineries a bit further from Skopje, then you can either take this tour of Stobi Winery or visit the Tikvesh Wine region.
PRICE: €40
Getting there: by tour, by taxi or with public bus 41
9. Hike Vodno Mountain to Millennium Cross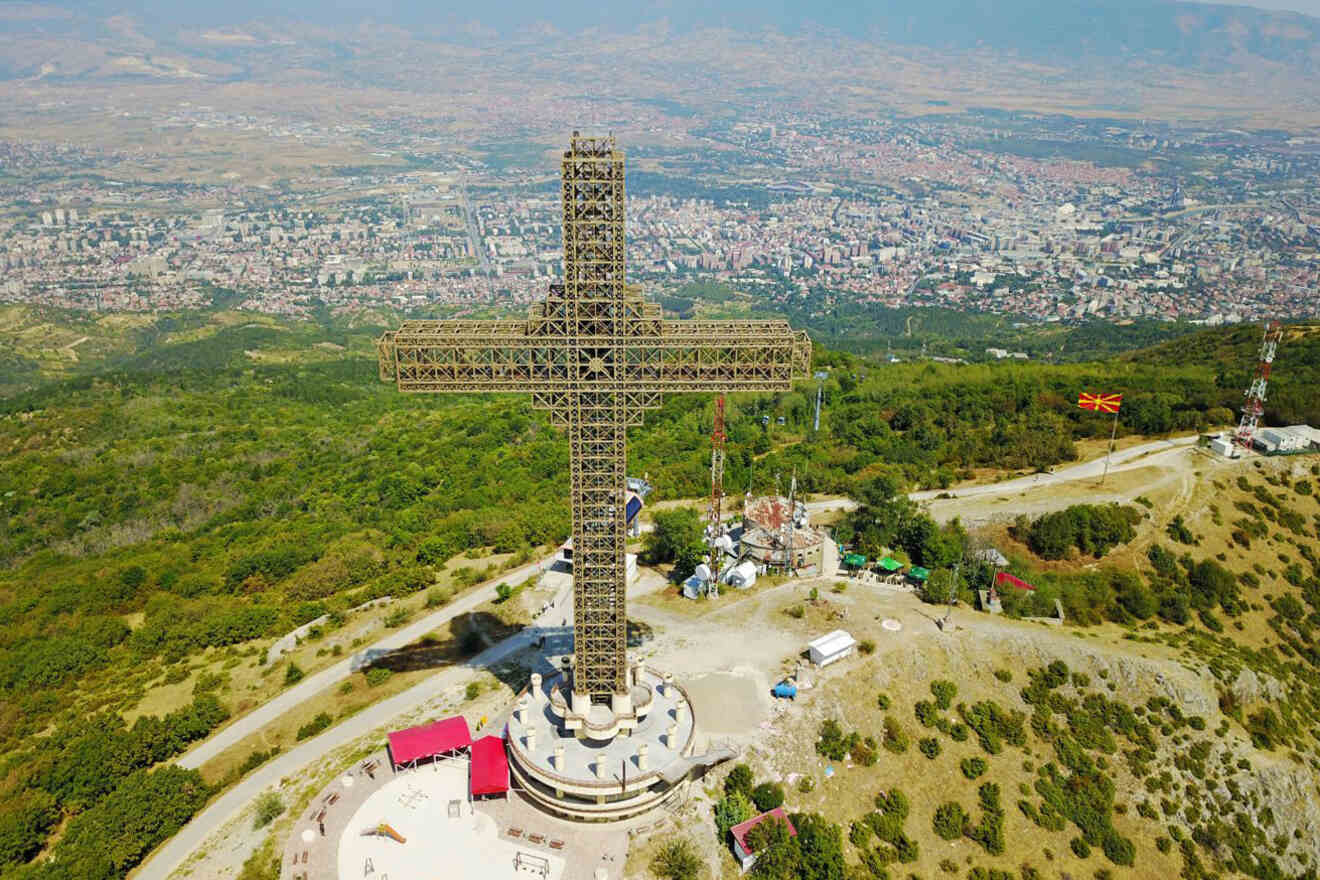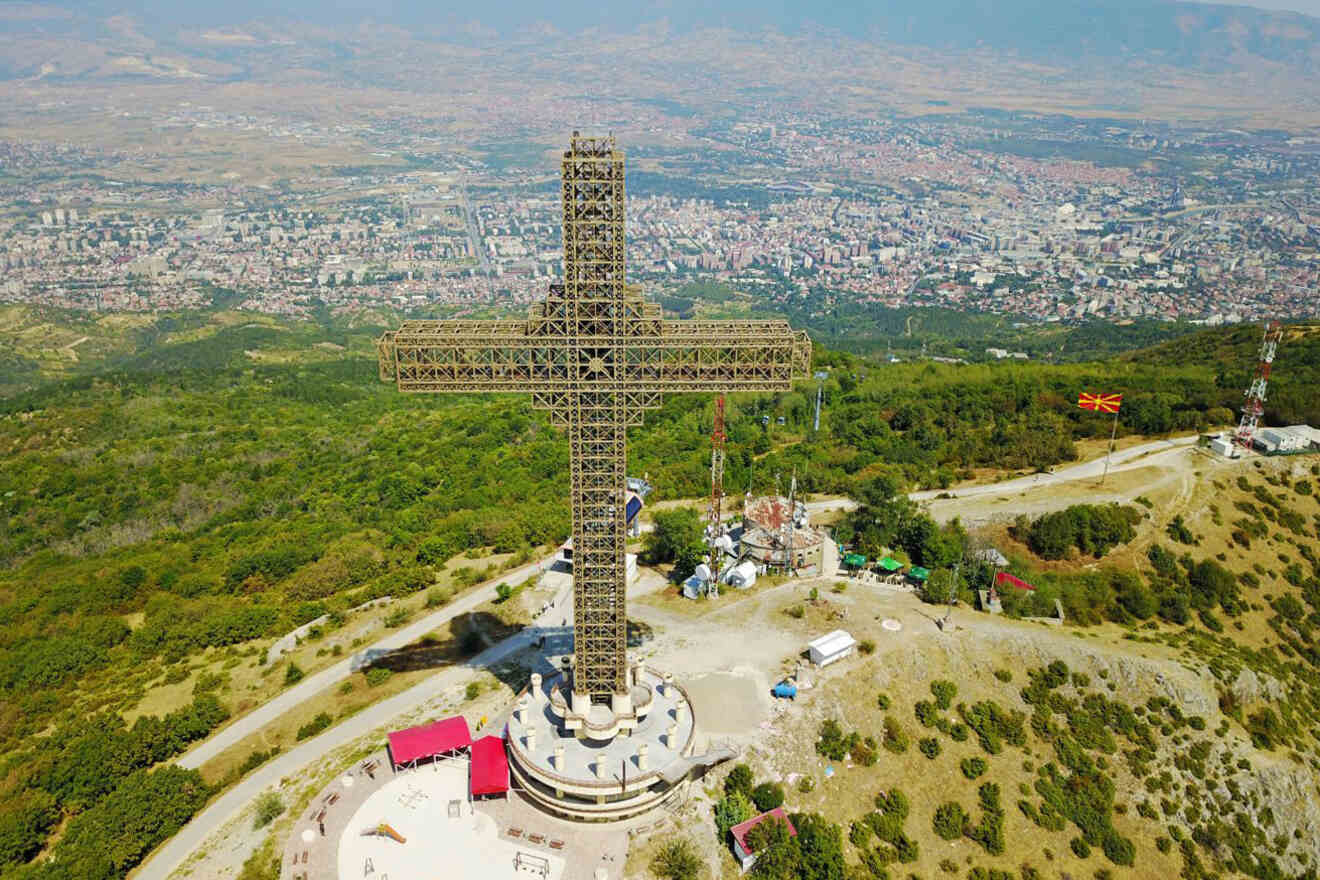 Vodno Mountain is located in the south-west part of Skopje, and is among the favorite hiking spots for the citizens of Skopje. What is remarkable about Vodno is the Millennium Cross which is among the biggest Christian crosses in the world, built on the highest point of the mountain. You can see it from almost any place in the city.
To reach mountain Vodno, you can either take one of the many climbing routes (but only if you're well prepared), you can take the city bus 2B that goes to Vodno every 30 minutes (hop on the bus from this location), or simply make things easier for yourself and take this tour which costs €33.
The tour bus will pick you up from this location, and take you to Middle Vodno (Sredno Vodno) from where you'll take the cable car that will take you to the peak Krstovar, where the Millennium Cross is. You can relax there, have a coffee, and enjoy the view of Skopje and the surrounding area. After that, you'll head to Matka Lake, which is next in my list.
NOTE: Tickets for the cable car are bought on the spot and they cost €2 for adults, €1 for kids. You can call this toll-free number (0 800 15-115) to find out about the operating hours.
PRICE: €33
10. Explore Matka Canyon and Vrelo cave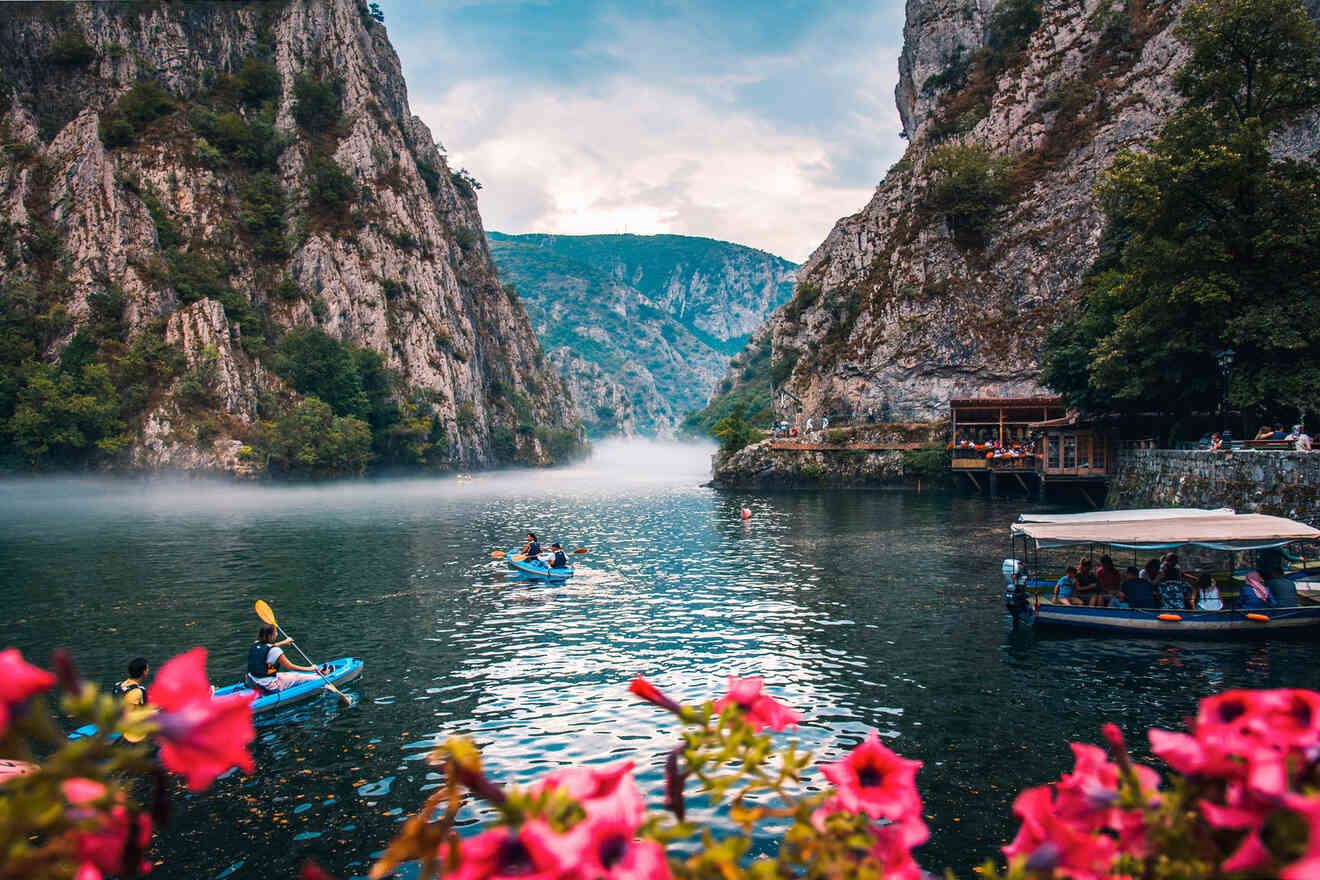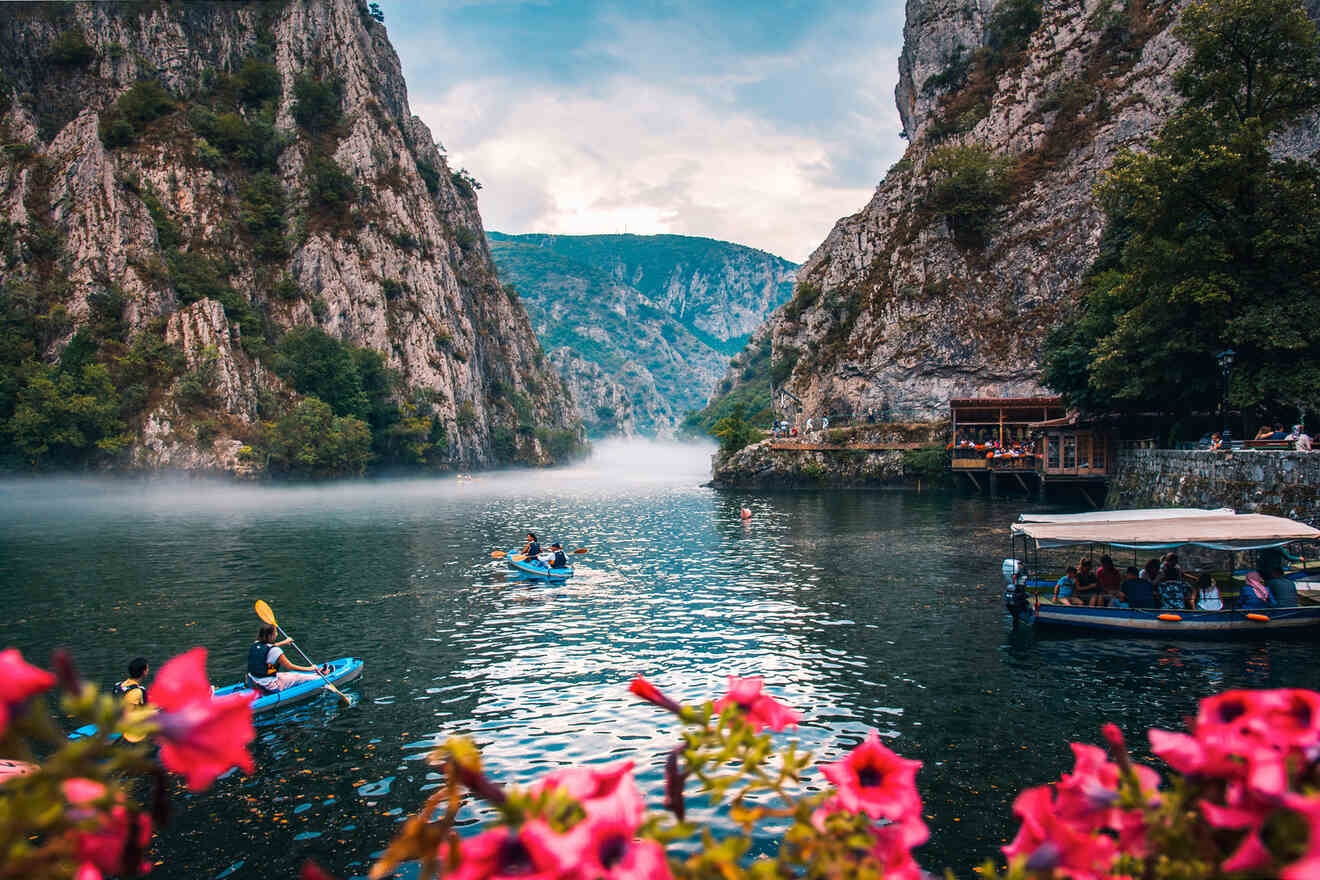 Matka Canyon is a popular destination among tourists who have never visited Skopje. It is an astounding artificial lake about 30 minutes drive from Skopje. Besides being extraordinarily beautiful, this lake is famous for the Vrelo cave, which was listed as one of the top 77 natural sites in the world.
Some of the things you can do at Matka Lake are take a walk, visit the St. Andrew monastery and the monastery of the Holy Mother of God, have lunch at Canyon Matka restaurant, go rock climbing (only if you're an experienced rock climber) but whatever you do, do not miss the chance to jump on a boat or rent a kayak and explore the lake.
In fact, you can take this amazing tour which includes hotel pick up (check if your hotel is on the list though), a guide and visits to Vodno, the church of St. Panteleimon, and Matka Canyon. There is also a boat ride but at an additional charge. Make sure to book early as this is a popular tour and may sell out fast!
PRICE: €33
Getting there: hotel pickup
| | |
| --- | --- |
| 🤩 Range of activities: | Large |
| 👪 Family-friendly score: | High |
| 🏛️ Best museum: | Holocaust Memorial Center |
| 🎢 Top paid attraction: | Best of Skopje City Tour |
| 🚶🏽‍♂️ Best free activity: | Relaxing at the City Park |
BONUS: Best day trips from Skopje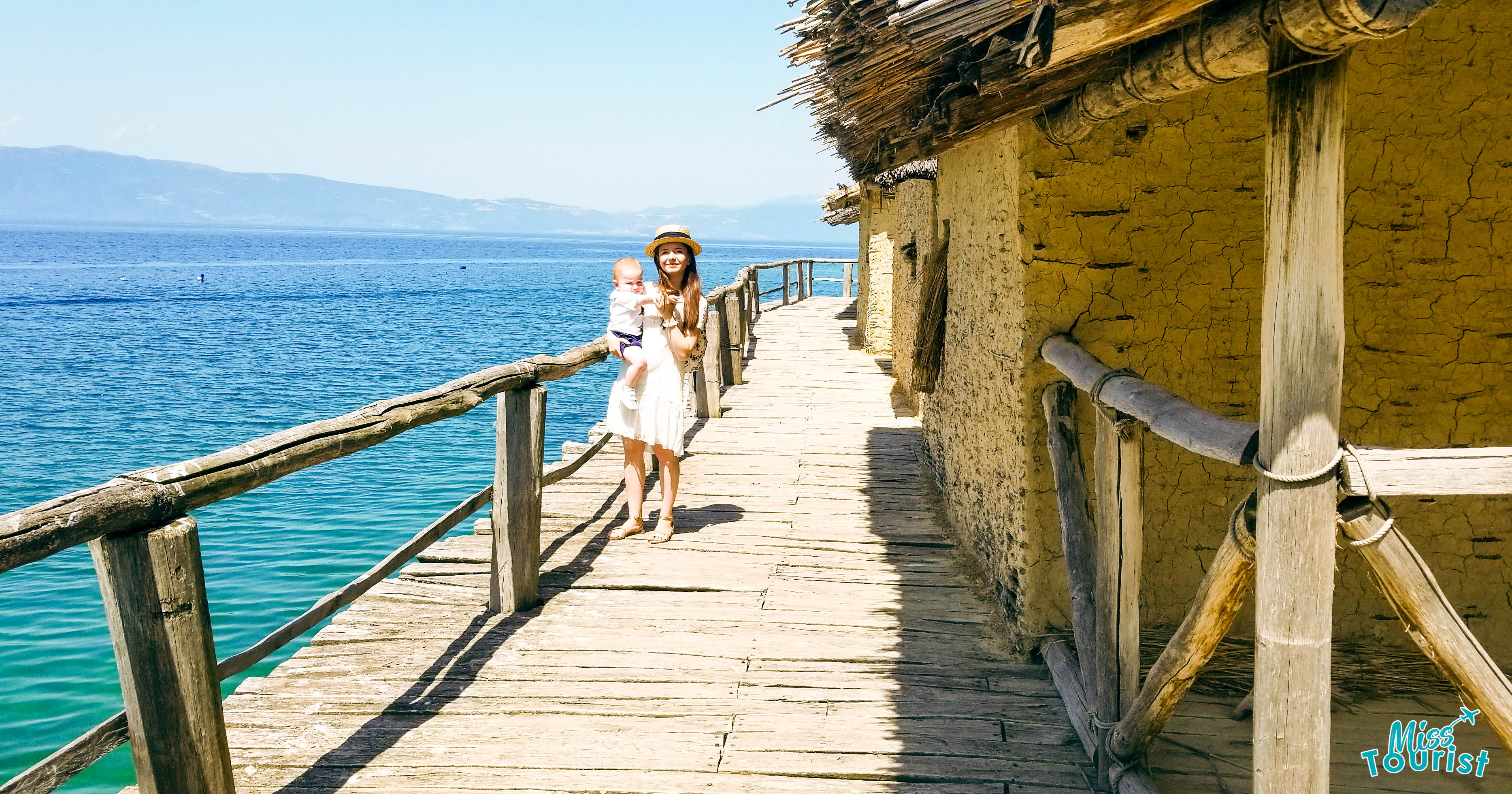 If you've made it through the list of all the things to do in Skopje, then you are probably excited to find out what else there is to see besides Skopje in North Macedonia. I picked the top 3 tours that I think you should take to see the best of Macedonia.
6-Hour Private Mavrovo Tour: Embark on this 6-hour private tour of Mavrovo National Park, the historical village of Galicnik, and the monastery of St. Jovan Bigorski. These 3 represent the Macedonian riches and culture at their finest, and if you happen to visit in July, you may witness the traditional wedding in Galicnik village – an event that you shouldn't miss. (€160)
Ohrid & Bay of Bones tour: Spare a day and join this full-day private tour of Ohrid and the Bay of Bones. Enjoy the view of Ohrid Lake under the sun with a cup of coffee and a delicious meal. Explore the historically important churches, buy yourself genuine Ohrid pearls, and visit the famous overwater museum the "Bay of Bones". (€151)
Berovo Full Day Tour and Hike: If you want to see raw nature and try a traditional North Macedonian breakfast, then take this tour and visit Berovo. The mountain town of Berovo feels stuck in time, and people are so honest and hospitable that I assure you will want to stay more than a day. (€120)
Where to stay in Skopje
Since you're looking for the best things to do in Skopje, I thought that you may also need a place to stay. To save you some time, here are the best hotels in Skopje that I personally recommend: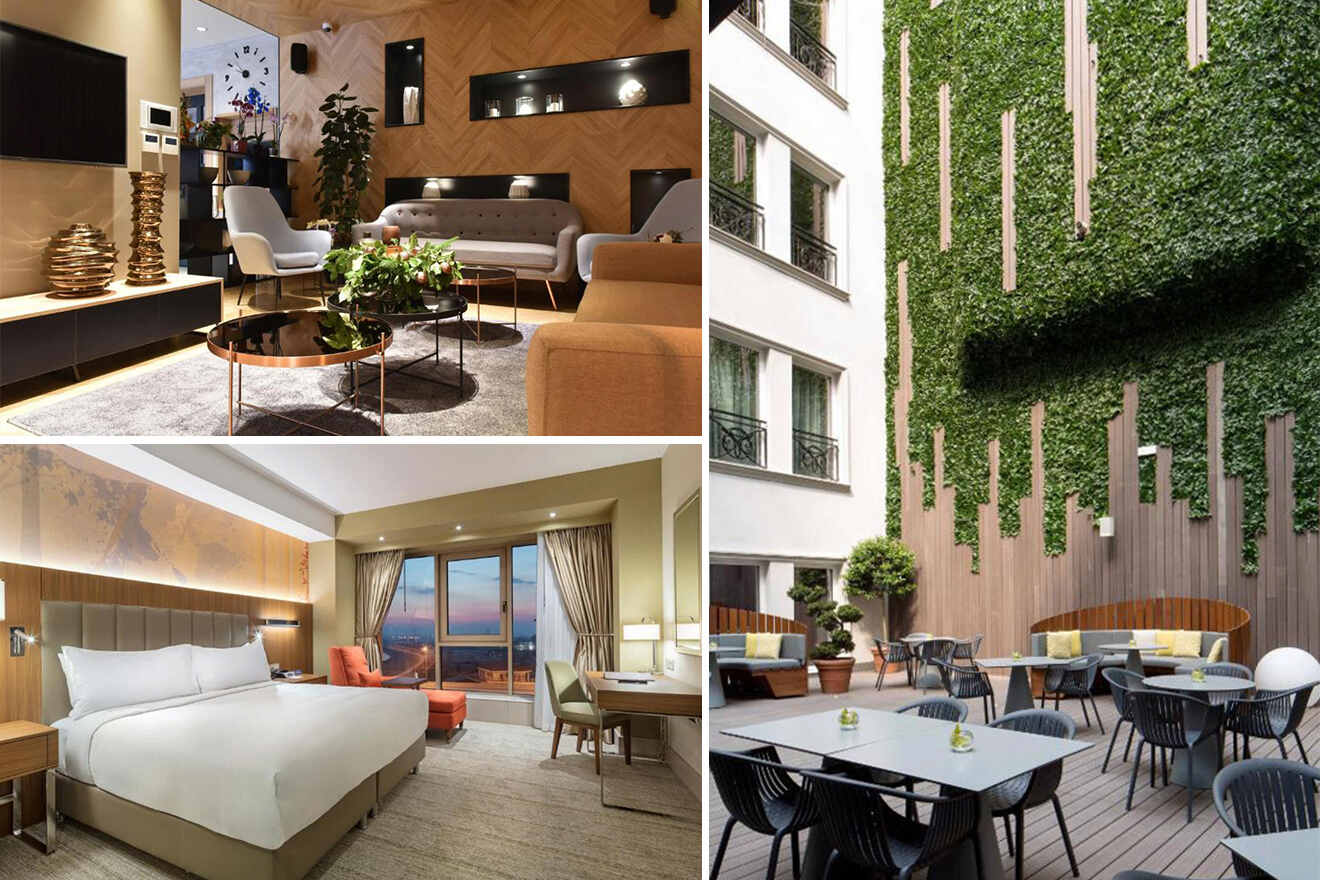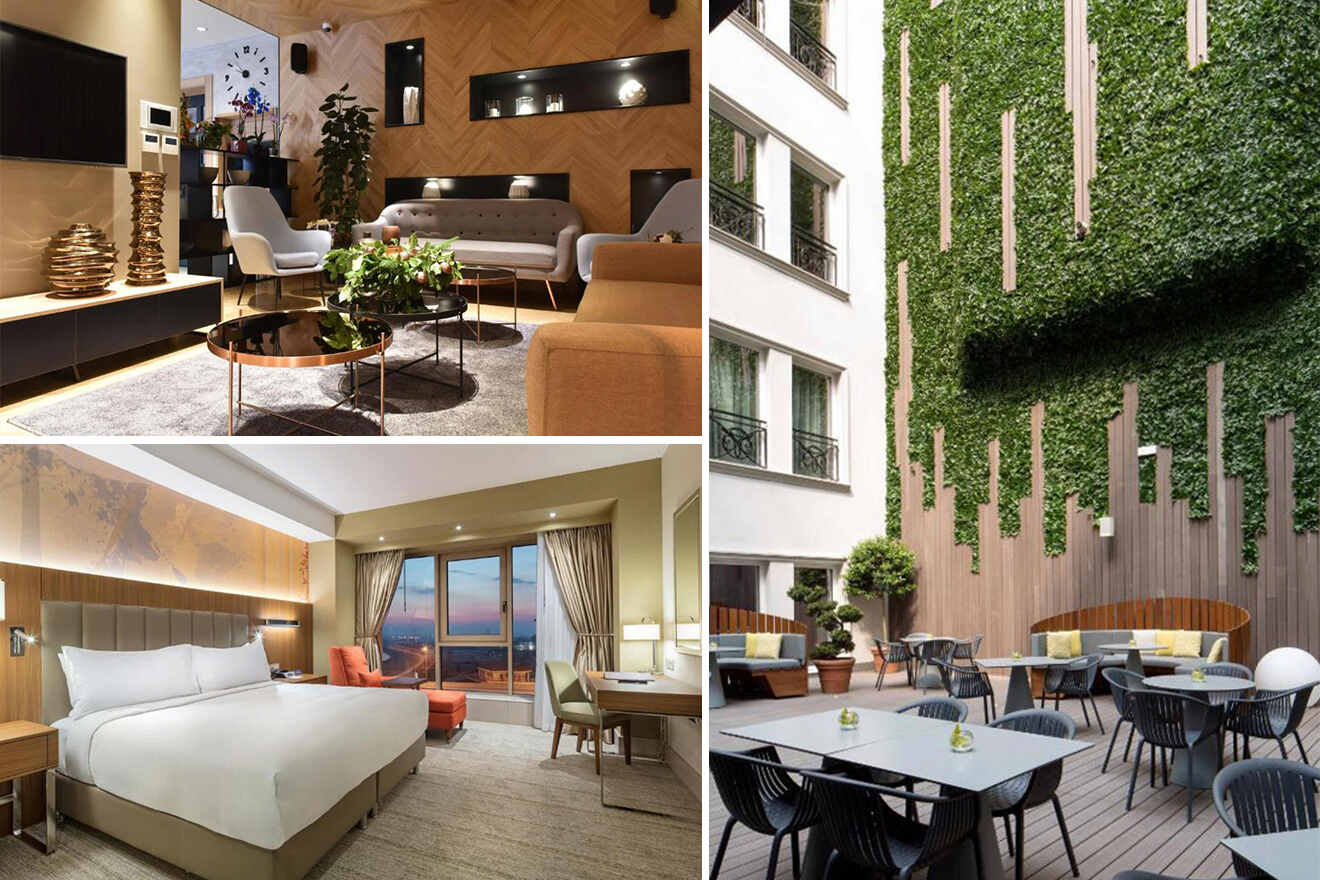 Luxury (€115 and up)
DoubleTree by Hilton – this 5-star hotel that is within a 10-minute drive from the busy city center, has all the luxuries you may need! From a large indoor pool with fitness and spa to laundry service and an on-site restaurant for an ultimate experience
Skopje Marriott Hotel – located on Macedonia Square, this hotel is best for people who like to be in the center of the happenings. It has all the luxuries needed such as, spacious rooms, indoor pool, steam room, on-site restaurant, and more
Mid Range (€80 – €150)
Hotel Senigallia – want to stay on a boat? No problem! This boat-like hotel is located on Vardar River overlooking the Art Bridge, with comfy rooms with TVs, on-site bar, and 2 open terraces
Hotel Panoramika – if you want to avoid the hustle and bustle of the city then this is the hotel to stay in. Located 3 km from the Millenium Cross, this hotel has cozy rooms with a flat-screen TV, fridge, coffee machine, and private bathrooms
Budget (up to €80)
Moodeight Apartments – choose this hotel to get a more independent feel! The rooms are clean and modern, with a seating area with TV, a fully-equipped kitchen, and a private balcony. Is there anything more you need?
Hotel 7 – if you are looking to stay at a nice, clean hotel in a convenient location and within a reasonable price then choose this one. The rooms have private bathrooms, TVs, and even an iron
Practical Information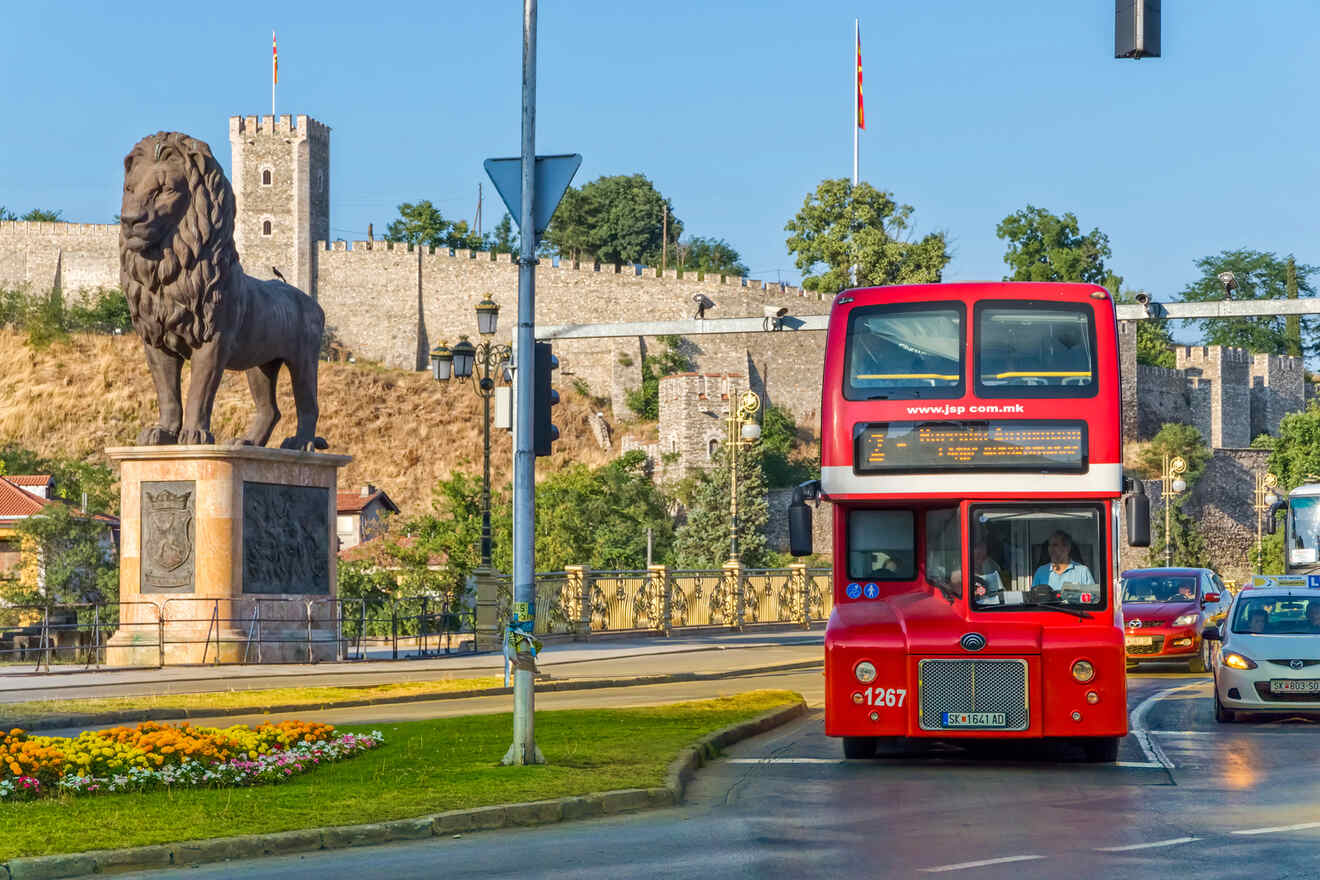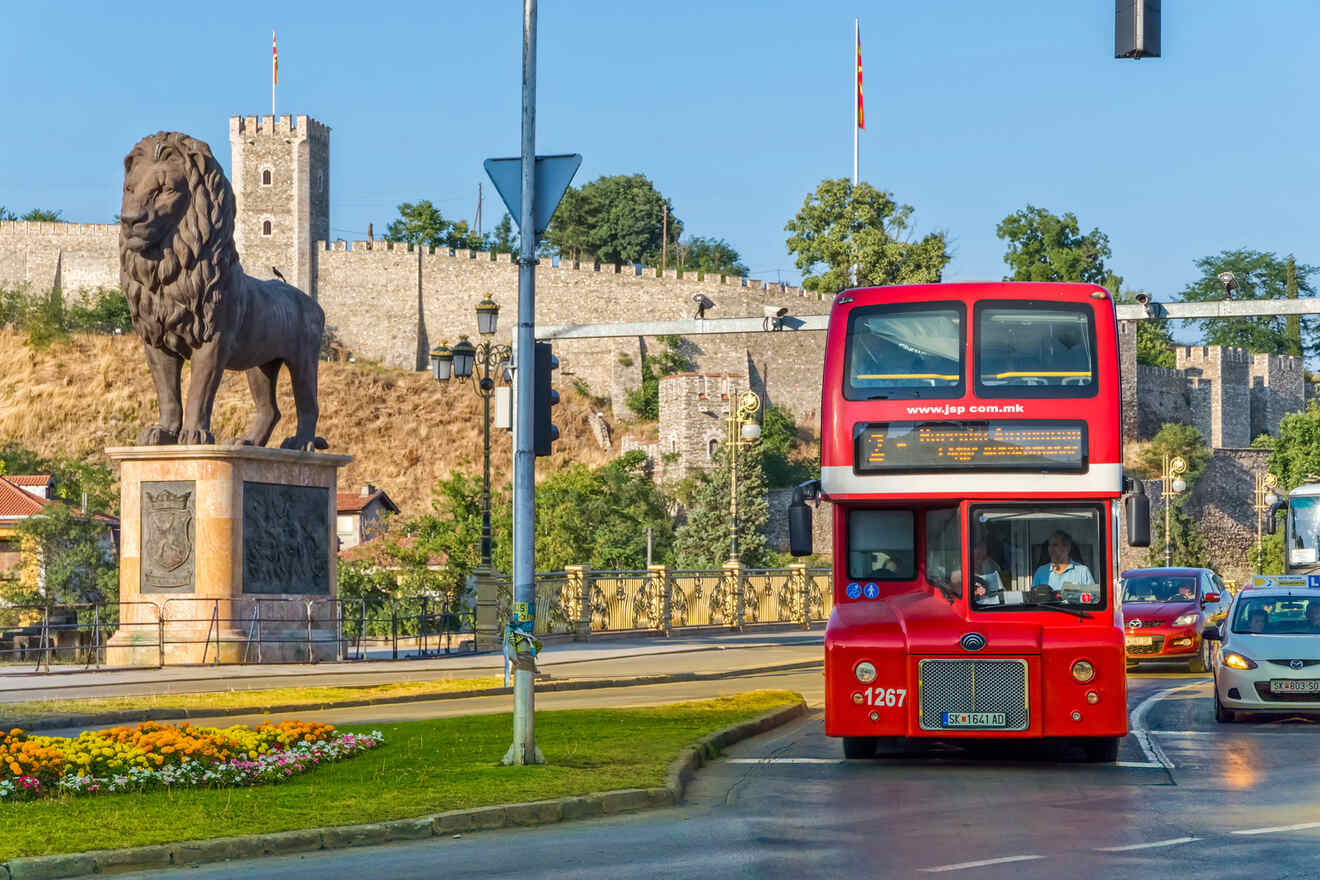 So, Skopje is not a big city and you can easily get around. However, hands down, the traffic is awful and if you are time bound, you better plan things well in advance and leave some extra time just in case.
PRO TIP: Street jams are especially bad from 7 AM to 9 AM and then from 2 PM to 5 PM, so I suggest walking to your destination around this time.
How to get around
So, in terms of transport in Skopje, you have 4 options: public transport, taxi, rent a car, and walking. In addition, I'll also give you information on how to get from the city to the airport and vice versa.
Public Transport
For public transport you can choose between public and private city buses, but these don't make a difference for tourists, only for the citizens as the public ones are free for students and seniors.
There are many bus stands and it's pretty easy to understand where each bus is going (look for the numbers and areas written on each bus), but you can also ask the people at the stand, and they will be happy to help you out.
Fun fact: Skopje has the same red double decker buses you would expect to see in London!
The tickets usually cost less than €1 and you can buy them either at the bus station or at the selected bus stops. You can get information about the bus timetable at the official website, however, the English version is a bit buggy so it doesn't work all the time.
As an alternative, you can call this toll-free number and ask for information: 0 800 15 115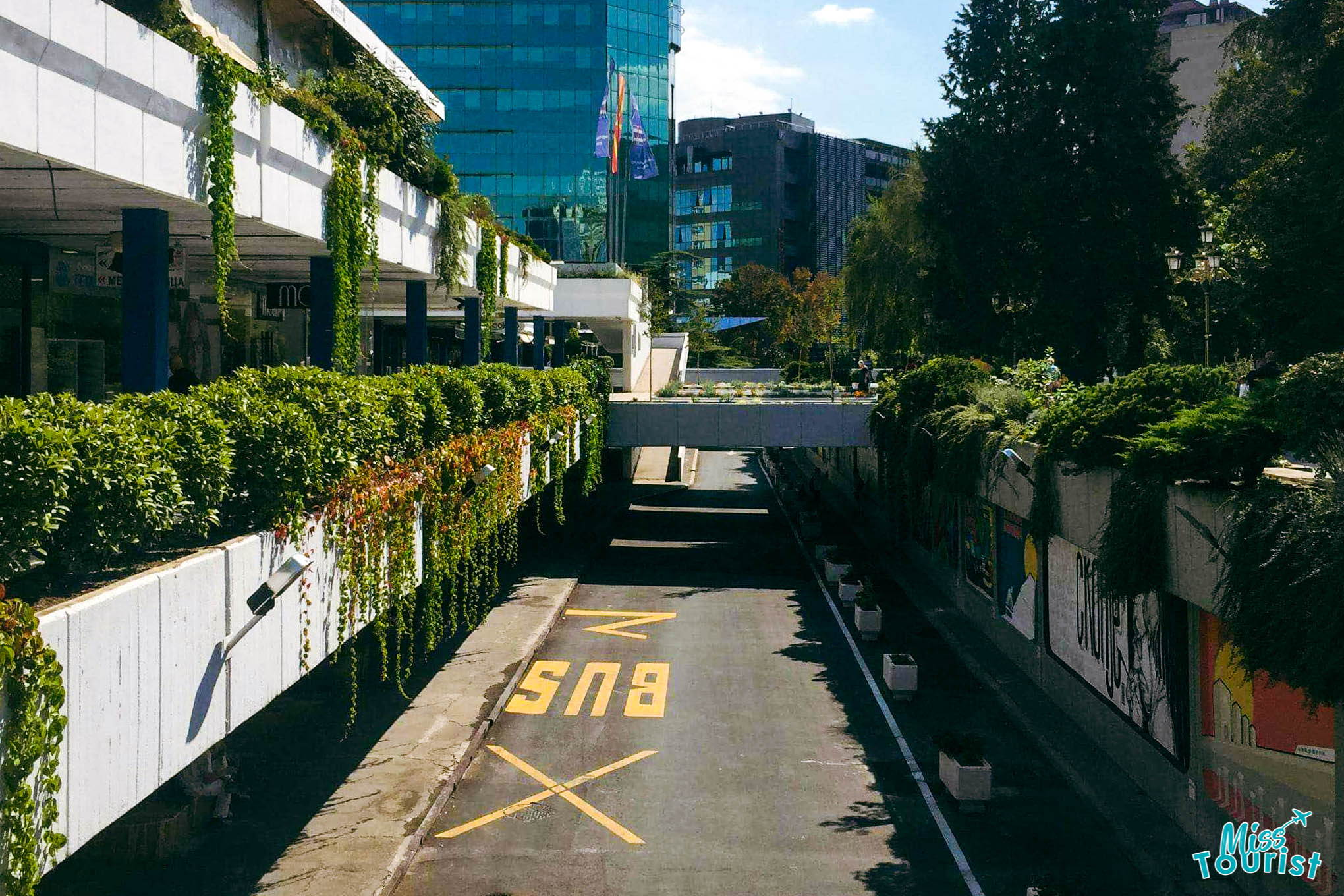 Taxis
There are a lot of taxi companies in Skopje, but to be safe, always look for the ones that are properly marked as taxi (white and yellow with taxi inscription on the vehicles) because some unlicensed taxi drivers may stop you and offer you a ride if they hear you speak in another language.
This is particularly common around the main bus station and the railway station. It's not really that these are unsafe, but they may charge you more and the cars may not be as clean as with registered taxi companies.
To get a taxi in Skopje, you can either hail them, find them around designated areas for taxis, or call them.
Here are a few verified taxi providers:
Taxi Global: +389-2-15-180, +389-70-515-180, +389-76-215-180, +389-78-415-180
City Taxi: +389-2-15151
Taxi Deluxe: +389-71-228-822, +389-75-228-822, +389-78-228-822
When you call them, you will have to specify your pickup location and your destination after which they will message you with the number of the vehicle you should expect and the approximate wait time.
The licensed taxis charge by kilometer, and the start tariff is around €1, which is not expensive if you consider that the same taxi rate is applicable almost everywhere in Macedonia, and Skopje is the capital.
Rent a car
Renting a car is the most convenient option of them all. To rent a car, just go to Rental Cars, add your destination, and you will see the available options and the cost.
Walking
If you don't mind walking, then this may be the best option for you since Skopje can be pretty busy. The longest walk from one side of the city to the other is about 2 hours if you walk fast, more if you go at a relaxed pace. However, this is a great way to see the city and all its beauties.
Getting to the center from the airport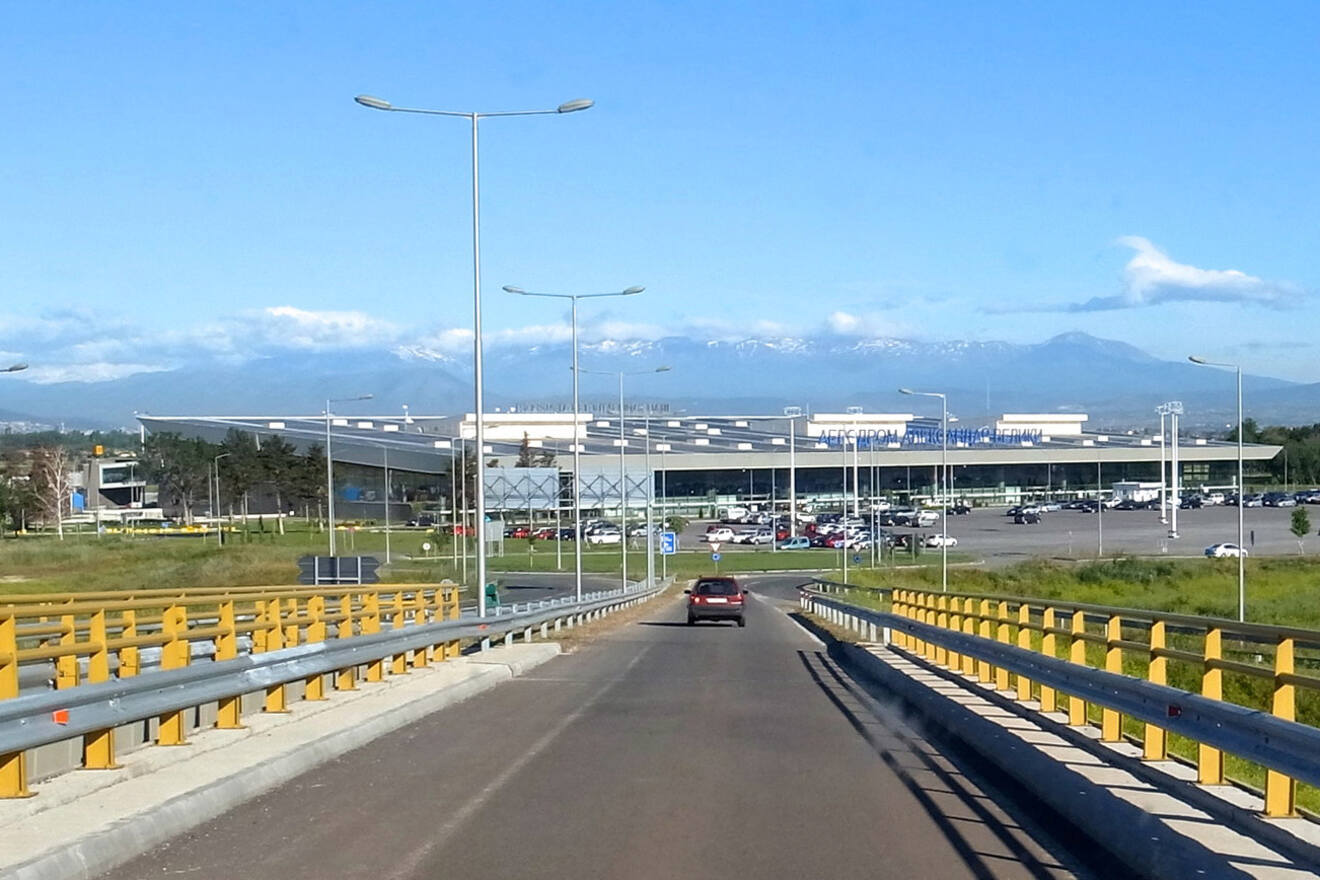 If you tend to freak out like me about how to get from the airport to the city, then you should know that this is actually pretty easy in Skopje, and can be really cheap if you know what you are looking for.
So here are the 2 options you have:
TAV Airport shuttle: this bus runs from 8 AM to 8 PM every day of the week. The pick up location is at the bus station in Skopje, and the cost of a one way ticket is €4, €8 for a round trip. You can buy the ticket on the bus.
The bus will take you to the airport and drop you off in front of the airport's entrance which is also the pickup location for the arriving passengers who want to take the bus to Skopje.

NOTE: The regional/international bus station, the city bus station, and the train station are all in one place, so it may be a bit confusing if this is your first time in Skopje. So, just go inside the bus station and ask for information at one of the desks, or simply ask security – they will be happy to help you out.
Taxi: to get a taxi from anywhere in Skopje to the airport, you just follow the regular instructions I gave you above for getting a taxi. The approximate cost for a taxi ride from Skopje to the airport is a minimum €18 depending on the taxi provider.
All about SIM cards
There are 2 main companies where you can buy SIM cards, A1 and T-Mobile. You can buy the SIM cards either at their stores or from tobacco corners.
The price of a prepaid SIM card is approximately €7 and they usually come with limited data internet, free calls within the same network, and free SMS.
When you buy the prepaid SIM card, you will have to activate it. To activate the prepaid SIM cards for each provider and get up-to-date information, you should follow the steps on these websites: T-Mobile and A1.
FAQs about things to do in Skopje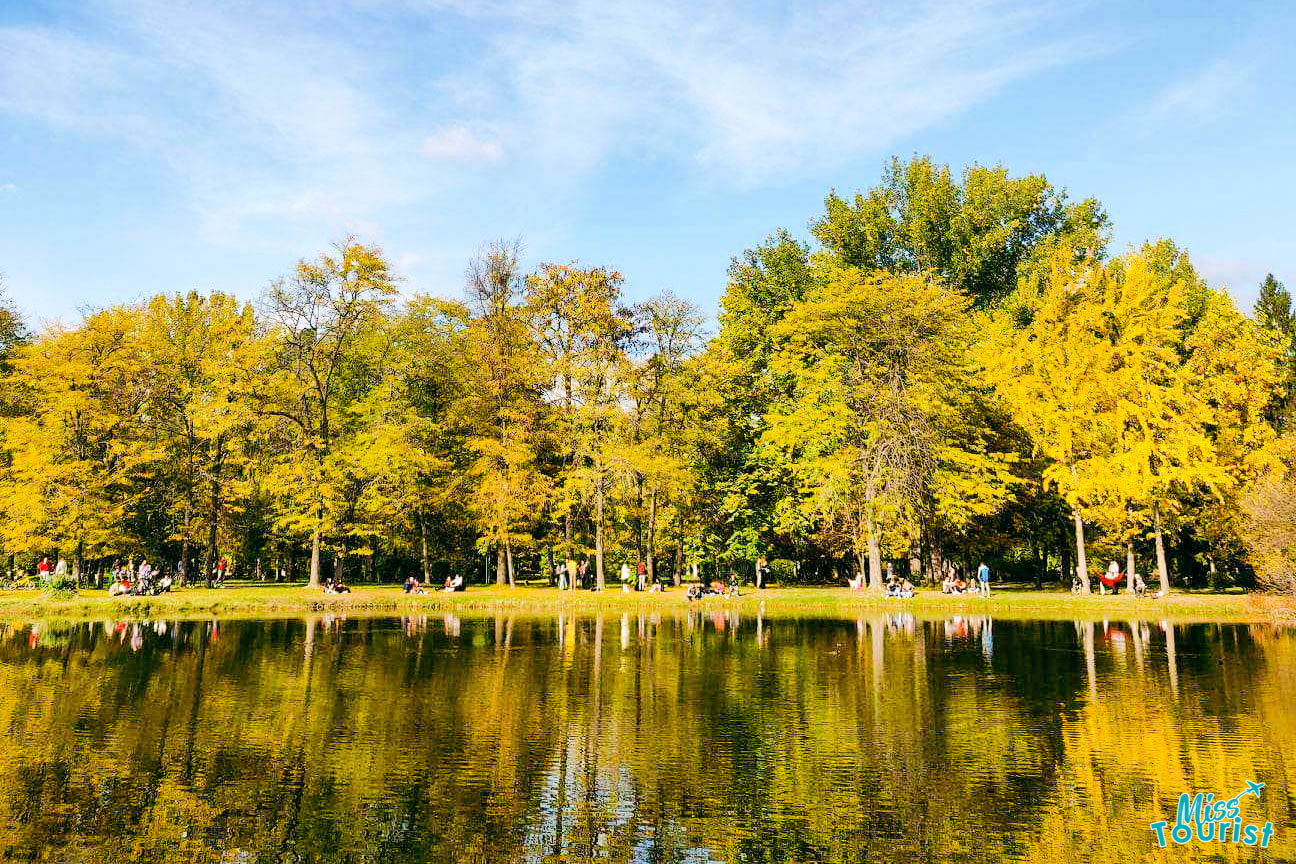 🚶‍♀️ Is one day enough to see Skopje?
One day can be enough in Skopje but only if you take this tour that will take you to all the places you must see. However, you will probably be exhausted after touring all day so I would say that 2 days is optimal.
🥇 Is Skopje worth visiting?
Yes, Skopje is a city worth visiting especially if you are into monuments, shopping, and traditional restaurants!
🍹 What are some things to do in Skopje at night?
Some things that you can do in Skopje at night include taking a walk along the bank of Vardar river, having a drink or dinner at some of the restaurants there. Alternatively, you can go for a movie, or go out to nightclubs on a Saturday night.
❄️ What are some things to do in Skopje in winter?
If you're in Skopje in winter, go figure skating, play ice hockey, or another sport activity at the indoor sports center Boris Traykovsky. I, myself, like to chill at Piazza Liberta.
Conclusion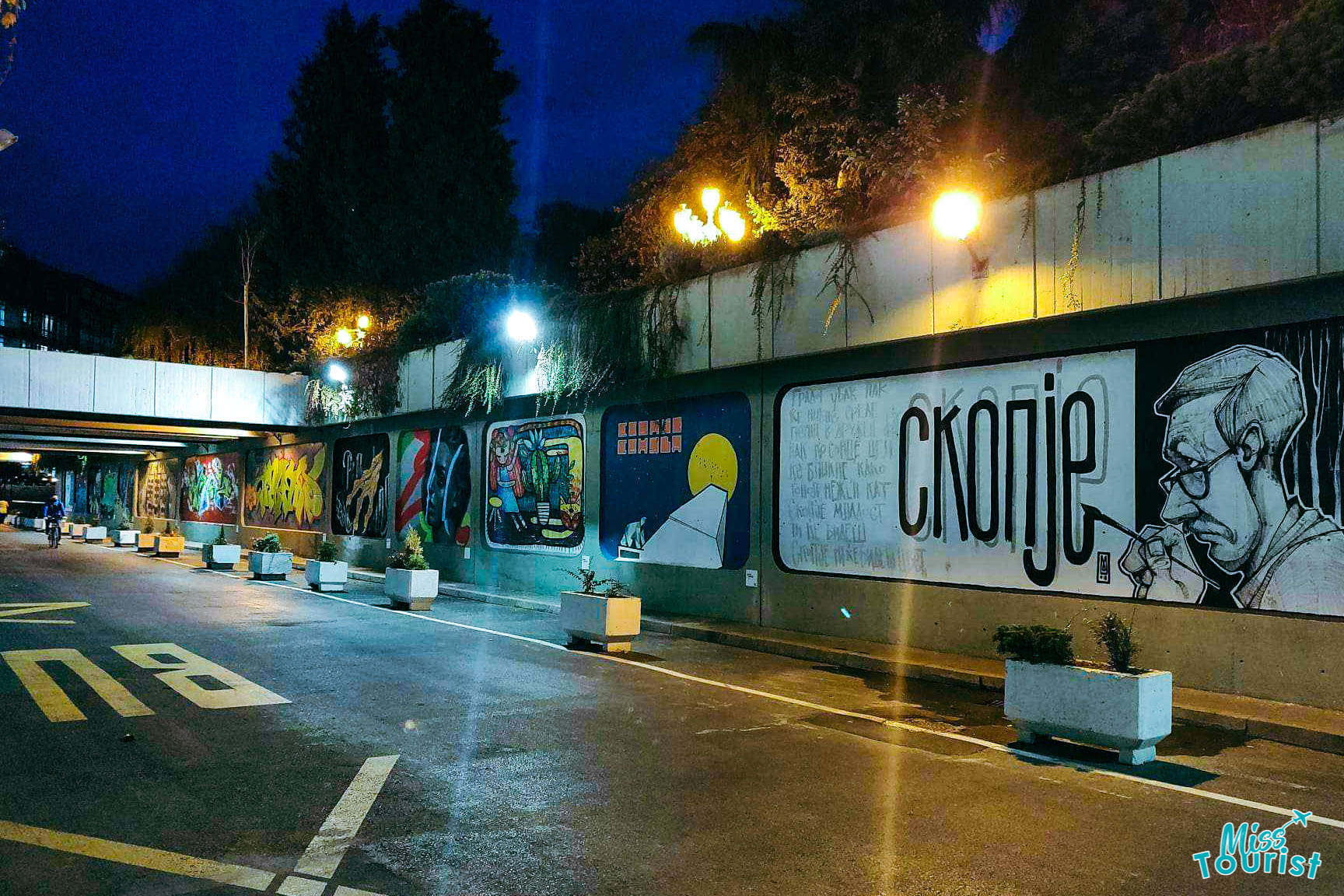 Here we are at the end of this long yet practical guide about things to do in Skopje. As you have read, there are many free and paid things to do in Skopje and the surrounding area but my personal favorites are the city tour, the wine tasting and relaxing at the city park.
Whatever you decide to do and wherever you decide to stay, make sure to book in advance as the great things always sell out super fast!
Se gledame naskoro,
Beti
---
Pin it for later!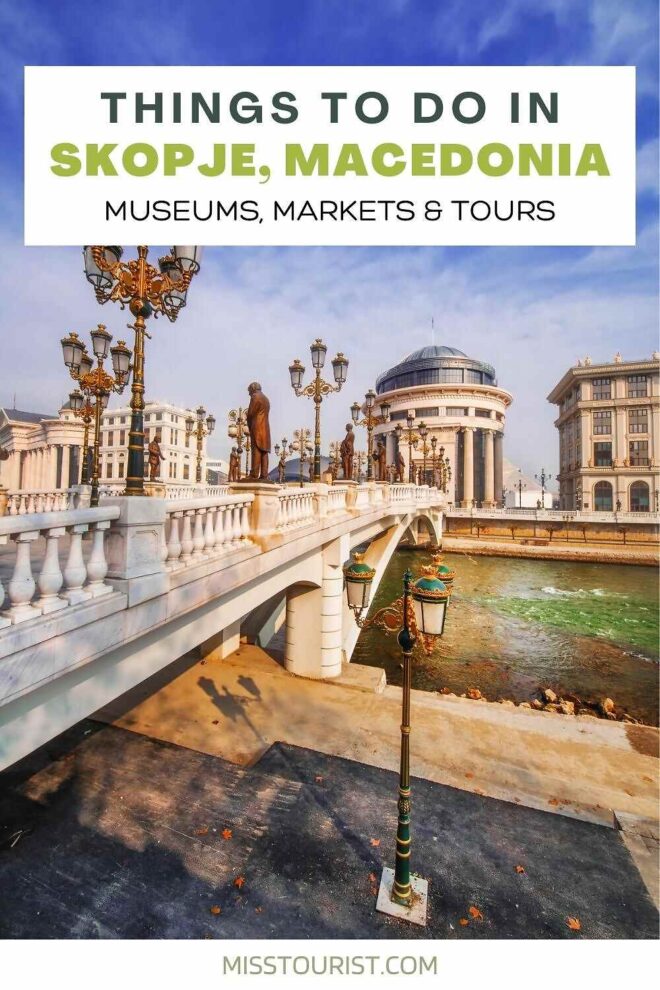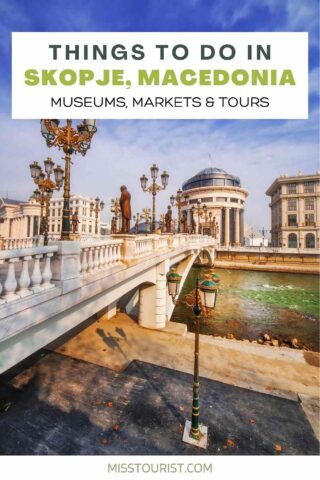 Pin it for later!