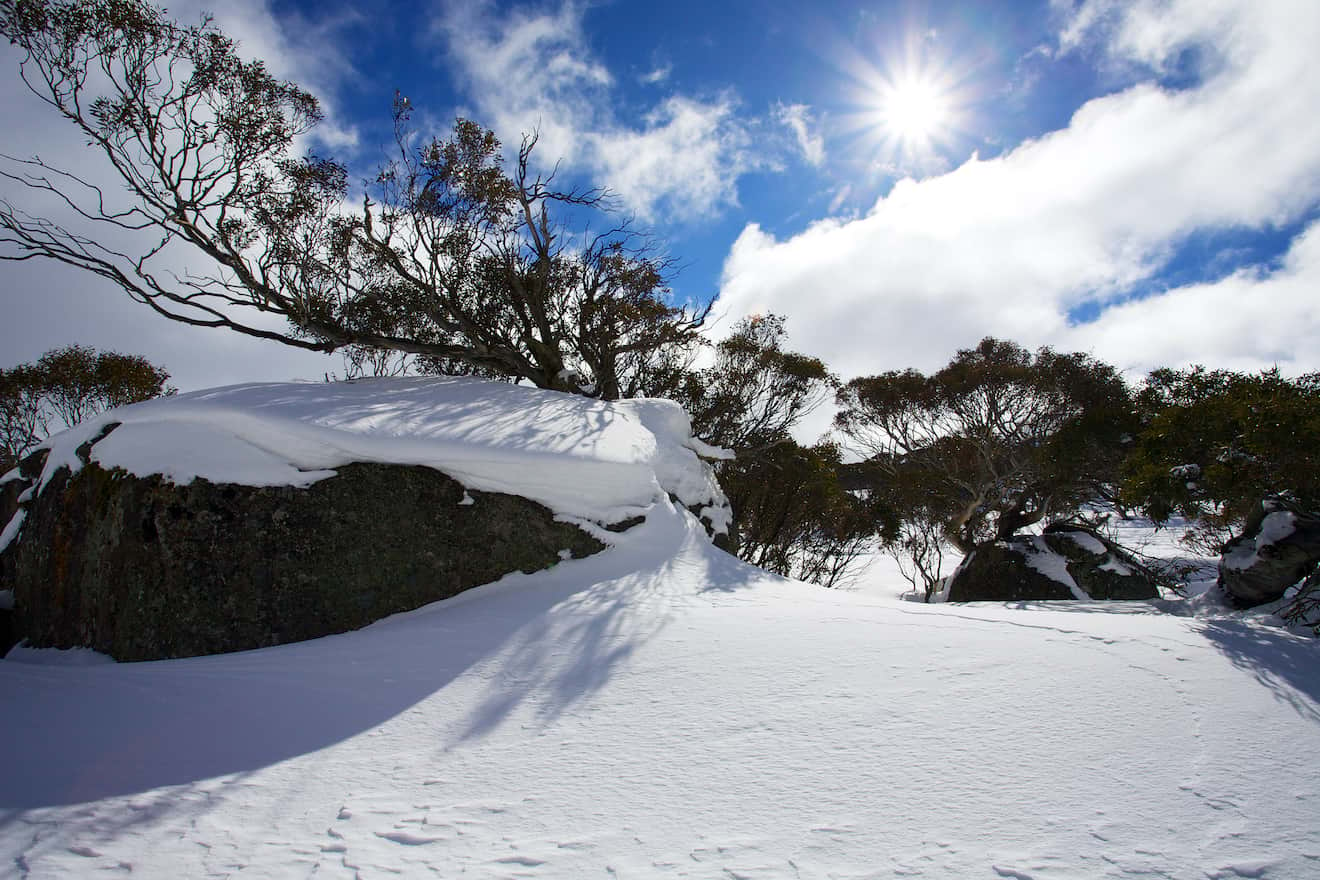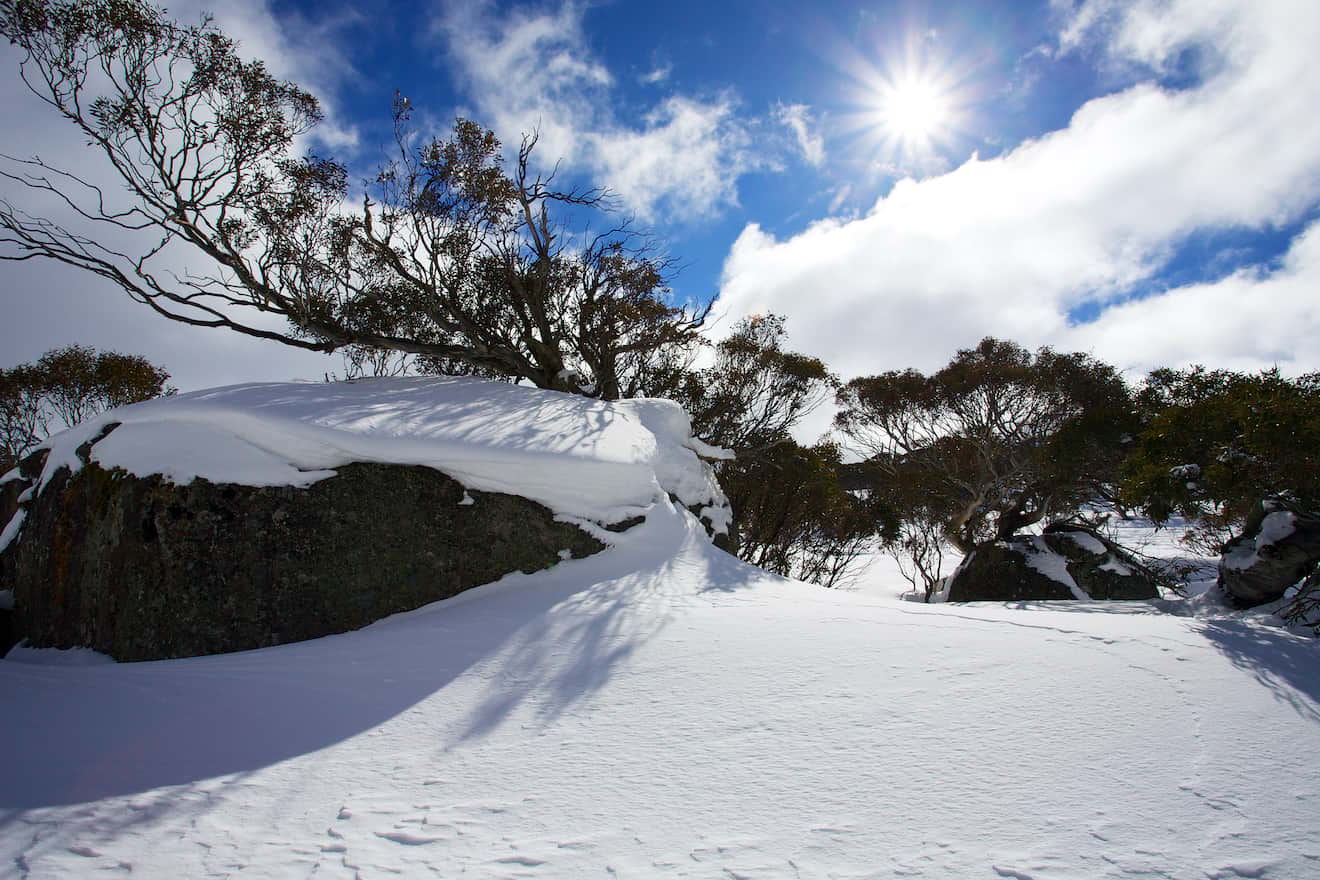 If you're wanting to visit the snow in NSW this winter, you may be wondering how to choose between the ski resorts. When it comes down to it, it all depends on what you are personally looking for.
I myself am a ski instructor and have spent the last 6 years working in ski resorts across Australia, Canada and France. I love the snow and truly believe that you will have a great experience anywhere you go whether it be Thredbo, perisher or another Australian slope.
Saying that, you still need to make a choice and I am here to help! Continue reading to find my full breakdown and comparison to help you choose Perisher or Thredbo.
| | | |
| --- | --- | --- |
| | Perisher | Thredbo |
| Terrain | 3,080 Acres | 1,200 Acres |
| Runs | 115 | 53 |
| Lifts | 47 | 14 |
| Magic Carpets | 8 | 3 |
| Tobogganing | Yes (Toboggan Park only) | No |
| Vertical | 355m | 672m |
| Longest Run | 3km | 5.9km |
| Beginner Runs | 22% | 16% |
| Intermediate Runs | 60% | 67% |
| Experienced Runs | 18% | 17% |
| Terrain Parks | 8 | 5 |
| Lift Capacity/ph | 53,990 | 18,400 |
| X-Country | Yes | No |
| Snow Making | 43% | 25% |
| Restaurants/Bars/Cafes | 34 | 30 |
| Adult Day Ticket | Released June 24th | $159 |
| Multi Mountain Passes | Epic Pass | Mountain Collective +Icon Pass |
Whilst you can get a great quick overview of each mountain by this comparison table, ski resorts are so much more than their statistics. Each one has a different appeal to different types of people. Now, I will talk about each of the mountains in a little more detail, comparing prices and facilities as well giving you a general idea of the feel of the place, helping you decide which one suits you better.
1. Perisher Mountain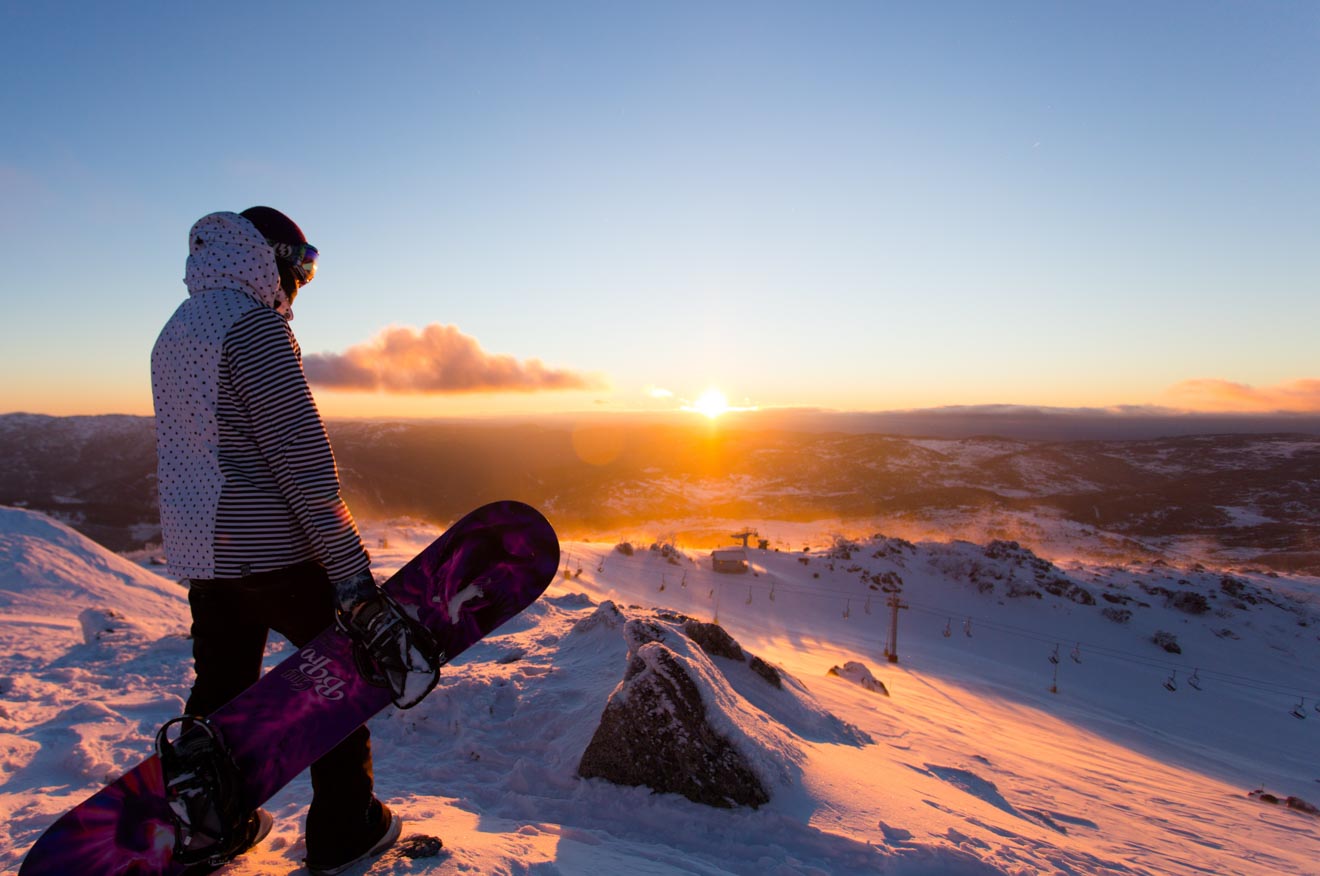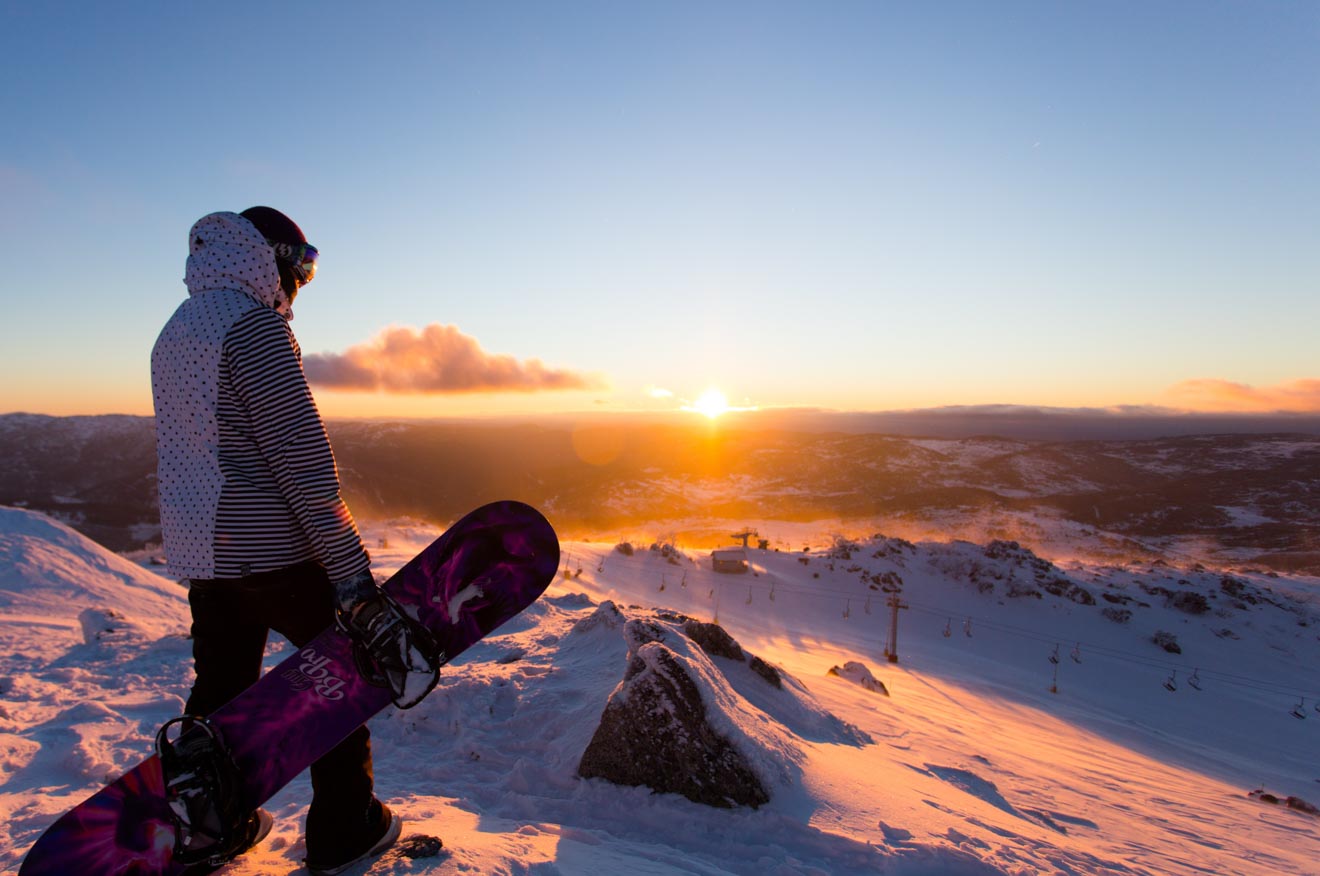 Perisher is Australia's biggest ski resort with 4 different skiable areas, Perisher Valley, Smiggin Holes, Guthega, and Blue Cow.
Perisher is known for its world-class terrain parks and I have many friends who come here every year, just for the park. If you are a park rat, Perisher should be your pick!
Ticket Prices
This year, Perisher will only be selling 3+ day tickets starting June 16th. Single-day passes may be available for purchase from June 24 depending on quotes.
Prices will fluctuate this season and I expect July/August to be the most expensive time to visit.
3 day tickets for 2020:
24th-26th June: Adults, $349. Kids, $192.
27th-3rd July: Adults, $433. Kids, $238.
4th-19th July: Adults, $498. Kids, $274.
Check here for more details on the staggered release and longer passes available.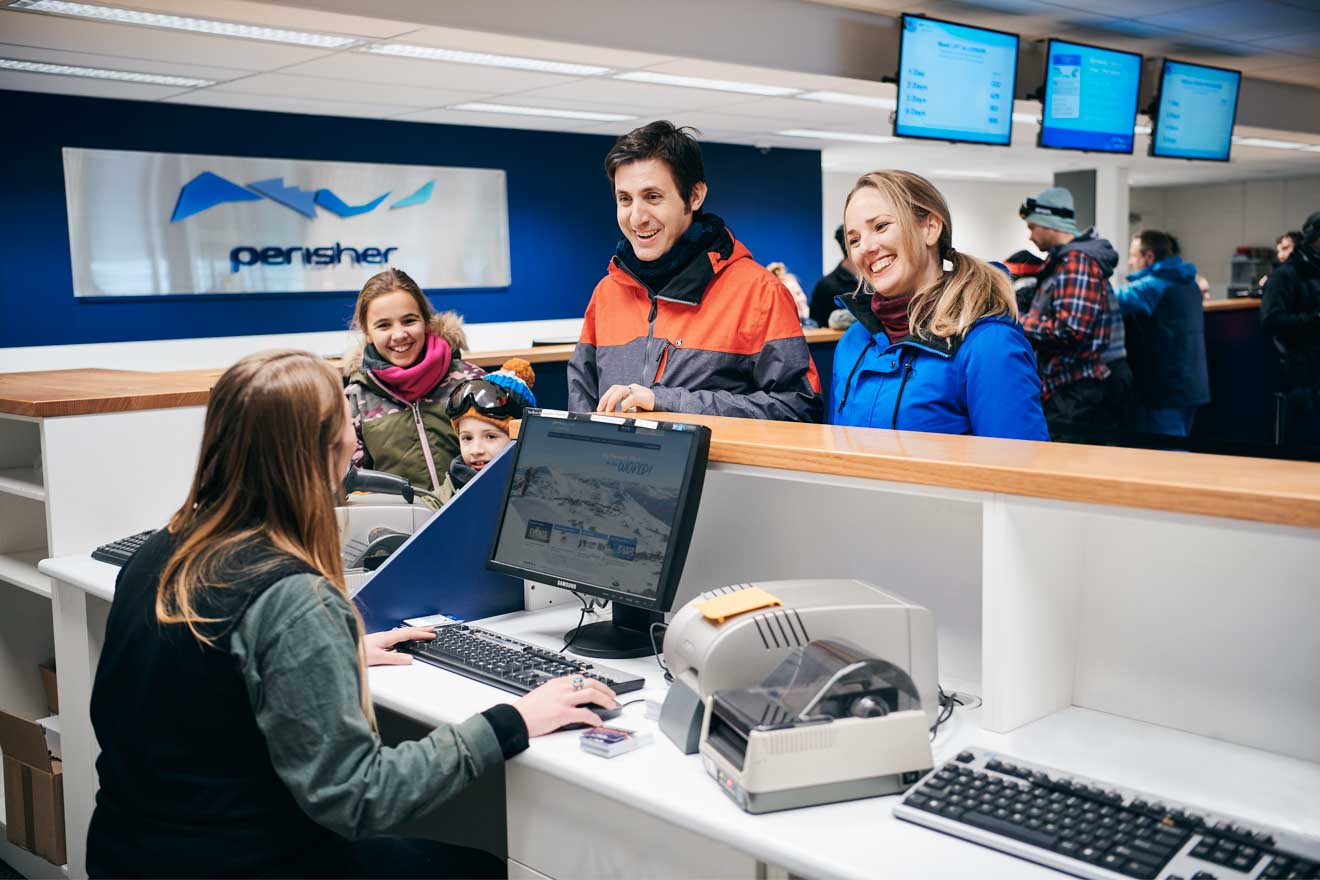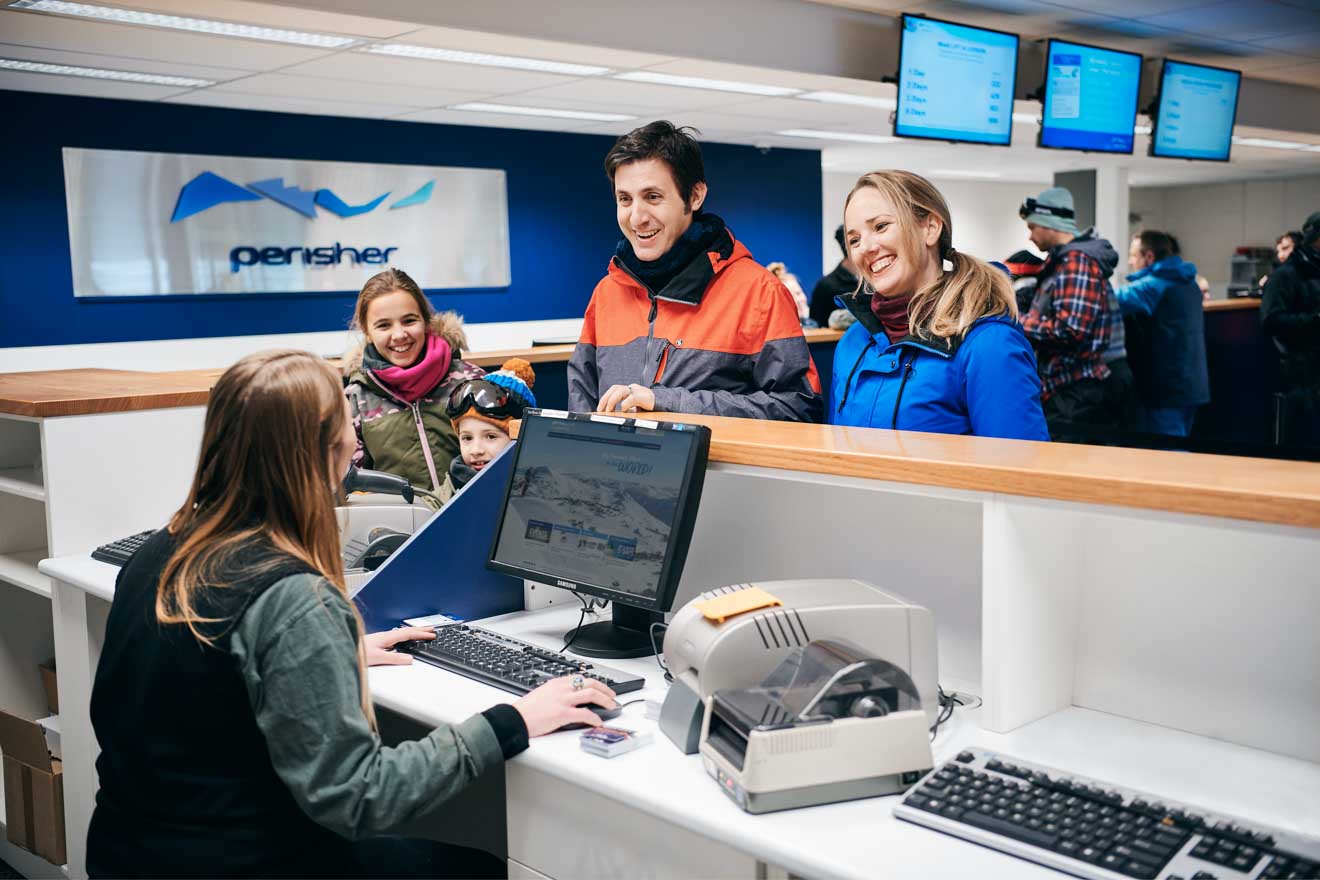 Season passes are no longer available for 2020 but for those who have already bought a season ticket, Perisher will honour your ticket.
TIP: If you want to ski multiple days this winter, I recommend purchasing an Epic Pass. Epic passes will remain on sale until June 28 costing $889 for adults, $499 <12y and $685 for seniors.
After July 13th, the Epic Pass will give holders unlimited access to Perisher, Falls Creek and Hotham and I think you will find the best deals with this ticket.
NOTE: In 2020 it will be obligatory to pre-purchase lift passes, Perisher will not be selling tickets on the day.
Equipment Rental Prices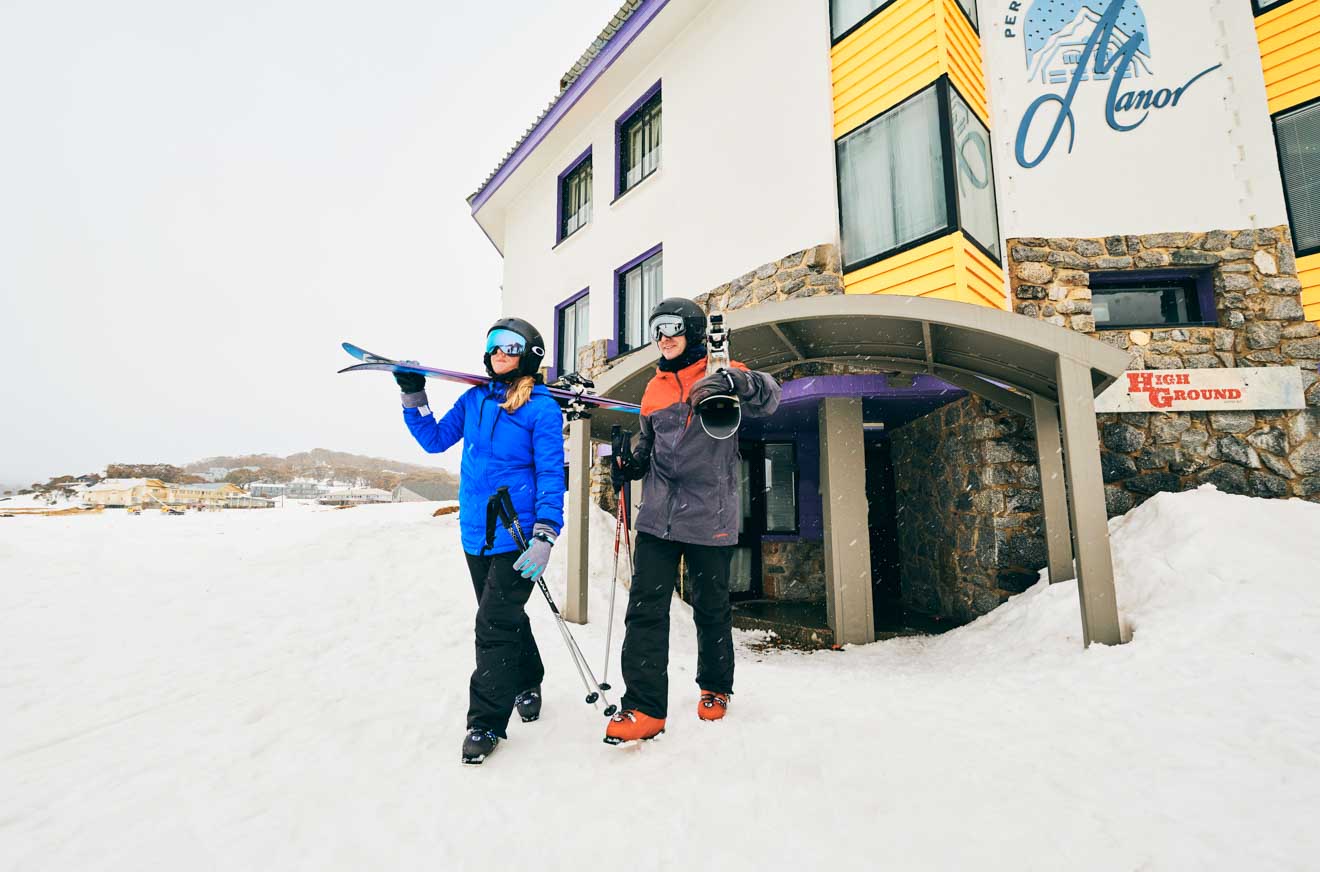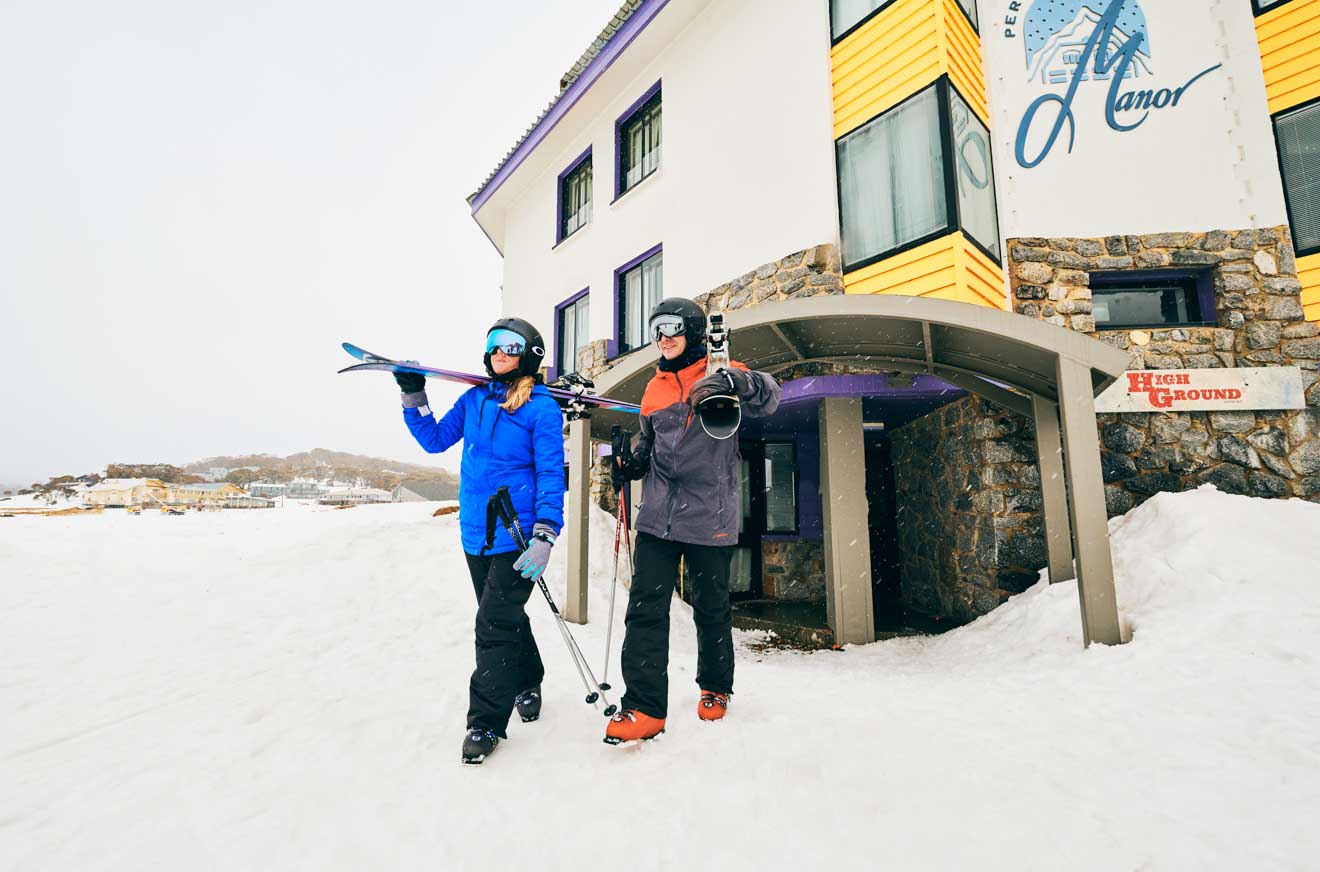 All types of ski and snowboard equipment are available to rent whether you're looking for skis for beginners, good quality gear for those at a higher level or even x country skis.
Basic ski/board, boots and pole packages cost $105 for adults and $84 for kids under 15 whereas performance packages (a little more advanced) cost $129.
You'll find rental locations at Perisher Valley, Smiggin Holes and Bullocks for collection but its best to buy online at least 7 days in advance for best prices.
Perisher Lessons Prices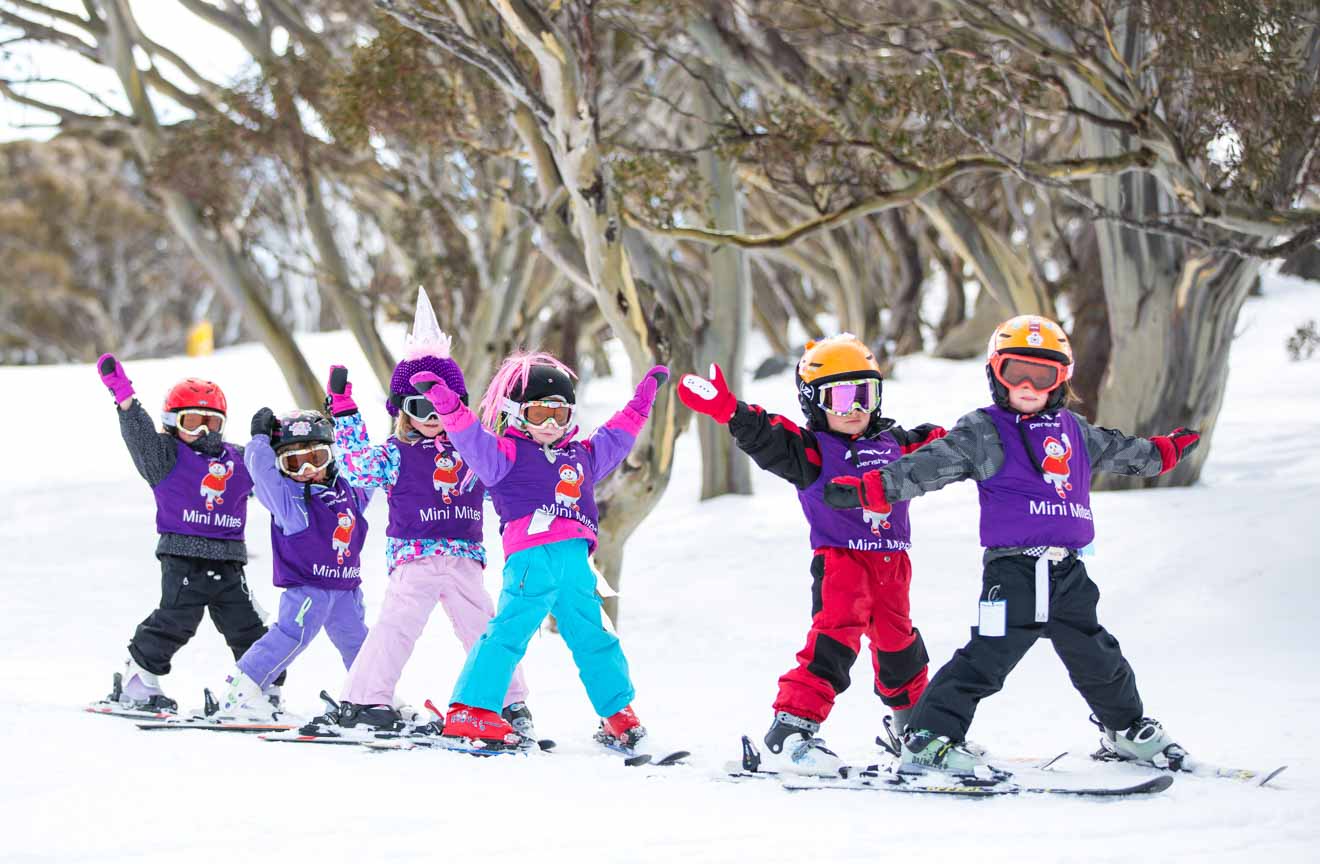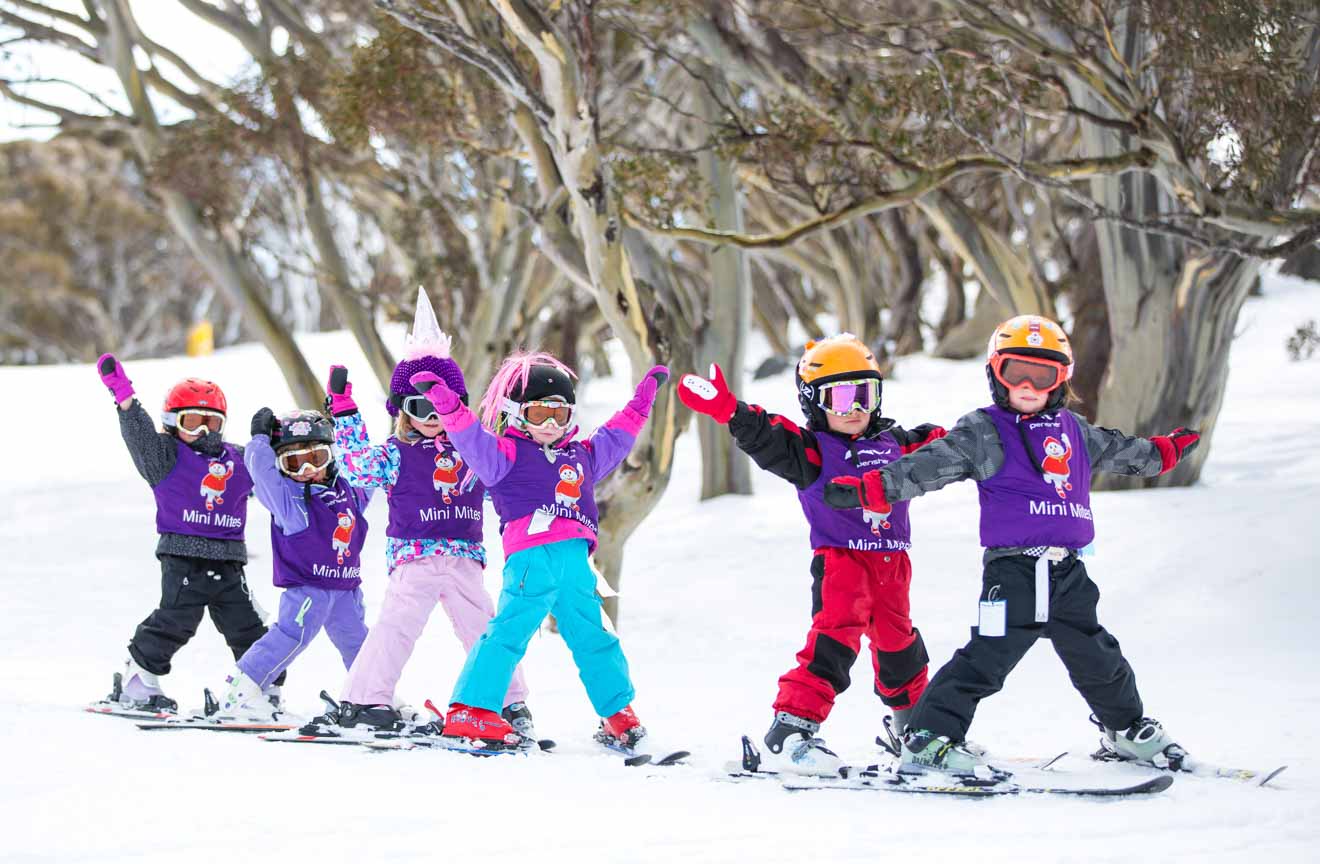 Perisher offers both group and private lessons for adults and kids and will actually be one of the only resorts to do so in 2020. Departing from Perisher Valley or Smiggin Hole.
Adult group lessons run for 2 hours with max 6 in each class. Children groups for 6-14yo's will have the choice between 2 hours (9am or 11am) or half day lessons (9am-12pm). At this stage, lessons are sold in min 3 day blocks.
| | | |
| --- | --- | --- |
| | Adult Group lessons –3 days | Kids (<15) Group lessons – 3 days |
| 2hr 9am or 11am | $200 | $200 |
| 3hrs 9am | – | $300 |
Private lessons are also available and are the best option if you would like to see progress quickly. Choose your own time, location and duration and bring up to 5 friends as lessons are priced per instructor.
| | |
| --- | --- |
| Private Lessons 2020 | |
| 2hr 8:30am or 10:30am | $317 |
| 2hr 1:30pm | $249 |
| 3hr 9am | $475 |
| 3hr 12:30pm | $395 |
Facilities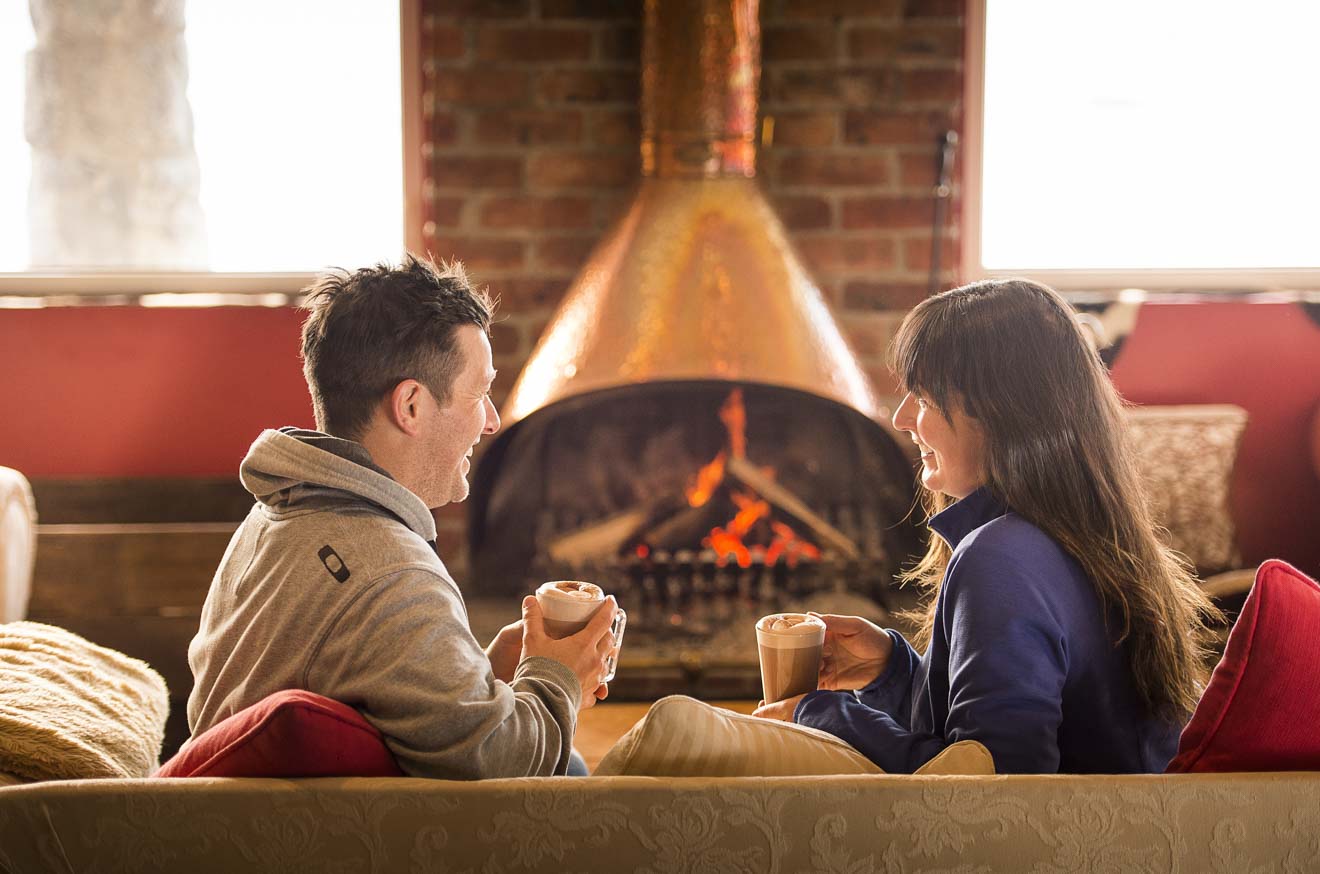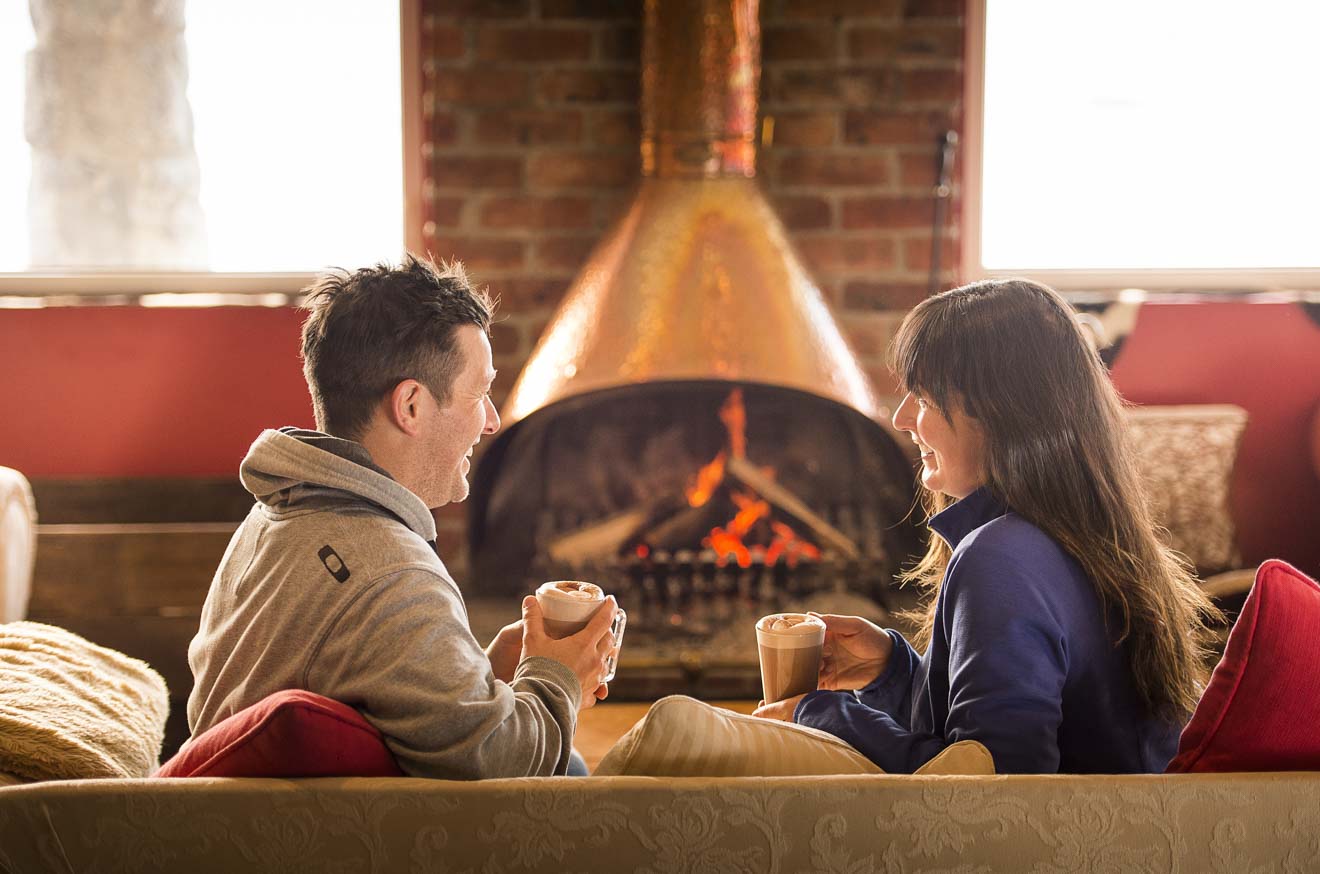 Travel between snow areas by ski tubing! Ski Tube Perisher is a rack rail train which runs from Bullocks Flat via Perisher Valley to Blue Cow.
PRO TIP: If you park at a free Bullocks flat car park, you won't need snow chains and your National Parks pass will be included in your Skitube ticket.
A pass is required for both resorts as they are located within Kosciuszko National Park. I'll discuss all the details later on in the post. Check the timetable
For lunch, you have a choice between 32 restaurants and cafes within the ski resort! If you purchased an Epic Pass as I suggested, you will receive discounts at Jax Bar & Cafe, Ski Rock, Curve Cafe & Bar, Bazil's Bar, Powder Inn, The Burning Log & All Blue Cow Terminal Outlets.
Aside from dining and transport, Perisher also offers babysitting, a range of different retail shops, a supermarket, pharmacy and medical centre.
Perisher Mountain Accommodation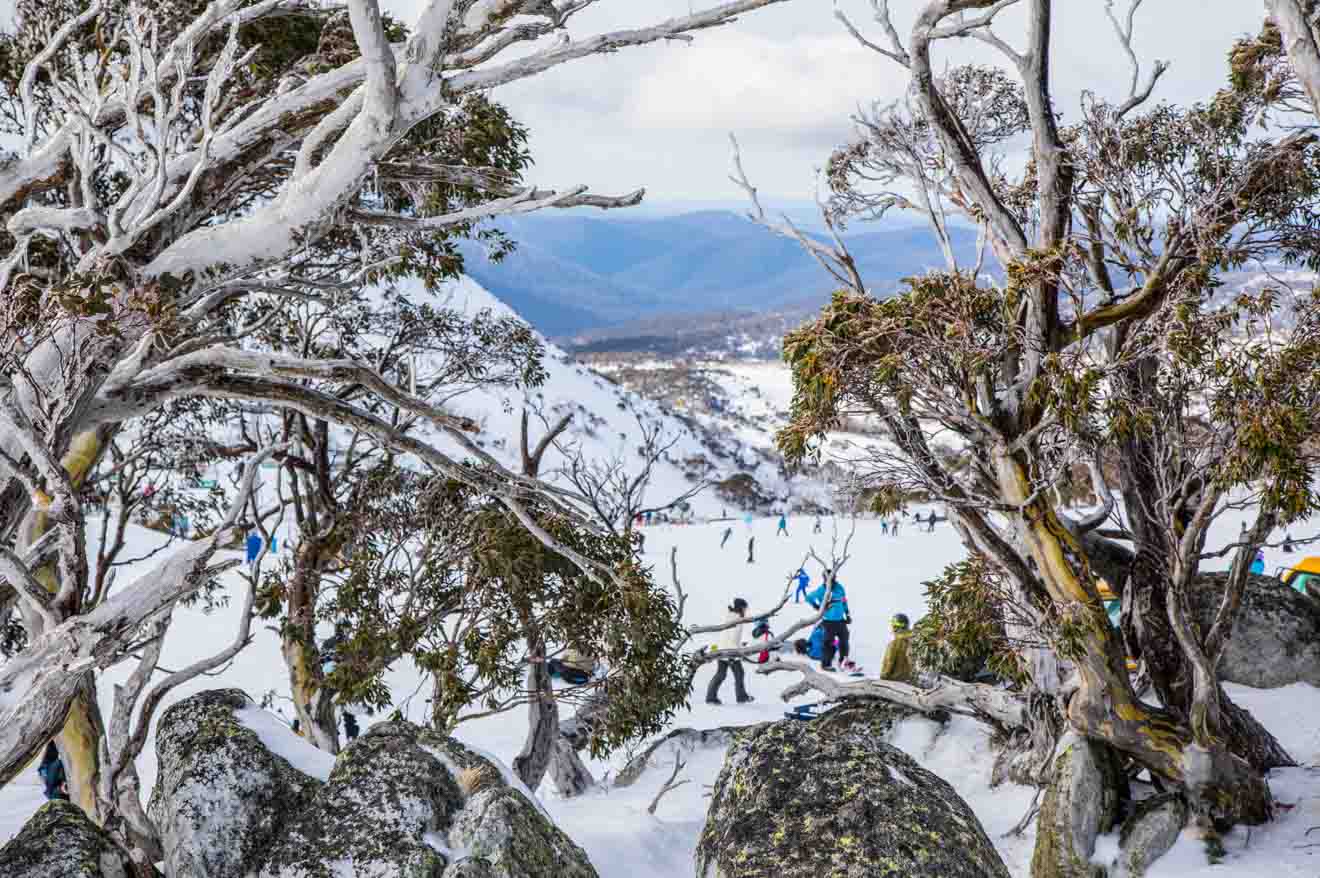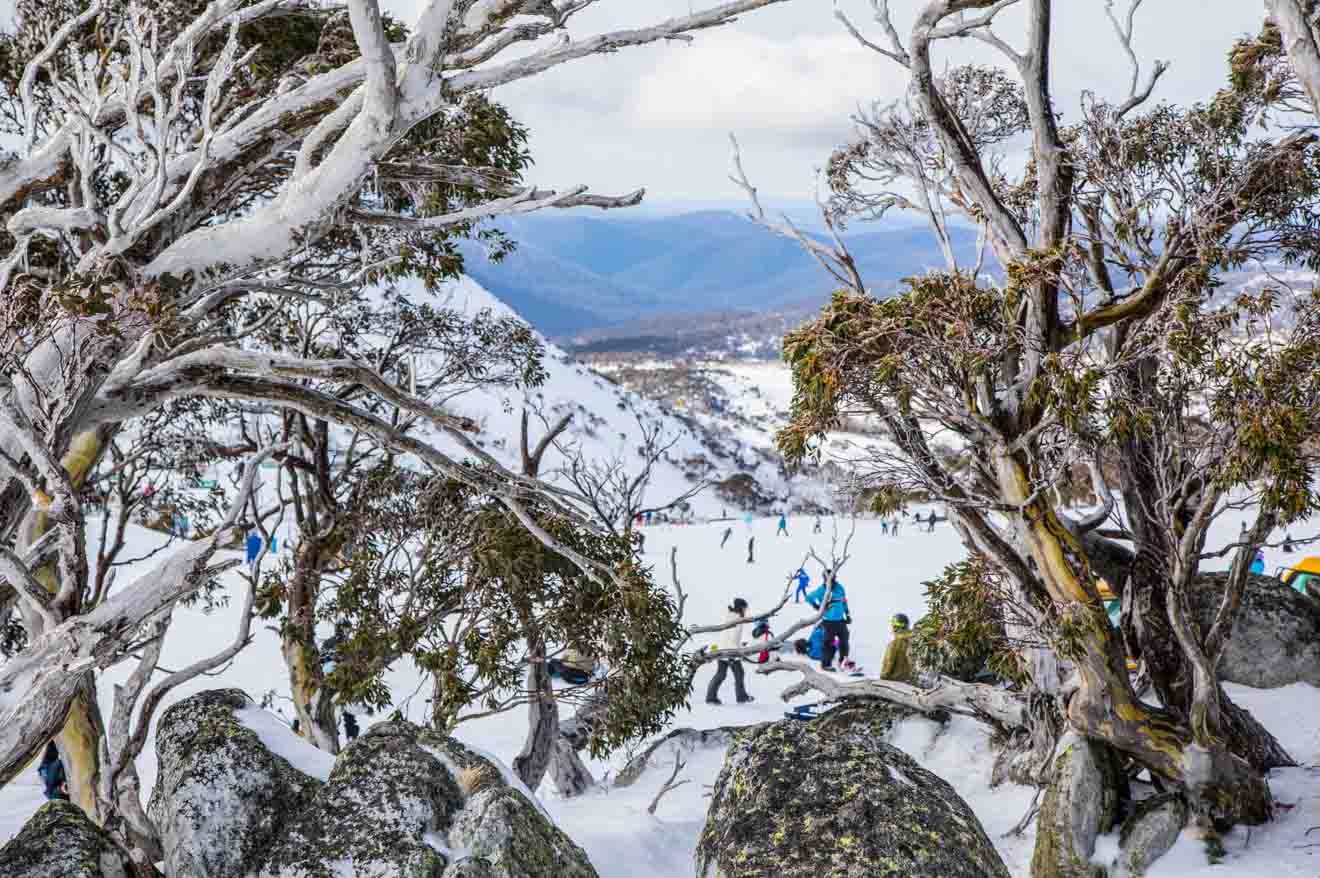 On-mountain accommodation is quite expensive and so my advice is actually to stay in Jindabyne just 32km away. Here there is a greater range of hotels and nightlife. If you prefer not to travel to and from the ski resorts each day, I recommend splurging on a stay at a Luxury Mountain Apartment for sweeping views over the mountain ski runs.
2. Thredbo Ski Resort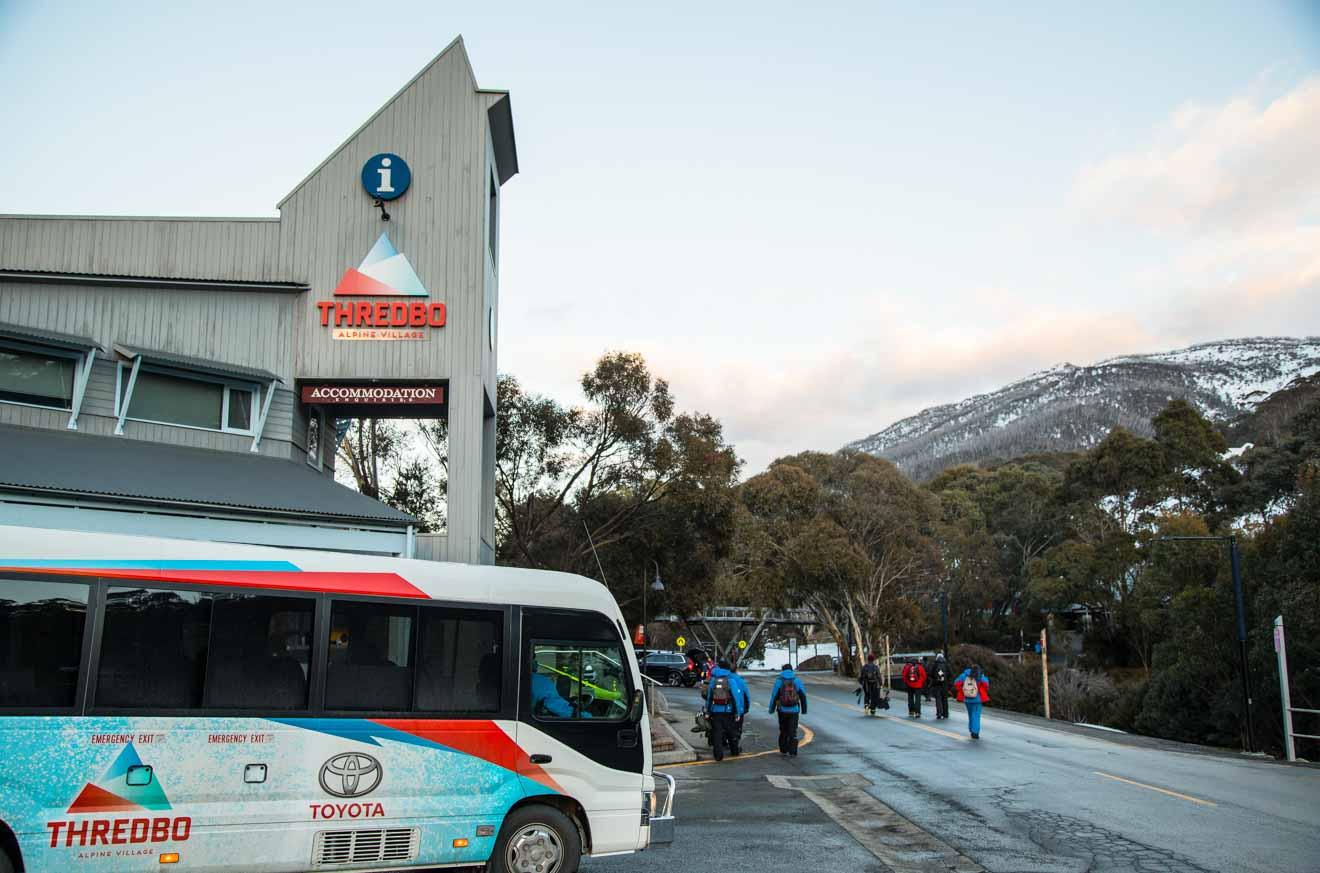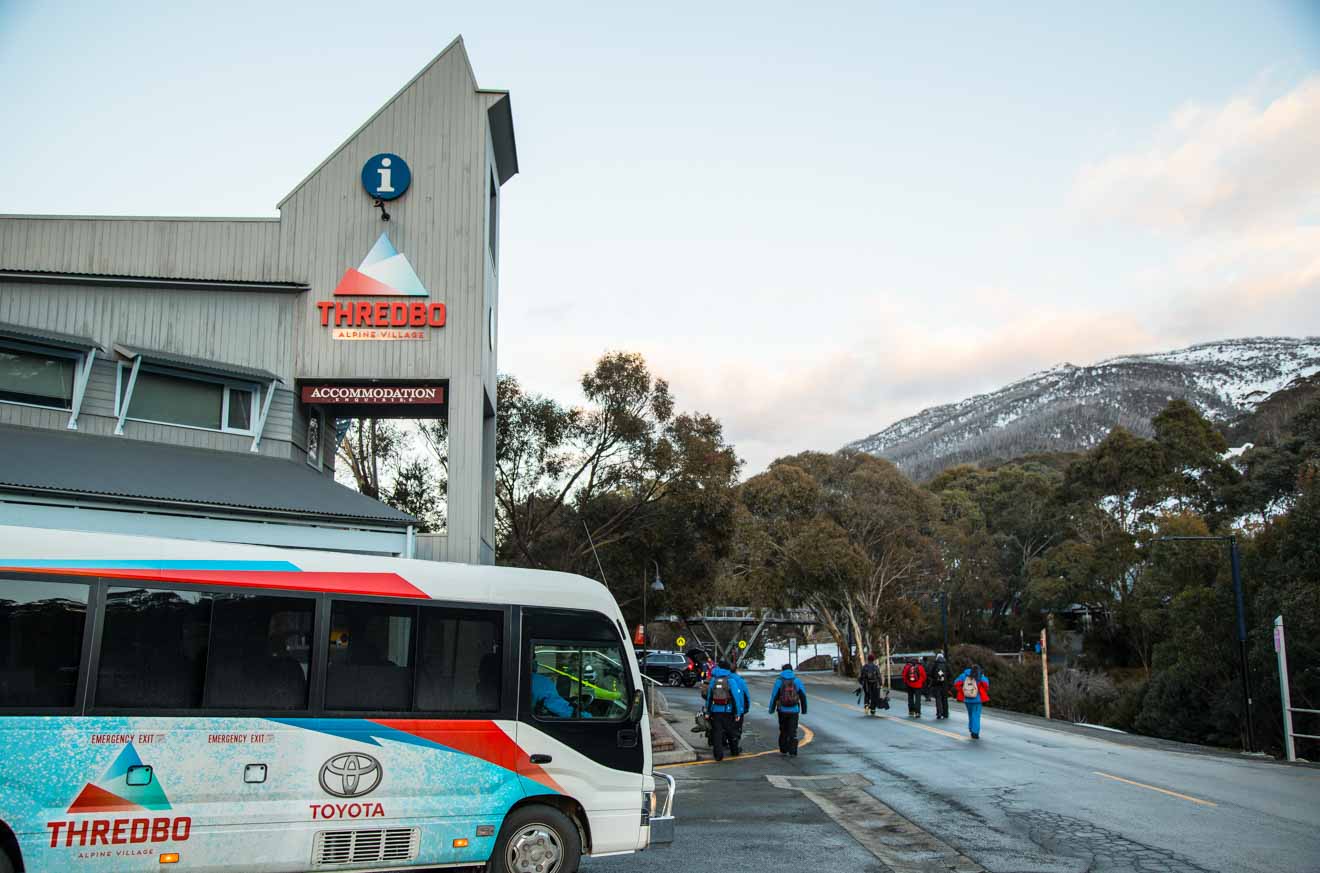 Thredbo is my personal pick due to the fewer crowds meaning you get much more time on the slopes. This is due to the high lift capacity they carry, even though they have just 14 lifts.
It's not about how many lifts you have but how you use them!
They also have slightly steeper more interesting terrain for experienced skiers and the longest runs in Australia!
Thredbo Lift Prices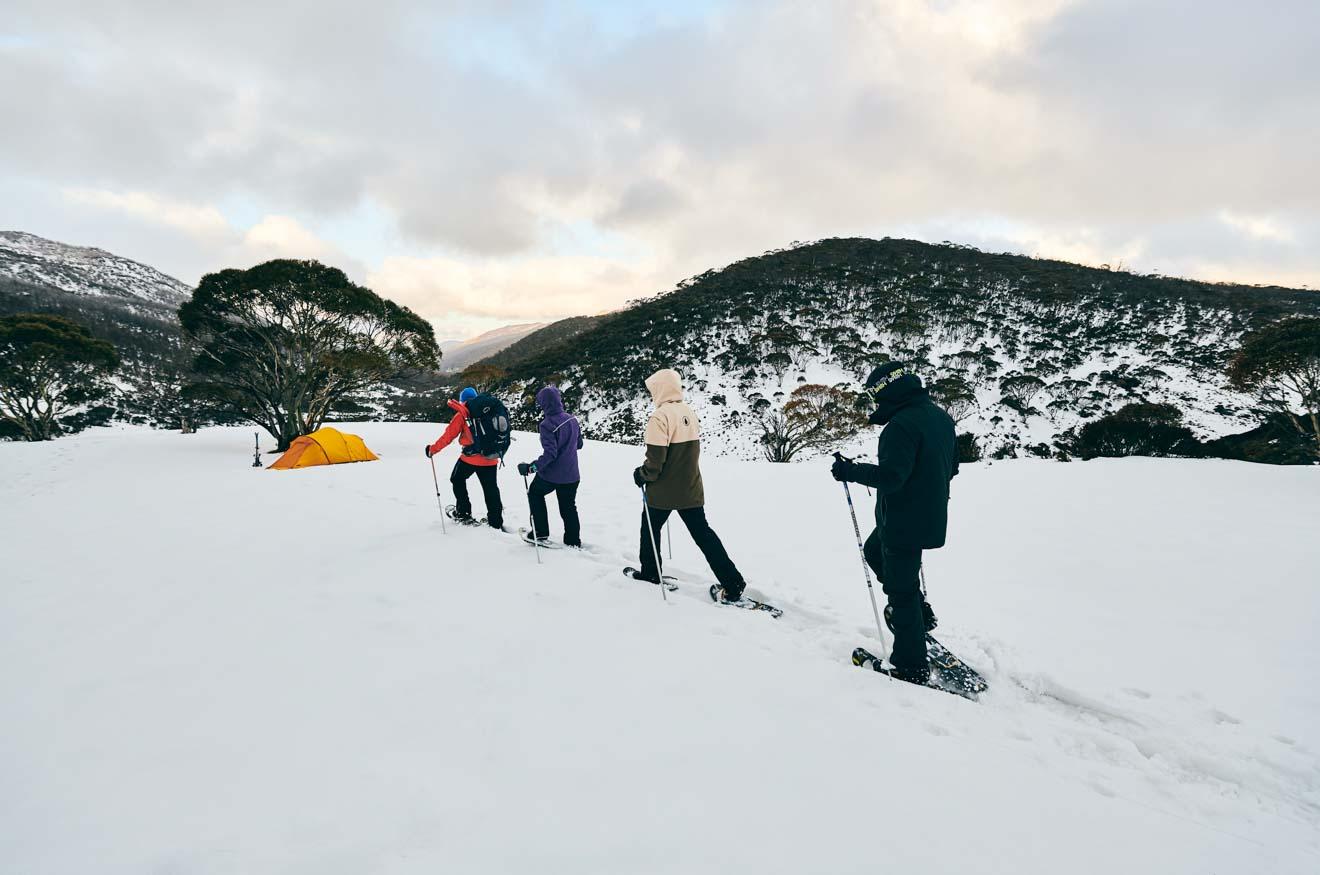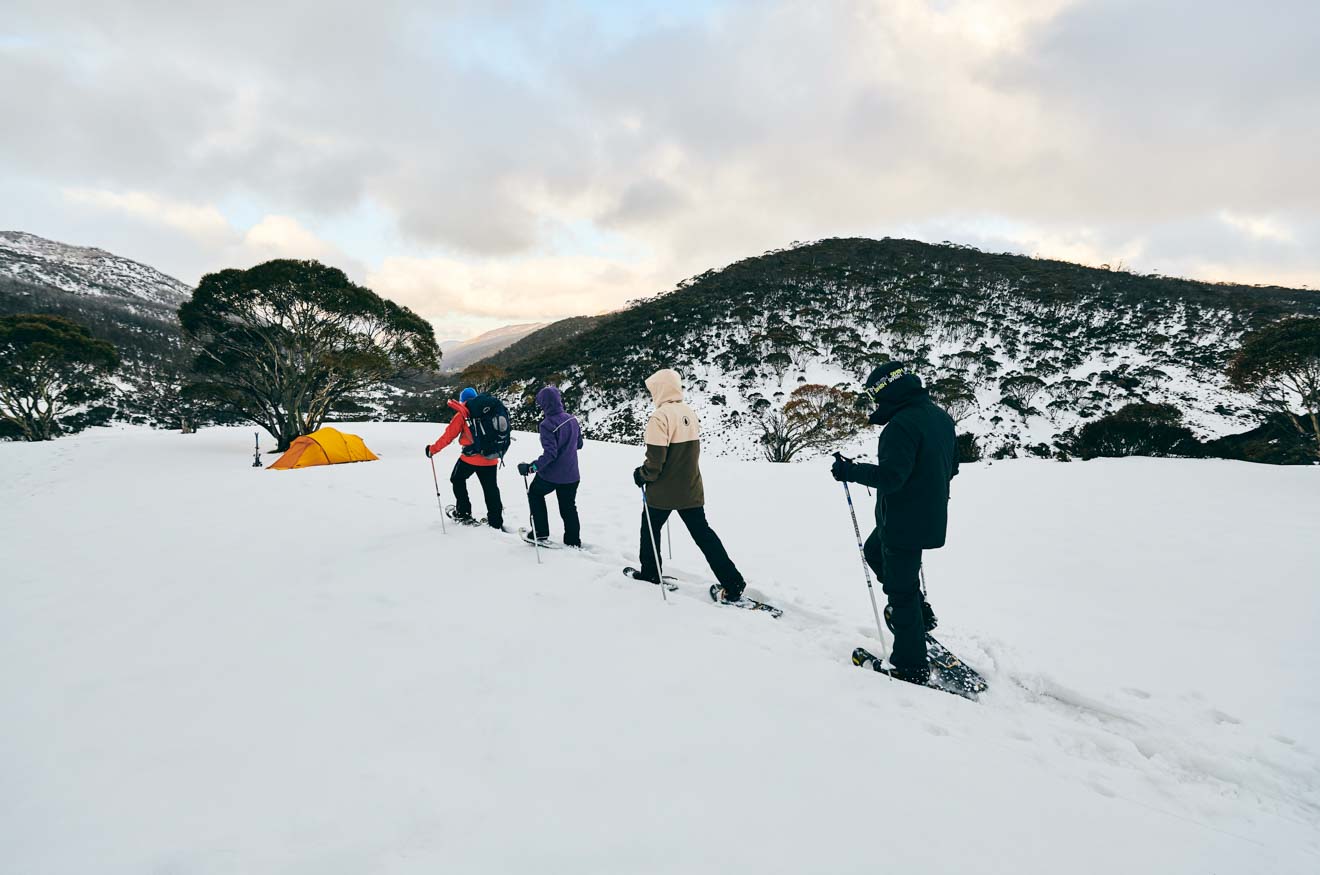 For your ski pass, Thredbo normally offers a range of different options including a full season pass, multi day passes and of course, single-day passes. These prices vary in price throughout the season according to how busy the resort is and how far in advance you purchase your tickets.
This year, Thredbo is only offering a flat-rate, single-day lift ticket. Meaning although prices won't change on weekends and holidays, the daily rate is quite a lot higher than in previous years.
NOTE: If you have already purchased a 2020 Thredbo season pass, although it is not valid this season, you are entitled to up to 75% off single-day tickets this season. For more info click here.
ATTENTION: The first round of lift tickets were released on June 11th and are selling out extremely quickly, if wanting to get a piece of the action, buy now.
One Day Ski Ticket 2020:
22-64y: $159
18-22y: $149
13-17y: $95
5-12y: $85
65-69y: $85
70+: $25
<4y: $10
Backcountry Access:
If you wish to avoid the controlled slopes this year, the backcountry is the way to go! Thredbo is selling special backcountry access passes which allow a one way trip up the Kosciuszko Express chairlift in order to easily access the backcountry terrain.
Prices:
Adult (18+): $42
Children: $10
ATTENTION: Never head out into the backcountry if you aren't prepared with the necessary equipment, experience and knowledge as it is uncontrolled, unpatrolled terrain.
Thredbo will be offering a number of backcountry touring and snowshoe tours this season. More details to come, check back for dates and prices.
Equipment Rental Prices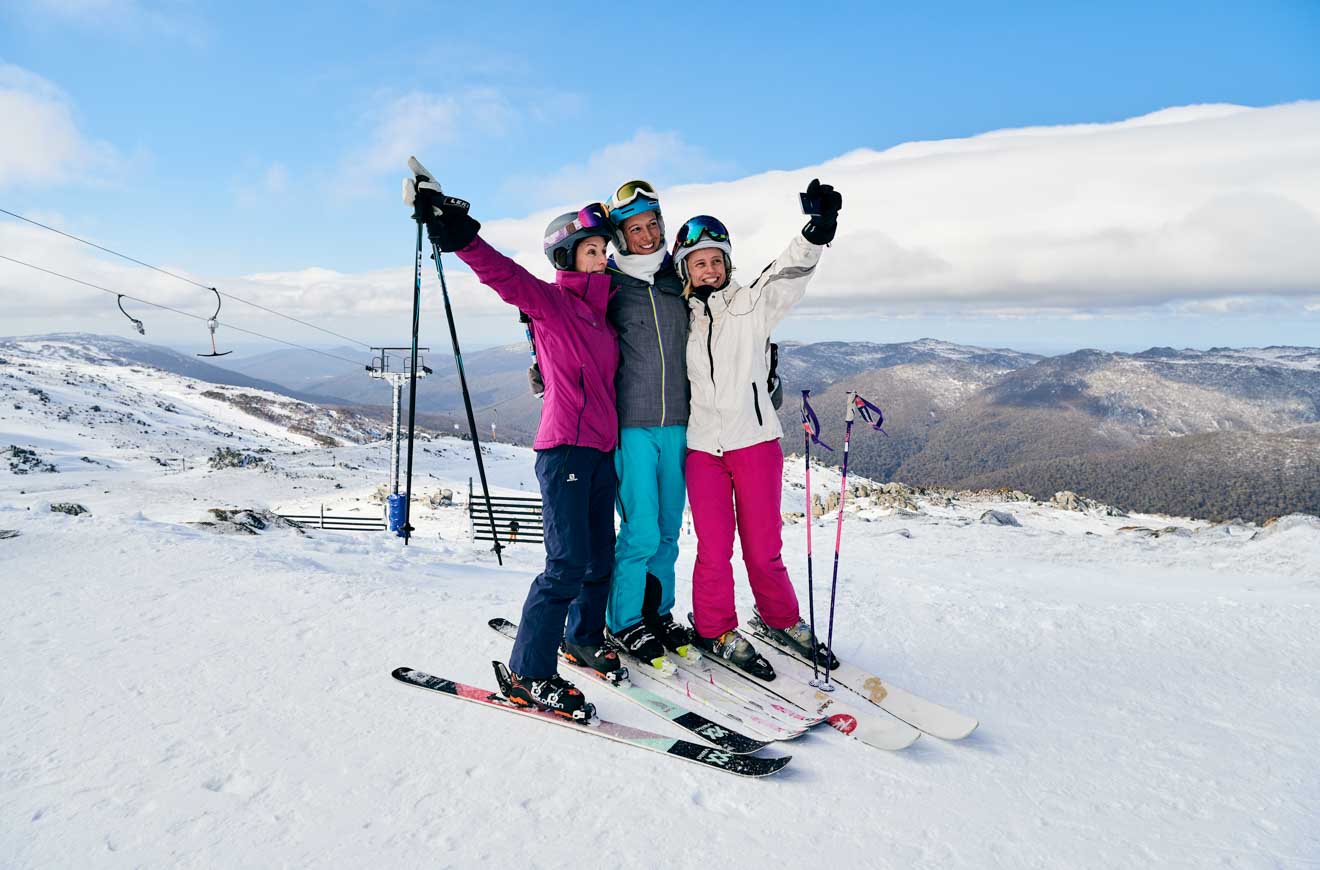 A huge range of equipment is available to rent at Thredbo from regular ski packages, singular items and backcountry gear.
If you're heading to the slopes for the first time, the sports rental package is perfect at $99 per day. This includes beginner skis/board, boots, poles, and a helmet.
For the intermediate and advanced skiers, premium daily rental packages cost $135 and include the same items as the sports pack, but upgraded skis/board for better performance and unlimited swaps if something feels off.
Thredbo Lessons Prices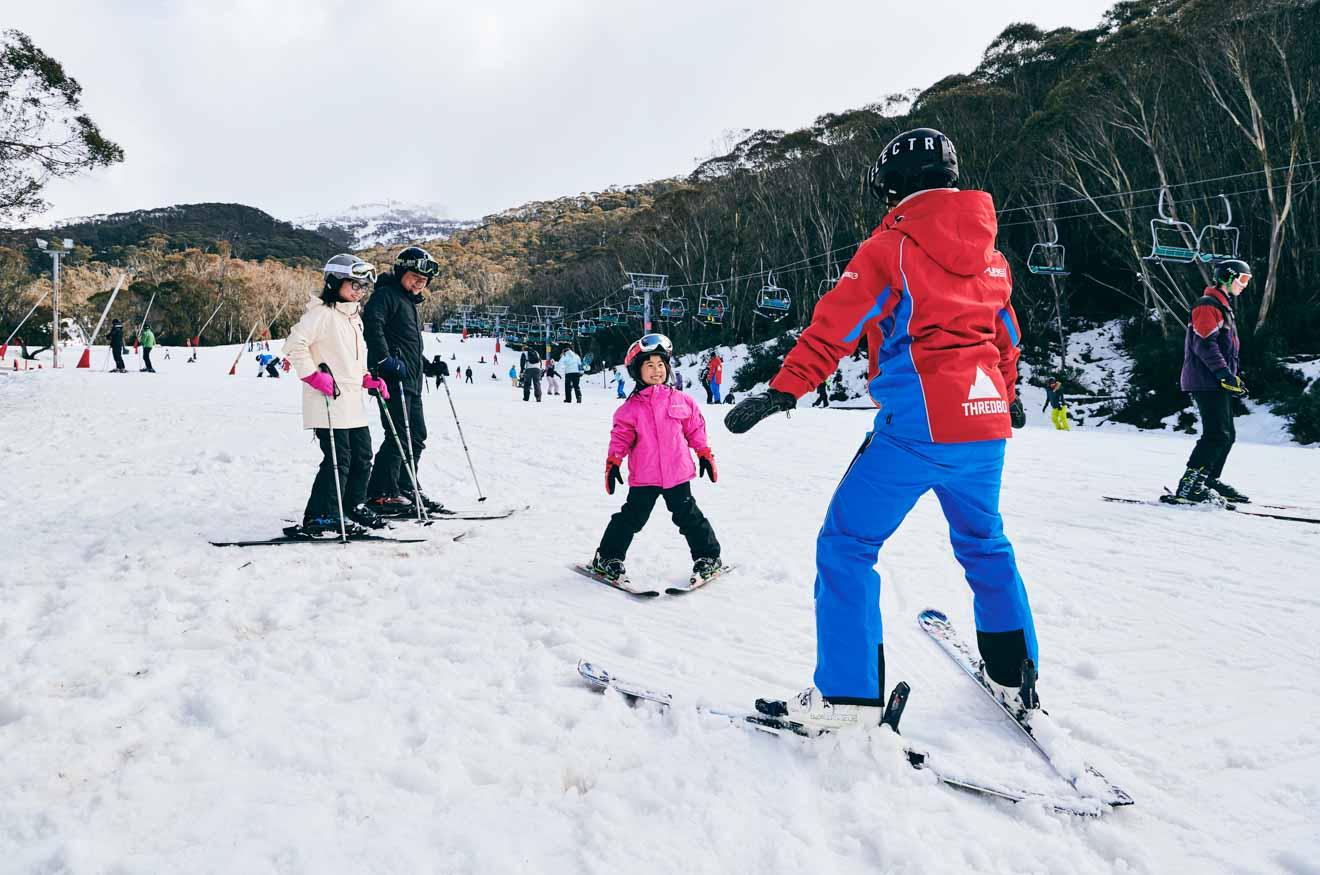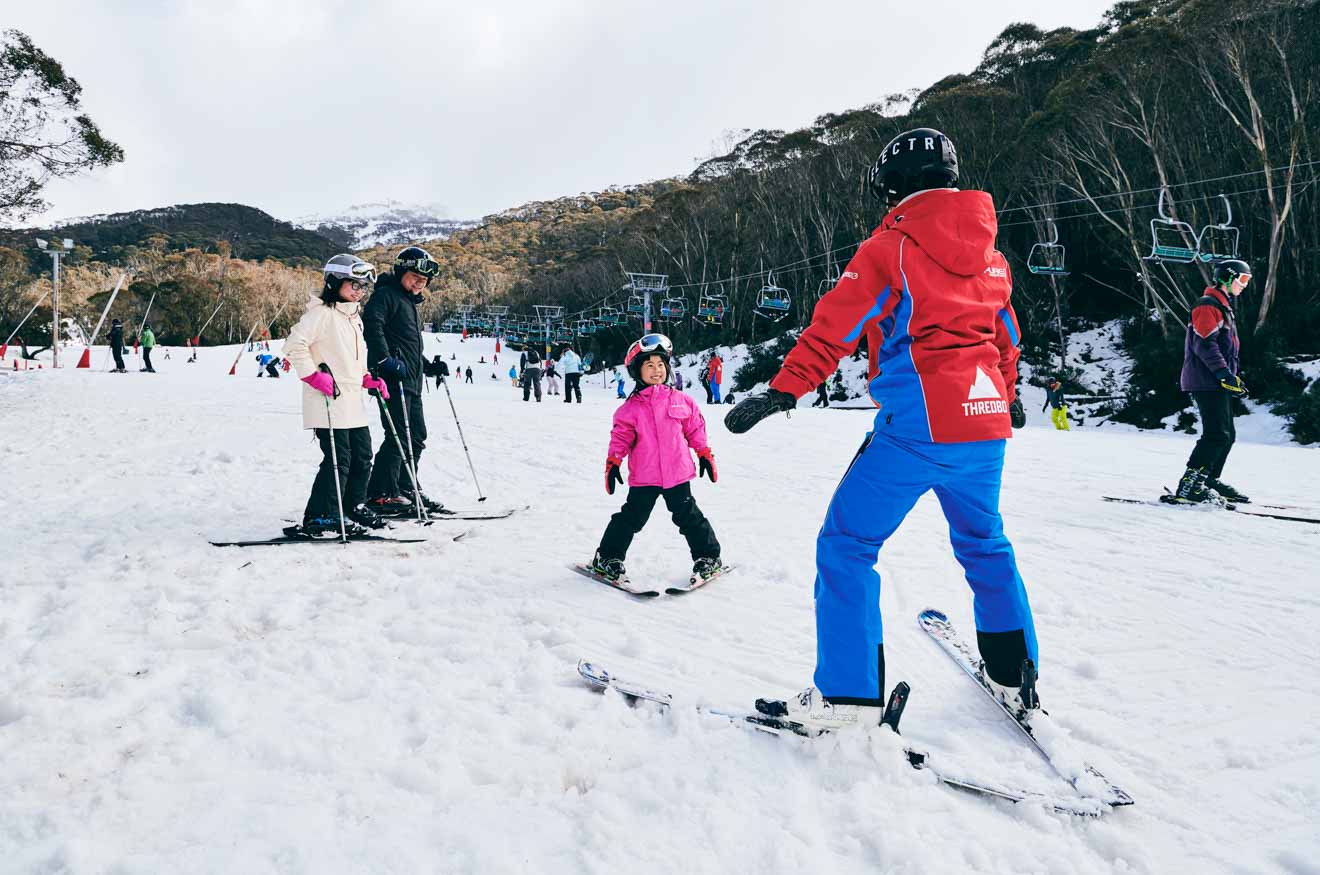 Thredbo is only offering private lessons this season which begin at Friday Flat.
Private lessons can have up to 3 people from the same household for a single price and are individually catered meaning it doesn't matter if you're a brand new beginner or have been skiing all your life, there's always something new to learn!
If sharing your lesson, make sure you are all of similar abilities. If not, the lesson will be limited to the lowest ability and the others won't benefit much from the lesson.
I recommend taking a 3-hour lesson to get the most out of your lesson as well as having some free time to practice what you learnt.
| | | |
| --- | --- | --- |
| | Adult Private Lessons | Child Private Lessons (3-17 years) |
| 2hr, 9:30am | $345 | $345 |
| 2hr, 11:30am | $315 | – |
| 2hr, 2pm | $275 | – |
| 3hr, 9am | $495 | $399 |
| 3hr, 1pm | $459 | $275 |
| 6hr, 9:30am | $835 | $835 |
| 7hr, 8:30am | $945 | – |
Under 4 years old
1hour, 1-on-1 private lessons with an instructor for $103. Under 4yo lessons run at 9am, 10am or 11am.
NOTE: Group lessons will not run in 2020 at Thredbo and all privates must be pre-booked.
Facilities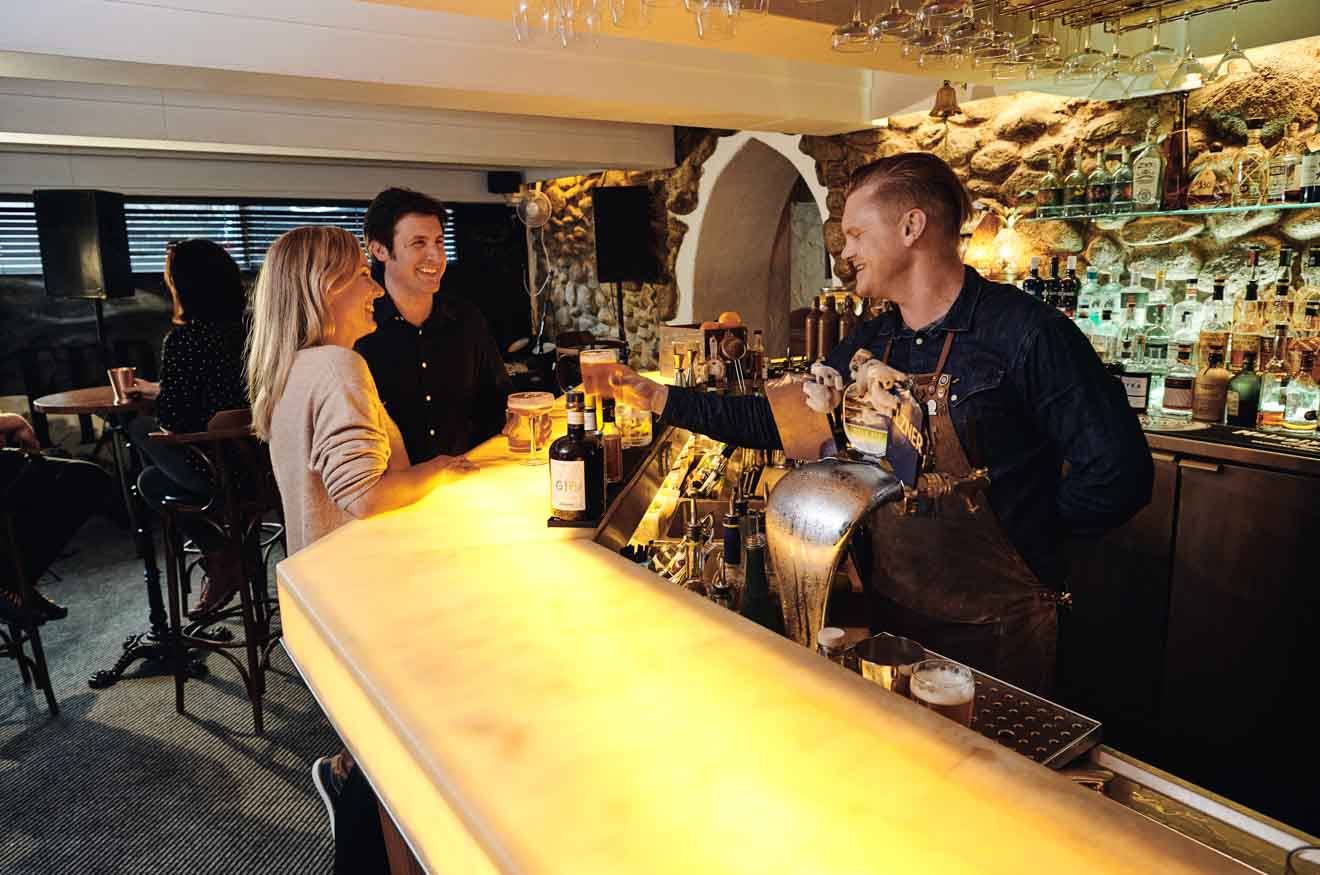 Thredbo has 30 on-mountain restaurants, bars and cafes with 8 of them being slope side!
Make sure to check out Eagles Nest at the top of Kosciuszko Express at 1,937m. It's the highest restaurant in Australia!
Aside from eating and skiing, there is plenty more to do at Thredbo with a range of big-name ski shops, massage therapy, pharmacy, medical centre, childcare and even a leisure centre with a pool, waterslides, bouldering wall, gym and yoga classes.
After a hard day of skiing, release the party animal in you at Apres Bar-The Denman. This is the best bar on the mountain and has a great atmosphere all winter long.
TIP: Don't bother going home after skiing, ski boots are welcome here!
Thredbo Accommodation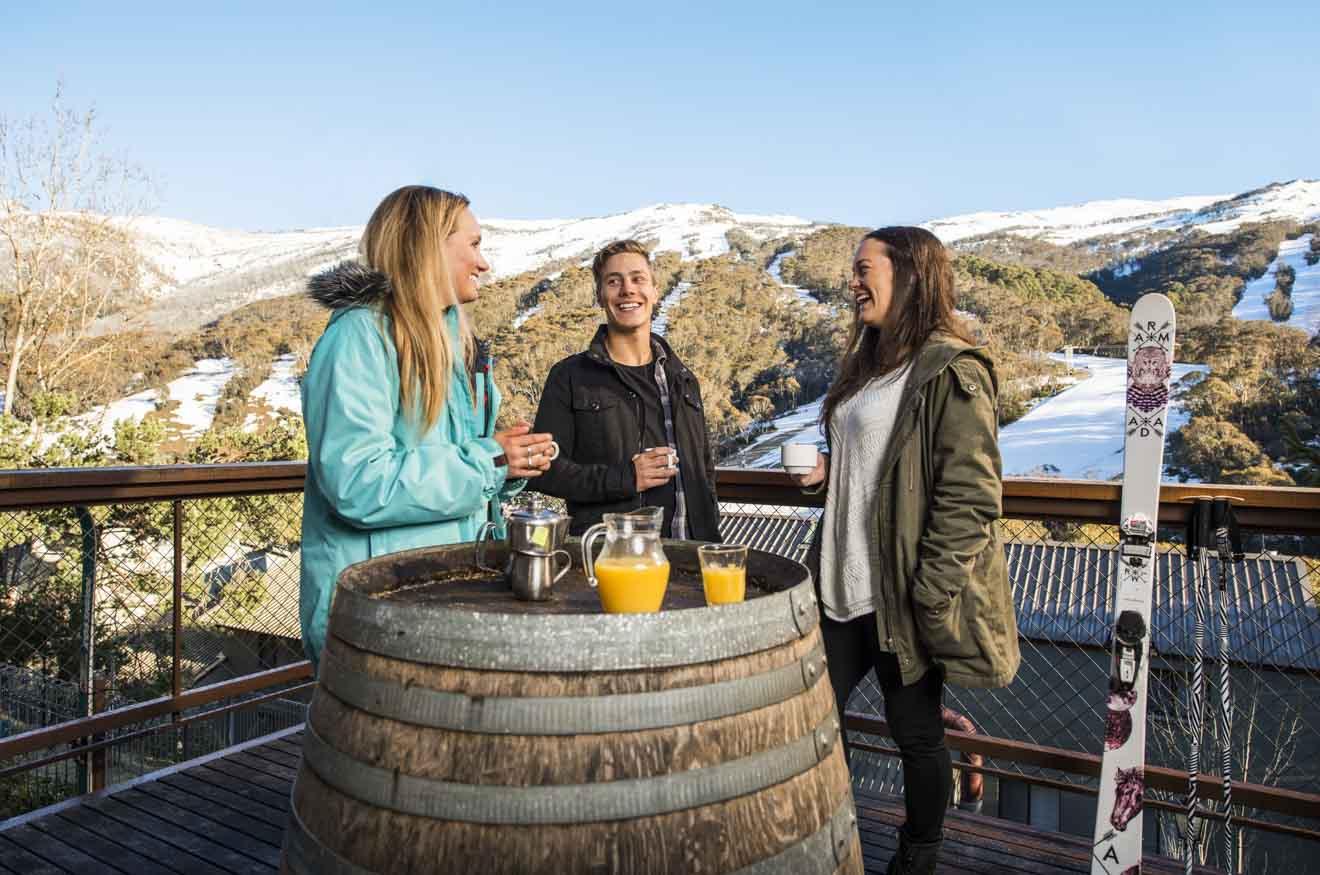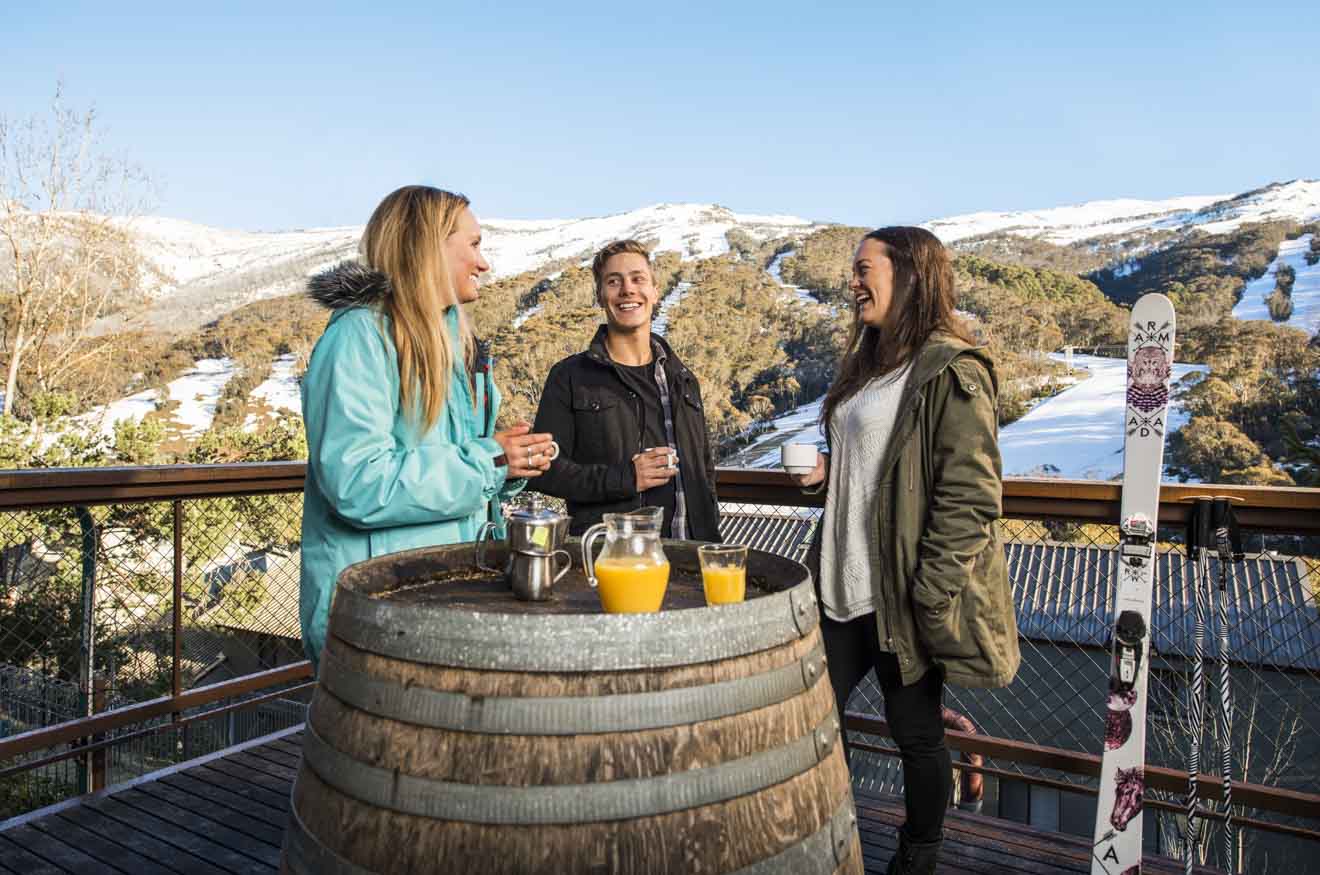 Accommodation in Thredbo Village itself is extremely limited and therefore, quite pricey. That being said, being on the mountain within steps of the ski lifts is my favourite place to stay so if you really do want to go for ultimate luxury, check out Pure Chalet Thredbo. Located right in the heart of Thredbo Village, this bnb will give you a traditional chalet experience with all rooms boasting incredible mountain views.
Most people choose to stay in Jindabyne, just 35km down the road. There are a lot more options here of all price ranges. Keep reading for my accommodation recommendations for Jindy (as the locals call it) later on in this blog.
So, which one should you choose?
Families: Perisher
Although both resorts have family facilities, Perisher has much more for kids to do including a toboggan park and tubing (great fun for everyone).
Beginners: Perisher
Perisher has a large amount of space dedicated to beginners with 8 different magic carpets. This means there is a tonne of very gentle terrain to explore while you learn without getting bored. The progression from beginner to intermediate runs here is also a little smoother.
Advanced Skiers: Thredbo
Both resorts have a similar percentage of black runs although I find the terrain at Thredbo to be much more exciting and a little steeper. There is also the benefit of smaller crowds and less beginners as well as better backcountry access.
Intermediate+ Snowboarders: Thredbo
For beginner snowboarders, I would still recommend Perisher as the gradient of slopes doesn't matter too much when you're just learning. When you get to the intermediate and above levels you will find that flat sections of runs or cat tracks can be a real pain to traverse on a snowboard. This is why I recommend Thredbo as it has significantly less flat sections.
Budget Minded: Thredbo
Although you can save money by staying in Jindabyne for either resort, when you add up all the little extra costs such as lift prices, ski tube and higher food prices, Thredbo does come out quite a bit cheaper.
Party Animals: Thredbo
When I say Thredbo, this is of course referring to on mountain nightlife. Thredbo wins for its apres scene but if you are staying in Jindabyne, there is plenty more action regardless of which mountain you ride.
Jindabyne is also where the majority of mountain staff live. As someone who's spent 8 seasons living in ski resorts, I can tell you that mountain staff know how to party!
How To Get to Perisher and Thredbo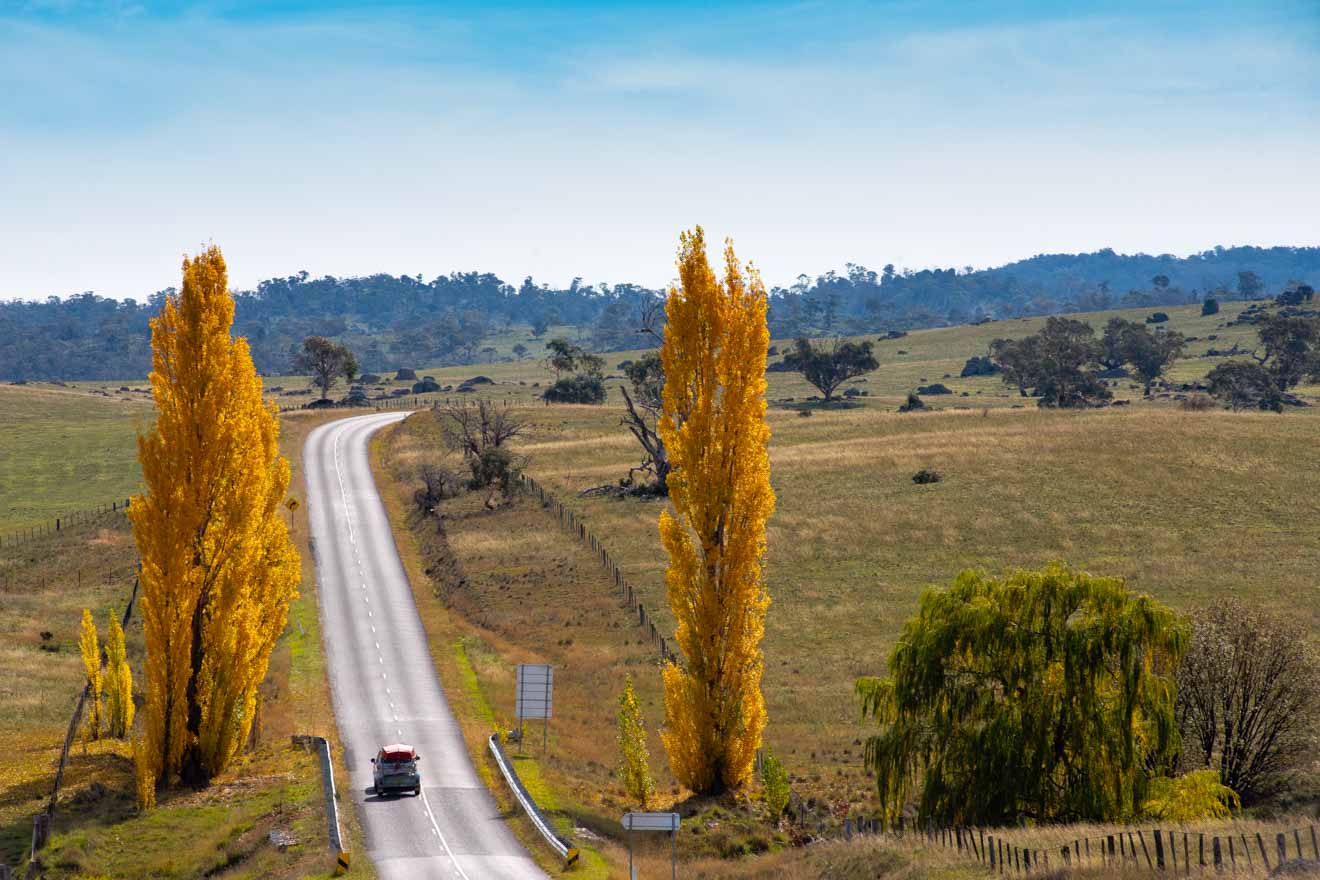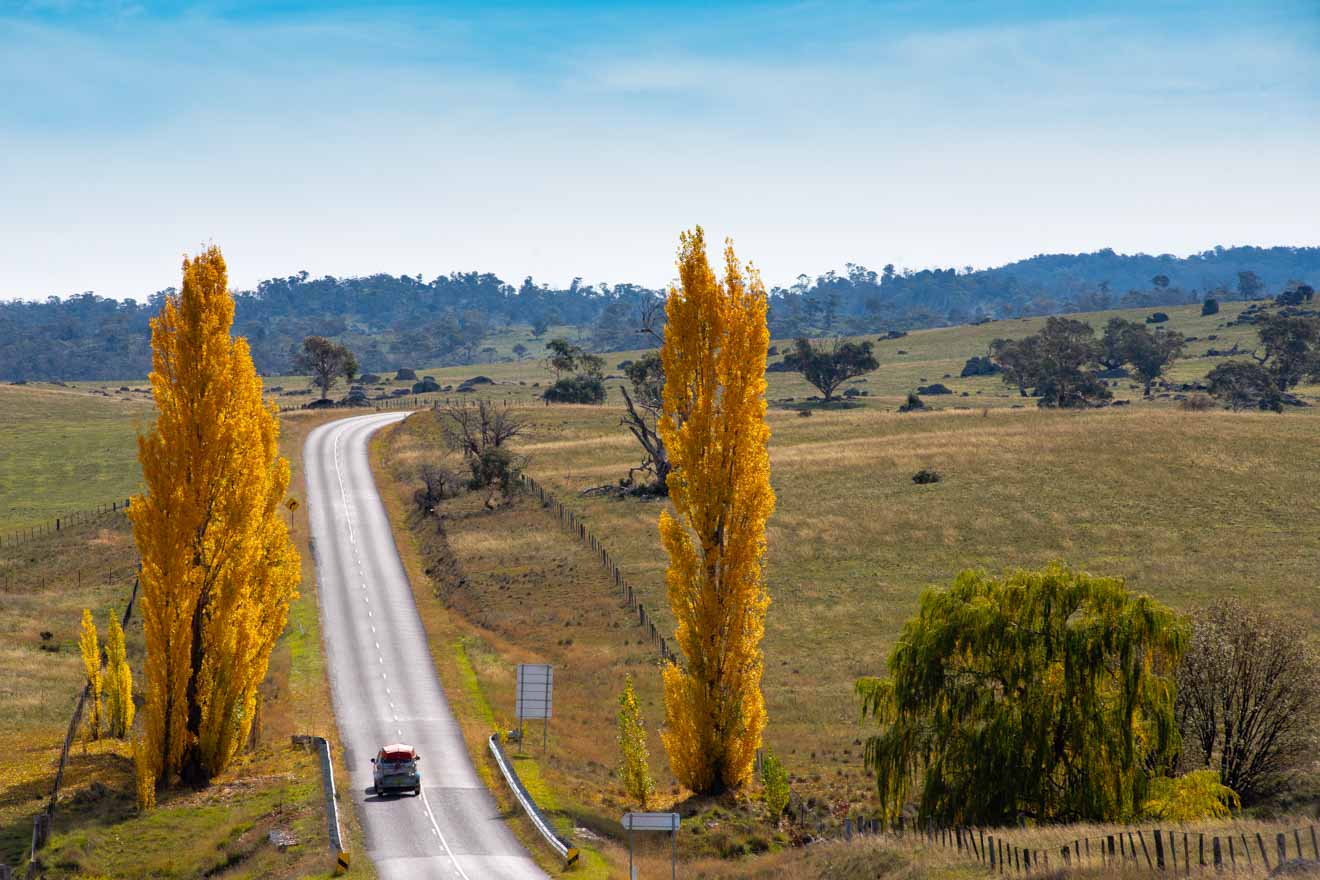 Perisher and Thredbo are both located within the Snowy Mountains located just north of the border between Victoria and NSW.
Car: Whether you're travelling to Perisher or Thredbo, both can be reached in around 6 hours from either Sydney or Melbourne or just 2.5hrs from Canberra. If you're already going the distance, I recommend extending your trip and dropping by the beautiful coastal town of Merimbula on your way home.
Driving along the famous Alpine way is an incredibly beautiful experience. Snow chains are not legally required however I highly recommend carrying them above Jindabyne in winter, especially on 2wd cars. They can be rented from service stations or ski hire shops in the mountainous area near Jindabyne. Check Live Traffic NSW for road conditions
If you don't own your own car, it's worth renting one for this incredible drive!
Fly: The Snowy Mountains has its own regional airport located in Cooma with flights in and out of Sydney. If you're coming from elsewhere in Australia, it's best to fly into Canberra and rent a car to drive the remaining 115km, 1.5hrs or take an airport shuttle direct to Perisher.

Tour: If you can't (don't want to) drive, consider jumping on a 2 Night Weekend Snow Trip to either mountain. With pickups from either Sydney or Canberra, you will be transported to Jindabyne where you will spend 2 nights with transport to and from the resorts each day all included.
Kosciuszko National Park Entrance Fees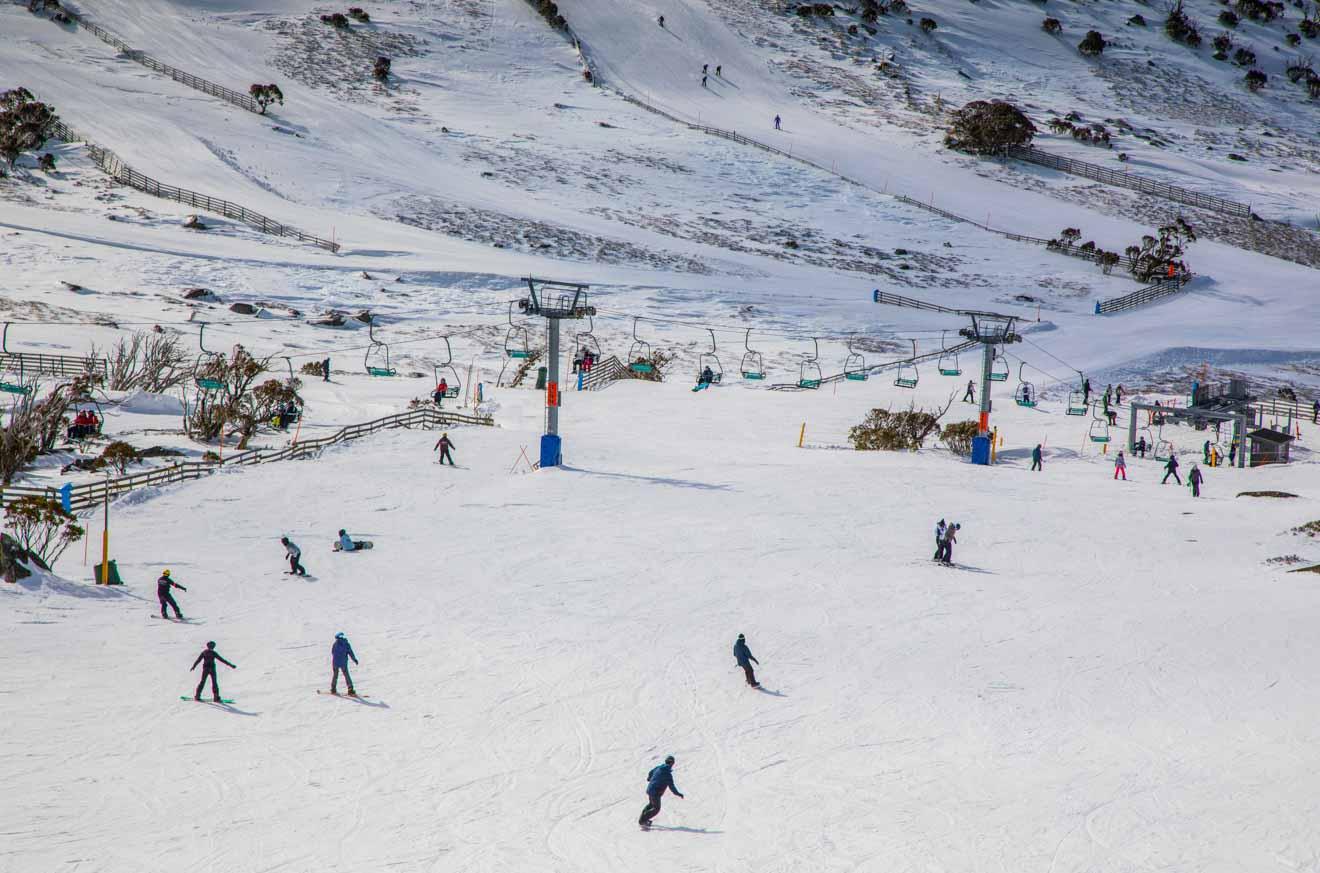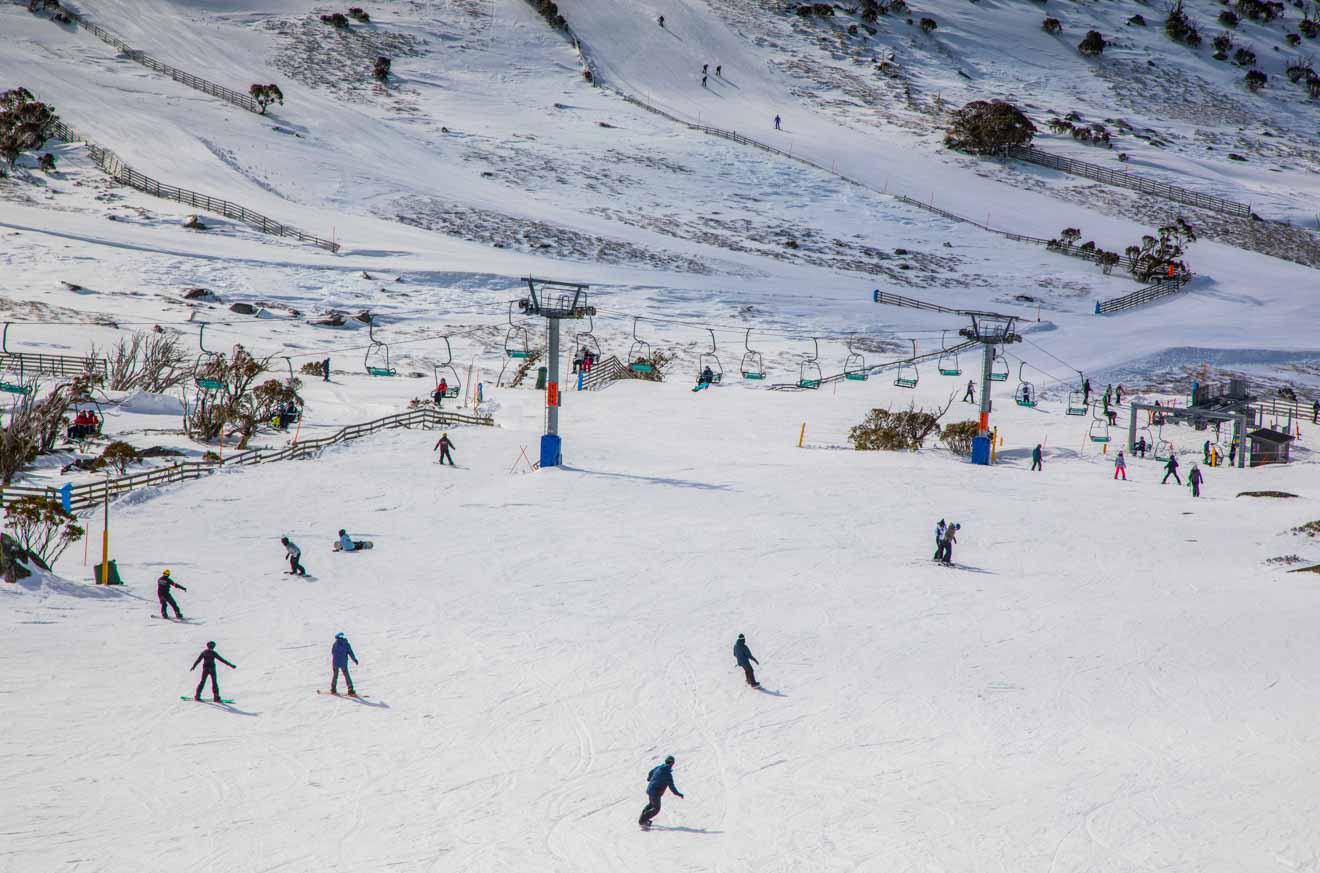 As Thredbo and Perisher are actually located within Kosciuszko National Park, during winter months (June-October) you will need to pay an entrance fee on arrival in the area.
The fee is $29 per vehicle per day and is paid upon entrance just after leaving Jindabyne en route to either Perisher or Thredbo.
| | |
| --- | --- |
| 🎿 Number of runs: | Perisher – 115 |
| 🚠 Number of lifts: | Perisher – 47 |
| ⛷️ Longest run: | Thredbo – 5.9km |
| 🎟️ Adult day ticket: | Thredbo – $159 |
| 🛷 Tobogganing: | Perisher |
Jindabyne Accommodation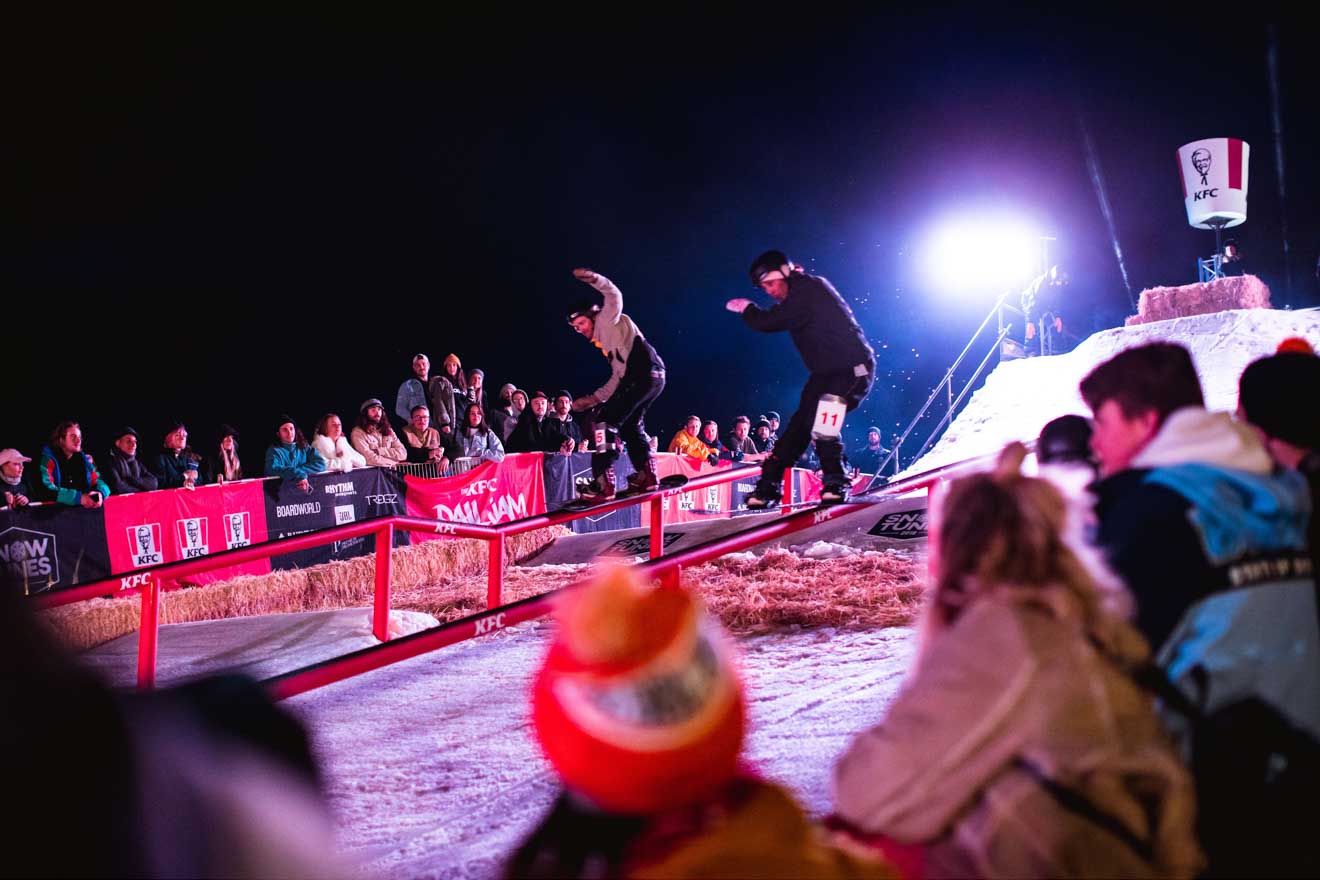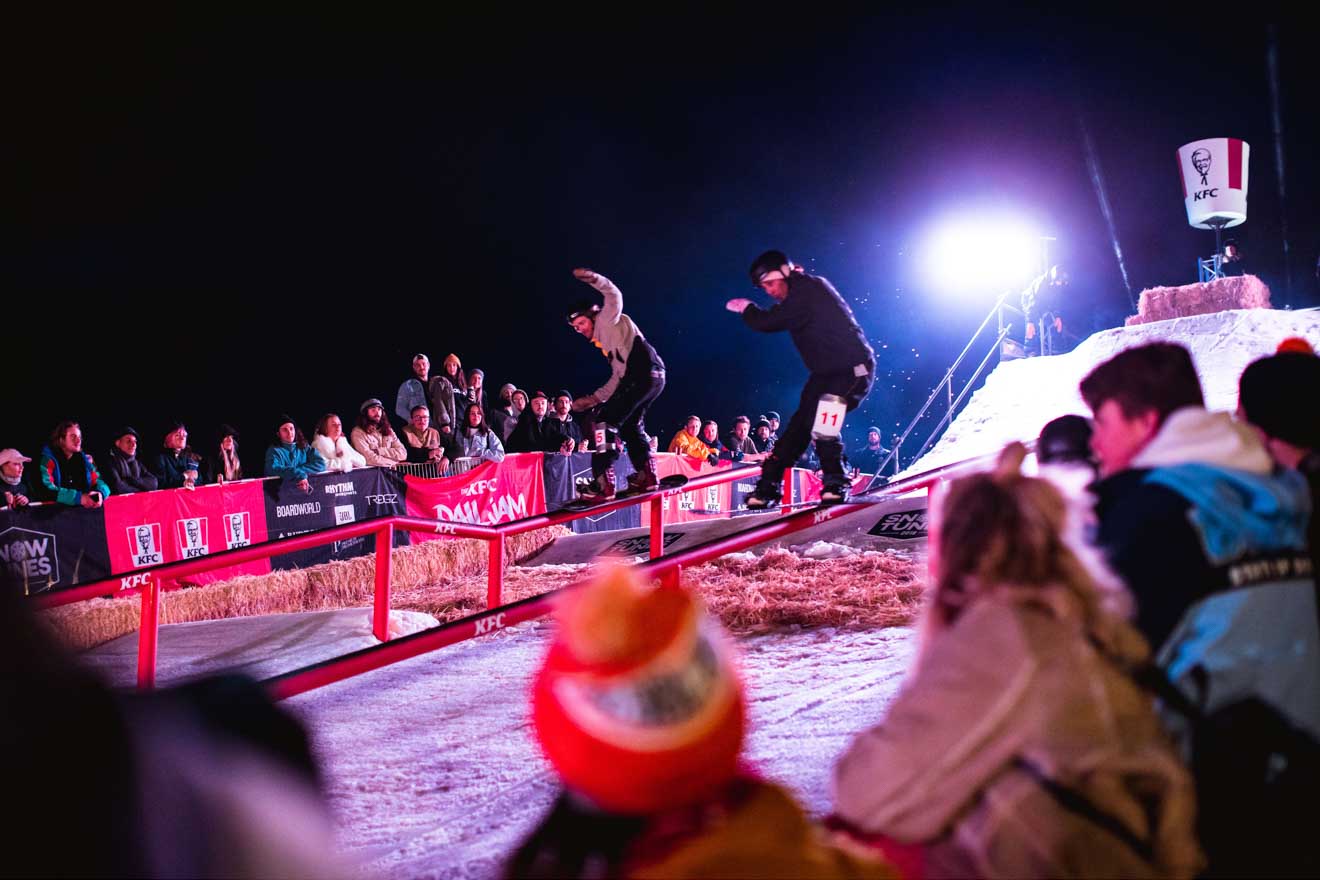 As on-mountain accommodation is so expensive, most people stay in Jindabyne which is located outside the national park under 35km from both Thredbo and Perisher meaning it's a perfect base to explore.
Luxury ($500+ AUD)
Panorama Jindabyne this beautiful hotel is just 5 mins walk from Jindabyne lake and even includes a delicious dinner at its onsight panorama restaurant during July and August. Alternatively, Snowy Mountains Retreat is a 2 bedroom apartment with stunning views over the lake and surrounding mountains perfect for a private getaway.
Middle Priced ($200-300 AUD)
Siesta Villa offers motel-style rooms with an onside bar and restaurant. Enjoy their delicious free breakfast and try your hand in their arcade room. For a more private cottage, try Chalet Jindabyne. Relax in their sauna for the ultimate post shred recovery.
Budget (Under $150 AUD)
Just 500m from town The Lakehouse Apartment offers 4 separate one-bedroom apartments on the lake which can each sleep up to 3 adults or a family of 2 adults, 2 children. For a traditional snow trip, head to Kookaburra Ski Lodge featuring 28 rooms and an onsite restaurant.
Conclusion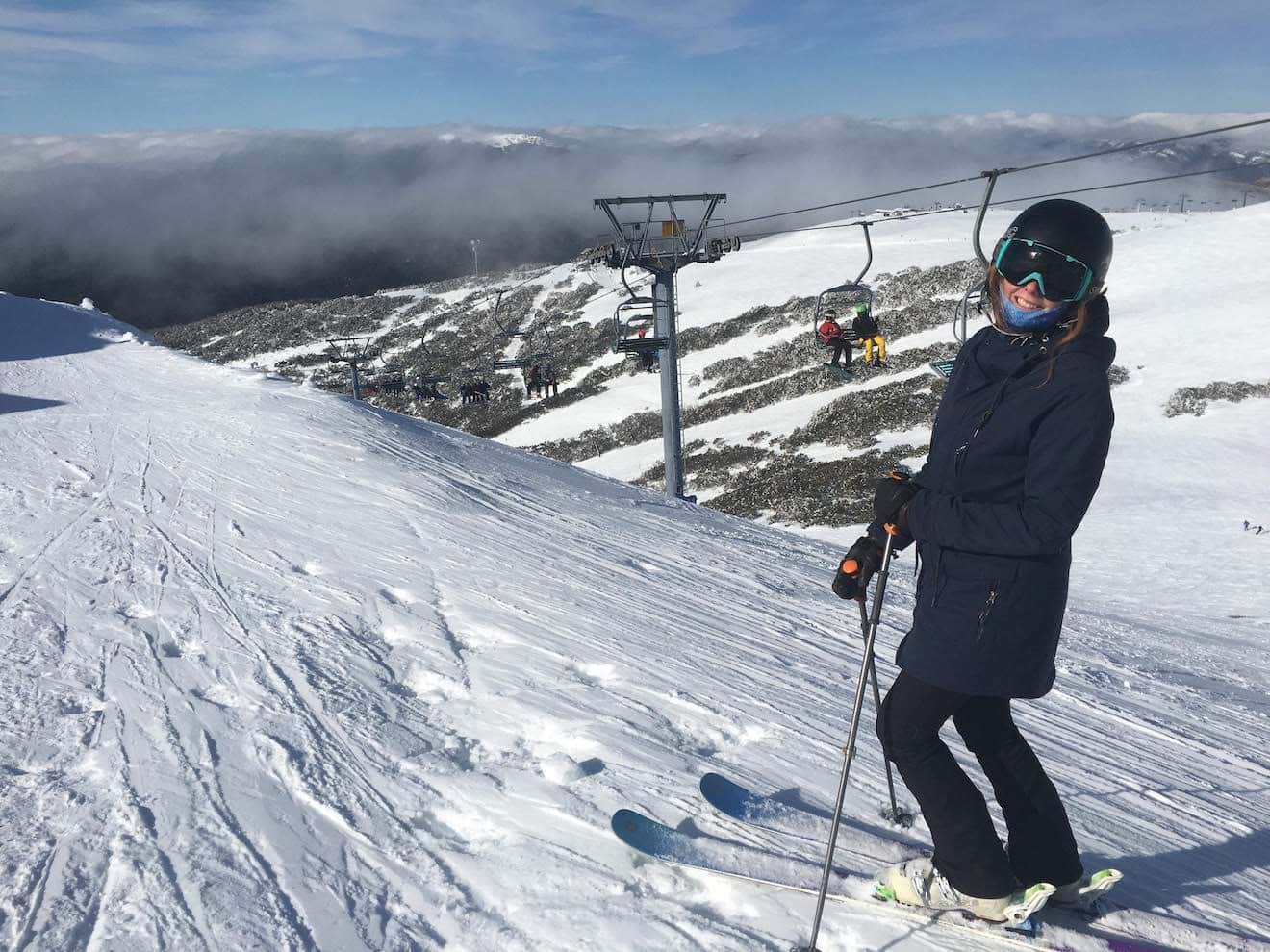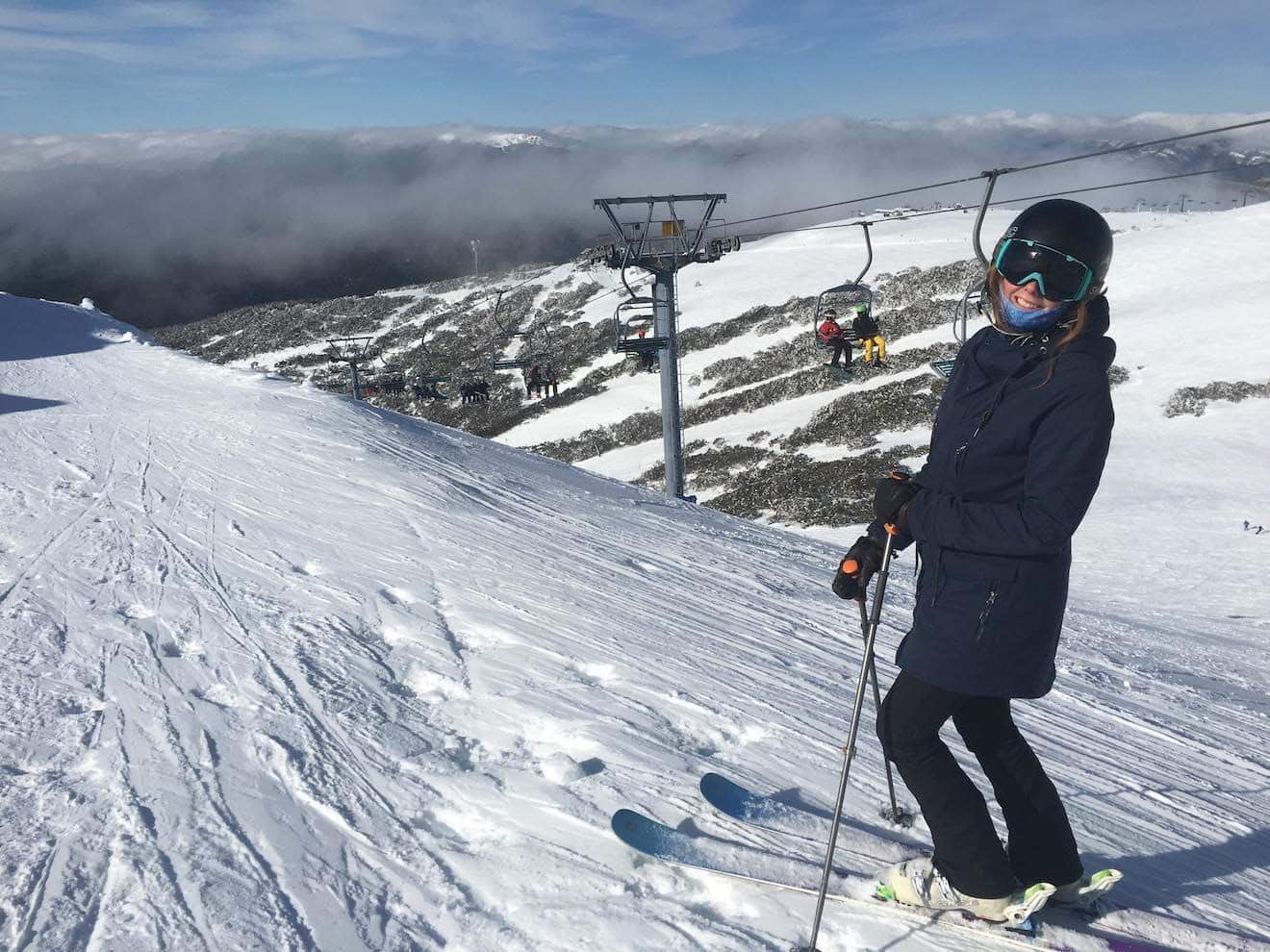 I hope this post was helpful to decide on your perfect NSW ski holiday! Check out another one of my articles for Buller vs Hotham!
My love of skiing started right here in Australian resorts and I hope to have inspired some of you to get out there and hit the slopes. I'm sure you'll be tearing up black runs in no time!
Leave a comment below if you have any other questions about skiing in Australia, I'm happy to answer them all 🙂
Happy skiing,
Kate Fletcher
---
Pin it for later!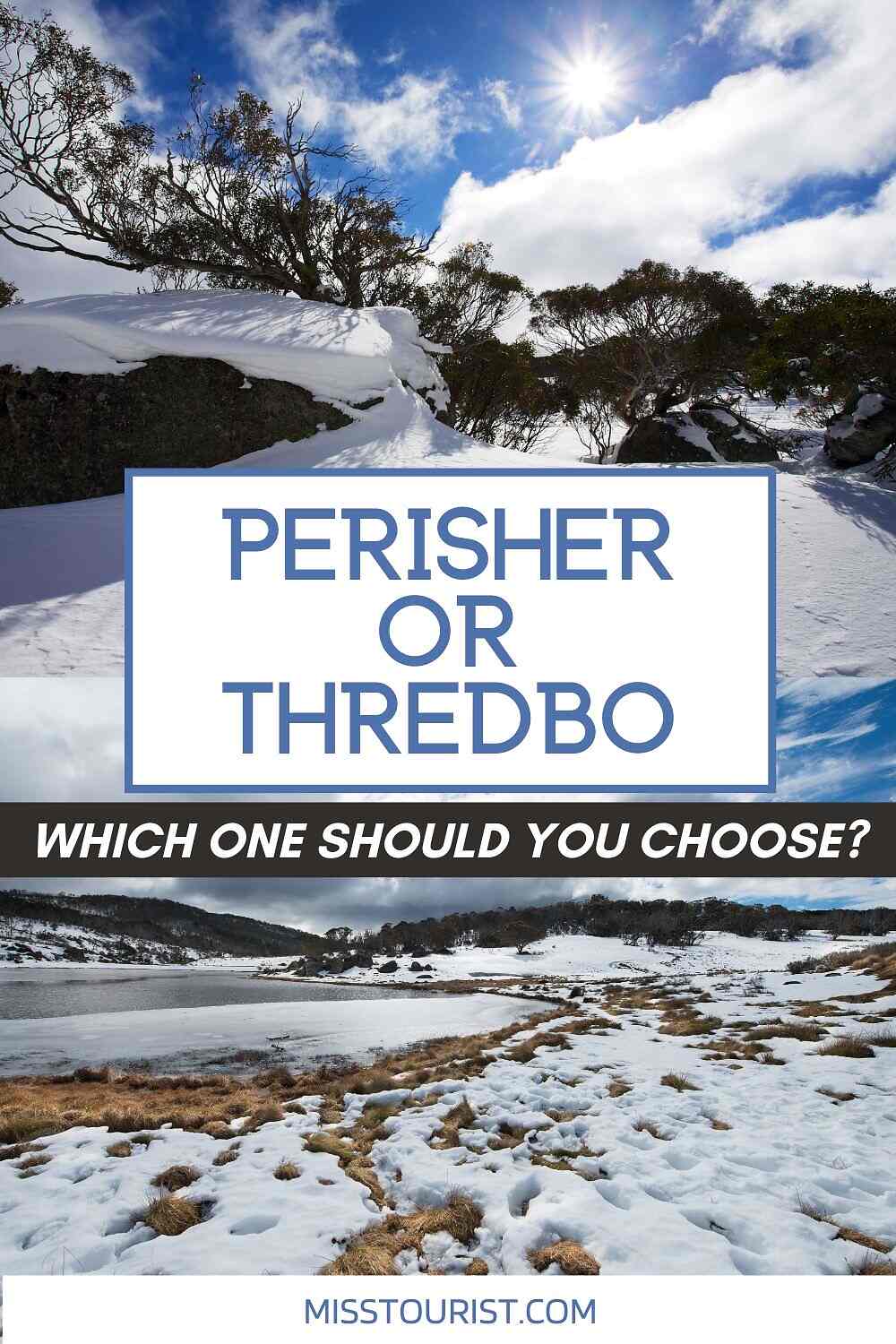 Pin it for later!