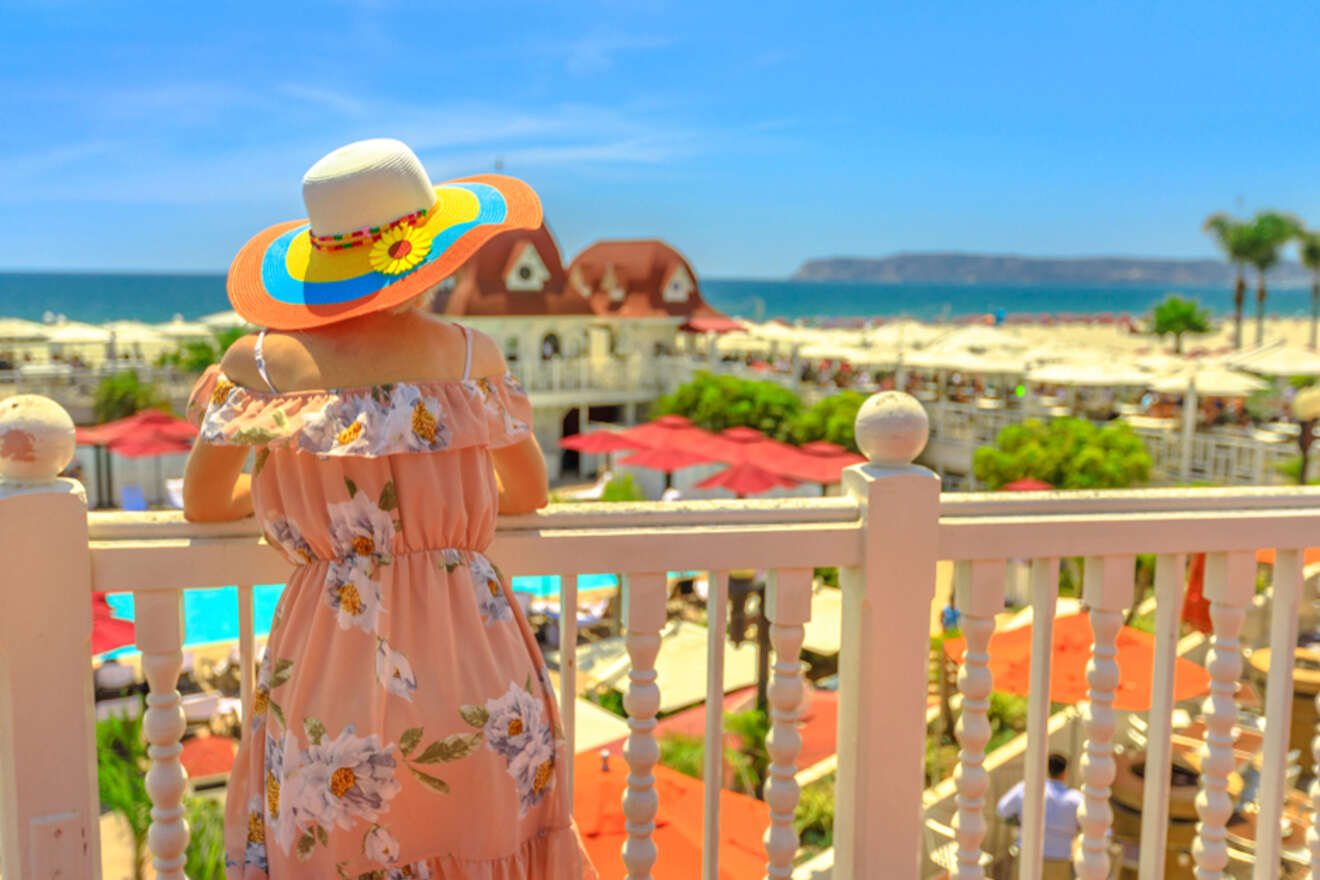 Are you thinking of visiting San Diego, CA?! Aah, lucky you, I am jelly! But listen to this, I've been on the lookout for the best hotel rooms with balconies in San Diego, and I have to say, after researching for hours on the internet, I came up with an amazing list of the best San Diego hotels with a balcony so that you can choose the hotel room of your dreams!
This article is arranged by price from most to least expensive, and there's an option in here for all preferences! Whether you're looking for spa baths, saunas, a beachfront hotel, or just amazing views, you'll find something for you in this list.
San Diego is super popular all year round and attracts visitors from all around the world, so book your room as soon as you've decided so you can enjoy San Diego's sunny beaches and amazing city life!
Without further ado, let's jump into the best hotels in San Diego with a balcony!
If you are in a hurry
If you need to book fast and don't have a lot of time to read the whole article, No worries! Here you have my top 3 recommendations for the best San Diego hotels with balconies!
1. Pendry San Diego – quality and relaxation guaranteed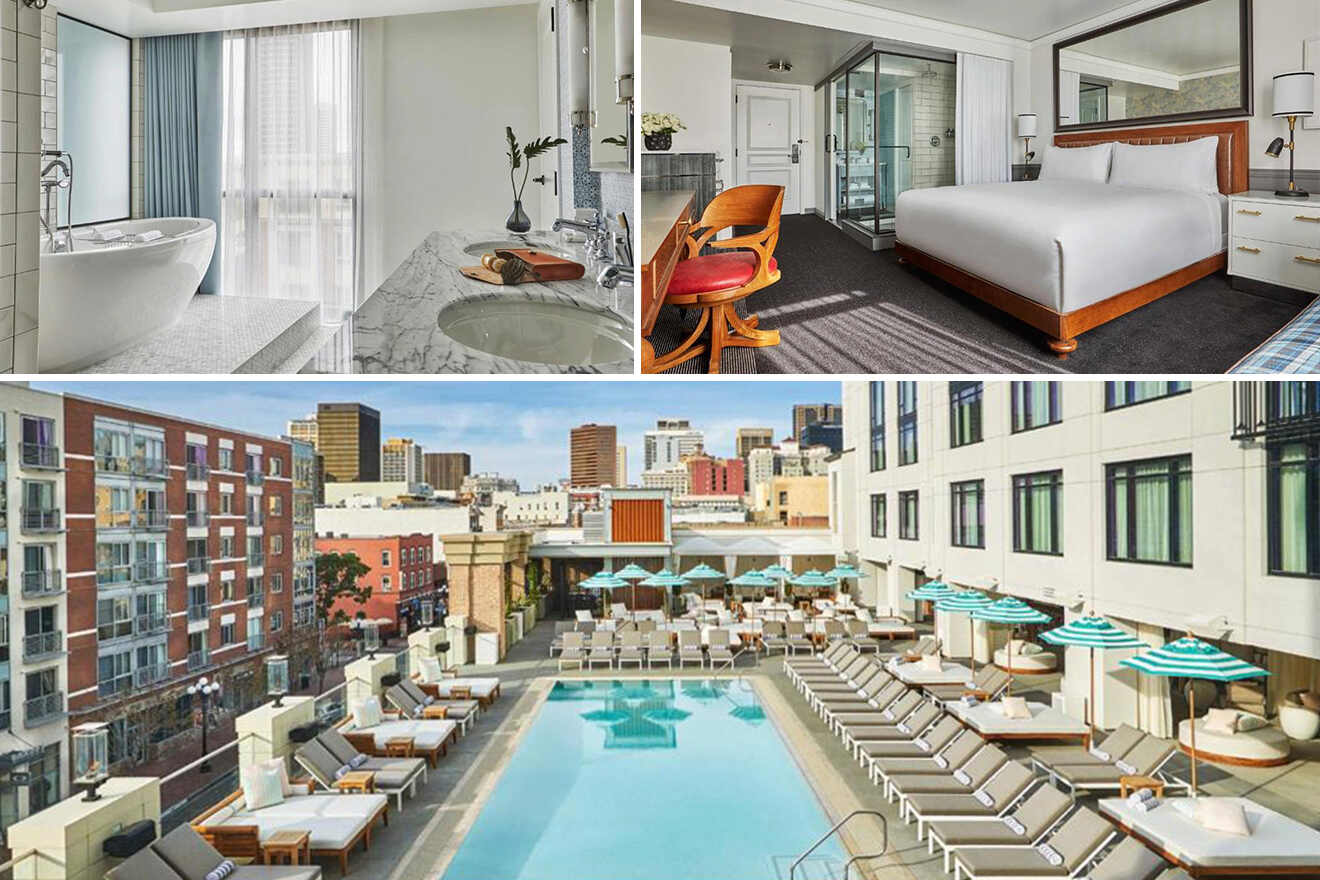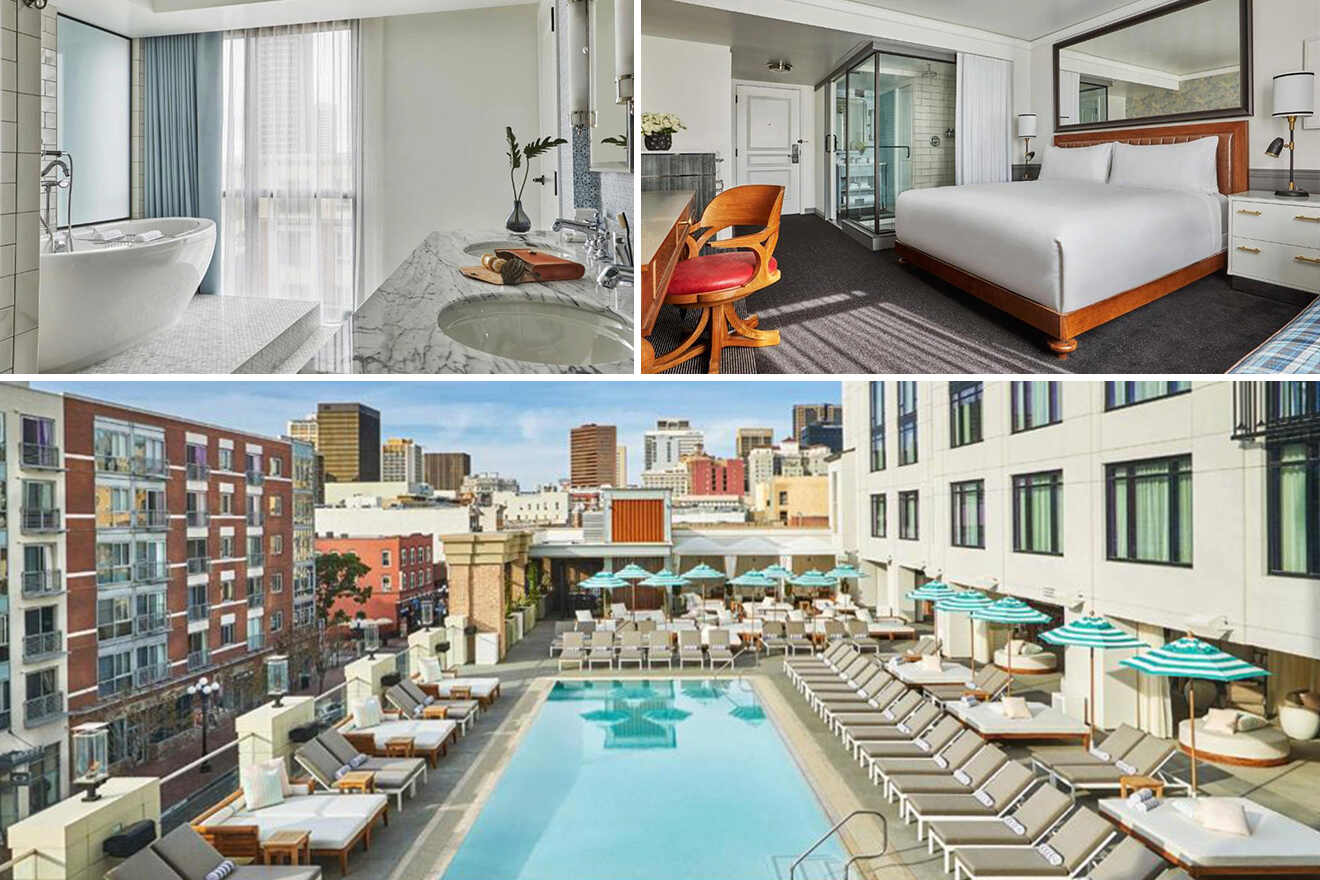 Located in downtown San Diego and just walking distance from San Diego Convention Center, this luxurious hotel offers à la carte breakfast every morning, and there's a wellness center with a full-service spa. There's also a rooftop bar where you can get yourself a drink and lounge by the outdoor pool area or relax in the hot tub!
Offering a wide range of guest rooms, I want to recommend the suite with a pool view, which comes with a private balcony; the room also comes with free Wi-Fi, a minibar, and a bathtub to unwind after a long day! Get ready for the most relaxing vacay ever!
2. Orli La Jolla – the perfect getaway for families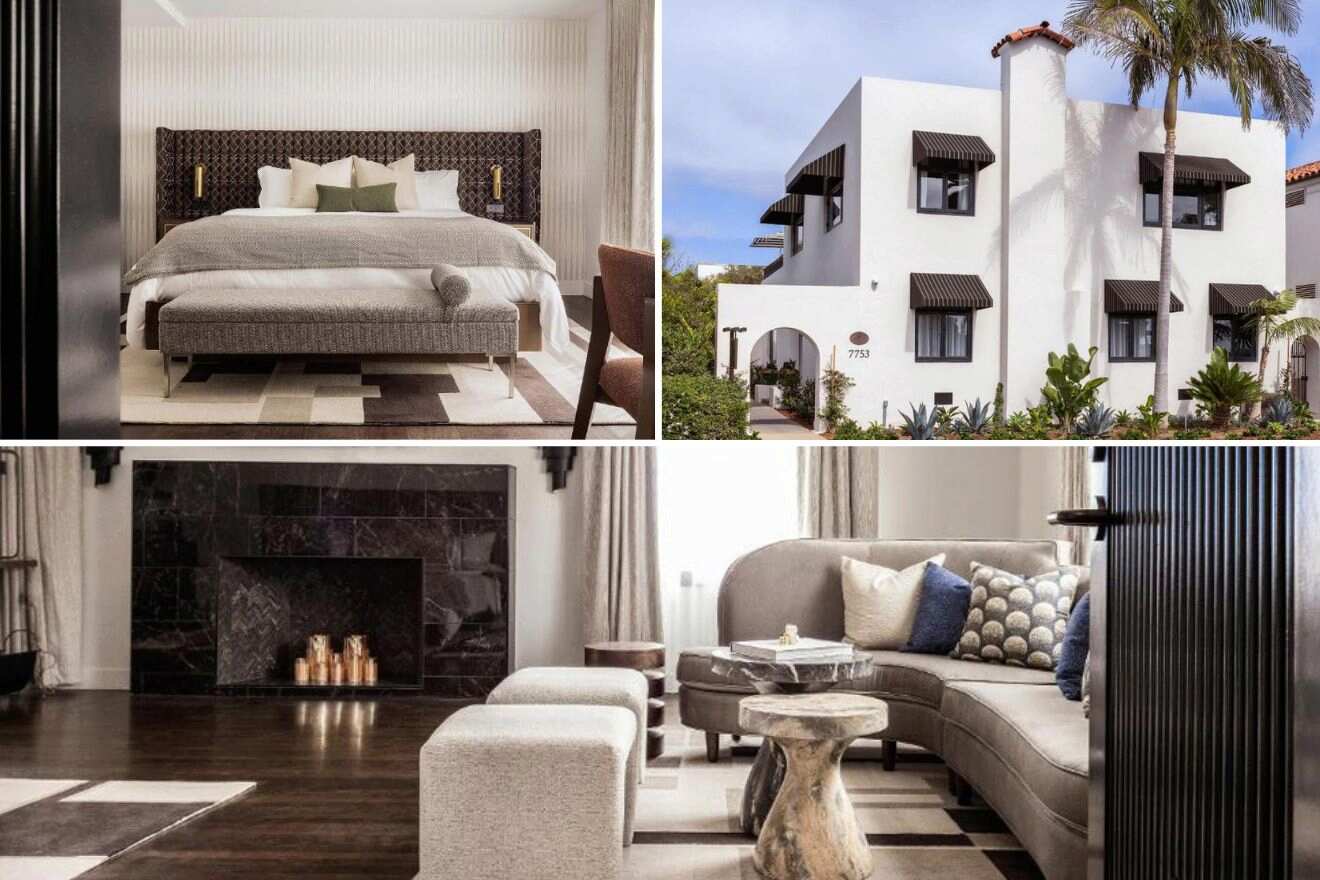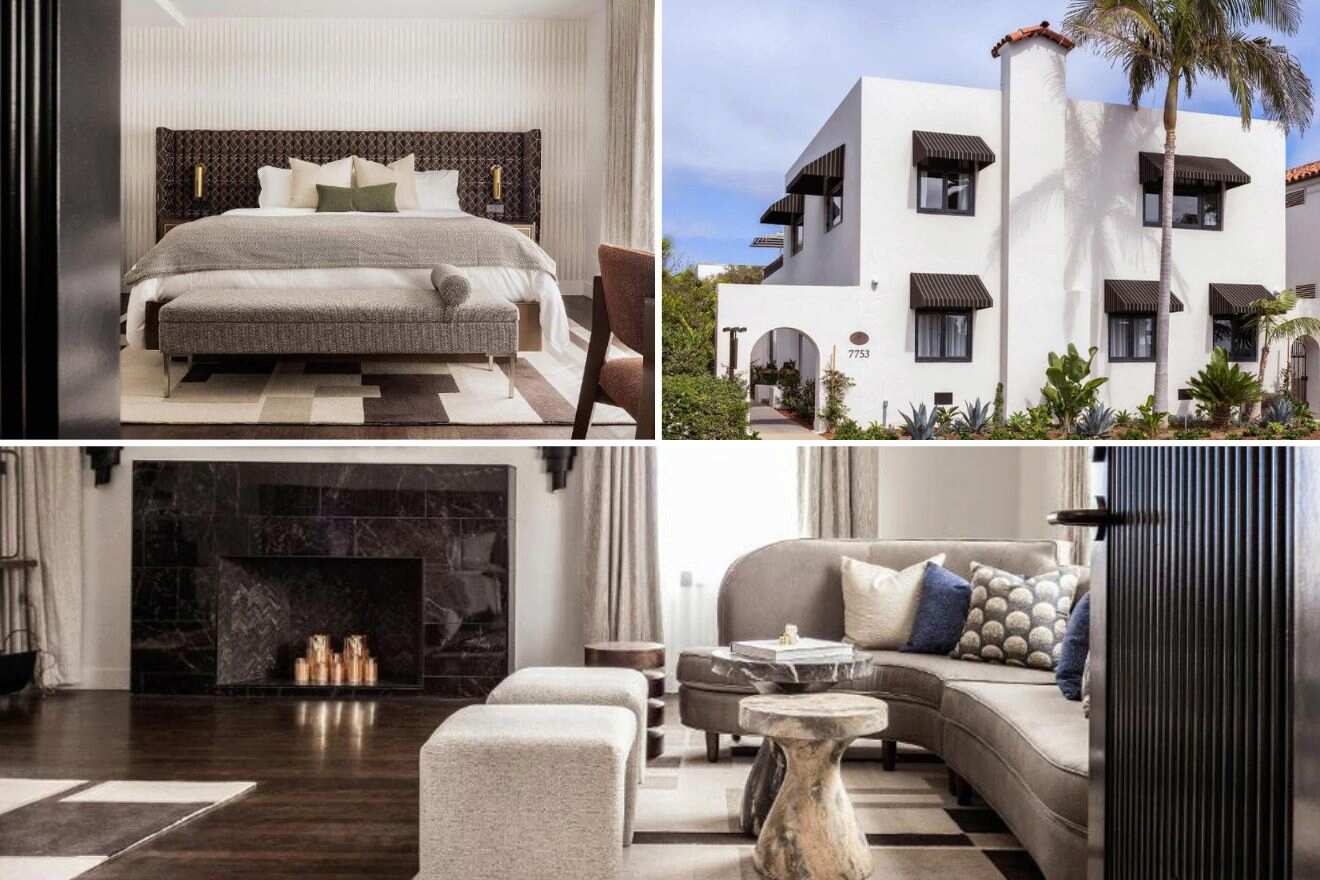 Wow! Such an amazing style! This fresh and stylish hotel is located in the beautiful city of La Jolla, with the beach and the downtown area just steps away. It is perfect for families looking to enjoy some time in nature, and you also have the option to discover the area using the hotel's complimentary bike rentals.
They have so many amazing rooms, but the guest room I suggest is the quadruple room (great for families of 4) with a balcony that, as the name indicates, comes with 2 private furnished balconies. There is more, the room has a kitchen, a seating area, and a beautiful San Diego Bay view!
3. Fairmont Grand Del Mar – for a honeymoon stay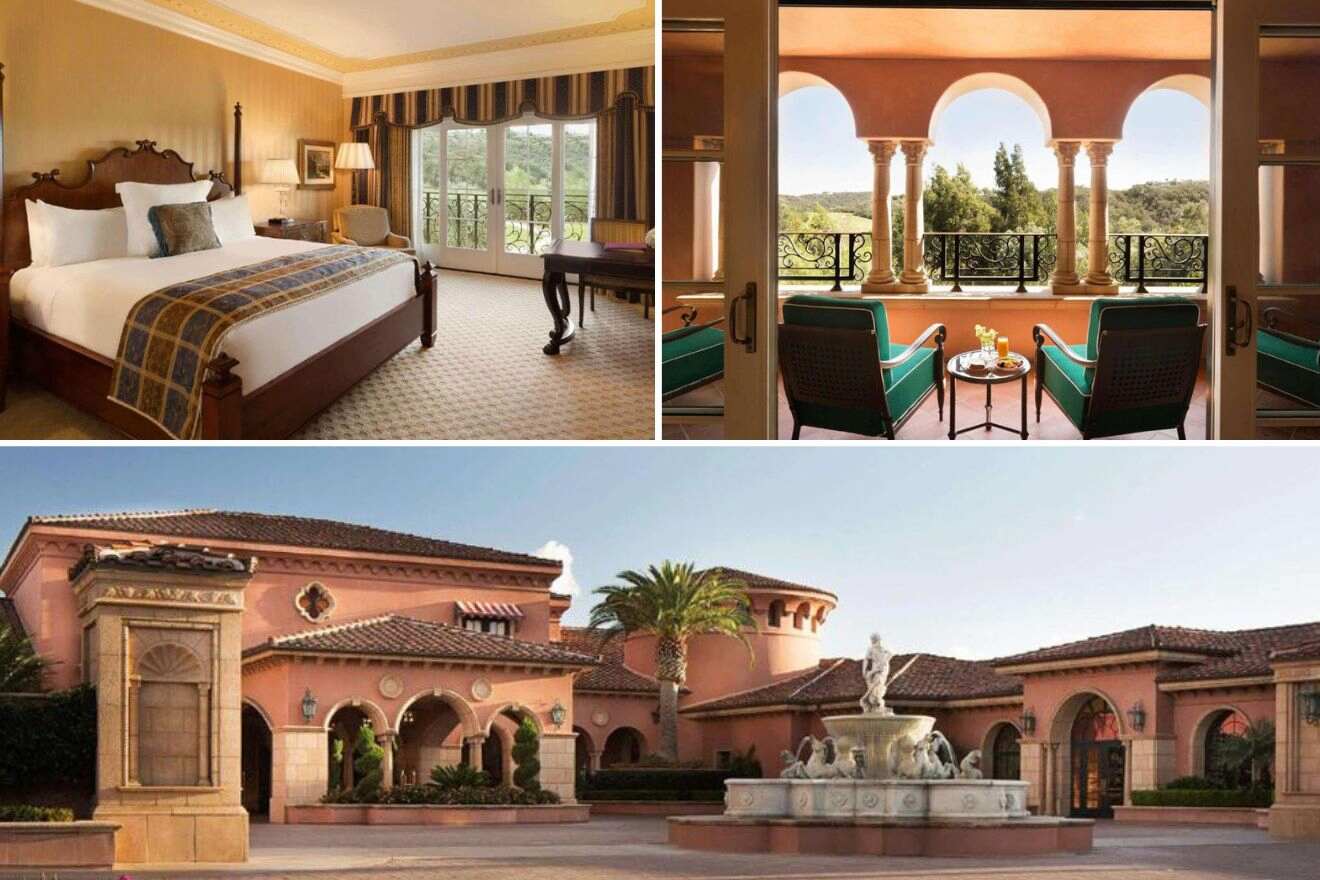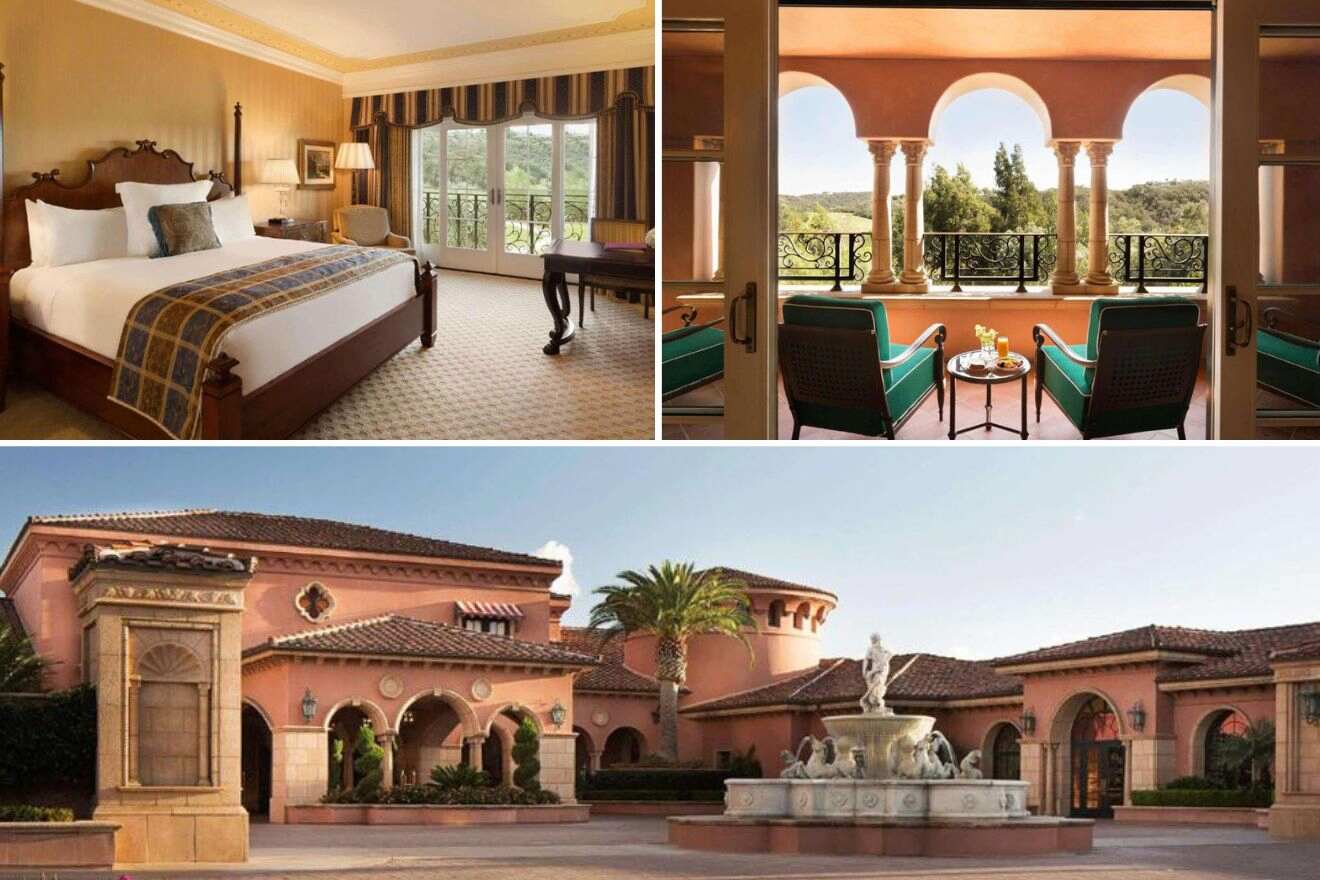 I am in AWE! This hotel looks like a dream, right in Carmel Valley, and with 6 on-site restaurants offering dishes from different cuisines. There are 2 outdoor swimming pools with tremendous views, a wellness center with a jacuzzi and sauna, a tennis court, and a golf course 2 miles (3 km) away. This place is perfect for couples on their honeymoon to indulge and have a fantastic time!
The hotel offers 4 types of rooms with balconies, but the Deluxe Queen and King Veranda with balconies are just perfect for couples. The view is unbeatable, and the en-suite bathroom comes with either a soaking tub or a spa tub. You can order room service and enjoy in-room dining with your partner!
4. The Lodge at Torrey Pines – for a wholesome stay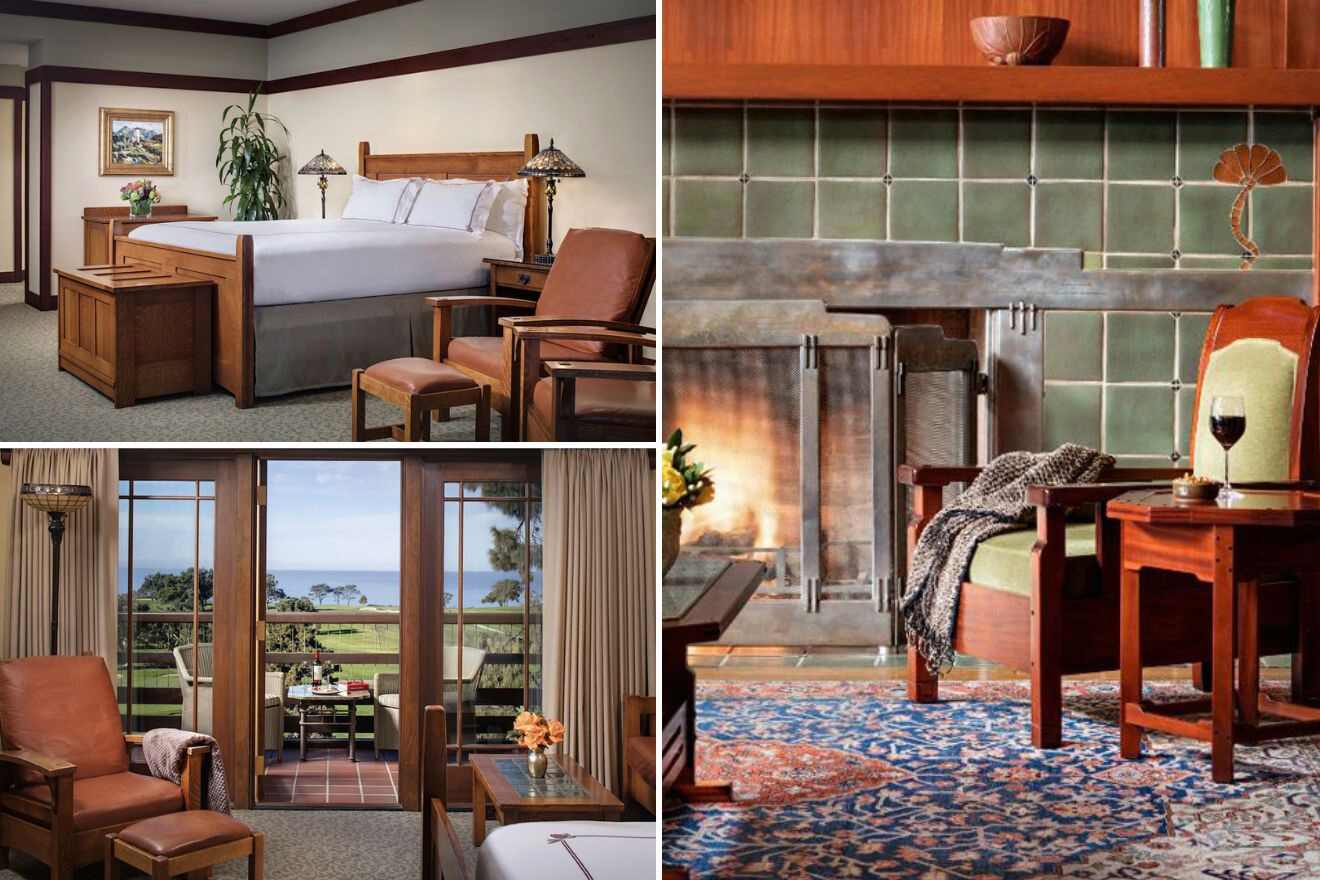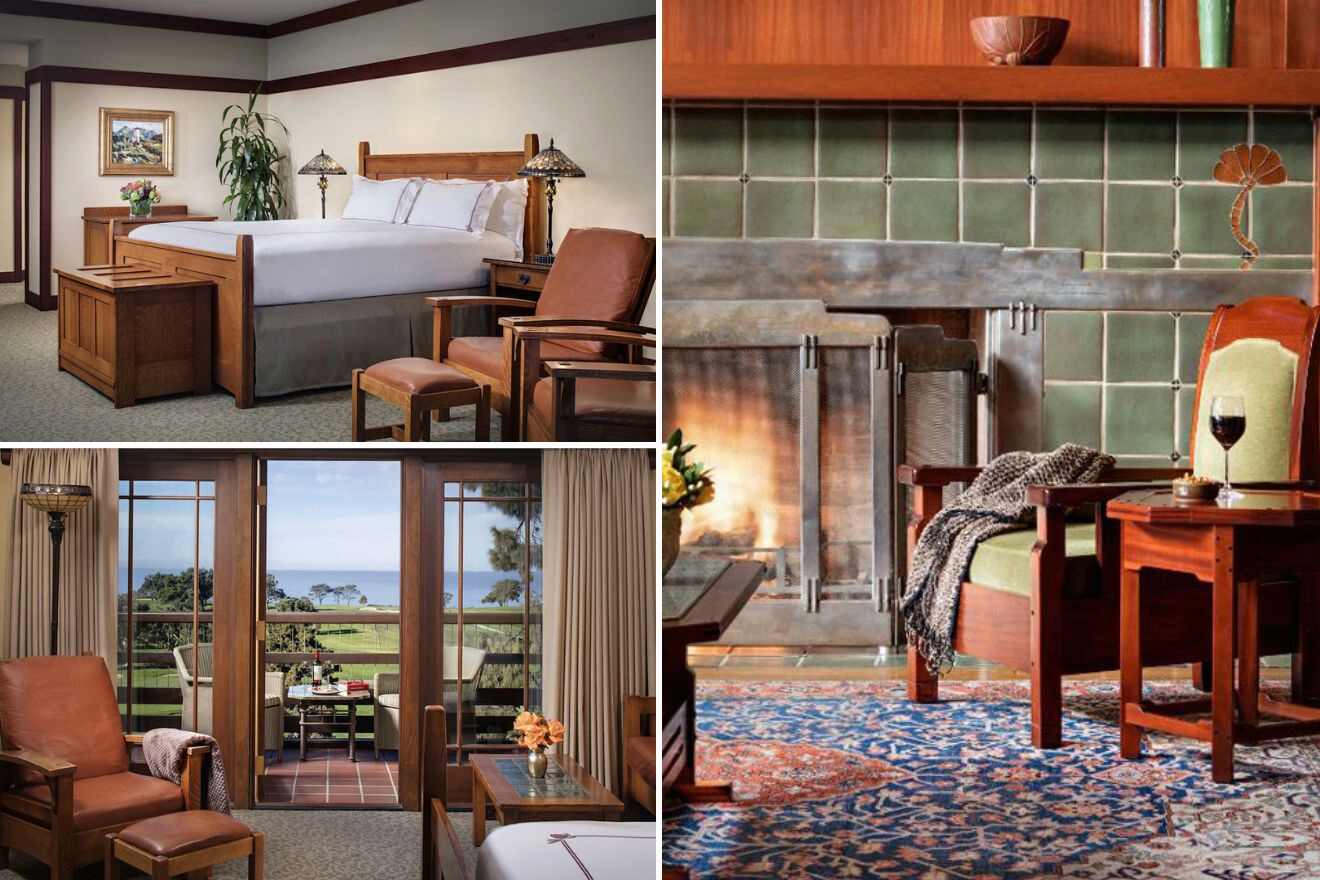 This cabin-style hotel located in La Jolla is just delightful, with cozy wooden decor wherever you set your eyes, and views of Torrey Pines Golf Course and the ocean! This hotel comes with a luxurious spa and wellness center, a fitness center, an outdoor pool with pool deck, and fabulous views!
Most rooms come with a private balcony, but if you want stunning ocean views and golf course views, I recommend going for the Palisade room. It also has a flat-screen TV with satellite channels, and an upscale marble bathroom with relaxing oversized bathtubs, so you can fill it with bubbles to end a wholesome day! Sounds great, right?
5. Kimpton Alma San Diego – stylish and modern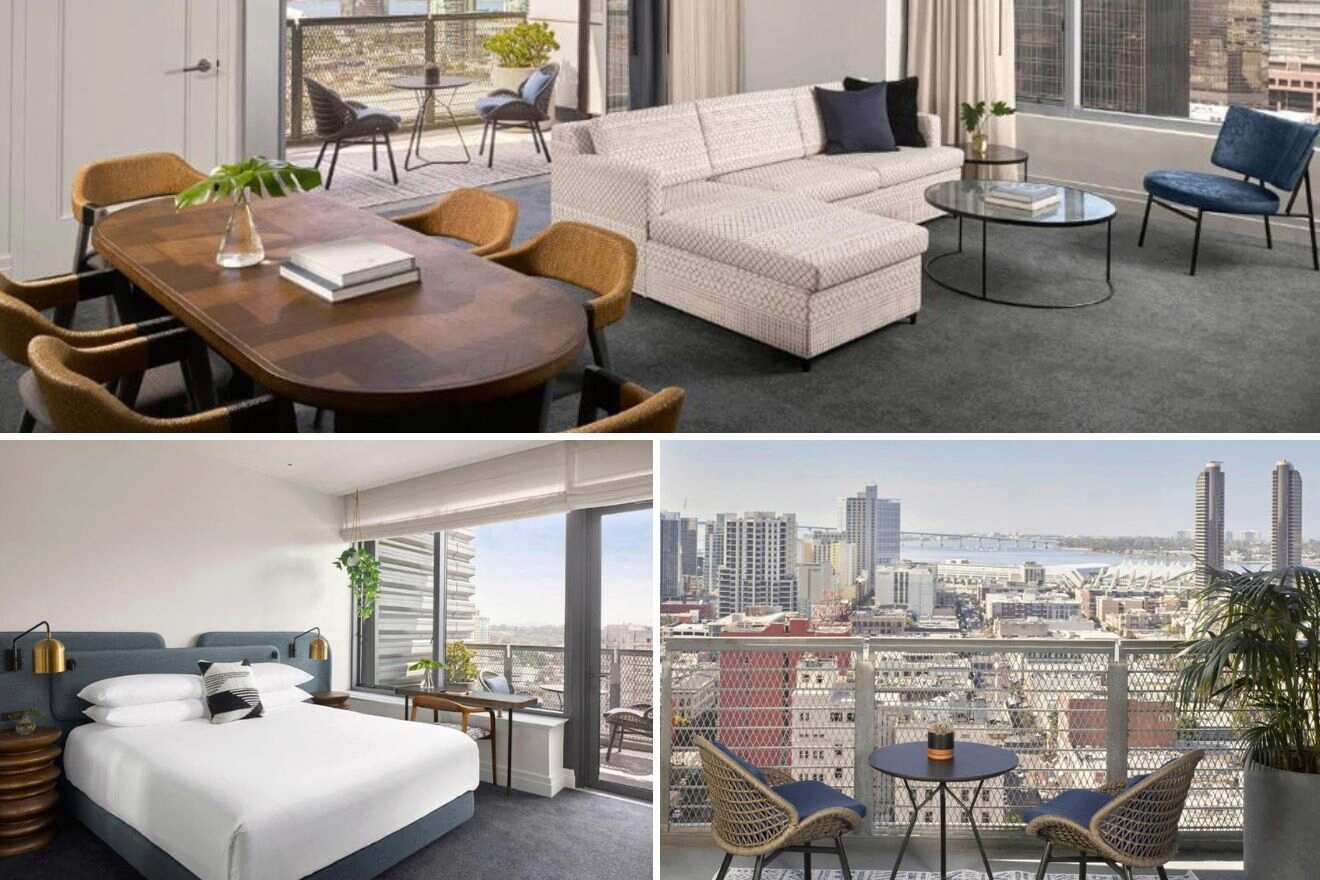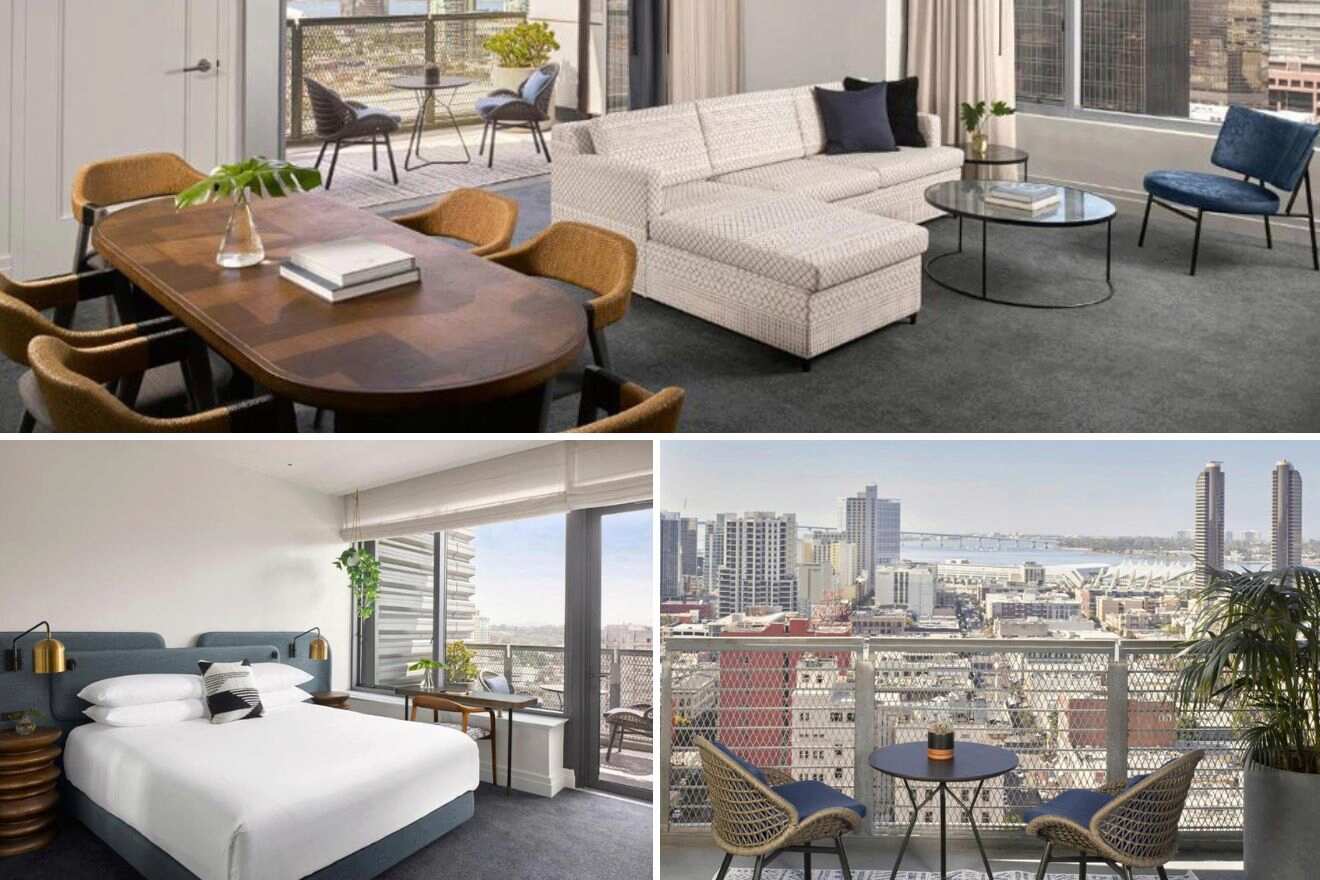 I love these types of hotels, so hip and fresh, centrally located in downtown San Diego, with San Diego Zoo, Balboa Park, and San Diego International Airport just 2 miles (3.5 km) away! This hotel offers an outdoor swimming pool, a fitness center, onsite restaurants, and a complimentary breakfast every morning, to start the day full of energy!
All the rooms featured in this hotel are amazing and come with modern amenities, but the Skyline Suite with Harbour View is a great balcony room option, it comes with a living room with a sofa bed for extra sleep, and the room comes with a flat-screen cable TV, air conditioning, and a fantastic pacific ocean view!
6. The Wayfarer San Diego – oceanfront with an easy vibe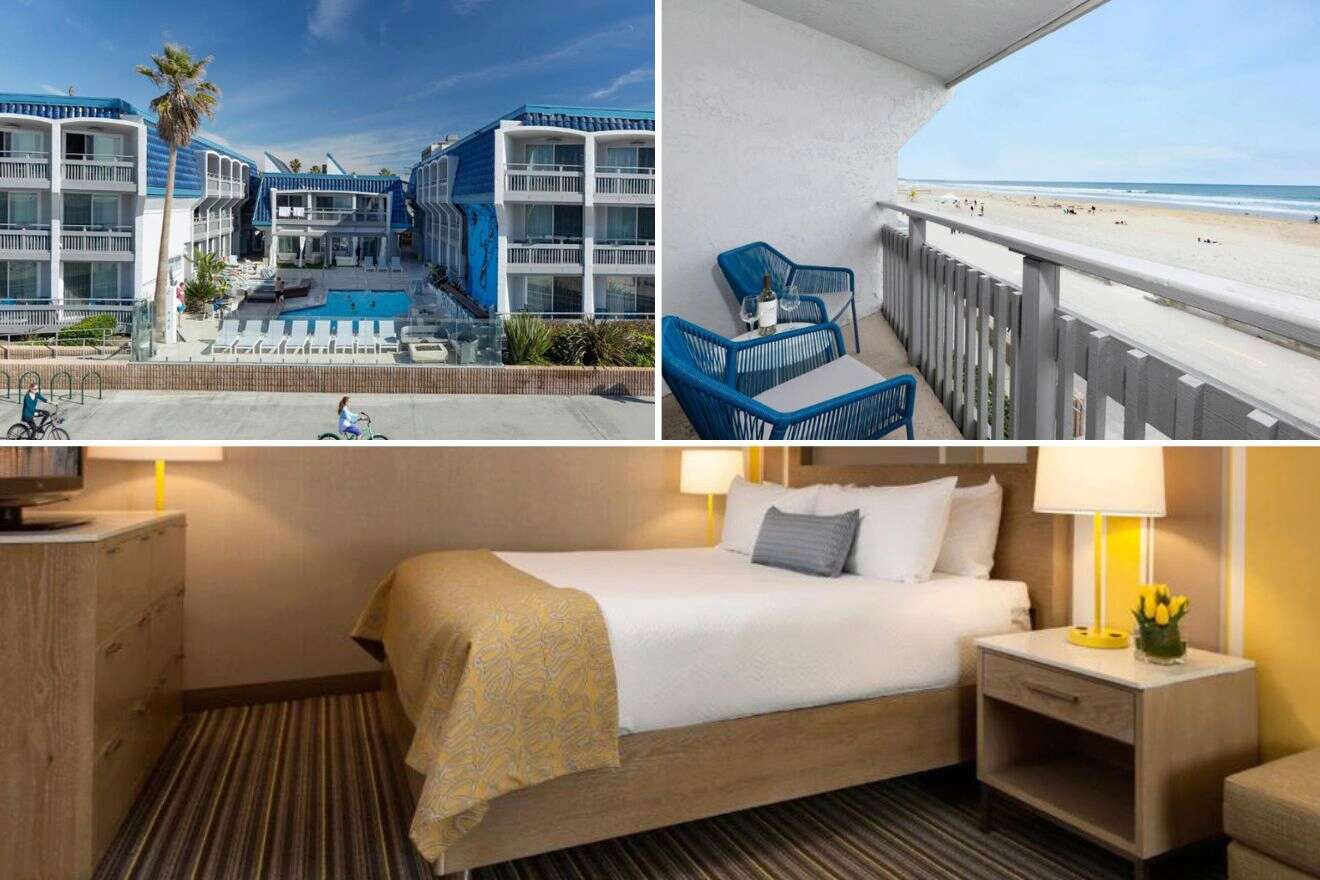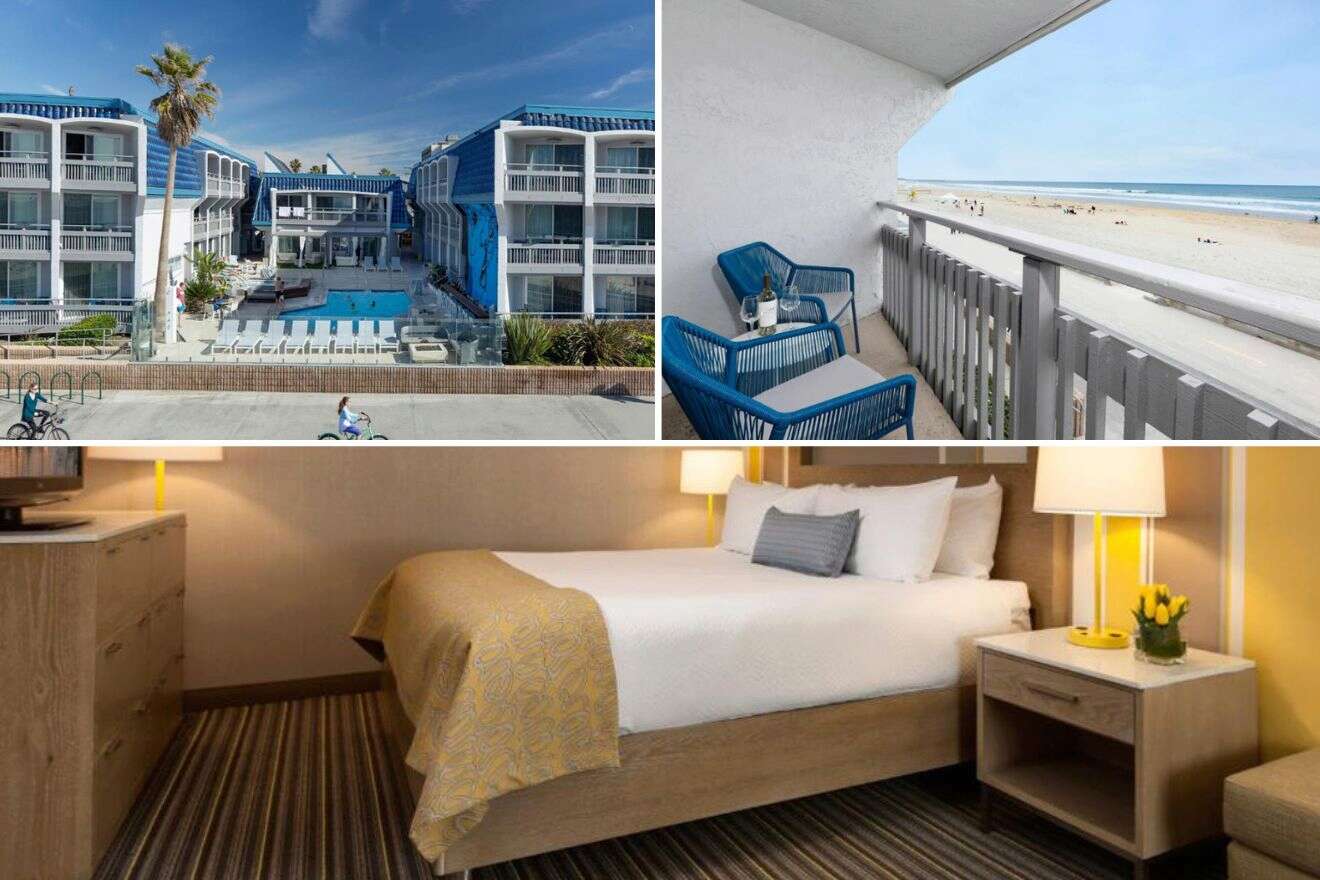 This oceanfront hotel looks like waking up on a Sunday morning with nothing more to do than enjoy the day and relax surrounded by nature's gifts. Located in Mission Beach, less than 1 mile (1.6 km) from Mission Bay Park and a 10-minute drive to SeaWorld San Diego, this hotel has a beachfront outdoor pool, a hot tub, a picnic area, and laundry facilities to keep your clothes fresh!
All the rooms come with furnished balconies, a coffee machine, a flat-screen tv, and a comfy bed to relax after a long day at the beach! The rooms are perfect for solo travelers, couples, families, and groups of friends of 4! There's something at The Wayfarer for everyone!
7. Pacific Terrace Hotel – enjoy Pacific Beach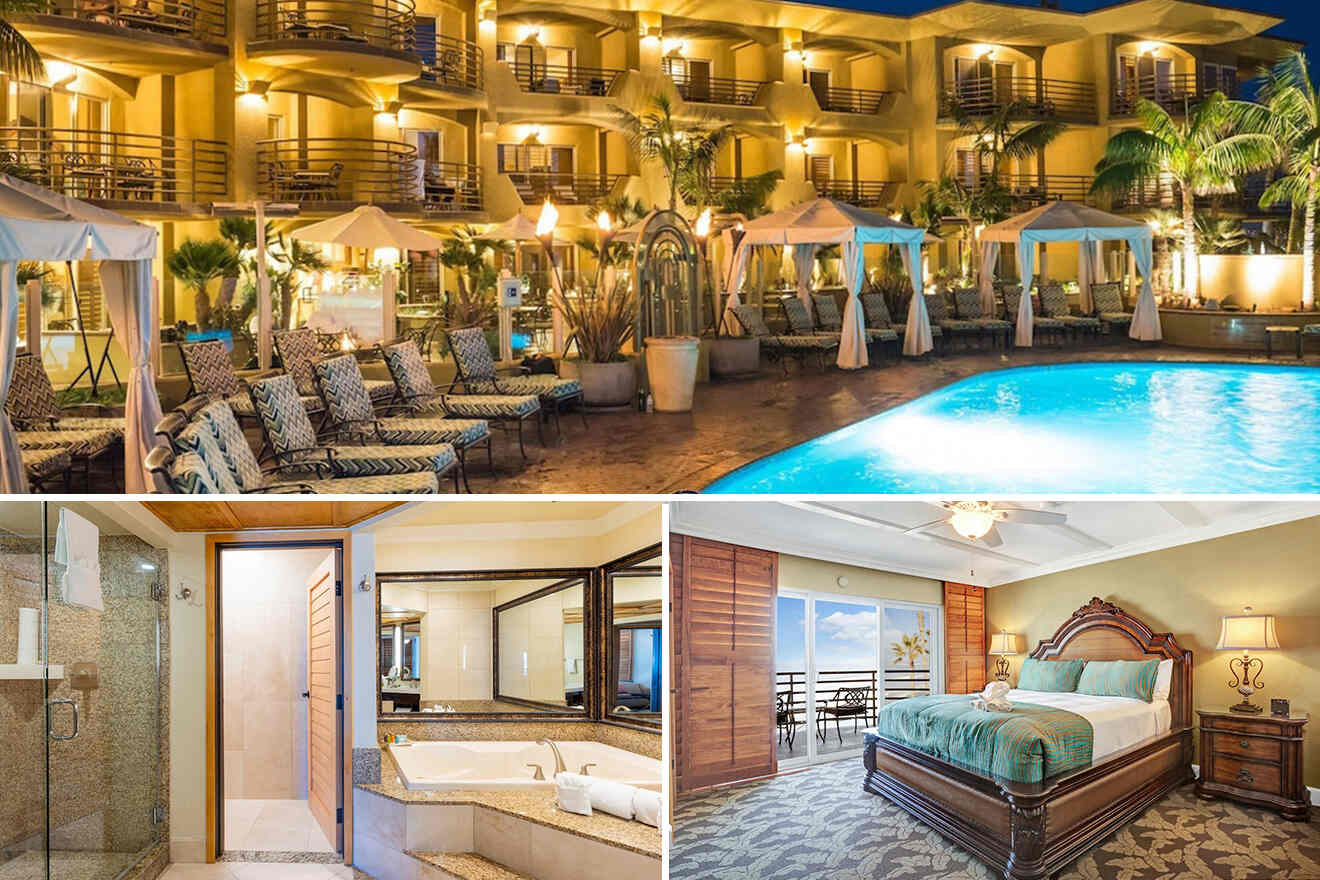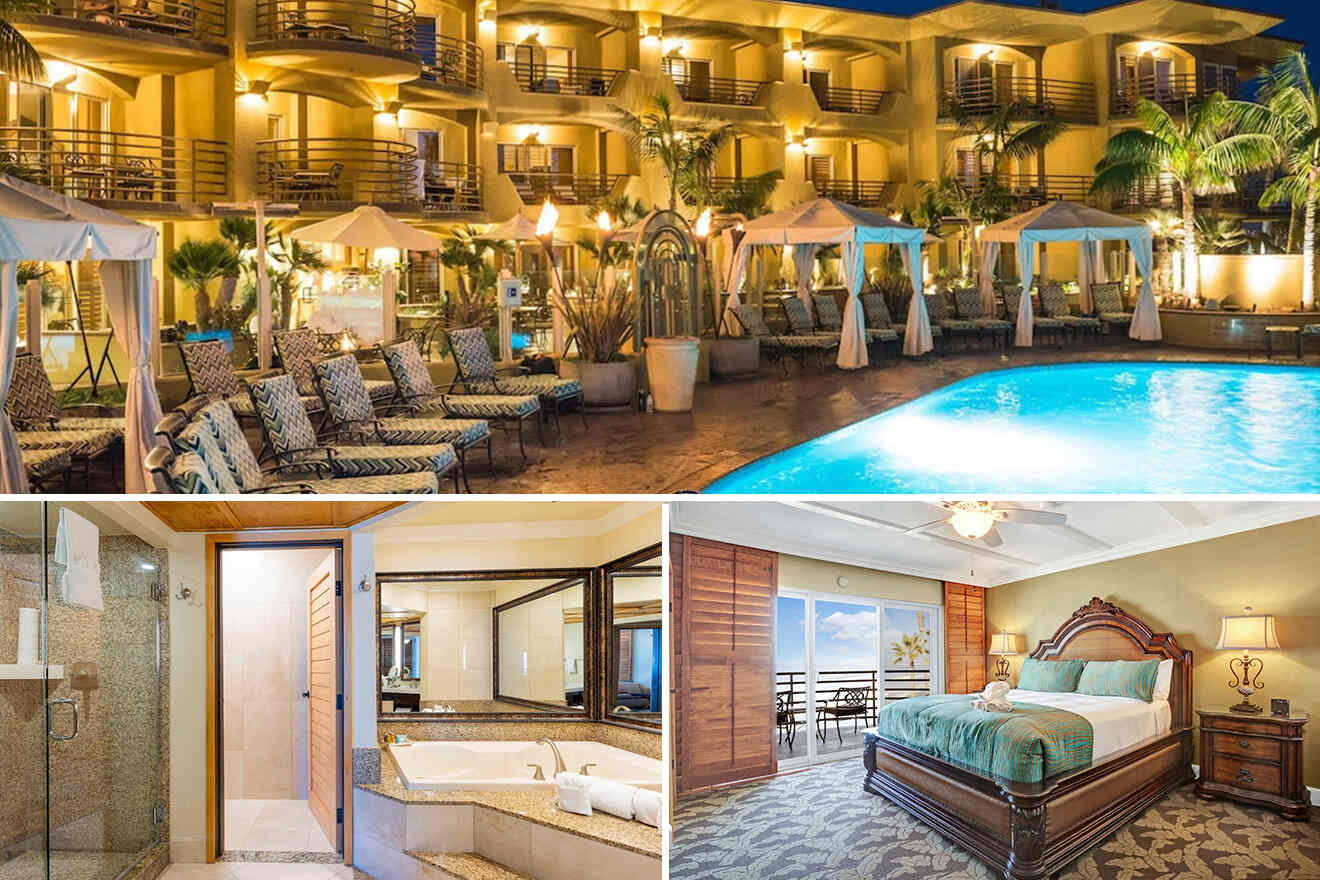 Oh, la la! What an elegant option! Staying at this hotel located in Pacific Beach Park, you will get the star treatment, with luxurious accommodations like an outdoor swimming pool located next to the beachfront and its amazing views, top quality onsite restaurants and bars, and with self-parking and a gift shop located under the hotel, you have everything you need onsite!
All the rooms have either a private terrace or a private balcony, some of them with ocean views, but what all the rooms have in common is an amazing classy style, with comfortable and deluxe double beds. Rooms like the family suite or the coastal suite come with spa baths – perfect after a long day!
8. San Diego Marriott Marquis and Marina – chic and trendy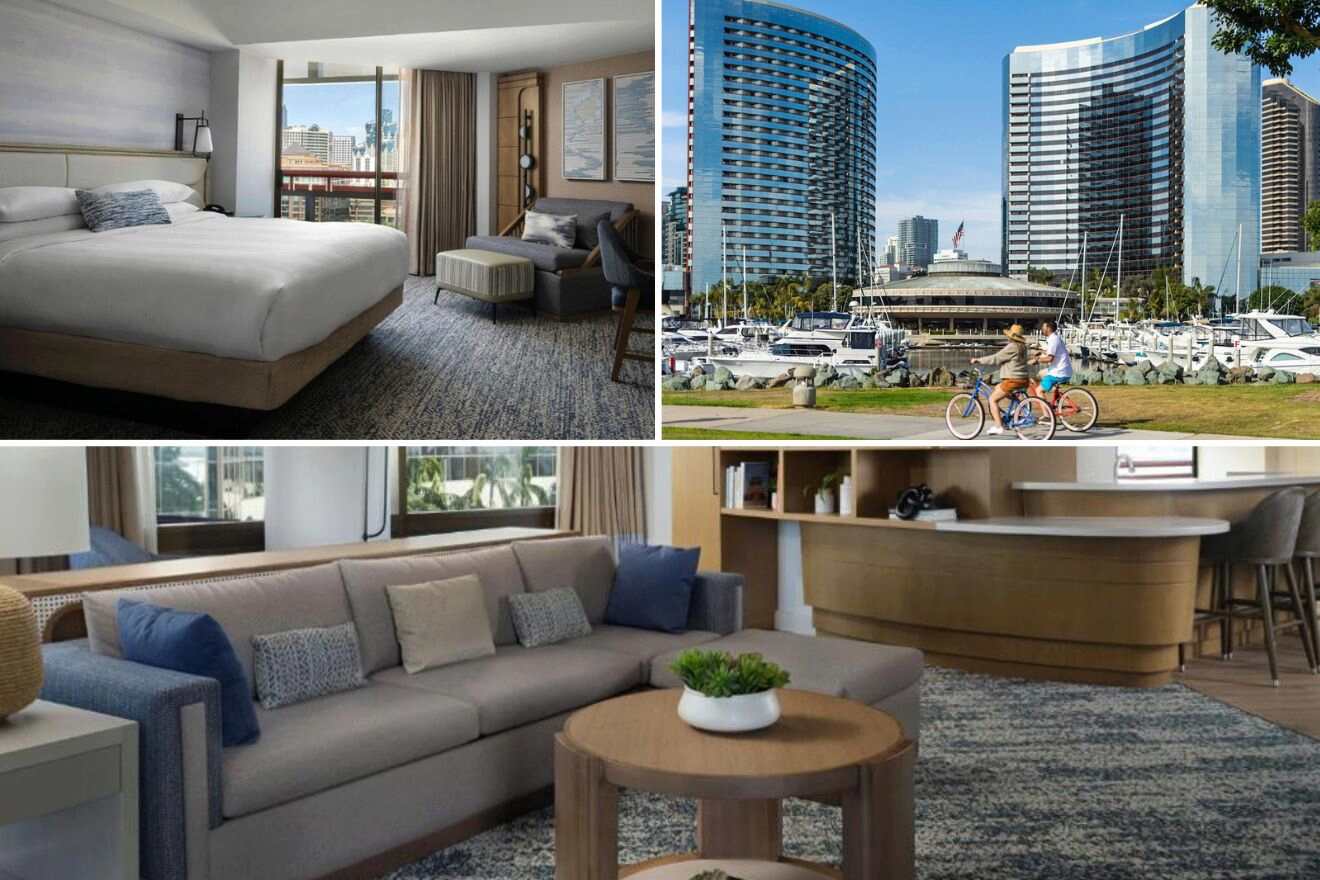 This hotel is ideal for those who love that fast city life but also love to disconnect and enjoy a nice glass of wine over dinner while admiring a fantastic harbor view! Located in downtown San Diego and within walking distance of Petco Park, this hotel offers a spa center and a fitness center with that authentic Marriott Hotel class.
This hotel has many rooms with a balcony, and you can choose between a city or a harbor view! The rooms are spacious and have all the amenities you need to have the best trip, such as air conditioning, free Wi-Fi, a private bathroom with a walk-in shower, and cozy beds! Get ready to enjoy your vacay!
9. Omni San Diego Hotel – great value for money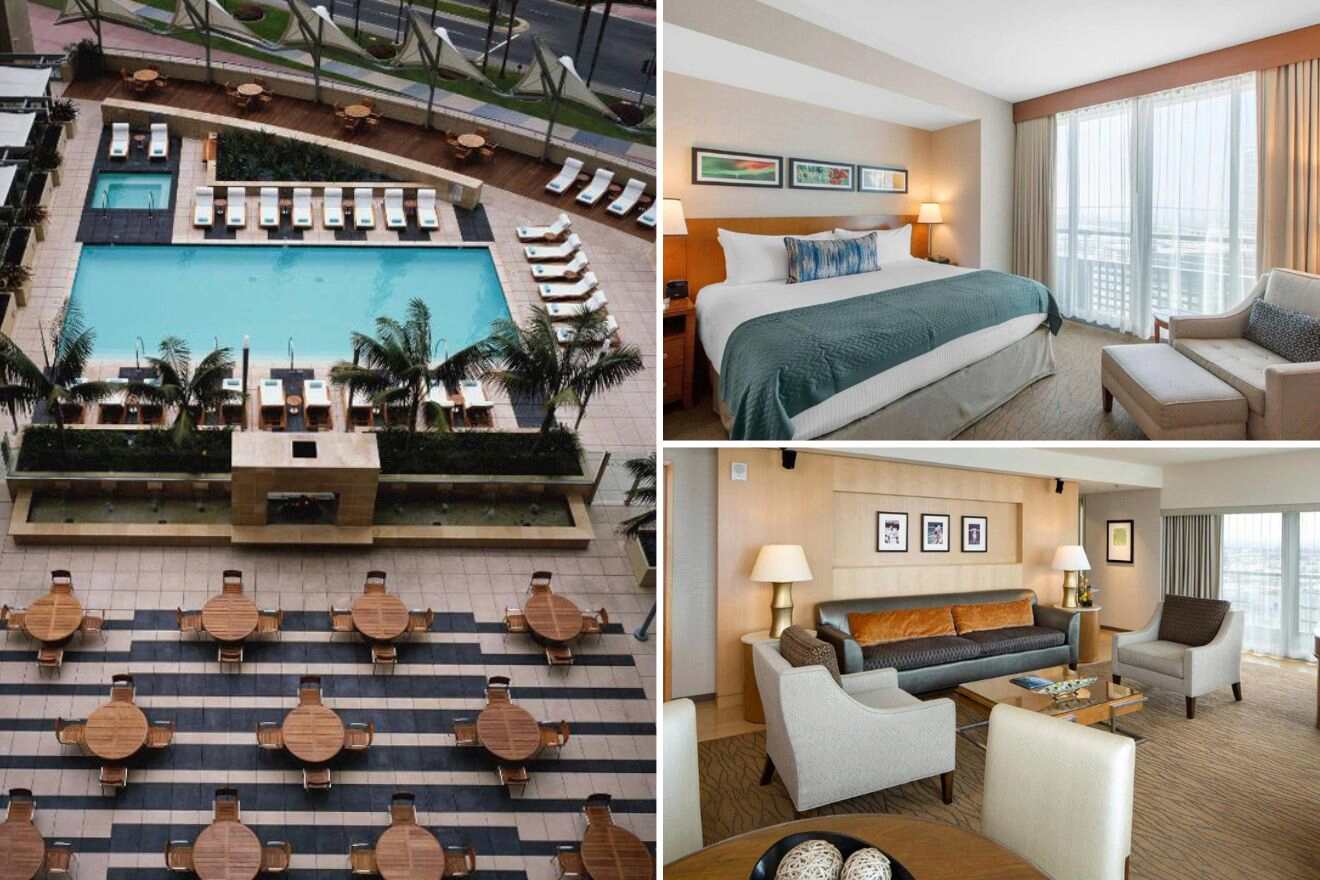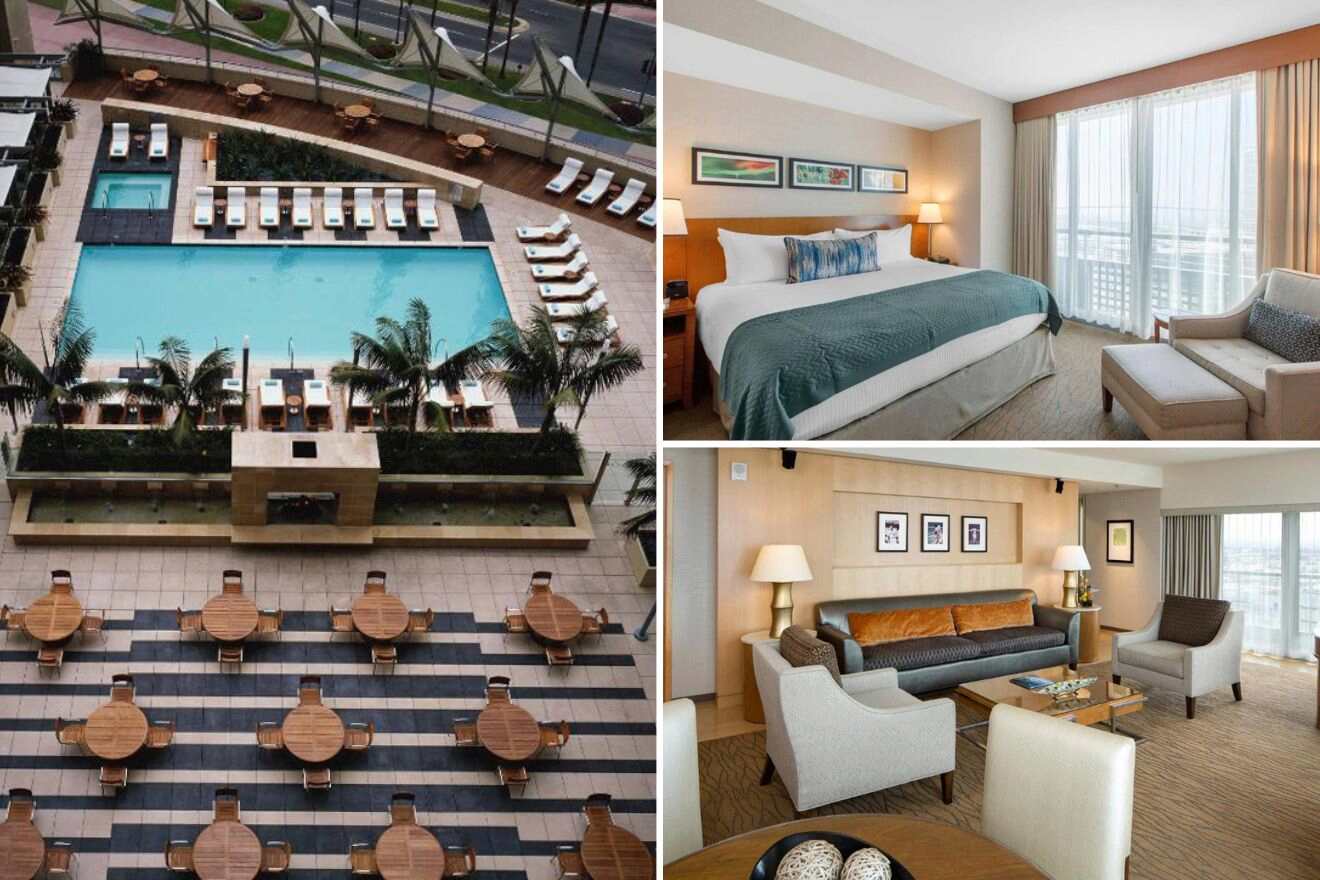 Let me tell you, most of the past guests of this hotel prize the location, the staff, the views, the price, and how cozy this hotel is! So, yes, everything about this hotel is the cherry on top of an amazing vacation! With a nice classic style, this hotel offers a terrace with a swimming pool and a jacuzzi, and you can sit in the lounge area and have a drink overlooking the fantastic view.
All the rooms featured in this hotel are great, but I know you are here for the rooms with balconies, so I will recommend the Premier Corner Room, that not only features a private balcony but floor-to-ceiling windows as well! What better way to enjoy the view than from the privacy of your own room?!
10. Humphreys Half Moon Inn – with a touch of the Caribbean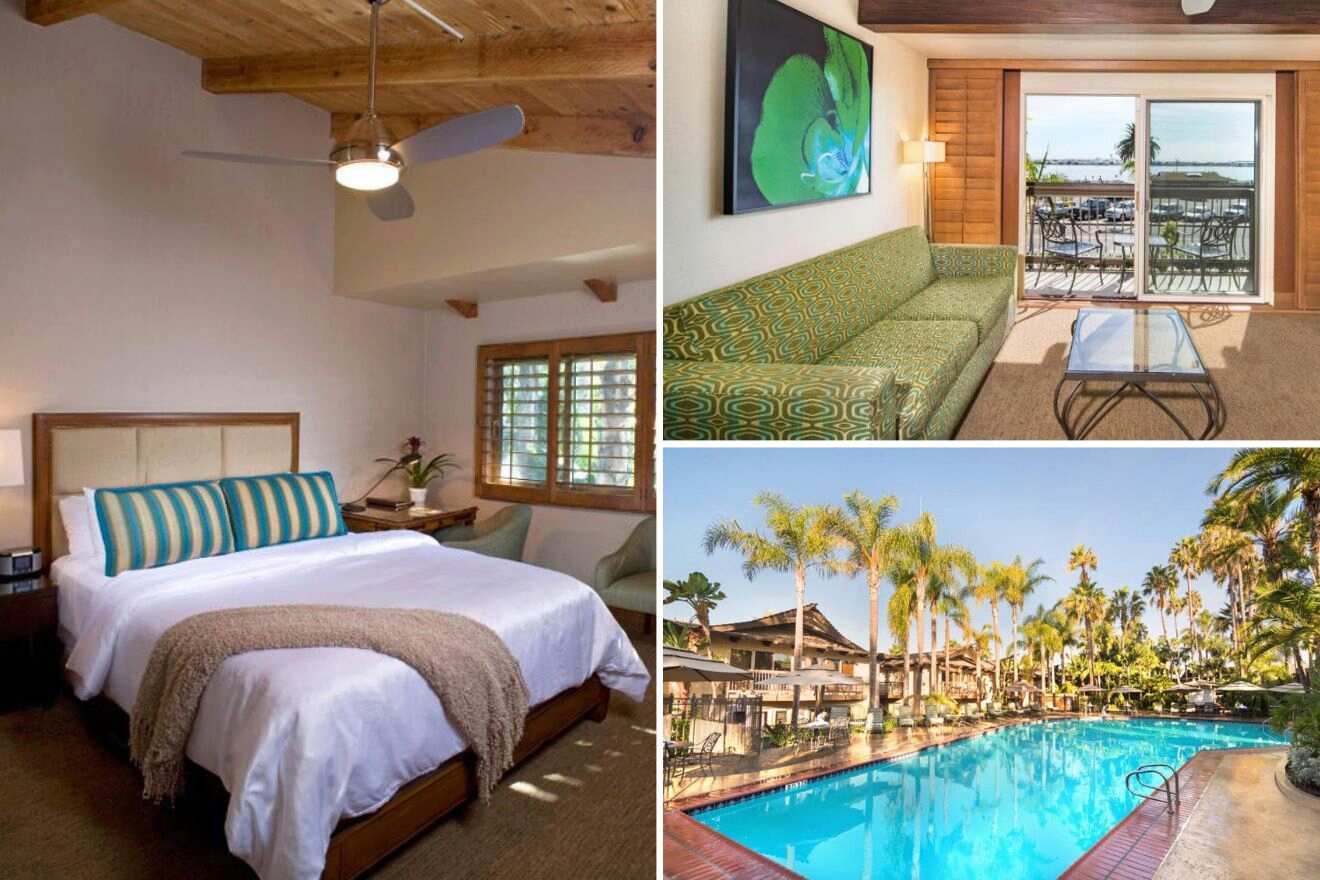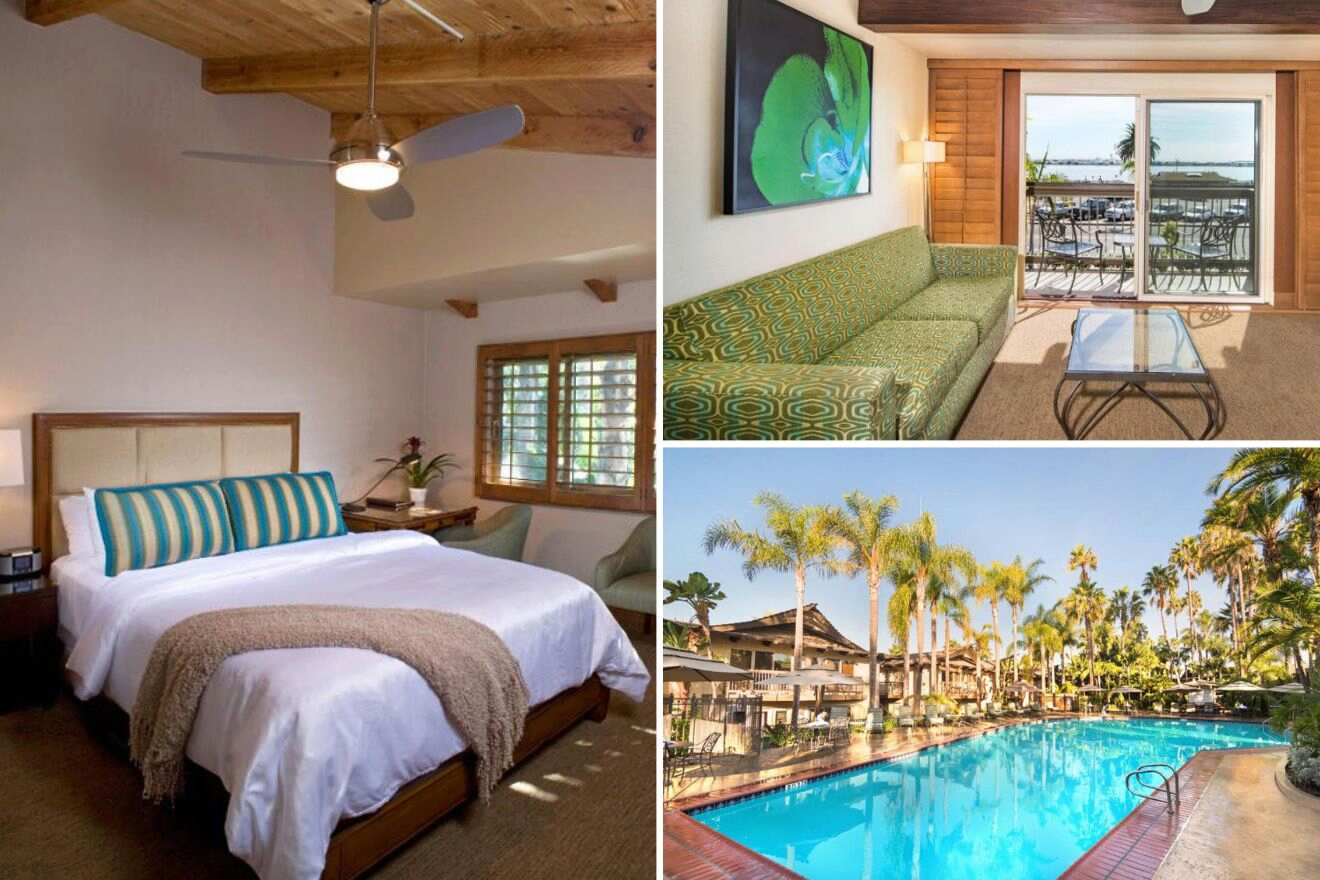 Am I in the Caribbean? Because this hotel is giving tropical vibes! What an amazing setting right in Point Loma, this hotel offers an amazing outdoor pool surrounded by palm trees, a lit patio with fireplaces, and the dining area and some of the rooms oversee the harbor. Talk about a dream!
The rooms with a garden view and the luxury junior suite come with a private balcony or patio. For big parties, I highly suggest the oversized garden view suite, which comes with a sofa bed and 2 large double beds, and a private kitchen making it super convenient for 6 guests! Bring all your friends!
11. Scripps Inn – feel right at home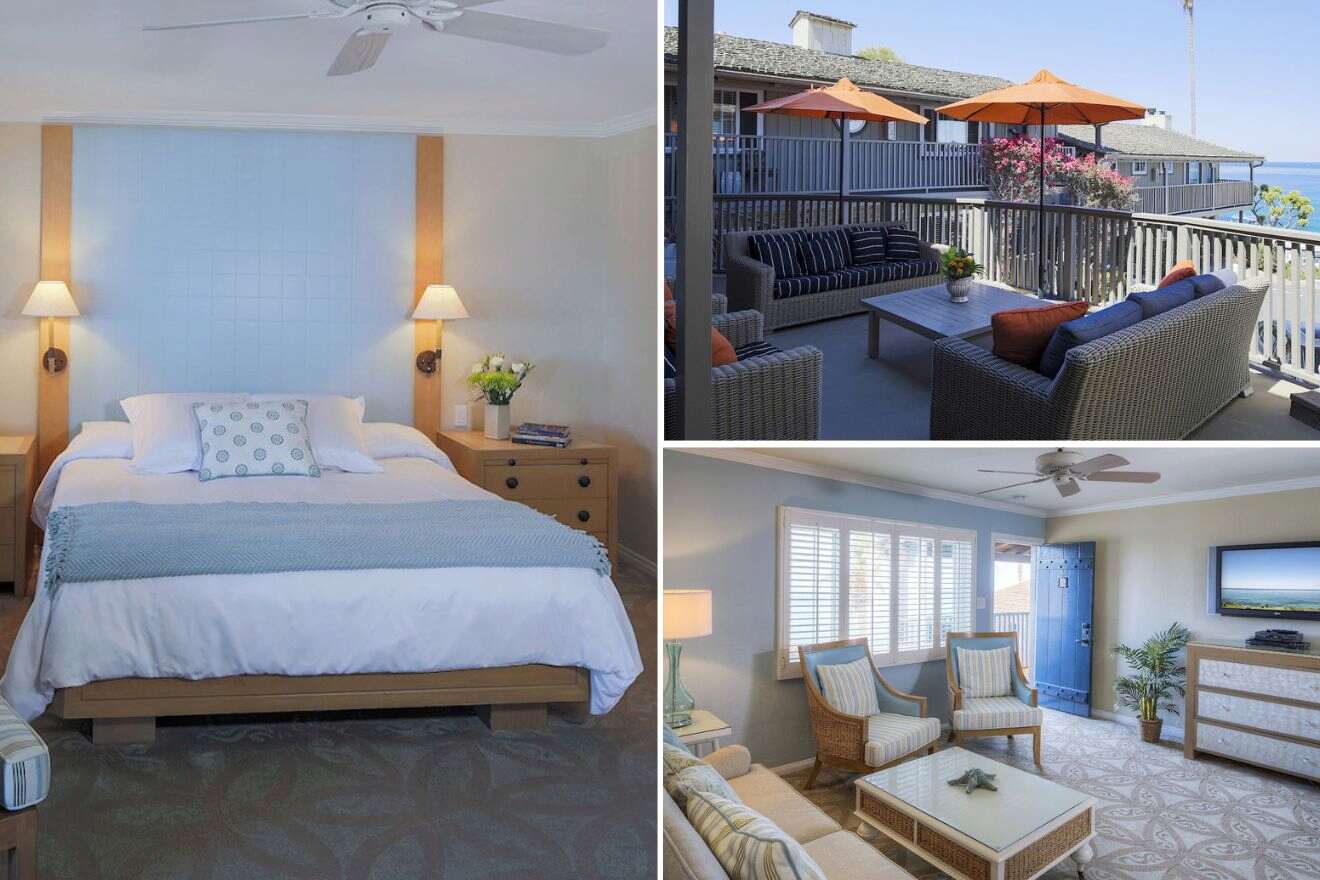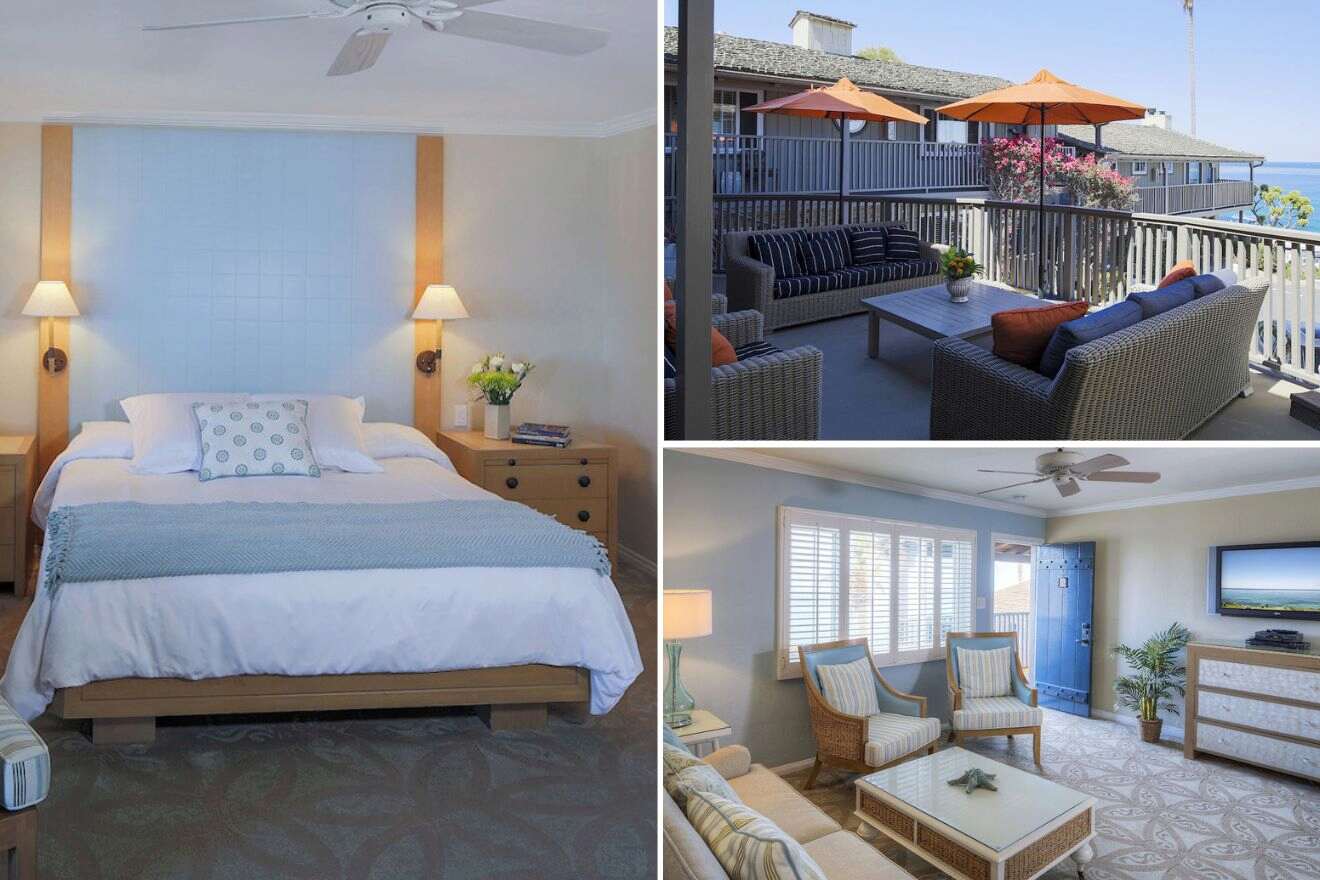 Just by looking at the photos, I can feel the gentle ocean breeze of this beachfront boutique hotel located in La Jolla and featuring private parking and free Wi-Fi. All the previous guests agree the views and price are unbeatable so expect an amazing experience!
They offer a total of 14 rooms and 2 room types which makes this hotel super cozy and homey! Both types of rooms come with balconies and amazing ocean views, coffee makers, a mini refrigerator, and ceiling fans to cool down on hot days! This hotel is perfect for those who want to disconnect from everyday life and relax in this cute and tranquil hotel right on the beach!
12. Tower 23 Hotel – where fun and relaxation collide!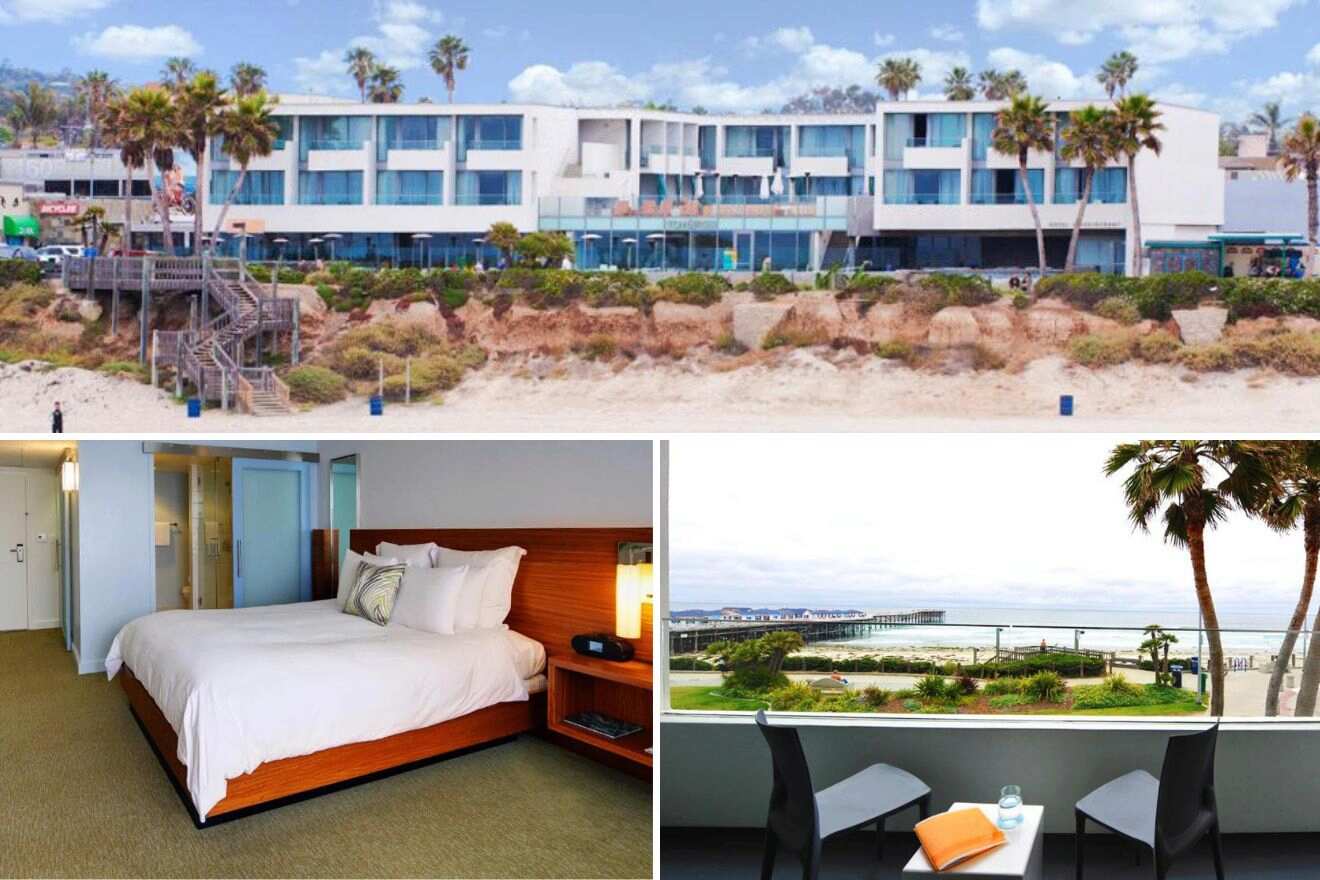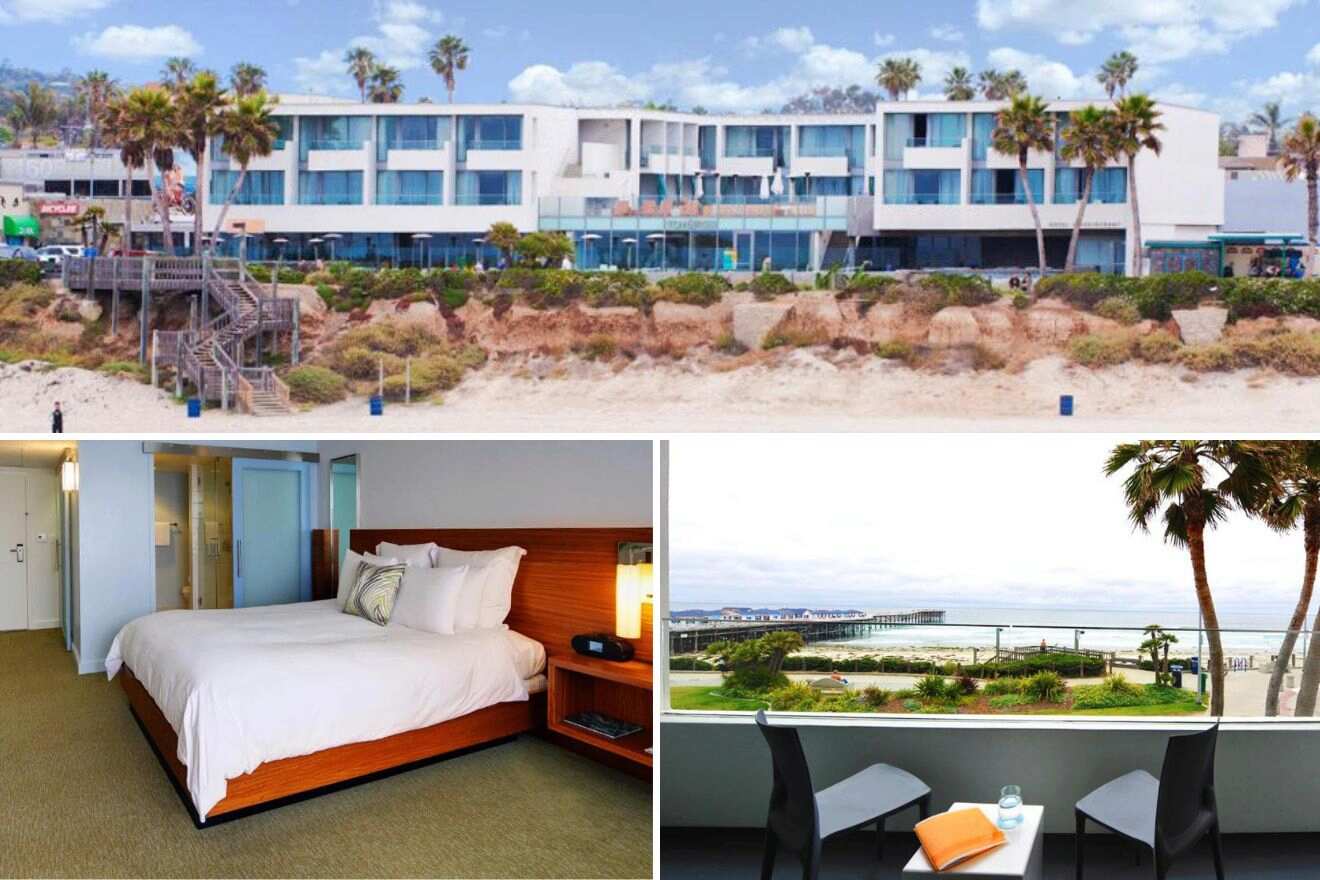 This hotel is simple and elegant, located on Pacific Beach, right by the beachfront! Tower 23 offers concierge services so you can book tours from whale watching to surfing! There is 24-hour front desk service, a classy onsite restaurant and bar, and a little rumor says guests can get complimentary drinks during their stay!!
Featuring 4 room types, all of them come with a private balcony, so I highly suggest staying at any of their Sanctuary Suites since these come with hot tubs so you can relax while you have a drink from a minibar or order room service!
13. Cosmopolitan Hotel – travel to Victorian times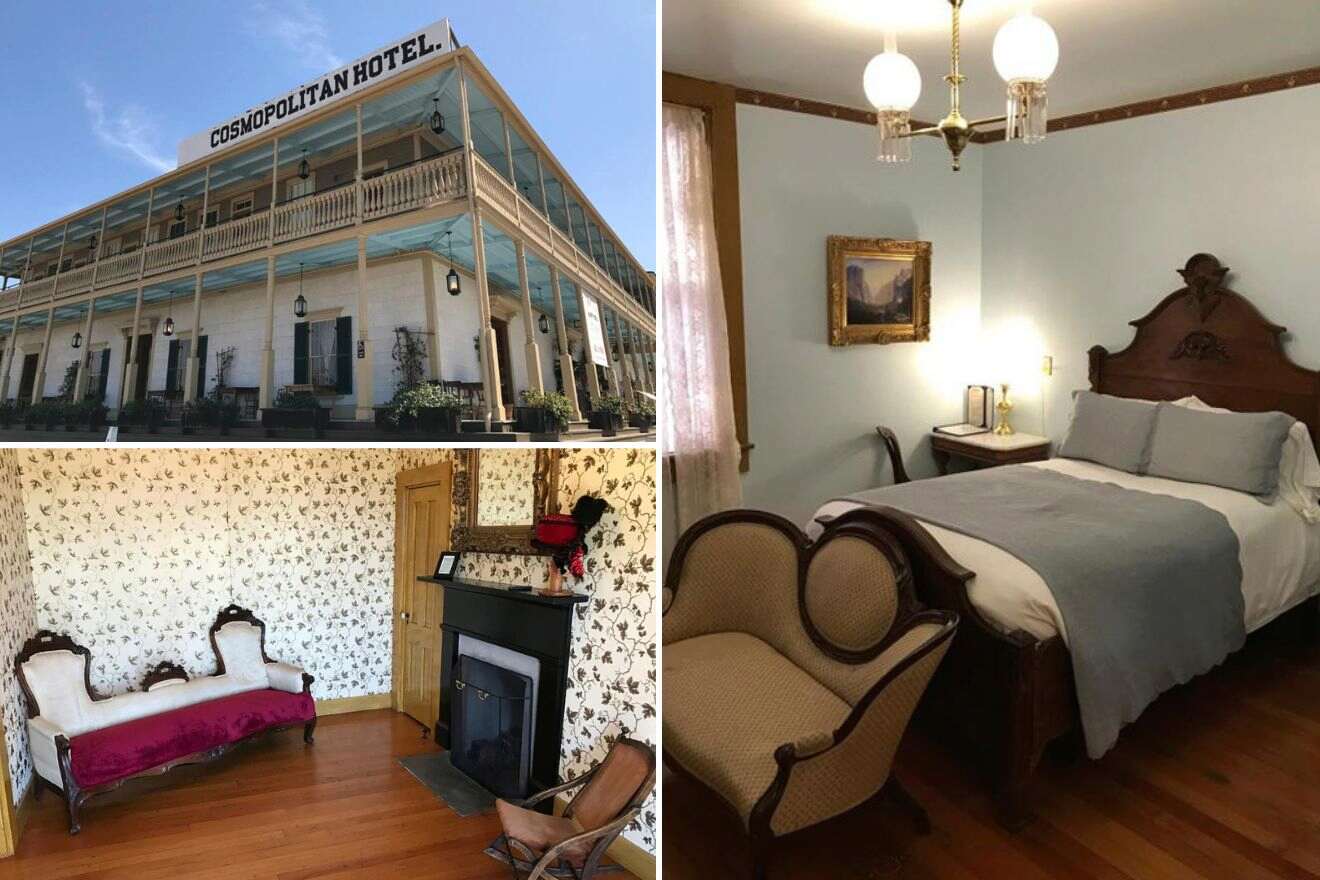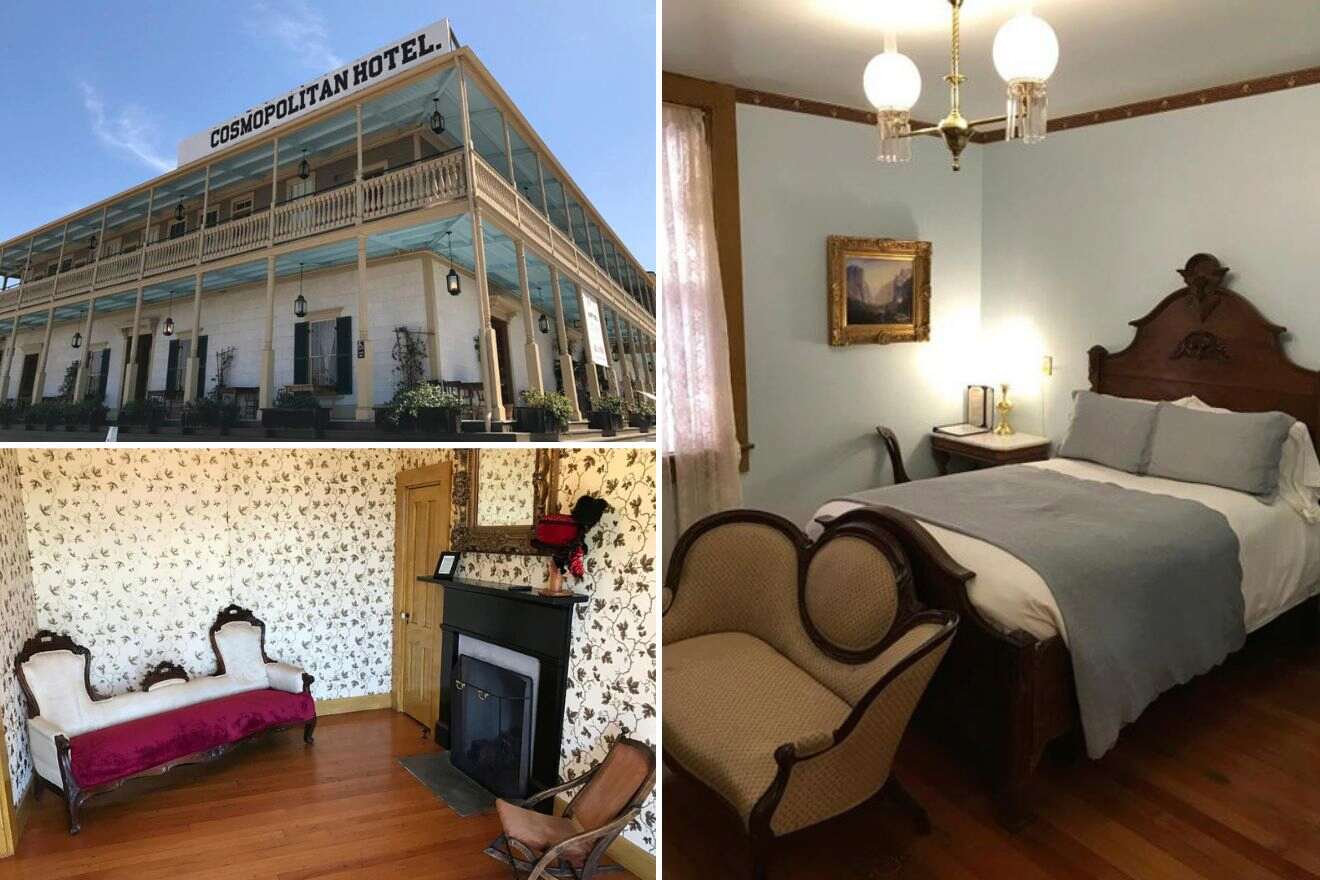 I am obsessed with this historical hotel's style and decor located in San Diego's Old Town! This accommodation is decorated in the best Victorian style, with dark hardwood furniture, vintage armchairs, and restaurants with old-school barrels and chairs. Everything in this hotel will make you feel special!
All the rooms come with a private balcony or private patio. Even though this hotel is styled like in the 19th century, it comes with all the modern amenities such as free Wi-Fi, air conditioning, and a private bathroom with a tub to bathe as Marie Antoinette would!
14. Bay Club Hotel and Marina – relax in Point Loma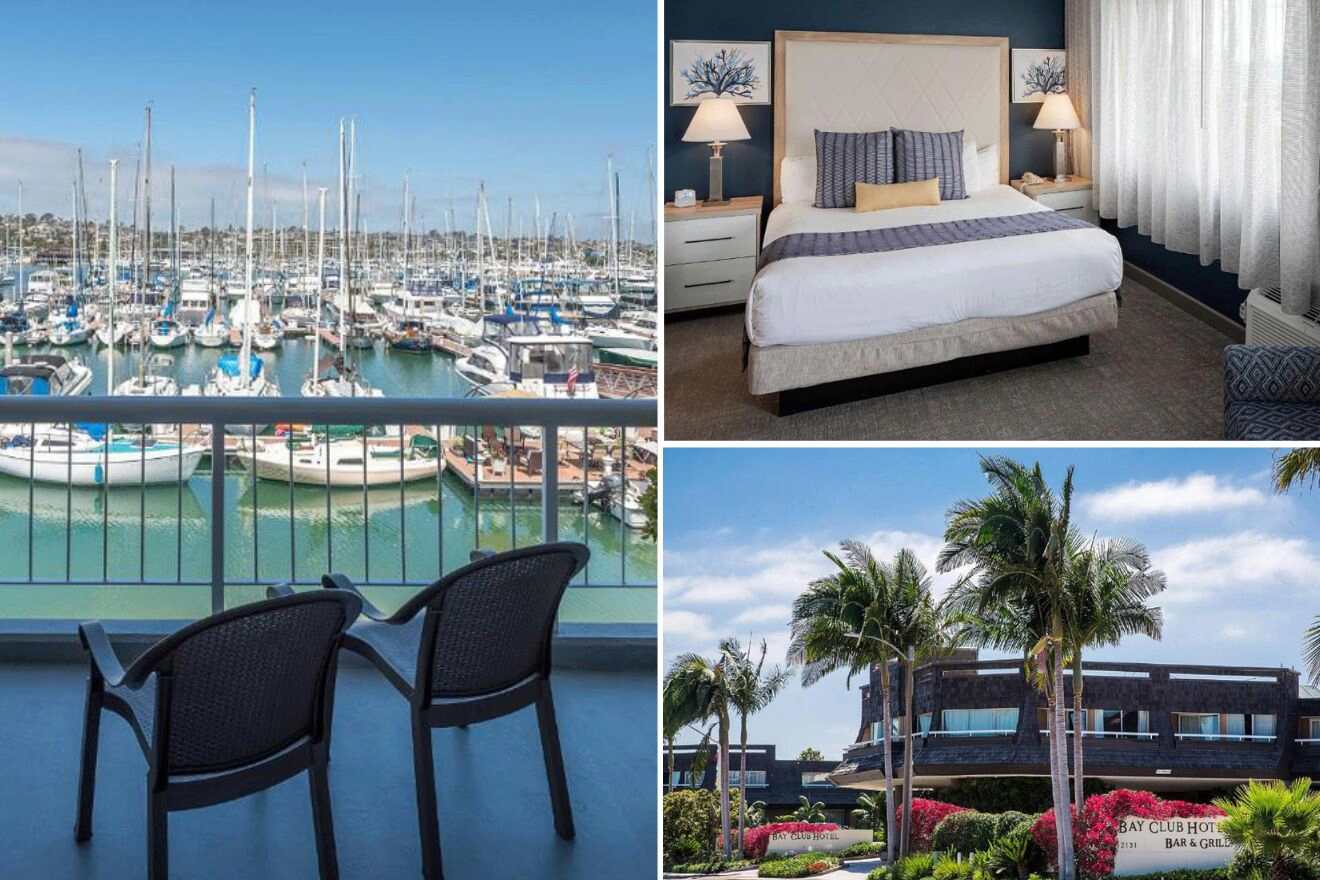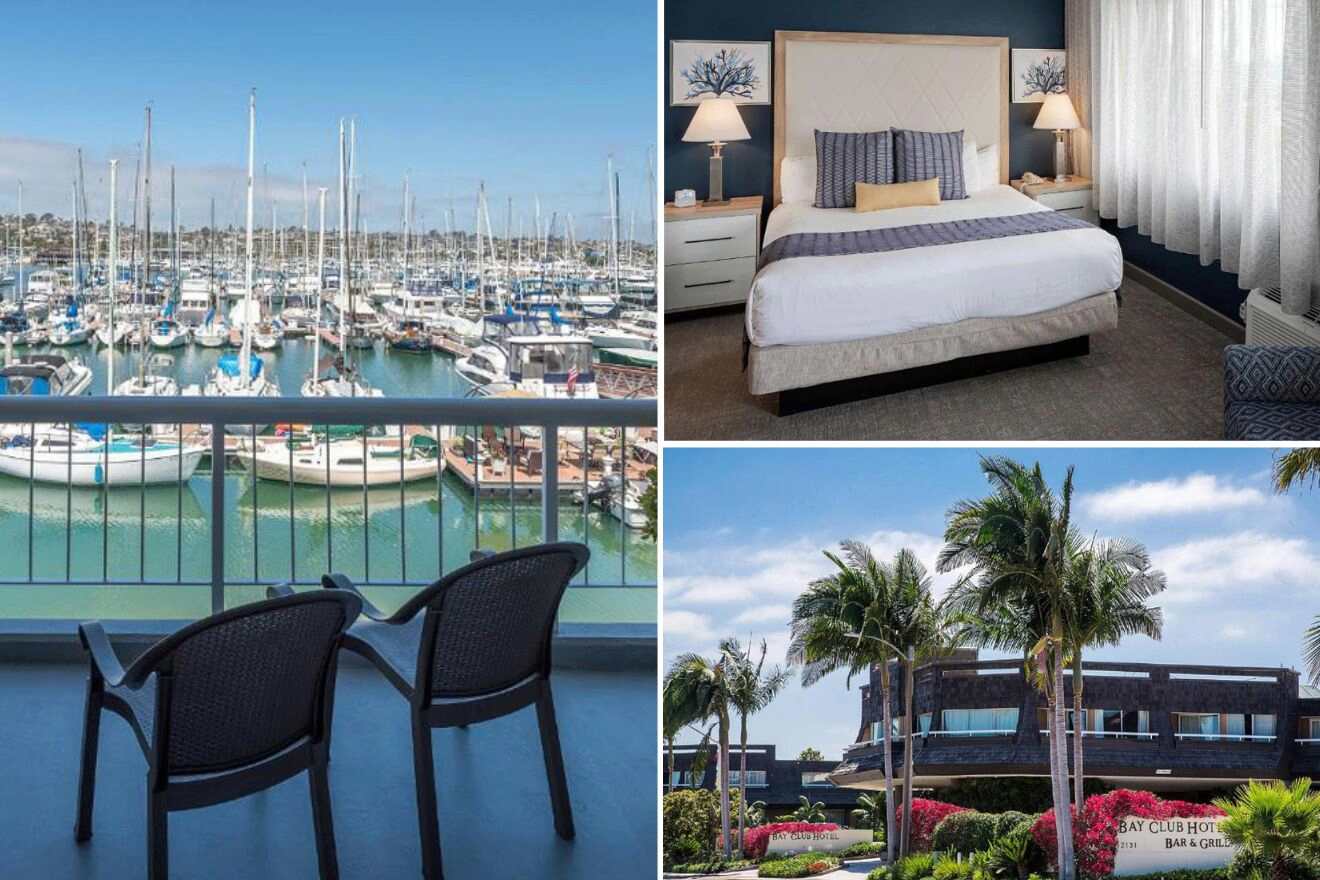 What if I told you Point Loma is home to one of the most amazing hotels in San Diego? Guests love the staff and claim they have very comfy beds! The hotel is super fashionable and has an outdoor swimming pool, an onsite restaurant and bar, and a fitness center!
The rooms are super spacious, and all of them come with either a private patio, terrace or balcony, so rest assured you will have amazing views whichever room you choose! This hotel would be great for big groups as most of the rooms can host up to 5 guests!
15. Best Western Plus Bayside Inn – for a strategic stay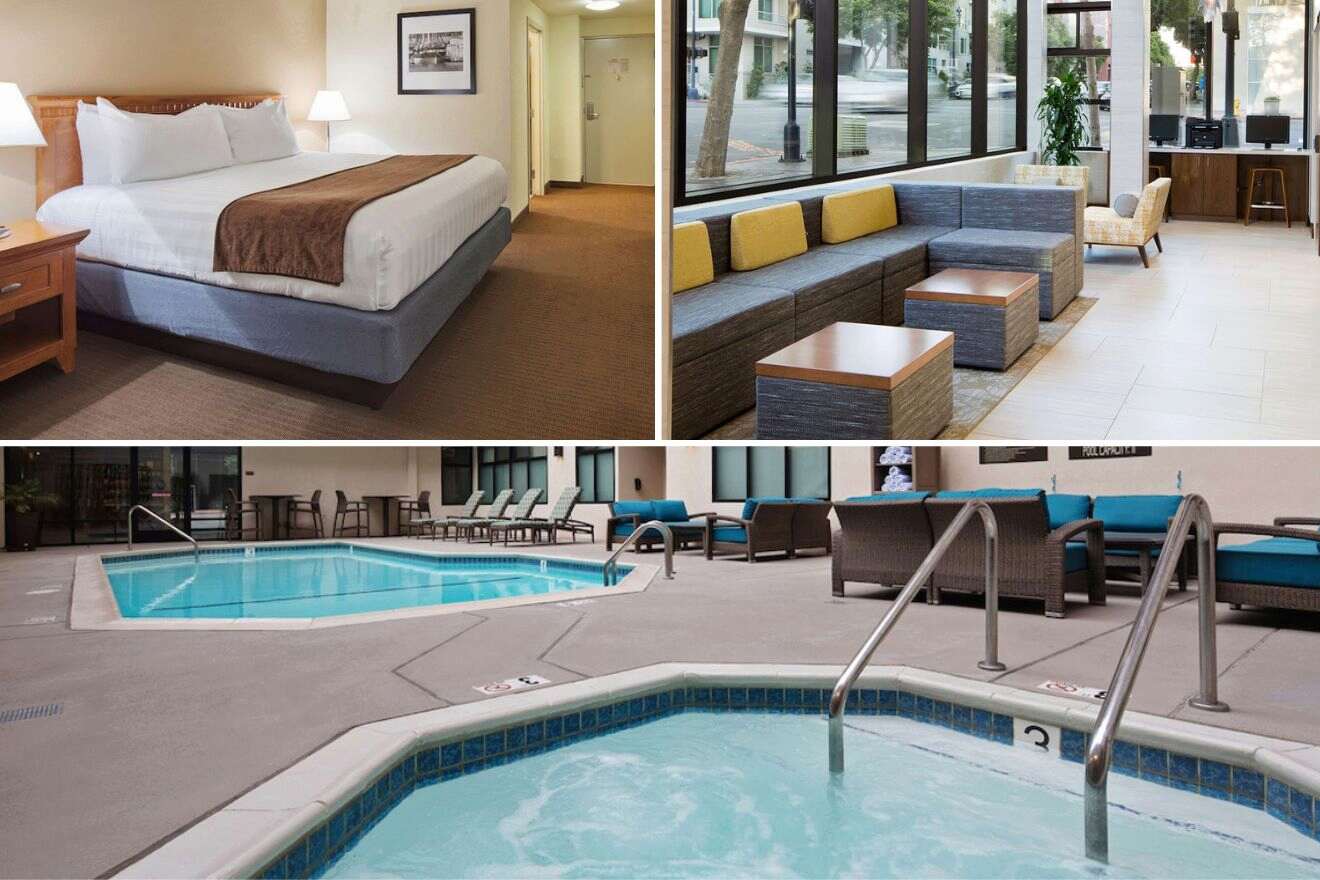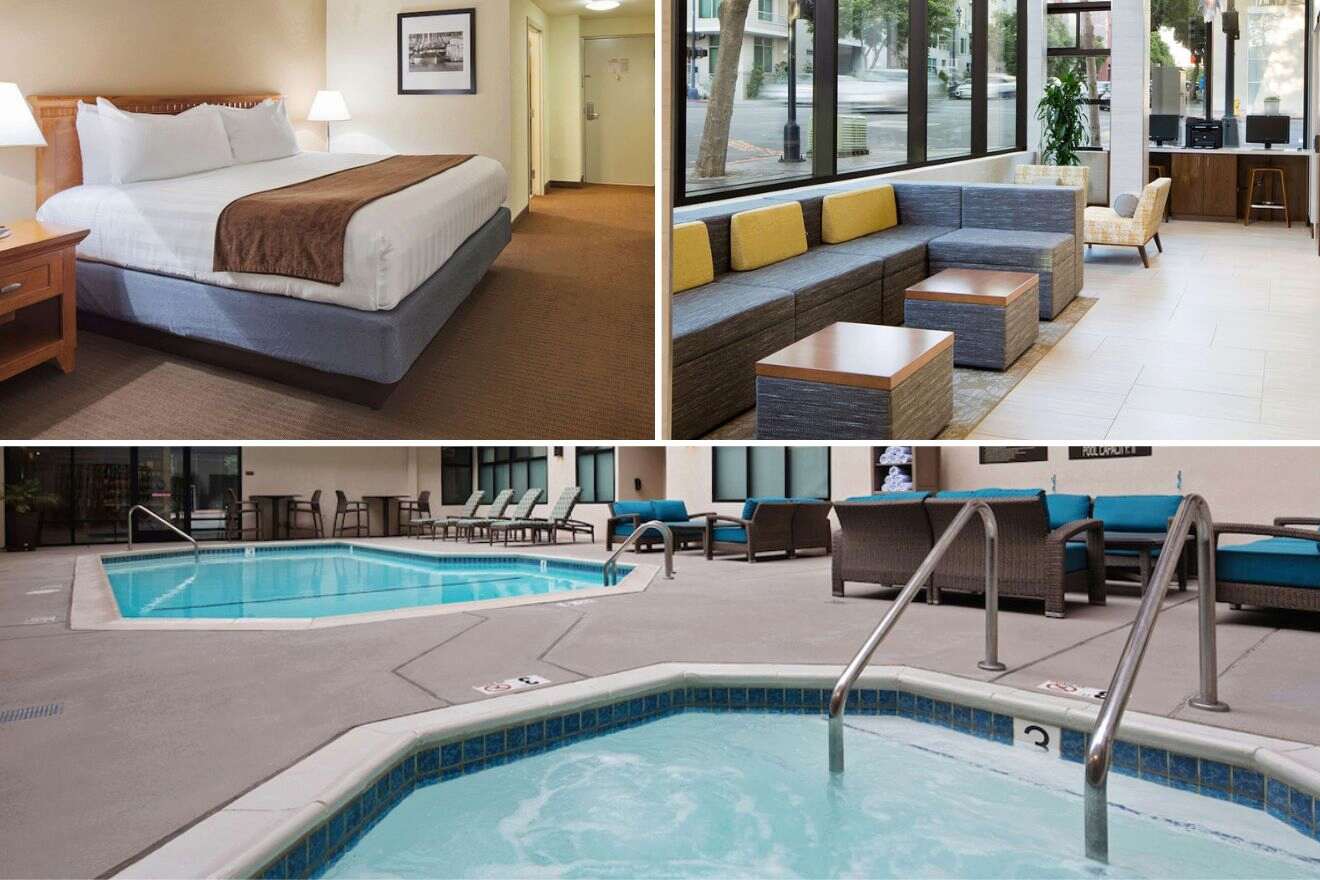 This classic hotel located downtown and with the beach just steps away has all the amenities you need to make your stay in San Diego a breeze! For example, this hotel features an outdoor pool and a fitness center, and every morning you can take one of their grab-and-go breakfast bags full of yummy things!
All the rooms come with a private balcony, a microwave, a mini fridge, and a flat-screen TV, so by the time of booking, check which one goes better with your preferences and number of guests, or if you prefer a roll-in shower or a bathroom with a bathtub! Whatever your fancy, this hotel has it for you!
16. Best Western Premier Hotel Del Mar – cozy times!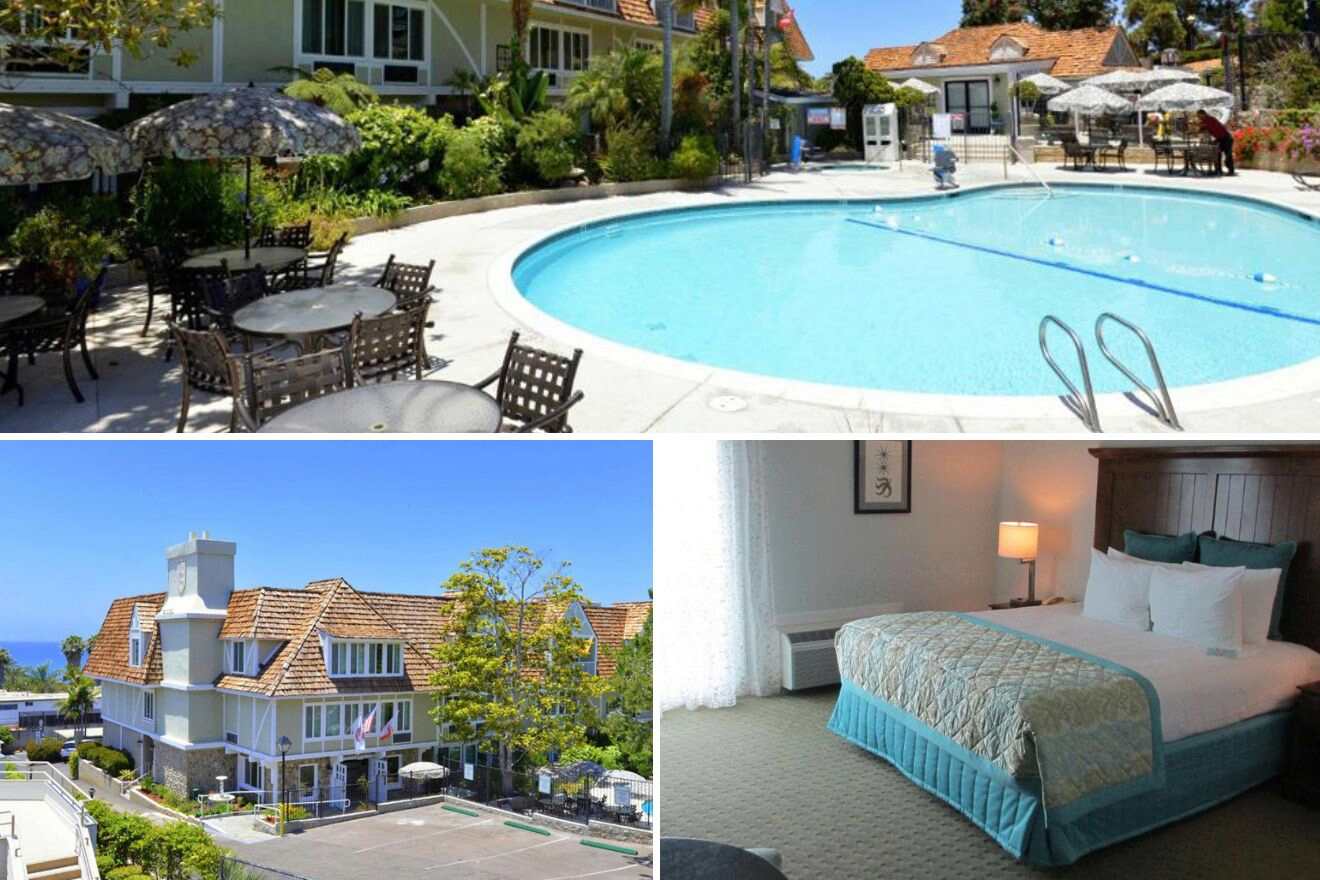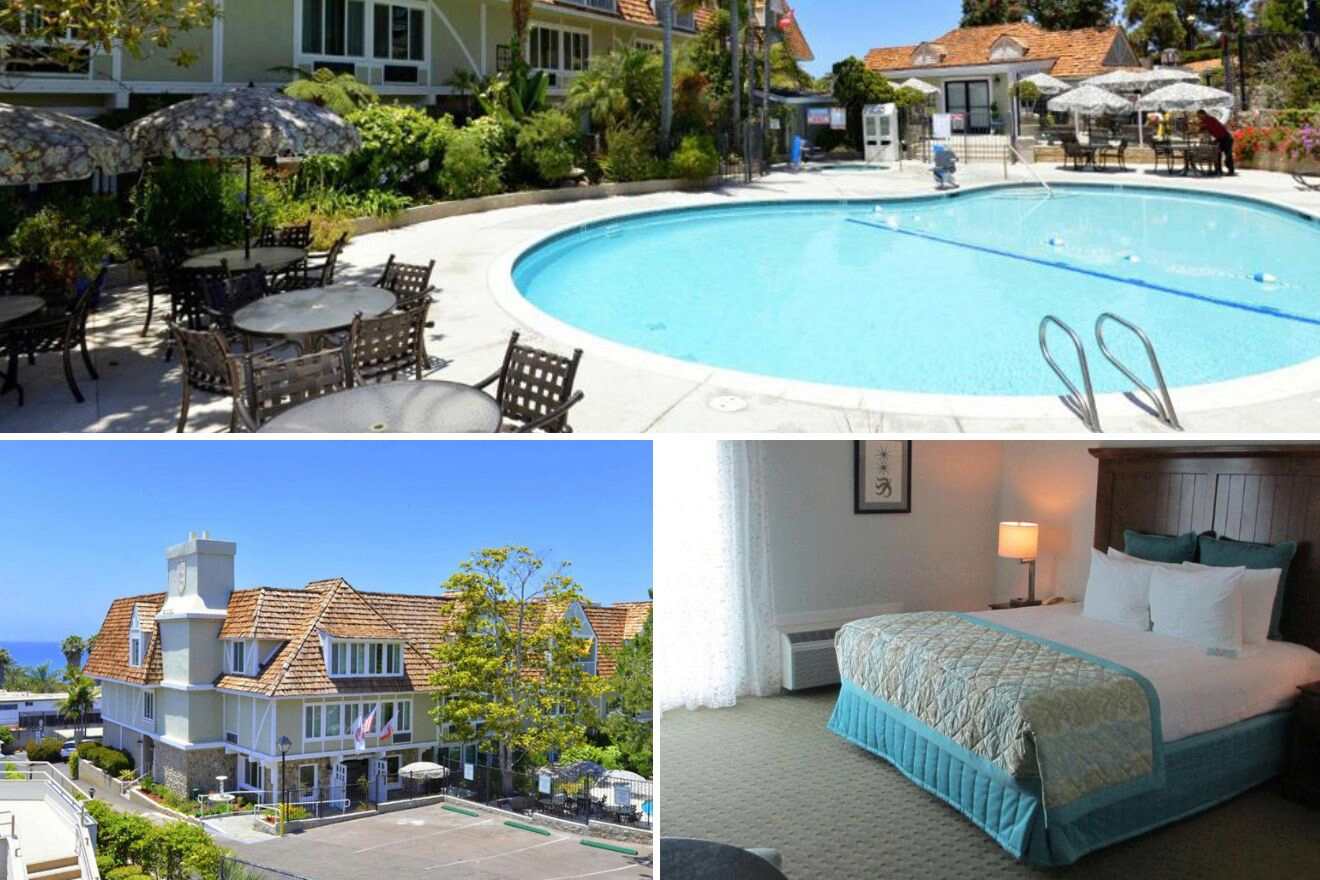 Oh me, oh my! This hotel located in Del Mar is so cute! Featuring an old-school homey vibe, this hotel has a heated outdoor swimming pool open all year round, a spa and wellness center with a jacuzzi, and an on-site bar and restaurant. The hotel serves breakfast every morning to all their guests, and they have vegetarian, gluten-free and vegan options!
There are 7 types of rooms with a balcony, and some of them come with an ocean view and the rest with a garden view. Whichever one you choose, it will be beautiful! If you'd like your room with a balcony to have a kitchenette, it is possible, so check by the time of booking!
17. Legacy Resort Hotel & Spa – discover Mission Valley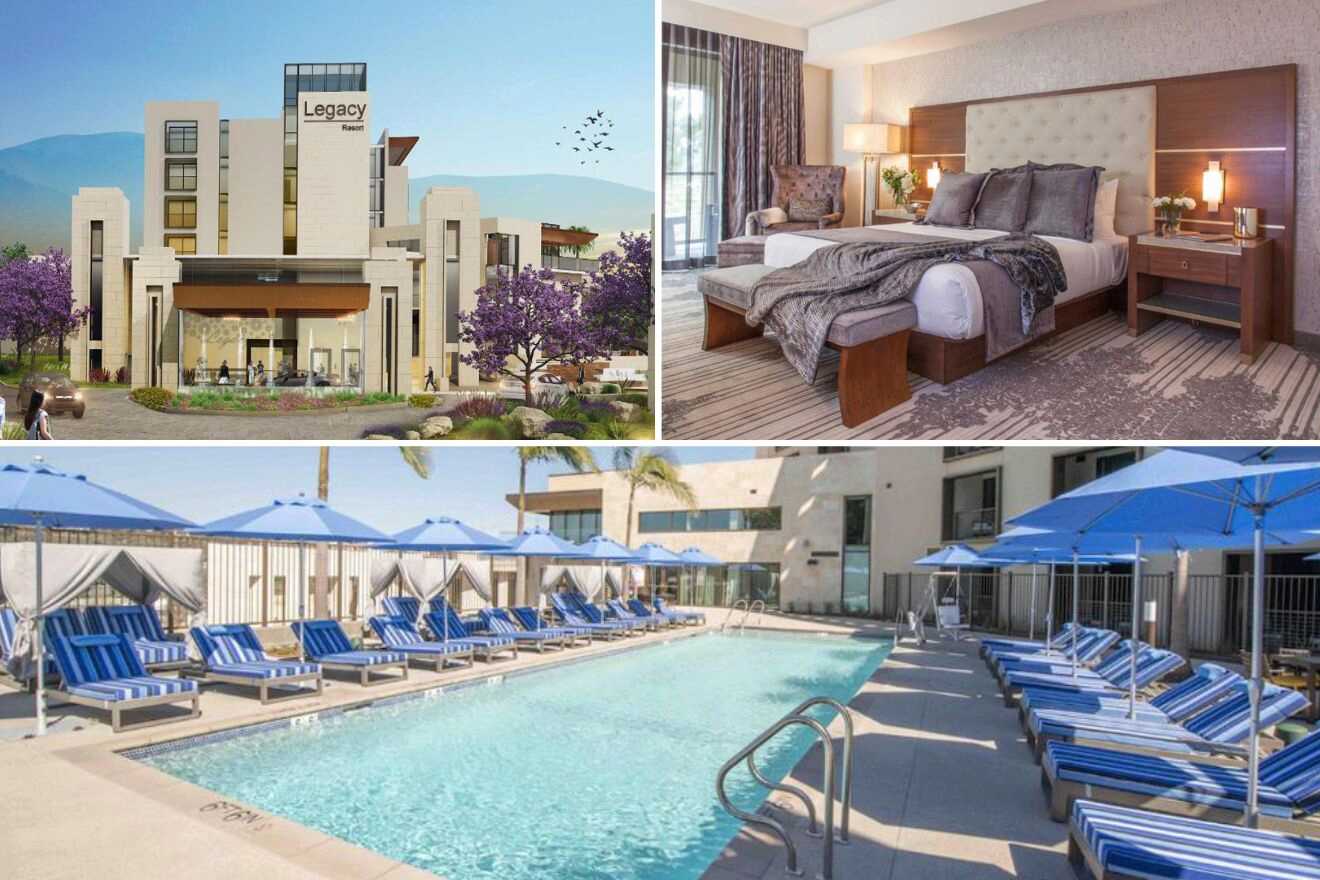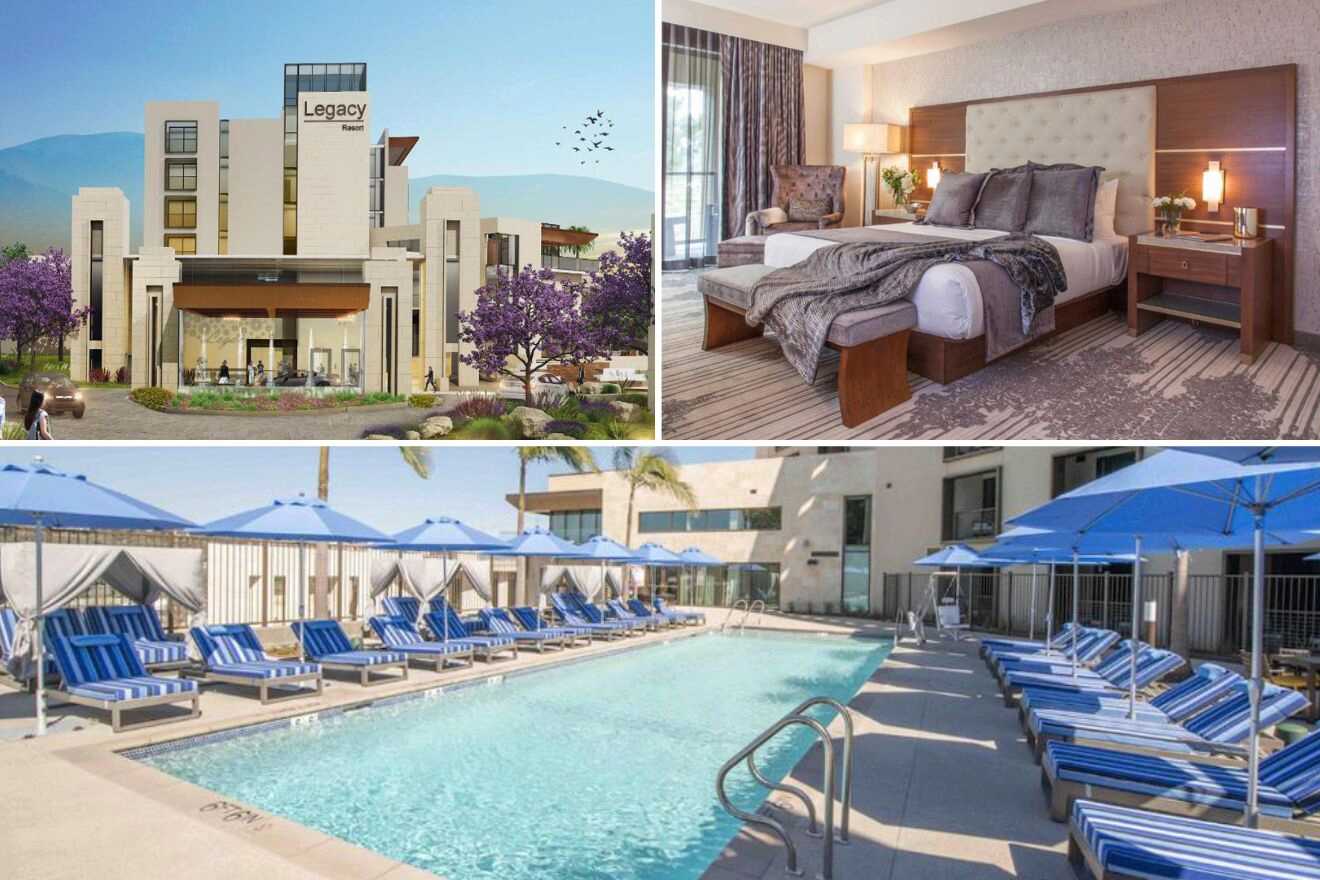 What a modern option in Mission Valley! This hotel comes with an outdoor pool situated on the hotel terrace, and there is a lounge area by the pool to enjoy some drinks on a hot summer day. The hotel reception has an impeccable style, and some say the fruit-infused water they have there is delicious!
There are 2 rooms with a balcony and one of the main differences is the fact that one is for a maximum of 2 guests and the second for a maximum of 4 guests. All the rooms come with air conditioning, a coffee maker, and a private bathroom with shower or bathtub, so pick your poison!
18. Sands Of La Jolla – simple and convenient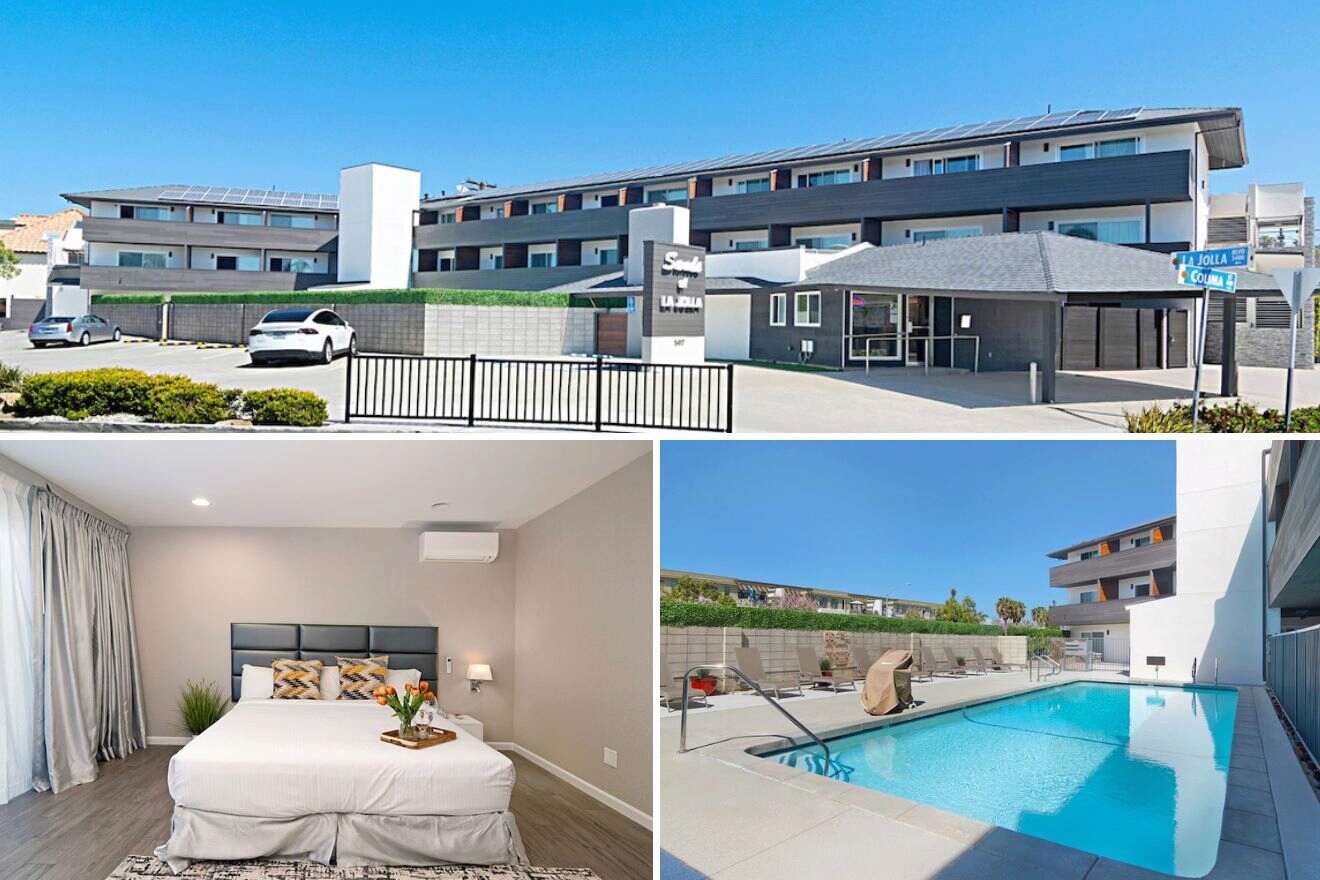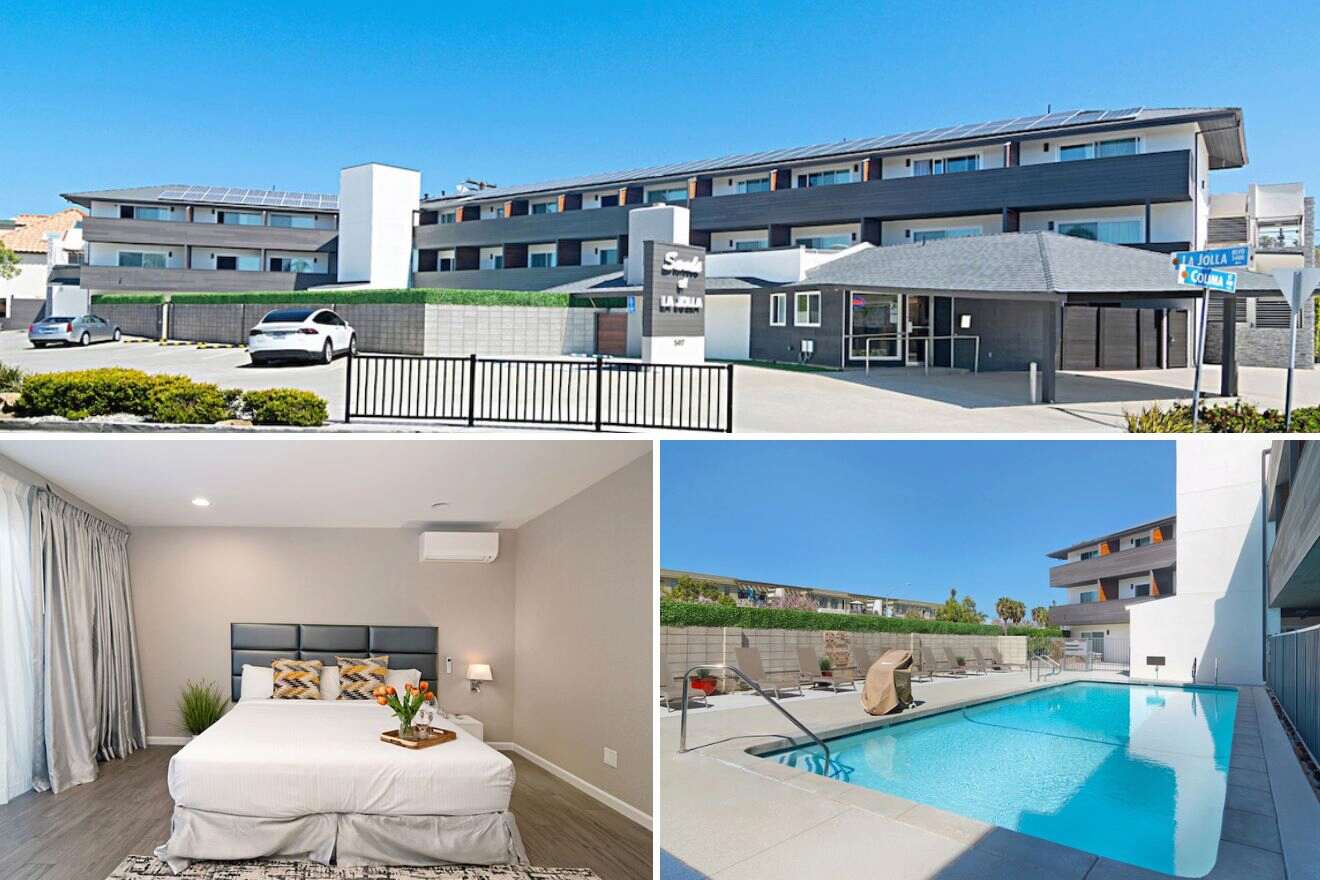 Located in Bird Rock, this hotel is perfect for those looking for a quiet area to stay in San Diego. With the beach only 3 blocks away, you can head over and sunbathe whenever you fancy, but you can also relax and refresh at the hotel's outdoor swimming pool!
The rooms are spacious and very bright, there are 2 types of rooms with private balconies: the king room, which can only host a maximum of 2 guests, and the queen room, for a maximum of 4 guests. All the rooms come with free Wi-Fi and air conditioning to beat the summer heat, so you can relax after a day in the sun!
P.S. Free private parking is available to all hotel guests!
19. Loews Coronado Bay Resort – a dreamy hotel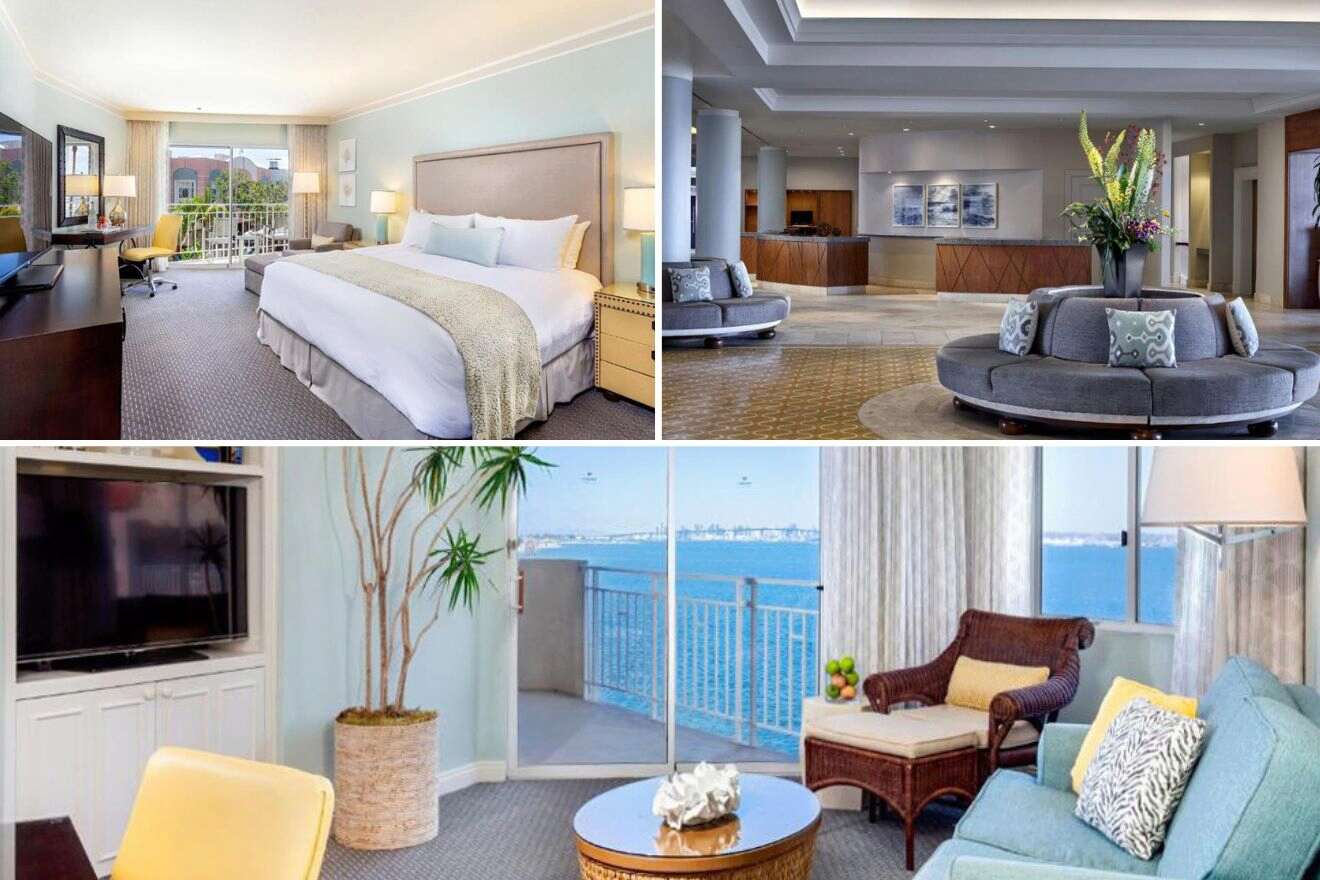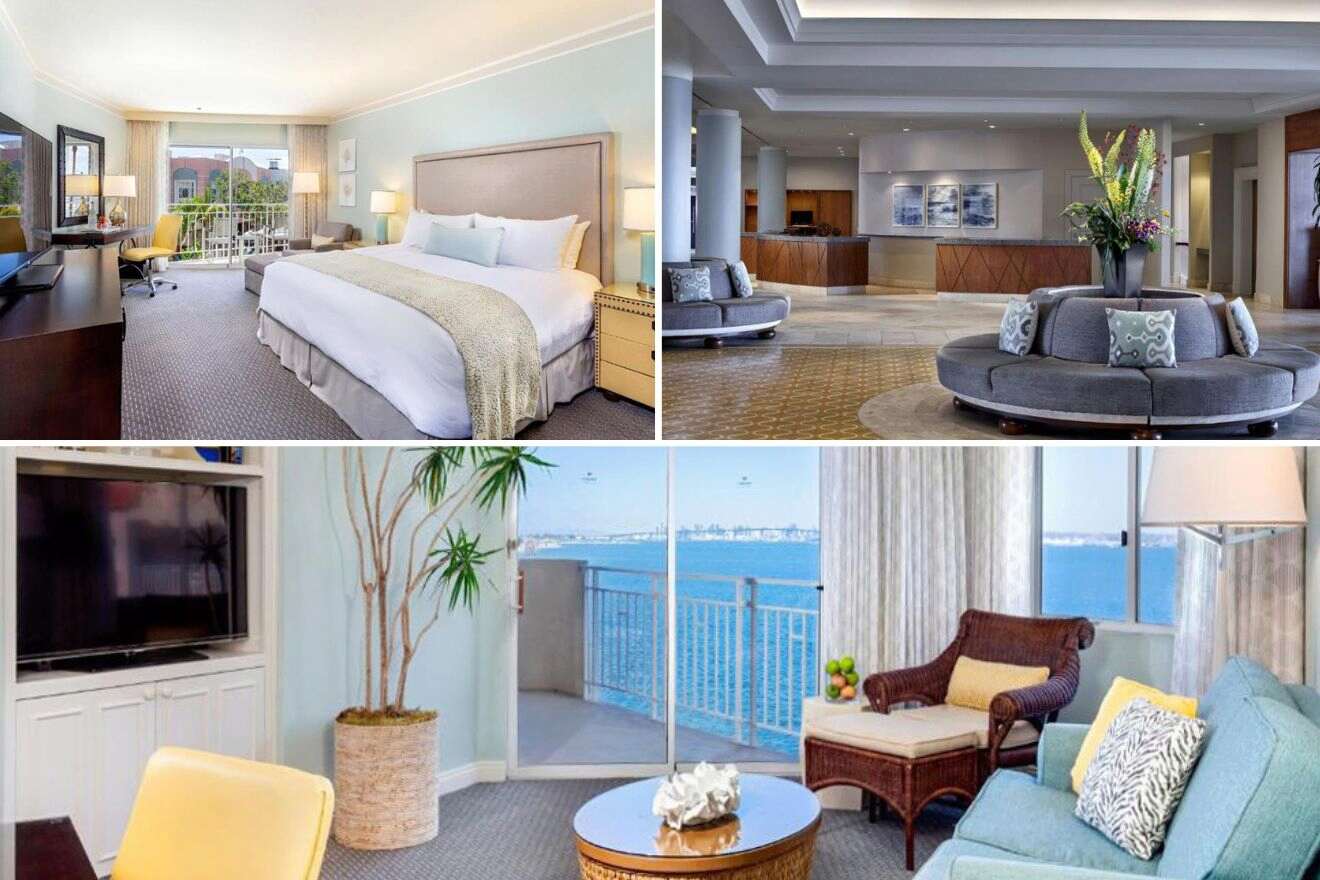 OMG! This hotel looks unreal, located at the beach in Coronado, this hotel will make you feel like you are staying on your own private island! The decor is classy and elegant and features an outdoor swimming pool area and a lovely patio with fireplaces. You'll love the fantastic views, the wellness center, and a sophisticated onsite bar and restaurant!
All the rooms are delicate and chic, and most of the rooms come with a balcony with an ocean view or garden view, so check by the time of booking which one fits your preferences better. Keep in mind all rooms come with a spa bath so that you can relax in style in a tub filled with bubbles!
20. Inn by the Sea – a classic everyone likes!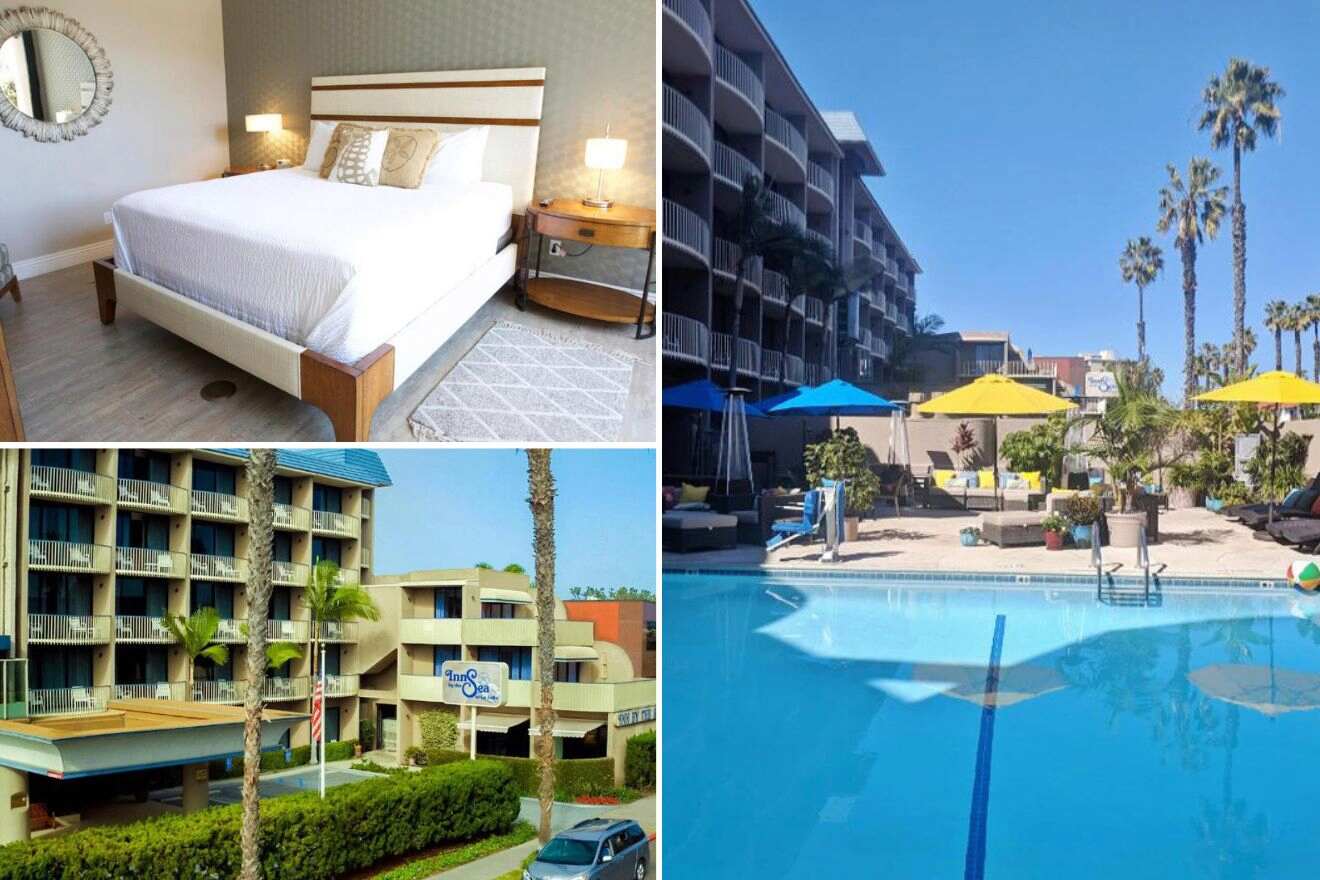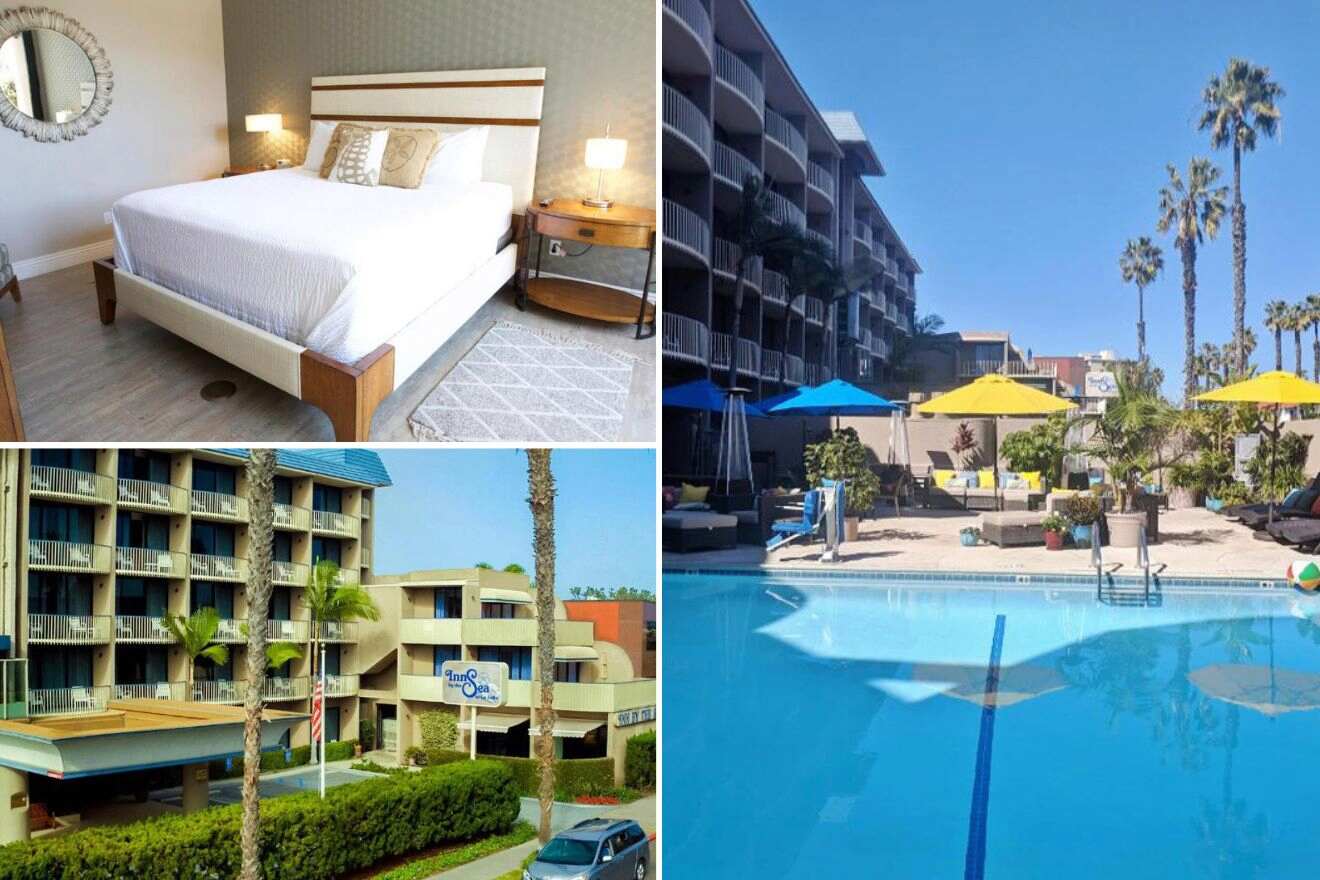 Right in the middle of the Village of La Jolla, this hotel has all the essentials for the perfect holiday and more! With an outdoor pool, 24-hour front desk service, and breakfast served in your room every morning, this hotel is just a little treasure!
This hotel has many rooms with furnished balconies, but I highly recommend the rooms that have ocean views so you can enhance the balcony experience in style! The rooms come with all the everyday amenities, like free Wi-Fi, a mini refrigerator, a coffee station, and a private bathroom with a bathtub (ask for it when you book it)!
FAQs about San Diego hotels with balcony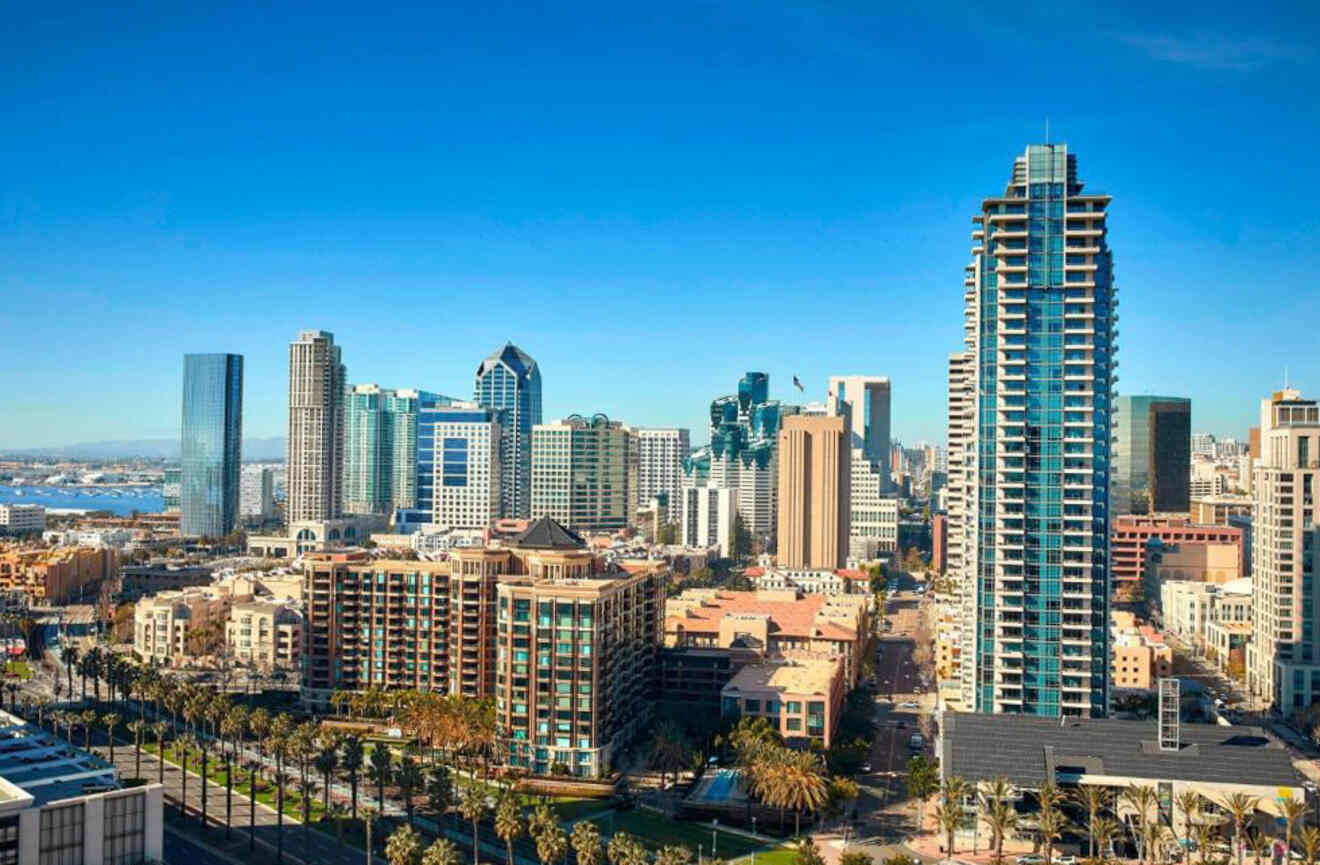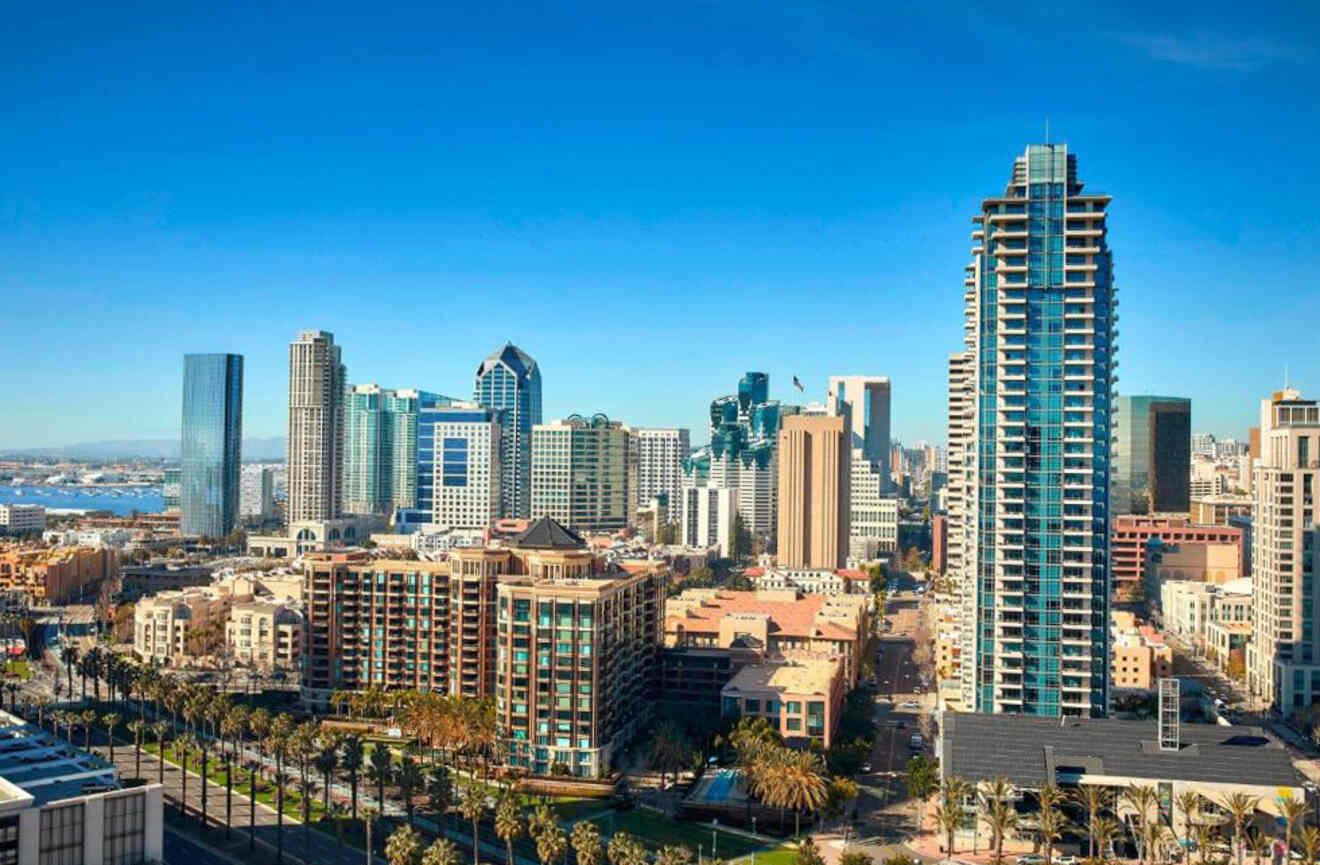 Conclusion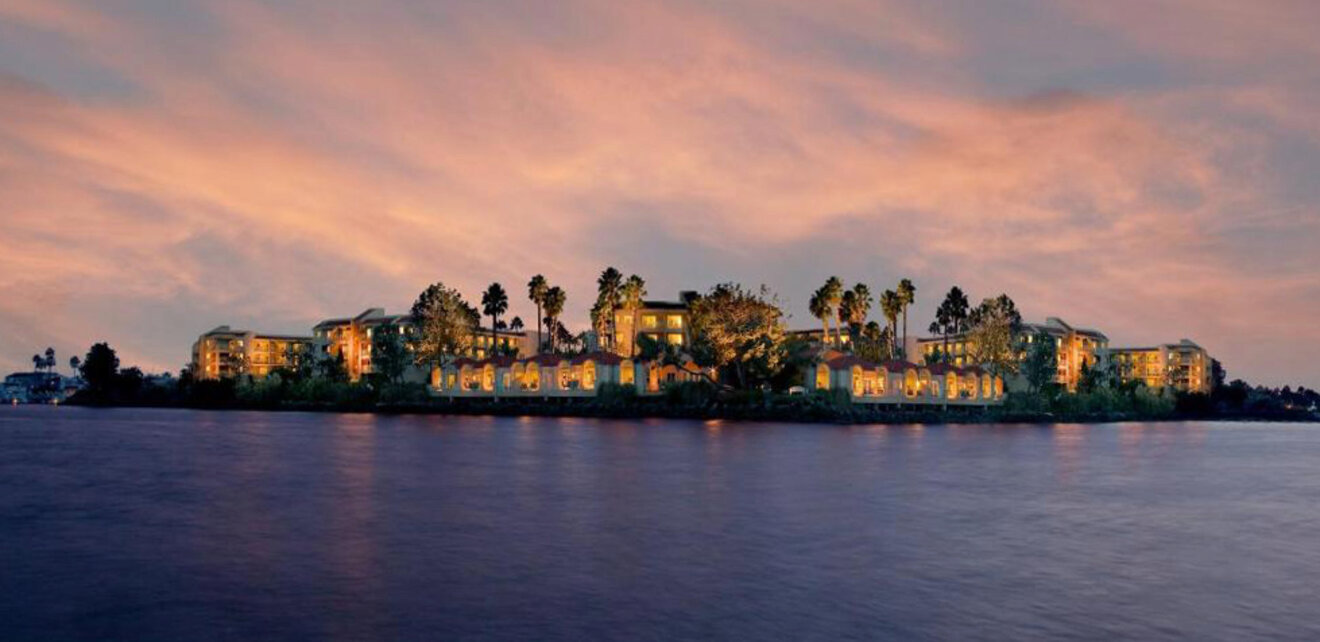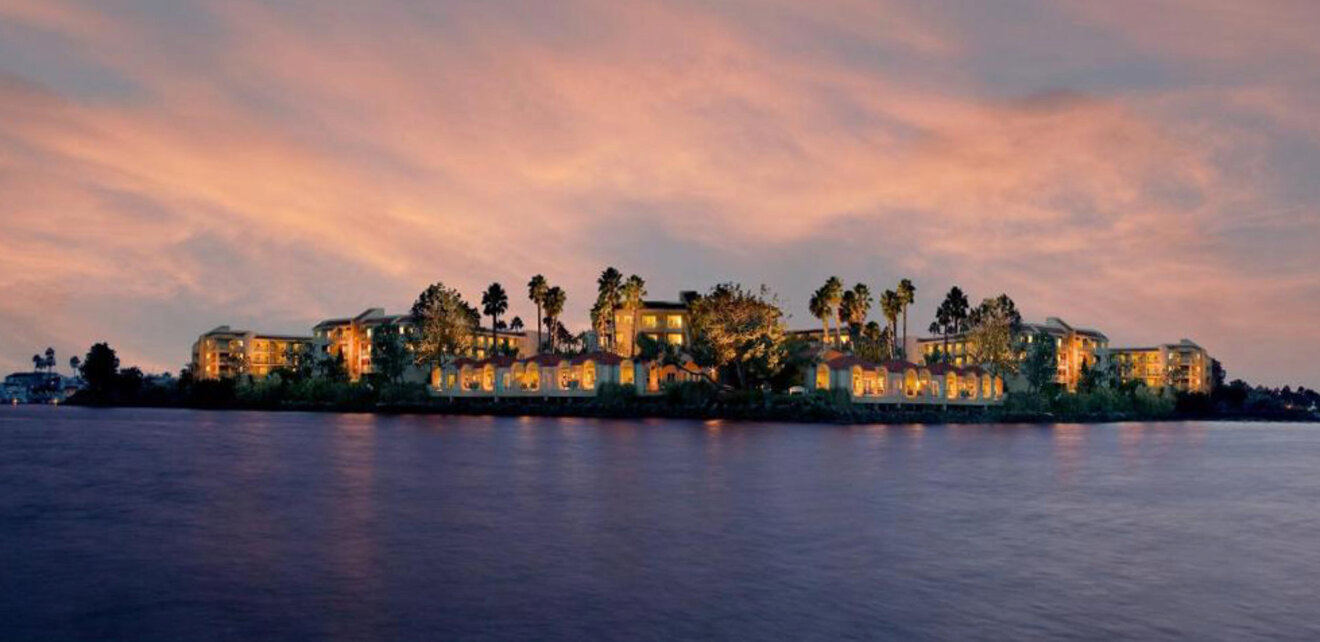 That's a wrap, folks! What a nice wide range of options for San Diego hotels with a balcony I covered in this post, there is a hotel for every taste and a room fitting all budgets!
Honestly, if you ask me which are my favorite San Diego hotels with balconies, I wouldn't know what to say, all the hotels featured here are a real GEM! But if you want to know which are my top 2, I would say:
Fairmont Grand Del Mar – I love the crazy amount of amenities it has and how beautiful the views are wherever you are in this hotel!
Cosmopolitan Hotel – What can I tell you? I love a hotel with Victorian times decor, it just looks so classy and full of history!
Which of these amazing San Diego hotels with a balcony was your favorite? Let me know in the comments, and right after, book the room of your dreams before someone else does! Like I always say, it is better to book in advance and get all of those sweet deals!
Have a wonderful time,
Daniela
---
Pin it for later!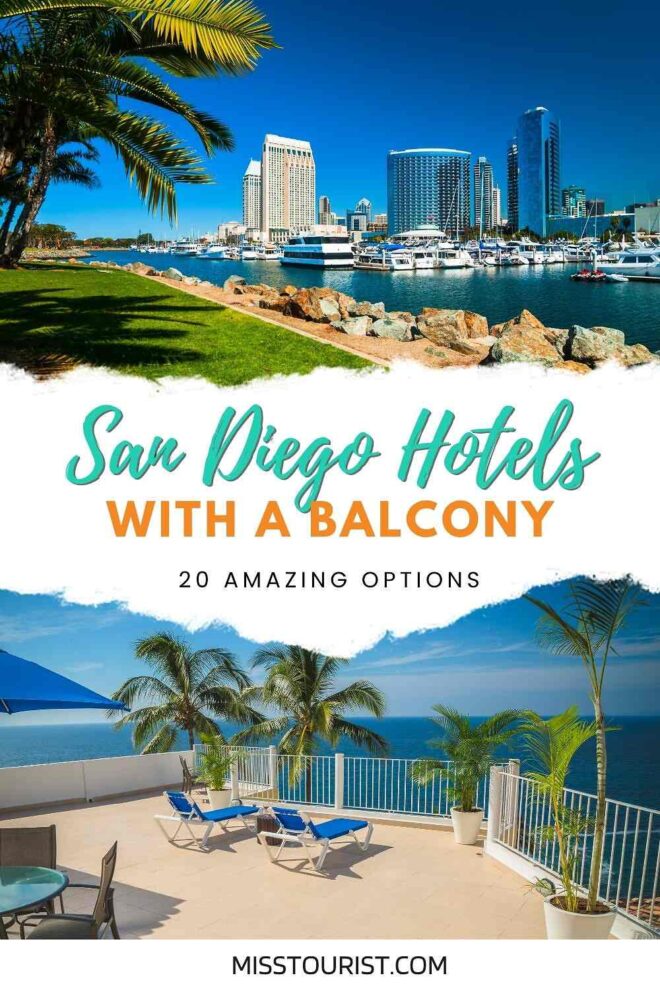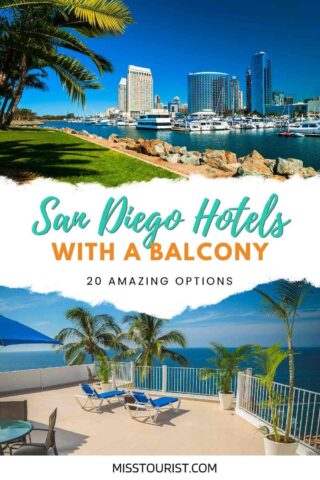 Pin it for later!