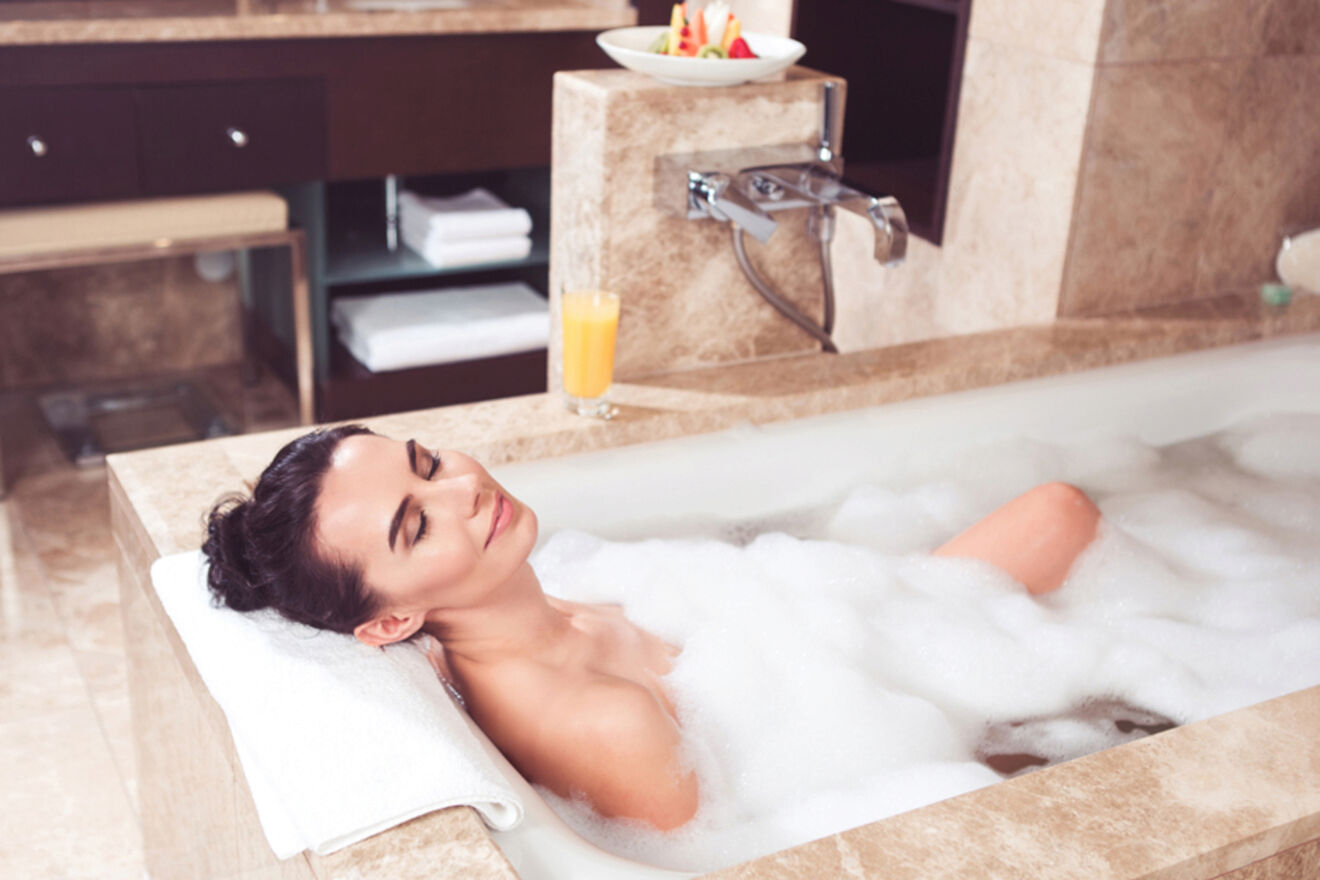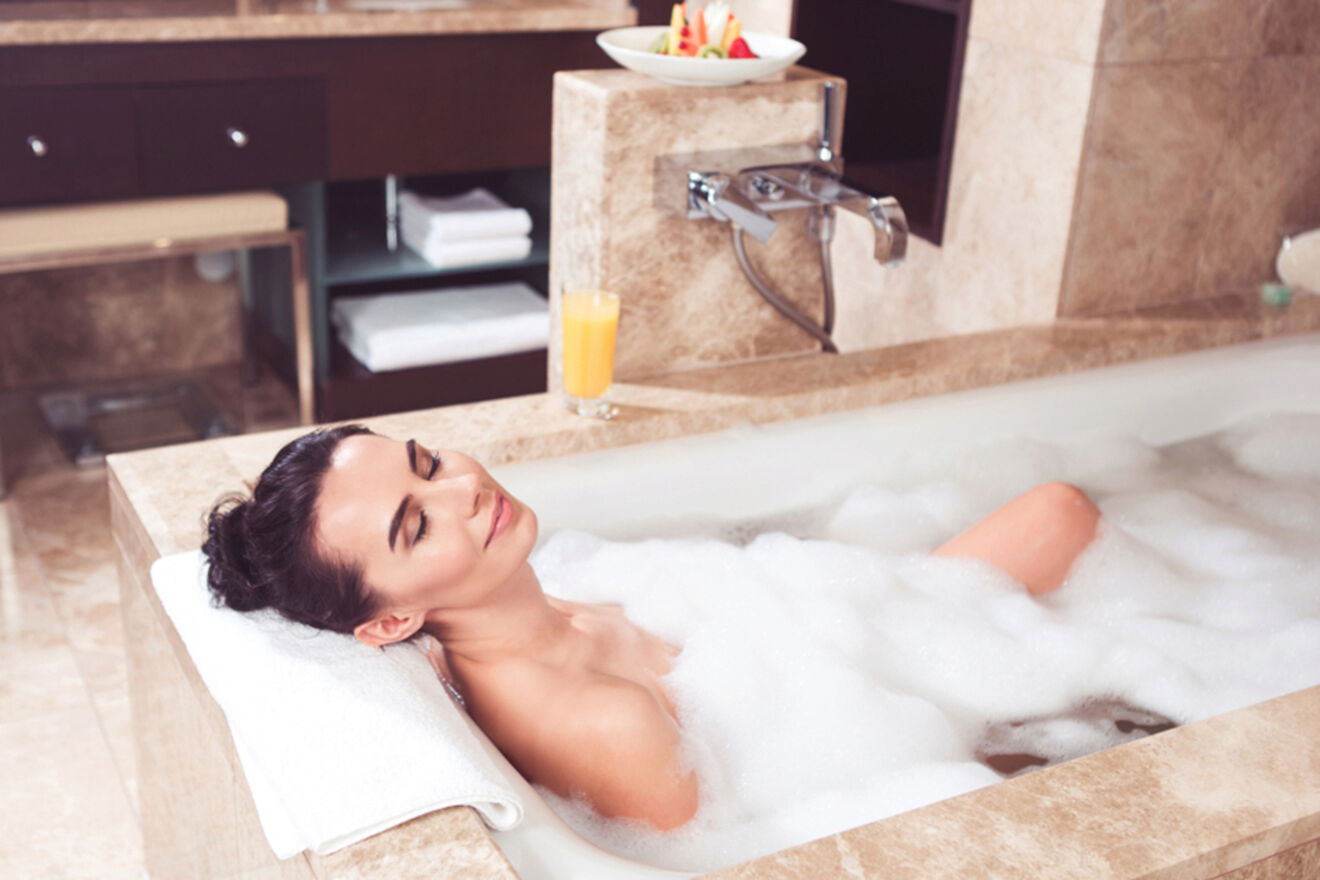 Finally, booking that relaxing getaway? Yay! You'll be happy to know that in San Diego, you don't even have to leave your room to enjoy some fabulous services, and you'll find out where in a second!
Follow me as we discover the best hotels in San Diego with a jacuzzi in the room! I've done all the research and came up with a list of incredible places, which I listed from most to least expensive so that you can easily pick your favorite hotel.
And since this city has such a wide variety of places to stay, I've decided to add 2 bonus sections, with the best VRBOs with a hot tub and some unique hotels with a shared jacuzzi.
That way, even if the places that you like with an in-room hot tub sell out, you'll have many other backup solutions. But I do have to say that it's important to book your room in San Diego in advance, especially the ones in the main section.
San Diego is so popular with tourists, and no doubt, those will sell out first!
Alright, let's get this show on the road!
If you are in a hurry
Want to quickly find out which are the top hotels in San Diego with a hot tub in the room? Then check out the list below, which has the best picks:
1. Fairmont Grand Del Mar – for golf enthusiasts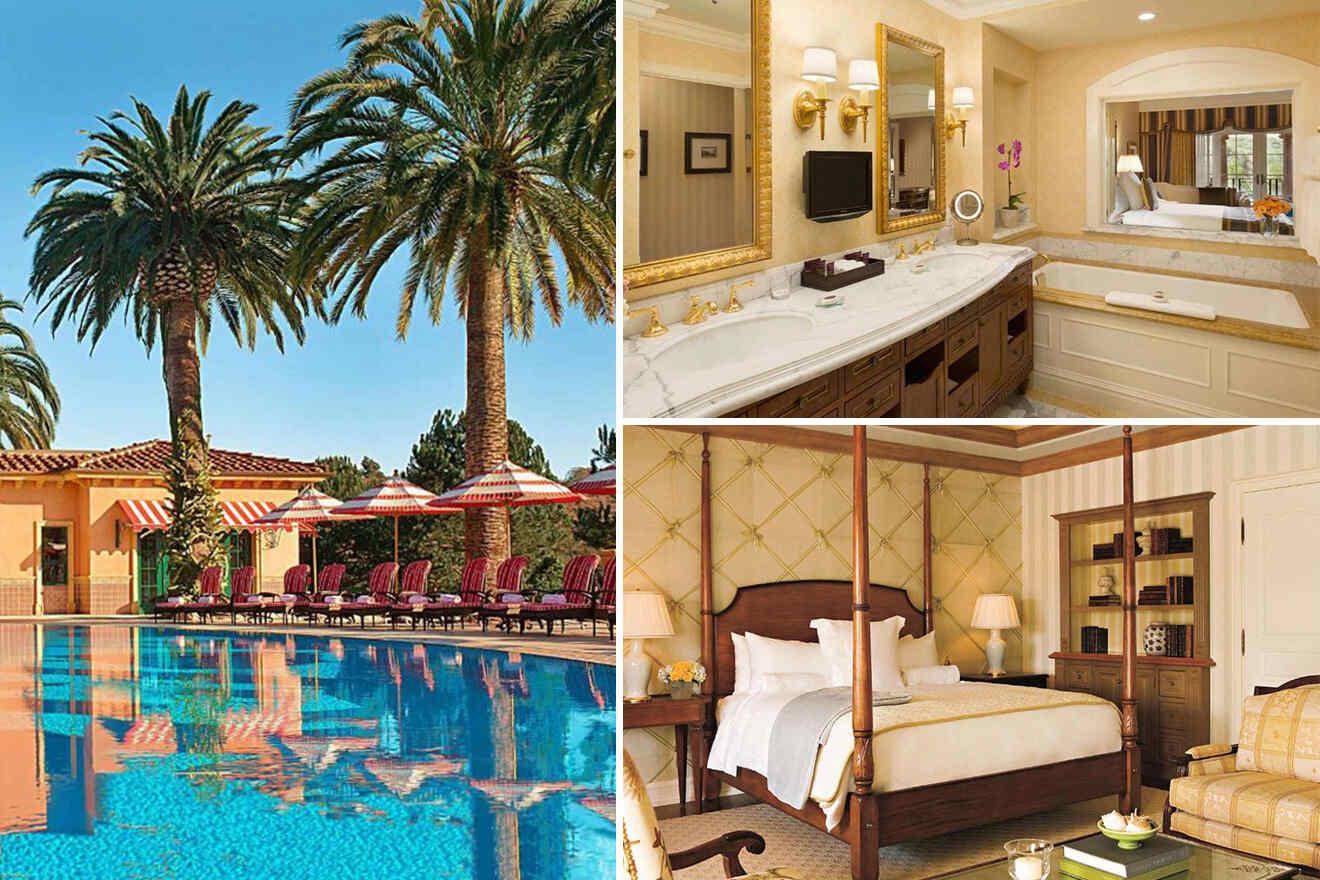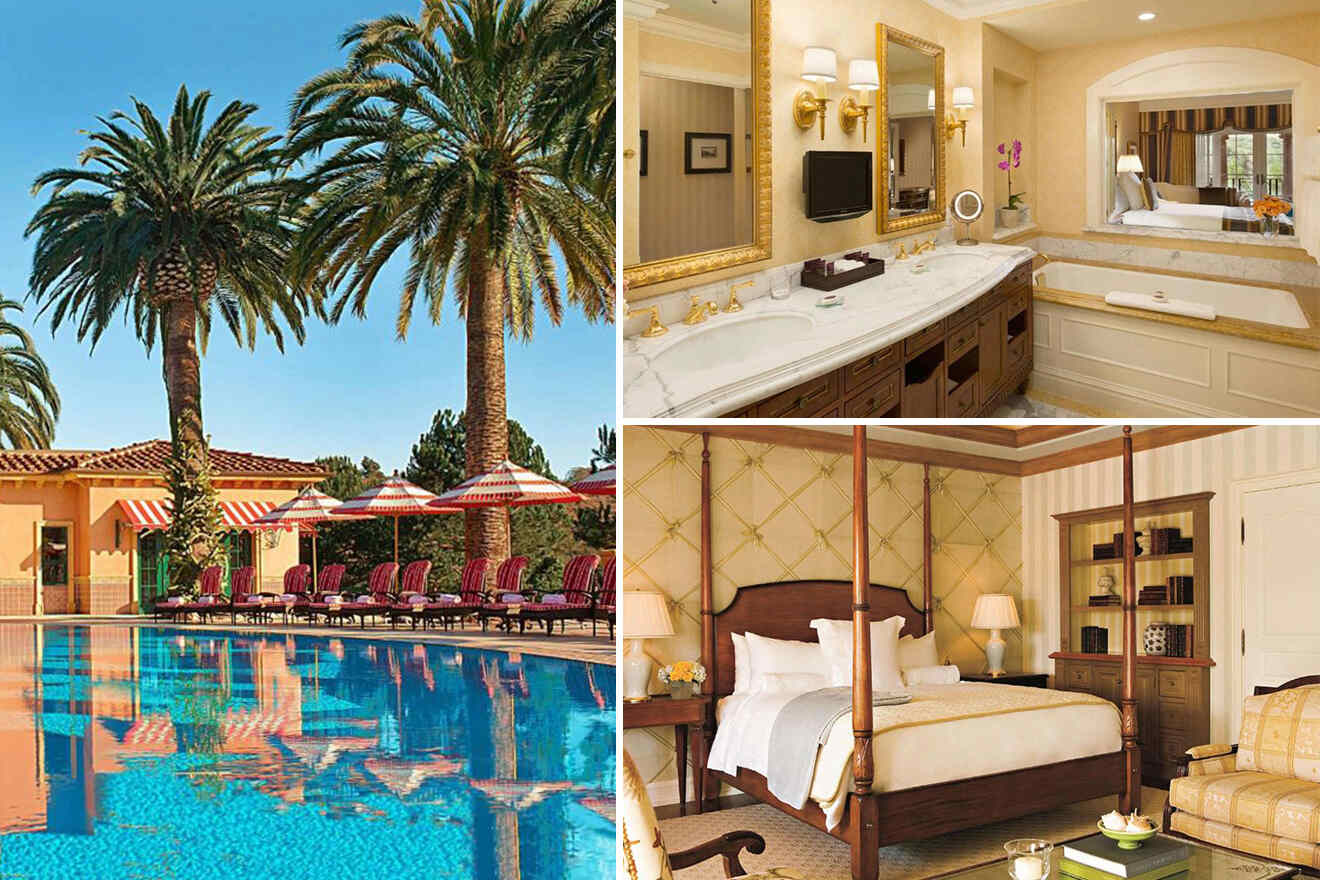 Are you ready for the holiday of your dreams? This Mediterranean-inspired resort in Carmel Valley offers the perfect setting for that! If you want to relax as much as possible, then definitely book the 3-bedroom villa where you'll have your own personal hot tub, which will be perfect for those days when you don't feel like doing anything!
And on the days when you do want to try as many things as possible, get your golf attire and play on their golf course, sunbathe by the outdoor swimming pool, and finish your day with a spa sesh! Don't forget to explore the San Diego area, as there are lots of cool attractions!
2. Kimpton Alma San Diego – for the urban atmosphere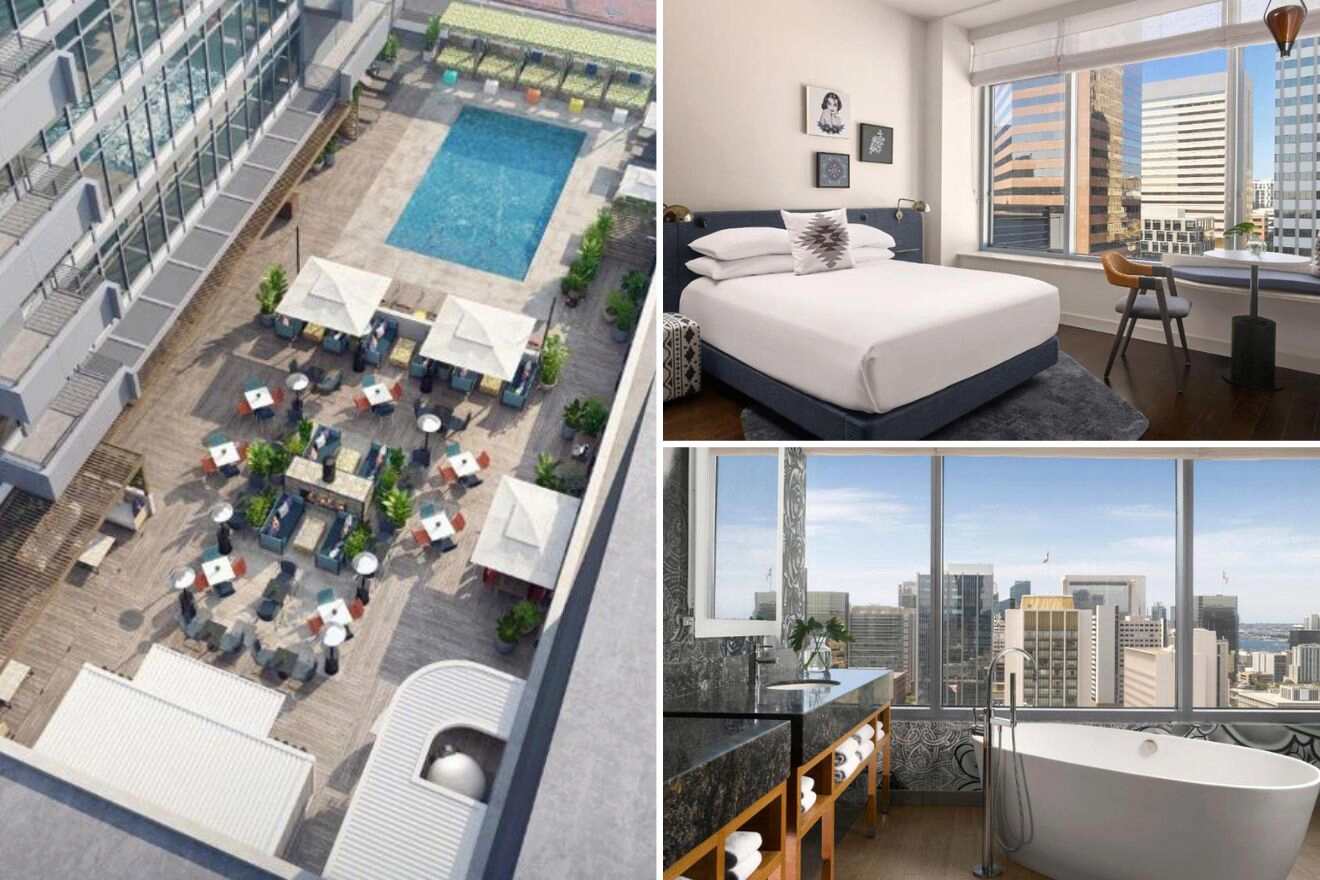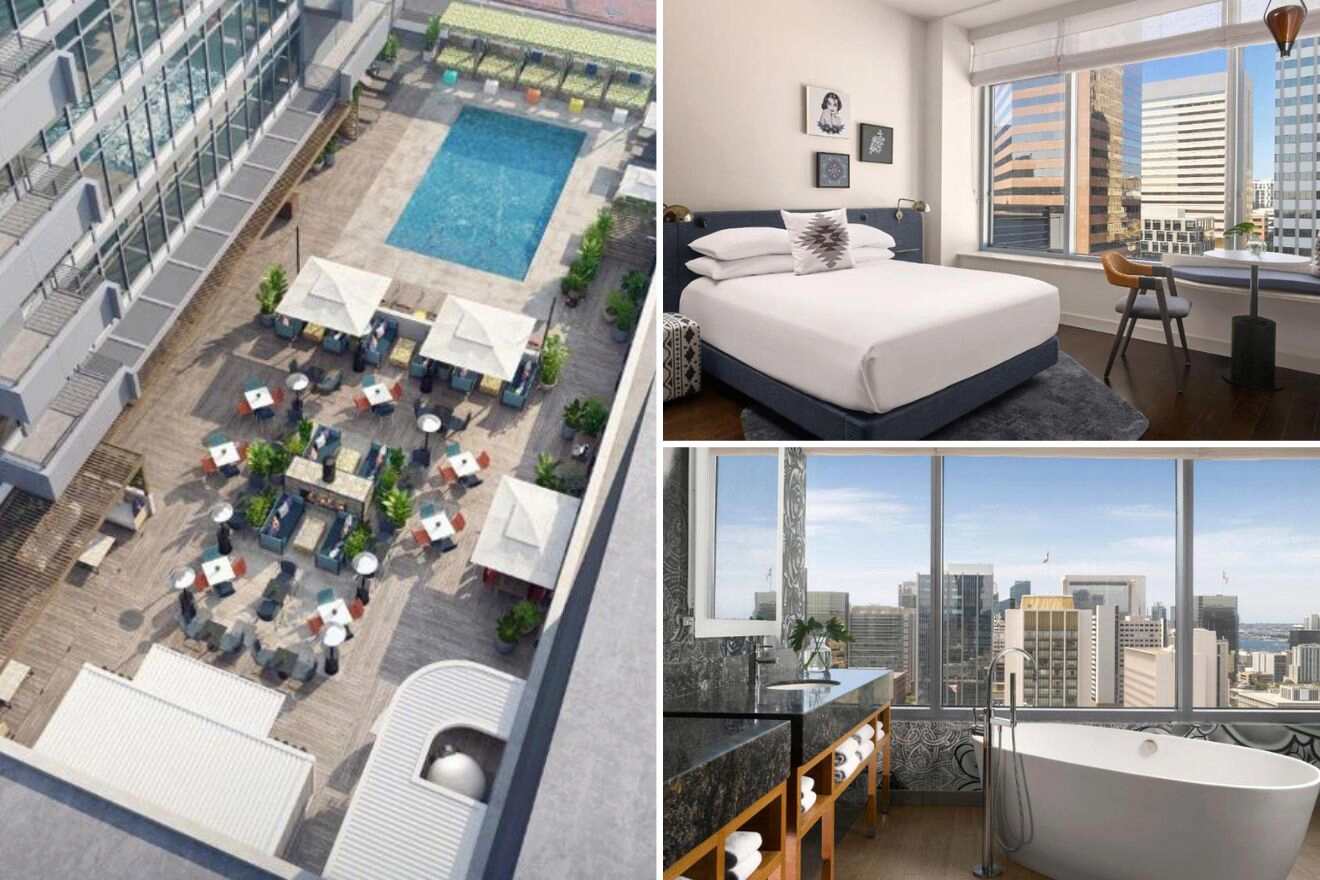 Whether you're planning a romantic getaway or a chill trip with your friends, this hotel features everything you need for your adventure! Conveniently located in downtown San Diego close to attractions like Balboa Park and the San Diego Zoo, this place can't be missed!
Their One-Bedroom King Spa Suite is probably a guest favorite as you'll have your own private jacuzzi tub, a king-sized bed plus some amazing city views and other modern amenities. During your stay, you can enjoy some romantic dinners with your partner at one of the 3 restaurants on-site, sunbathe by the rooftop outdoor swimming pool, and hit the fitness center.
3. InterContinental San Diego – a boutique hotel with top view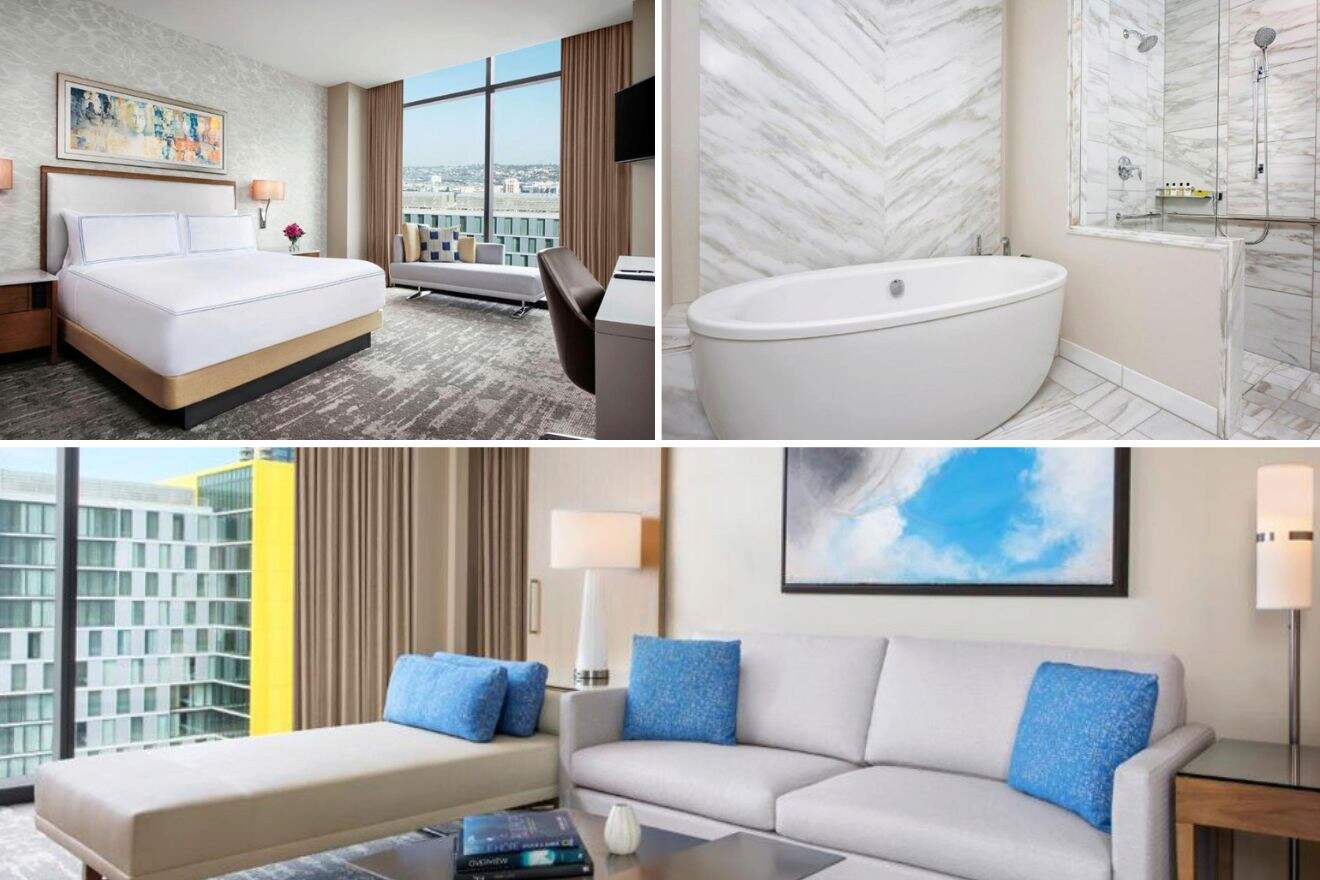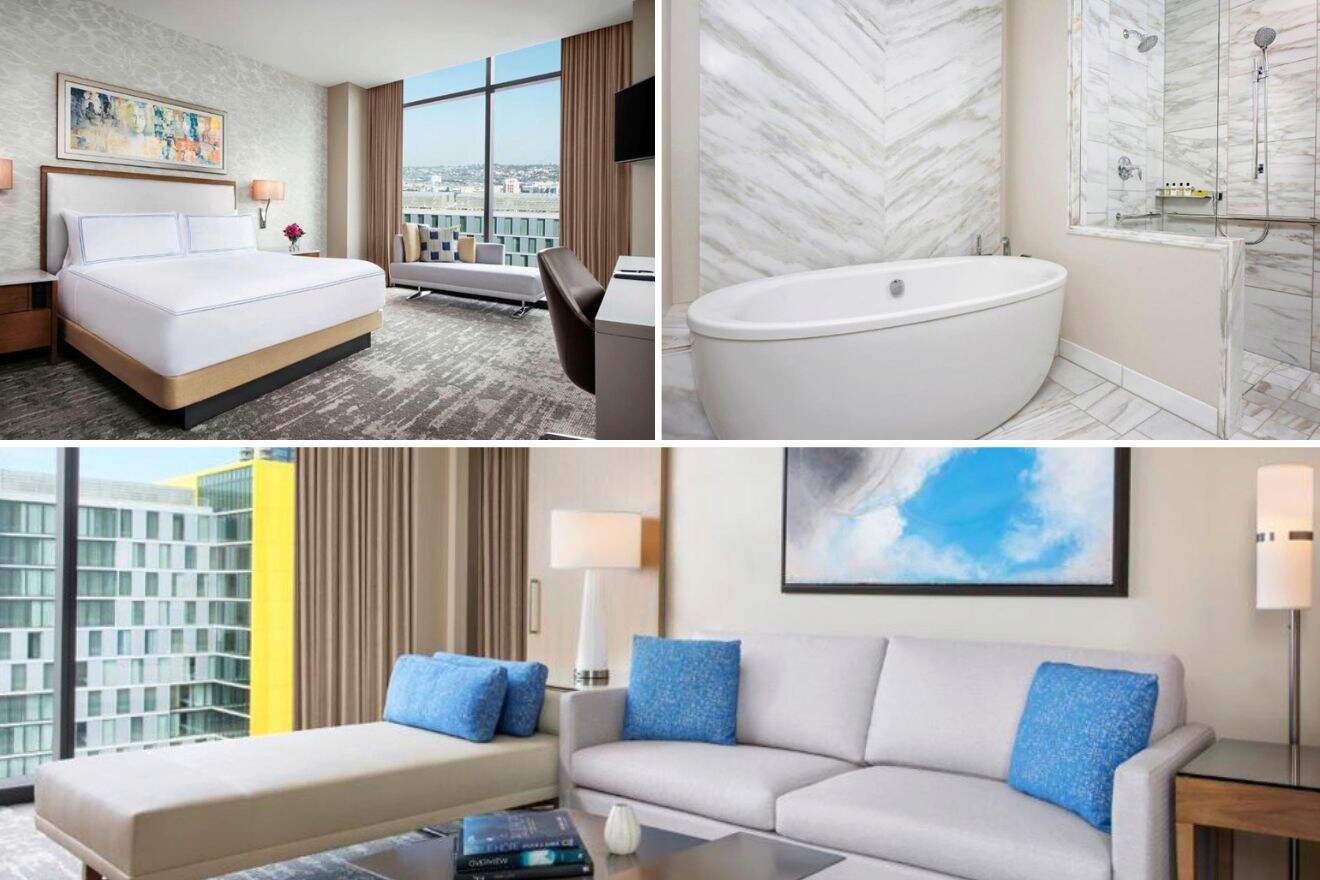 What can be better than staying in downtown San Diego in a fabulous hotel that's set within walking distance of the attractions and offers some incredible views of the San Diego Bay? And I'm not even done yet, it also comes with private hot tubs!
Sounds like a dream, and their Waterfront Corner Suite North really is one of the most amazing rooms with a spa bath! It has floor-to-ceiling windows that give the whole space so much brightness and spaciousness. The accommodation also comes with an outdoor swimming pool, a fitness center, bike rentals, and a great restaurant that serves locally sourced food!
4. Tower 23 Hotel – with in-room spa services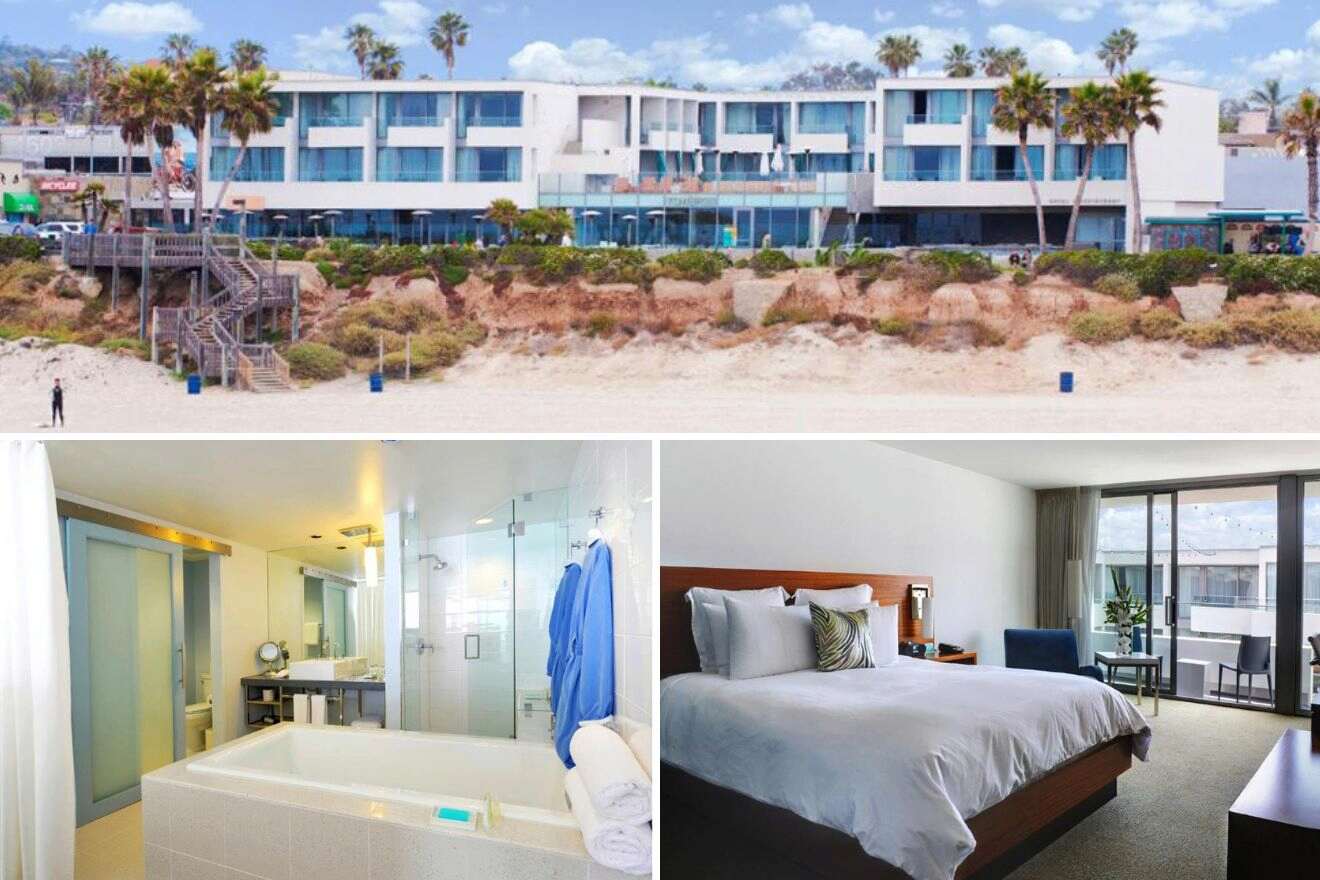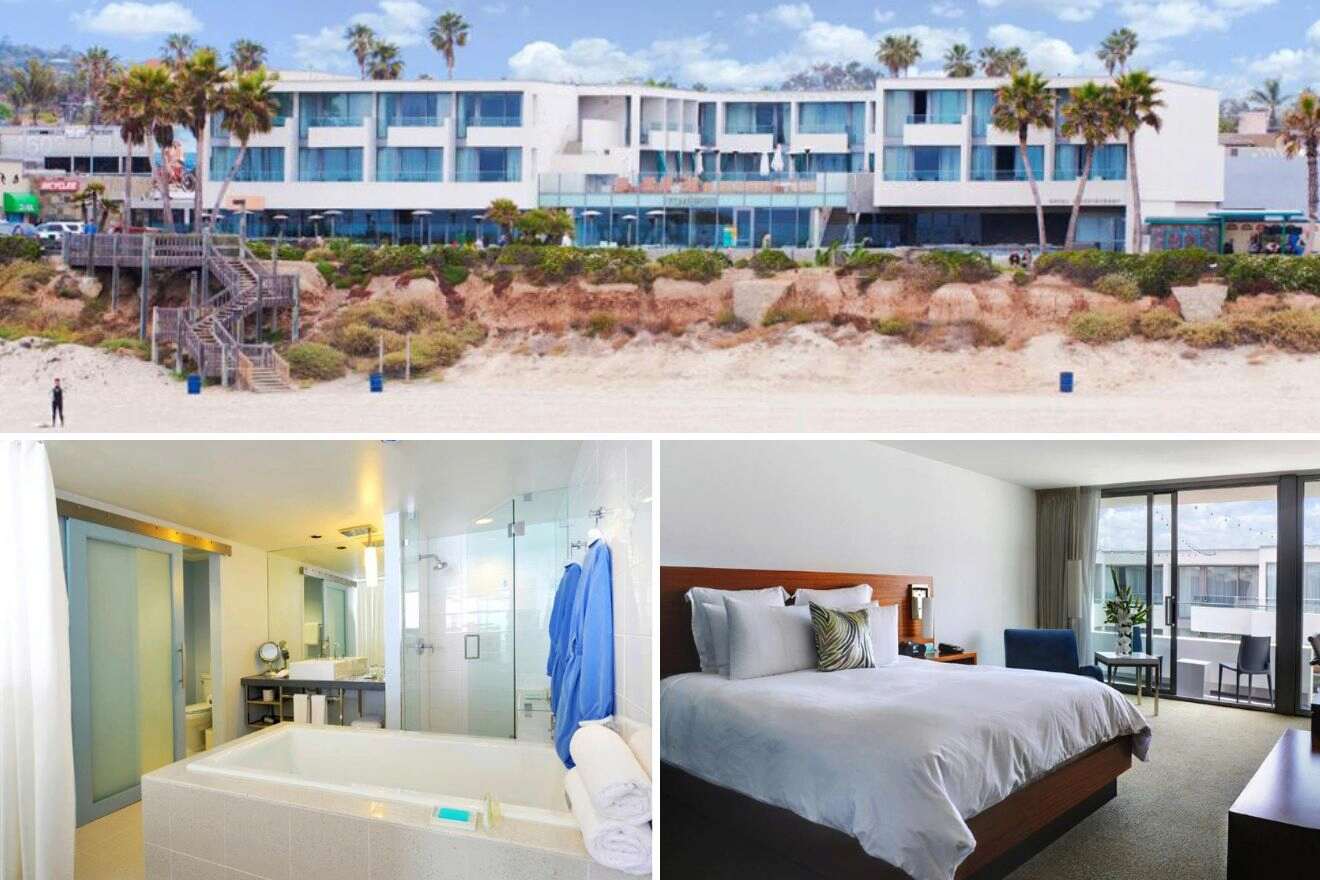 Waking up to the sound of the waves crashing on the shores has to be one of the best ways to wake up, am I right? If you're also a fan of this, then definitely check out the spacious rooms at this hotel on Pacific Beach that offer amazing ocean views!
Many people go for the Sanctuary Suite as it's also the room that has a private hot tub, a private balcony, and all the other facilities you'd need for your stay. The hotel also has a restaurant and a bar, and it offers room service, so you can even enjoy your breakfast in bed!
5. Pacific Terrace Hotel – for a romantic getaway in San Diego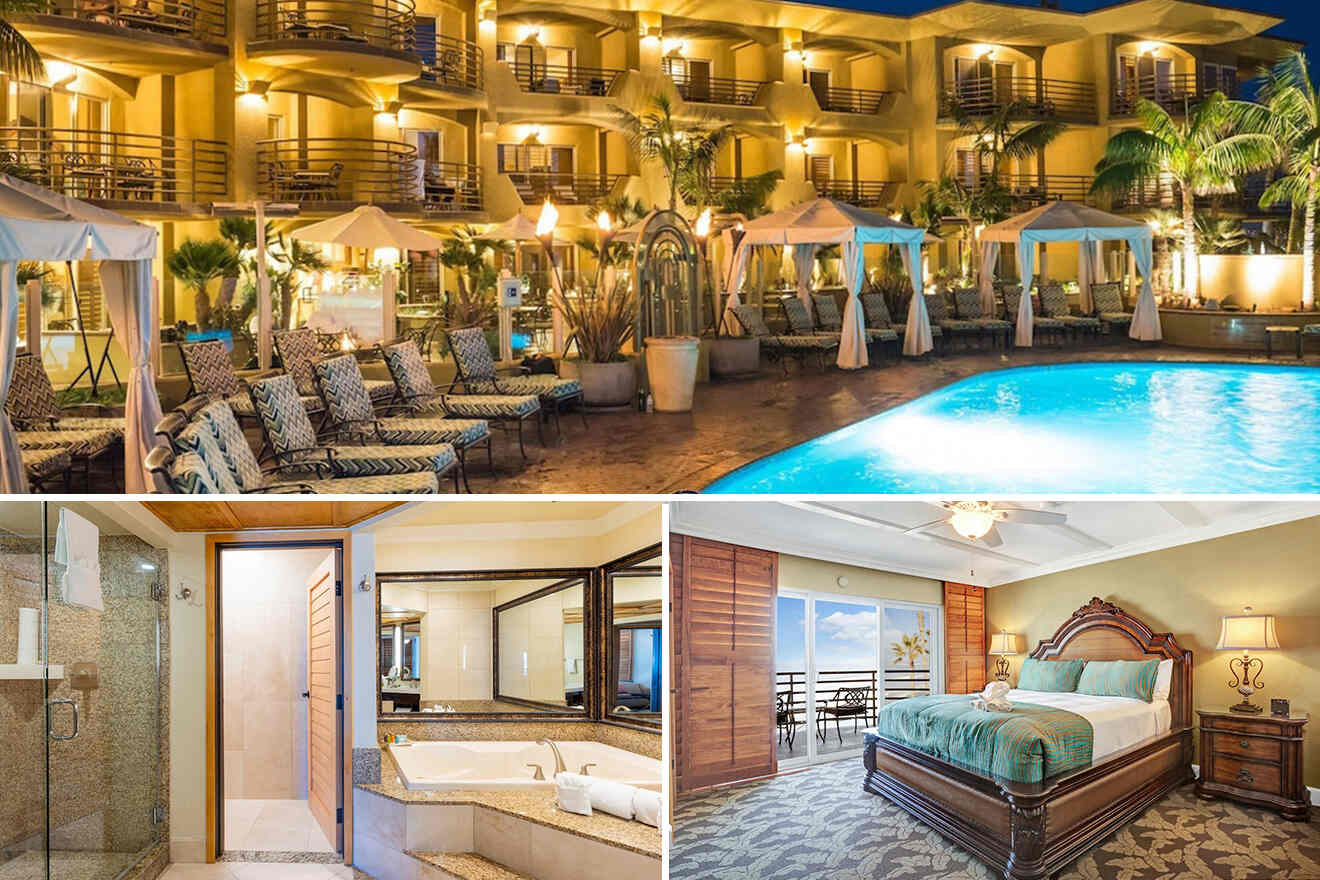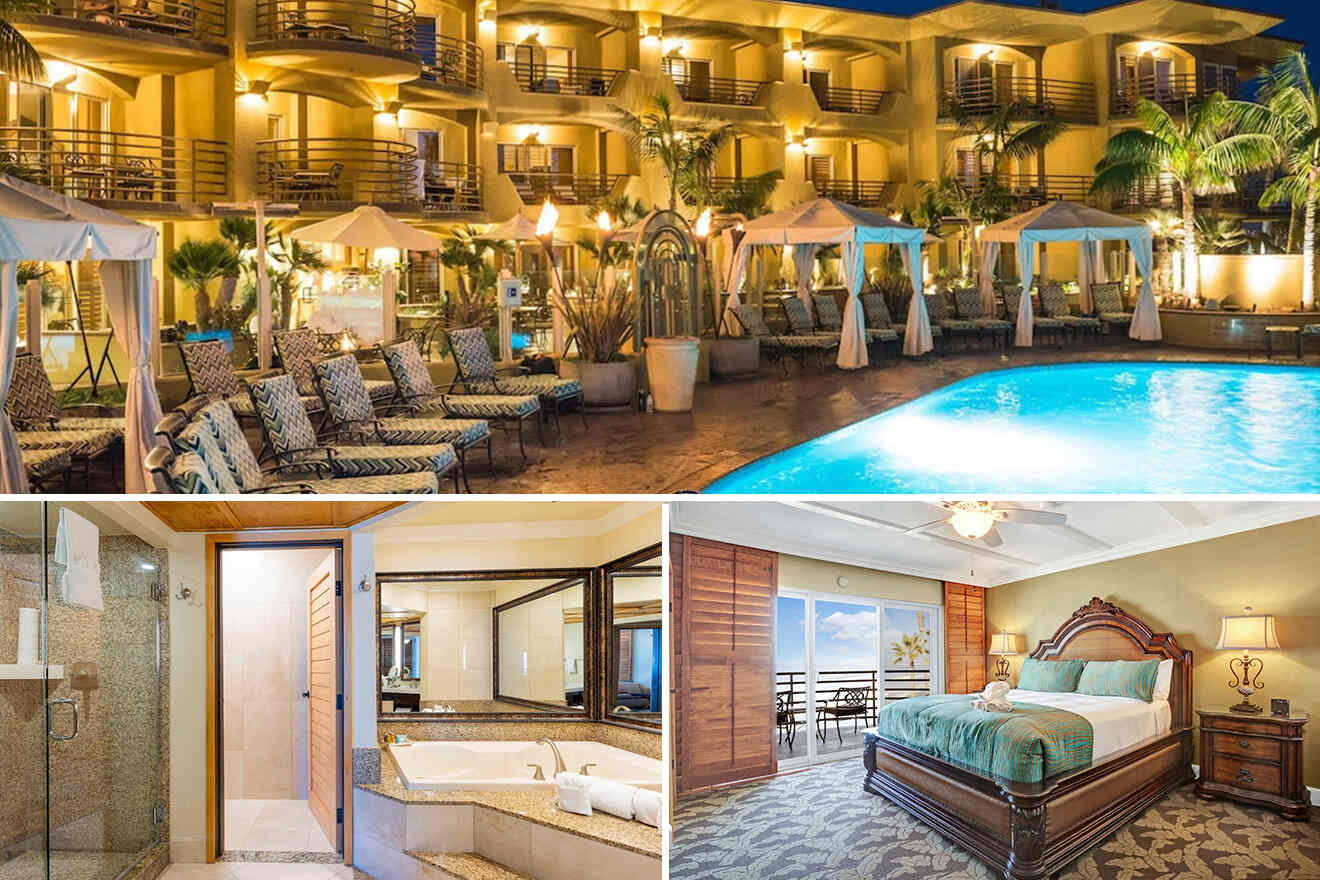 The waterfront hotel is set in Pacific Beach Park, and its Coastal Suite is just perfect for your holiday! Firstly because it has its own private hot tub, a private balcony, and free Wi-Fi. During your stay, you can relax by the outdoor pool, which by the way, offers an incredible view of the sea!
Hit the fitness center or play some board games. The hotel also offers a bicycle rental, which is such a great way to see as much as you can of the Pacific Beach Pier and the rest of the city! And don't forget there are lots of attractions to visit while you're in town, like the San Diego Museum of Art, the Coast Boulevard Park Beach, and Mission Bay!
6. 1906 Lodge – for nature lovers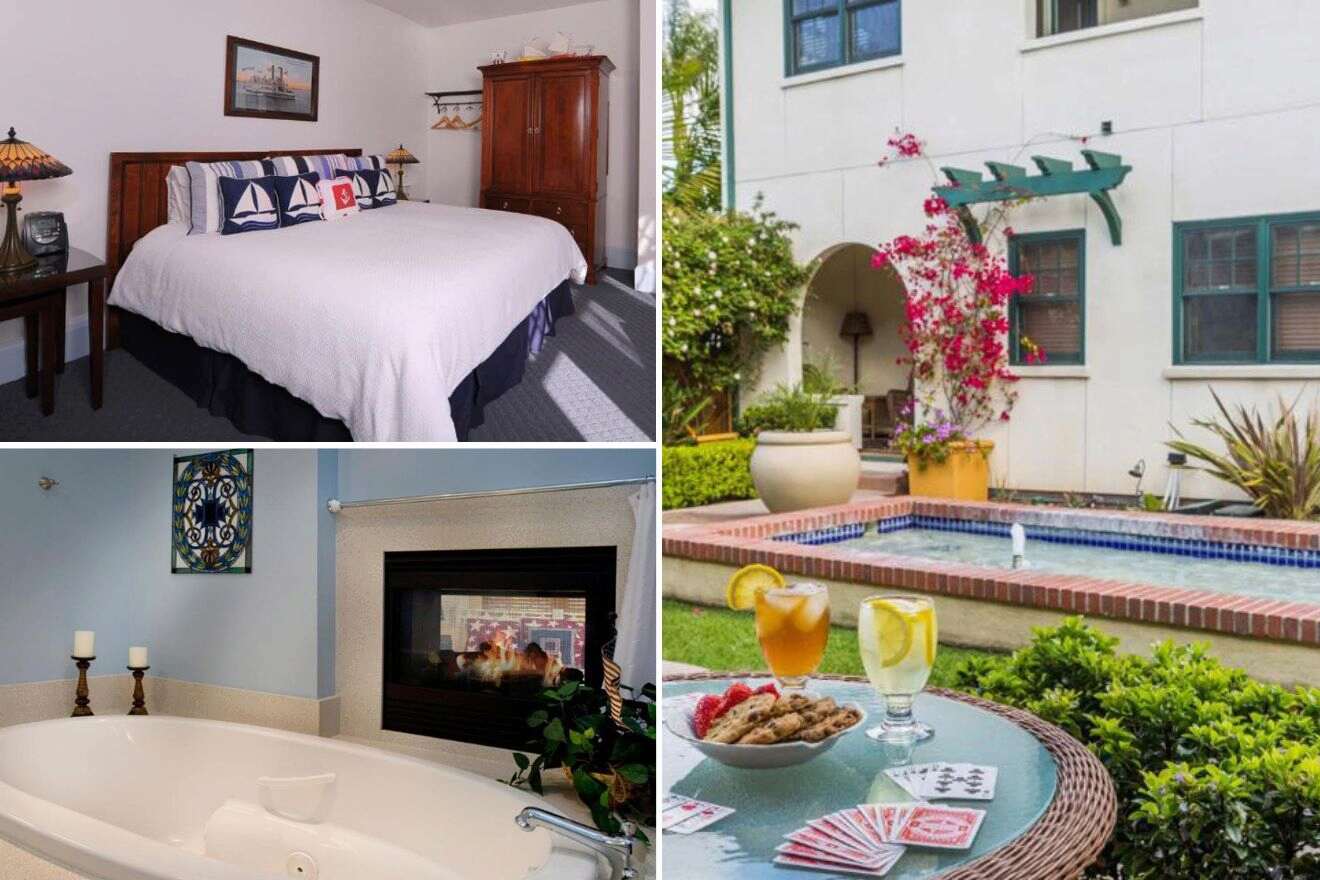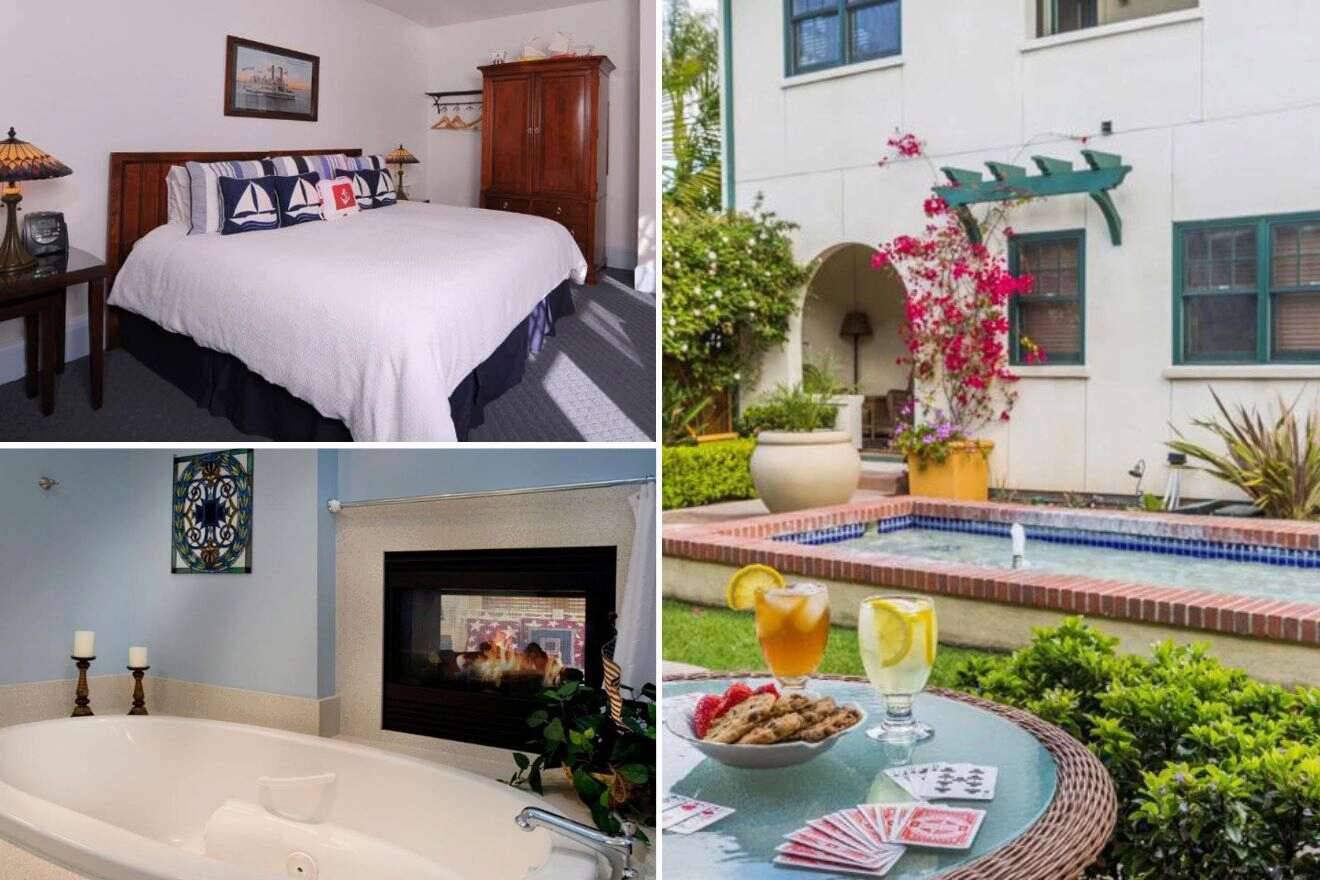 You'll just love this San Diego boutique hotel that's set near Coronado Beach! Its laid-back atmosphere and super homie design will make your nervous system relax the minute you step your foot inside! And just wait until you see the wet bar and colorful garden, which looks like the perfect place to have your coffee in the morning!
And, of course, the Grand King Spa Suite is the room you should book if you want to enjoy your own private hot tub! The room is pretty spacious, and it also has a fireplace and a flat-screen TV. Start your morning with a yummy (free) breakfast and then head out to the beach or enjoy the sun by the outdoor pool of the boutique hotel.
7. Hillcrest House Bed & Breakfast – great location
Set in Hillcrest right near Balboa Park, this amazing accommodation offers a super cozy and comfortable setting that's just perfect for your holiday! Both La Jolla Suite and the Coronado Room have a spa tub and a flat-screen TV.
When you're not out and about exploring San Diego's attractions, you can relax on the terrace, read a good book in the lounge area, and enjoy to the fullest the perk of having private hot tubs.
8. Holiday Inn Express Hotel – great place with a spa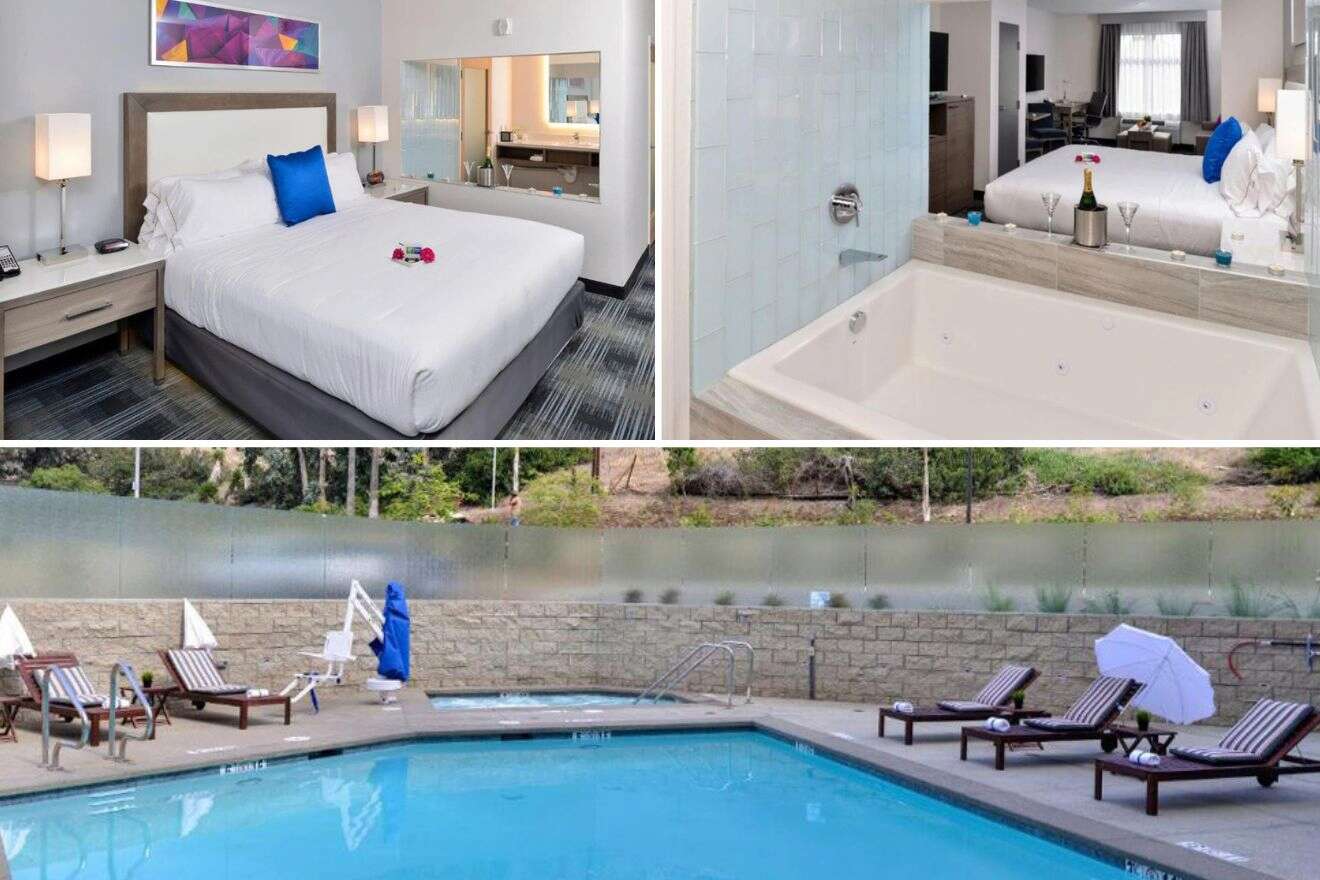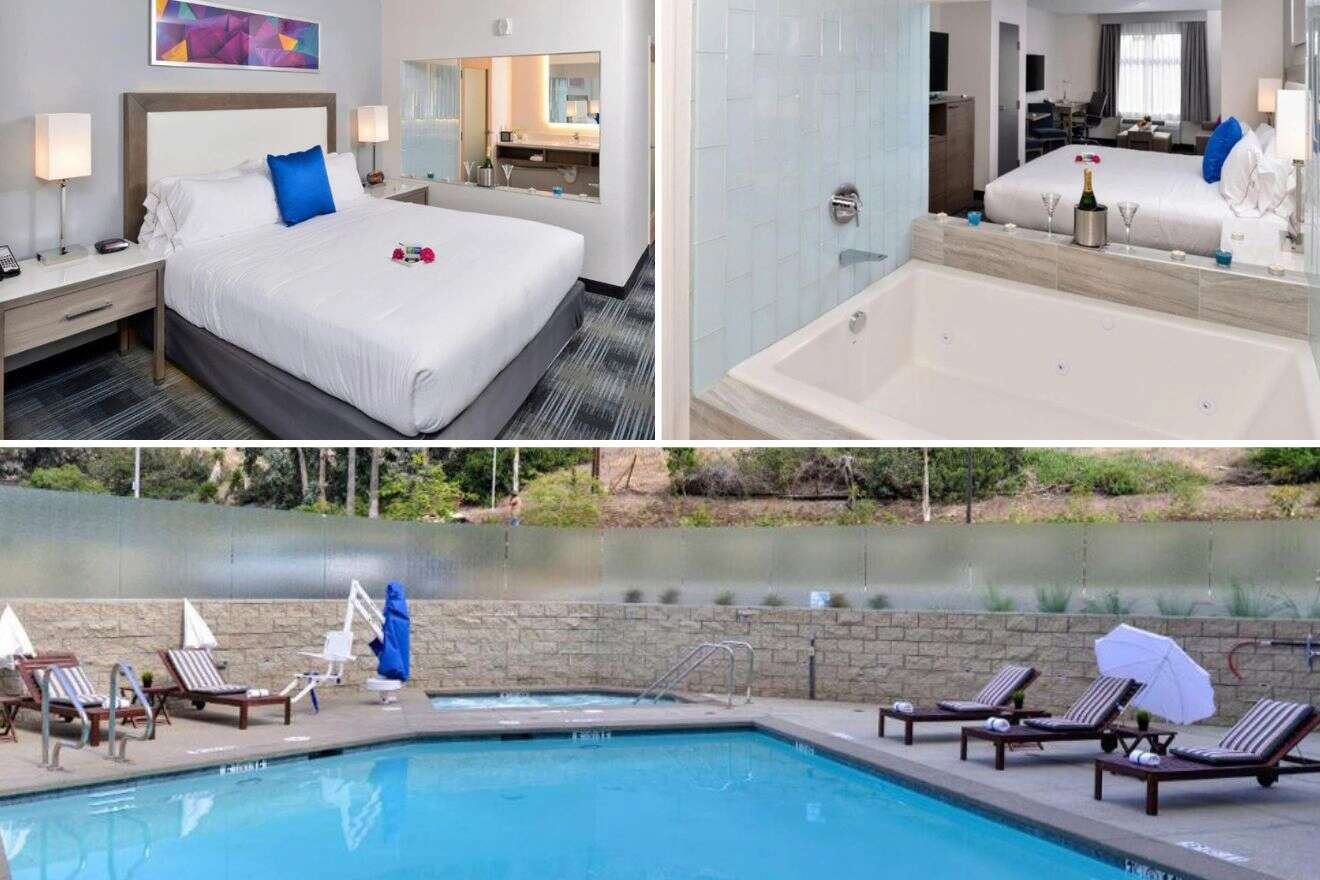 Looking for a place to stay in Mission Valley that has a hot tub suite? Then check out this fabulous hotel that's set a 10 min drive away from San Diego International Airport. The accommodation is modern, and it offers lots of cool amenities.
All the rooms are pretty spacious and come with a seating area and some of them with a spa bath! Yay! You'll get to relax for as long as you want with no interruption! The hotel also has an outdoor pool where you can enjoy the fabulous San Diego weather and a spa center which I'm sure everyone will run to!
9. San Diego Holiday Inn – cool hotel near the airport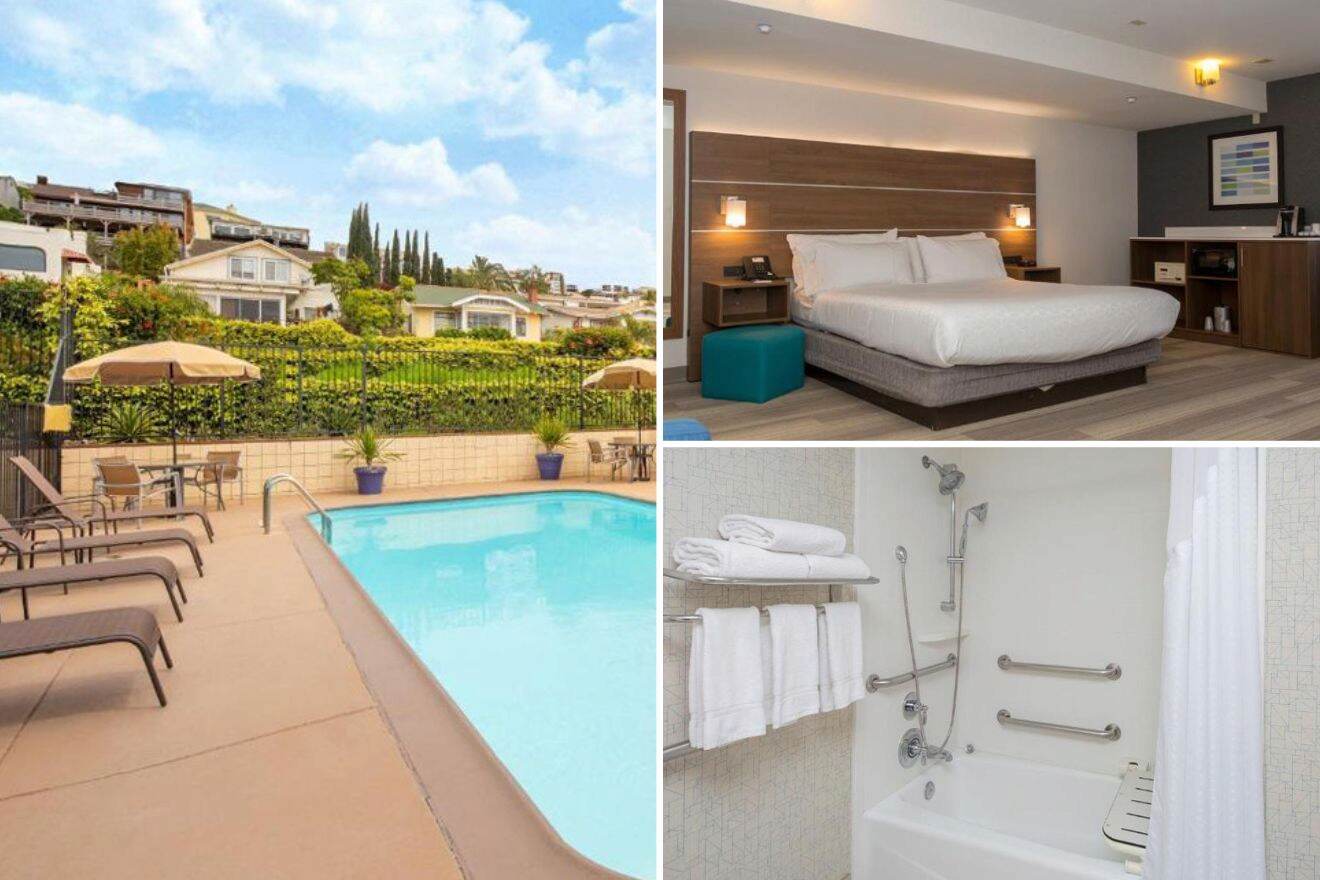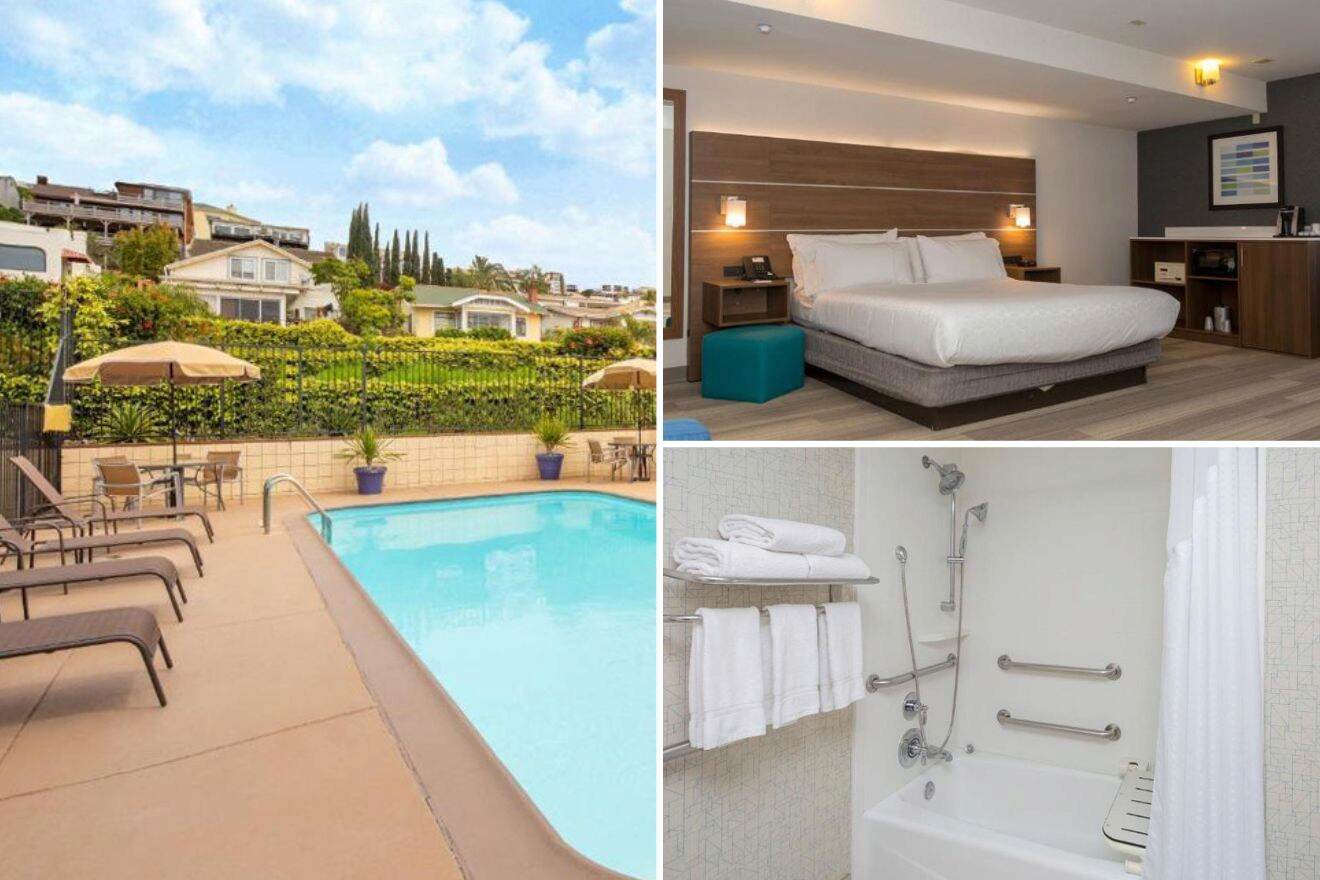 If you're looking for a great hotel right near the San Diego International Airport, then check out this place! Its King Suite with Spa Bath will do wonders for your body after that long or even short flight to get to San Diego.
Its rooms are simple but have a contemporary design and lots of facilities like a flat-screen TV, free Wi-Fi, and a private bathroom. When you're not out and about visiting Petco Park or San Diego's fun attractions, you can sunbathe by the outdoor pool of the hotel or enjoy a drink on the sun terrace.
10. Solamar San Diego – a cool hotel with a rooftop pool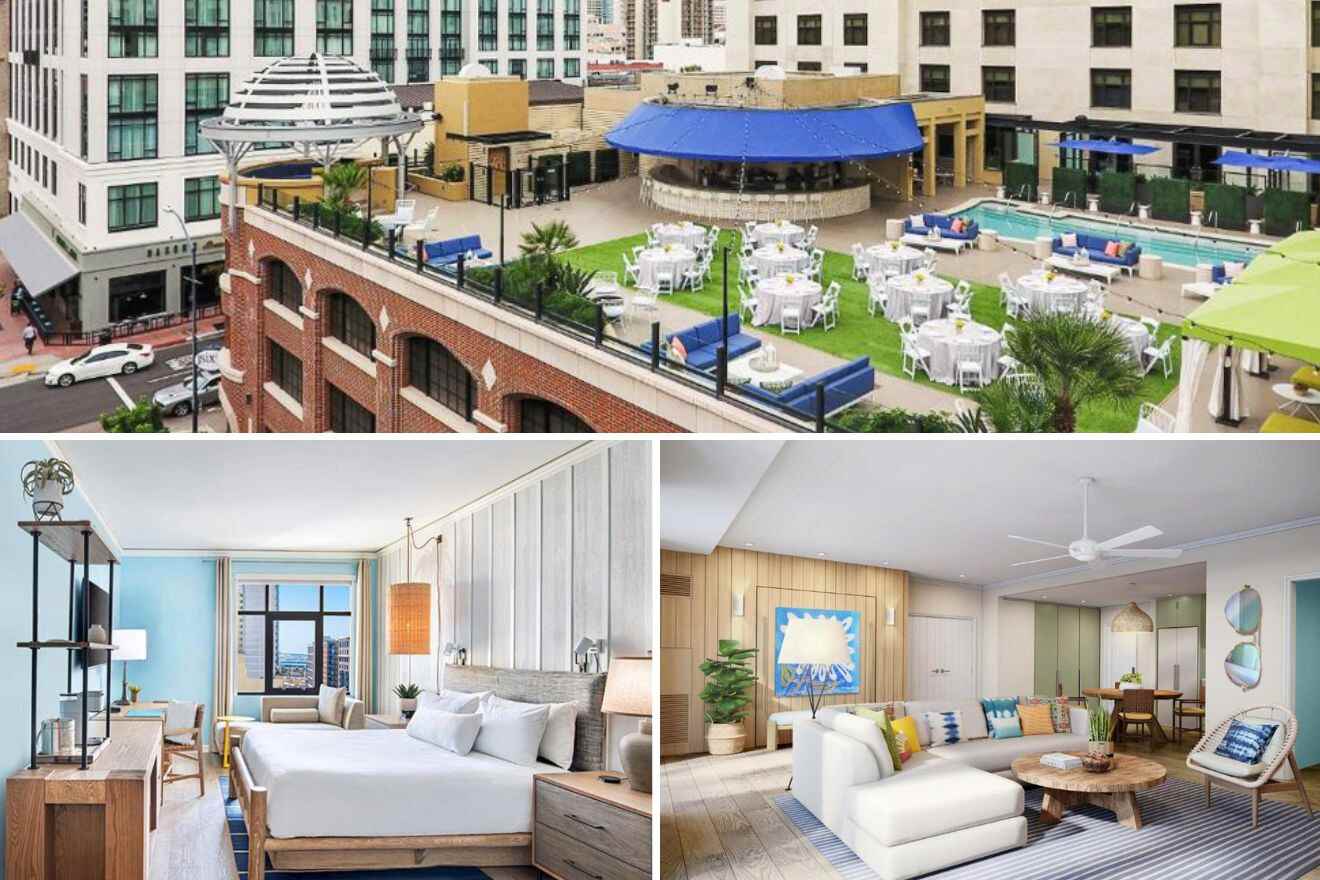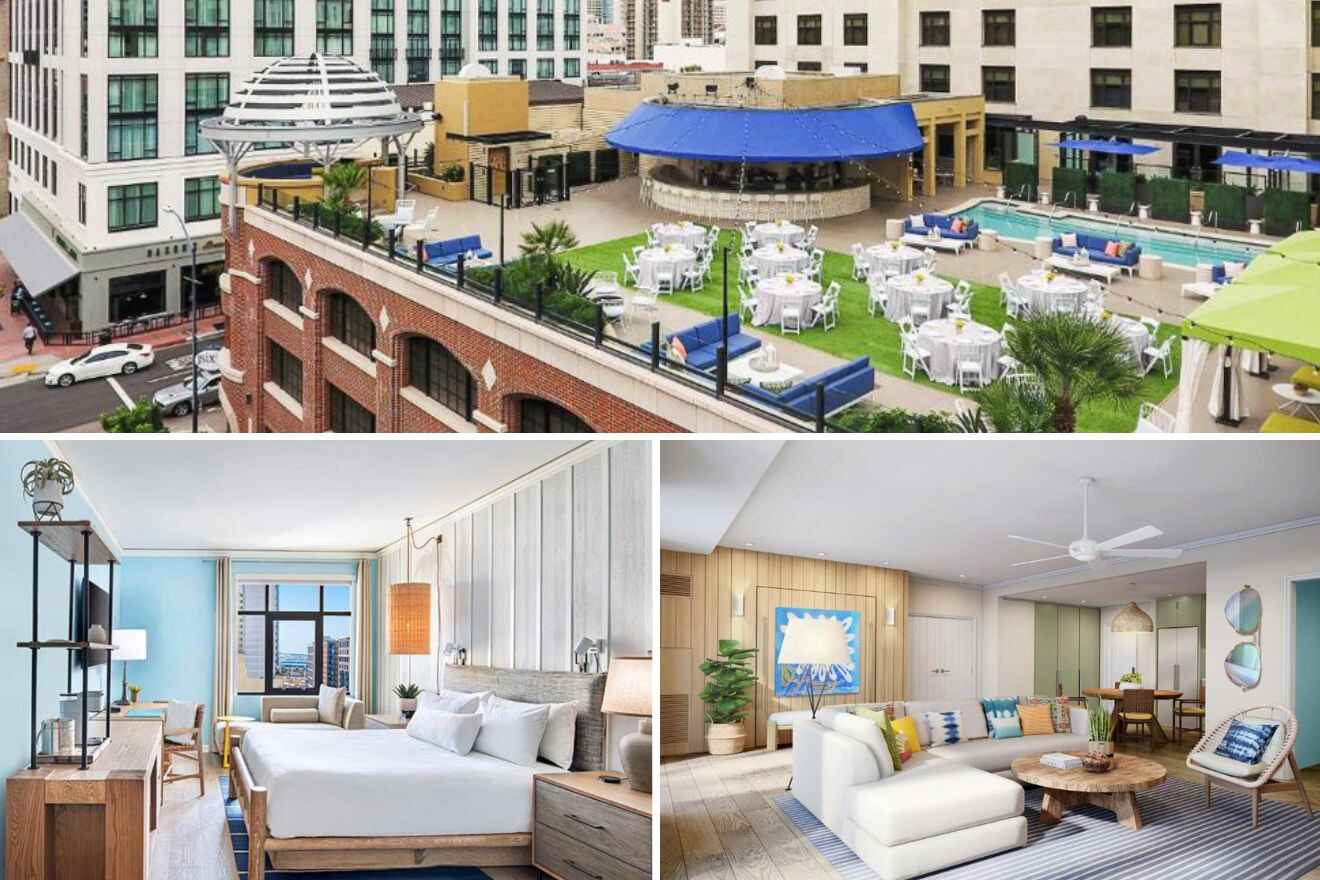 Staying in downtown San Diego is the best for those of you who want to experience that urban atmosphere and also be pretty close to attractions like the San Diego Zoo or San Diego Convention Center. I found another amazing hotel there that has rooms with a private jacuzzi tub and many other great facilities!
When you're not in the king room, relaxing in your private jetted tub, or indulging in all the delicious dishes that you'll find at the restaurant on-site, you can enjoy the sun by the rooftop pool! There you'll also find a bar and lots of sun loungers where you can sit and admire those stunning views!
11. Holiday Inn Express and Suites La Jolla – for a beach trip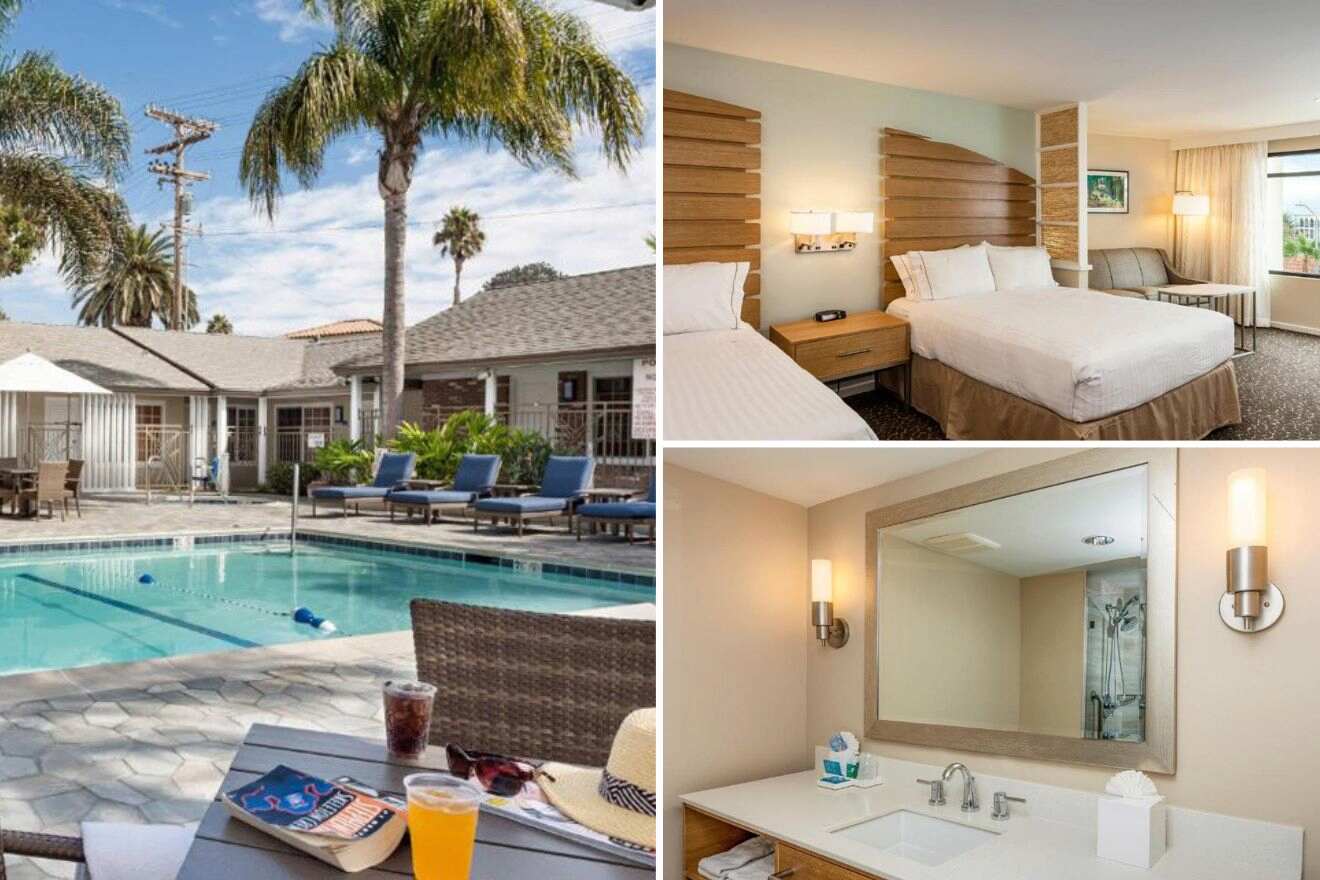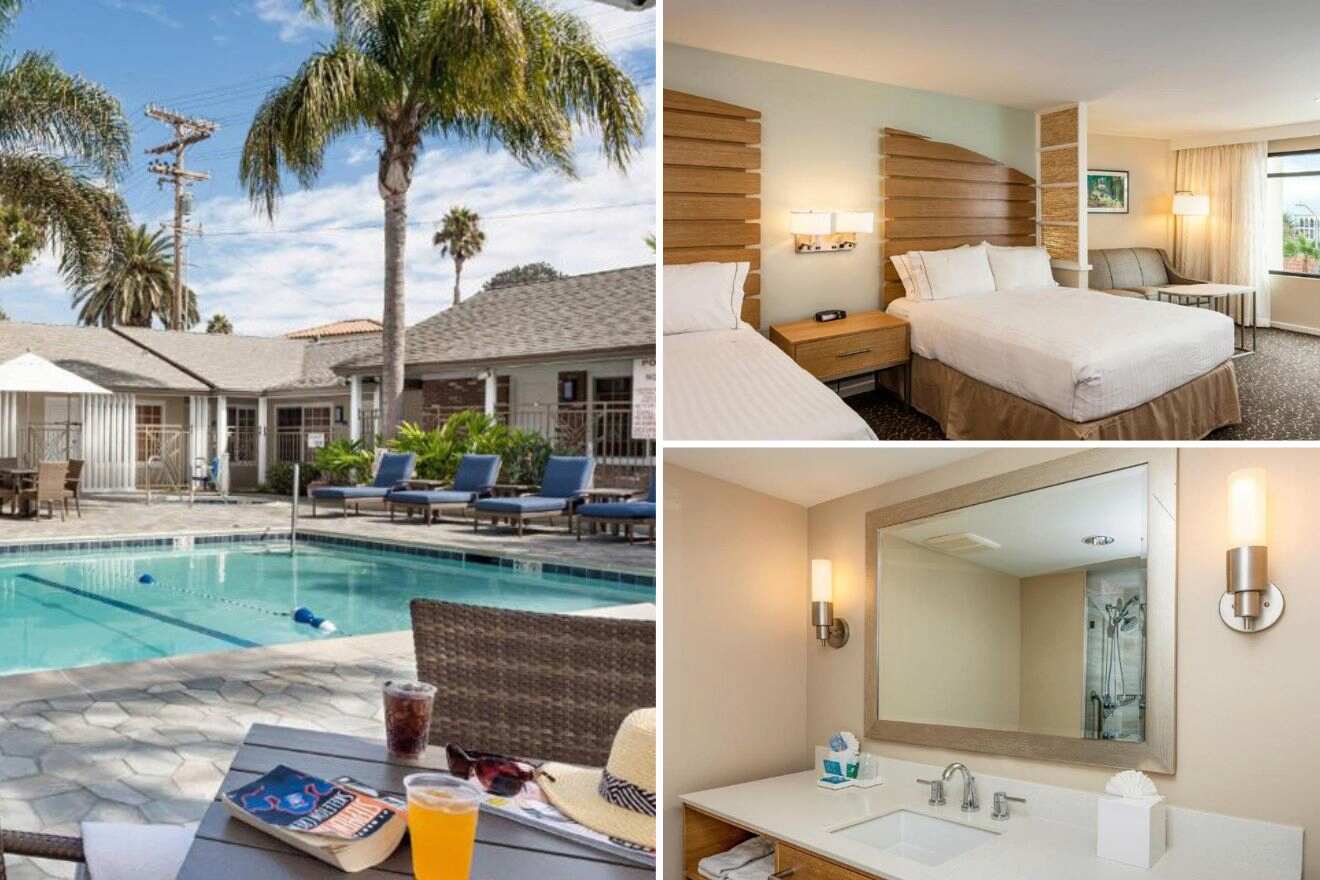 La Jolla is one of the best areas to stay in San Diego! It also has some really amazing hotels which are set just within walking distance of the beach, just like this one which has simple yet modern rooms!
Their King Suite with a Spa Bath is definitely a favorite of many guests as it offers the possibility to use the whirlpool tub whenever you feel like taking some time off from the world and just spend a few moments in silence or listening to your favorite music. The hotel also has an outdoor pool and a fitness center, and it offers a (free) breakfast!
BONUS 1: Top VRBOs with hot tubs in San Diego
If you're not a big fan of classical hotels and you prefer to feel more at home during your trip to San Diego but still enjoy the perk of having your own private jetted tub then definitely check out this section!
Here you'll find some of the best vacation rentals in the city, which I listed from most to least expensive, so you can easily find your favorite. The prices start from US$180 to US$355.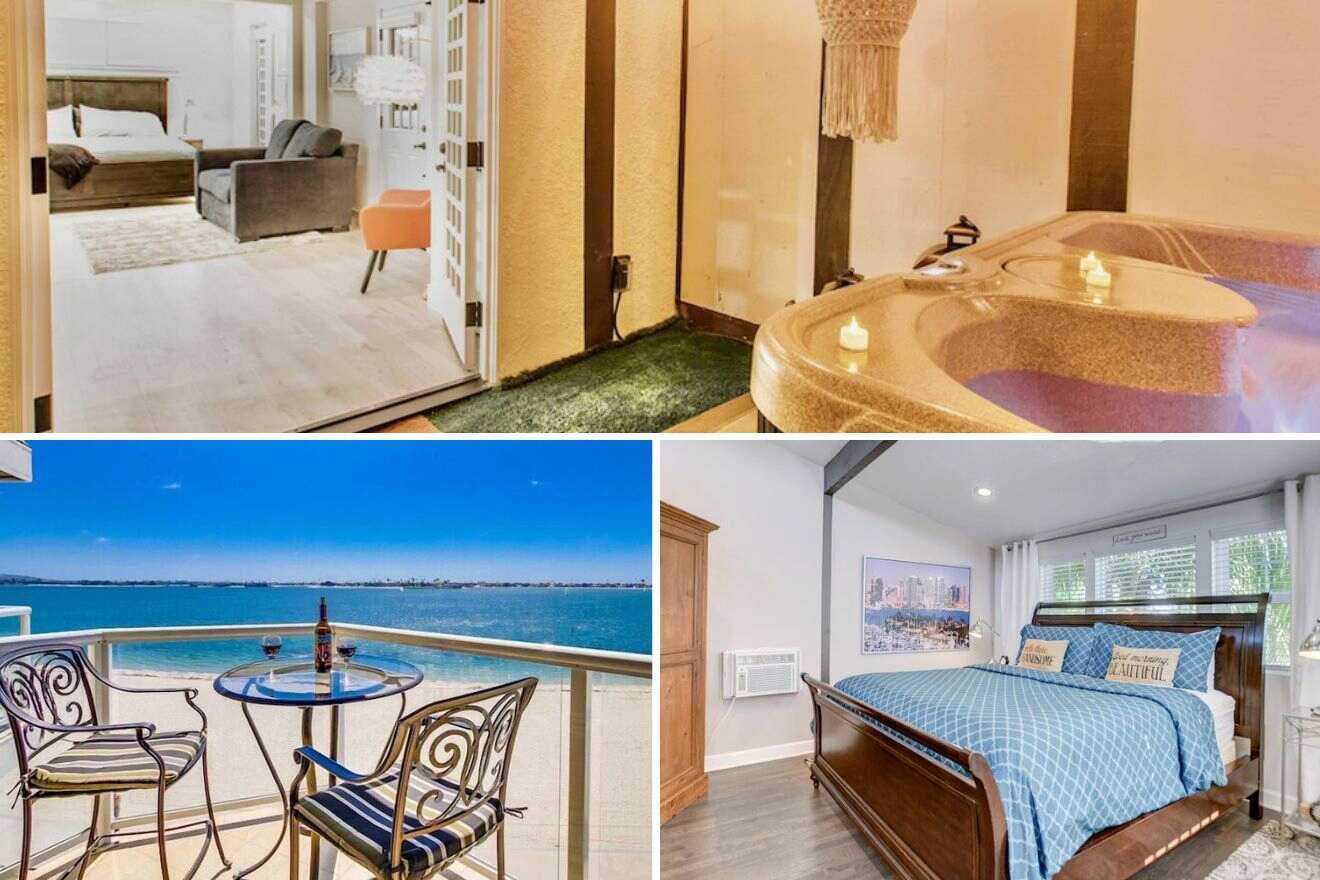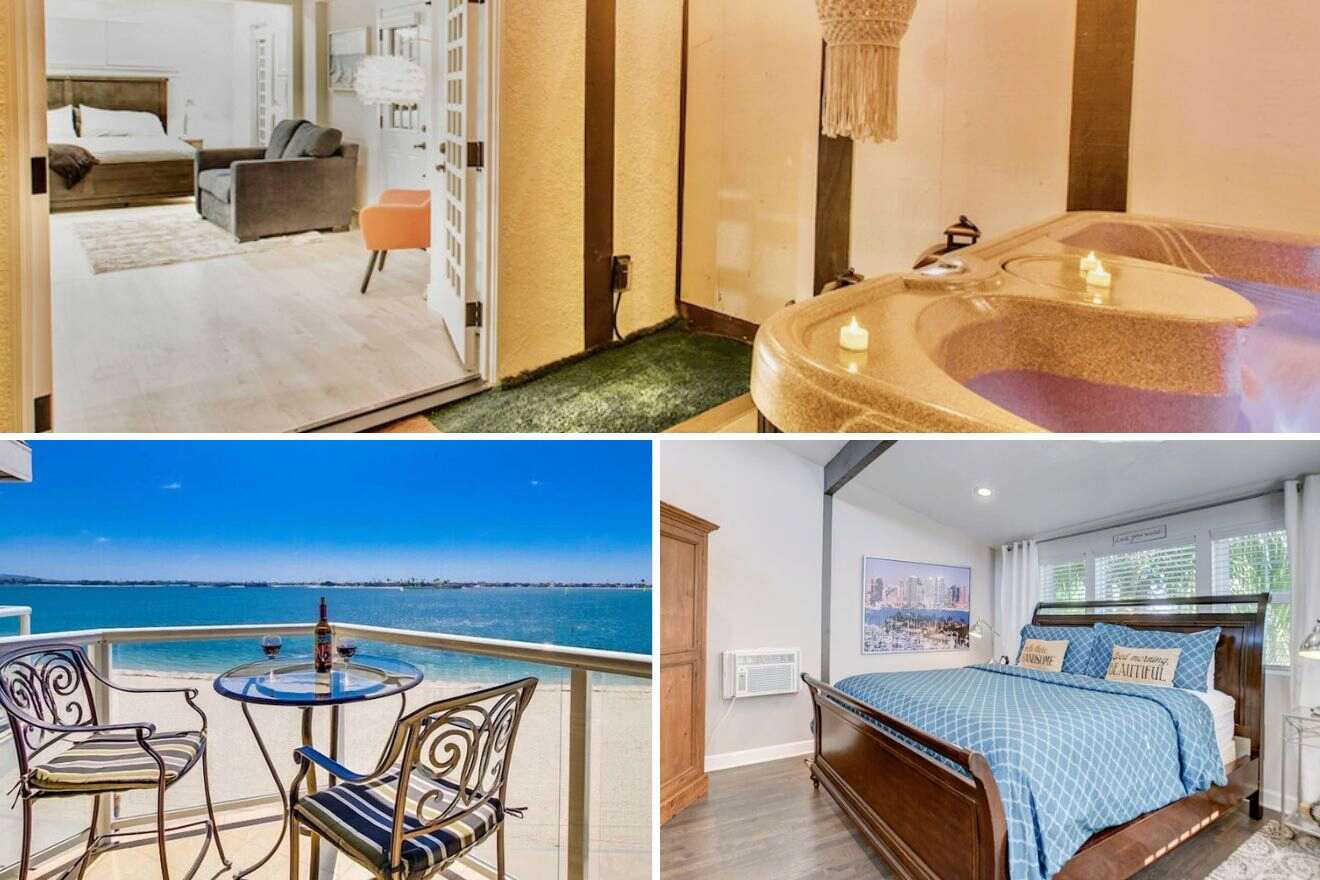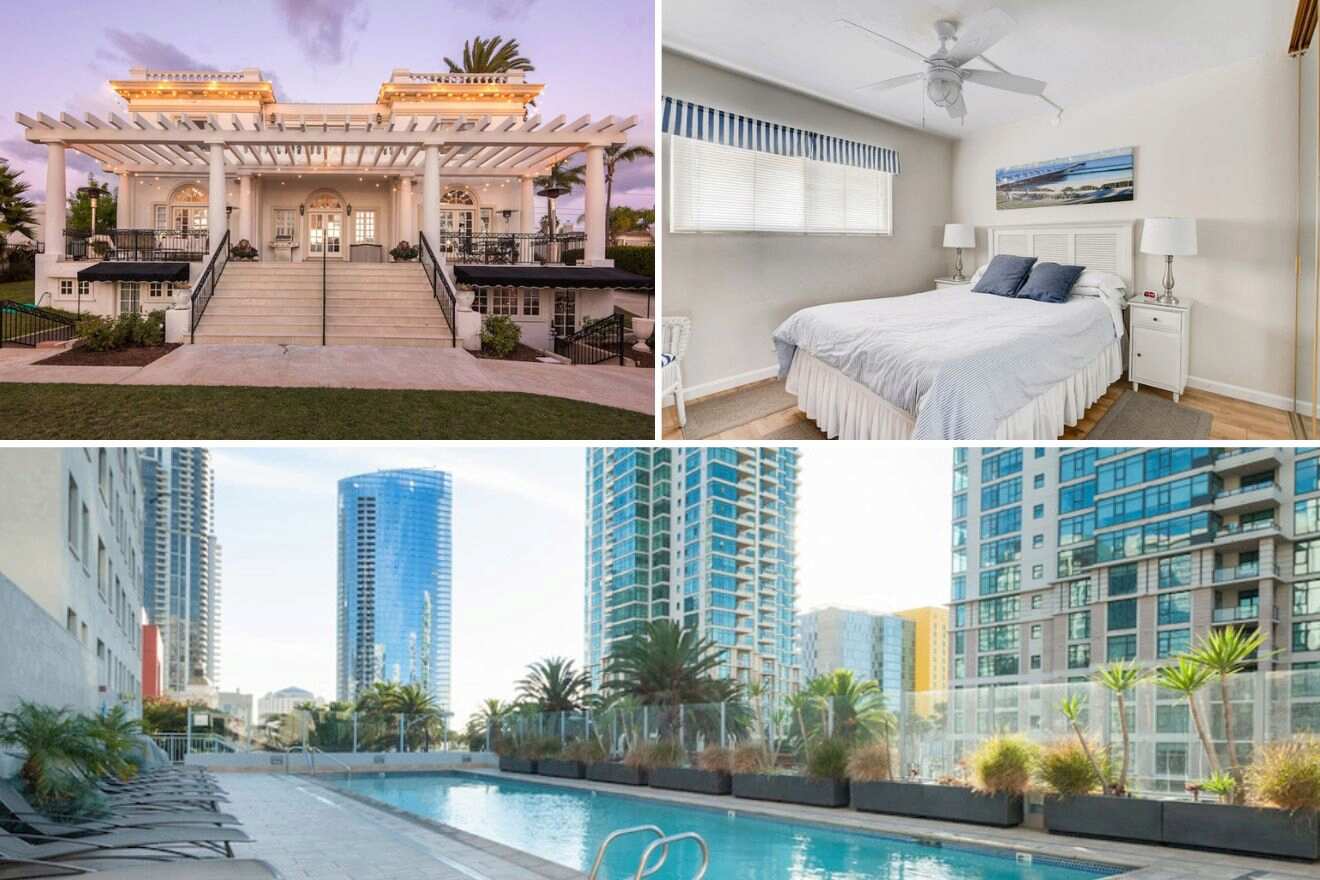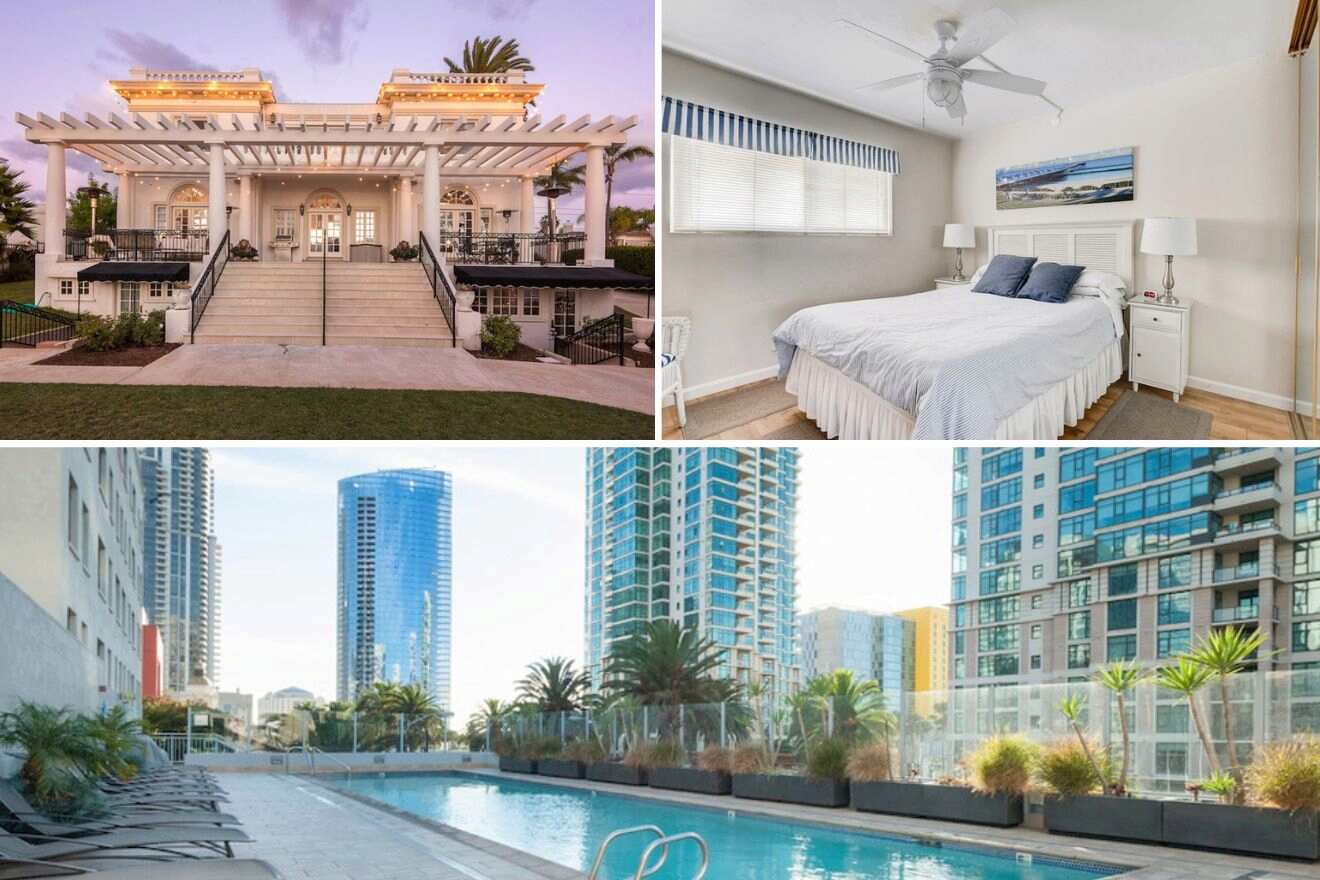 I know we've already seen a few San Diego hotels with an in-room hot tub, but I just thought it would be a good idea if I also add a few options which offer a shared hot tub. That's because the ones above will definitely sell out fast (more reason to book early), and I want everyone to have a backup plan if that's the case.
Plus, there are so many incredible San Diego hotels that I want to share with everyone! I've ordered the hotels from most to least expensive, and the prices start from US$450 and US$300: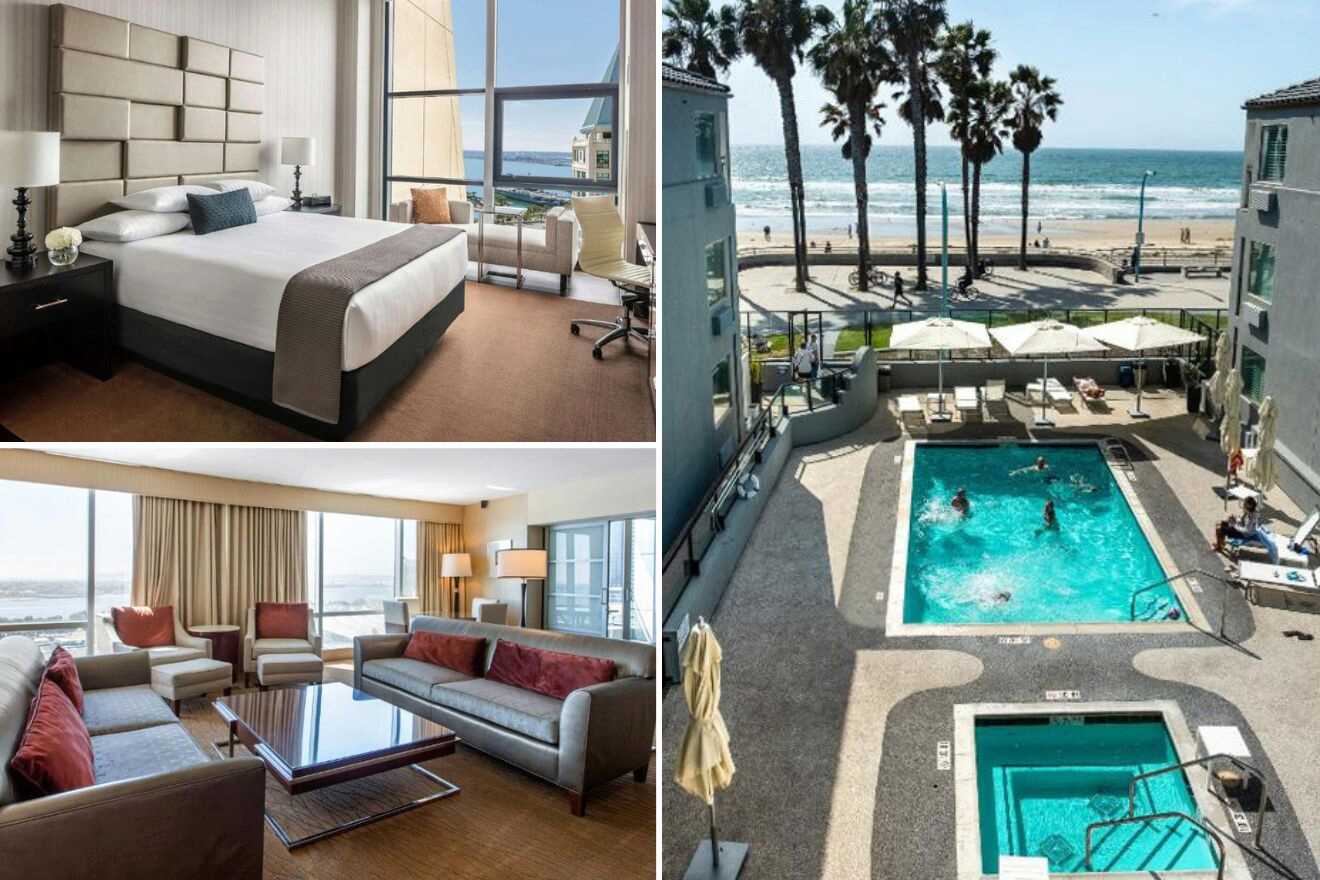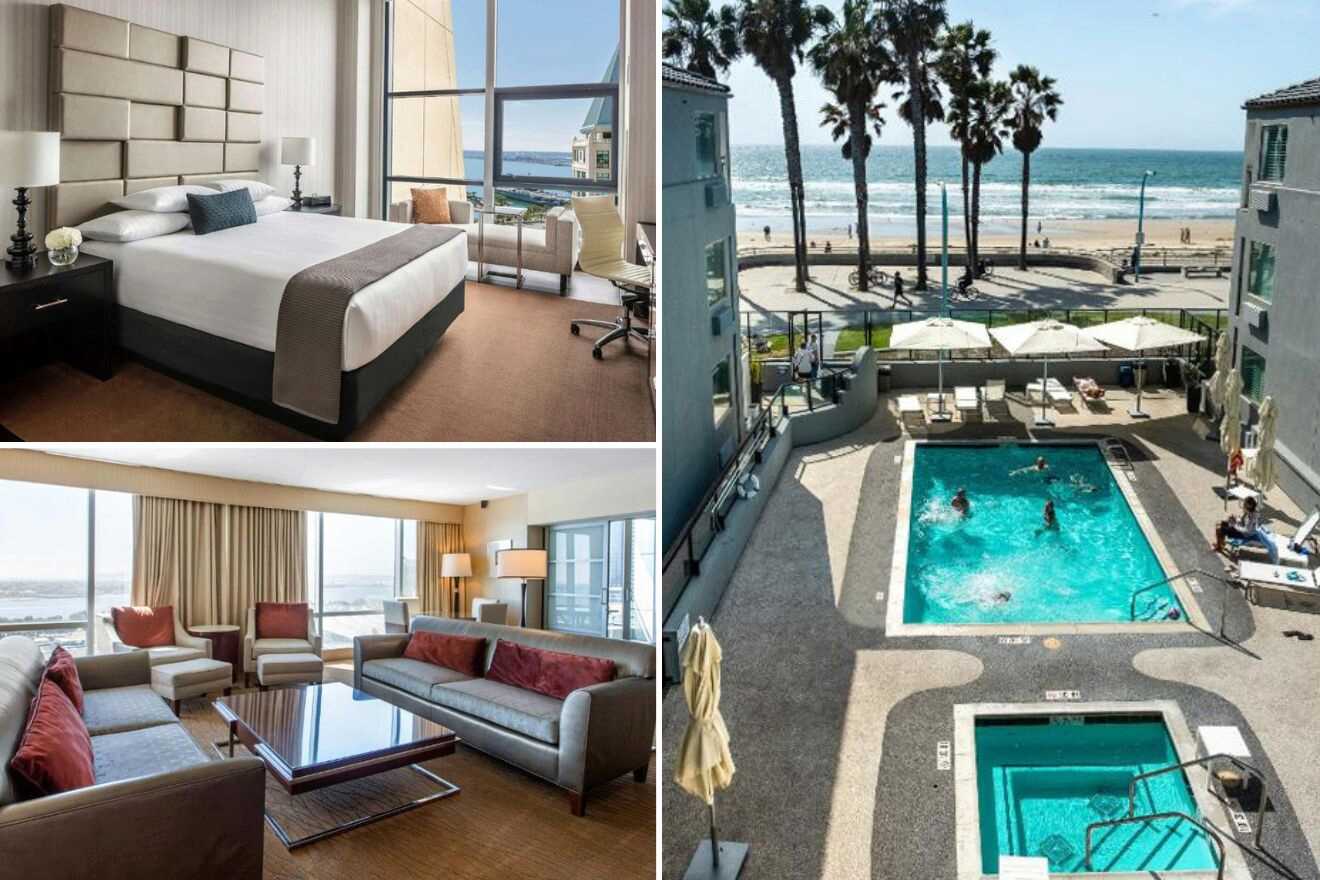 FAQs about hotels in San Diego with a jacuzzi in the room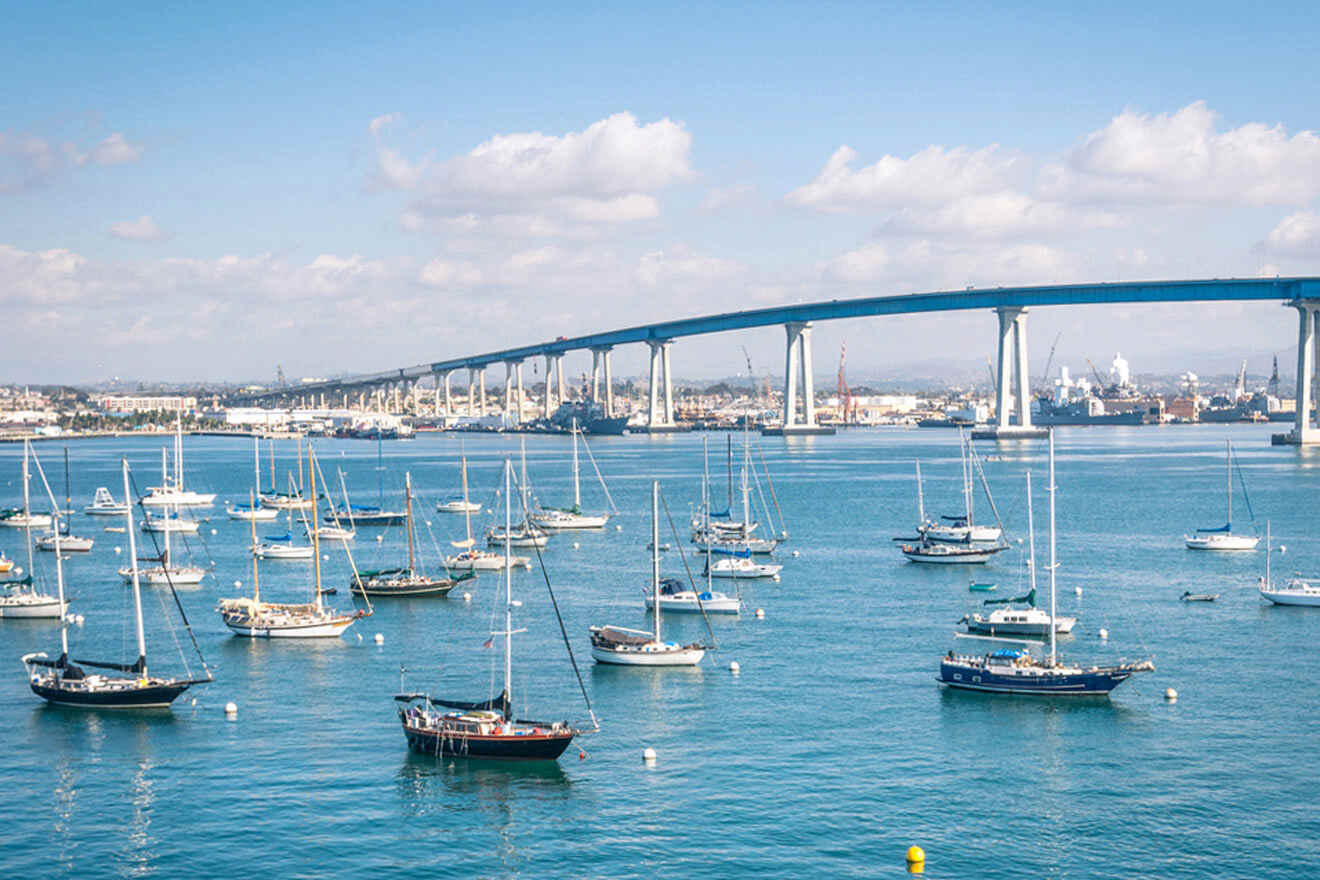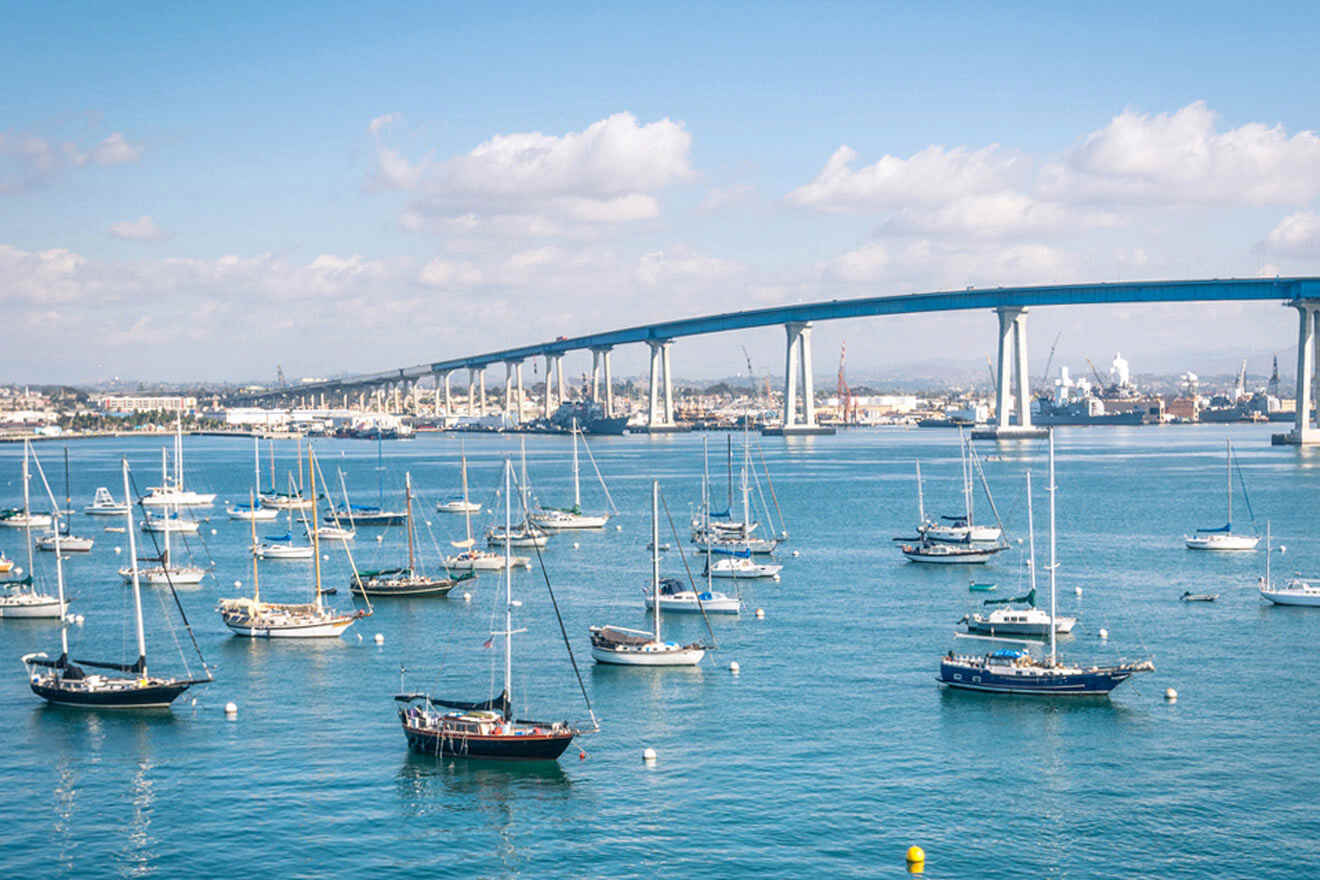 Conclusion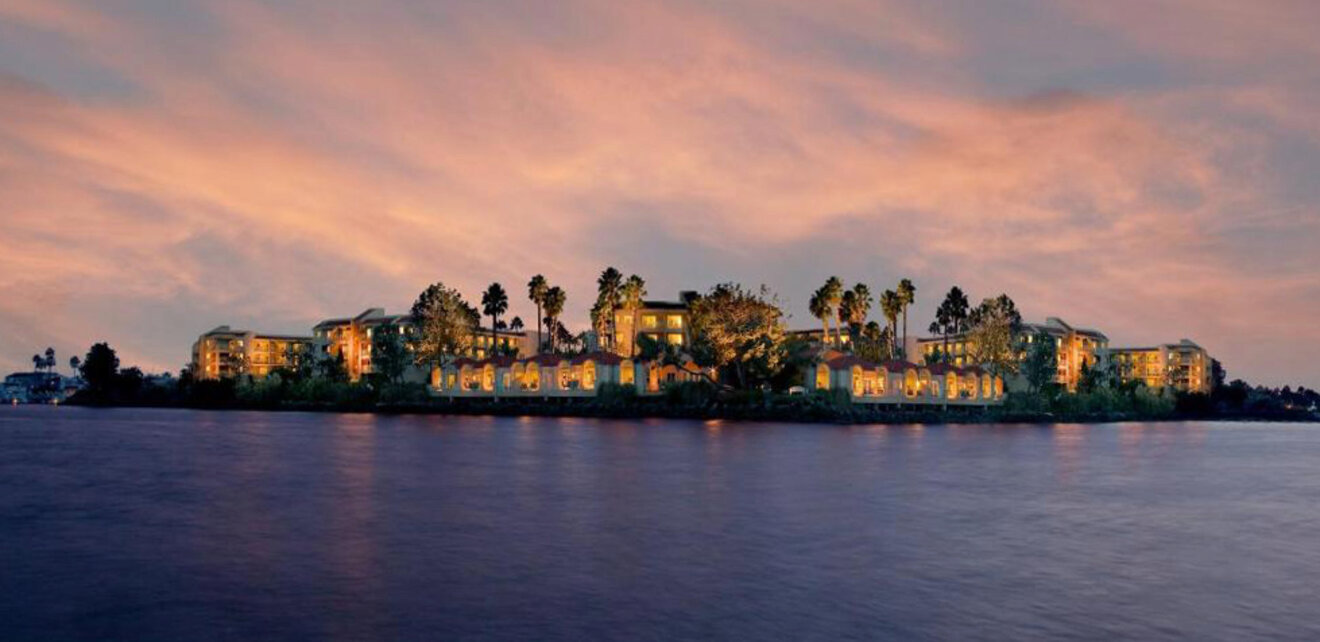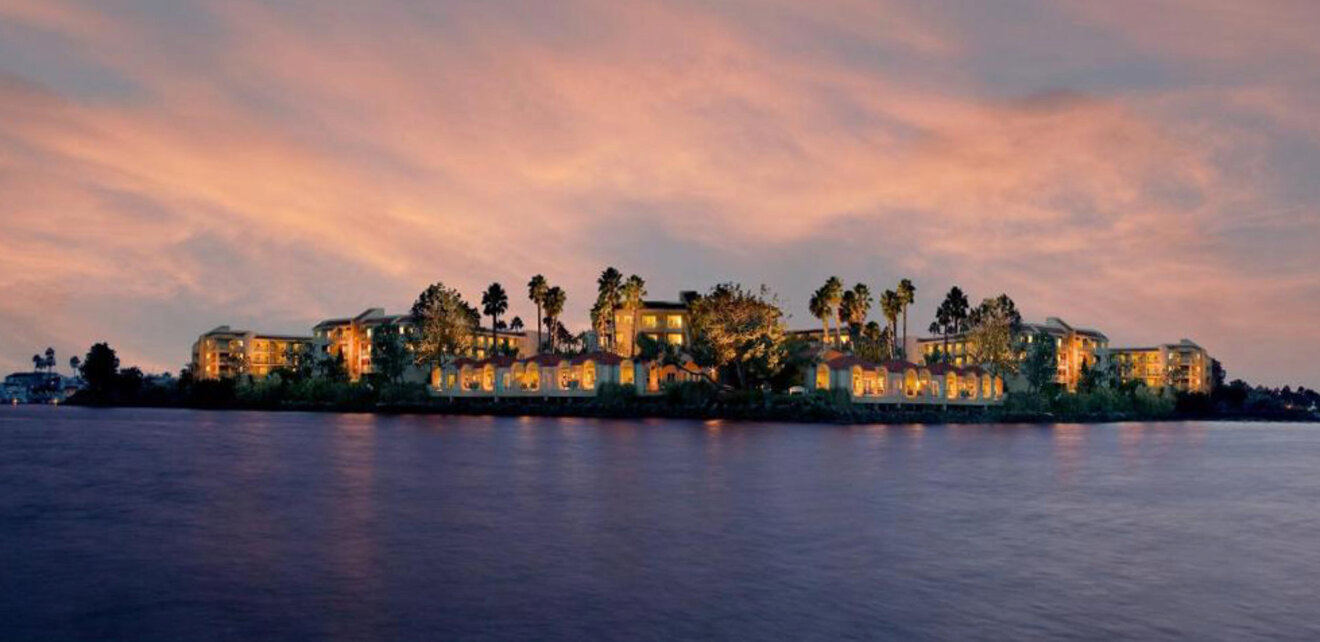 Honestly, can San Diego get even more incredible than it already is? This city has it all!
And today, we've seen some of the best hotels in San Diego with a jacuzzi in the room, plus 2 bonus sections with some great VRBOs that have hot tubs and a few more hotels with a shared jacuzzi.
Plenty to go around! And if you're already feeling overwhelmed by all the options, don't worry! Just check my 2 favorite hotels below, and maybe it'll inspire you to make the final choice:
Just remember what I said in the beginning about booking early! These places are super popular, and I'm sure they'll disappear super quickly!
Alright, everyone! It's been a pleasure to tell you all about San Diego! I'm still around if you've got any questions, so don't hesitate to leave me a comment below! I'll make sure to answer it as soon as I can!
Safe travels,
Victoria
---
Pin it for later!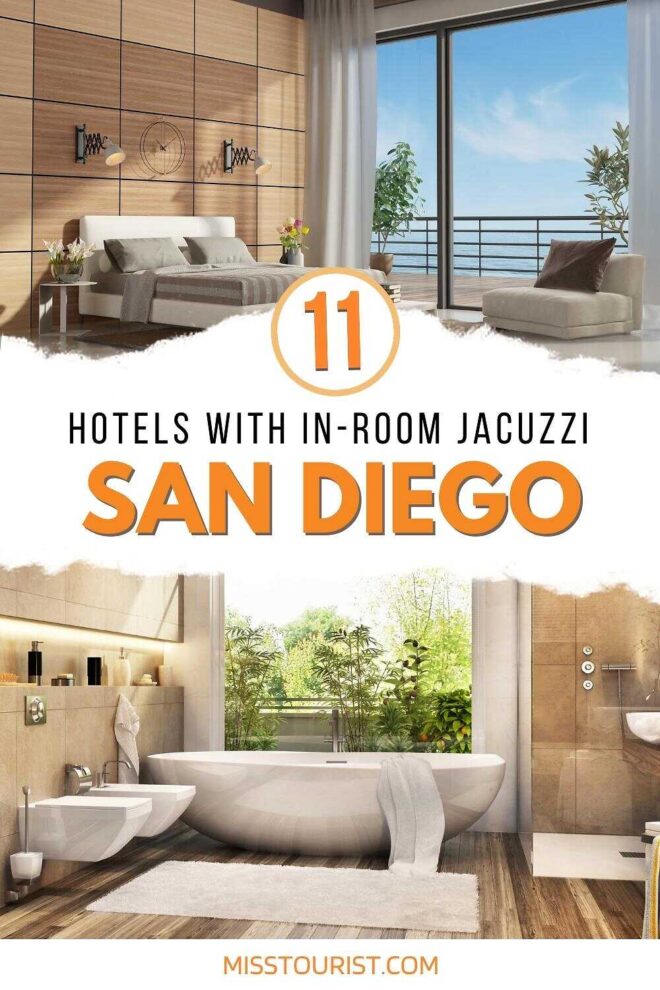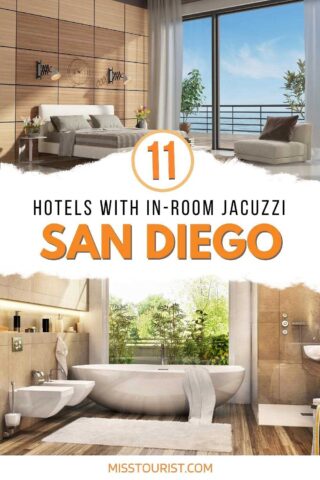 Pin it for later!