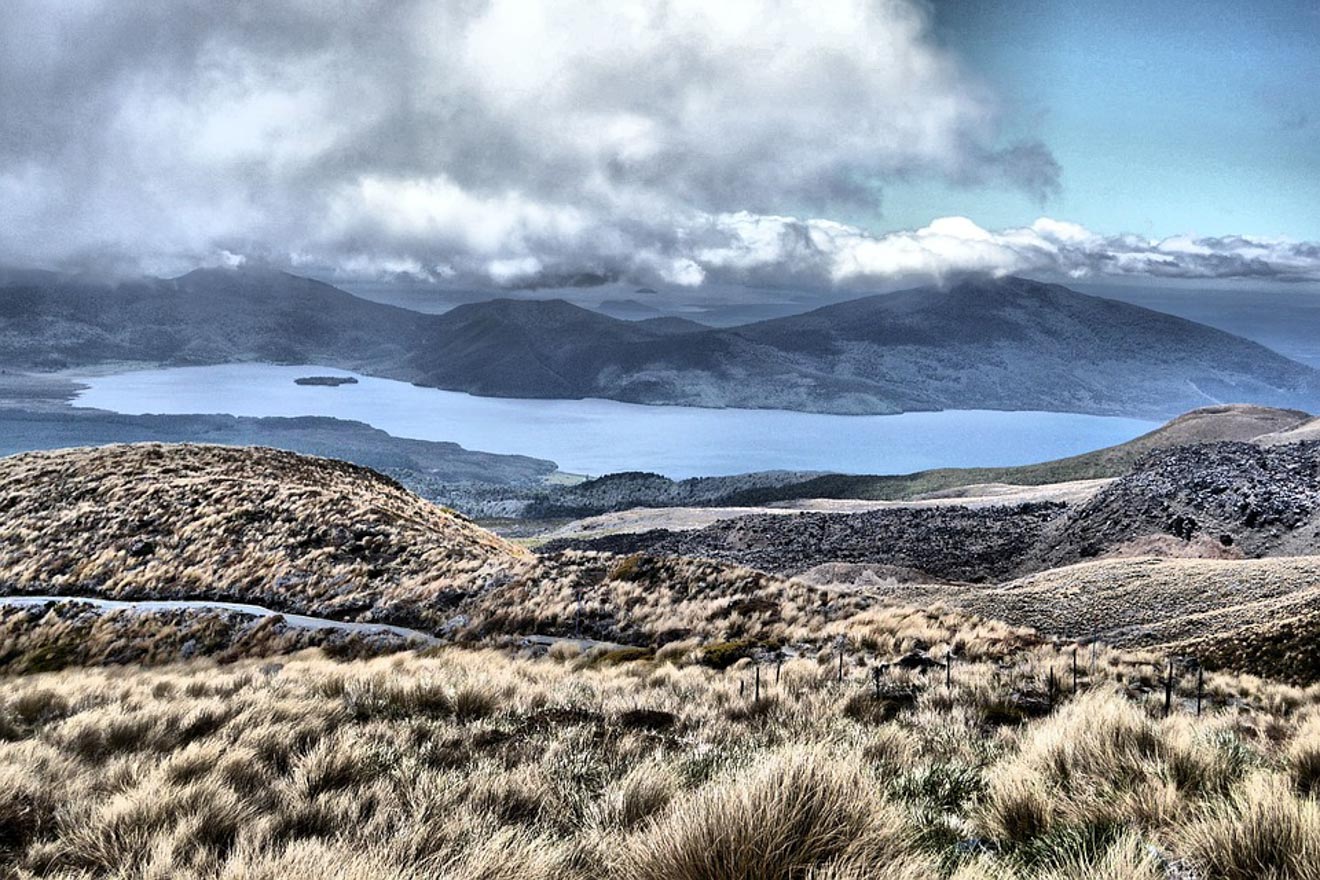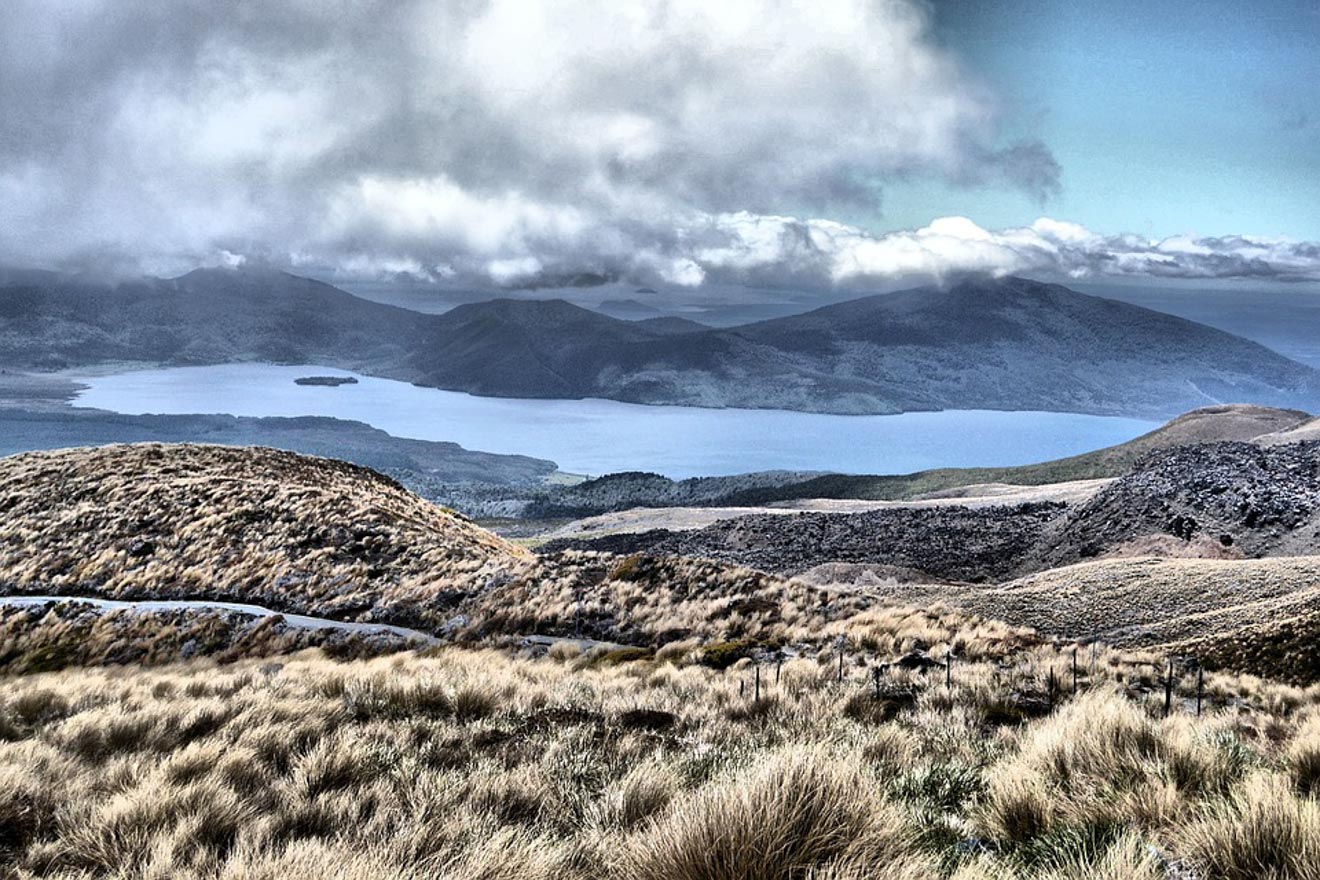 Congrats on choosing New Zealand as your next destination! This country has so much to offer, I am sure you will not run out of things to do!
As you know, New Zealand is made of two big islands that are called very conveniently – the North Island and the South Island.
Here is my suggested 1-week road trip itinerary that covers most of the highlights and some fun things to do on The North Island in New Zealand.
(Btw, you can see my tips for the South Island here).
North Island in New Zealand 1-week Road Trip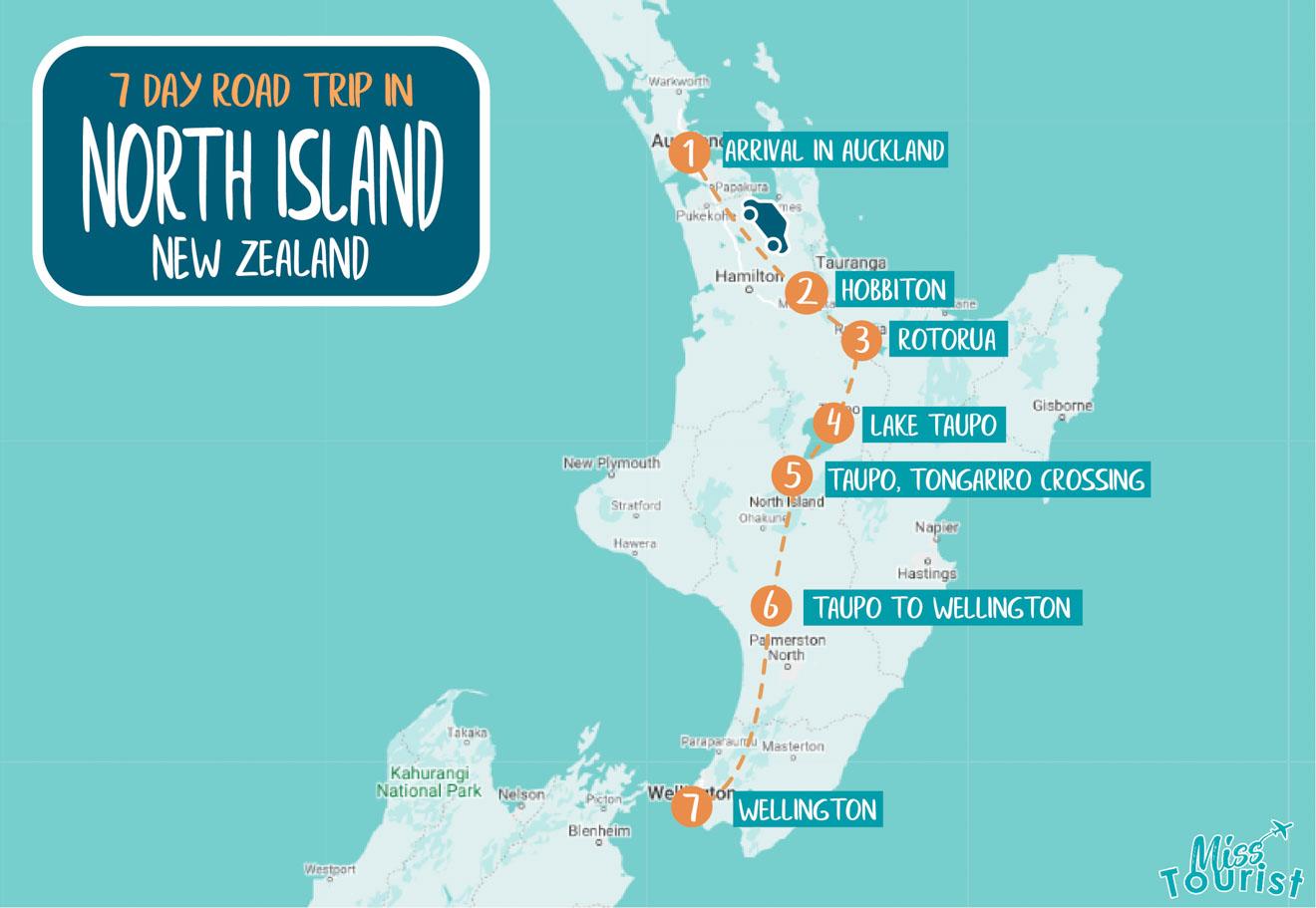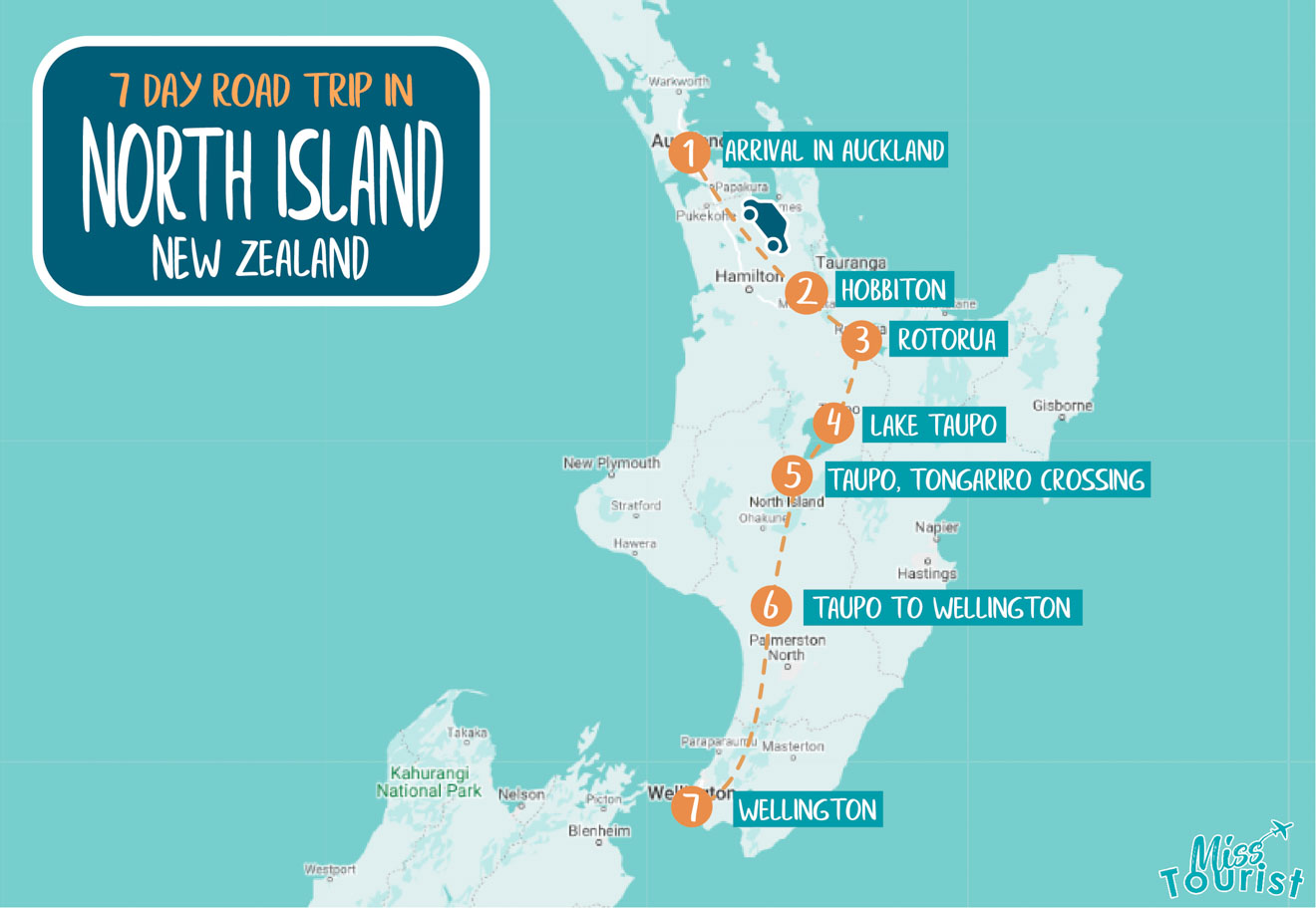 Day 1 – Arrival in Auckland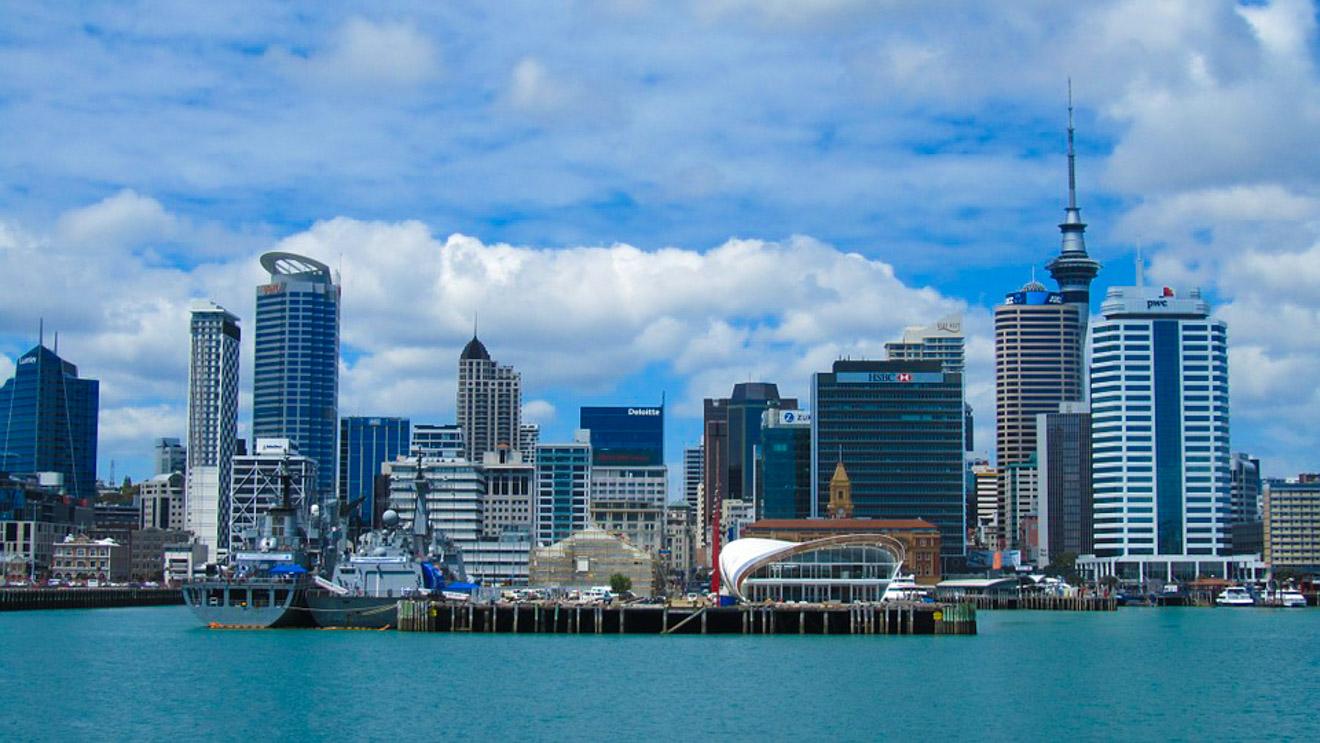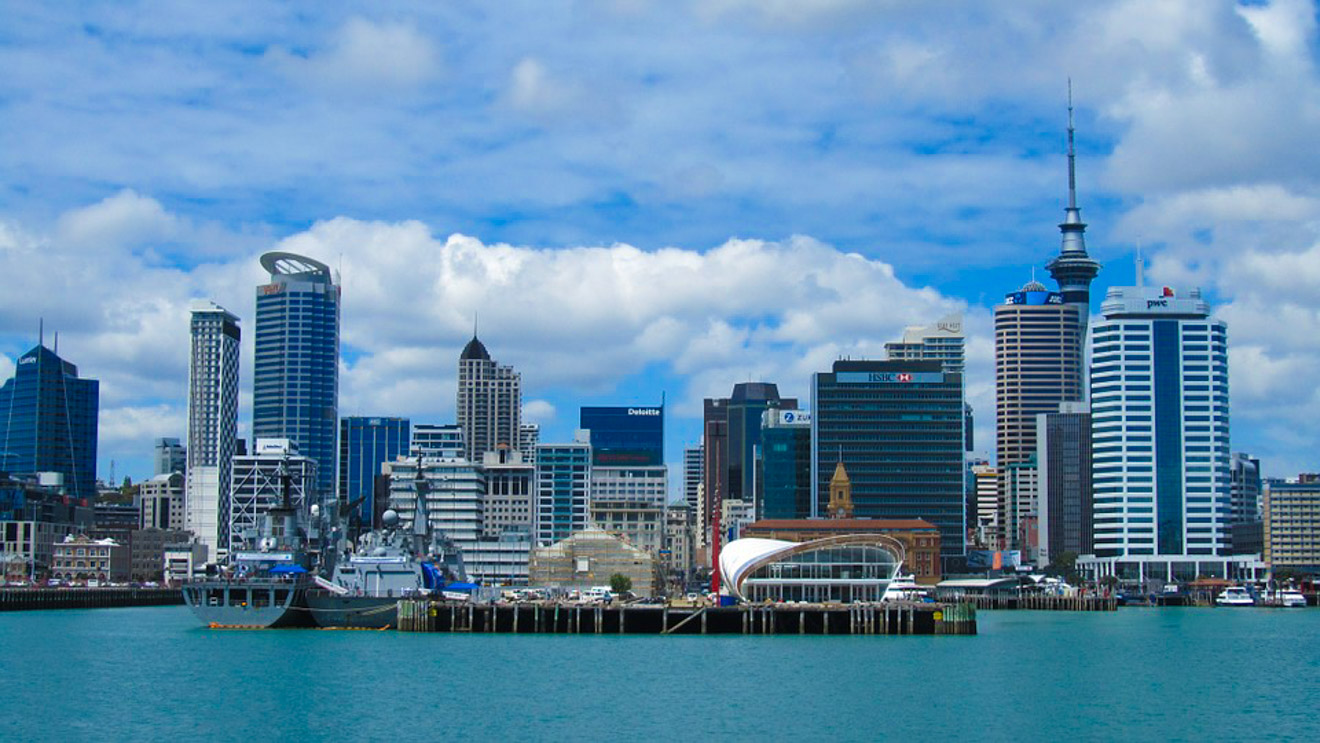 Being the most populated city in New Zealand, Auckland is a gateway for most travelers. You will most probably land there, too.
The flight will likely be quite long (unless you live in Australia) and you will surely arrive tired after the flight. That is why I suggest spending a day or even 2 in Auckland, if your time permits.
Use this day for resting, picking up your rental car, stocking up on groceries and maybe seeing a bit of the city.
How to get to Auckland from the airport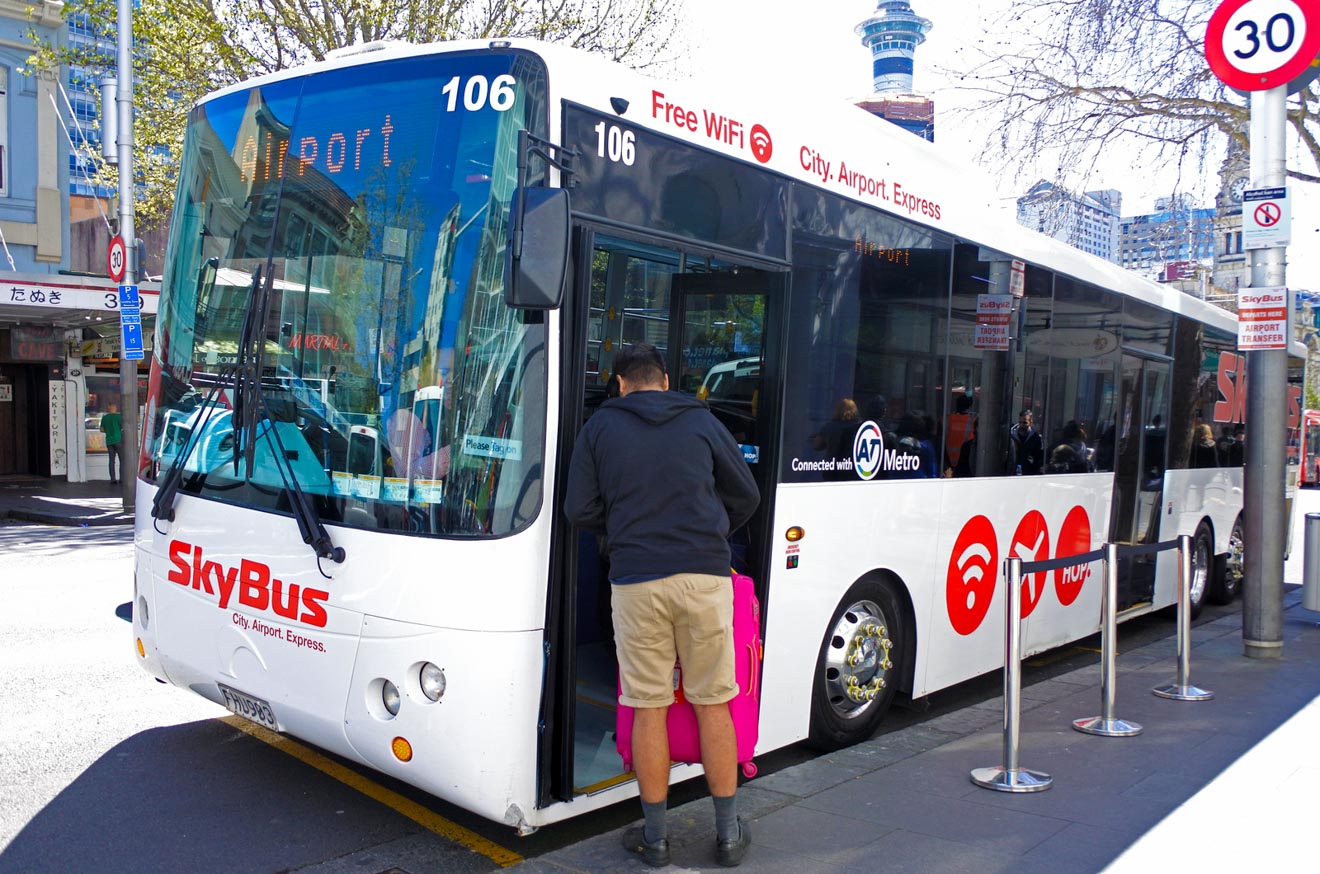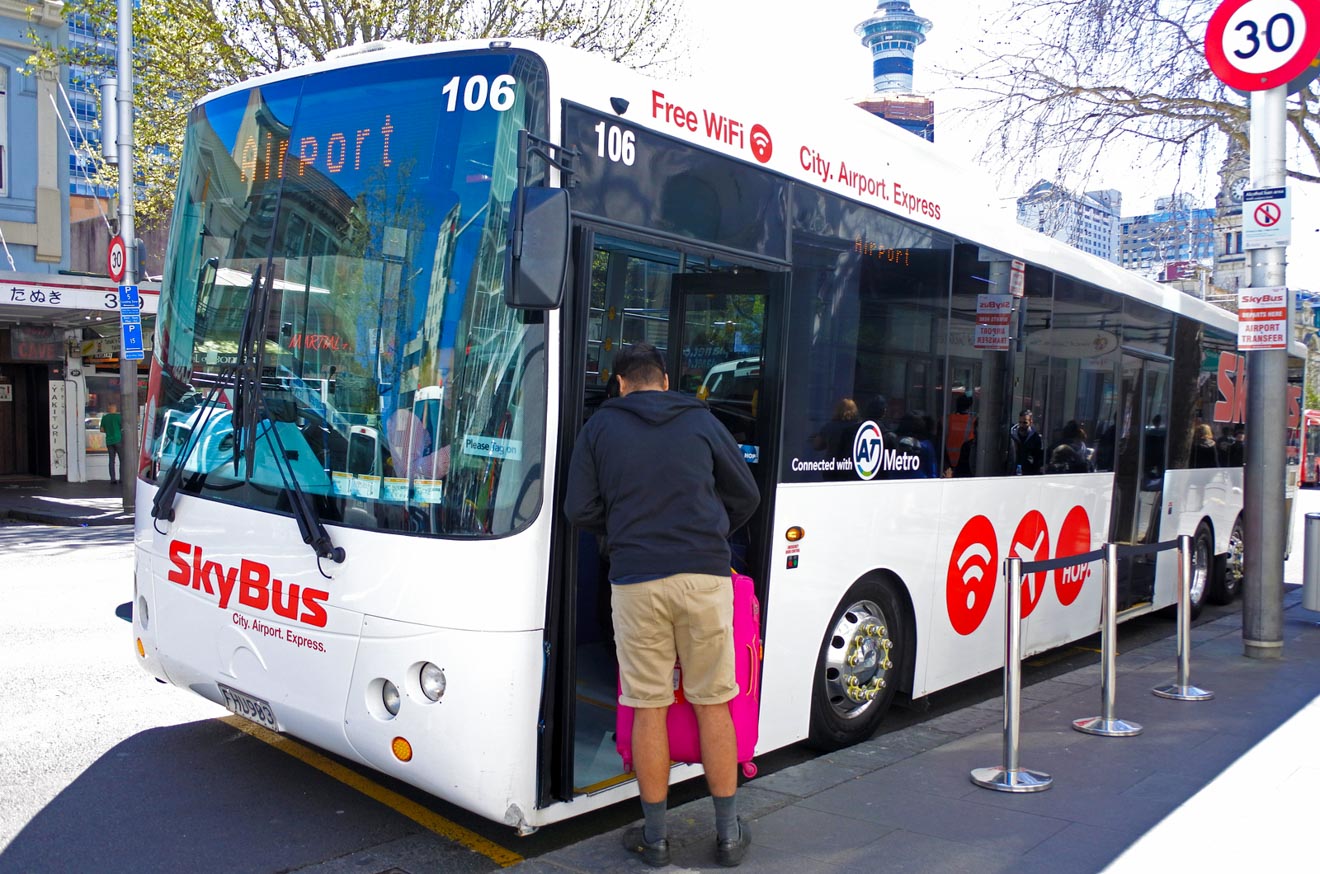 If you did not pick up your car at the airport (read all about choosing the right rental company here), there are some public transportation options.
Public transportation:
1) Sky Bus is the budget way to get from Auckland Airport to the city center. It operates 24/7, and it departs every 10-15 mins. The journey takes 45 mins and costs $18 NZD one-way or $32 return.
2) Uber is about $50 NZD (depending on the destination and the traffic)
3) A shuttle bus starts from about ~$35 NZD per person plus $8 for any extra person in the group.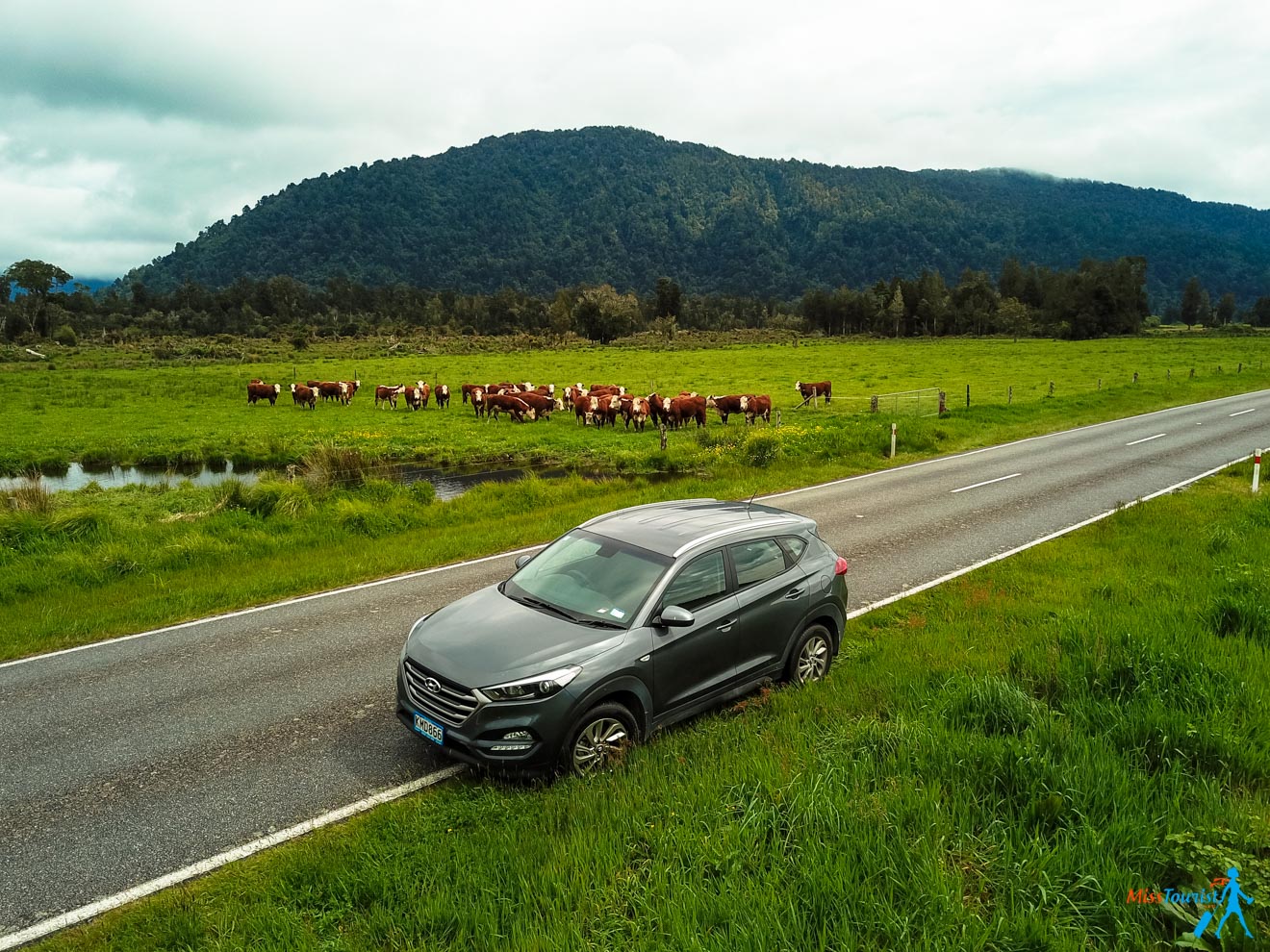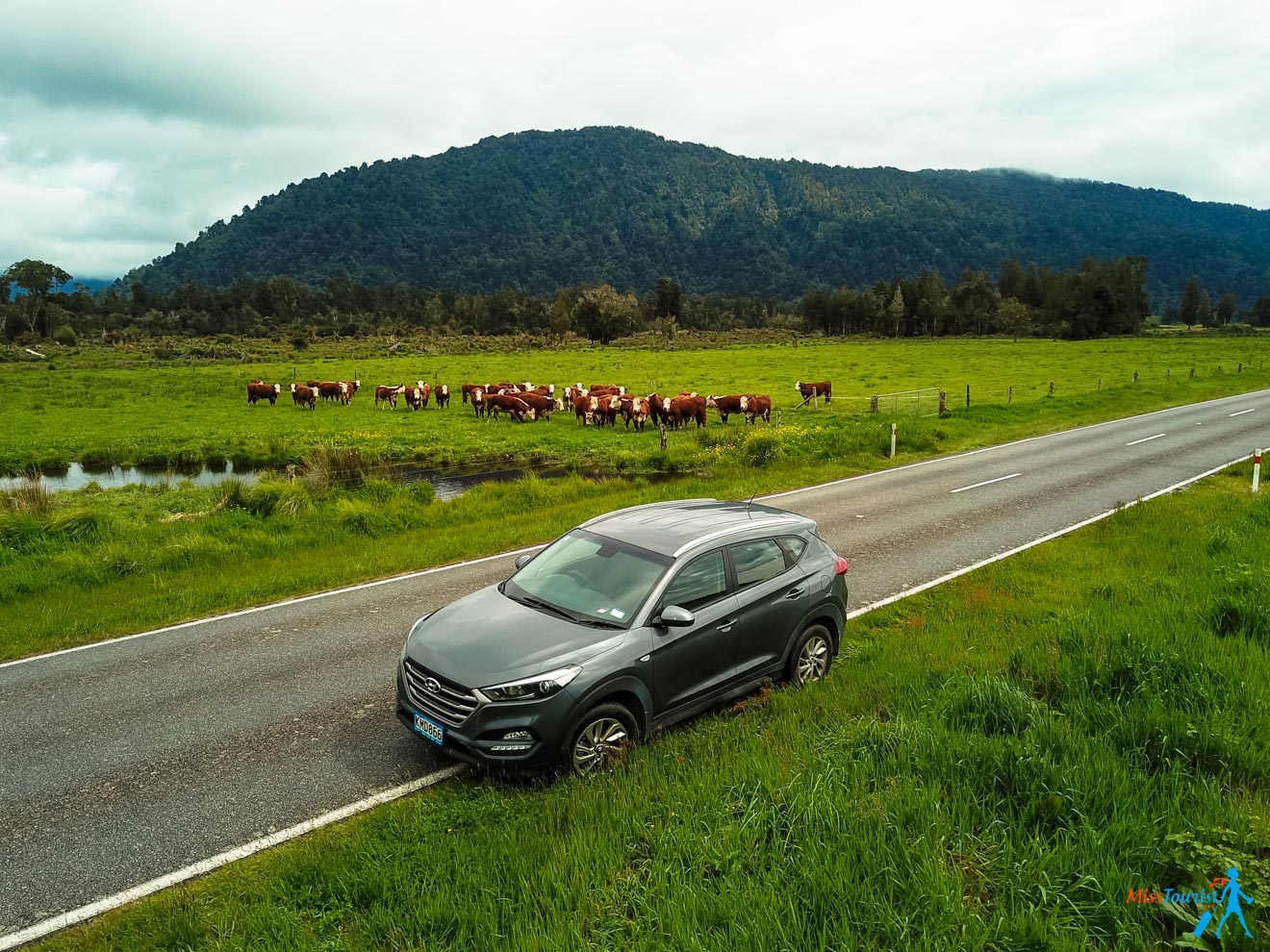 Rented car:
As I mentioned above, you can rent a car right at the airport and it will save you some money on transportation to the city.
Off-site rental companies usually offer a free shuttle bus to their rental office.
I also suggest stopping by an i-Site office in the airport! i-Site is New Zealand's official visitor center and you can find them all over the country, even in very remote locations. There is usually Wi-Fi in the office and a free telephone line you can use to call your rental car company to come pick you up if you haven't made arrangements ahead of time
That is what I call a great welcome! Thanks, New Zealand!
Things to do in Auckland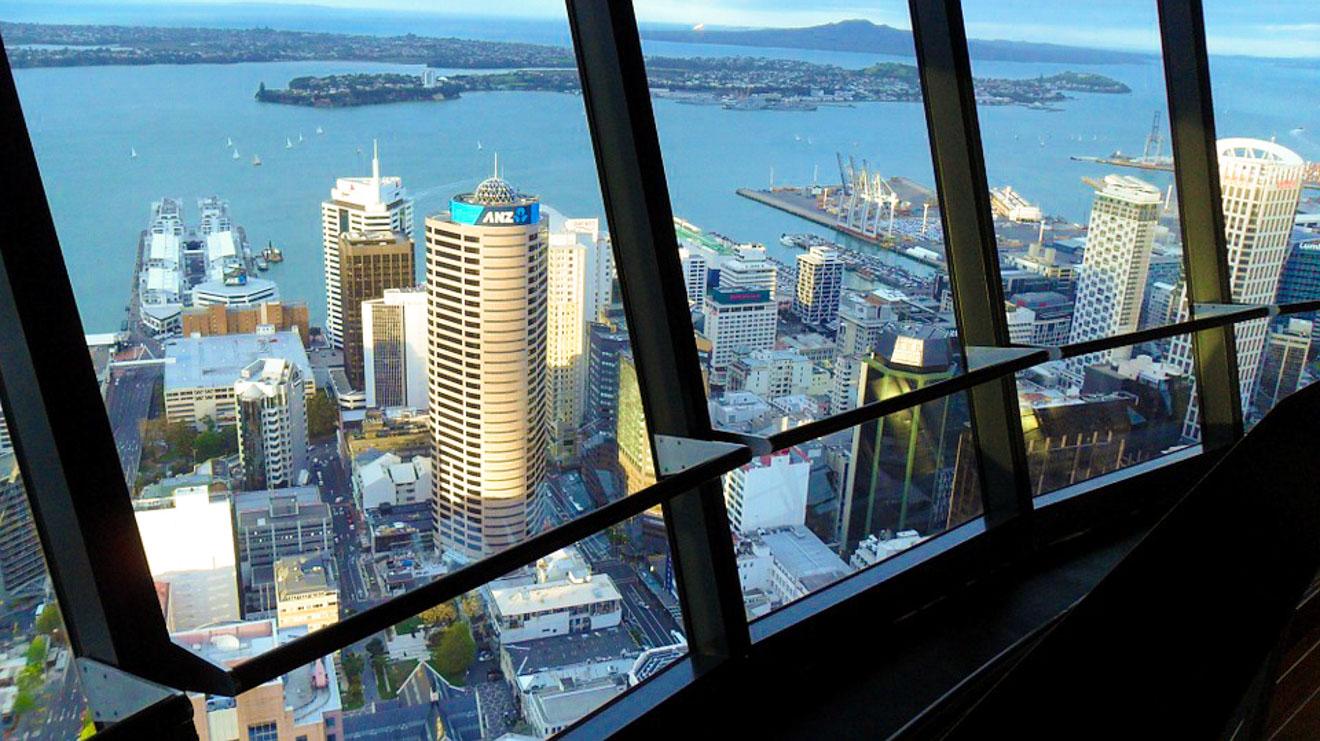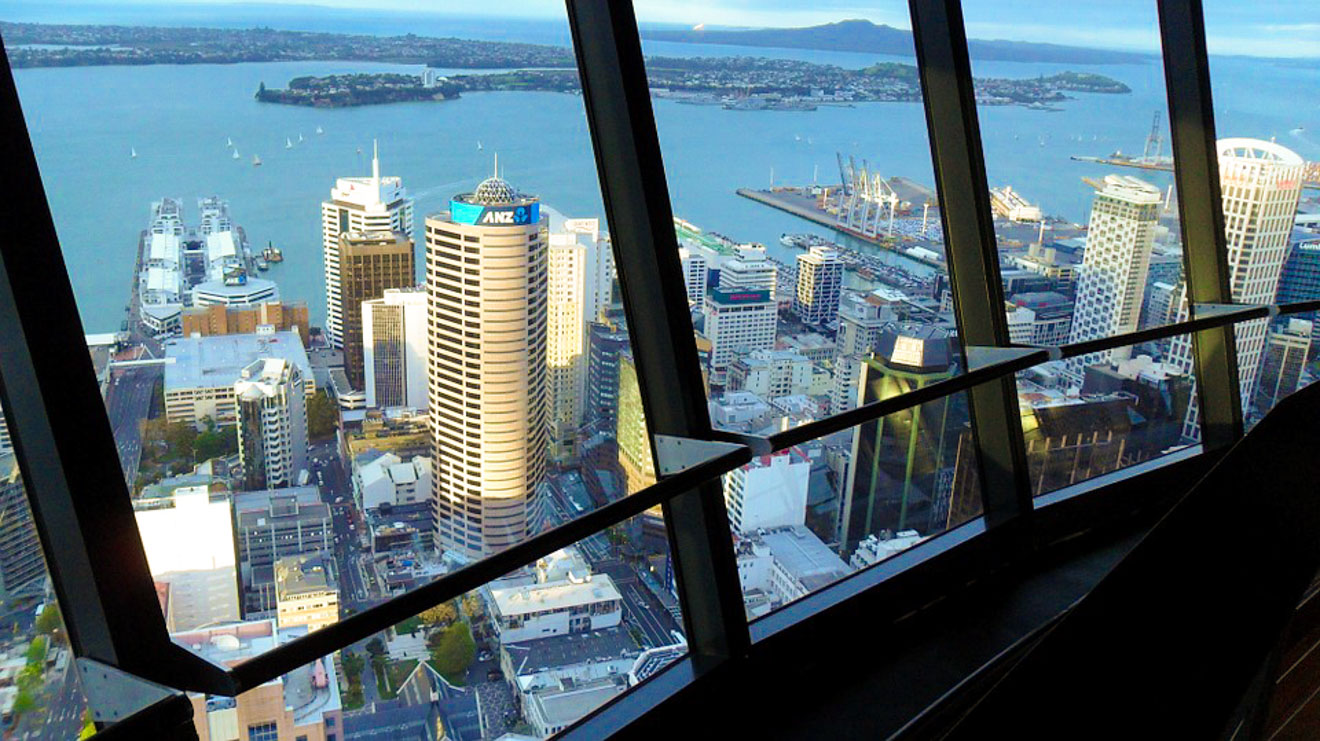 Here are some suggestions for a fast Auckland visit:
Accommodation in Auckland
Luxury ($180 NZD and up): For a gorgeous luxury stay in Auckland, I suggest you book a room at M Social Auckland. This superb place is situated on the iconic Quay Street! A second option would be Cordis, Auckland by Langham Hospitality Group – very close to Auckland's main attractions and with great design choices!
Middle ($61-$180 NZD): My middle-priced suggestions are: Parnell one bedroom with ensuite (a great bed and breakfast where you will have your own patio) and Ponsonby Manor Guest House (18-minutes away from the beach and with BBQ facilities!)
Budget (up to $61 NZD): For a nice budget stay, I advise you to take a look at Metro Adventurer Backpackers – a cool hostel situated in the heart of Auckland that offers free WiFi, private parking and even storage lockers! Or you can book your room at iholiday because it's only 10-minutes away from the beach and it also offers private parking (perfect for your rented car!)
You can also stay in an airport hotel if you don't feel like exploring the city center. These are the good ones – Naumi Auckland Airport Hotel, which offers a 5-star luxury accommodation with stylish rooms and Holiday Inn Auckland Airport which has an awesome pool and a beautiful garden.
Make sure you get a good night's sleep because your adventure begins the next day!
Day 2 – Hobbiton and Glow Worm Kayaking
Now let's move from Auckland to one of the most popular places in New Zealand – Hobbiton Movie Set!
2.1 Hobbiton Movie Set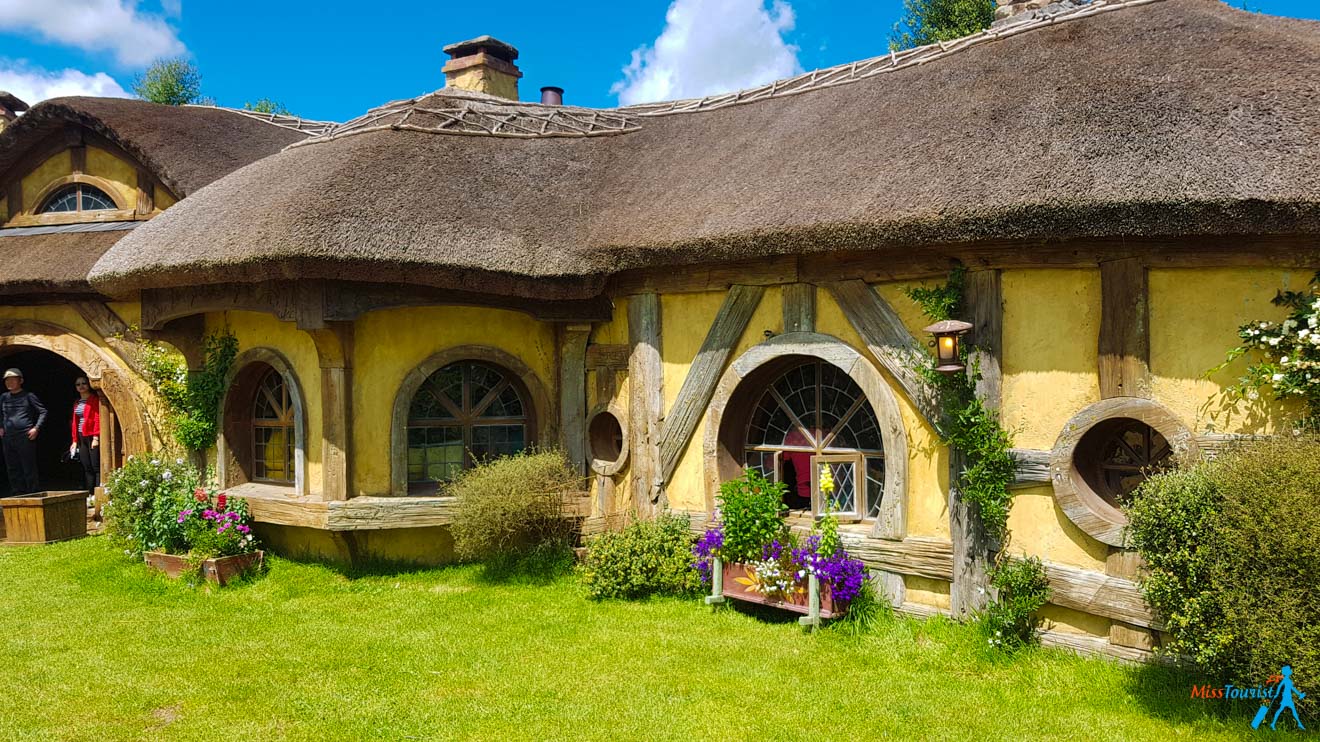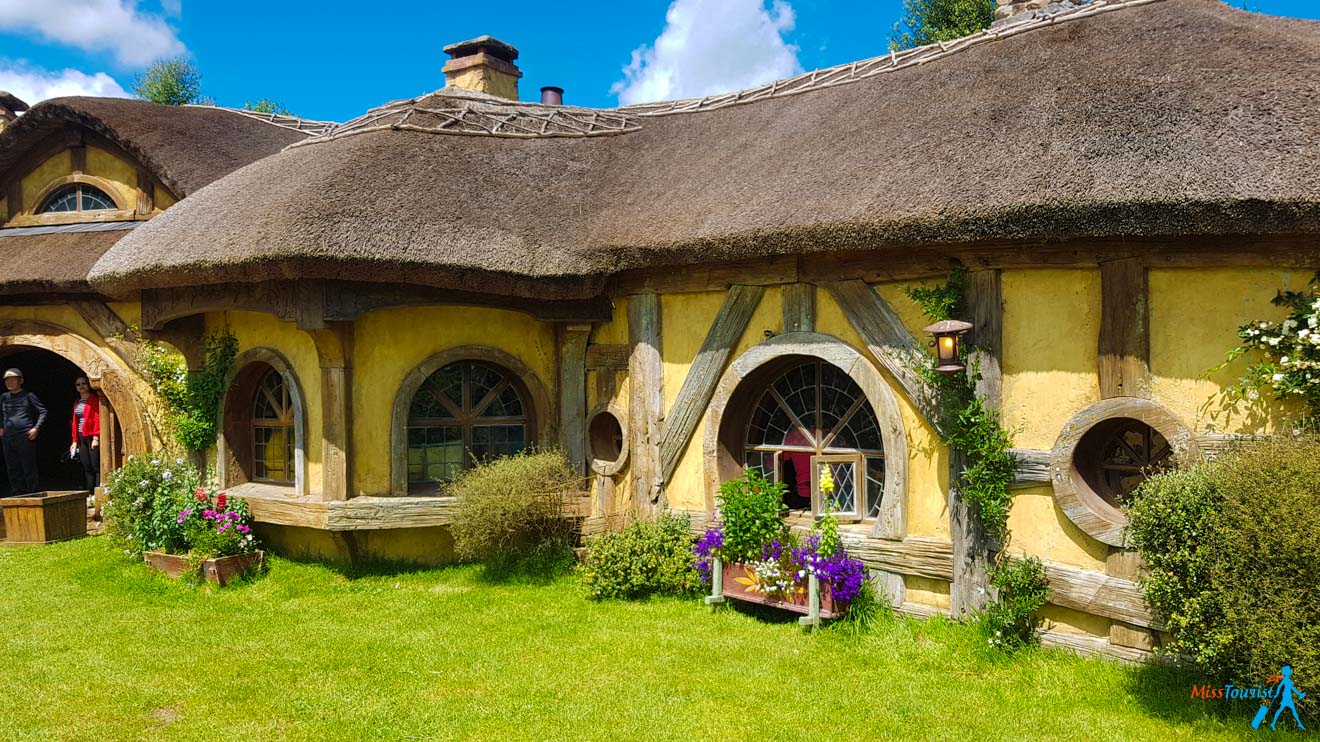 DRIVING TIME: Auckland -> Hobbiton – 2 h 20 min
Experience Middle-earth at the Hobbiton Movie Set where you can step into the lush pastures of the Shire.
Hobbiton was definitely one of the highlights of the entire country and there was no doubt it should be included in my TOP 10 things to visit in New Zealand! The whole place is so serene and idyllic, I simply fell in love with it!
Hobbiton Movie Set is actually part of a family sheep farm. That was the original purpose of this location that Peter Jackson, the movie director, found ideal for the Hobbiton part in his Lord of the Rings Trilogy.
The price for the tour is $79 NZD for adults (~USD $57) for a 2-hour tour. When planning the trip, we were not sure if we should visit Hobbiton, but I am so happy we decided to go!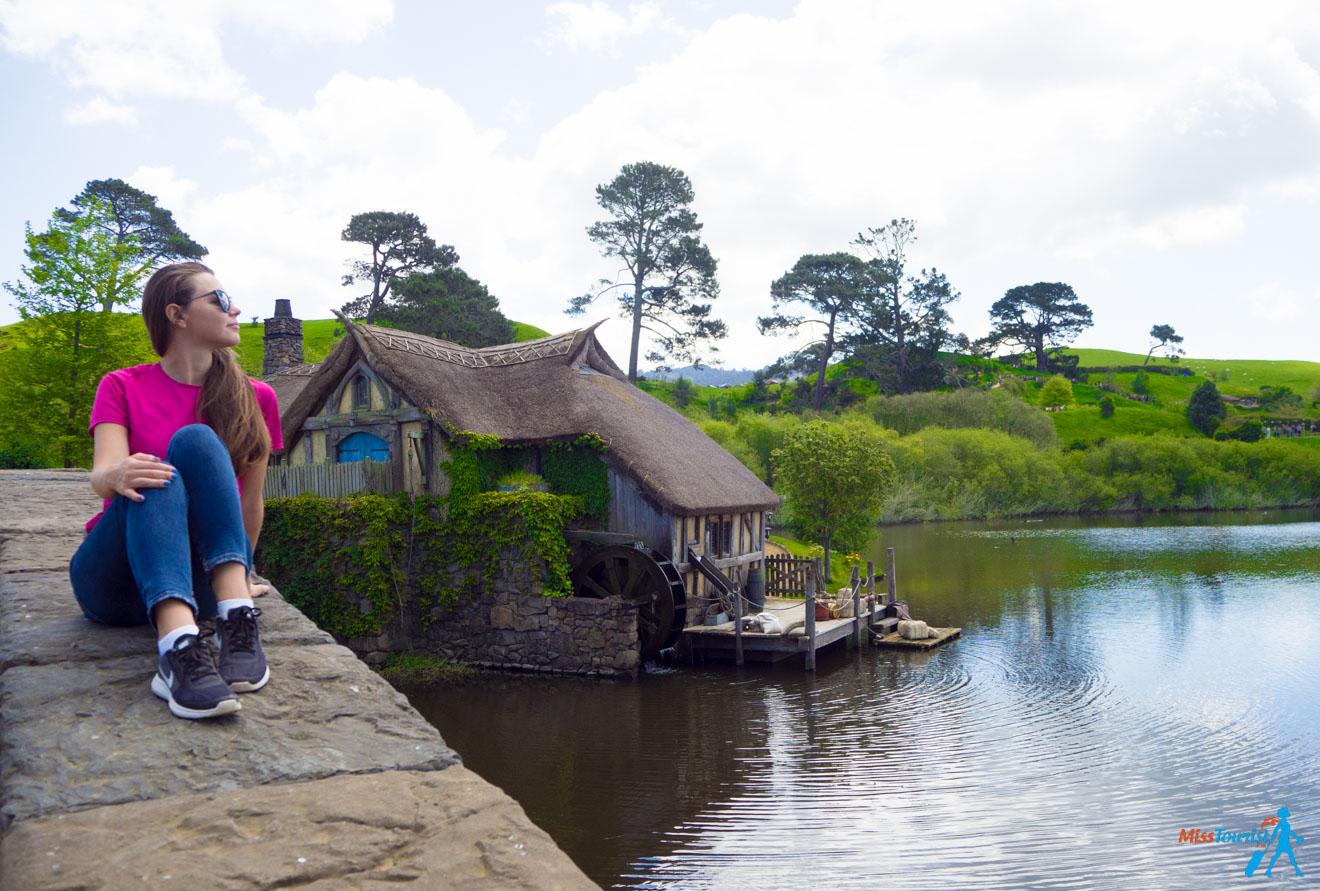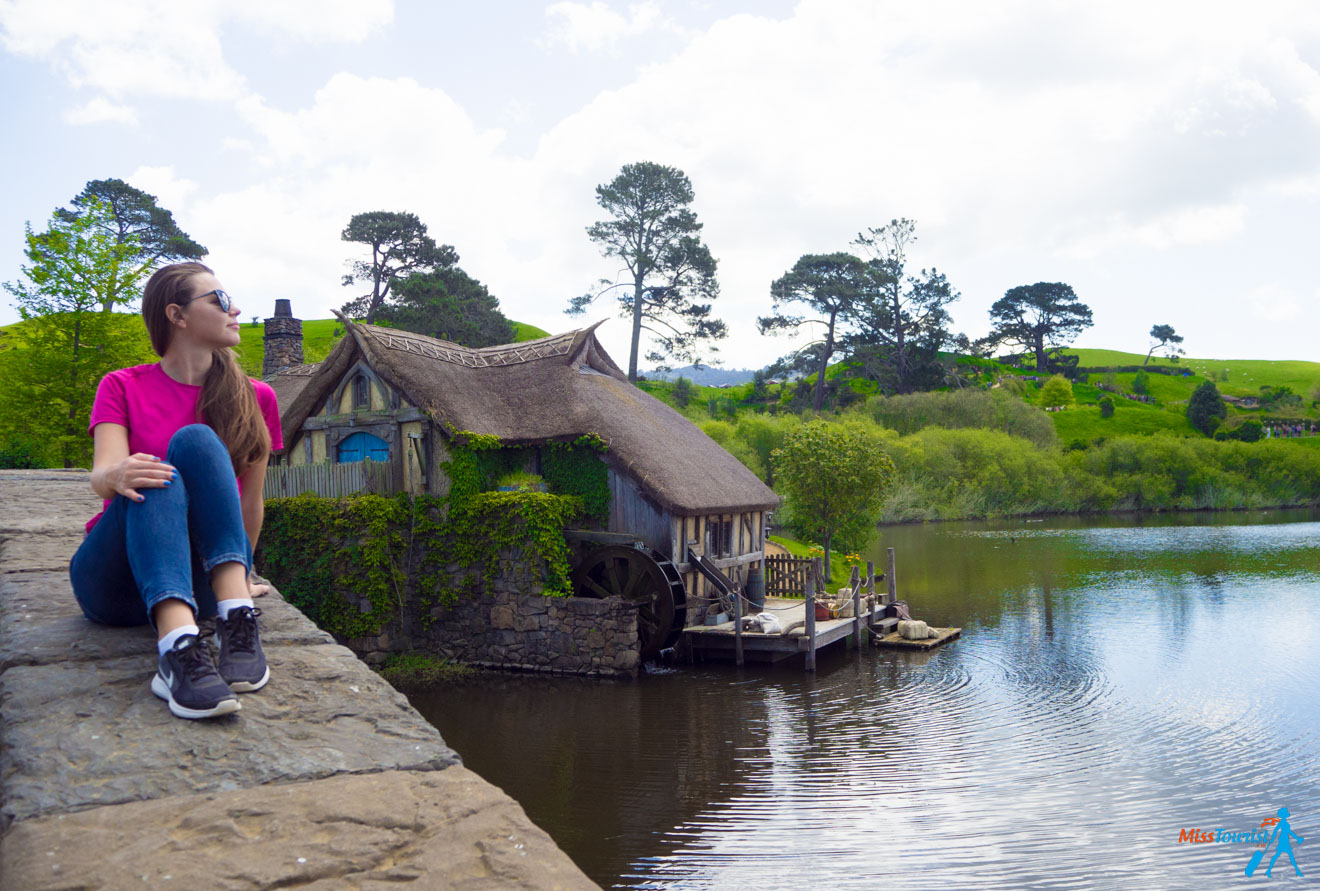 NOTE: Keep in mind that the visit is guided and you will not be left alone to wander around as I expected.
Your guide will take you around the 12-acre set: you will see the Hobbit holes, the Mills, and the world famous Green Dragon Inn! The guide will escort you around the set pointing to famous locations and telling you stories about the hobbit holes and movie production.
At the end of the tour, you will get a complimentary drink at the Dragonn Inn – your choice of beer or cider. Unfortunately, you cannot stay longer after your tour is finished as your bus will take you back to the cash register (I know, I was also very disappointed).
The tours start every 30 minutes and I have been told that the best time to visit is early morning. Also, if you happen to visit in the off-season (June – September), there will be almost no other tourists there (but keep in mind the grass is not as green as in the summer).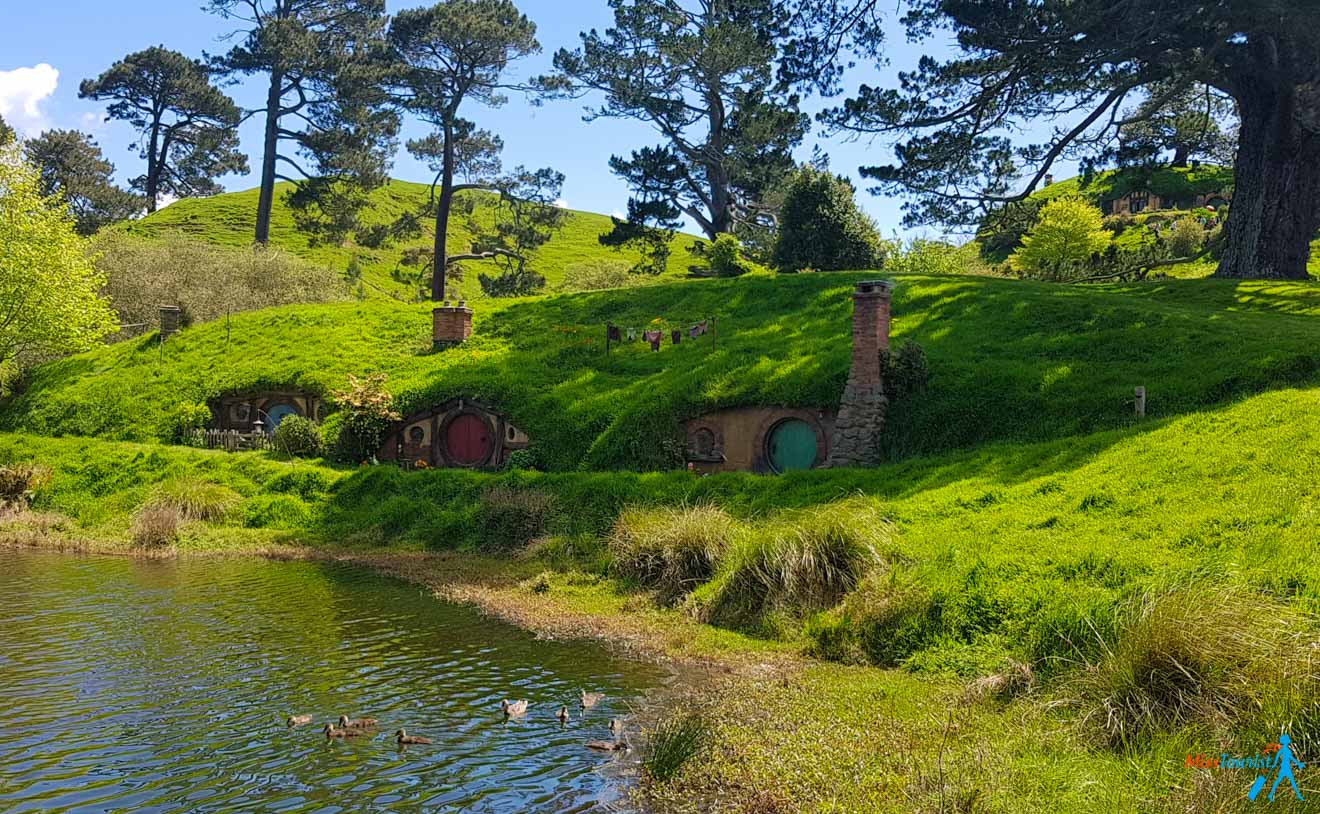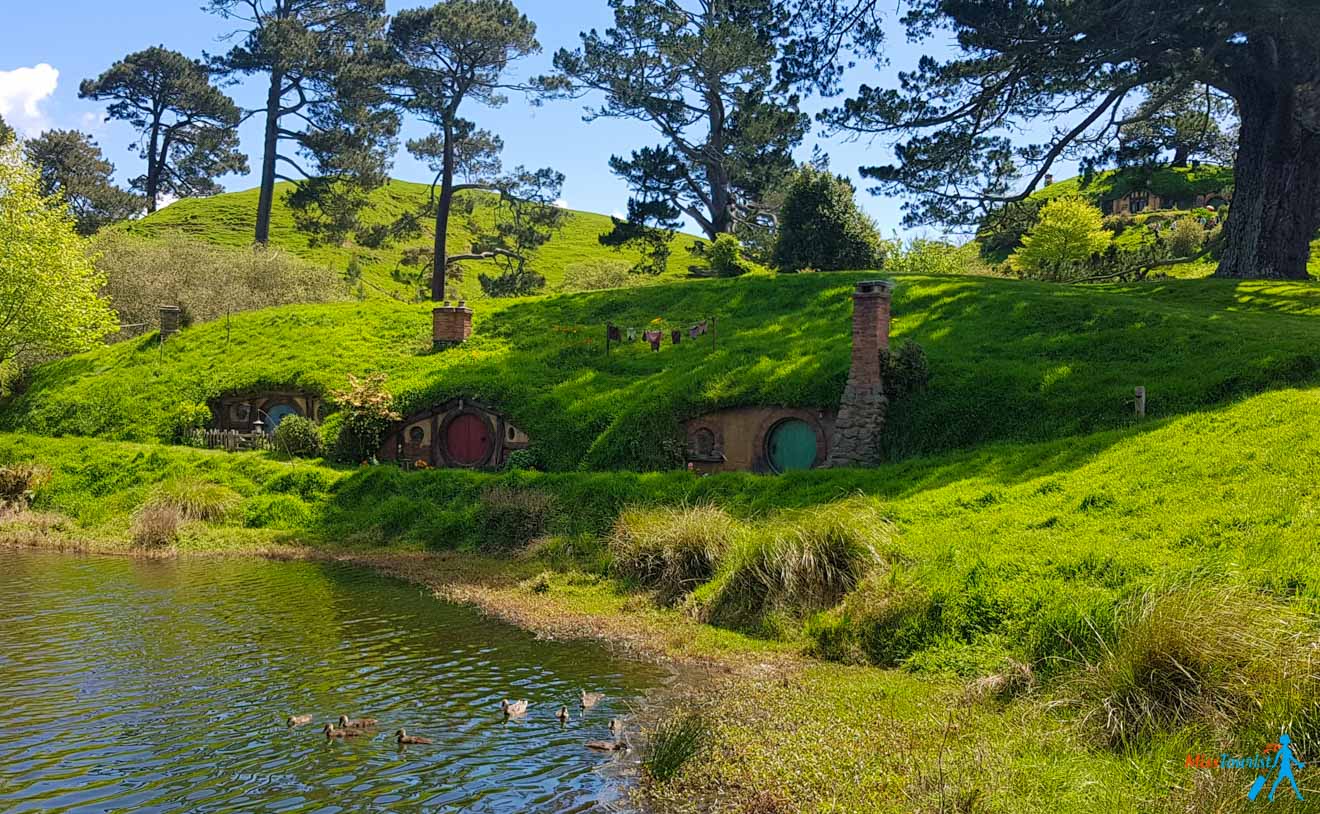 PRO TIP: If you do not want to be rushed together with a group want to take your time for pictures instead, there is an option to take a private tour. You will still be escorted, but you can explore the place at your own pace and take as many pictures as you want! I think that would be my preferred choice if only I had known about it beforehand.
Hobbiton also organizes evening banquet tours every Wednesday and Sunday, and you can check them out here. You will see the whole village beautifully lit up and you will walk around with your individual hand-held lantern. This tour concludes with a dinner.
PRICE: $79 NZD for a tour per person and $750 NZD for an individual tour for up to 4 people. Here are the up-to-date prices.
2.2 Glow Worm Kayaking Waimarino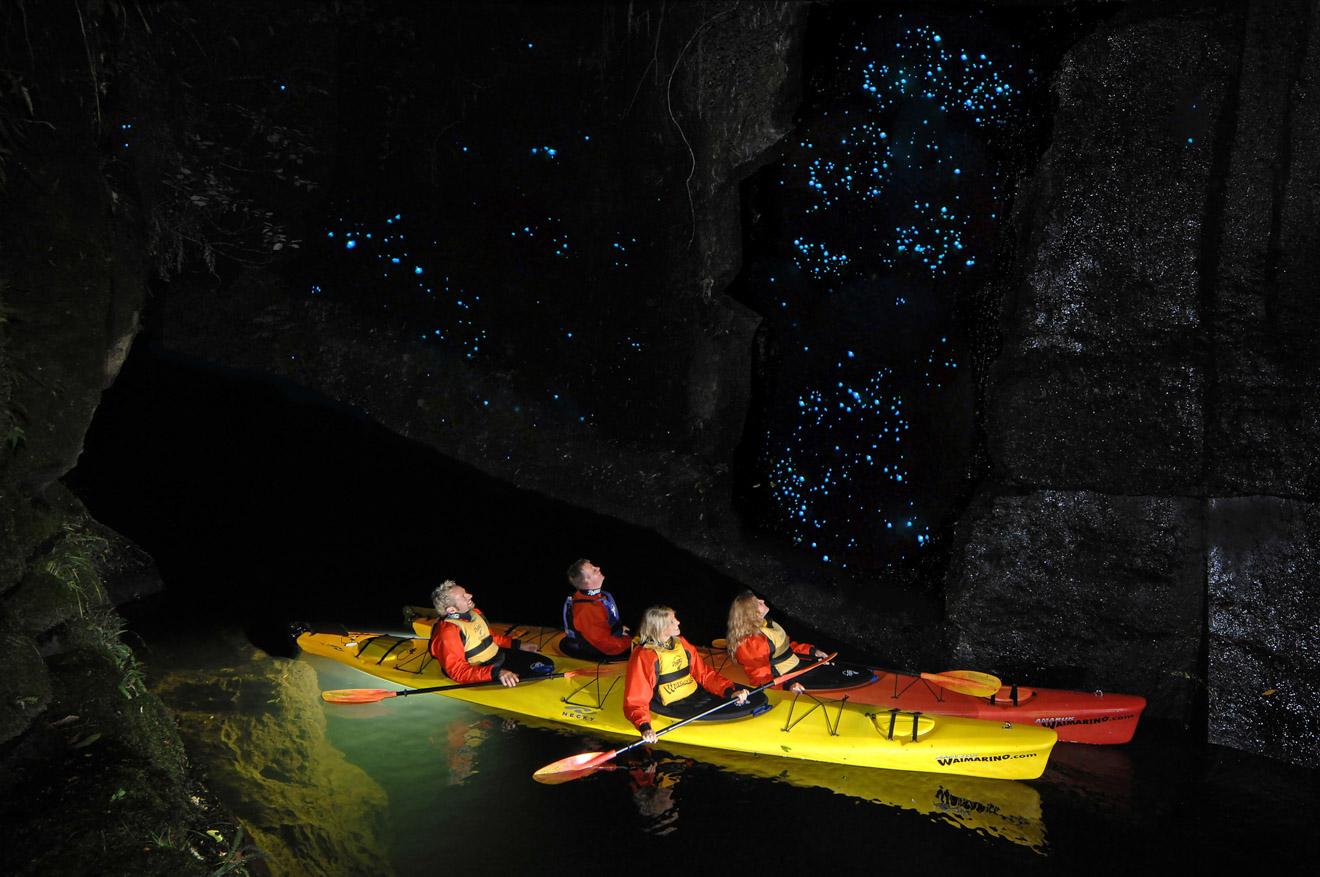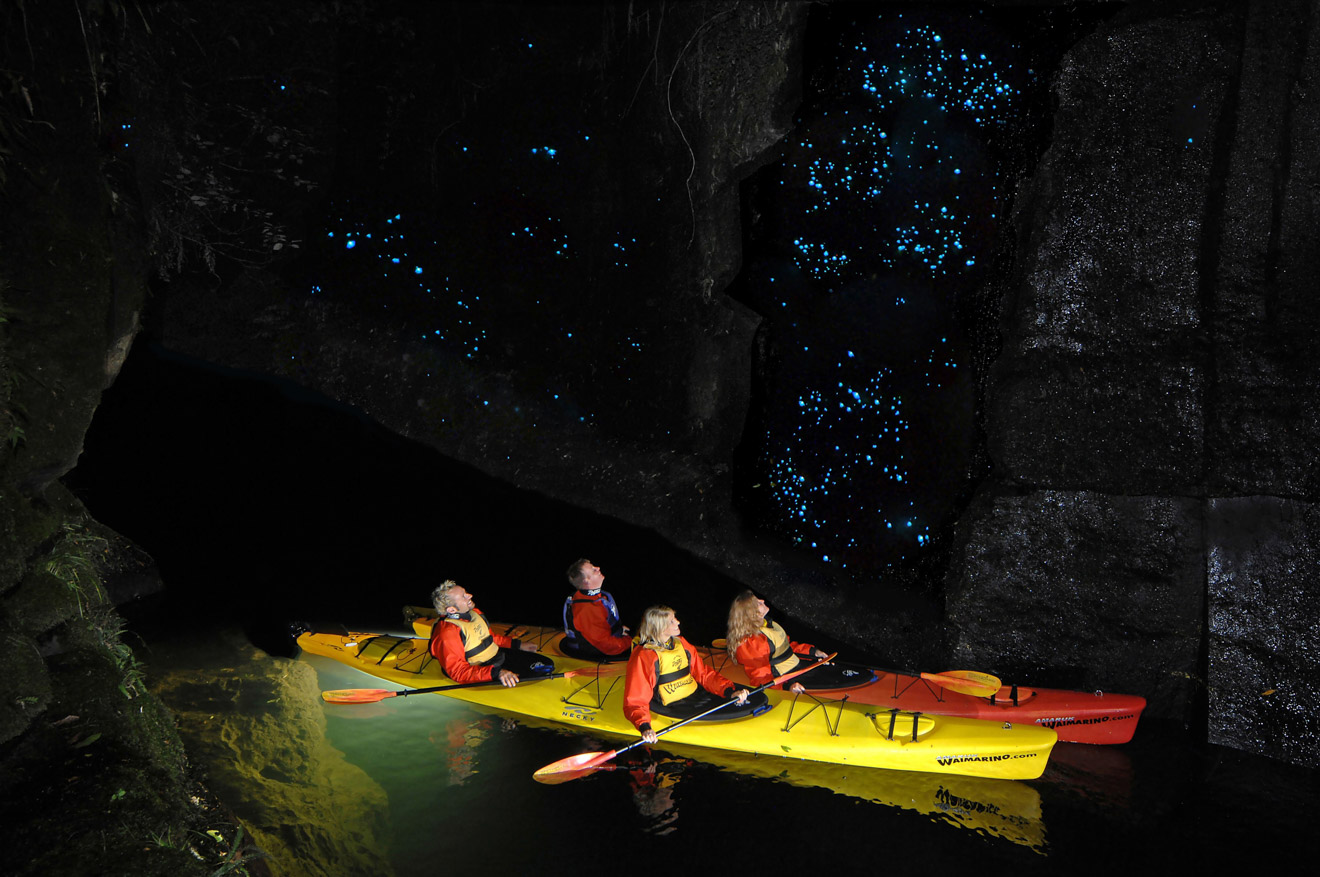 DRIVING TIME: Hobbiton -> Waimarino – 50 min
Just a little more driving and you will find yourself in a tiny place called Waimarino, which is famous for its glowing worms.
Yes, you read it right – there are worms glowing in the dark out there and I recommend you see them!
The whole experience is absolutely magical – witnessing this natural phenomenon and riding a kayak inside a narrow, high-sided canyon will make you feel like a discoverer in a forgotten land!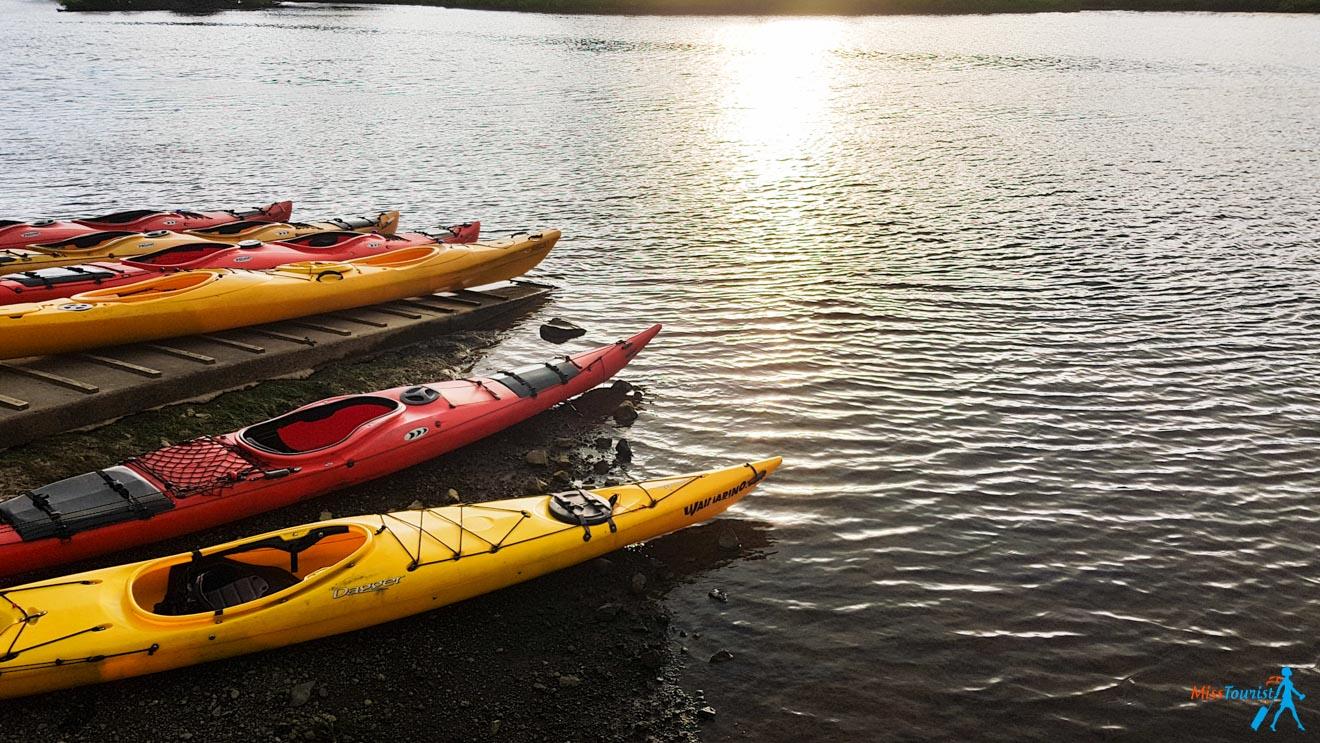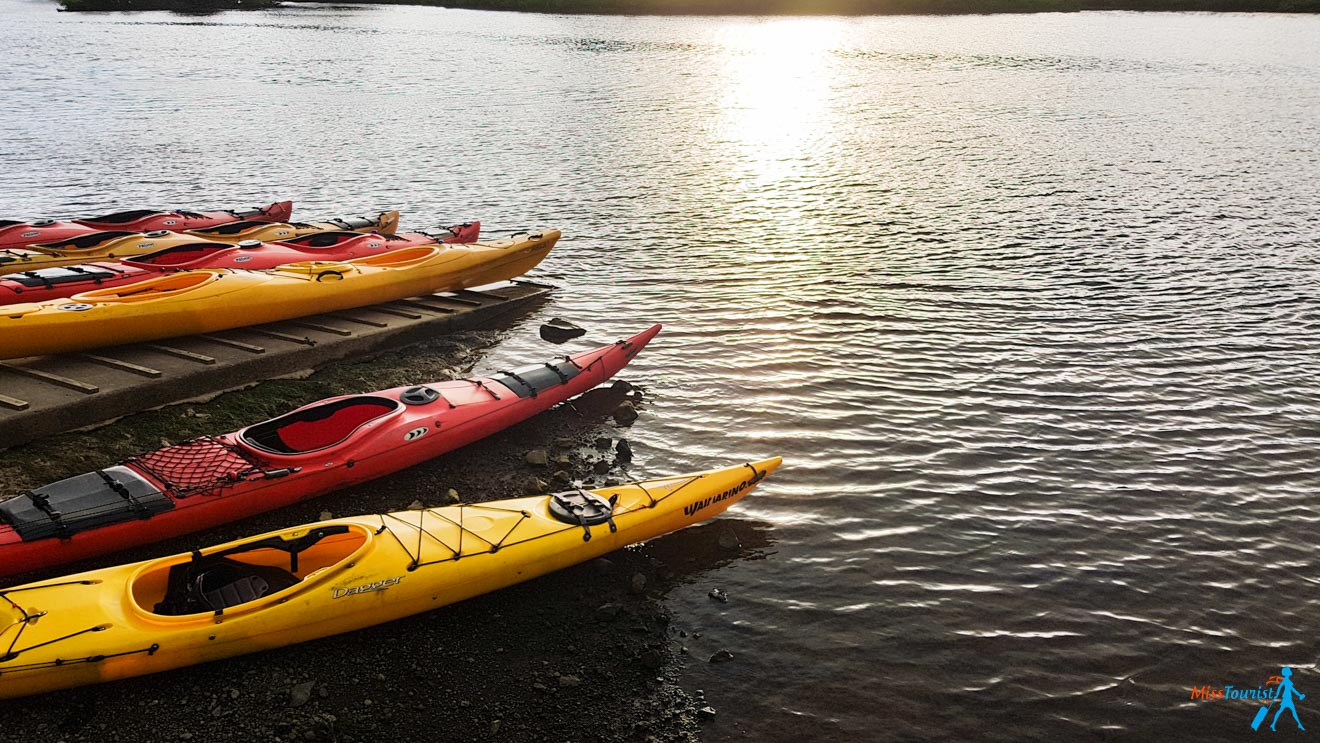 This is a canyon, not a cave, so you can only see the worms glowing when it's dark, hence you should take note that this is an evening tour. I took the one organized by Glowworm Kayaking Tours, who are pros at this.
I must warn you that at the beginning of the tour I was quite cold (so make sure to take some really warm clothes with you), but then, when we started to move in the kayak it all got much better! The tour guide will provide you overalls – take them, otherwise you might get a bit wet!
PRICE: $130 NZD per person
Accommodation around Waimarino
We drove all the way to Rotorua the same evening after kayaking (1 hour), but I would recommend staying somewhere close to Waimarino for the night and start driving the next morning. Here are my recommendations for hotels around Waimarino area:
Luxury ($180 NZD and up): A great luxury stay will be at 850 Cameron Motel – very clean and beautiful, this accommodation is situated only 4.5 km away from the glow worm kayak tours! My second suggestion is Lavender Lodge. Situated only 5.2 km away from the glow worm tours, this place has an awesome terrace – perfect for a couple!
Middle ($61-$180 NZD): Accommodation at Te Puna Motel and Holiday Park is not far from Waimarino and it offers a swimming pool, a kid's playground and even a BBQ area! Comfort Inn Academy has a swimming pool, hot tub and lots of breakfast options!
Budget (up to $61 NZD): Oh So Central to Tauranga is located only 2.8 km away from the Waimarino Glowworm Kayak tours and it even offers free parking! Another good suggestion is Tauranga Central Backpackers – 6.4 km away from the kayak tours, this budget accommodation has air-conditioned rooms and access to a shared kitchen and laundry facilities.
If you wish to stay in Rotorua, too (I must warn you, we felt a bit tired driving the same evening after kayaking), you will find hotels recommendations in Day 3 below.
Day 3 – Rotorua and Tamaki village tour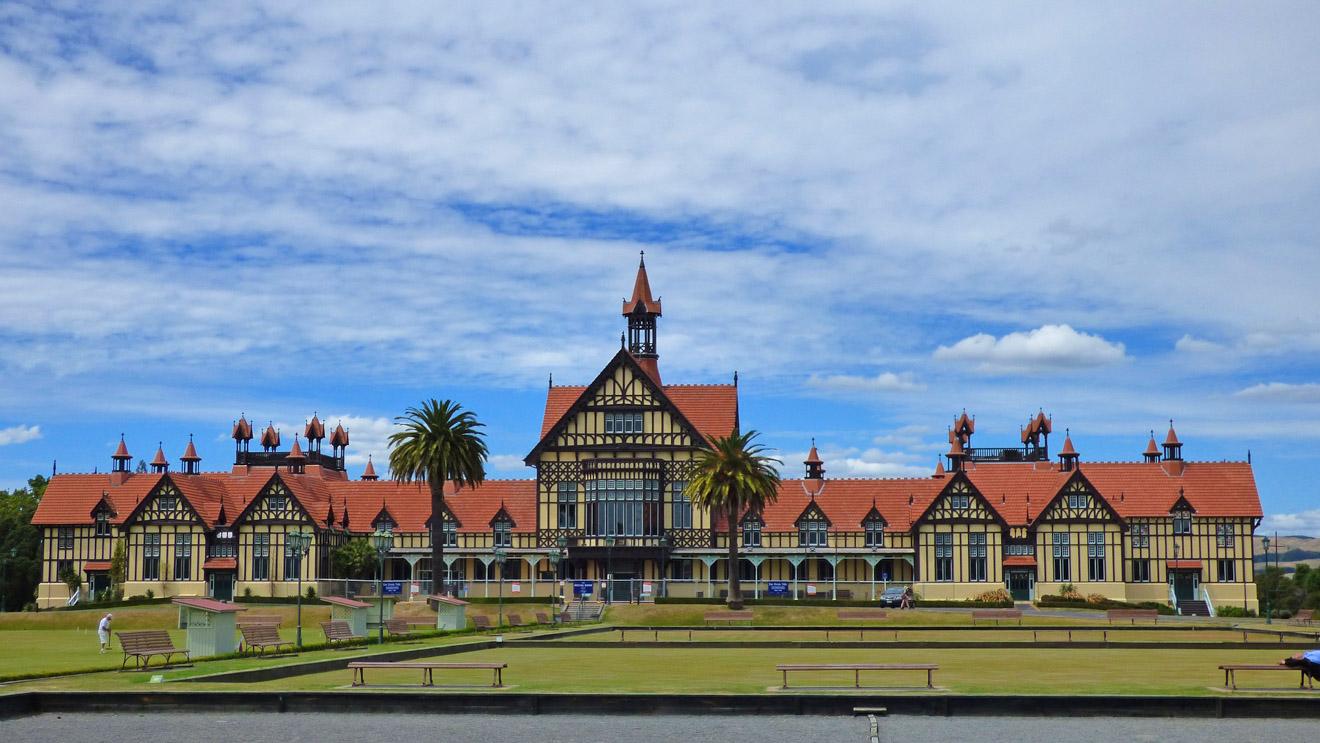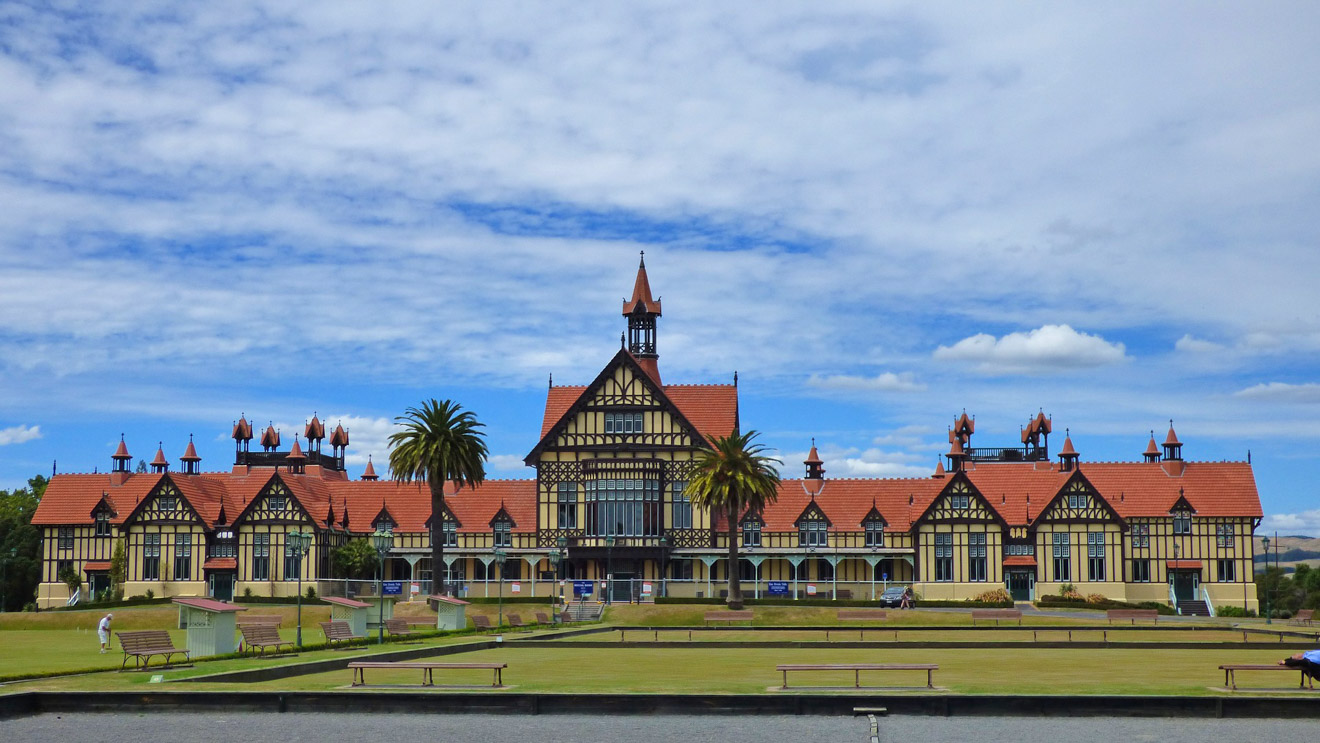 DRIVING TIME: Waimarino -> Rotorua, 63 km, 1 hour
It is hard to choose, but this would probably be my favorite day on the North Island!
Rotorua is New Zealand's thermal wonderland! You will see bubbling sulfur pools right inside the town and you will be able to try some epic biking trails and many other activities!
This will be a fun day full of great experiences, are you ready?
3.1 Ogo zorbing
We will start in the morning and shake ourselves up a little bit.
What do you know about zorbing? It's time to try it yourself!
Zorbing (Wikipedia) – is an activity of rolling downhill inside an orb, generally made out of transparent plastic.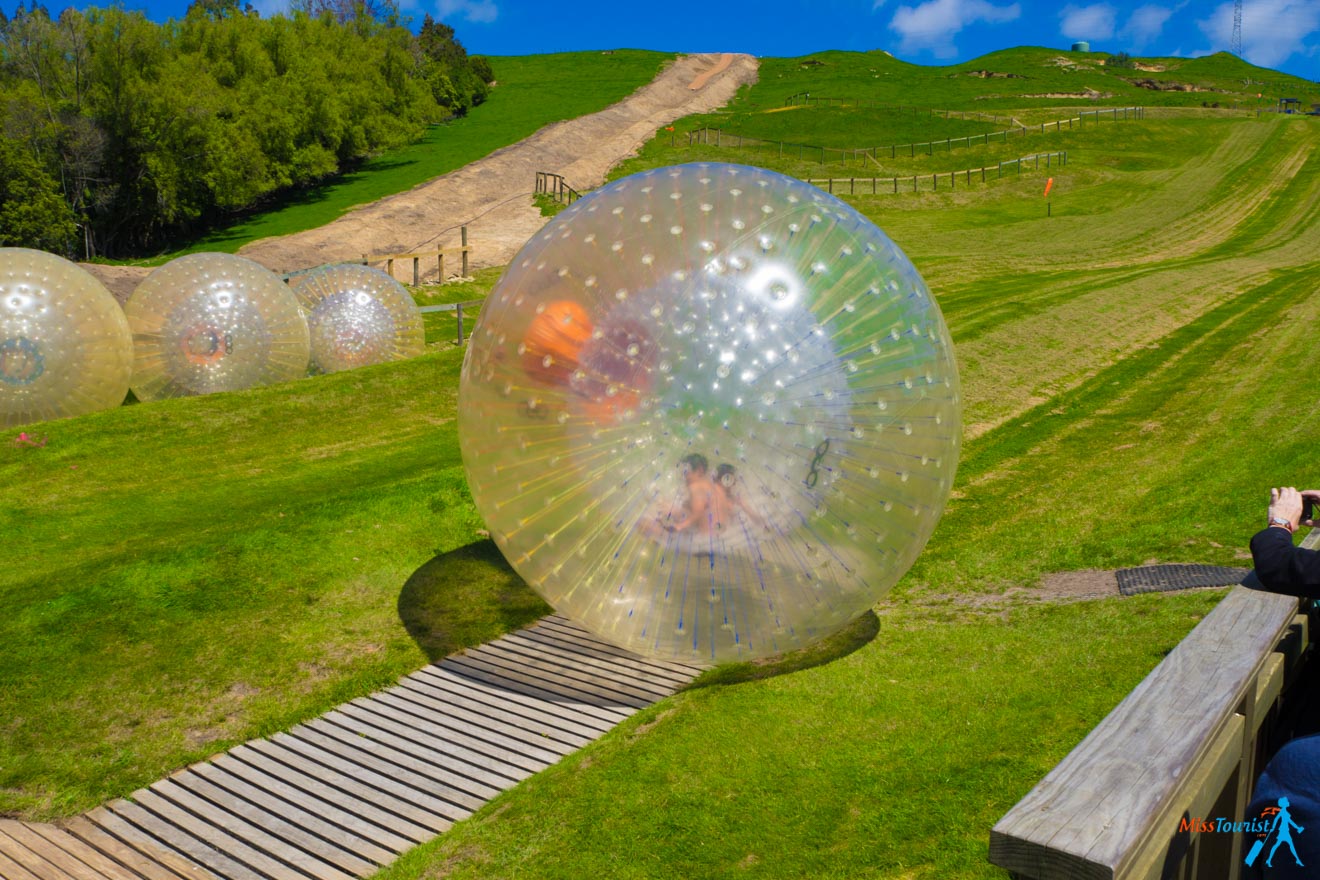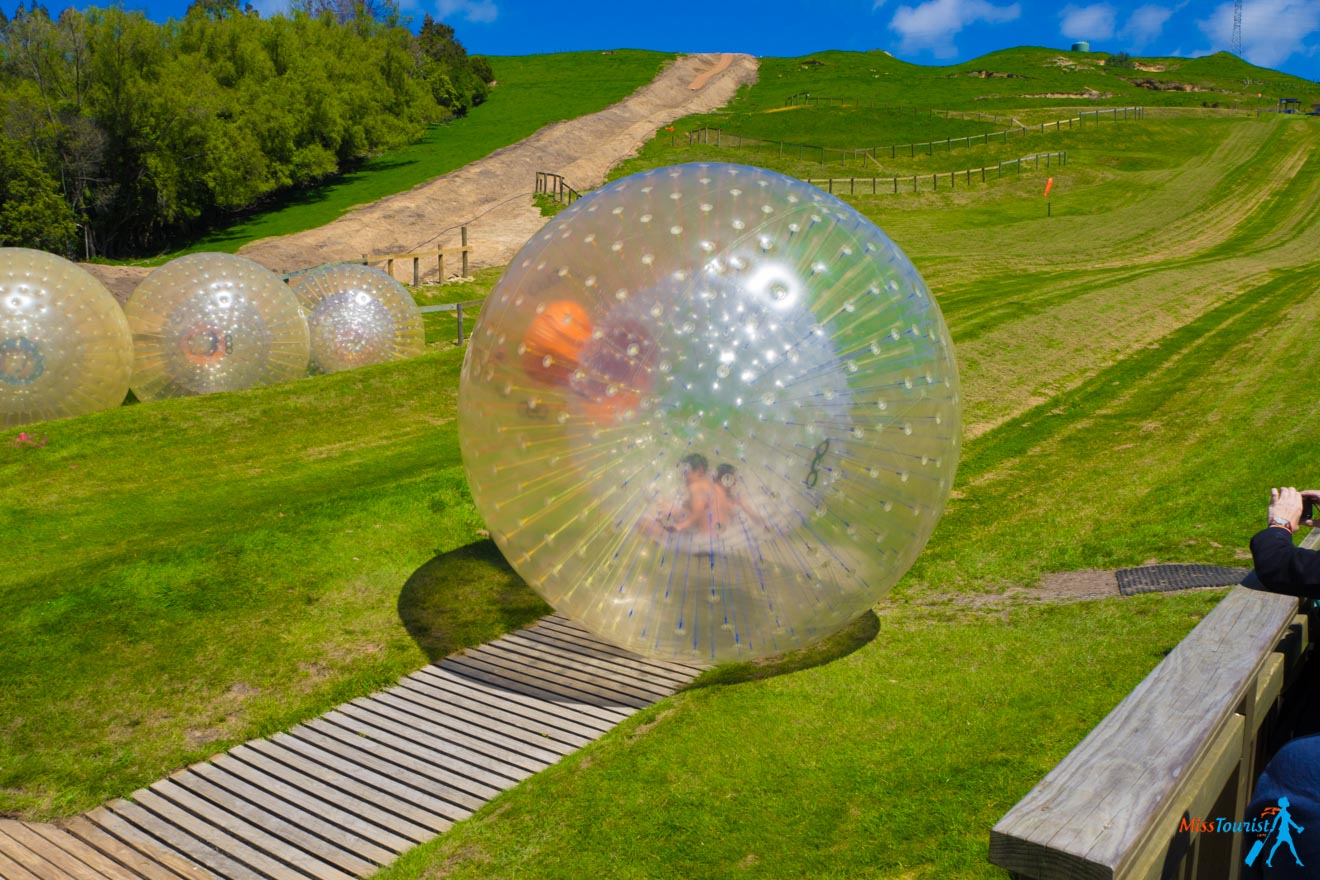 It can be done on water (walking-on-water-like) or going downhill on a gentle slope. The second choice is exactly what we will do today.
I chose (Ogo Rotorua) because the owner is the original inventor of zorbing, so they are professionals and you don't have to worry about your safety.
You can choose different rides – you can either race each other (so much fun!), or go together in one ball (for slower rides). We did both and I recommend doing the same!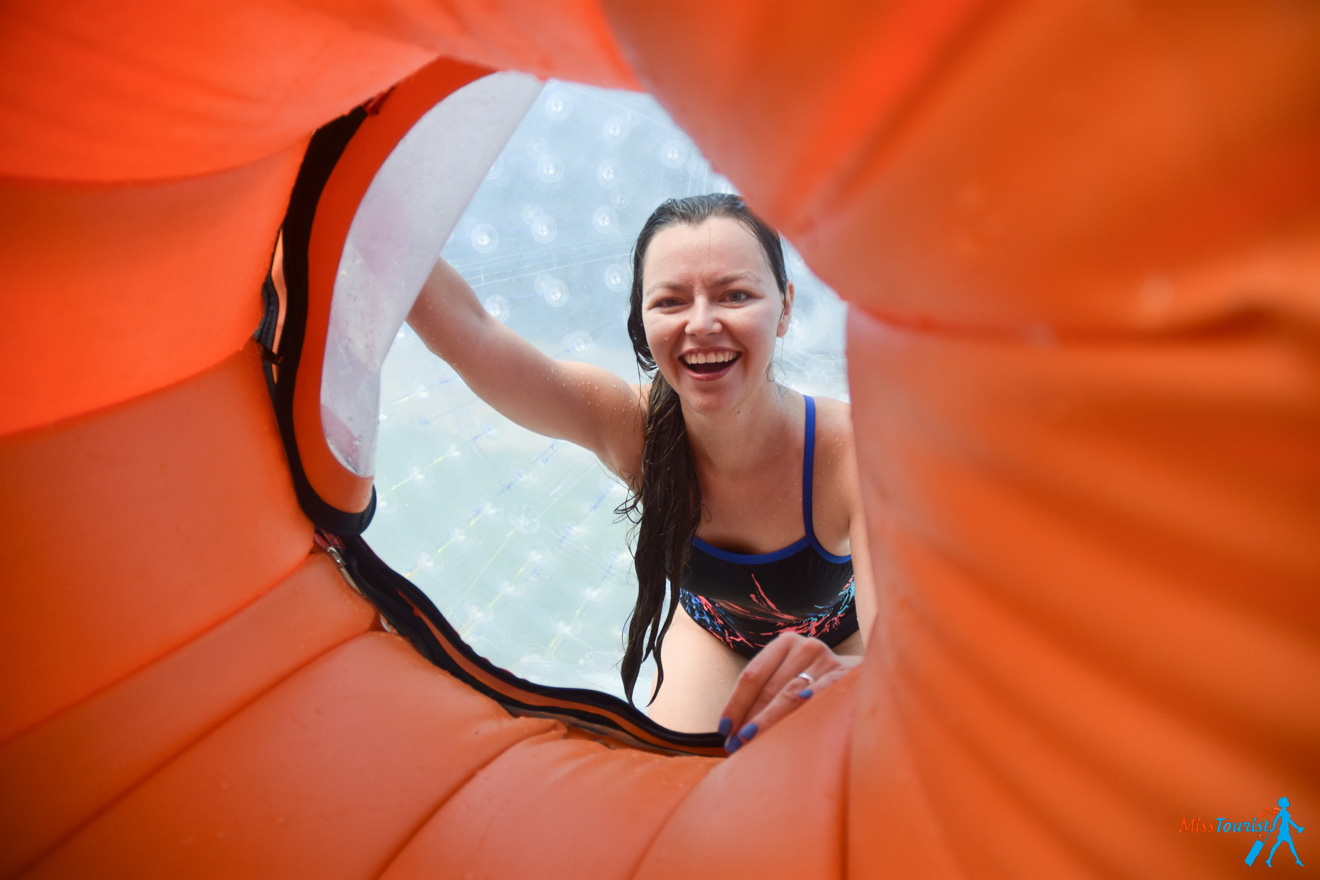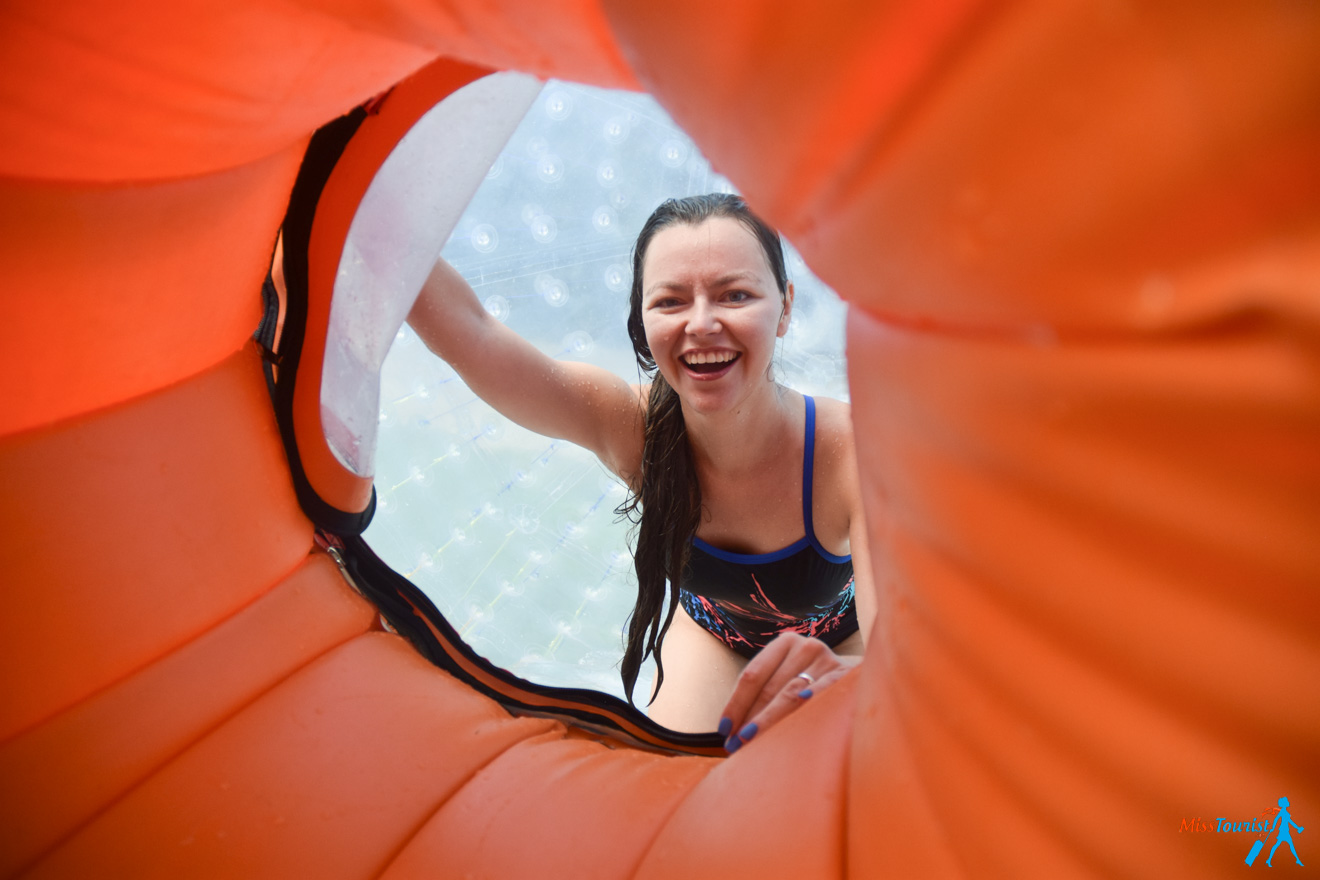 It was so MUCH more fun than I expected!
NOTE: Do not forget to take your swim suit and a towel! There will be water inside the ball that will help you slide easily. There are changing cabins there, so no problems about changing.
Take a GoPro with you if you have one (no selfie sticks allowed in order not to hurt yourself), or you can also rent a GoPro from them for an extra charge.
Oh, and there is a Jacuzzi where you can relax afterward (towels provided).
PRICE: It is anywhere between $40 to $70 NZD depending on the track you choose. Check the prices here.
3.2 Relax in a spa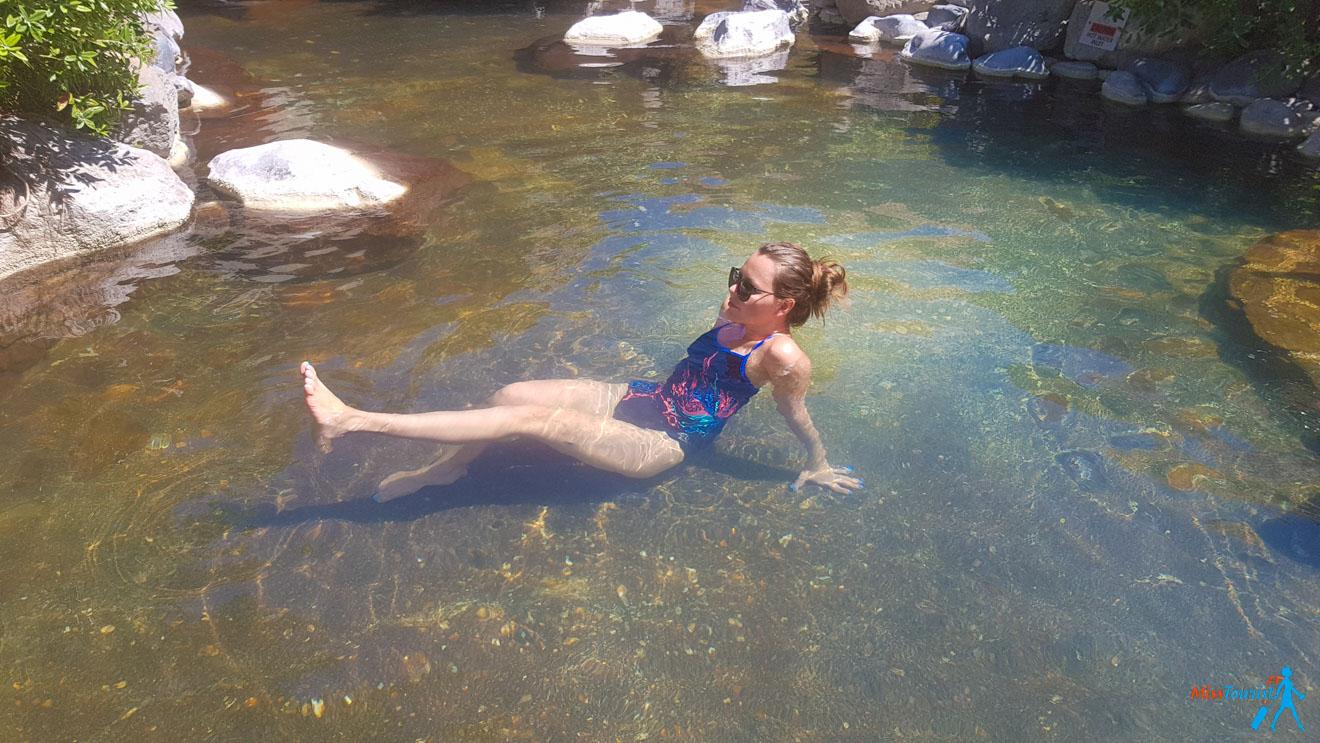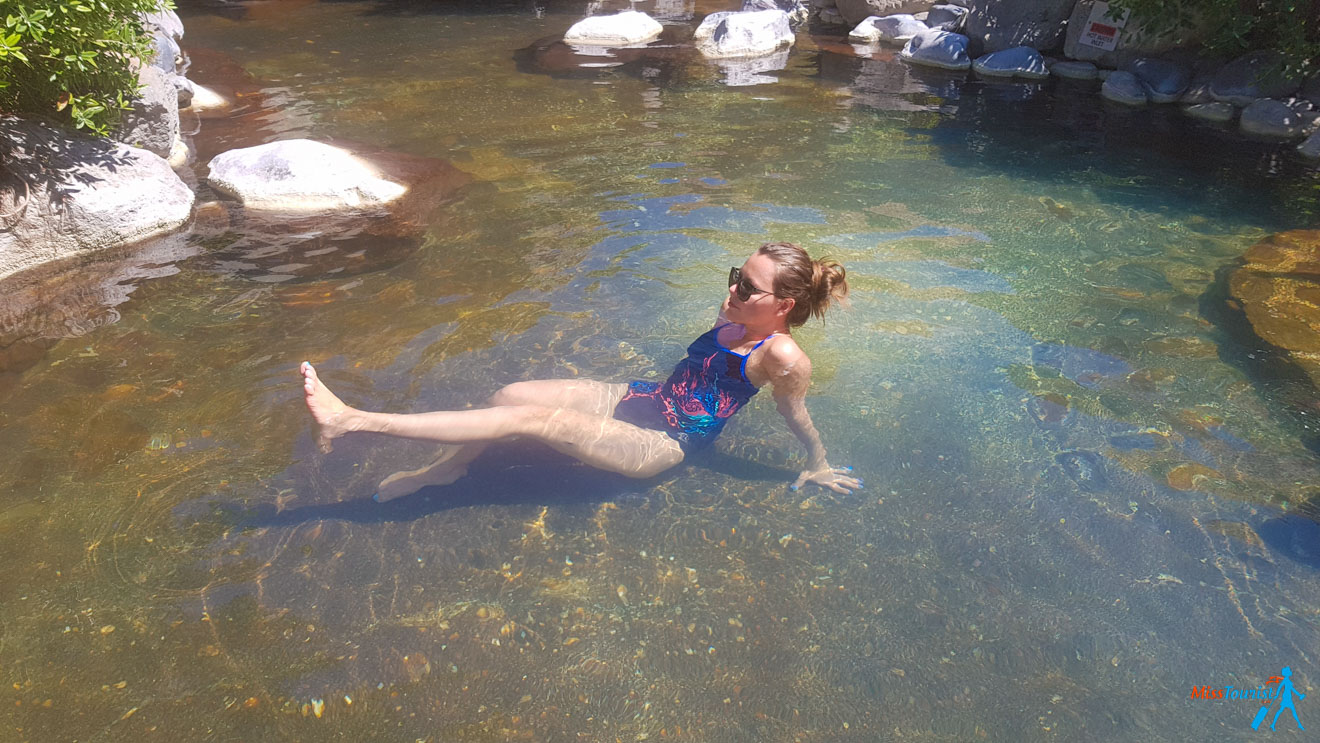 Now, after some crazy stunts, I think you wouldn't mind some relaxation, would you?
I recommend visiting the famous Polynesian Spa, which is said to have naturally therapeutic waters. its healing powers are supposed to relieve your pain.
Maybe that is why this spa is loved by the local rugby team so much!
We spent about an hour at the spa. There are more than 10 pools with different temperatures of water, so you can spend even more time there if you wish.
PRICE: There are different options you can choose from, the simplest one is just $30 NZD (the one I chose, too). See all the available options here.
3.3 Walk around the city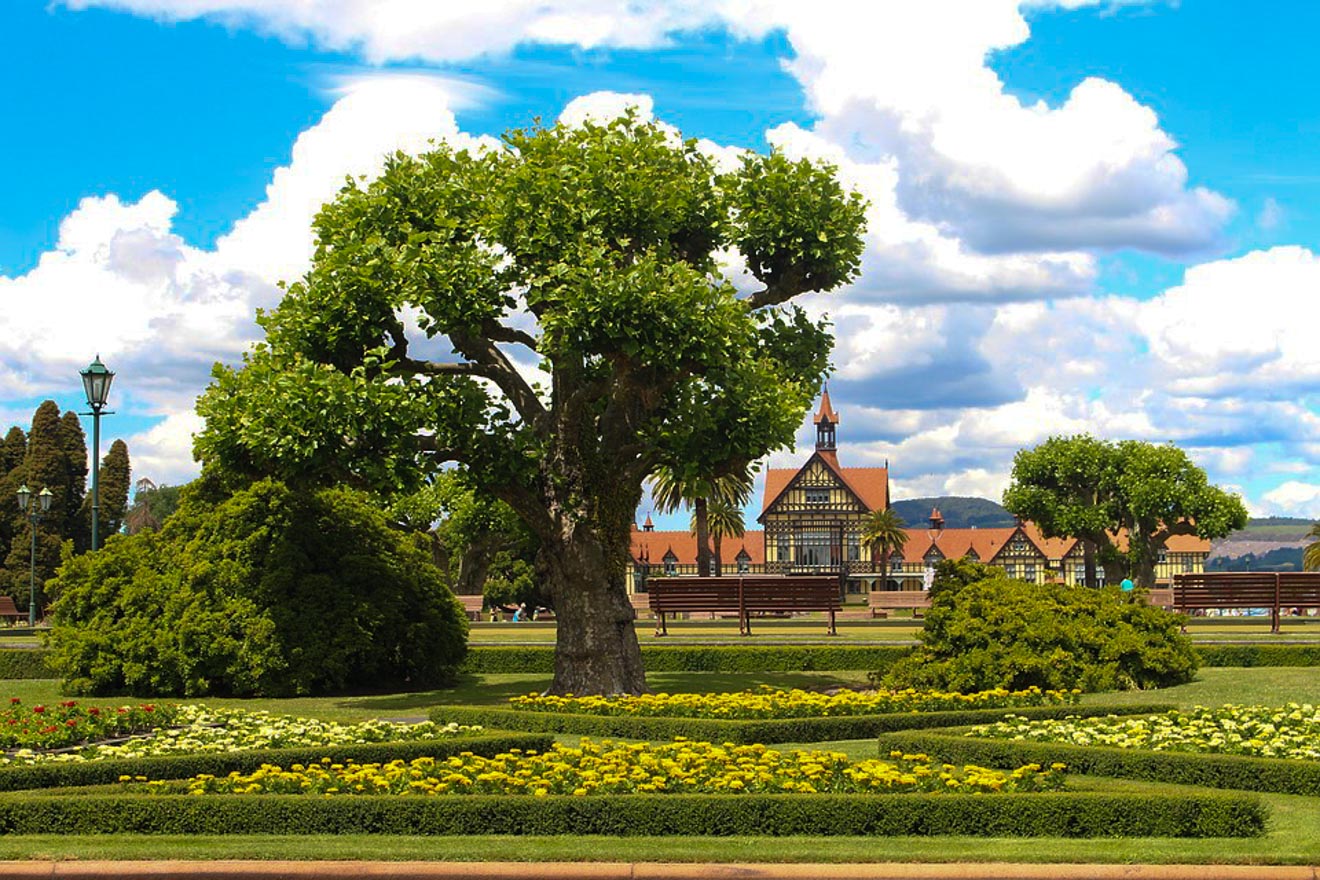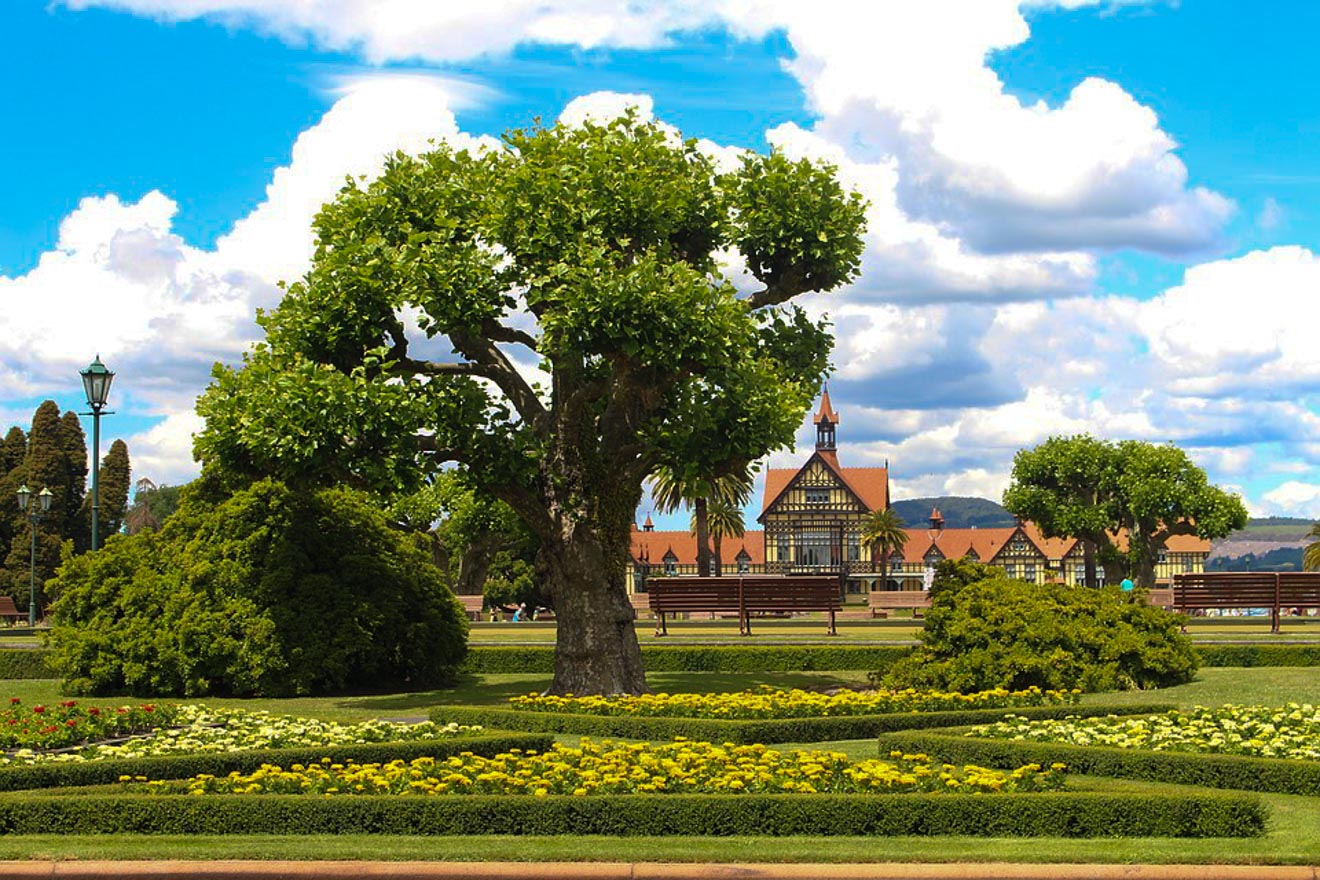 There is a charming park right in front of the Spa, make sure to check it out!
If the thermal energy was not enough, you can see the bubbling mud pools right in the city!
Walk around or rent a bike to ride around the lake.
3.4 Experience the Maori culture with a performance at the Tamaki Village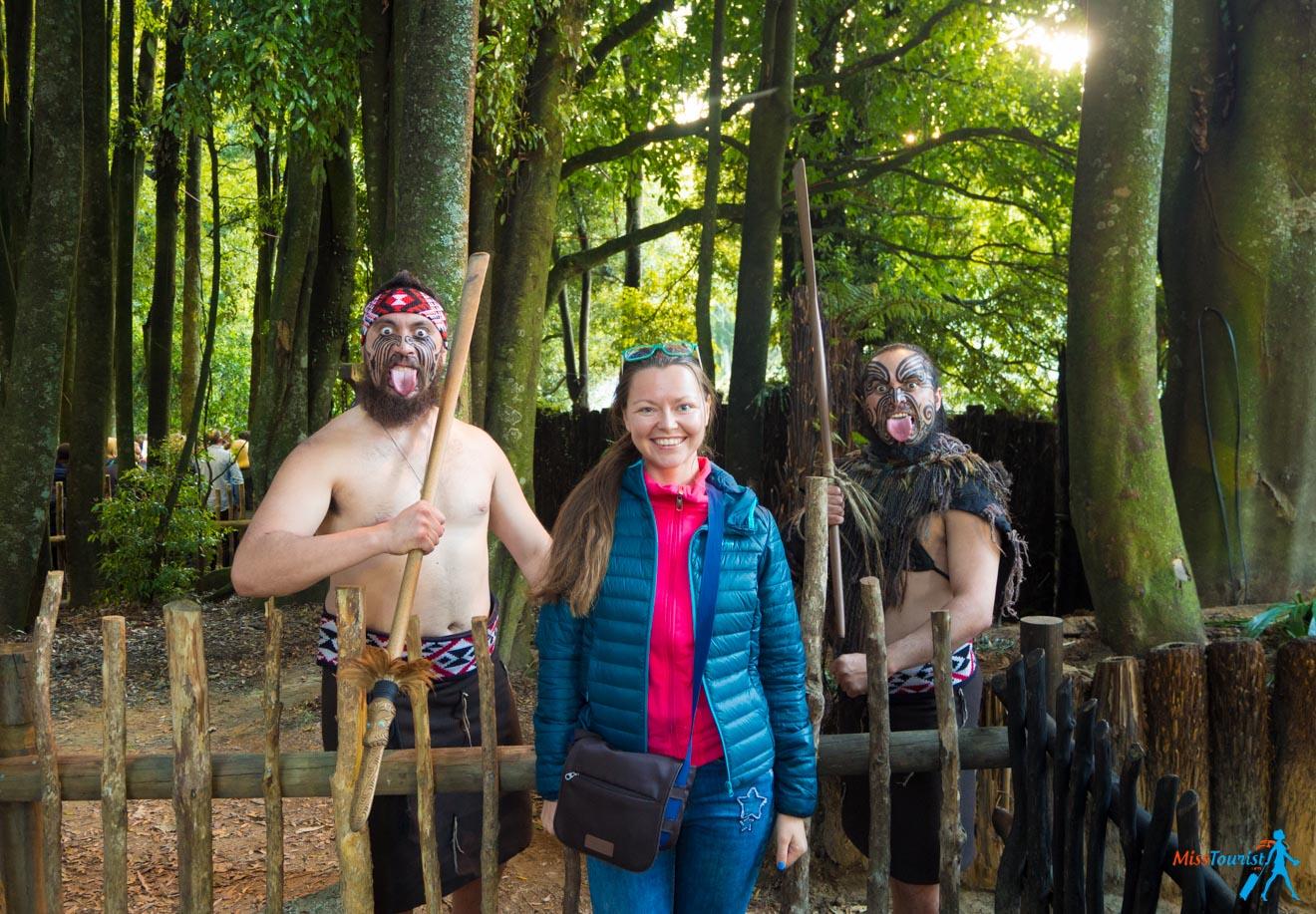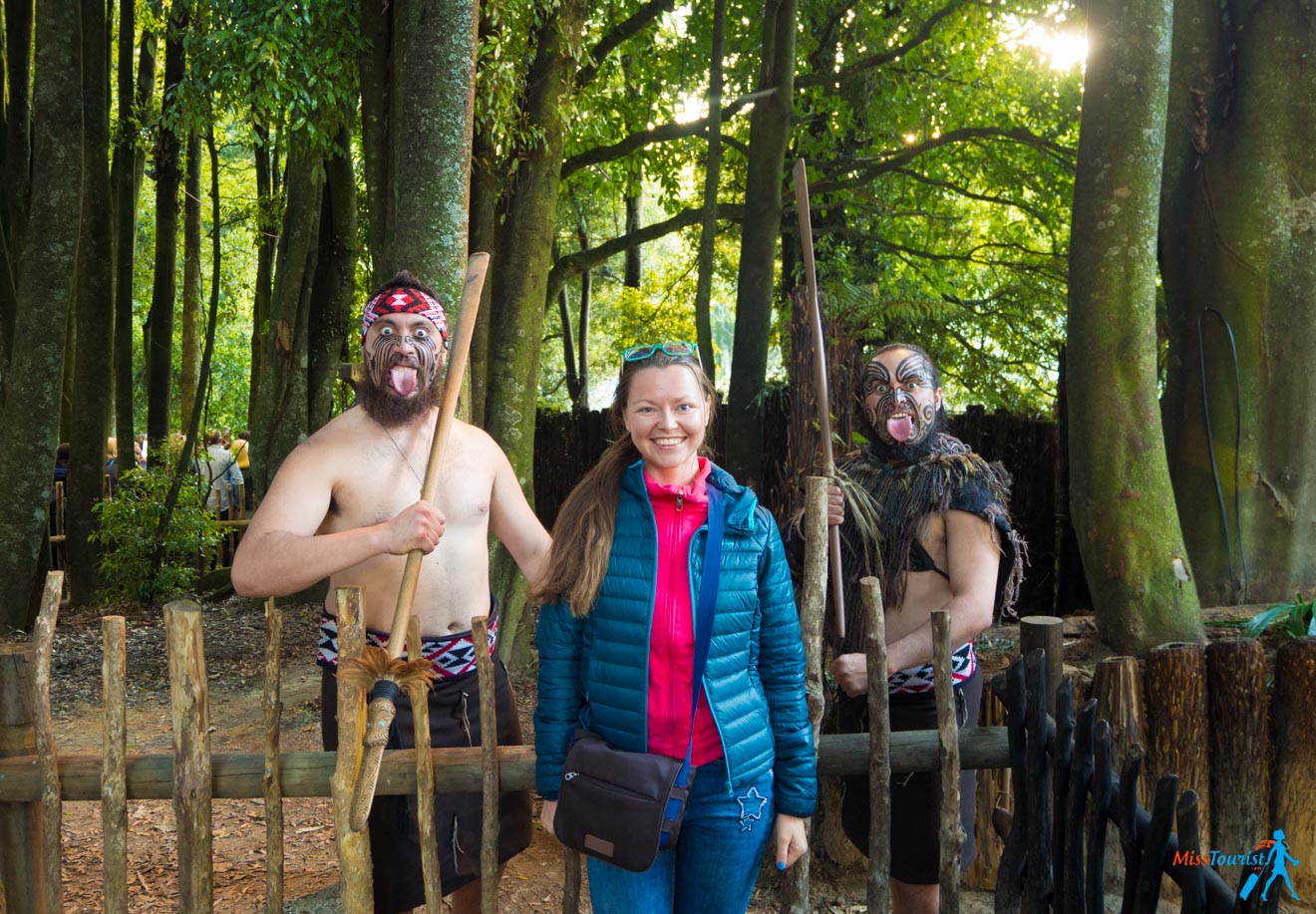 We are almost half way through this post and I still didn't mention anything about Maori people, shame on me!
Maori (Wikipedia again) – are the indigenous Polynesian people of New Zealand. The Māori originally came as settlers from Eastern Polynesia and who arrived in New Zealand in several waves of canoe voyages somewhere between 1250 and 1300.
The Maori make up about 15% of the entire population of New Zealand at the moment. They have some of the richest cultures and traditions I have ever seen! The Maori speak their own language (very similar to Hawaiian) and value their beautiful culture.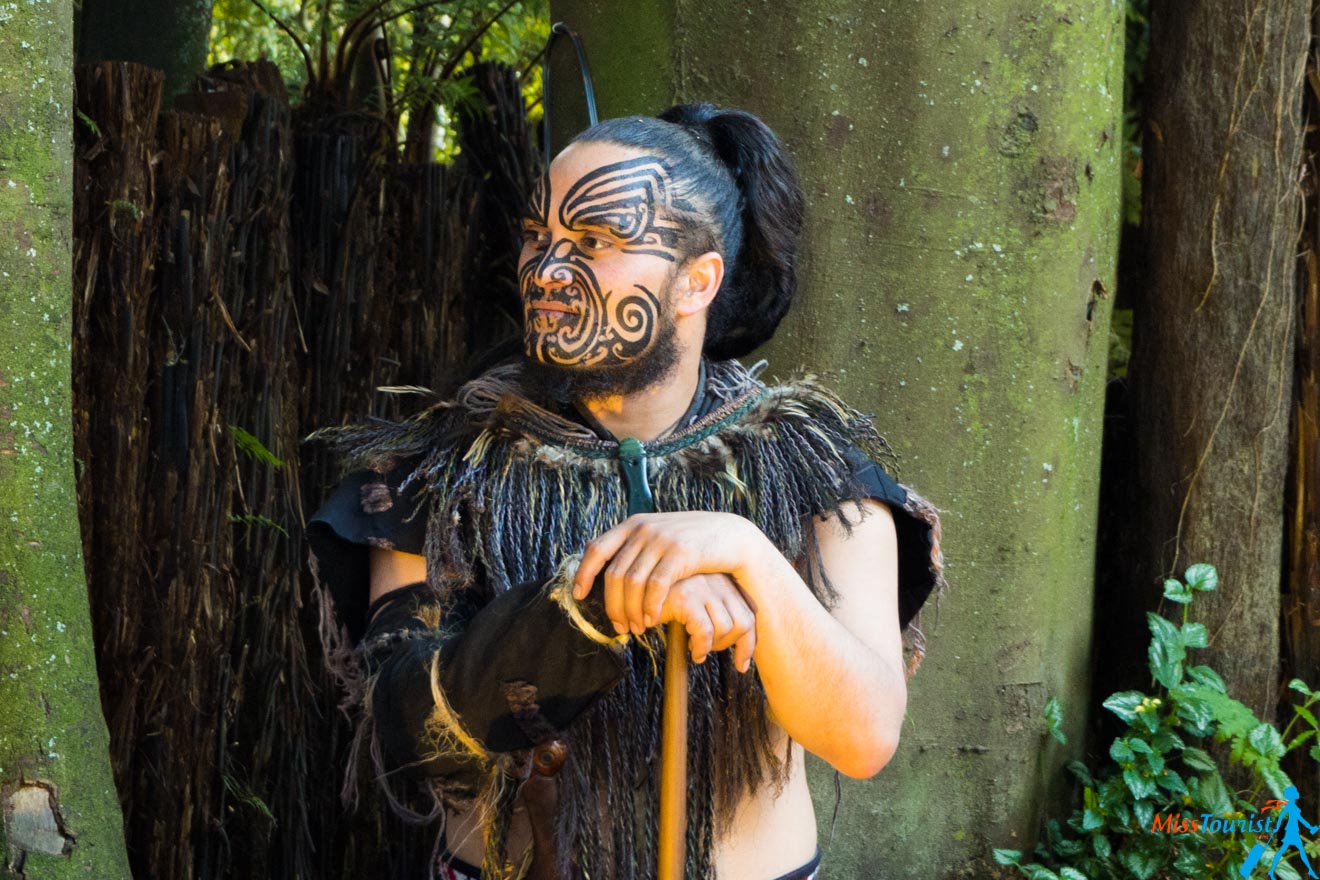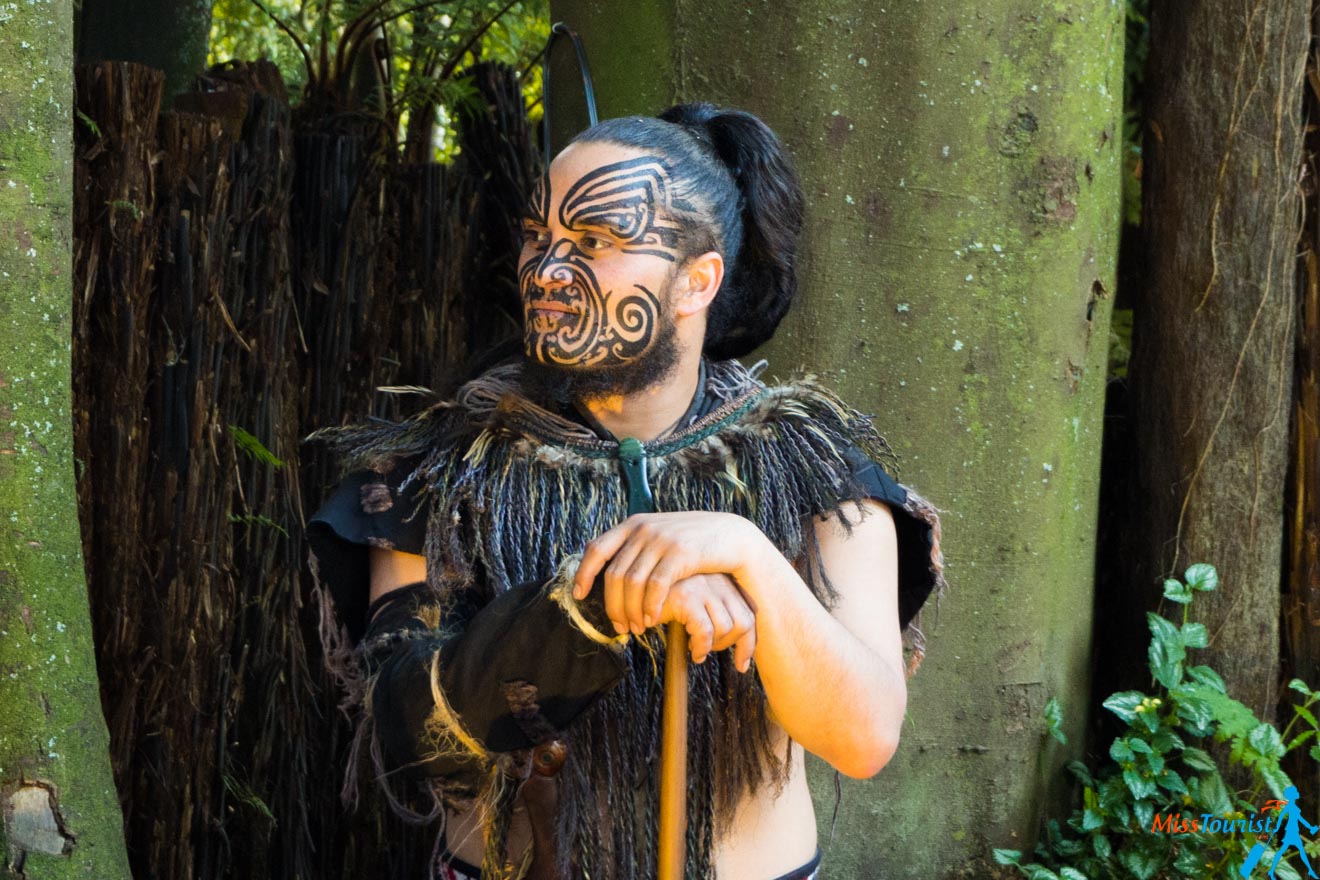 This might be your only real encounter with true aboriginal people, which this is why I cannot recommend enough that you visit the Maori cultural performance. It will help you get to know the traditions and origins of Maori a bit better!
Tamaki Maori Village is the one I visited and it was great! The whole experience is very interactive – you can participate in all the activities. I could see that the staff really had fun performing for us and this was not just a tourist trap!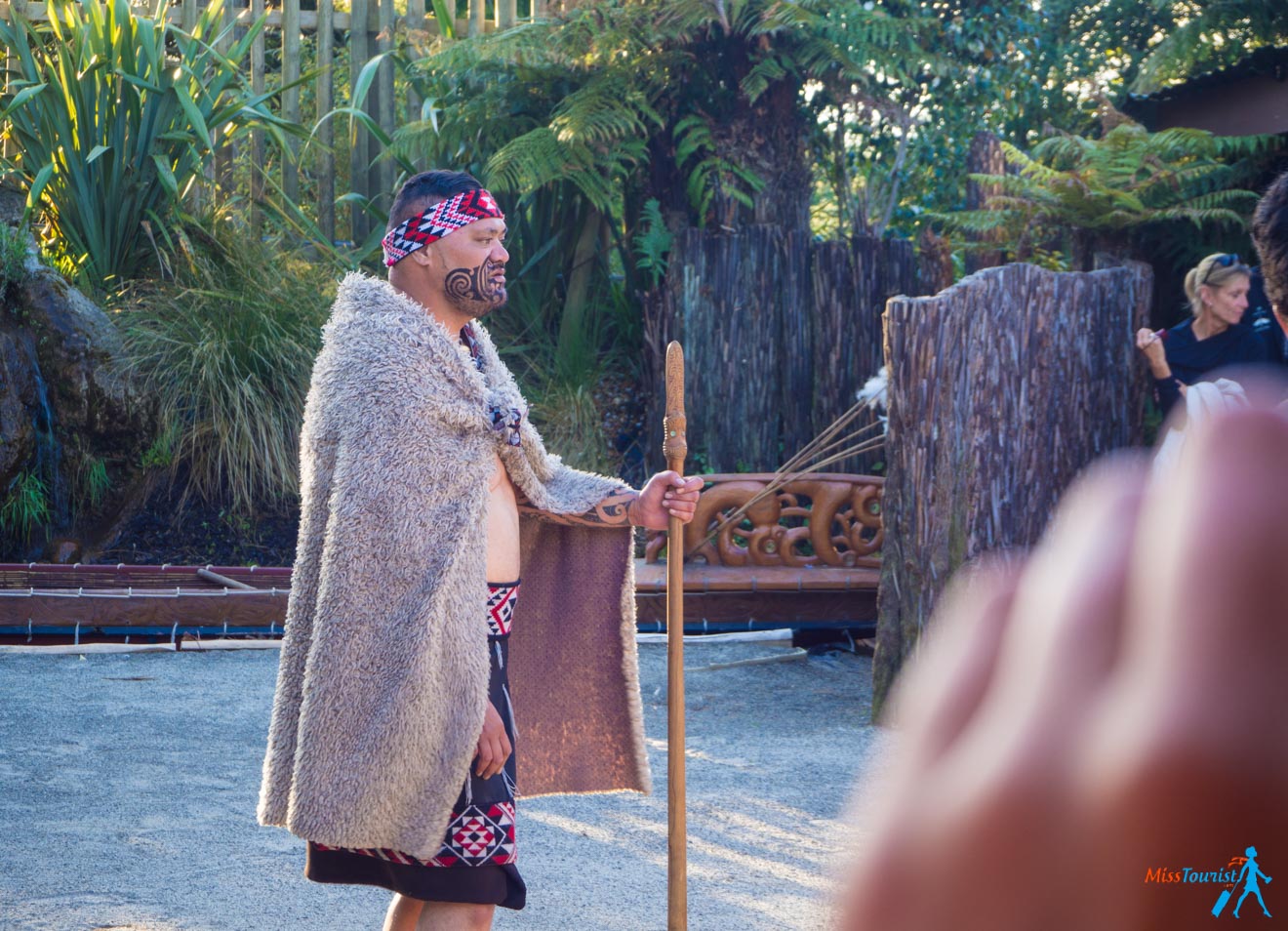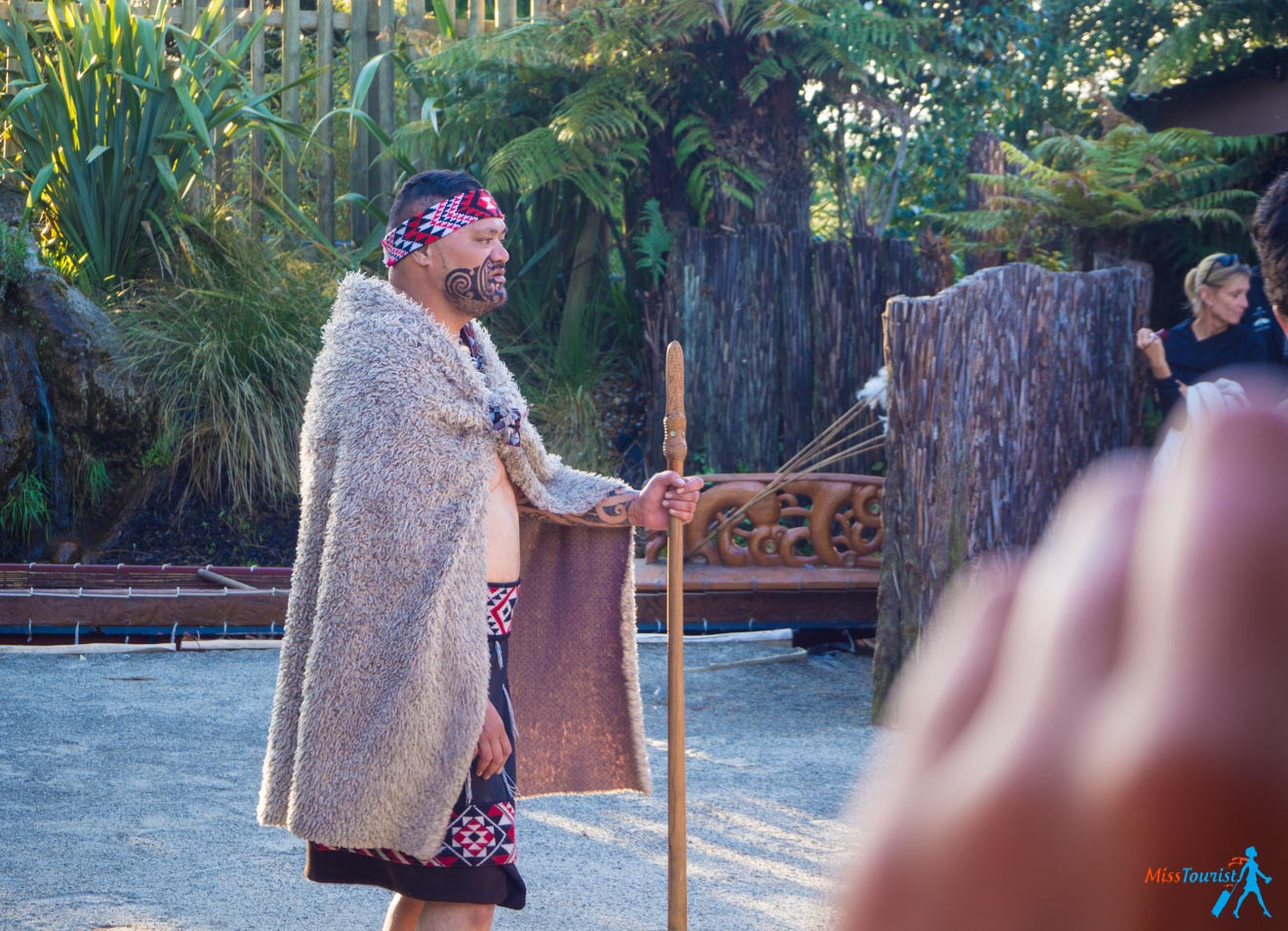 Oh, and you will have an amazing buffet with traditional Maori food that will be prepared right in front of you in a traditional way.
PRO TIP: There is a short bus ride from Rotorua to this village. If you can, request your bus driver to be Irikau, he is the best! His jokes and positive attitude actually made half of the experience of the tour, trust me on this one!
PRICE: $130 NZD for an adult (dinner included). Check the whole list here.
Accommodation in Rotorua
Luxury ($180 NZD and up): If you would like to feel like a king while in Rotorua, I suggest you book your stay at the Prince's Gate Hotel. This incredible place is a 5-star boutique hotel situated right across the street from the Polynesian Spa! Another awesome option is Quest Rotorua Central Apartment Hotel – located only 700 meters from the Polynesian Spa, this place offers laundry facilities and a fully equipped kitchen.
Middle ($61-$180 NZD): If you're searching for some really good middle-priced accommodations, then you can take a look at Holiday Inn Rotorua. This place offers free parking (perfect if you are renting a car during your New Zealand stay) and free use of the heated swimming pool and fitness center. Sudima Hotel Lake Rotorua is a 4-star hotel situated very close to the Polynesian Spa, it also offers you free parking.
Budget (up to $61 NZD): Two great budget options for Rotorua are: Crash Palace Backpackers (with a hot tub, small bar and even some DJ equipment for crazy parties!) and Rotorua Downtown Backpackers (modern hostel in the center of Rotorua).
Day 4 – Lake Taupo and Skydiving Experience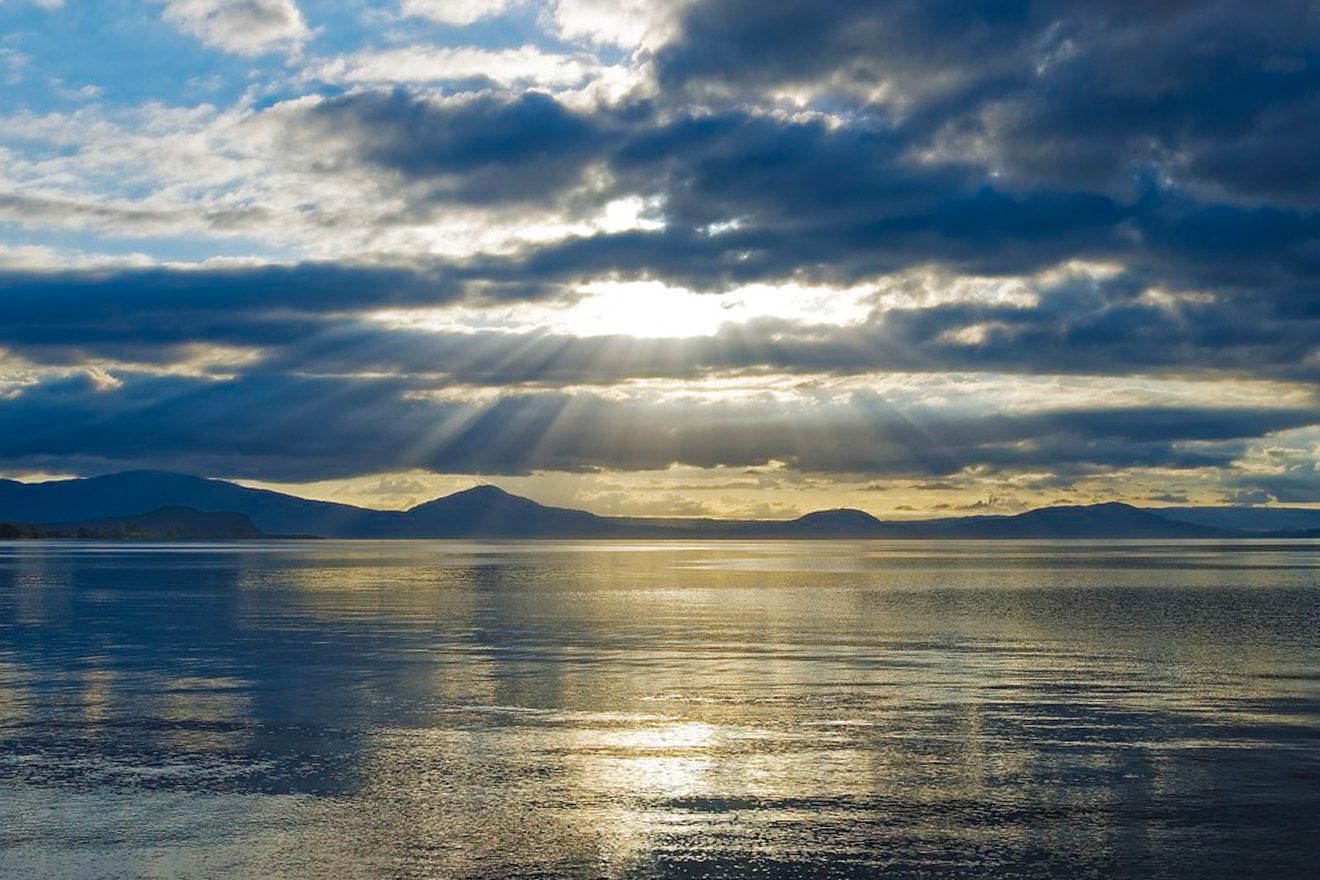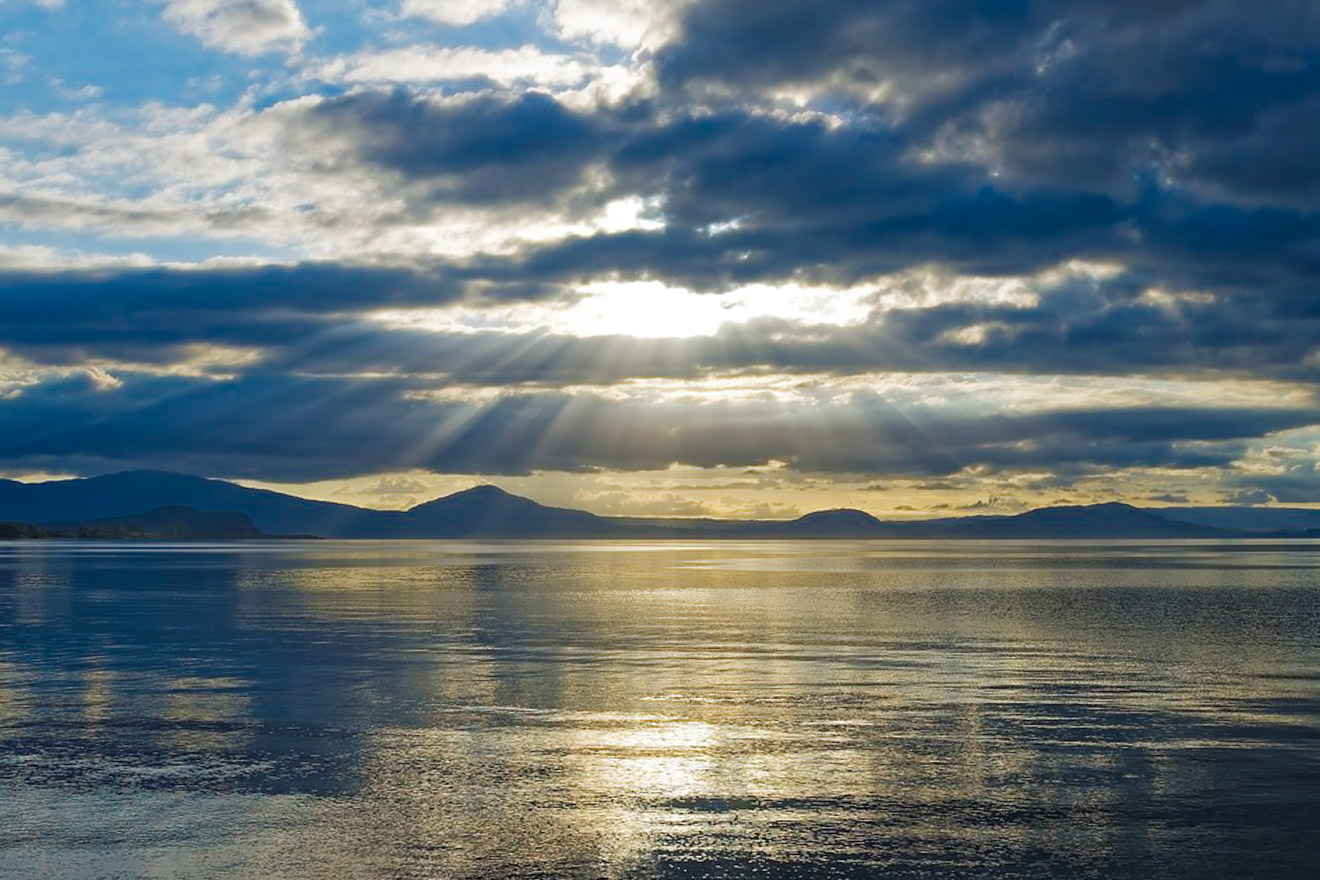 After a good night's sleep in Rotorua, we move on to Taupo, a nearby town with many things to do.
Driving time: Rotorua –>Taupo, 80 km, 1 hour
Taupo is famous for having the biggest lake in the country and for being the gateway to Tongariro Crossing (more details on the hike in Day 5 below).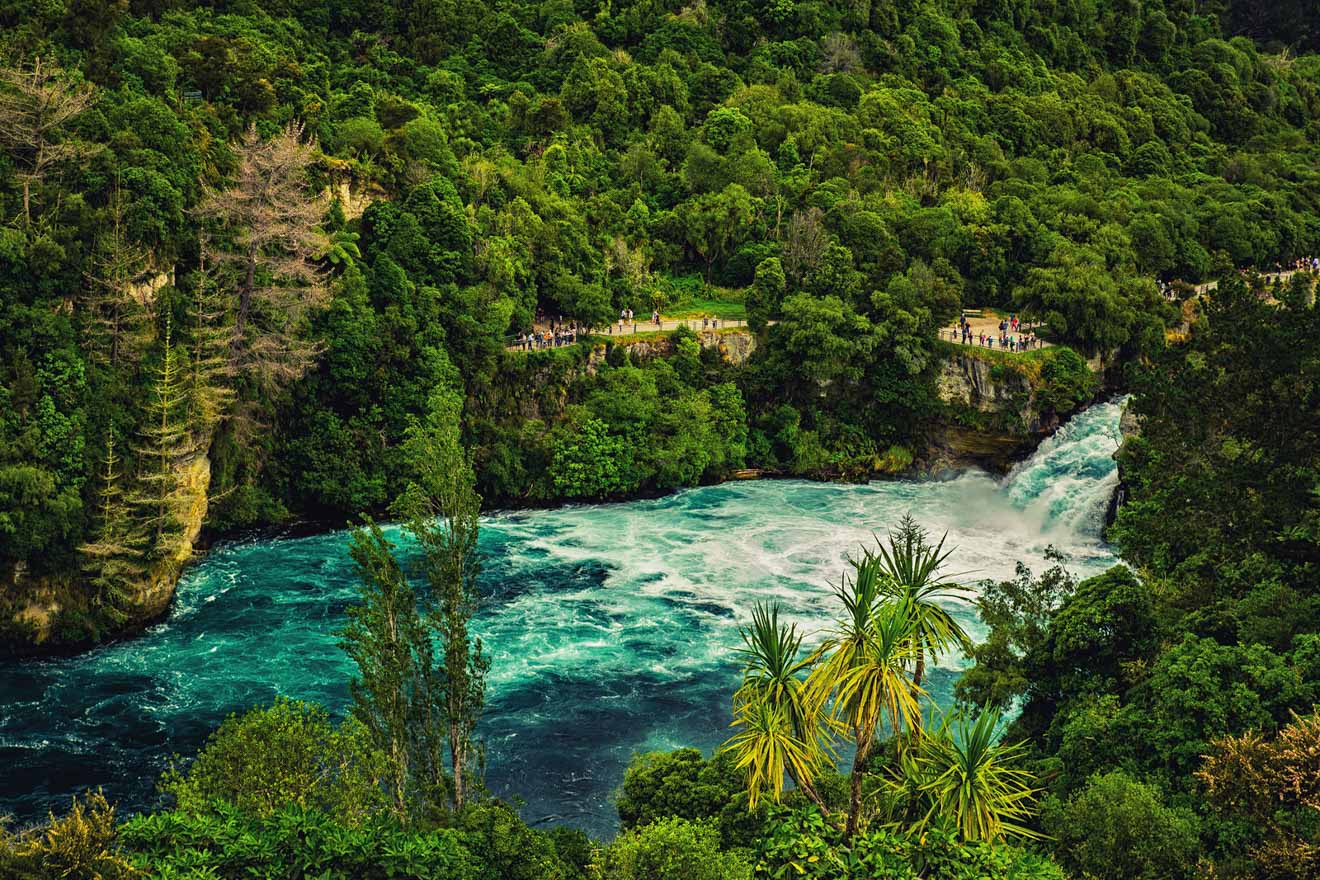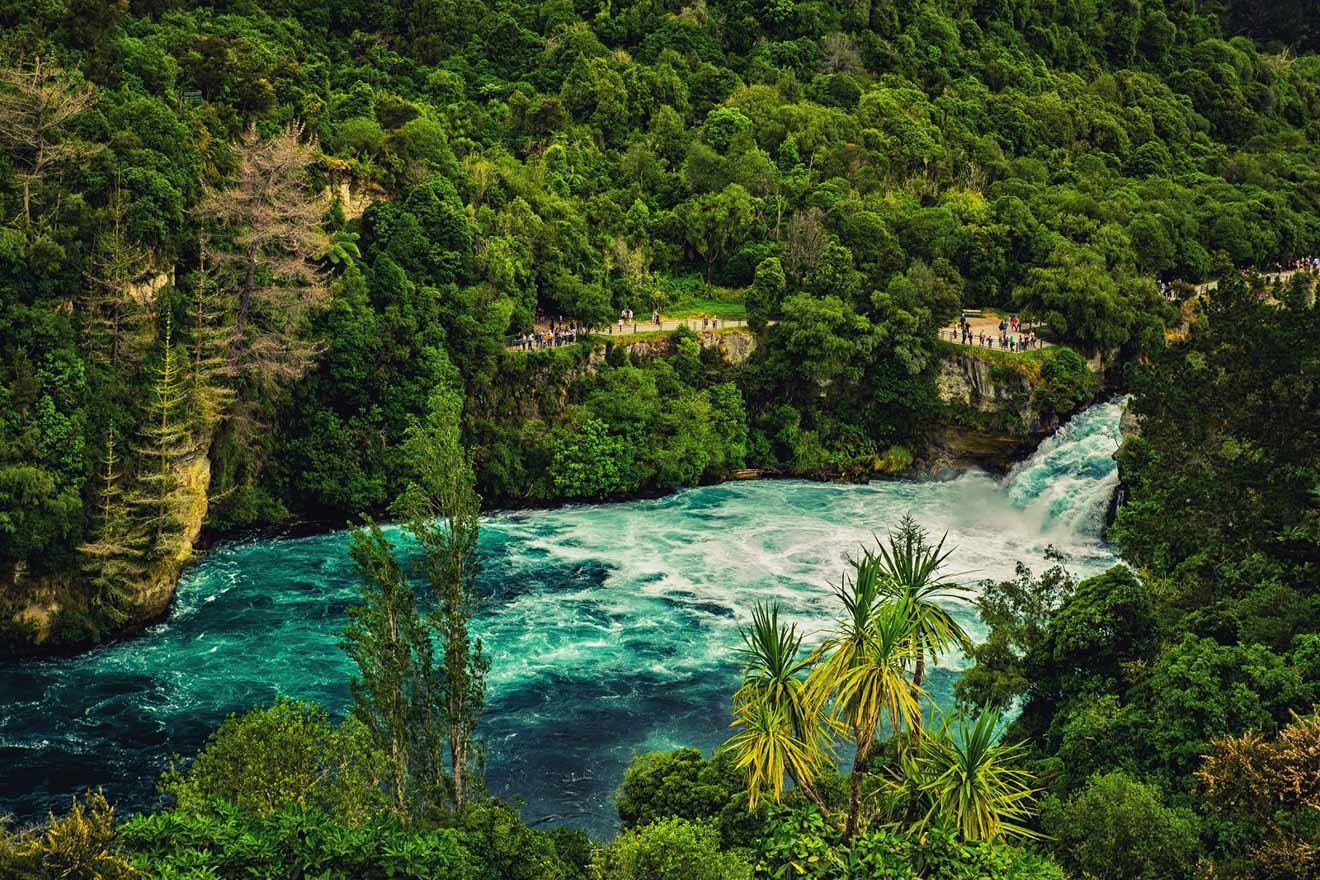 We planned on staying for two nights in Taupo because we knew that the weather for Tongariro Crossing is highly unpredictable and it might happen that on one of the days the park will be closed due to strong winds. If you are planning on doing the Tongariro hike, I advise staying for 2 nights, too.
In fact, not even this precaution helped us – the park was closed on both days while we were in Taupo. The weather didn't cooperate and we had to leave without doing the famous hike.
Oh well, I guess this is one more reason to go back!
Here are the recommended things to do in Taupo:
4.1 Great Lake Taupo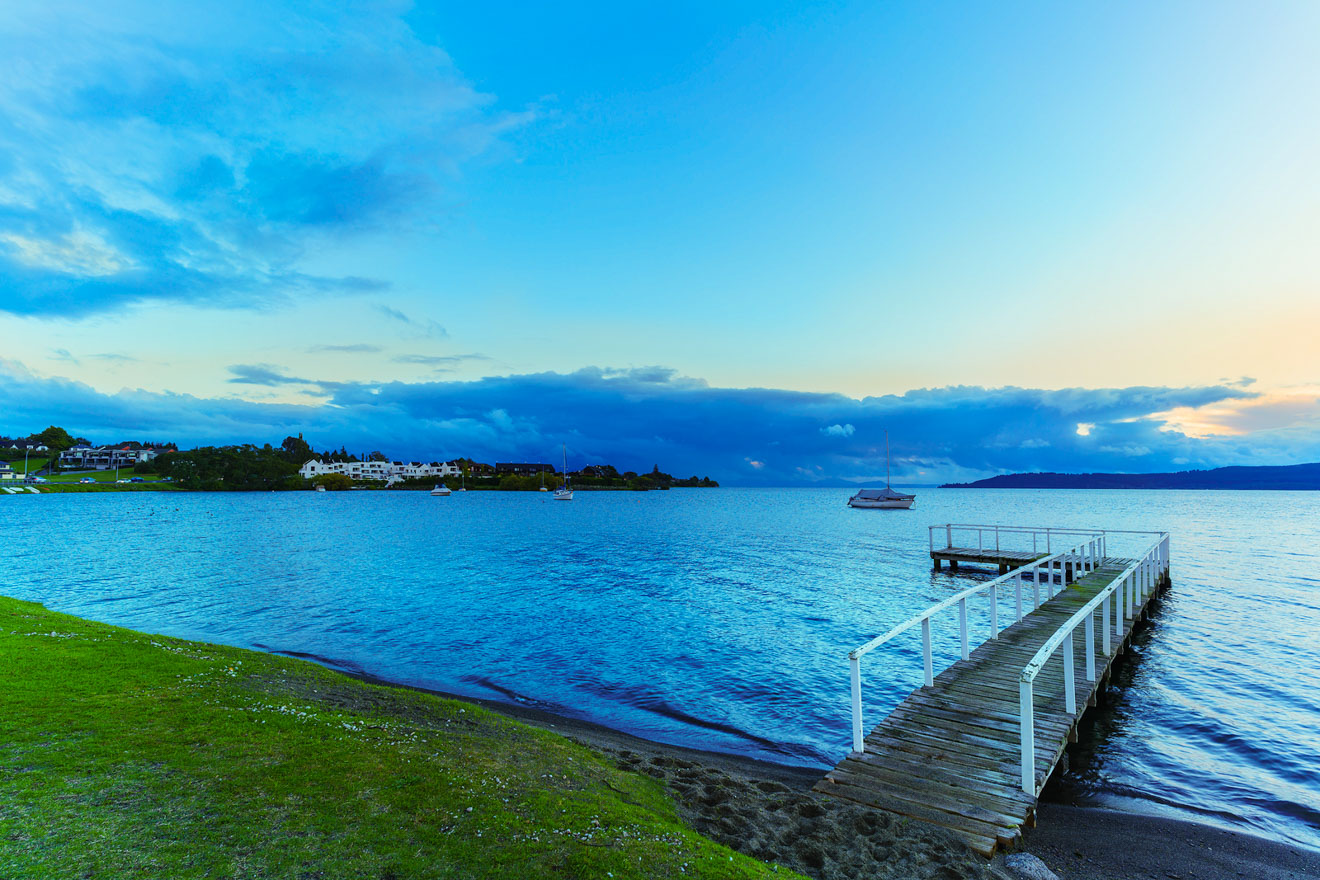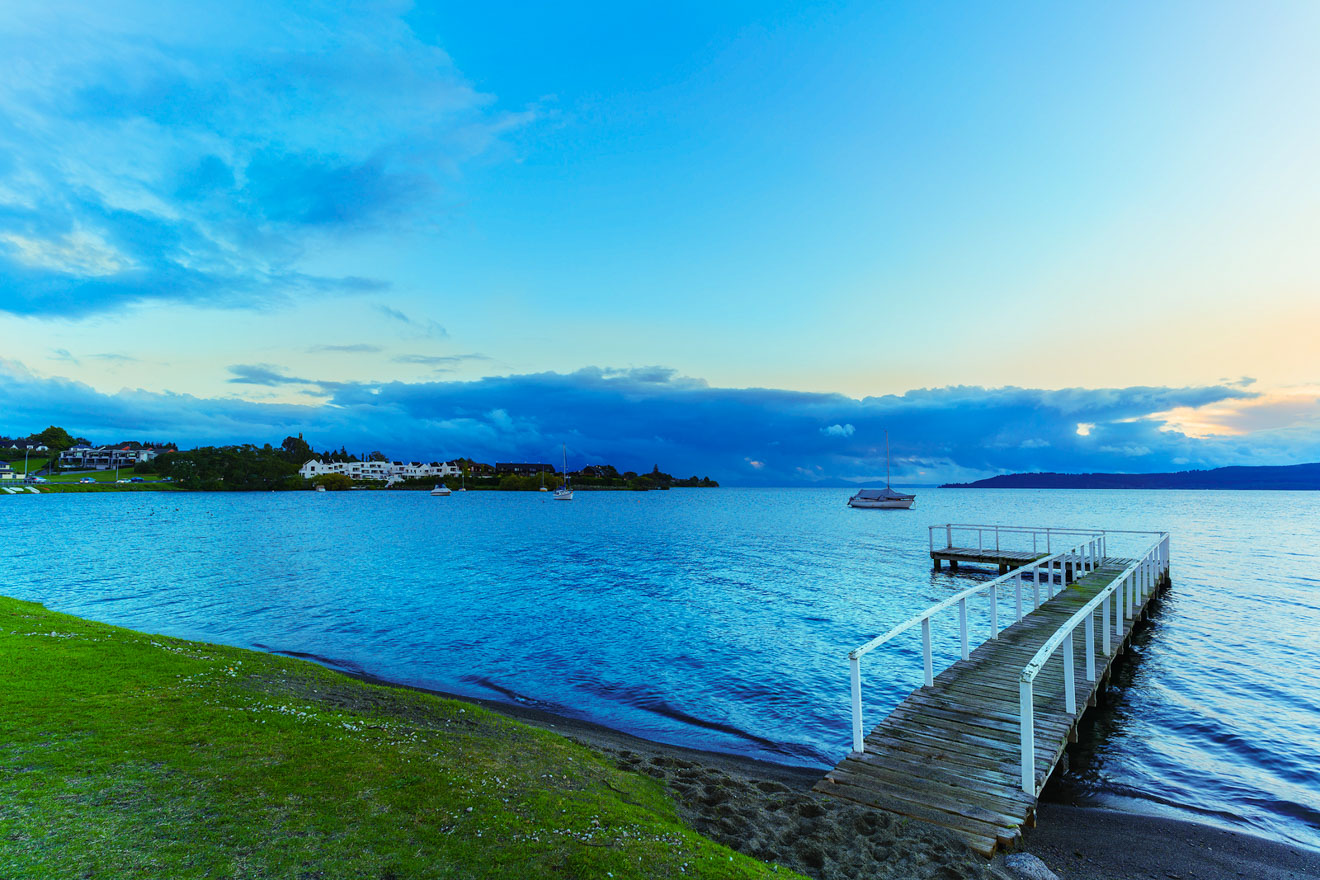 Lake Taupo was formed thousands of years ago by a volcanic eruption. It covers an area of over 600 km2 and is by far the largest lake in New Zealand!
Just walk around the area, take a bike ride or simply have lunch with a view. All the trails are very well maintained, so you will enjoy it no matter what you choose!
4.2 Skydive Taupo
The parachute jump is not mandatory on this itinerary of course, but let me describe my experience, maybe you will change your mind?
How about testing your limits with an ultimate thrill-seeking activity? Skydiving with Lake Taupo at your feet – there is no better place to do it!
I had already jumped with a parachute many years ago, I even tried a base flying from a Holiday Inn Hotel in Berlin, but nevertheless, I was sh*t scared when I decided to do a parachute dive in New Zealand!
This is what you can expect from doing a skydive with Skydive Taupo:
A fancy white limo will pick you up in Taupo (it will say Skydive Taupo with big letters on it, so yes, you can totally show off to your neighbors/friends).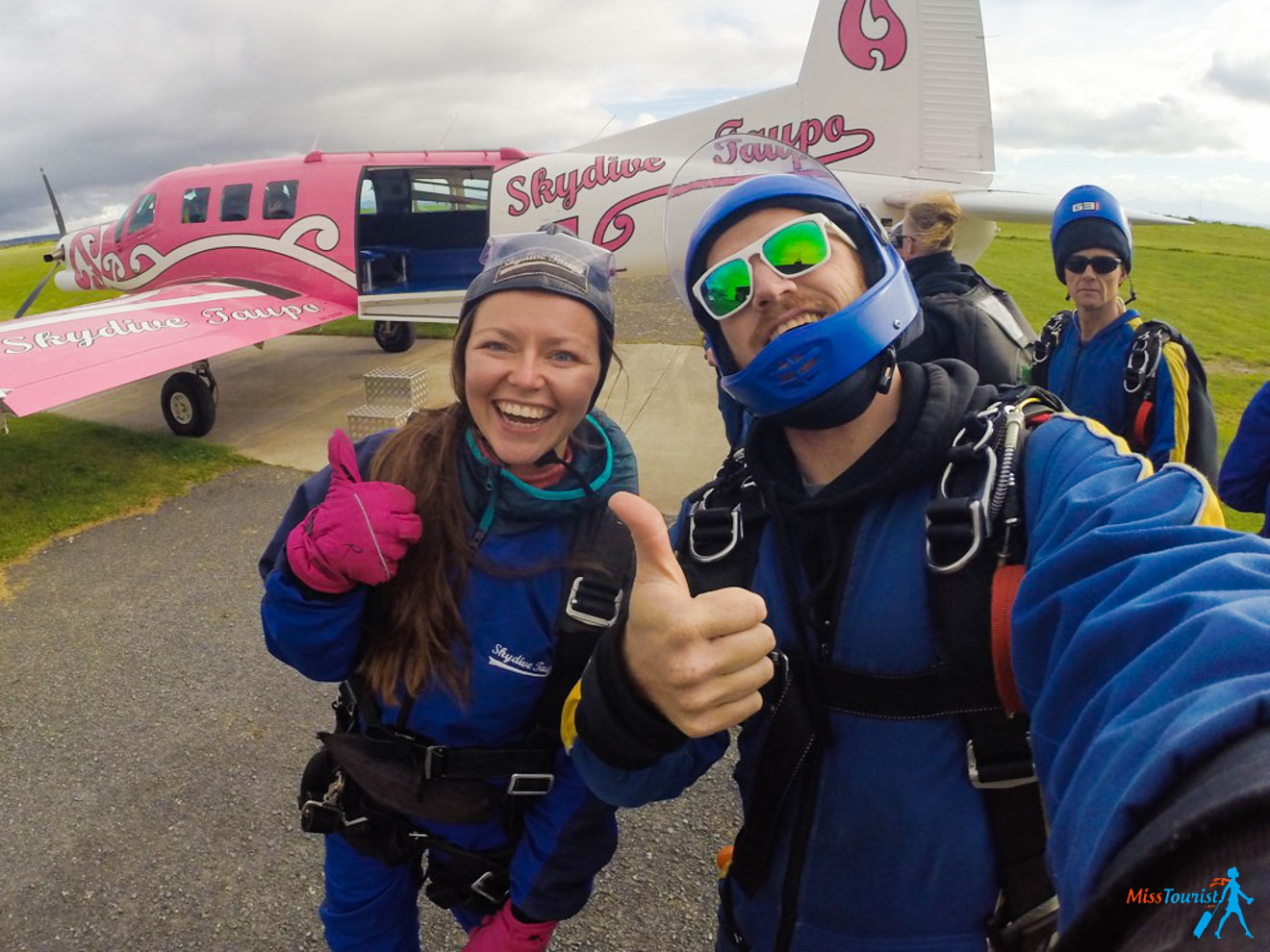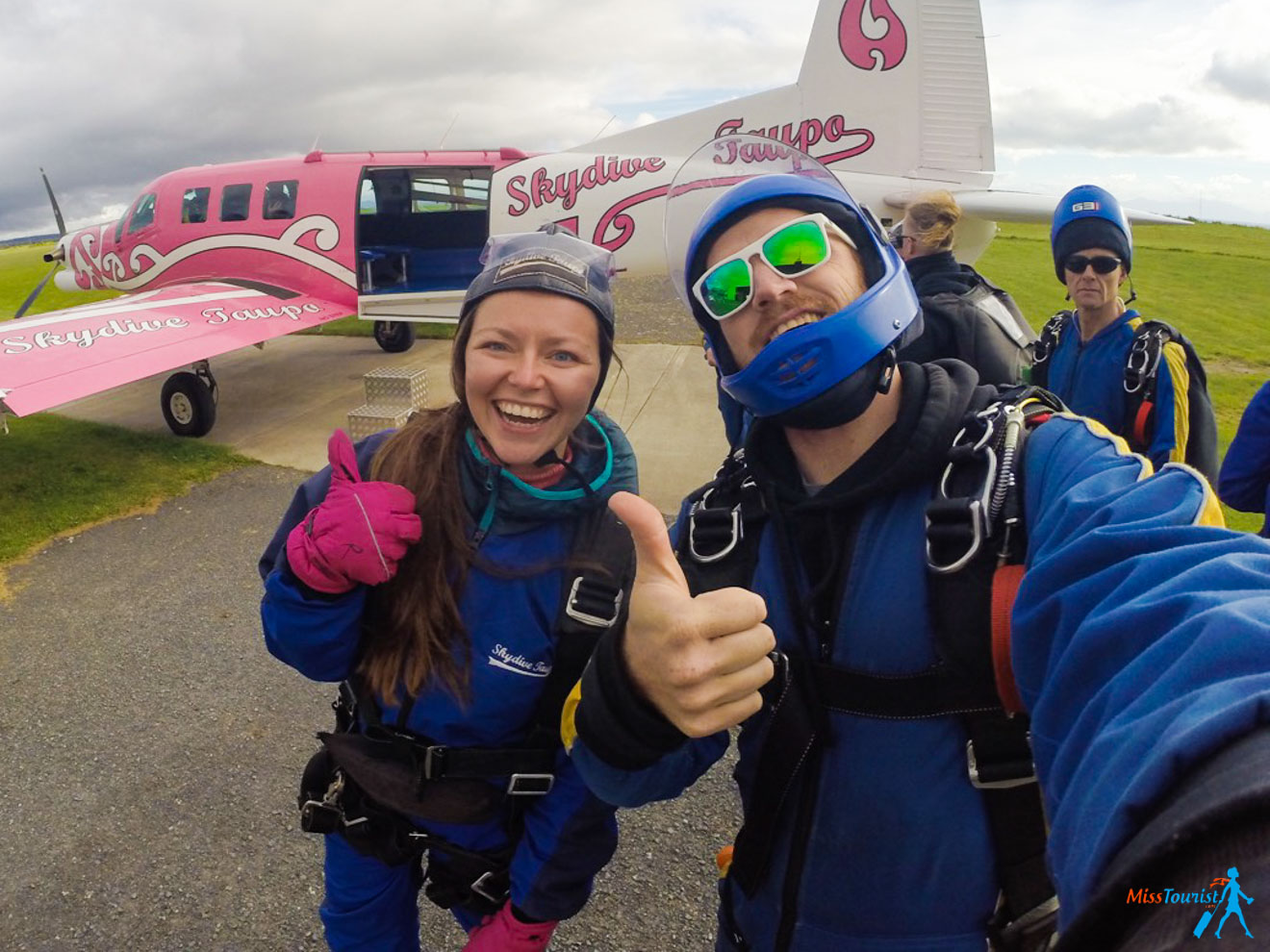 Once you get to the aerodrome, the staff will walk you through the safety instructions and you will be given the cover-ups. The staff is super friendly and professional, you do not need to worry about that. For instance, my instructor had done more than 6,000 jumps!
There are a couple of options for the tandem flight that you can choose from – 12,000 or 15,000 feet, with video (pics) or without.
When you are ready, a cute little plane will take you up in the air and yes, it will happen – you will jump from the plane (with your instructor, of course)!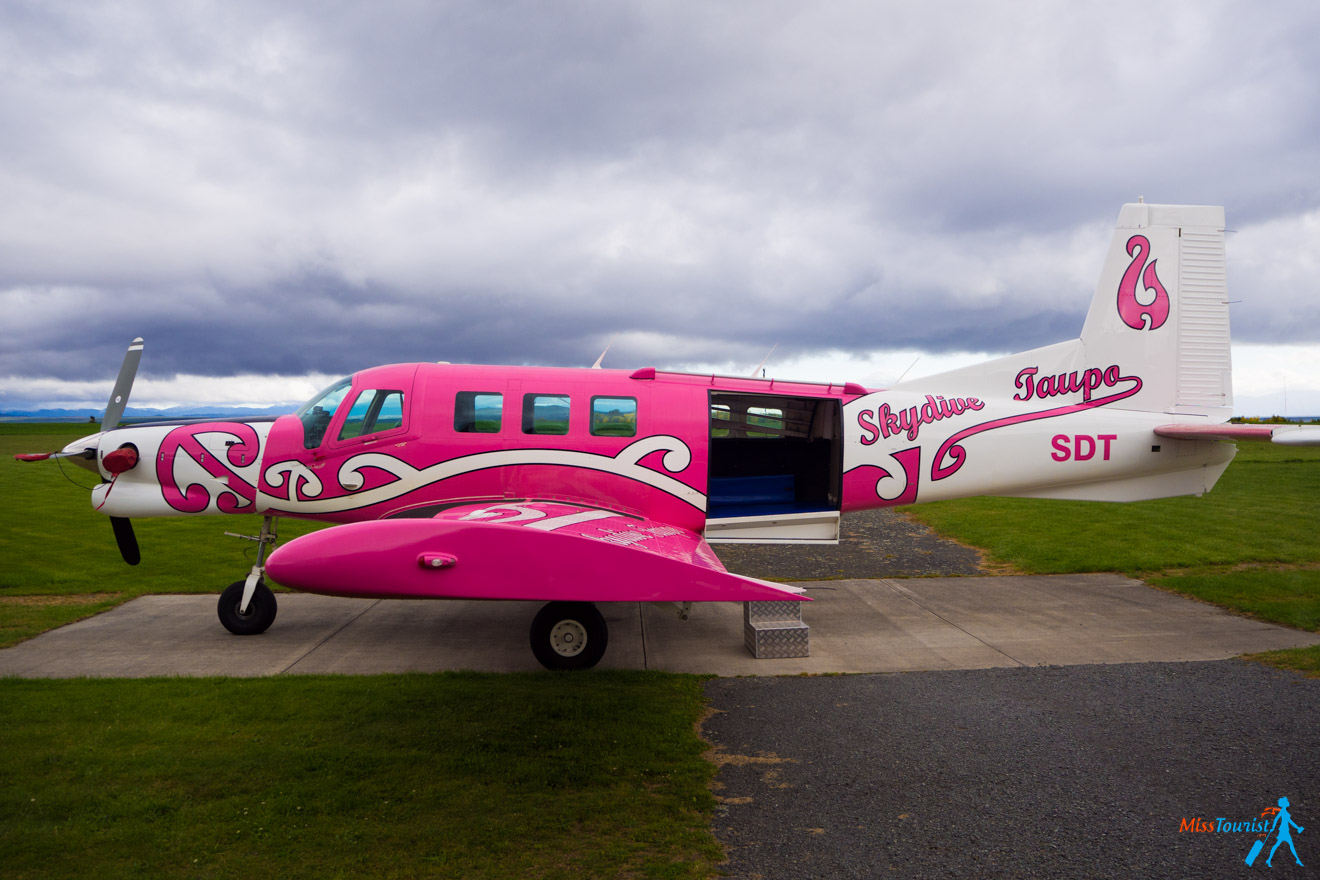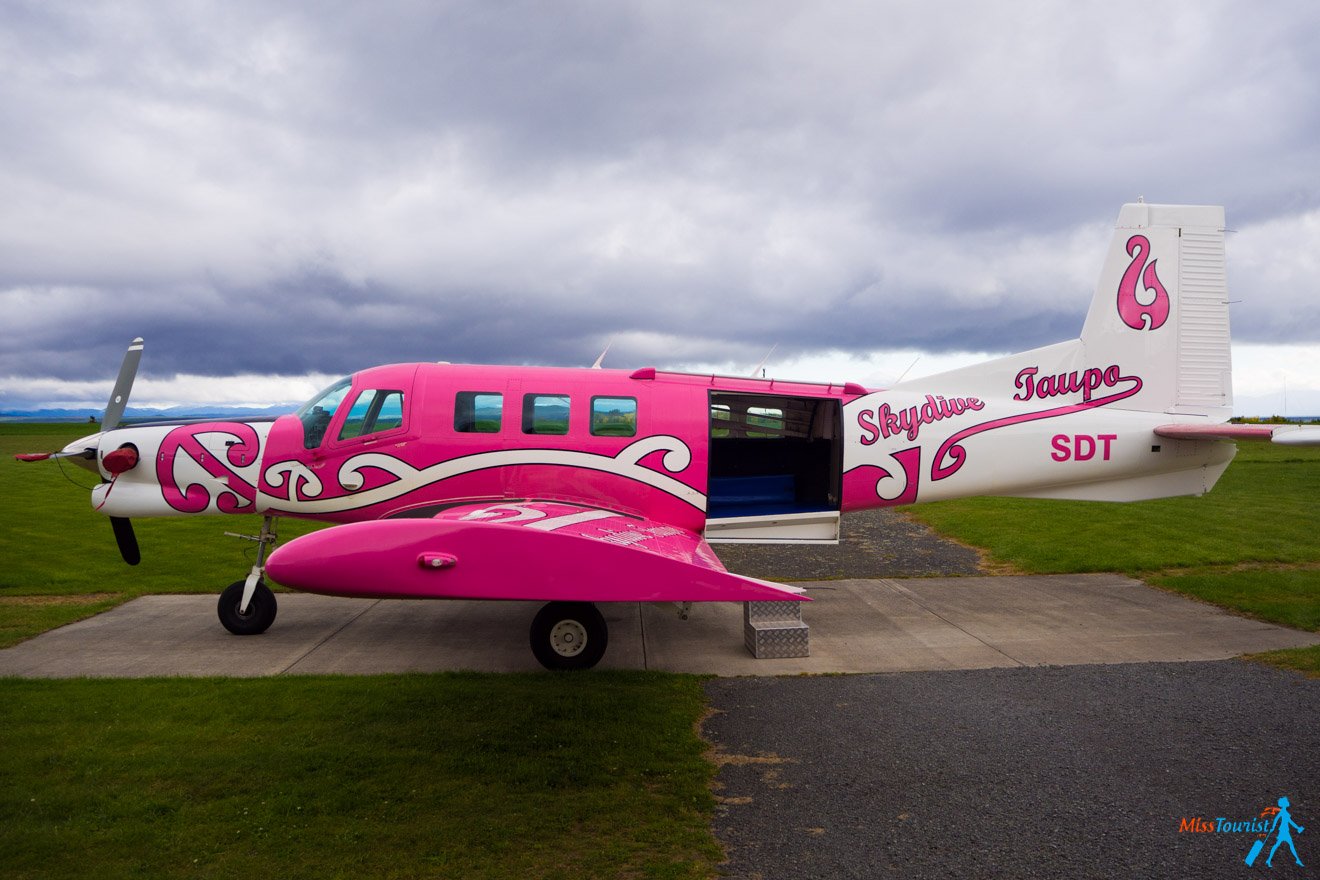 I did the 12,000 foot jump and that includes a 45-second free fall. I was the first one in the plane to jump; I sat right near the door staring at the view like I would in a normal flight, except that now I was about to jump out of it! This was cool and scary at the same time.
After the door opens, you won't even have time to get scared – everything happens so fast! And then, my friends, the fun part begins!
You will reach a speed of 200 km/h in 6 seconds! That is faster than a Lamborghini!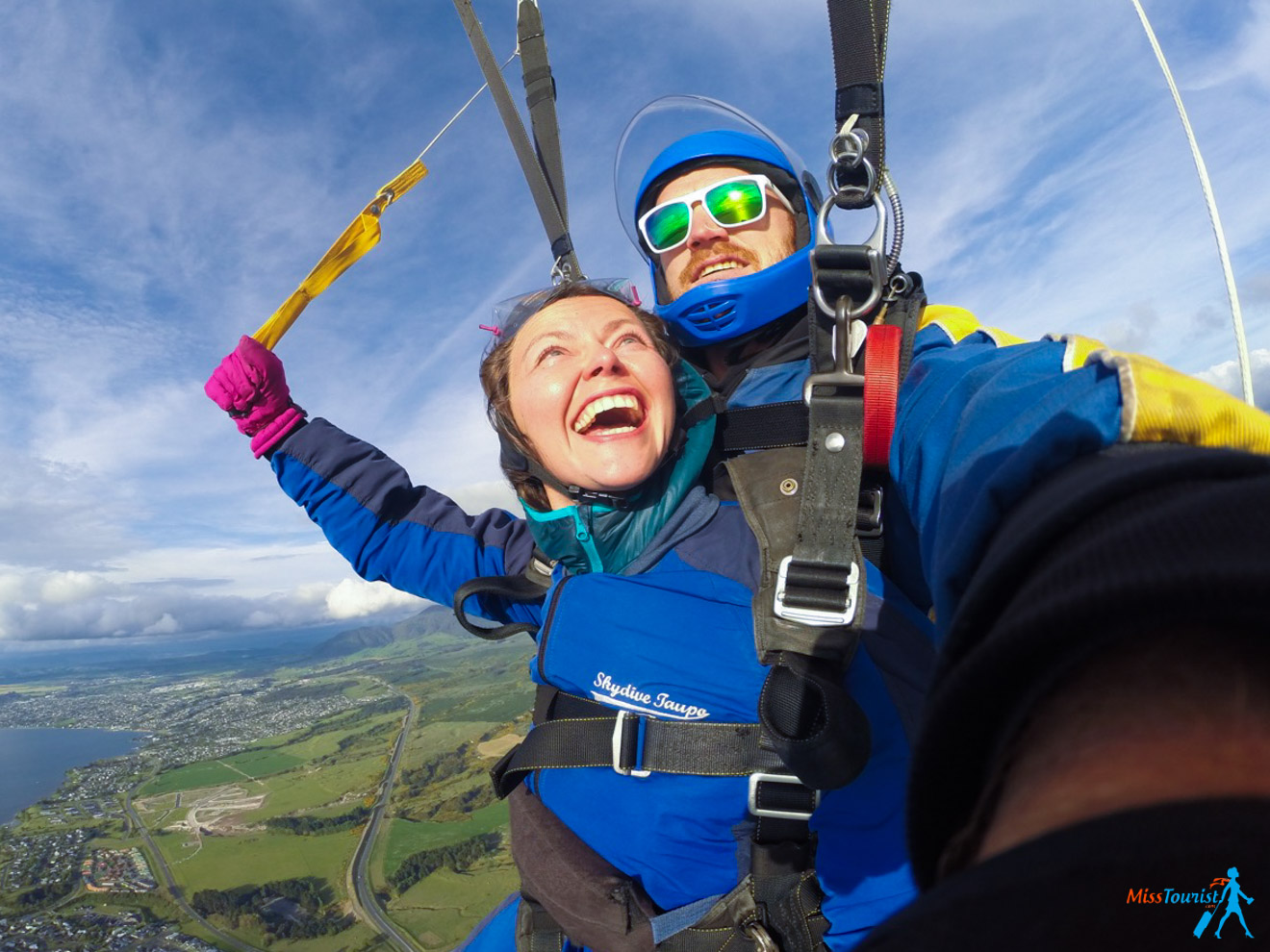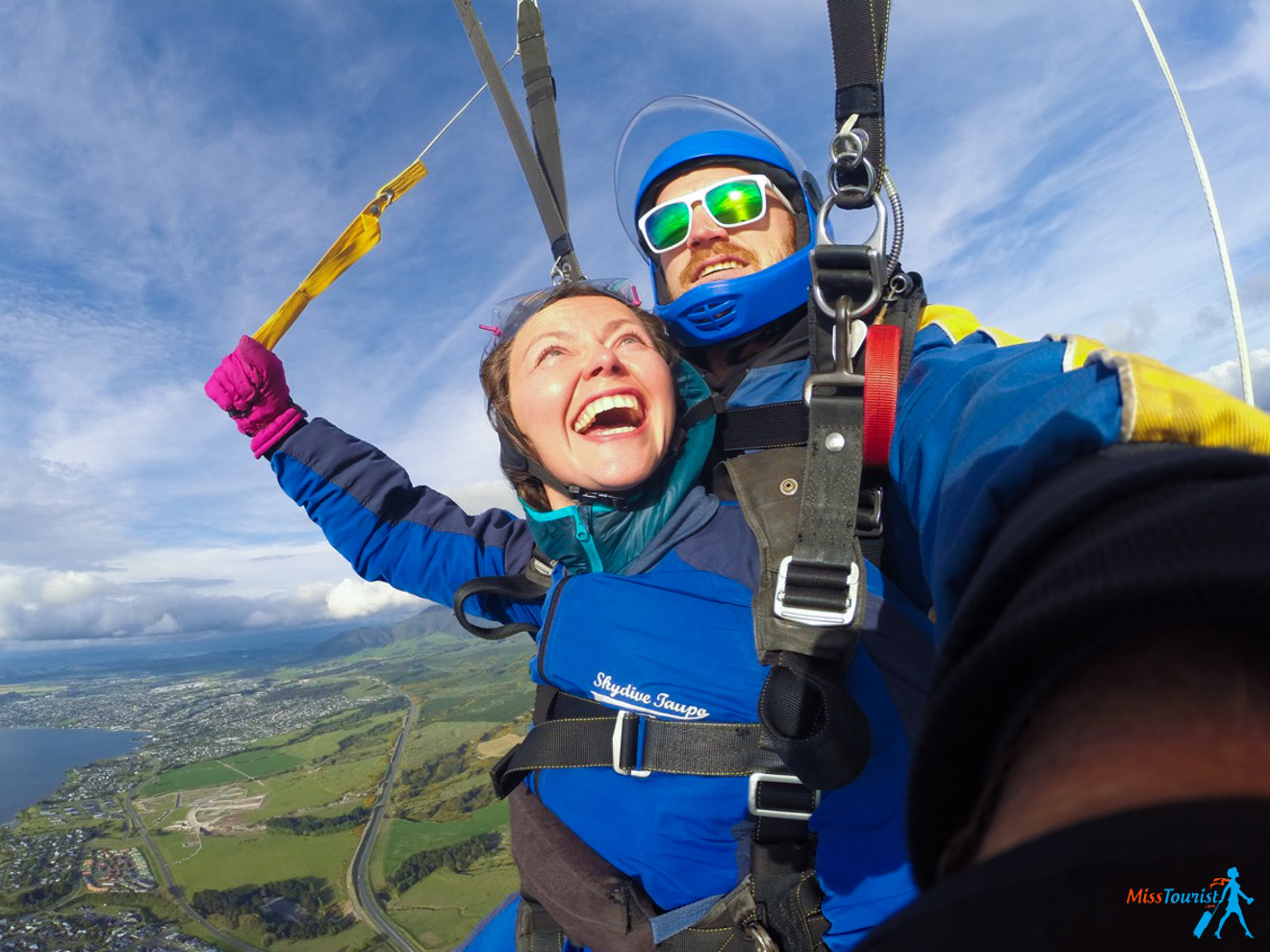 To be honest with you, I completely forgot to pose or to wave at the camera (I hope you don't blame me for that), but people do some of the craziest stuff in the air! You can write some words on your hands, make faces, do a dance – that is your flight, you can do whatever you want!
The parachute will open at 5,000 feet and you will probably be able to steer a bit. My instructor handed me the controls so I could turn left and right – it was awesome!
My landing was smooth and gentle; I didn't need to do anything, the hard part was done by my instructor, so thanks so much to him for that!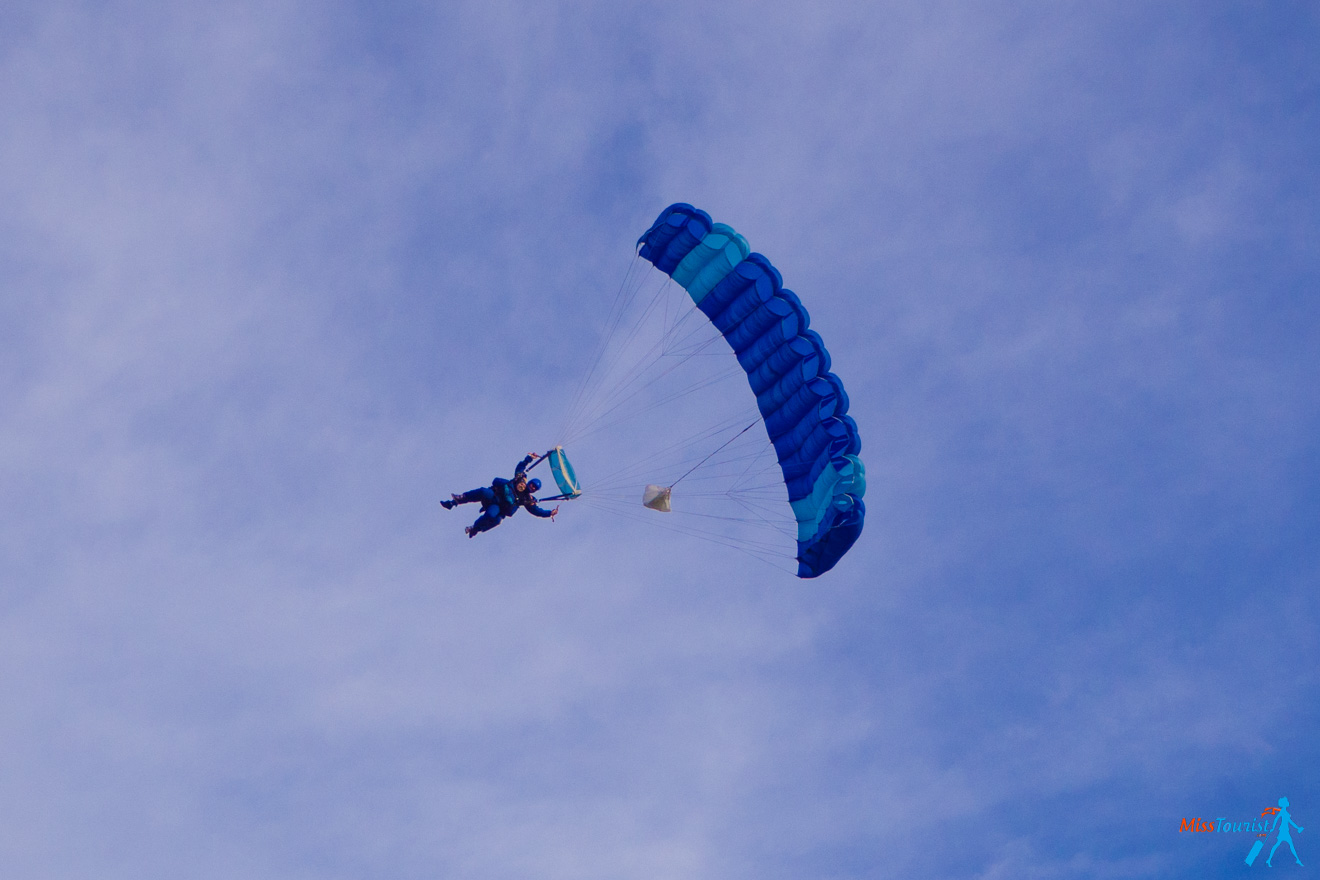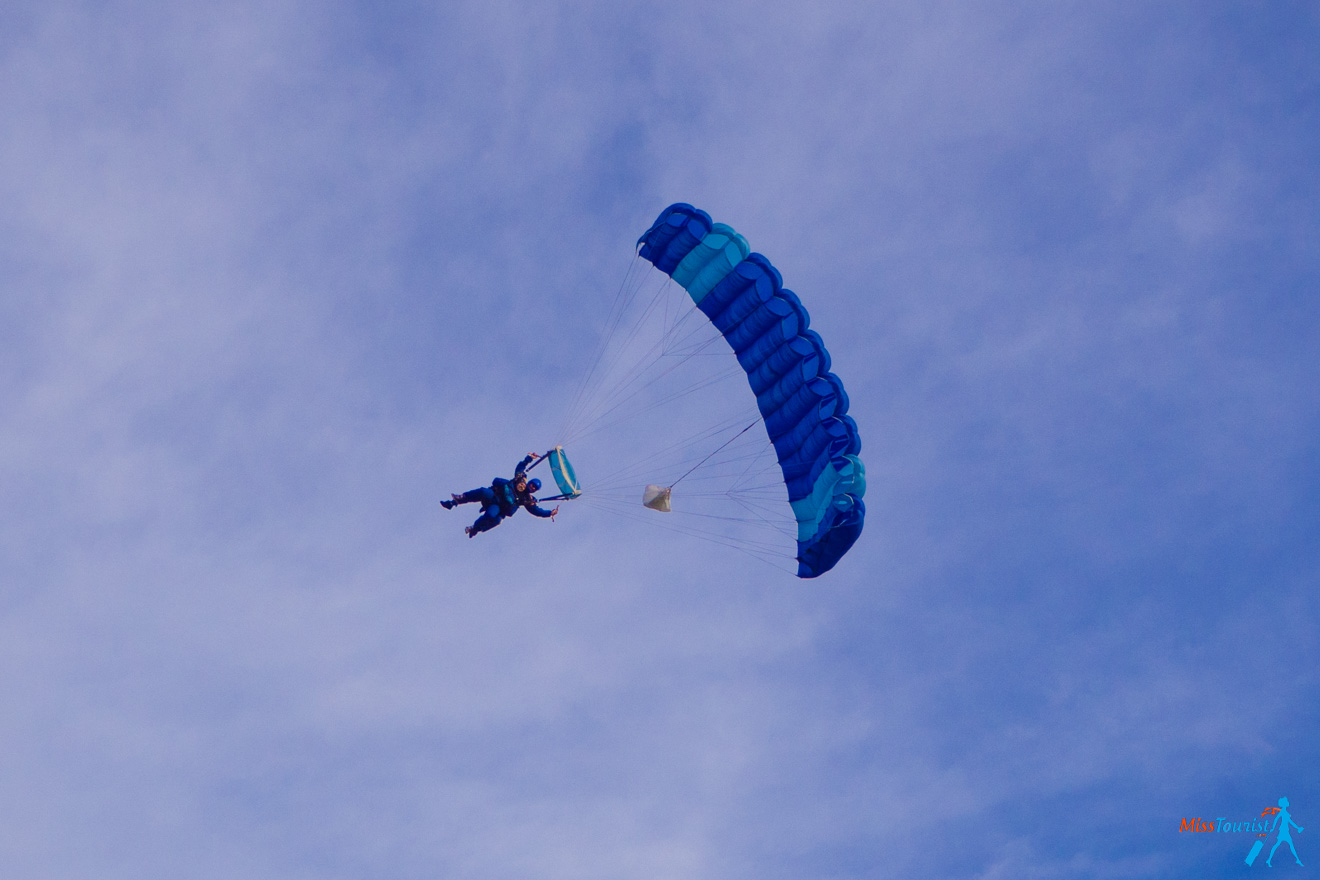 And that is it, my friend, you did it! You just jumped with a parachute in New Zealand!
If you choose to have your jump filmed, you will receive a fully rendered video right after your flight on a USB stick.
NOTE: If you paid for your skydive and the weather is bad, you will be given a full refund, no worries about that!
PRICE: The cheapest jump is $280 NZD, but there are many options and they even run promotions, so check the updated pricing here.
4.3 Other things to do in Taupo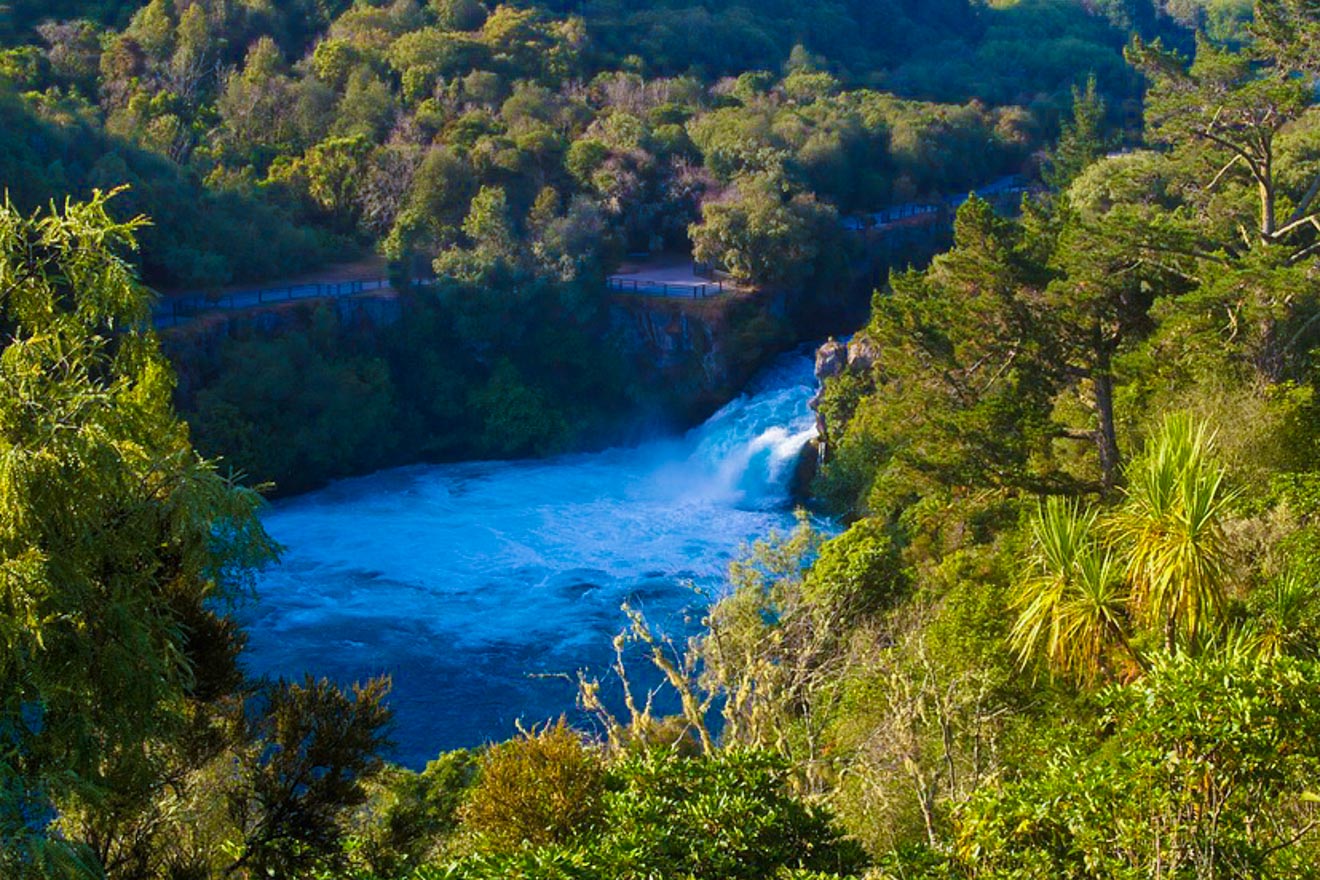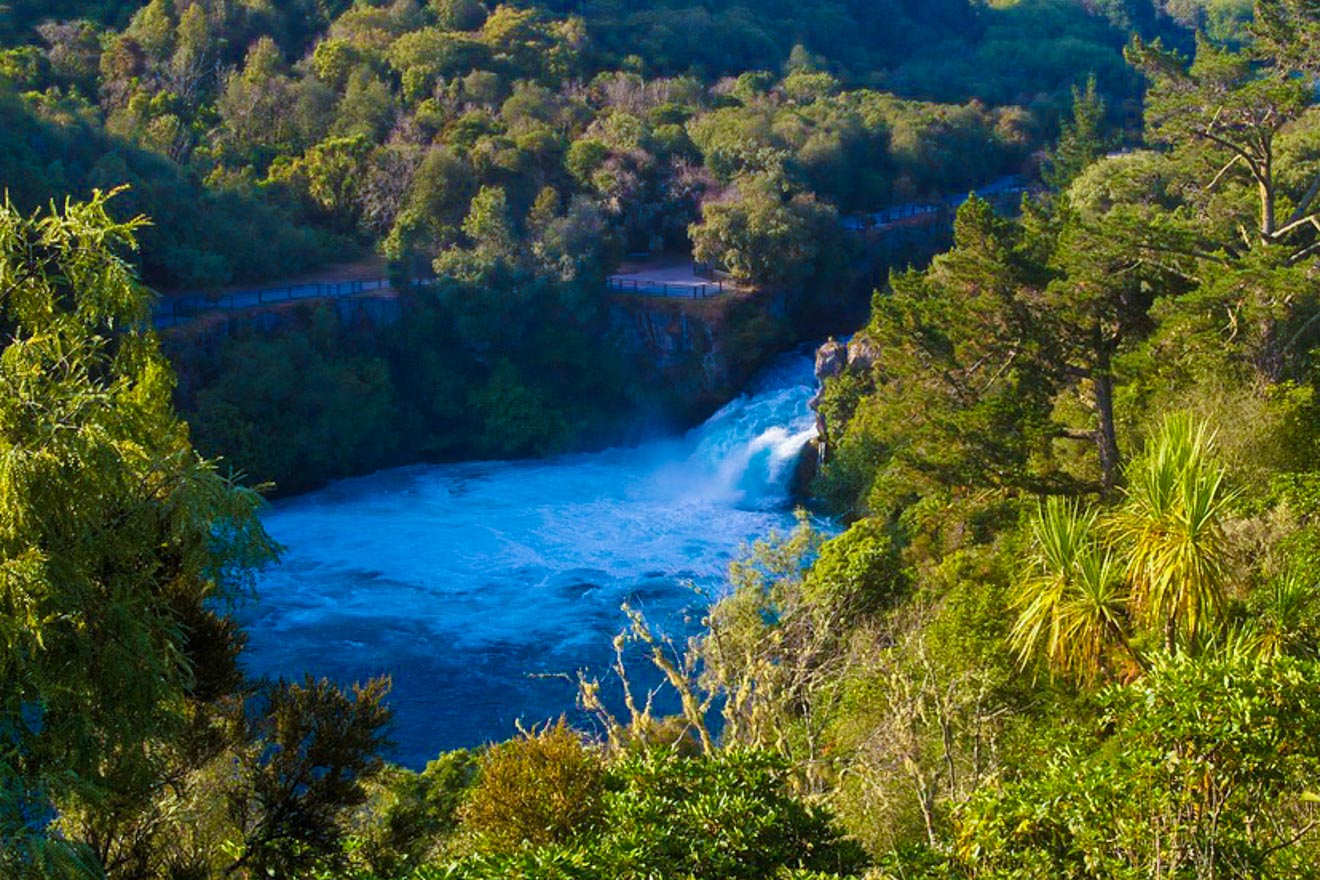 P.S. I am well aware that not everyone will want to do the skydive, so here are a couple of great alternatives of things to do in Taupo:
Visit Huka Falls
Go biking around Lake Taupo
Hike Mount Kauhara
Accommodation in Taupo
Luxury ($180 NZD and up): – Chalet Eiger (see detailed description below). My second luxury recommendation is Acacia Heights Gardens. This high-quality bed and breakfast has a hot tub, an awesome seating area and a great continental breakfast.
Middle ($120-180 NZD): If you're looking for some middle-priced accommodations, you can take a look at The Reef Resort – Heritage Collection. Situated only 9-minutes away from the beach, this resort even has a cool outdoor pool! You can also book your stay at Acacia Lake View Motel – located only 300 meters away from Taupo center, this accommodation offers free WiFi and flat-screen TVs!
Budget (up to $120 NZD): The Lake Motel is an awesome budget motel because it offers free WiFi and even free bicycle hires! You can also book a room at Pouakani Apartment Taupo, where you will find both apartment and studio style accommodations!
Chalet Eiger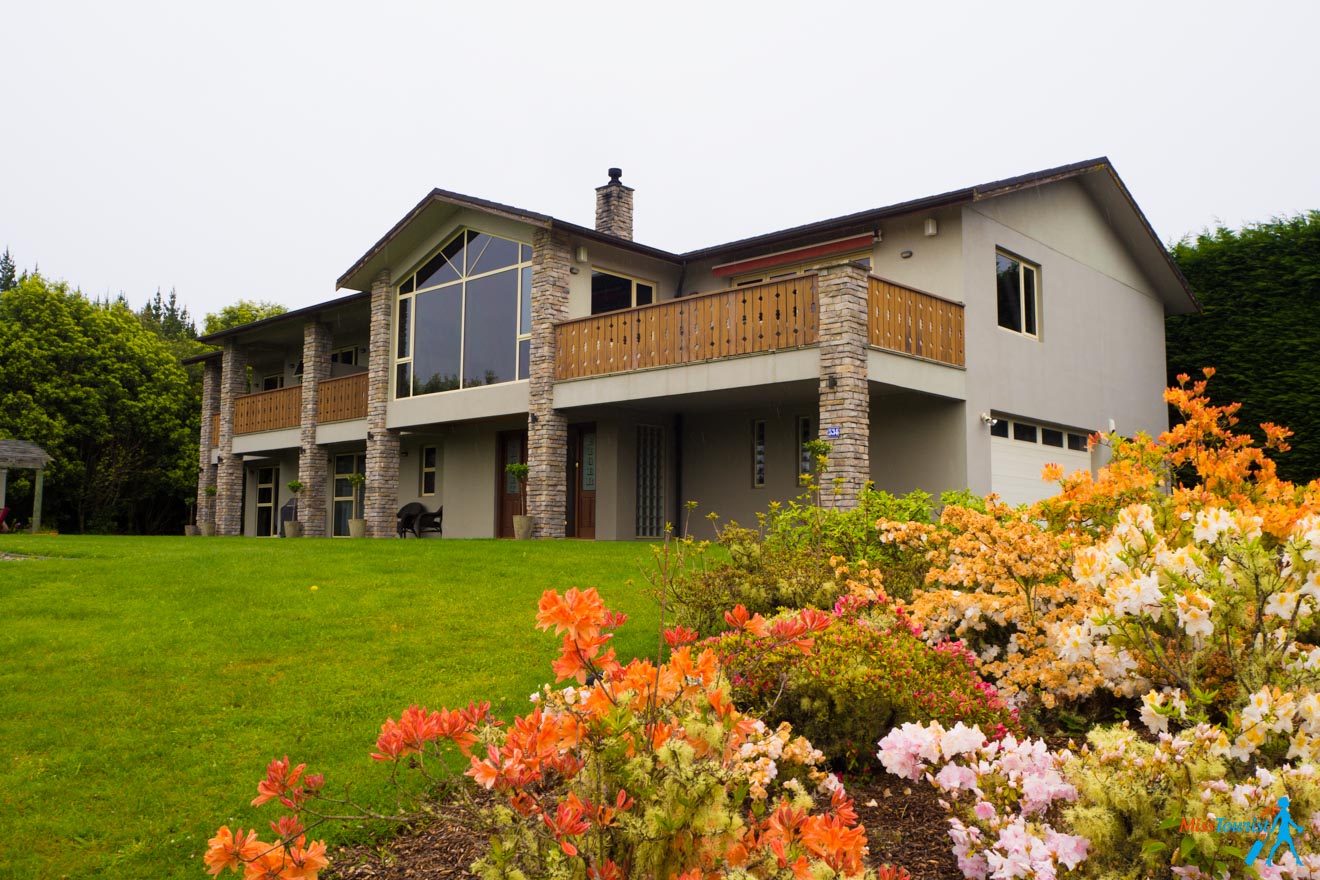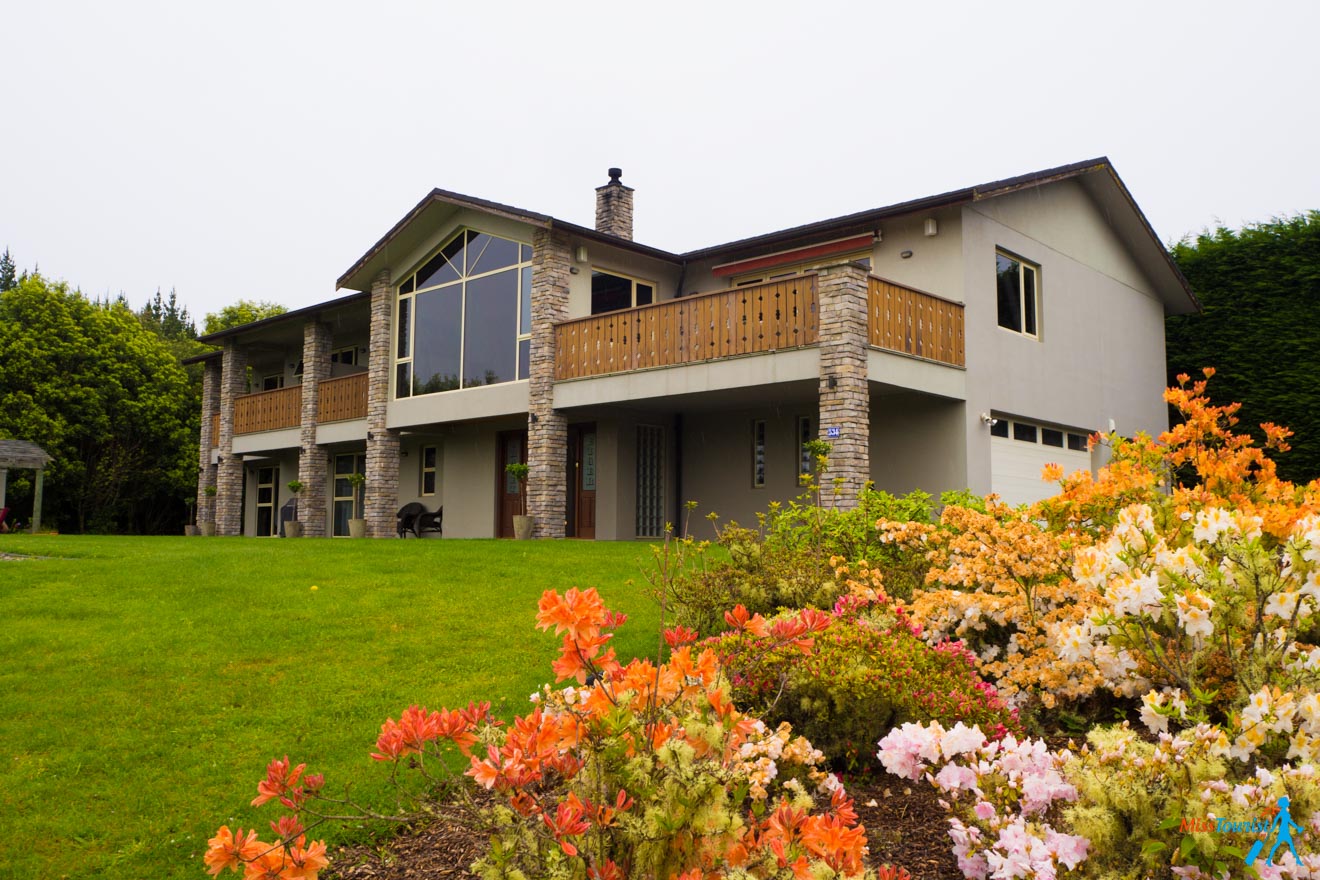 In Taupo I stayed in a charming lodge called Chalet Eiger. It was one of those places that ehances your impression of the city!
The chalet is located in a secluded place just 8 minutes away by car from Taupo center. It offers a fantastic view over Taupo Lake!
The owners, Peter and Nina, left their corporate jobs in Wellington, sold everything and moved to Taupo. They now run this 5* boutique hotel and one can see that they really love what they are doing!
The rooms: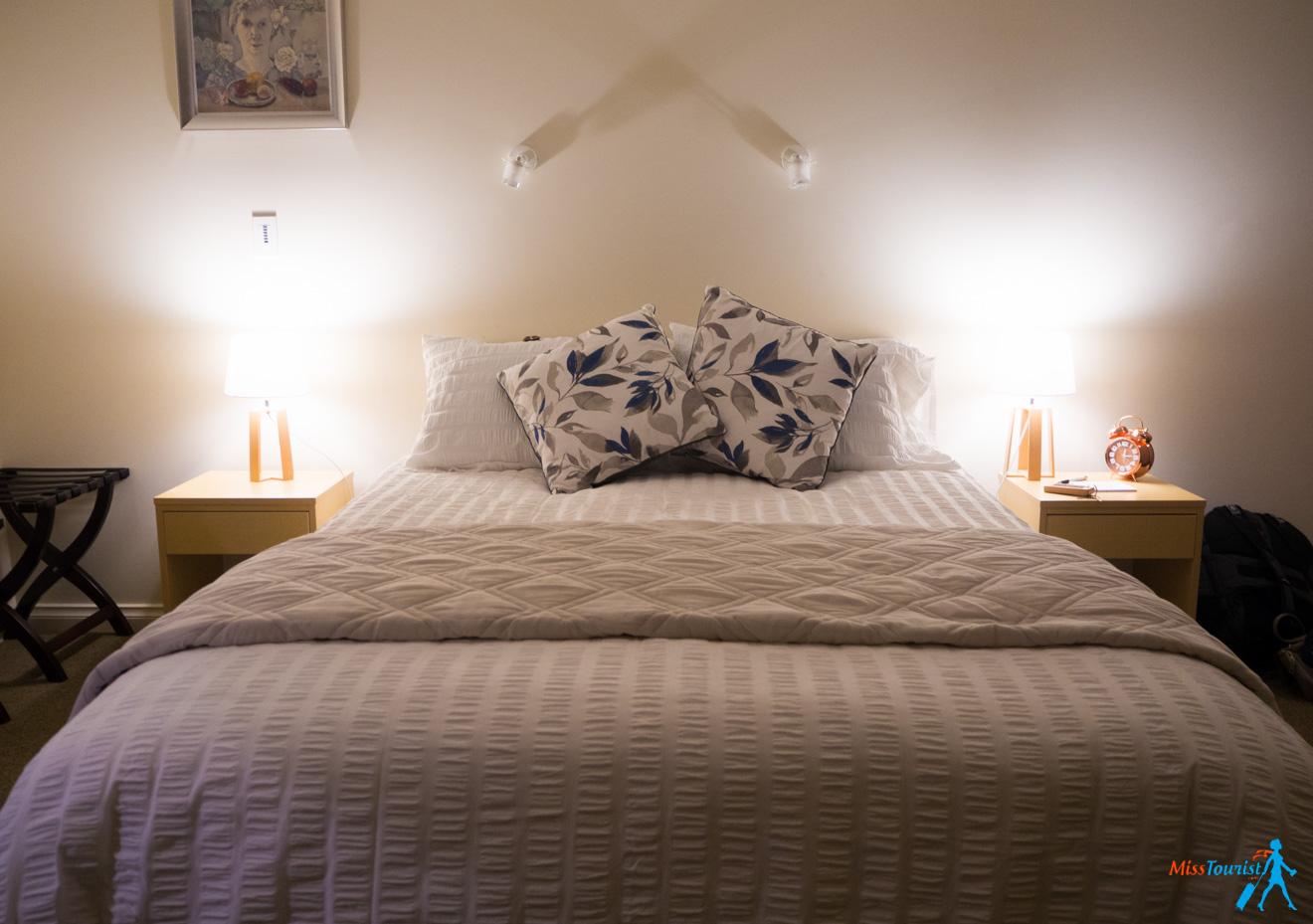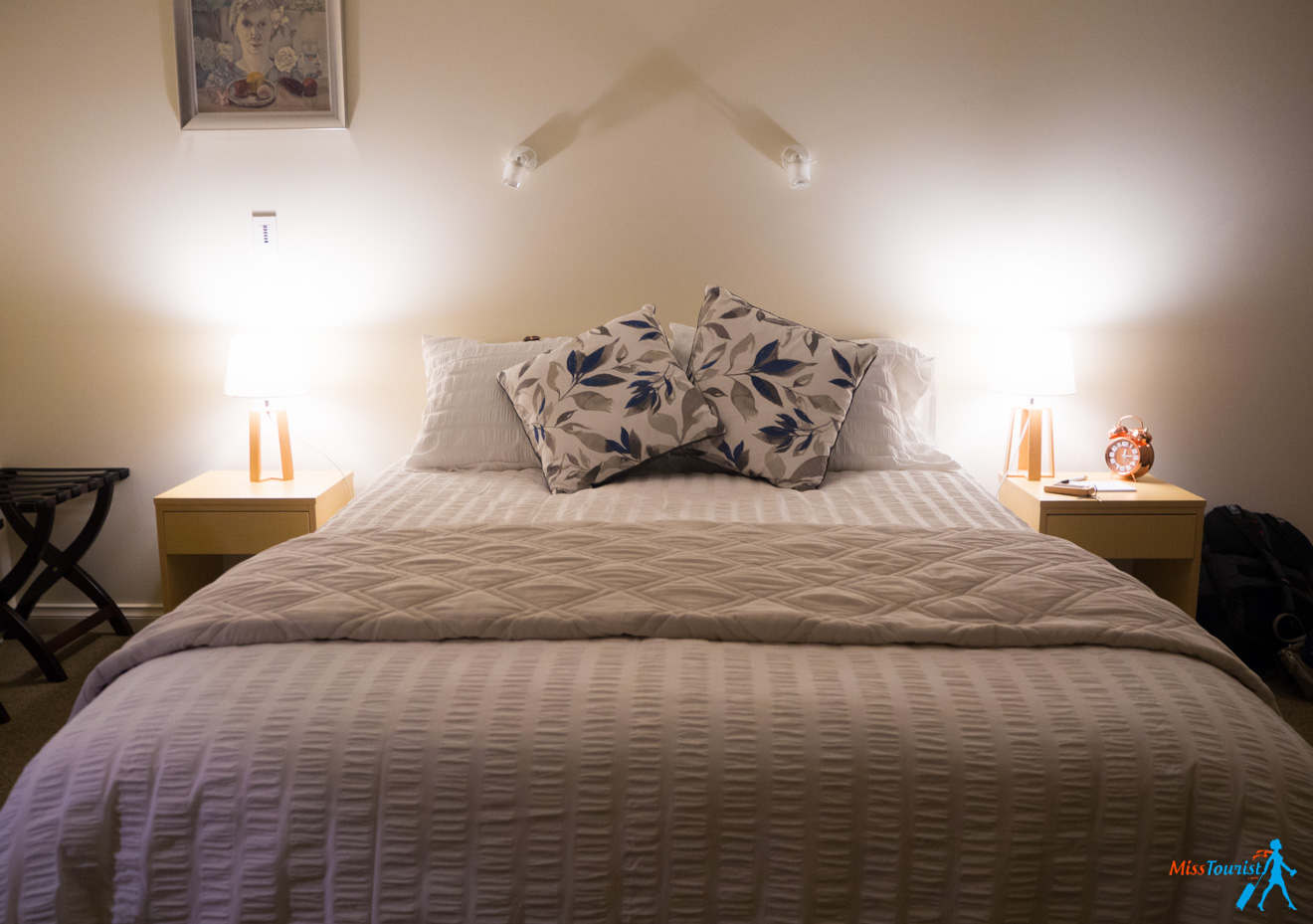 The chalet is tiny and intimate, it only has four rooms and each of them is stylish and spacious. Nice music will follow you everywhere in the rooms and common areas (unless you decide to switch it off, of course). Each room is equipped with everything you might need – hairdryer, iron, TV, unlimited Wi-Fi.
Once checked in, you will find a complimentary bottle of New Zealand wine, fruits and a cheese platter waiting for you on the table.
A small life hack if you decide to stay here – I recommend booking a room with Jacuzzi – it is the same price as the other rooms!
There is a nice common room with a fireplace where you can enjoy a glass of wine or simply read a book. Ask the owners about the hidden garden alley for fantastic photo opportunities!
Food: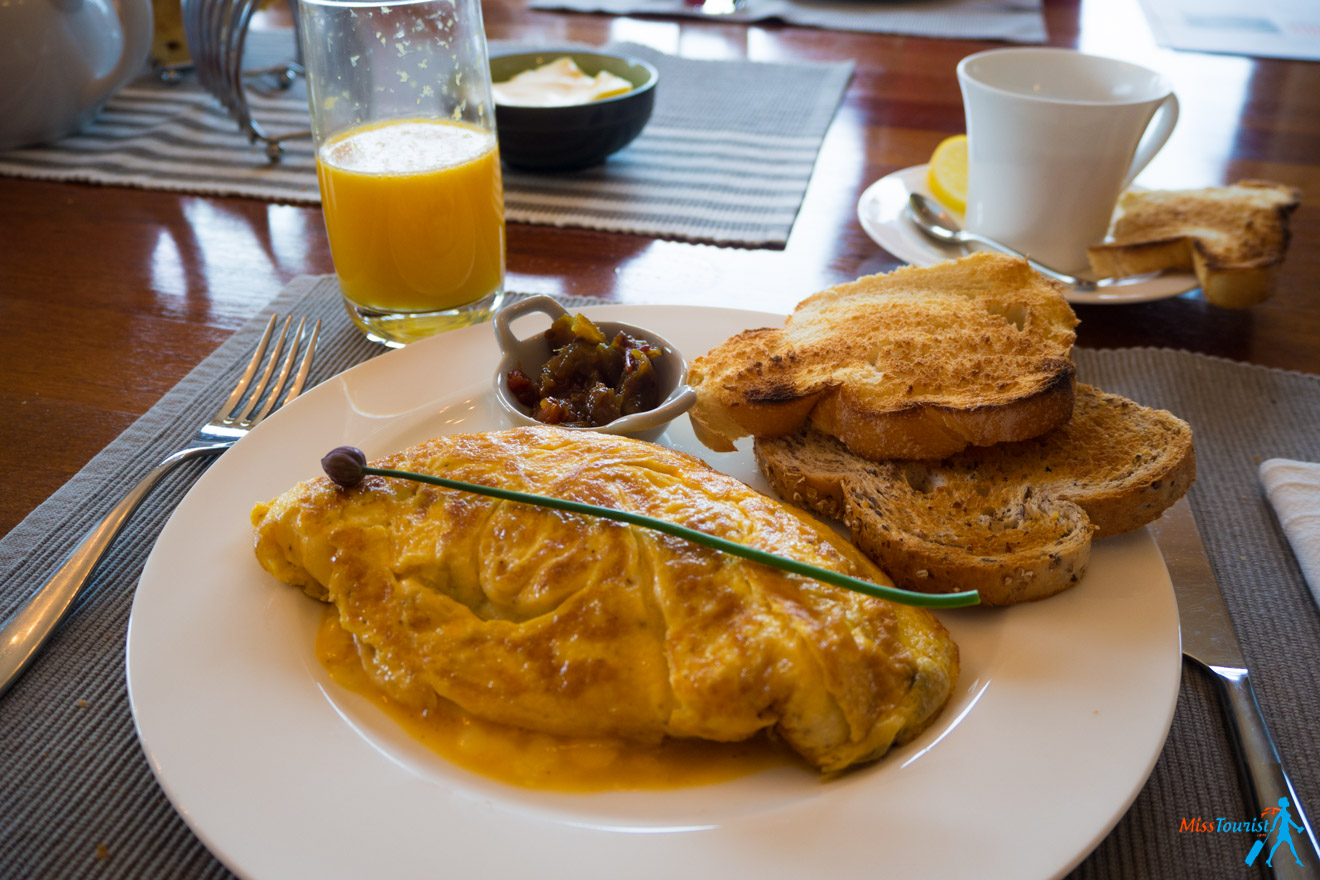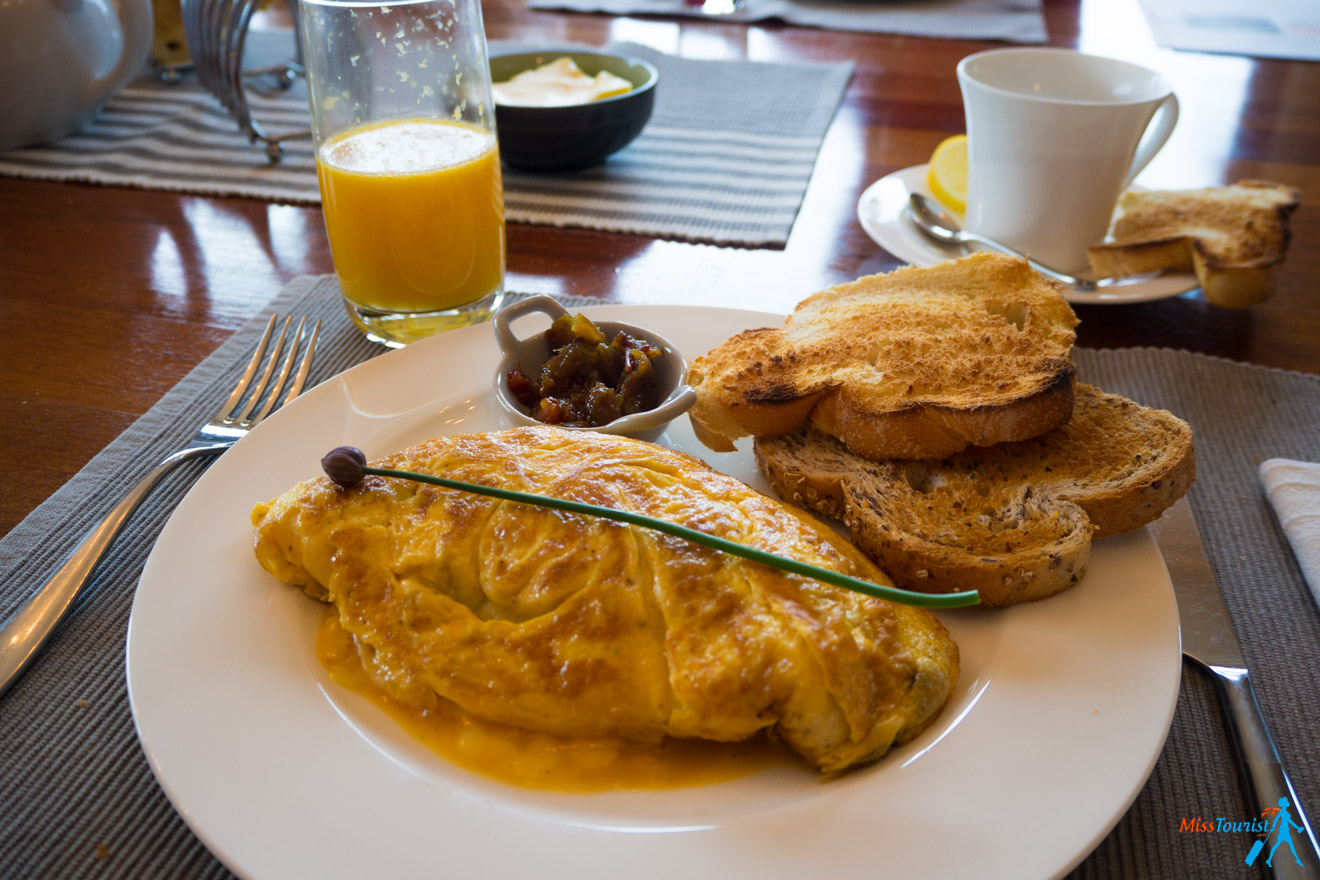 The culinary experience offered by this lodge was one of the highlights of our stay! Nina is a talented cook and she prepares dishes according to the guests' preferences.
Breakfast (included in the price) was so varied and so good! Make sure to get an omelet by Nina for breakfast, this was seriously one of the best omelets I've ever tried! She does not go cheap on ingredients, and all the products used are locally produced.
We also had a dinner with them and it was delicious (and with big portions)!
PRO TIP: Mention "Miss Tourist" to get a FREE 2-course dinner (valued $55 NZD per person) 🙂
NOTE: This boutique hotel only allows adults – the place is small, so the hosts don't want other guests to be bothered by noises.
Day 5 – Taupo, Tongariro Crossing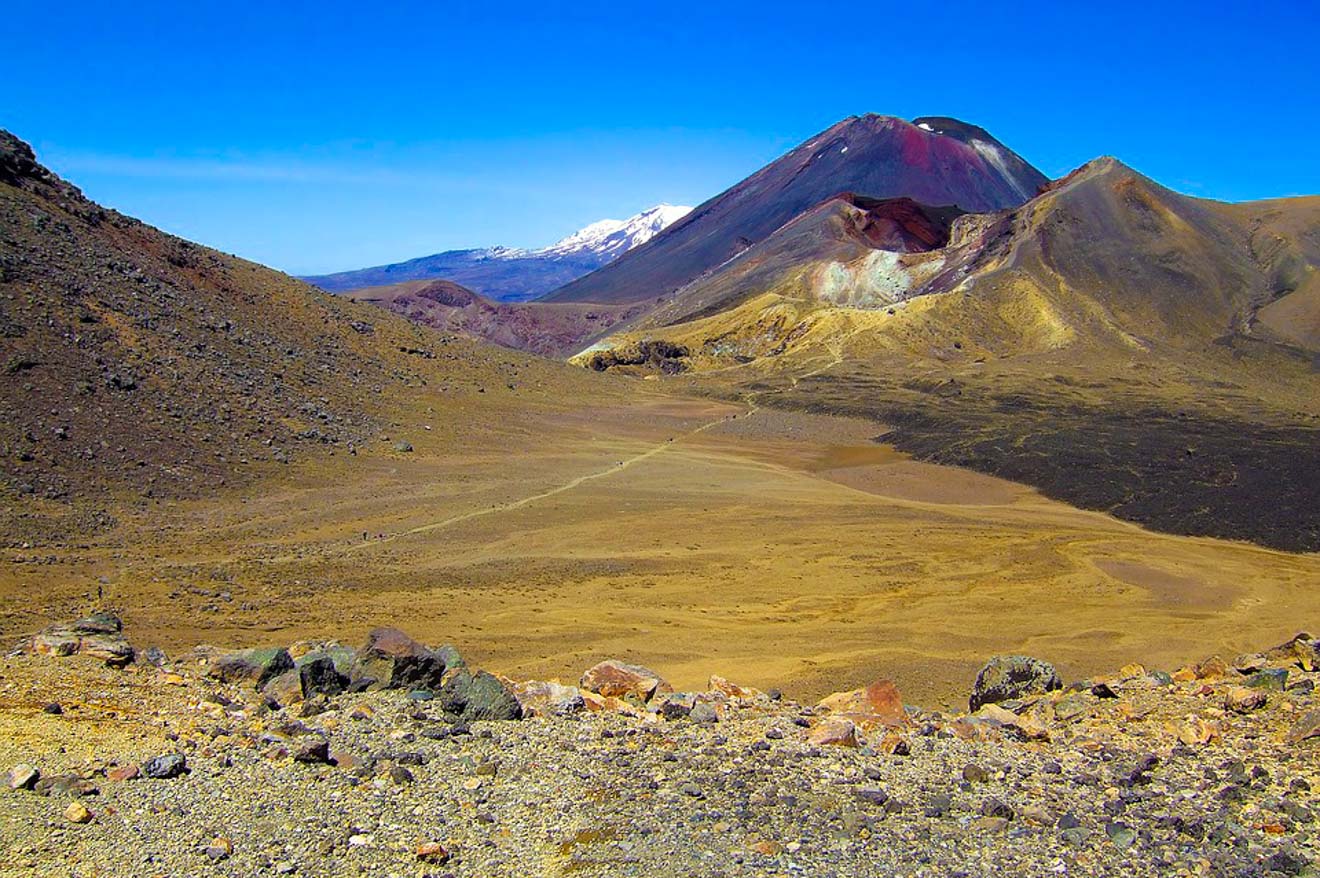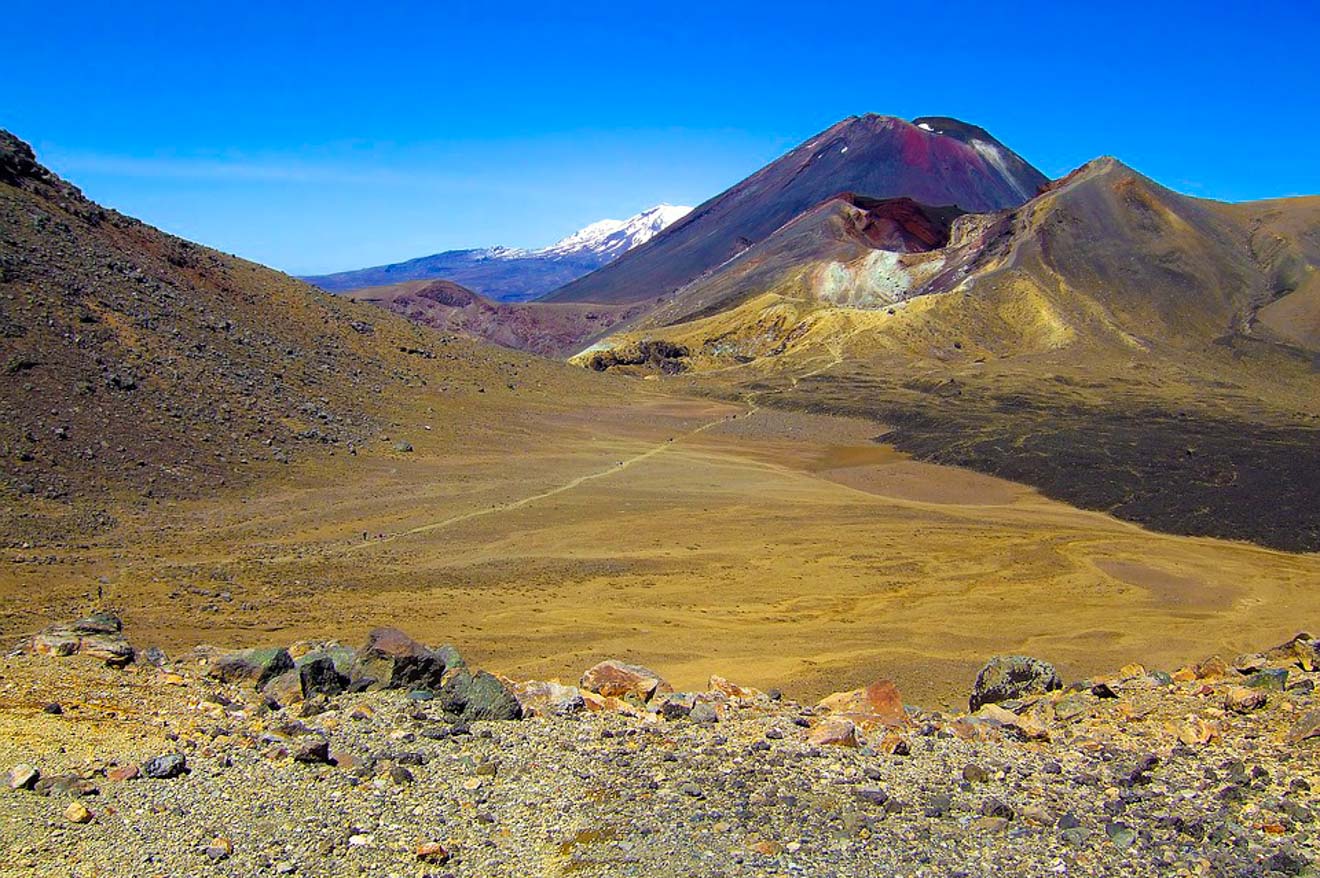 Driving time: 0 min, stay in Taupo
Walk straight into Mordor!
Today is the Tongariro Crossing day that you can either start from Taupo, or you can move closer to the park and start fresh from there.
As for me, I wanted to go with an organized tour in any way that included transportation from Taupo, so we decided to rest in our lovely mansion for one more day. It is very convenient to use a tour operator in this case, as the trek starts and finishes in different places. The tour will transfer you back to your car/accommodation when you finish.
Here is more information on how to organize a one-day trip to Tongariro Crossing if you are a bit more lucky with the weather than me:
5. Tongariro Alpine Crossing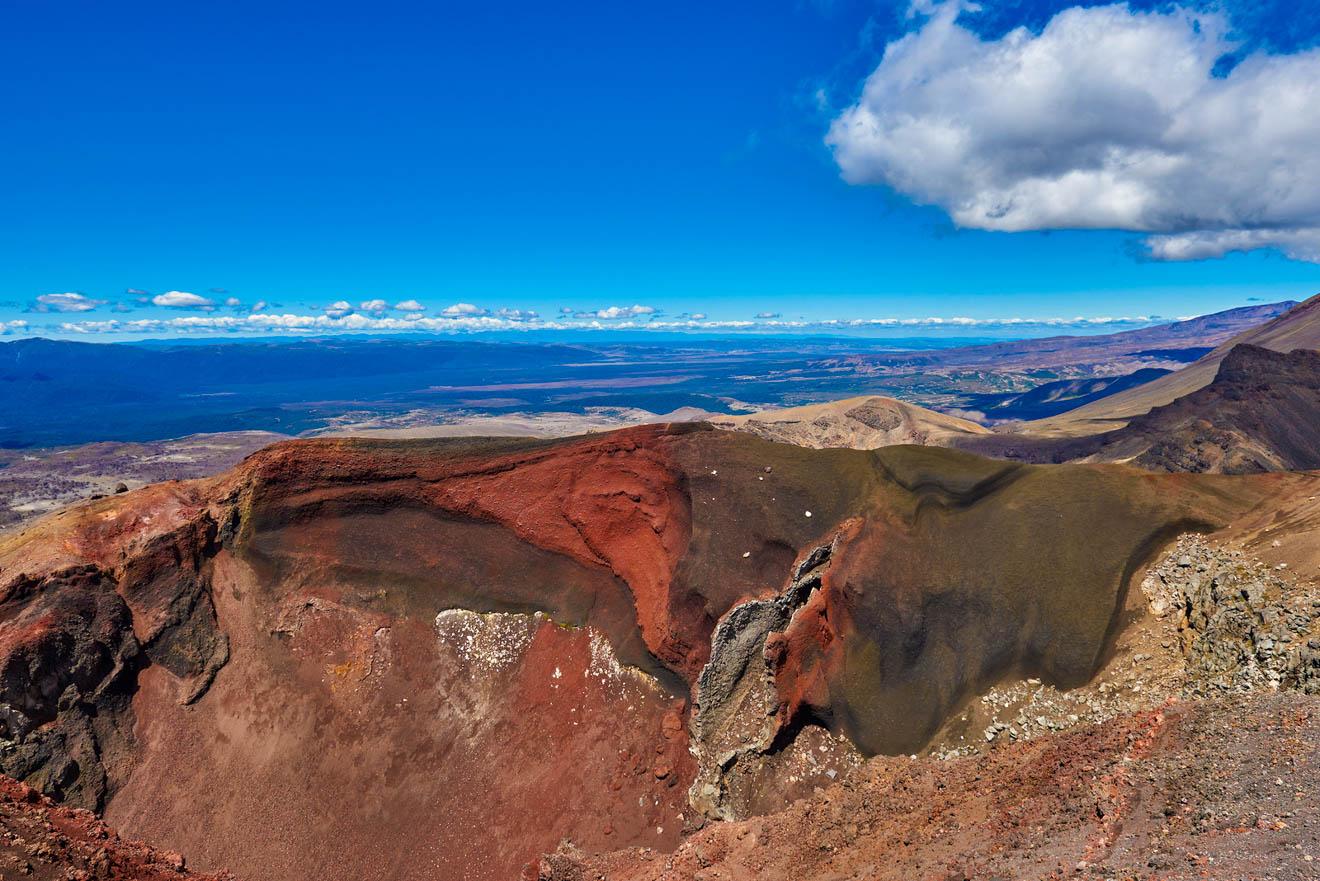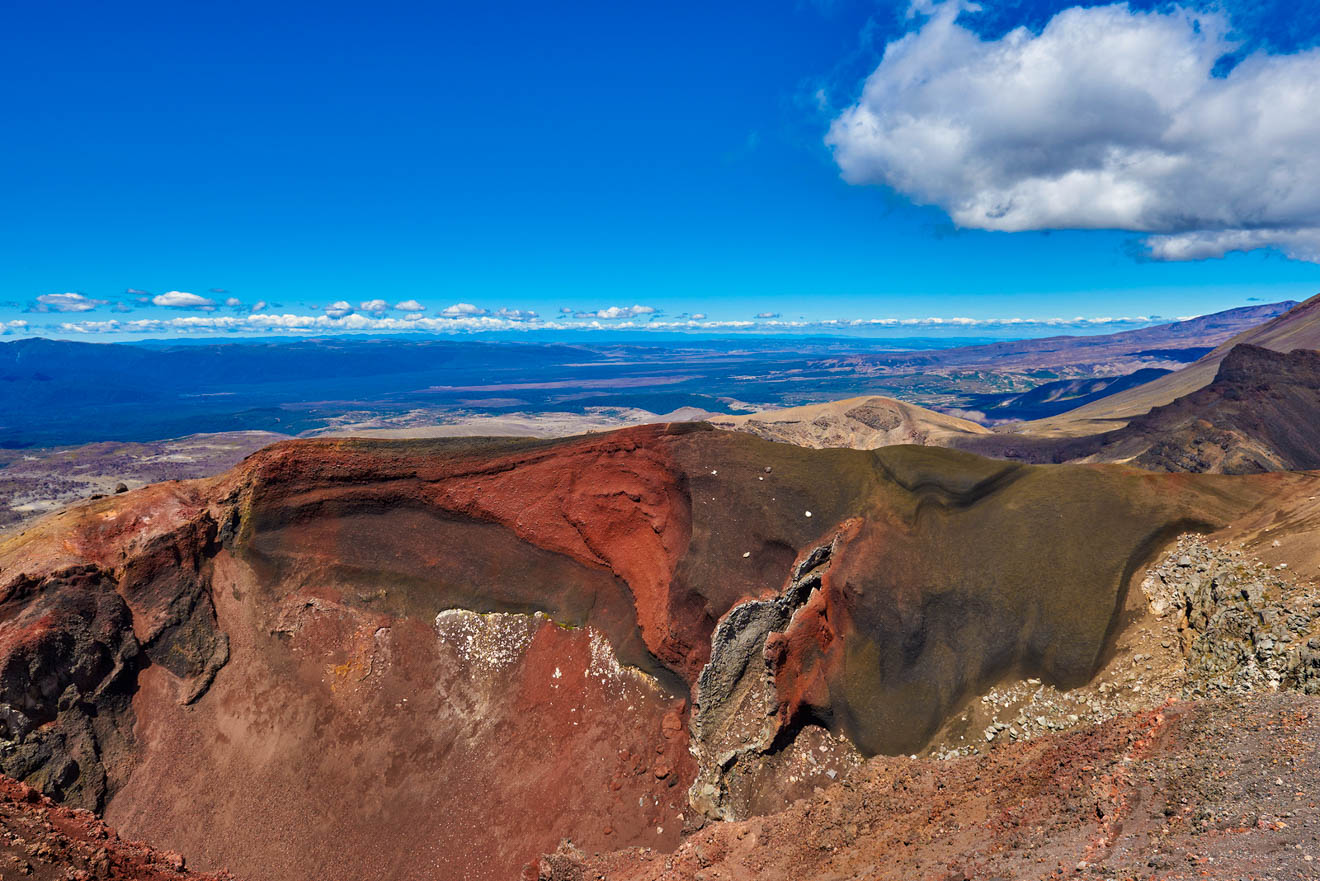 First things first – call the park at 3-4 p.m. the previous day to double check that they are open (the weather can be very unpredictable there, as I said above). This is their phone number – +64 7 892 3729.
Tongariro Crossing is described as one of the most beautiful treks in New Zealand!
The park has various treks for different levels of difficulty and time, the most popular being Tongariro Alpine Crossing. It is 19.4 km long and it usually takes around 7-8 hours to complete. You do not need to be incredibly fit for this, but be prepared for quite a walk!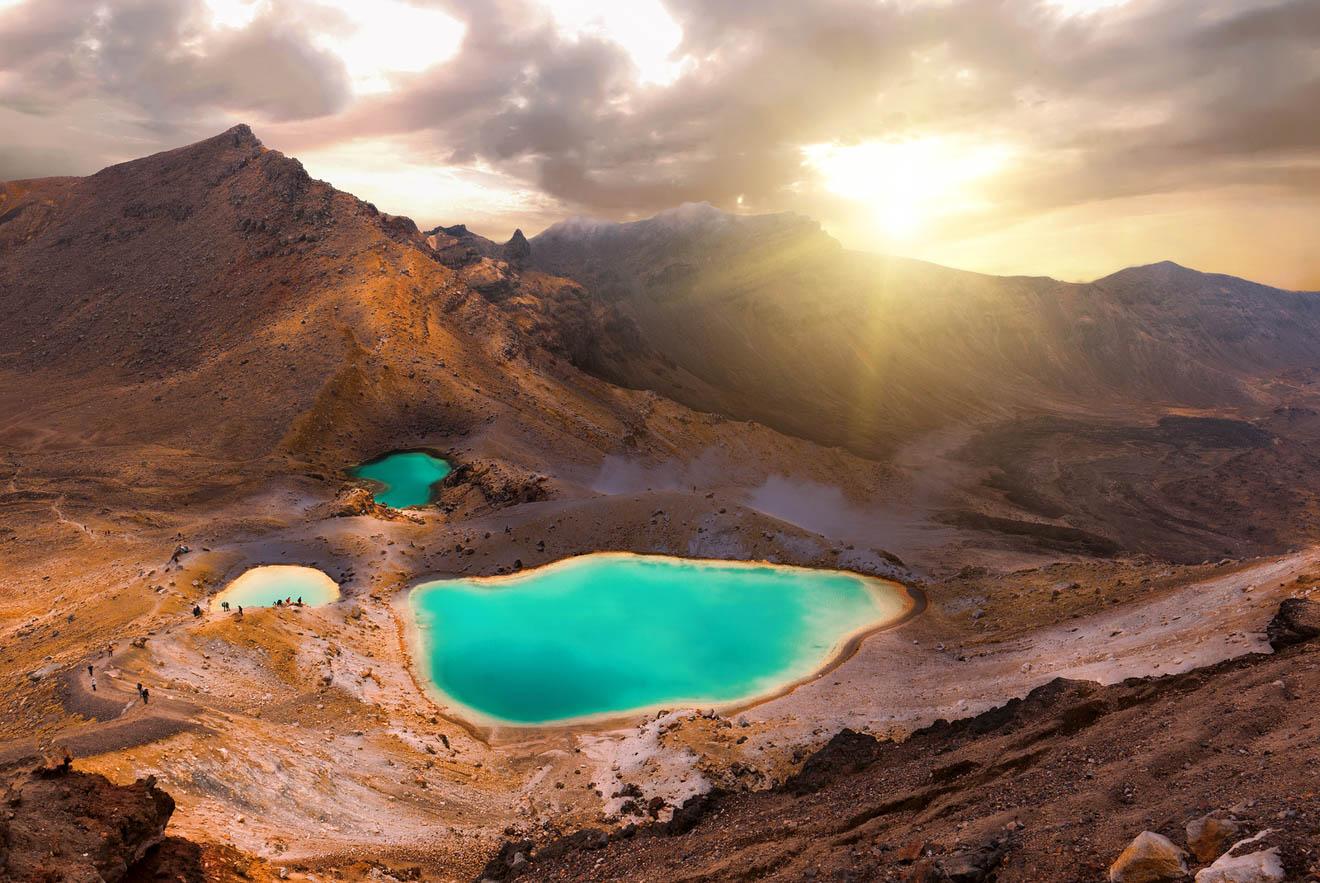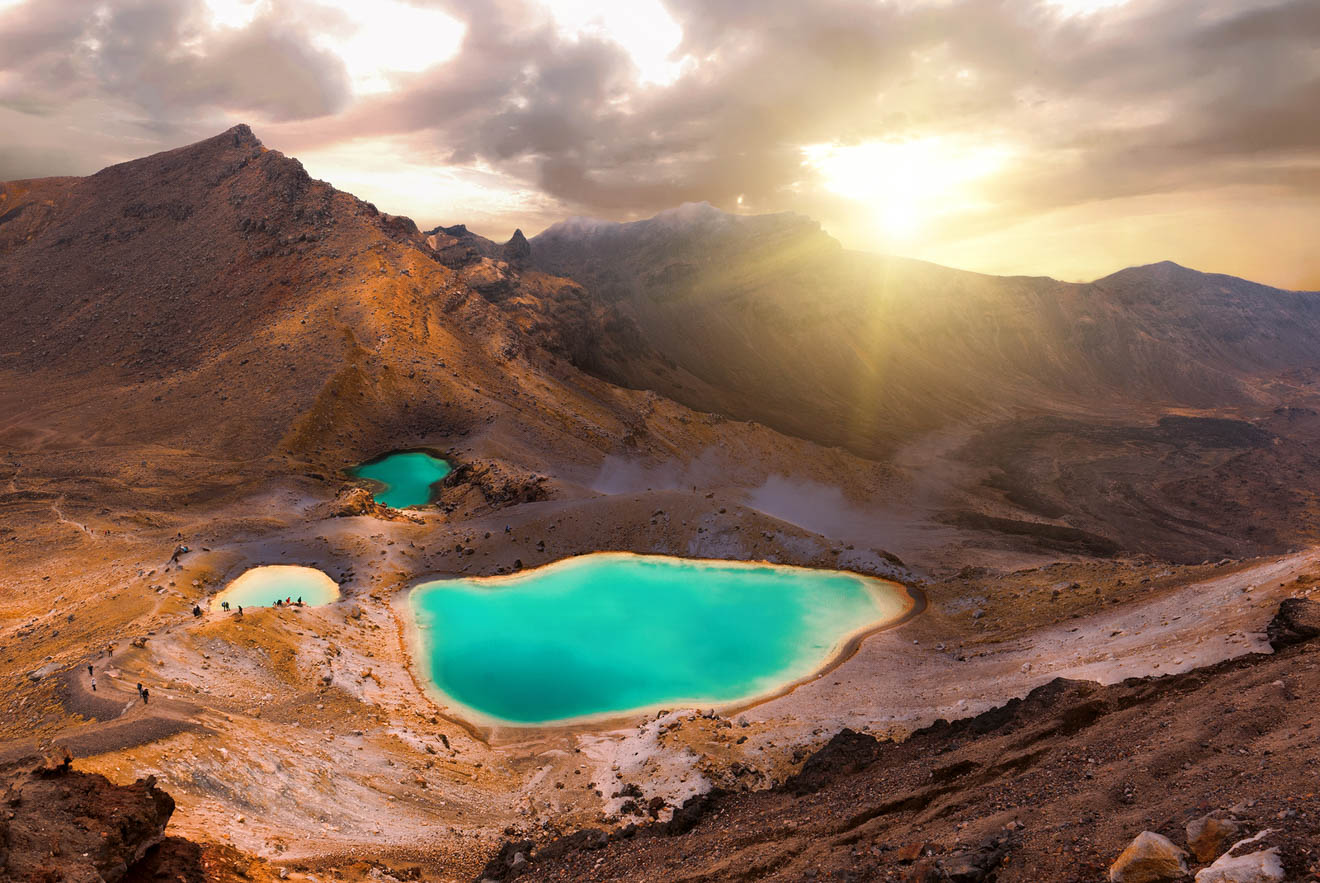 Start – Mangatepopo car park, Finish – Ketetahi car park (North). The hike usually starts at 8-9 a.m., so you would finish by 5 p.m.
You will walk near active volcanoes, emerald lakes, alpine vegetation, lava flows, volcanic rocks and craters, so expect some stunning views! And yes, you will get to take that going-into-Mordor type of picture!
When you are finished, you will either need a shuttle that will take you back to the starting point, or, if you prefer, a shuttle that will pick you up and drop you off at your accommodation. There are numerous services that do that in Taupo, but make sure to book them in advance. Here and here are good services that I found online and they have good reviews.
PRICE: $30 NZD for a one-way transfer or $40 NZD for a round trip
Accommodation
I recommend staying in the same hotel you chose for Taupo, see recommendations above in Day 4.
UPDATE: Tired of spending hours searching for the best accommodations for your New Zealand road trip? We have done this job for you – click below to book all the hotels for your road trip in New Zealand in minutes! They were all carefully selected by best reviews and sorted by price for you!
Day 6 – Taupo to Wellington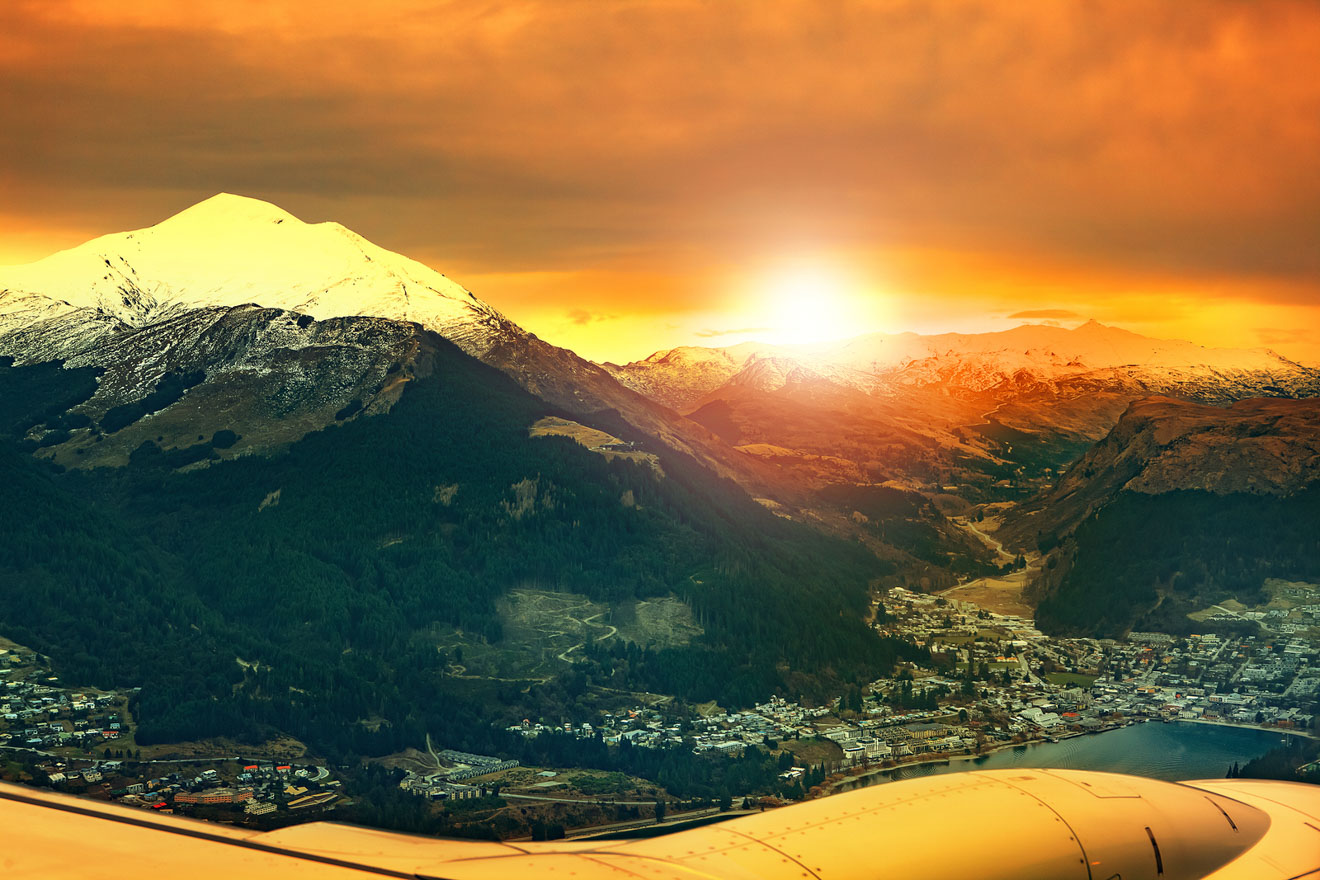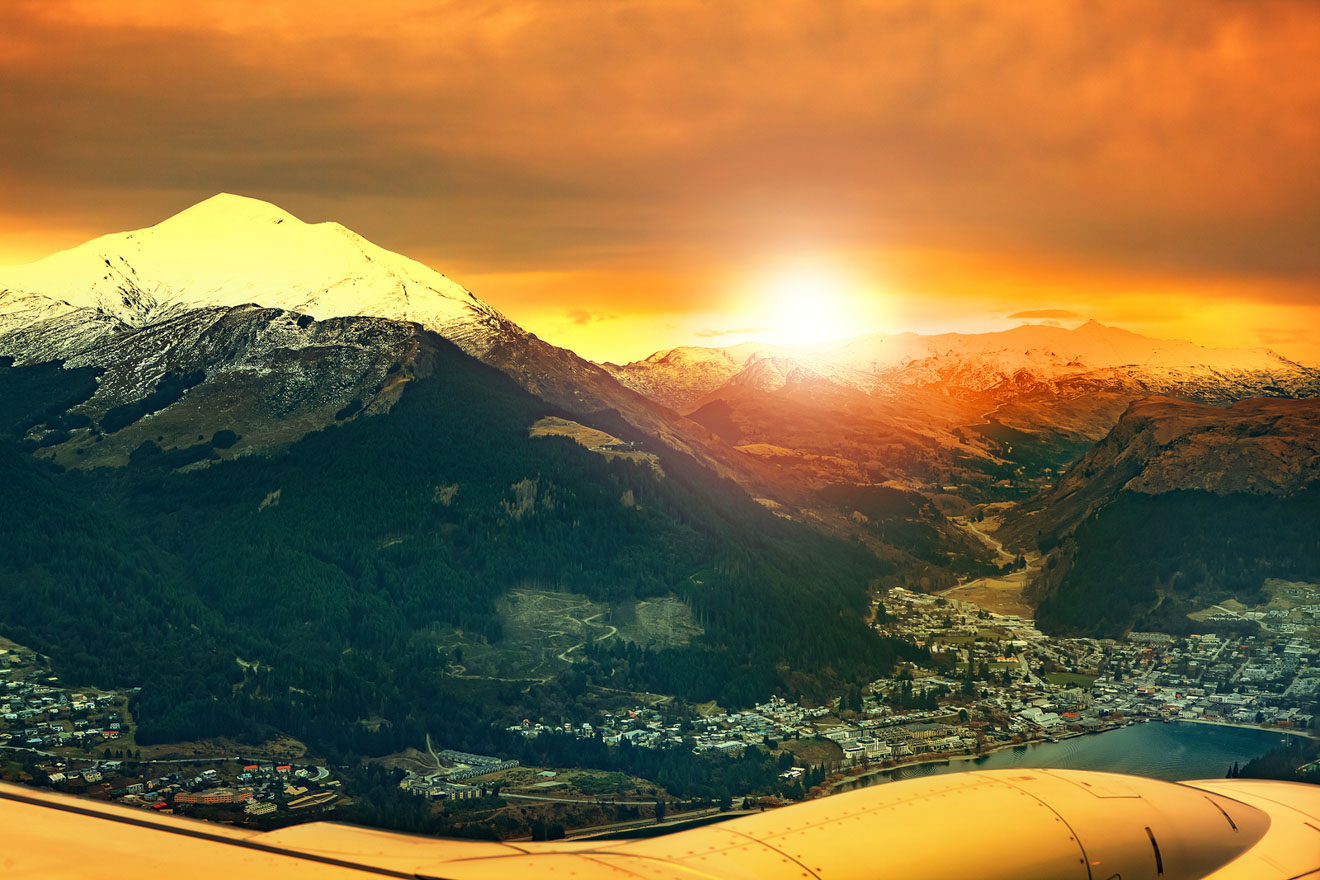 Driving time: Taupo –> Wellington, 420 km, 5.5 hours
or
Flying time: Auckland –> Wellington, 1 hour
You have 2 choices here: You can either continue South to Wellington or come back to Auckland and fly to Wellington from there
Which one will you choose?
We decided to fly because in this case we were leaving the car in Auckland and did not care about the ferry transfer to the South Island. We also didn't have much time to be honest, and flying to Wellington and then from there flying to Christchurch (South Island) was faster (even if that meant a couple of extra hours spent coming back to Auckland).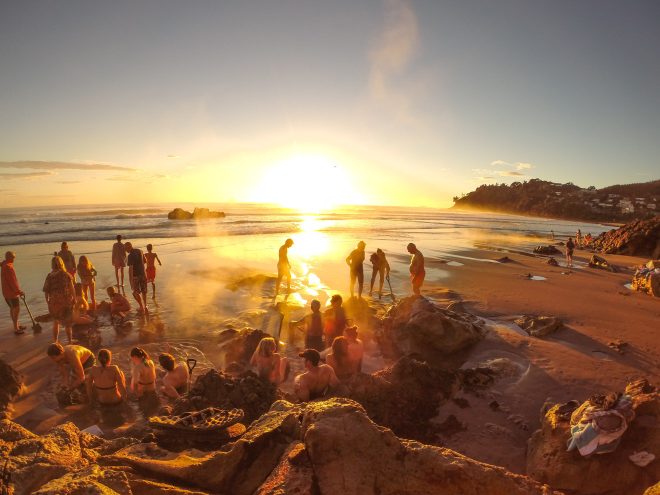 1) If you decide to go back to Auckland, you already have recommendations on what to do there and where to stay above. You could also stop by the Coromandel Peninsula, but I would recommend doing this only if you have at least 1 extra day. The peninsula is beautiful, but it is also large, so you will need some time to discover it. Here is my post on 15 things to do in Coromandel.
2) If you continue to Wellington, this will be your on-the-road day as it takes almost 6 hours to get from Taupo to Wellington.
Do not worry about seeing the city on this day, just rest after the flight/drive and you will visit Wellington the next day, as you will have 2 nights in the capital.
Accommodation in Wellington
Luxury ($180 NZD and up): Bolton Hotel is a great luxury choice – it's a super elegant 5-star hotel located in the central business district in Wellington. You will find free WiFi and even iPad minis in the rooms. Another high-quality 5-star option is InterContinental Wellington, where I'm sure you will feel like a queen/king. Best of all? It's only 3-minutes away from the beach!
Middle ($61-$180 NZD): I suggest Novotel Wellington as a great middle-priced option. Plus, it's located only 15-minutes away from Te Papa Museum! If you wish to be closer to the water, I suggest staying at Beachfront Wellington Bed and Breakfast – free Wifi, free breakfast and only 15-minutes away from the city center!
Budget (up to $61 NZD): For a good budget stay, you can book a room at Hotel Waterloo & Backpackers. Situated in the center of Wellington, this place has a 24-hour guest kitchen, laundry facilities and even game rooms! My second suggestion is Trek Global Backpackers – this cool place offers you free unlimited WiFi and even a barbecue area!
Day 7 – Wellington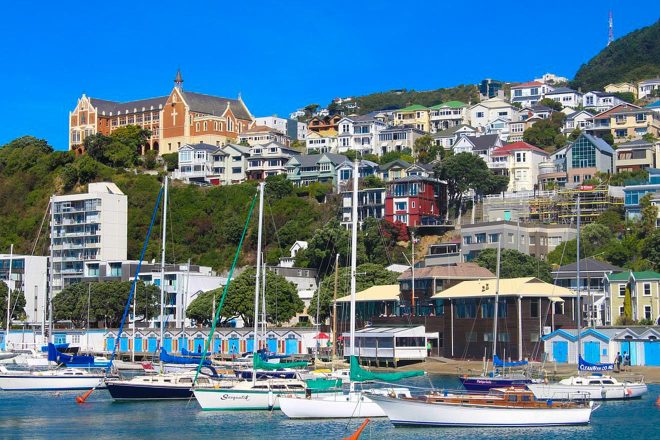 Driving time: 0 min
Today is a no-driving day, perfect! Enjoy a breakfast/brunch in one of the hipster places and then proceed to see the city.
Wellington is a lively city that has its own vibe (and also tons of good restaurants, cafes and shops).
If you, like us, will be without a car in the city, here are some transportation options:
Uber is quite cheap (about $20 NZD from the airport to the city center). If you are traveling in a group of two or more it actually makes more sense to get an Uber, as the bus ride is $10 NZD each.
City buses are about $5 NZD depending on where you want to go.
Here is what I recommend visiting in Wellington:
7.1 Te Papa Museum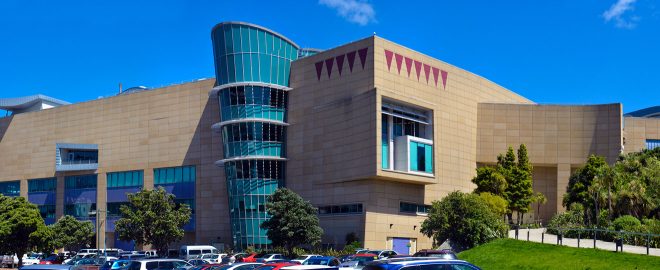 Te Papa Museum is the champion based on the amount of time spent in a museum – 3.5 hours, wow! No wonder – it's so awesome and interactive!
People who think museums are boring should go to Te Papa, seriously.
Oh, and the best part? It is free!
Yes, you read that right. One of the best museums in the world is absolutely free of charge to visit. It is especially surprising given the level and quality of the exhibits presented there!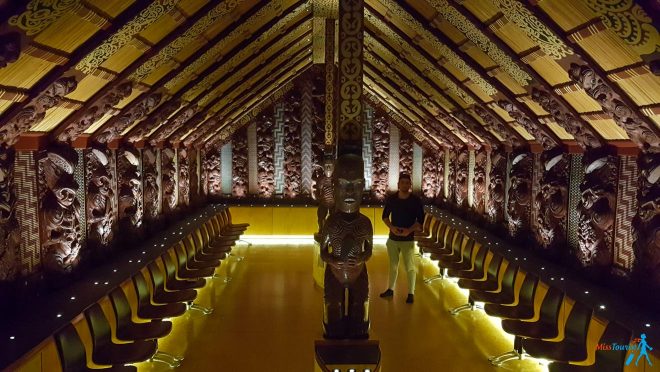 You can also take a guided tour (and I highly recommend it!). In just 1 hour, the tour will lead you through the museum giving you some extremely interesting information about the history of the country; and the animals that used to live in New Zealand and inhabit the country now.
No worries, you will be able to come back to any of the exhibits and get to know them in detail later! In the end we spent at least 3 hours in the museum, so the statistics were right. 🙂
PRICE: $20 NZD for a guided tour, free to visit without the tour
7.2 Weta Workshop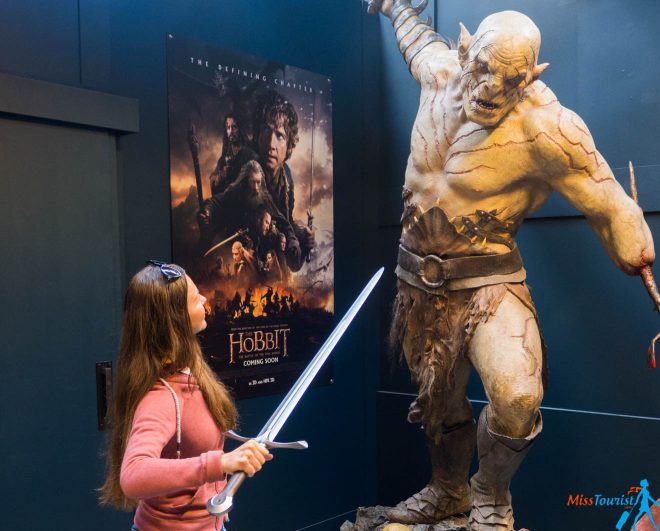 To put it simply, the Weta Workshop is a place where they produce props, costumes and special effects for movies.
What started many years ago as a hobby by two enthusiasts in a small flat in Wellington, it grew into what is now a world-class quality production company for movie artifacts. The Weta Workshop is one of the main reasons they call Wellington "Wellywood" sometimes!
Weta Workshop has produced amazing costumes and masks for so many movies, including Lord of the Rings, Narnia, The Hobbit, King Kong, Power Rangers, Mad Max, Spider Man, Avatar and many more!
You can visit the workshop and see the movie characters come alive in the place.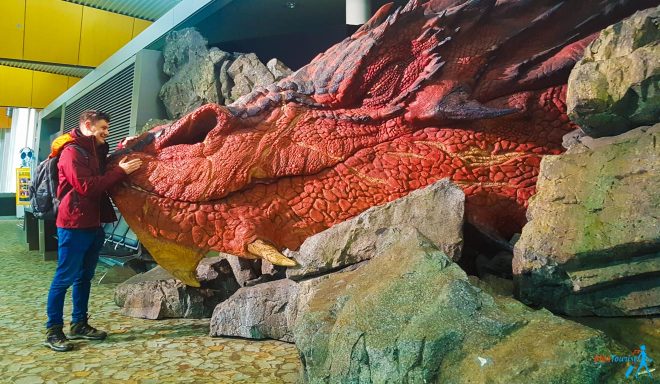 There are numerous tours you can take there, check them out here. We took the cave workshop tour for $28 NZD. The tour takes 45 minutes, during which you will see crafts being created and your guide will take you behind the scenes of a movie production. I had no idea about the amount of there is so much work that goes on behind the scenes!
My guide was so knowledgeable and excited about his job! As we were his last group that day, he spent way more time with us and I absolutely loved it!
NOTE: Keep in mind that you can't take pictures inside the workshop because the props don't belong to the workshop, they legally belong to each particular movie.
Here is an awesome video that perfectly describes what you are going to see:
Weta Workshop is a nerd fest and will also be fascinating for anyone interested in movies. This is a must-visit!
How to get there: We paid $5 NZD to get to Weta Workshop from the city center.
Price: The cheapest tour is $28 NZD (the one that I took), but there are more options available on the Weta website
---
| | |
| --- | --- |
| 🧙‍♂️ Unique attraction: | Hobbiton Movie Set |
| 🗿 Best for culture: | Maori |
| 🪂 Top paid attraction: | Skydiving |
| 🌳 Best hiking treks: | Taupo |
| 📅 How many days: | 7 |
---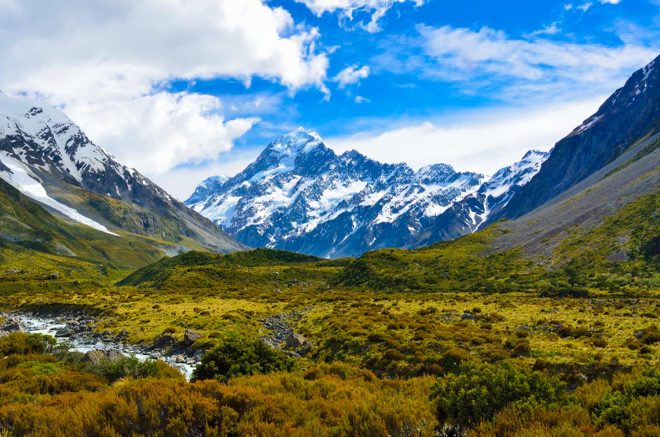 That's it, guys! Time flies, but I believe we managed to fit quite a lot into our North Island road trip, didn't we?
Below you will see my recommendations for what else to visit if you have more time and a small paragraph for those thinking about skipping the North Island completely (spoiler alert – don't do it!).
Should I skip the North Island?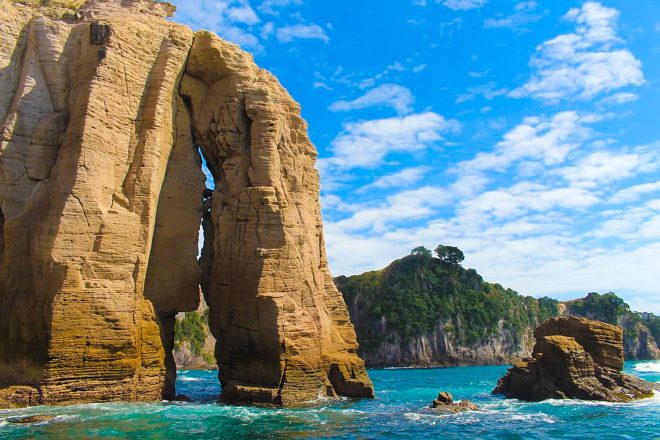 Some people ask me if they should omit visiting the North Island as they don't have a lot of time to visit New Zealand.
The short answer would be – no, I don't think you should skip it.
I think it is a big mistake to skip it because there are SO many great things to do oin the North Island! I found the two islands to be very different in terms of nature, and even population. In my opinion, if I had not visited the North Island, my impression of the country would be incomplete.
Extra recommendations of what to visit on the North Island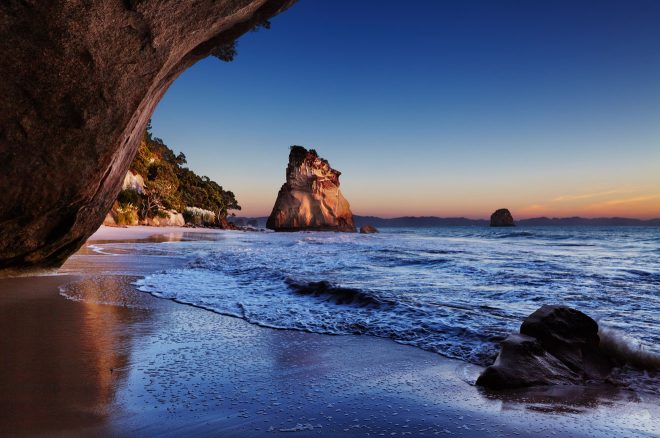 Do you have more time for the North Island? Congratulations, there are still some awesome things to do, just waiting to be discovered!
Here is the list: Coromandel Peninsula, The Bay of Islands, Mount Ruapehu, Mount Taranaki.
Conclusion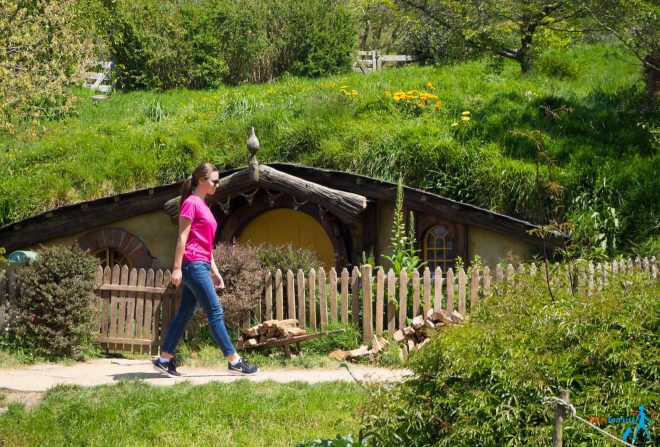 With its thermals springs, mountains, waterfalls, valleys and lakes, I am sure you will enjoy the North Island!
They say 1 week is not enough to see everything this beautiful island can offer, but I tried to suggest the highlights and added some extra suggestions in case you have more time to travel around the North Island.
You can copy this itinerary – it was tested by me and all the prices and driving times are included for your convenience.
I also made sure to leave some space for flexibility so that you could adjust the itinerary according to your preferences and dates.
I hope you will enjoy these 7 days full of activities, from geothermal pools and extreme activities to discovering Maori culture and New Zealand's cityscapes!
NEXT: Aaaaand now it is time to proceed to the South Island, 'God's playground' as the locals call it. Here is my 10-day itinerary for that part of the country.
Please be sure to drop a comment below if you liked the post or if you have any additional questions!
Yulia
---
Alternatively, you can check all my New Zealand posts here!
---
Pin it for later!