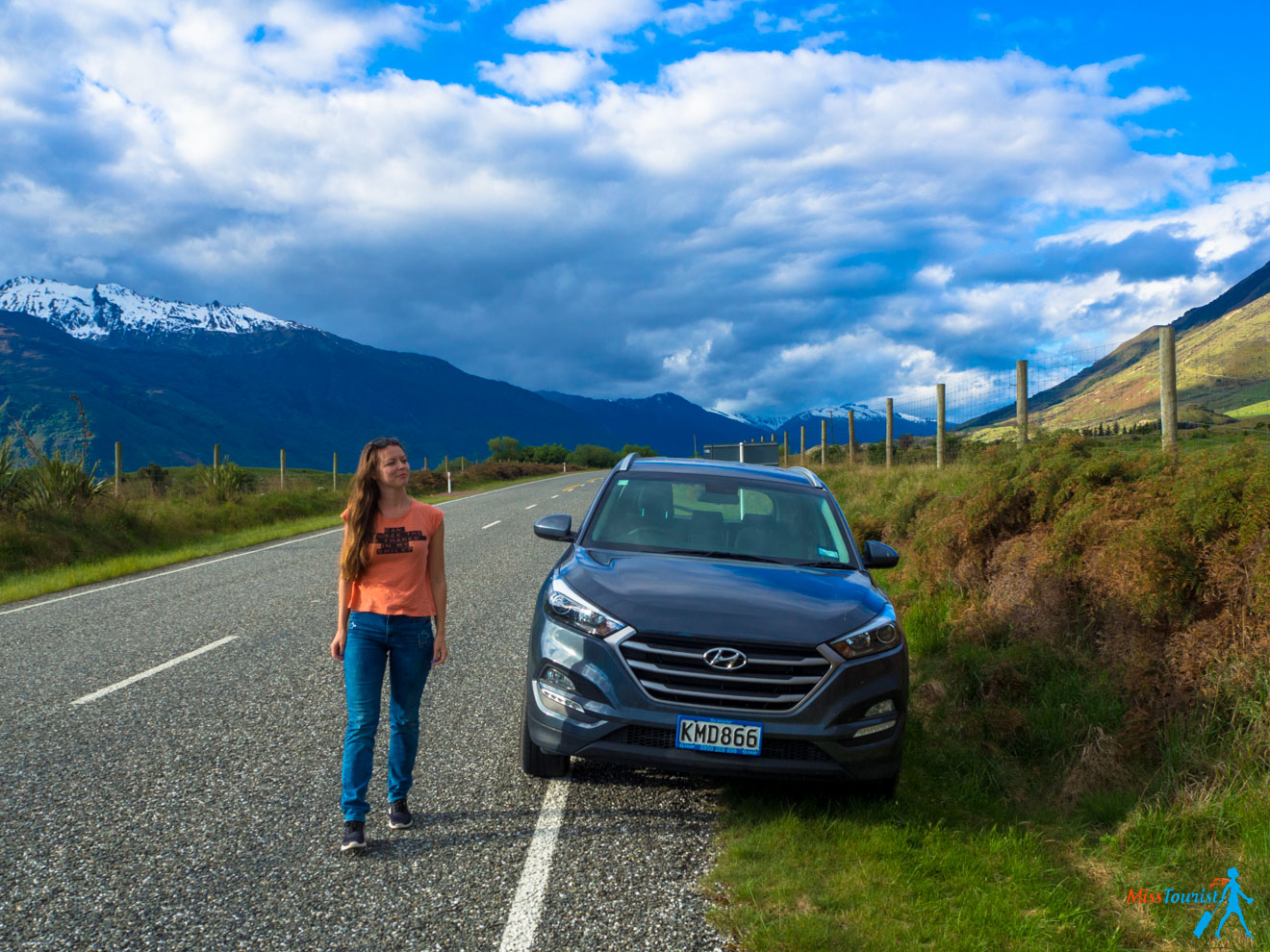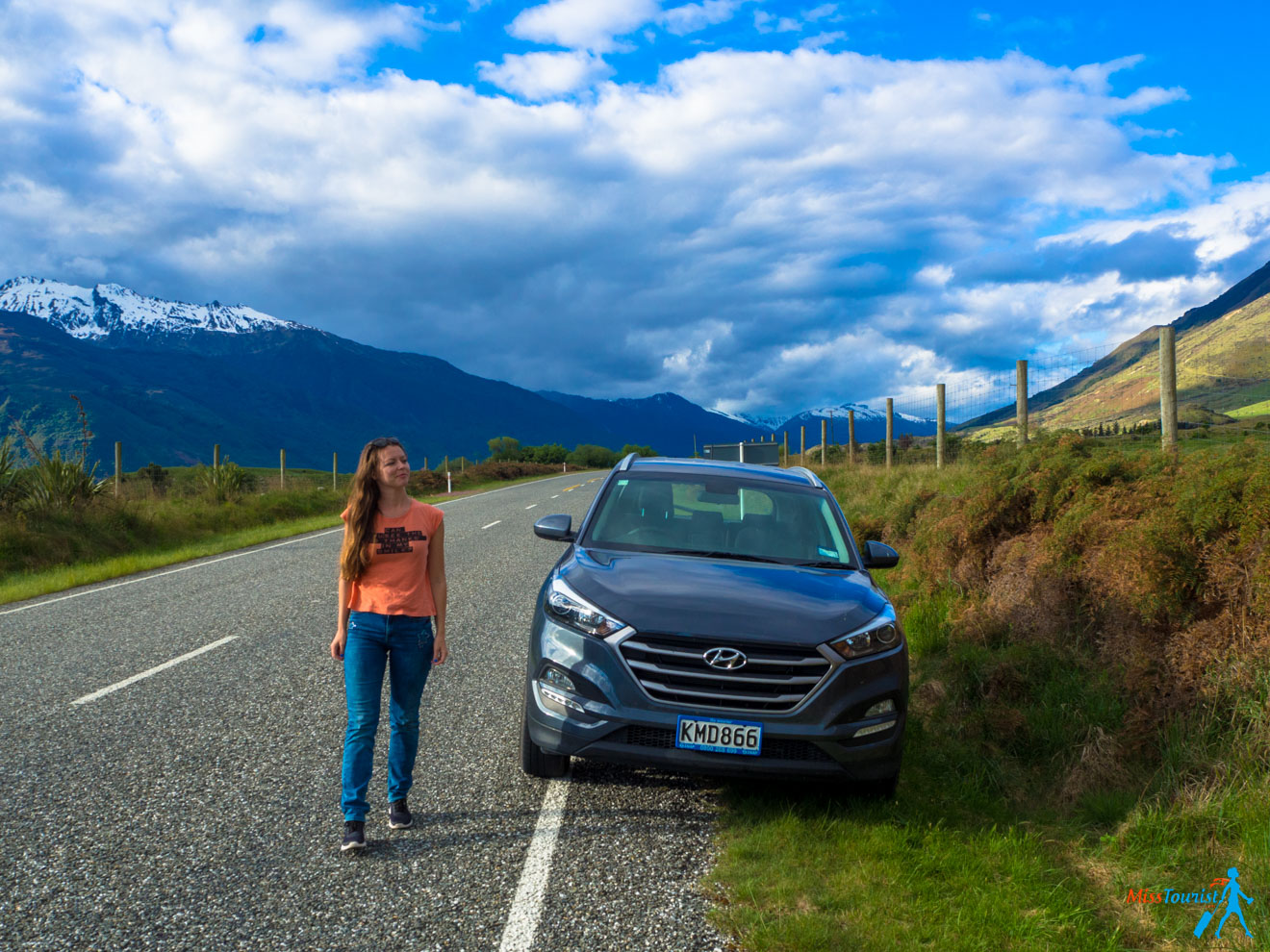 Deciding to rent a car in New Zealand can be one of the biggest favors you can do for yourself because it will make your vacation truly unforgettable.
There are other ways of getting around the country and I have described them here, but the best decision by far would be to discover New Zealand by car on a road trip.
Why? Because you will have a lot of freedom and flexibility! You will be able to get anywhere you want to go, you won't need to worry about the car's maintenance and you will have plenty of choices for all types of budgets.
Renting a car comes with one important advantage – you can pick a hotel outside the city that would suit your budget. The hotels are usually just as charming and you won't need to worry about transportation.
You can skip this information for now and  jump directly to the car deals. The car hire I used is offering a 10% discount to all my readers!
If you've made up your mind, let's now talk about some important things you should consider before renting a car in New Zealand:
1. In New Zealand you have to drive on the left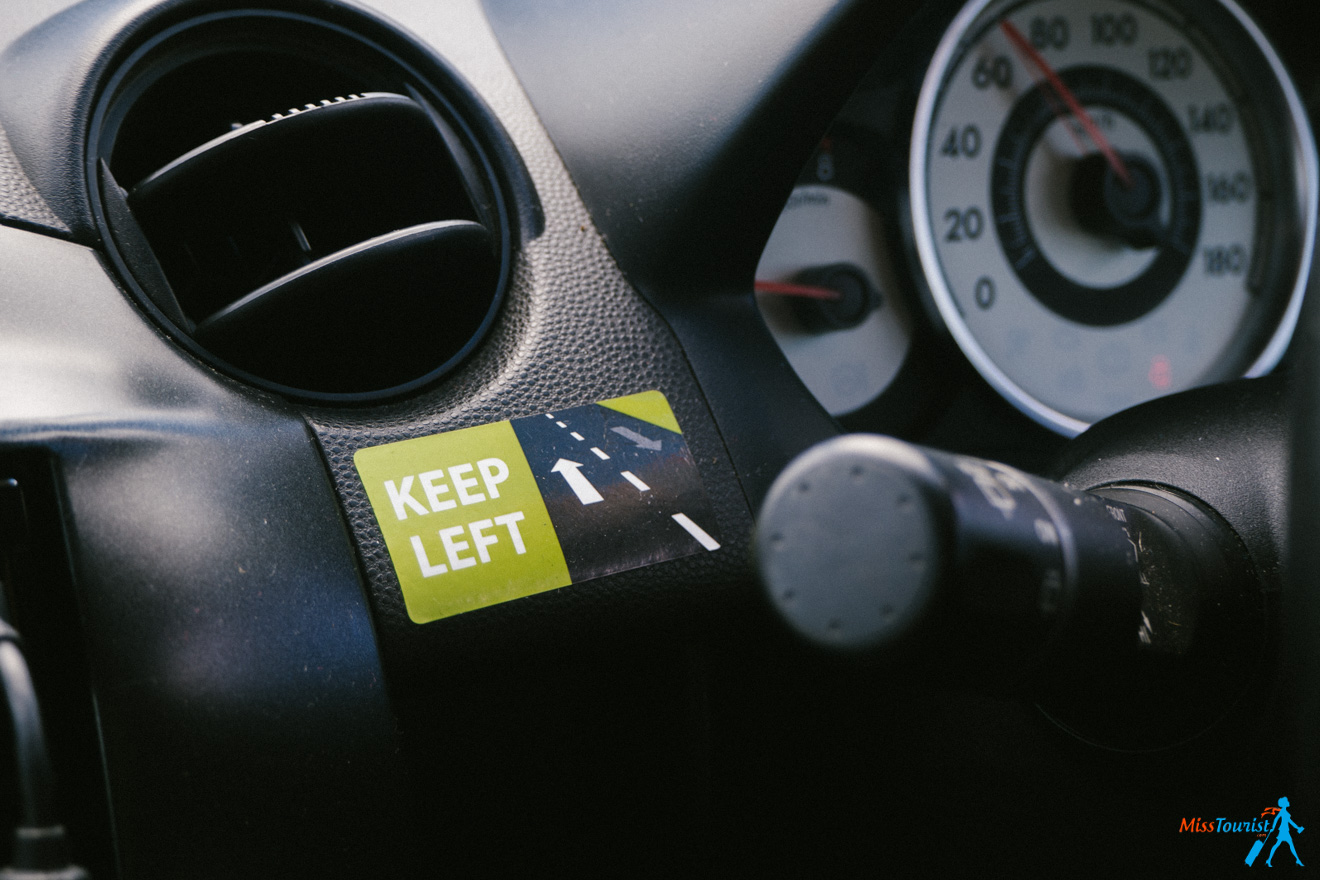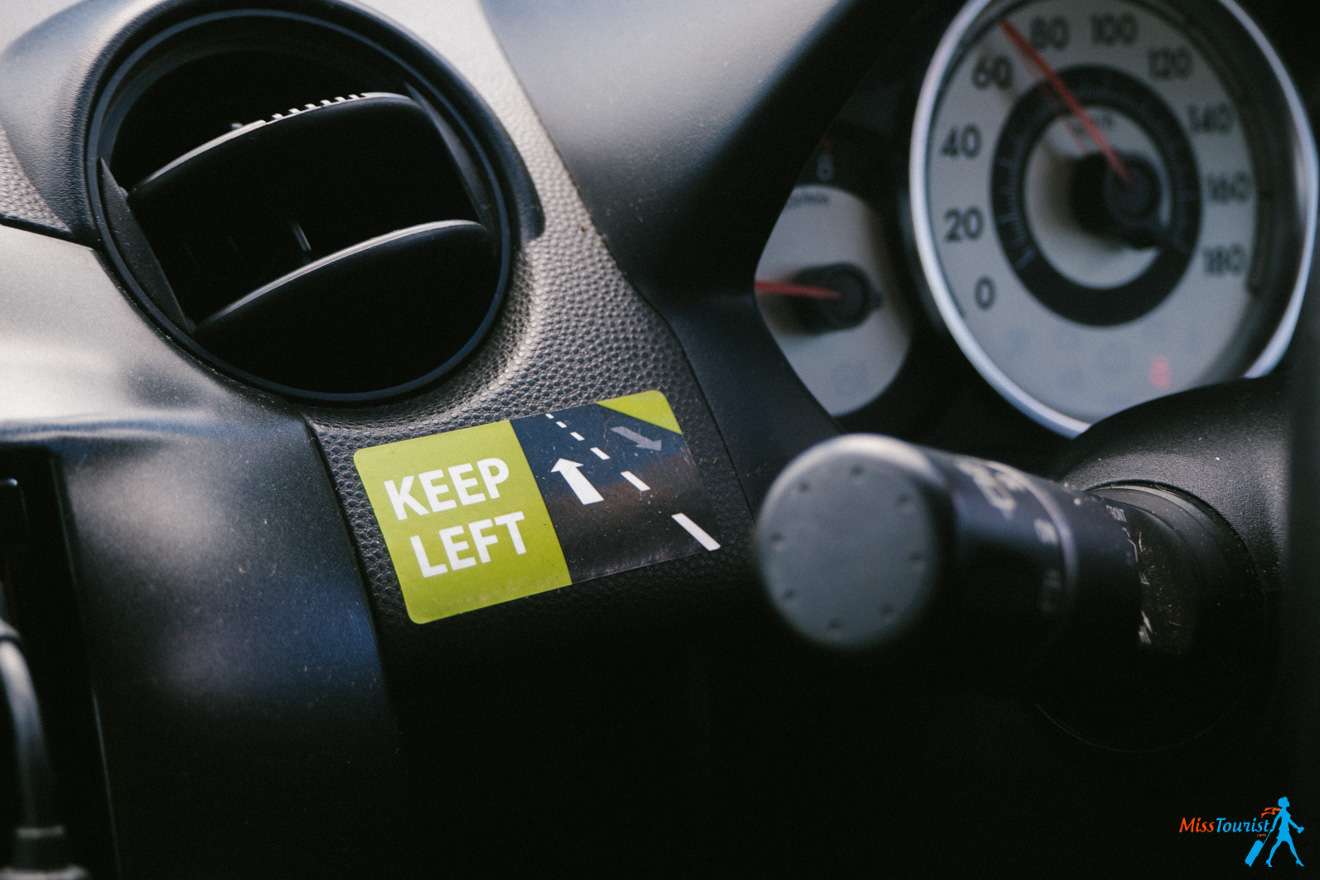 You might be aware of it already, but this is an important issue to keep in mind.
If you are from the UK or some other driving-on-the-left-side country, you will feel right at home, but for most of us it will be a bit tricky to get used to it for the first day or two.
But don't worry, just keep the white lane to your right at all times and learn how to deal with roundabouts there (driving direction – clockwise) and I promise that in a couple of days you will be completely comfortable with driving in New Zealand!
Most people pick this up very fast, but if you need some time to get used to it, I recommend getting a good night's sleep before your first drive in New Zealand.
2. Make sure to translate your driving license to English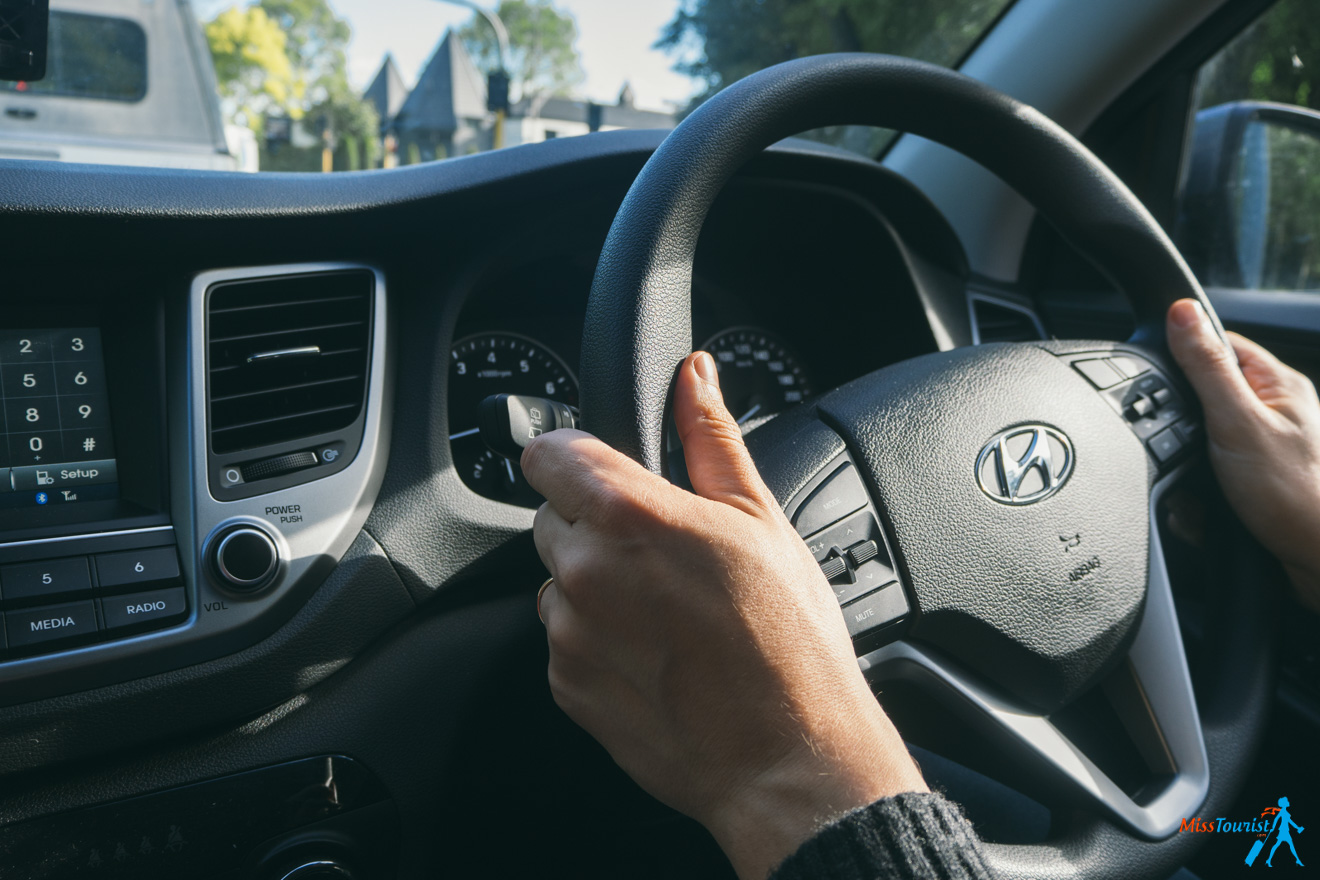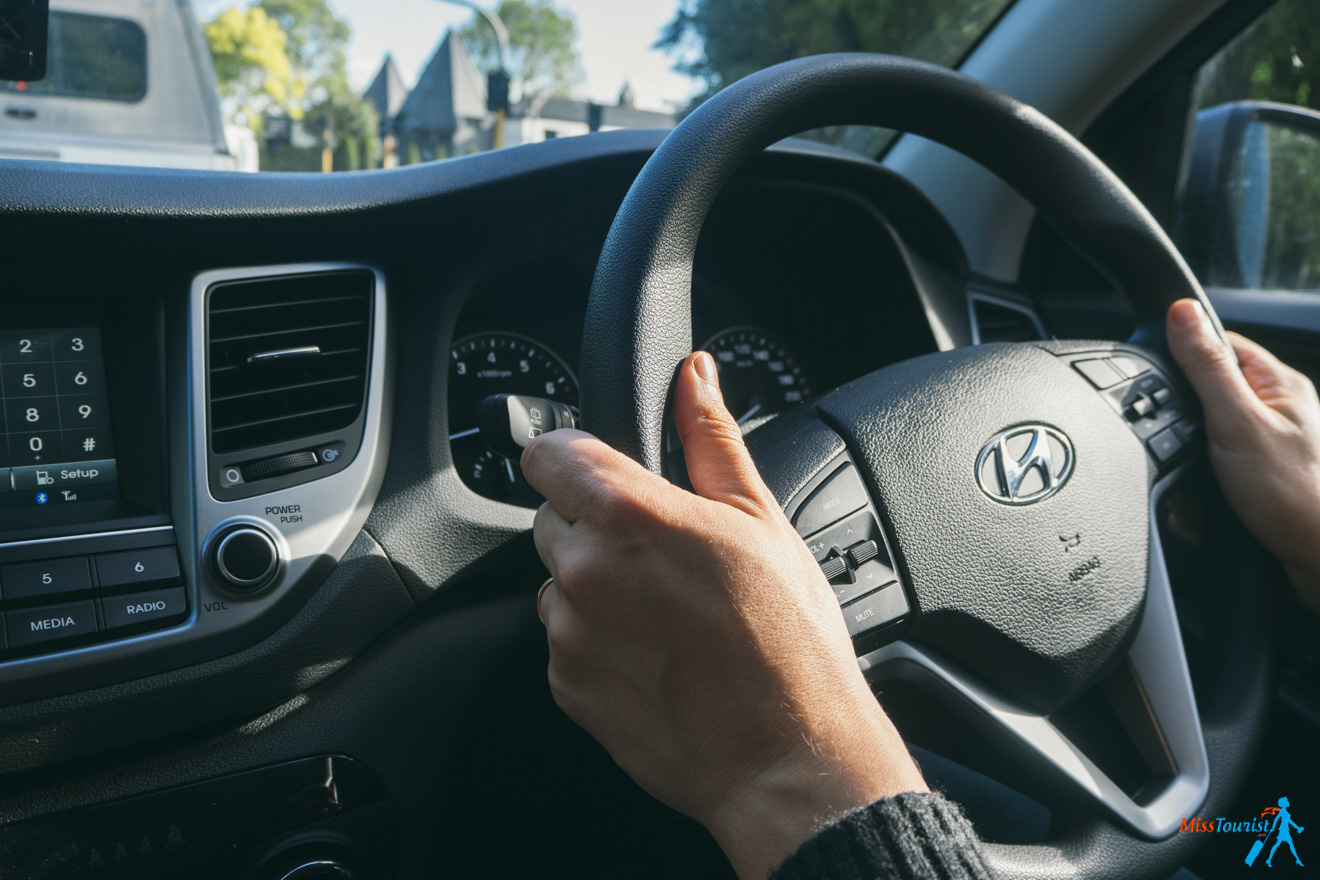 If your driving license is not in English, you must take care of having an accurate translation in advance. You cannot do the translation yourself; it can only be authorized either by your country's embassy or consulate, or by a New Zealand Transport Agency service.
This rule came as a surprise to us (my boyfriend was driving and his driving license is in Romanian). So, our rental company had to contact the Transport Agency as soon as they were open. It cost us 40 NZD extra and about an hour of waiting for it to get sorted out.
So, if you can take care of it in advance in your none country for free, why not do it?
Note: this obviously only applies to people whose driving license is issued in a non-English speaking country.
3. Book your car well in advance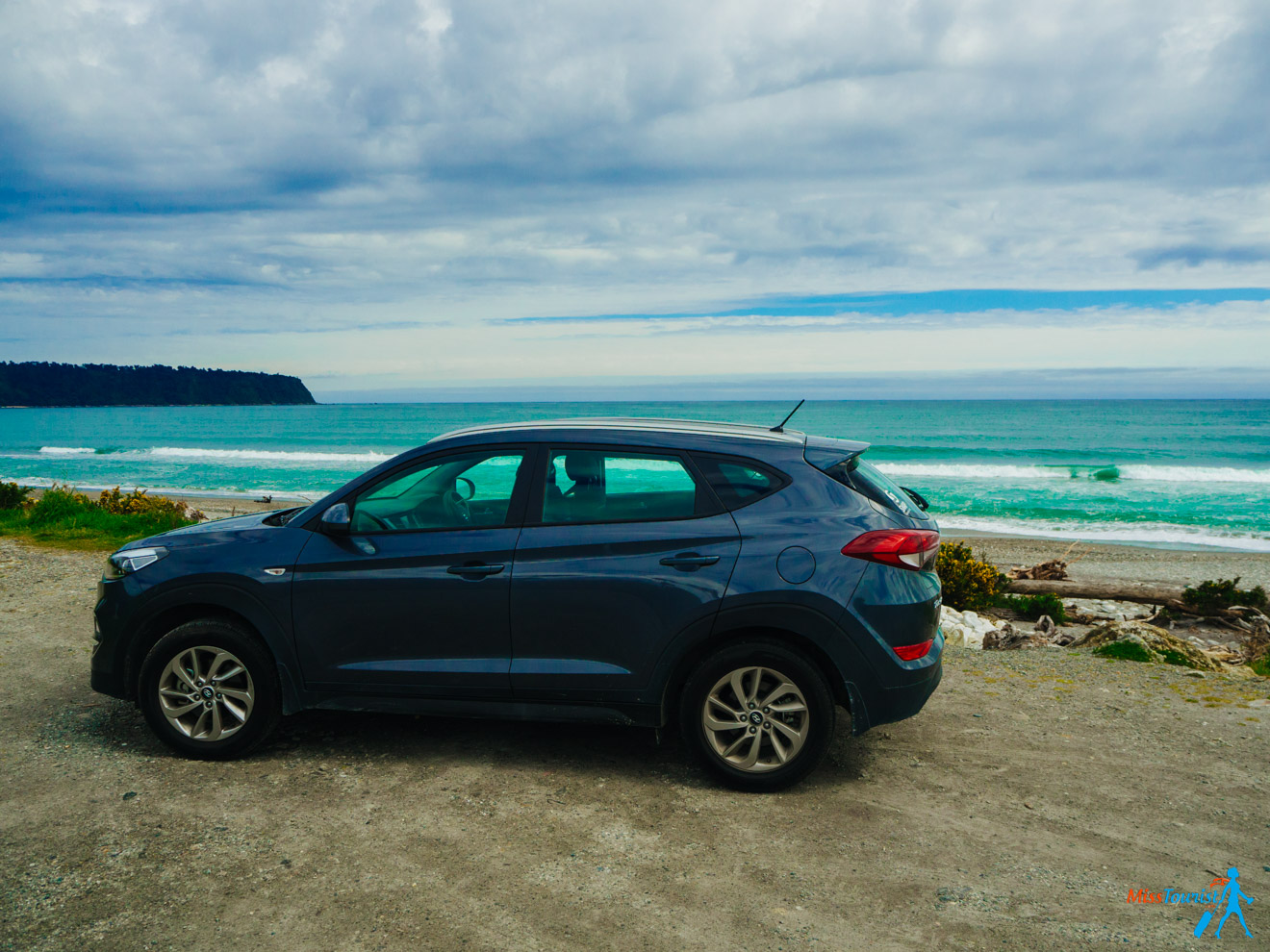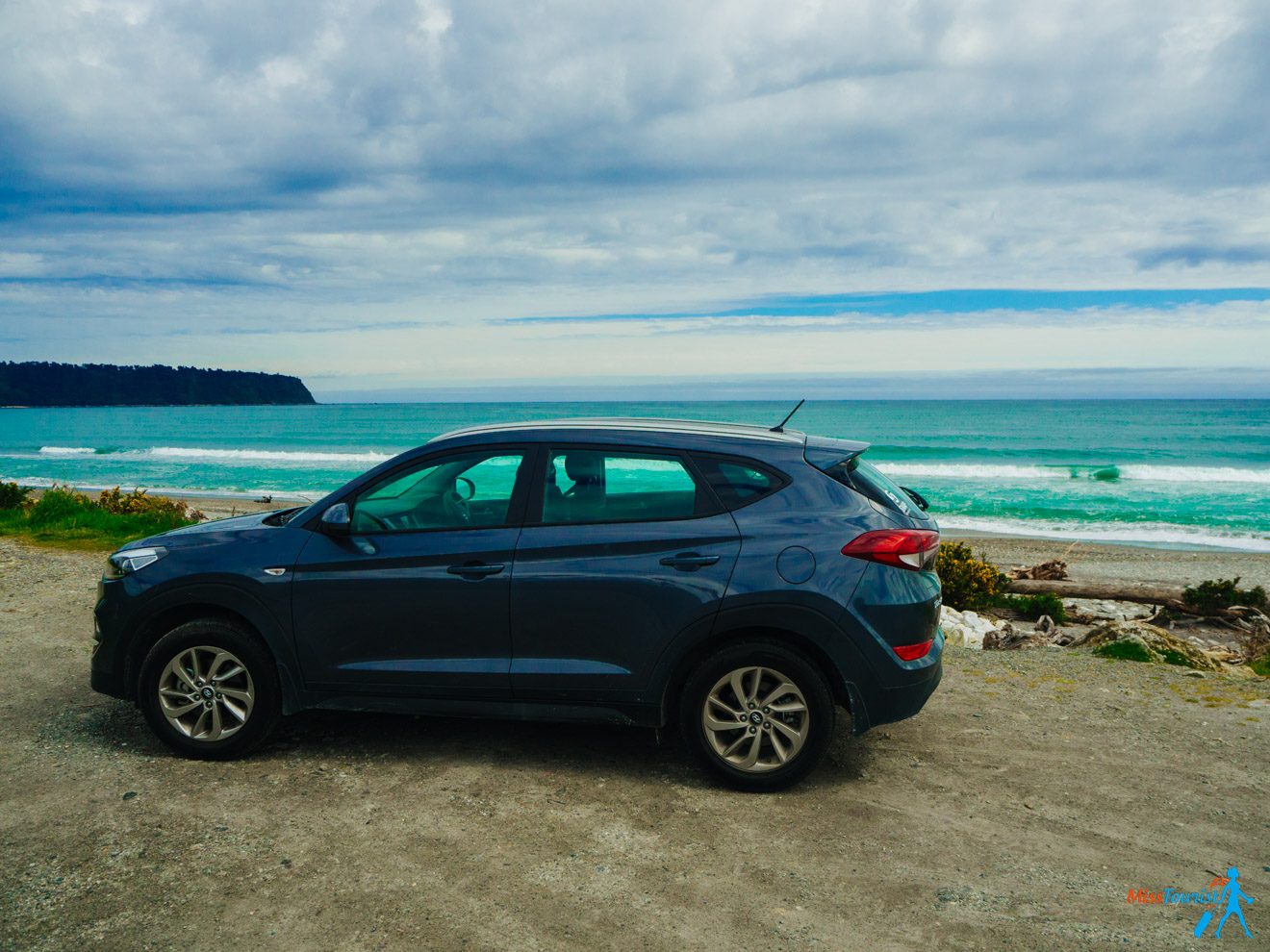 The price for car rentals in New Zealand can actually be quite cheap if you book in advance.
And it is no secret that, as the supply of cars decreses with time, the prices will skyrocket.
Book your car as far in advance as possible, especially if you are planning to travel during the high season (December to February). During these months the rates will only go up with time and never down.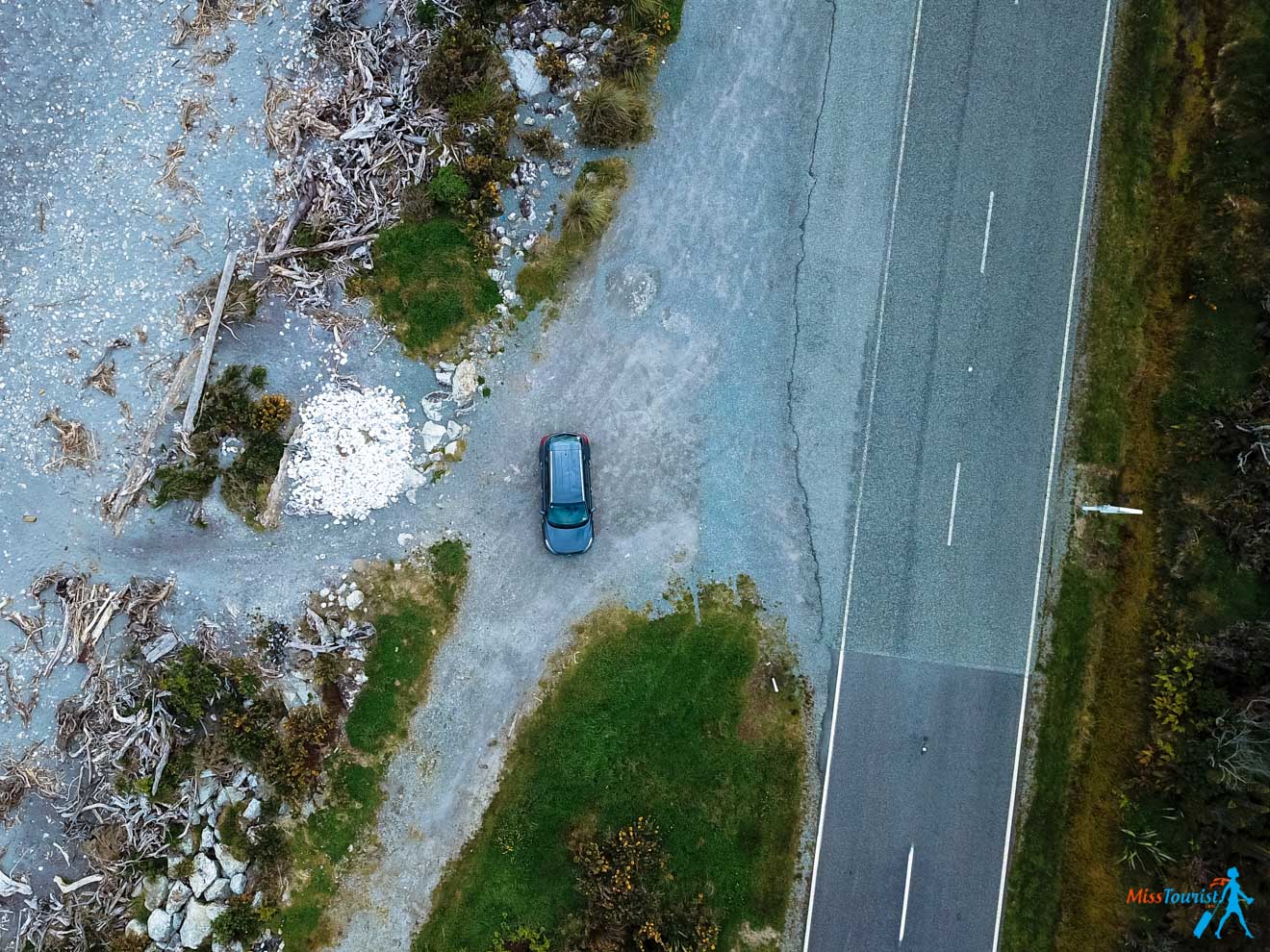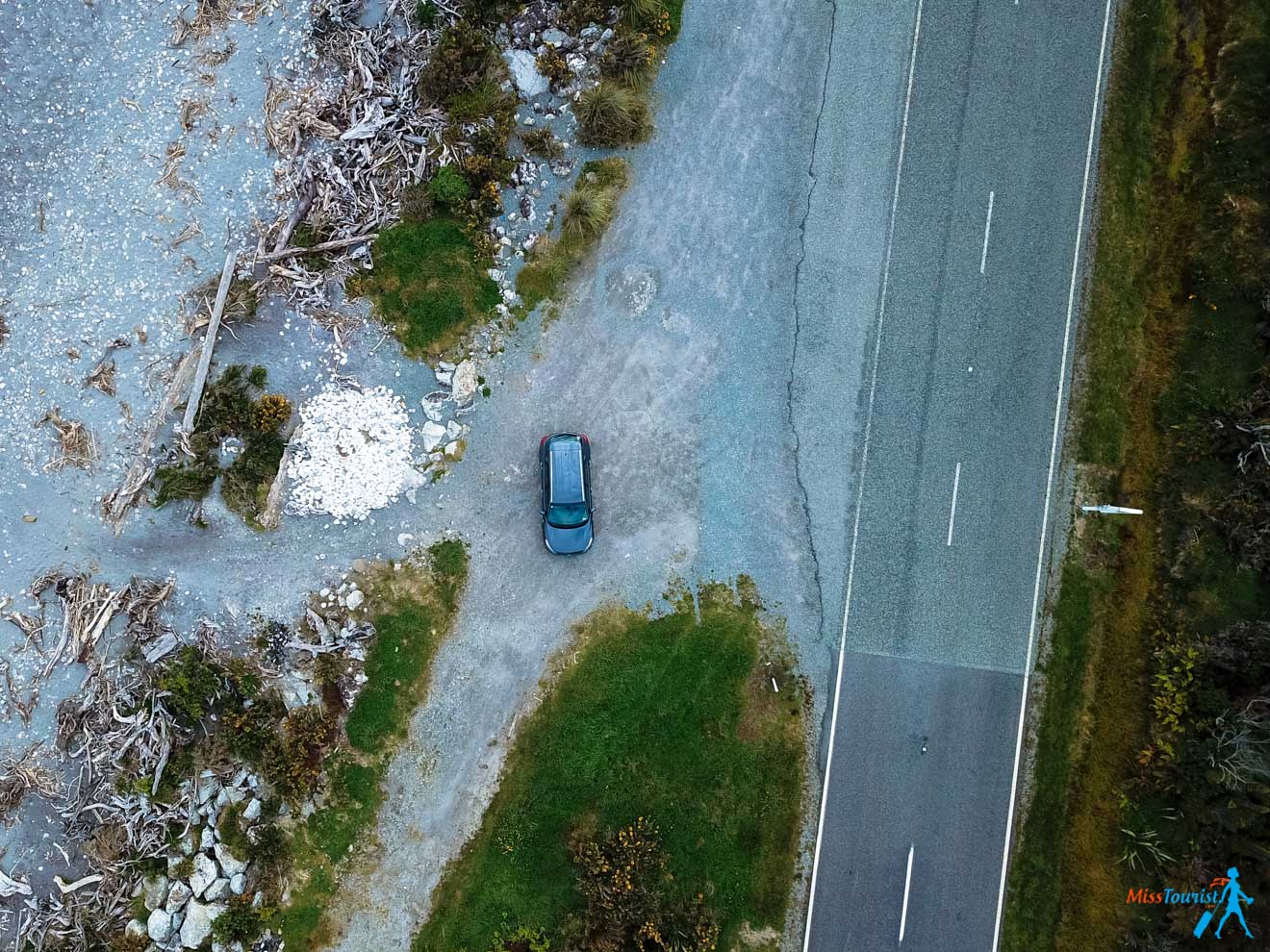 PRO TIP 1: To further reduce your cost, you can buy these things in advance, because they will probably cost a small fortune in New Zealand (keep in mind that this is a distant country that needs to import a lot of things and the transportation costs are expensive).
Make sure to buy these in your home country:
An adaptor for electrical plugs
Car charger for your phone
You can find a full packing list with recommendations for clothes according to season here.
PRO TIP 2: Most rental companies offer free airport pick-up. Double-check that information in advance. I recommend getting your car right at the airport (check out the picture below to see how organized the process is – and you can call any car rental company located around the airport free of charge).
It is much cheaper to get your car at the airport than going to the city and then picking up your car there (18 NZD per person by bus, around 65 NZD by taxi).
4. Watch out for possums on the road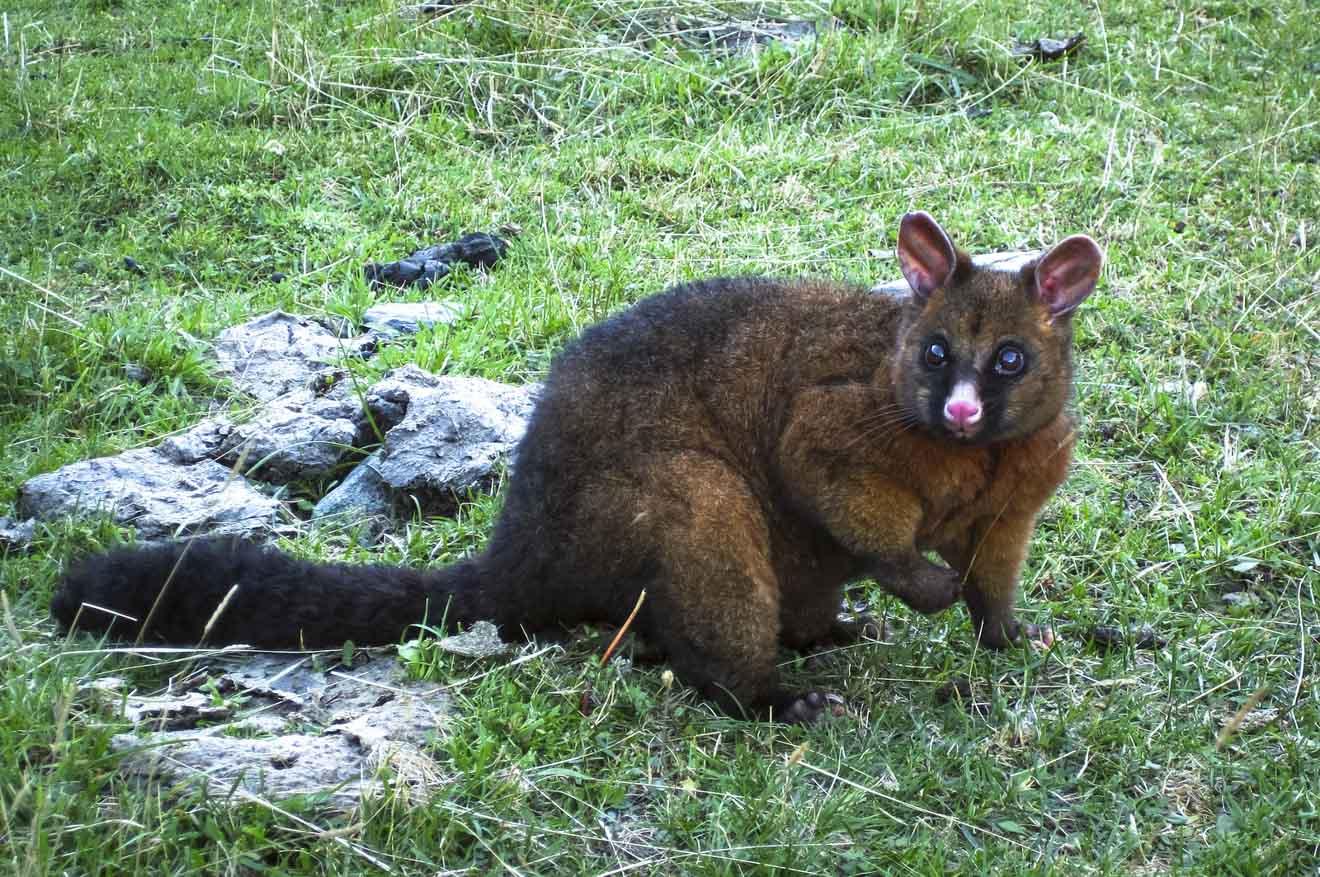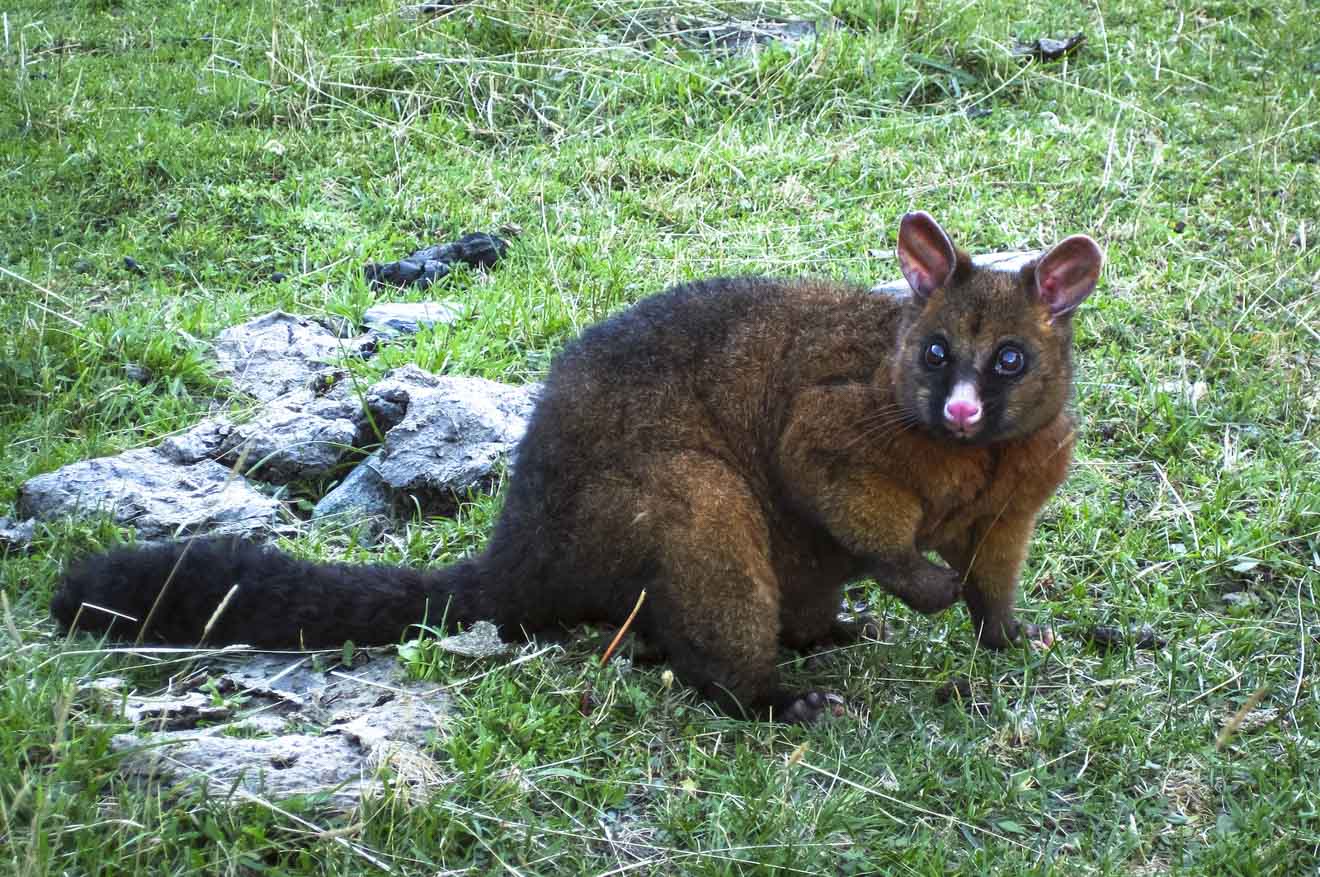 Yes, this is actually a thing on New Zealand roads – so, do not be afraid of all the dead possums you will encounter while driving!
We saw so many of them on the road that I could not help but ask the locals why this happens so often. Apparently, Kiwis are actually trying to kill them.
Yes, even if it sounds horrible, the locals will be grateful if you kill a possum, they even say:
"The only good possum is a flat possum."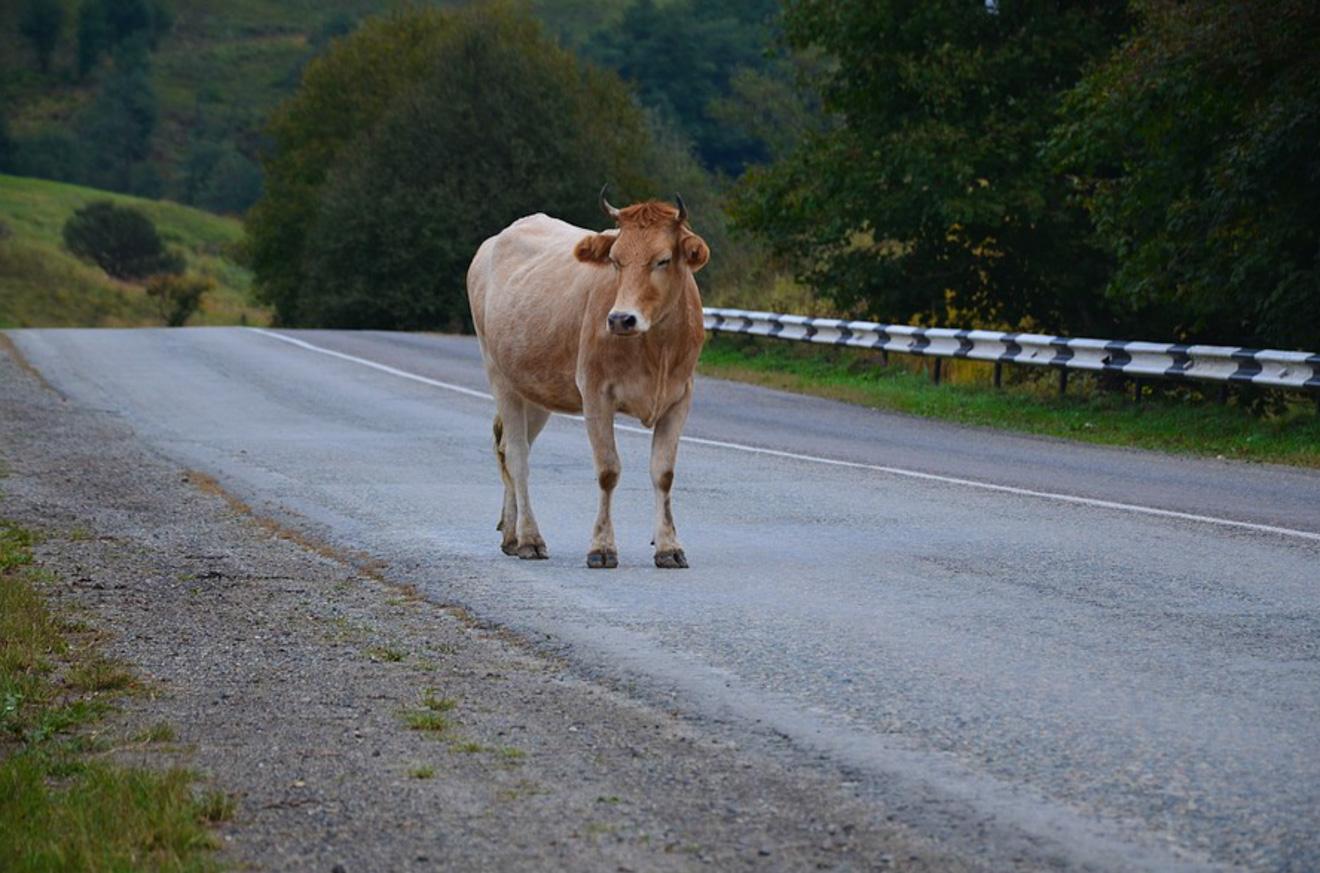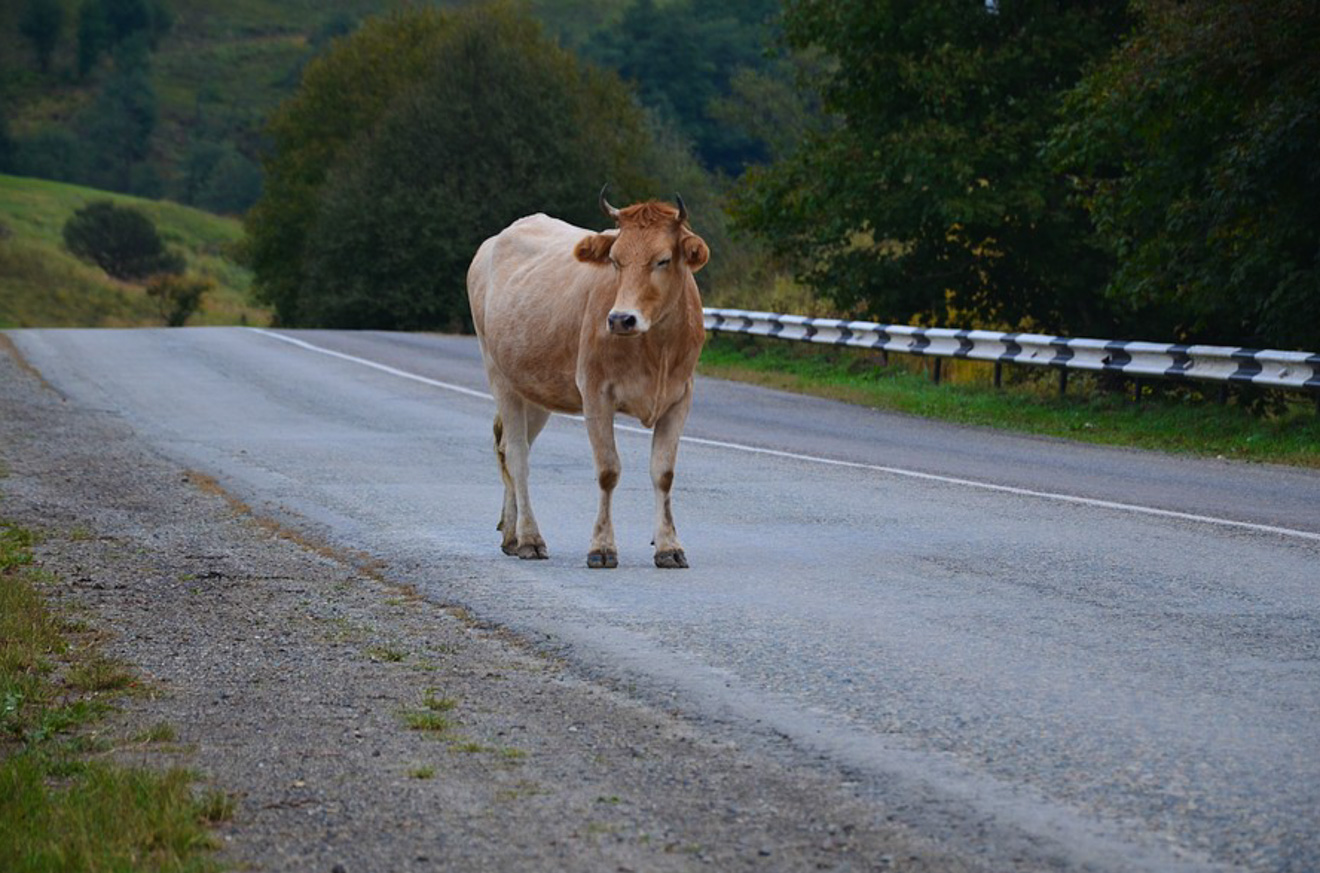 Why do they hate possums so much? Even though it's a small animal, it is actually pretty much the only predator in the country. Hence, all the other species, such as kiwi birds and many others, are endangered because of them.
The possum population has been growing uncontrollably for many years now simply because there is no predator above them in the food chain. That is why they are a very serious threat to the natural habitat of New Zealand and Kiwis are taught in schools that it is good to kill possums.
NOTE: Do not forget that except possums, there are also sheep, cows, birds and rabbits that can unexpectedly jump on the road, so watch out for them at all times.
5. How much does it cost to rent a car in New Zealand?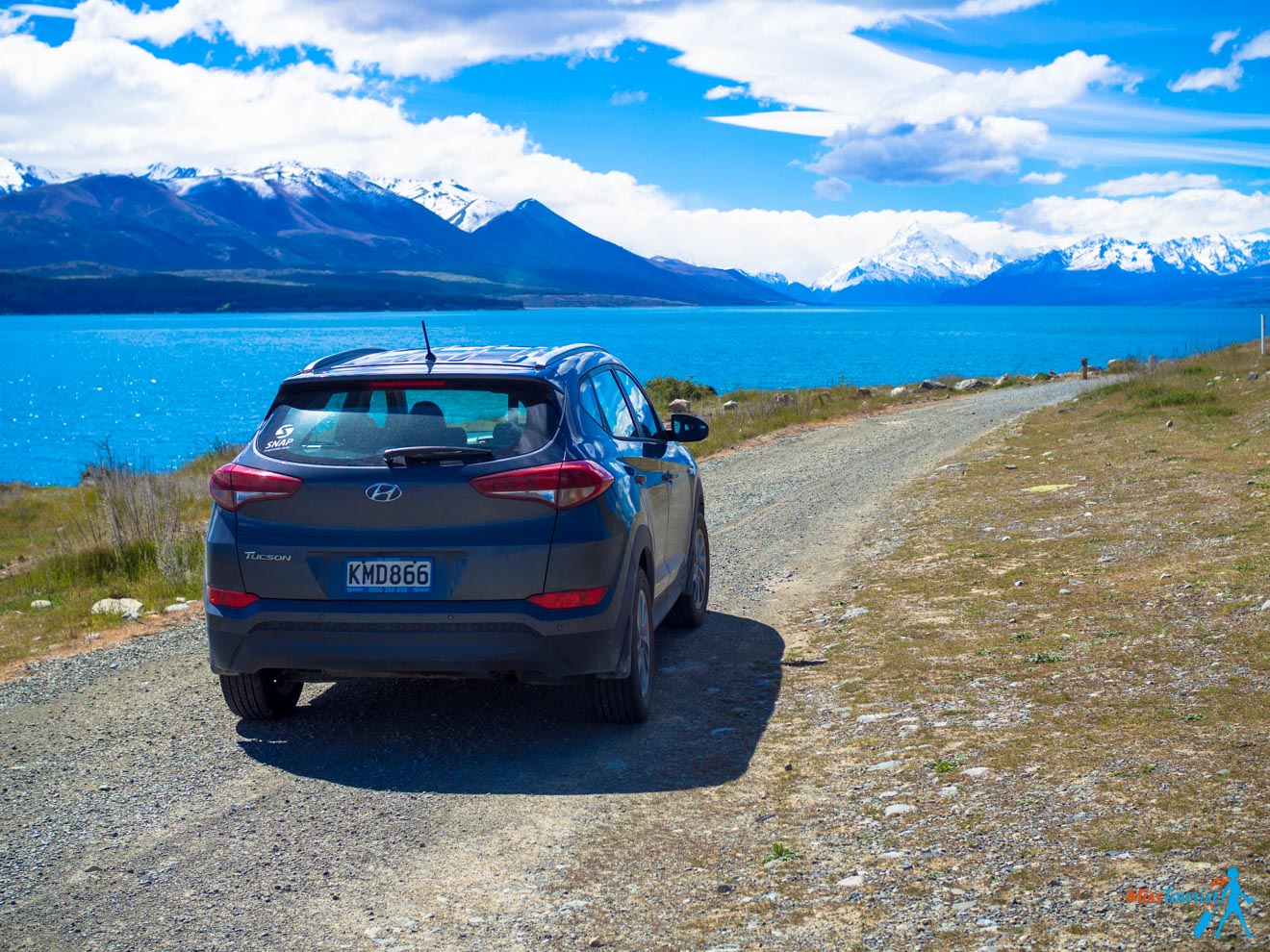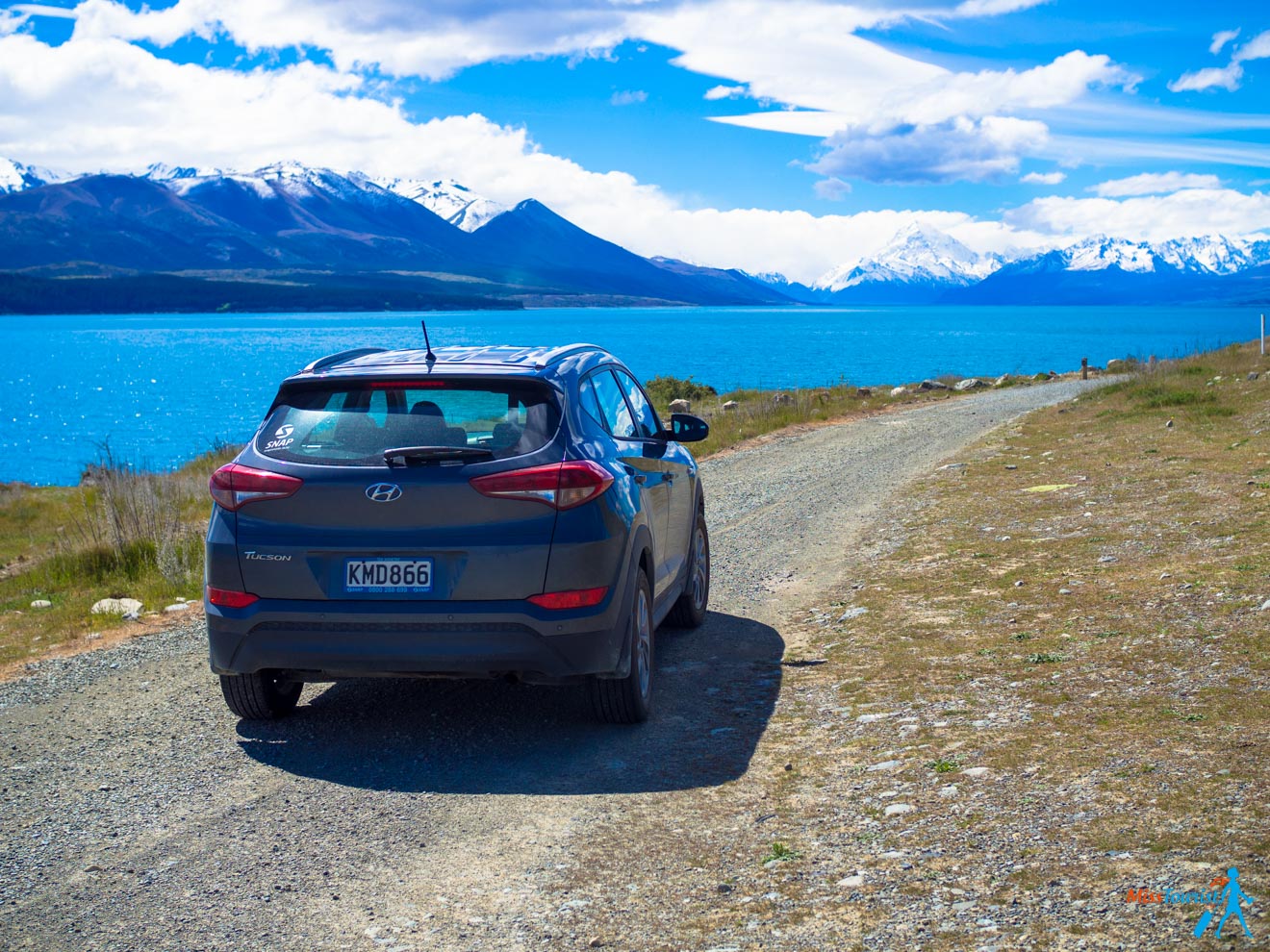 The prices vary depending a lot on 1) the season and 2) the type of car you choose.
Here I will give you a very approximate estimate of what to expect, but please keep in mind that it can vary significantly.
All prices are in NZD, for 1 driver over 21 years old, renting from Auckland, and with basic insurance. Campervan prices are for 4 people in the van. By the way, for campervans, I recommend checking out Outdoorsy as I think they have more options than other sites
Off-season:
Economy – 20-25 NZD per day
Family Size – around 30 NZD
Minivan – from 85 NZD
Campervan – from 60 NZD
High season:
Economy – 50-65 NZD per day
Family Size – around 90 NZD
Minivan – from 100 NZD
Campervan – from 200 NZD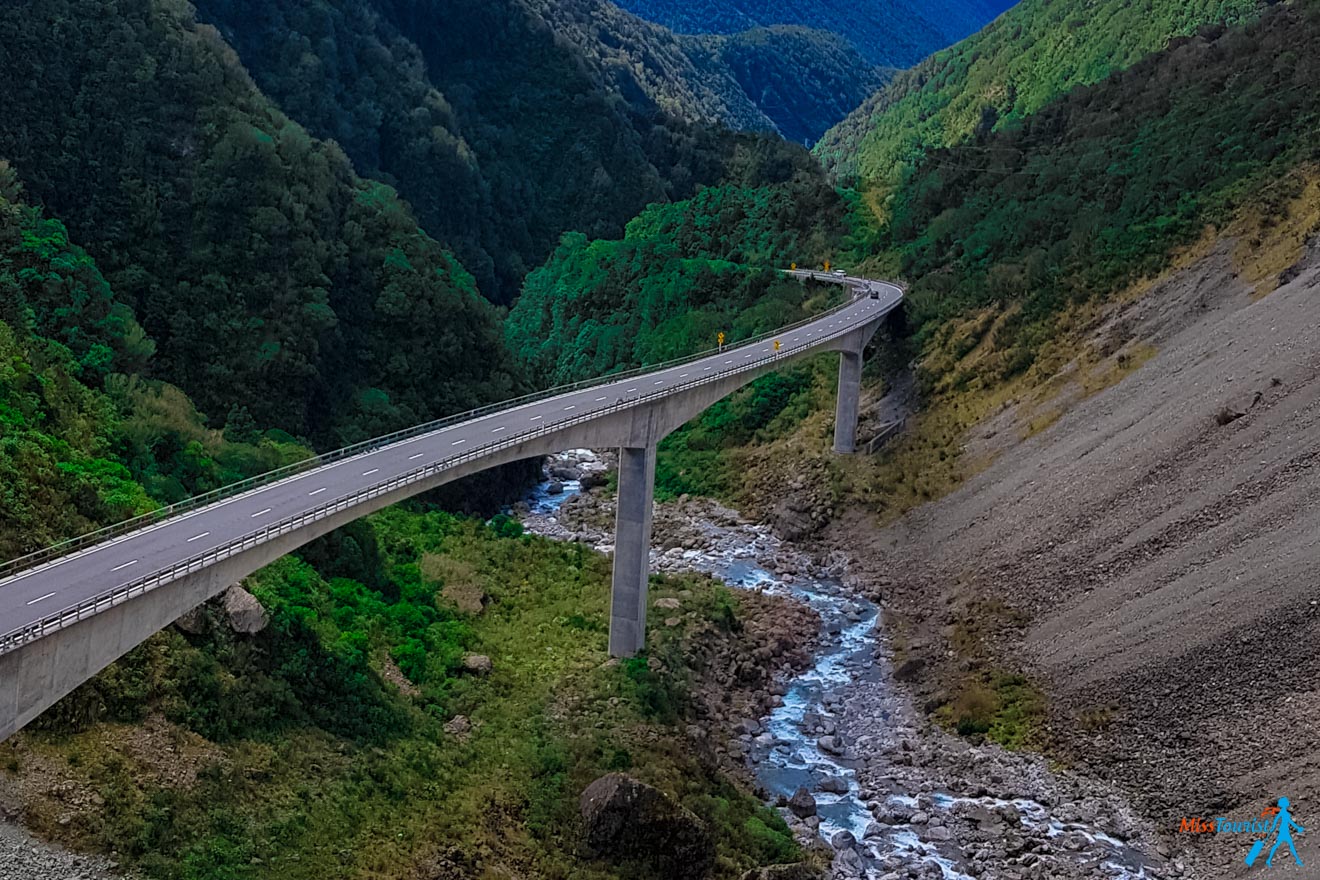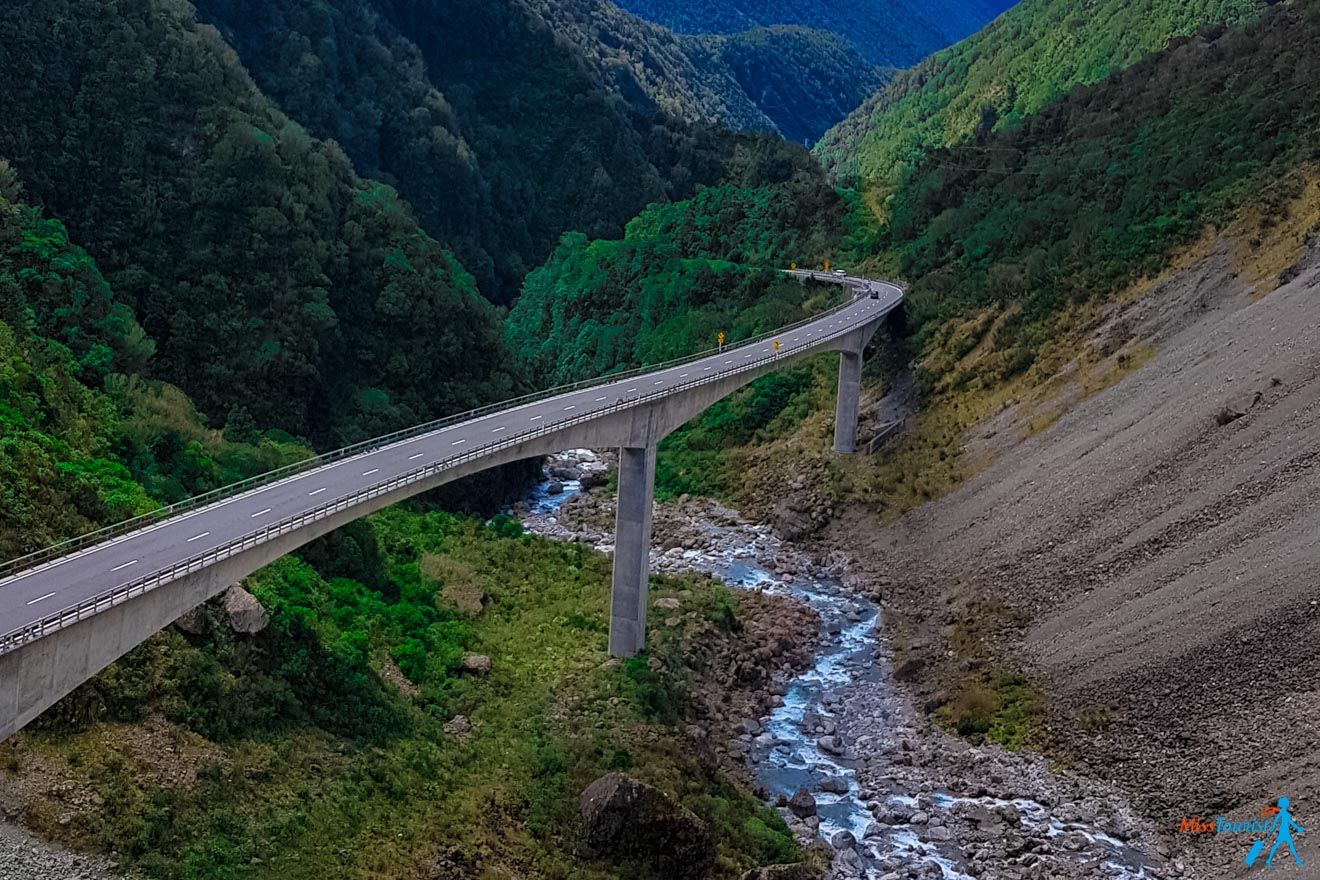 I would not trust those companies that are offering car rentals for 9 NZD a day – there is a catch somewhere and you will figure it out when using it like old car models, strict hiring dates etc.
Gasoline prices in New Zealand
As New Zealand is so far away, imagine the transportation costs for getting gasoline there. As a result, gasoline is quite pricey; when I was there, the price was around 2 NZD per liter, which means a full tank of gas will be around 70-100 NZD depending on the car type.
Ways to save money on a car rental in New Zealand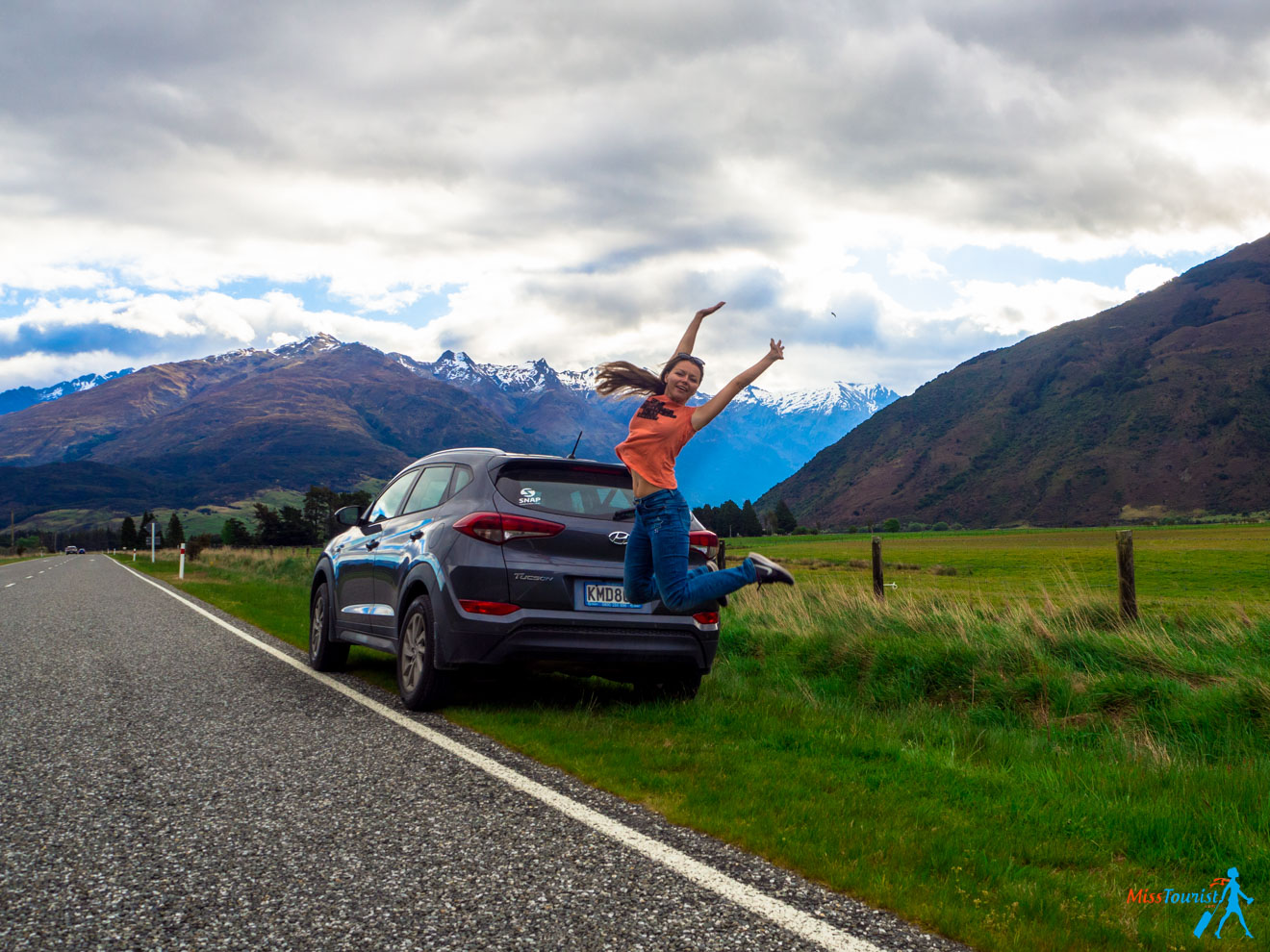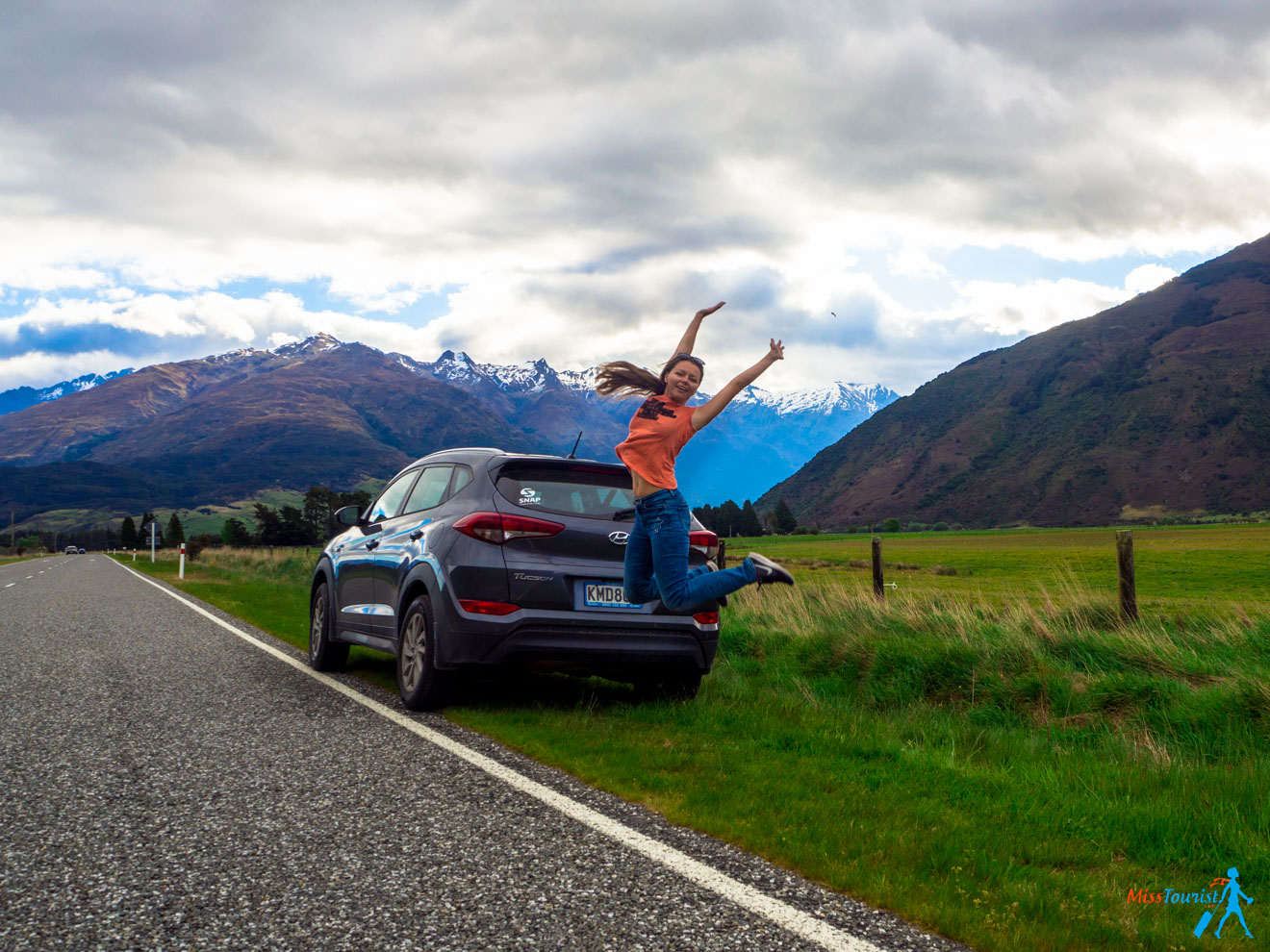 All the little extras add up in the long run, so it's important to research and find a good company that will not break the bank. Here are some important tips that will help you save a lot of money on car rentals:
Timing is everything – if you book between March to October you will likely pay 30-50% less
Book as far advance as possible – I cannot stress enough how important this is!
Share the costs with your friends – not only is the trip = best enjoyed with good friends, but you can also save a lot by sharing the cost
Flexible dates – if your dates are not fixed yet, you can play around with them and it can really make a difference in the cost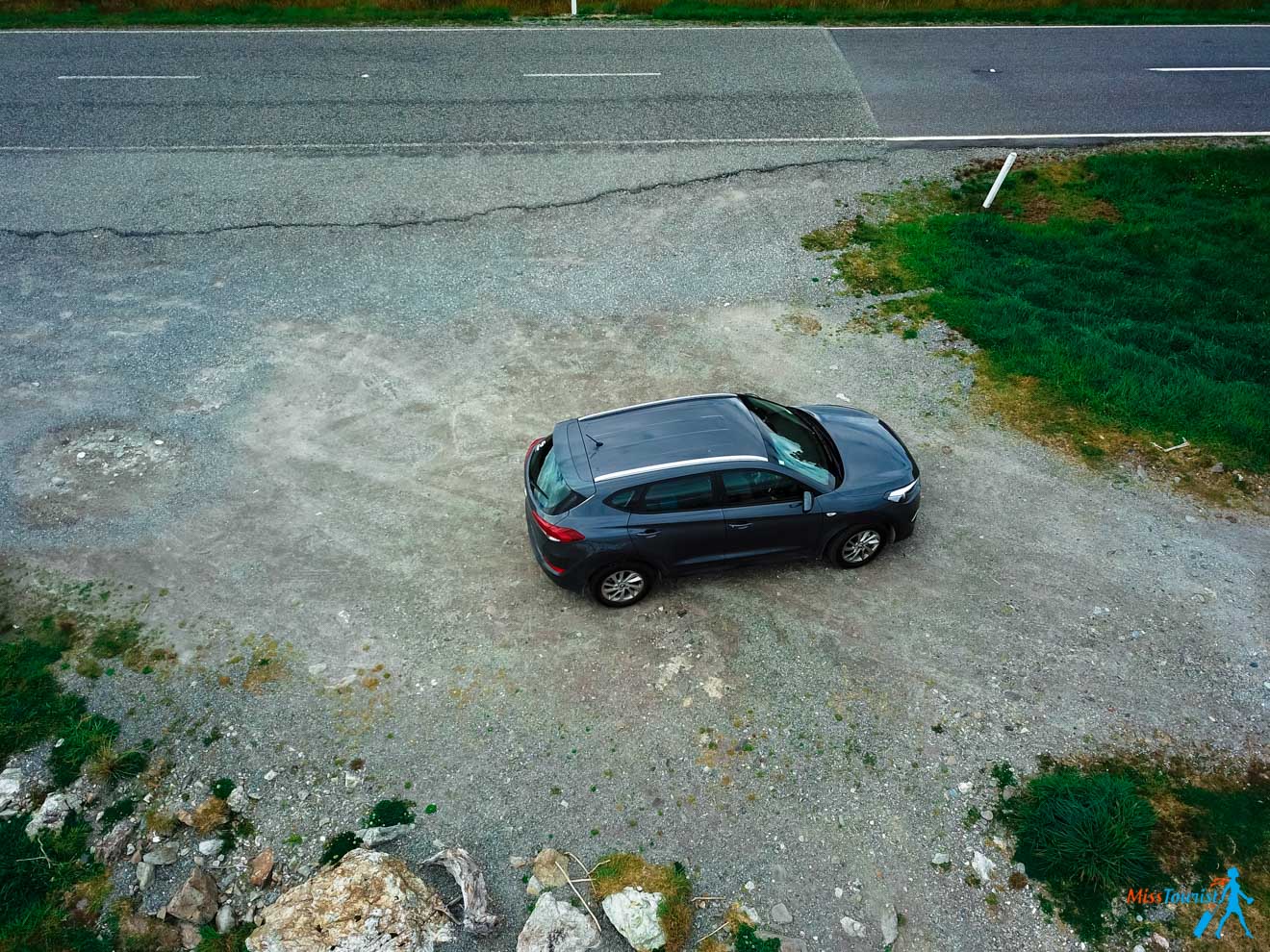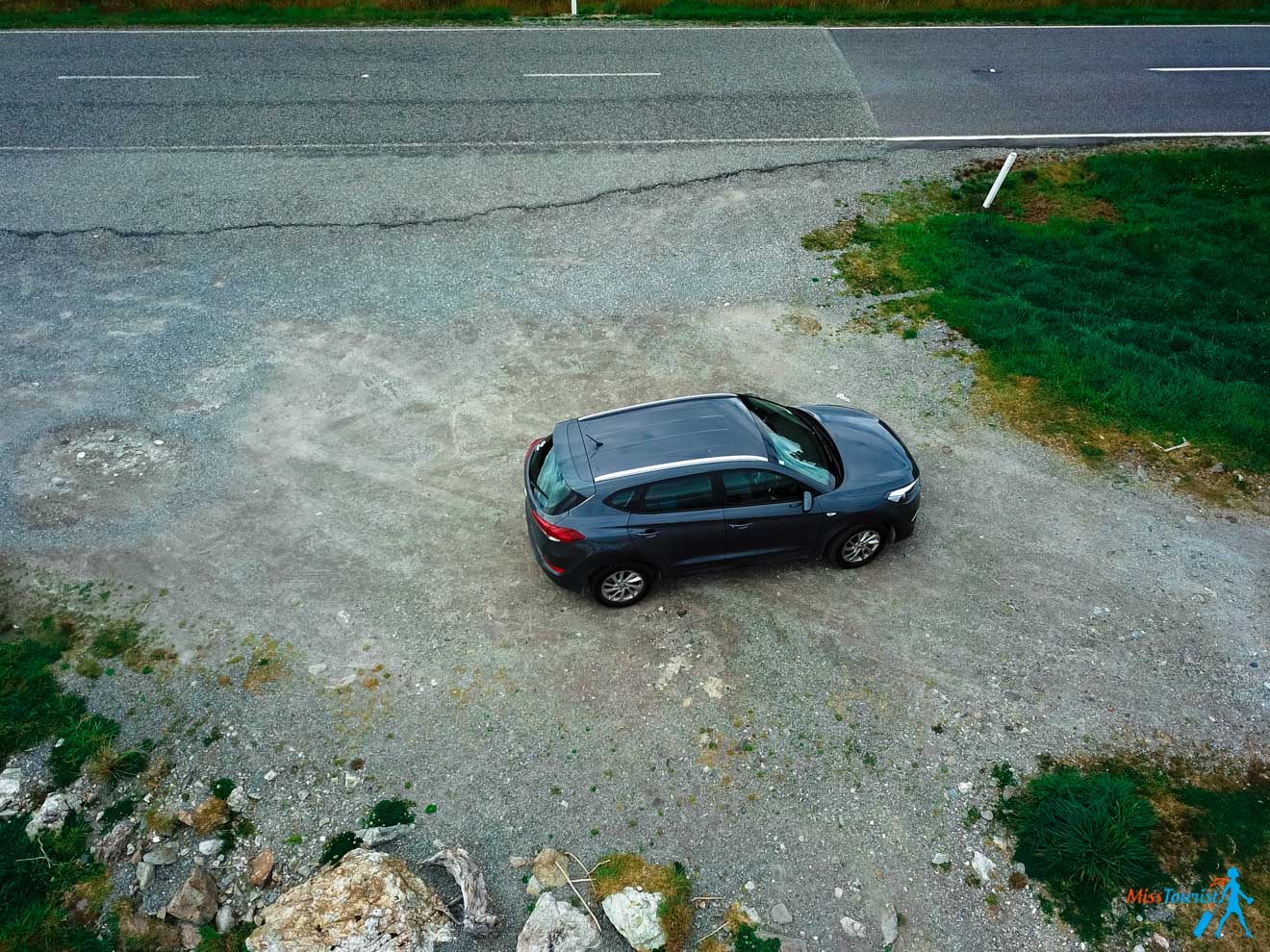 Choose a small car – do not rent a campervan or a big car unless you really need it. Small cars are cheaper and use less fuel
Check the location – if it's much cheaper to pick up the car in the city, it might make sense to make the effort to get it from the city as opposed to renting a car right from the airport.
Rent for a long time – sometimes car rentals give a big discount for booking longer than X amount of days. Keep an eye on it and you might find something interesting!
Avoid one-way booking fees if you can – most of the time when you travel from south to north you can save a hundred dollars because they usually remove the fee
Second driver fee – check if your company charges an extra fee for an additional driver. Not all of them practice this, but some do.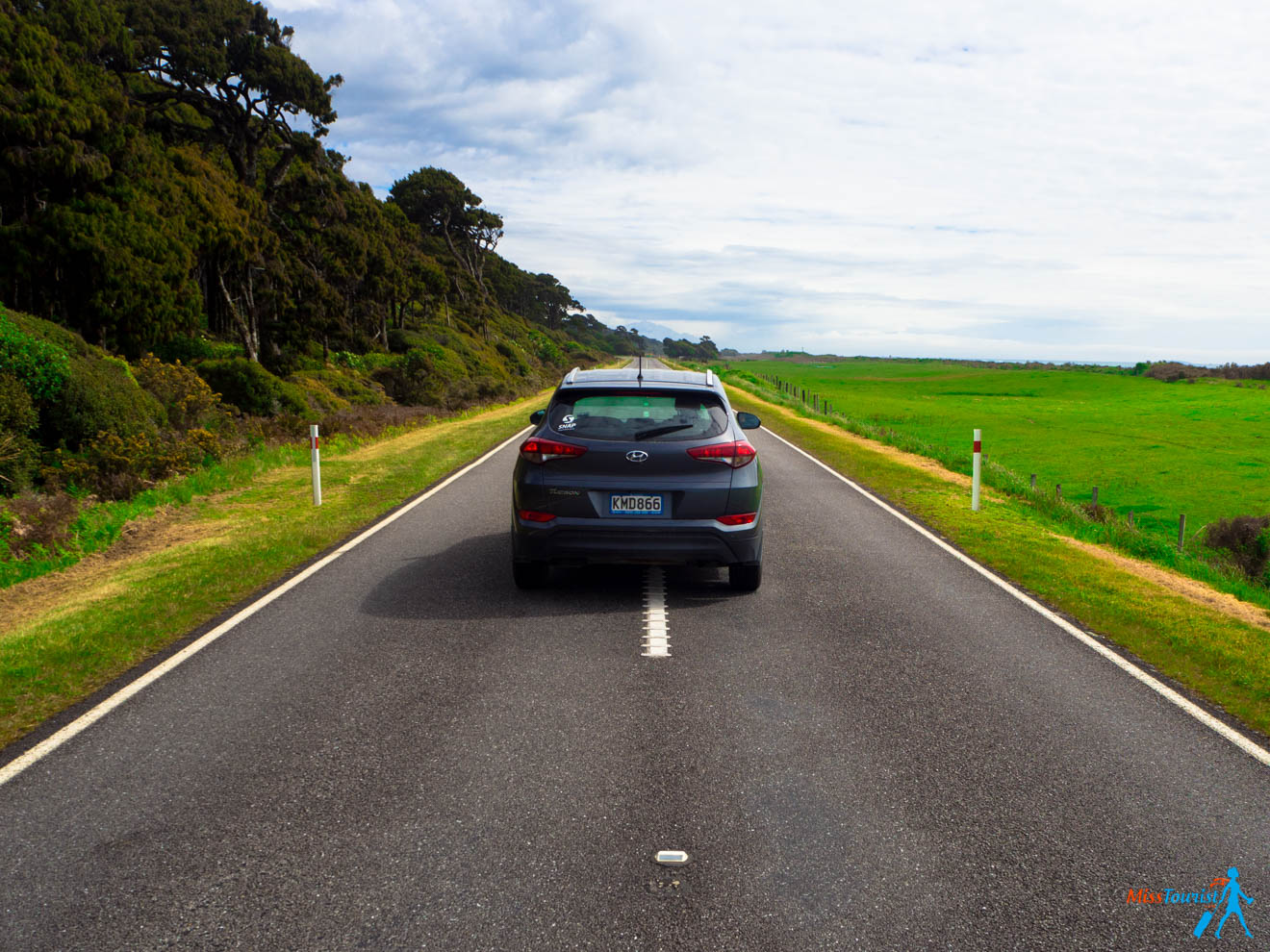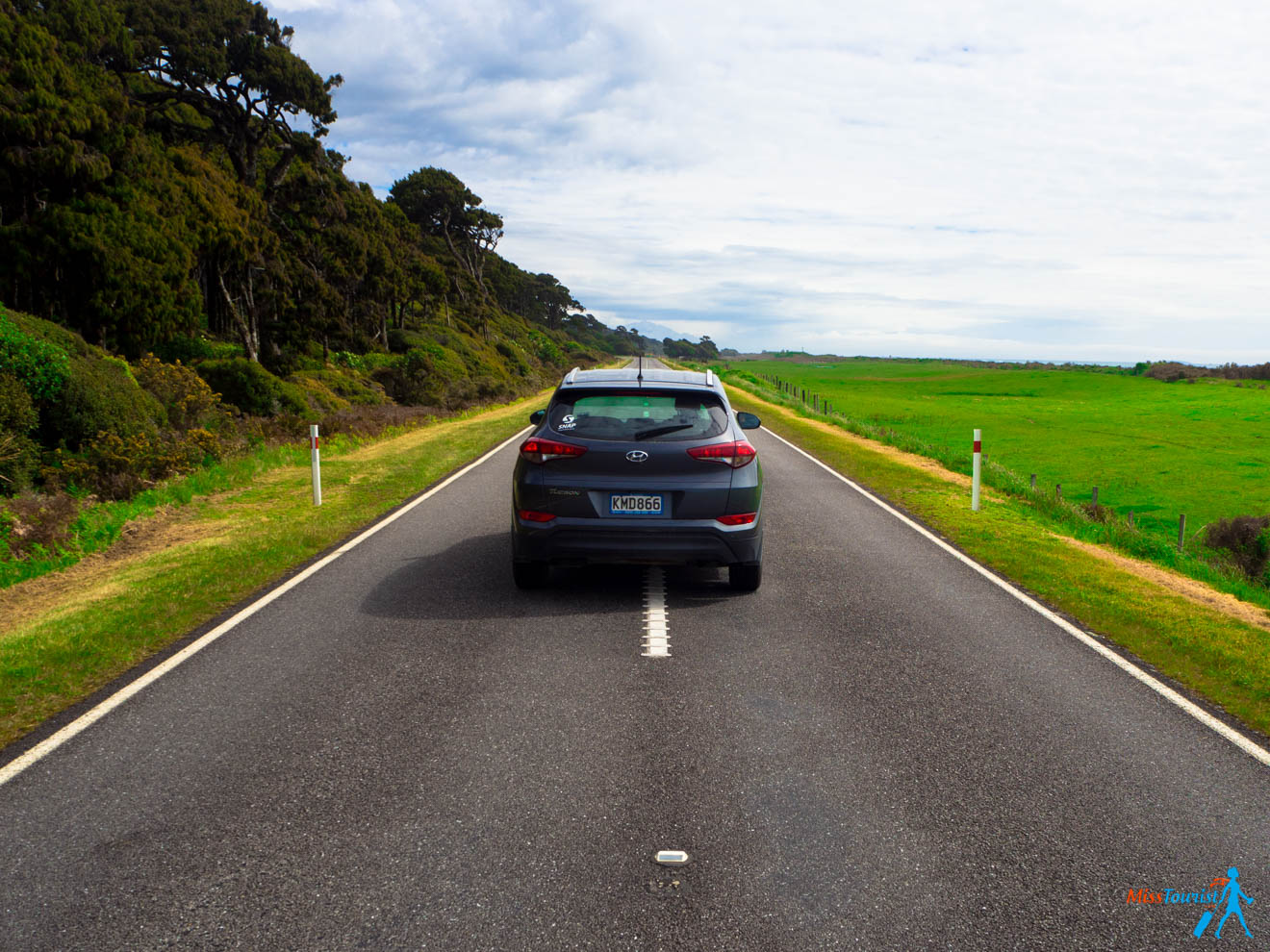 If you like to use an actual GPS and not your phone (for us, the phone was enough), I would suggest buying a GPS device before the trip, uploading all the New Zealand maps you need on it and using it during your road trip. Renting a GPS usually comes with an extra charge of about 10 NZD per day, so you can easily avoid that.
Inspect your car carefully before taking it – write down any damage you notice. You do not want to pay for it after the trip, do you?
Check the car relocation option – many people leave their car in Christchurch and the car need to be transferred back to the home office in Auckland. That is when car rental companies throw out some really nice deals, and sometimes they will give you a car for free and even pay for your ferry ticket. I do not recommend this option if you want to properly see the country though. You will only have a couple of days to deliver the car, so it would only work if you want to get from Christchurch to Auckland fast (but I would take a plane in that case).
6. Road quality in New Zealand, do I need extra insurance?
Road quality in New Zealand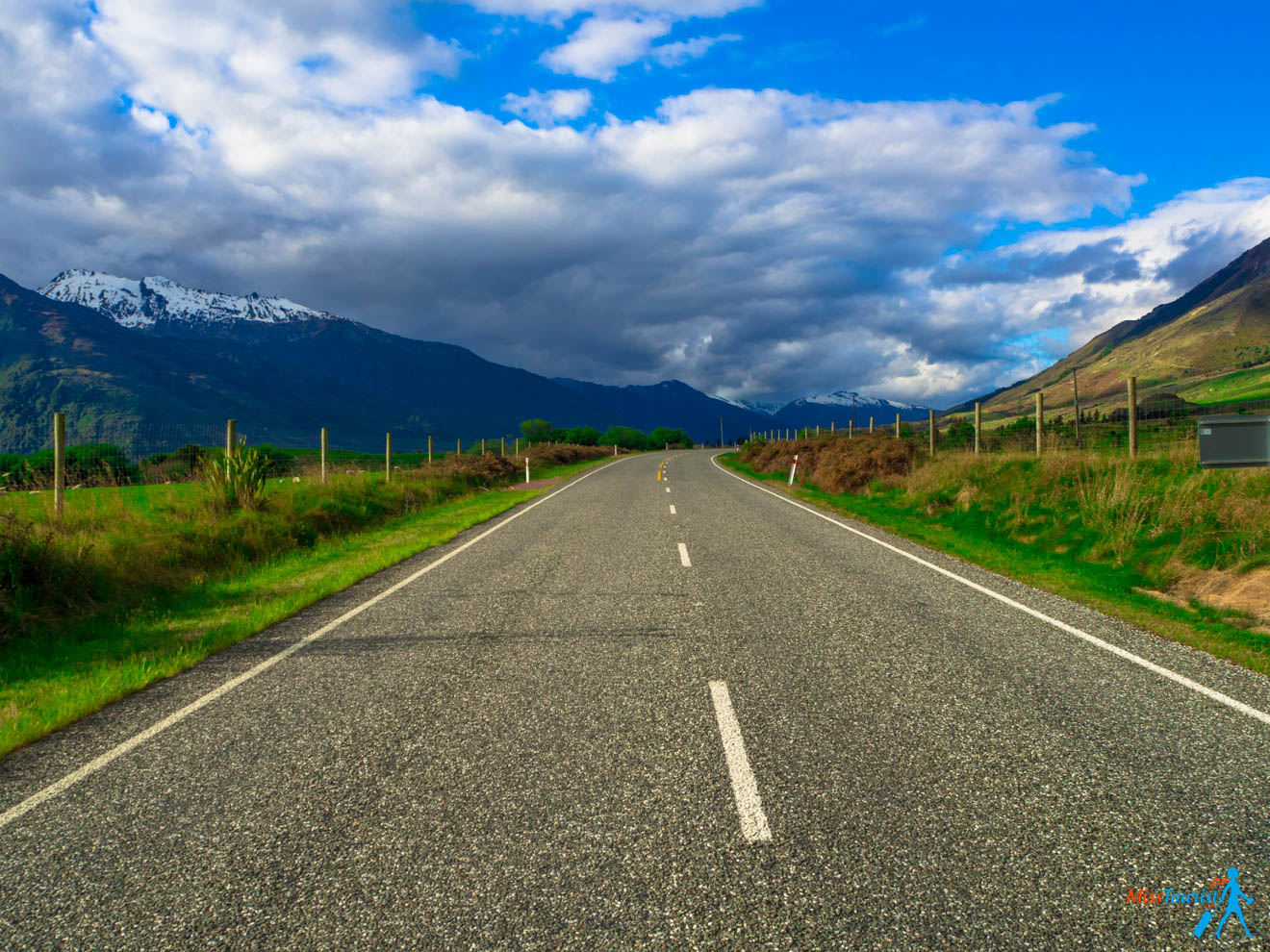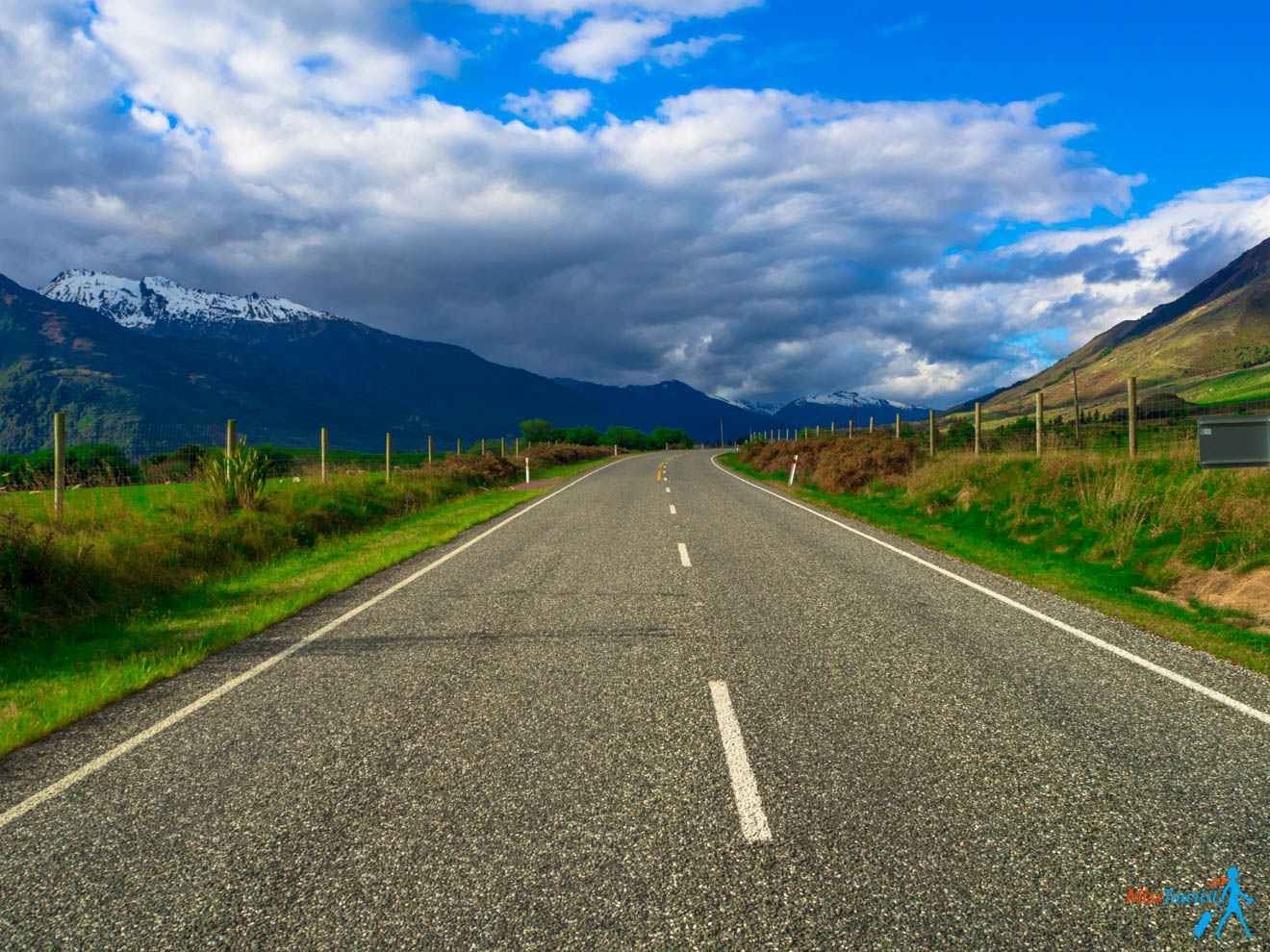 The roads in New Zealand are great and it is a real pleasure to drive there, especially given the idyllic surrounding! Please check Drivesafe.org.nz to learn more about their road rules and conditions.
Keep in mind that roads in the South Island are narrower, hence leaving you less space for maneuversing.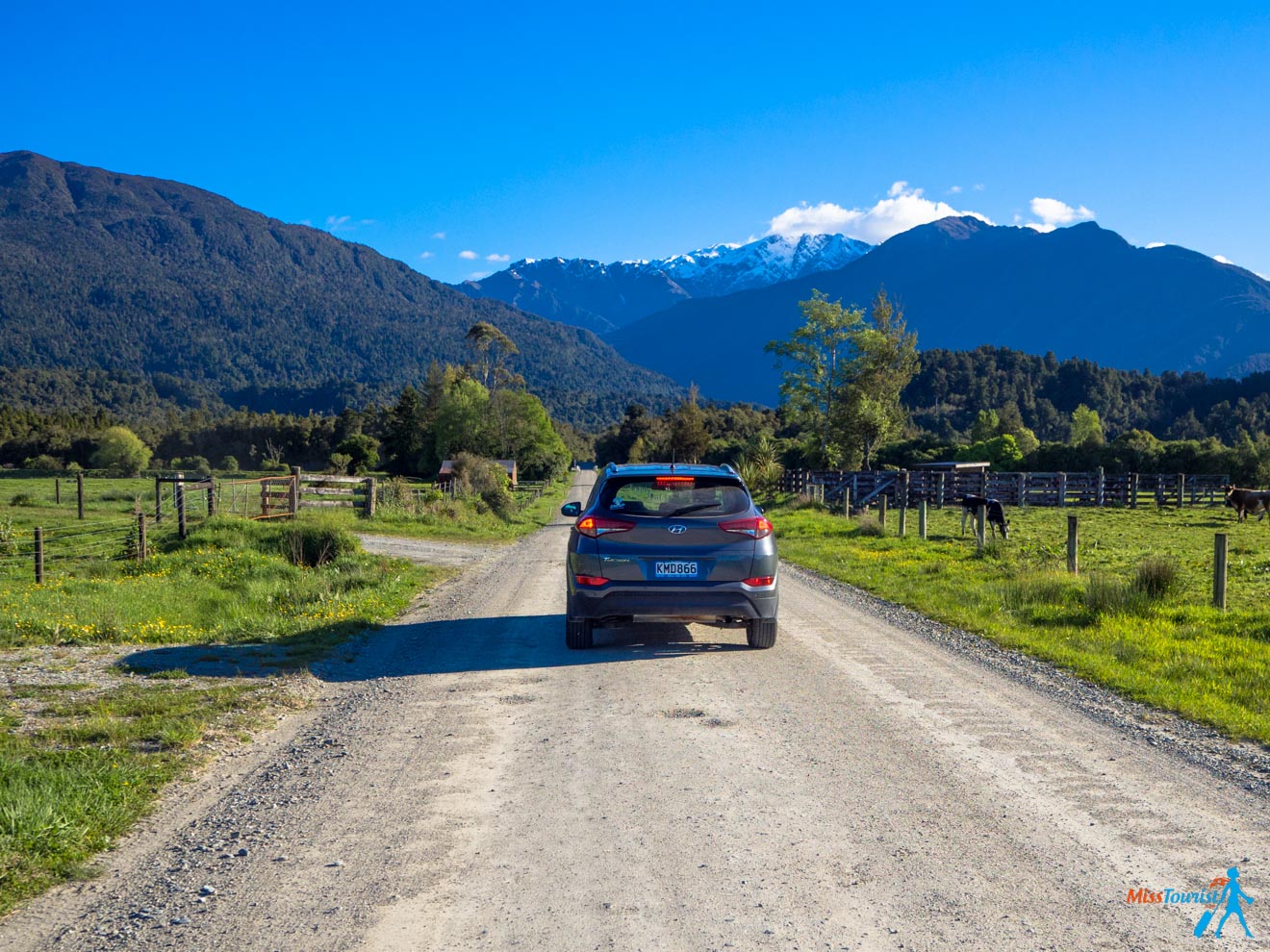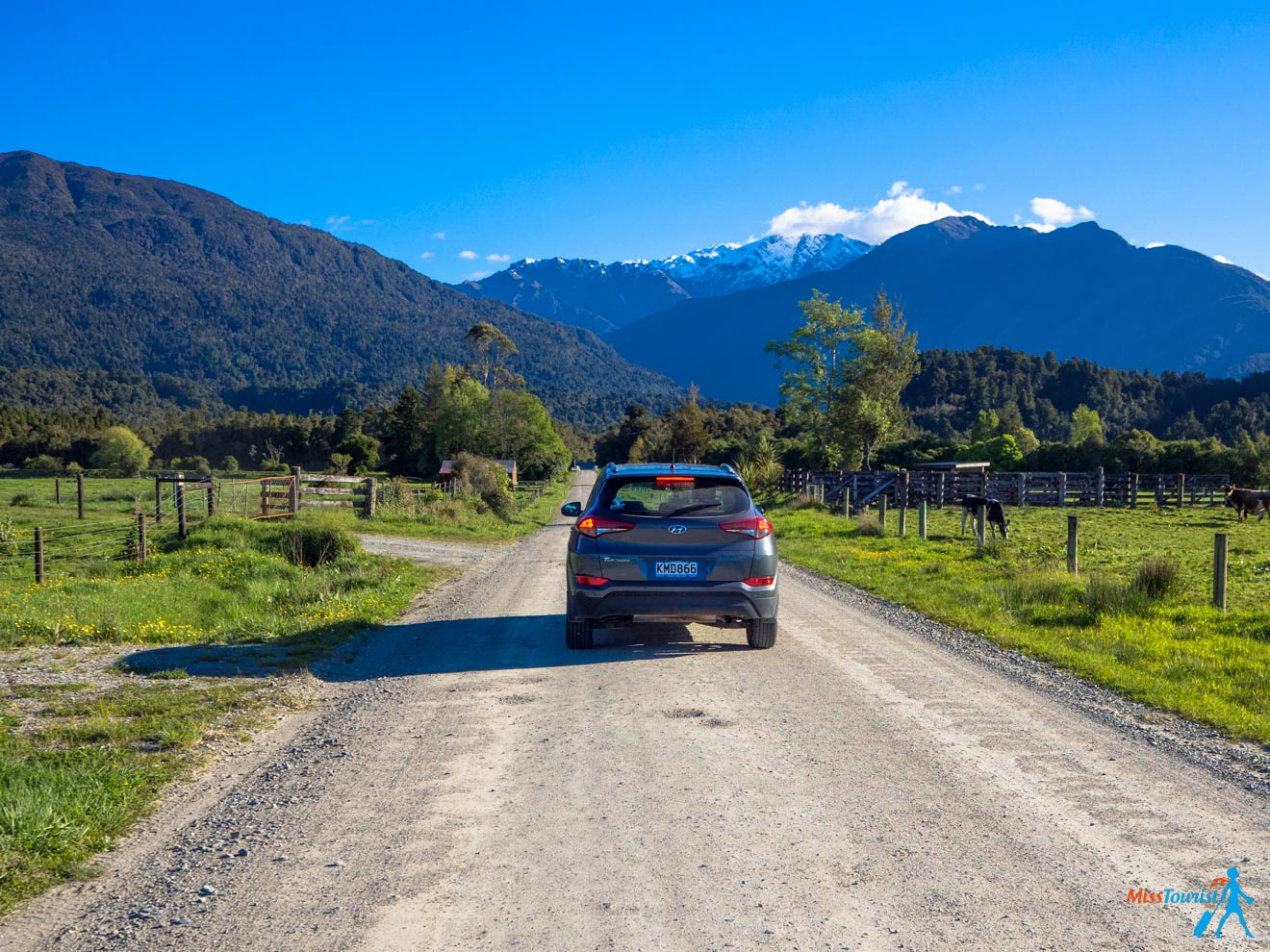 You might also experience some difficulties driving on certain terrain – there are many hilly and narrow roads in New Zealand and there are even some gravel roads, too (usually leading to something really spectacular), so I suggest buying anti-gravel insurance.
Here are some simple precautionary measures you can take in order to avoid the winfshield cracks caused by little stones:
Keep a low speed when driving on a gravel road
If there is a car in front of you, try to keep a longer distance between you and them, as a little rock from his car can easily land on your windshield.
Car insurance in New Zealand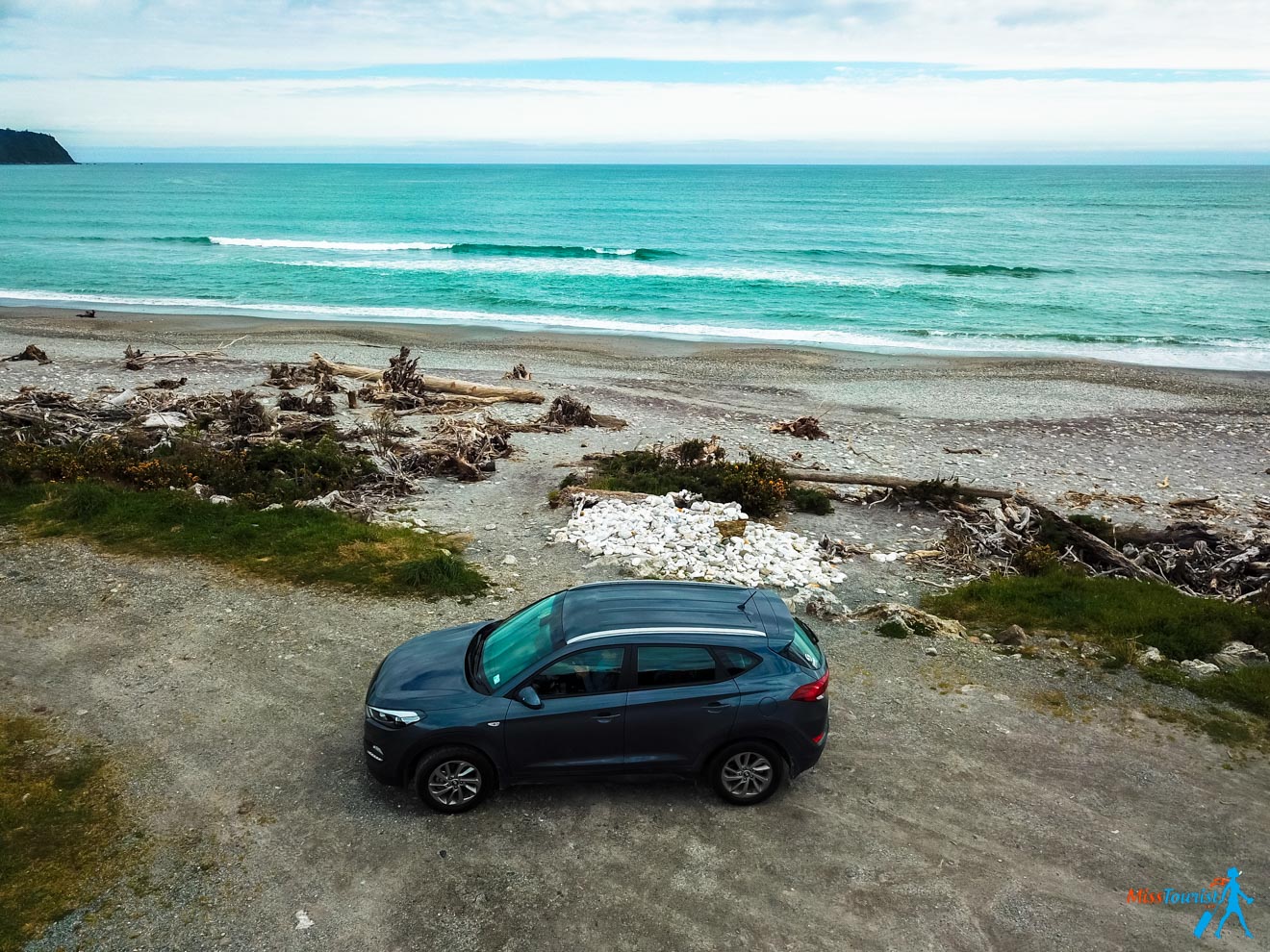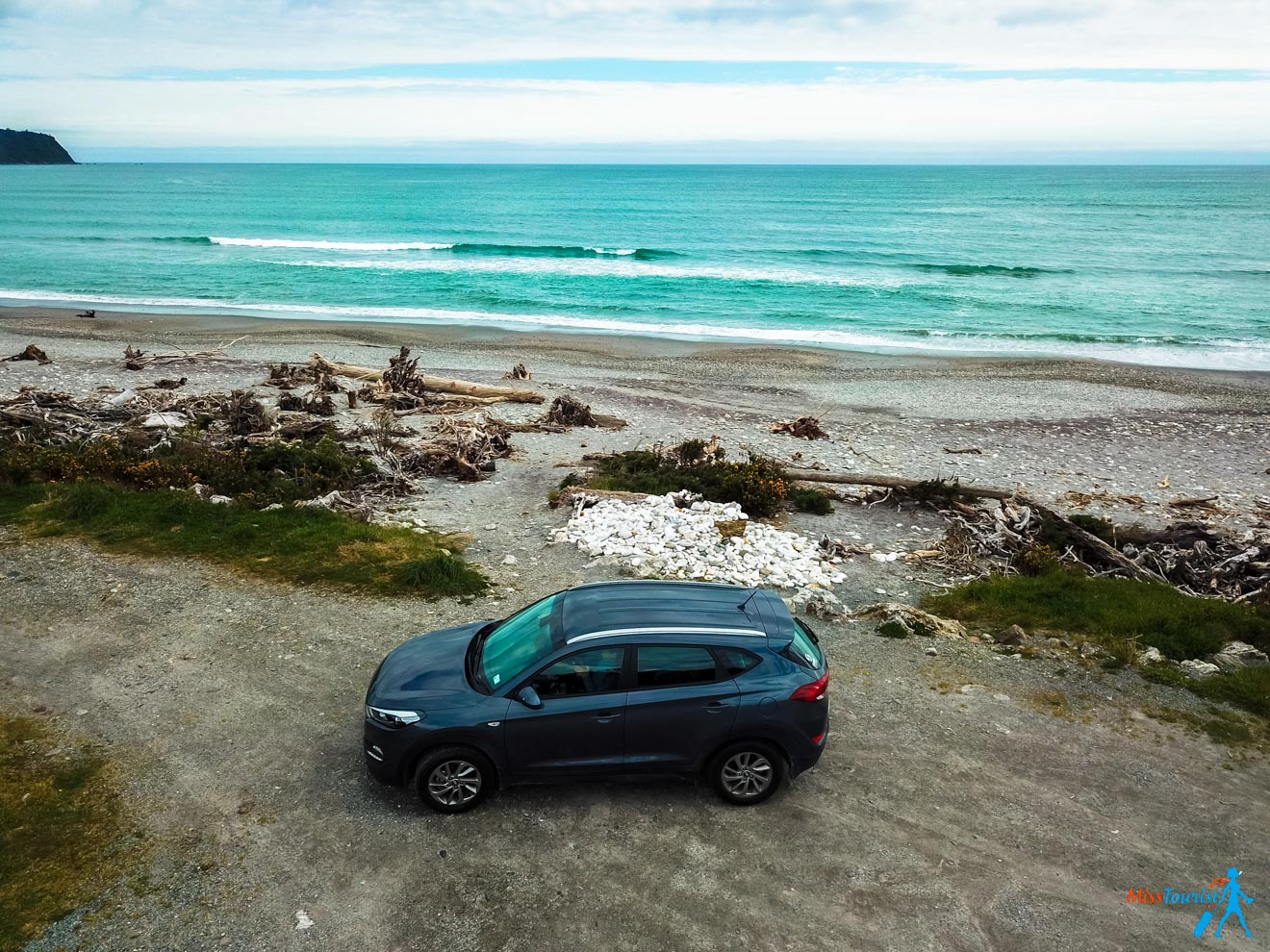 Remember, it only takes one little rock hitting in the windshield to open a crack that you will have to pay for.
Also, try not to leave any valuables in the car. No country is completely safe, not even New Zealand.
One time, I saw a car with a broken window and everything was stolen from inside.
Because we had to leave a lot of valuables in our car (I am a travel blogger, so I have a lot of equipment, and my boyfriend is a programmer, so his laptop has everything on it), we decided to opt for anti-theft insurance just in case because you never know.
The standard insurance usually requires that in case an accident happens, you pay deductible of 2000-3000 NZD and then the insurance covers the rest. I recommend looking into options that would cover you fully, either through the bank that you use in your home country or by getting better insurance.
RELATED READ: Trying to create an itinerary for New Zealand? Here are the Top 10 best things to do in New Zealand!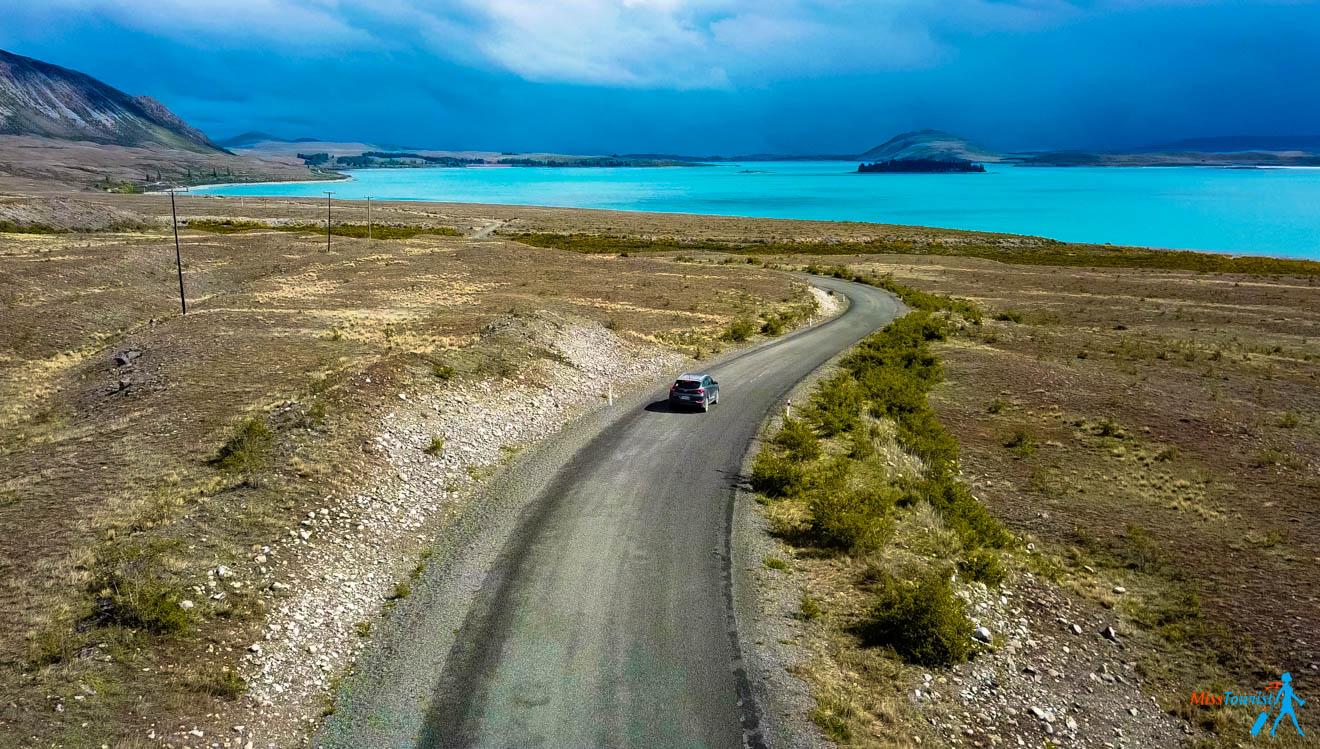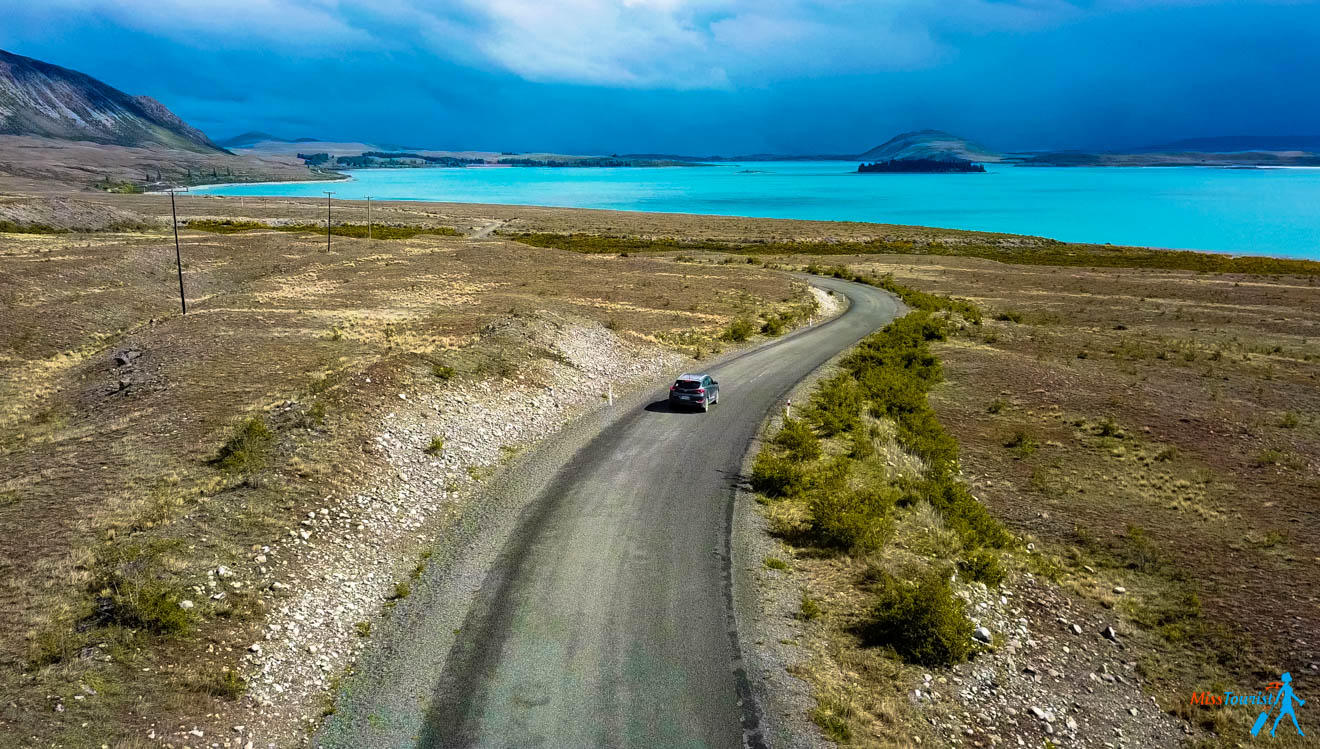 By the way, did you know that 3rd party insurance isn't mandatory in New Zealand?
That's bad news, my friend. You know why?
It means if you get into an accident with a car that doesn't have any insurance (there are many cars like that), you will be responsible for the damage even if it's not your fault.
That is why I strongly suggest getting the premium, 0 excess/deductible insurance. It is 18-22 NZD per day, but it will help you have a stress-free vacation, so I'd say it is worth it.
PRO TIP: Keep in mind that many credit card holders have their bank offering some sort of car rental insurance, especially in the US. Double-check that info with your bank before buying the insurance.
7. Which type of car to choose?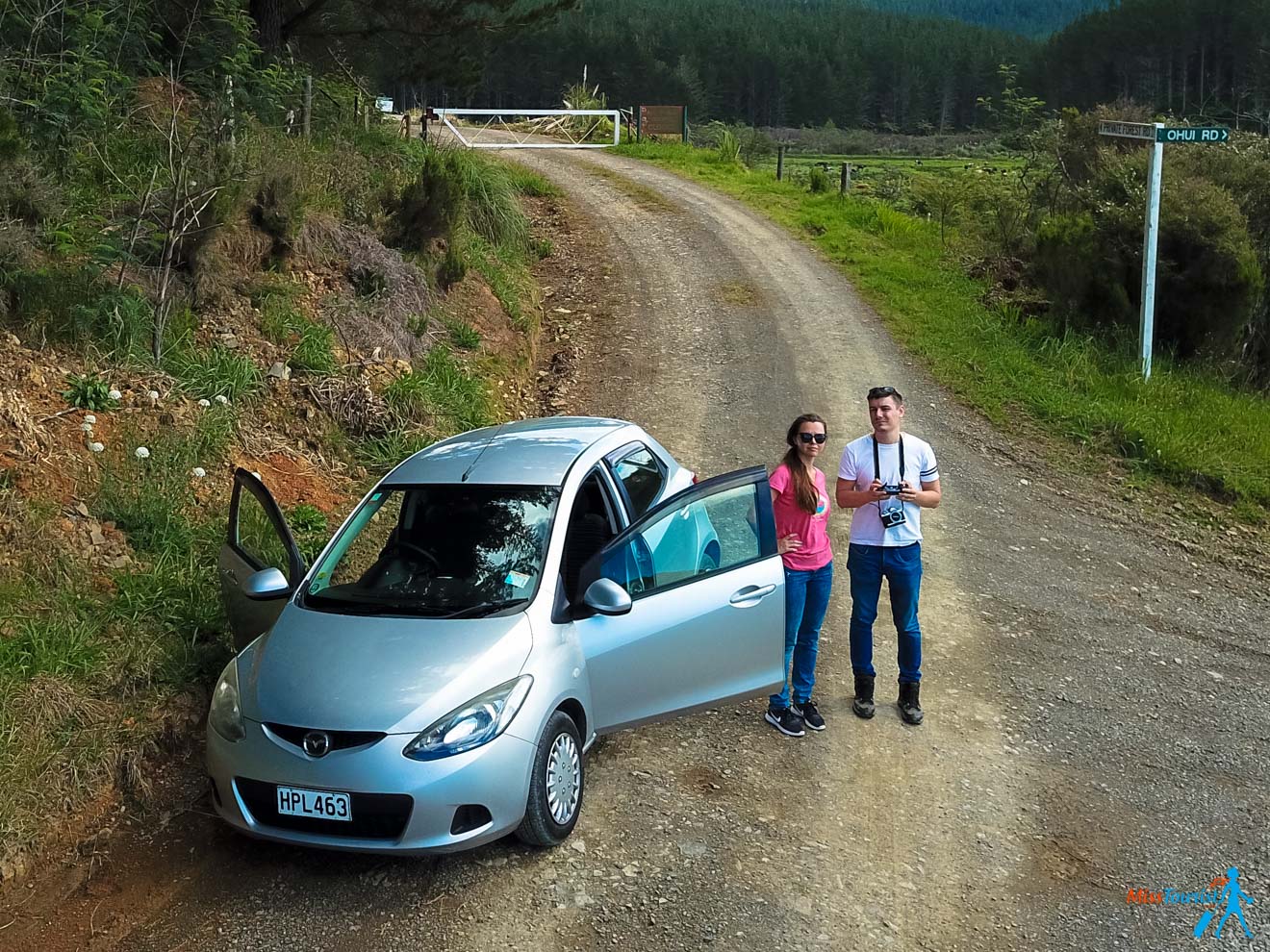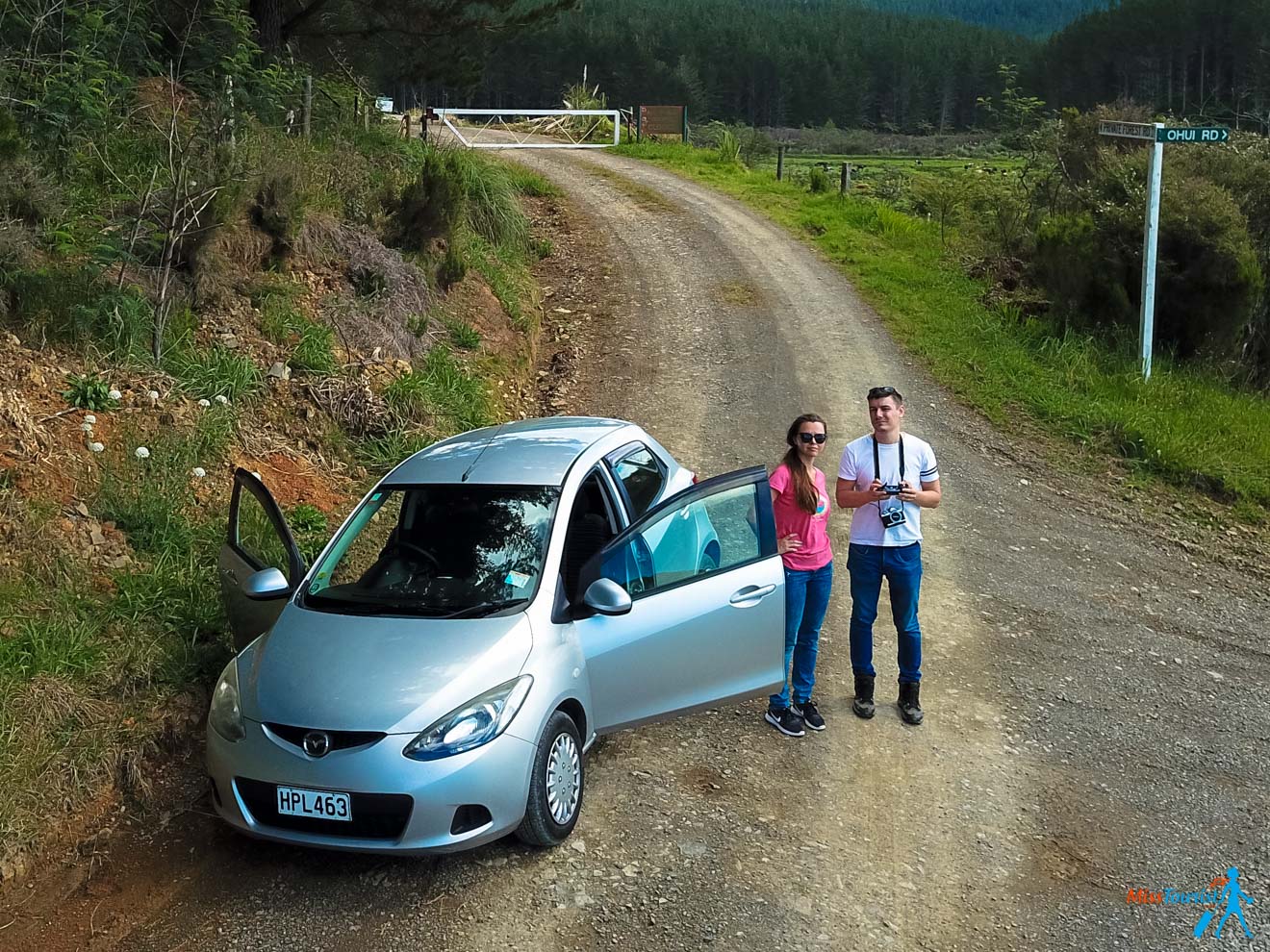 Could you use a small economy car or do you need a big minivan for the whole family? What distance do you want to cover?
Here are my suggestions for transport options depending on the type of traveling you are going to do:
a couple – a rented car would suit you great, especially if you are a nature addict! This is the most popular option for discovering New Zealand because you can tailor-make your trip and stop anywhere you like for pictures. You can choose either a regular rental car (my choice) or a camper van and stay in camping zones.
a group of friends – depending on how big your group is, a camper van or a larger car will be great for you as well. You will be able to share the transportation costs and it's also a lot of fun sharing the beauty of a country with friends, isn't it?
budget traveler/solo traveler – if you'd like to meet new people, I think that one of those prearranged hop-on/hop-off buses that go all over the whole country can be a great option for you! There is no driving involved, so you can relax and enjoy the views!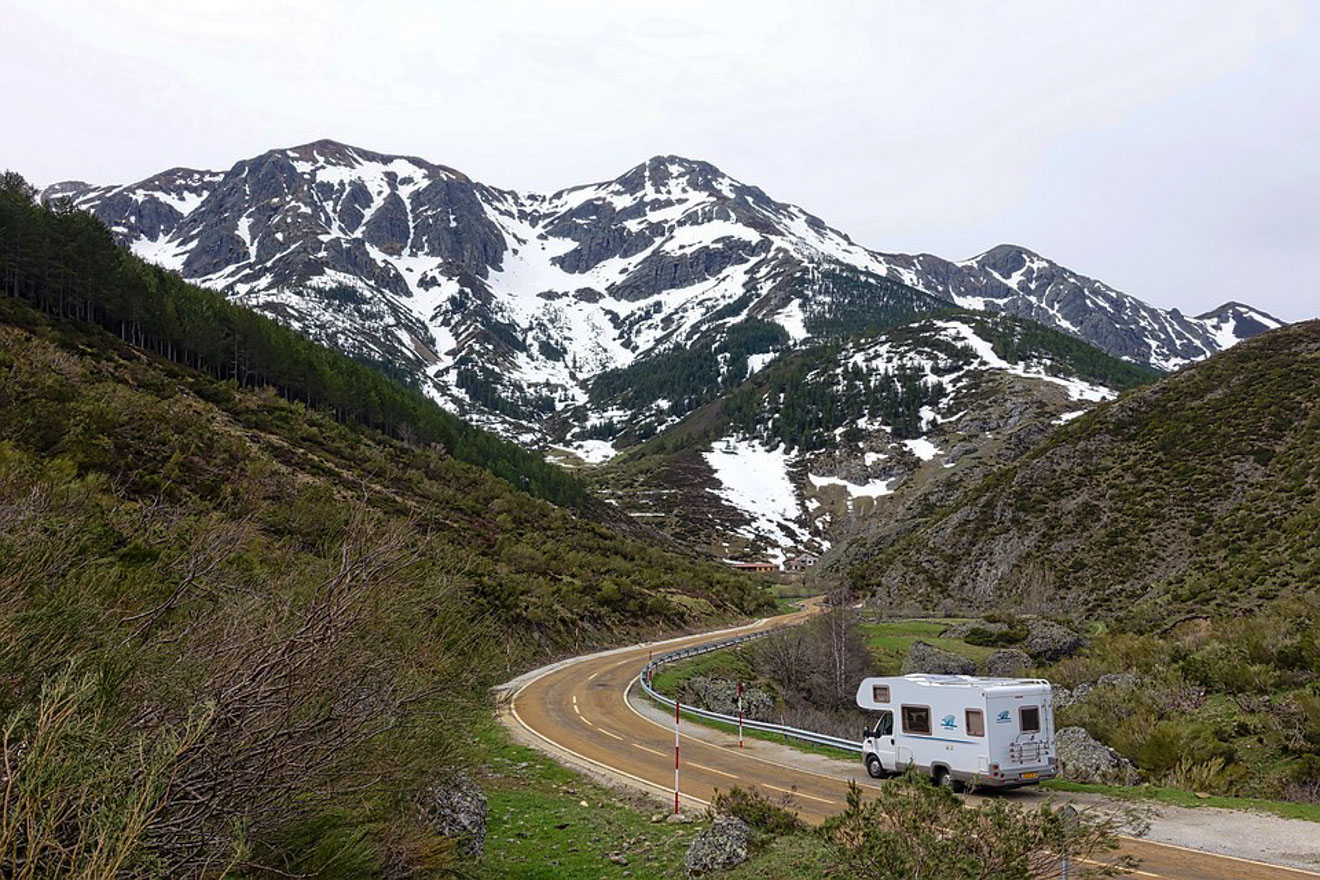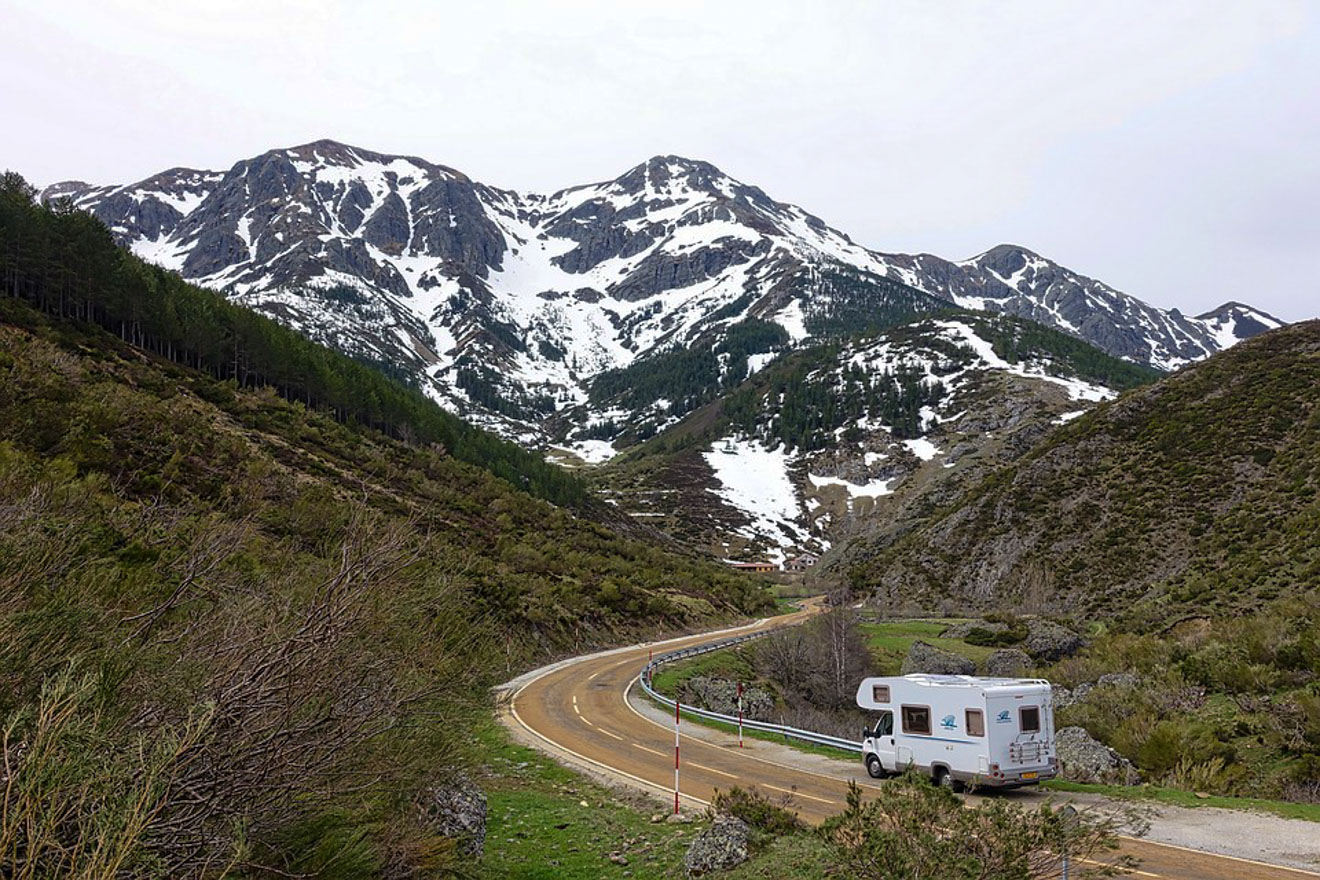 A family – a camper van is a great option for a big family (bonus points – you can cook there!). If you are a family of 3-4 people with not much luggage, a normal car would suffice.
budget travelers not fond of party buses – In case a rental is too expensive for you, you can also do this – buy a car/campervan and sell it afterward. I am dead serious, people say you can do it, but you will need to stay for at least 4-5 days in a city to make sure it sells.
travelers that don't drive and are not fond of party buses – you should know that there are also trains in New Zealand. They don't go everywhere of course, but they cover quite a bit of the country. Check Transcoastal to see the routes. Another option is to go by public transport, but again, you will be limited to a certain route and you can't stop on the way.
traveling on very, veeerrrry limited budget – having little money should not stop you from discovering New Zealand – you can either hitchhike (it is not illegal there) or cycle around the country. I know these options are for adventurous travelers, but it can definitely be done!
VERY IMPORTANT! Do not choose European cars (like Peugeot etc.), because if something breaks it will cost you a fortune to replace it. Choose a Japanese car instead, as Japan is close to New Zealand, so the transportation costs for parts are not enormous.
These are the words of the owner of the car rental company I used, so I would trust him.
Rented car or a camper van?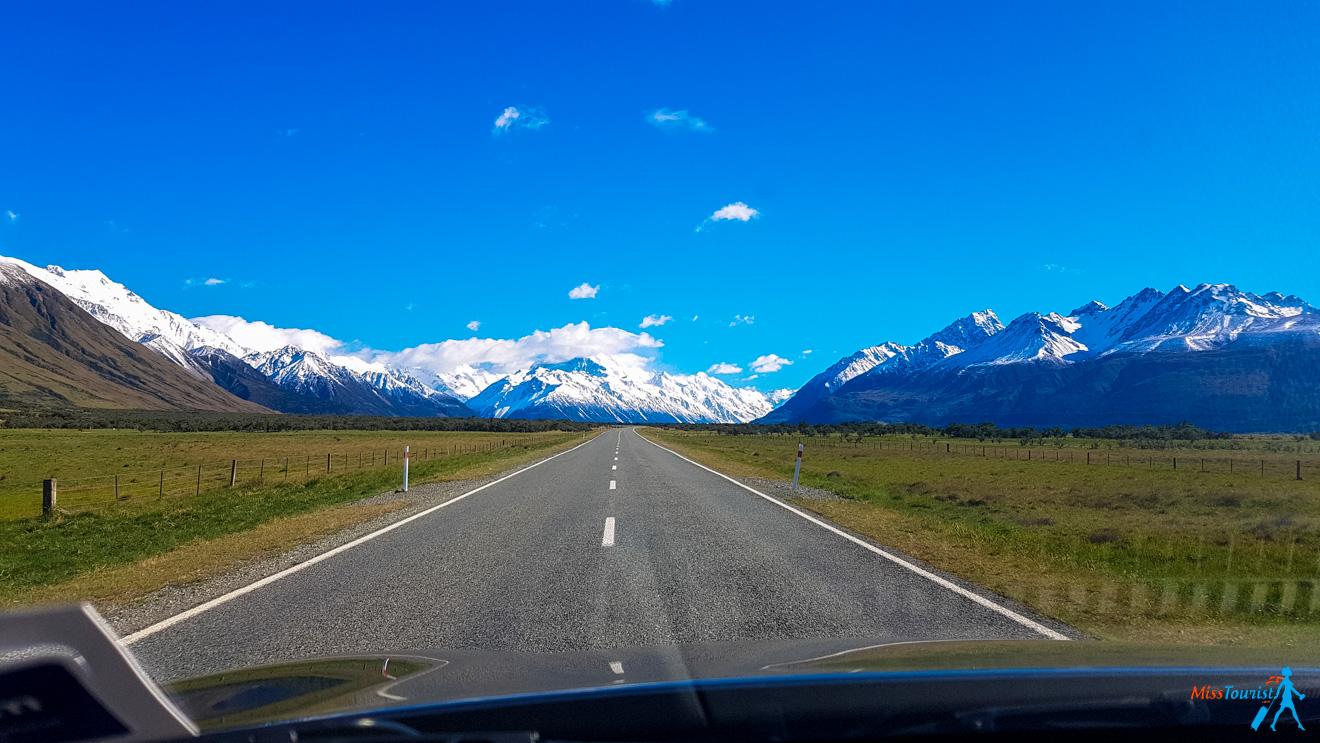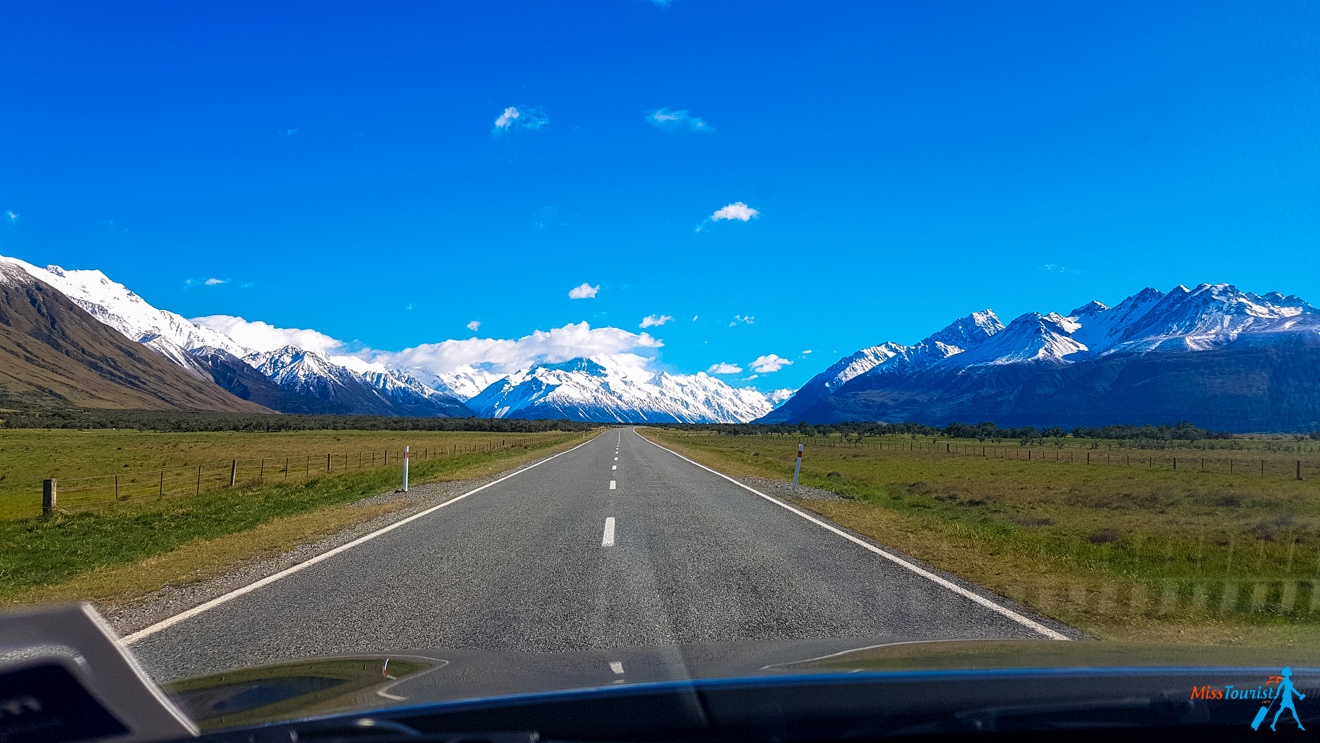 I know that most of you will choose to rent a car, otherwise you would not read this post this far. 🙂
So, the question is – what is the better option – a car or a camper van?
First of all, you should think about where you are planning to go when choosing the right type of vehicle.
If you want to explore beyond the main highways, consider getting an SUV, otherwise you should be fine with a standard regular car.
Rented car
Renting a car is the best option for you if you like comfort, you don't want to cook your own food and you want to sleep in a bed at night. I am one of them, so I opted for a car and stayed in hotels overnight.
A camper van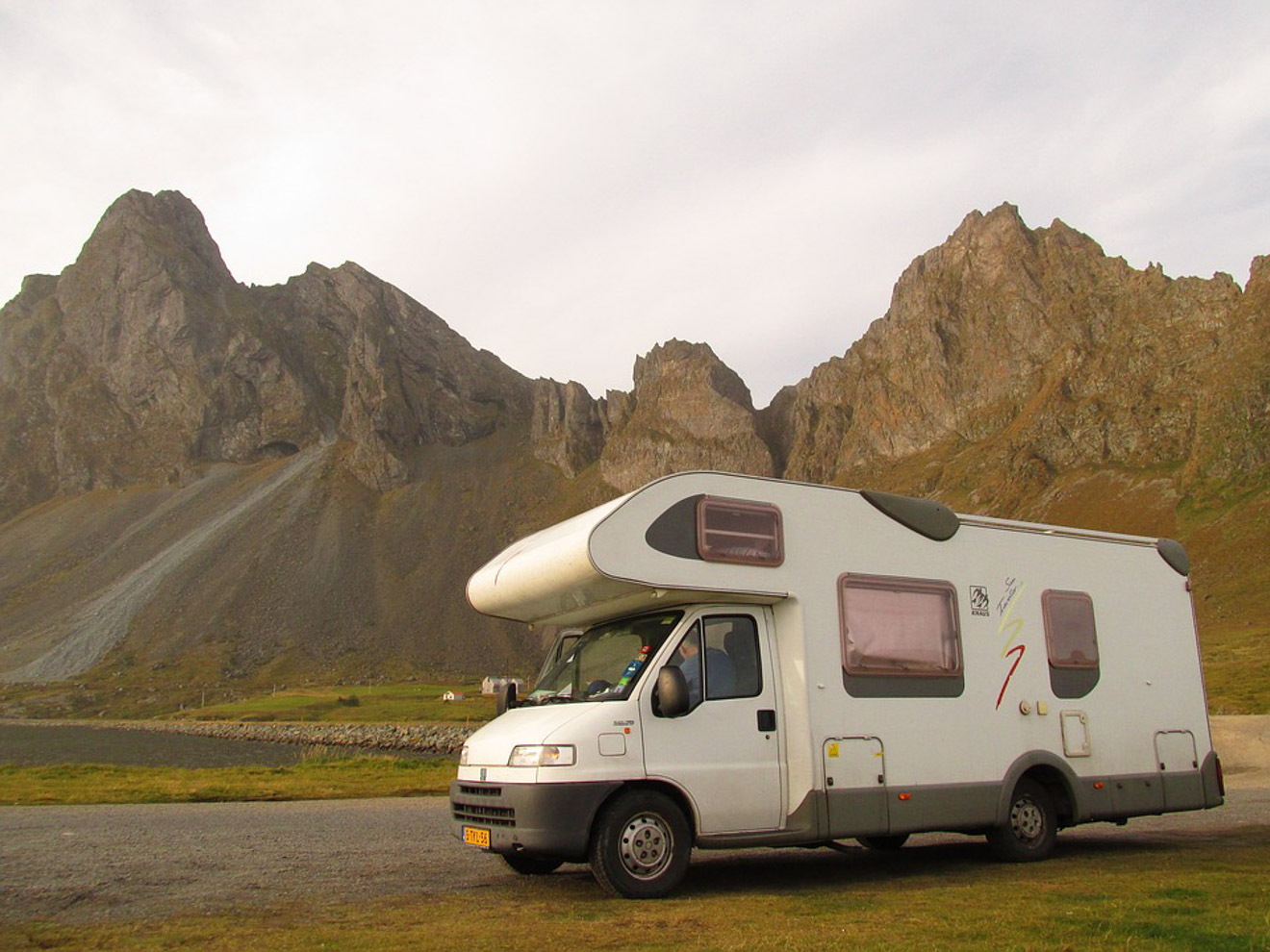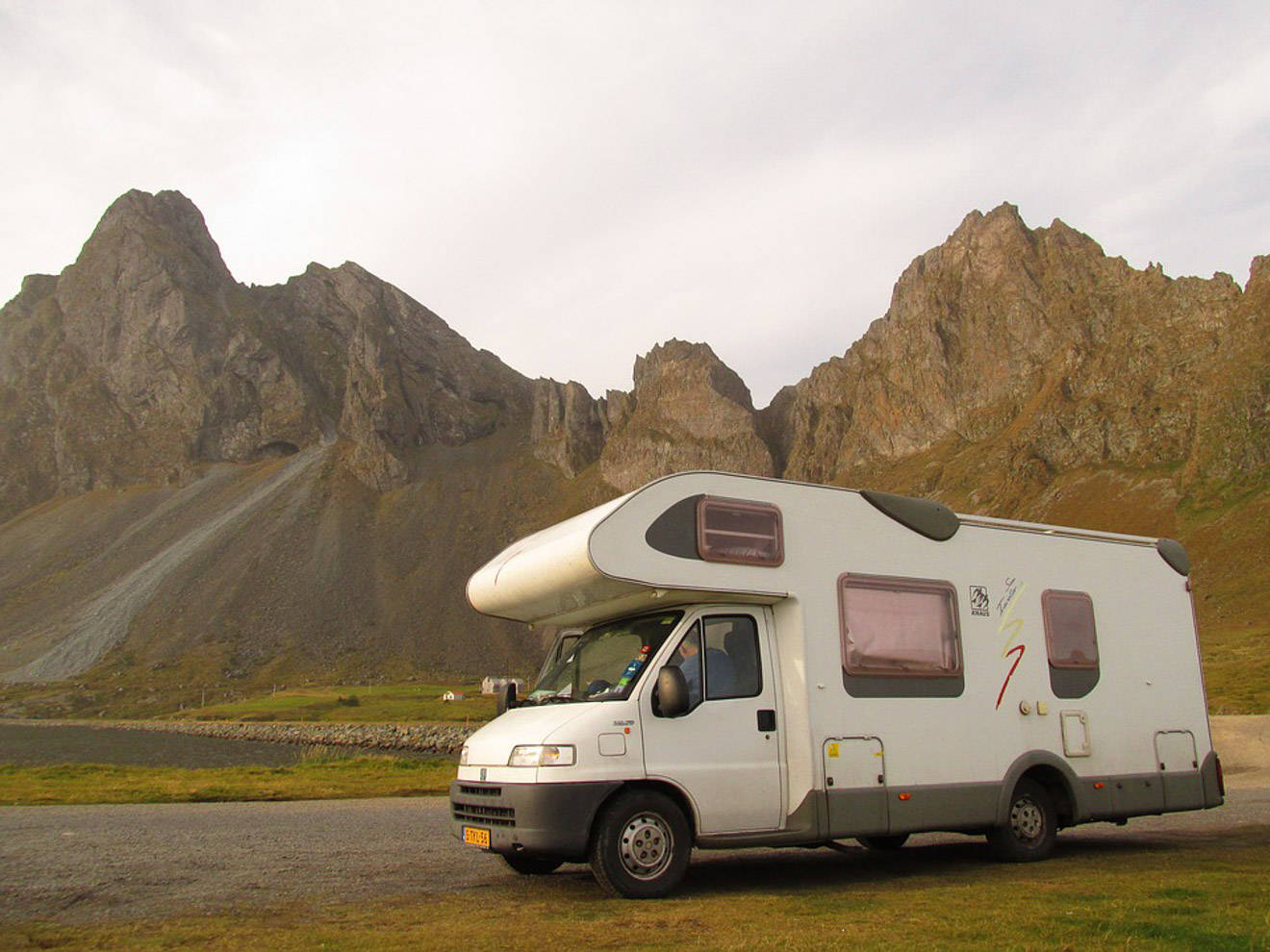 Motor homes will be ideal for you if you are traveling with a group of people and you don't mind (or even prefer) staying in a camping place overnight. There are some amazing camping spots out there that will let you use their facilities such as shower, kitchen and charging station for your van. Keep in mind that this is not always cheaper than a hotel room though. Freedom camping for self-contained vans (read – with toilet) is legal in some places in New Zealand, but not in the most popular locations. You will usually have to pay a minimal fee there.
Remember, if you are not going to camp, you do not need a camper van so you will also save a lot on gas this way.
If you don't want to camp and you would prefer staying in a hotel instead, I recommend reading my article about New Zealand's Best Hotels – A Plan To Help You Book All Accommodation In Minutes.
| | |
| --- | --- |
| 🚗 Economy car (Off/High season): | $15/$37 per day |
| 🚜 Family car (Off/High season): | $18/$55 per day |
| 🚐 Campervan price (Off/High season): | $35/$120 per day |
| 🔞 Minimum age to rent: | 21 |
| ⛽ Avg. cost of fuel: | $1.7 per liter |
| 🛣️ Roadside: | Left-hand traffic |
| 🛑 National Speed Limit: | 100 km/h |
| ✈️ Cost of traveling: | Medium |
Best car hire in New Zealand – how to choose?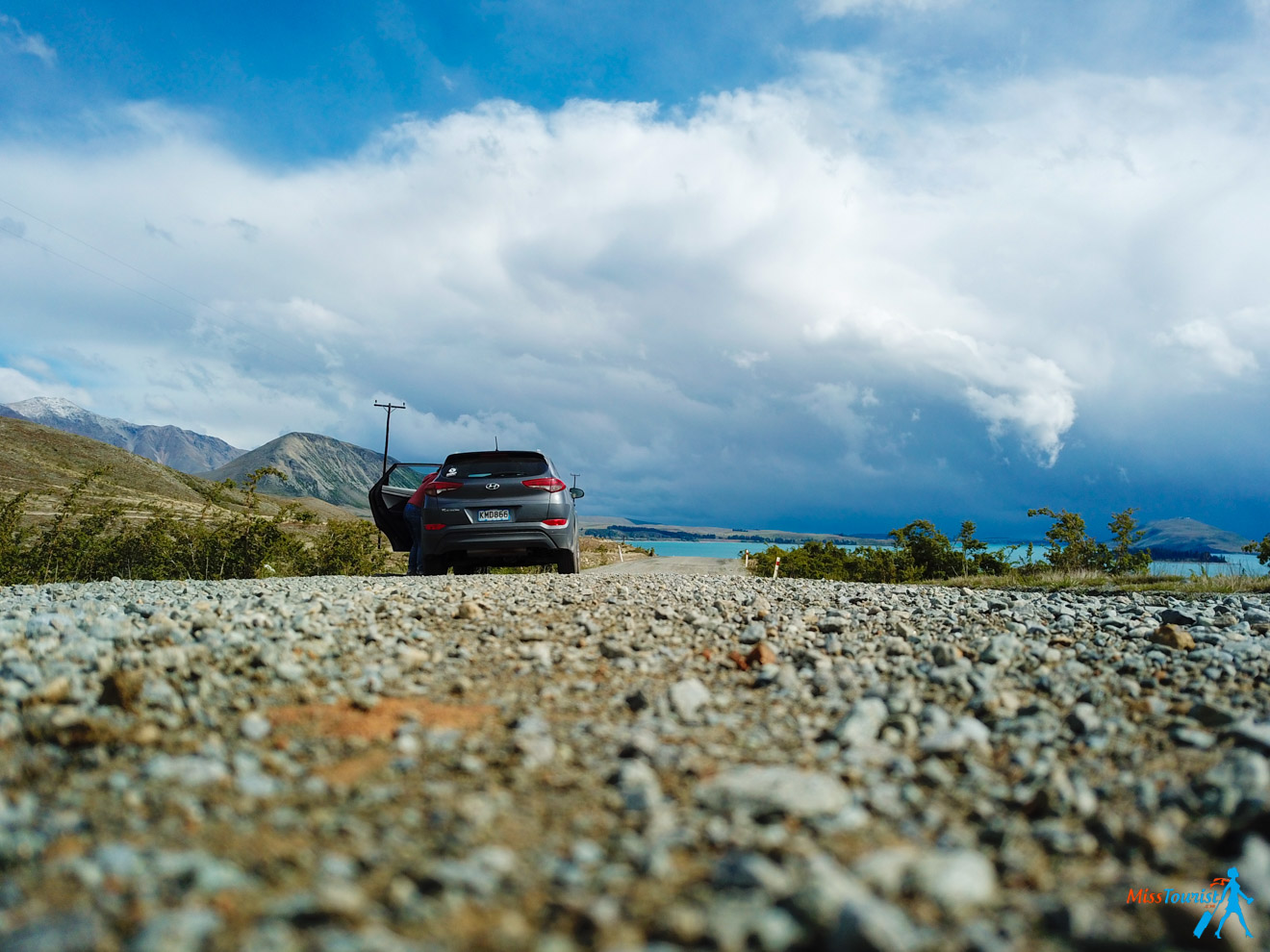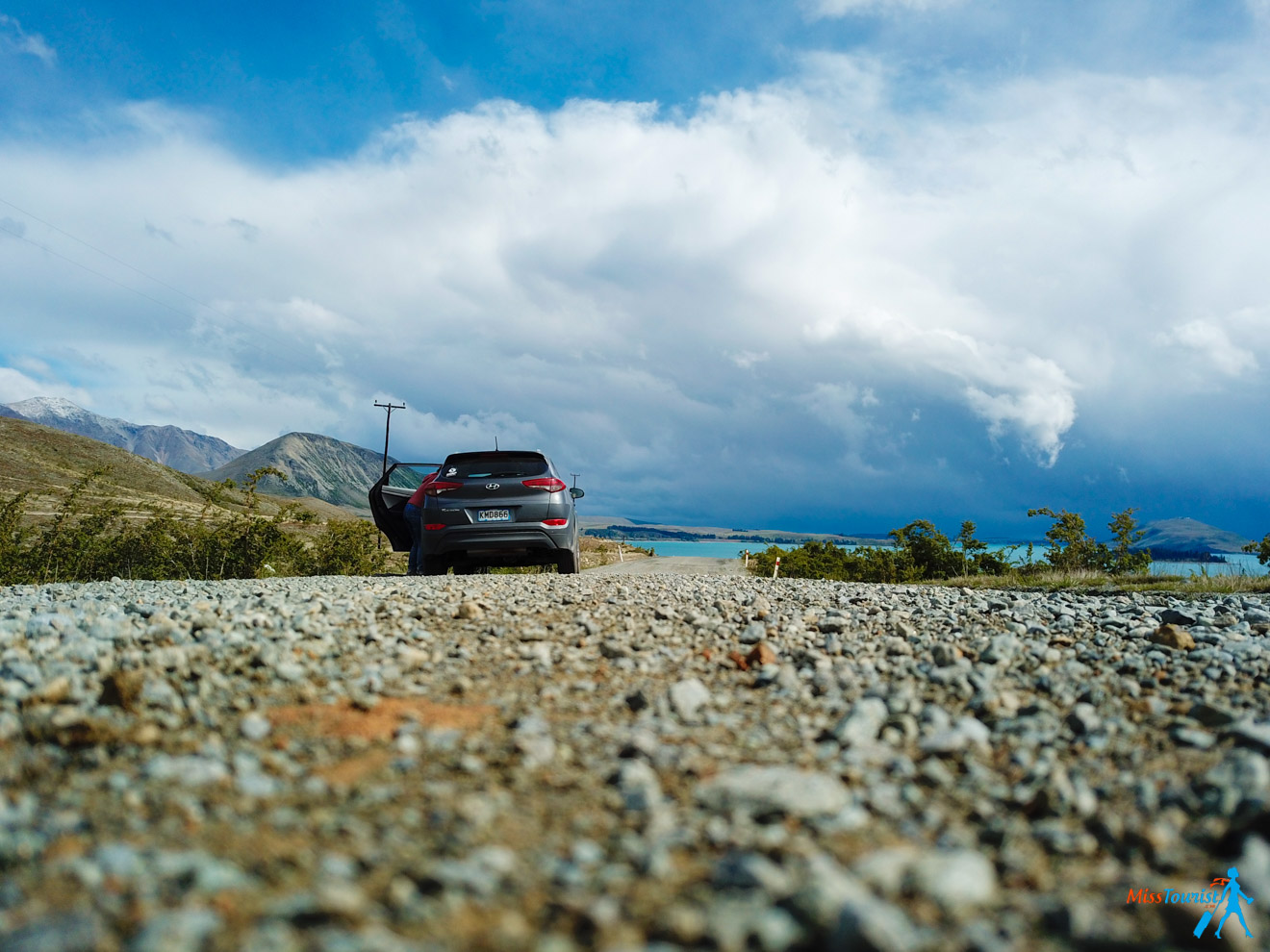 Now that you know what type of car you want to rent, let's talk about how to choose an ideal company and the most important things you should consider.
If you Google something like "Best car rental in Auckland", you will be quite inundaded with options, both international and local. The choices are endless and the question is – which one to choose?
Spoiler alert – I used Snap Rental. I liked both the car and the service and I can vouch for them (more on my experience with Snap Rentals below. They also give a 10% discount to all my readers, yay!). Other budget options include Thrifty, Budget, and Europcar.
I suggest you use this great price comparison website to see the best deals for your dates.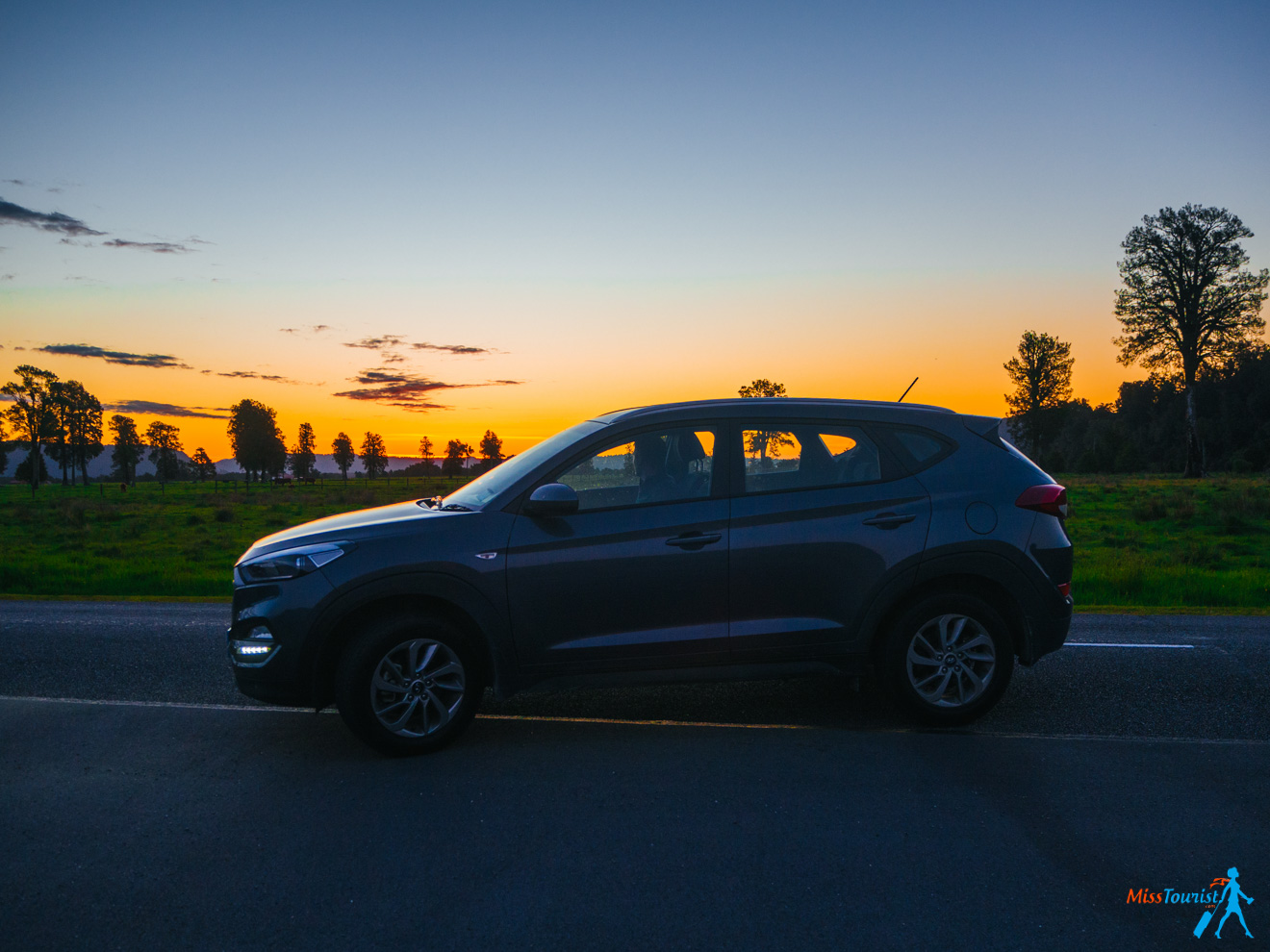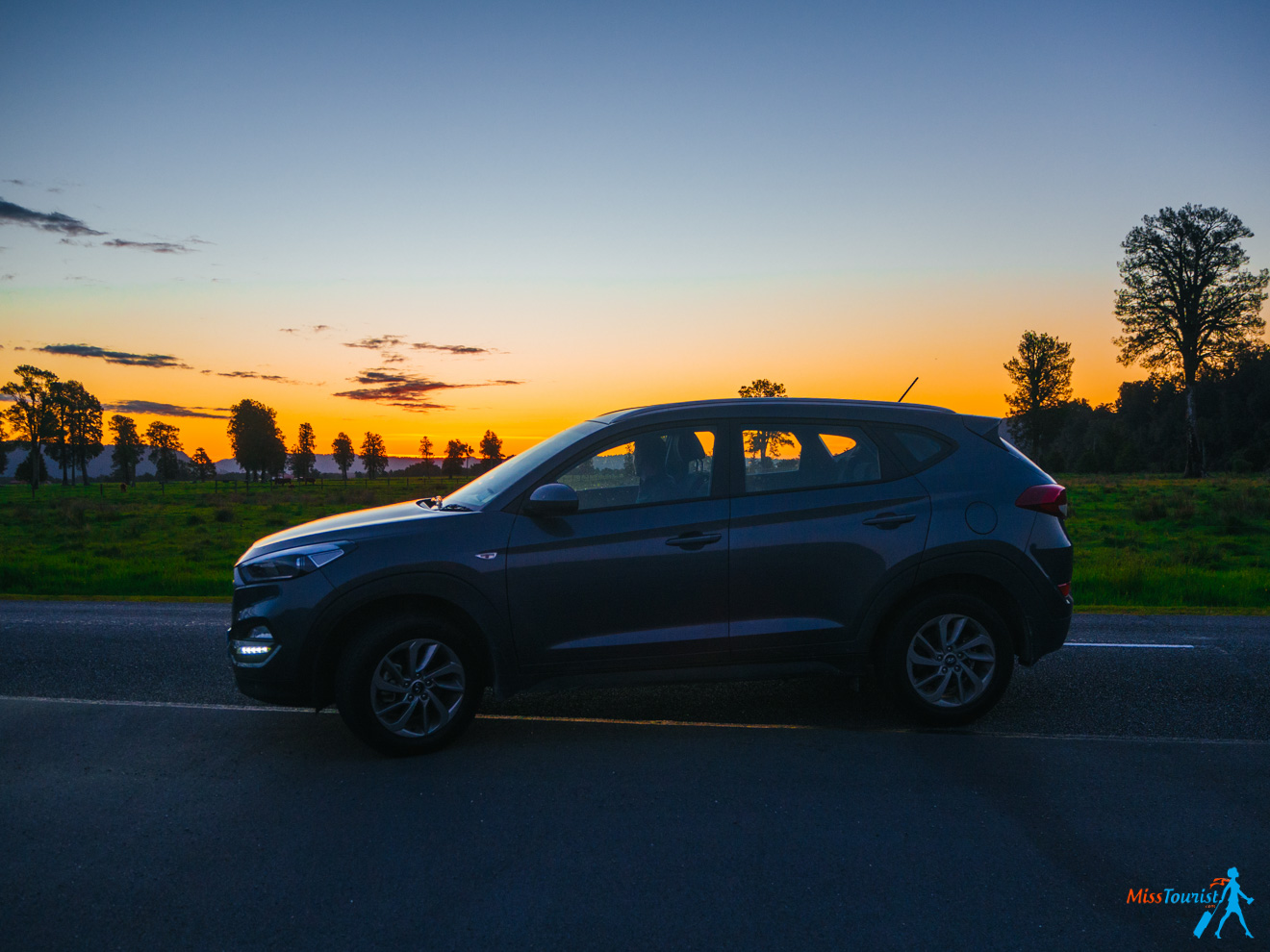 Here are a couple of things you should pay attention to when making the decision of where to rent a car in New Zealand:
Read the company's reviews – what do other people say about them?
Read the Terms and Conditions – are there any hidden charges that you did not know about?
Are there any hidden costs? (ex. airport fee, second driver fee, mileage fee etc.)
Verrry important – Check if you have a mileage limit!
Do they provide free airport pick up?
Do they provide 24-hour roadside assistance?
Is there any late return car penalty? When do you need to bring the car back?
I chose a local company called Snap Rentals and here is why I loved my experience with them:

Click here and use my promo code – "MissTourist" to get 10% off the original price! 😉
Snap Rentals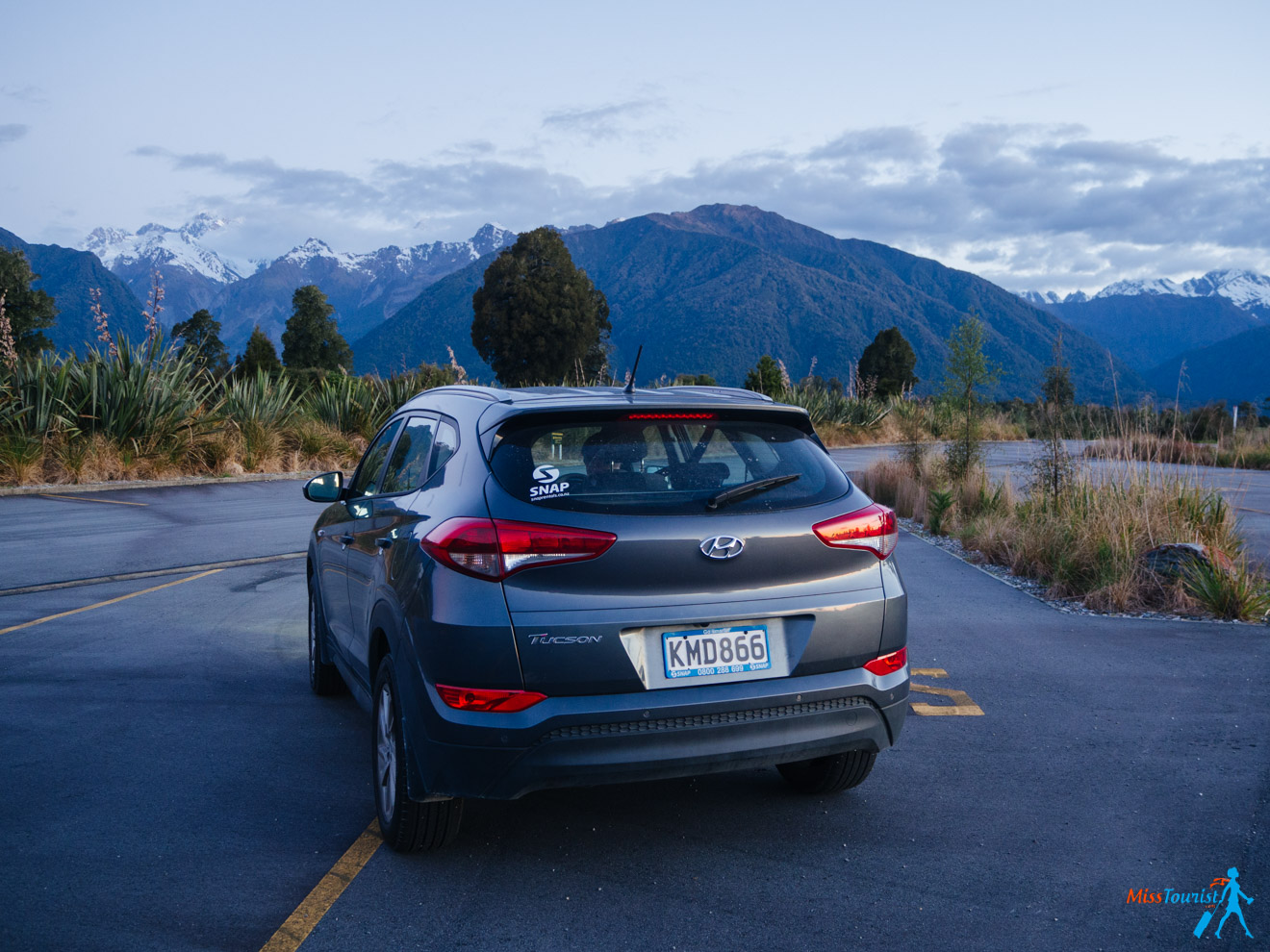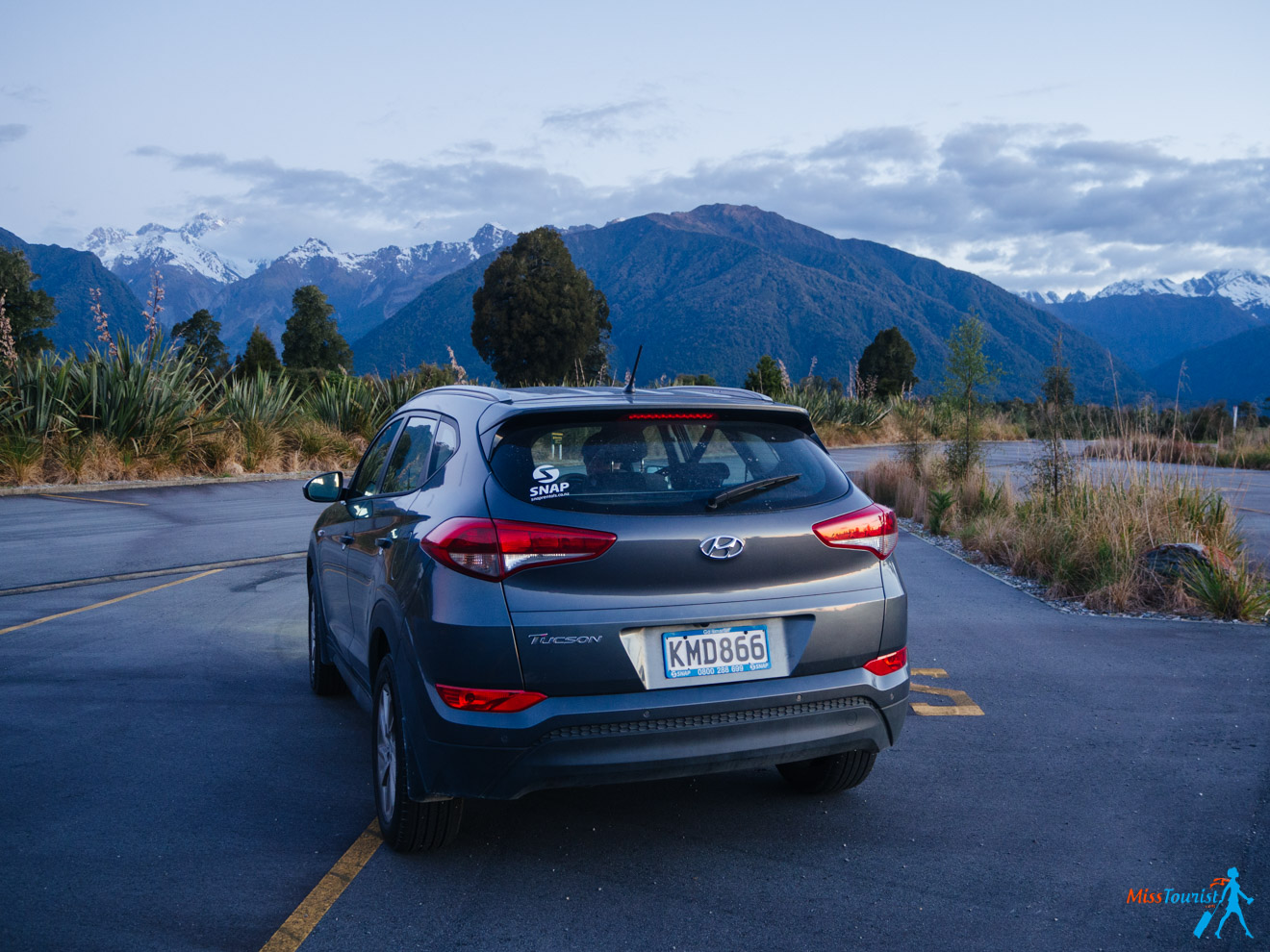 The company started as a backpacker car rental company 5 years ago when they bought a number of cheap cars from Japan. However, very soon they completely changed their model and only offer new cars now.
The average age of a Snap Rental car is 18 months. Our car had only 16,000 km and it was brand new from 2017.
It was a pleasure to drive it!
Snap Rental is the 11th fastest growing company in New Zealand and they are doing so well because they provide the best quality and their customers appreciate that.
You can even rent Tesla Cars from them – Snap Rental is the first and only company to offer them in New Zealand!
As the owner explained to me, they buy cars at a very good price from the official dealer, and then give them back when the cars are a couple of years old. Thus, you can be sure you will get a new car!
And trust me, in New Zealand you want a new car becayse an old car with a steering wheel that can stop working on a mountain curve is not good for you.
Taking safety, comfort and fuel economy into consideration, I would totally go for a new car!
Snap Rental has 24-hour support, which we never used, but it was great to know that we could have some help at any time.
And the BEST NEWS? I have negotiated a 10% discount for all my readers!
What do you need to do to get it?
Follow this link ->
set your desired location and dates ->
type "Misstourist" in the promo code field ->
press "Search Cars" ->
Enjoy a 10% discount on all cars!
The discount is only for the car itself, not the insurance – as the guys from Snap Rentals explained to me, itthe insurance company is a different company so they can't give you discounts on that. This is still a significant savings though!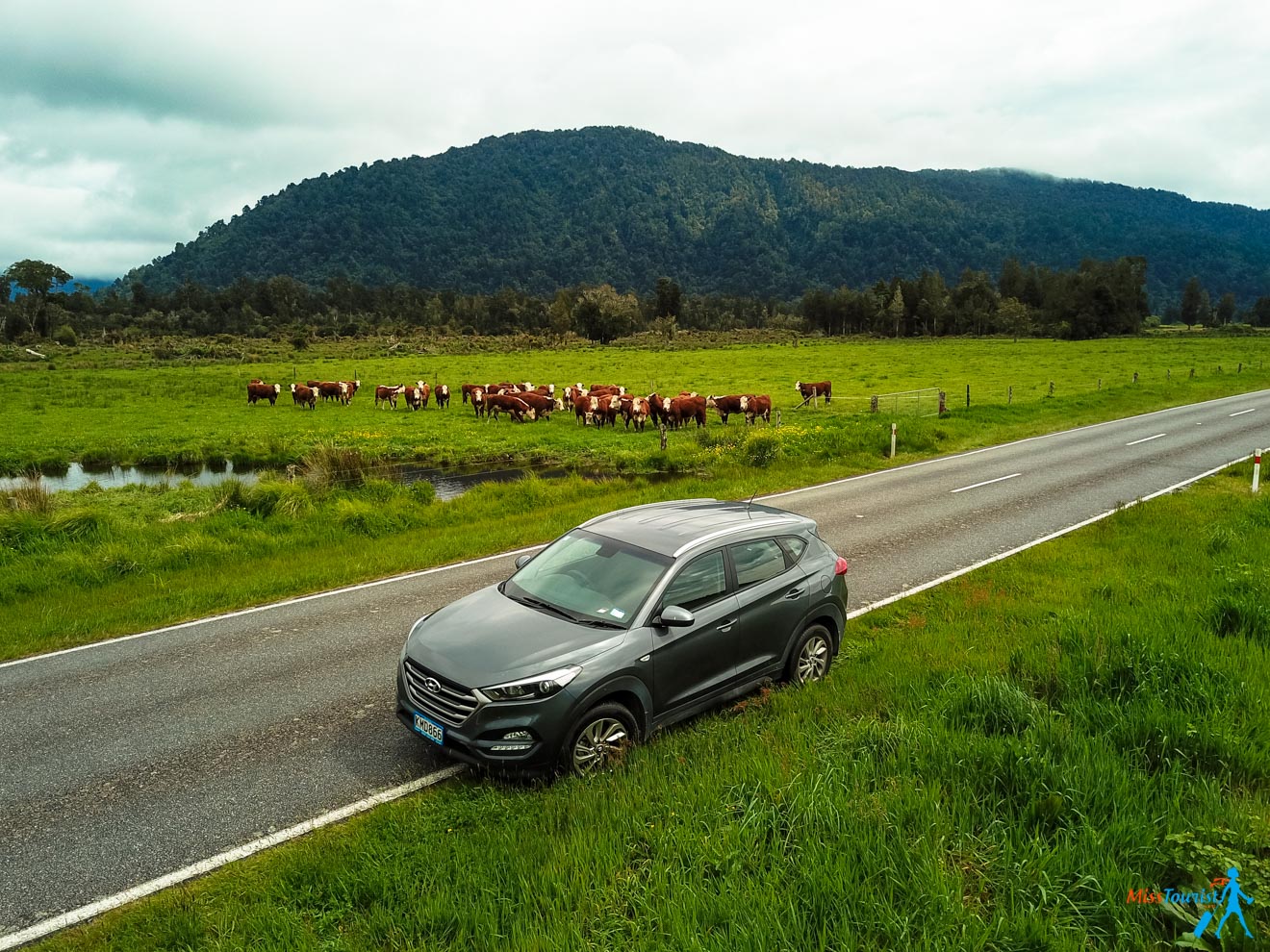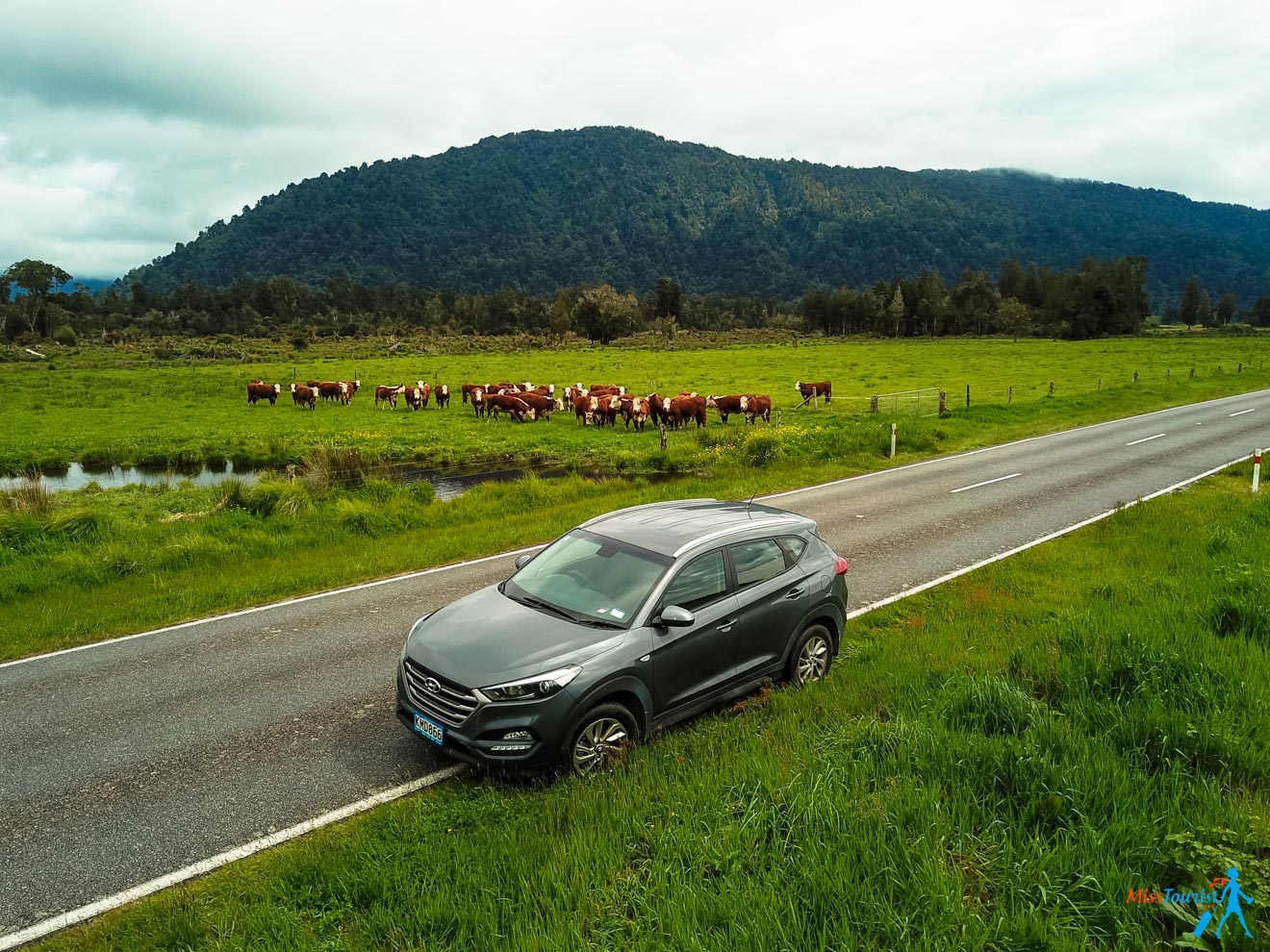 Fast facts about Snap Rentals:
Location: Auckland, Christchurch, Queenstown airports and Auckland city center
Prices: starts from 19 NZD a day; my car was awesome and new and it was 24 NZD a day. Check the rates here
Car types: normal, people mover, SUV, Minivan, Tesla Cars
Insurance: a basic level is included plus the full coverage for 24 NZD a day if you wish to upgrade
They have a best price guarantee! What's even better, they say they will beat it by 10%, yay!
No age limits, no mileage limits
New cars, so they usually come with cool features like built-in GPS or Bluetooth in the car
All cars are regularly checked for your safety
If you do not like the prices/available models on Snap Rentals, I always suggest checking Rental Cars as they will compare the prices of ALL car hires in the area – both international chains and local companies and it is very easy to filter results there. Click here to see the available deals for your dates!
Vroom Vroom New Zealand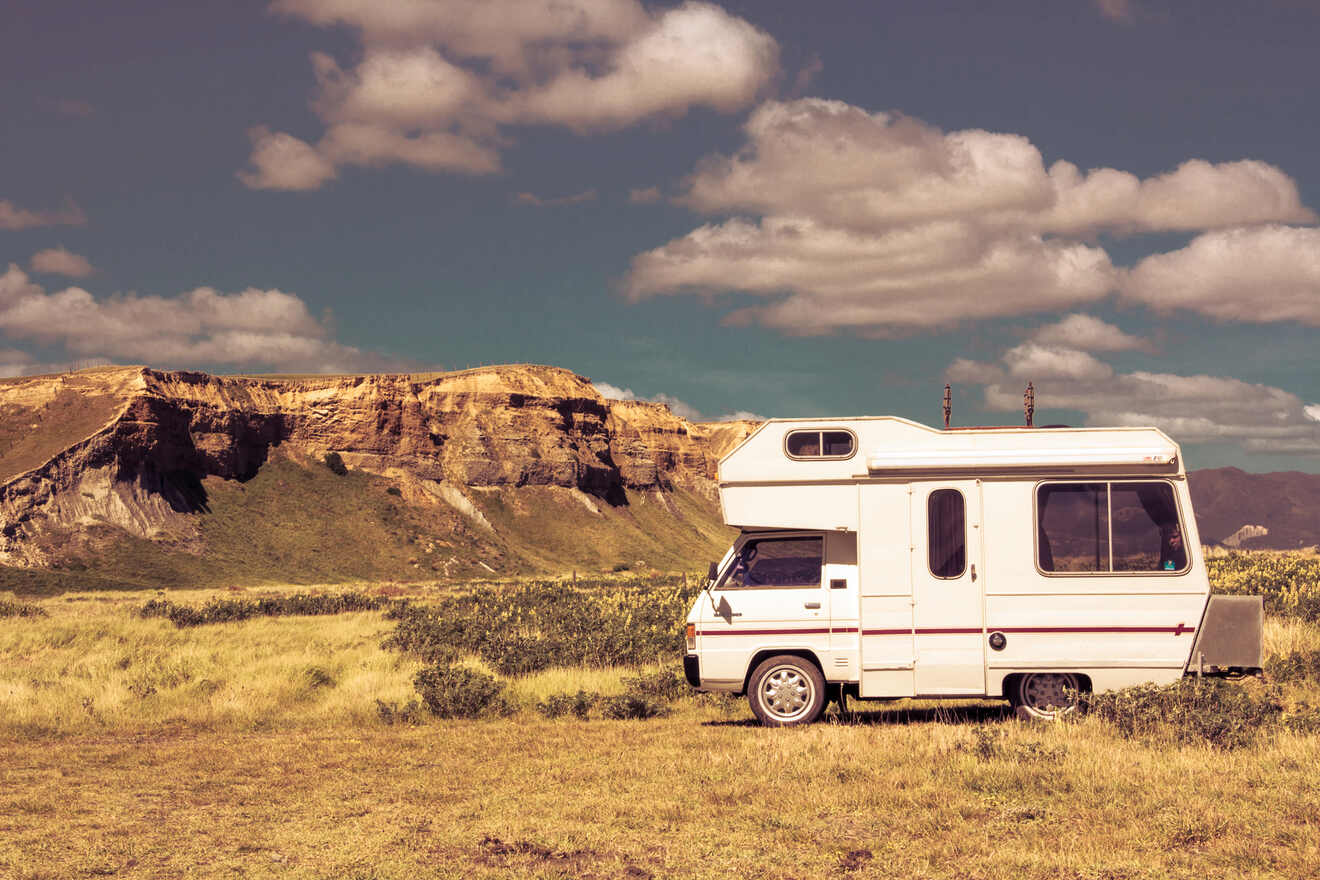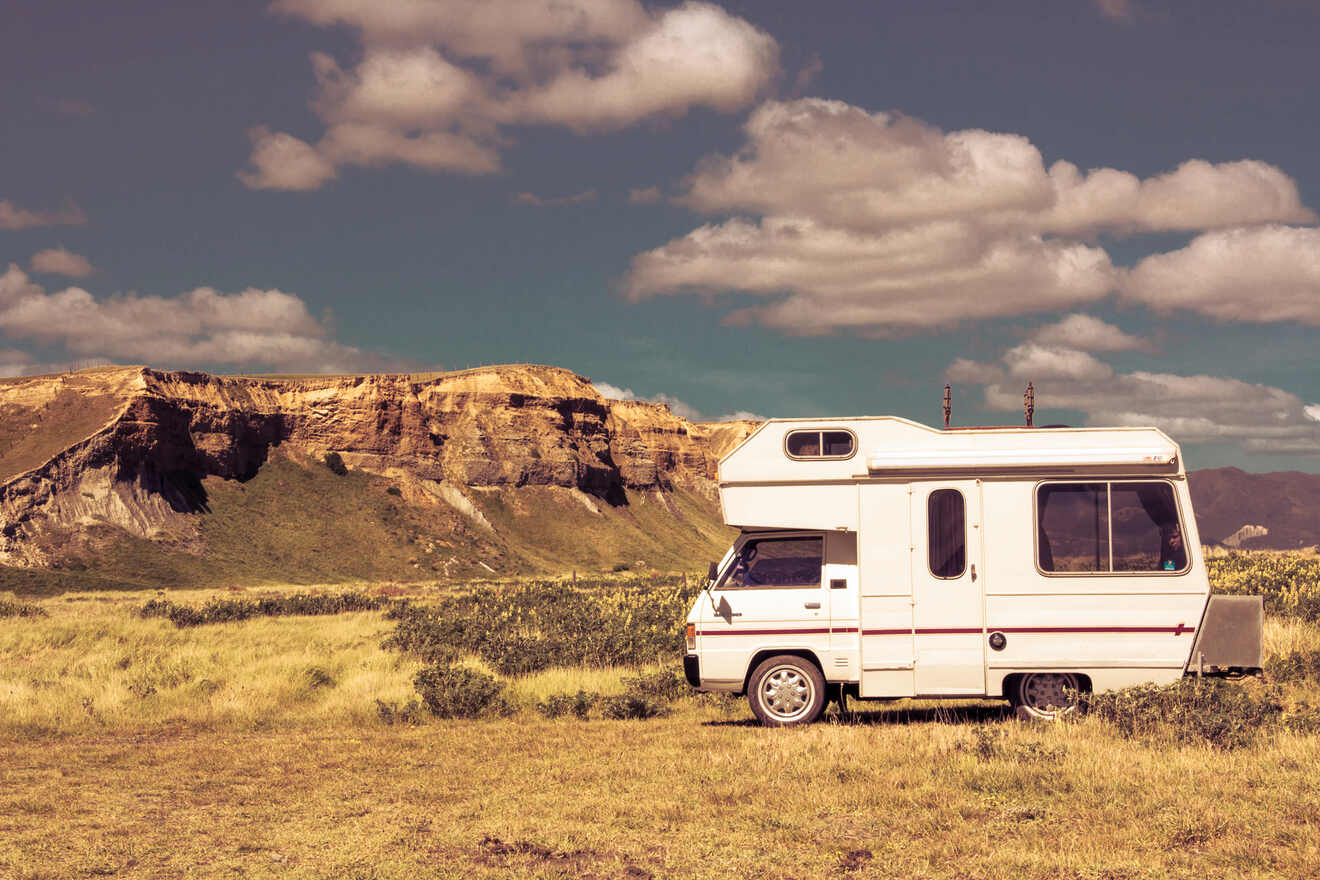 When it comes to car rentals in New Zealand, Vroom Vroom is another top choice for renting automobiles in New Zealand. With a strong presence in the market, Vroom Vroom New Zealand offers a wide range of vehicles to suit different travel needs. From compact cars for city trips to spacious SUVs for family getaways, they have options for all.
Booking a car with Vroom Vroom is straightforward and user-friendly. Their online reservation system allows you to browse vehicles, compare prices, and secure a rental that fits your budget. Their customer service is responsive, ensuring your queries are promptly addressed.
Flexibility is a highlight of Vroom Vroom. Whether it's a short weekend getaway or an extended road trip, they offer various rental durations to match your plans. Pick-up and drop-off locations are convenient, with multiple spots across New Zealand, including airports and city centers.
Vroom Vroom's fleet is well-maintained, ensuring your security on the road. Optional add-ons like GPS navigation and child seats enhance your comfort during the journey.
Whether you're an international tourist wanting to explore New Zealand's beauty, a local resident needing a reliable rental, or seeking convenient transportation, Vroom Vroom New Zealand is a trustworthy choice.
Their dedication to quality service, variety of vehicle options, and customer-oriented approach make them stand out. Choose Vroom Vroom for a seamless journey as you explore the wonders of New Zealand.
Other things to know about driving in New Zealand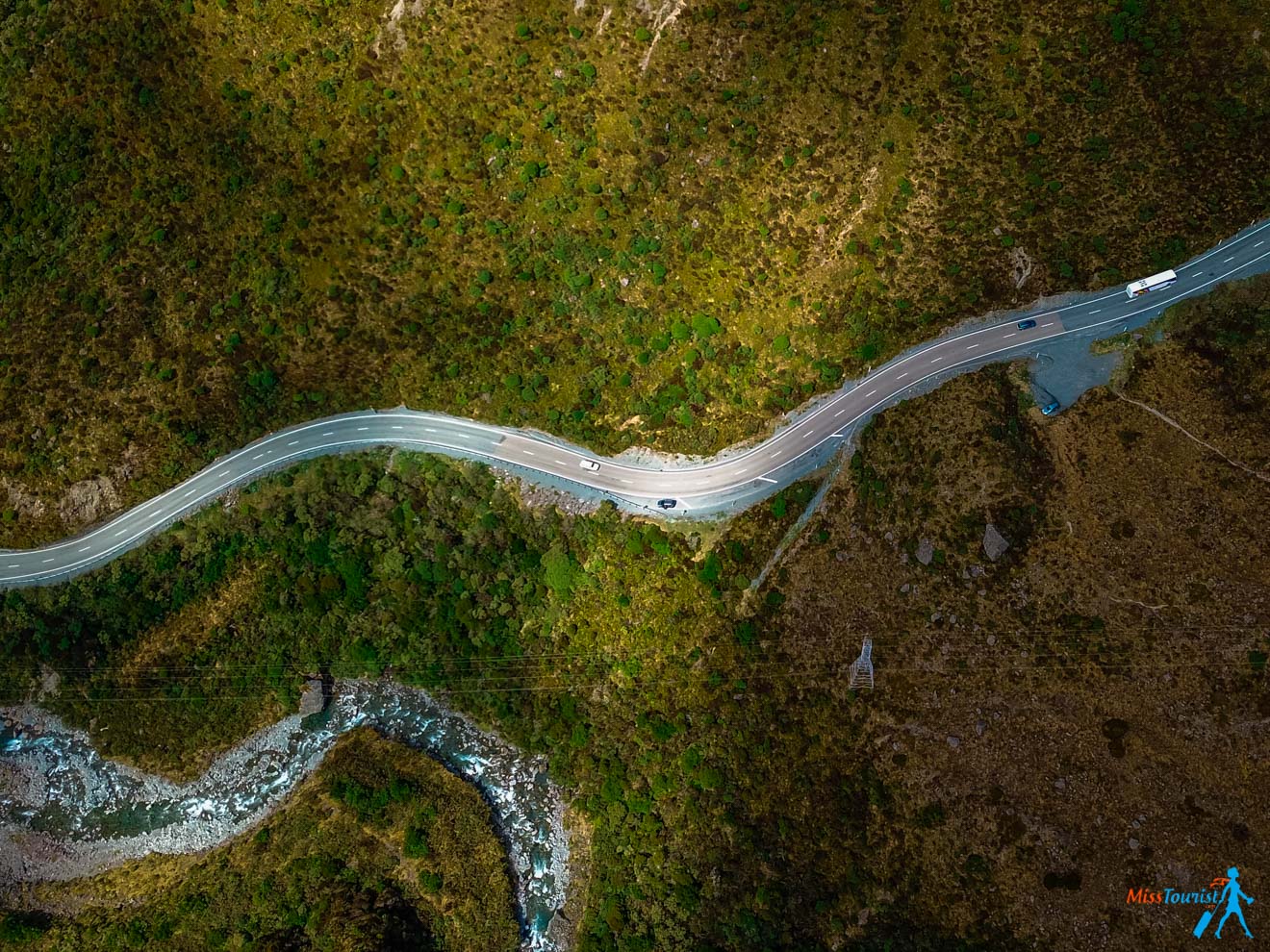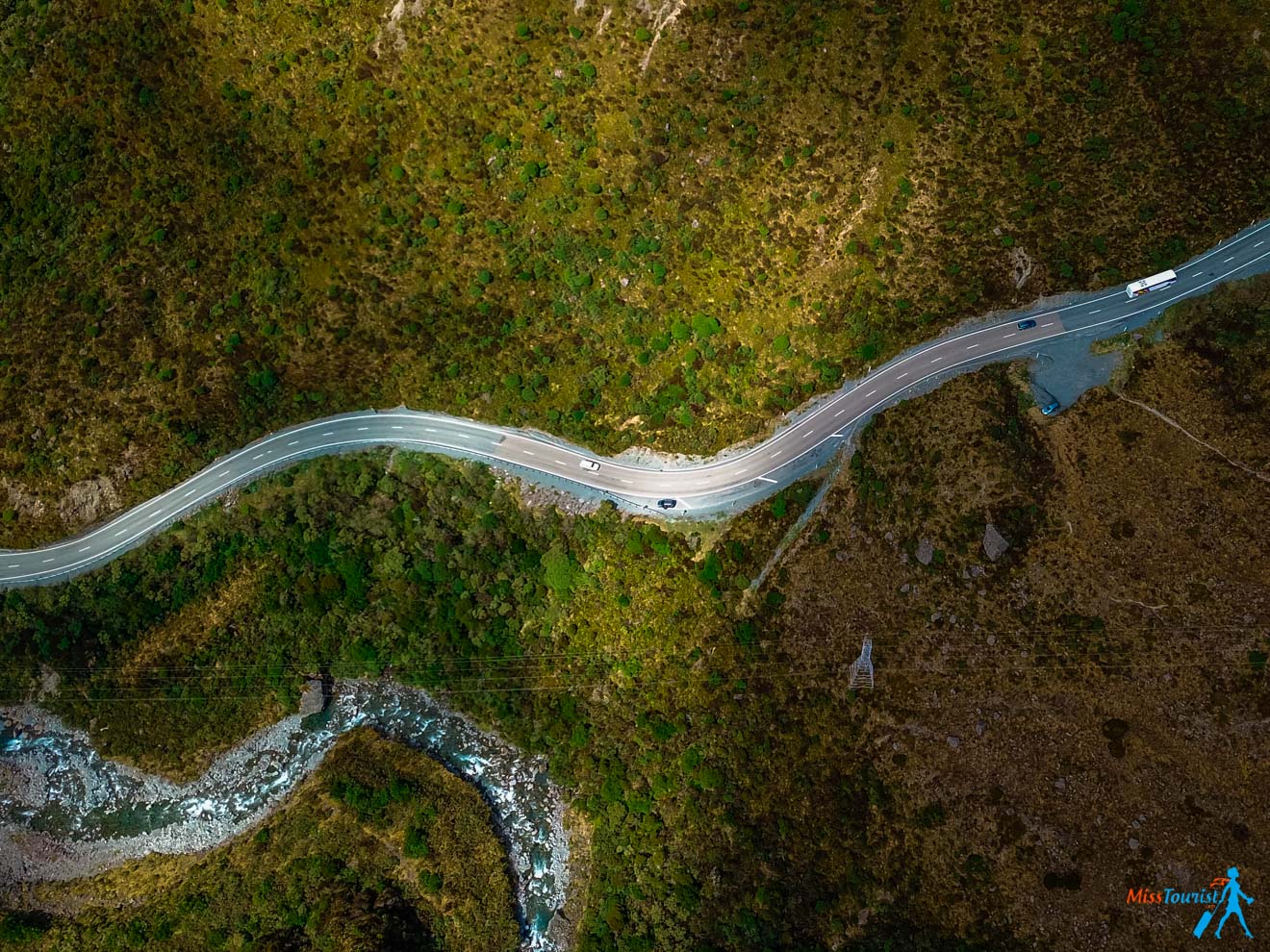 It is illegal to talk on the phone while holding it, so you can either use a Bluetooth connection if your car is equipped with it (ours was and it was very comfy) or use headphones. It is dangerous and you might be fined by the authorities, so it's better to avoid this from the beginning.
There are a couple of paid toll roads in New Zealand, check them out here
Think ahead about fueling up! There are some parts on the road where you can go for a couple of hours without a single gas station around. Always check how far away the nearest one is and if it's convenient to fill your tank now or later.
Always look before crossing railroad tracks, as not all of them have an active warning signal when a train is coming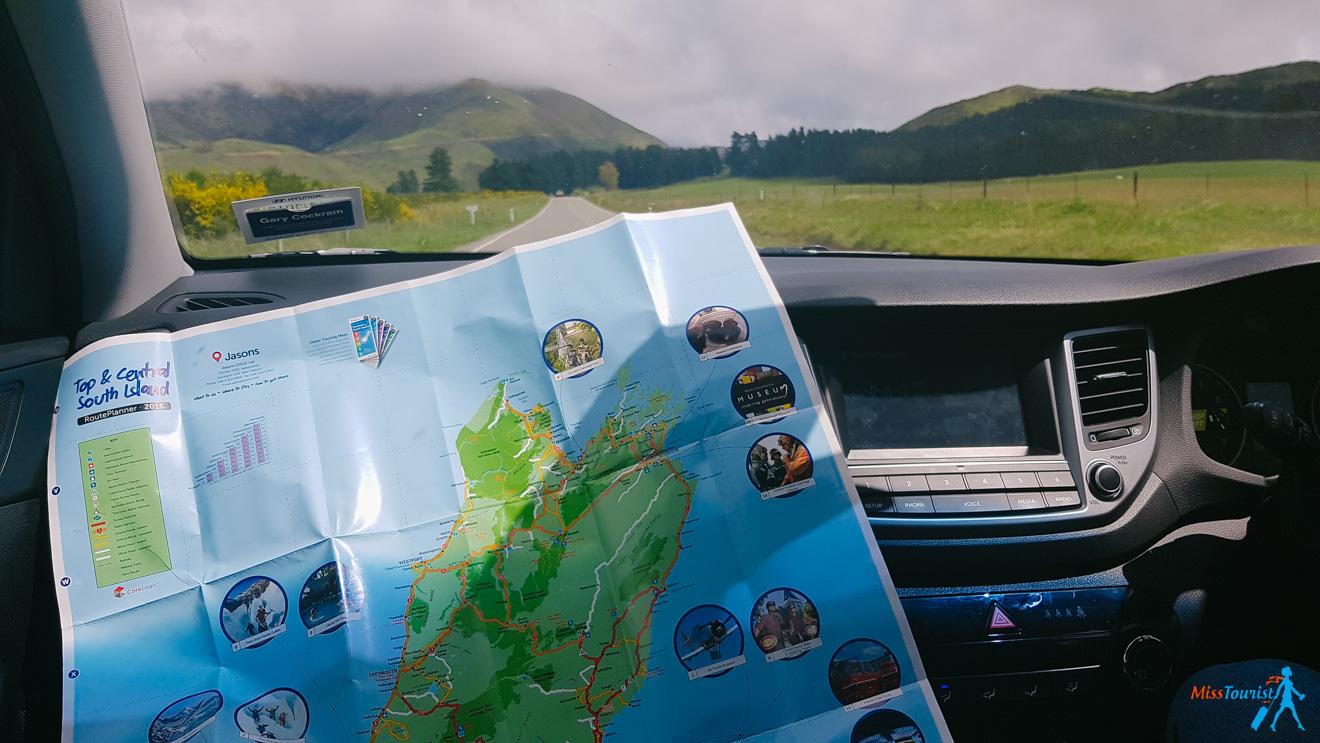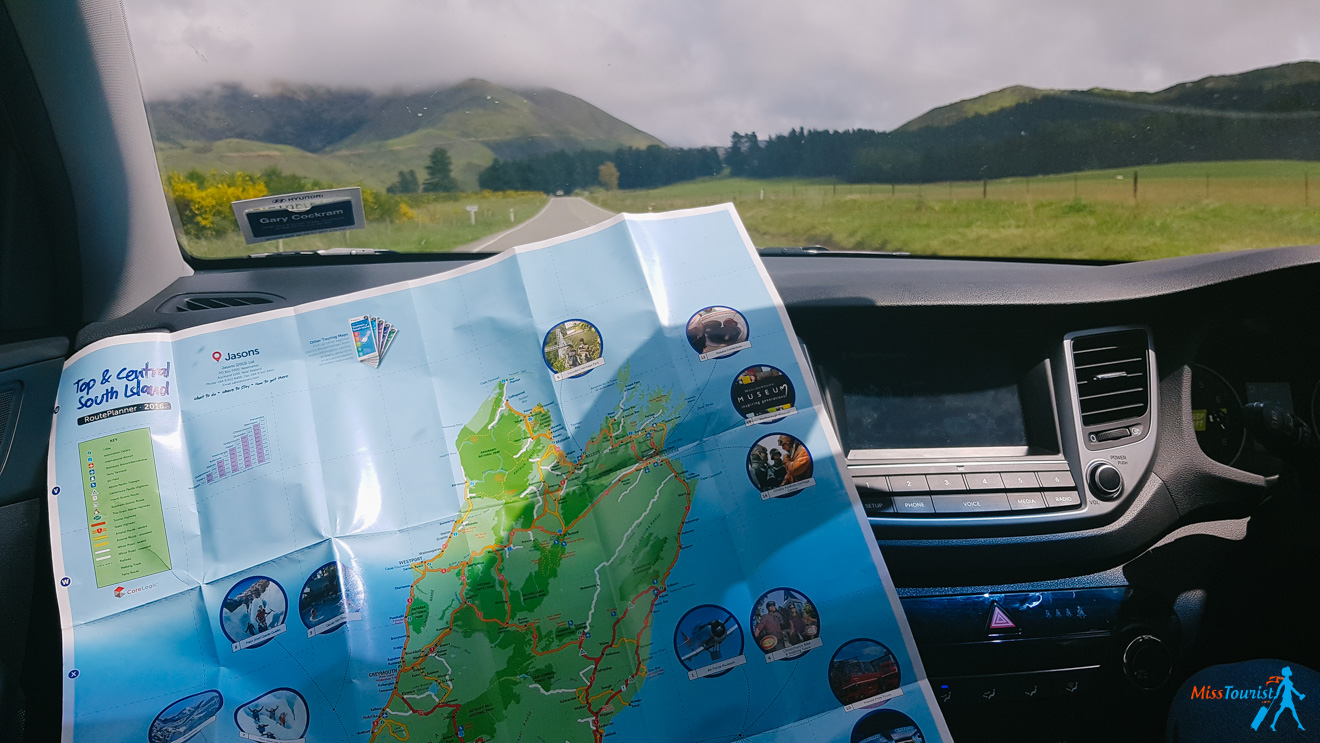 If a location looks close on the map, it is not necessarily so. Sometimes there is no way to go straight (ex. – if there is a mountain in front of you, you will have to go around it). Also, I wouldn't trust Google Maps completely with their time estimates as it usually assumes that you will be traveling at more or less the same speed
If you are camping, download the CamperMate App – it is super useful to see all the camping places available and what facilities they have – with prices too!
Parking signs are clearly indicated. Some are 60 or 90 mins free parking, some you have to pay – just look at the road signs around you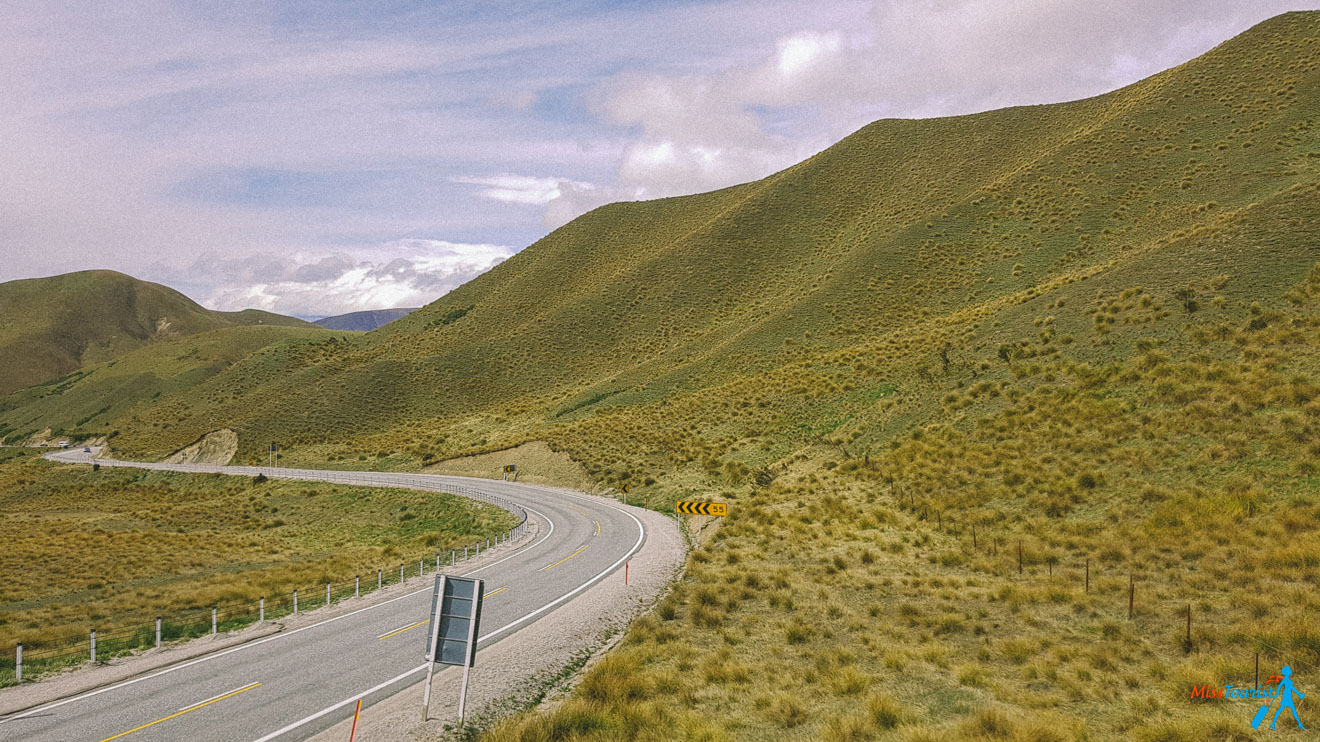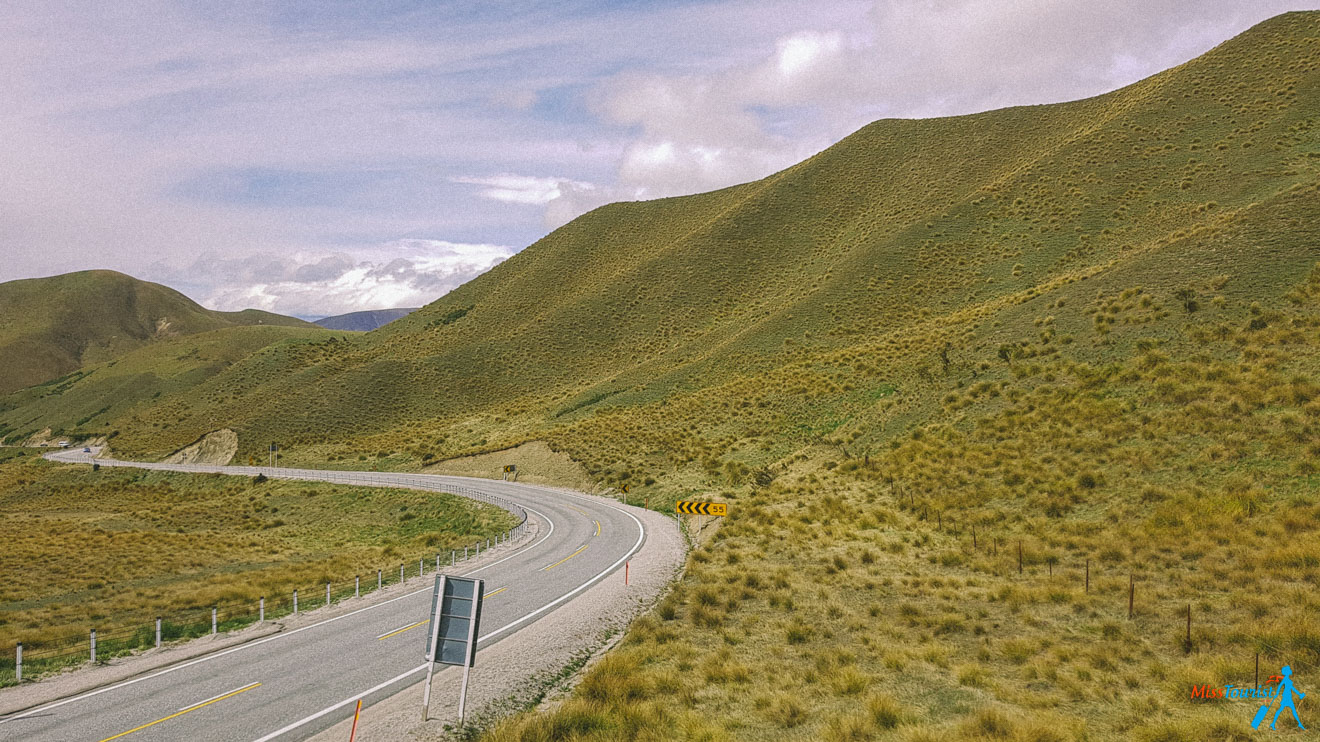 Unlike Iceland, you won't need a 4×4 car. The roads are great and a normal sized car will suffice
A big thing you need to decide in advance is how you are going to get your car from one island to the other. You can put it on a ferry, or you can leave it and pick up another car on the other island. Check the prices before to see what's best for you
The driving age starts at 18 in New Zealand, but individual companies can impose their own rules and I have seen age restrictions from anywhere between 18 to 25. Read the T&C carefully before booking.
Driving in New Zealand during the winter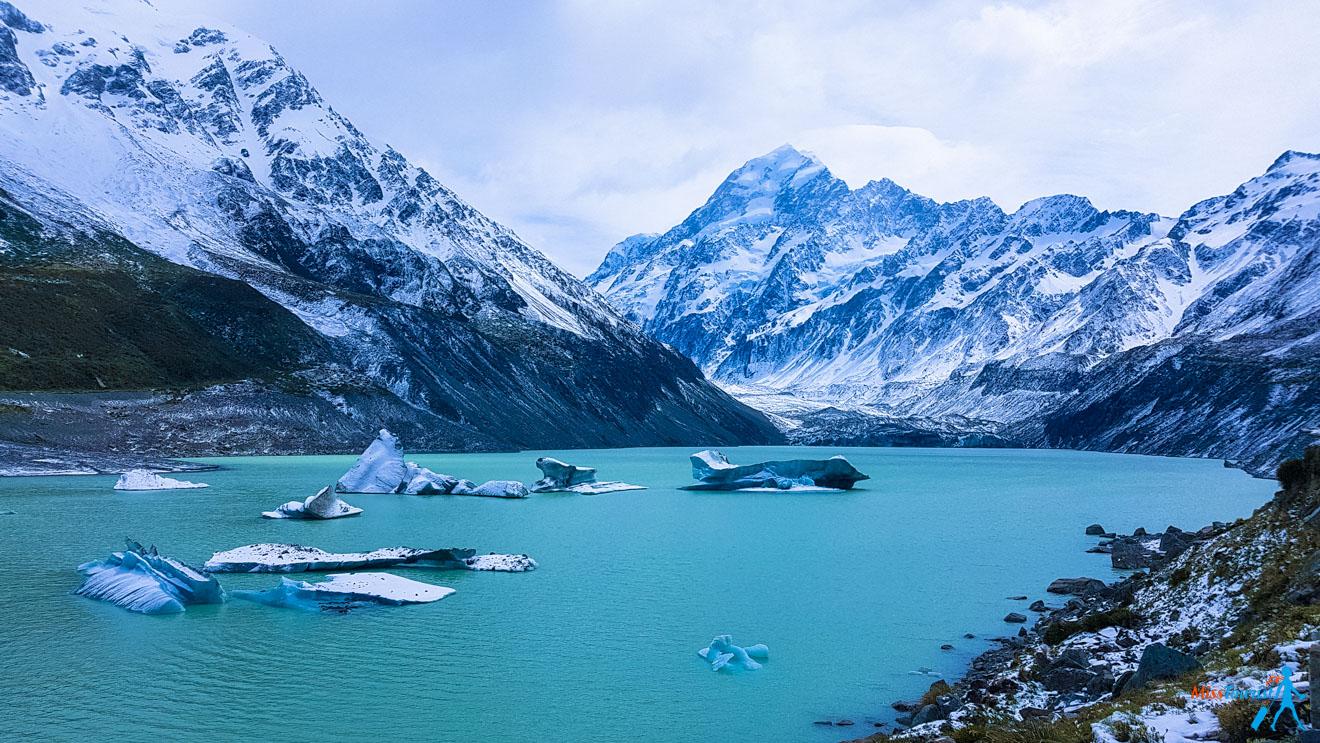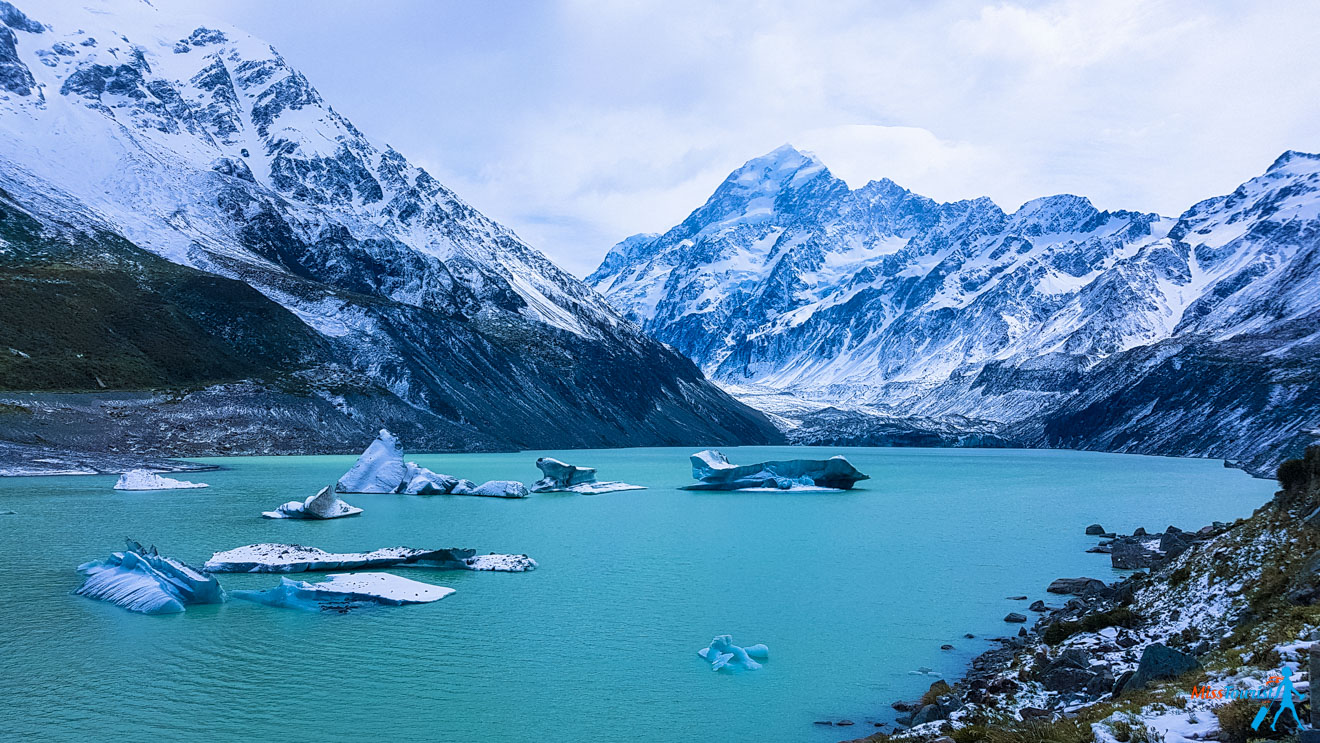 As I said, the weather in New Zealand is not as harsh as in Iceland, but some roads do get closed due to snow and they also have black ice – a quite common thing during winter. Look out for wet patches and avoid braking suddenly!
In case the road is snowy and your tires are not equipped, you can also rent snow chains. They are about 5-6 NZD per day.
As I said earlier, in most cases, you will be fine with a winter-equipped standard car so there is no need to get an SUV car.
The roads are usually cleaned quite fast, so if it snowed heavily the night before, just have a longer breakfast or do some sightseeing in the area. By the time you are finished, the road will probably be cleared. Oh, New Zealand, I love you so much for this! <3
When to go to New Zealand?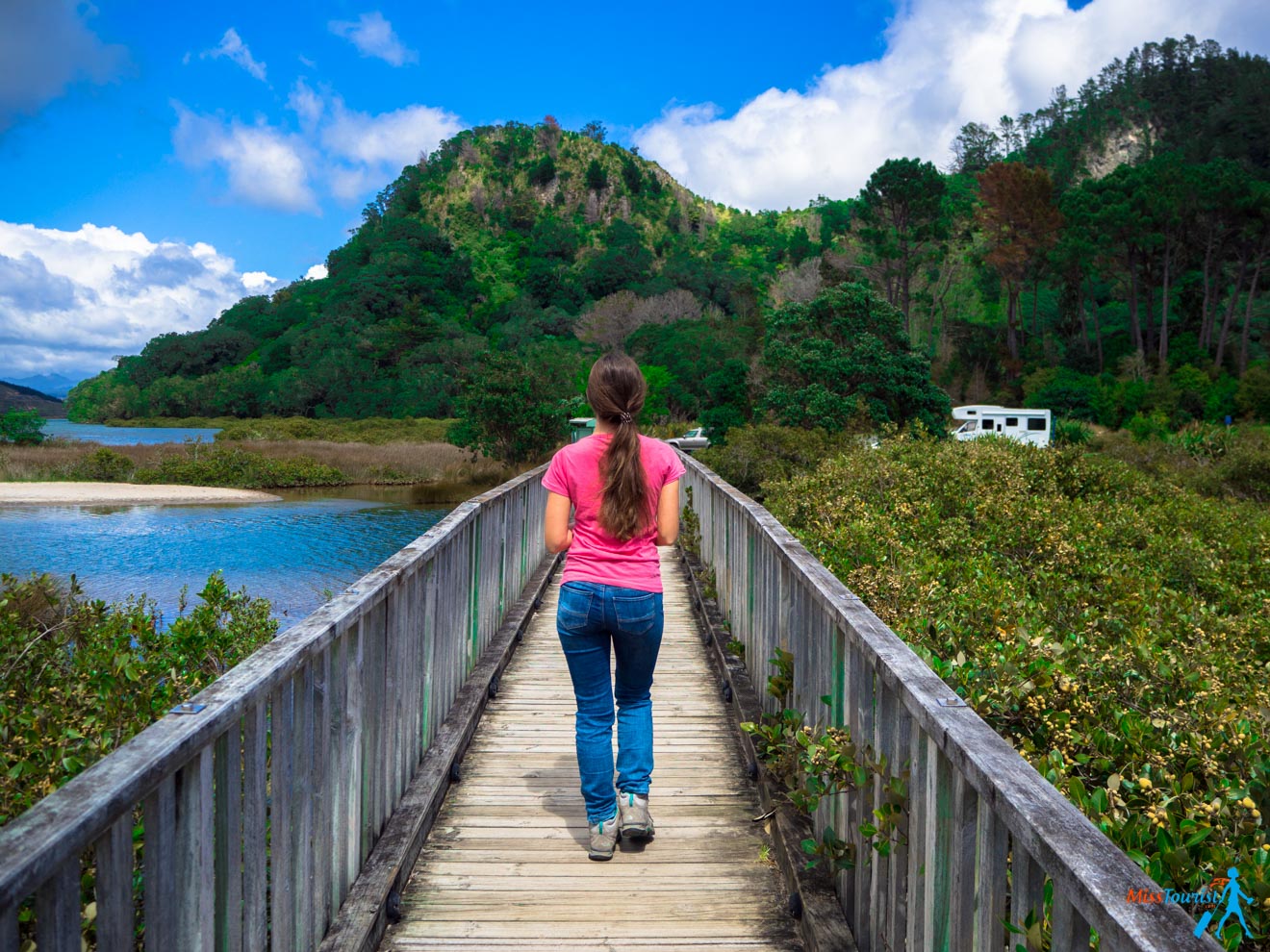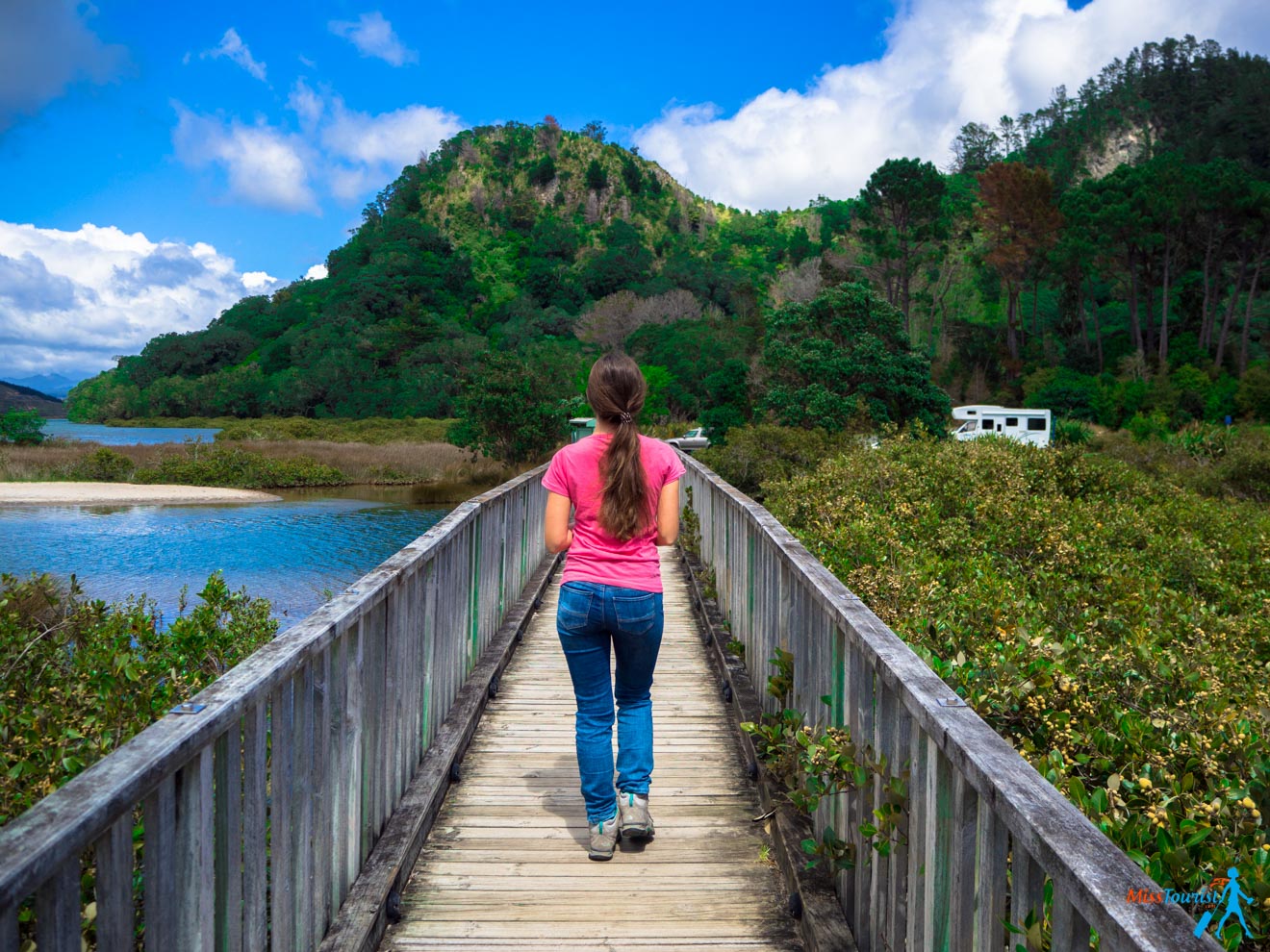 Summertime is probably the best (that is December to February in New Zealand), but I went in October (that was middle spring for them and it was totally fine).
The weather conditions in New Zealand are not as rough as in Iceland, so the roads are still drivable in the wintertime; you just need to pay a bit more attention, that's it.
RELATED READ: How to plan your ideal trip to New Zealand
What is the speed limit for driving in New Zealand?
The open road speed limit is 100 km/h (62 mph). It also might be 80 km/h in some cases, but there will be a sign.
The default urban limit is 50 km/h (31 mph). Here is an updated list of speed limits for all kinds of vehicles.
Also, remember to not pass on yellow lines!
What are the alcohol limits for driving in New Zealand?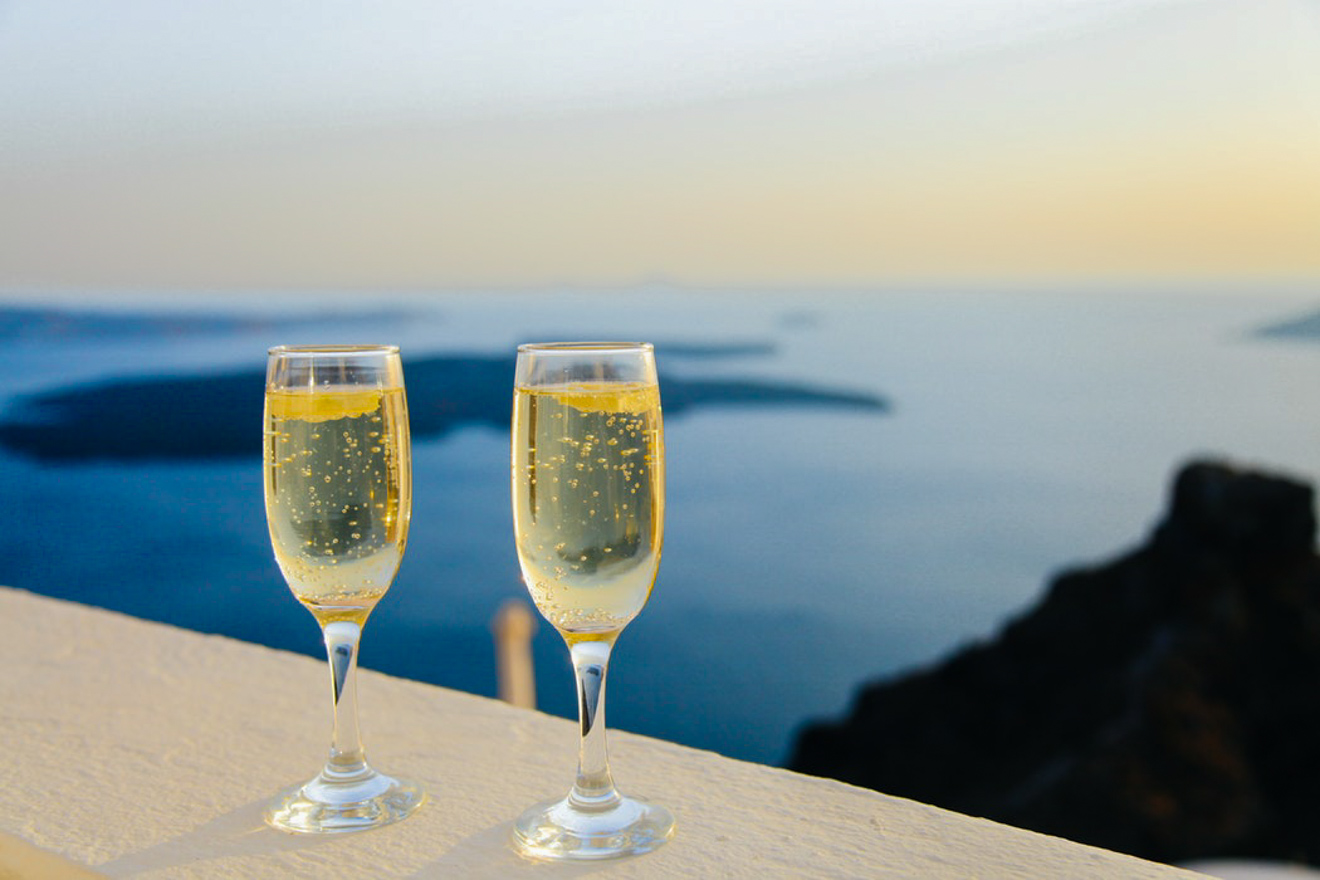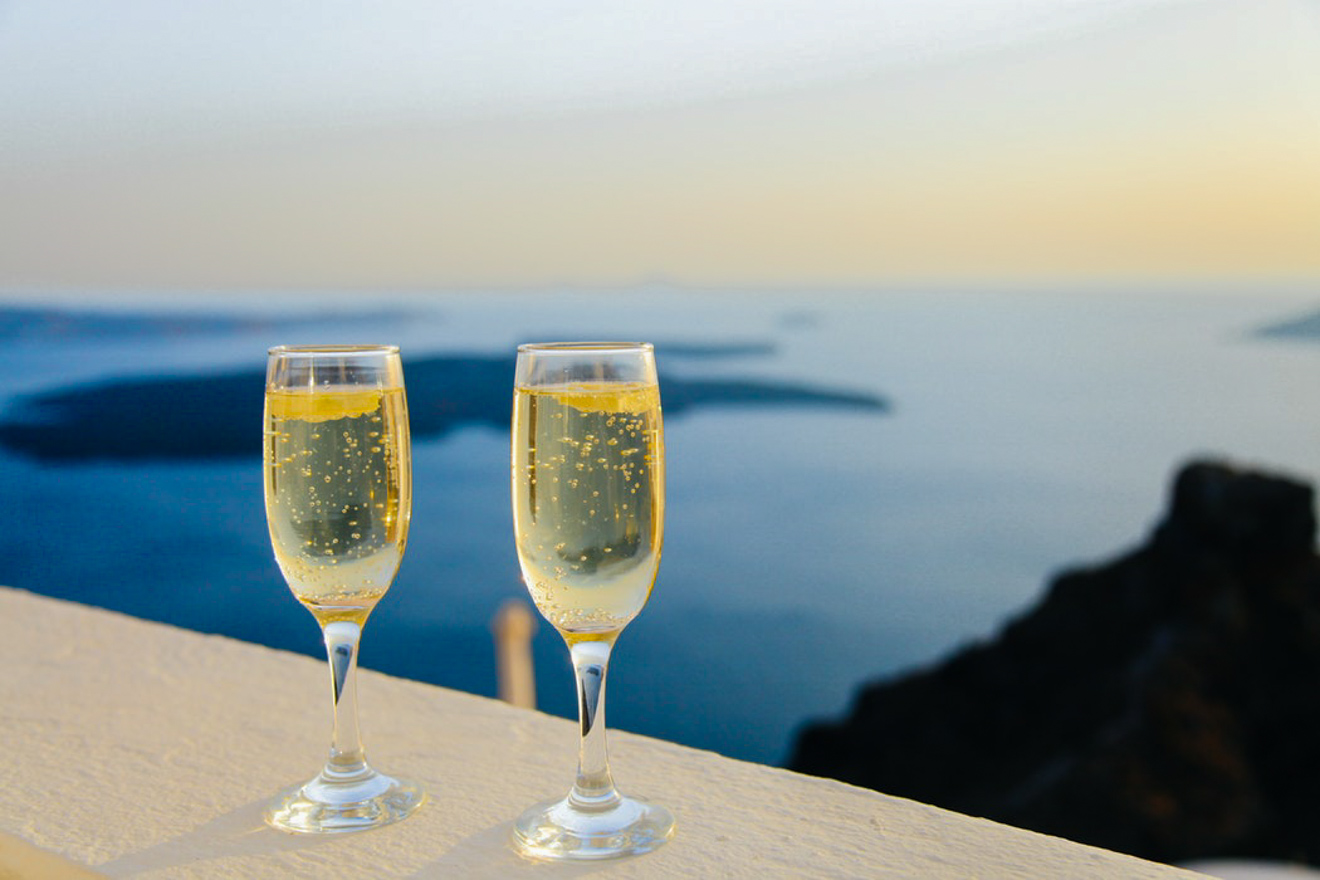 If you are 20 years old or younger, you are not allowed to have ANY alcohol in your blood.
If you are over 20, the limit is 250 mcg/L, but this might be lowered so check the updated rules here. The blood alcohol limit was lowered from 80mg of alcohol per 100ml of blood (0.08) to 50mg (0.05).
Traveling with kids in New Zealand – do I need a special seat?
If your child is younger than 7, he/she must be secured in an approved child seat appropriate for their age and size. In most cases, this can be provided by your car rental company, but you should double check in advance to see if this is included.
Buying a seat there might not only be very costly but also time-consuming to find.
Do you want to read about more places to visit in this country? Here is my article on 15 Things to do in Coromandel Peninsula, New Zealand
---
Conclusion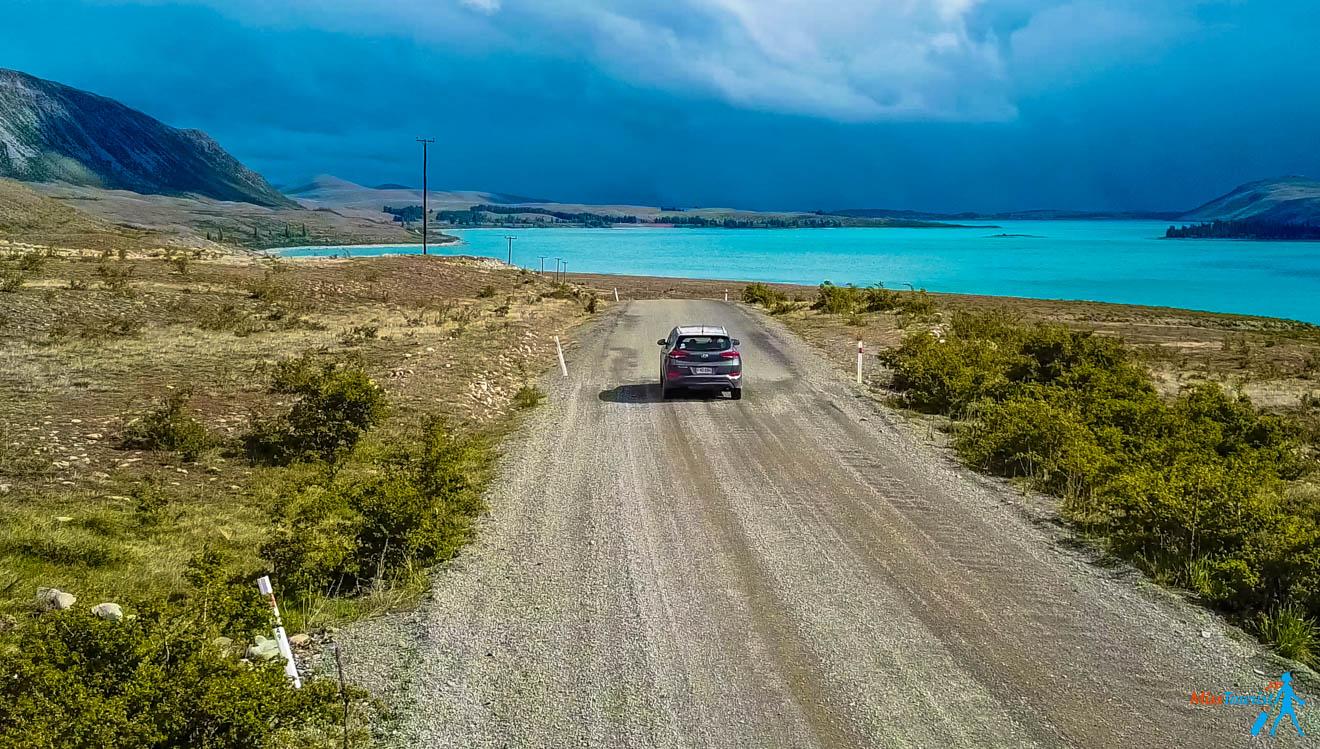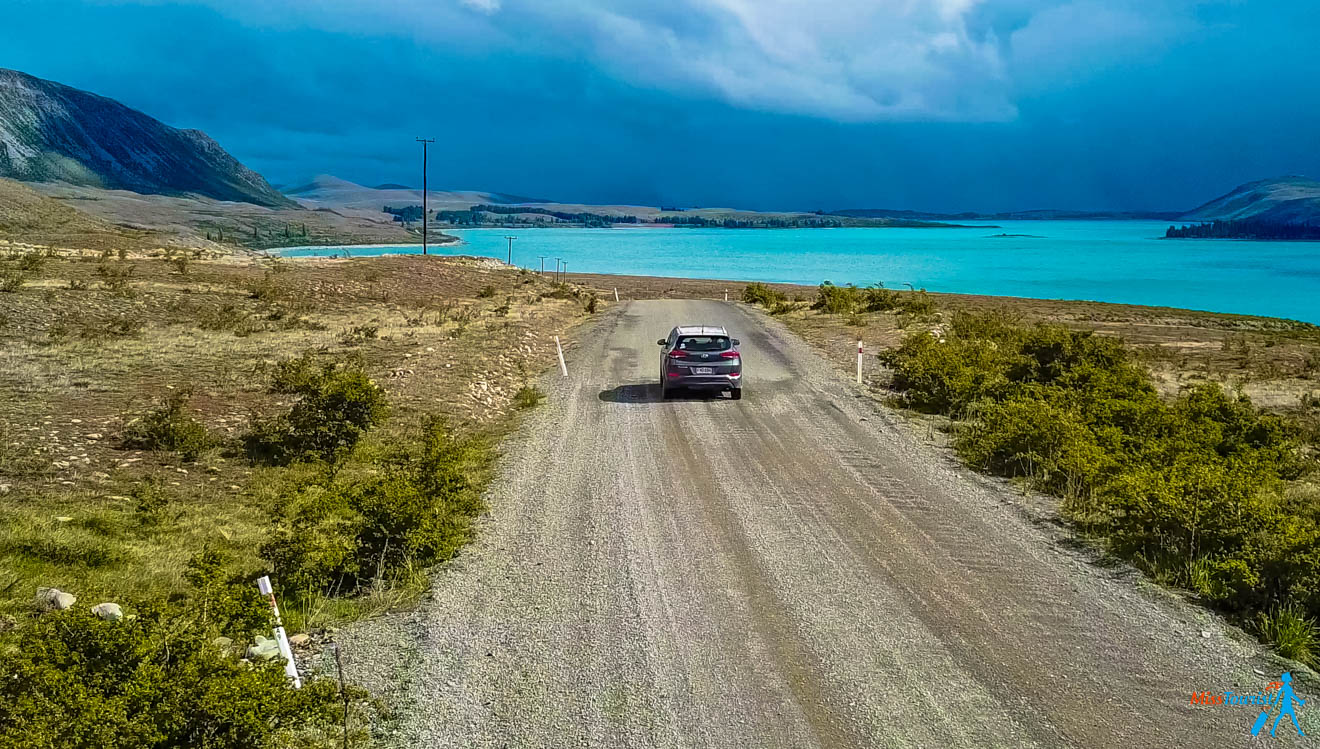 Renting a car in New Zealand is probably the best option to discover the country and the most common one, too. Whether you decide to get a car or a campervan, there are plenty of options across a wide range of budgets, but be sure to book your vehicle as far in advance as you can!
New Zealand is all about the journey, so when you find spots where you want to stay longer, be sure to do so and enjoy the beauty of the moment, do not rush it!
In the text above I talked about the most important things you should consider when renting a car in New Zealand plus some recommendations on which car type to choose according to the type of traveler you are and also some price approximations.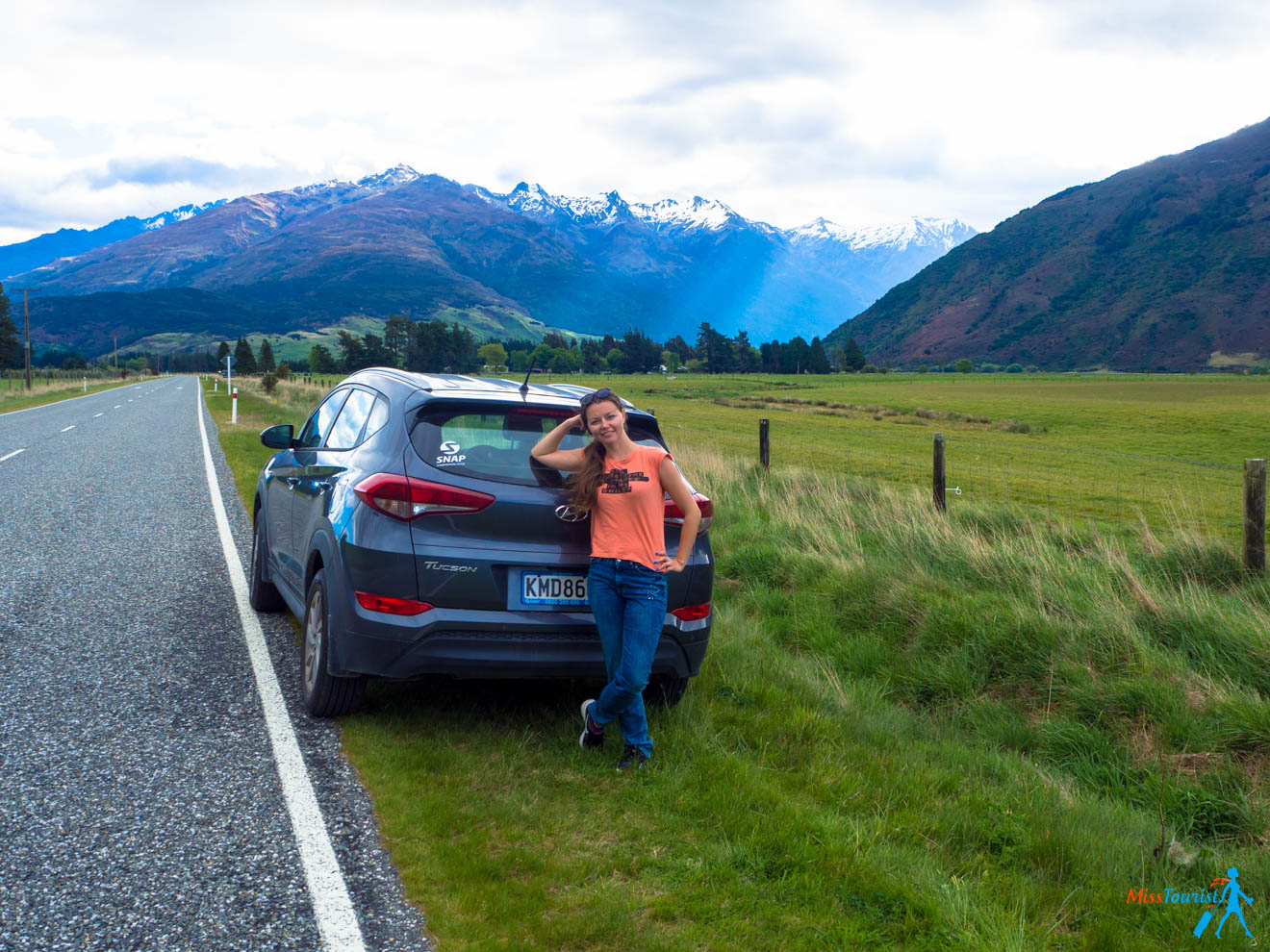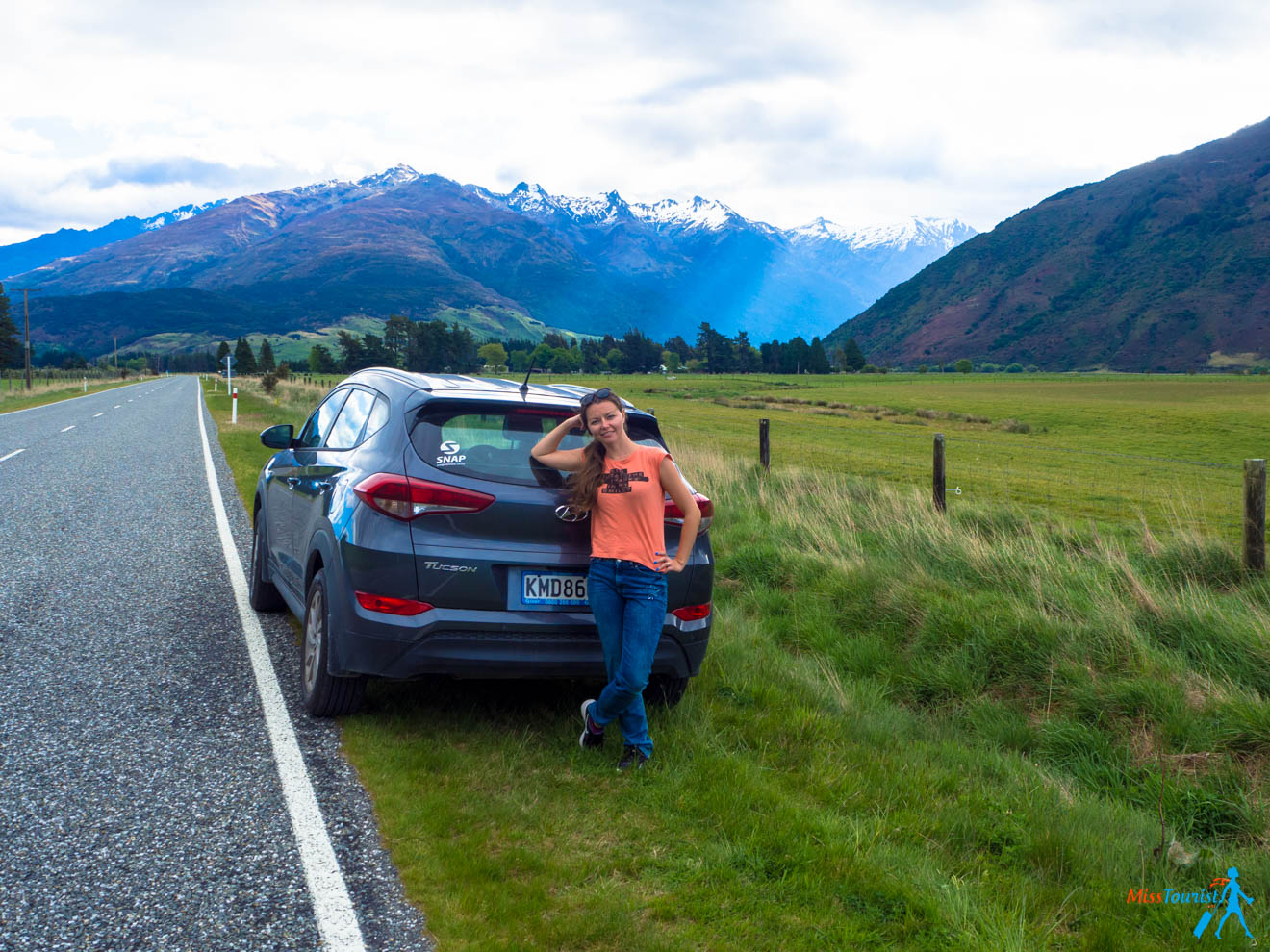 Hope that was useful!
If you need more help planning your vacation, please check all my New Zealand posts; there is plenty of info in them!
I hope you have a wonderful trip to New Zealand. Do not hesitate to let me know if you have more questions!
Yulia
---
Pin it for later!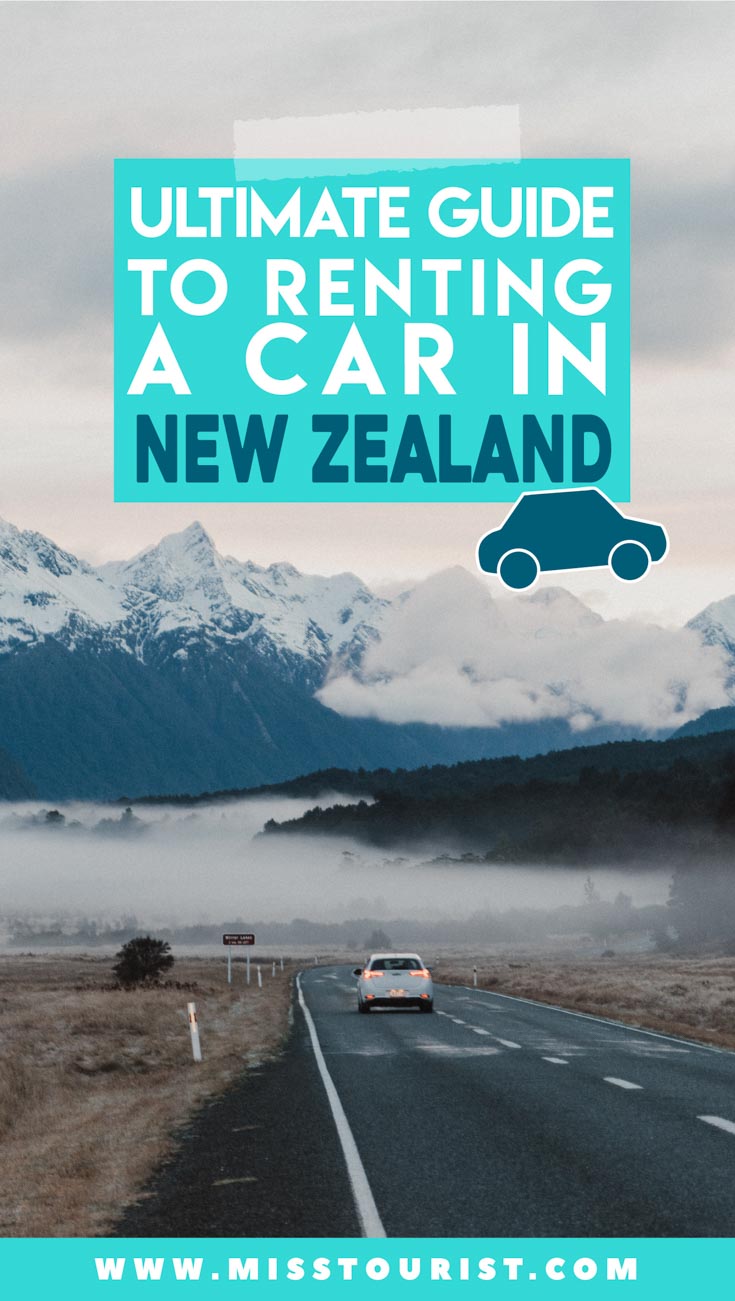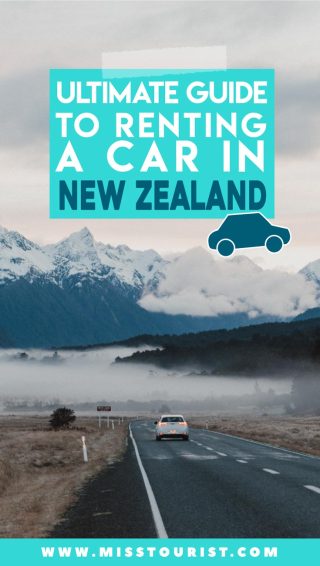 Pin it for later!