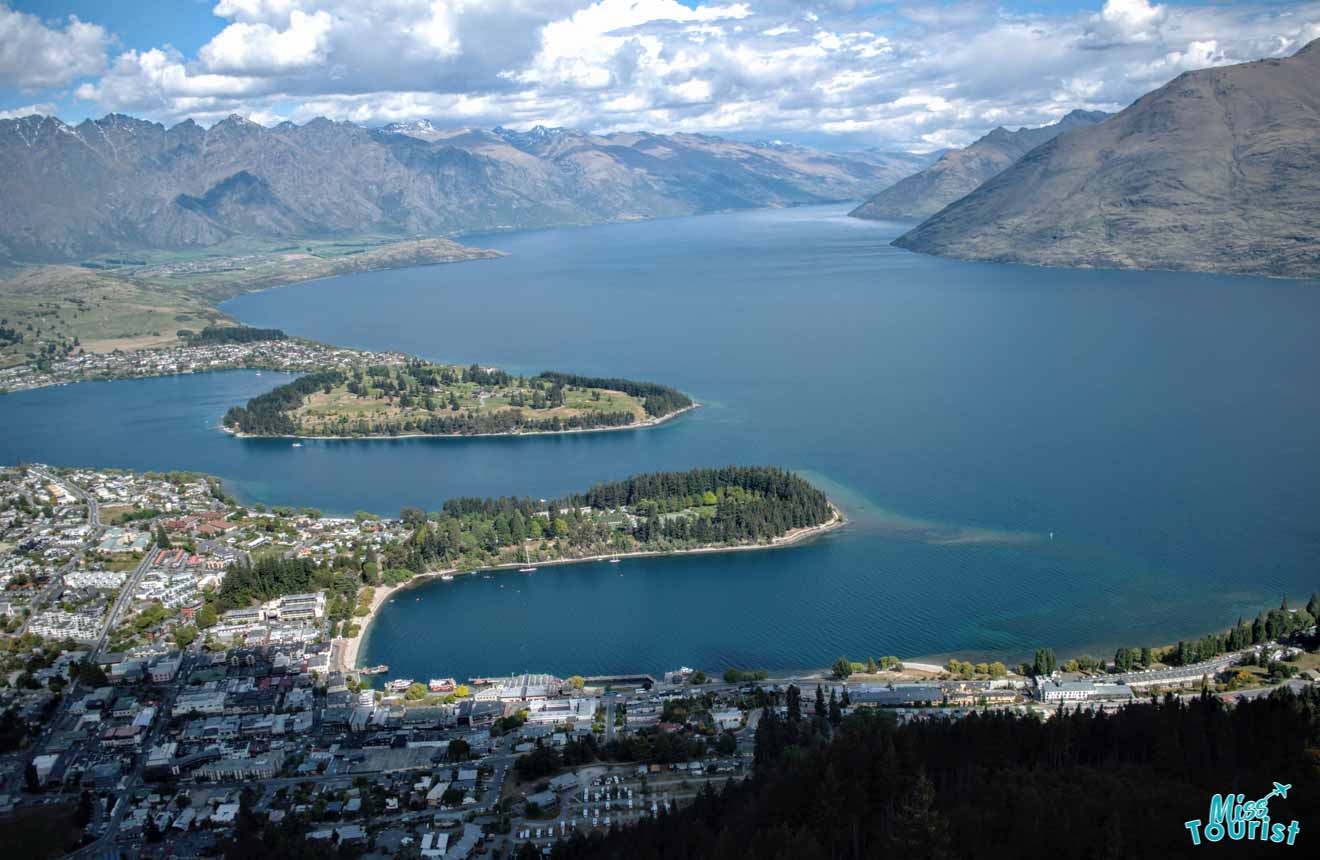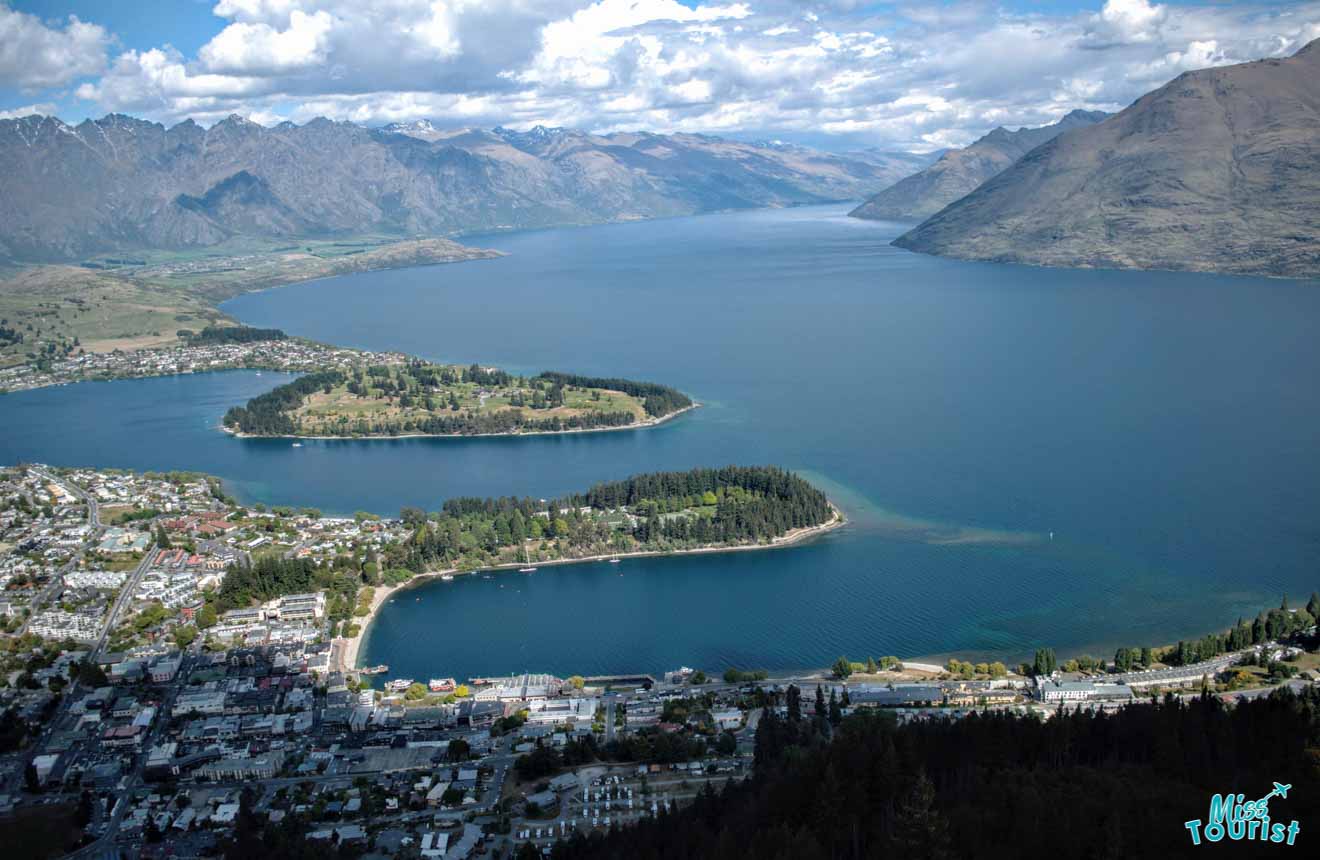 Breathtaking mountains, spectacular green sceneries, wild waterfall rivers, and crystal clear lakes… welcome to Queenstown, the paradise for outdoor enthusiasts and nature lovers!
Located on the shores of Lake Wakatipu, the beautiful Queenstown is a historic city in New Zealand's south island.
Nowadays it's particularly loved by adrenaline-seekers for its proximity to some of the world's best extreme sports: kayaking, bungee jumping, jet boating, rafting, hiking, and skiing to name a few. But Queenstown also has "quieter" types of adventures to offer, like cruises on the Milford Sound, part of the World Heritage area of ​​the Fiordland National Park on the west coast, skiing on Coronet Peak, or the Remarkables, and hikes in the surrounding mountain for all tastes.
All of this without having to renounce the fresh mountain air! Sounds like a fairytale, doesn't it? To have a happy ending, you just need to find the perfect accommodation! Good news: I've already done the job for you researching among thousands of listings and I was left only with the top hotels and Airbnb suitable for different budgets in Queenstown's 5 best neighborhoods.
For such a small town there are so many options, get ready to travel through all of them with me! But when you'll finally decide where to stay in Queenstown, make sure you book your accommodation at least one month in advance! These hotels sell like hotcakes!
Ready? Let's go!
If you are in a hurry
If you need to take a quick decision and book immediately, I got your back, check this list with the best hotels located in central Queenstown:
If you need to take a quick decision and book immediately, I got your back, check this list with the best hotels located in central Queenstown: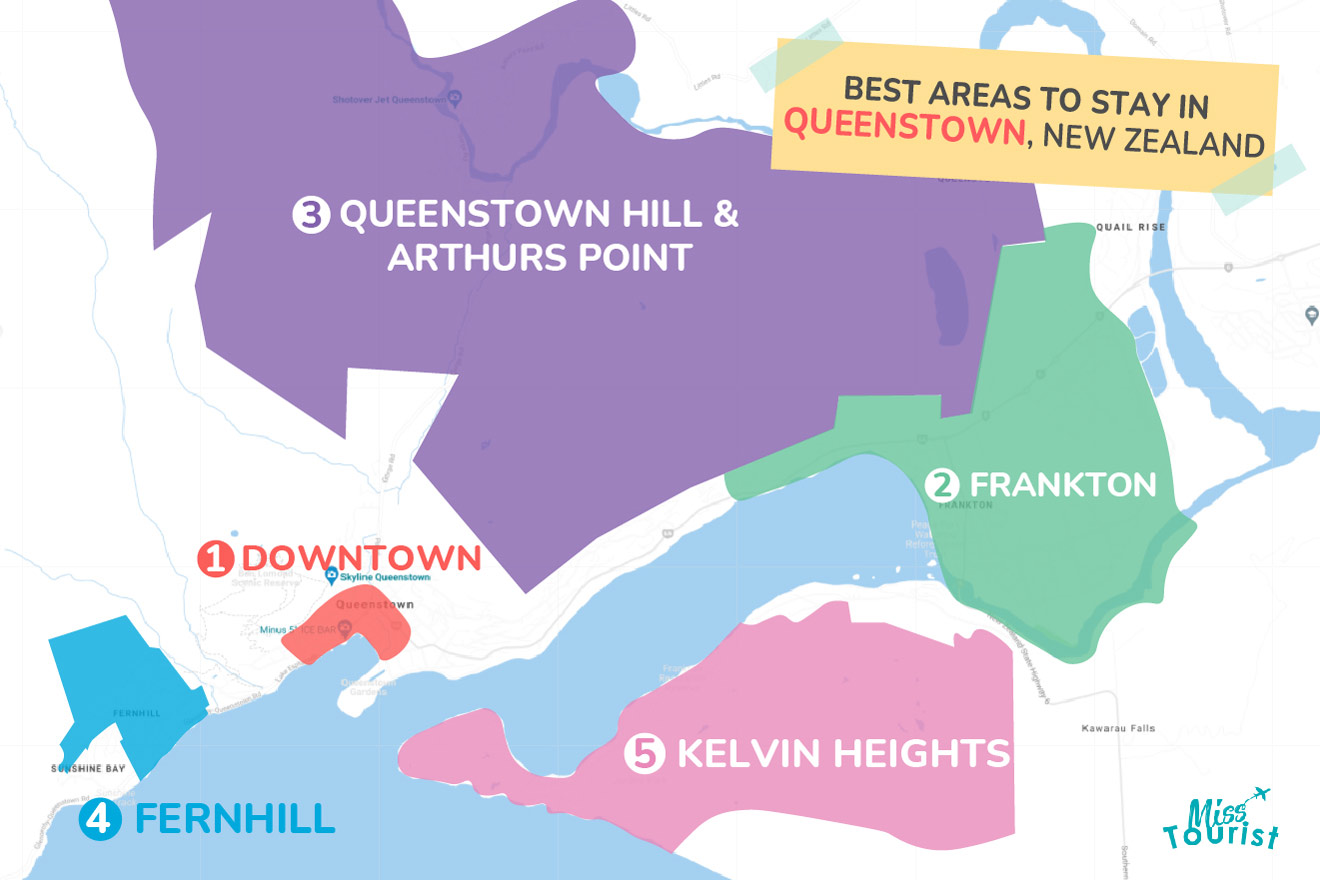 1. Downtown / Shotover street – where to stay for the first time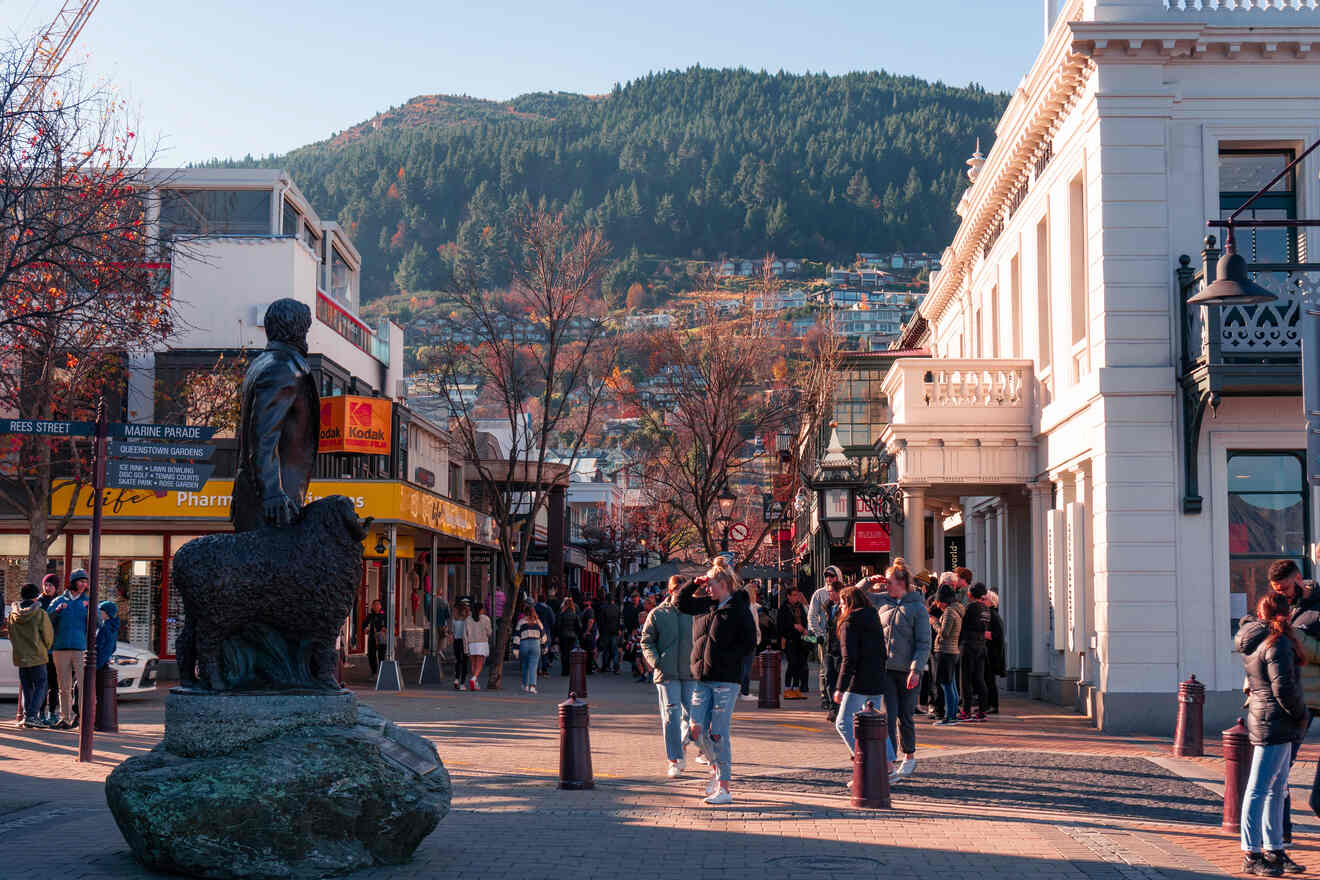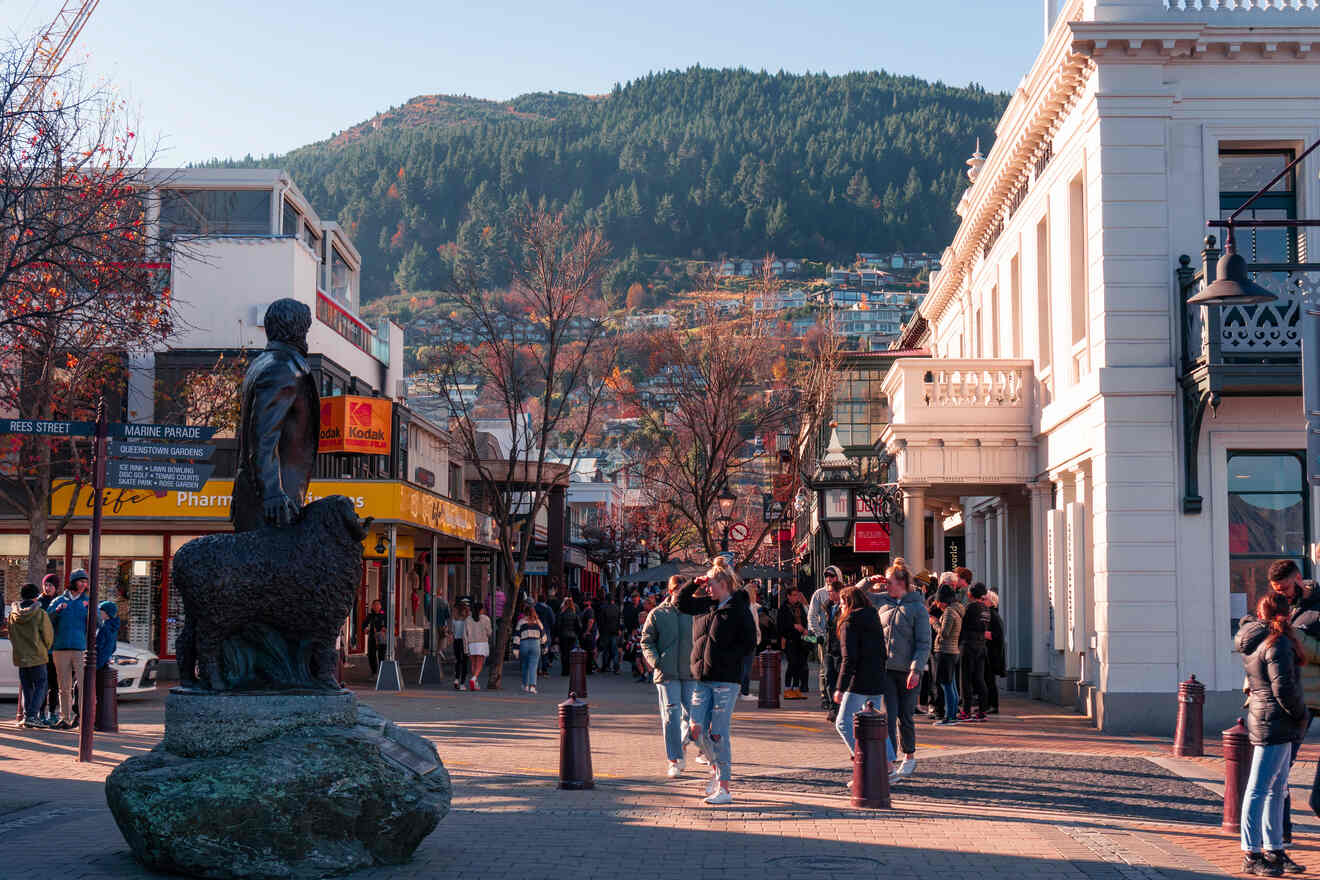 Downtown Queenstown lies right on the shores of the stunning Lake Wakatipu, close to the city center and just a 15-20 minute drive from the International Airport. This central area is perfect for first-time travelers looking for some adventure tourism, but also for families or backpackers.
Here you can book the most various activities like bungee jumping, hiking and water sports. If you're always seeking adrenaline-like me, you'll feel like a kid here!
Adventure isn't your thing? No worries! You can treat yourself to delicious food in the local restaurants or take a wine-tasting tour through the region's many vineyards. If this idea excites you, only 30 minutes driving away from Queenstown there is Gibbston Valley, famous for its wide range of vineyard-based lodgings.
You can't get bored in this neighborhood and you'll be able to experience a little bit of everything, so you'll get the real feeling of this town! Two other big pluses? Accommodations here are much cheaper than in other areas of Queenstown and everything is within easy walking distance!
If you love the hustle and bustle of the city center and want to travel on a budget I suggest you stay in Shotover main Street, Queenstown's most loved area by backpackers! Hostels, nightlife, bars, and adventurous establishments attract a big community of young travelers and locals who come together creating a lively atmosphere!
Luxury hotel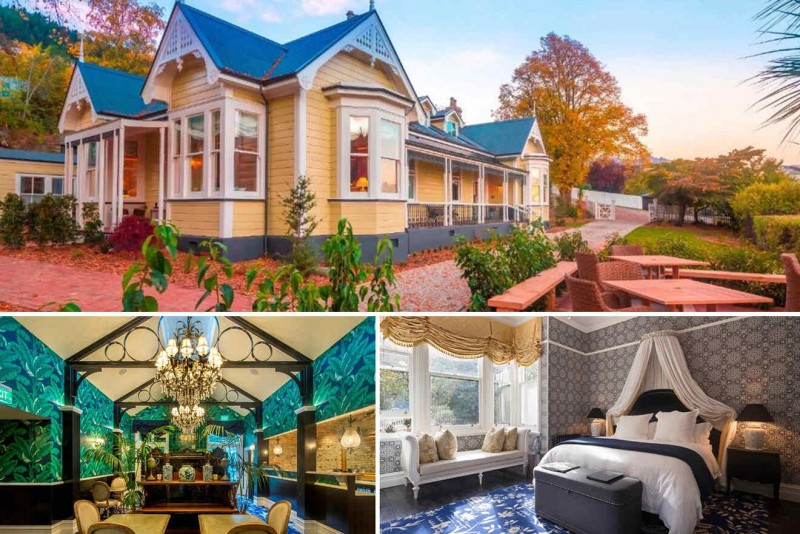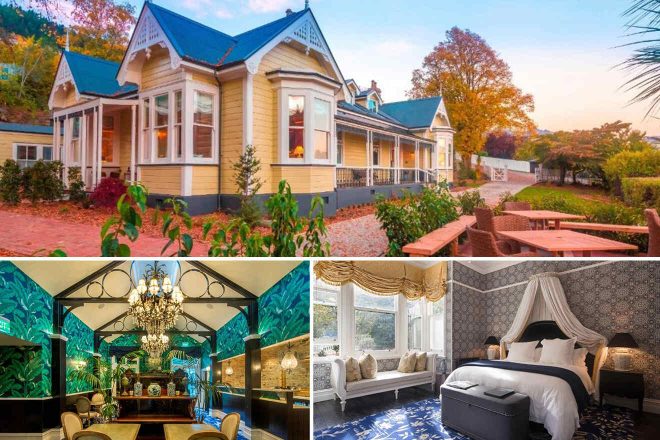 Get a celebrity treatment in one of the 6 private family rooms of this luxurious Victorian villa where elegance meets coziness and comfort! Enjoy a delicious free breakfast or a cocktail at the lounge bar with a stunning view over Lake Wakatipu and the Remarkables, just 500 m from central Queenstown and the main street.
mid-range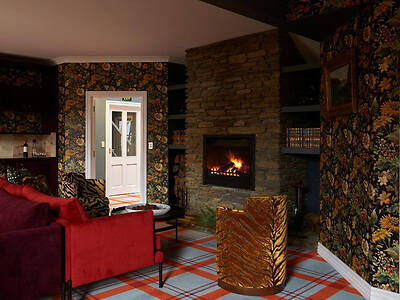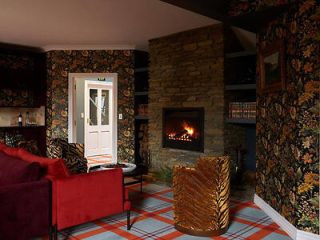 Have a relaxing stay in this beautiful hotel with quirky decor, just 2 a minutes walk from the vibrant town center 
budget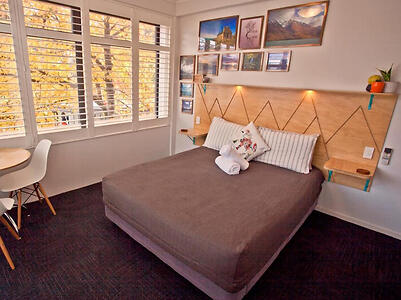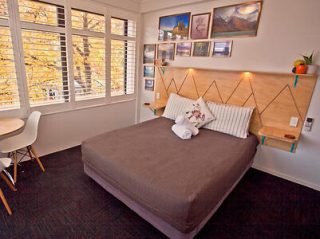 Choose between a private room or dormitory with shared bathrooms in this fresh lakefront hostel!
air-bnb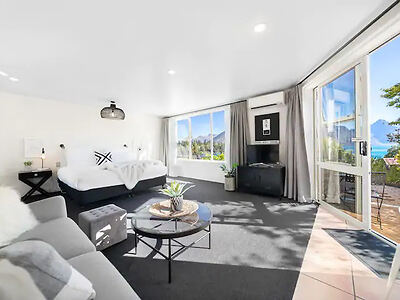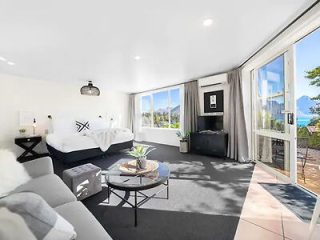 Enjoy all the comforts of this relaxed and stylish studio facing the beautiful lake & mountains
Since Downtown Queenstown is one of the most popular neighborhoods, here are 4 more accommodation options in case the ones above are already booked out:
Luxury: Queenstown Park – A luxury boutique hotel with panoramic views of the alpines. Perfect location at only a 5-minute walk to Queenstown city center
Mid Priced: Holiday Inn Express – Have some after skiing drinks in the outdoor alfresco terrace of this beautiful hotel, or relax in its hot sauna!
Budget: Chalet Queenstown – Enjoy the modern and stylish rooms with wonderful views and comfortable beds of this cozy chalet
Airbnb: Breathtaking mountain views – Gaze at the mountain & lake views from the living room of this marvelous Airbnb, perfect to relax after a big day of skiing!
Things to do in Downtown Queenstown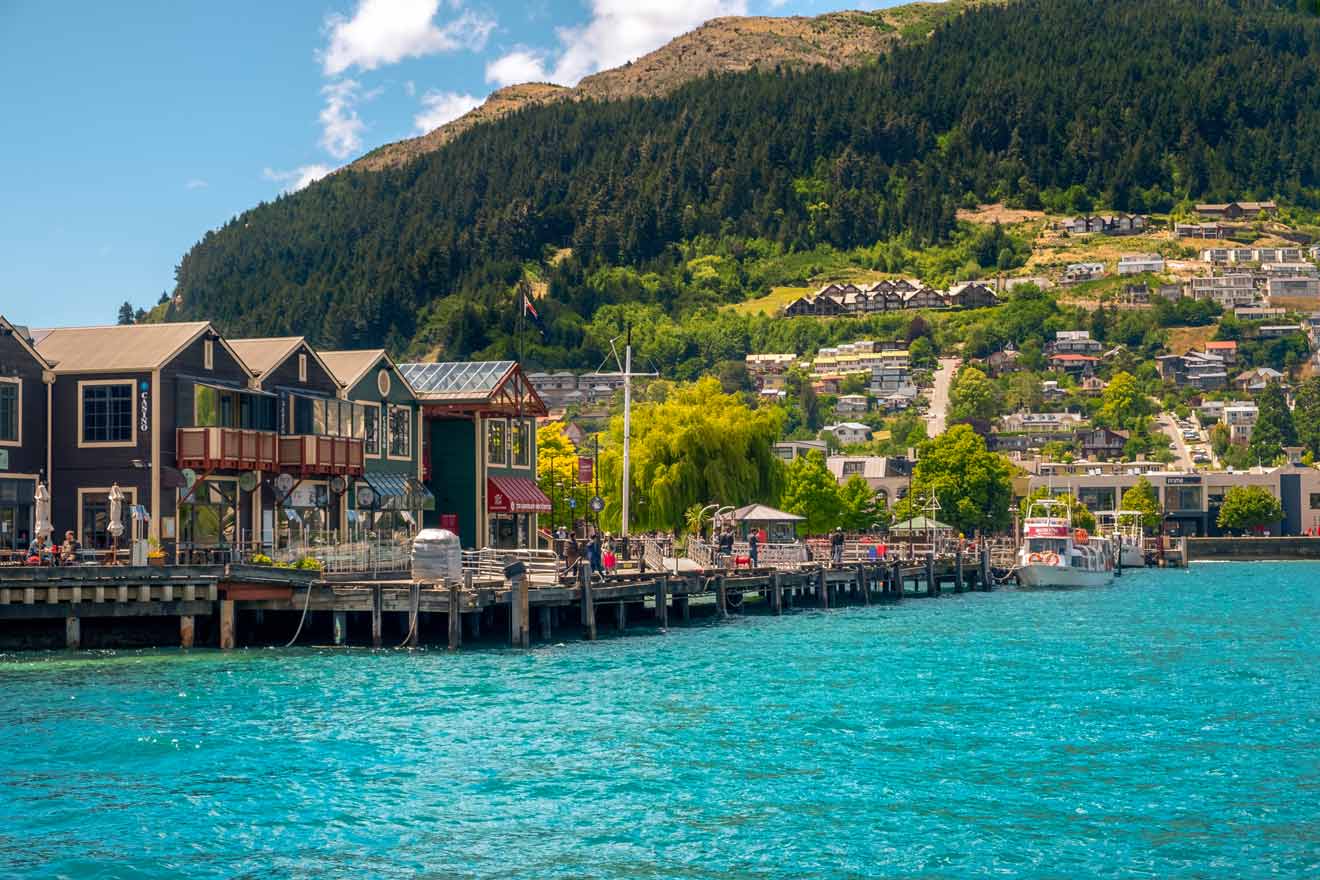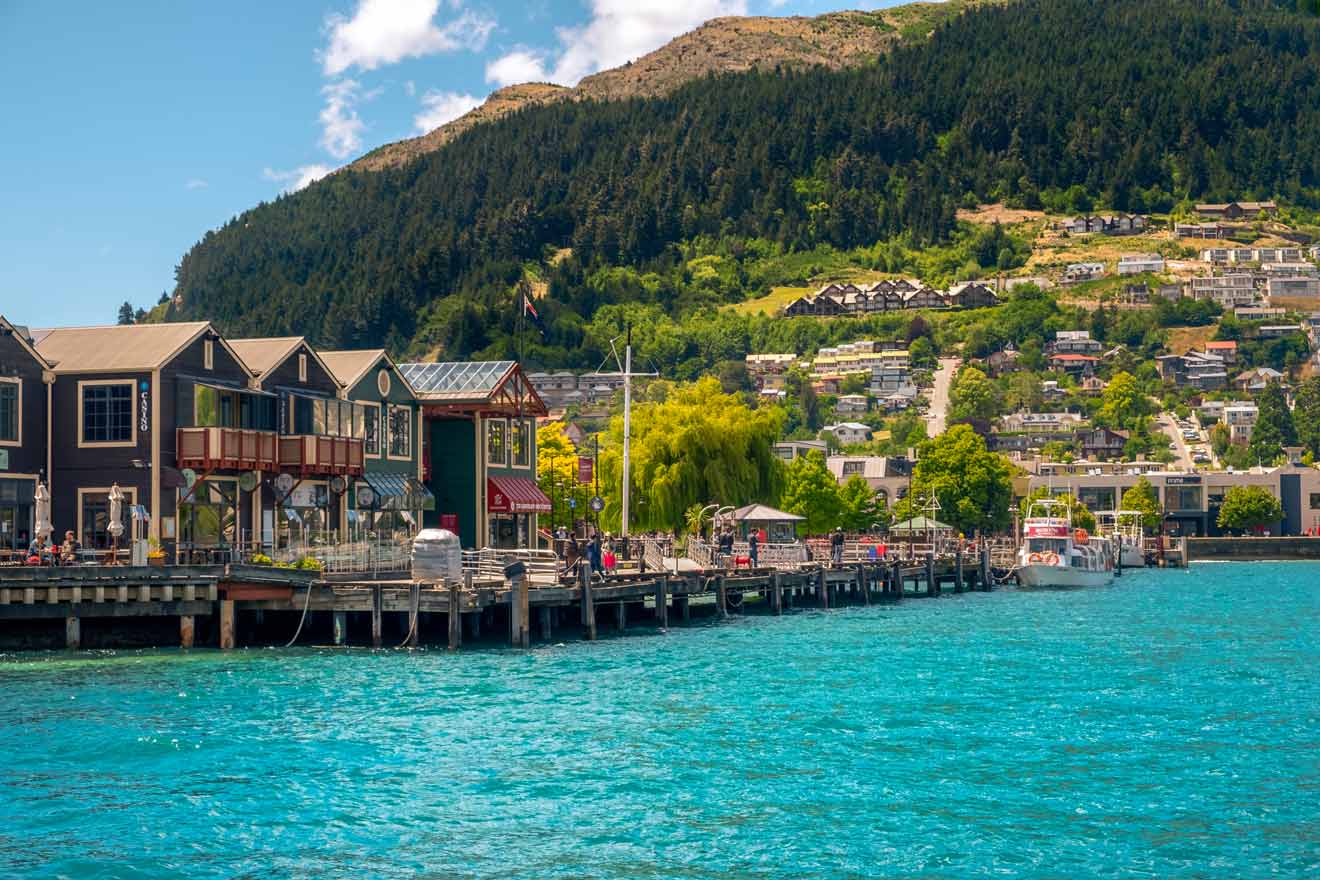 Try something adventurous like River Whitewater Rafting!
Have a walk at the gorgeous Queenstown Gardens
Rent a bike at Vertigo Bikes and go for a ride around the lake
Try South Zealand's world-famous wines with this guided bike wine tour, or at the Gibbston Valley Winery (just a 30 minutes drive away)
Hike to Gilly's Point for amazing views of the Lake Wakatipu
Check out some art exhibitions at the gallery Queenstown Art Centre
Ride 400 meters high on the Queenstown Skyline Gondola and enjoy the spectacular views!
2. Frankton – the closest area to Queenstown airport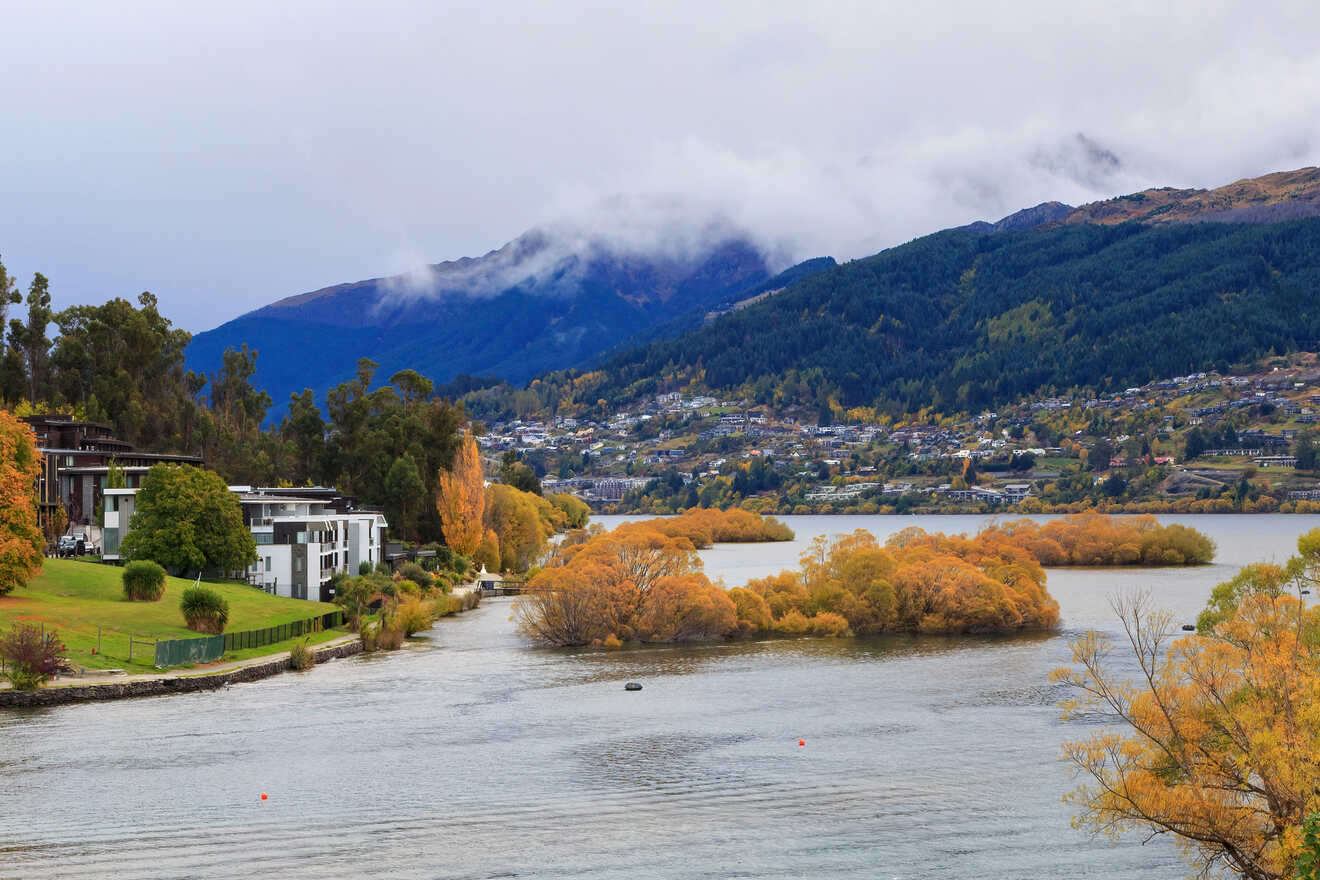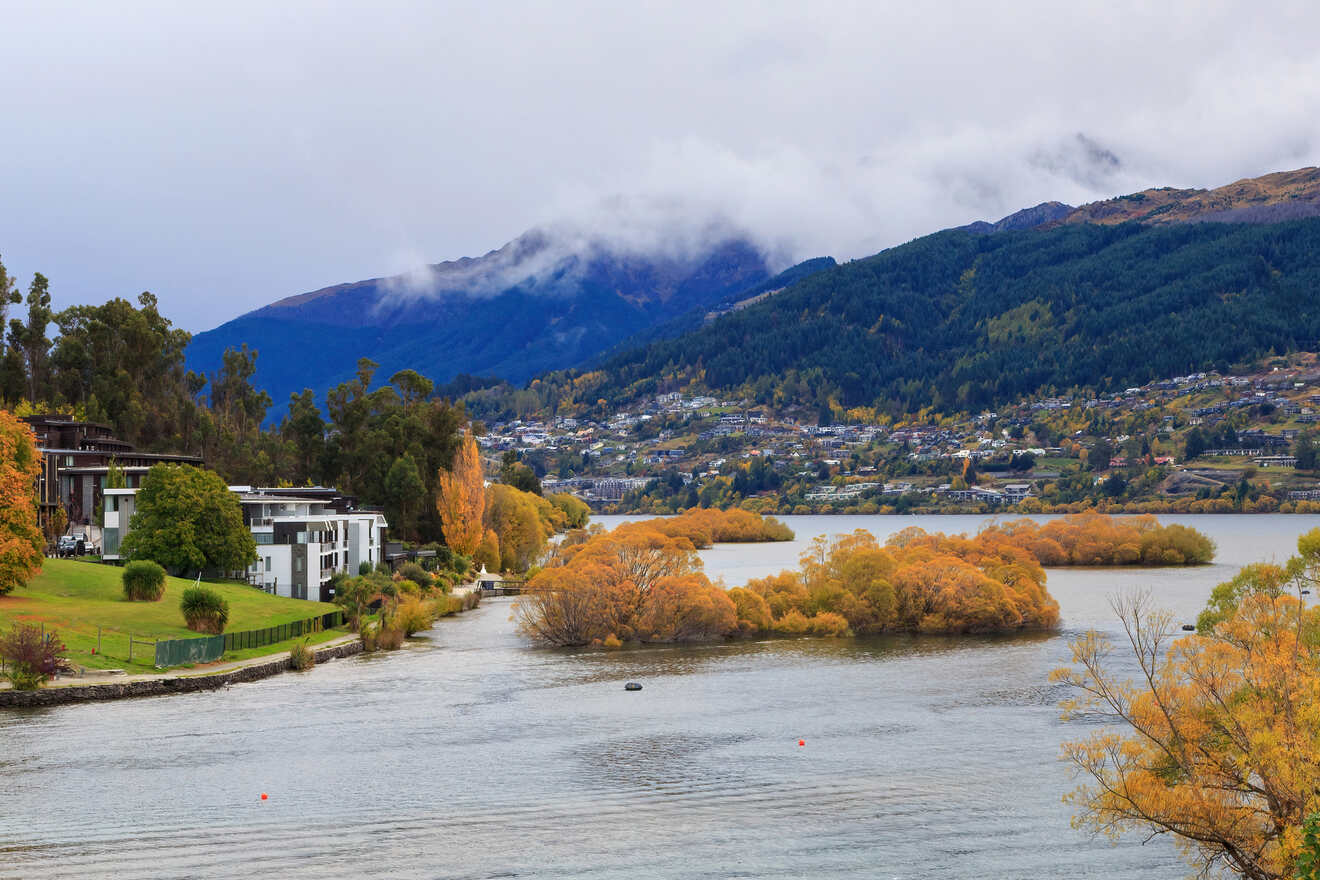 Located at the end of Lake Wakatipu and very close to Queenstown Airport, Frankton is a suburban area on the east side where you still won't have to renounce green spaces and beautiful views on the lake whilst being just a 10-minute drive from downtown.
This is definitely a quieter neighborhood, populated by locals, full of excellent restaurants and many shops. Still not far from the action of the city, staying in Frankton will give you the chance to experience a little bit of everything but make sure you book your accommodation here as soon as you can!
If shopping is a must during your travels, in Frankton you'll find every type of store, from supermarkets to other superstores. If you prefer walking or biking while enjoying spectacular scenarios you have to check out the Frankton Walking Track, a panoramic lakeside track only 1.5 hours walking from Queenstown.
If nature is what you love, you should plan a full trip to New Zealand South Island or, at this point, why not an itinerary all over New Zealand? Beautiful beaches, snow-capped volcanoes, small islands… in this country there are some of the most beautiful places in the world!
Luxury hotel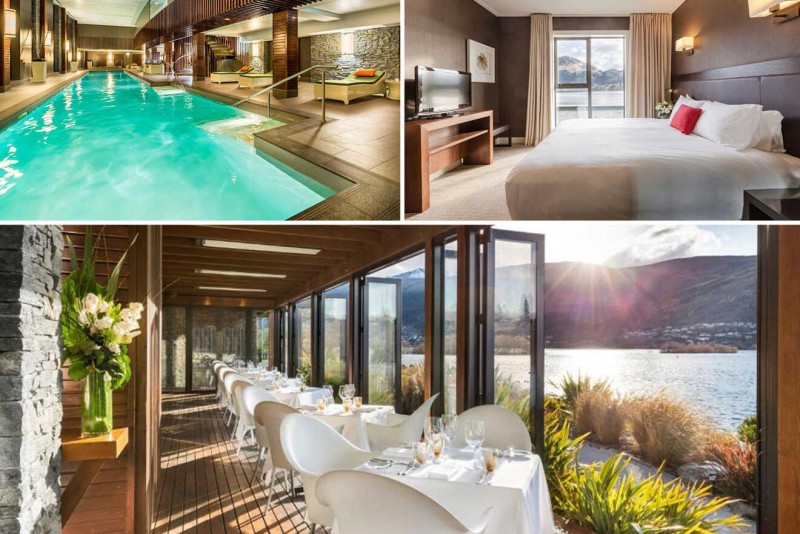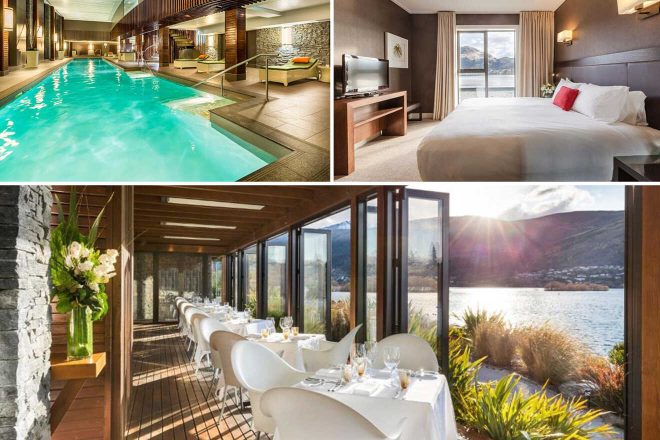 Centrally located, close to the shores of Lake Wakatipu and 5 minutes driving from the Airport, this 5 stars hotel will surprise you with a top view. Indoor hot tub, multi-award-winning spa with treatment rooms, fitness center, outdoor terrace with lake views, and signature restaurants surrounded by nature!
Other accommodation options in Frankton
Mid-Range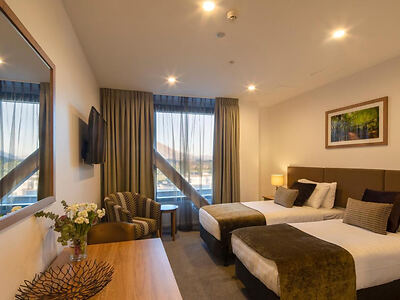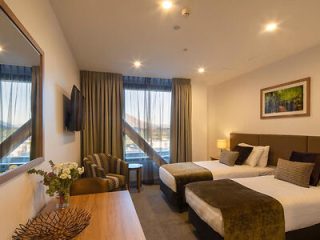 Great hotel with free breakfast and heated ski equipment storage room
Budget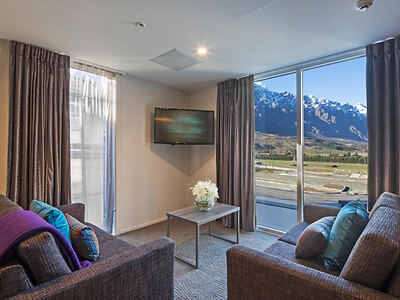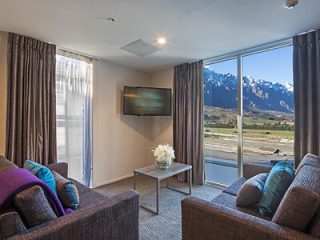 Spacious private rooms with a great view of the Remarkables mountains
Airbnb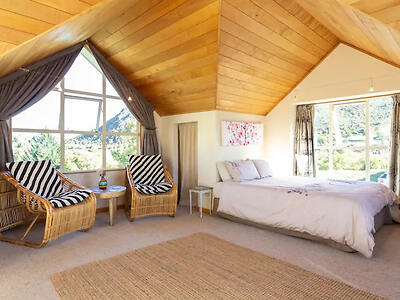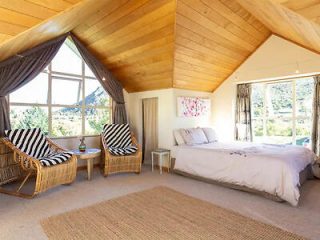 Private loft apartment with comfortable beds in a quiet area
Things to do in Frankton
Go for a walk or a ride on the Frankton Walking Track
Have a picnic on the shores of the tranquil Lake Hayes
Have a meal at the Boatshed Café with a view of Lake Wakatipu
Dive in the waters of Frankton beach or take some great pics!
Hike in the beautiful Kawarau Falls Scenic Reserve
Take a boat from Frankton Marina for a stunning sunset cruise!
Join a sightseeing flight from the airport over the snow-topped Remarkables!
Visit the Remarkables Park Town Centre for some shopping, the biggest mall in Queenstown.
3. Queenstown Hill & Arthurs Point – where to stay for nature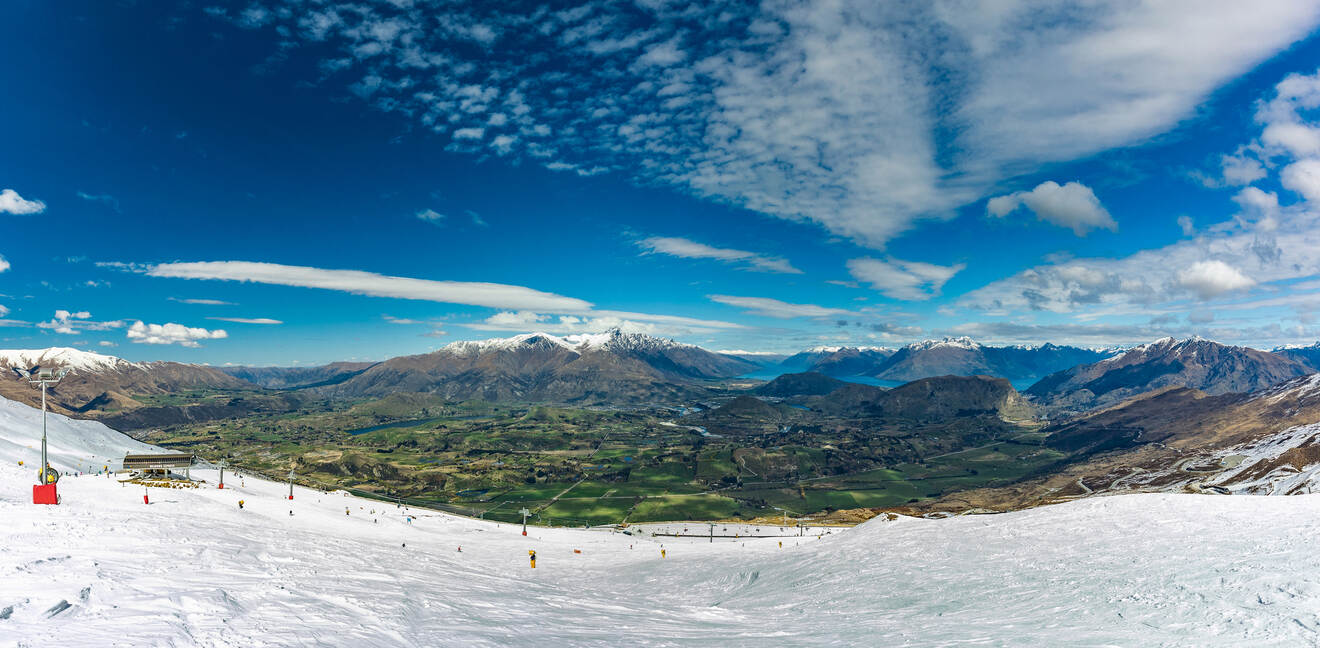 Queenstown Hill is a small mountain known in Maori as Te Tapu-Nui, which means 'Mountain of Intense Sacredness', and honestly they couldn't give it a better name! Gazing at the breathtaking lake views of the S-shaped Wakatipu and the magnificent Remarkables mountains, here you will find the peace in yourself!
On the mountain, there's a beautiful forest and you may also bump into some picturesque farmlands! While there isn't any accommodation on top of the hill itself, you can find lots of places to stay at Arthurs Point. Located close to the Hill and the Coronet Peak Ski Resort, Arthus Point is the perfect place to ski during winter!
The scenery from Arthurs Point in the total quietness and silence of the mountains is absolutely gorgeous and totally relaxing. But when you're not on the ski fields, there are plenty of attractions to keep you entertained from the romantic Onsen Hot Pools to the world-famous Shotover Jet and the typical hiking tracks, such as the Morningstar Track or the longer Moonlight Track.
Being the closest peak to the city center with a bus stop connecting you to Downtown Queenstown (or only a 10-minute drive) and hotels at a reasonable price with free parking, this a very good option where to stay in my opinion.
Luxury hotel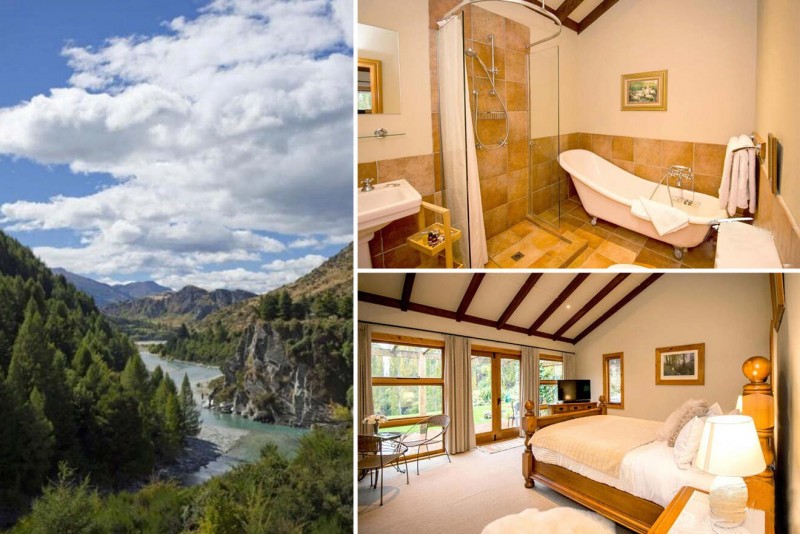 Live a dream in this fabulous lodge in the middle of the majestic mountains, overlooking the Shotover River Canyons with Coronet Peak in the background. Relax in the hotel's private rooms, enjoy the breathtaking alpine view from your private patio, and have the best continental breakfast delivered to your room!
Other accommodation options in Arthurs Point
Mid-Range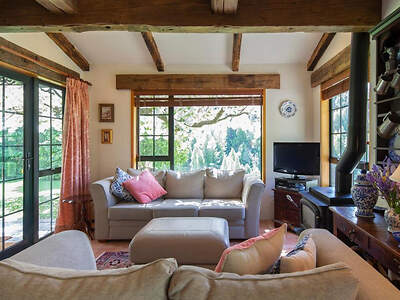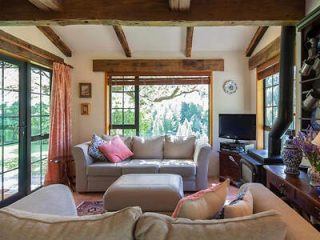 Spacious rooms overlooking the scenic Shotover River, in tranquil surroundings
Budget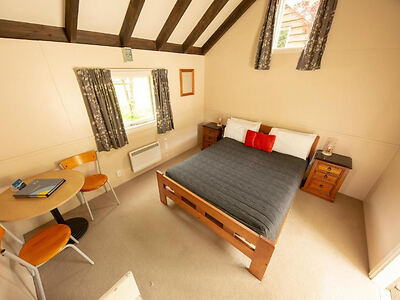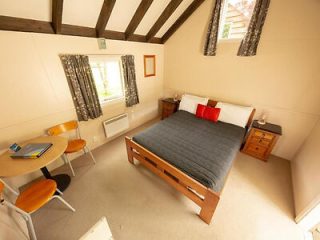 Hotel with a homely feel perfect to stay with your family and to meet other travelers
Airbnb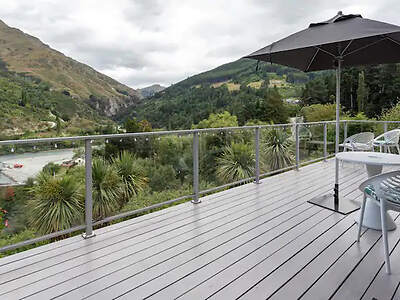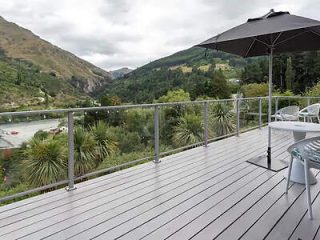 Private room in a comfortable, sunny, and spacious apartment
Things to do in Queenstown Hill and Arthurs Point
Hike Queenstown Hill for incredible views, woodlands, and farmlands
Have a romantic date at the Onsen Hot Pools
Take an exhilarating boat ride at Shotover Jet
Go hiking on the Morningstar Track or the longer Moonlight Track
Check out Canyon Brewing and try some amazing Queenstown craft beer
Go skiing on Coronet Peak
4. Fernhill – the best area for breathtaking views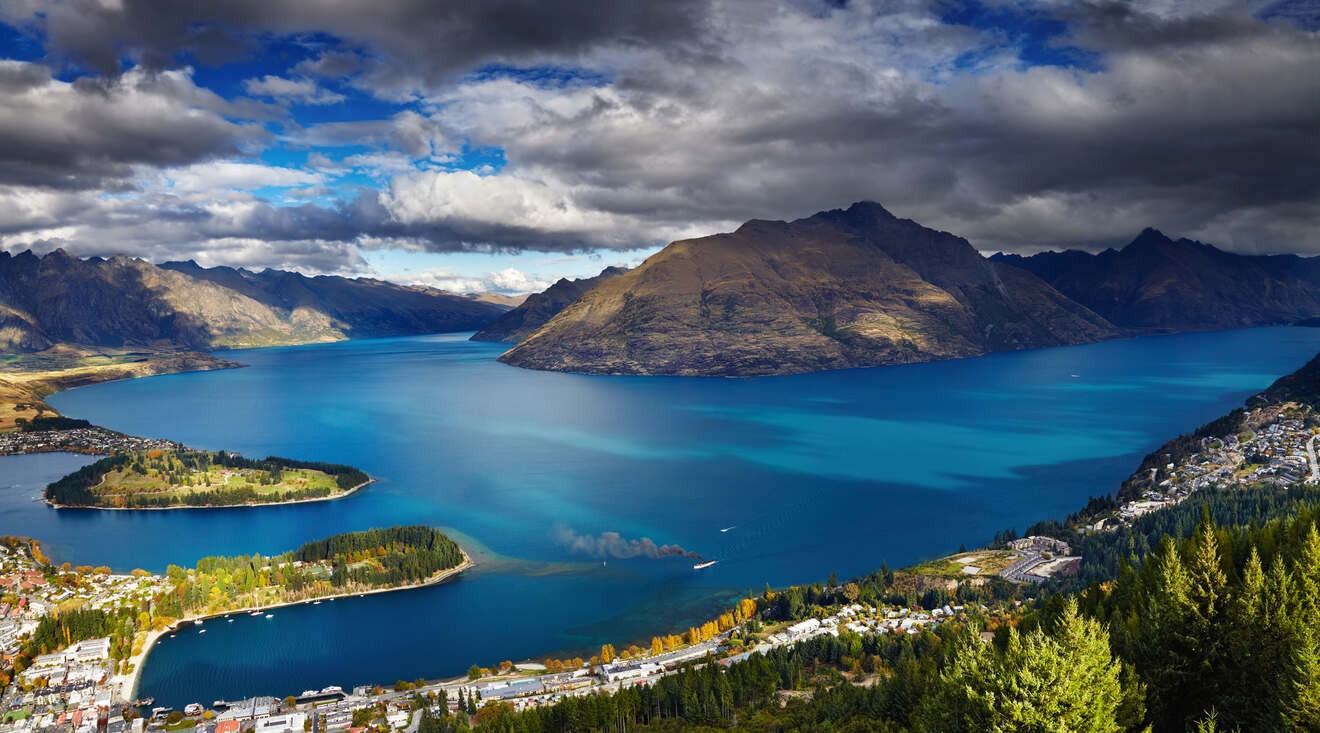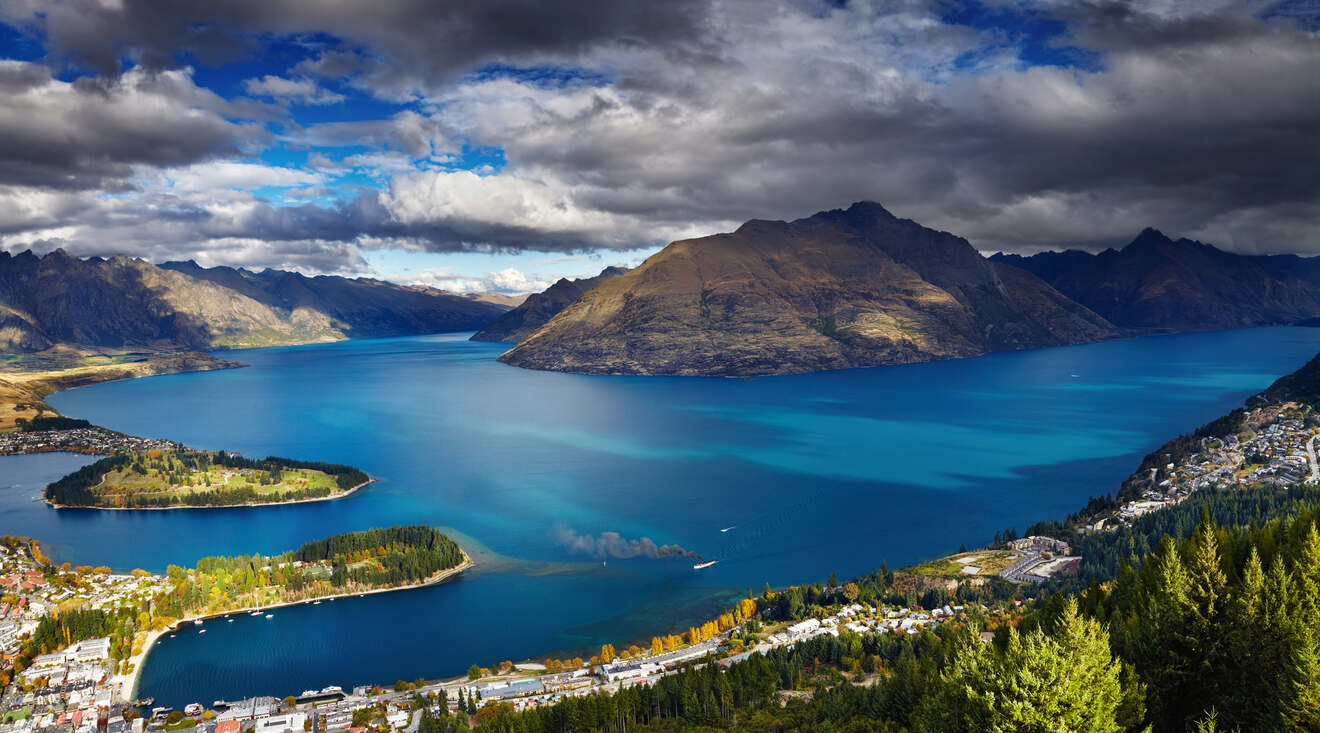 Only 15-minutes walking from the Queenstown town center you will find Fernhill, a quiet neighborhood located on the top of a steep hill, specifically, on the lower slopes of Ben Lomond Mountain.
And guess what? The views from up here are also astounding! If you don't have a car there is a regular bus route from the town to Fernhill that will bring you straight to your accommodation.
The area is great for doing some outdoor activities surrounded by mother nature. If you love mountain biking you cannot miss Fernhill Bike Park which is very popular with locals. For those more into walking, in the area, there's the Sunshine Bay Track, a walking track that follows Lake Wakatipu through some green bush and great viewpoints! The path will take you into Queenstown in under 30 minutes starting from Sunshine Bay Beach, where you'll see some of the clearest waters of south New Zealand!
Here you can also have a full day's hike on the 1,438 m high Ben Lomond Track. I know it sounds tough, but when you reach its summit your sweat will be rewarded with spectacular panoramic views! Fernhill neighborhood offers several accommodation options that range from backpacker-friendly hostels to resort-style hotels… Let's take a look together!
Luxury hotel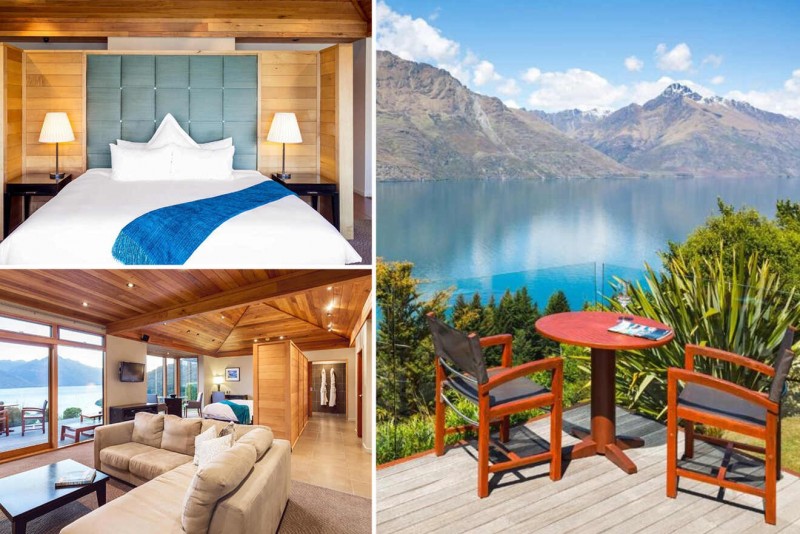 Located at the top of the hill, this contemporary luxury hotel will bless you with one of the most spectacular sceneries in New Zealand! Choose one of its exclusive 9 private villas, relax in the remote setting of Azur, and embrace all the activities that Queenstown has to offer, only five minutes drive away.
Other accommodation options in Fernhill
Mid-Range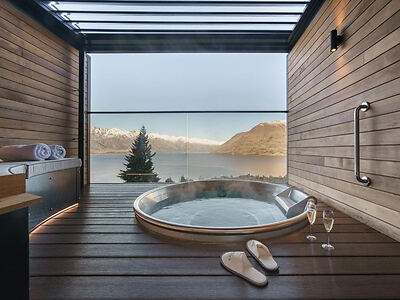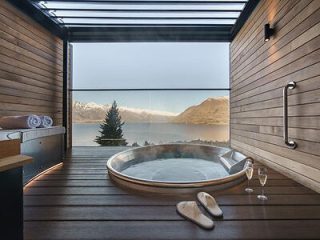 Beautiful, centrally located rooms with contemporary decor and free wifi
Budget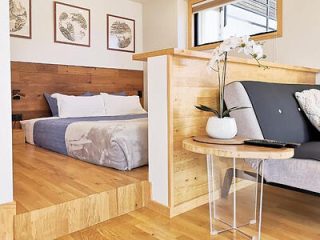 Enjoy the sea and mountain views from the terrace of this gorgeous apartment!
Airbnb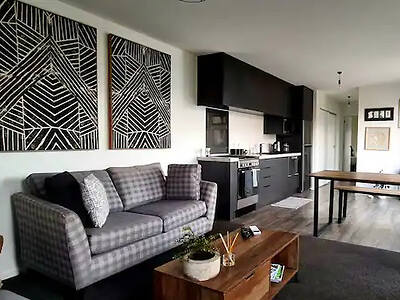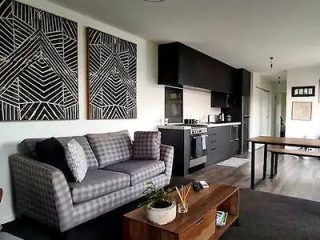 Private studio apartment for a relaxing getaway, perfect for couples
Things to do in Fernhill
Taste the handcrafted regional wines of the Unison Vineyard
Go mountain biking in the Fernhill Bike Park
Have a full day's hike on the 1,438 m high Ben Lomond Track
Walk in the Sunshine Bay Track down to Queenstown city centre
5. Kelvin Heights – the most luxurious neighborhood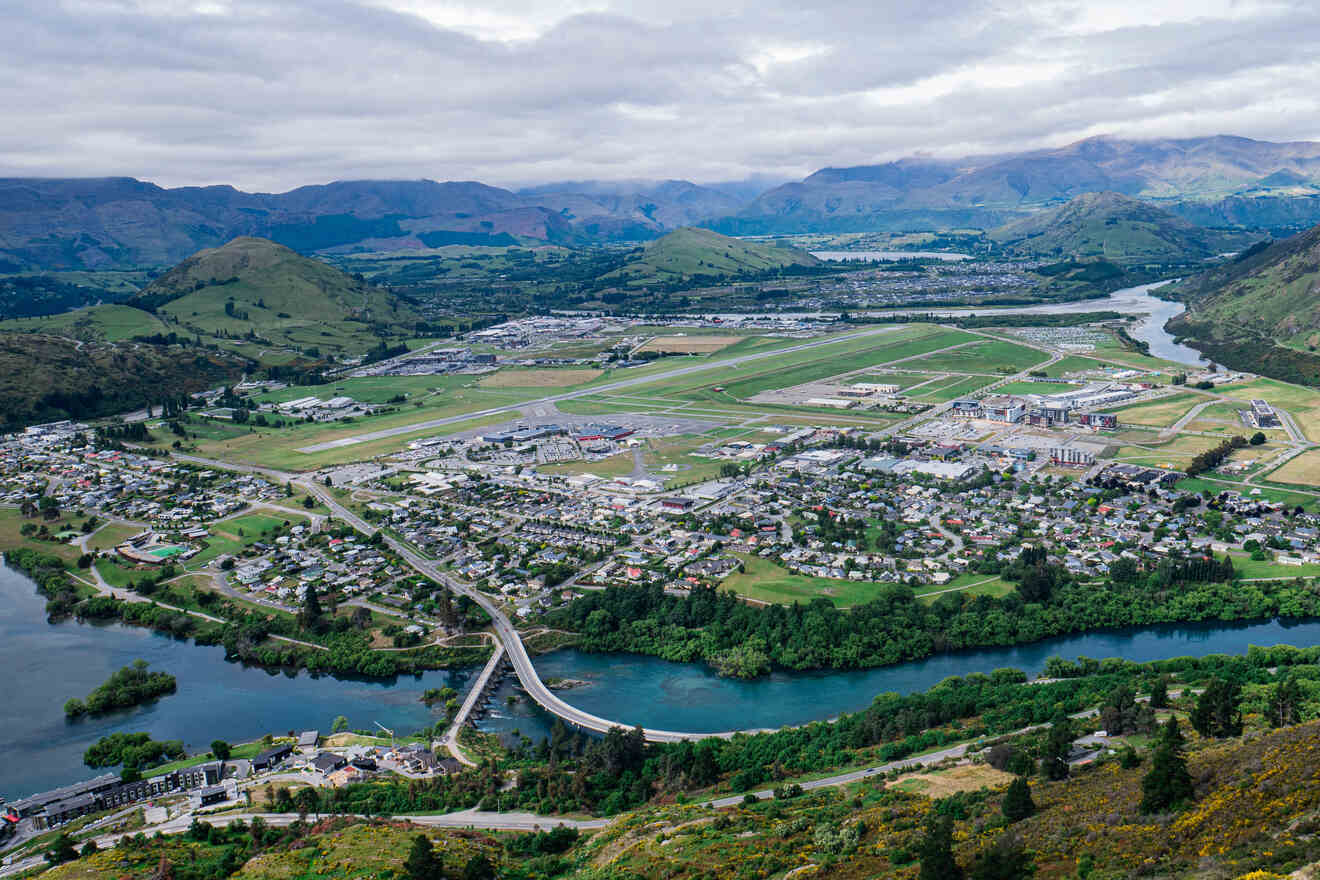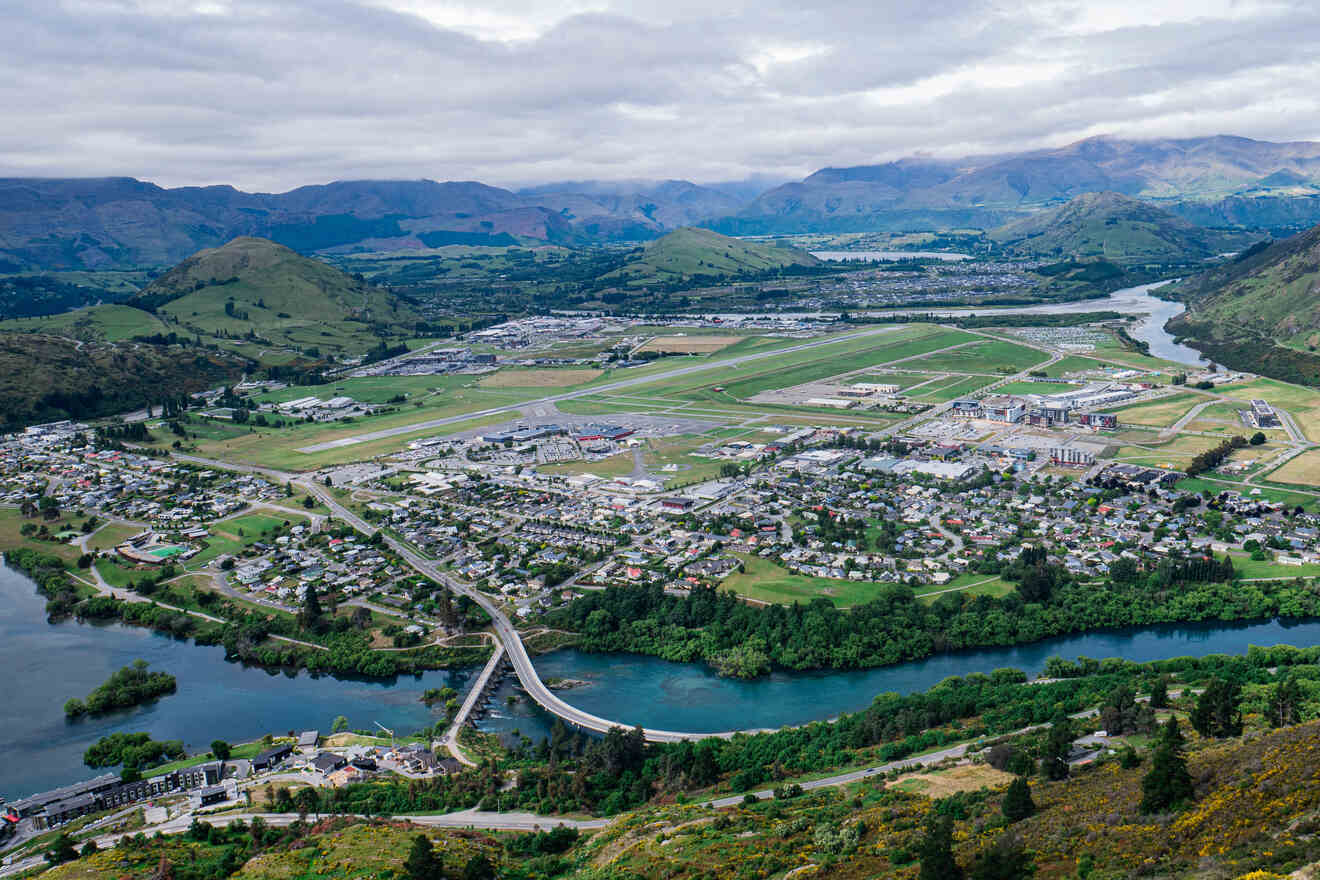 Kelvin Heights (also known as the Kelvin Peninsula) is a residential area on the south of Queenstown's Central District and one of the greenest areas in the city. This is also one of the most expensive suburbs in New Zealand for housing, which makes it an exclusive area with luxury hotels and a relaxed atmosphere.
This neighborhood is only 15 minutes by car from the city center, alternatively, it can be reached by fun and panoramic water taxi ride (which would definitely be my choice)! The Peninsula is renowned for its greater share of the sunshine than the other areas in Queenstown and its impressive views of Lake Wakatipu, the Remarkables mountain range, and Queenstown Hill.
The area attracts lots of Golf enthusiasts with its iconic Kelvin Heights Golf Course, one of the most photogenic golf courses in the world, facing the lake and mountains. If you're a walker or a biker, you have a choice for every day of your stay: the 90 minutes walk on Kelvin Peninsula Trail, the longer Jack's Point Trail, or even a part of the Queenstown Trail.
Luxury hotel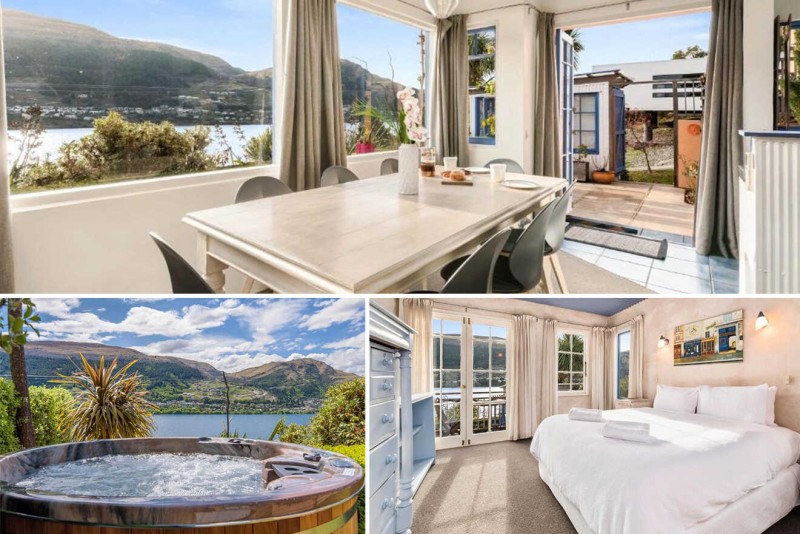 Enjoy a slice of paradise in this spacious and comfortable four-bedroom villa, completely bathed in sunshine! Gaze on the magnificent lake and mountain outlooks from the outdoor spa and keep yourself warm with the cozy open fire during colder months! A great option if you're traveling with your family!
Other accommodation options in Kelvin Heights
Mid-Range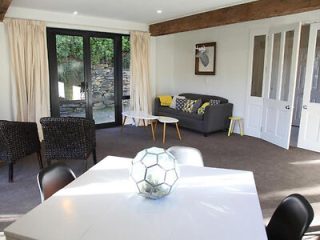 Warm and cozy serviced apartments with a great location near the Golf Course!
Budget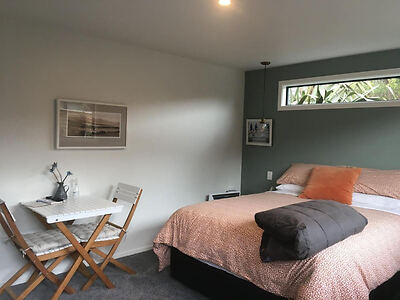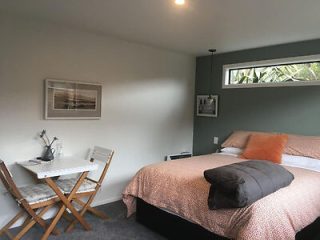 Have a barbecue on the outdoor patio of these modern serviced apartments, and sleep in comfy beds!
Airbnb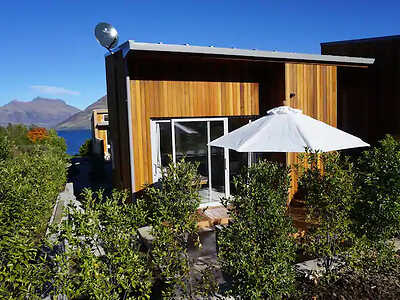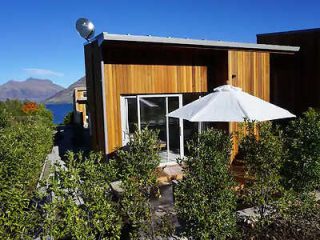 Beautiful studio in the sun dipped Kelvin Heights, with easy access to walking tracks
Things to do in Kelvin Heights
| | |
| --- | --- |
| 👑 Luxury price: | $250 |
| 💵 Mid Range: | $150 |
| 🛏️ Budget: | $90 |
| 🏠 Airbnb: | $200 |
| 💰Accommodation prices: | Medium |
| 📍Best area: | Downtown Queenstown |
| 👪 Best area for families: | Fernhill |
| 🛎️ Best luxury hotel: | Azur Lodge |
| 🧳 Best mid-range hotel: | Kamana Lakehouse |
| 👛 Best budget hotel: | Absoloot Hostel Queenstown |
BONUS: Best Holiday Parks to Stay in Queenstown with your campervan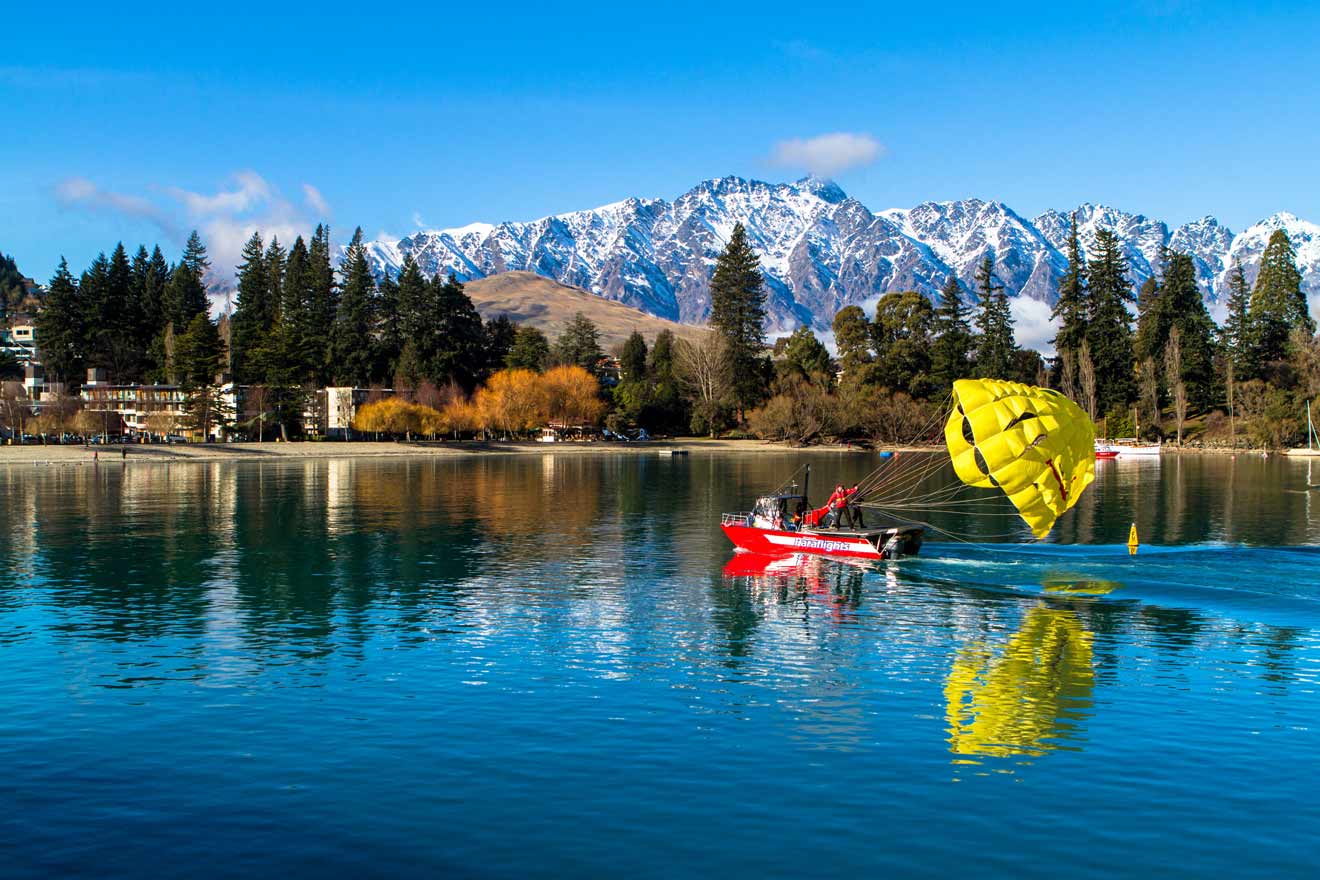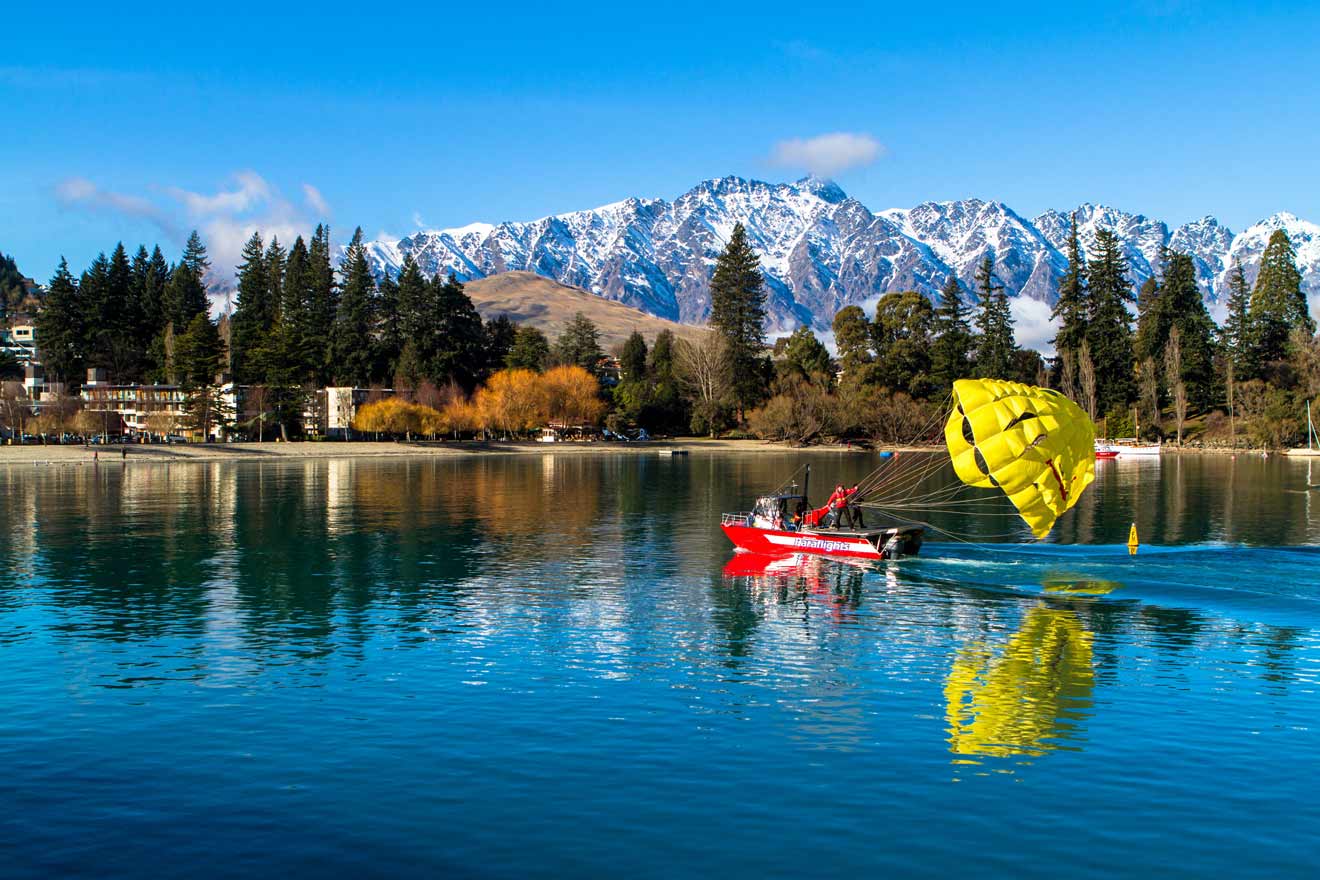 One of the most loved ways to visit New Zealand is with campervans and caravans and Queenstown is no different. If this is your case and love a good self-cater holiday, Holiday Parks will give you the chance to soak up all the magic of South Island, being completely immersed in nature, while enjoying all the comforts of their amenities.
Let's take a look at these amazing options, all perfect to have a budget holiday with your family!
Creeksyde Holiday Park – Located in leafy, landscaped grounds, Creeksyde is a quiet and colorful holiday park for your Queenstown holiday, just 5-minute walk to downtown featuring well-maintained powered sites in a quirky garden setting from US$40 per site! This Holiday even has a spa and sauna for an extra cost!
Queenstown Lakeview Holiday Park – Excellent camping facilities (modern kitchen, and BBQ) in the most centrally located Holiday Park in Queenstown, at only 500m walk from Queenstown centre, lakefront and close to many local iconic attractions. Tent spots start from US$25 and powered sites from US$35.
Queenstown Top 10 Holiday Park – You and your kids will love Queenstown Top 10 Holiday Park with a barbecue area, a games room, jumping pillow, and a children's playground! Get yourself comfortable in its heated common rooms, and WiFi access with a choice of both powered campervan sites (from US$40) and non-powered sites (US$35).
Frequently asked questions about Queenstown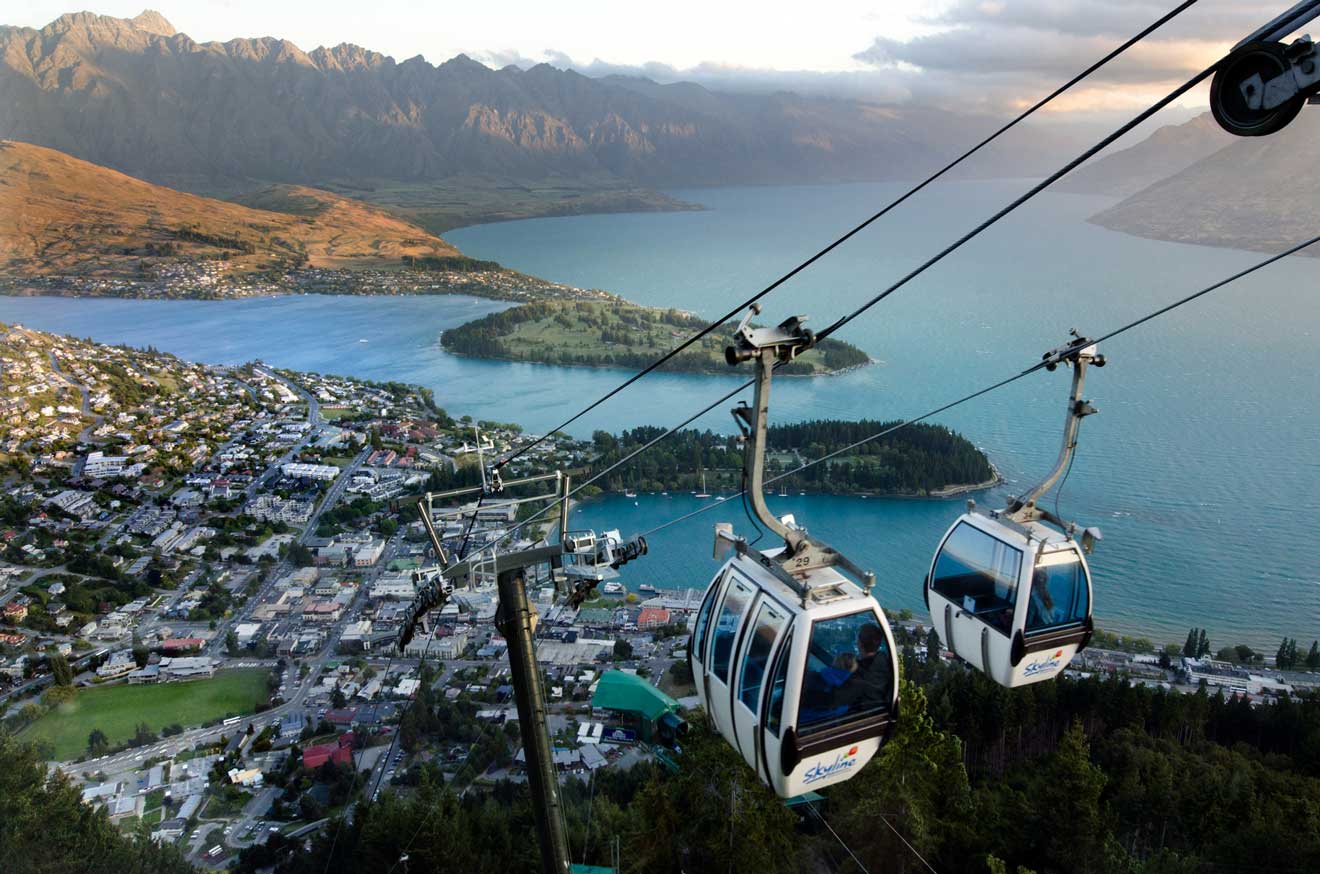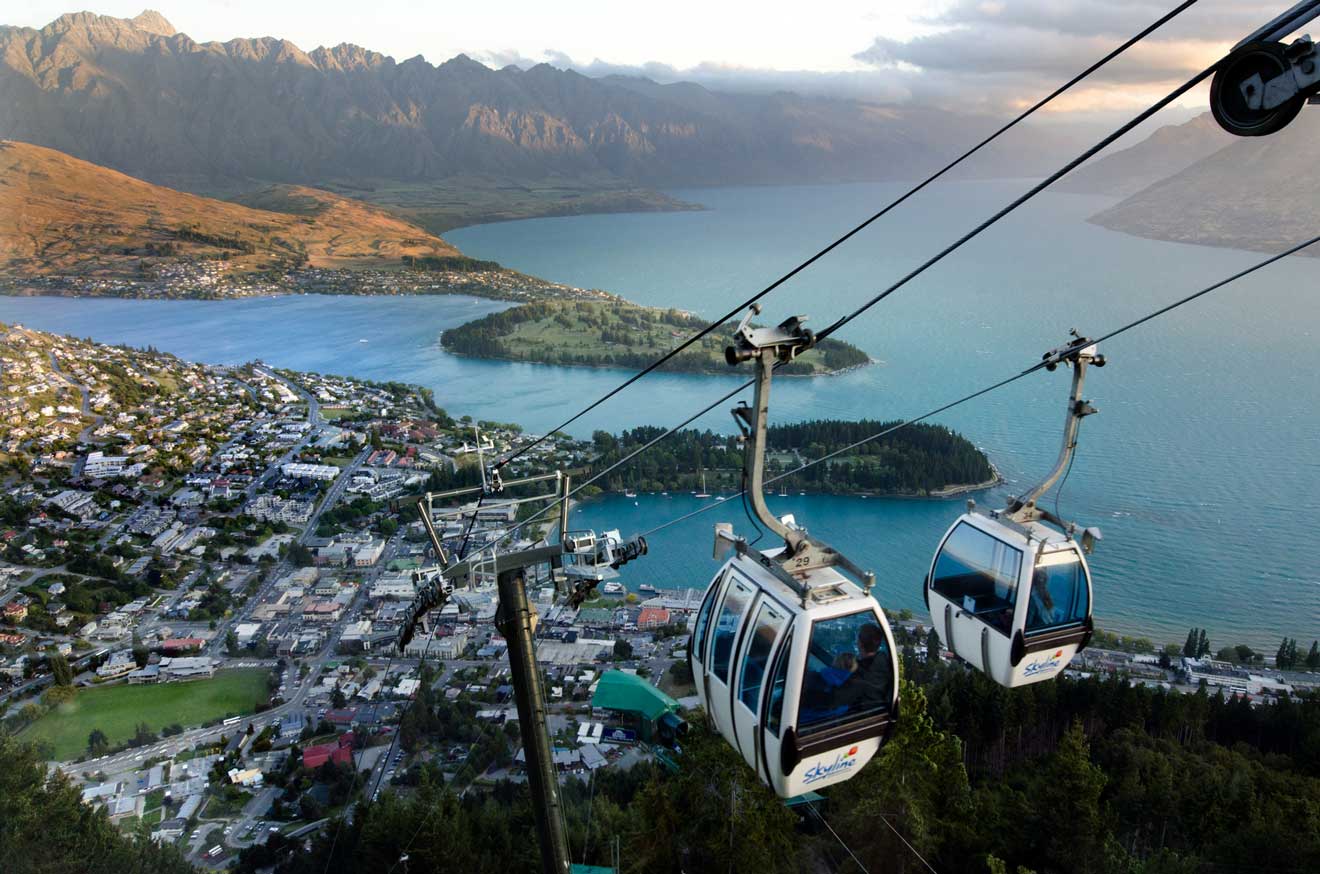 🏙️ Which is the best area to stay in Queenstown?
👪 Where to stay in Queenstown with kids?
Any area in Queenstown is family-friendly since it offers lots of green spaces and outdoor activities. Anyways, the quietest areas are Queenstown Hill (stay at The Canyons B&B), Arthurs Point, Fernhill, and Frankton.
📸 What are the best things to do in Queenstown all year round?
Try some adventure sports such as kayaking, bungee jumping, jet boating, rafting, hiking. Play golf at the iconic Kelvin Heights Golf Course and gaze at some of the best wonderful views on Queenstown lakes and mountains!
⌚ When is the best time to visit Queenstown?
The best time to stay in Queenstown is the summer (December through February) when you can enjoy all the outdoor excursions with long, sunny days! If you love skiing, the winter (from June to August) is the best period for you
Conclusion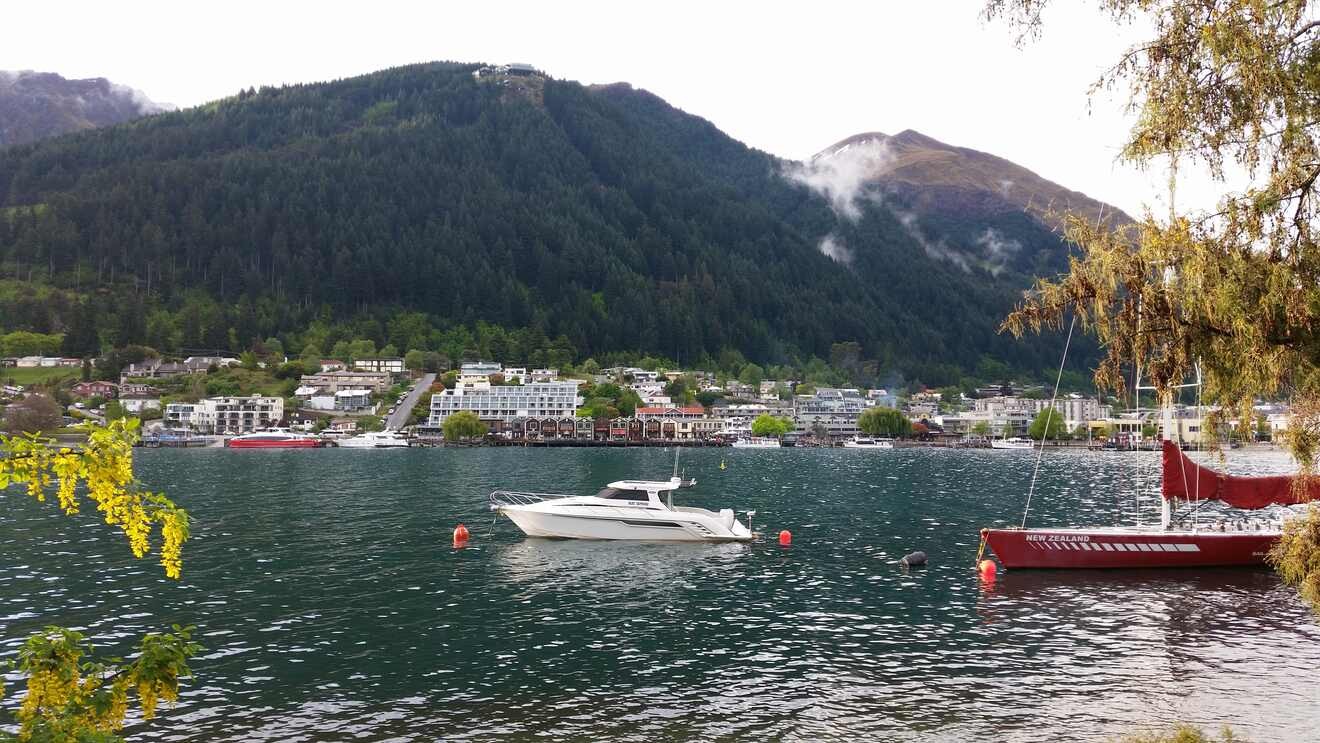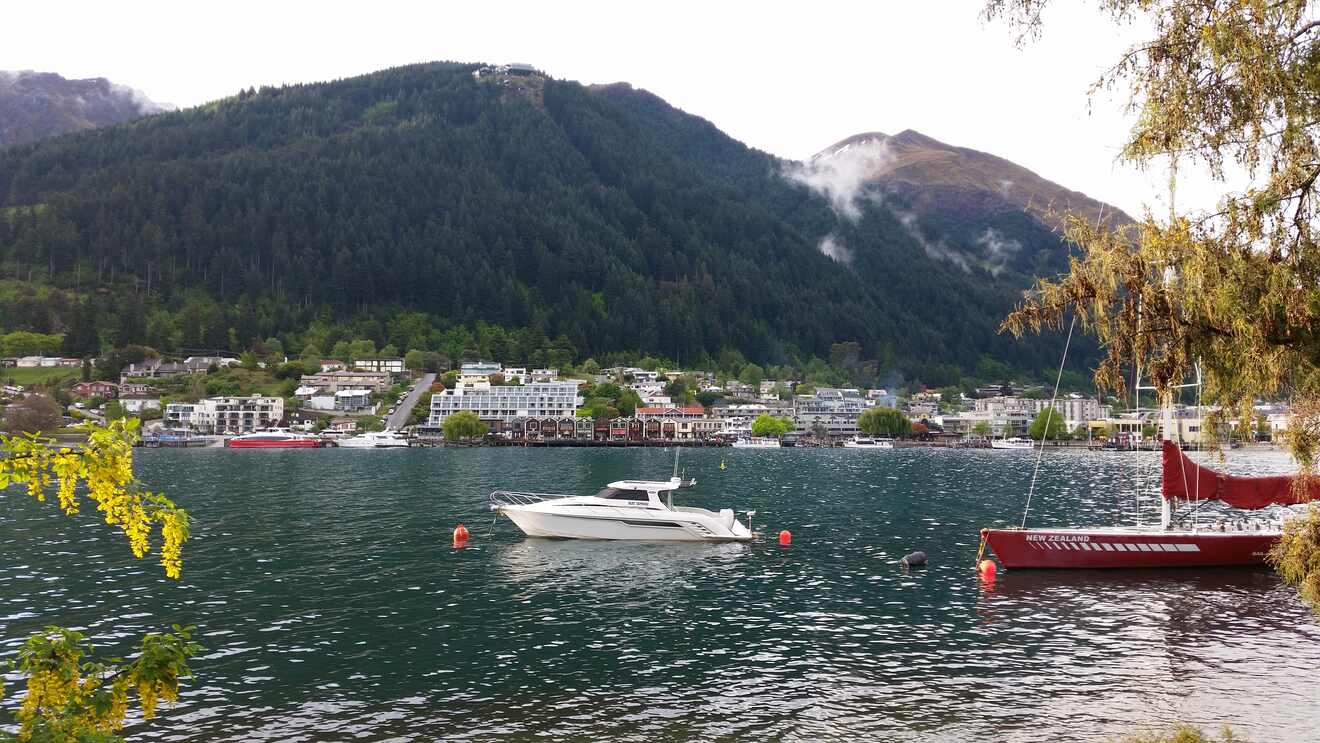 What a beautiful adventure! I bet you are already imagining yourself hiking or on the mountain's ski fields, gazing at stunning views, or doing any of the countless activities surrounded by nature!
I'm sure you'll agree that Queenstown suits every type of traveler and all different budgets. Whether you're budget conscious or you want to treat yourself with luxury, are looking for a quiet stay, or to be in the middle of the hustle and bustle – Queenstown will have the perfect place to stay for you.
I hope this blog has helped you gain a better understanding of Queenstown and its neighborhoods. With so many choices, I'm sure you'll find the perfect accommodation where to stay in Queenstown!
To sum up, here are my 2 absolute favorite hotels with a central location and reviews that I definitely recommend for an unforgettable holiday:
Azur Lodge – a luxury hotel with one of the most spectacular sceneries in New Zealand!
Kamana Lakehouse – contemporary decor rooms with stunning views over Lake Wakatipu
Now all you need is to make a choice, secure yourself a spot in paradise, and book as soon as you can!
Thank you so much for reading this accommodation guide, I really hope this blog has helped you narrow down the best place to stay in Queenstown! If you have any other suggestions or questions about Queenstown don't be shy and leave a comment below. I'll be very happy to answer you!
Elena
---
Pin it for later!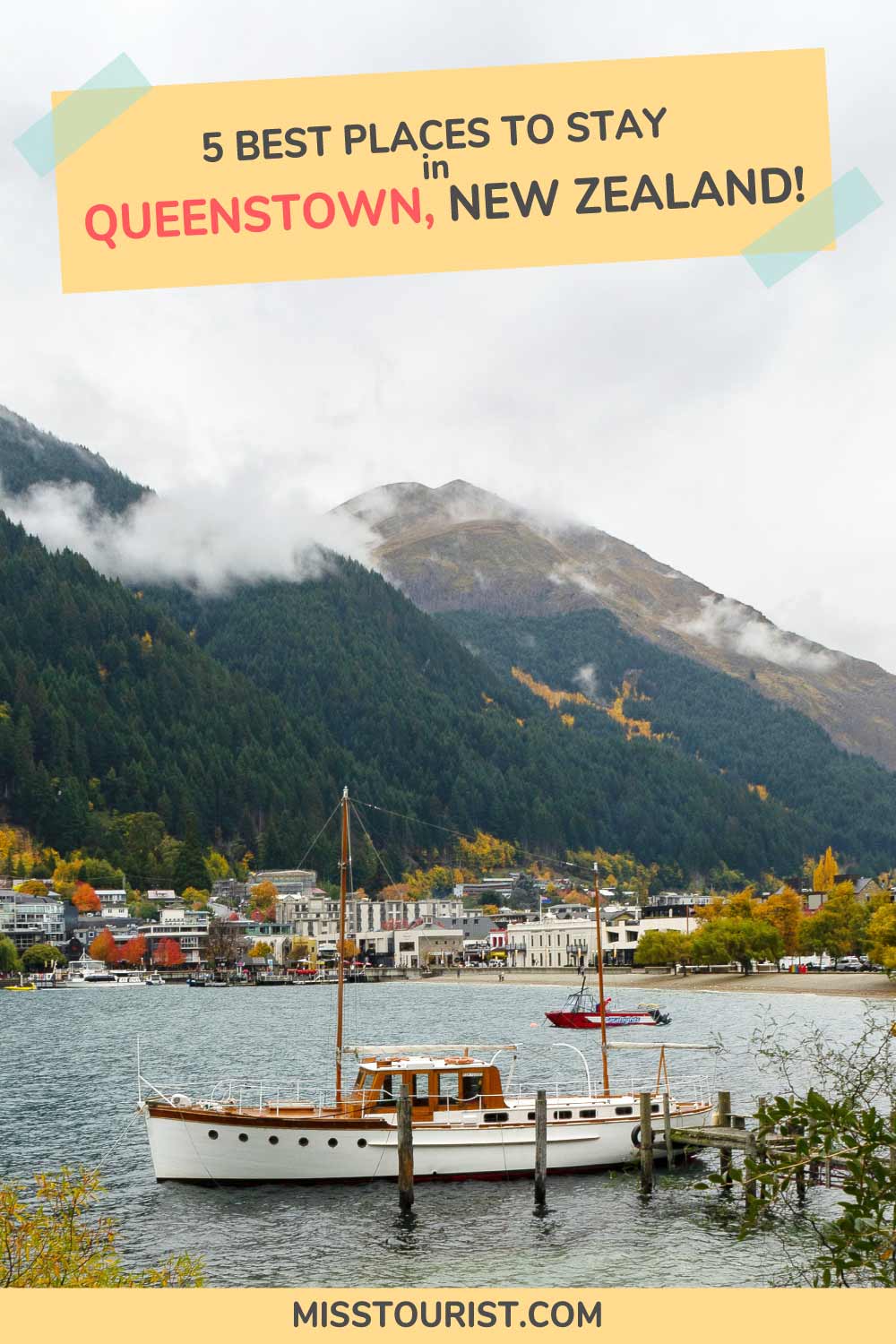 Pin it for later!