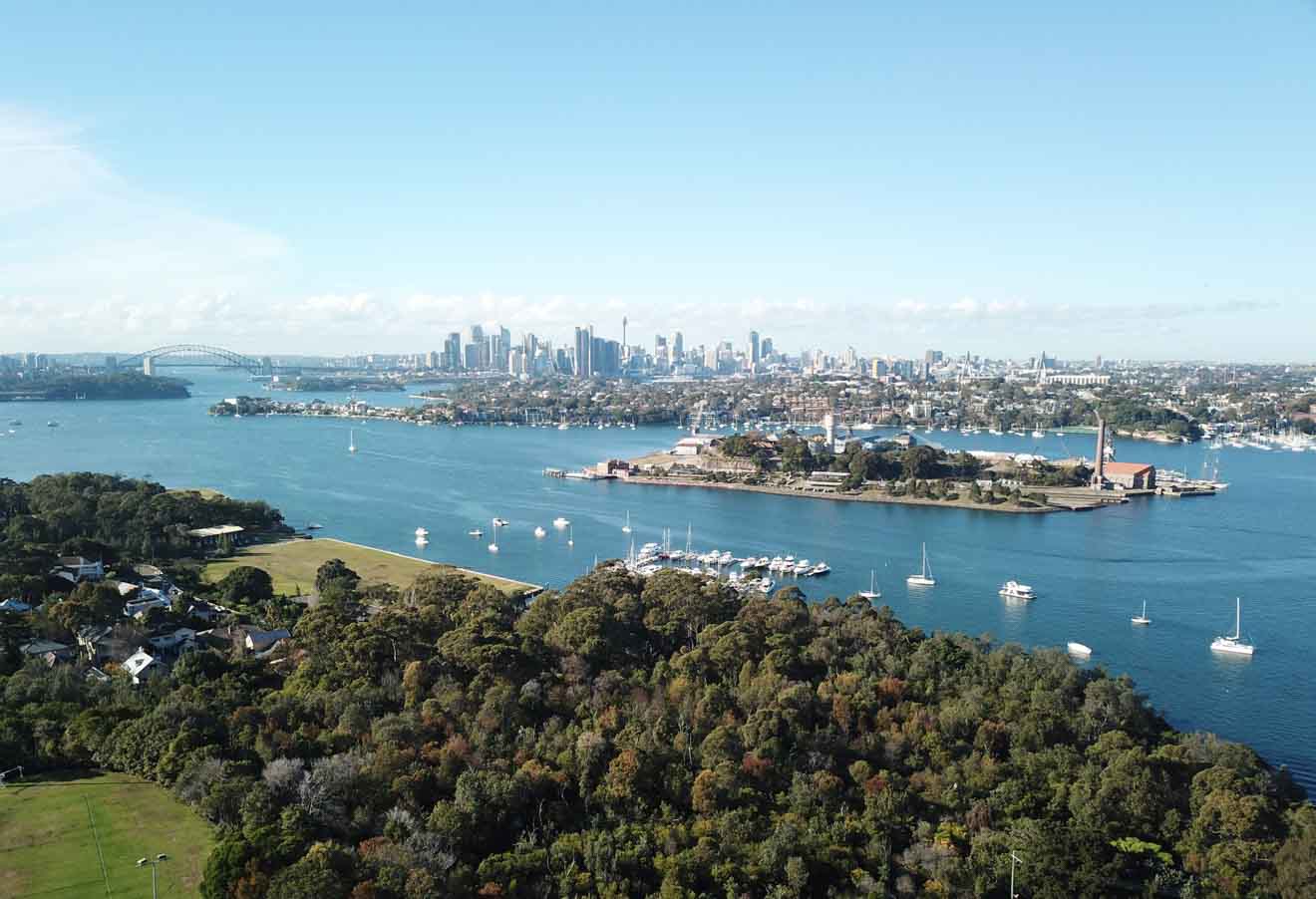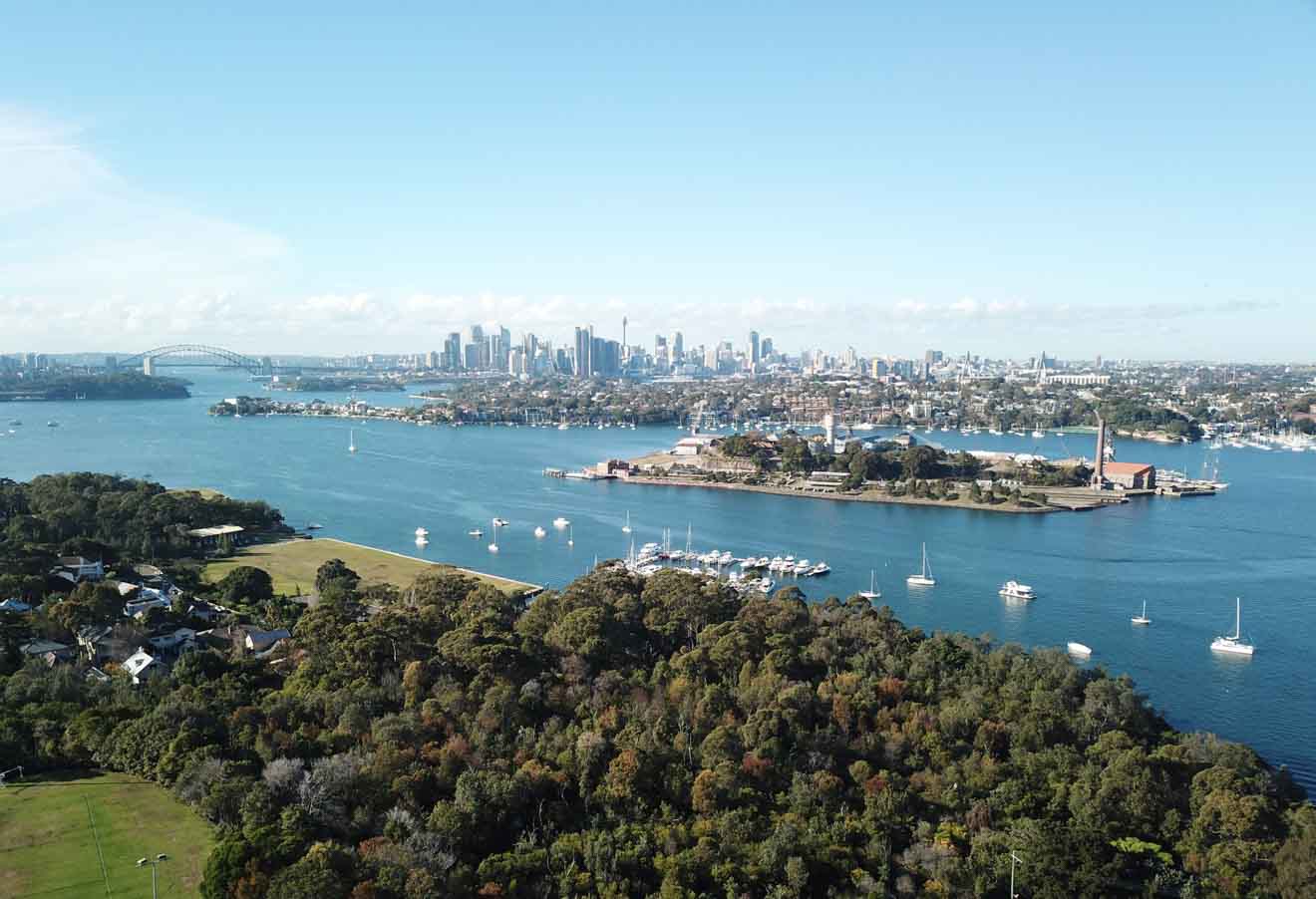 If you've visited Sydney, you've probably noticed the small islands found in the harbor. The biggest of these is Cockatoo Island. With its landscaped gardens and views of the harbor, it's the perfect location for a relaxing Sydney escape! Now you might be wondering what is the best option to enjoy Cockatoo Island camping or glamping, and I'm here to help you!
Cockatoo Island has various options for any budget and is a great way to go camping right in the middle of Sydney Harbour. Starting with the island's glamping accommodation, I'll give you all the options for camping on Cockatoo Island, and then I'll explain the housing options for those who don't want to spend the night in a tent.
I'm sure you will find the best place to stay for your interest and budget, but if I'm honest I would recommend booking as soon as you find the best camping or housing option, that way the only thing you'll be worried about is what to bring to the island to enjoy that Sydney Harbour Bridge view – don't worry I have that covered as well 😉
Keep reading all the details and prices for Cockatoo Island.
Let's go!
If you are in a hurry…
Don't have time to read the whole post? Here is a quick rundown of all the best of the best accommodation options for each budget.
1. Camping and Glamping on Cockatoo Island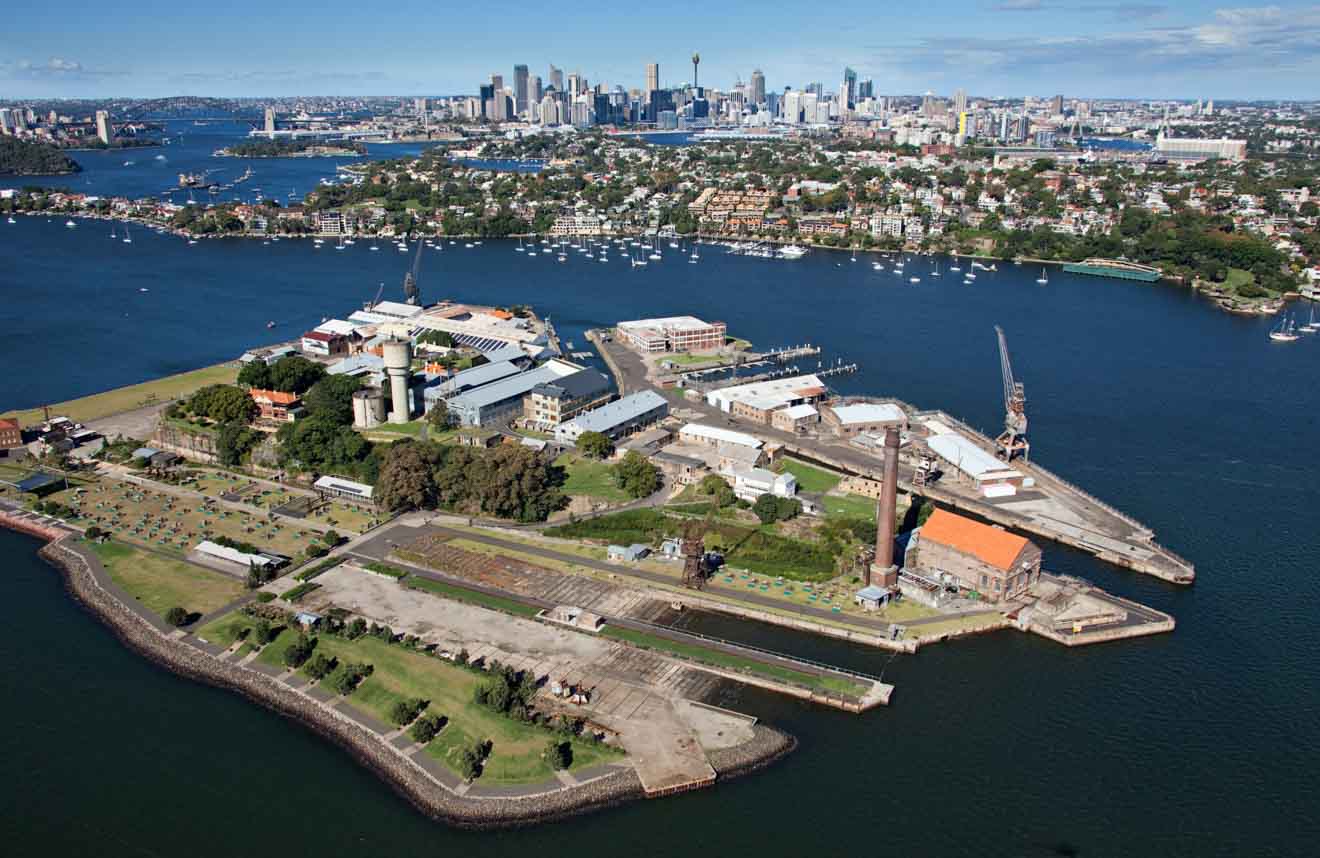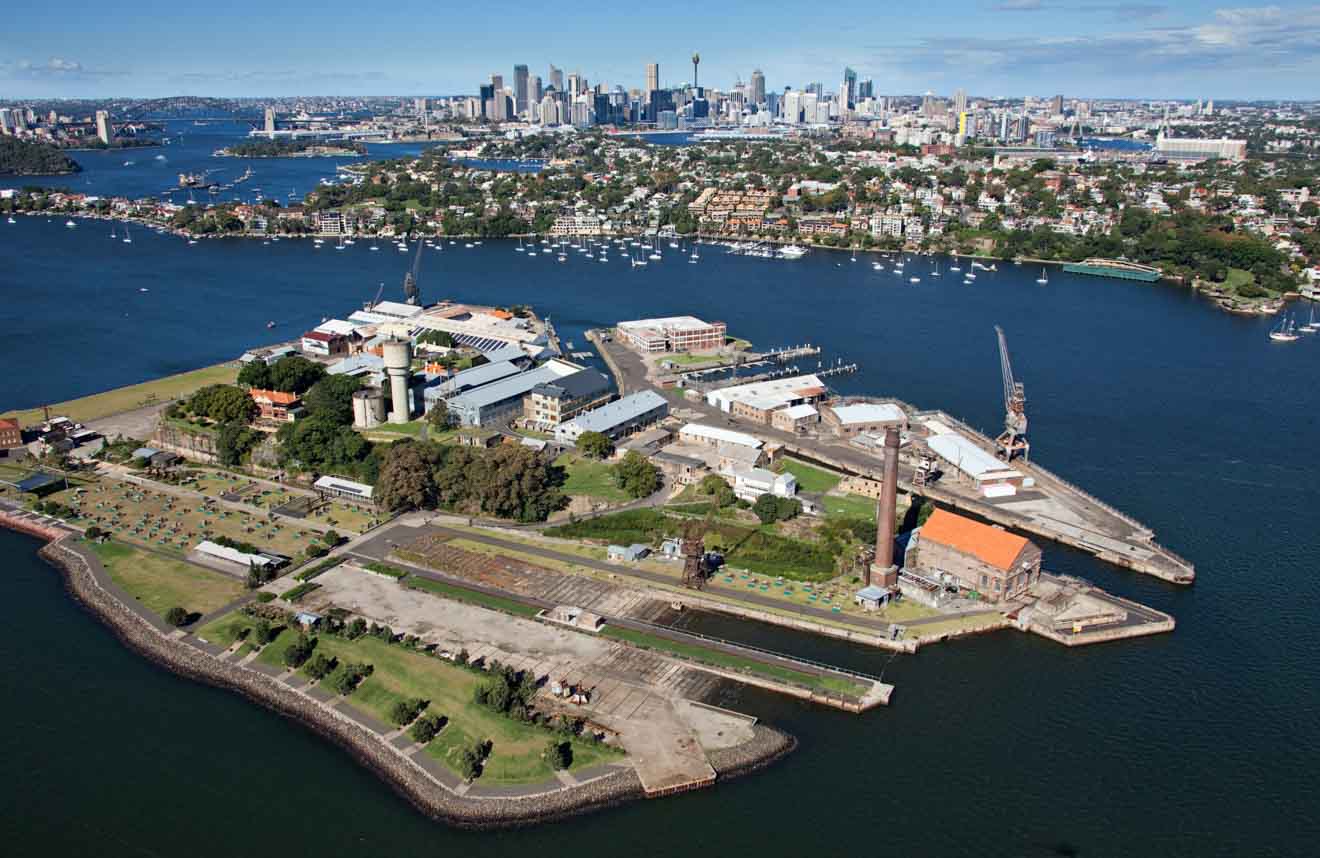 There are various camping options on Cockatoo Island, from bringing your own tent to a whole Cockatoo Island glamping experience, and I am going to go through each one in detail now to help you choose.
No matter which camp you choose, all spots in the waterfront campground have access to various basic facilities. I'll talk about this in more detail a little later on.
For school groups, there are also extra reductions. Teachers and supervisors sleep for free.
TIP: If you are flexible in choice, sites are usually available the week before your planned trip. If you want a specific site or are heading over on school/public holidays, I recommend booking at least 2 weeks in advance.
1.1 Deluxe Camping / Glamping (US$100 – US$250)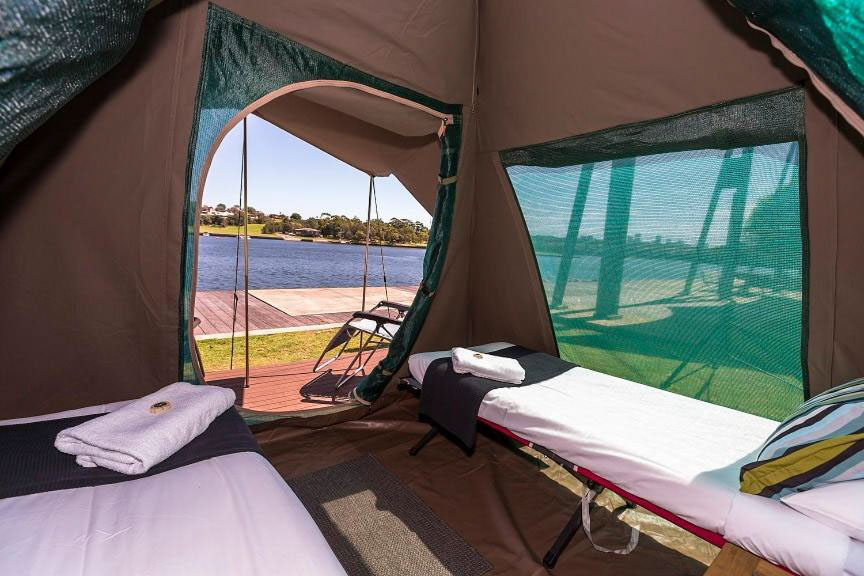 Deluxe Waterfront Camping Package
For the most luxury you can get in a camping set up, choose the Deluxe Waterfront Package offering a large 3m x 3m tent. Along with two raised single beds, all linen, and a side table, your chairs are upgraded to sun lounges, and you will receive bonus toiletries, a lantern, and an esky (cooler) to keep your drinks cold while you relax!
COST PER NIGHT:
Mon-Thurs – $150 AUD (US$100)
Fri-Sun – $180 AUD (US$120)
Deluxe Waterfront 2 Bedroom Package
If traveling as a family or in a group, this option is perfect! By purchasing the 2 bedroom package, you will receive everything mentioned in the deluxe camping package, with 2 separate tents joined by a covered communal area.
COST PER NIGHT:
Mon-Thurs – $300 AUD (US$200)
Fri-Sun – $360 AUD (US$250)
NOTE: An additional person may be added to any deluxe tents for an additional US$20 p/n. However, they must bring their sleeping bag.
1.2 Middle Priced Camping (US$90 – US$100)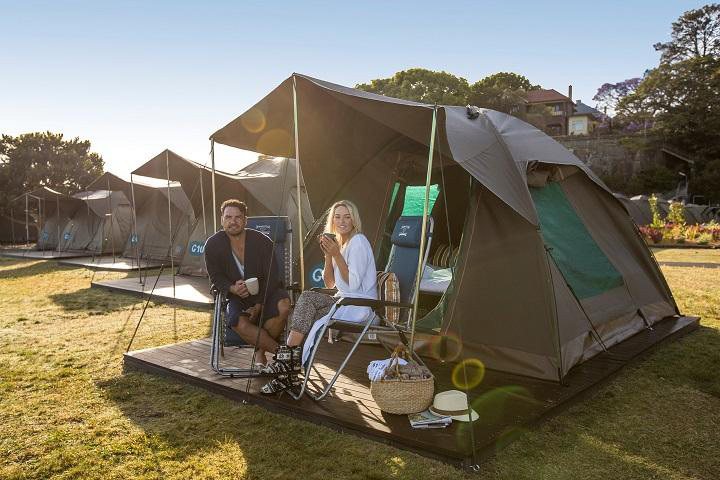 Deluxe Dome Tent Camping Package
For a little more comfort than the budget options below, but without blowing your budget, check out the Deluxe camping package. With the same tent and chairs as the budget option, you are treated with two raised single beds, linen, towels, and even a side table.
COST PER NIGHT:
Mon-Thurs – $130 AUD (US$90)
Fri-Sun – $160 AUD (US$110)
1.3 Budget (up to US$80)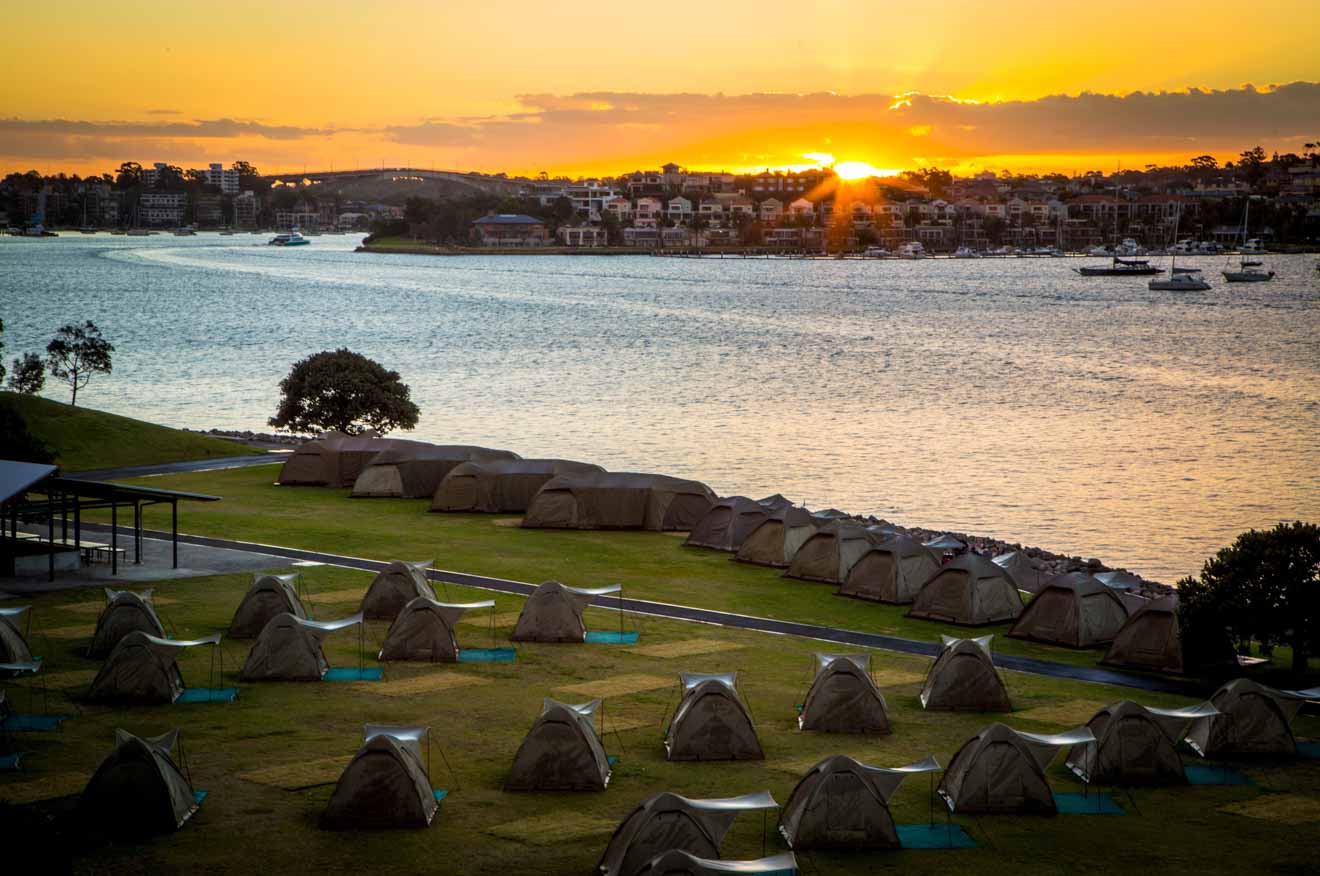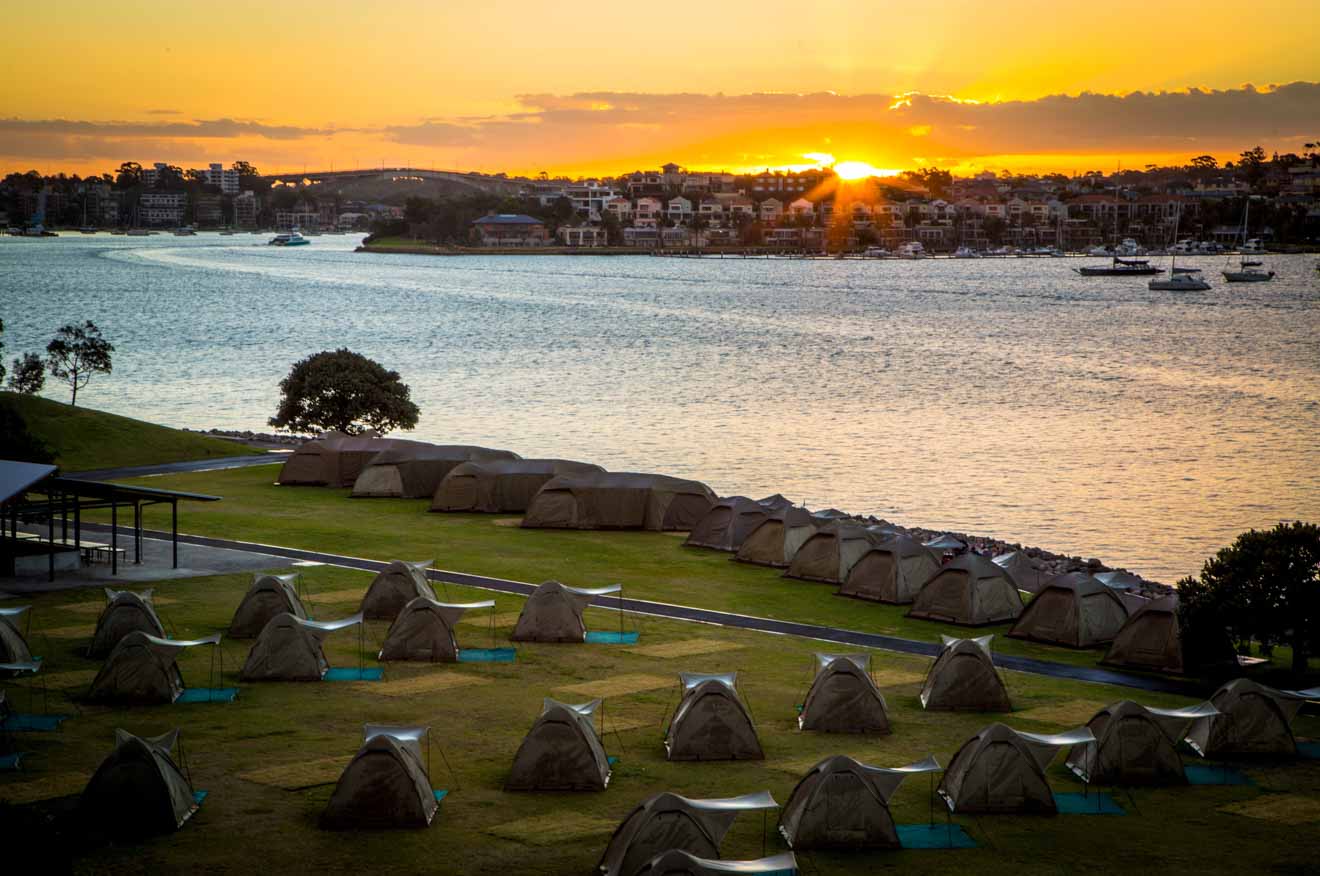 Budget Camping Package
If you don't own gear but want to save, the budget camping package is for you. You will arrive at a pre-erected, 2.4m x 2.4m tent with sleeping mats and camping chairs for two.
NOTE: You will have to bring your sleeping bag, pillow, and towels with this option.
COST PER NIGHT:
Mon-Thurs – $95 AUD (US$65)
Fri-Sun – $110 AUD (US$75)
Unpowered Campsite BYO Tent
This is the cheapest option, and each 4x4m spot can accommodate up to 4 people. You will need to bring your tent and other camping equipment but still have access to all the facilities listed below.
COST PER NIGHT:
Mon-Thurs – $50 AUD (US$35)
Fri-Sun – $60 AUD (US$40)
Campsite Facilities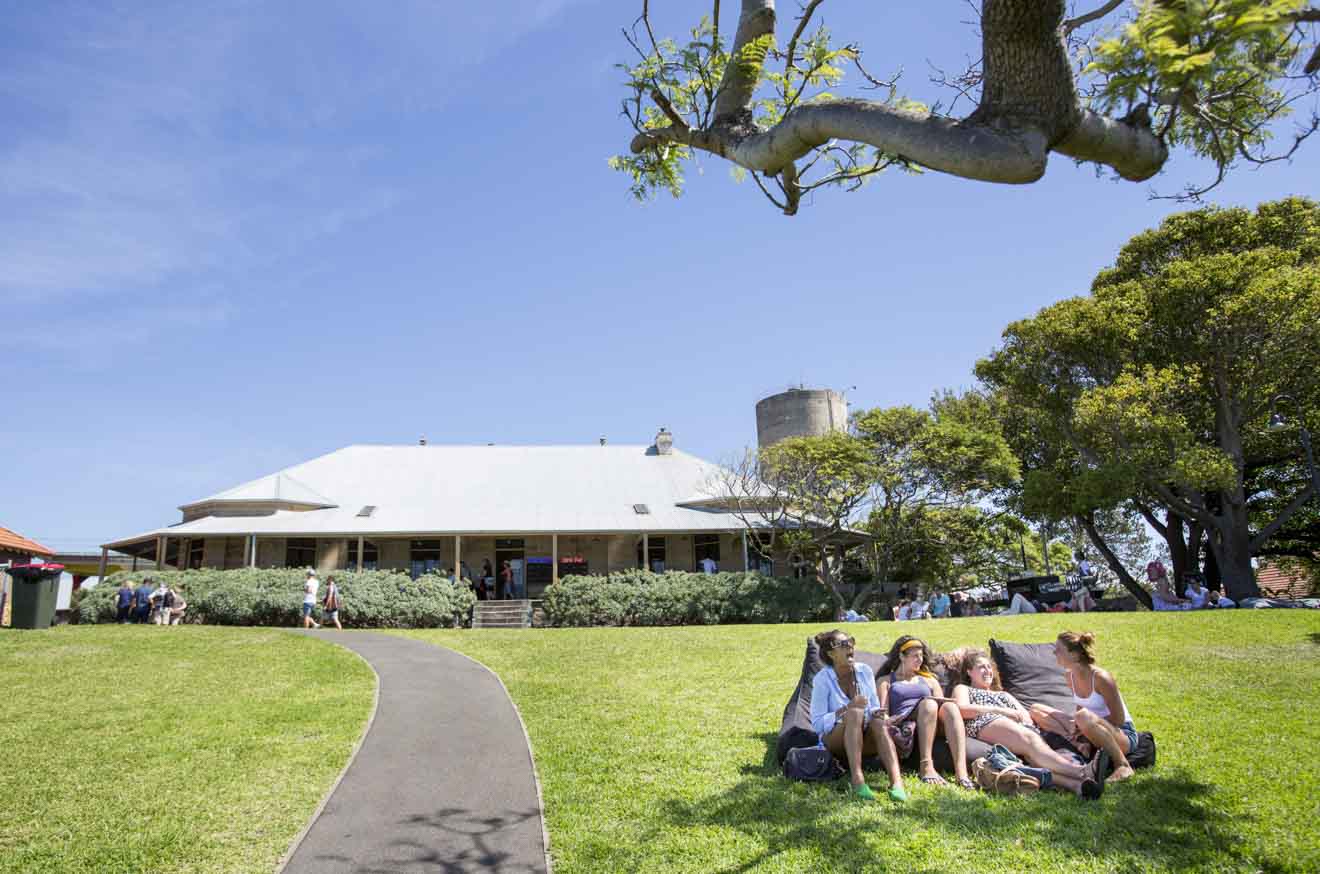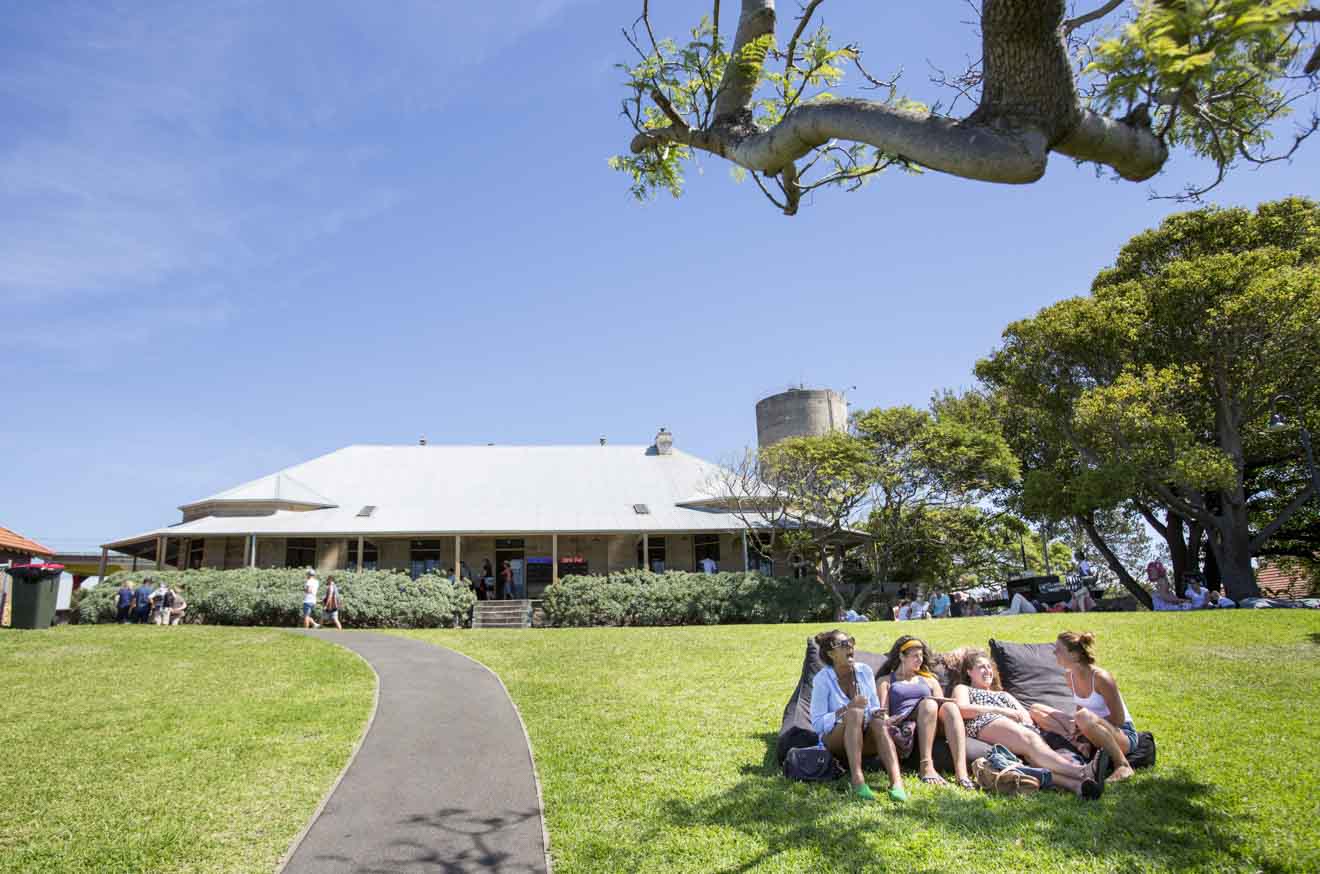 Anyone staying at the waterfront campground has access to a range of shared facilities, including toilets, hot showers, a communal camp kitchen with BBQs, microwaves, boiling water, fridges, and a vending machine.
There's even a Campground Cinema, on the Upper Island next to the Convict Precinct (Building 6) which shows multiple movies each night. How cool does it sound to rug up with your family and check out a new flick at a campground cinema!?
PRO TIP: For those needing to charge their phones or store valuables, coin-operated lockers which contain electrical outlets can be found near the Visitor Centre at Muster Station. Prices start at $2 AUD for 8 hours.
Cockatoo Island Visitor Centre
The Cockatoo Island Visitor center sells some basic food items, toiletries as well as renting out extra mattresses ($15 AUD / US$10 per night).
2. Holiday Homes & Apartments on Cockatoo Island (US$180 – US$650)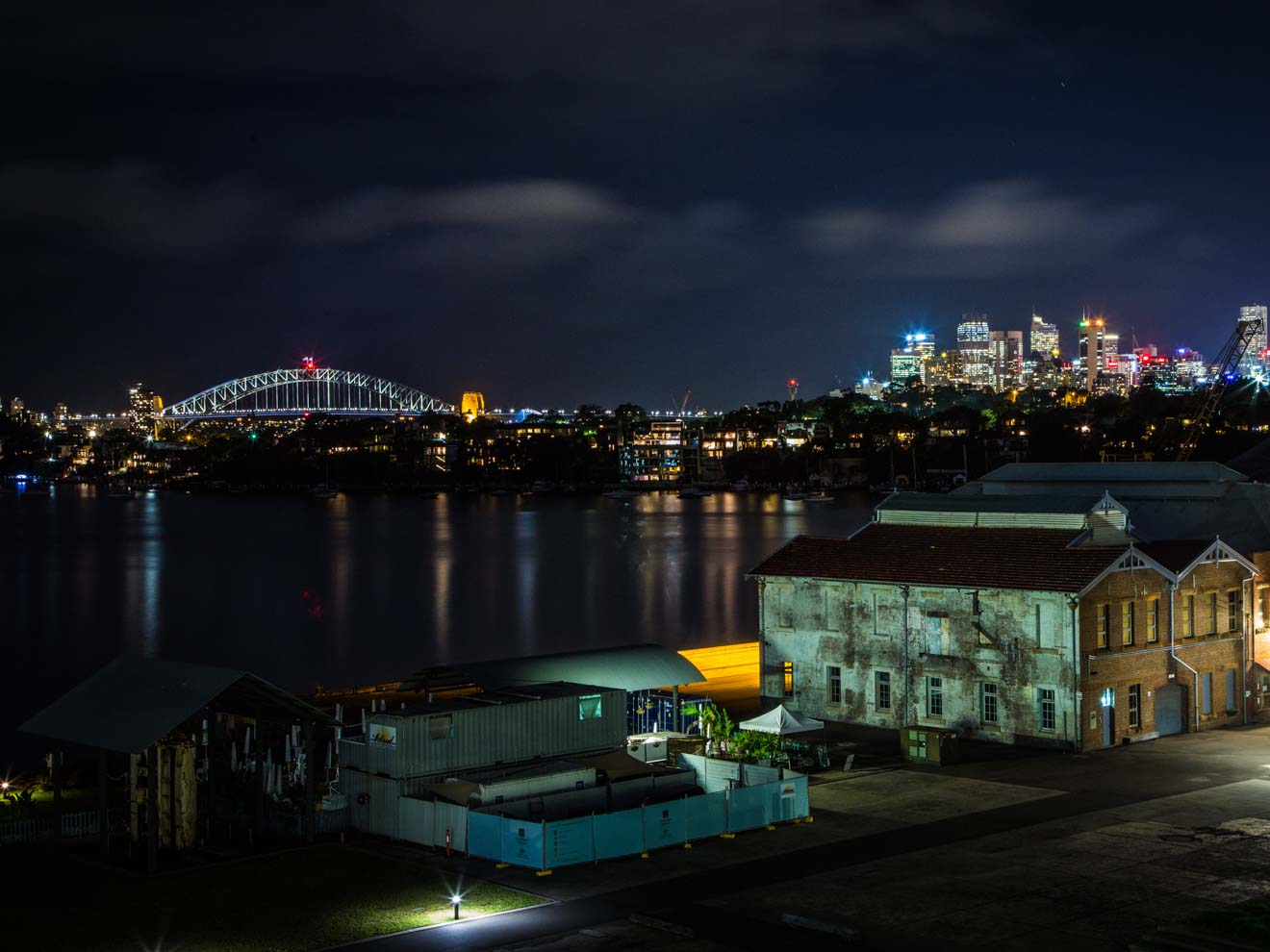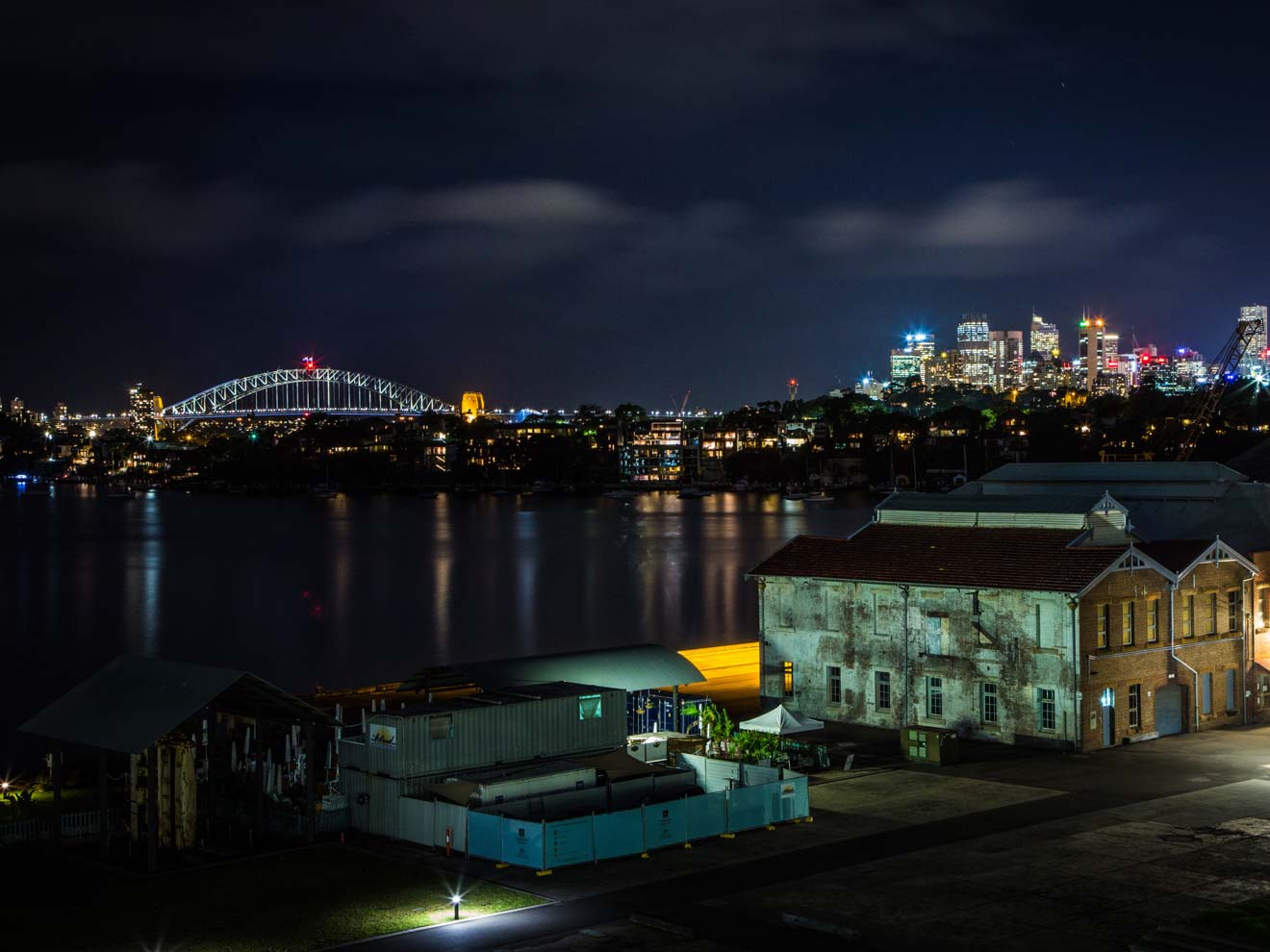 If camping isn't your thing or you're traveling with a group of people, there are a couple of options available to rent on Cockatoo Island. As there are a limited number of buildings on the island, I recommend booking at least a month in advance if you wish to secure one.
Here are 4 accommodation options that I have found for you; all of them have great reviews:
2.1 Heritage Holiday Homes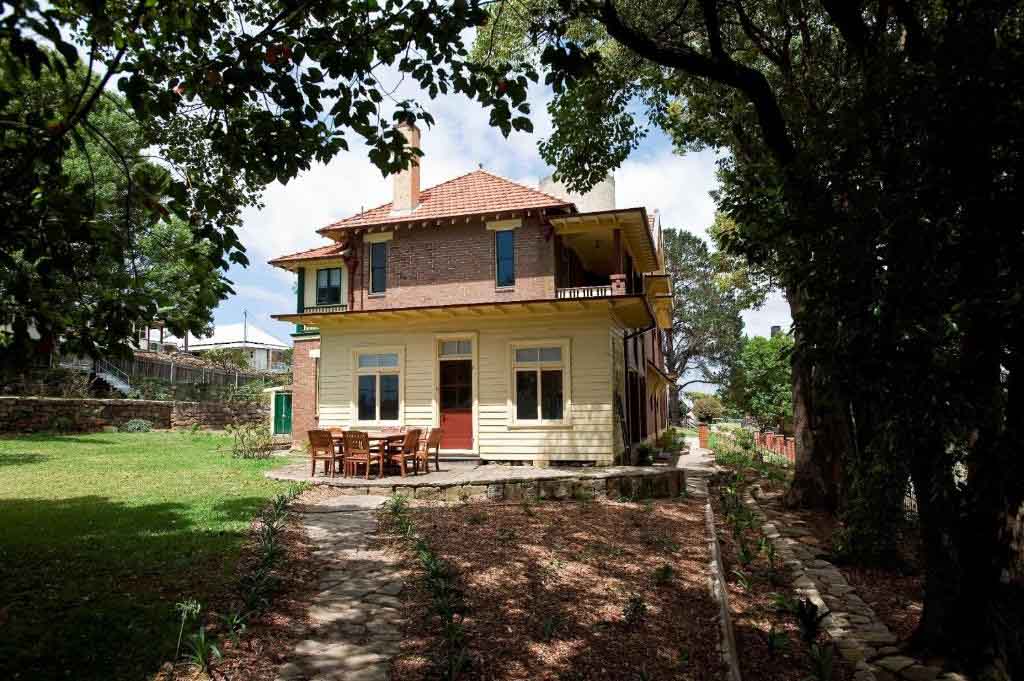 Sleeping 8-12 guests each (additional fees apply), there are two heritage holiday homes available. Built around 1913 to house the island's medical officer and engineer manager, each holiday home comes with a beautiful entertainment area and an outdoor barbecue looking across to Hunters Hill.
COST FOR 8 PEOPLE:
1 night (only available midweek): $825 per night
2 + nights: Mon-Thurs, $625 per night. Fri-Sun, $950 per night.
2.2 Harbour View Apartments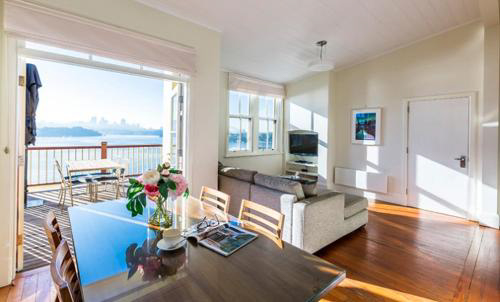 With options for 2-5 person apartments, these 3 beautifully restored apartments sit high on a hill and offer incredible views over Sydney Harbour from each of their large balconies.
COST PER NIGHT:
1 Bedroom:
Mon-Thurs $285 AUD (US$190)
Fri-Sun $350 AUD (US$240)

2 Bedrooms:
Mon-Thurs $400 AUD (US$270)
Fri-Sun $515 AUD (US$350)
NOTE: There is a two-night minimum booking on weekends
2.3 Garden Riverview Apartment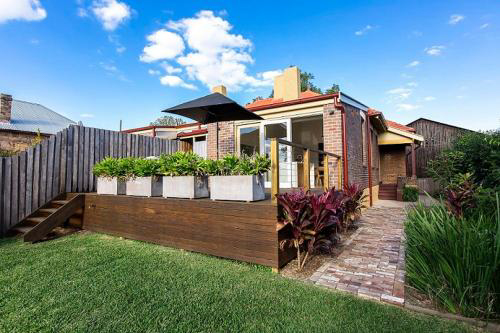 This apartment can accommodate up to 5 people in either a one or two-bedroom configuration. This could be a perfect couples retreat or family getaway with an outdoor deck, bbq, and a beautiful enclosed garden.
COST PER NIGHT:
1 Bedroom: Mon-Thurs, $305 AUD (US$207) / Fri-Sun $340 AUD (US$230)
2 Bedrooms: Mon-Thurs, $365 AUD (US$250) / Fri-Sun, $670 AUD (US$460)
NOTE: Please note that the minimum night stays may vary on the weekends.
2.4 Fire Station Studio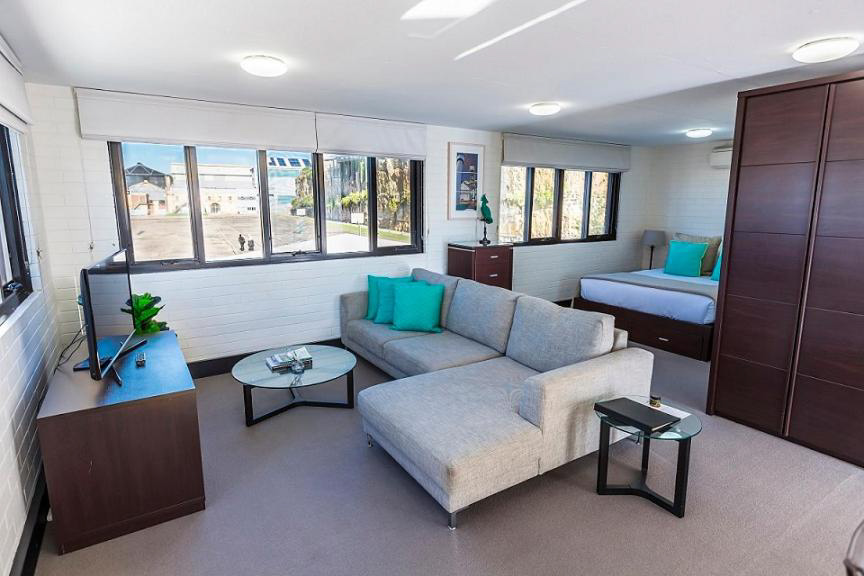 Revived and renovated after its former life as the Island's Fire station, this modern studio boasts the best panoramic views of Parramatta River, a huge deck and open plan lounge, living and kitchen perfect for a couple.
COST PER NIGHT:
1 night: Mon-Thurs $270 AUD (US$180) / Fri-Sun $345 AUD (US$230)
2 + nights: Mon-Thurs, $265 AUD (US$180) / Fri-Sun $335 AUD (US$230)
BONUS: Join a ghost tour around Cockatoo Island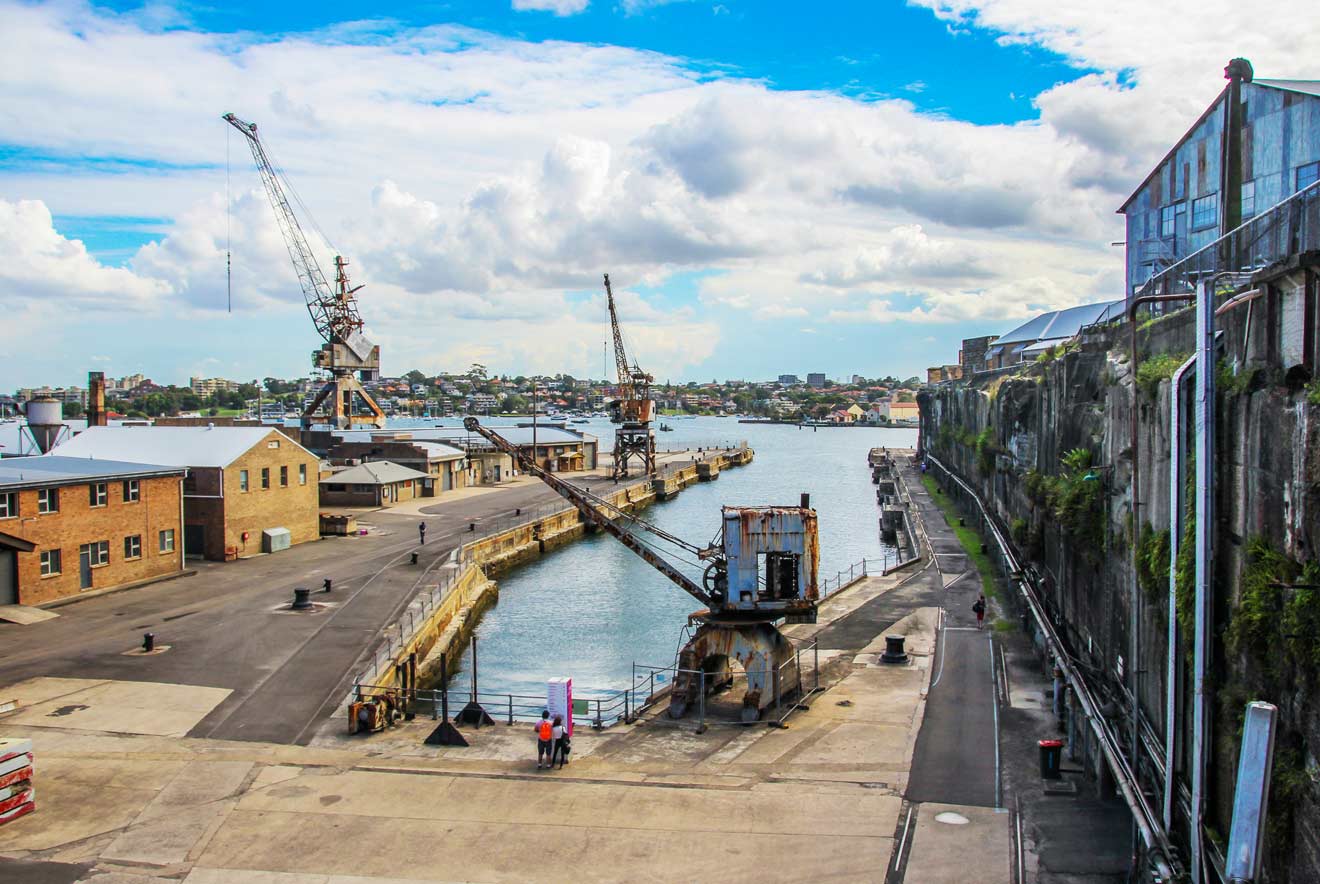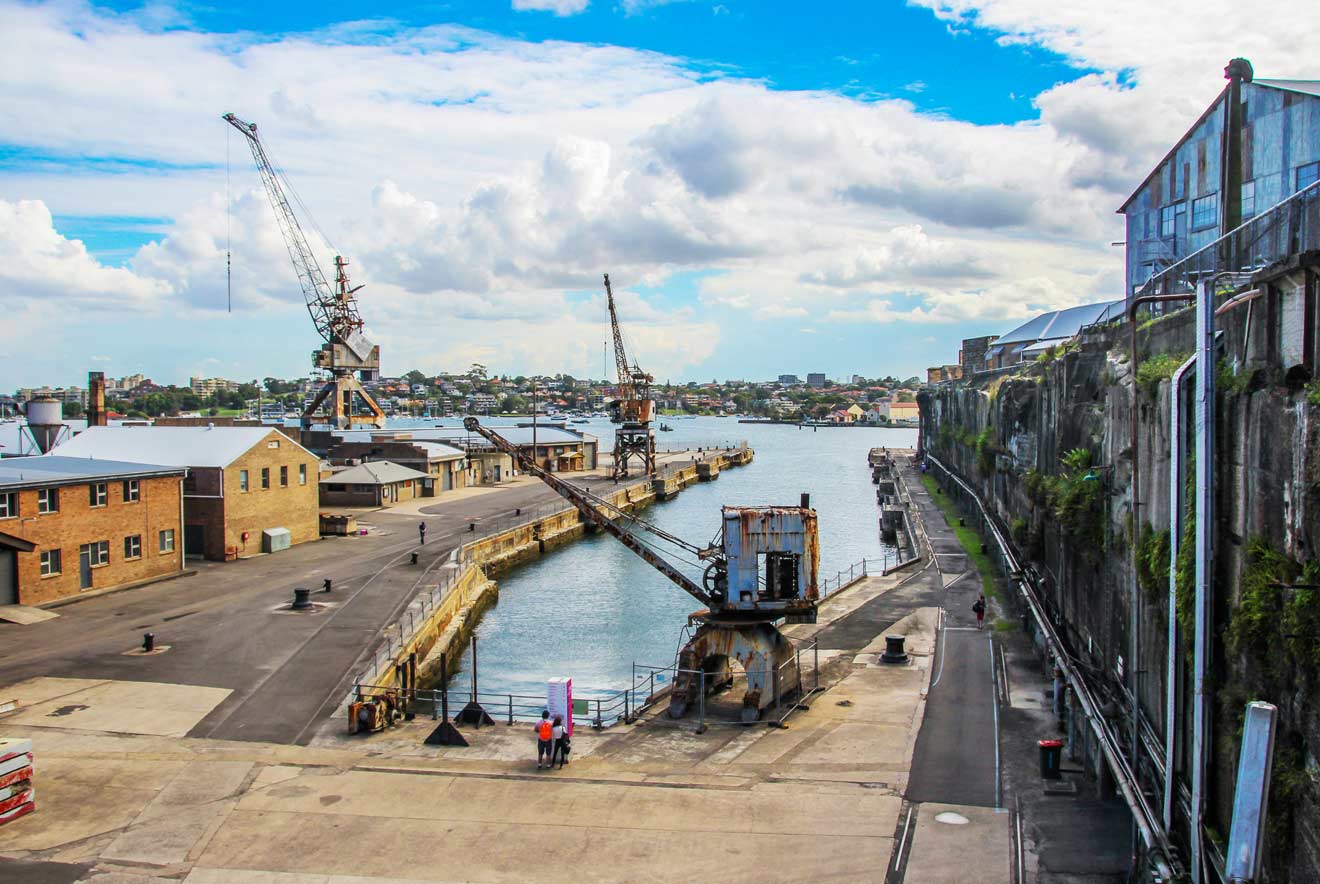 It's no surprise that this island is claimed to be haunted given the tantalizing convict past it has. Many people have claimed to feel a presence around the island at night and the guides certainly have some spooky stories to tell!

Whether you believe in ghosts or not, I highly recommend joining a ghost tour while you're here so you can make up your mind for yourself.
The tour runs from 9pm to 11pm on Saturday nights only. and costs $47 AUD (US$32) per person.
NOTE: Participants must be over 18 years of age.
However, if you do want to bring your kids without scaring the pants off them, Cockatoo Island also offers a family friendly Dark Past Tour from 6:30pm to 8pm.
Practical information about Cockatoo Island
TIP: Check the Cockatoo Island website for seasonal bonus deals, including NYE and the Biennale.
Now that we've gone through all the accommodation types and prices, I'm here to help with some more things to think about while you plan your trip!
Food on Cockatoo Island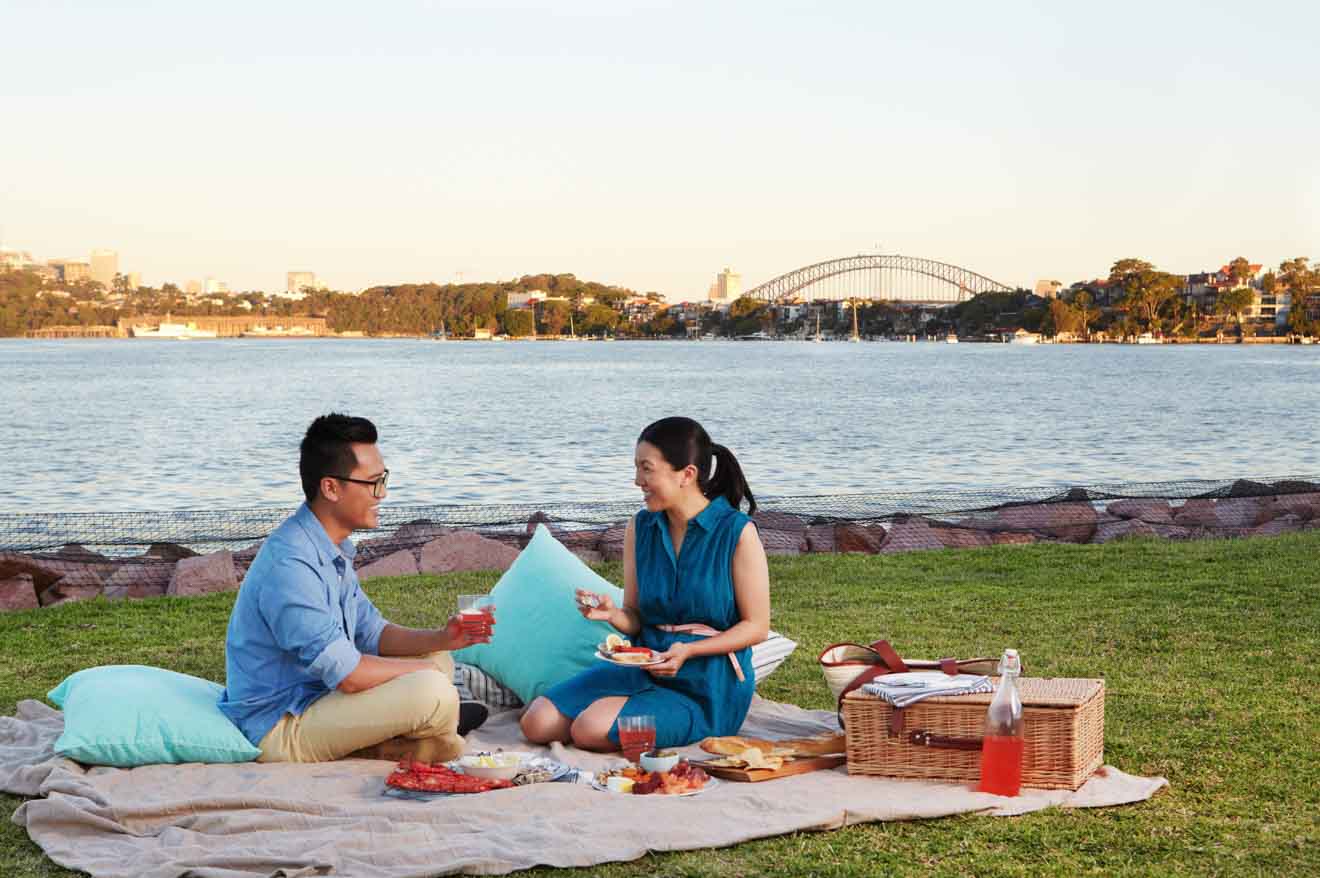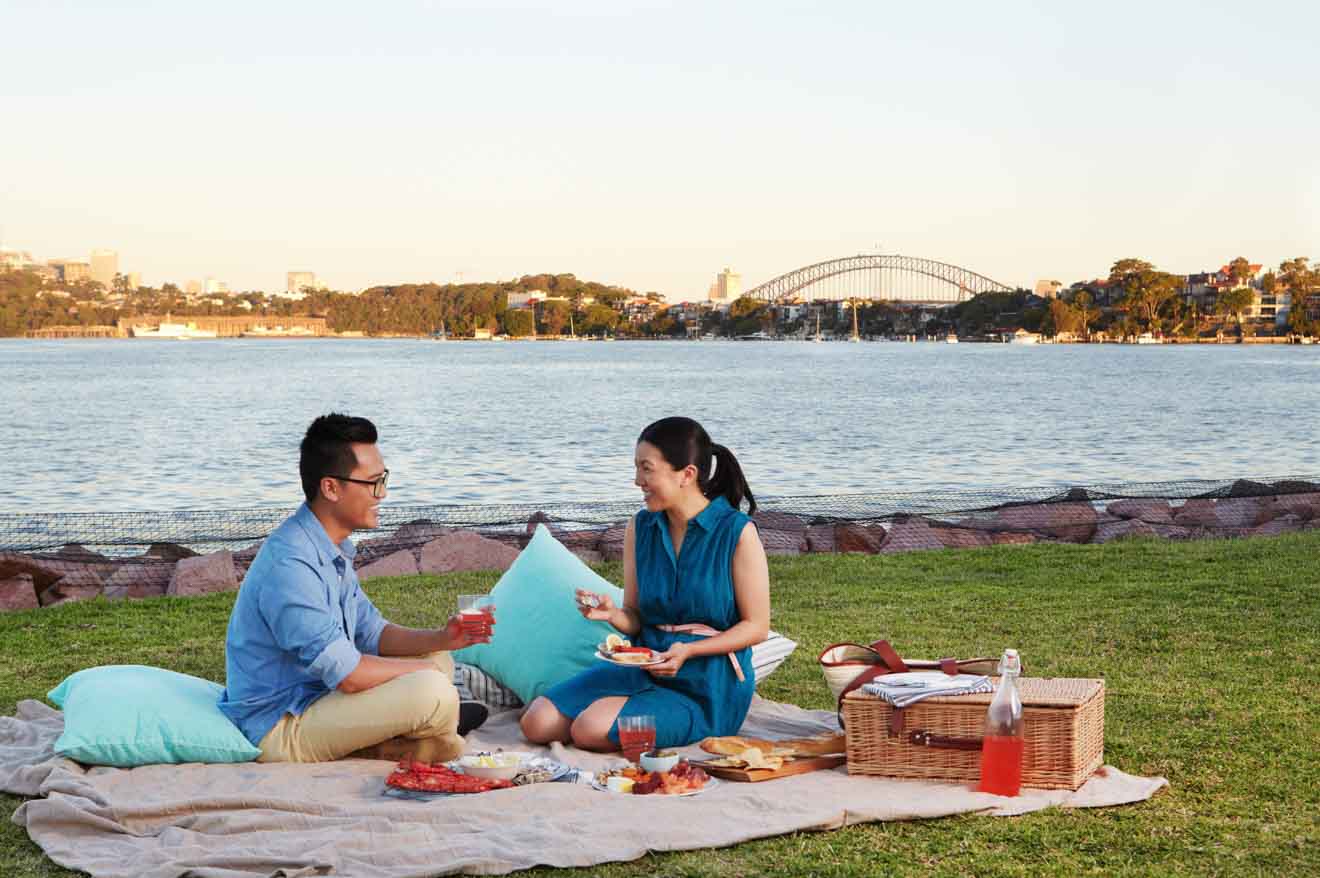 There are two cafes on the island, Societé Overboard and Marina Café and Bar.
You can also bring your food and use the facilities available in either the waterfront campground or private apartment. It's best to do your shopping in Sydney before arriving, as only limited basics are available on the island.
A range of meals and bbq packs are available to pre-order from the visitor center for those who don't want to plan too much. Call +61 2 8969 2100 for more details.
Getting to Cockatoo Island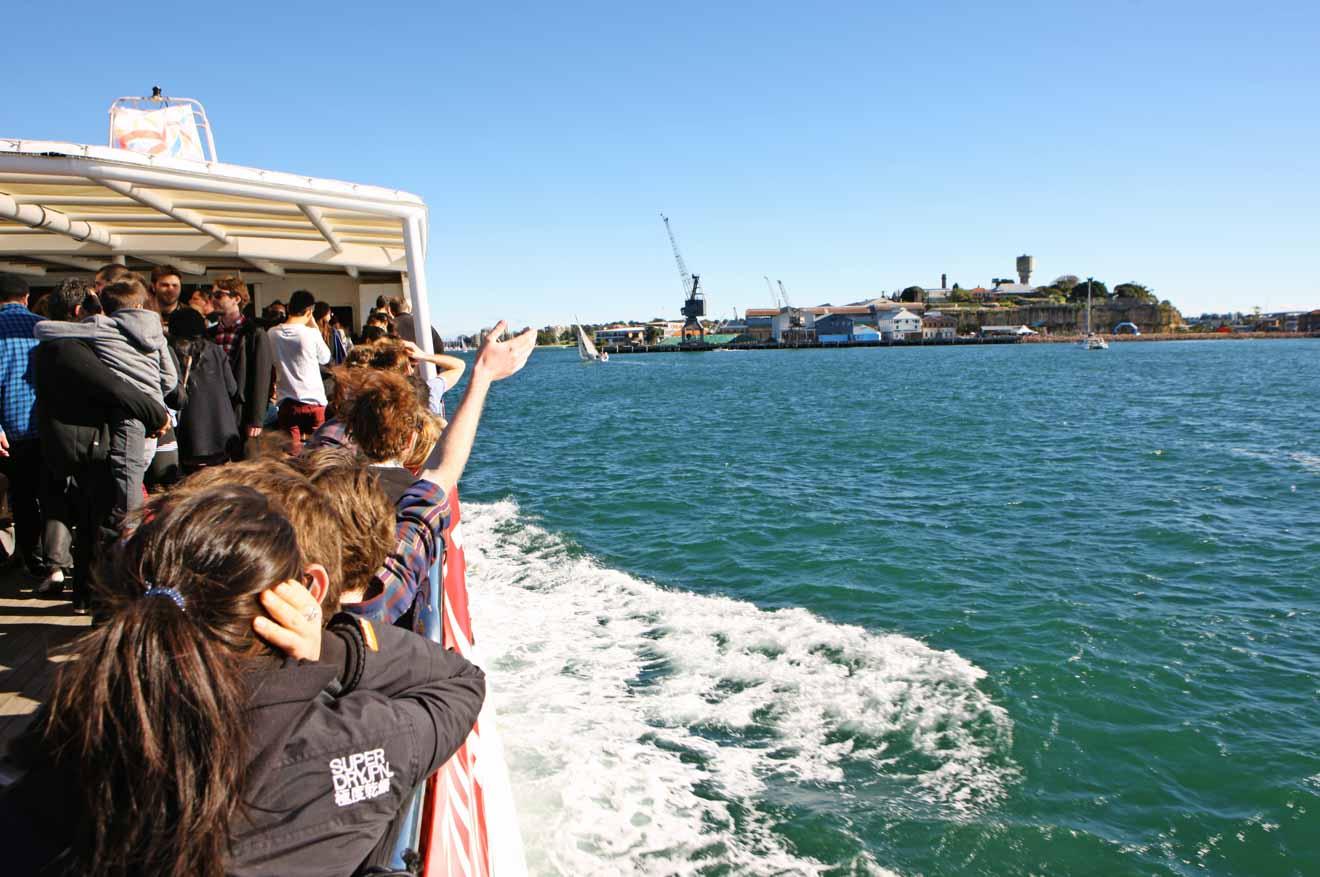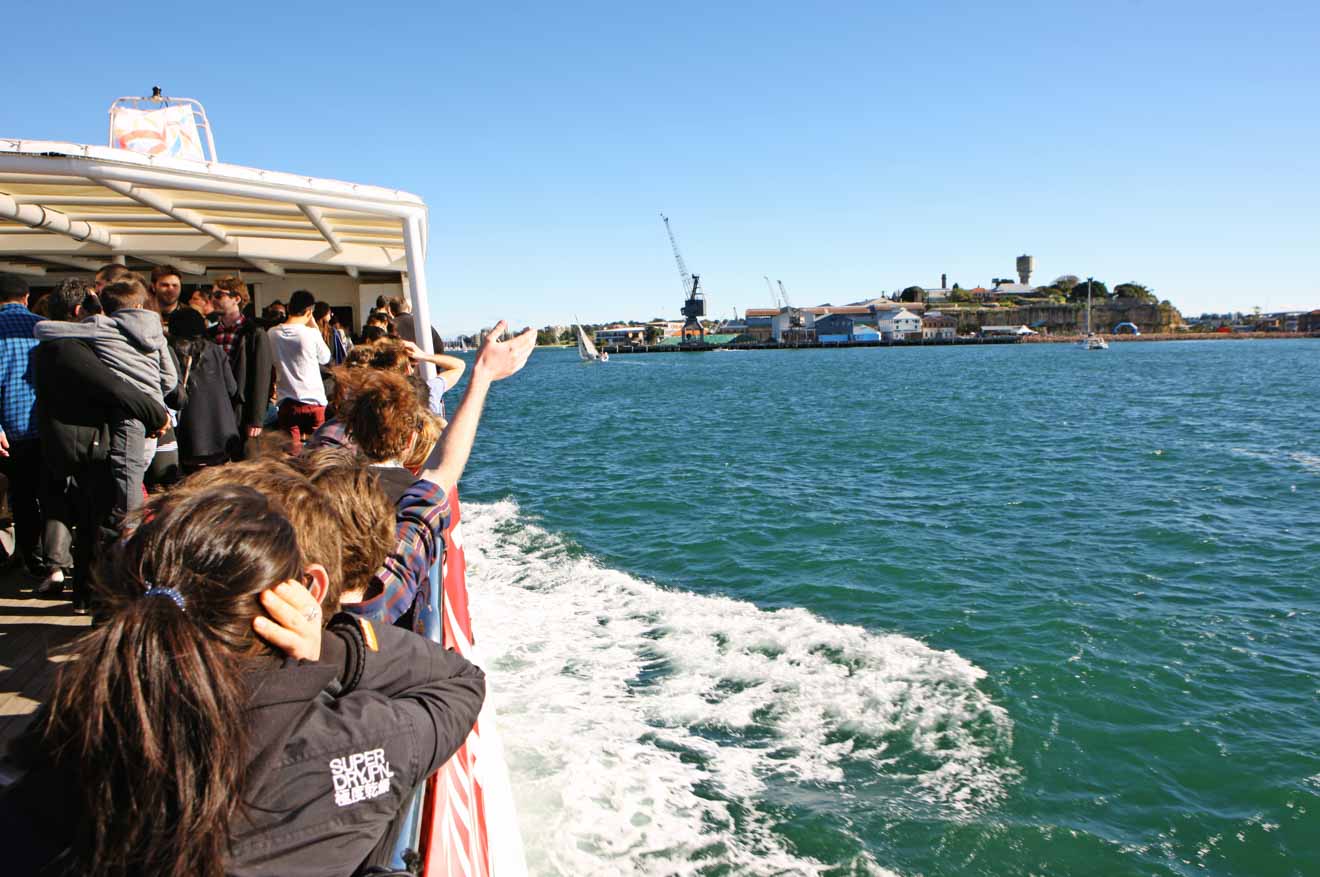 The island is reached from Circular Quay by ferries F3 or F8 which are part of Sydney's public transport network. Trips take 20 mins and cost around $6.50 AUD (US$4.50)
P.S.: If the island is a stop on your NSW road trip, don't forget to check out Newcastle and Wollongong! (We have great posts for you on these places too)
FAQs about Cockatoo Island accommodation
❓ Is Cockatoo Island open to the public?
Yes, Cockatoo Island is open to the public. You can take a ferry there and walk around for the afternoon, or book a place to stay overnight. 
🤑 What are Cockatoo Island accommodation prices like? 
Camping prices range from US$30 if you bring your own tent, right up to US$250 for a deluxe glamping set up. Renting a holiday home is also possible with prices between $180 – $650 per night. 
✨ Can you camp on Cockatoo Island for NYE? 
Yes, although you must book many months in advance as camping on NYE to see the Sydney Harbor bridge fireworks is very popular. 
🍽️ Is there a restaurant on Cockatoo Island? 
Yes! There is the Marina Cafe and Bar which is open from 10am – 3pm during the week and until 5 pm on the weekends. 
Conclusion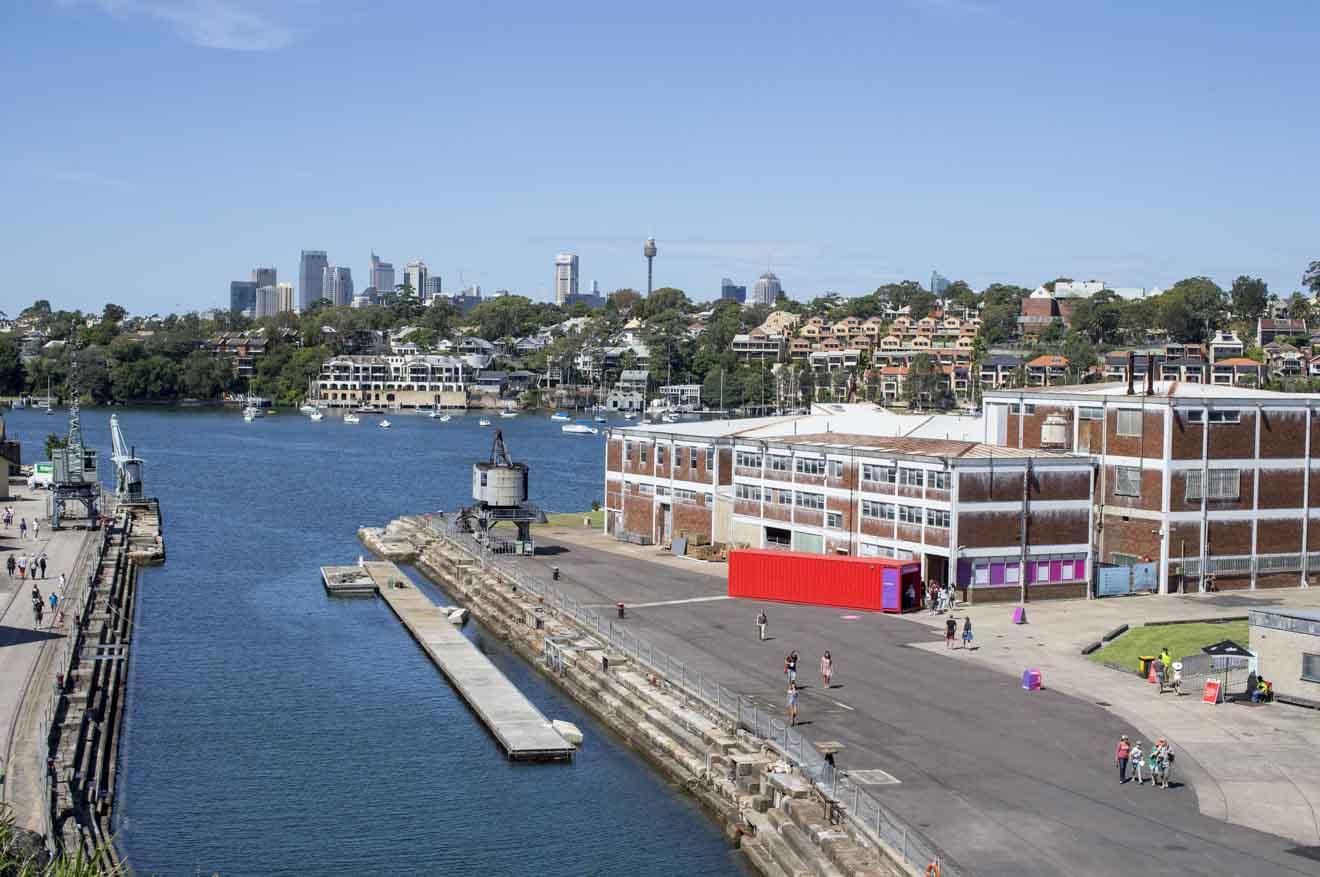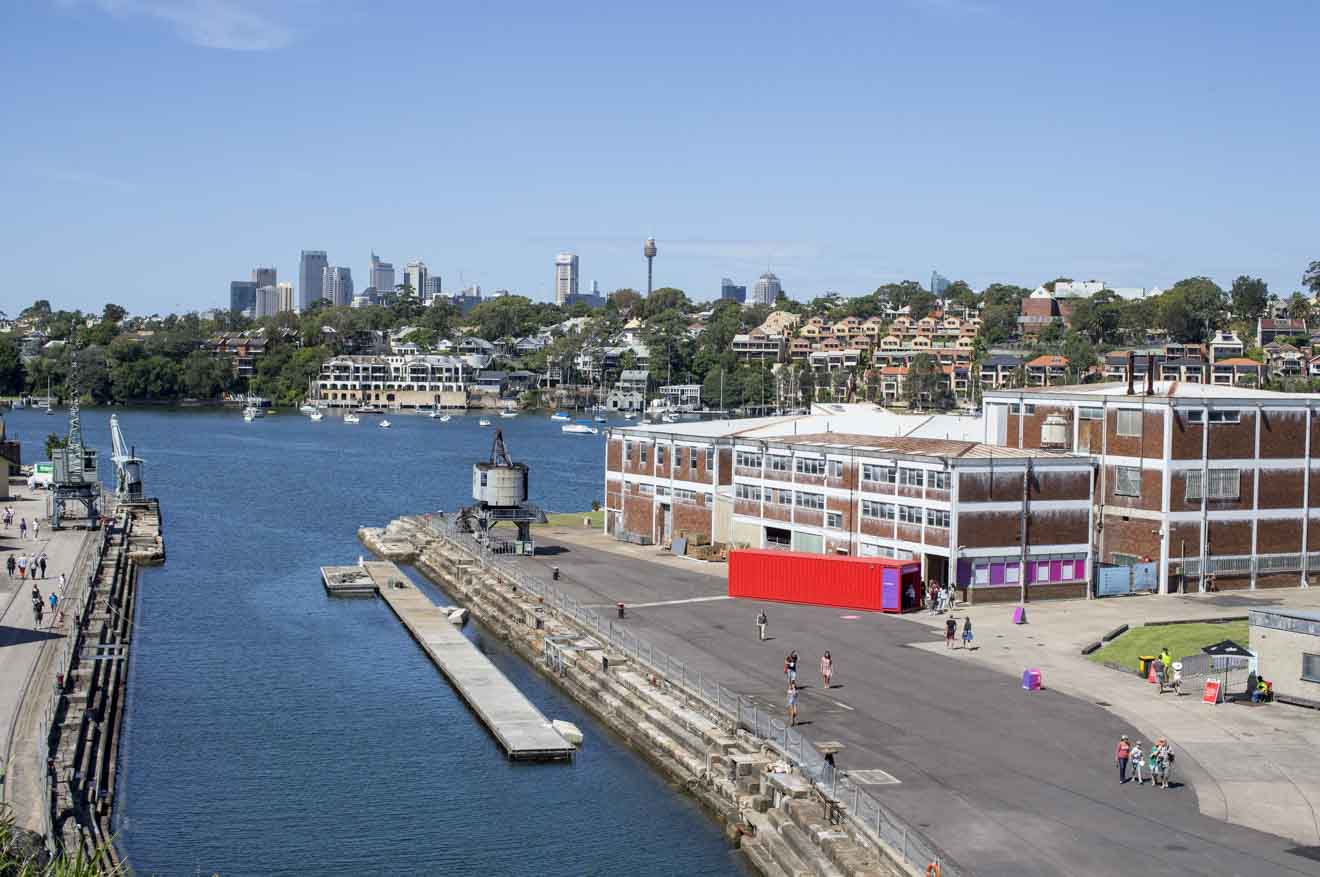 With all that information, I hope I have helped you choose the perfect camping site on the beautiful Cockatoo Island, Sydney.
With so much rich history and incredible views of the harbor, Cockatoo Island is an excellent place for adults and children to learn something new from the Harbour Trust, take a step back from the city hustle and find maximum relaxation with one of the camping packages on offer.
Don't forget to check out the Harbour Bridge views, make use of the incredible camp kitchen facilities and relax at the campground cinema!
If you're looking for other Australian islands, we also have posts on Kangaroo Island and Lord Howe Island, and if you have any questions about Cockatoo Island, the waterfront campground, or Australia, feel free to comment below!

Happy camping,
Kate
---
Pin it for later!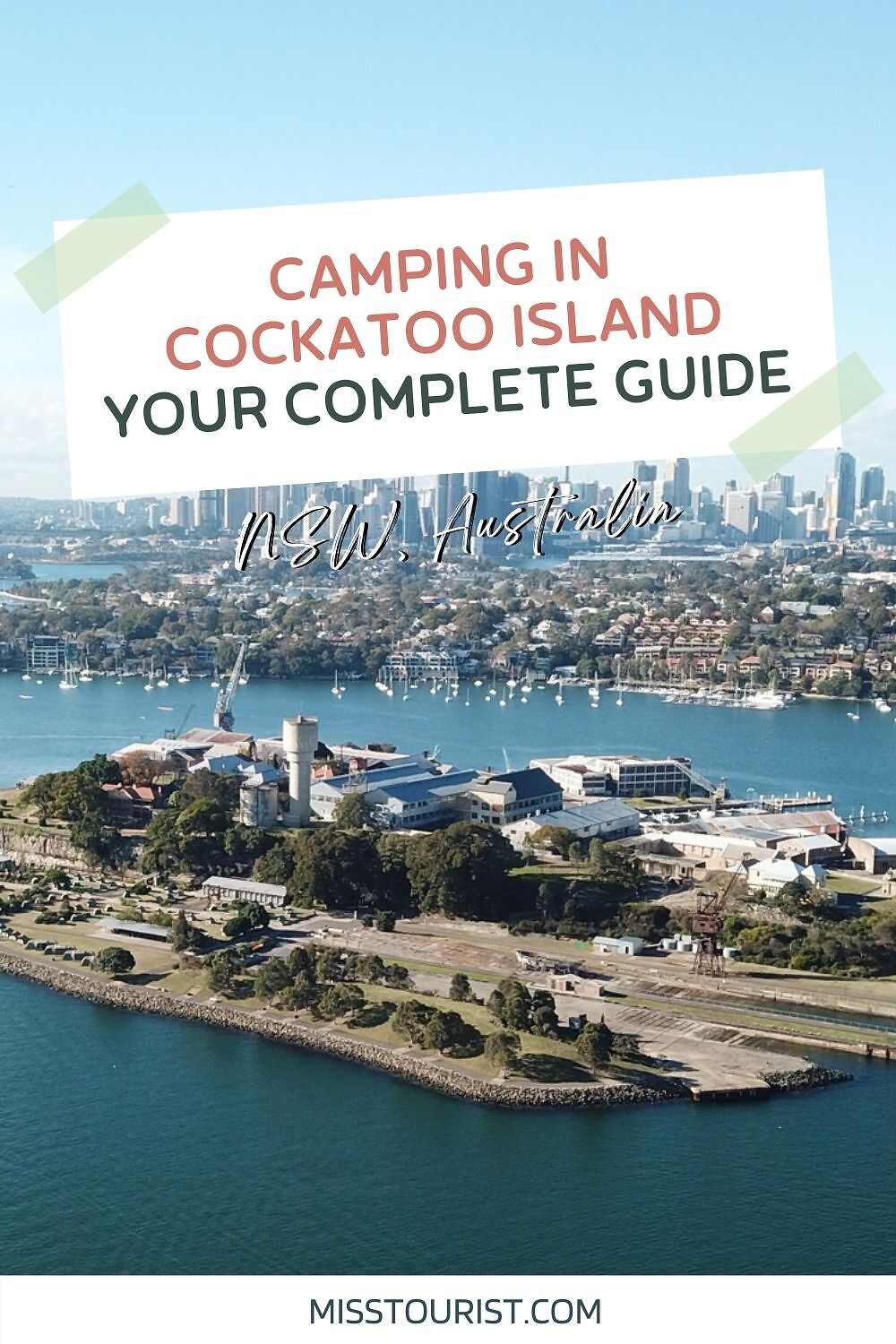 Pin it for later!