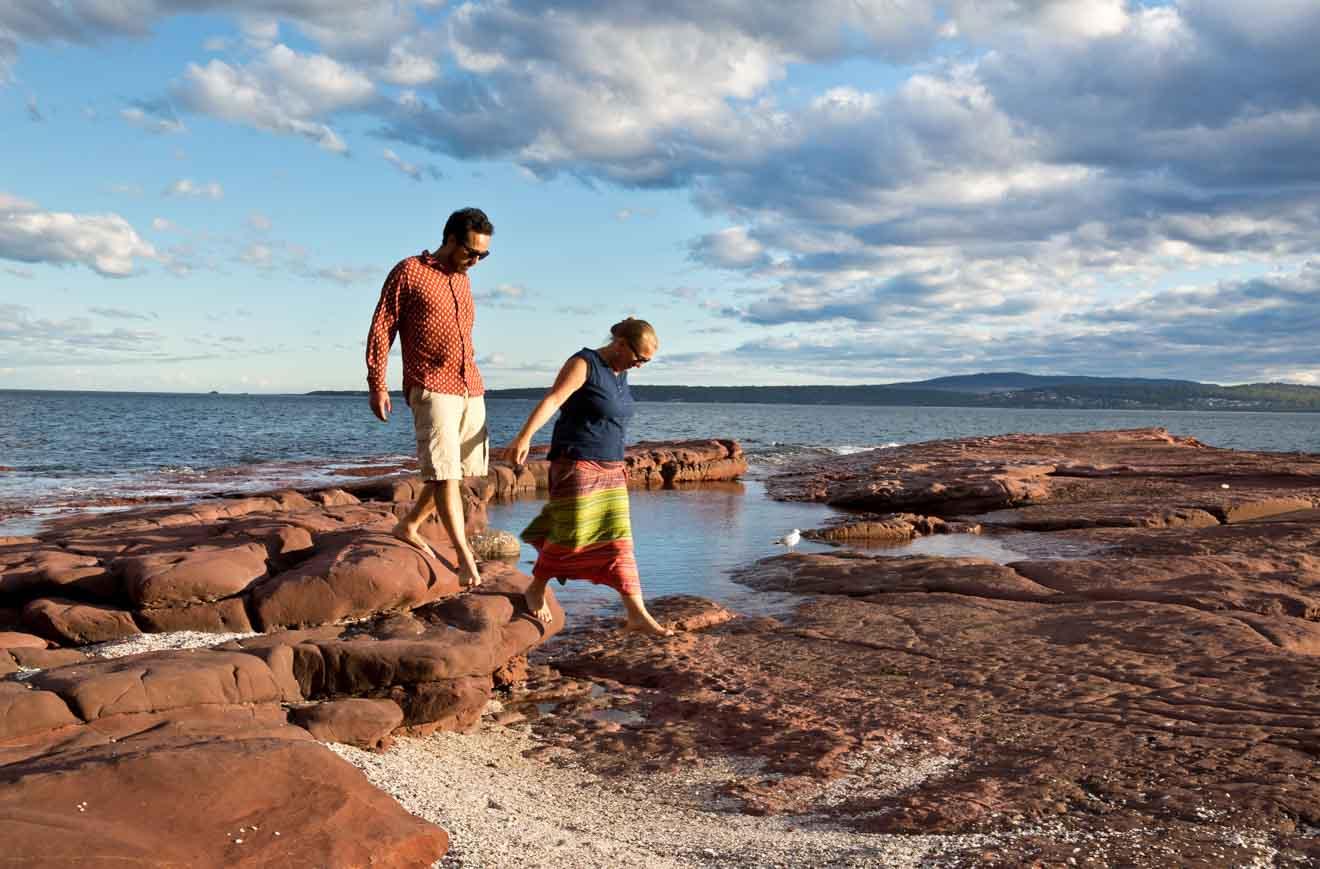 Located on the stunning Sapphire Coast, Merimbula is a popular holiday destination. A haven for anyone interested in water sports, whale watching or wildlife, it is easily accessible for visitors from Sydney and Melbourne.
More laid back than coastal towns further north, Merimbula is the ideal base for a beach holiday with lots of activities but fewer crowds. Having visited first as a child, and more recently with my own children, the appeal to me is that Merimbula has kept the seaside fishing town feel rather than a fancy beach resort area.
Whether you are a couple on a romantic getaway or a family vacation with the children (and dog!), Merimbula caters to everyone.
Once you have arrived in Merimbula you will have a wide range of activities to select from. From relaxing on the beach to searching for wildlife to more adrenalin-based adventures, there is plenty to fill in your days.
Below are some of my personal favourites:
1. Discover the beaches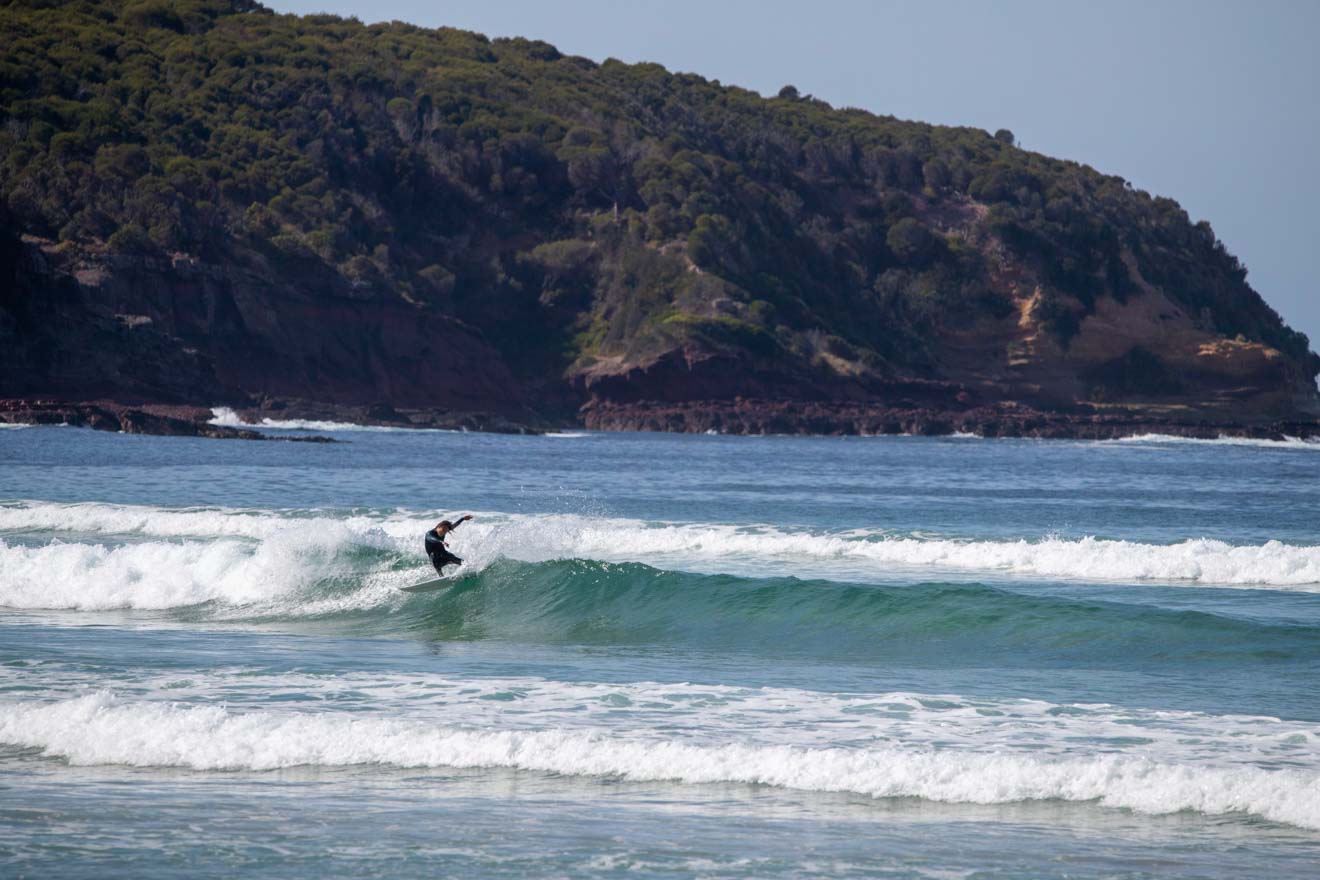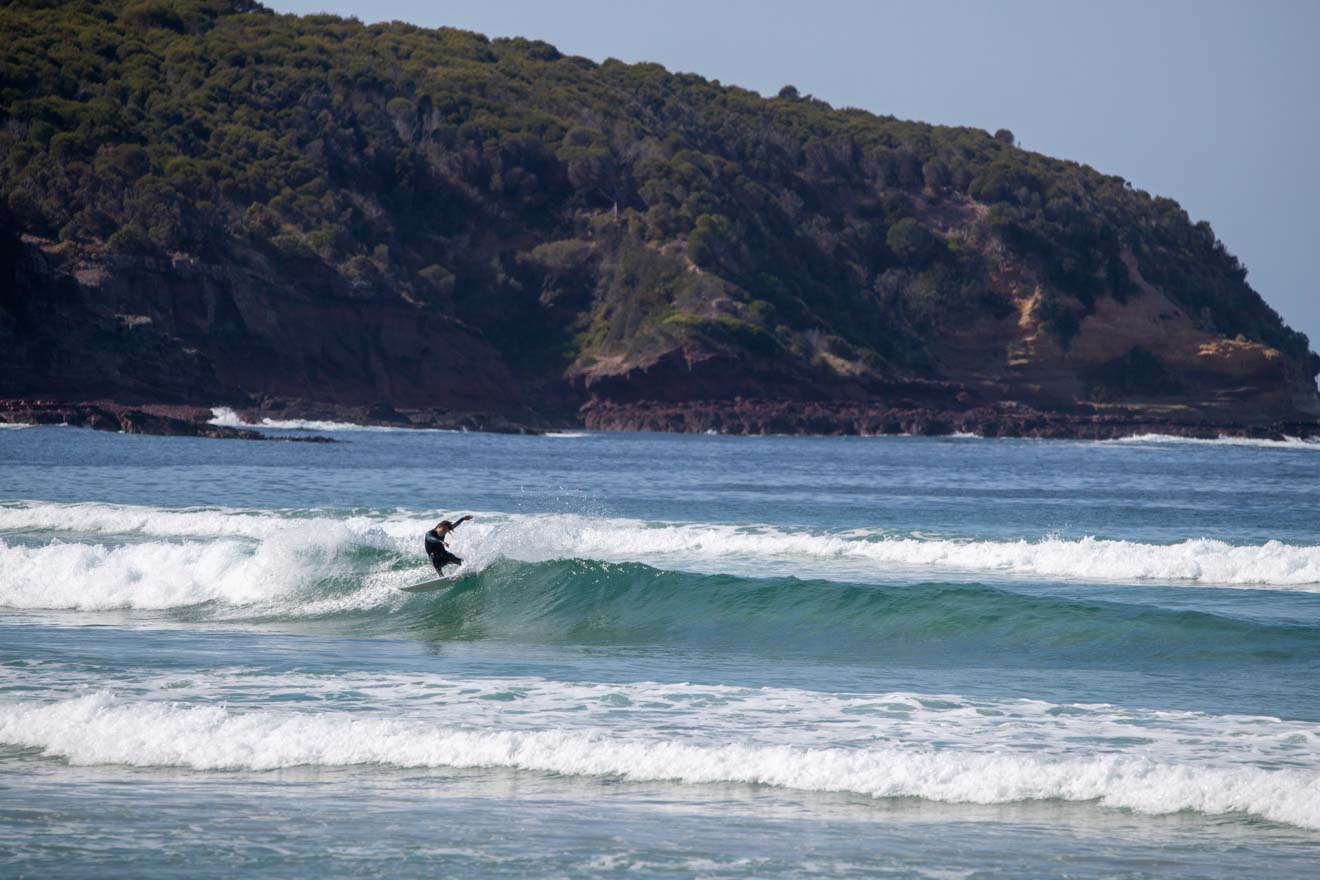 These are perhaps the main drawcards to this area. Main Beach has five kilometres of ocean where you can surf, fish, walk or just sunbake. It's great for photographers and perfect for families. Even dogs are welcome in the special off-leash section of the beach. So feel free to bring your dog on the vacation with you!
Main Beach also backs onto a bush reserve where there are lots of walks and great opportunities to spot native animals in their natural habitat.
Other beaches I like to visit when in Merimbula are Bar Beach, Short Point and Mitchies Jetty.
2. Go Whale Watching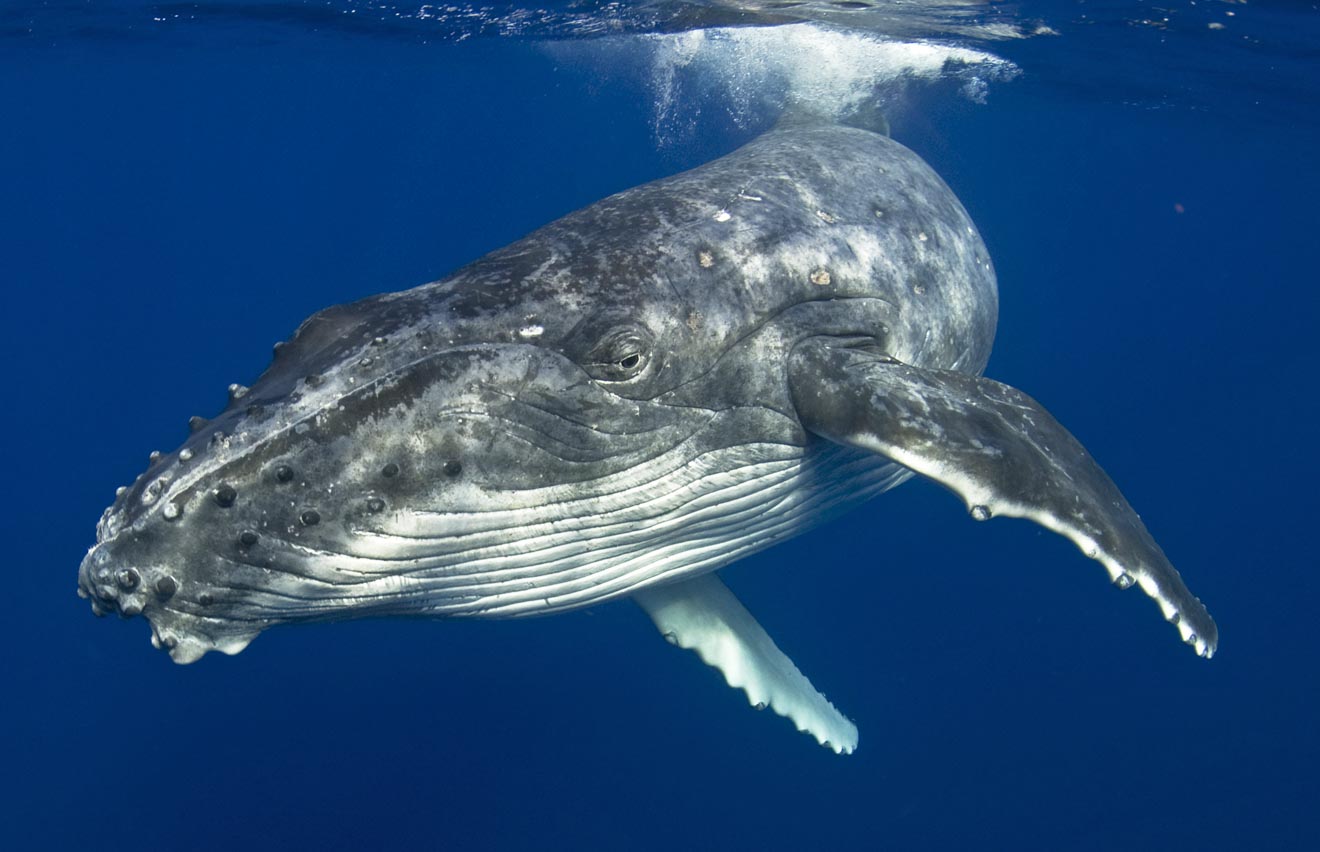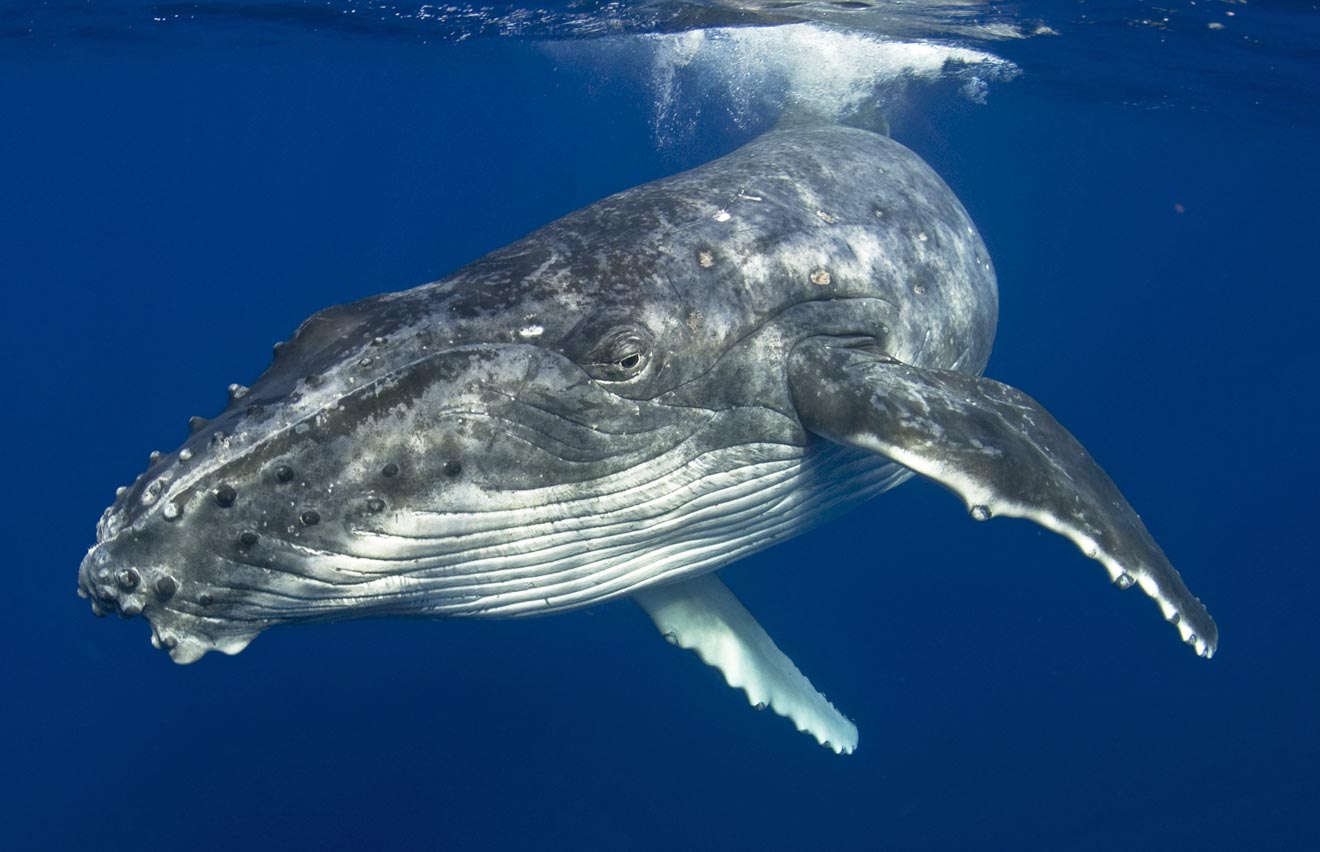 Spotting the world's largest mammal playing in the ocean is one of nature's most magnificent sights.
The peak season for whale watching is from early September to the end of November as the whales migrate south from the Great Barrier Reef down to Antarctica. If you plan on visiting outside of these months there is still a chance to see these beautiful creatures though it is much harder.
The best way to see whales is to take an organised whale watching charter. Not only will you see whales, but also dolphins, penguins, seals and birds!
TIP: Unlike many places, pods of whales pass quite close to the Merimbula shore. With some patience and a good set of binoculars, you can see whales from the shore. Short Point Beach is a great viewing spot.
3. Visit Merimbula Aquarium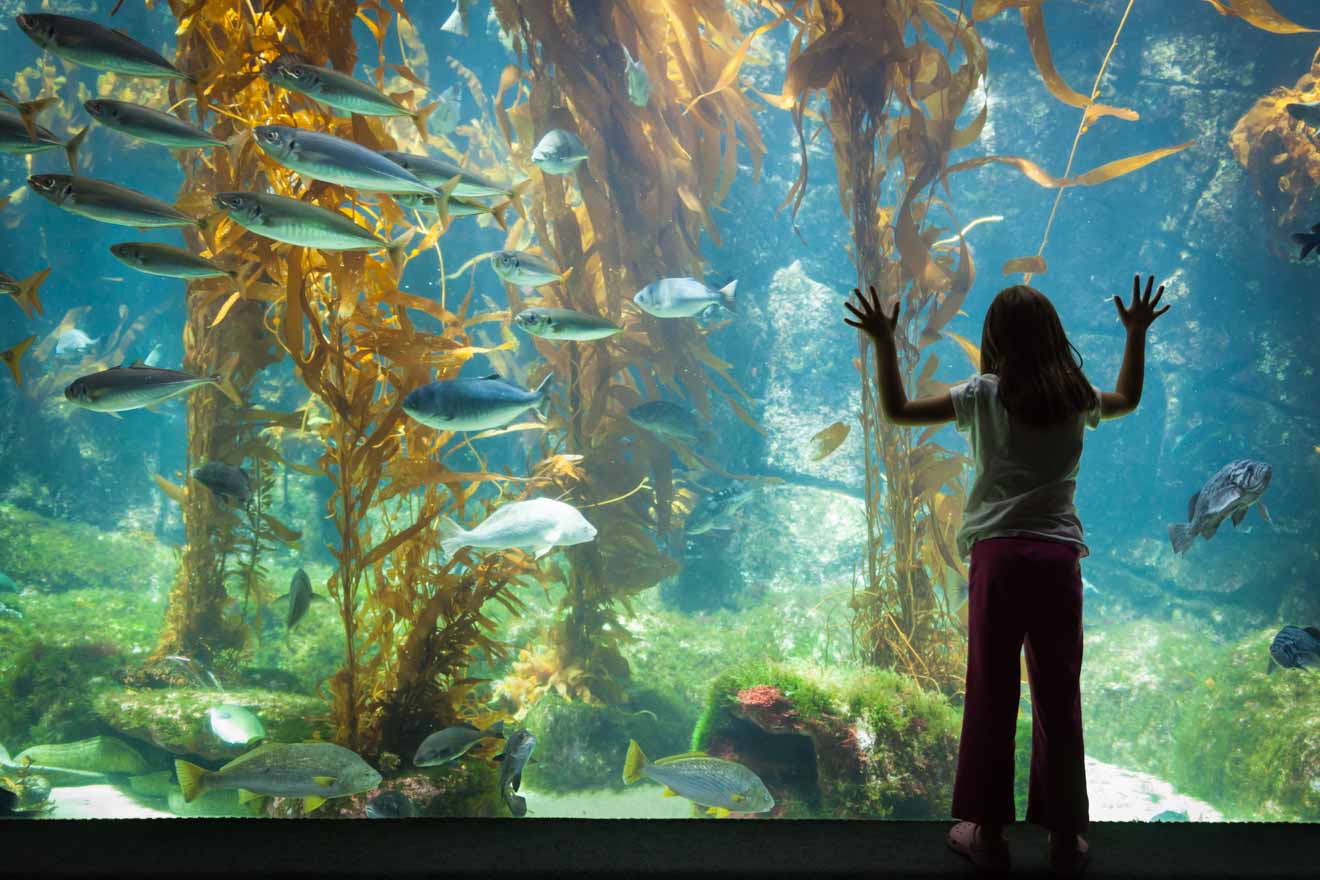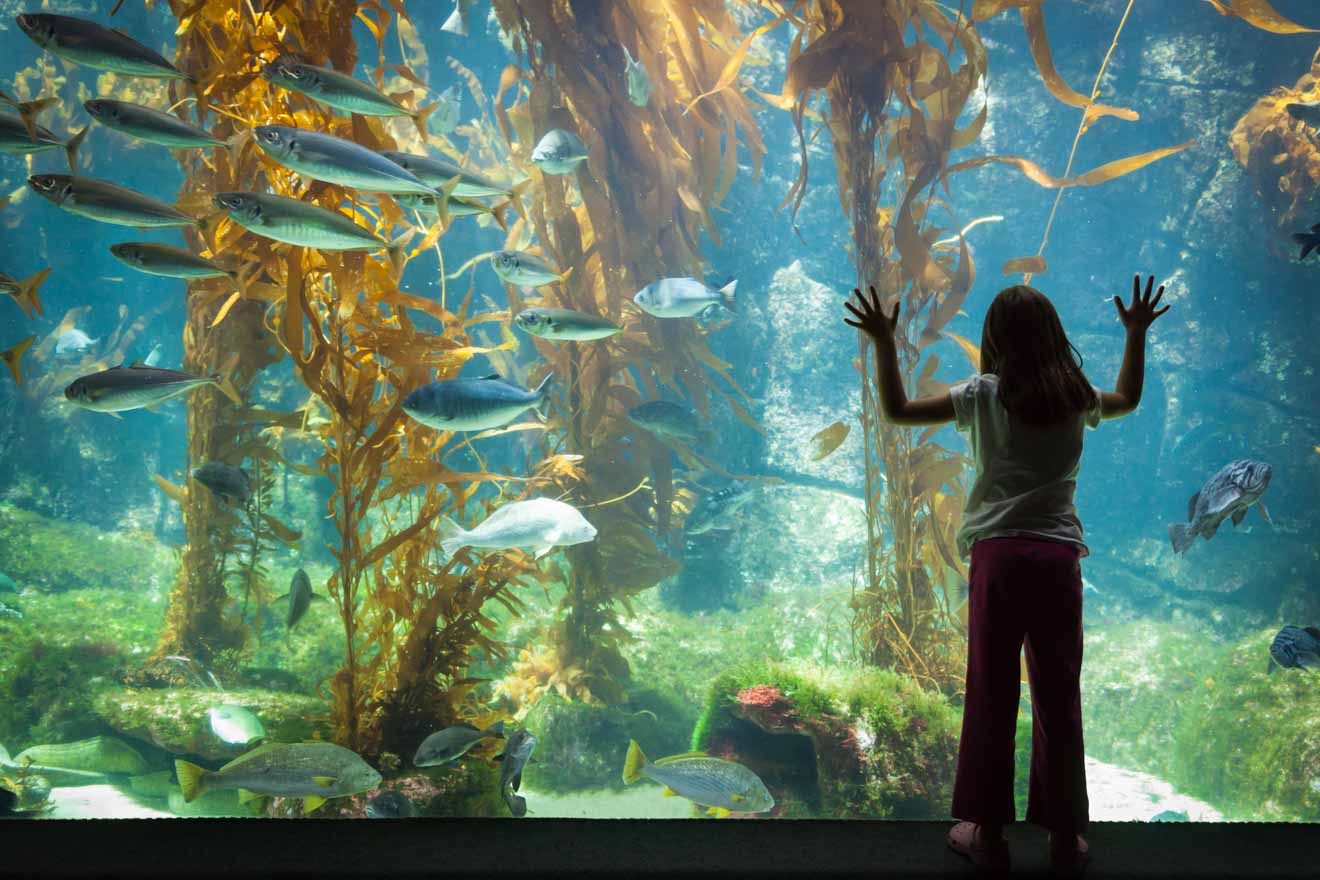 Located on the wharf with spectacular sea views, the Merimbula Aquarium offers an even closer look at sea creatures. There are 28 tanks featuring local and tropical marine life of all kinds.
The aquarium is small but full of information and the staff and owners are very knowledgeable. They make the place fun as you can tell they care about their jobs and are passionate about sea life. It makes for a great activity if it happens to be raining when you're in Merimbula.
The restaurant here has amazing views but is quite expensive. I prefer to eat at other places in Merimbula.
PRO TIP: There is fish feeding on Mondays, Wednesdays and Fridays at 11 30am. Make sure you visit during these times as staff give an informative talk at each tank as they drop the food in
PRICE: Adult – $22 (Child – $15)
4. Pet a kangaroo in the Wildlife Sanctuary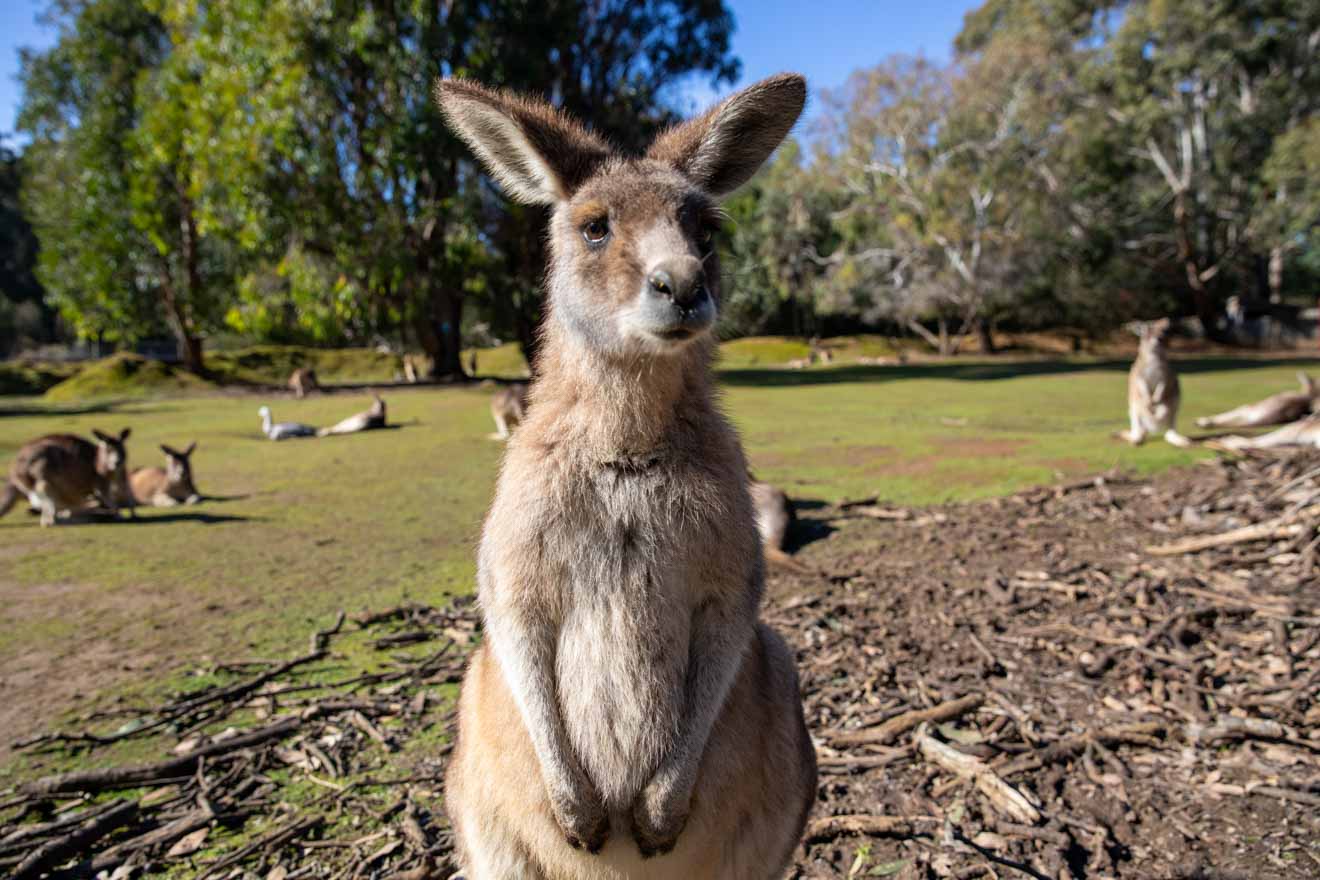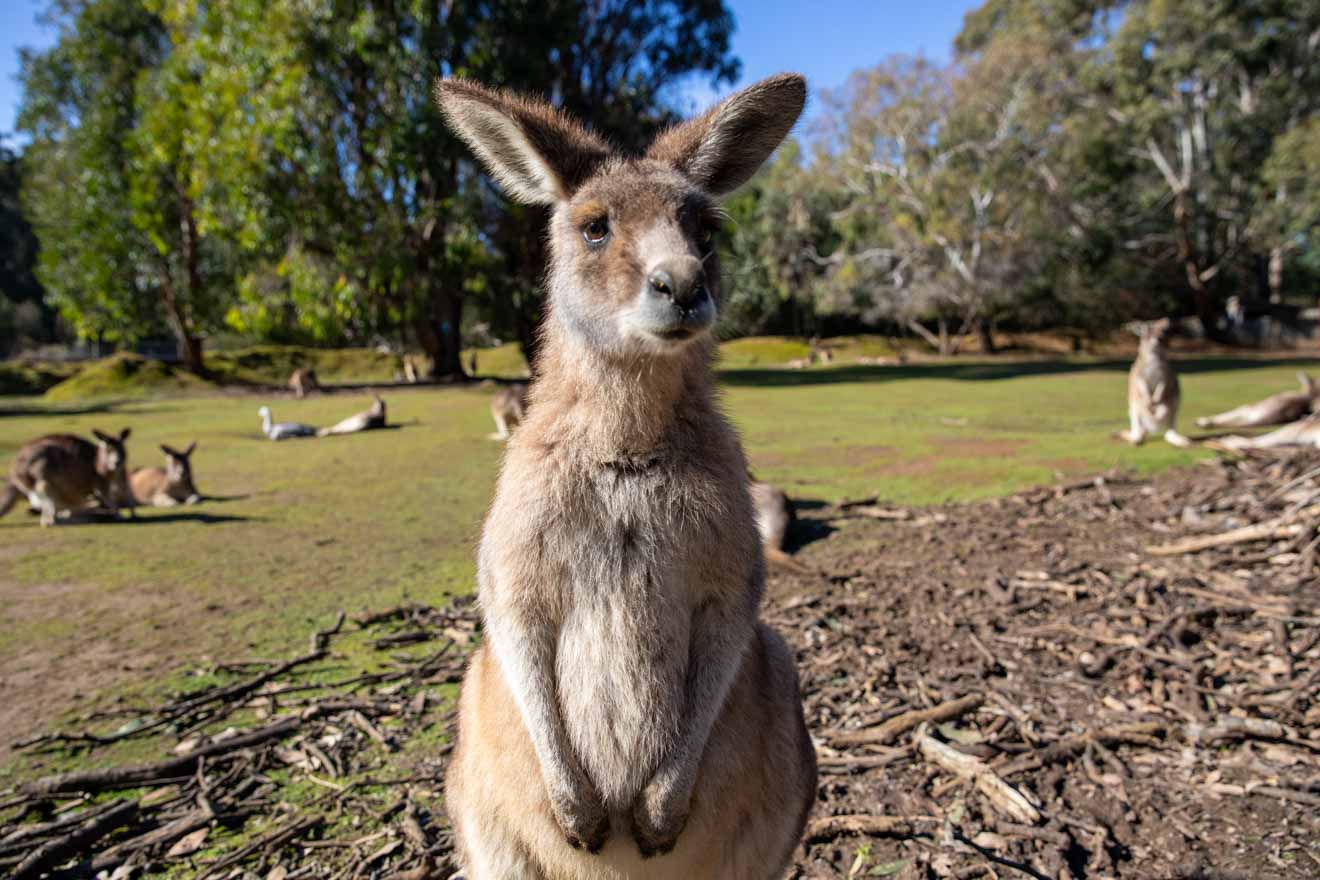 Potoroo Palace is a great place to get up close and personal with Australian wildlife. They have every native Australian animal you can think of including the ever-popular koalas and wombats. And of course, lots of potoroos – a small marsupial the size of a cat. For those brave enough they even offer opportunities to touch snakes!
What I like best about Potoroo Palace is that it's a non-profit venture with a focus on conservation and education. Many of the animals here are native to the Merimbula area and the animal keepers host talks and are happy to answer questions.
The kangaroos roam free and guests are welcome to approach and feed them. Approach them and give them a rub on their chest. Perfect photo for your Instagram!
PRICE: Adults $22 (Children – $16)
5. Get Thrilled in Magic Mountain
For a fun family outing, a visit to Magic Mountain is worthwhile. Whilst it has aged since the first time I visited, there are plenty of rides and attractions, especially for younger children. I'd definitely recommend this place as there is plenty to keep them entertained. It's also a good chance for mum or dad to relax!
PRO TIP: It's worth trying the Tree Challenge. Even though it's an extra $20 per person on top of Magic Mountain entry the 2-hour course is action packed, involving rope bridges, high wires and wooden obstacles. There are 11 zip lines over 30 challenges spread over three tree top courses.
PRICE: Adults $45, kids $38
6. Hike it!
Merimbula is the perfect size for those who enjoy walks or small hikes. Two of my favourite walks are easy for people of all ages.
The most popular is the Merimbula Boardwalk that follows the lake short and cuts through mangrove forests and at times eucalyptus canopies.
The round trip is 3.4km and takes about an hour. It's well signposted with information on marine life and vegetation.
7. Eat Seafood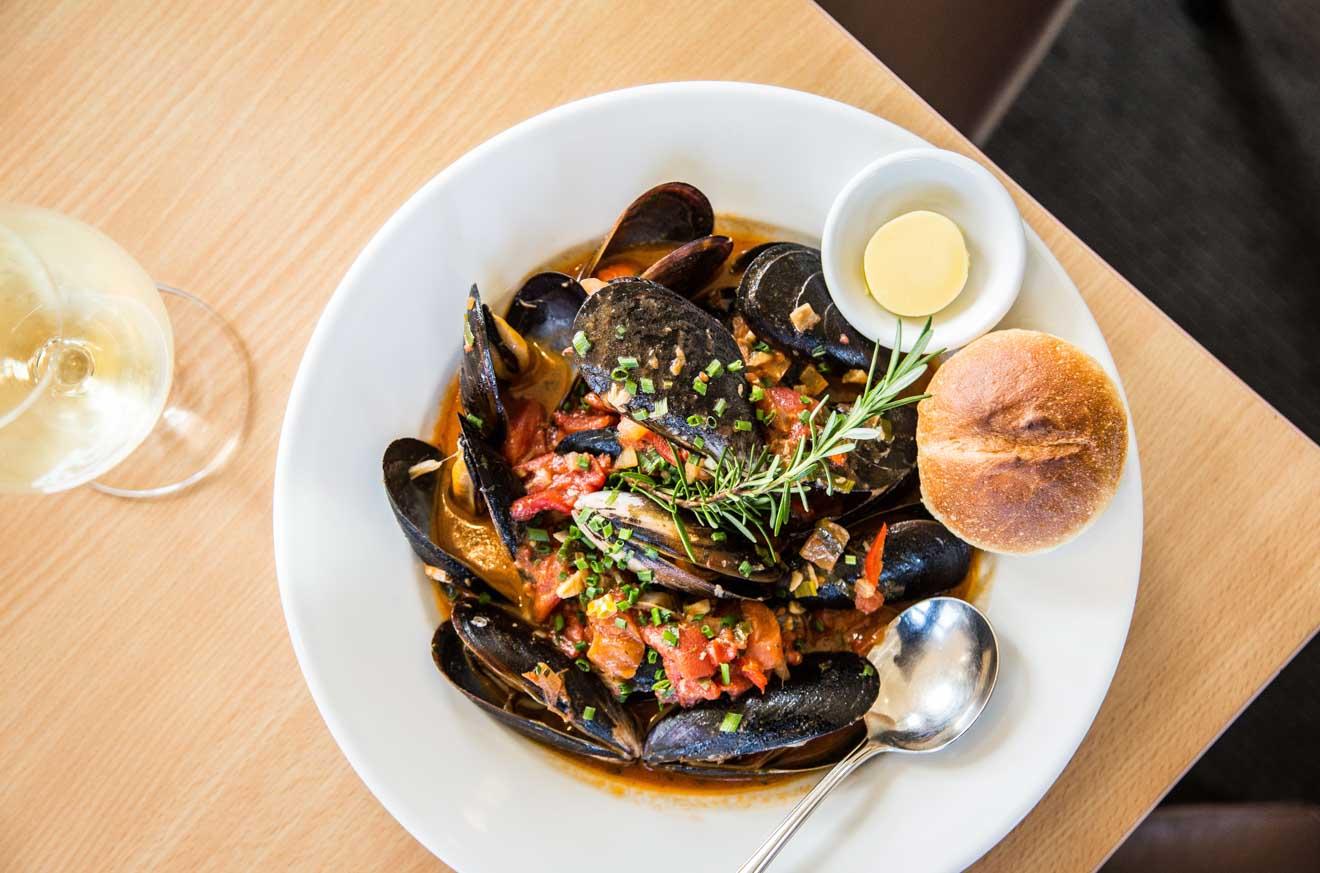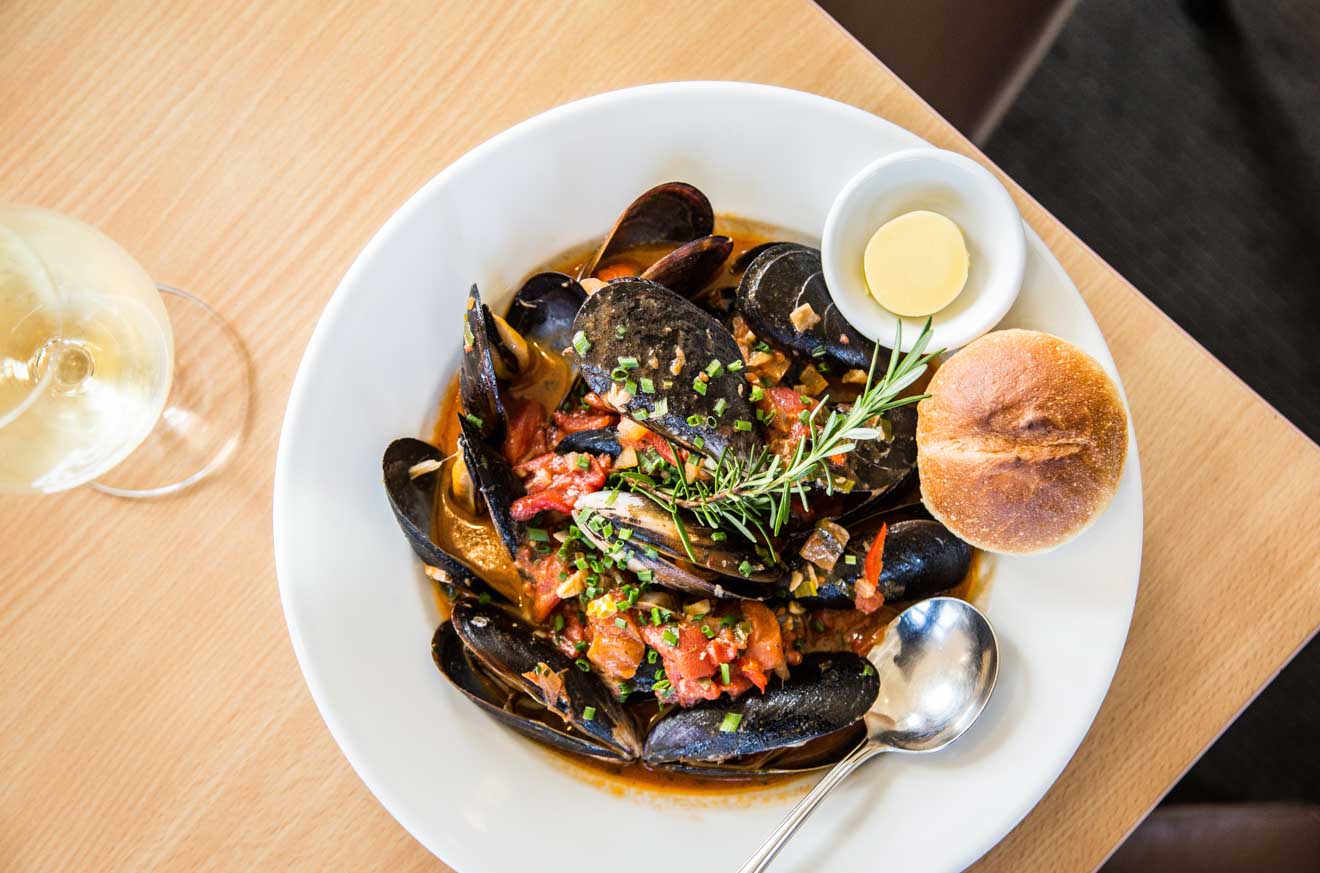 Due to its location, Merimbula has an abundance of fresh seafood to try. There is plenty of fresh fish to try, but for me, I stock up on the award-winning oysters. If you like oysters as much as I do, you should pay a visit to Wheelers Oyster Farm.
Here you can tour an oyster farm, learn from oyster farmers and most importantly taste the freshest oysters imaginable at their oyster bar.
TIP: For a more casual affair, locals and tourists alike indulge in Fish and Chips on the beach. Choose from one of the Fish and Chip stores and have a picnic on the beach. You will soon be popular with the seagulls – always eager for a spare chip!
8. Go fishing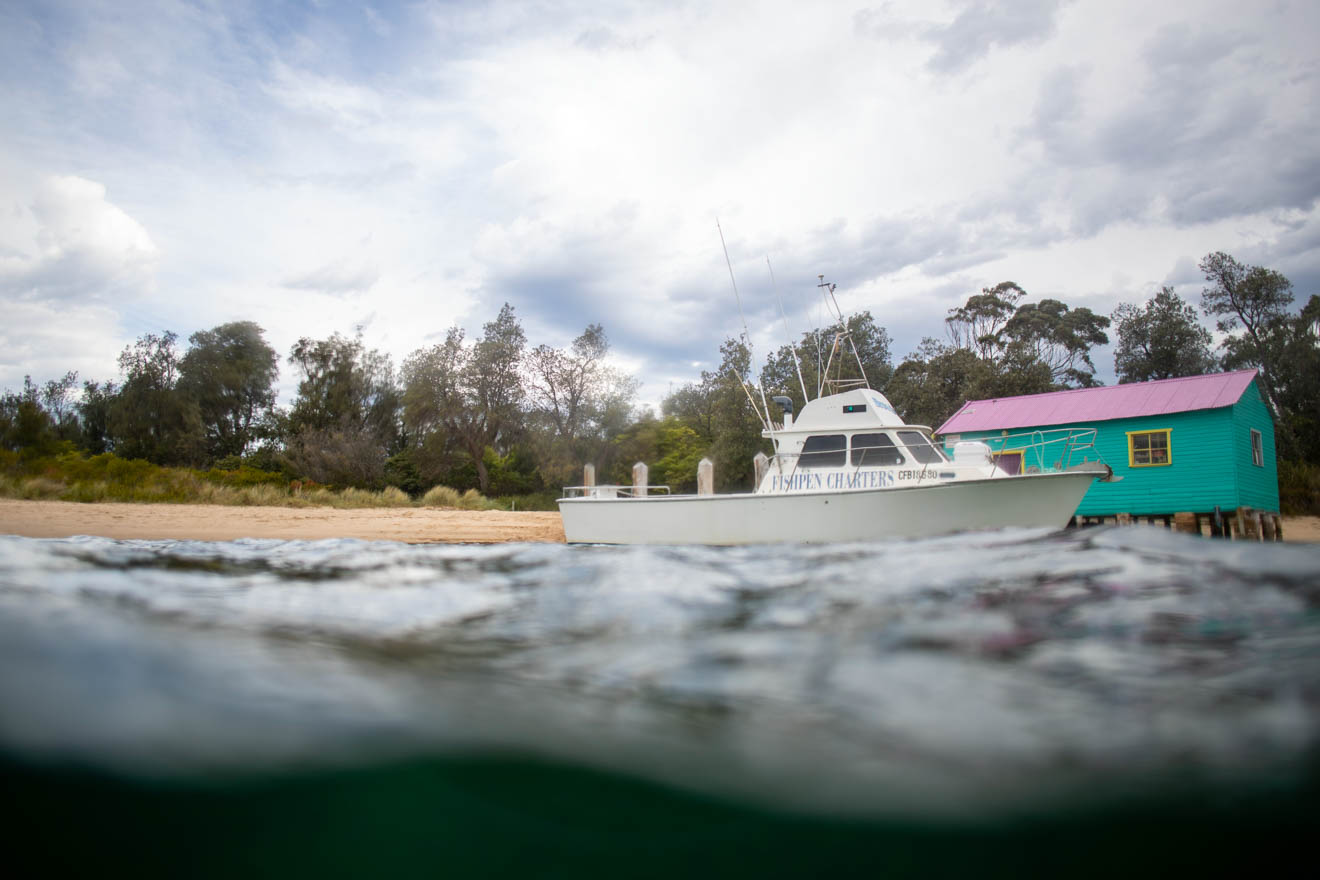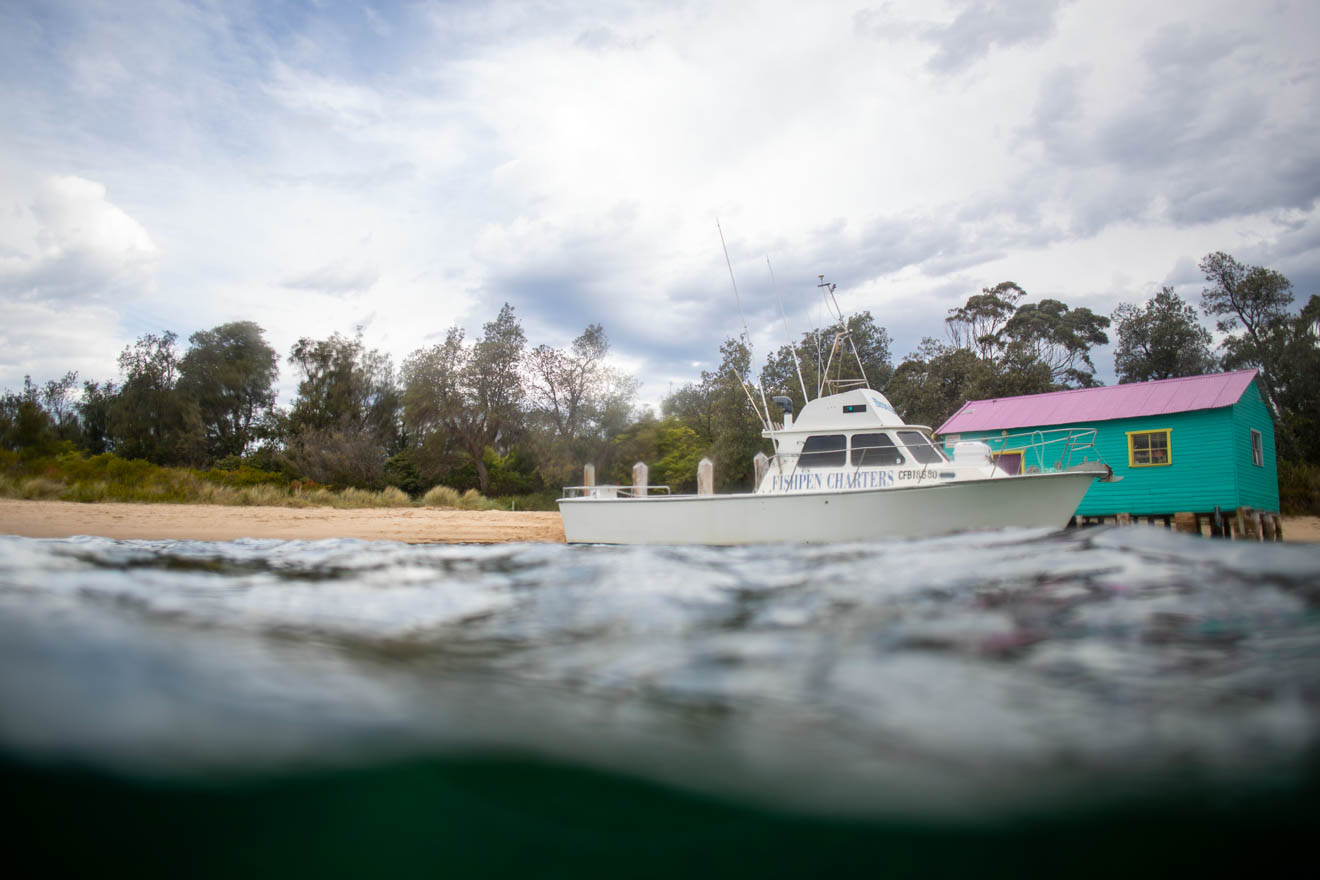 My children learnt to fish at Merimbula, and I would highly recommend everyone giving it a try whilst here! The region offers game fishing as well as bottom bouncing, rock or freshwater fishing.
Merimbula Lake has lots of flatheads and you are almost guaranteed to catch one – if I can, anyone can! For beginners, Michies Jetty is a good introduction. There is a new boat ramp and artificial reefs which add to the pleasant fishing experience.
Middle Beach is a great place to fish for salmon, tailor and flathead from the sandy shores.
TIP: The best time to beach fish is on a rising tide. Look out for the darker water – this indicates deep water and is where the fish are.
9. Walk the Pinnacles Loop
The Pinnacles Loop is another walk but the views are so great I thought it deserved its own section due to spectacular Pinnacles Cliffs. One of the most iconic attractions on the Sapphire Coast is the red and white cliffs known as the Pinnacles which were formed 65 million years ago. The white sands mark the level of an ancient water table, while the red gravel clay above is rust.
The Pinnacles loop walking track, located in Ben Boyd National Park is an easy 30-minute walk through the woodland and heath of the Sapphire Coast. It offers beautiful coastal views south to Lennards Island and north to Haycock Point. The highlight of the walk is the Pinnacles and there are two lookouts along the track where you can get great views.
| | |
| --- | --- |
| 💯 Top attraction: | Whale watching |
| 🧒 Kid-friendly attraction: | Aquarium |
| 🦘 Unusual attraction: | Potoroo Palace |
| 🏞️ Top outdoor activity: | The Pinnacles loop |
| 🚶🏽‍♂️ Best free activity: | Boardwalk |
| 🚗Top day trip: | Eden and Bega |
| 🥘 Must-try food: | Wheelers Oysters |
| ☀️ When to visit: | September-November |
BONUS: My Special Merimbula Tips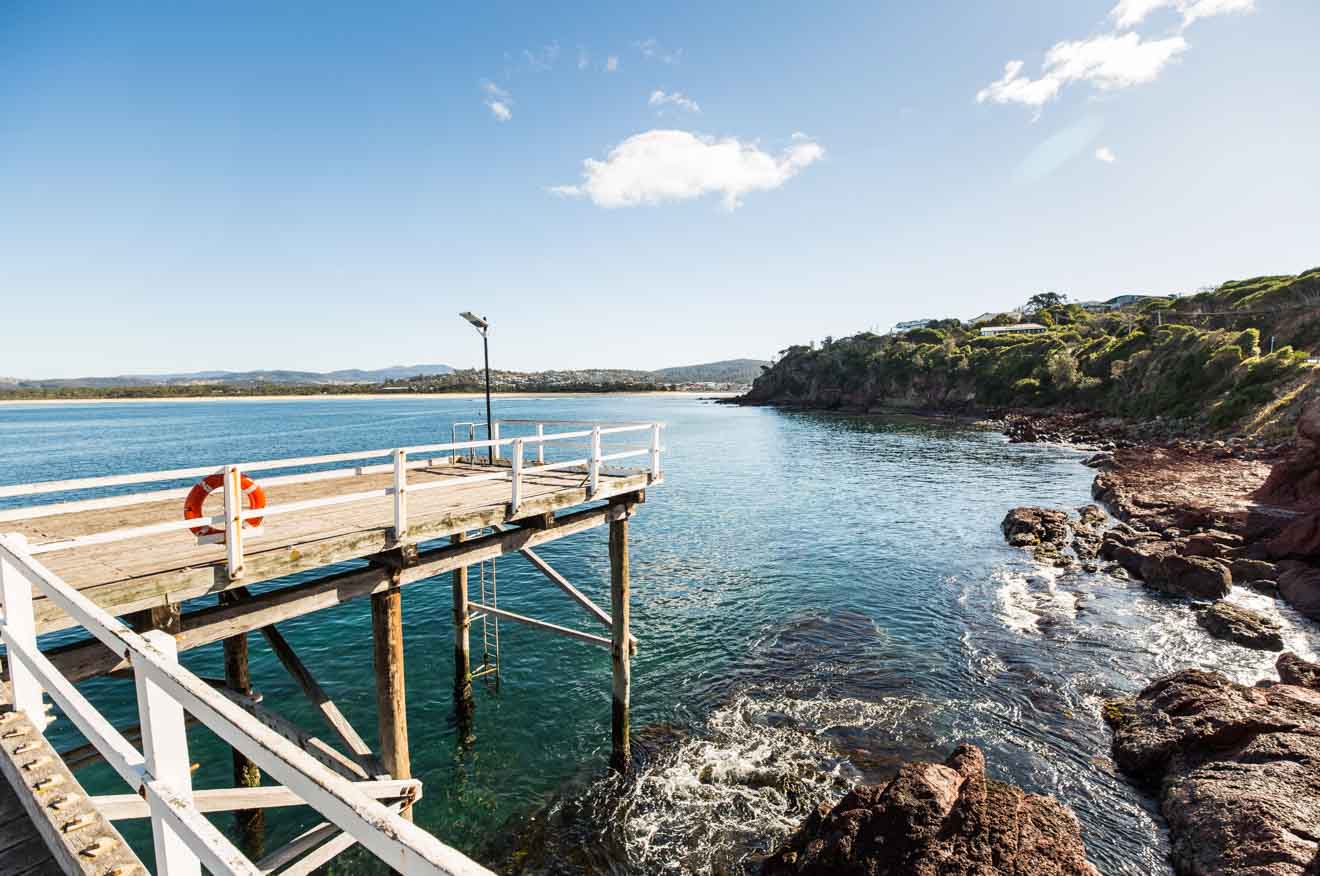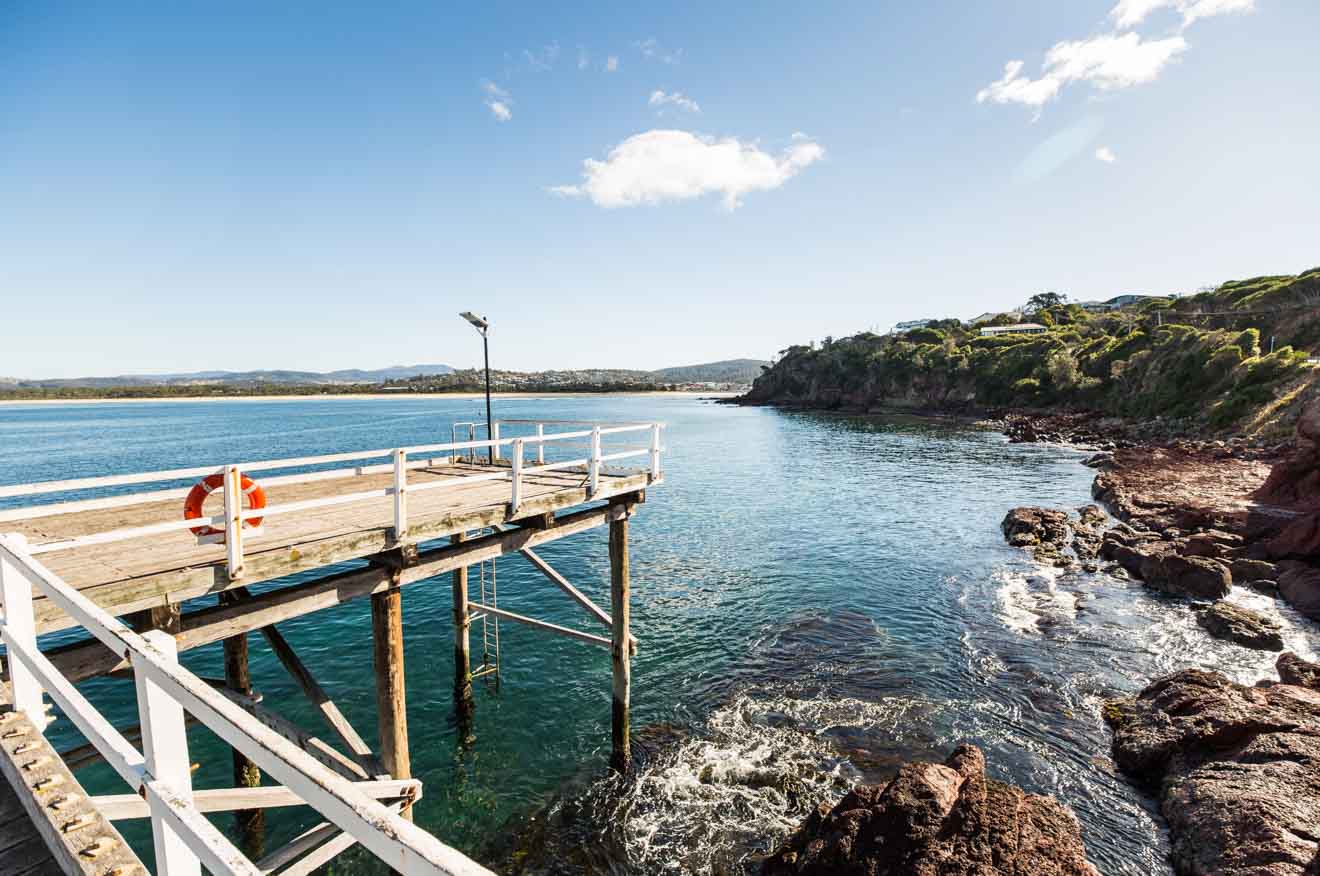 If you go to Mitchies Jetty at dusk you can see the pelicans. It's also a great sport for stand up paddleboarding.
If you are a runner like me then you have to do the Parkrun Merimbula. Held every Saturday at 8 am, this 5km run leaves from Merimbula Boat ramp on Arthur Kaine drive. It's free to join in and it's just you running against the clock. Once you've done your run, enjoy a post-run coffee with the other runners. This is a good way to meet locals and tourists alike!
My favourite little restaurant is Dulcies Cottage. This is an old house that was converted into a beer garden with a burger bar. Most of the produce is locally sourced- but you can't go wrong with the burgers. Or oysters. Some nights they have live music.
Practical information about Merimbula
Getting to Merimbula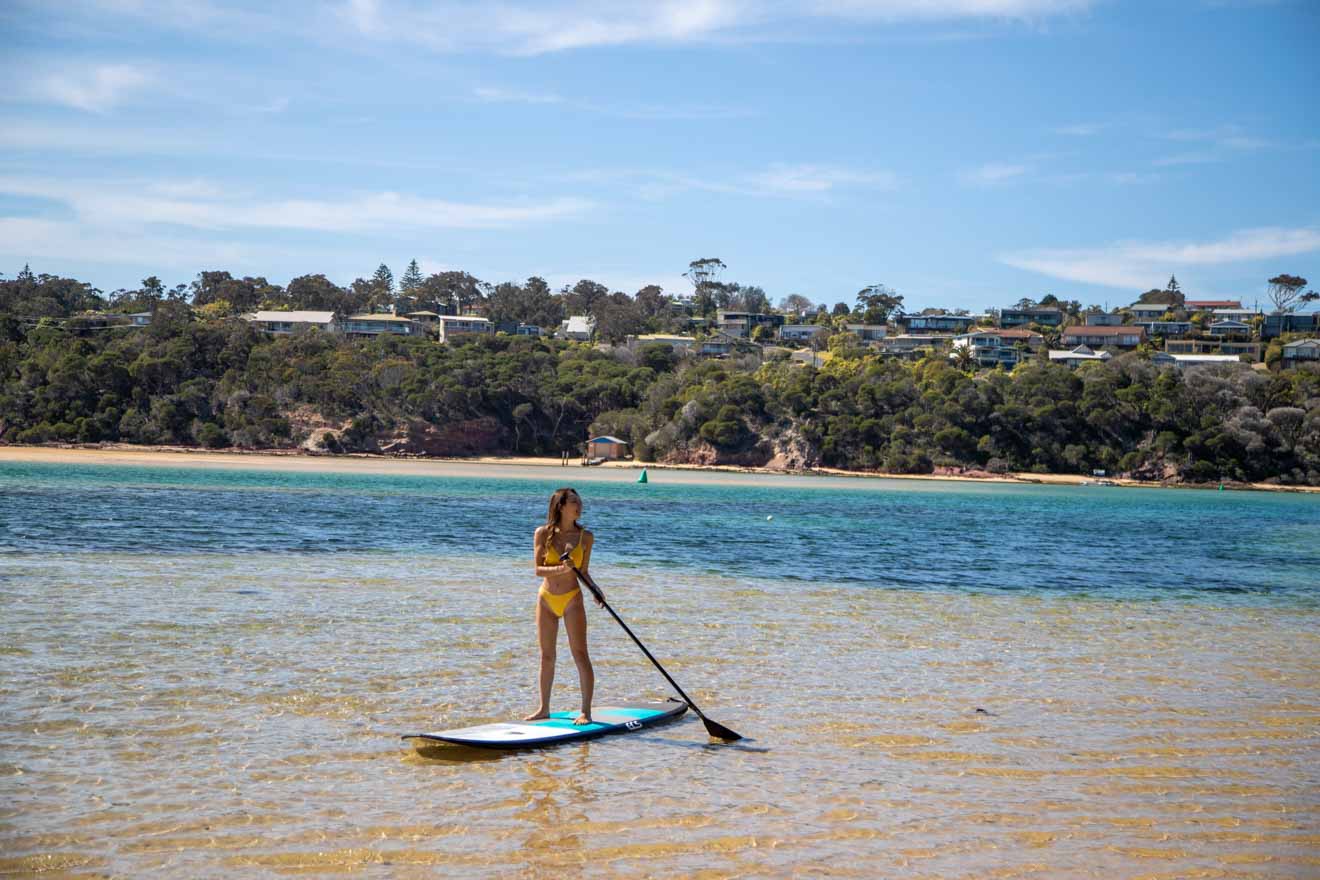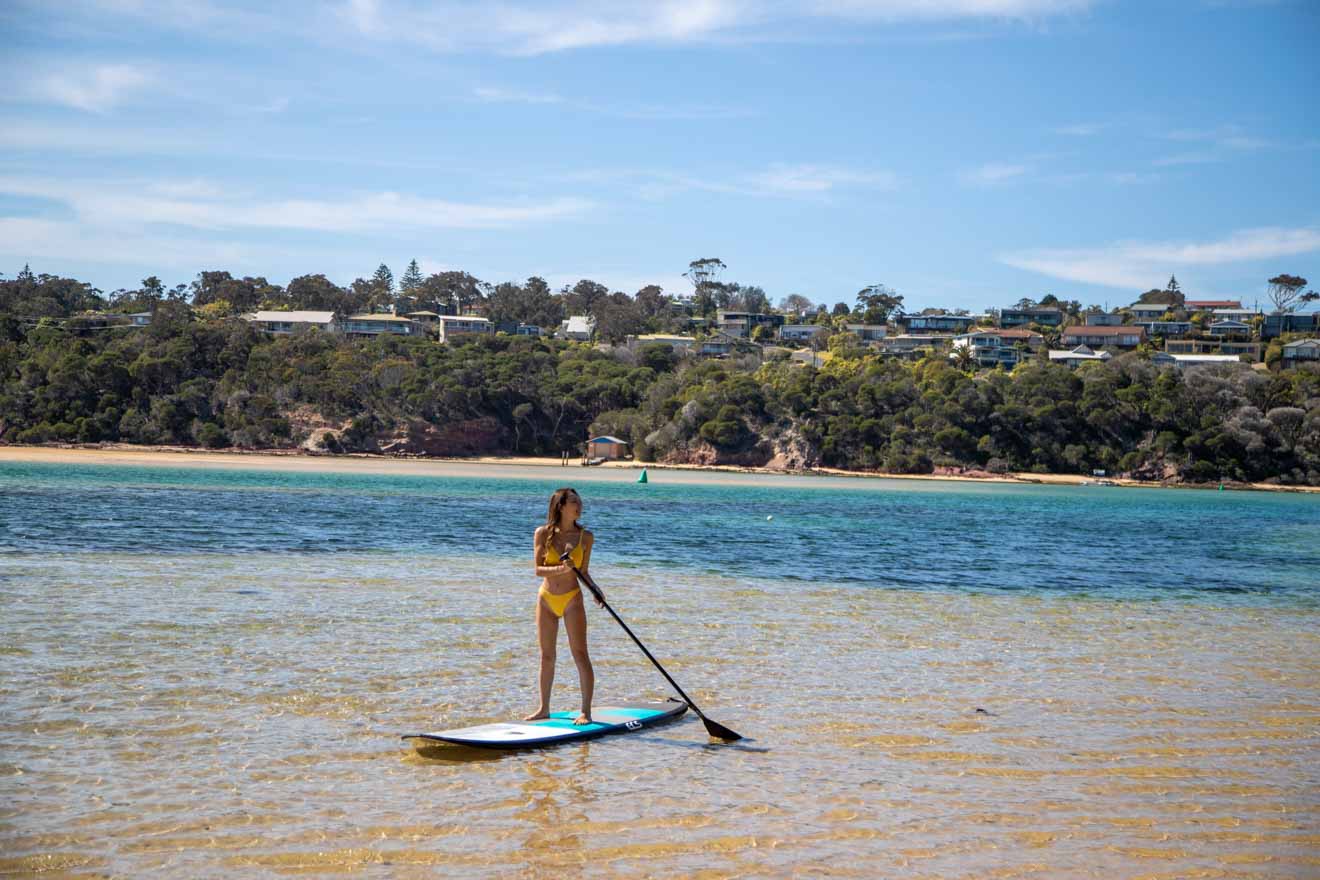 Merimbula is almost halfway between Australia's two largest cities – Melbourne and Sydney (approximately a 6 hour drive from Sydney, and 7,5 hour drive from Melbourne). For those coming from the nation's capital, it is a three-hour drive from Canberra. If you don't have a car, check the rates to rent one here.
There is also a small airport located two kilometres from the town centre. REX Airlines offers flights from Melbourne and Sydney.
It is recommended to have a car to allow for exploration around the Sapphire Coast, I recommend checking out this site for the best available deals. If you prefer not to hire a car there are taxis and a shuttle available to take you from the airport into the town.
Other options are to take a coach or train from Sydney, Canberra or Melbourne to Merimbula.
Where to stay in Merimbula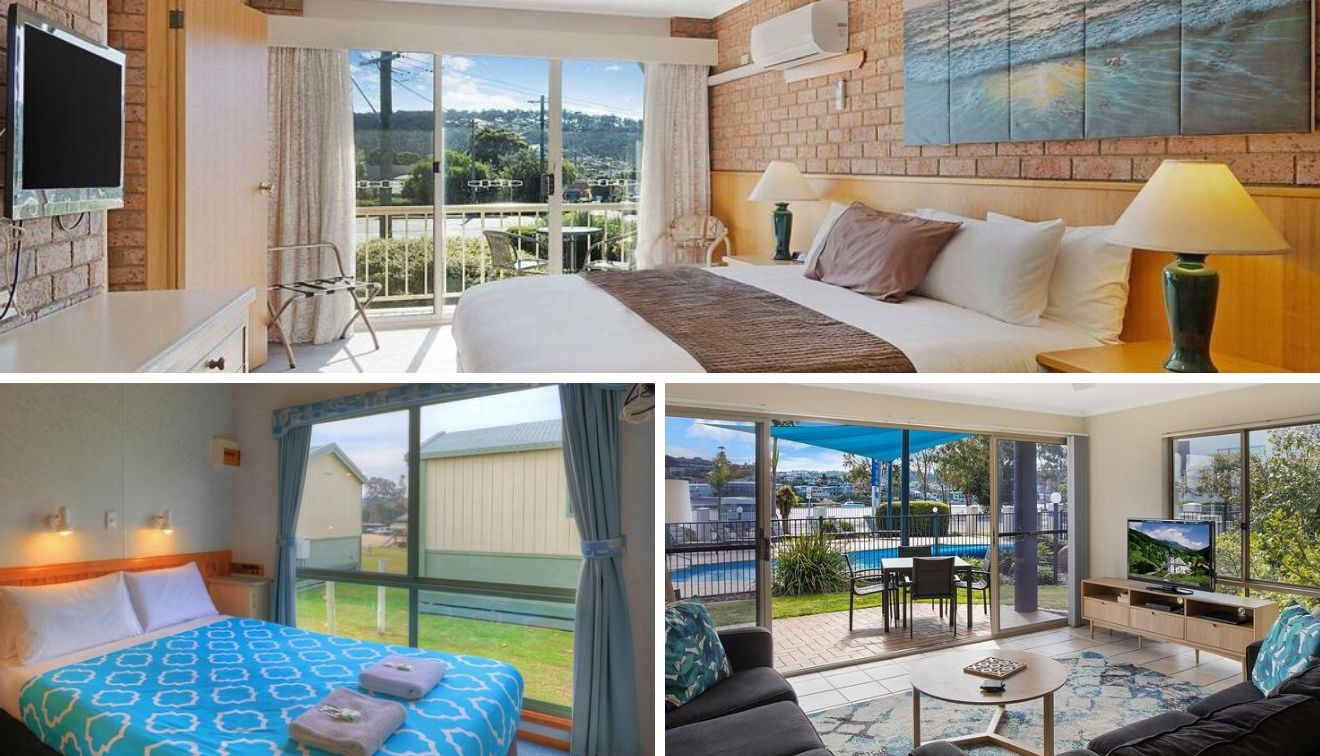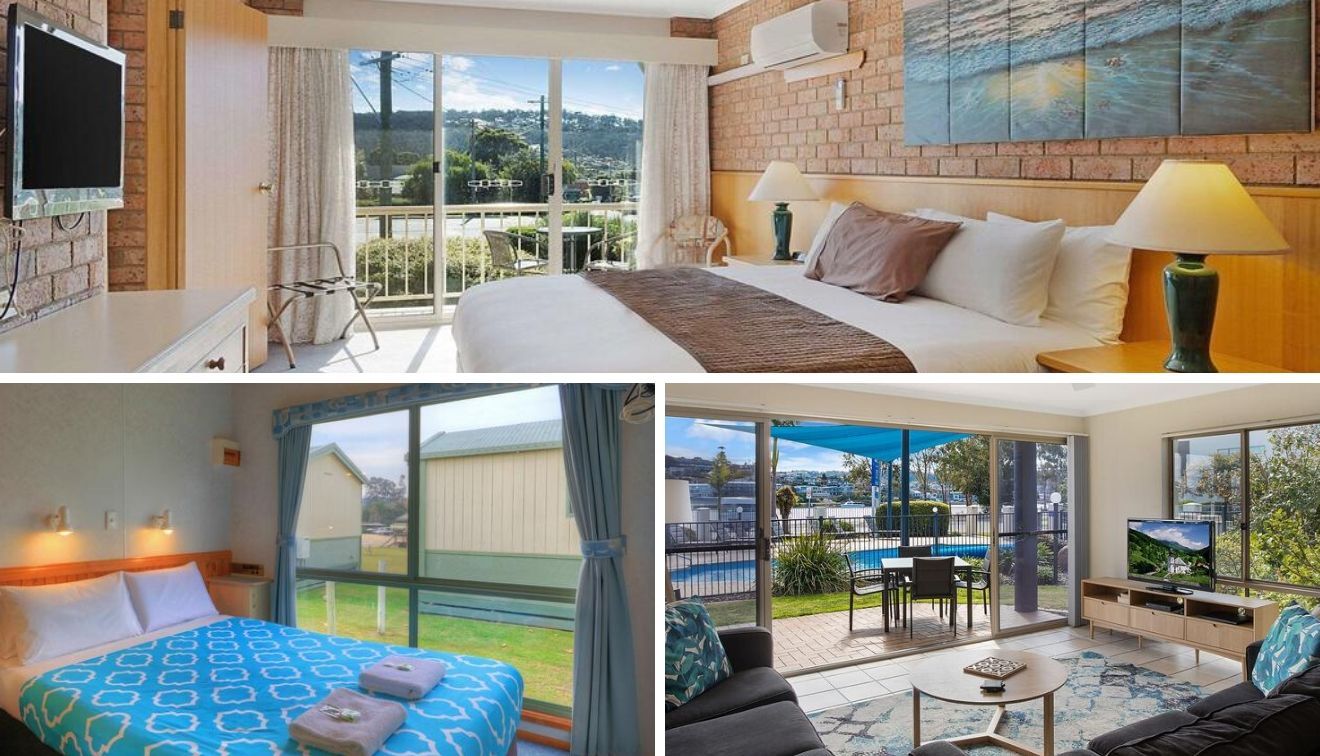 Boasting a country ambience in a seaside location, Merimbula has accommodation for every type of traveller. I've taken a good look at all of the stays on offer and found the best ones according to three different budgets. Check out the best places to stay in Merimbula just here!
Luxury (240 AUD and up):
Merimbula is home to loads of luxury apartments that are rented out to holidaymakers like you! With private balconies overlooking the beach, and sitting on the edge of the lake, Sails Luxury Apartments is the most highly reviewed stay in town and guarantees a relaxing stay. If you can't get a room at Sails, Coast Resort Merimbula is your next best option and offers a choice of luxury apartments, townhouses and penthouses. Staying here will also put you in walking distance of Merimbula Beach and Merimbula Lake!
Middle (85 to 190 AUD):
Mid-range accommodation in Merimbula comes in the form of locally-run motels, like the Ocean View Motor Inn where guests can choose from rooms with ocean, lake or garden views. There's also a salt-water pool and BBQ area open for all guests to enjoy! In the centre of Merimbula, is the slightly more modern Comfort Inn, where rooms come with a private balcony space, and there's an outdoor pool to relax in at the end of the day!
Budget (up to 85 AUD):
If you're traveling on a budget, Eden Gateway Holiday Park is one of the best option. Here, one- and two-bedroom cabins are equipped with a private bathroom and basic kitchen facilities, and all guests have access to an outdoor swimming pool, free Wi-Fi, and a huge children's play area. On Airbnb, I also found the Fork 'n Hoe Farm – a newly built detached flat, small but has everything you need for a comfortable stay with a complimentary breakfast. This property is set on 3.5 acres of beautiful farm, and guests are more than welcome to explore!
2 Short day trips from Merimbula
If you're spending more time at Merimbula and you're looking for more things to do in its surrounds, here are some ideas:
1. Eden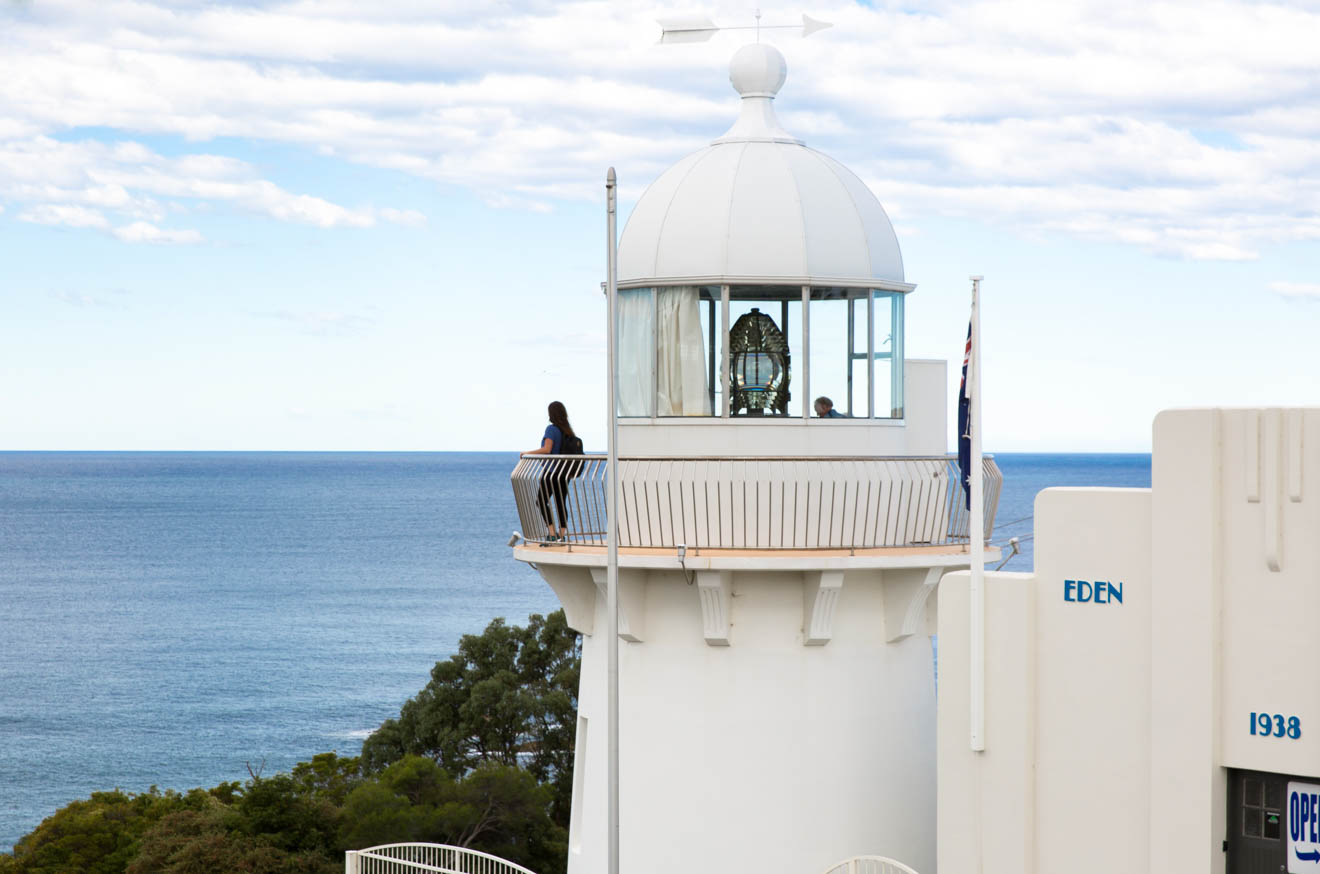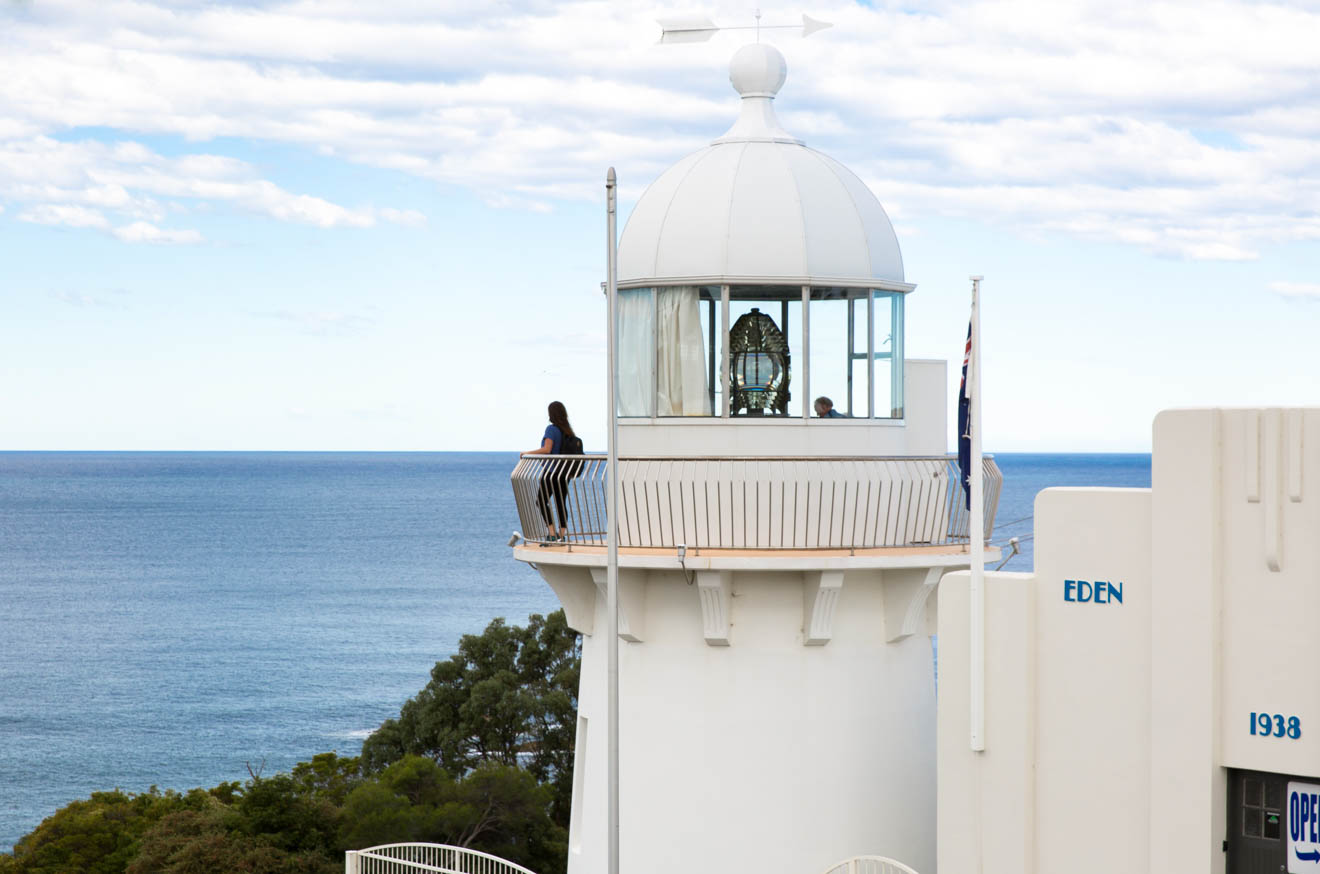 Eden is just a short 25-minute drive from Merimbula.
If you can't get enough of whales, then this is the town to visit. The deep blue waters around Eden are ideal for spotting humpback whales. To learn more about these great creatures visit the Eden Killer Whale Museum. There is also an old whaling station that you can visit – if you are short of time, I would give that a miss and instead go for a bushwalk in the Ben Boyd National Park
A natural paradise on the sparkling Sapphire Coast of NSW, Eden's extraordinary attractions range from spotting humpback whales in the deep blue waters of Twofold Bay to learning about the region's whaling heritage and bushwalking in Ben Boyd National Park. Take a marine or wildlife tour and buy fresh blue mussels straight from the wharf.
2. Bega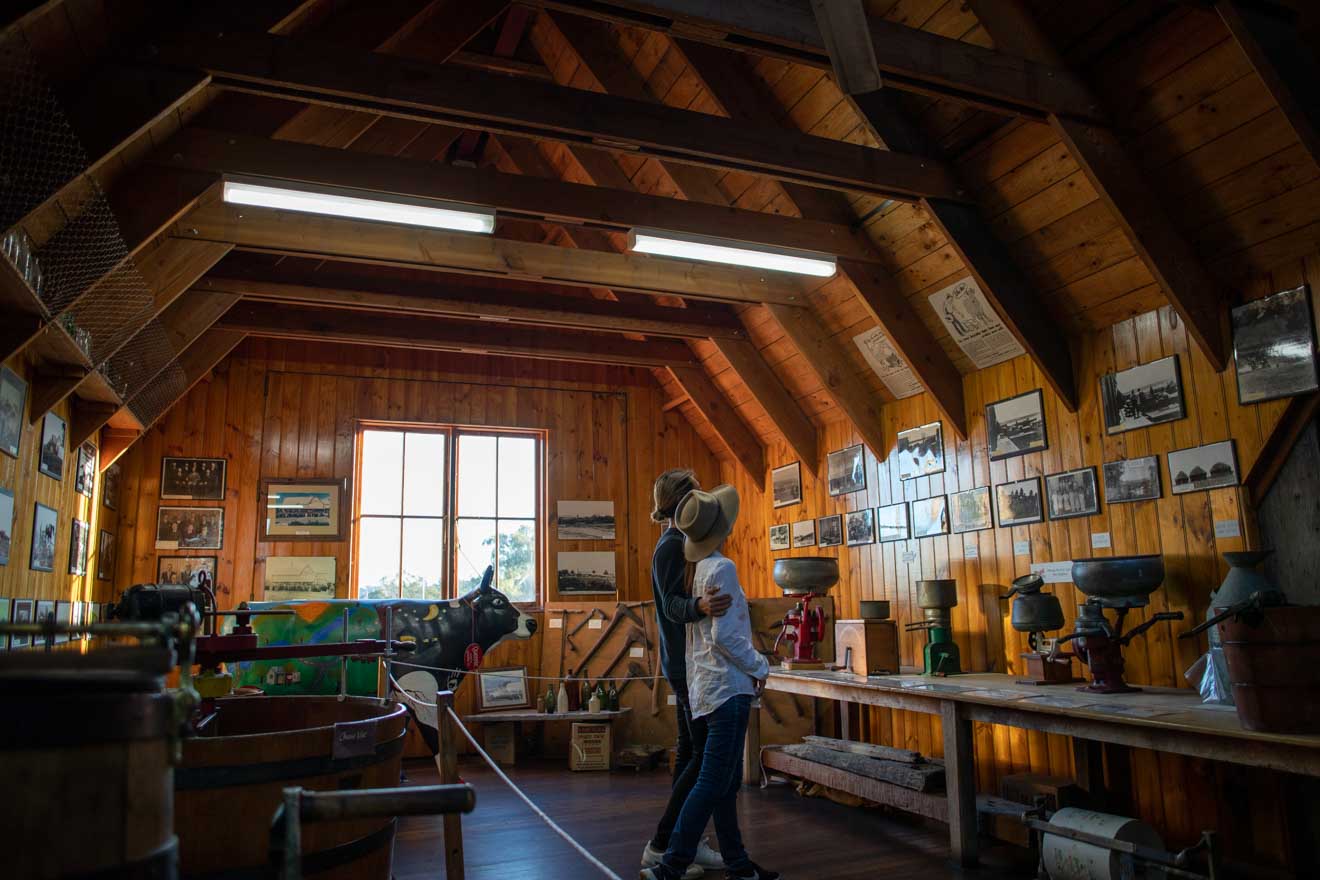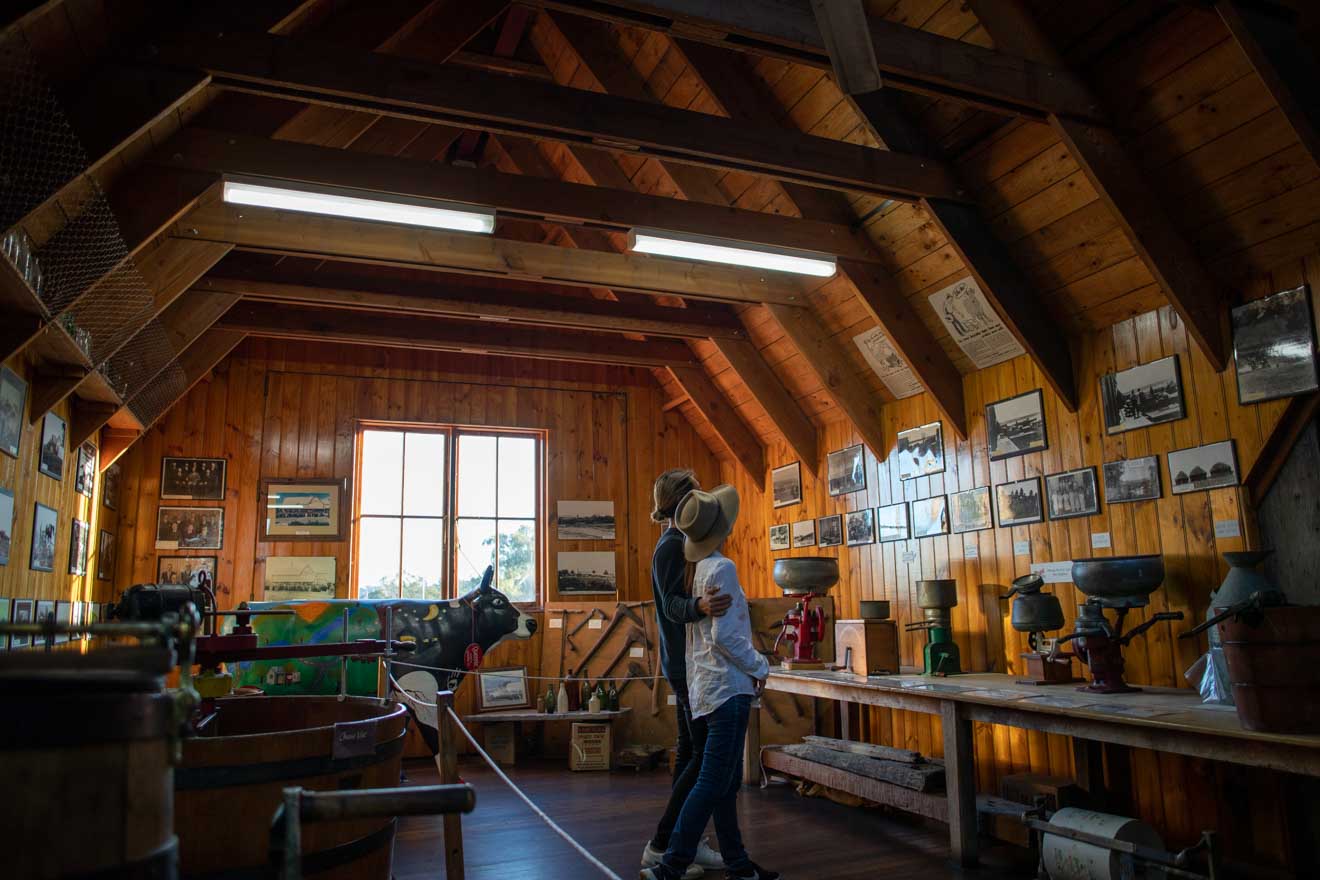 Say cheese!
Bega is the cheese capital of Australia! The beautiful Bega valley is famous for its cheese. Dairy farming has been the lifeblood of this area for over 150 years and the famous Bega Cheese factory opened in 1900. Bega is just a 20-minute drive from Merimbula.
Conclusion
I hope you liked my article on what to do in Merimbula, a charming town in New South Wales – it can offer quite a list of activities and attractions for all kinds of people – from friends' holiday to families with kids.
I hope you have found this article useful, be sure to let me know if you have any questions!
Kate
---
Pin it for later!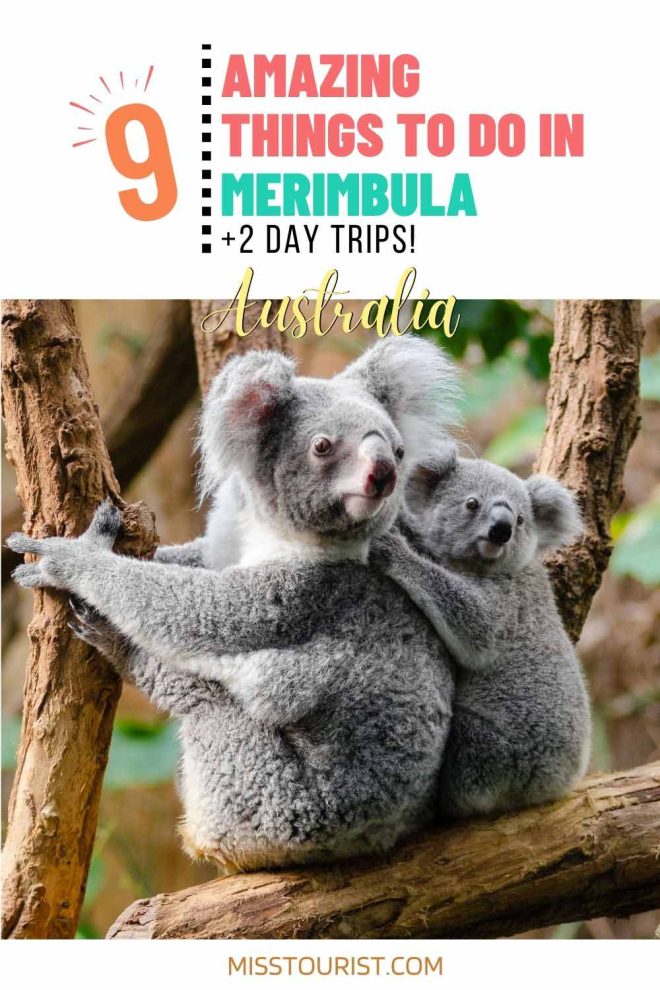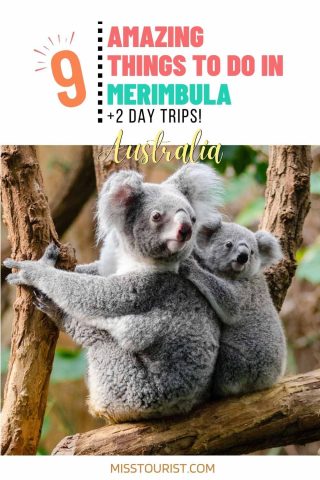 Pinit for later!