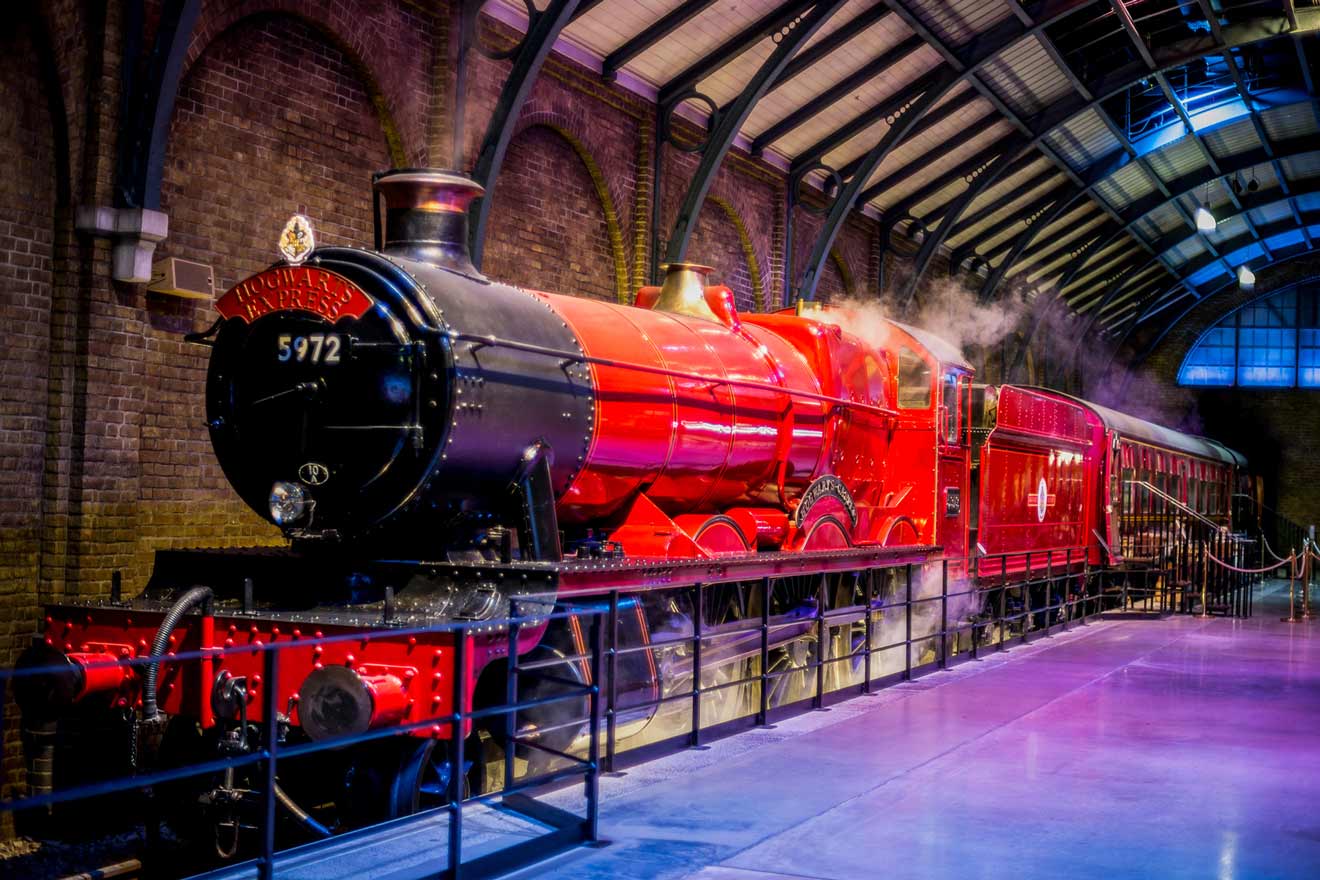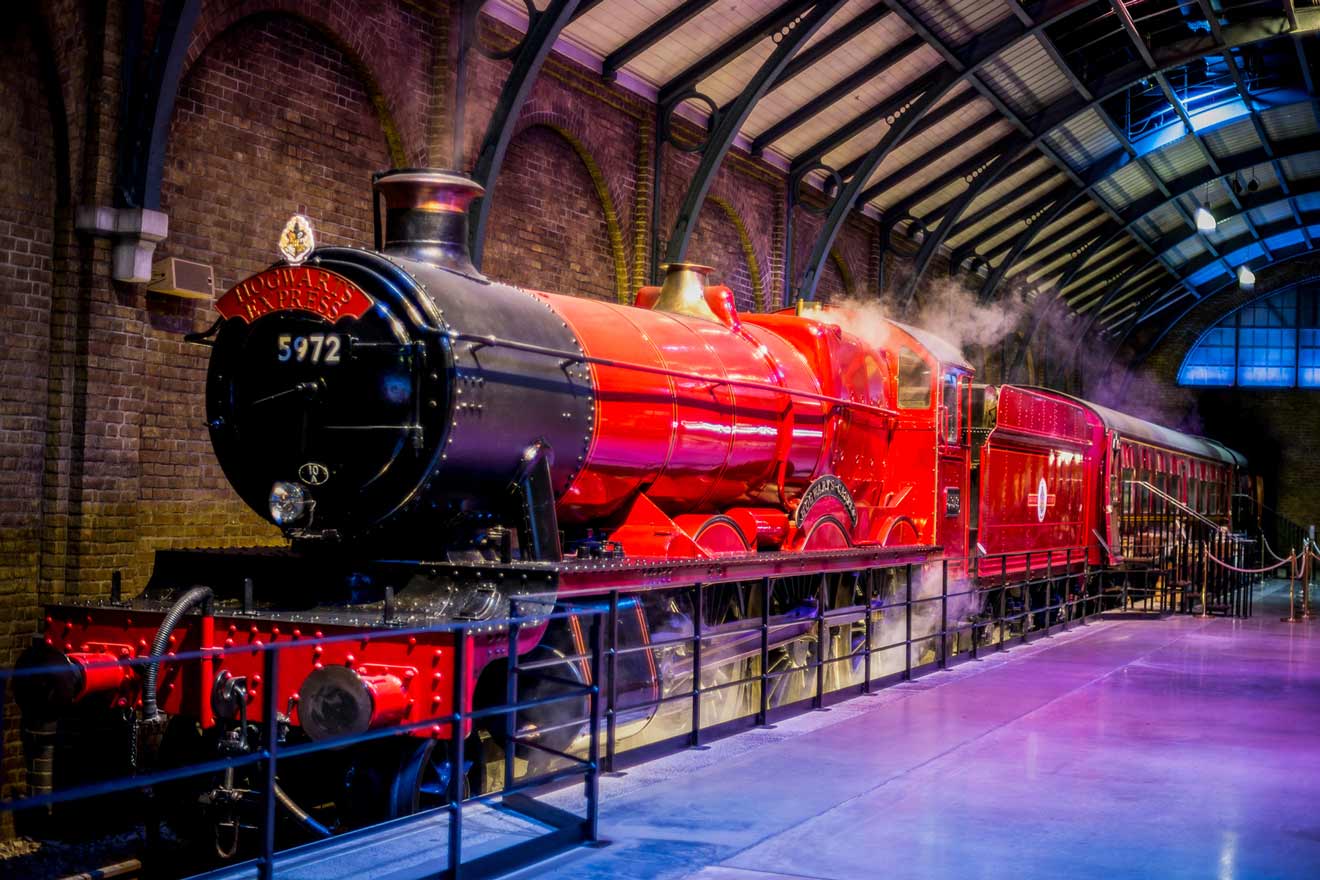 Dear witches and wizards, are you ready for a wicked time at one of the most amazing attractions in London? Get your brooms, your capes and let's see which is the most magical way to get your tickets for this place.
I've searched the web for hours so that I can find all the ways in which you can buy your Harry Potter Studio tickets. There's a lot to think about and since the attractions is located outside of central London I also found an awesome deal that offers entry plus transportation so make sure you check section #2.
And of course, I couldn't let you go there unprepared! So I've also added a bunch of useful tips and tricks which will definitely help you save some time (that you'd spend otherwise asking people around) while you're there.
Before we get on our brooms and start it's super important to let you know that you have to buy these tickets in advance. The studio offers limited spaces and as it's one of the biggest Harry Potter attractions in the UK, the spots sell out often. Better to be prepared and not waste a journey all the way there.
Ready, set, fly!
If you are in a hurry
If you are here just to get your tickets, here are the best links to do so:
| | | | | | |
| --- | --- | --- | --- | --- | --- |
| | Adult Entrance | Kids Entrance | Family Pass | Cancelation Policy | |
| Official Website | £52 | £40 | £160 | No Refund | Book tickets |
| GetYourGuide | £94 (incl. transport) | £89 | – | >3 days free cancellation | Book tickets |
| Tiqets | £94 (incl. transport) | £84 | – | >2 days free cancellation | Book tickets |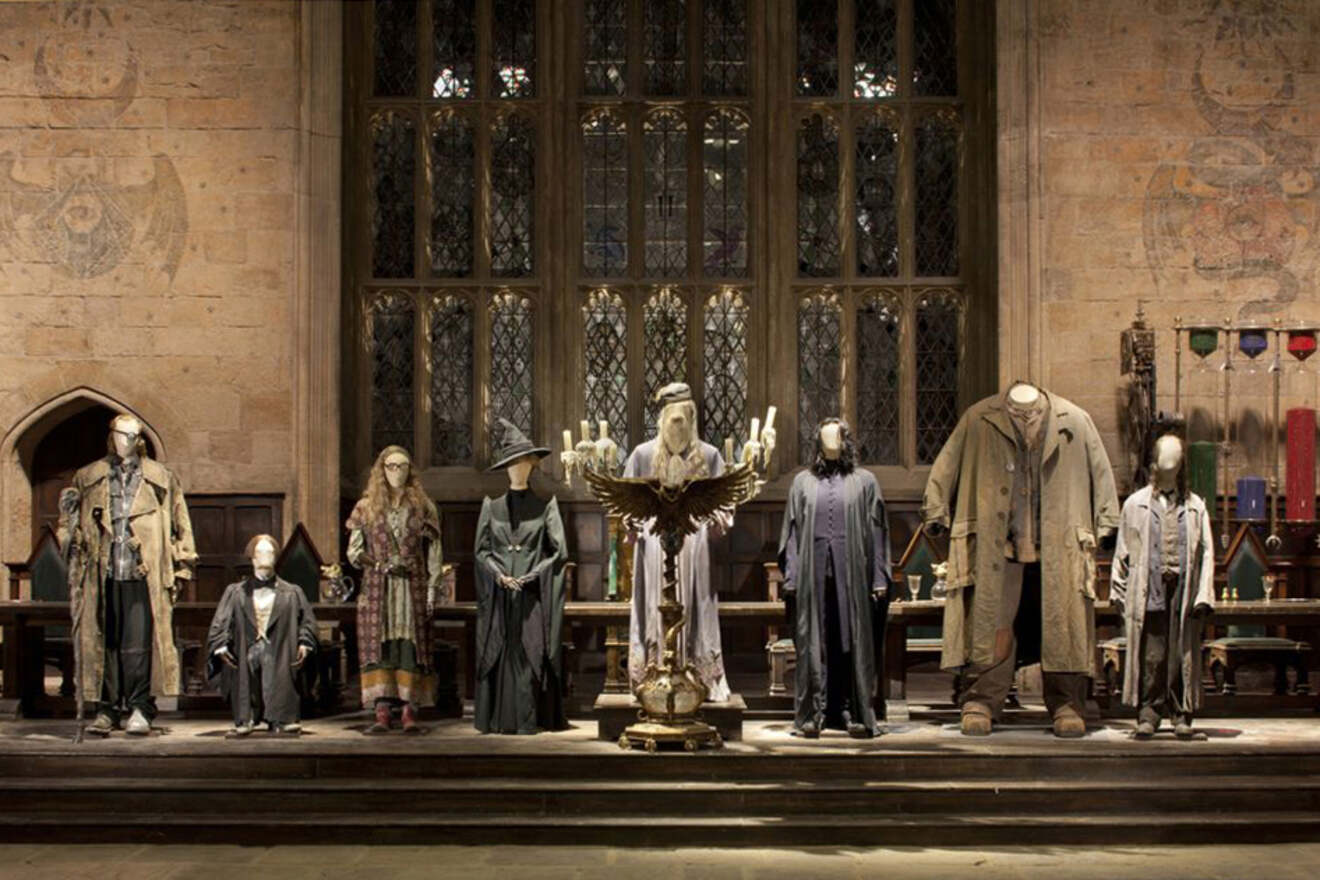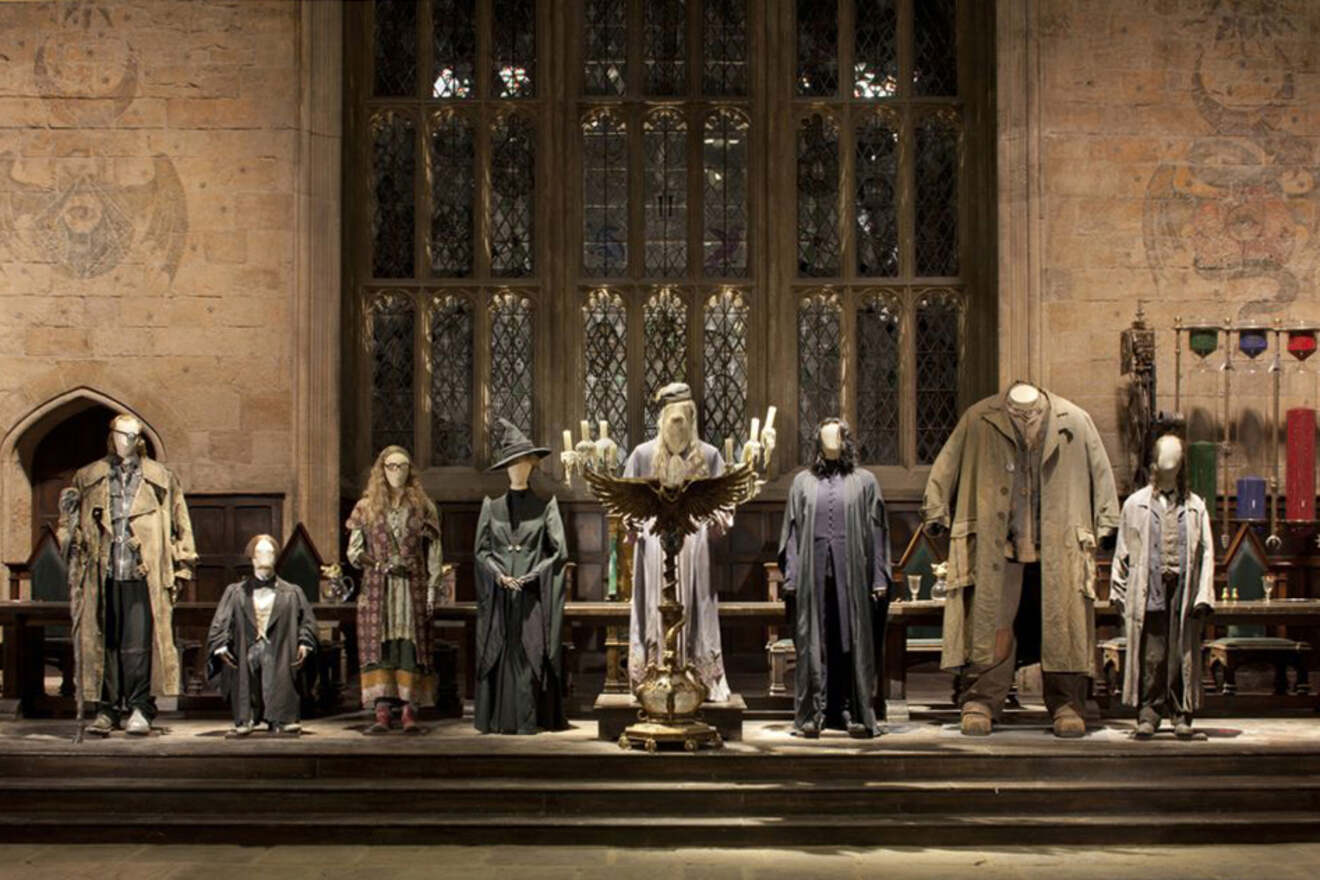 Why buy in advance?
The biggest reason why you should buy tickets in advance is simply because you cannot buy tickets directly at the Harry Potter Studios.
To add to that, tickets are usually sold out months in advance, so buying them at least 6 weeks before your trip is definitely the wise thing to do!
Get your tickets to Harry Potter Studio
1. Different types of tickets
You'd think buying tickets for an attraction like this one is pretty straightforward but trust me, there are lots of things to consider, especially if you're trying to find some good deals!
And today I'll help you with that. I've spent hours searching the web so that I can find all the ways in which you can buy the most convenient Harry Potter Studio tickets. I should warn you, there are a lot of options! So let's start…
NOTE: Before we start, I wanted to let you know that all of the following ticket options often sell out months in advance, but if you notice there is no availability for your preferred dates, check Headout and Tiqets as they often have extra tickets available as part of their entry & transport package.
1.1 General Entry Tickets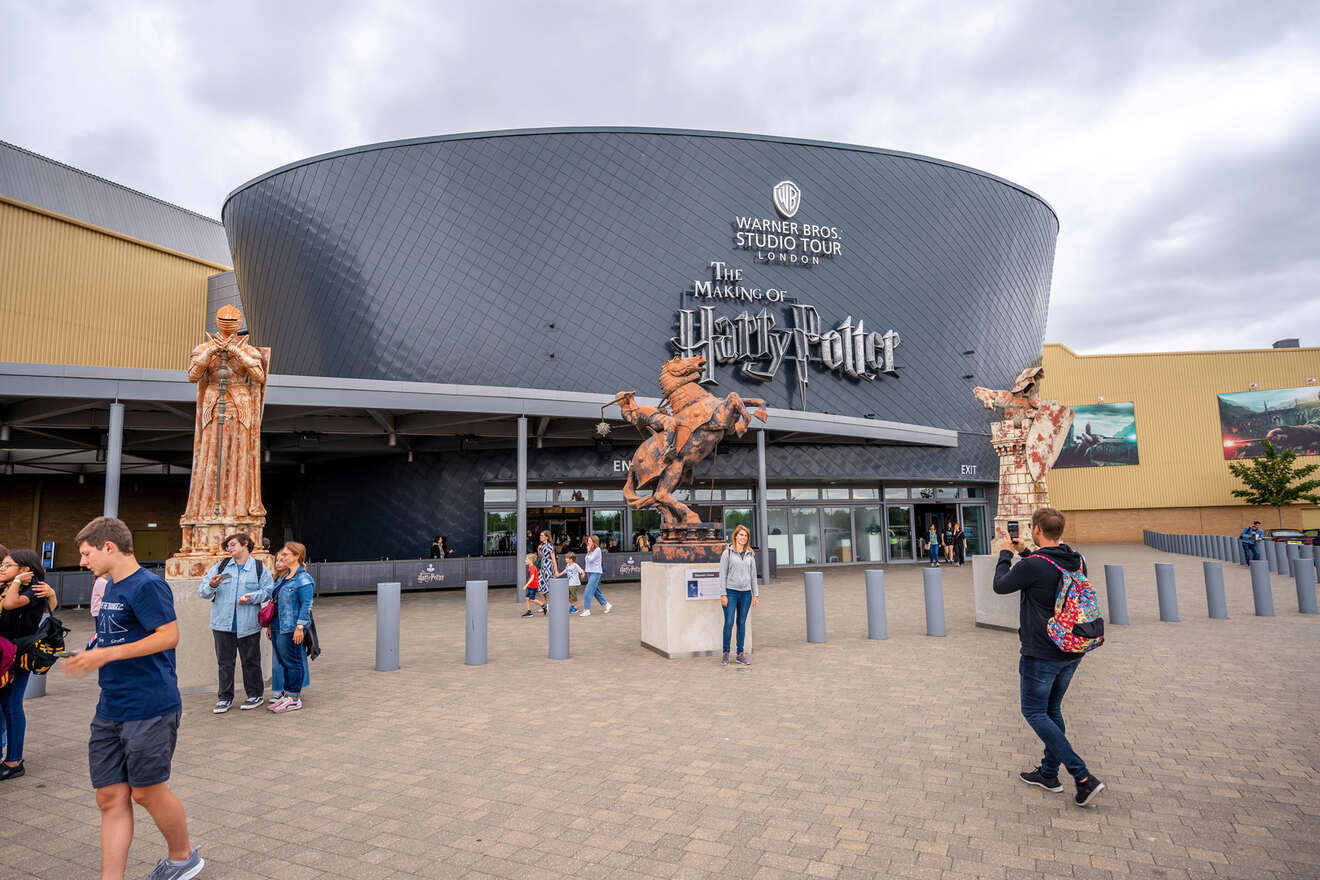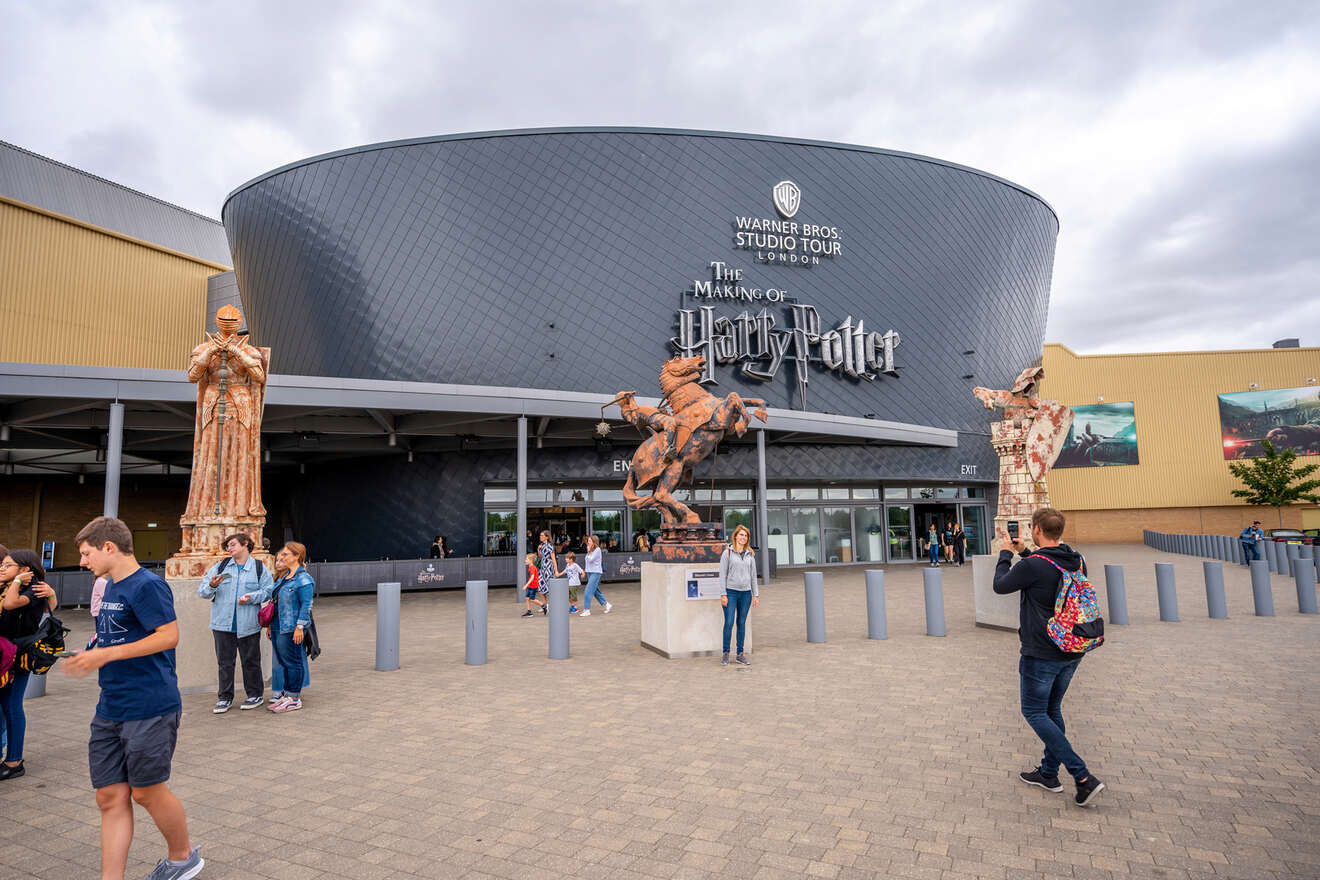 This is the simplest ticket to the Harry Potter Studio which includes only your entry there. You can find these types of tickets only on the official website at £52 for adults and £40 for kids (if you're looking for some family combos stay tuned because I'll talk about that in a moment).
With this ticket you'll get to explore all the Harry Potter studio sets at Warner Bros in London but you'll have to pick a time and date for your visit when booking.
NOTE: You'll have to get to the Studio 20 min before your allocated entry time however you will still wait until your time slot starts to get in.
It's super important to arrive on time! If you do happen to miss your time slot the staff will try to get you in on the next one, however if it's a busy day and there's no space you'll have to re-book your tickets for a future date.
Unfortunately these tickets are non-refundable so you won't get your money back if you cancel. However if you just want to change the date you can do that for a £10 fee. You can contact them right here and discuss further with them if that's the case.
PRO TIP: If tickets are sold out for your dates or you are not 100% sure of the date of your visit, I recommend booking a refundable ticket and transport option. Check out section #2 for more details.
Price: Adults £52, Kids £40
1.2 Family Ticket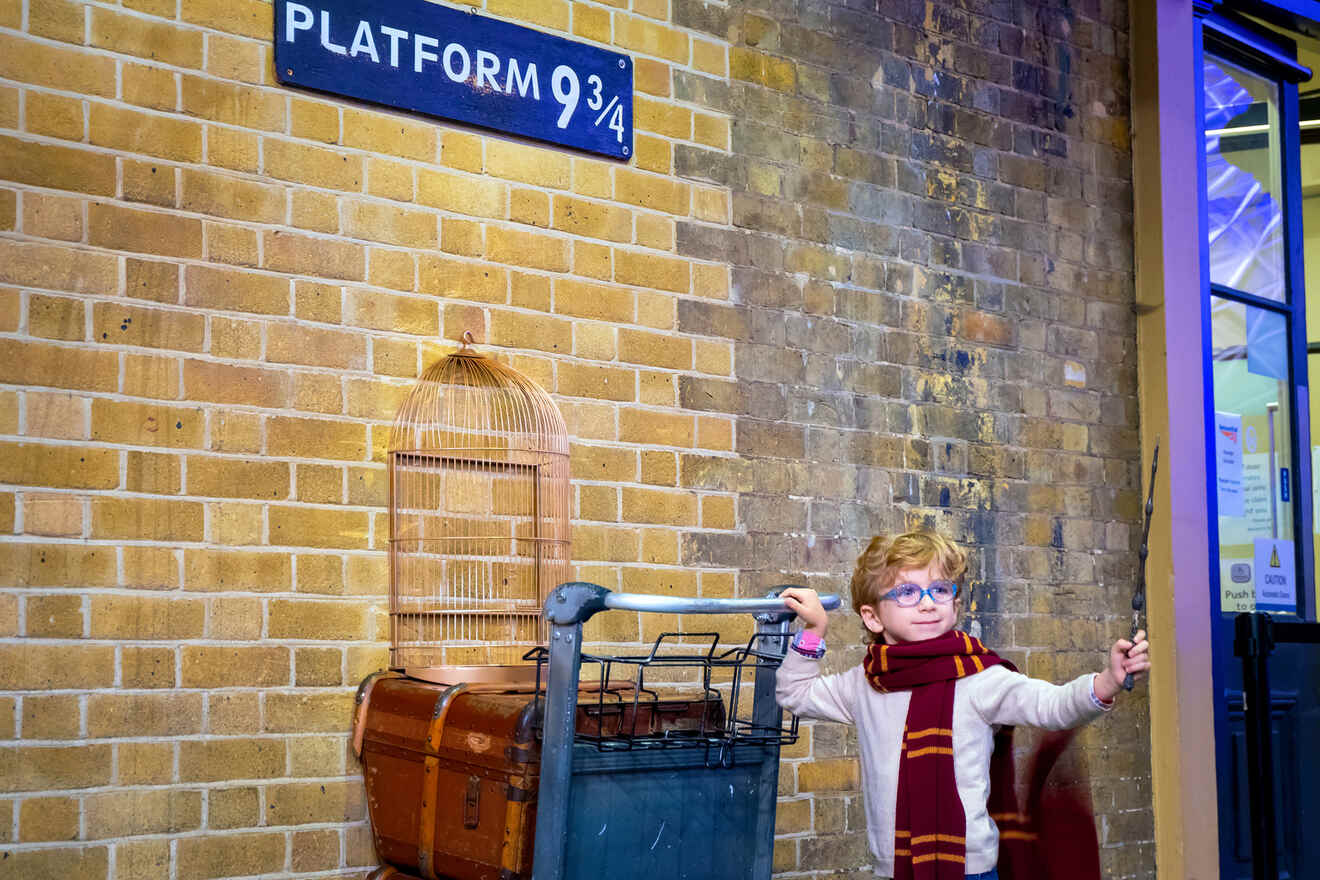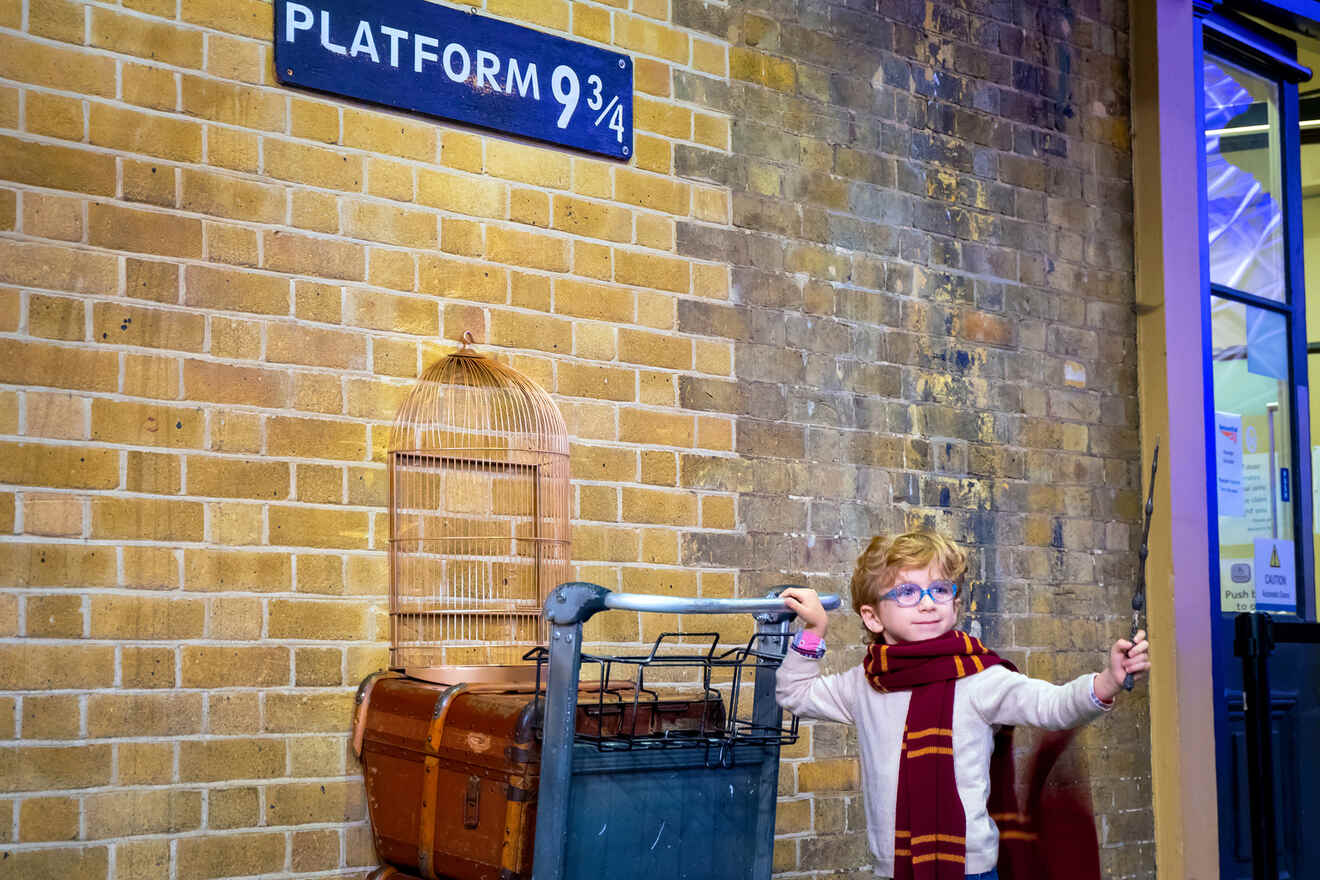 I guess these studios get more family groups coming in than any other place in London! So if you're coming here with the little ones then you should know there are 2 really cool options for you.
Fun Fact: Every year around Christmas the studio staff transforms the set into a Winter Wonderland! Go around that time and you'll see the model of the castle used for filming covered in snow that never melts!
Both cost the same £160 but they're different in terms of how many adults or kids you're bringing. So the first option is for a family of 2 Adults + 2 Kids and the second one is for a family of 1 Adult + 3 Kids.
These tickets are only available on the official website and they are also non-refundable.
Price: £160
1.3 Souvenir Gift Ticket
If you know someone who's a super big Harry Potter fan and you're looking for a present for them, then you're in luck! They've only introduced this type of ticket recently and it's so amazing!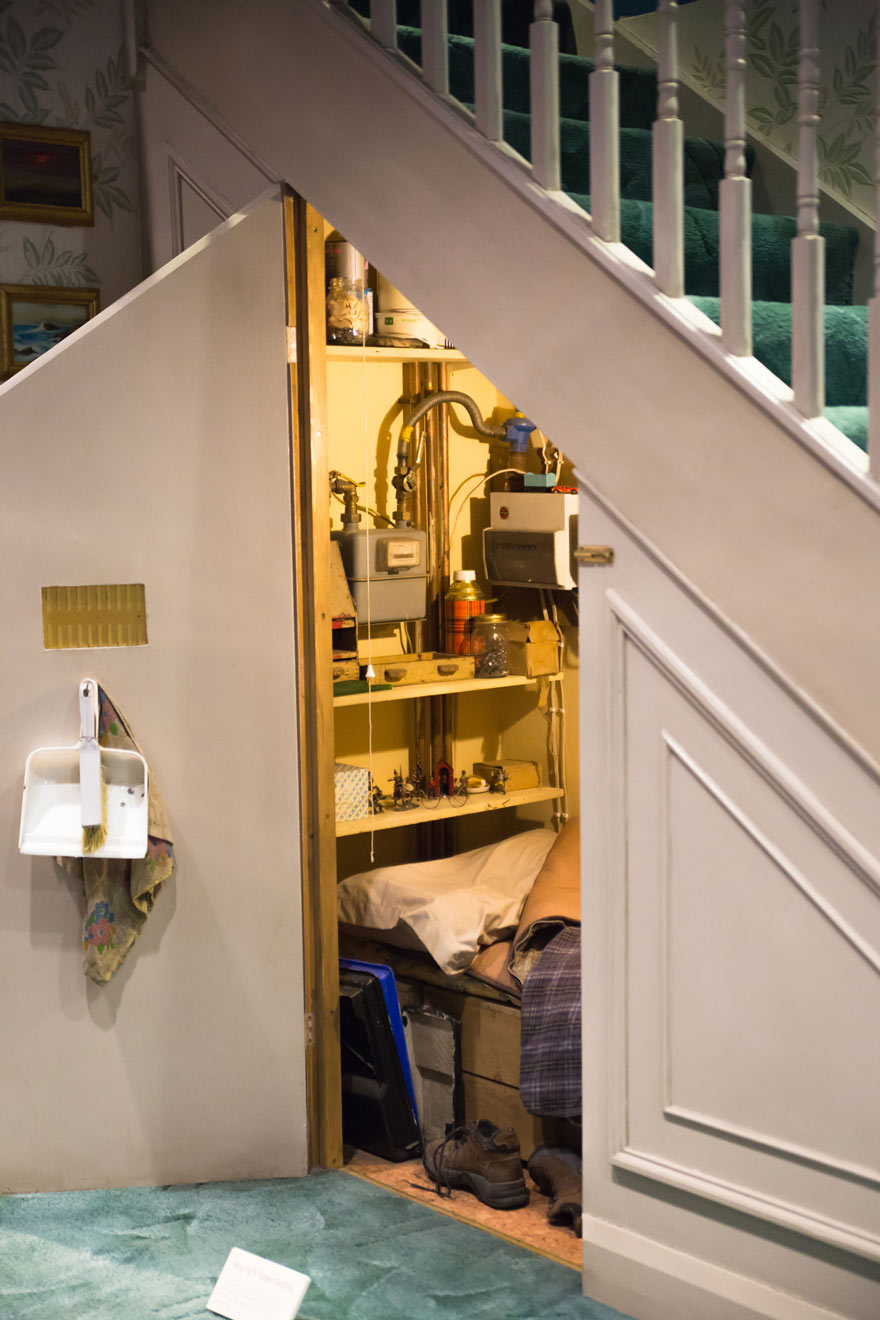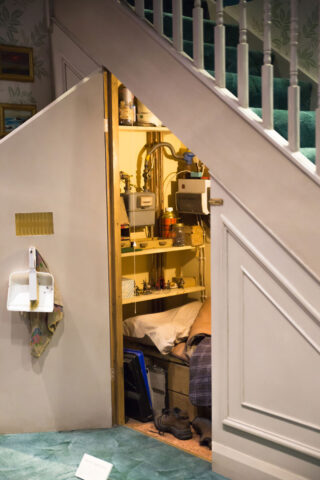 Inspired by the acceptance letter that future Hogwarts students get, the envelope that the lucky person will receive is addressed to Mr. H. Potter at number 4 Privet Drive and when you open it you'll see a lovely letter with a personalized message for the recipient from the person who gifted it.
The letter will also have all the details needed for the recipient to redeem their tickets. These tickets are un-dated and redeemable within 12 months from the date of the purchase. But make sure you tell them to still book in advance because they do run the risk of not finding a ticket for their chosen date if they book too late.
Here are all the steps you need to follow to book this ticket:
Select the ticket type (adult, kids, or families)
Pick a UK (will arrive in 8 business days for £6 fee) or international delivery option (will arrive in within 19 business days for a £8.95 fee)
Add all the details including the recipient's name, the message, add the delivery address
Then review your order to check if everything is correct
You will receive a confirmation email once the ticket has been dispatched.
Price: Adults £50, Kids £40, Families £159
Buy a Harry Potter Studio gift ticket
1.4 Tickets + Hotel Package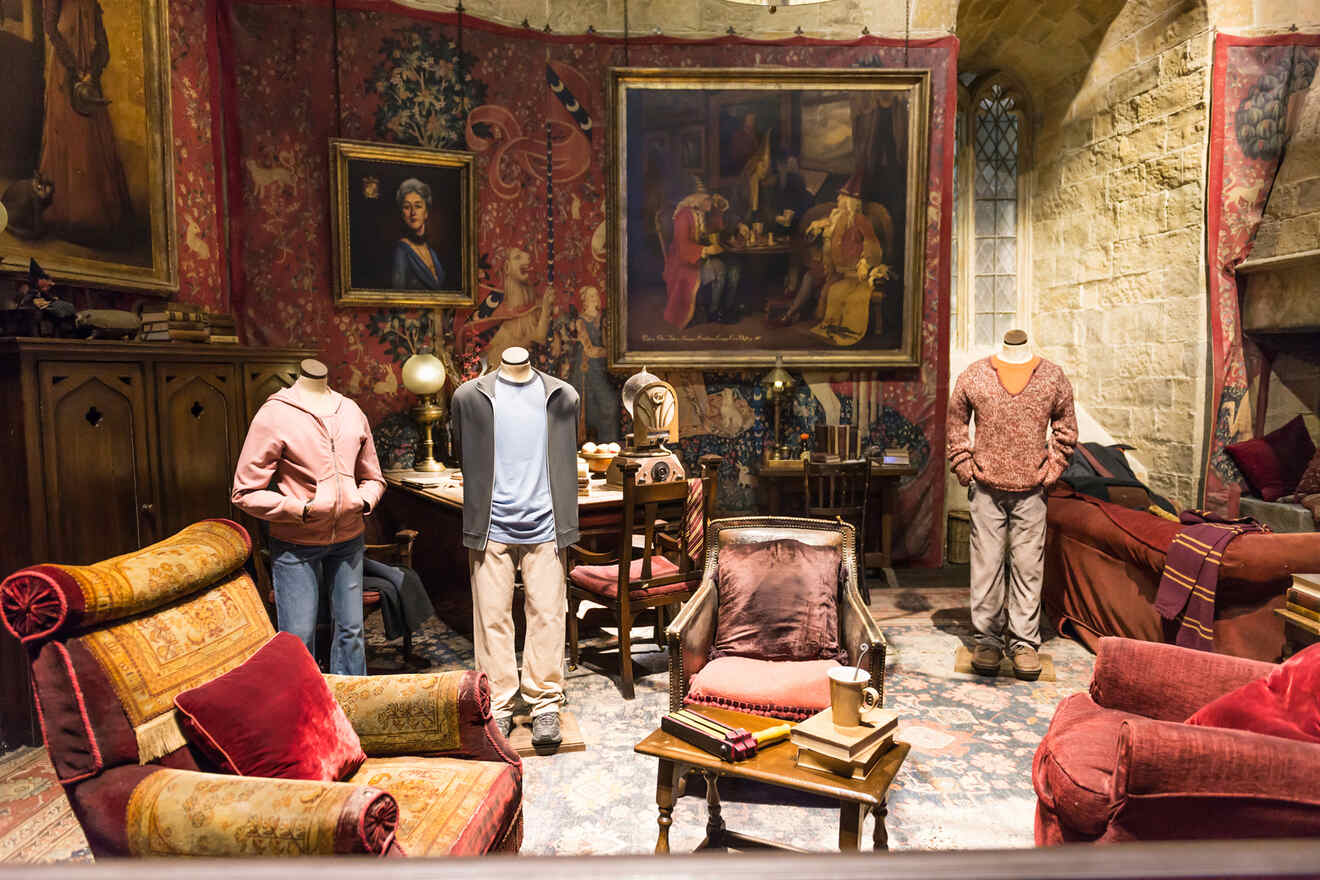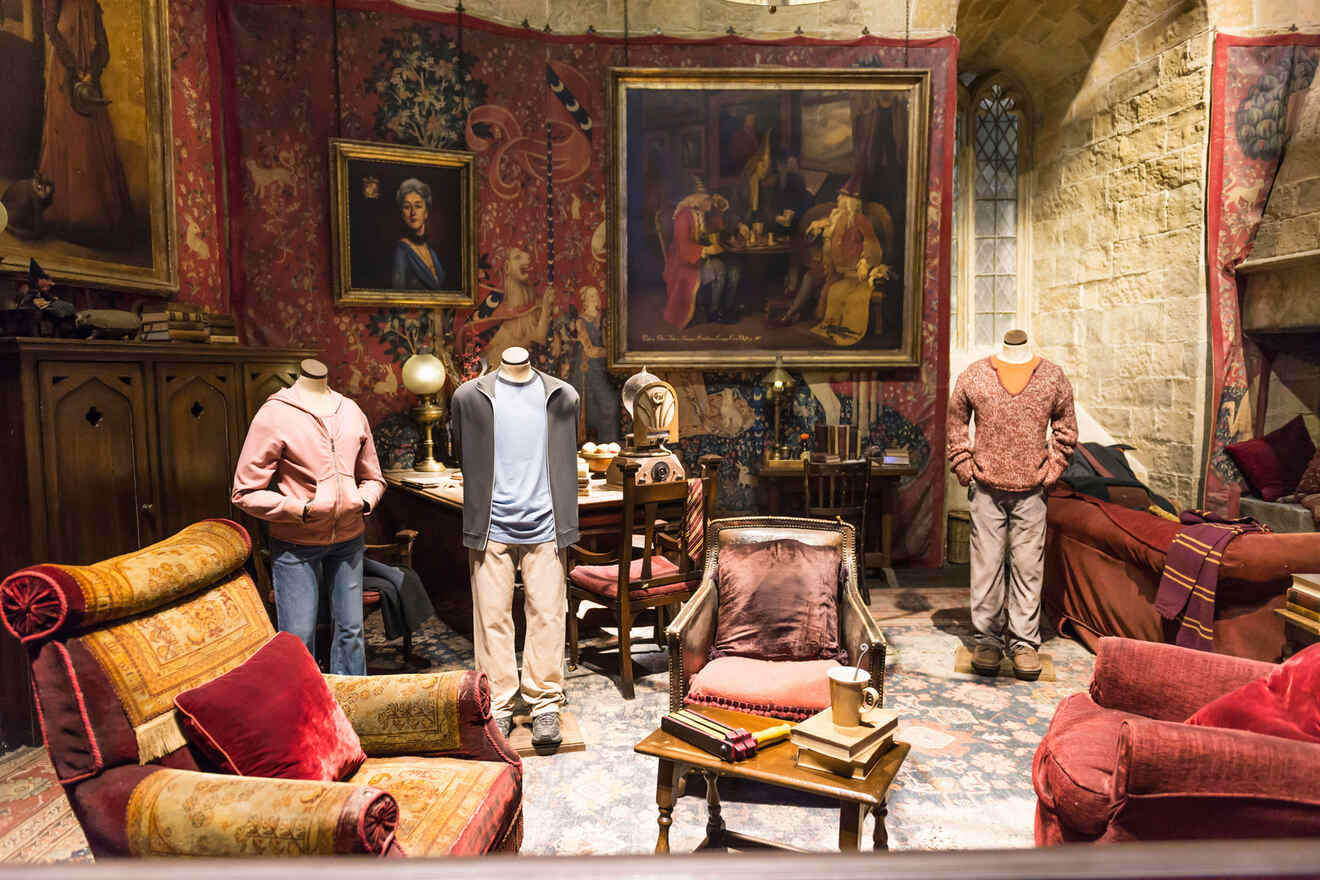 If you're traveling to London only to visit the Harry Potter Studio then you might consider getting this deal from their official website.
Fun Fact: The studio is still in use! A part of it was used to film the movie Fantastic Beasts and Where to Find Them!
This option includes the general ticket entry to the Studio plus a hotel in London. You can find all the hotel options here. Once you go on the page you'll have to pick how many persons you're booking for and the date and time of your visit. Then you'll go on the page where you'll see all the rooms and the total price that you'll pay for the tickets and the rooms.
I'm guessing most of you want to stay as close to the Studio as possible. You can add a filter there that will show you which are the closest ones. The prices start from £184 per night for 2 adults and usually that includes breakfast as well.
Price: from £184
1.5 Deluxe Tour Tickets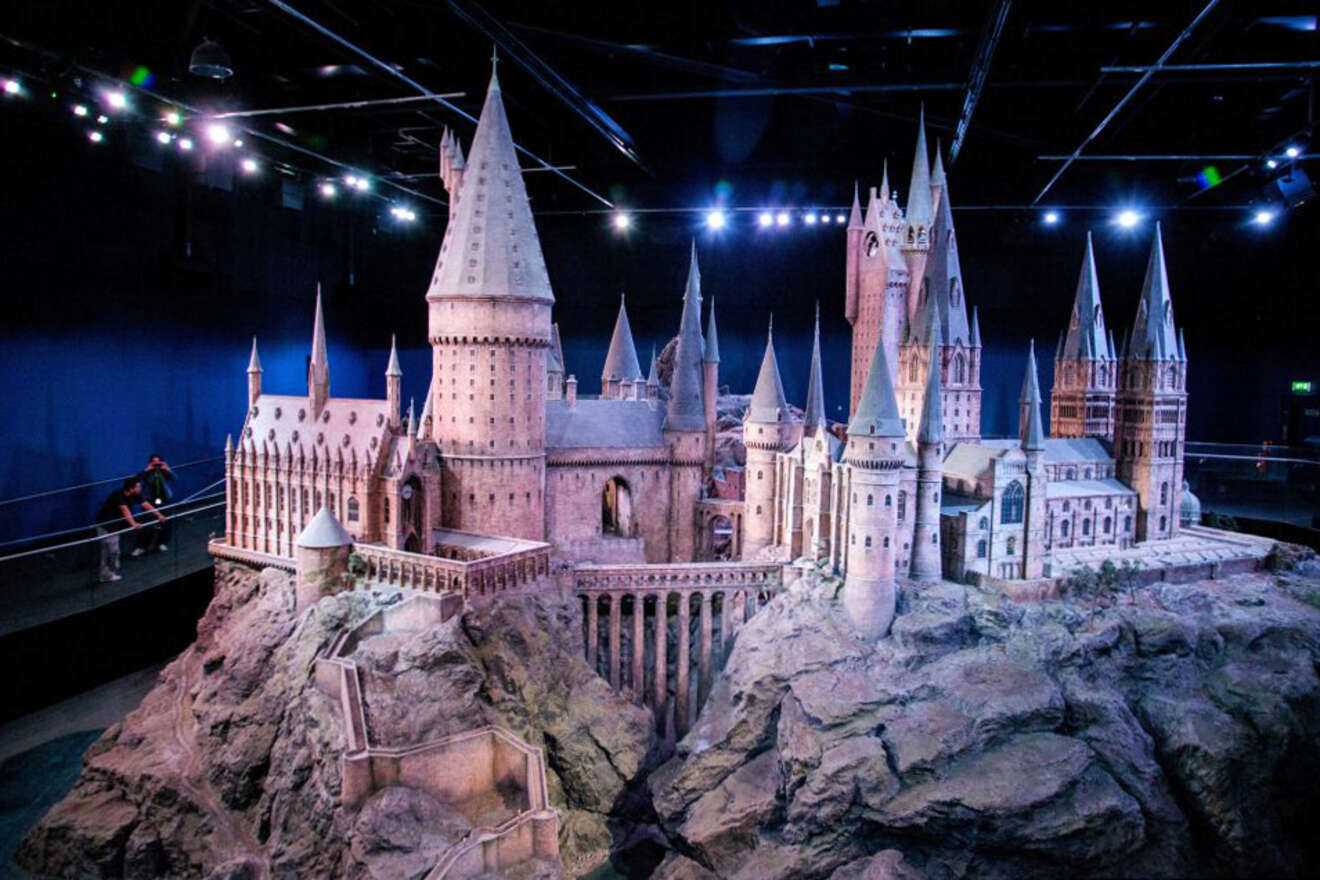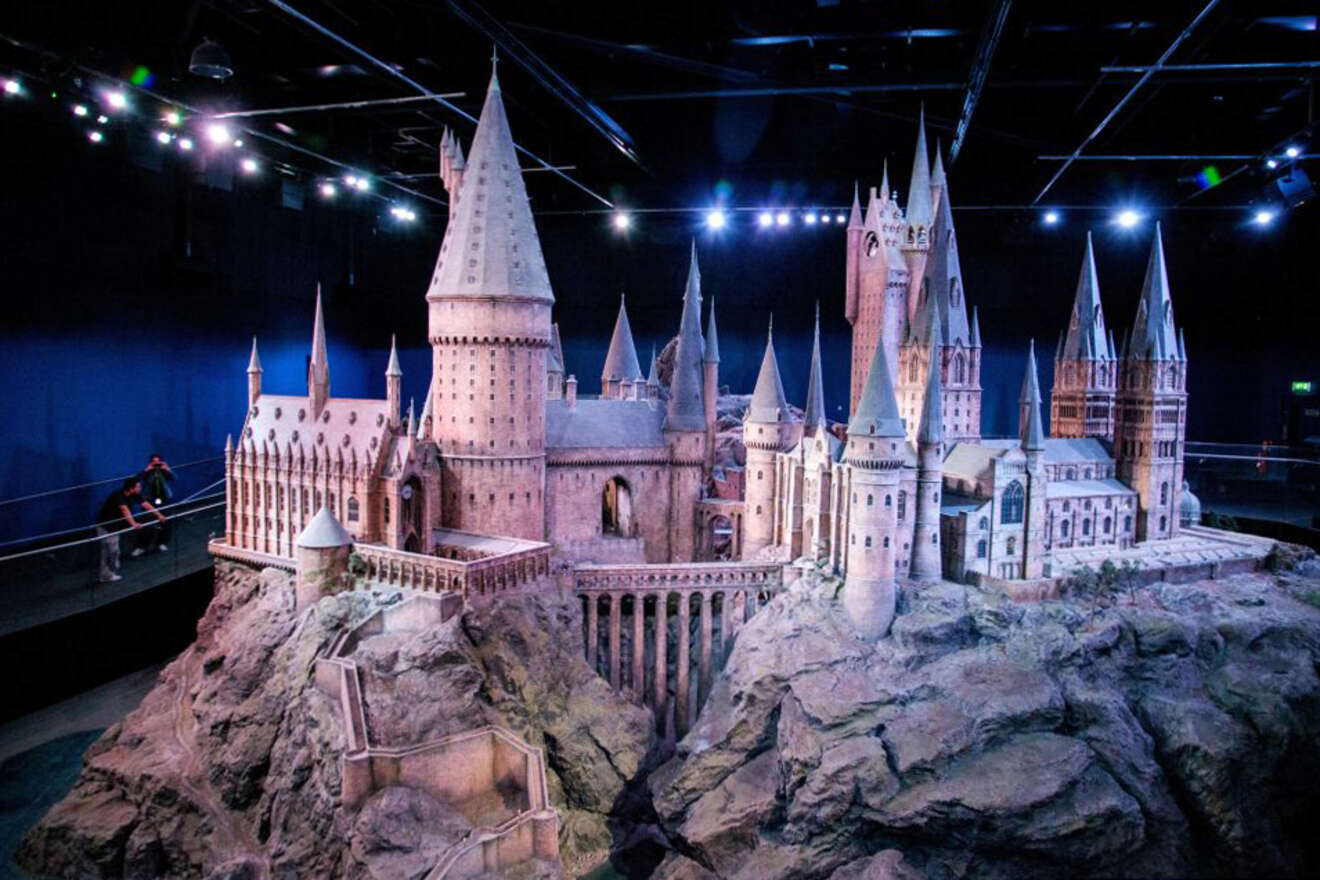 If you want a super unique experience while you're visiting the Harry Potter Studio in London, then I think you'll love this one!
The Deluxe Tour includes touring the set accompanied by a professional guide and a small group for 2h and 30 min of people plus some other exciting things like:
Breakfast and drinks in the Food Hall
Photo outside of the Wizarding School
A souvenir cup of Butterbeer or Butterbeer ice cream
Souvenir photograph
Broomstick flight video over London
Designated priority parking
Souvenir guidebook
After the tour is over you can go inside once again and explore the set once again but this time at your own pace.
These tours are available everyday but only at 10 and 11 AM. You will also need to arrive at the location 45 min before your tour starts, so that you can have your breakfast and the start the tour.
Price: Adults £250, Kids £225
2. Entry Ticket + Transportation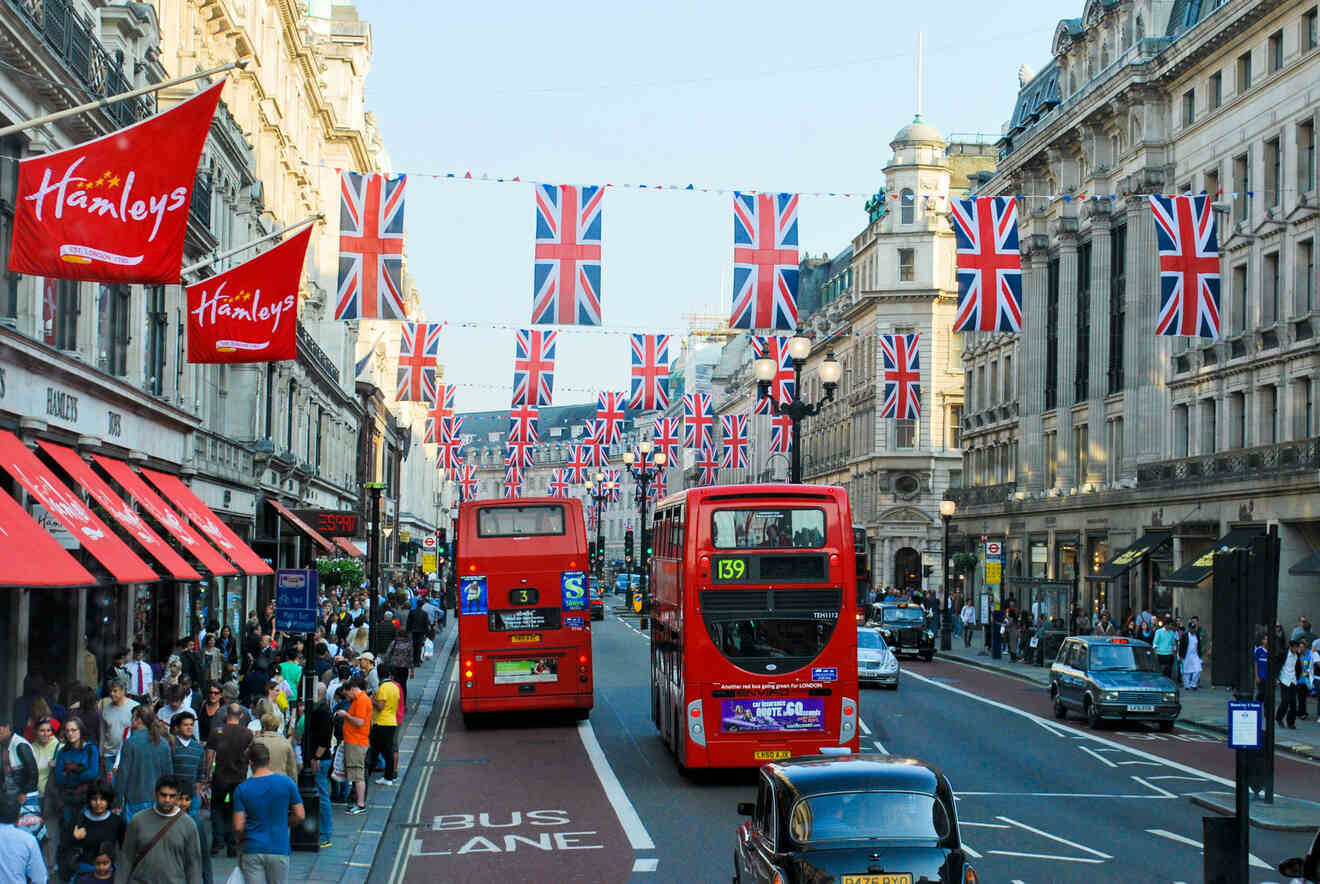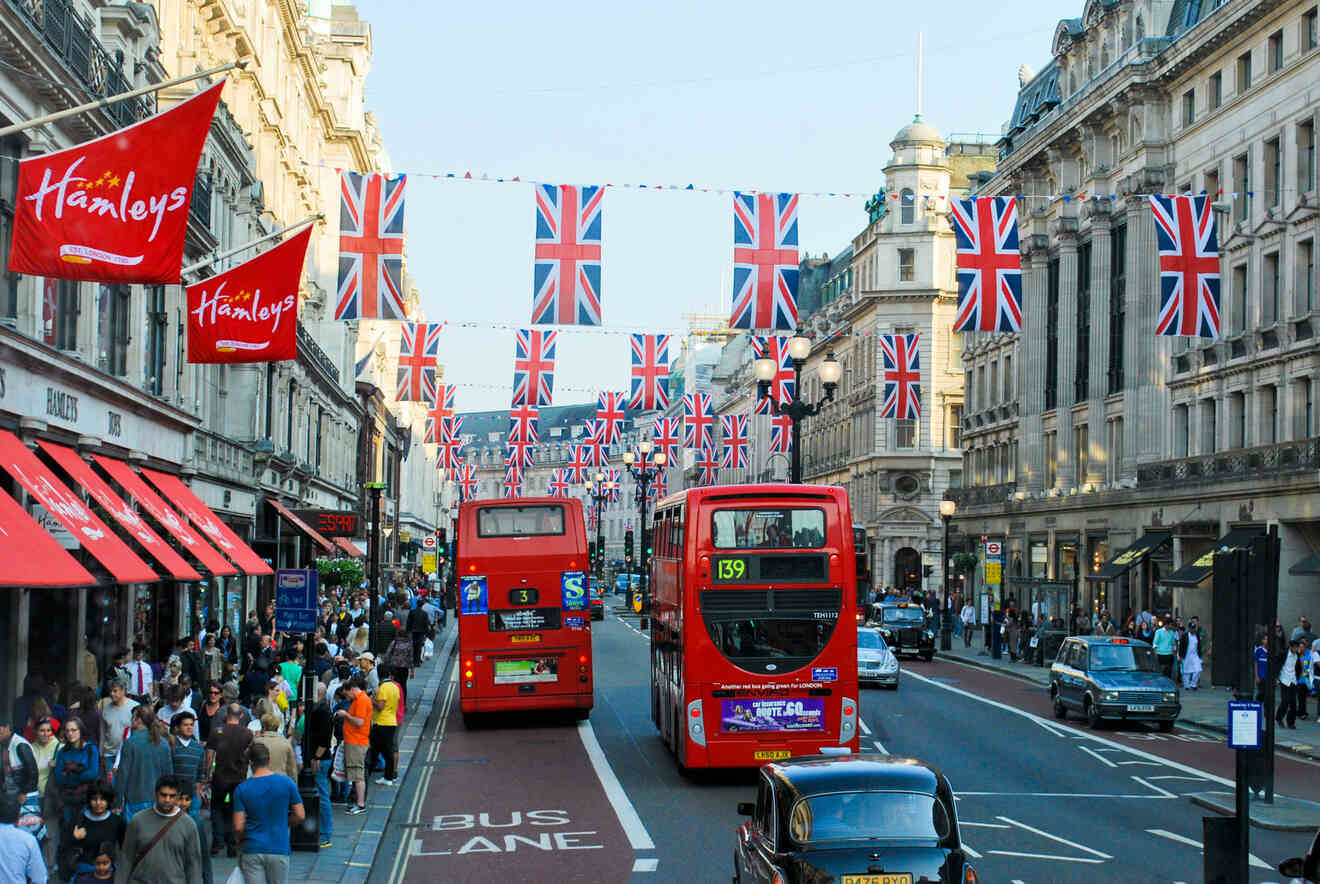 By now you've probably looked at the location of the Harry Potter Studio and saw that it's not really in London but outside of the city, around 1h by public transport or car. So if you are based in Central London, you'll have to figure out on your own how to get there. Although public transport in London is pretty straightforward you will have to change tubes and buses and if you're traveling with the little ones that can be a bit annoying especially if you're traveling during rush hour.
Fun Fact: Over 10 years the studio made over 588 sets of glasses for Harry!
Luckily I've found some great options for you! There are many authorized ticket resellers which offer entry tickets to the Harry Potter Studio plus transportation. This means a coach will take you directly there and back to one of the main stations in the city, King's Cross or Victoria Coach Station. Super convenient and time saving!
Headout and Tiqets both sell the best tickets, which cost £94 for adults and £84 for kids including transportation with a coach that has free wi-fi and entry tickets.
Value for money
Since the general entry tickets from the official website cost £52 for adults and £40 for kids you're basically paying £42 for transport for adults and £44 for kids.
Fun Fact: When J.K. Rowling took the studio tour and saw the Great Hall, she said it was like walking inside her own head.
Considering you'd pay probably just as much as this if you use public transport to go there and return, I think this is an amazing deal. Plus you won't have to figure out how to get there, you just hop on a bus and bam you're there!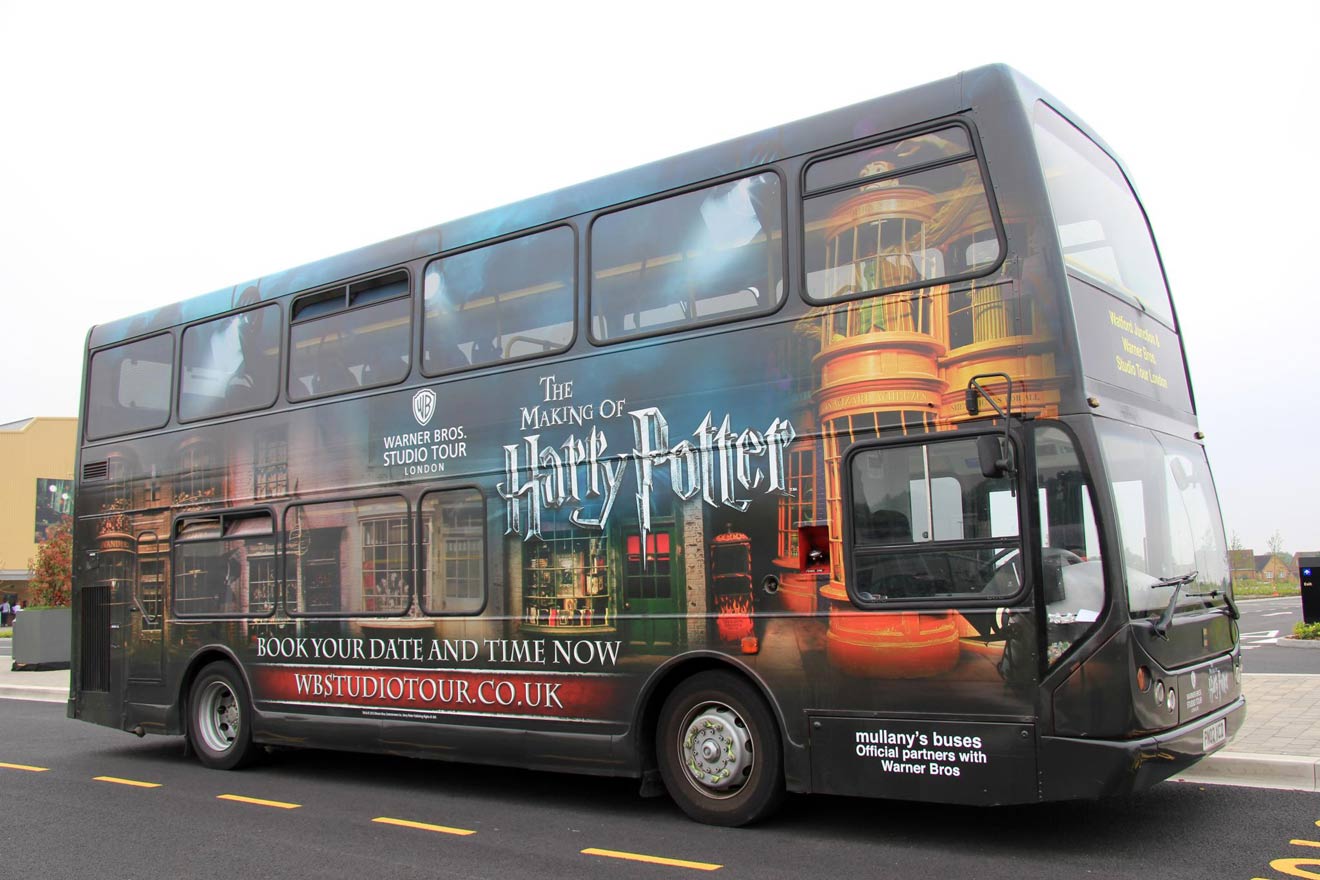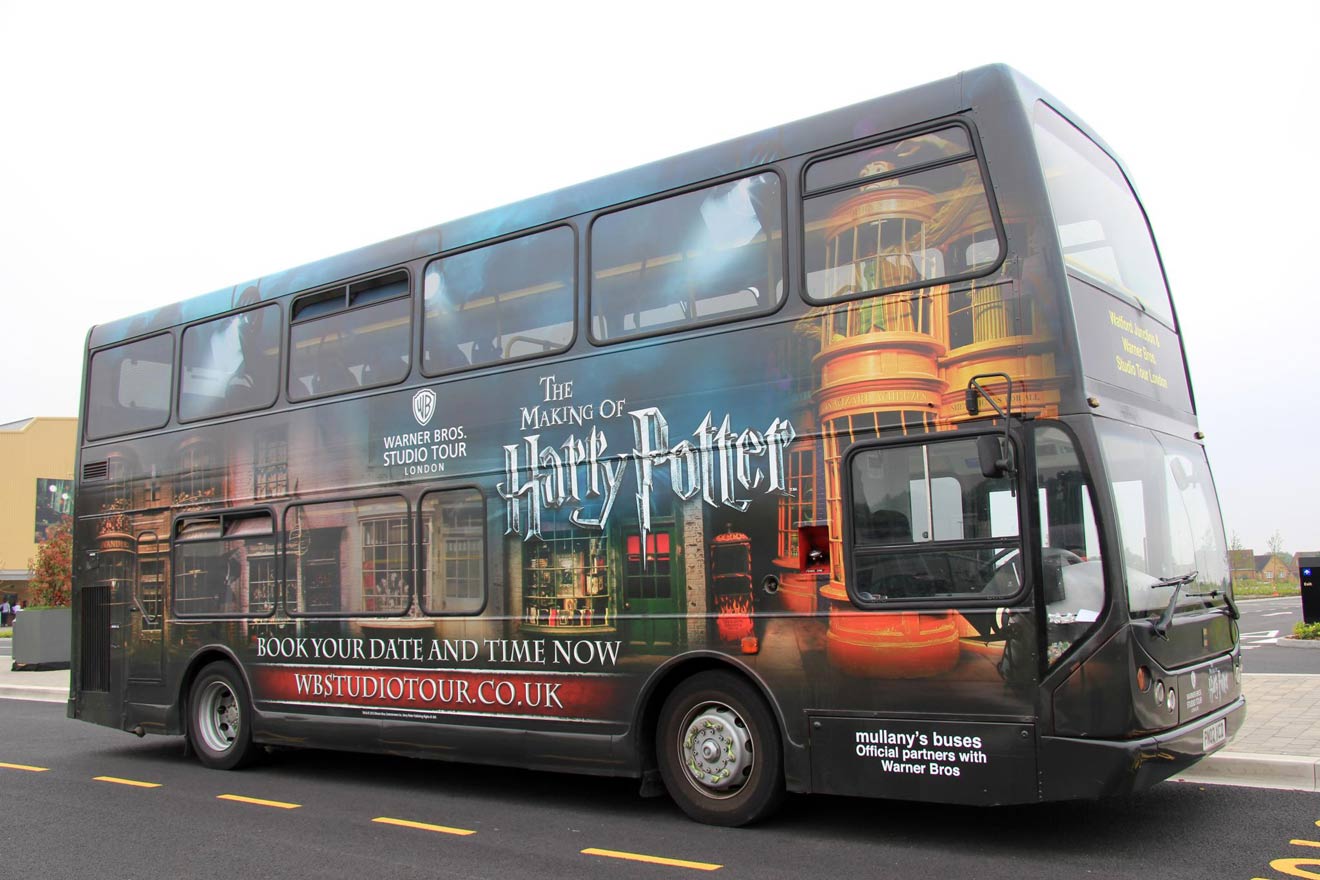 Cancellation policy
Another reason I recommend this option is because you'll also get a much better cancellation policy than you'd find when buying tickets from the official website! You can cancel these tickets anytime you want, no questions asked, as long as it's 48h before your visit.
Timing
Just like the general entry tickets you'll still have to pick a time-slot for your visit. However this time-slot indicates the time that you'll get on the bus, not the time that you'll start your visit at the Harry Potter Studio. For both Headout and Tiqets you'll have to arrive a bit earlier (around 15 min to board the bus).
The whole experience along with the journey there and back lasts 7h – 7.5 hrs. Which means that you'll spend around 4.5 – 5hrs exploring the studio since the journey from Central London to the Harry Potter Studios takes 1h (or even less if traffic is not too bad).
I definitely think this option is perfect for those of you who don't want to deal with figuring out train tickets, or have the stress of not arriving there in time.
Remember that you have to be there in time for your time-slot otherwise if you're late you risk not getting in (especially if it's too crowded) but I talk about all this in section #1 so check that out. This way you can just hop on the bus and enjoy a day of relaxing!
Now, I've mentioned Headout and Tiqets are the best main deals. However if you can't find a specific time-slot or they're sold out you can also try GetYourGuide, Viator and Klook.
Price: Adults £94, Kids £84
Book a tickets + transport combo
3. Add-ons to your tickets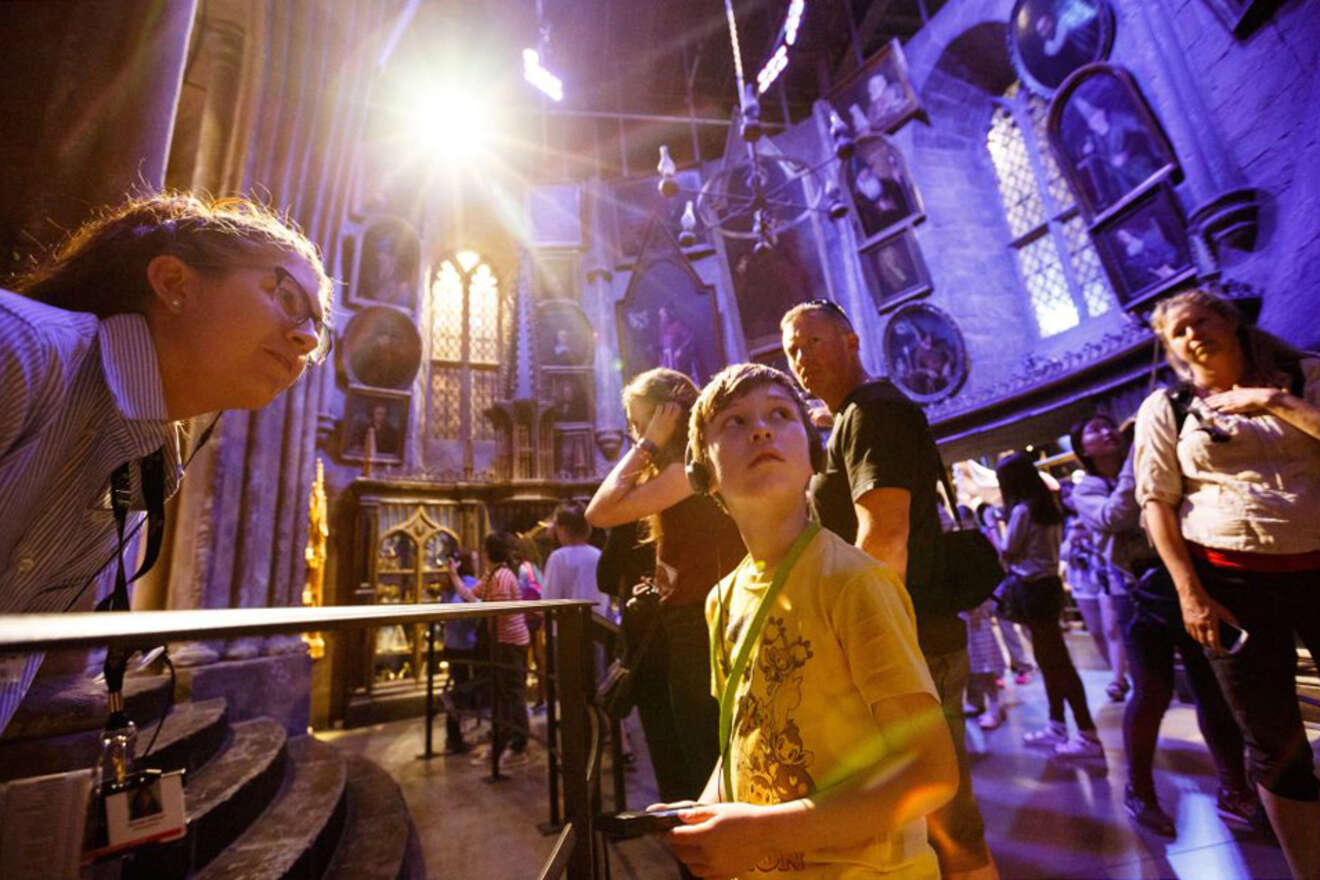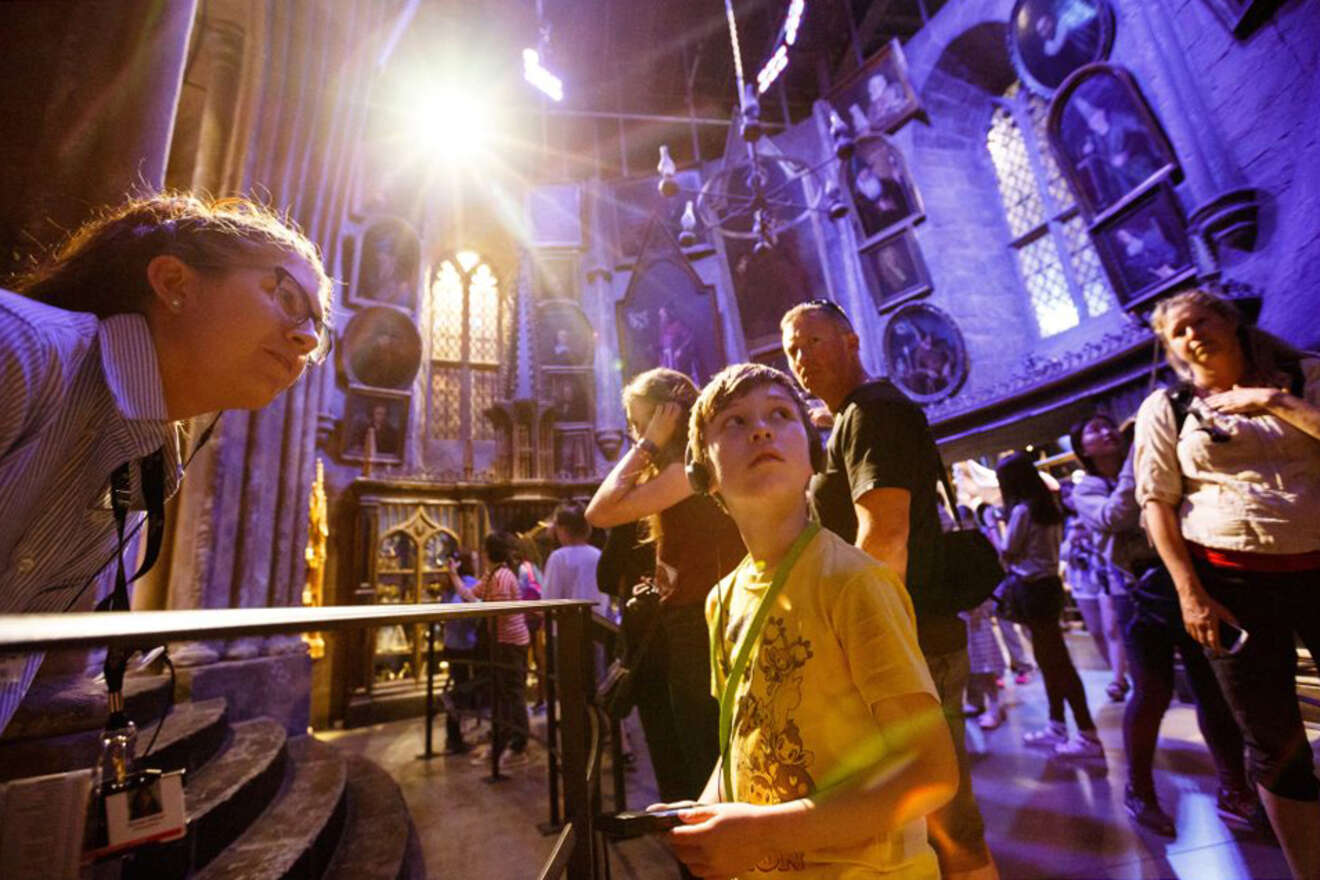 Besides the amazing experience of just being there, there are many other things that you can add to your ticket after you've selected the time and date, that will leave you with even more unique memories!
Of course, these are not included in your ticket price and you'll have to pay extra for each add-on you pick, but if it's something you really want, I'm sure it's worth it.
Paperback Souvenir Guidebook
Perfect for any fans who want to remember this trip to the Harry Potter Studios forever, this guidebook has information about the Harry Potter movies, behind-the-scenes secrets and lots of stunning pictures.
Price: £10
Priority Parking
If you're coming by car and you want to park your car as close as possible to the Studio entrance then check out this option.
The pass is valid all day long and once you arrive you need to present so the staff can point you to your designated spot.
Price: £10
Digital Guide
This is a handheld audio-visual guide that will accompany your exploration around the studio and give you filmmaking facts, exclusive behind-the-scenes footage and cast and crew interviews.
Available in English, German, French, Italian, Spanish, Japanese, Mandarin, Russian and Brazilian Portuguese, this guide is great for people who want to make their visit a bit more interactive.
Price: £5
Afternoon Tea for Two
Going for an afternoon tea experience while you're in England is definitely a must! And if you want to combine this with your visit to the Harry Potter Studio, now it's your chance!
You can enjoy your afternoon tea either before or after your tour in the Food Hall for 90 min.
Luckily they also offer a vegan option at the same price, and something else if you want to spice things up a little and add a glass of champagne but this will cost an extra £30 (so you'll pay a total of £90).
Price: from £60
4. Other Fun Harry Potter tours in the UK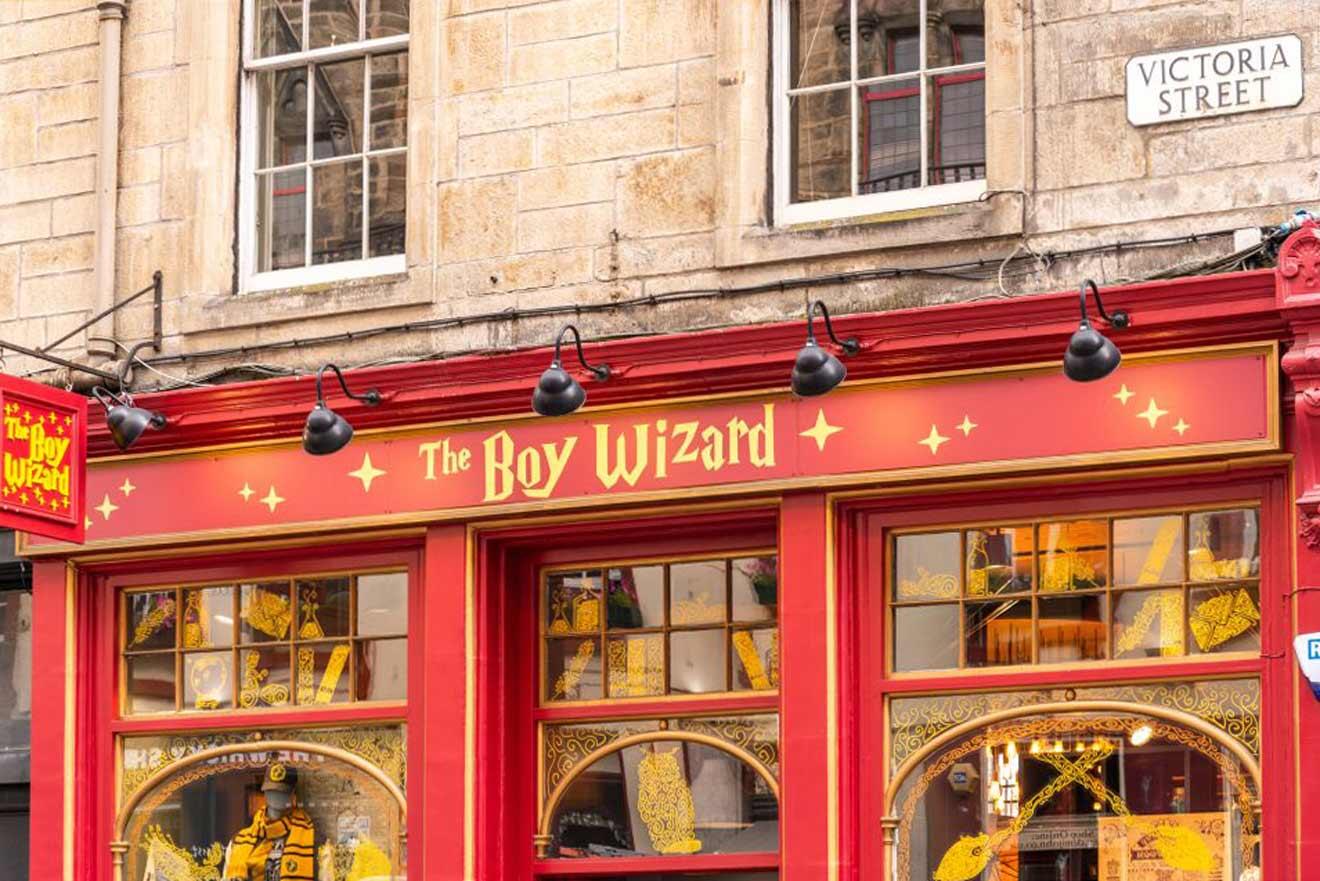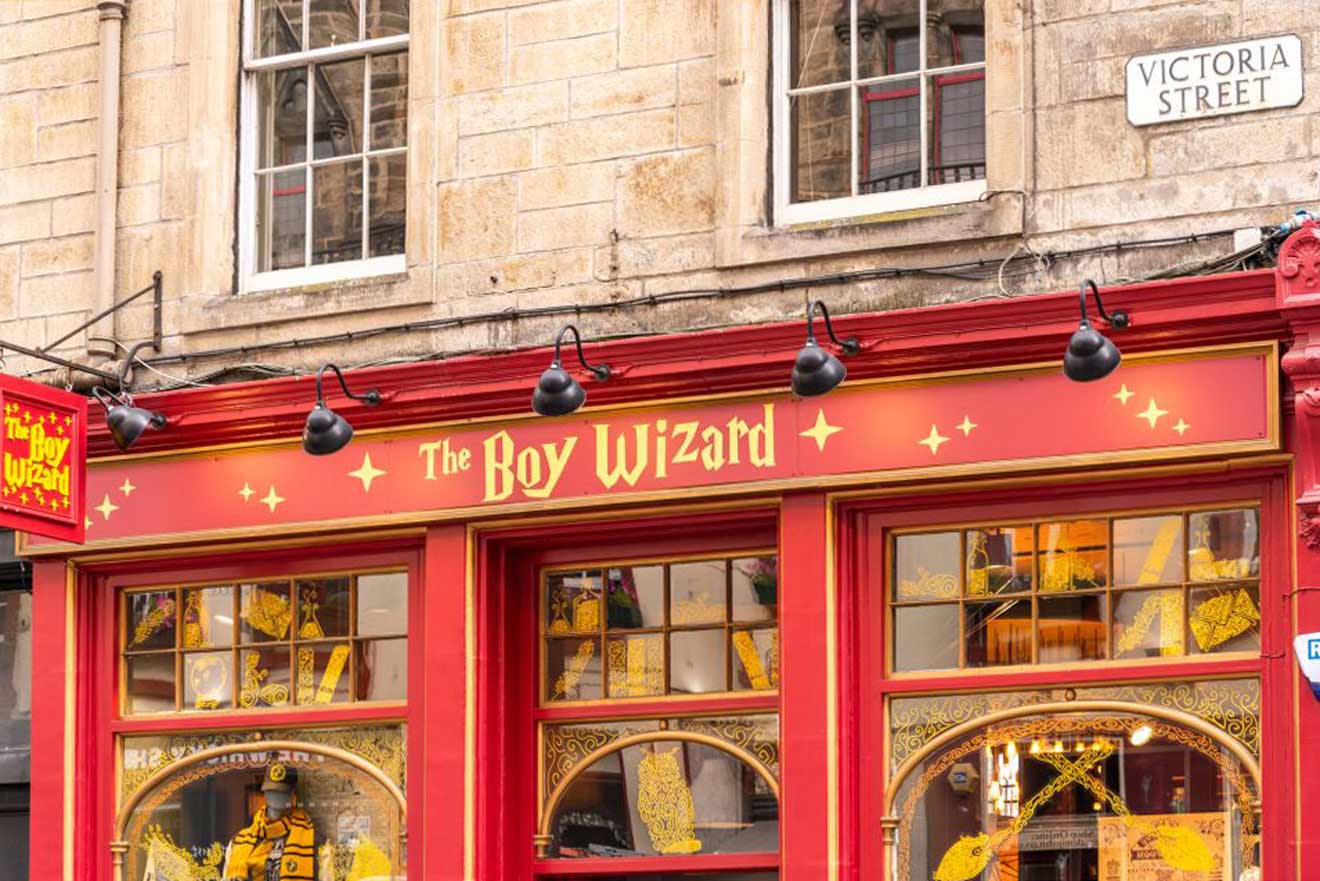 Your magical trip to Harry Potter's fantasy world doesn't have to begin and end at the studio set in London! The UK is absolutely packed with Harry Potter activities and I'd thought I'd round up the best ones and put them on a list for you!
So let's check them out:
Important things to know about the Harry Potter Studio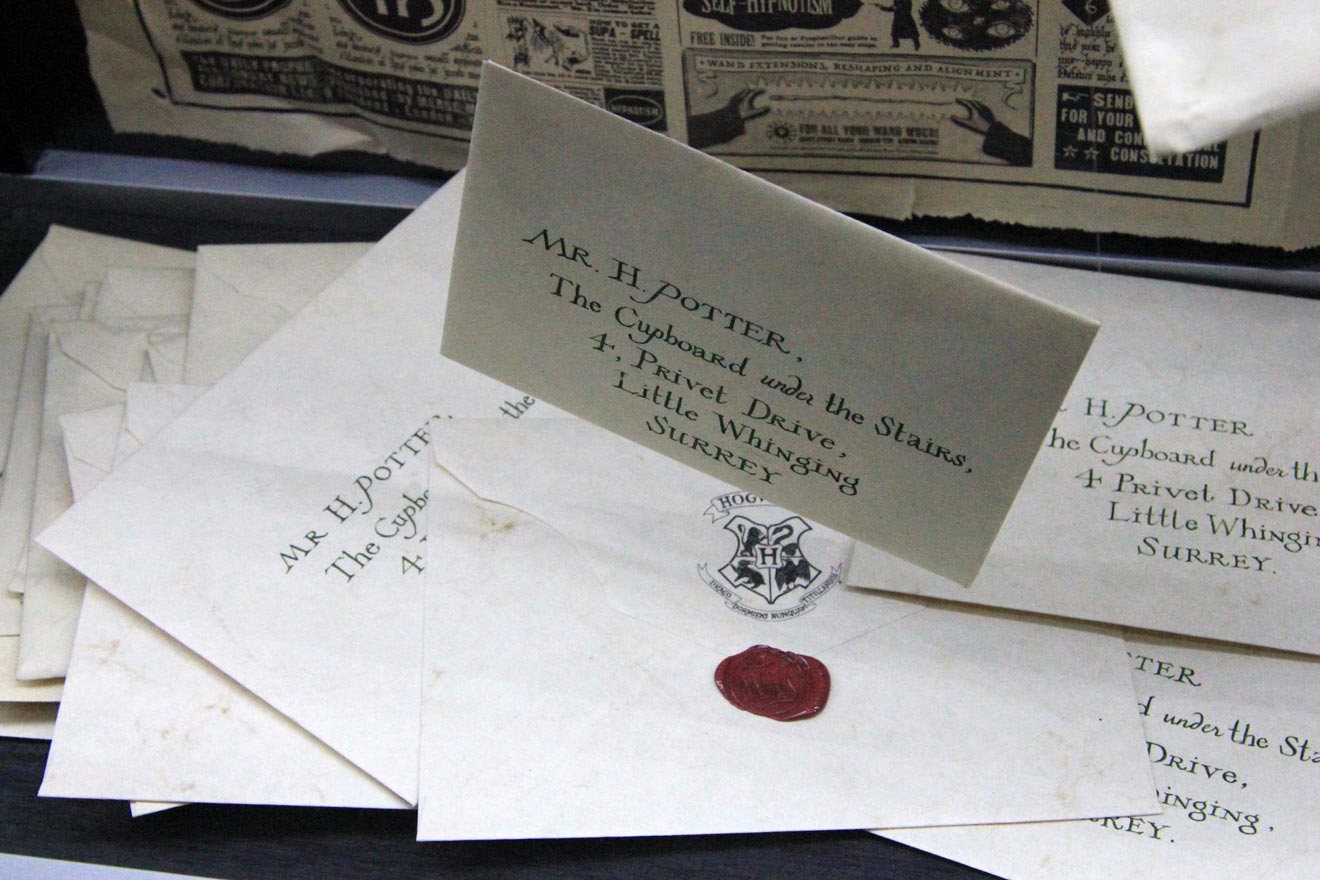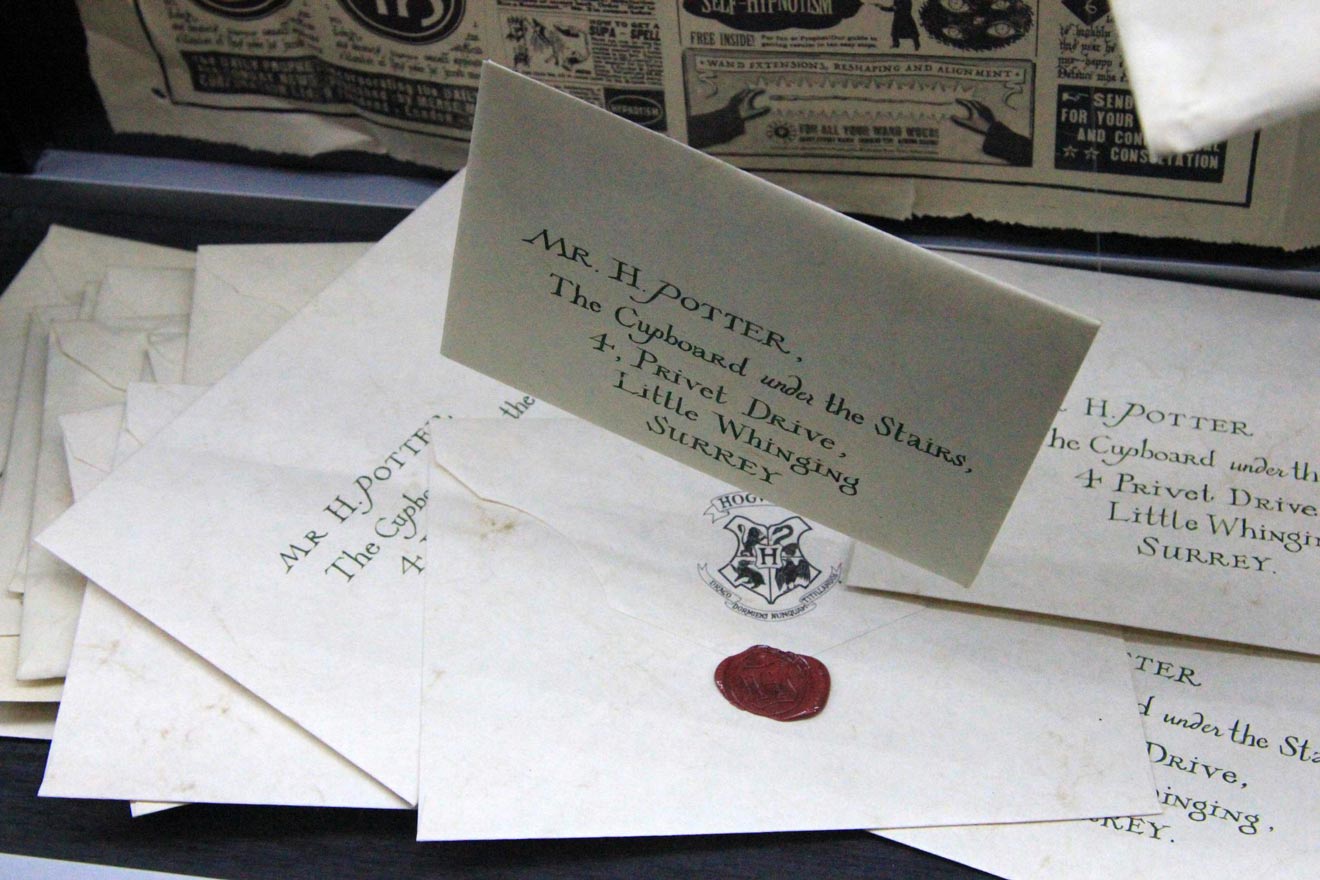 1. How far in advance do you need to buy your tickets
I would recommend buying your tickets at least 2 months in advance, and sometimes even earlier during peak season (June, July, August, and December). That will secure you a wide range of options and you won't have to pick a certain date only because there's nothing else left.
Booking later than that will leave you with not so many choices and if you're planning your holiday for a certain period of time then I'd buy these tickets once you also get the plane and hotel tickets.
2. Opening hours of Harry Potter Studio
The opening hours at Harry Potter Studio vary from day to day so you will have to check the calendar for a specific day that you'd like to visit.
However as a common rule they are open everyday from 9:30 AM – 8:00 PM, or until 10:00 PM during peak times.
Peak season at Harry Potter Studio is usually during the summer months (June, July, August) and sometimes December as people come before Christmas when they transform the whole studio to suit the season!
3. How to get to Harry Potter Studio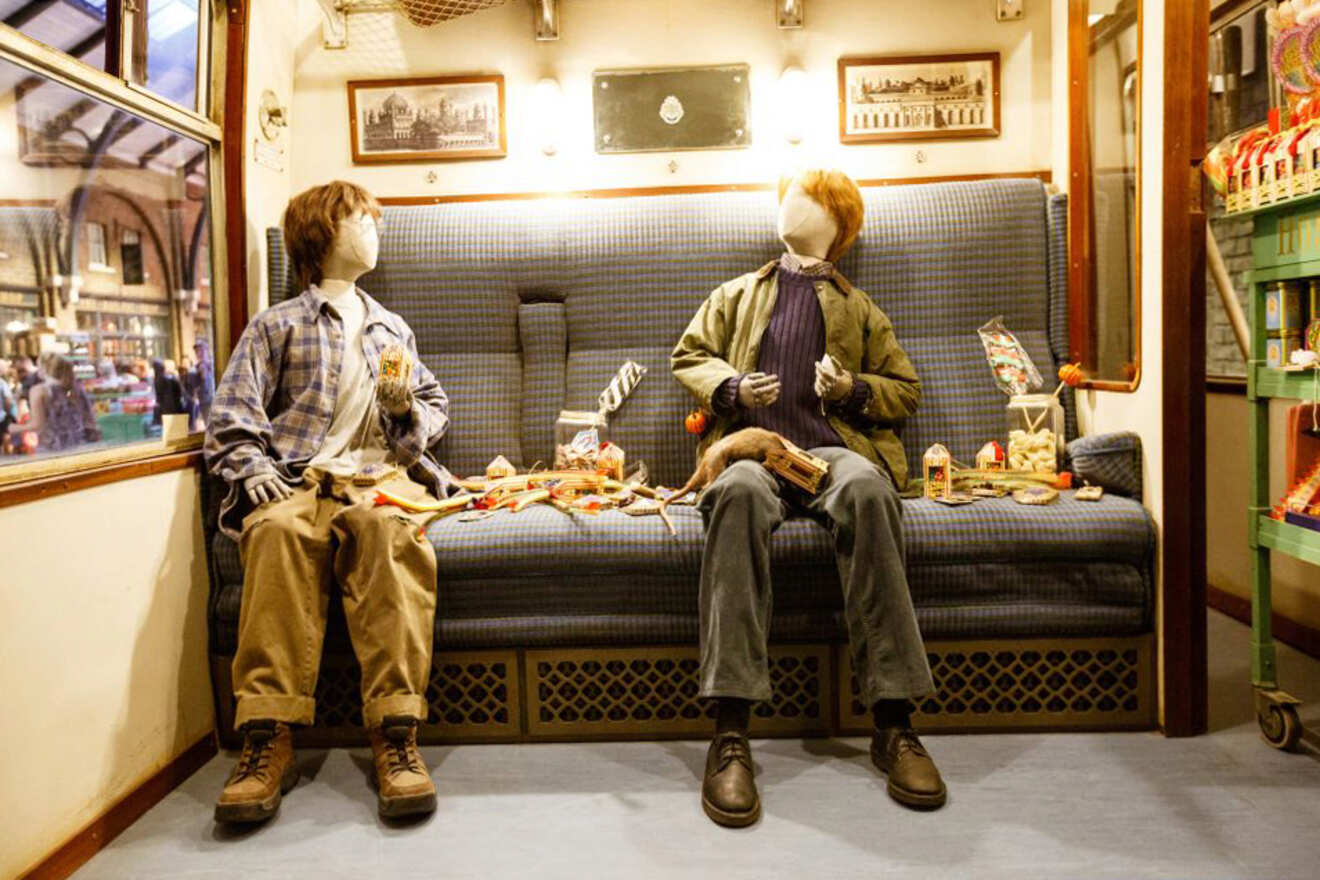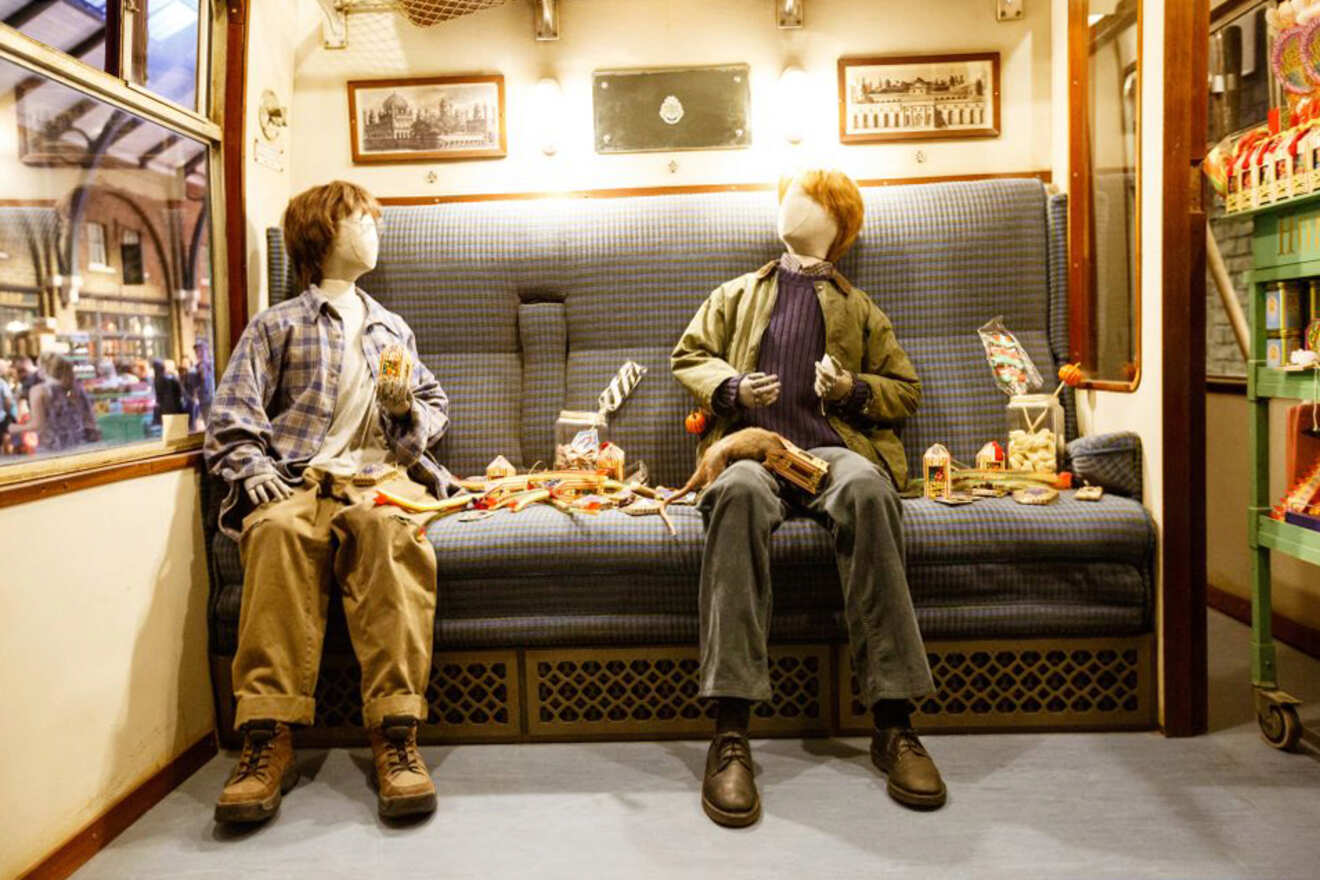 As I mentioned earlier, the Harry Potter Studio is located outside of London in Leavesden, which is around 1h away from the city. That means you'll have to figure out a way to get there in time for your visit.
This is where I come to help you. I've looked at all the ways you can get there and listed them below so you can pick:
By public transport: Take the Walthamstow Central train on the Piccadilly line from Victoria Station and stop at Euston. From there take the WestMidlands Train to Northampton and stop at Watford Junction, from there you can take the studio shuttle bus (which is included in your ticket) to the studio. The total traveling time is around 1h
By car: You can park your car for free in the Warner Bros. Studio Car Park, the journey from central London also takes around 1 hr.
Ticket and transport package: I talked all about this in section #2, but the best way to get to the Harry Potter Studios is to buy a ticket and transport package. With this great deal you'll receive entry tickets and a bus shuttle from London directly to the studio and back
4. What to bring (and not bring) to Harry Potter Studio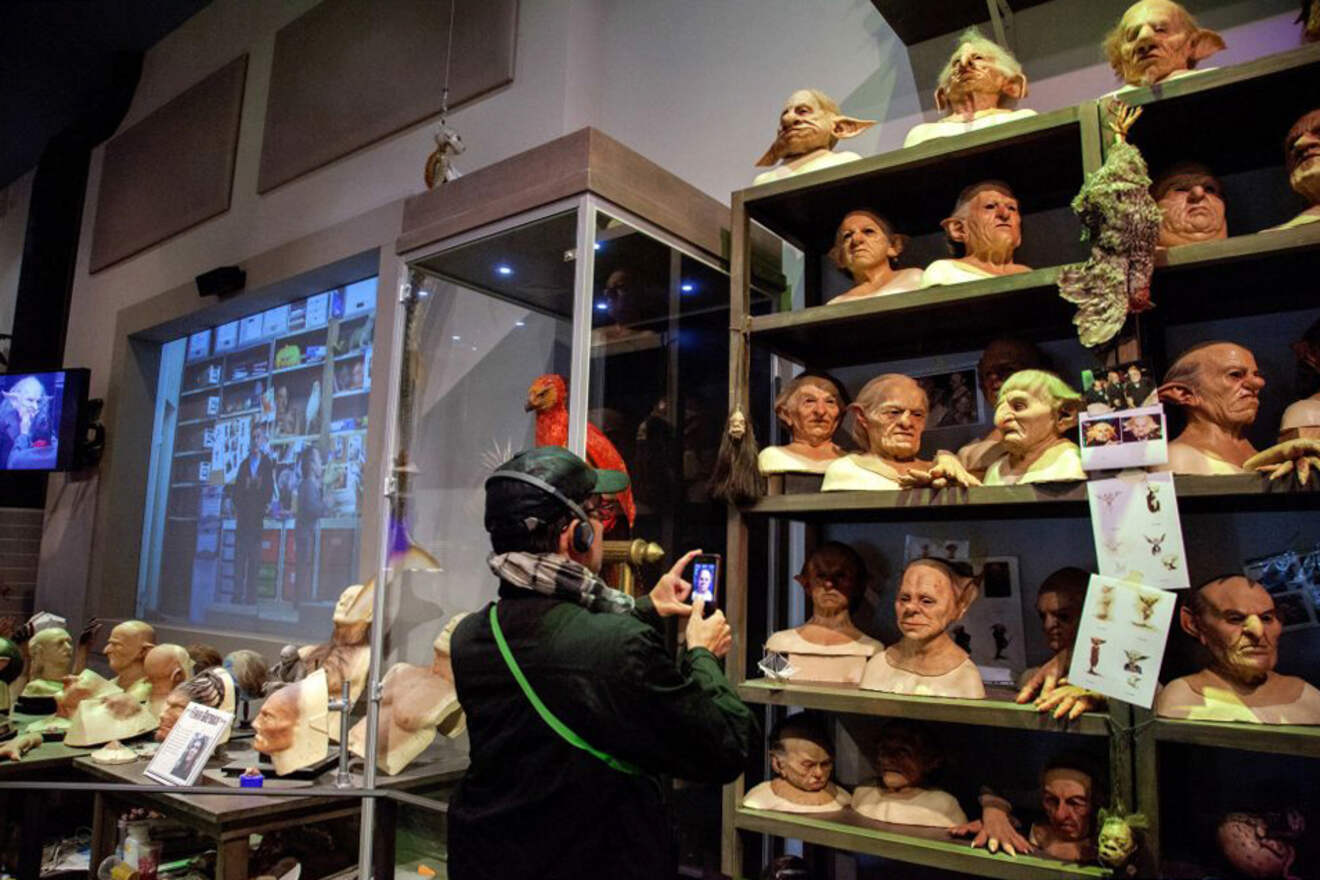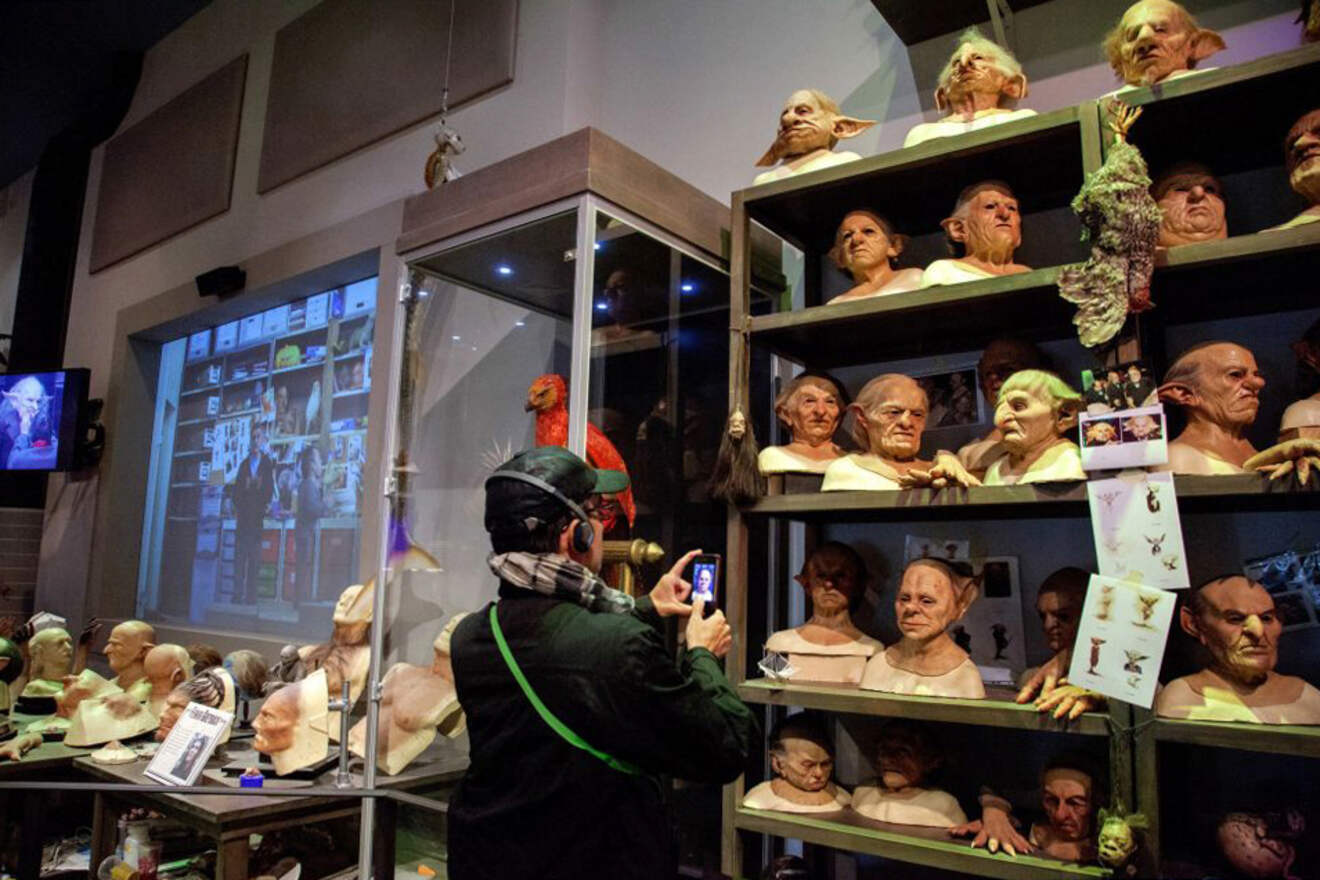 Passports, wallets, and other million things! Planning for a holiday is never easy and in all that chaos it is easy to forget other things that you should bring to the attractions that you're visiting.
Well, today I'll help you a bit and list everything you should bring (or not) to the Harry Potter Studio.
✅Tickets – You don't have to print out your Harry Potter Studio tickets, you can just show them on your phone
✅Camera – You can take pictures and videos around the studio except in the pre-show cinema and green screen areas. Tripods and drones are not allowed
✅Selfie Stick – These are also allowed inside the studio
✅Food & drinks – You can bring food and drinks to the studio but you're allowed to eat or drink only in the backlot area or outside the picnic area
❌No Large Items – Don't bring any large bags or multiple bags with you
5. Facilities inside Harry Potter Studio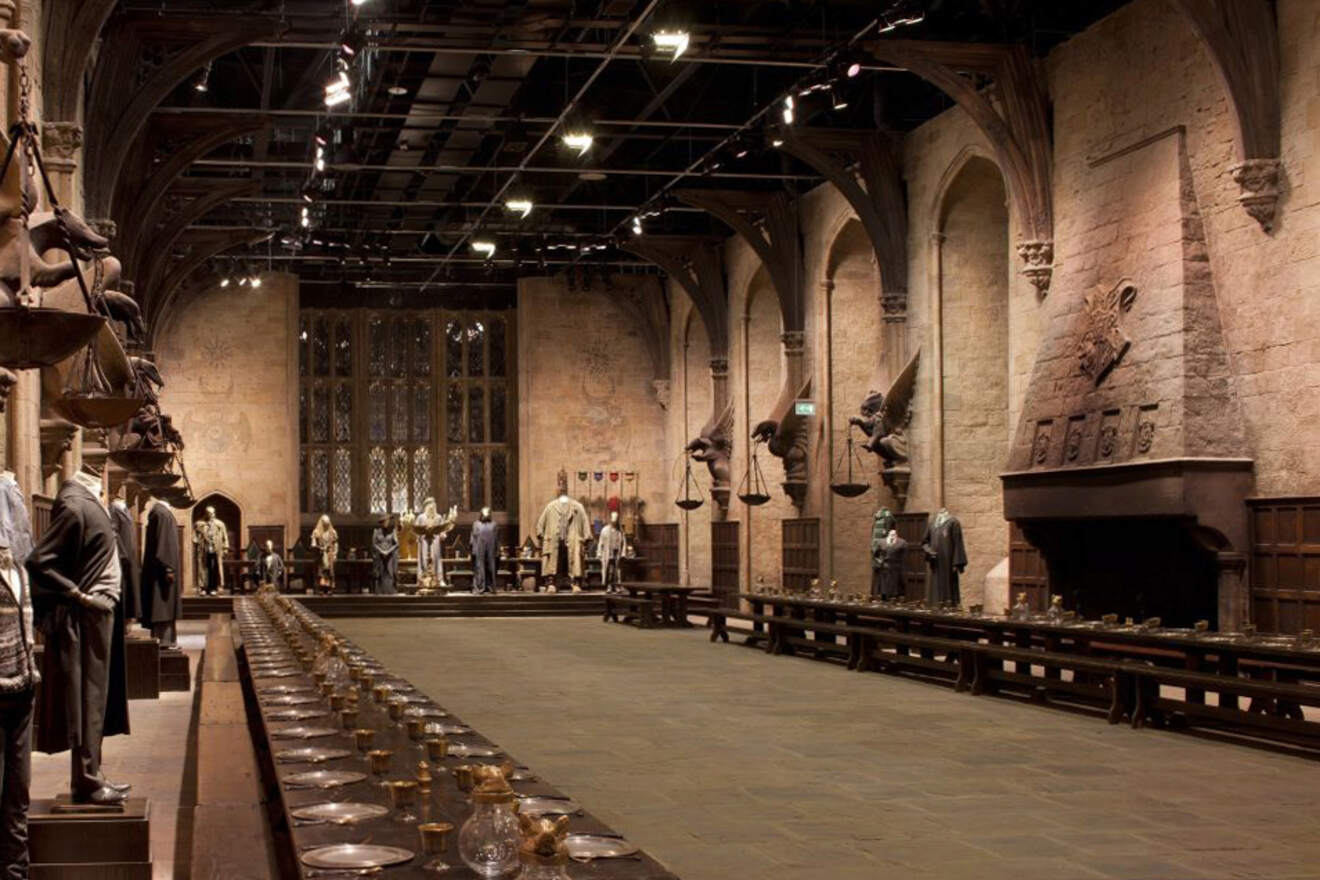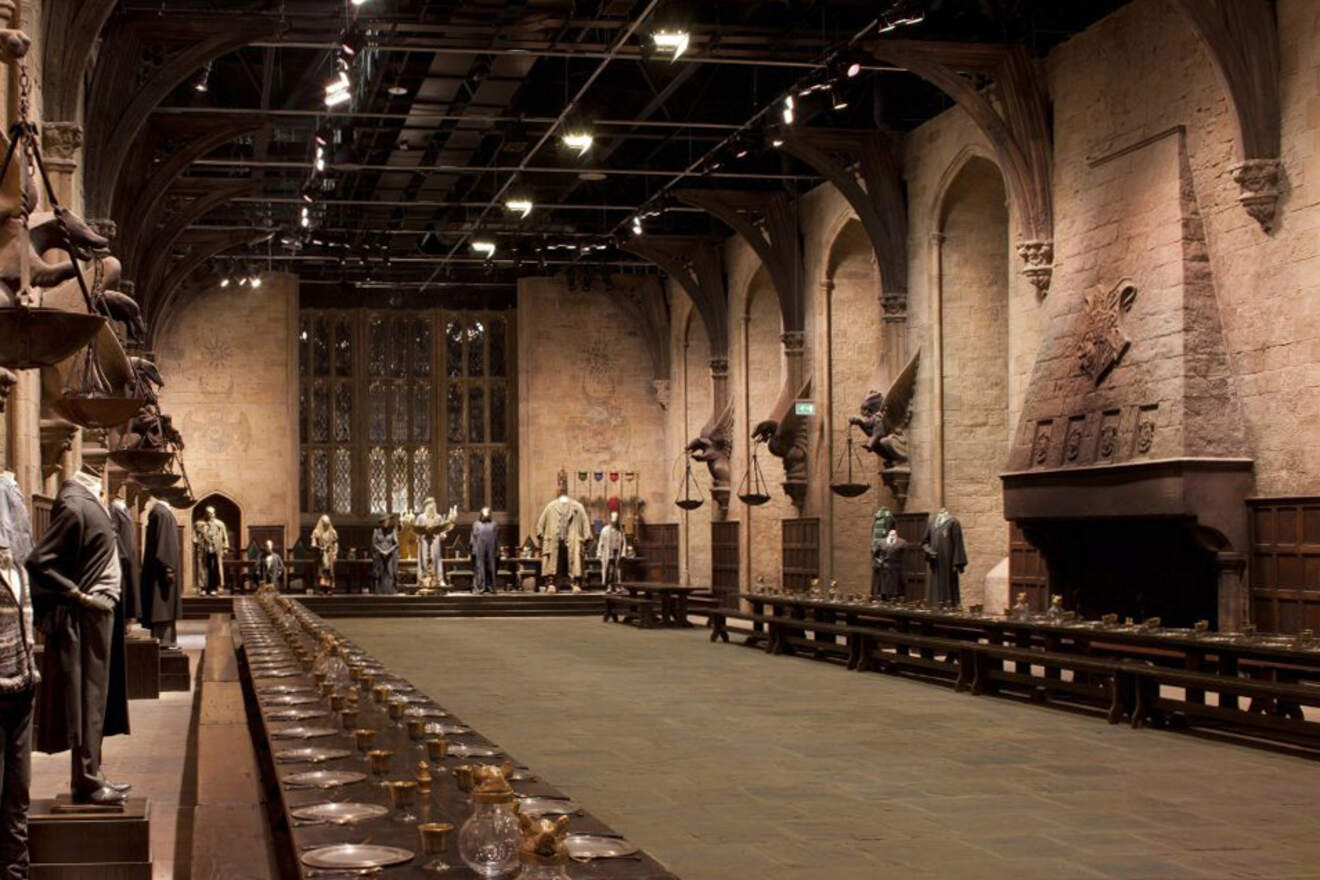 Toilets – You'll find the toilets inside the lobby of the Warner Bros. Studio and it has baby changing facilities and an accessible toilet as well
Accessibility – Most of the studio is suitable for wheelchairs however there are a few areas that are difficult to navigate like Diagon Alley's cobbled street, the Great Hall's slate floor, the Forbidden Forest's spongy surface, and Privet Drive's narrow doorway. You can find out more from their Accessibility Guide
Wifi – There is free wi-fi to use for visitors at Harry Potter Studio
Cloakroom – You can leave your bags and coats in the cloakroom free of charge while you visit the set
Gift Shop – You'll find 2 gift shops at the studio, the Forbidden Forest Shop and the Railway Shop
ATM – There's an atm inside the lobby from where you can withdraw money free of charge
Cafes – There are 3 cafes at the studio Chocolate Frog Café, the Hub Café or Food Hall
FAQs about Harry Potter Studio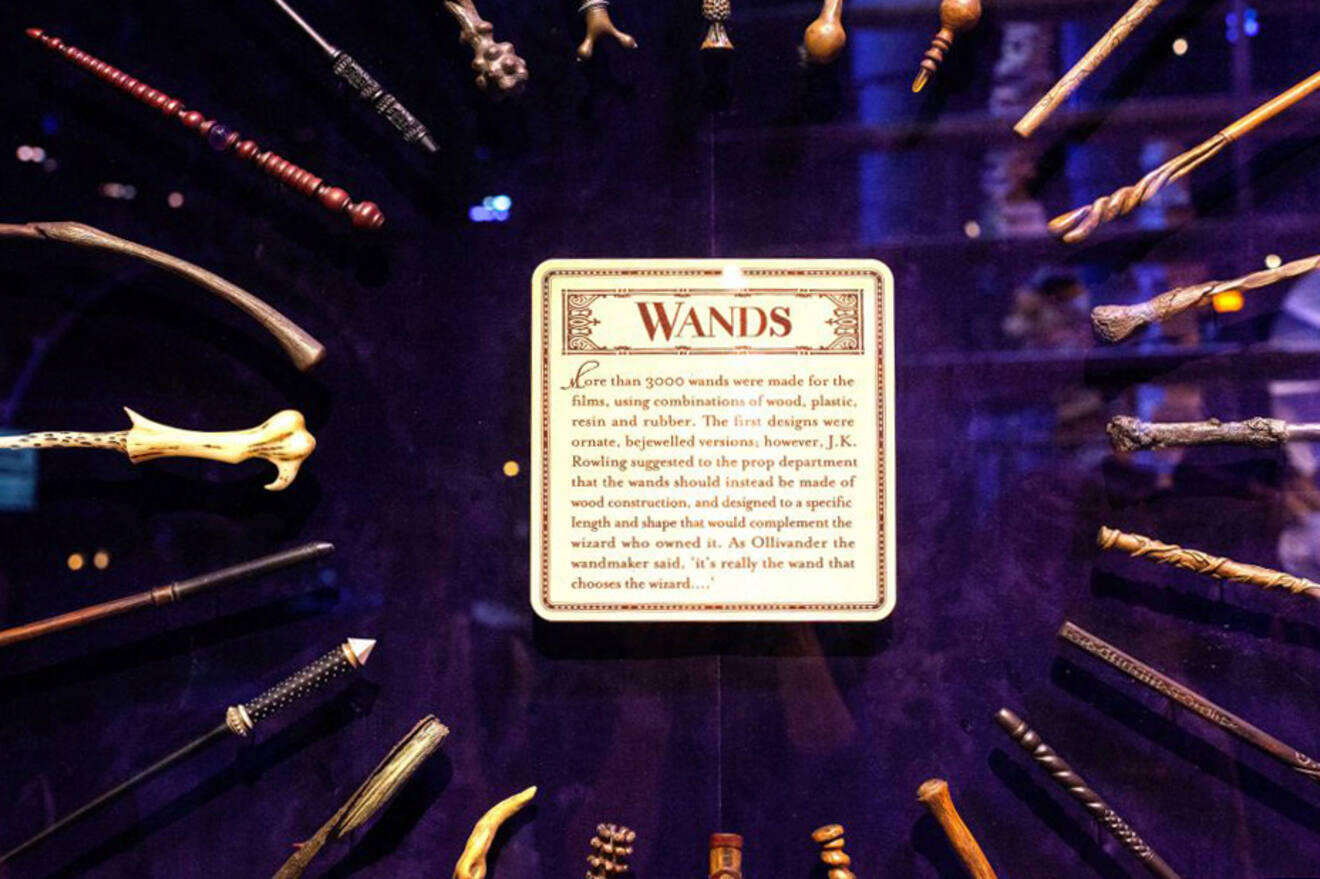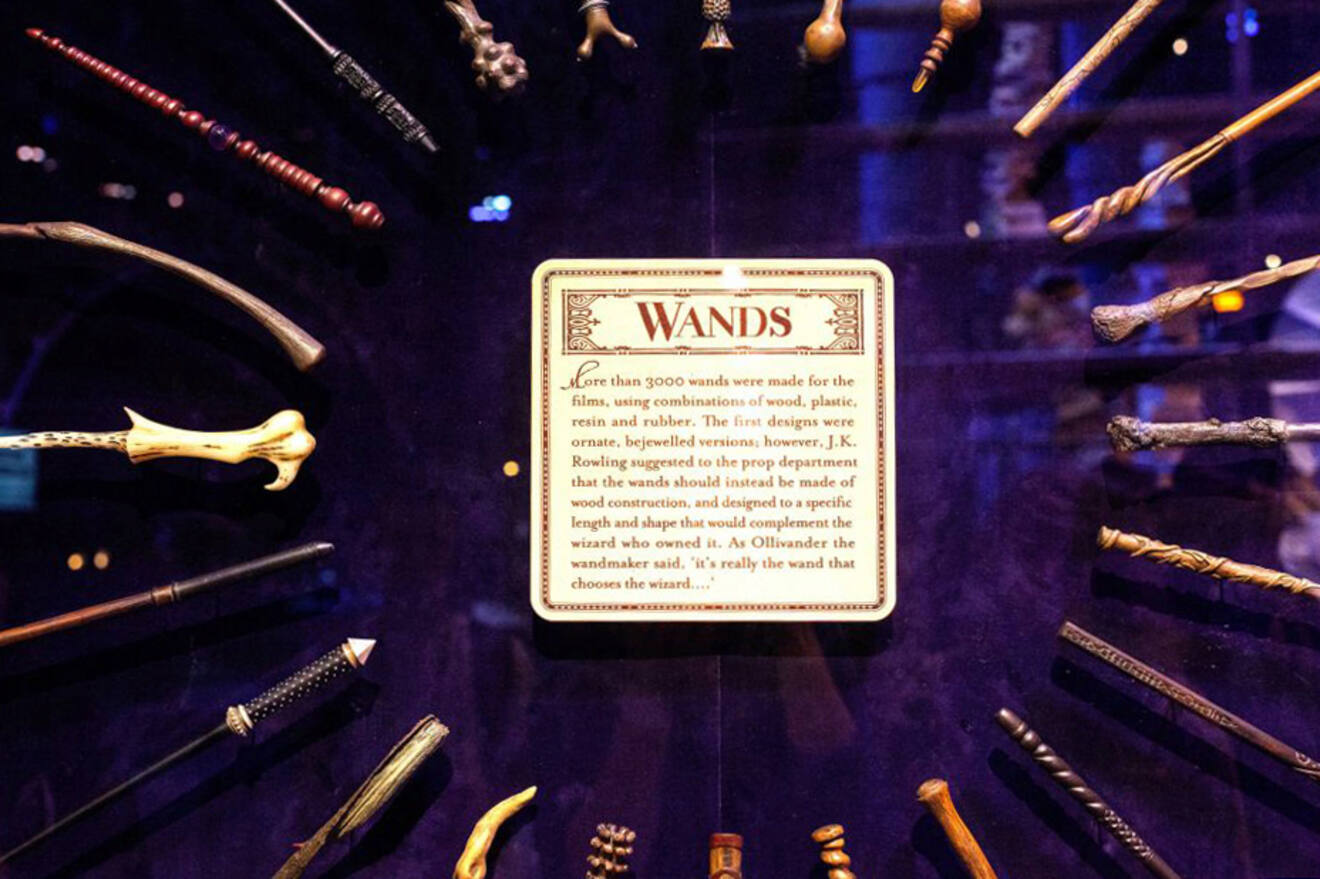 🔝 Is Harry Potter studio worth it?
Yes, it's an amazing experience! You'll get to see real sets that were used for the movies and find a lot of behind-the-scenes secrets!
💰 How much does it cost to go to the Harry Potter world?
An adult ticket costs £52 and the children's tickets cost £40, and you can get them from the official website. You can also buy tickets that include transportation (the studio is 1h away from London) and that costs £94 on Tiqets.
⏱️ How long does it take to walk around the Harry Potter studio?
It takes around 3h to 4h to explore the studio.
🤔 What is the best time to go on a Harry Potter studio tour?
The best time to visit the studio tour is in the morning, around 10 AM right after the studio opens. It's not so crowded around that time which makes it perfect.
Conclusion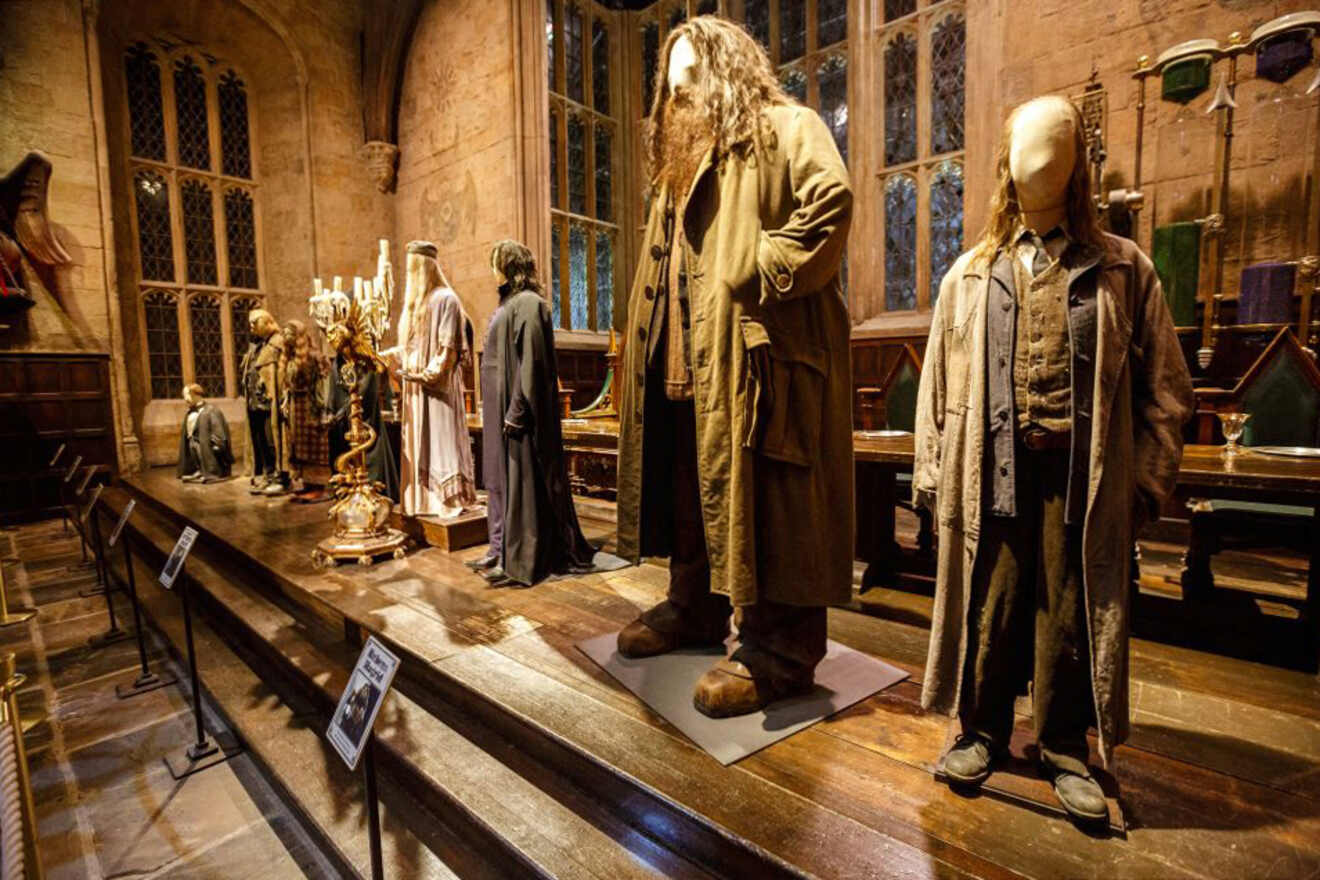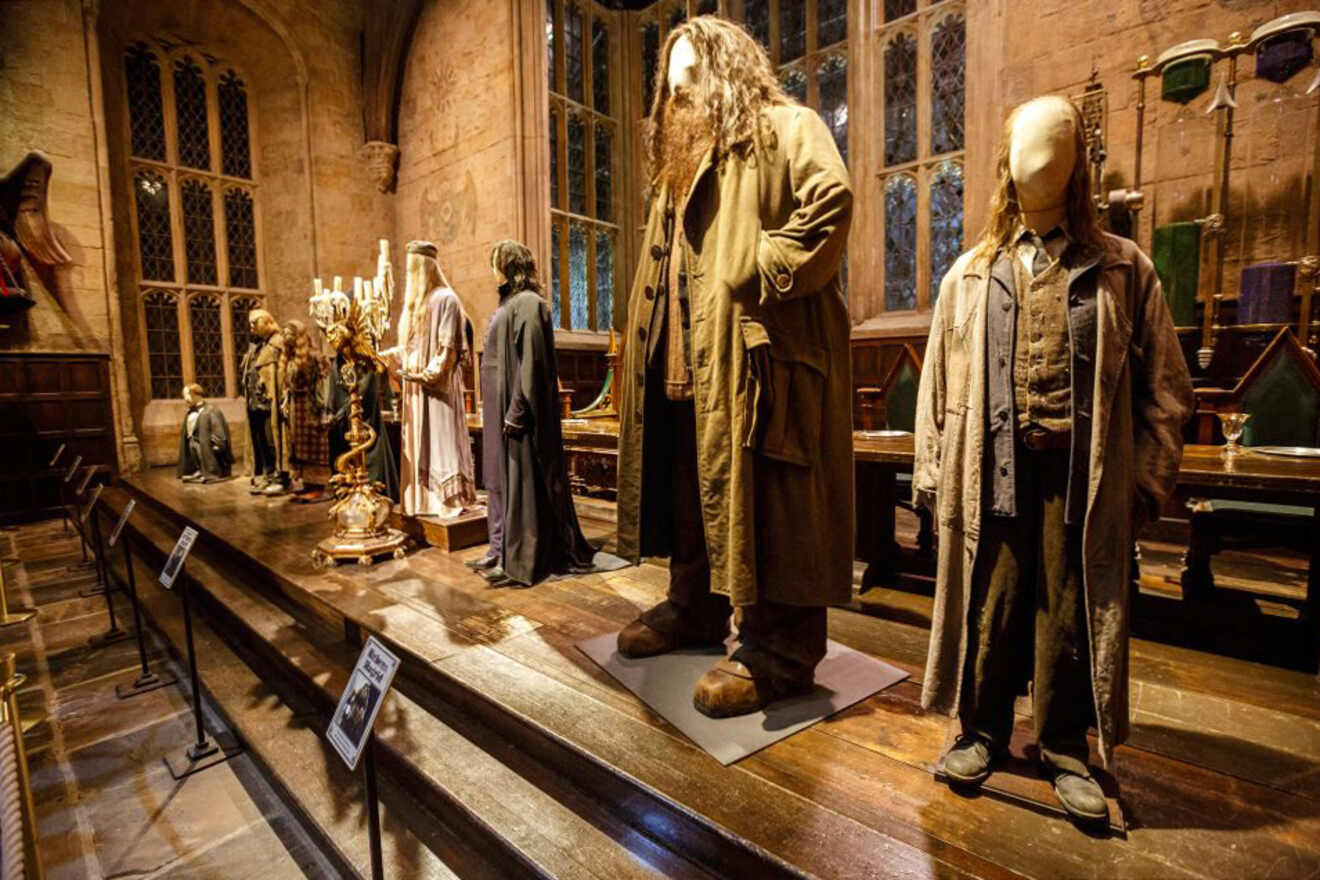 All the Hogwarts teachers would be so proud that now we're so well informed on how to buy the most convenient Harry Potter Studio tickets (even Snape)!
Well, fellow witches and wizards, I know I went through a lot of content today so let's do a quick recap of what we talked about today and then you'll be free to return to your magical lives.
You'll find which is (in my opinion) the best deal on Harry Potter Studio tickets on Tiqets. These tickets cost a bit more than the general ones that you'll find on the official website, however they also include transportation (as I mentioned the studio is located 1h away from London) and they offer a better cancellation policy than the official website which offers no refunds.
If the tickets are sold out on those 2 platforms you can also check Headout, Viator, Klook and GetYourGuide.
I know it seems like I've written an entire novel here so I kept the recap as short as I can.
Still, if I did miss any details that you think are important, just leave me a comment below or send an owl my way with your letter and I'll make sure to inform the others as well!
Have a wicked time at this fantastic place and don't forget to tell us how it went! Just leave me a comment below and I'll answer so that everyone can see!
Safe travels,
Victoria
---
Pin it for later!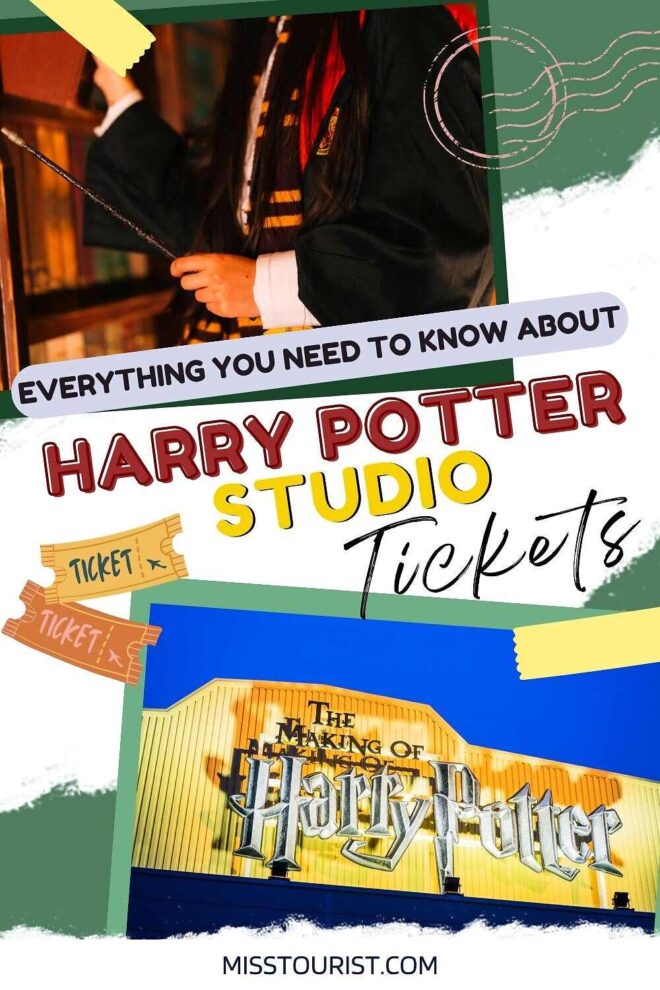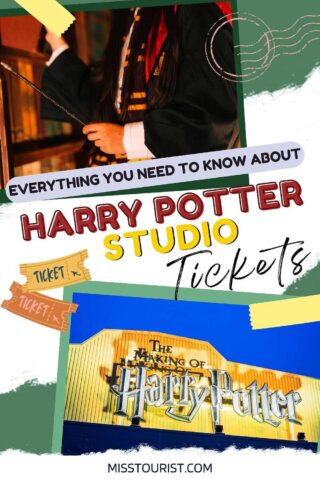 Pin it for later!