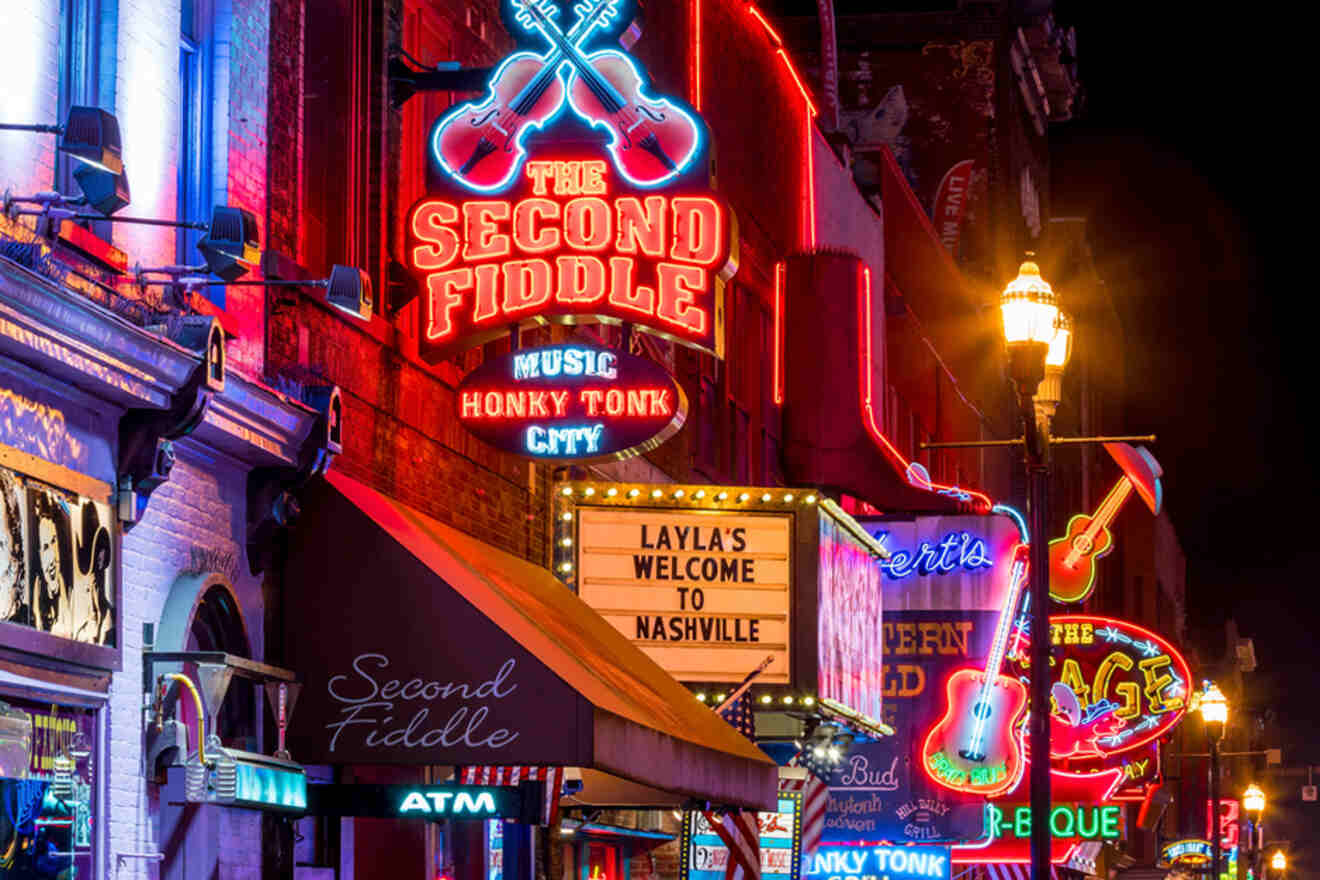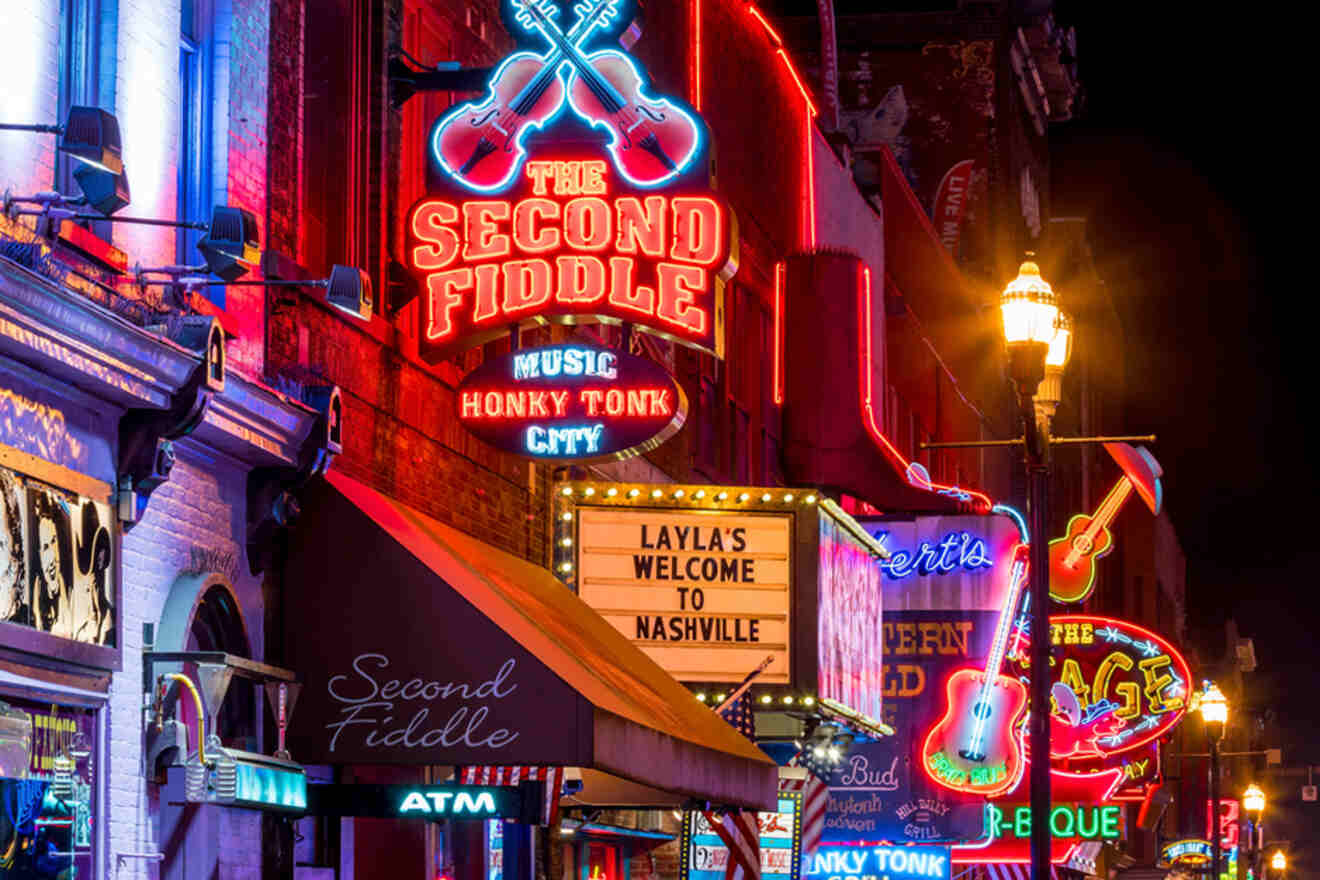 Welcome to Music City, where the sounds of country music echo through the streets and the scent of hot chicken wafts through the air. One of the best ways to experience all that this city has to offer is by taking the best tours in Nashville!
Since this city offers so many different experiences and tours, you might find yourself lost in all those options, not knowing which one to choose. But fear not, my dear traveler, I've got you covered!
To help you avoid any more struggles, I compiled a list of the very best choices, which I very well-researched. There are many different variations, catering to different interests, from group to private tours to helicopter rides, comedy tours, and even a ghost tour. Why settle for a simple bike ride through the city when you have the opportunity to make unique lasting memories?
PRO TIP: make sure to book your tour in advance, it's always better to be safe than sorry.
Now let's dive in!
If you are in a hurry
If you don't have time to read the whole post, check out the best Nashville tours that you'd want to book in advance:
1. Take a Grand Ole Opry House Guided Backstage Tour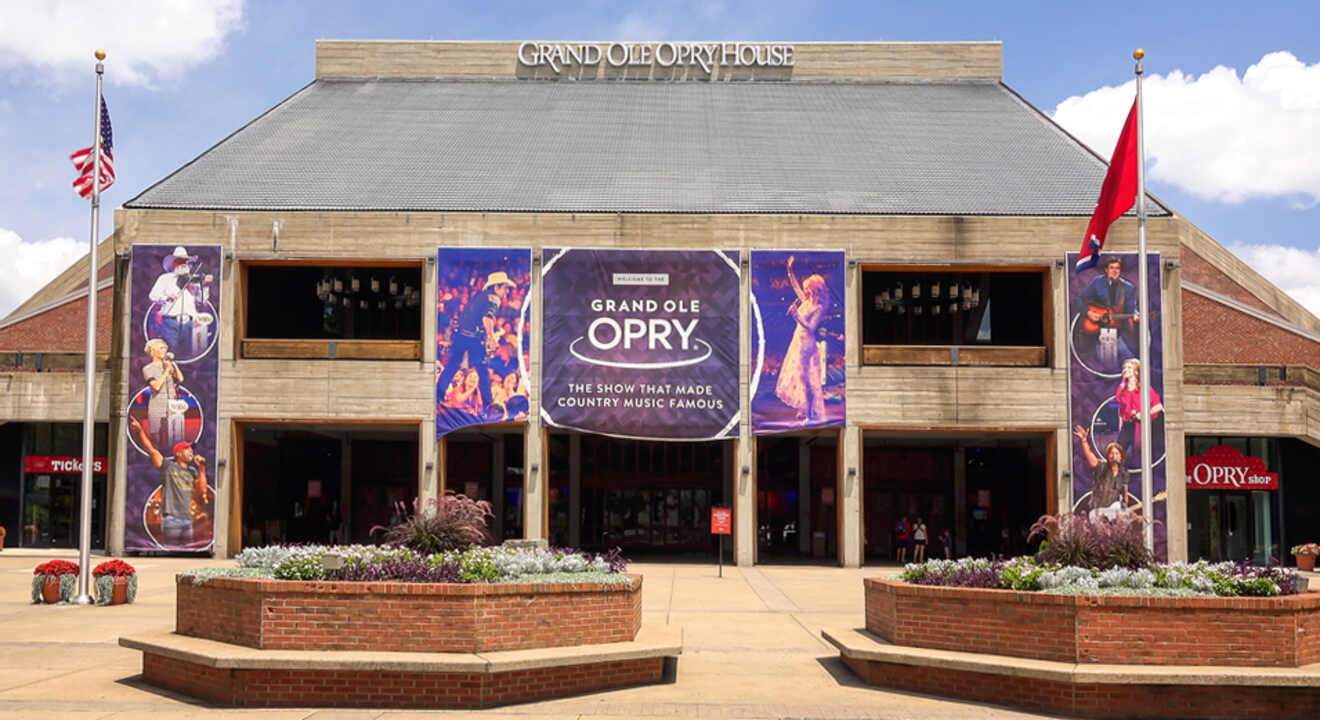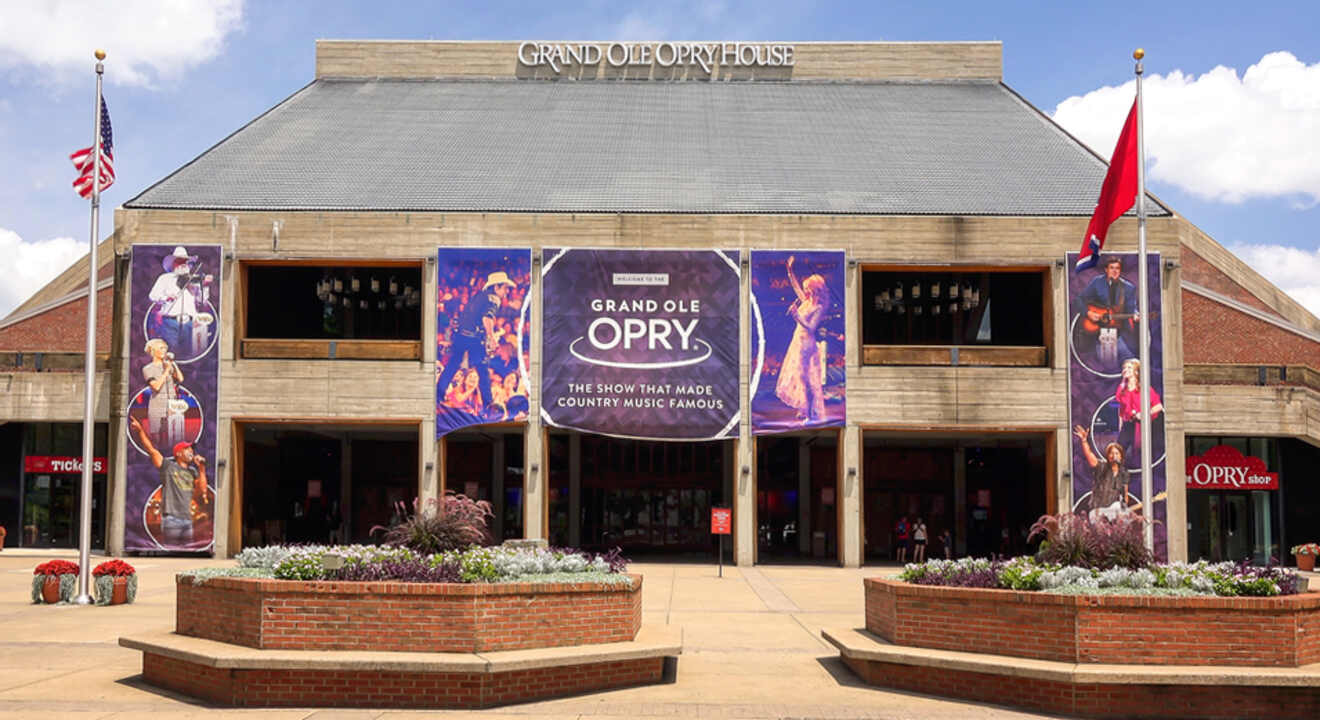 Step into the beating heart of Nashville's country music scene and get an all-access pass to the original Grand Ole Opry with this immersive 1-hour backstage tour. You'll follow in the footsteps of country music greats and get a sneak peek behind the scenes of the show that catapulted Nashville to fame as a musical powerhouse.
Join your tour guides as they lead you through every nook and cranny of this iconic music venue. You'll get a chance to admire some rare views most audiences never see, walk along halls flanked by rooms where renowned artists gather before striding onstage in a costume plucked from one-of-a-kind dressing rooms lined with mirrors and bulbs – everything shouts stardom!
So my dear country music fans, since you're in this legendary Music City, don't waste time and make sure to include this tour in your bucket list!
2. Embark on a Belle Meade Mansion tour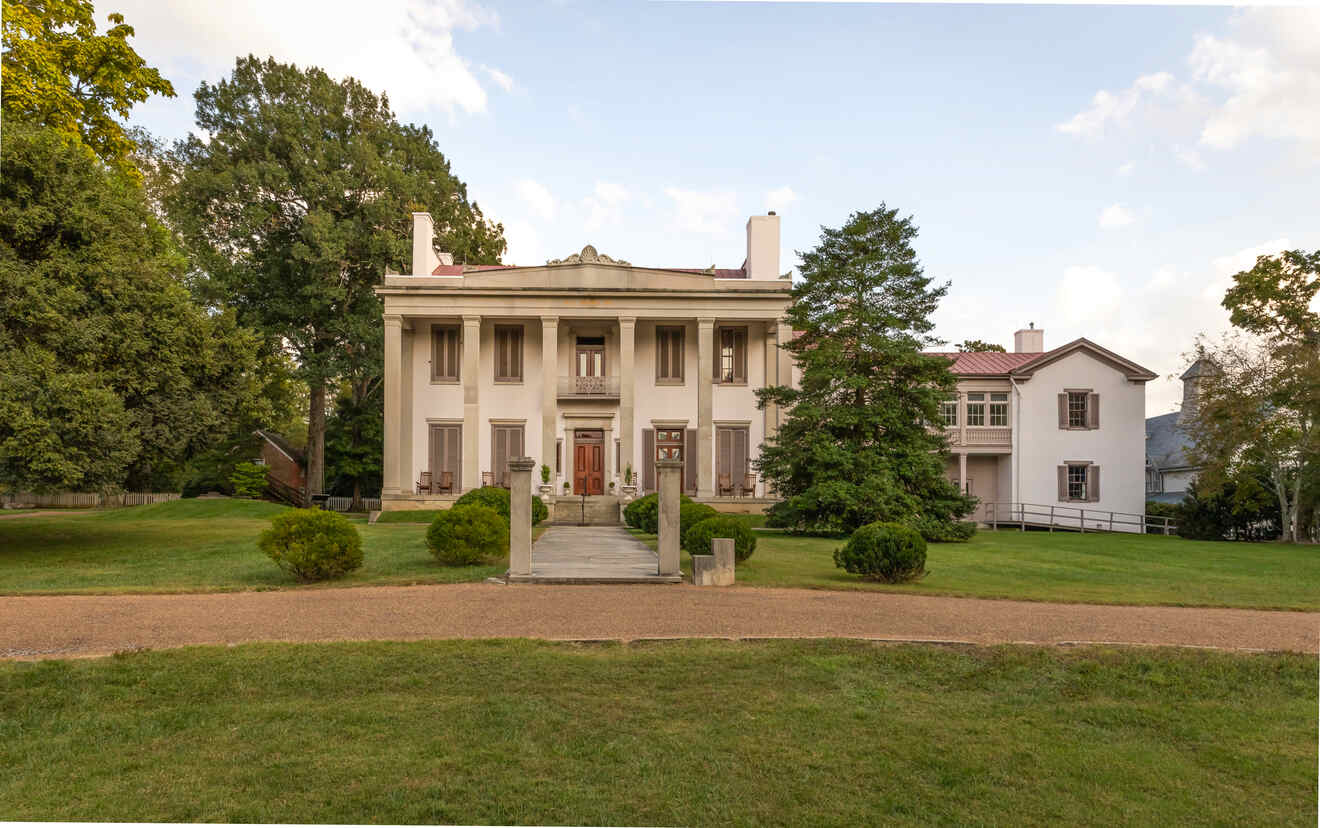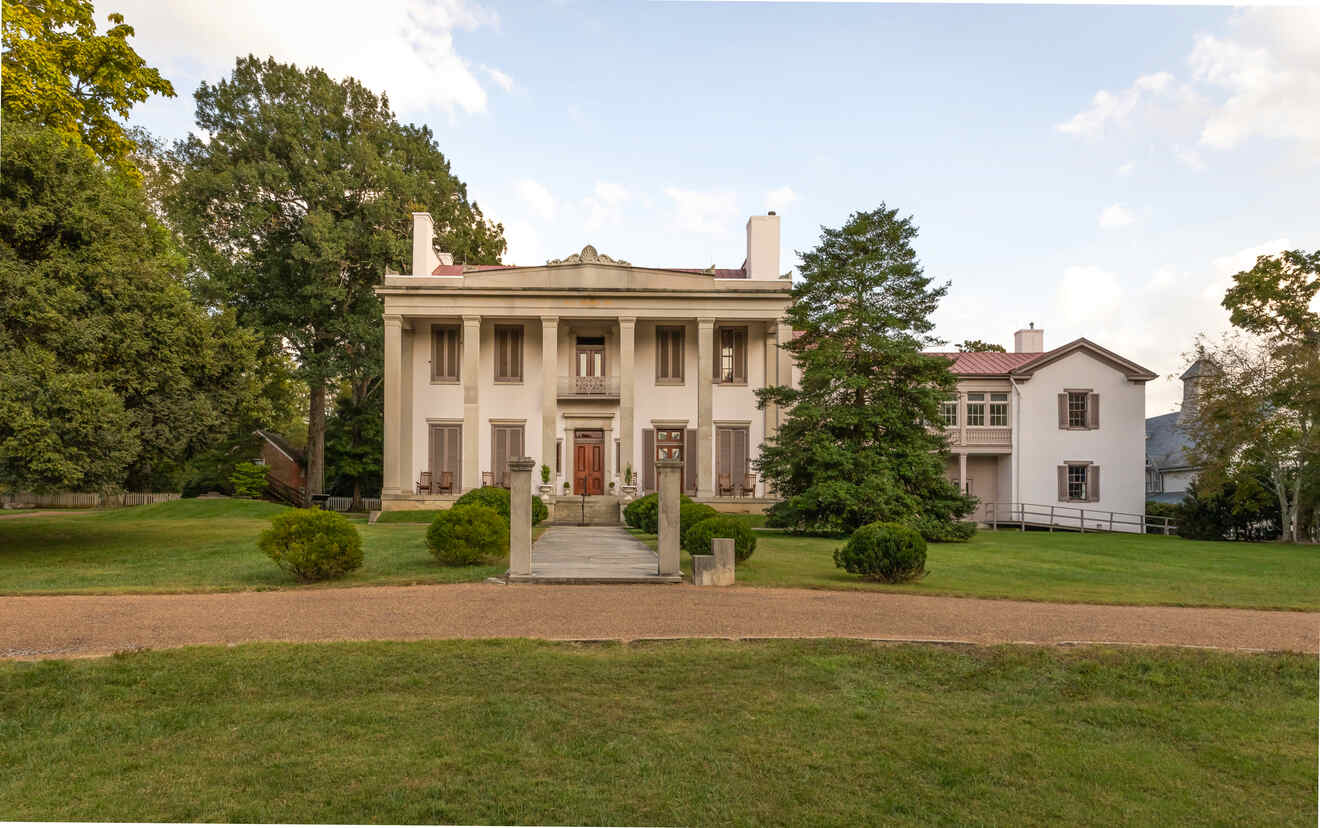 You'll start your 45-min escapade with a guided tour of the breathtaking 1853 Greek Revival Mansion. You won't just walk through the luxurious rooms, you'll also learn about this estate's rich history.
And the best part of this little adventure is a complimentary wine tasting at Belle Meade Winery! Here, you'll get a chance to savor some of their most exquisite wines from the on-site winery (much better than the ones offered at the Nashville hotels) while learning more about how they're made. If you're 21 or older, then trust me – there's no better experience.
Your general admission also includes access to alluring grounds with amazing outbuildings where you can have long walks or even challenge your friends in exciting outdoor games or sports.
3. Join a Nashville town trolley tour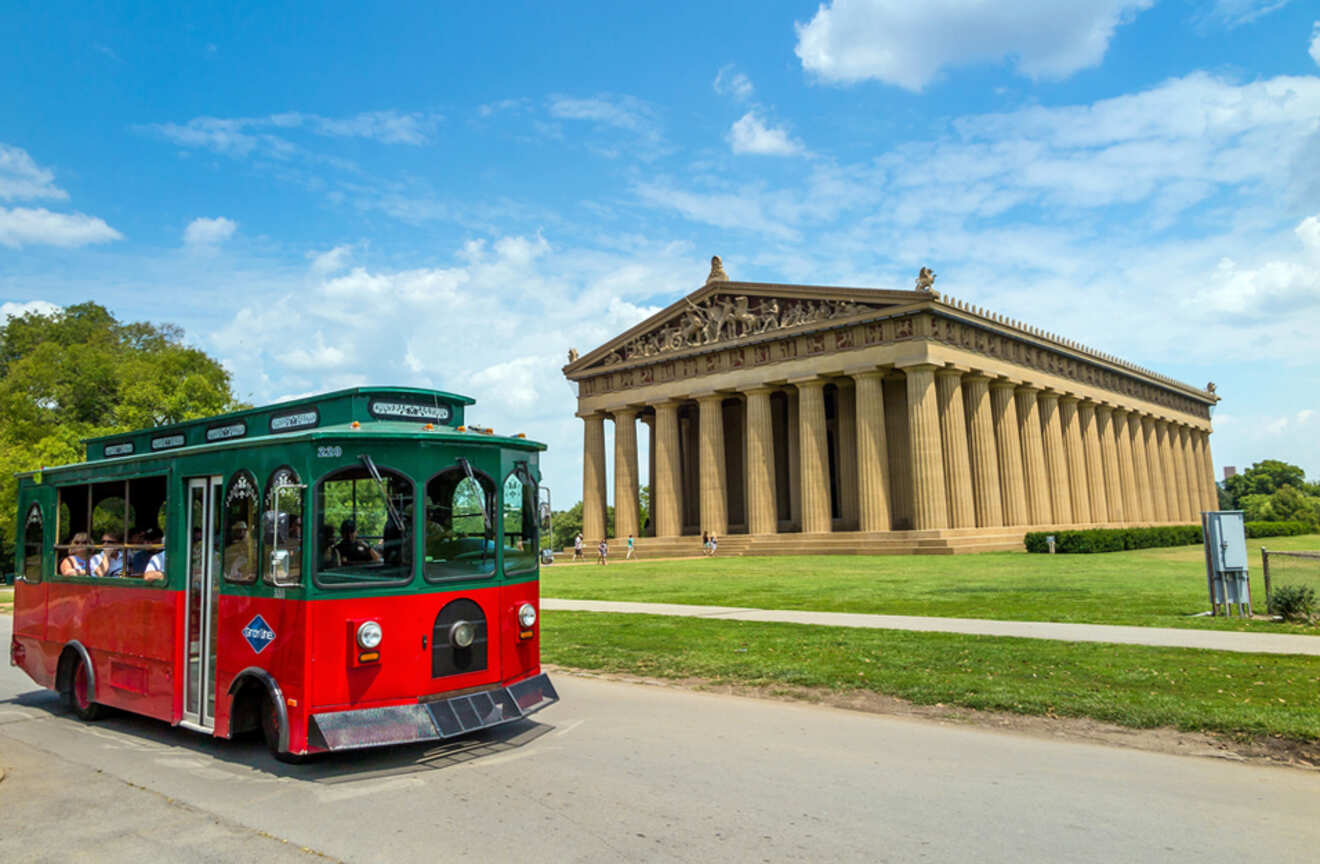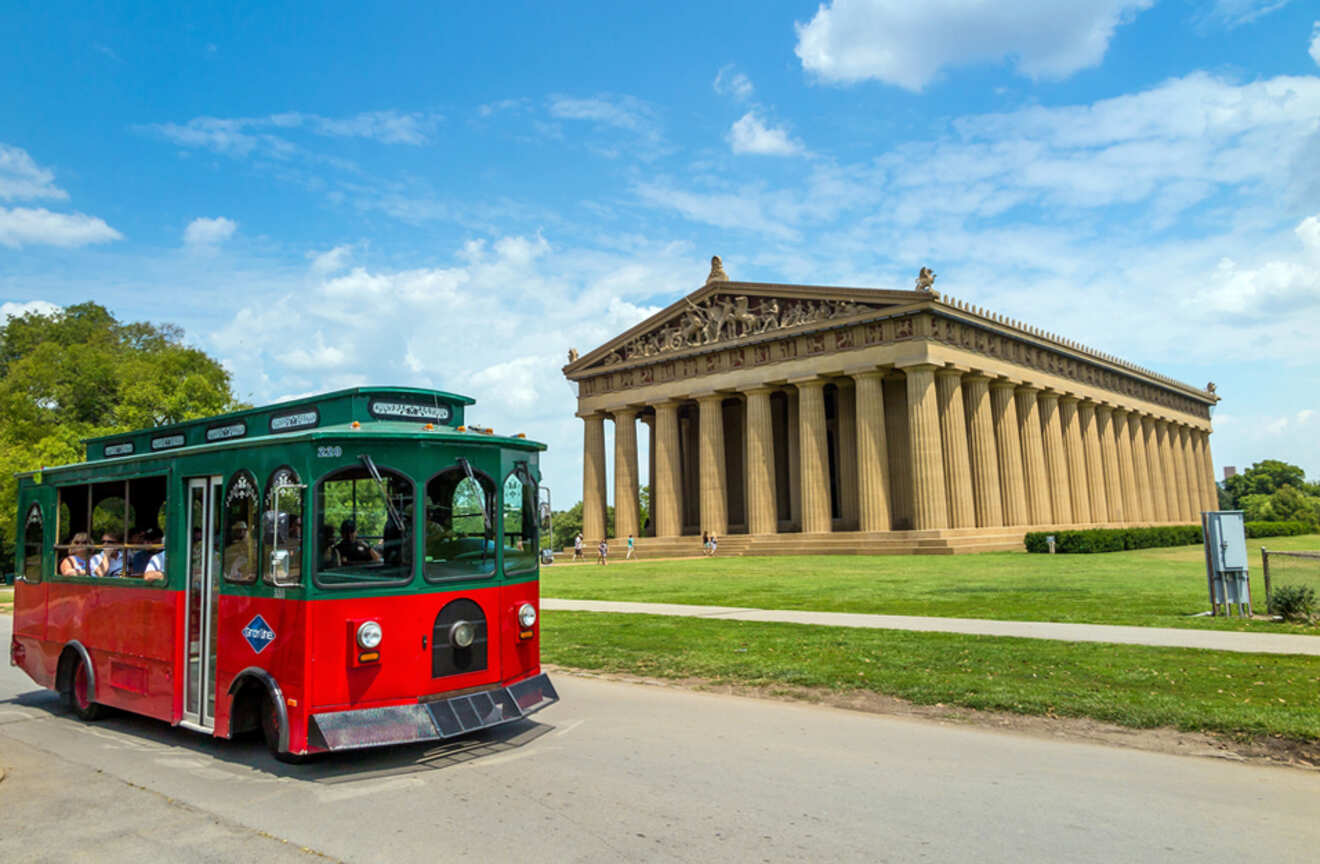 If you find yourself wanting to explore Nashville attractions, then old-town trolley tours should definitely be your first choice!
This epic guided tour starts off at the renowned Bicentennial Square/Farmers' Market, where you'll see some truly impressive sights. Your tour guide will be at hand to give you all the inside info on each and every one of Nashville's iconic landmarks.
On this 1.5-hour sightseeing tour, you'll get to see Lower Broadway, Midtown, Music Row, Centennial Park – even the legendary Ryman Auditorium!
If you want to explore Nashville's history, then I have a fantastic tour for you! With a Nashville history tour, you'll discover 3 homes from the past era and hear heart-pounding stories straight from soldiers and civilians alike who lived through Civil War history. It's a walking trail you can't miss!
4. Sip on whiskey with a distillery bus tour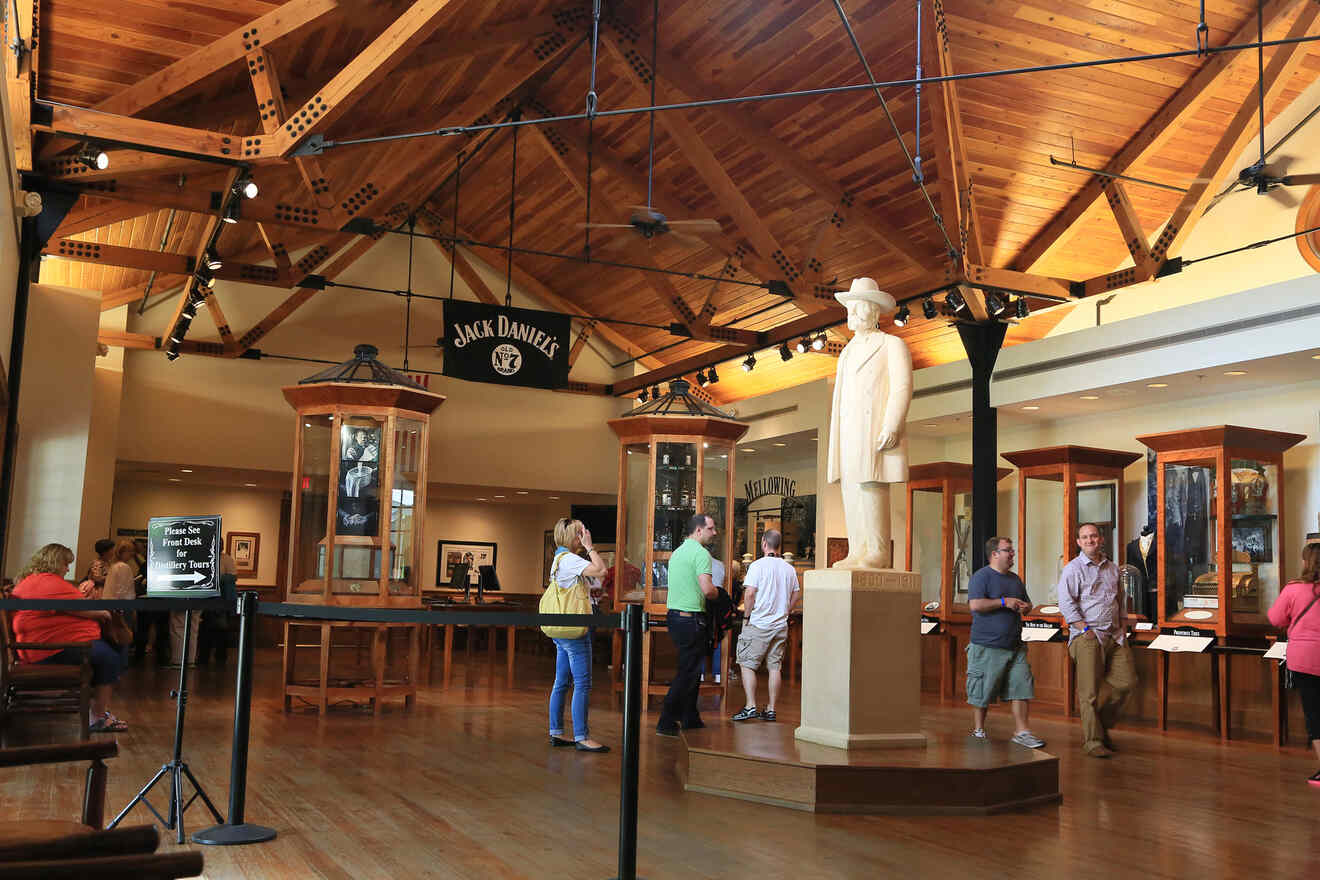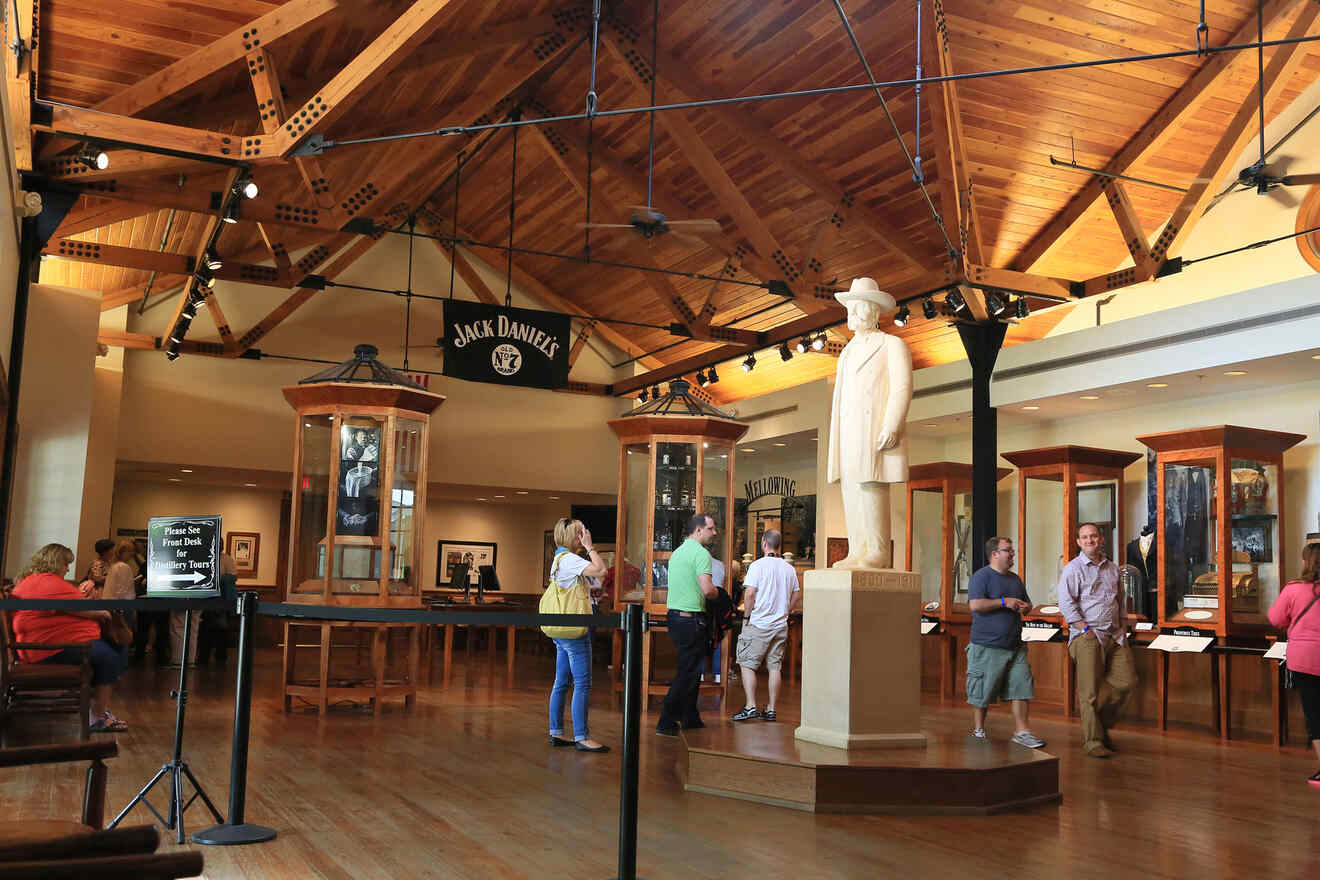 This 7-hour guided distillery tour will take you on an exploration of the legendary Jack Daniel's Distillery, and you'll even get the chance to sample several premium Tennessee whiskey varieties. You'll witness firsthand how their renowned distilling process takes place and learn about their rich history.
You'll have free time to discover a nearby town specializing in Tennessee Walking Horse and downtown Lynchburg, too, and let me tell you, both are a true delight.
If you're an avid TV watcher who already got a taste of Tennessee whiskey tours, then I recommend taking a Nashville TV show tour in which you'll get to see various filming locations of this iconic show. What's even more convenient is that the tour operator offers round-trip transportation. It's a bus tour option as well.
5. Cruise down the Cumberland River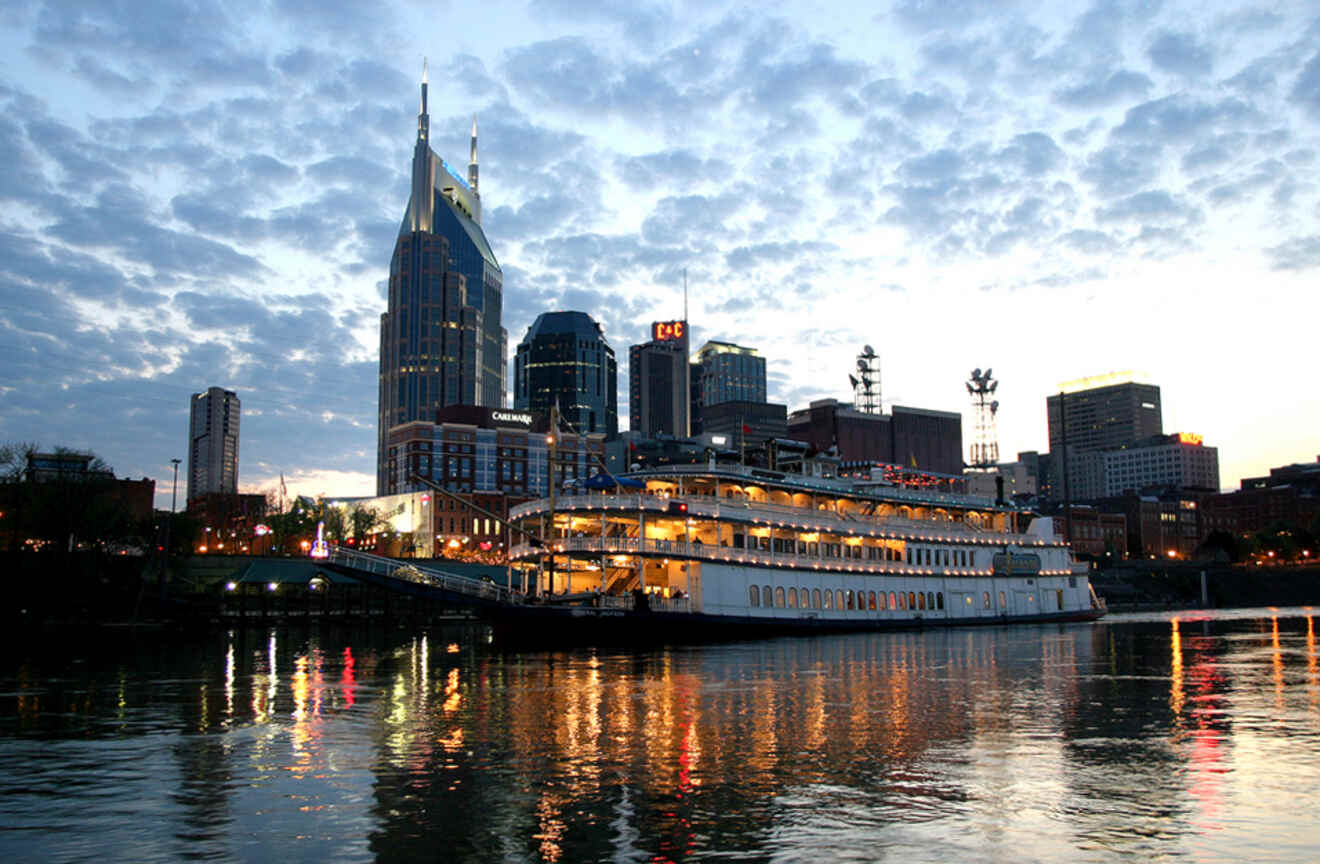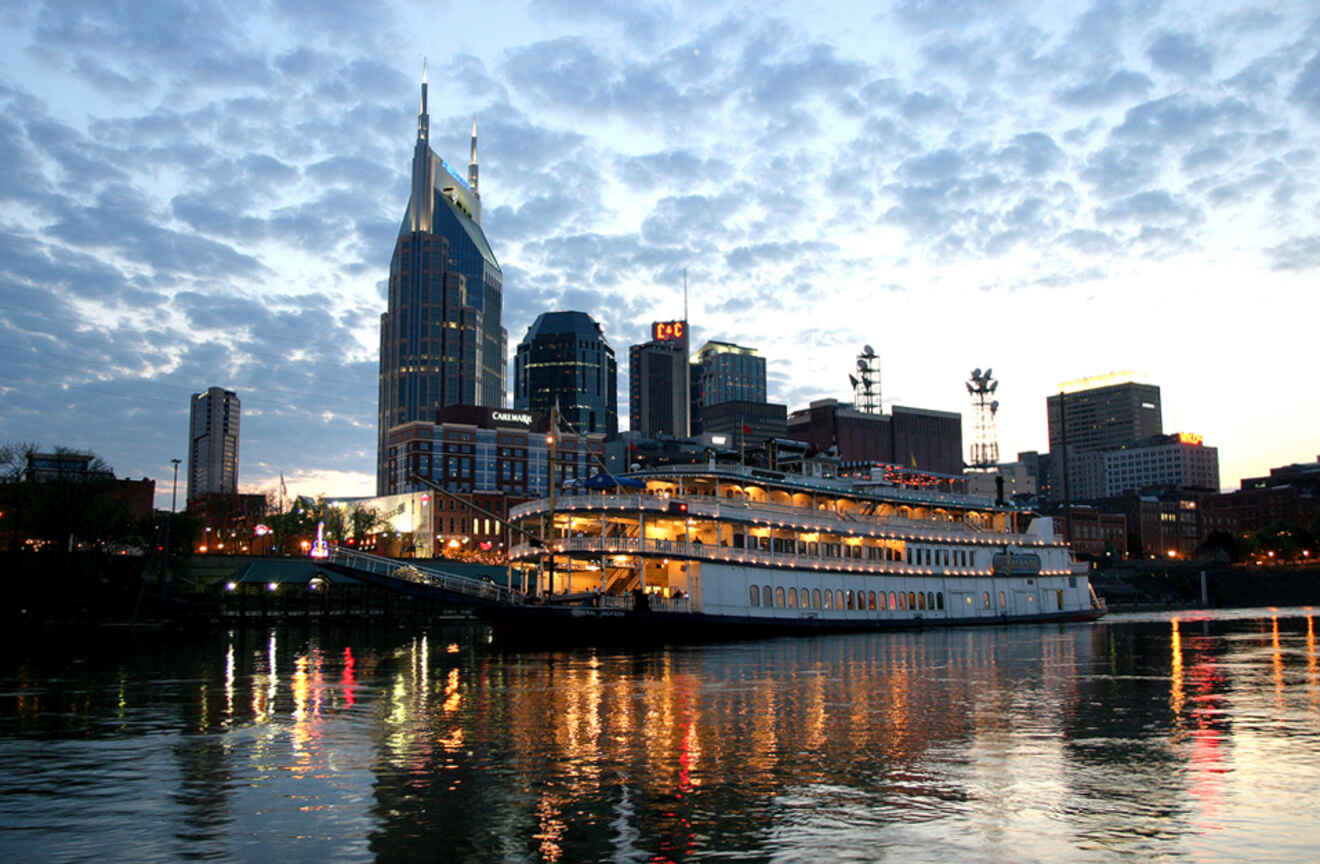 This Nashville tour will take you on a voyage aboard the General Jackson Showboat. It's an enormous paddle-wheel ship that's unrivaled across the country!
You'll enjoy a scenic cruise down the Cumberland River in utter amazement at the breathtaking sights. And you'll have live amusement on board, too, with music, jesters, and graceful dancers! So you won't just see top Nashville attractions as you sail, you'll also get a taste of Nashville nightlife entertainment!
And you don't need to worry – you won't stay hungry. The tour offers a taste of southern-style lunch or dinner from the on-site restaurant. I recommend taking an evening tour option for a truly romantic experience! The whole tour lasts around 4 hours, and it also offers a hotel pickup, so it's super convenient!
6. Laugh your way through the Nashville city tour
This is no ordinary bus tour, it's led by the Grammy award-winning guide who worked with Reba McEntire, and so you're guaranteed an incredible ride through the cobblestone streets of downtown Nashville and Music Row while your funny guide provides commentary on all that you see. Others would call it a "time pass," but I like to call it an adventure!
This 1.5-hour tour not only gives you a personal experience but also hits all must-see tourist spots at once, including the Country Music Hall of Fame.
And if you're still in the mood for a laugh, I have another tour option for you. Redneck comedy bus tour has a well-established reputation for providing fantastic and fun experiences. Explore the landmarks of a place that made country music famous while enjoying world-class jokes and entertainment.
7. Challenge yourself with a tour of Ryman Auditorium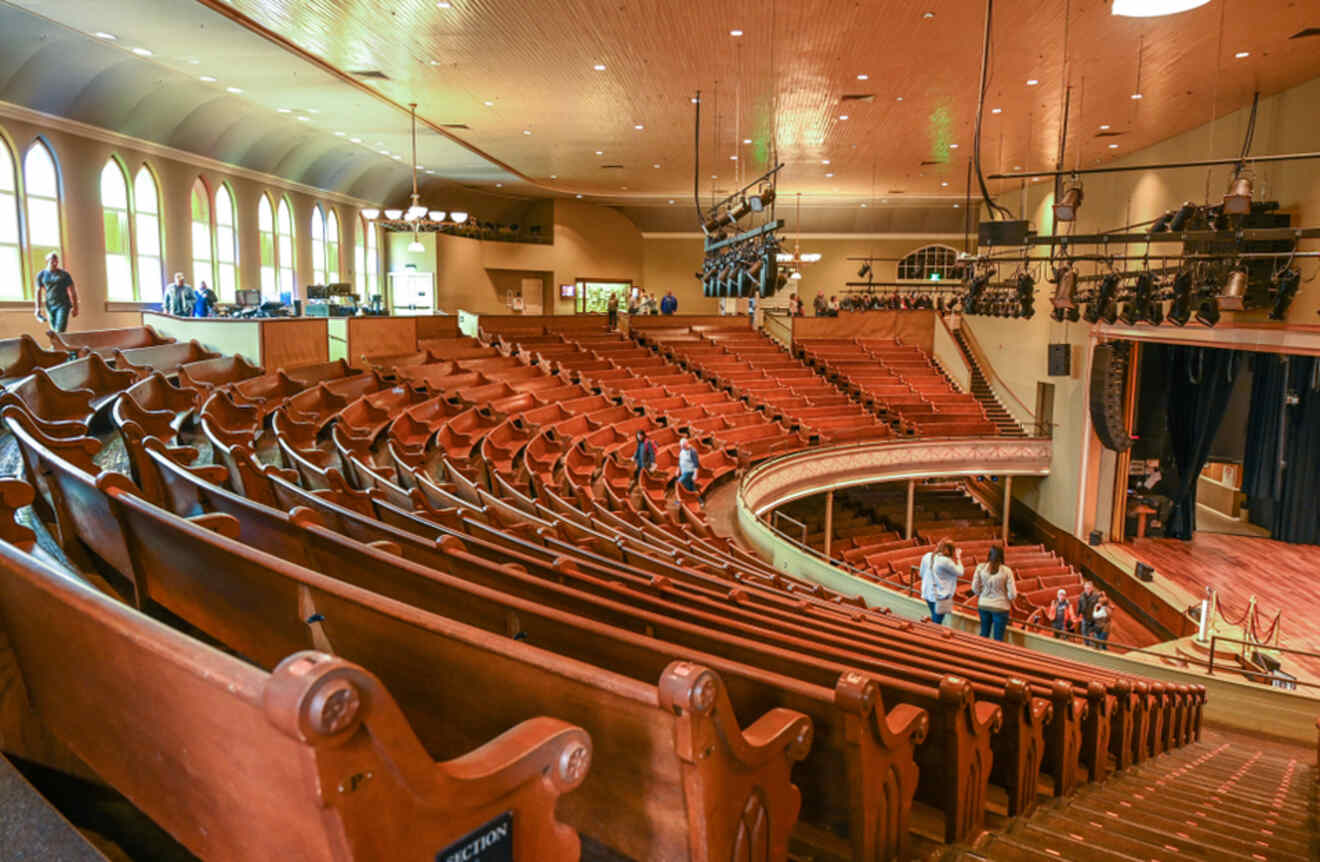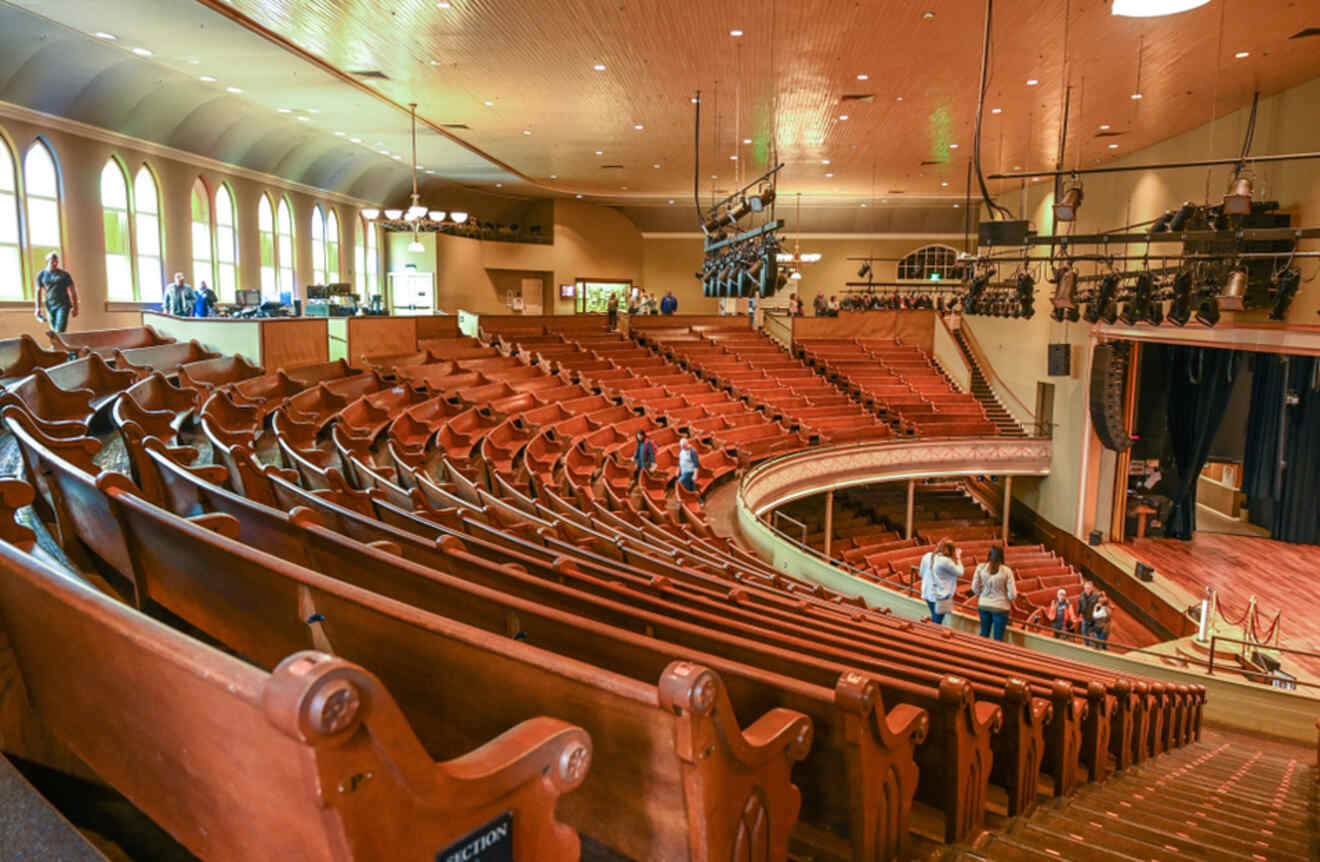 This 1 – 2 hour self-guided tour will take you to wander through the Ryman Auditorium, where you can witness exclusive footage showcasing your favorite celebrities' personal stories and experiences.
The best part is that you get to set your own pace according to your schedule while exploring this magnificent auditorium. Start early in the morning or prefer an evening tour – no matter when you arrive, they are always ready with their red-carpet service. And if that doesn't quench your thirst for knowledge about music history, don't forget there's more waiting at the Musicians Hall of Fame nearby.
If you like challenges and to be the boss of your own time, I recommend the Nashville scavenger hunt tour option. It's a perfect way to have a fun-filled adventure with family or a group of friends.
8. Fly over Nashville's top attractions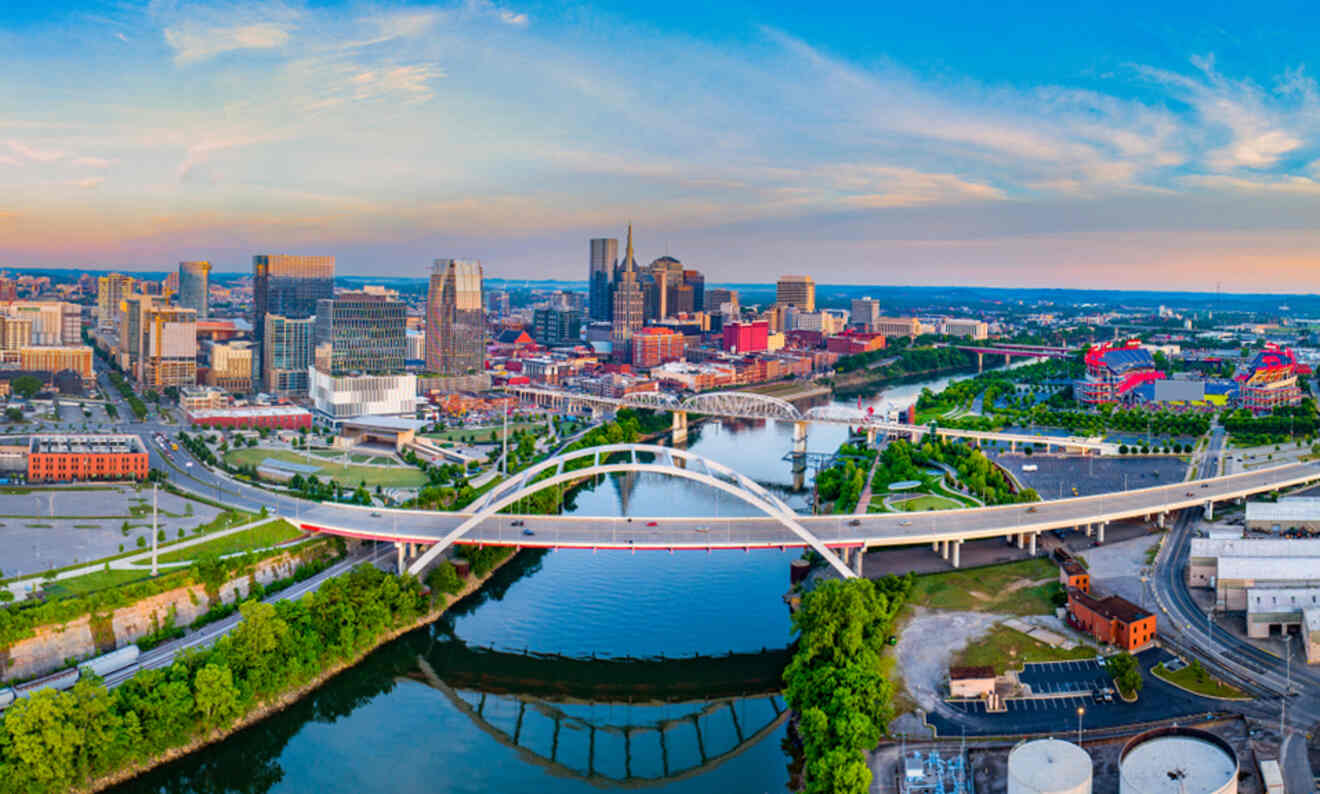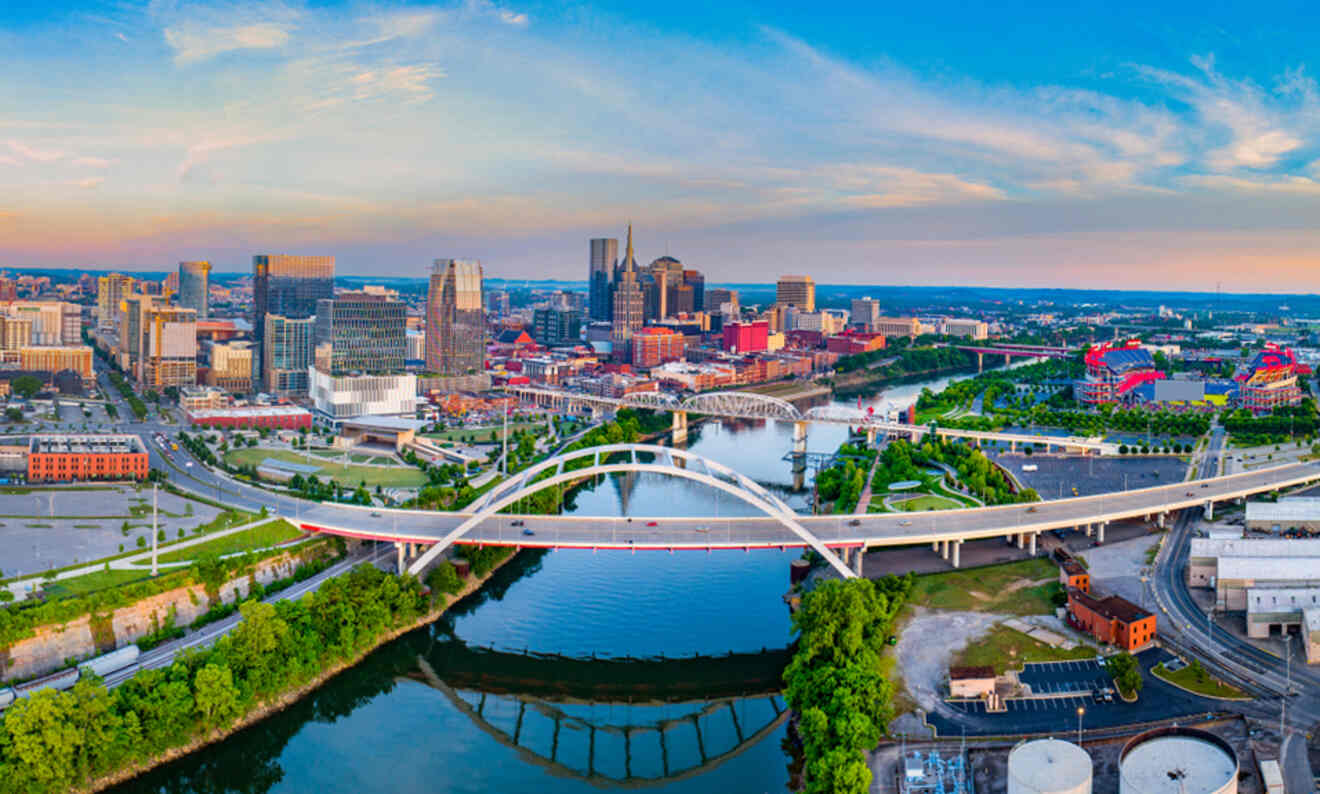 If you want to ditch the typical tourist traps and take your adventure to new heights, and if you're a fan of private tours, then a private helicopter ride is the way to go! You'll soar through the clouds and experience Music City like never before!
You won't have to deal with tangled traffic or elbowing your way onto a crowded bus, your only task will be to observe the breathtaking aerial views of Nashville's greatest attractions. Trust me, there's nothing quite like looking down on iconic landmarks such as Ryman Auditorium, Tennessee State Capitol, and Country Music Hall of Fame and Museum from high up in the sky.
And don't worry about missing a single detail during your tour! With personalized insider commentary along the way, you won't skip a beat as you explore this epic city from above.
9. Feast your senses on a Nashville food tour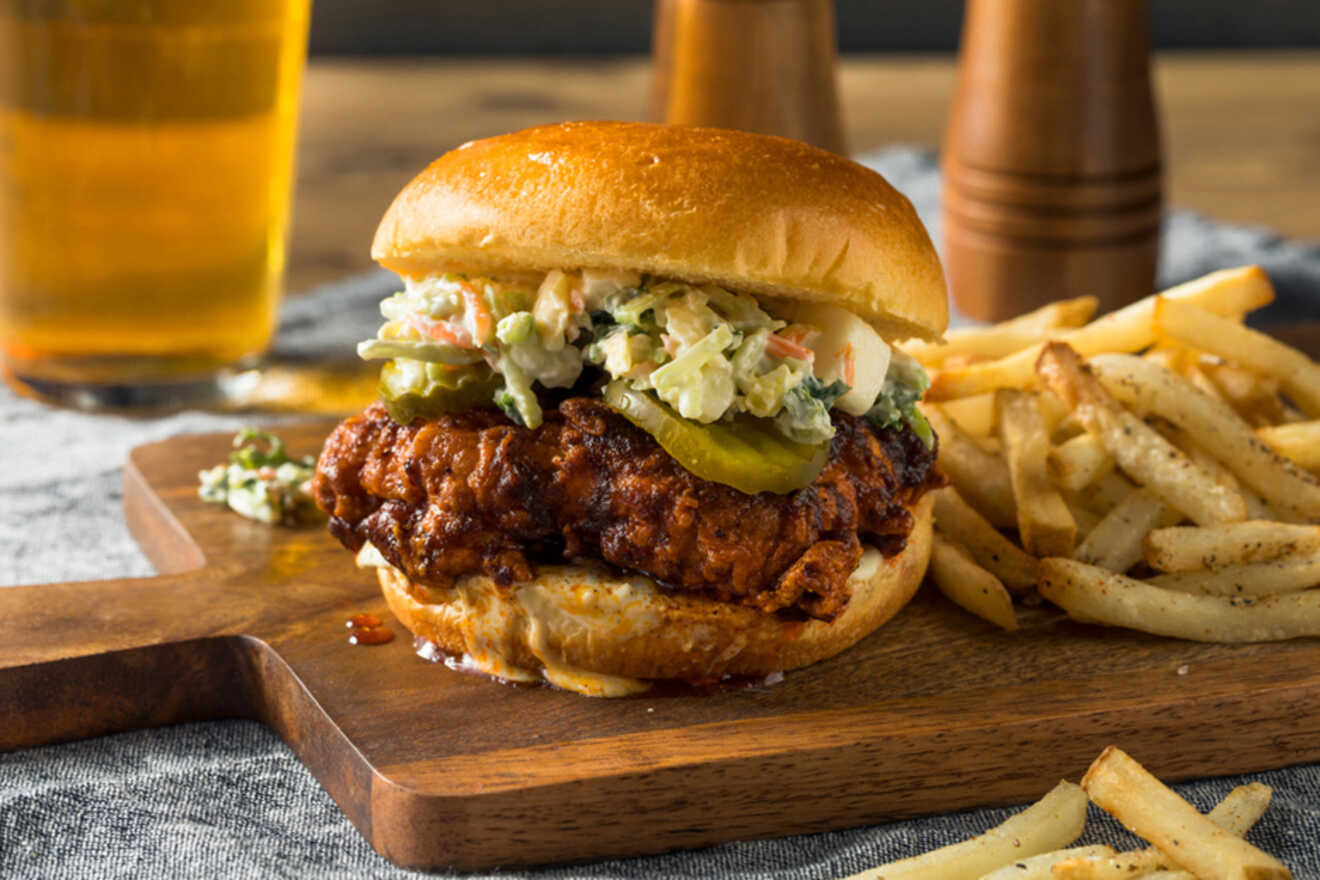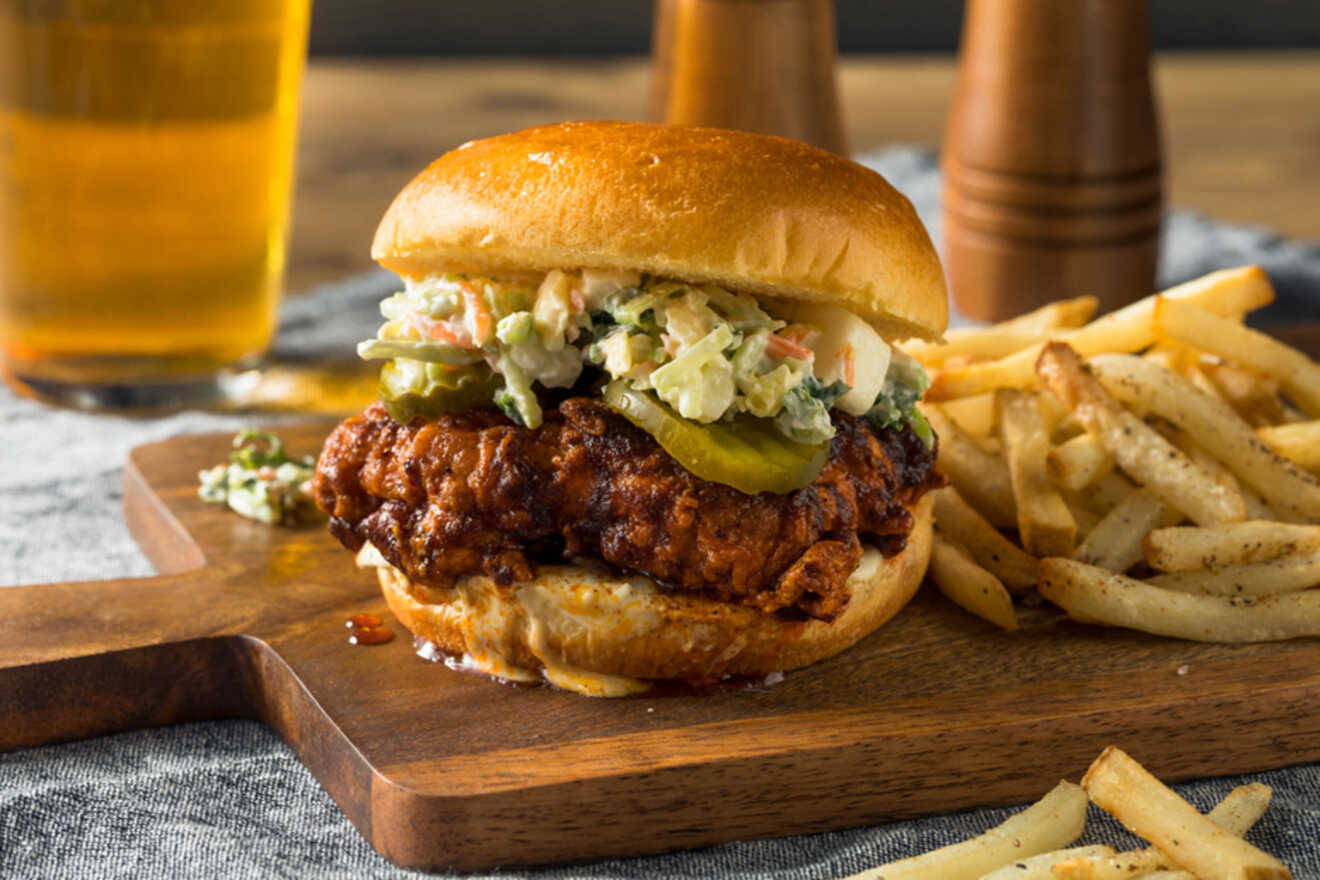 I always regard food tours as a must whenever I travel somewhere. It's a great way to connect with local culture while also indulging in delicious dishes.
Nashville's culinary scene is just amazing, and with this small-group walking tour, you'll get a local food taste that's unlike any other. With only 12 people in the group, the experience on this three-hour tour is intimate and personalized, and it provides you with the city's best culinary offerings.
Under the guidance of an expert foodie guide, this journey will take you through downtown Nashville as you visit a handful of local eateries known for their distinctive and delicious southern delicacies. From spicy hot chicken at an iconic BBQ joint to juicy pulled pork sandwiches and flaky handmade buttermilk biscuits, every bite will be a new adventure.
10. See the homes of the Nashville stars
This 2-hour tour will take you into the grandiose homes of some of Nashville's brightest stars – Taylor Swift, Dolly Parton, Kellie Pickler, Joe Don Rooney, and many, many more. And who knows? Maybe you'll get lucky and spot one of them going about their day! You'll also get to dive into the rich history of Nashville and discover why it became the music capital of America.
And if you want to take a line dancing lesson and learn the celebrities' hottest dance moves, fear not, I've got you covered. With this tour option, you can learn to dance at a popular Nashville venue. What's also great is that this tour is perfect for beginners, so you can save time and escape the painful experience of watching beginner lessons on youtube and struggling to learn the basics.
11. Go on a Memphis day trip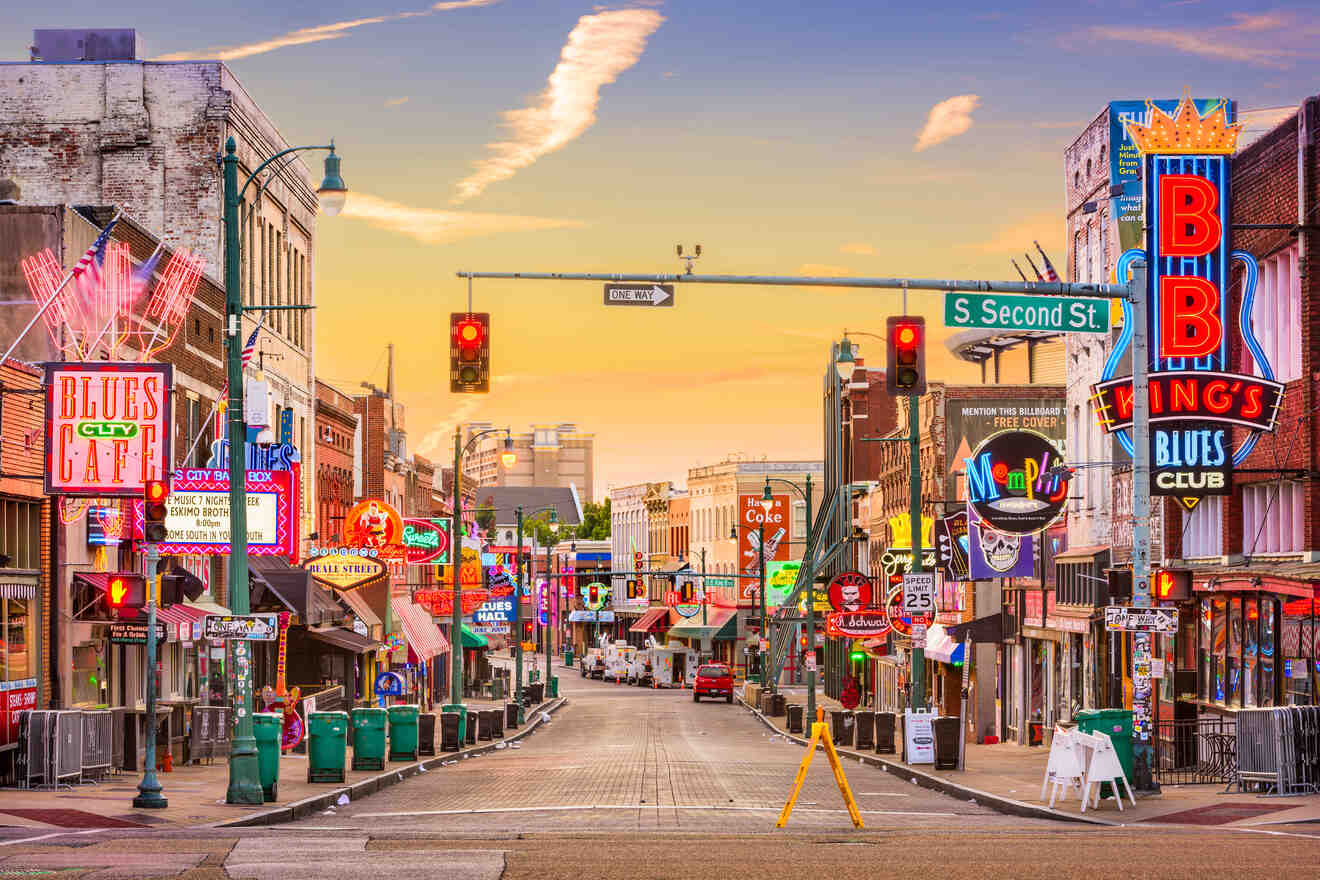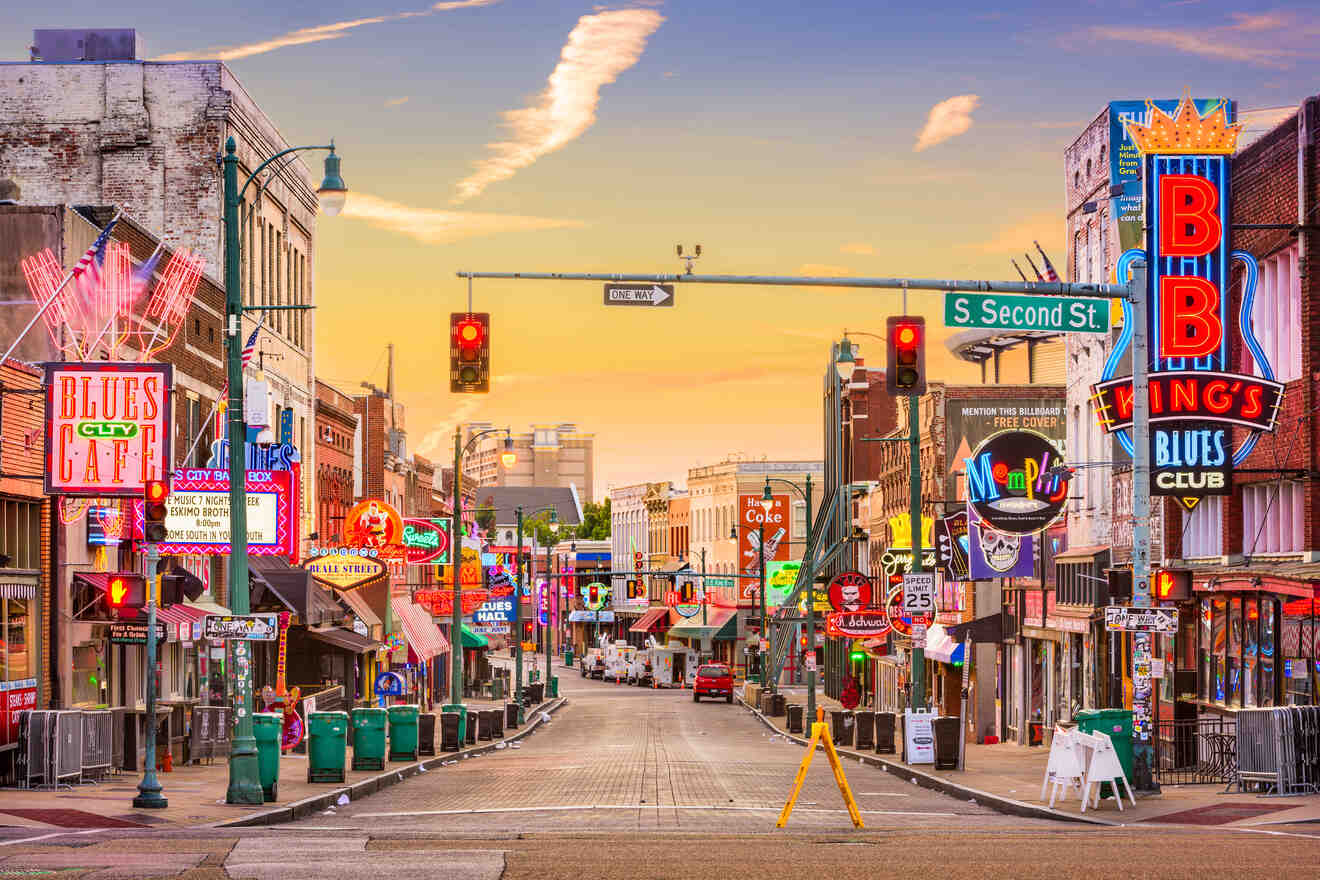 This 15-hour day trip takes you to Memphis, famous for being the birthplace of rock and roll, blues capital, and barbeque haven! Whether you're a die-hard fan or just admire the genre, this tour provides a memorable experience for everyone and many different things to see.
You'll get to visit Graceland, a place where The King of Rock 'n' Roll, Elvis Presley himself, once lived. The tour also includes a visit to Sun Studios, a place where legends like Elvis recorded their greatest hits!
And if that isn't enough musical experience for you, there will be free time to explore Beale Street and indulge in some tasty delights at the Peabody Hotel. The perfect way to wrap up your Nashville visit with a true bang!
12. Dare to join a haunted tavern tour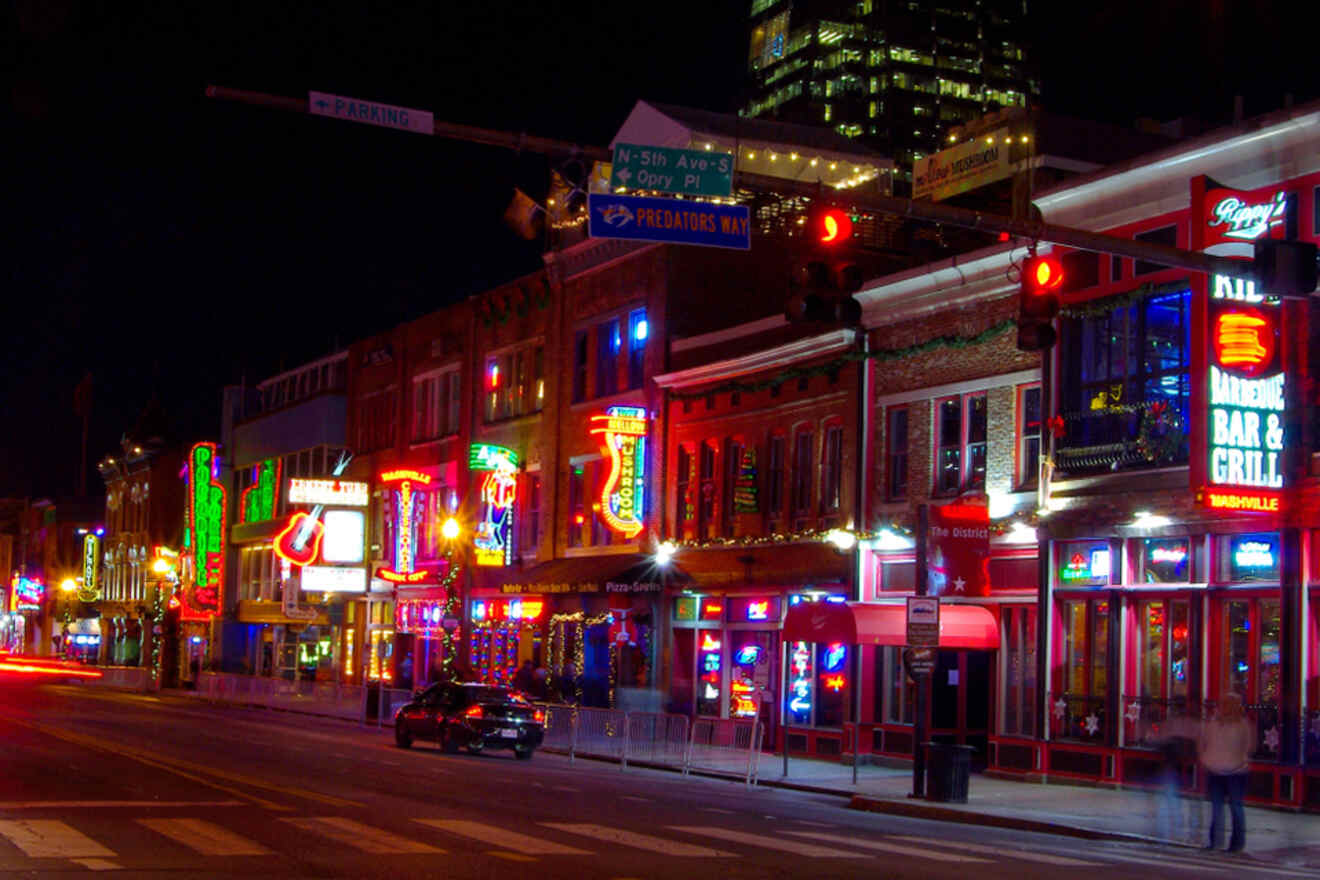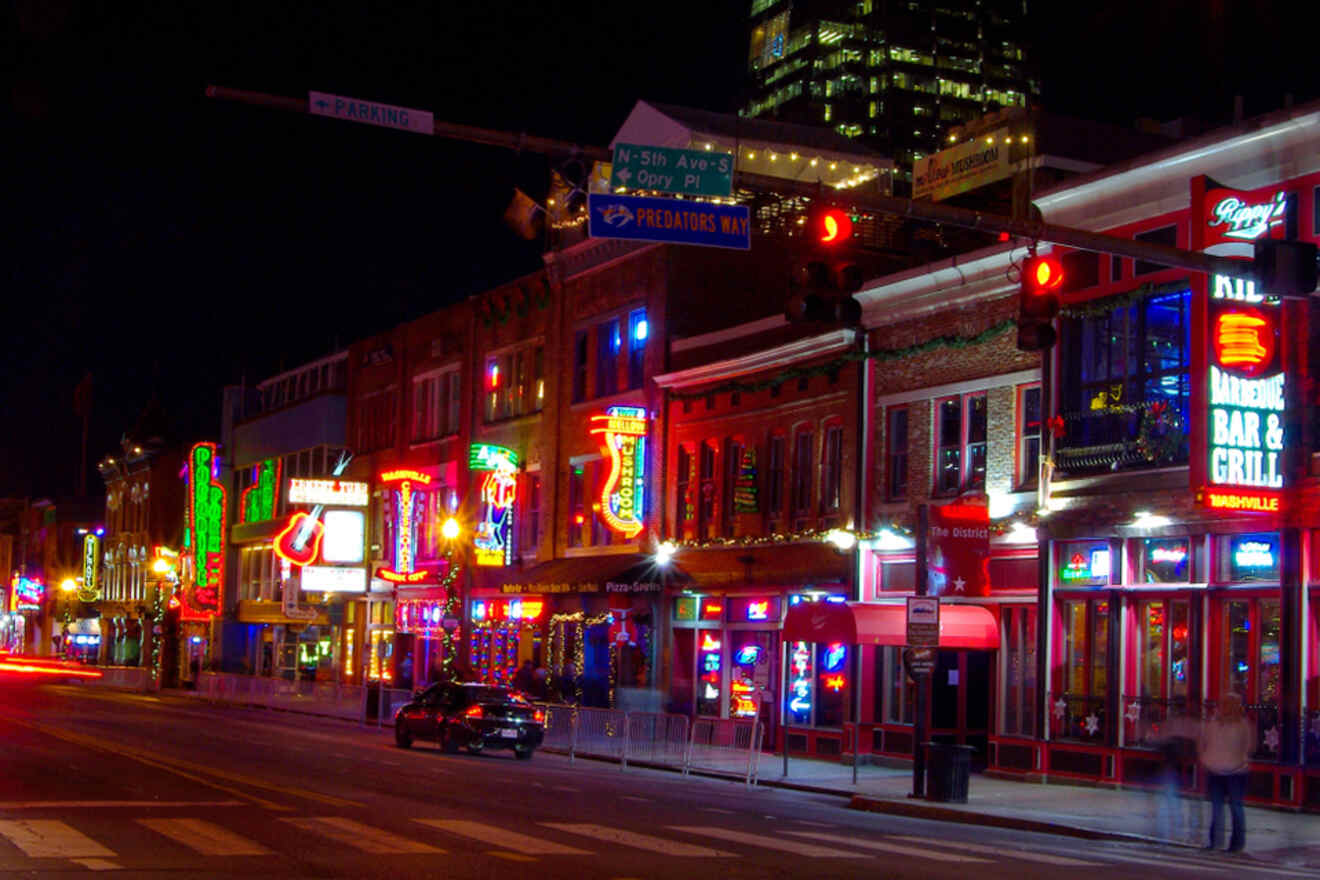 You might think Nashville is only famous for music, but there are also some interesting ghostly stories you might want to explore while you're there. And this walking tour will take you to do just that!
With an expert guide by your side, you'll get to stroll through the most notorious pubs and bars around town and hear some of the scariest stories you can encounter!
And if you're feeling up for it, you can tantalize your can taste buds with the signature "ghost tour" drinks (for purchase), however, even if you choose to stay sober throughout this adventure, rest assured that it'll be a night full of amusement and unforgettable moments.
FAQs about Nashville tours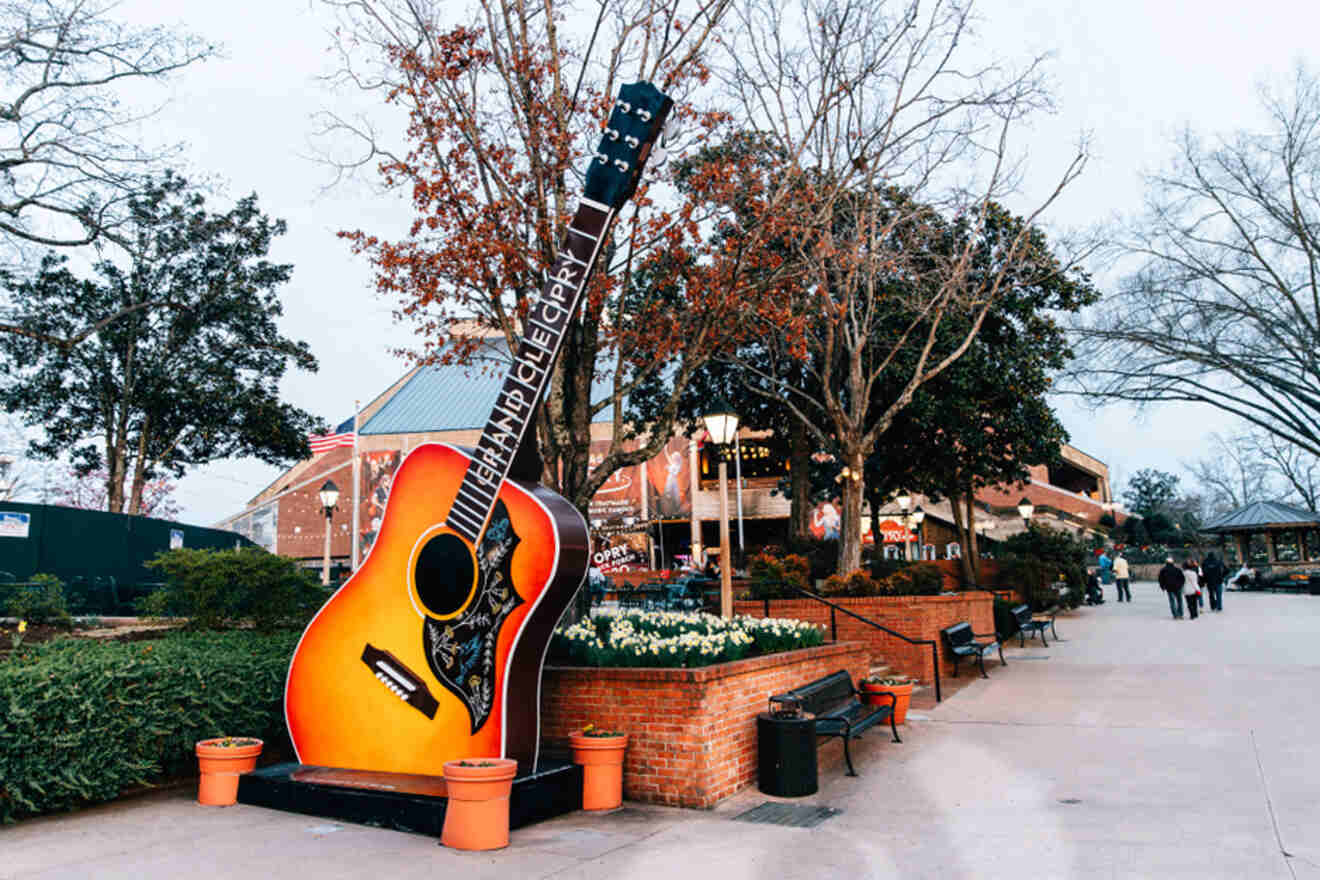 Conclusion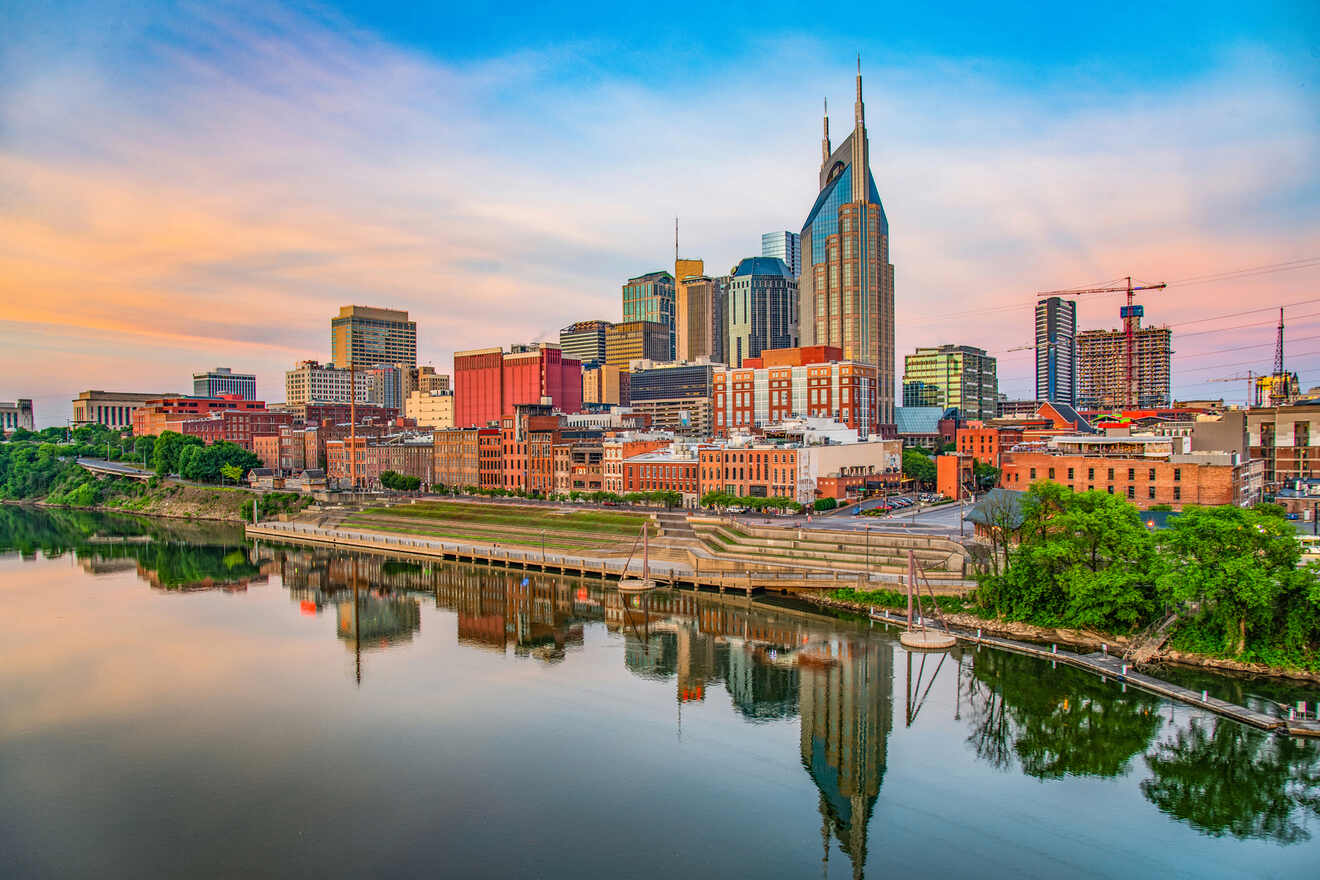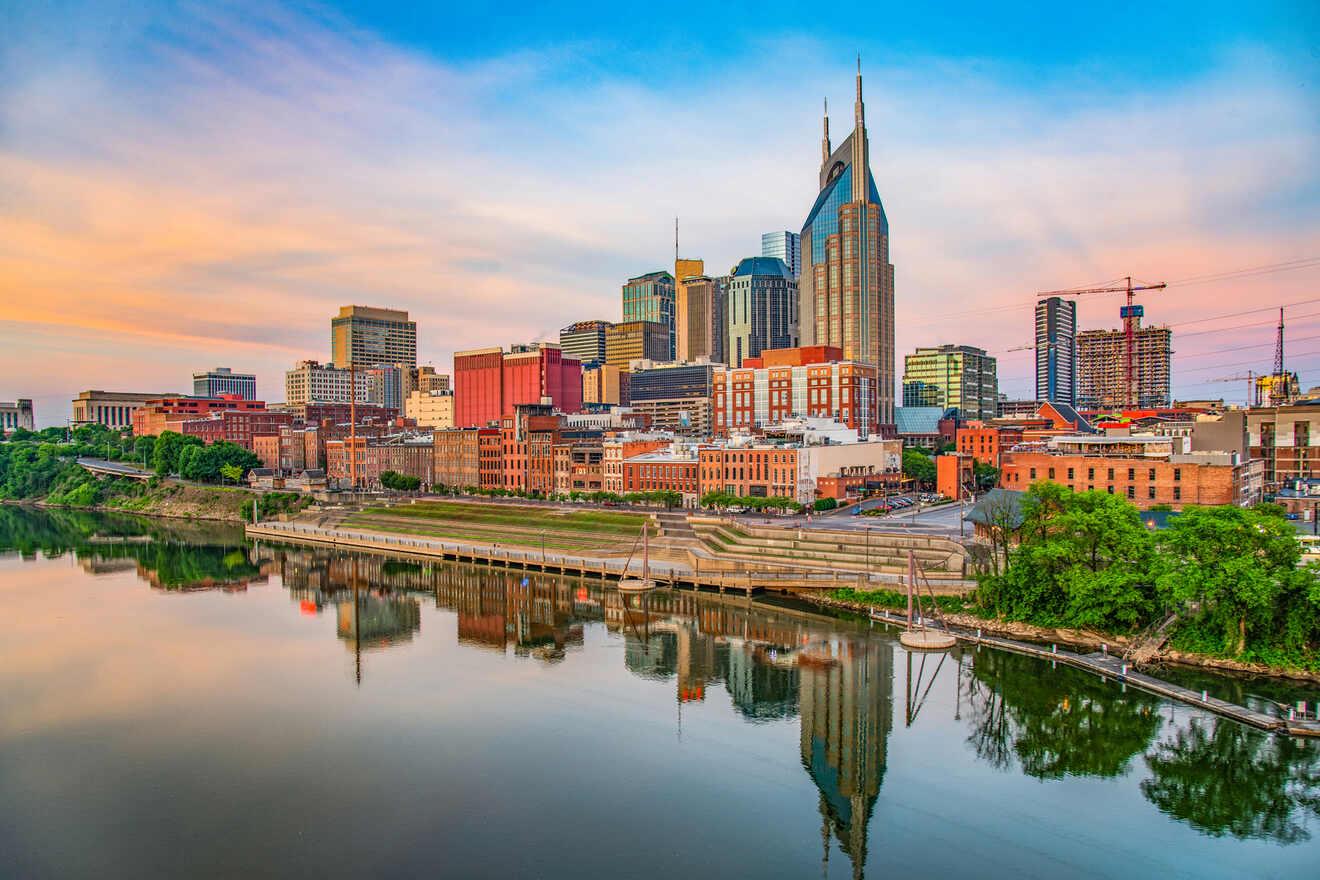 It's a wrap, my dear travelers! You're equipped with everything you need to know about Nashville tours in case you're visiting the Music City.
One thing is sure, the best tours in Nashville offer a unique and exciting way to experience everything this incredible city has to offer. From exploring the country music scene to savoring delicious Southern cuisine, these tours offer options that cater to many different interests, and I'm sure you'll find some for you!
As always, I advise you not to play with fire and book your tours well in advance so you don't want to miss these unique and memorable experiences!
And if you have something to add, ask, or simply want to talk and share your travel experiences, I welcome you to do so in the comments below! I always look forward to reading them.
Happy travels,
Angelina
---
Pin it for later!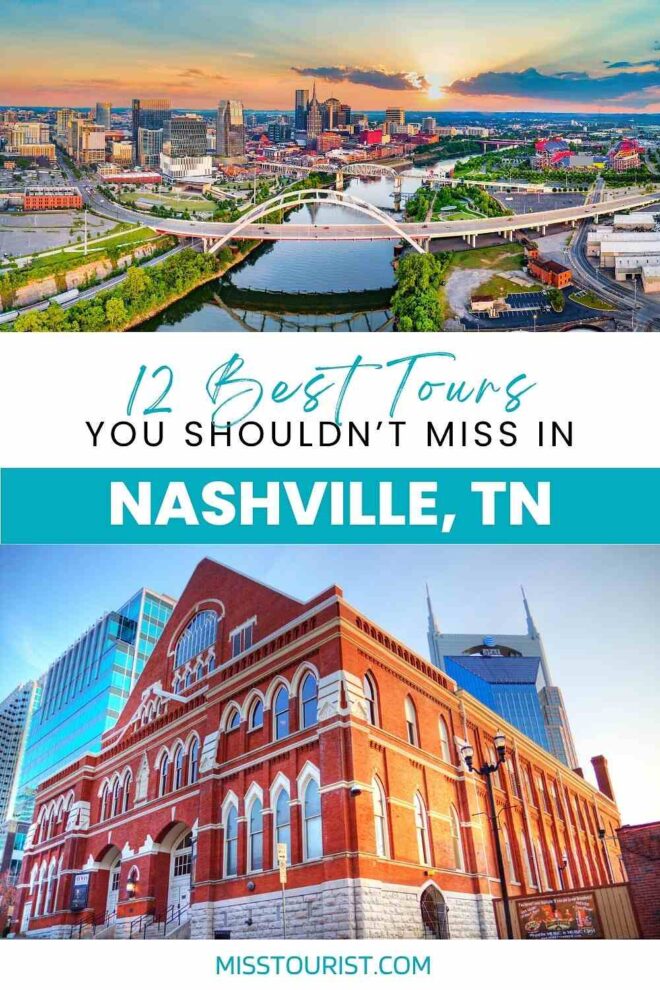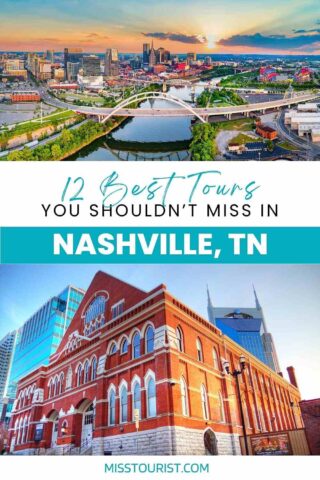 Pin it for later!