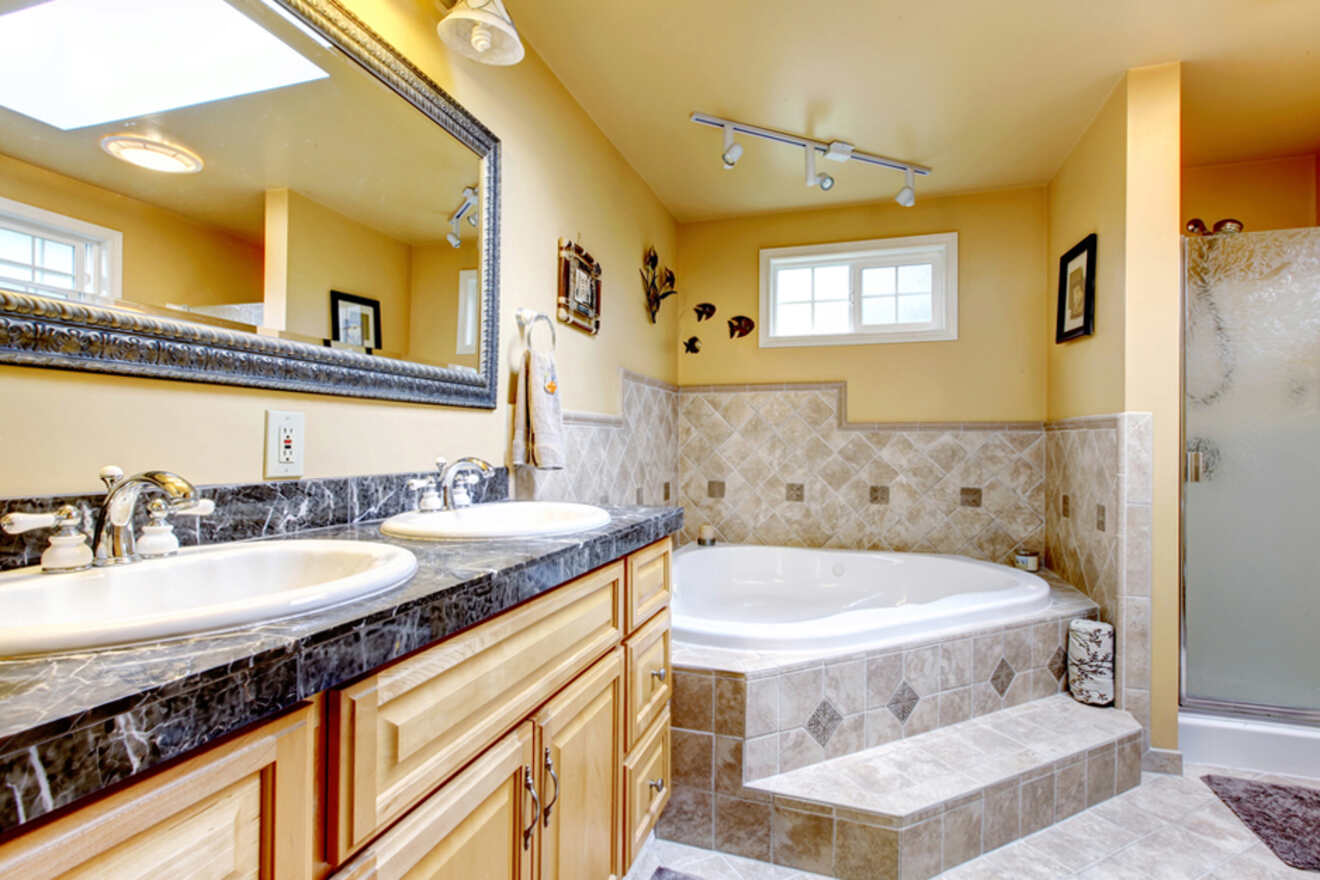 Are you planning a trip to St. Louis, Missouri? Would you like to book from a list of hot tub rooms and hot tub suites? Great! I've been researching for hours and taking notes of the best jacuzzi suites in St. Louis to compile this amazing list to make your suite quest easier.
Whichever hotel you pick will be a good option, and the best is that the major Saint Louis attractions won't be far! I have arranged the suites from the most expensive to the least, so there will be an option that fits every budget in this list!
But don't forget to book your room in advance. Jacuzzi suites are a rarity in St. Louis, so they sell out super fast. Moreover, sometimes prices go up when you book them closer to the date you are traveling. So, go and secure your room!
Without further ado, let's start!
If you are in a hurry
If you need to book fast and don't have a lot of time to read the whole article, here you have my top 3 recommendations for the best jacuzzi suites in St. Louis:
1. Drury Inn & Suites St. Louis Arnold – discover Arnold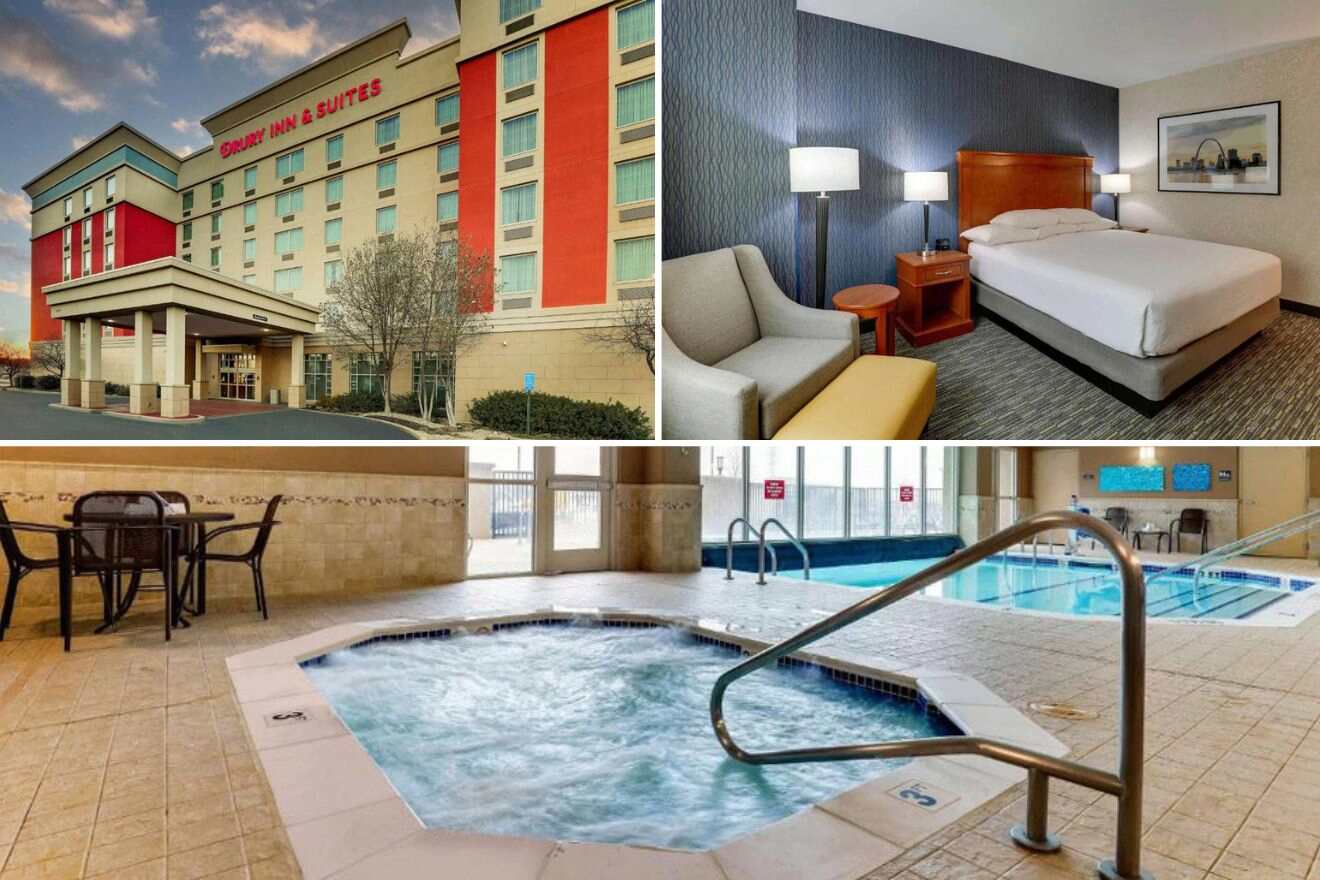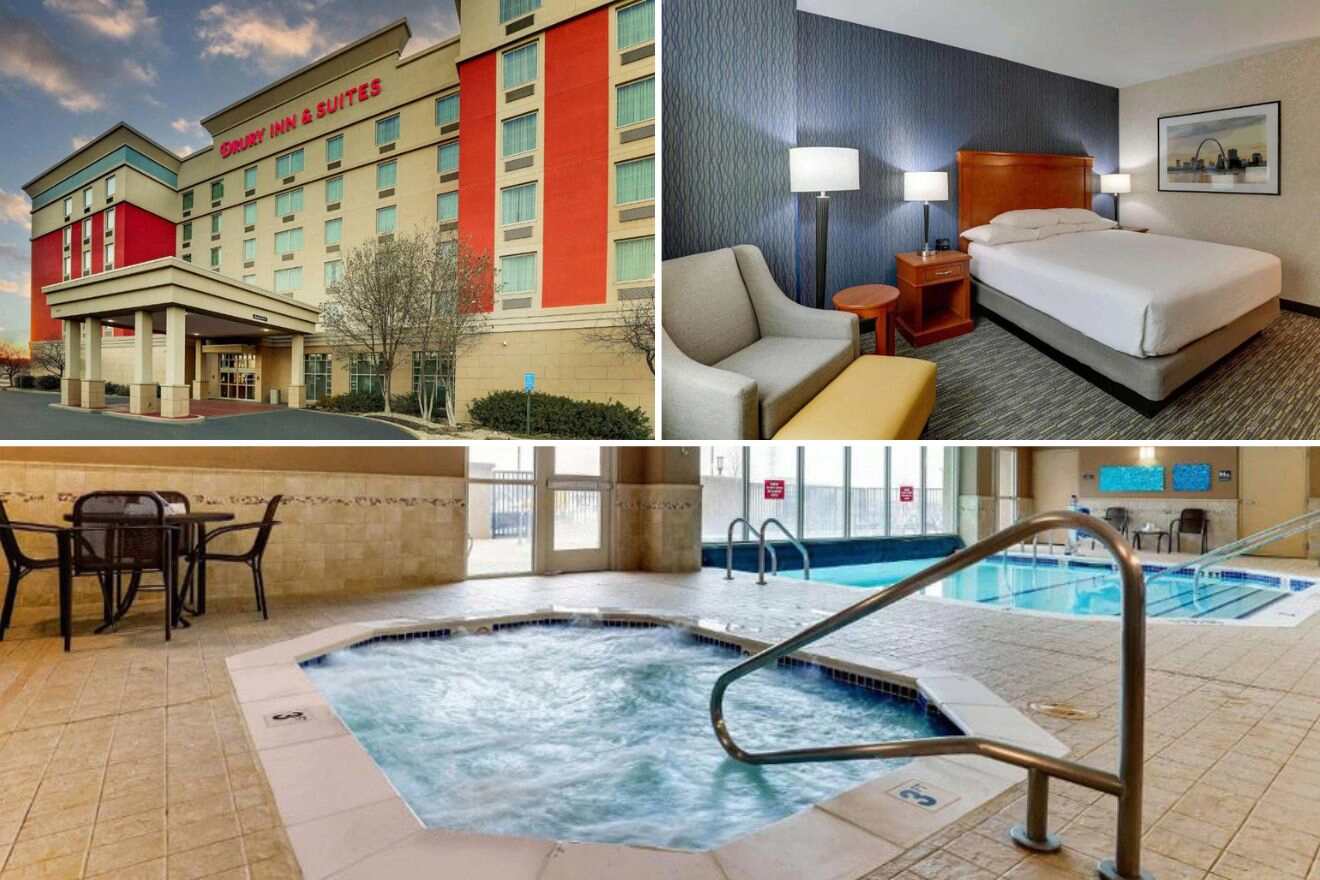 This simple yet comfy hotel has everything you need to enjoy St. Louis. The hotel is outside the city center in Arnold, but downtown Saint Louis is only 20 minutes away by car, and Saint Louis Union Station is just 23 minutes away!
The hotel facilities couldn't be better. There's an outdoor pool all the guests can enjoy, a fitness center, free Wi-Fi, and free parking. One of the cool things about this hotel is that it has an onsite spa with a jacuzzi, but if you want a hot tub in your room, the Deluxe King Room with Spa Bath and the Superior King Room with Spa Bath are the ones for you as they come with a private hot tub. Oh, and they have a complimentary hot breakfast every morning!
2. Drury Plaza Hotel St. Louis Chesterfield – a fitness stay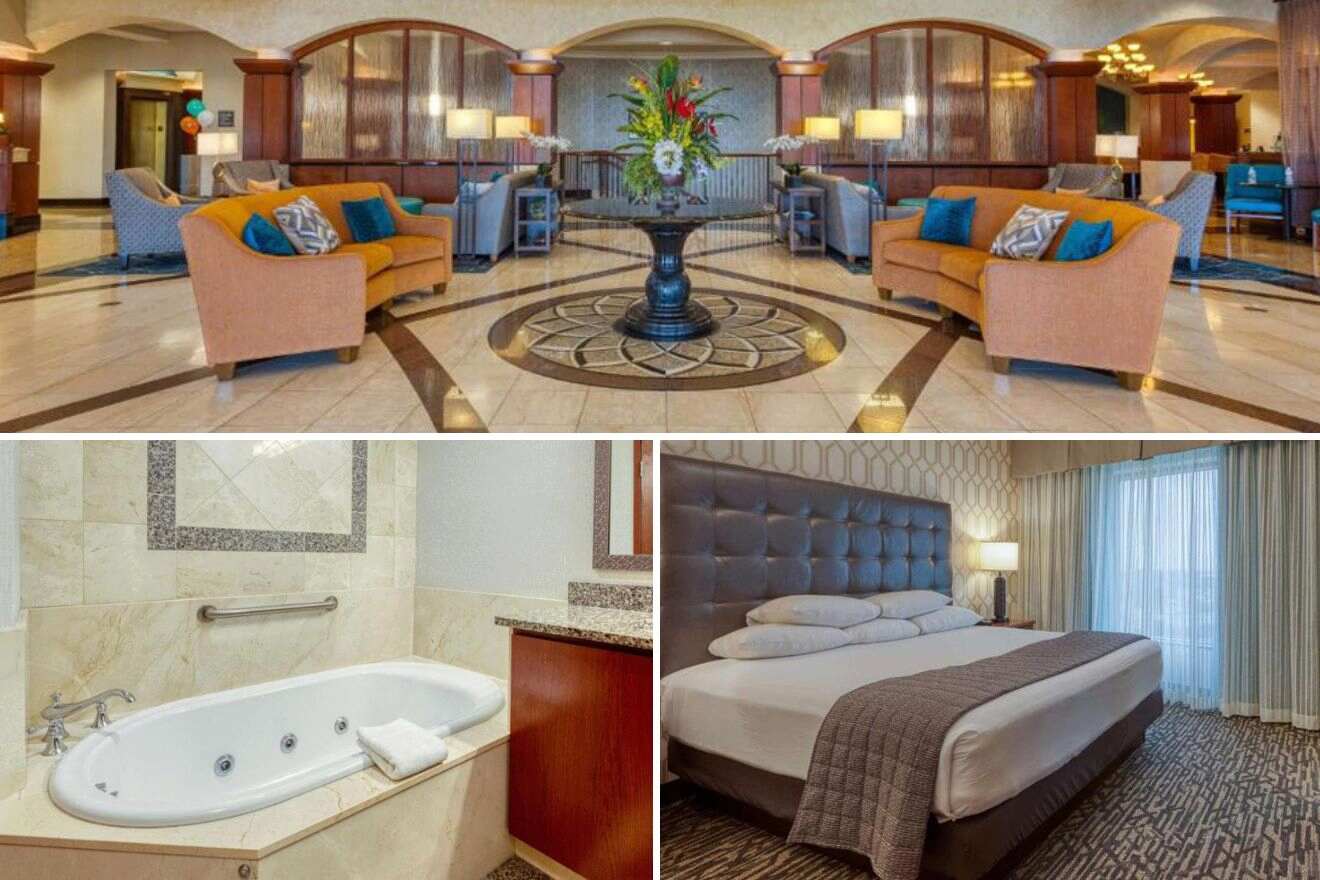 Stay in this Chesterfield hotel for an extra comfortable and healthy stay! The hotel has a fitness center, an outdoor swimming pool, an indoor pool, and a jacuzzi so that you can focus on yourself! On top of this, the hotel offers its guests a hot breakfast every morning!
The rooms I highly recommend are King Suites with Spa Baths, both the regular and the one on a high floor. Besides this, you can find a wet bar with a microwave and a mini fridge! Of course, you can enjoy free Wi-Fi and a flat-screen TV with cable channels in the suites!
3. Clayton Plaza Hotel – for the convenient location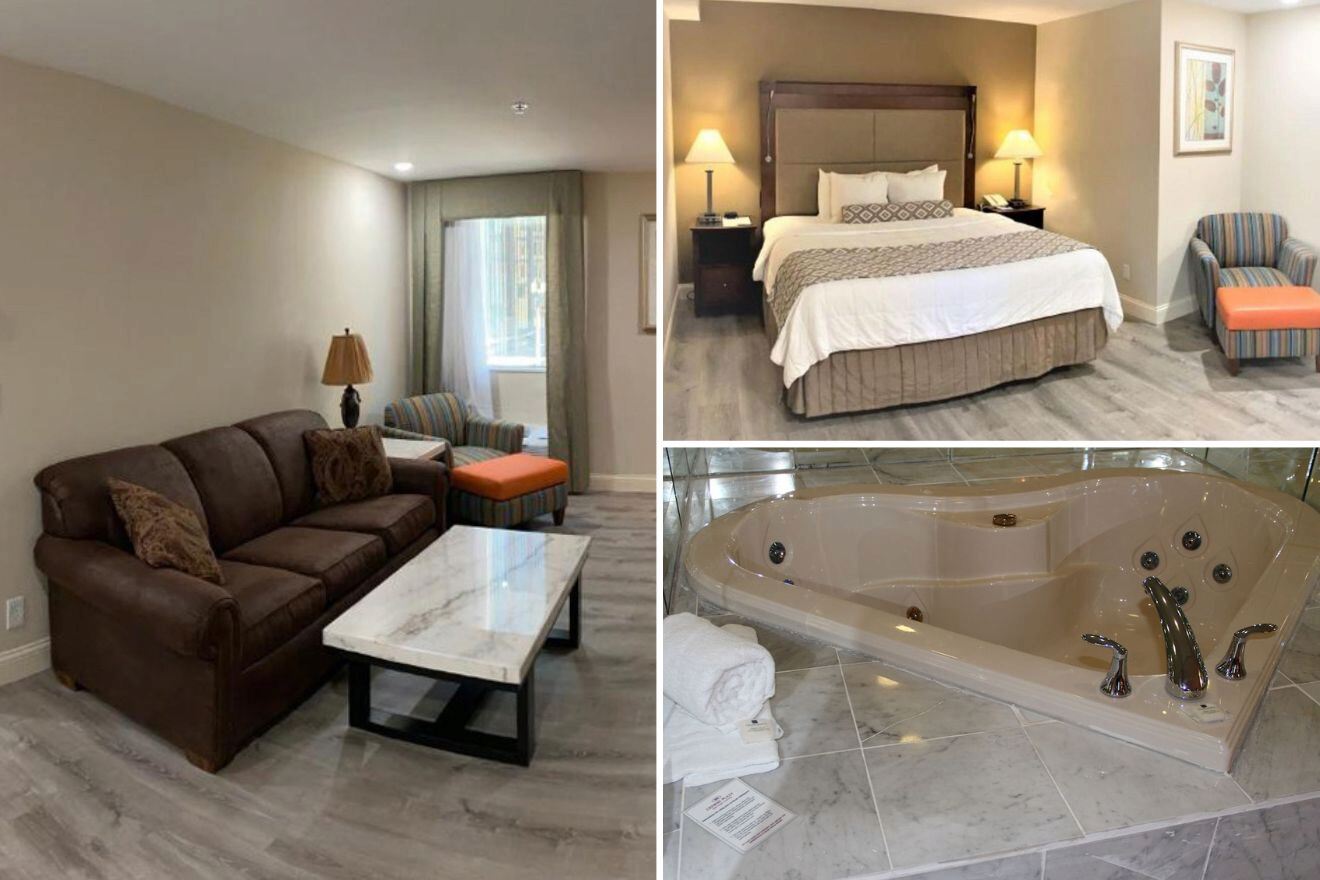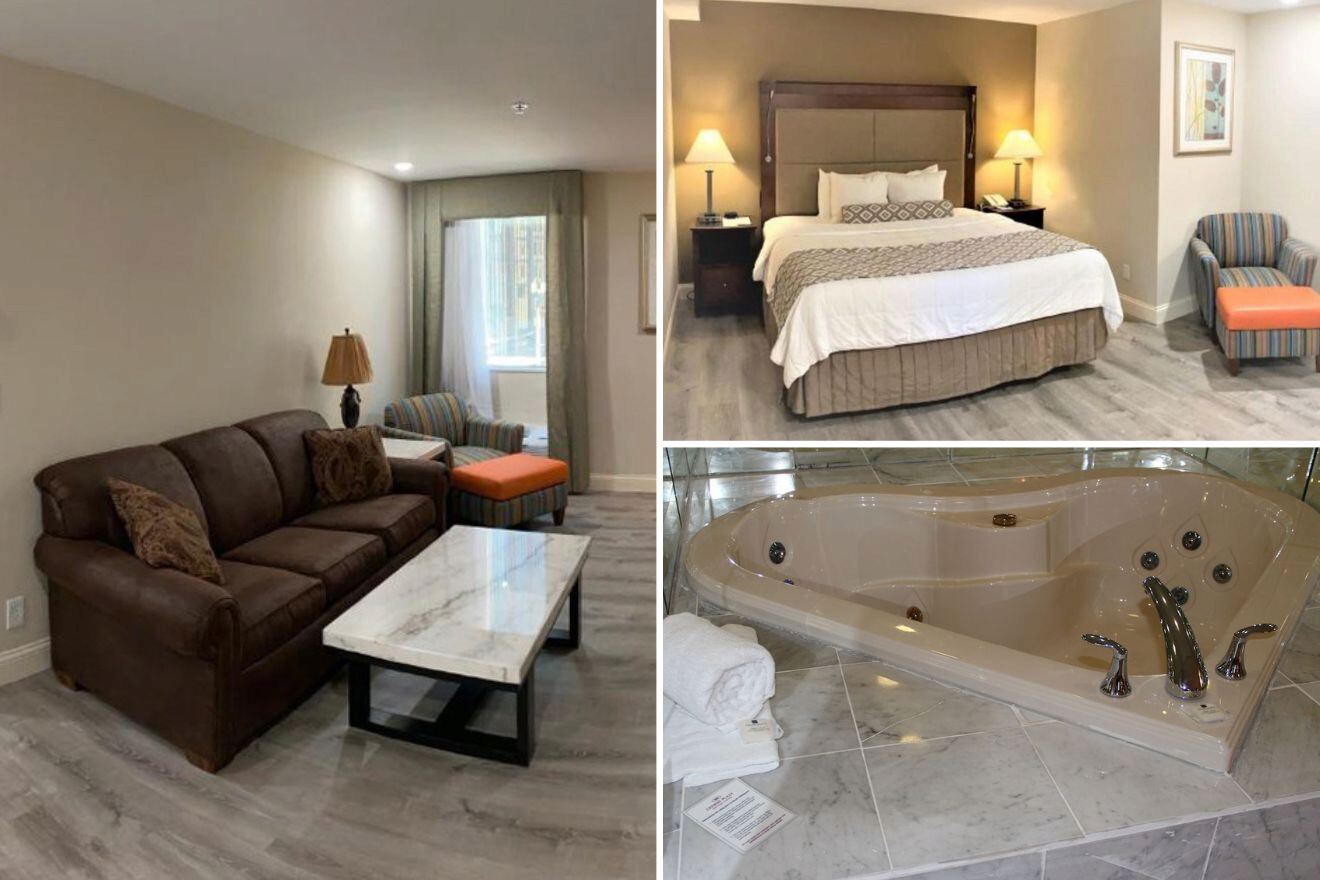 Located in downtown Clayton, with Saint Louis City Centre just 20 minutes away and Saint Louis Zoo just 10 minutes away. This hotel would make a perfect choice for those looking to stay in a big city but a smaller downtown area! The closest airport is Louis Lambert Airport, only 12 minutes away by car!
The hotel's facilities look great! They have an indoor swimming pool with a regulated temperature so that you can enjoy it all year round! Fitness, a business center, a fantastic on-site restaurant, and a spa with a sauna! Book any executive suites the hotel offers for a private hot tub, relax in style, and free yourself from any worries! If this isn't enough, the room has a loveseat, a refrigerator, and a microwave!
4. Hampton Inn & Suites – perfect for families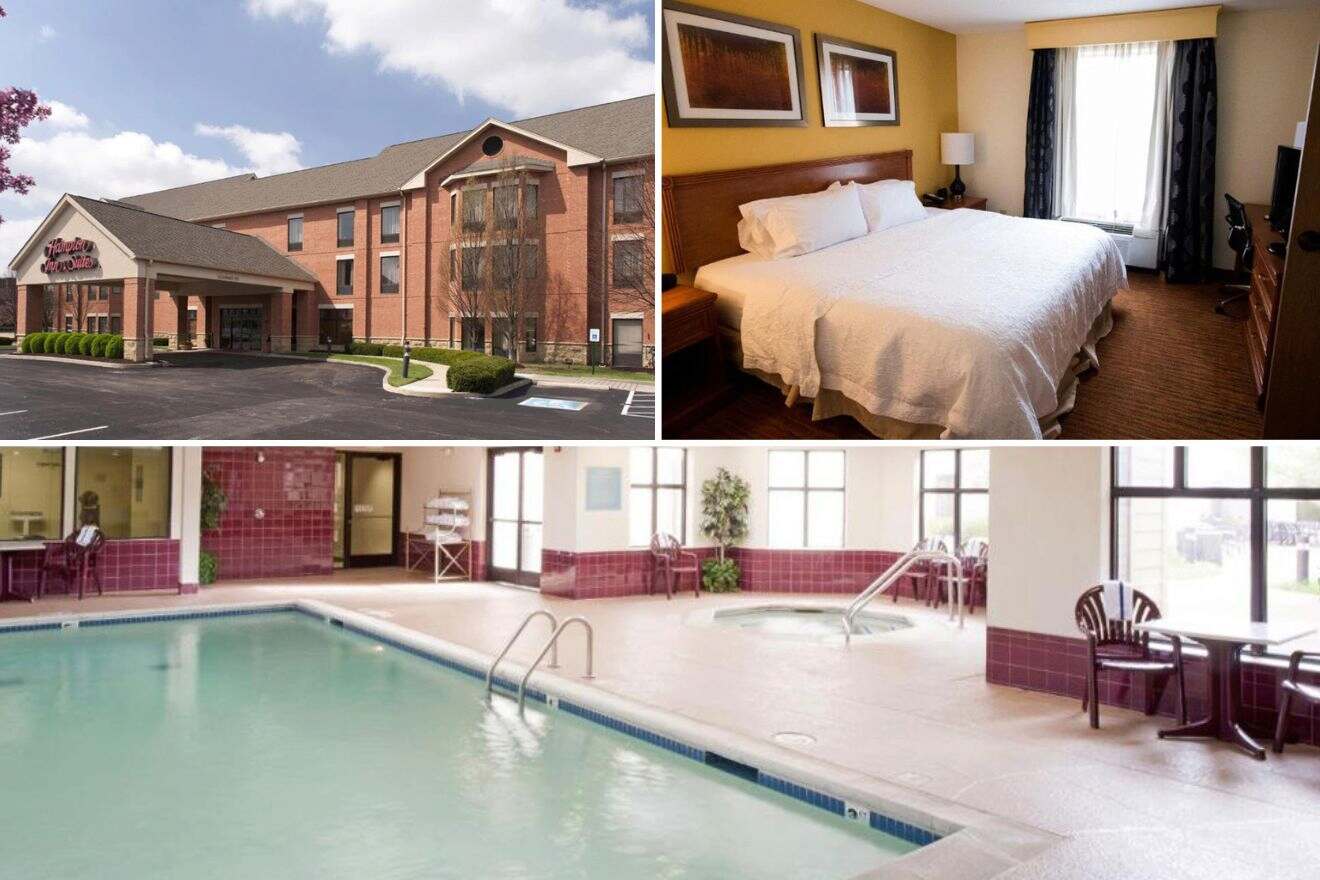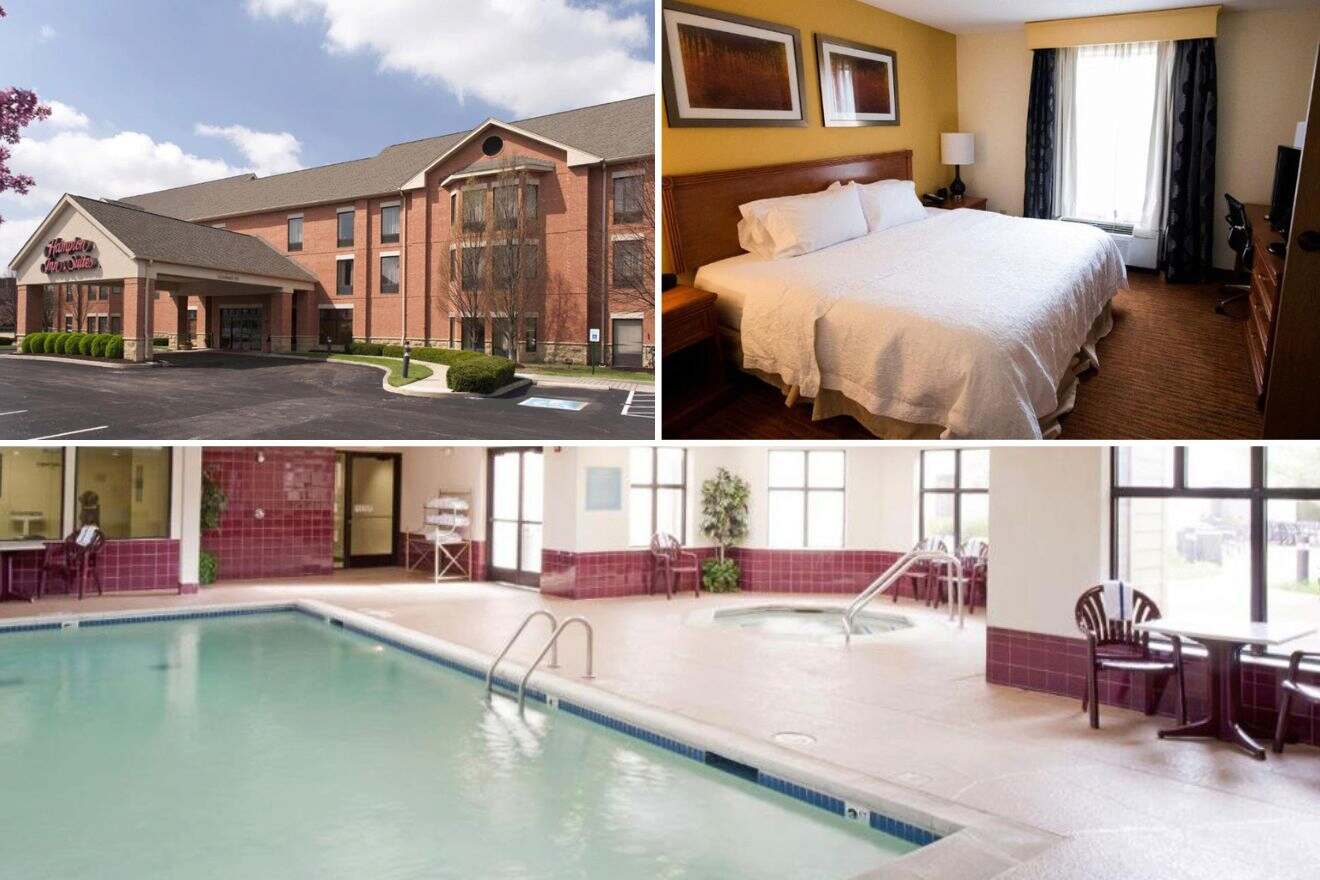 This cute, homey-style hotel in Chesterfield is the perfect choice for families! The hotel has a beautiful garden where your kids can play and have a picnic, or you can cook a meal for your family in the hotel's BBQ facilities. Its indoor heated pool is open to guests of all ages, and a free buffet breakfast will be offered every day to guests.
The hotel has many spacious rooms, the one I remarkably suggest is the Non-Smoking Suite with Whirlpool, which can host up to 6 guests. It has a king bed, sofa bed, microwave, and refrigerator for a practical stay!
5. Hilton Garden Inn – elegant and convenient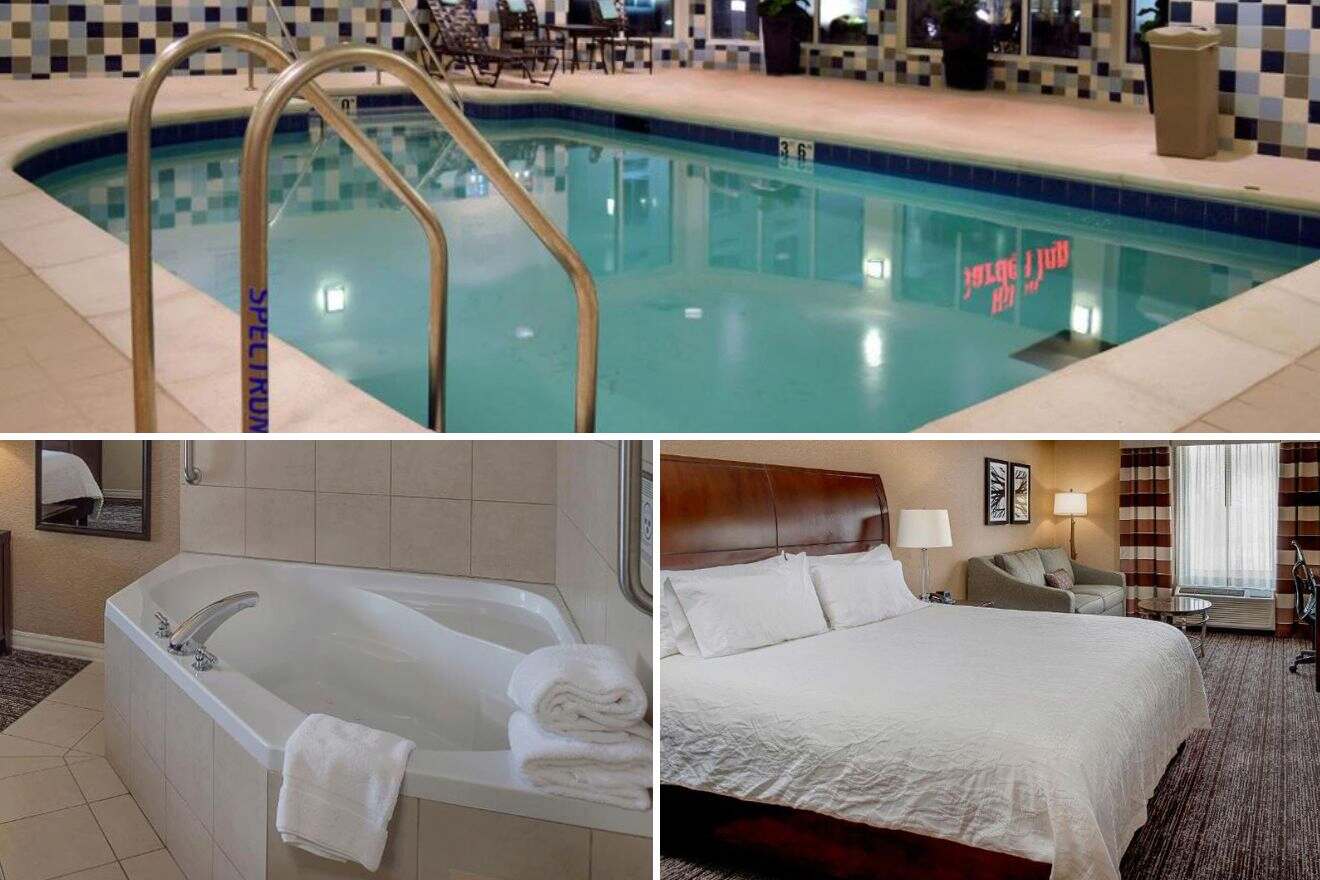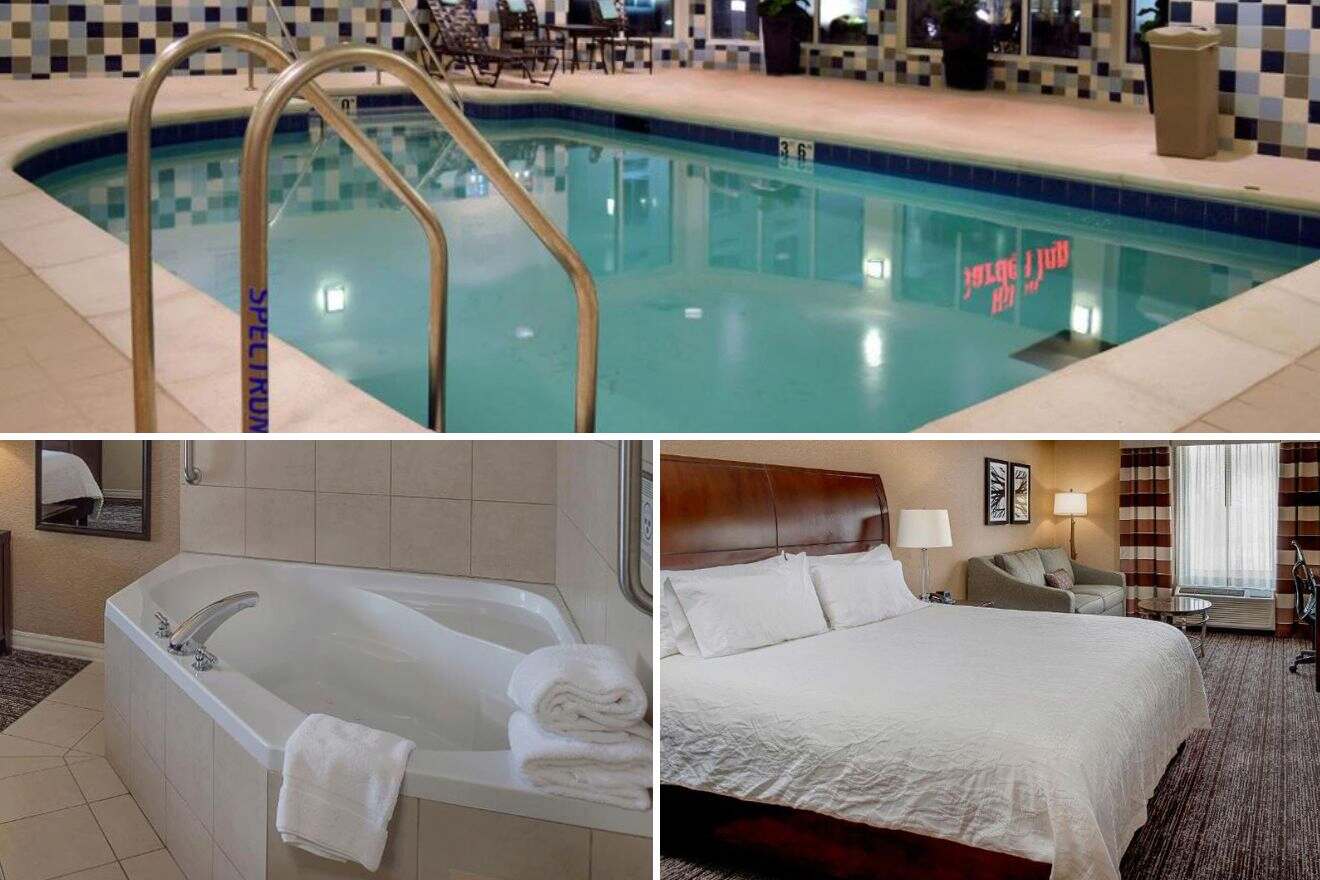 Located just minutes from St. Louis Airport, this hotel is classic and convenient for anyone looking for comfort and being close to the airport. The hotel offers a 24-hour free airport shuttle service. Once you get to the hotel after your pickup, you will find a fantastic indoor swimming pool, a fitness center, and a restaurant, so you will have everything you need right at the hotel.
They feature many guest rooms, but select rooms come with a hot tub, so check with the hotel to book a room with a jacuzzi. Apart from this, the rooms have free Wi-Fi, a flat-screen TV, a refrigerator, and a microwave for extra comfort!
6. Holiday Inn Express & Suites – swim in a saltwater pool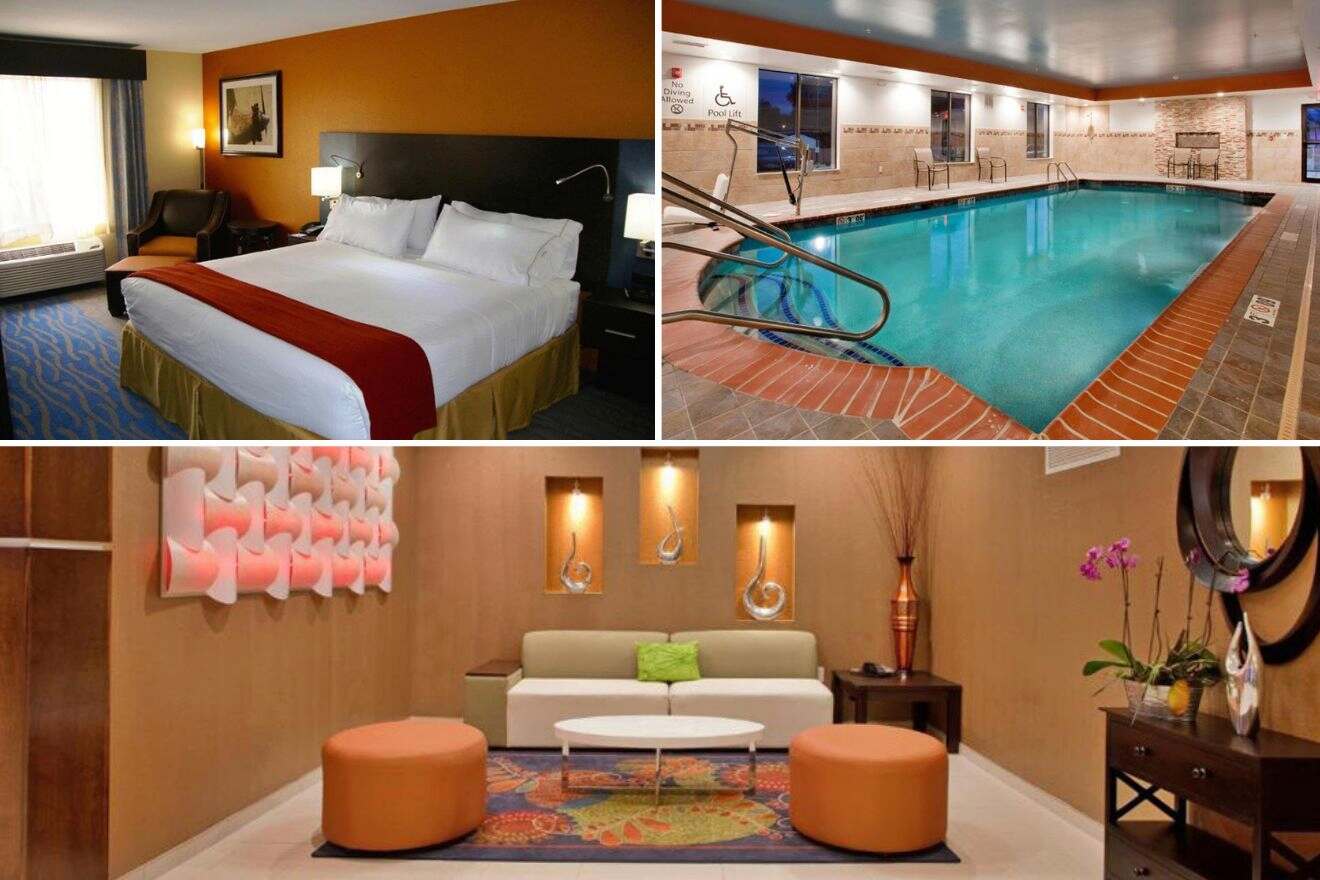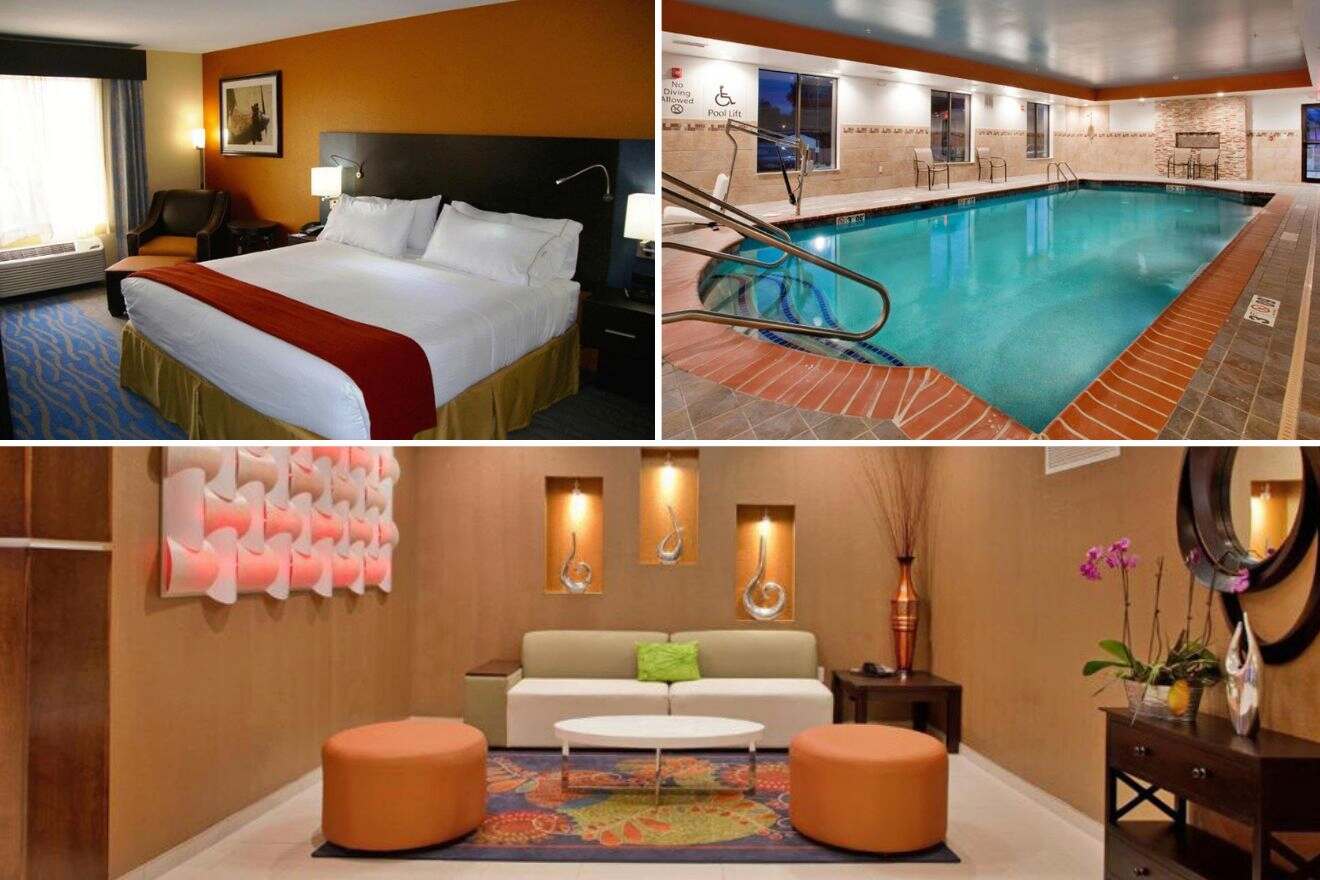 What a great hotel located near Saint Louis International Airport! The hotel features a superb indoor heated saltwater pool open to all guests! If more is needed, it also has a fitness center, a casino, a free airport shuttle, and complimentary breakfast!
The guest rooms are unique, but I recommend the King Room with Spa Bath! This one comes with a jacuzzi, and the space hosts up to 2 guests. The room has a coffee machine, a microwave and a minifridge, a flat-screen cable TV, complimentary Wi-Fi, and a comfy king bed!
7. Best Western Plus – in a historic district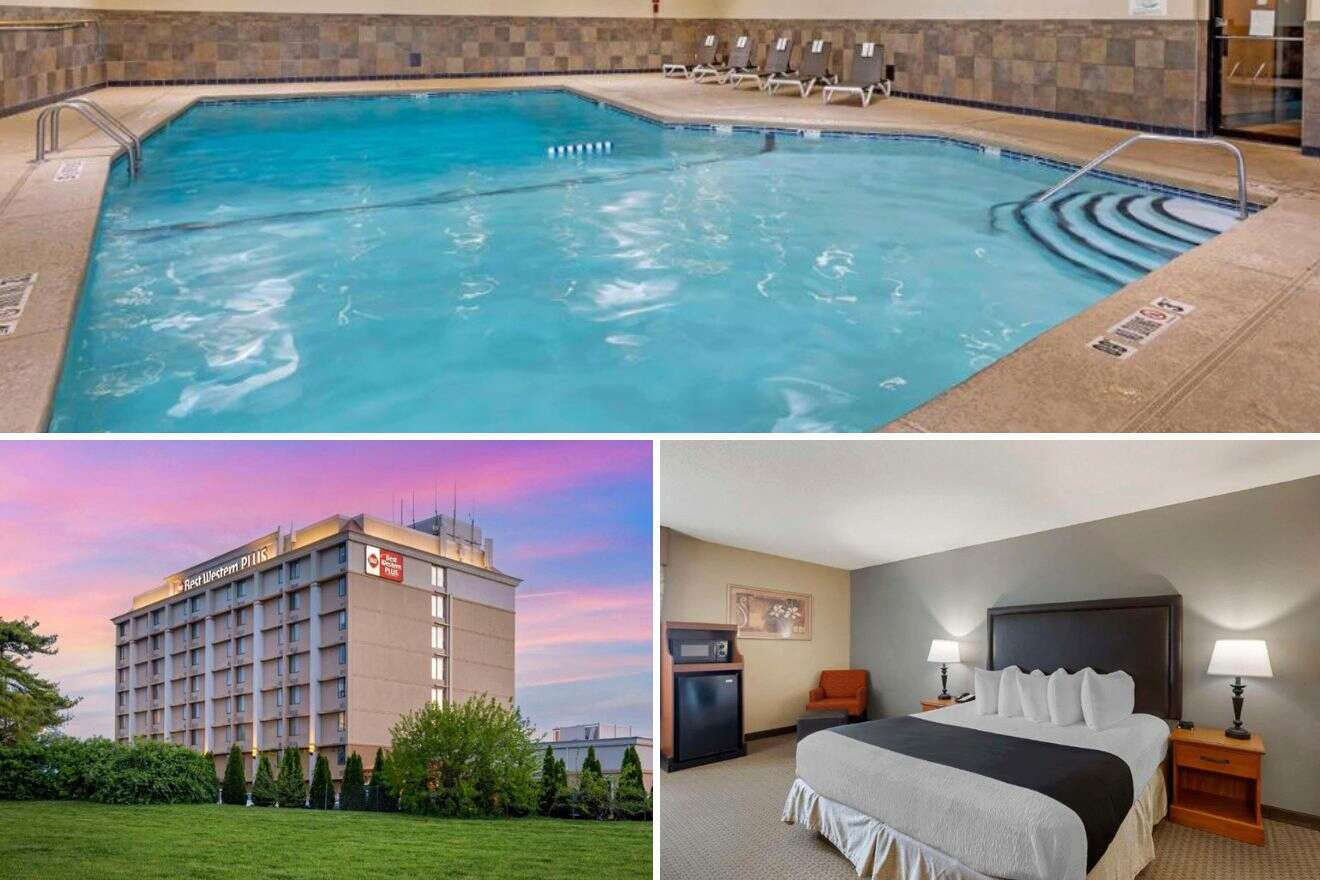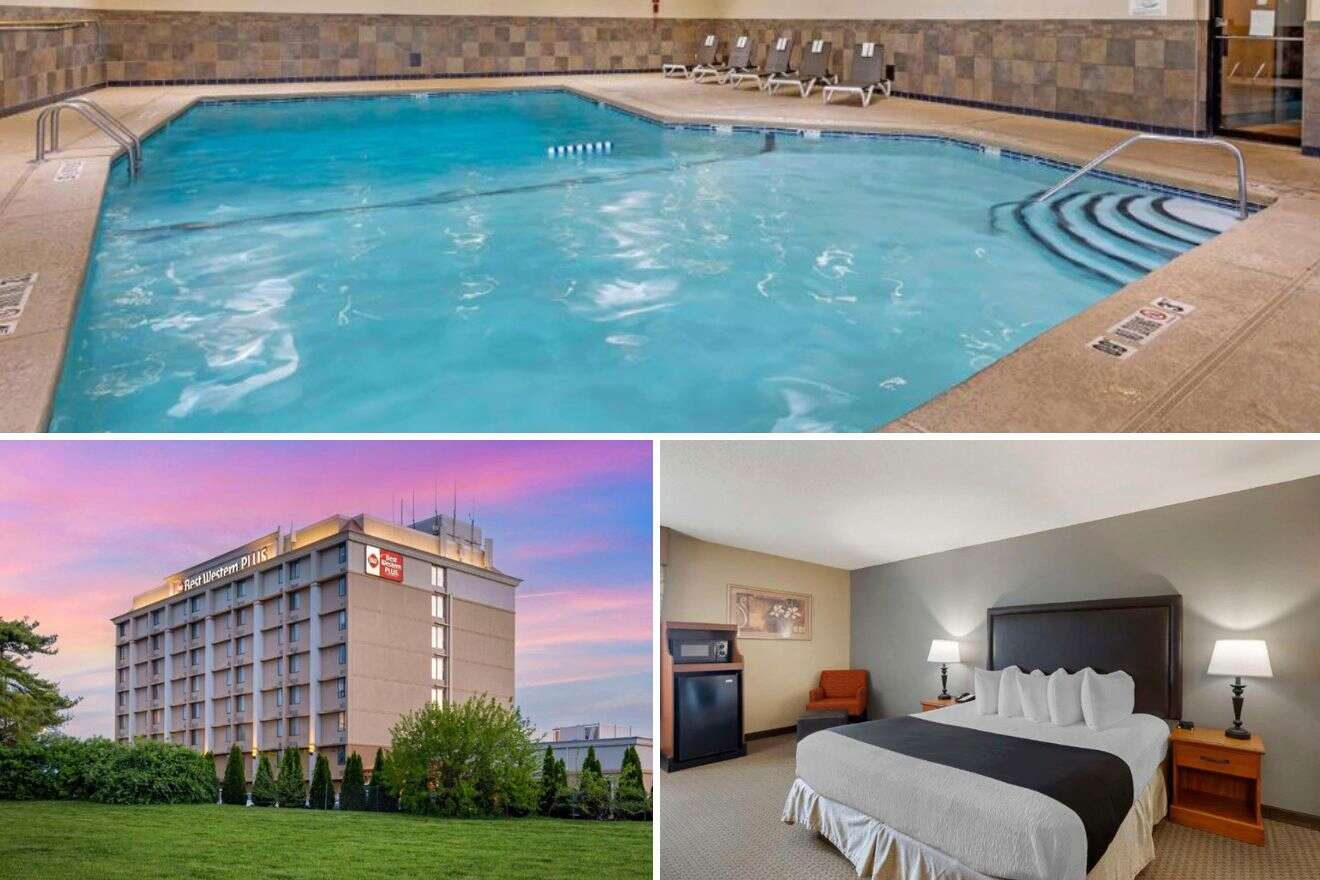 Do you want to stay in a Saint Charles Historic District hotel? This St. Louis hotel is the perfect choice for you! There is a restaurant within walking distance of the hotel, but if you want to stay in, the hotel has a restaurant on site. One of the hotel's many facilities is an indoor swimming pool and a fitness center!
Stay in the King Room with a private whirlpool and relax in the privacy of your room! This room has a tea and coffee maker, a mini fridge, and a microwave for your commodity! But don't worry about having to prepare or buy breakfast. The hotel offers complimentary breakfast to all guests!
FAQs about jacuzzi suites in St. Louis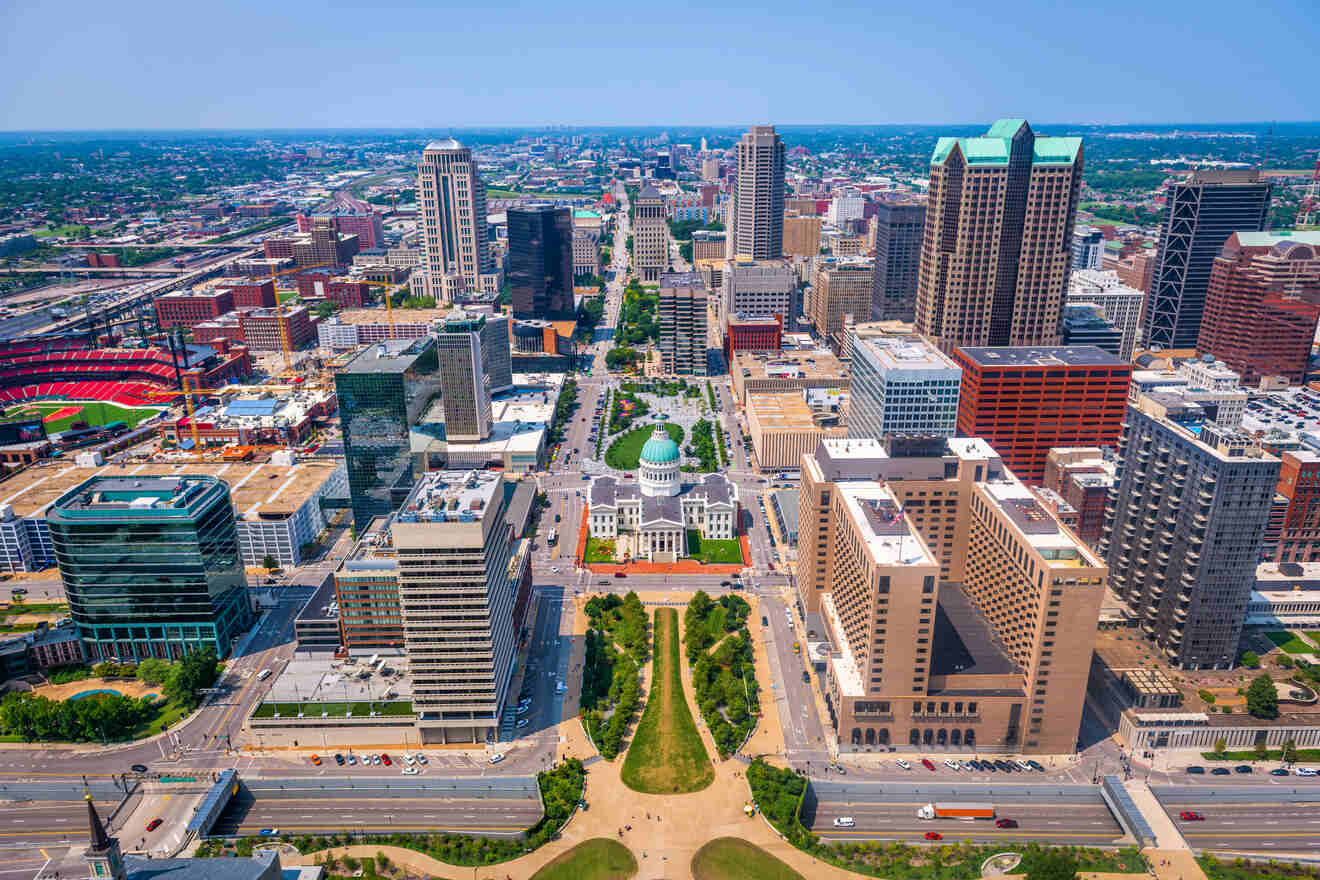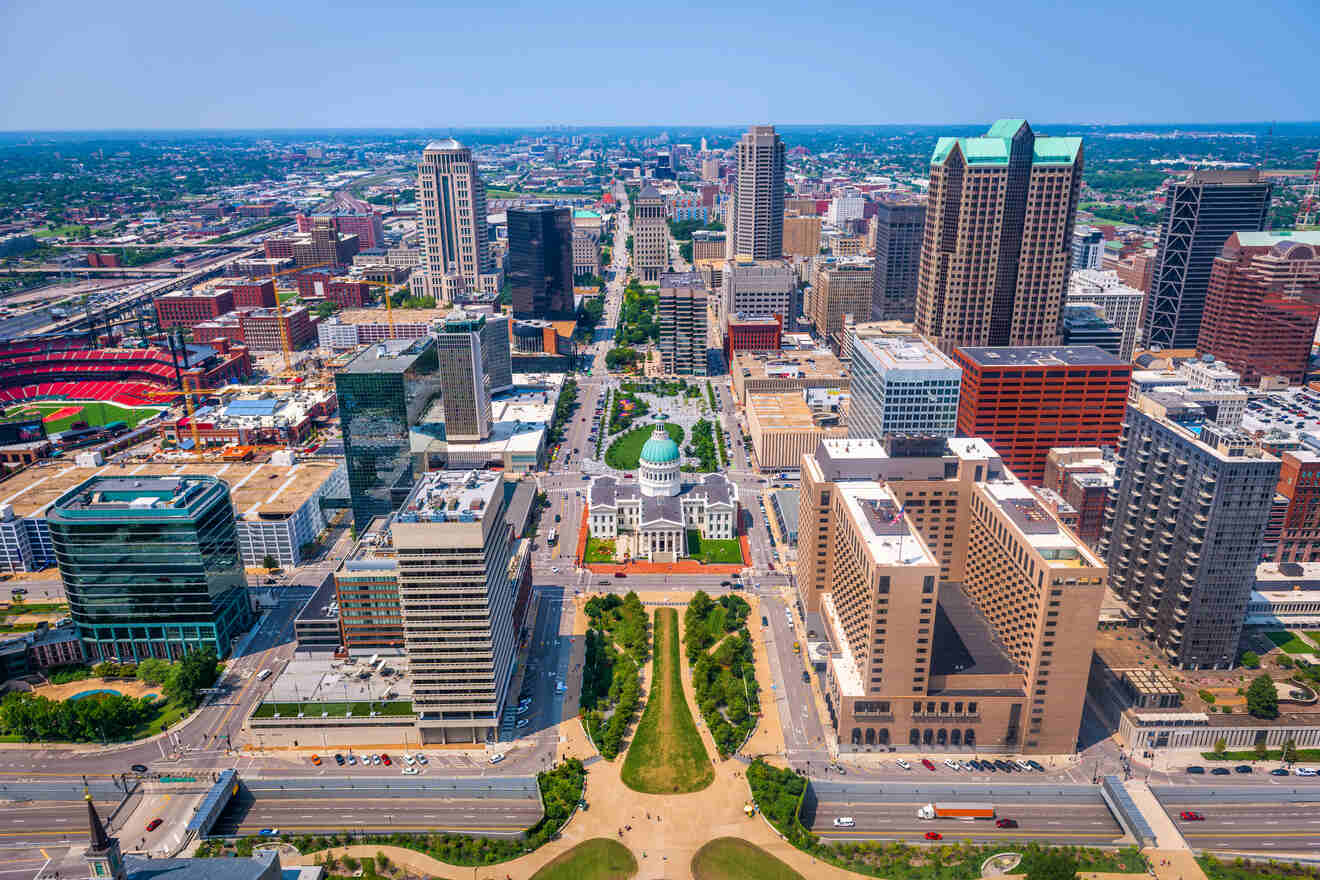 Conclusion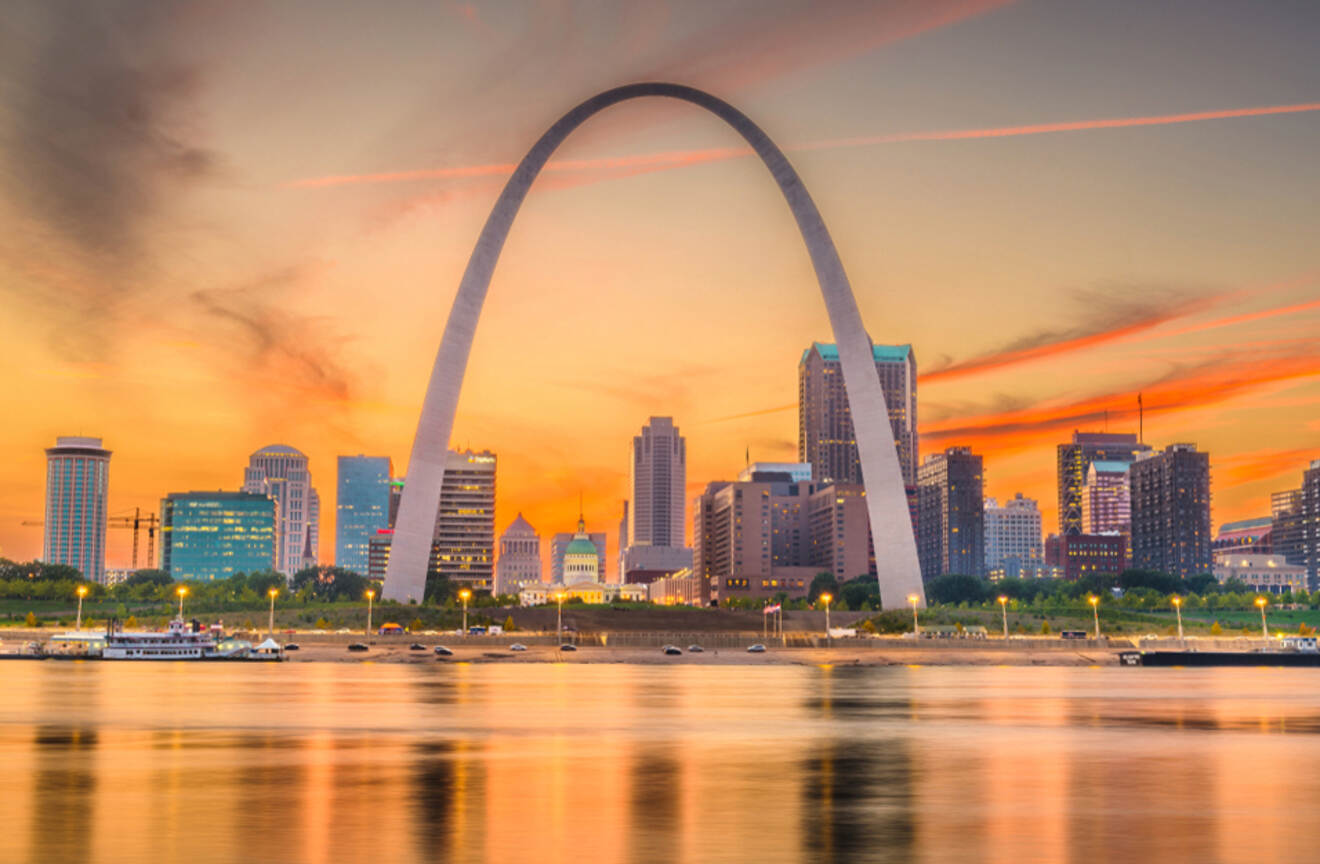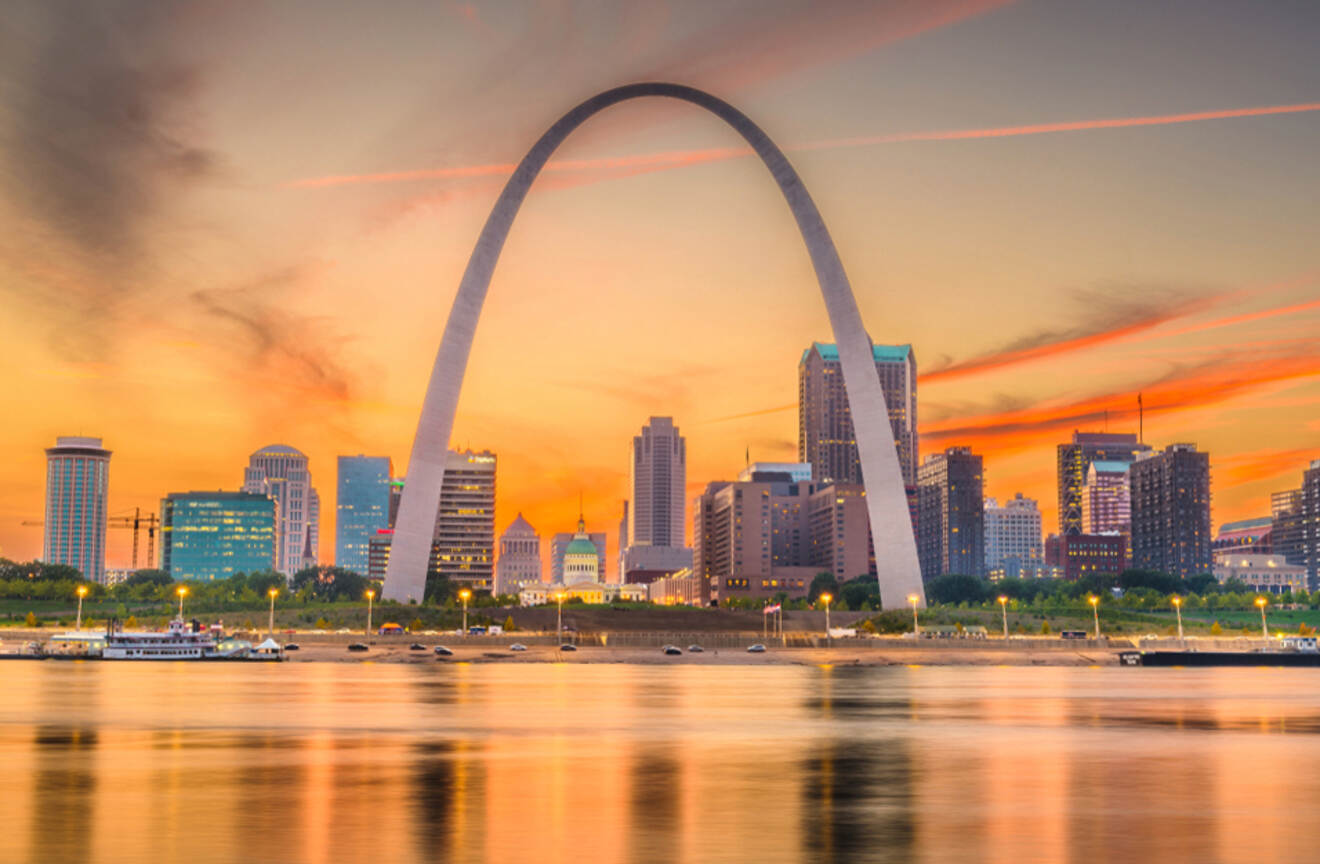 And that is all for jacuzzi suites in St. Louis! I've covered many options, and I am sure you will find one that will fit your needs!
I loved all of the hotels I have featured in this post, but if you ask me which 2 are my absolute favorite jacuzzi hotels, I would say:
Which of these hotels did you like the best? Let me know in the comments, and if you have a question, ask away – I am here to help! And don't forget to book your jacuzzi rooms as soon as you have decided so you don't risk losing your spot!
Until the next adventure,
Daniela
---
Pin it for later!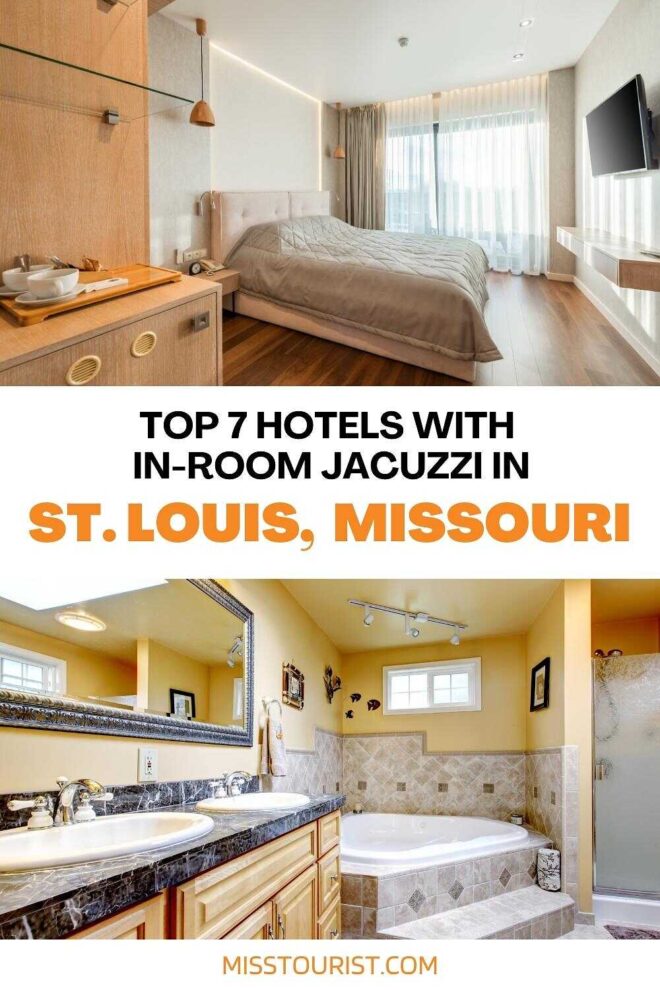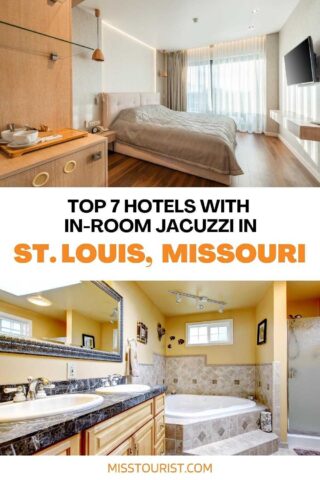 Pin it for later!