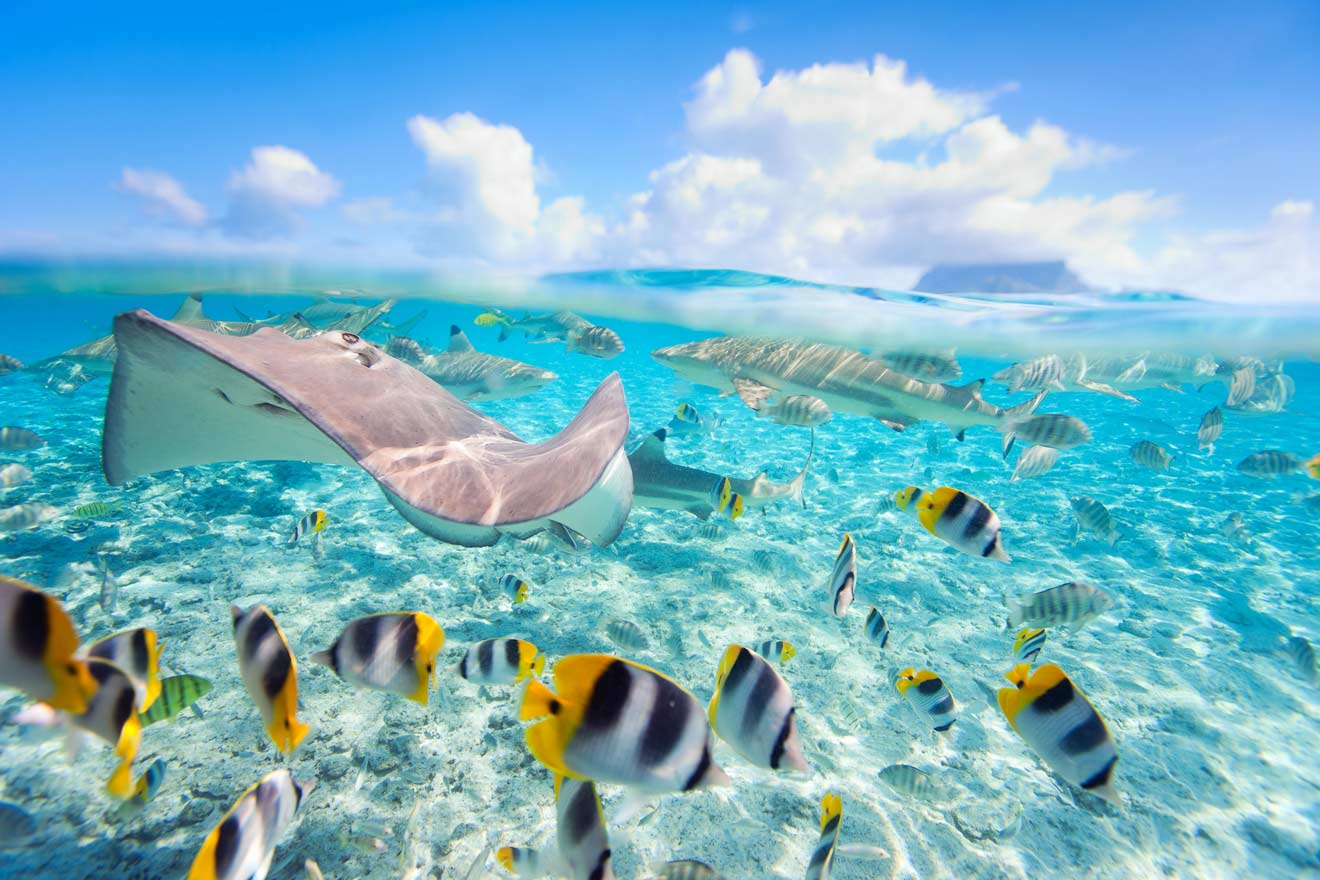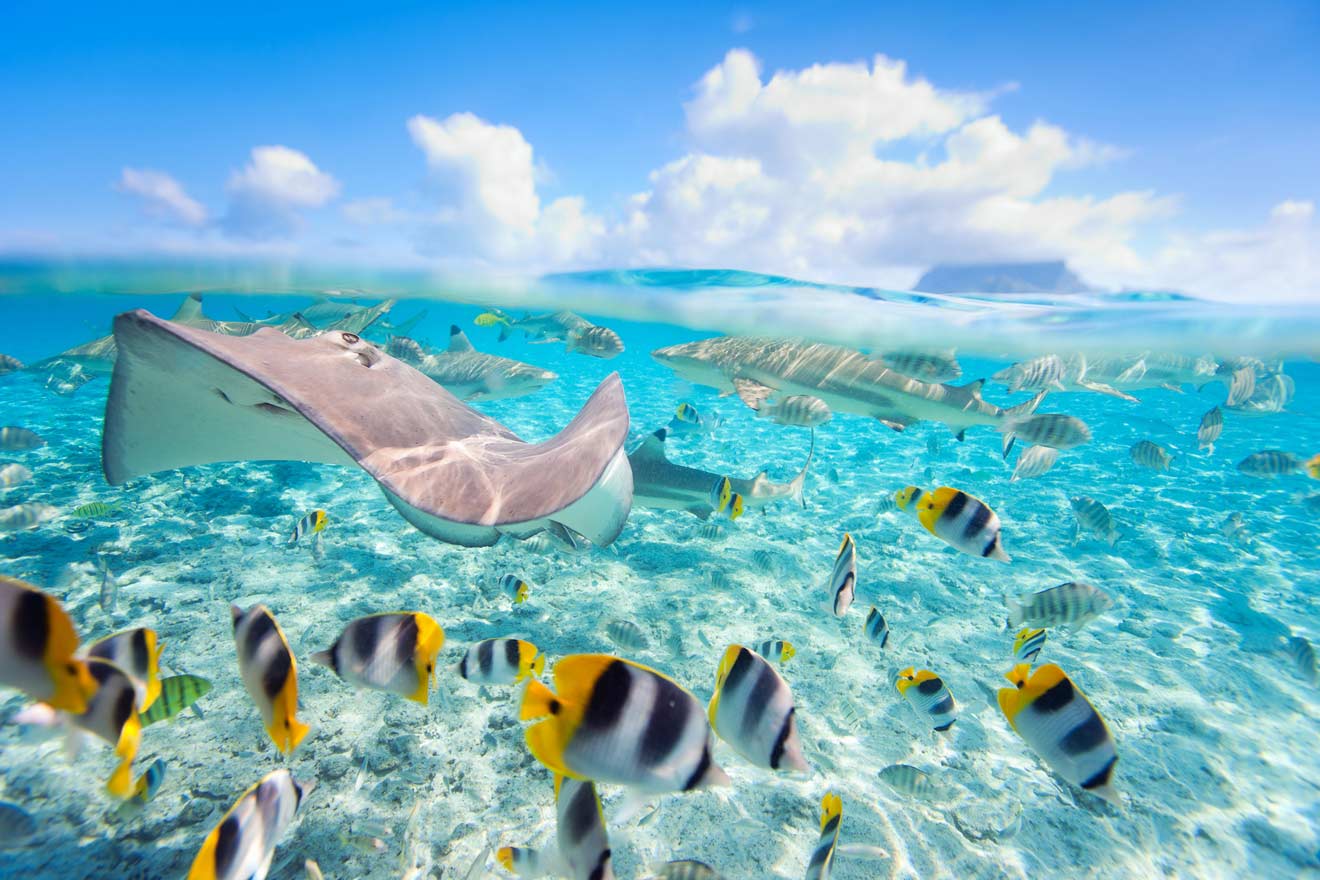 The French Polynesian islands in the South Pacific are any traveler's dream destination! Famous for their resorts with overwater bungalows and villas, these islands are basically paradise on Earth!
One of the best places to stay in French Polynesia is Bora Bora! This island's turquoise lagoon and the coral reef are so beautiful that you'll never want to leave! But that's just one of the dreamy islands, this guide will offer you 3 more areas; Moorea is perfect for outdoor enthusiasts, Tahiti is a great place to stay for families, and for relaxation, you can't pass by Huahine!
For each island, I have carefully curated a list of the best hotels and resorts for you for every budget from luxury resorts to budget hotels! And since we're on this chapter, I should tell you that although these islands are remote, they get so many visitors! I highly recommend booking your accomodation in advance because the rooms book out super fast here, especially those with pools and lagoon views!
Now let's see these famous lagoons!
If you are in a hurry
Eager to book your hotels right now? Then have a look at this list of the best resorts and hotels in Bora Bora:
Check out this map that will help you visualize all the islands in French Polynesia that I'll talk about in this post: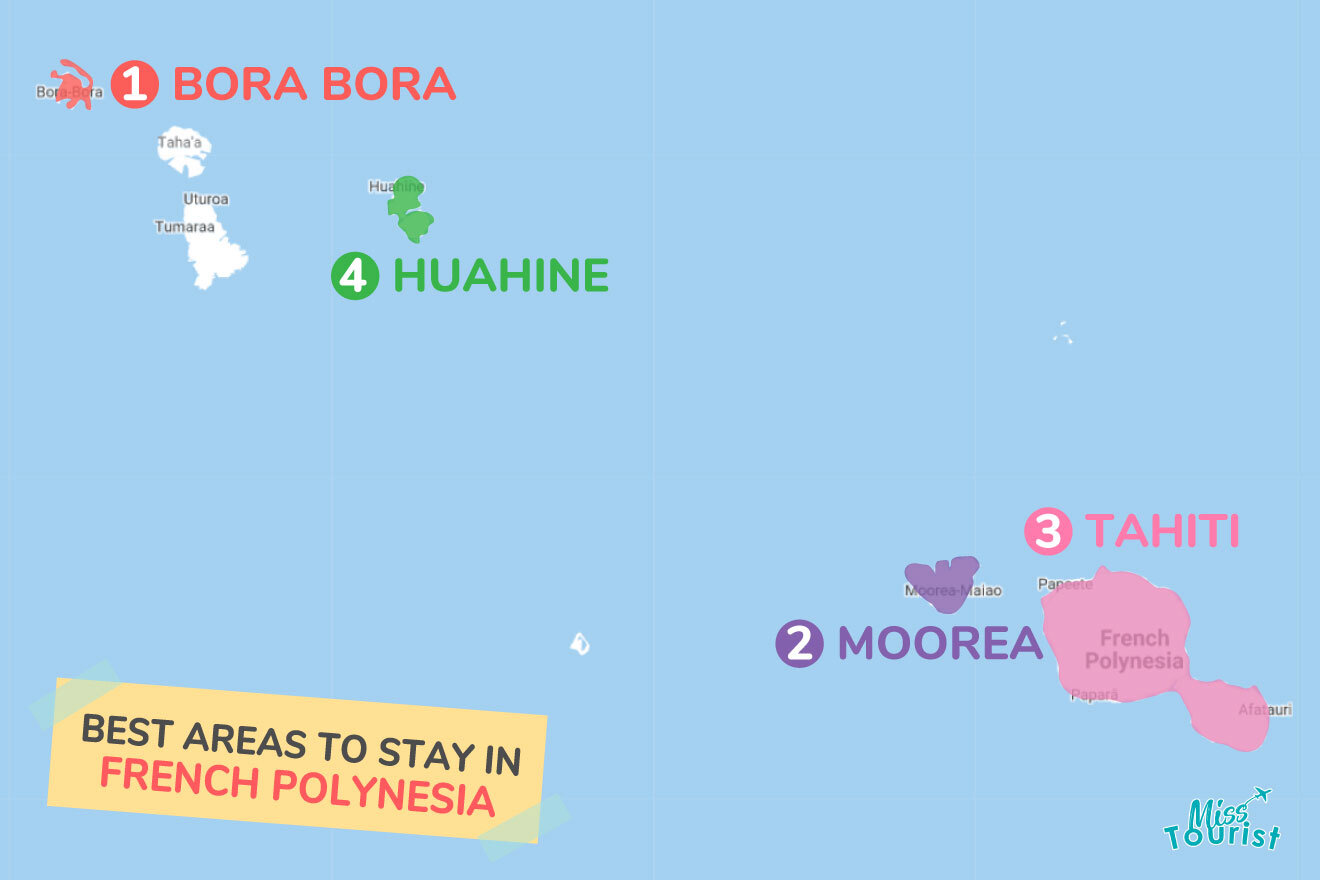 1. Bora Bora – for over the water villas in French Polynesia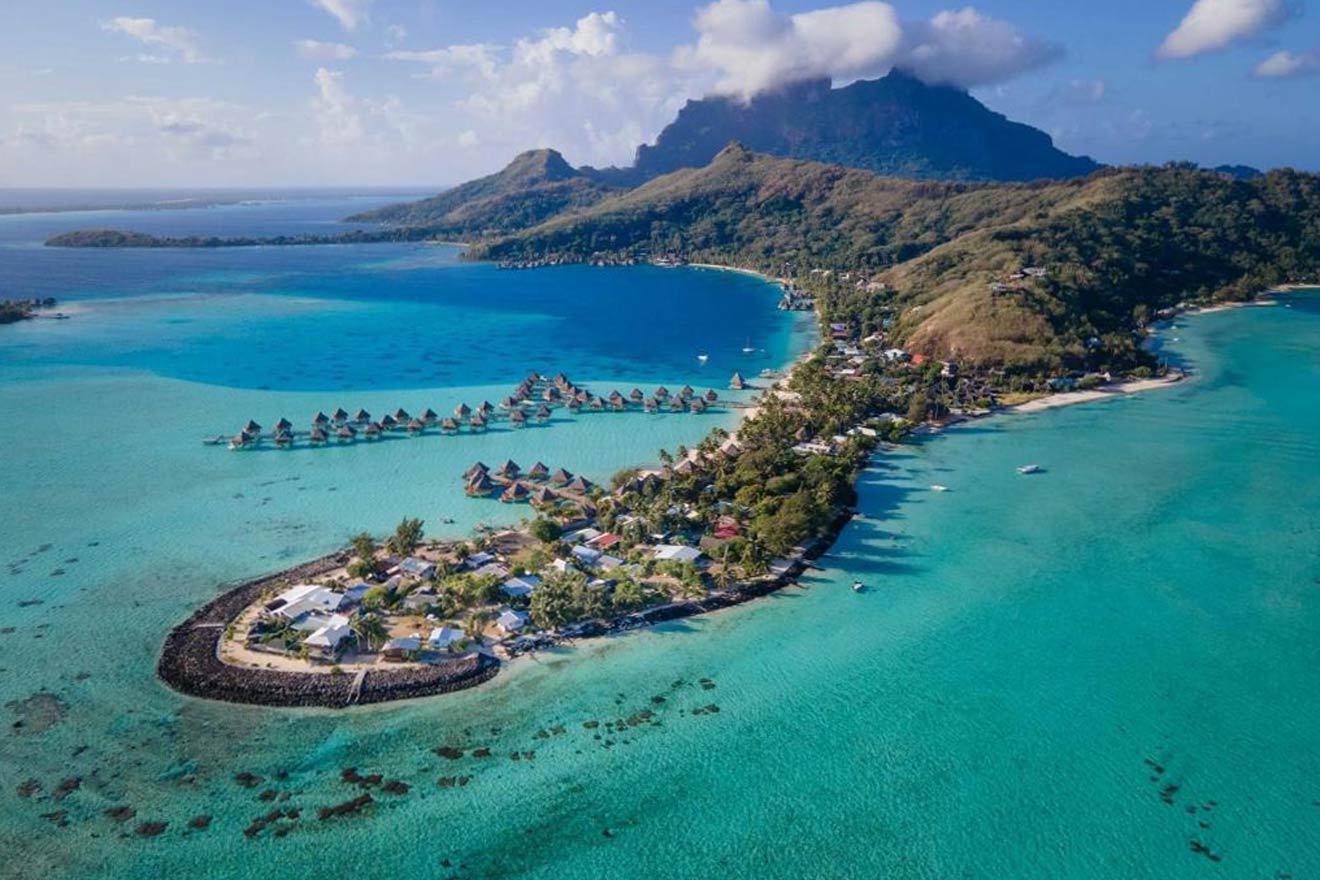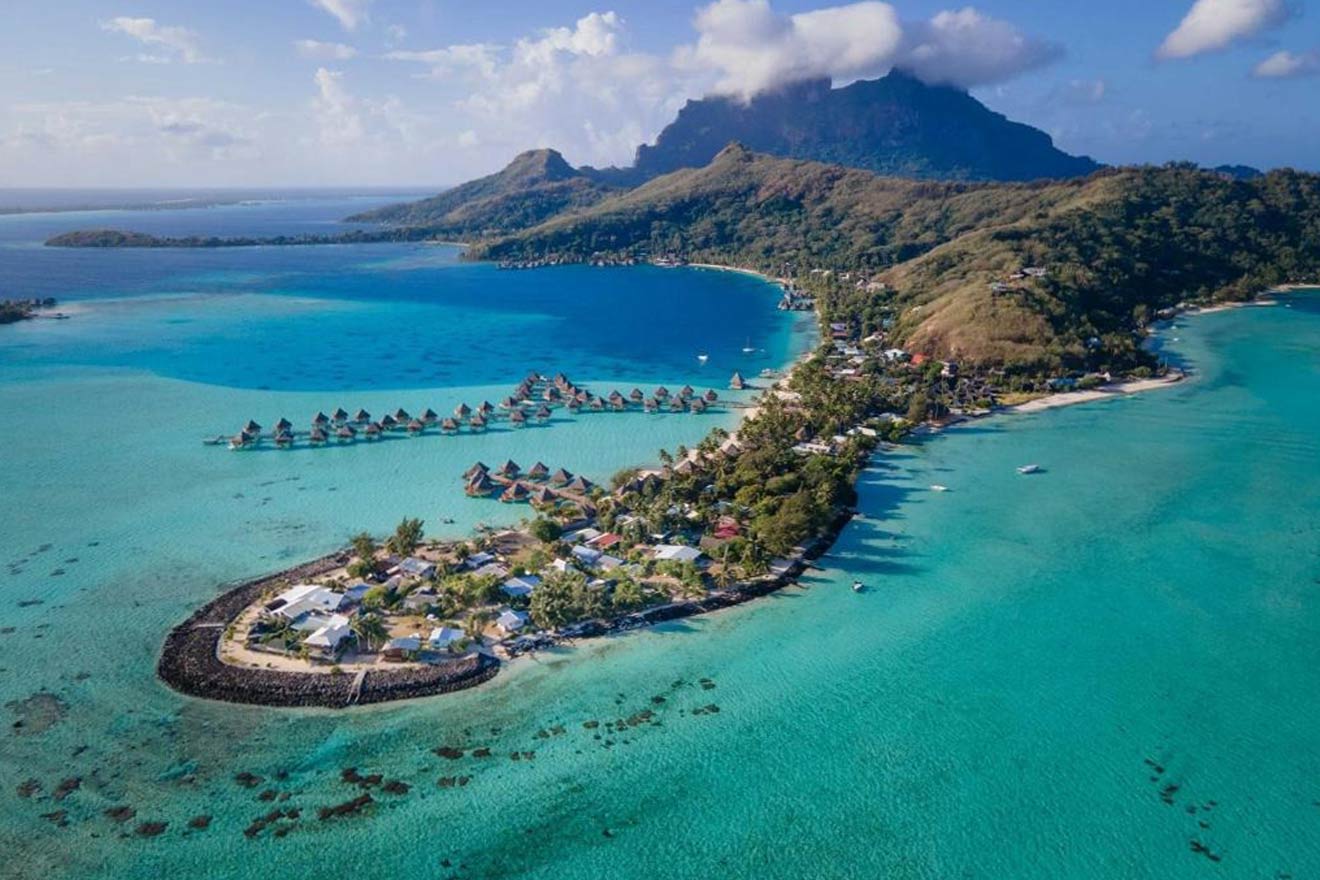 Known as one of the most popular islands in French Polynesia, Bora Bora is the ultimate holiday destination! You'll fall in love with this tropical paradise as soon as you arrive here.
The color palette on the island is simply insane! You'll have to pinch yourself to realize that yes, you're still on planet Earth and not landed in a galaxy far, far away! Its protected lagoon offers crystal clear waters, perfect for scuba diving!
Most tourists pick all-inclusive resorts and usually stay in overwater bungalows, which are basically everywhere on the island, as Bora Bora has the most hotels over the water in French Polynesia. There are a couple in the list below but if you want more options, check out my post dedicated to the best hotels and bungalows in Bora Bora!
Regardless of where you stay, you'll get to do so many cool things during your holiday on this magical island! Like discovering the marine life and coral reef while snorkeling or scuba diving! And let's not forget that the are also plenty of hiking trails around the beautiful Mount Otemanu, where you can see all sorts of exotic birds and smell hibiscus flowers!
Before diving into the incredible list of hotels I've prepared for you, I have to mention that Bora Bora is a super popular island. Most resorts and bungalows are sold out months in advance and I can't emphasize how important it is to book yours in advance!
Luxury hotel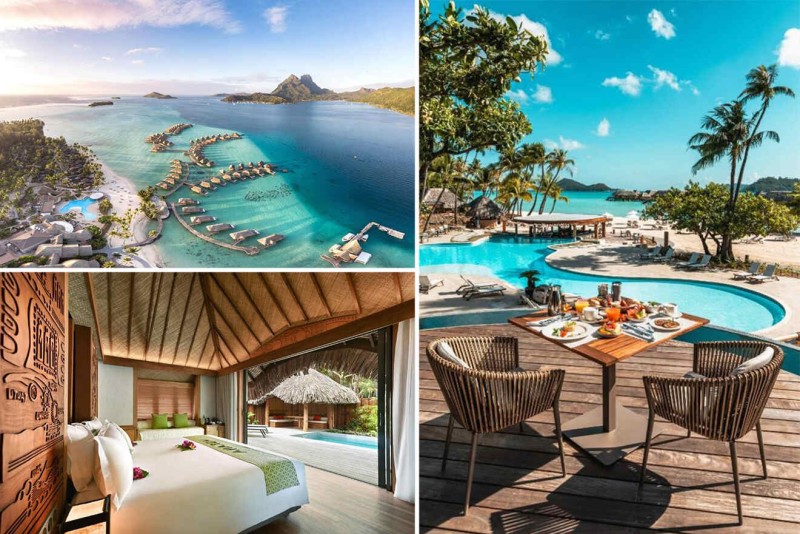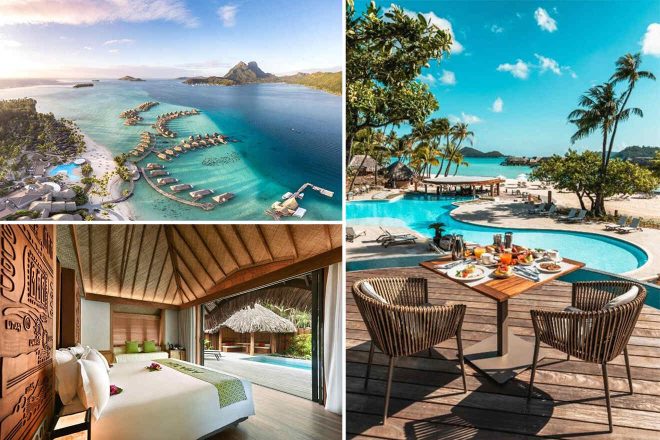 You'll never want to leave this fabulous beach resort! Powered by solar panels, the resort has different overwater bungalows with direct lagoon access and garden bungalows with private pools. Pick your favorite and get ready for a few days of eating delicious food at the restaurants on-site, chilling by the swimming pool, going scuba diving, and relaxing at the spa!
Other accommodation options in Bora Bora
Mid-Range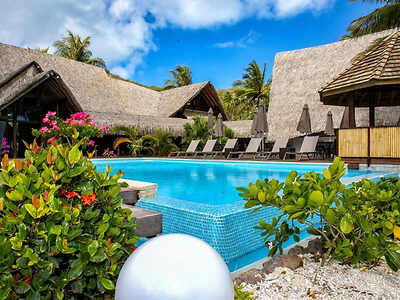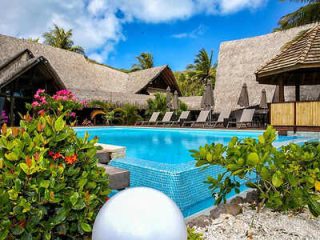 Comfortable villas set on the main island that offer garden views, air conditioning, a pool, and a terrace  
Budget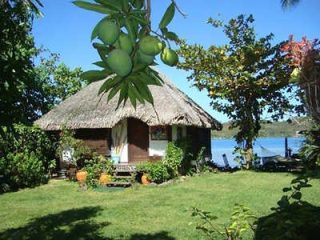 This bungalow has an authentic decor, a great location on the main island, and an outdoor dining area
Airbnb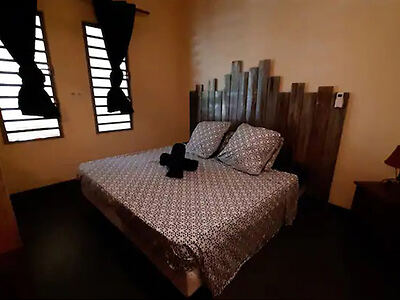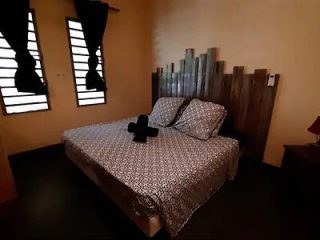 A spacious villa that offers travelers beach access, 2 rooms, a kitchen and a sharred backyard  
InterContinental Bora Bora & Thalasso Spa – Bora Bora has so many amazing luxury resorts that, to be honest, I couldn't keep all to myself! These 4 options are incredible but here's another resort that I think you'll love! Located on Motu Piti Aau, on the eastern side of Bora Bora, this beach resort offers private overwater villas and has a spa center, swimming pool, and a restaurant with lagoon views!
Things to do in Bora Bora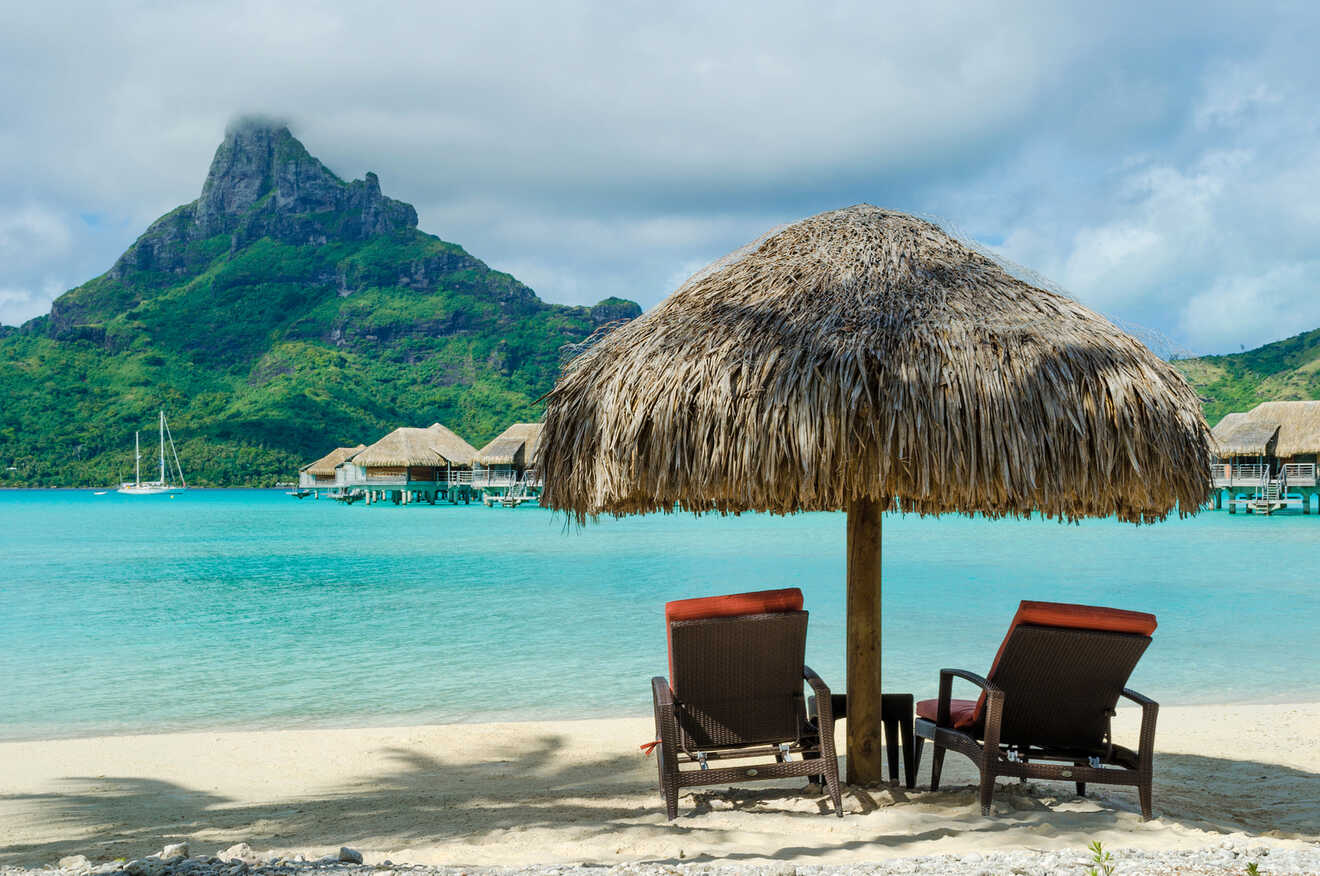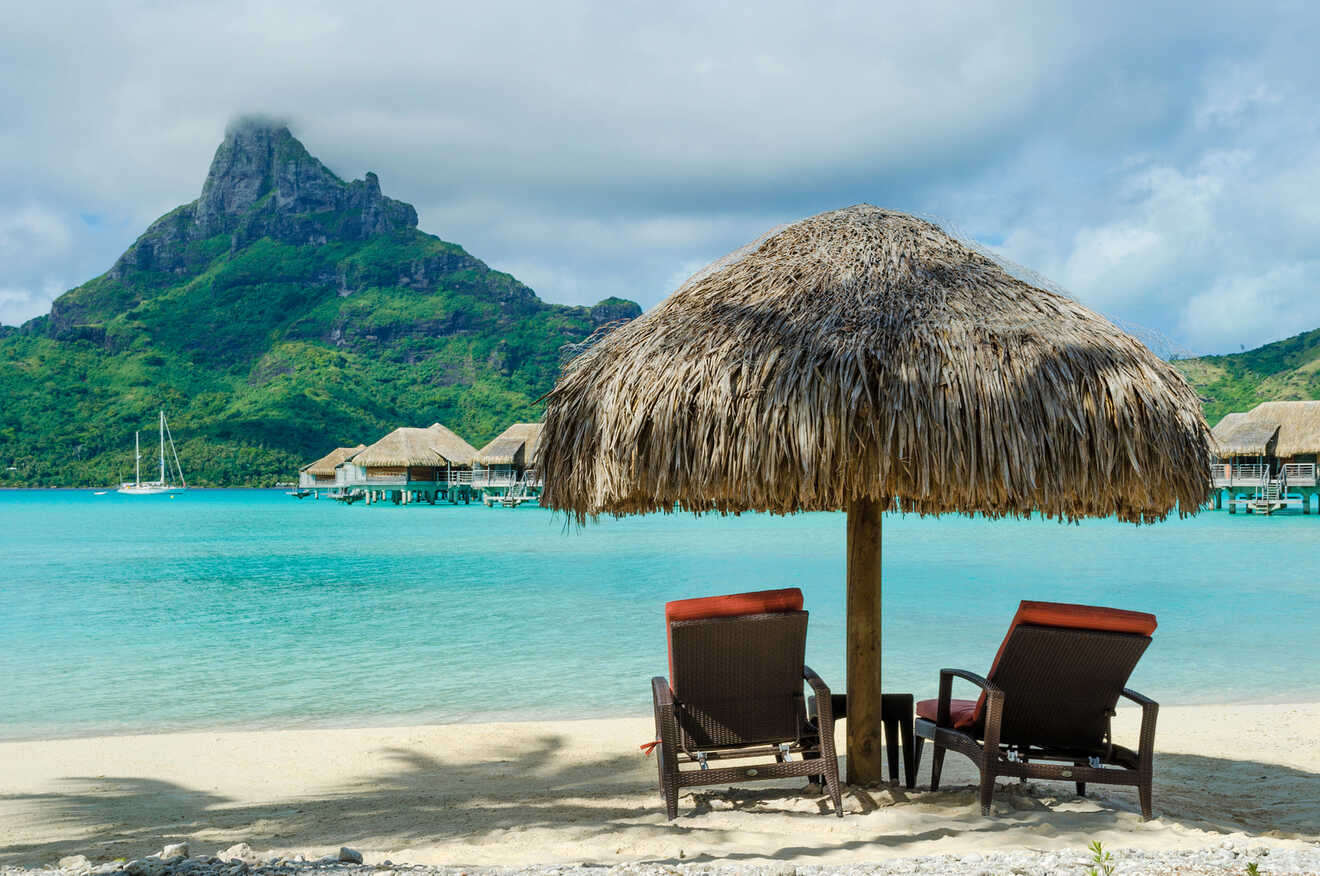 Sunbathe all day long on Matira Beach
Explore the hiking trails around Mount Otemanu
Admire the views of Mont Pahia
Take a trip to Taha'a Island
Catch a sunset near Mataorio Bay Point
Visit the Marina area
Go on a snorkeling safari tour
2. Moorea – best place to stay in French Polynesia for outdoor activities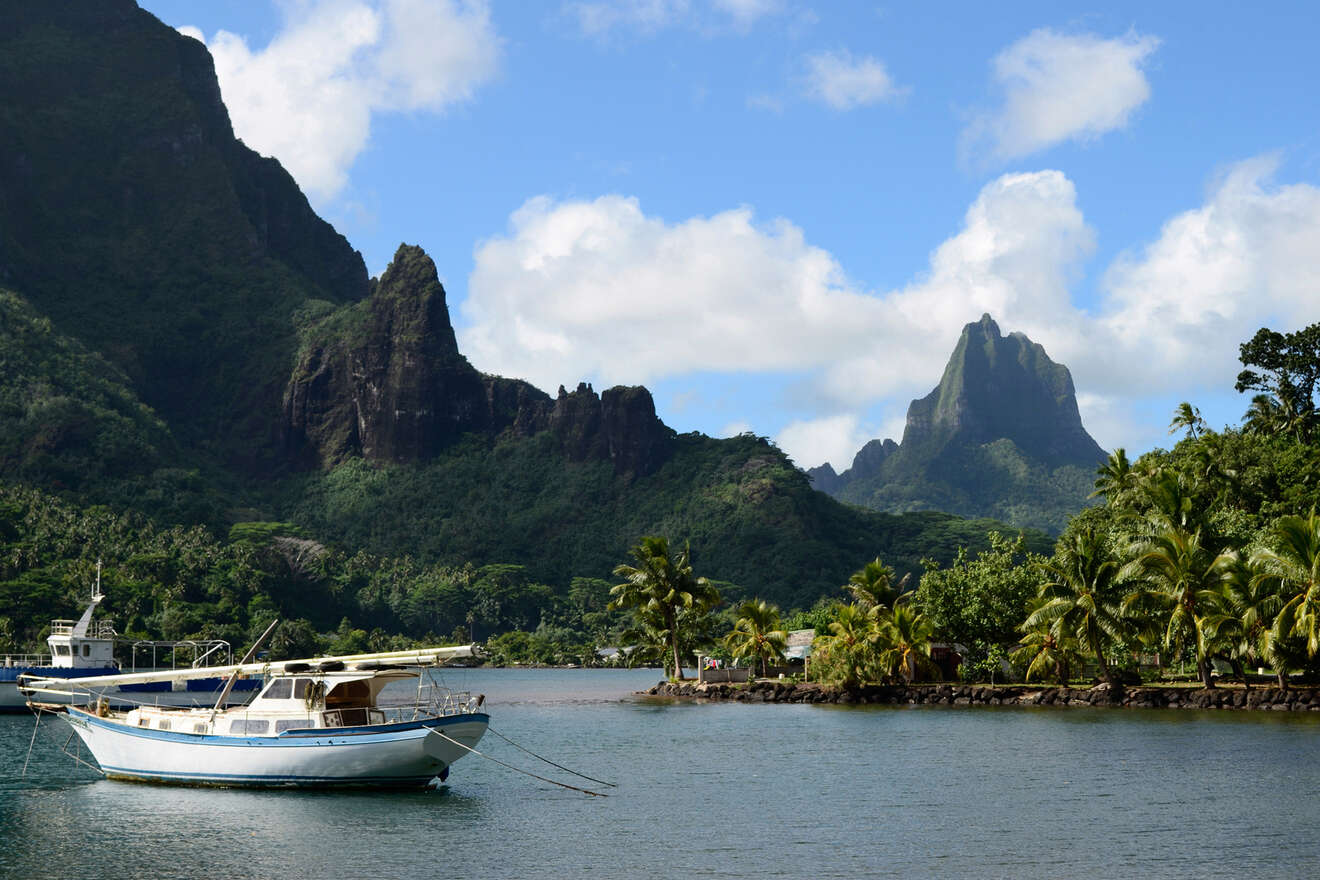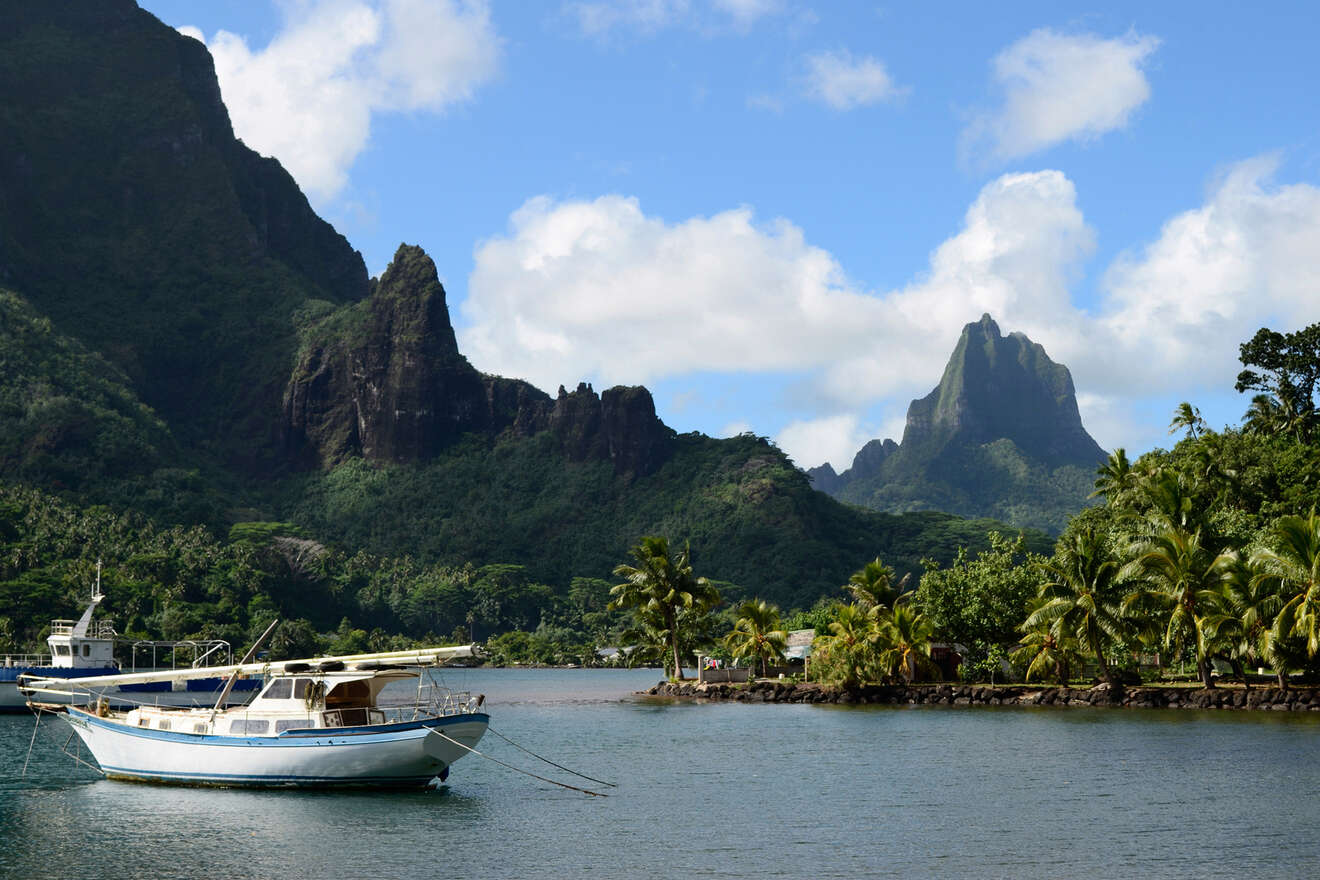 Eager to explore the tropical grounds and eat traditional Polynesian food? Moorea is a smaller island set off the coast of Tahiti (a place that I'll talk about below), and it's also known as the magical island!
Why?
Well, Moorea is filled with sugary beaches, lush gardens, and fantastic accommodations. There's everything from luxury resorts to budget bungalows in Moorea, all surrounded by nature.
All these islands in French Polynesia are pretty incredible, but if you're a fan of outdoor activities and want to try as many like going on a jet ski, snorkeling, or scuba diving, then Moorea is the place to go! Many of these are family-friendly activities, and the abundance of nature is insane, you'll spot incredible manta rays, turtles, and reef sharks!
Of course, many travelers visit this beautiful paradise and just relax or take each day as it comes and not plan everything (my kind of holiday). But besides the beautiful beaches and the usual lagoon views, Moorea also has vanilla and pineapple plantations that you should definitely check out!
Luxury hotel
Hilton Moorea Lagoon Resort & Spa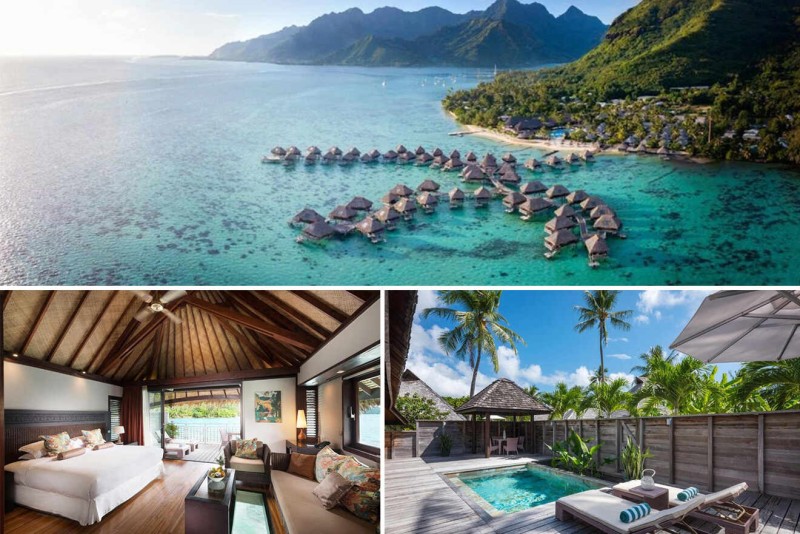 Hello paradise! This luxury resort in Moorea offers the most beautiful garden villas and overwater bungalows that offer direct lagoon access! Perfectly positioned, the bungalows at the beach resort have a terrace and some even a private plunge pool. Guests will also have access to a restaurant, a spa, and plenty of water activities at Hilton Moorea Lagoon Resort.  
Other accommodation options in Moorea
Mid-Range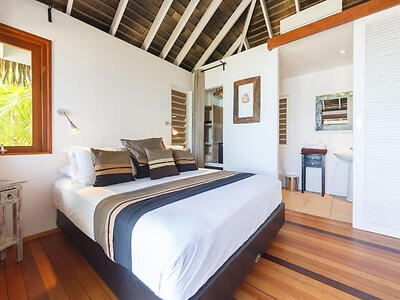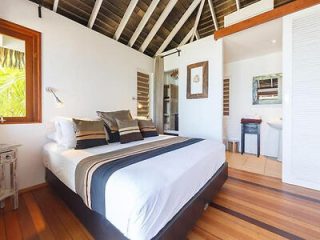 Set right on the beach, Moorea Lodge offers spacious villas, a sun terrace, and spa facilities
Budget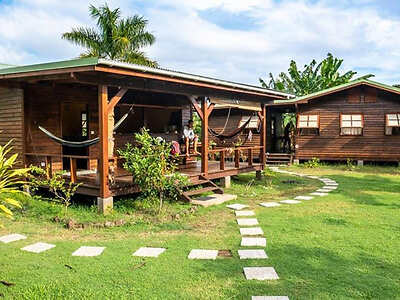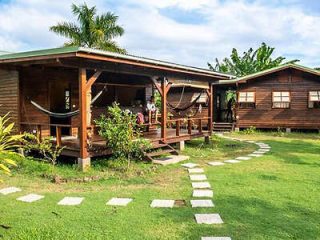 An affordable place in Moorea that has comfortable rooms with a private bathroom and free wifi
Airbnb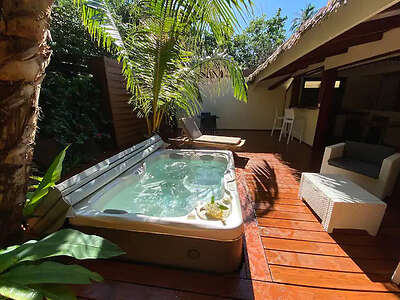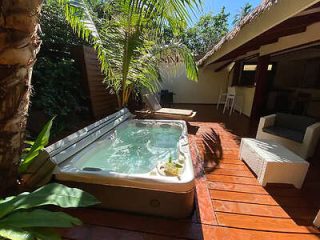 Located in a lush garden, these bungalows offer guests beach access, a hot tub, and a nice backyard
Things to do in Moorea
Explore the beautiful Moorea 'Ōpūnohu Bay
Go on a dolphin watching tour
Swim all day long at Moorea Public Beach
Take a boat ride to a private island
Catch a show at Tiki Village
Visit the Moorea Dolphin Center
Have fun during a snorkeling tour
Check out Beach Ta'ahiamanu in Moorea
3. Tahiti – where to stay in French Polynesia for families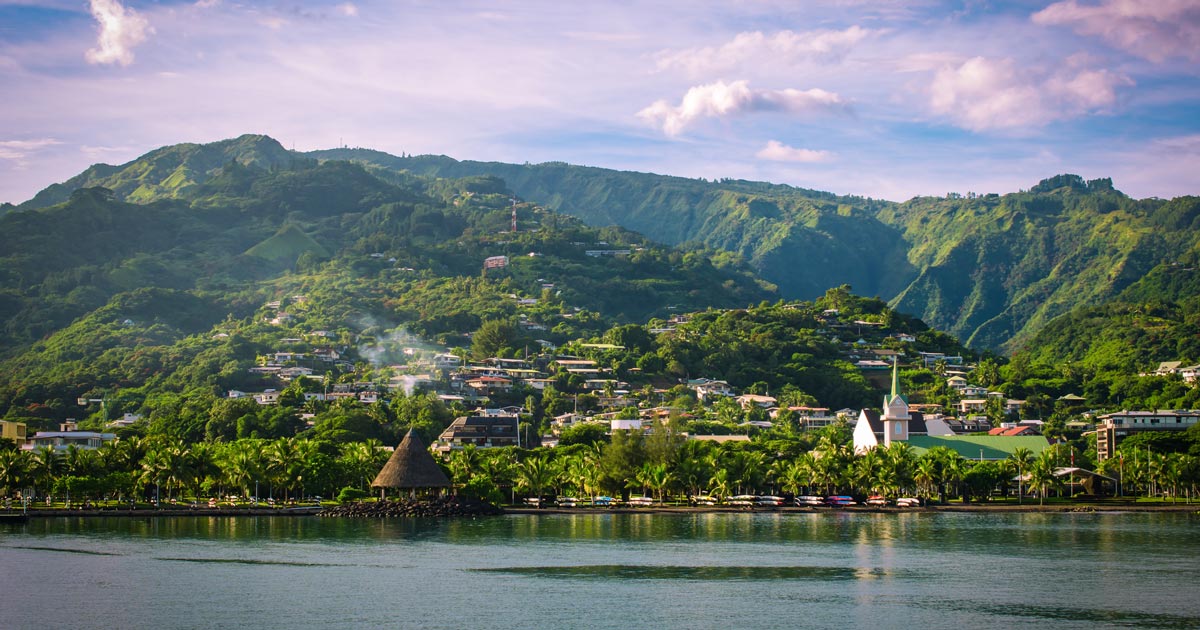 Say hello to the largest island in Frend Polynesia! This island is split into 2 parts, Tahiti Nui (Big Tahiti) in the northwest is where you'll find the capital city, and Tahiti Iti in the southeast, where most of the locals live.
Most of the population of French Polynesia in the South Pacific lives in Tahiti and usually, international travelers arrive here. So the island can get pretty crowded at times. More reason to book your luxury resorts or budget hotels in advance!
I think Tahiti is an excellent place for you and the kids as it offers different family-friendly activities. Papeete, the capital city, and the whole northwest bit of the island are great places to learn more about the traditional Polynesian culture. You'll also have access to many beautiful beaches and sea parks.
The southwest part of Tahiti Iti is, as I mentioned, populated by locals, but the area is super raw and it's a great area to stay on the island if you and the kids don't really like big crowds. It's also super nice because you'll experience the authentic Tahiti atmosphere!
If this is the chosen island for your holiday in French Polynesia, I recommend reading my post on the best areas and hotels in Tahiti as I offer a whole lot of details there that will help you!
Luxury hotel
InterContinental Tahiti Resort & Spa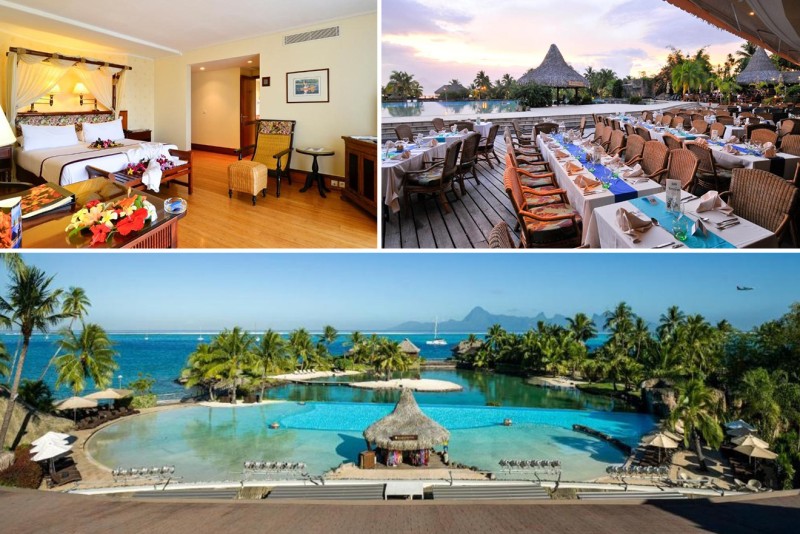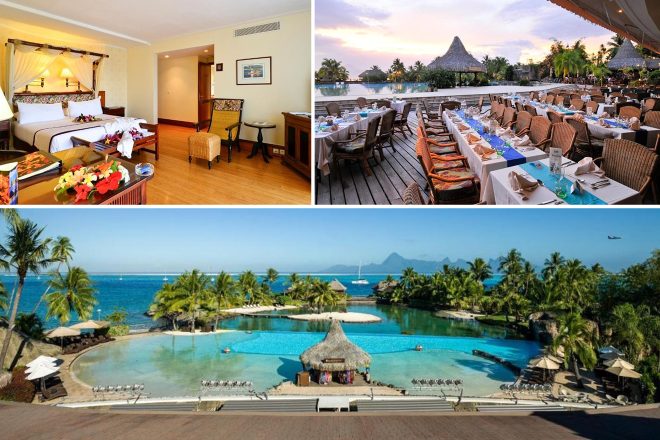 Start your holiday in French Polynesia in style at this luxury resort that's tucked away between the lush gardens. The overwater bungalows offer lagoon views and come with lots of space for you and the kids. At InterContinental Tahiti Resort, guests will have access to a diving center, a spa, an open-air aquarium, and tennis courts so you can have fun all day!
Other accommodation options in Tahiti
Mid-Range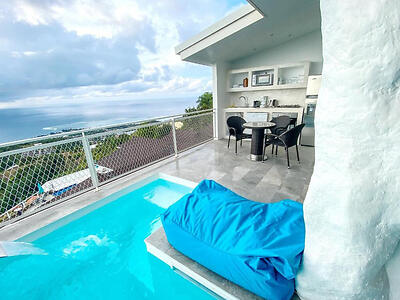 A beautiful family-friendly guesthouse that has a swimming pool, a kitchen, and lots of board games
Budget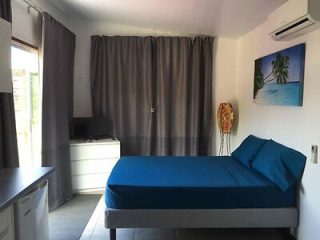 This affordable and comfortable bungalow offers guests a garden, a terrace, and kitchen facilities
Airbnb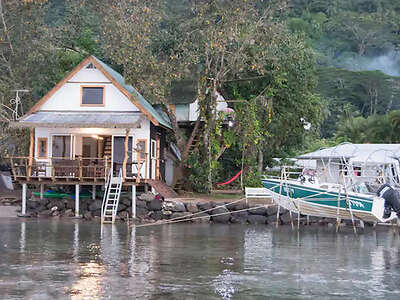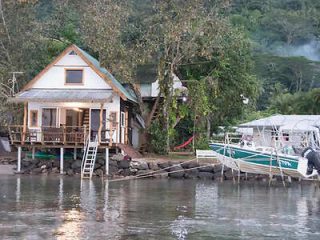 Perfect for a large group, this  bungalow offers stunning views, lots of space and a patio
Things to do in Tahiti
Learn new things at the Museum of Tahiti
Take the kids to the Tahiti Sea Park
Spend a fun day ar Water Gardens Vaipahi
Join a safari tour on Tahiti island
Go on a hike with the family around Mount Aorai
Try out poisson cru, a delicious dish with coconut milk and raw tuna
4. Huahine – best place to stay in French Polynesia to relax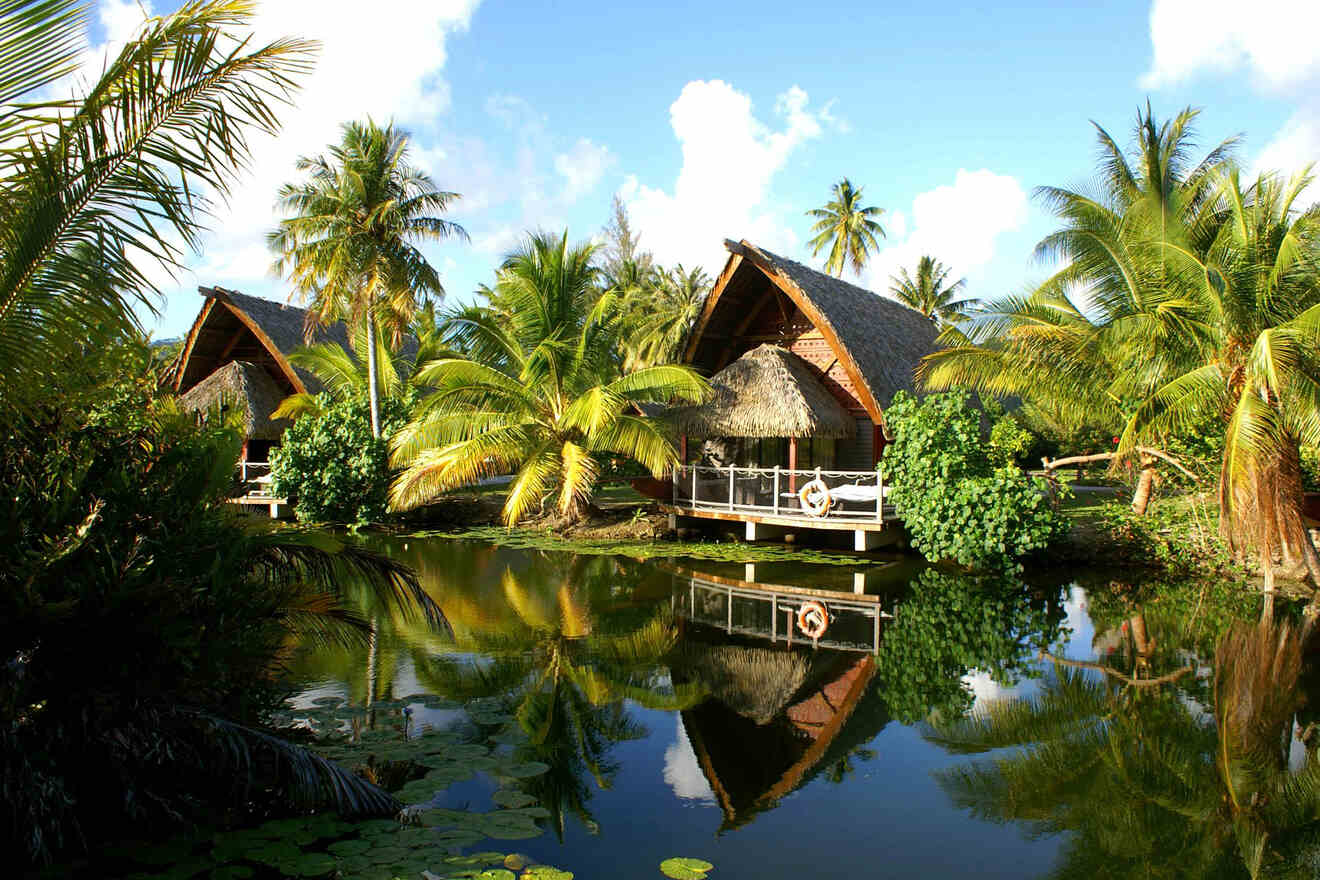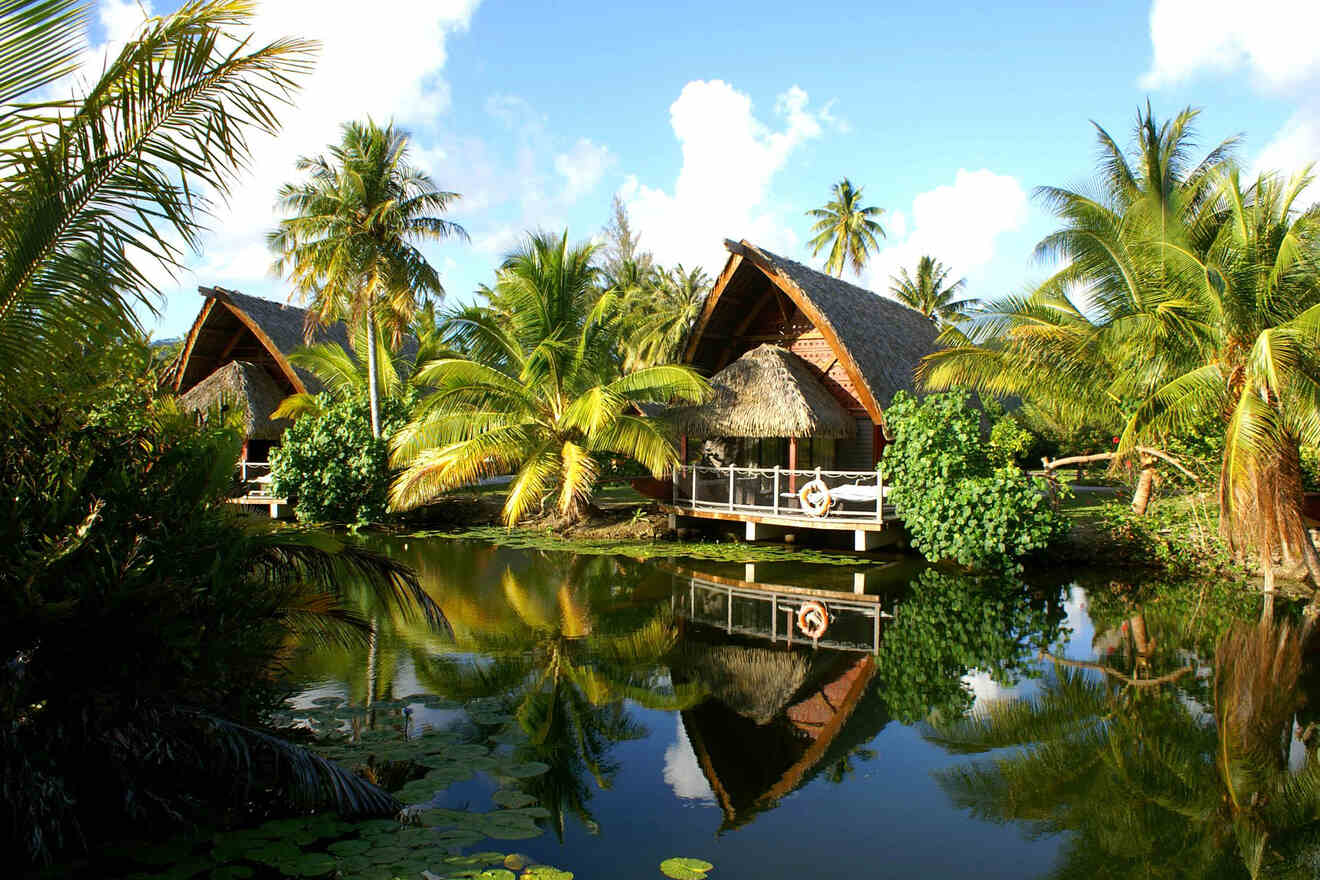 This lesser-known island is French Polynesia's hidden gem! If you want to escape the crowds and relax during this holiday, you've hit the jackpot with Huahine!
The island gets fewer visitors, which is also why you won't find any fancy luxury hotels or all-inclusive resorts here. However, I managed to find a list of great accommodations that I'm sure will suit your needs.
Huahine is also known as the Garden Island, filled with abundant lush jungles and greenery. Don't worry, though. You'll still find a crystal clear lagoon you can admire for hours!
Just like Tahiti, this island also consists of 2 smaller islands, Huahine Nui (Big Huahine) and Huahine Iti (Small Huahine), connected by a bridge. Both islands offer unique activities, from hiking to archeological sites and pearl farms.
There are also plenty of water activities that you can try here like snorkeling and kayaking, and of course, sunbathing on its beautiful beaches!
Now let's hop on to see the best hotels in Huahine. As I mentioned, there are no luxury resorts here, but if you've got your heart set on a super fancy resort, then I recommend checking out Le Taha'a Island Resort which is located on another secluded island, pretty tranquil that gets fewer tourists than the other ones.
Other accommodation options in Huahine
Mid-Range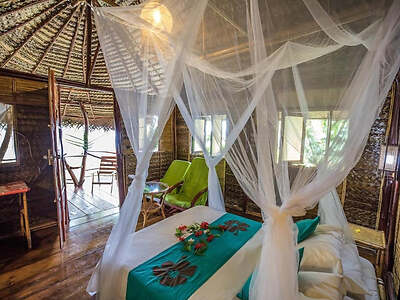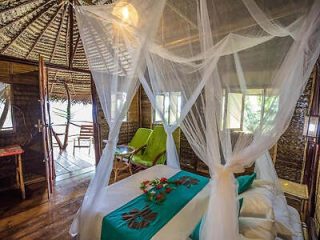 Located in a lush garden, this family-friendly place offers bungalows, breakfast, and a sun terrace  
Budget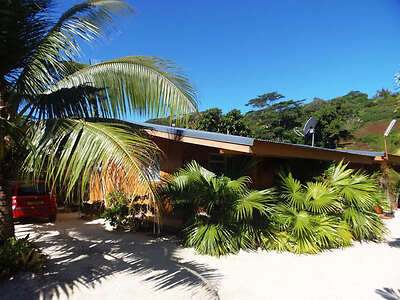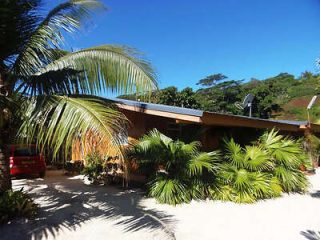 An affordable and comfortable guesthouse that has cozy rooms with a private bathroom and a garden
Airbnb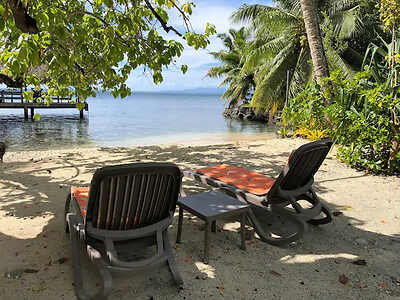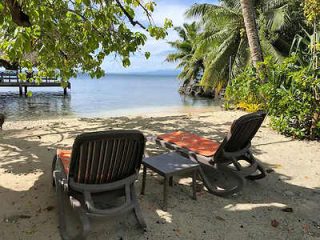 Enjoy the island vibes at this fabulous bungalow near the beach that has a patio and air conditioning
Things to do in Huahine
Chill on the Hana Iti Beach
Visit the marae Maeva archaeological site
Check out the beautiful Huahine Pearl Farm
See the unique eels of Faie
Go hiking around the island
FAQs about the best places to stay

in French Polynesia
🏝️ Which Polynesian island is the most beautiful?
Bora Bora is the most beautiful out of all the islands! Its turquoise lagoon and lush greenery will make you fall in love with it. And let's not forget about the amazing luxury hotels with overwater bungalows like Le Bora Bora by Pearl Resorts.
📅 What is the best time of year to go to French Polynesia?
June and August are the best months to visit the islands in French Polynesia. That's when the weather is at its best, but beware as it can get pretty crowded. 
🤔 Is Bora Bora or Tahiti better?
Both islands are unique but it depends on your preferences. Bora Bora is great for honeymooners and those who just want to be on the beach. Tahiti is great for families and people who want to learn about the Polynesian culture.
💰 Is it expensive to stay in French Polynesia?
Yes, the French Polynesian islands are some of the most expensive in the world, especially if you pick a private island resort. However, there are affordable ways to visit this paradise especially if you book budget hotels that cost less than US$100.
🌊 Which island has hotels over the water in French Polynesia? 
Conclusion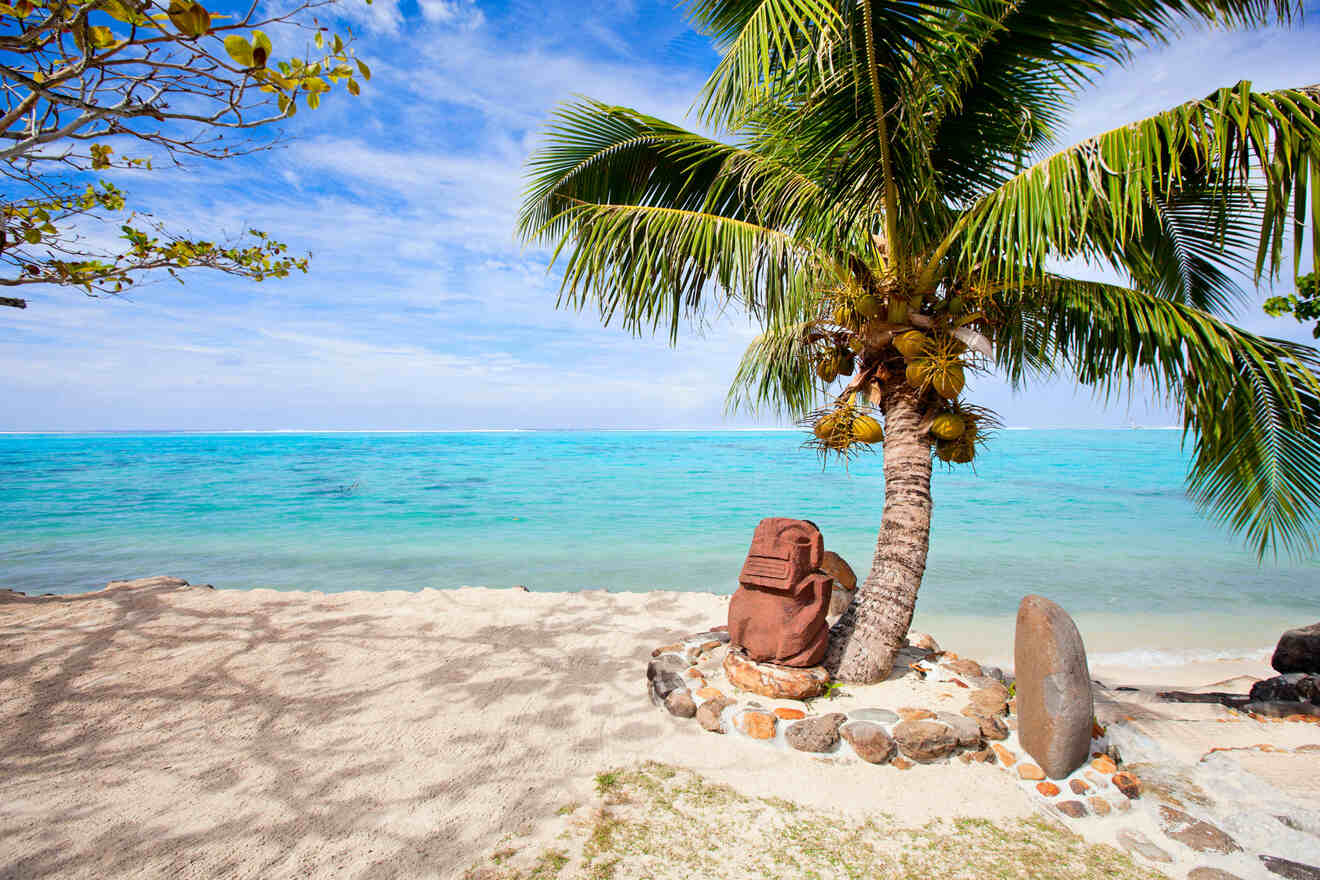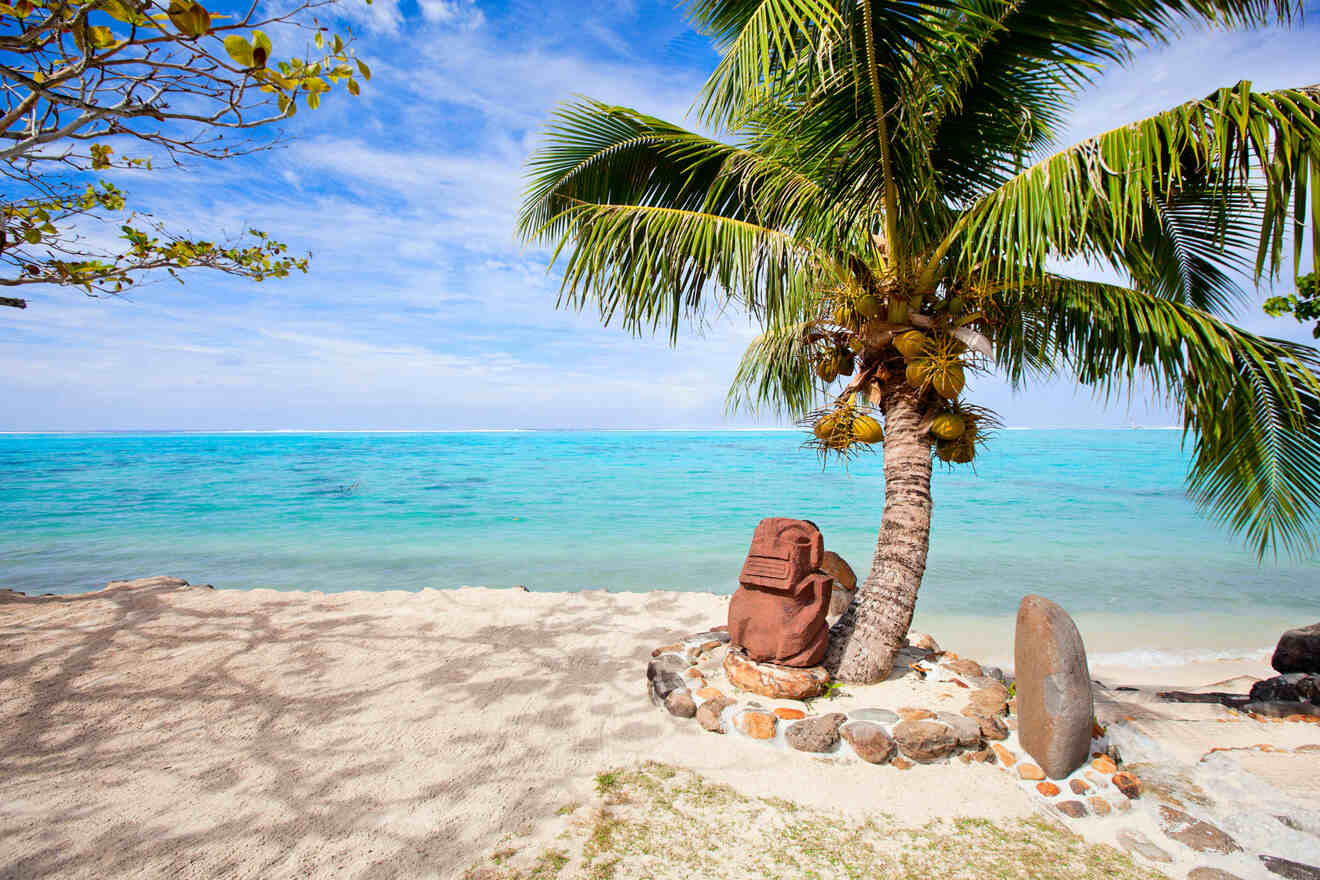 Can these islands get any more beautiful? I'm sure you'll love every minute of your holiday here!
I'm sure this post sure helped you with all the details! We've gone through a list of the best areas to stay in French Polynesia and the top luxury hotels, mid-range, and budget hotels in each one.
I know I've offered a long list of accommodations! But trust me that will help you so much when planning the holiday. Still, if you find yourself a bit overwhelmed here are my top 2 favorite French Polynesia hotels, both located in Bora Bora:
Le Bora Bora by Pearl Resorts – A fabulous beach resort that offers stunning overwater villas with direct access to the lagoon, and a spa center
Royal Bora Bora – This resort has beautiful mid-range villas that are set near the beach and come with garden views
I can't emphasize enough how important it is to book your French Polynesia hotels in advance! These islands in the South Pacific are super popular and they sell out months in advance!
Enjoy your holiday in French Polynesia, it won't be one that you'll forget anytime time soon. Of that I'm sure! And by the way, feel free to leave me any comments below if you've got a question about a specific resort or maybe other suggestions, I'm here to help with all that!
Have a fun trip,
Victoria
---
Pin it for later!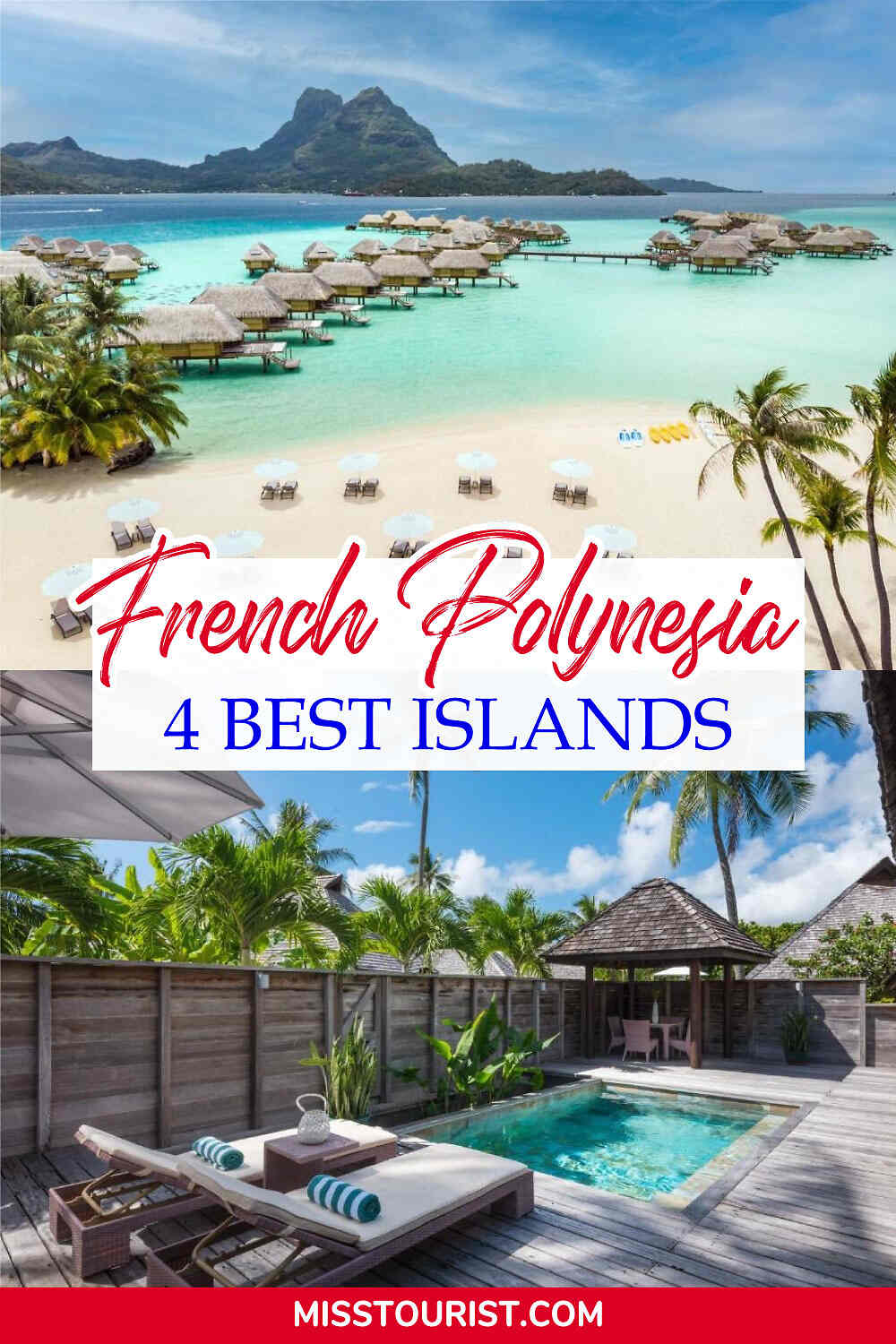 Pin it for later!