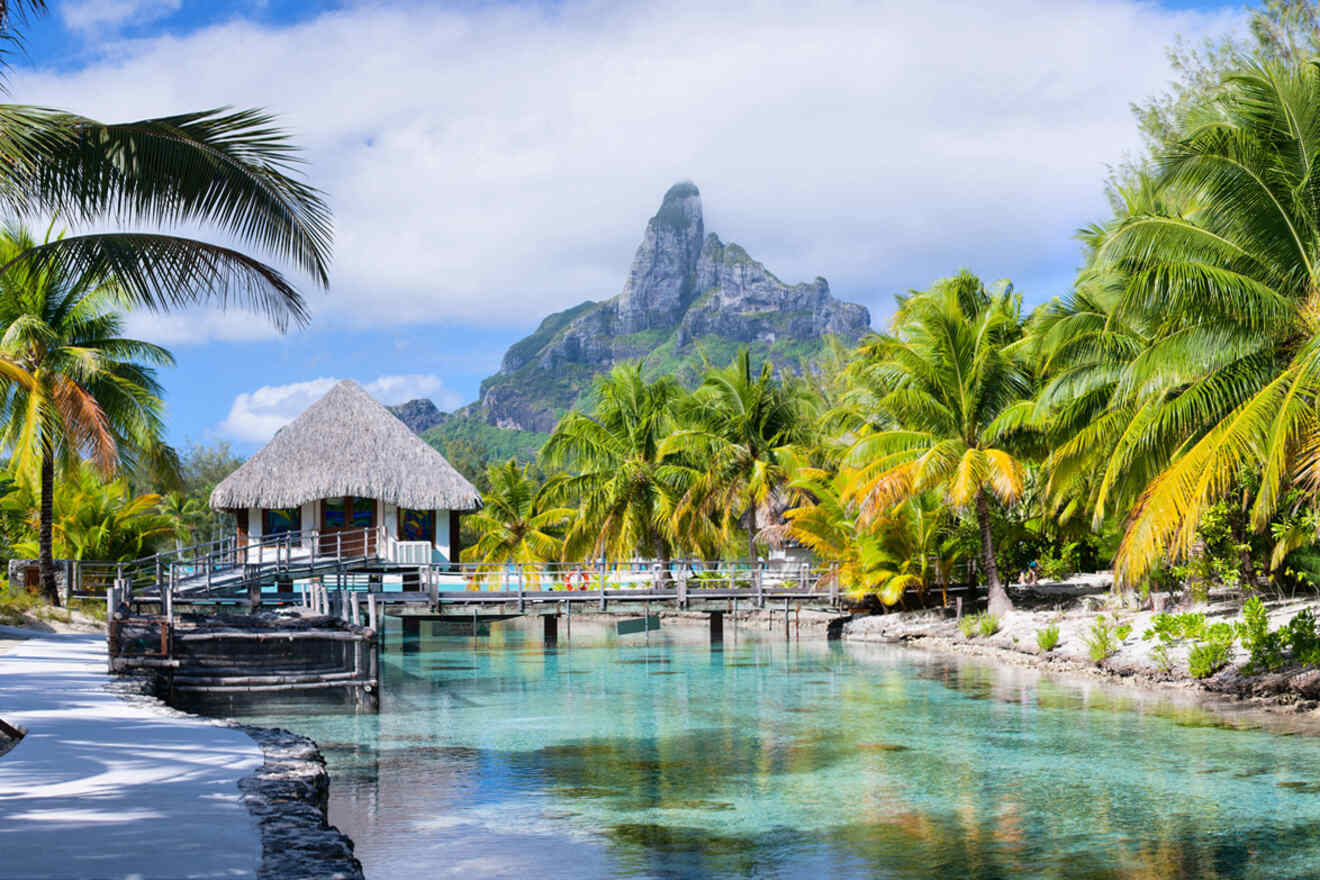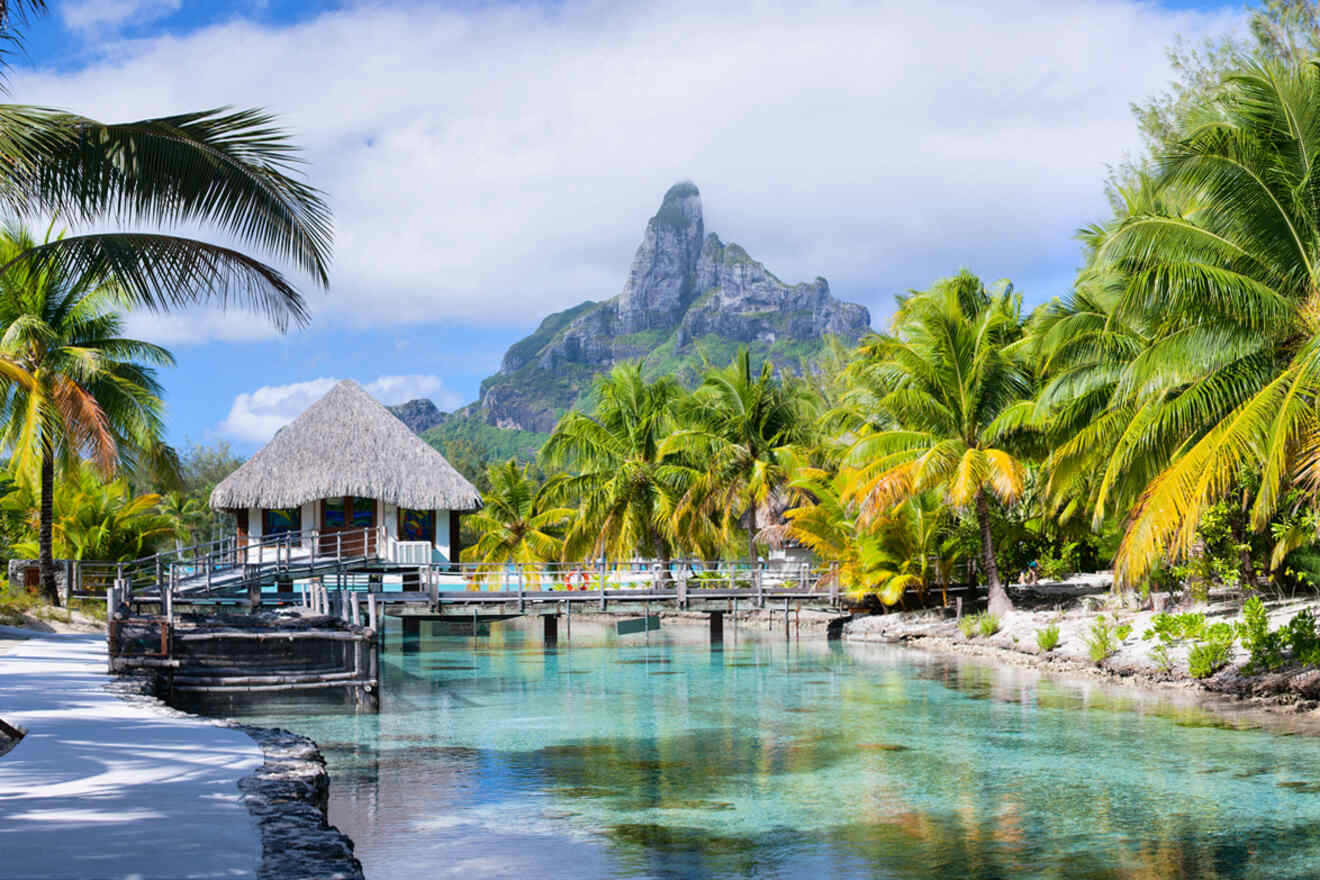 I bet everyone here has dreamt of a trip to Bora Bora at least once in their lives! Am I right? This location in French Polynesia is magical and filled with so much beauty you may find it hard to choose where to stay in Bora Bora since there are many unique spots!
But this is where I come in! In this post, I'll help you find the best hotels and resorts on the island! From luxurious resorts on a private island with overwater bungalows to super affordable accommodations on the main island.
Yep, Bora Bora is not just for the rich and wealthy! You can travel here on a budget and I'll show you how! The hotels and overwater bungalows are listed here from most to least expensive so you can easily decide which resort to pick.
You will notice there are a few resorts that offer overwater bungalows sprinkled throughout the list, but if you are looking for the best of the best overwater bungalows in Bora Bora, make sure to stick around for my bonus section on just that!
But I can't emphasize enough how important it is to book these resorts in advance! Bora Bora is one of the most popular destinations in the world so the best ones always go fast!
Are you ready to start the trip of a lifetime, to go snorkeling in a coral garden and swim in the turquoise lagoons?
Then hop on board and let's start!
If you are in a hurry
For those of you who want to book right now, here's a list of all the best hotels where to stay in Bora Bora by price range:
Check out this map to see where all the Bora Bora hotels and resorts on my list are located:
Luxury (US$1000 and up)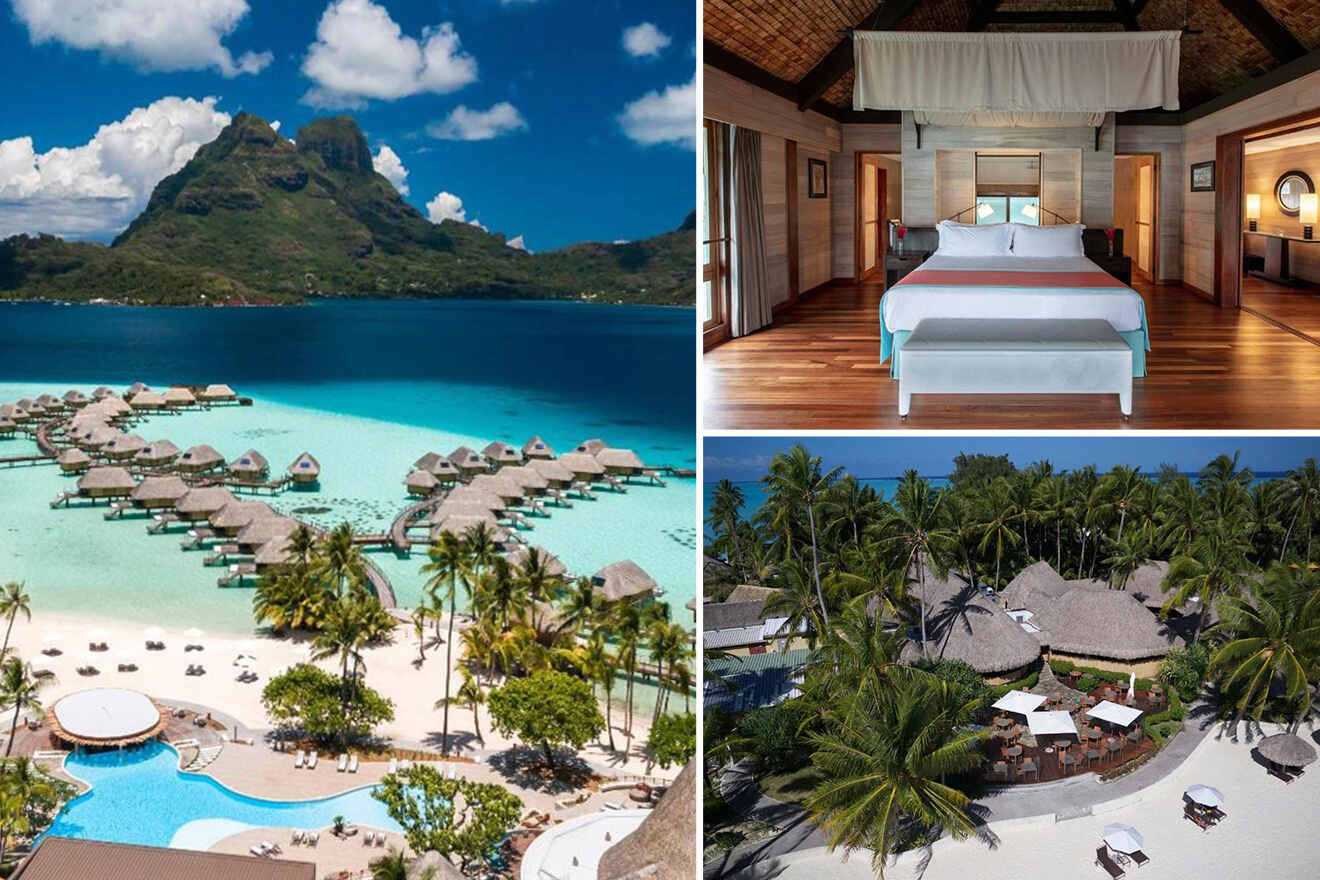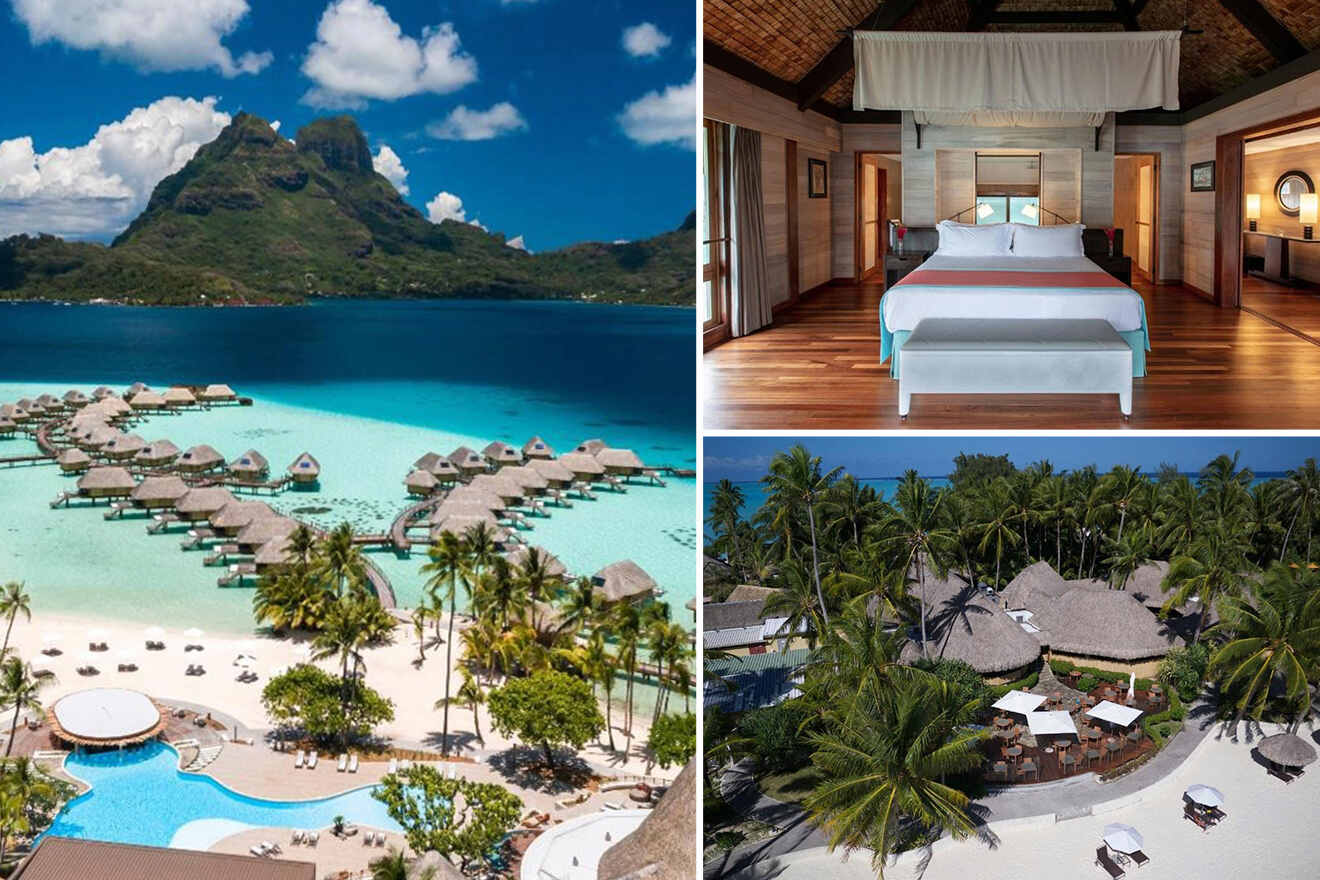 Mid Range (US$250 – US$350)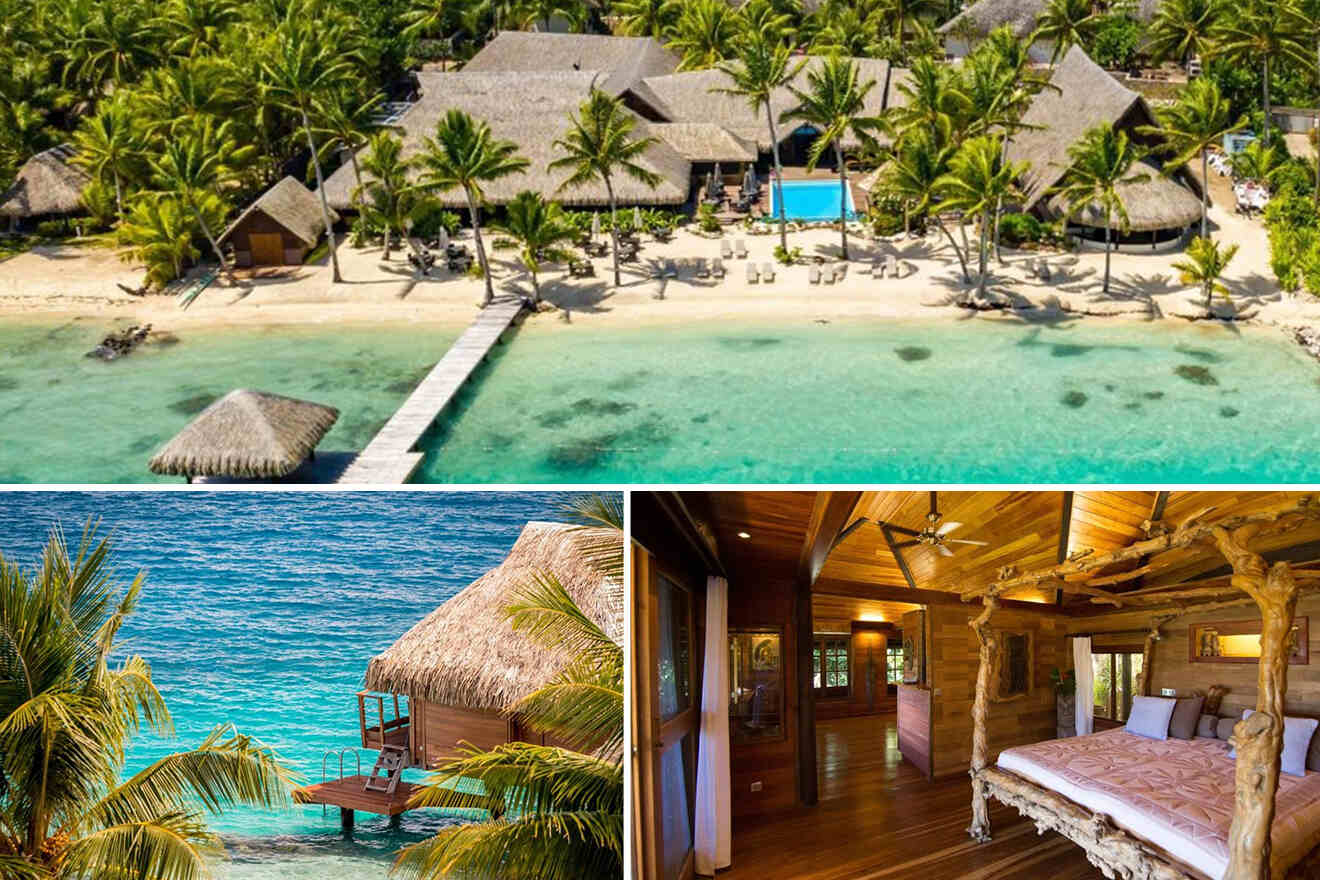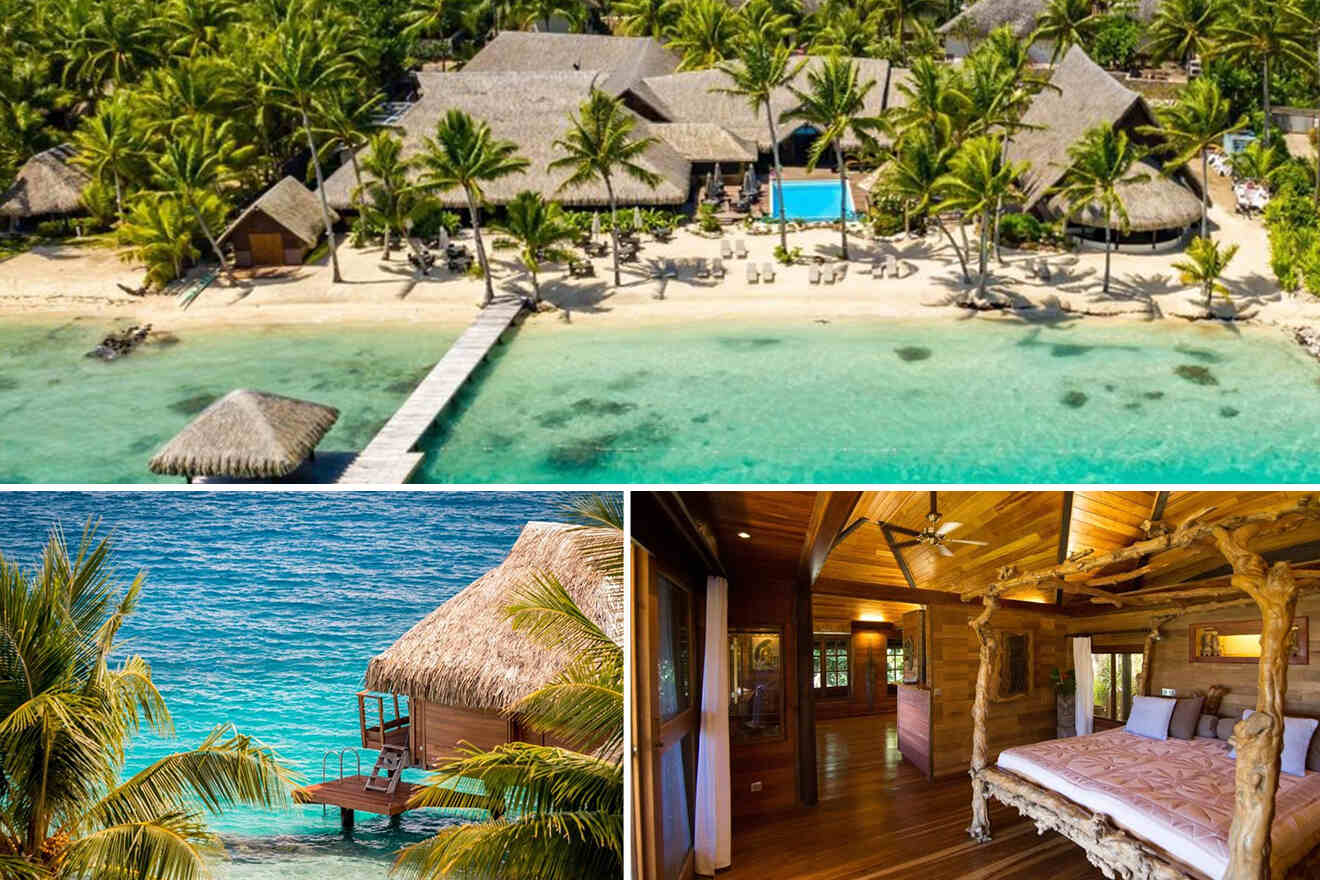 Budget (up to US$150)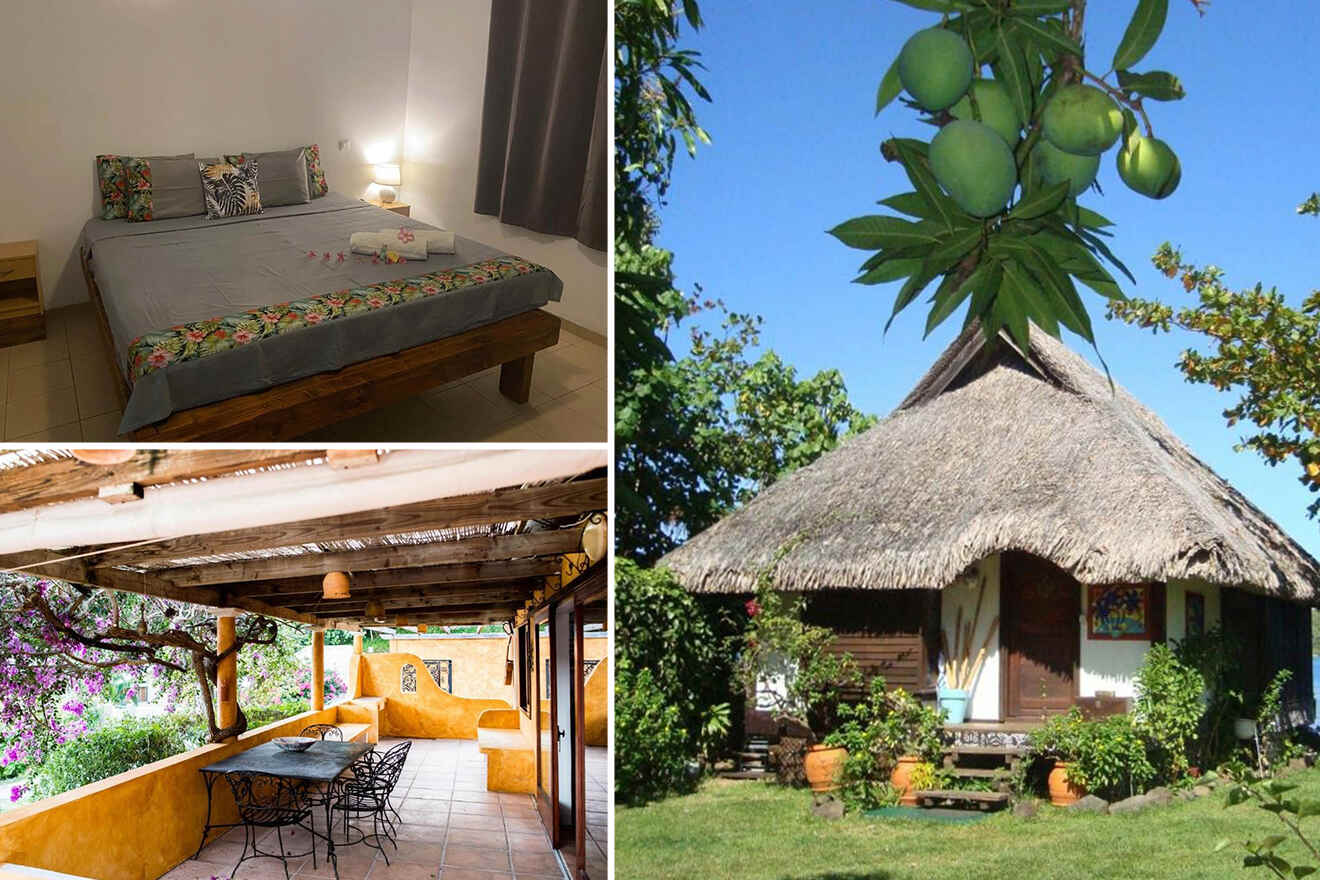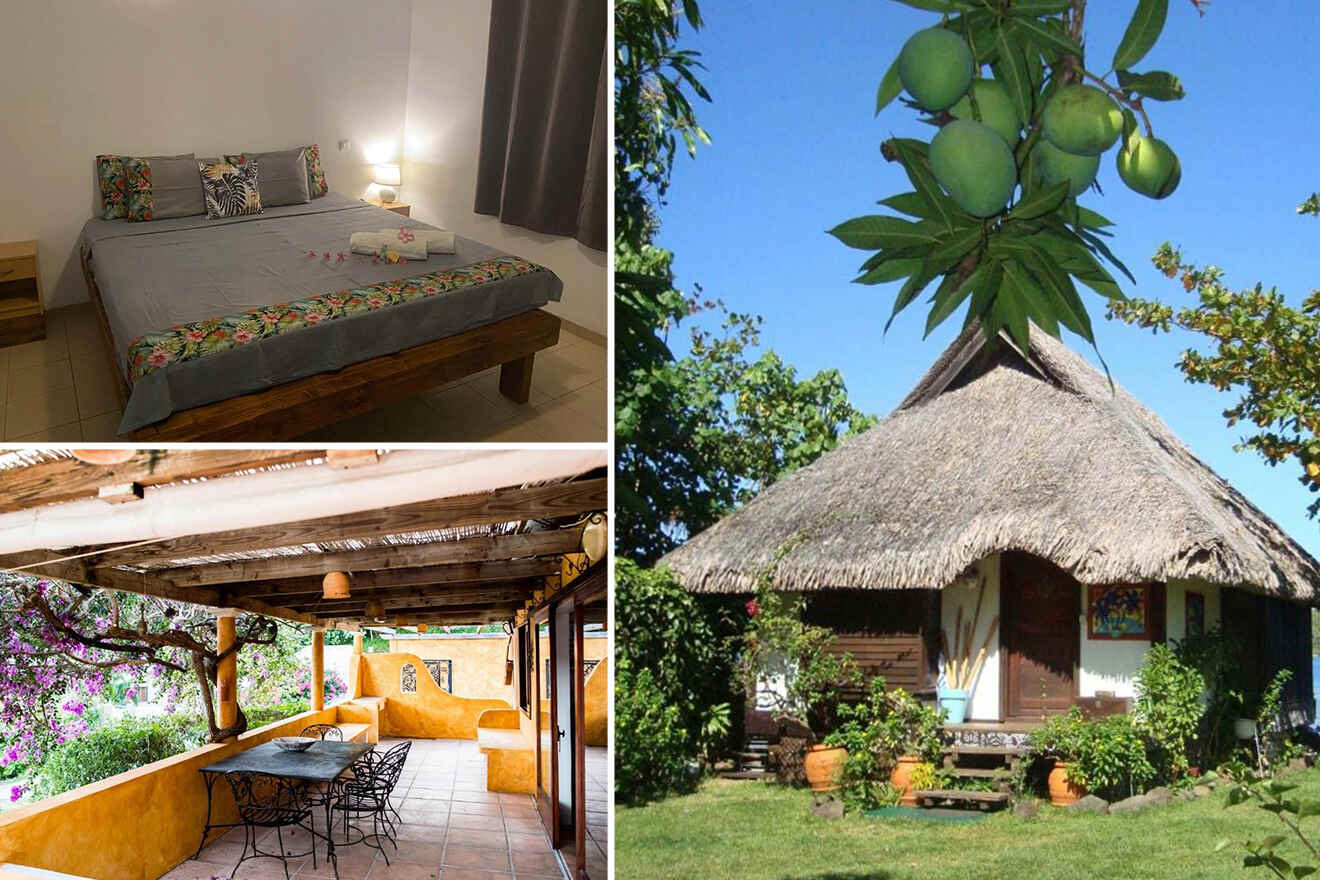 BONUS 1: Best overwater bungalows in Bora Bora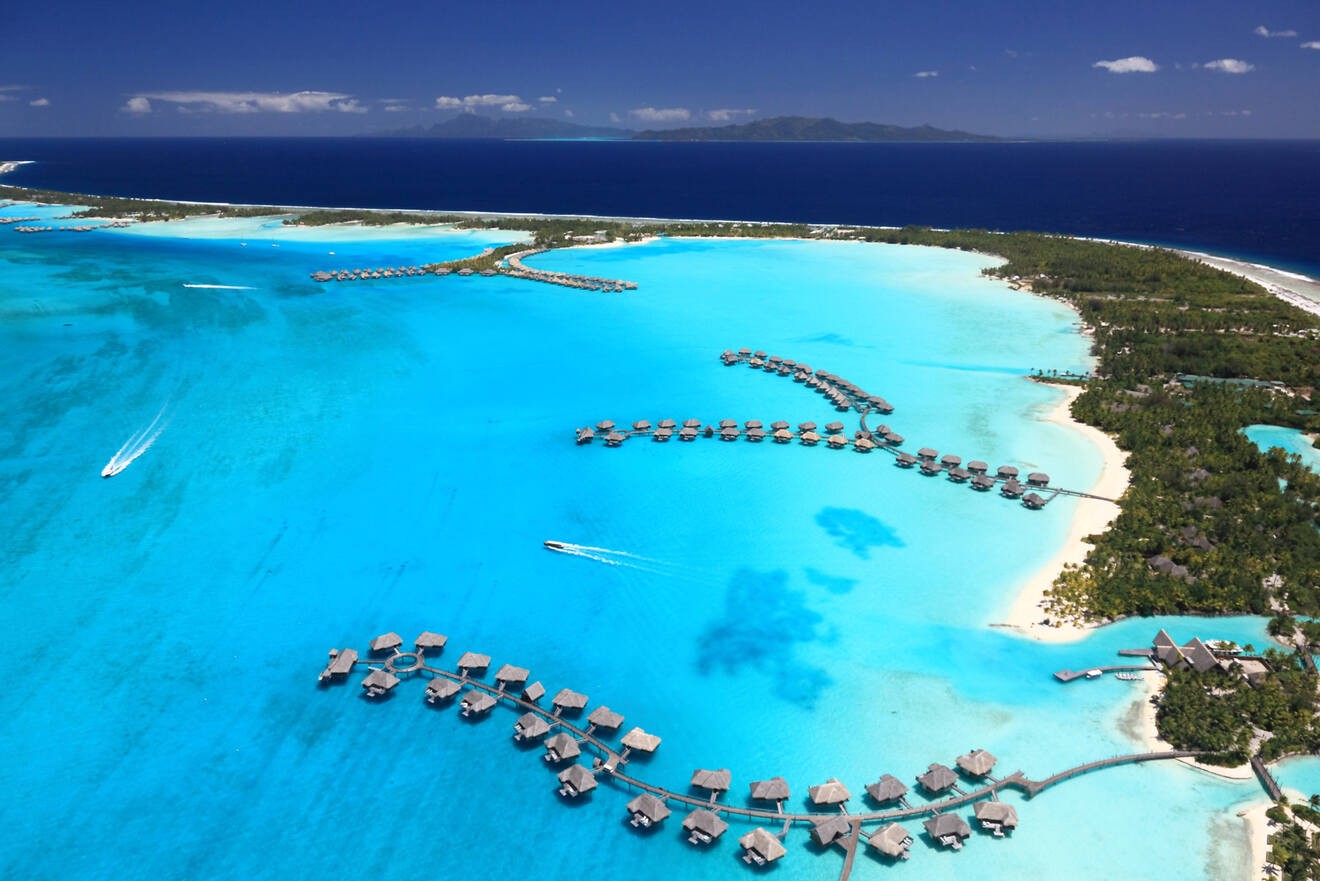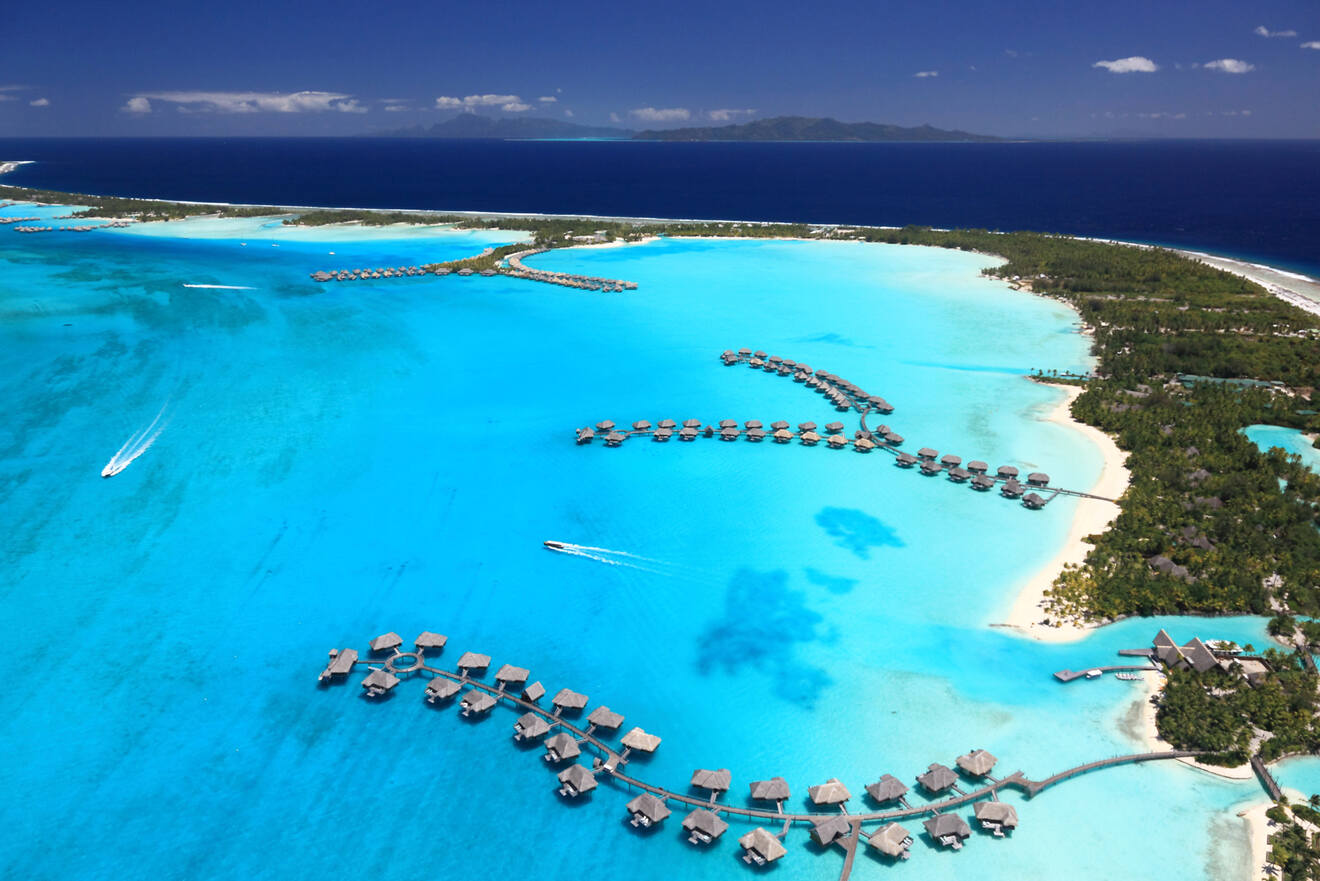 What's the first thing that comes to your mind when thinking of Bora Bora?
Overwater bungalows, right?
I knew it! Of course, we picture a turquoise lagoon, a white sand beach, and wooden walkways but the bungalows are the main focal point! If you have your heart set on staying in an overwater bungalow then look no further because here you'll discover a list of the best ones in Bora Bora!
All the resorts in this list are luxurious with prices from US$1300 to US$1800.
InterContinental Bora Bora Resort Thalasso Spa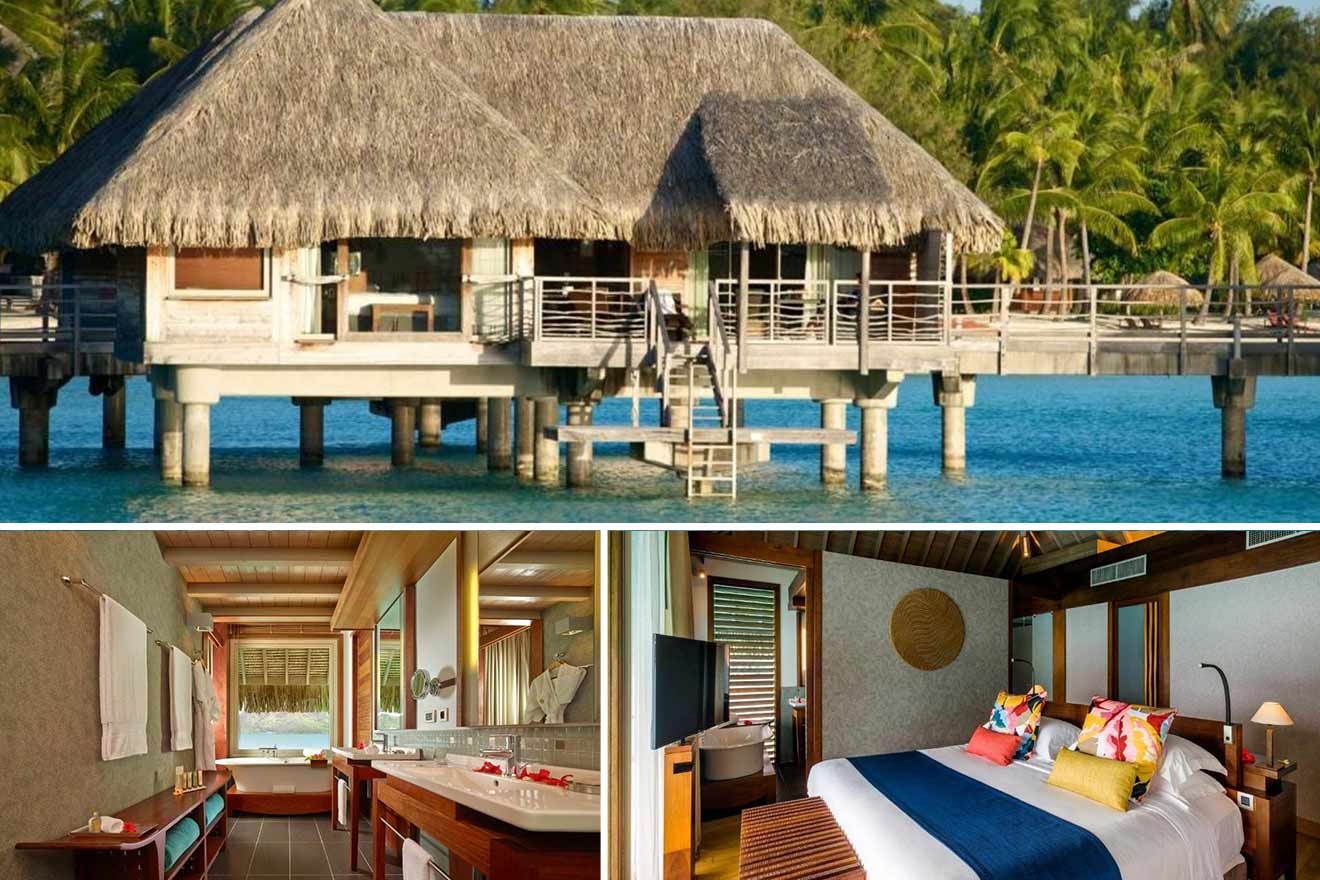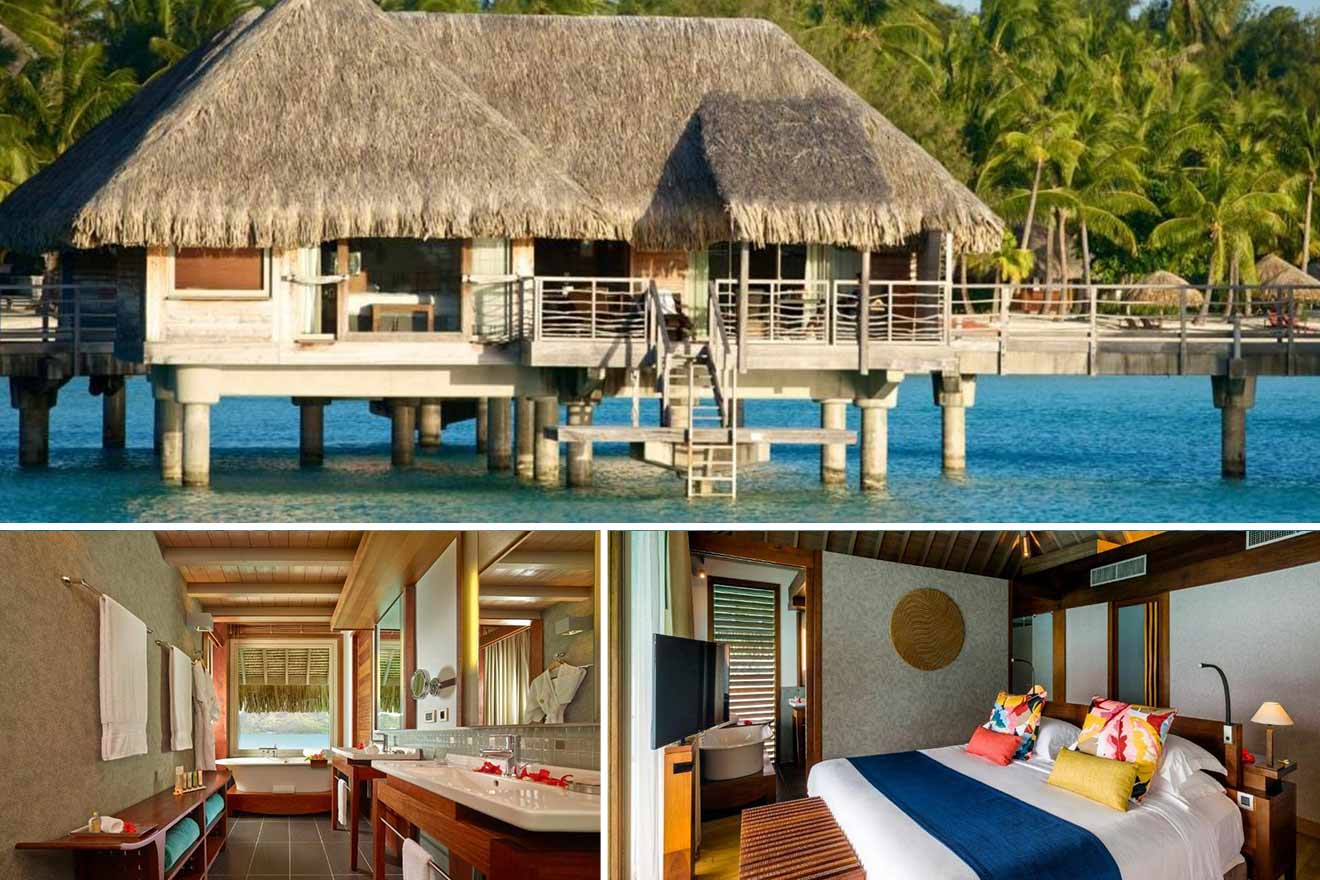 Imagine sitting on the private deck of your overwater bungalow, admiring the stars at night and how the moon shines in that turquoise lagoon! So dreamy! During the day chill on the private beach of this 5-star beach resort, sunbathing or swimming in that crystal blue water!
And what better way to conclude your afternoon than with some treatments at the spa center (they have a cool one with ocean water). Then head back to your overwater bungalow take a quick nap and get ready for a night of delicious food, live shows, and yummy cocktails!
Four Seasons Resort Bora Bora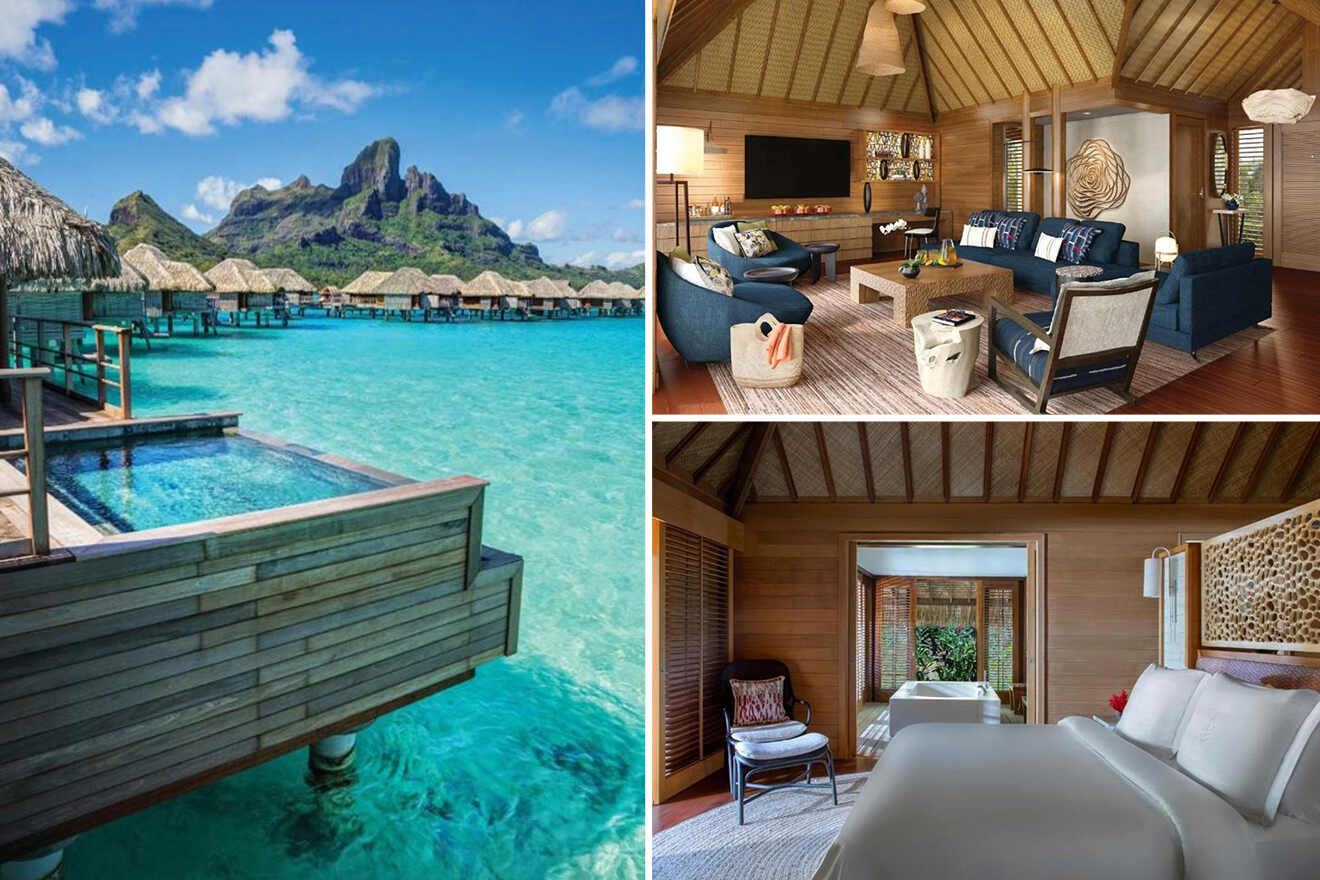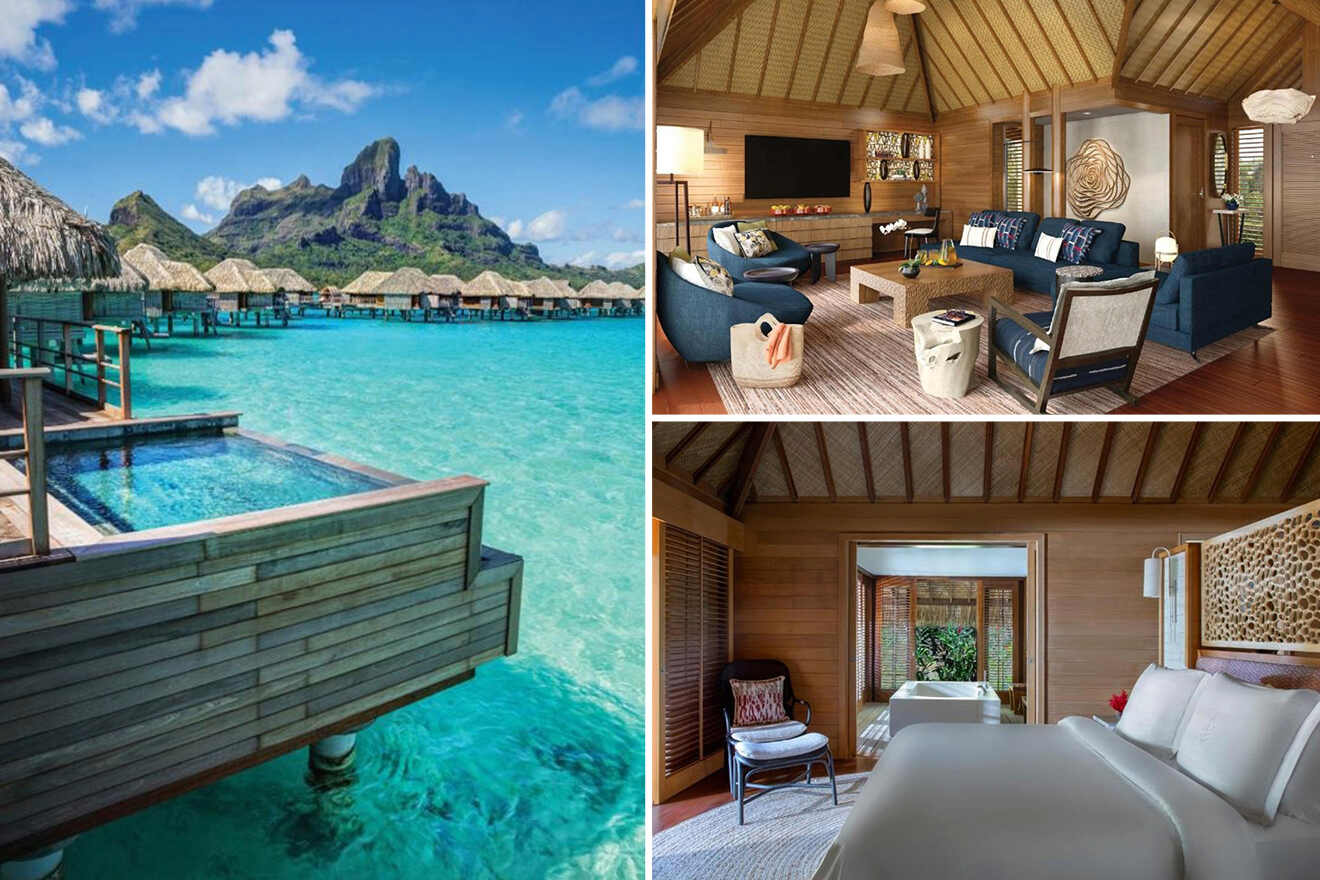 You can't go wrong with this beach resort! Wake up in the middle of the ocean in your overwater villa and get the first sight of Mount Otemanu. Now that's a great way to start your day! Fix up some coffee and drink it in your private pool while looking at the majestic mountains!
Then relax with a massage at Te Mahana Spa or maybe enjoy a quick sesh in the open-air fitness center, if you're up for it! You'll also have a private beach area which will basically feel as if you're on your own private island! It's not only the design and facilities that make Four Seasons Resort Bora Bora the perfect choice, the resort also offers activities like kayaking, sailing, and snorkeling in the lagoon sanctuary.
Conrad Bora Bora Nui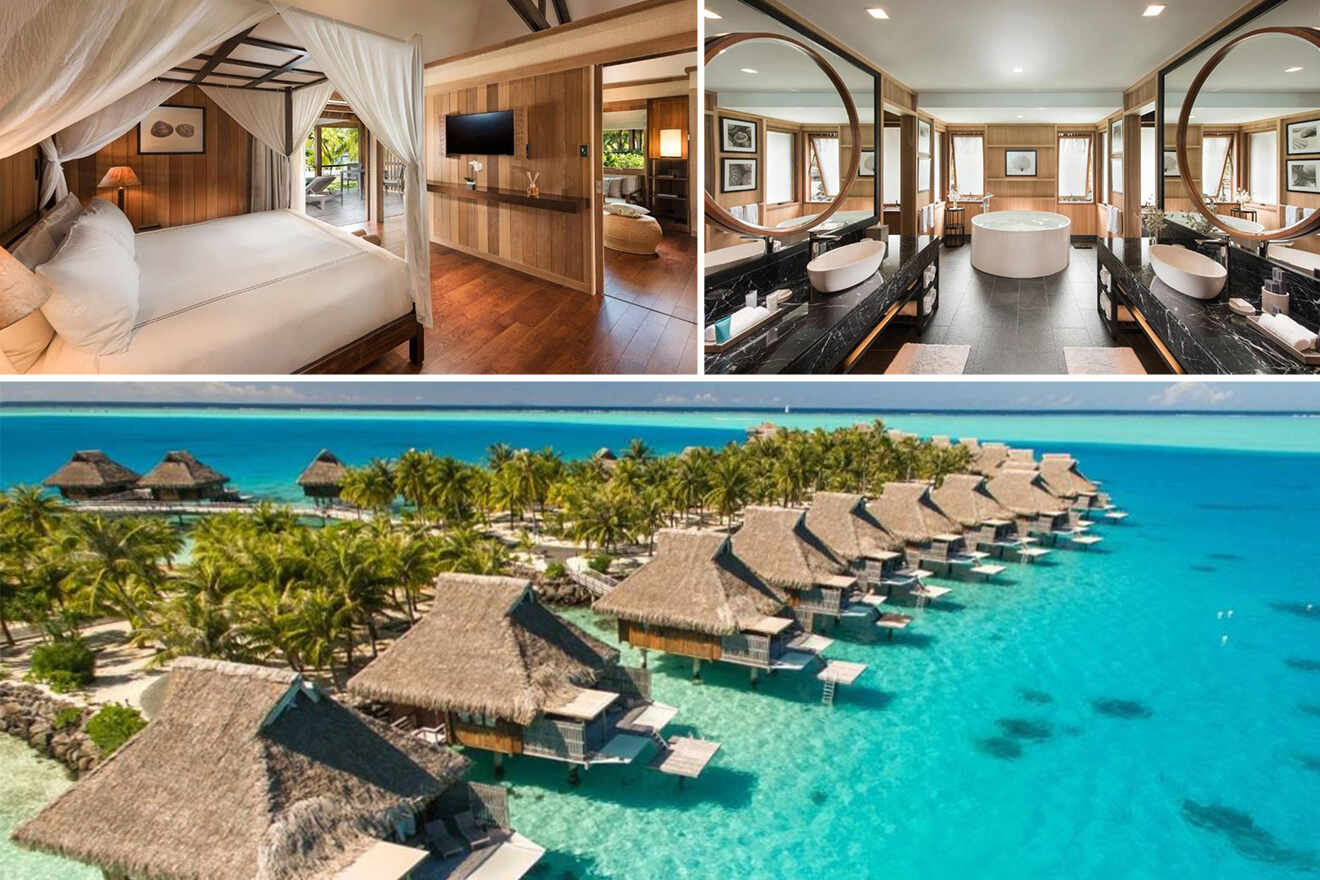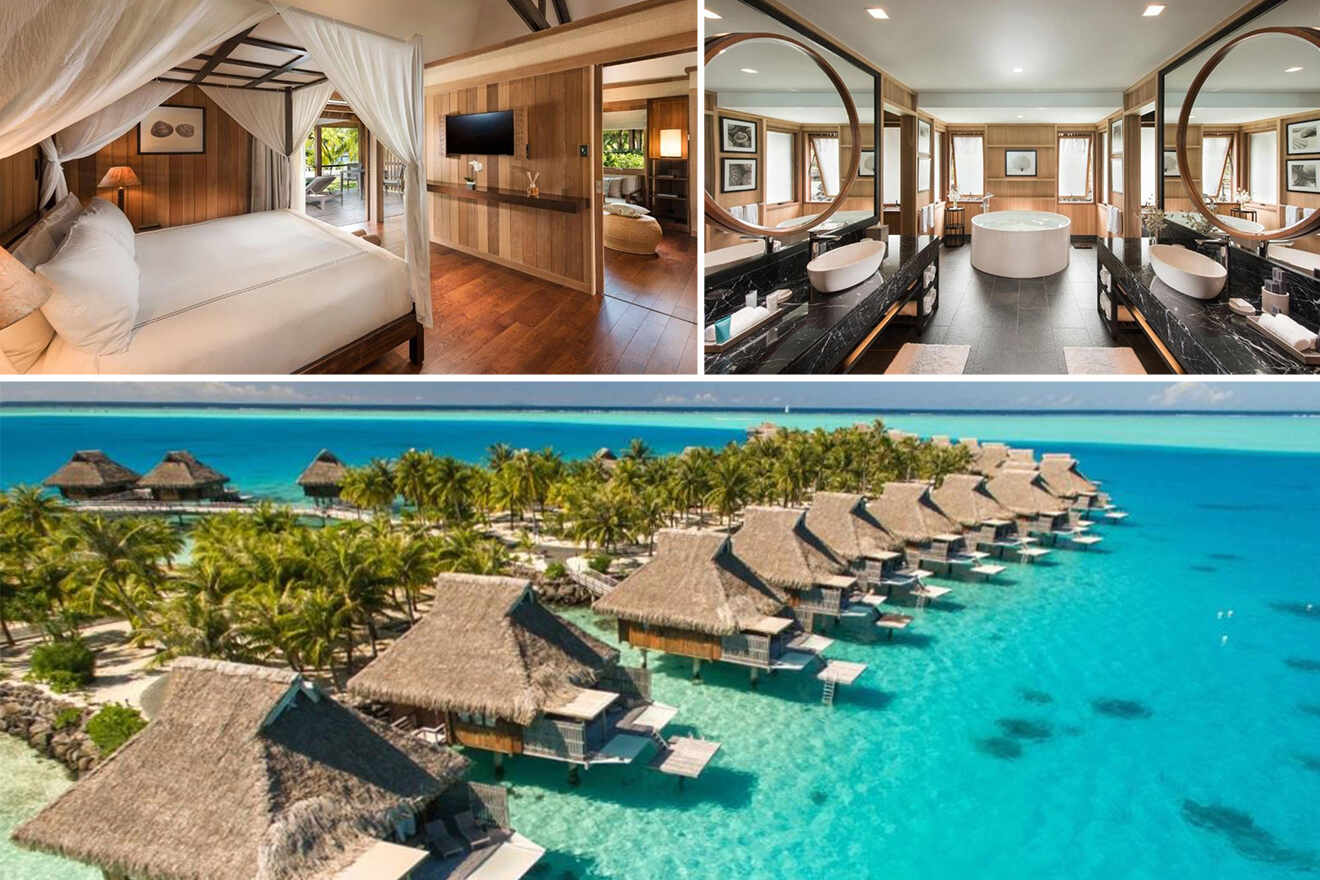 Planning a romantic getaway to Bora Bora? Then have a look at this fabulous resort that's set right on the beach! You'll have the time of your life watching the sun setting over the blue lagoon in your private plunge pool or from the stunning infinity pool!
Customize your comfort with the resort's pillow menu, and if you manage to leave your overwater bungalow (I know you'll probably want to spend the whole morning there), go get a massage at the hilltop spa. After that long flight, you'll need it, trust me! Plus, after that, you'll feel super well-rested which means you'll be up for some cocktails and maybe even some dancing?
BONUS 2: Best hotels for families in Bora Bora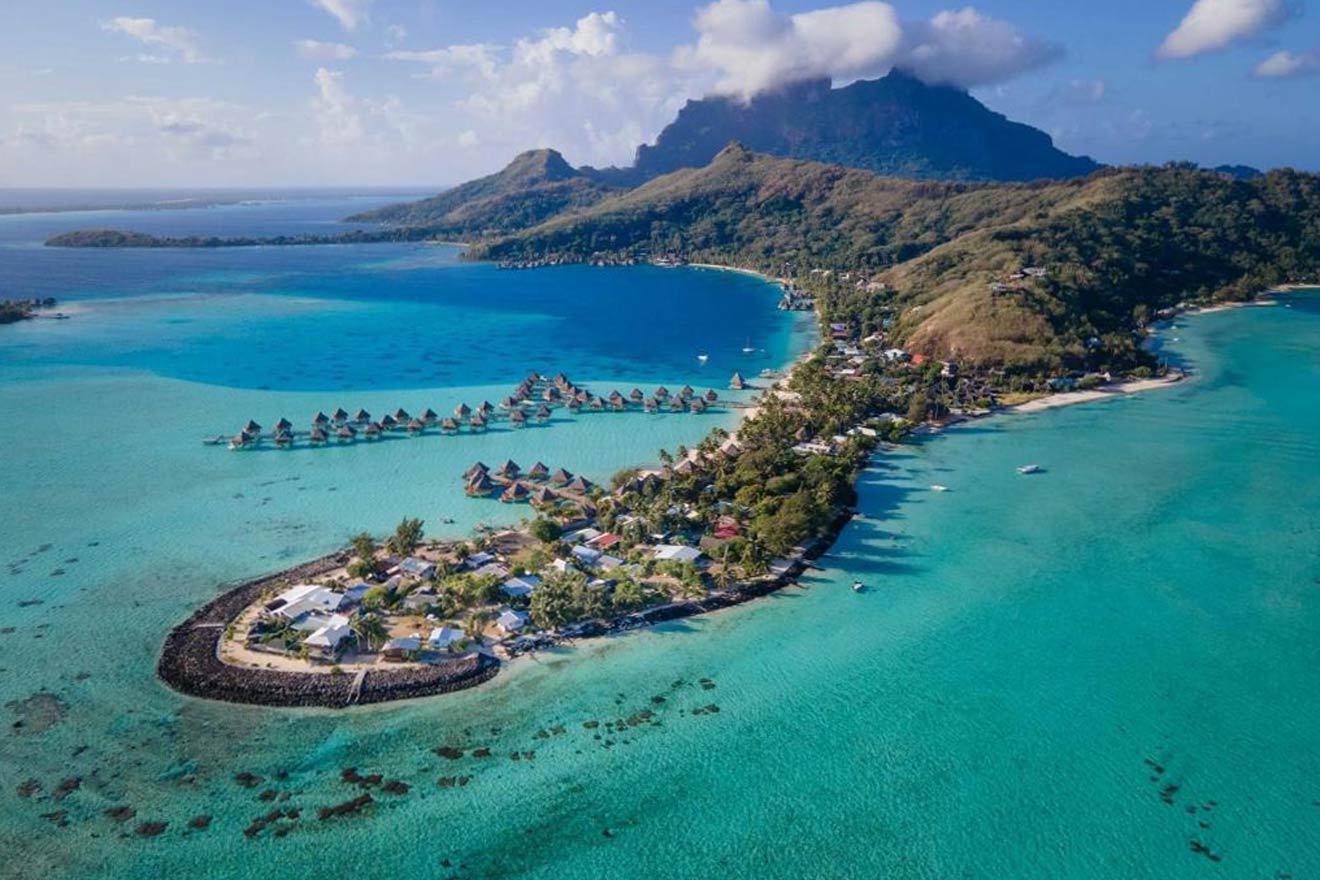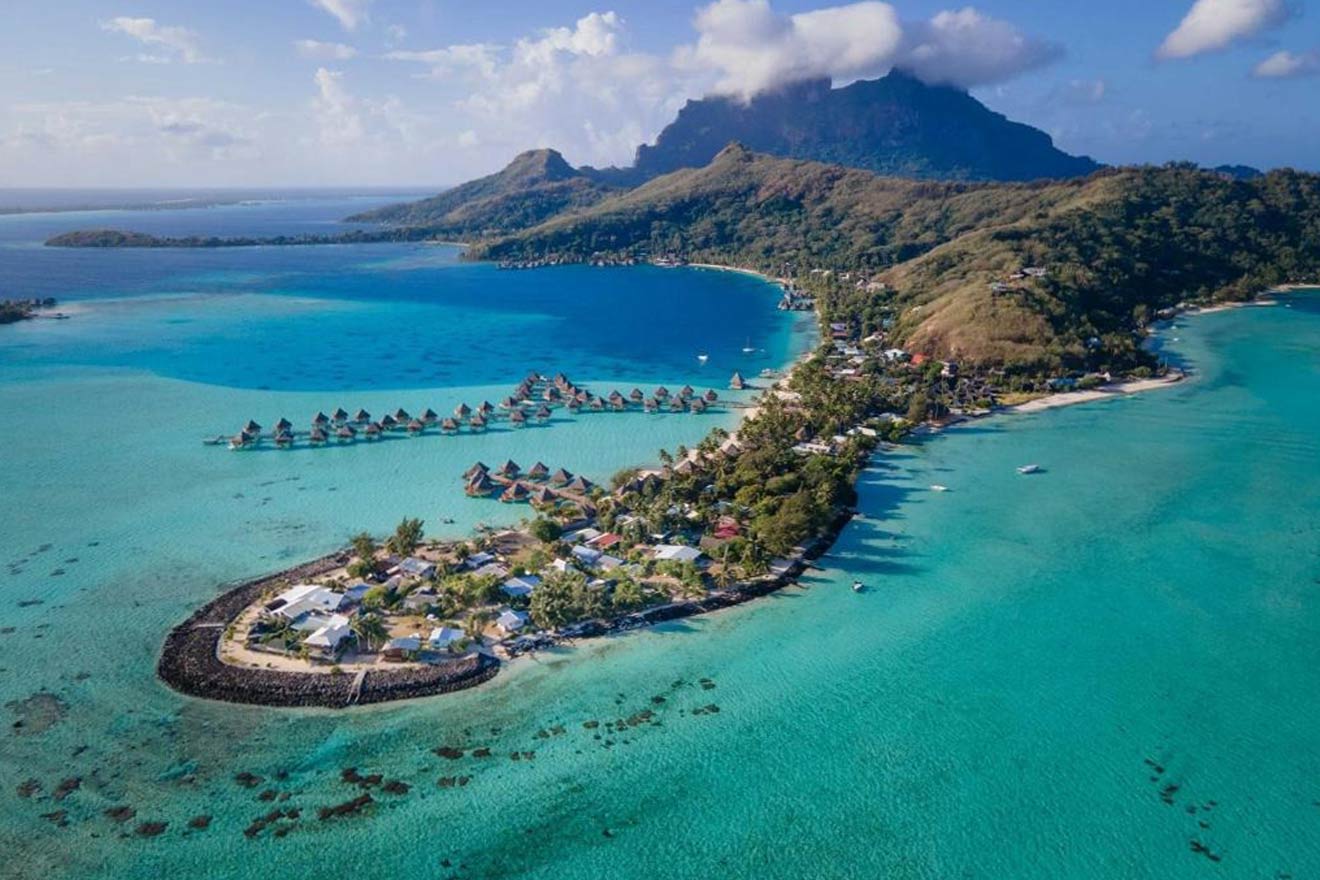 Many tourists believe that Bora Bora is only a location for honeymoons and romantic trips but I don't share that opinion! I think this place is great for families, plus most resorts offer activities that cater to the little ones as well so you can still have a relaxing and romantic break, even if you're bringing the kids.
So if you're thinking of coming to Bora Bora during your next family holiday, have a look at the accommodation list below:
Luxury (US$500 and up)
Mid Range (US$250 – US$350)
Budget (up to US$150)
Frequently Asked Questions About Hotels in Bora Bora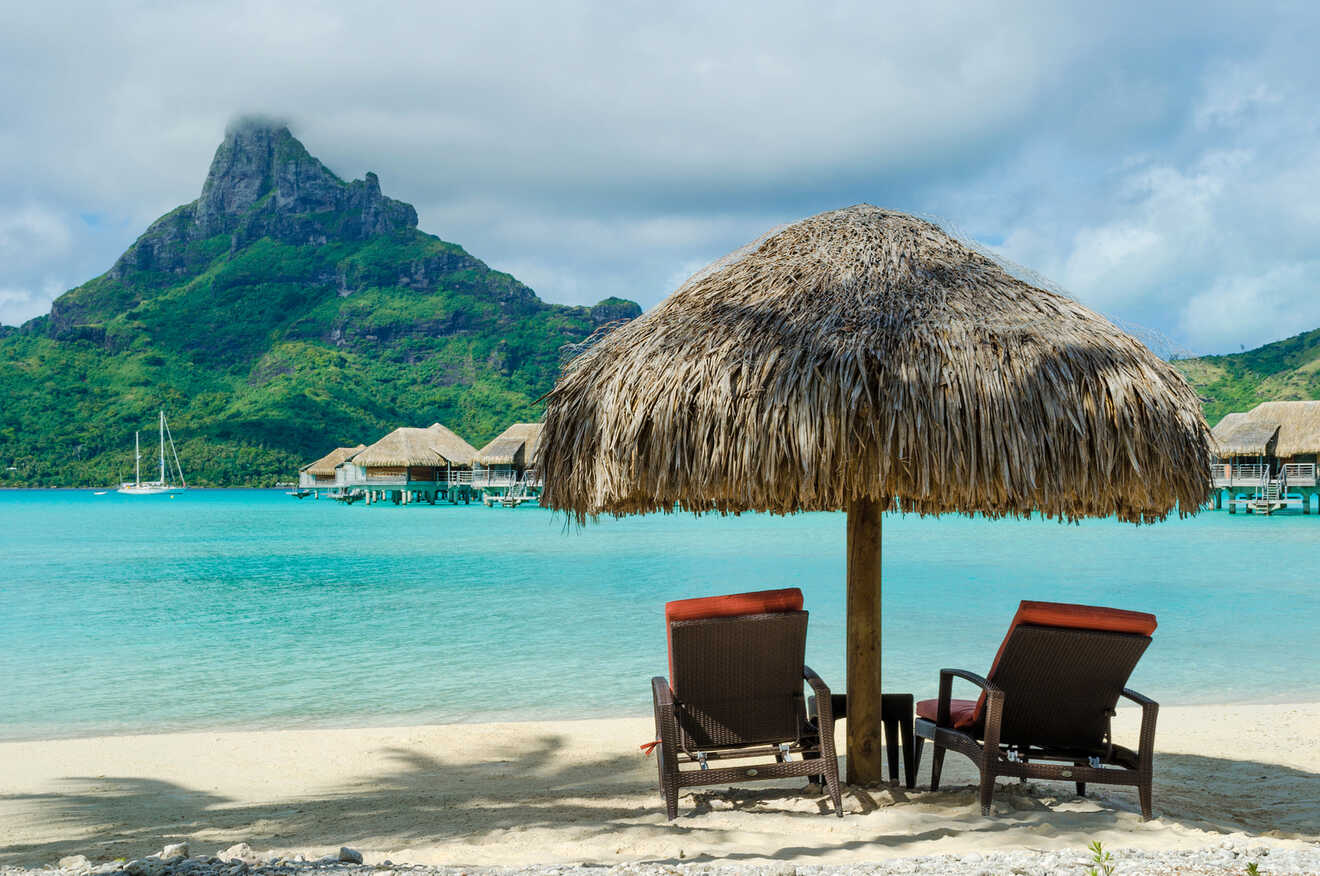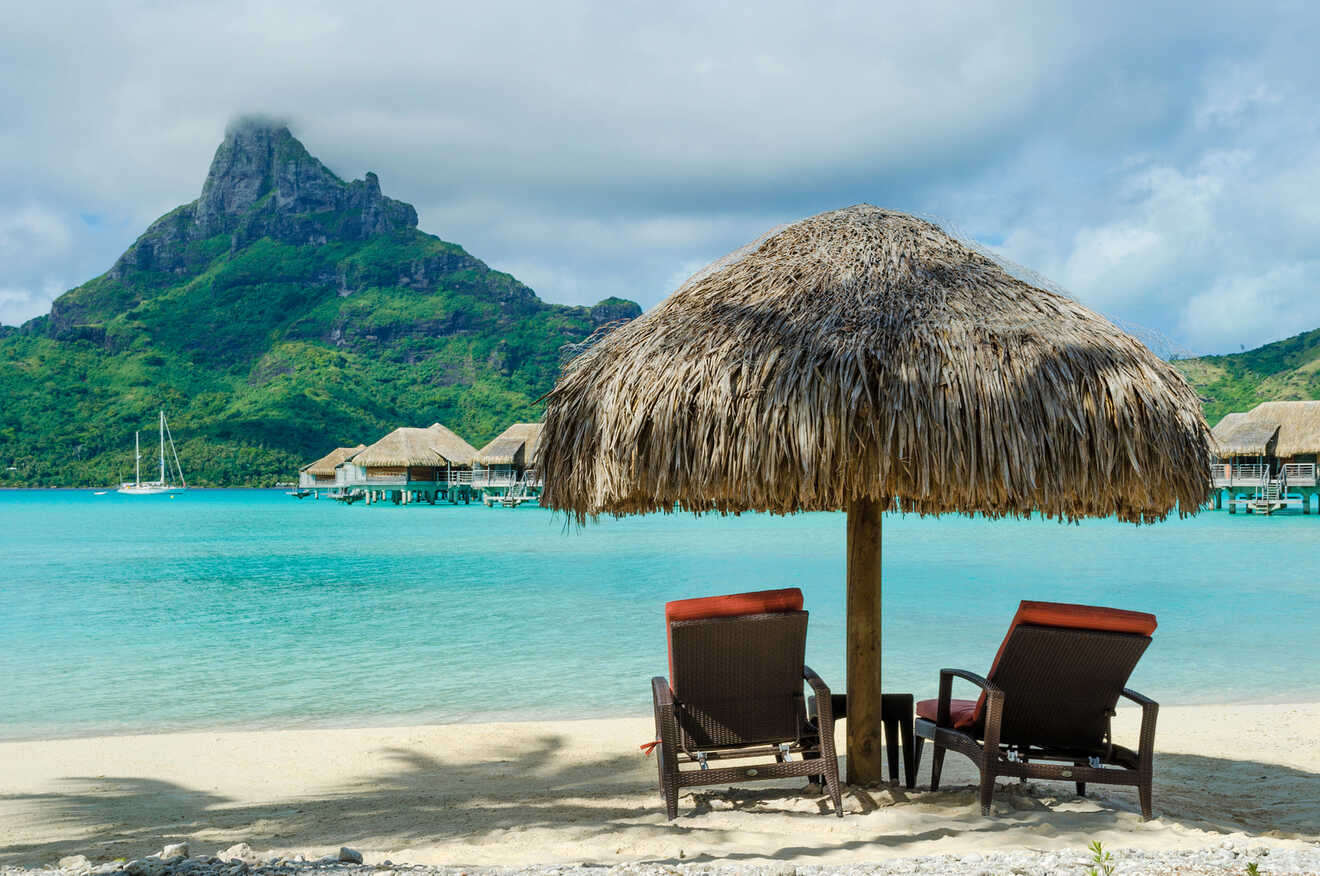 🏝️ What part of Bora Bora is the best?
Matira Beach and the areas around the island's blue lagoon are some of the best places where to stay in Bora Bora. You'll find many resorts either near the beach or overwater bungalows on the lagoon-like Le Bora Bora by Pearl Resorts. 
🌴 Where do you stay when you go to Bora Bora?
🤔 Which is better to visit Bora Bora or Tahiti?
It depends on your preferences for South Pacific Islands. Bora Bora is a more intimate high-end location with dreamy beaches and lagoons while Tahiti is more urbanized, but it still has some incredible spots. 
💰 How much is a stay in Bora Bora?
Luxury resorts in Bora Bora cost around US$1000 per night, mid-range can reach up to US$350 and for a budget, accommodation, expect to pay around US$150 per night. 
Conclusion


Booking your flight ticket already? Bora Bora can have that effect on you!
Before you run off to the closest shop to buy lots of swimsuits, let's quickly recap what you'll find in this post. The first part has a carefully curated list of the best hotels where to stay in Bora Bora! Luxurious resorts, mid-range ones, and some affordable accommodations as well.
Then in the two bonuses, I gave you a list of the best overwater bungalows in Bora Bora and some hotels for families traveling to this French Polynesia Island.
If you still haven't made a decision (because all of these places look amazing, especially the overwater bungalow), here are my top 2 favorite options:
As I mentioned earlier, tourists from all over the world come to Bora Bora, so I highly recommend booking your hotels and any beach resorts or overwater bungalows in advance because they sell out months in advance!
For now, this is where I leave you! I'm sure you'll have the time of your life in Bora Bora, exploring the main island, chilling in your overwater bungalow, and swimming in that blue lagoon!
If you have any questions about Bora Bora, a particular beach resort, or anything else, leave me a comment below and I'll answer them ASAP!
Safe Travels,
Victoria
---
Pin it for later!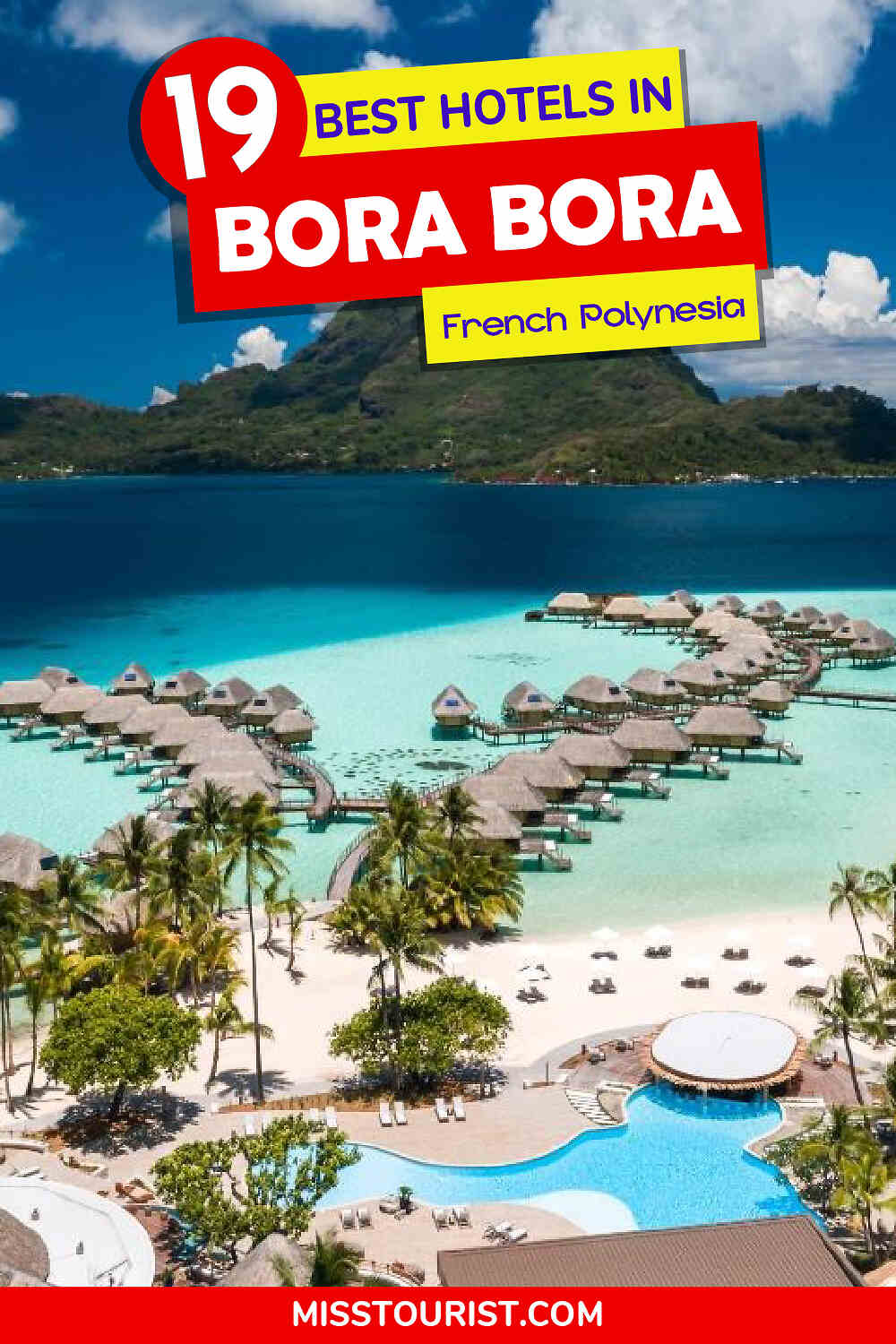 Pin it for later!