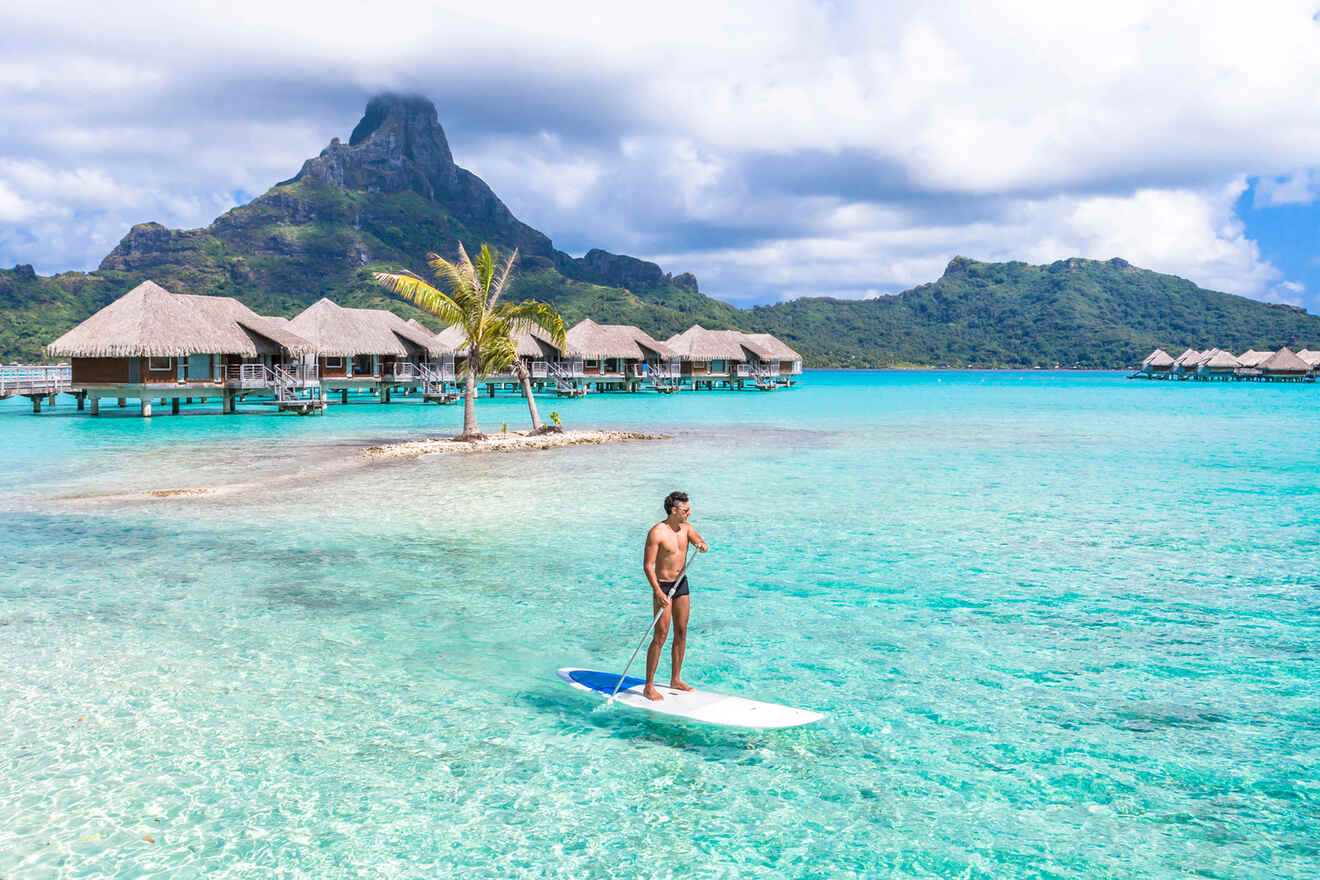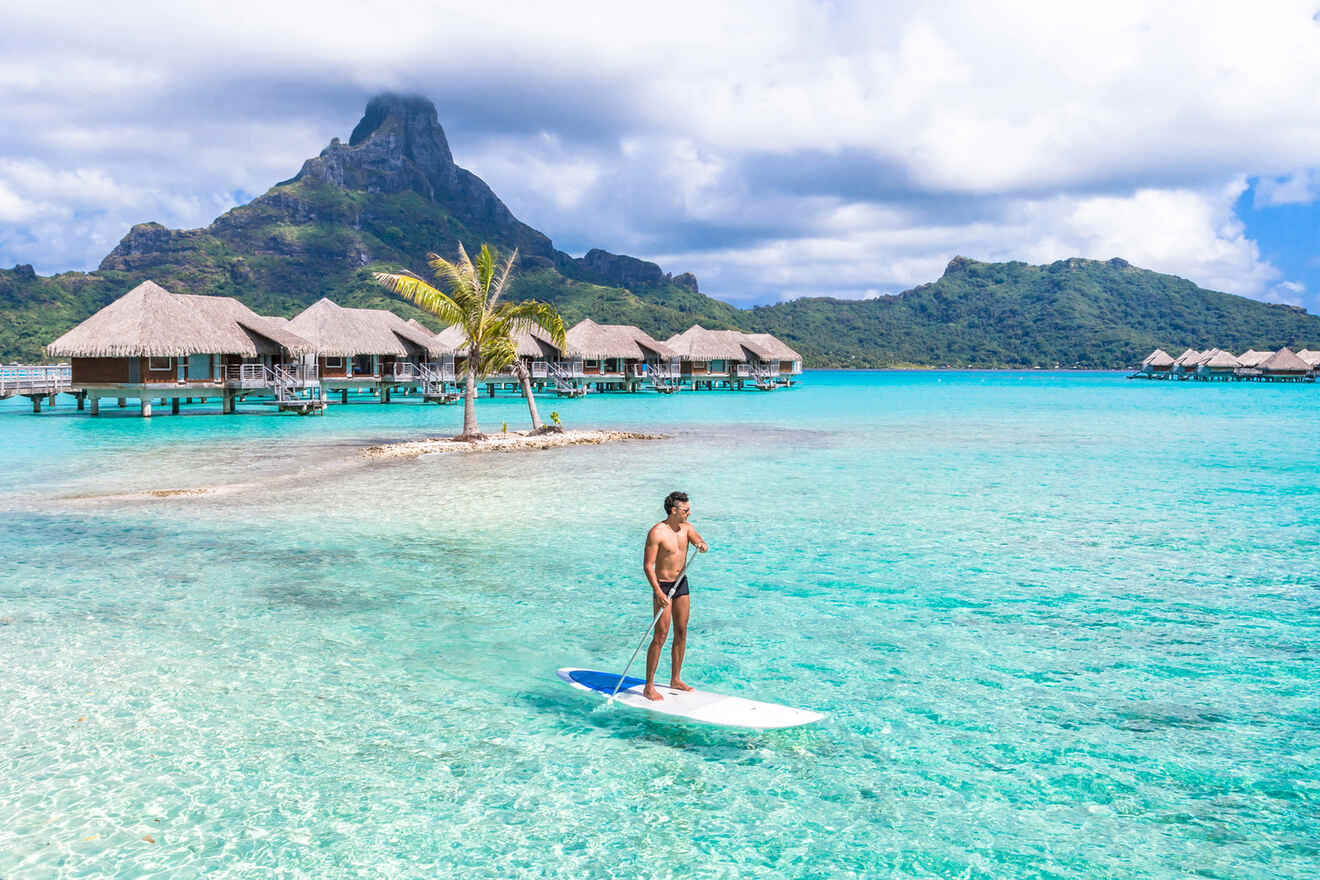 The land of scenic locations, turquoise waters, and overwater bungalows! Yep, Bora Bora is famous for its unique accommodations and in this post give you some travel tips on the top ones!
Follow me and let's find you the best Bora bora overwater bungalow! I've looked through many lists and hand-picked the top resorts on the island group that have the most amazing reviews! I've also listed them from most to least expensive and easily decided.
Don't run off after finishing the main list because you'll miss 3 unique vacation rentals that are also overwater bungalows but a bit more affordable.
As you'll see, the list of resorts is pretty short, so it's super important to book yours in advance. You might even get a discount if you do so as many resorts offer that.
But I don't want to give you too many spoilers, so let's dive in!
If you are in a hurry
No time to read through the whole post? Don't worry, I've got you covered! Below you have the list of the best overwater bungalows in Bora Bora:
Private island, main island, main resort…Locations can get pretty confusing. But that's why I made the map below, so you can easily spot your favorite overwater bungalows:
1. Four Seasons Resort – private island with plunge pools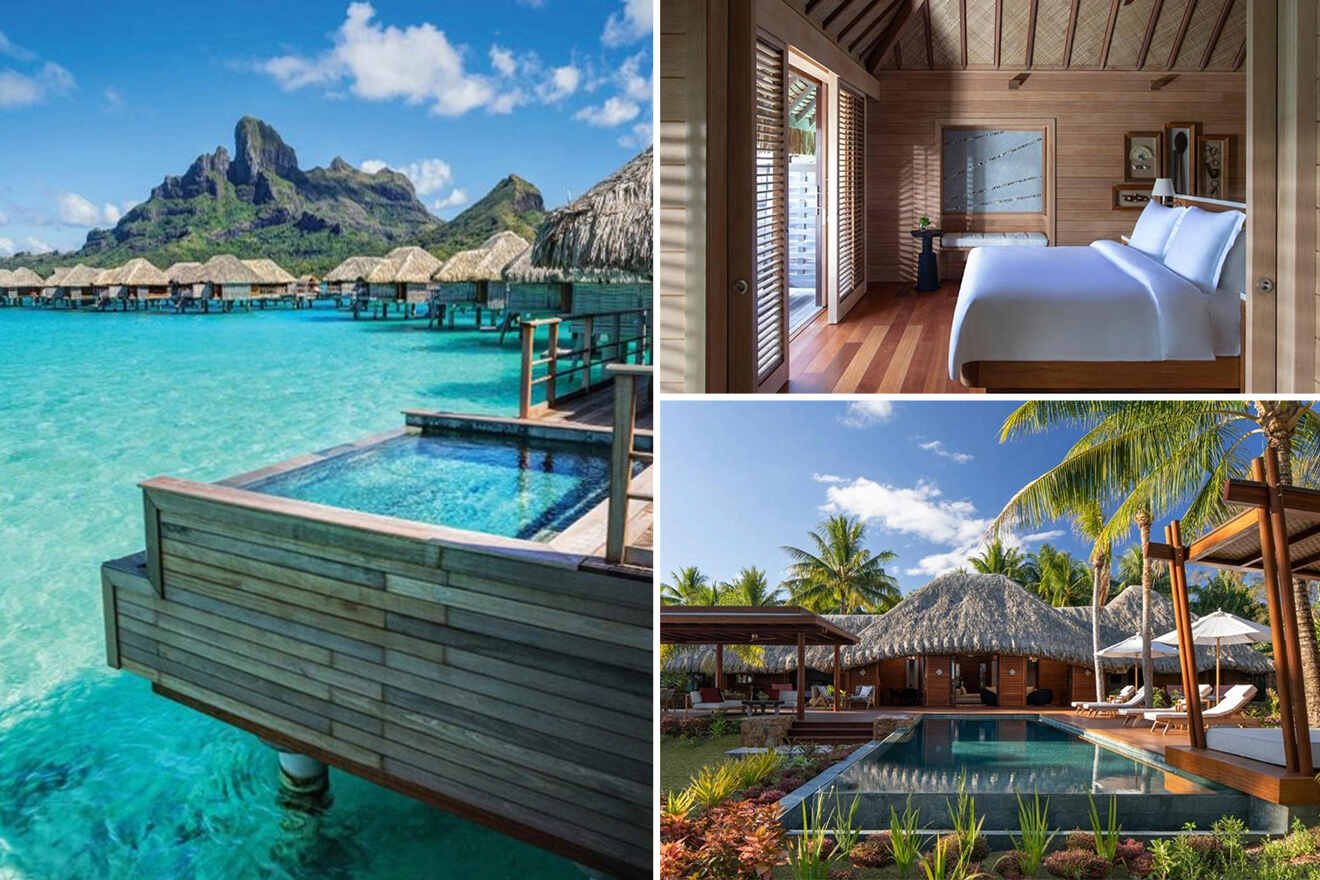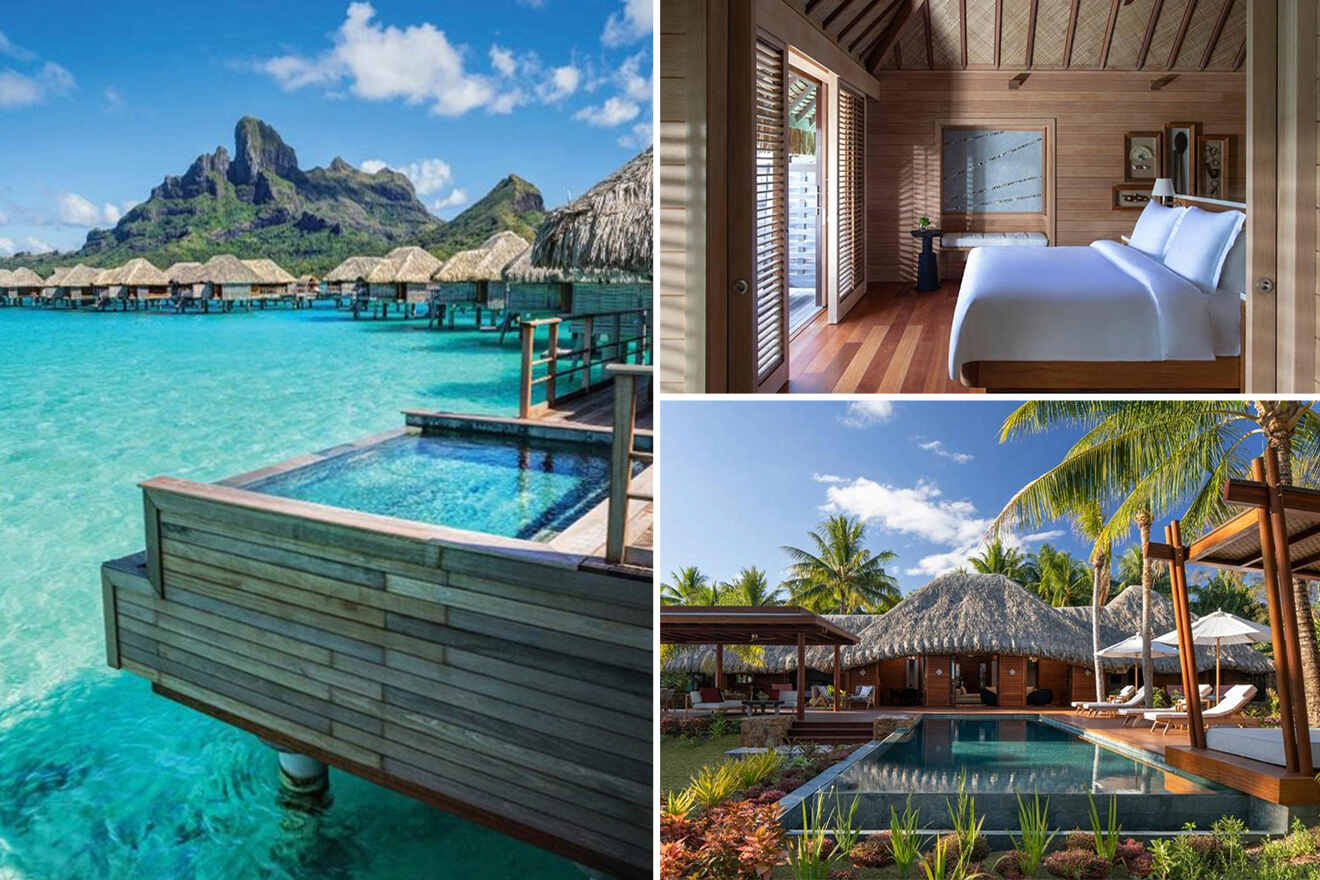 You can't go wrong with this place! Located on a private island in the South Pacific (which they share with St. Regis Bora Bora), this resort offers 108 bungalows. Definitely a top choice for many honeymooners (who usually pick either Fiji or Bora Bora for their special trip) these spacious bungalows come with a bedroom, a living room, and a bathroom.
Each overwater hut has all the amenities you need plus they're beautifully decorated with traditional elements such as teak furnishings, vaulted tatami ceilings, an espresso machine, and a flat-screen tv.
You can jump from your deck straight into the turquoise waters (or take the small stairs). And if you really want to go all out, just pick one of the overwater bungalows with a private plunge pool. If you don't, don't worry, the resort has an infinity pool open for everyone!
Four Seasons Resort Bora Bora it's an amazing place for couples. And you'll find many fun things to do there like relaxing in the spa, going scuba diving and enjoying all the fun musical performances.
However, it's also great for families! Yep, it caters to the little ones as well. They'll have access to a play area, toys, plus other fun water sports.
Pros:
The overwater bungalows are spaced far apart so you can enjoy all the privacy you need
There are many fun activities here for both kids and families
Cons:
The shuttle service to the main island is a bit pricey
2. The St. Regis Resort – celebrity resort with a private pool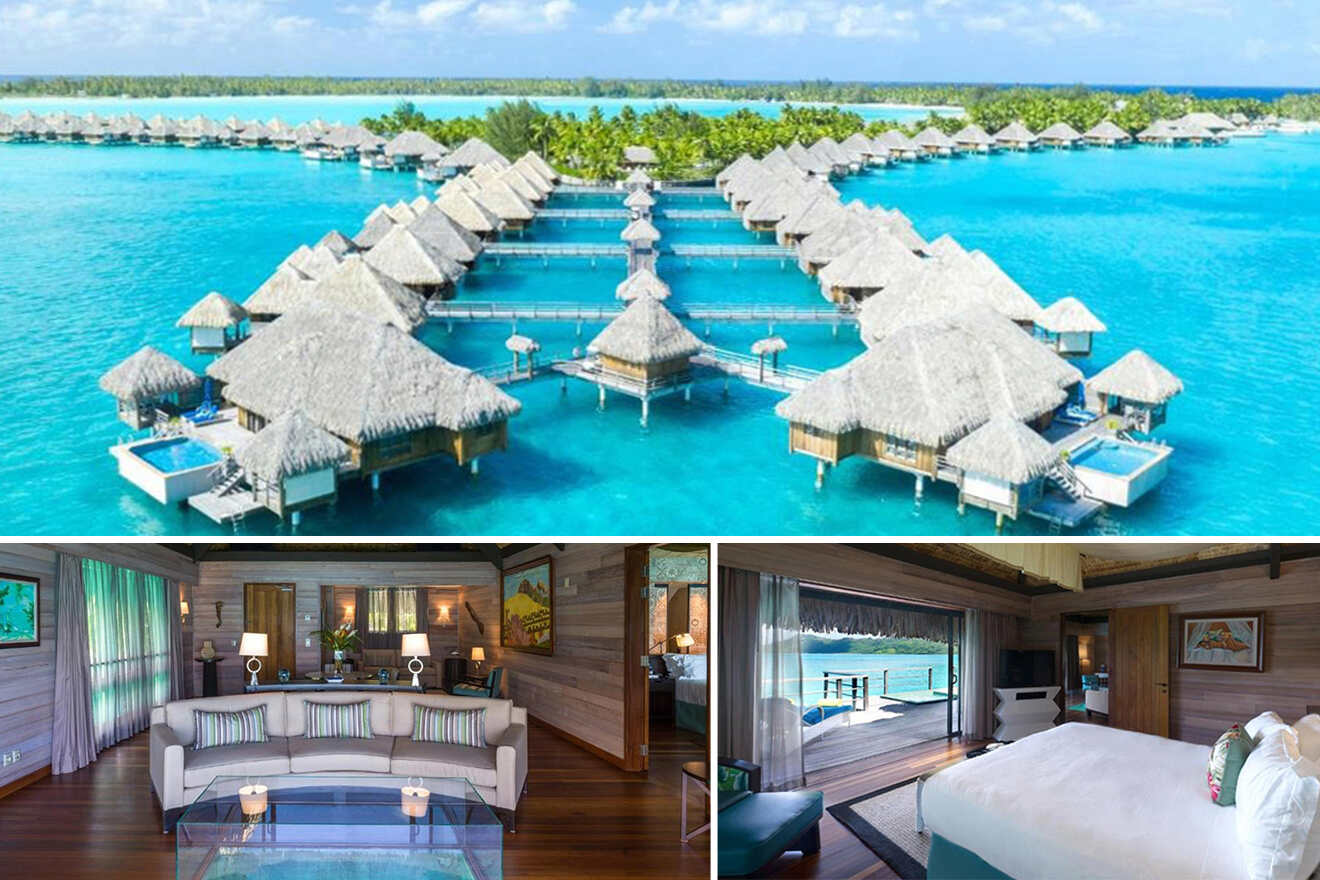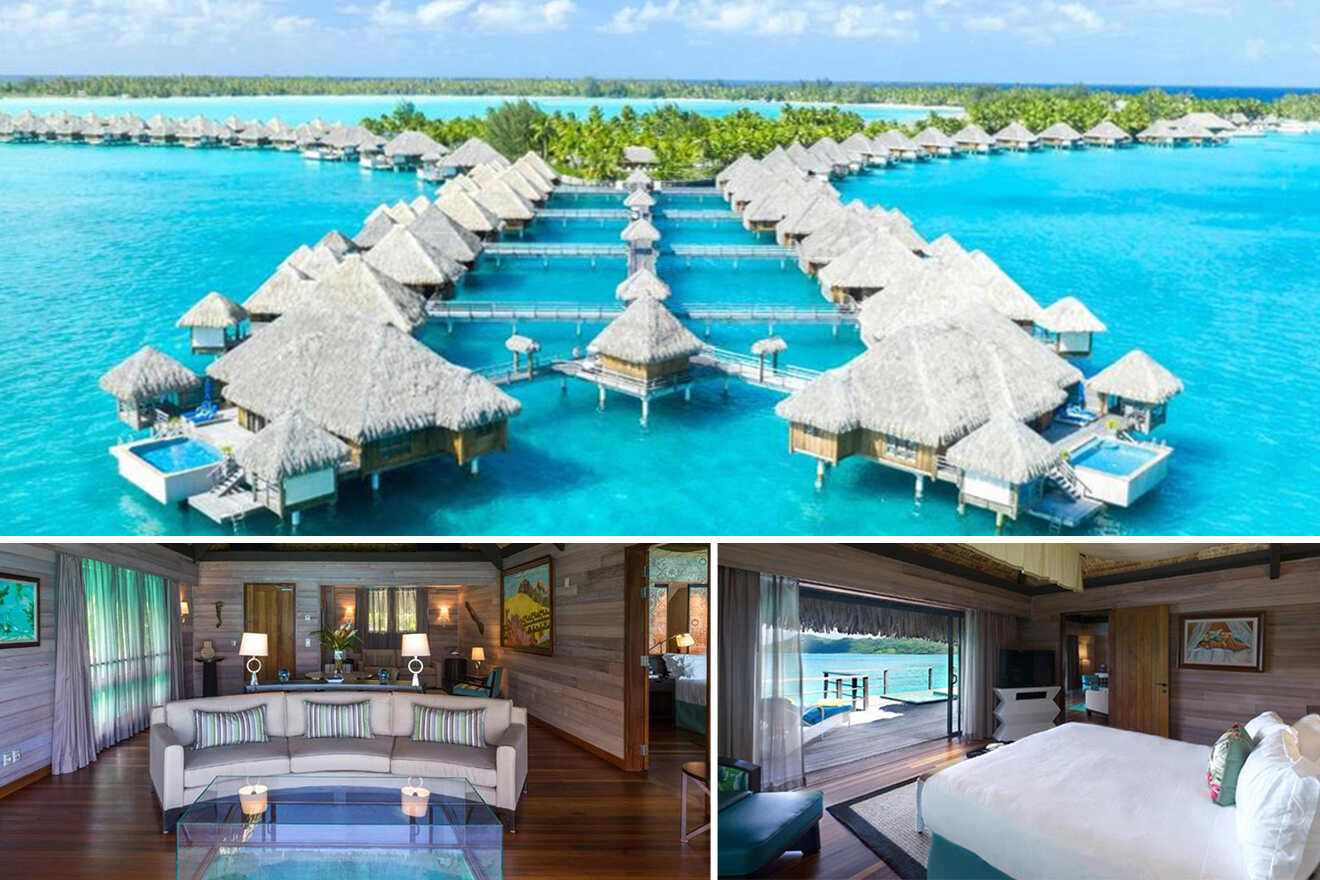 If you want to go all out during this trip and stay in the most exclusive private island resorts in Bora Bora then go to St. Regis! Sharing an island with Four Seasons, this resort takes its privacy very seriously, especially since it had many celebrity guests like Nicole Kidman and Justin Bieber.
There are only 48 overwater bungalows here and unlike the Four Seasons, this resort is usually booked by people of the same age category. You won't find as many families here.
It's safe to say that these are some of the best overwater bungalows that you'll find in Bora Bora and also the largest ones! There are different types of overwater bungalows that you can pick depending on your preferences (I'd go for the overwater deluxe Otemanu Villa) or maybe you're traveling with your friends and want to stay together? They've got you covered!
They also got ones with private plunge pools for guests who'd like some privacy, as well as some that have a glass bottom!
All the other luxury amenities are just as fancy! From a complimentary personal butler to room service delivered by canoe! Plus many outdoor activities and spa services. This really is a dream place! So I highly recommend booking it in advance to save a spot!
Pros:
Complimentary butler service which is available for all guests
It's a celebrity resort and one of the most exclusive in Bora Bora
Cons:
The resort is huge and you'll definitely need a golf cart to go around
Super pricey restaurant prices
3. Le Bora Bora by Pearl Resorts – unique resort with authentic decor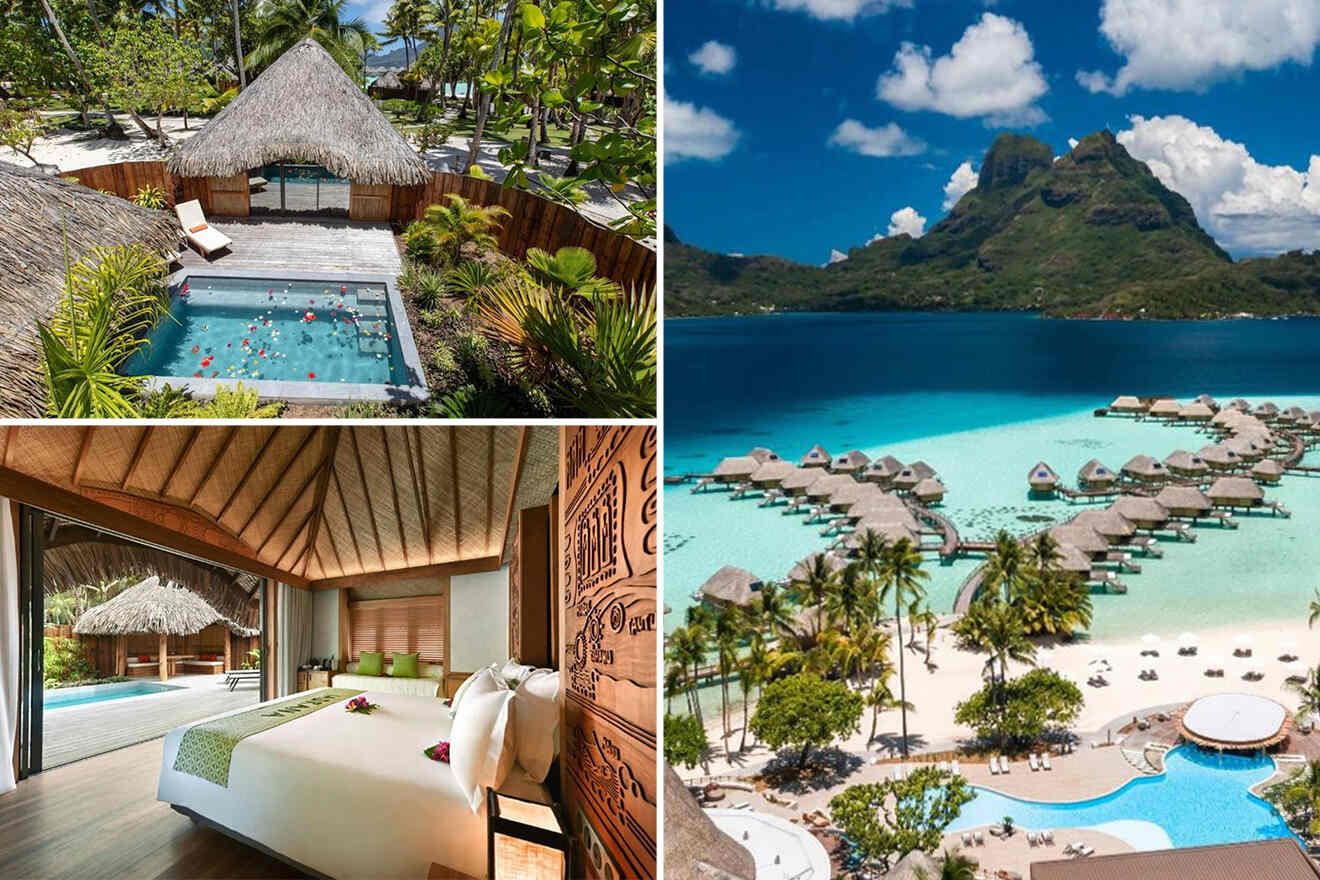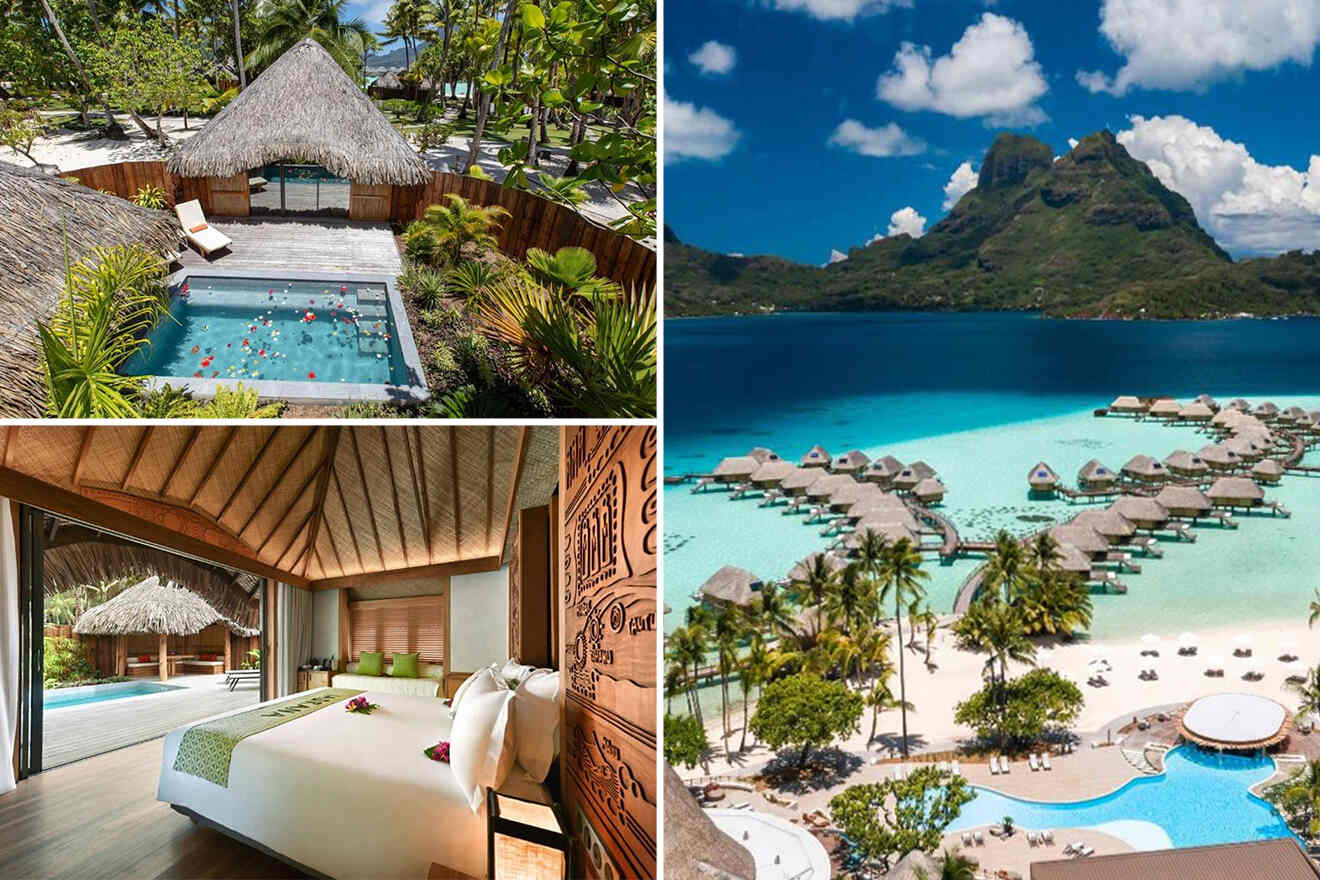 One of the best things about this resort is that it's set on a private island but still pretty close to the main island, which is only a 10 min boat ride away (the boat shuttle is free during the day but they charge you at night). Motu Mute Airport is only 2 miles (4 km) away.
Still, it's a great place for guests who want direct access to the main island, while still enjoying lots of privacy. The resort features 80 thatched-roof bungalows which are pretty spacious and each has a bedroom (which has the famous glass coffee table from where you can spot the fish in the lagoon) a bathroom and a sun deck from where you can admire the stunning views!
There are 3 restaurants on-site here and of course, you can enjoy room service during your stay! Just like the other resorts, this one offers many complimentary activities such as kayaking, and stand-up paddleboarding.
And of course, you're welcome at any time to enjoy some me time in the spa! Better take care of those sore muscles that you gained while hiking around the island.
Pros:
Free boat shuttle to the main island during the day
The resort is close enough to the main island that you can visit it anytime while still staying on a private island
Cons:
Boat transfers aren't free at night
The wi-fi connection isn't so good
4. InterContinental & Thalasso Spa – with an amazing infinity pool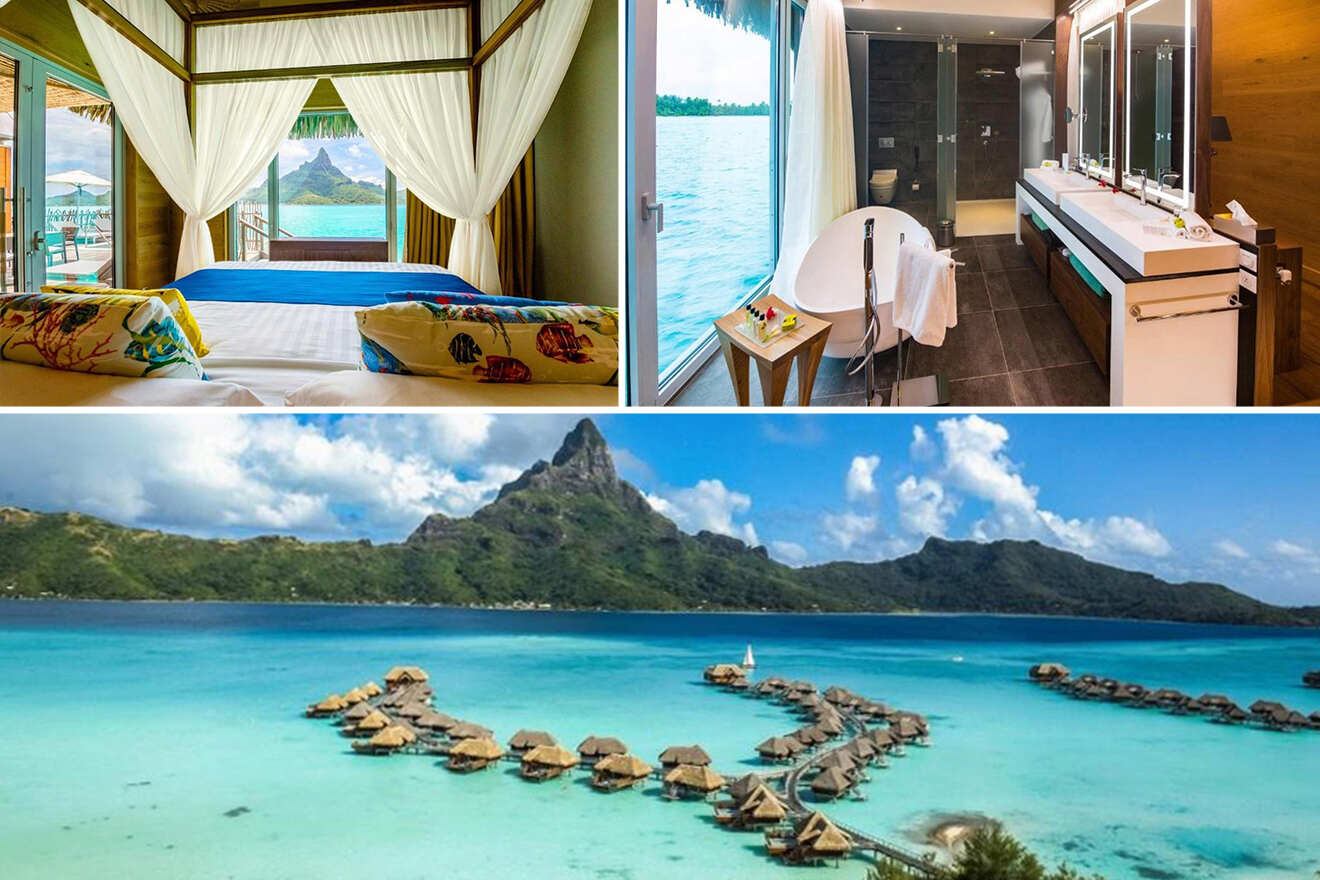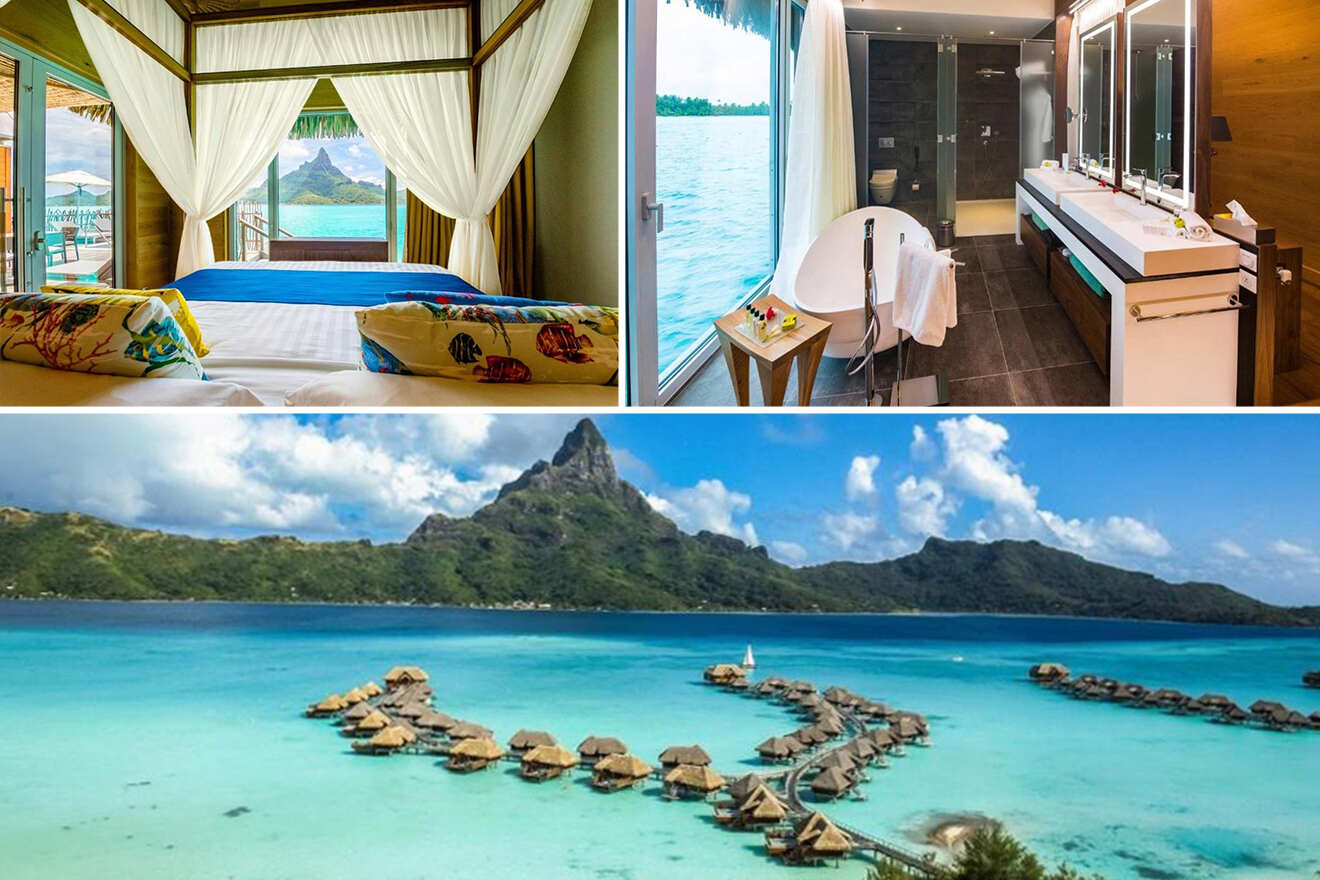 If you look from above, the overwater bungalows at InterContinental Bora Bora look like fishtails! Here's another mesmerizing resort, which yes, looks incredible but let's see what sets it apart from the others!
Located on Motu Piti Aau and featuring an exclusive private beach, this resort features 85 overwater bungalows. They all have a separate bedroom, a living room, and a bathroom with a tub that sits by a picture window. You'll wake up to the most amazing view of the lagoon, as the room has a floor-to-ceiling window.
What I love about this resort is that it gives off this homey feeling, and don't worry if you can't sleep. There are 2 TVs with satellite channels to keep you busy at night!
Just like St. Regis, this resort has a couple of exclusive houses on water that have private plunge pools! These are much bigger, with large sun decks and unique art.
But if you're looking to save money, you can go for the simple ones since there is a swimming pool at the resort.
Pros:
You can feed the fish from your overwater bungalow. You just need to lift the lid from the coffee table
There are many free things to do here like SUP Boarding and other activities
Cons:
The overwater bungalows are located in a busy stretch of water, and you might hear noises made by jet skies
The shuttle service to the sister resort (#6) isn't free unless you've booked one of the expensive overwater villas
5. Le Meridien Bora Bora – with the largest glass floors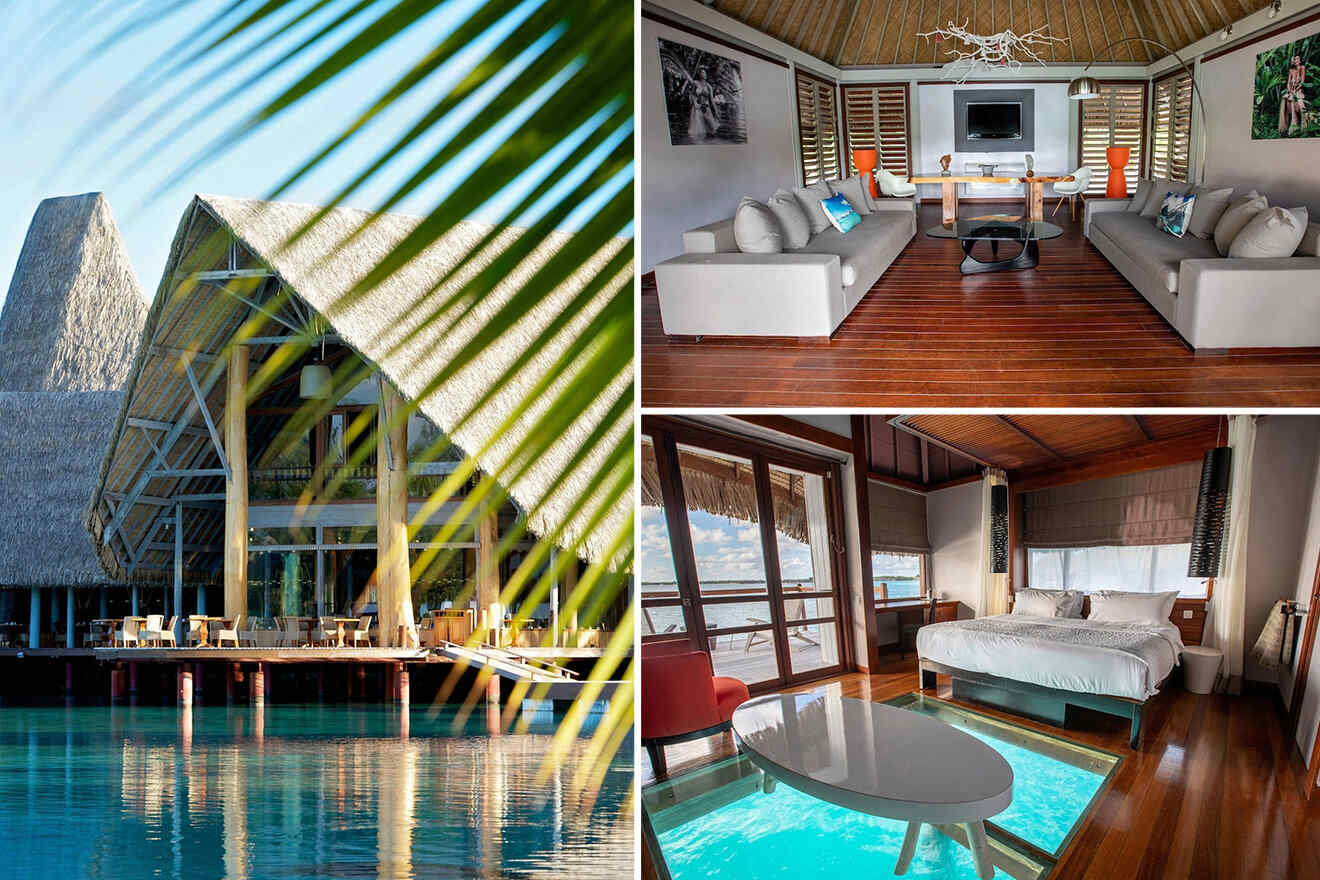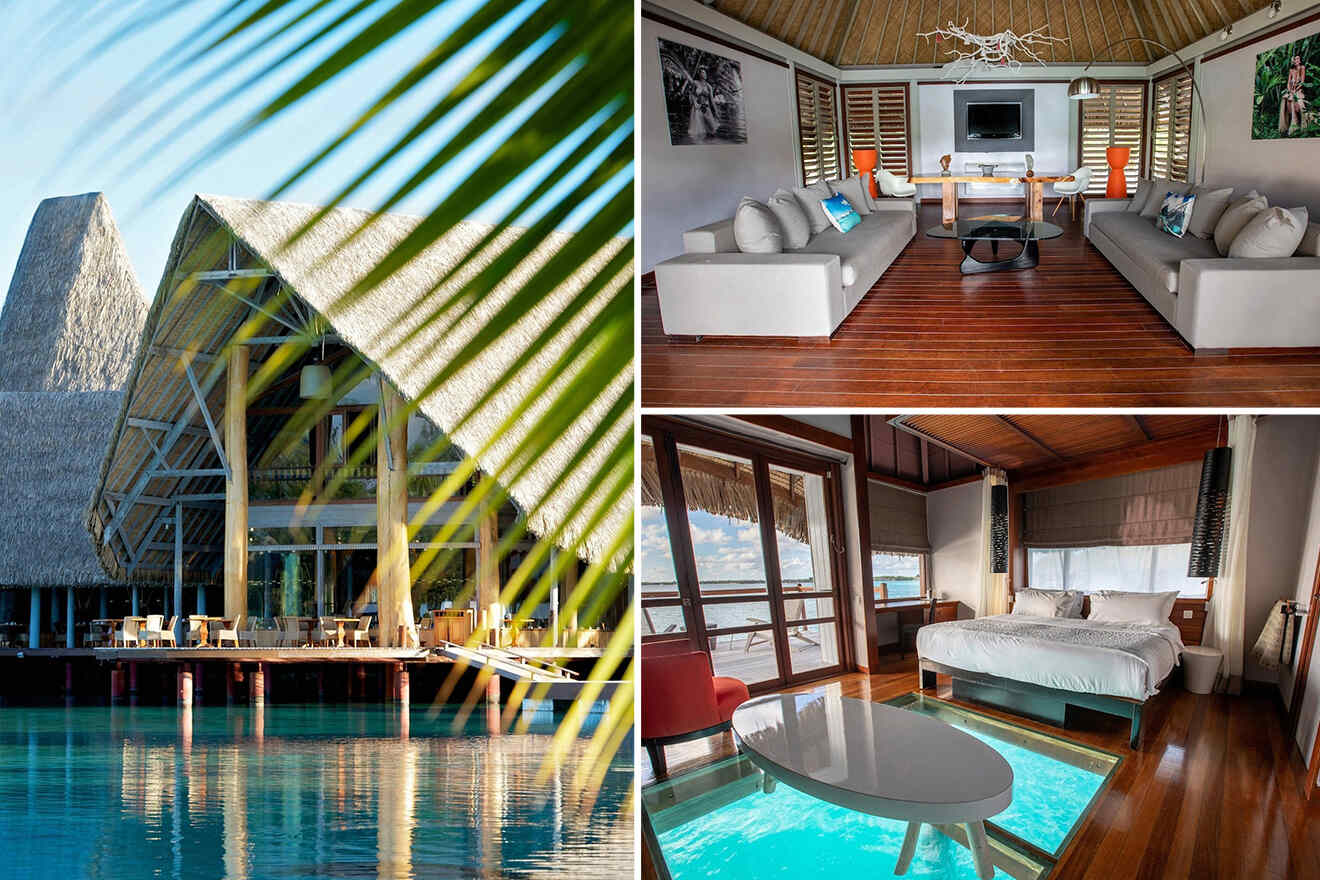 Remember the scenic postcards of Bora Bora that you'd see everywhere? I bet Le Meridien was at least one of them! This resort offers one of the most scenic locations and a total of 85 overwater bungalows!
All of them feature super large glass floors so you can admire the tropical fish. And if you're up to it you can get even more personal with them and swim with sea turtles with the supervision of a marine biologist (there's a turtle sanctuary connected to the resort)
Unlike St. Regis or InterContinental Bora Bora, all the luxury villas here are the same and offer the usual amenities. The price usually differs for those overwater bungalows that offer views of Mount Otemanu.
Just like the other resorts, Le Meridien has a spa and a restaurant and it offers activities like scuba diving and boat tours!
Pros:
The overwater bungalows have the largest glass floor in Bora Bora
There's a turtle sanctuary connected to the resort which you can visit
Cons:
Each overwater villa has a really small sundeck
6. InterContinental Le Moana Resort – authentic overwater bungalows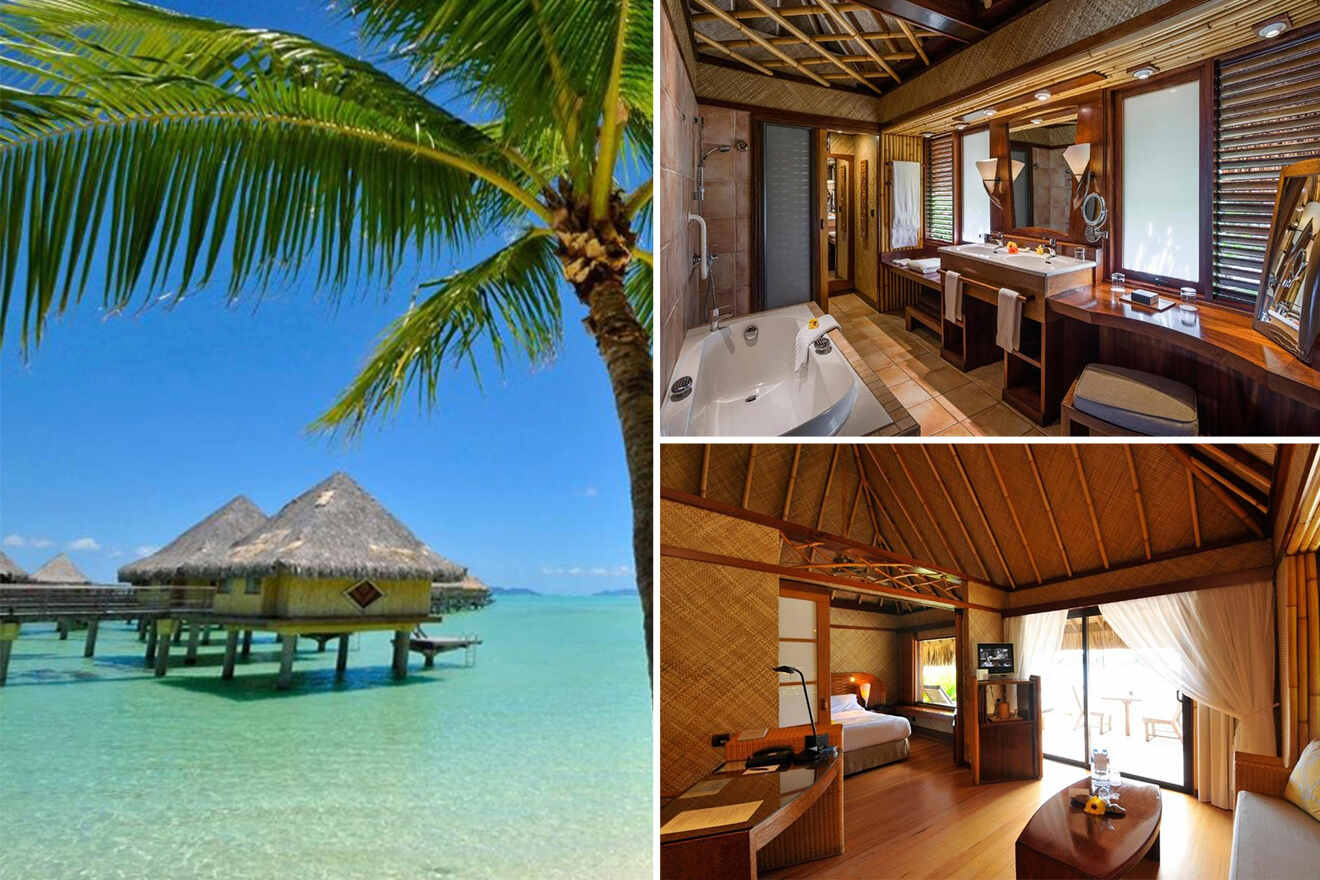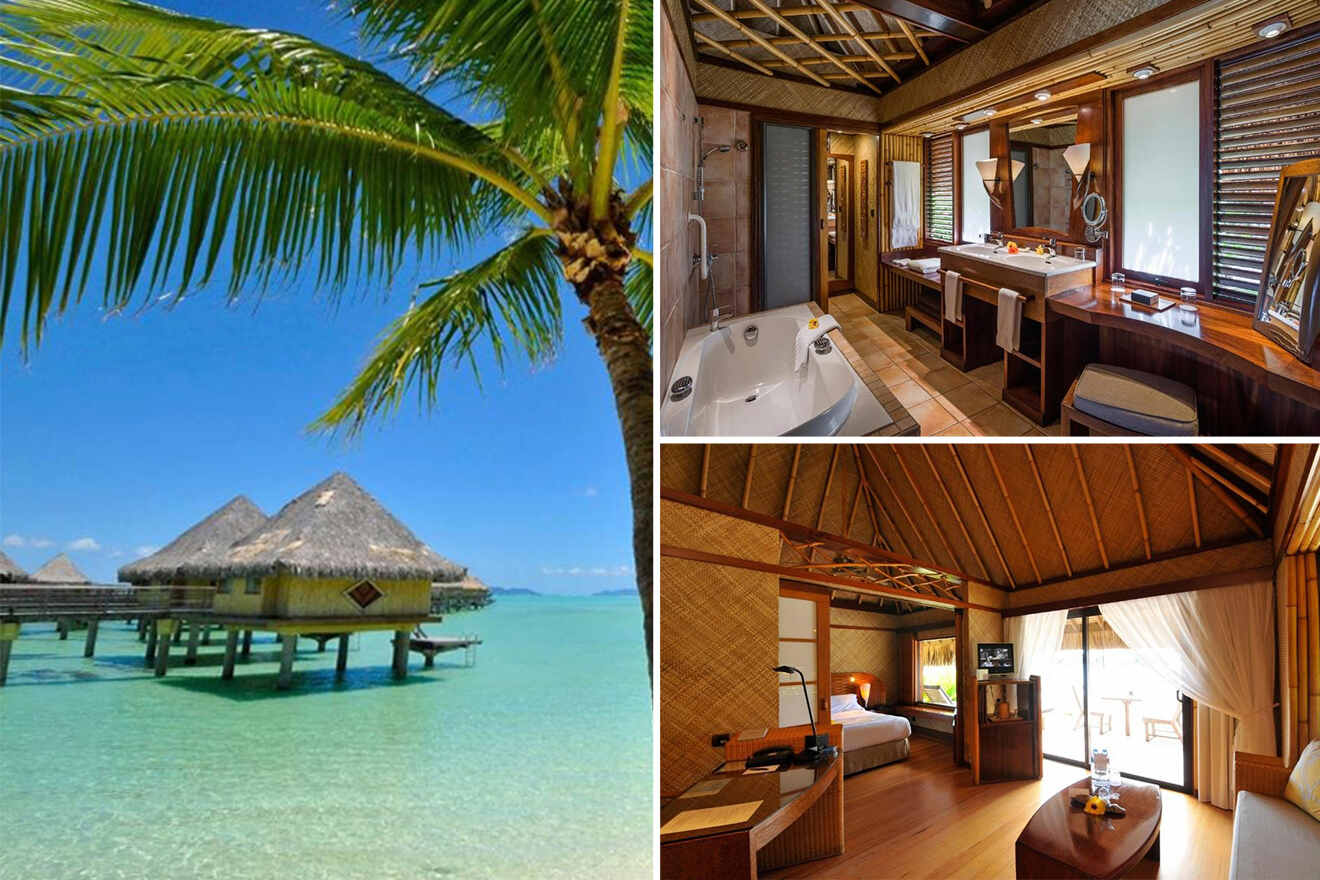 Welcome to one of the oldest overwater bungalow resorts in Bora Bora! Located on the southern tip of the main island near Matira Beach (which is considered one of the most beautiful beaches in the world) this resort offers authentic Polynesian villas with thatch roofs and walls covered in textured paper.
InterContinental Bora Bora Le Moana is great for tourists who want to feel more connected with the island and explore more of it on their own. Although it doesn't have fancy decorations or facilities like the other ones, these villas are less expensive and offer you a more independent experience.
In total, there are 50 overwater bungalows with a bedroom, a living room with a glass coffee table, and wooden decks.
During your stay, you can use the kayaks, SUP boards, and snorkeling equipment and have the best time ever!
Pros:
You can go snorkeling right under your overwater villa
The front desk will offer a list of restaurants for which you get free roundtrip transportation
Cons:
The resort's not as private as the other ones since it's not located on a private motu
7. Conrad Bora Bora Nui – private island with 6 restaurants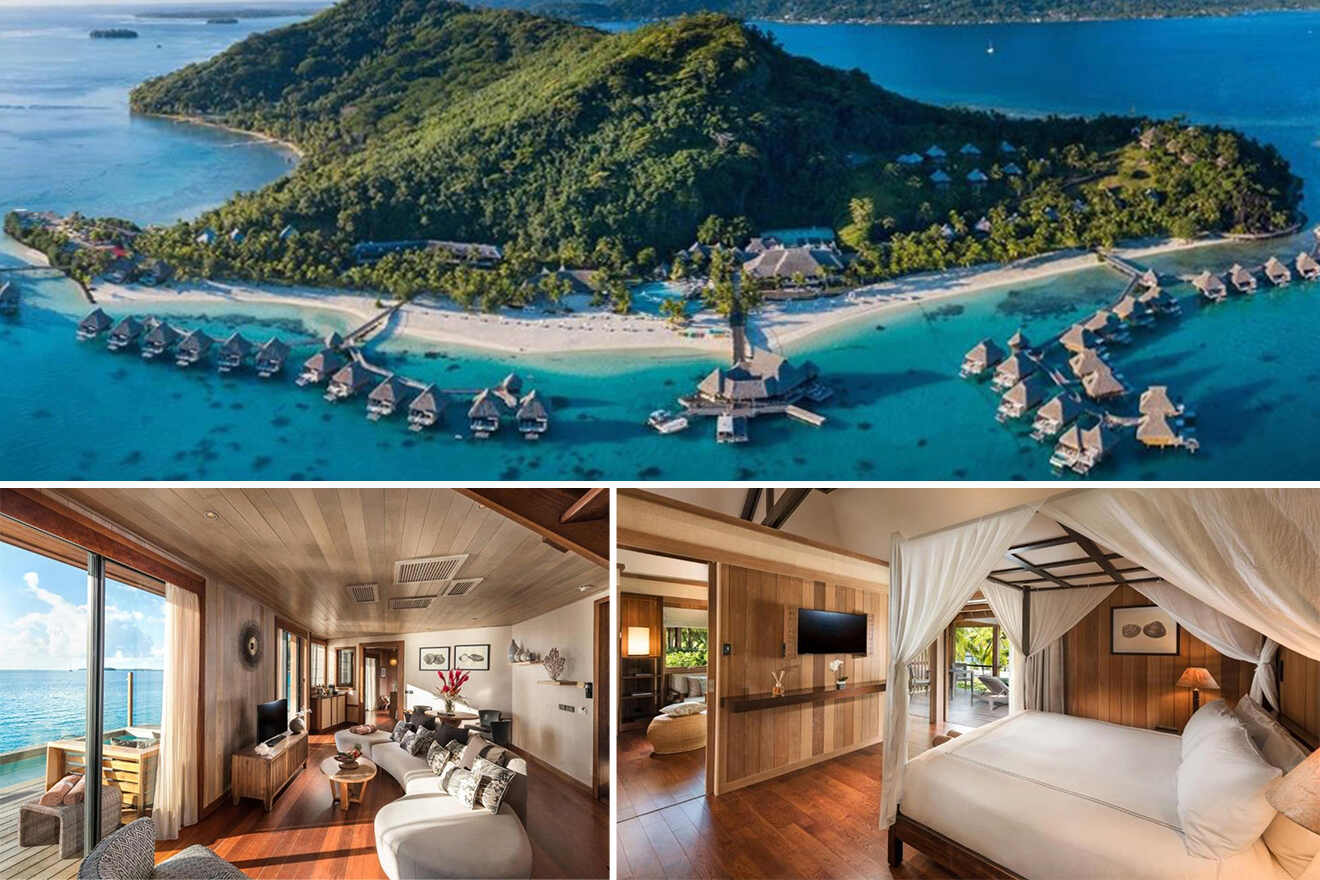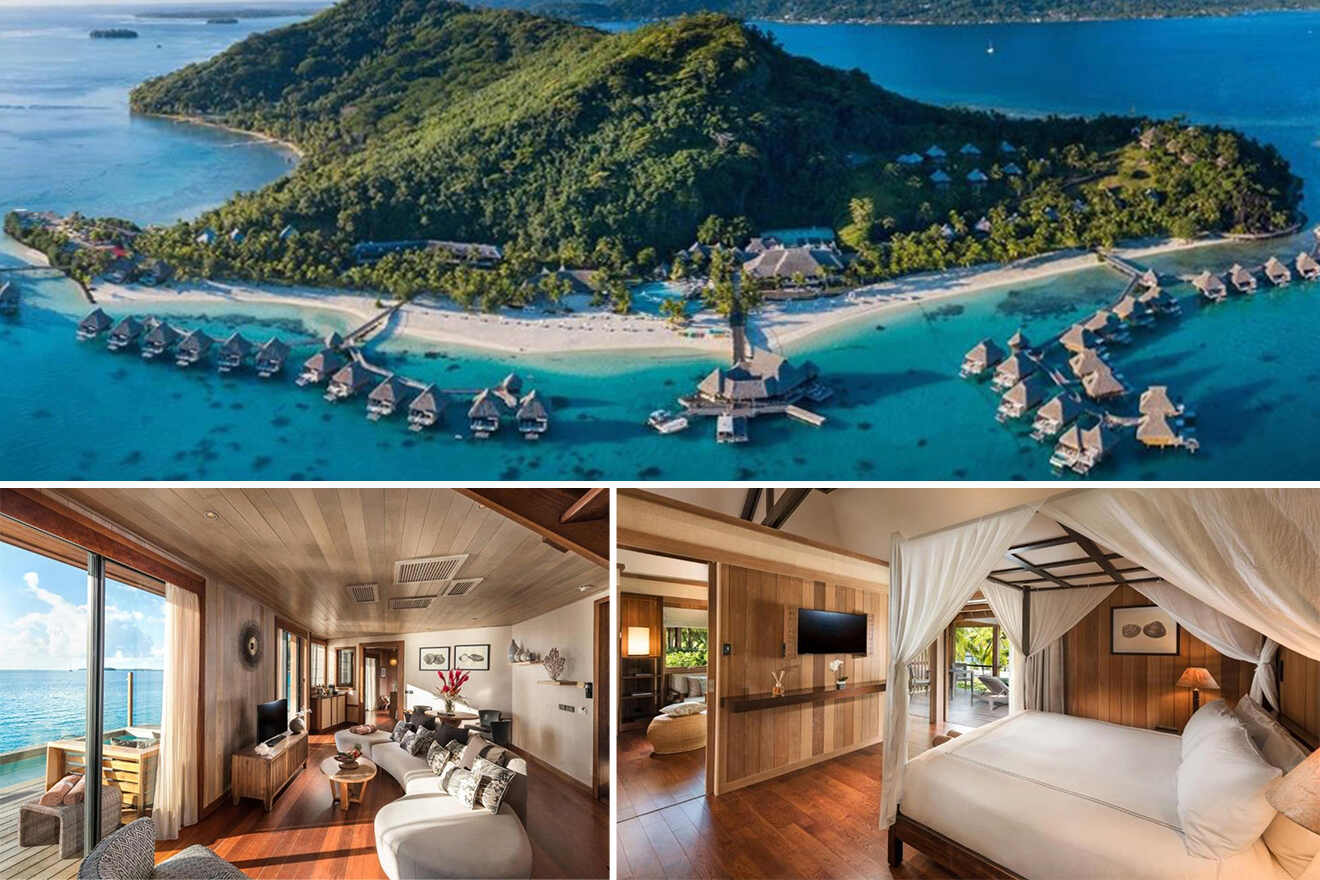 If private island resorts are more to your liking then check out the modern overwater bungalows at Conrad Bora Bora! Set on Motu To'opua the resort offers a backdrop of green forest on one side and a long stretch of white beach on the other.
This is definitely a great spot for snorkeling lovers, as there's a coral reef right near the resort.
Since their renovation, the bungalows have charmed more guests every year! There are 86 in total and they have granite countertops, modern furnishings, and fully retractable windows. So you can lie in bed and admire the beautiful morning sun.
But my favorite part has to be the super comfy sun decks that have hammock beds! A dream come true! And yes a few of the villas also have private pools just like St. Regis and Four Seasons resorts.
With 6 restaurants on-site, a scenic infinity pool, and a nice spa center, this resort surely can't be missed!
Pros:
Unlike the other overwater bungalows resorts, these ones are set on a different side of the island, one more secluded, so you'll get more privacy
Cons:
The overwater villas face the open ocean (not the lagoon) so the waters aren't so calm
8. Hotel Maitai – overwater villas with great snorkeling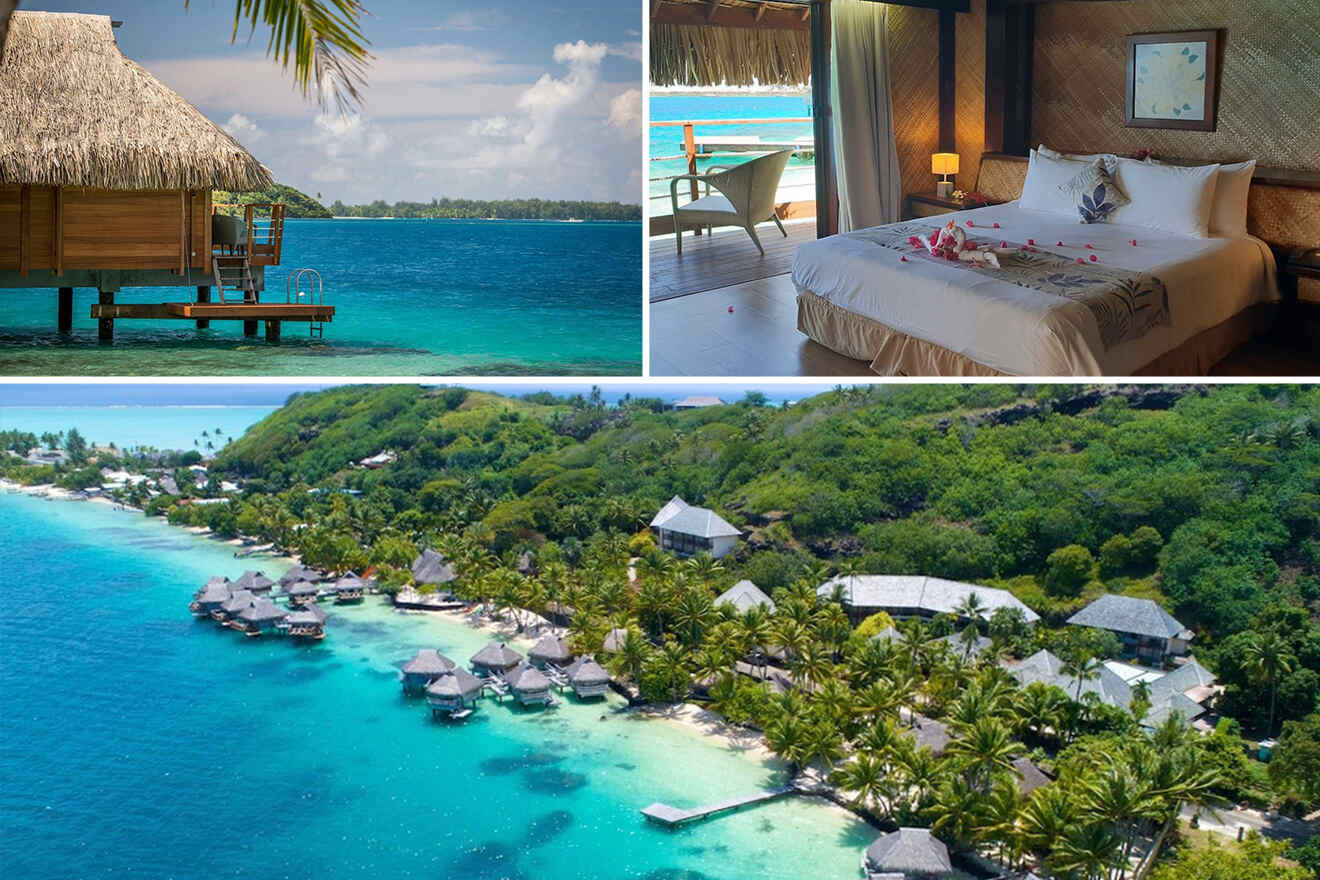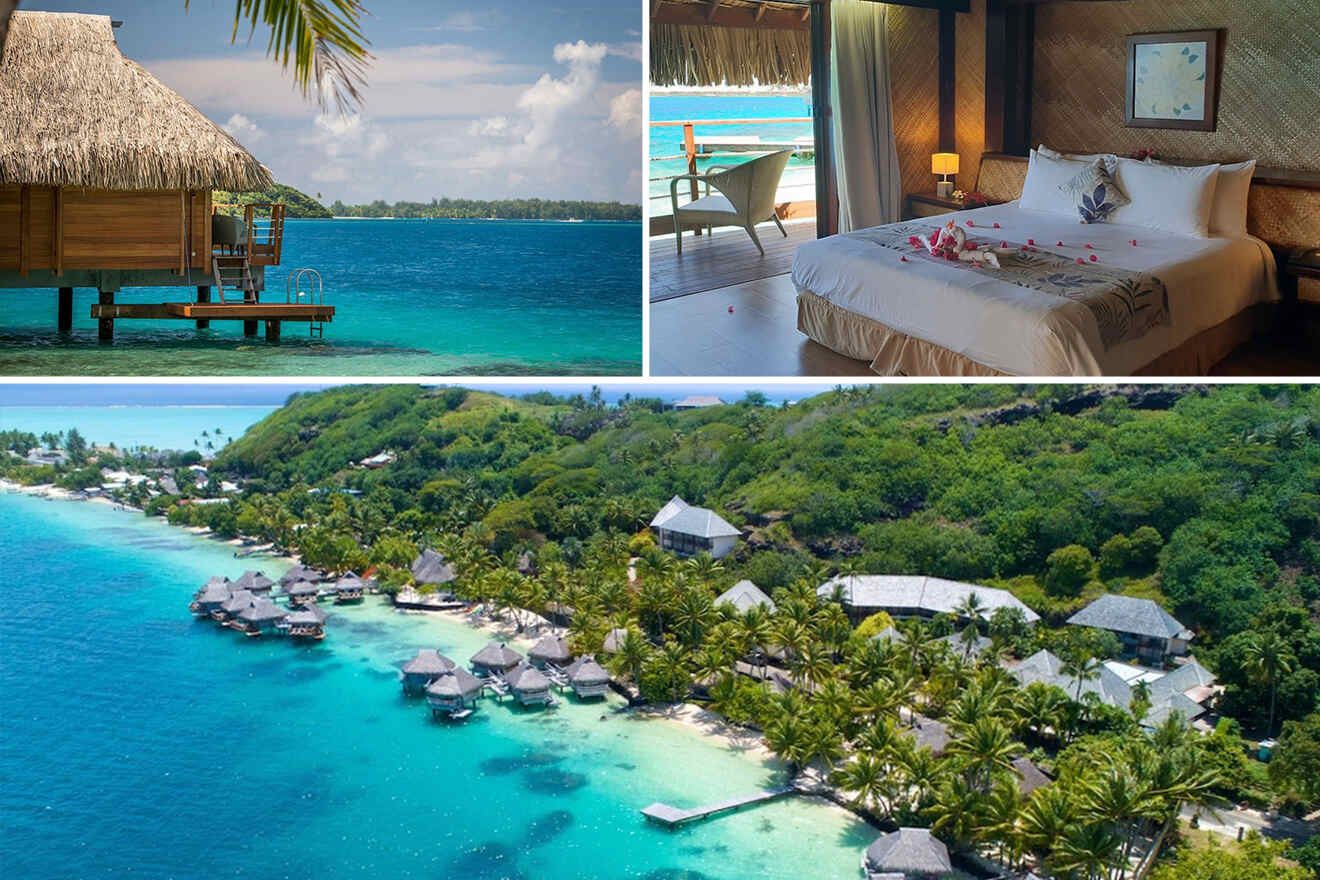 If you're looking for a Bora bora resort that offers very good value at a more affordable price than the ones above then I recommend checking out this one! Set on the main island, Hotel Maitai offers 13 overwater bungalows.
Just like InterContinental Bora Bora Le Moana resort, this one offers a lot more freedom since you can leave the resort at any time to explore around the island without having to use a boat shuttle service or something different.
That also gives you the chance to eat at the restaurants on the island which are usually much cheaper than the ones that you'll find at any Bora Bora resort.
The overwater villas are set in a beautiful location surrounded by palm trees. They have a pretty simple authentic decor and come with a small sun deck and the usual glass coffee table from where you can spot the busy marine life!
During your stay, you can snorkel and swim all day long in the salt water!
Pros:
Super affordable overwater bungalows that offer easy access to the rest of the island
The snorkeling is great here, you can spot octopus, eels, and beautiful corals
Cons:
Not so many activities to try on-site at the resort
BONUS: 3 Top vacation rentals in Bora Bora
Since the list of overwater bungalow resorts isn't super long I thought I'd add 3 vacation rentals which are also overwater bungalows but rented out by different people.
They are a bit cheaper than you'd pay to stay in an overwater bungalow in a resort and the prices are from US$400 to US$500: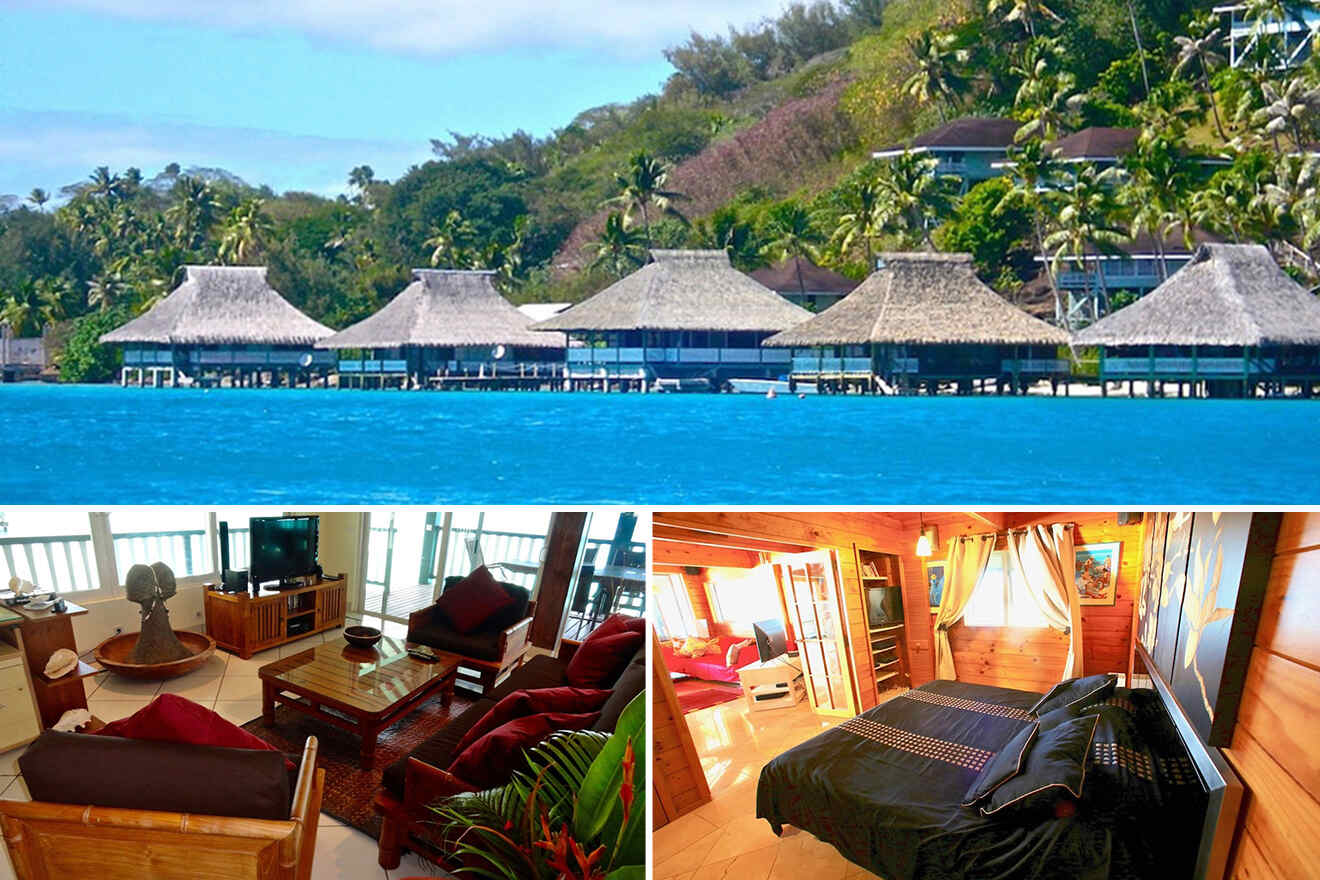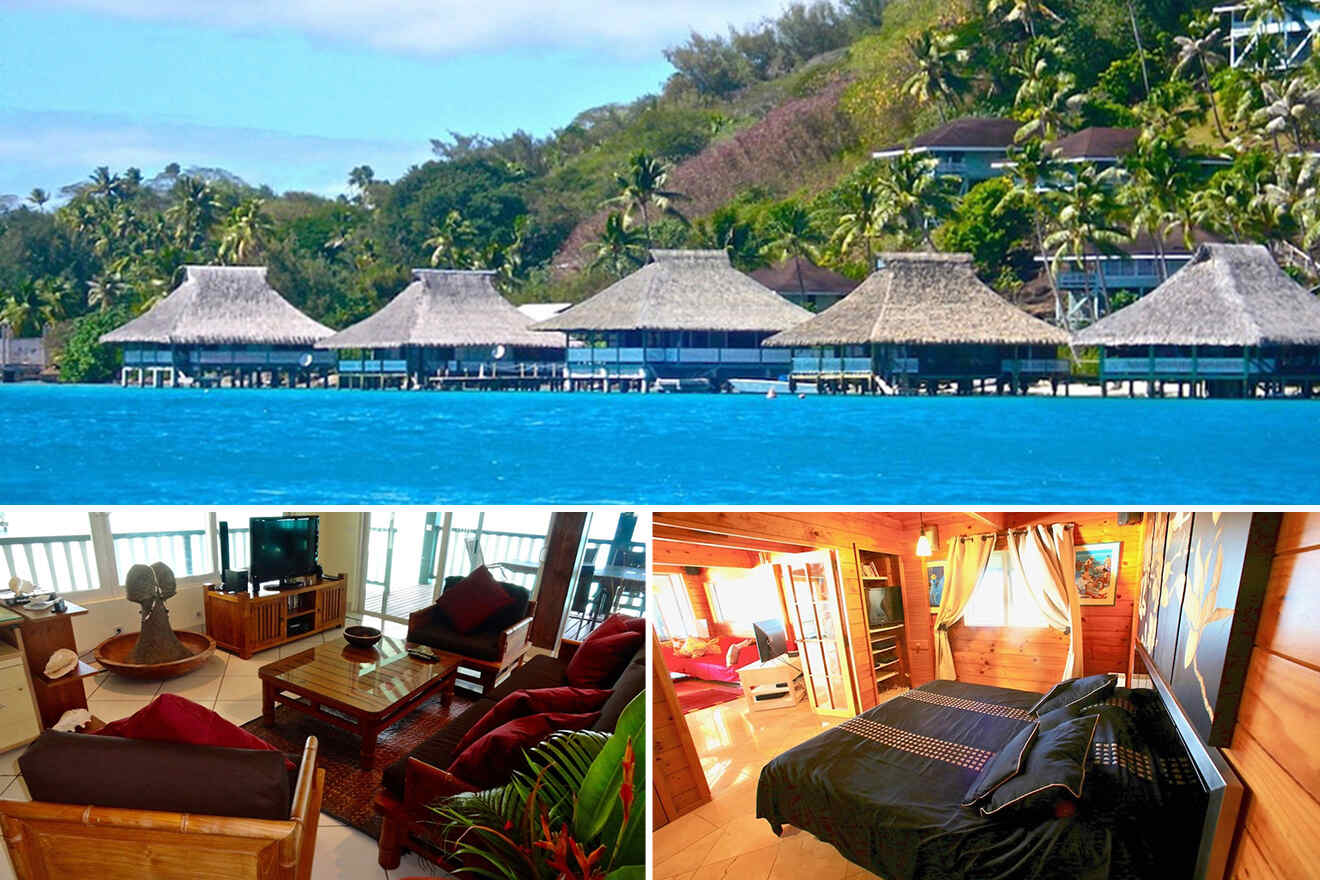 The Black Pearl – Perfect for a romantic getaway or honeymoon this overwater bungalow is super spacious and it offers lots of cool amenities that you wouldn't normally find in an overwater villa. From a fully-equipped kitchen to a sun deck, and a private walkway.
Bungalow One – Enjoy your morning coffee while admiring the stunning lagoon views from the sun deck of this lovely overwater bungalow! The accommodation has 2 bedrooms (which makes it perfect for families or 4 friends) and free wifi.
Overwater Bungalow N3 – Relax in the shaded area all day long on the deck of this overwater bungalow that has everything you need for your stay! The overwater villa comes with a kitchen, a room with a king bed, and a living area as well!
FAQs about Bora Bora overwater bungalows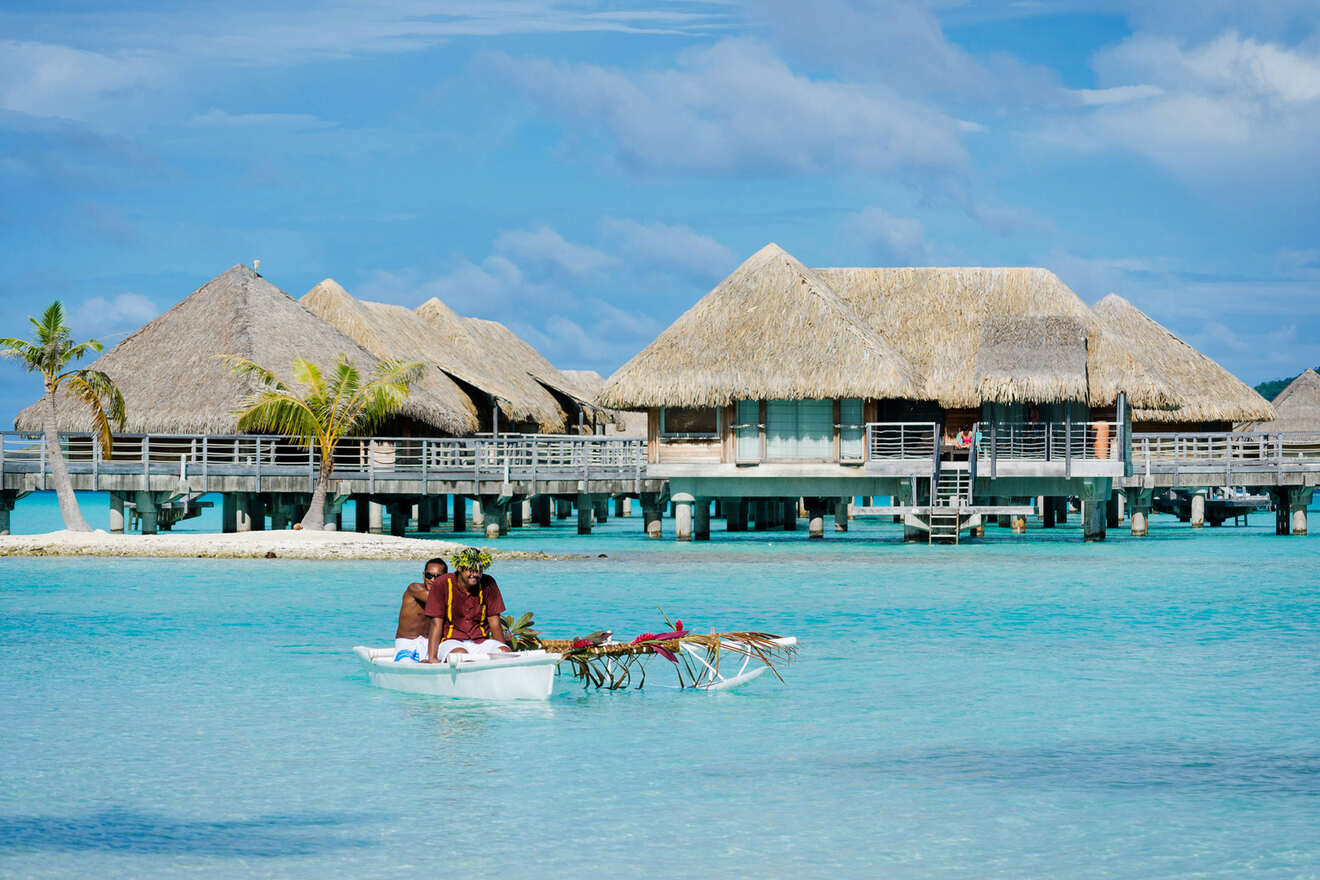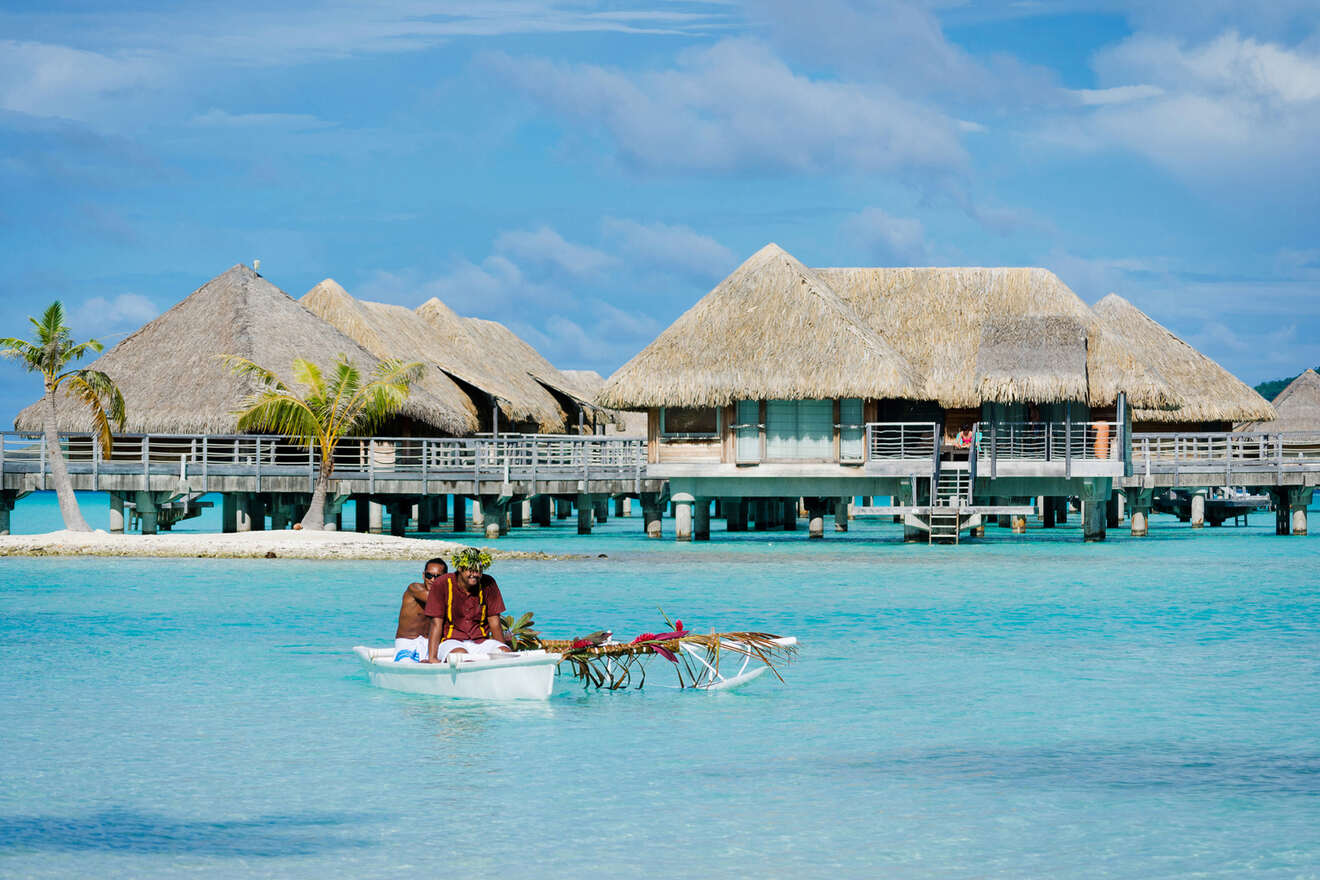 🤔 Which overwater bungalow resorts are all-inclusive?
🏊 Which overwater bungalows have plunge pools?
💰 Which are some cheap overwater bungalows in Bora Bora?
🤓 How can you get the best deals on an overwater bungalow in Bora Bora?
Many resorts offer a 25% discount for tourists who book their overwater bungalows at least 30 to 60 days in advance.
Conclusion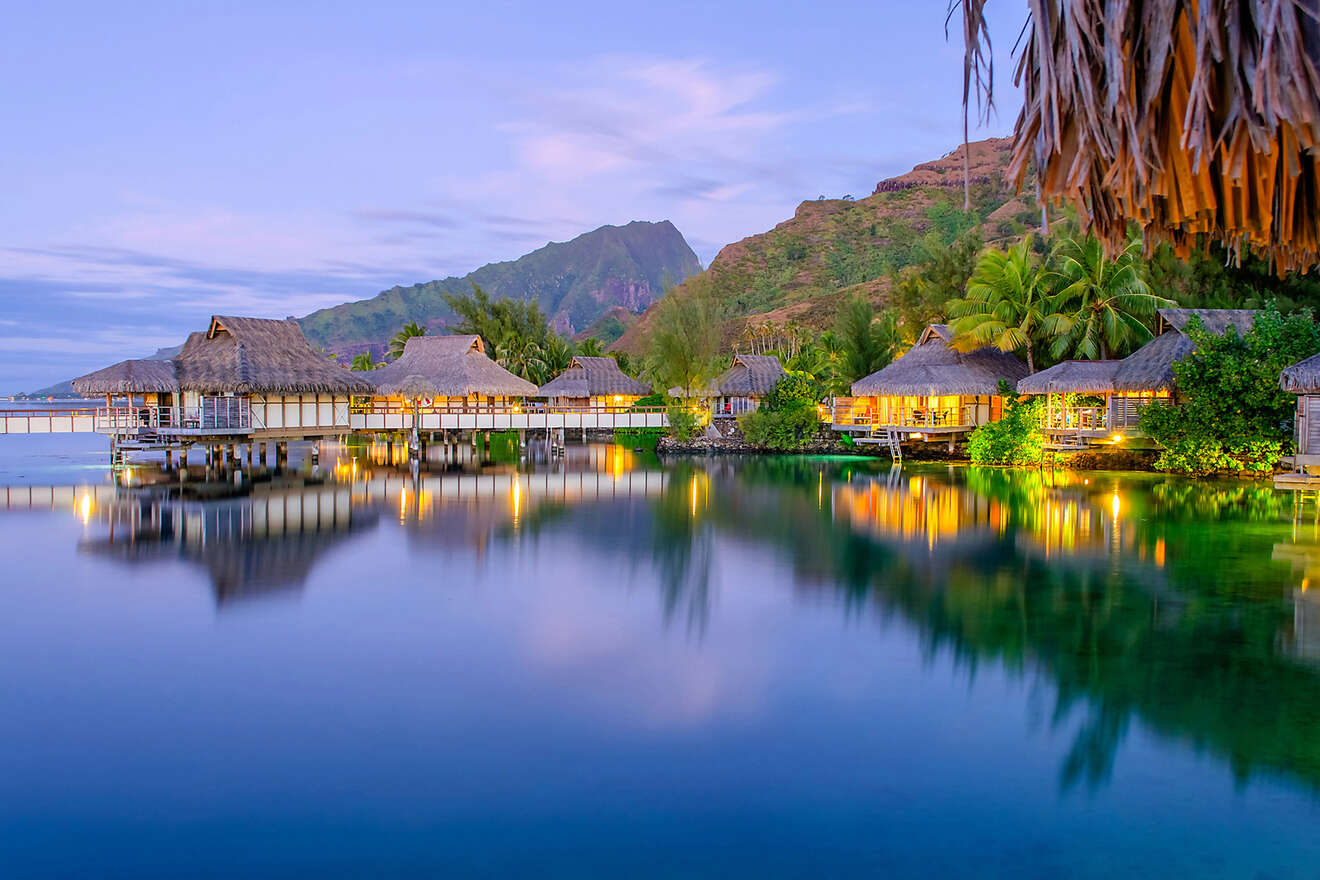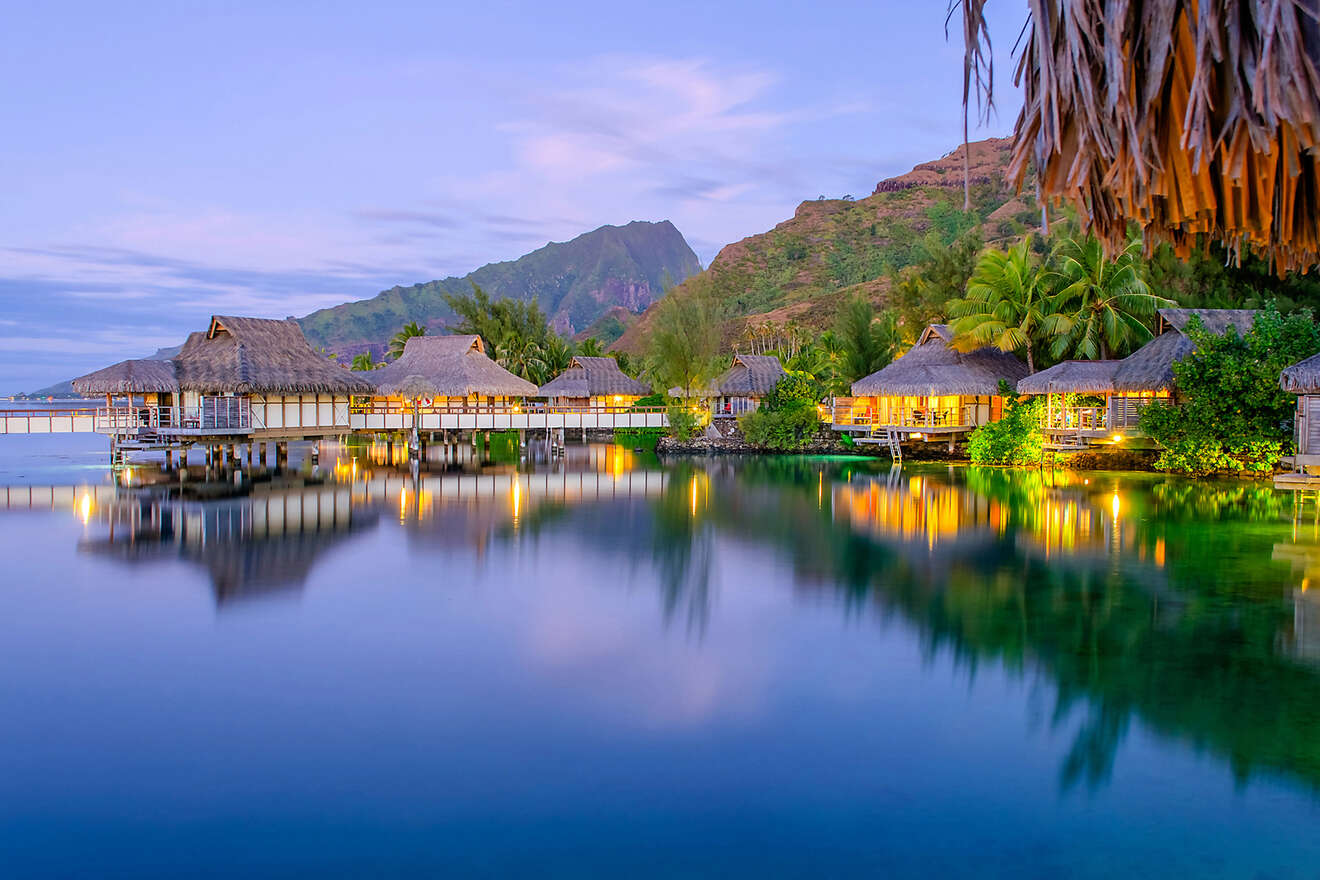 Already picked your favorite Bora Bora overwater bungalow or beach bungalow? With so many useful travel tips I knew that it would be much easier!
But let's do a quick refresh and remember what we talked about today.
This post has the best overwater bungalows in Bora Bora, which are listed from most to least expensive. Plus 3 extra vacation rentals which are more budget-friendly.
Although there are not so many options, I know it's hard to stick to one in a location like this one. So to give you some extra help I've listed my 2 favorite resorts:
Each Bora Bora resort is super special and I highly recommend booking yours in advance. There aren't many and they usually sell out months in advance as everyone prepares in time for a trip like this in the South Pacific.
Hope all my tips helped you but if I missed anything just leave me a comment below and I'll help you with all the details!
Safe travels,
Victoria
---
Pin it for later!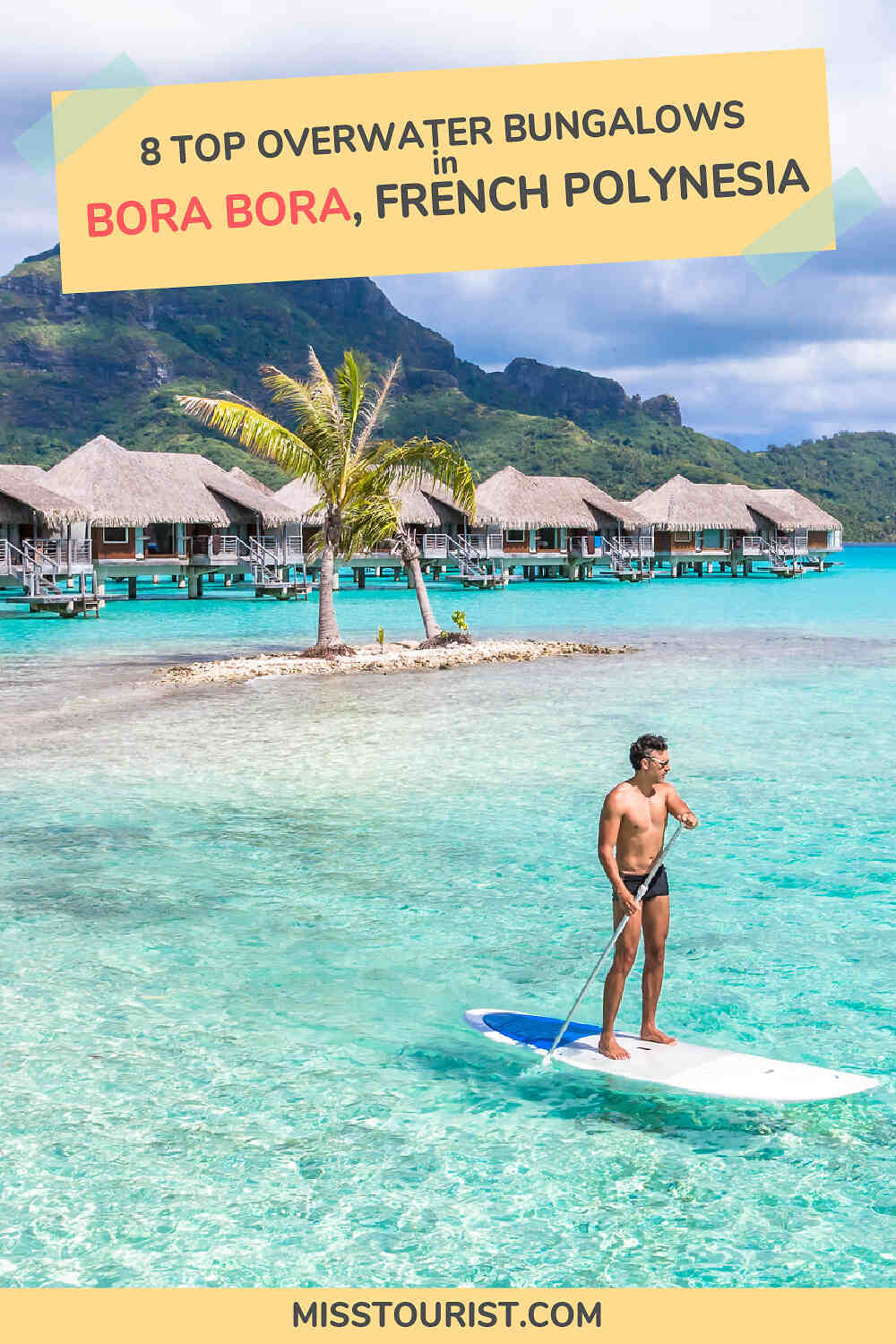 Pin it for later!