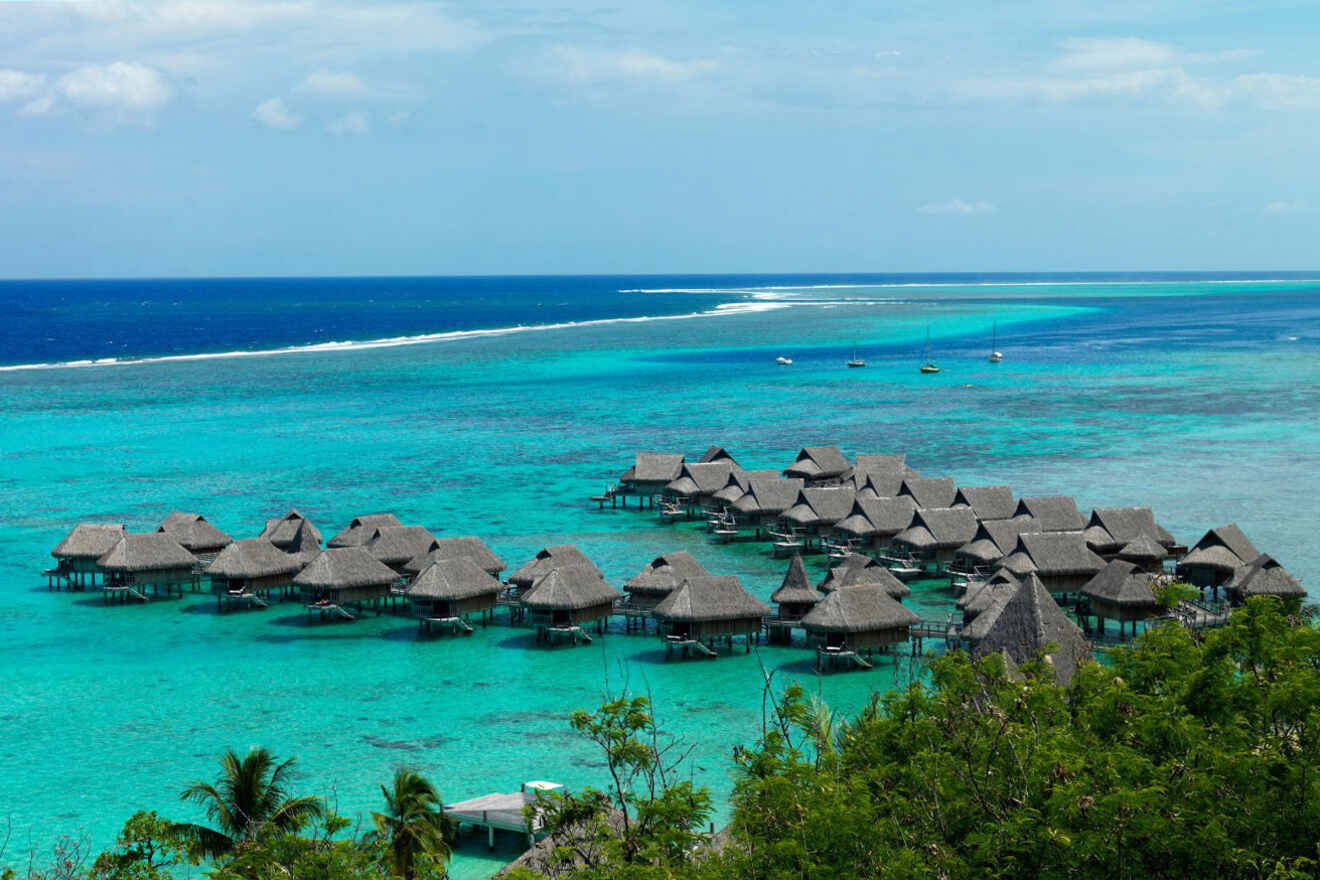 Are you looking for the best French Polynesia overwater bungalow? Well, I am here to tell you that I have researched for hours, comparing all the overwater bungalows in the region, and I've found the absolute best of the BEST for your next vacation!
I know it can feel like French Polynesia is a very romantic destination, which it is, but to be honest, beauty and nature are for all – families, friends, and solo travelers! I've arranged this post by price, starting with the most expensive ones, and at the end, you can find the cheapest overwater bungalows.
I've added 2 bonuses at the end of the post so you can have even more options: the best beachfront hotels in French Polynesia and the best VRBO rentals in French Polynesia. You'll have so much to choose from!
Book your favorite overwater bungalow in advance before someone else does, and start planning the rest of your trip!
Without further ado, let's check out the best French Polynesia overwater bungalows!
Let's dive in!
If you are in a hurry
If you need to book fast and don't have a lot of time to read the whole article, no worries! Here you have my top 3 recommendations for the best French Polynesia overwater bungalows:
Since we are talking about the entirety of French Polynesia, I thought you'd benefit from a map to see where each hotel is located:
1. The St Regis Bora Bora Resort – luxurious and relaxing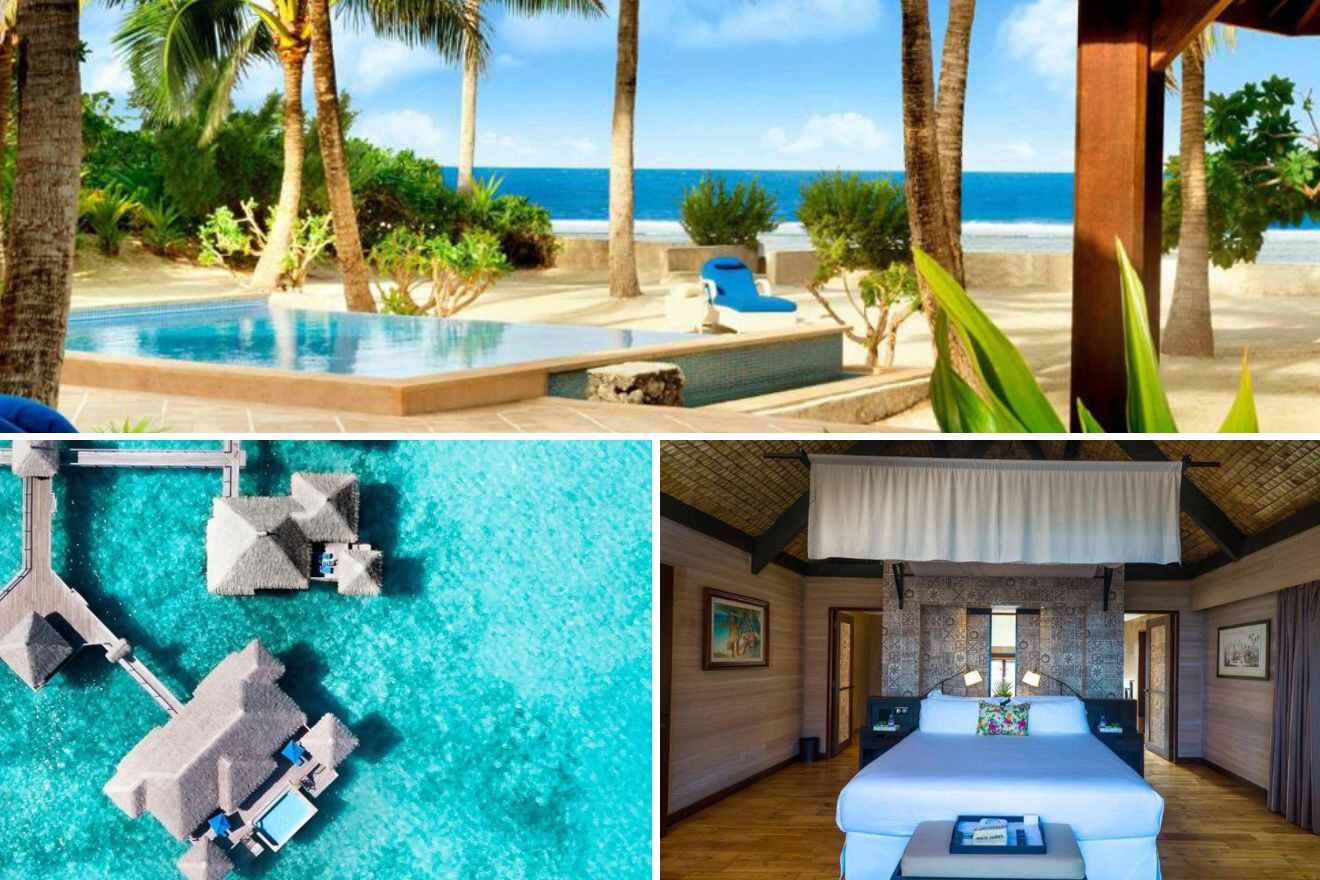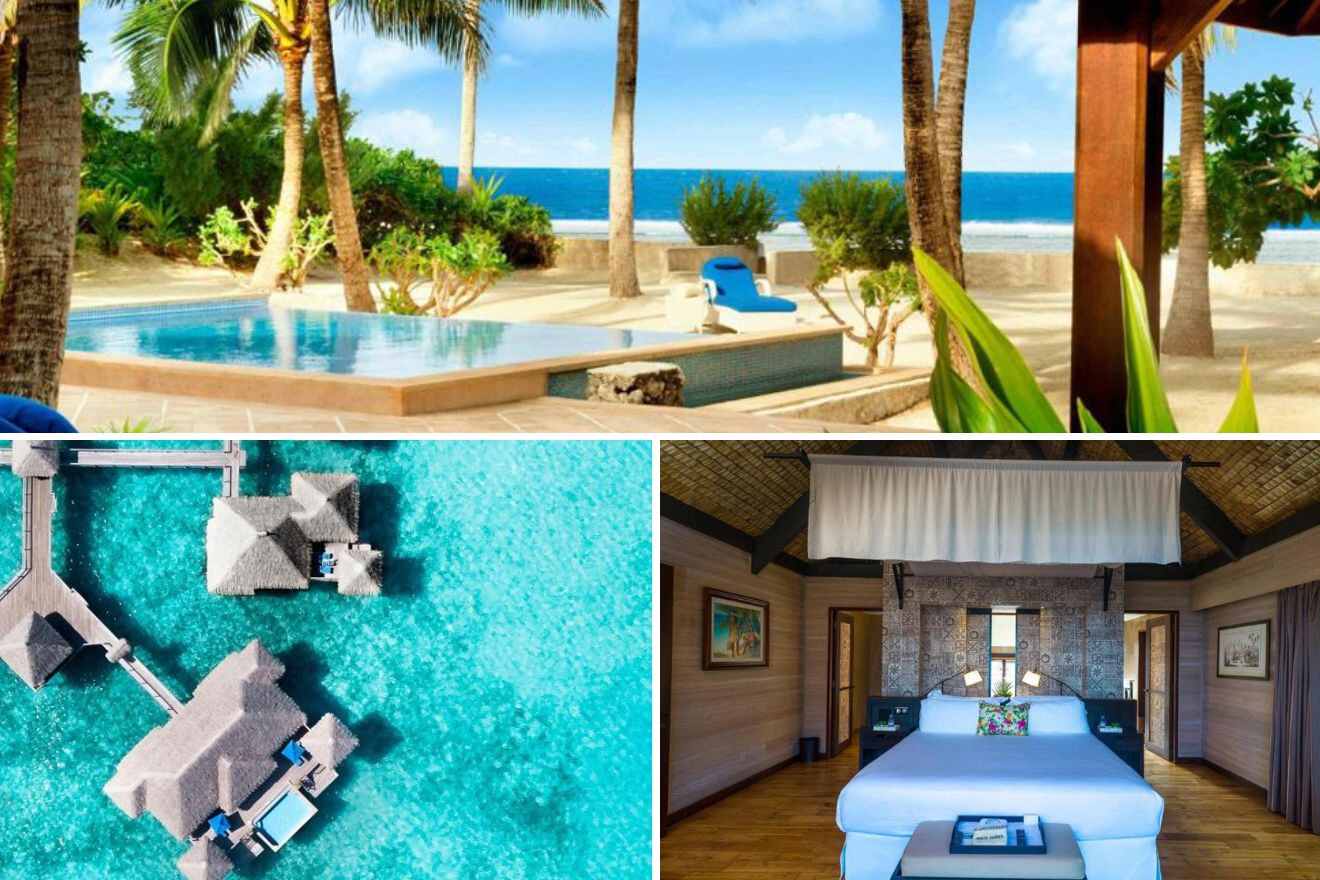 Wow! What a fantastic resort located by the beachfront in Bora Bora! It has a fabulous Polynesian style with a modern and luxurious twist. It's the perfect combination of natural elements and deluxe commodities. This resort comes with 2 pools, one for kids, and a swimming pool for adults.
You can go snorkeling at the hotel's private beach and see coral gardens and, if you're lucky, sea turtles! Eat at the Lagoon restaurant before heading to your paradise villa.
Did you know this resort has the largest overwater bungalows in Bora Bora? You can book any of their land luxury villas, but I highly recommend their overwater villas; all of them come with a private terrace that comes with a private pool, infinity pool, or hot tub.
2. Four Seasons Resort – stunning natural surroundings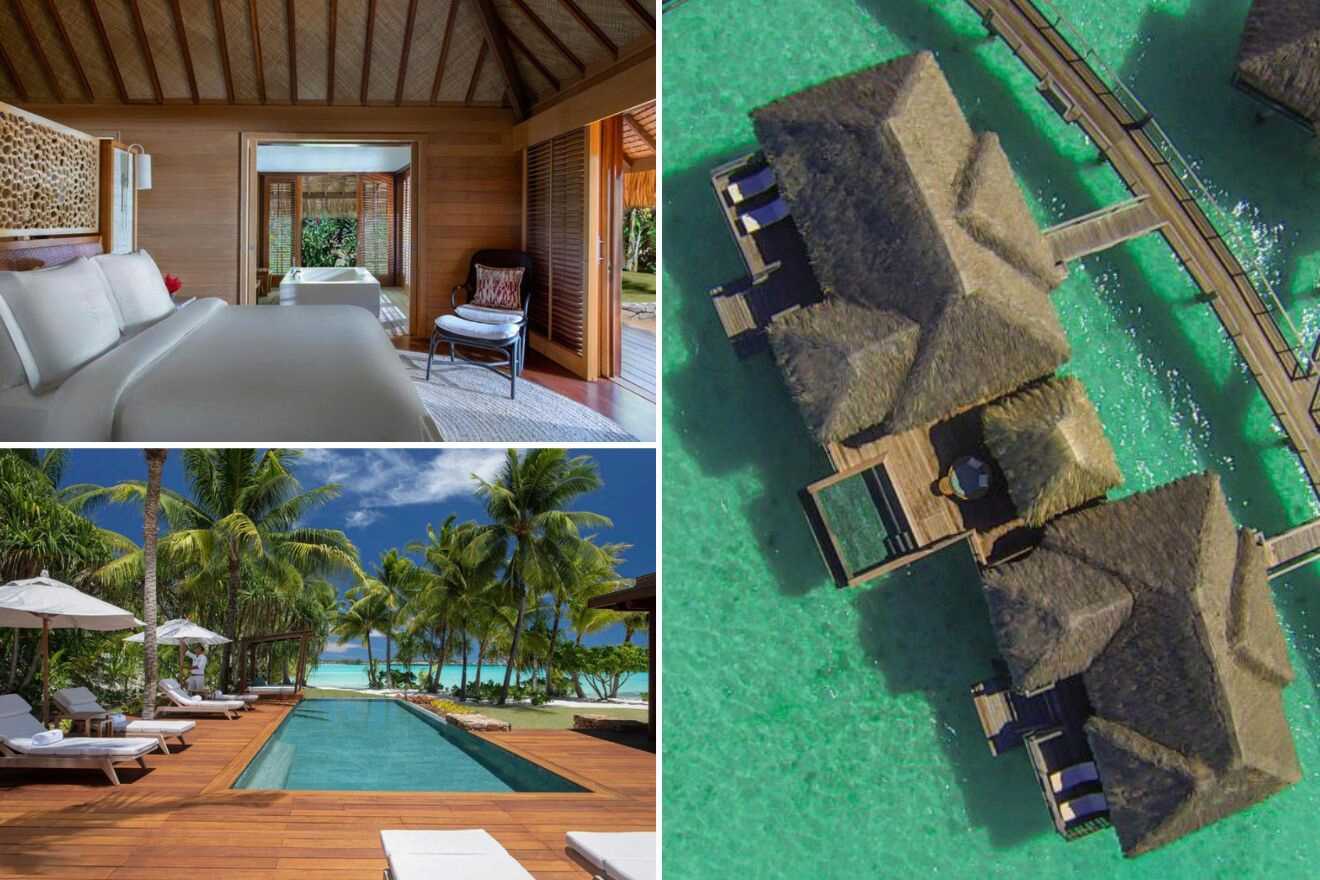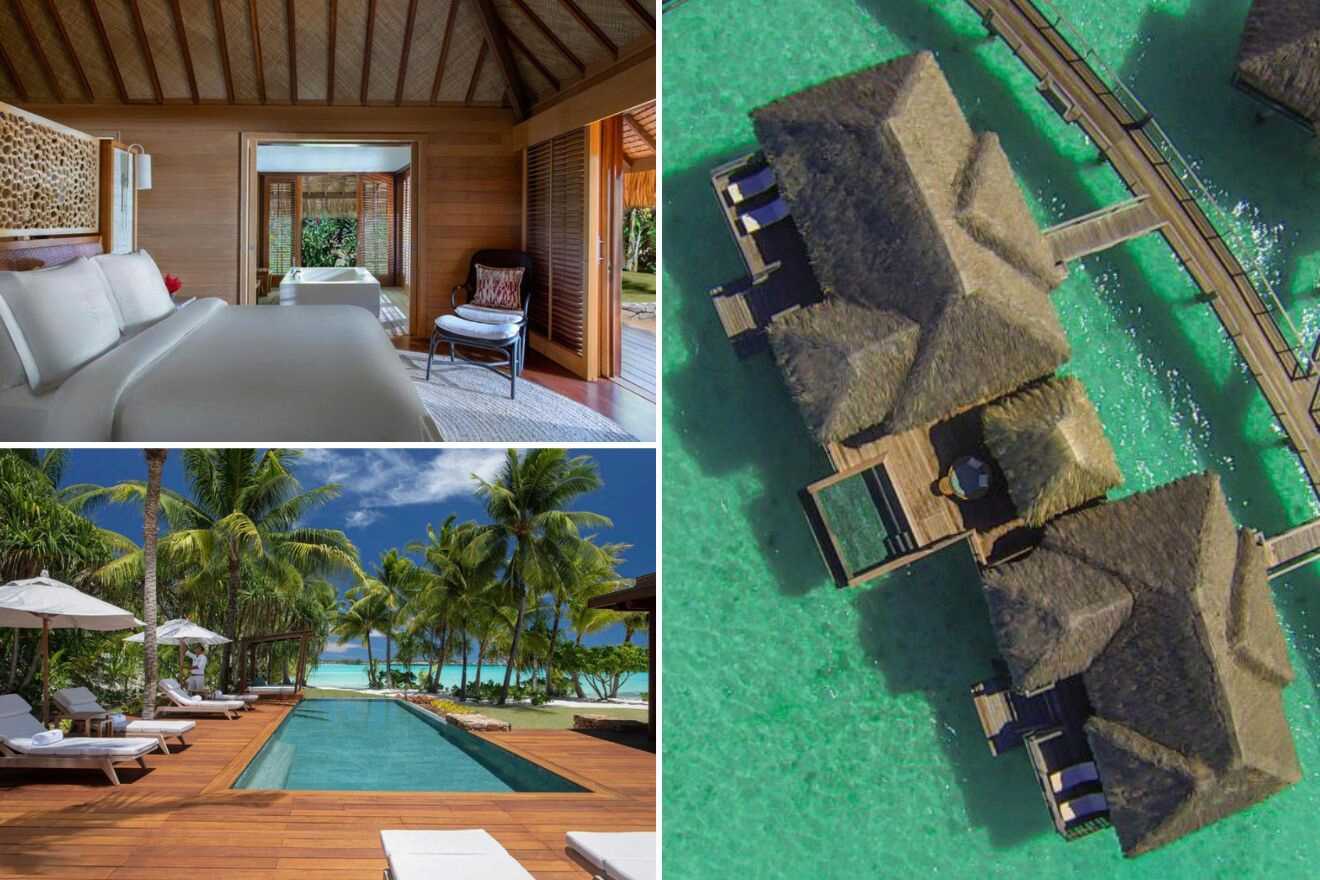 This incredible resort is surrounded by tropical plants on the main island of Bora Bora in the South Pacific Ocean. It is located by the beach with direct access to a private beach area just for guests! The resort comes with 4 onsite restaurants and a spa center, and breakfast is served to its guests every morning in their beach bungalows or over-water bungalows!
Make memories that will last a lifetime and book scuba diving lessons (for an extra fee) and get an encounter with all the sea life that lives underwater by the coral reef! This resort offers overwater bungalows overseeing the turquoise lagoon, and beach bungalows come with private pools. You'll have the time of your life here!
3. InterContinental Resort – rejuvenate in Thalasso Spa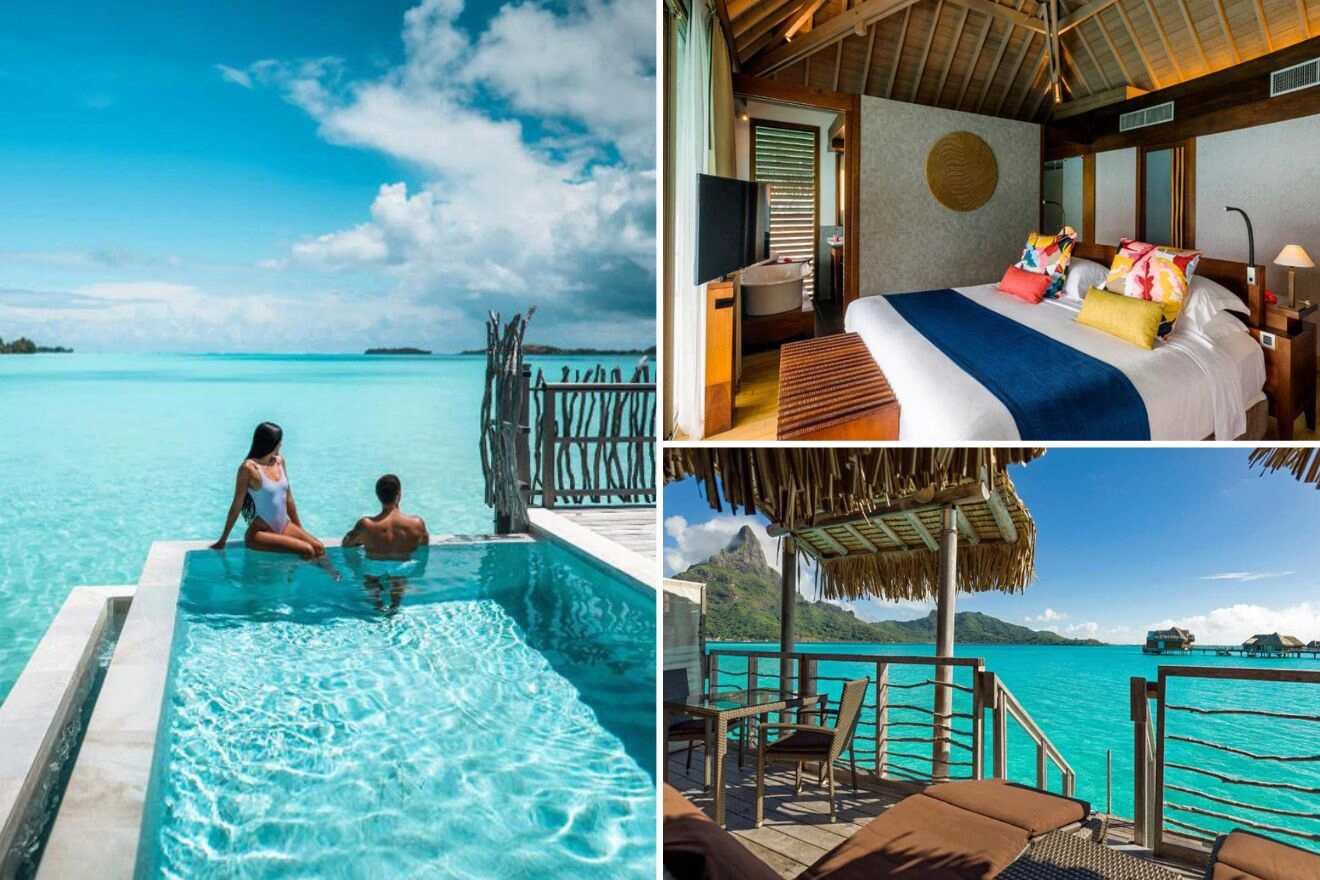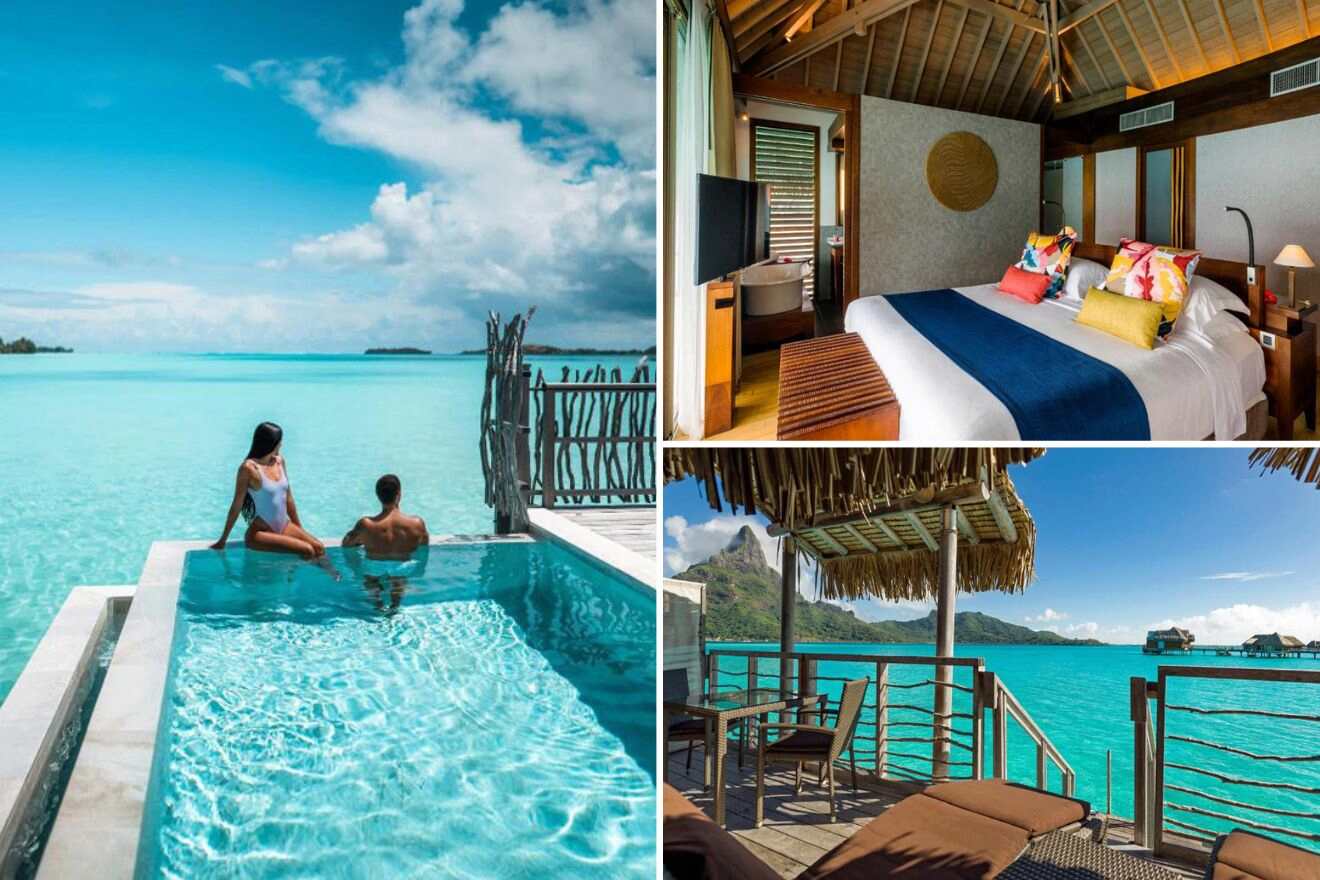 This absolutely stunning hotel, located in Bora Bora by the beachfront and with a private beach area, has the most exquisite style, high-class architecture, and parquet floors, with top-class furniture resembling the Polynesian style. You can find the Thalasso Spa onsite, this one offers rejuvenating treatments with thalassotherapy! These use saltwater and seaweed treatments to heal your body and leave you feeling amazing!
Whether you choose to spend the day at the spa, practicing water sports, encountering a coral garden, or enjoying happy hour during a live event, you will find peacefulness surrounded by amazing nature! The overwater villas and overwater suites come with air conditioning, an infinity pool on the terrace, and the most marvelous views!
4. Conrad Bora Bora Nui – for privacy and elegance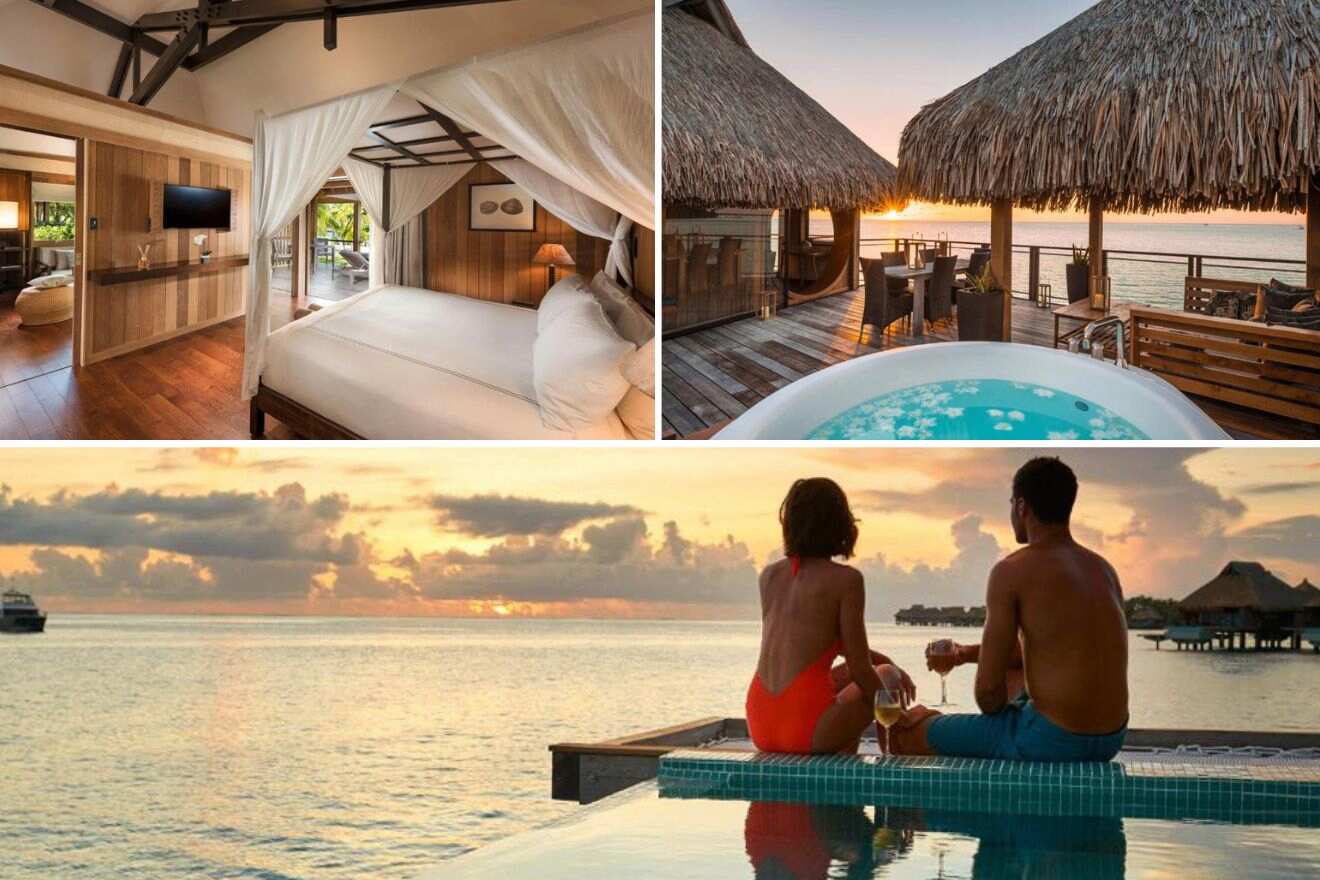 This private island resort in Bora Bora offers the most incredible views of the islands and a mountain landscape thanks to its great location. The resort has an astonishing luxurious style, filled with elegant touches in the decor and the furniture! During your stay, you can choose among many activities, from water sports like canoeing to biking or cooking classes!
Immerse yourself in nature by staying at any of this hotel's beachfront suites or overwater villas. The overwater villas are spacious and elegant, they come with a terrace with a plunge pool, some come with an infinity pool (yes, 2 infinity pools if you count the shared one!), a bedroom with a sea or mountain view, a sitting area, and a private bathroom with a soaking tub and beautiful marble vanities.
5. Le Bora Bora by Pearl Resorts – tranquility by the sea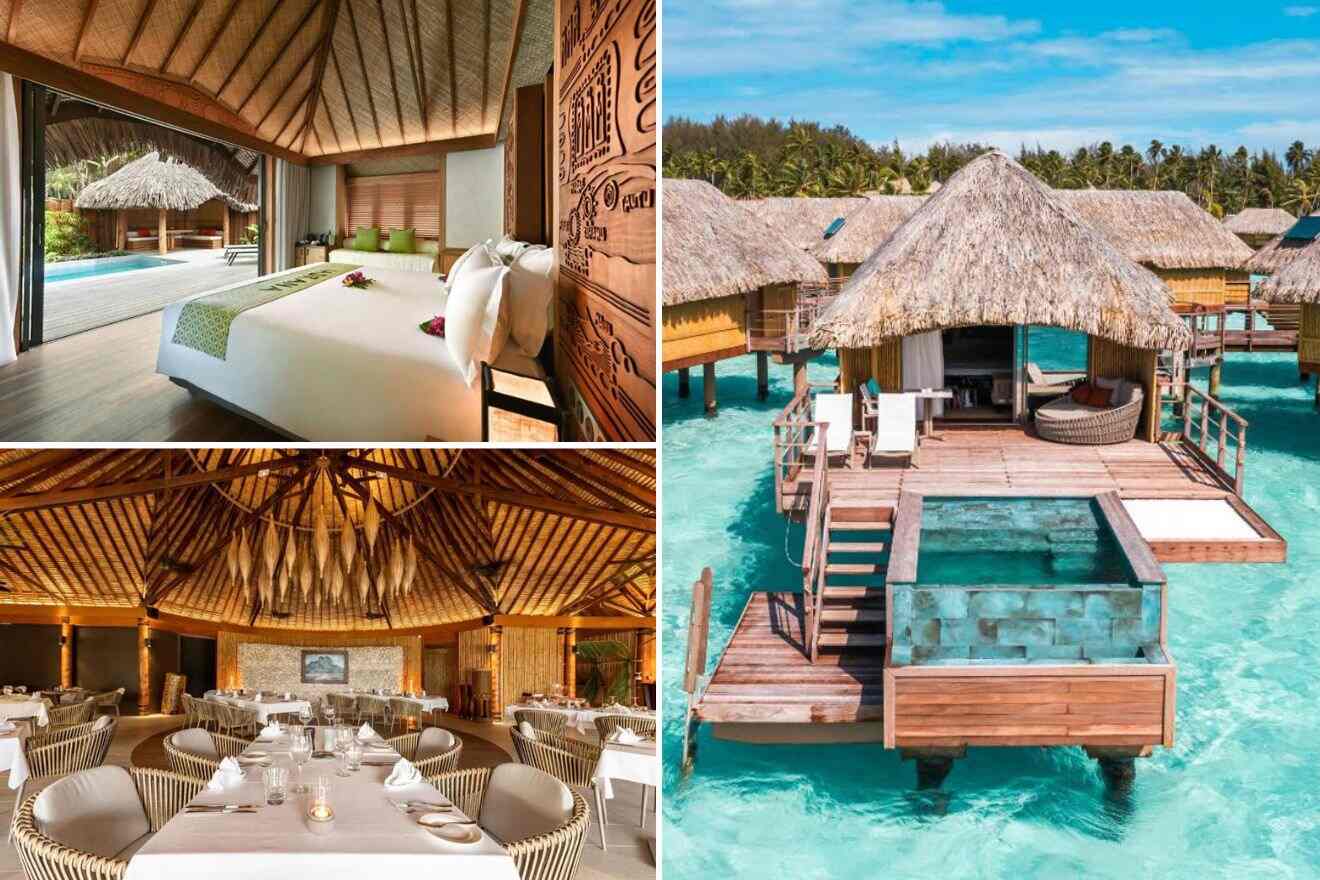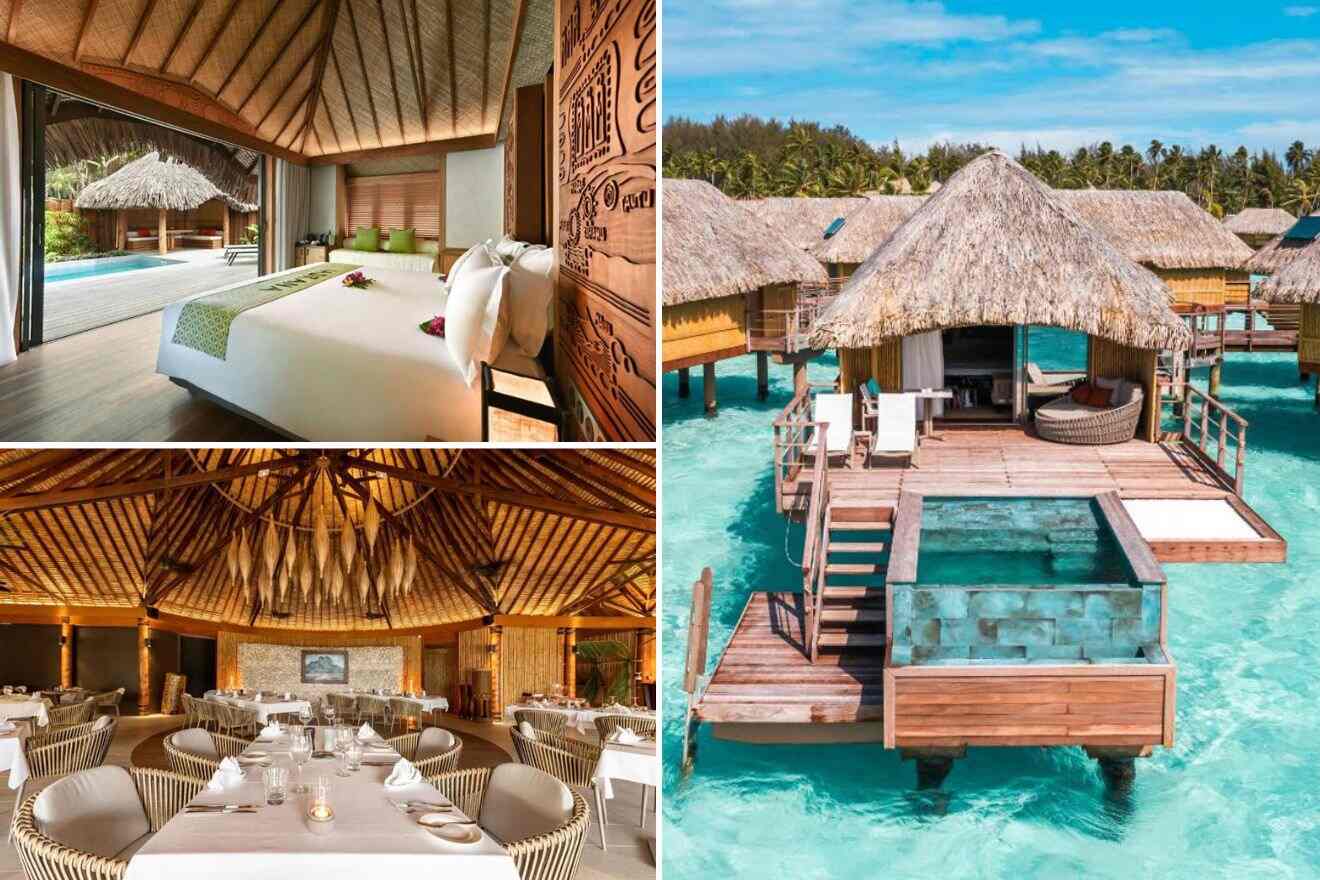 I am amazed by the amount of detail you can find on the wooden walls and beautiful traditional patterns carved out, giving the resort an authentic style accompanied by all the incredible deluxe amenities it has. This resort has 3 top-class restaurants on site, a spa center, a fitness center, and an outdoor pool with a lounge where you can find dining tables!
The villas give guests all the privacy and seclusion they need for a relaxing time that will make them reconnect with themselves and nature. The overwater villas come with high-class furniture, air conditioning, a hot tub or plunge pool, and amazing views of gardens, the sea, or mountains!
6. Le Taha'a by Pearl Resorts – indulge in style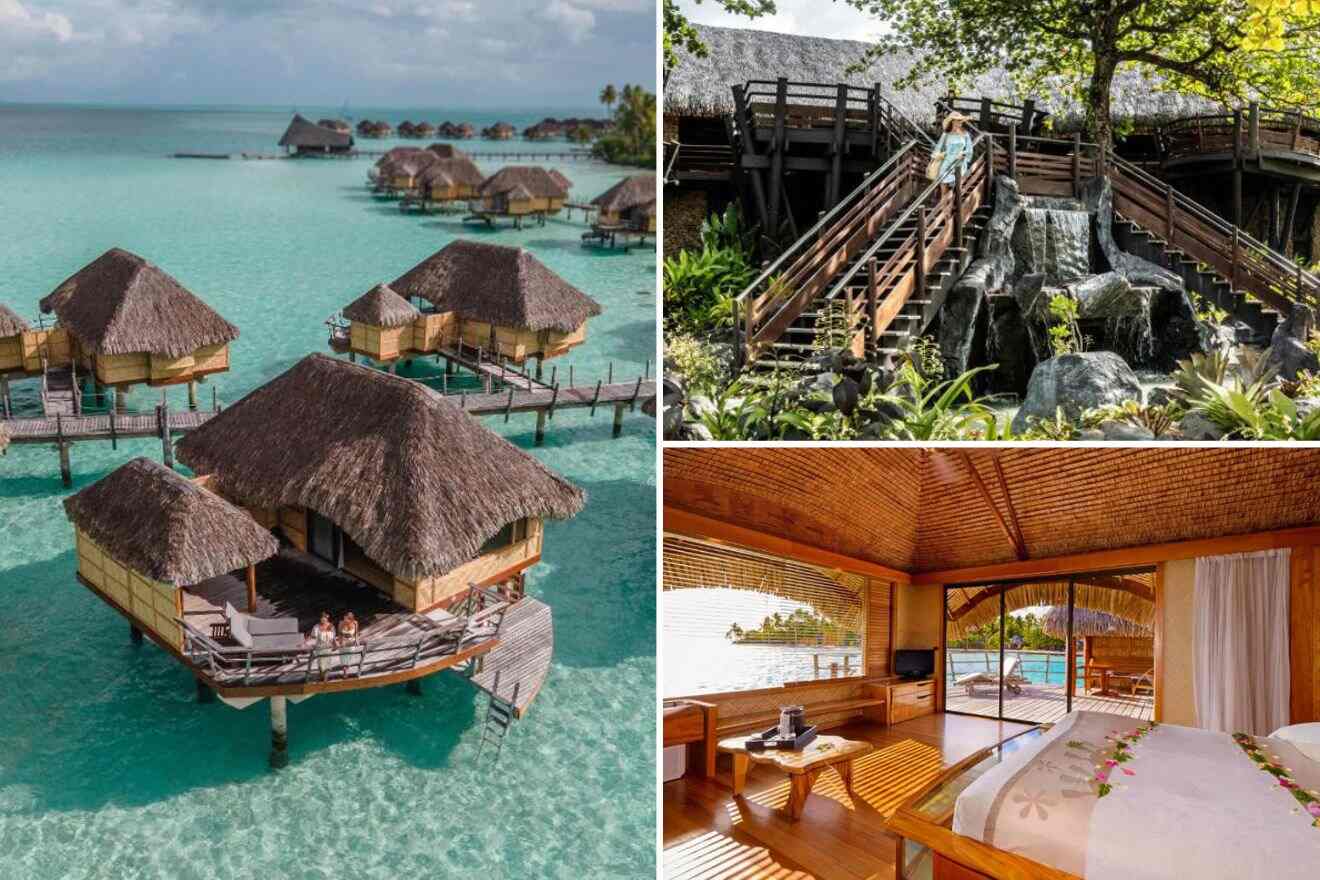 Located on a private island in Tahaa, this resort has amazing views of Bora Bora island and the pristine water that surround the island. It comes with 3 onsite restaurants serving local and international cuisine, 2 bars with signature cocktails, tennis courts in a paradisiac landscape, classes about culture, and evening entertainment to keep you busy 24/7!
Their classic overwater bungalows have a graceful Polynesian style that will make you feel one with nature and will heighten your senses! All the overwater accommodations come with a private patio or balcony overseeing the turquoise lagoon and a private bathroom with a bathtub. Booking a beach bungalow, you get access to a private pool, which sounds awesome if you ask me!
7. Le Méridien Bora Bora – unique beauté!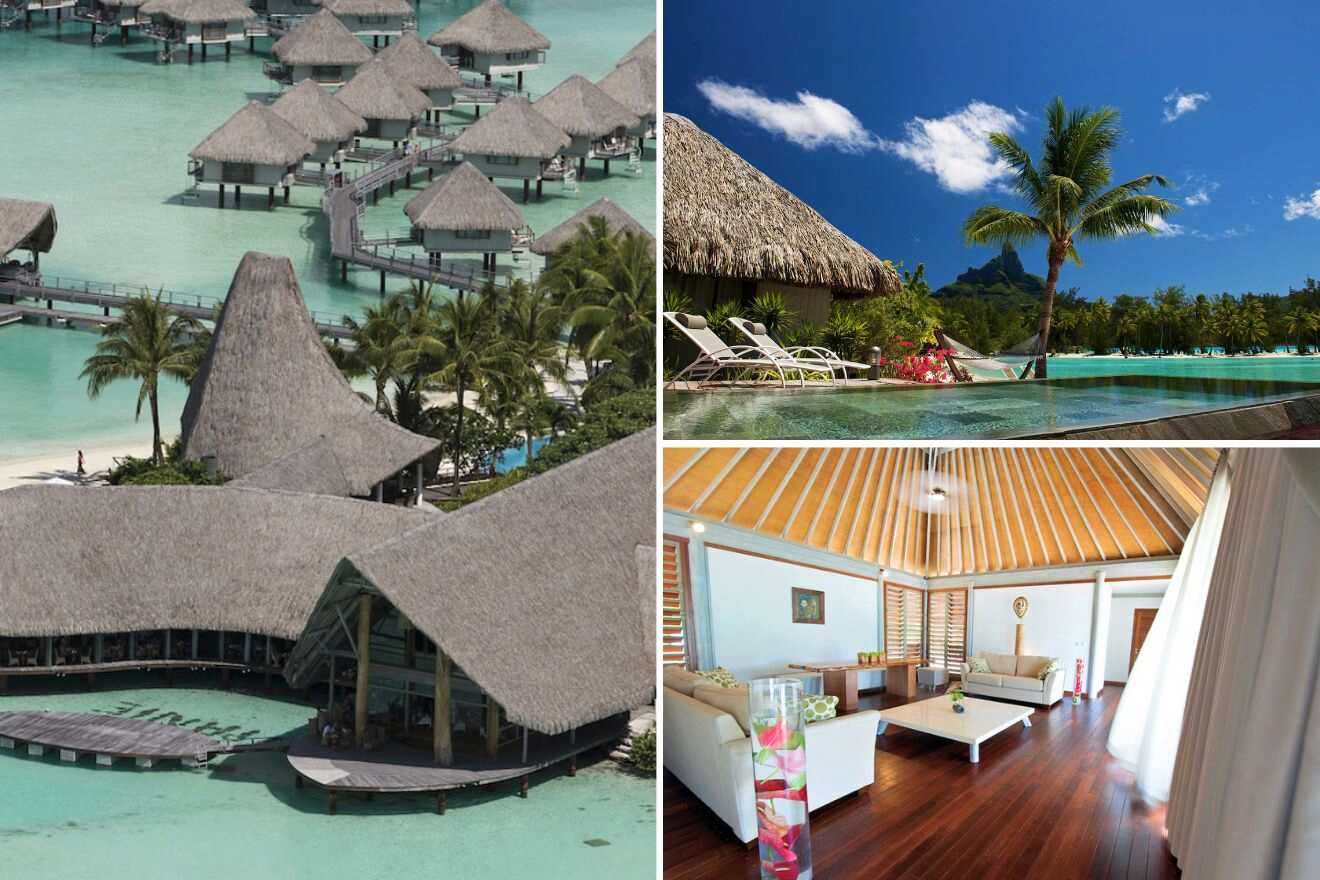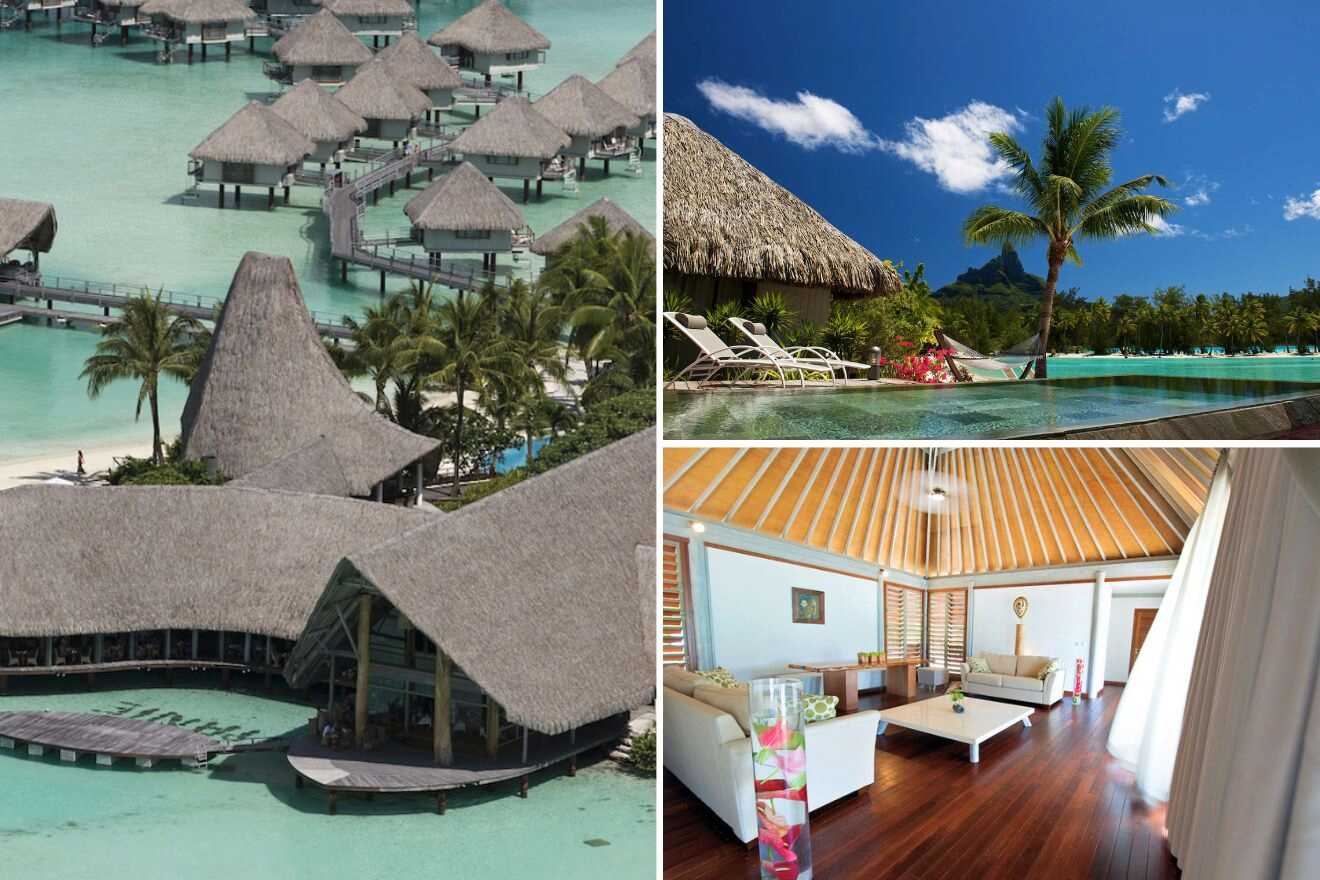 This resort, located on a private area of the island in Motu Tape, and with Motu Mute Airport as the closest one, is different from the other resorts because it has an onsite turtle sanctuary invested in protecting these animals; guests can interact with the turtles and learn about their ways of life and habitat!
The resort offers a wide range of activities, from water sports like windsurfing, to cultural events and live performances! If you are passionate about food, you can find one of the most amazing restaurants on site, featuring views of the beach. The overwater bungalows have a nature-inspired theme and have the largest glass floors with a view of clear view below! Talk about waking up in heaven!
8. InterContinental Le Moana Resort – culture and heritage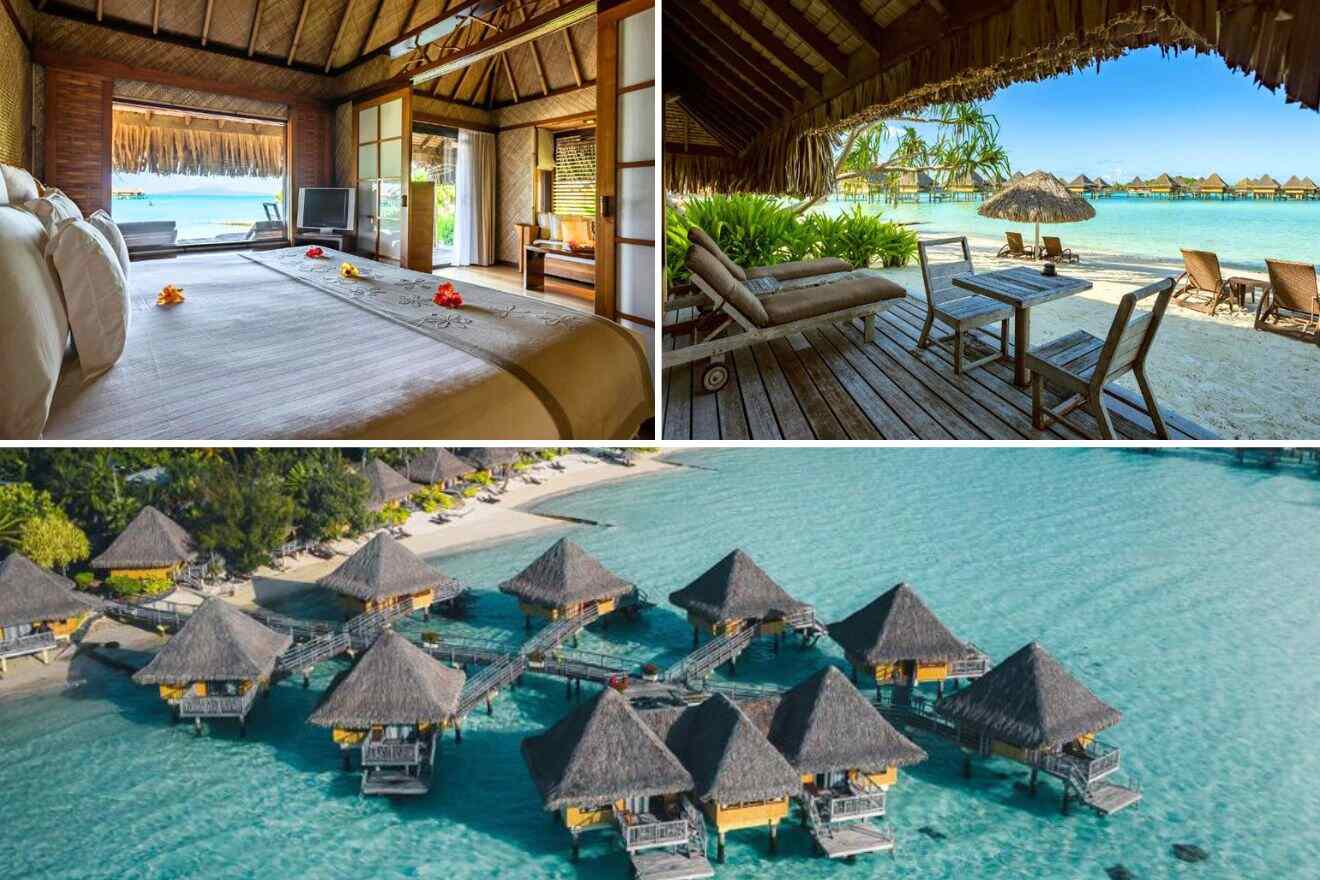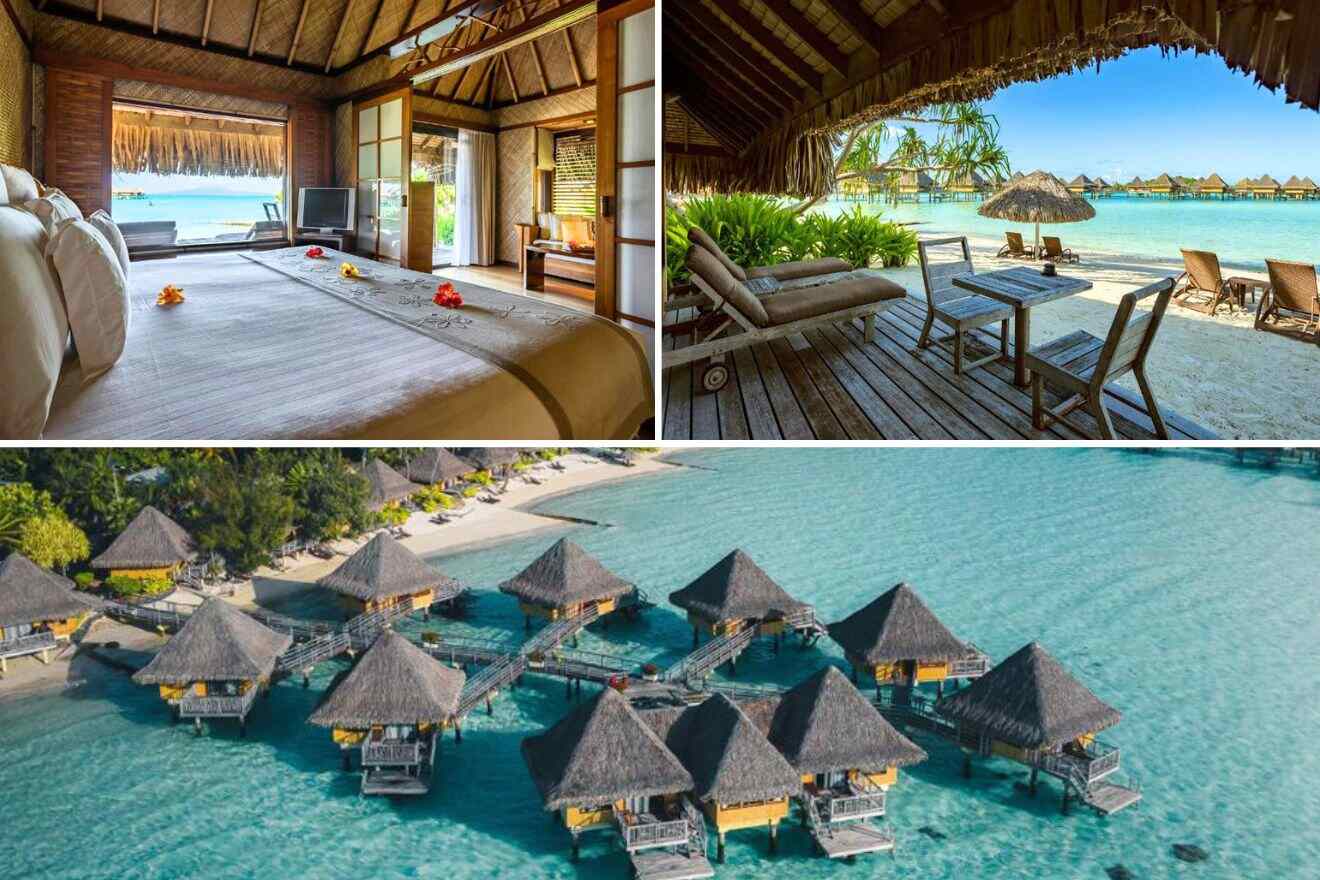 What an incredible style and decor in this Matira Point resort! I recommend this resort to anyone looking to experience Polynesian culture and fall in love with it! It offers classes and tours about the local culture, themed nights, and authentic Polynesian-style decor that will make you feel connected with the surroundings!
This resort has many overwater bungalows, all traditionally decorated! The bungalows come with views of the lagoon, the beach, or the mountains. They come equipped with a king-size bed, a flat-screen TV, and free Wi-Fi. Every morning the hotel staff will bring to your bungalow a delicious breakfast that you can eat on your private terrace!
9. Le Tikehau by Pearl Resorts – convenience with a view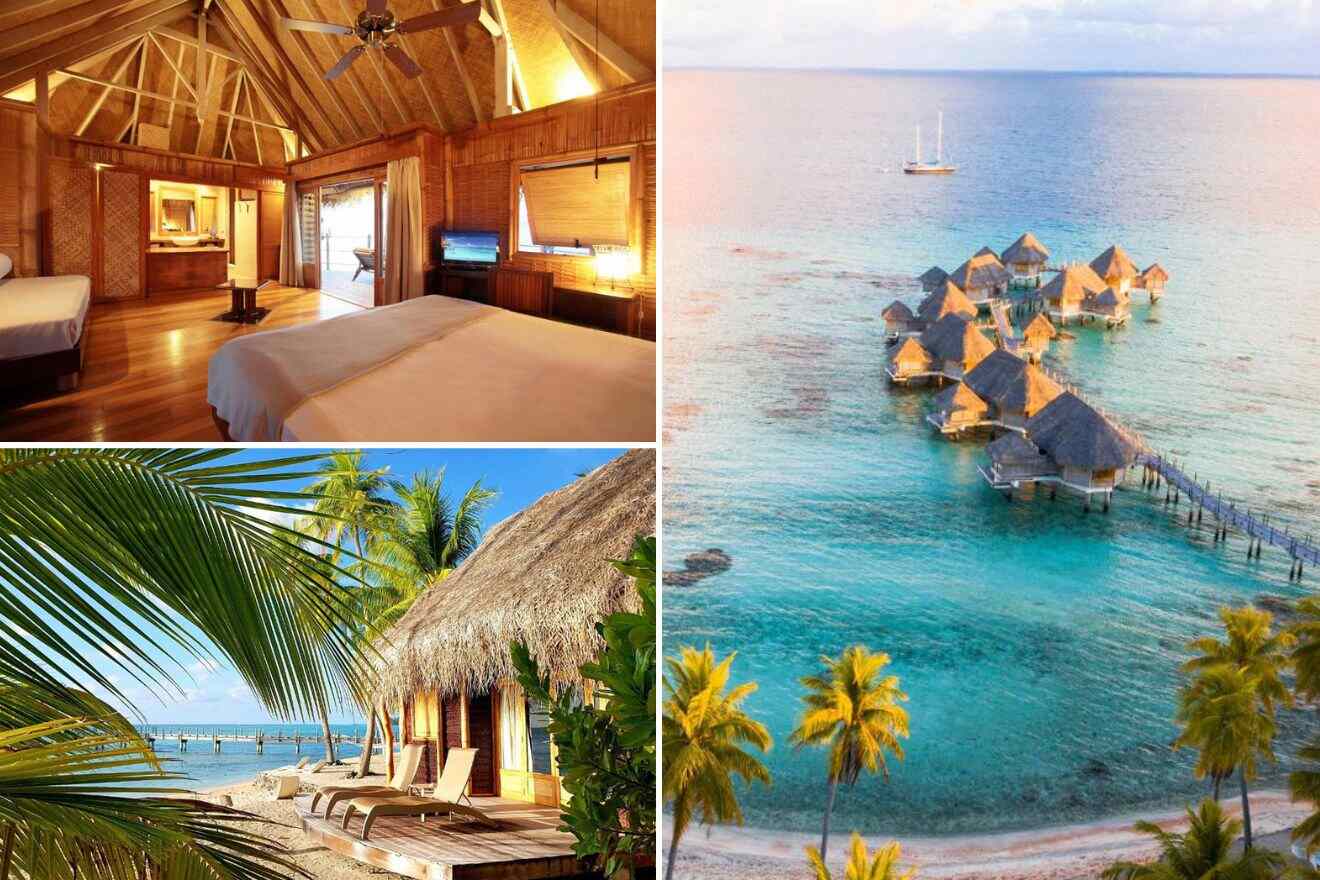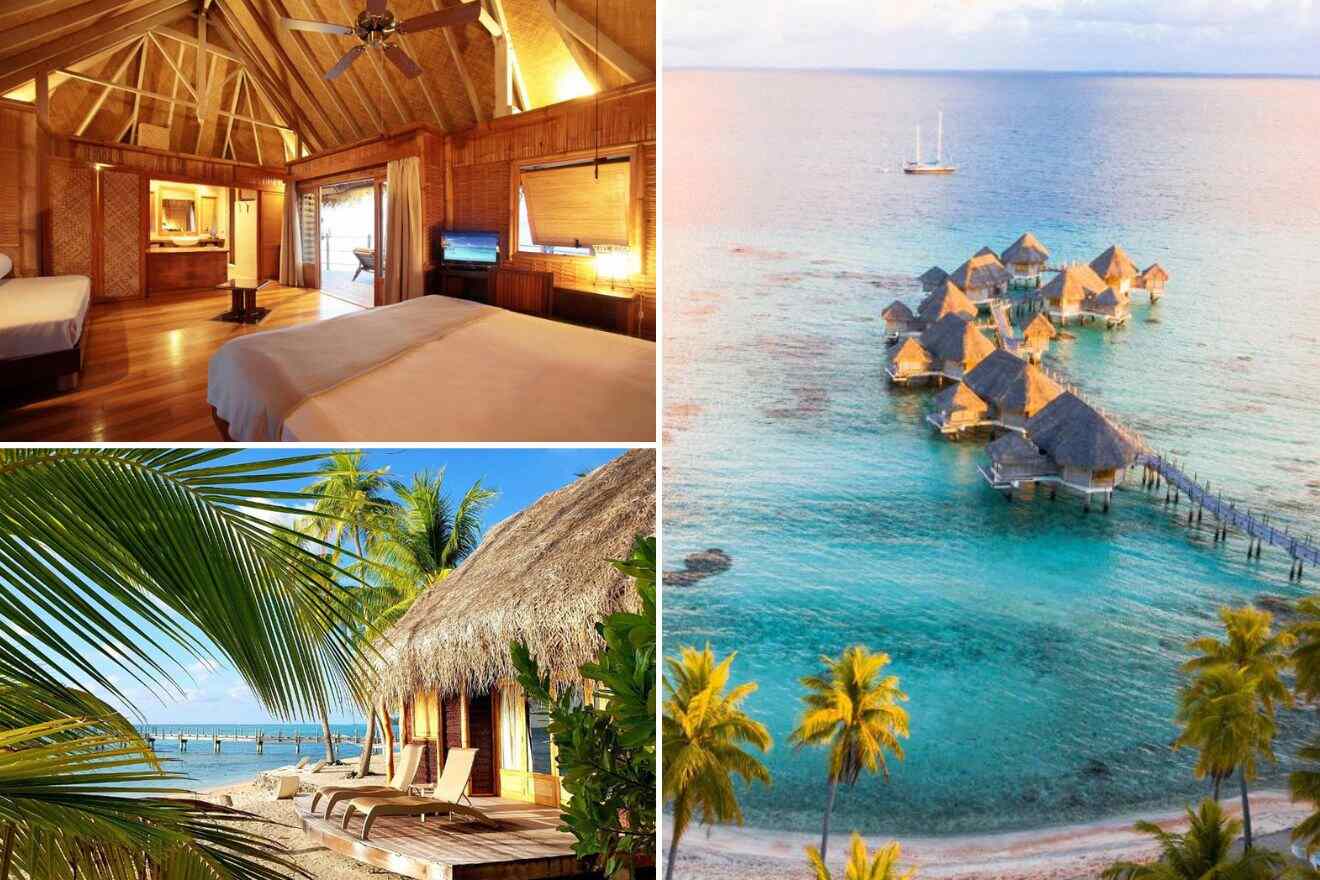 Located in Tikehau and with rustic and classic decor, this resort offers its guests amazing amenities, such as a private beach where you can practice water sports, snorkeling, and diving. It comes with an onsite restaurant that serves food from many cuisines, from local to European.
The overwater bungalows come with a private terrace with furniture, a spacious room with an extra-large double bed, a seating area with a Polynesian glass table, and a spacious bathroom with a shower. If you book the overwater suite, you get a bathtub in the private bathroom. All guests get a complimentary breakfast served in their room, so you don't even need to go anywhere!
10. Hilton Moorea Lagoon Resort – visit a coral garden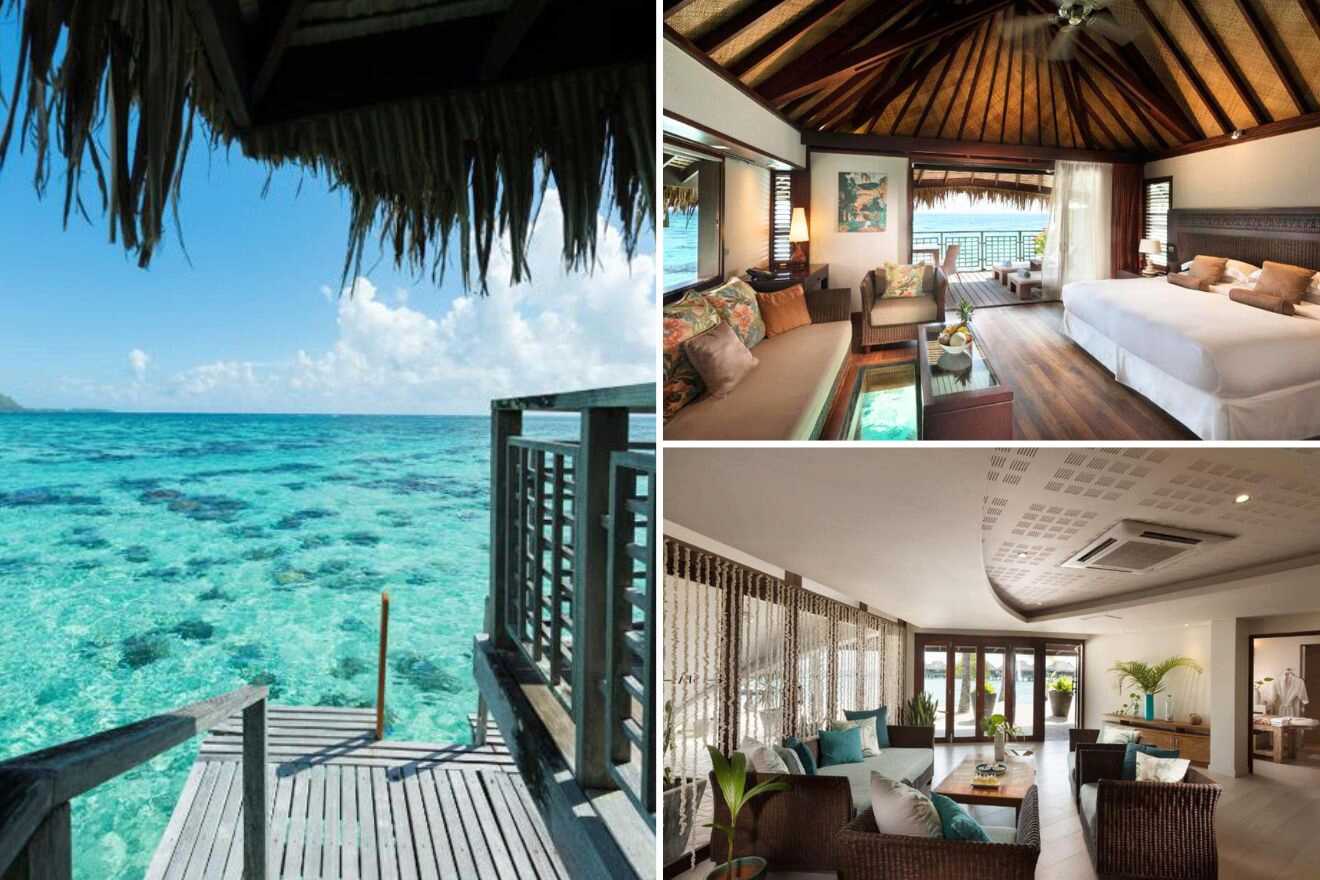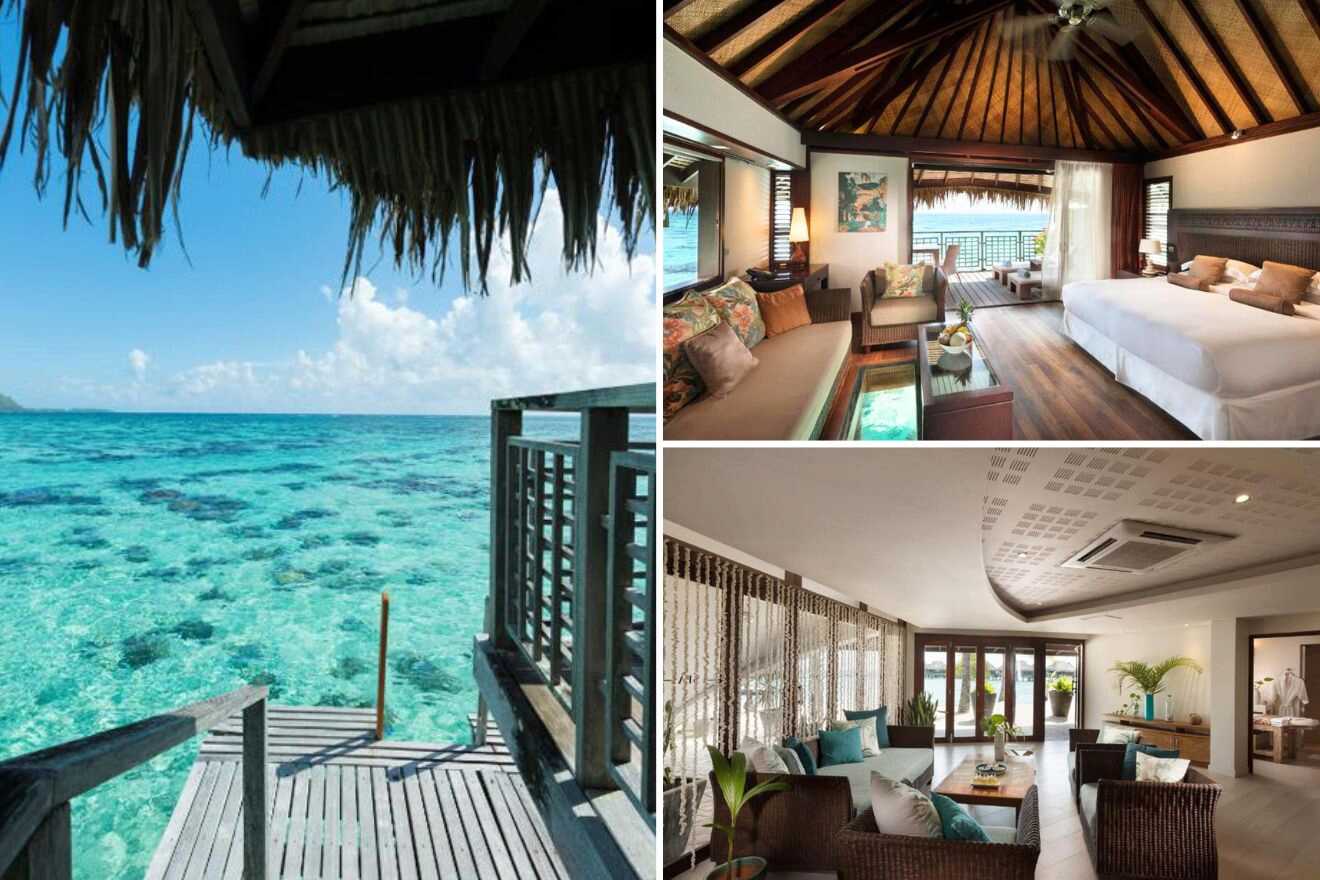 I love the luxurious style of this Moorea Island resort located by the beachfront! Amongst the amenities it offers, you can find an outdoor pool with a lounge area, 6 onsite restaurants, and many water sports activities, like jet skiing, windsurfing, and snorkeling which will allow you to see all the amazing underwater world with beautiful coral gardens.
They offer 3 different types of overwater bungalows; all of them can host a maximum of 3 guests, and all of them come with a private bathroom, a terrace with sun loungers, a minibar, a coffee station, and air conditioning to beat the heat!
11. Sofitel Kia Ora Moorea Beach Resort – great value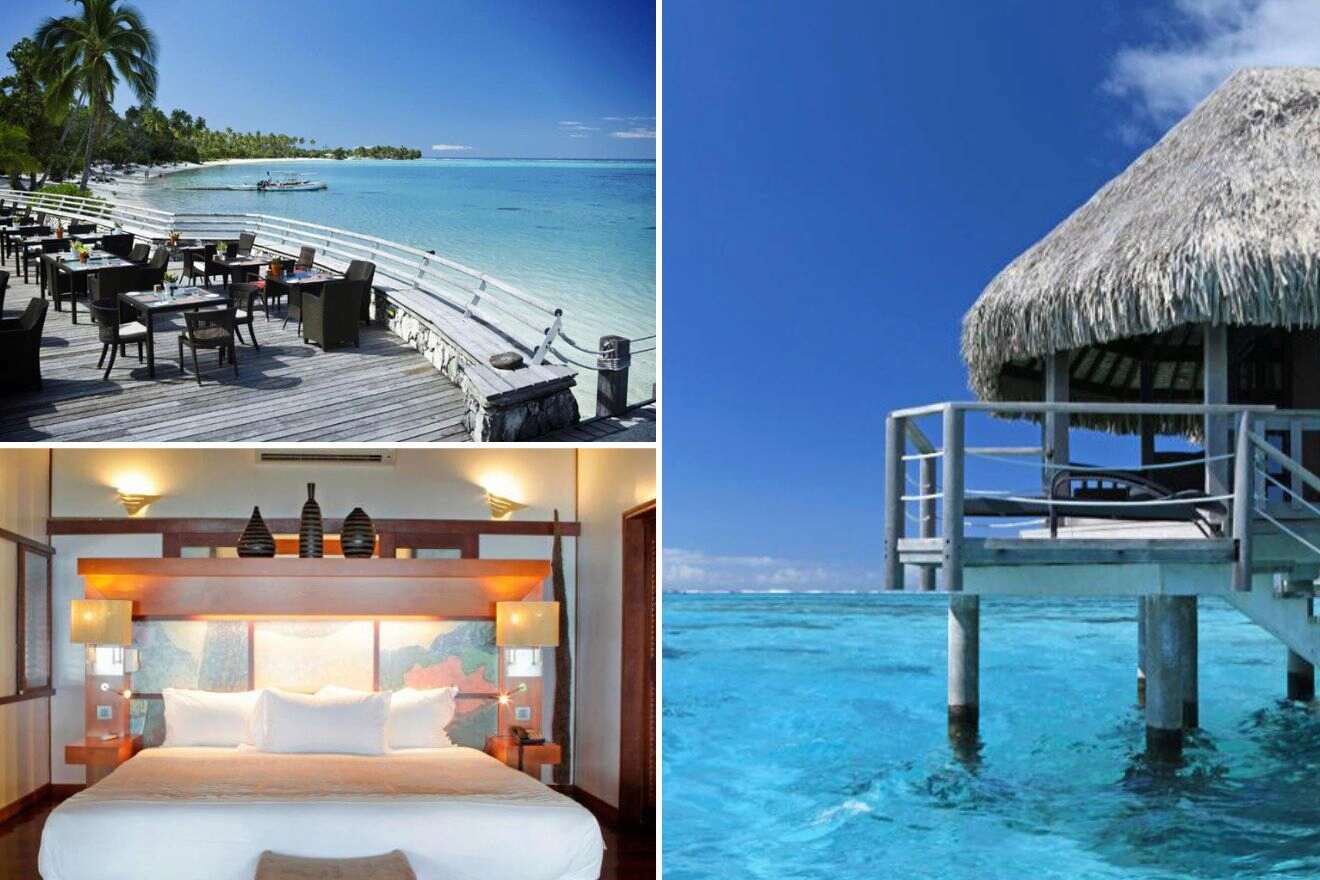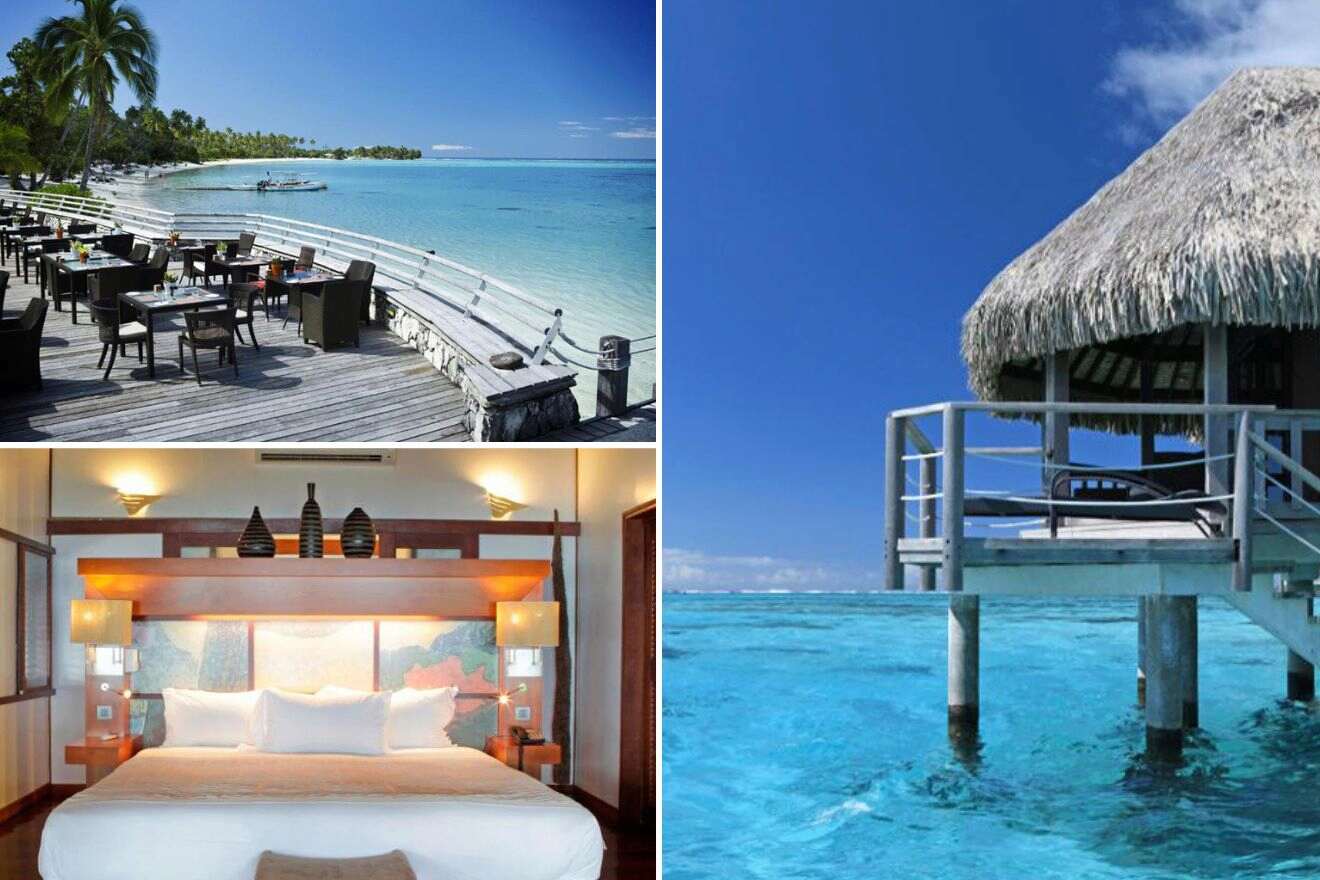 Just looking at the pictures, I want to travel to Moorea Island and stay at this fantastic resort! What a dream it would be to have a candlelit dinner by the beach or get a full spa treatment after a long day of playing at the beach and swimming in the sea! Another option would be visiting their temporary art galleries or even watching a stand-up comedy show! So many options to experience on your vacation, you'll never get bored!
They offer 2 types of overwater bungalows: the superior and luxury bungalow. Both have pretty similar amenities. The only big difference is that the superior has a sofa bed, and the distribution of the room is a bit different, but both come with a furnished terrace and a spacious bathroom!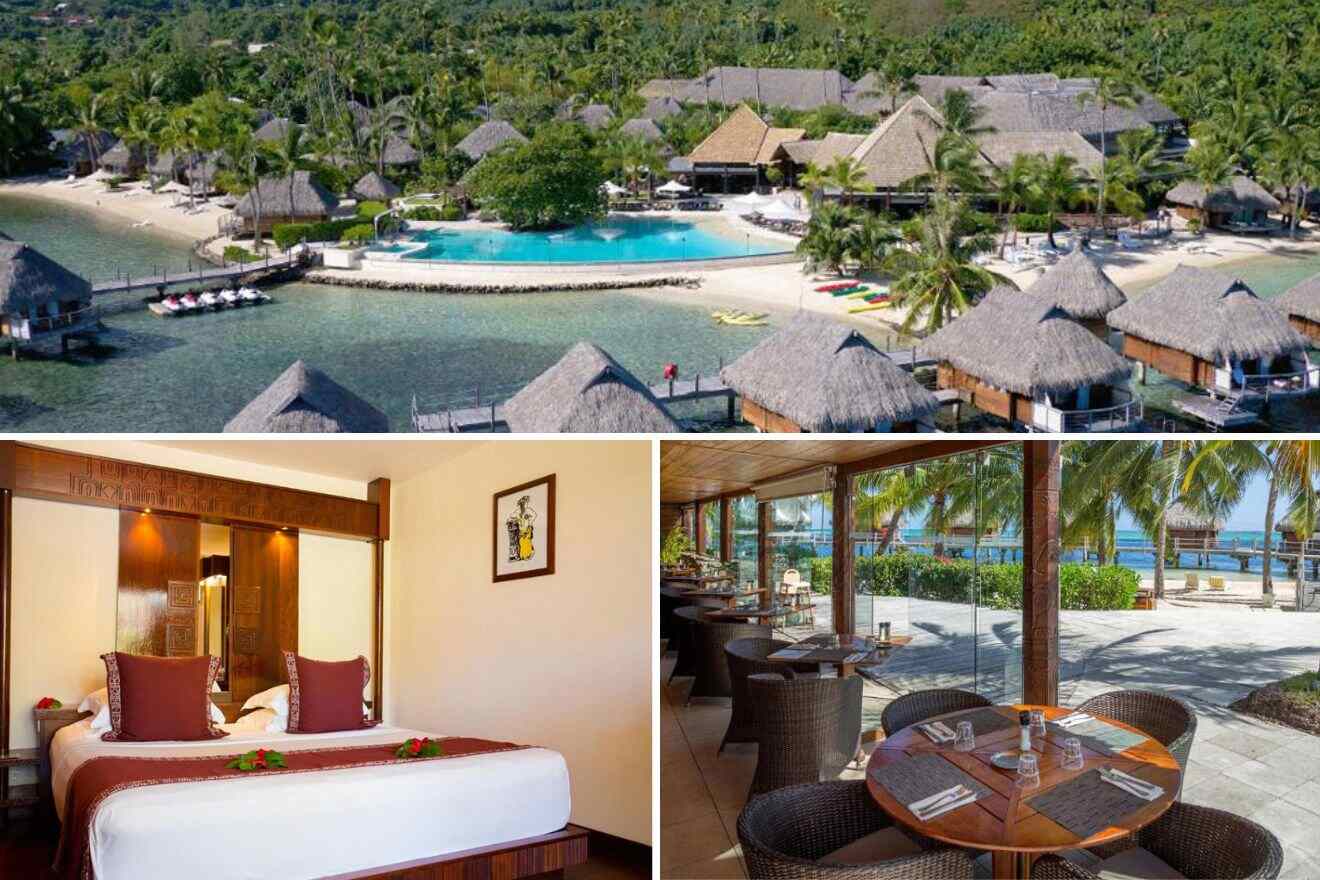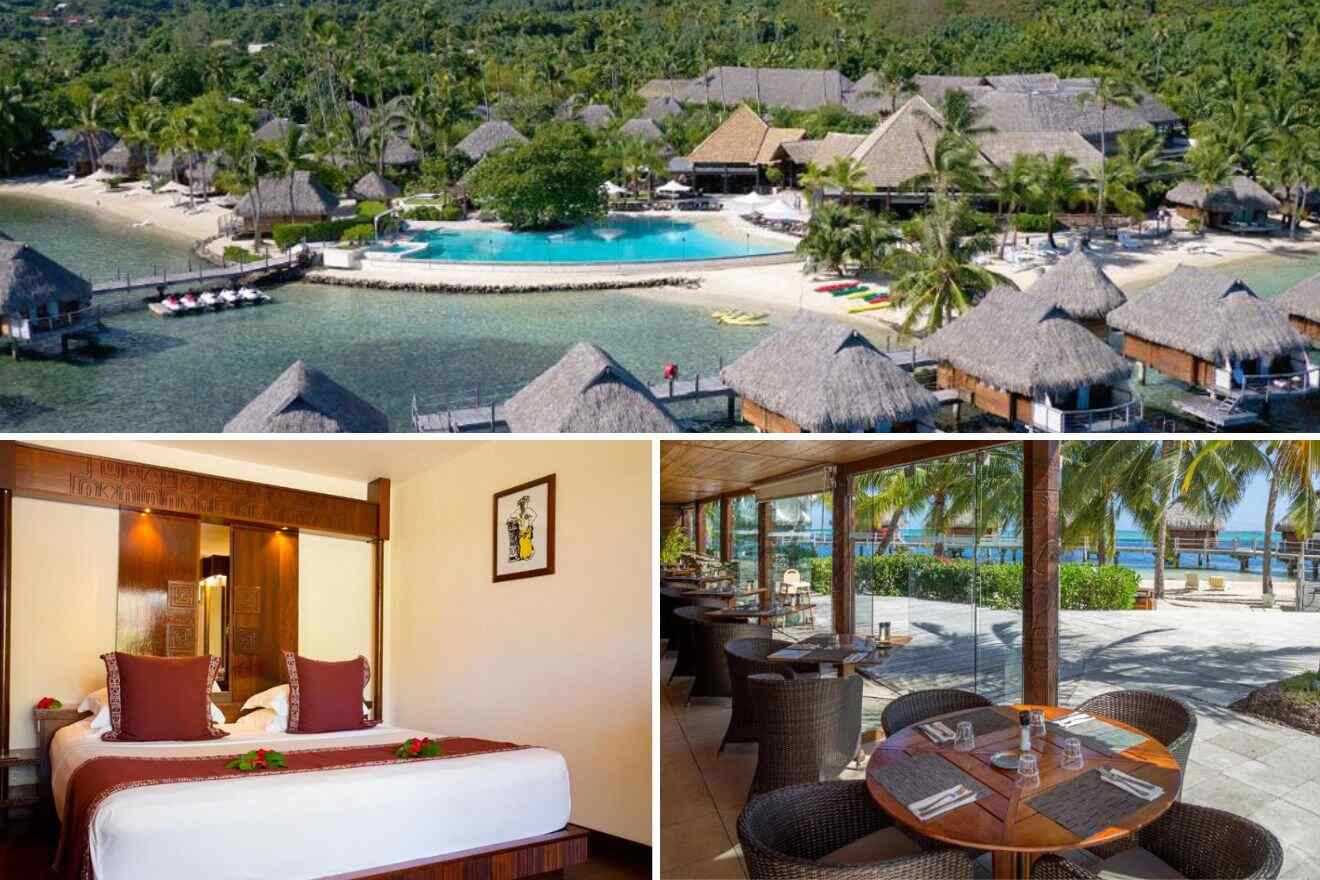 This amazing resort, located just minutes away from Moorea's airport, comes with a golf course 2 miles (3 km) away, a spa and wellness center with many treatments, a fitness center, and 2 onsite restaurants serving vegan, vegetarian, and gluten-free dishes! You can play table tennis, practice water sports or simply relax by the beach! Don't forget to get your complimentary breakfast every morning if you stay at this resort!
All the bungalows come with a flat-screen TV with satellite channels, air conditioning, free Wi-Fi, and a terrace with sun loungers to be delighted by the view. Some of the bungalows come with a private plunge pool on their furnished terraces, so keep a lookout for these!
13. Hotel Kia Ora Resort & Spa – enlighten your senses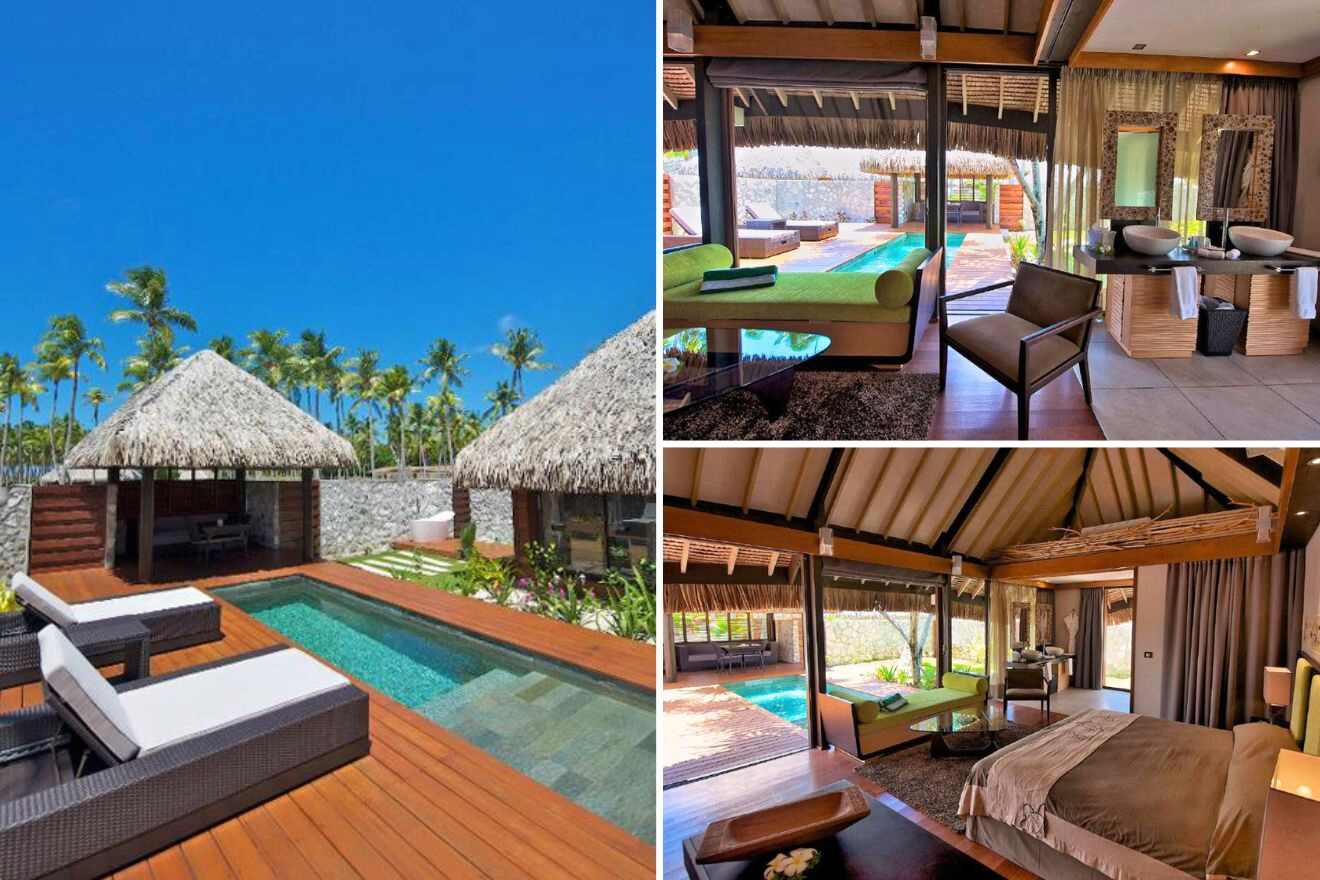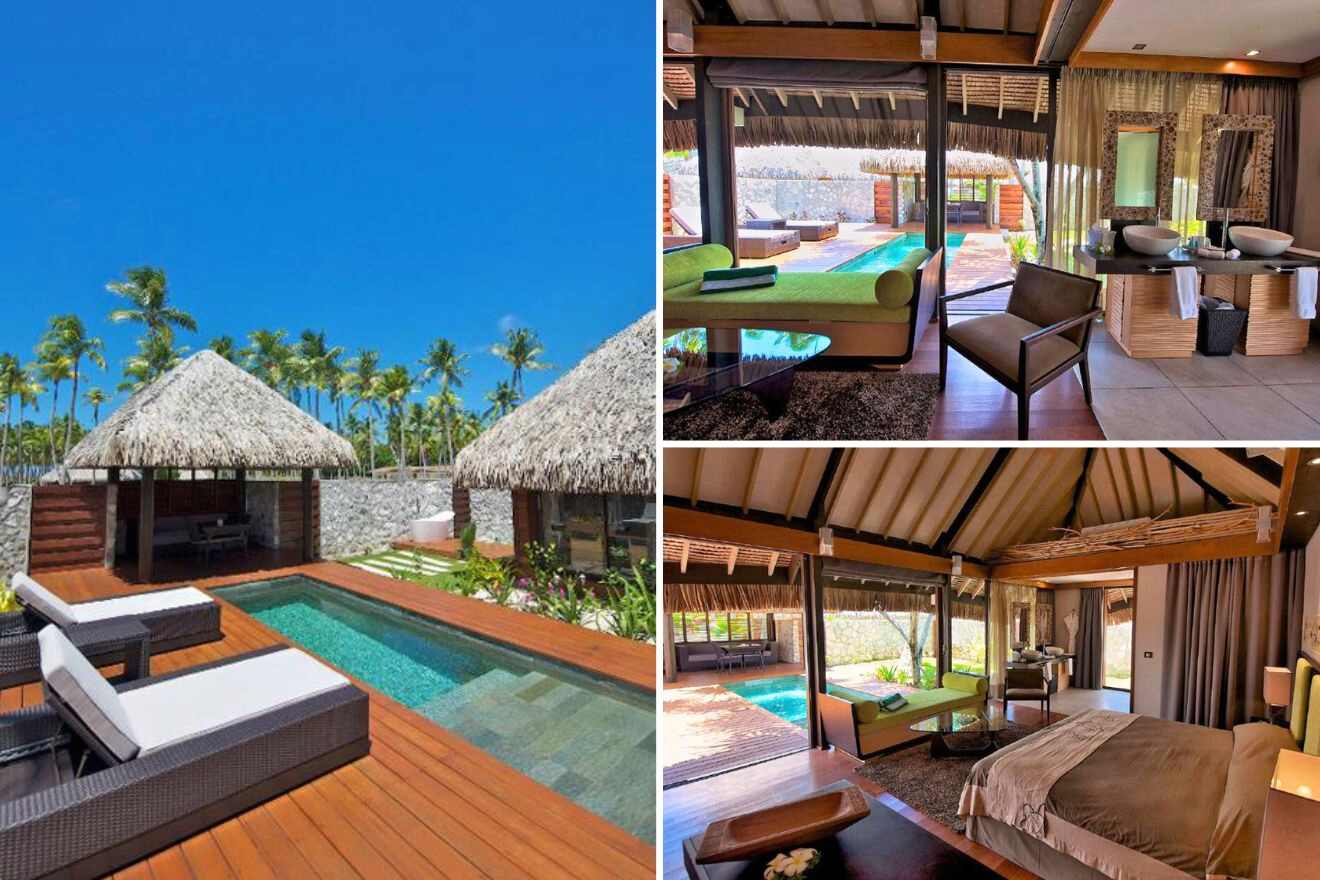 Located in the beautiful area of Avatoru and right by the beachfront, this hotel features an amazing Polynesian style. With its thatched roofs, crafty wooden furniture, and modern amenities, the resort gives an amazing tranquil vibe for the perfect vacation. The resort offers all its guests indoor pool access and spa packages.
After a themed night, go back to your bungalow and relax with all the high-end furniture it comes with, the private pool or jacuzzi, and spectacular views of the area! The biggest villa can host up to 5 guests and comes with 2 bedrooms!
14. InterContinental Tahiti Resort & Spa – with infinity pool!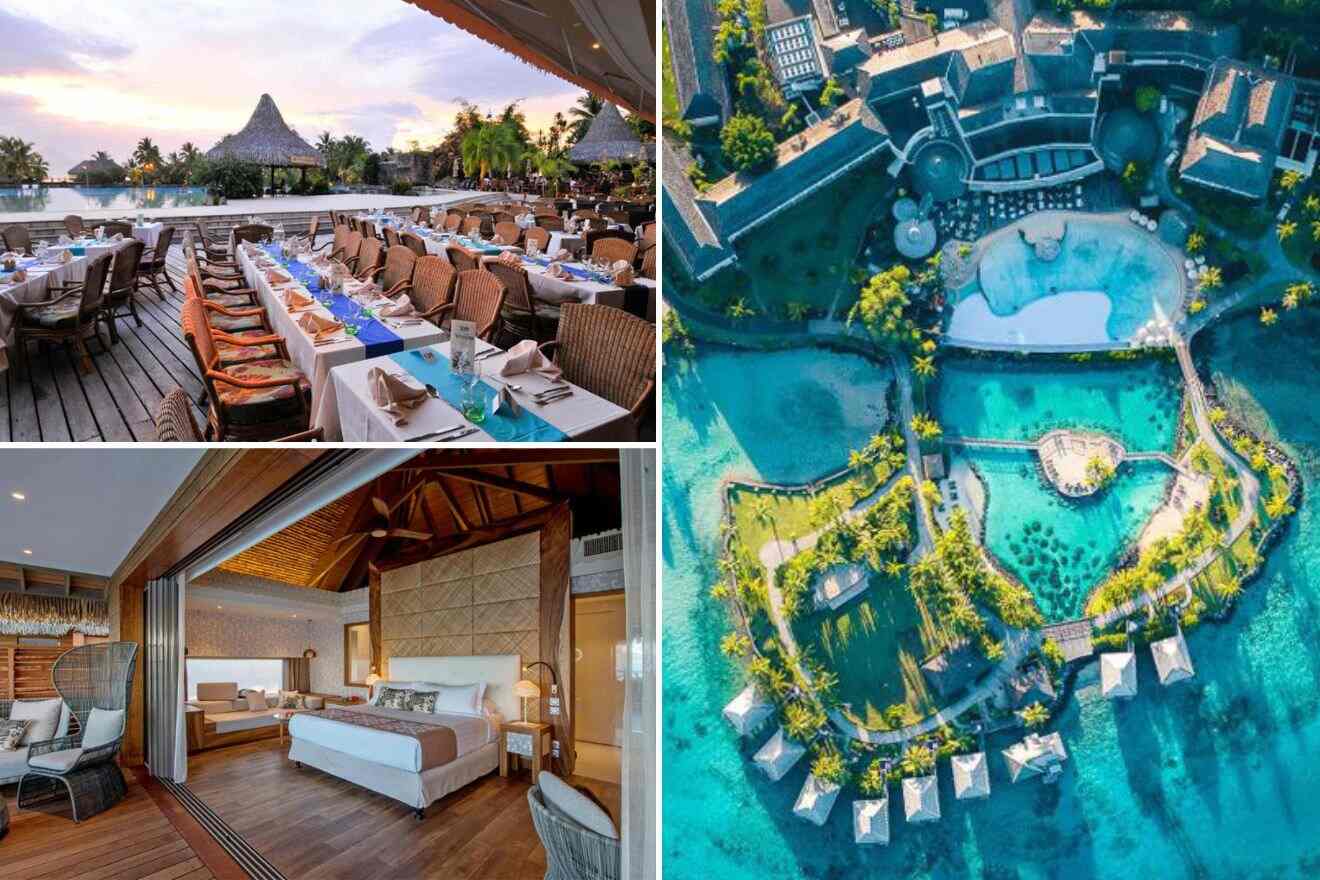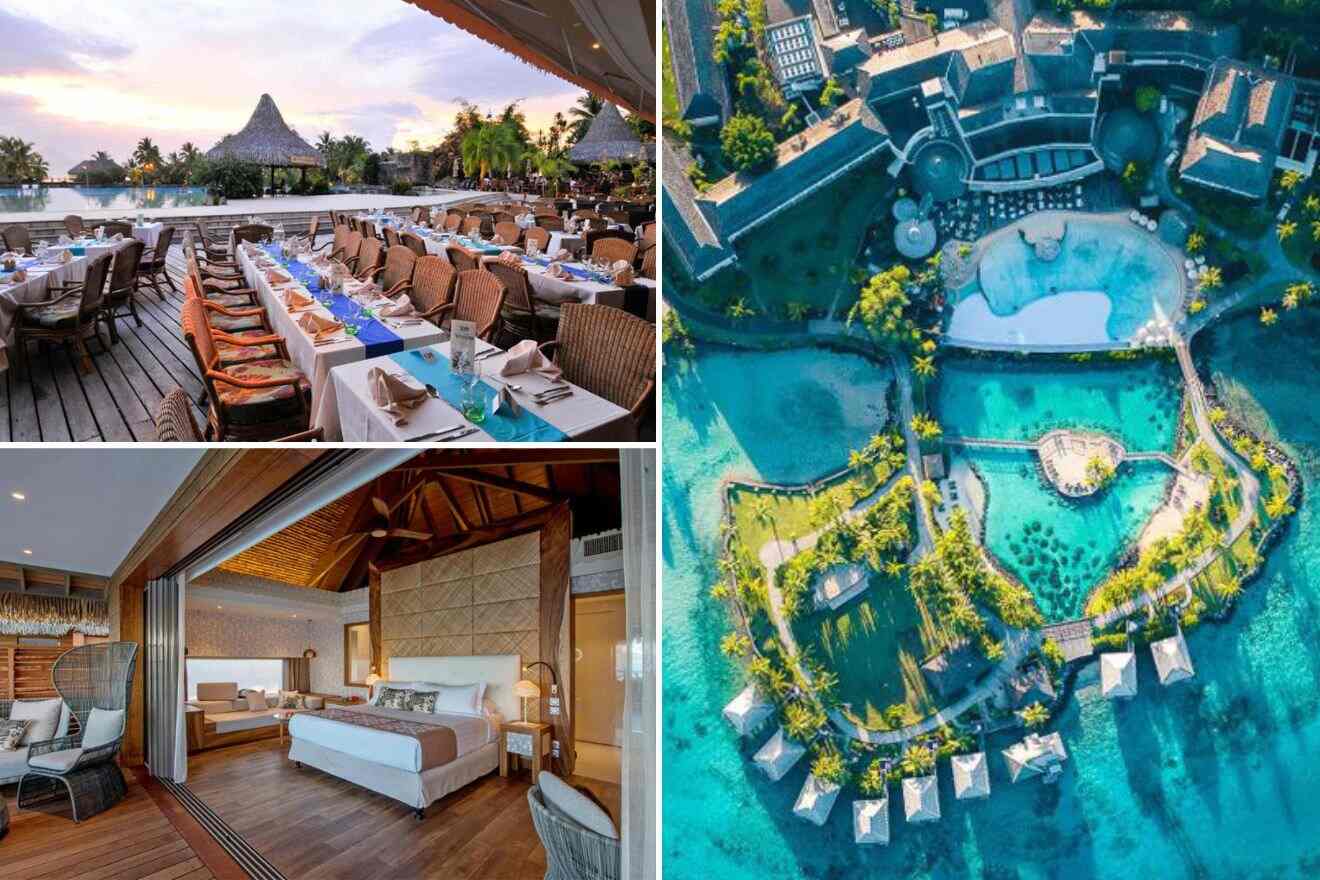 This resort, located in Pointe Tahiti, feels super private and secluded, and surrounded by lush tropical gardens! The resort has an amazing and gigantic swimming pool facing the turquoise lagoon and a piece of the island filled with bushes and more bungalows! This hotel comes with complimentary live events and performances, plus happy hour!
I highly recommend the "1 King Bed Overwater Bungalow Ocean View," which has an amazing decor and rustic vibe, with all the earthly tones and wooden elements! You can find a private bathroom with a bathtub and a lovely balcony with 2 sun loungers to chill while you listen to music or just observe the horizon.
15. Maitai Bora Bora – near Matira beach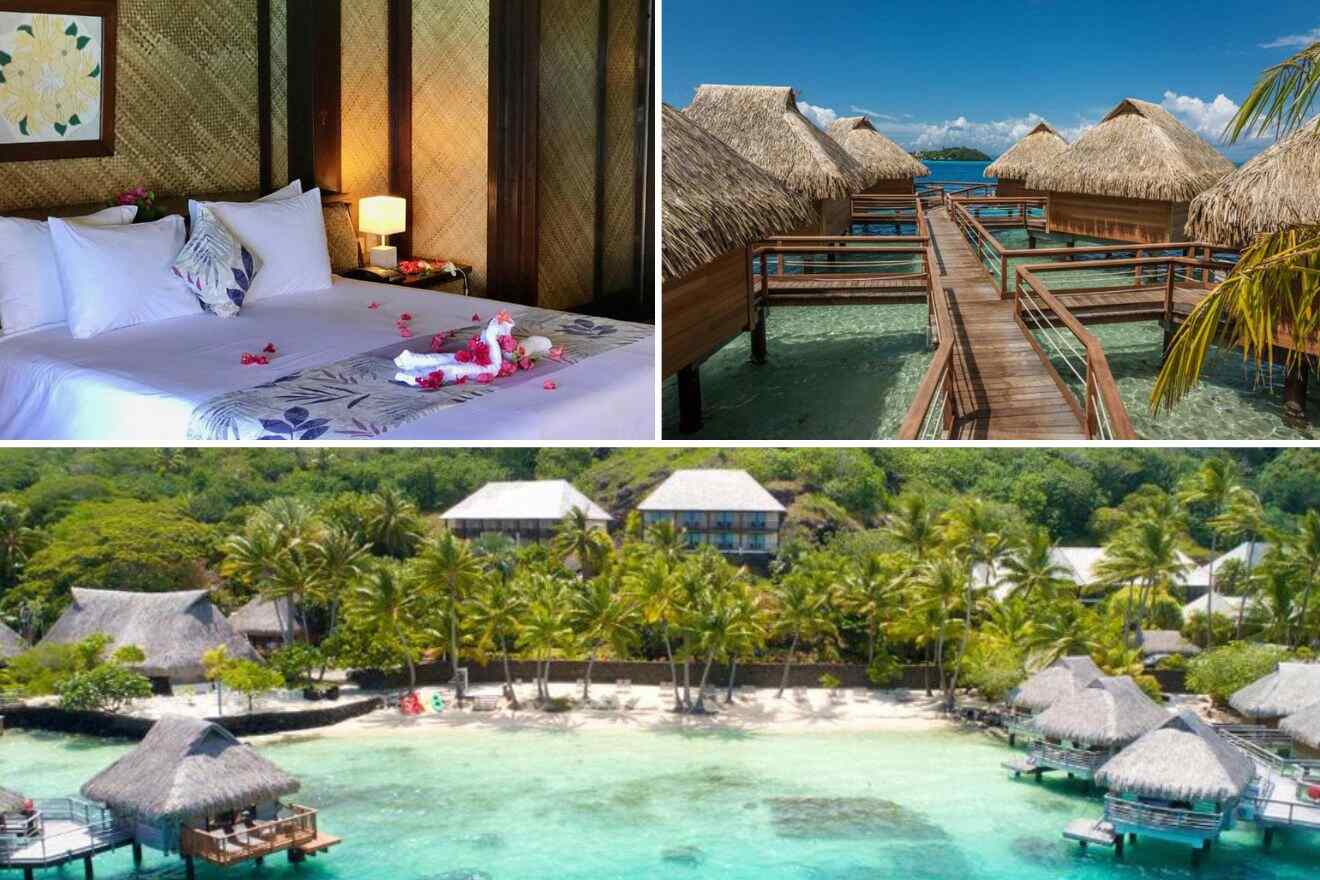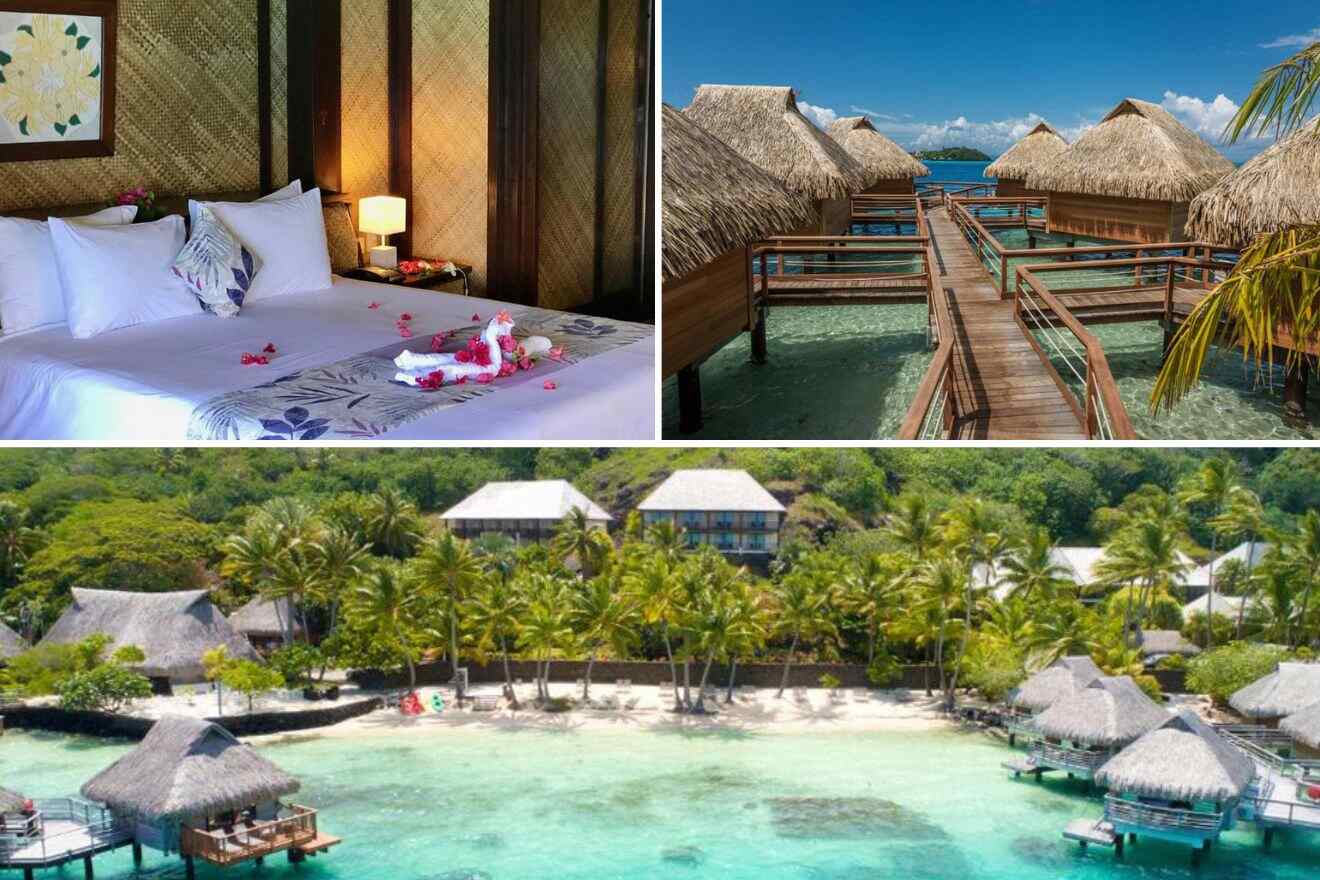 I am obsessed with how good this hotel looks. The first part of the hotel is in an uphill section of the mountain, and the rest of the accommodations are by the beachfront or over the water. With Matira Bay just a few minutes away, this hotel has amazing amenities and an even better location!
This accommodation gives its guests the possibility to go scuba diving, canoeing, or snorkeling, so water sports are a big one at this hotel! I highly recommend the Premium Overwater Bungalow to enhance your stay in Bora Bora, this bungalow comes with top-quality furniture, a bathroom that looks very luxurious, and a terrace to think of nothing but the view.
BONUS #1: Best beachfront hotels in French Polynesia
I didn't want to end this French Polynesia overwater bungalow without sharing with all of you the best beachfront hotels in French Polynesia so that you can slay on land or on the sea!
The list is arranged by price, starting with the most expensive ones at the beginning. The prices reflect the fees per night and go from US$300 to US$800.
Let's check the hotels!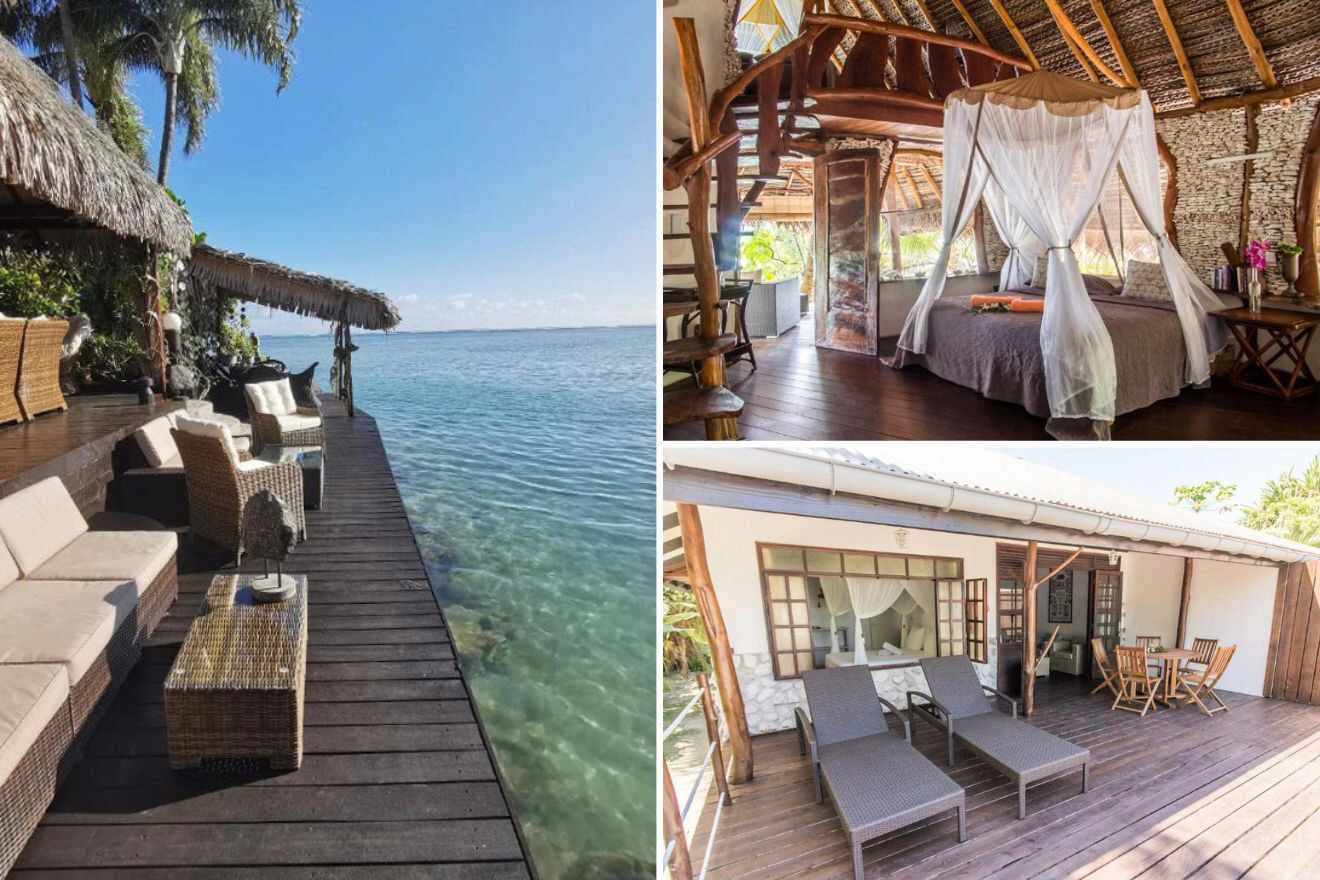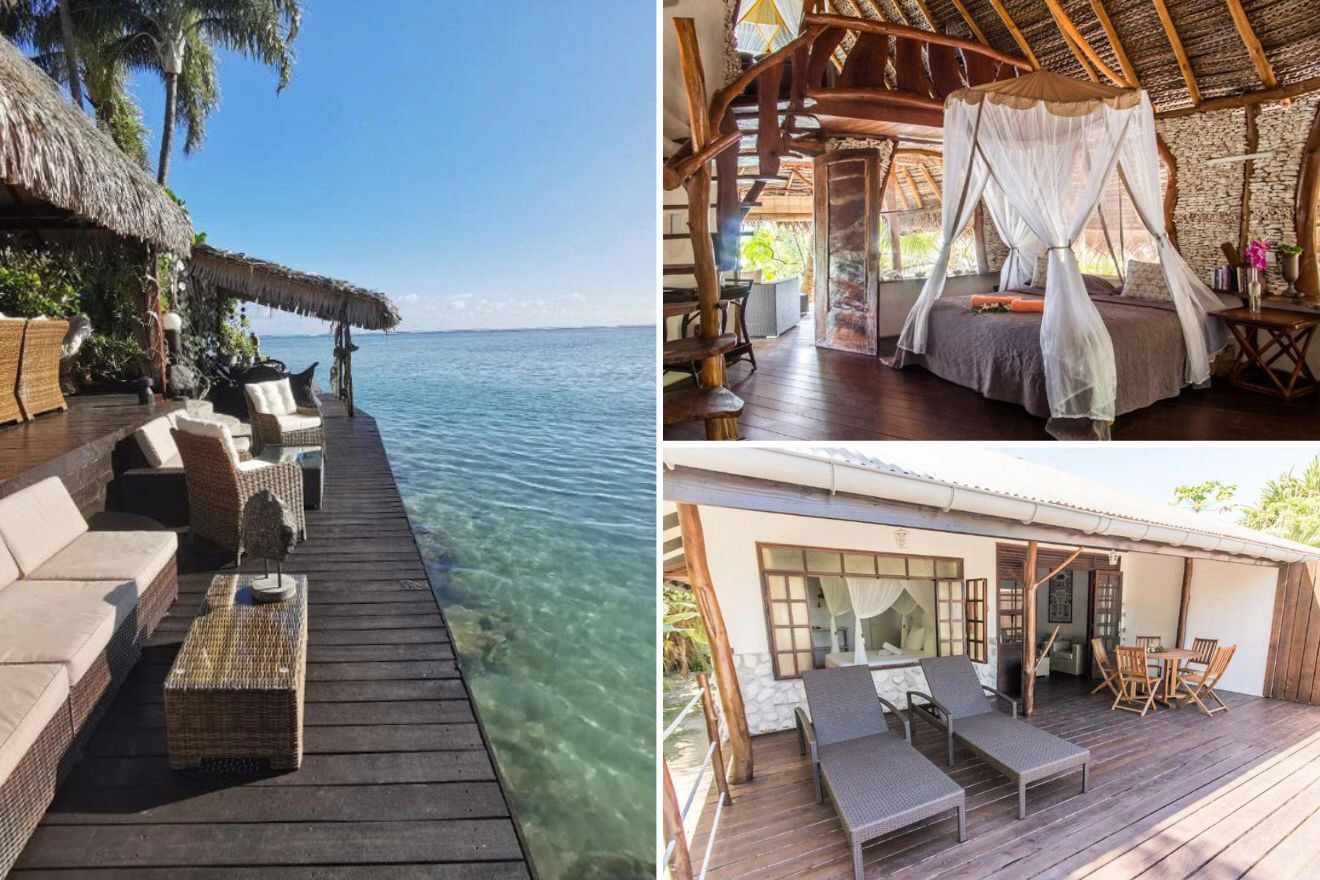 1. Ninamu Resort
I love how quirky and crafty this resort looks; super colorful and unique! The resort is located on Tikehau's beachfront, and it comes with an onsite bar and restaurant. Every morning the guests can enjoy a nice breakfast to start the day the right way! All the bungalows can order room service, and rooms like the deluxe bungalow come with a private jacuzzi.
2. Hôtel Fenua Mata'i'oa
Located in Papetoai by the beachfront and with a private beach area at the disposal of the guests, this hotel is surrounded by tropical gardens and turquoise water! You can practice watersports like snorkeling or diving, or you can relax at the hotel spa! The villas come with a lot of beautiful decorations and paintings. The biggest one, the presidential suite with sea view, can host 7 guests and comes with 3 bedrooms and 2 bathrooms.
3. Le Coconut Lodge
Super elegant and simple in Avatoru, with beautiful decor in white and cream colors palette tone, this hotel will make you and your fellow travelers super relaxed and full of energy! The hotel offers walking tours, bike rentals, and canoeing to its guests. They offer 3 types of rooms, these can host from 2 guests to 10 guests!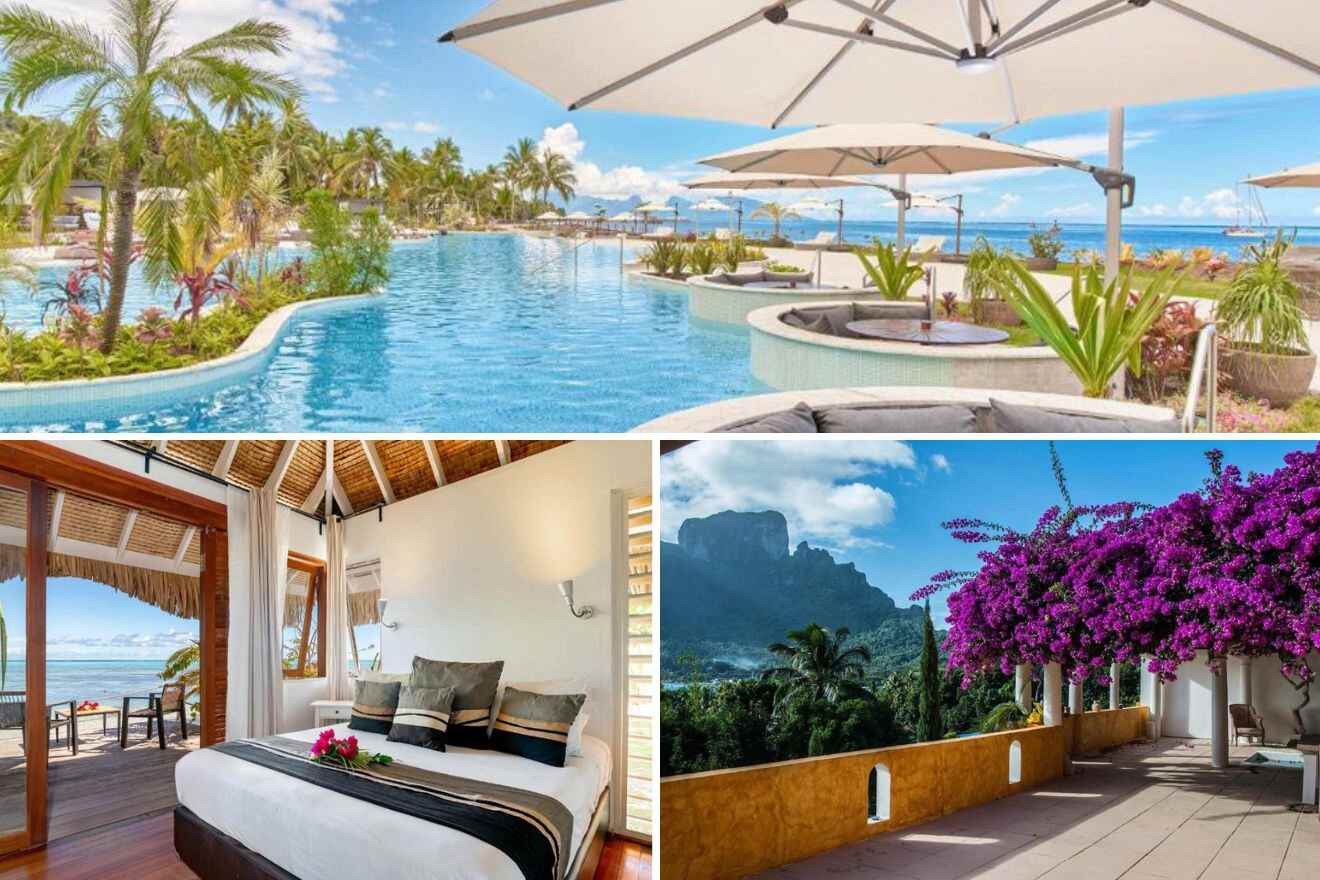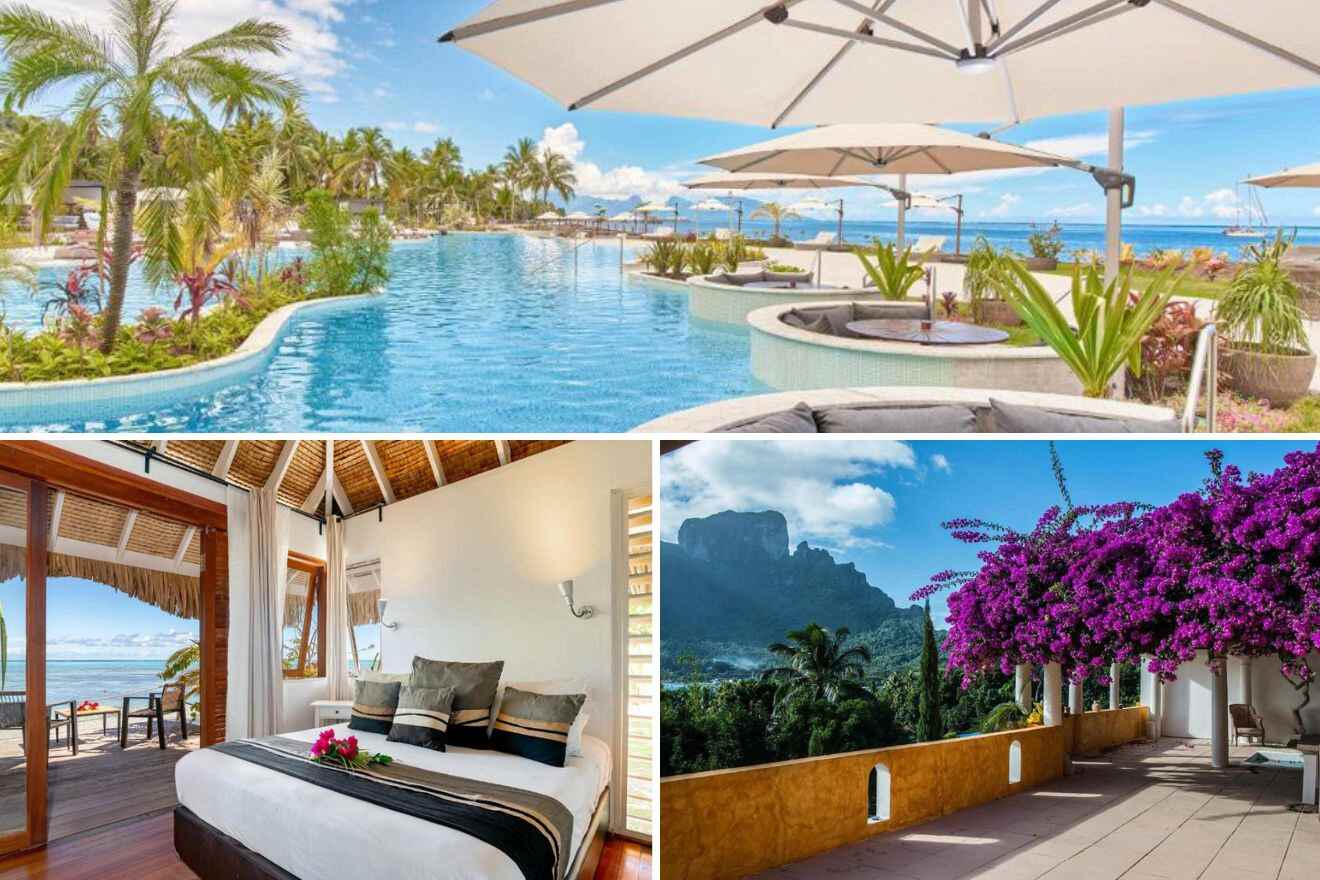 4. Villa Yrondi
This hotel truly looks like a European villa, super colorful with nice columns and art pieces covering the walls of the hotel and the rooms, which can host a maximum of 2 guests; there are many types of rooms, from budget rooms to apartments with a view of the sea and even private kitchens.
5. Hilton Hotel Tahiti
Oh, la la! How elegant, how luxurious! This hotel looks super big, and it is in a very nice area in Papeete, and the downtown Papeete area is only a 30-minute way away. The hotel has an outdoor swimming pool, a fitness center, and a great breakfast that is served to all guests every morning. All the rooms are super classy, and the biggest one can host a total of 4 guests!
6. Moorea Beach Lodge
Wow! I love the chic and minimalistic vibe this lodge gives! Located in Moorea, by the beachfront and with a private beach area, this cute little lodge will feel like a little piece of paradise! All the rooms have amazing views, a private bathroom, and a coffee station!
BONUS #2: Best VRBO rentals in French Polynesia
Aaah, yes, I really wanted to add another bonus! Apart from the French Polynesia overwater bungalow list, I wanted to show you the best VRBO rentals in French Polynesia! It's just that there are so many good options in the area I am sure you will find one you love!
The list is organized by price and per night, starting with the most expensive one. The prices go from US$1800 to US$200.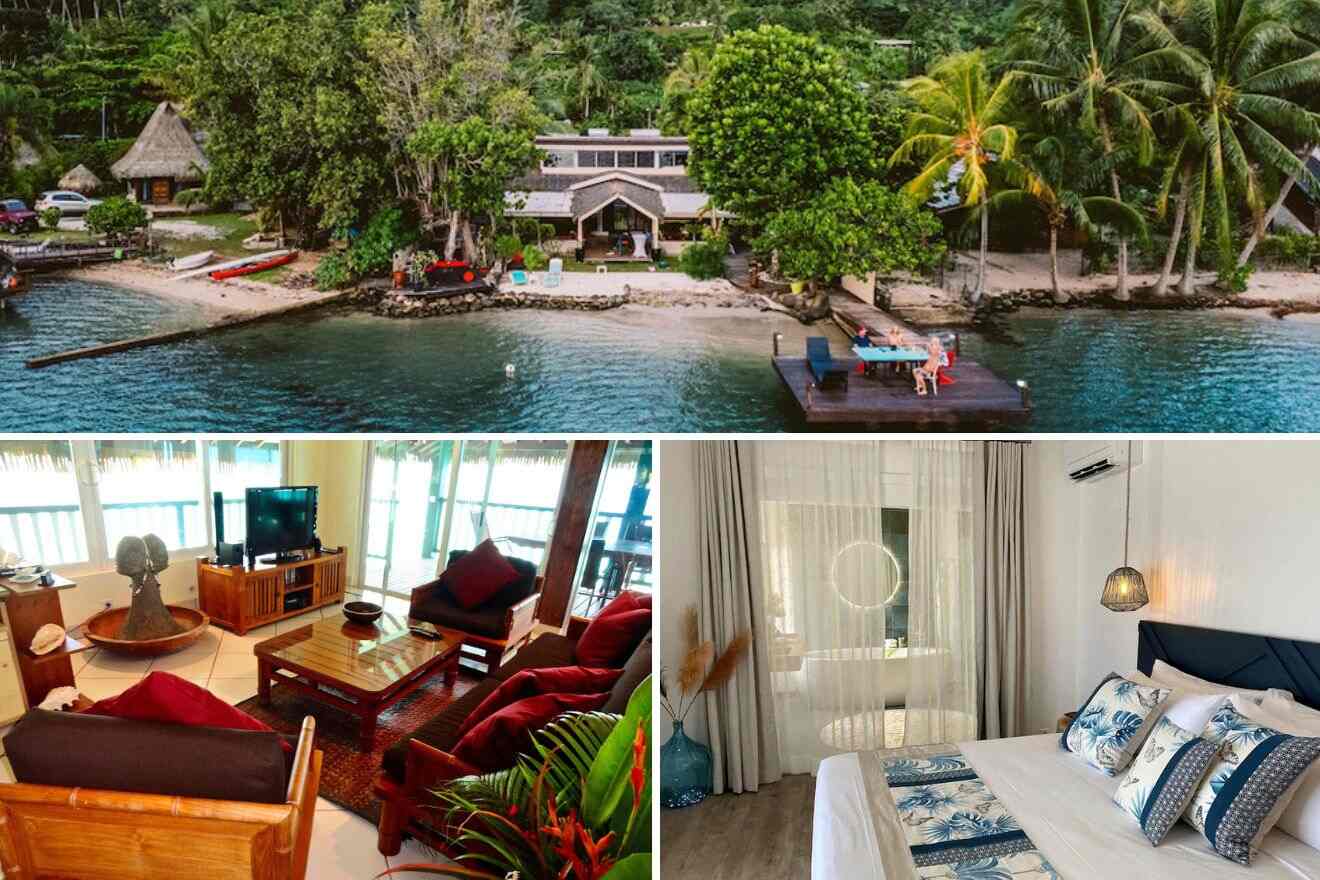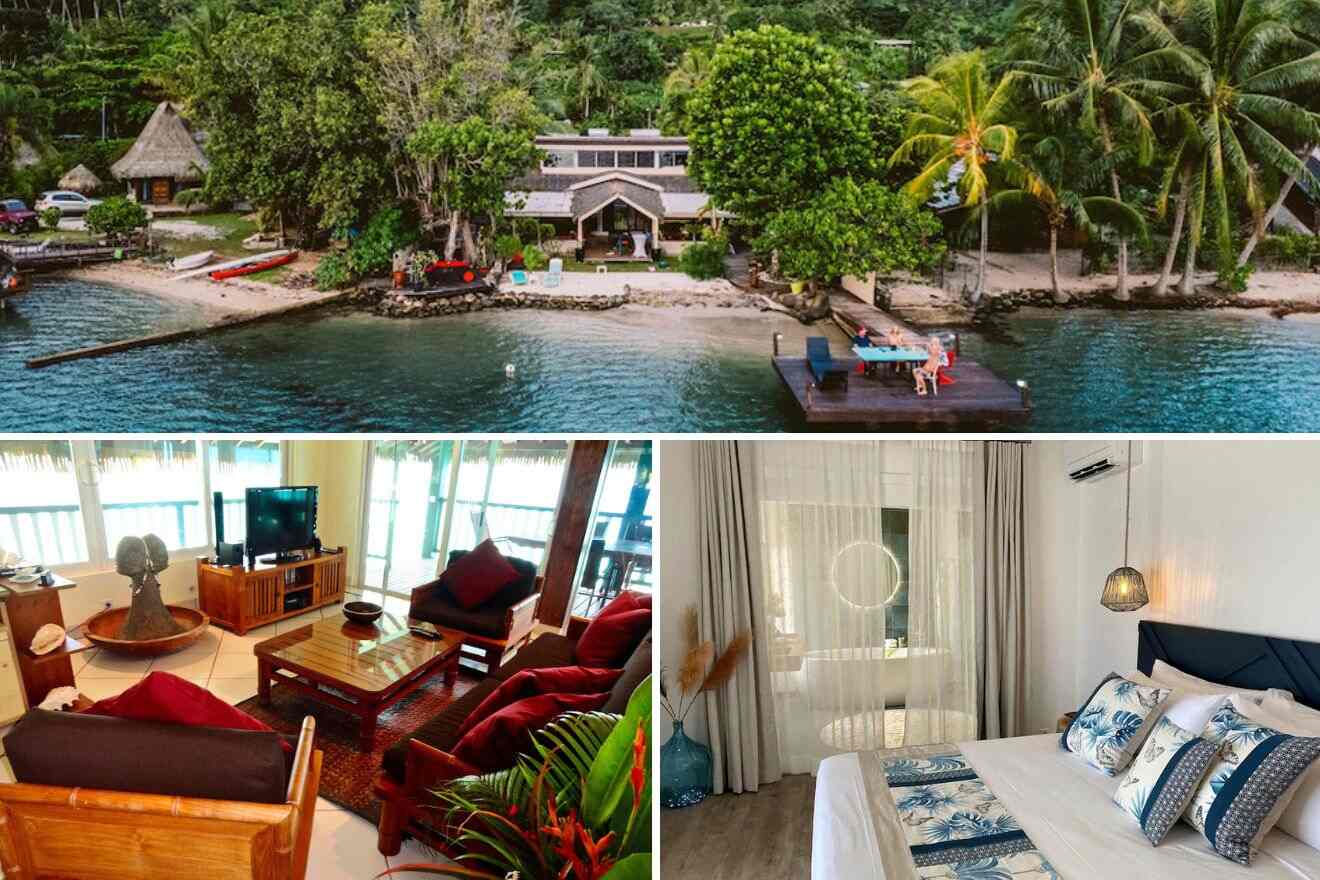 1. Villa in Moorea, French Polynesia
Wow, I have no words to describe how incredible and beautiful this Moorea Villa is, located by the beachfront! With 5 rooms and 5 bathrooms, this villa can host up to 10 guests, which makes it perfect for groups of friends or families. The villa has a billiard, a nice garden where you can enjoy a meal, and 2 hours of complimentary housekeeping.
2. Our Cook Bay House
This one feels super lively, super colorful, and full of art! Located in Moorea and with the beach by the front and a gorgeous mountain at the back, this house can host up to 12 guests since it has 5 bedrooms, 6 bathrooms, and a game room with a foosball table to play with family or with friends. You could play water sports or simply have a nice picnic by the beach!
3. The Black Pearl! The Most Luxurious Private Overwater Bungalow in Bora Bora!
What about staying in a modern and fancy overwater bungalow during your stay in Bora Bora, French Polynesia? This bungalow is perfect for you then, it can host only 2 guests, and it is located in a nice private area. So intimate! Guests of this accommodation can have a BBQ on the terrace or make a homemade meal in the private kitchen!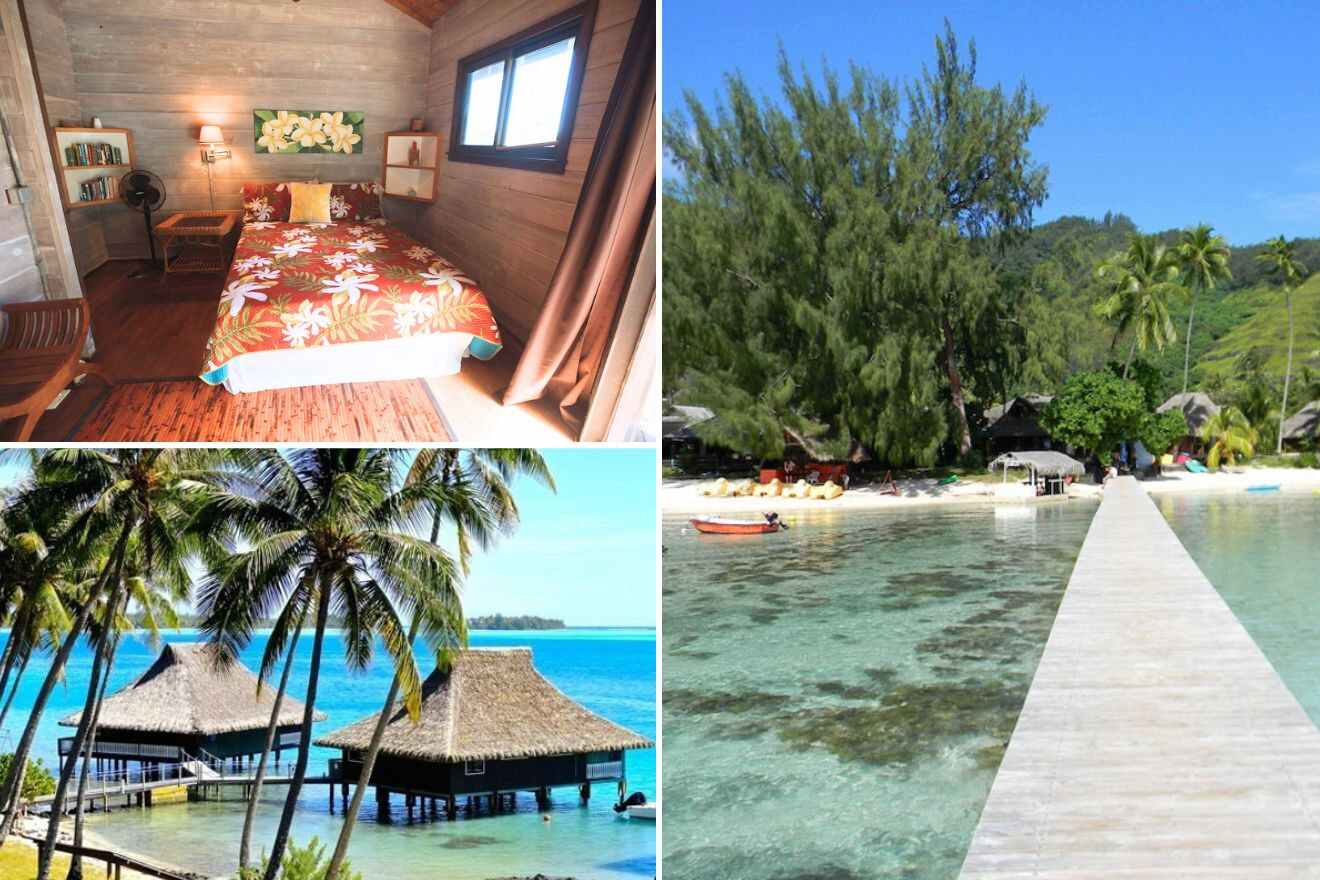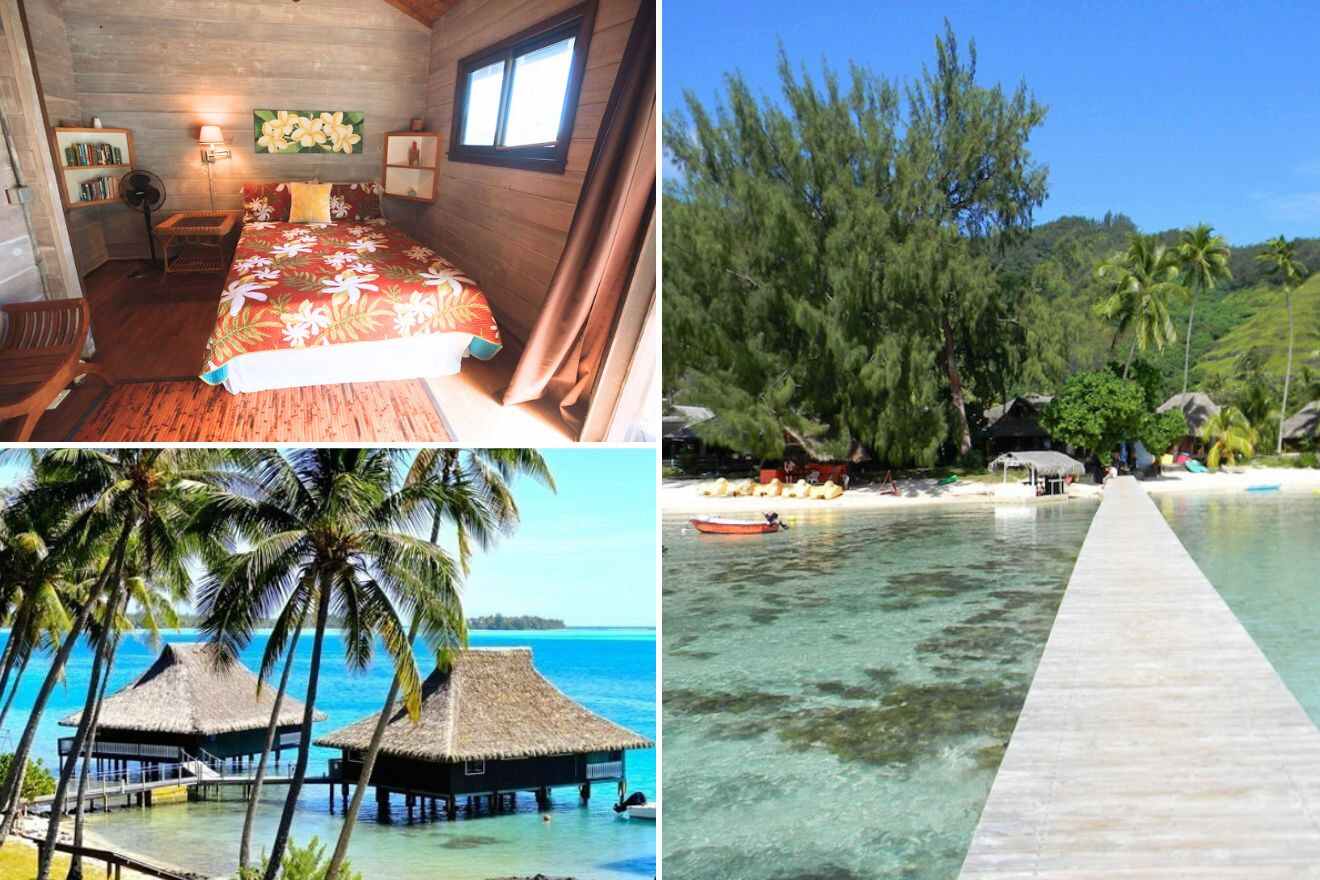 4. Brando's World Famous Overwater Bungalow in Bora Bora!
This overwater bungalow located in Bora Bora is super big and classy! It comes with 2 rooms (with great views of the turquoise lagoon) and 3 beds, accommodating a total of 4 guests. The accommodation has its own kitchen and a terrace with a grill. This accommodation would be great for families looking to spend some time bonding, playing watersports, or cooking!
5. Two Bedroom Private Home with Stunning Views of Opunohu Bay
Is this accommodation even real? Located in Moorea and with the most delightful views of stunning tropical gardens, and lagoon views, this hotel can host up to 4 guests. The house itself is super modern and has little details like vitro windows. This house would be perfect to unwind and reconnect with yourself.
6. Beautiful Little House, Fully Equipped
This house is super cozy, literally a home far away from home! One of the coolest things about this accommodation is that it comes with a tennis court and the hosts provide you with tennis equipment! Plus, the location is perfect, it's just a few steps away from the beach! The property comes with 2 bedrooms and can host 2 guests!
FAQs about choosing a French Polynesia overwater bungalow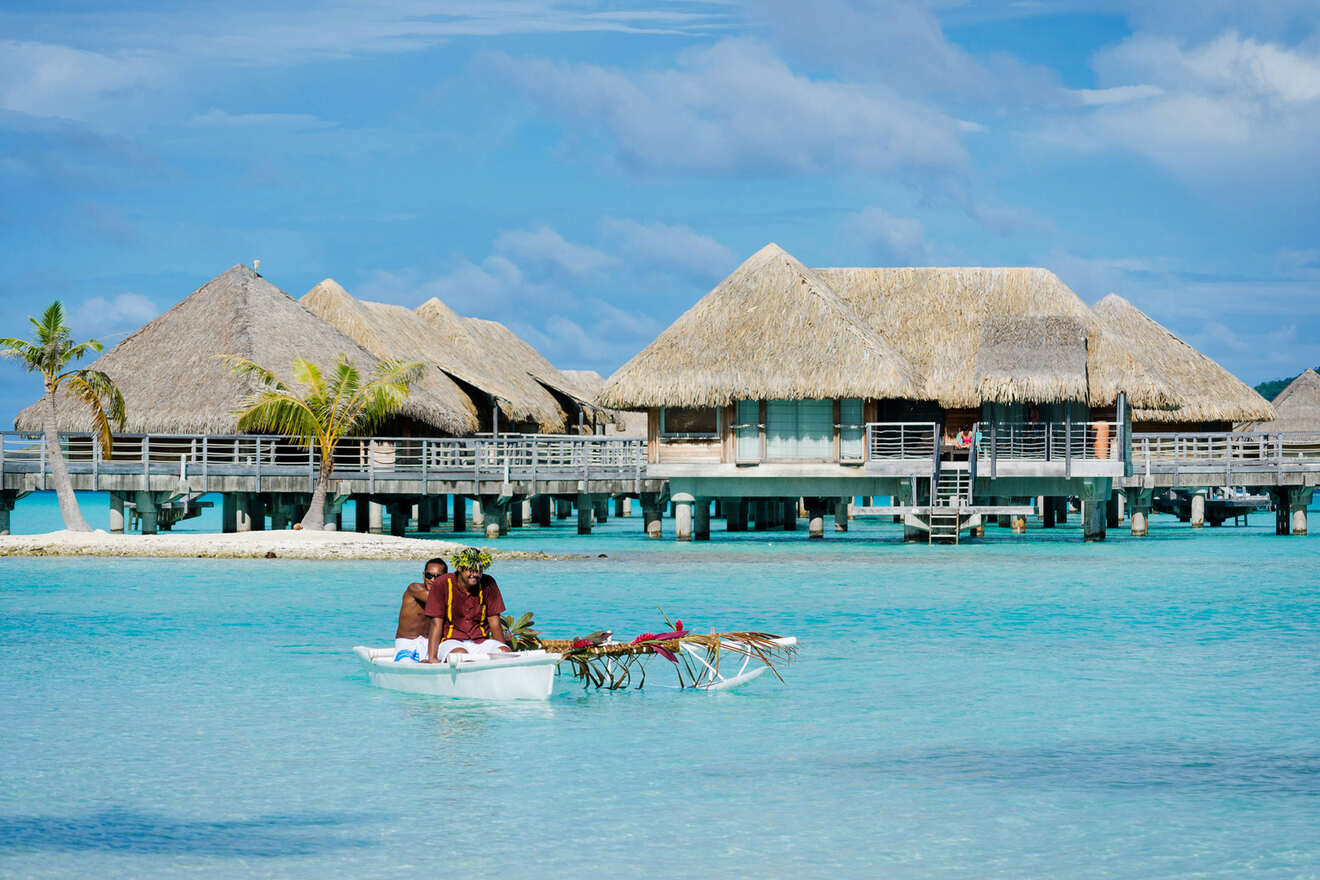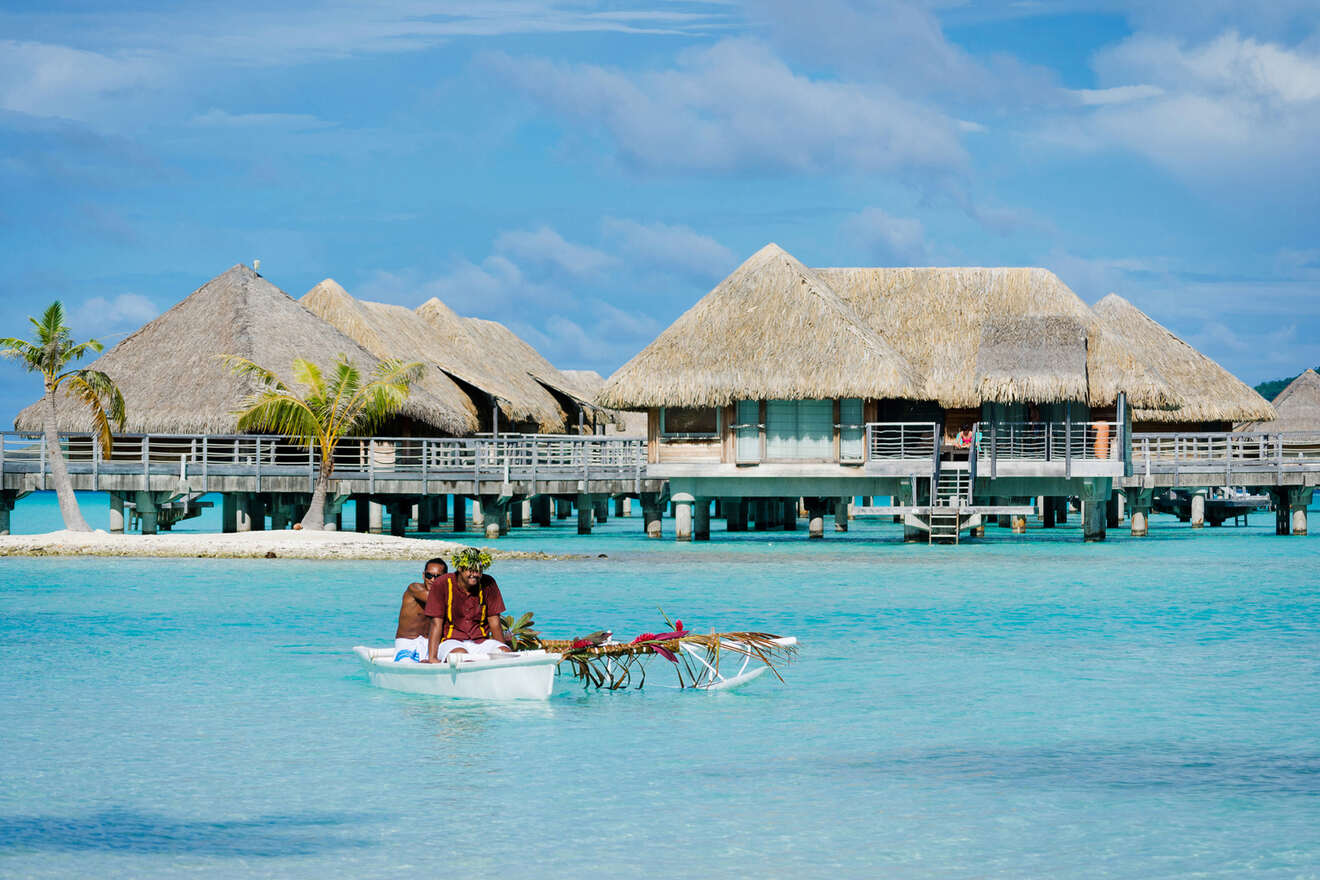 Conclusion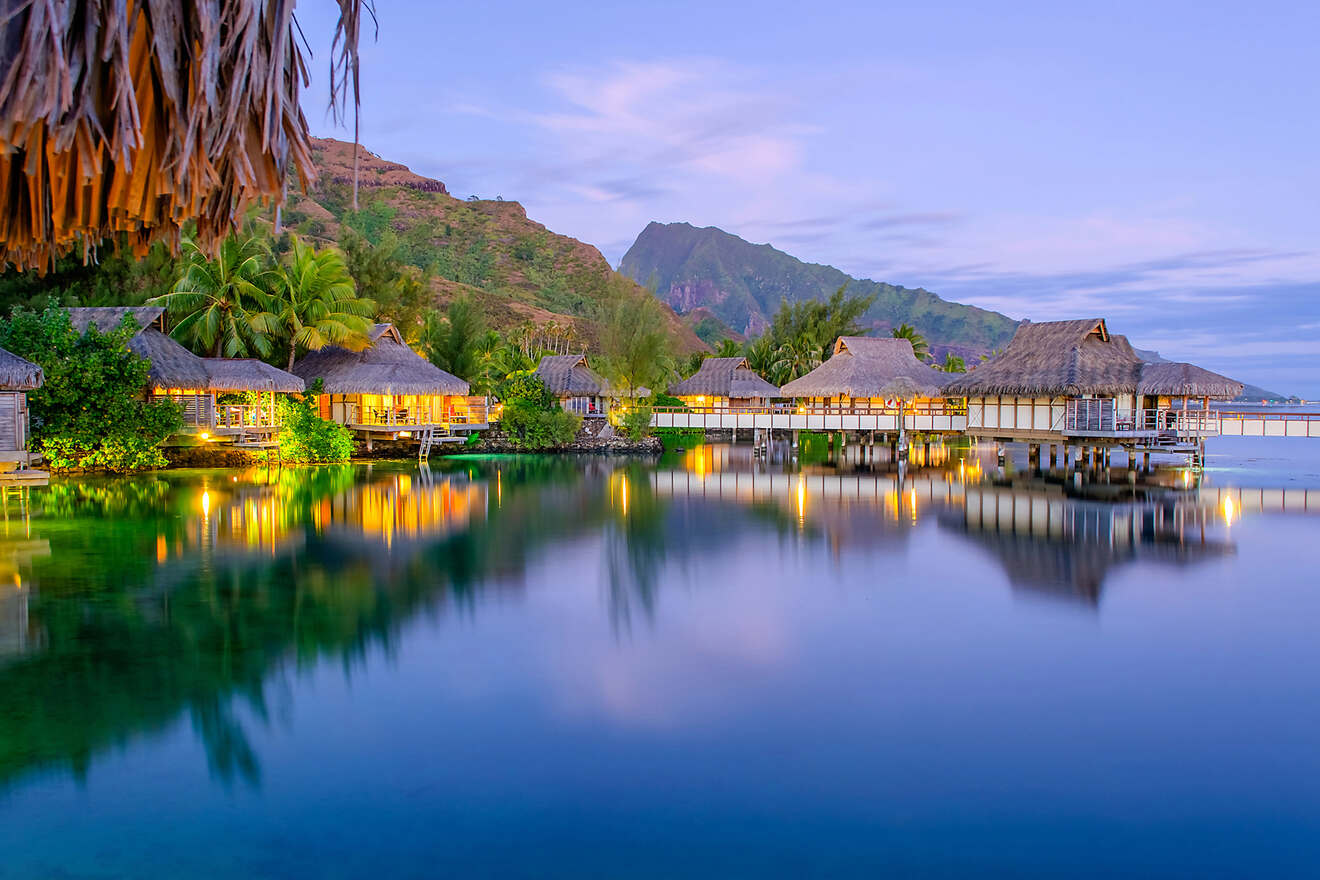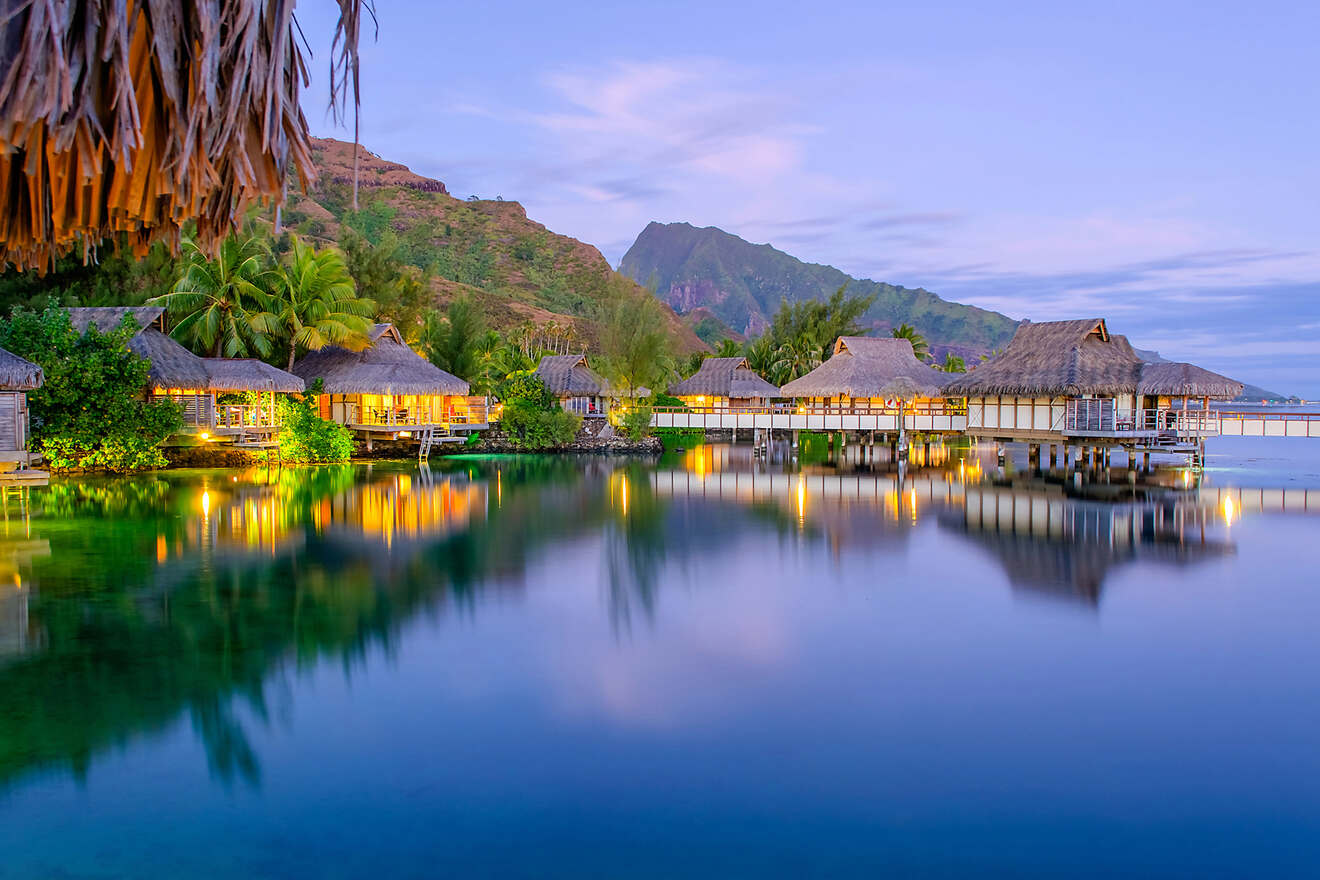 Good things must come to an end, so it is a wrap! I hope you've found your dream French Polynesia overwater bungalow for the perfect vacation!
As you can see, I've covered a wide range of options for all tastes and budgets and even added 2 bonuses of the best beachfront hotels in French Polynesia and the best VRBO rentals in French Polynesia.
Honestly, it is so hard to choose my favorite hotels and resorts from this post; all the options mentioned here are wonderful! But if I had to choose my 2 top options, I would go with:
Le Méridien Bora Bora – Listen, it has a turtle sanctuary! I love the fact that you can go on vacation knowing that you are supporting the hotel's cause of helping the turtles and educating people!
InterContinental Resort – I would love to try the thalassotherapy at their spa to feel rejuvenated and then have a drink by the beach watching the sunset!
Book your hotel or resort as soon as you make a decision. You don't want to end up without the hotel of your dreams, and these babies get booked up fast!
Which are your favorite overwater bungalows in the article? Let me know in the comments, and if you have any questions, I'll be here to help you out!
Until the next adventure,
Daniela
---
Pin it for later!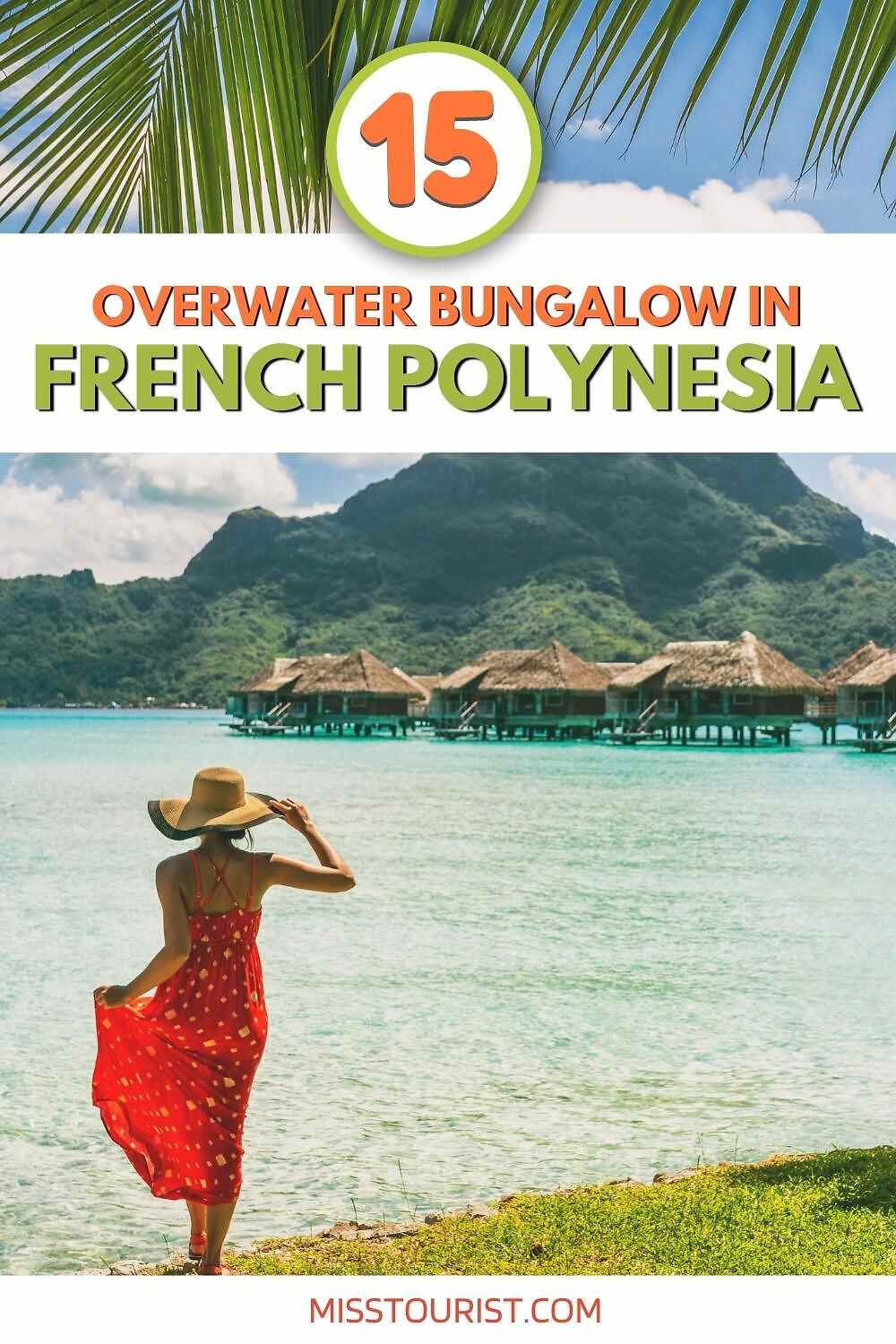 Pin it for later!