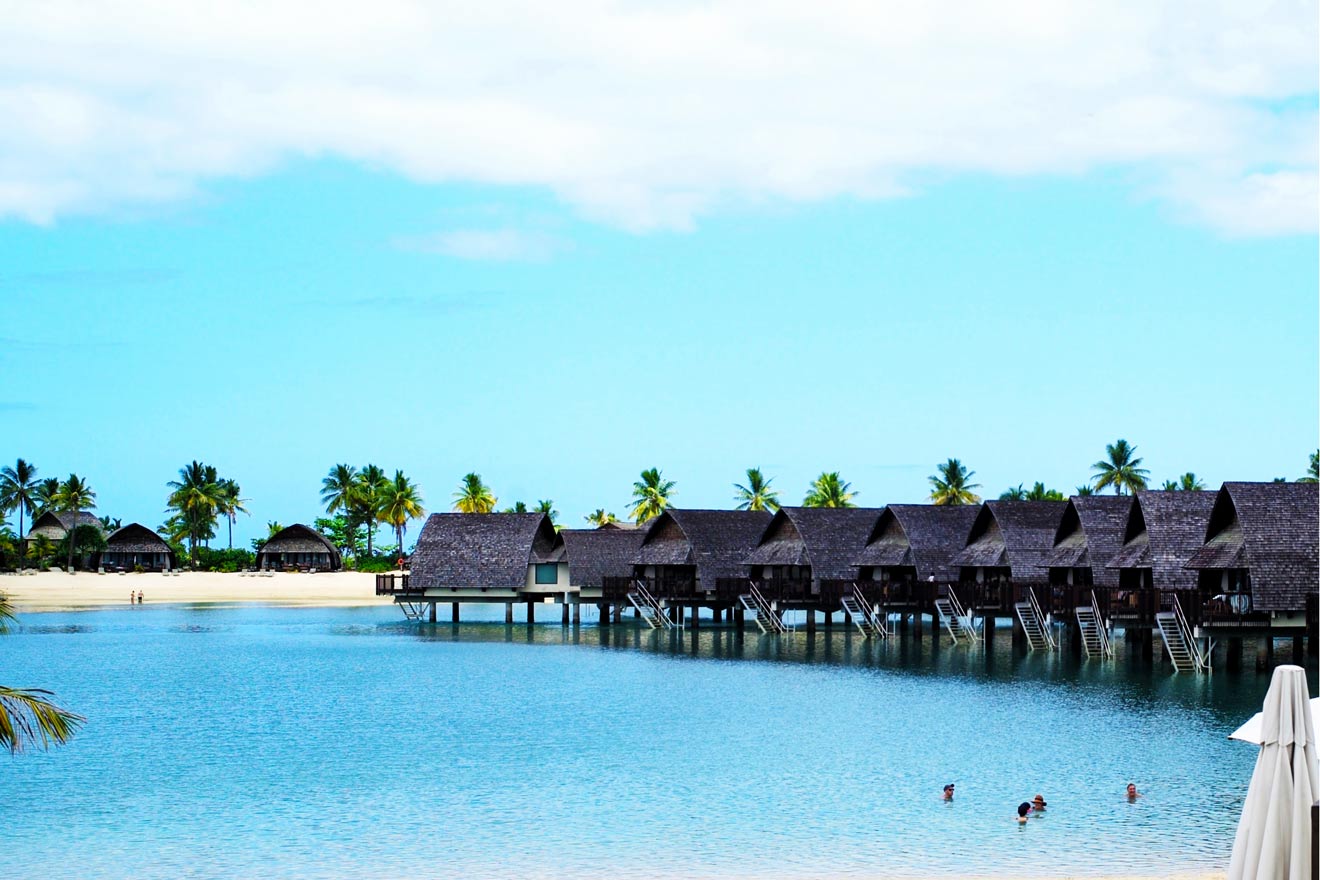 Fiji is a group of paradisiac islands in the South Pacific, with beautiful white sand beaches, an abundance of coral reefs, and some of the most crystal-clear waters you'll ever see. So what better way is there to enjoy them than staying in an overwater bungalow?
If you are reading this post, you agree with me, so I decided to help you in your research and group here all the best Fiji overwater bungalows (also called overwater bures) including overwater bures, lagoon bures, overwater villas with private pools, adults-only overwater bungalow resorts and much more!
There are only 5 overwater bungalow resorts in Fiji, so I also included a bonus with the top resorts on a private island in case everything is booked, or you want to check out more options.
About that, make sure you reserve a spot in your favorite overwater bungalow far in advance. Since there are only a few options (and they are all great), they get booked incredibly fast.
Enough talking, are you ready now to check out all the best overwater bungalows in Fiji? Let's start!
If you are in a hurry
Here's a quick list of the best overwater bungalows in Fiji in case you want to book your accommodation immediately!
Here's a map that will help you visualize all the best overwater bungalows that I will be talking about in this post:
1. Likuliku Lagoon Resort – the most exclusive experience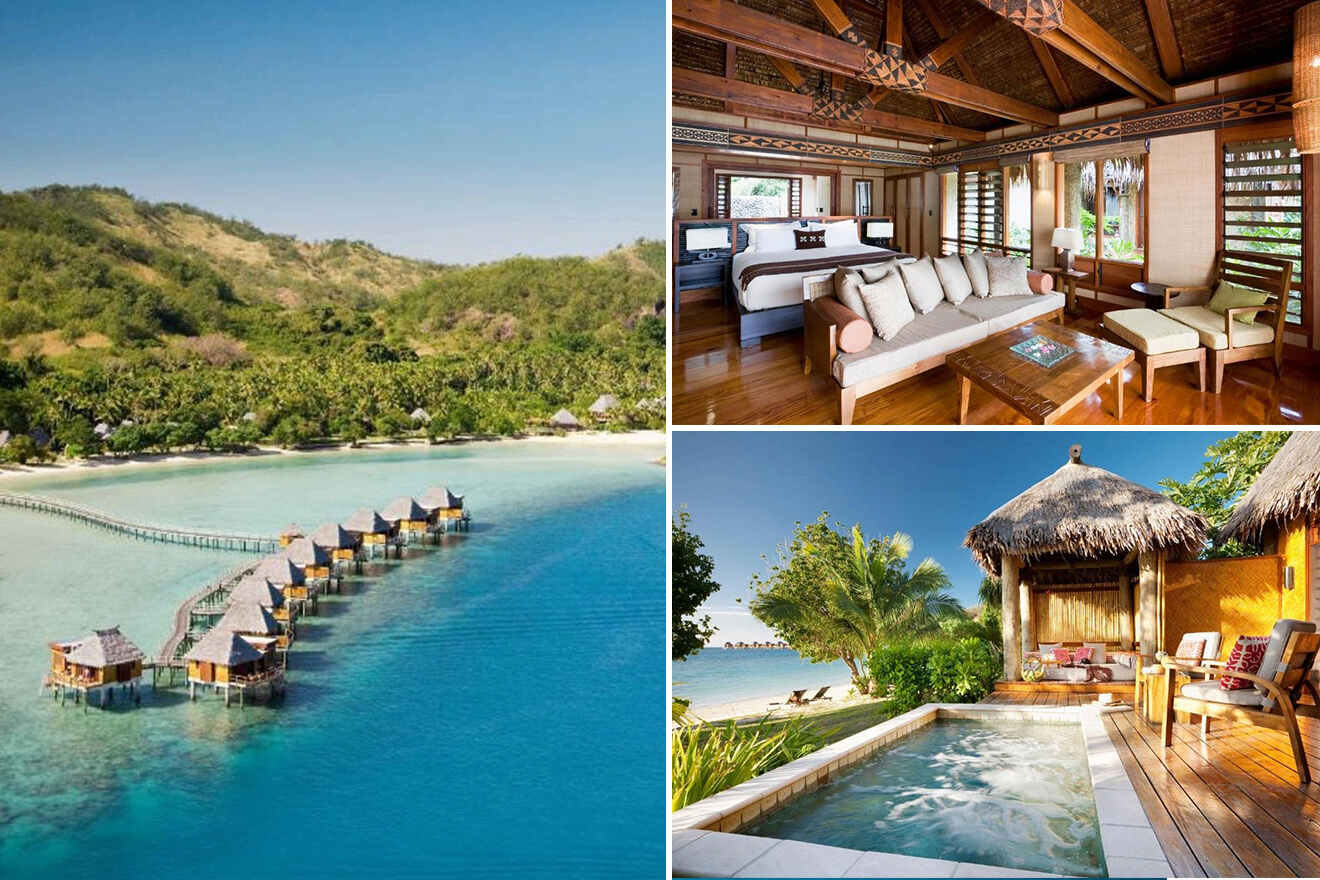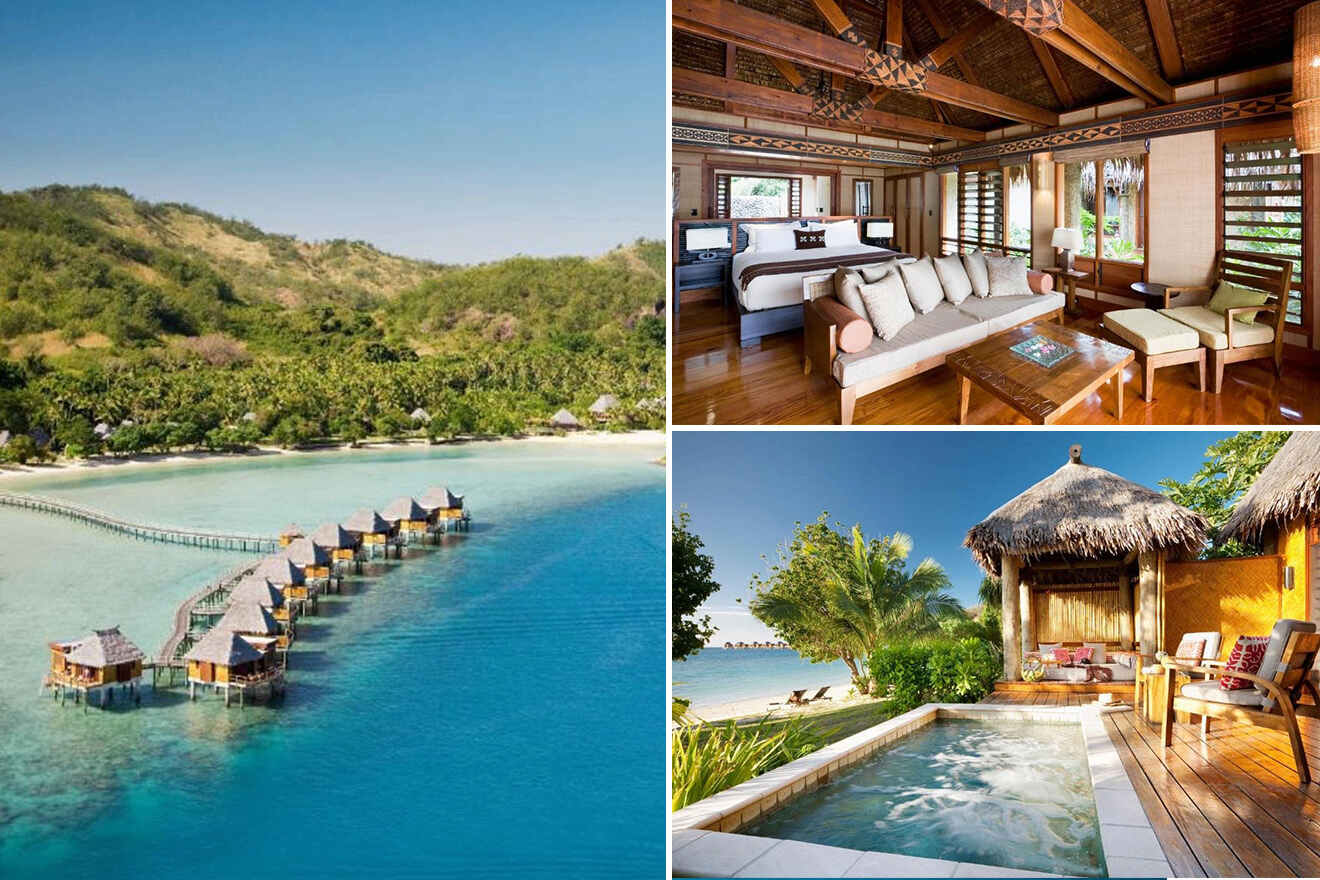 Located on Malolo Island, this is the ultimate accommodation among all the overwater bungalows in Fiji if you are looking for a luxury and exclusive stay! In fact, this idyllic adults-only resort is nestled in a turquoise lagoon with calm waters and a gorgeous fringing reef and offers only ten overwater bungalows, so you can enjoy full privacy!
Each of the 10 private overwater bures offers king-size beds, coffee-making facilities to start your day in the best way, and plunge pools with stunning lagoon views. And if you don't find availability for an overwater bure, you can always stay in one of the other 35 deluxe beachfront bures with outdoor showers and a private balcony!
2. Koro Sun Resort & Rainforest Spa – for a getaway in nature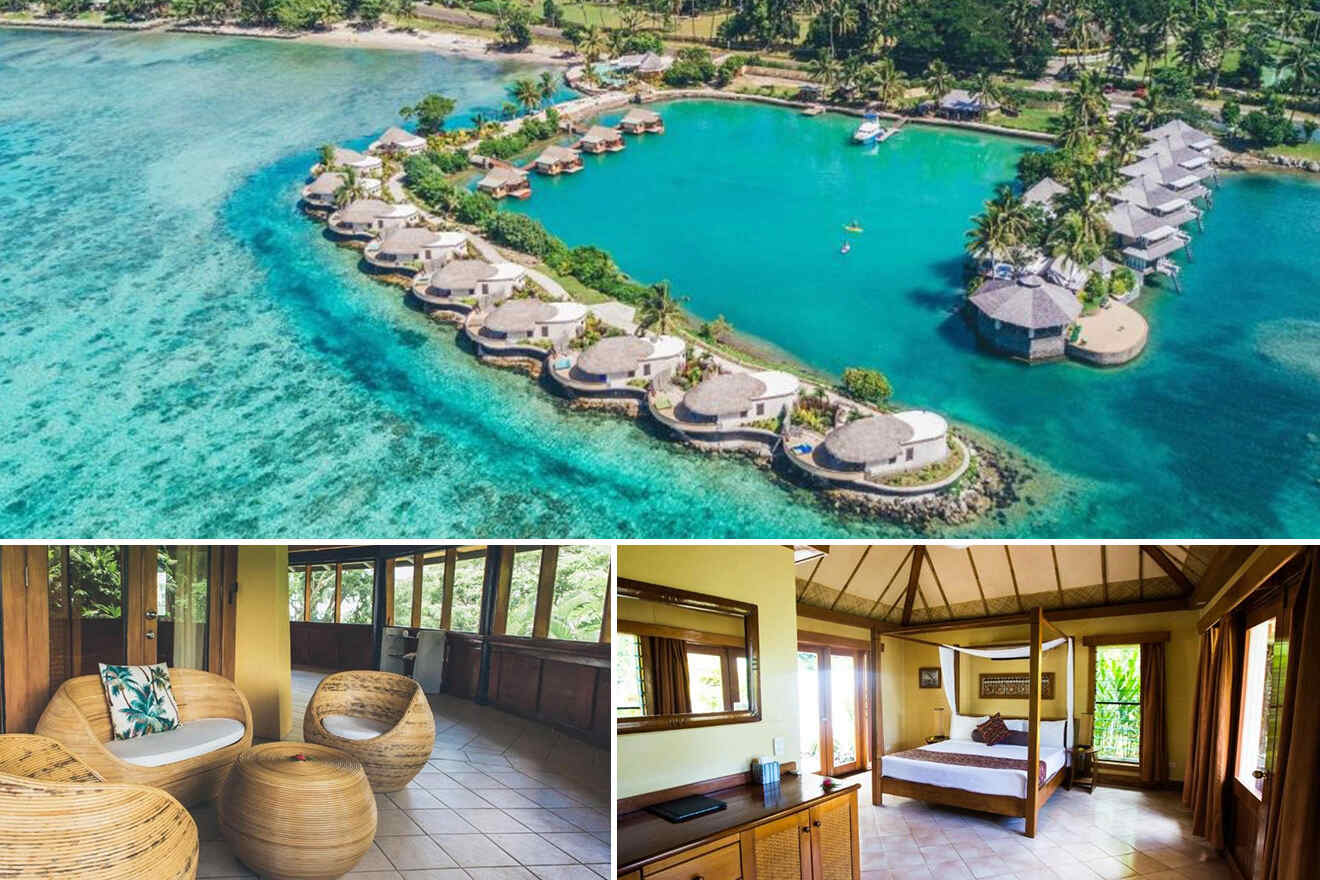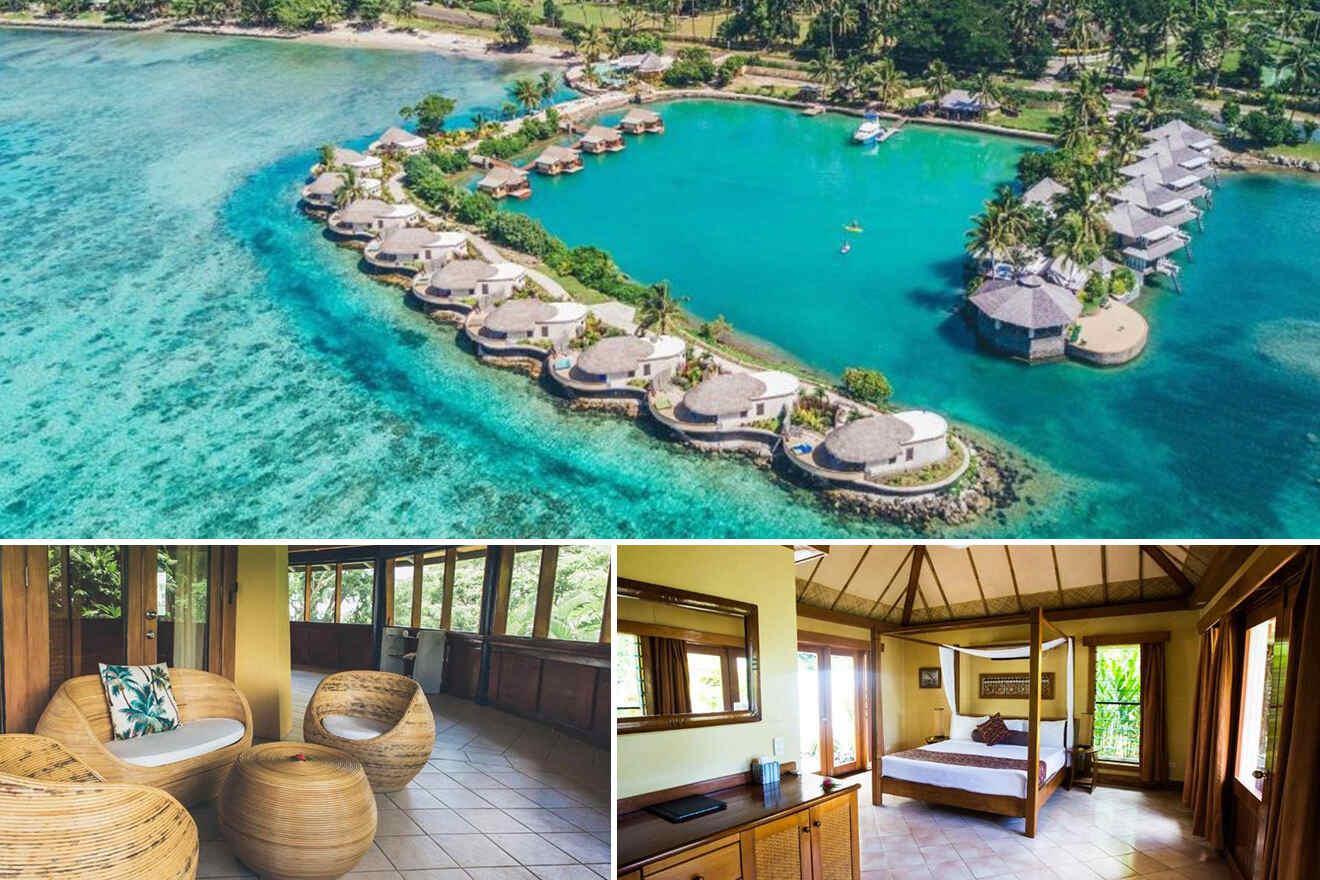 Koro Sun Resort is located on Vanua Levu (Fiji's second-largest island), in a dreamy coral-filled bay with a lush rainforest as a backdrop. This is the perfect place if you want to disconnect from everything and enjoy an off-the-beaten-path getaway fully immersed in nature!
Here you can enjoy full relaxation at the resort's Rainforest Spa, where you can get Polynesian massages, papaya facials, and banana-leaf body wraps, or engage in more active activities like
scuba diving (just off the coast of Vanua Levu you'll find world-class diving!).
What's more, with its local villages, mountain trails, and magical waterfalls, Vanua Levu is the best Fiji Island to experience the local culture. Do you want to know what each Fiji Island has to offer? Then check out this post about the 7 islands where to stay in Fiji!
In this Fiji Resort, the overwater bungalows are just stunning, with air conditioning, private plunge pools, and ladders with direct access to the water… check out the pictures!
3. Musket Cove Island Resort and Marina – best for families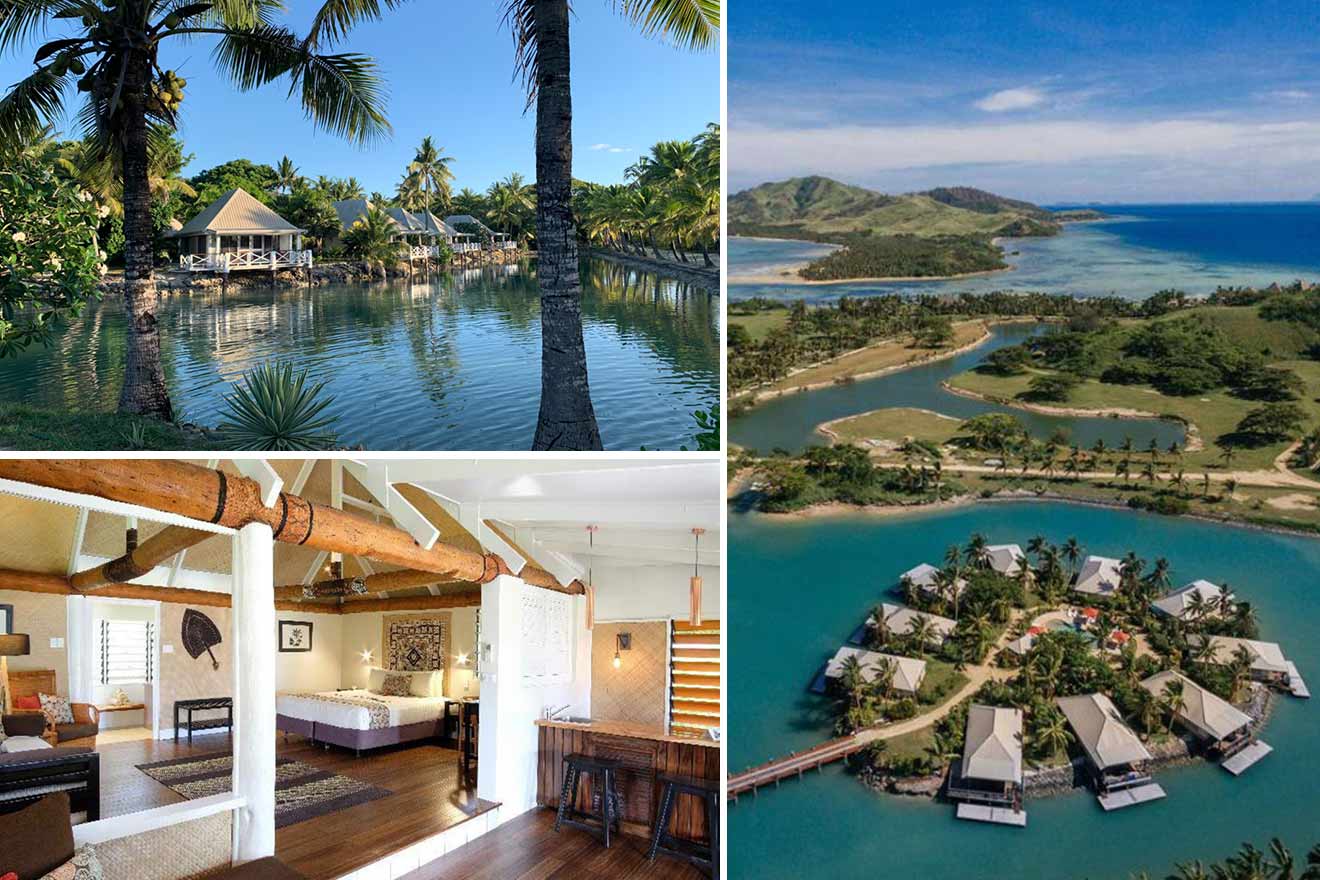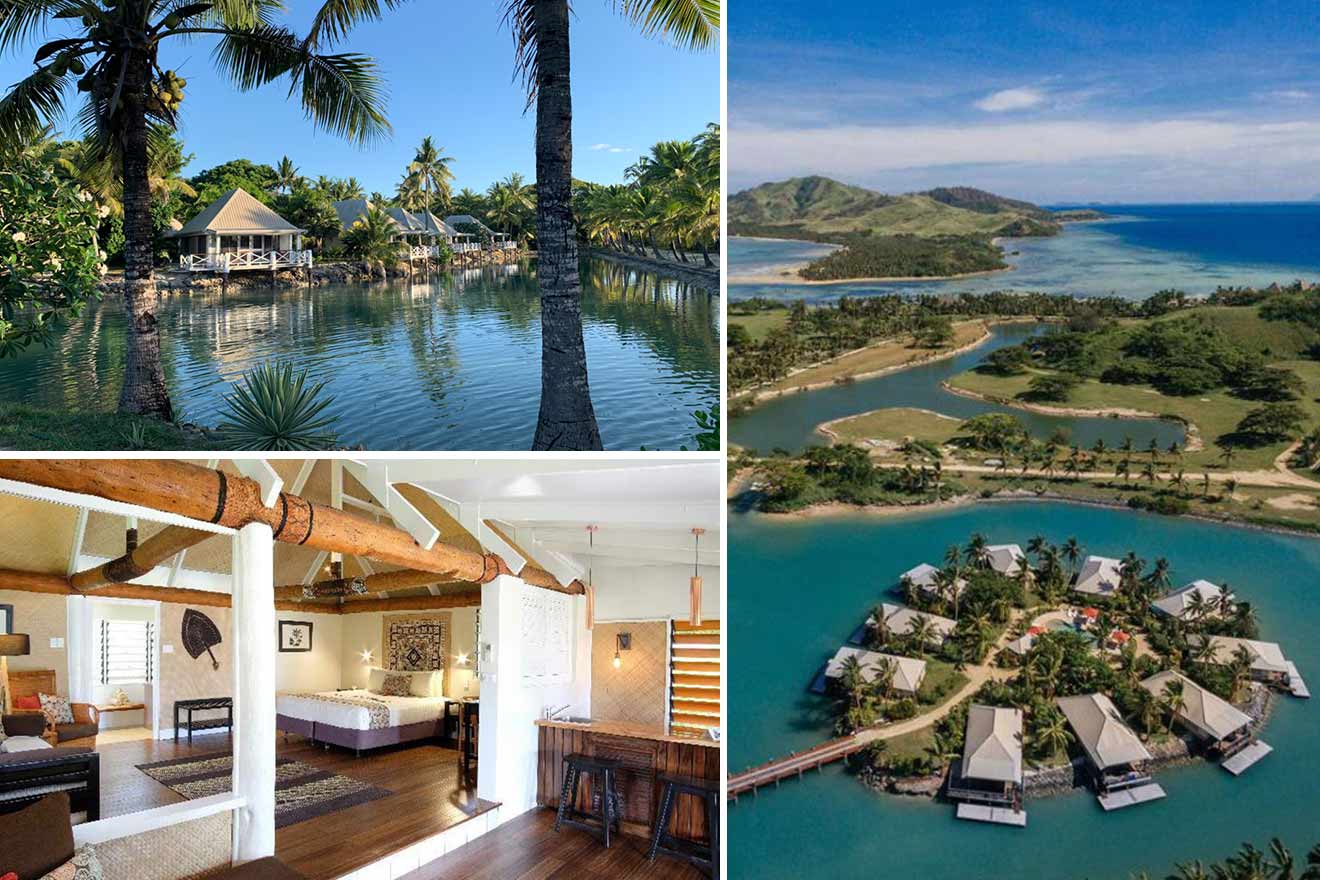 Located on Malolo island, Musket Cove Island Resort hosts 6 overwater bures nestled on a beautiful inland lagoon canal (just a short walk from the rest of the resort) as well as luxury beachfront bungalows and villas.
This is the perfect place for a family holiday, offering activities for any taste. Here, you can swim or scuba dive in the surrounding calm waters, join island hopping tours, enjoy a refreshing cocktail at the pool bar (swim-up bar), a relaxing massage at the on-site spa, go kayaking, paddleboarding and much more… you will never get bored!
4. Fiji Marriott Resort Momi Bay – top adults-only resort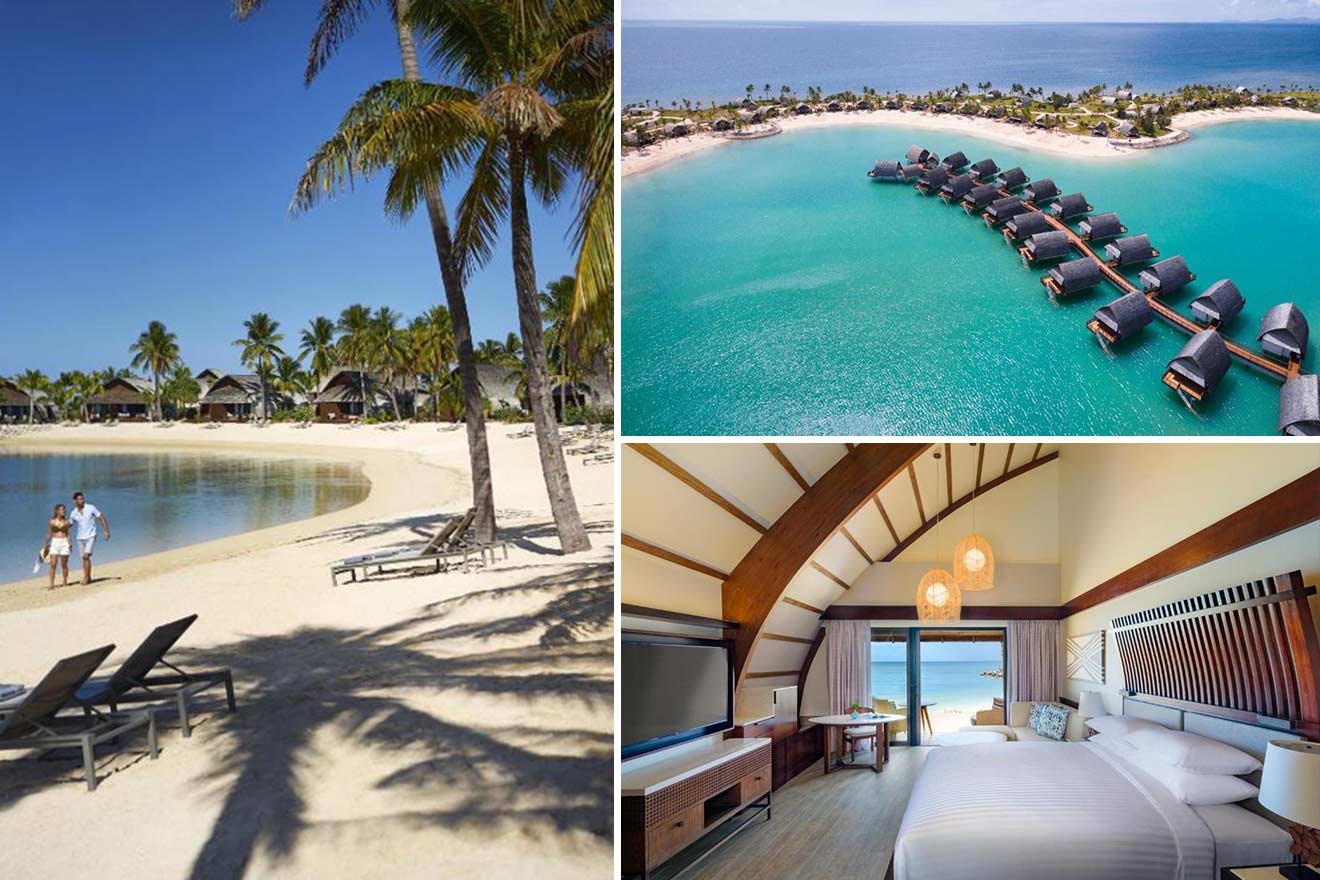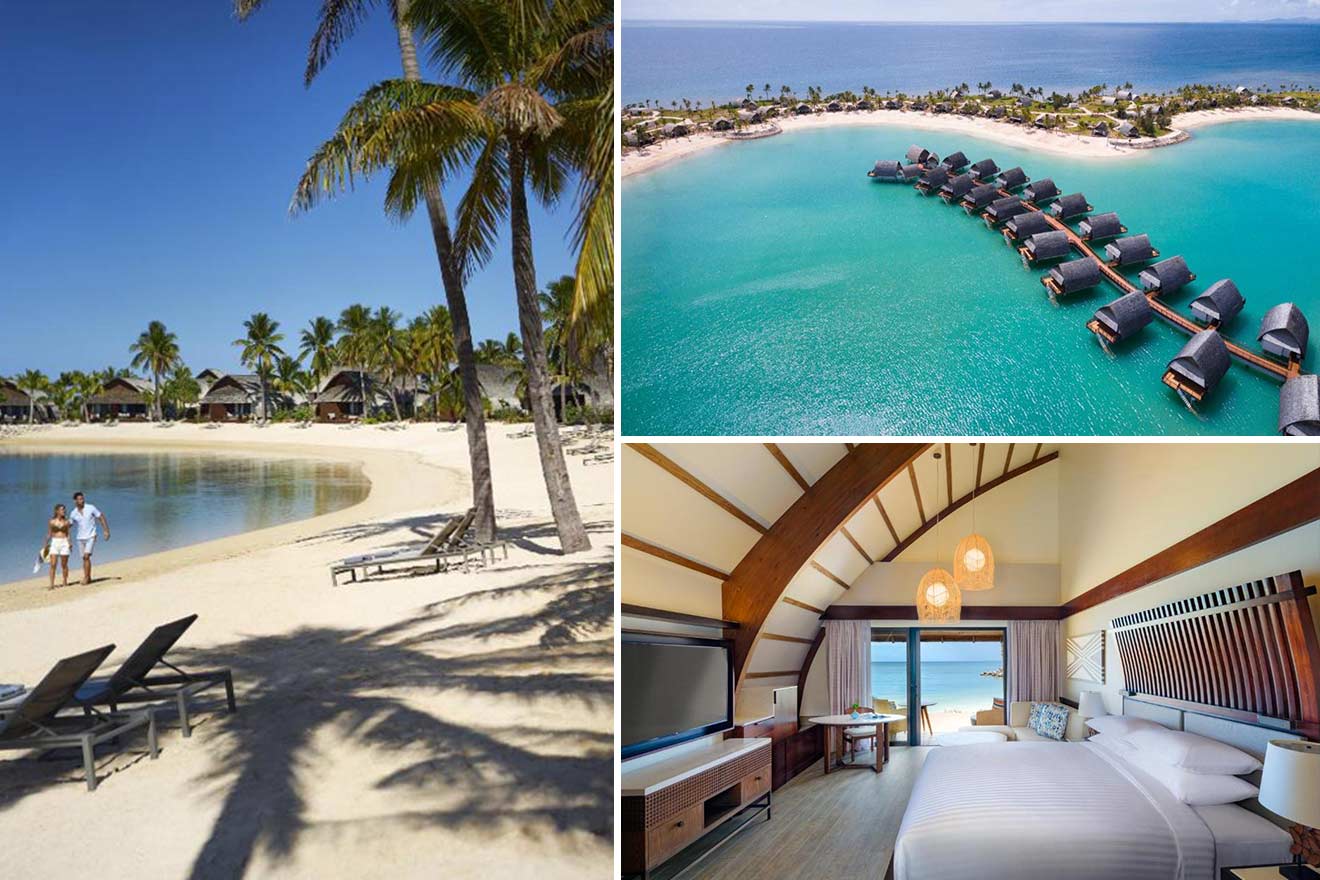 Fiji Marriott Resort Momi Bay is located on Viti Levu (Fiji's main island) just south of Nadi International Airport and offers adults-only overwater bungalows (called lagoon bures) and overwater villas, all offering access to great resort facilities. Some examples?
Here you will relax in the adults-only infinity pool offering incredible views (one of the three swimming pools of the property) and enjoy water sports like scuba diving and kayaking. But one of the best things Fiji Marriott Resort Momi Bay offers is its wide choice of dining and drinking options! Try the Lagoon Lounge for cocktails, the Lagoon House and Bar for delicious Italian fare, the Fish Bar for fresh fish, and Palm Grove restaurant for Fijian and international cuisine.
5. COMO Laucala Island – best overwater bungalow for couples
If you are looking for a remote place to have a romantic getaway with your special one, you will love this resort nestled in the lush rainforest of the South Pacific Laucala island. To reach this slice of paradise, you will get a resort-owned plane from Nadi International Airport (they even have a private lounge at the airport just for resort guests!).
The resort offers 25 enormous villas, each one with its own private pool, king-size bed, outdoor dining bures, air conditioning, and a fully stocked bar with champagne and light bites… The perfect place for honeymooners looking for some privacy! But you can also come here with your family as the villas host up to four guests!
BONUS: Best resorts in Fiji on a private island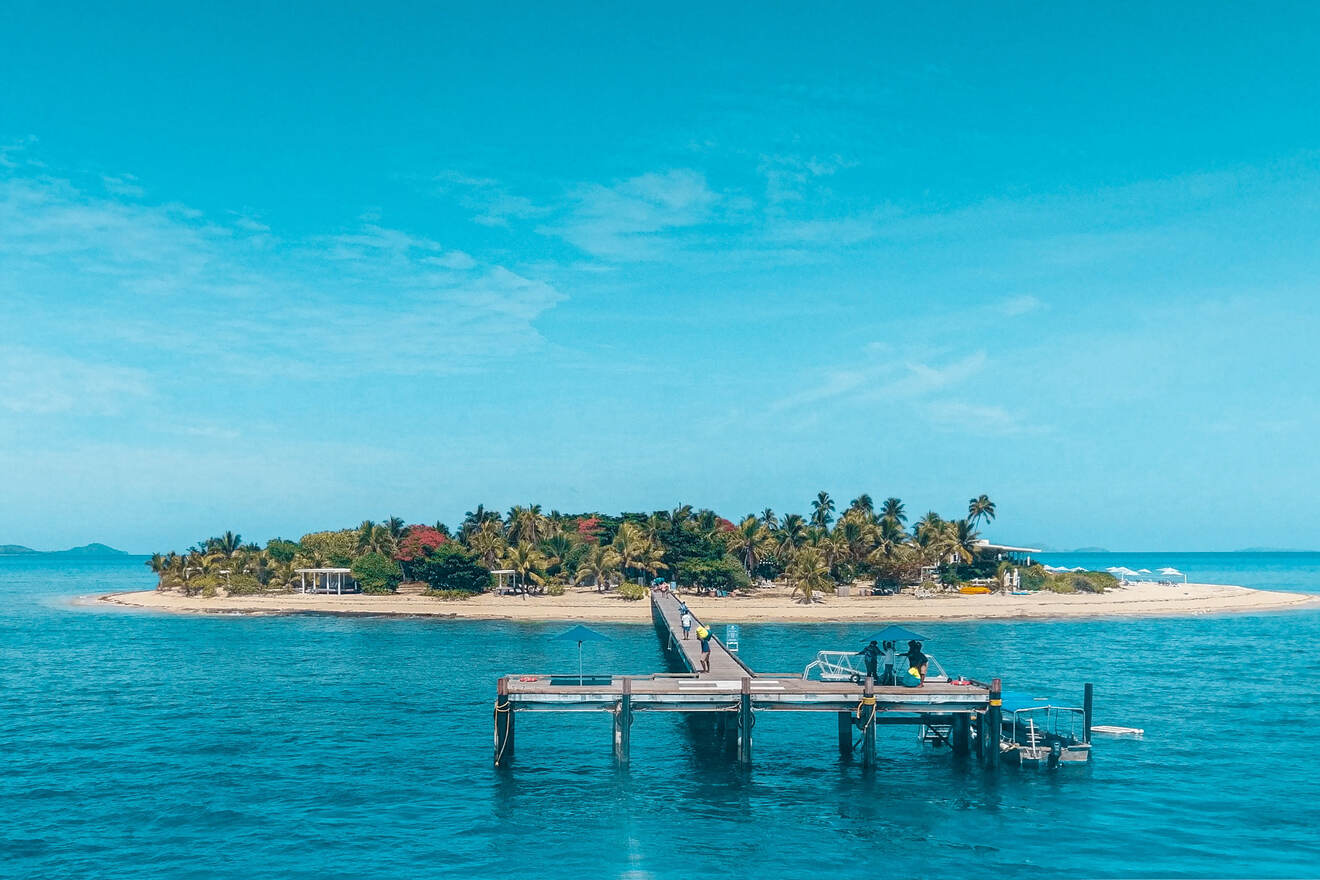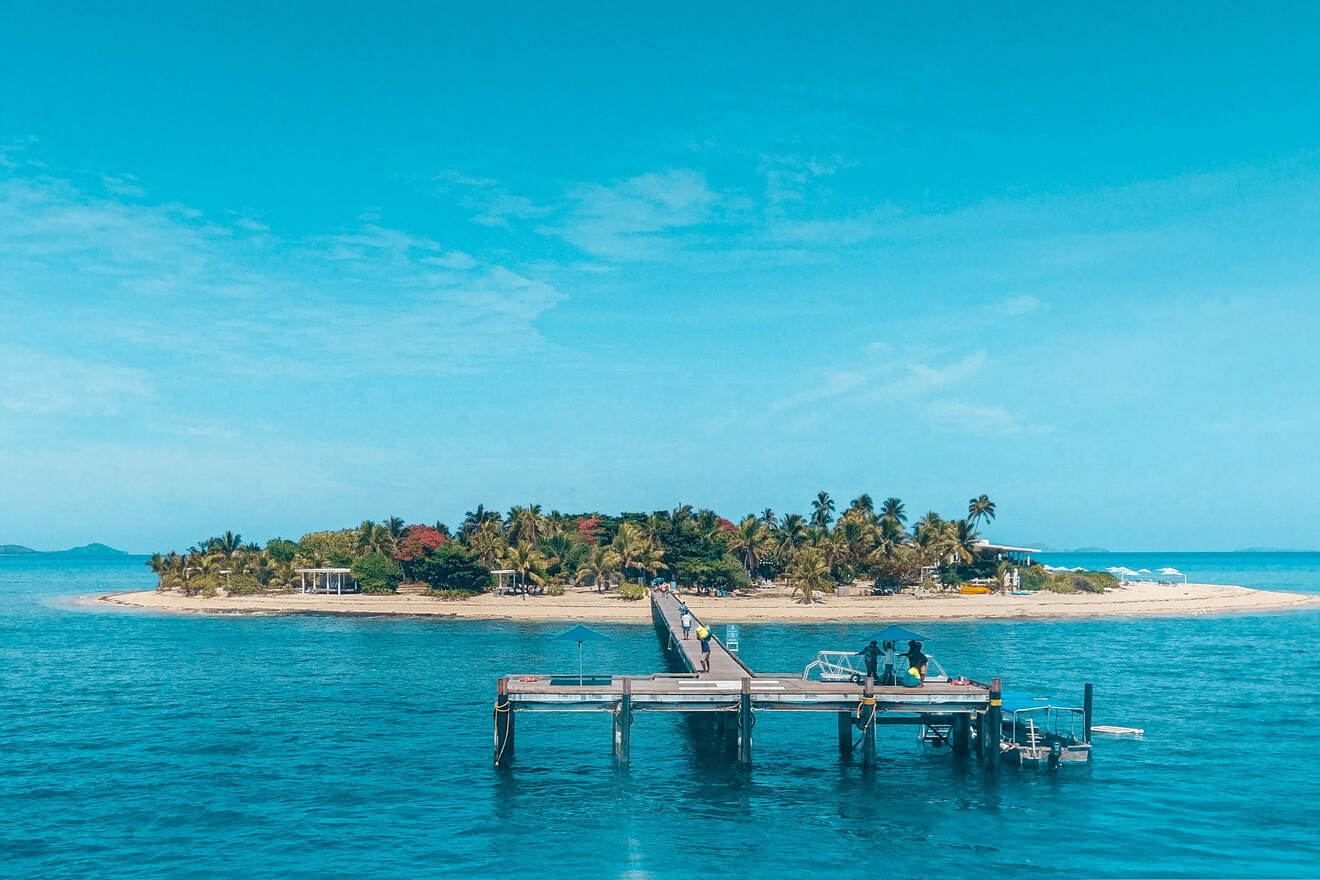 We just saw all the best overwater bungalows (also called overwater bures) in the Fiji Islands, but what if they are all booked out (as I said, it can happen since there are only a few options)?
Well, no need to worry! I found some incredible resorts located on their own private island that could be a great alternative to overwater bungalows.
I mean, maybe you won't sleep over the ocean, but you will still have access to blue waters, coral reefs, and untouched beaches… All this in the complete tranquility of your own private island. And this could also be a great option to absorb also a more traditional Fijian culture!
It doesn't sound bad, right? Then check out the following stunning resorts on the private island of Fiji located from most to least expensive: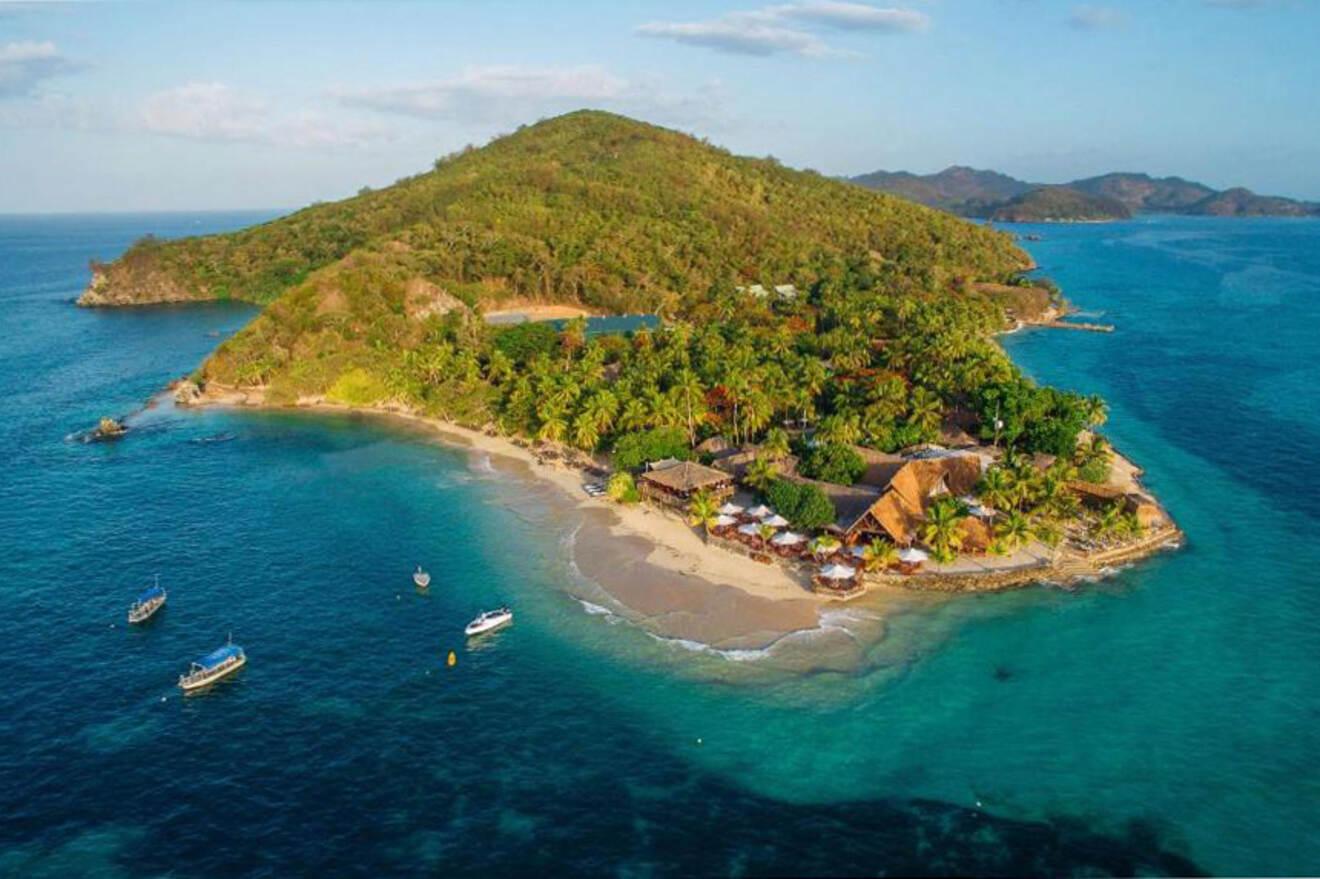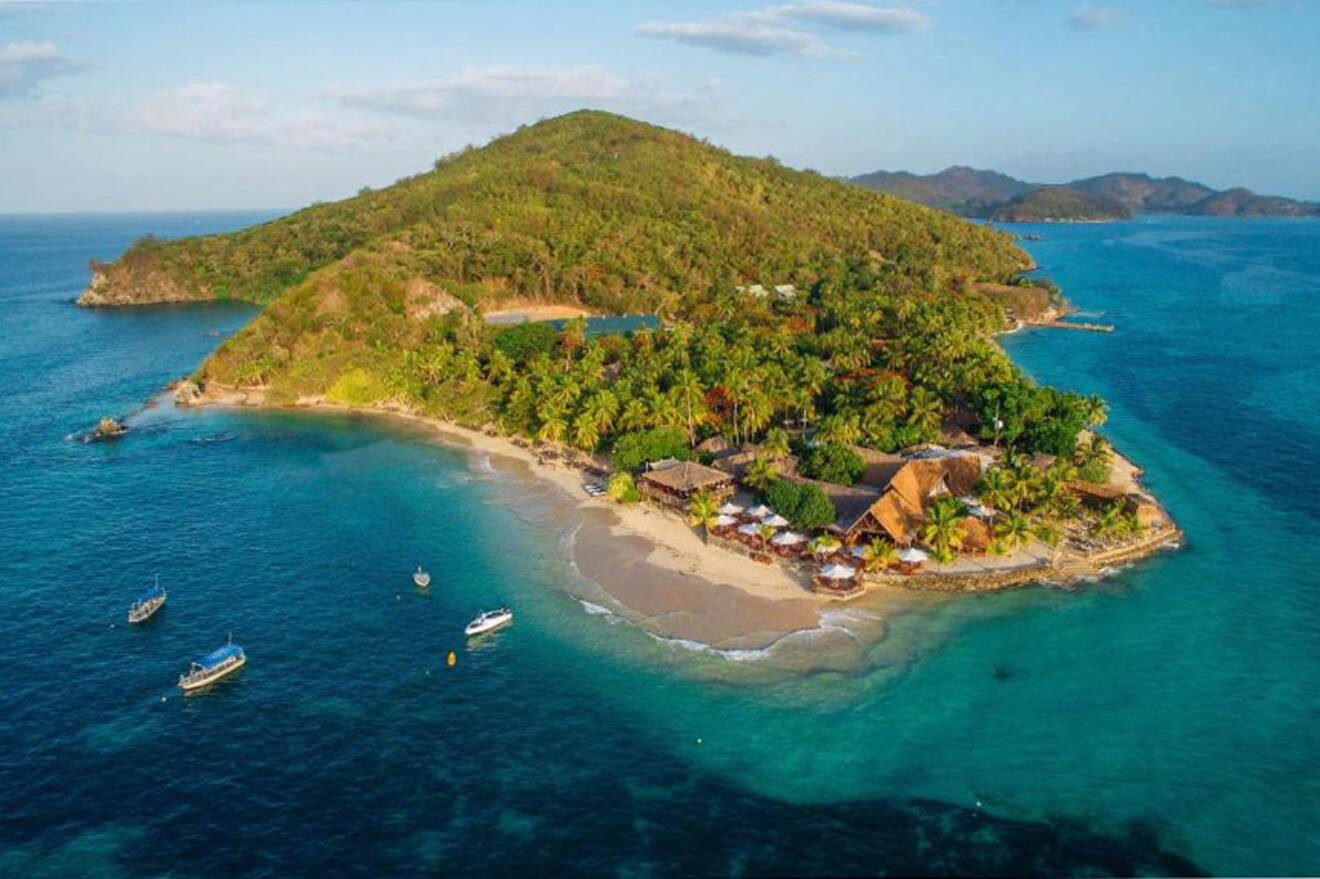 Yasawa Island Resort & Spa – Located on Yasawa Island, one of Fiji's most remote islands, this luxury resort gives you access to 11 dreamy beaches and stunning ocean views from your bungalow, you will feel like you are in a movie! The property also offers many amenities like a restaurant with all meals included, a day spa for massages, and cool water activities like snorkeling, kayaking, and scuba diving.
Oneta Resort – This stunning resort is located on a private beach of the paradise Ono Island and offers luxury bungalows just meters from the blue waters of Astrolabe Reef. All The Fijian-style bungalows are nestled in tranquil tropical gardens and offer an en suite bathroom, a private outdoor shower, and wooden flooring. Here you can also join many activities in nature, like fishing trips, snorkeling trips to the reef, island hiking excursions, or sunset boat cruises!
Octopus Resort – Located on a long, dreamy, beach in Likuliku Bay (Waya Island), this beachfront resort offers many facilities and amenities for a holiday full of comfort. In fact, here, you can relax in the luxurious day spa, enjoy fresh seafood with sea views at the on-site restaurant and join a variety of cultural activities. Some examples? snorkeling, fishing and kayaking, daily yoga classes, Fijian cooking lessons, beach bonfire nights, and much more!
Castaway Island, Fiji – Are you ready for an award-winning private island retreat? Then check out this resort located on Castaway Island, surrounded by white sand beaches, coral reefs, and crystal clear waters. Here you will sleep in traditionally Fijian-style bungalows with a king-size beds, some of them located directly on the beach. At the property, you'll also have access to many facilities, like a tennis court, a wellness center, a beach bar, and an award-winning restaurant… What else do you need?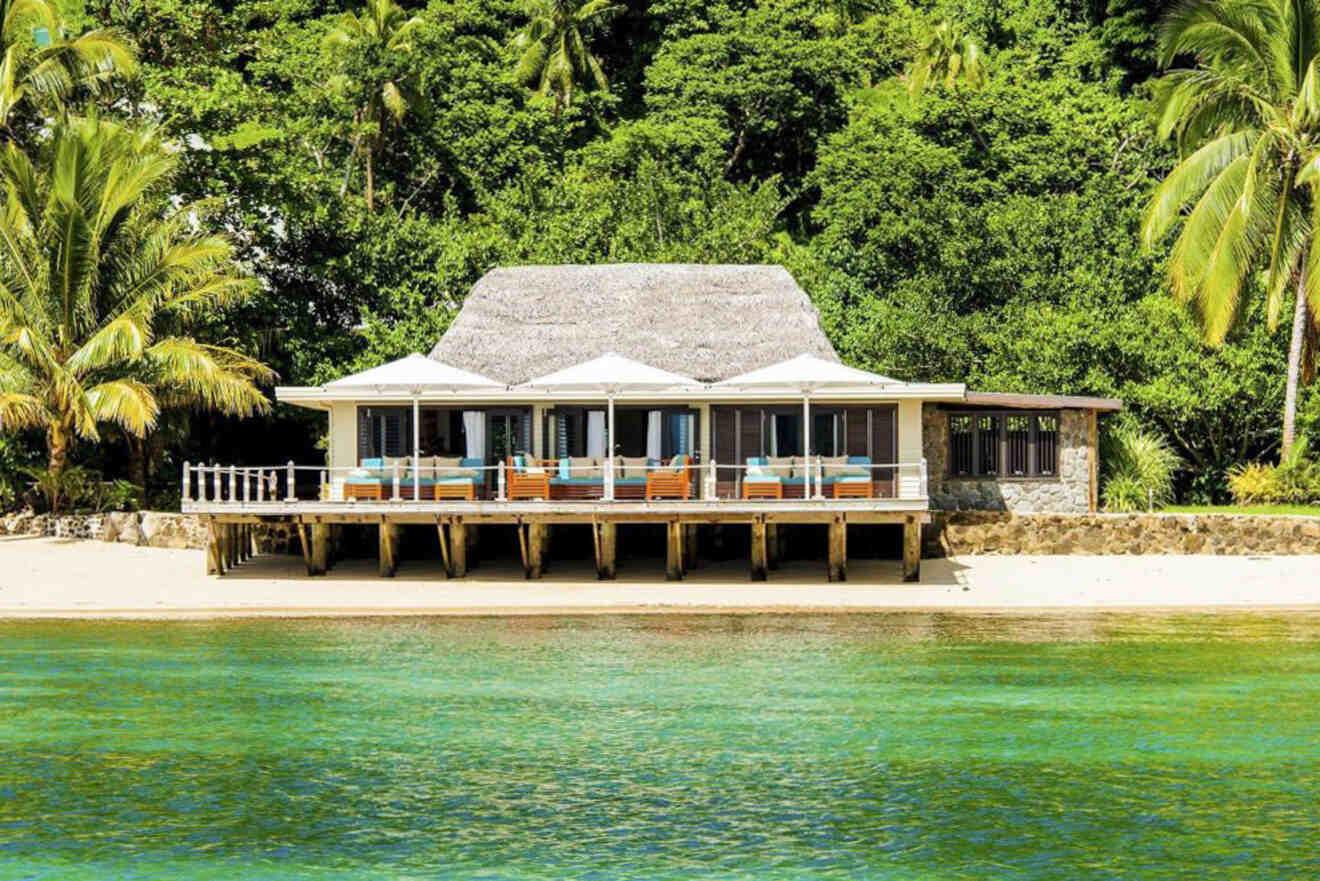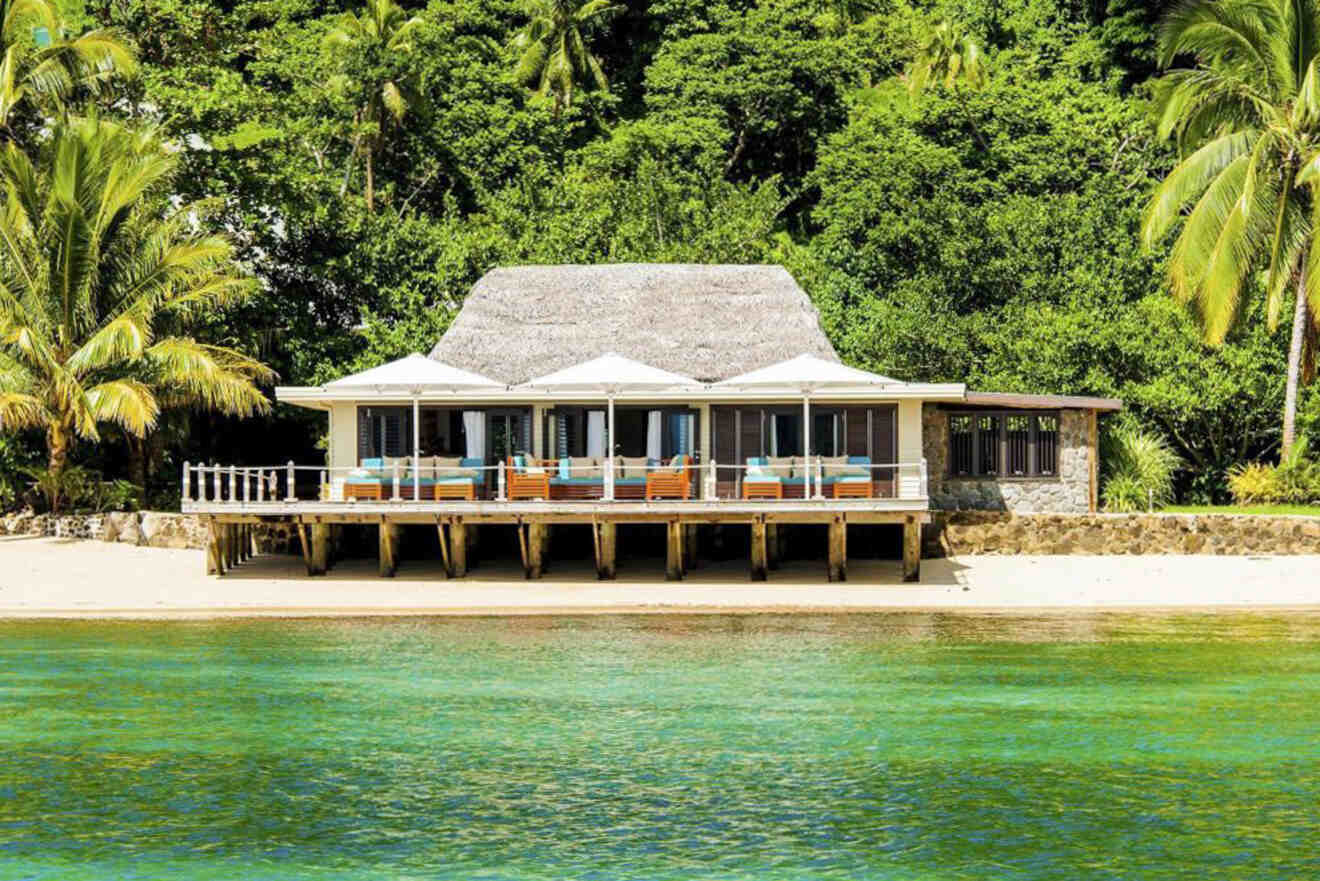 Matangi Island Resort – Located on Matagi Island, this adults-only resort is perfect if you want to spend a luxury holiday in complete privacy and tranquility. Here you will have access to many amenities, like a delicious restaurant, an indoor pool on-site, and a cool poolside bar. And wait until you see the accommodation! Choose between tree houses, beachfront bungalows, and houses, all offering air conditioning, and a private balcony!
Kokomo Private Island Fiji – This unique resort is located on Yaukuve Levu Island, at the edge of the Great Astrolabe Reef, one of the biggest coral reefs in the world, super rich in marine life. Apart from scuba diving and snorkeling, at this property, you can get massages at the onsite spa, do hilltop yoga, and have delicious dinners at the on-site restaurant. Accommodations are also great, from romantic beachside bures with private infinity pools to spacious villas for families… There's something for everyone here!
Tavarua – If you love surfing (and you're good at it!) This resort is for you, located on the heart-shaped island of Nabila, and offers access to Fiji's most iconic wave: the worldwide famous Cloudbreak! In this property, you'll enjoy snorkel excursions, ocean sports gear, and even boat rides to and from the waves' point break. And when you're not surfing, you can relax at the on-site spa, play at the tennis and volleyball courts, or eat at the delicious restaurants (all meals are included!).
Leleuvia Island Resort – Located on the small Leleuvia Island, a 35-minute boat ride from Fiji's capital Suva, this resort is perfect for a tranquil getaway far from the hustle and bustle of the city. On the property, you will find a big open-air restaurant, a lounge with daily drink specials and live music, and an outdoor gym. And at the end of the day, you will fall asleep with the sound of the ocean from your seaside room or bure.
FAQs about Fiji Overwater Bungalows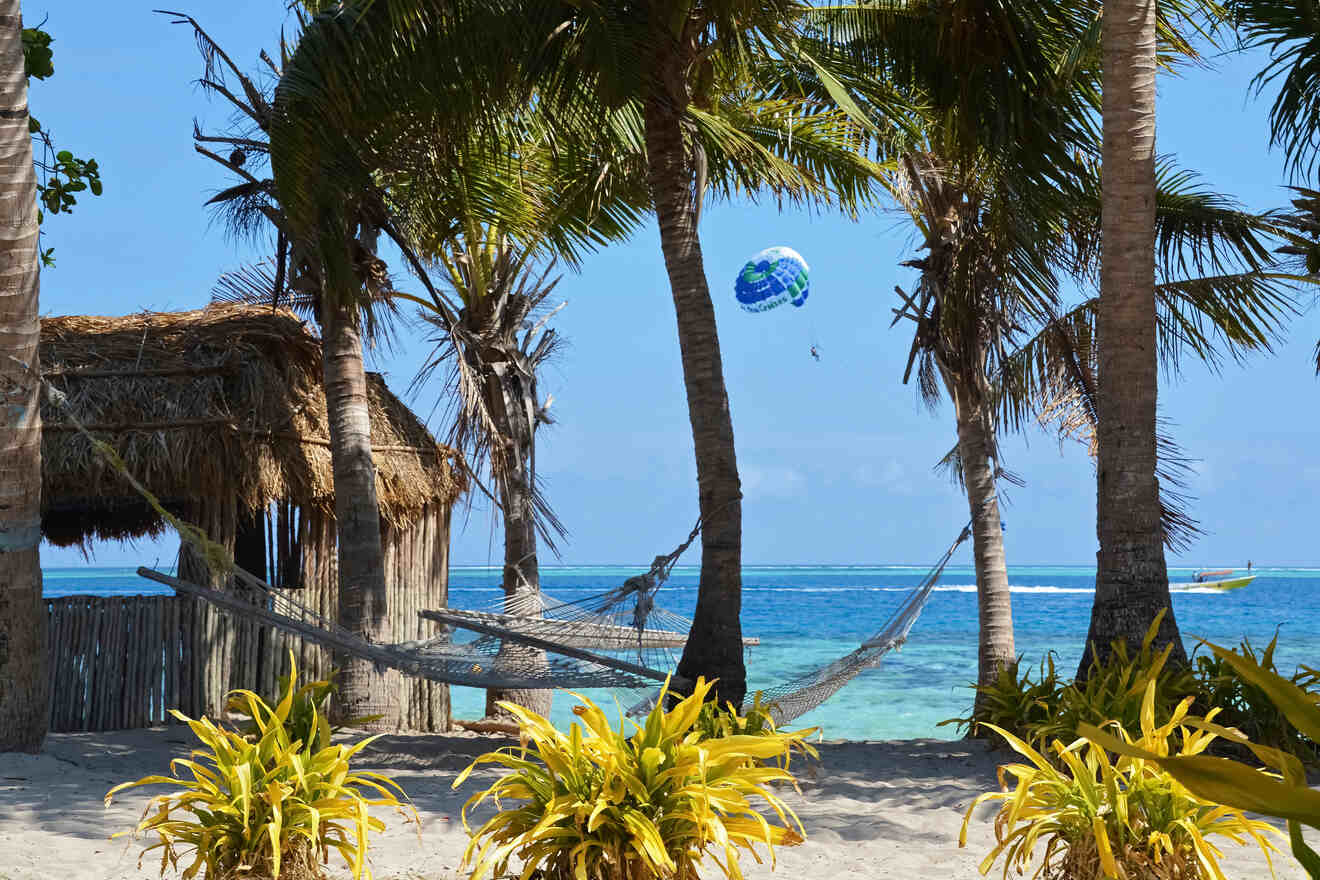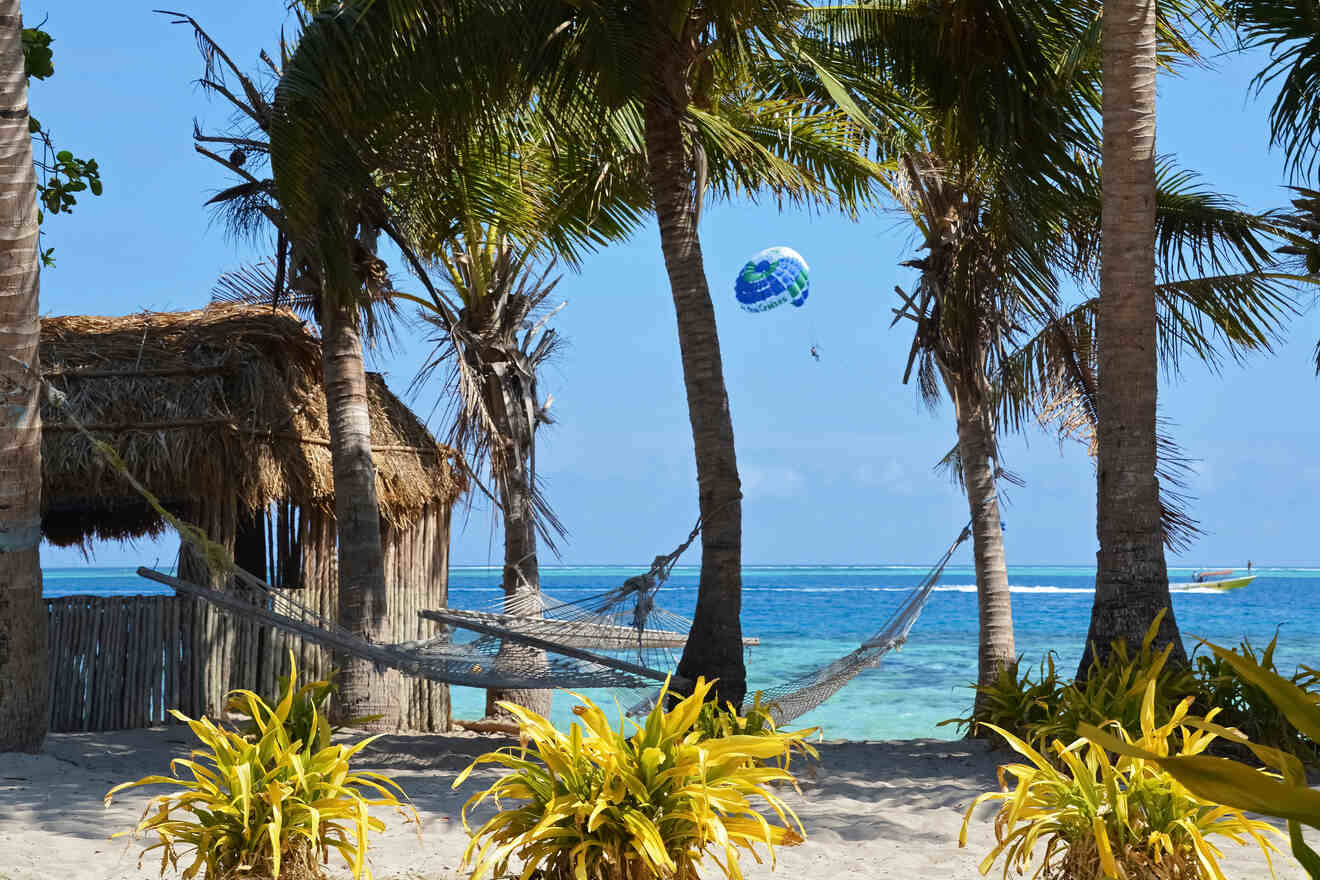 🏖️ Are there any overwater bungalows in Fiji, South Pacific?
Yes, there are 5 overwater bungalows in Fiji, the Likuliku Lagoon Resort is the most exclusive one, located in Malolo Lailai Island in a protected marine sanctuary, Koro Sun Resort Fiji is perfect for a tranquil getaway in nature, and COMO Laucala offers intimate edgewater floating bures for couples.
💵 How much are overwater bungalows in Fiji?
Overwater bungalows are quite expensive, costing on average $300 per night, but the most expensive resort (Likuliku Lagoon Resort) costs $1000 for a night in any of its over-water bures.
👩‍❤‍👨 Which are the best overwater bungalows in Fiji for couples?
The best overwater bungalows for couples are Koro Sun Resort, featuring overwater Fijian bures with private plunge pools and direct access into the water, or COMO Laucala offering overwater villas nestled in a remote, lush rainforest.
🤔 Which island in Fiji has overwater bungalows?
The islands that host overwater bungalows in the Fiji archipelago are Viti Levu, Fiji's main island, Laucala island, located on the northeastern coast, and Vanua Levu, Fiji's second-largest island.
🗺️ Which country has the most overwater bungalows?
The country hosting the most overwater bungalows is the Maldives, with 75 resorts offering in a total of 3005 overwater rooms, and in second place there is Bora Bora with 11 resorts and overwater rooms.
Conclusion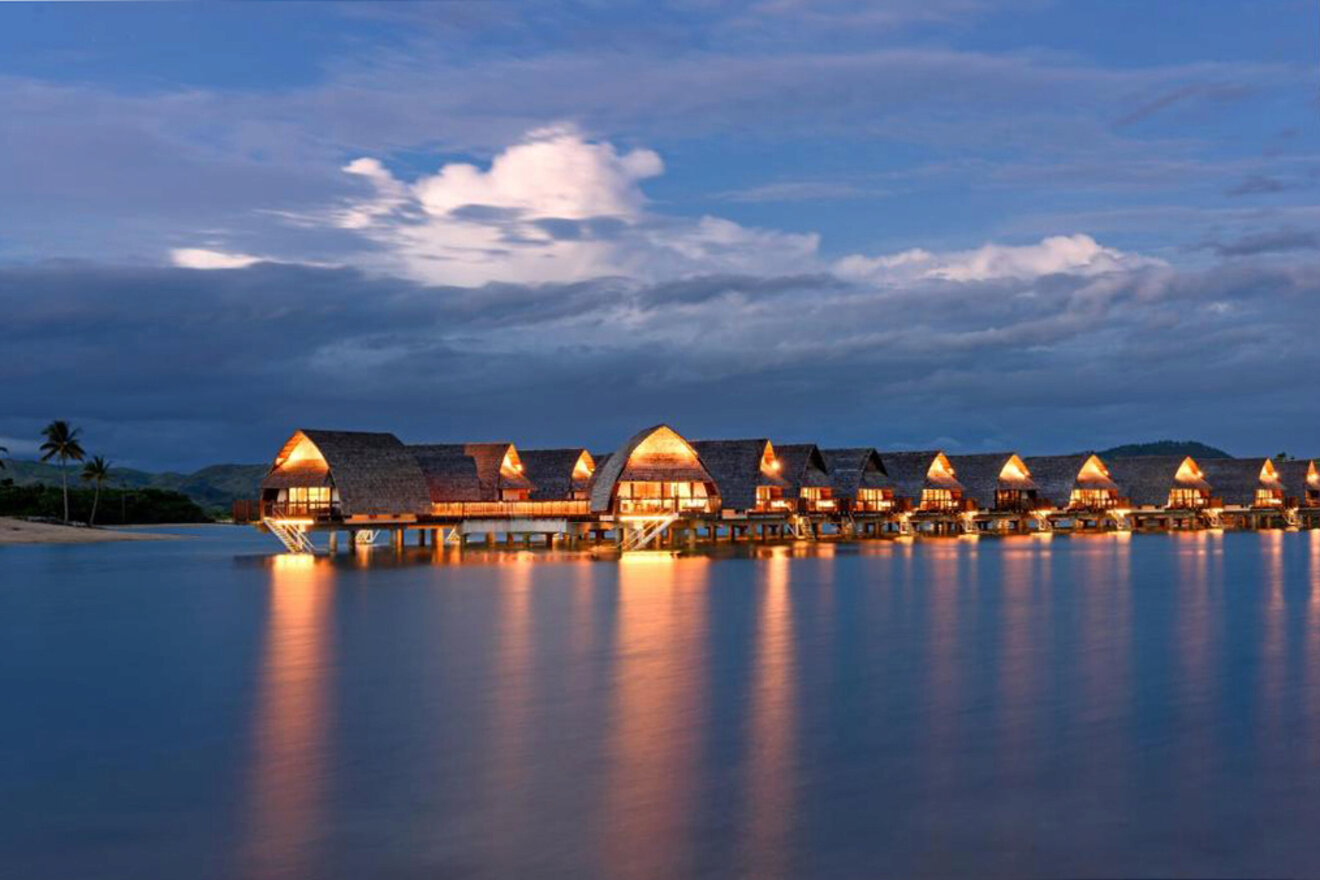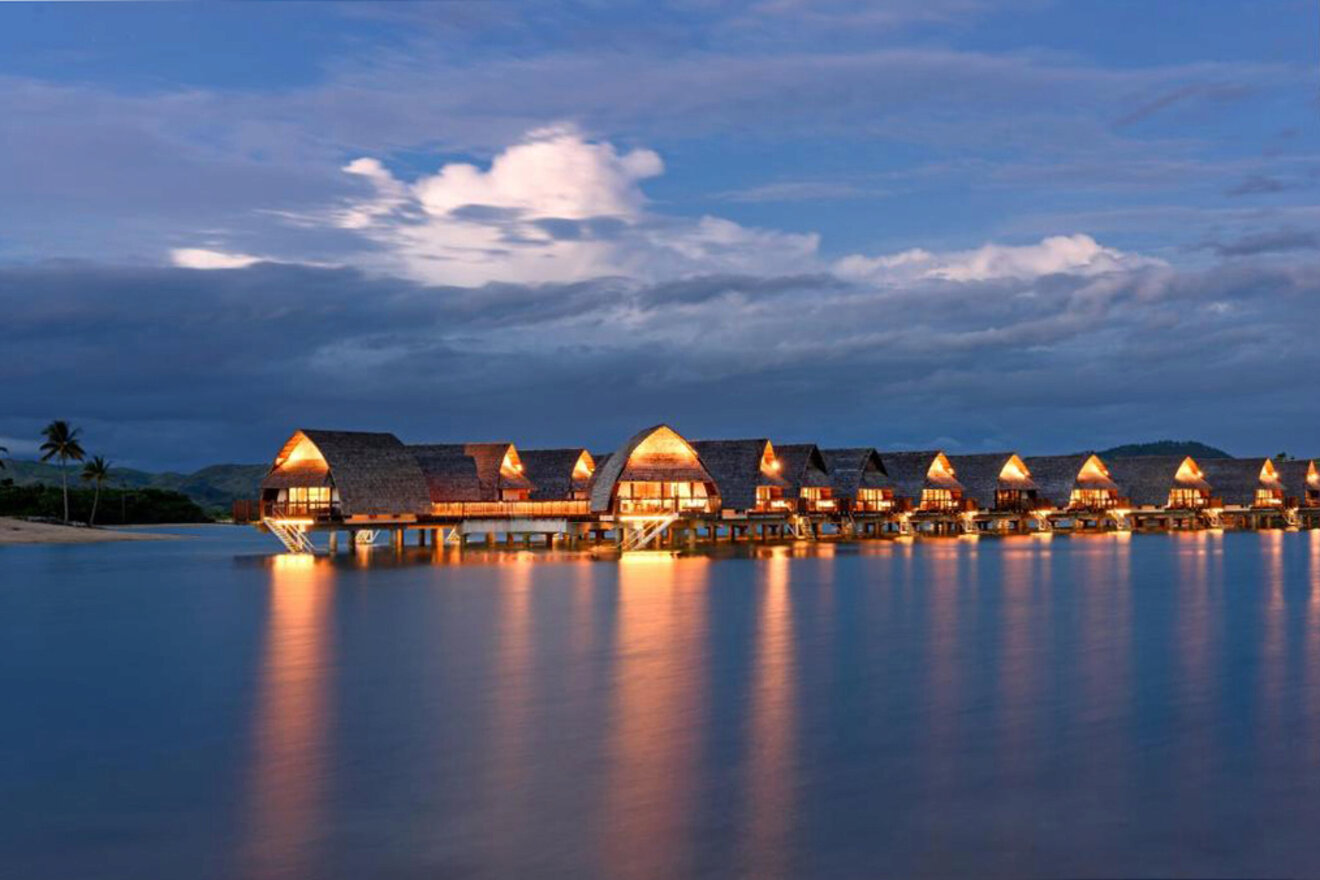 Here we are at the end of this useful travel guide about the best overwater bungalows in Fiji. We saw many options for any taste, from adults-only overwater bungalows to big overwater villas for families, romantic Fijian bures nestled in remote places, and more.
So, where will you stay? If you are still undecided, I cannot blame you as the options we went through were all amazing, so it can be hard to make up your mind!
No worries, I am here to help you! Check out my 2 absolute favorite overwater resorts in the Fiji Islands:
Likuliku Lagoon Resort – Book your luxury lagoon bure in this exclusive resort set along a tidal lagoon, giving you access to stunning beaches and a protected coral reef.
Koro Sun Resort – This resort is located in the remote Vanua Levu, Fiji's second-largest island, and offers intimate overwater bungalows with private plunge pools.
If you like them, make sure you reserve your overwater bure at least some months in advance as these exclusive accommodations get booked incredibly fast!
And in case you don't find a spot, check out my bonus about the top resorts in Fiji on a private island, they can definitely be a great alternative for your vacation!
I hope you enjoyed my guide as much as I did writing it and doing all the research for you… And if you still have any questions, please don't hesitate to share them in the comments below, I am looking forward to reading them all and clarifying your doubts!
Have a dreamy holiday!
Elena
---
Pin it for later!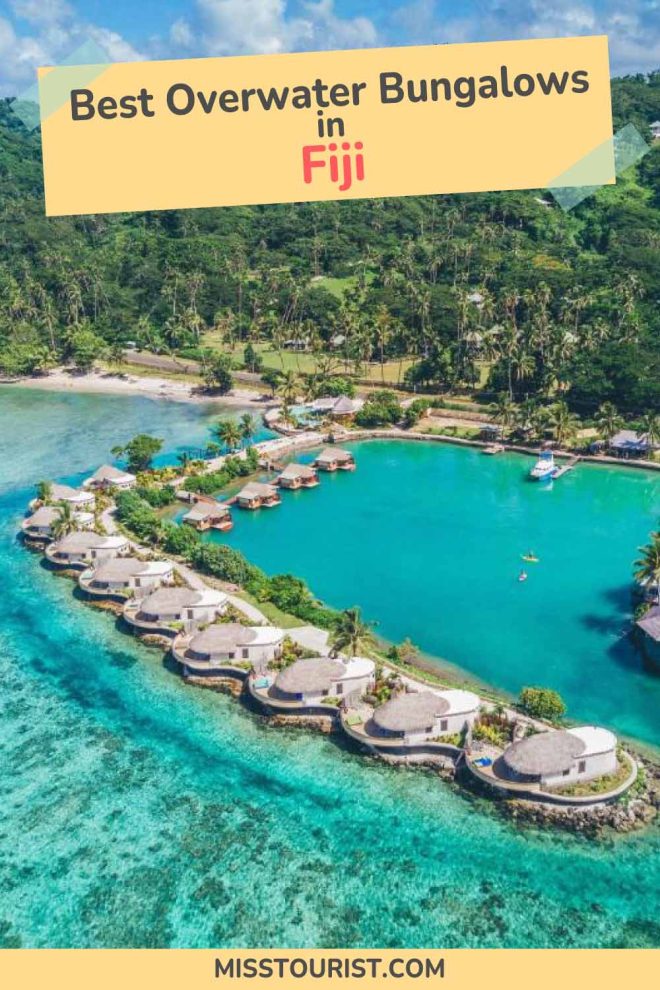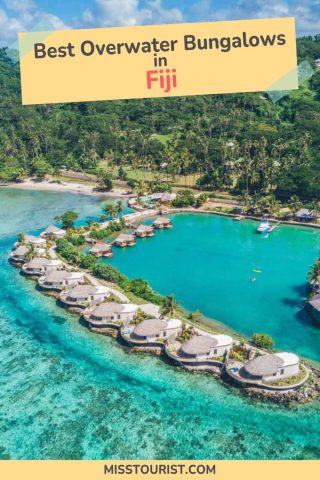 Pin it for later!