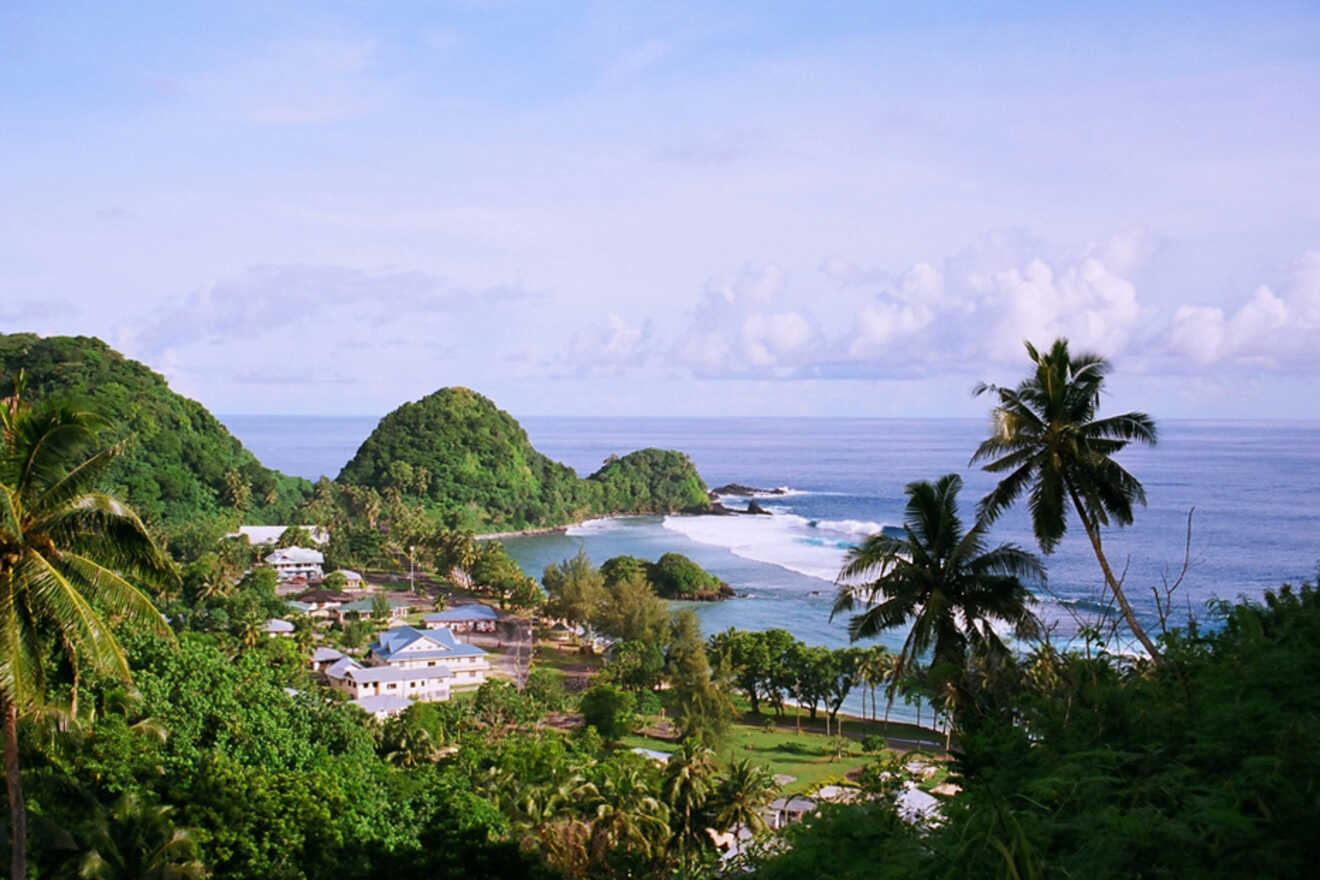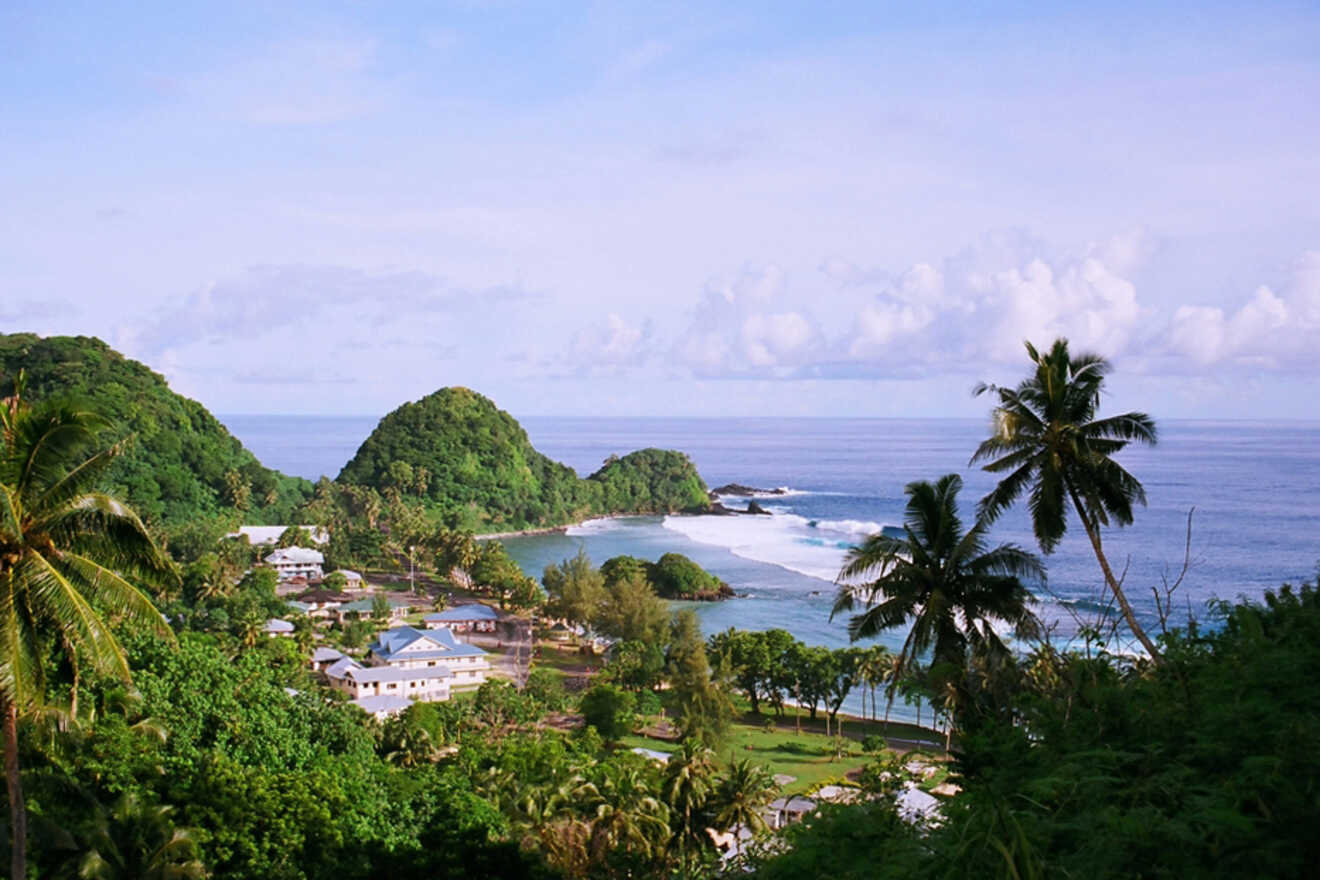 Are you planning a fun vacation to American Samoa? I know finding the best hotels ain't an easy task and sometimes can be a hassle! But don't worry! I've got your back! I have been researching for hours and hours the best resorts in America Samoa, so you can have a lovely stay and enjoy your holidays!
I have gathered all the hotels in American Samoa, and I've also added a list of hotels in Samoa. I've also included a bonus with the best hotels in neighboring Islands, with great ratings, so you have more options and can decide which one fits your preferences the best!
The Polynesian Islands are such a popular destination for people looking to spend their vacation in white sand beaches, and admiring paradisiac tropical islands in the South Pacific Ocean. So, my advice is to book your ocean-view room as soon as you decide on one!
Let's dive in!
If you are in a hurry
If you need to book fast and don't have a lot of time to read the whole article, no worries! Here you have my top 3 recommendations for the best resorts in American Samoa!
Since we are talking about the Samoa Islands and all the hotels are scattered around the area, I thought you'd benefit from a map to see where each hotel is located:
1. Hotels in American Samoa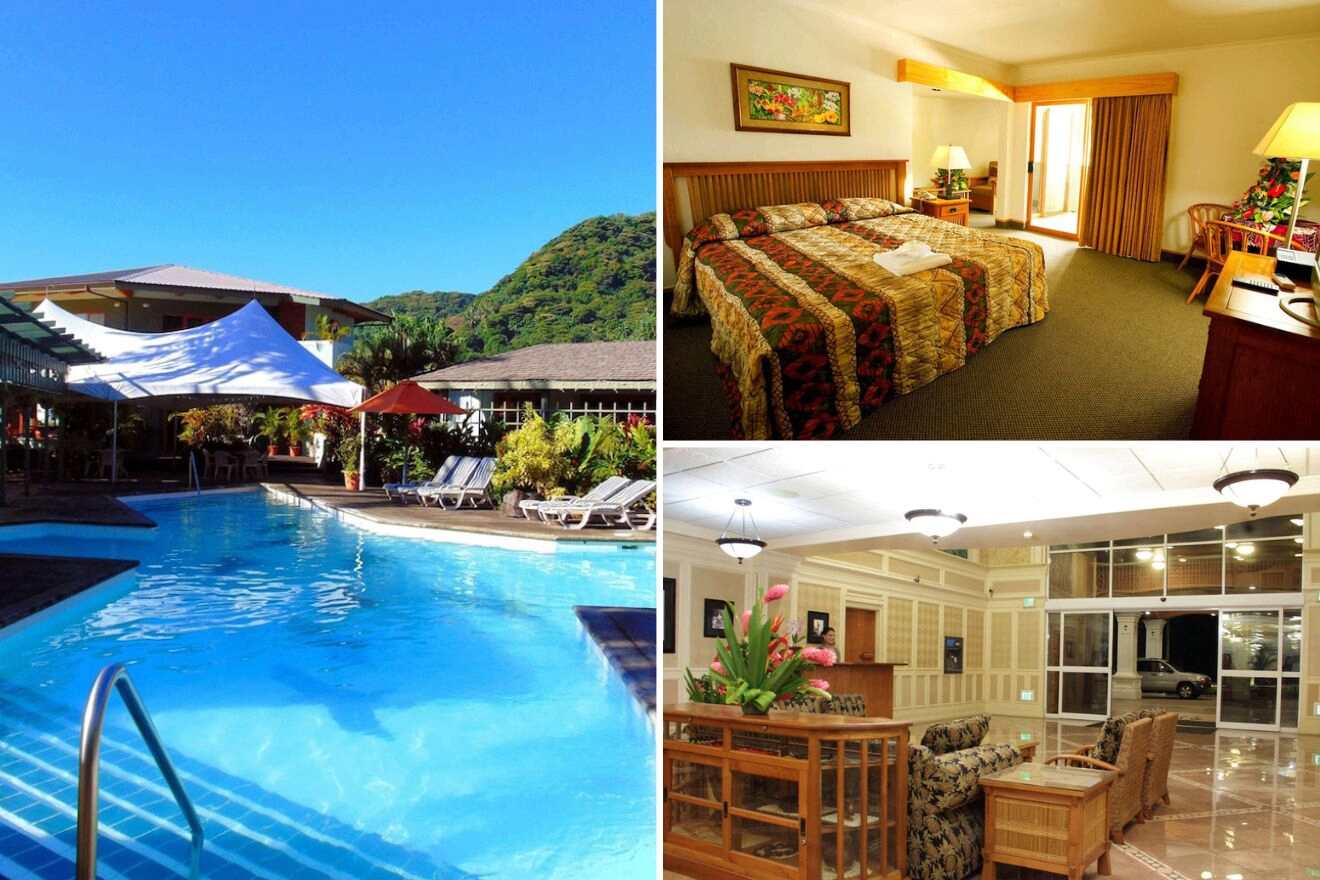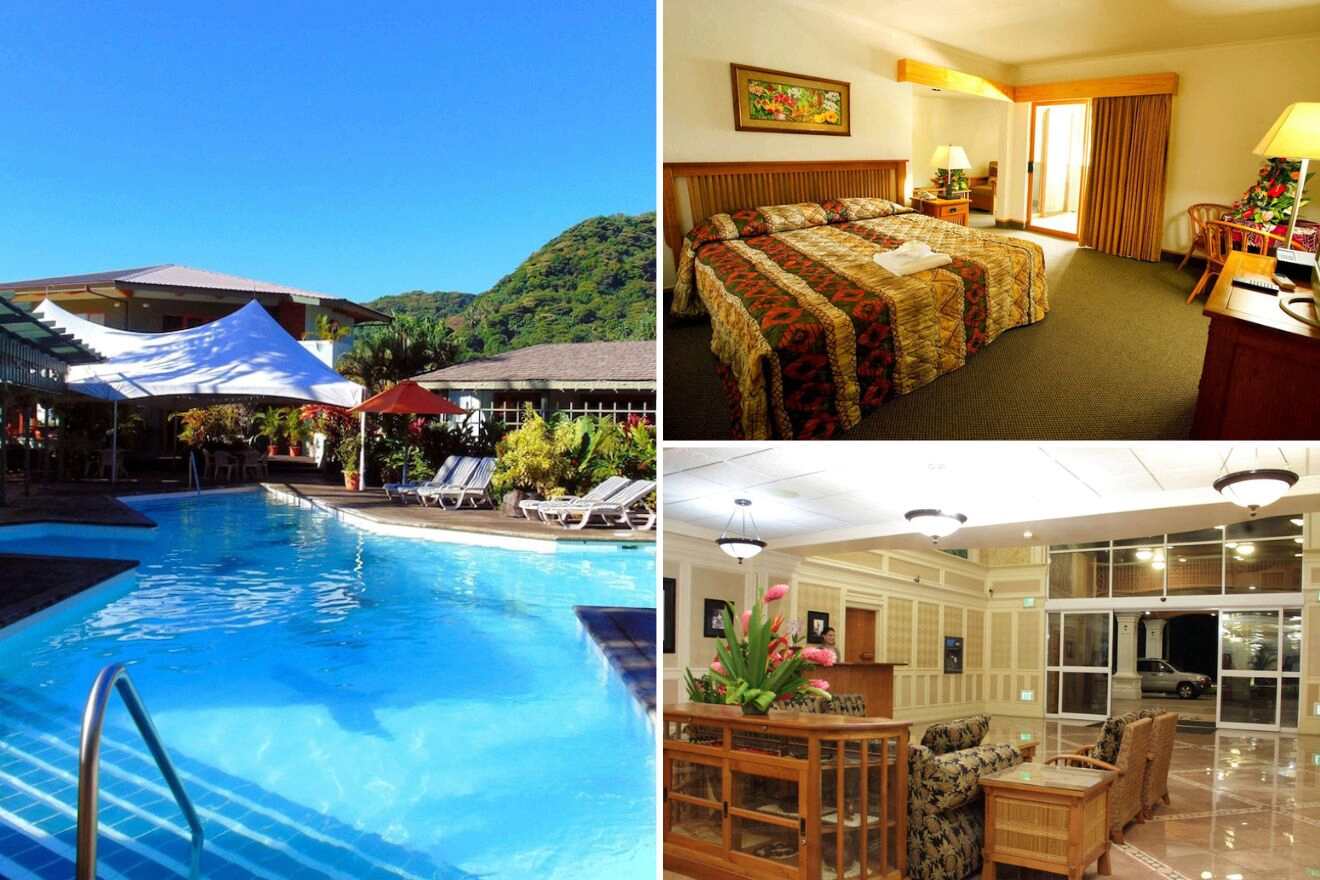 2. Resorts in Samoa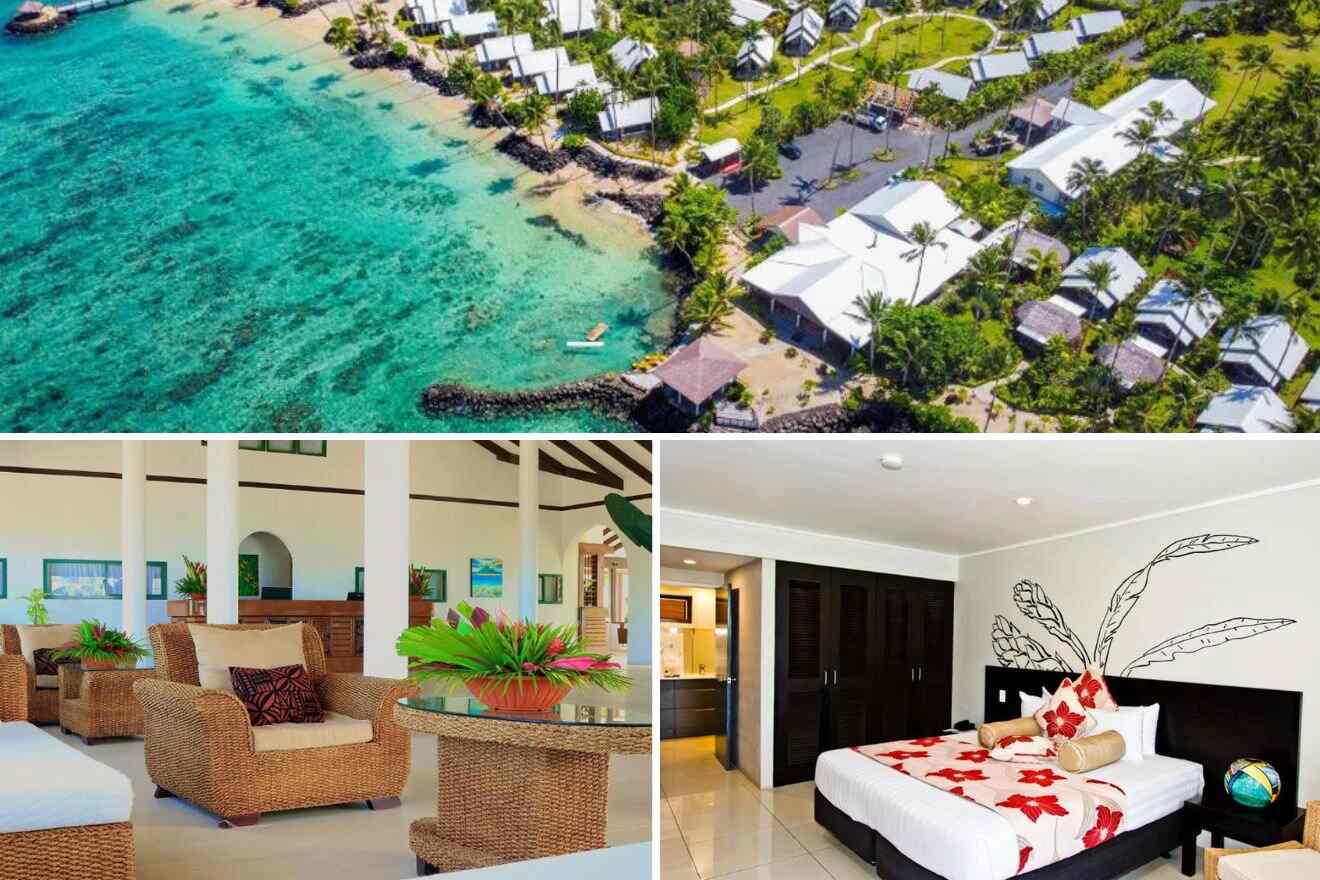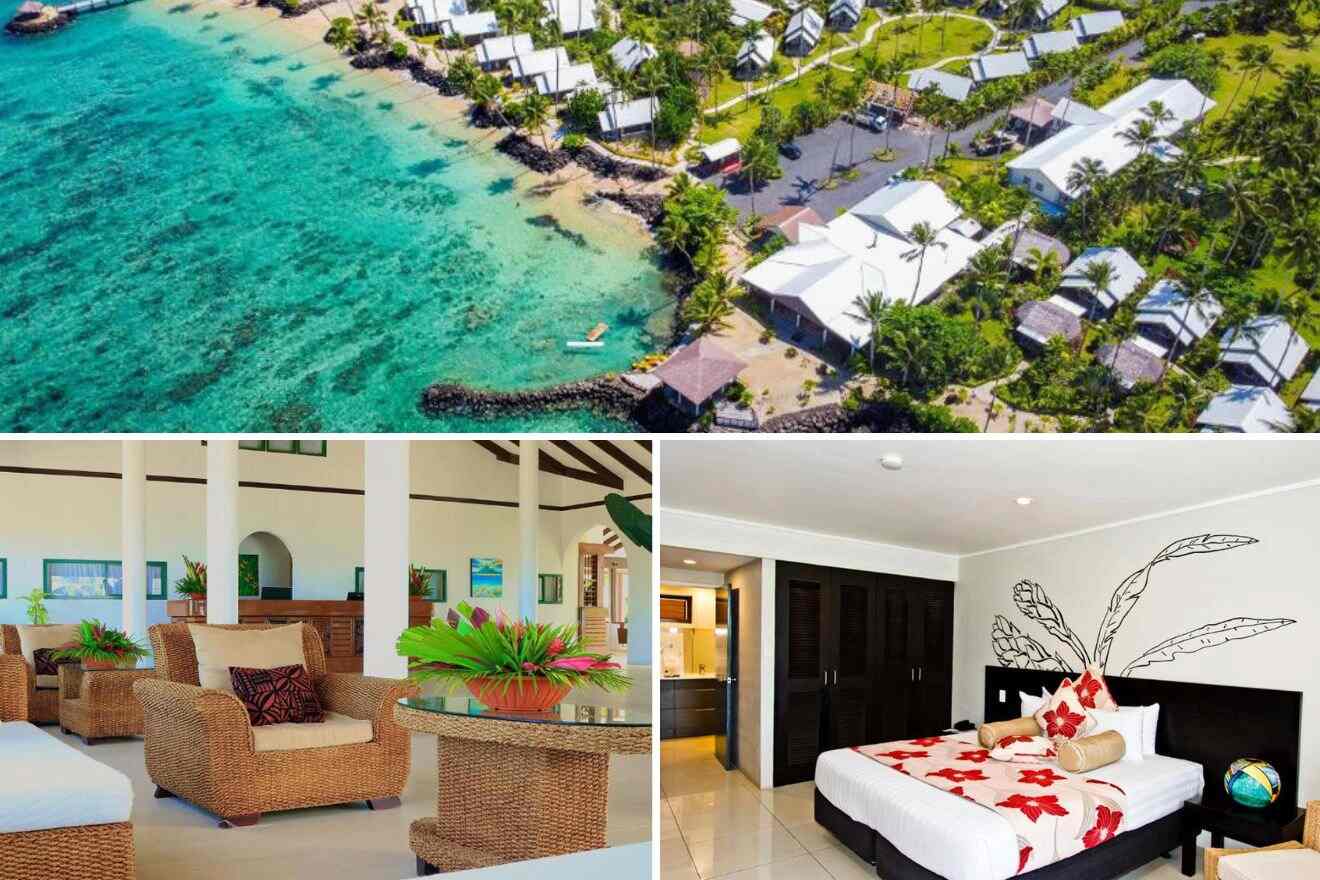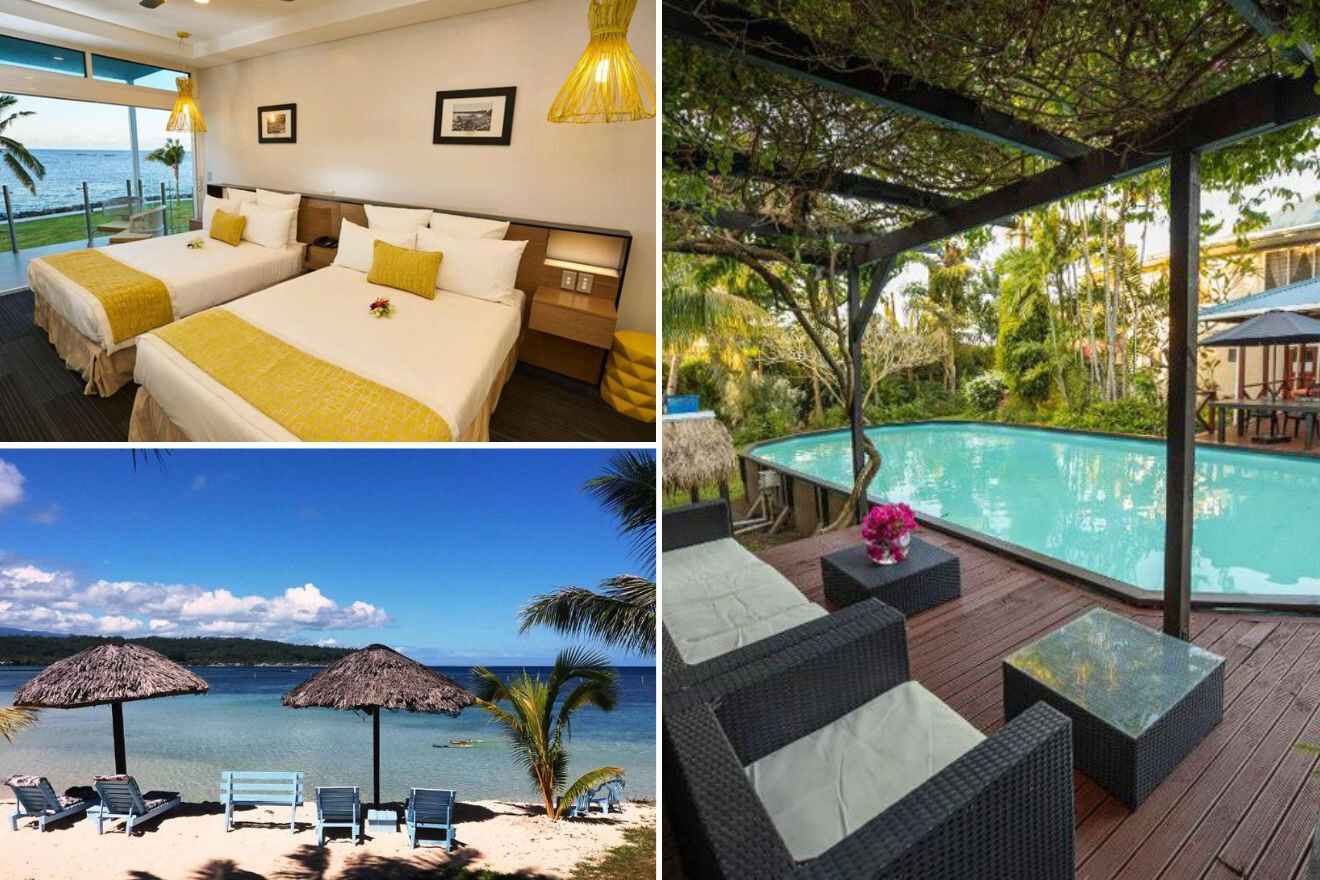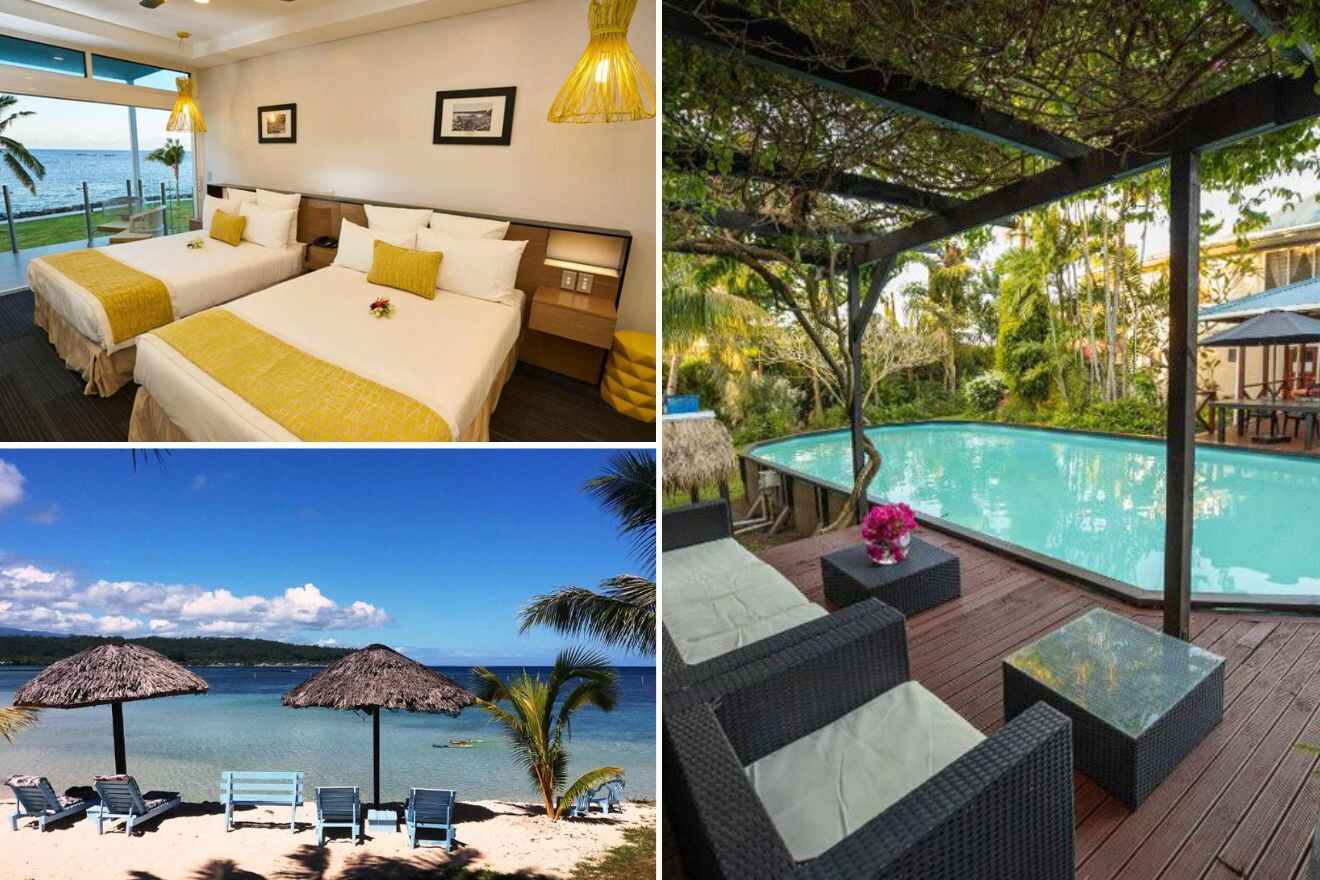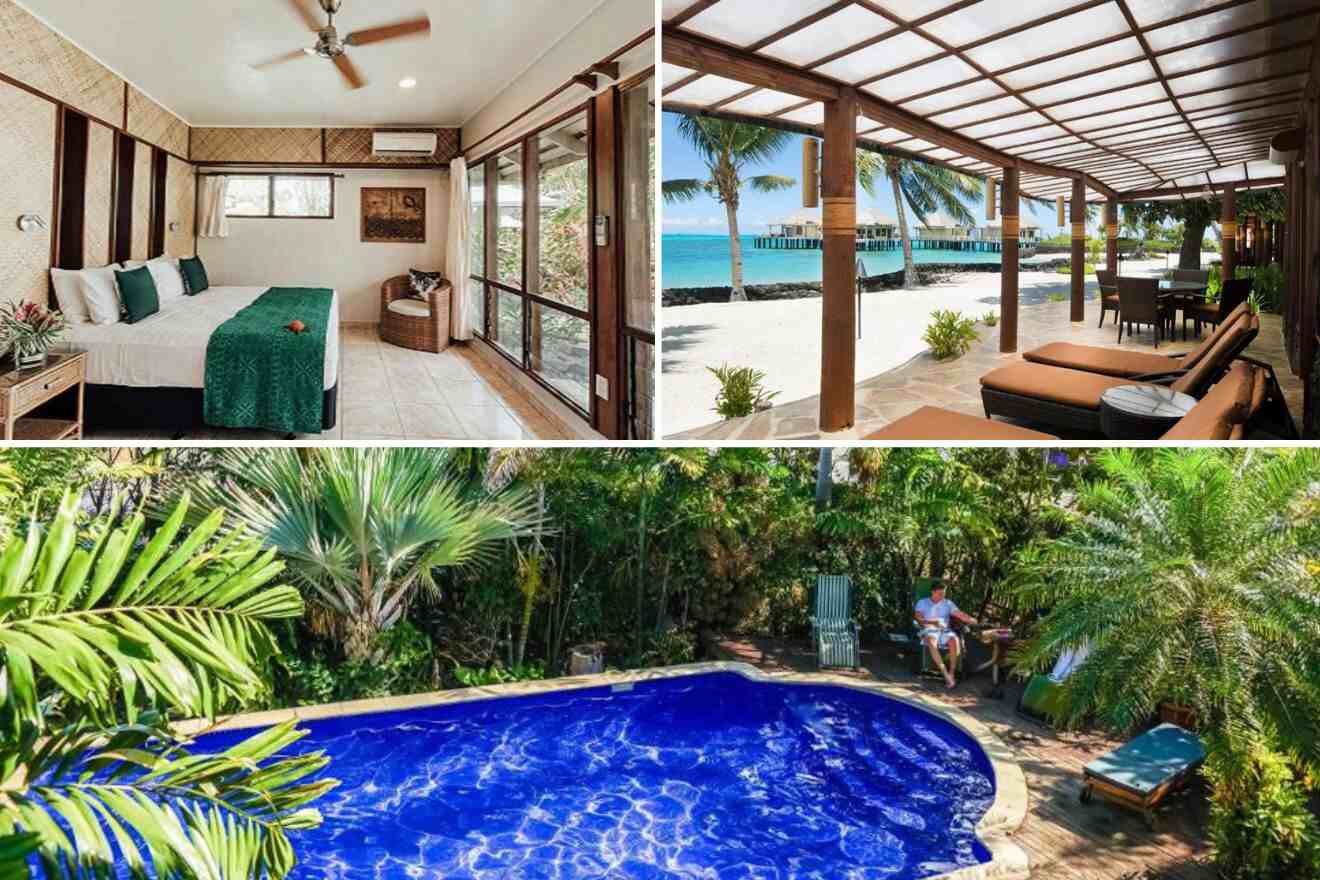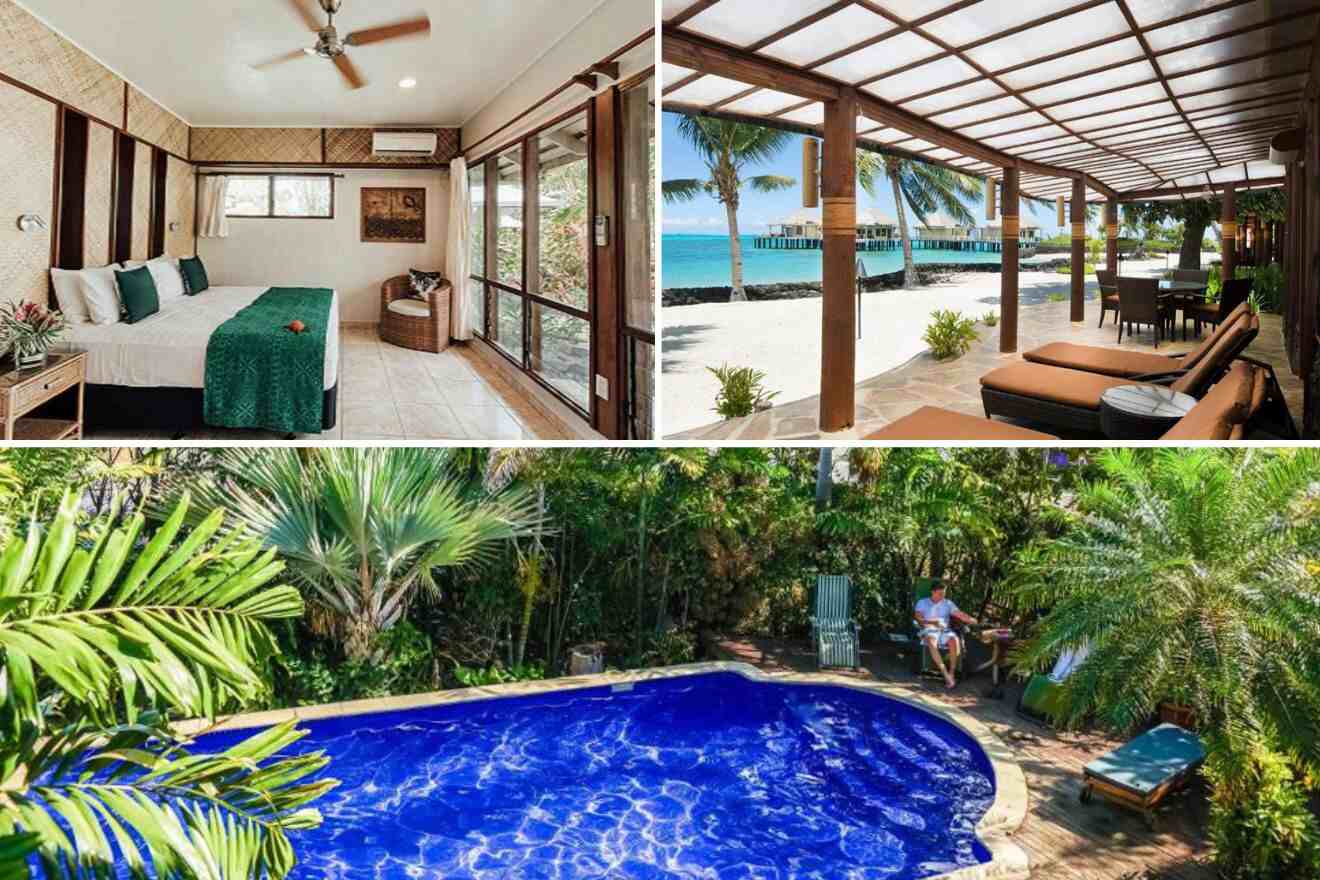 BONUS: Best resorts in neighboring islands
I didn't want to end this post without sharing with you these amazing hotels in neighboring islands near American Samoa!
These hotels and resorts can be enjoyed by families, friends, couples, and solo travelers! I have added 9 options, which are organized by price range, starting with the most expensive first. The prices per night for 2 adults go from US$220 to US$1,200.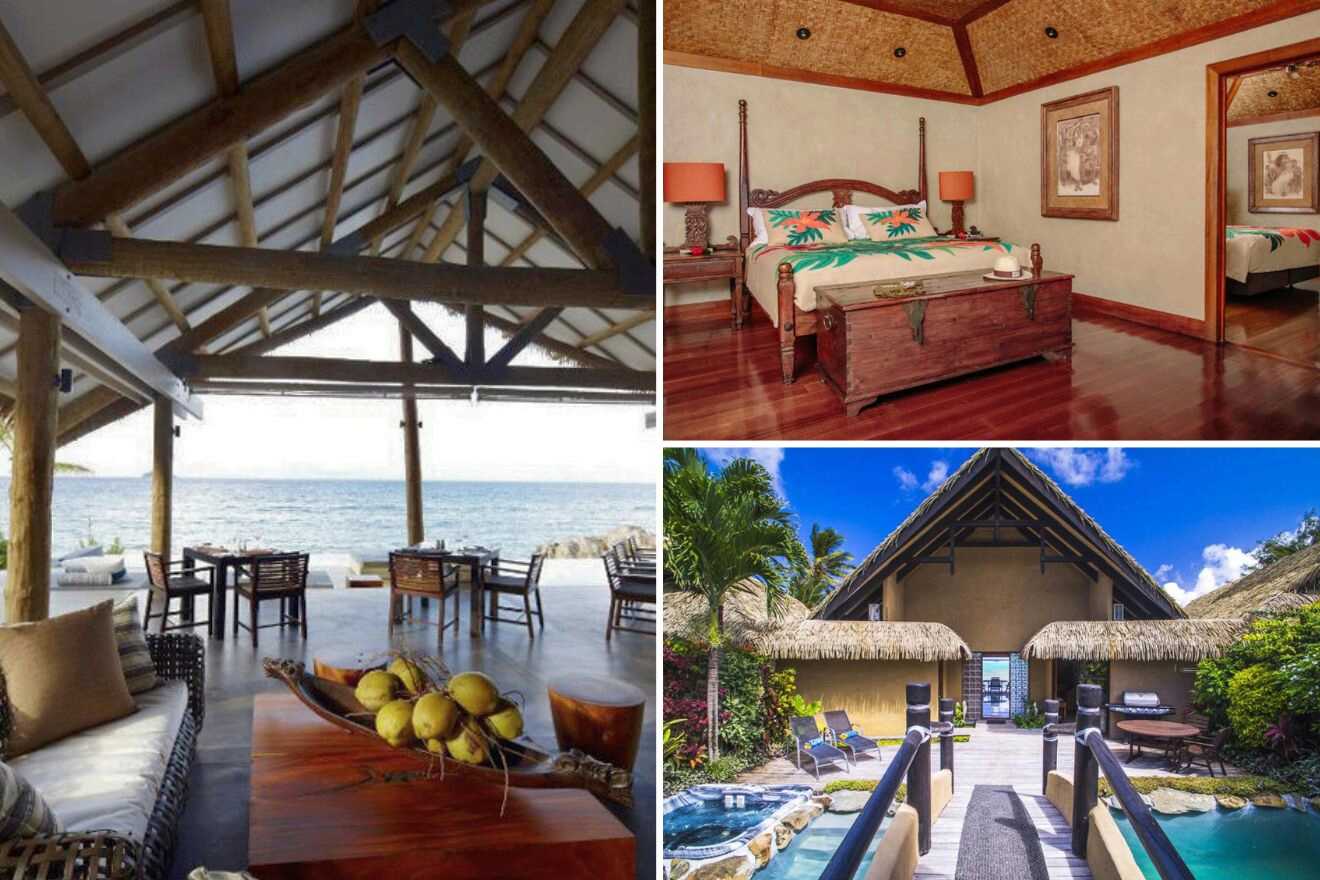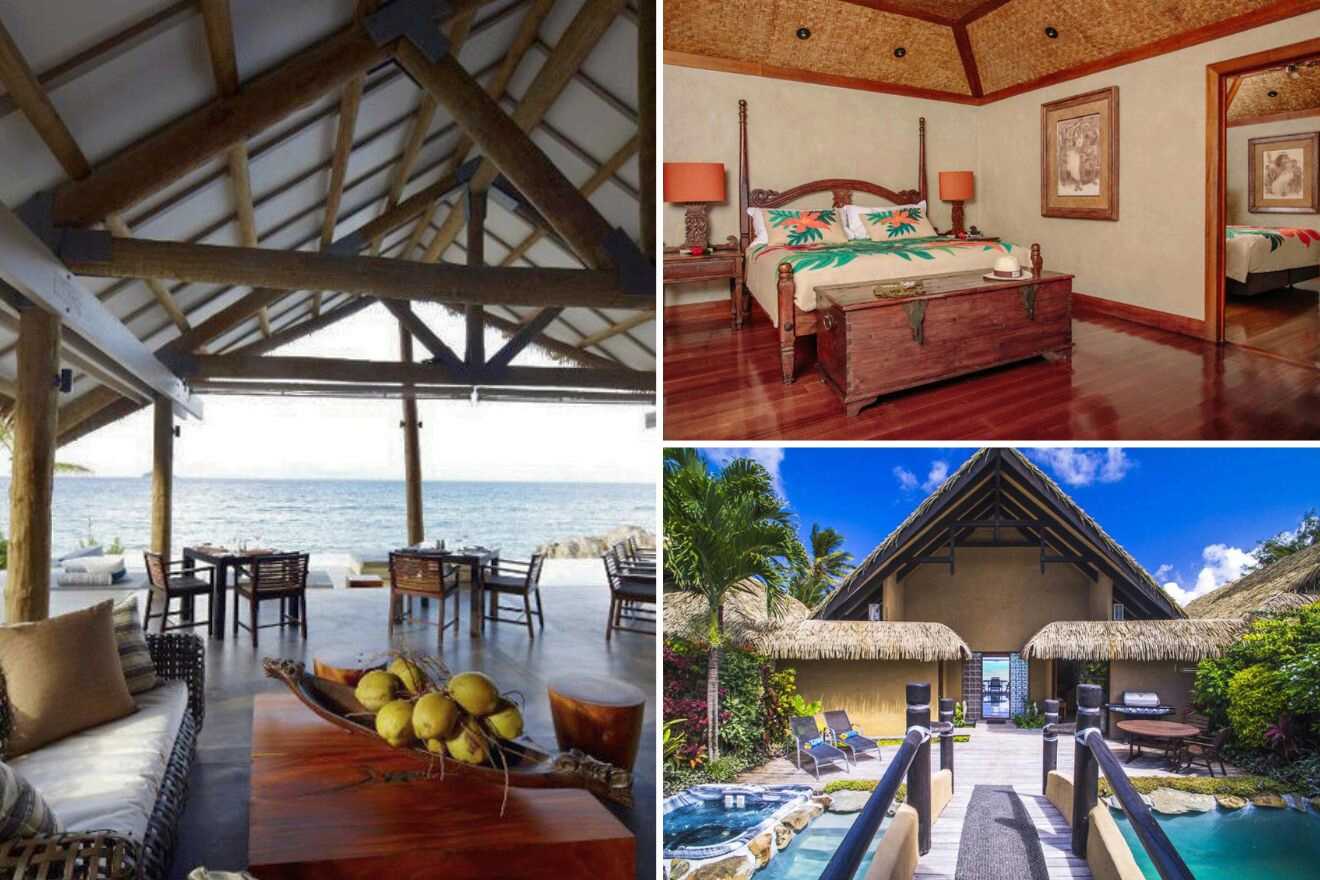 1. Tadrai Island Resort
How does a vacation in Fiji sound? This Mana Island all-inclusive resort has a private beach where you can relax and sunbathe and a pool if you prefer to disconnect and swim there. This resort offers private villas with private pools, each villa can host up to 2 guests!
2. Pacific Resort Aitutaki
Located in Arutanga by the beachfront, this hotel has amazing decor! They have all the commodities you need for a relaxing vacation, such as an outdoor swimming pool, on-site restaurants and bars, and room service. The bungalows are beautifully decorated with wooden furniture and marble bathrooms. The ​​Premium 2-Bedroom Beachfront Bungalow can host 5 guests and comes with a balcony and terrace!
3. Rumours Luxury Villas & Spa
Stay in this fantastic accommodation in Rarotonga by the beach with a private beach area, and relax as a celebrity would! The hotel comes with a premium spa and wellness center, and room service that will be taken to your own private villa! They offer 4 types of villas, all of them with a private pool, and some of them come with a private hot tub!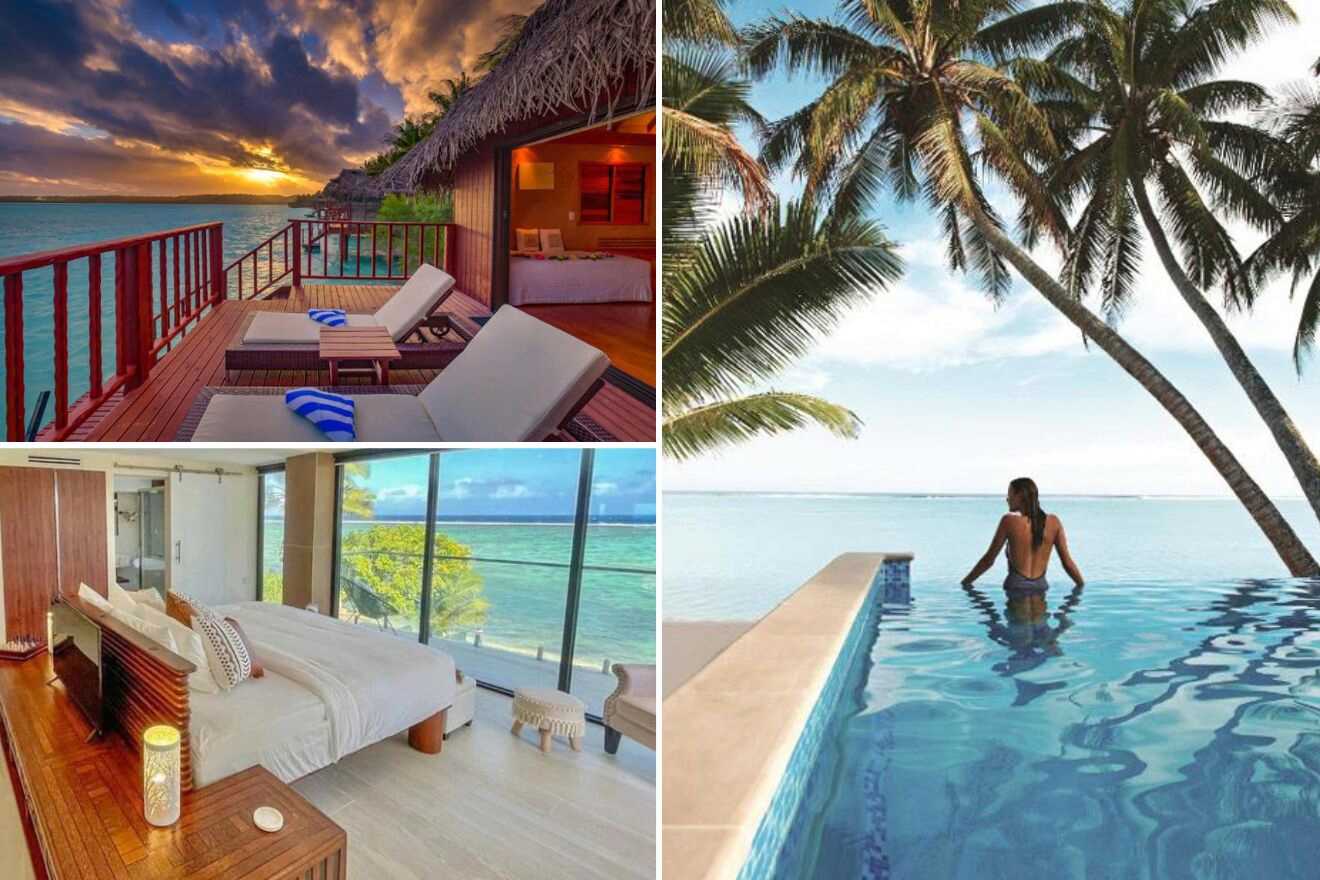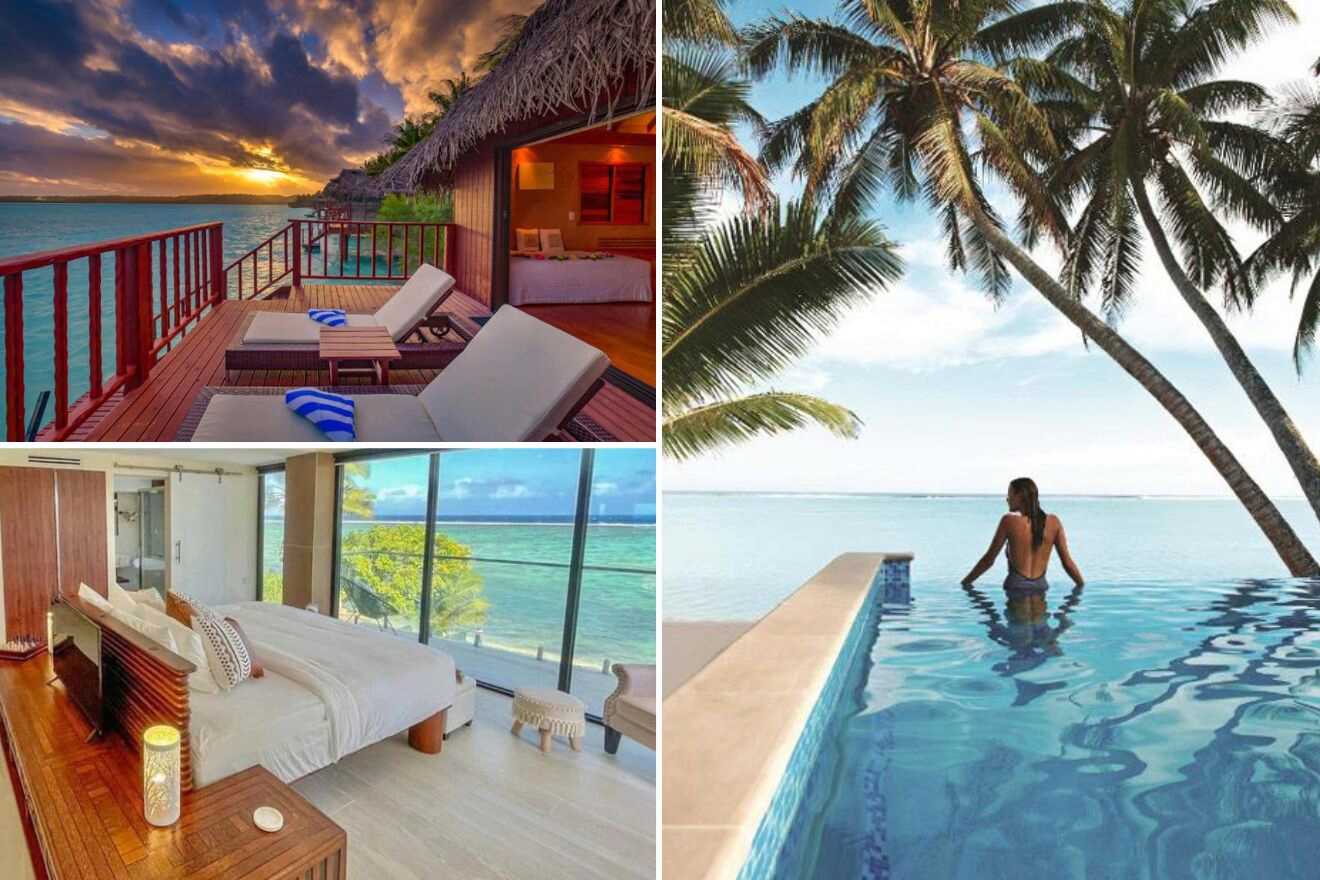 4. Maui Palms
Right in Maui Bay, Fiji, by the beach and with a private beach area, this 5-star hotel comes with a tennis court, a saltwater infinity pool, and a restaurant with amazing sea views. The hotel offers free breakfast, and all the rooms and villas come with air conditioning and a flat-screen TV, and some of them come with a private pool and sea views!
5. Little Polynesian Resort
Located on Titikaveka's beachfront, you can enjoy spending time at the beach sunbathing, snorkeling, or using rental bikes to explore the area! The hotel comes with a swimming pool, onsite bar and restaurant, and concierge service in case you'd like to book island tours! This accommodation offers 2 types of accommodation: garden studios and beach bungalows, both hosting up to 2 guests!
6. Aitutaki Lagoon Private Island Resort
This adults-only resort located in Aitutaki is perfect for couples looking to spend some time alone on a private island! All the rooms come with air conditioning, an open-air shower to cool down after a day at the beach, and a balcony or patio with furniture. The resort offers room service and a full spa service!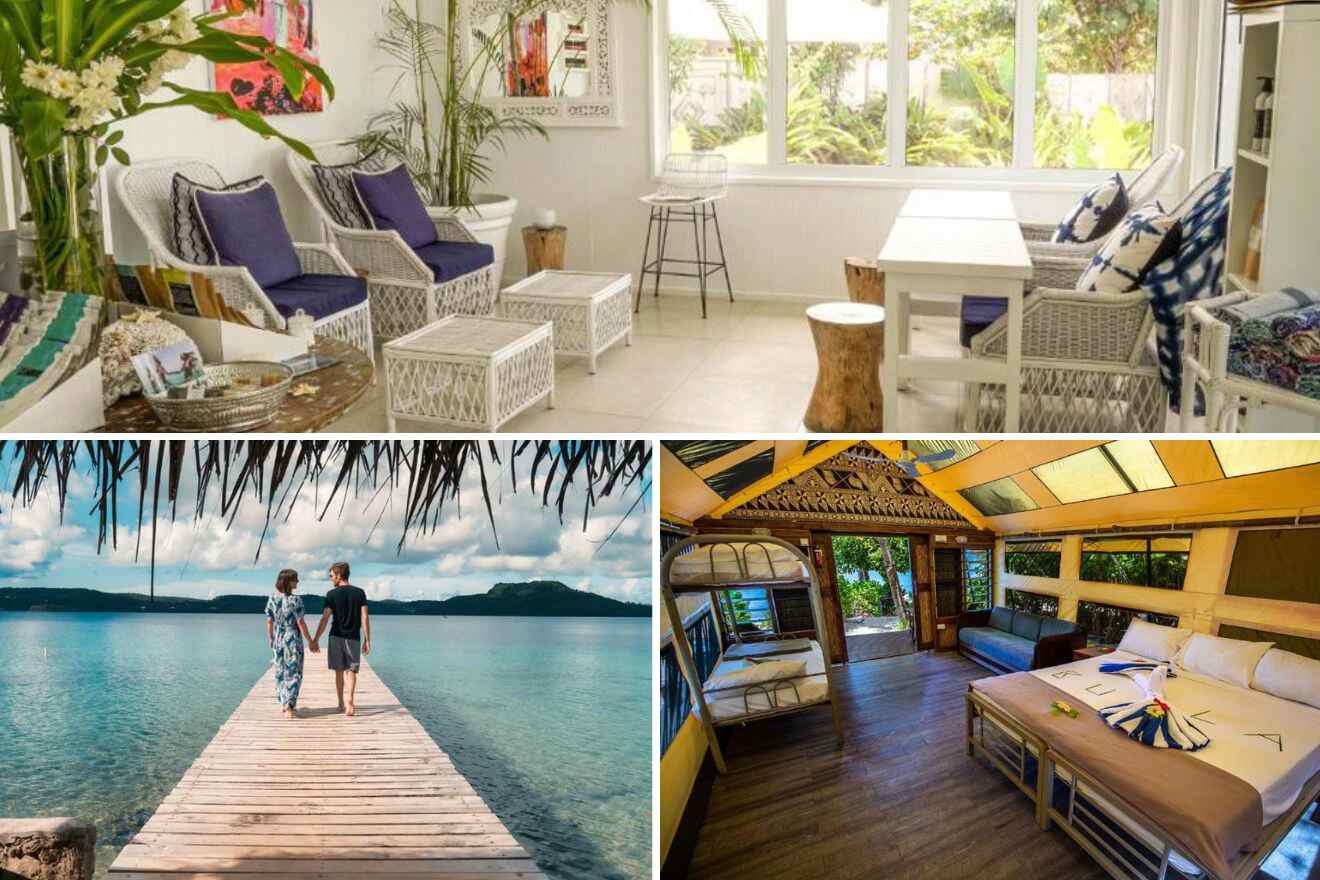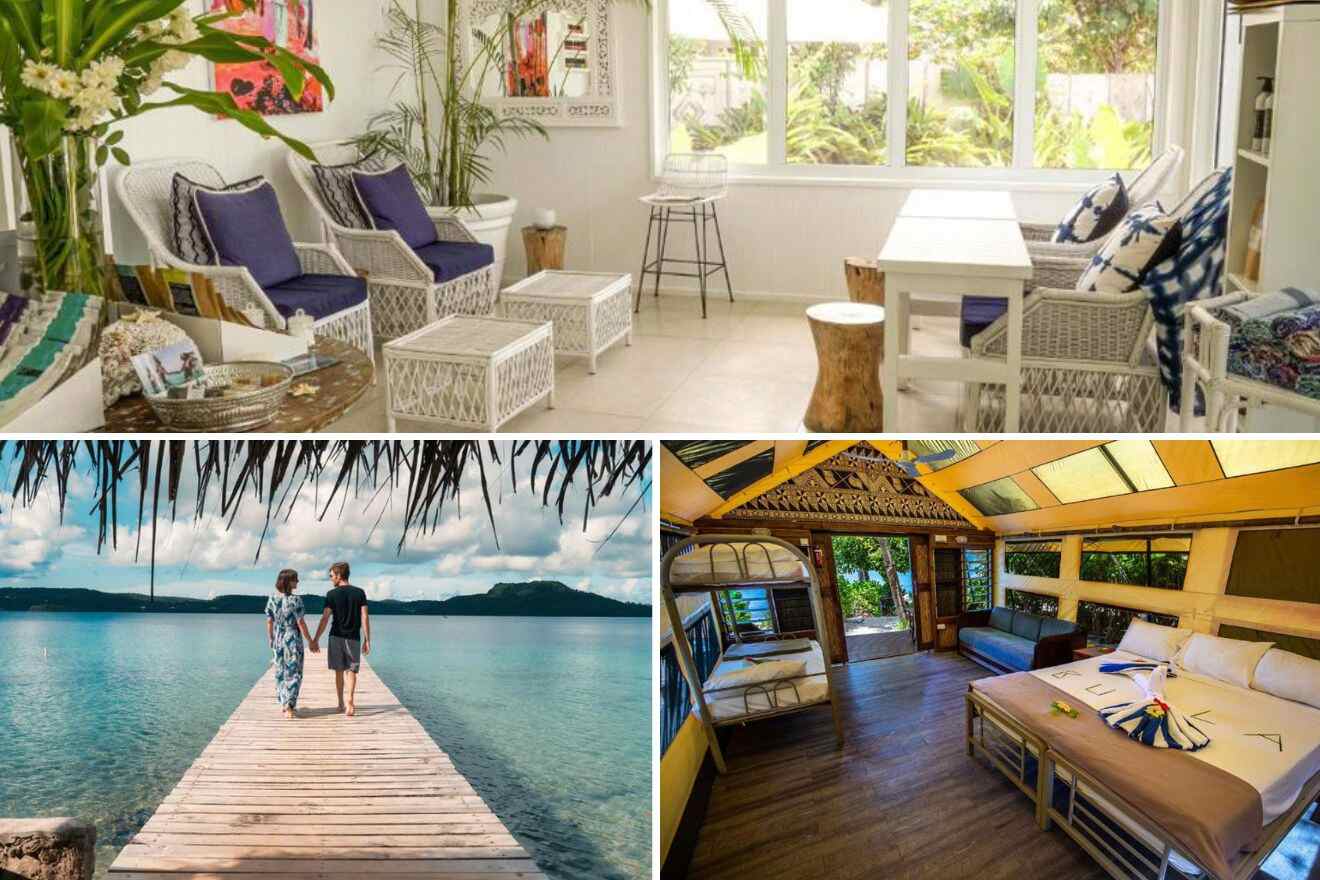 7. Tamanu on the Beach
Would you like to stay in a top 5-star boutique resort located by the beachfront in Port Vila? Then this is the accommodation for you! You'll be able to practice snorkeling, bowling, and hiking, and rent a bike to explore the area if you stay at this resort. This is a villa-only resort, and some of them come with a private pool or plunge pool!
8. Mystic Sands
Have you ever been to Neiafu? How about staying at this hotel with its own private beach area? This hotel offers an outdoor pool for kids, an onsite restaurant, and a complimentary breakfast every morning. They have 4 types of accommodations, 2 rooms, a bungalow, and a house, so you can check out which one is better depending on your preferences.
9. Barefoot Manta Island Resort
What a great opportunity to reconnect with nature while staying at this resort! It doesn't matter if you are staying with friends, family, solo, or a partner, this accommodation has something for you! You can stay in a private bungalow by the beach for 2 or 4 guests, or you can book a bed in a shared room, which comes with a shared bathroom.
FAQs about resorts in American Samoa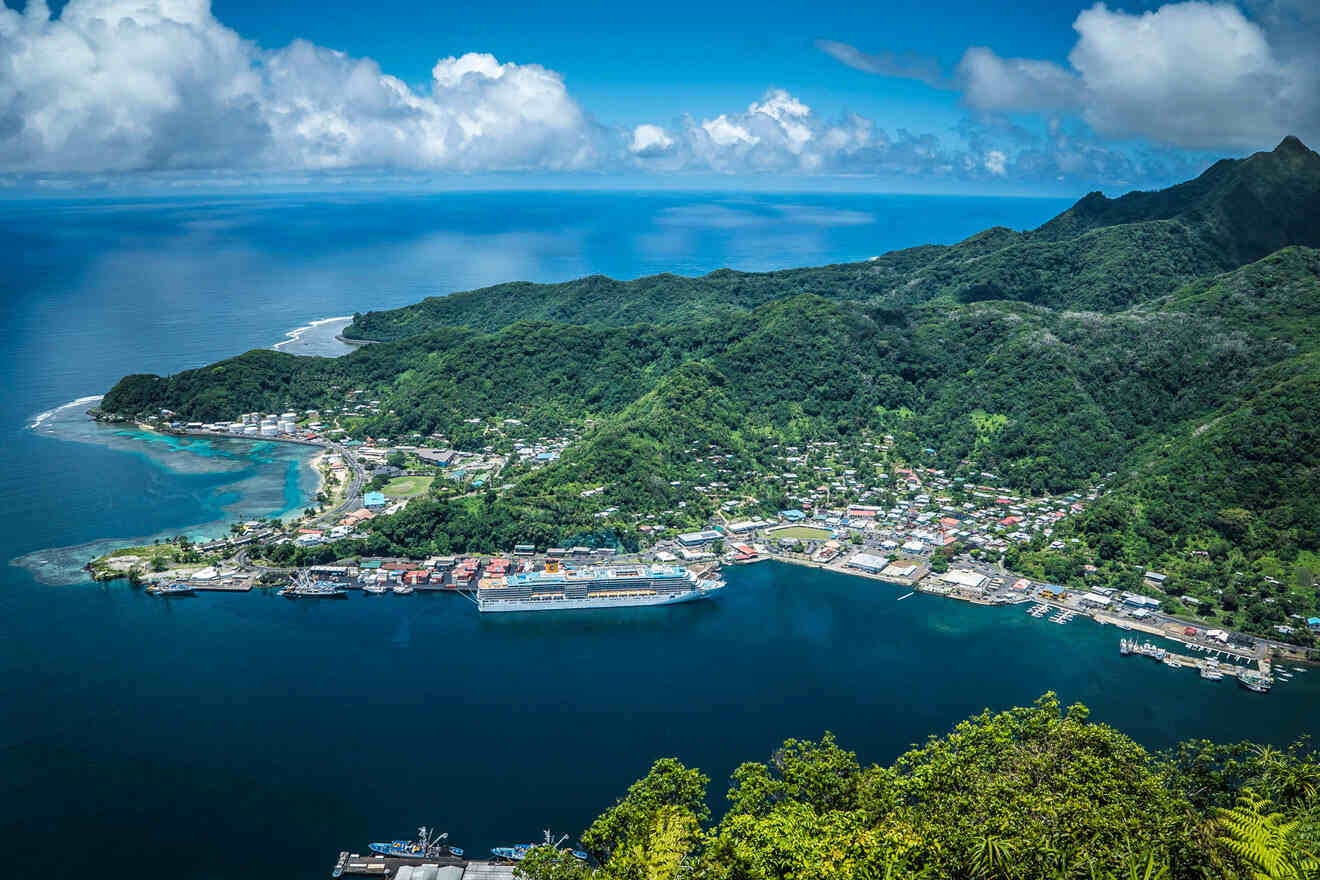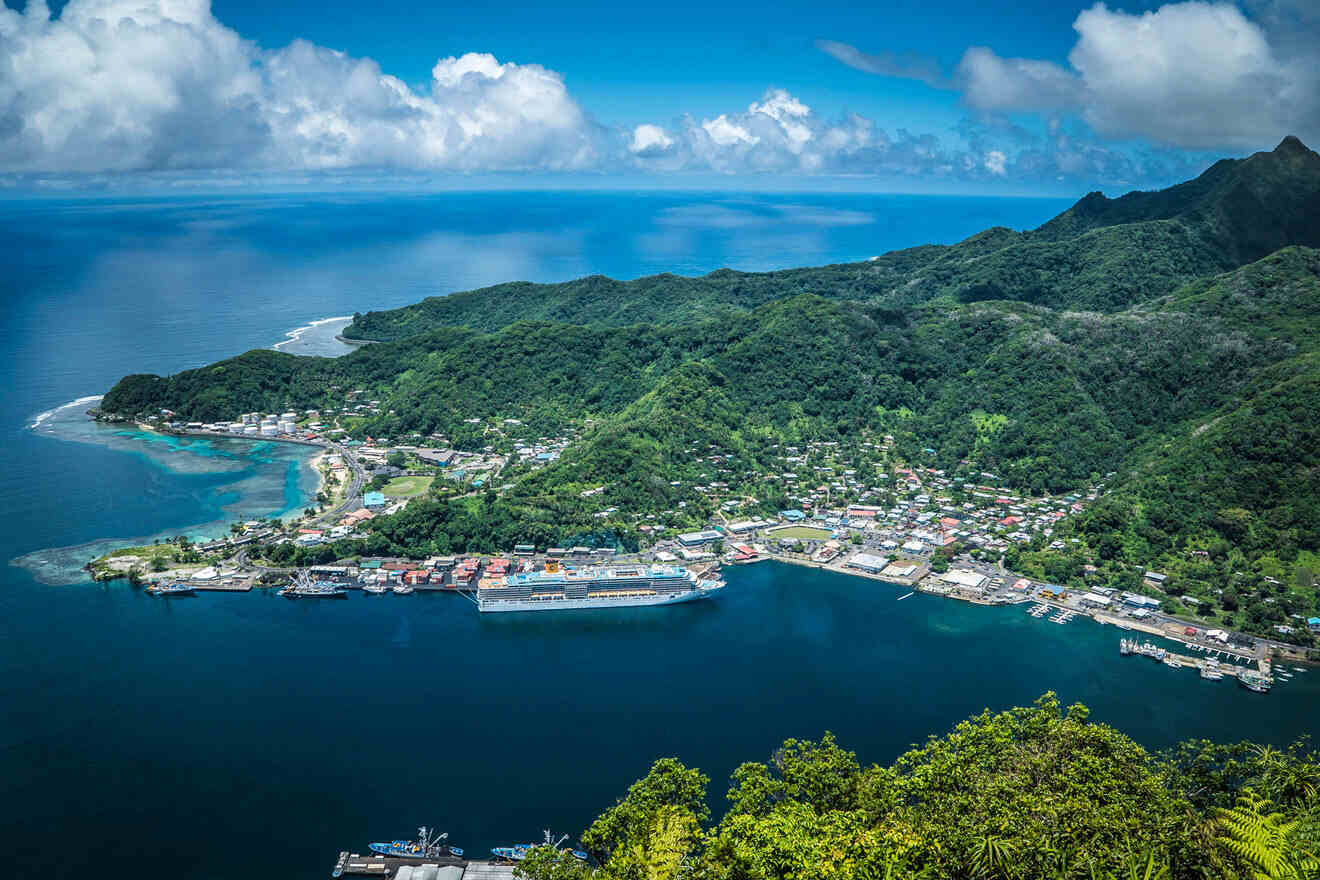 Conclusion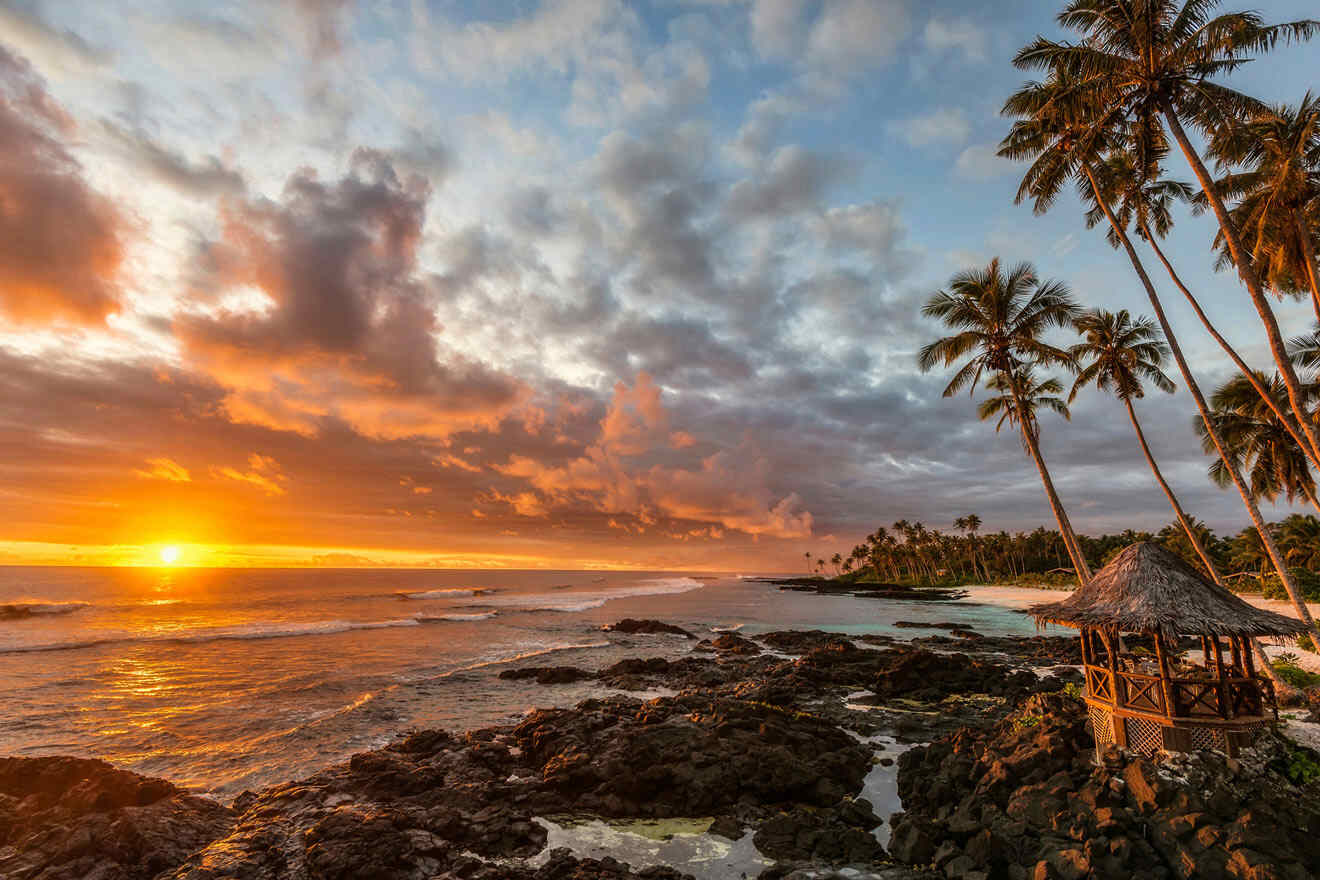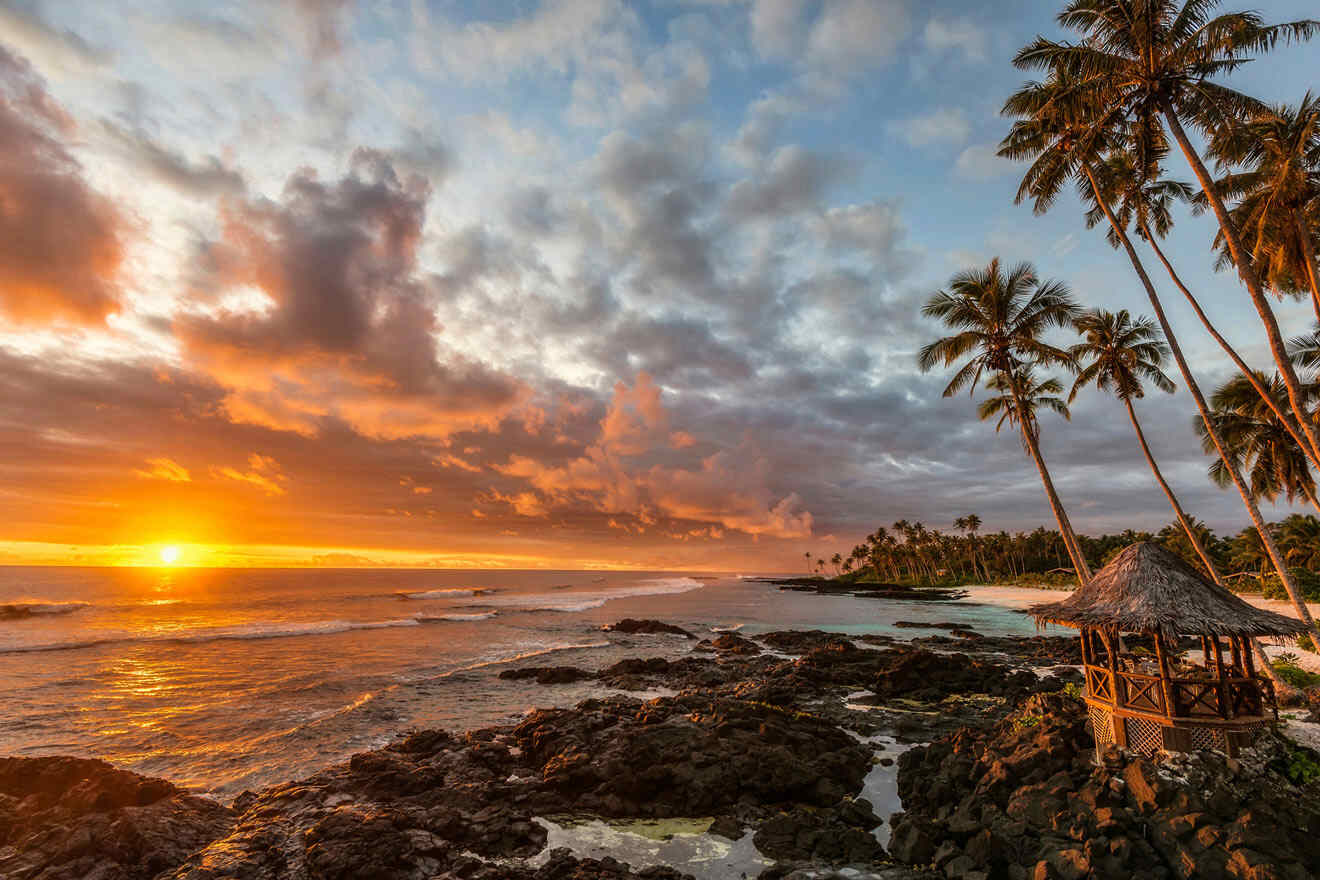 Phew! It's a wrap! I hope this article on the best resorts in American Samoa helped you choose the perfect place! What I like about this post is that there are options for everyone and extra options in Samoa and the neighboring Islands!
Honestly, there are so many options that you've probably found it hard to pick one! If you want me to give you my 2 absolute favorite resorts, I would have to say:
Which of these Samoa resorts and hotels was your favorite? Have you ever been to Samoa? Let me know in the comments below, I love getting to know about your experiences! But first, go and book your dream hotel room before someone else does!
Have the best time,
Daniela
---
Pin it for later!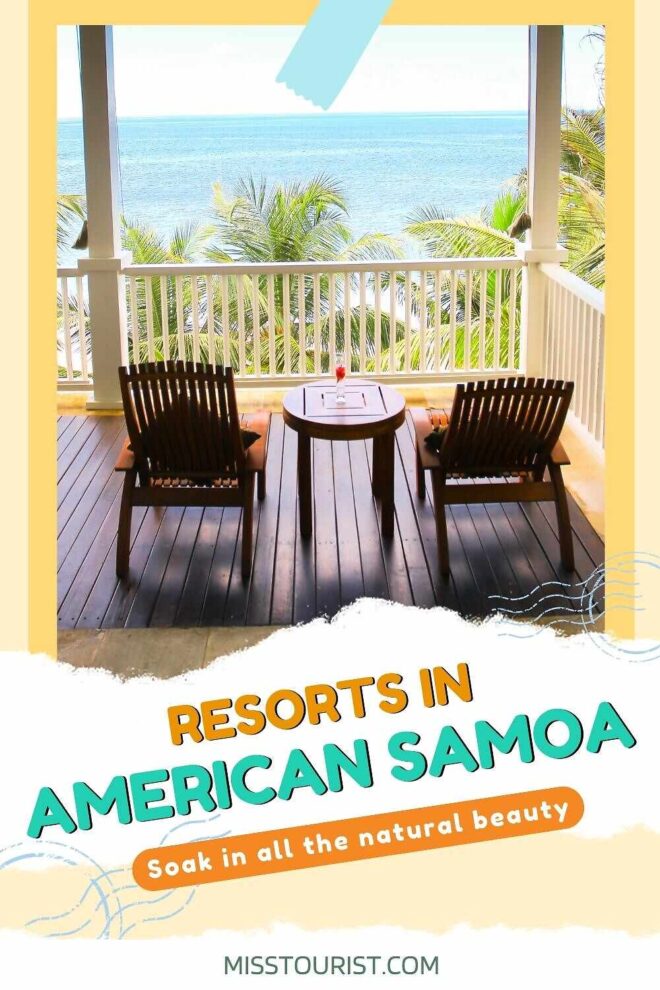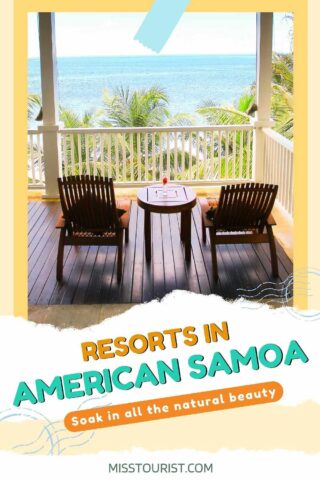 Pin it for later!