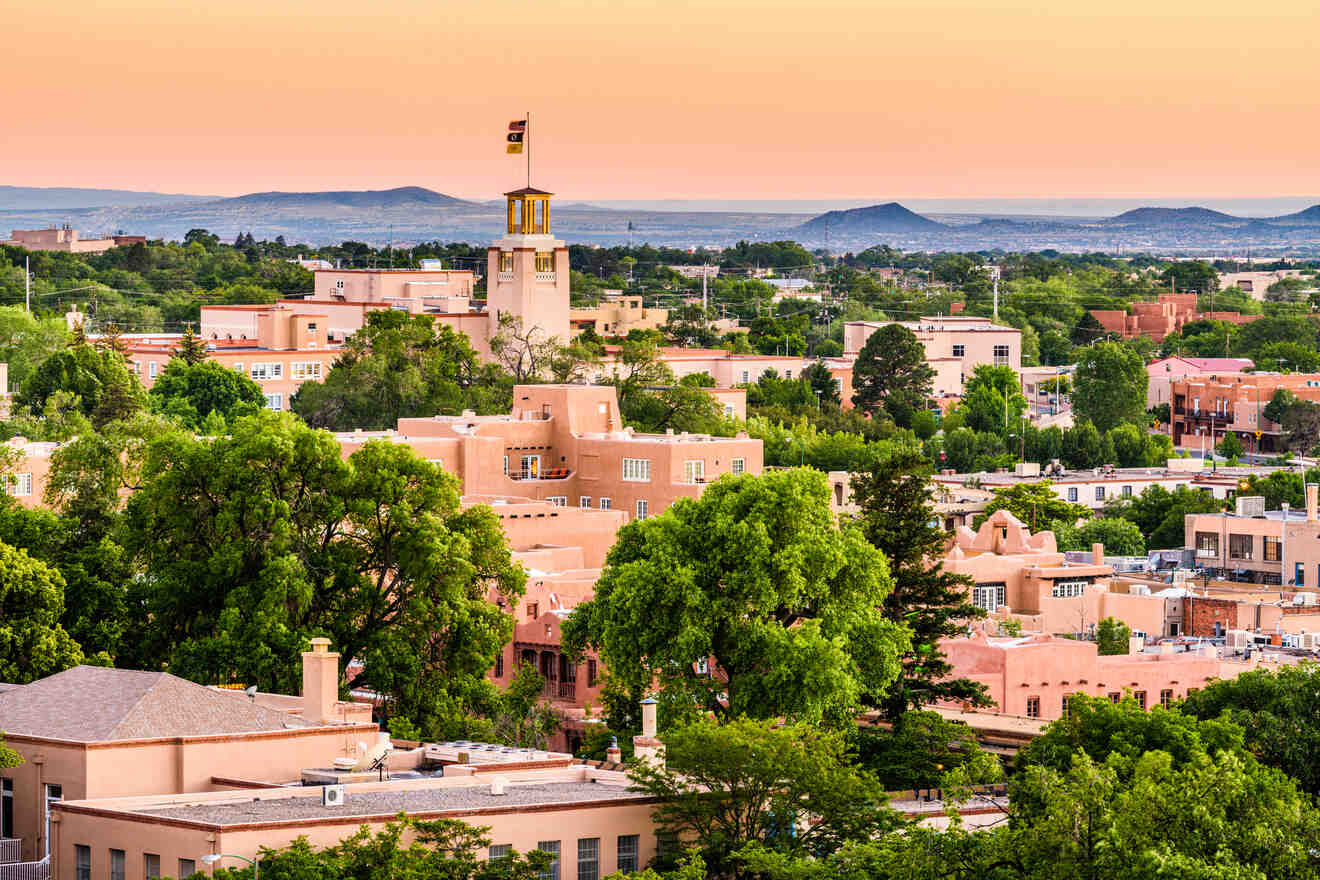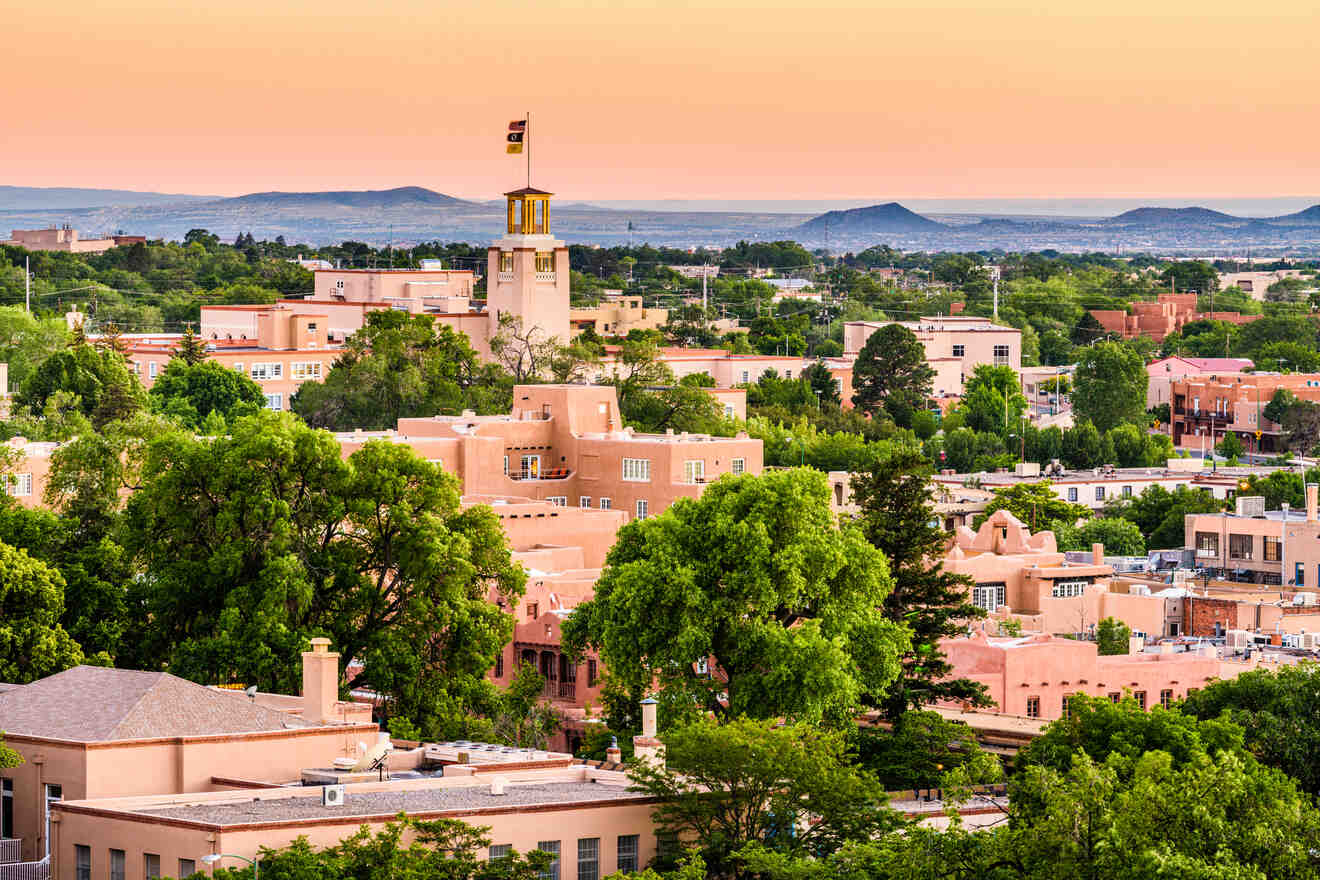 Sunny weather, stunning art galleries, and impressive architecture? This sounds like the perfect combination for an ideal holiday! Be ready to remain amazed by the beauty of the capital city of New Mexico!
Santa Fe is the oldest capital city in the US, but the town's native roots run way deeper! Home to the largest art markets in the country, this place gathers art lovers from all over the world. However, people also come for the incredible landscapes, as the city offers fantastic mountain views.
I could go on and on because, honestly, this city is a work of art! But I need to move on to the next subject: which is the best place to stay in Santa Fe? There are many fancy luxury hotels that provide free breakfast, as well as boutique hotels and some quirky budget ones!
You will find in this post a carefully curated list of the top accommodations in the city, plus some fun things to do! But I have to warn you that as the capital city of New Mexico, Santa Fe gets lots of visitors, so I highly recommend booking your hotel in advance!
Vamonos!
If you are in a hurry
If you want to book your hotel as quickly as possible, have a look through this list of the best hotels in Santa Fe, all located in Downtown
Here's a map that will help you visualize all the areas where to stay in Santa Fe, that I will be talking about in this post:
1. Downtown – where to stay in Santa Fe for the first time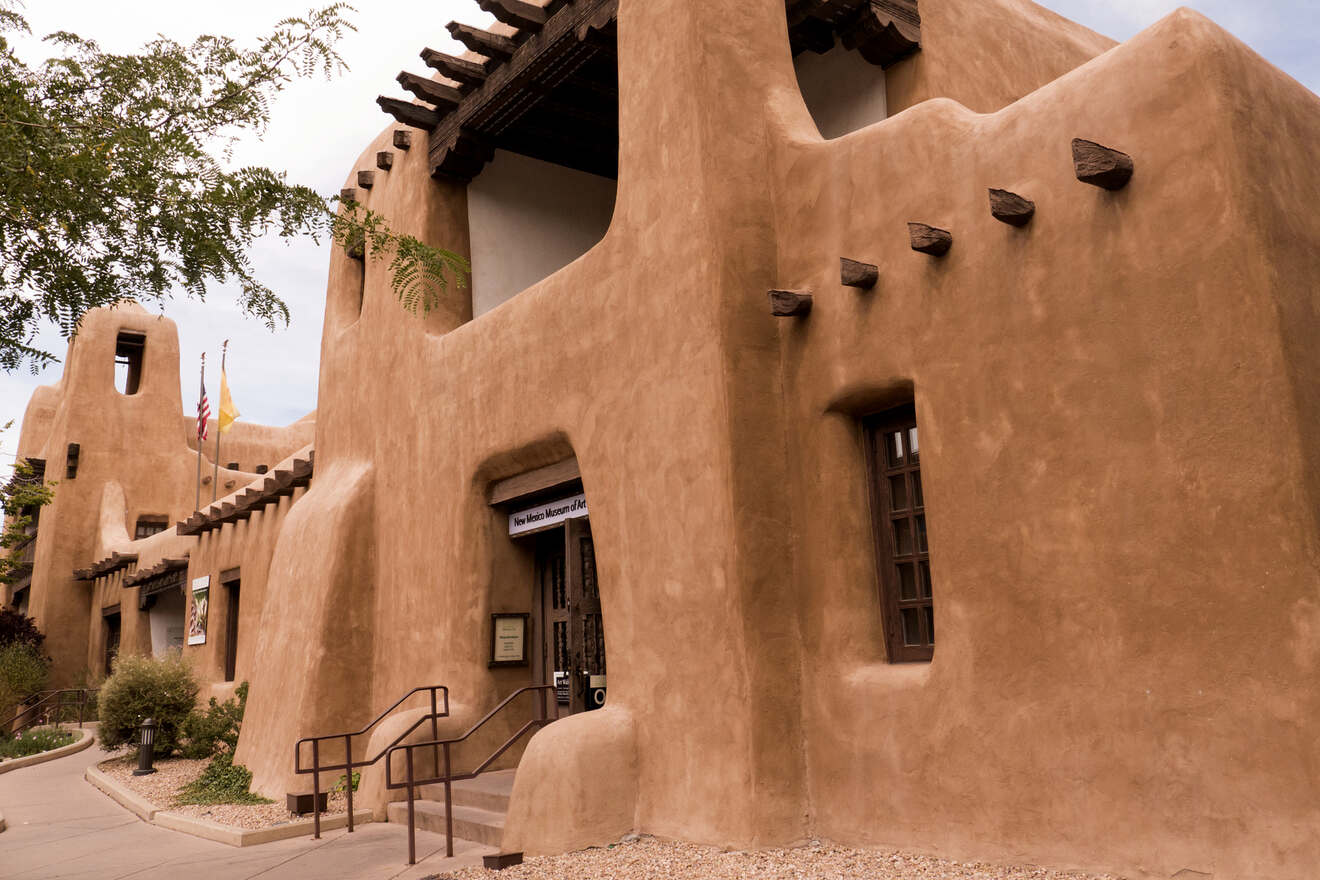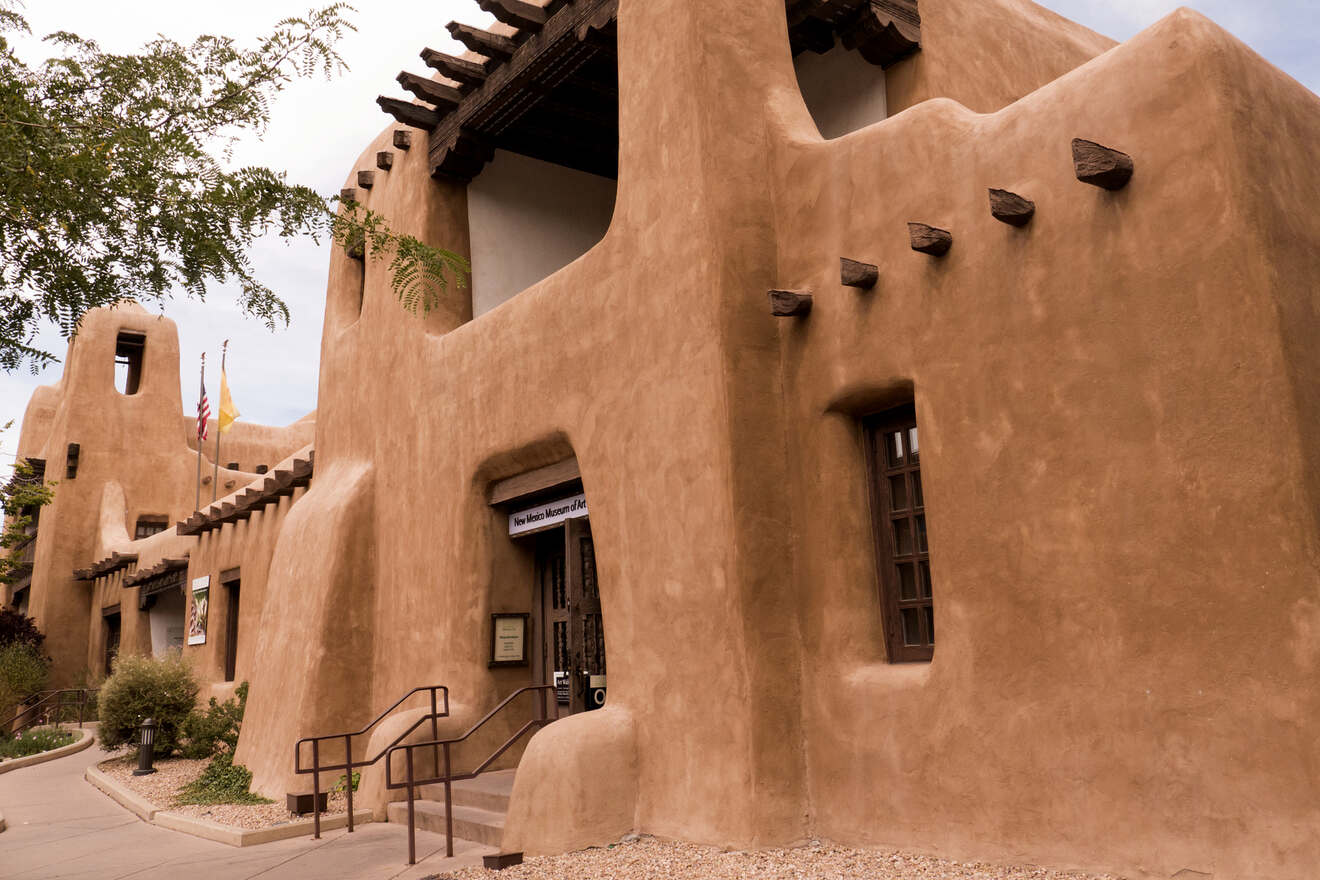 Ready to get lost on the streets of one of the best neighborhoods in Santa Fe? Surrounded by the desert, this city has a charm and art scene that will convince you to spend as much time as possible outside of your hotel room. So pack some comfy shoes because you'll be doing a lot of walking on the streets of Downtown Santa Fe!
No wonder the city has gained the nickname "Land of Enchantment." Most corners look as if they were taken out of a movie scene. The scenery is pretty iconic, and it has inspired artists like Georgia O'Keefe to paint some incredible works of art! And if you want to check out her paintings, there's a museum here that you can visit.
Downtown Santa Fe is where all the action takes place! Most of the big attractions are located here, within walking distance from one another. The city's historic district is also located here, and it's a beautiful place filled with unique buildings, art galleries, restaurants, and amazing hotels.
Speaking of accommodations, I highly recommend booking your hotels in advance. Santa Fe's Downtown area is where all tourists will stay, so all the rooms will sell out very fast! But don't worry, I've given you tonnes of options including some perfect family accommodation and romantic hotels for couples!
Luxury hotel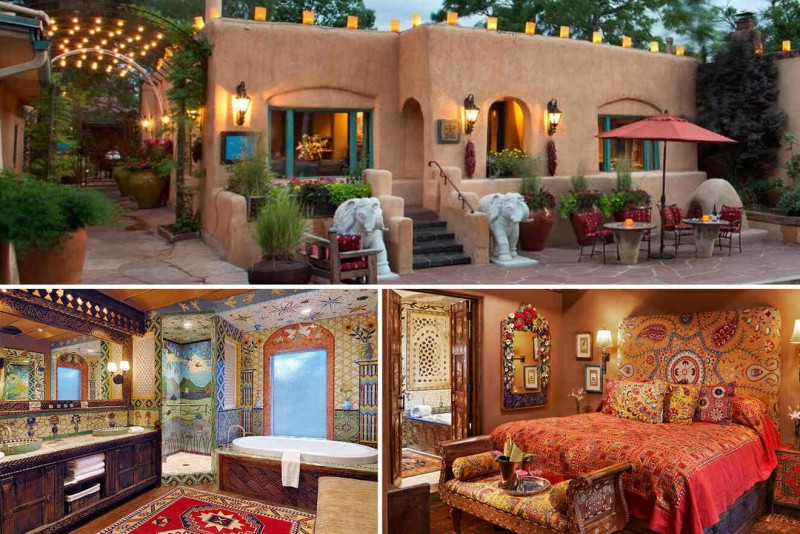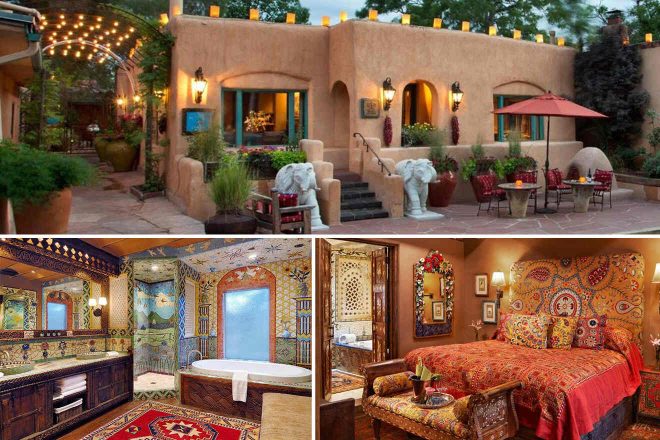 Is it just me, or does this boutique hotel looks exactly like an art gallery? Centrally located, the accommodation has one of the most beautiful interior designs I've ever seen! Each wall and piece of furniture is special. The hotel has wood-burning fireplaces a fitness center, and it offers a hot breakfast.
Other accommodation options in Downtown
Mid-Range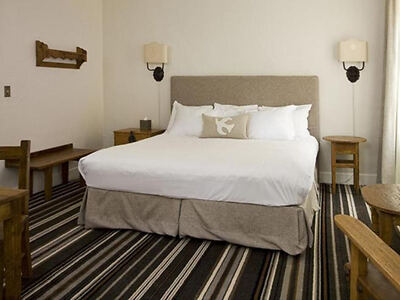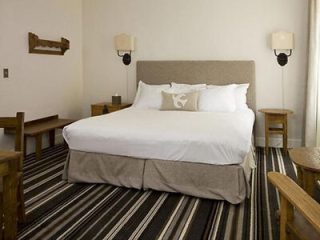 Chill on the terrace at this Santa Fe hotel that has offers in-room massages, free wi-fi, and a fitness center  
Budget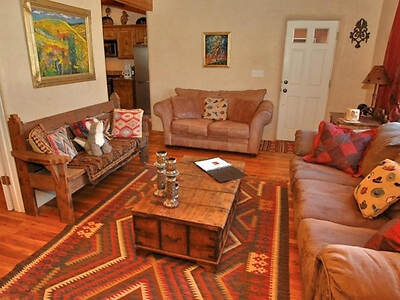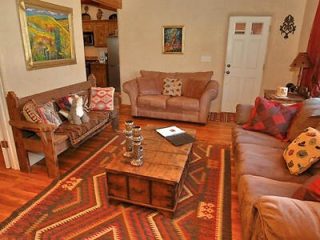 At this hotel, the rooms feature a comfortable bed, free wi-fi, and guests have access to a garden
Airbnb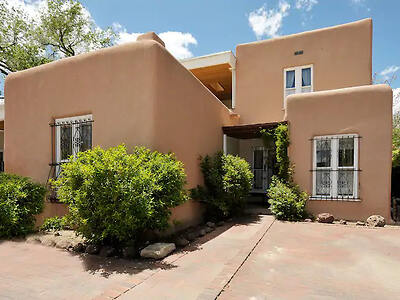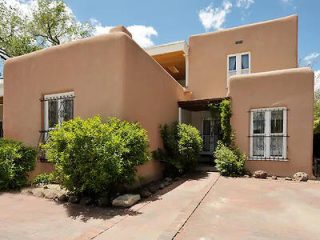 Located within walking distance from the city center this place has 2 rooms and a great backyard
1.1 Family Hotels in Downtown Santa Fe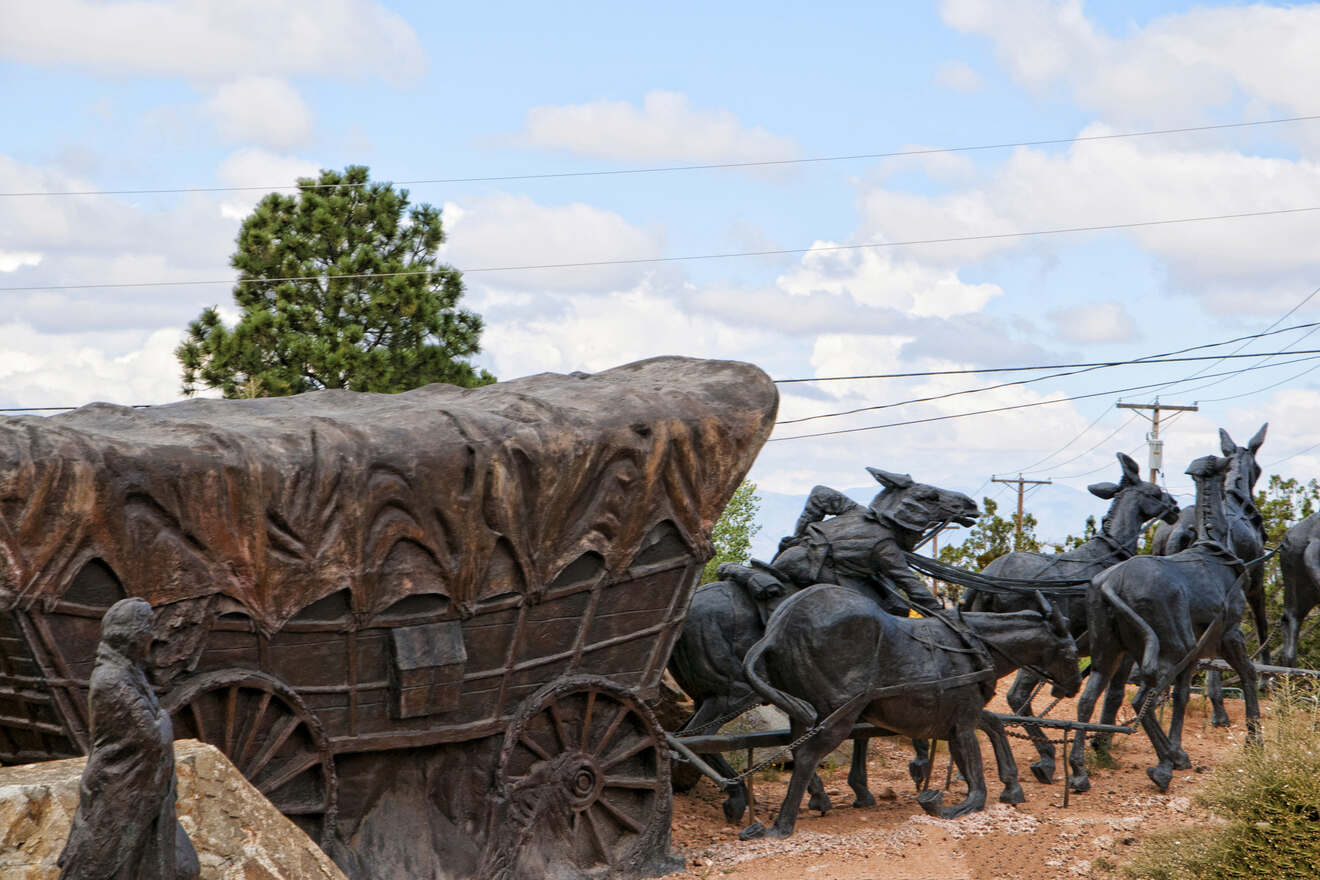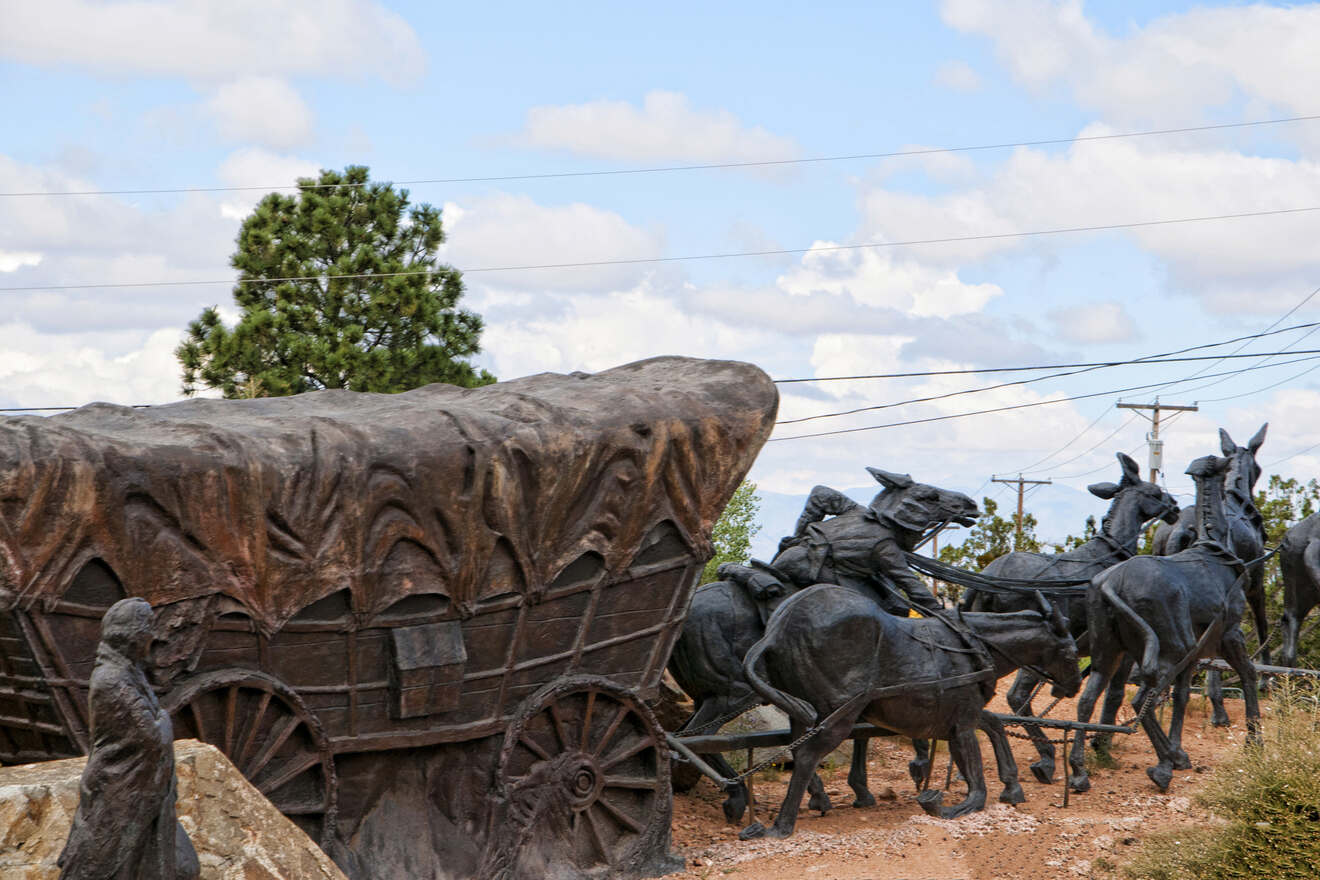 Looking for some family-friendly hotels in Santa Fe's Downtown area? Hop on board because I'm about to hand over a list of the best ones in the neighborhood. I know how hard it can be to find the perfect accommodation that will suit the needs of every family member! So exhausting!
I hope this list will ease your burden and help you find your perfect hotel in Santa Fe! And if you're looking for other holiday destinations for you and the family, check out Scottsdale. It has some fantastic accommodations!
Luxury hotel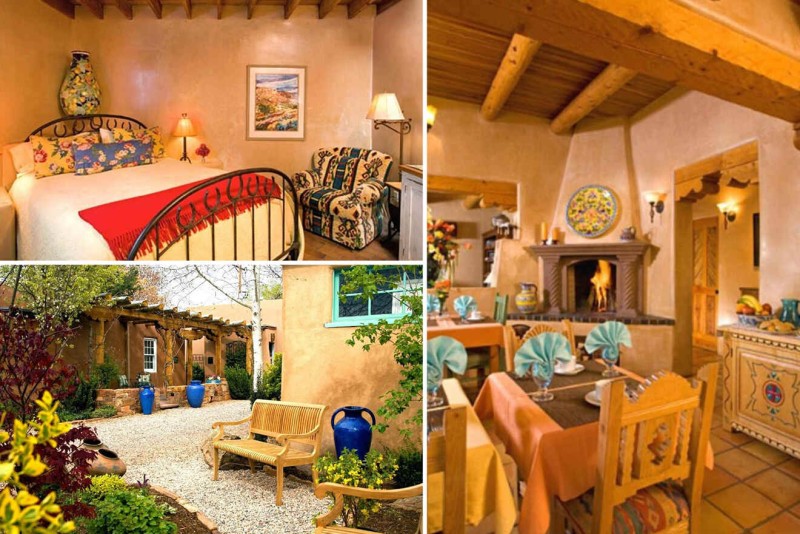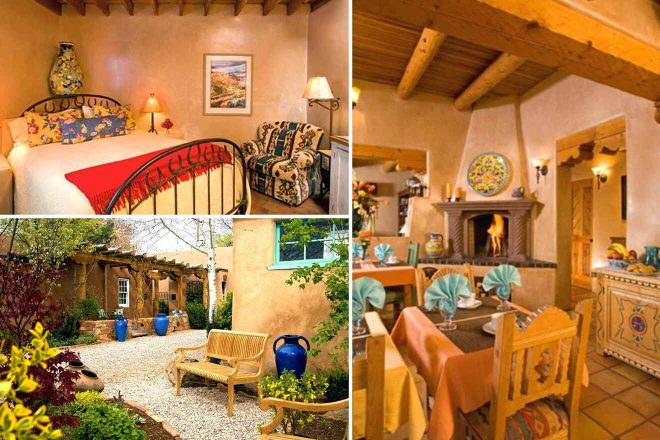 One of the best luxury hotels in the city center! It has family rooms decorated with local art and it provides free parking. Enjoy your delicious continental breakfast on the terrace, and then check all the activities that the hotel offers, including horse riding and hiking, plus some cool board games for the kids!
Other family accommodation options in Downtown
Mid-range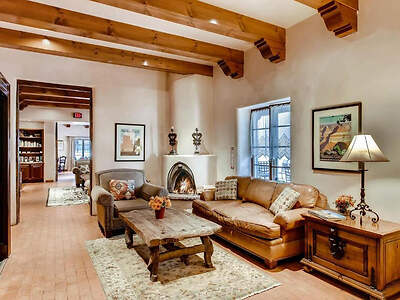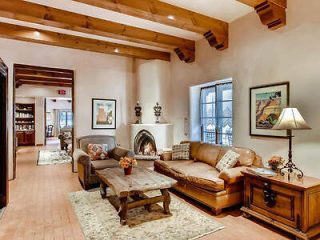 Featuring southwestern decor, this hotel has a garden, a business center, and free wi-fi
budget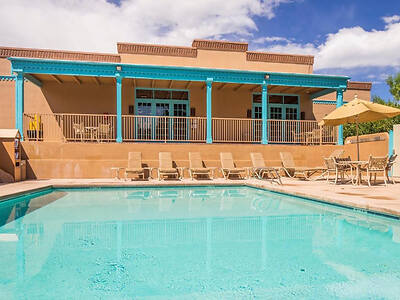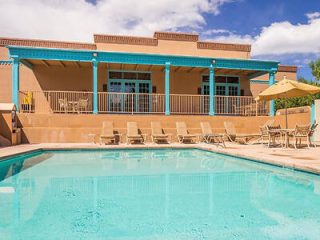 Located just a few blocks away from the attractions, this hotel has a game room and an outdoor swimming pool
airbnb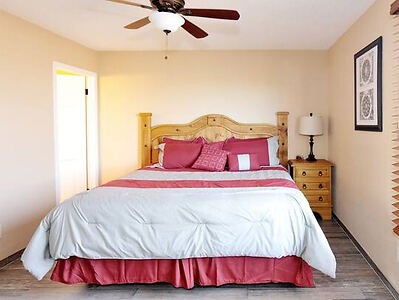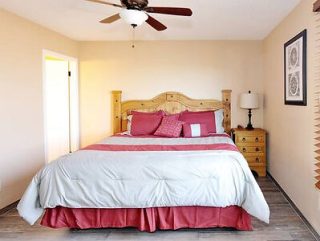 A great place that can fit up to 4 people and which is equipped with a kitchen and an indoor fireplace
1.2 Romantic Hotels where to stay in Downtown Santa Fe for couples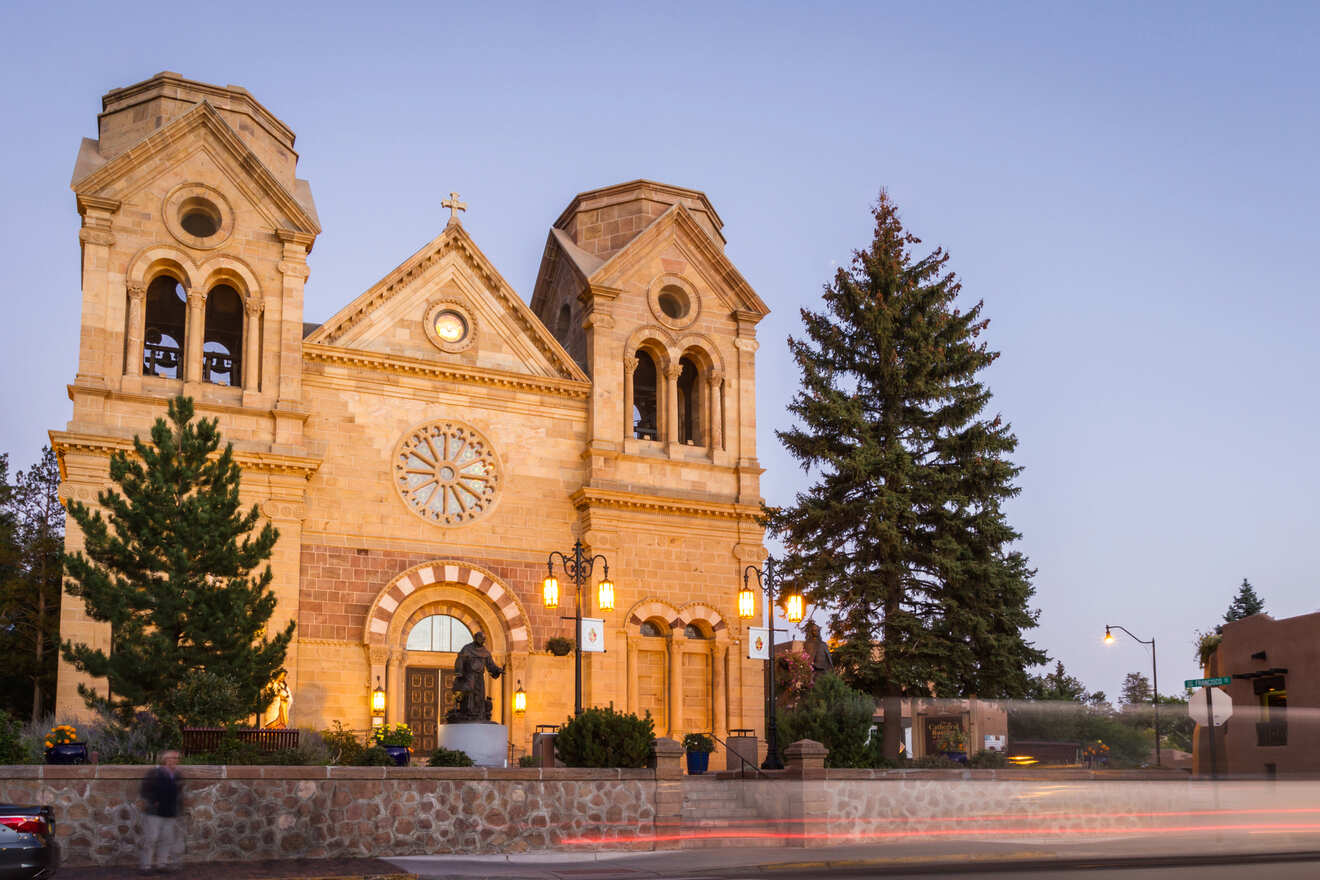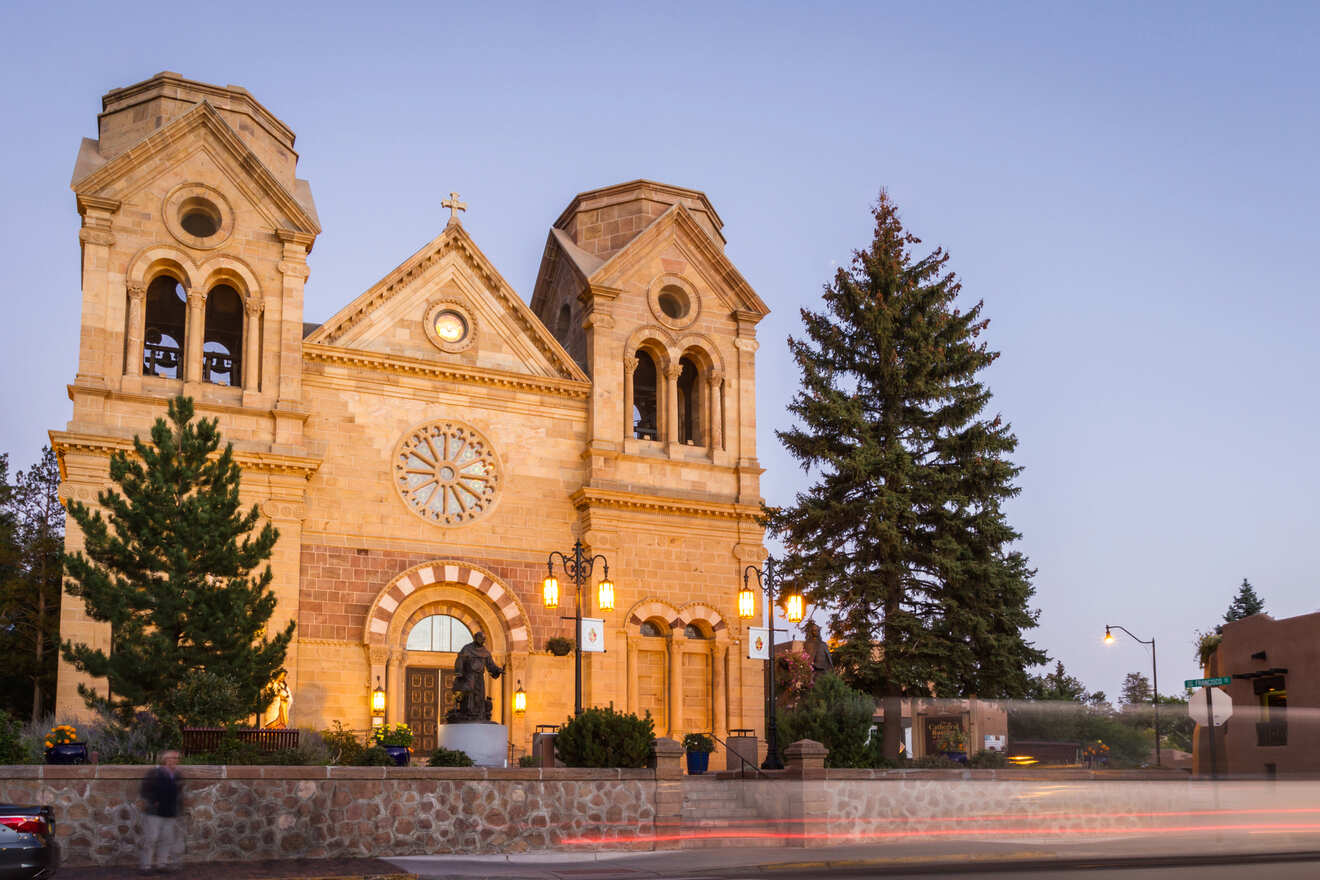 The bohemian and artistic air that runs in the city makes Santa Fe a great place to visit with your loved one! Every corner in this area is special, plus the rugged desert and mountain views add to its magical atmosphere!
If you're planning a romantic getaway to Santa Fe, stick around, and let's find the best hotels in Downtown that will make your holiday 10 times better!
Luxury hotel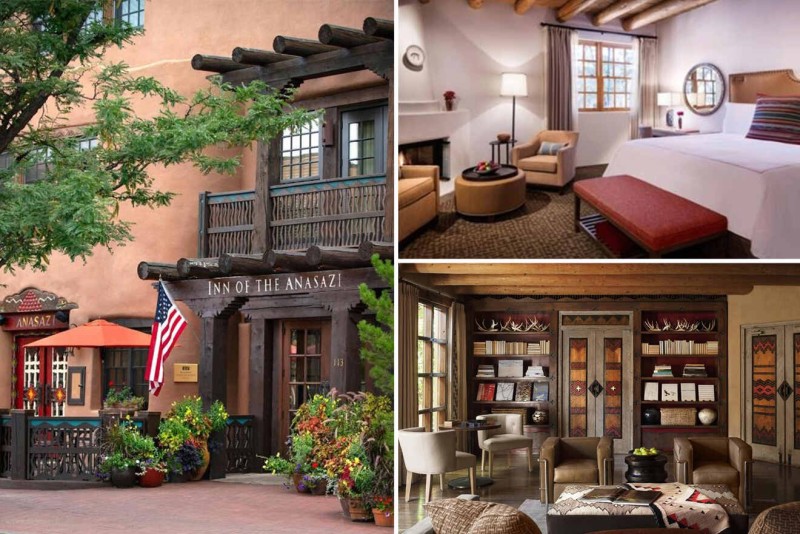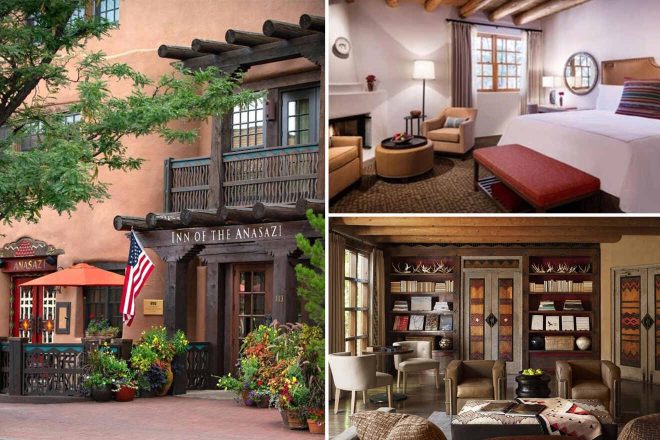 Order a bottle of champagne and relax in front of the fireplace after a day spent exploring the art galleries in the city. This pet-friendly hotel offers massages and activities like live music performances, cooking classes, and bicycle rentals. There's an on-site restaurant and bar as well. 
Other accommodation for couples in Downtown
mid-range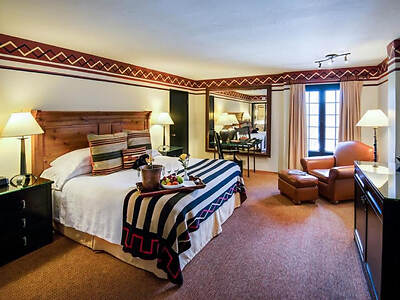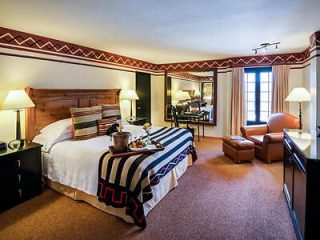 Enjoy a couple's massage at this pet-friendly hotel in Santa Fe that has a hot tub and an outdoor swimming pool 
Budget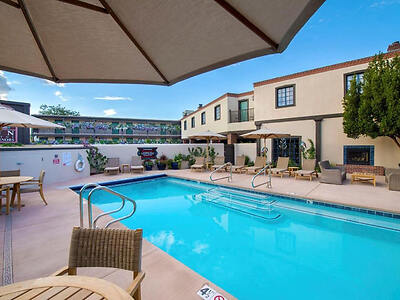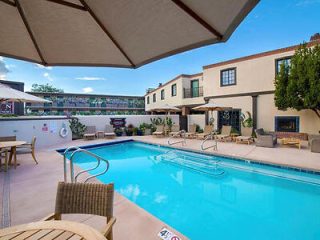 Relax in the hot tub at this hotel that has southwestern decor, and which offers a continental breakfast 
Airbnb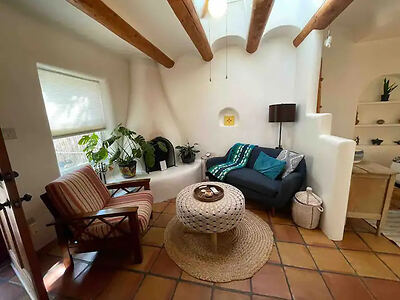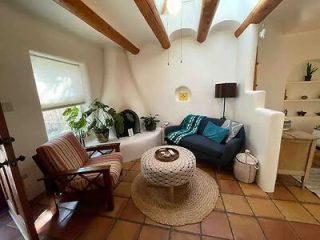 Chill by the fireplace in this lovely house that has a kitchen, a free parking spot, and a backyard
Things to do in Downtown
2. Railyard Arts District – the best places to stay in Santa Fe for artsy people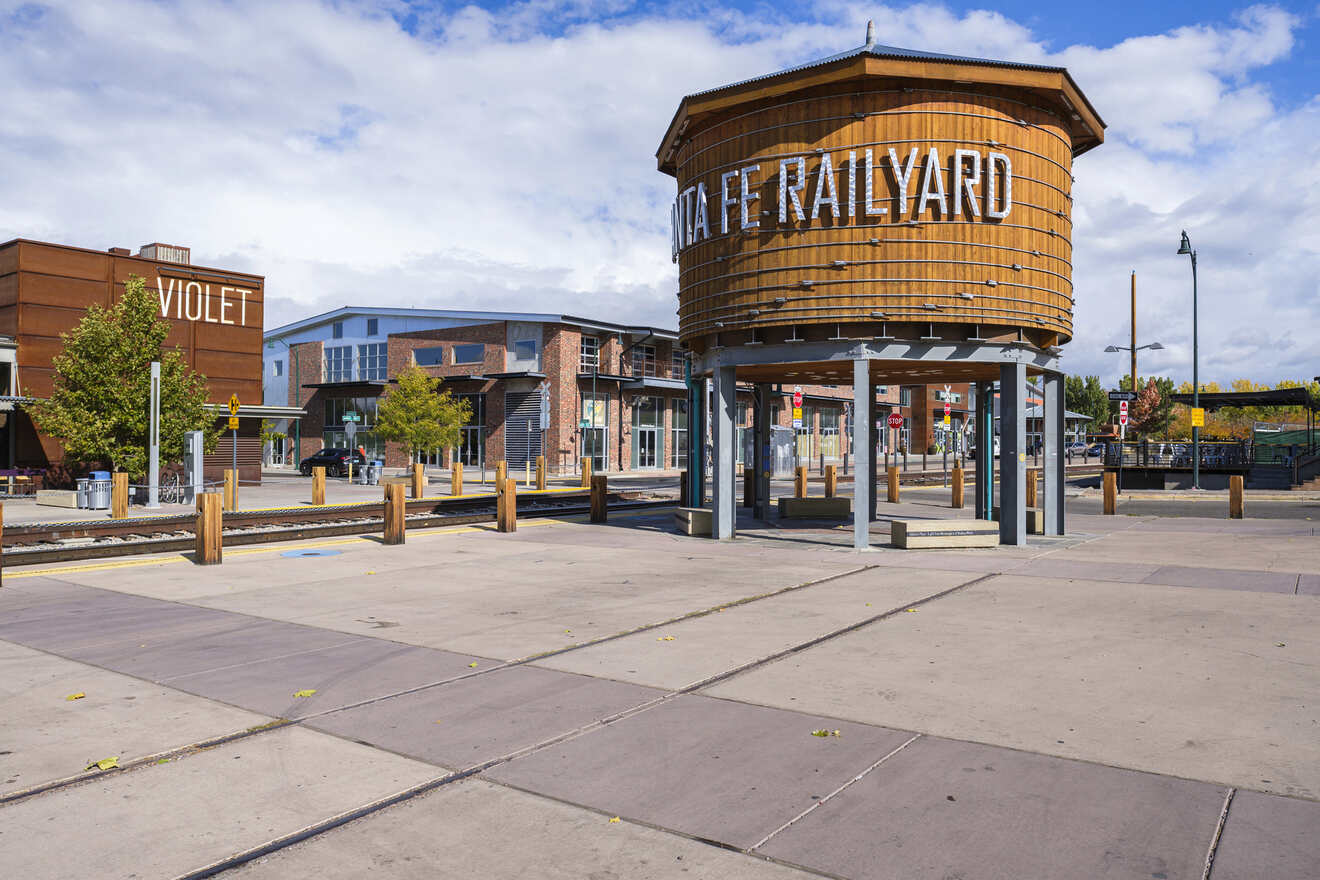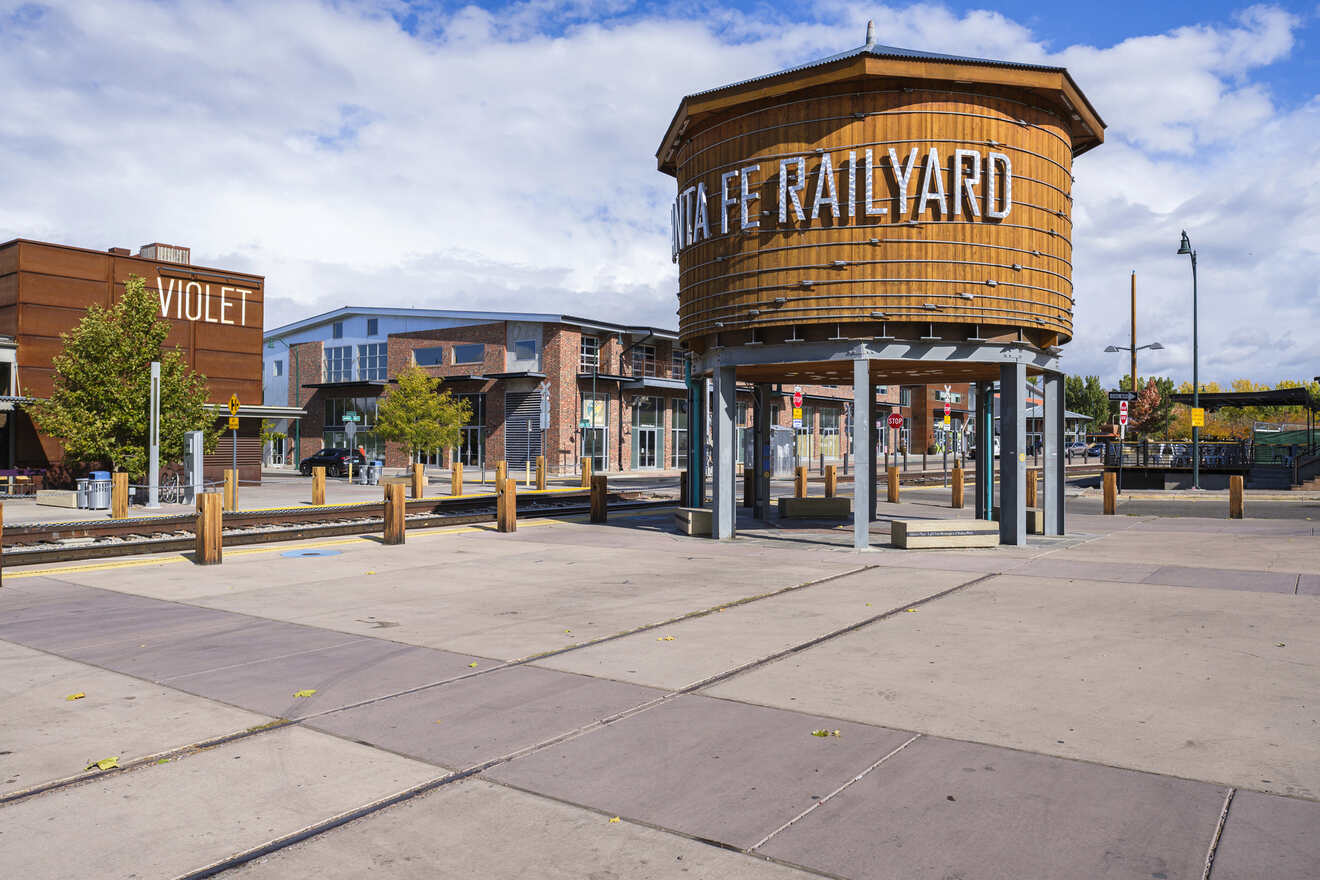 Located just 1 mile south of Downtown, this area is perfect for those of you who want to dive into the artistic side of Santa Fe. Of course, the whole city is focused on this topic, but here you can inquire more into regional and international contemporary art.
The central spot here is the arts and entertainment plaza that has a cool design. It was renovated from an old train station, and it hosts farmers markets and artisan markets during the weekend where you can go to mingle with the locals and buy unique souvenirs! Sound's like my kind of place!
During the weekdays, you can explore the art galleries in the neighborhood. If you've also seen the ones in the Historic District and Canyon Road, you'll probably notice that the ones located here feature more contemporary exhibitions.
Railyard Arts District hosts some cinemas as well. The Violet Crown or Jean Cocteau are the main ones, and both showcase independent films and offer drinks, so you don't have to head straight back to the hotel after the movie.
I would also take a few hours to explore the area on foot. That way, you can also admire the beautiful murals and street art and get to know the district better. If you're looking for more unique locations in New Mexico, I suggest heading to Albuquerque. It's such a beautiful place!
Luxury hotel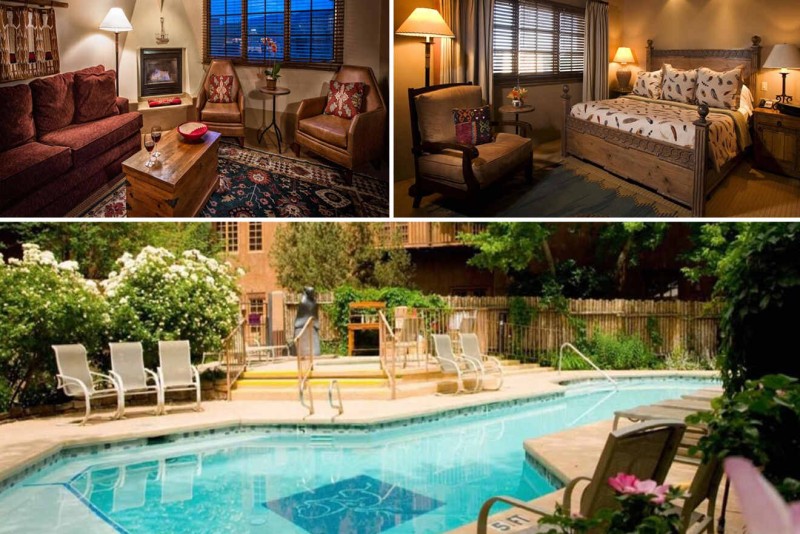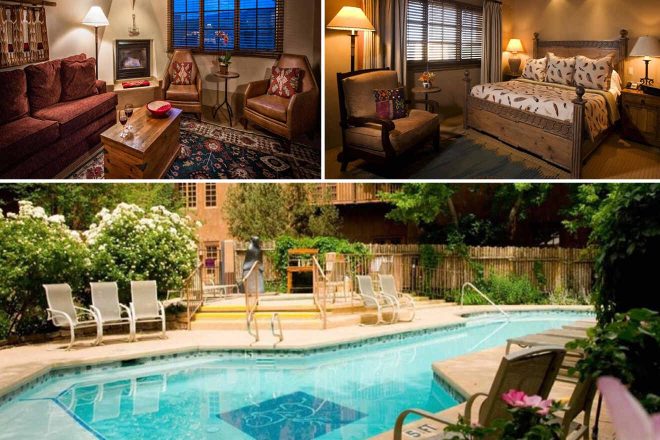 Offering rooms decorated with beautiful Native American art and fireplaces, this hotel will be perfect for your stay in Santa Fe! You can sign up for yoga classes or hit the gym and, after that, relax with a massage at the spa or in the hot tub! The accommodation offers free continental breakfast and free parking.
Other accommodation options in Art District
Mid-Range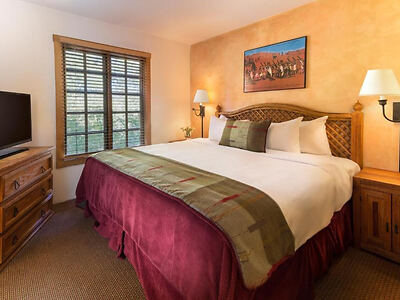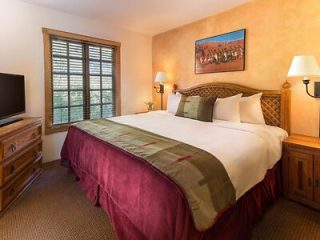 Chill in the hot tub or by the fireplace at this hotel that offers a fine dining restaurant and free parking  
Budget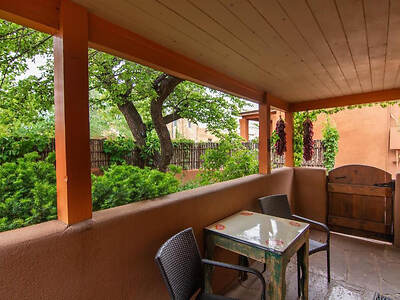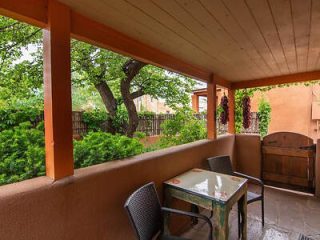 Enjoy your stay in Santa Fe at this hotel that has a sun terrace and rooms with a dining area
Airbnb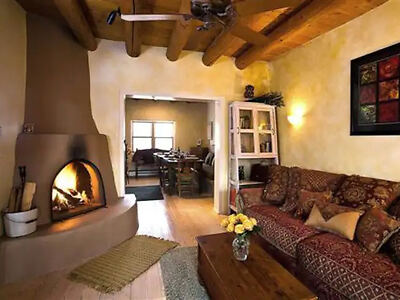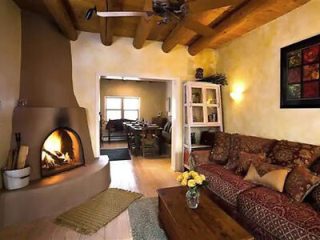 This bungalow has a cool design, 2 rooms, a free parking spot, a bathtub, and a balcony
Things to do in Art District
Attend the farmers market
Visit the Site Art Museum in Santa Fe
Check out the Blue Rain Gallery
Enjoy your Sunday brunch at Zacatlan Restaurant
Buy souvenirs from the International Folk Art Market
Explore the area around the Santuario de Guadalupe
Hunt for hidden gems at El Museo Cultural De Santa Fe
Watch an independent film at Violet Crown or Jean Cocteau Cinema
3. Near Canyon Road – where to stay in Santa Fe for shopping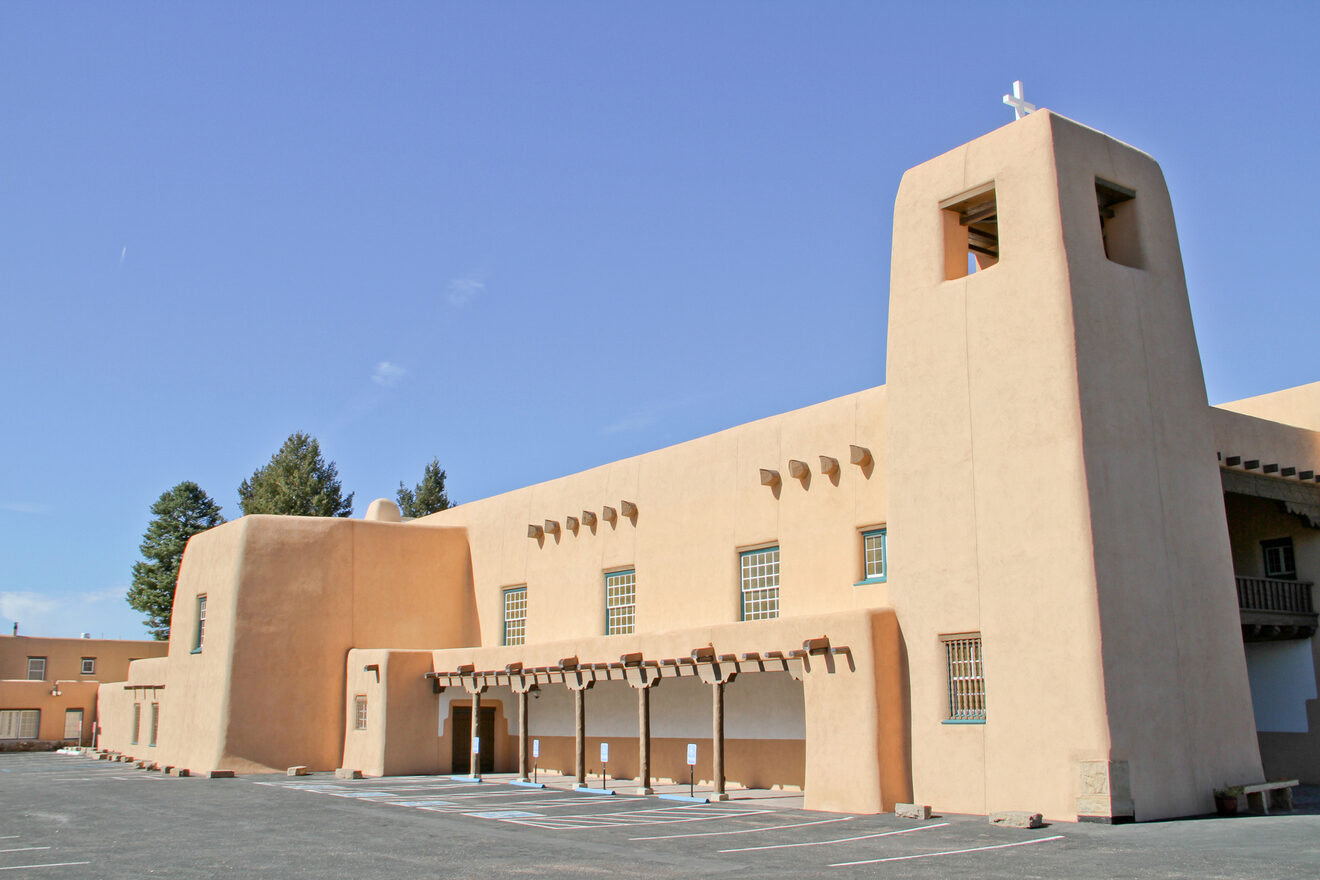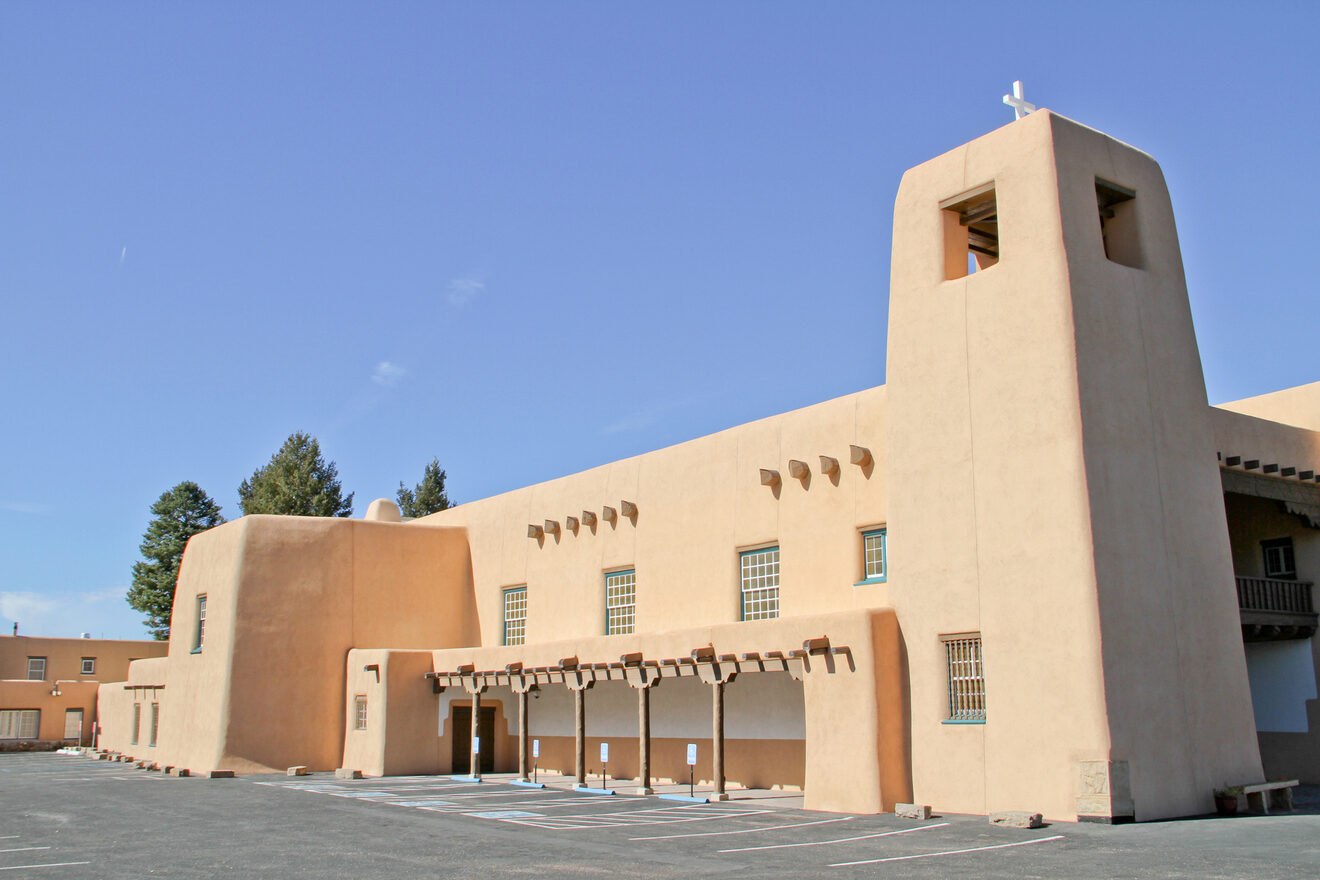 Located only 1 mile east of the Santa Fe Plaza, this street is the place to be for people who want to shop until they drop! Canyon Road offers a wide range of art galleries, shops, restaurants, and other cool attractions that you should check out!
I hope you like accessories as much as I do because you'll find so many boutique stores that sell turquoise jewelry and not only that! The galleries located on the tree-lined pathway represent tons of talented artists, and most of them are set in Santa Fe-style buildings, a design also known as Spanish Pueblo style.
If you're lucky to stay in Santa Fe in October when the Paint & Sculpt Out festival takes place or during the Christmas Eve Farolito Walk, head to Canyon Road and be amazed by the magical decorations!
Although you won't find many great hotels on the actual road, I've put together a list of the best and closest ones. Let's check them out!
Luxury hotel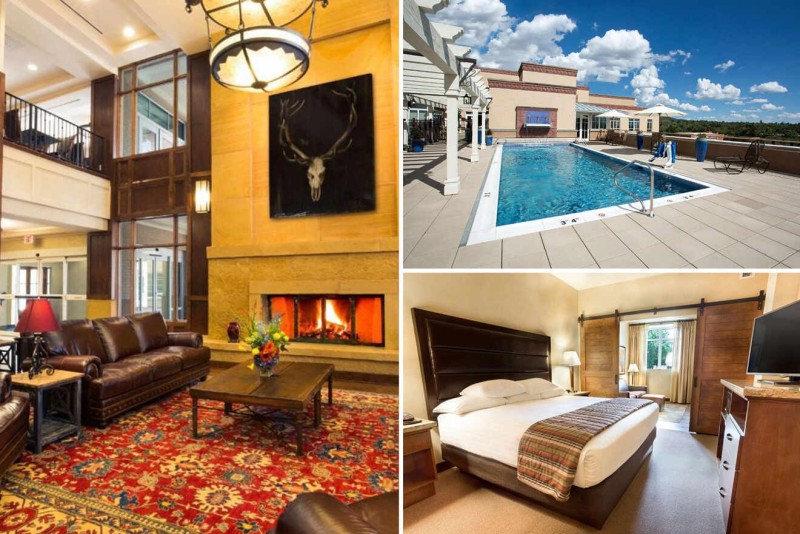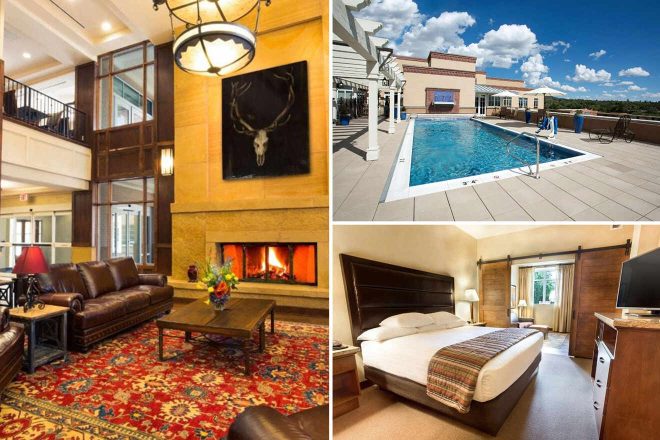 Catch a sunset near the outdoor pool at this hotel that offers free breakfast and room service. After a full day of exploring around Sant Fe, get in the jacuzzi tubs and relax! Tomorrow you'll feel like a brand new person! 
Other accommodation options near Canyon Road
mid-range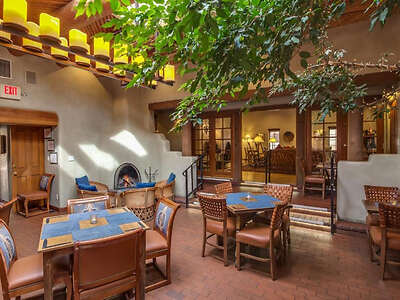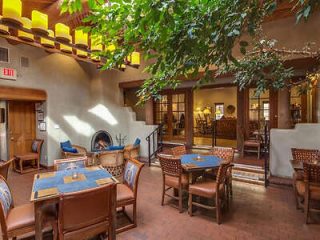 Grab a book, order a cup of tea, and relax on the terrace at this hotel that offers a free continental breakfast 
budget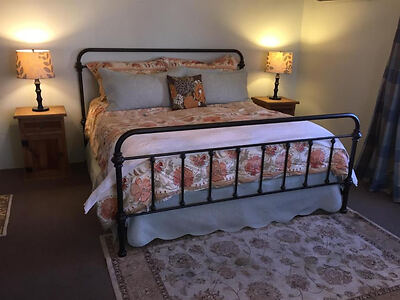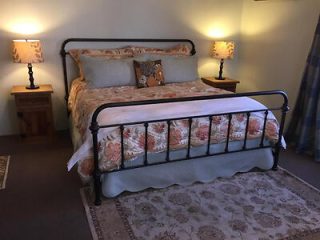 Enjoy your stay in Santa Fe at this lovely accommodation that has rooms with a patio and free parking spots 
airbnb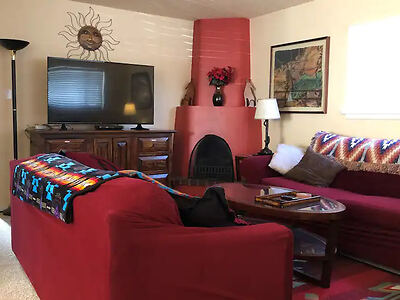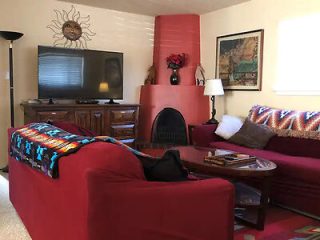 This place offers lots of space, and it has a backyard, a dining room, free wifi, and a kitchen 
Things to do in Canyon Road
Admire the architecture of the Cristo Rey Catholic Church
Check out the paintings at Brad Smith Gallery
Shop until you drop at La Boheme store
Enjoy a delicious dinner at The Teahouse
Buy some local art from the Consignment Gallery
Have a drink at Ahmyo Wine Garden
Go for a walk in Patrick Smith Park in Santa Fe
Frequently asked questions about Hotels in Santa Fe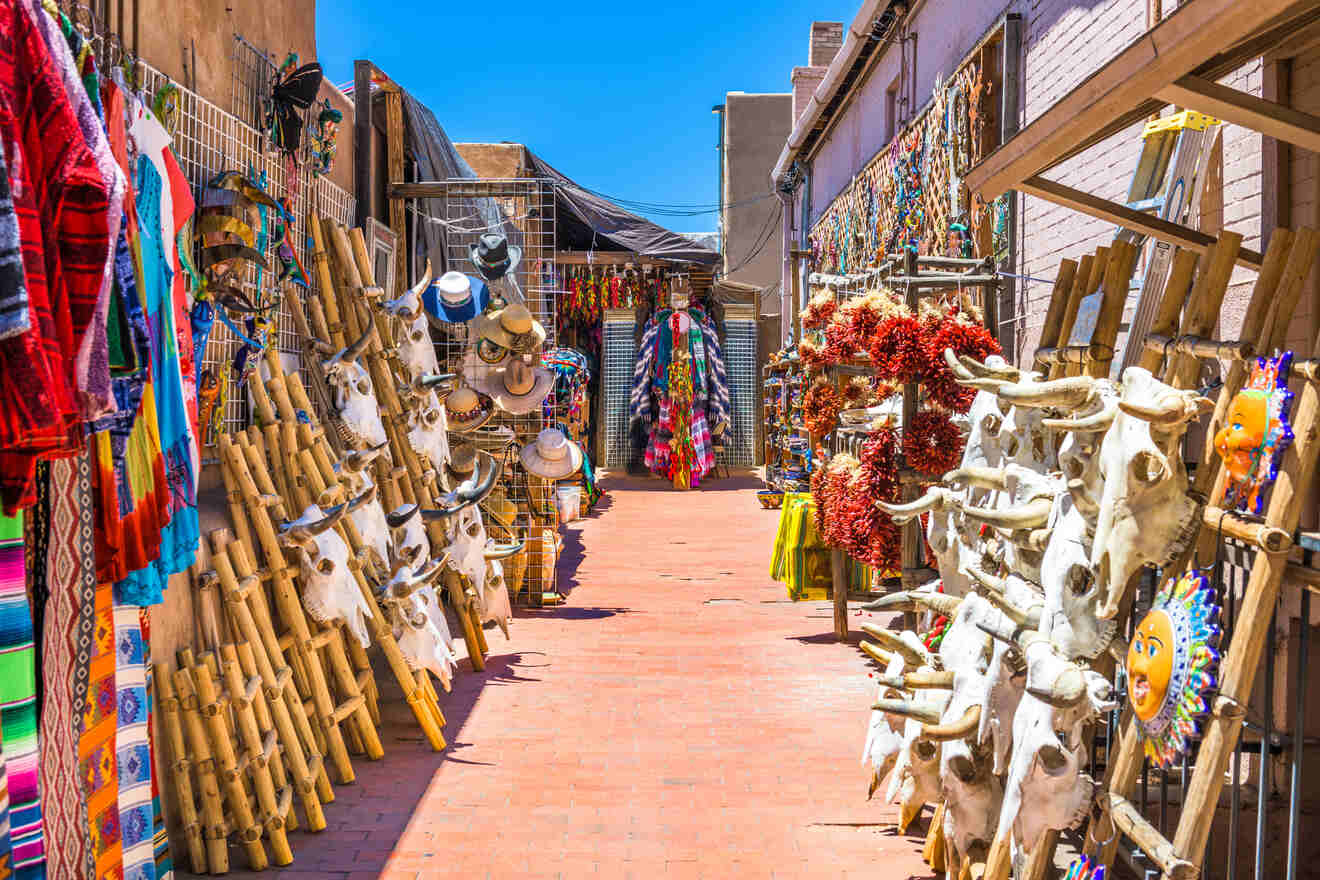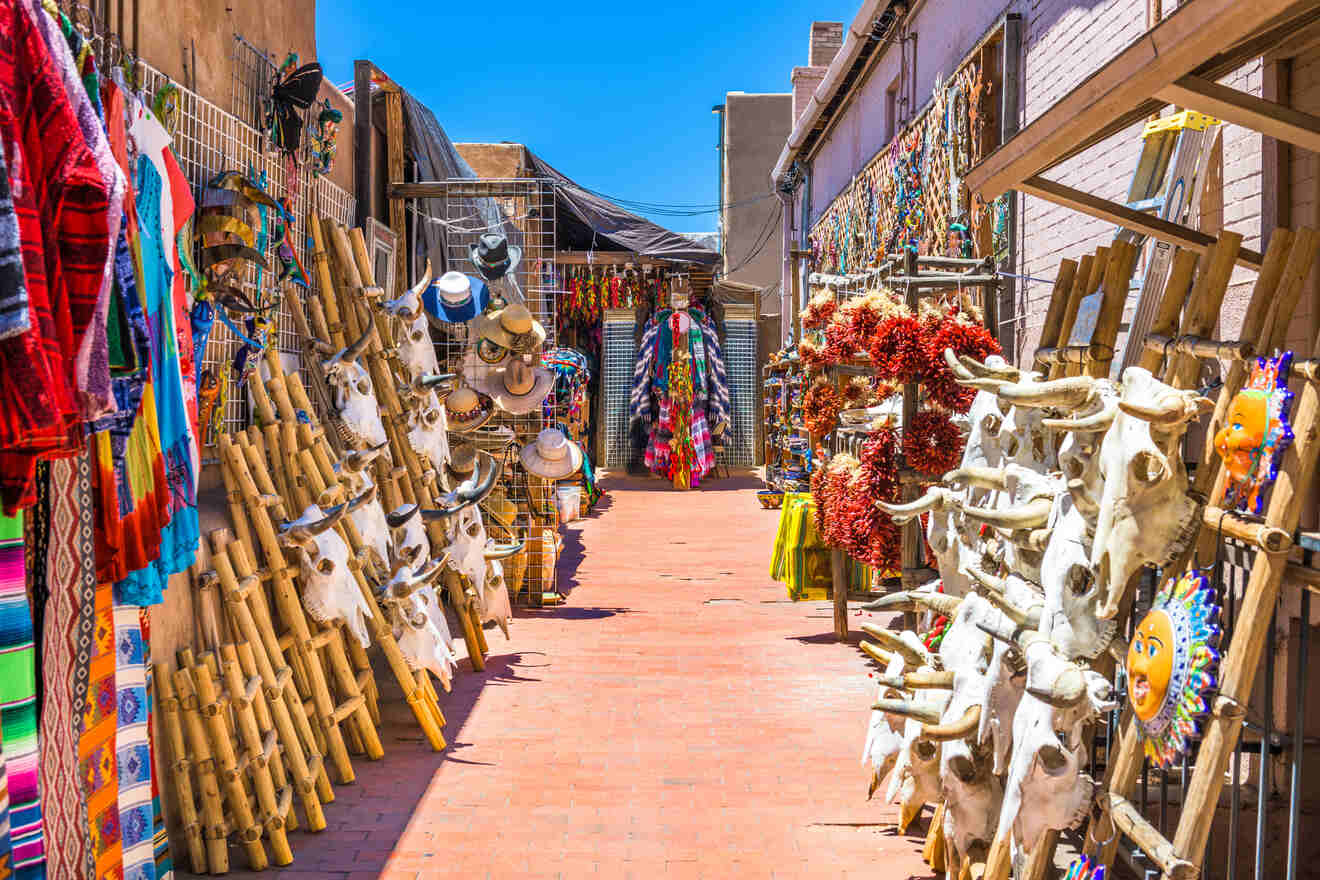 ⭐ Where is the nice part of Santa Fe?
Downtown is the nicest part of Santa Fe, as this is where you'll find all the attractions, cool houses, and some of the best hotels like The Inn of Five Graces.
🚶 Is Santa Fe New Mexico a walkable city?
Yes, Santa Fe is a walkable city, with most of the attractions located within walking distance from your hotel. 
🌃 Is it safe to walk around Santa Fe at night?
Yes, it is safe to walk around Santa Fe at night but stick to the Downtown area or other active areas where there are restaurants and hotels.  
💯 What are the best neighborhoods in Santa Fe, New Mexico?
Downtown and the Railyard District are 2 of the best areas in Santa Fe, New Mexico. Both offer incredible attractions and hotels like The Inn of Five Graces and The Hacienda & Spa, which provide a free breakfast.
Conclusion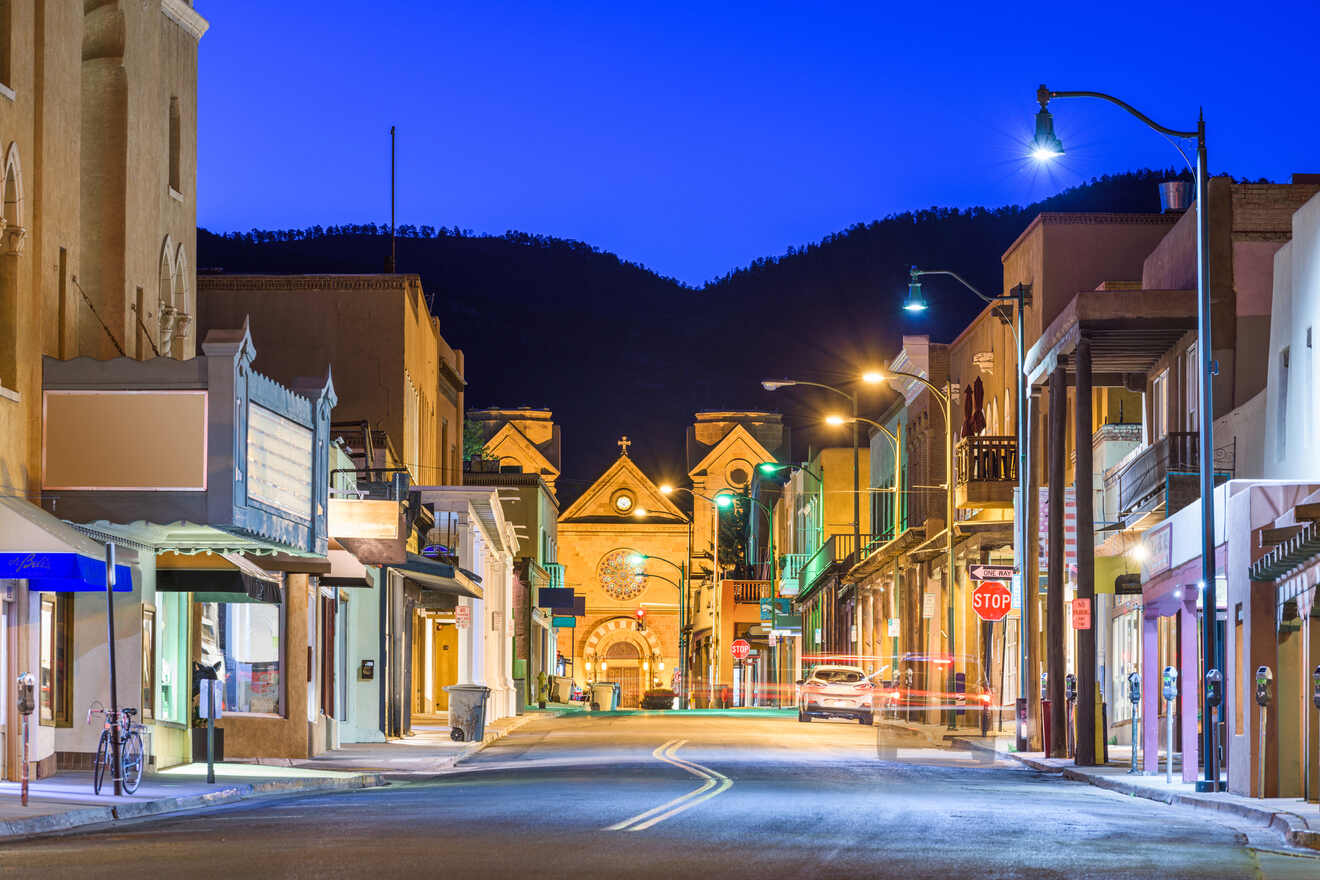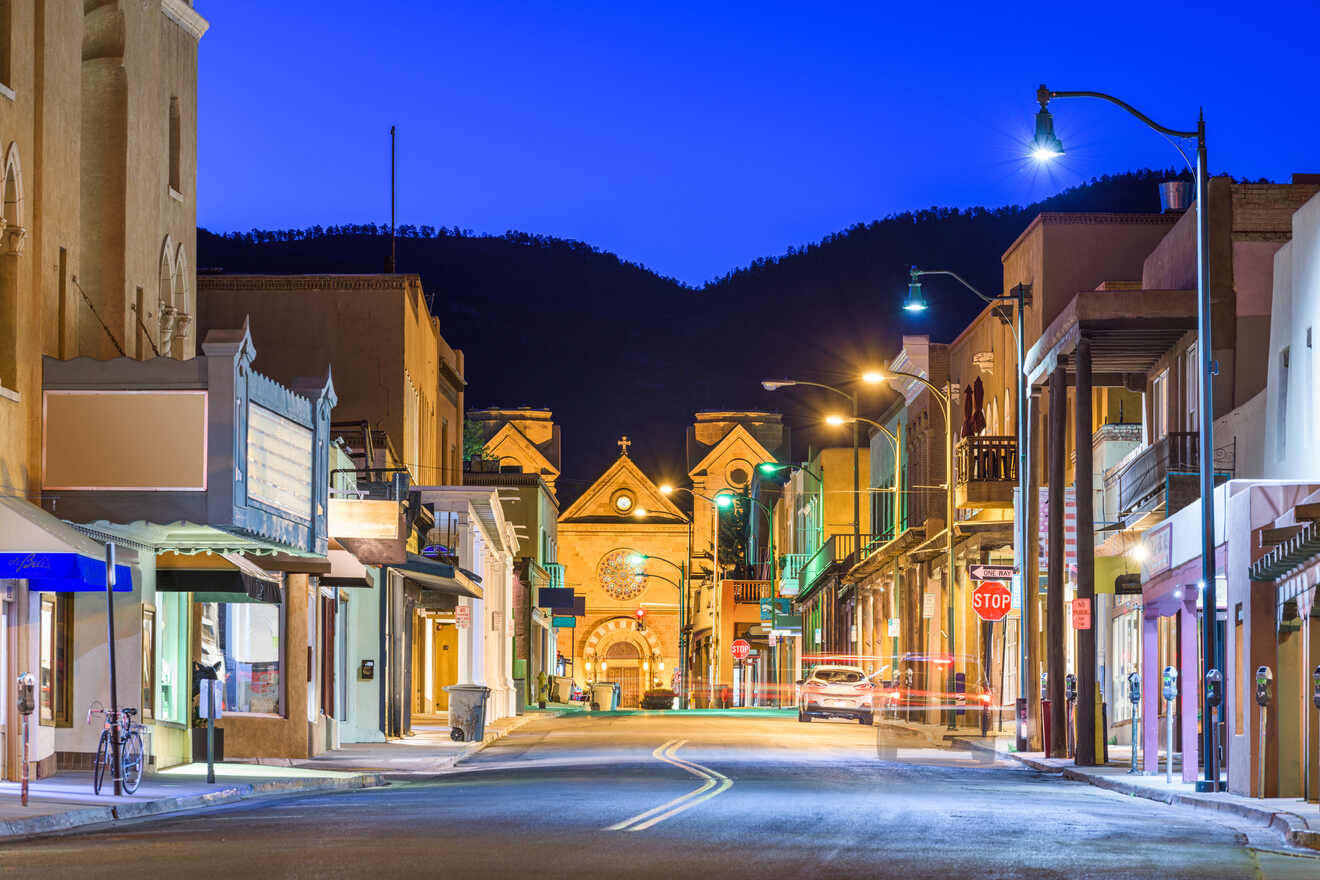 This city is so beautiful and full of magic! I hope this post helped you decide which is the best place to say in Santa Fe.
It's hard to choose just one hotel when you have such a long list, so to give you some extra help here are my top 2 favorite places to stay in Santa Fe, both located Downtown:
I highly recommend booking your hotels in Santa Fe, in advance. Many tourists come here all the time for the local art and other incredible places, and the accommodations sell out super fast.
This is where our journey ends, but yours is just about to start! Enjoy your time in Sana Fe and explore all day long its historic Plaza, the art galleries, and other unique places nearby the city like the Sangre de Cristo Mountains!
You can leave me a comment below if you have any questions about the city, or maybe if you have some suggestions for our readers. I'll answer them as quickly as possible!
Have a great adventure,
Victoria
---
Pin it for later!
Pin it for later!