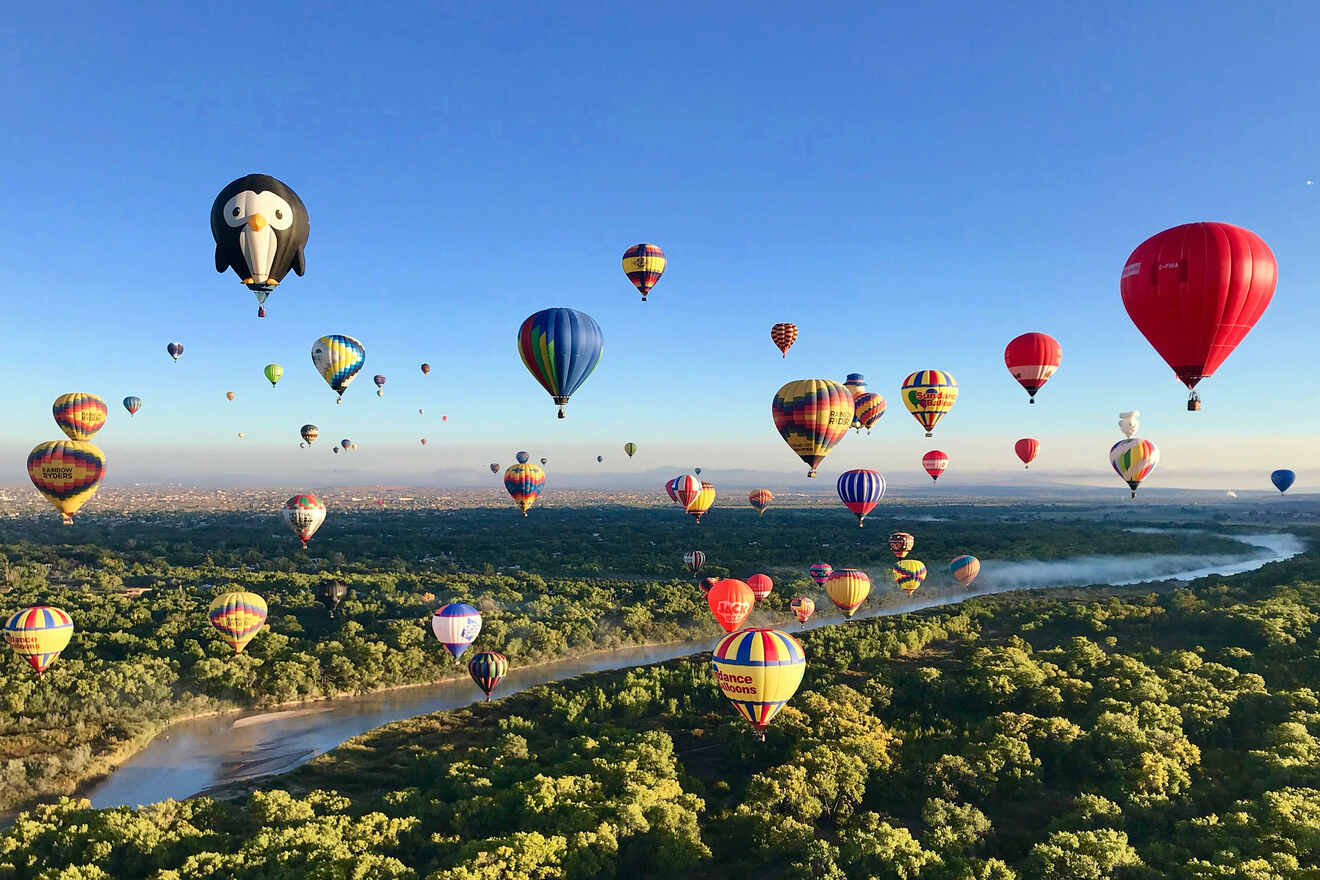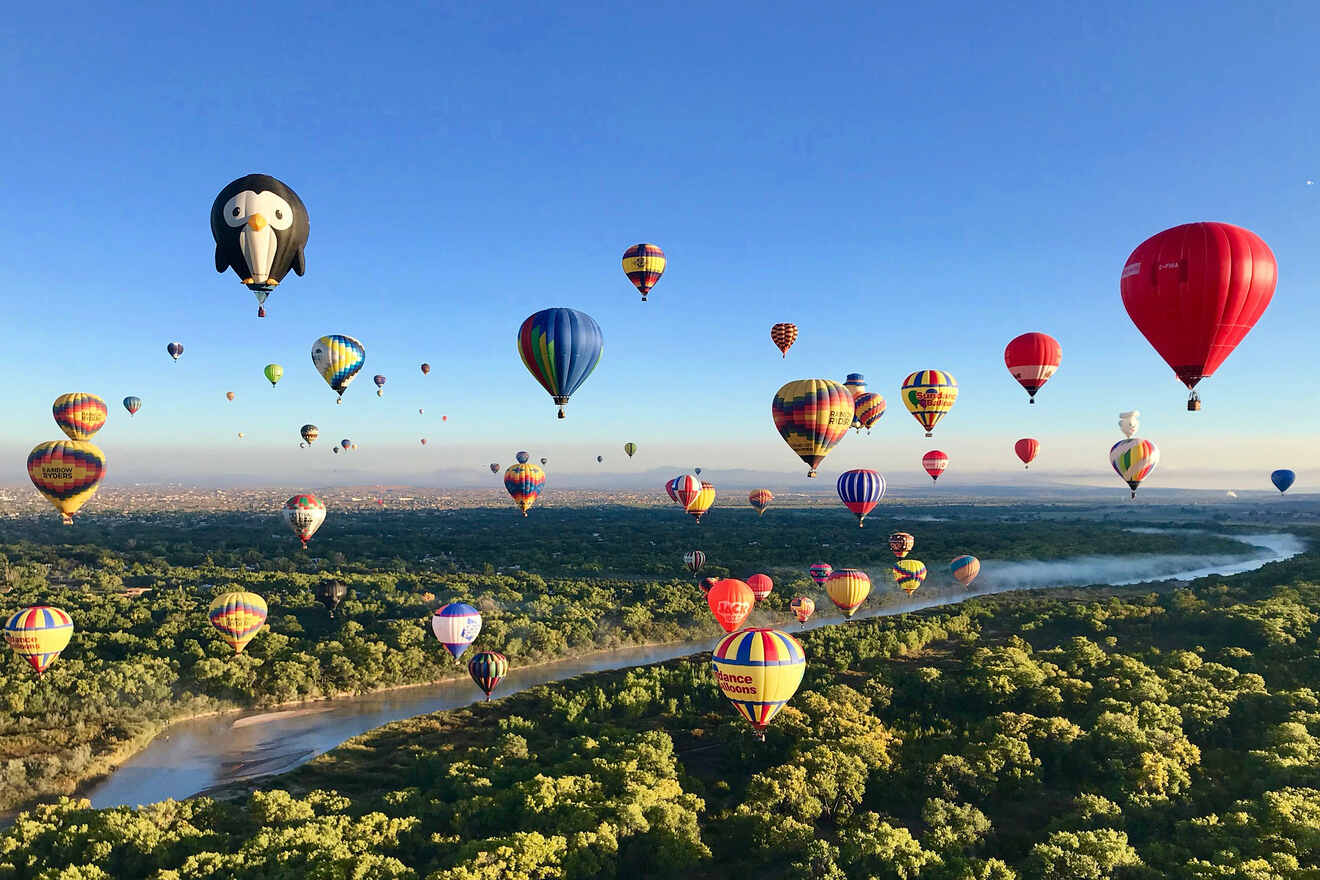 Located in the American Southwest, Albuquerque, New Mexico, is known for being surrounded by rugged nature, stunning terrain, and amazing warm weather. Even if you haven't visited the city yet, you may be familiar with the area from the famous crime drama series Breaking Bad. Don't worry. It's not actually a desolate desert. In fact, Albuquerque is the most populous area in New Mexico; over 560,000 people stay in Albuquerque, and there are plenty of things to see and do here as well as some great places to stay.
Albuquerque, New Mexico, is an excellent area for travelers who want to see and experience a beautiful fusion of history and culture. This diverse city is home to a wide range of nationalists, including large populations of Native American, Hispanic, Latino, and African American people. Everyone here is sure to have great stories to tell, and you'll likely come home with some exciting stories of your own!
So, with so much choice, now it's time to decide where to stay in Albuquerque. In this post, I'll share the top 4 areas with you and the best places to stay within them. I've covered many different interests and budgets, so I've got you covered for everything from a budget-friendly stay to the most luxurious hotels. Let's go!
If you are in a hurry
If you need to book places to stay in Albuquerque right now or don't have time to read the whole post, here are the best of the best choices for each price category.
Here is a handy map showing the areas I will discuss in this post to help give you a quick visualization of the different neighborhoods to stay in Albuquerque, New Mexico.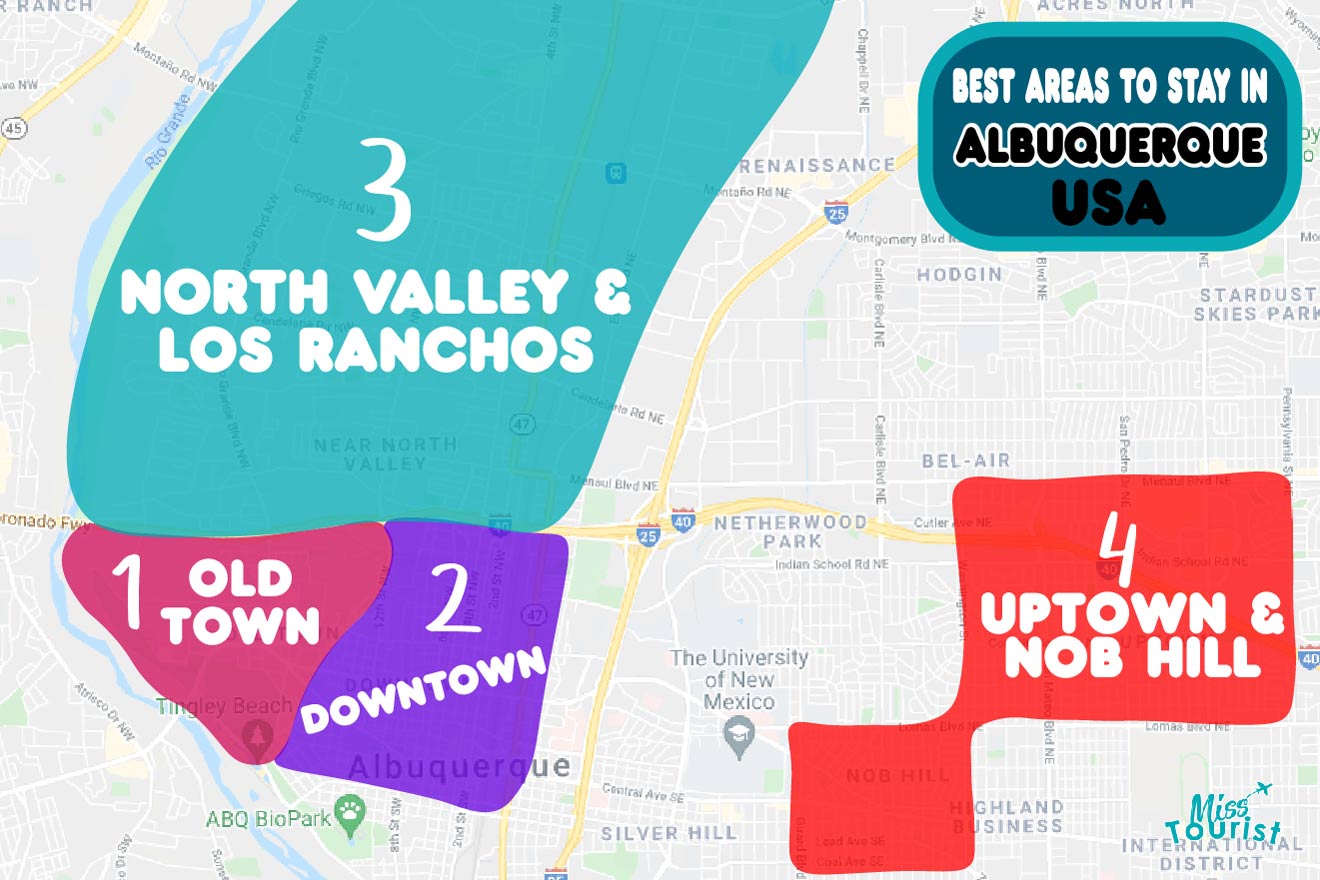 1. Historic Old Town – where to stay for the first time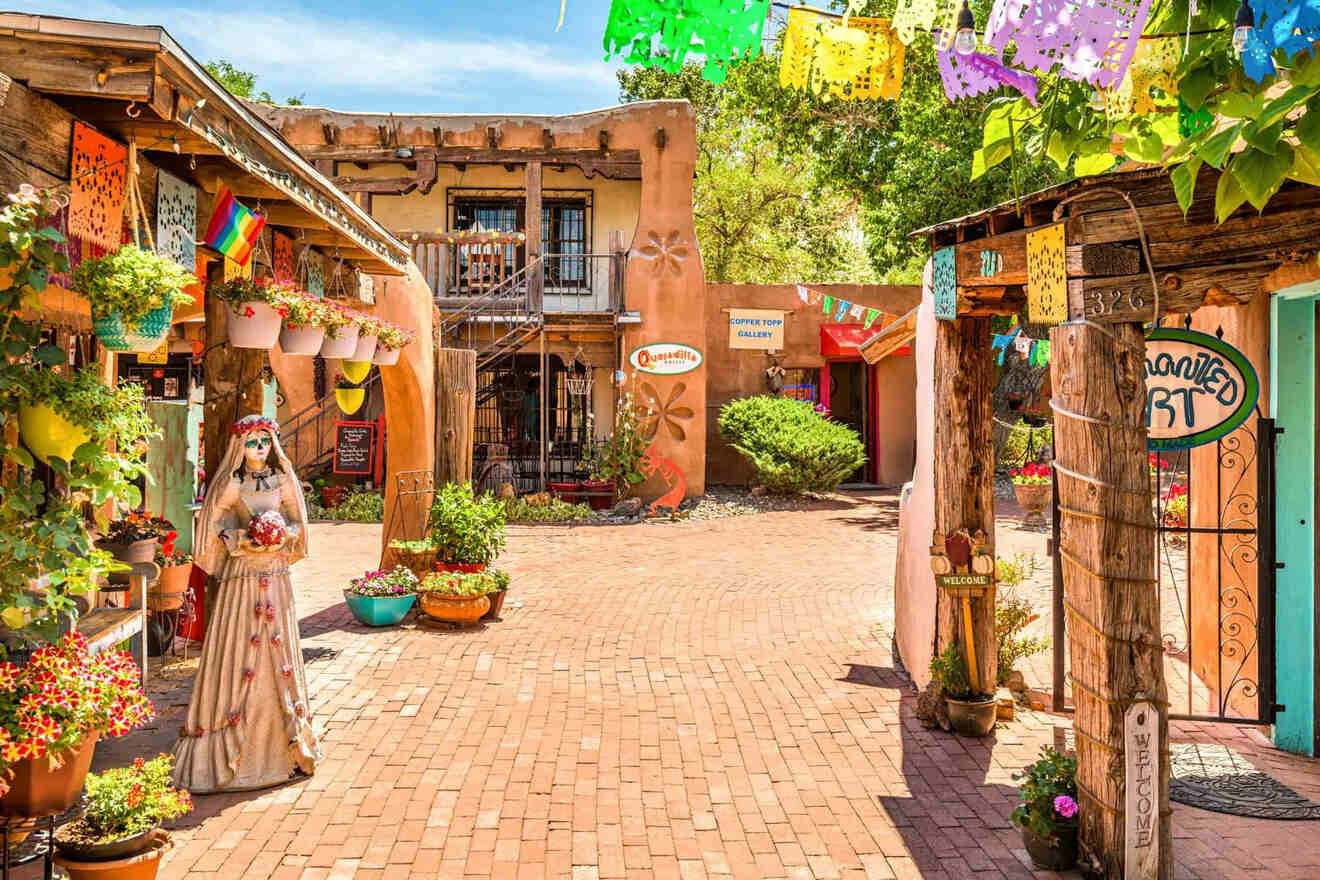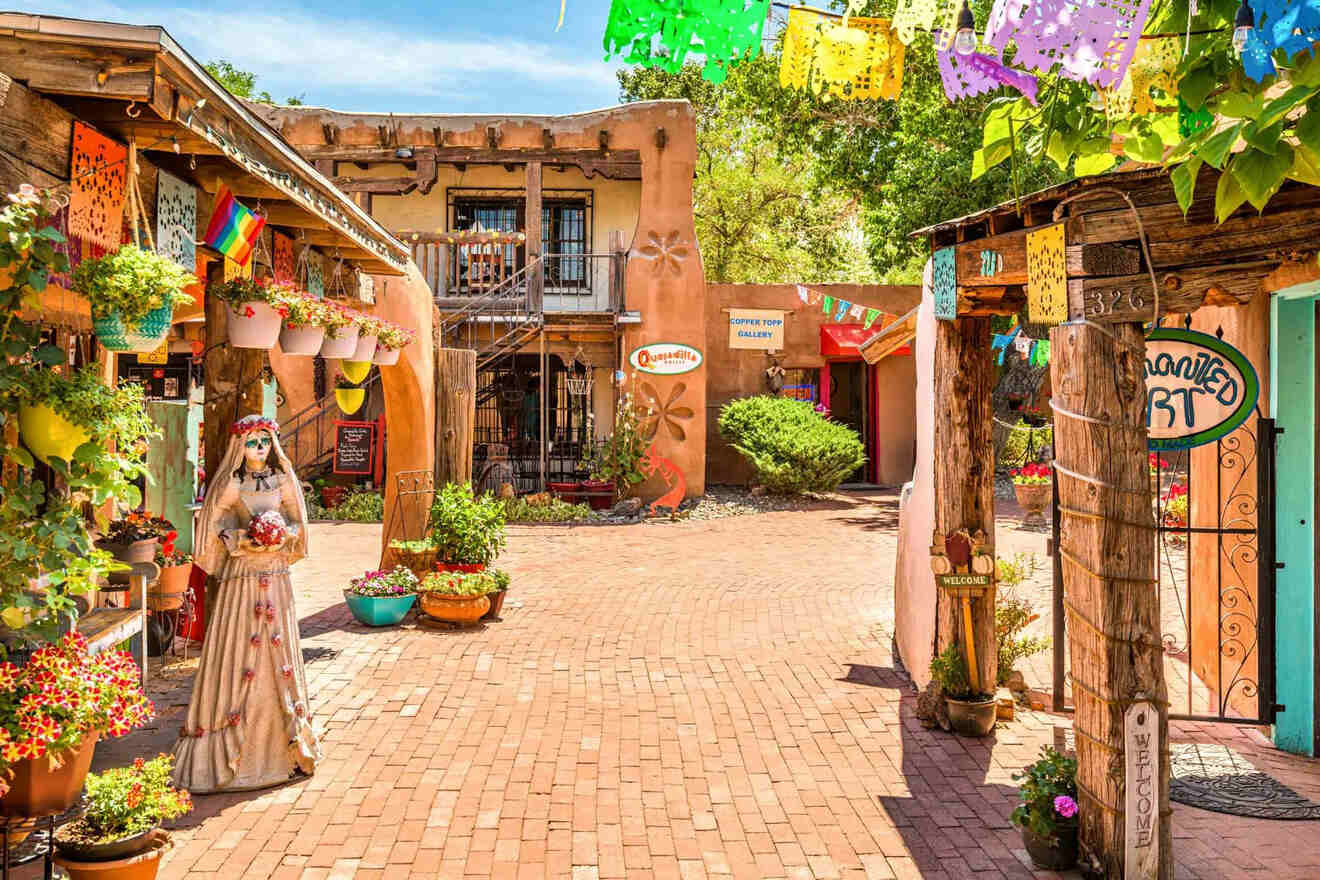 The Historic Old Town is a smaller neighborhood located just a couple of blocks west of Downtown Albuquerque, right in the city's heart. Being the location of the original Spanish colonies, this area is full of historic buildings. It is home to most of the museums in Albuquerque, making it the best place to stay for first timer visitors. Plus, here you have everything you need for your vacation within walking distance of your hotel!
Get ready to smell wafts of enchiladas as you walk amongst the earthy-toned buildings that line the area's tiny winding streets. You may even forget that you are still in the United States! If you're looking to learn about the city's unique history, Old Town Albuquerque, being the very first neighborhood, is the place to start.
I recommend you start your trip by visiting the ABQ Biopark right at the heart of the Old Town. Here you will find zoos, museums, picnic spots, and more, plenty to keep you and the kids entertained for days!
Luxury hotel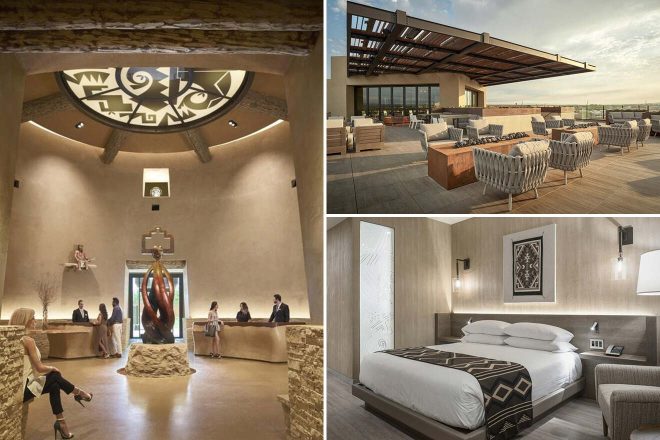 This beautiful 4-star hotel features a classy modern design, comfortable rooms, and a rooftop lounge area that you might never want to leave! Dine at the on-site restaurant, work out in the fitness center, take a swim in the outdoor pool and top it all off with a soak in your luxurious bathroom. Guests think this is one of the best luxury hotels in Albuquerque!
Other accommodation in Old Town Albuquerque
mid-range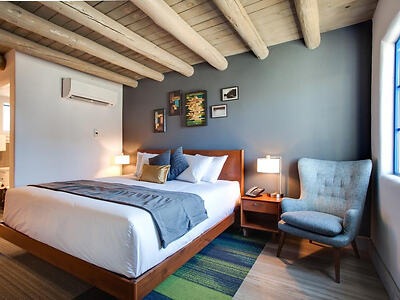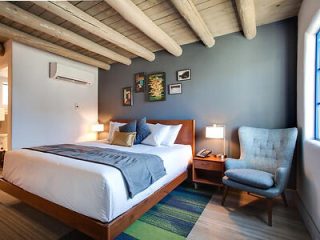 Deluxe motel with modern rooms, free parking, pool, bar, and restaurant on site
budget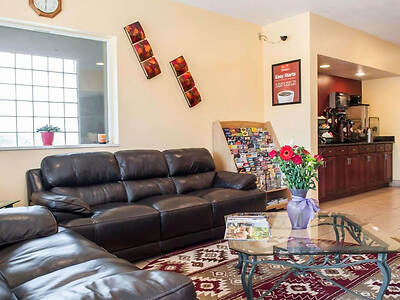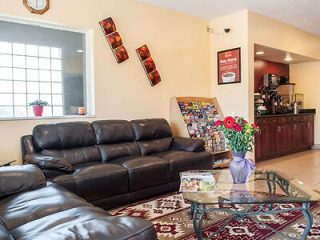 Great value with daily breakfast, large rooms, and an indoor pool
airbnb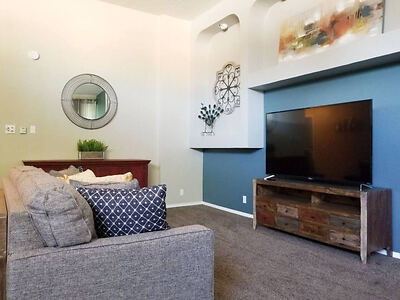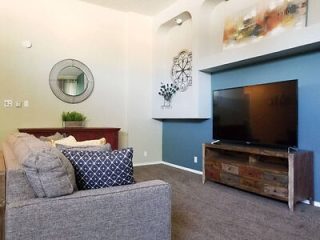 A rustic stay in Albuquerque with a great location in the Old town with breakfast provided
Things to do in Old Town Albuquerque
2. Downtown – where to stay in Albuquerque for nightlife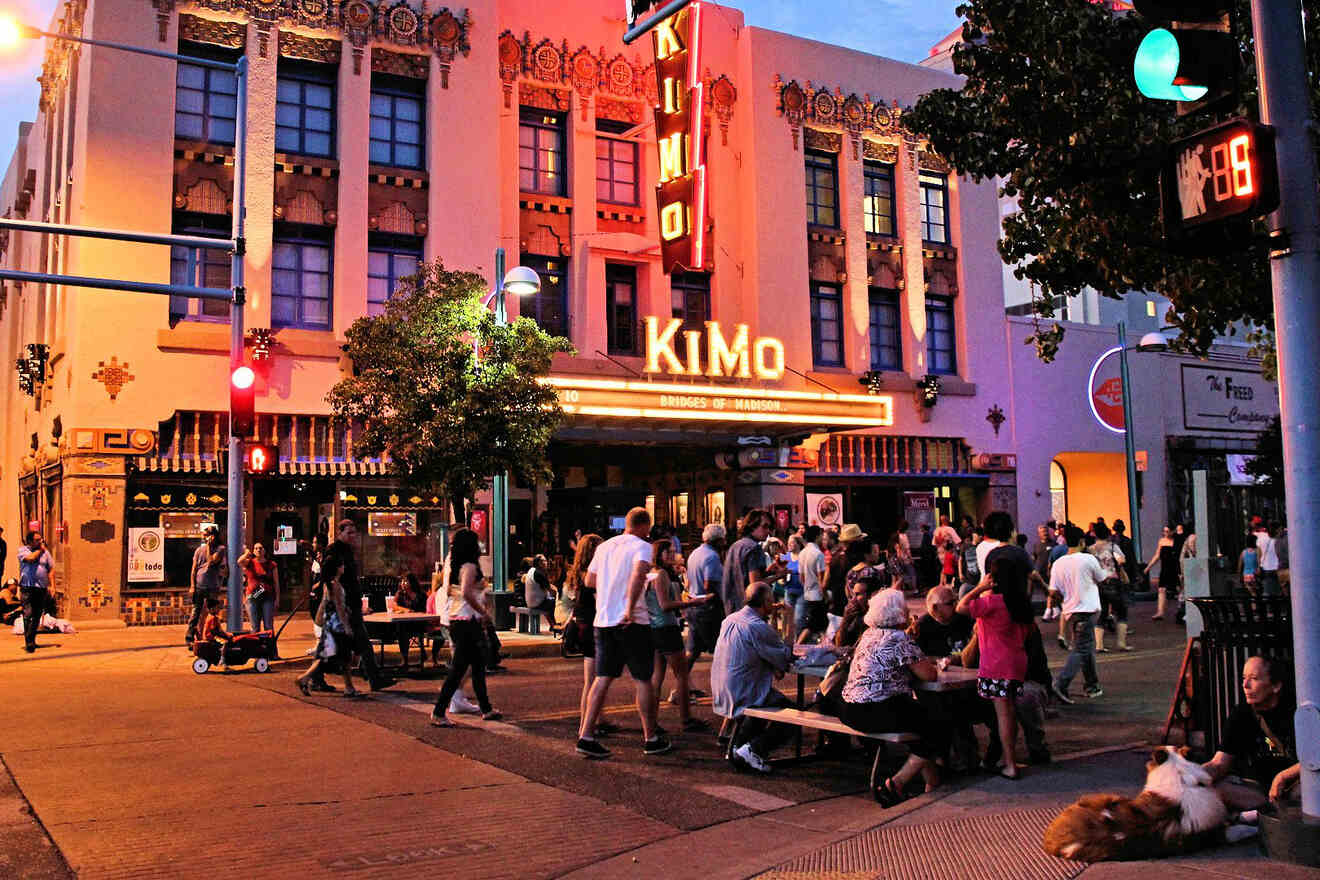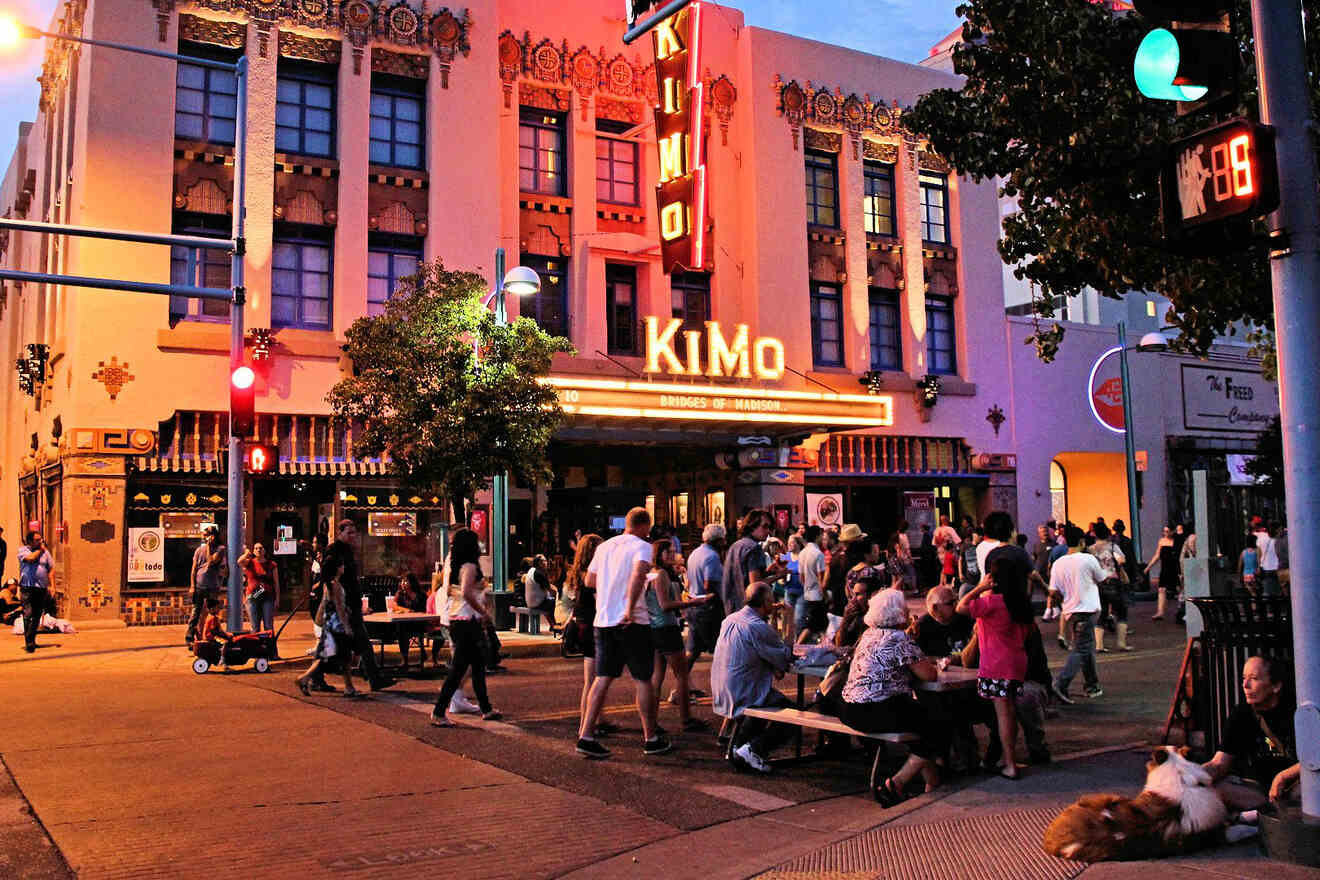 The famous central avenue, formerly known as Route 66, runs directly through the middle of Downtown Albuquerque so you can be sure to find some great hotels here. This vibrant entertainment district is swarming with restaurants, cafes, art galleries, and trendy shops ready for you to explore (all within walking distance of your hotel).
Not only that, the downtown area of Albuquerque is known for having the best nightlife in the whole of New Mexico! So if you are here to party, put on your dancing shoes and hit the town to find some incredible theatres, bars, and nightclubs.
Downtown Albuquerque is also known as the city's business center, so if you are looking for somewhere to stay in Albuquerque with a big city feel (or as close as you will get), this is the neighborhood for you! It is also the most well-connected part of the city, so if you are looking to travel by public transport, staying here will help you get around with ease.
With so many Albuquerque hotels to choose from for your stay, I've narrowed down the list to these top 4 options in Downtown.
Luxury hotel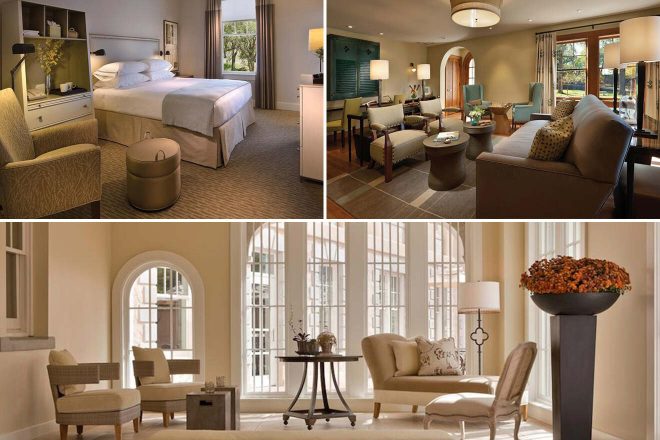 This boutique 4-star hotel from 1926 is one of the top-rated luxury hotels in the area. This downtown Albuquerque hotel definitely boasts a hassle-free stay for its guests, from a free shuttle pick-up at the Albuquerque International Sunport to the hotel amenities. This pet-friendly hotel features a rooftop bar and lounge with possibly the best view over the city at night
Other accommodation in Downtown Albuquerque
mid-range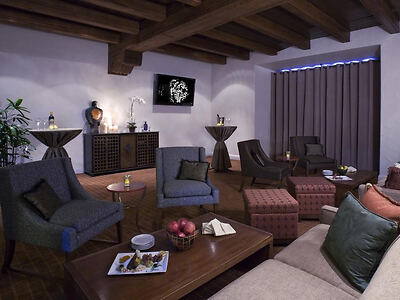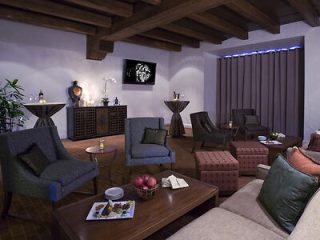 Spacious rooms decorated in a Moroccan/Spanish style with rooftop lounge and an on-site restaurant
budget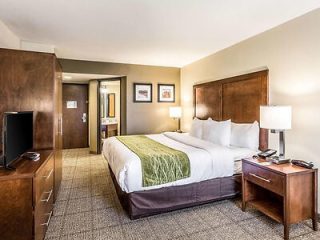 Convenient location near the motorway with fitness center and seasonal pool and free wifi
airbnb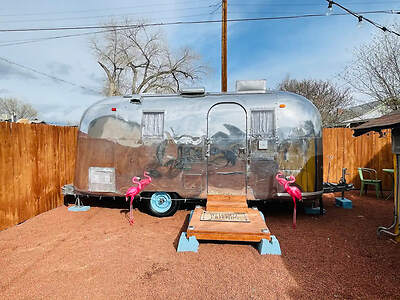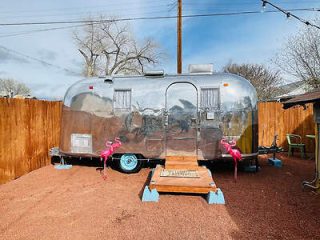 Vintage airstream recently renovated into a comfortable, stationary RV with modern amenities
Things to do in Downtown Albuquerque
3. North Valley, Los Ranchos & Corrales – best for relaxation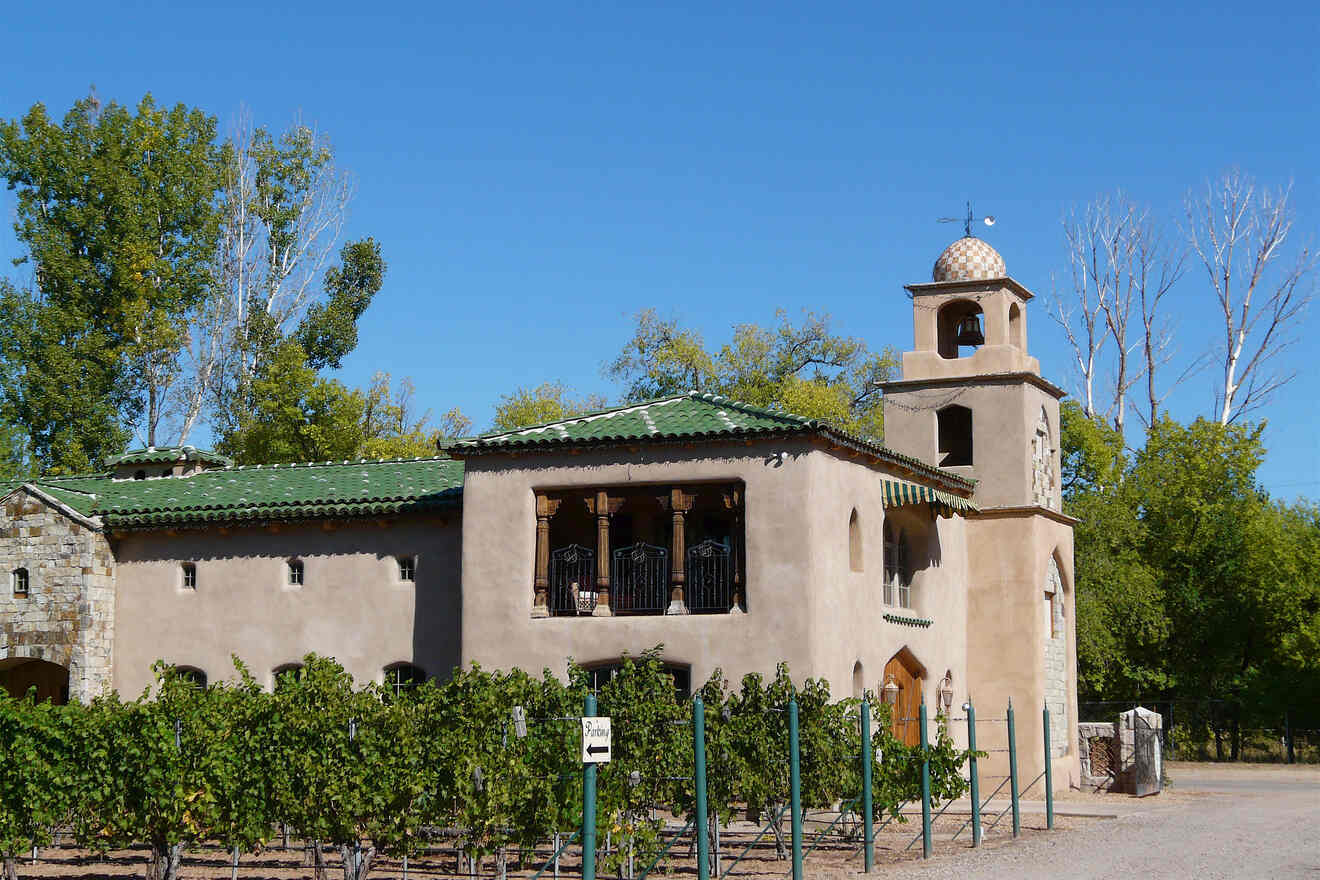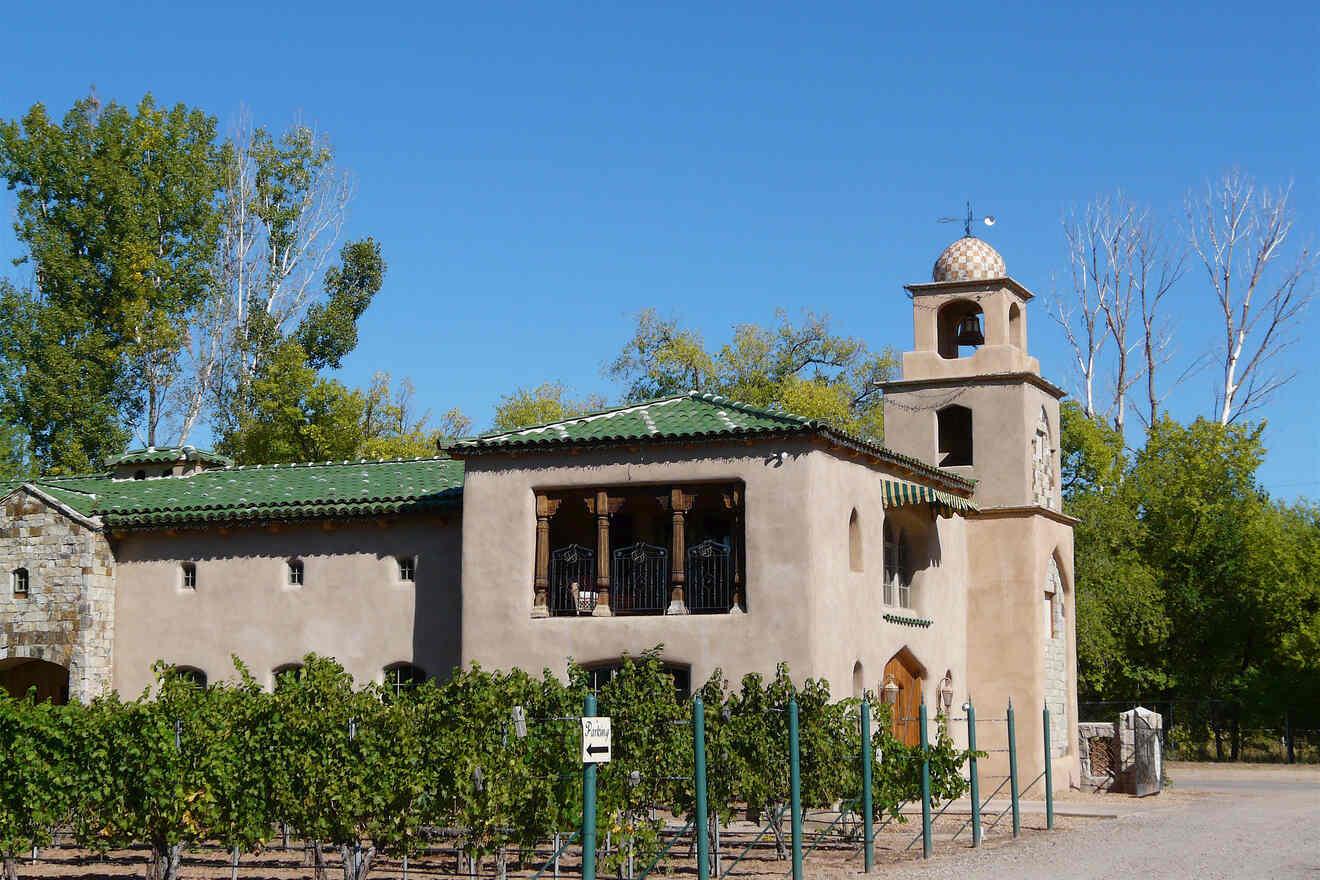 North Valley, Los Ranchos, and Corrales are neighborhoods that run along the Rio Grande River Valley, around a 15 minute drive north of the Downtown area. Compared to the busy atmosphere of the other neighborhoods in Albuquerque, New Mexico, the North Valley runs at a slower pace. It is the perfect place to stay if you are looking for a laid-back stay, close to nature while still being near Albuquerque city.
Sit back and relax as you watch the Rio Grande River flow smoothly through green pastures with a backdrop of the Sandia Mountains. Don't forget to add a glass of wine to your idyllic vision as this area is one of the oldest wine producers in all of North America!
Once you've had your fill of wineries, make sure to visit the region's farmer's markets, spas, museums, art galleries, and the cultural center. Being surrounded by so much beautiful nature, there are also great outdoor activities to choose from, like horseback riding, bird watching, hiking, and mountain biking.
Locals and tourists alike enjoy picnics, hiking, and biking during the summer. In winter, the area is popular for skiing, snowboarding, and snowshoeing. So no matter when you come to stay in Albuquerque, the Sandia mountains are waiting for you to explore!
Luxury hotel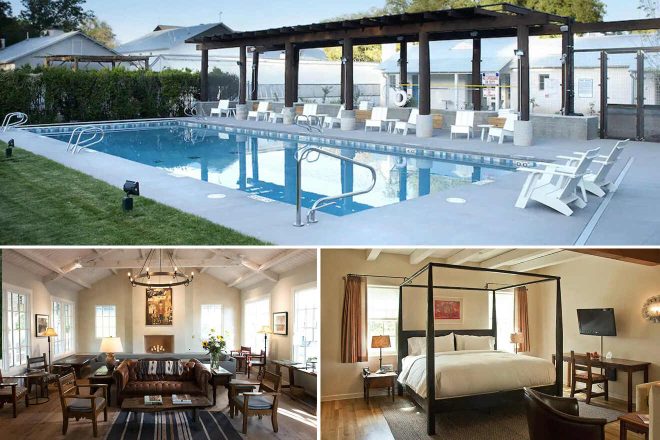 Spend a night in luxury at the Los Poblanos Historic Inn & Organic Farm, located in the heart of the Rio Grande River Valley in Albuquerque, New Mexico. This stay in Albuquerque is surrounded by 25 acres of lavender fields, gigantic cottonwood trees, and a lush garden. The best area in Albuquerque, NM, that guarantees a relaxing stay in a calm environment
Other accommodation options in North Valley
mid-range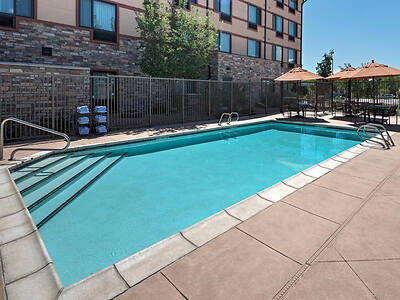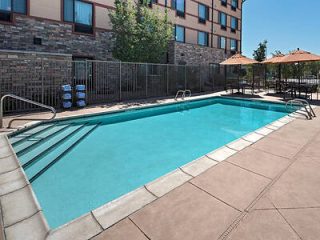 Hotel rooms feature fully equipped kitchens as well as a shared outdoor swimming pool and gym
budget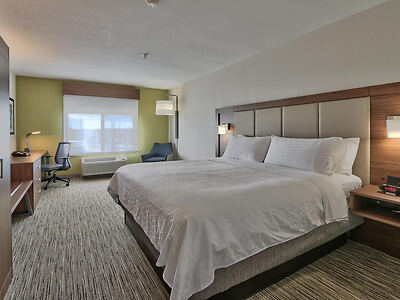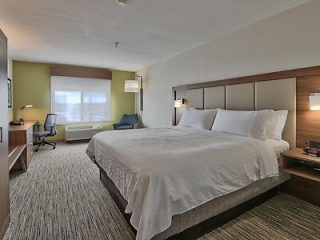 Spacious rooms with picturesque mountain views and indoor pool and hot tub
airbnb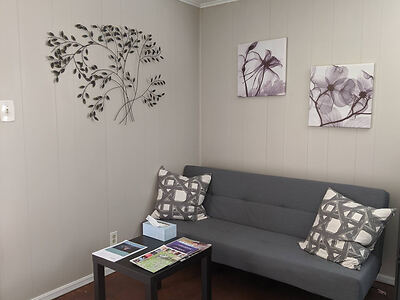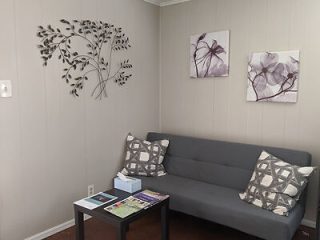 Comfortable stay for a family, close to the restaurants and wineries of the area
Things to do in North Valley
4. Uptown and Nob Hill – where to stay for young travelers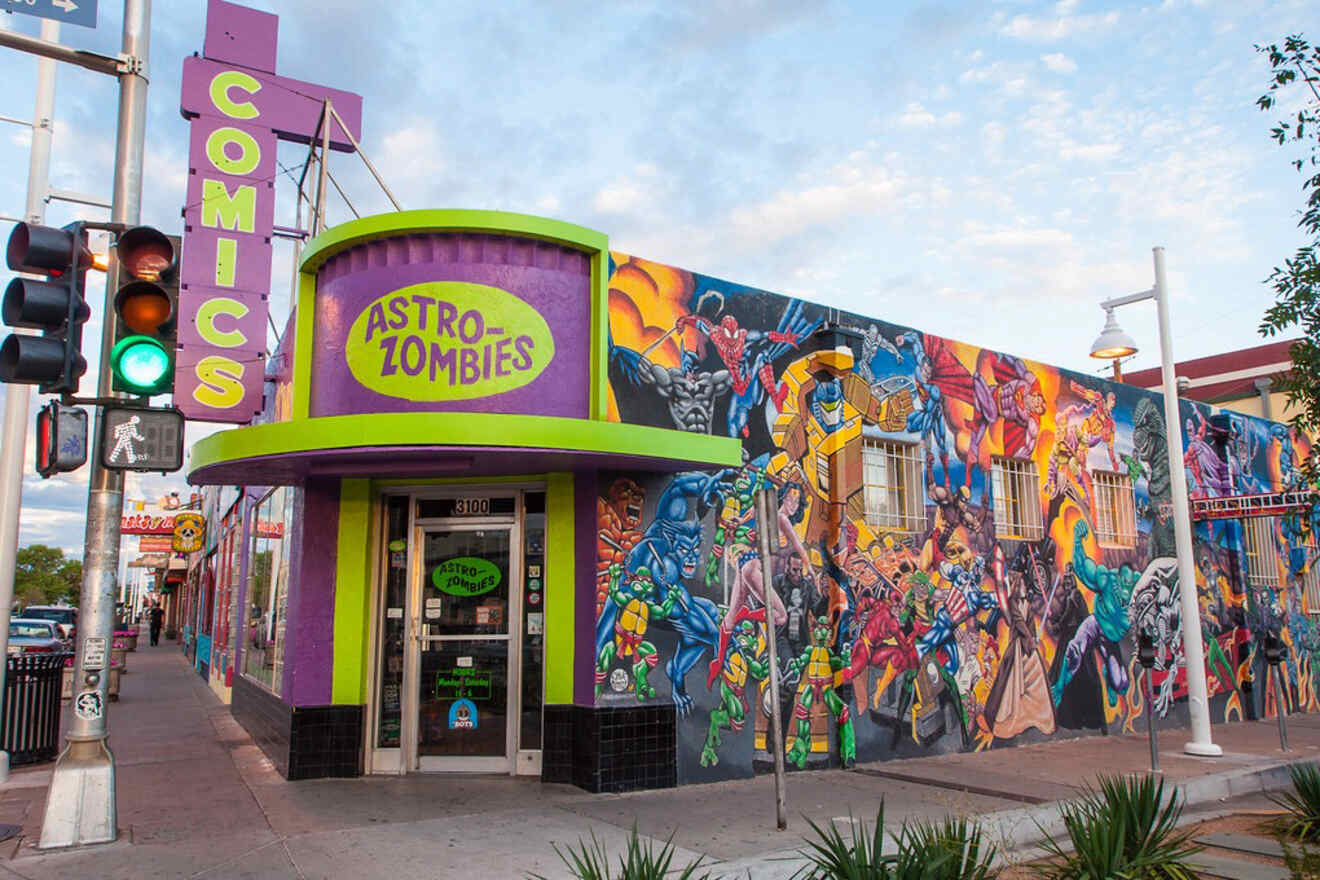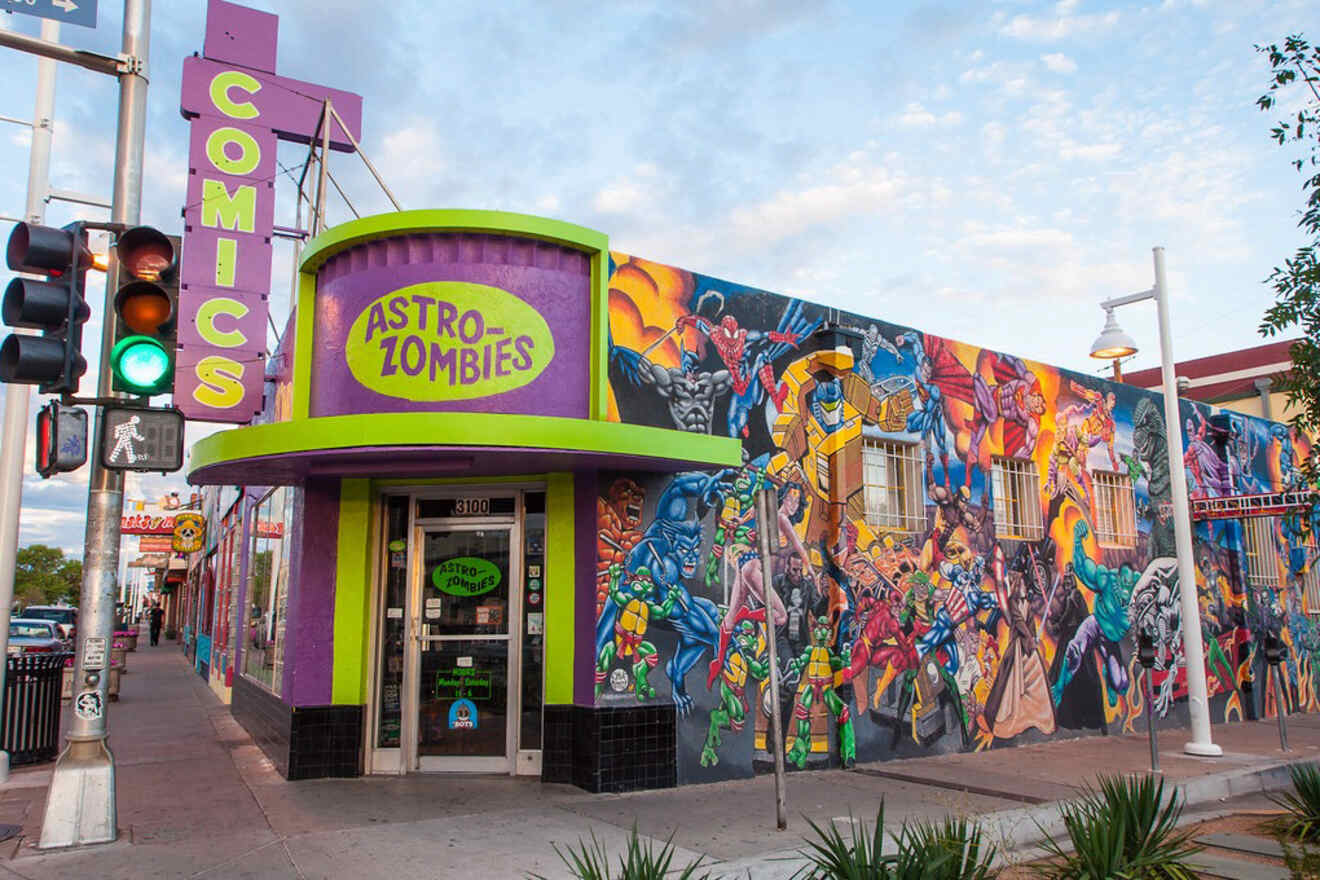 Albuquerque, NM, is an eclectic city, and you'll completely see why in these neighborhoods. Located just 10 minutes drive east of the downtown area, you will find the student area of Nob Hill. The University of New Mexico is surrounded by a wide range of unique shops, bright cafes, trendy taverns, and art galleries coming together to be one of the significant art and culture hubs in the city of Albuquerque. Imagine neon lights mixed with history and culture. It's the best area for nightlife, student life, and boutique shopping. You'll definitely feel the lively energy in these neighborhoods.

Moving a bit further east, you will come across the stark contrast of Uptown. Featuring a sea of high-rise hotels and buildings, Uptown is the best area for upscale shopping in Albuquerque. This area is also often frequented by festivals and large events such as the New Mexico State Fair, one of the largest in the country! So no matter when you visit, there is sure to be something happening.
Luxury hotel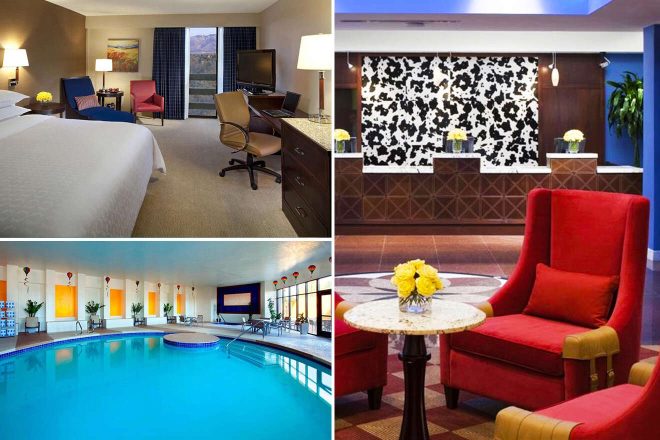 This luxurious hotel provides everything a traveler needs on their trip. Located in the Uptown Business District, this is one, if not the best, area to book a modern hotel in Albuquerque. Guests can enjoy dining in style at the on-site restaurant open for breakfast, lunch, and dinner, and enjoy a drink with free hors d'oeuvres in the Lobby bar while listening to beautiful piano music
Other accommodation options in Uptown and Nob Hill
mid-range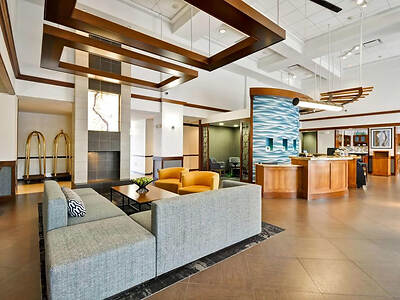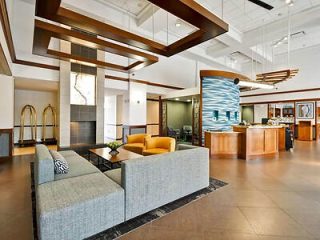 Great value, pet-friendly hotel with high-speed wifi, spacious rooms, outdoor swimming pool, and a fitness center
budget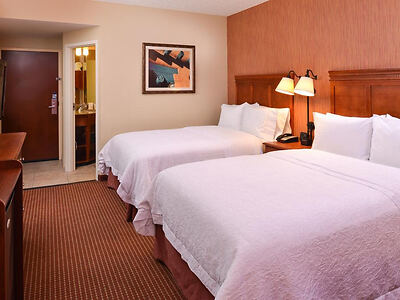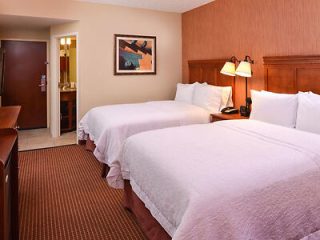 Budget hotel with outdoor pool, hot tub, gym, and business center, the perfect place for a budget getaway
airbnb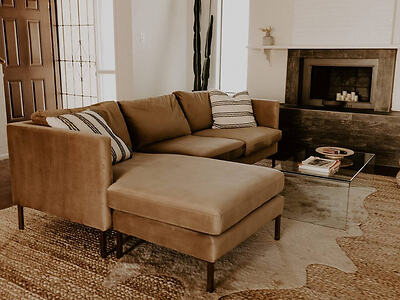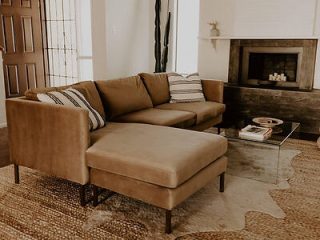 Beautiful earthy townhouse with two separate living spaces and a patio, provided with necessities
Things to do in Uptown and Nob Hill
| | |
| --- | --- |
| 👑 Luxury price: | $150 |
| 💵 Mid-range hotel: | $80 |
| 🛏️ Budget: | $50 |
| 🏠 Airbnb: | $140 |
| 💰 Accommodation prices: | Low |
| 📍 Best Area: | Historic Old Town |
| 🛎️ Best luxury hotel: | Hotel Chaco |
| 👛 Best budget hotel: | Comfort Inn & Suites |
Frequently asked questions about Albuquerque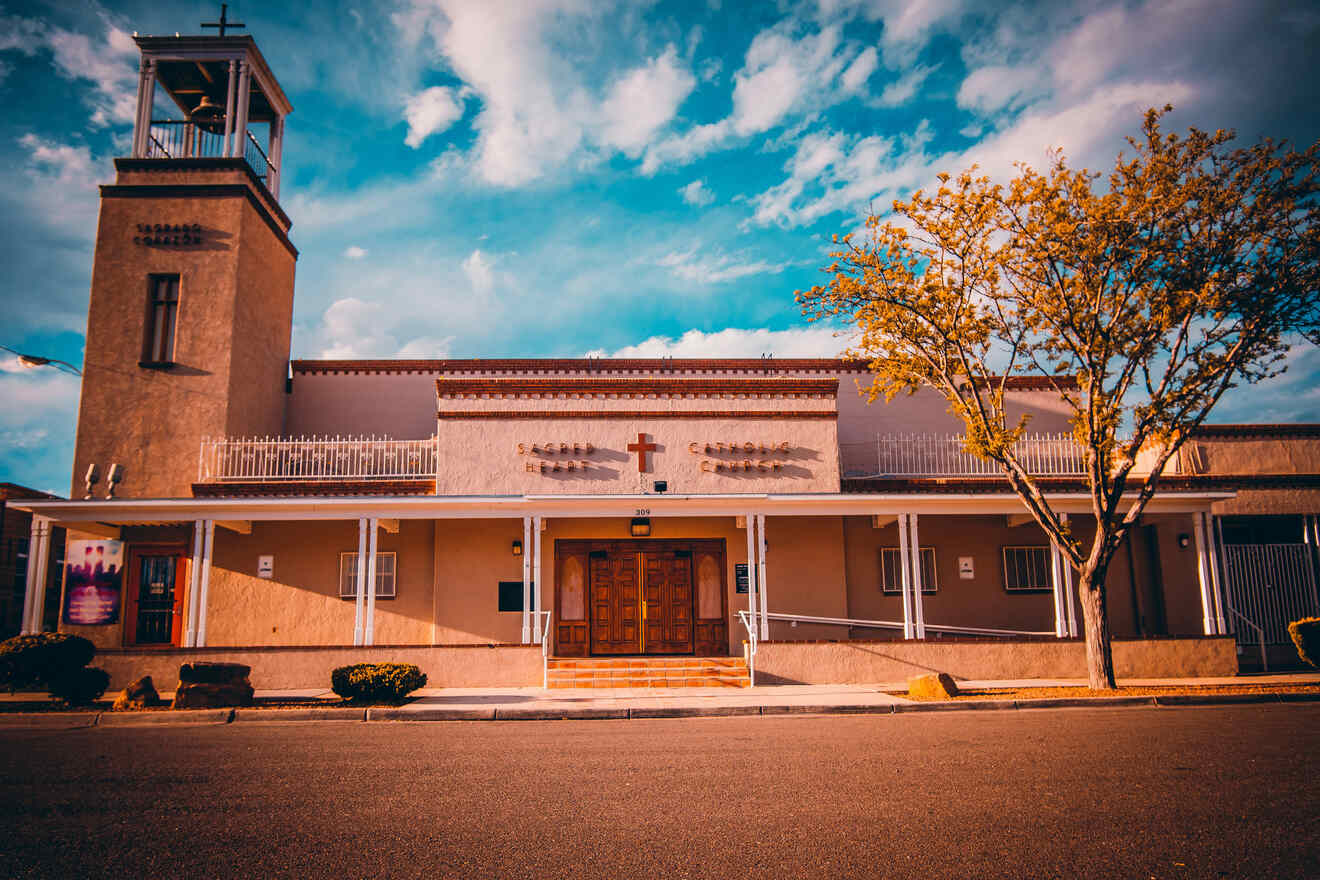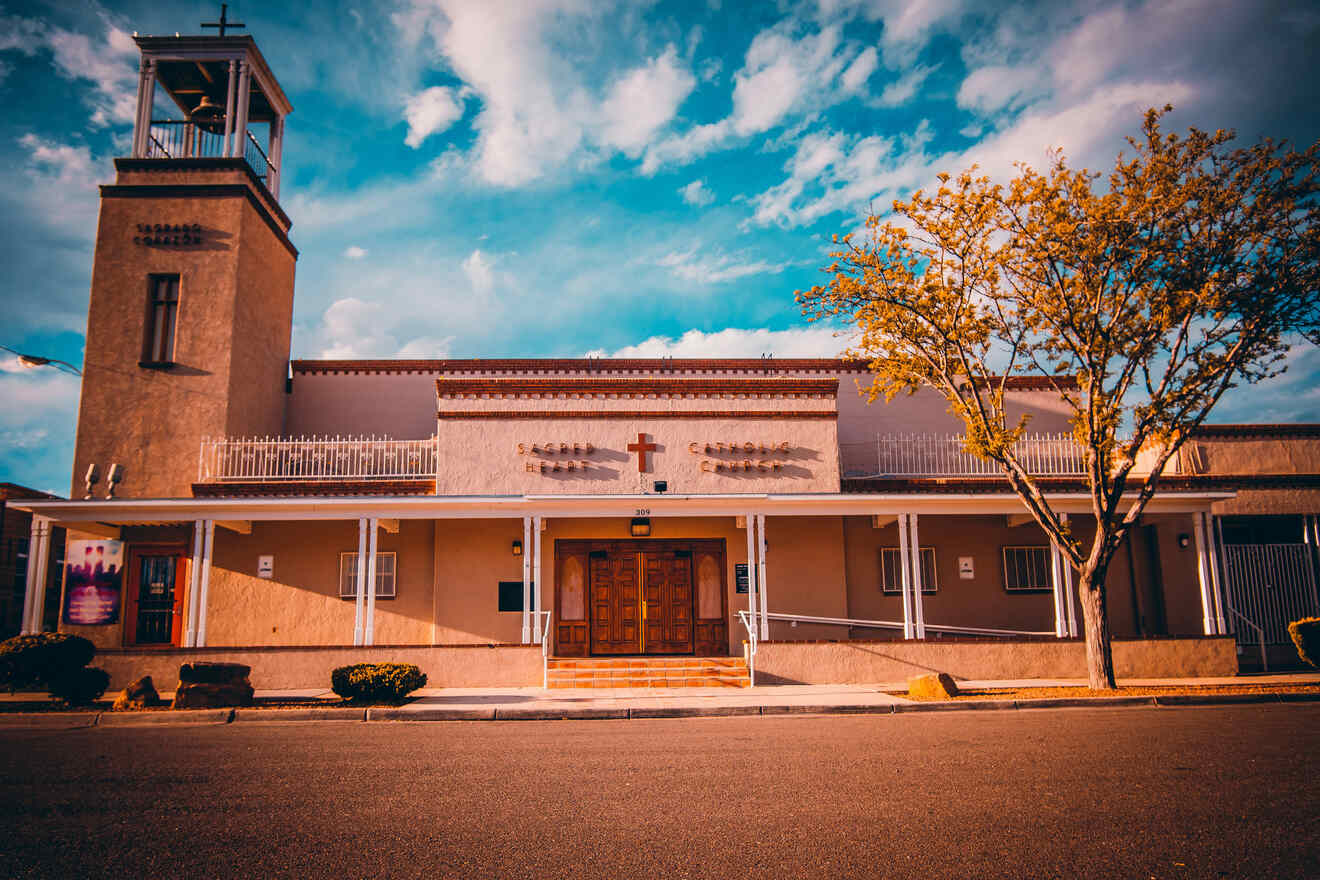 👍 Which part of Albuquerque is the safest?
The tourist areas of the Old town and Downtown are generally the safest areas to be in any city, and the same applies here.
🤷 Is it better to stay in Albuquerque or Santa Fe?
This is a common question when visiting New Mexico as both cities have their own charm. Stay in Albuquerque if you are looking for history and a big city. Choose Sante Fe if you are looking for art and culture in a smaller town. 
👎 What is the bad side of Albuquerque?
It's best to avoid the area East of Uptown around Central Avenue, all the way to the canyon. This area has higher crime rates than in the touristy and student areas like those I mentioned in this post. 
Conclusion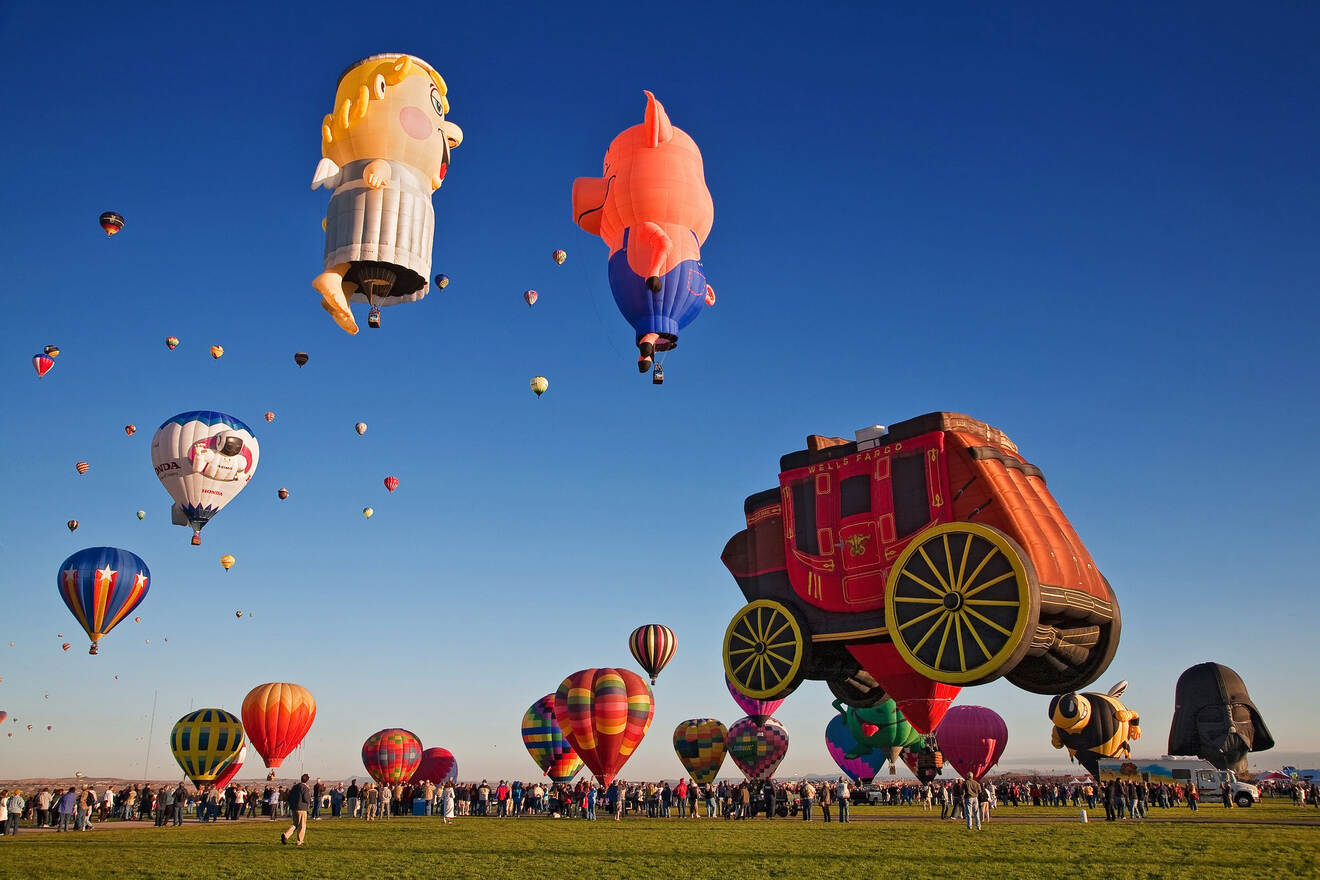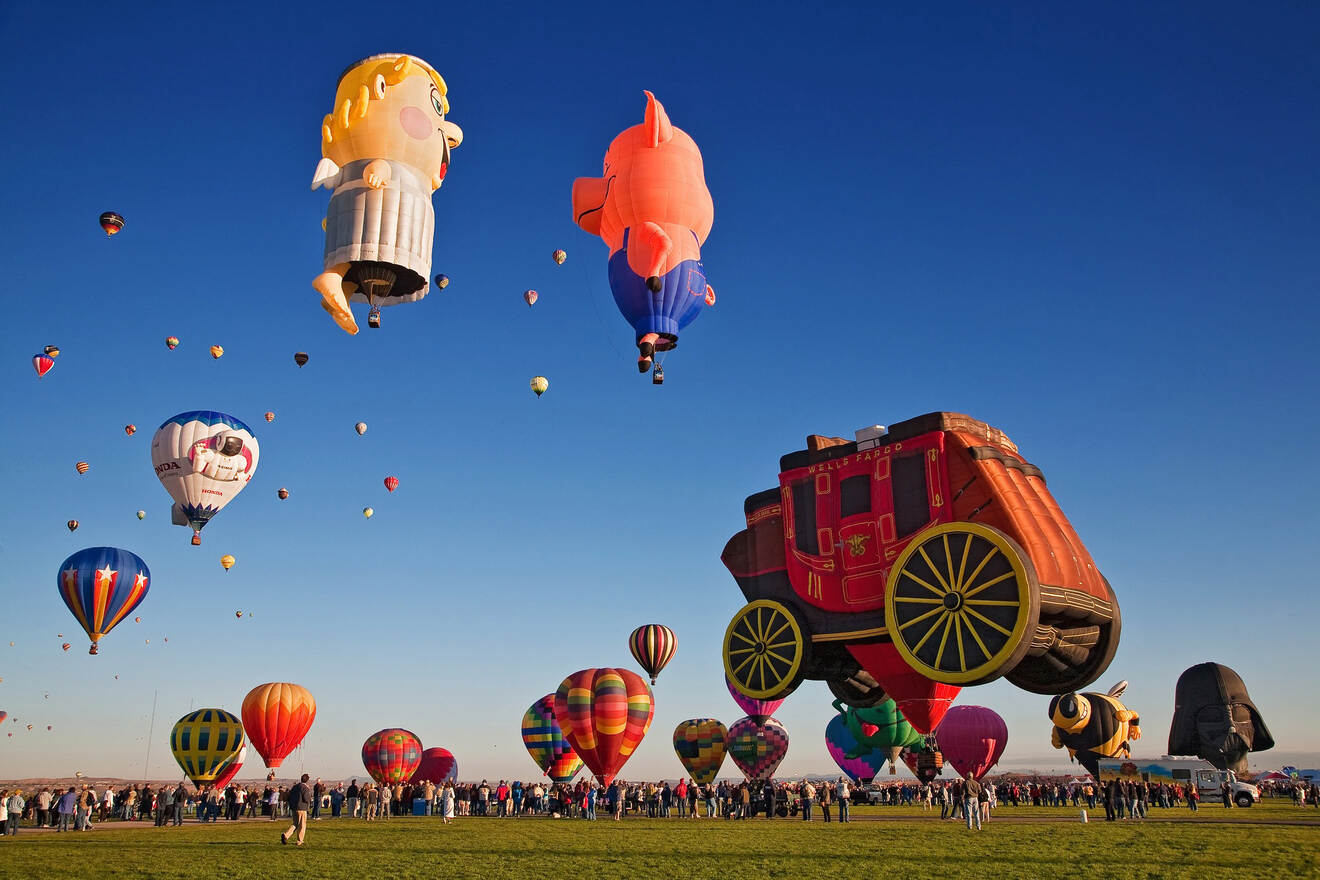 I hope I got to help you in deciding where to stay in Albuquerque. I narrowed the best places to stay, attractions to see, restaurants to fill your tummies, and activities to do in this eclectic city of New Mexico.
You've read the ideal places for first-timers, for art & culture, for ABQ nightlife, adventure, and relaxation. There are different types of tourists and interests, but I hope you found yourself a match and a great hotel in one of those categories.
Make sure to book your chosen accommodation early to ensure you get the best deals, especially if you are visiting for the New Mexican Balloon Fiesta. If you haven't already picked somewhere, here are my two favorite places to stay in Albuquerque.
By now, I hope I've answered your question, "where should I stay in Albuquerque?". Now pack your bags. New Mexico is waiting for you!
If you have any questions about a hotel or places to stay in Albuquerque, New Mexico, please don't be a stranger. Leave a comment below, and I will get back to you asap.
Enjoy your trip to Albuquerque and stay safe!
Kate
---
Pin it for later!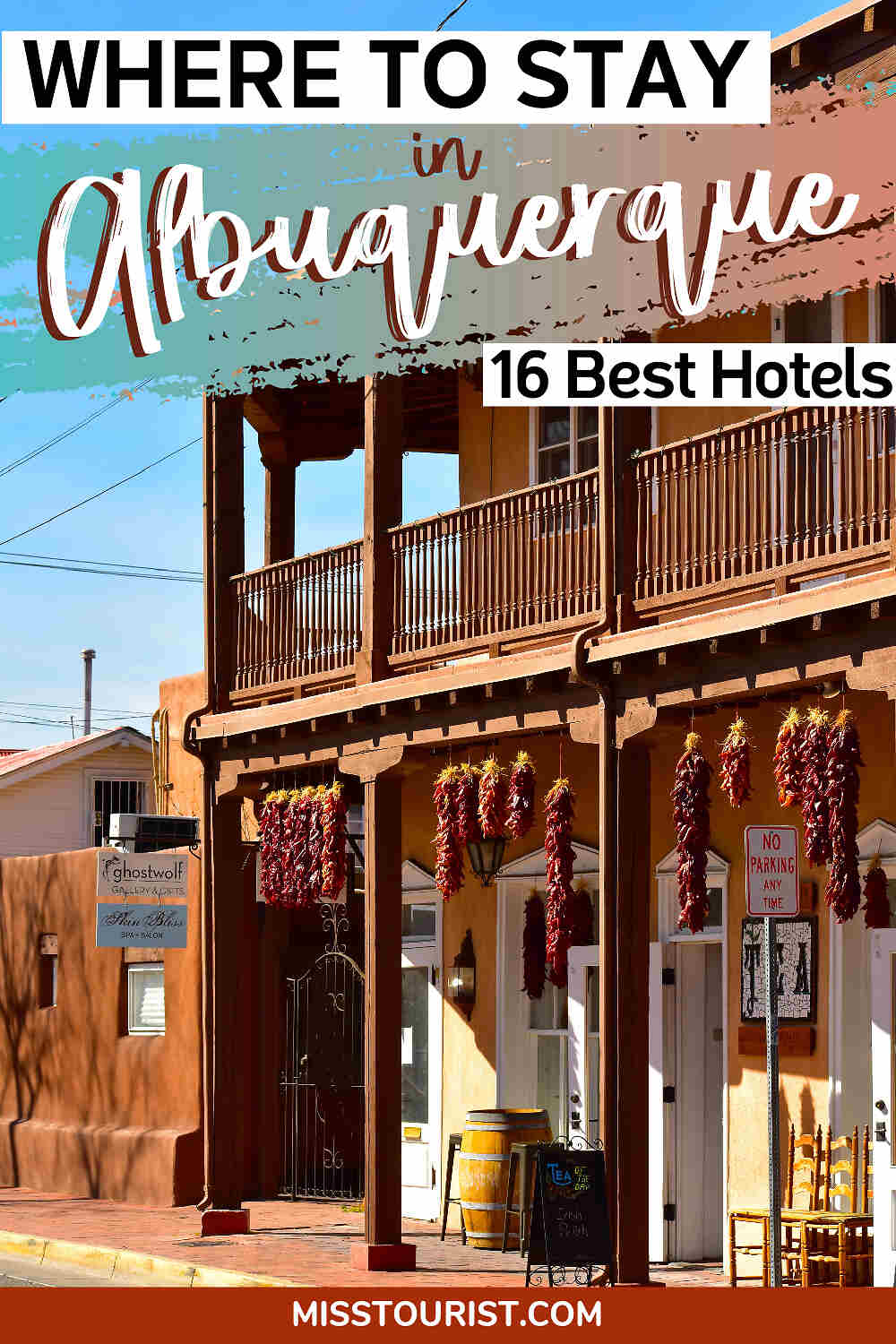 Pin it for later!