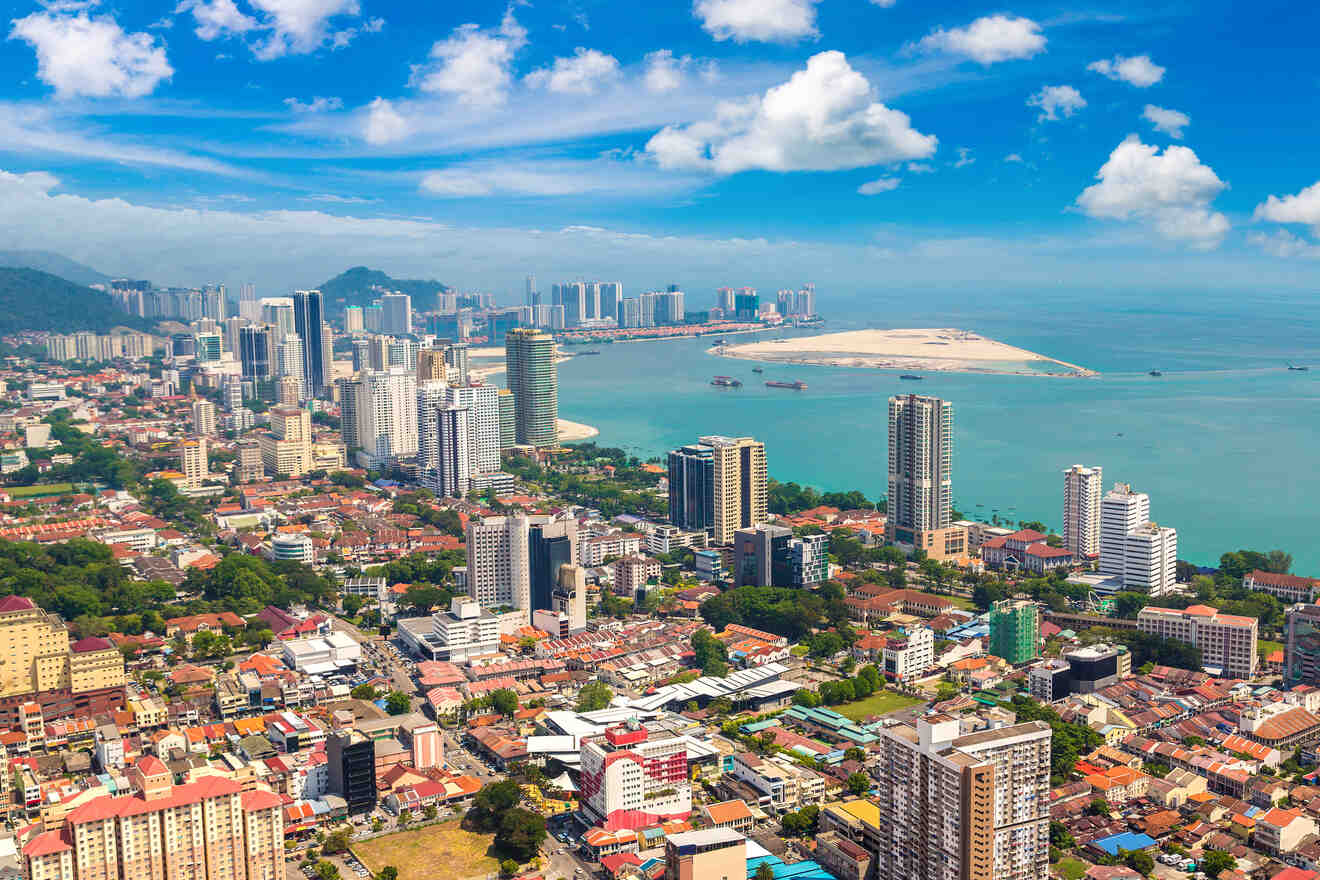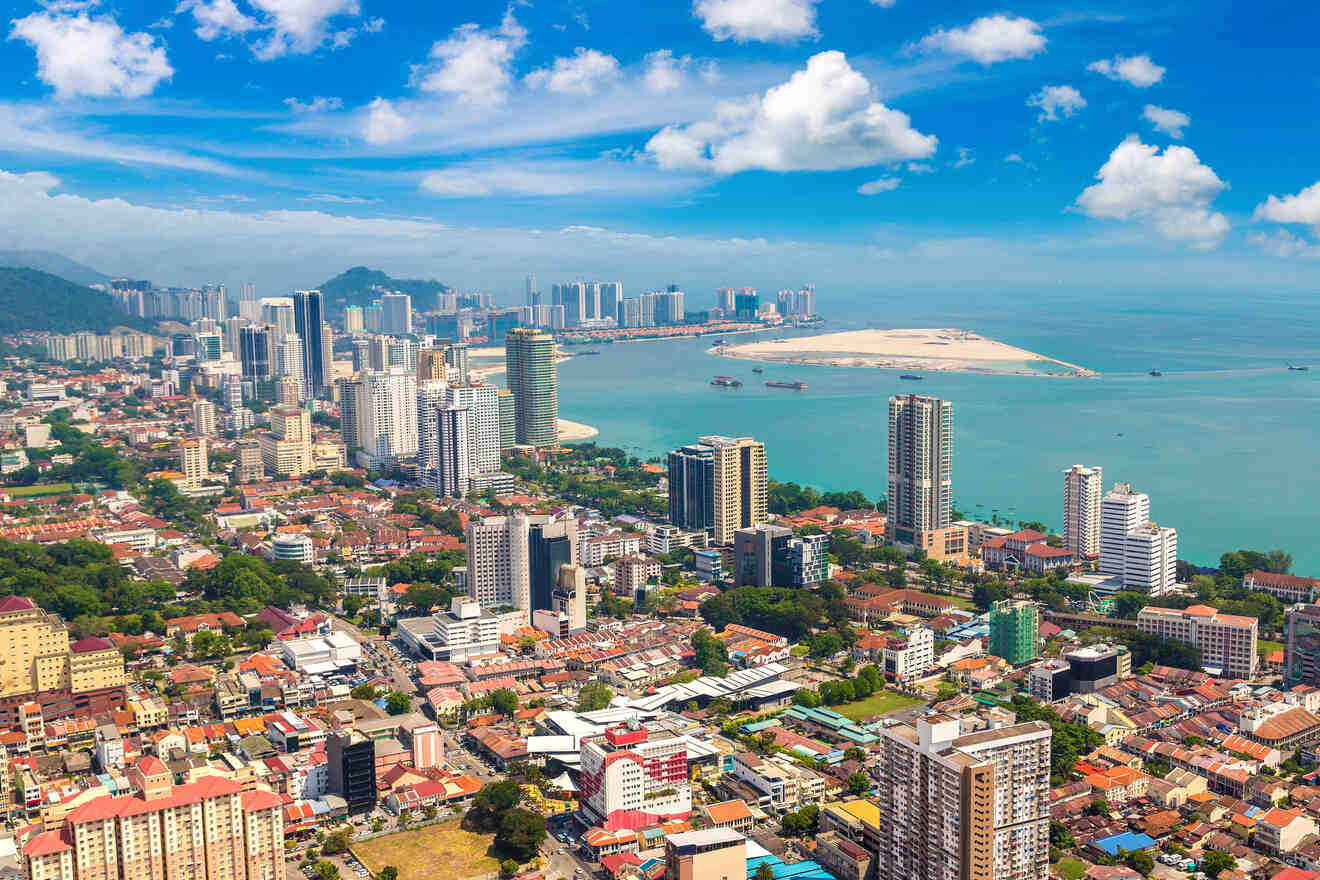 Welcome to the charming Penang! Located on the north-western coast of Malaysia, this island-state is divided into two parts: Penang Island, home to the capital city of Georgetown, and Seberang Perai, on the Malay Peninsula. Penang is the second smallest state in the country, yet the most densely populated with 1.8 million inhabitants… a real melting pot!
This island of wonders will enchant you with rich history and vibrant culture built through years of migration and colonization, soulful street arts, stunning nature, and… food! Known as the food capital of Malaysia, Penang cuisine reflects Malaysia's colorful ethnic mix with Chinese, Malay, and Indian delicious restaurants you will go on a real trip of flavor and tastes!
But the capital is not the only place on the island you will fall in love with… as soon as you step out of the city, you'll find palm-fringed beautiful beaches, charming fishing villages, cute farms, and mountainous green jungles.
With so much culture and nature to explore, this state has something for any traveler, but I know it can be hard to choose where to start and especially where to stay in Penang to make the best out of this idyllic destination. To help you with that, I researched all the best booking sites and put together a neighborhood guide with all the best areas with top accommodations for any budget and interest!
So make yourself comfortable and just keep reading to decide where to stay in Penang, but make sure you book your hotel way in advance! Being a small island with a lot to offer, the chances of finding a good hotel at the last minute is very rare.
Ready? Let's go!
If you are in a hurry
If you need to make a quick decision and book immediately, I got your back! Check this list with the best hotels located in the capital George Town, from luxury to budget:
Here's the map with the 6 best areas to stay in that I will be talking about in this post, so you can visualize them:
1. George Town – where to stay in Penang for the first-time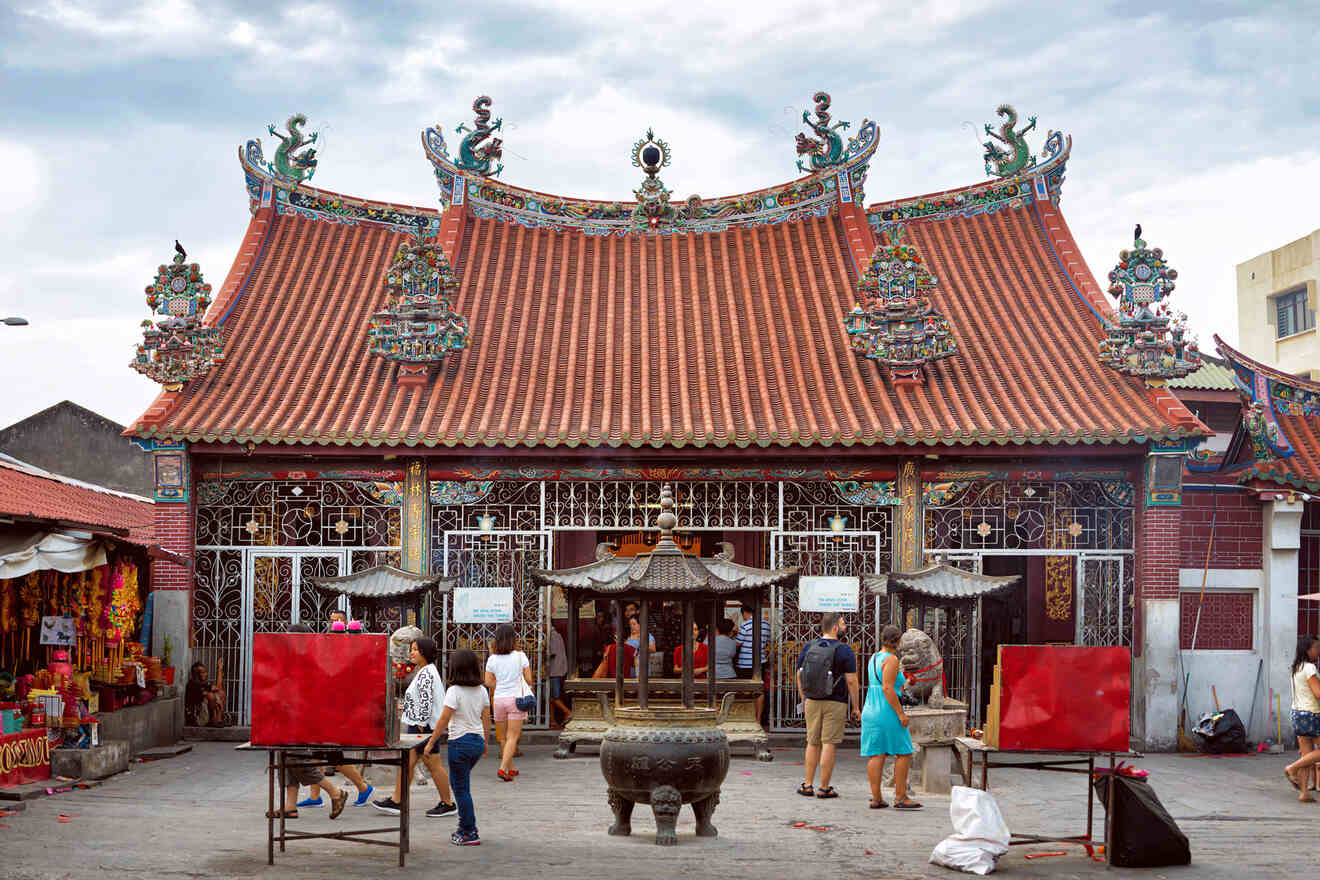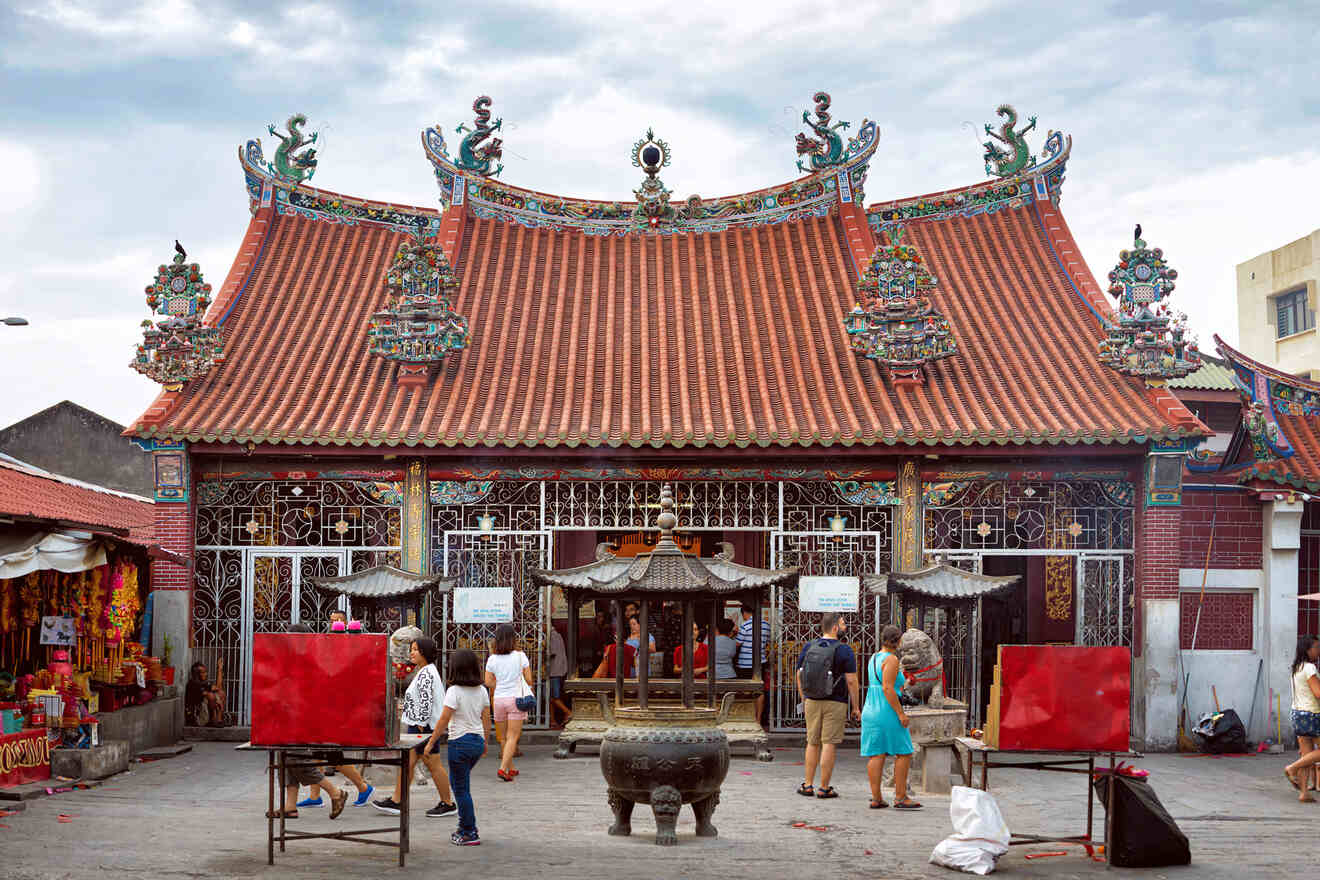 There is a reason why George Town is Penang's capital, this city has everything a first-time visitor is looking for and more! From its historical scenery to incredible temples, colorful street art, exquisite food, and local bars… you'll be in touch with Penang's true soul!
Located in the northeast of Penang island, George town is one of the most colorful and interesting cities in Malaysia, with its many diverse suburbs, among which the historic center is the main attraction. In fact, designated as a UNESCO world heritage site, this area is bursting with historic attractions, like the Fort Cornwallis, an 18th-century British fort built by the infamous East India Trading Company.
But the most interesting buildings in George Town, or at least the ones that would be at the top of my bucket list, are the beautiful temples, majestic centers of worship. Explore the diverse religious culture of the region in the Chinese Goddess of Mercy Temple, the Hindu Sri Mahamariamman Temple, or the Wat Chaiyamangkalaram temple (I dare you to pronounce it!), which contains one of the longest Buddha statues in the world!
Once you are done visiting the countless cultural attractions, just lose yourself in George Town pedestrian-friendly streets, discover the handcrafted and vintage shops, the cool hipster cafes and nightclubs, the creative street art, and try the best street food of your life!
Other accommodation options in George Town
Things to do in George Town
Explore the diverse religious culture of the region in the majestic temples: the Goddess of Mercy Temple, the Sri Mahamariamman Temple or the Wat Chaiyamangkalaram temple
Witness hot air balloons being released in the air during the George Town Festival in August!
Visit the Buddhist Kek Lok Si Temple on a Private Tour
Check out the Fort Cornwallis, an 18th-century British fort in George Town
Learn about Penang history, art, and culture at the Penang State Museum and Art Gallery
Check out the beautiful Orchid Garden, featuring a two-hectare park specialized in orchids and hibiscus flowers
2. Gurney Drive – where to stay in Penang for shopping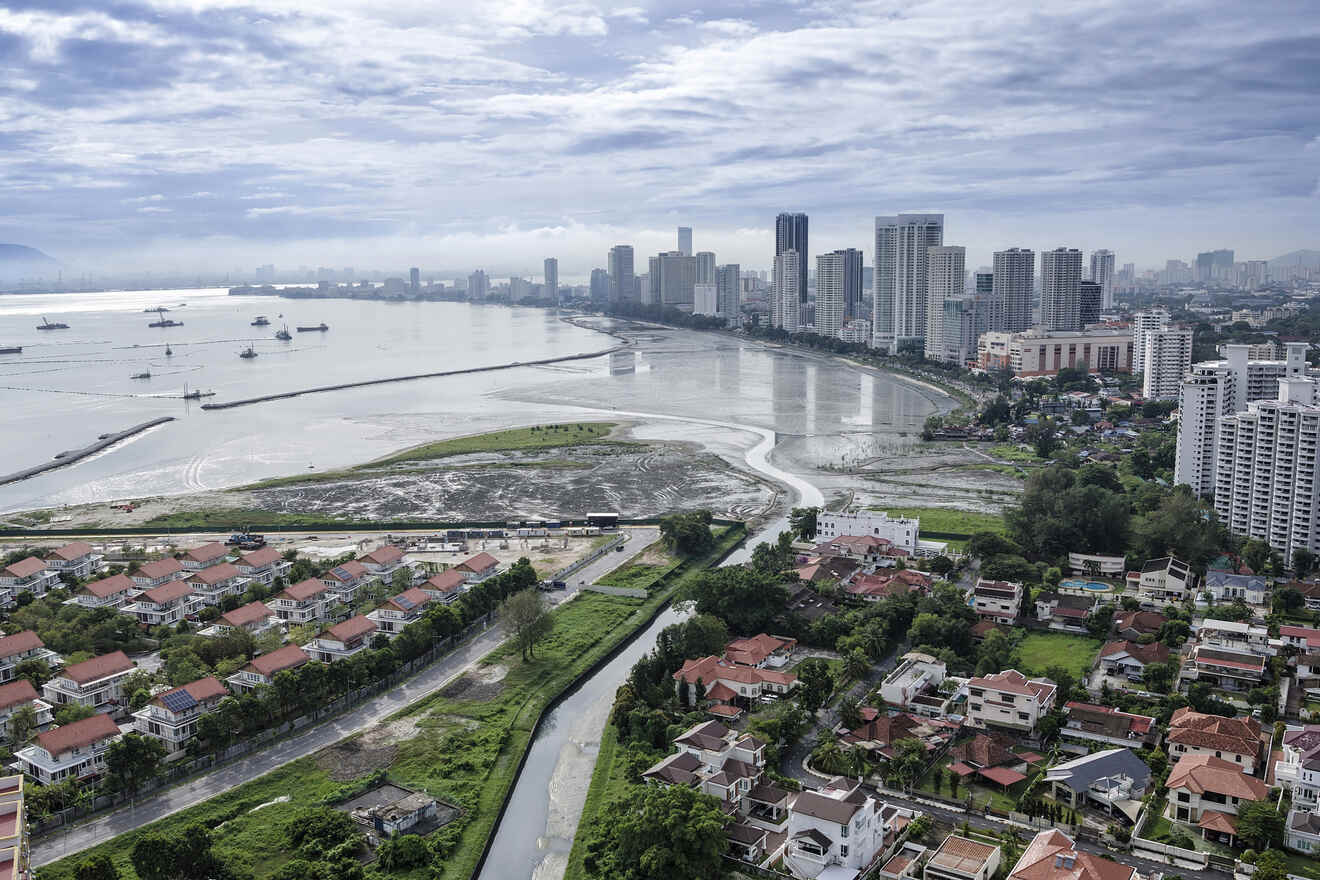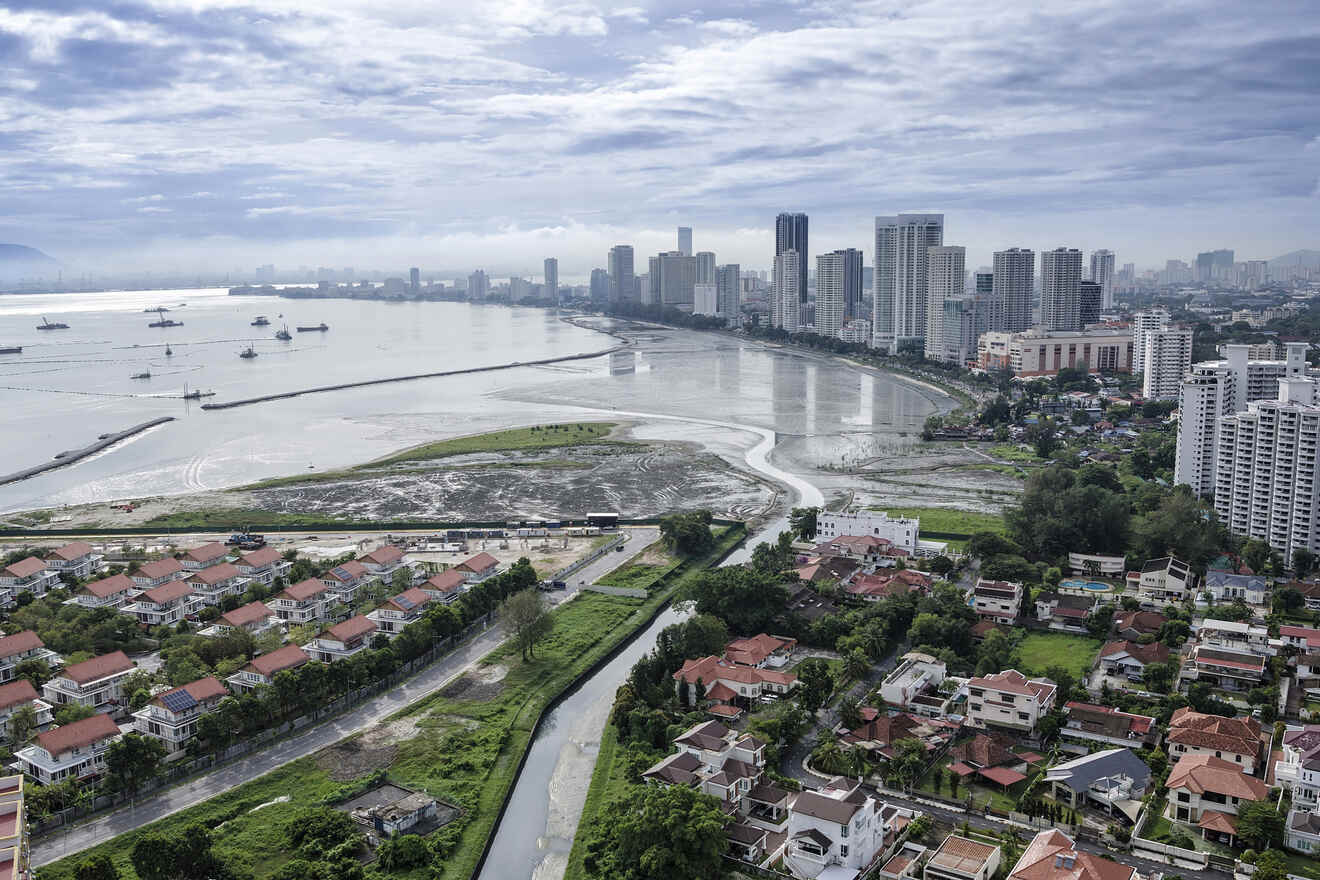 Inside George Town, you'll find the famous street, Gurney Drive. The main seaside promenade, known as Persiaran Gurney, is the heart of the capital's food scene, shopping, and nightlife. This street is jam-packed with all the best restaurants and street food of the city, where you'll try delicious seafood dishes, including the traditional spicy noodles "asam laksa".
With huge shopping malls featuring high-end brands (check out the huge Gurney Plaza!), high-rise buildings, and nightclubs, Gurney Drive has become one of the main tourist attractions and one of the best places to stay in Penang.
In fact, with its great range of affordable accommodation options and trendy hotels, Gurney Drive in George Town attracts all types of travelers, from backpackers on a budget to those who spare no expense! Which category do you belong to? Check out the best choice for you and book it immediately!
Other accommodation options in Gurney Drive
Things to do in Gurney Drive
Have a stroll on the promenade and do some window shopping
Eat some delicious and tasty Chinese food at Canton-i Restaurant
Lose yourself in the huge Gurney Plaza shopping Mall and do some crazy shopping!
Check out the Wat Chaiya Mangkalaram and Dharmikarama, two historical and temples dating back to the 1800s
3. Batu Ferringhi – best area to stay for families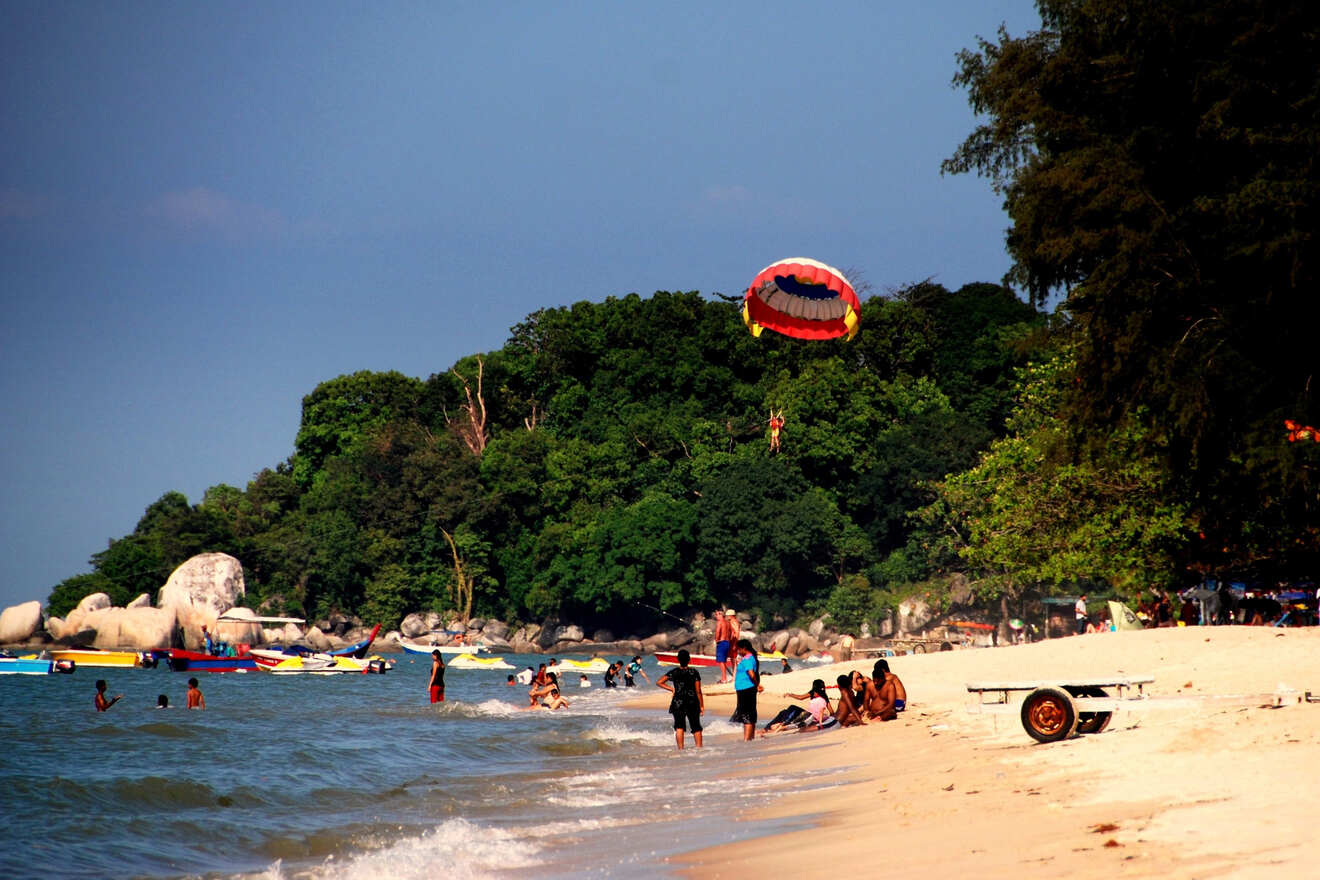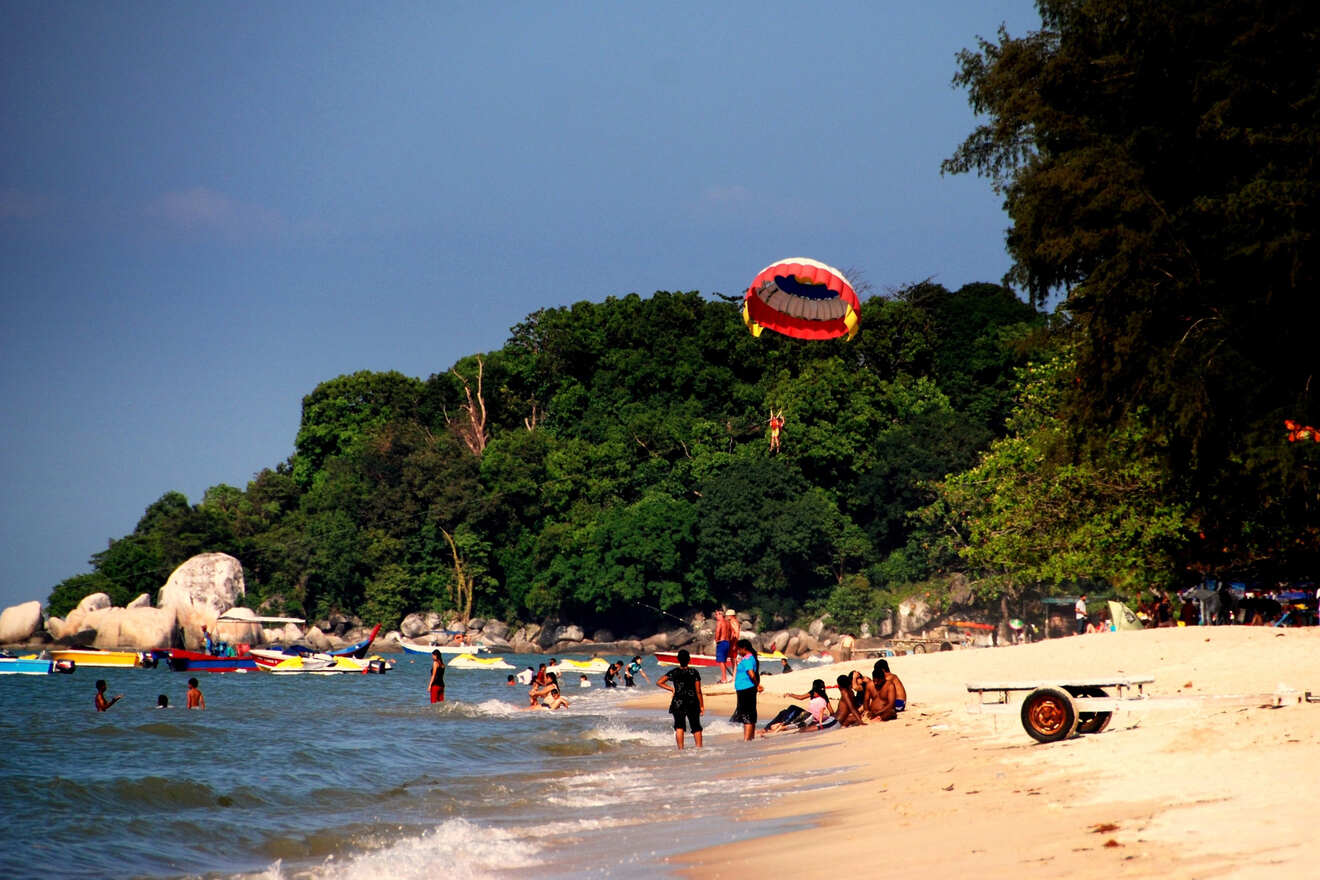 Batu Ferringhi is a Malaysian piece of paradise located in the north of the island, characterized by white sand beaches like Batu Ferringhi Beach, blue-green waters, and a lot of delicious food to try (yes, again!). The relaxed vibe of this location combined with the big variety of exciting water sports such as paragliding and surfing make it the perfect place to stay in Penang with the family, offering activities for every member, from active kids to parents looking for some quiet relaxation.
One of the main attractions of the area is the famous night market, which attracts a large number of locals and tourists every evening. Open from dusk until late, this night market is a sidewalk bazaar of stands by local traders, selling any good you can think of from traditional souvenirs to fake goods. After doing some late shopping at the night market, check out also the cool bars, pubs, and restaurants scattered around for a great night out!
Being very close to downtown George Town, Batu Ferringhi is the perfect choice if you want to have easy access to the city center, without being stuck in its hustle and bustle and enjoy some sun and sea breeze at the same time! If relaxing at the beach while being completely immersed in the Asian culture sounds like your ideal vacation, then check out the other two beautiful Malaysian towns: Kuala Lumpur and Langkawi, with so many great things to do!
Other accommodation options in Batu Ferringhi
Things to do in Batu Ferringhi
Try some exciting water sports such as paragliding and surfing!
Relax and take some sun at the famous Batu Ferringhi Beach
Eat delicious local cuisine at Ferringhi Garden
Check out the artwork and handicrafts by both Malaysian and Asian artists at the Yahong Art Gallery
Stroll through the bustling Batu Ferringhi Night Market and buy some local souvenirs!
Reconnect with nature surrounded by colorful butterflies at the nearby Entopia Butterfly Farm!
Take your kids to the Penang Toy Museum for a fun visit!
4. Tanjung Bungah – the coolest place to stay in Penang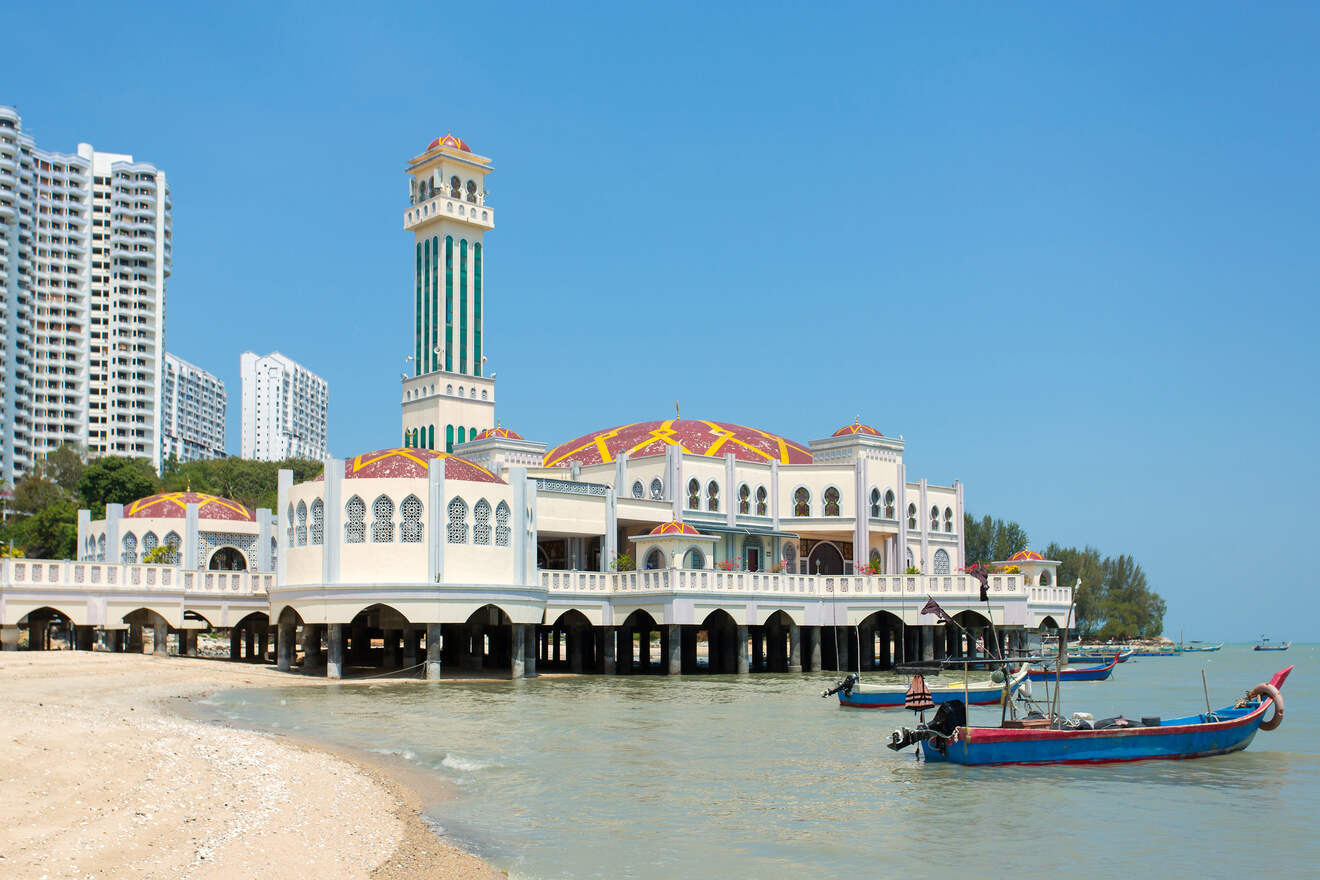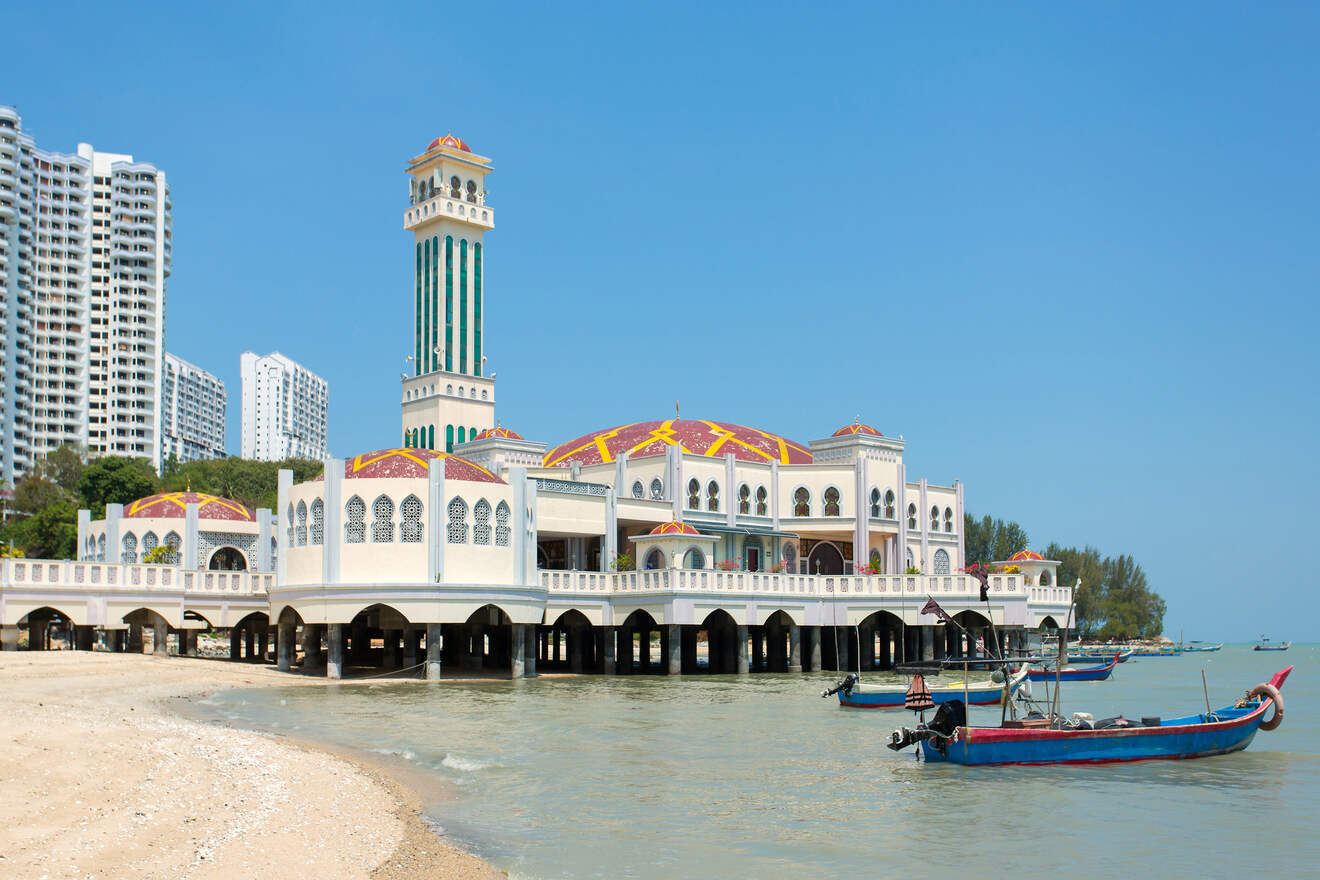 Situated in the northwest of the island, between the busy George Town, and the quiet Batu Ferringhi, Tanjung Bungah (literally the 'Flower Cape') is another paradisiac destination in Penang. Once a charming and sleepy fishing village, this suburb has become a very popular and well-known beach destination for ex-pats, offering a lot of modern accommodation options from budget to luxury to enjoy a sunny holiday full of comforts!
But hotels are for sure not the main reason why tourists love Tanjung Bungah… this is one of the best destinations for watersports in Penang, with Penang Water Sports center based here, where you can get some excitement from kayaking and boating. But if you prefer the sand to the water, you can also enjoy many beach sports such as beach volleyball, beach soccer, or even fishing.
Also offering untouched natural landscapes, big shopping centers, and tourist attractions such as the floating Mosque or the Penang Toy Museum… Tanjung Bungah meets the tastes and desires of everyone!
Other accommodation options in Tanjung Bungah
Things to do in Tanjung Bungah
Rent boats, kayaks, and canoes from the Penang Water Sports center and go on an adventure!
Enjoy some delicious street food at the Tanjung Bungah Night Market
Spend a shopping evening at the Island Plaza
Take a walk around the hilly streets of Mount Erskine
Check out the unique Floating Mosque, built on pilings and stilts above the sea
5. Sungai Dua – where to stay in Penang on a budget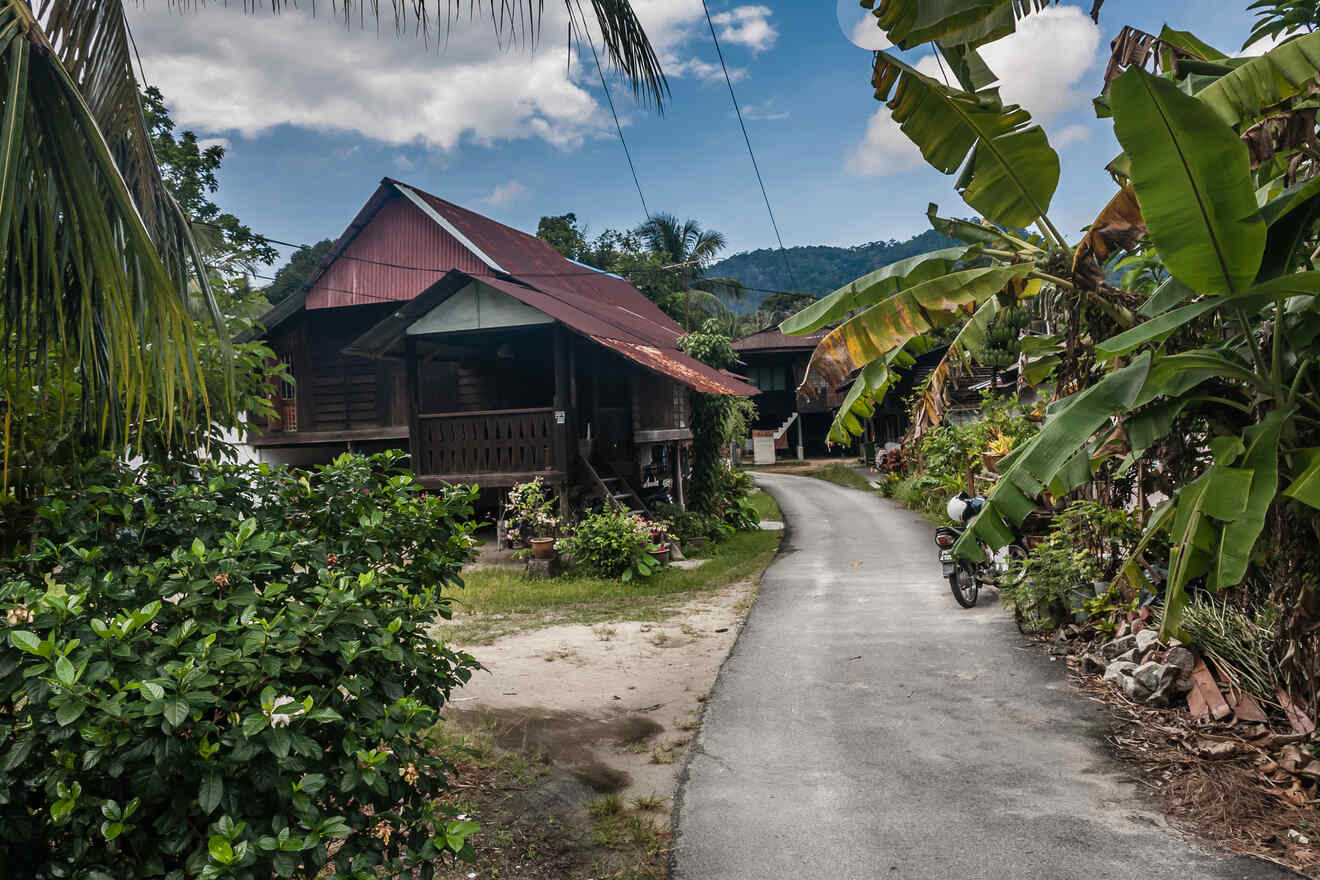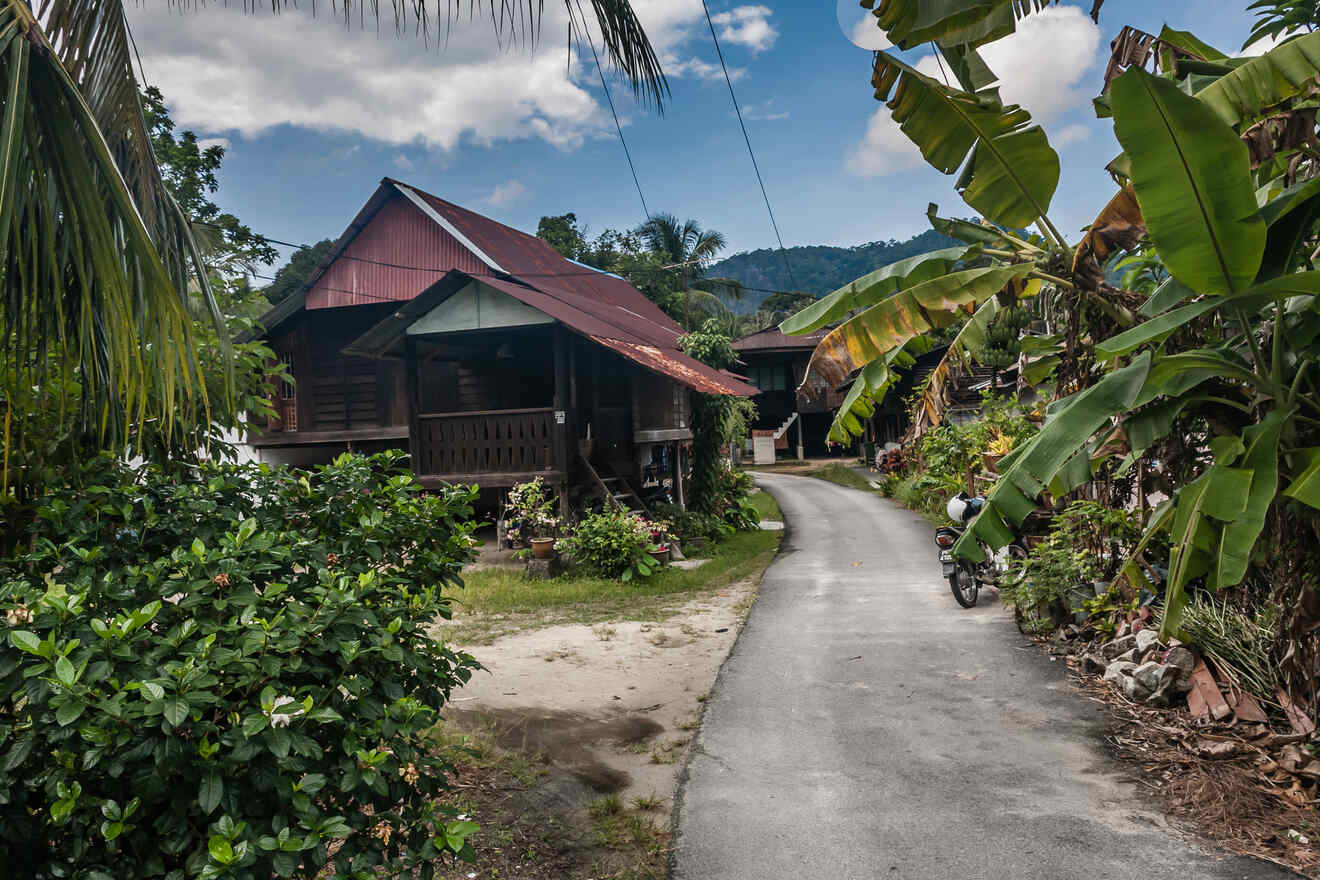 Sungai Dua is a small town located south of George Town in Penang, along Penang's east coast. This area has only recently been renovated into a residential zone, being an agricultural area until the 1970s.
Today in Sungai Dua you'll find Universiti Sains Malaysia, which creates a youthful and lively vibe and cheap accommodation welcoming many backpackers in Malaysia… perfect if you're traveling on a budget!
If you are wondering about the delicious flavorful food I've been mentioning until now, don't worry, Sungai Dua makes no exception! With many restaurants and the typical Asiatic hawker centers, food centers selling different varieties of affordable food, you will have a lot of good, cheap meals… Can you find a better combination?
Since this is more of a budget location there aren't any luxury hotels that I felt were good enough to recommend to you. If you are looking for the ultimate deluxe stay I recommend checking out Eastin Hotel Penang in nearby Bayan Lepas. For all other budgets, check out my suggestions below:
Other accommodation options in Sungai Dua
Things to do in Sungai Dua
Explore the food stalls at the Sri Nibong Cafe, a small hawker food center very popular among locals
Check out the Malay and Chinese stalls at the colorful Sungai Dua Night Market
Hike or walk at the Bukit Jambul trail, featuring beautiful wildflowers and green vegetation
Eat the best dim sum of your life at Maxim Dim Sum Restaurant
Try as many dishes as you can at Super Tanker Food Centre!
6. Bayan Lepas – where to stay in Penang close to the airport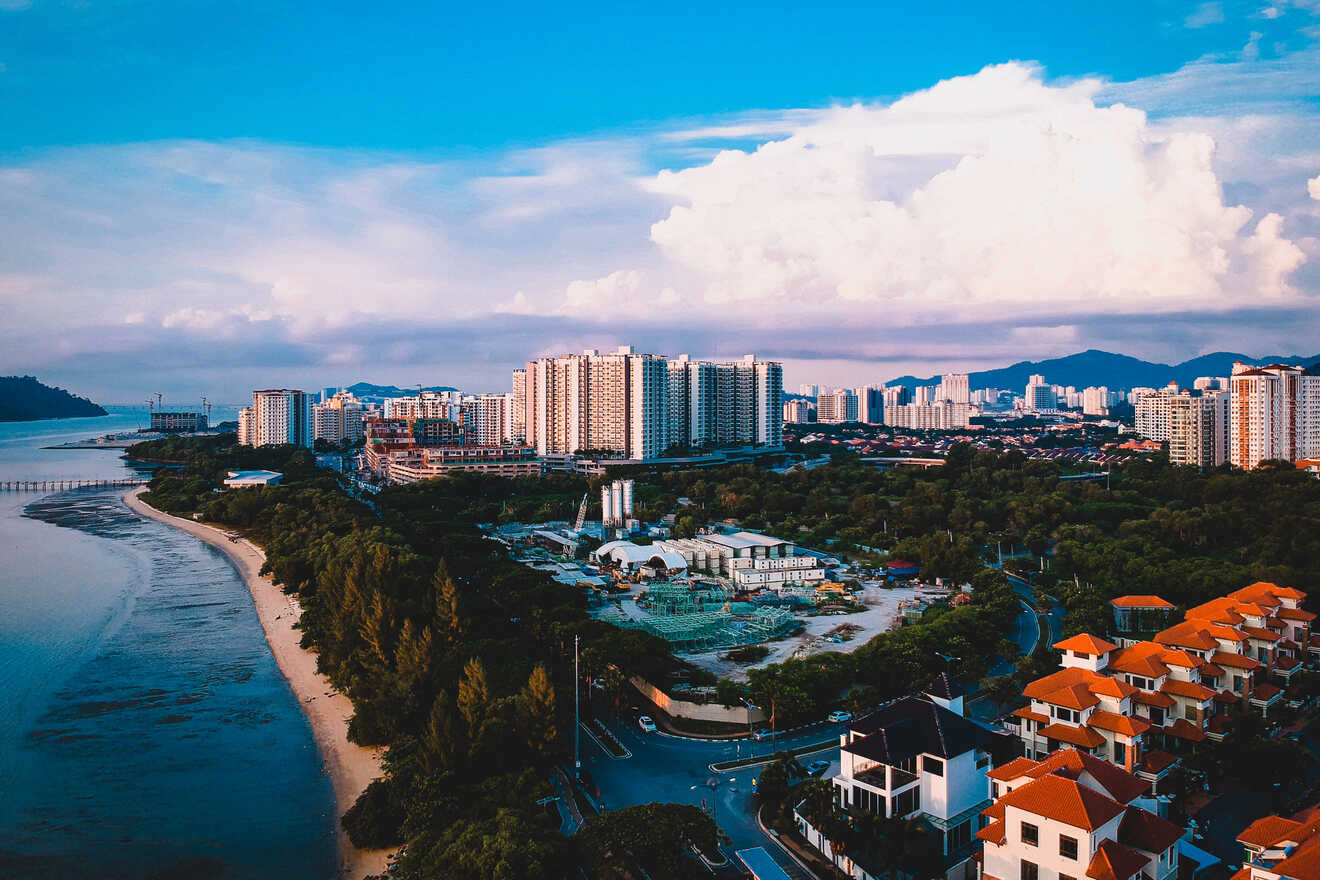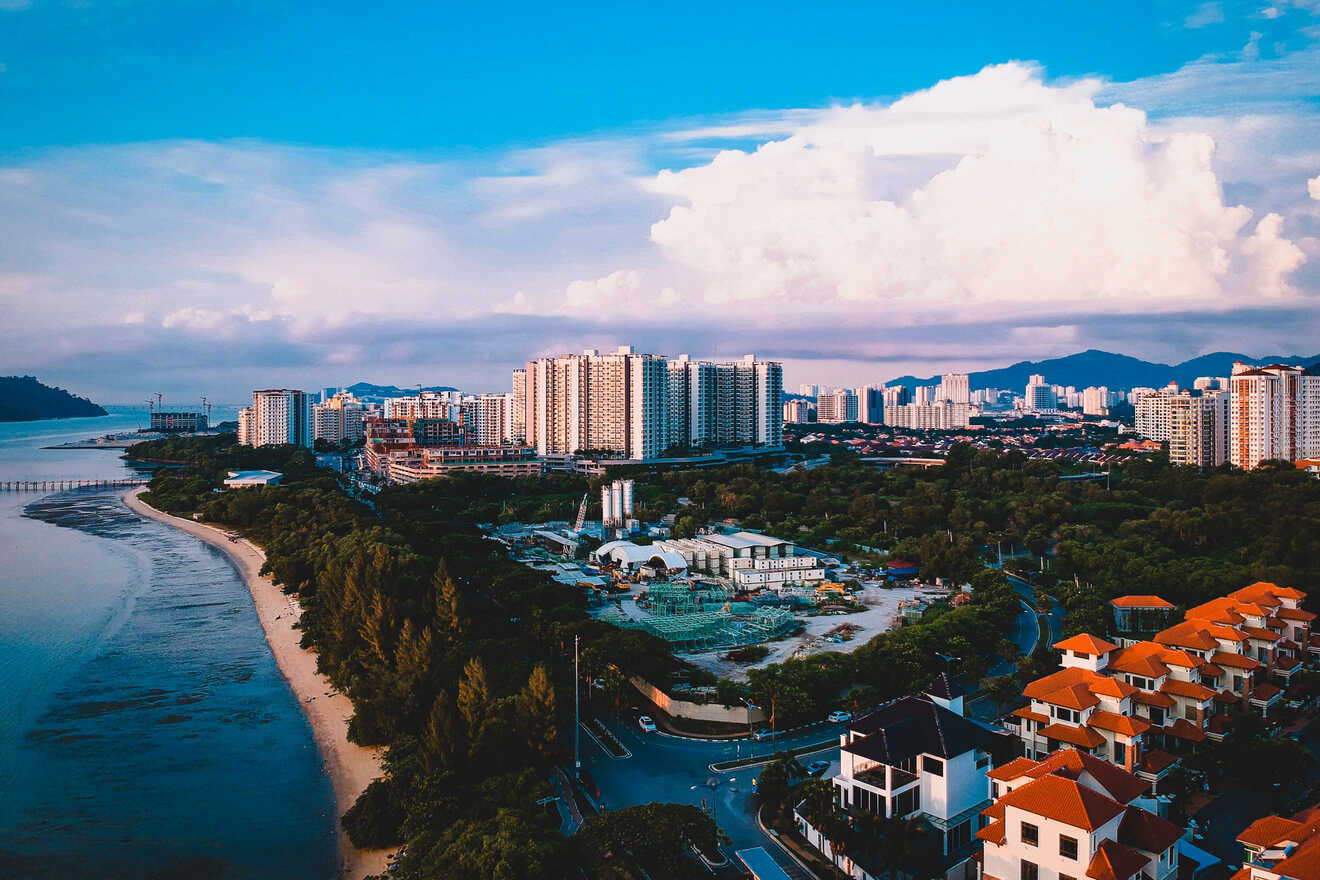 Located in the southeast of Penang Island, more south of Sungai Dua, there is Bayan Lepas, a largely residential neighborhood with a strategic location close to both Penang International Airport and with quick access to the capital George Town via the Expressway. If you're the type who gets anxious if too far from the airport or if you are on the island just for a short getaway, this is the place for you, it's almost impossible to miss your flight here!
Don't get me wrong, this charming area is also home to many of Penang's most popular attractions. Shopping lovers have to spend an evening (or a day) at the Queensbay Mall, the largest shopping mall in Penang, while sports fanatics will love the SPICE Arena, one of Penang's major sporting venues, hosting sports competitions as well as events and exhibitions.
Check out the Snake Temple for something out of the ordinary, the only Chinese temple in the world inhabited by snakes, or the Penang War Museum if you are interested in the military history of the area, displaying military installations from the 1930s. The airport area has never been so interesting!
Other accommodation options in Bayan Lepas
Things to do in Bayan Lepas
Have an intense day of shopping at the Queensbay Mall, the biggest shopping mall in Penang!
Attend a sports event or an exhibition at the SPICE Arena
Check out the snakes living in the Chinese Snake Temple
Visit the Penang War Museum to learn about the military history of the area
Explore the Penang AkuaTAR Aquarium for great marine biodiversity
7. Bukit Mertajam – where to stay in Penang for nature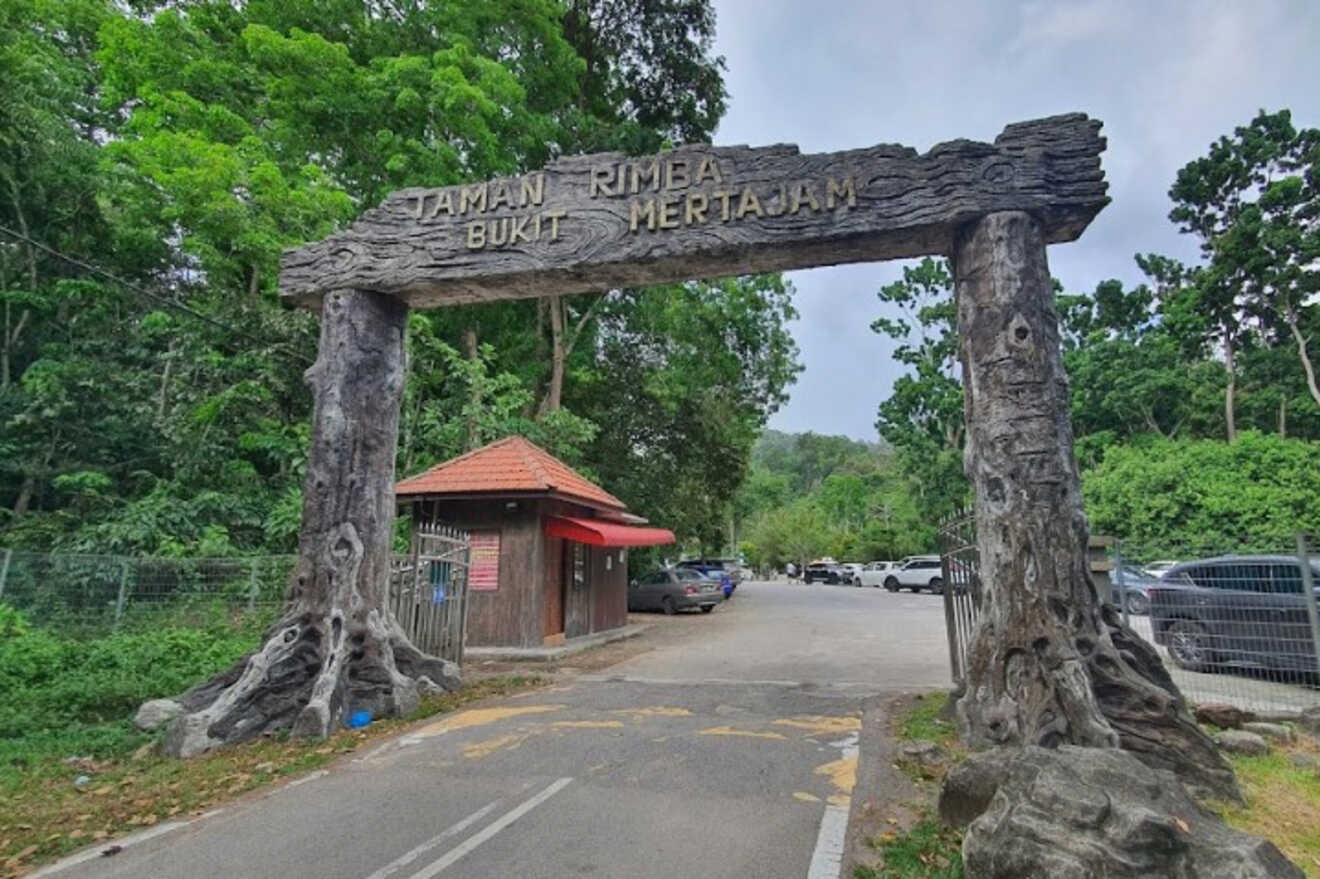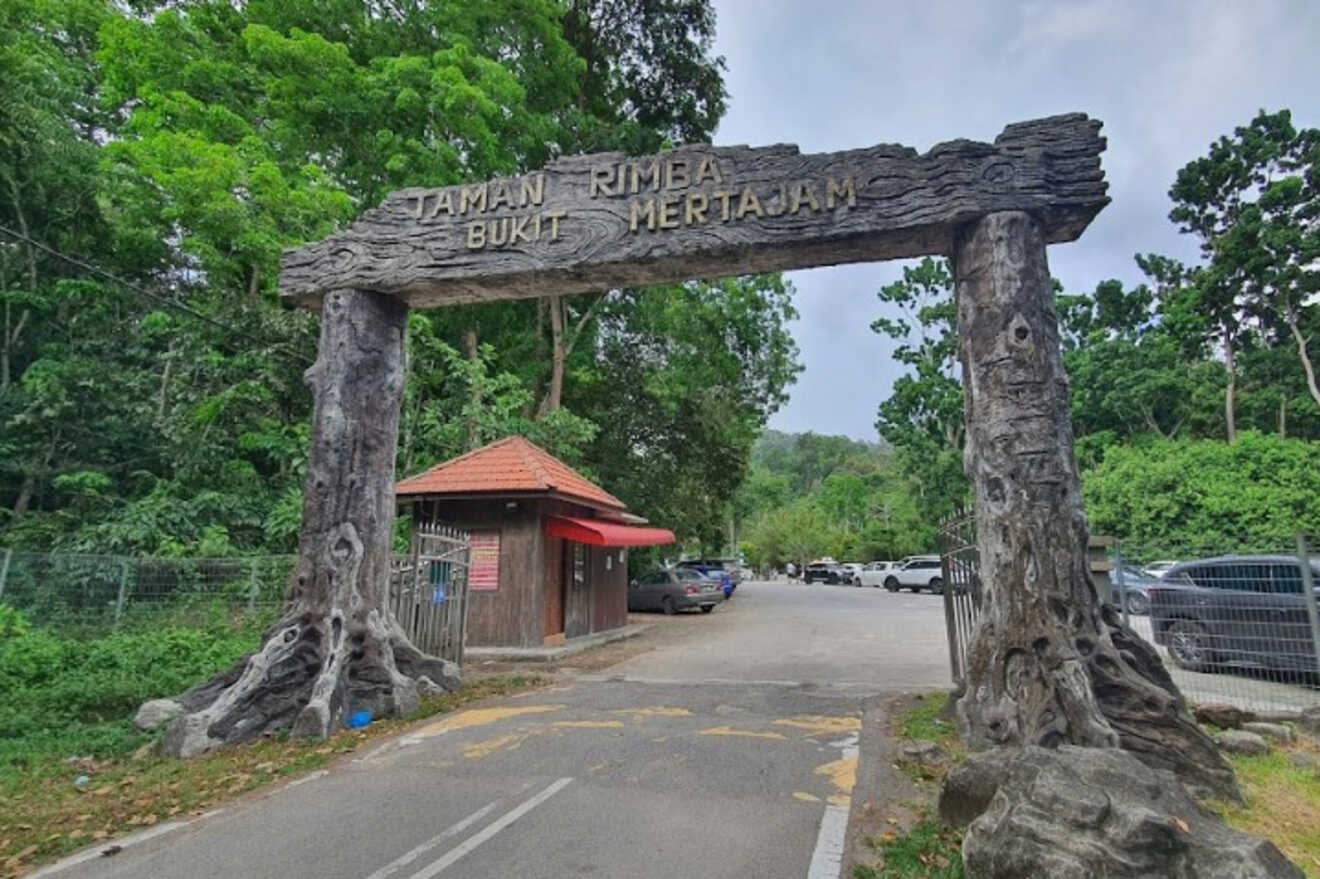 Bukit Mertajam is the capital of the Seberang Perai Tengah district of mainland Malaysia, located on the Malay Peninsula. Even if usually ignored by tourists, this neighborhood is actually a hidden gem, filled with a deep heritage, delicious food, and surrounded by beautiful green landscapes! This is a great place if you want to be far from tourists and reconnect with nature.
If you decide to stay here, explore Penang's best hills and parks. Hike in Bukit Mertajam Recreational Forest and gaze at its indigenous flora and fauna, or trek up to the Buddhist temple of Bukit Berapit, a hill full of durian, mangosteen, and nutmeg trees. Lastly, if you want an adventure, go trekking or biking in the jungles of Cherok Tokun Nature Park, where you'll be in touch with infinite species of trees, herbs, and bushes!
Other accommodation options in Bukit Mertajam
Things to do in Bukit Mertajam
Hike and reconnect with nature in the green Bukit Mertajam Recreational Forest
Trek the hill of Bukit Berapit and reach the Temple at the top
Immerse yourself in the jungles of Cherok Tokun Nature Park
Go crazy shopping at the Megamall Penang
Do some water sports at the Mengkuang Dam, the largest dam in Penang!
Frequently asked questions about Penang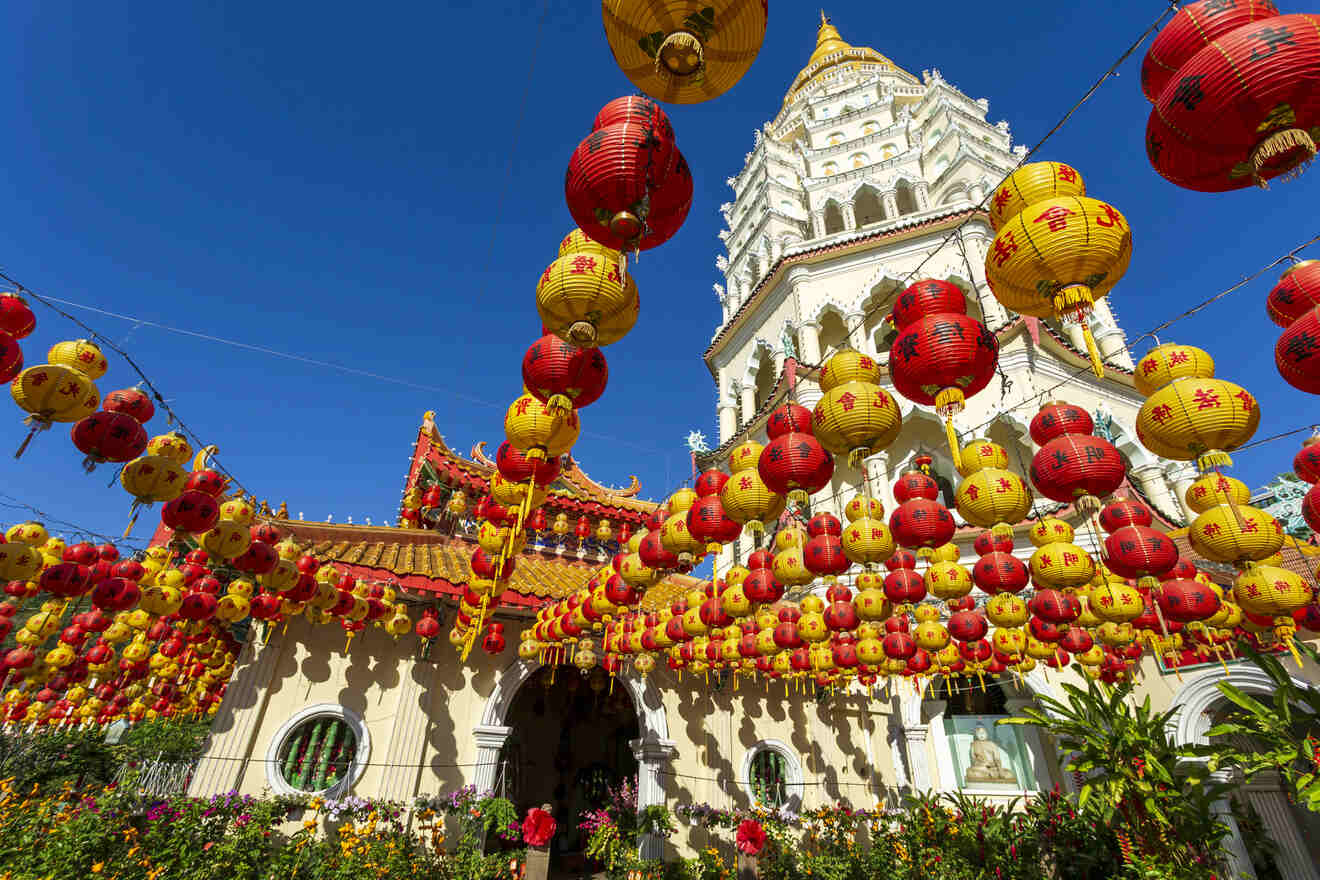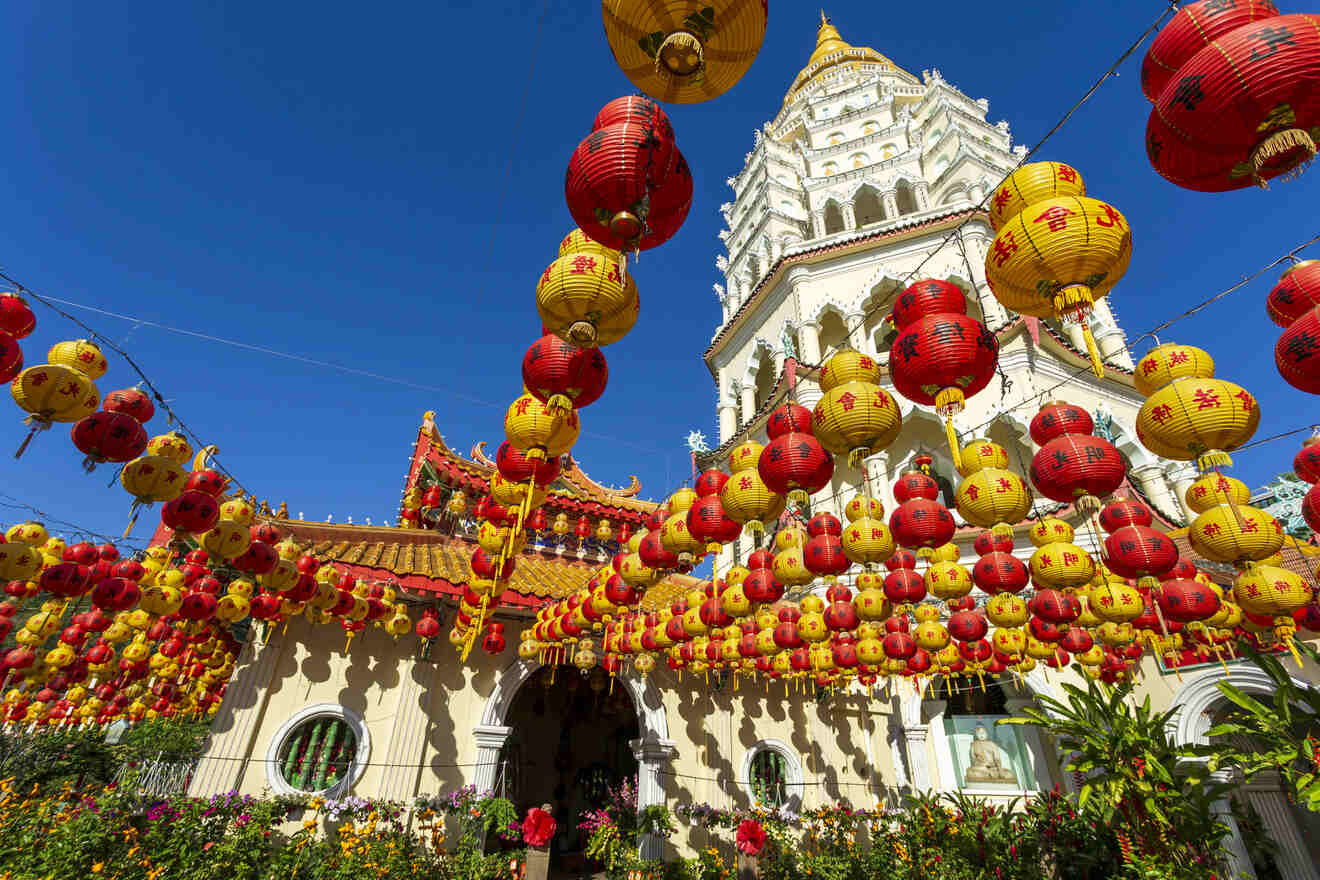 Conclusion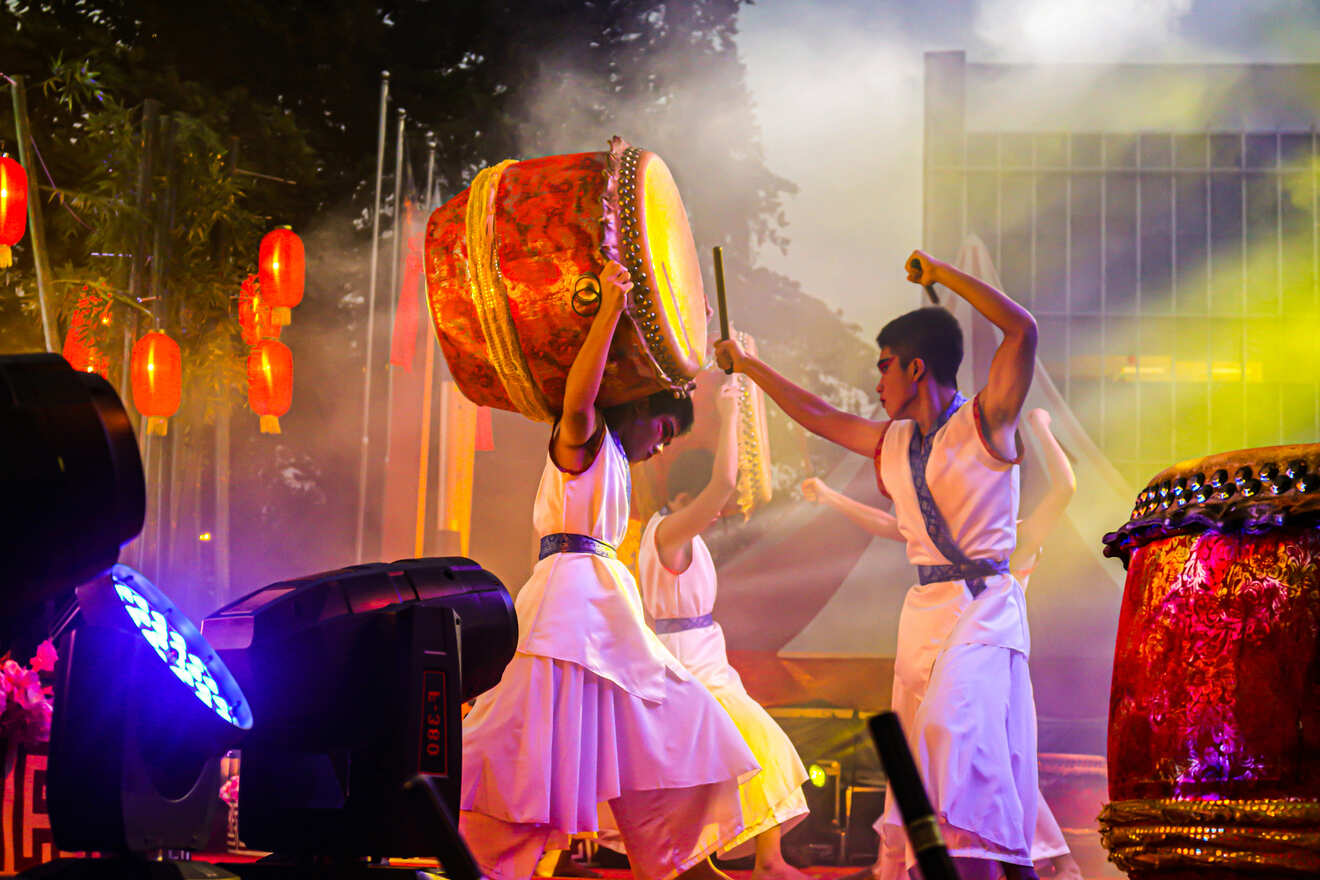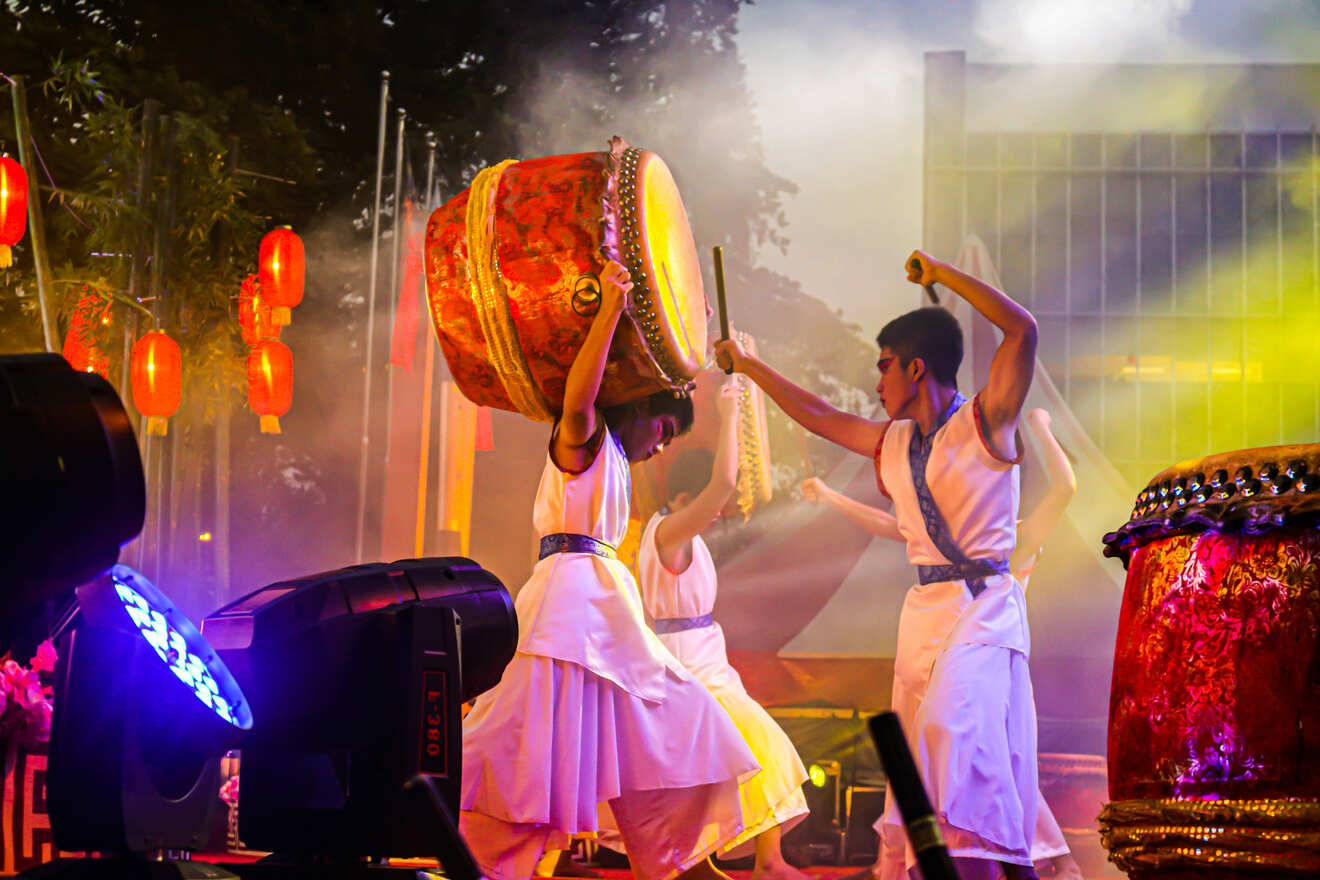 We are at the end of our amazing journey through Penang's best areas to stay. As you saw, its diverse suburbs and unique towns have something to offer for any budget, interest, and traveler!
Starting from the capital George Town to deep dive into the history and culture of the region, the promenade Gurney Drive for shopping lovers, the family-friendly Batu Ferringhi, the cool Tanjung Bungah, Sungai Dua for a stay on a budget, Bayan Lepas if you want to be close to the airport and Bukit Mertajam to be surrounded by nature, no one is left behind here!
If you still don't know where to stay in Penang, I can't blame you, we went through so many hotels, apartments, and Airbnbs in so many areas! So let me help you in your choice and give you my favorite accommodation options, with great central location and reviews:
Eastern & Oriental Hotel – Have a luxurious stay in this five-star century heritage hotel in the heart of George Town
Sunrise Gurney – Beautiful apartments with modern amenities and private parking right on Gurney Drive
I hope you enjoyed my guide and that it will help you have an unforgettable stay on this beautiful Malaysian island! Once you find the perfect option for your holiday, I strongly suggest you book your accommodation immediately. Penang is being discovered more and more by tourists and it's hard to find a spot last-minute!
If you have any questions, thoughts, or tips about Penang or a particular hotel, please leave them in the comments. I am looking forward to receiving new inputs and answering you!
Have a wonderful trip,
Elena