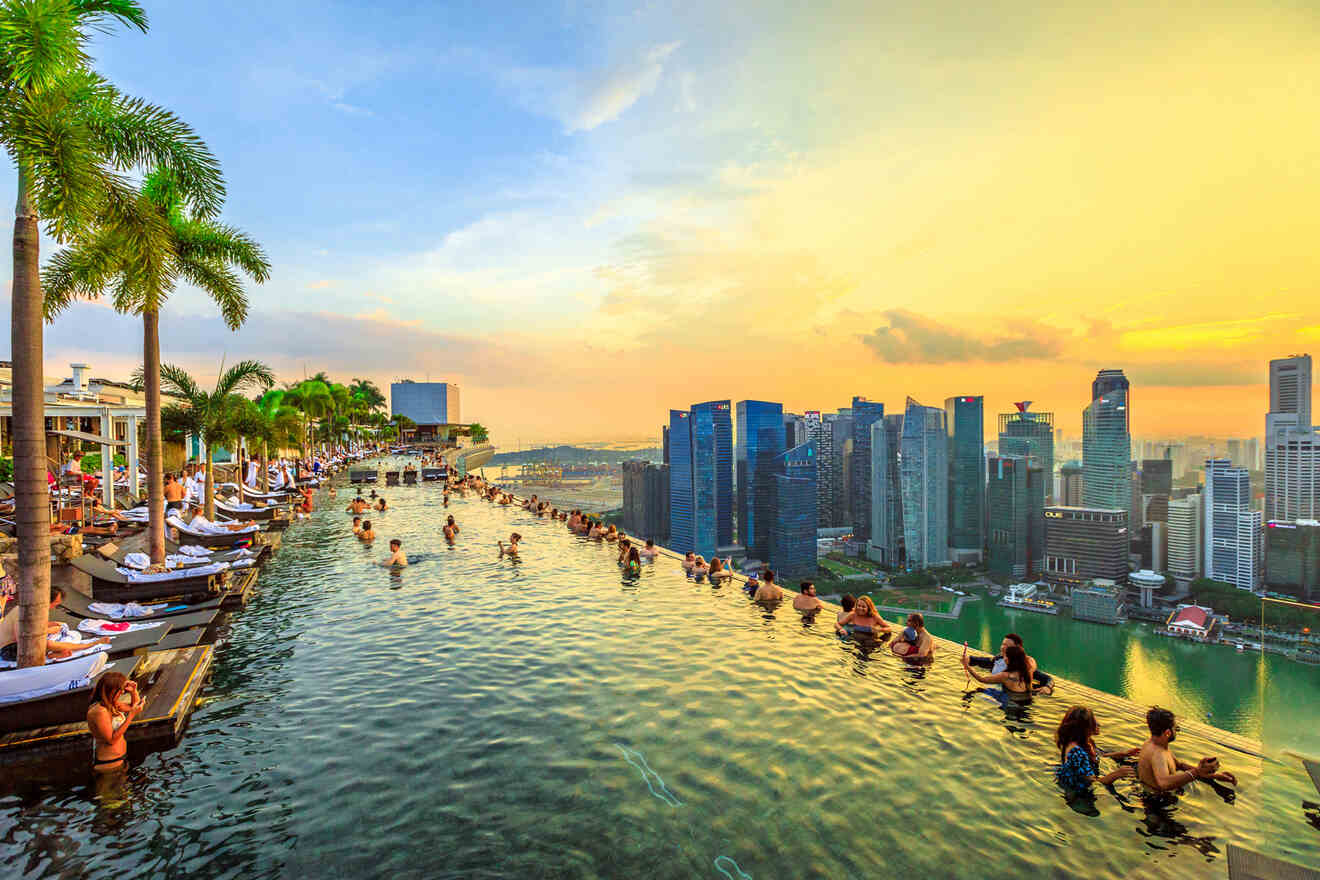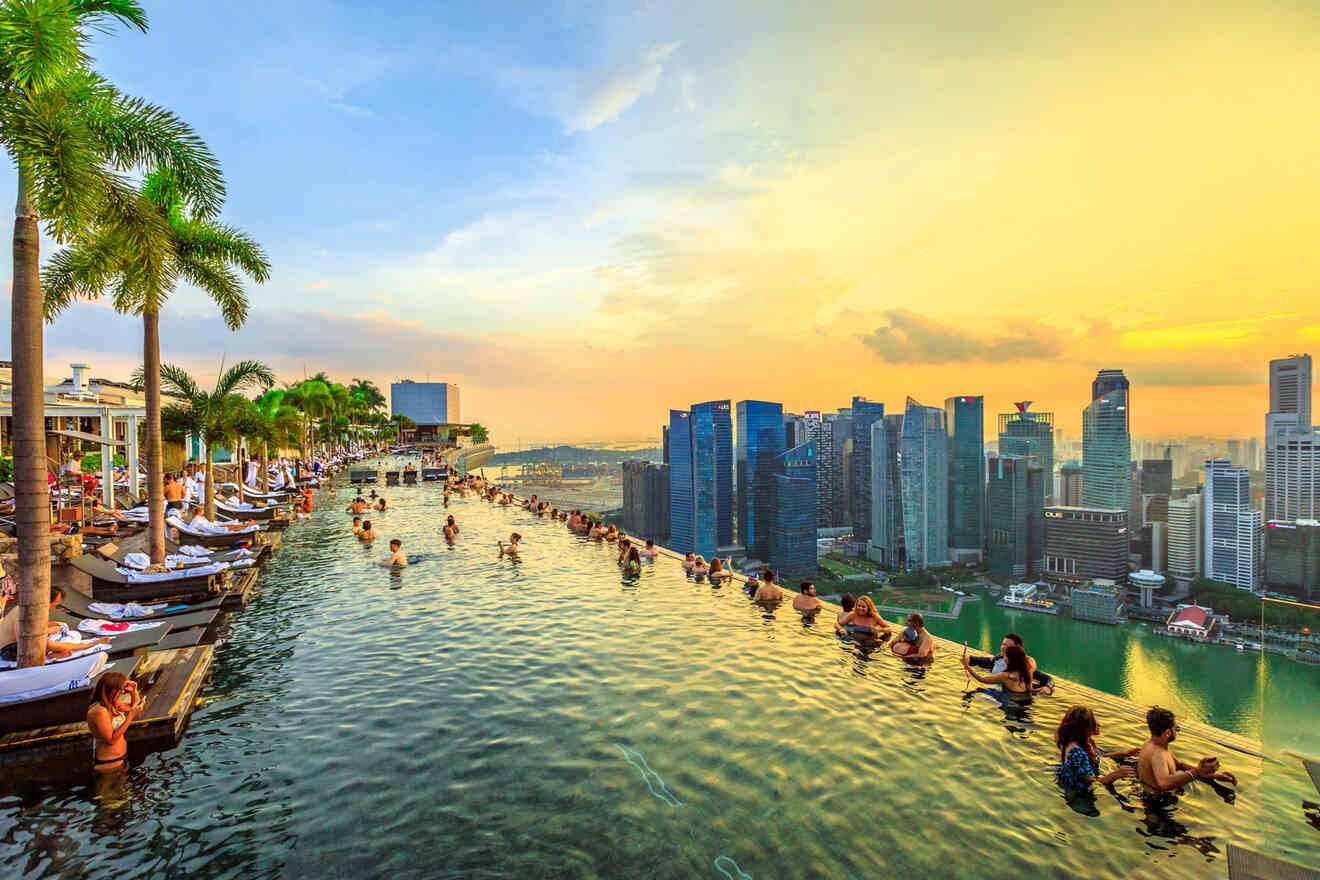 Are you looking for a place to visit in Southeast Asia? Are you interested in Singapore hotels with the best swimming pools? Then, this is your lucky day! Because I've been researching and looking for a Singapore hotel with a pool on top! And I've found the most breathtaking options, and I have gathered them here in this post for you so that you can relax in a rooftop pool overlooking the South China Sea!
The way this post is arranged by price, starting with the most expensive and luxurious hotels first, followed by the mid-range options, and last but not least, the budget options, which to be honest, are just as spectacular as the luxurious ones! At the end of the post, I've added a bonus with hotels with infinity pools.
Singapore is a very popular destination, and hotels with rooftop pools get sold like hotcakes! So if you want to stay in the nicest hotel that fits all of your preferences, book in advance!
Ready to check the best Singapore hotels with a pool on top?
Let's dive in!
If you are in a hurry
If you need to book fast and don't have a lot of time to read the whole article, here you have my top 3 recommendations for the best Singapore hotel with a pool on top!
Since Singapore is a pretty big area, here's a map so you can see the location of all these amazing hotels with a rooftop pools:
Luxury (US$400 and up)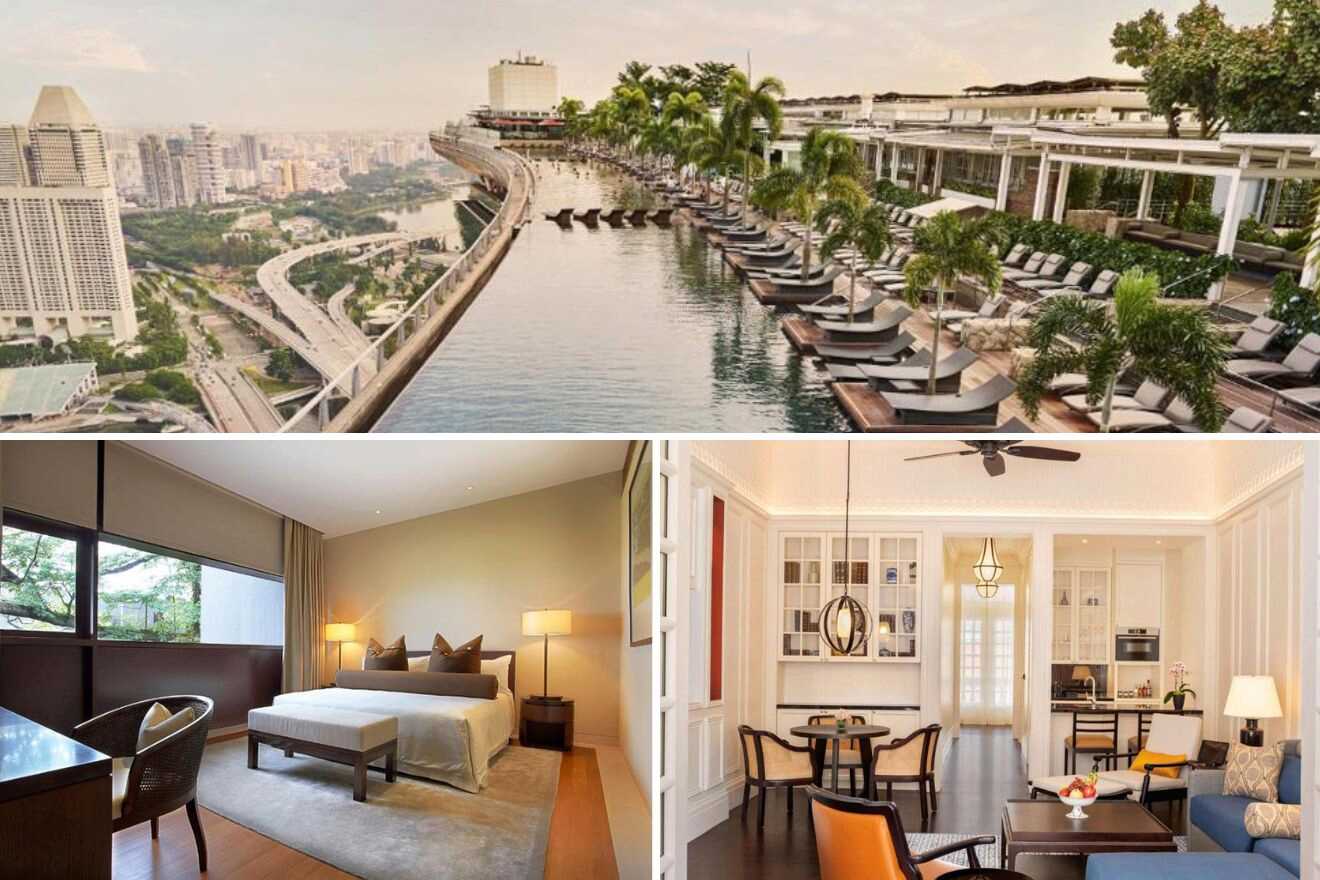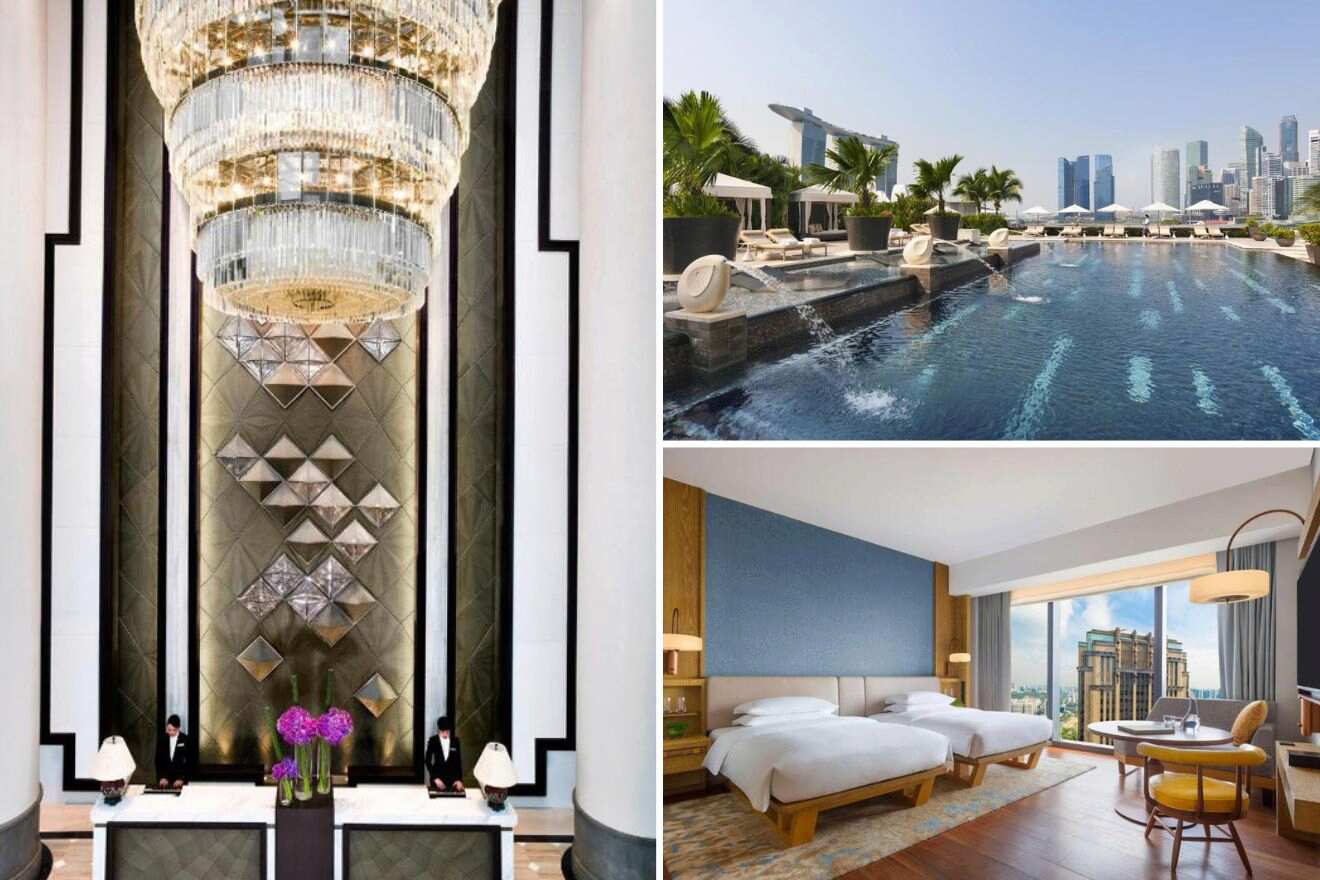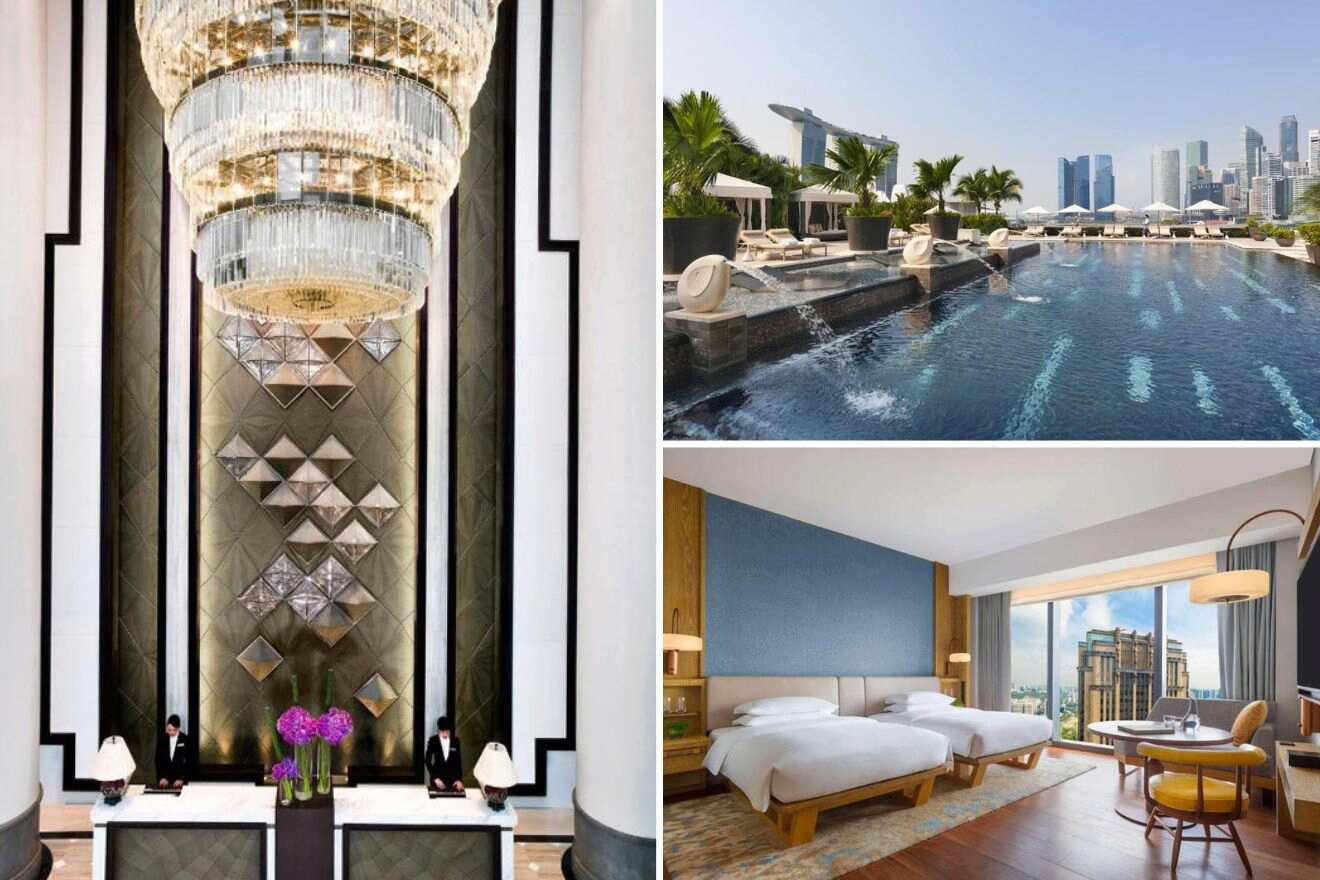 Mid Range (US$300 – US$400)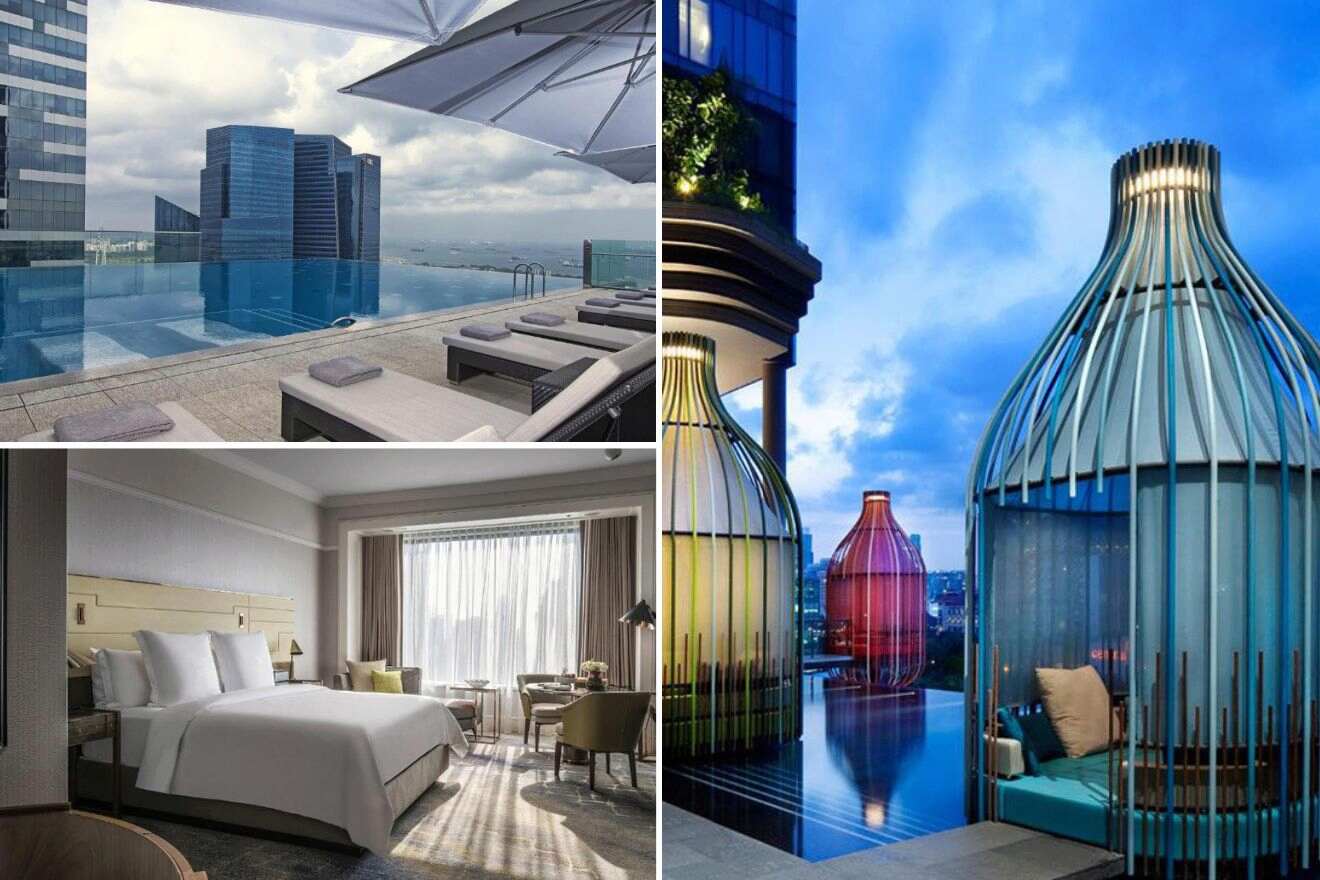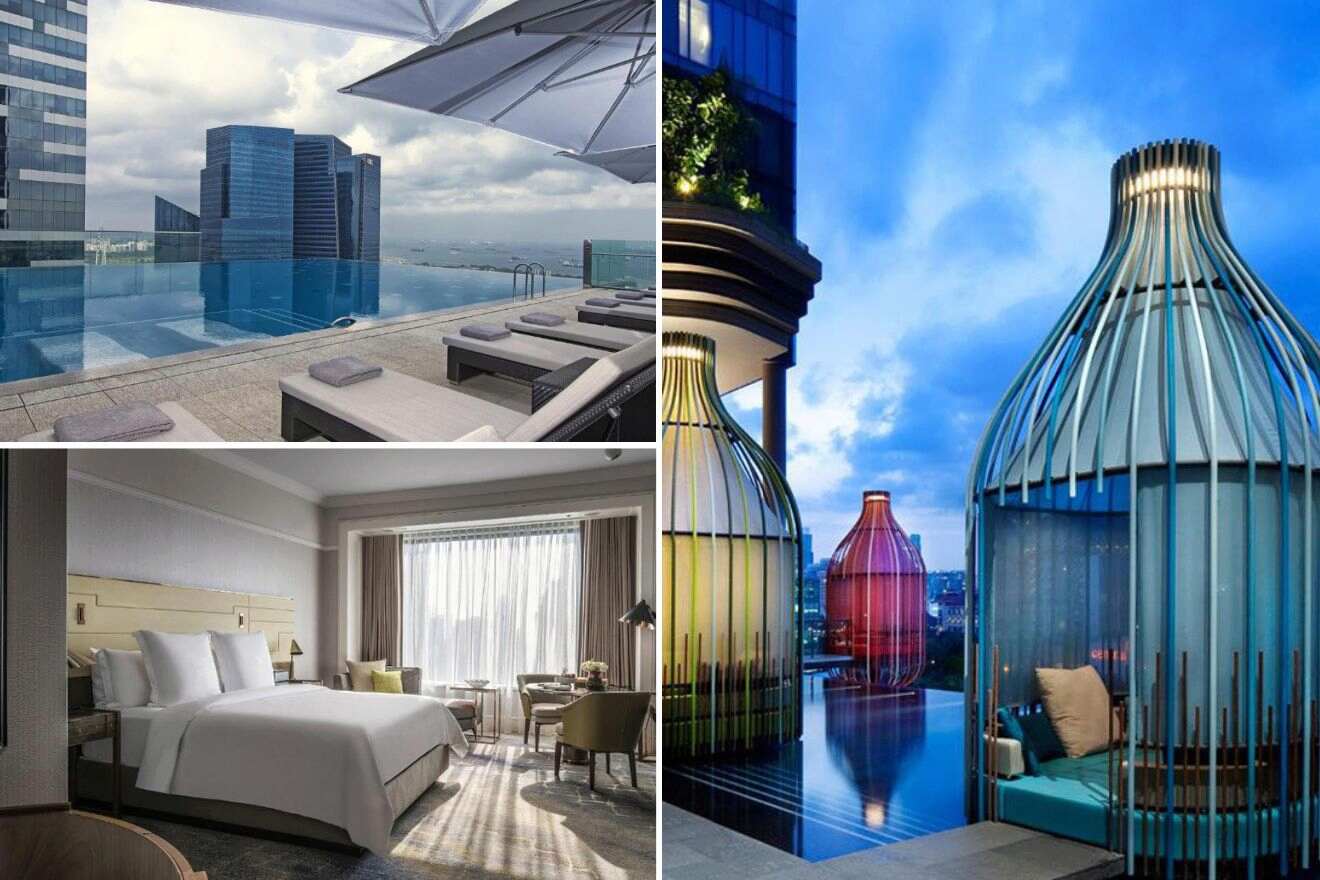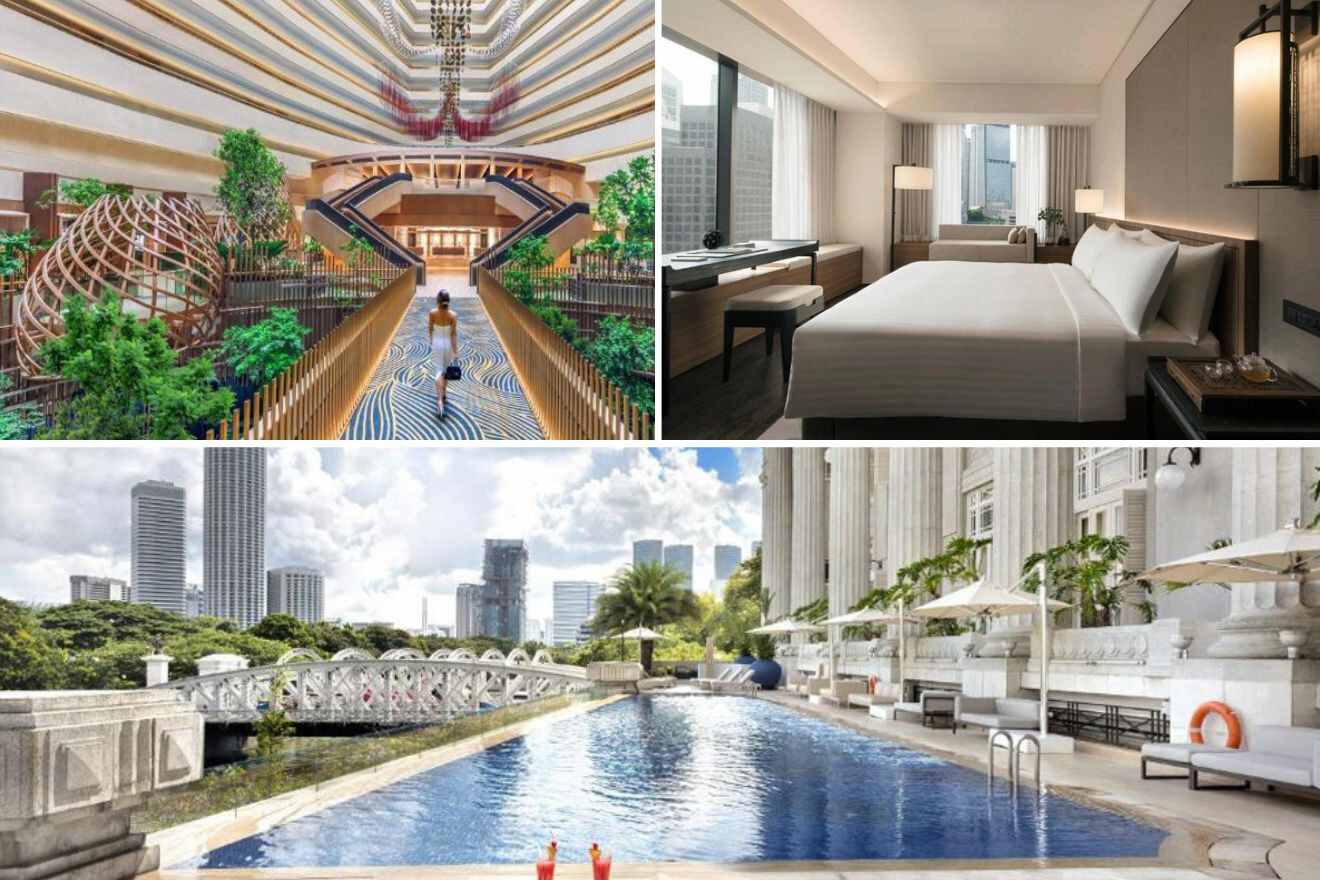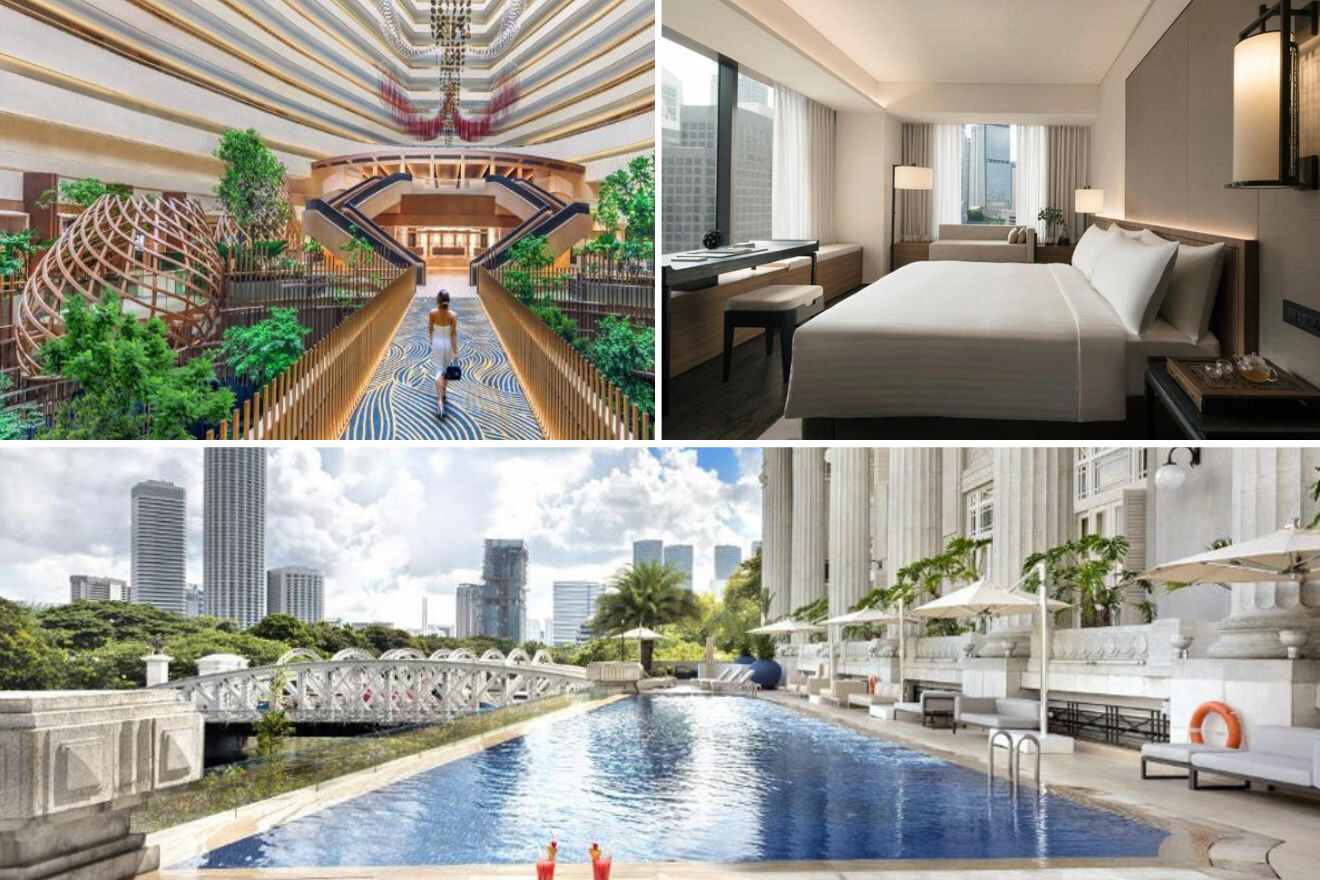 Budget (up to US$300)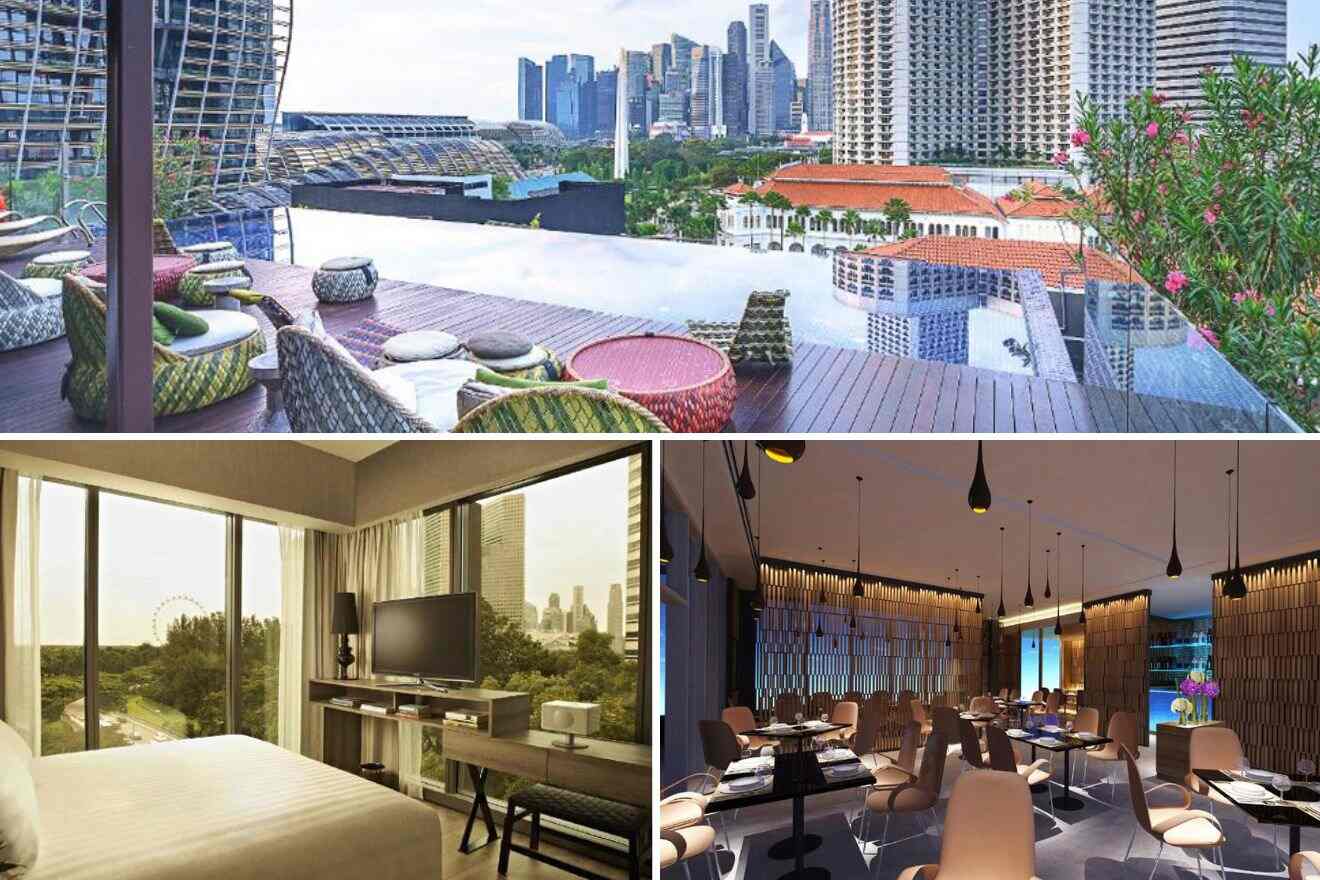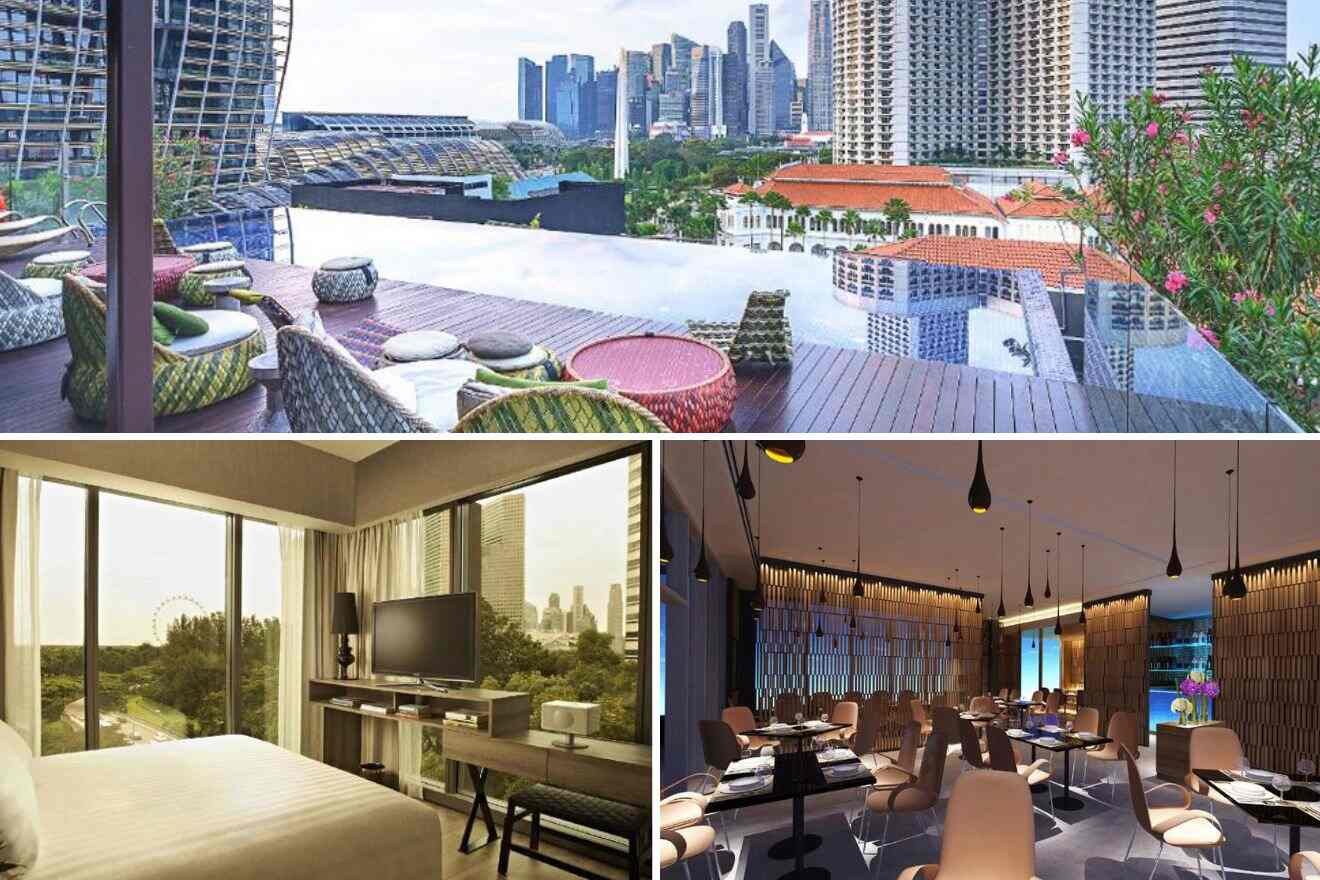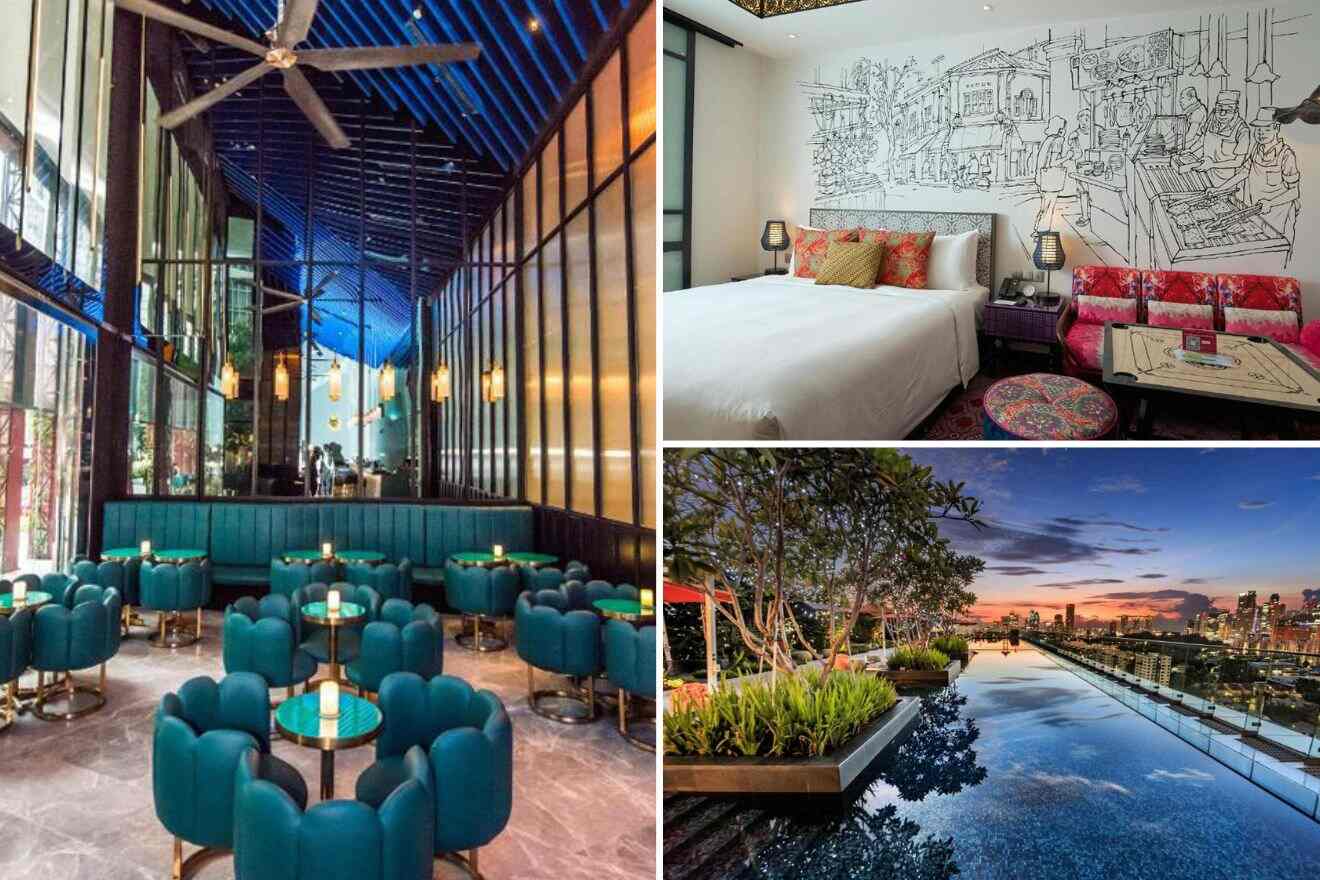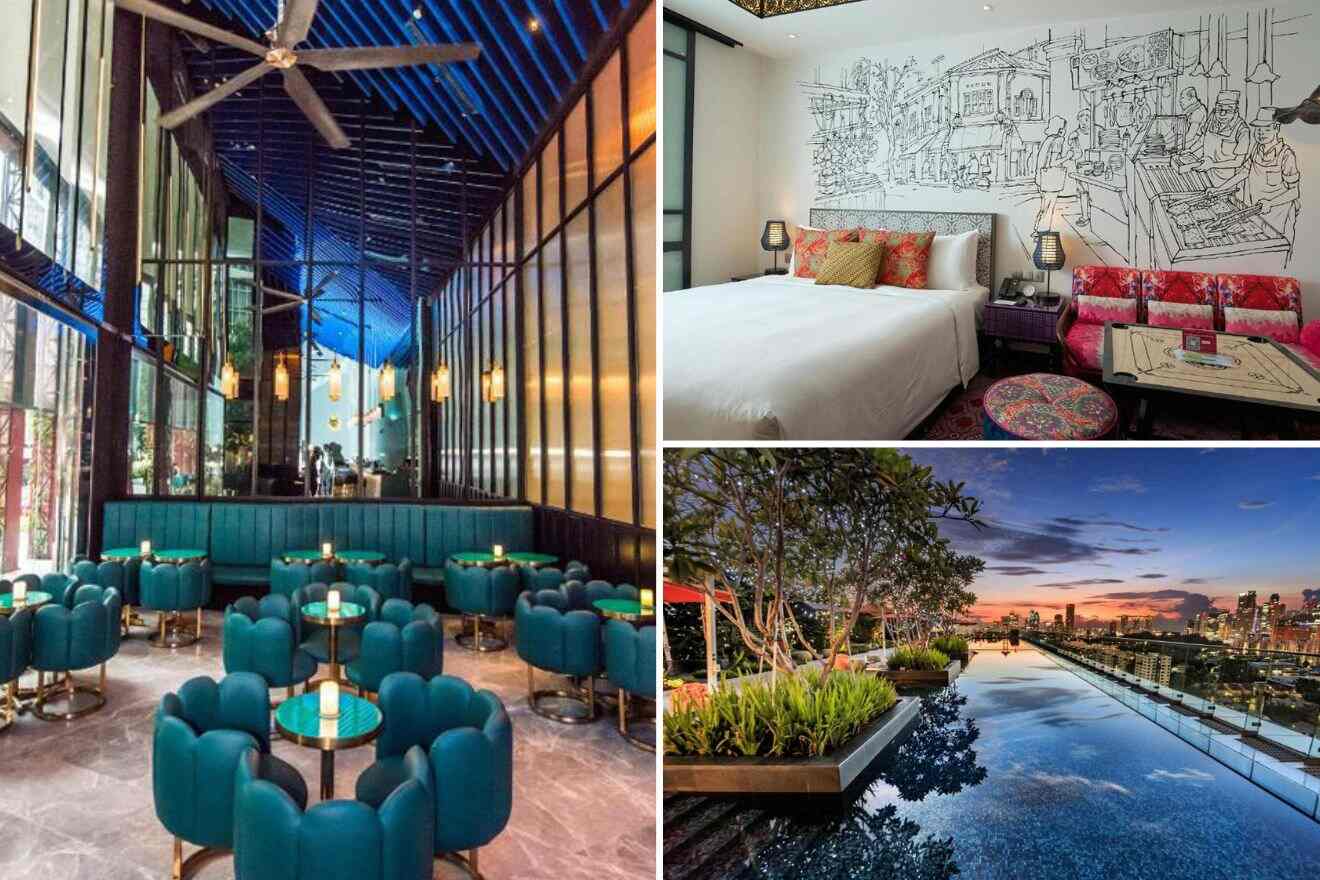 BONUS: Best hotels in Singapore with an infinity pool
I didn't want to end this post without sharing with you the best hotels in Singapore with infinity pools! We all know if there is something that can make a rooftop pool better on the one hand, if the pool is an infinity pool, and if the rooftop terrace has a bar!
This section features the most amazing hotels with the most unique styles, and let me tell you, I am sure you will find a hotel that checks all the boxes for your stay in the amazing country that Singapore is!
The prices of the hotels go from US$300 to US$400 per night. Let's check out the options!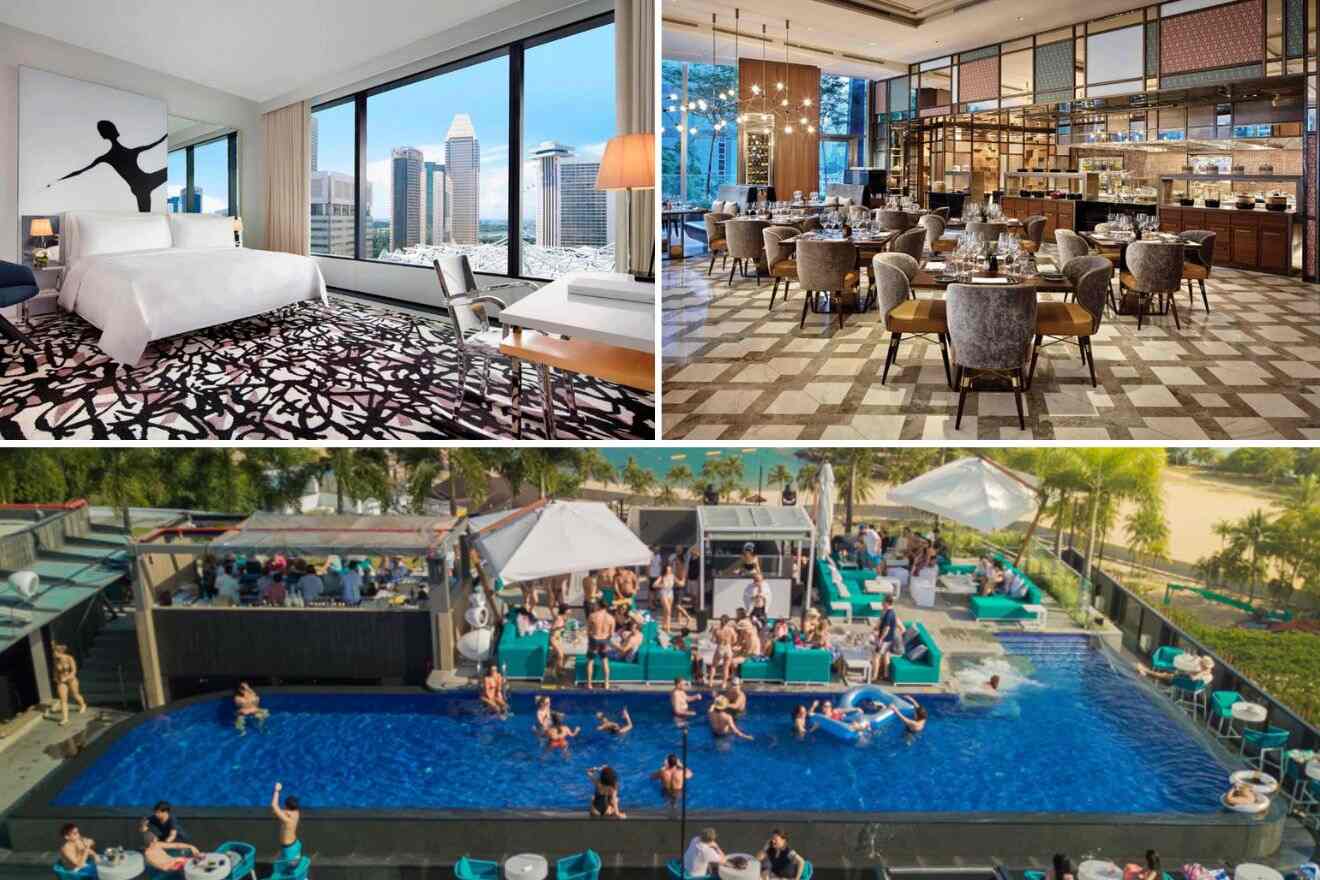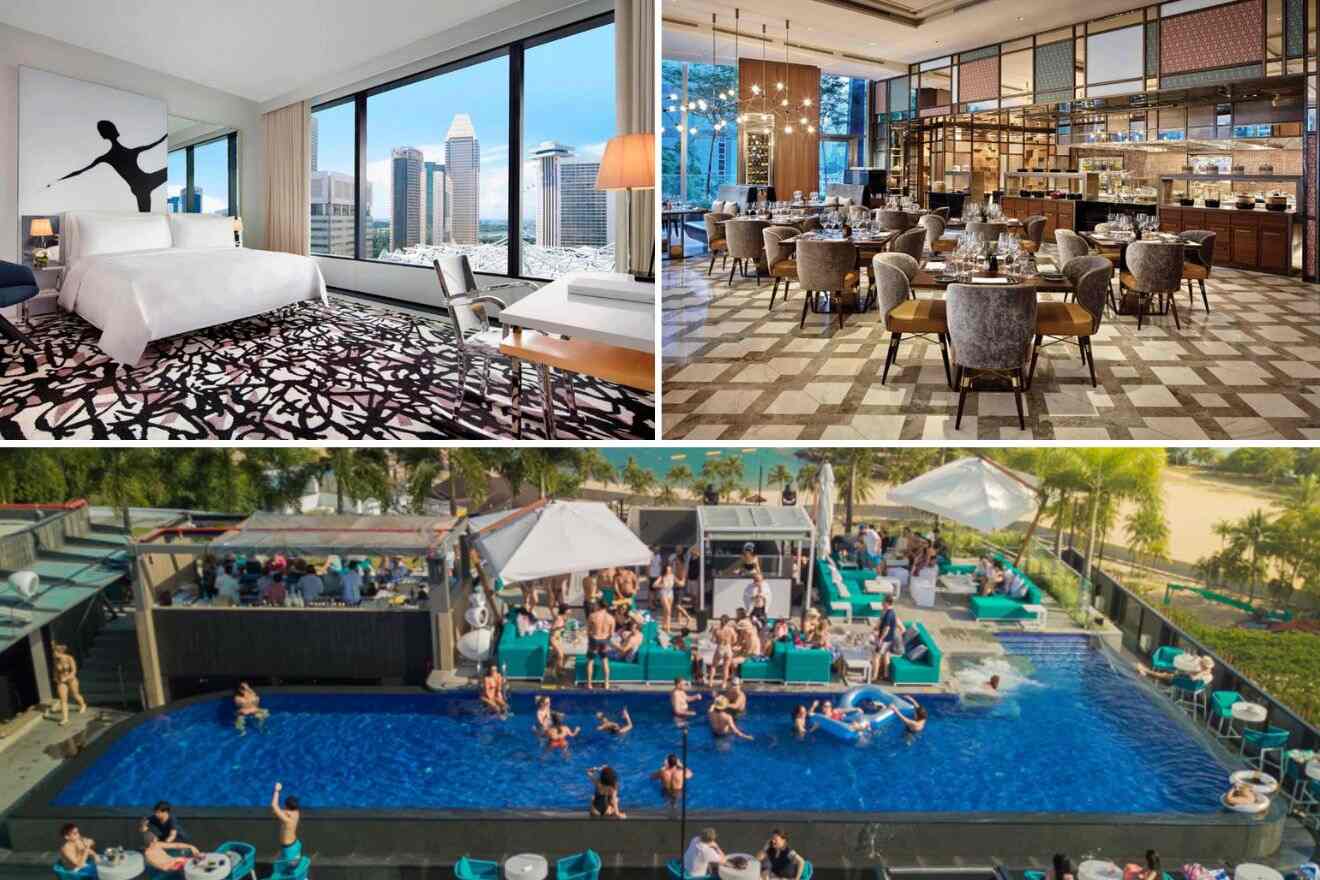 1. JW Marriott Hotel Singapore South Beach
Marriott Singapore, located in City Hall, has 2 outdoor pools, one of them being an infinity pool featuring amazing views. The hotel has a nice vibrant style and offers free bicycle rentals to all of their guests, and live performances and happy hour are available for an extra fee. All the rooms have a modern design and a private bathtub, and their biggest rooms are the family room and the deluxe king suite hosting 4 guests each!
2. Sofitel Singapore City Centre
This hotel's rooftop infinity pool is surrounded by plants, which will make you feel totally relaxed swimming after enjoying the hotel's breakfast! They have 2 onsite restaurants and a bar featuring signature drinks with a traditional touch! All the rooms have upscale furniture and a private bathroom with a bathtub!
3. The Outpost Hotel Sentosa by Far East Hospitality (Adult Only)
I imagine this hotel would be perfect for couples or friend groups. The hotel is located in Sentosa and has a very nice mix of upscale details with a young vibe! The rooftop infinity pool has a pool bar and a nice lounge area with colorful furniture to relax after swimming. All the rooms are stylish, have big windows with nice views, and a coffee maker station.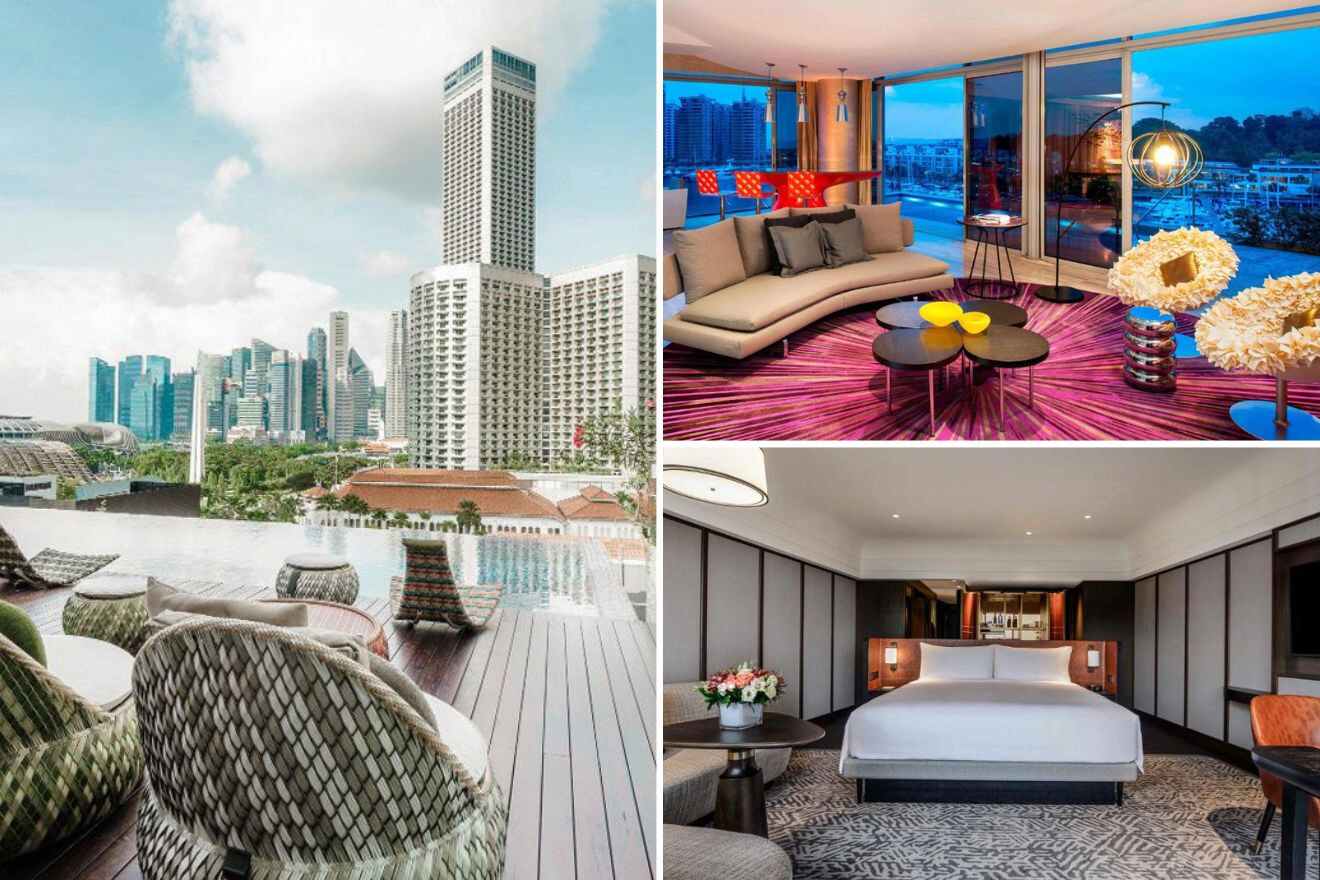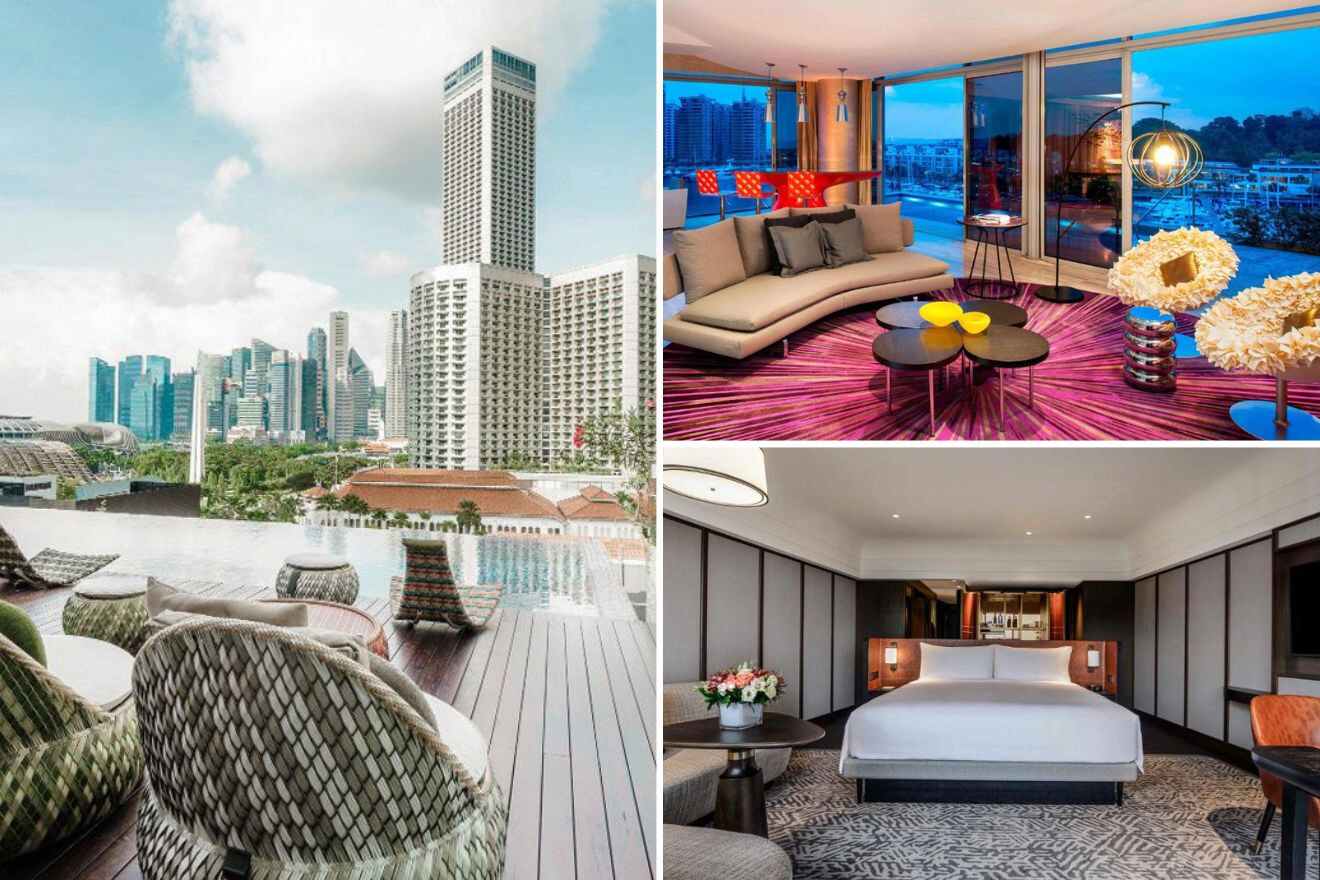 4. W Singapore – Sentosa Cove
This hotel has a nice artsy tropical vibe, and I feel like staying at this hotel would be so much fun! This hotel has an out-of-this-world pool area that looks like a tropical garden, with many sitting areas. The rooms are amazing and look like they were crafted for celebrities. Their Extreme Wow Suite King, for example, has its own private infinity pool on the terrace! Talk about wow!
5. Naumi Hotel Singapore (SG Clean Certified and Staycation Approved)
Located in the city center, this hotel feels simple, elegant, and modern, all at the same time! Its infinity pool features lovely views of the city and has a lounge area and a poolside bar! This hotel comes with a fitness center and a golf course onsite! All the rooms have an incredible ambiance, and some of them come with cute little patios!
6. Fairmont Singapore
Oh la la, this hotel located in City Hall, has one of the most amazing spas with a jacuzzi on site (for an extra fee), an amazing roof terrace with 2 outdoor swimming pools, and a tennis court and tennis equipment (both for extra fees) available for its guests. All the rooms are super spacious and feature city views and the bathrooms come with a soaking tub.
FAQs about Singapore hotels with a pool on top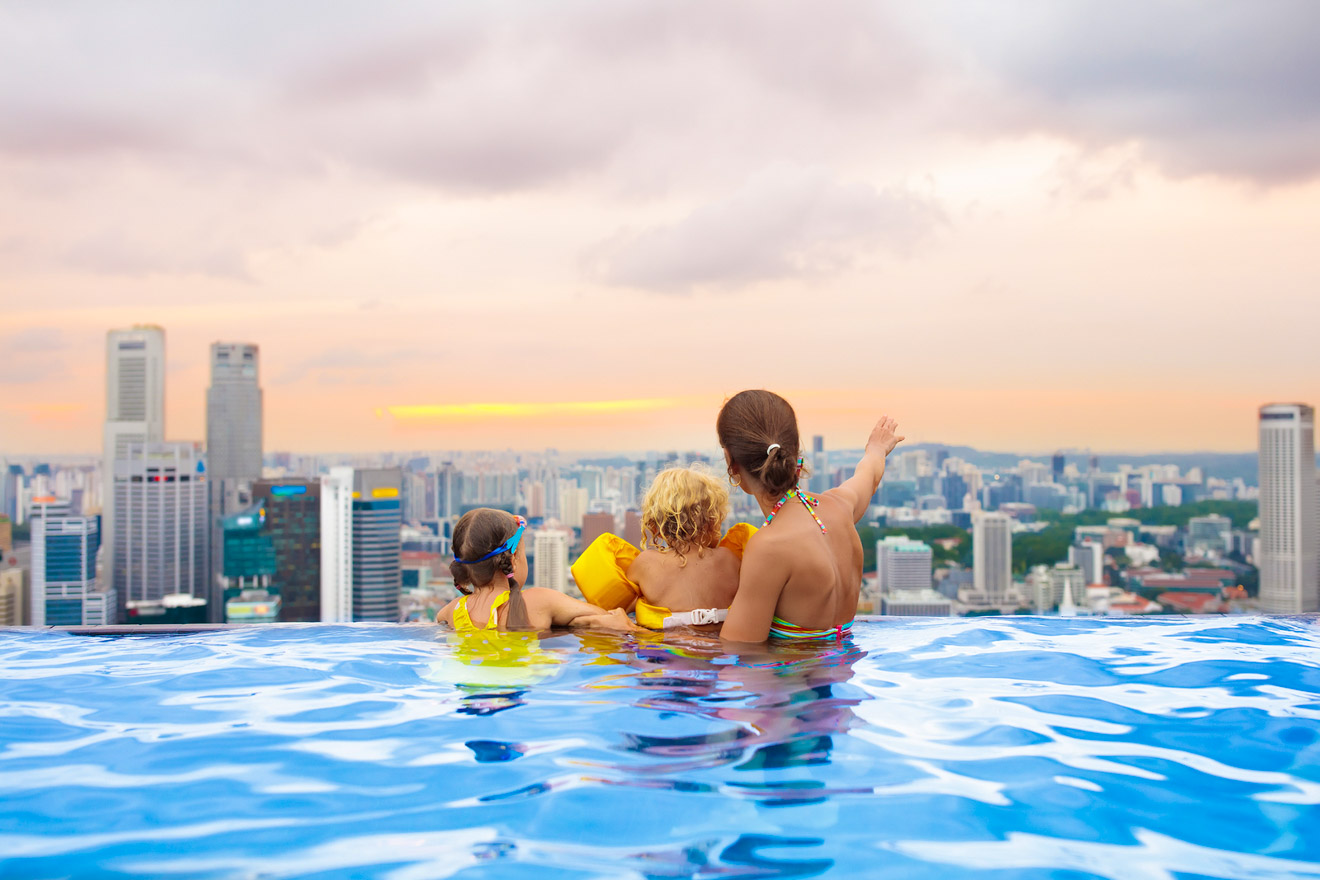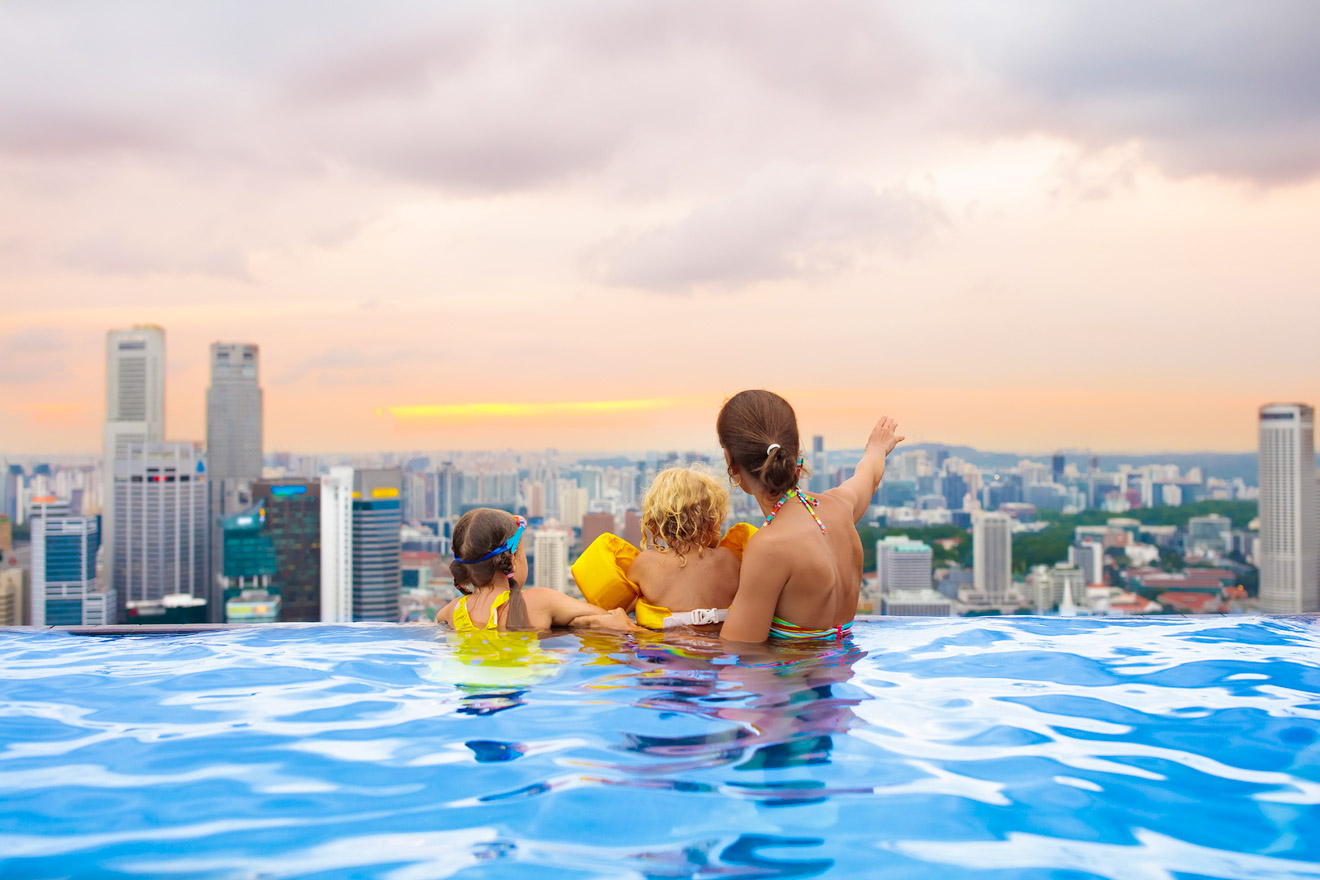 Conclusion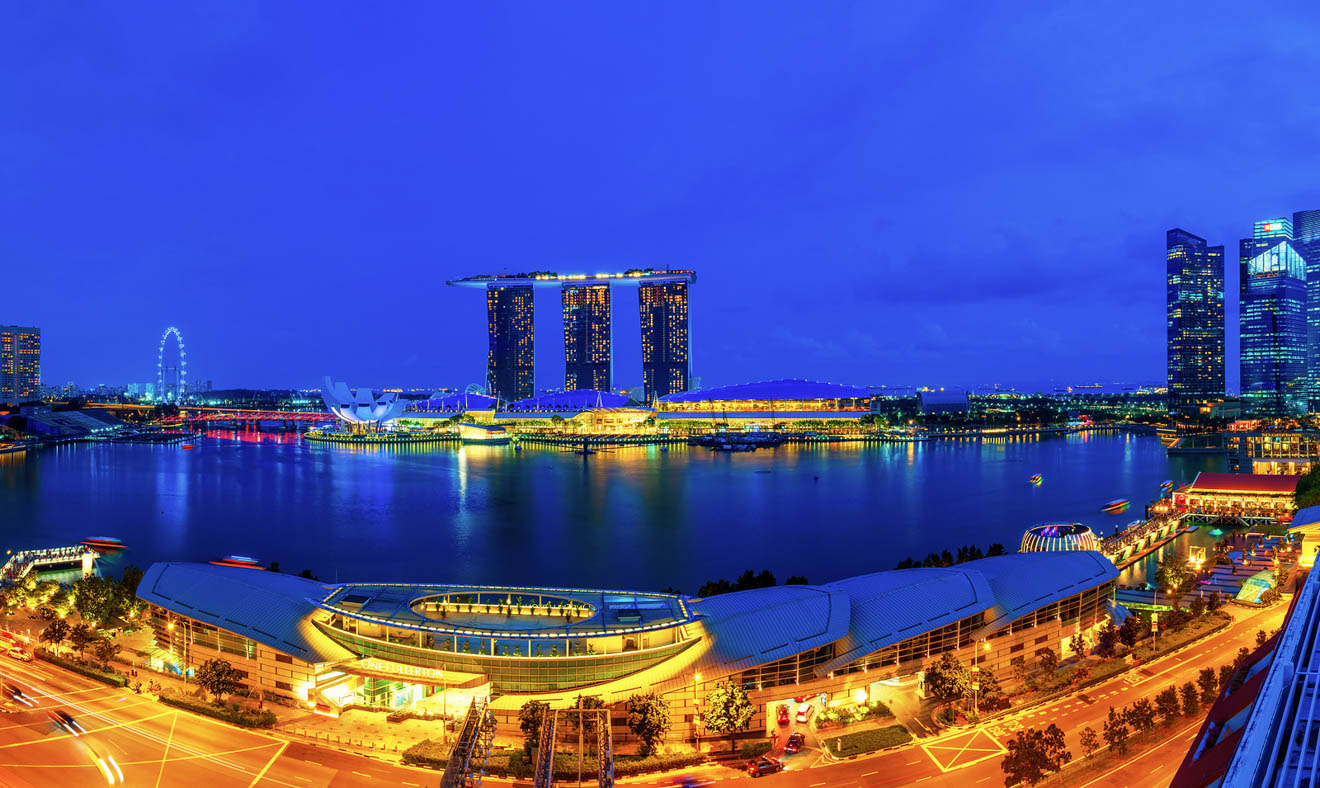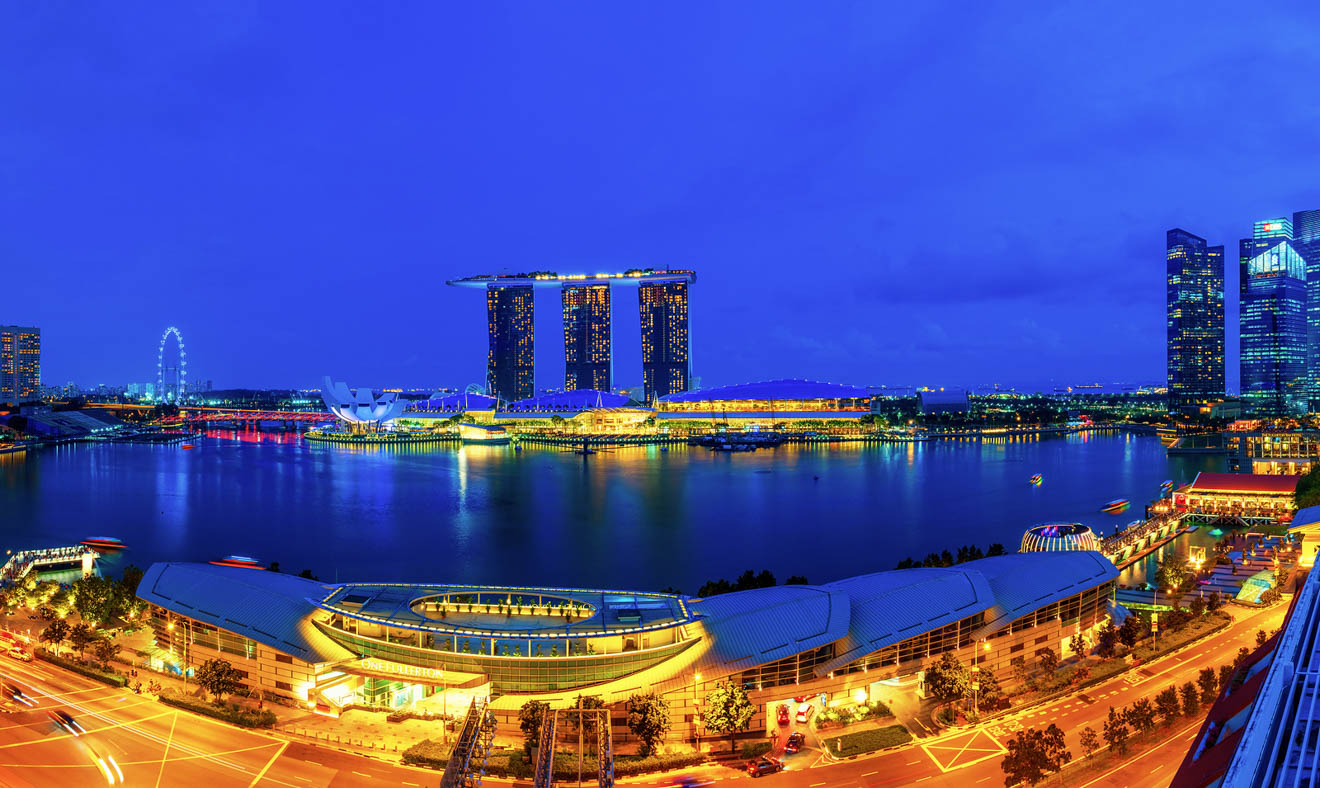 Ah, and that is a wrap for today, folks! Those were the best Singapore hotels with a pool on top! I've covered a wide range of options for all budgets and tastes of hotels with rooftop pools in Singapore! It doesn't matter who you travel with or when. There is a hotel in this post for you!
Honestly, all of the hotels mentioned in this post are just superb, so I would be super excited to stay in any of them. Still, if I had to tell you my top 2 options for the best hotel swimming pools, I would say:
Which of these hotels in Singapore with rooftop pools was your favorite? Have you ever stayed in any of these hotels? Let me know in the comments!
As I always say, be wise and book your hotel rooms in advance, and start packing for your dream vacation!
Until the next quest,
Daniela
---
Pin it for later!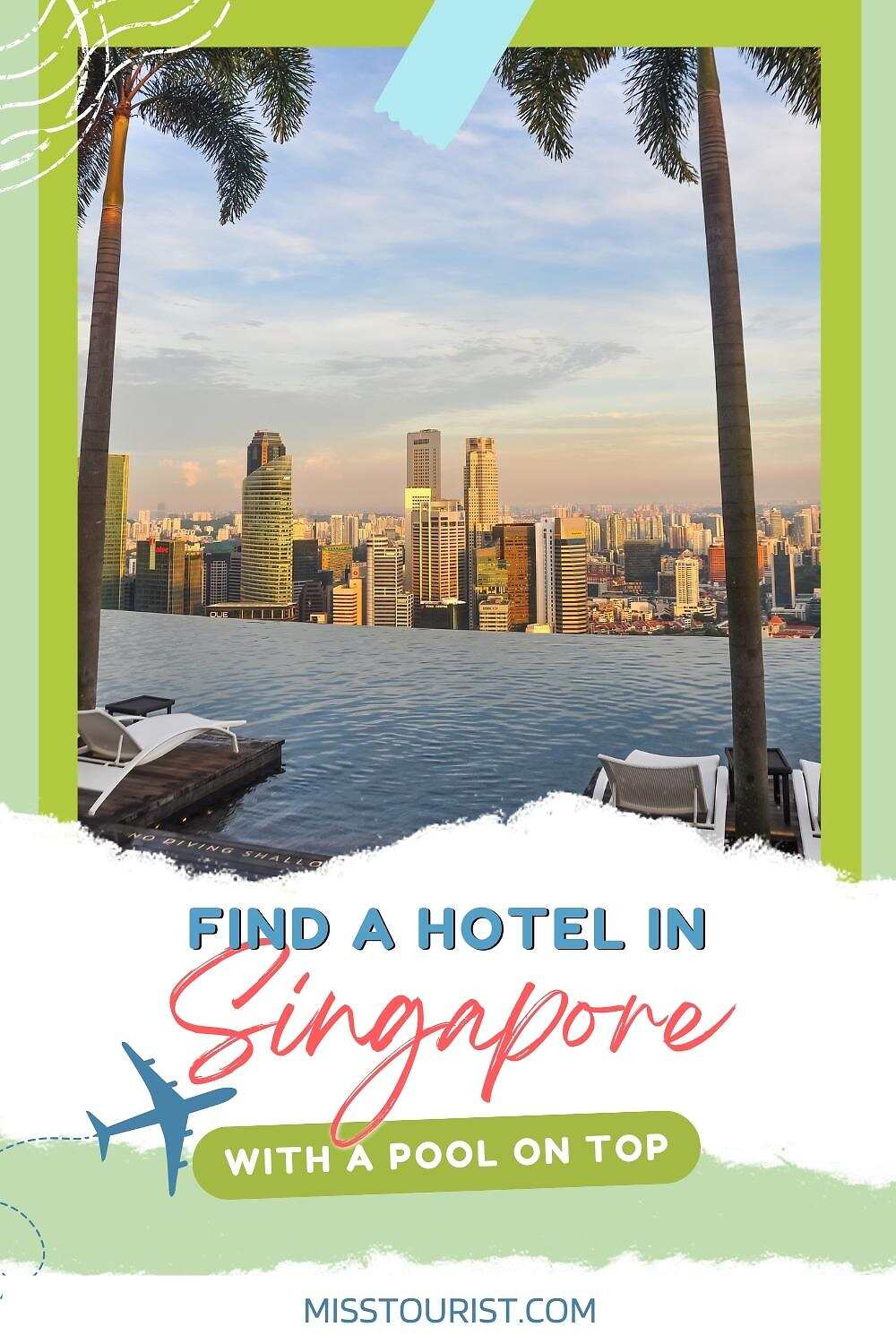 Pin it for later!