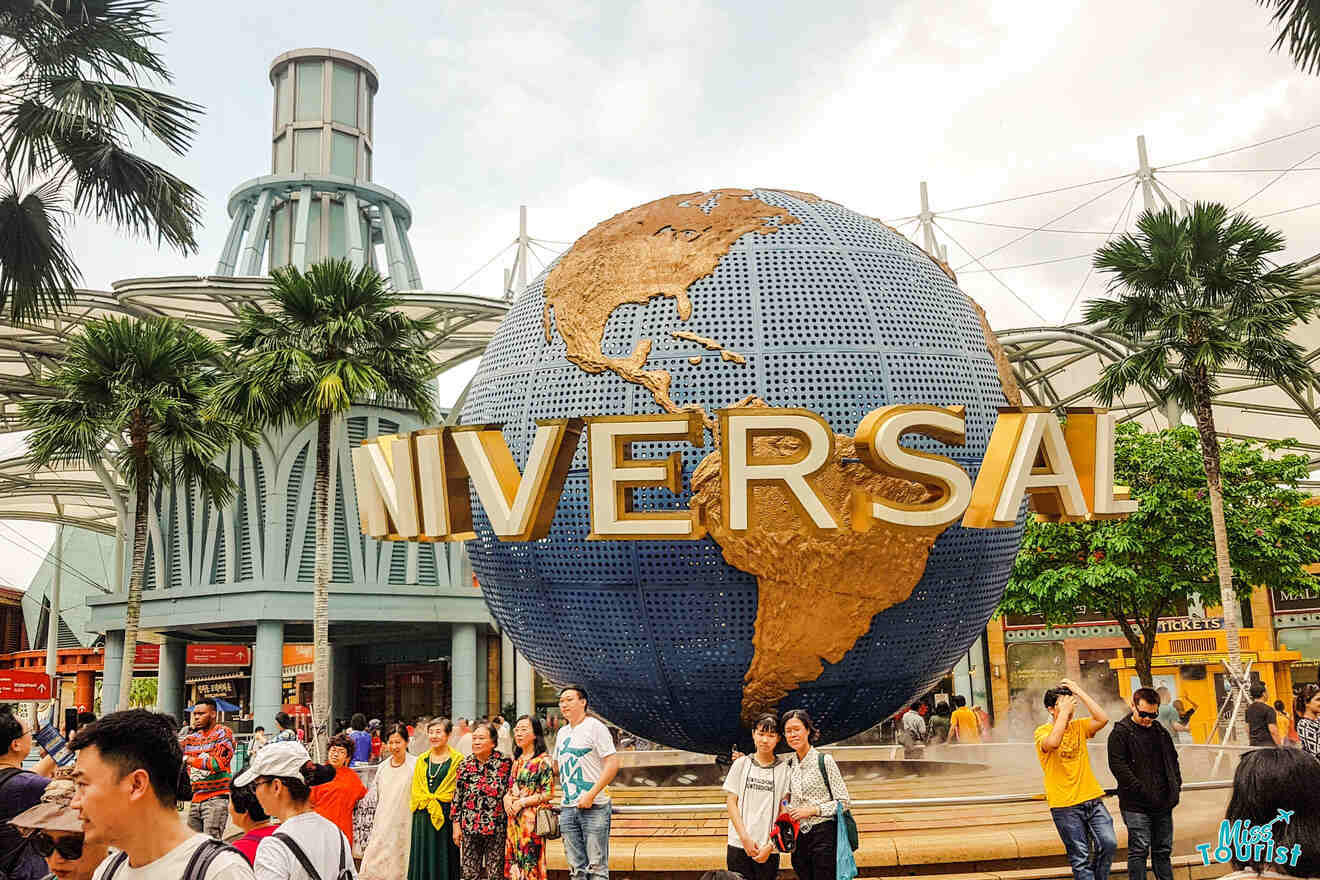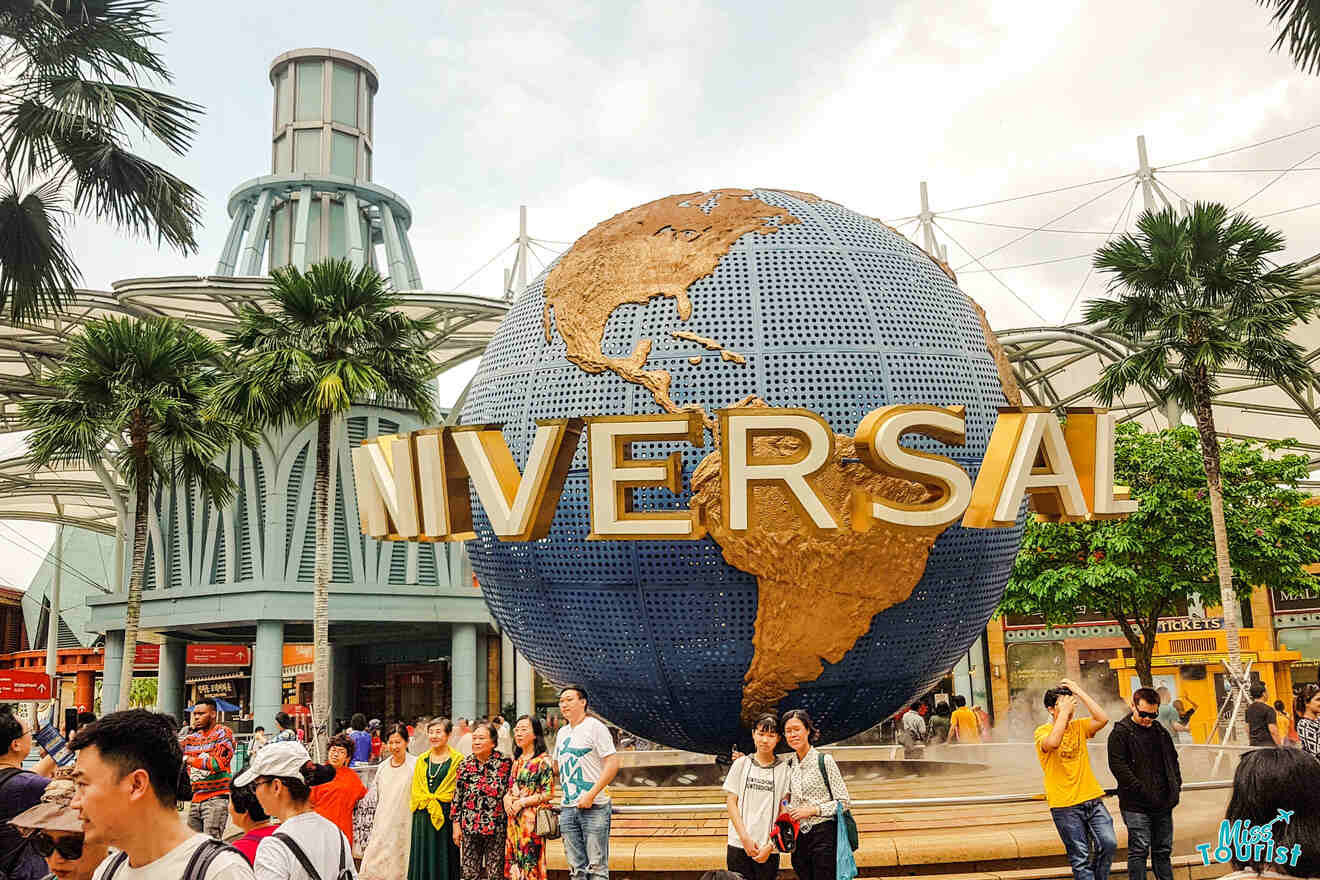 If you're looking for a comprehensive guide showing you the best way to buy cheap tickets to Universal Studio Singapore, you've come to the right place!
Theme parks are such wonderful places and I don't want the stress of finding tickets at the last minute to spoil your magical experience here. That's why I have taken the time to scour the entire internet and compare all the different places you can buy tickets for USS (Universal Studios Singapore), so you don't have to!
I have also put together a handy guide with some essential info you need to know before your trip and even added some great ways to save money (even more than just buying the cheapest tickets)!
So without further ado, let's go!
If you are in a hurry
If you are here just to get your tickets, here are the best links to do so:
Normal ticket – S$81 (Official website) or S$68 on Klook
Unlimited fast track ticket – Additional S$80
Discounted ticket – for Singapore residence (S$3 discount with ID), for children 12 and under (tickets from S$61)
Free entrance – kids under 3
For a quick comparison of all the different ticket websites, check out the table below in Singapore Dollar. I chose the same date for each nonresident ticket so that you could get an accurate idea of which are the cheapest websites to buy your tickets from.
NOTE: There is no special "family ticket" so I calculated it myself based on 2x adults + 2x children.
I highlighted the best price in the table for each group of tourist tickets for your convenience, it is currently Klook.
If you are a resident, the official site has the cheapest tickets for you, however if you want a better cancellation policy, you can buy them for the same price on Get Your Guide.
NOTE: While Klook has the cheapest prices overall and is a great way to save some money if you are certain on your dates, this website has a strict no cancelation policy, so if you are unsure about exactly when you will visit or want a little more flexibility, I advise booking through Get Your Guide as you can cancel for free up to 24 hours before your visit.
Why buy in advance?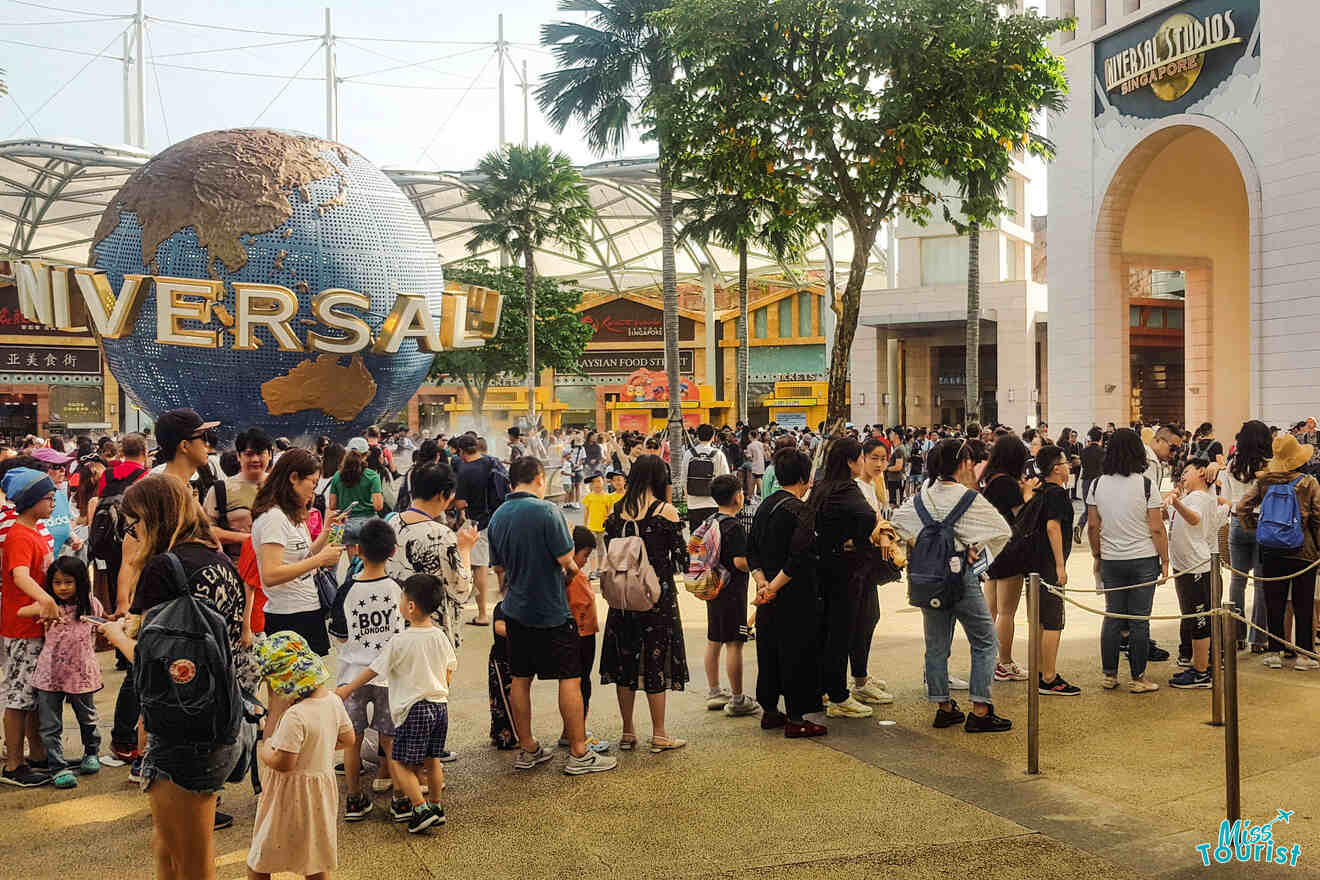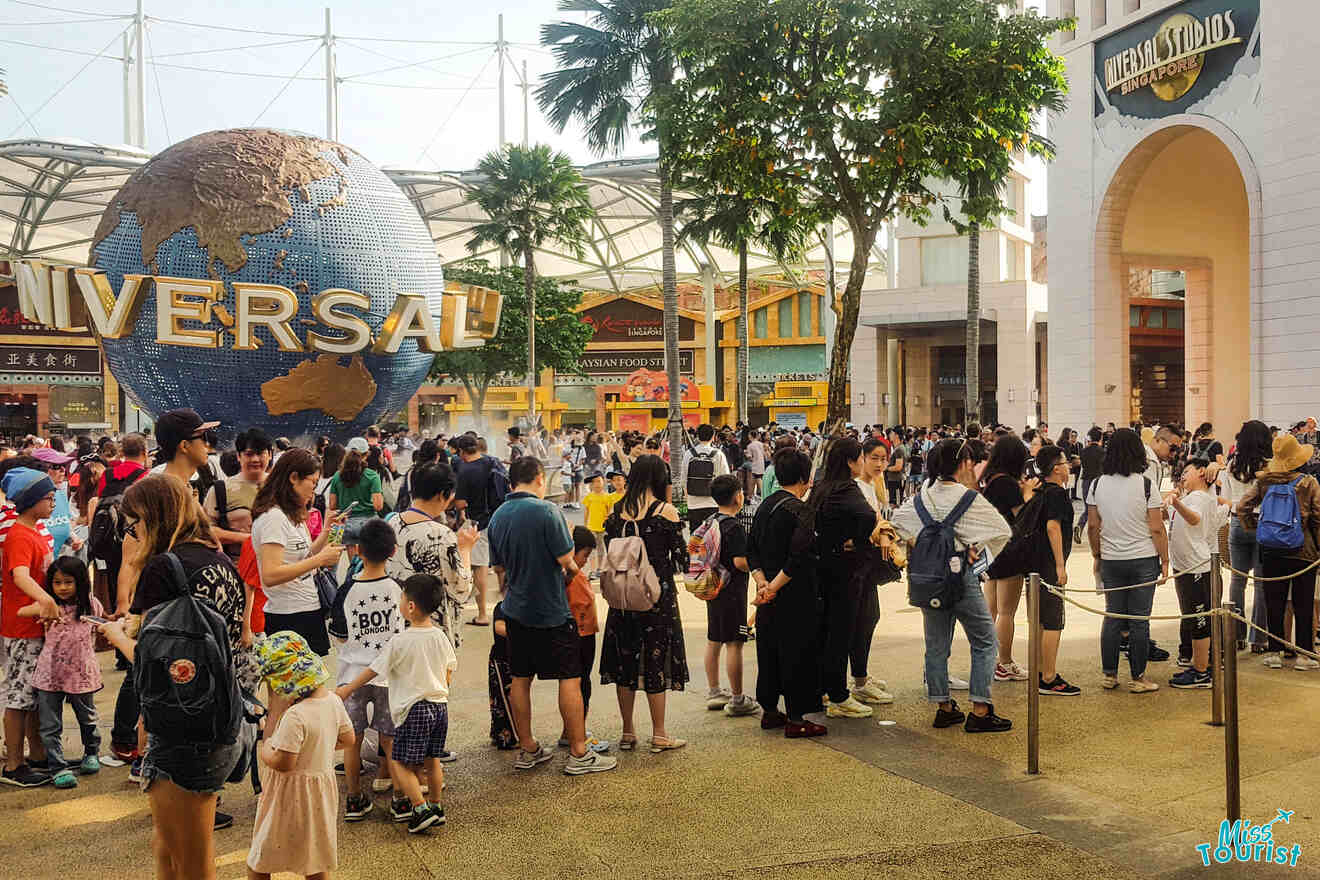 Universal Studios SG is known to have huuuge lines at the entrance and tickets are limited per day. By buying your ticket online in advance, you are not only guaranteeing entry, but you will also save time waiting in line, plus you will also save money since prices online are cheaper than at the box office.
1. Different types of tickets
Visiting Universal Studios is one of the best things to do in Singapore, but when purchasing your tickets there are a few different types to consider. Here I will go through each one in detail so you can make an informed decision on which is the correct ticket for you!
Resident vs Non-Resident Tickets
The first thing to understand about USS (Universal Studio Singapore) tickets is that there are different prices for residents of Singapore and foreigners. 
The local's ticket is slightly cheaper however you need to present a residency card or local ID upon entrance with your ticket.

For everyone else who is just visiting Singapore, make sure to buy the Non-resident or "tourists" ticket. If you purchase the wrong one and can't prove that you live here, you may be forced to buy another ticket.
Open-dated or Fixed dates
Once you've figured out if you are a local or a tourist, then you can choose either a fixed date ticket or an open-dated one.
When you buy fixed-date tickets, you will only be able to visit the park on that specific day, so make sure you are 100% sure of your plans if you choose this option, or book through Get Your Guide if you would like the option for cancellation up to 24 hours in advance.
If you purchase an open date ticket, you still need to make a reservation for a specific date before going, but you don't have to decide when you are buying. Remember to bring both your entrance ticket and reservation confirmation either printed or on your phone for entry.
While this ticket does offer you more flexibility, if your plans (or the weather forecast) change, you are not guaranteed entry until you have reserved your dates as tickets are still limited per day and run on a first-come-first-served basis.
Express tickets (skip the line for the rides)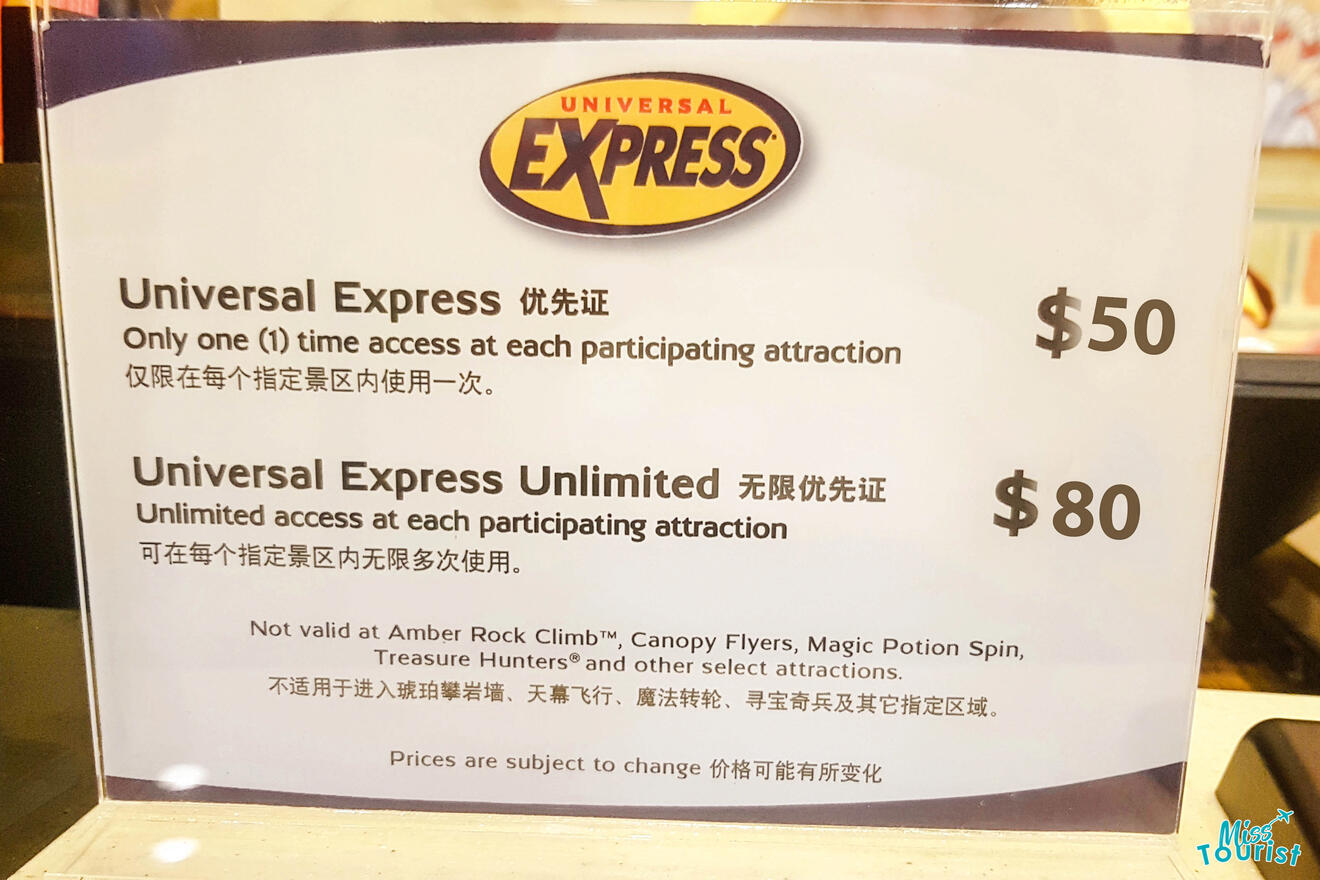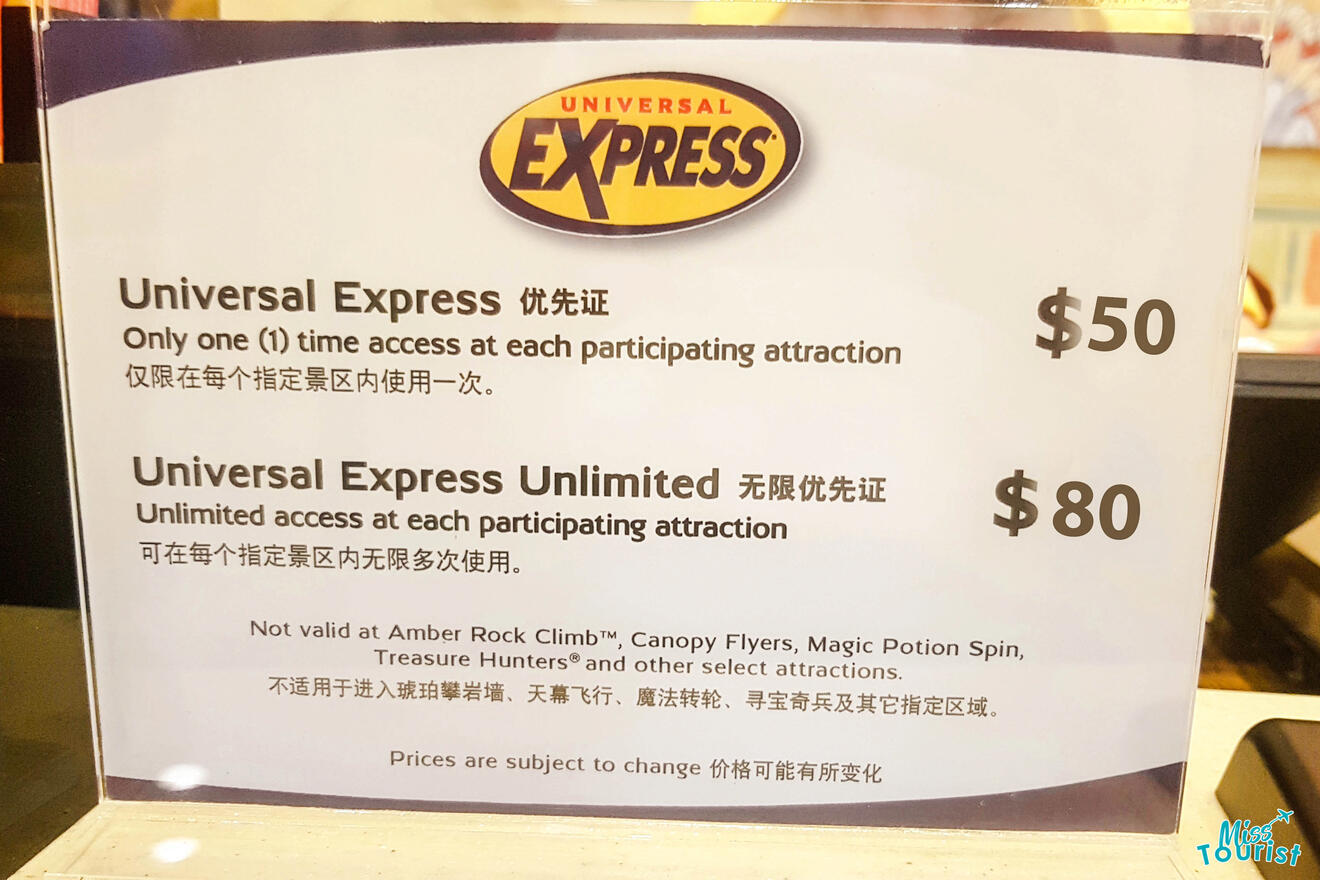 In addition to your entrance ticket, you have the option of buying one of two different skip-the-line tickets. You can buy these add-ons in advance on the official website, or on-site at the park from the box office, plus many retail, food, and beverage outlets inside (this is what I did when I saw the waiting times for the rides!).
With these passes, you not only get to skip the lines for the attractions, but you can also enter the gates through a priority access lane in the first two hours of park operation.
PRO TIP: If you are considering purchasing a skip-the-line pass, don't buy it in advance. First, check the crowds and lines when you arrive to see if it is worth it.
NOTE: These tickets are dated so they can only be used on a specific day, so make sure that it corresponds with your entrance ticket!
Universal Express Pass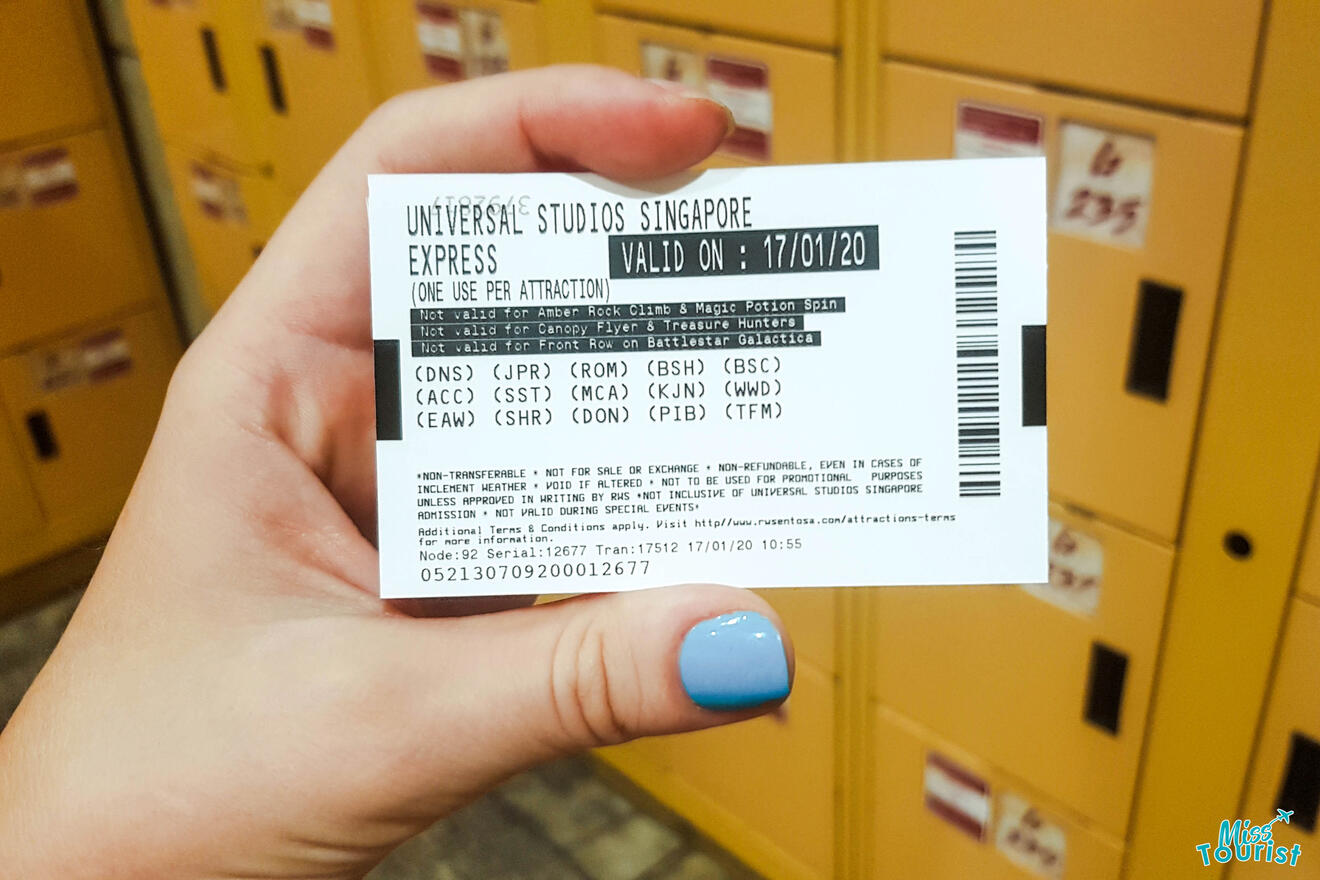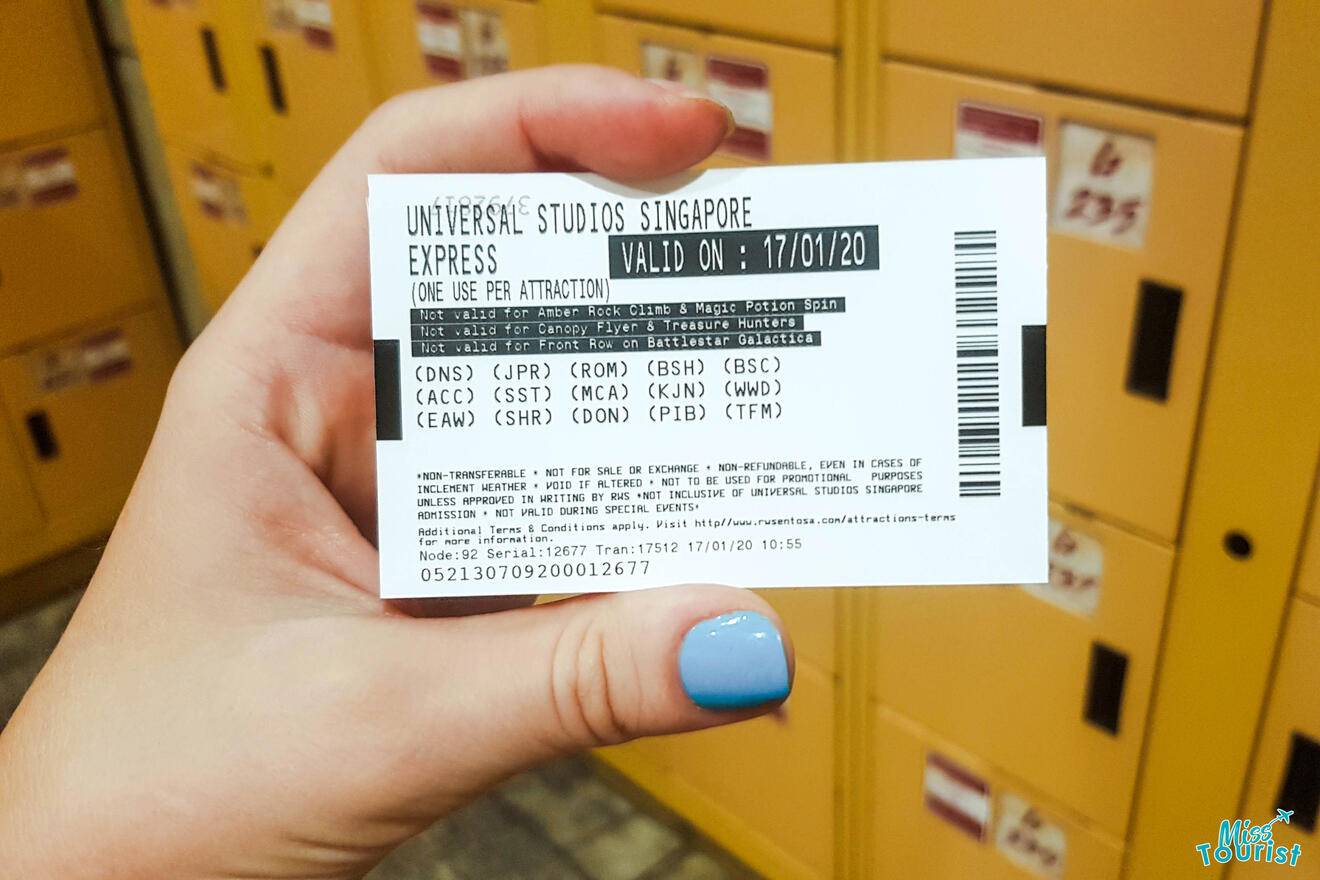 This add-on lets you skip the line once per attraction on the day of your entrance ticket (some rides are excluded). The price for this add-on is dependent on the date but prices start from SGD50 (US$35).
Universal Express Unlimited Pass
If you want ultimate freedom and to take full advantage of your day at Universal Studios SG, you can purchase an unlimited express pass which allows you to skip the lines as many times as you would like at all the participating attractions! This pass is a bit more pricey starting from SGD80 ($60) but if you are coming during the holiday period, it could be worth it!
NOTE: Neither Express pass allows you to skip the line at the Canopy Flyer, Treasure Hunter, Amber Rock Climb, or Magic Potion Spin rides.
I got the normal Express Pass (not Unlimited) and I had no regrets, it was absolutely awesome to skip all those lines (they were as long as 1,5h long for some rides on my day!).
2. Buying cheap tickets online to Universal Studios
As I mentioned earlier, buying your tickets online in advance is the best thing to do if you want to save both money and time.

Buying online you have the ability to find the cheapest days to visit according to their dynamic pricing!
Entry tickets are limited per day so if you do not buy in advance, you could risk wasting a trip if there is no availability for your chosen day.
That being said, there are a couple of places you can buy online:
2.1 Official website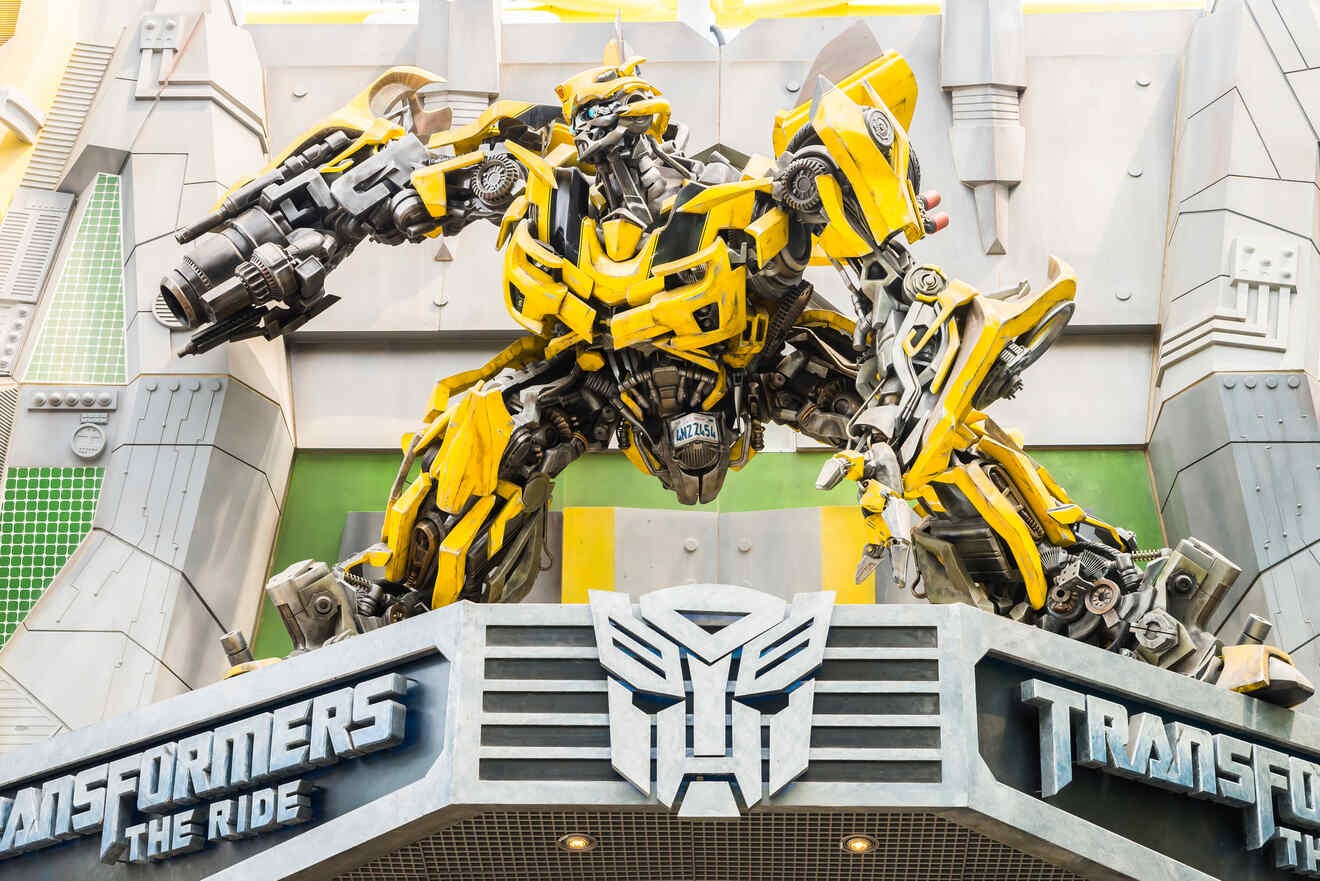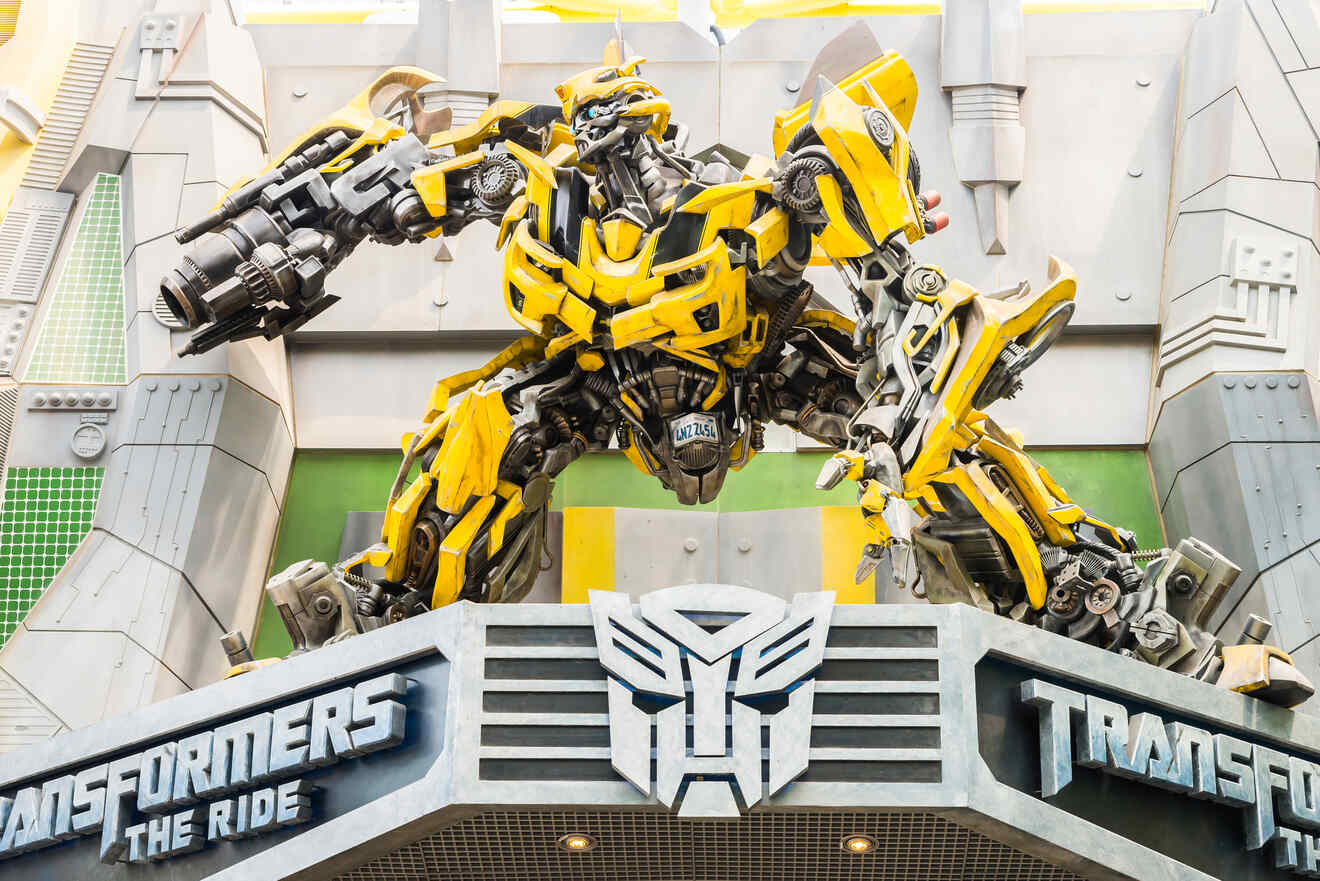 You can purchase all ticket types through the official website but spoiler alert, there is a cheaper place to buy tickets online (I did all the research for you and you get the best deals just below).
To purchase on the official website, just go here, choose your attraction (Universal Studios Singapore), select your date, click "Book now", and remember to look for [Non-Residents] tickets. After you have added something to your cart, you will be offered the skip the lines add-ons.
The benefit of purchasing through the official website is that it is going to be easier to contact customer service should you need any assistance with your booking, however, the official website does not offer a cancellation policy.
This means if there is a thunderstorm, you get sick or you can't make it on the date of your tickets, you will not be able to get a refund. Since things never go to plan when I travel, this is a big red flag for me as I always want the flexibility to change my dates if something comes up.
Price: SGD81 ($60)
2.2 Ticket Resellers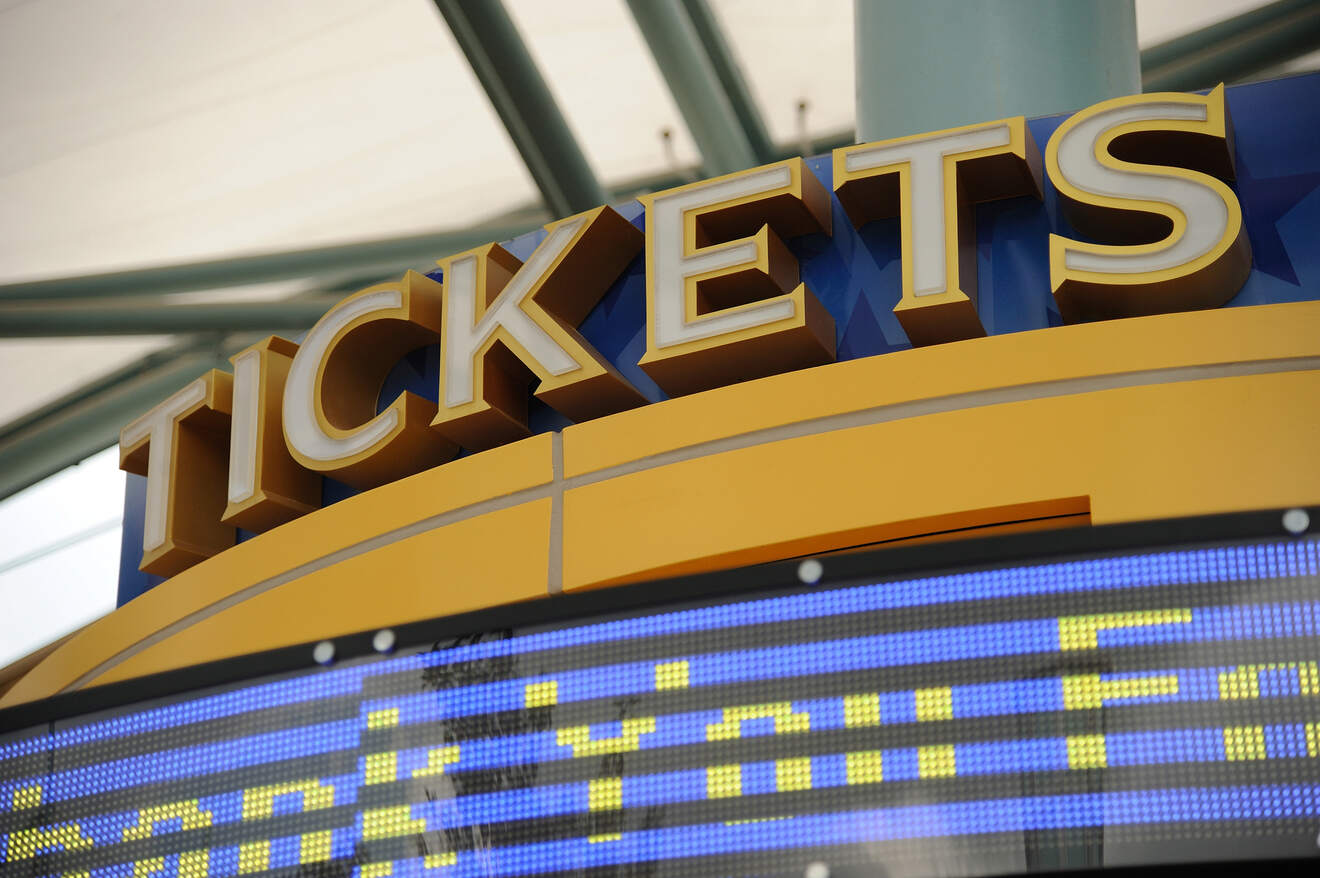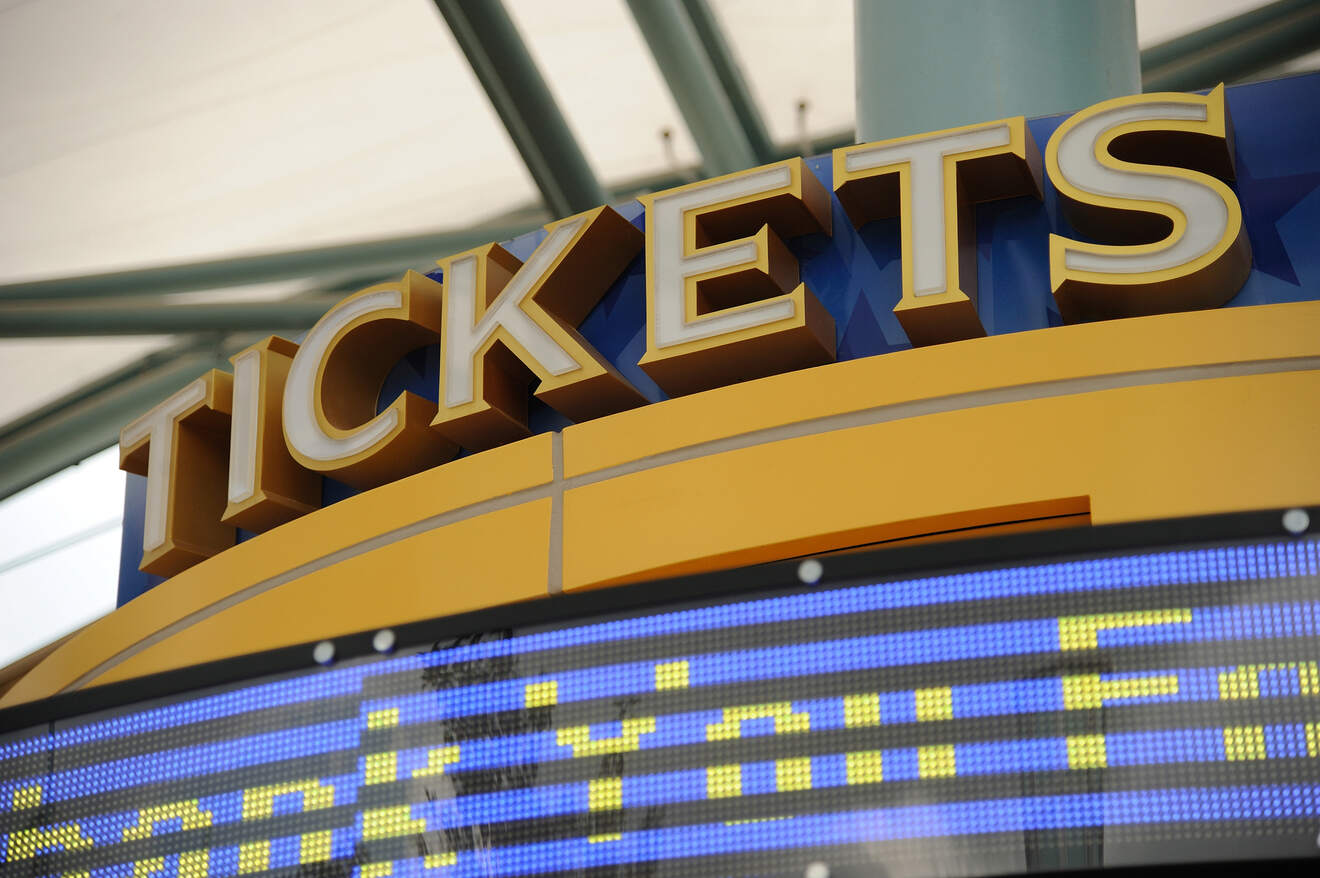 The best way to get cheap tickets to Universal Studios Singapore is to book them through the ticket reseller, Klook. Buying through Klook will save you S$13 per ticket which can really add up, especially if you are traveling with the whole family!
NOTE: If you are buying through a reseller, even if you need to select a date before purchasing, double-check the ticket conditions to see if it is a dated ticket or if you also need to make a reservation.
ATTENTION: Most ticket sellers including the official Universal Studios SG website and Klook, have a strict no-cancellation policy, meaning if something unexpected does come up, you will not be able to get a refund.
If you are uncertain of the date of your visit, I recommend getting your tickets through Get Your Guide as it has the best cancellation policy and will still save you S$4 off the official price.
PRO TIP: Thunderstorms may cause some rides to be closed with no refund due to weather. Buy a refundable ticket so it's easier to re-plan your visit depending on the weather forecast a couple of days prior to your visit.
Klook Price: S$68 instead of S$81 from the official website
Difference from the official website: S$13 savings

P.S.: If tickets are sold out elsewhere, you can also check Viator and KKday for more options.
3. Entrance to Universal Studios with the Singapore Go City Card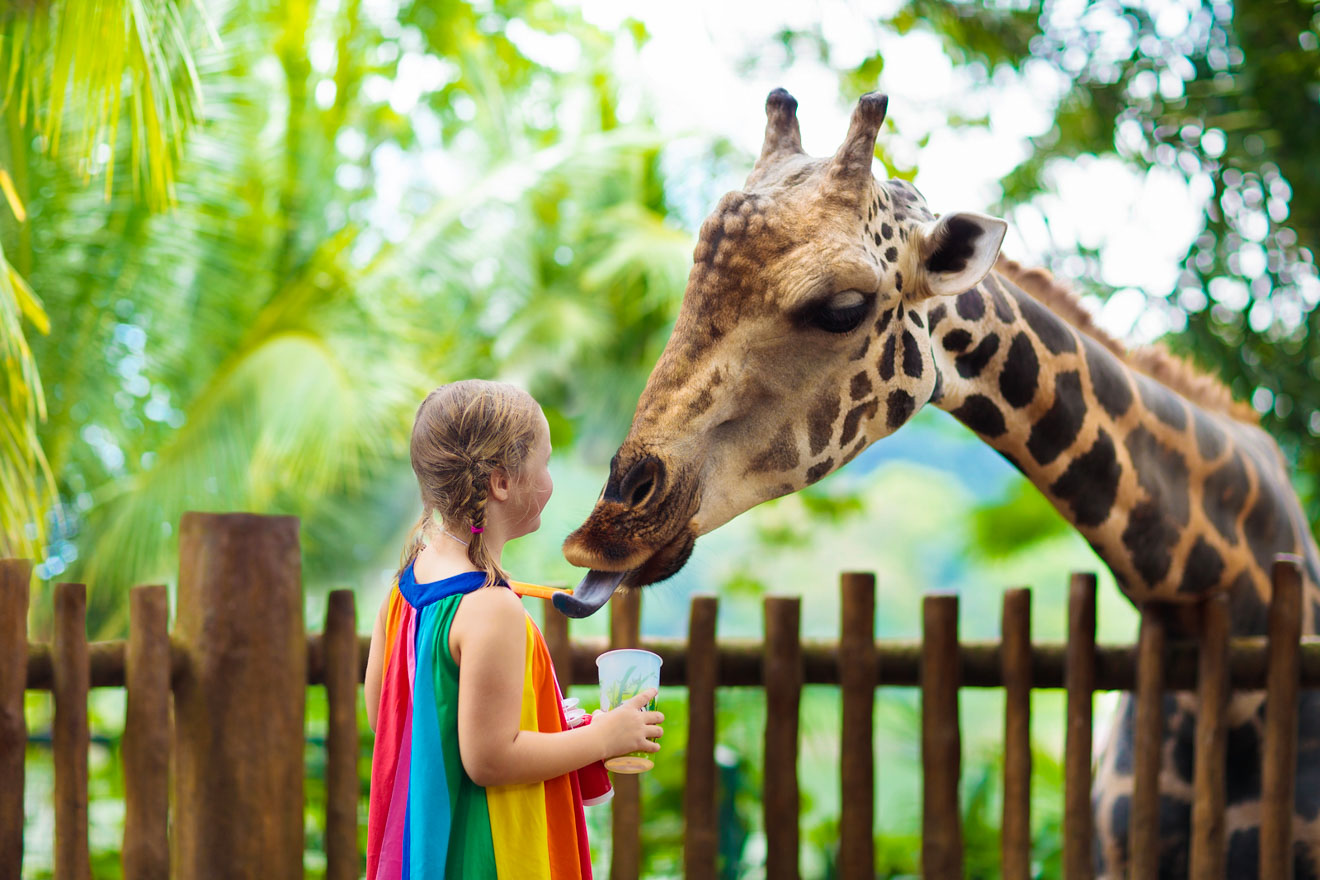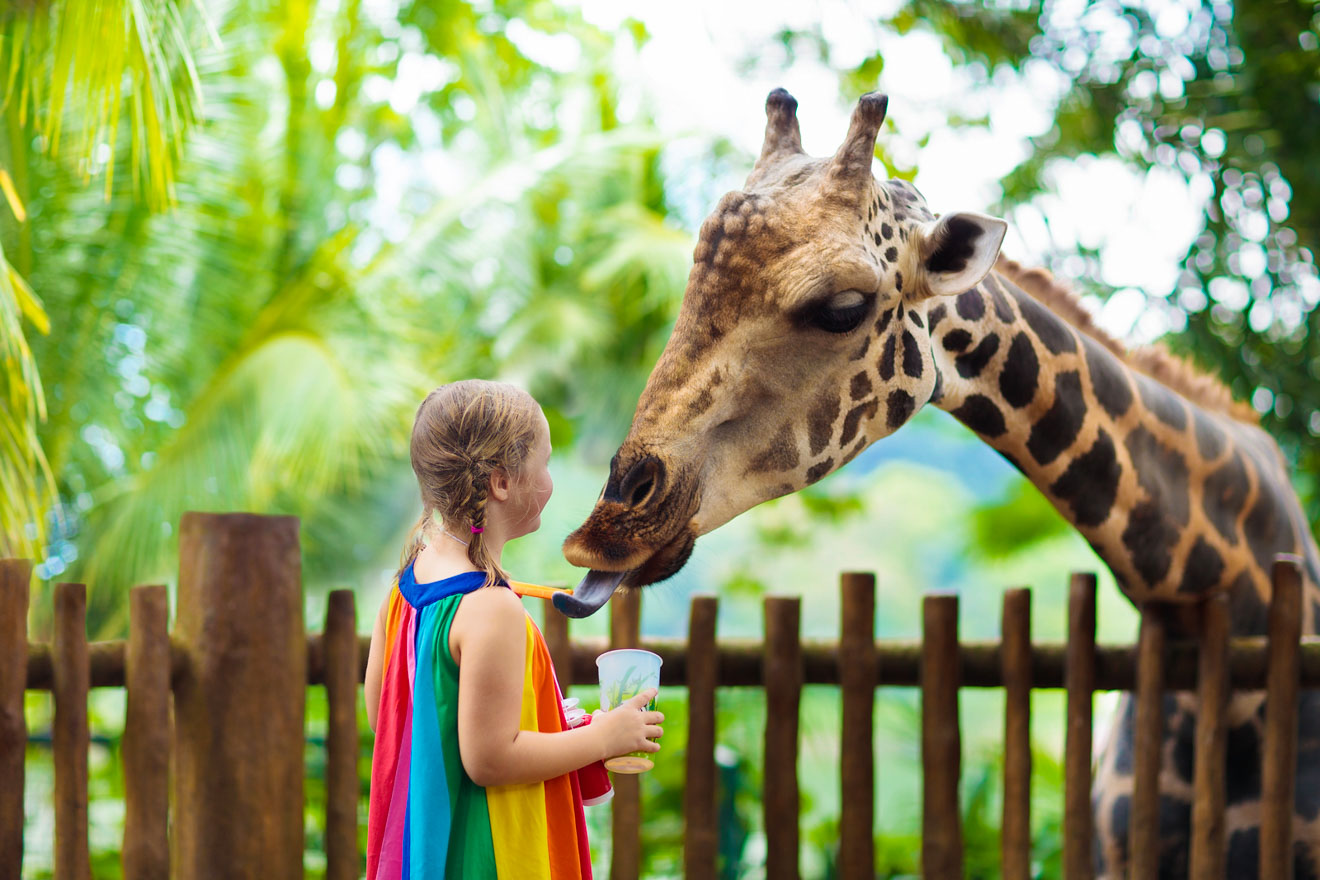 If you plan on visiting a few different big-ticket attractions in Singapore, you may also be able to save some money by buying a Go City Pass which offer promotions on entry to a number of different attractions for one discounted fee.  
You can purchase passes which range from 2-7 days for different prices depending on how much time you have, and save up to 45% on the top attractions in Singapore! The time starts when you visit your first attraction so there is no problem buying one in advance.
There are over 40 attractions and tours for you to choose from in Singapore if you purchase a Go City card but below you will find a list of the individual prices for adults at the most popular ones, so you can decide if the pass is worth it for you.
Universal Studios – S$81
Hop-on Hop-off Bus Tour – S$42
S.E.A. Aquarium – S$41
Singapore Zoo – S$48
Adventure Cove Waterpark – S$38
Singapore Cable Car Return – S$28
AJ Hackett Giant Swing and Skybridge – S$60
By my calculations, if you want to take a whole day to enjoy Universal Studios, the minimum time you would need to make the city pass worth it is 3 days.
Considering the 3-day pass costs S$269, you would need to do 5+ activities to make it worth it; however with this card, the more days you have, the better the value gets!
Here is a sample of the best tourist attractions on the Singapore Go City Card which you could visit in 3 days:

Universal Studios (S$81) + Hop-on Hop-off Bus Tour (S$42) + AJ Hackett Giant Swing and Skybridge (S$60) + S.E.A. Aquarium (S$41) + Singapore Zoo (S$48) + Singapore Cable Car (S$28)
81 + 42 + 60 + 41 + 48 + 28 = S$300
YOU SAVE: S$300 – S$269 = S$31
4. Buying last-minute tickets at the entrance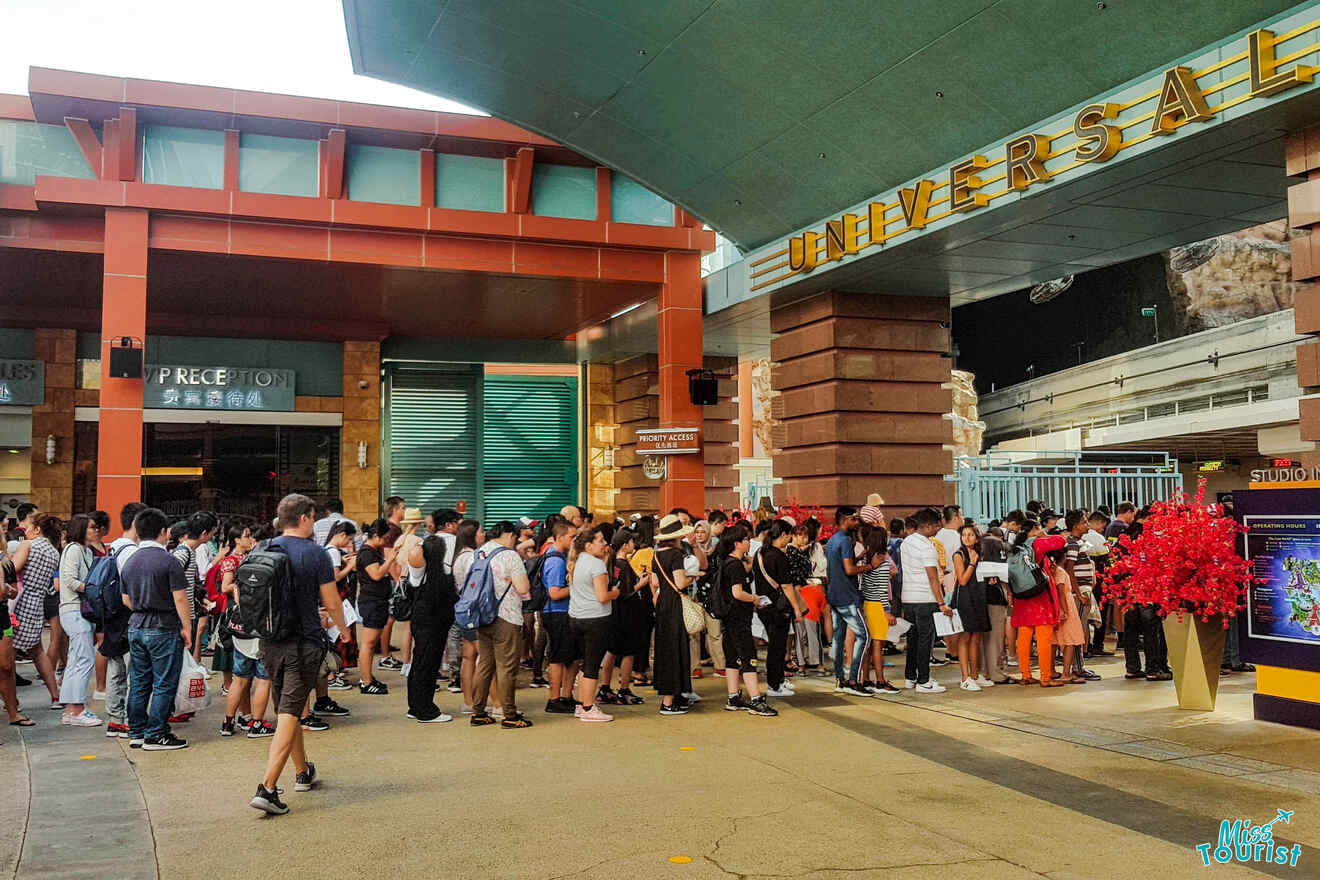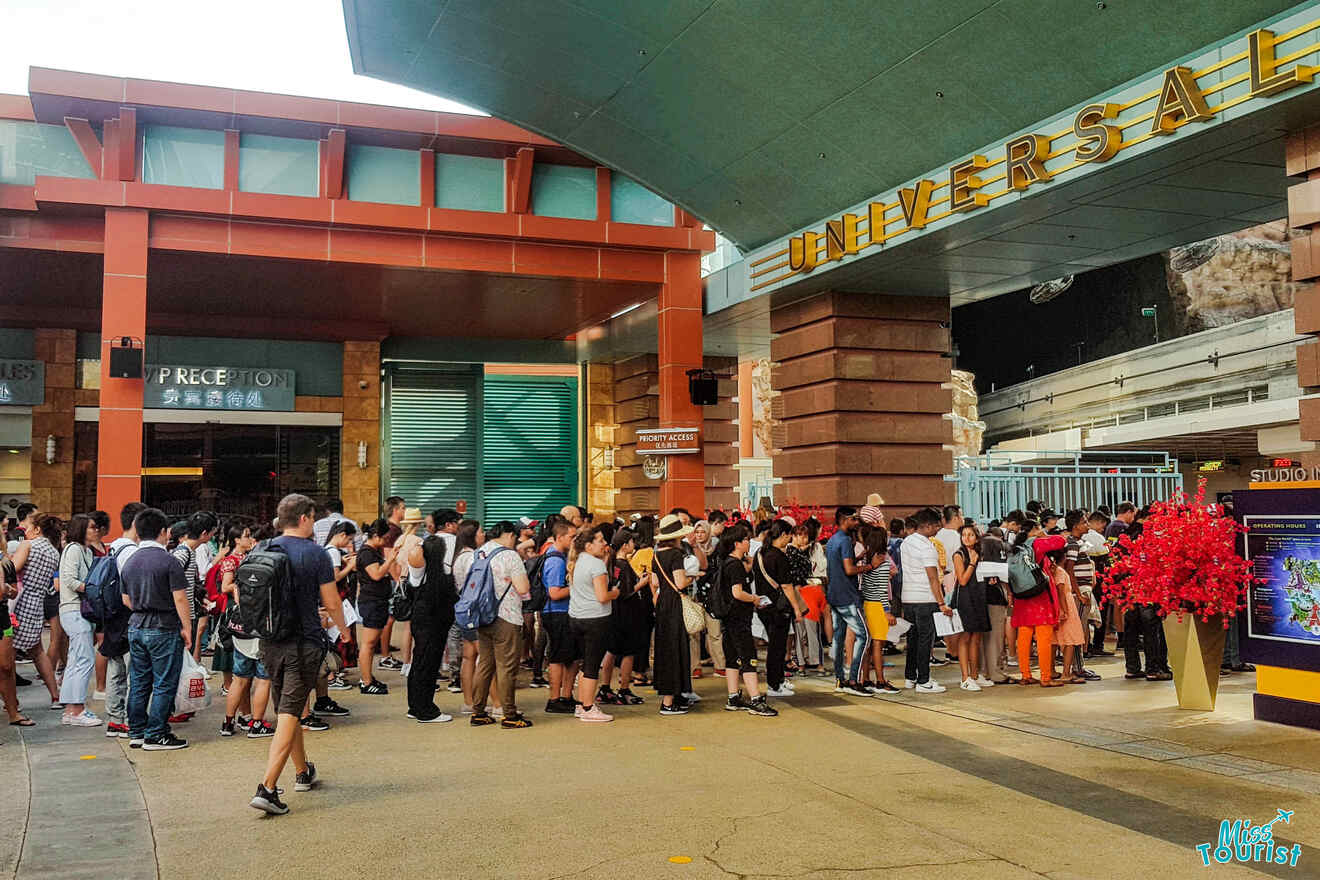 While I really don't recommend this, if you haven't purchased your tickets online, it is still possible to buy them at the gate, however remember that there is a daily cap on how many people can enter. So if all the tickets are sold, you will be refused entry aaaaaand, the lines are huge!

The prices change depending on the day so I can not give you accurate prices, but they can be more expensive than buying online.
If you are planning on buying tickets on the date, I advise you to arrive before the gates open to avoid the long lines and to help you have the highest chance of getting in.
PRO TIP: Another place you can look for last-minute tickets is on Carousell (Singaporean Craigslist). But note that it is up to you to ensure that you are eligible to use the ticket, so double-check if it is dated, named, and is for tourists (non-resident).
Important things you should know about Universal Studios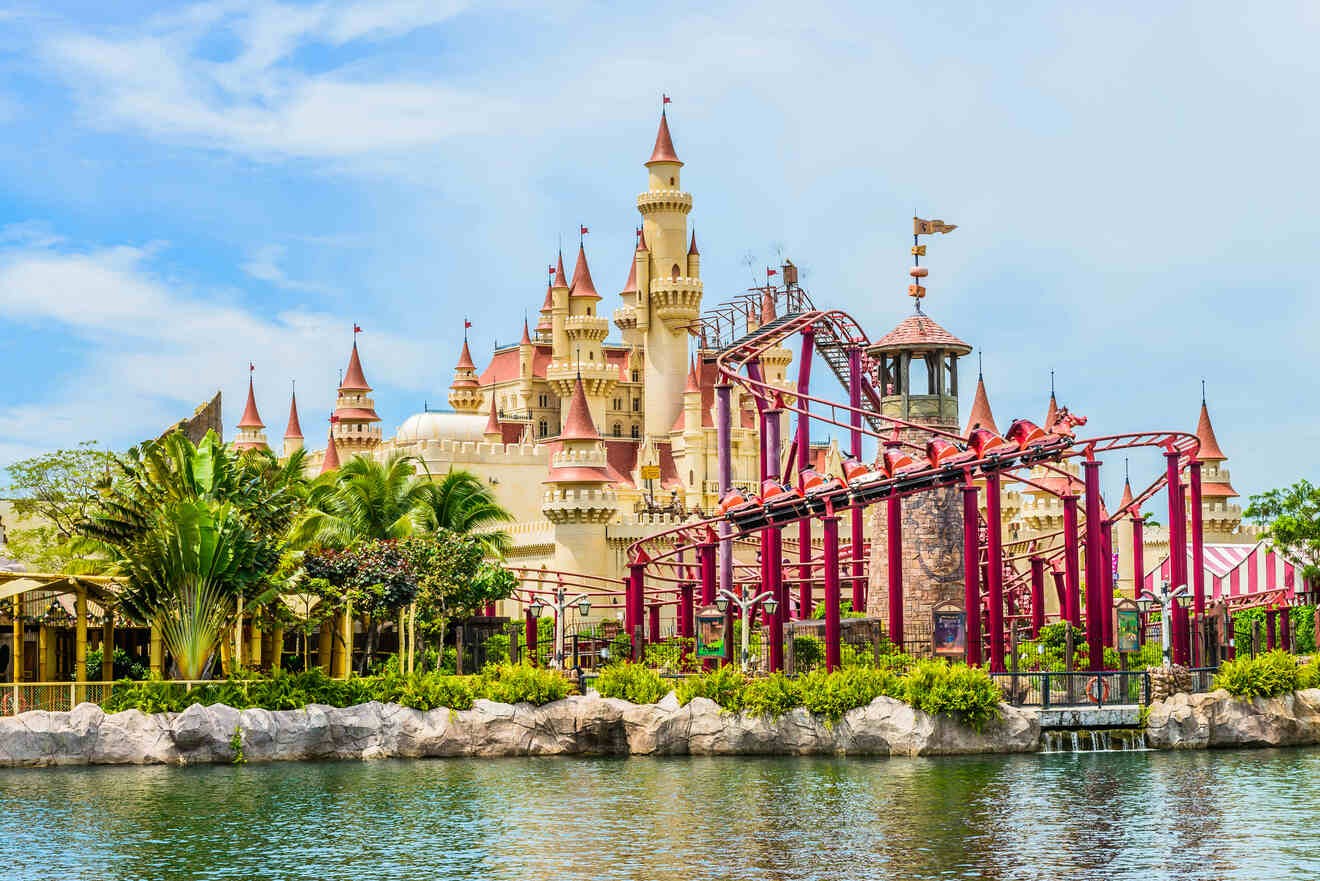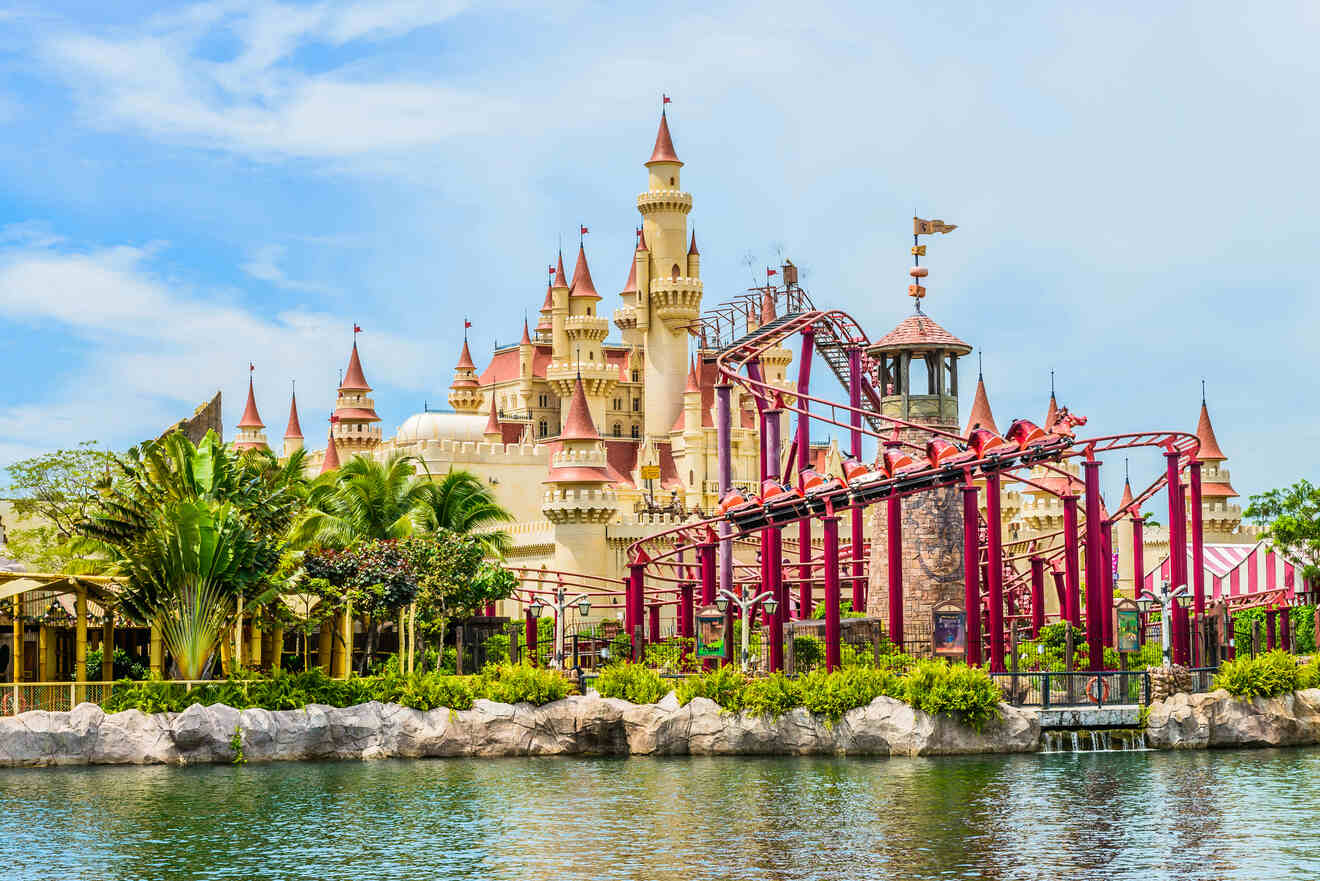 Now that we have got your tickets sorted, here is some important info and great money-saving tips for your trip!
1. How far in advance do you need to buy your tickets
If you know your dates already it's a good idea to book your tickets to Universal Studios Singapore as far in advance as possible, especially if you are visiting during school or public holidays as these are the busiest days at the park.

Otherwise, booking around 1 week in advance should ensure you get the dates you want. If you know the exact dates you will be spending in USS you can book dated tickets, otherwise, choose an open date ticket. But remember you still must register your visit in advance once you have decided on the date of your visit to ensure you are counted in the visitor cap!
2. Park Opening hours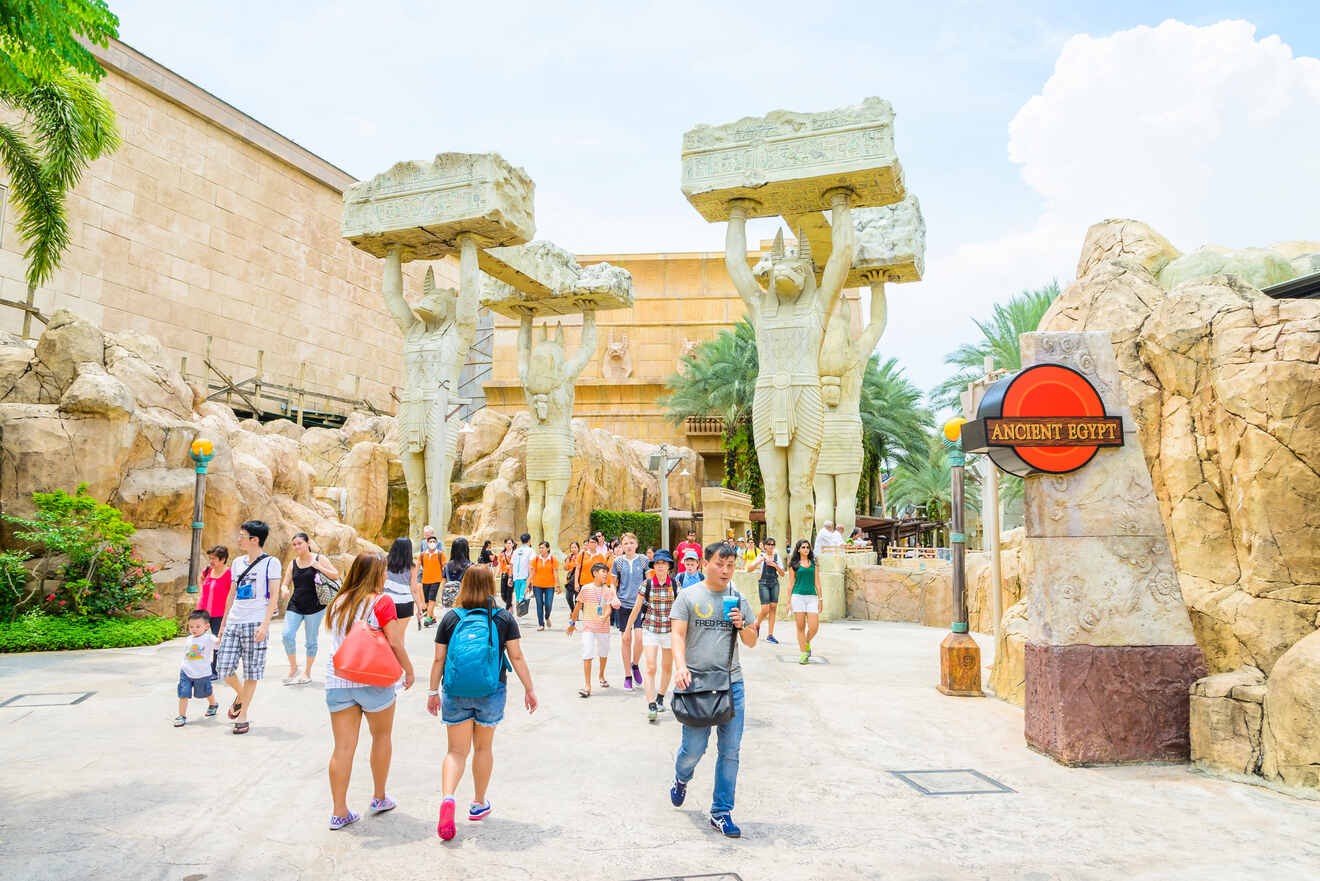 The opening hours for Universal Studios vary a lot throughout the year so you really need to check the official website for up-to-date opening hours before your visit.
But as a general rule these are the normal opening hours:
High season (November – January): Daily from 10am – 7pm
Low season (Feburary – May + August – October): Wed – Sunday, 12pm-7pm
From June – mid August: Low season hours + extended opening on Sunday's 10am – 6pm

On public and school holidays, there are often longer opening hours so you have the opportunity to spend longer in the park, however, these are also the busiest days so you will also spend longer waiting in line!

NOTE: Peak times for the park are in the middle of the day with the mornings and late afternoon being a little quieter.
PRO TIP: Get to the park as early as possible so you can be the first to get in. Head for the most popular rides first, but if the line is already too long, save it for late afternoon when the crowds will die down again.
3. How to get to Universal Studios Singapore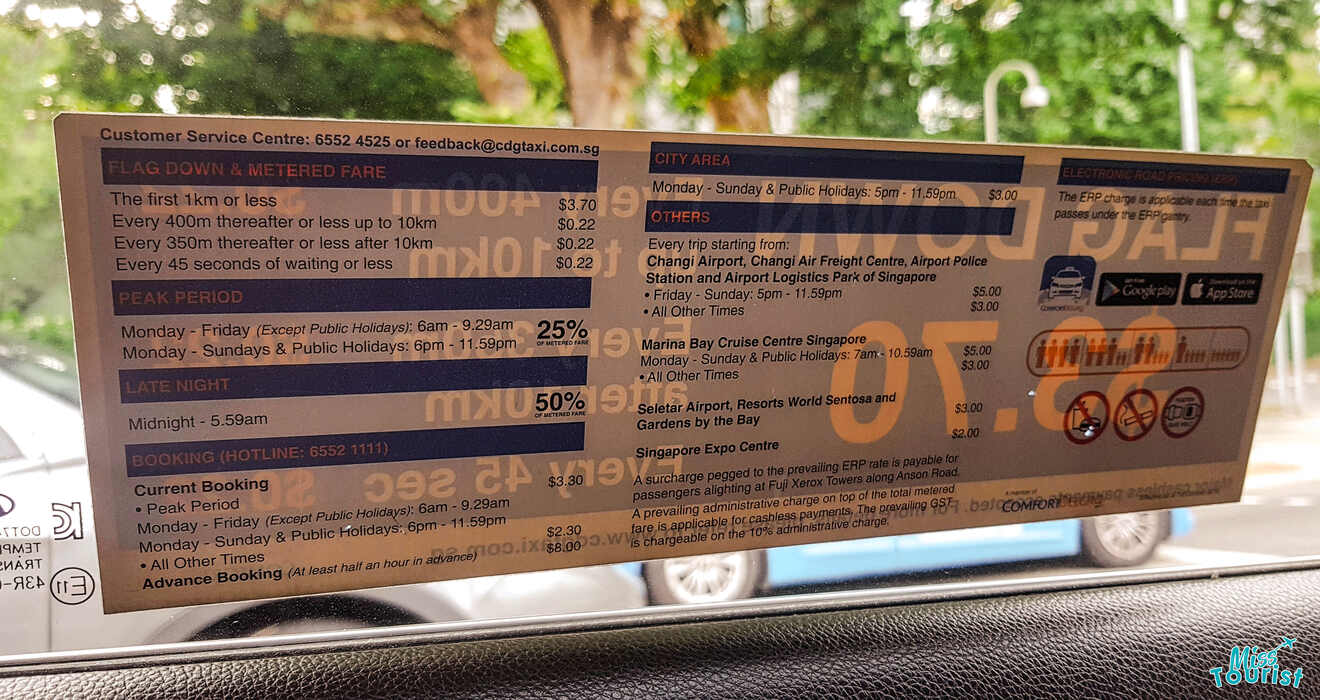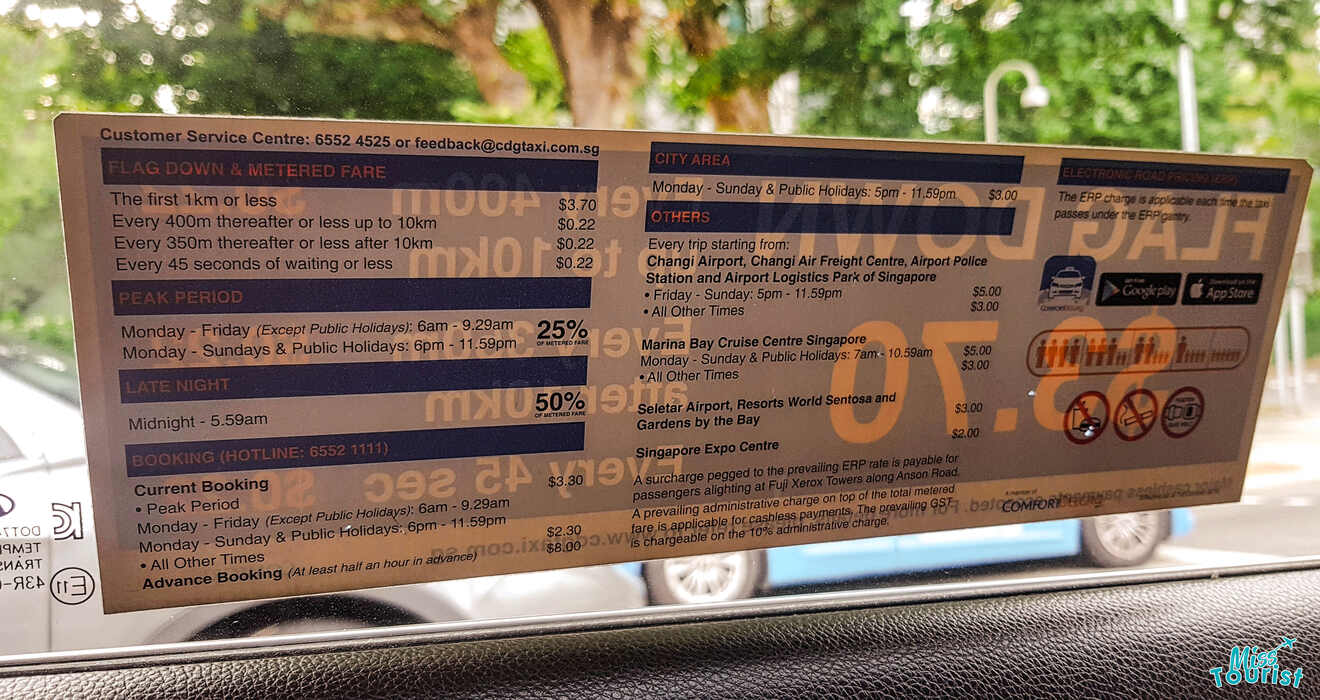 The quickest way to get to Universal Studios Singapore is to take a taxi which will cost around $15 – 20 and take approx 10 – 20 mins from central Singapore hotels depending on the traffic.
Taking public transport is another easy and cheap way to get to Universal Studios Singapore. The journey will take you about 40 mins with the following directions:
Take the North East MTR Line to Harbourfront Station
Use exit E and Walk to Lobby L (Food Republic) on level 3 of the VivoCity Mall
Buy a ticket for the Sentosa Express and take the Monorail to Waterfront Station (S$3 including Sentosa Island Admission.)
Follow the signs to Universal Studio.
4. What to bring to Universal Studios Singapore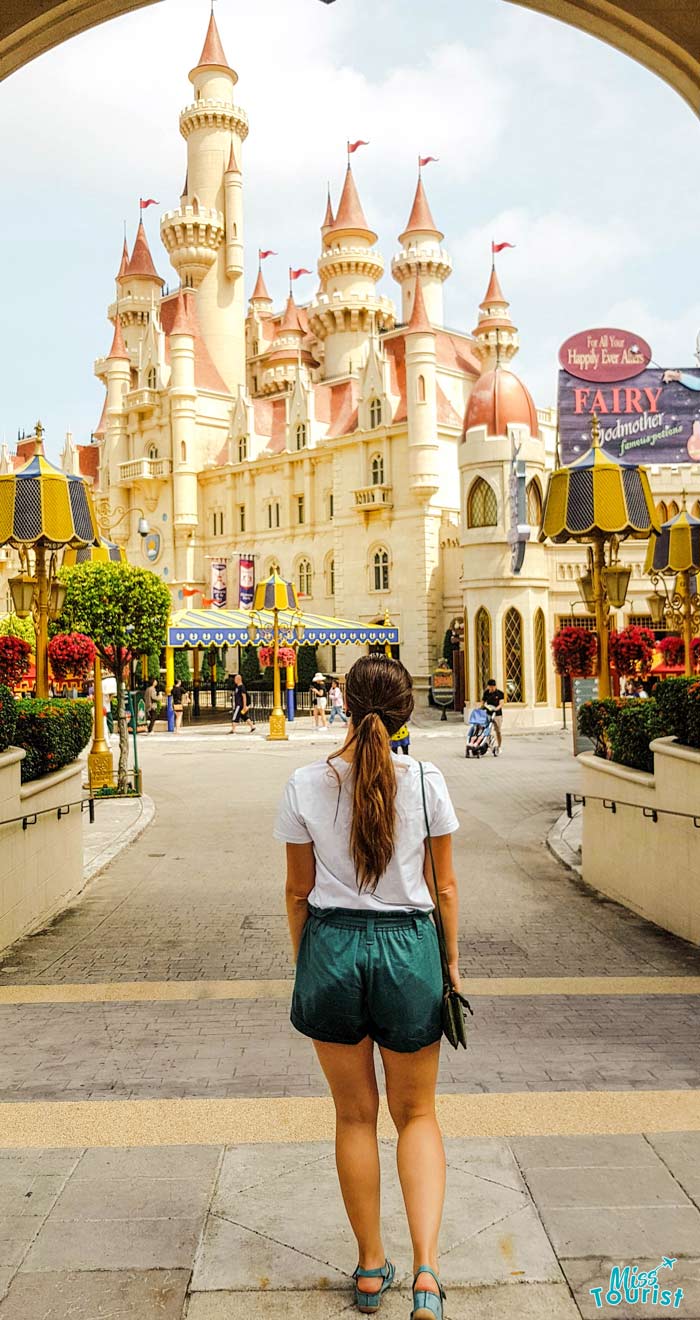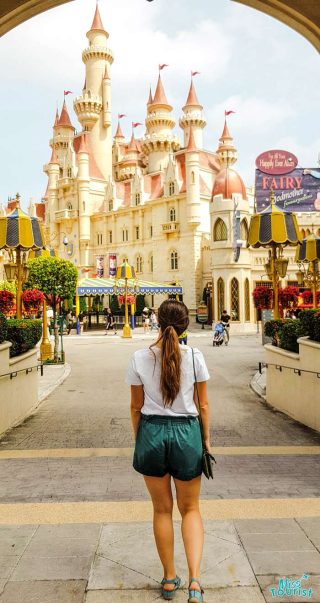 Singapore can be quite humid and you are going to be outside all day so it's important to wear light, breathable clothing and have adequate sun protection.

Since you can't bring your own food or drinks into the park anyway, it is best to bring as little as possible while visiting so you don't have to deal with finding lockers for your things while you enjoy the rides!

NOTE: Outside food and drink is not allowed in the park so make sure to leave that at home.

Here are some of the essential things to pack:
Light, quick-drying clothing (there are some fun drying stations if you got wet on a water ride, but there are 5SGD extra)
Sandals or secure, quick-drying shoes
Sunscreen and hat
Empty water bottle (you can fill it up inside)
Poncho (for water rides & wet season)
Camera
Printed or electronic ticket (& reservation if you have open dated tickets) – it is not necessary to print out your ticket if you can show it on your phone
5. Plan your route & download the USS app
If you want to take full advantage of your time in Universal Studios Singapore, it's a good idea to do some planning before you go, as it is nearly impossible to do every ride, show, and attraction in just one day.
PRO TIP 1: Download the Universal Studios Singapore app and get to know the park before your trip. This way you can save time in the park by choosing which rides you want to take in advance and understand the layout of the park so you don't get lost.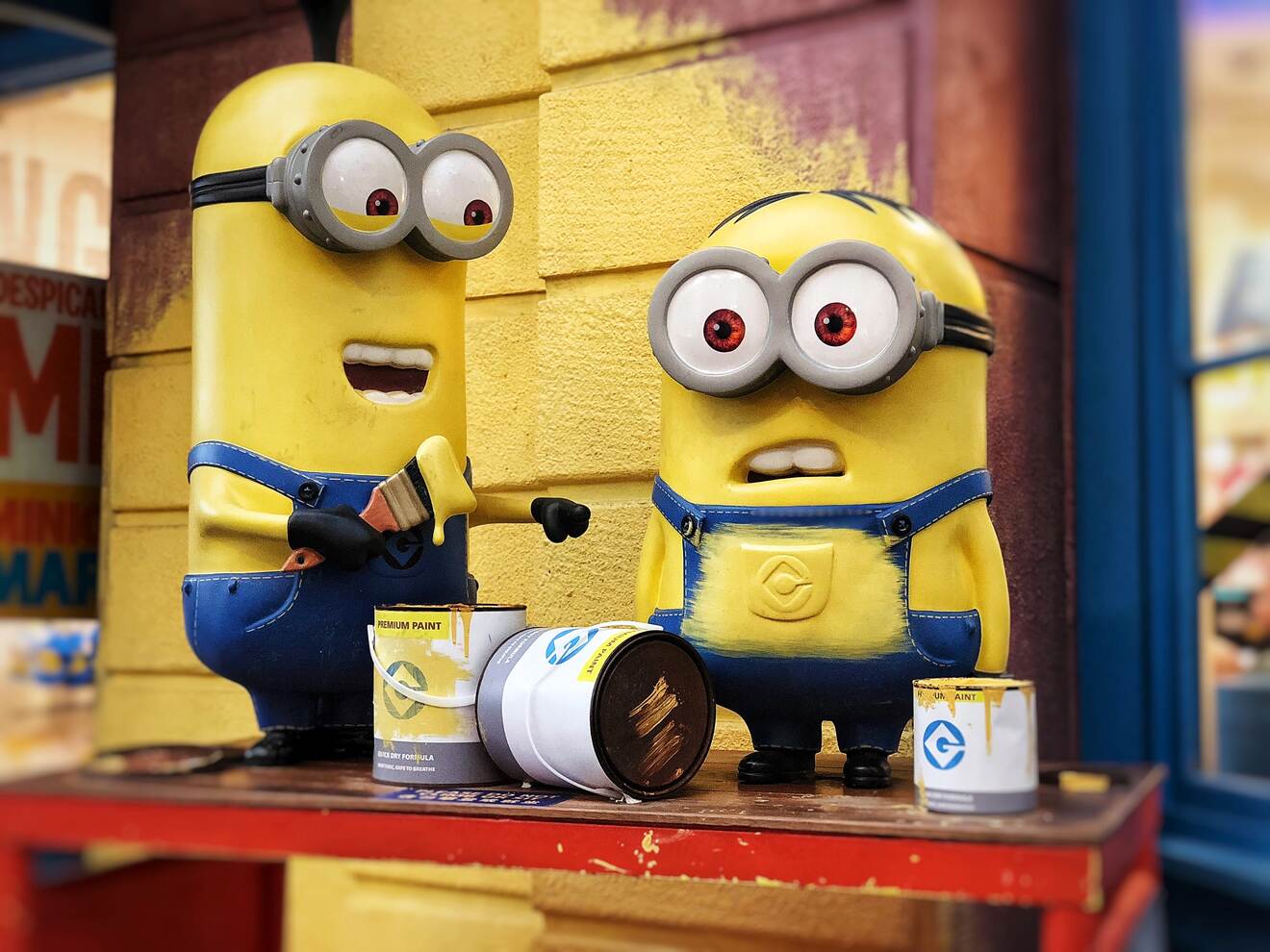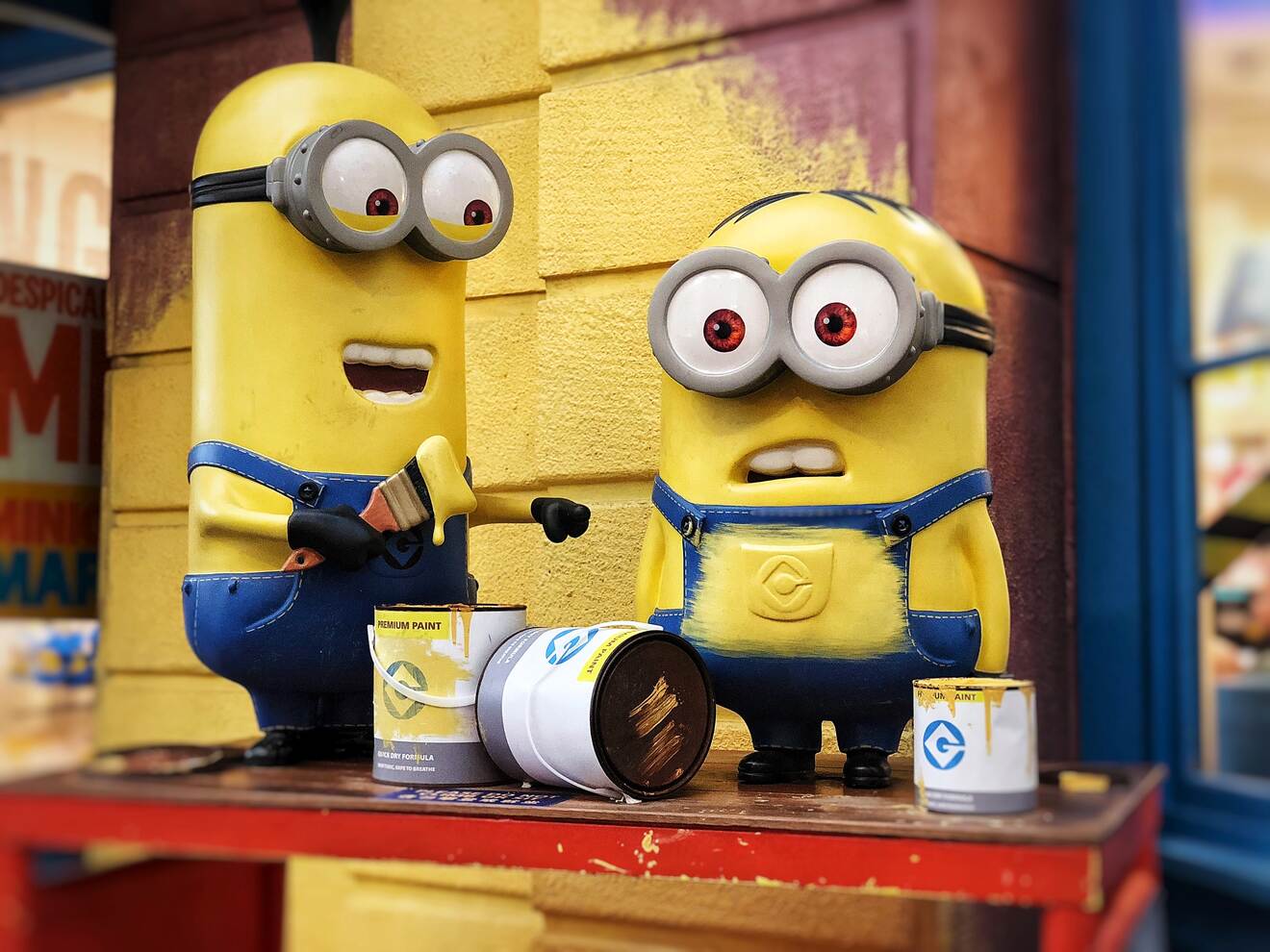 The app has everything you need to plan your day including a map, show and ride timetables, ride wait times, ride requirements (height/age), and accessibility info!
I recommend you plan your day around the shows you want to see, check the timetable in advance so you don't miss anything.
There are 7 zones in Universal Studios Singapore when you enter you will arrive in the Hollywood zone, then if you continue anti-clockwise you will come across New York, Sci-Fi, Ancient Egypt, The Lost World, Far Far Away, and Minion Land (opening in 2024).
PRO TIP 2: Get to the park before opening and head to the most popular rides first. Even if you have an express pass, there are some rides that are excluded (see section 1), so if these are on your list, make sure to ride them as soon as the gates open.
PRO TIP 3: Rides queues are shorter in the late afternoon (when most people eat lunch), if the wait time is more than 20-30 mins for a ride, skip it and come back later.
PRO TIP 4: When planning your route, if you want to skip a section entirely, you can simply take the path around the lake as a shortcut, rather than walking with the crowds through the longer main path.
6. How to save money at Universal Studios Singapore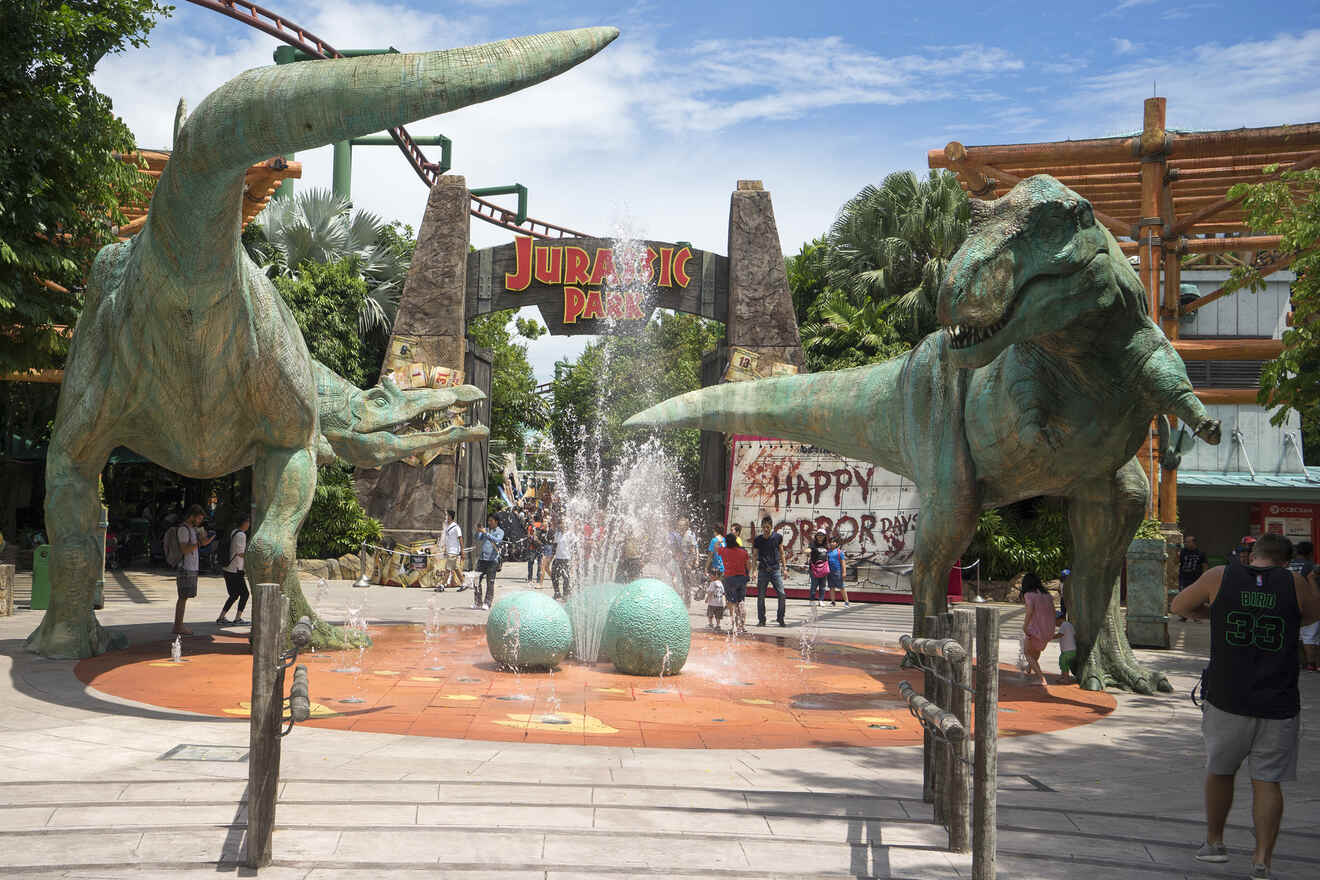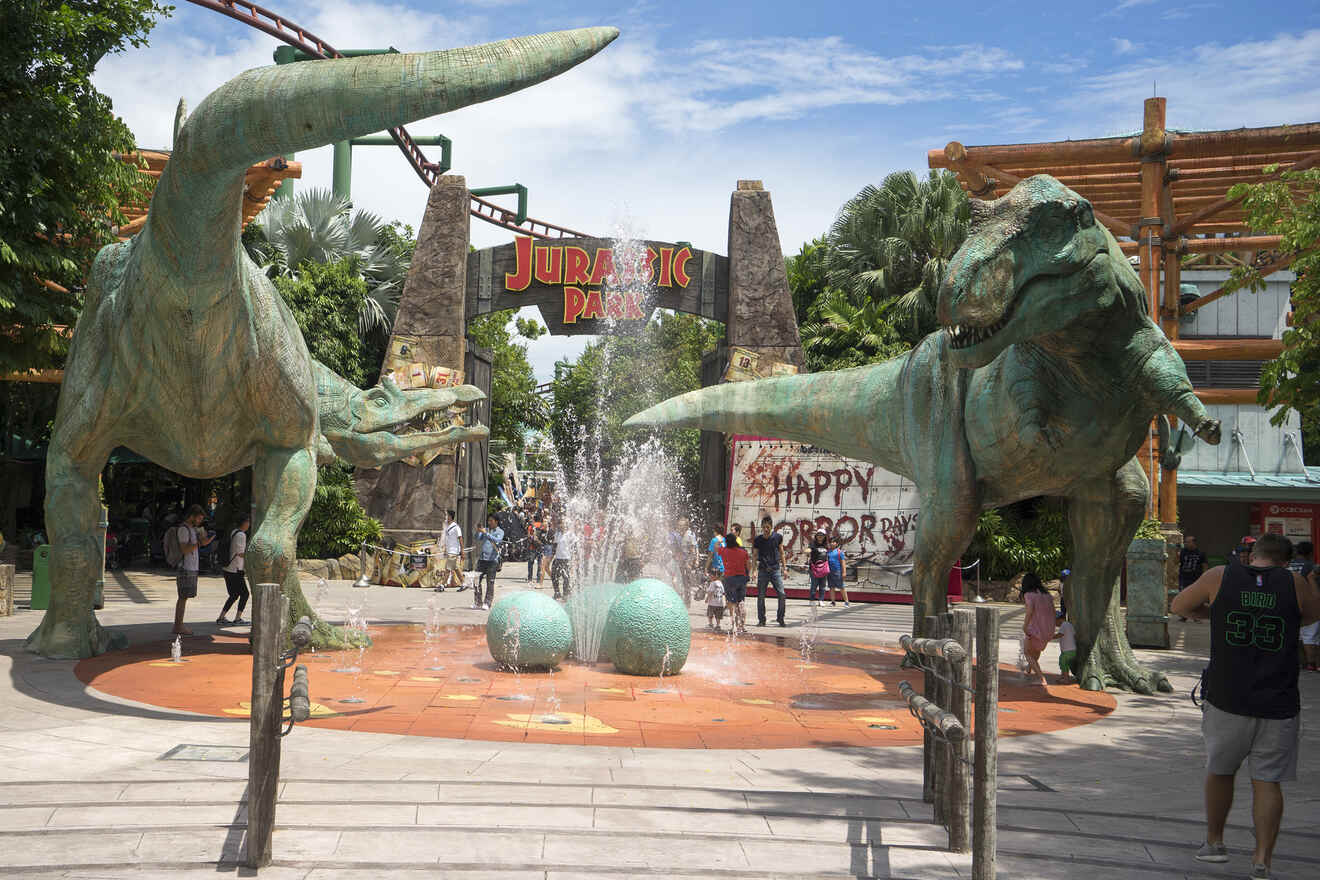 I know that visiting any theme park can be an expensive day, especially if you have the whole family to feed! So here are some tips to help you save money during your trip!
Bring your own empty water bottles – you can't bring food or drinks inside the park but there are water taps to fill up your bottles once inside, this will save you from having to buy drinks inside.
Leave USS for lunch – A small lunch inside Universal Studios can cost around $15 per person, but if you just head outside the park, across the road you will find Malaysian Food Street and McDonald's where you can eat for around $8 per person. Remember to have your hand stamped for re-entry before you leave and don't lose your ticket!
Buy your tickets in advance – I would hope you know this by now being this far through the post, but buying your tickets online in advance is the cheapest way to get them!
Buy your souvenirs online – Unless you are determined to get the exclusive onsite Universal Studios merchandise, you can save some money by buying your souvenirs online from different sources. While they might not be exactly the same as the ones you find in the USS, they will be a fraction of the cost and your kids probably won't know the difference.
7. Facilities inside Universal Studios Singapore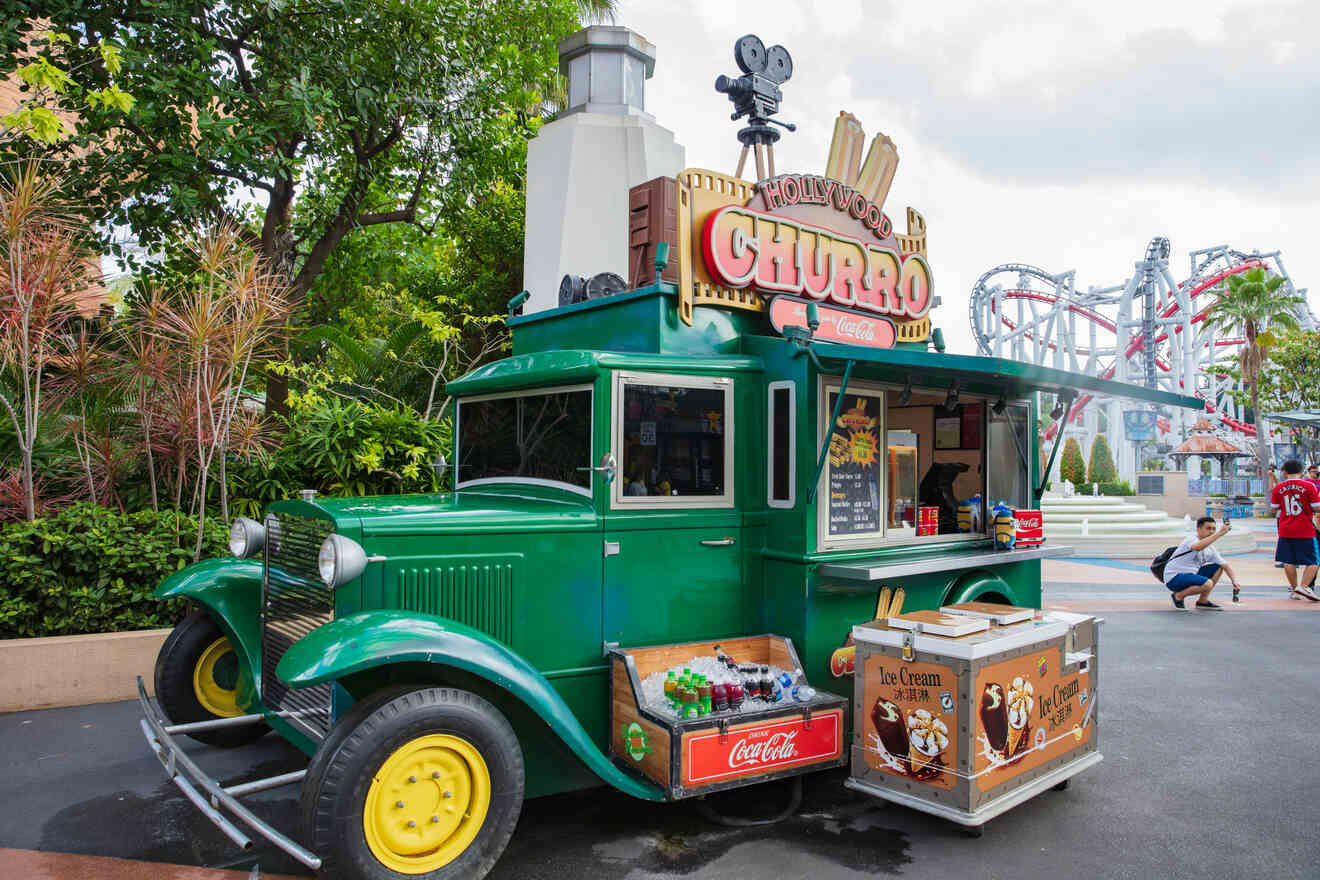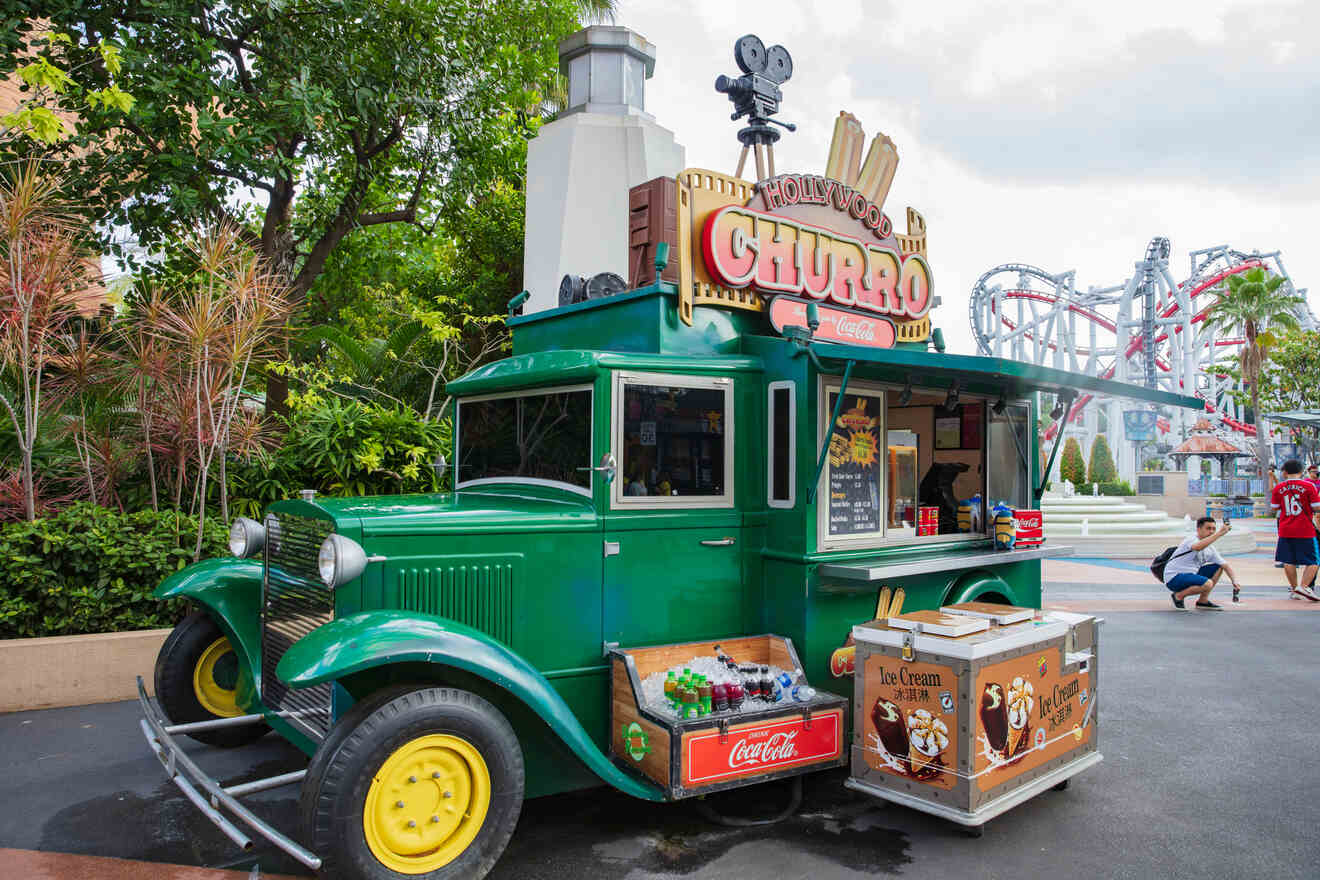 Food: There are countless food and beverage outlets scattered throughout the park offering everything from your typical theme park food to halal, vegetarian, and healthy options.
Water: Water fountains are scattered throughout the park where you can take a drink or re-fill your bottle from home.
ATMs: Universal Studios Singapore is now completely card only, meaning you do not need to withdraw any cash while at the park.
Nursing room: There is one nursing room at the entrance if you need a private place to feed your little one.
Accessibility: Wheelchairs and strollers are available for rent from the rental services counter near the entrance
Luggage storage: Lockers are available for rental throughout the park, the biggest ones are near the entrance and oversized items can be stored at the rental services counter.
| | |
| --- | --- |
| 👩‍ Adult Price: | S$81 |
| 👧 Kids Price: | S$61 |
| 💲 Cheapest Tickets: | Klook |
| 🎟️ Skip the Line Tickets: | Buy additional ticket on-site |
| 🕖 Best Time to Visit: | Mid Week |
| 🤫 Quietest time of day | Early morning |
FAQs about Universal Studios Singapore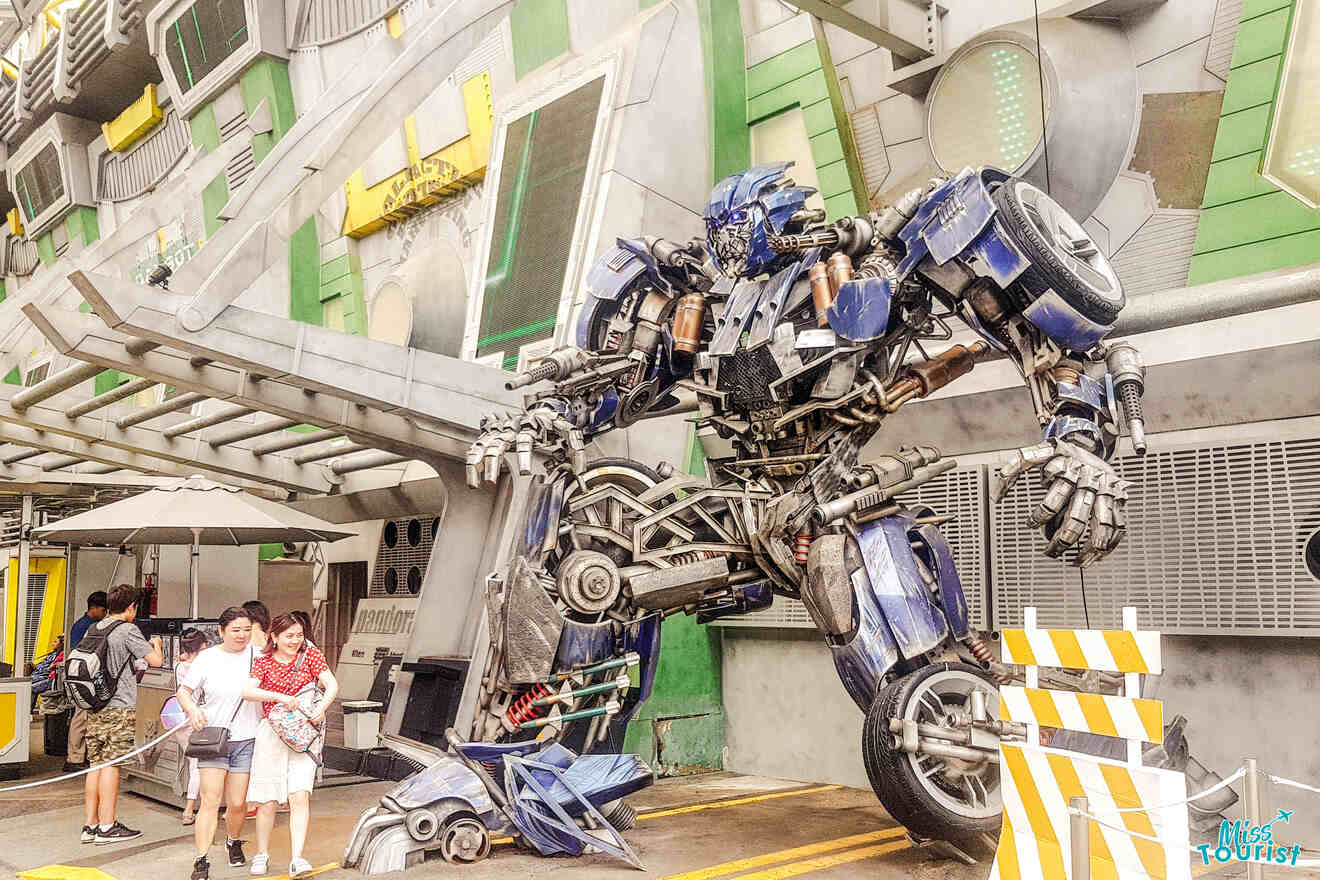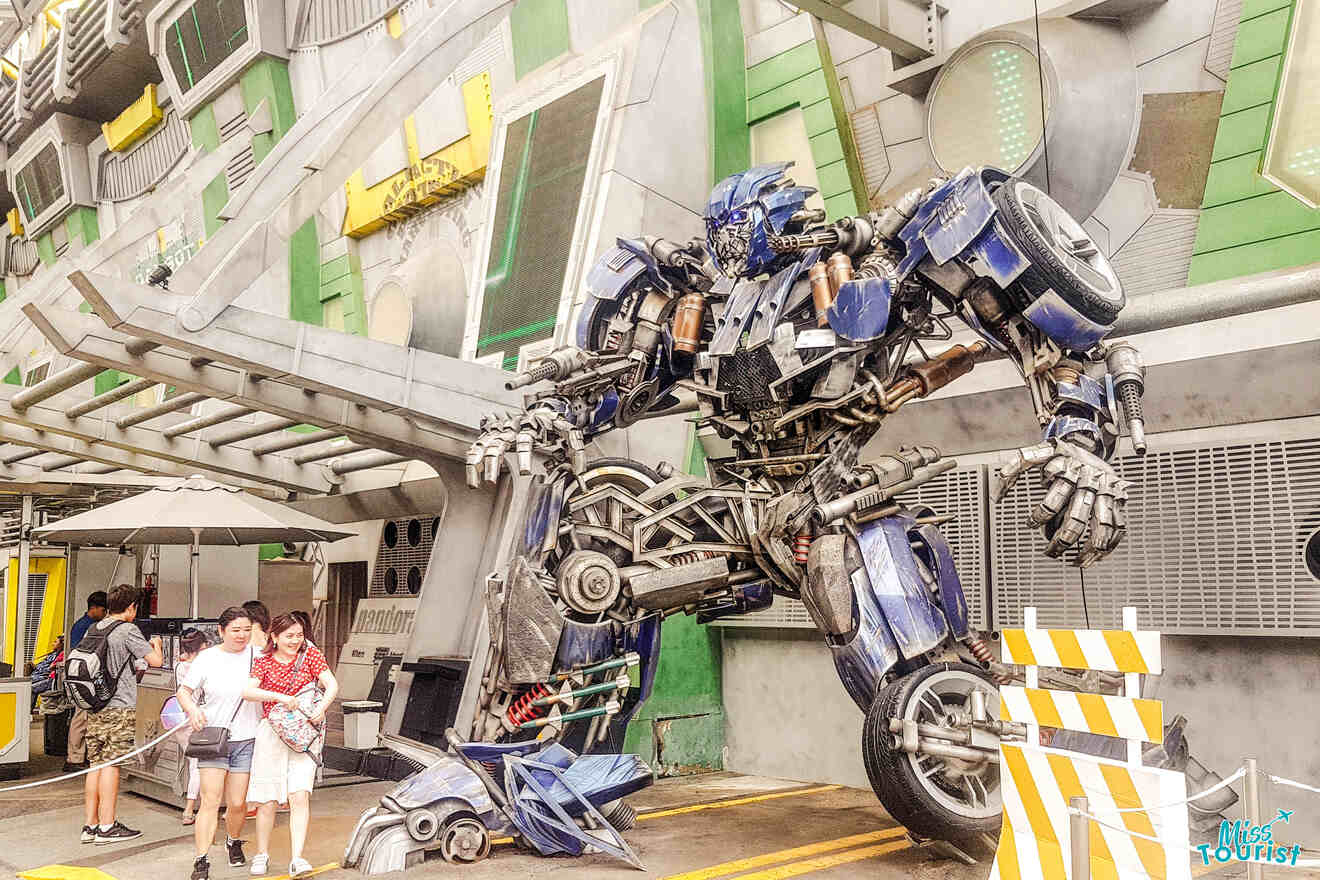 🕖 How long should I plan to spend in Universal Studios Singapore during my visit?
Universal Studios Singapore is huge and has 7 distinct zones, so it is best to spend the entire day there if you wish to go on a large number of rides. For small children, however, 4 hours may be enough. 
👧 What age group will most enjoy Universal Studios Singapore? 
All ages will enjoy Universal Studios Singapore as there are rides and attractions to suit everyone, however, kids around 8-12 will probably have the most magical experience!
🎟️ Do I need to buy tickets in advance to Universal Studios Singapore? 
Yes! Although it is possible to buy tickets at the gate, they are more expensive and entry is capped, so there is a chance that tickets will be sold out before you arrive. Buying your tickets in advance online will get you guaranteed entry and the best price. 
🎢 Do you have to pay for rides at Universal Studios Singapore? 
No. All rides and attractions are included in the entry fee to Universal Studios Singapore. 
Conclusion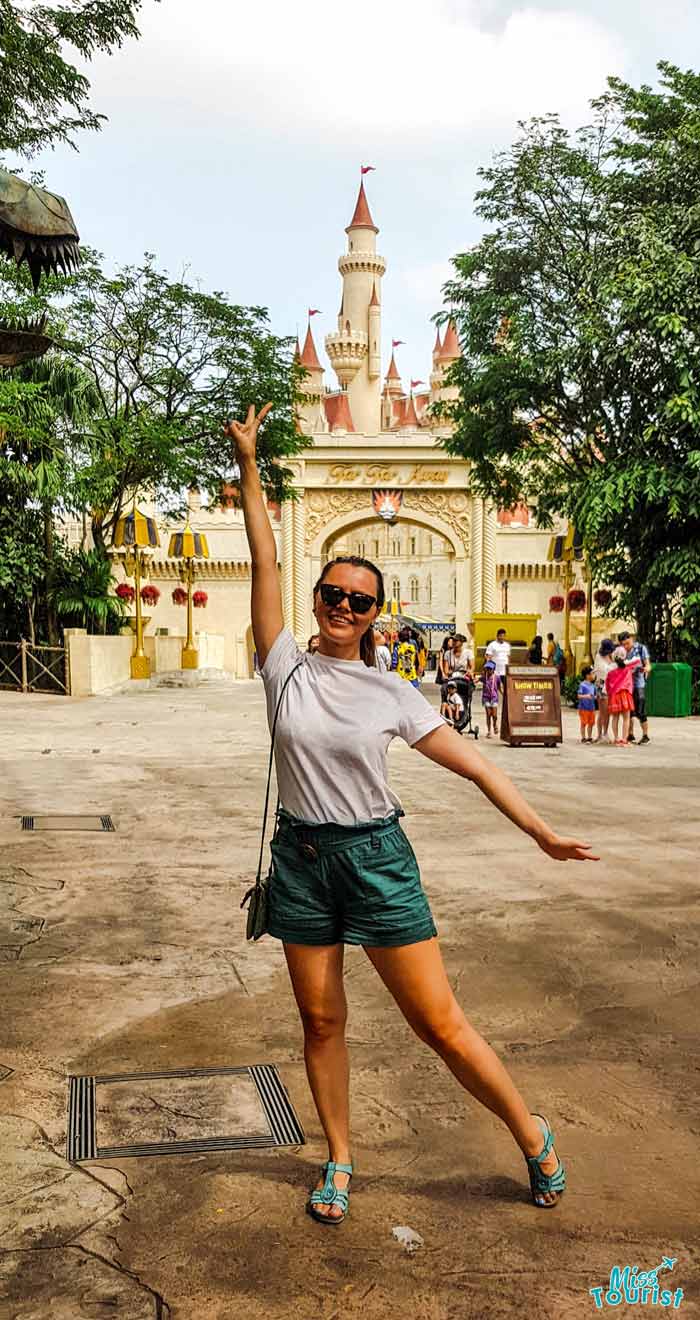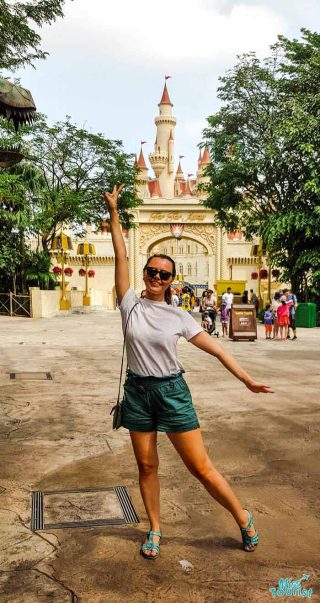 Wow, now you must be an expert on all things Universal Studios Singapore!

In this post, I have given you everything you need to know about getting cheap tickets to Universal Studios Singapore as well as how to plan a magical trip to this wondrous place. But if you have any more questions, please leave me a comment and I will be more than happy to help you.

Remember to book your tickets in advance so you don't miss out on your dates, and check out our other posts on Singapore if you are looking for more things to do or the best hotels!

Have fun,
Kate
---
Pin it for later!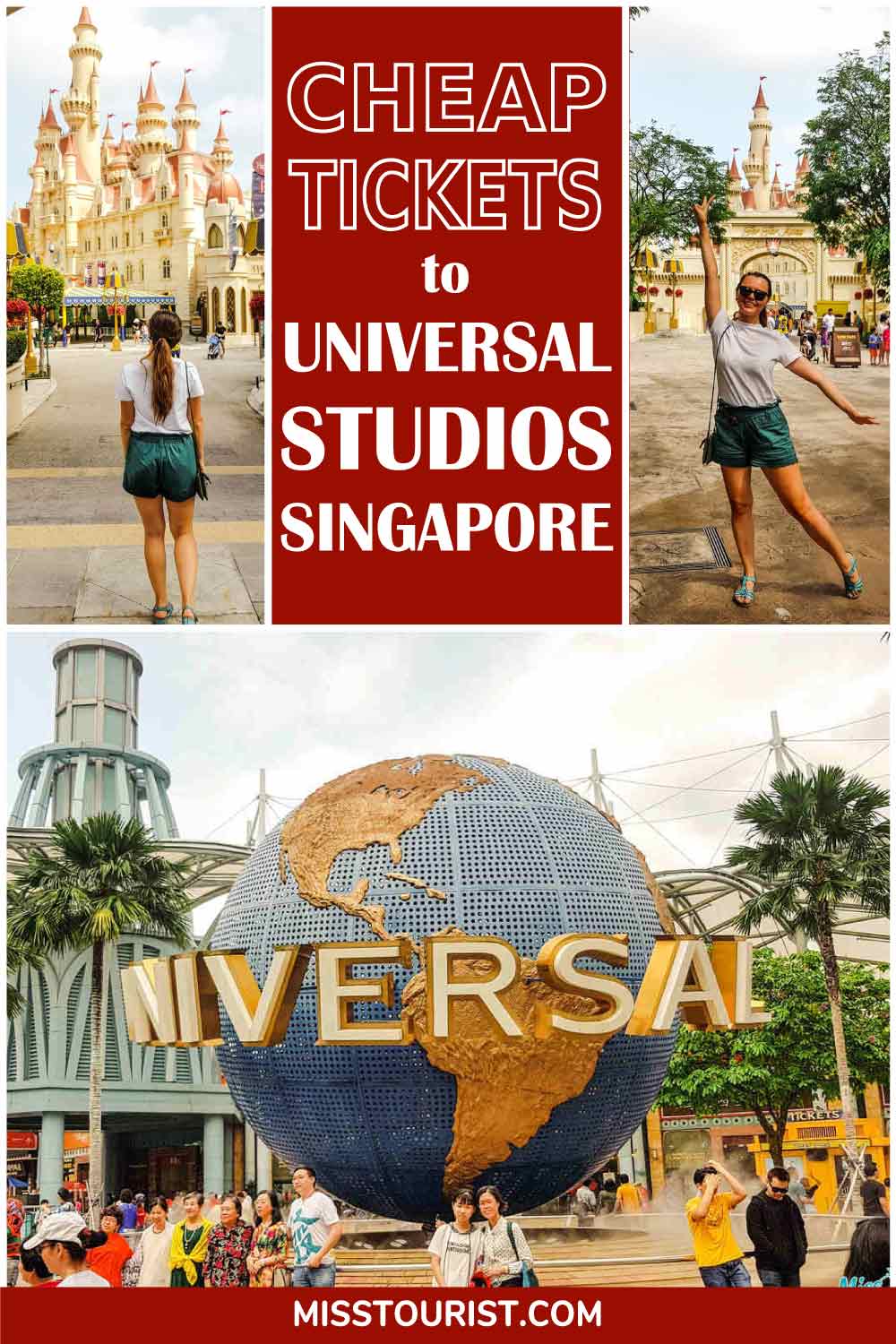 Pin it for later!