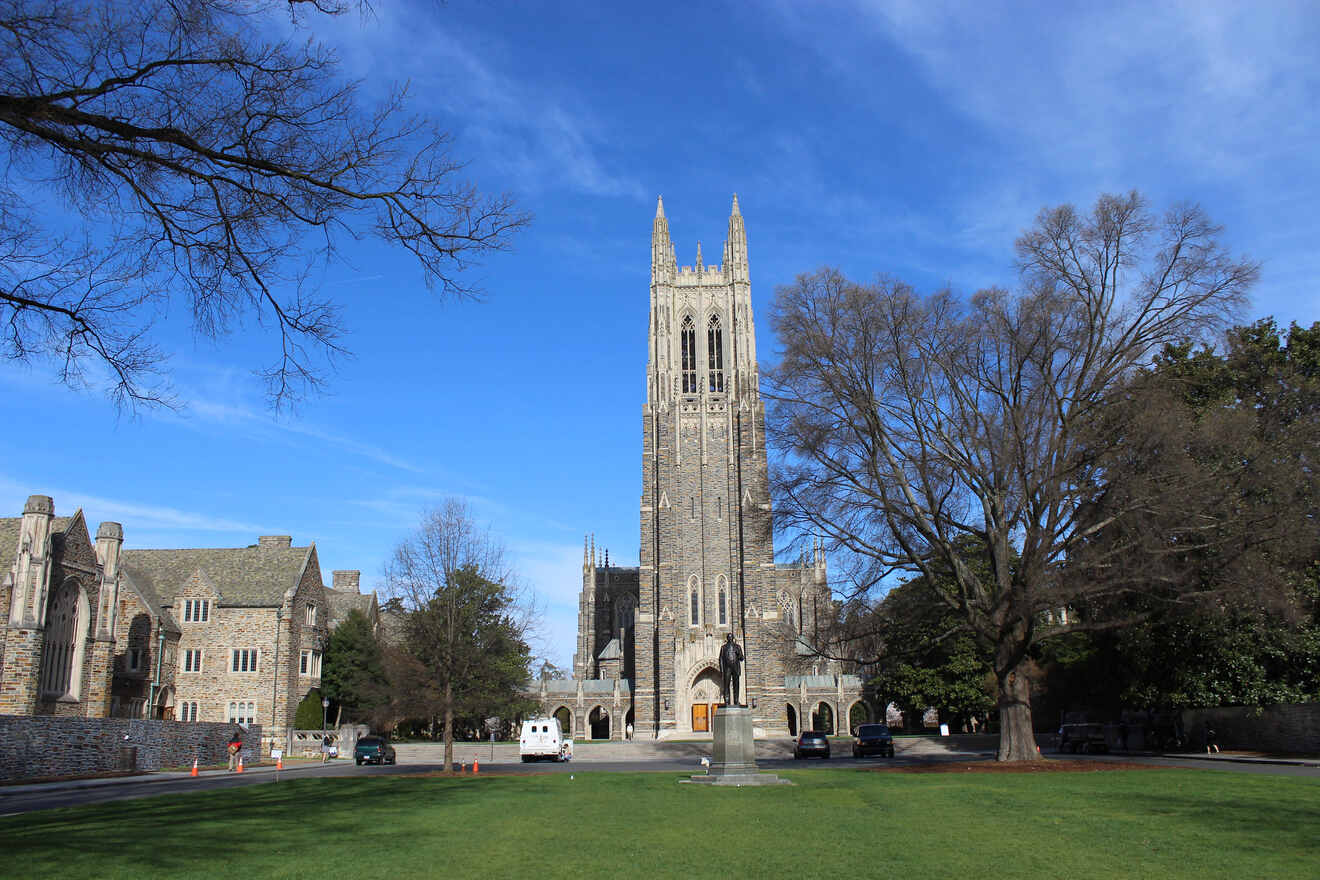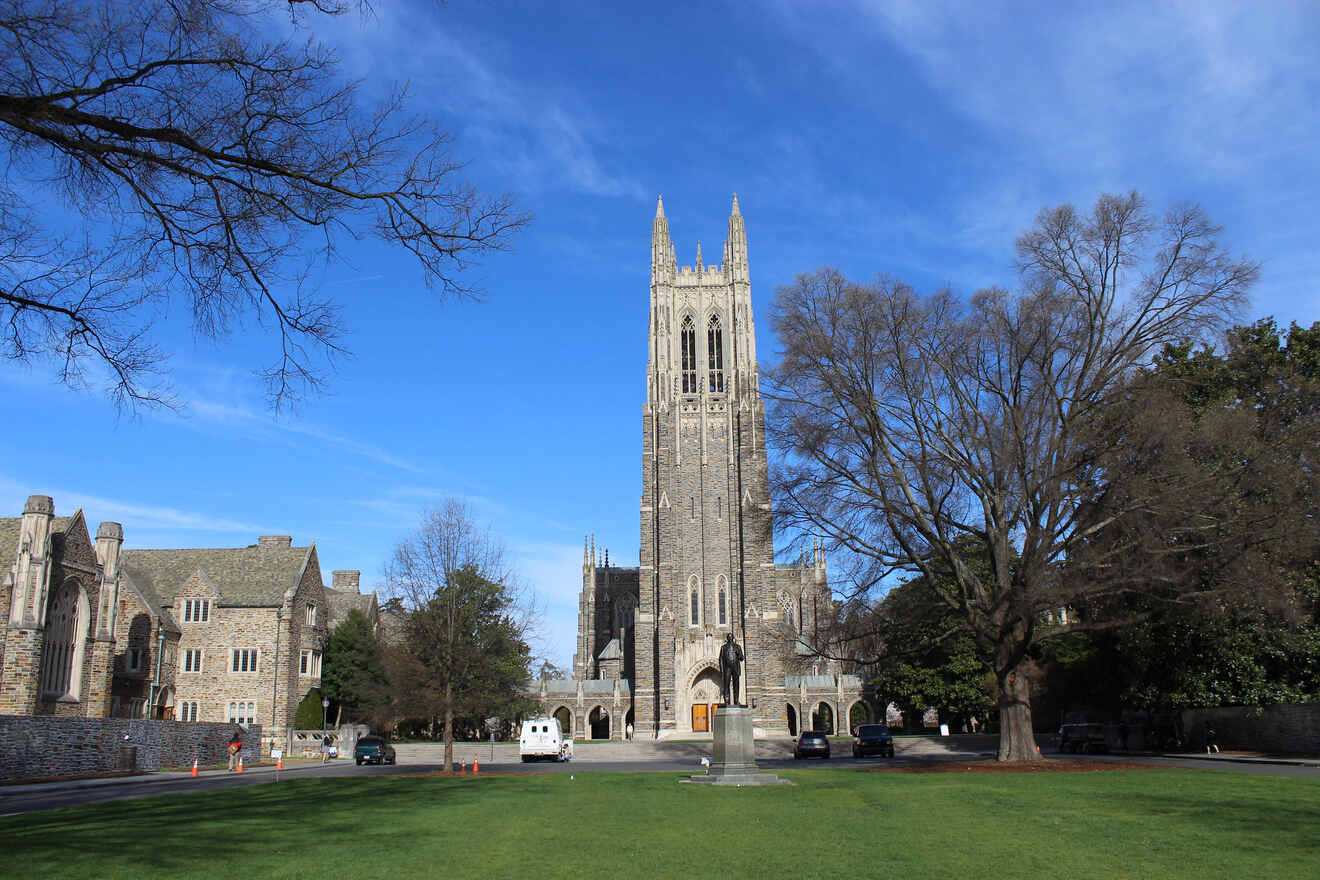 Durham, found in the state of North Carolina, is a city that's become a haven for history lovers. It's home to the preserved historic Stagville plantation, the place where the Civil War negotiations are said to have ended, and the state's premier black universities. Museums steeped in history become the perfect place for spending an afternoon in Dunham.
While it's got a great tale to tell, history isn't the only aspect that makes Durham an exciting city to travel to. When it comes to this vibrant city, travelers don't have to wander far to find adventure. State parks and gardens, rooftop bars, and art centers populate the ever-growing city.
While you're most likely to spend your time in the city wandering the tree-lined streets and meeting friendly people, you'll need a comfortable place to rest your head. I've put together the top selections of Airbnbs in Durham for all kinds of travelers. Whether you're a student on a budget, a group of friends or a traveling family.
The Airbnbs in Durham, NC in this list are centrally located, giving you the perfect opportunity to fall in love with the city and discover every exciting corner.
If You Are in a Hurry: Top Airbnbs in Durham, NC
Last minute travel plans to Durbam and in a hurry to book? Here are my top picks for a range of travels, all of which are centrally located and organized according to price.
Top 9 Airbnbs in Durham NC
For those of you looking for a little more variety, you'll find the best Airbnbs in Durham city here. From a tiny house in the trees, a farmhouse to a cottage with a vintage twist.
To make the selection process easier for you, I've organized the list from the highest priced rentals, to the lowest. And to top it off, I've calculated the estimated cost based on a price that includes the service and cleaning fee – so don't worry, you won't have to deal with any hidden costs.
1. Boutique Rooftop Retreat Downtown – Durham Luxury Rental
Location: Downtown Durham
Price: from US$290 per night
Bedrooms: 1
Guests: 3
This vintage and beautifully decorated penthouse steals the show when it comes to centrally-located Airbnbs in Durham. Spacious and bright, the home welcomes in sunshine, and each evening you can chill out on the private rooftop and soak in the sunset views.
With a luxuriously comfortable king-bed, a dreamy bathtub and cozy couch, you couldn't feel more at home. Except, this is probably a little more magical than your place back home.
Being centrally located, you can easily pop in and out of town. You can grab some take-away for a night in, watch a performance at the nearby Durham Carolina Theatre or make new friends at one of the nearby bars.
2. House in the Trees – Tiny House Minutes from Downtown Durham
Location: Hope Valley
Price: from US$270 per night
Bedrooms: 1
Guests: 2
Although this is a tiny house, it ticks all the boxes when it comes to a luxury stay in Durham. Nestled amongst the trees, this home lets in plenty of light as large windows open up onto the forest. And to appreciate the view even better, you can tuck yourself up on the hanging bubble chair.
Being minutes from downtown, you can roam the city and explore the top attractions. Then make your way back to this Durham tiny house to enjoy the creature comforts it offers. Flop on the high-density foam mattress, read a good book and listen to the sounds of birds outside.
3. Cozy Bungalow In Historic Downtown Durham – Wonderful for Families
Location: Morehead Hills
Price: from US$220 per night
Bedrooms: 3
Guests: 8
Tucked in the heart of the historic Durham Morehead Hills district, this charming bungalow is beyond dreamy. Newly renovated, it's styled to keep the old-school charm present throughout the house; evident with the period artisan tile and pine floors.
With a modern and fully-stocked kitchen, you can have fun cooking up heart-warming dishes. A shop is conveniently located in the neighborhood for any necessities.
There is a spacious front porch which seats 6 people comfortably, so you can enjoy meals as a family overlooking the tree-lined streets. For those with little ones, a park is also in the neighborhood.
4. Back Alley Apartment – Historic Trinity Park Rental for Friends
Location: Historic Trinity Park
Price: from US$210 per night
Bedrooms: 2
Guests: 5
Within walking distance to Downtown and Duke University East Campus, this joyful apartment is a great option for those traveling with friends. Explore all that the district has to offer and return to this clean and bright Durham Airbnb for a peaceful night's sleep.
With an island-style kitchen countertop, everyone can gather around the stove to cook up a storm. With plenty of couch space, you can unwind and catch a good film at the end of the day.
If the sun is shining, speak to your host about borrowing the bikes onsite. This will allow you to zip in and out of town and discover what makes Durham and its natural surroundings so delightful.
5. Cheerful Renovated 50s Cottage – Great for An Extended Durham Trip
Location: Walltown
Price: from US$190 per night
Bedrooms: 2
Guests: 4
This cottage, with its vintage charm, is the perfect option for those planning an extended trip to the delightful city of Durham. With all the modern-day comforts, you can get comfortable and make this place your own. The living room is the ideal place for getting lost in a book, attending to some work, or simply lounging on the couch.
The neighborhood is packed with charm, and you'll find yourself effortlessly wandering into old bookstores, trendy restaurants, and across leafy streets. Situated within walking distance to Duke University, you can expect to find vibey bars nearby as well.
6. 100 Year-Old Historic Brick House in Little Italy
Price: US$149 per night
Bedrooms: 2
Guest: 6
Take a break from the hustle and bustle of big cities by staying in this historical brick apartment in Warehouse District. It boasts face brick walls, wood floors, high ceilings, and an open floor plan in keeping with the 18th-century architecture of the house.
For business travelers, the property has a laptop-friendly workspace available with super-fast WiFi. A business center is also on-site as part of the amenities.
And when you're done facing the computer, you'll have access to the best entertainment spots, like Durham Performing Arts Center, as well as the top restaurants and bars in the city.
7. 1940's Cottage in Historic Downtown Durham
Location: Duke Park
Price: from US$170 per night
Bedrooms: 2
Guests: 5
Built in 1940, this Durham household has a whole lot of charm and beauty. Along with the original kitchen cabinets and hardwood floors, the neighborhood features mature trees which are even older than the house. Admire the views from the porch swing – which makes the rental all the more dreamy.
Colorful finishes and vintage furniture make you feel warm and welcoming as you enter the home. The cozy feeling that the house carries means it might be tough leaving. But being within walking distance from Cocoa Cinnamon cafe, the local farmer's market, and the Motorco Music Hall makes it worth stepping out to explore.
8. Garden Retreat near Durham Arts & Eats
Location: Forest Hills
Price: from US$130 per night
Bedrooms: 2
Guests: 5
Nature lovers will be in pure heaven upon booking into this idyllic little home. While the inside is great, it's the outdoors that really make this Durham Airbnb special. The host knows how much guests enjoy morning coffee or an evening drink out in the lush garden. This is why you'll find a cold bottle of Prosecco or Sauvignon Blanc awaiting you in the mini-fridge.
You'll have your own private entrance in this quaint farmhouse-style apartment, with two bedrooms making it great for a getaway with friends.
Unfortunately, you cannot bring your pet along. The owner has their own pet poodle and cats that are shy with new faces.
9. Guesthouse in the Trees – Romantic Tiny House for Couples
Location: Downtown Durham
Price: from US$110 per night
Bedrooms: 2
Guests: 5
Looking for your own slice of heaven? Then look no further! This tiny house couldn't get any more adorable for a couple's weekend away in Durham. You'll have ample time to enjoy each other's company in this rental offering the utmost privacy.
With charming decor and rustic furnishings, you can cozy up in this spot nestled amongst the trees. If you're traveling during winter, even better; the snowy surroundings of the tiny house are beyond magical.
Sip on your morning coffee on the comfortable chairs set on the porch beyond heading out on an adventure; whether that be visiting the city or hiking in one of the breathtaking state parks.
Conclusion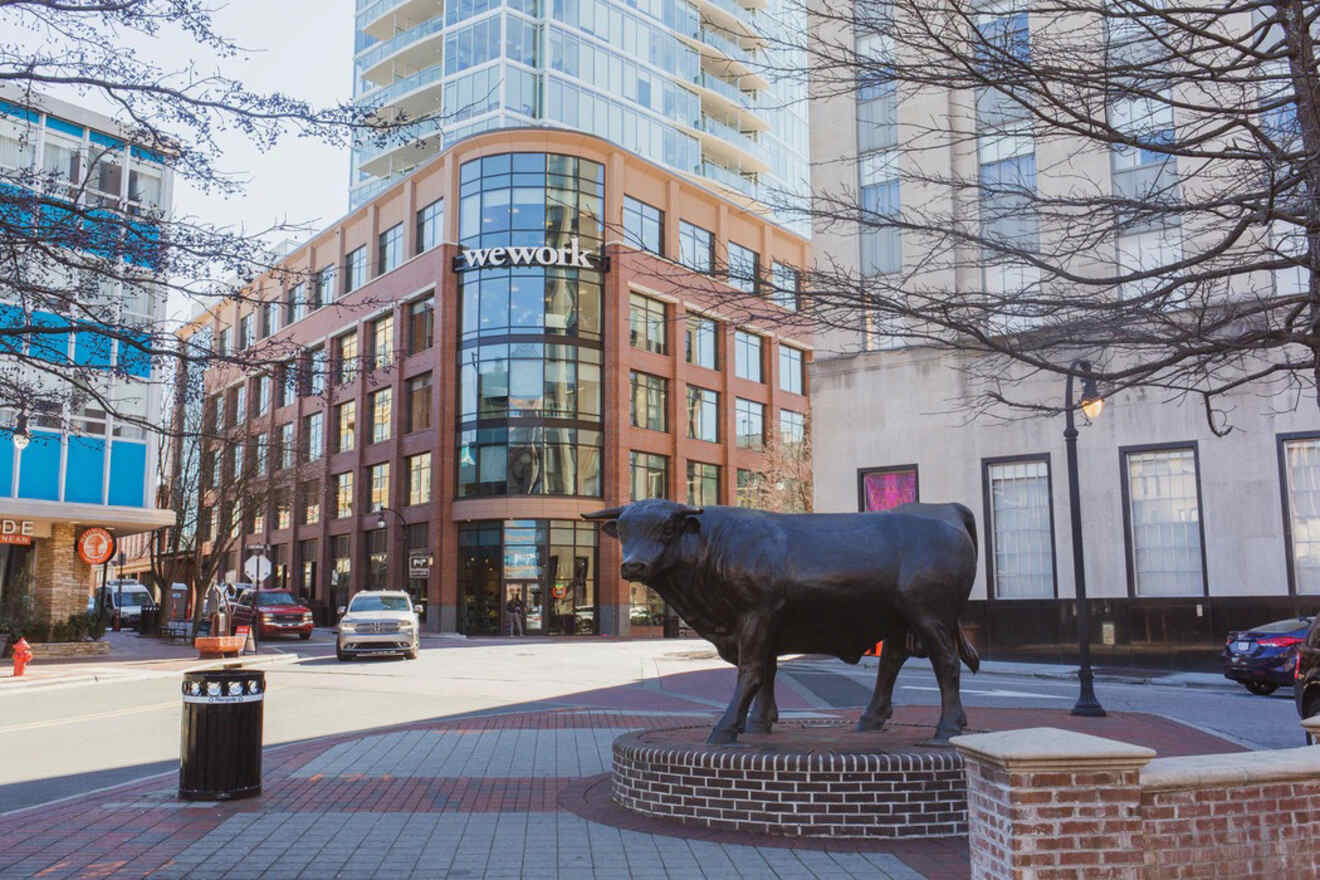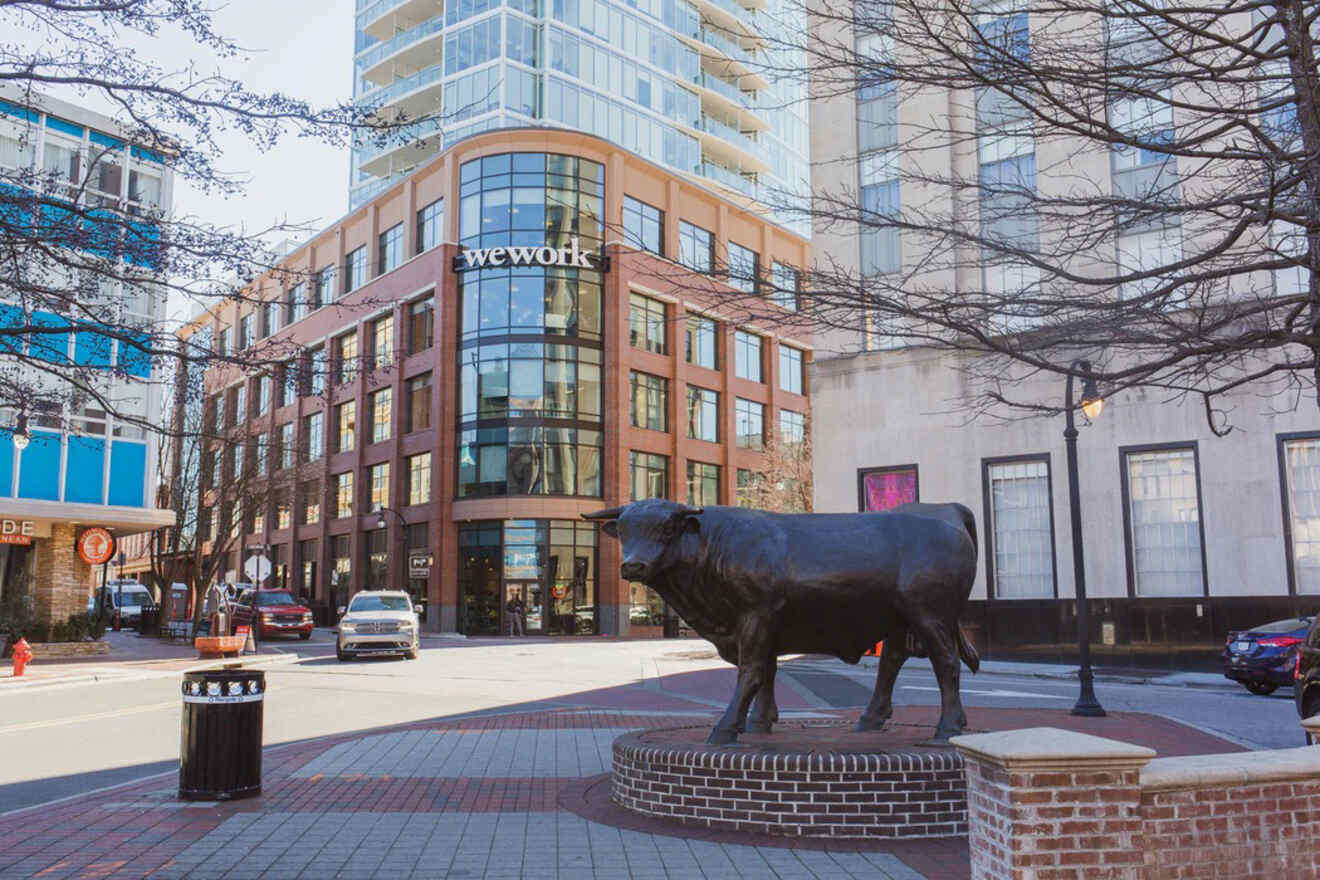 Although the city of Durham is steeped in history, it still shows off beautiful and modern Airbnb rentals – some of which still hold their historic charm. From penthouses and modern cottages to houses nestled alongside mature pine trees, Durham Airbnbs hold their own piece of magic.
For a luxury stay right in the heart of Durham, I'd recommend this Penthouse Near Downtown. It's absolutely dreamy, has a beautiful sense of decor, and features everything you'd need for a carefree experience in Durham.
Those of you looking for a cozy bungalow to enjoy with friends, I suggest staying at this Bungalow in Historic Downtown Durham. It's large enough to sleep 8 people, there's room to lounge around, privacy and it features all the essentials you'd need to feel right at home.
But always remember to book in advance, these gems can get taken quickly!
Get ready for a brilliant time in the city of Durham. There's so much to see and do in the city that you'll appreciate coming home to a lovely Airbnb after a busy day. If you've ever been to the quaint city of Durham, I'd love to hear about your experience in the comments below!