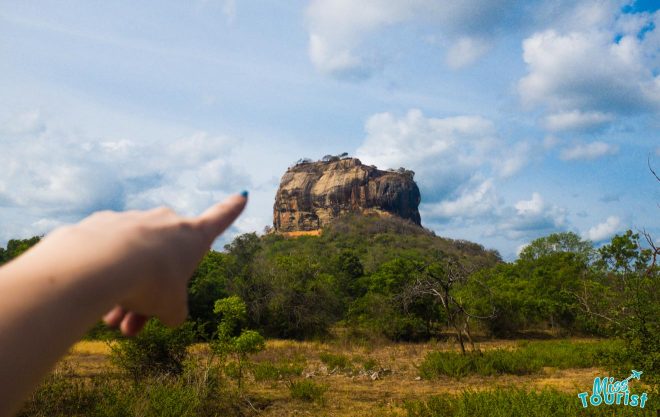 If you're planning to travel to Sri Lanka, Sigiriya probably comes to your mind as one of its most famous landmarks. If not, no worries, I'll tell you the things you need to know (and more) about climbing to the top of Sigiriya Lion Rock and other useful tips as well. Are you ready?
Sigiriya is actually a UNESCO World Heritage Site and it is also known as the 8th Wonder of the World, did you know that?
It makes sense that everybody is climbing it, right?
Sigiriya, Sri Lanka is basically a BIG rock that has an ancient fortress on top. It looks quite impressive and unreachable, I might add. This landmark has an interesting history as well and it's one of those do-not-miss things to do while in Sri Lanka.
Now that you have decided to add this awesome place to your Sri Lankan itinerary, you need to know a couple (or more) things that will make your climb to the top as smooth as possible. Keep reading to find out all my tips and practical info about going up the Lion Rock!
Let's go:
1. First of all, some quick facts about Sigiriya Rock Fortress: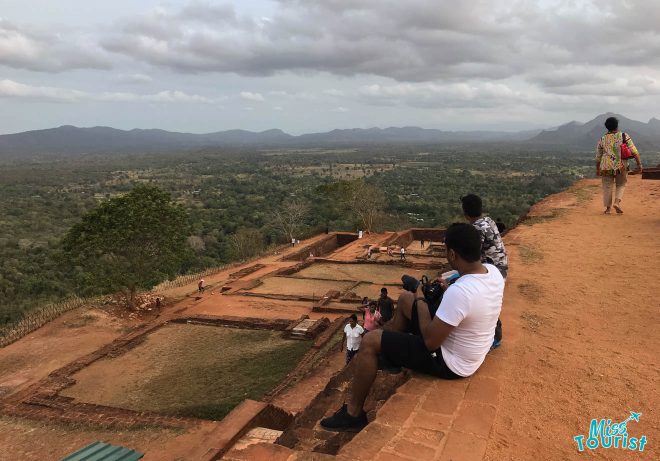 Height: 200m (660 feet)
Sigiriya steps: 1,200 steps up to the top
How long to climb: about one hour to go up and 30 minutes to get down
Difficulty: medium, I'd say
Entrance fee: Rs. 5,500 (US $30) per person
The climb is mostly made up of stairs, both stone and iron.
Its name actually means "lion rock" and it was designed to look like a huge lion; its entrance looks like two giant lion claws.
It's not as scary as it seems!
I'll be honest with you: climbing to the top of Sigiriya in Sri Lanka is not a piece of cake (as I thought after watching a couple of videos on Youtube), but it's definitely do-able unless you're afraid of heights, in which case it only depends on you and how brave you are. I recommend going there nonetheless, even if you don't go all the way up!
One thing is certain: the feeling you get once you're there is amazing and the views are simply breath-taking!
If you're curious about what other things I did in Sri Lanka, I recommend checking out my two complete articles where I tell you everything about one of my best trips ever (which includes seeing elephants in the wild, relaxing in Trincomalee, and visiting cave temples) – 10-Day Itinerary in Sri Lanka Part One and Part Two.
Okay, let's get into it:
2. My list of important tips to know before and when climbing Sigiriya in Sri Lanka: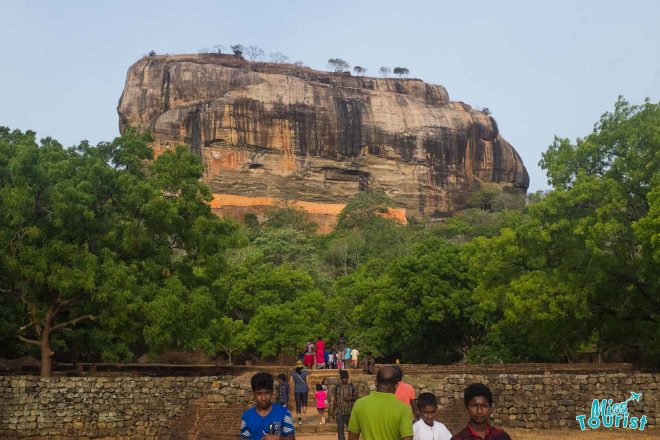 Here are some useful things I want to share with you before you depart:
Make sure to go there before 5 p.m. since that's the time when the ticket counter closes. The site closes at 7 p.m.
Whatever you do, please avoid going there at mid-day; it will be so hot you won't be able to enjoy it!
I also recommend including the Sigiriya museum in your itinerary before starting your climb. What can you do there? Well, you can see how the fortress looked a long time ago when it was built!
Make sure you use the on-site toilet before climbing to the top as there are no toilets on the way up or down! The toilets are located at the main entrance and at the exit.
Although you can climb to the top wearing anything on your feet (I even saw some local people going barefoot), I recommend some comfy shoes. I wore sneakers and I had absolutely no problem, but some might prefer sturdier shoes instead.
If you're not in the greatest shape, make sure to take some breaks along the way. The way up is broken down into a few sections anyway, so you can use those breaks to catch your breath. No need to rush!
Important: Make sure you have some (lots of) water with you, as there won't be any possibility of buying it once you start your way to the top and until you arrive down again.
The "Mirror Wall" is one of the most important things at this site (it's basically a very smooth wall full of historical frescoes and drawings); please keep in mind that you cannot take photos of it, but you can get snapshots of everything else on the way.
Don't forget about sunscreen, even if it's cloudy outside
If you don't need guidance, make sure you avoid the "guides" or "helpers" that you'll find on-site. They can pressure you quite a lot, but you can refuse with a "no, thank you" and just keep walking. You don't actually need any guidance to go up Sigiriya!
PRO TIP: Once you're finished, make sure to get back to the car park using the "Foreigners exit" signs. This path is quicker than the one used to go up! The foreigner exit will take you to a few shops where you can buy some refreshments, food and souvenirs.
3. My experience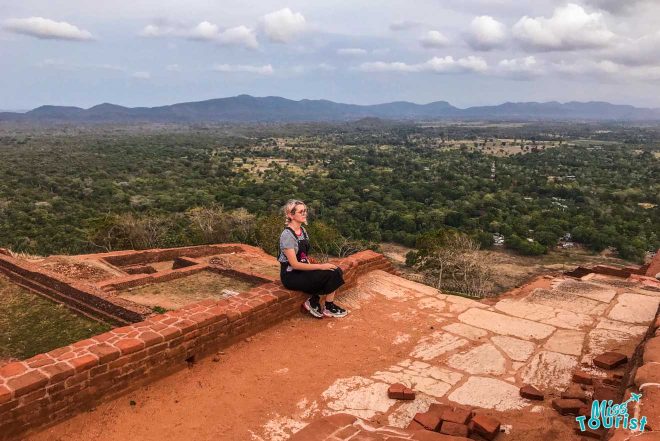 If I have to be honest with you, I'll share with you that I wasn't extremely informed or prepared before my climb up Sigiriya Rock. All I did was look at some pictures and videos online and that was enough to get me excited about going up this important landmark. But I didn't read much about practical tips and tricks to know!
That's why I want to share what I learned with you, because I know that if I'd been more prepared beforehand, my experience would've been even better. I made two mistakes on this day: the clothes I chose were not that comfy (I had some black jean rompers which were a bit too thick for the super hot weather) and I didn't have enough water with me. So make sure you don't repeat my mistakes!
Other than that, everything went smoothly. I think the climb was not that hard! And trust me, I'm not the most active person in the world; on the contrary – I spend most of my days in a chair, sitting in front of the computer. It's true, it looks scary at first, but with the right mindset you'll be up in no time. Plus, there will be many other tourists coming up behind you, so the peer pressure will definitely push you forward!
I did the climb at around 4 – 4:30 p.m., in the evening, so the weather was not that hot. I thought it was perfect and, actually, once we got to the top, there was even some much-welcomed wind that helped us soak in the beautiful landscape! 🙂
| | |
| --- | --- |
| 🪨 Central height: | 200 m (660 ft) |
| 🧗‍♀️ Difficulty level: | Medium |
| 💲 Entrance fee: | 5000 Rupees (~$60) |
| ⌛ Duration: | 1.5 hour |
BONUS 1: Climbing Pidurangala Rock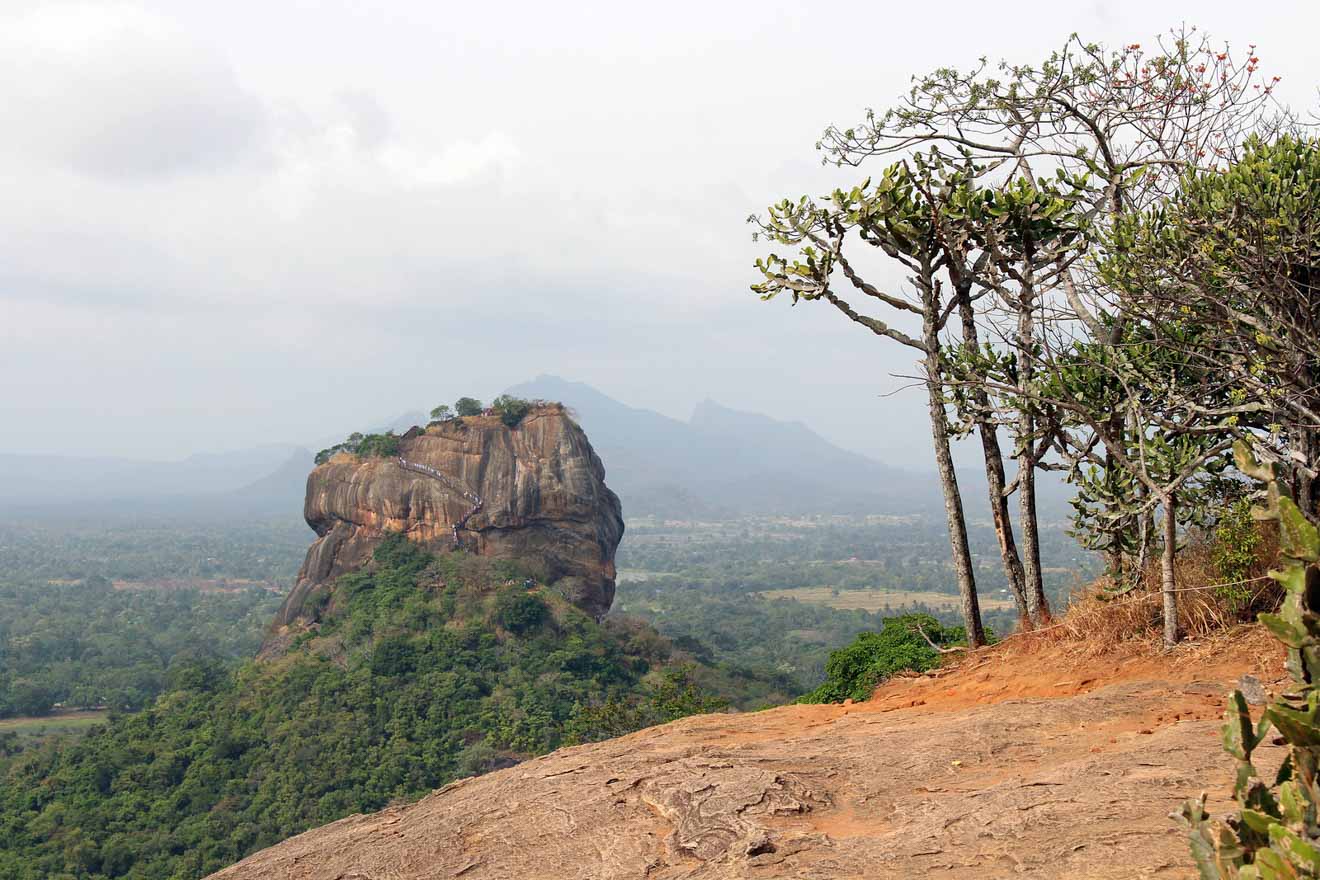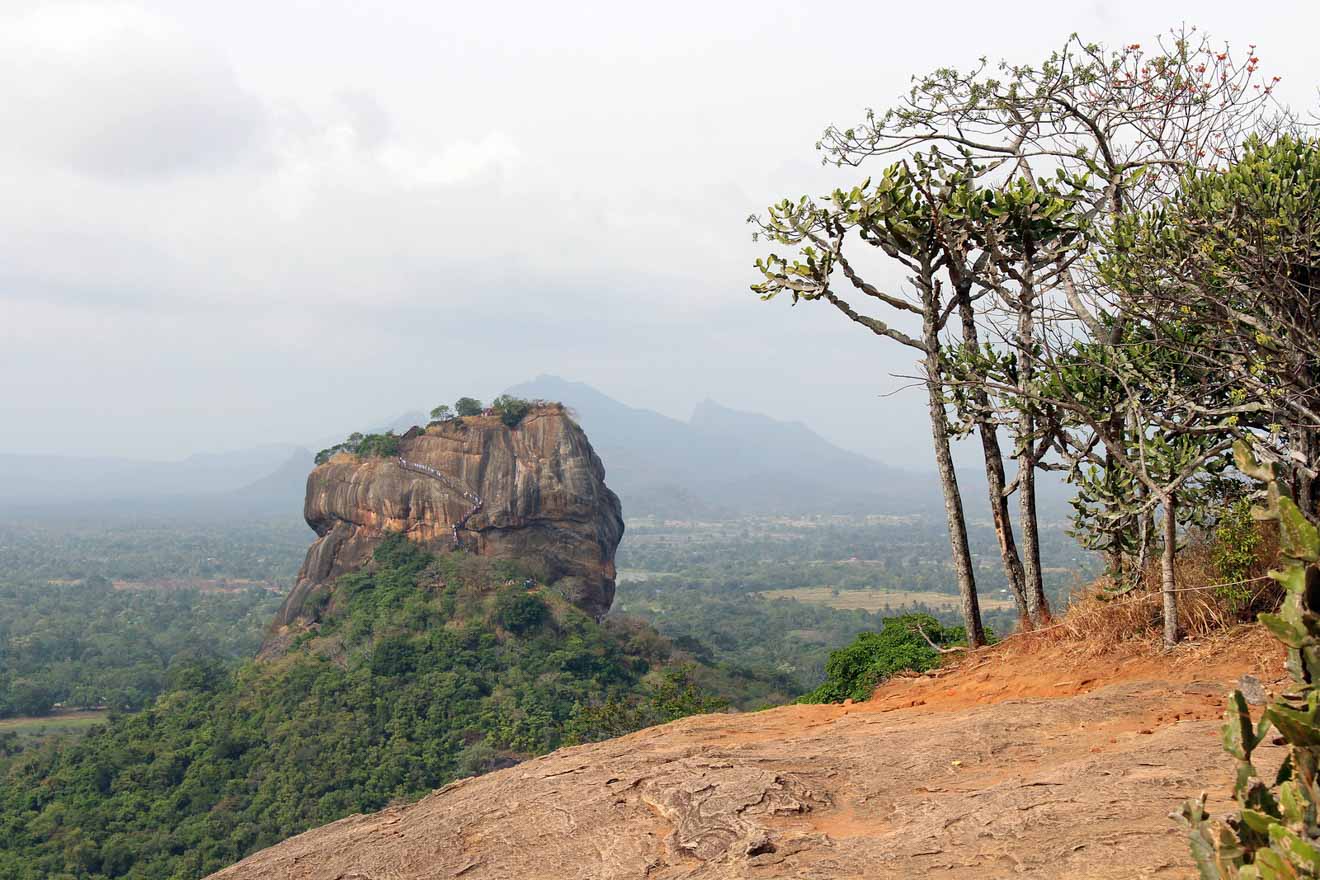 Okay, what are some other things to do in Sigiriya village? Here's an idea for your adventures: You can climb Pidurangala Rock in the morning to see the sunrise and then go up Sigiriya to see the sun set.
Pidurangala Rock is a hill located very close to Sigiriya rock and one of the best places to visit in Sigiriya (except for the main rock, of course). It's a short drive from Sigiriya and, if you decide to hike the 40 minutes to the top of Pidurangala, you'll have great views OF the Sigiriya fortress. This way you can experience being both on top of this World Heritage site, as well as seeing it from close by.
This is actually one of the best things to do in Sigiriya if you want to totally enjoy the area!
The climb is not that hard, but at the end it can be a bit steep as you'll have to climb on some rocks. Definitely do-able, though. I didn't do it, unfortunately (we went to Polonnaruwa instead), but some of the people in my group did and they told me the views of Sigiriya are simply wonderful!
PRICE: Climbing Pidurangala Rock is 500 rupees (US $3) per person for tourists
BONUS 2: Frequently Asked Questions
How many steps are there to the top?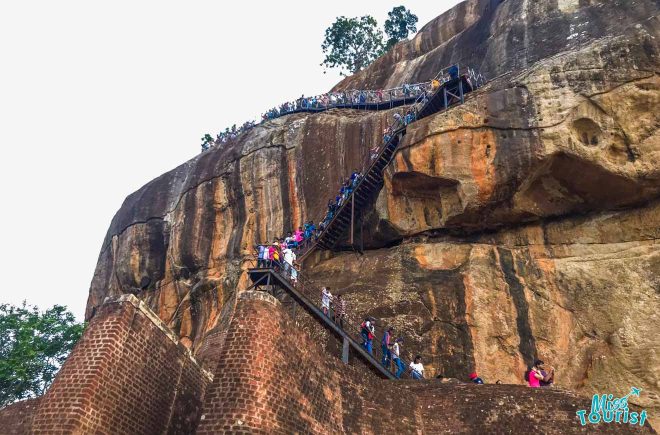 There are 1,200 steps up to the fortress on Sigiriya rock. As I mentioned above, it sounds scarier than it is and I really think the climb is not that hard. Plus, the climb is broken down into sections where you can take a break, which makes it even easier! You'll probably be too distracted by the beautiful view to notice being tired anyway!
How hard it is?
This is probably the most common question – how hard it is to climb Sigiriya rock? It's not hard, especially if you're in a medium to good shape. But even if you aren't used to climbing, you can still do it with a couple of breaks from time to time.
Not recommended to…
Even though I said it's not that hard, you might encounter some difficulties if you have acrophobia (a fear of heights). The metal steps will let you see how high up you are and, if you look down, it might be scary.
One of the girls in our group wasn't able to make it to the very top because she has a fear of heights, but she climbed more than halfway so she could enjoy the beautiful scenery anyway!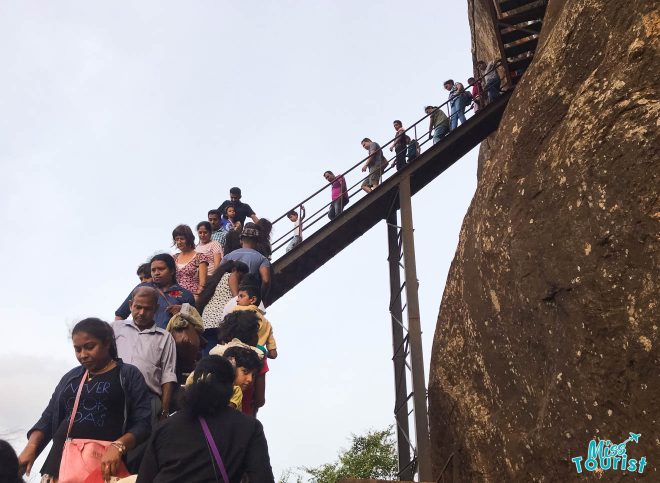 How long does it take to walk up Sigiriya?
I think this really depends on how fast your group is moving and your physical shape. It took us one hour to get to the top, but we stopped a couple of times to catch our breath (and take tons of pictures). If you don't stop, it will probably take you around half an hour.
What about climbing down?
Getting back down from Sigiriya will take you less time than going up, from 20 to 30 minutes. It took us half an hour. The climb down is also easier.
How old is Sigiriya?
The fortress on top of Sigiriya was built in the 5th century (between 477 to 495, to be more precise). Can you believe it?!
A little bit of Sigiriya history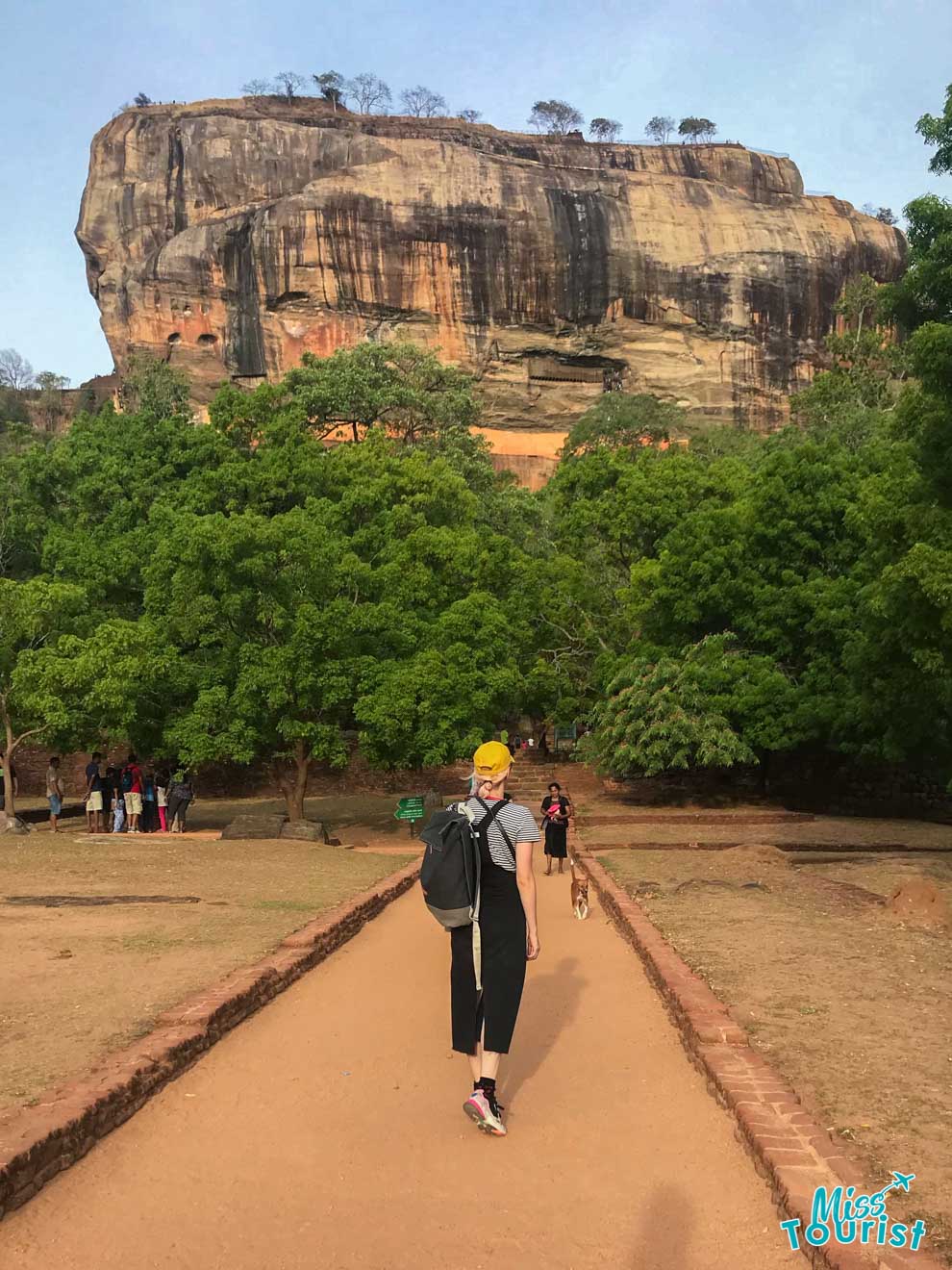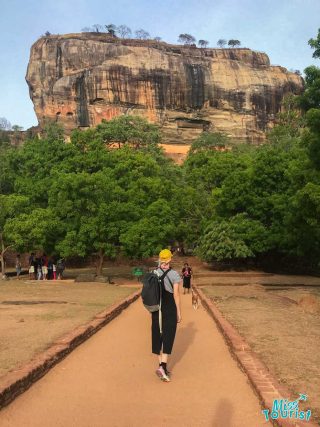 Who built Sigiriya and, most importantly, why? Well, the story is quite interesting and dramatic, actually. King Kasyapa (who ruled between 477 and 495 took the throne from his brother, Mogallana, and killed their father. Then, he made Sigiriya the capital.
Naturally, he was a bit scared that Mogallana would seek vengeance and come to kill him as well, so he found shelter on top of Sigiriya, where he constructed his royal home that also served as a local fortress. 18 years later (yep, it took his brother some time…), Mogallana conquered the rock and King Kasyapa killed himself. Later on, the capital was moved to Anuradhapura and Sigiriya became a monastery until the 14th century. Then it was used again on and off, until it was named a UNESCO World Heritage site in 1982.
How much time should you spend on top of Sigiriya?
This one depends solely on you and how much time you want to stay there. We stayed a bit more than 30 minutes, maybe 40, during which I took tons of photos and explored the site. It's very nice to walk around there and just be present in the moment, trust me!
When is the best time to climb?
I'd say that the best time for visiting Sigiriya is either in the morning or in the evening. My best suggestion is to climb in the very early morning to the top of Pidurangala Rock and see the sunrise, then climb Sigiriya in the evening for the sunset.
As I mentioned before, please try to avoid going up mid-day, as it's usually very hot and not as enjoyable.
As for the time of the year, the best choice would be to visit Sigiriya from January to March, preferably in February, if you can.
What to take with you
There are some important things I suggest you have with you. First of all, plenty of water. Next, comfy shoes and comfy clothes (linen, cotton) are a must as well. And finally, don't forget about sunscreen, a hat (yes, please!), sunglasses and maybe even wet tissues.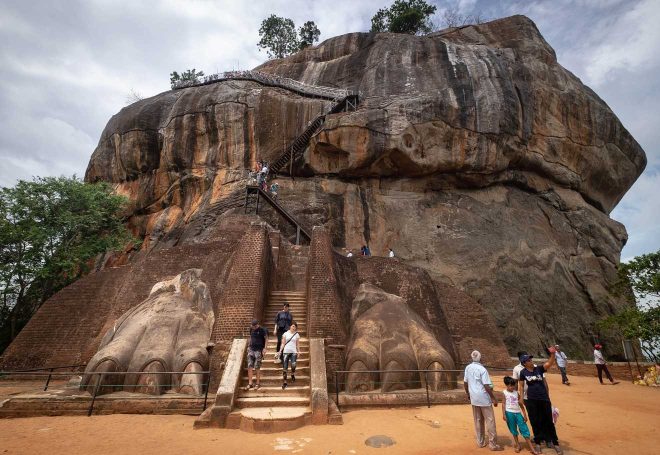 How expensive is the entrance fee?
Entry fee is 5,500 rupees (US $30.50) per person. You can take as many pictures as you want (except for Sigiriya Mirror Wall), as there is no fee for that.
Are there any tours available?
Even though I strongly believe that you can go up the citadel of Sigiriya all by yourself, especially after you read this article, having a guide with you might be useful, especially because you'll learn many interesting stories.
There are many guides on-site that will most probably approach you offering their services. If you want to hire them, make sure to negotiate how long (3-4 hours, normally) and how much you want to pay (US $20/person is enough) BEFORE starting the tour with them. Make sure to tip your guide as well at the end!
If you want to book your tour in advance (which I totally recommend), there are a couple of options for you:

What's up with the wasps?!
Once you arrive at Sigiriya, you'll see some wasp nests on the rock and many signs that tell you to be mindful of them. Indeed, sometimes you might encounter wasp attacks! These are not that often, though (it didn't happen when we went there), so don't panic about it. It's totally safe because, even if it happens, you just have to avoid making loud noises or violent gestures. Just sit down and wait, everything is going to be fine!
Is Sigiriya the 8th wonder of the world?
Many times you'll see that Sigiriya is called the "eighth wonder of the world". But is this true? Now, there are many places that claim to be the 8th wonder of the world, even though none of them are really official. One thing is certain – Sigiriya is number eight on the list of World Heritage Sites in Sri Lanka.
Last but not least – is it really worth it?
Considering the Sigiriya entrance fee (tickets are US $30 per person for tourists), I'm sure you're expecting an amazing experience. Now, if you ask me, I'd say that it IS worth it to go to the top of Sigiriya fortress, even though it's not life-changing. It looks impressive, the story is very interesting and the views are awe inspiring as well. So yes, it is worth the money, especially if you reach the top and now that I think about it, it was one of the highlights of my trip in Sri Lanka!
By the way, you can read more about my 10-day itinerary around Sri Lanka here – Part One and Part Two.
BONUS 3: Practical information to know before going
How to get to Sigiriya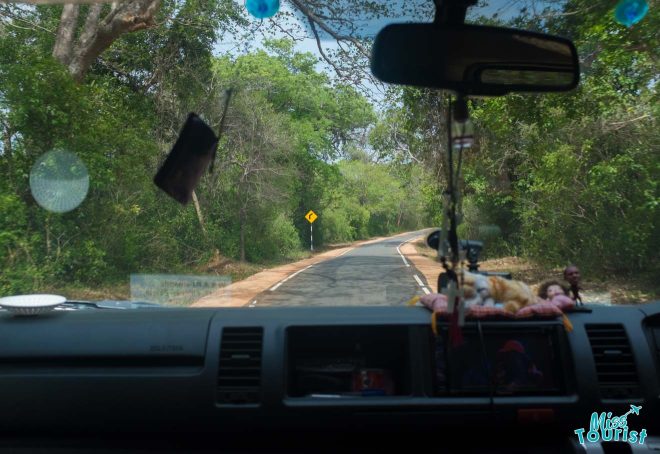 Sigiriya is located in central Sri Lanka (in the center of Sri Lanka's Cultural Triangle). There are several ways of getting there, depending on where you're based:
Colombo to Sigiriya
If you are in Colombo, you must first arrive at Dambulla or Habarana and then travel to Sigiriya (except if you're driving a car or taking a plane.)
You can get there:
by bus to Habarana and then another bus to Sigiriya (4 hours, around 200 rupees / US $1 in total)
by train to Habarana and then bus to Sigiriya (5 hours, 500 rupees / US $2.80)
by car (30 minutes, 165 km)
Or even by plane, with Cinnamon Air (Rs. 30.000 / US $170)
Kandy to Sigiriya
It's the same procedure as for Colombo – you'll first have to arrive at either Habarana or Dambulla. You can get there by car or you can take a bus from Kandy to Dambulla and then another one from Dambulla to Sigiriya (around 200 rupees / US $1 in total, 3 hours).
Where to stay in Sigiriya, Sri Lanka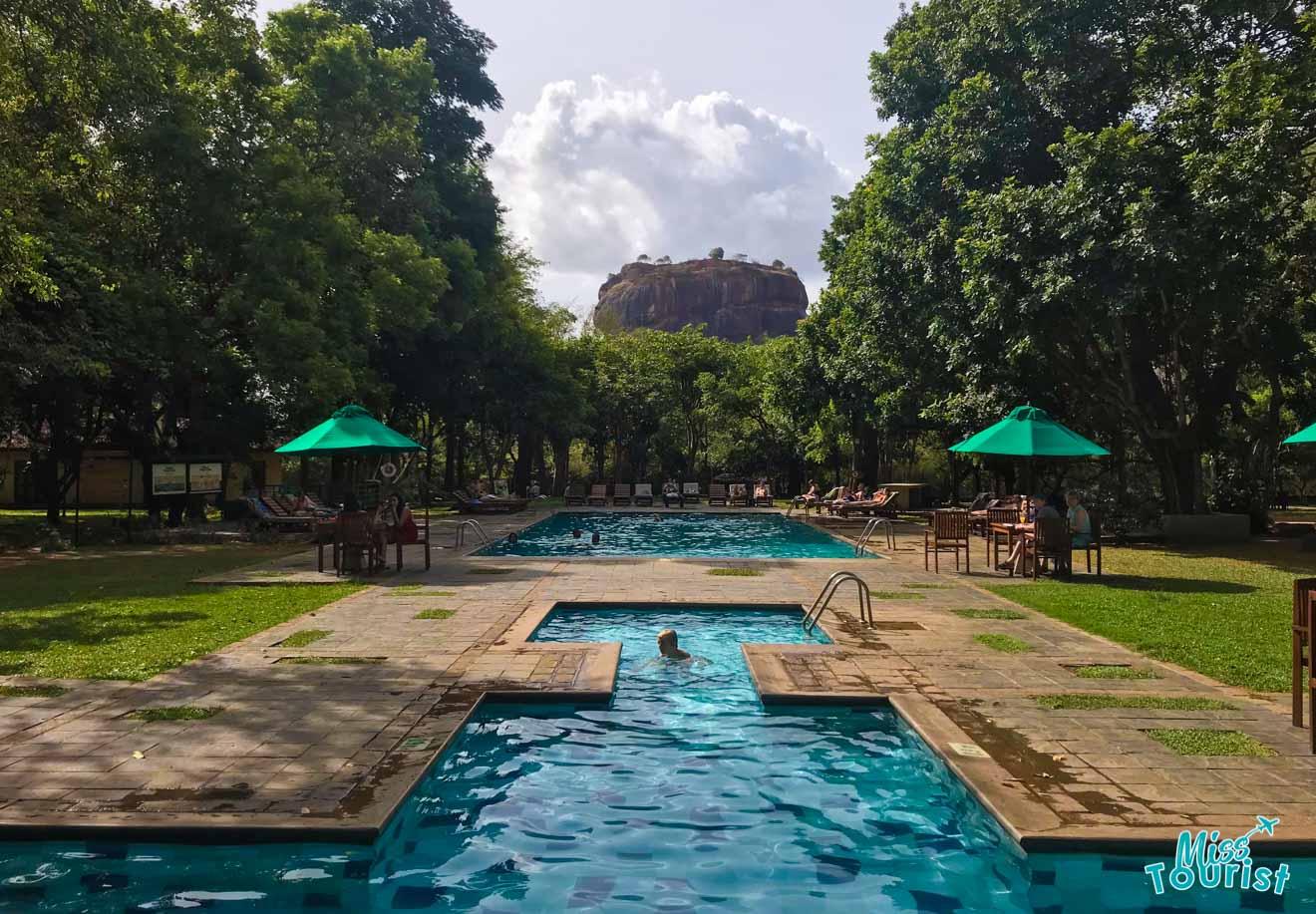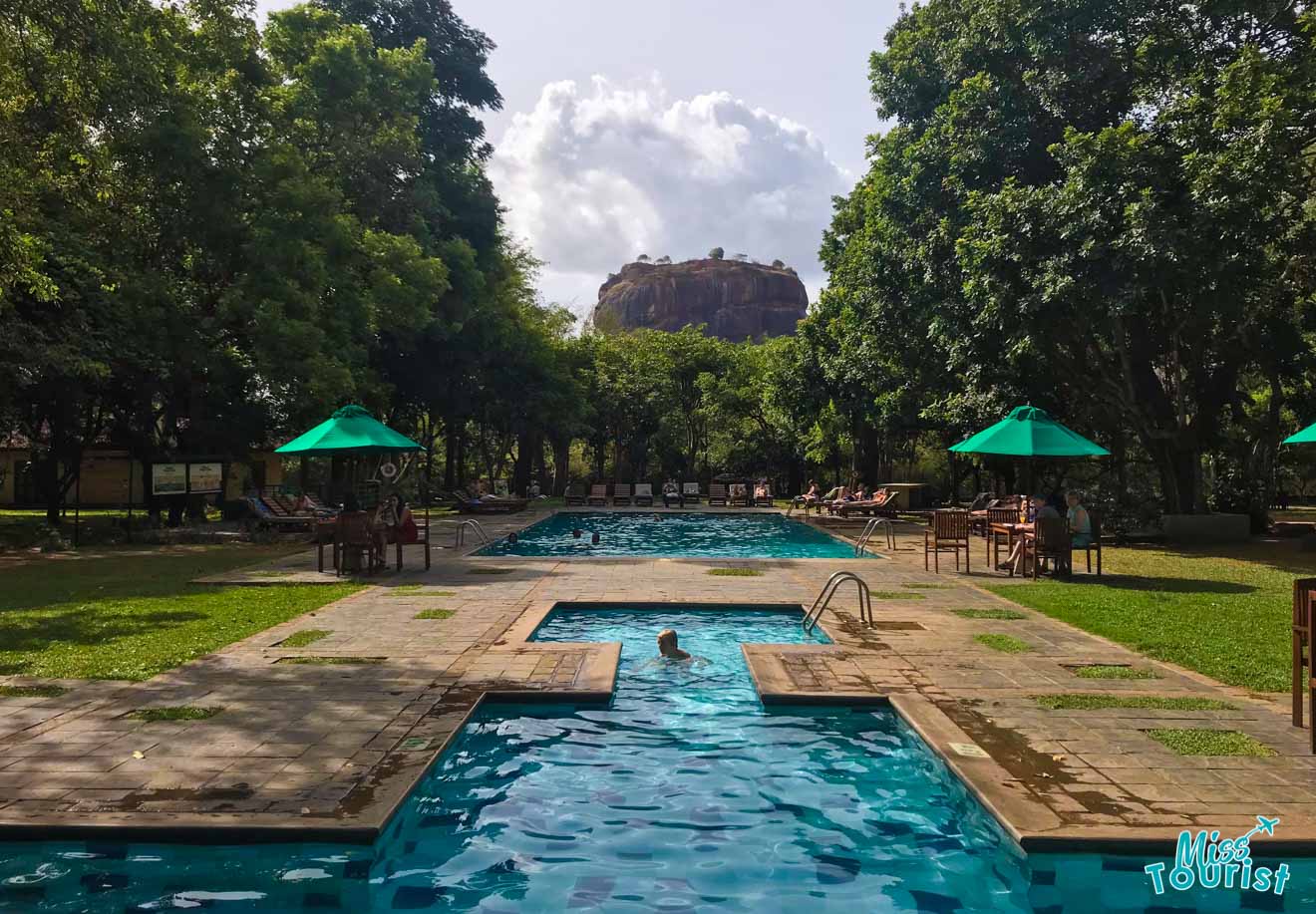 After your hike, you can choose to stay in a hotel in the village of Sigiriya. Here are my recommendations for amazing hotels near Sigiriya:
Luxury (US $100 and up):
As mentioned before, if you want to lay in the pool and have the BEST view of Sigiriya at the same time, then Hotel Sigiriya is your perfect luxury choice! It's located a short drive from Sigiriya and I spent some hours there where I enjoyed lunch before our climb. The service and hospitality were flawless! Alternatively, you can book a room at Aliya Resort and Spa – they also have views of Sigiriya Rock, a super nice pool, 4 restaurants, free Wi-Fi and more!
Middle-priced (from US $50 to $100):
The Nature Park Villa is a gorgeous 3-star hotel in Sigiriya, Sri Lanka that has an on-site restaurant, a swimming pool and a super nice garden where you can relax and unwind after your climb up the rock! The local atmosphere is simply wonderful! Sigiriya Nieel Home Stay is another good option as well if you want to stay local – it has great reviews, free Wi-Fi, an on-site restaurant, a 24-hour front desk clerk and more! Another choice is Back of Beyond – Pidurangala that's located only 1 km away from Sigiriya!
Budget (up to US $50):
Even though Sigiriya is such a popular destination, there are some affordable Sigiriya accommodation options there! For example, River Side Villa is a very cozy Sigiriya village hotel that has some gardens, a terrace, free Wi-Fi, private bathrooms and more! Alternatively, Sigiri Saman Home Stay is a clean and cozy place with a shared lounge, air-conditioned rooms, a nice dining area and great service!
Insurance for your Sri Lankan trip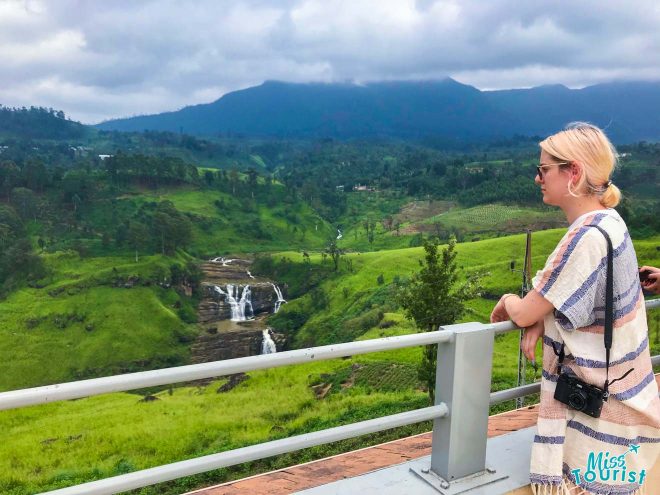 Some years ago, I used to not care about insurance at all when I was traveling, especially when it came to European cities; that's until I heard some unpleasant stories from my friends about minor accidents that required a lot of wasted money in foreign hospitals! Since then, I always add insurance to my travels.
But with Sri Lanka, I instantly thought about insurance right after I had my flight booked. I didn't want to go all the way to Asia and not be covered in case something happened. After all, you never know, right? And it's always better to be safe than sorry, especially if you plan on doing some hiking.
After some research, my choice was SafetyWing – I think they have the best money-value ratio and they covered everything I wanted for my trip. At the time of my visit (August 2019), it cost me US $15.84 for the insurance for 12 days in Sri Lanka.
---
Conclusion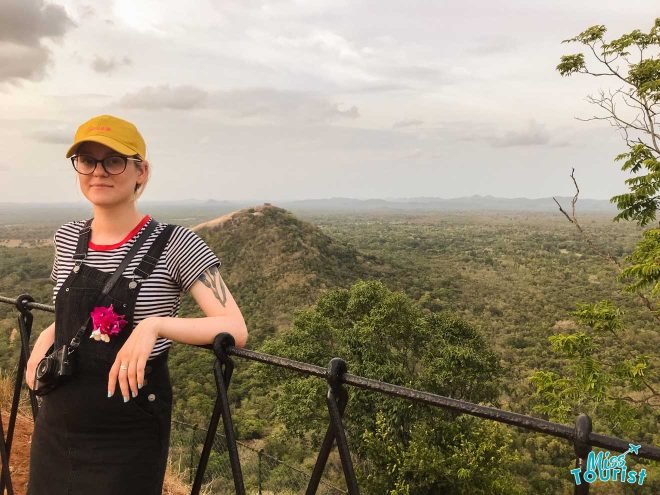 This was my complete guide about climbing Sigiriya Rock in Sri Lanka – one of the most famous attractions in the entire country!
In this article I have told you everything you need to know about how much it costs, how to get there, how hard it is to climb, the best hotels in Sigiriya and more.
By the way, if you want to find out more about what I did in Sri Lanka, I recommend checking out my two complete articles where I tell you everything about my trip – 10-Day Itinerary in Sri Lanka Part One and Part Two (includes an elephant jeep safari in Minneriya, a visit to Dambulla Cave Temple, two days in Colombo and many other things).
In case you need more inspiration for traveling around this wonderful country, here are all our articles about Sri Lanka!
Are you heading to Sigiriya soon? Do you have any other questions? Let me know in the comments below!
Romina
---
Pin it for later!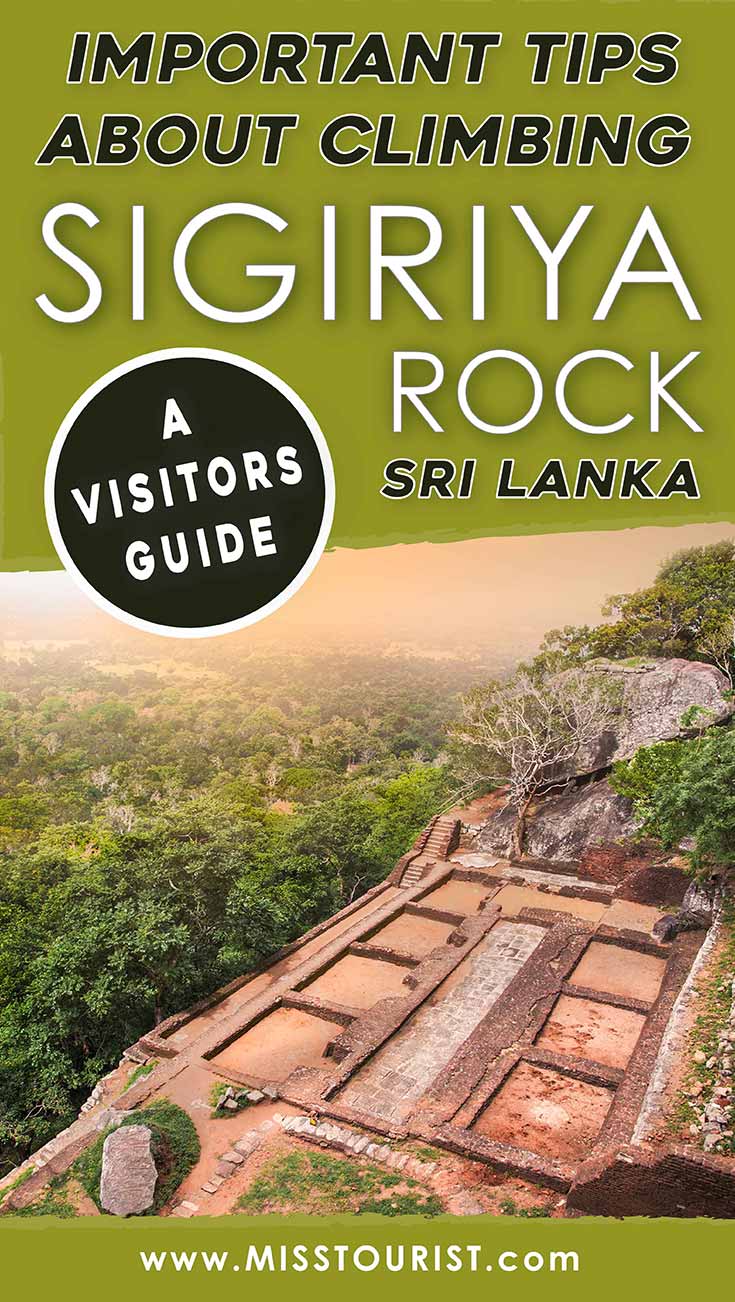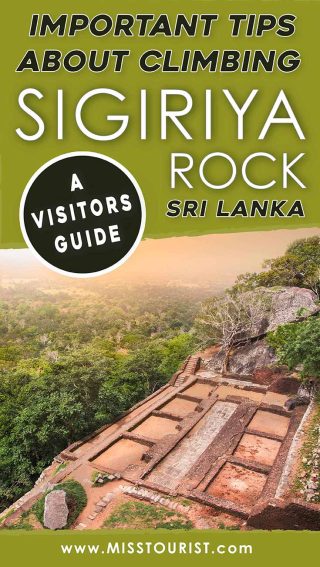 Pin it for later!