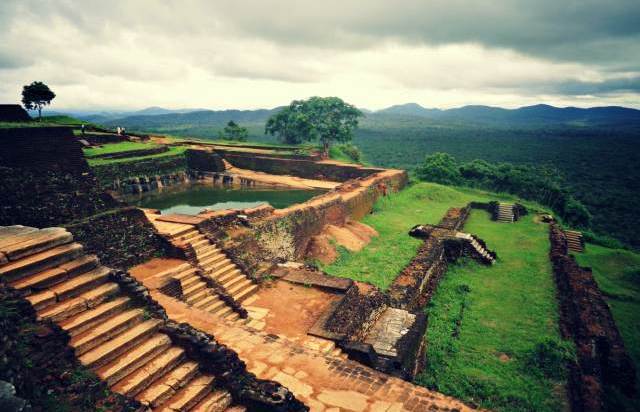 When I went to Sri Lanka I had no idea of my agenda regarding my explorations. I vaguely I wanted to visit some places of historical importance. Speaking of the historically important places, the first spot that is described in all the tour guides is Sigiriya. It intrigued me from the start: what kind of beauty would an old palace on a mound of rock hold? I decided to go in person to judge myself  why the palace is so significant to mark the name of the place.
I had already been to Colombo, climbed Adam's peak and hiked to the World's End, so this time I headed straight to the North.
UPDATE: There's a new article on the blog about the Best Things to Do in Sri Lanka during a 10 days itinerary, check it out!
I reached Dambulla by train and found a guesthouse over there. By the way, when in Sri lanka, there is no need to book your accommodation in advance. You can always be sure you will find a place on the spot, usually a lot cheaper than on Agoda or Booking.com.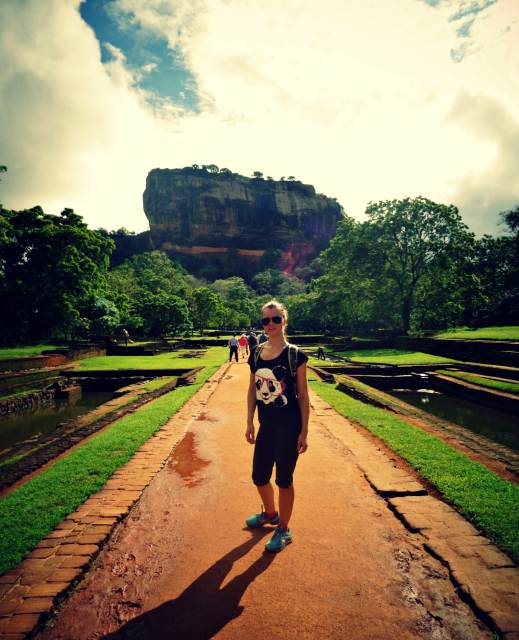 HOW TO GET
I did not have accommodation directly in Sigiriya, but it was not a problem. Sigiriyait is very close and easy to reach by bus! From Dambulla I took a local bus that leaves every 30 minutes from the bus stop, it costs only 40 rupees (less than 50 cents). Otherwise, you can take a tuk-tuk for an approximate cost of 800-1000 rupees (ALWAYS bargain!)
THE PRICE
The entrance to Sigiriya is quite expensive, but at the end, comparing to all the other things that are cheap here, I think it is acceptable.
The entrance fee is 30$ or 3900 rupees. The entrance to the Sigiriya museum is included in the price.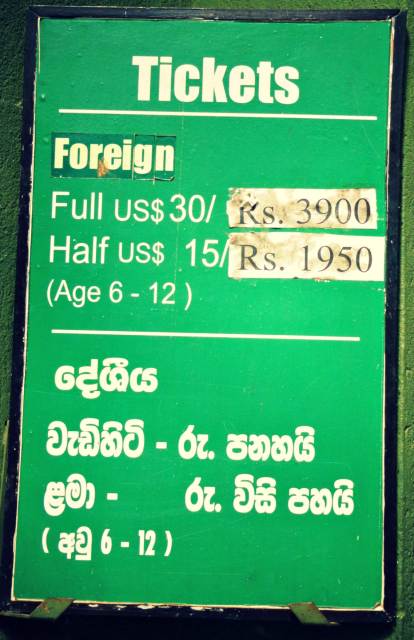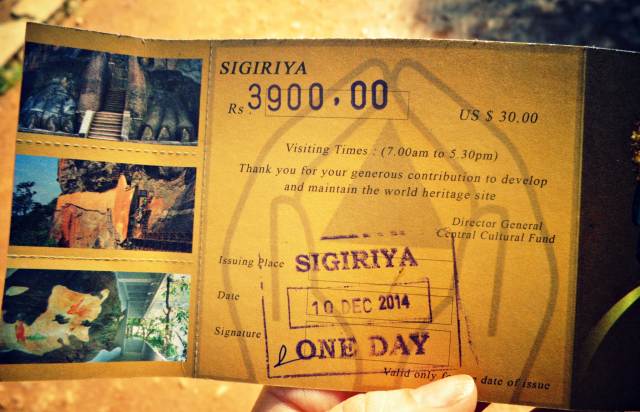 IS IT HARD TO CLIMB?
I would say it is not easy, but it is certainly doable. It has a spiral staircase, that makes it much easier to reach the top. I have seen many elderly people successfully reaching the top . In the worst case there are some help boys that you can lean on (for tips of course), but I am not sure that is of much help.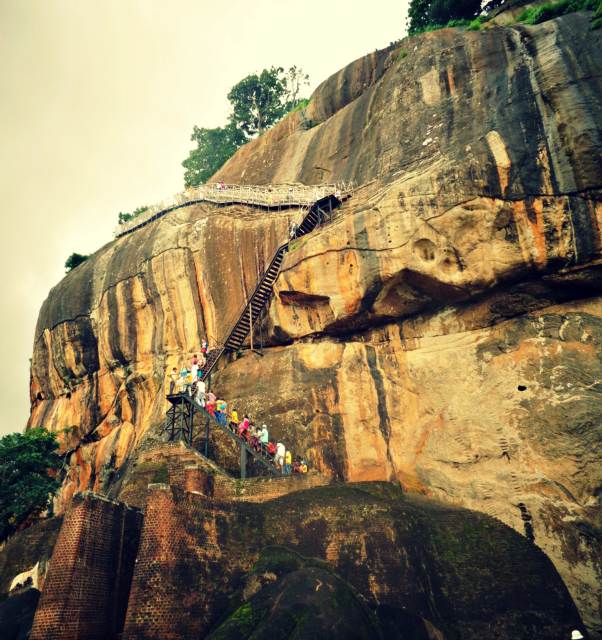 WHEN TO GO
I recommend to go there either in the early morning (before 9 a.m.) or in the late evening (after 4 p.m.) because:
1) there are way less tourists
2) the sun makes it twice as hard to climb during the day time.
Where to stay in Sigiriya
I hope I convinced you by now that Sigiriya is definitely worth a visit. You should stay around for a couple of nights. Here are my suggestions of where to stay depending on your budget:
Luxury stay – Heritance Kandalama, a 5* star hotel, this tranquil retreat perched on hills offers panoramic views of the Sigiriya Rocks;
Medium price – Amaya Lake Kandalama – another 5* star hotel which rooms feature elegant wooden furnishings and warm lighting;
Budget stay – Sigiri Rock Side Home Stay has exceptional reviews, the area around is popular for cycling.
DESCRIPTION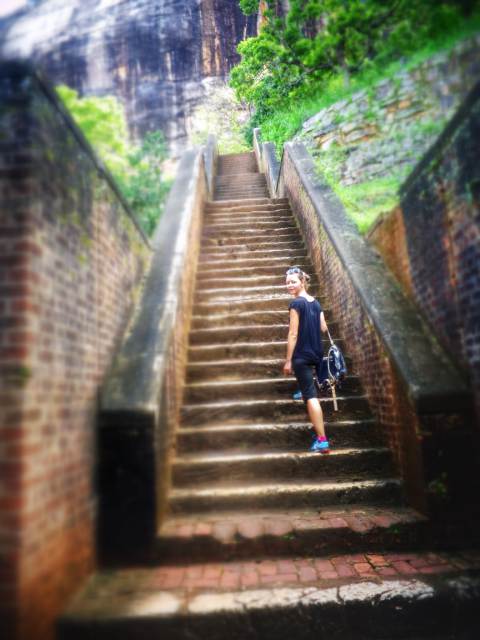 Sigiriya is the massive column of rock, which towers up to around 650 feet (200m), and it had my jaw dropping in awe! This UNESCO listed world heritage site was named the lion rock due to its disfigured form of a lion sprawling its paws.
Unfortunately, the lion's head in no longer in place ruined by either nature or man, no one knows. But its paws are large leaving less to imagination of how large the head might have been! The creativity of the ancient constructors can be seen even today with numerous frescoes around the fortress and a huge mirror wall (that is apparently some of the oldest graffiti in the world).
There is a garden to the left of the rock that was once a leisure place for the royals, which had some water retaining structures which are able to produce water till today and all credits to the man made reservoirs in the south of the rock. The garden was a combination of water channels; caves and boulders and terrace garden. The gardens lead one to another until they lead us ultimately to the lion staircase.
The mirror wall was another interesting aspect that caught my attention because it is said that it was just a highly polished rock for the king to see his image whenever he crossed it.
Overall, Sigiriya stone changed my perception on secluded rocks being boring or insignificant and I would long to go for another such trip. And the views are just breathtaking, judge yourself!
AWESOME NON TOURISTIC THING TO DO IN SIGIRIYA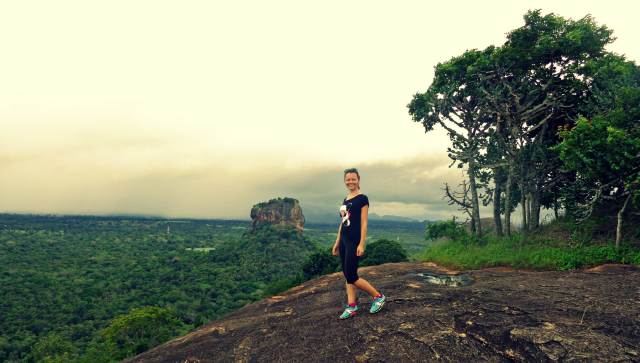 There is one more stone to climb in Sigiriya, that has probably more beautiful view (because it overlooks Sigiriya stone) and it is 13 (!) times cheaper – 300 rp. The place is called Pidurangala rock and it is located about 1 km away from the Lion rock. You can either walk to there, either take a tuk-tuk.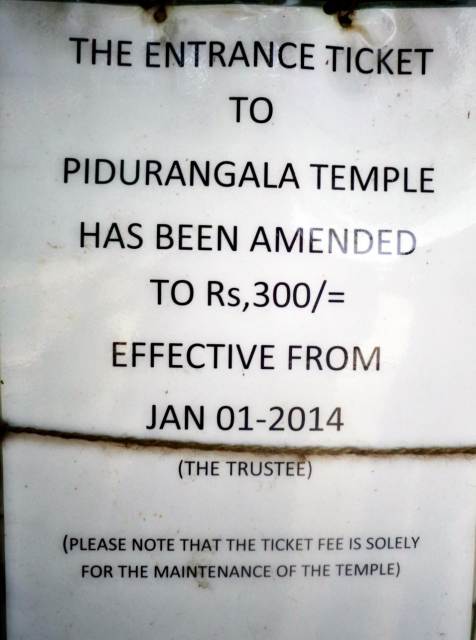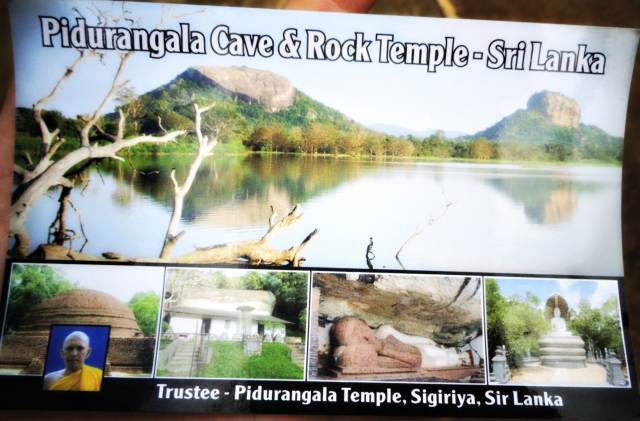 The hike itself is twice shorter and it is awesome because you get to watch one splendor from another. The view was worth the climb and we met only one family on the way there, the top was all for us!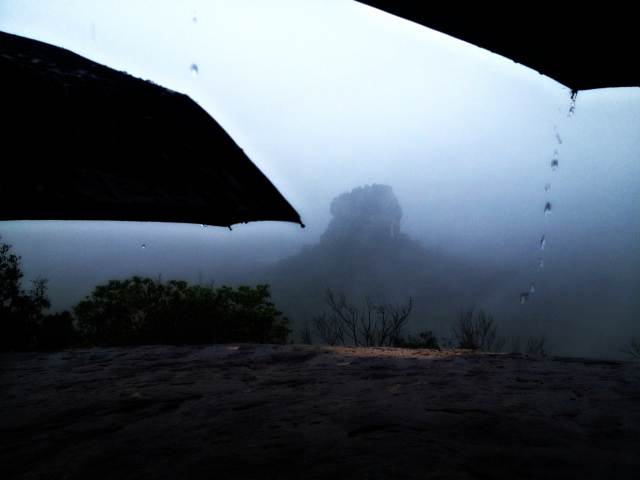 I was (un)lucky to face the real Sri Lankan weather as a heavy tropical rain cought us when we were right there on the top of Pidurangala. The fabulous view I was talking about just suddenly was covered with low clouds and the rain started, there was no way to go back during the rain (the road is slippery and non of us was properly dressed). So, the only thing we could do was to hide under some of the stones and wait. And smile.
After all, that is the real unpredictable Sri Lanka, and we enjoyed it fully! 🙂
Do you have any questions? Ask me using the comment bar!
Like the article? Subscribe to receive my last updates and get to know all the secrets of budget traveling first!
Yulia