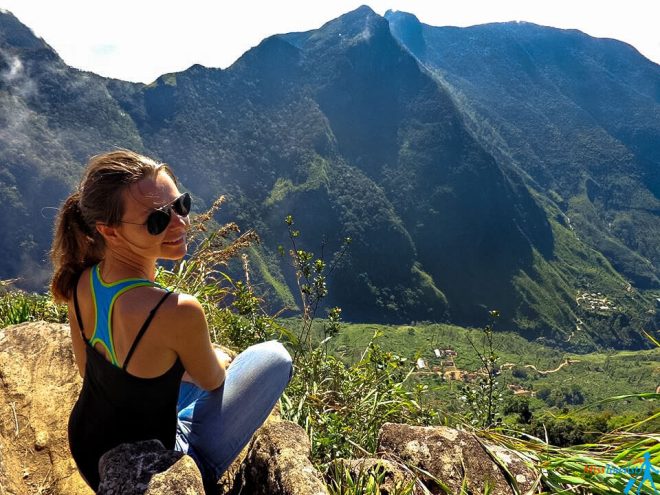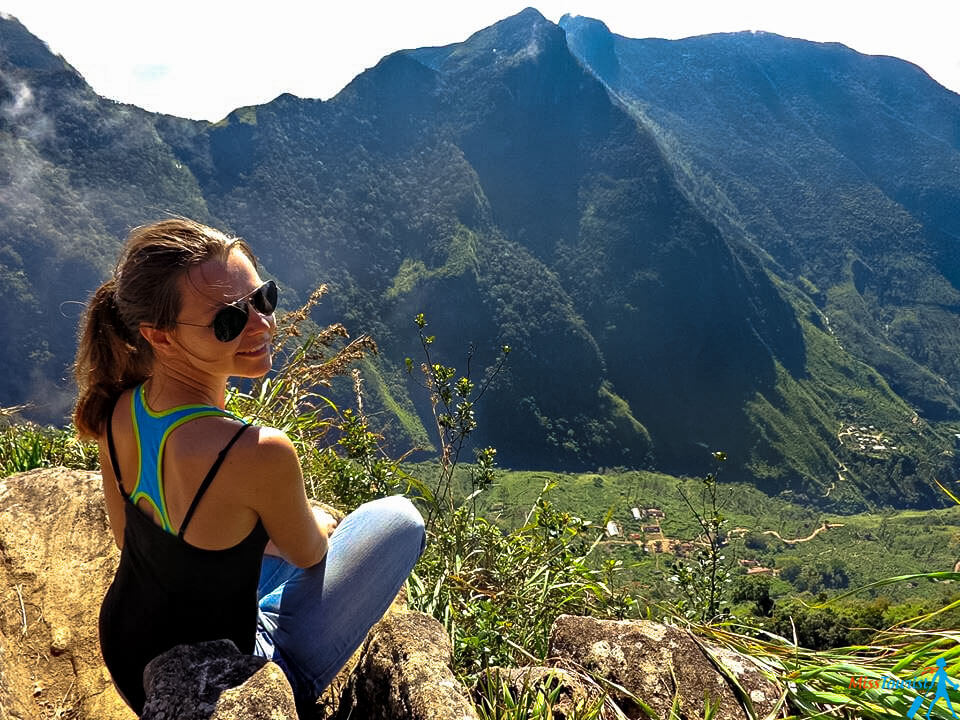 Sri Lanka is a great country for doing all types of hikes with amazing jaw-dropping views, World's End, being one of them!
I have done almost all of them – Adam's peak, Sigiriya, Little Adam's peak, Duliyama waterfalls, Lipton seat etc.
When it came to Horton plains (also known as The World's End), I hesitated if I should go.
Firstly, I was a solo traveler and going to Horton plains national park would mean I need to find somebody to share a van with me (the only way to get to the national park).
Secondly, even if I would find a company, it is still not that cheap (I will give you the price breakdown below).
I tried to ask people around on the way in other locations in Sri Lanka, but everybody was either going another direction, either have already done it.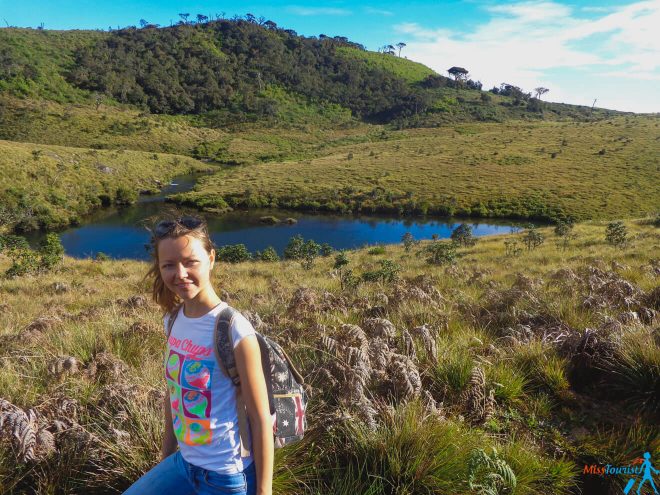 So, at the end I decided I will go to the closest city (Nuwara Eliya), discover it for a day, and if I don't find anybody, will move on.
And you can't imagine how surprised I was, when after just an hour in the city, a Swiss couple approached me on the street and asked me if I would like to go to Horton plains and share a cost of hiring a van with them. That was a sign! The next morning we were visiting the only national park in Sri Lanka, where you are allowed to walk, not being inside a jeep.
If you are planning your trip to Sri Lanka or just curious how it works there, read on, I am going to give some useful tips in this post!
Where to stay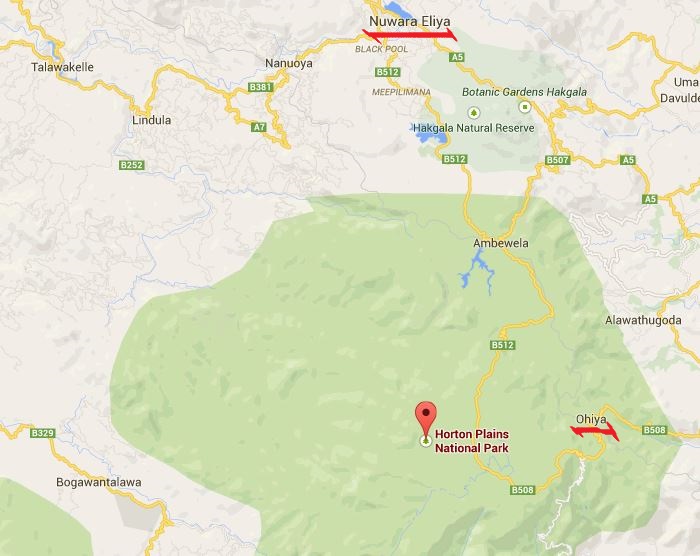 A good choice would be to stay in Nuwara Eliya, like I did. It is located 32 km. away from the plains. Accommodation prices vary, for example, a nice brand new hotel with a great view to mountains was 2000 rupees per room. It is called "Chez Allen" if interested.
Other choices to stay in Nuwara Eliya:
Luxury – Stafford Bungalow is great for those searching for a secluded luxury experience. Along with an outstanding 5* service and beautiful decor, you will also get bicycles and tea plantation excursion included for all guests of the hotel.
Middle budget – Holiday home Lemon Court offers terrace and views of the mountains and has great room decor, book in advance! In the very heart of the city, at Villa Cassandra you will find a garden, barbecue facilities and terrace and hospitable staff.
Budget accommodation – Mount Mary Inn is located in Nuwara Eliya, 2 km from Gregory Lake, Mount Mary Inn features free WiFi access and free private parking. The Fern Inn is even cheaper, has amazing reviews and clean rooms, but it is a bit more distanced from the center.
You can also stay in Ohiya. It is closer to the park (just 8 km.), but not that nice as Nuwara Eliya in my opinion.
Please remember, that when in Sri Lanka, the prices for hotels are never fixed. Unless you have a booking, you should always bargain. They give you a high price just to see, maybe you will agree, who knows? But you have to be insistent and not to give up. 🙂
How to get to Horton Plains
If there are two of you, you can get to Horton plains from Nuwara Elia by tuk-tuk (from 3000 rup.) if you are 3 or more it is more convenient to go with a van (from 3500 rupees).
When to go there
Me and my Swiss friends, we started at 5 30 a.m. in the morning from Nuwara Eliya. With all the stops we got to the entrance in 2 hours, so 7 30 a.m.
Note: It is really important that get to The World's end before 10 a.m. Afterwards it will be cloudy and you will not see anything.
We were quite lucky, only one cloud blocked the view for a while, and then it was clear. Here are the pictures for the contrast, so that you can compare and understand how important it is to wake up early!
Prices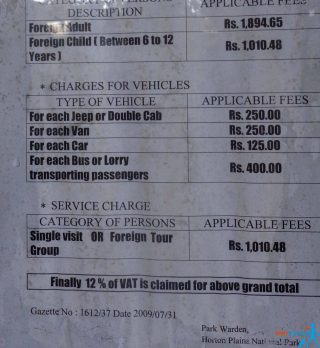 The van cost us 4500 rupees. In this case, it was impossible to negotiate; they all have the same prices. The minimum is 3500, and then it goes up depending on the number of people (we were 5).
The entrance fee is very complicated to calculate, here is the picture of the information they provide.
But in fact, you never actually calculate that. Your van driver just tells you the approximate price. For us 5 the entrance was 3000 rupees per person. It was probably more than we had to pay, but well, whatever…
My final price was around 4000 rupees everything included. That is around 30$ or 25€.
When inside the national park
Except an outstanding view, you will have the chance to enjoy the local flora and fauna. All the important info is written in English, so you can get to know stuff without any local guide.
There are many birds species, our driver said there are leopards. I don't know about that, but I definitely saw this cute deer, it was such a nice experience!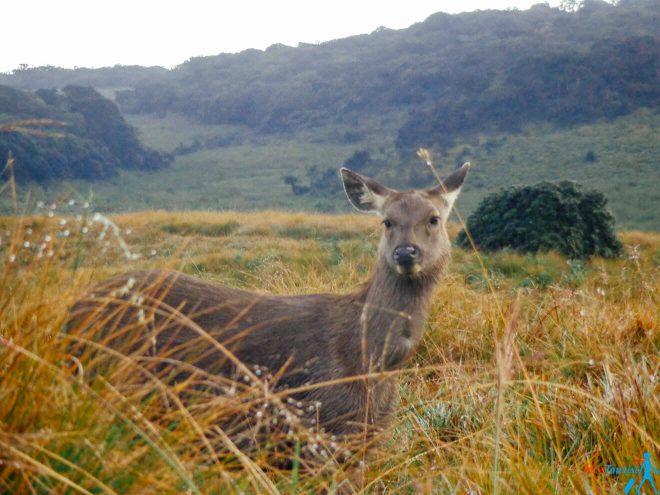 You should also know that the staff cares about the environment. Thus, you won't be allowed inside with plastic bags. But do not worry, they will give you a paper substitute instead.
The trail itself is very easy, it can be done with close to no physical effort. When you begin, you will have a choice of 2 directions- right and left. The trail is circular, so it doesn't really matter which one you choose actually. But I'd recommend taking the right path. This way you will not follow the crowd, you will be on your own.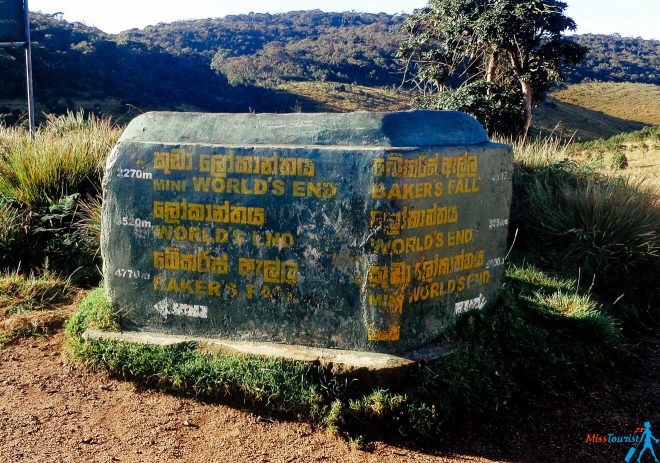 Whatever route you choose, don't miss out the Baker's falls, it is also very beautiful.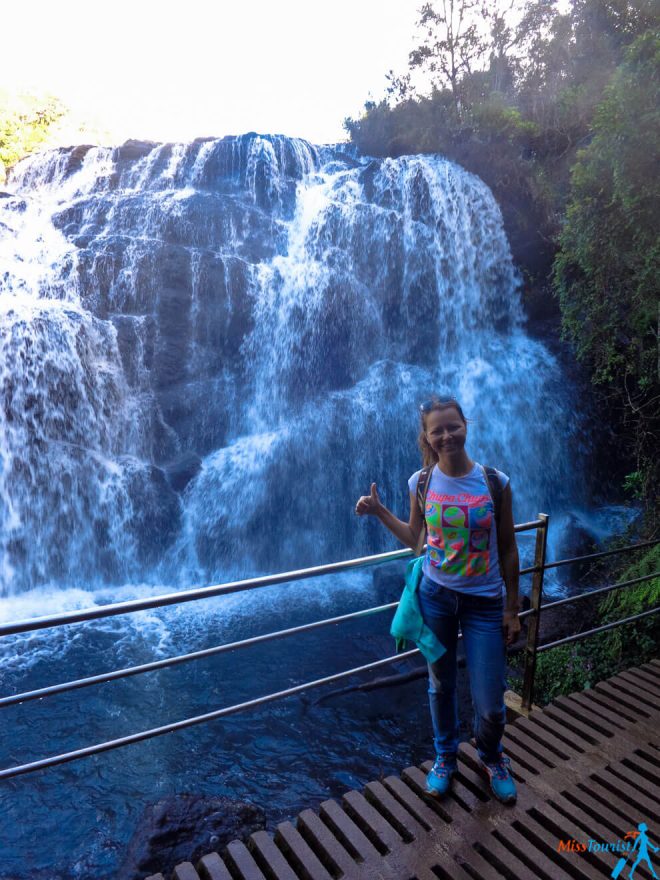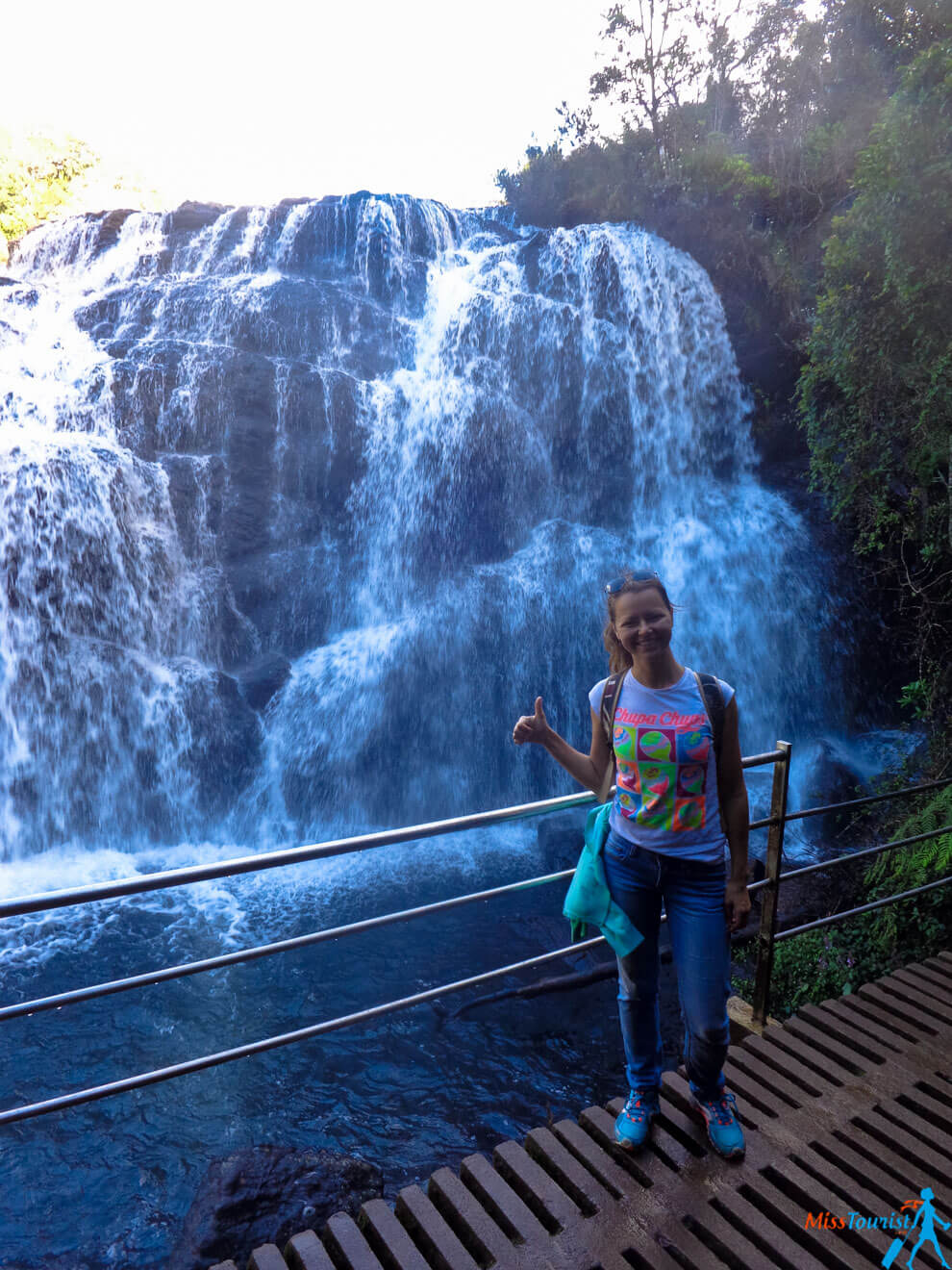 And of course, the main point of all this- you will get to see 2 amazing view points: the World's End (870 m. (2800 ft.) drop) , and the Little World's end (270 m. (890 ft.)). If it is clear, you will be able to see all the way to Adam's peak.
Additionally, people usually miss a small museum that is located right before the main entrance near toilets. Check it out on the way out, it is nice and it is included in the price.
How long it will take
Not much, all together with all the stops around 2-2.5 hours. The walk itself is not challenging at all, it is not like hiking Adam's peak.
Where to go after
Because you have a driver already, and you are flexible, he can drop you off at the train station and you will continue your journey with the famous scenic train. In this case, you should take your luggage with you. Tell your van driver to drop you off at a train station called Pattipola (the most elevated train station in Sri Lanka!).
Whichever direction you will take, the ride is extremely beautiful!
I took my train to Ella. All about it in the next post.
Is it really worth it?
Honestly, if you are traveling on budget – I would say not really.
There are so many other stunning places to visit absolutely for free! I would say, little Adam's peak in Ella is amazing, and it is also not that hard to climb. Lipton seat is called Little World's End sometimes and free of charge…
Besides, there is no guarantee you will get to see the view even if you wake up at 5 am in the morning. The weather in this part of Sri Lanka is very tricky, you can never know what to expect. In fact, none of my friends who went there were lucky, only me.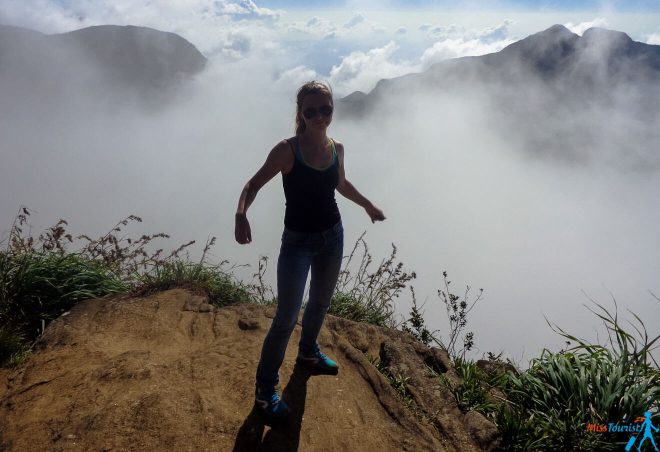 Nevertheless if you are ok spending 30-40 $ per person, the walk itself to the World's End in Sri Lanka is very nice and enjoyable. Almost no physical efforts required! It is definitely not as challenging as Adam's peak!
In this case, I would say – try your luck!
Thanks for reading
Don't forget to press "Like" and comment if you found the article useful!
Yulia
---
RELATED ARTICLES:
---
Pin it for later!