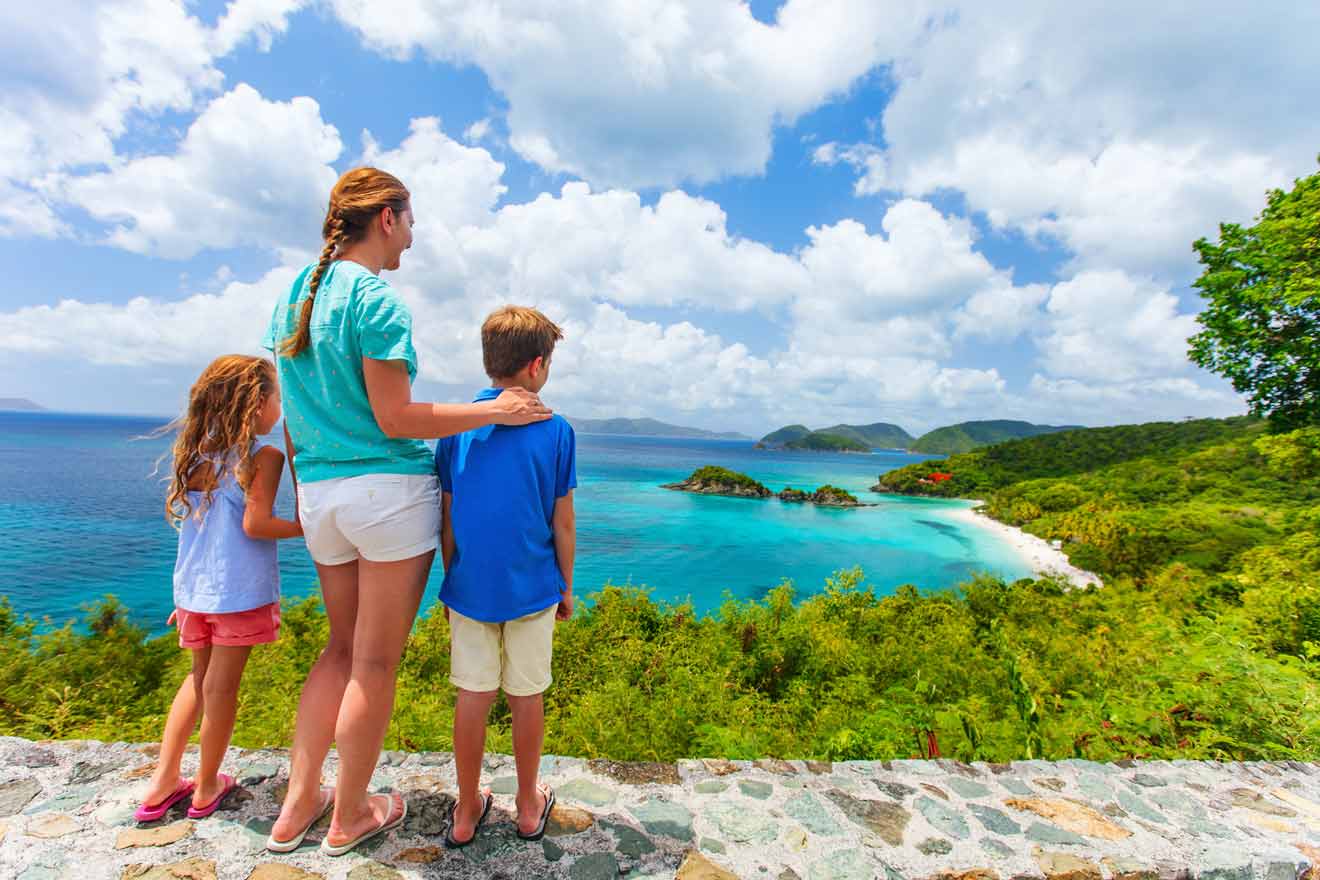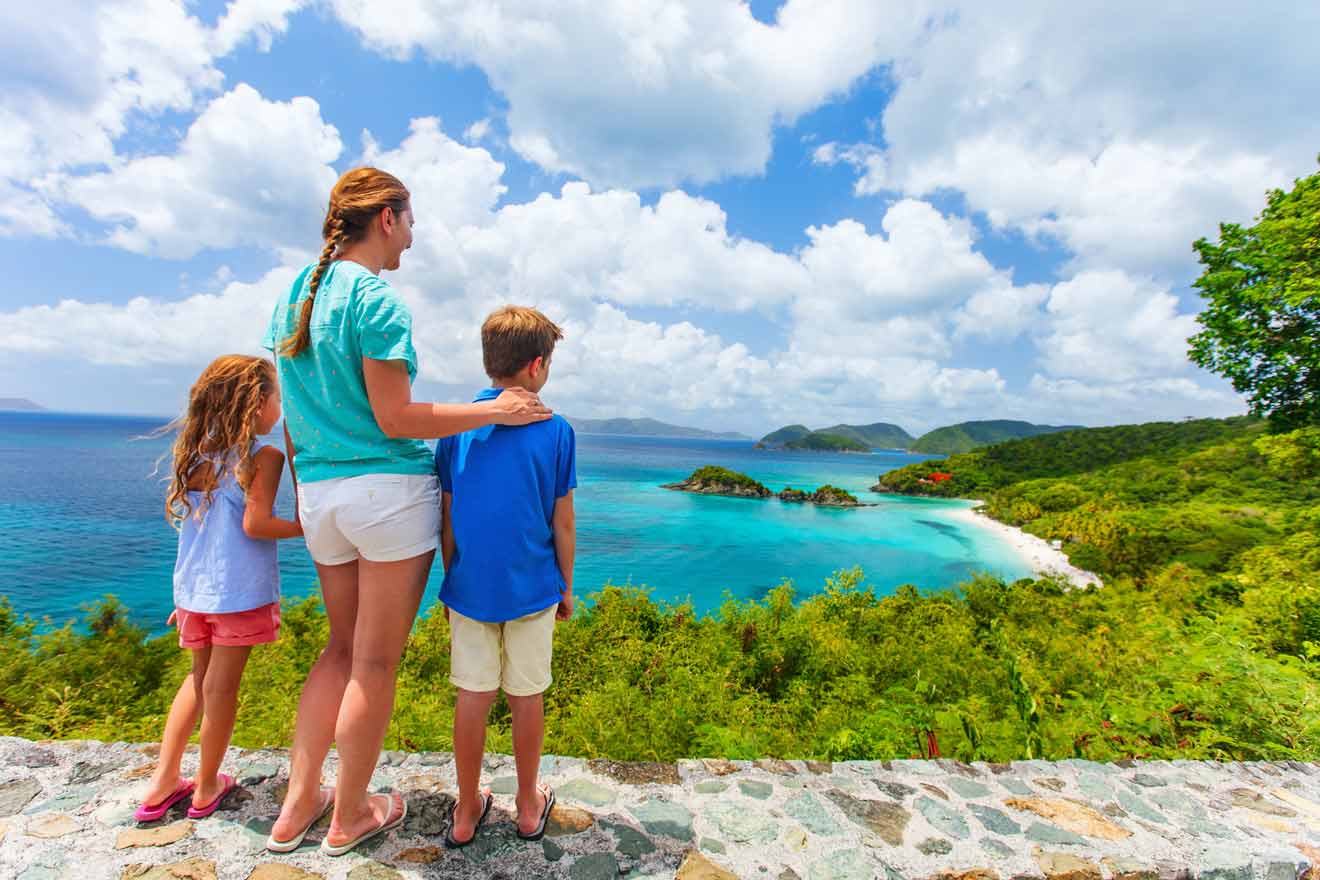 The US Virgin Islands are incredible, but choosing the right hotel can be hard, especially if you're looking for an all-inclusive resort. But don't worry, this is where I jump in!
In this post, you'll find the best US Virgin Islands all-inclusive family resorts with all the facilities you could need. I've done all the research for you and came up with a top-notch list of hotels which I added from most to least expensive. There is also a bonus section with some fabulous vacation rentals for families.
NOTE: As you'll probably see, there are only 2 classic all-inclusive resorts on the US Virgin Islands, and both have a super low score.
That's why I decided not to include those and instead offer you a list of places that have the same facilities that you'd get in the classic all-inclusive vacation packages, like restaurants, spas, and watersports, except that you'll only pay for what you use.
Don't forget to book your favorite resort early. Otherwise, you may miss your chance to stay there!
Vamonos!
If you are in a hurry
Don't worry if you don't have the time to go through the whole list! Check the short one below, which has the best family resorts on the US Virgin Islands:
1. The Ritz-Carlton – a stylish hotel with a kids club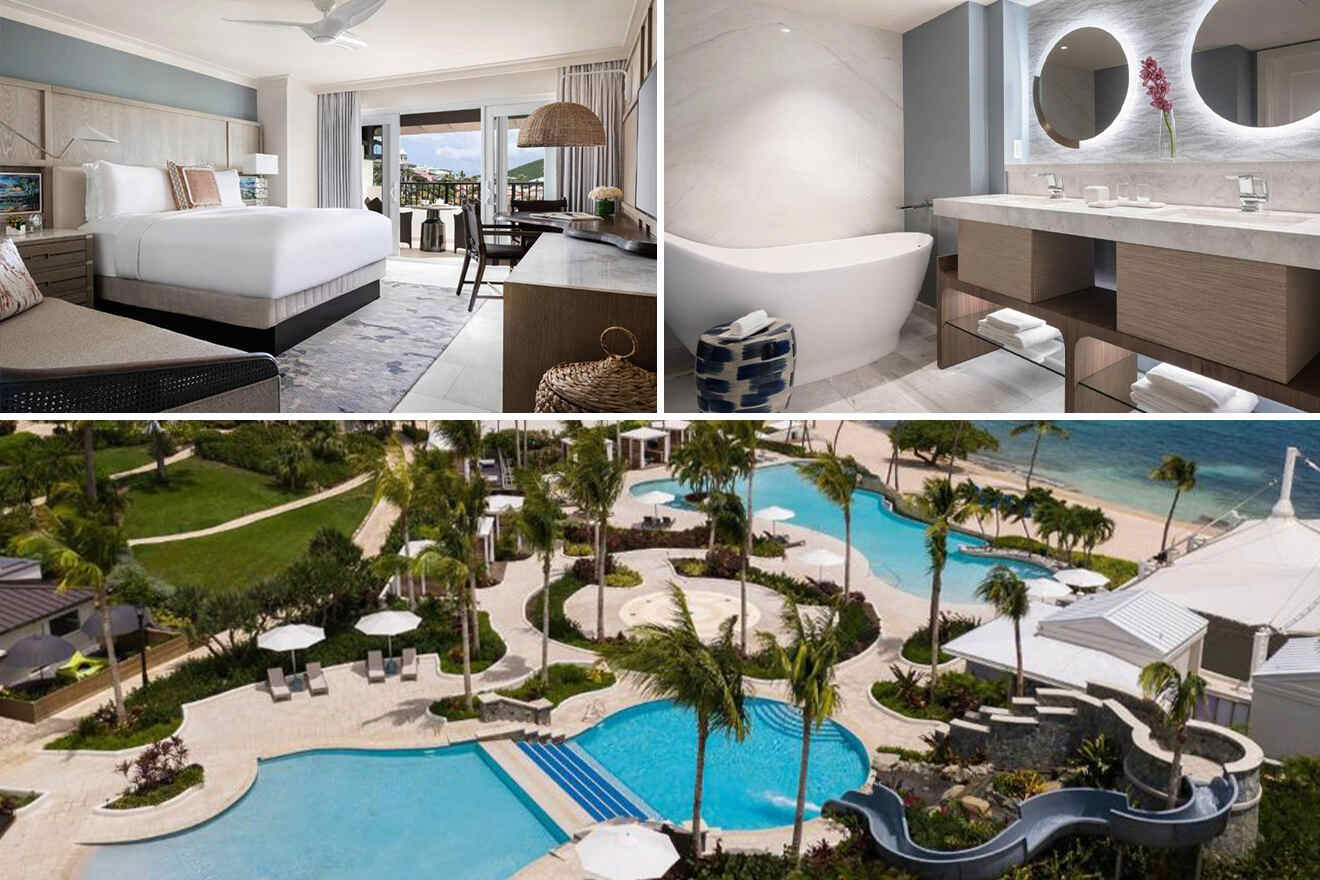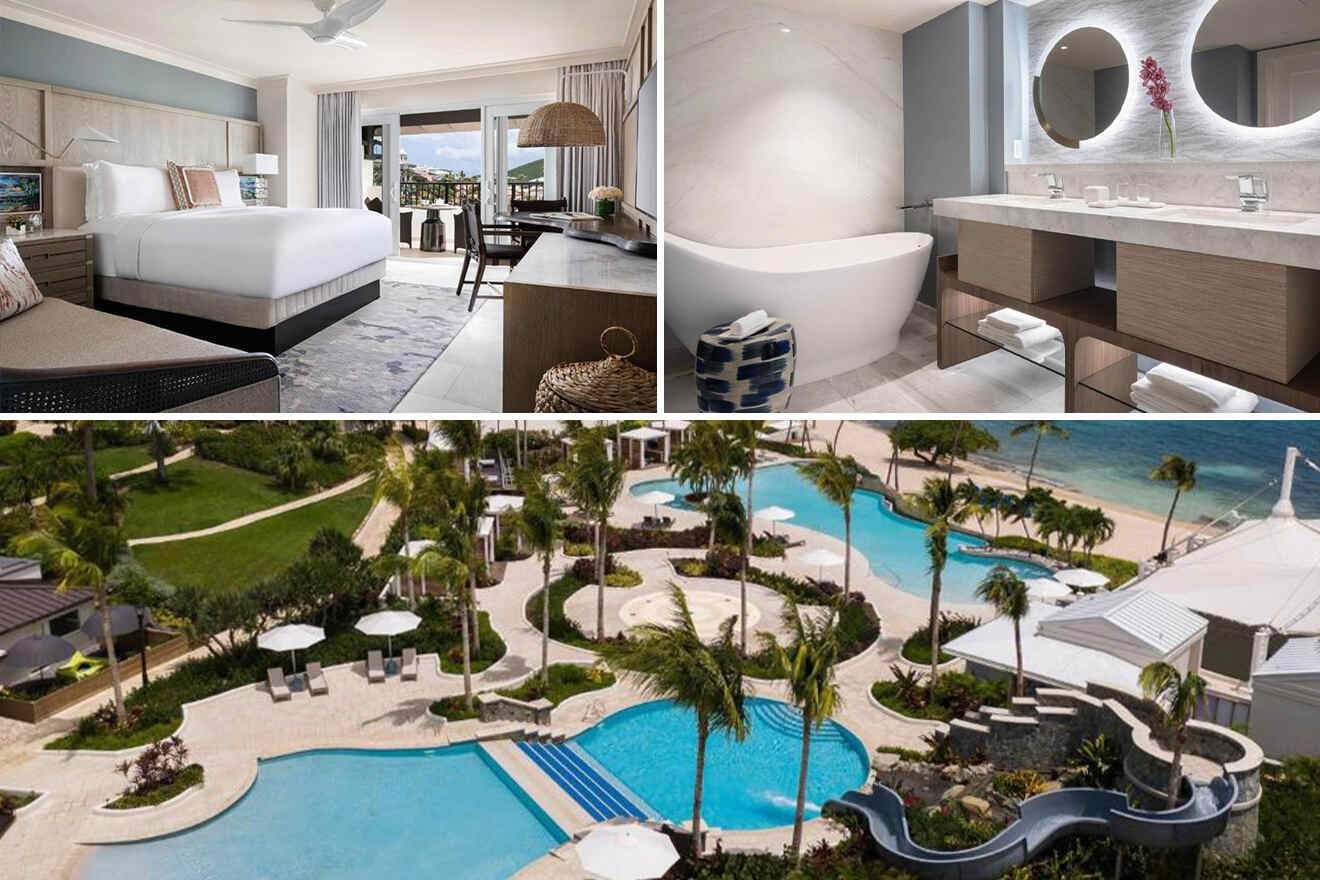 Elegant, modern, and decorated with such great taste! This St. Thomas resort is everything you've ever dreamt of when planning this trip! It has some gorgeous rooms with private balconies, lots of space, and a flat-screen TV (perfect for a fun family movie night).
Start your morning with some room service, or head down to one of the 4 restaurants to enjoy your breakfast. All the guests at the hotel will have access to complimentary water sports (which also include snorkel gear) and 2 swimming pools. a spa center and also a kids club that the little ones will love!
2. Sapphire Beach Aparthotel – for a relaxing getaway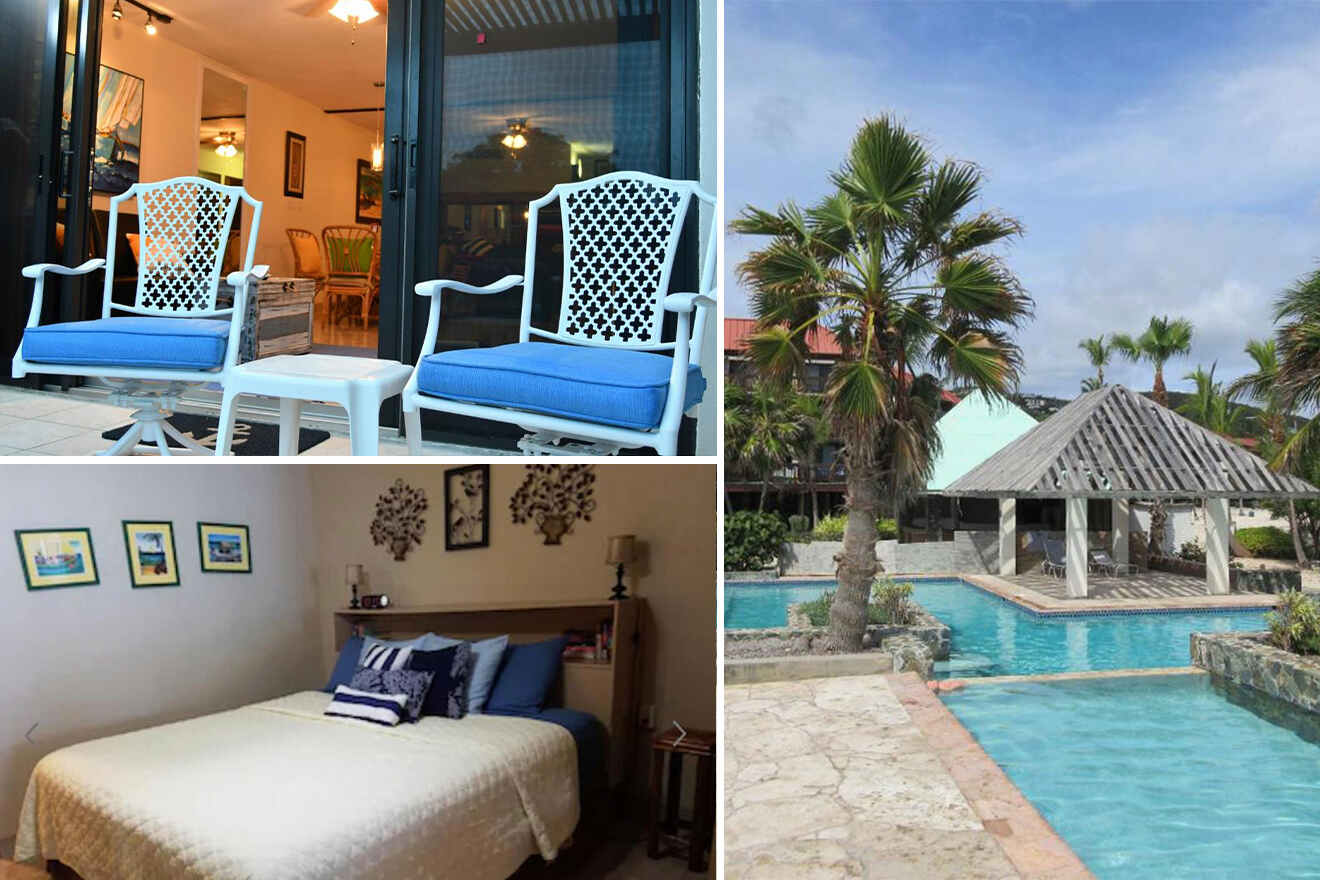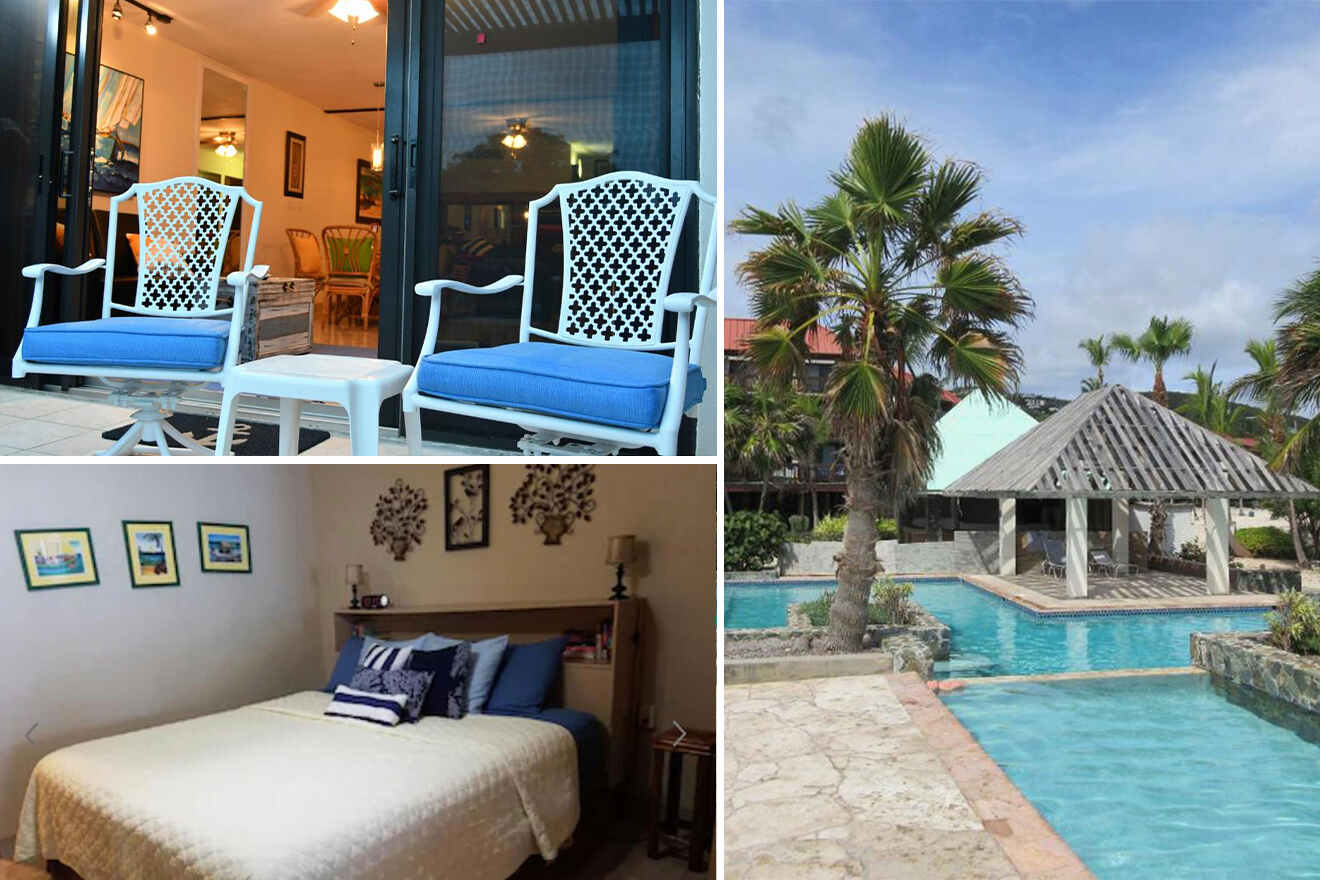 St. Thomas is one of the most incredible US Virgin Islands, and it has some stunning beaches and, of course, great hotels! Just like this beachfront accommodation that's set only a few minutes away from Sapphire Beach.
The hotel offers so many fun activities like live music performances, snorkeling, diving, and even horse riding! As for the place itself, it's super cozy, and it has lots of amenities, including family rooms with free Wi-Fi and a flat-screen TV, a sun terrace, a restaurant, and an outdoor swimming pool where you can enjoy your coffee in the morning!
3. Marriott's Frenchman's Cove – for a fun family holiday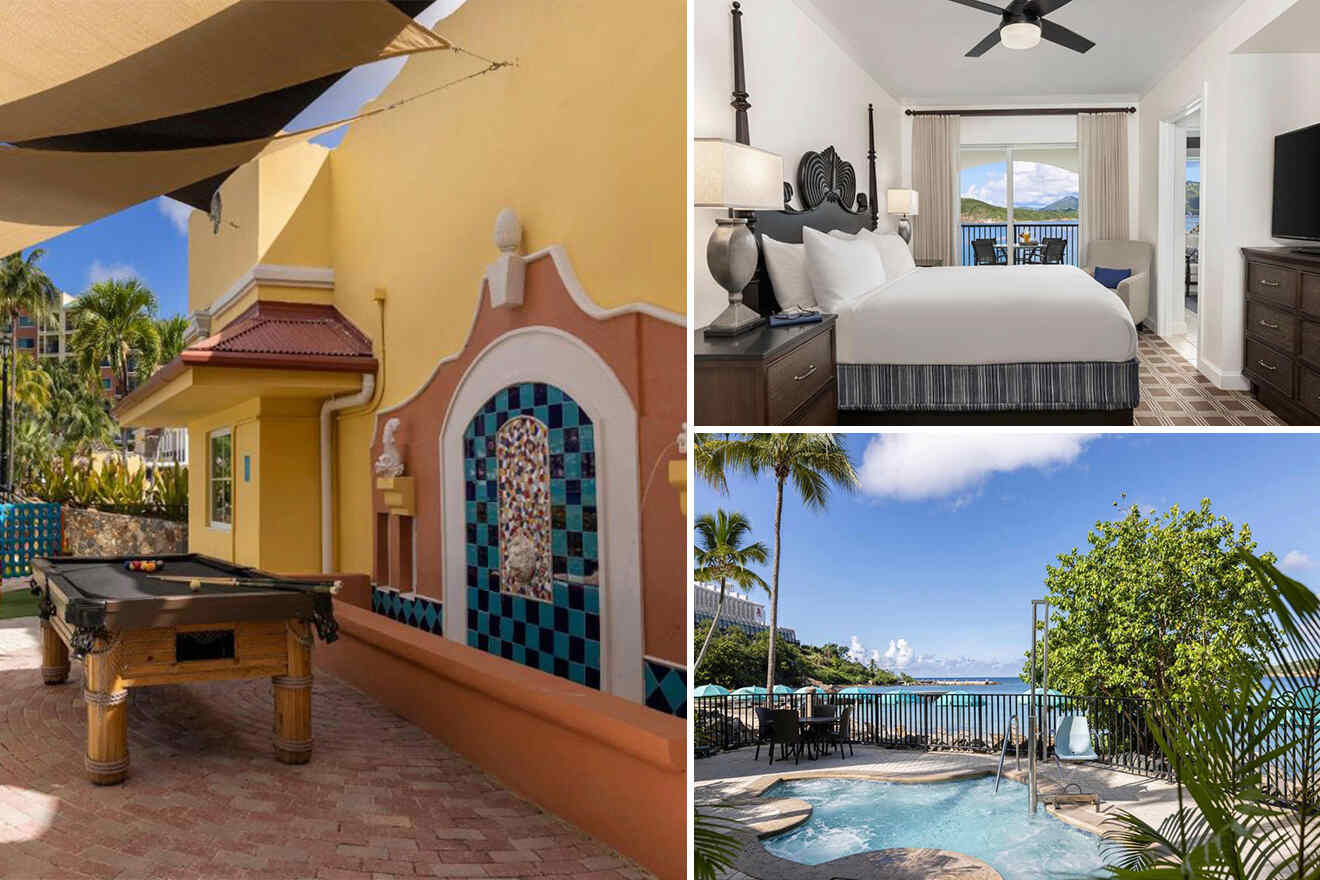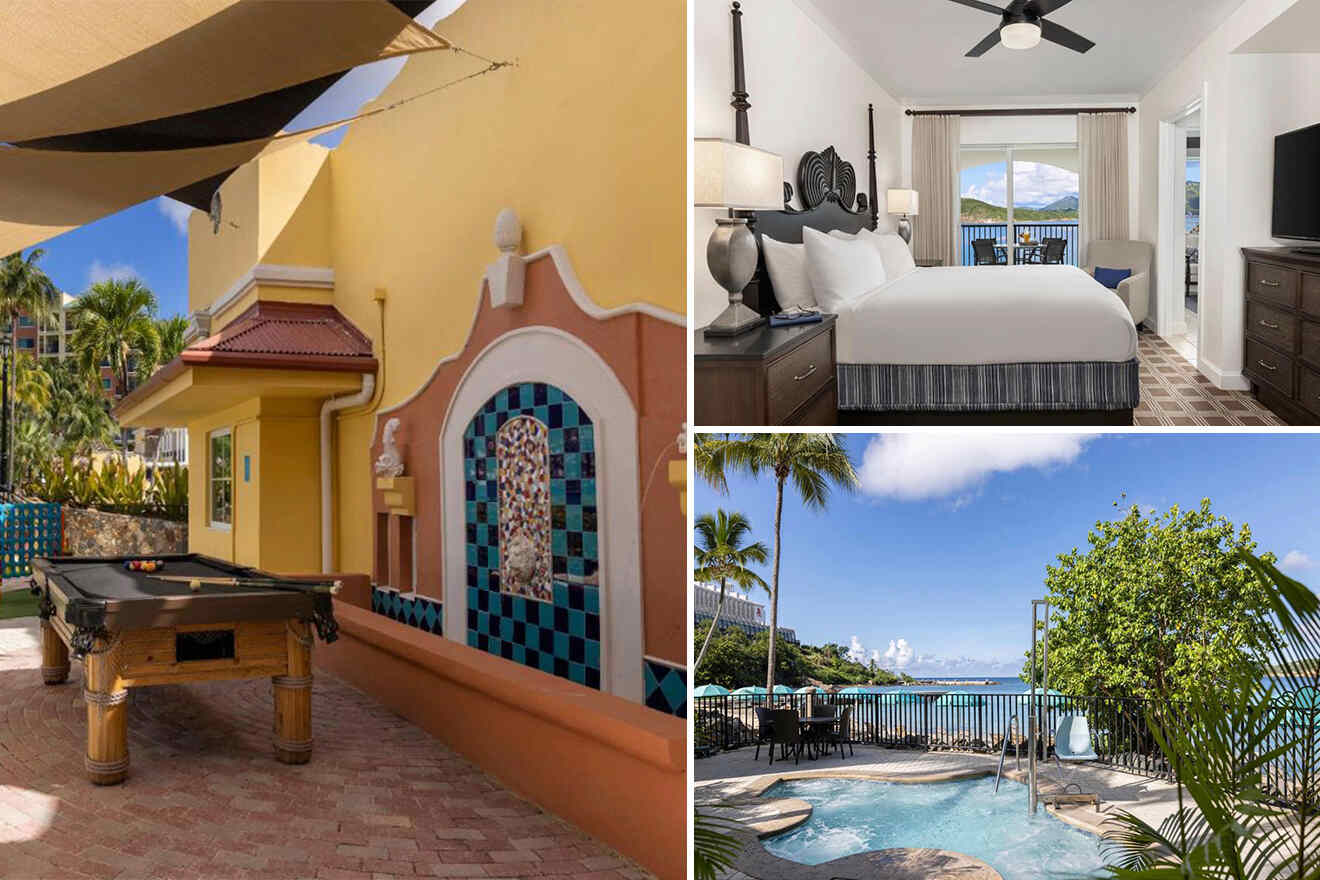 Ready for a memorable trip on St. Thomas island? Get ready to explore downtown Charlotte Amalie and to play with your little ones on the beautiful white sand beaches while staying at this resort that has 2 outdoor pools with a water slide, a hot tub, a fitness center, free parking, and concierge service.
The accommodation offers many family-friendly activities, play areas, a kid's club, and even bikes to rent out and explore St. Thomas! Woohoo! When you're not out taking on the island, you can relax in your modern suites, which have lots of space, a full kitchen, and a living room area.
4. Castle Villas at Bluebeards – historic property with 2 pools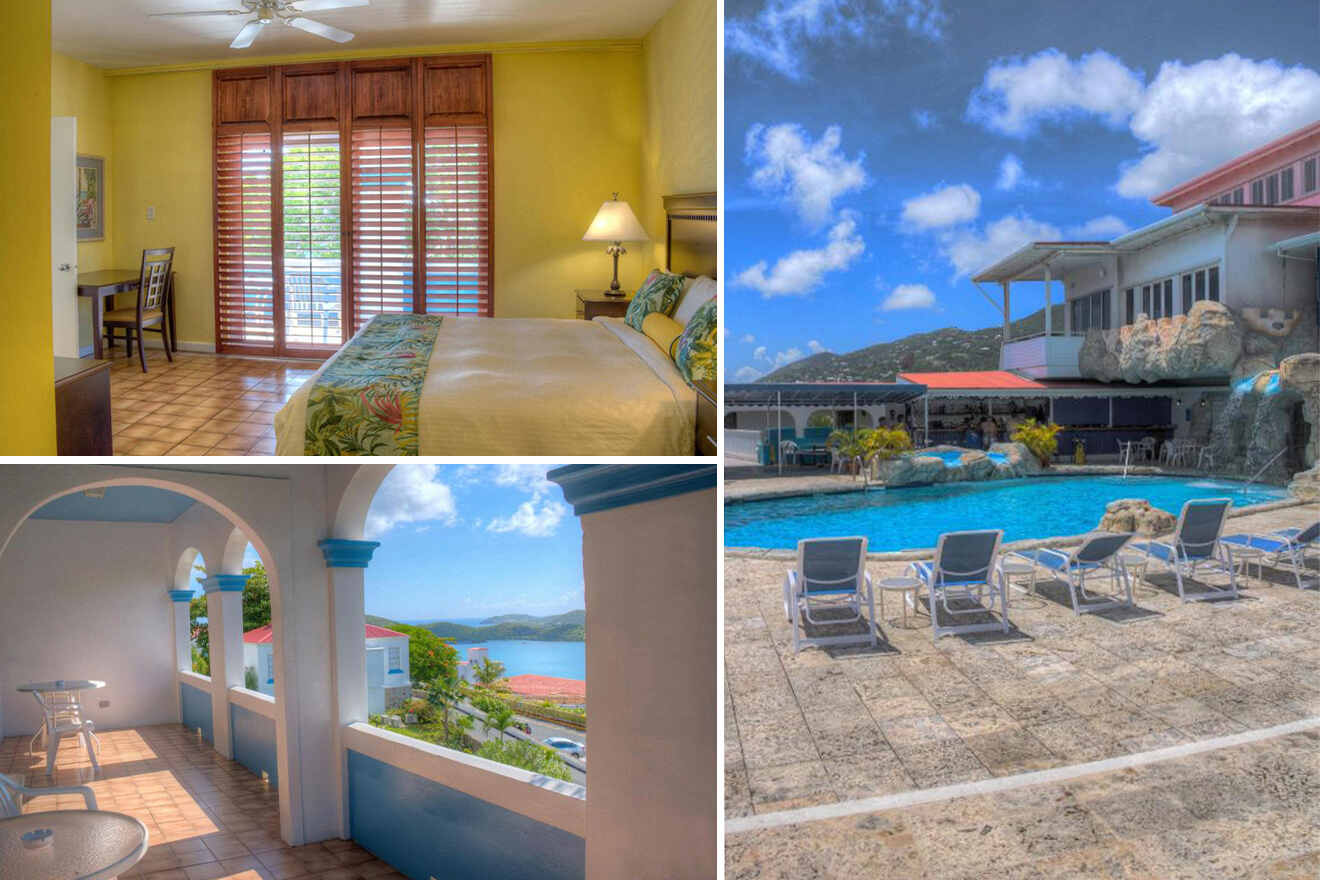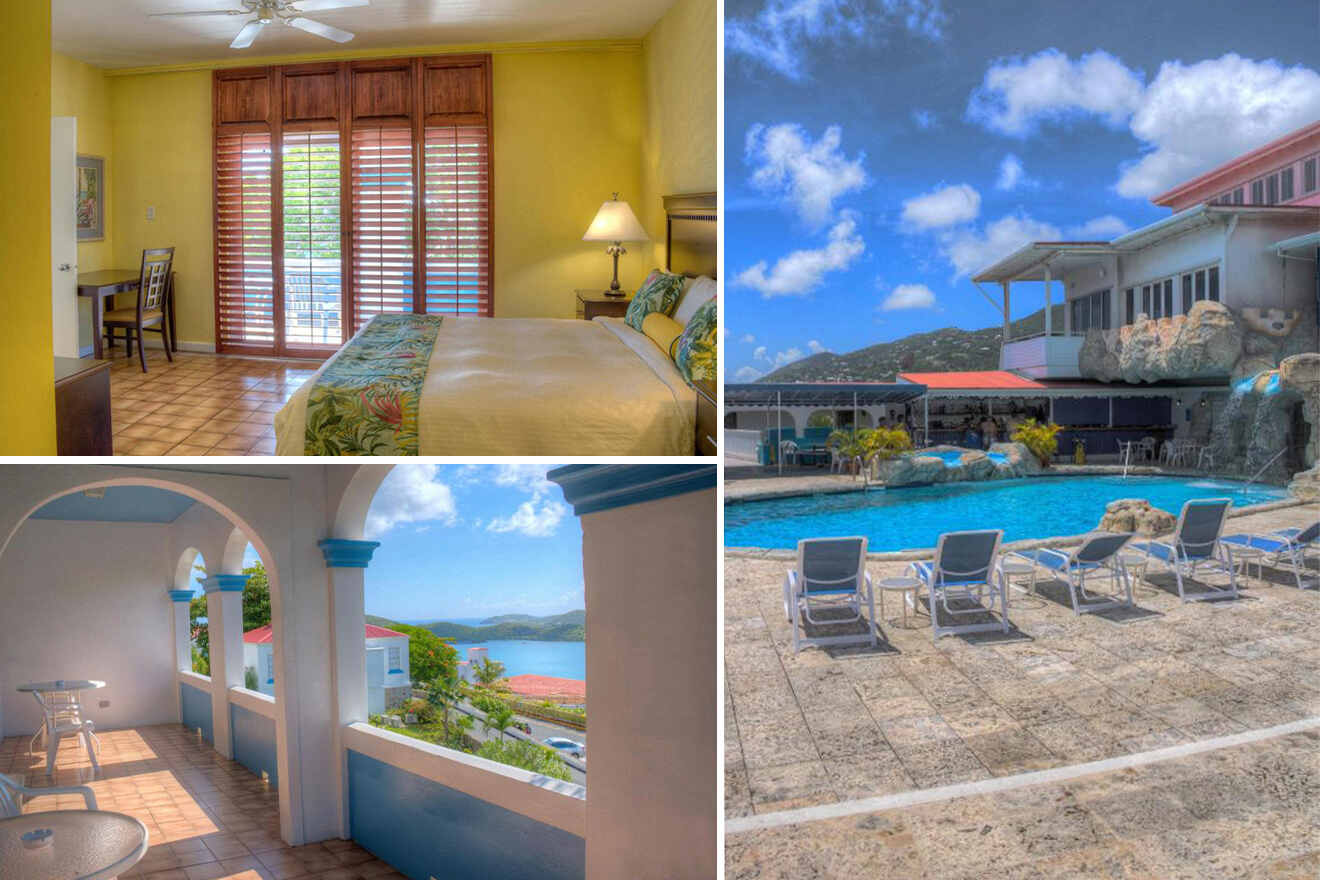 Unlimited sunny days, incredible food, and some one-of-a-kind beaches! Yep, St. Thomas is so amazing, and so is this great boutique hotel which is perfect for you and your family! It has great suites with a small kitchen and private balconies overlooking the sea.
This beautiful resort offers an outdoor pool, a children's wading pool, and a hot tub to relax after a day out exploring Charlotte Amalie! What's super special about this place is that it dates back to the 1600s, and although it has been rebuilt, it still keeps that old charm!
5. Gallows Point Resort – unique hotel with many activities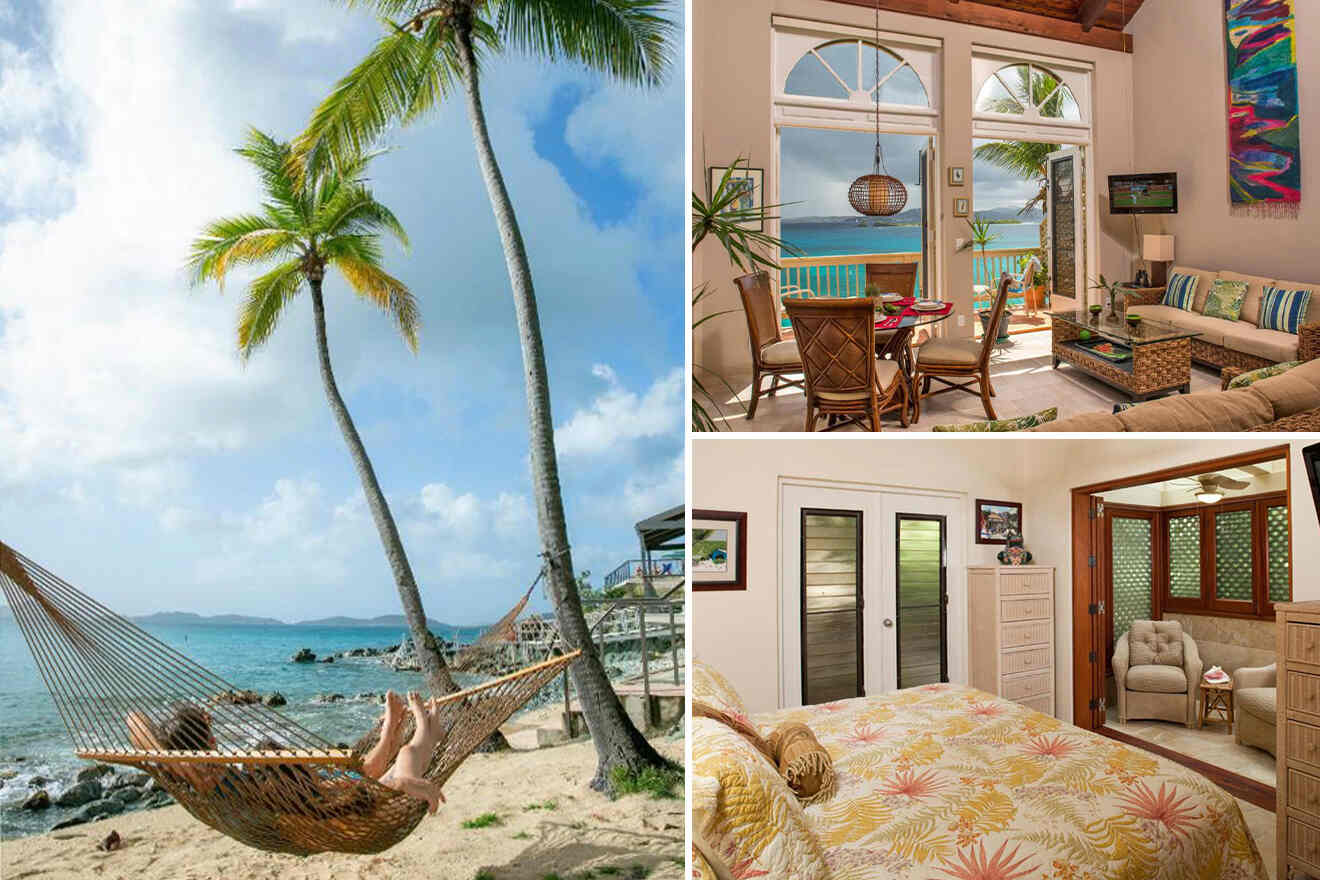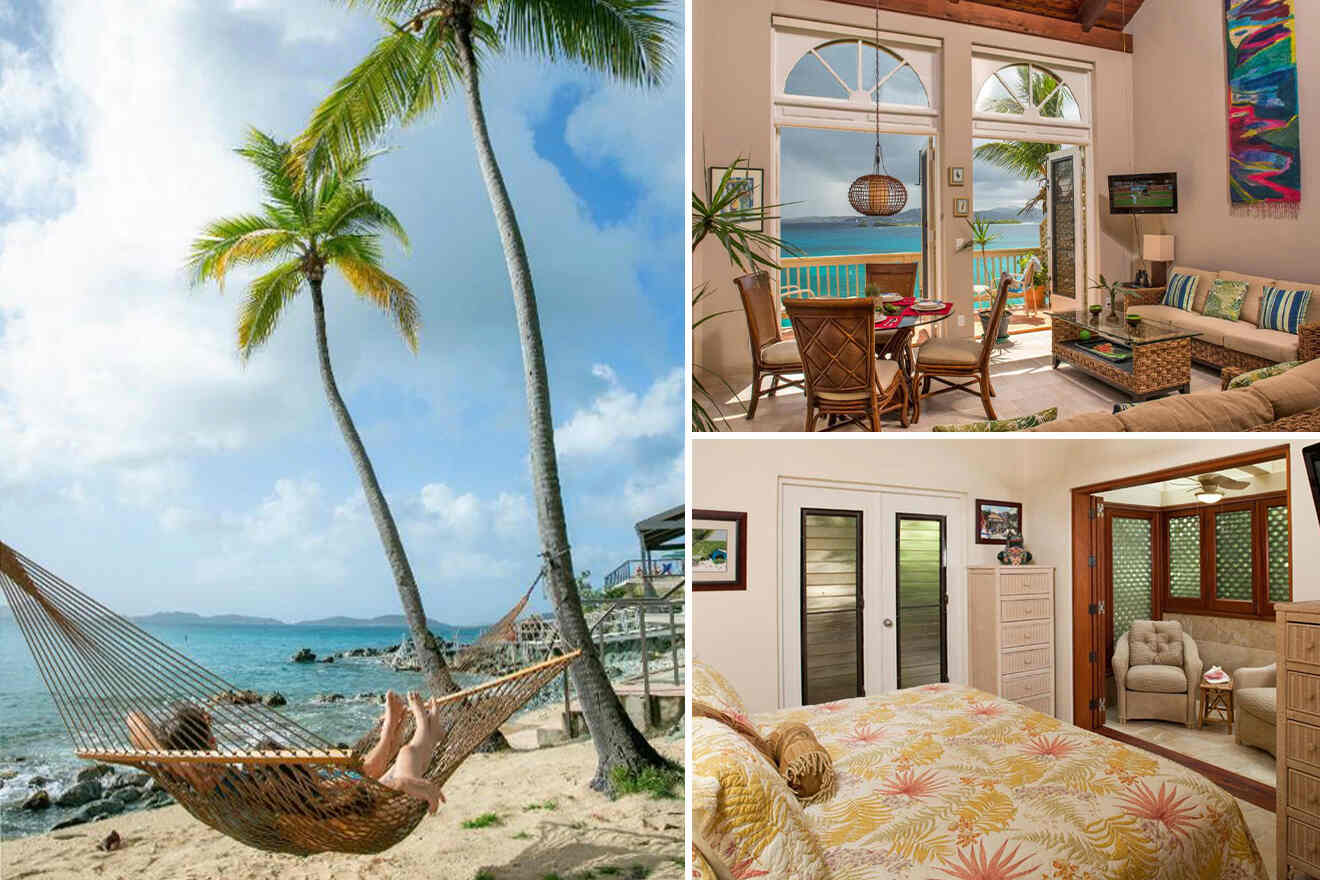 Planning your family vacation in the mesmerizing US Virgin Islands? You're in for a treat as the white sand beaches here are so beautiful and filled with things to do and great resorts! Like this one which is set in Cruz Bay on Saint John Island. The views are so dreamy, and just wait until you see the facilities!
Tennis courts, live music performances off-site, and an outdoor pool! There are just a few. Of course, you can also try all the water sports or other activities like horse riding. The suites have a beautiful Caribbean style and feature ocean views and a lot of space for the whole family!
6. The Buccaneer Beach & Golf Resort – the best service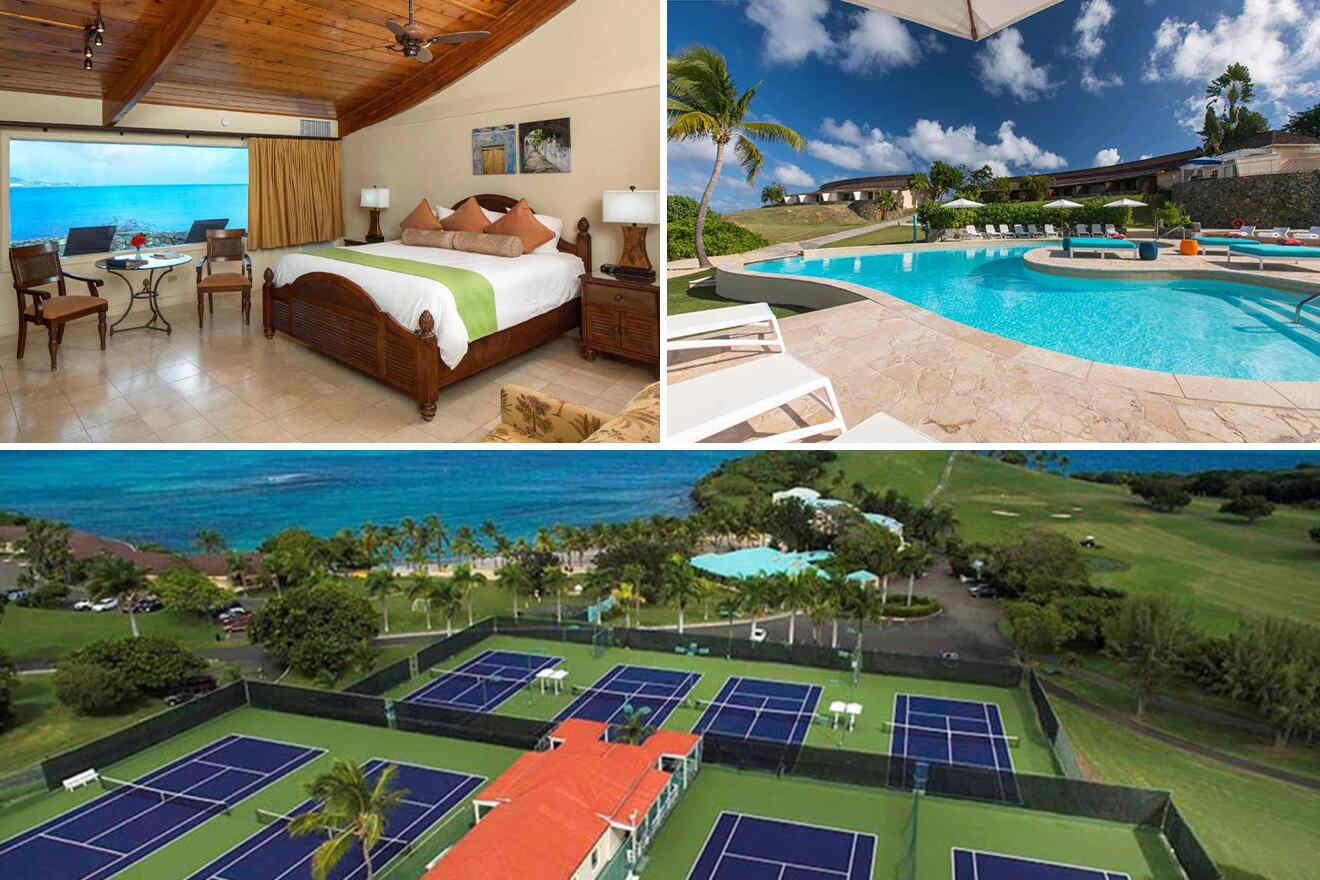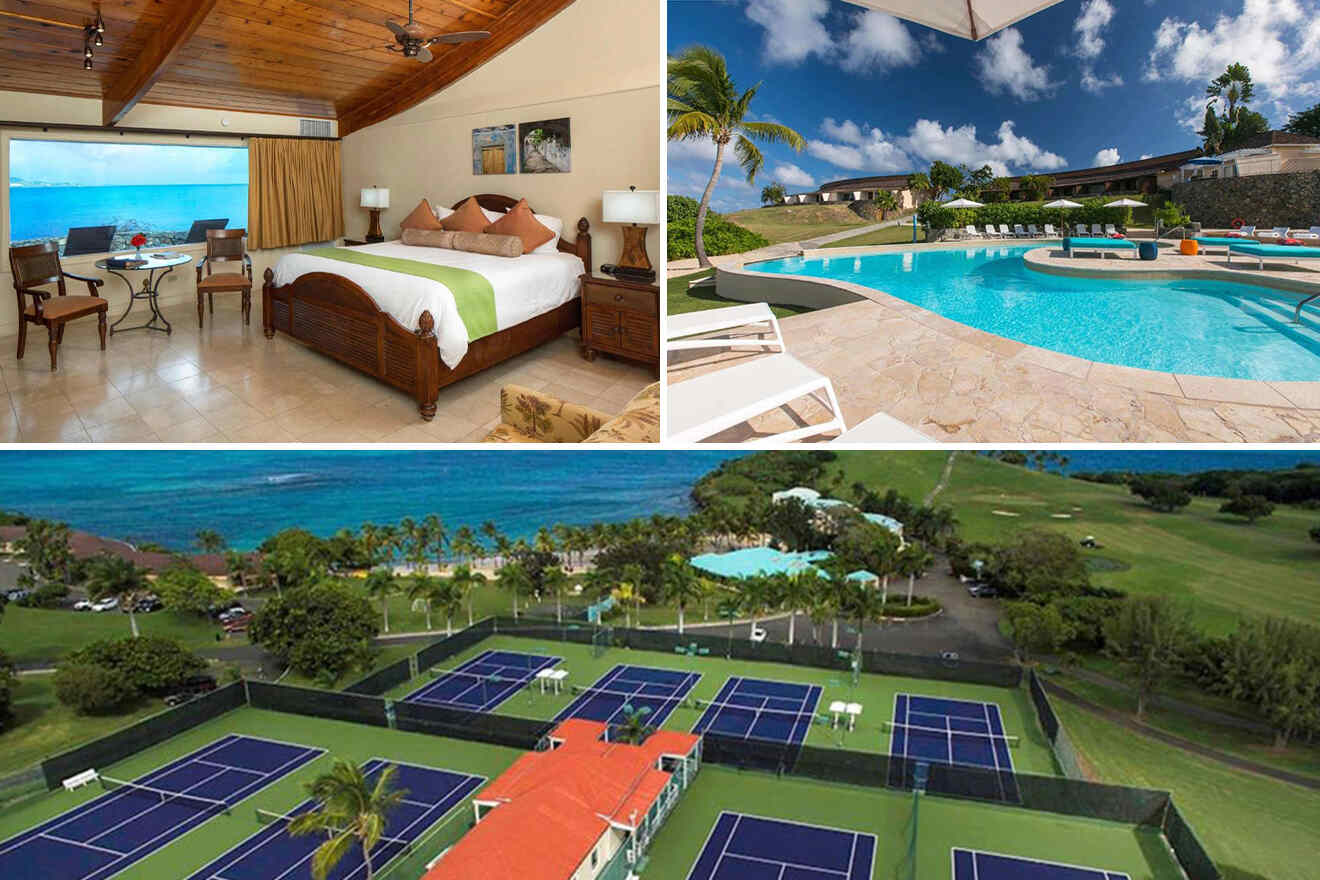 Surrounded by the tropical beauty of St. Croix Island, this resort will put you in a holiday mood the minute you step through its doors! Featuring a free kids' camp program and lots of other cool activities for parents and children, this place is surely a keeper!
Borrow some of the beach toys from the staff and go out to enjoy the Caribbean Sea with your family on the resort's beach. You'll probably be happy to know that there's also a golf course, a spa, and a fitness center on-site as well. When you're not swimming in the 2 outdoor pools or relaxing in your spacious suites, plan a tour of the island through the resort concierge.
7. Secret Harbour Beach Resort – set on a private beach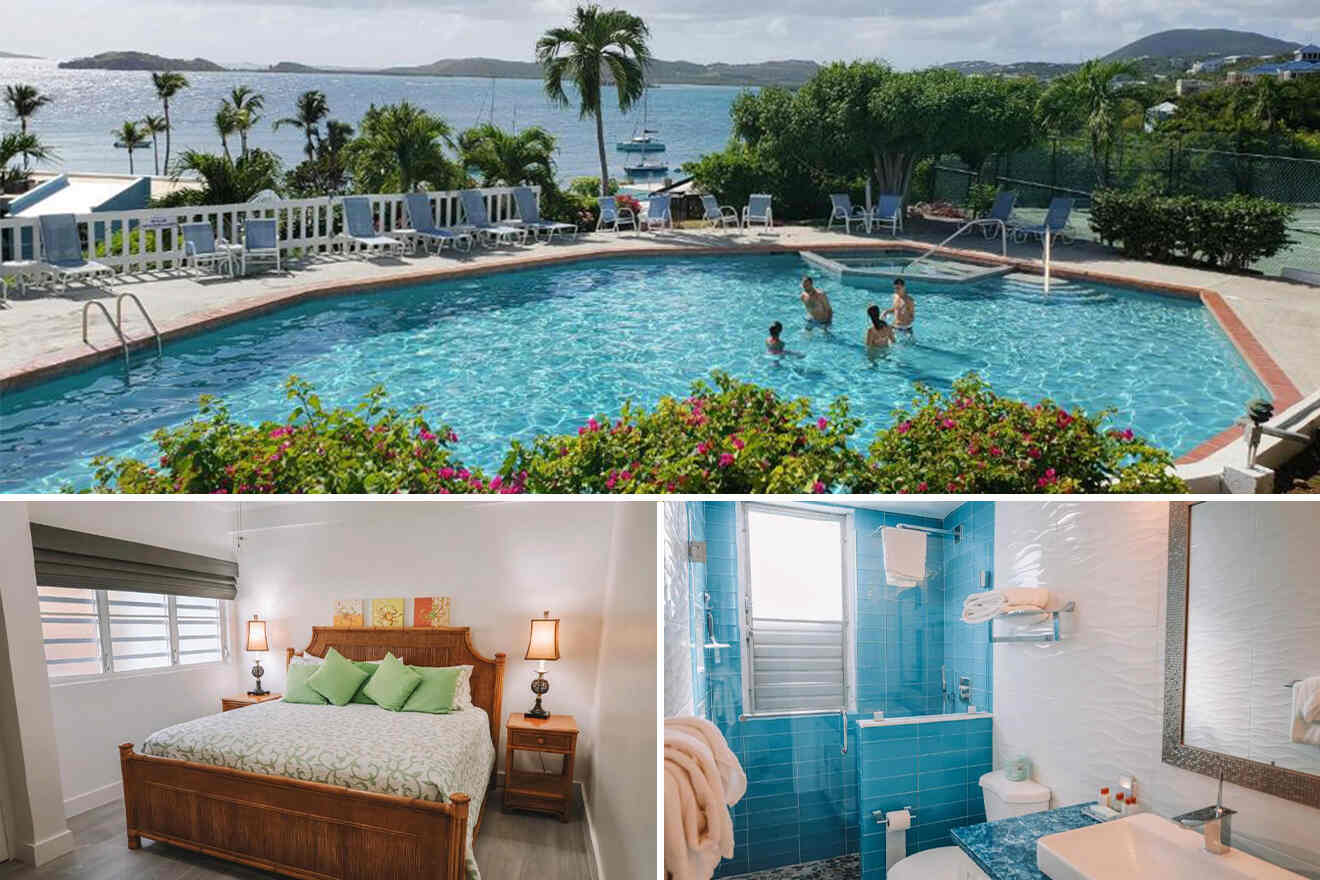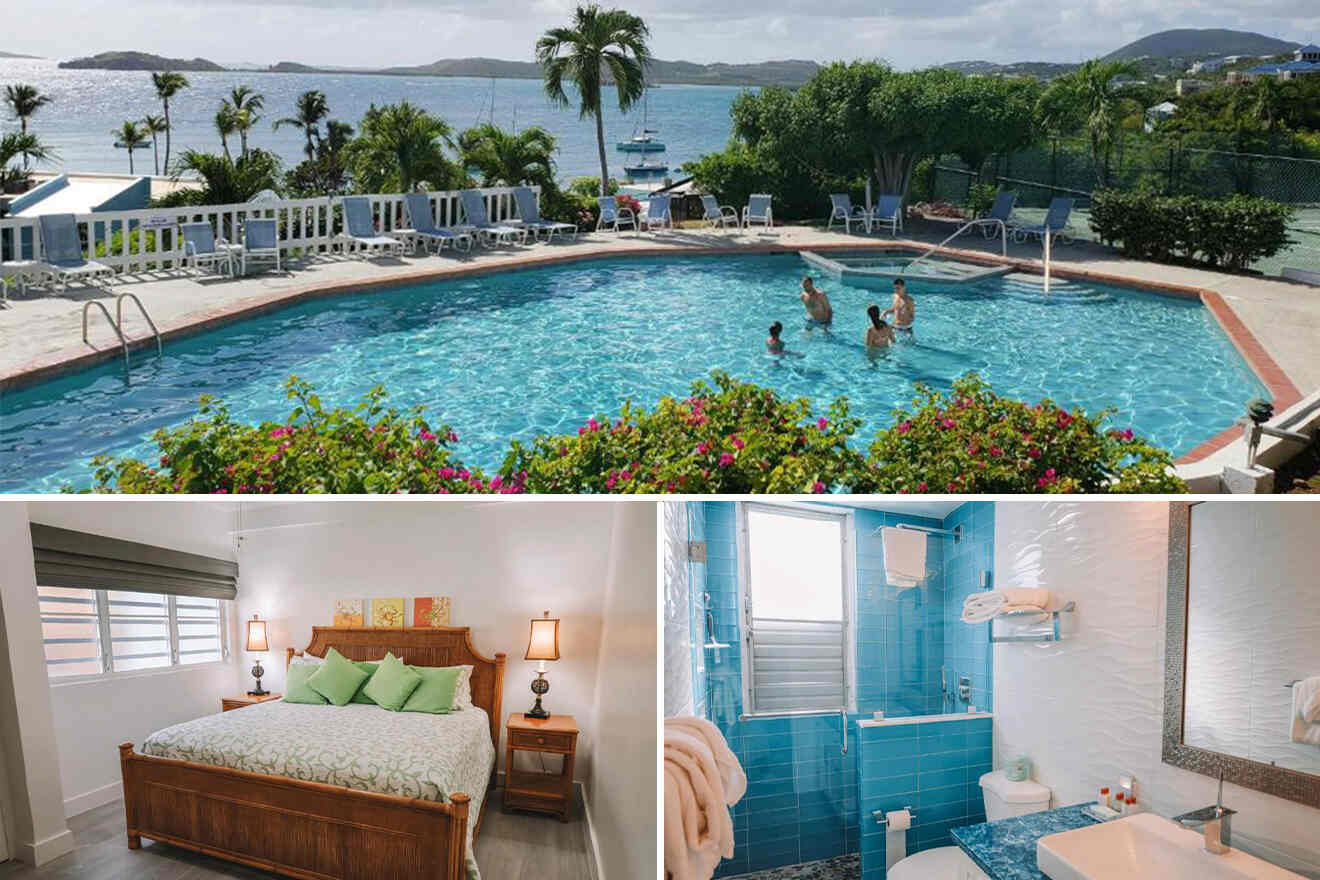 This resort offers everything you need for your stay on St. Thomas Island, including a stunning location on a private beach, 2 restaurants, and rooms with a private balcony! Those are just a few of the incredible things that you'll find here.
I hope you're ready to chill in the freshwater pool all day long, go on boat trips, and try different water sports with your kids! You can start your morning with a yummy breakfast at the beachfront restaurant. Don't forget to book your family resorts in the US Virgin Islands in advance because, trust me, they will sell out fast!
8. Sugar Apple Bed and Breakfast – for the convenient location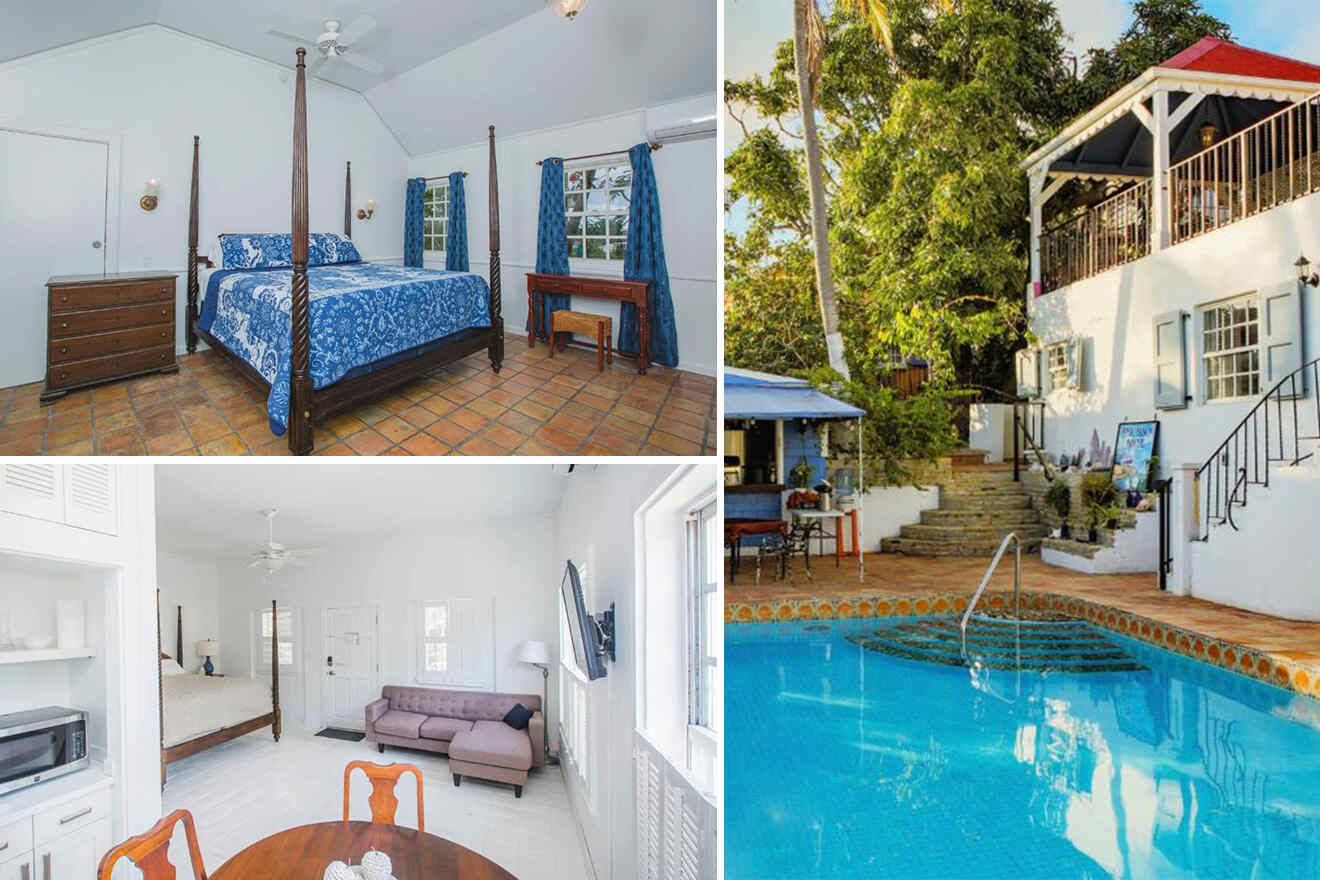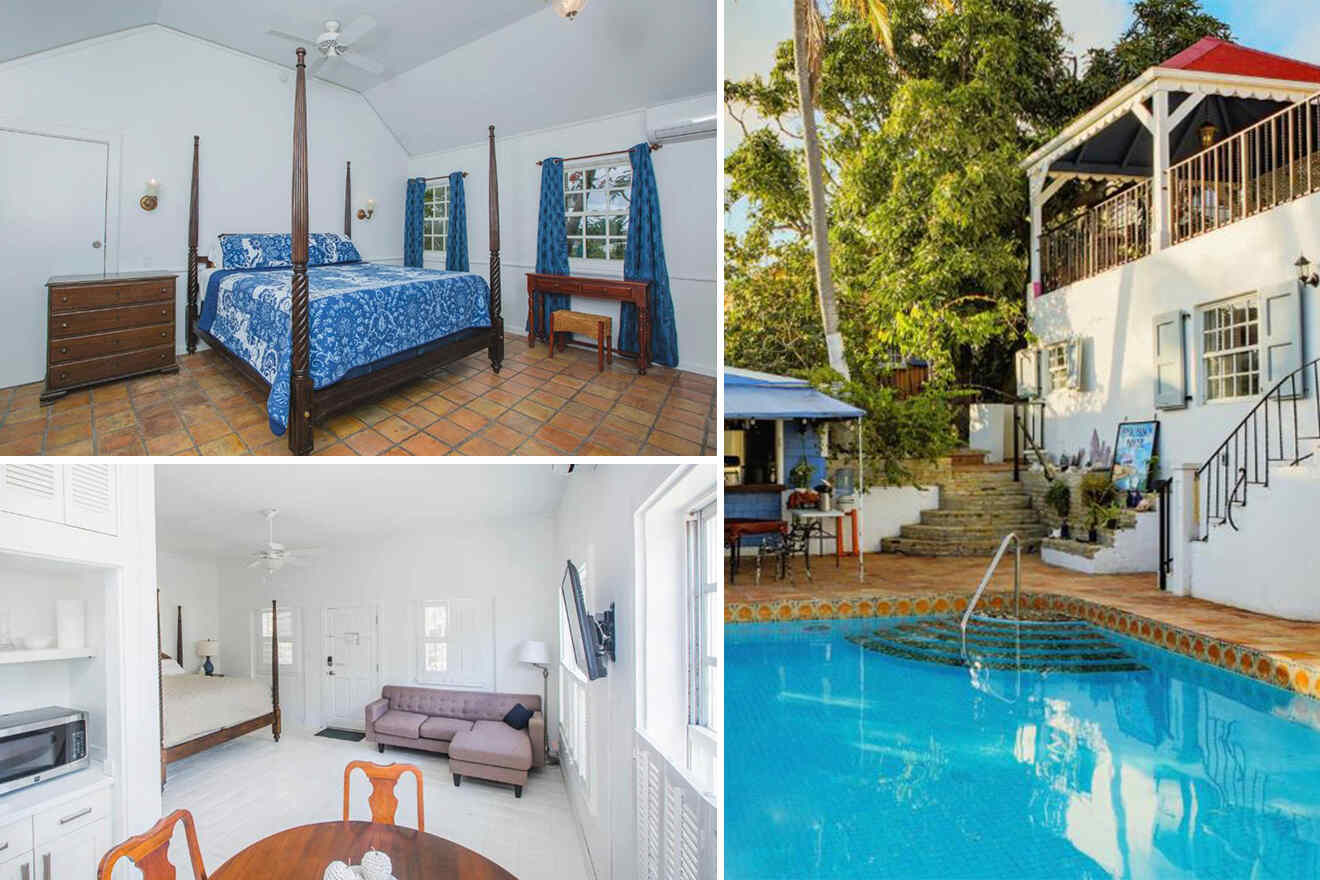 Located in Christiansted on St. Croix Island, this resort offers the perfect setup for your family vacation! Its super pleasant atmosphere and comfortable rooms, which are pretty spacious and have all the facilities you need, will make you feel just at home!
It also has a super convenient location near some other attractions (besides the beach) that you should definitely check out while you're here. But on the days you just want to relax, you can hang out by the outdoor swimming pool or even take a yoga glass. The boutique hotel also offers some fun tours and water sports like snorkeling and diving.
BONUS: Best VRBOs in the US Virgin Islands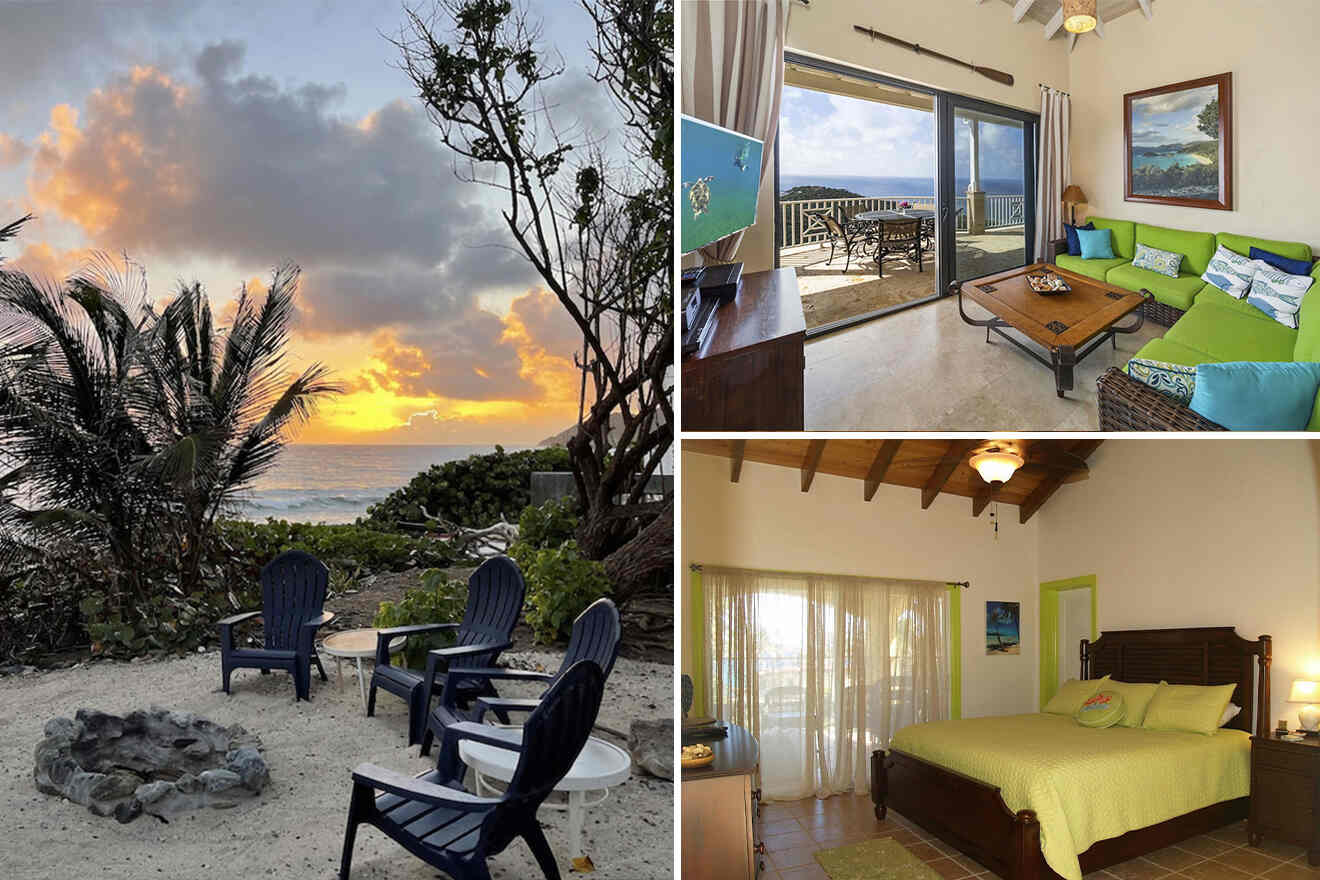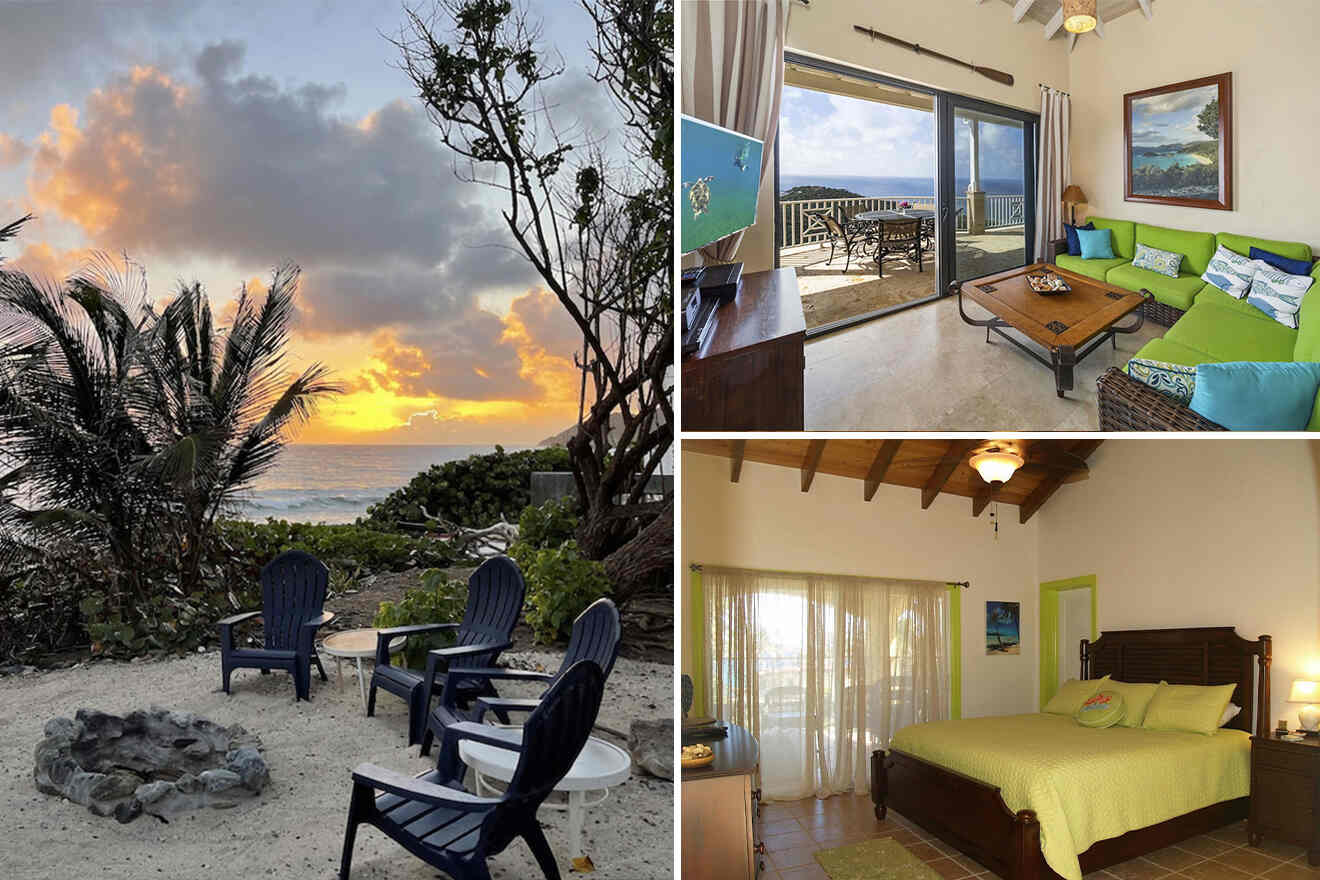 Since there aren't lots of family resorts across the islands I've decided to make a bonus section with some incredible vacation rentals that have all the facilities you'll need for your family trip to this incredible destination!
The prices start from US$600 to US$1,000, and I've listed them from most to least expensive so you can easily pick:
Oceanfront Villa – Tucked away between the lush grounds on St. Thomas, this beautiful villa is set right by the beach, and it can fit up to 12 people. The accommodation has lounge chairs, a pool, lots of games and a fully equipped kitchen.
Stylish House – Wake up to a stunning view of the Caribbean Sea while staying at this St. Croix villa has space for 14 people. You'll find all the facilities you need at this place, including an outdoor pool, a fire pit, and outdoor furniture.
Palm Vista – What a dreamy place! Set on St. John Island, this fabulous villa offers some stunning views. With room for 6 people and offering so many incredible amenities like a swimming pool, a porch, and a dining area, this place can't be missed!
FAQs about US Virgin Islands all-inclusive family resorts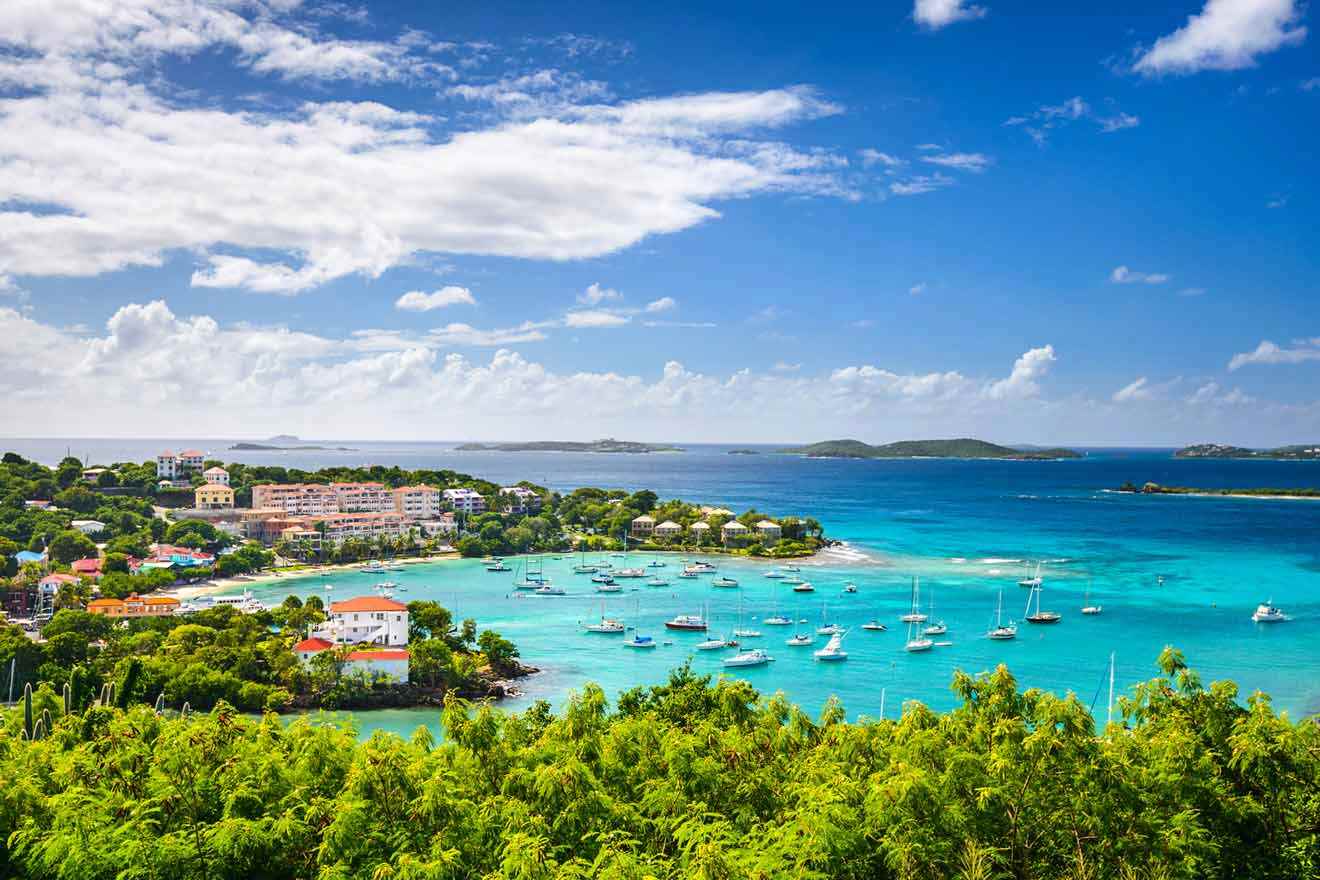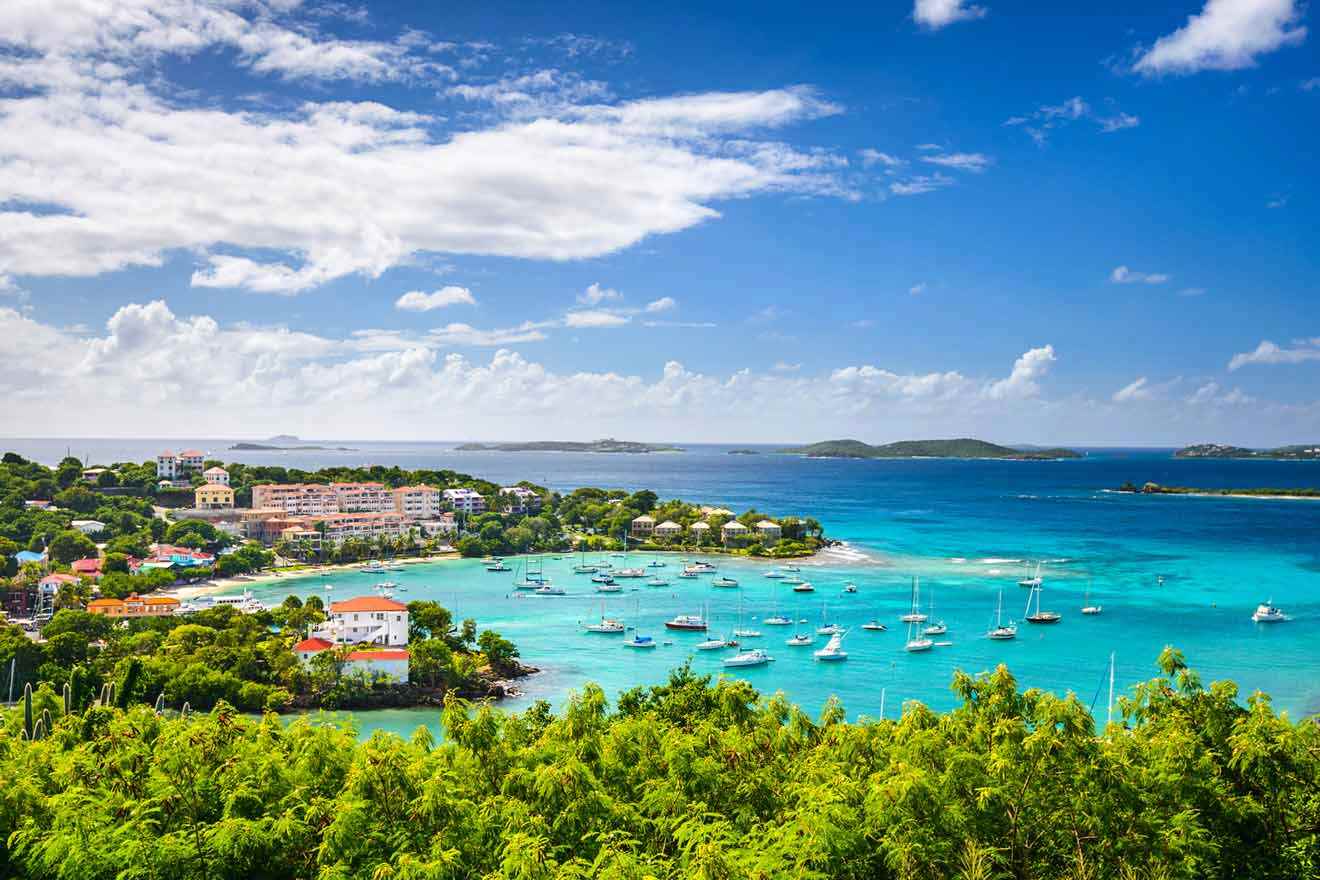 👪 Are the US Virgin Islands good for a family vacation?
Yes, the US Virgin Islands are a great destination for a family holiday as there are many things to do here, from visiting a national park to snorkeling and going on a ferry ride.
🤔 Do the Virgin Islands have all-inclusive resorts?
Divi Carina Bay and Bolongo Bay are the only resorts that offer a classic all-inclusive package. However, both accommodations have very low scores, so I wouldn't recommend them unless you exclusively want to stay at an all-inclusive hotel.
📅 Which is the best time to visit the US Virgin Islands?
April to June is the best time to visit the U.S. Virgin Islands. The weather is at its best during that time, and there isn't too much rain.
🏨 Which is the best family resort on the US Virgin Islands?
Conclusion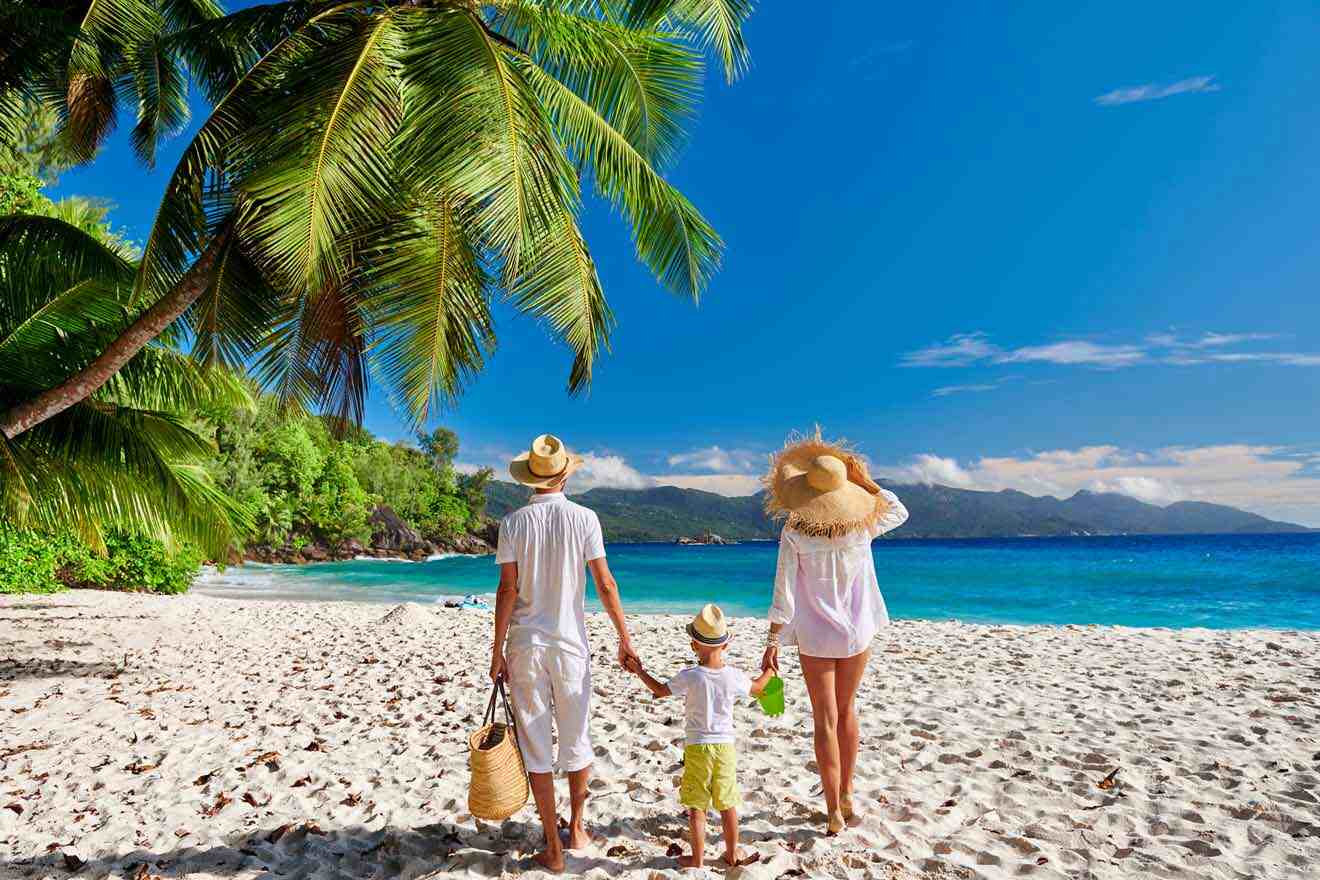 Already dreaming about chilling by the poolside bar drinking unlimited cocktails, and admiring the views? Me too!
And now that we've seen the best US Virgin Islands family resorts plus a list of vacation rentals, you're ready to hit the road and jump on the plane!
Don't forget that the Virgin Islands don't have the classic all-inclusive resorts, but as I mentioned, I've only included the places that offer the same facilities, only you'd have to pay for them separately.
While we're on this chapter, I want to leave you with my 2 favorite Virgin Islands hotels, in case you're in need of some inspiration:
Marriott's Frenchman's Cove – Set on the southern coast of St. Thomas Island, this hotel offers concierge services, 2 swimming pools, and a children's playground
Gallows Point Resort – This Saint John resort is surrounded by lush tropical gardens and has an outdoor pool and a private beach area
Remember that it's super important to book early at your resort, as these will definitely sell out so fast!
Enjoy your trip, and if you've got any questions, you can always drop me a comment below!
Safe travels,
Victoria
---
Pin it for later!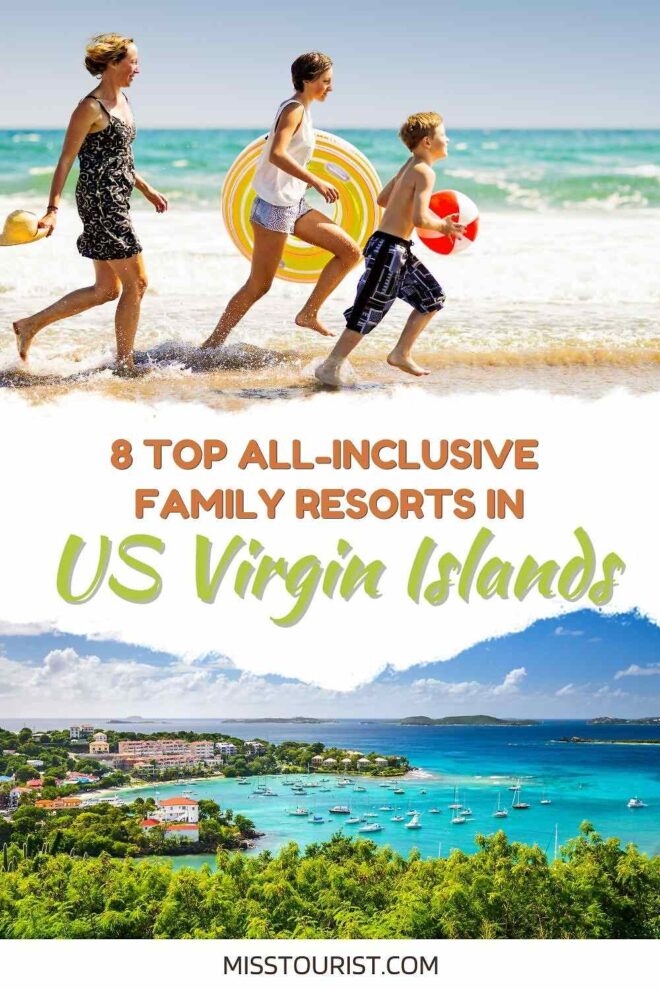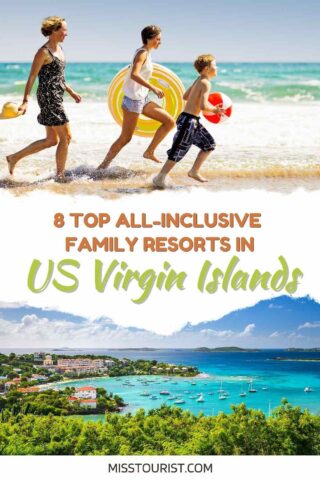 Pin it for later!