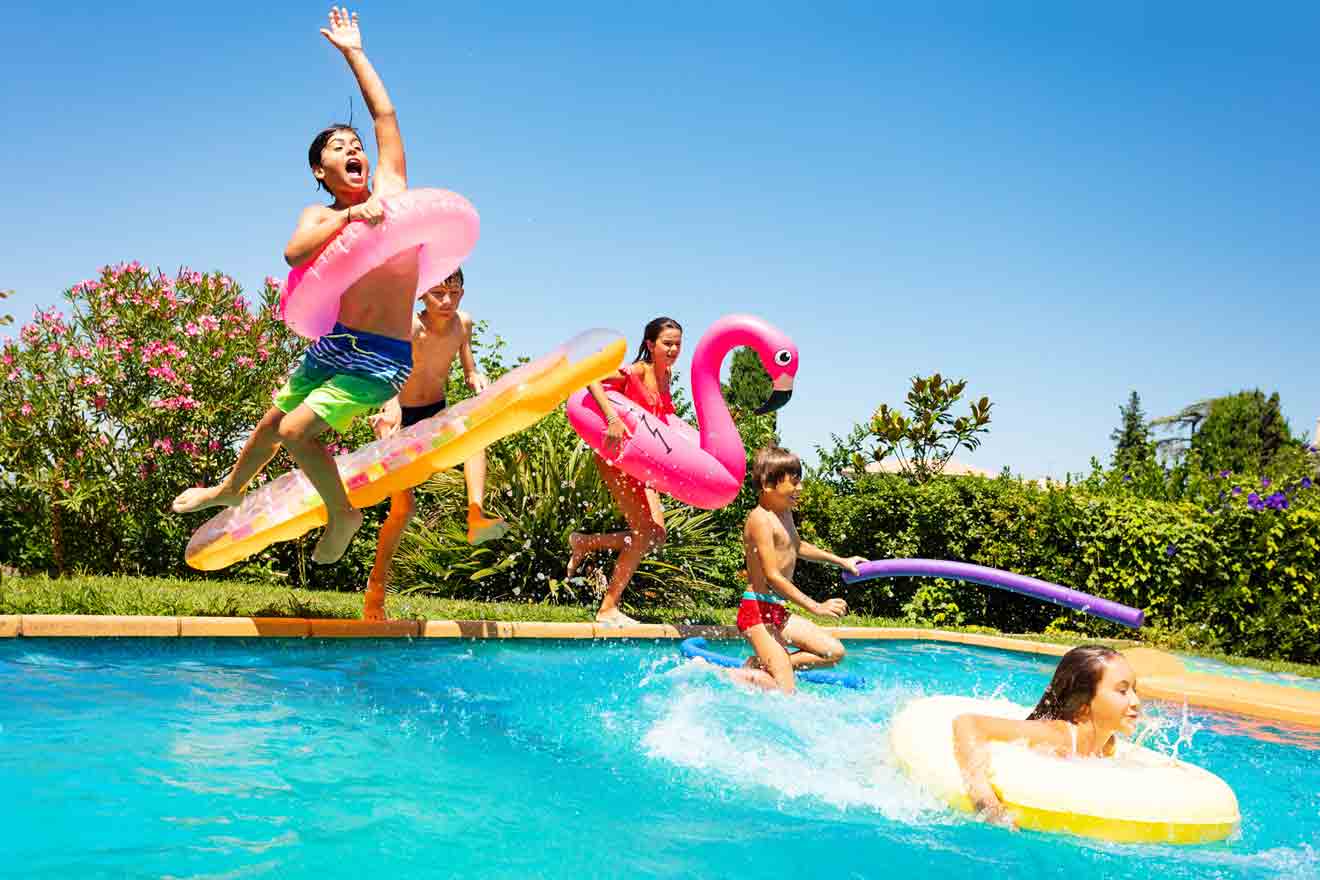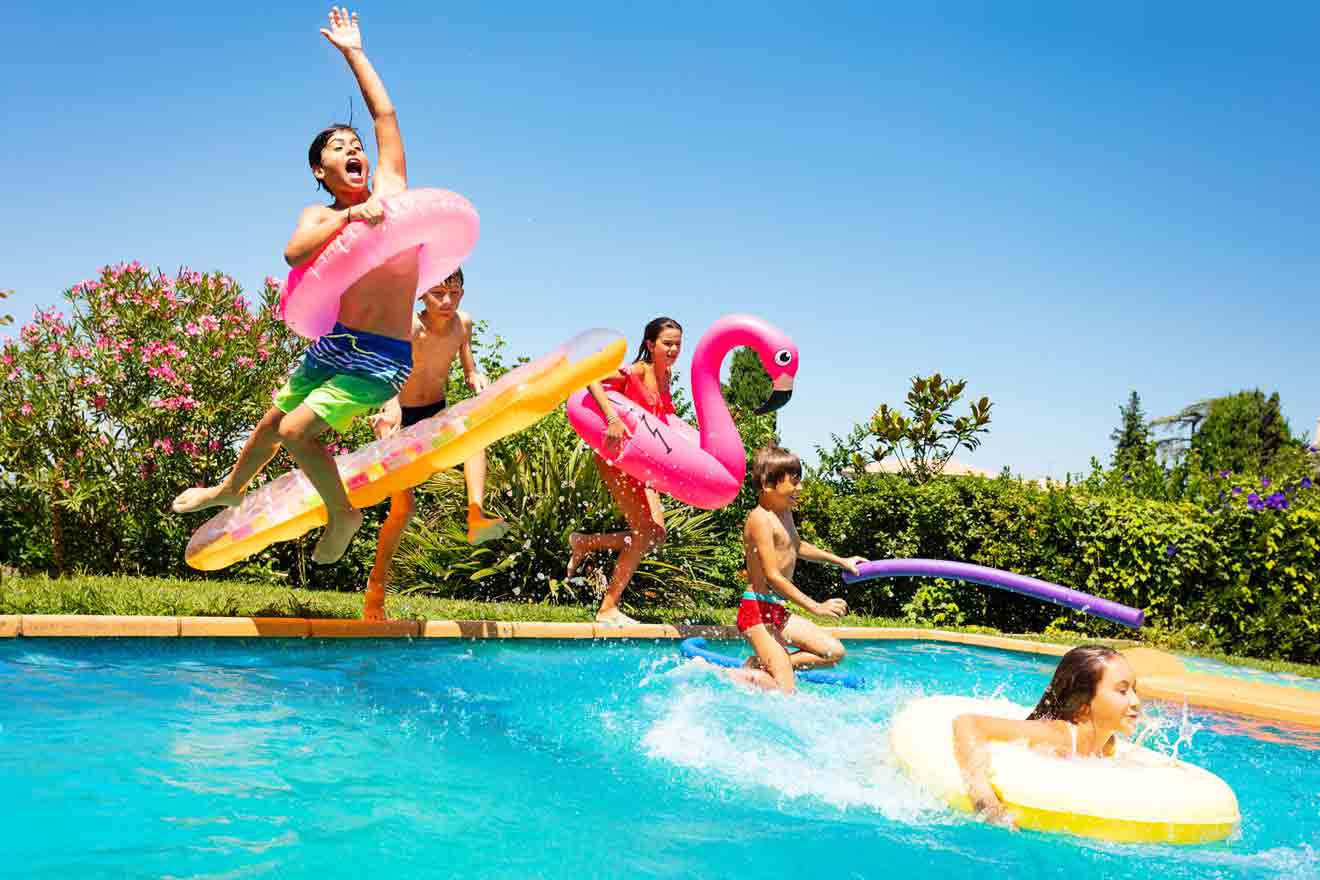 Ready to soak up under the Puerto Rican sun and spend quality time with your family? This place is perfect for family holidays and today I'll help you plan the perfect holiday!
In this post, you'll find the best family resorts in Puerto Rico that offer all the facilities you need for your stay! I've searched the web for hours to find the most stunning spots. And I've found so many that I've also decided to add a bonus with 3 incredible family villas!
NOTE: But before we get into all that you should know that Puerto Rico doesn't actually have the true all-inclusive resorts where you pay a big sum and have all the facilities included in your price.
But don't worry because all the resorts that you'll find in this post have all the same facilities that you'd pay for the classic vacation packages like restaurants, spas, and watersports, except that you'll only pay for what you use.
And last but not least, I really recommend booking your favorite beach resort in advance. As you know Puerto Rico is super famous and everything sells out fast!
Vamonos!
If you are in a hurry
If you're just passing by then have a look below, where you'll find the best family resorts in Puerto Rico:
Although Puerto Rico is not a big island, here's a map so that you can see where each resort is located:
1. La Concha Renaissance San Juan – modern resort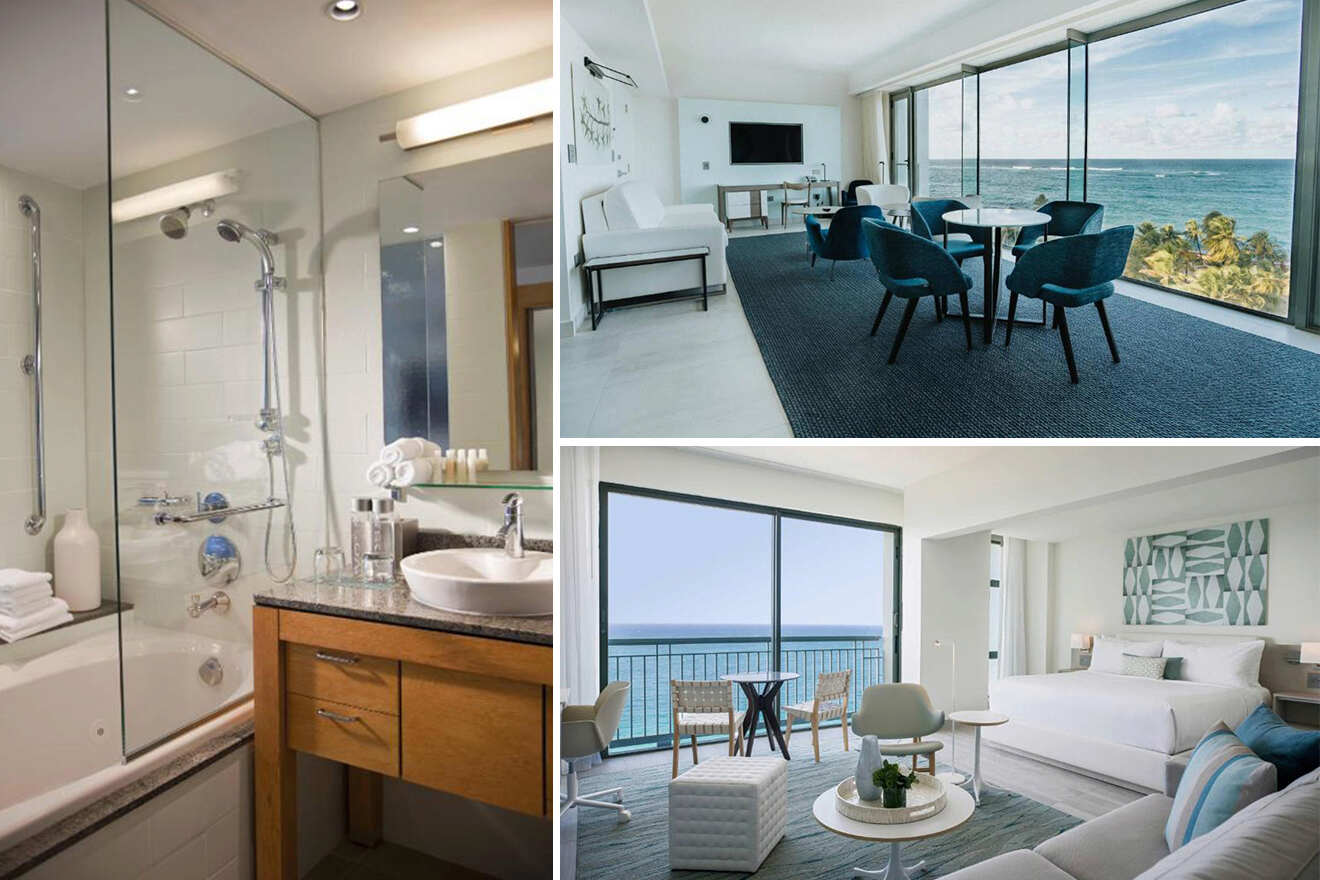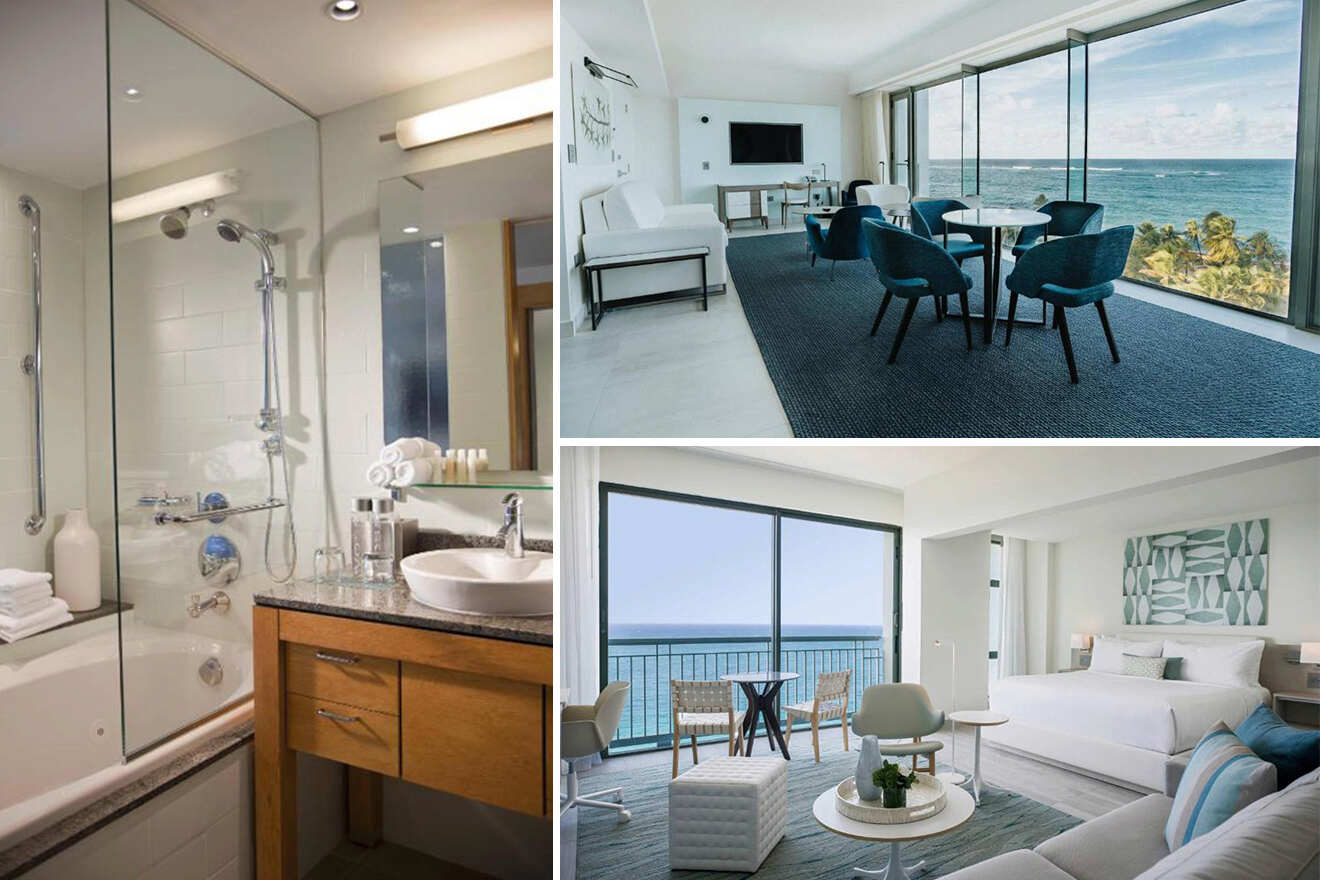 Your family vacation in Puerto Rico will be unforgettable! Especially after staying at this amazing hotel set on Condado Beach in San Juan! The accommodation has bright rooms, decorated with modern furnishings that overlook the ocean from the private balconies!
You'll also find that the infinity pool offers some breathtaking views, so definitely head there to catch some sunsets.
As for their facilities, you'll find all you need here from restaurants (including a fabulous upscale Italian restaurant), a spa center, on-site babysitting service (for when you need a bit of time for yourself) and even bicycles to rent if you want to explore around with your family!
2. Hyatt Regency Grand Reserve – for a fun getaway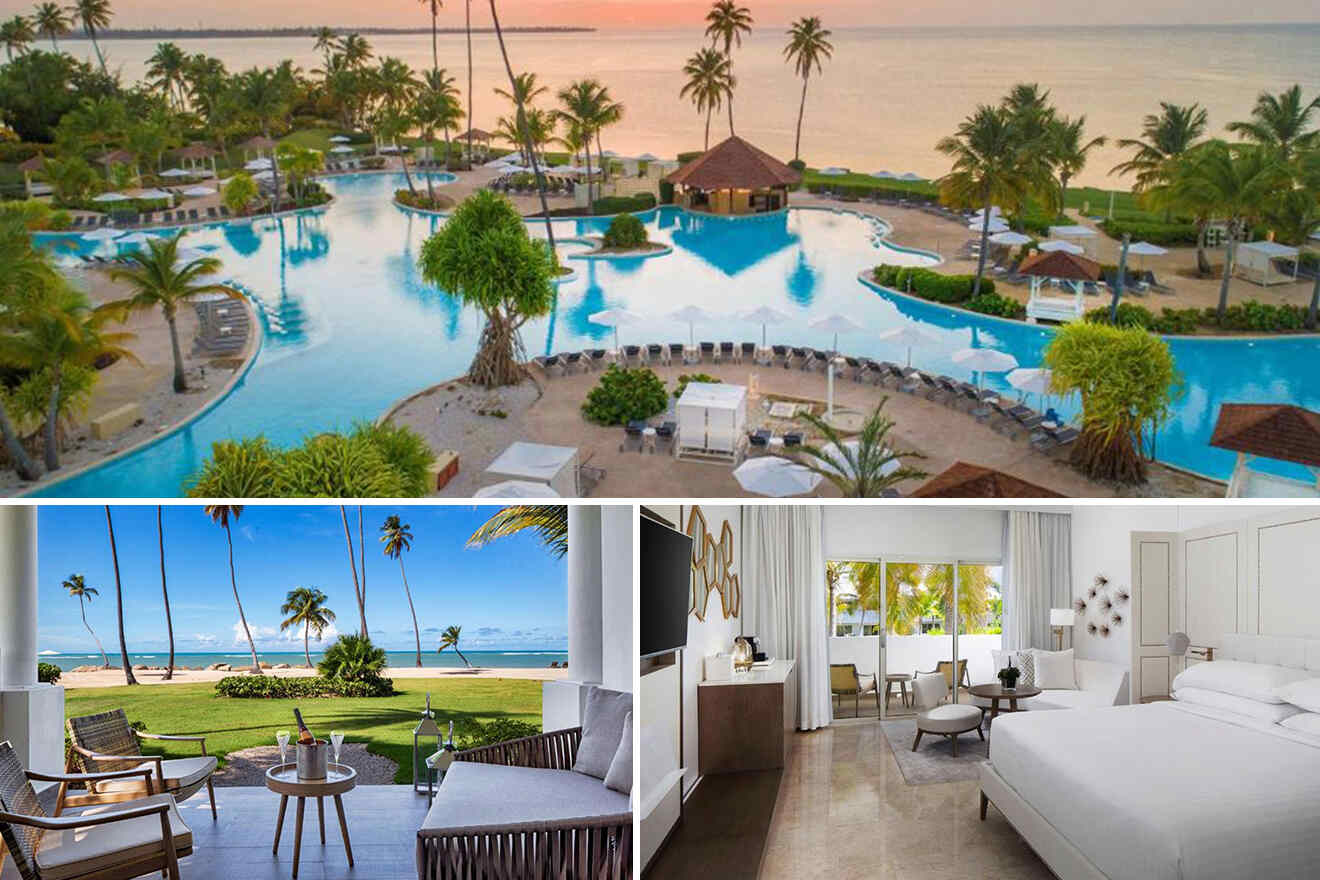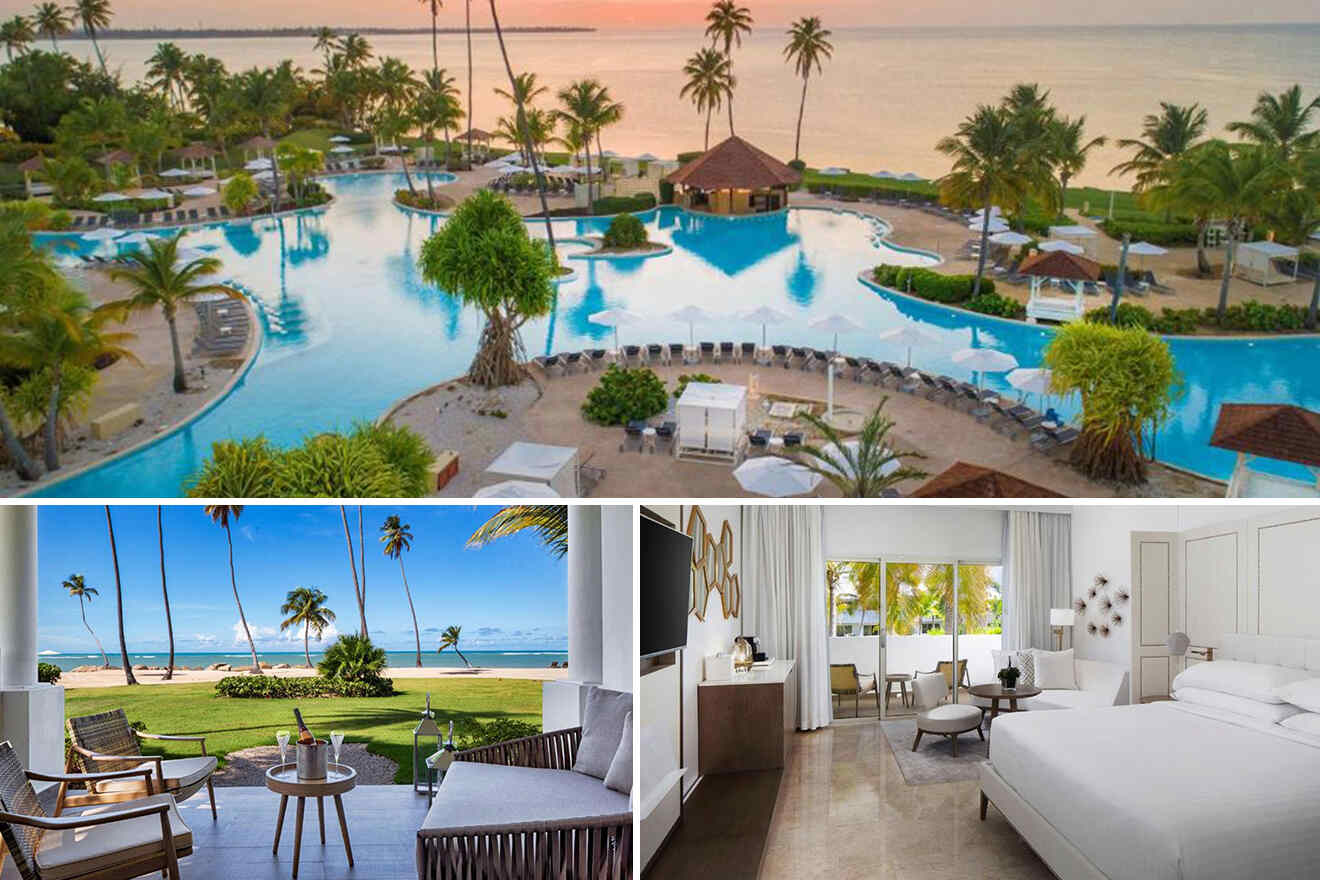 Once you settle in the spacious accommodations at this resort, you'll never want to leave! Everything from the decor to the services will put you in a holiday mood the minute you arrive here! Set in a secluded location on Coco beach, the accommodation comes with tennis courts, golf courses, a lagoon-style pool, and a pool bar.
And, of course, lots of family-friendly features like a kids club, watersports, a playground, and bicycle rental. The list can go on, but I don't want to take the element of surprise. The rooms are beautifully decorated with bold colors and mahogany furniture.
3. Sheraton Puerto Rico Hotel & Casino – fancy resort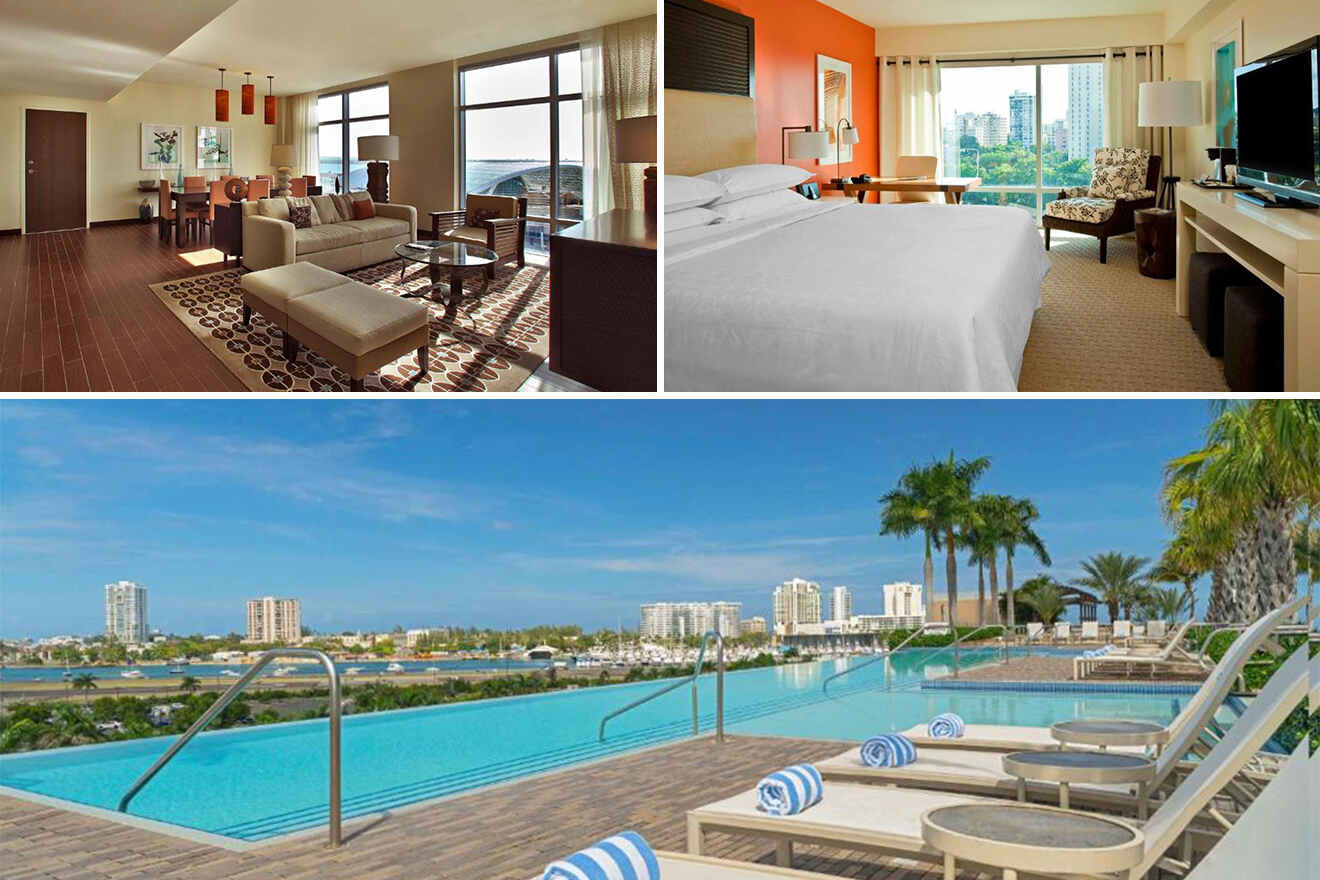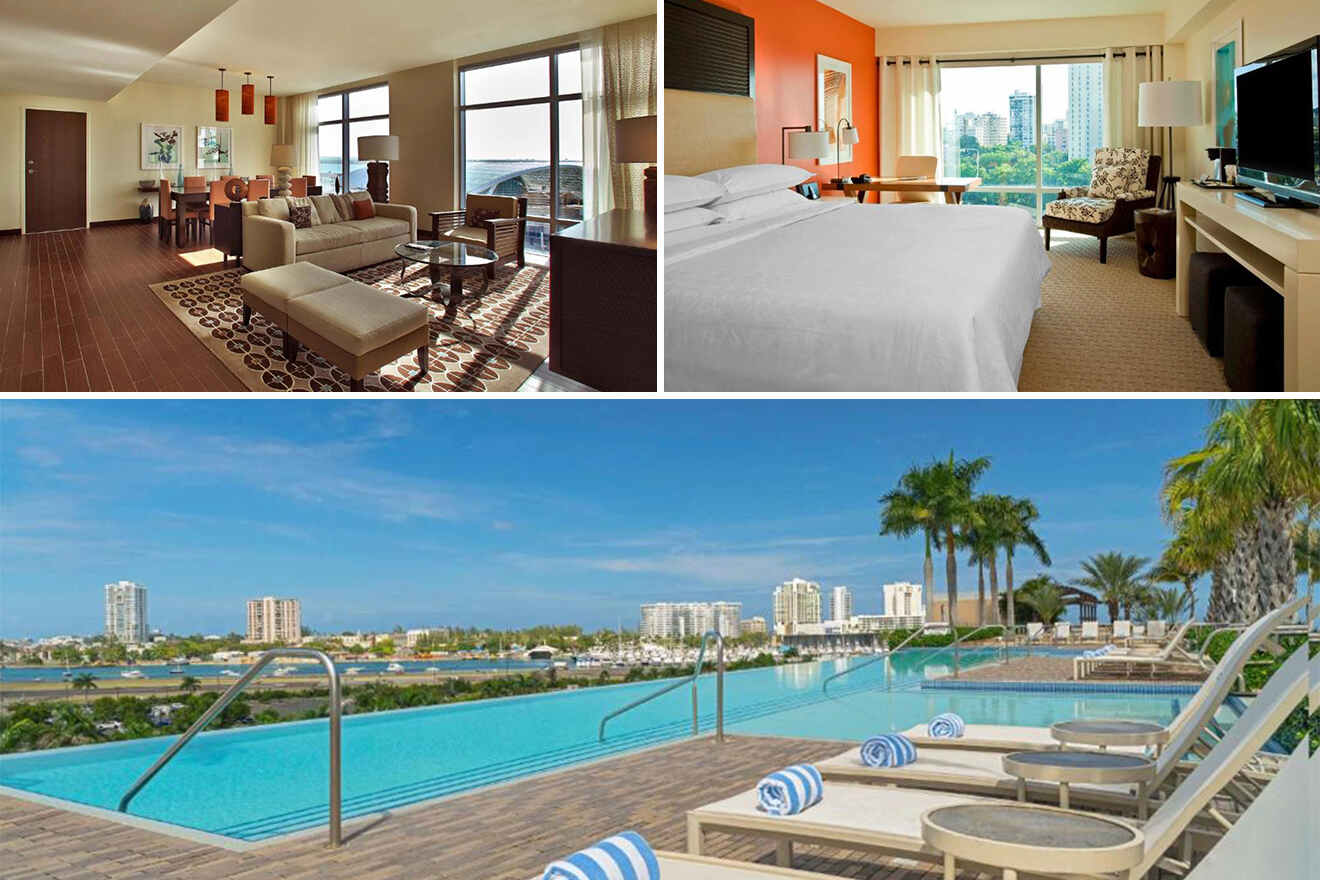 I bet everyone is already dreaming about chilling on a white sand beach in Puerto Rico! I know, I can't help it either! And if you're still looking for a hotel then check out this one which is located 4 km (2 miles) away from Old San Juan!
With modern decor and many fantastic amenities for every age group, like the Bay Pool Bar, a kid's pool, and a hot tub, this place will definitely become one of your favorites! Just wait until you see their bright and shiny family rooms that come with floor-to-ceiling windows, a flat-screen TV, and all the other stylish decor.
4. Villa Montana Beach Resort – with lots of activities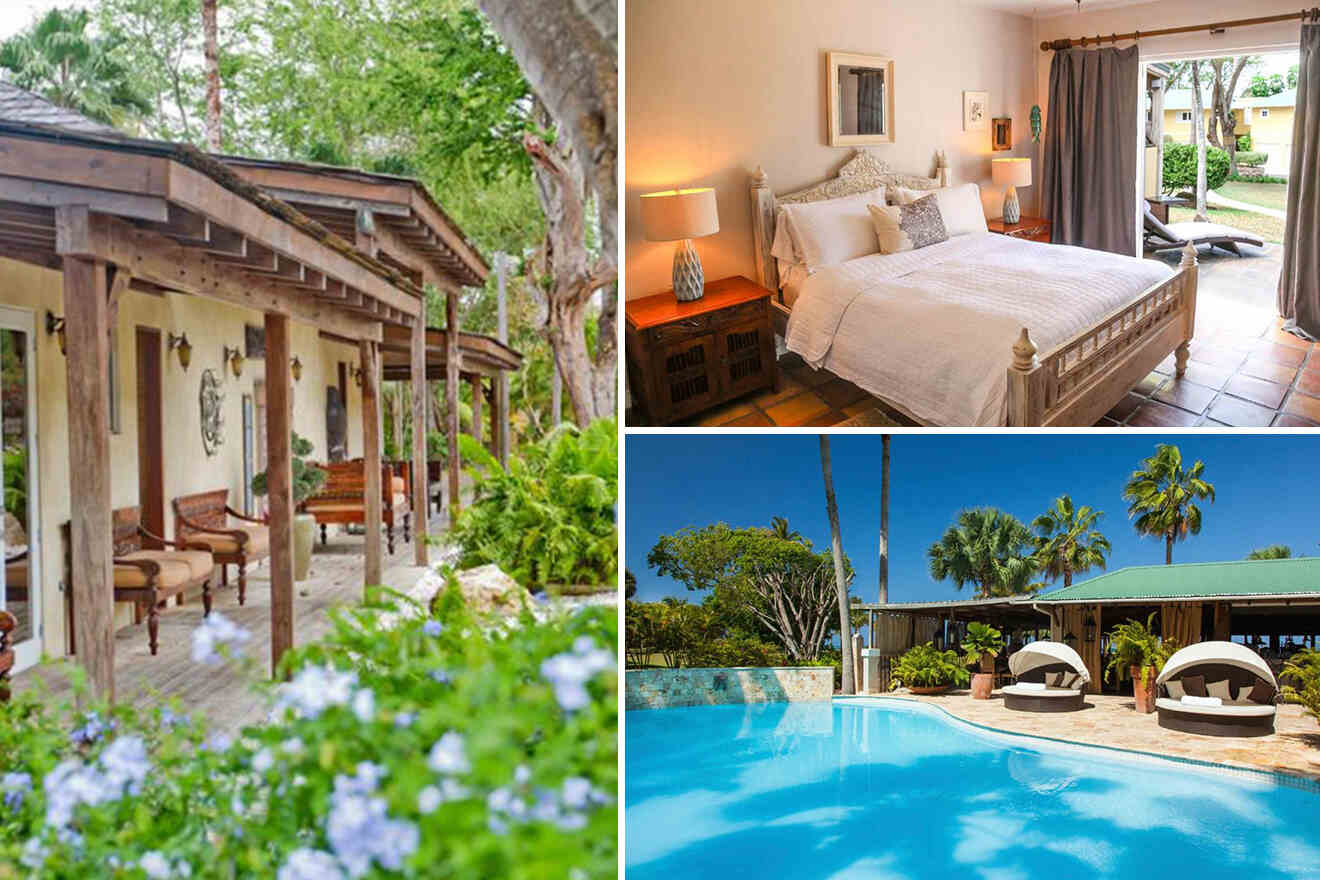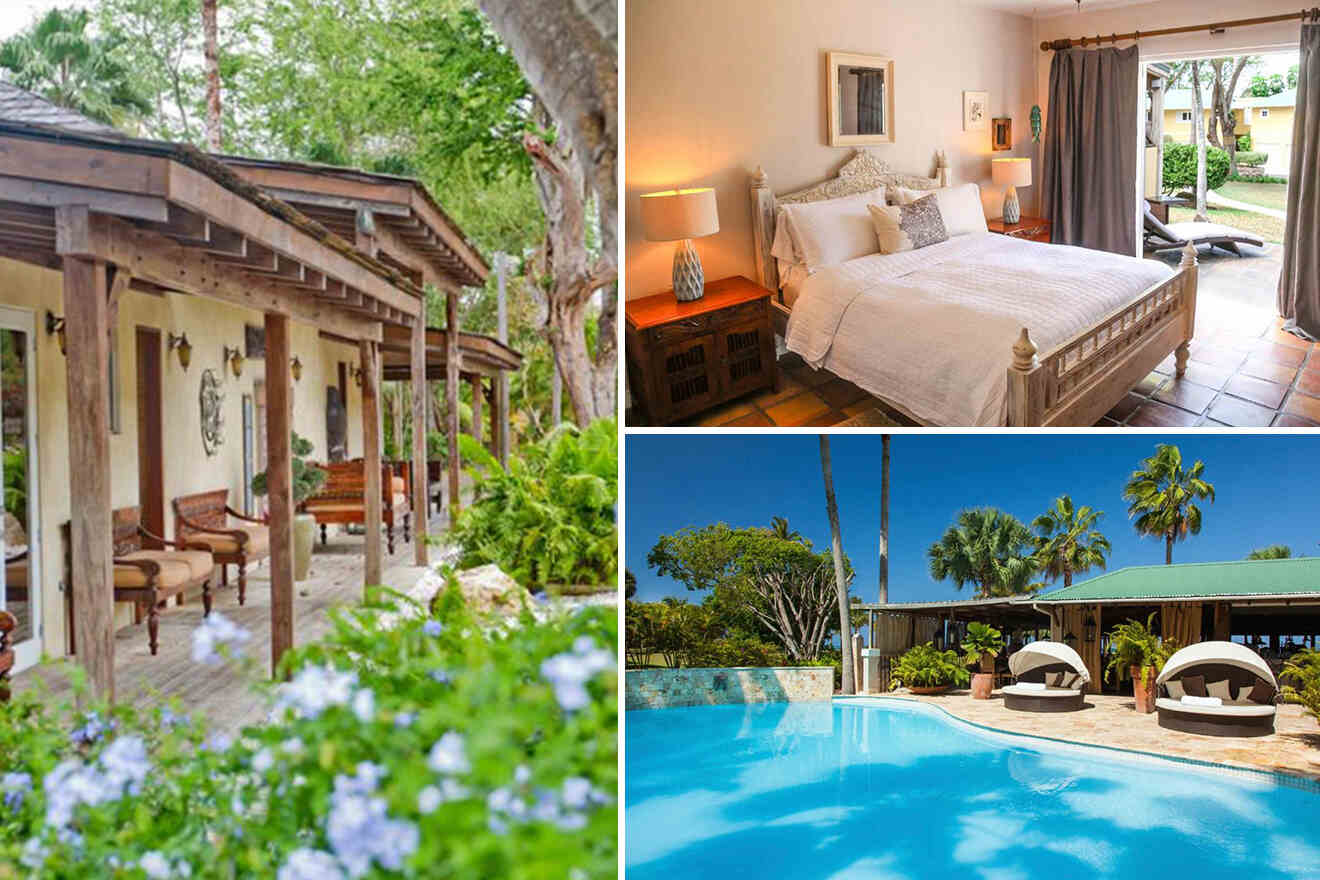 If you are looking for a place to spend your family vacation in Puerto Rico that is a bit more tranquil and feels super homie then I think you're going to love this beach resort!
Surrounded by lush vegetation, this accommodation has such a pleasant ambiance and it owes it all to the location but also to the room design which includes earth tones and terracotta tile flooring.
You've got lots of fun activities to try here from horse riding to snorkeling and playing tennis! But for the days when you just want to do nothing and spend some quality time with your family, you can grab a few loungers and enjoy the sun by the pool!
5. Copamarina Beach Resort & Spa – offering great views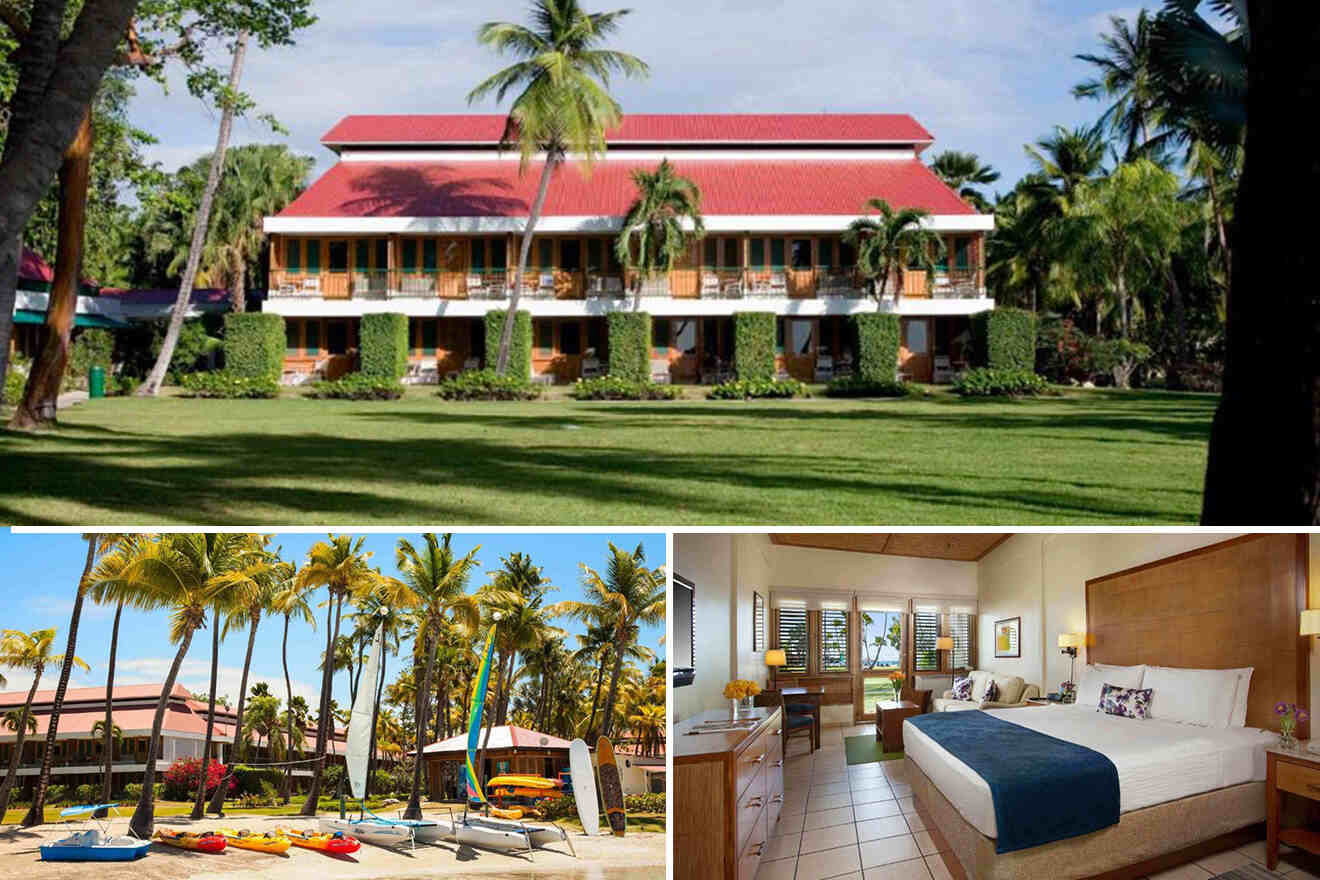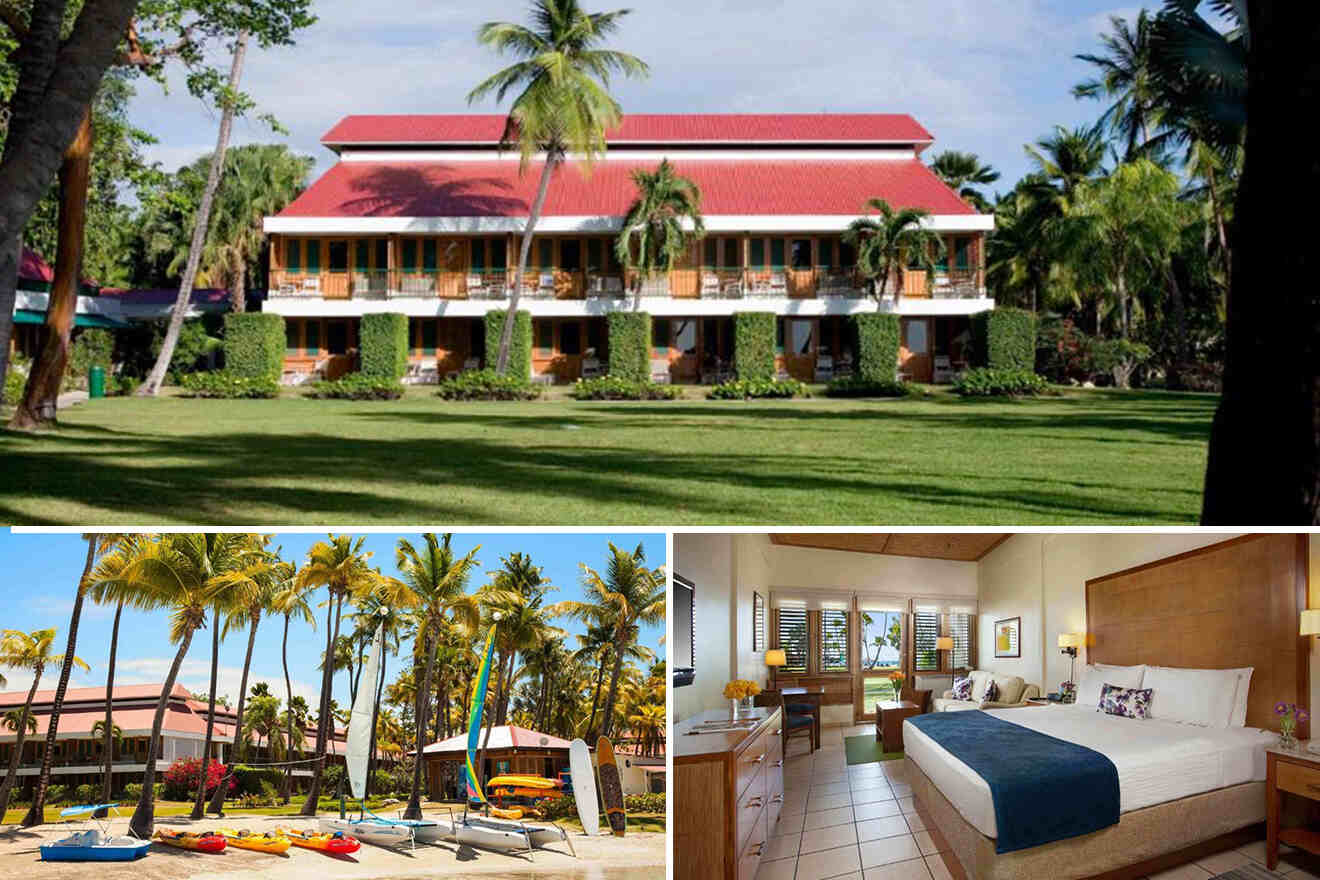 Ready for some fun in the sun with the whole family? Puerto Rico has so many incredible family resorts like this one which is surrounded by lush vegetation! Wake up in your beautifully decorated guest rooms and enjoy those ocean views, first thing in the morning!
Then you can all change and head to the two swimming pools to swim and get some vitamin D! I'm sure the kids will be happy to know that they have a whole playground and also lots of water sports that they can try like diving! And don't worry parents, the resort also offers a full-service spa.
6. Wyndham Grand Rio Mar Puerto Rico – unique place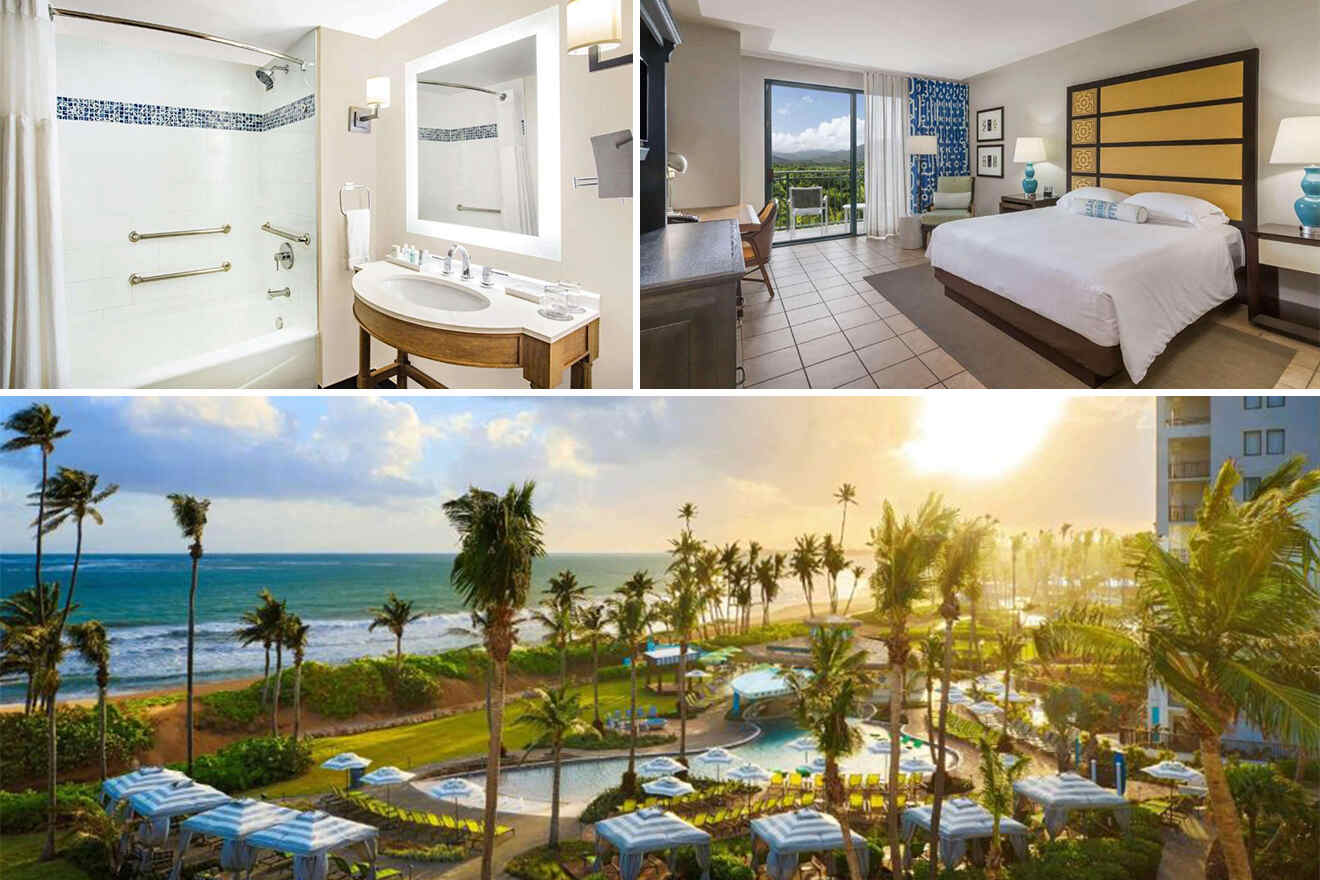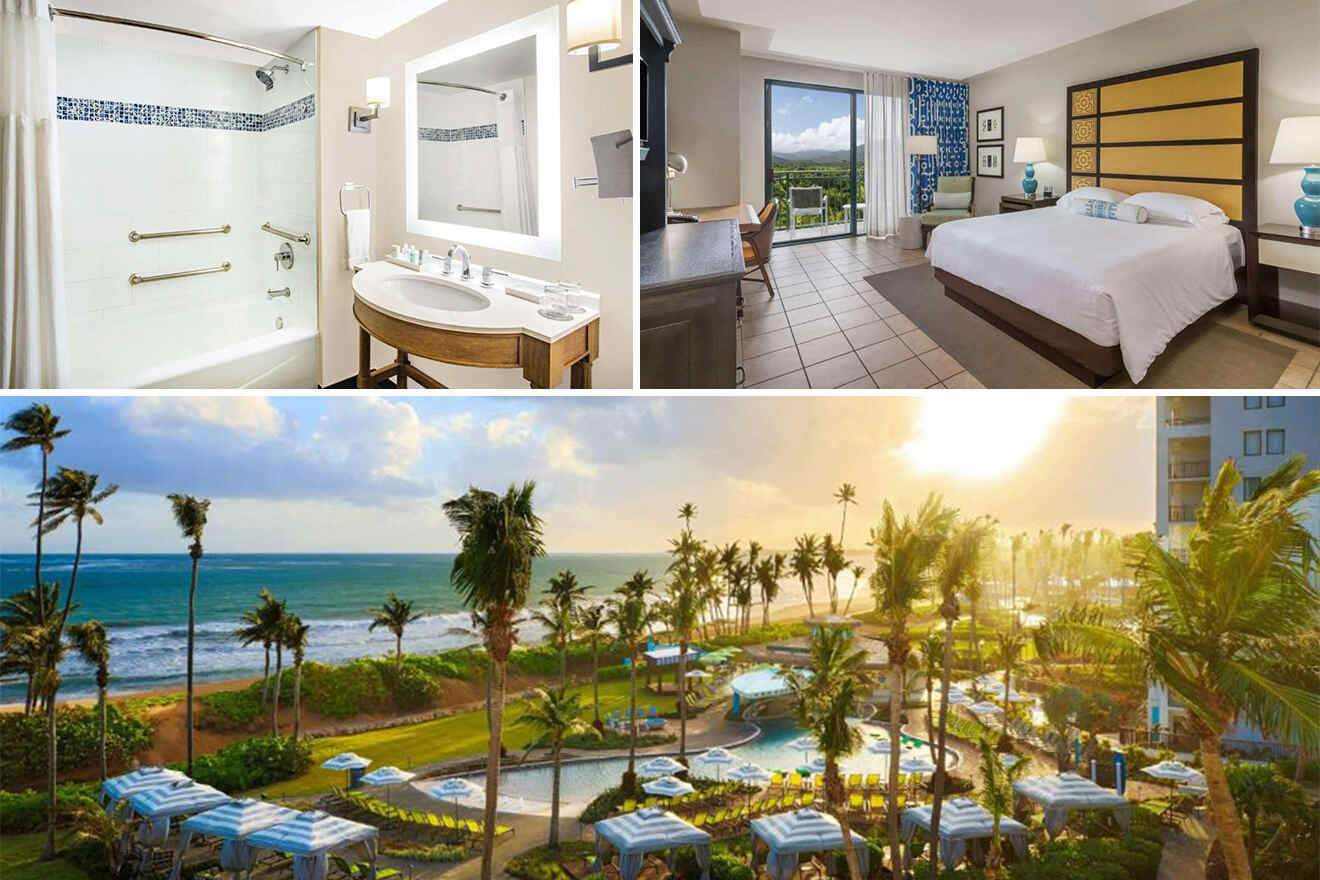 Set right by the ocean, this beach resort is perfect for your trip to Puerto Rico with the kids! It features around 8 dining options, and spacious rooms, and it has that elegant resort-style that we all love!
During your stay, you'll get to play on the tennis courts or golf course, enjoy the spa services and swim in the 3 swimming pools for as long as you want! All the rooms at this family-friendly resort come with complimentary wireless internet, lots of space to fit even numerous families, and a flat-screen TV. Don't forget to book your beach resort in Puerto Rico in advance, otherwise, you may miss your spot!
7. Hampton Inn & Suites San Juan – stylish resort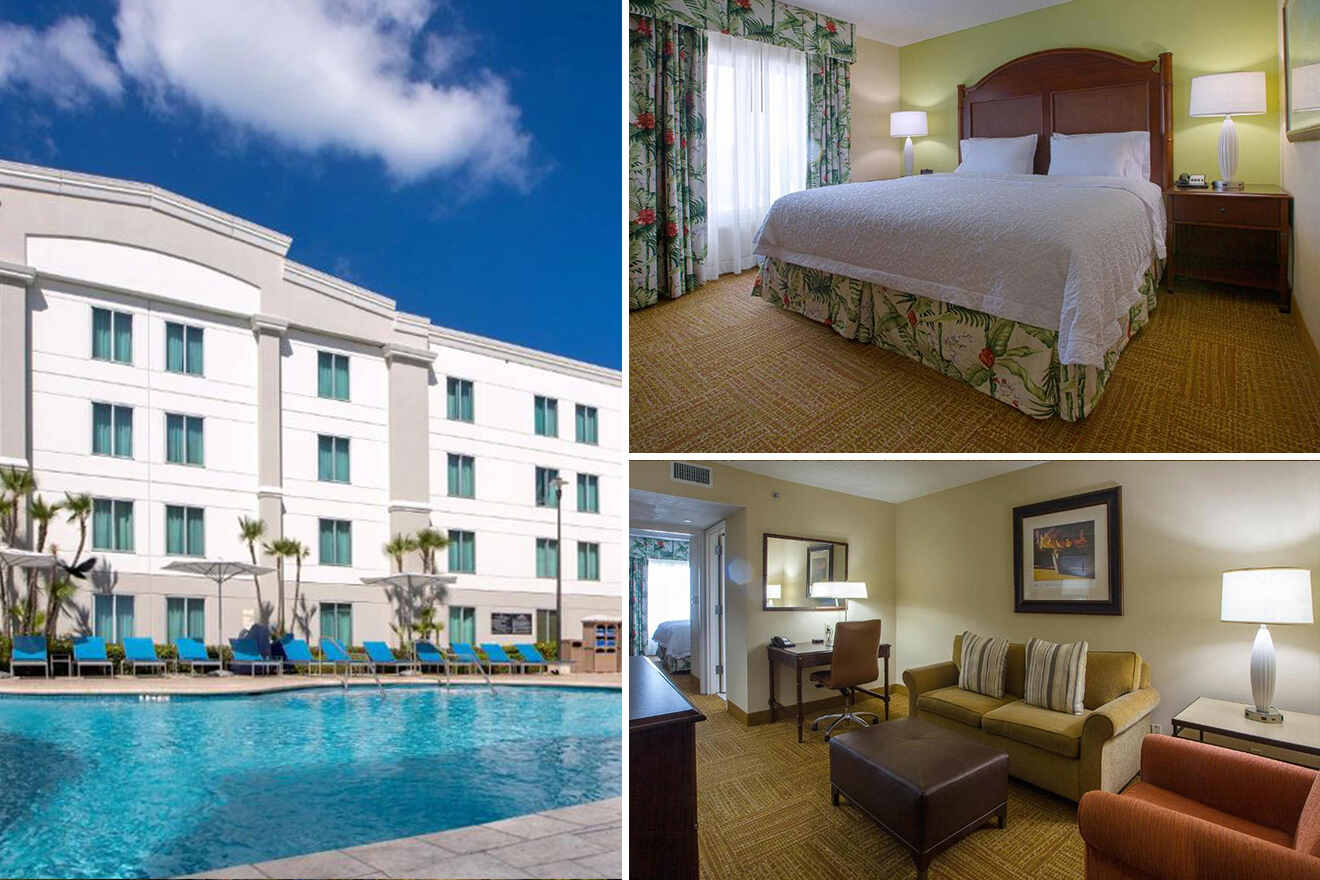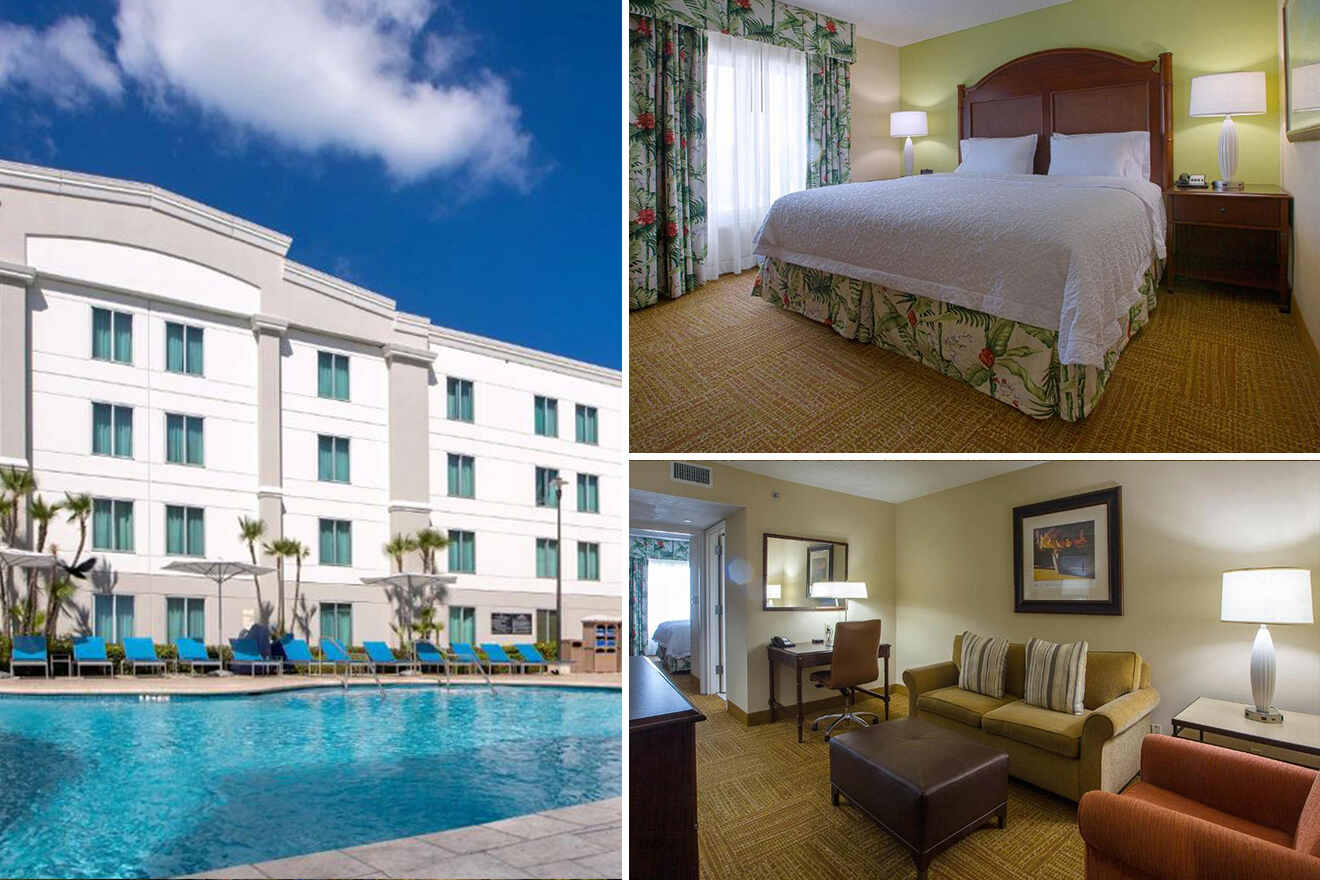 Finally, got the entire family together to go on a trip? Then you'll need a fabulous resort and Puerto Rico has plenty of those! Just like this one which is located in the Isla Verde area in San Juan. The accommodation has family rooms equipped with everything you need including free Wi-Fi and a flat-screen TV.
Enjoy your days with the kids by the outdoor pool and refill your drinks at the swim-up bar! I know the little ones will want to play all day long, and luckily you can borrow board games from the staff or take them to the outdoor play area. You can end your day with a fun movie night hosted by the hotel!
8. El Conquistador Resort – resort with a water park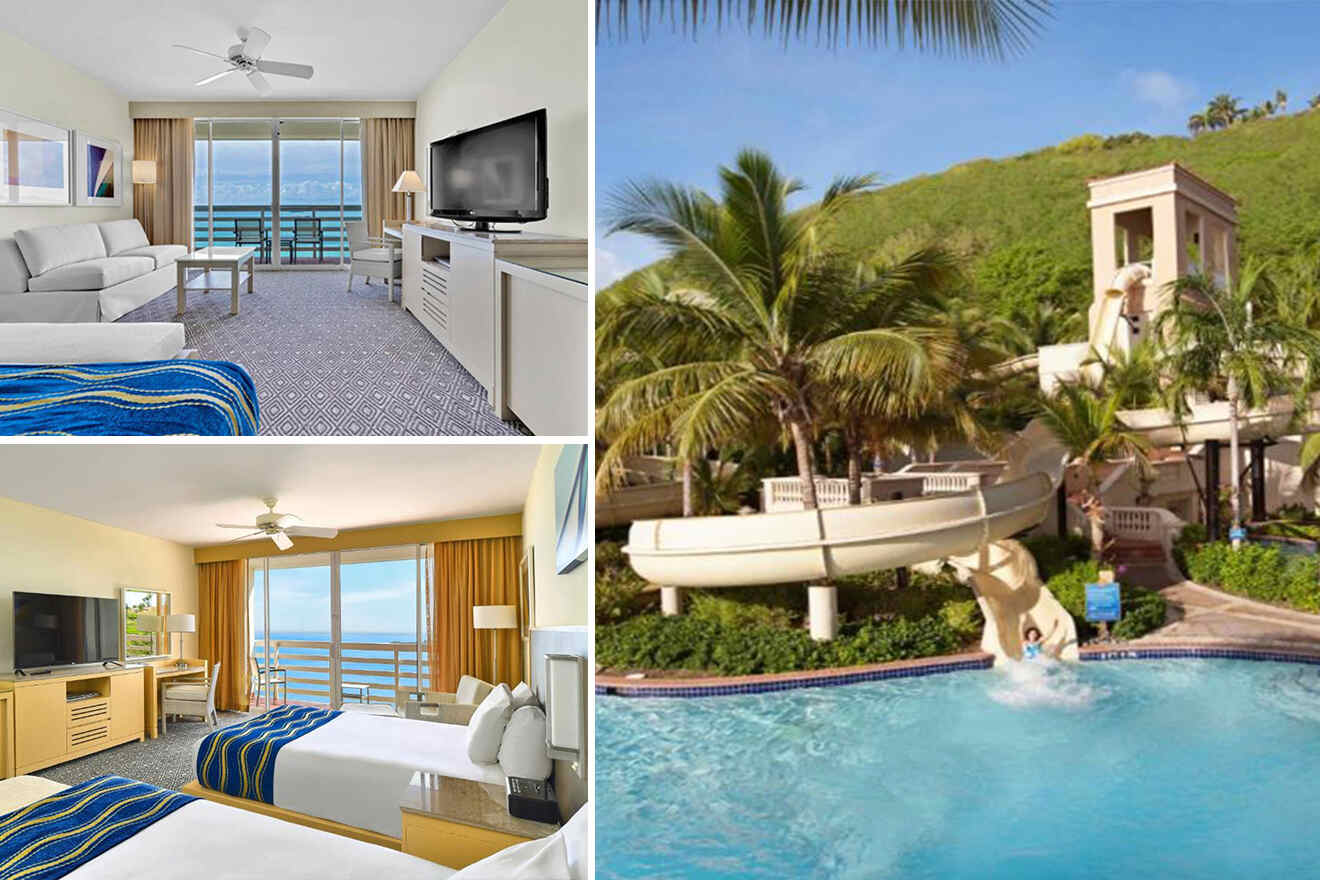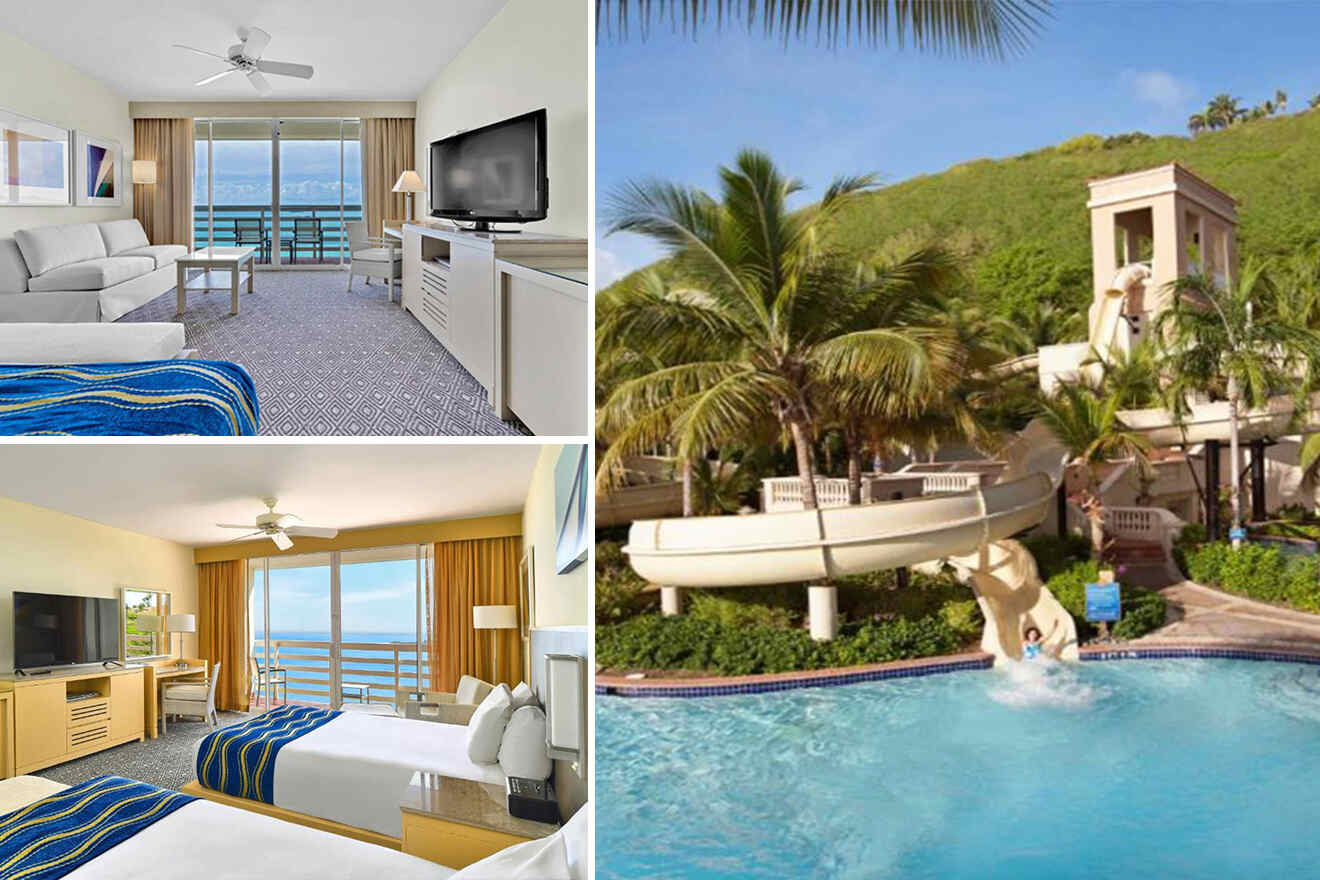 Who doesn't love some good old fun in a water park? Whether you're a kid or an adult your eyes will sparkle when you'll get to see all those super fun slides! This amazing resort has a fantastic water park and a stunning location on a private beach!
And that's not it! If you ever wanted to play on those fancy championship golf courses, now you've got the chance here on the Arthur Hills golf course! Oh yes, this place has it all! And I can't wait for you to start your days with a traditional Puerto Rican coffee at the Las Brisas Courtyard Cafe and to play with the kids in the indoor and outdoor play areas!
9. The Royal Sonesta San Juan – trendy hotel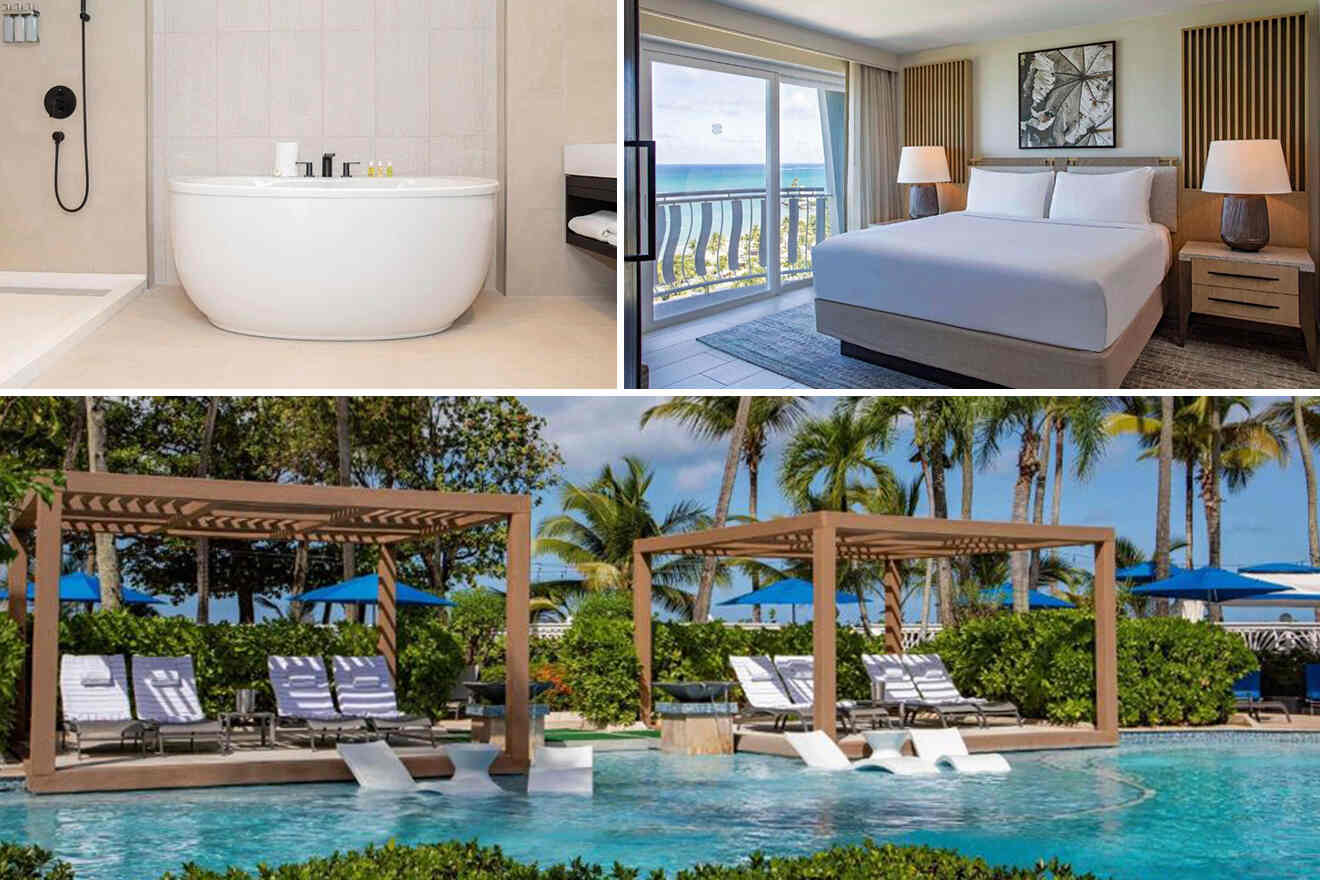 Set on Isla Verde Beach in San Juan, this amazing resort boasts a full-service spa, 7 restaurants, and lots of other great amenities! All the spacious rooms at the hotel come with a flat-screen TV (perfect for chill movie nights with the kids) and comfortable beds).
I'm sure you'll want to explore outside of the resort as much as you can, but for the day when you don't feel like doing that, you can relax at the resort! Either by the pool, in the spa center, or keeping the kids entertained on the playground!
10. San Juan Marriott Resort – for a tranquil getaway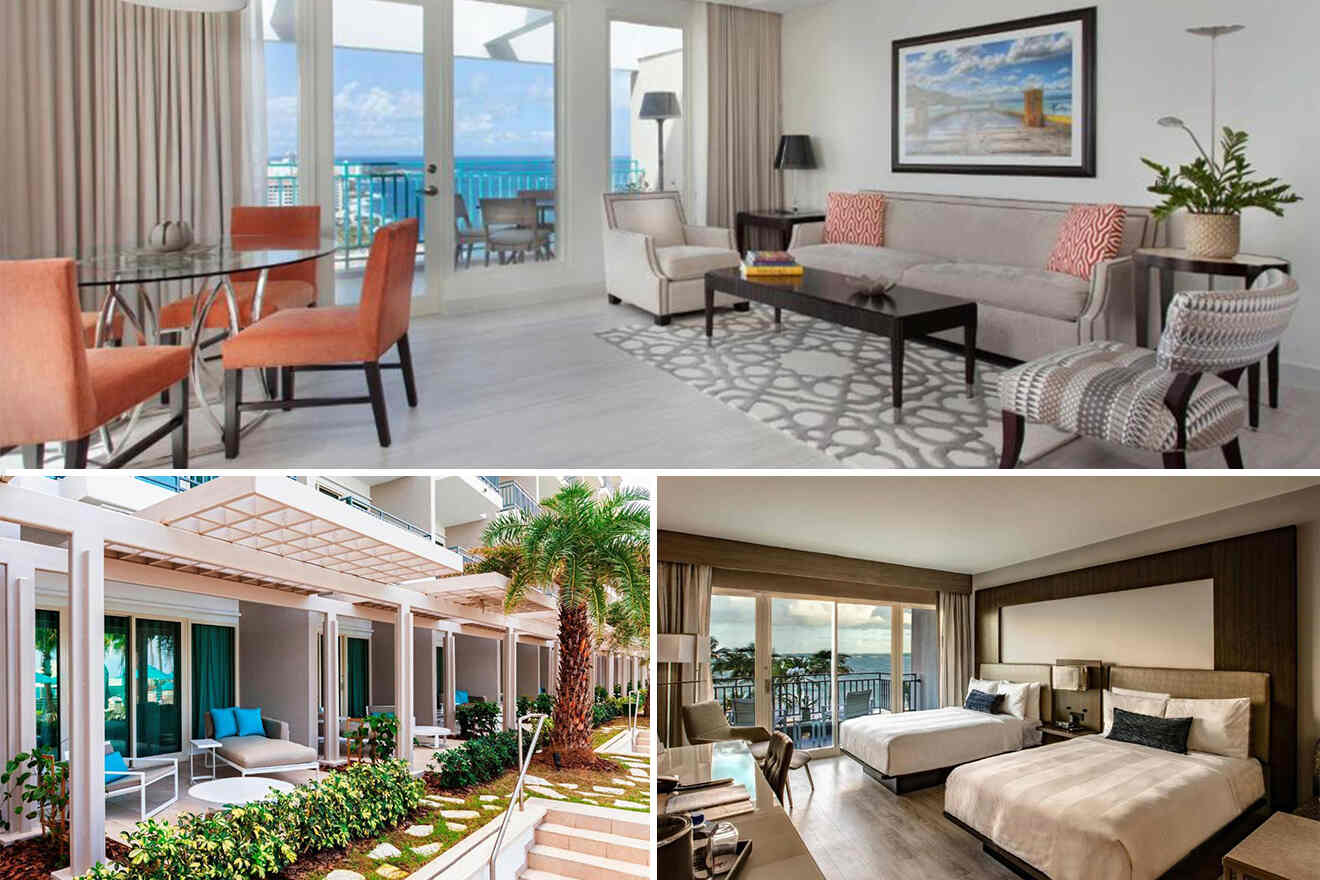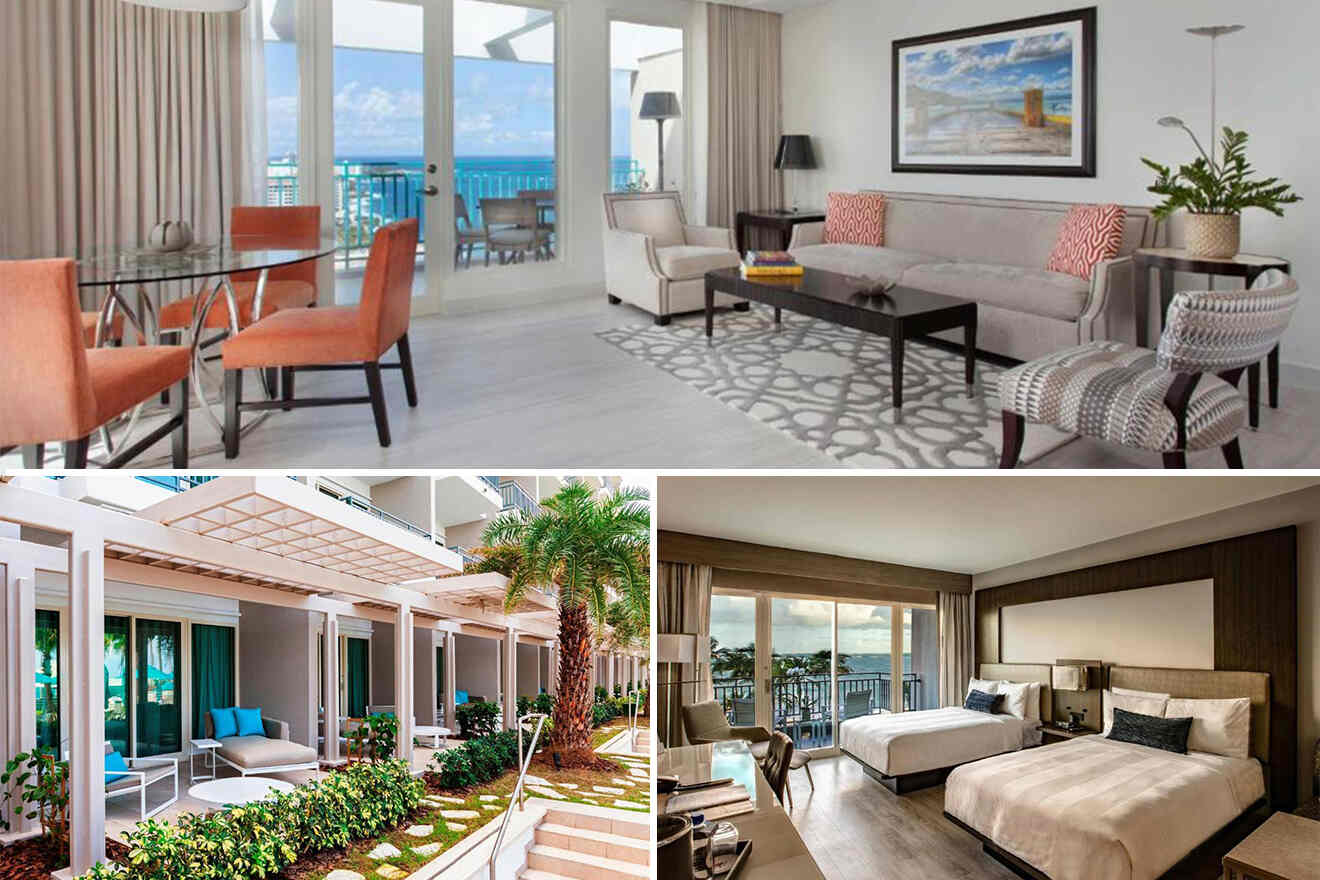 Family vacations are so fun and when you add to that the perfect hotel and activities, angels start singing! Just a joke, but honestly, a great beach resort makes all the difference and this one in San Juan, which is set right on the beach, literally just minutes away from the ocean, has so many cool aspects!
Modern rooms with lots of space and private balconies where you can enjoy your favorite morning drink while admiring the views! Swimming pools, including one built especially for the kids, are at your disposal, as well as bicycle rentals, a spa center and a tennis court!
11. Wyndham Palmas Beach & Golf Resort – modern hotel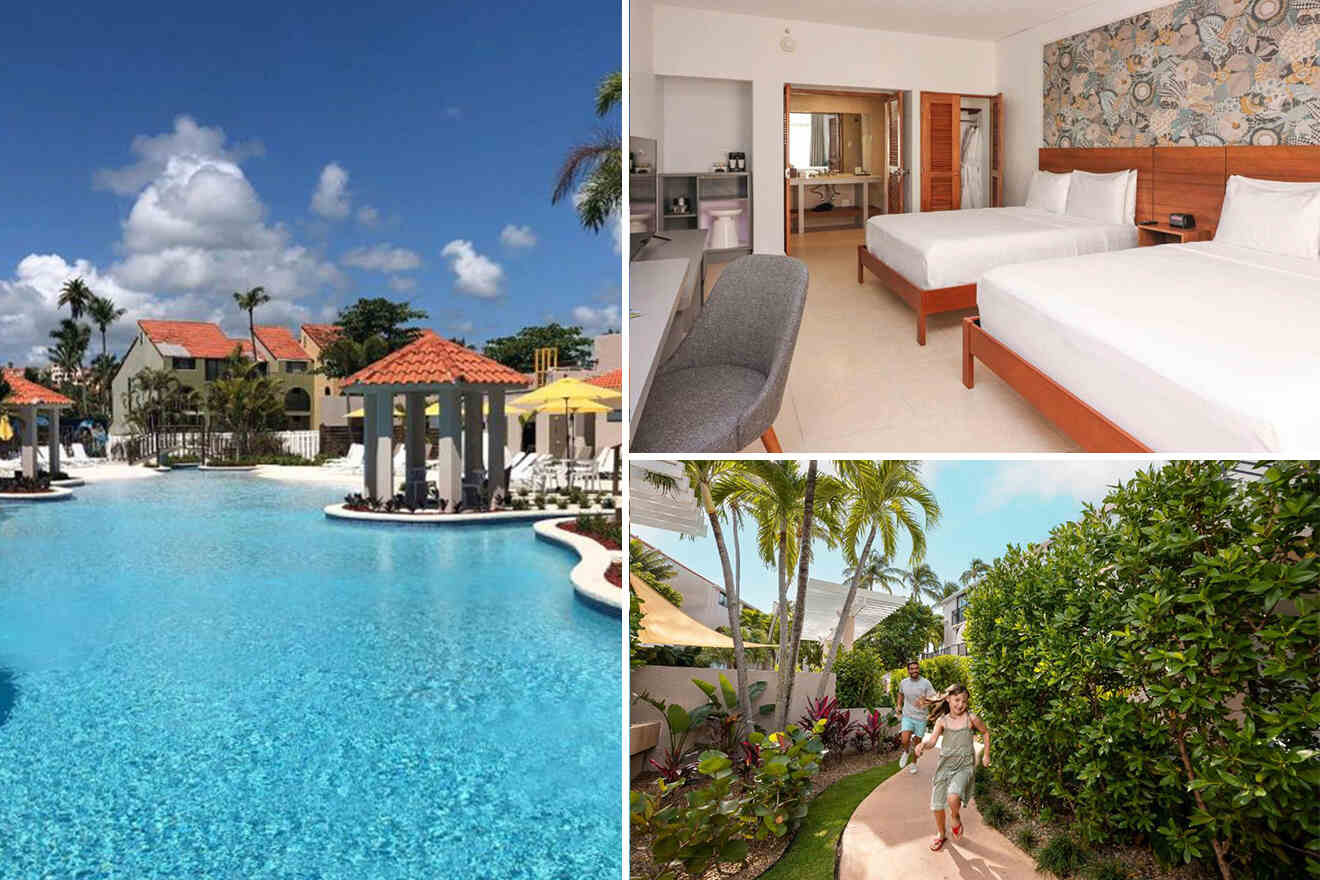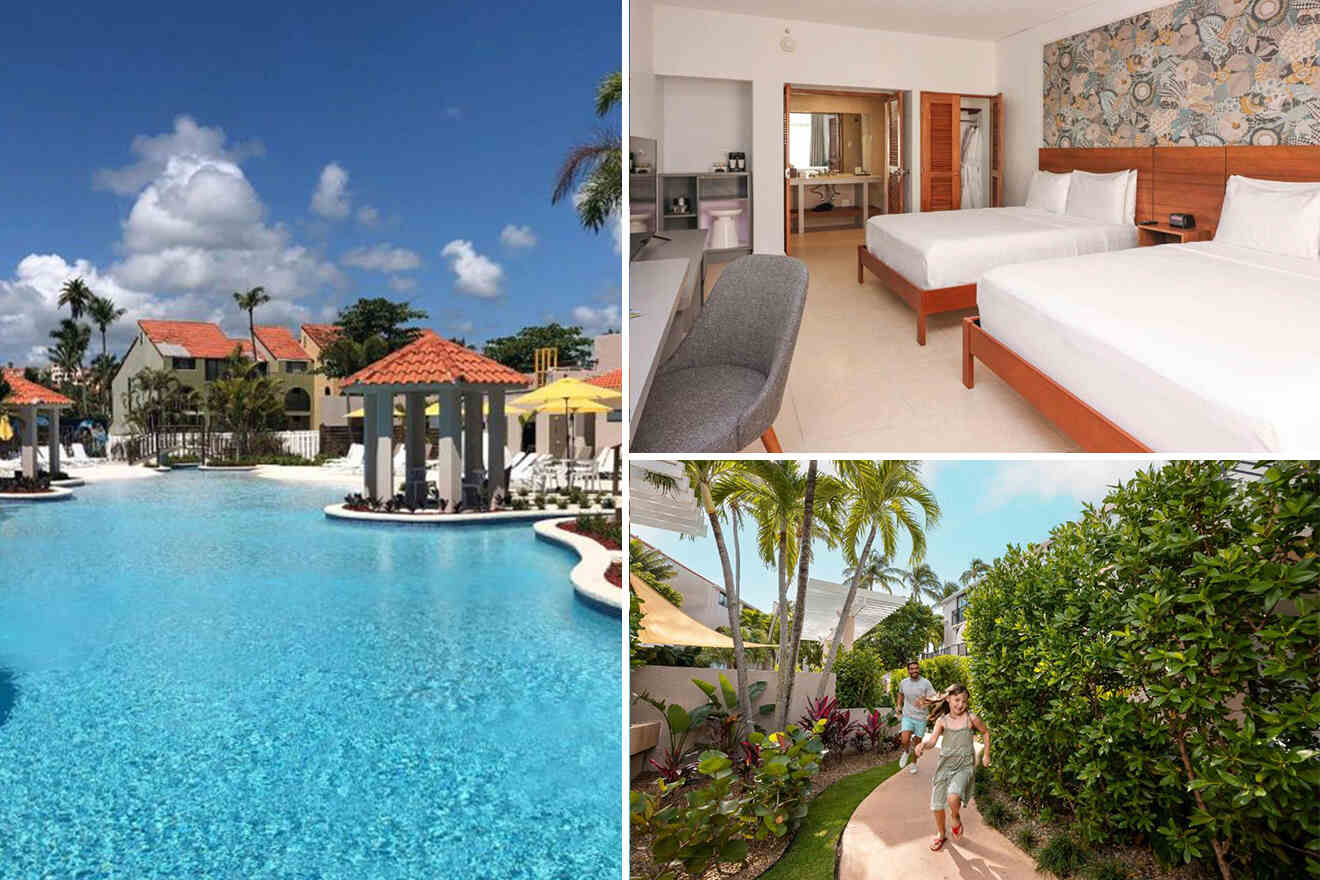 A fabulous family resort set 1 hour away from the San Juan International Airport, where you can forget all about your problems and just spend a couple of days sunbathing, eating yummy food (they've got lots of dining options), and trying all the fun activities like horse riding, cycling and playing tennis!
All the rooms at the beach resort come with a private bathroom, free Wi-Fi, and a flat-screen TV. Since the accommodation is located within two beautiful golf courses, you'll also get to practice your golfing skills while admiring the stunning backdrop of Puerto Rico's lush vegetation! What a dream!
BONUS: Best villas for families with private pools
If you haven't found the beach resort of your dreams or maybe all the options are a bit over your budget, then you're in luck because I've just found some amazing villas in Puerto Rico, which are perfect for families and have private pools!
I've listed the accommodation from most to least expensive so you can easily pick your favorite! Let's check them out: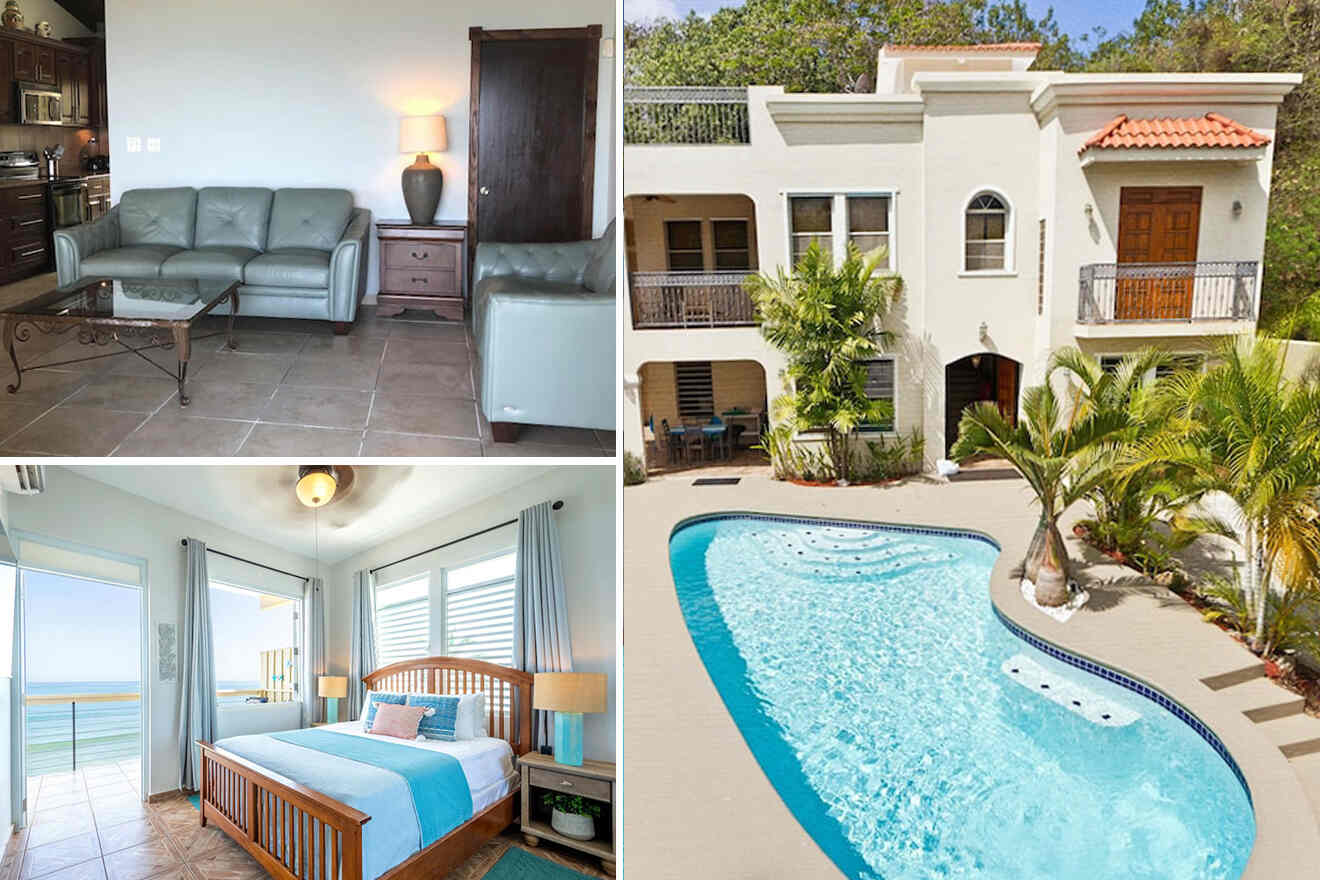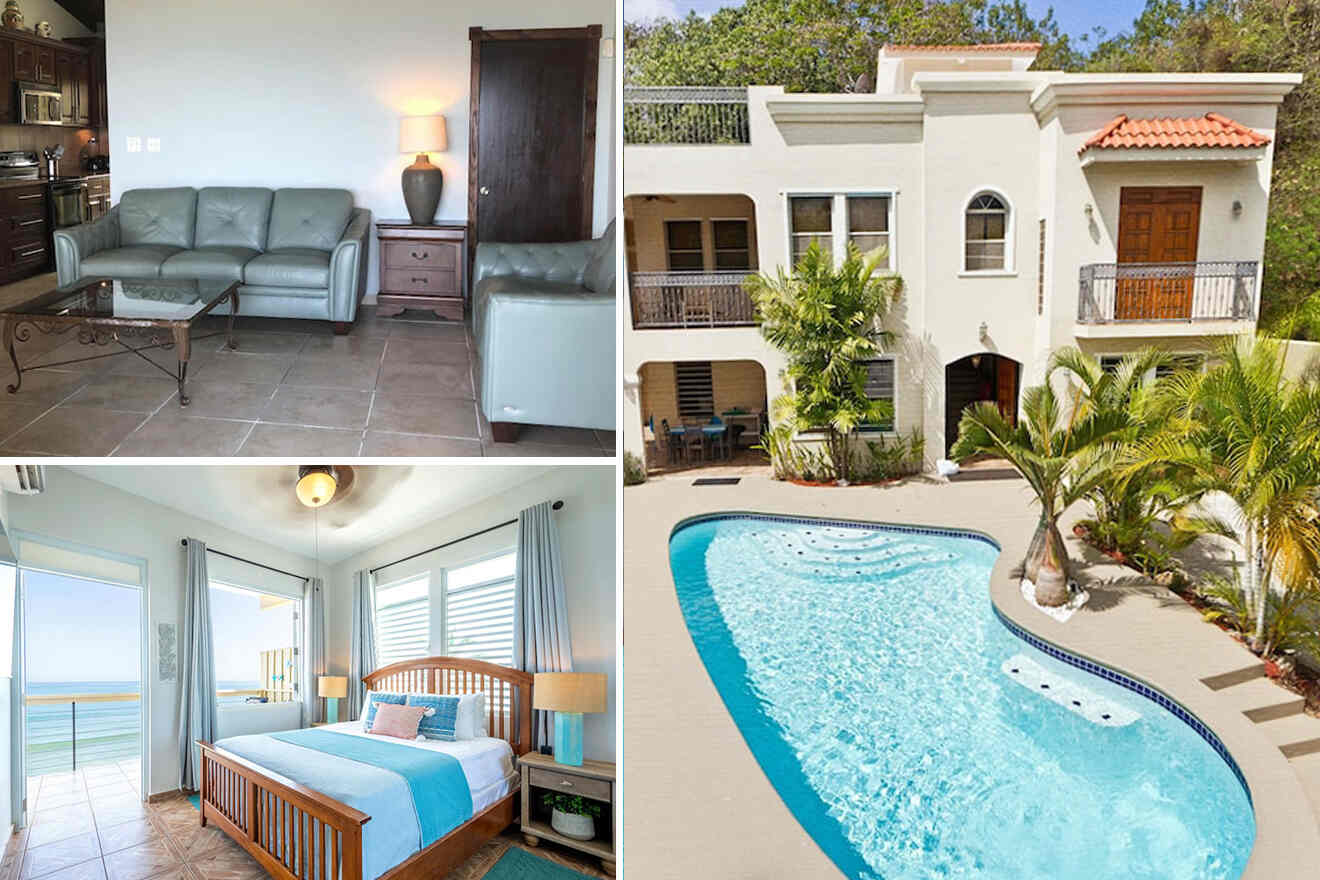 Beachfront Villa – Just look at those views! This amazing villa has a spectacular infinity pool where you can catch the most scenic sunsets! The accommodation is made to fit up to 6 guests and it comes with a kitchen, a living room area, and a patio.
Stylish Home – A beautifully decorated home that has room for 6 guests and all the facilities you need including a kitchen, an outdoor play area, and a patio. Of course, it's set right by the ocean and has a swimming pool with amazing views.
Modern House – Loving the design of this house it looks like one of those movie houses! And, of course, it has lots of space for around 9 guests, a kitchenette, and a patio as well. Make your coffee in the morning and enjoy it by the pool with the rest of the family!
FAQs about Puerto Rico all-inclusive family resorts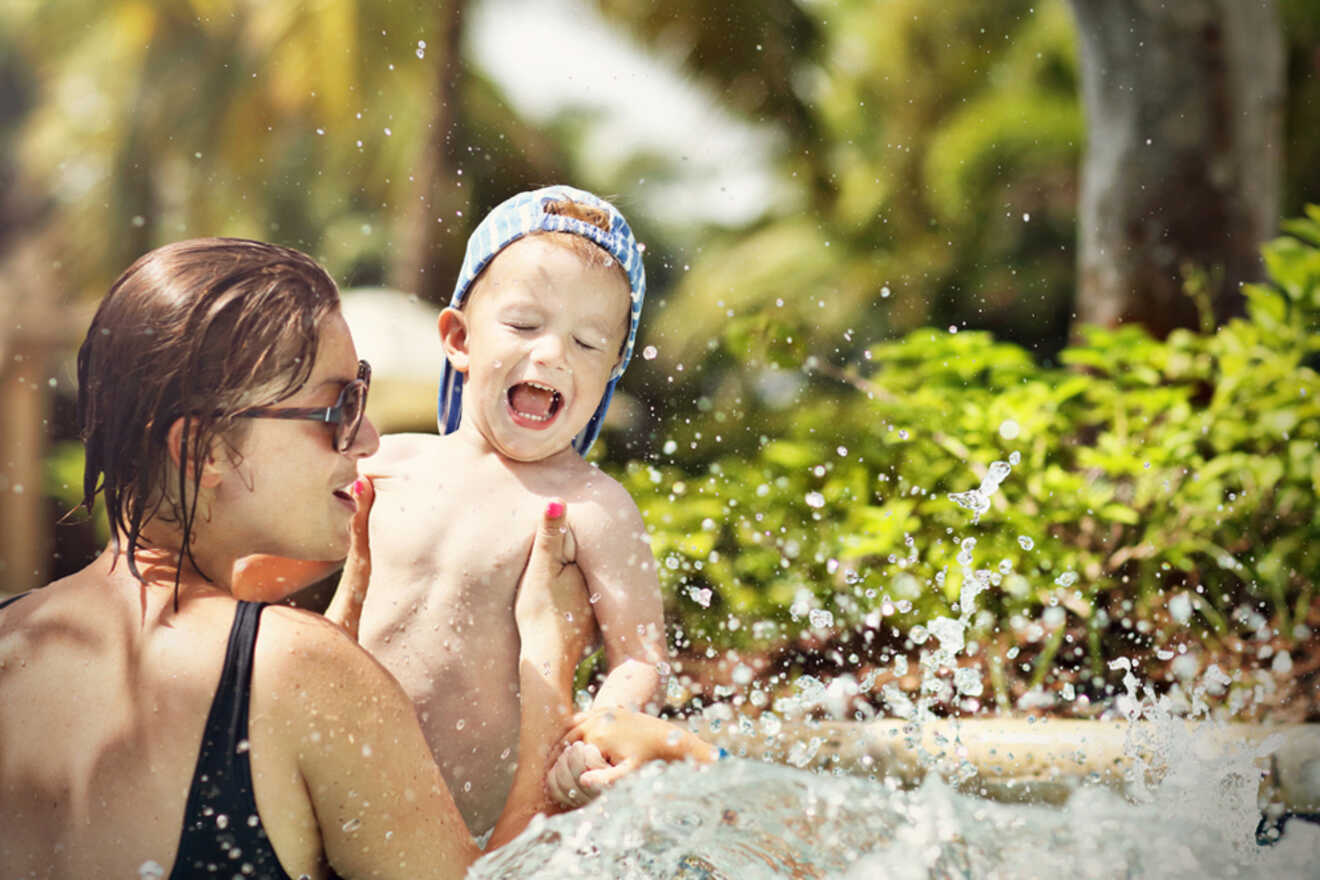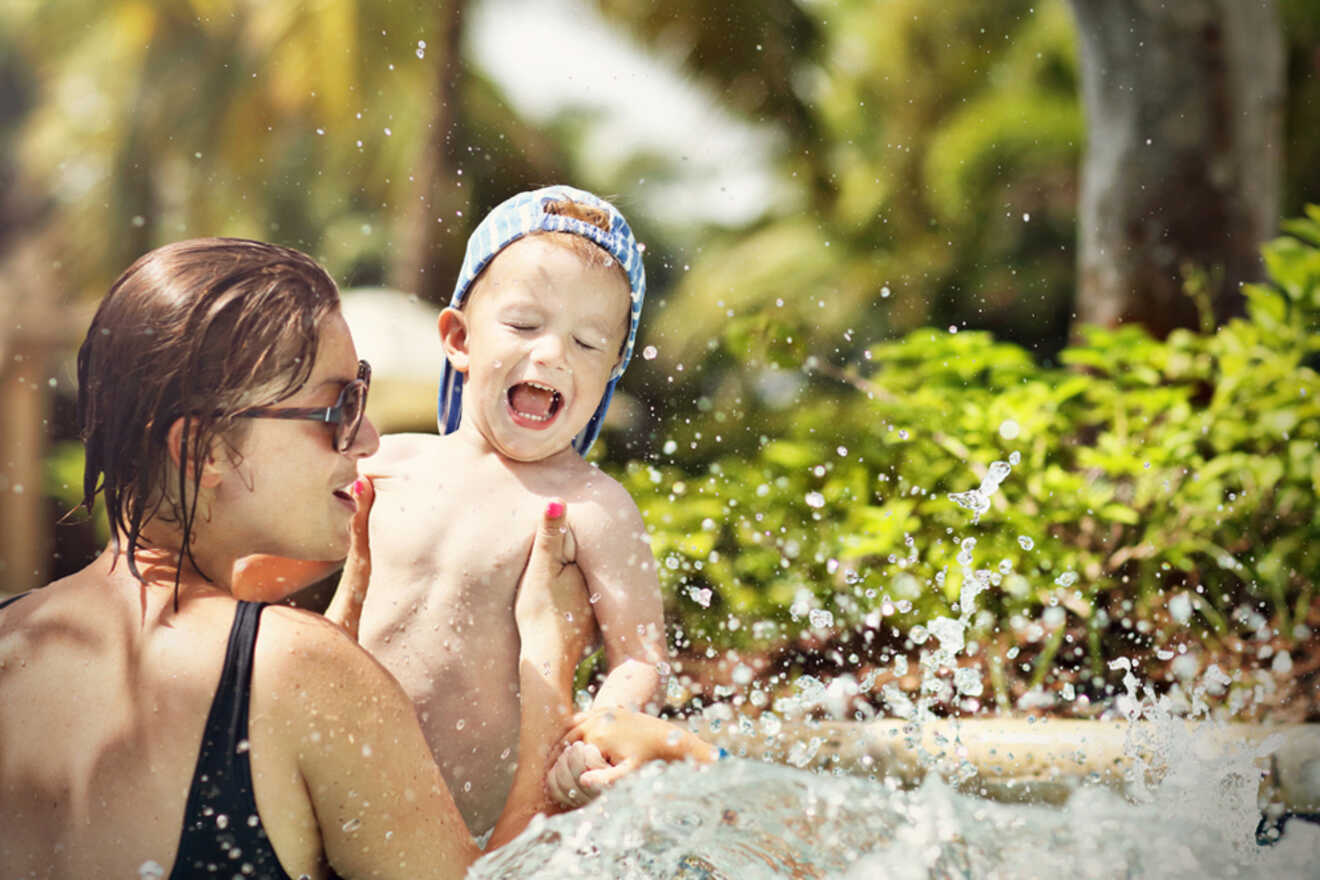 👶 Is Puerto Rico a good place to vacation with kids?
Yes, Puerto Rico is a great place to travel with your family as there are so many fun things to do, especially in San Juan, with amazing beaches and lots of family-friendly hotels.
🤔 Why Puerto Rico doesn't have all-inclusive resorts?
There are no all-inclusive resorts in Puerto Rico as there is no need for them. All the attractions are nearby, and it's super safe to wander outside of your resort on your own.
👪 Which are the best family resorts in Puerto Rico?
🌊 Which resorts in Puerto Rico have waterparks?
Conclusion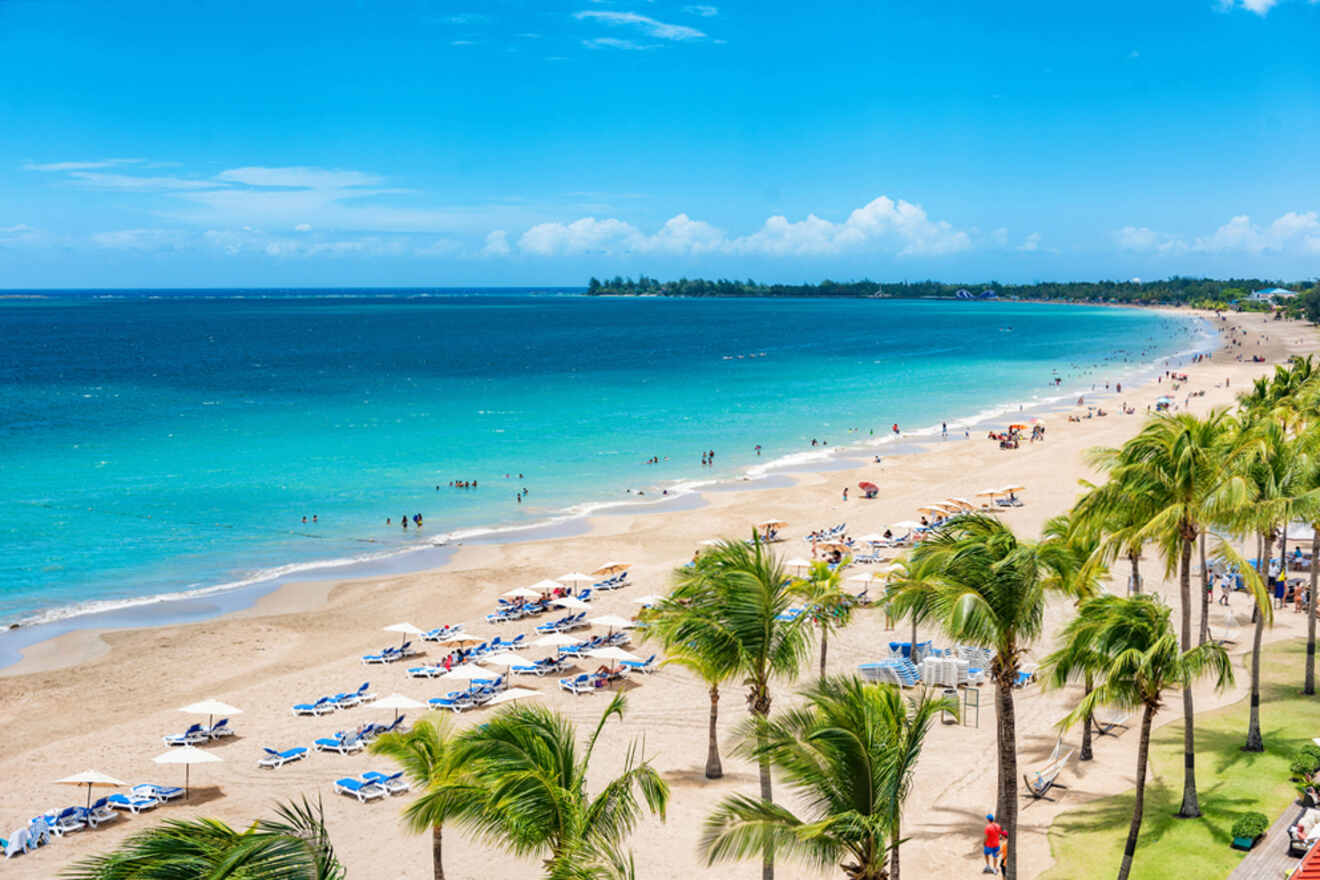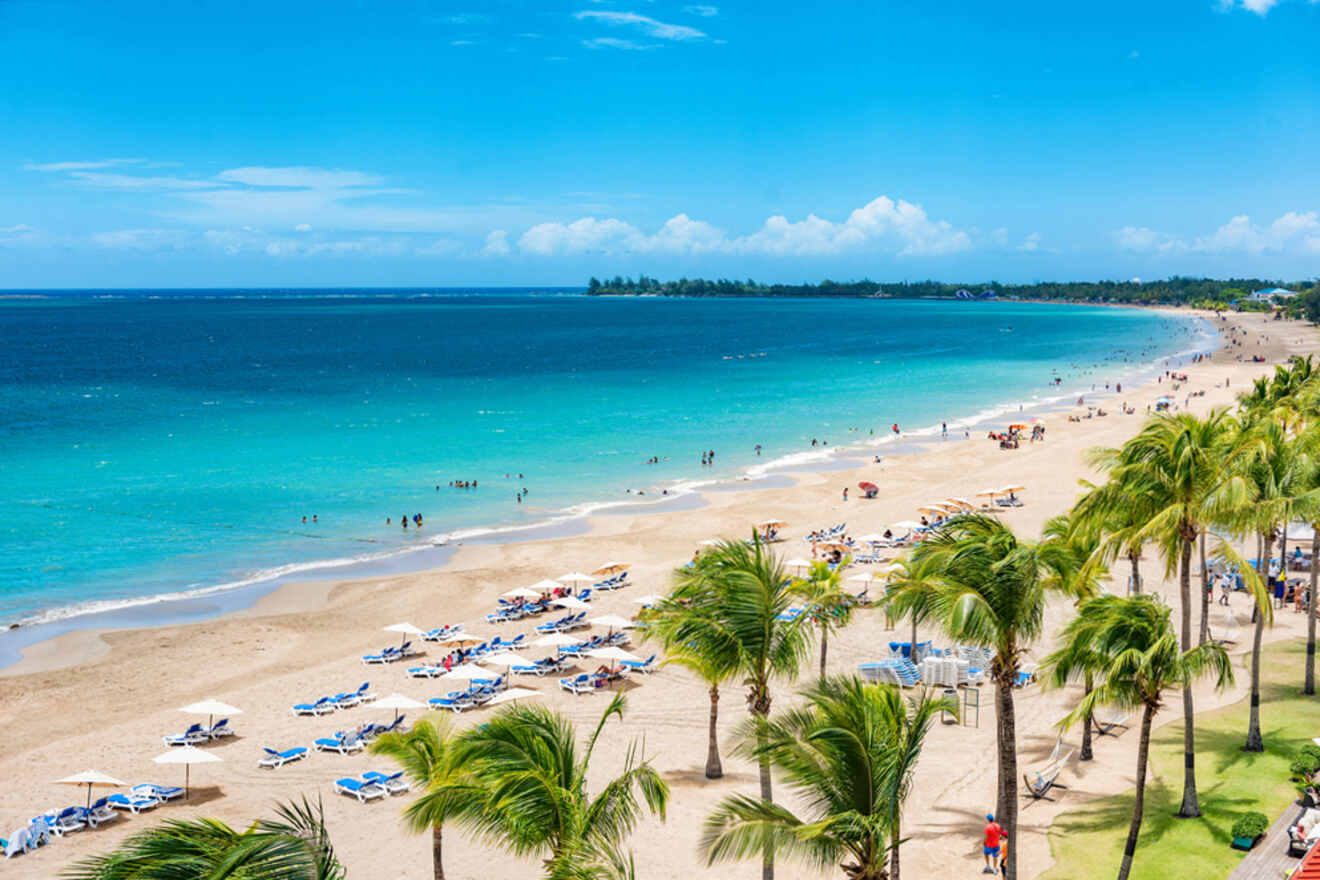 What a dreamy place! I'm sure every family member will love this location, especially once you take a stroll in Old San Juan, or relax at a coffee shop in Isla Verde Beach!
Plus that now that we've seen all these amazing Puerto Rico family resorts and even some great villas for families, you can start planning your trip properly!
But do remember what I said at the beginning about Puerto Rico and how the hotels here don't offer all-inclusive vacation packages. However, they do offer the same facilities as a typical all-inclusive resort!
Hope that wasn't too much information to handle! To make up I'll leave you with my 2 favorite beach resorts in Puerto Rico:
Please remember that these are some of the best resorts for families in Puerto Rico, which means that they will sell out super fast. So, make sure to book your favorite super early!
Have a fantastic trip and if you've got anything you want to ask me, just drop a comment below and I'll get back to you ASAP!
Safe travels,
Victoria
---
Pin it for later!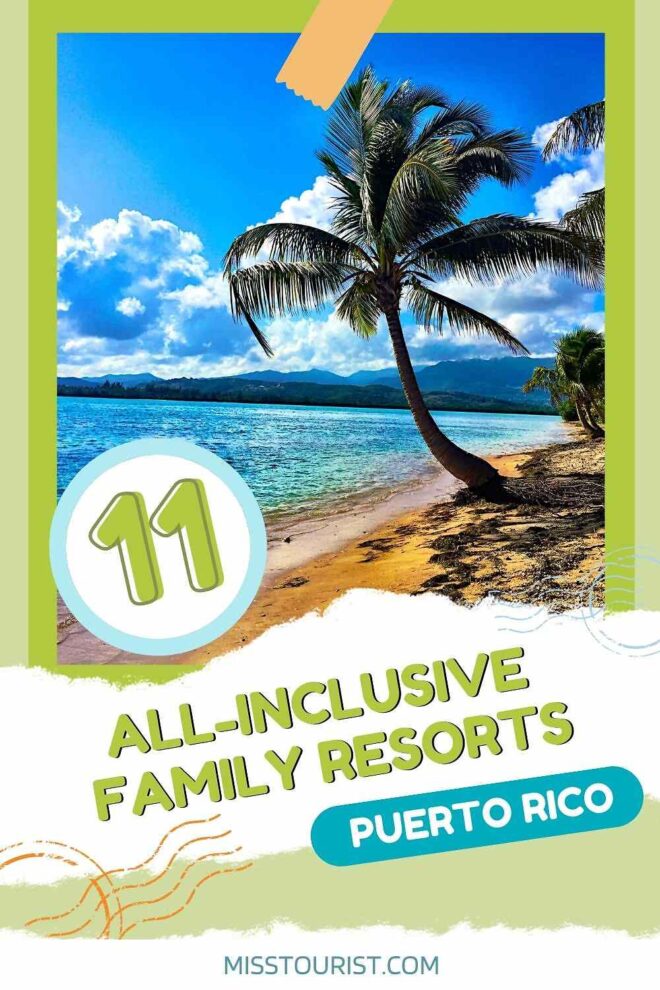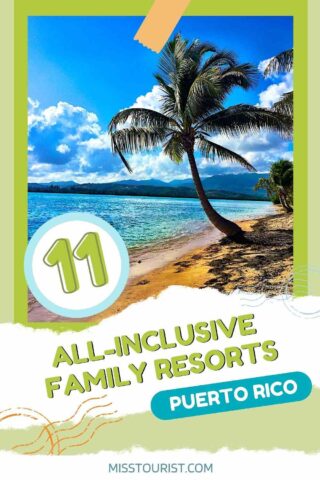 Pin it for later!