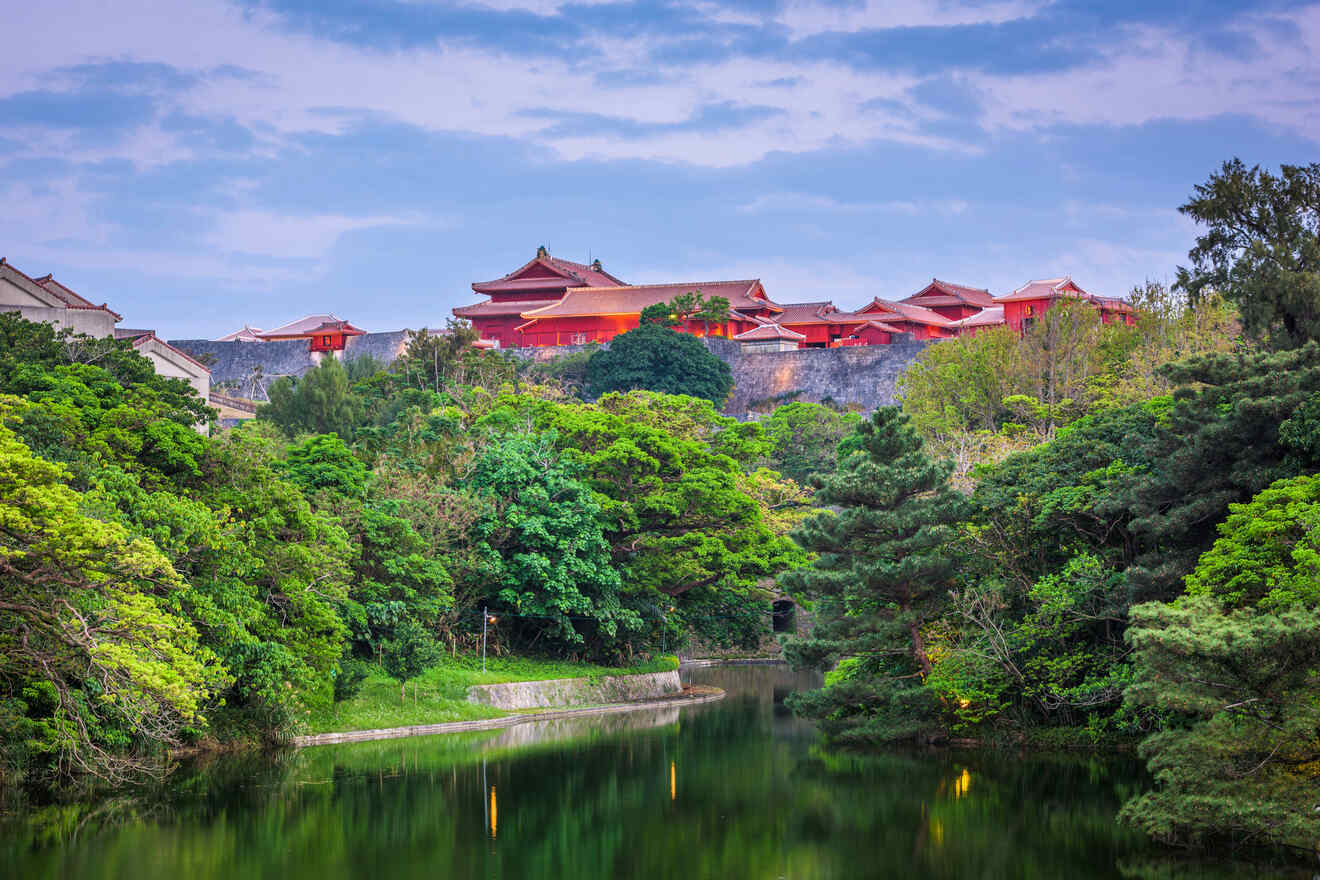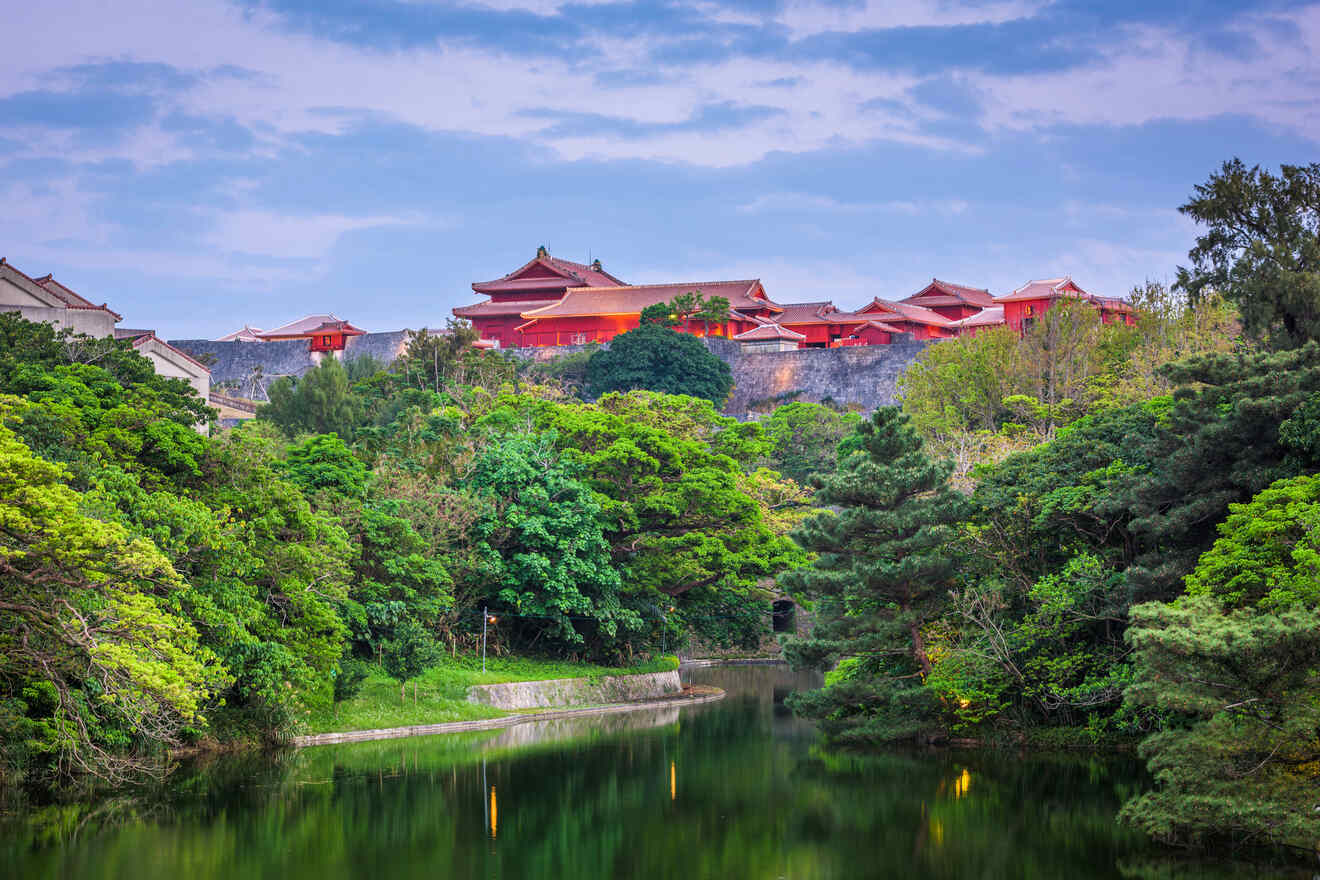 If I say Japan, probably the first thing that comes to your mind is Buddhist temples, big and crowded cosmopolitan cities like the capital Tokyo, cherry blossoms, and huge green forests. I bet that you wouldn't think about white sand, hot springs, and turquoise waters… At least I didn't. Well, a place like this does exist in Japan, and is called Okinawa!
Okinawa is a group of over 150 remote islands located south of the main Japan archipelago in the East China Sea, 47 of which are inhabited. The main island of the archipelago is Okinawa Island, this is where the airport and the capital Naha are located, and in this post, I will be talking about all the unique neighborhoods of Okinawa Island… are you ready to discover them with me?
Welcome to one of the blue zones of the world, where a warm climate and a rich natural environment support longevity! With tropical water throughout the year, mangroves and jungles in every corner, and ocean waters hosting the most diverse marine fauna, get ready to discover wonderful waterfalls and swim near coral reefs, turtles, and tropical fishes like manta rays and hammerhead sharks! And good news for surf obsessed like me: Okinawa is also a great spot to surf!
In order to help you choose the best place where to stay in Okinawa, I researched through thousands of booking sites and made this guide with the best areas and hotels for any kind of traveler and budget! But make sure you book in advance! The chances of finding a good hotel at the last minute in paradise are very rare.
Ready? Let's go!
If you are in a hurry
If you need to make a quick decision and book immediately, I got your back! Check this list with the best hotels located in the capital city Naha, from luxury to budget:
Here's the map with the 5 best areas to stay in that I will be talking about in this post, so you can visualize them: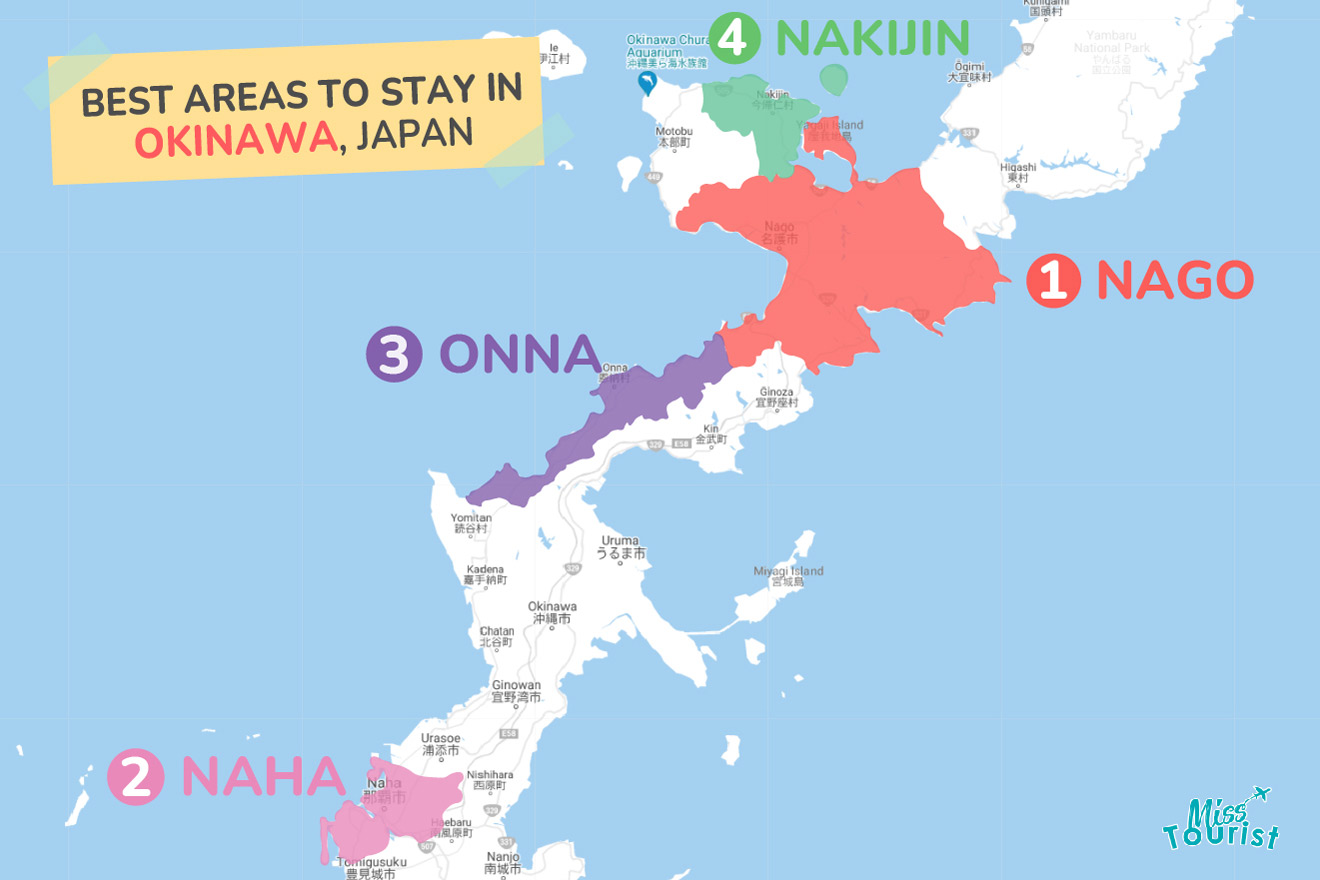 1. Nago – where to stay in Okinawa for the first time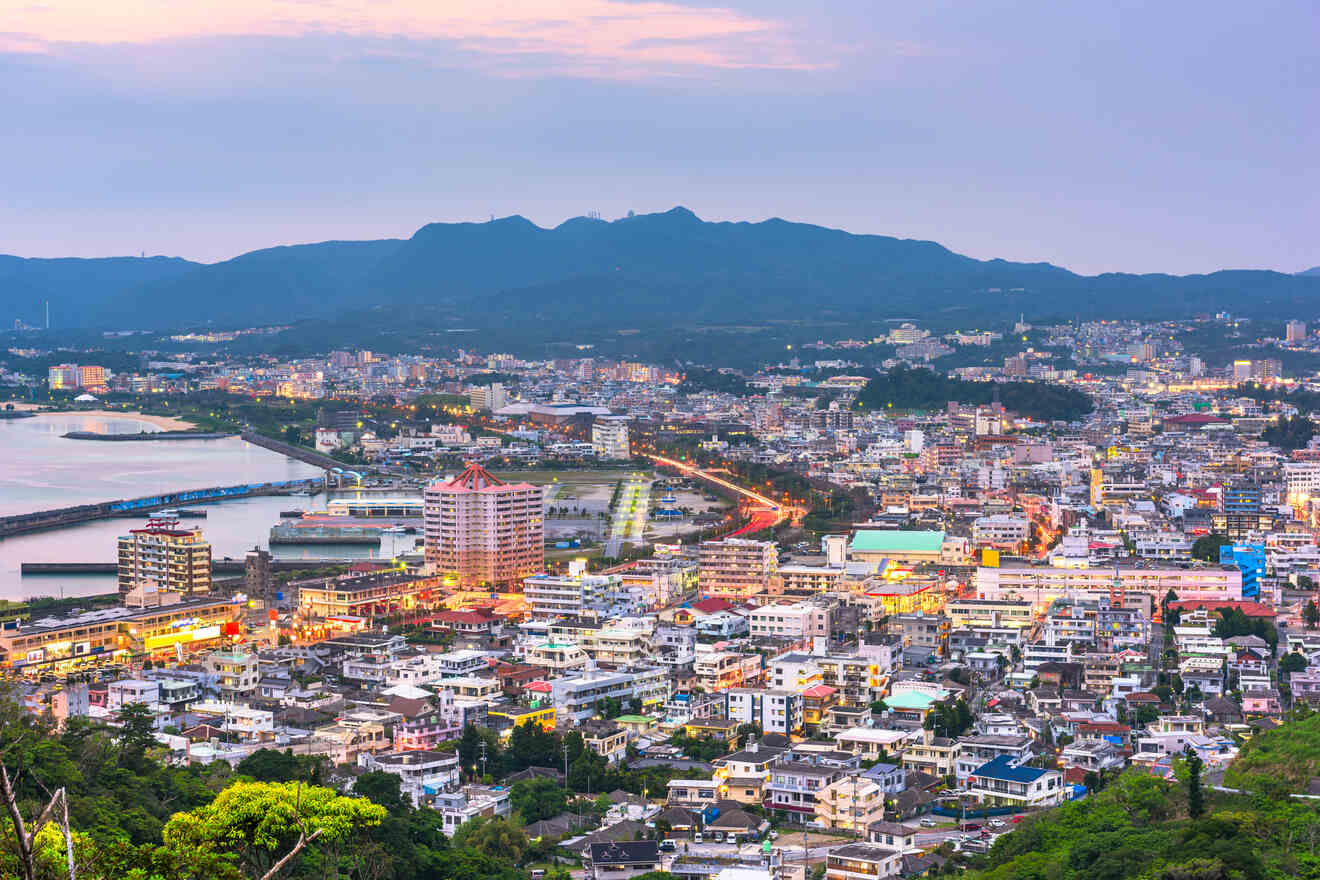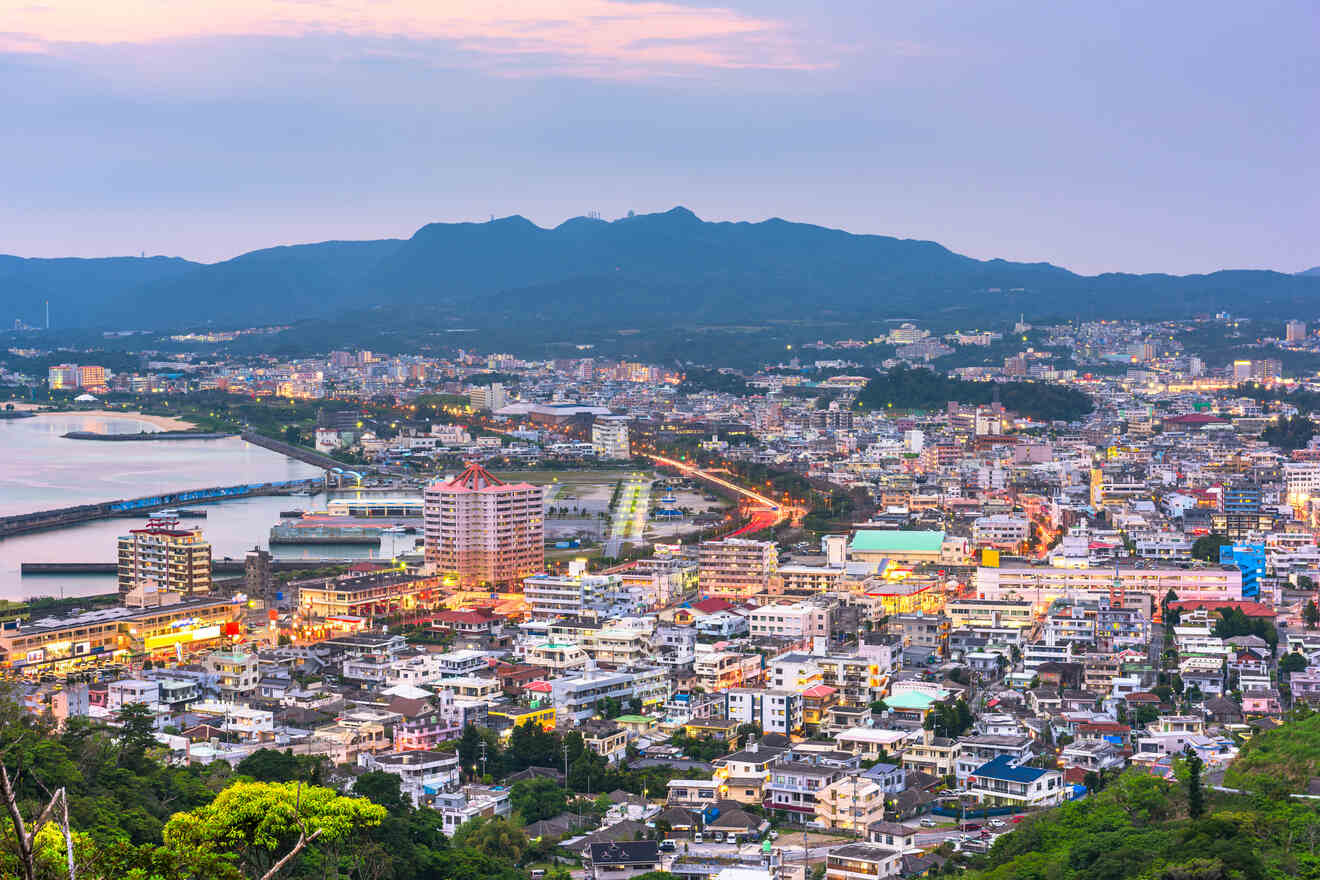 Located in the northern part of Okinawa island, Nago is the best place where to stay in Okinawa for the first time. Home to one of the best beaches on the island and to the festival of the Cherry blossom trees (that bloom very early here), you will find a spectacular contrast between the pink of the trees with the emerald green of the East China Sea!
Other attractions, like the quirky Pineapple Park and Orion Happy Park, are also worth a visit. At the quirky Pineapple Park, you will get to eat the delicious fruit while learning about the cultivation of pineapples and exploring the original sculptures and souvenirs! If you haven't seen how pineapples are grown before, it will blow your mind! But if you're more into alcohol than fruit, at Orion Happy Park you'll have the opportunity to taste the local Okinawa beer during a guided tour.
But that's not all, if you're on the island for a family vacation there are lots of attractions that any member can enjoy! Encounter tropical marine life without getting wet at the Busena Marine Park, or learn about the culture and history of Okinawa at Nago Museum.
With many hotels and resorts, family adventures, and great outdoors to explore, here you'll never run out of things to do!
Luxury hotel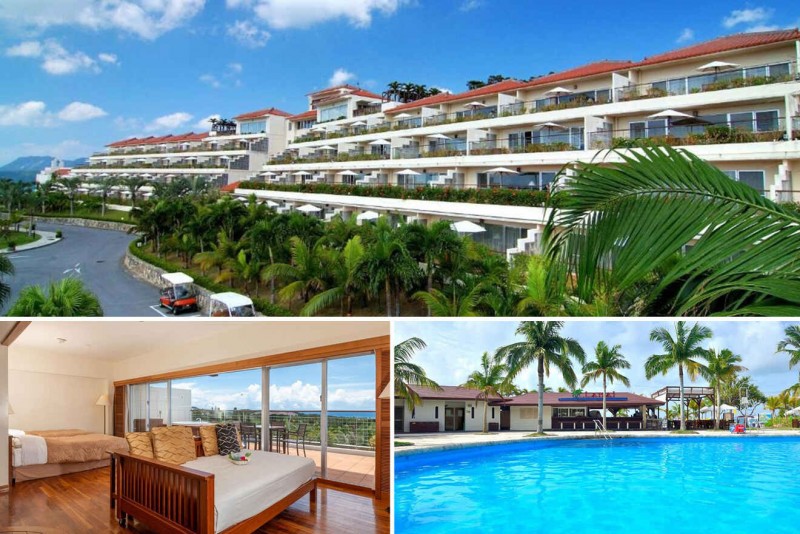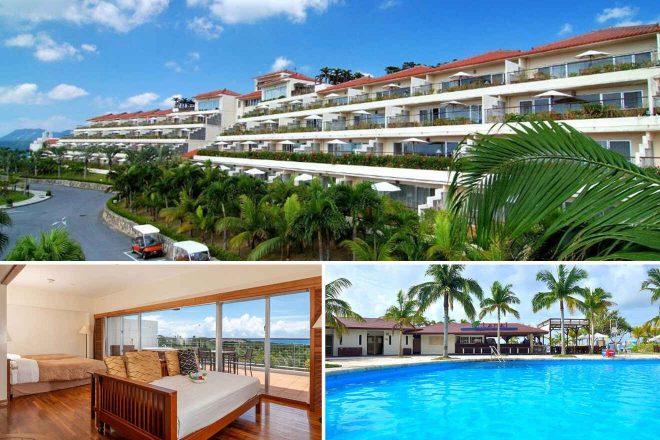 Enjoy luxury in this stunning resort surrounded by the untouched beauty of Okinawa's nature and pristine air. Wake up in your bright spacious room and breathe in the sweet tropical fragrance, or enjoy the ocean view from your terrace… Some of them even host a spa bath! Have a relaxing massage in the spa and dive in the swimming pool for the ultimate experience.
Other accommodation options in Nago
Mid-Range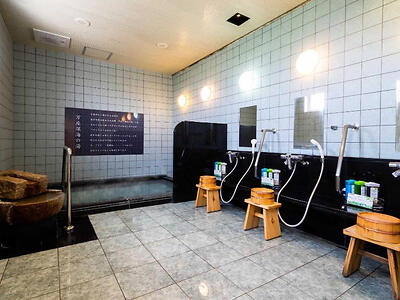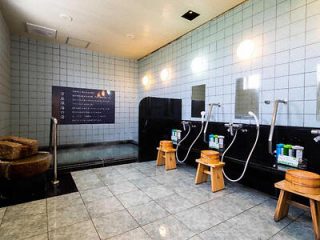 Beautiful accommodations with lots of space and free parking available
Budget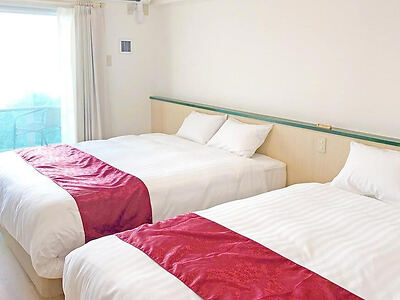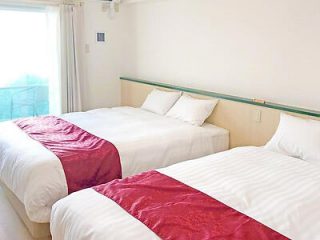 Enjoy ocean view rooms just nearby the beach and a delicious breakfast
Airbnb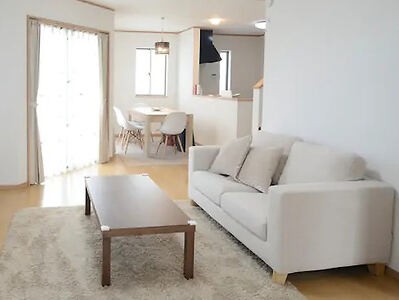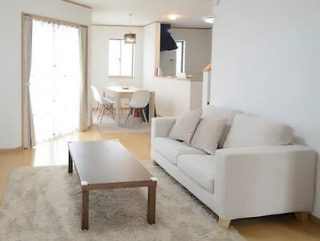 Amazing big beach house with private garden, perfect for families!
Things to do in Nago
Enjoy a stroll during the Nago Cherry Blossom Festival!
Join a brewery tour at Orion Happy Park and taste the Okinawa beer!
Take the kids out to see wildlife at the Neo Park Zoo
Enjoy the beautiful world of Okinawa's ocean at the Busena Marine Park!
Explore the history of Okinawa at the Nago Museum
Learn about the cultivation of pineapples (and taste the best ones of your life) at the quirky Pineapple Park!
2. Naha – best place to stay in Okinawa on a budget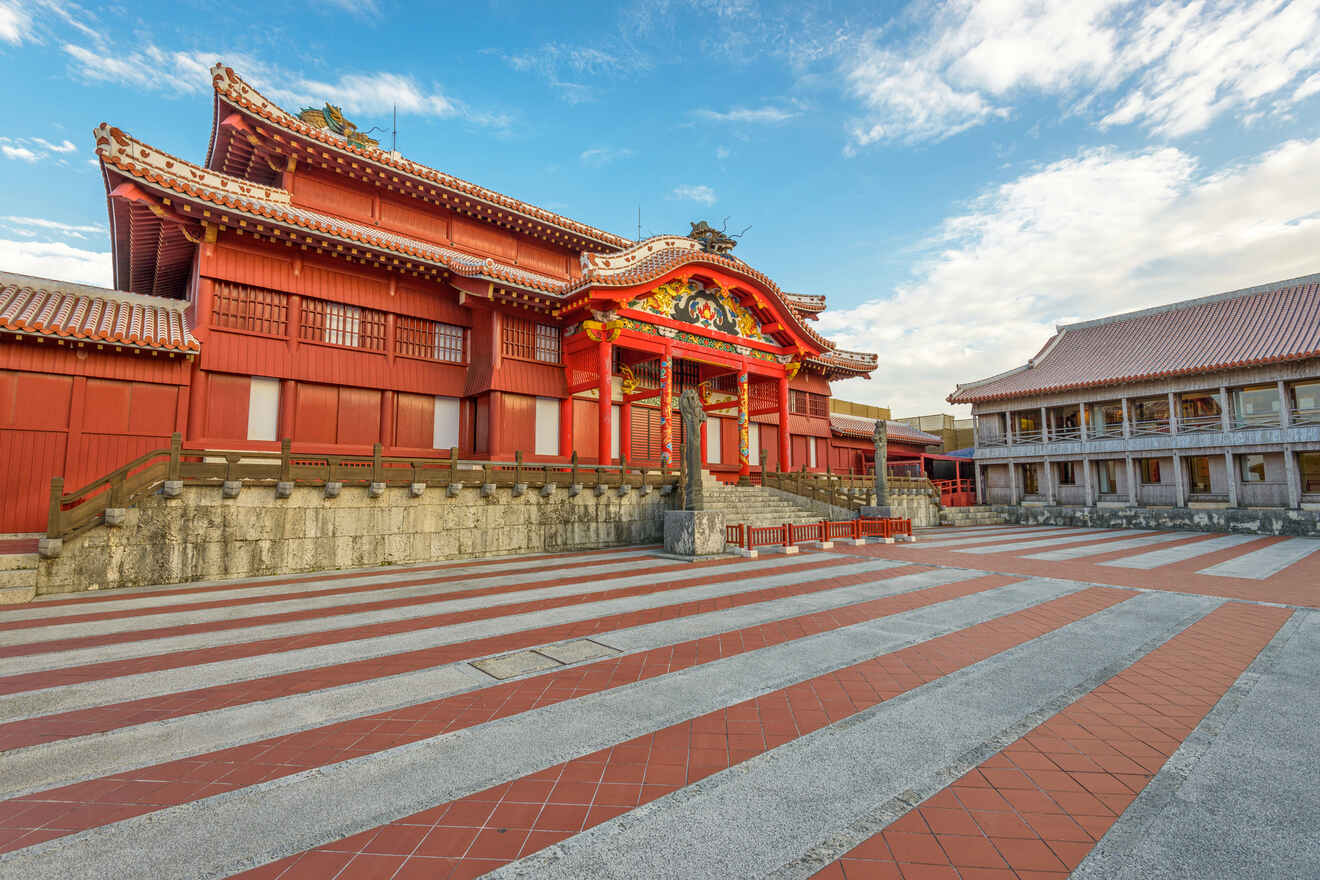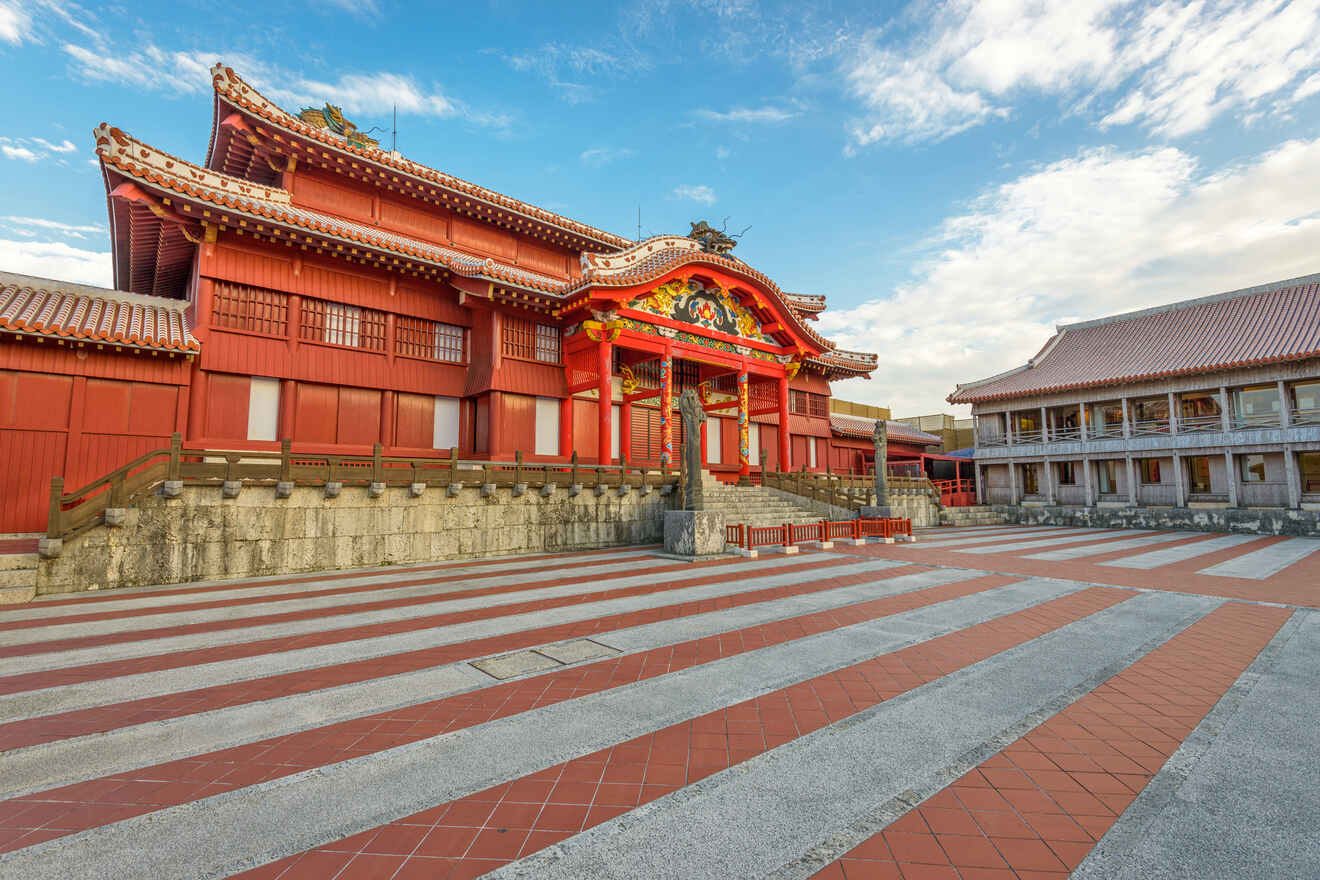 Naha is the capital, the biggest city, and the most popular stop on the islands. It is not only where the main Okinawa airport is located, but also home to a lovely white sand beach where locals and visitors relax or dive. Naha city boasts an ancient castle, a vibrant shopping street, and local artistic and cultural attractions with plenty of things to do for all ages and interests.
The majestic UNESCO World Heritage site, Shuri Castle will transport you directly into the past with its vivid red colors.
Although the original castle was destroyed during World Word II, it was rebuilt during the 1990s and is just as spectacular!
If you cannot leave a place without taking a souvenir with you, check out the Tsuboya Pottery District, where you can see artists while they make pottery or even learn how to make it yourself by taking some classes! This unique neighborhood is home to other interesting attractions like the Tsuboya Odori Pottery Street and the Tsuboya Pottery Museum too if you really want to dive deep.
You would expect the capital to be quite expensive, especially with so many touristic things to do and see, but Naha is the most affordable area of Okinawa Island, which makes it perfect for those who want to stay on a budget! Are you one of these? Then book immediately your hotel in this amazing cheap city as everyone wants the best deals!
Luxury hotel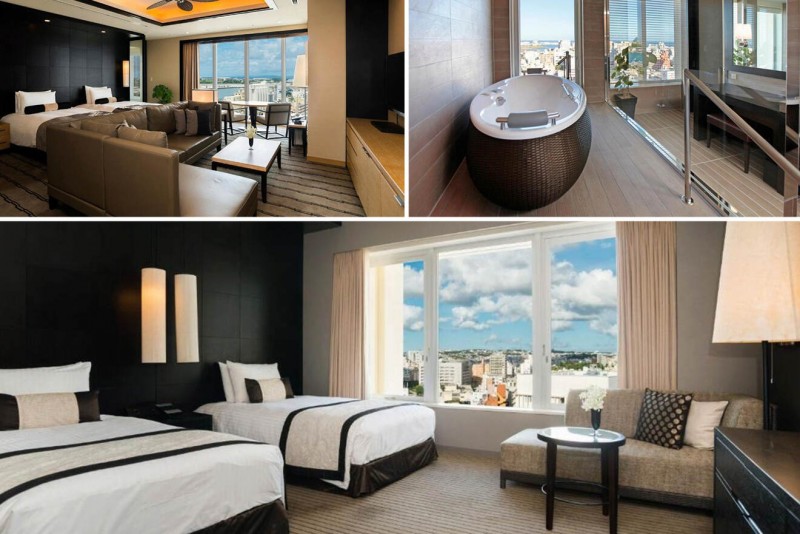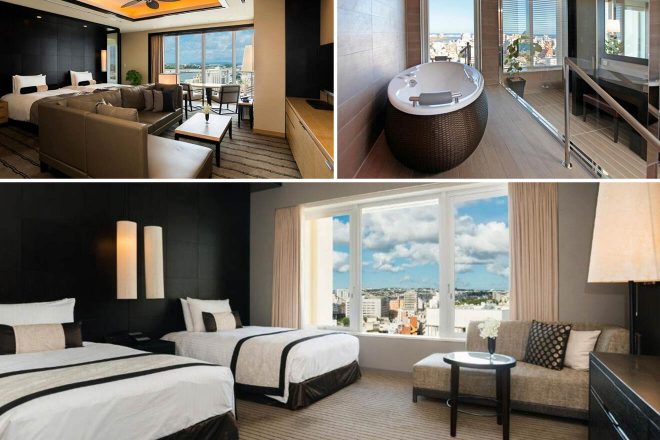 Luxurious 5 stars hotel featuring spacious western-style rooms with comfy beds and all the amenities you need. Enjoy delicious Japanese food from the rooftop restaurant with an amazing view of the sunset or the city. Visitors fall in love with the continental breakfast and perfect central location!
Other accommodation options in Naha
Mid-Range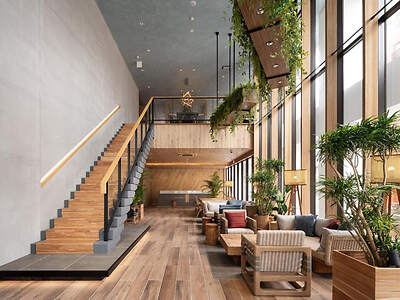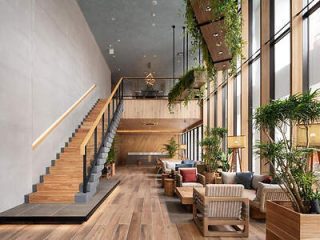 Free parking and access to all the best beaches in the heart of Naha
Budget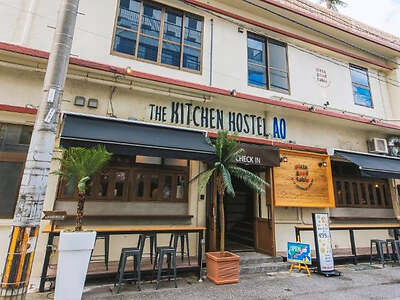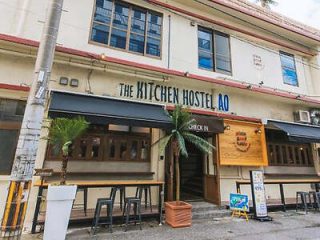 Amazing breakfast in a Japanese-style hostel with great value for the price
Airbnb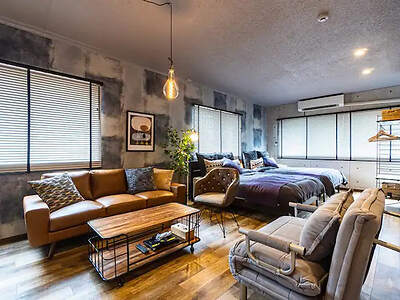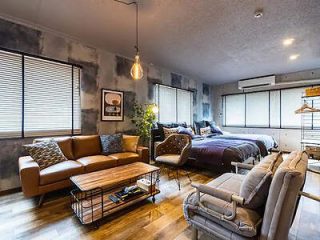 Enjoy your luxury apartment only a 7-minute drive from Naha airport
Things to do in Naha
Soak up some sun, breathe the sea air, or dive at Naha Beach!
Look for unique souvenirs in Kokusai Dori
Check out the majestic Shuri Castle, a UNESCO World Heritage site!
Try making pottery in the Tsubaya Pottery District
Learn about Okinawan pottery at the Tsuboya Pottery Museum
Go Snorkeling in some of the most transparent waters in the world at The Kerama Islands National Park
3. Onna – best neighborhood in Okinawa for families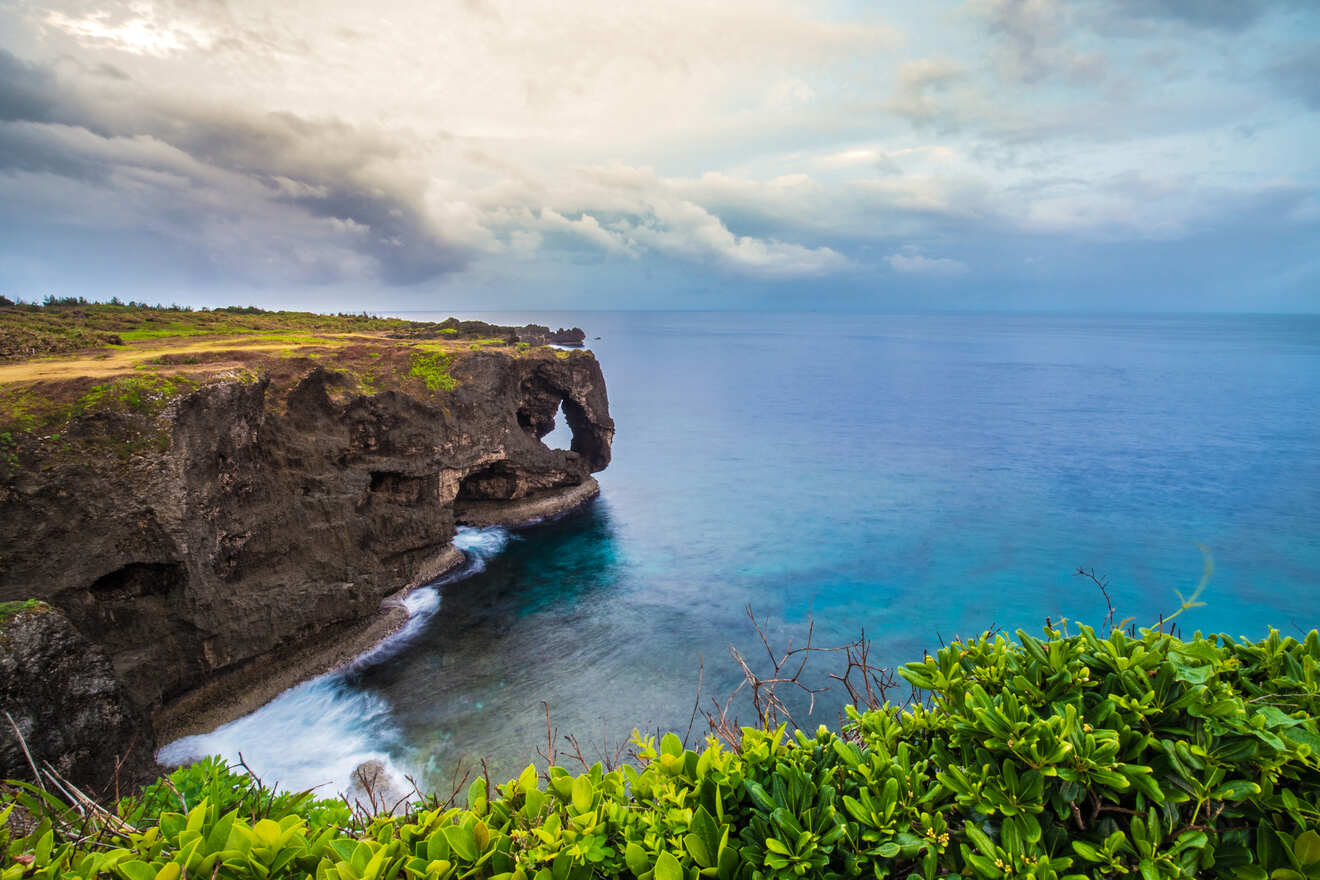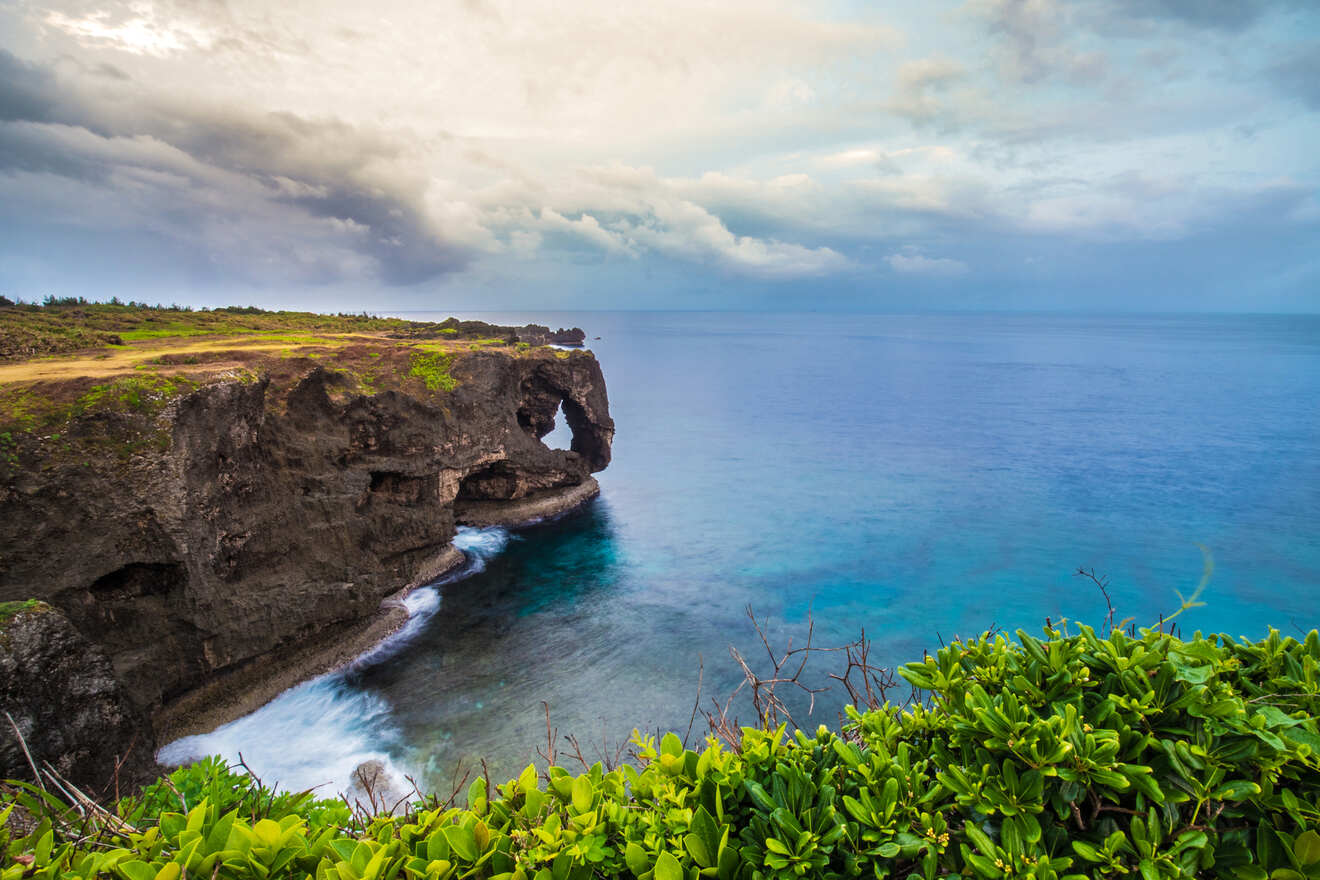 The resort coastline of Onna is located south of Nago City, on the East China Sea side of the island, and is one of Okinawa's most popular resort destinations. This makes it perfect for families who want to enjoy the convenient and safe beaches of a resort hotel and engage in marine sports like diving.
The beautiful blue colors of the water and white sand beaches also make this area ideal for a drive (or rocky cliff climbing for the thrill-seekers) with a view of the scenic beauty of Onna's coastline!
Enjoy breathtaking spots such as Cape Manzamo, a uniquely shaped rock formation that looks like an elephant, and Cape Maeda, one of the best diving and snorkeling sites in the area!
Cape Maeda has become particularly popular for its Blue Cave. This cave is naturally illuminated in blue and reminds me of Grotta Azzurra, the famous sea cave in my country, Italy! Featuring several big hotels, newly added resorts, many shops, and authentic restaurants serving the typical Okinawan Aguu pork and Ishigaki beef, Onna has everything you need for a comfortable holiday!
Luxury hotel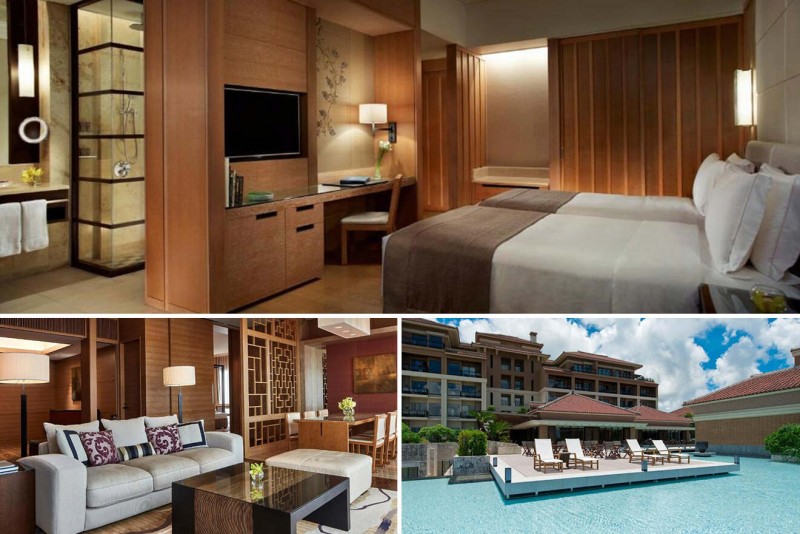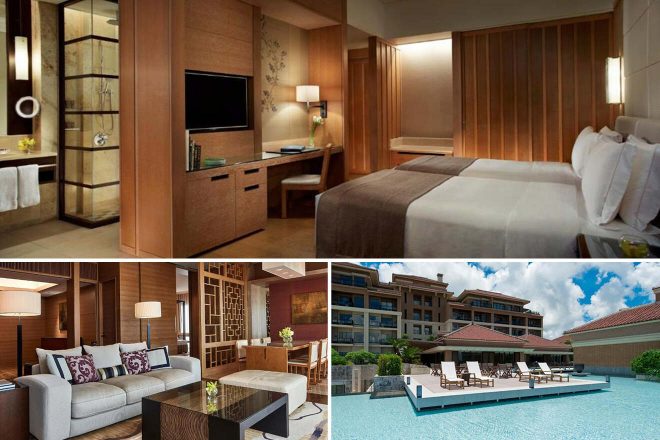 Luxurious resort right in front of the sea, offering rooms with picturesque views of the surrounding forests and nearby beaches. Spoil yourself with facial treatments and massages at the on-site Spa, or relax and dive in the outdoor swimming pool but don't miss the restaurant's delicious cuisine!
Other accommodation options in Onna
Mid-Range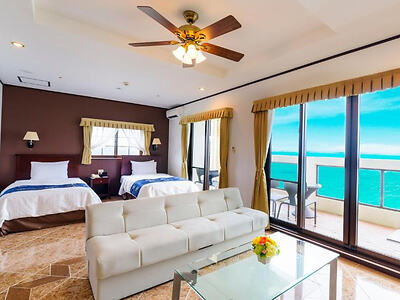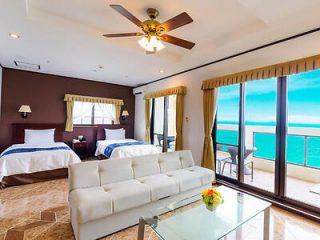 Seafront hotel with great restaurant, just a 5 minutes walk from the beach.
Budget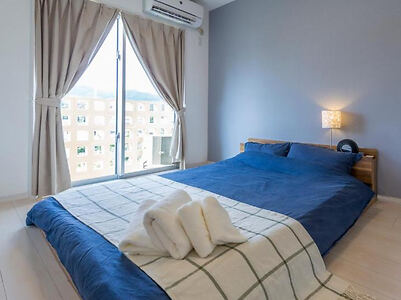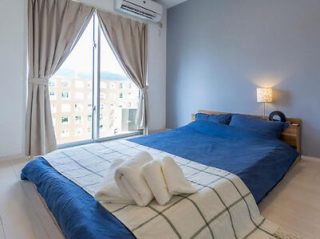 Comfy accommodations with free private parking and a good location to travel around
Airbnb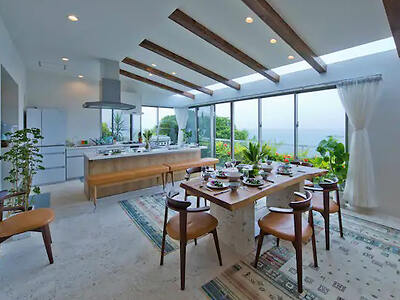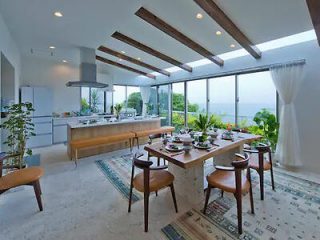 Enjoy the best Okinawa Seaview and breathe ocean air from your private jacuzzi!
Things to do in Onna
Rent a car and go for a panoramic ride around Onna's coastline
Check out Cape Manzamo, a uniquely shaped rock formation that looks like an elephant!
Go snorkeling, swimming, or scuba diving at Cape Maeda
Have a unique diving experience at Blue Cave, a fantastically shining cave created by nature!
4. Nakijin – where to stay in Okinawa for history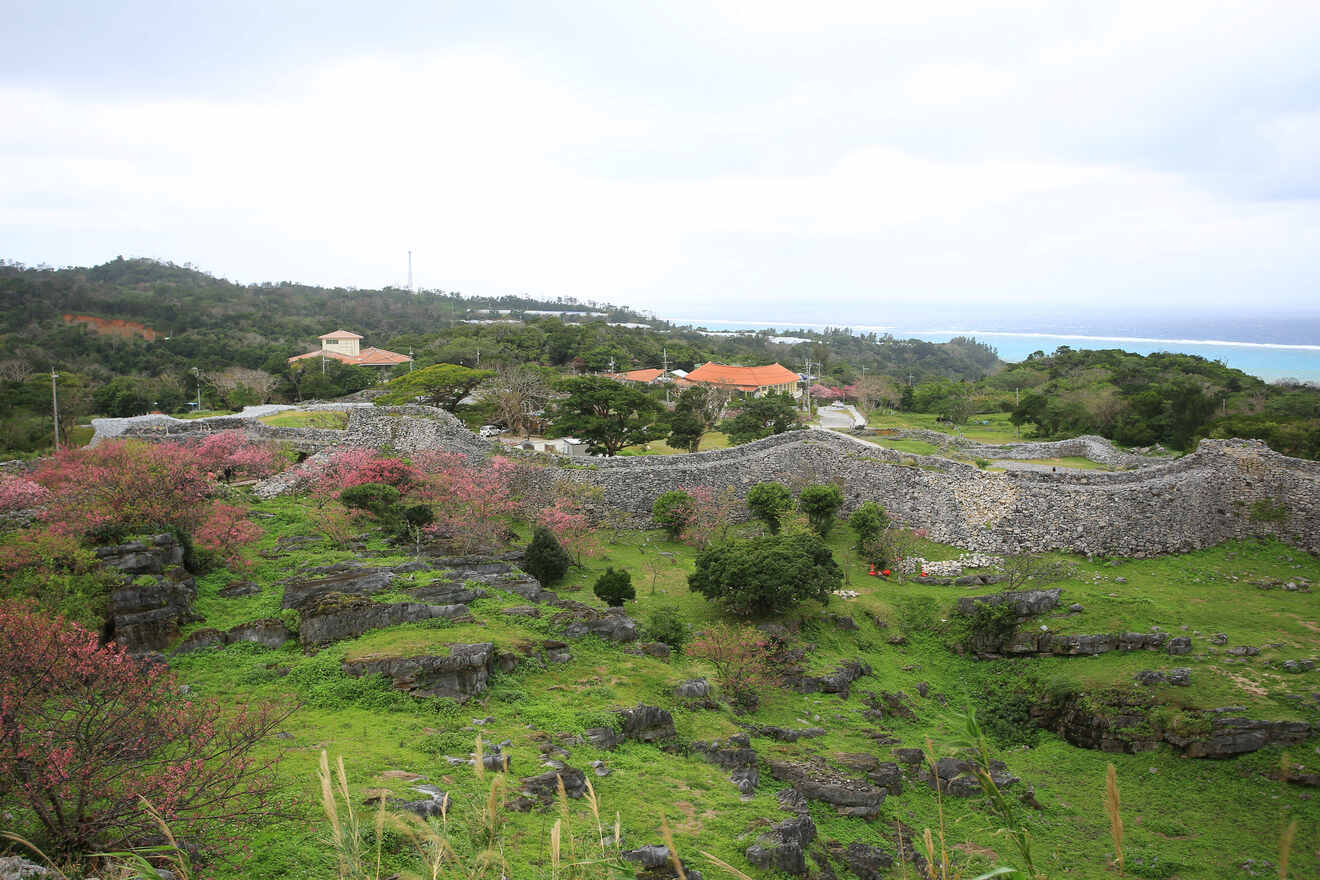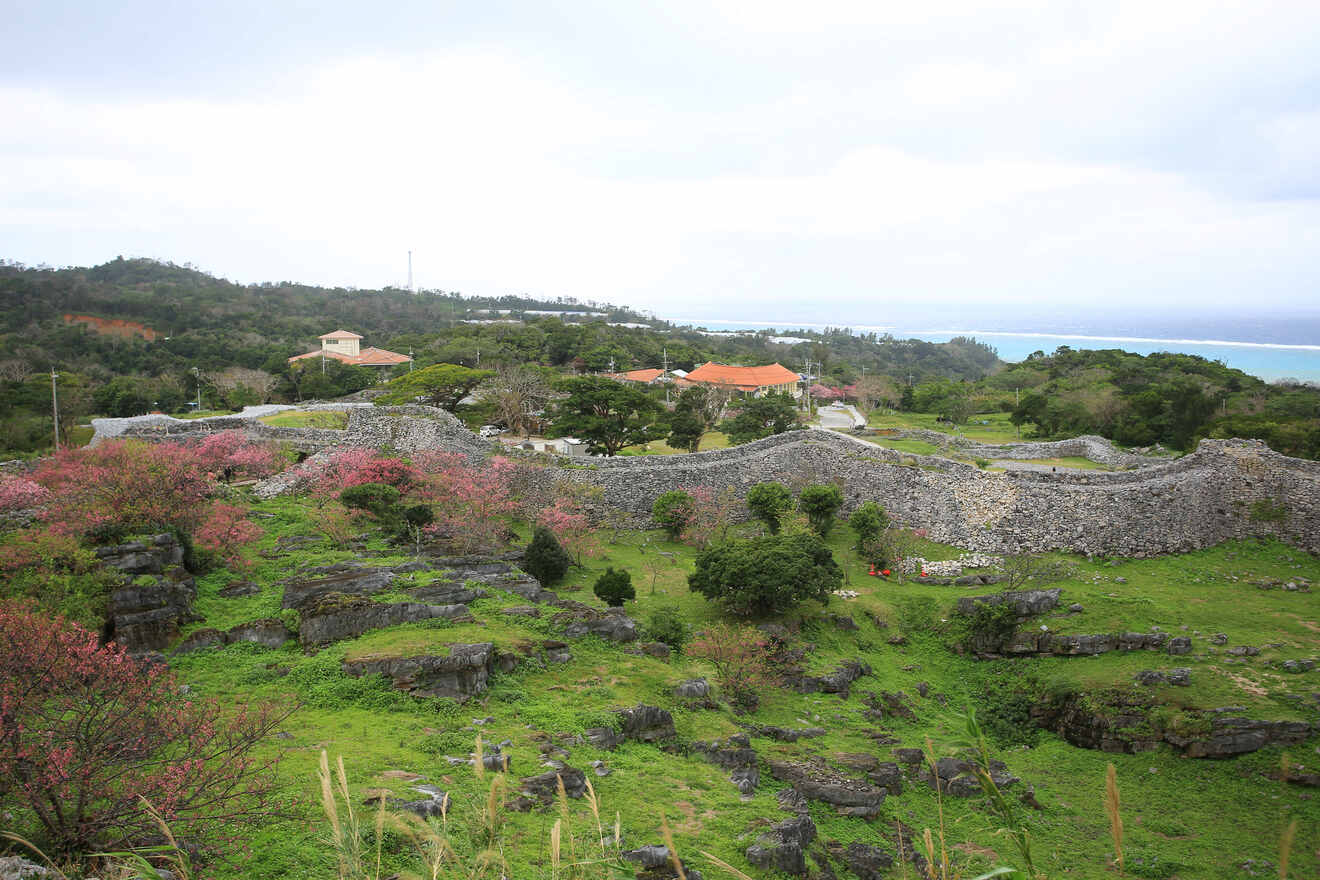 Nakijin is a tranquil village located in the northwest of Okinawa Island and it became very famous for its castle ruins that date back to the beginning of the Ryukyu reign.
Registered as a UNESCO World Heritage Site, the castle ruins attract lots of visitors wishing to see the beautiful castle walls.
The walls are 1 mile long and 20 feet tall at the highest place, making it the 2nd biggest castle on the island behind Shurijo Castle (in Naha).
This historic building will amaze you with the contrast between the expansive gray stone walls and the vibrant green of the hills! Talking about colors, Nakijin signature blue waters are perfect for diving or paddleboarding, and the orange flavorful mangos, sold piled atop sweet shaved ice, are a must here, this village is known for these fruits!
In Nakijin Village, you can stay in traditional Japanese homes, where you'll feel the warmth and kindness of the local people, or opt for one of the many luxurious hotels… let's check them out together!
Luxury hotel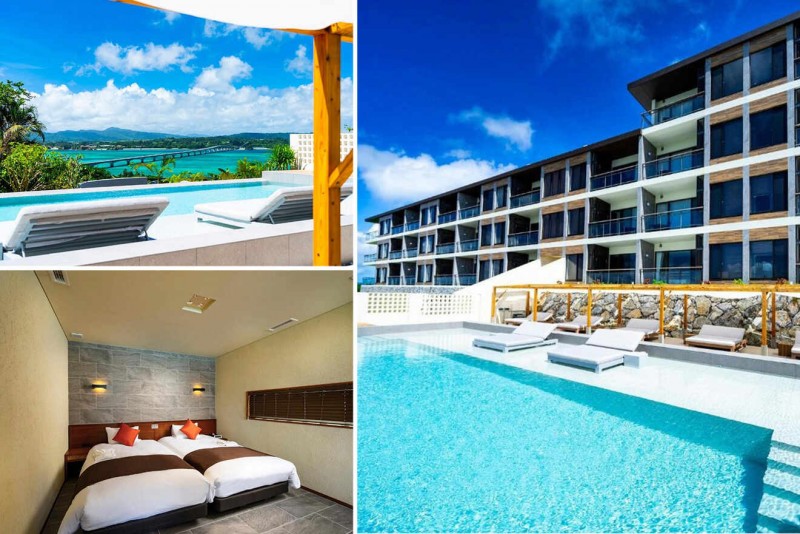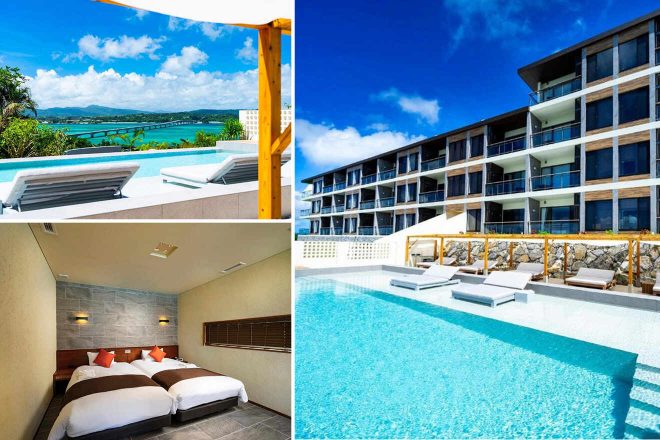 Incredible resort in Nakijin village, only a short walk from the beach, where you can breathe fresh air and work on your tan! Have the best dinners at the hotel's restaurant, and relax by the seasonal outdoor swimming pool and a terrace, from where you'll have unforgettable views of the ocean!
Other accommodation options in Nakijin
Mid-Range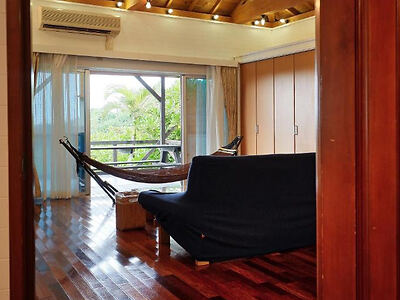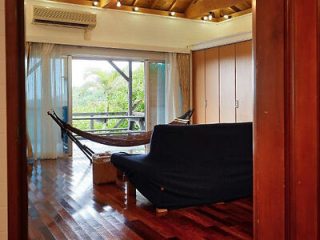 Dreamy beachfront resort with an outdoor pool and big rooms with hot tub!
Budget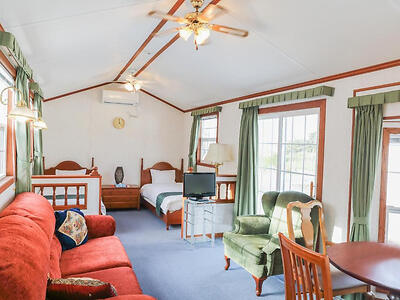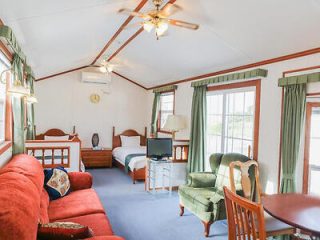 Have a cozy stay in comfy rooms with free parking, in the heart of Nakijin village
Airbnb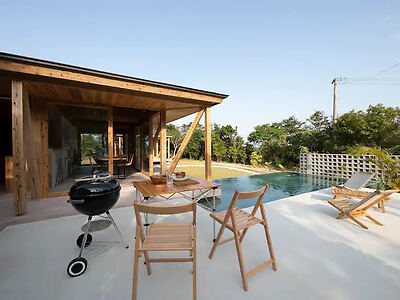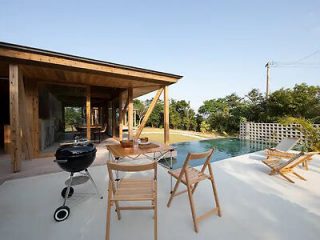 Stylish, contemporary, private house with access to outdoor pool and garden
Things to do in Nakijin
Visit the ancient ruins of Nakijin Castle!
Go diving or try paddleboarding in Nakijin signature blue waters
Try delicious flavorful mangos, piled atop sweet shaved ice!
Walk up the red tomb, a big rock in Akabaka Beach, from where you'll have an amazing view!
Rent a car and go check out the beautiful Hiji Falls, the tallest waterfall on the Okinawa islands!
BONUS: Ishigaki – where to stay in Okinawa for a beach holiday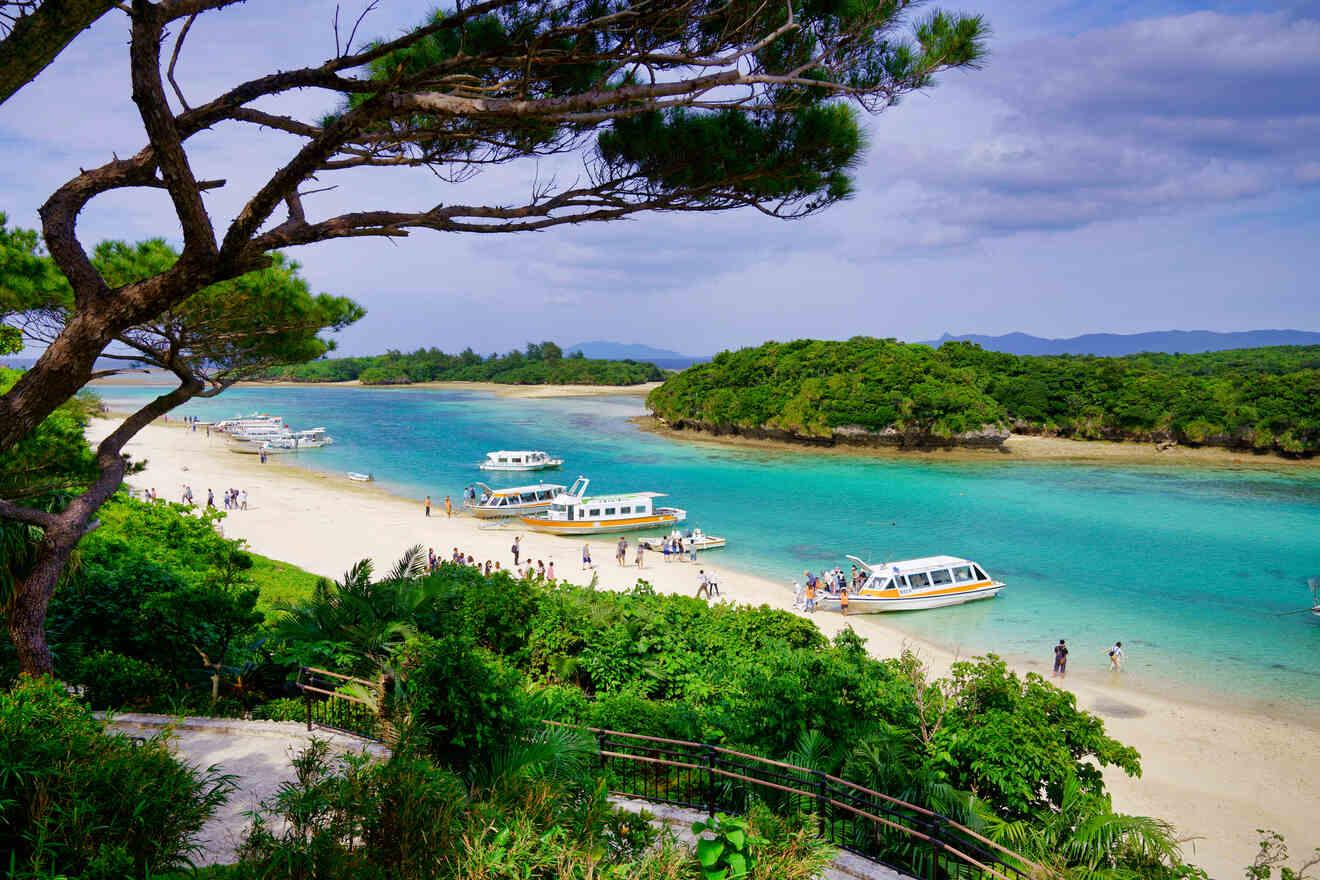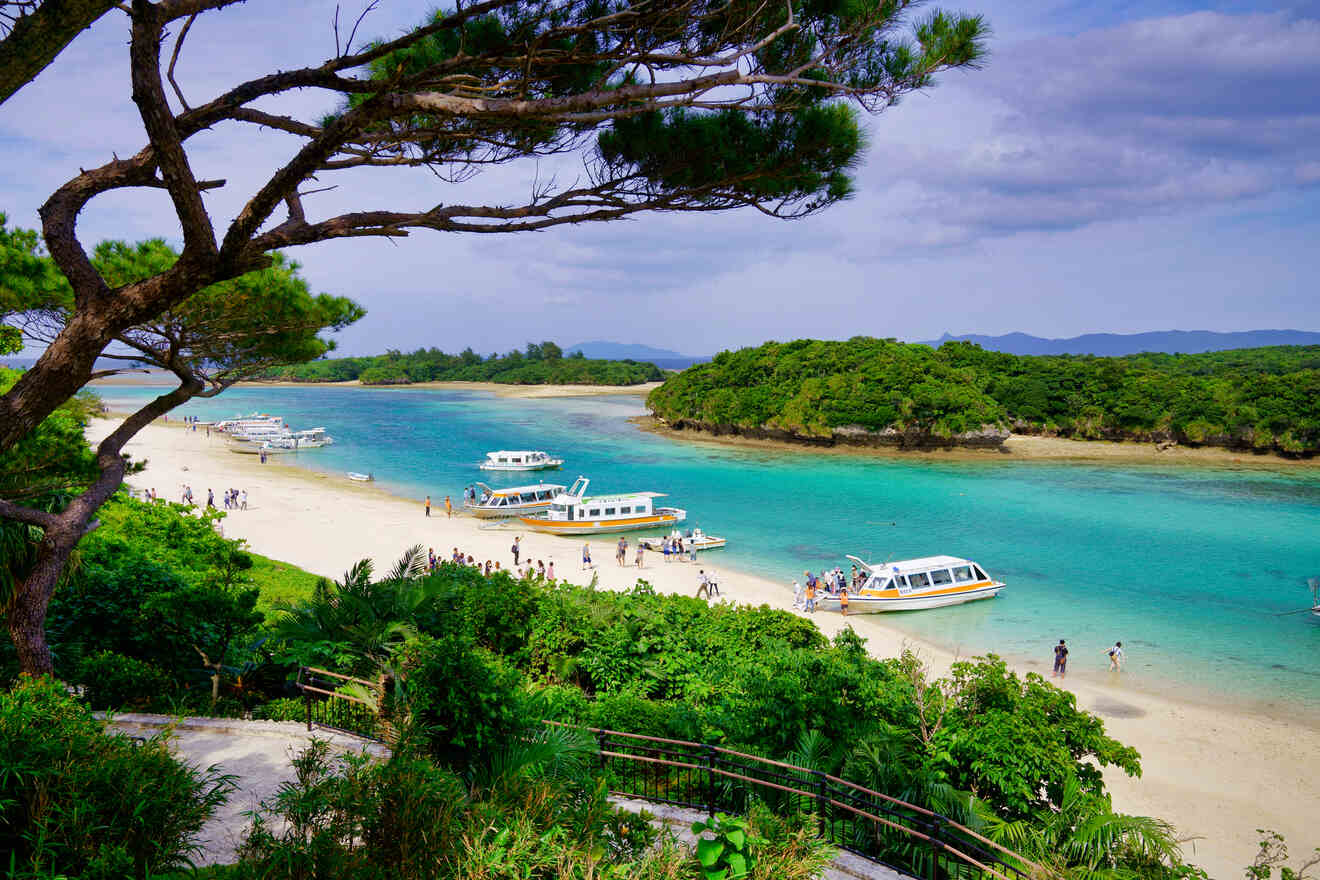 If you were already imagining yourself lying on the white sand and splashing in the crystal water while reading the introduction, you should opt for the stunning Ishigaki island, located in the south of the Okinawa archipelago. This mesmerizing place hosts some of the most beautiful beaches, such as Yonehara Beach, Sukuji Beach, or Sunset Beach.
Home to beautiful diverse marine life and the rare blue coral in its national park, Ishigaki became a popular snorkeling and diving spot in Okinawa. But Ishigaki is not only sun and sand: the mangroves spread around all the island makes it excellent for other adventures such as kayaking and the Squirrel Monkey Park is perfect for a fun visit with the family. If you want to learn something new, you can also exercise your brain at the Yaeyama museum to learn about the island's history!
And if you are into culinary discoveries, you're in the right place! The island is famed for the purest beef on earth, which is incredibly tender and pristine, while if you love raw fish as much as I do, you will also find delicious traditional sushi everywhere.
Luxury hotel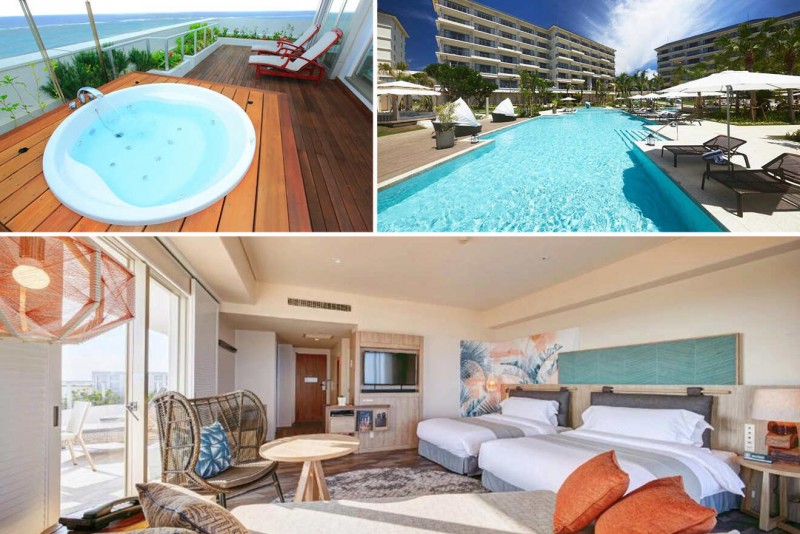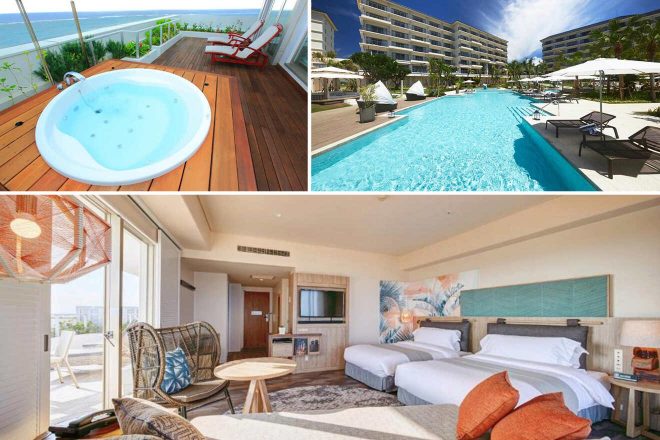 Find everything you need in this stunning resort featuring a fitness center, spa, outdoor and indoor swimming pool, and 9 dining options offering some of the best food in Japan! Enjoy the ocean and garden views from your room, breathe fresh air coming from the sea and engage in fun activities such as snorkeling, diving, and kayaking offered by the tour desk at the nearby beaches.
Other accommodation options in Ishigaki
Mid-range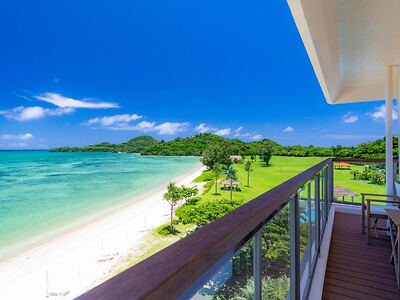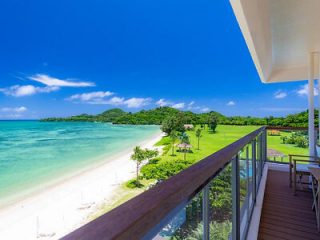 Sea-front rooms with access to a pool-side terrace where you can breathe fresh air!
budget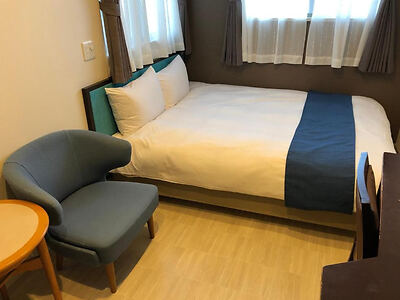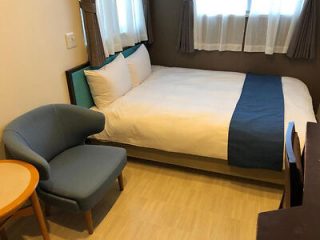 Nice and cozy place on Ishigaki island, with the city center nearby!
airbnb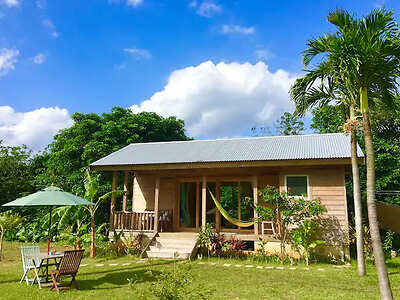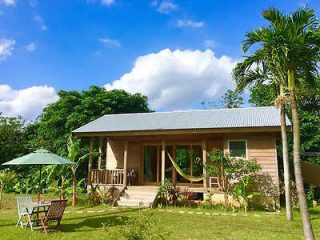 Feel at home in this lovely house with access to a garden and the sea
Things to do in Ishigaki
Go snorkeling at Yonehara Beach surrounded by colorful fishes!
Relax at the peaceful Sukuji Beach
Take ​​in the views from the Tamatorizaki Observation Platform
Play and have fun with monkeys at the Squirrel Monkey Park, Ishigaki Yaima Village
Gaze at the best sunsets at Sunset Beach
Try the purest beef on earth in one of the local restaurants
Frequently asked questions about Okinawa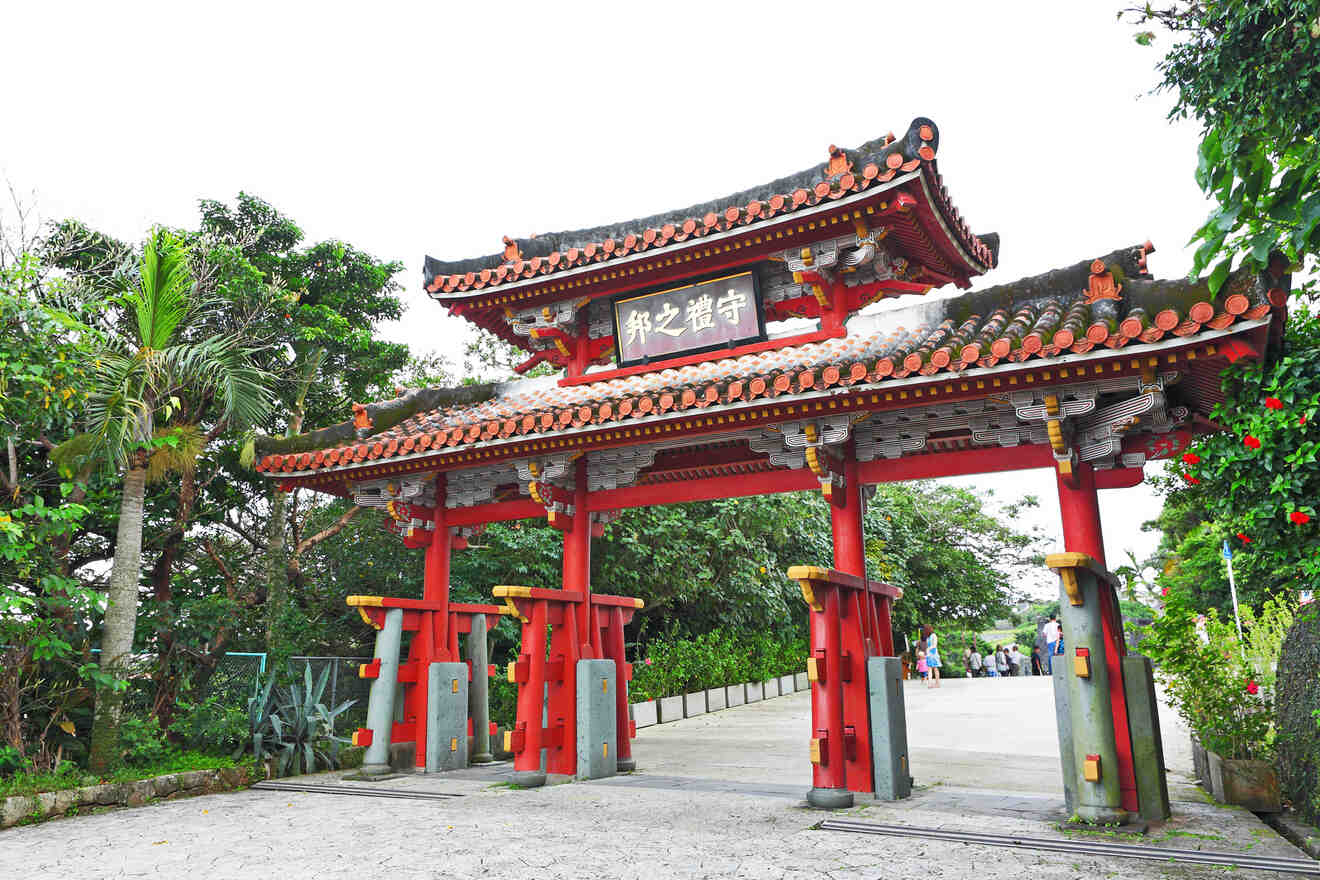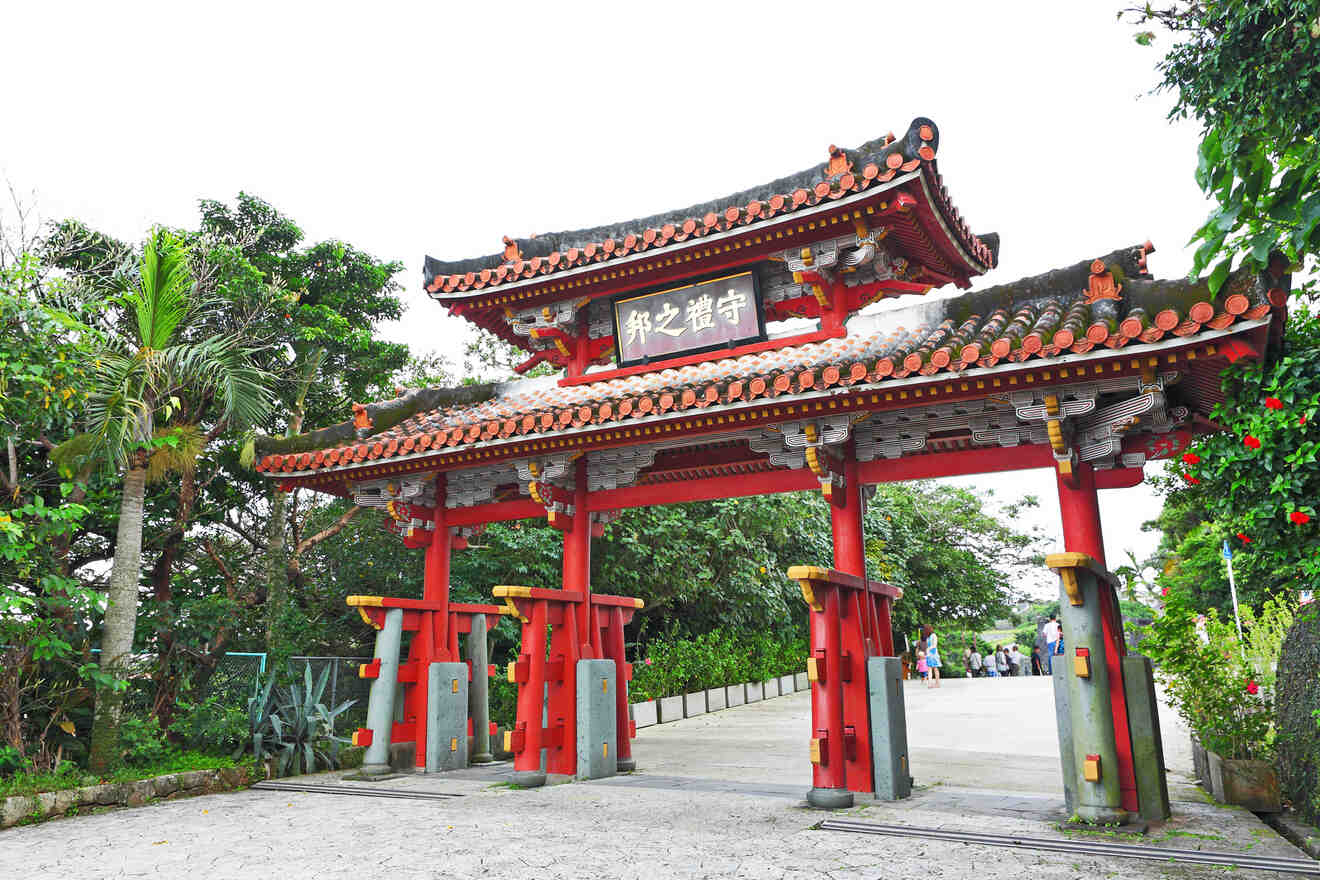 🏙️ Which are the best places to stay in Okinawa?
The best place to stay in Okinawa if it's your first time is the main island (Okinawa island), either in Nago city at the luxurious Kanucha Bay Hotel, or in the islands' capital city Naha, at the 5 stars hotel Royal Gran Okinawa.
👪 Where to stay in Okinawa with my family?
The best place to stay in Okinawa for families is Onna, perfect for a relaxing beach life or fun water sports! Stay at The Ritz-Carlton Okinawa to enjoy the spa and delicious restaurant, or at Okinawa Kouki Beach for sea views and fresh air!
💰 Where to stay in Okinawa on a budget?
📸 What are the best things to do in Okinawa?
The best things to do during your trip to the Okinawa islands are to try the traditional dishes in one of the delicious Okinawan restaurants, visit the capital city Naha, take a brewery tour at Orion Park, and check out the tall Hiji waterfall.
Conclusion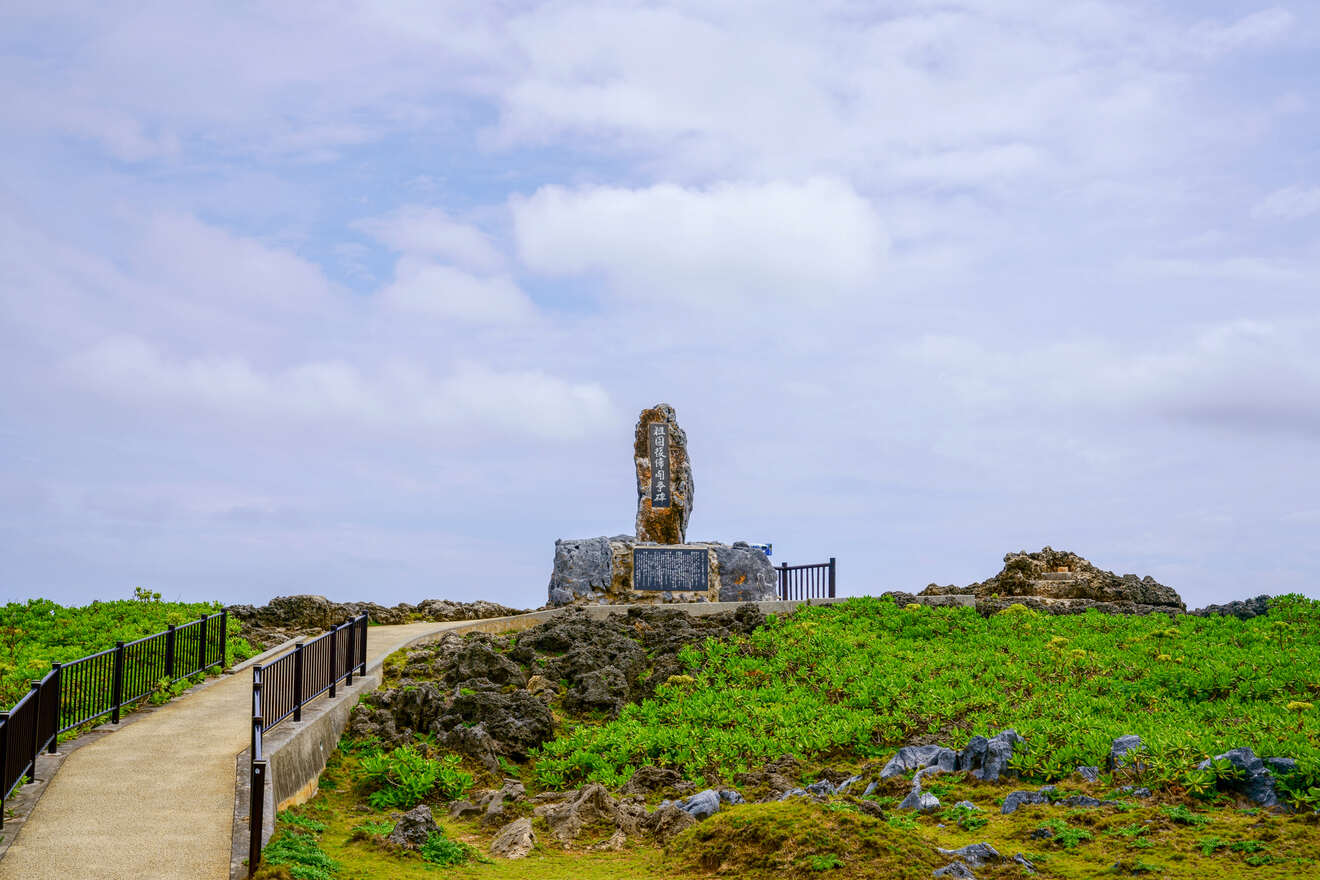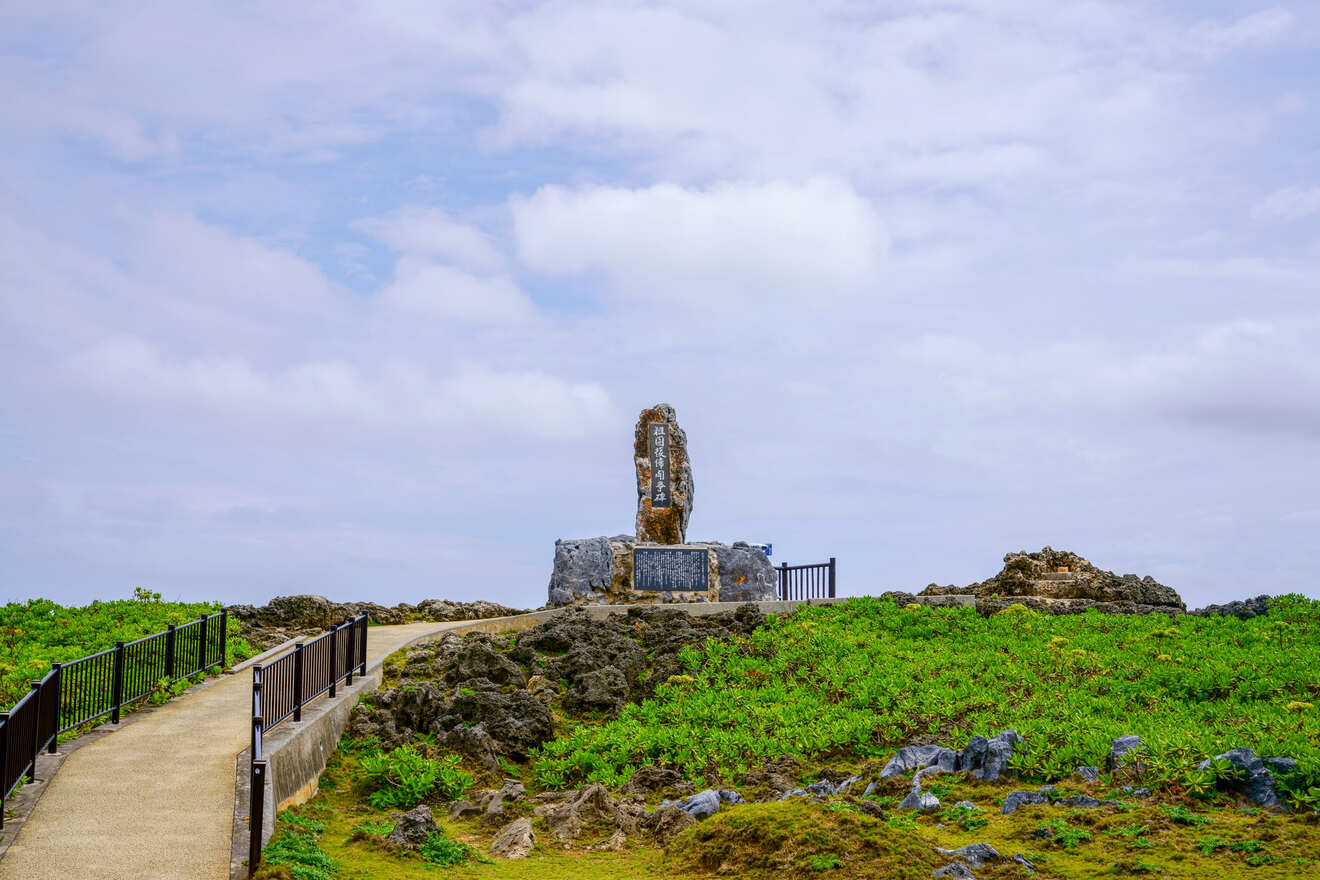 Here we are at the end of this dreamy and tropical vacation through the best areas and hotels in Okinawa, Japan! As you can see, there is such a big choice of incredible accommodations, offering views on the beach, fresh sea air, and access to countless activities and attractions for visitors.
Whether you're looking for a luxurious hotel with a relaxing spa, an upscale resort where to enjoy a delicious dinner in a traditional restaurant, or "on a budget" options like me, Okinawa won't let you down!
If you're still undecided about where to stay in Okinawa, I totally understand you, we went through so many options! So let me help you and give you my absolute top choices:
Royal Gran Okinawa – Luxurious 5 stars hotel with spacious Western-style rooms and incredible city views
Hotel Naha Kumoji – Free parking and access to all the best beaches in the heart of Naha
I hope you enjoyed reading my guide, as much as I enjoyed doing the research to help you find the best option! If you are already imagining yourself diving in the idyllic waters of Okinawa, I strongly suggest you book at least 6-months before your trip, visitors love this tropical jewel!
Have you been to Okinawa and have any suggestions or comments for this blog? Leave a comment below, I'm looking forward to answering you!
Have a great trip!
Elena
---
Pin it for later!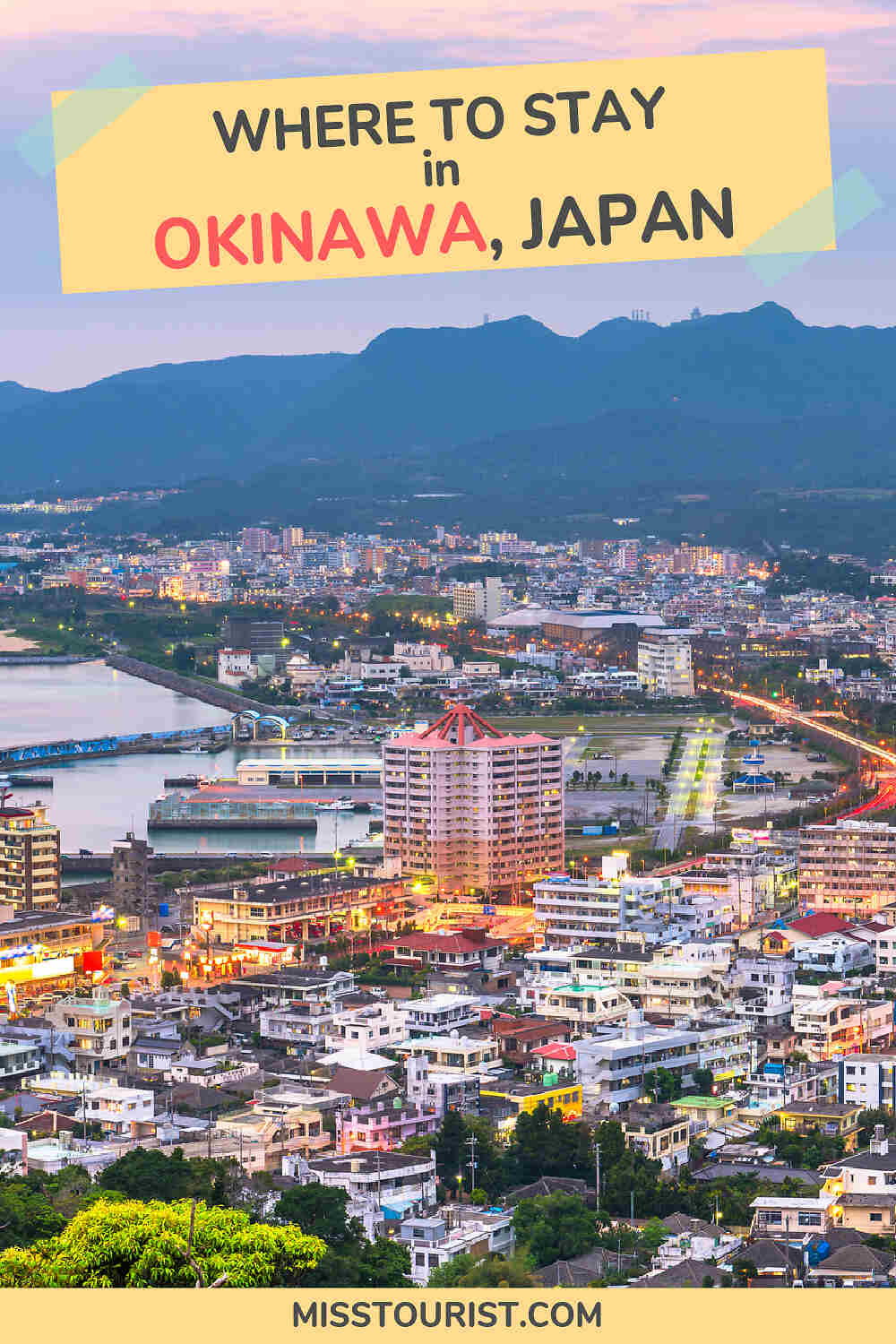 Pin it for later!