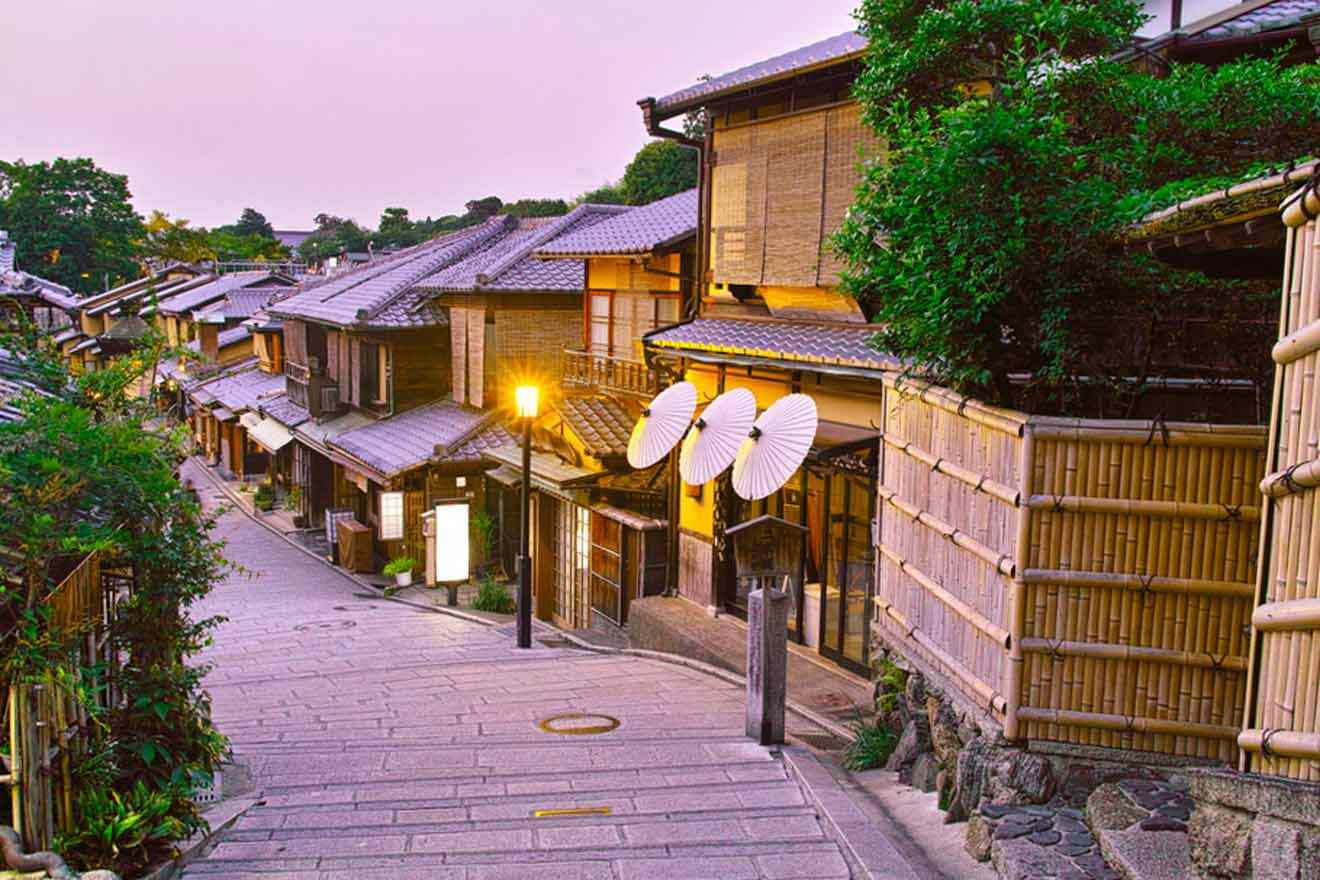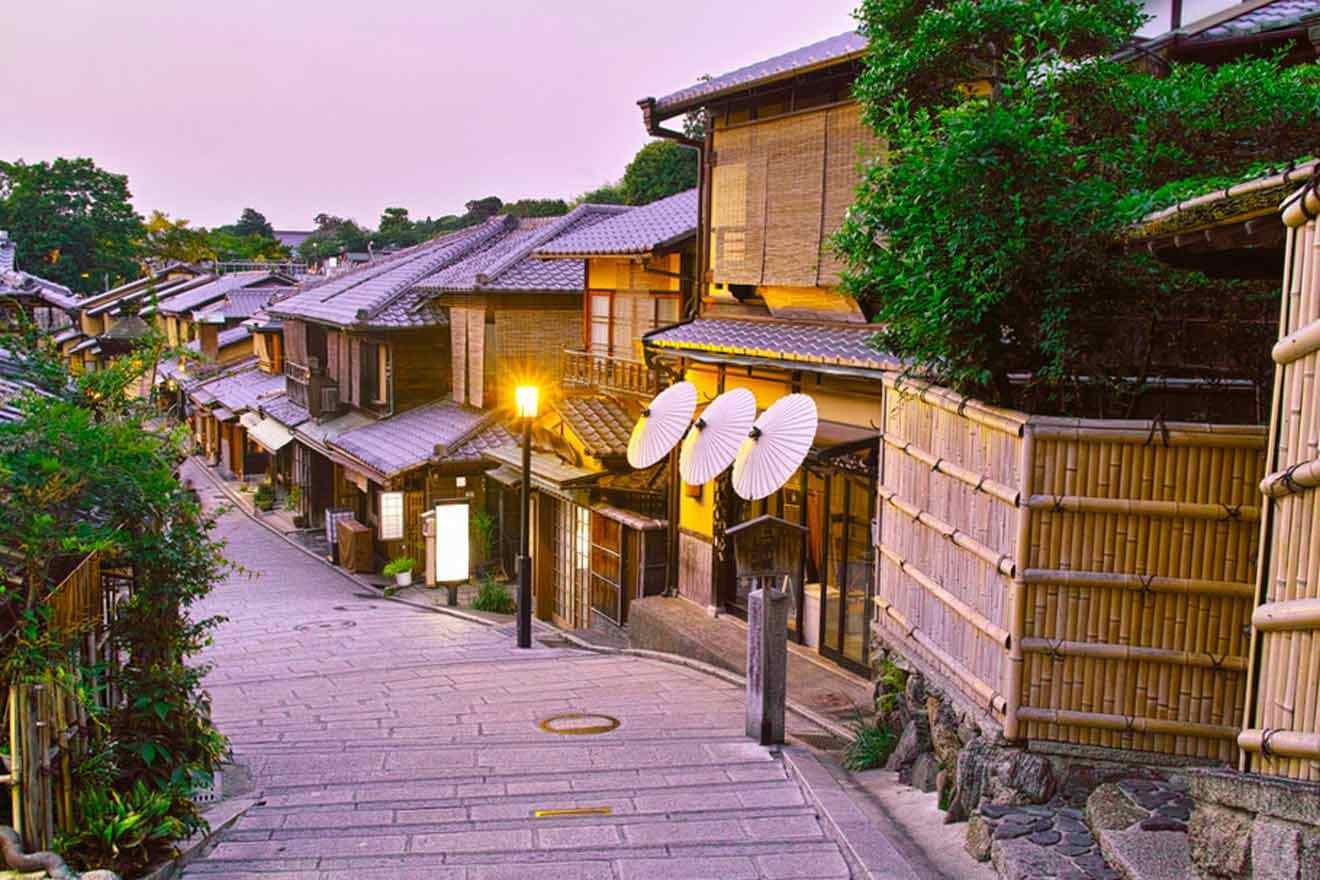 Days spent learning about Japanese culture, relaxing in natural hot spring baths, and taking long walks in lush gardens! Kyoto is such a dream come true for history, culture lovers, and everyone really!
Planning a trip there can be tricky, but today I'll help you with a pretty important part of that! Choosing a place to stay! In this post, you'll find your favorite Kyoto ryokan, which is a type of traditional Japanese inn! I've ordered the list from most to least expensive so you can easily pick your dream hotel!
But I didn't stop there! Since hot spring baths are super popular in Japan, I also looked for some of the best ryokans that have an onsen and made a whole bonus section on it.
Yep, lots to see today! But before we start, I want to make sure that everyone remembers to book their room in advance! I'm pretty sure the best Ryokans will sell out pretty fast, so it's better to be prepared!
Alright, everyone! Ready to go?
Let's start!
If you are in a hurry
No time to browse through the entire article? Not to worry! That's why I made this short list of the best hotels in Kyoto for each price range:
Luxury (US$400 and up)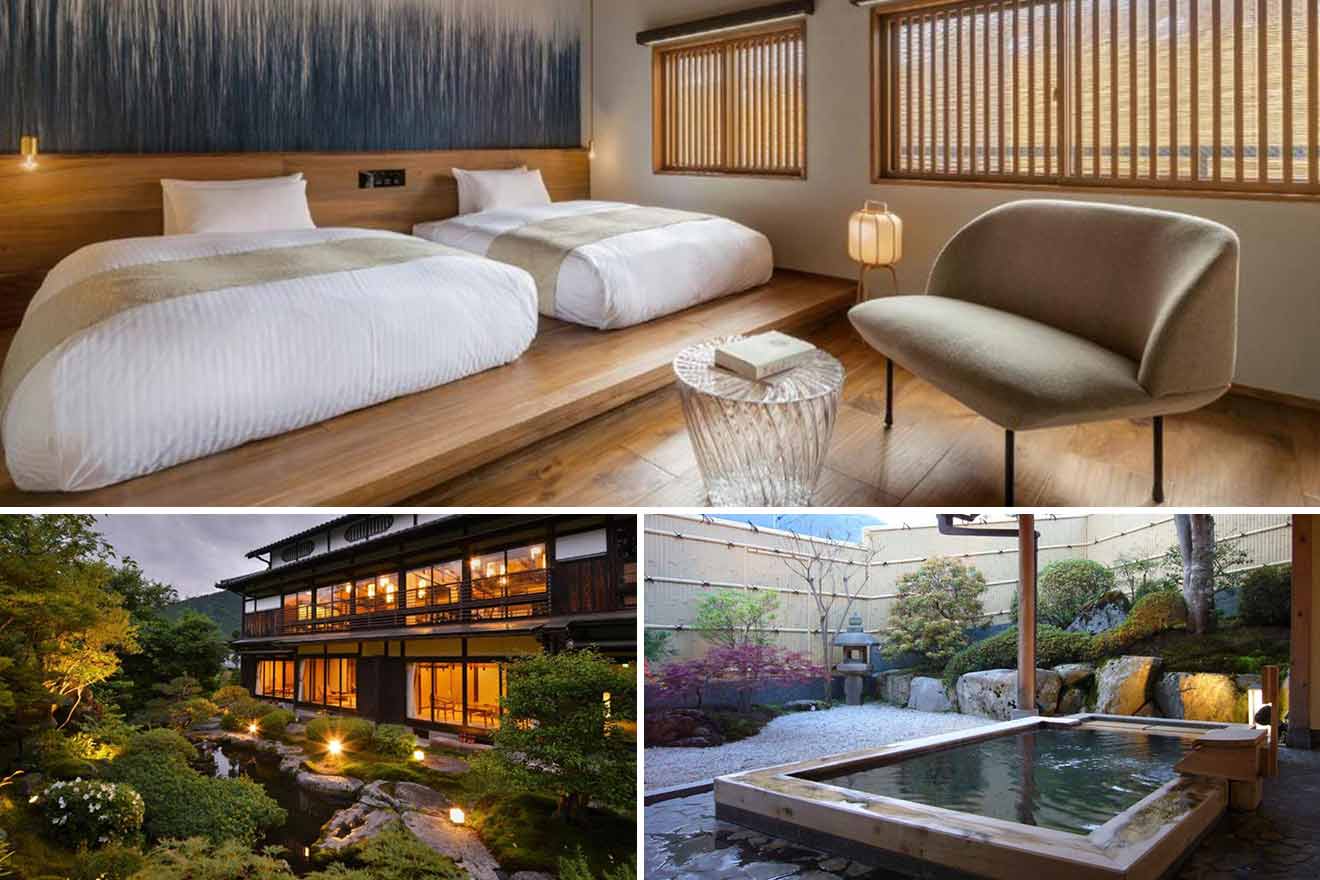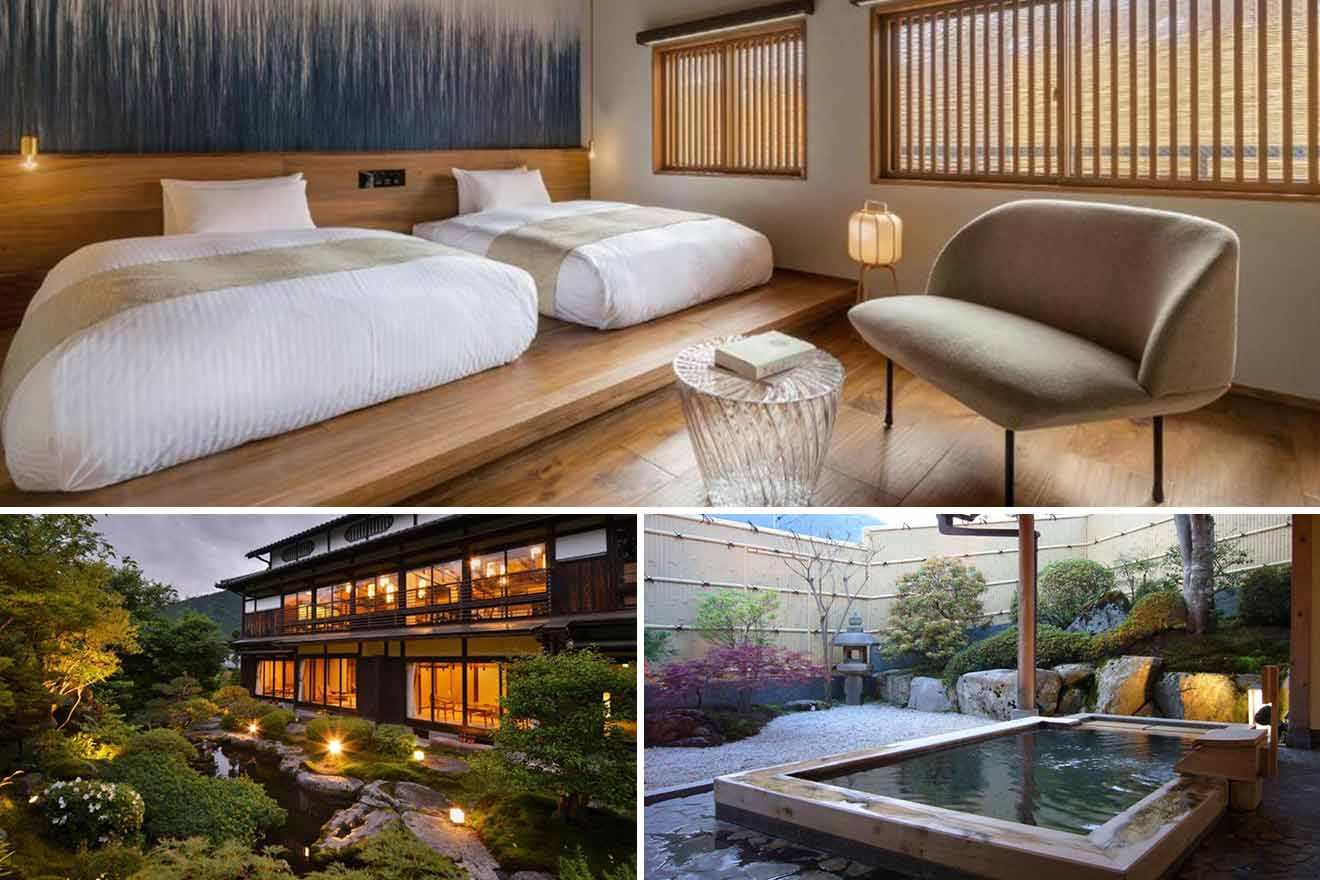 Nazuna Kyoto Tsubaki St. – Immerse yourself in the Japanese culture and enjoy a super authentic experience while staying at this hotel that's ideally located just a short walk away from the Kyoto Seishu Netsuke Art Museum. This luxury ryokan has traditional rooms with a touch of modern decor and a private bath. You'll also find a restaurant and a spa that all guests love!
Heihachi Tea House Inn – You're going to love this incredible traditional Japanese inn that's set within walking distance of the Kyoto Botanical Garden! The ryokan has tatami flooring, futon beds, and a beautiful Japanese garden where you can enjoy your tea! When you arrive, check out their 400-year-old Kigyumon Gate, which used to belong to a Zen Buddhist temple!
Japanese Ryokan Seryo – Perfect for nature lovers, this traditional Japanese inn is surrounded by lush gardens, and it has some incredible guest rooms with tatami mat flooring, futon bedding, and garden views! Do your check-in and then make sure you enjoy the public baths while you're here and, of course, indulge in all the yummy food that's served at the restaurant on-site.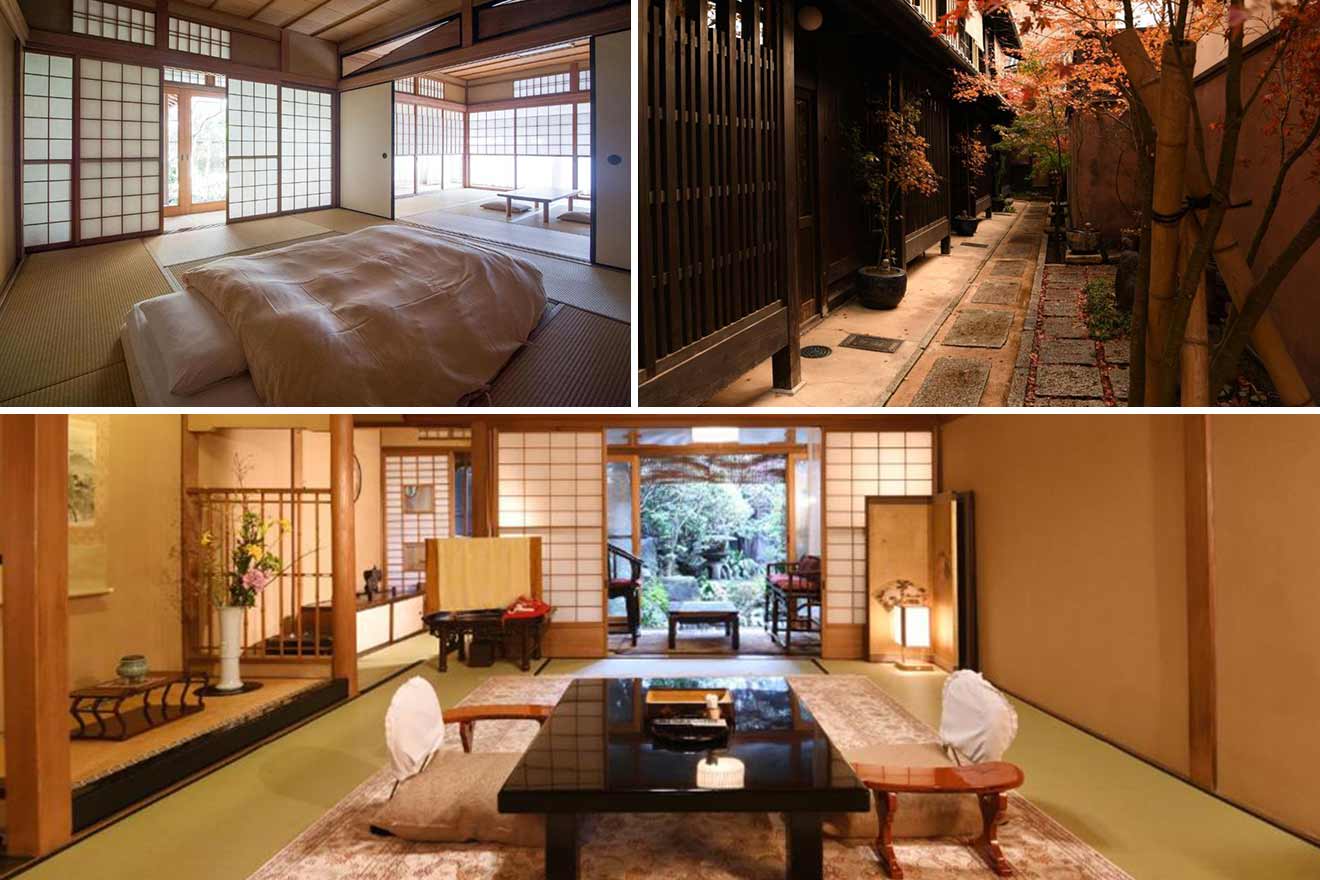 Ryokan Genhouin – Spend an unforgettable holiday in this Japanese-style inn that will make you feel as if you're on a movie set! Located within walking distance from the Eikan-do Zenrin-ji Temple, the hotel offers spacious guest rooms with tatami mats and modern facilities. Start your morning with a yummy breakfast and then relax in the public bath or borrow some bikes from the hotel to explore the city!
Seikoro Ryokan – Ready to visit all the incredible places in Kyoto and enjoy the famous Kaiseki dinners? I'm sure! But first, check out this hotel which has traditional architecture and rooms with a Japanese style that you'll love! Set a short drive from Jr Kyoto Train Station, the hotel has a garden and a public bath, and it also offers massage services, which, trust me, will do wonders after that long flight!
Yado Kiramachi – Take the city by storm and spend some incredible days here while staying at this traditional ryokan that has a gorgeous Japanese style! Located 1 mile (2 km) from Kyoto Imperial Palace, the hotel has this super cozy atmosphere! Each room has a private bathroom, and some also come with a balcony or garden view! Make sure you book your ryokan in Kyoto fast, as this city is so popular with tourists!
Mid-Range (from US$240 to US$370)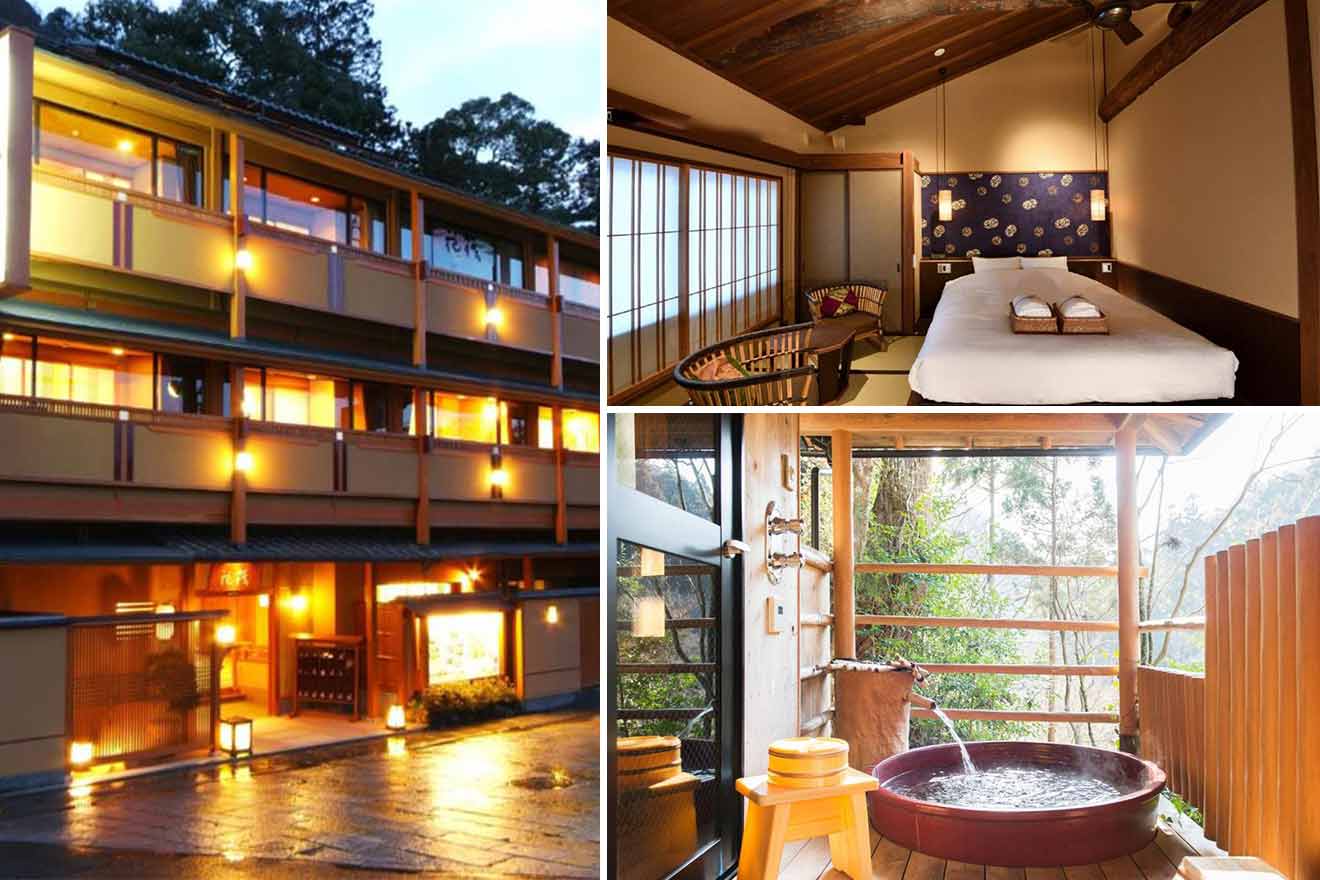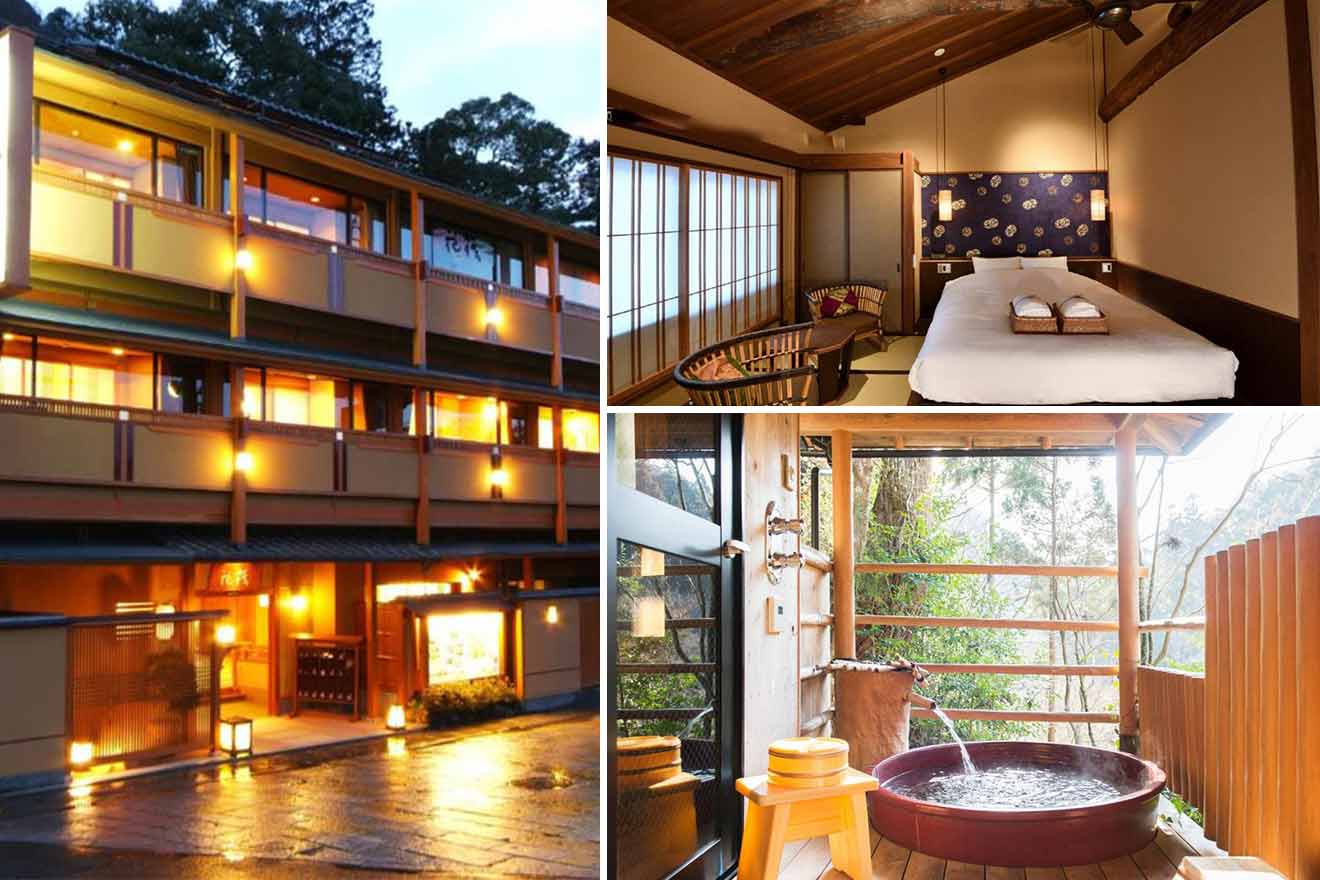 Hanaikada – This bustling city is filled with some of the best ryokans! Just like this one which is set in Arashiyama district! The traditional Japanese inn has a simple decor that creates such a pleasant ambiance! During your stay, you can relax in the open-air bath or hot spring bath that all the guests love, eat some dishes specific to the area at their on-site restaurant, and enjoy tea time in your spacious room!
Muromachi Yutone Kyokoyado – Excited to see the Imperial Palace and all the other attractions in the city? Then book your room at this traditional Japanese inn set in the Tokumancho area that has such cozy decor! At the hotel, you'll find rooms with tatami mats and a private bathroom with a bath. Start your morning with a Japanese-style breakfast (you can also ask for a Western one), and then head out to explore the city!
Momijiya Annex – In need of a relaxing holiday? Then you'll love this Japanese-style inn that's set in a gorgeous location by the Kiyotakigawa River! Surrounded by lush vegetation and gardens, the accommodation offers easy access to the forest, and it has rooms with a private open-air bath, a restaurant, and other Japanese-specific elements like tatami-mat flooring and paper sliding doors.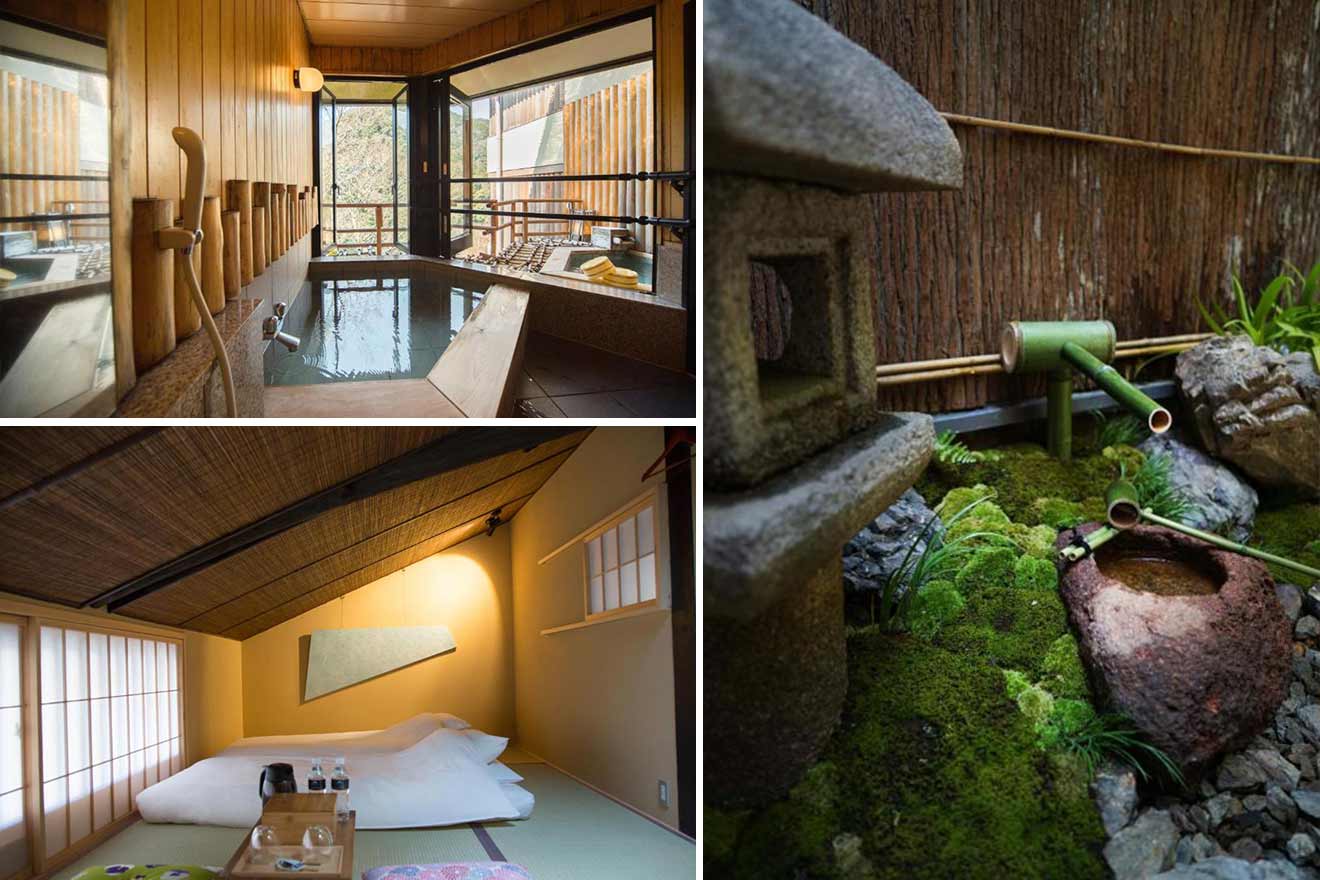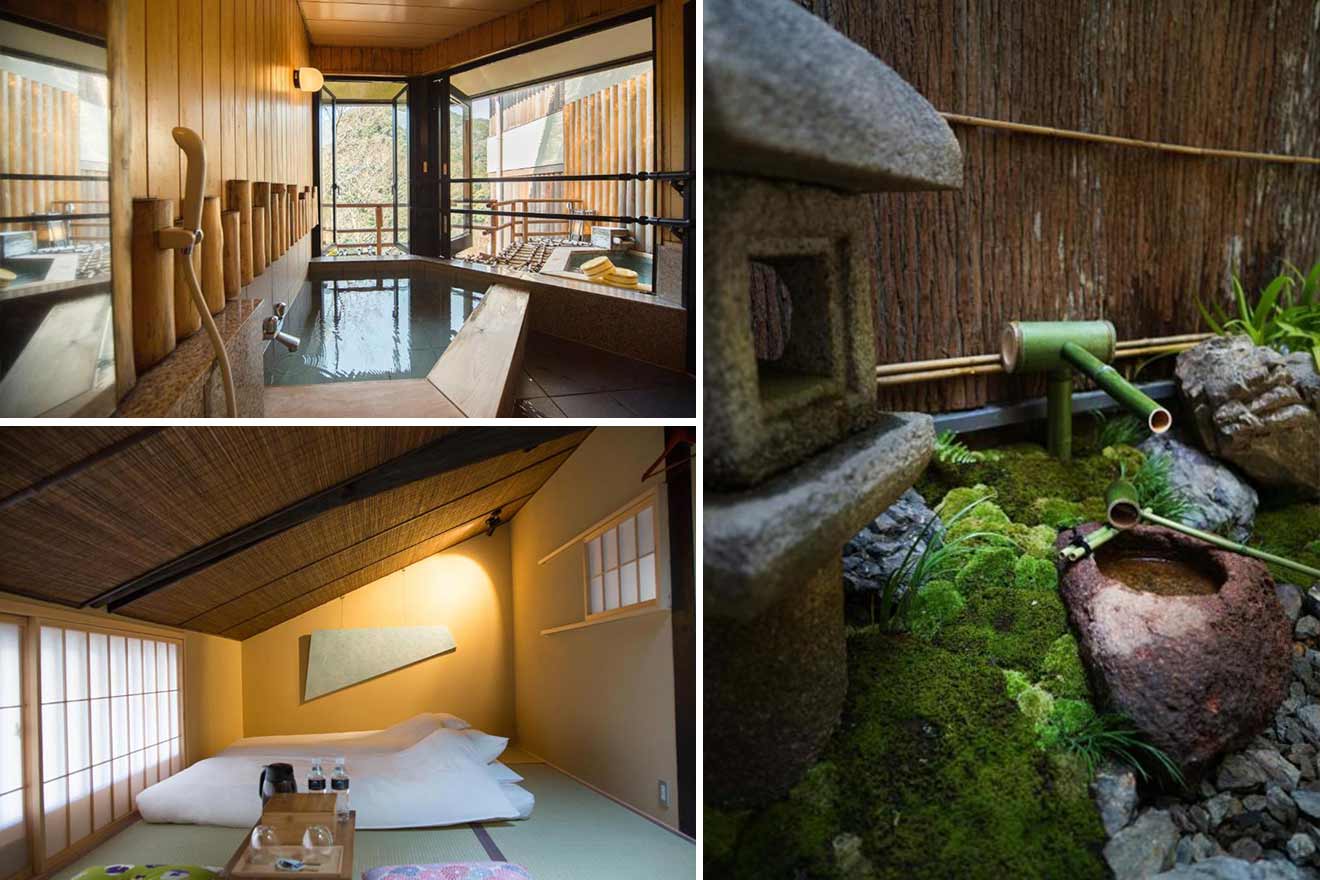 Momijiya Honkan Takaosansou – Enjoy the forest views while sitting in the public bath of this traditional Japanese inn that all guests love! Located along the Kiyotakigawa River, the hotel has spacious rooms with mountain views, a restaurant that serves dishes from the local cuisine, and free parking spaces.
Ryokan Mugen – Planning a romantic getaway in Kyoto? Then you might love this adult-only traditional Japanese inn that's set near the Imperial Palace! The accommodation has lovely decor that will make you feel so at home! Each room has such an authentic vibe, and you'll also find a garden, a terrace, and bikes that guests can rent out to explore Kyoto!
Ryokan Tori – Gotta love a city that has kept its thousand-year culture so alive! This Japanese-style ryokan is set a 30-min walk away from Kinkaku Ji Temple, and it's the perfect place to get a glimpse of this country's culture! The hotel offers guest rooms with a shared bathroom, while some have a balcony and traditional tea, which you'll enjoy on the long-established tatami flooring!
Budget (up to US$190)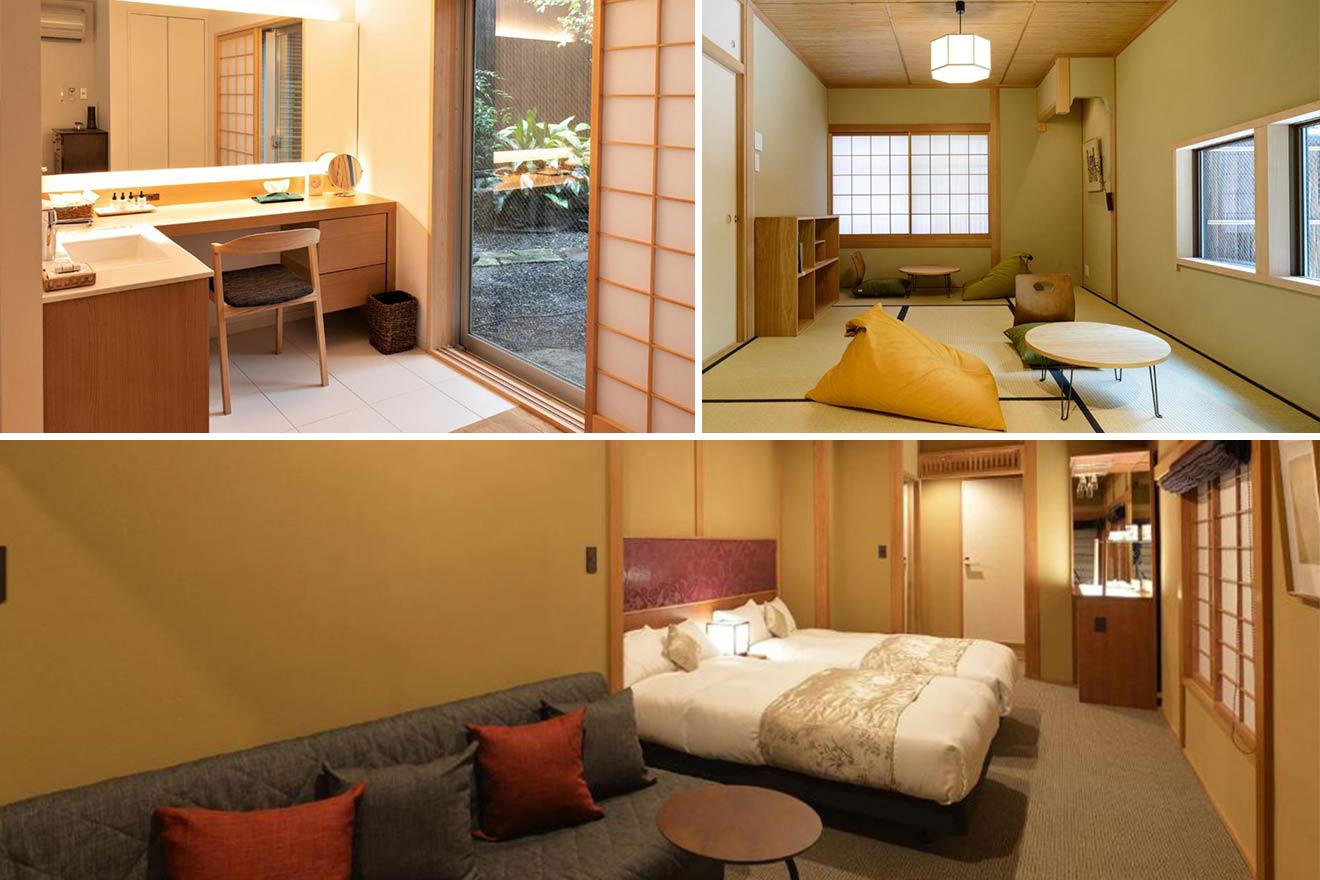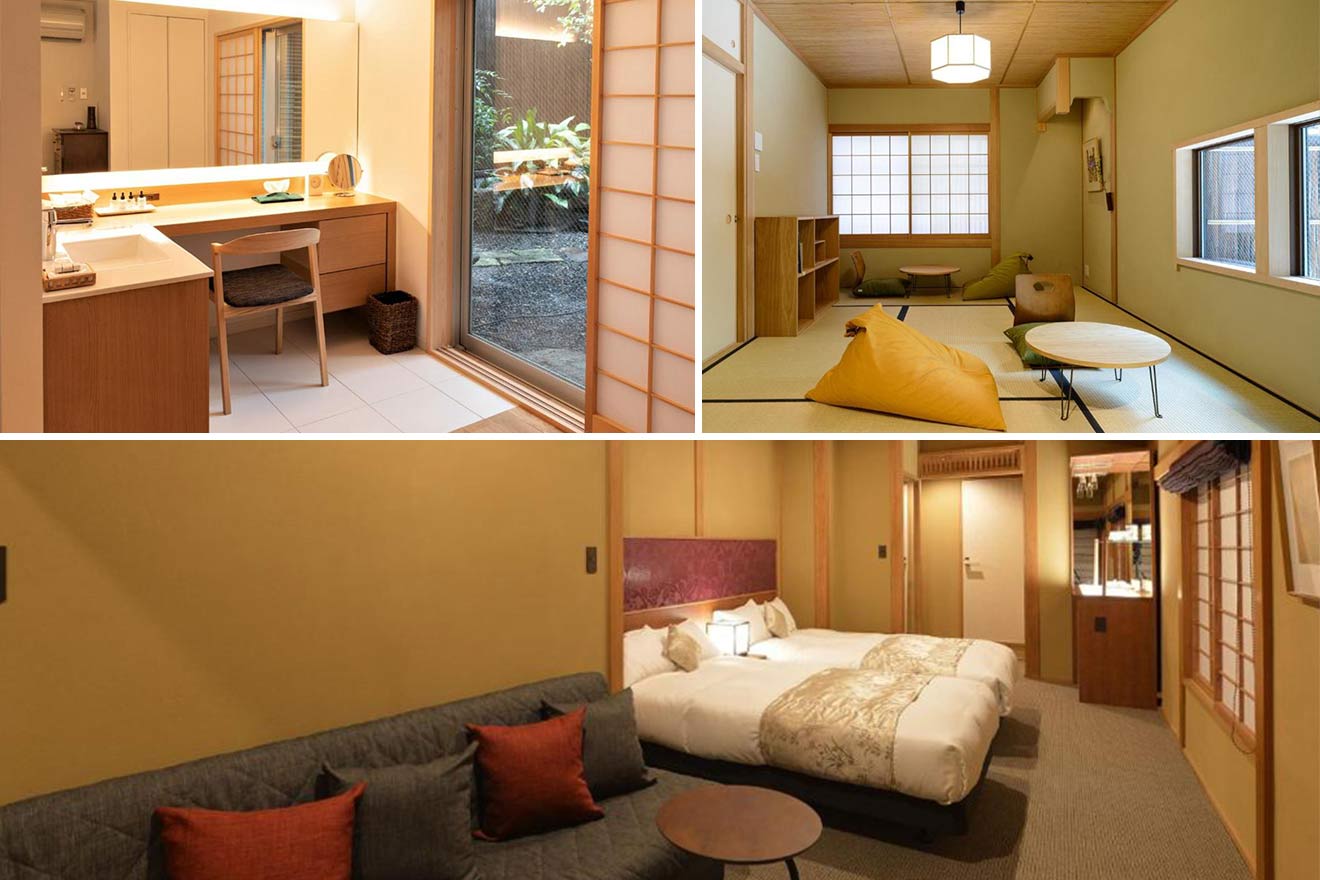 Luck You Kyoto – Looking for a more affordable traditional Ryokan? I found this really cool one that's located a 15-min drive away from the Heian Jingu Shrine! The accommodation offers a specific, minimalistic design specific to Japan but with lots of authentic elements like tatami floors. Guests will get a free breakfast each morning and bikes to rent out!
Auberge Azabu – Cheap and located in Central Kyoto! What more could you wish for? This traditional property is comfortable and has some great spacious rooms with a private bathroom. When you're not out and about exploring the city or visiting the UNESCO World Heritage Site, the Tenryu-ji Temple, you can relax in the garden and indulge in all the food at the in-house restaurant of this ryokan that has a central location!
Gion Oyado Kikutani – Located in the Higashiyama Ward district of Kyoto, this traditional ryokan will offer all guests a place where they can unwind and decompress after their long journey! Each room is beautifully decorated, but you can also spend time in the common room or garden! Grab your travel book and a nice cup of tea from the hotel, and enjoy a tranquil afternoon!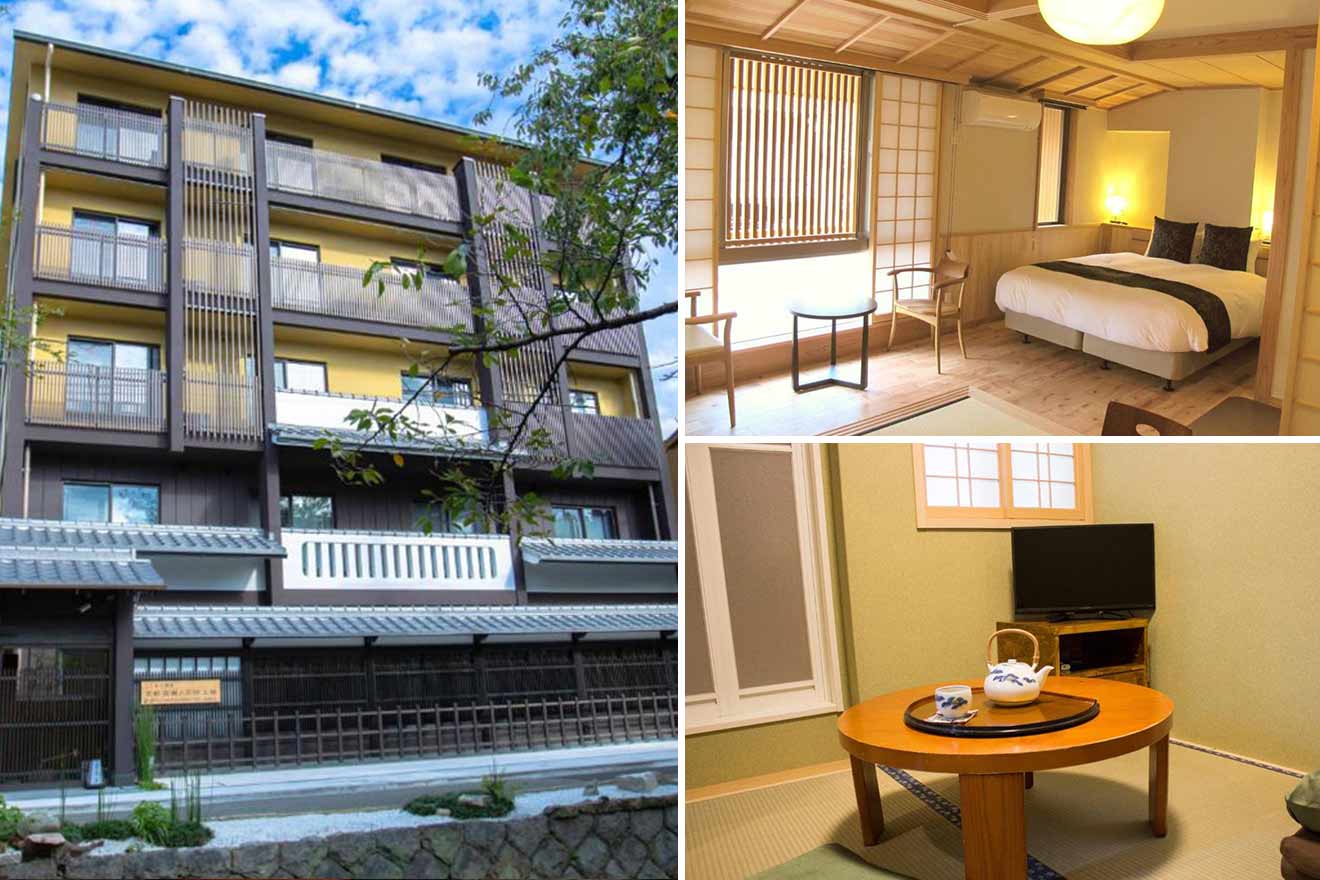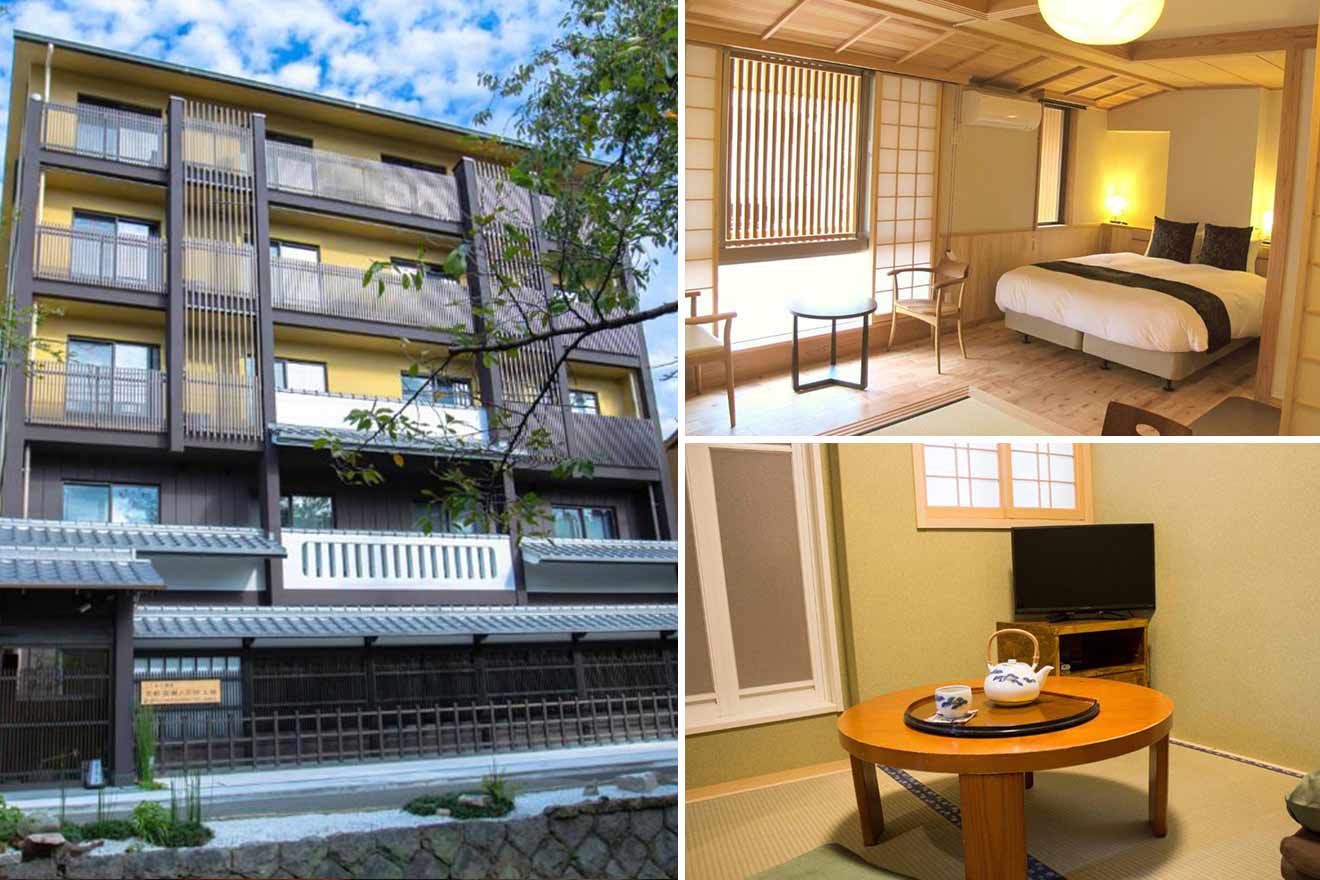 Kyoto Takasegawa Bettei – I'm sure many of you will want to stay in Central Kyoto to have easy access to the rest of the city! If so, check out this great ryokan in Kyoto, where each guest room is designed to offer guests a comfortable stay! Boasting garden and river views, the hotel has board games that you can borrow, and it also provides breakfast for a small charge.
Kyomachiya Ryokan Sakura Urushitei – Discover a whole different culture while staying at this amazing Japanese inn that is set a short walk from Kyoto Station. Featuring traditional designs, spacious rooms with a private bathroom, and a super relaxing ambiance, this accommodation invites all guests to relax in the garden or at the bar and explore the city all day long!
Kamoya Ryokan – I know you're all excited to see places like Nijo Castle or the Yasaka Shrine and relax on the banks of Ōi River, but first, let's check out this traditional ryokan in Kyoto, which has rooms with tatami floors, a flat-screen TV and a private bathroom. While you're here, make sure you borrow some bikes from the accommodation to explore around!
Check the Rates for Your Dates
BONUS: Best Kyoto ryokans with a private onsen
For anyone who doesn't know an onsen Ryokan is a hot spring inn where the super old traditional of the Japanese culture is still very much alive! There are some incredible ryokans that have onsens in the rooms, which means you can use them whenever you'd like!
That's why I thought I'd make this bonus with the best Kyoto Ryokans that have these natural private baths! I've ordered them from most to least expensive, and the prices start from US$400 to US$950: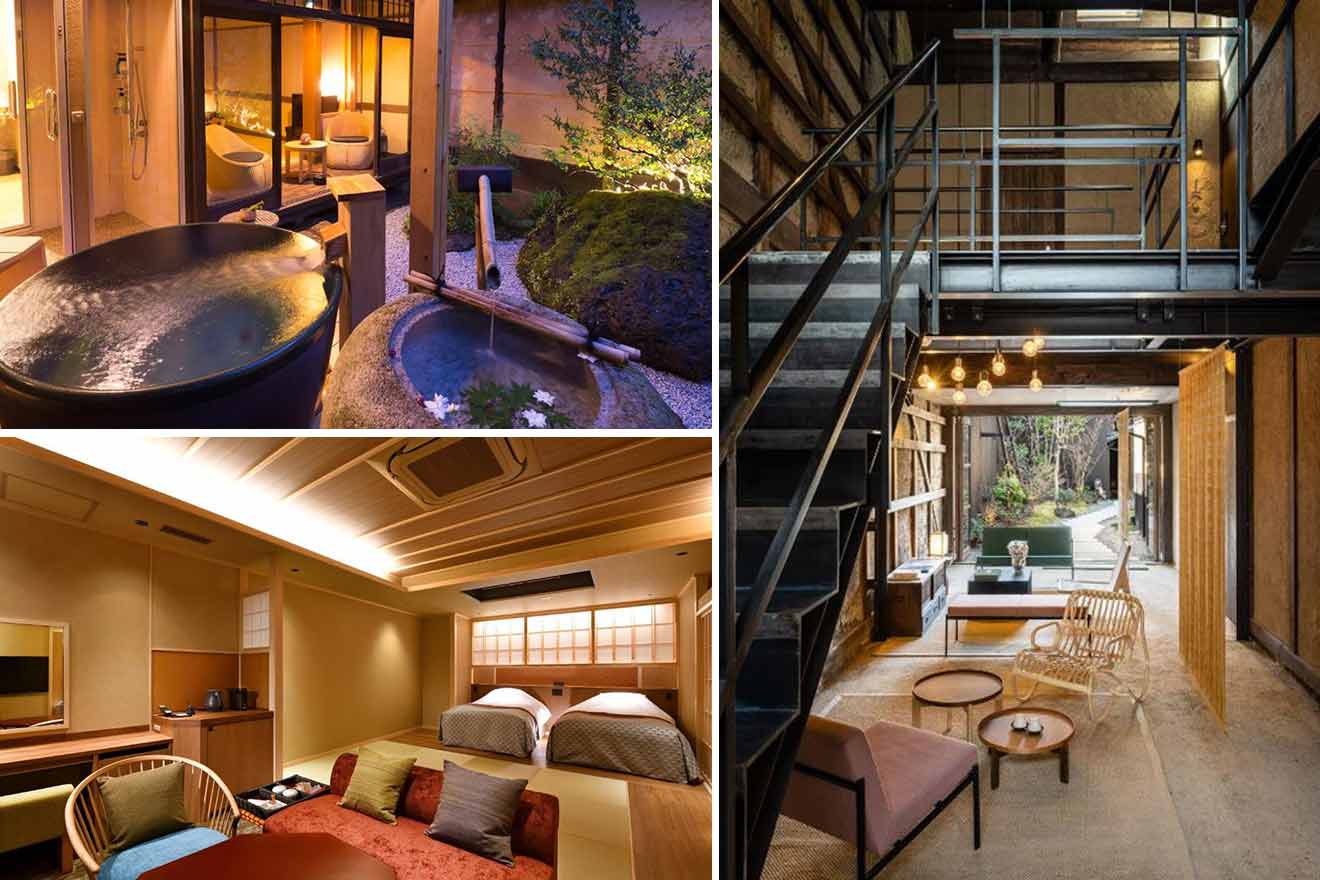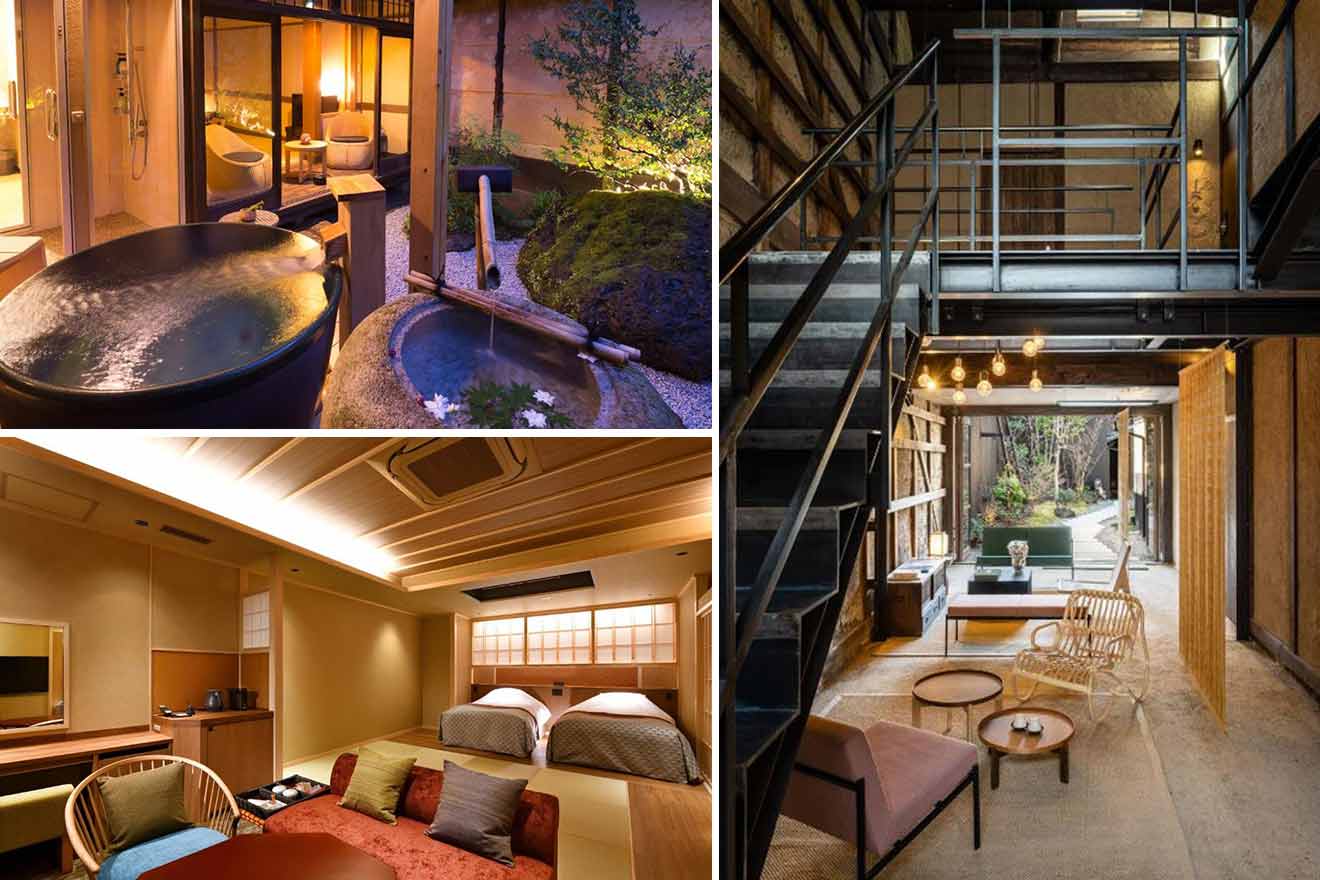 Nazuna Kyoto Nijo-jo – After a day of exploring the town for quite a while, jump in your private onsen and relax! This gorgeous accommodation that's set a short walk away from Nazuna Kyoto Tsubaki St. has such unique decor, a garden where you can enjoy your ceremonial matcha, and a terrace.
Nazuna Kyoto Gosho – Enter a whole other world where relaxation and tranquility are the main 2 themes while staying at this gorgeous hotel that's set near the Kyoto International Manga Museum. Book your room which is a lovely outdoor private bath that also has seating. They also offer other spa facilities like massages!
Kyo Yunohana Resort Suisen – Set in a beautiful location, surrounded by greenery and lush gardens, this hotel in Kameoka offers open-air baths, a garden, and a delicious Asian breakfast each morning!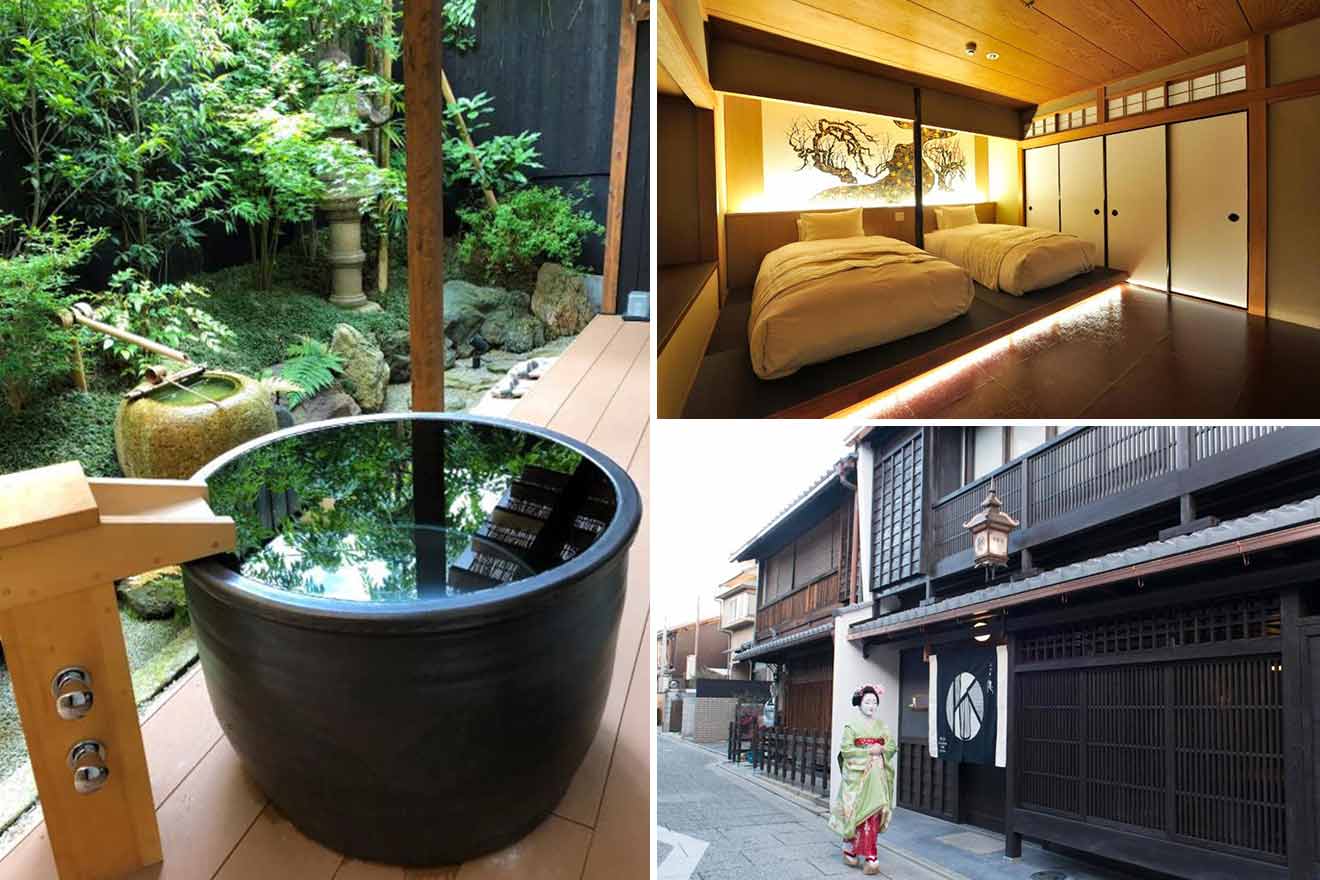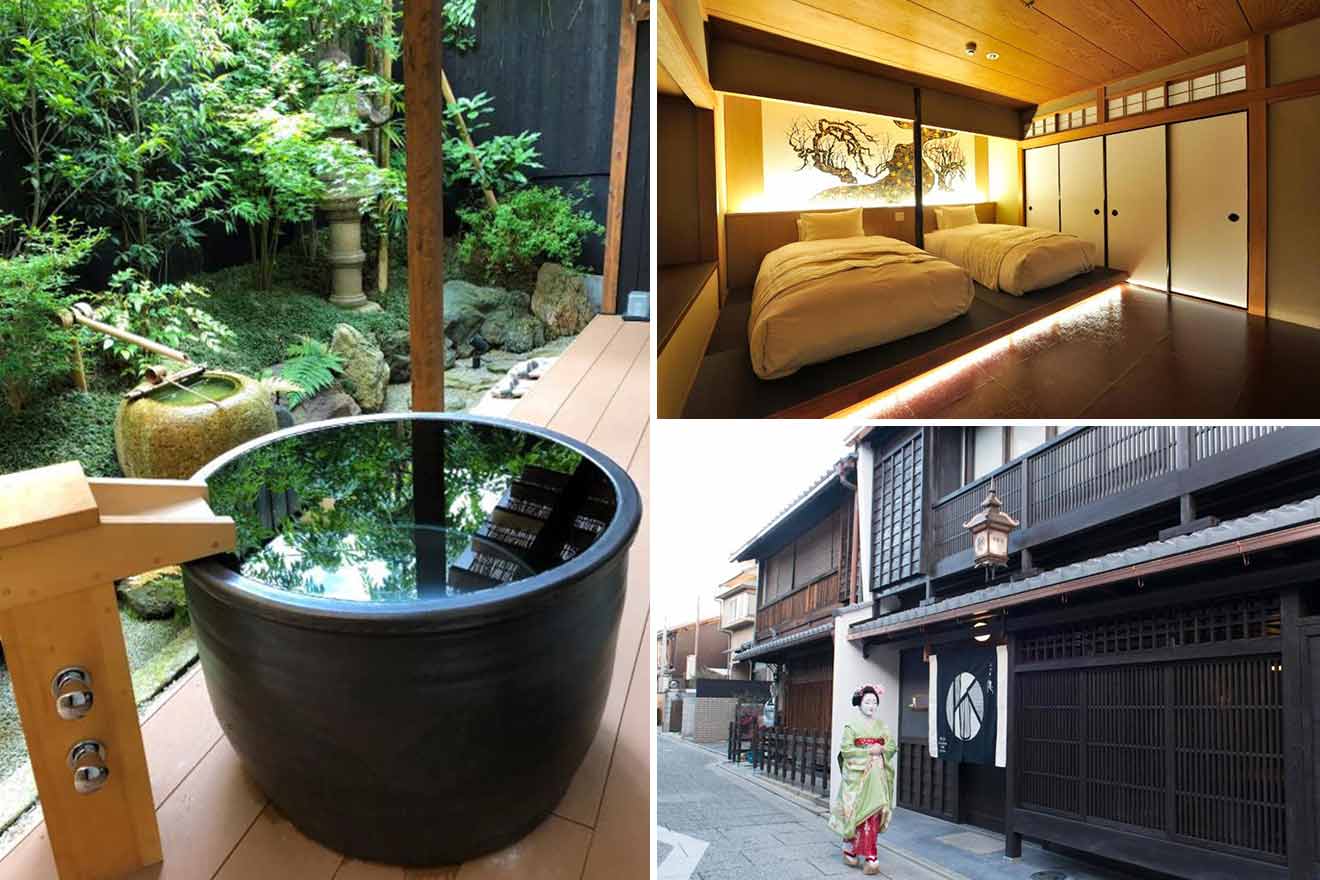 Kiraku Kyoto Higashiyama – Want to stay close to Shoren-in Temple? Then have a look at one of the best Ryokan hotels, which has rooms with an open-air bath! Start your morning with some room service and then jump straight into your hot spring bath and end your mini-spa session with a walk in the garden.
Kamishichiken Oku – This traditional ryokan in Kyoto has everything you need for your holiday! All the other guests who stayed here loved the private onsen and all the yummy food they serve here (which can also be brought to your room). Guests can also borrow bikes if they want to explore the Kamigyo-ku area.
FAQs about your Kyoto ryokan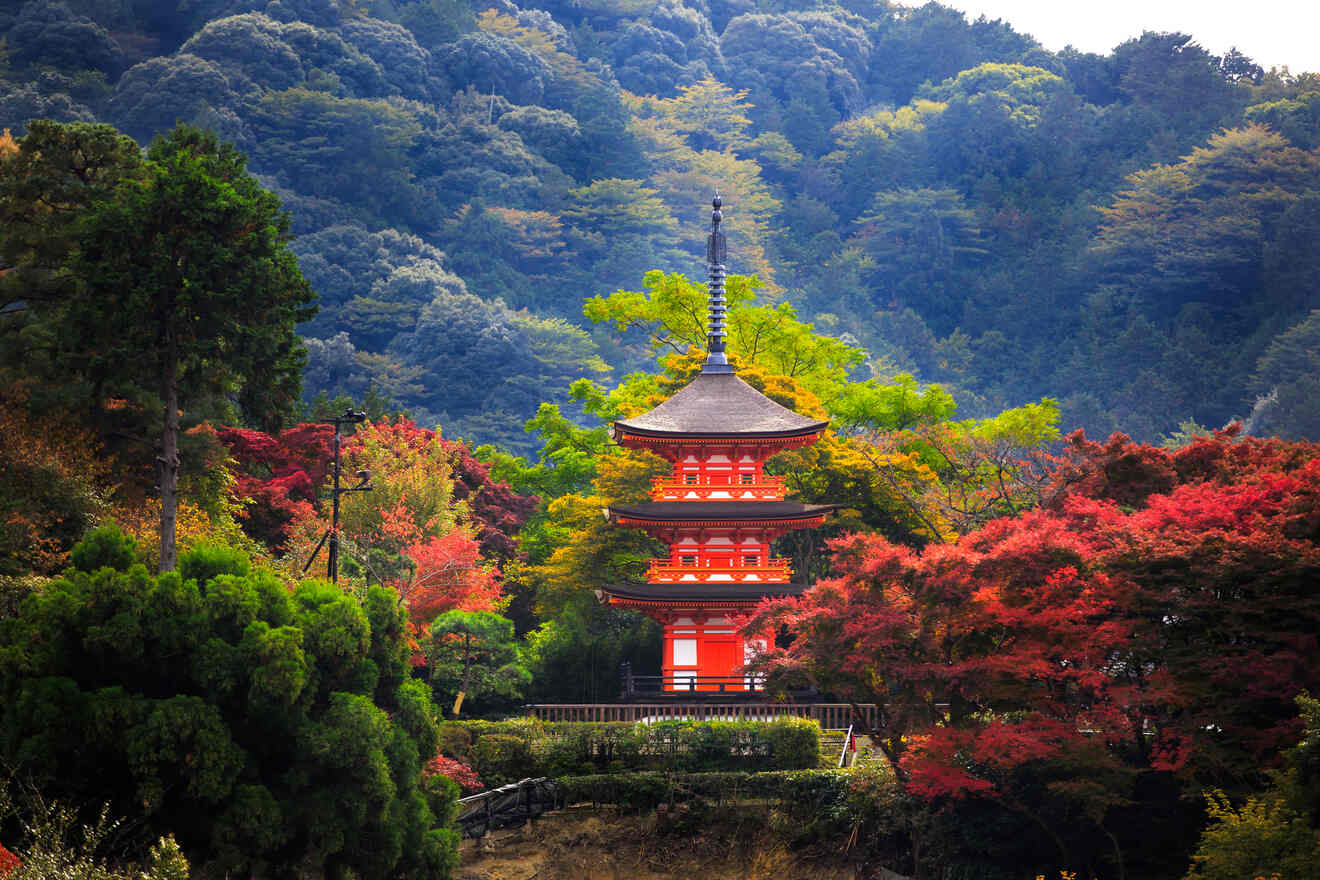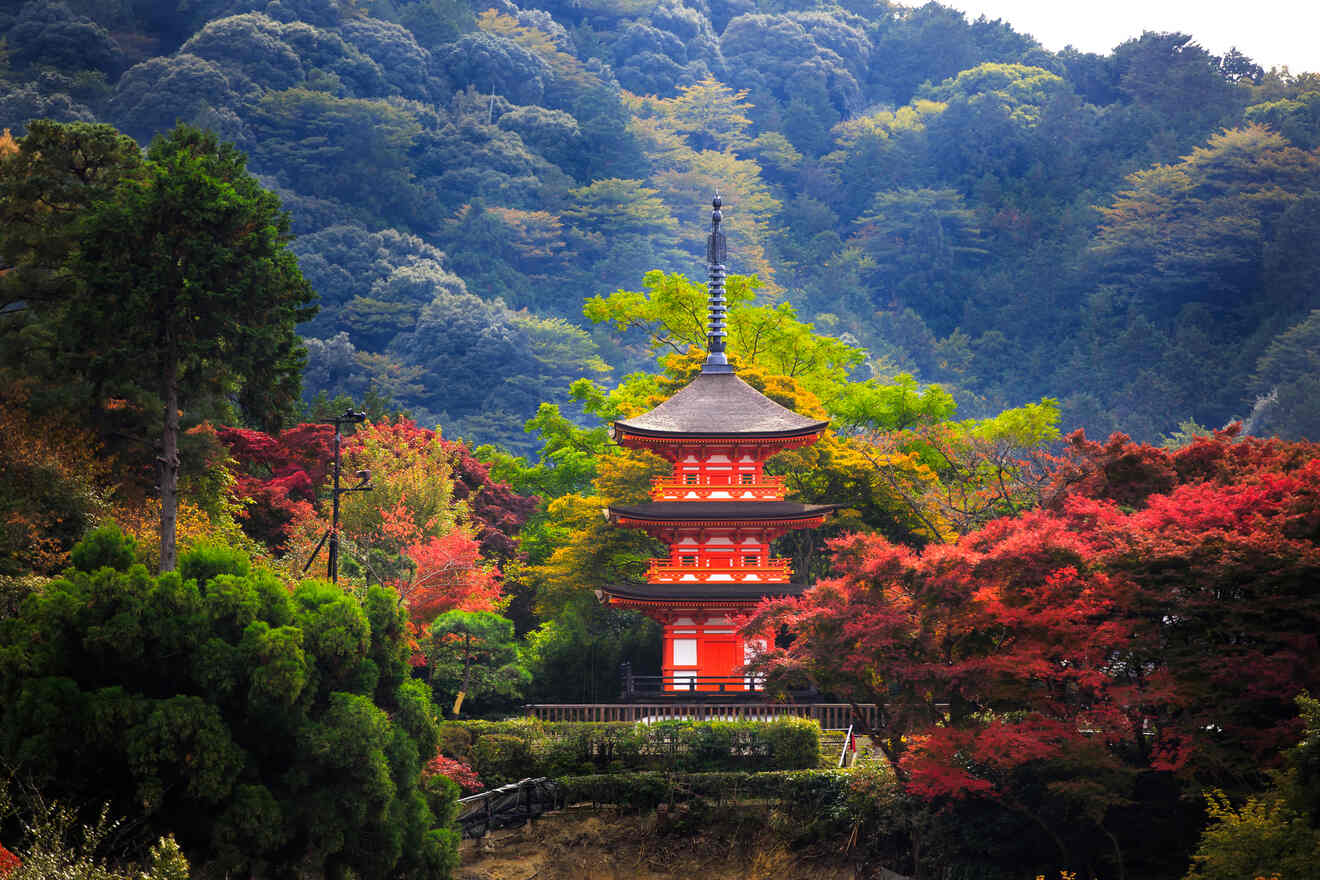 🎎 Is it worth staying in a Ryokan in Kyoto?
Yes! Staying in Ryokans in Kyoto is such a unique experience as you'll get to immerse yourself in the thousand-year-old Japanese culture and make lots of memories!
💰 How much does it cost to stay in a ryokan in Japan?
It costs around US$400 to stay in luxurious ryokans in Kyoto, US$240 for a mid-range one, and around US$190 for a budget one.
📅 How many days do I need in Kyoto?
I recommend spending around 3 days in Kyoto, to see all the shrines and the Imperial Palace, and maybe 5 if you also want to take day trips!
🇯🇵 What is a ryokan?
Ryokans are traditional Japanese inns that usually have a very specific architecture and design that includes tatami-matted floors, public baths, and futon bedding.
Conclusion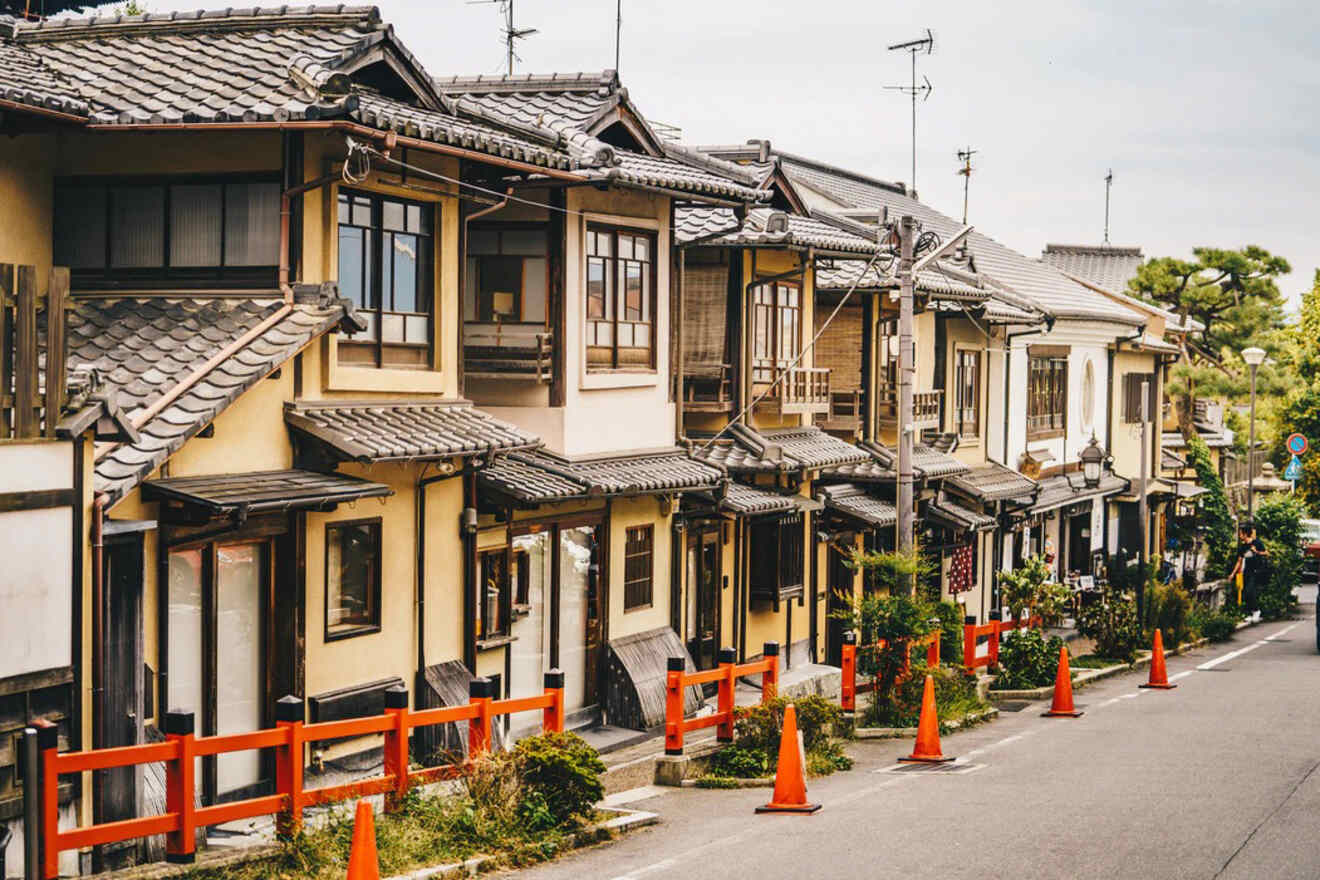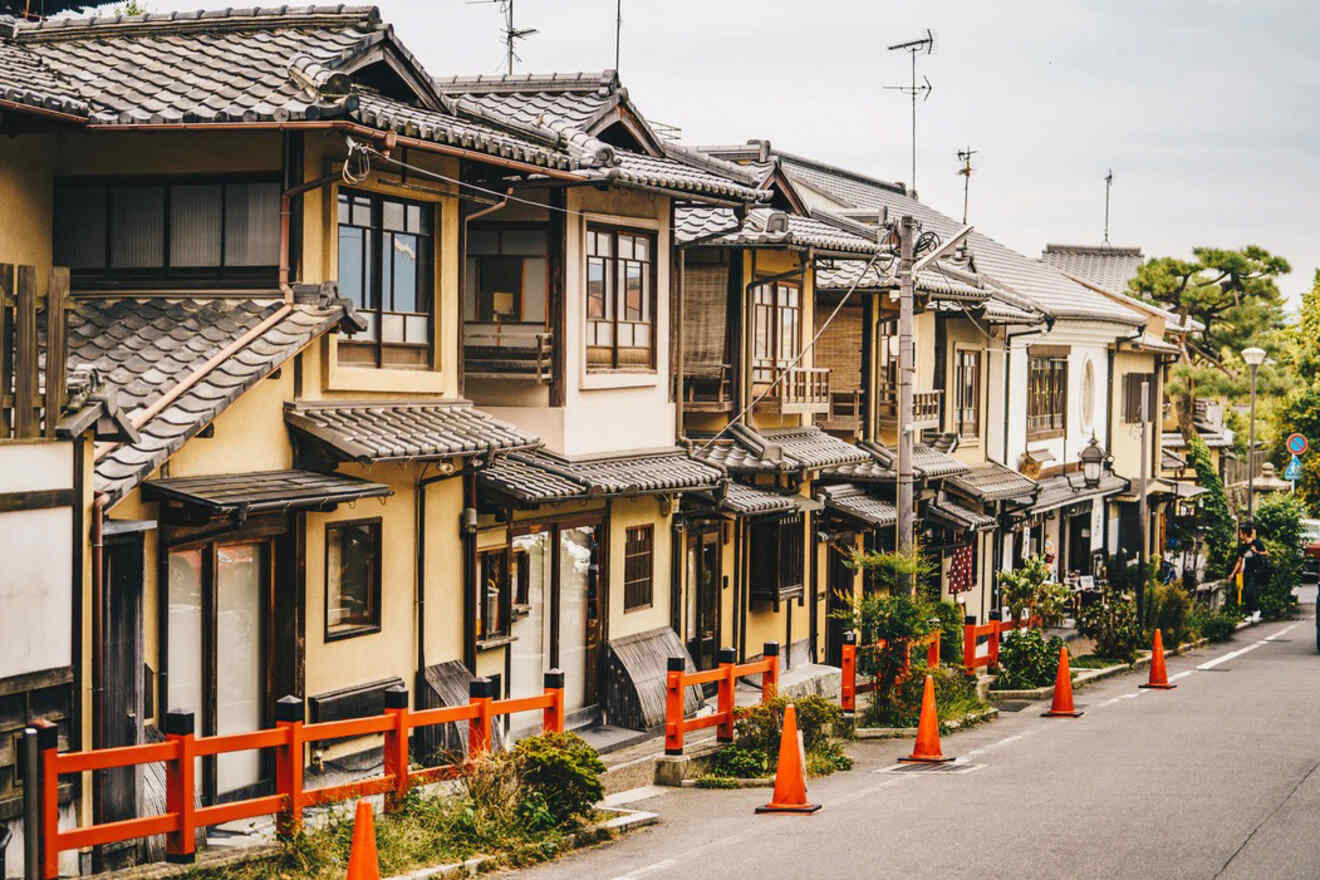 Already dreaming about those lush gardens with cherry blossoms, hot springs baths, and delicious food? Me, too!
But I do hope that this post helped you pick your favorite Kyoto Ryokan from the main list or from the bonus section that has Ryokans with onsens!
I know it's hard to decide on a place to stay, especially when there are so many. So to help each and every one of you, I picked my 2 favorite ryokans, which I find to be so gorgeous. Let's have a look:
Ryokan Genhouin – A beautiful traditional inn that has lush gardens, an incredible design, and a public bath where you can relax.
Momijiya Annex – Enjoy a peaceful morning in the outdoor bath of the best ryokan, which has a great location near some temples and a garden.
Definitely remember what I said about booking your hotels in Kyoto in advance! These Ryokans are so unique and will sell out pretty fast!
Enjoy this incredible adventure in Kyoto, the (former) ancient capital of Japan, and as always, I'm still around for questions! Just drop me a comment below, and I'll answer as fast as I can!
Safe travels,
Victoria
---
Pin it for later!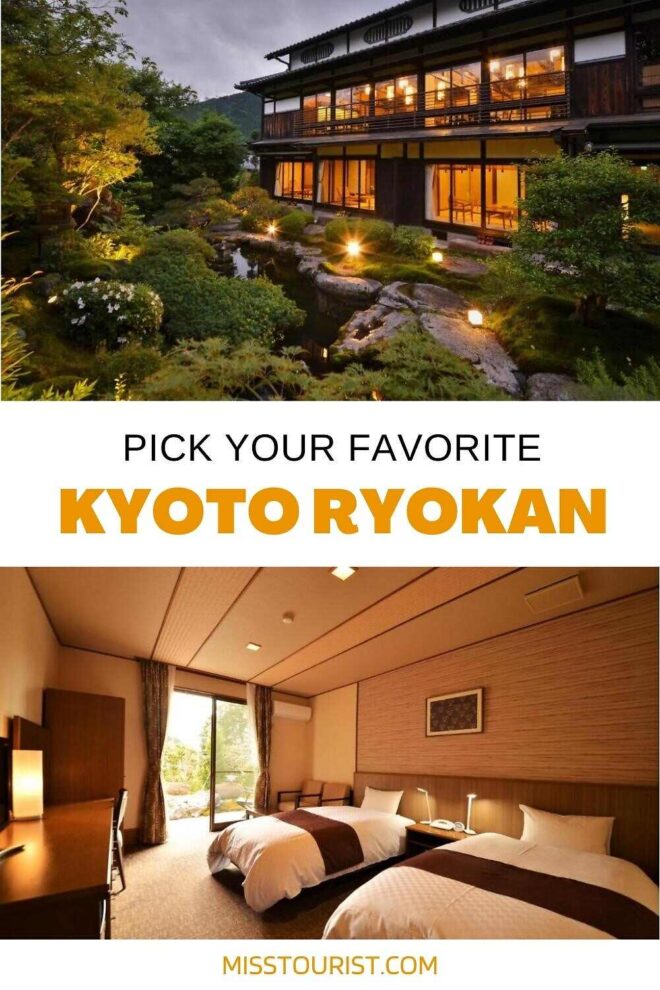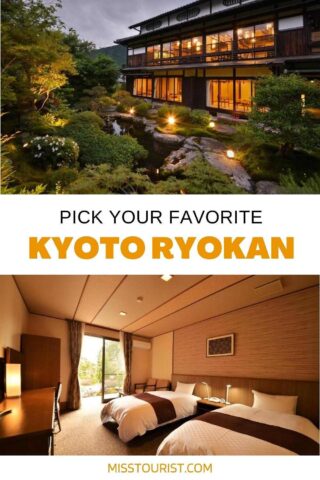 Pin it for later!