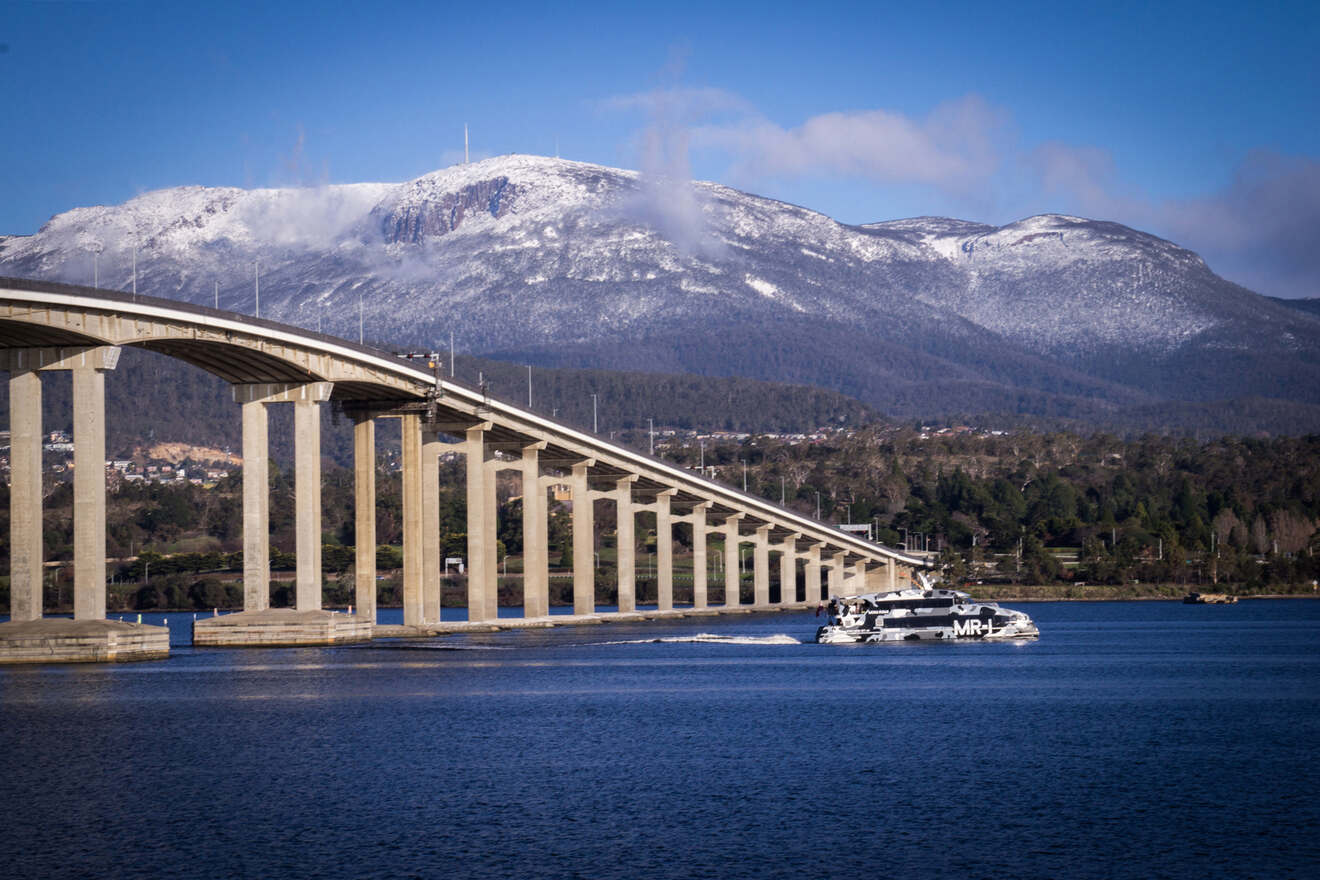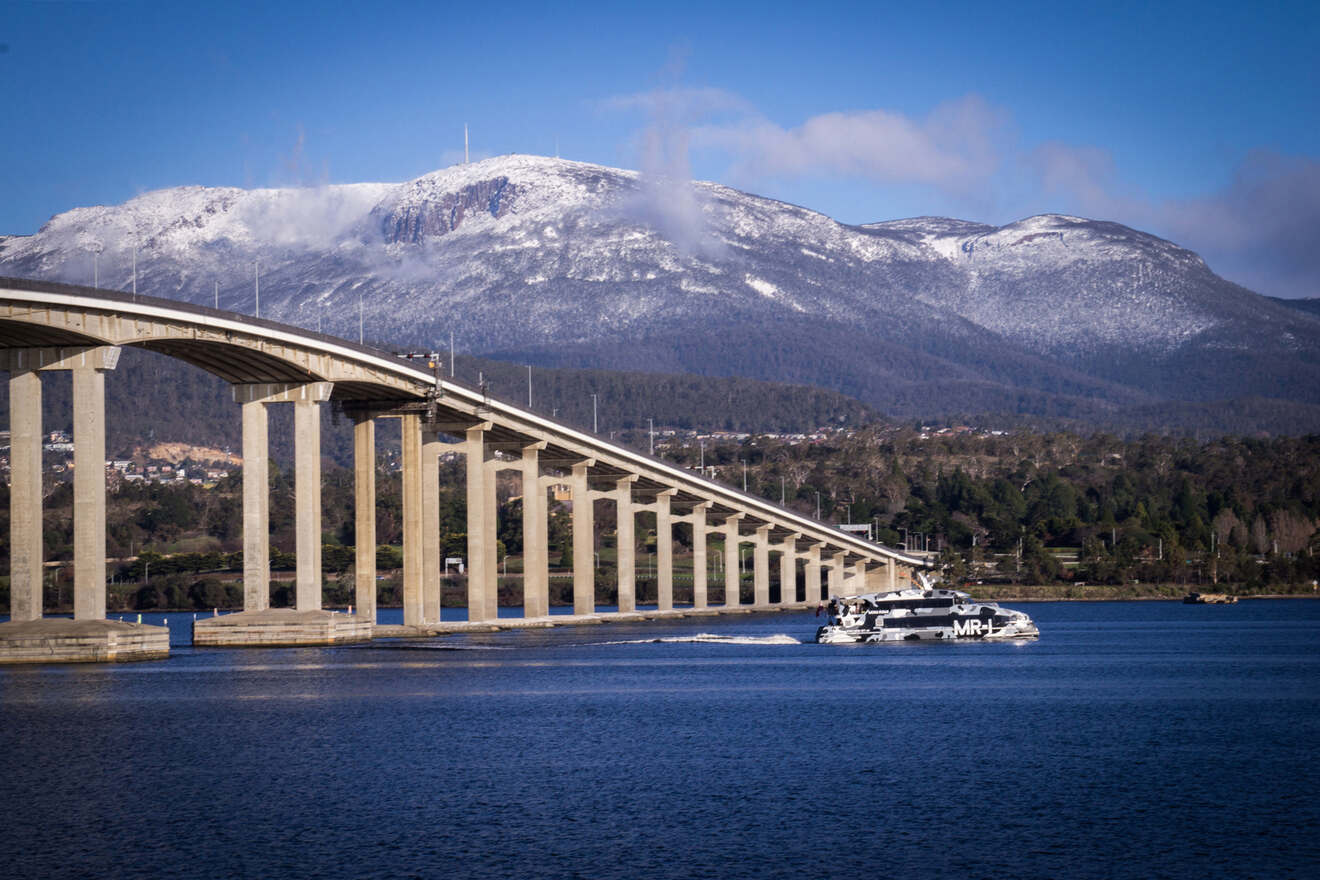 Are you going on a holiday to the fascinating city of Hobart, Tasmania, and are you wondering which neighborhood is best for your stay?
You came to the right place! To help you in your decision, I already did the research of the best reviewed accommodation for you and wrote this guide with the best areas where to stay in Hobart, including hotel options for any budget.
Short answer – Hobart CBD (the central business district) is the best place in Hobart for first-timers, Battery Point for families, North Hobart for nightlife enthusiasts, South Hobart for those looking for a quiet area, and Sandy Bay for beaches.
So get yourself comfortable, and let's explore them all together… But before you start, make sure you remember to book your favorite accommodation some months in advance, so you can secure yourself a spot and maybe find some good deals (prices are quite high there!).
Now… let's jump right in!
If you are in a hurry
If you just want to quickly book your accommodation, here's a list of the best hotels where to stay in Hobart CBD, the city centre:
Check out this map to have a visual representation of where the best areas to stay in Hobart are located: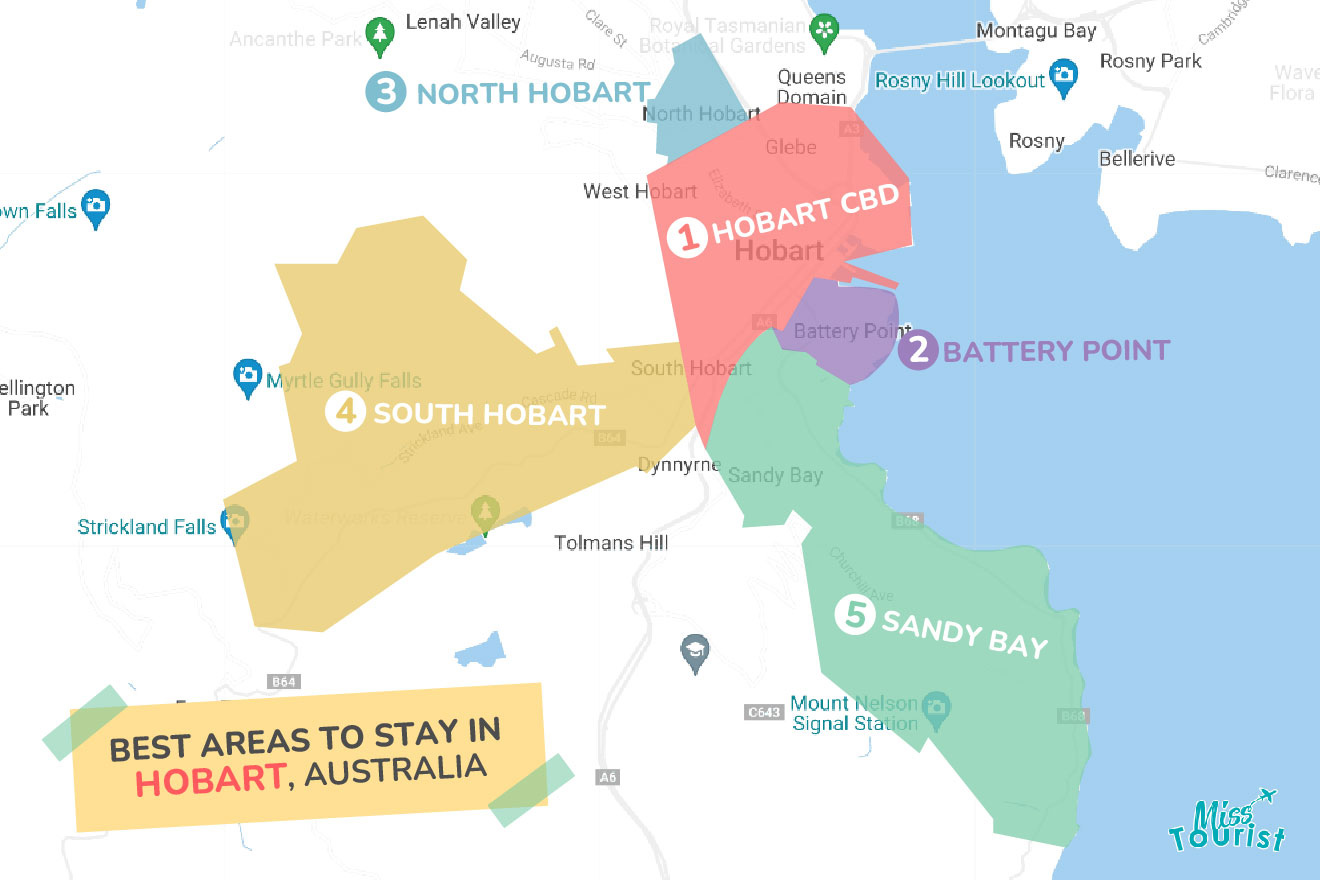 1. Hobart CBD – where to stay in Hobart for the first time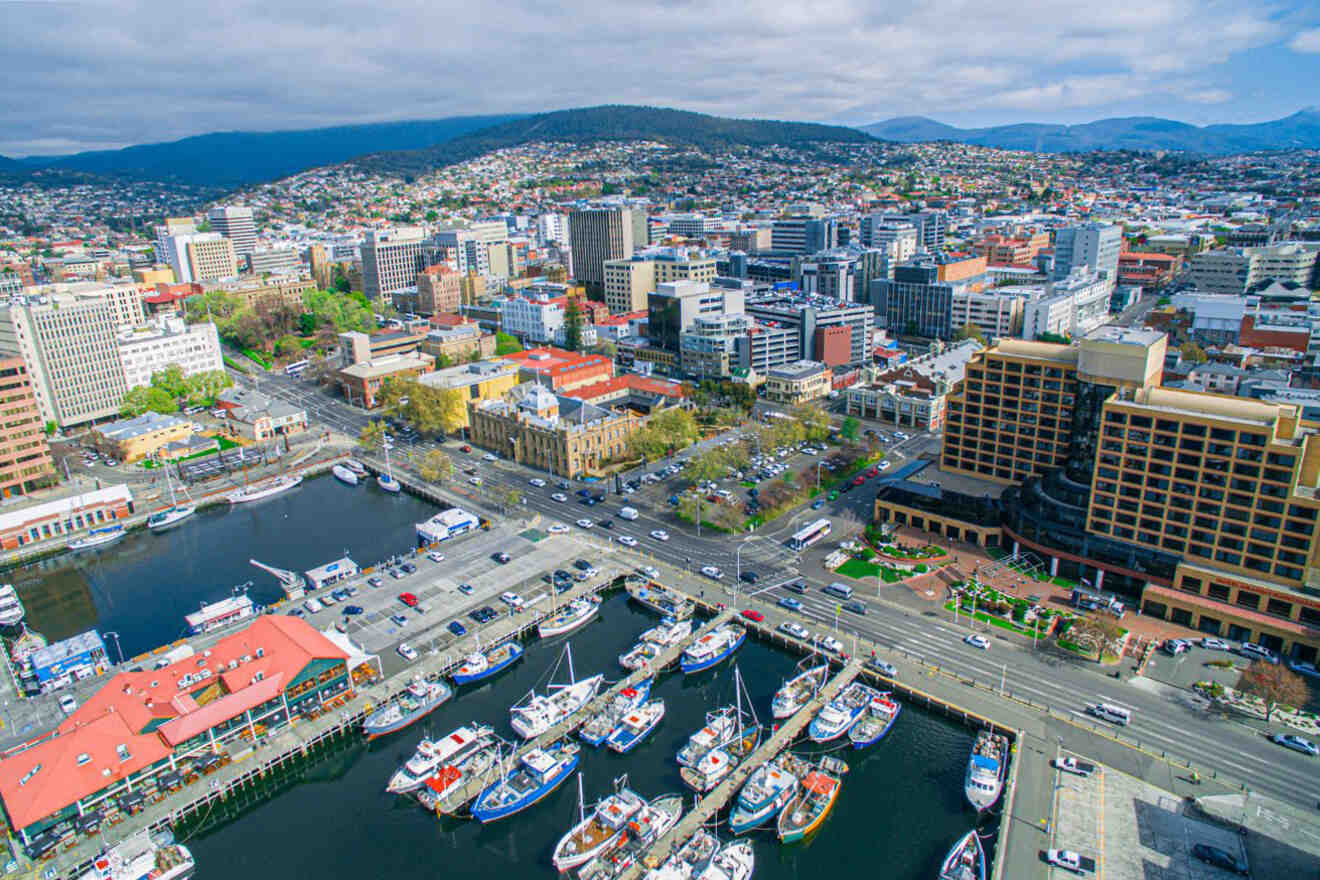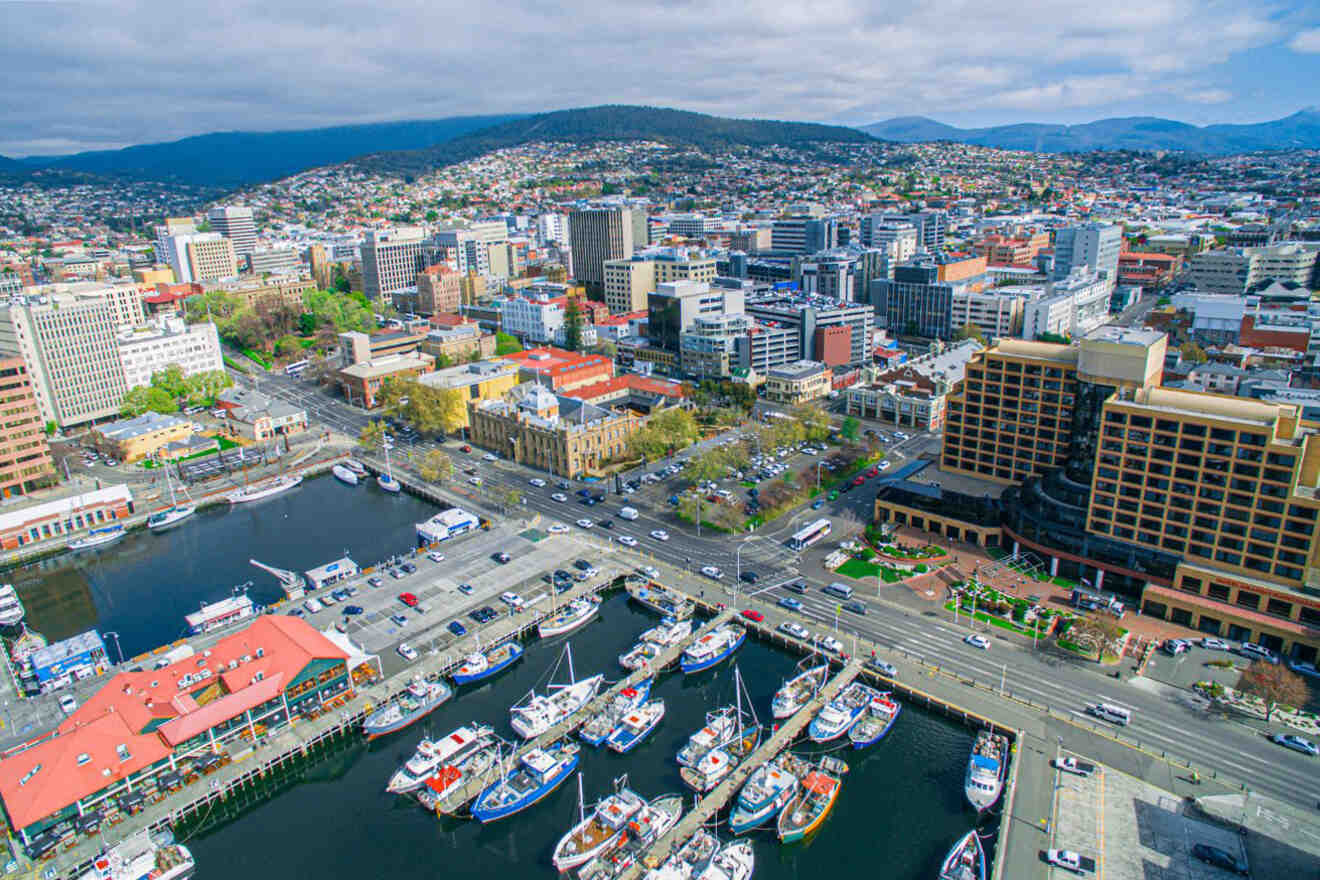 Hobart CBD, the central business district, is definitely where to stay in Hobart if it's your first time in the city, offering access to the top cultural attractions, the famous Salamanca Market, and the waterfront area… all this within walking distance to your hotel!
The city centre is the oldest part of Hobart, so just walking around there, you'll see many important structures like the Royal Hobart Hospital, the Supreme Court and Parliament, and the Theatre Royal.
But here there's literally something for any taste: culture lovers will find many museums like the interesting Mona Museum (one of the top things to do in Hobart) night-owls can dance the night away in the countless bars and clubs, and shopping addicted will enjoy the Elizabeth Street Mall or the famous Salamanca Market!
This street market is one of the best ones in the country, with hundreds of stalls offering everything from delicious food, clothes, art, and handmade souvenirs.
The Salamanca Market is located in Salamanca Place, Hobart's waterfront area (starting right at the edge of the CBD), and one of the most beautiful parts of Hobart, with many bars and restaurants where to spend a leisure time after visiting all the tourist attractions.
Last but not least, this is also the most convenient area in Hobart if you don't have a car, offering public transport connections to any other parts of the city!
Luxury hotel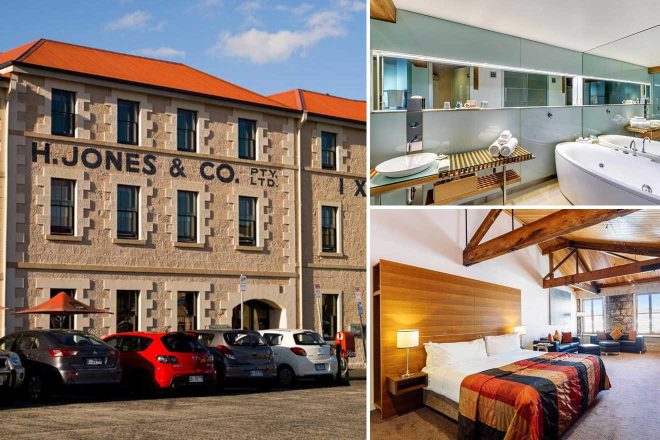 Centrally located within walking distance to the Salamanca market, the historic Henry Jones Art Hotel is where to stay in Hobart CBD if you want to have a luxury experience. Here you will sleep in elegant rooms offering a free-standing spa bath, king-sized beds and water or courtyard views. And the property also offers access to many amenities, like an on-site restaurant, a cool bar, a fitness centre, laundry facilities, and original artworks throughout the property!
Other accommodation options in Hobart CBD
Mid-Range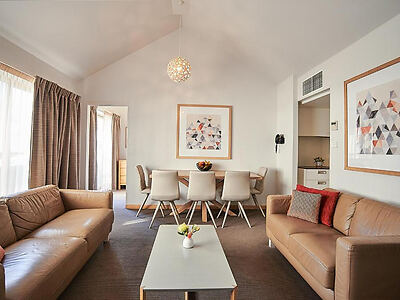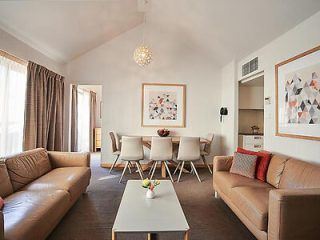 Check out this great hotel located a few steps from the Salamanca market, with access to a heated indoor pool, free wifi, and parking.
Budget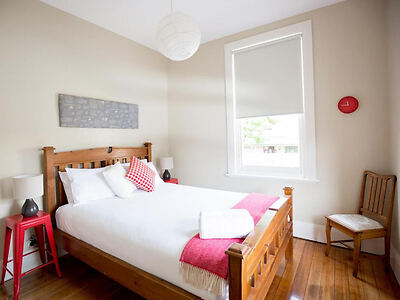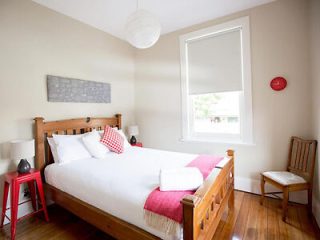 This boutique hotel is perfect if you want to stay in Hobart CBD on a budget, offering access to a shared kitchen, dining room, and garden!
Airbnb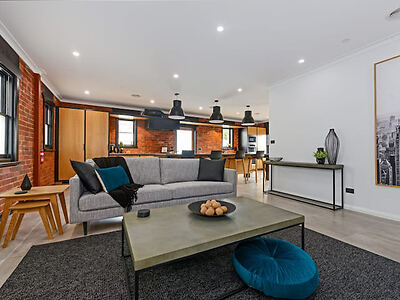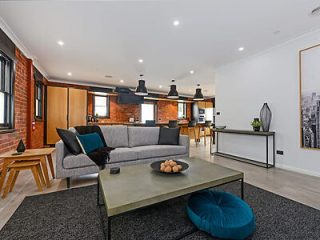 Feel at home in this cozy apartment located in the heart of Hobart city centre, hosting up to 4 guests in two spacious double bedrooms
Check out another incredible luxury hotel to stay in Hobart, located right in the middle of all the best tourist attractions of the city and only 20 minutes drive from Hobart airport. Here you will start your day with a delicious continental or à la carte breakfast, and then spend it training at the fitness centre, relaxing at the sun terrace, or having refreshing cocktails at the on-site bar. And wait to see the rooms: they all boast stunning views of the sea, room and concierge service, and access to free wifi… What else do you need?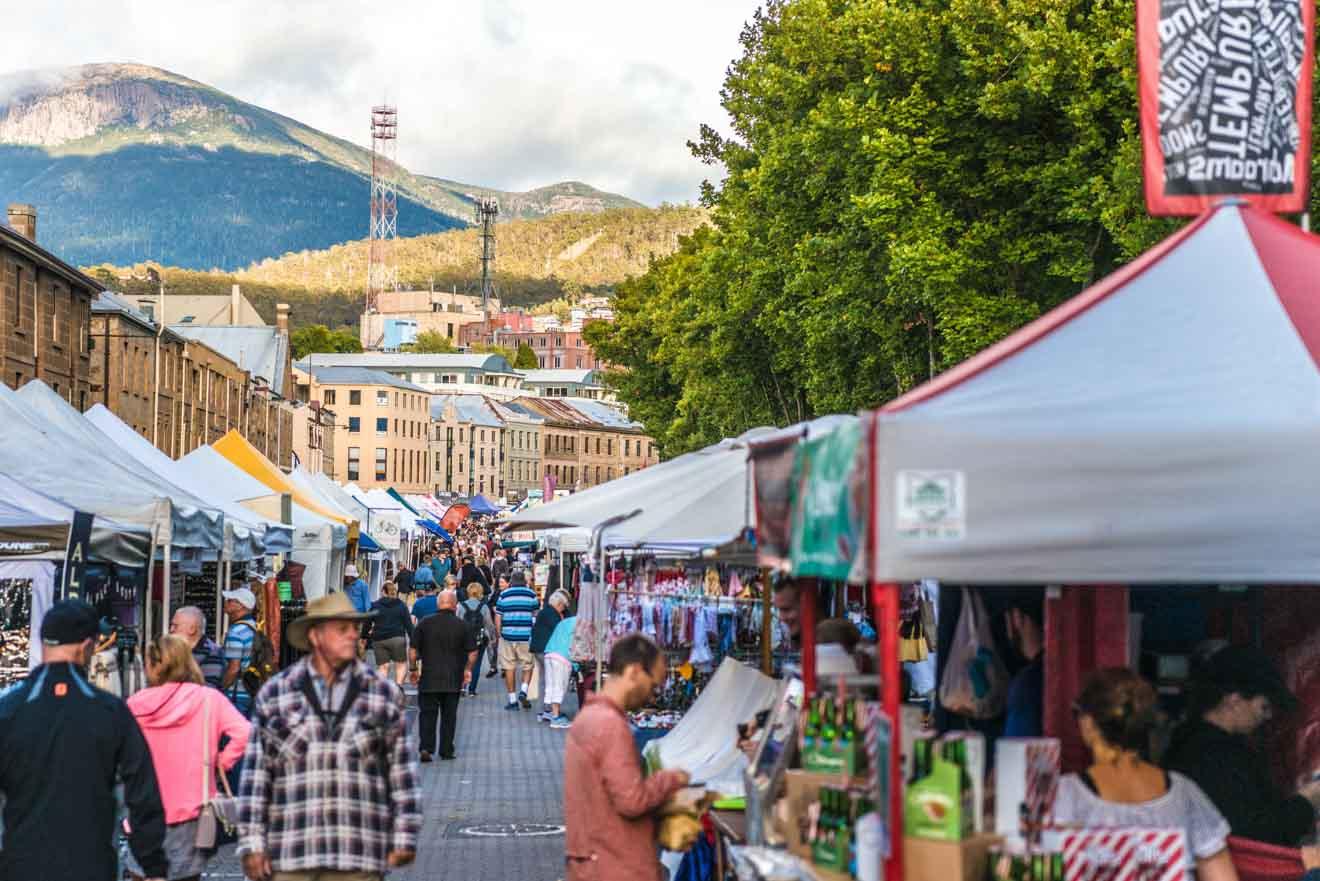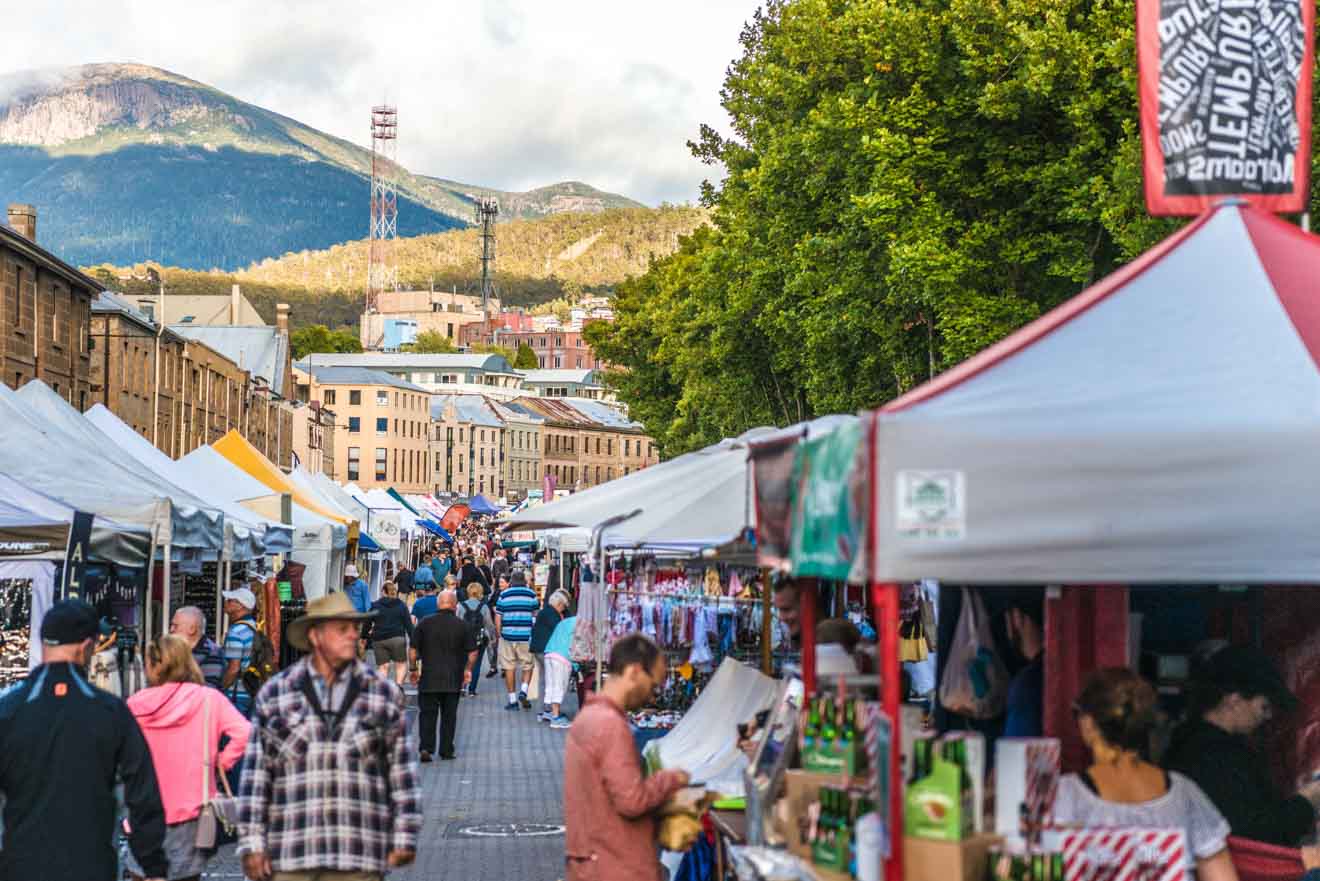 Things to do in Hobart CBD
2. Battery Point – the best area in Hobart for families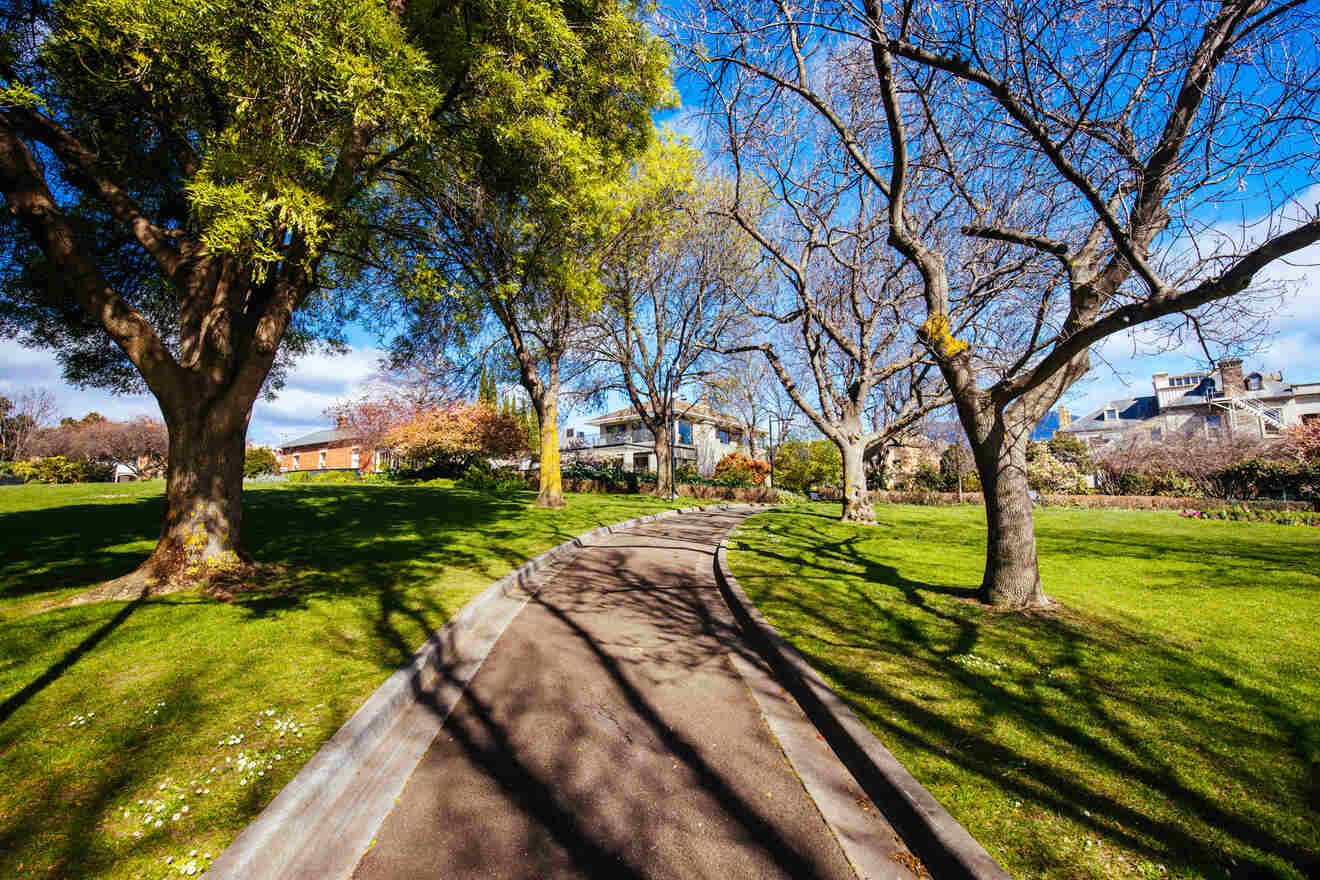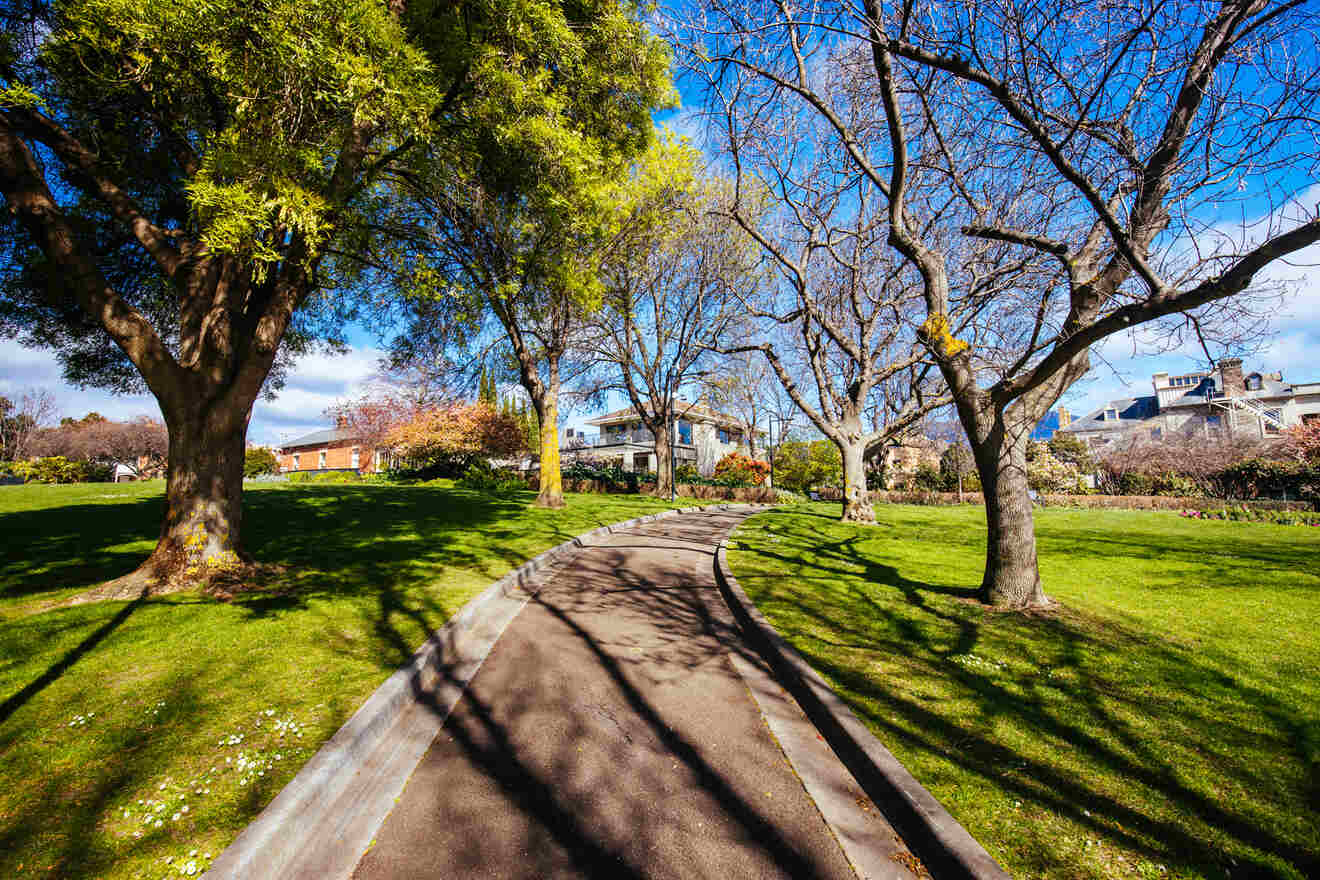 Battery Point is a residential and charming area extending along Hobart's coastline and the River Derwent, within only a 10-minute walk from the city's centre.
With its old houses, small local shops and cute cafes this is the perfect place if you want to have a quiet stay in Hobart with the family but have easy access to the main attractions!
But the neighborhood itself is soo nice to just walk around and admire its big mansions with stunning architecture or to spend some family time in the many green areas like Princes Park, where you'll find walking trails, a children's playground, and a picnic area!
And if you want to check out some cultural venues, Battery Point won't let you down, hosting the Salamanca Arts Centre with great local art, or the Narryna Heritage Museum, the country's oldest folk museum, showing paintings and furniture from the 19th century: perfect for history buffs!
P.S.: if you have a few days extra and want to check out the other incredible parts of the island, check out this road trip plan to explore Tasmania!
If you are already seeing yourself here, check out the following hotel options and guest houses (a typical accommodation in the Battery Point area), suitable for any budget:
Luxury hotel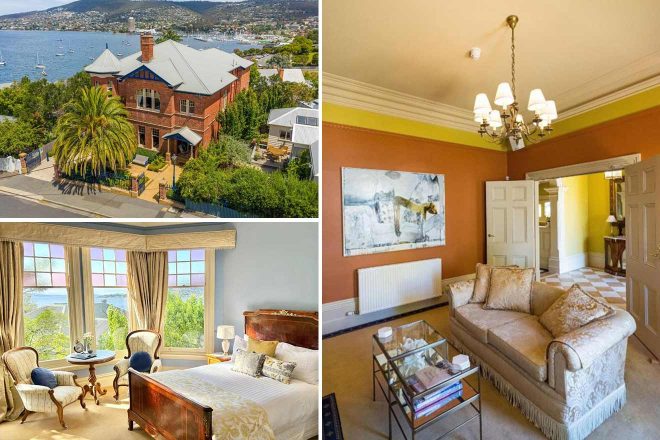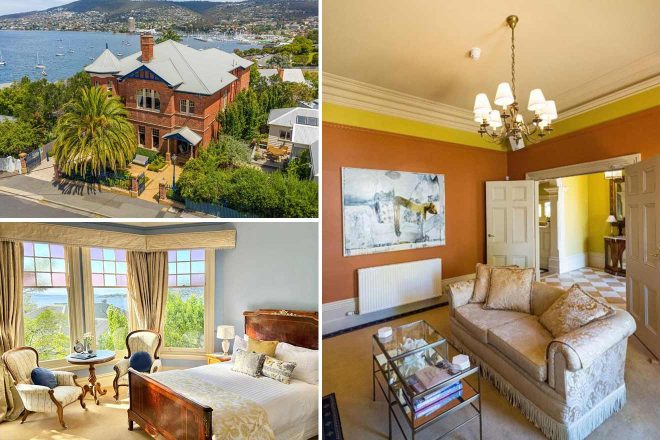 This historic property is located in a convenient area of Battery point, within 15 minutes' walk of Salamanca Place and close to many local wineries. Here you will enjoy a comfortable lounge room where you can enjoy a pre-dinner drink or morning and afternoon tea and sleep in elegant rooms with marble bathrooms, a spa bath, and stunning river views! But what makes the property particularly charming is that it still has the original fireplaces and stained glass windows… check out the pictures!
Other accommodation options in Battery Point
Mid-Range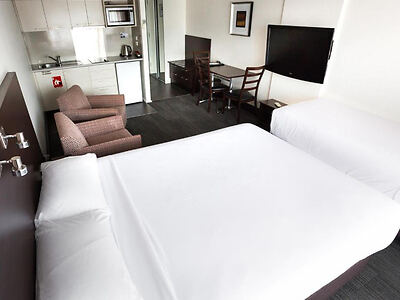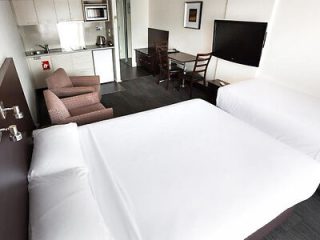 Located in Battery point, within walking distance to the Salamanca Market, this property offers spacious apartments with free wifi.
Budget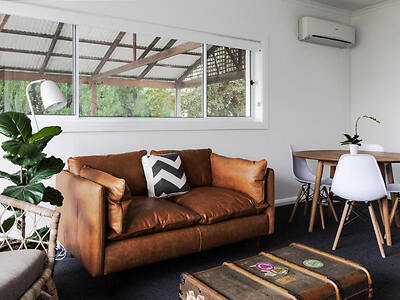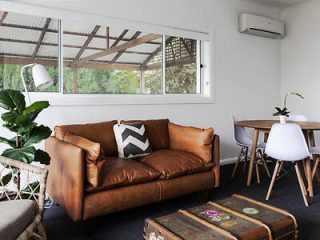 This is the best place to stay on a budget in Battery point, located a short walk from the Salamanca Market, with stunning harbor views
Airbnb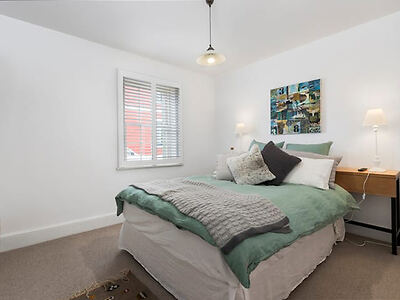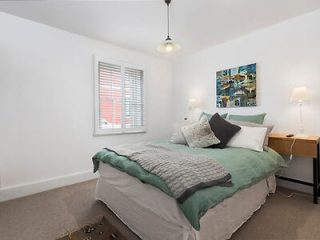 If you are looking for a cozy and luxurious place in Battery point, check out this cottage with a well-equipped kitchen, perfect for a romantic stay!
Things to do in Battery Point
3. North Hobart – where to stay in Hobart for nightlife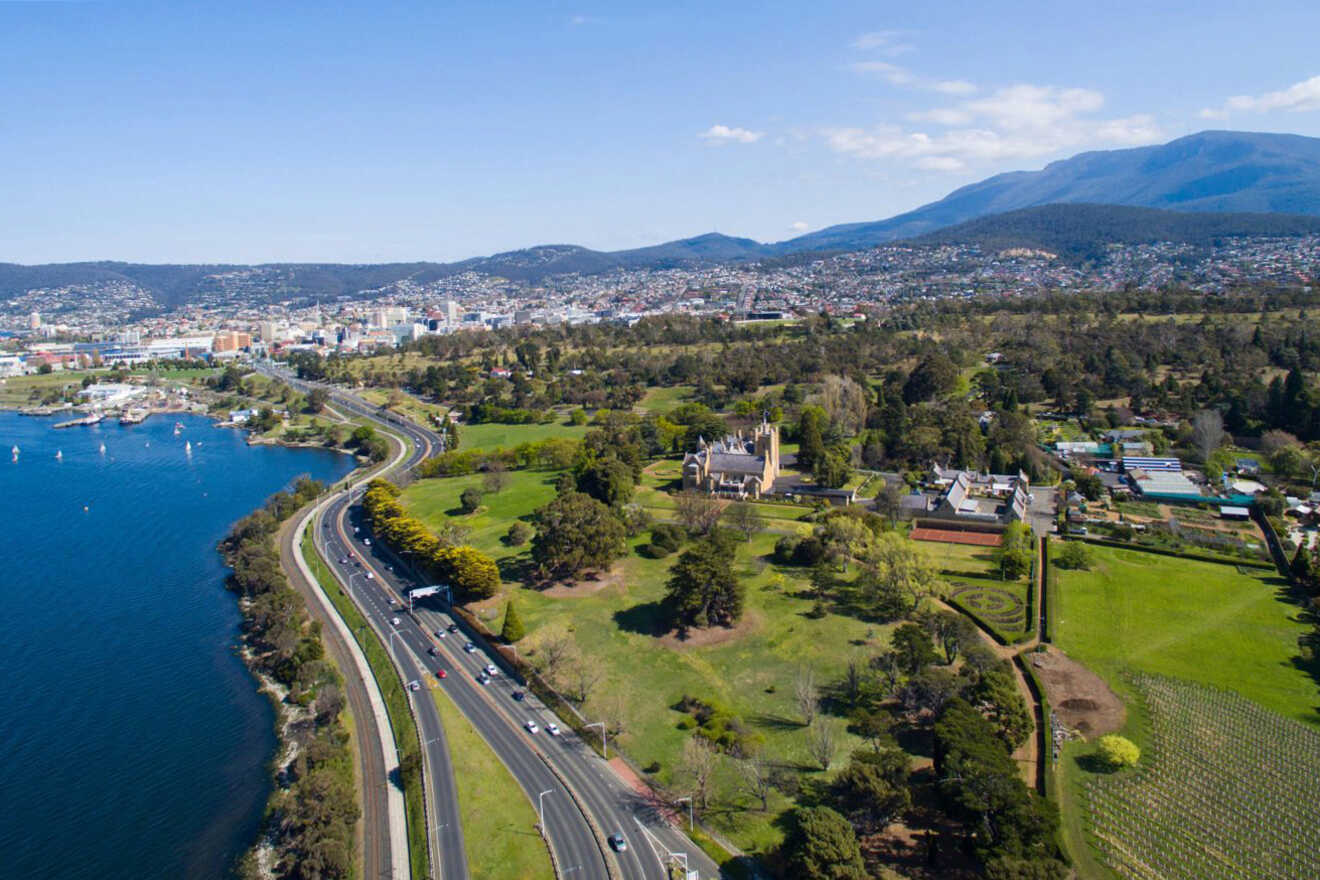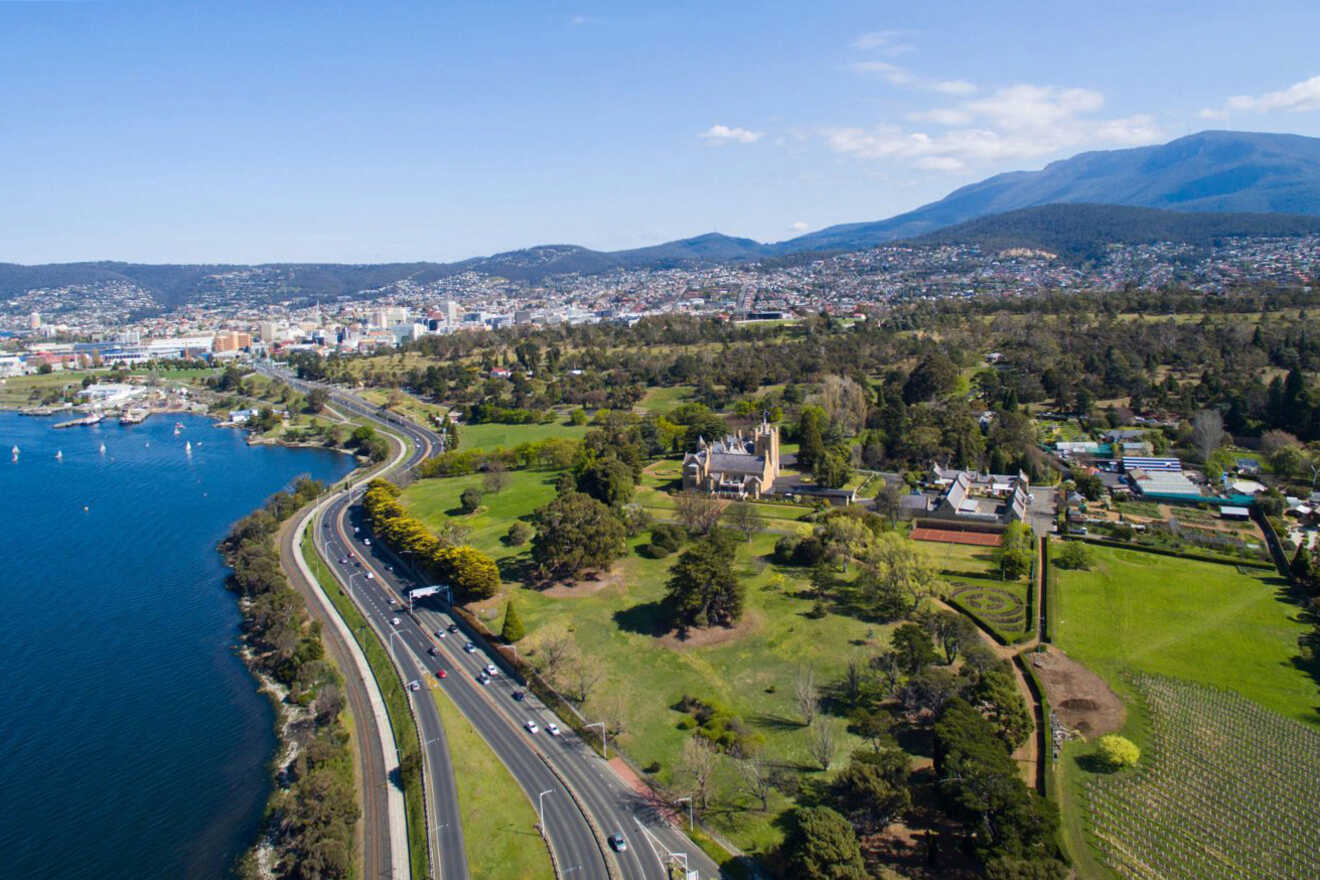 North of the city centre you will find the vibrant area of North Hobart, the best place for nightlife enthusiasts, offering countless options to stay awake until late hours, like wine bars, breweries, clubs, and theaters!
Most of the nightlife venues are located on the lively Elizabeth Street, which runs through the whole neighborhood, particularly popular among the young crowds of Hobart for its many bars and pubs, as well as a skate park and art gallery.
The area was once a rough downmarket and has been transformed through the years into a creative and vibrant space attracting hipsters, trendy tourists, and Hobart's alternative residents… which makes it also the coolest place to stay in Hobart!
And if you are a foodie like me, you'll be happy to know that North Hobart hosts many dining options where you try delicious and different cuisines from all around the world (the best way to recover after a hangover!).
North Hobart is not really a tourist area, so you won't find many attractions there, but this means at the same time that you can enjoy local vibes and cheaper prices than the ones you find at the CBD, being within only 20 minutes walking (or a short bus drive) from it.
Do you think North Hobart is the perfect place for you? Then check out the amazing hotel options right below:
Luxury hotel
Seaview ~ A beautiful hideaway in central Hobart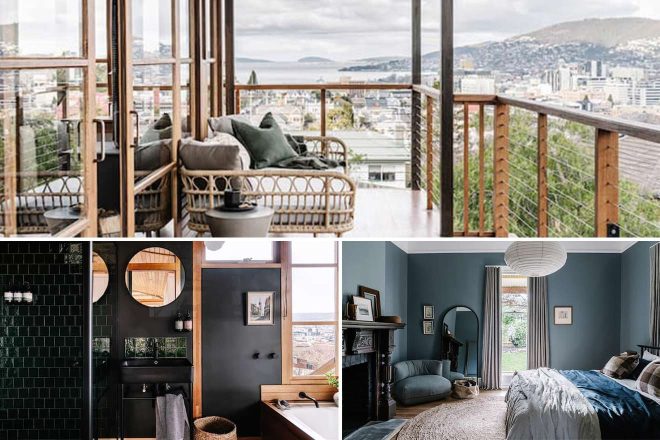 Check out one of the most unique properties to stay in Hobart, offering the perfect mix of antique and modern furniture, and between luxury and coziness. This big house, surrounded by wooden Japanese-style verandahs, offers 3 spacious rooms hosting up to 6 people, and the best views of Mount Wellington, the city of Hobart, and beyond to the Derwent River. Here you can make good use of an open-plan kitchen and a dining area with a wood fire!
Other accommodation options in North Hobart
Mid-Range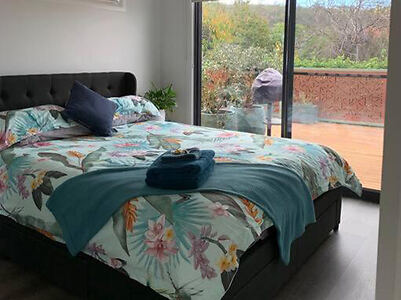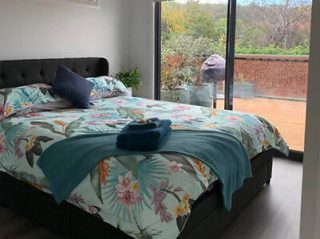 This lovely apartment in North Hobart offers access to free wifi, air conditioning, a garden, and barbecue facilities
Budget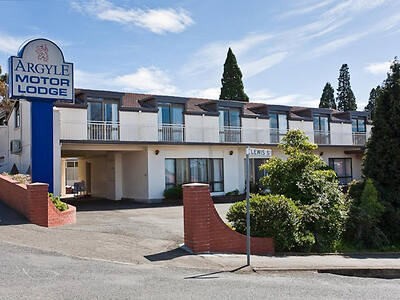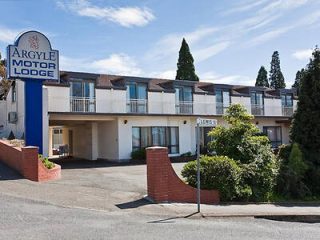 Do you want to stay on a budget in North Hobart? Then check out this cheap lodge at walking distance from the Derwent River!
Airbnb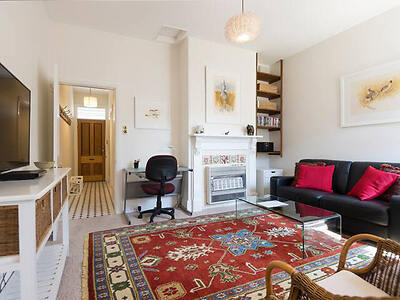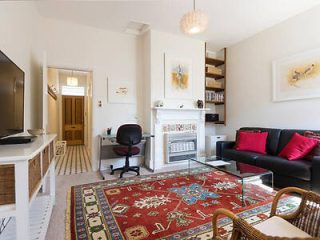 You will fall in love with this house in North Hobart, mixing old and new interiors, and hosting colorful paintings by a famous Australian artist
Things to do in North Hobart
4. South Hobart – the most laid back area in Hobart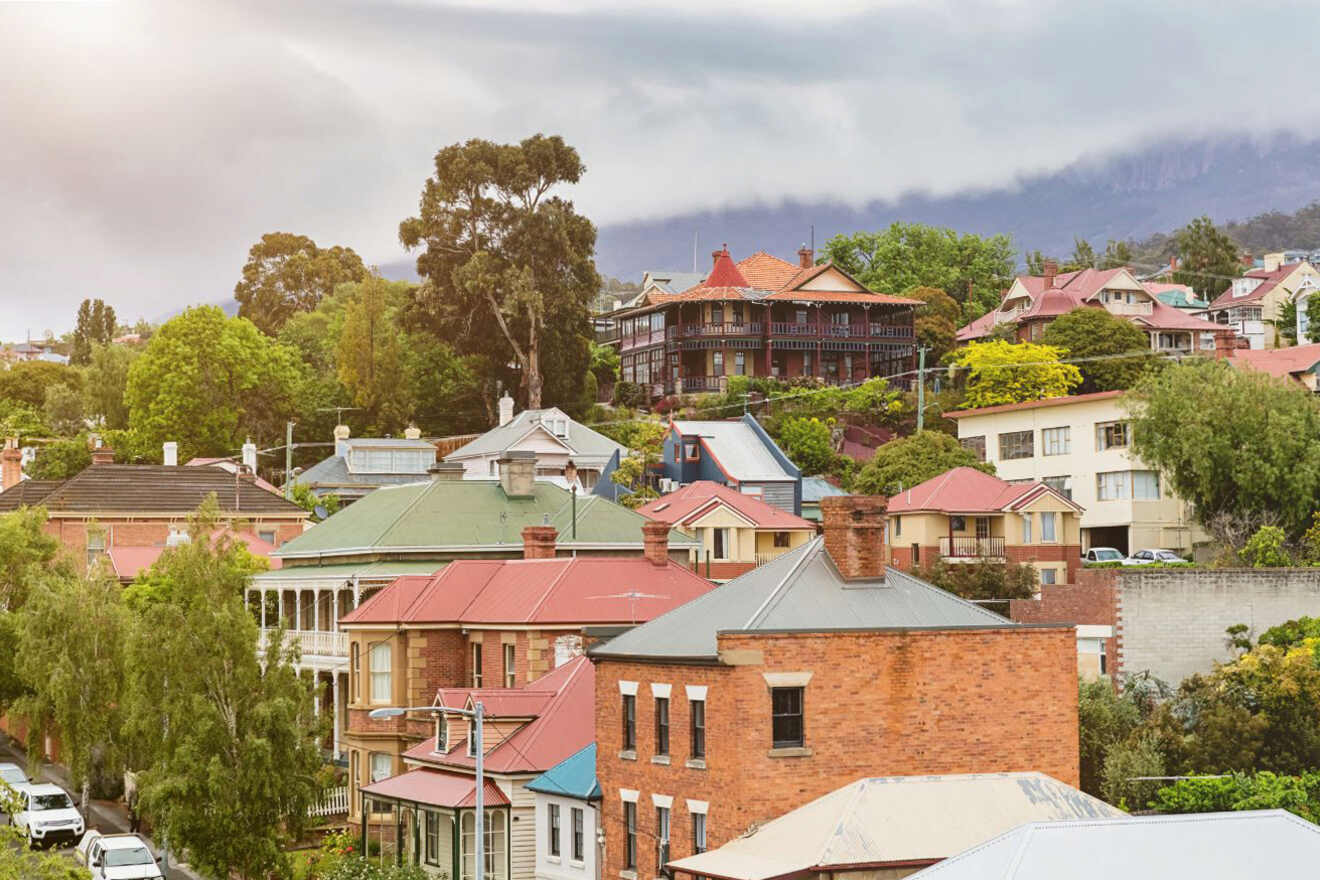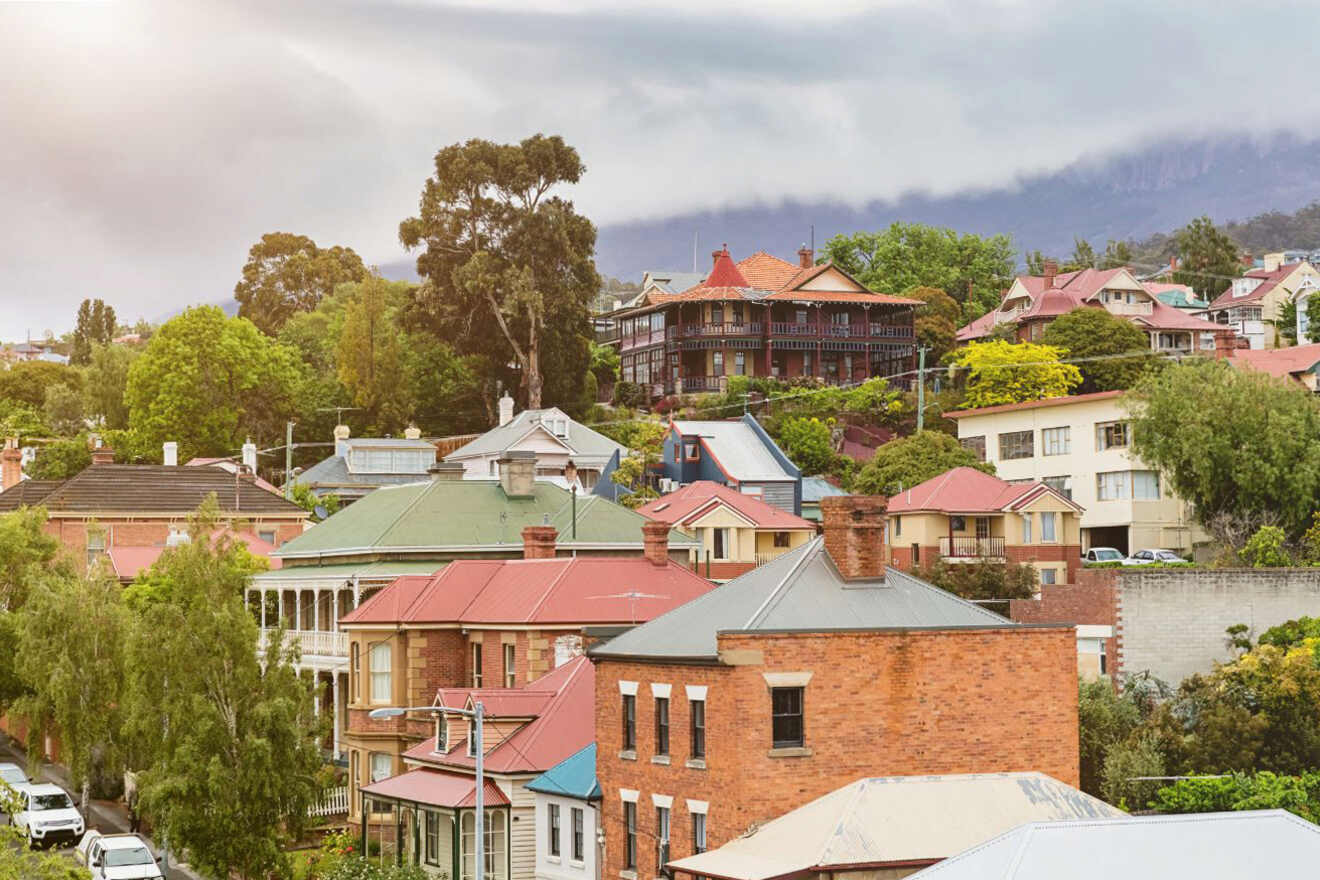 The charming neighborhood of South Hobart is one of the most laid-back areas in the city, perfect if you want to avoid the hustle and bustle of the city center but having easy access to the waterfront area and the CBD, both within 20 minutes from it!
This residential area is characterized by picturesque houses, mansions and cottages as well as many green parks and playgrounds where you can spend some quiet time with your family or your friends. Some examples?
Here you can go hiking surrounded by nature at Cascades Track, walk around or have a delicious picnic at Cascade Gardens, and bring your kids and four-legged friend to have some fun at South Hobart Playground.
And if you want to just spend some leisure time, you will find many ways to do that in South Hobart, offering many restaurants where to try the local cuisine and boutique shops for some souvenir shopping!
Another advantage of this neighborhood is that it offers many parking spots, (way more than in Hobart's city centre), perfect if you have your own or rented car.
So, in other words, if relaxation is what you're looking for, South Hobart won't let you down… so check out the amazing accommodation options right below:
Luxury hotel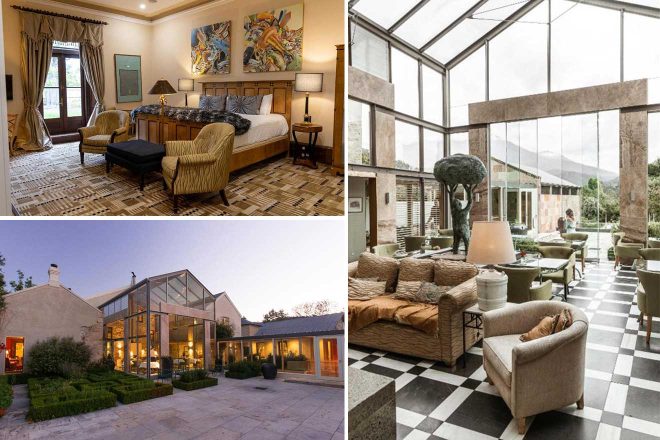 If you're looking for a unique accommodation to stay in Hobart, stop here! This luxury hotel offers incredible views towards Mount Wellington, elegant rooms with original artwork and precious antiques, and even landscaped gardens with an infinity-edge pond. Here you can have delicious dinners at the on-site restaurant, read by the fireplace in the library, or enjoy a relaxing massage at the wellness center. They even offer airport limousine transfers… What else can you ask for?
Other accommodation options in South Hobart
Mid-Range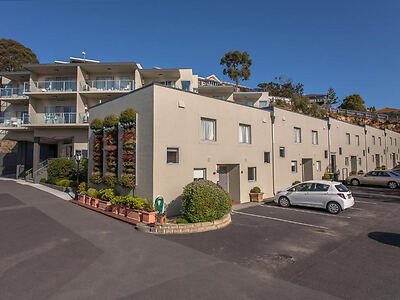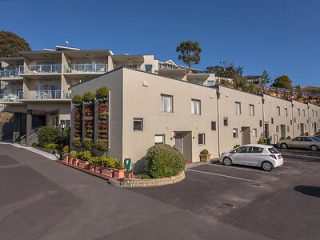 This amazing hotel offers villas with bay views and access to a heated pool, games room, and bbq facilities
Budget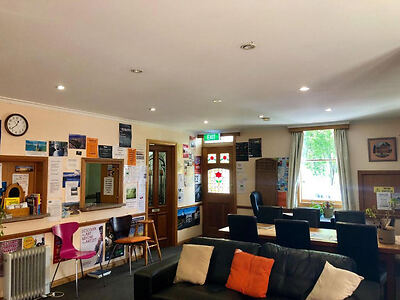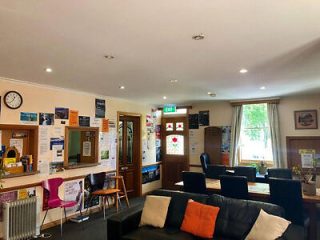 If you want to stay in Hobart on a budget; this place is for you, offering family rooms with a private kitchenette for very affordable prices
Airbnb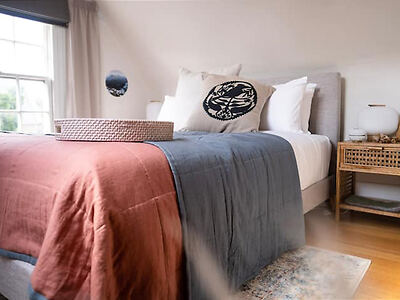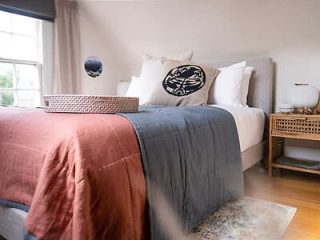 This 2-bedrooms cozy cottage is decorated with local and indigenous art and offers a kitchen, dining area, and a separate lounge room
Things to do in South Hobart
5. Sandy Bay – where to stay in Hobart for beaches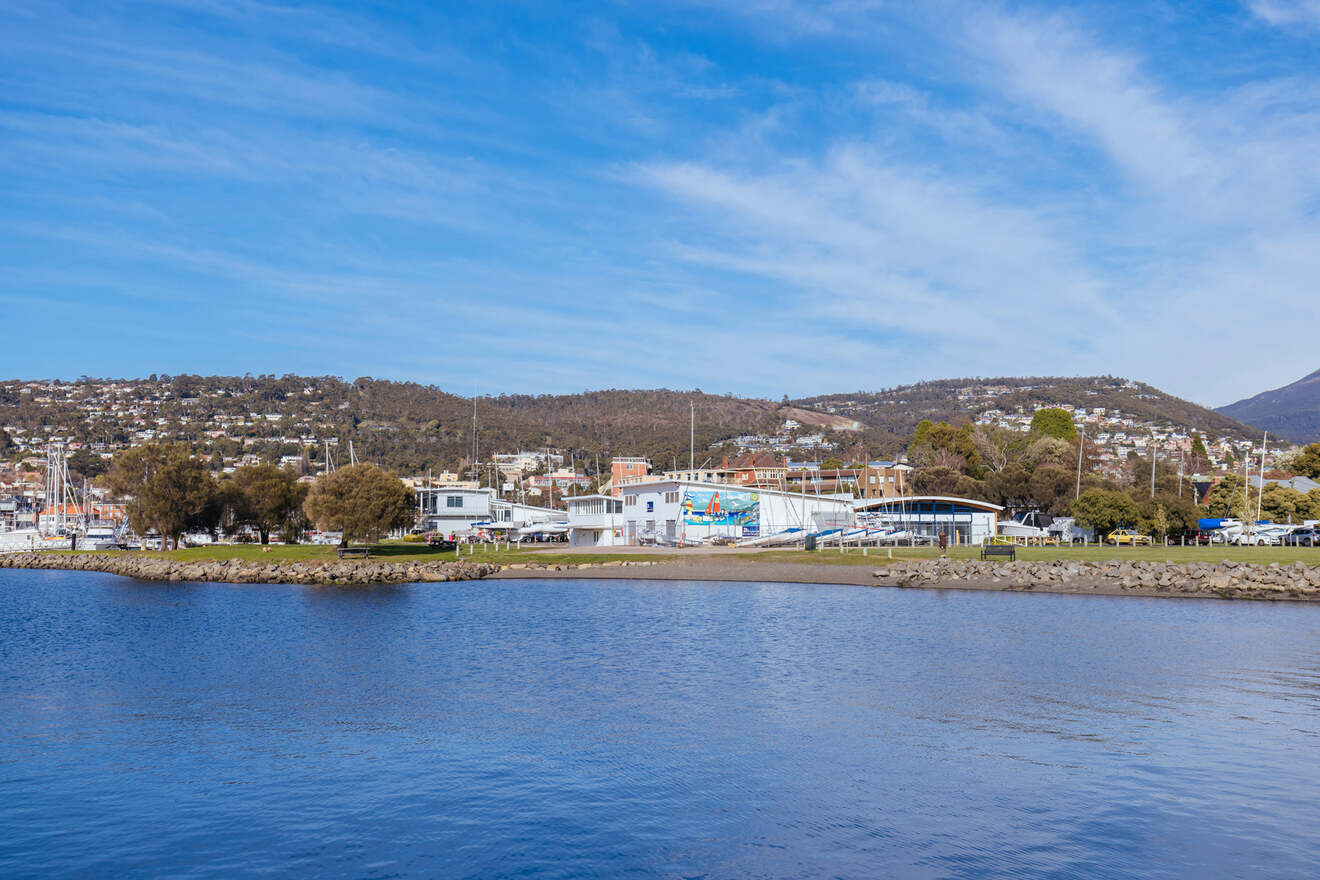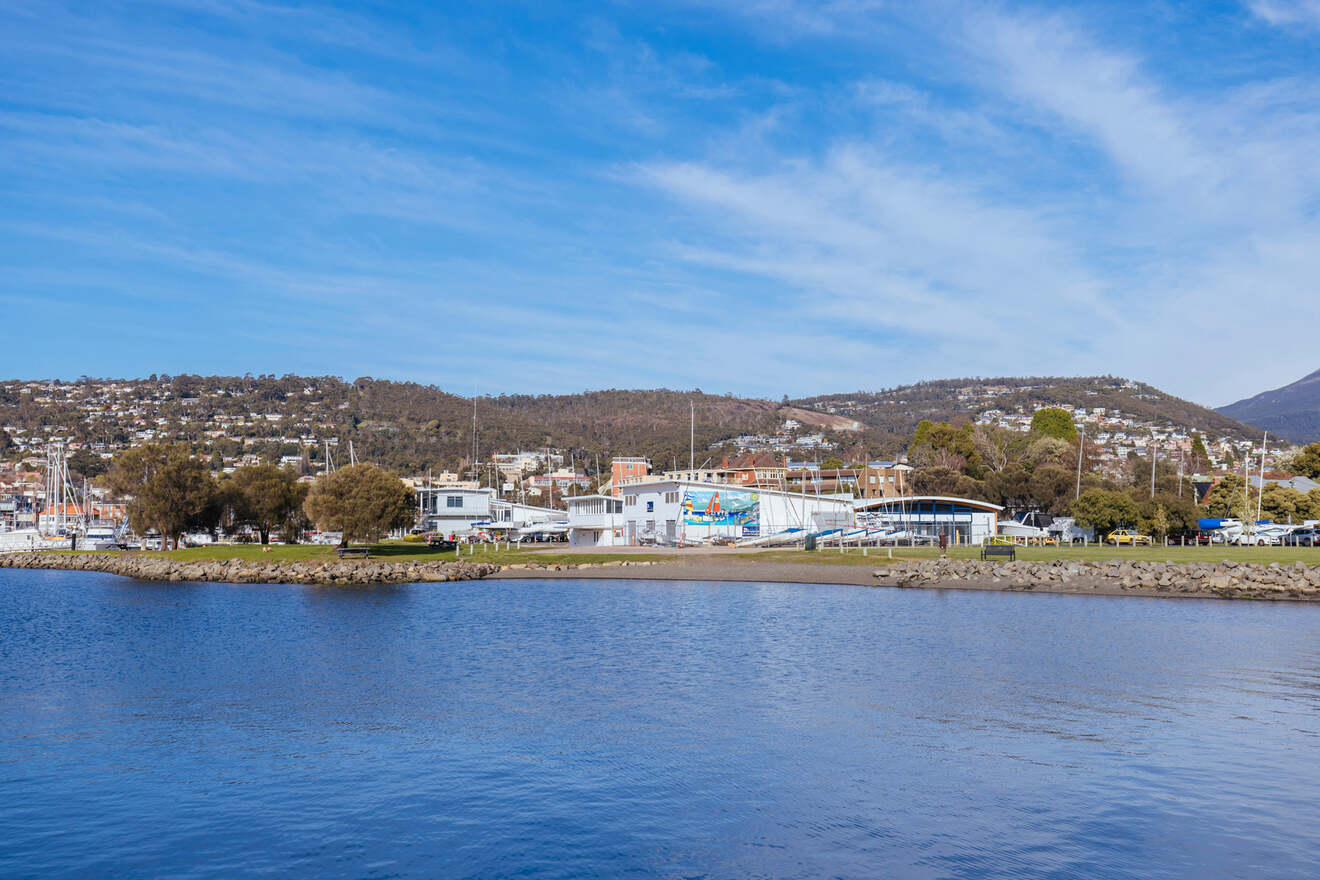 If no matter what, you always need to stay close to the beach (I get you!) Sandy Bay is the right neighborhood for you, located right south of Battery Point and a 5 minutes drive from Hobart's CBD.
This is Hobart's largest area, hosting many great beaches for any taste, like the Nutgrove Beach, with a kids park, bbq facilities, and parking, or the tranquil Long beach if you want to spend some quiet time far from the crowds, located adjacent to the dog-friendly Errol Flynn Reserve.
If you love the outdoors, here you can follow many of the hiking trails in the Truganini Reserve, the perfect place to escape the city life, listen to the sound of nature, gaze at the beautiful flora and have the best views of the city and the river.
And to end the day in the best way, you can check out the Hobart Twilight Market (open until 9), the only night market in the city, offering delicious street food from all over the world, live music, performances, and outdoor movies… perfect for families and friends!
If this wasn't enough, here you'll also find many accommodations, food and drink options, at way cheaper prices than the ones you get in the more popular areas, as well as some cricket grounds for the fans of this sport.
South Hobart is a synonym for beaches, outdoors, and entertainment… What else could you ask for from your holiday? If you agree with me, check out the best hotels in the area here below:
Luxury hotel
Esmond. 1950's mid-century house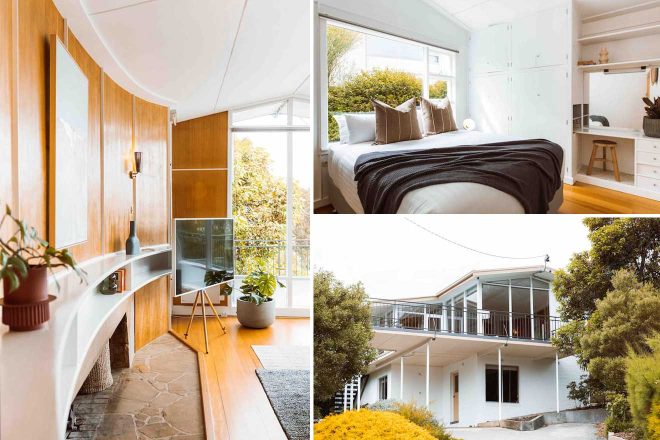 Check out this unique historic house in Sandy Bay, hosting 4 beautifully designed bedrooms for up to 7 people, perfect for big families or groups of friends! The property has a spacious living/dining room with fabulous floor-to-ceiling windows, as well as an open galley-style kitchen with modern facilities. There is even a window seat where you can chill and enjoy incredible views over Sandy Bay… check out the pictures!
Other accommodation options in Sandy Bay
Mid-Range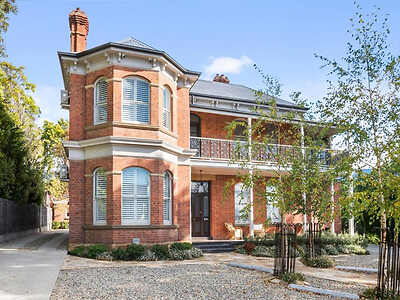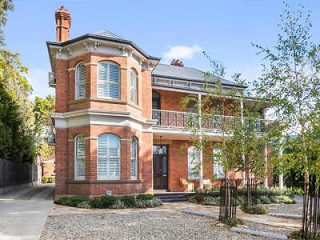 This 5 stars hotel in Sandy Bay offers all the comforts you need, like a delicious breakfast, free parking, free wifi and spacious rooms
Budget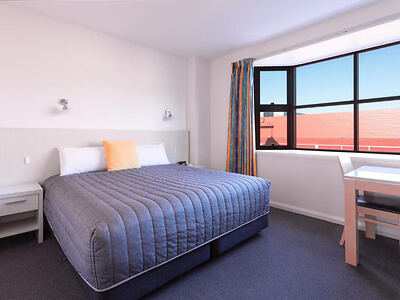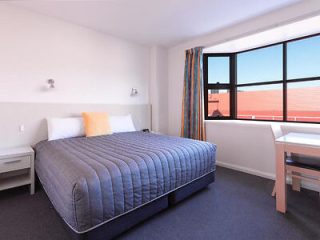 This amazing hotel offers a luxury service for very reasonable prices, plus the staff is super friendly and helpful
Airbnb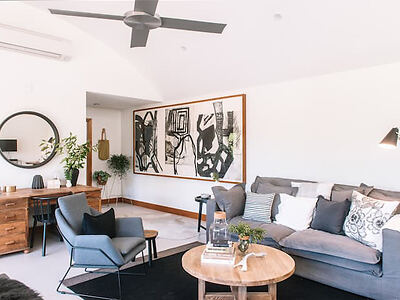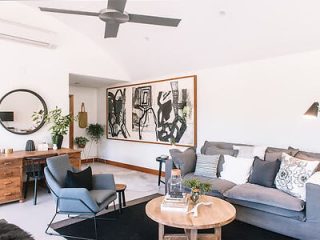 This guest house is perfect if you want to have a quiet and cozy stay in Hobarts, and be close at the same time to the best restaurants and bars
Things to do in Sandy Bay
FAQs about hotels to stay in Hobart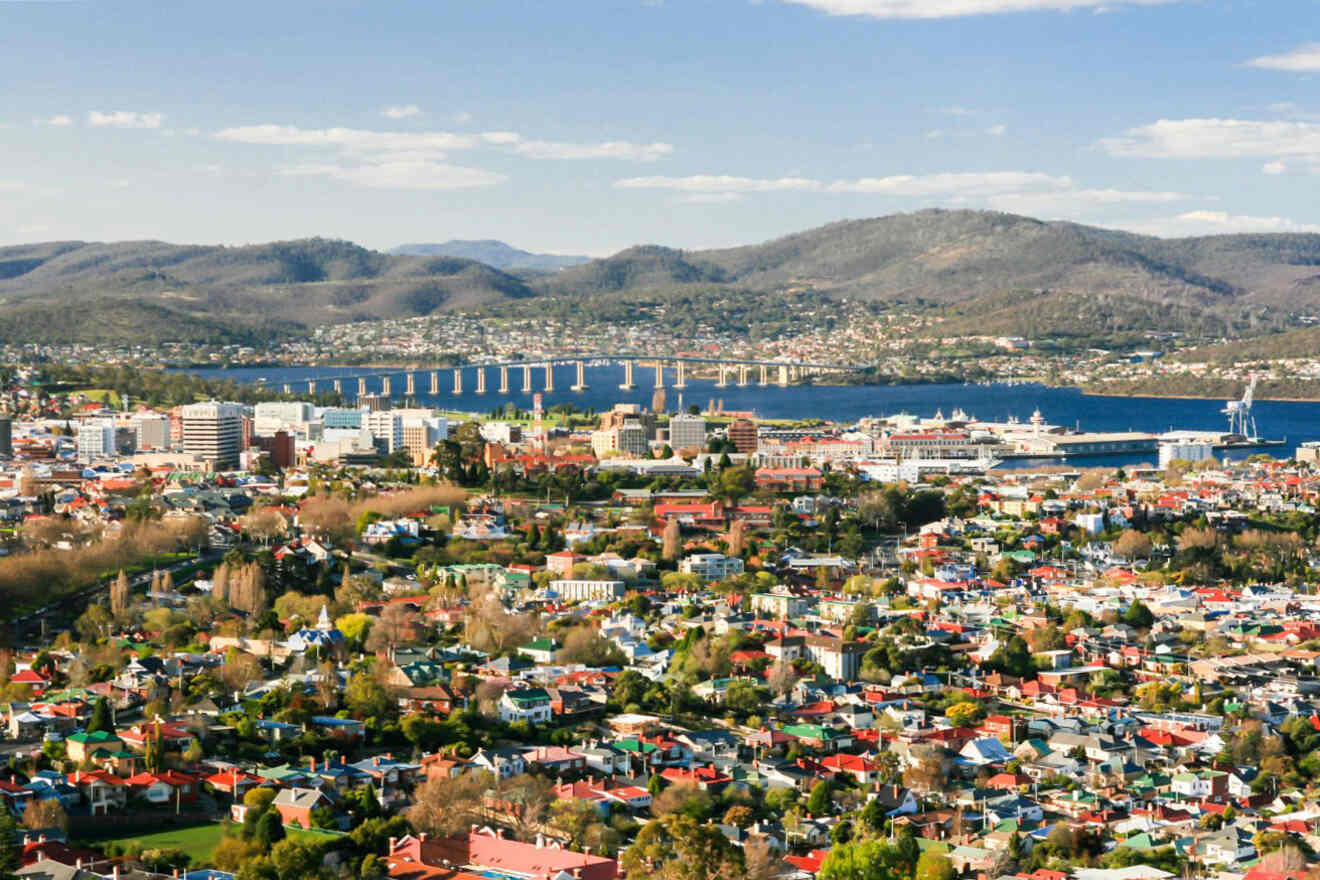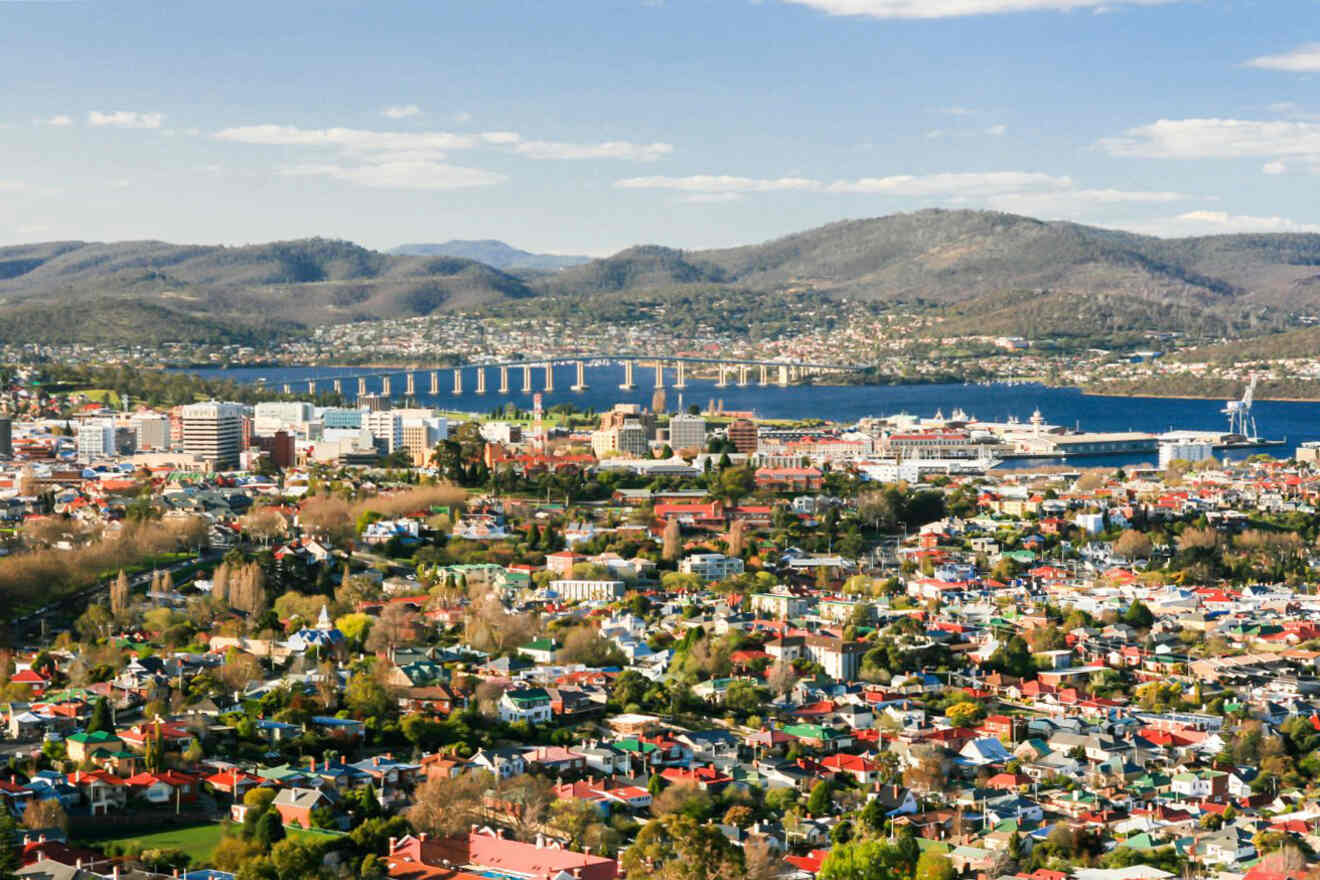 📍 Which is the best area where to stay in Hobart?
The best area where to stay in Hobart is Hobart CBD (the central business district), offering access to many attractions and accommodation options, like the Henry Jones Art Hotel (luxury) or Montacute Bunkhouse (budget). 
👪 Which is the best area where to stay in Hobart for families?
The best area where to stay in Hobart for families is the tranquil Battery Point, offering many green parks and children's playgrounds. Check out Grande Vue if you want to have a luxury stay or the more affordable Battery Point Manor.
🚶🏽Which is the best area where to stay in Hobart without a car? 
The best area to stay in Hobart without a car is Hobart CBD, offering public transport connections to any other parts of the city and being within walking distance to some of the best tourist attractions. 
👀 What are the best things to do in Hobart?
The best things to do if you stay in Hobart are eating at the local Salamanca market, located in the waterfront Salamanca Place, visiting the Tasmanian Museum and Art Gallery, and hiking in the beautiful Truganini Reserve.
Conclusion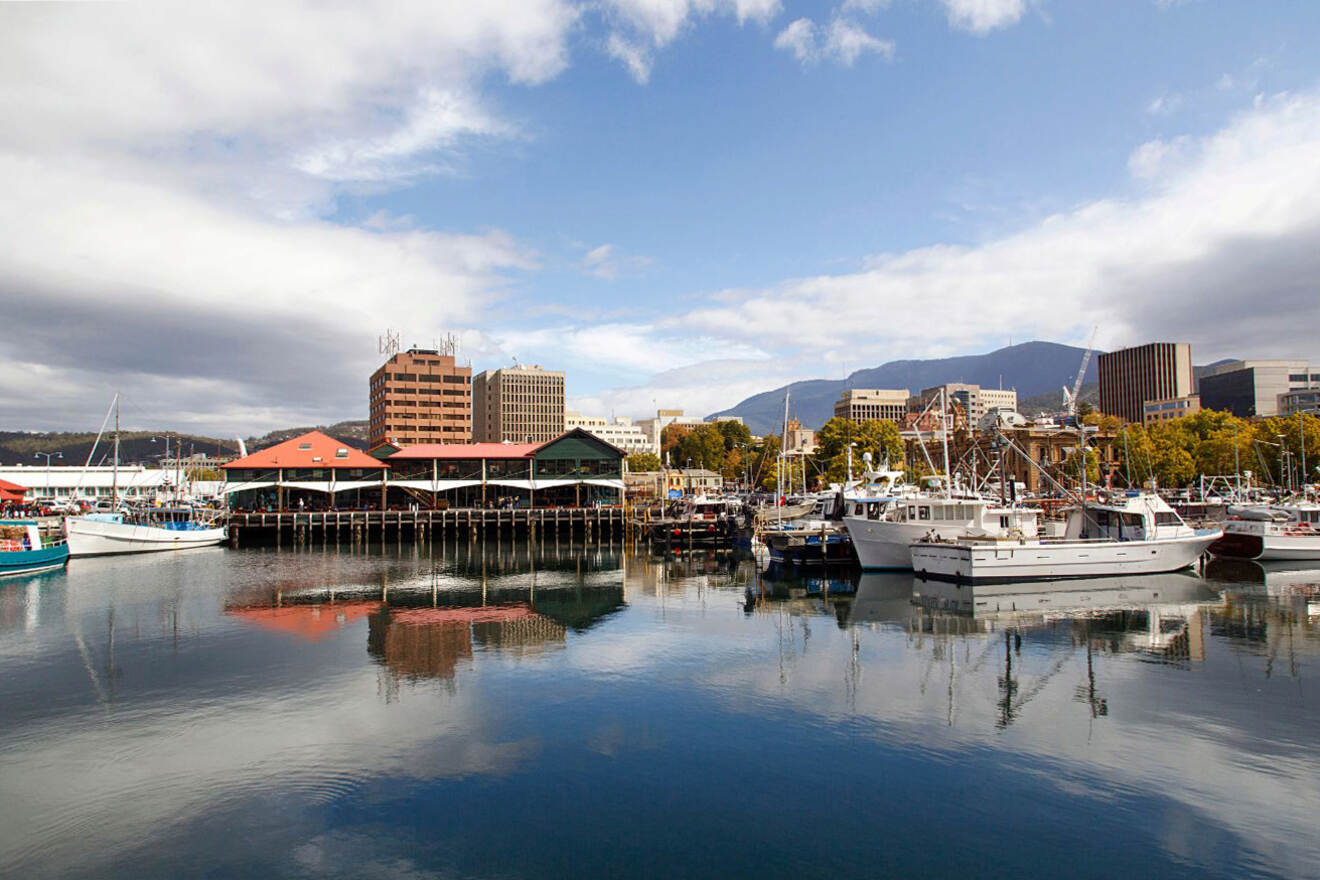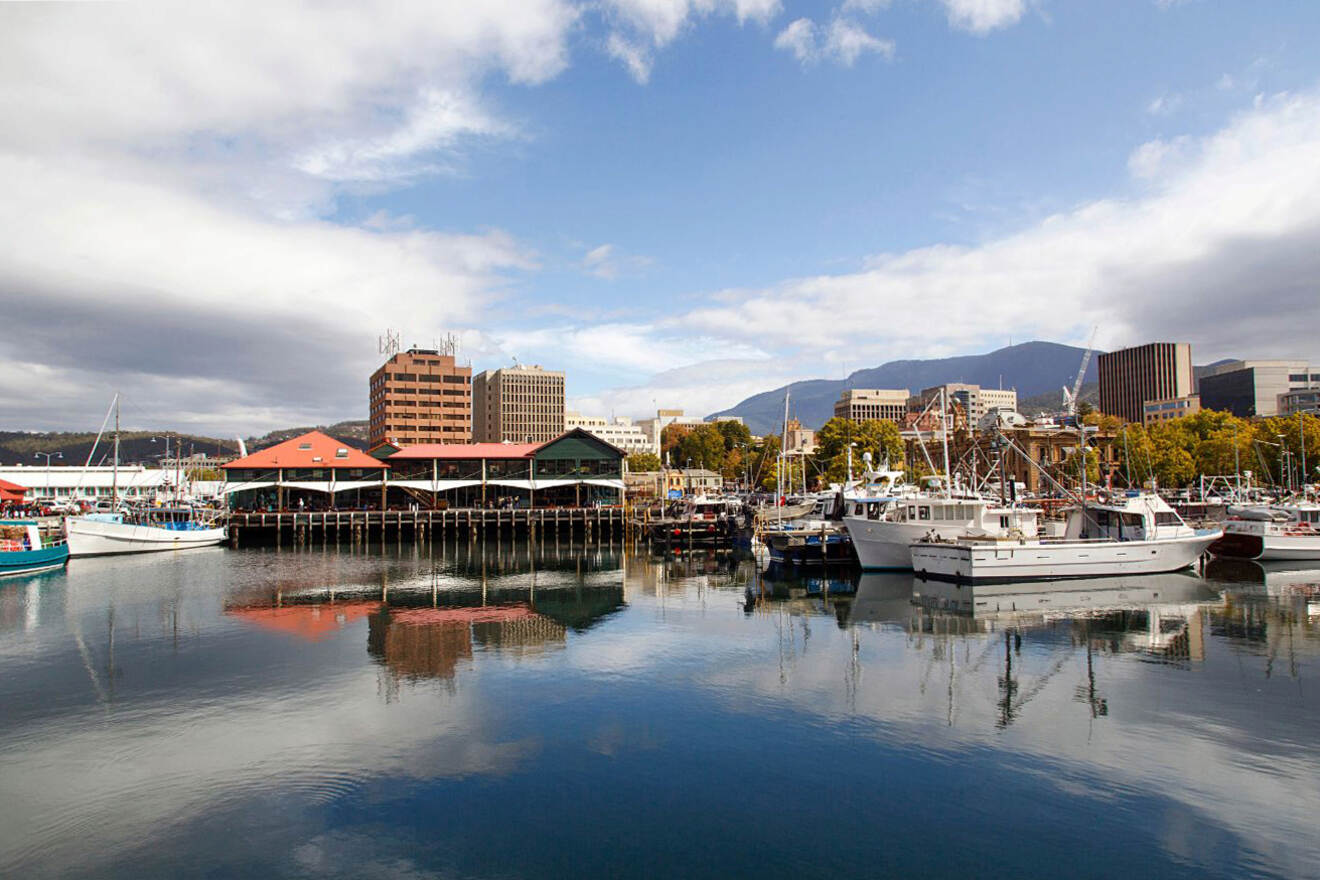 Here we are at the end of this extensive guide about the best areas where to stay in Hobart, including hotel options for any kind of budget.
This small city has something to offer for any traveler, from first-timers to families, nightlife enthusiasts, and beach lovers… but which Hobart accommodation will you stay at?
I know… We went through so many good options that is hard to decide, so let me give you extra help with my 2 absolute favorite hotels in Hobart CBD, the best area for first-time visitors:
If you like them as much as I do, make sure you book them immediately, so you don't risk losing the spot (and maybe you also find some good offers!).
And if you have visited Hobart before and you want to share your experience, or you simply have any questions for me, please share them in the comments below… I'm looking forward to reading them all!
Have an amazing holiday!
Elena
---
Pin it for later!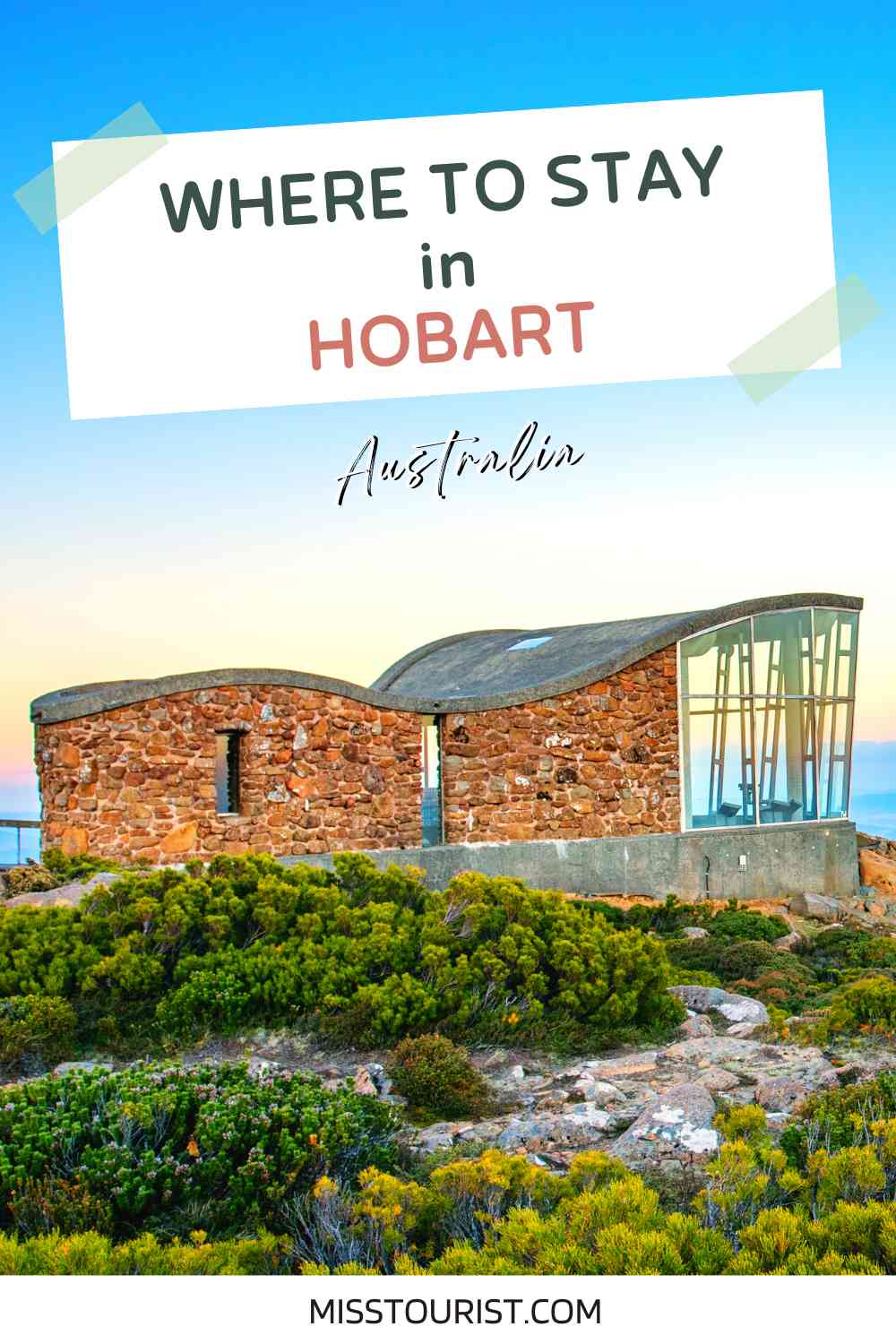 Pin it for later!