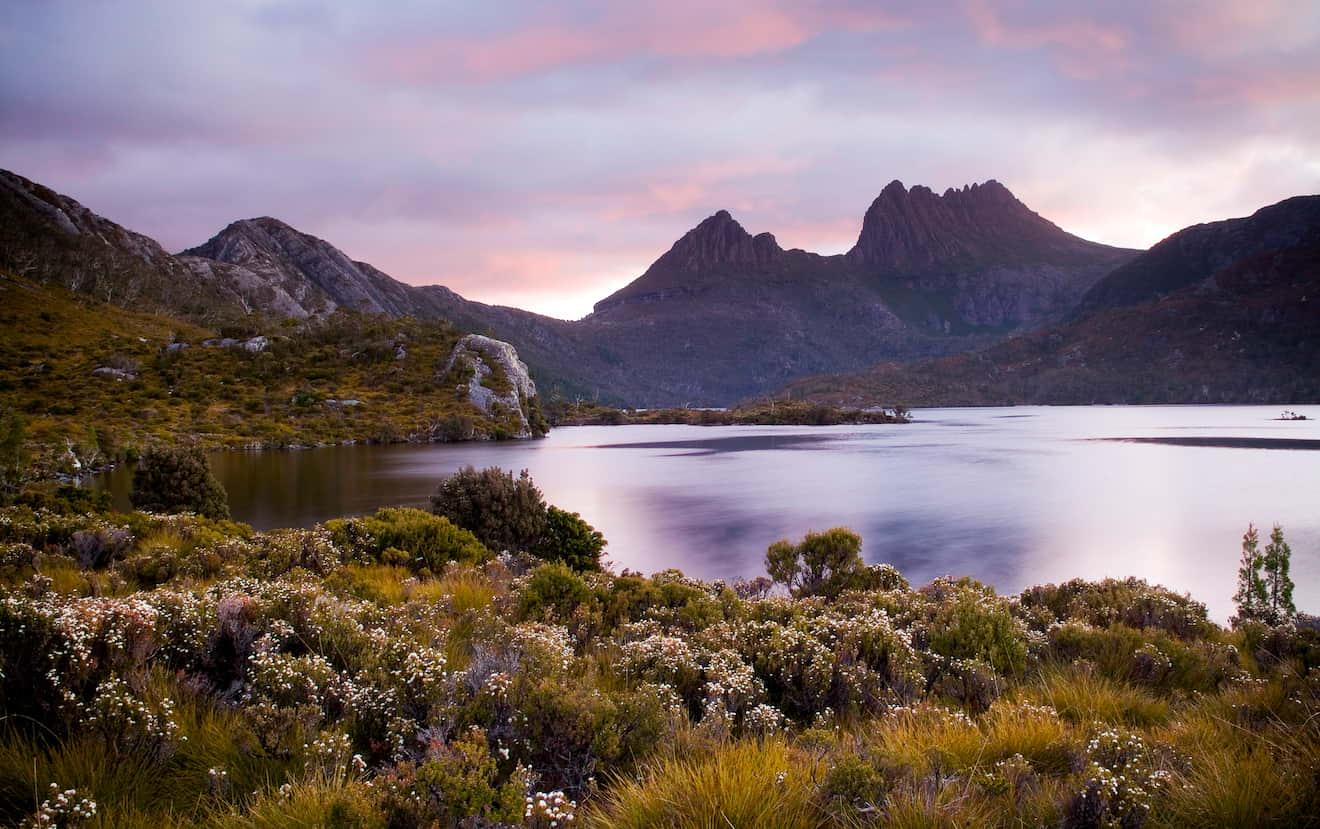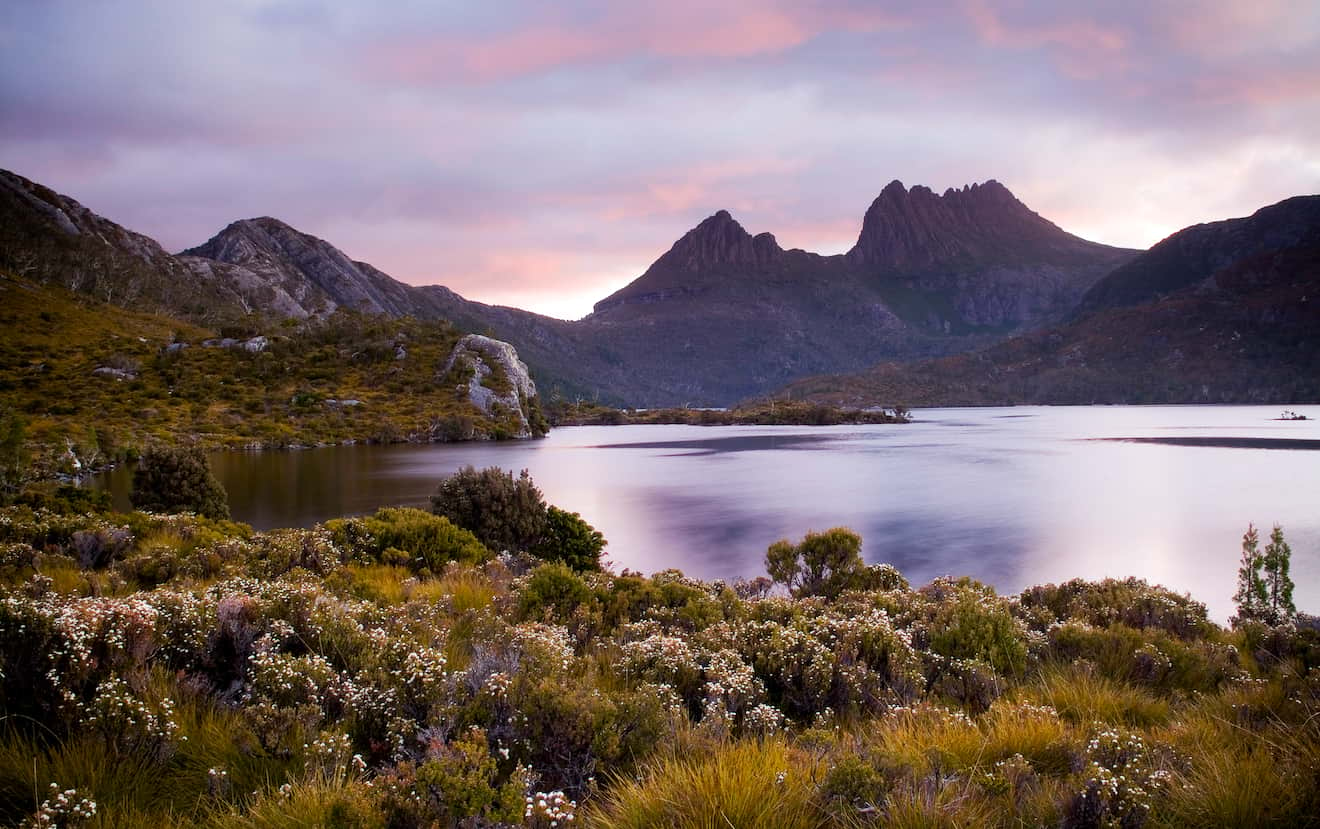 Thinking about crossing the pond to explore some of Australia's most lush landscapes and rugged ranges? Great! Located 240km (150mi) from mainland Australia across the Bass Strait, Tasmania is famously known as "Australia's natural state".
With 42% of its land area being protected by national park or world heritage site status, there are so many things to do in Tasmania, you might have a hard time leaving!
As well as its abundance of incredibly beautiful natural landscapes, Tasmania holds an interesting place in Australian history as one of the first British penal colonies in the country. Around 75,000 convicts were sent here during the time it was a functioning prison.
My relatives were in fact a couple of those convicts who were sent here on the first fleet! So you could say my personal family history is closely intertwined with that of Tasmania.
With that, let's jump right in with what to do in Tasmania!
1. Hike through Freycinet National Park and be Amazed by the Views of Wineglass Bay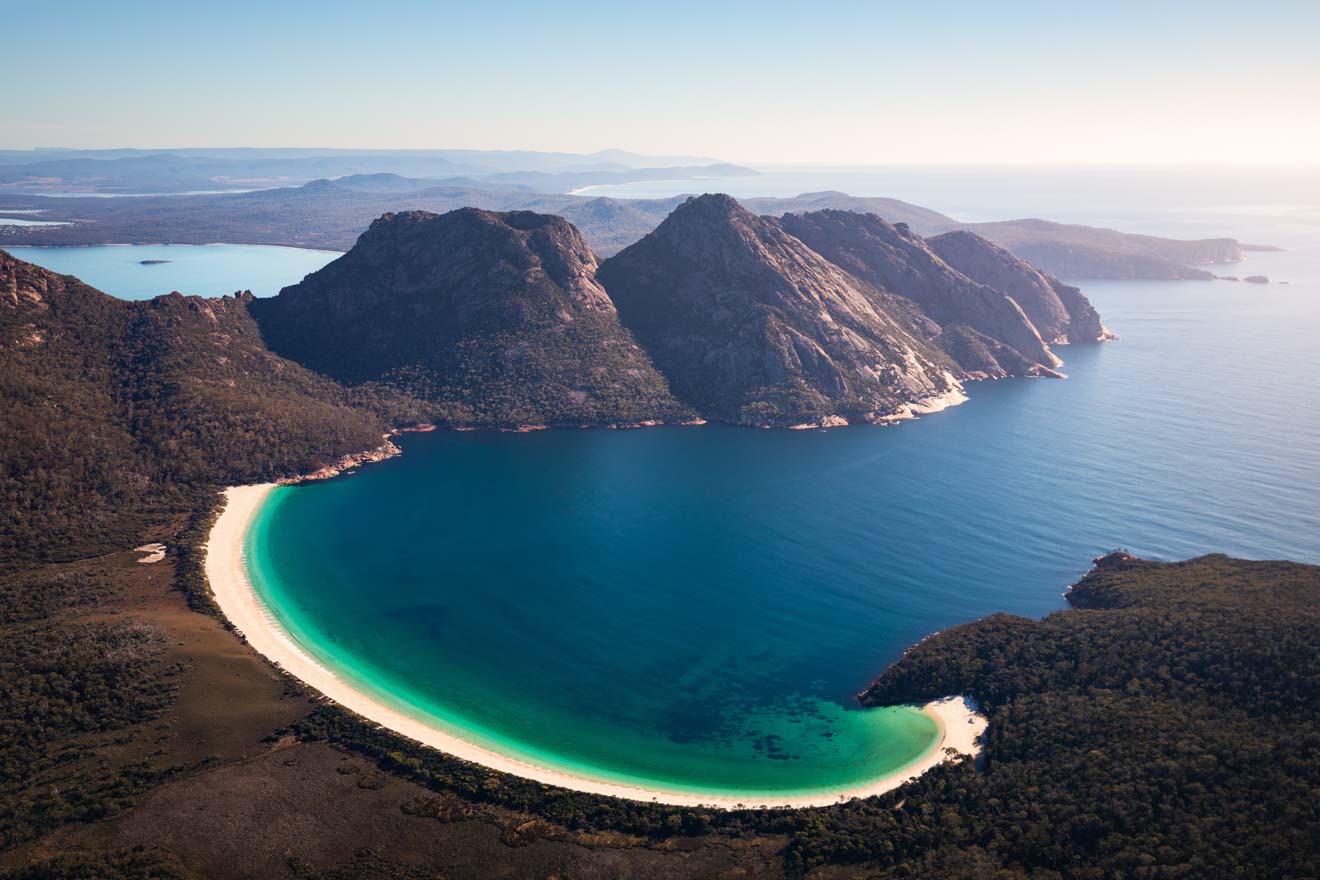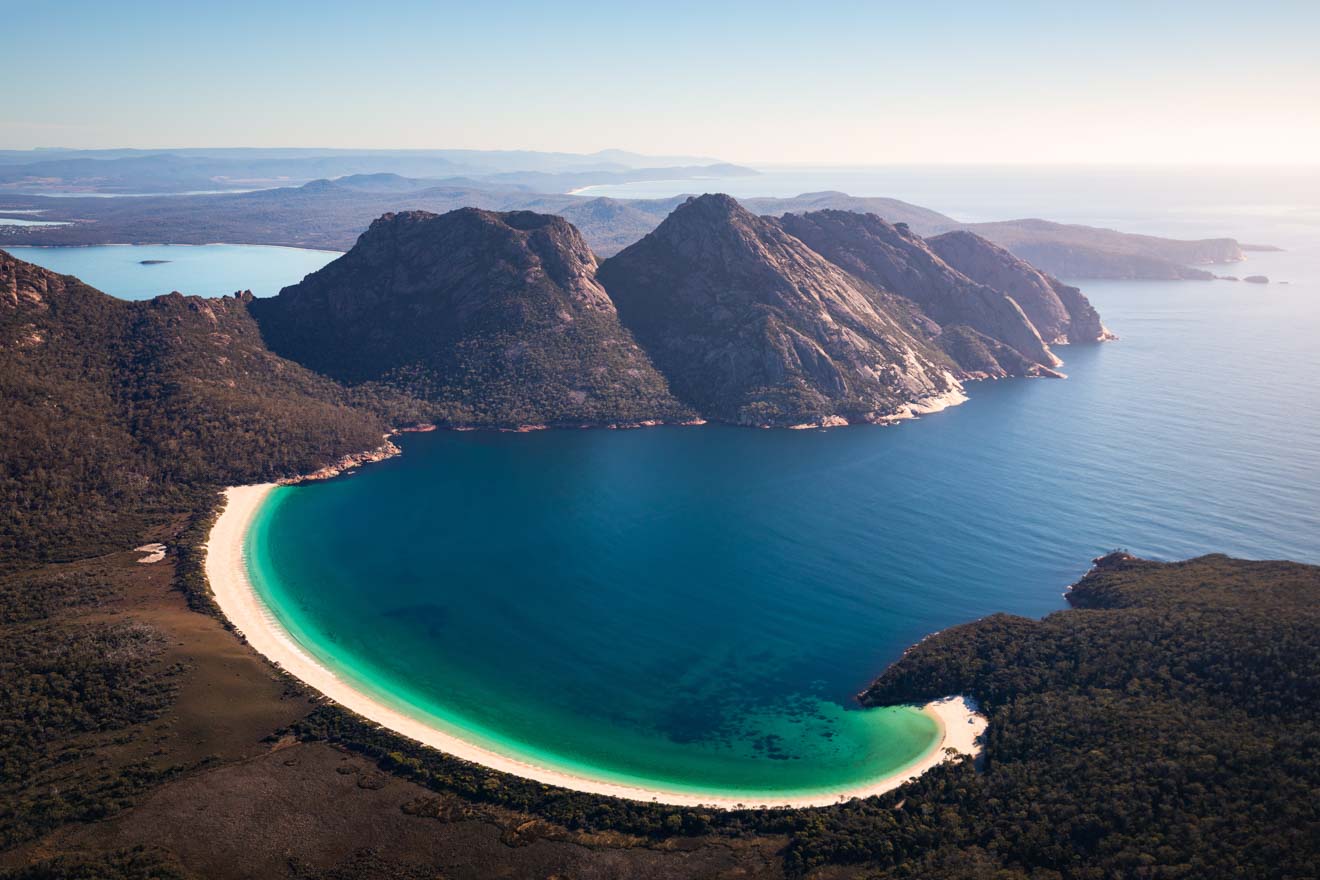 Been scrolling pictures of Tasmania on Instagram? You've no doubt come across pictures of a perfectly curved, white sandy beach surrounded by crystal clear waters, and lush green mountains.

This, my friends, is the incredible Wineglass Bay!
Wineglass Bay is located within the stunning Freycinet National Park on the east coast of Tasmania and somewhere not to be missed. Along with its pristine natural beauty, Freycinet National Park has everything you could ever ask for in the form of hiking, fishing, swimming and wildlife!
Take in the wild flowers (common all year) and impressive Hazards' cliffs, whilst completing one of the many walks in Freycinet. Get out on the water at wineglass bay, kayak to a remote beach paradise, or sunbathe on the shore with the local seals.
Keep an eye out for friendly wallabies, elusive echidnas and the occasional pademelon who may be looking to star in your selfie!
PRO TIP: Bring plenty of water as there are only 3 access points for drinking water within the park. The visitor centre, Honeymoon and Wineglass Bays.
When visiting in winter, make sure to keep an eye on the horizon at all times, Southern Right whales are often spotted here as they pass by!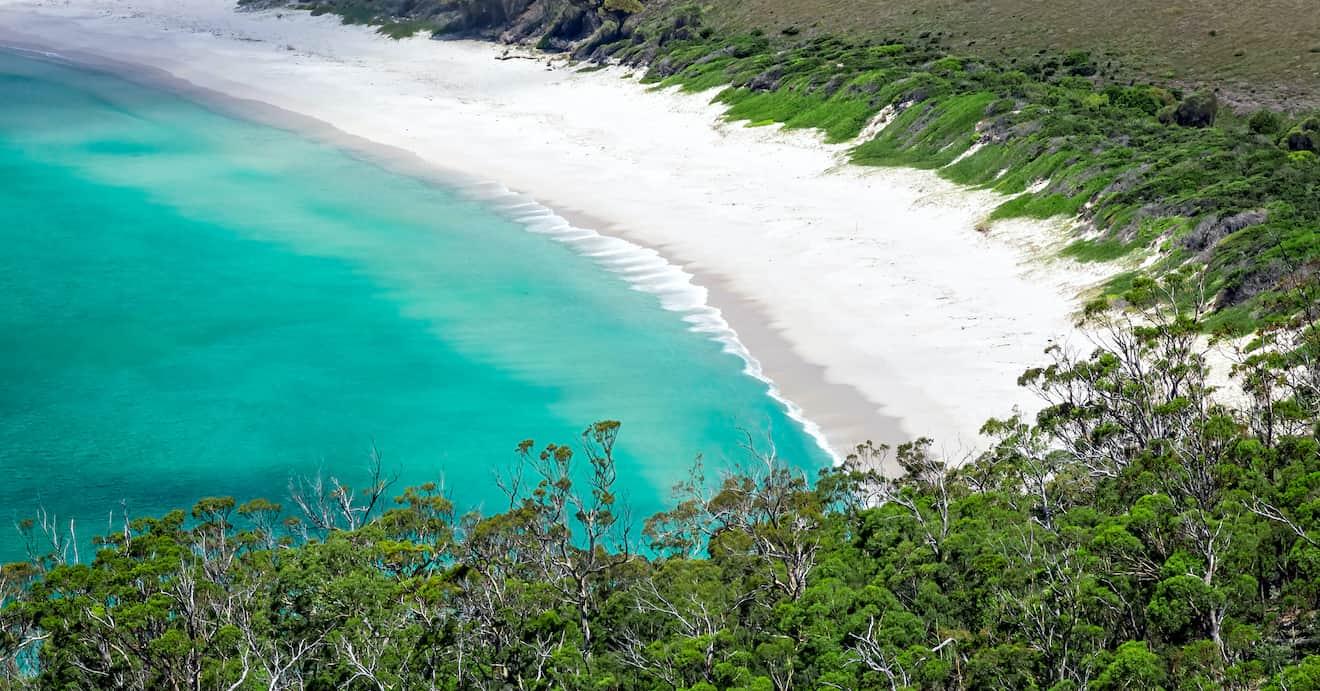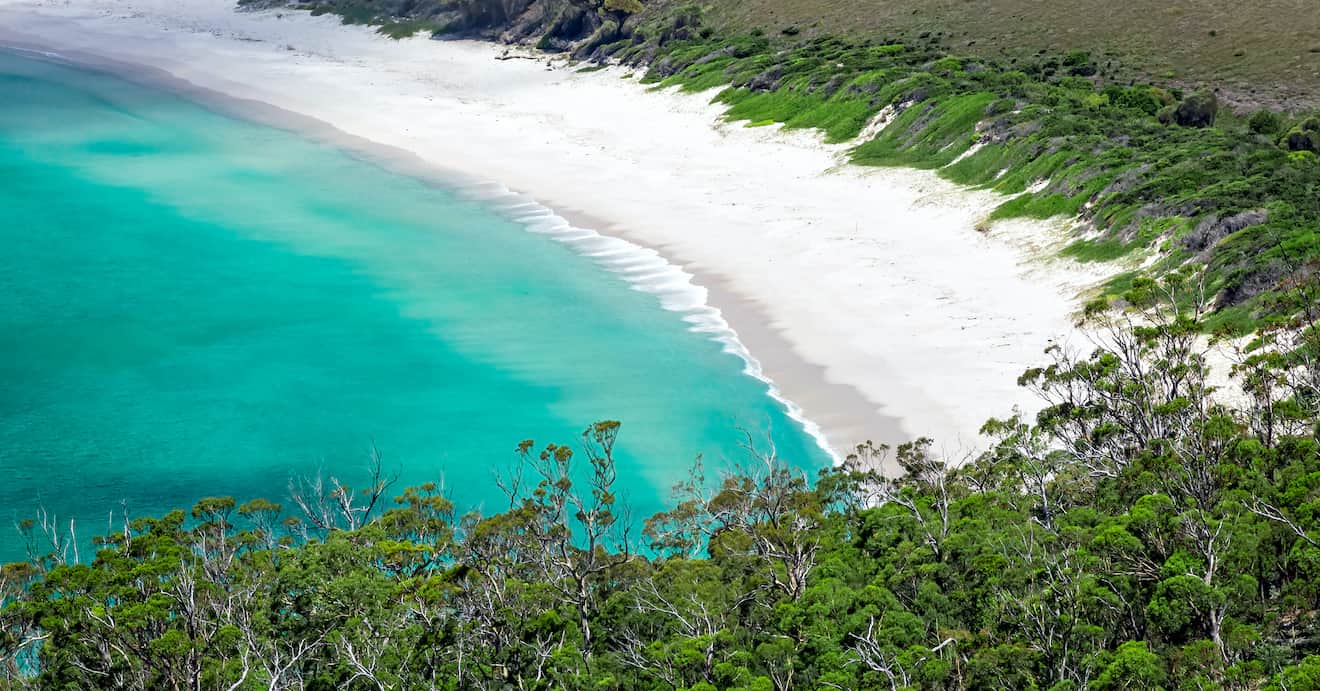 GETTING THERE: 2.5-3 hour drive from both Launceston and Hobart.
VISITOR CENTRE HOURS: November-April: 8am to 5pm | May-October: 9am to 4pm
PRICE: Check out our section on Tasmania National Park Passes located below.
Best Value = Vehicle Holiday Pass.
$60, < 8 passengers of a single vehicle, entry to all of Tasmania's national parks for up to 2 months!
TIP: Try to avoid driving in Australian National Parks at night as there is a lot of adorable nocturnal wildlife which travel across roads at night and accidents are common.
TOURS: Don't have access to your own car? No problem! Learn all about Freycinet National Park and its wildlife from a knowledgeable local guide on a Guided Walking day trip from Hobart
COST: $125
OR
Experience the stunning clear waters and pristine white beaches from the water on this half day, Wineglass Bay cruise including a delicious lunch onboard!
COST: $145
2. Head into the Alpine at Cradle Mountain and Swim in Lake St Clair National Park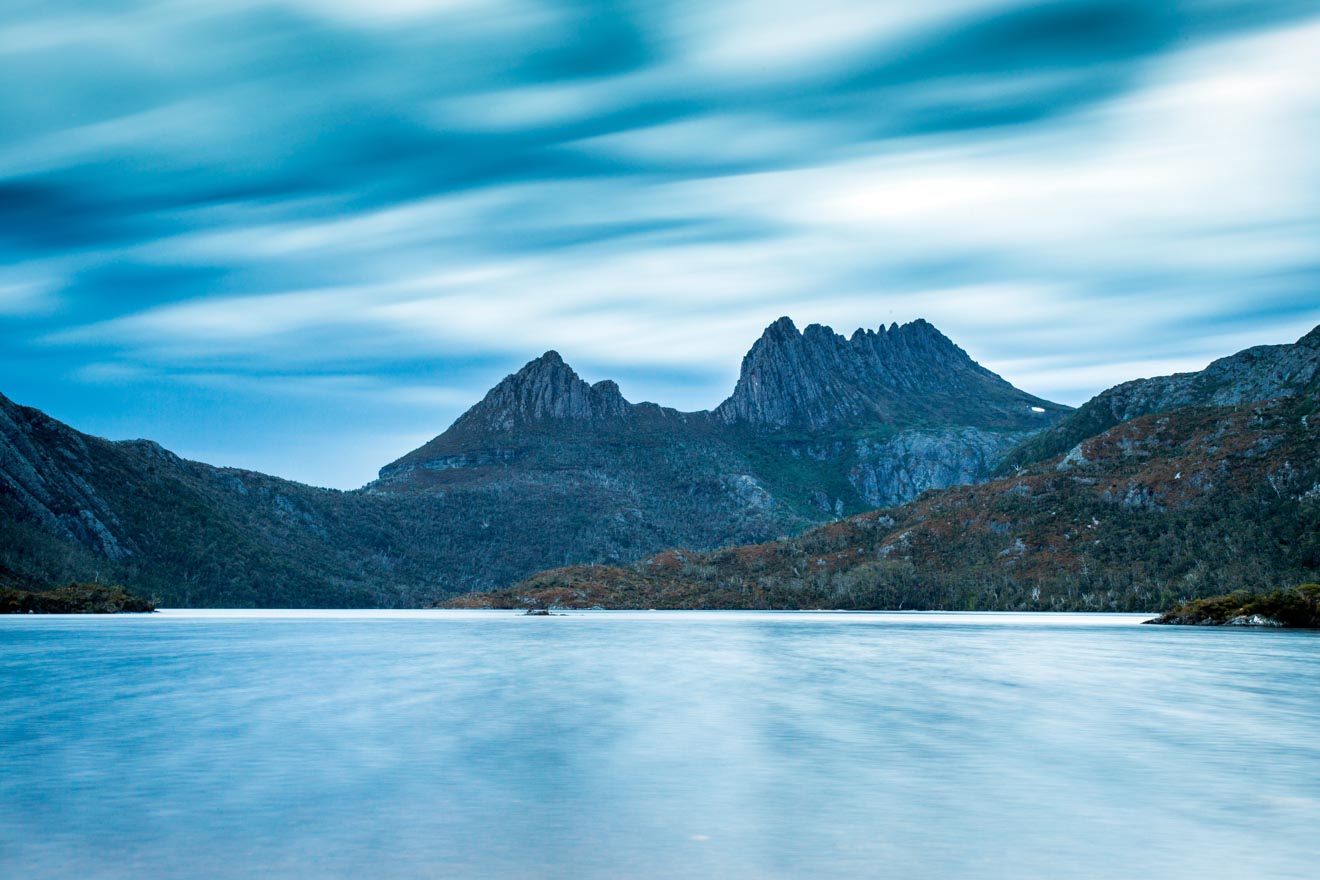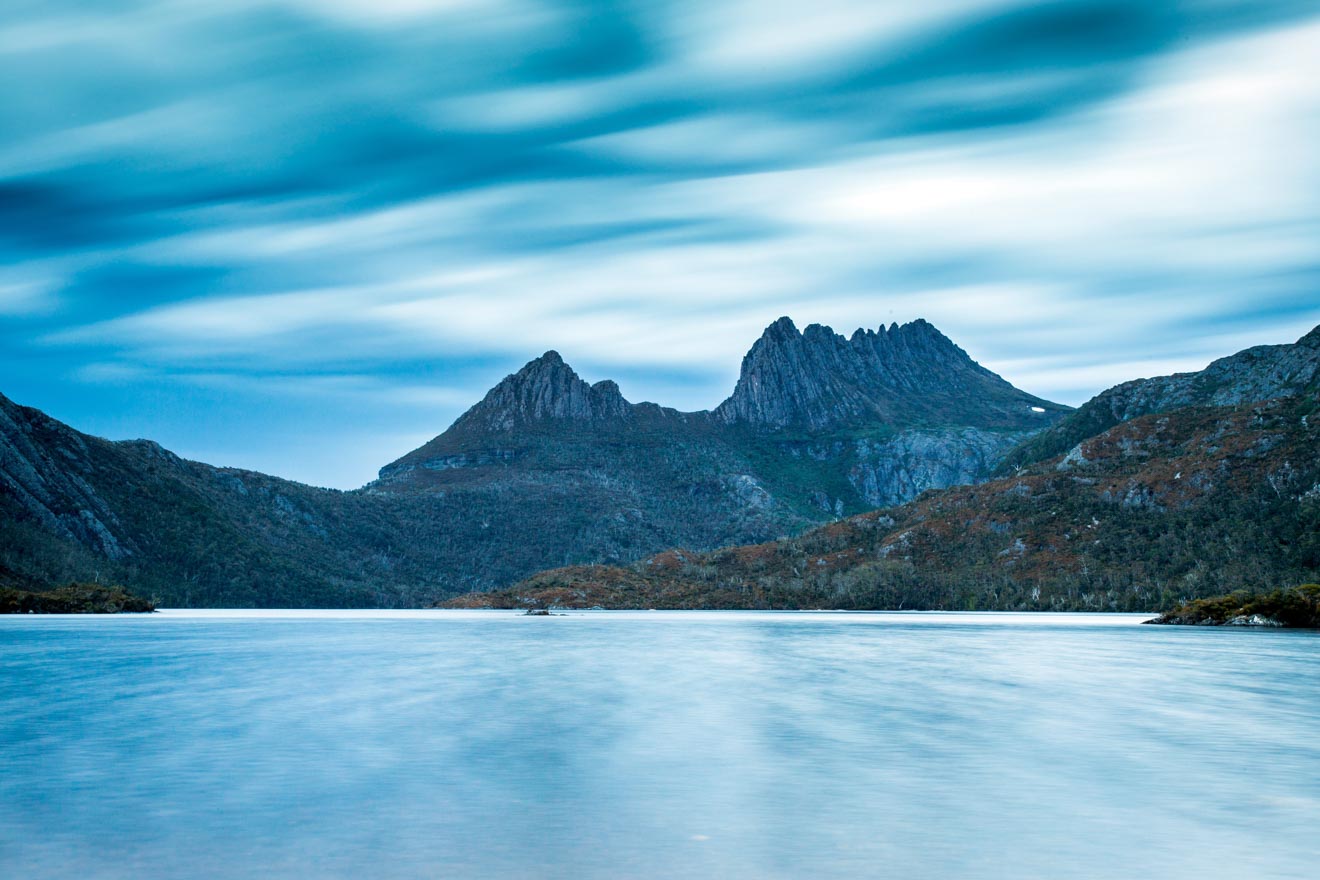 Another one of Tasmania's most famous National Parks is Lake St Clair National Park.
Nestled in the central highlands of Tasmania, its array of rainforests, steep gorges, alpine lakes and snowy peaks makes it any hikers dream. Experienced trekkers and day trippers alike will find something to suit their needs, with everything from short walks to the famous 80km(50mi) Overland Track.
Although I was only able to spend a day here, I'm itching to get back to further explore its natural wilderness!
Being a world heritage area, St Clair National Park really has something for all visitors. Set up camp or bring a picnic lunch for a splendid outdoor day.
NOTE: Picnic tables are available at Waldheim, Ronny Creek & Dove lake. Plan to arrive early to snag a seat in high season! Food is available for purchase for your convenience at Cradle Mountain Cafe and Cradle Mountain Lodge, however, be aware that prices can be steep.
ATTENTION: When visiting in winter, be sure to check road and snow conditions before visiting by calling the visitor centre on (+61)0364921110 and check the webcam for live images of lake visibility.
GETTING THERE:
1.5 hour drive from Devenport or 2.5 hour drive from Launceston.
PARKING: Park up at the visitor center located at the northern end of the park, and obtain a ticket for the shuttle to Dove Lake by showing or purchasing your national parks pass inside the visitor centre.
The FREE SHUTTLE runs every 15mins, 7 days a week during visitor centre opening hours. Running in a loop from the Visitor Center Carpark to Dove Lake with stops at the interpretation Centre, Snake Hill + Ronny's Creek (refer to this map for stop locations).
The shuttle is used to limit the number of vehicles entering and degrading the natural landscapes of the national park.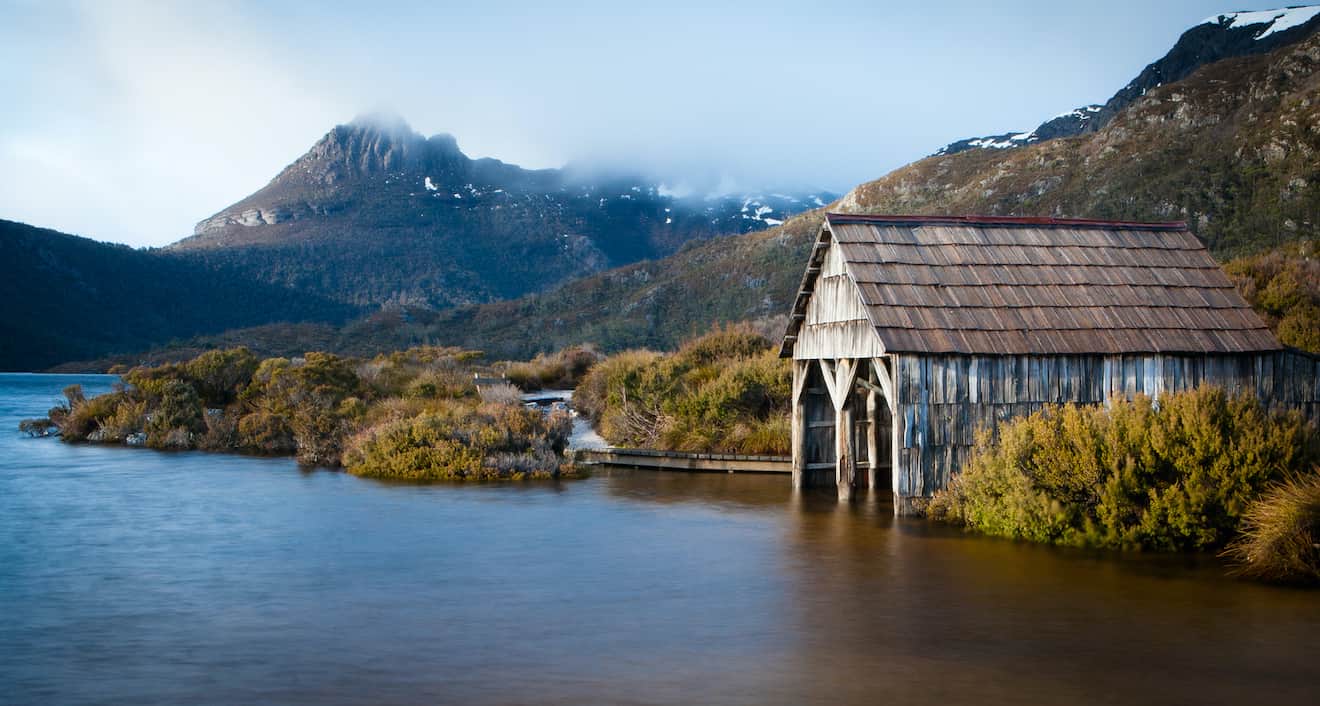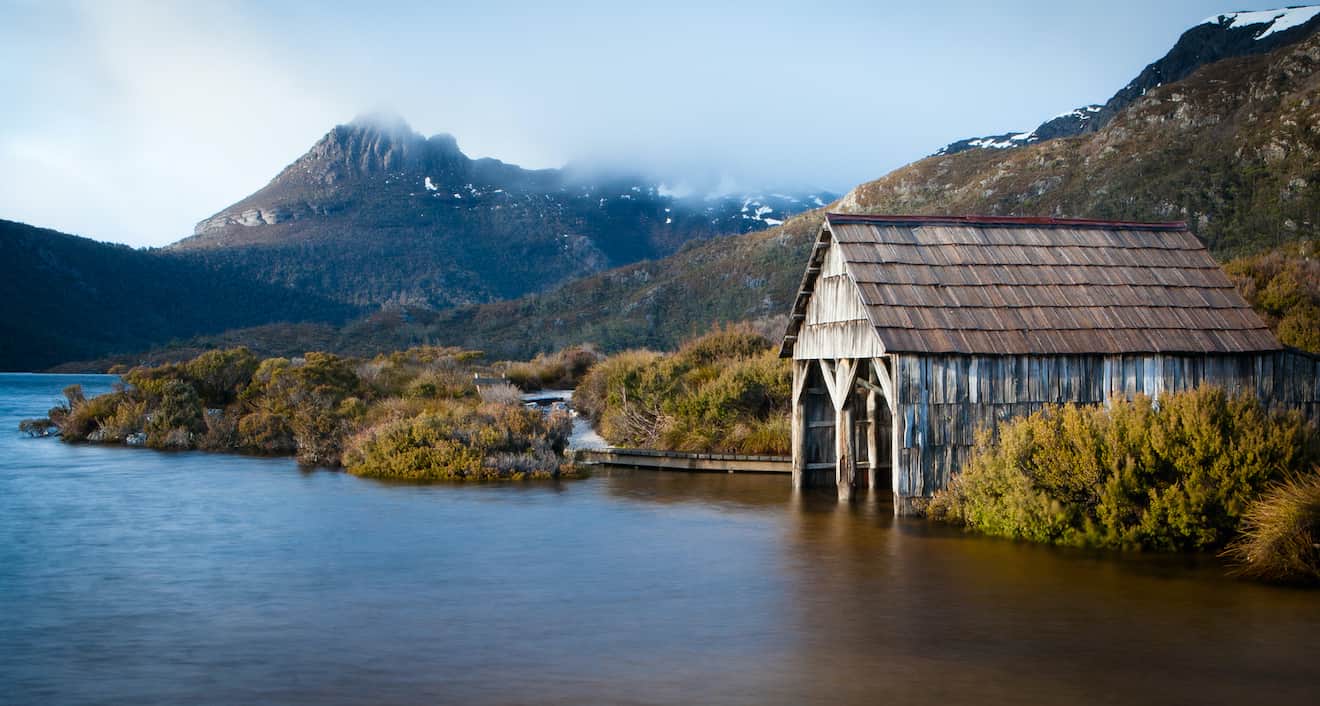 COST: A day pass or Tasmania National Parks Holiday Pass is required to enter the area (scroll down to our section Practical Information About Tasmania further down the page for full details).
NOTE: Entry to Cradle Mountain is only included in the National Park Holiday Pass. It is not included in the daily pass.
A daily Cradle Mountain only day pass can be purchased separately. Adult $16.50, Child (5-17 years) $8.25, Family (2 adults, 3 children $41.25)
TOURS: If you are at all interested in Australia's unique nocturnal animals, I highly recommend going Afterdark Wildlife Spotting! Growing up with a zoologist as a father, I was fortunate enough to go animal spotting after dark countless times growing up. Seeing wombats and possums in their natural habitat is definitely an incredible, unforgettable experience, that you won't find in many other places around the world!
If night time isn't your thing, join a day trip from Launceston to Cradle Mountain. This 10 hour trip takes you to the heart of St Clair, with bonus stops to see the best things along the way. See the famous street murals in Sheffield, guided walks within the park, lunch at the historic Waldheim Chalet and a delicious tasting at Ashgrove Cheese Farm. All are included from just $145.
3. Leave the Real World at MONA, Tasmania's Museum of Old and New Art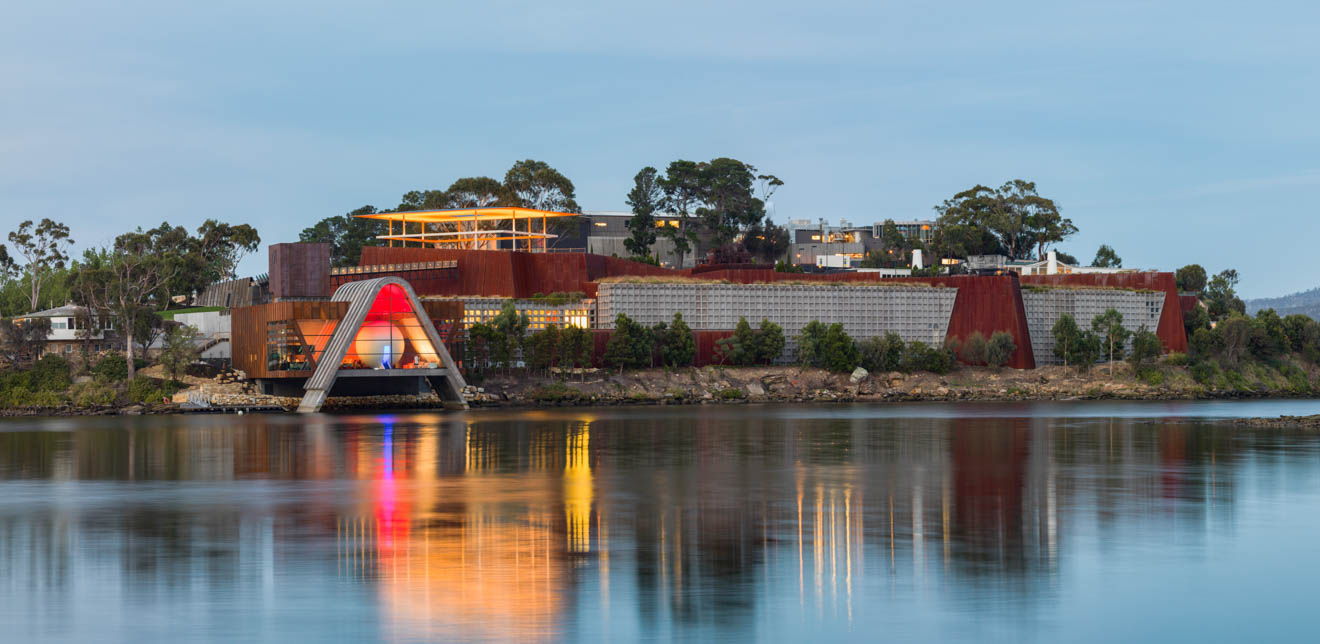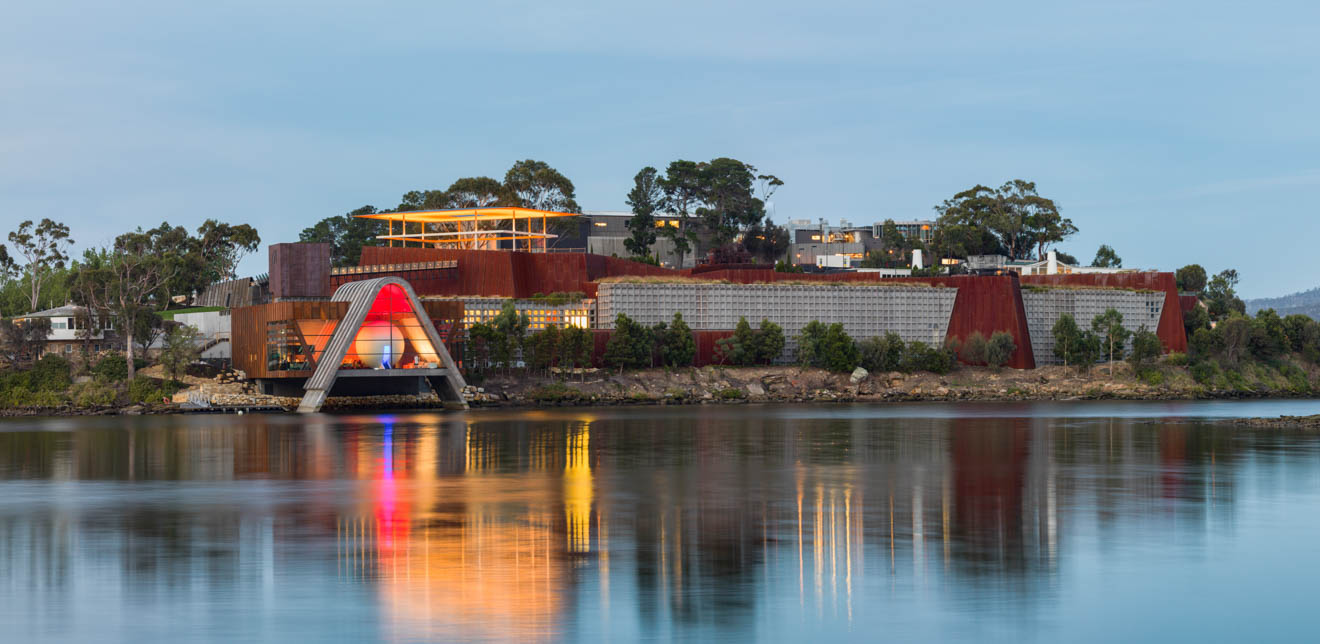 Step into a museum like no other. Even if you don't typically enjoy museums and art galleries like myself, trust me when I say you will LOVE MONA!
To get a sense of the playfulness of this incredible gallery, take quick read through its website. MONA's goal is to involve visitors in the experience of the works by removing the traditional "Art-wank" attitude (their words) which often turns people off stuffy museums and art galleries.
Grab a drink from the onsite bar and go explore their core collection, Monanism.
TIP: Download MONA's app the 'O', before you go and remember your headphones for a fully inclusive experience! (IOS only).
Replacing typical information plaques, it gives you access to artwork descriptions, stories, interviews and music to enhance your individual experience. You are also encouraged to vote "love" or "hate" on each of the pieces on display.
Free wifi is available throughout the gallery and you can "save your visit" to continue the experience at home.
PRO TIP: If you don't have access to the app, 'O' portable devices are available to loan for free upon entry.
In addition to the permanent collection, MONA hosts visiting exhibitions generally twice a year (a summer and a winter exhibit).
COST: Adults $30. Under 18s Free! Additional charges for particular artworks, which can be purchased at the artwork entrance. CARD ONLY
TIP: Free entry for Tasmanians! You will still be required to collect a ticket from the box office.
GETTING THERE:
Located 11km(6.8mi) north of Hobart, there are many ways to get to the museum:
Drive: 20min drive from central Hobart to 655 Main Rd, Berriedale TAS 7011. NOTE: There is only a small free car park at MONA, arrive early to get a spot!
Ferry: Frequent departures from Brooke St Pier for a 25 min journey across the water, direct to MONA. $22 return for a standard ticket.
Bus: Take any of the busses numbered 510, 520, 521, 522 or X20 to arrive at Mona in around 30-40mins from downtown Hobart.
4. Reach New Heights and Summit Mount Wellington!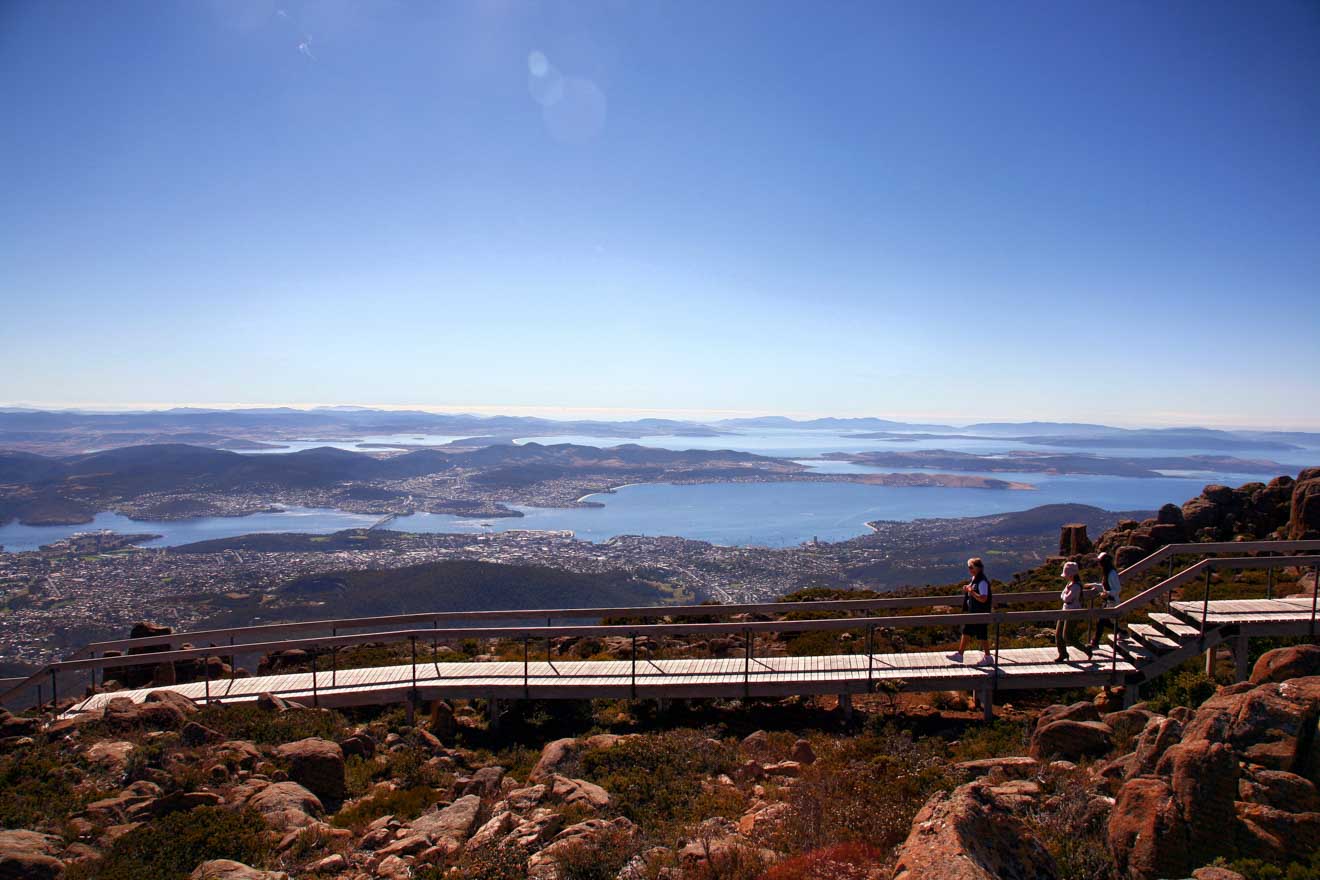 Located west of Hobart, Mount Wellington has so many things to offer with attractions for all!
Most famous for its nature lookout at Kunanyi Peak, the views from 1,270m (4,167ft) are spectacular!
Walking tracks wind their way around the park areas with forests, cliffs, and picnic areas to enjoy either on foot or by car. Mt Wellington can easily be combined with other things to do in Hobart for a full day out.
You're looking for more adventure experiences during your trip? Try your hand at rock climbing/abseiling, mountain biking, 4×4 driving or horse riding.
COST: FREE (paid activities or tours extra)
OPENING HOURS: 24/7
GETTING THERE: Just a 30 min drive from Hobart, follow directions to Kunanyi off the B64.
TIP: In winter months, the road may be closed due to snow. Check the City of Hobart Website for up-to-date information on conditions prior to setting off.
WINTER: During winter months transport options are limited to the Mt Wellington explorer bus. Book here for all year access.
Combine Mt Wellington with the other areas of interest surrounding Hobart for a full day trip! Visit Mt Wellington, Mount Field National Park, Bonorong Wildlife Sanctuary and the town of Richmond with the comfort and convenience of a guided excursion, to fully discover the culture of the city.
5. Search Salamanca Market for Tasmanian Trinkets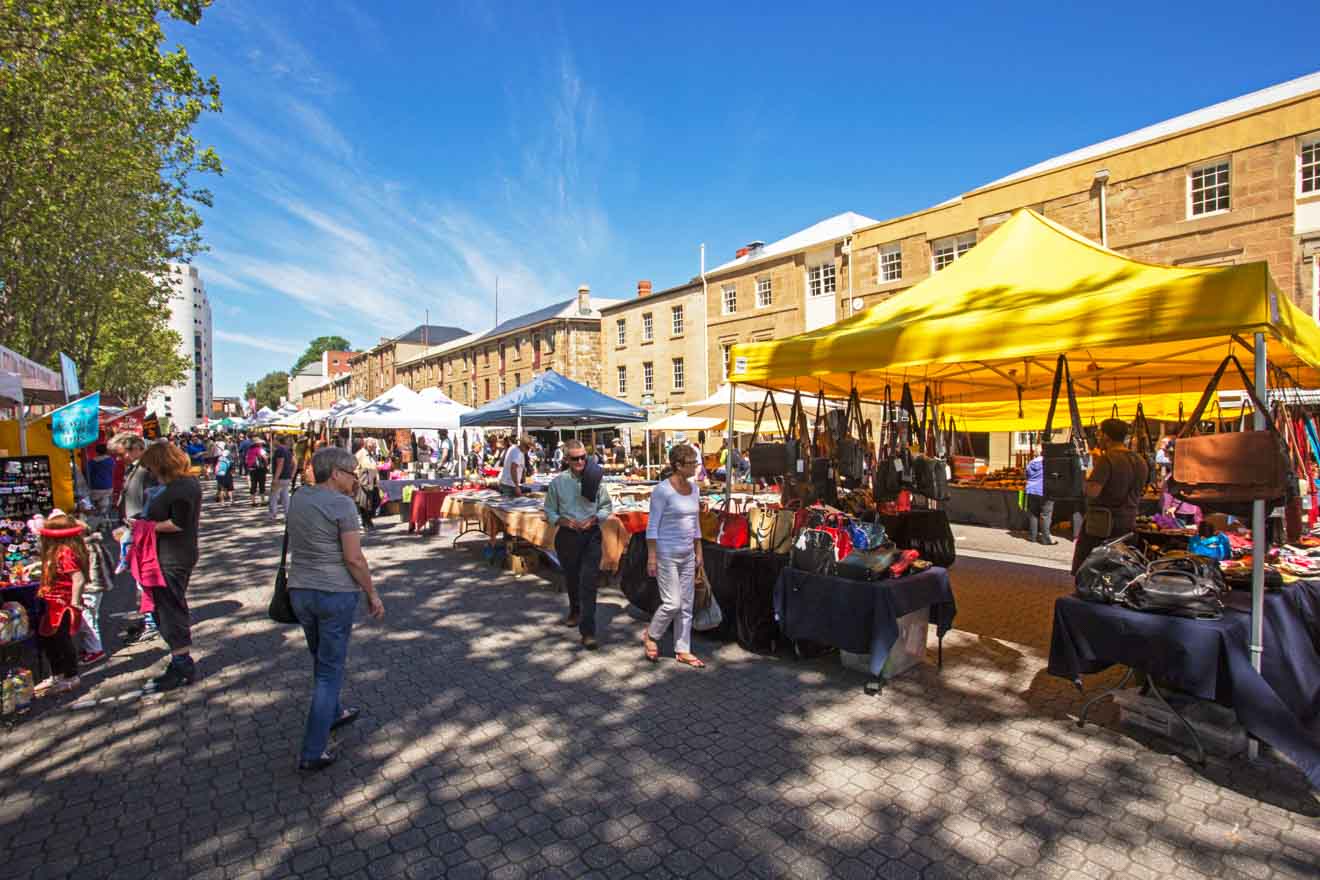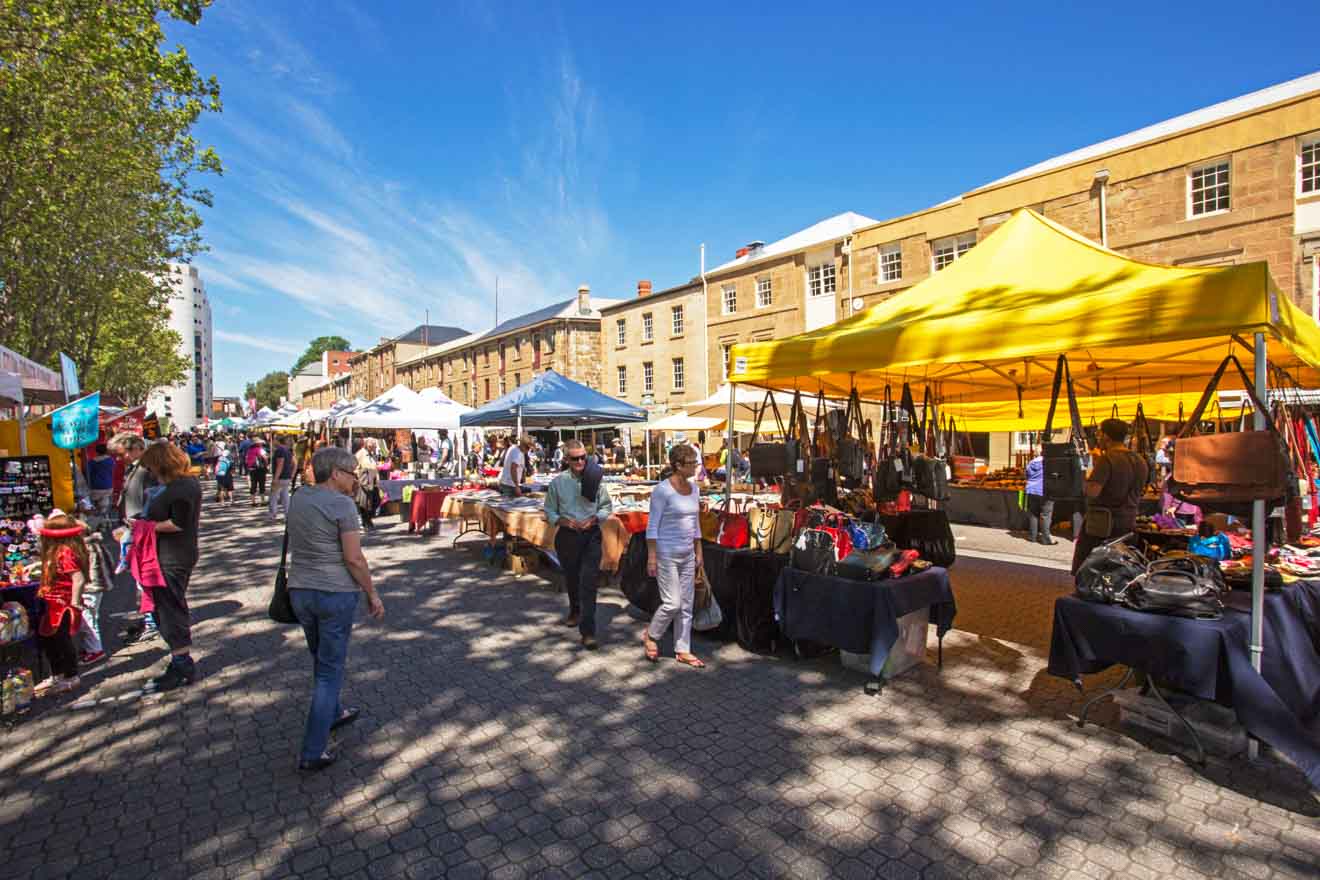 One of Australia's largest markets with over 300 stalls, Salamanca Market is located on Hobart's waterfront at the historic Salamanca Place. With the first market being held in 1972, Salamanca Market has quickly become one of Tasmania's most visited attractions. You know it has to be a good one if it's lasted for almost 50 years!
The market specialises in bringing locally crafted, Tasmanian made jewellery, artworks, homewards and produce to the world.
Plan to spend at least a few hours at this HUGE market as you enjoy free tastings, entertaining buskers and different weekly events. If you have something to express, why not get involved at the speakers corner where you are able to voice your rant or read a poem whilst inviting others to listen.
TIP: If bringing your dog to the market, drop them off at Puppy Parking from 9am-1pm, where RSPCA staff will look after them whilst you shop!
OPEN HOURS: Saturdays, 8:30am-3pm.
GETTING THERE: Take the free Salamanca shuttle from downtown Hobart. This shuttle runs at 10min. intervals. Check out this map for details.
COST: FREE
6. Step back in time at Port Arthur Historic Site on the Tasman Peninsula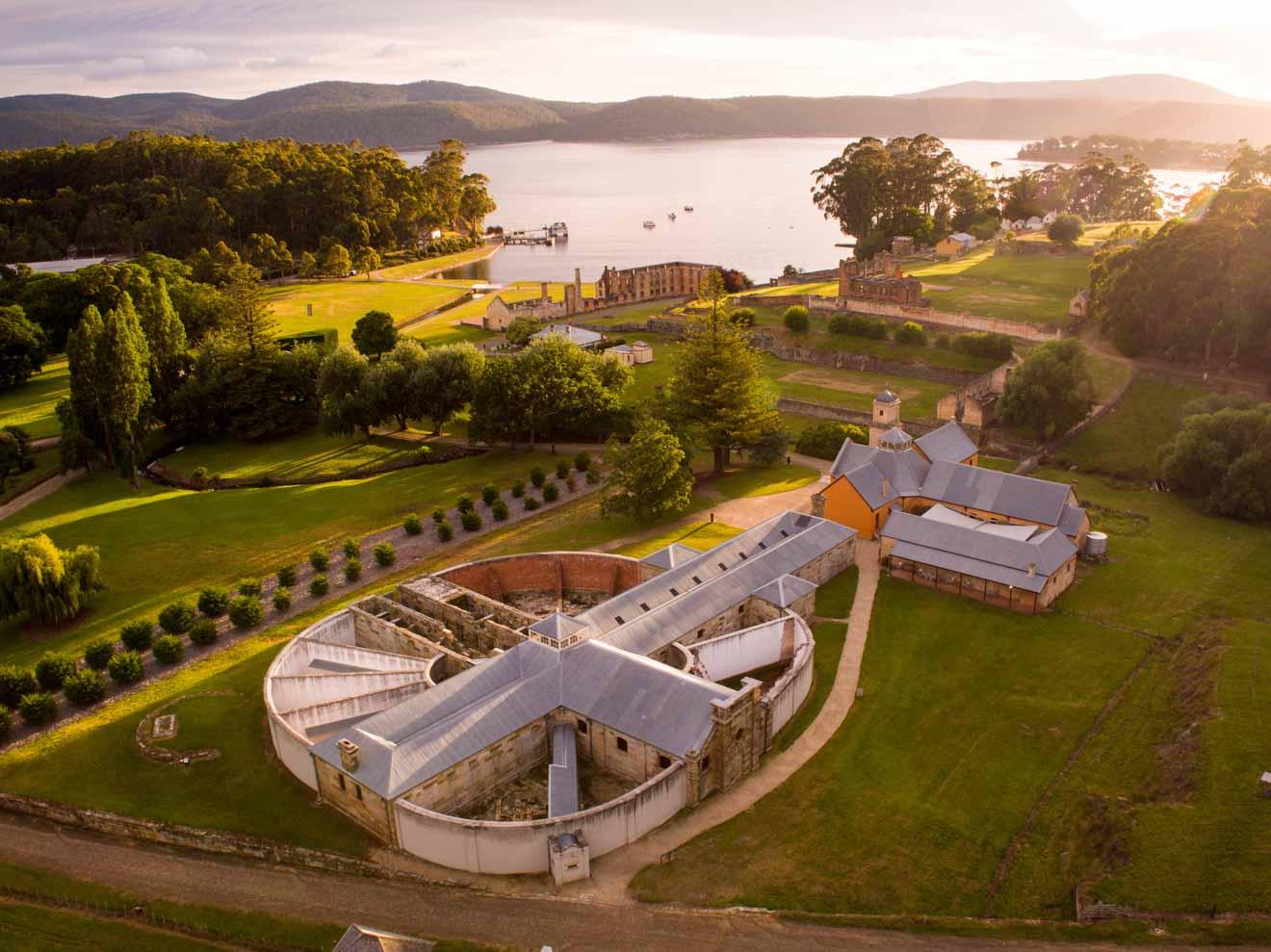 Port Arthur was one of Australia's first penal colonies, housing some of the toughest criminals in the world. The Port Arthur Historic sites are listed on the UNESCO world heritage list due to their importance in Australian convict history and I can say, visiting the sights definitely lives up to the title.
Get up close and personal with real Australian history by exploring the buildings and artefacts from this haunting time. With 40 hectares to cover, make sure you bring your walking shoes!
TIP: Weather in Tasmania is notorious for changing so bring appropriate clothing to spend a lot of time outdoors for all conditions.
Your entry is valid for 2 consecutive days and with so many Things to do in Port Arthur it's worth taking advantage of this.
TIP: Take the FREE 40 minute introductory walking tour before heading off to explore the rest of the site on your own. Tours run frequently throughout the day so ask at the visitor centre upon arrival when the next one will be.
GETTING THERE: A scenic 90min drive from Hobart along the Tasman Peninsula coastline. 6973 Arthur Highway, Port Arthur, Tasmania 7182
TIP: Free parking fills up quickly so arrive early to secure a spot!
COST: Adult $42, Children $18, Family $106 ( 2 adults, < 6 children)
OPEN HOURS: 10am-5pm plus night tours
TOURS: Get the comfort and convenience of a guided day trip, including a Port Arthur historic site tour, harbour cruise and extra stops of interest along the way for $137
Visit one of Australia's most haunted sights after dark with a 90 minute experience of Port Arthur ghost stories by lantern light! (Not for the faint hearted)
7. Discover the East Coast of Tasmania at the Bay of Fires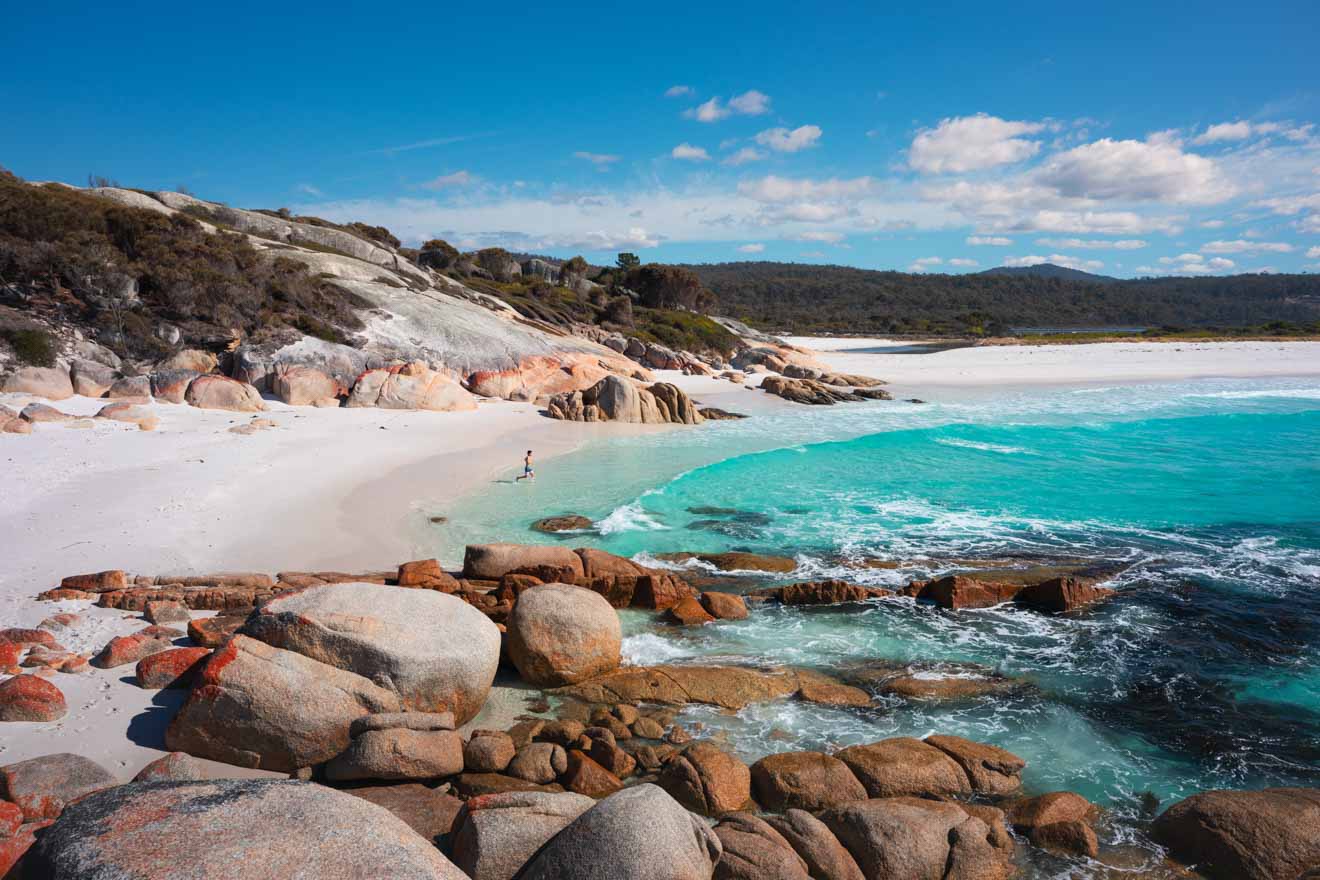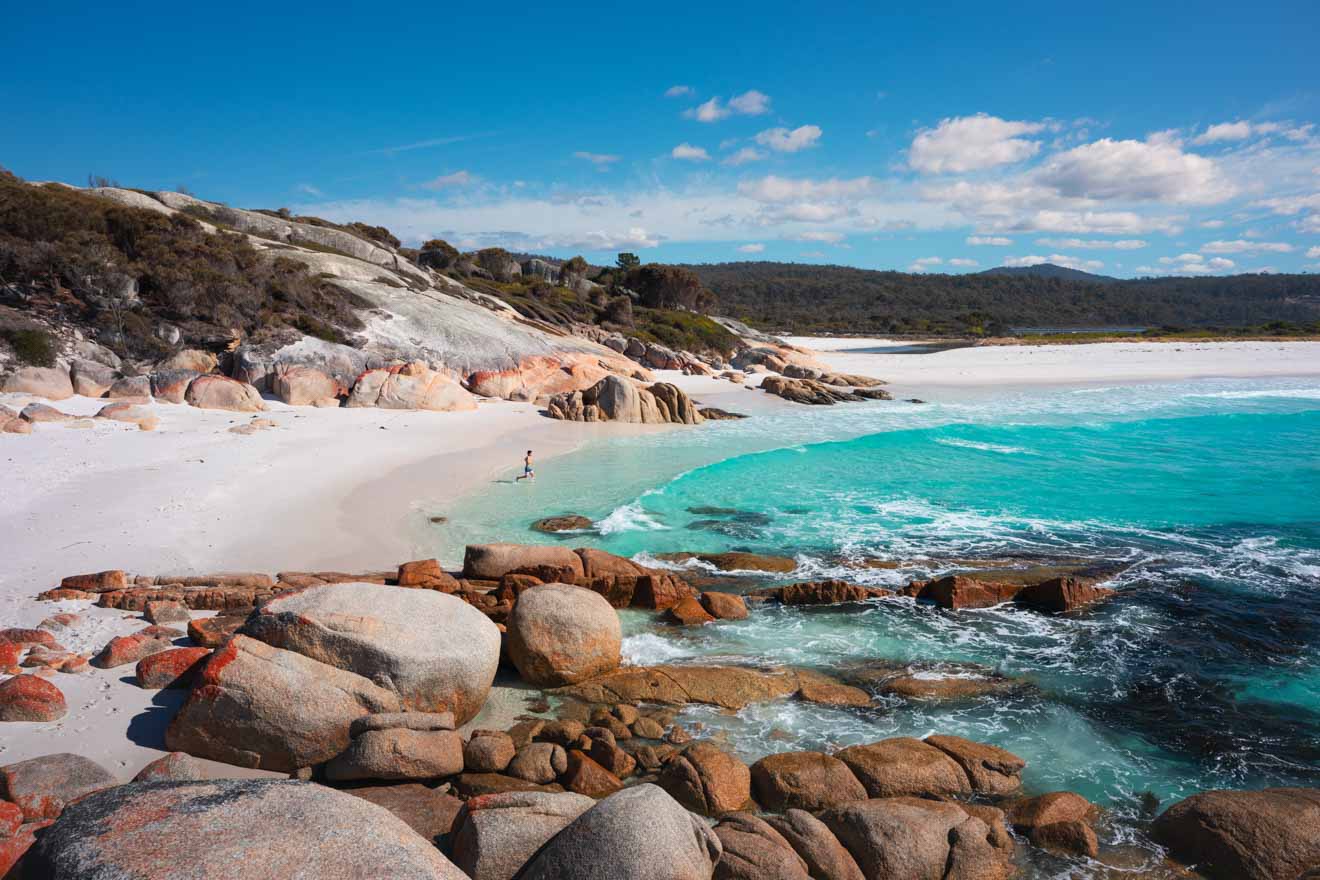 Head to Tasmania's most popular conservation area to find even more clear water, sandy beaches, swimming, surfing, fishing and the state's best snorkelling spots – Bay of Fires!
The area got its name from fires spotted by european settlers off the coast. It can also be used to describe the vibrant orange lichen, which covers the rocks dotting these incredible beaches.
The Bay of Fires is divided into 3 sections. The middle and south end are accessible by coastal road. Binalong Bay is the main beach in the area and a haven for game fishing and offshore reefs whilst there are many choice walks along the Bay of Fires.

Keep an eye out for friendly dolphins who visit the bay looking to play!
TIP: Don't miss the amazing view that can be seen by driving along the coast to "The Gardens".
GETTING THERE: 3hr drive from Launceston, 4hr drive from Hobart or 10min drive from St Helens.
COST: FREE to visit the southern and middle sections.
ATTENTION: The northern section of the Bay of Fires, from Ansons River to Eddystone Point, is within Mount William National Park so requires a park pass.
8. Ride the West Coast Wilderness Railway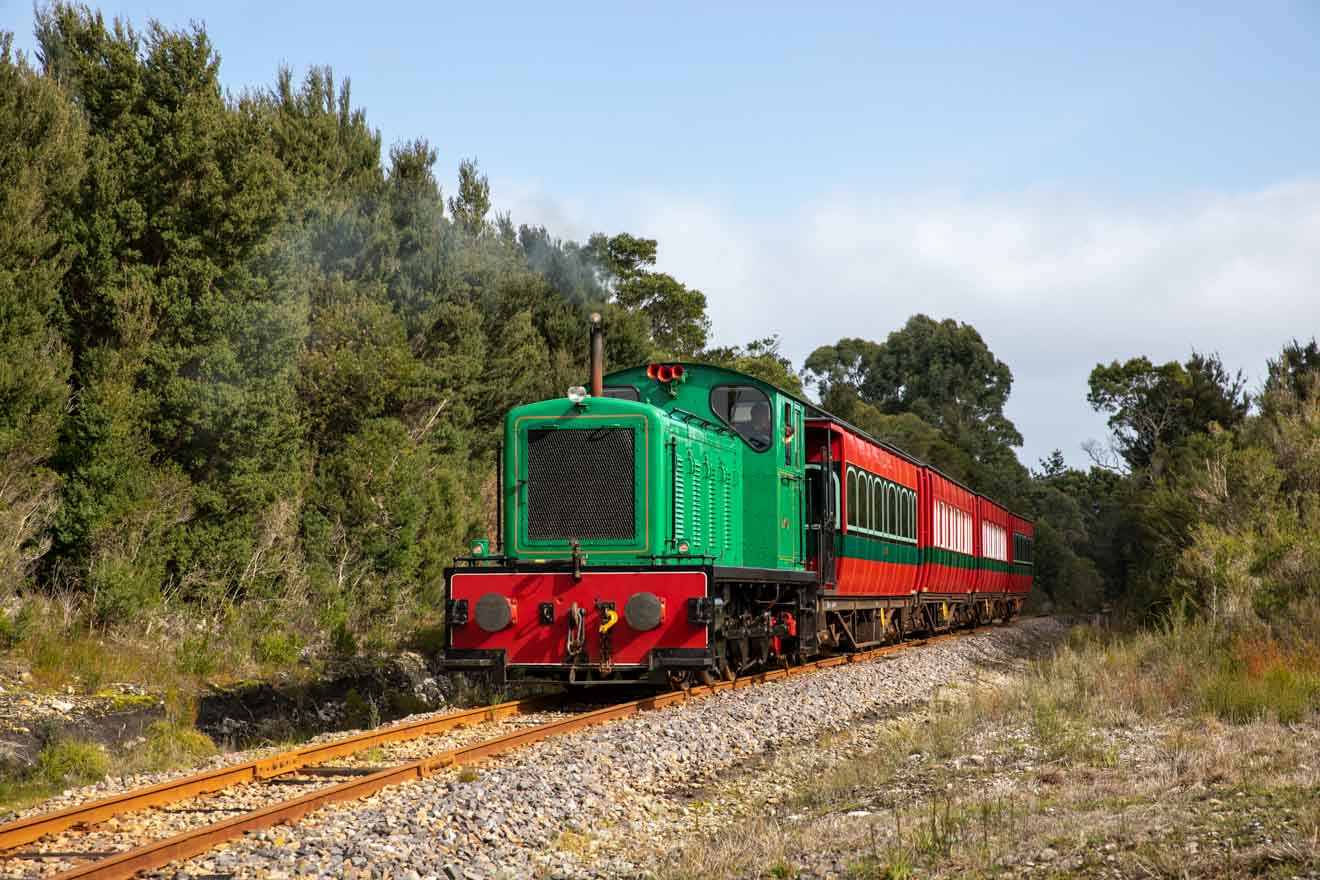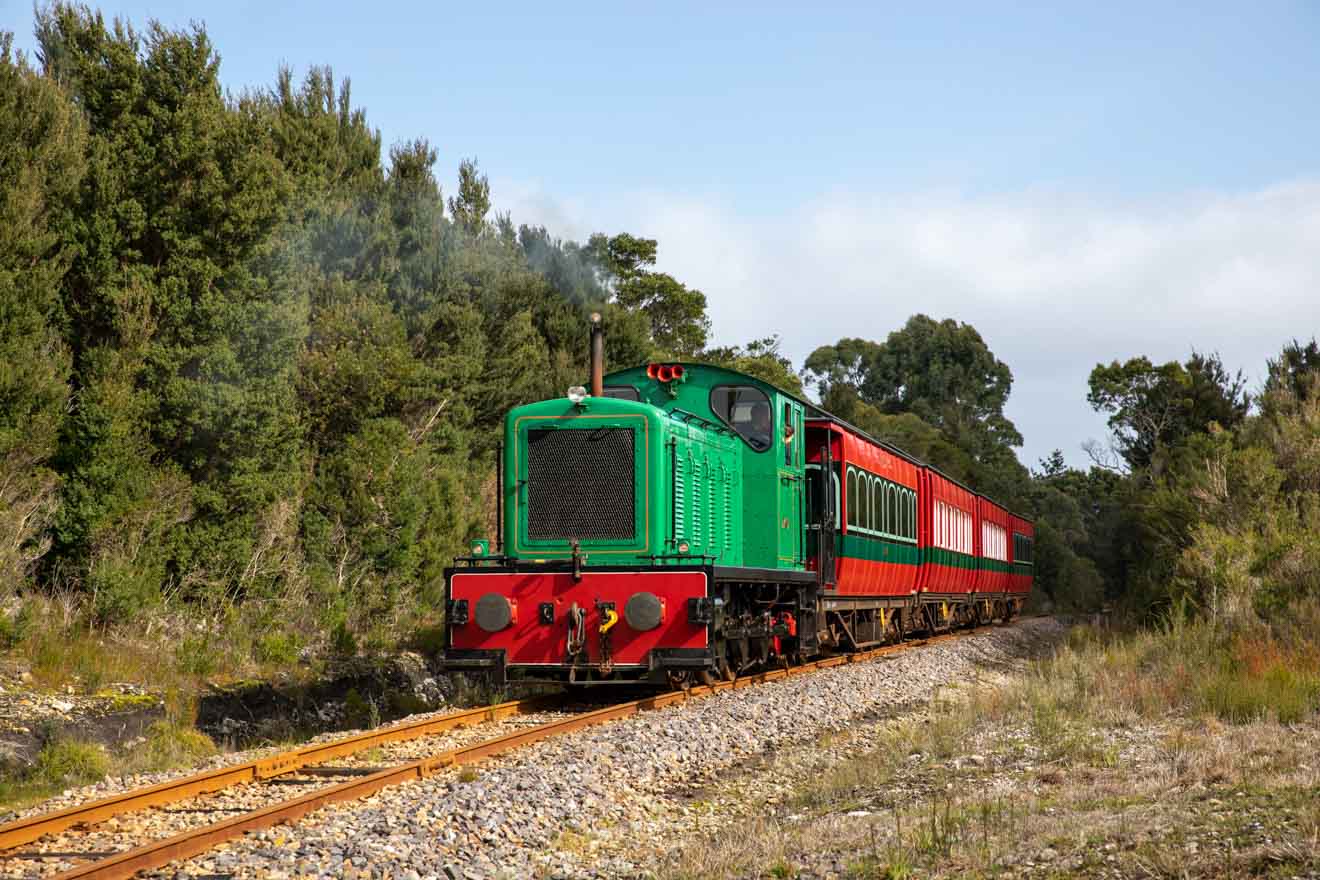 Winding through rainforests, gorges and the gordon river, this 35km (22mi) steam train journey takes you from Strahan to Queenstown, for an unforgettable day of scenery and stories of the olden days.
There are plenty of activities when disembarking along the route, such as; a rainforest walk, panning for gold and much more with 3 different trips available.
Rack and Gorge: TUES, THURS + SUN. Half-day, departs Queenstown passing through the King River Gorge and rainforest.
River and Rainforest: MON + WED. Half-day departs Strahan and travels along Macquarie Harbour and the King River Gorge.
Queenstown Explorer: FRI ONLY. Full day, Strahan to Queenstown, encompassing both of the half day options with an hour stop in Queenstown.
DURATION: 4 or 9 hours.
GETTING THERE: ~3.5 hour drive from either Launceston or Hobart to Queenstown. Add 45min. to Strahan.
Tip: Cruise the Gordon River nearby whilst visiting Strahan.
COST: $120 Half day trip. $202 Full day trip.
9. Take a dip at Cataract Gorge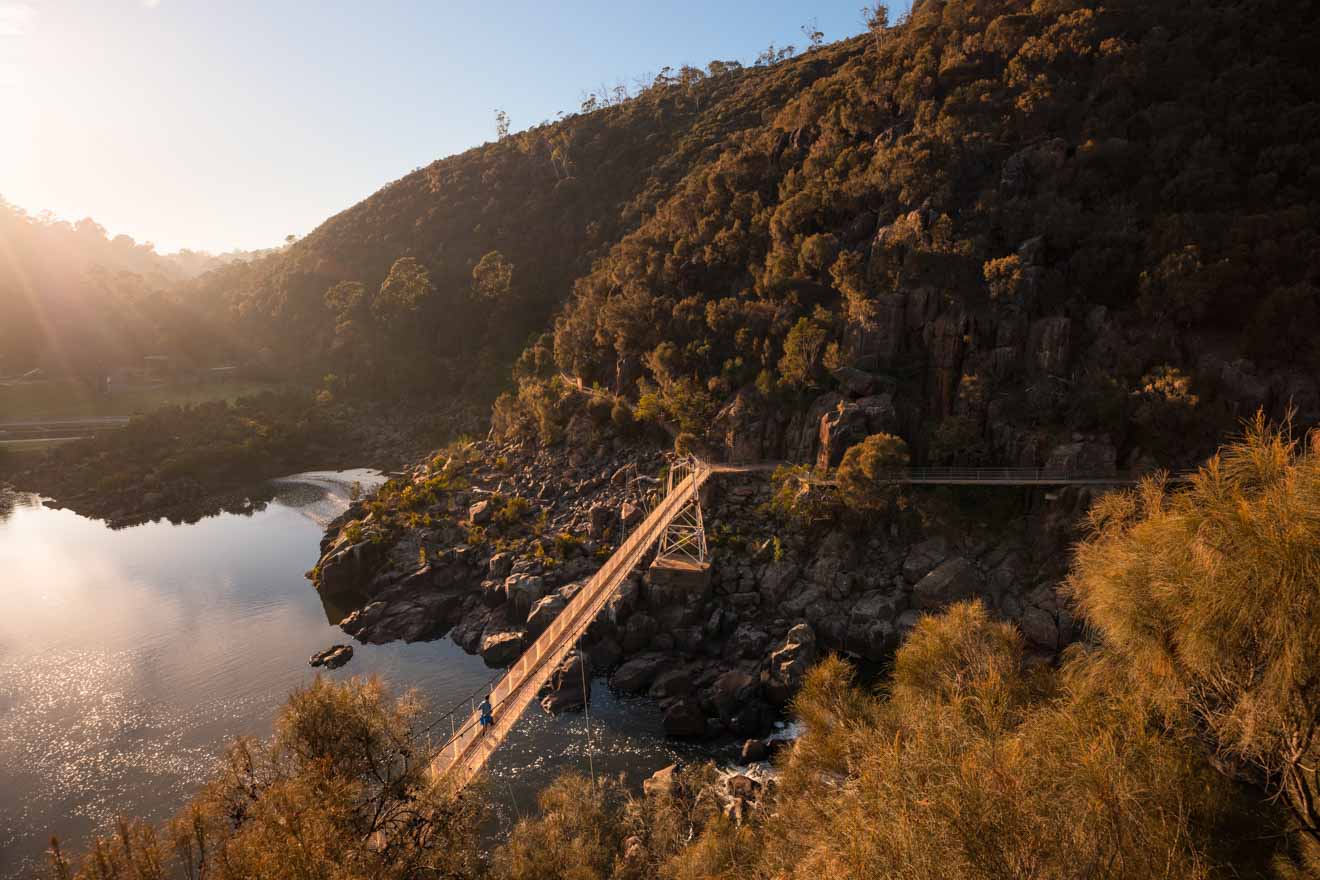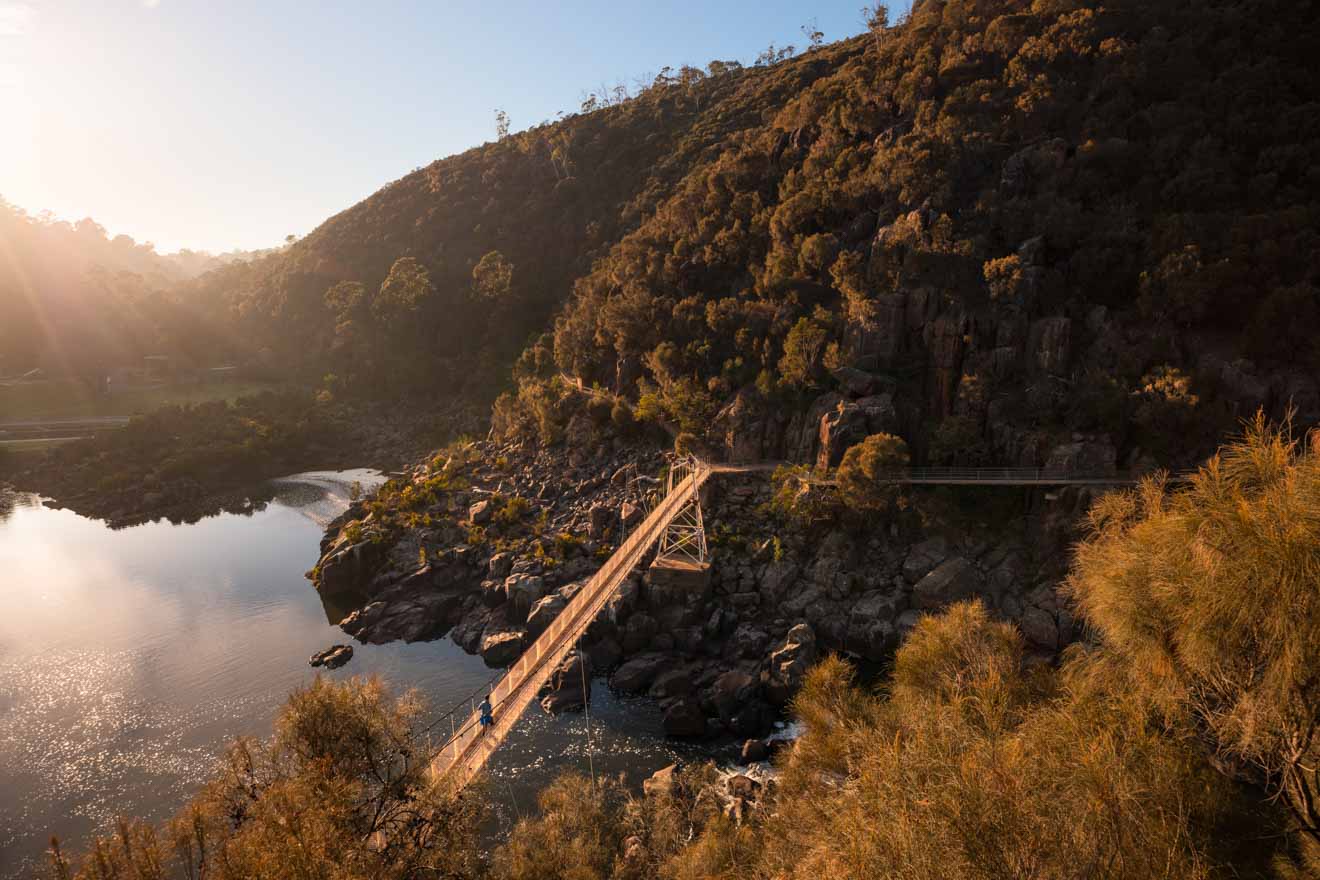 You won't believe your eyes when you take a 15min stroll from the centre of Launceston to discover the natural beauty that is Cataract gorge!
With a swimming pool, scenic chair lift ride, hiking trails, victorian gardens, restaurants, and even a pub, one will find everything you need for a glorious afternoon in this bushy paradise. You will find peacocks roaming the trees and wallabies coming out to feed whilst soaking up a truly Tasmanian atmosphere at Cataract Gorge.
I remember visiting with my family as a child and opting to swim in First Basin itself over the pool. Floating logs come down from the river and are great to play or relax on.
NOTE: The pool is patrolled only on weekends during summer.
GETTING THERE: 15min. walk along the Tamar river to the gorge, then follow the pathway along the cliff face.
COST: Entry is FREE. Chair lift costs $13 one way or $16 return.
OPEN HOURS: 9am- 4:30pm (winter), 5pm (Spring and Autumn), 6pm (Summer)
10. Sample the Best Tasmanian Wines in the Tamar Valley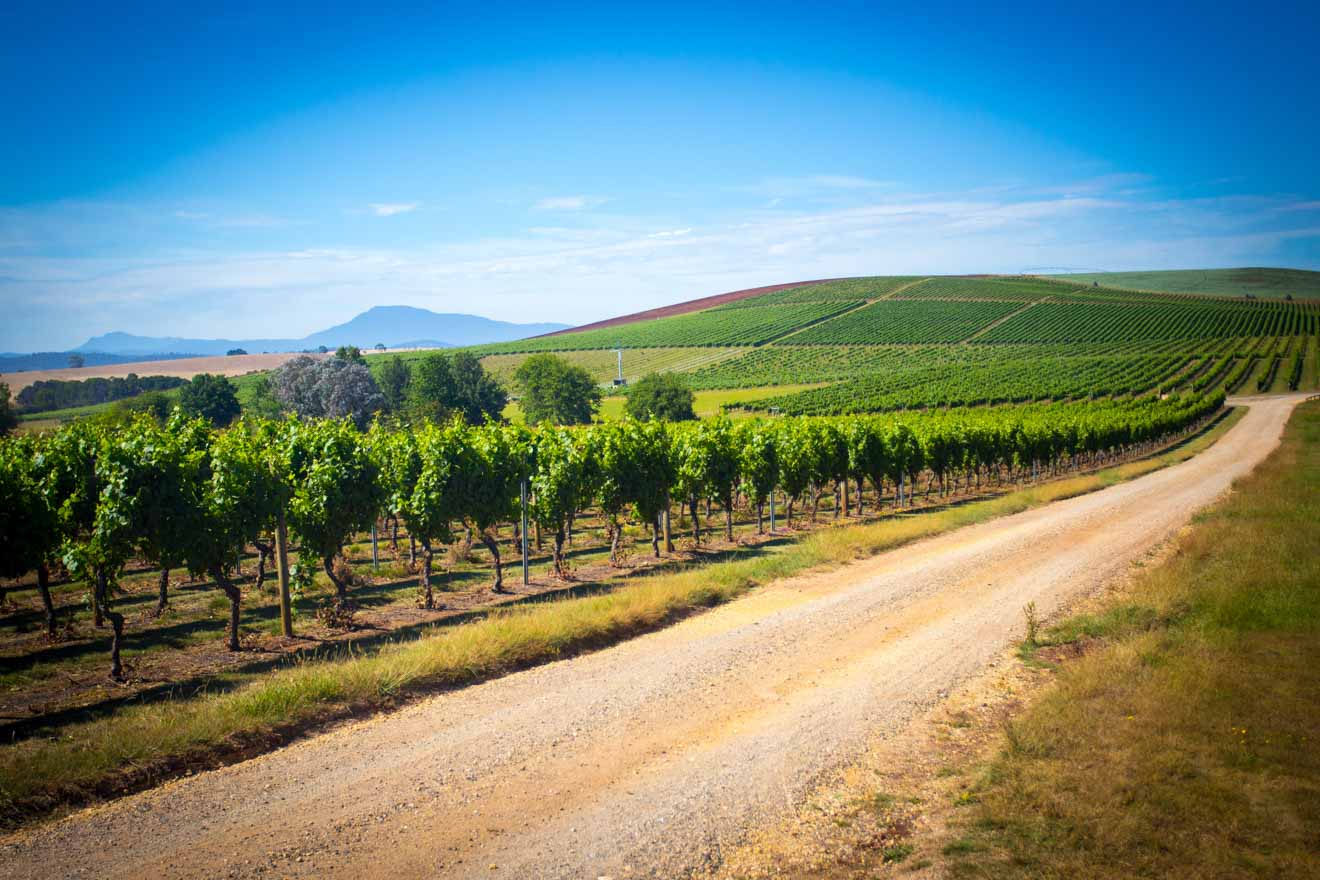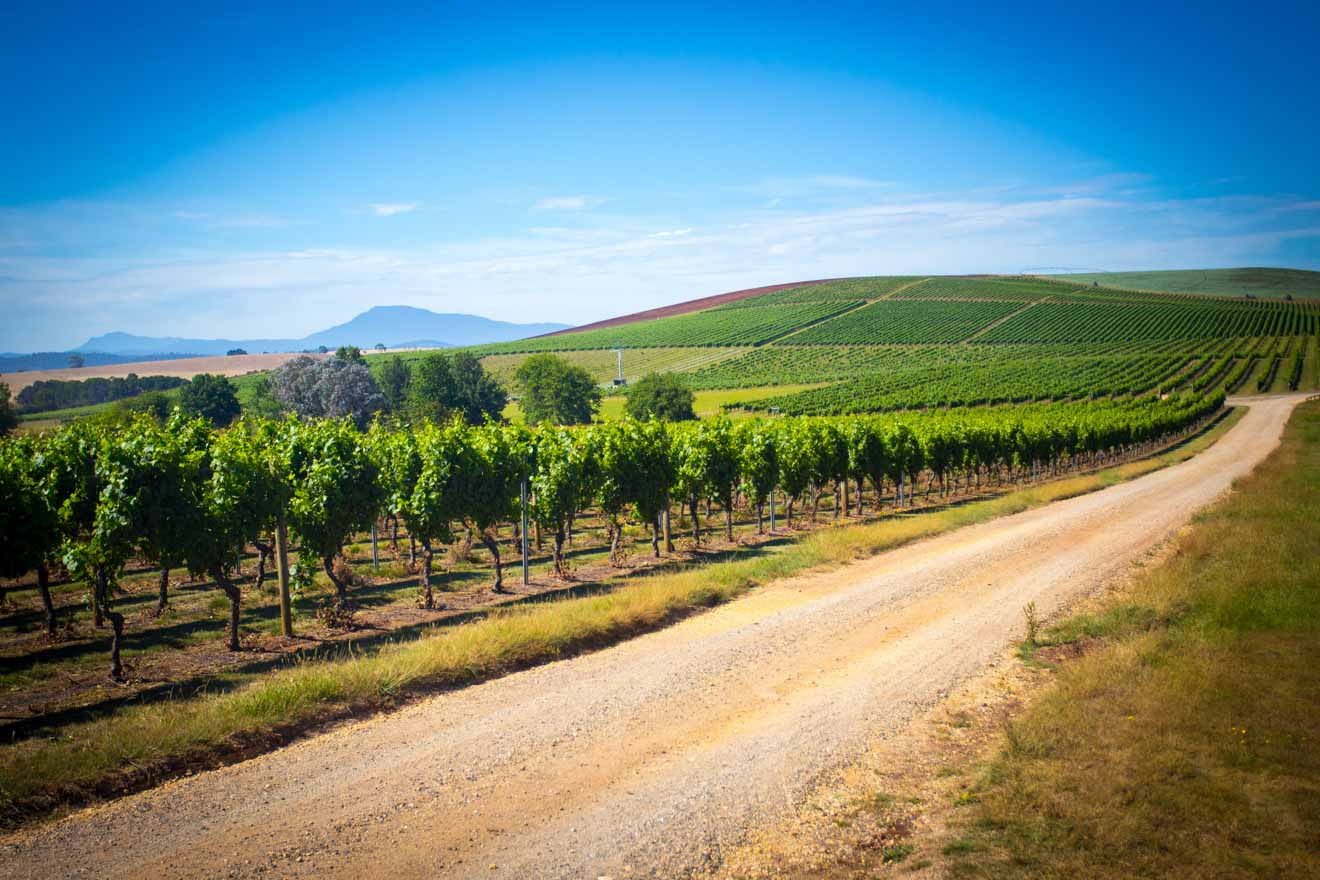 Nestled in the fertile hills surrounding Launceston, the Tamar Valley is Australia's oldest wine producing area. Its cool climate makes the wines stand out around the world with one of its claims to fame being its chardonnays, sparklings and pinot noir.
GETTING HERE: I highly recommend taking a Ramar Valley Wine Tour, from $129, to allow yourself to truly enjoy a relaxing day amongst the vines.
If you wish to self drive, from Launceston, follow the YELLOW AND BLUE SIGNS to discover more than thirty cellar doors spread over 170km (106mi) around the Tamar Valley.
Complete the full loop by setting off on the west side of the Tamar river and crossing Batman bridge, located around 38 Kms (24mi) from Launceston, the first cable-stayed bridge in Australia.
| | |
| --- | --- |
| 💯 Must visit attraction: | National Parks |
| 🖼️ Best museum: | Mona |
| 🗝️ Best free attraction: | Mount Wellington |
| 🥾 Best outdoor activity: | Cataract gorge |
| 🕠 Unique attraction: | Port Arthur |
| 🍇 Must-try: | Tasmania wine |
| ☀️ When to visit: | December – March; June – September |
Practical Information about Tasmania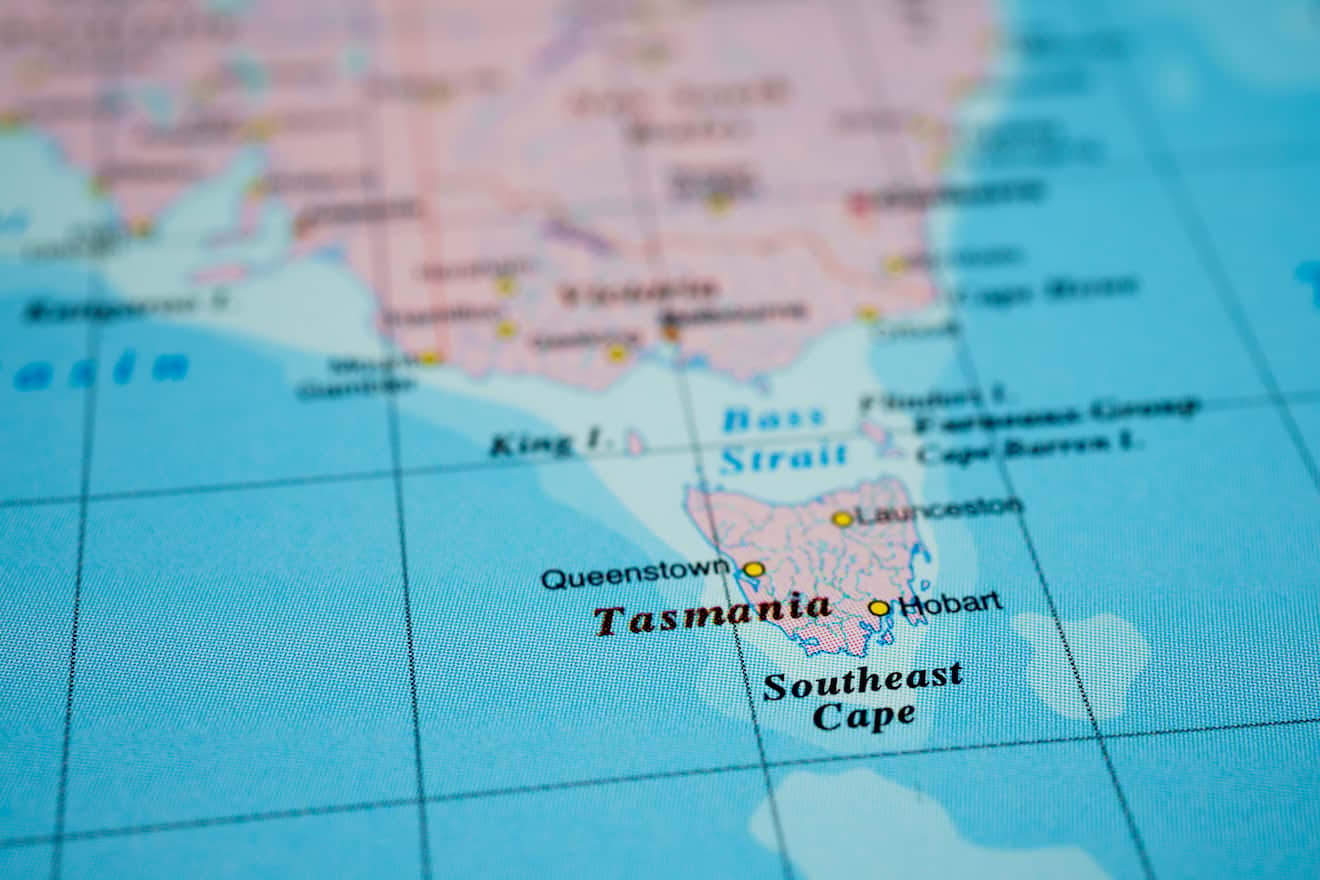 Getting to Tasmania
FLY: Flights to Tasmania are available from most Australian cities, direct to Hobart or Launceston.
FERRY: The Spirit of Tasmania will transport you in style to Devonport, Tasmania. Prices start from $89 pp or $188 with one vehicle and the crossing takes 9-11 hours.
Tasmanian National Parks Pass:
If you wish to visit any one of the National parks within Tasmania, you will need to purchase a Parks Pass.
TIP: The best value for money is the Vehicle Holiday Pass for $60. This pass allows up to 8 passengers of a single vehicle, entry to all of Tasmania's national parks for up to 2 months!
| | | | |
| --- | --- | --- | --- |
| | Daily Pass (Excluding Cradle Mountain) | Holiday Pass(Including Cradle Mountain) | Cradle Mountain Only |
| Vehicle (< 8 people) | $24 | $60 | N/A |
| Adult (18+ years) | $12 | $30 | $16.50 |
| Child (5-17 years) | $12 | $30 | $8.25 |
| Family (2 adults 3 children) | N/A | N/A | $41.25 |
Children under 5 years old have free entry.
Passes can be purchased online or in person at each of the national park visitor centres.
When to visit Tasmania
Whenever you choose to visit Tasmania, you will find an exciting adventure and breathtaking landscapes. Remember temperatures in Tasmania are significantly cooler than you will find on mainland Australia.
SUMMER:
December – March
17-23°C (63-73°F)
BEST: Camping, hiking and swimming.
WINTER:
June – September
3-11°C(37-52°F)
BEST: Whale watching and snow activities.
Getting Around Tasmania
Although there is coach transport between the main towns in Tasmania, the Island is not extremely well connected and we highly recommend taking a Road Trip around Tasmania.
Rental Cars can be arranged from Hobart, Launceston or Devonport starting from $73 per day.
Conclusion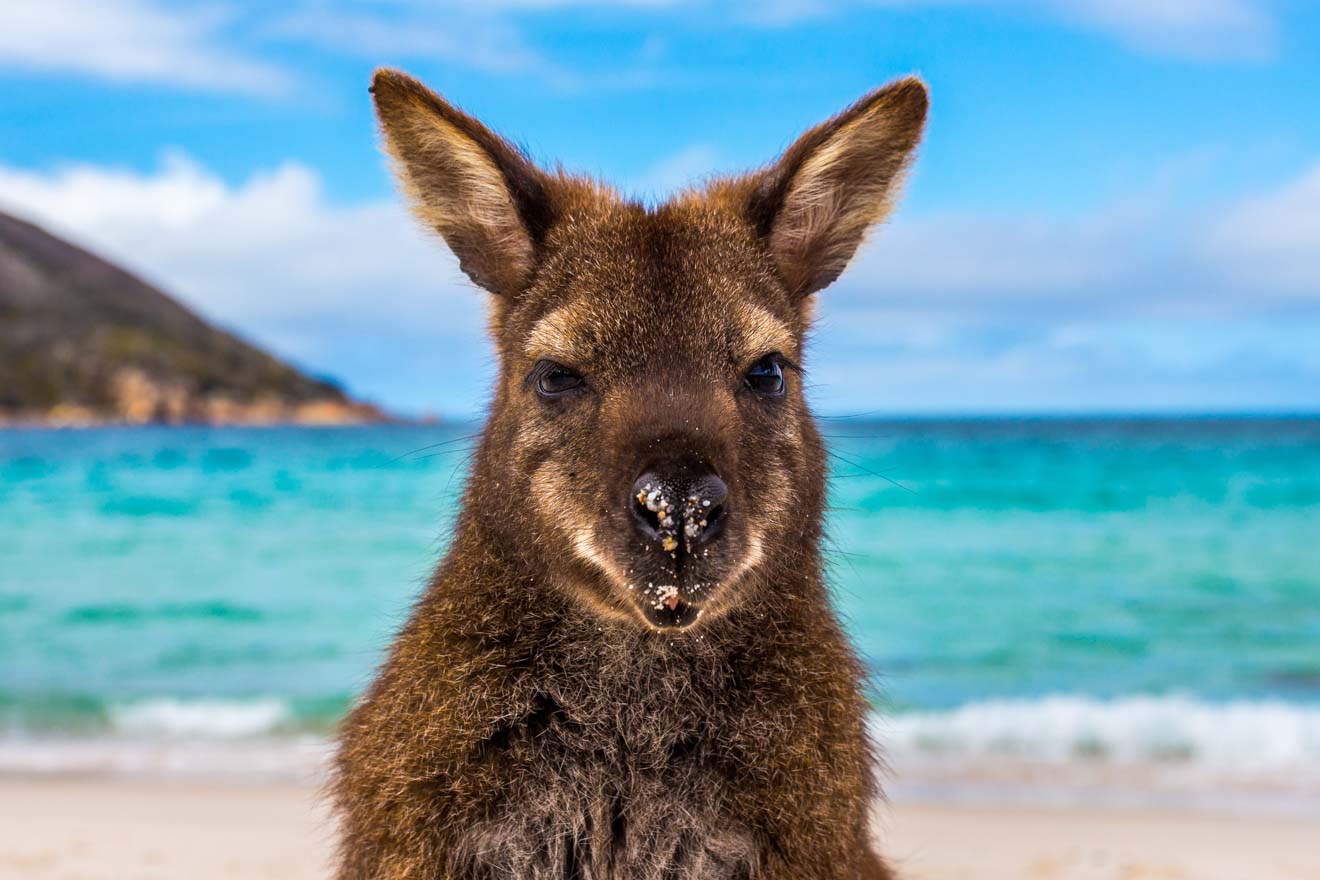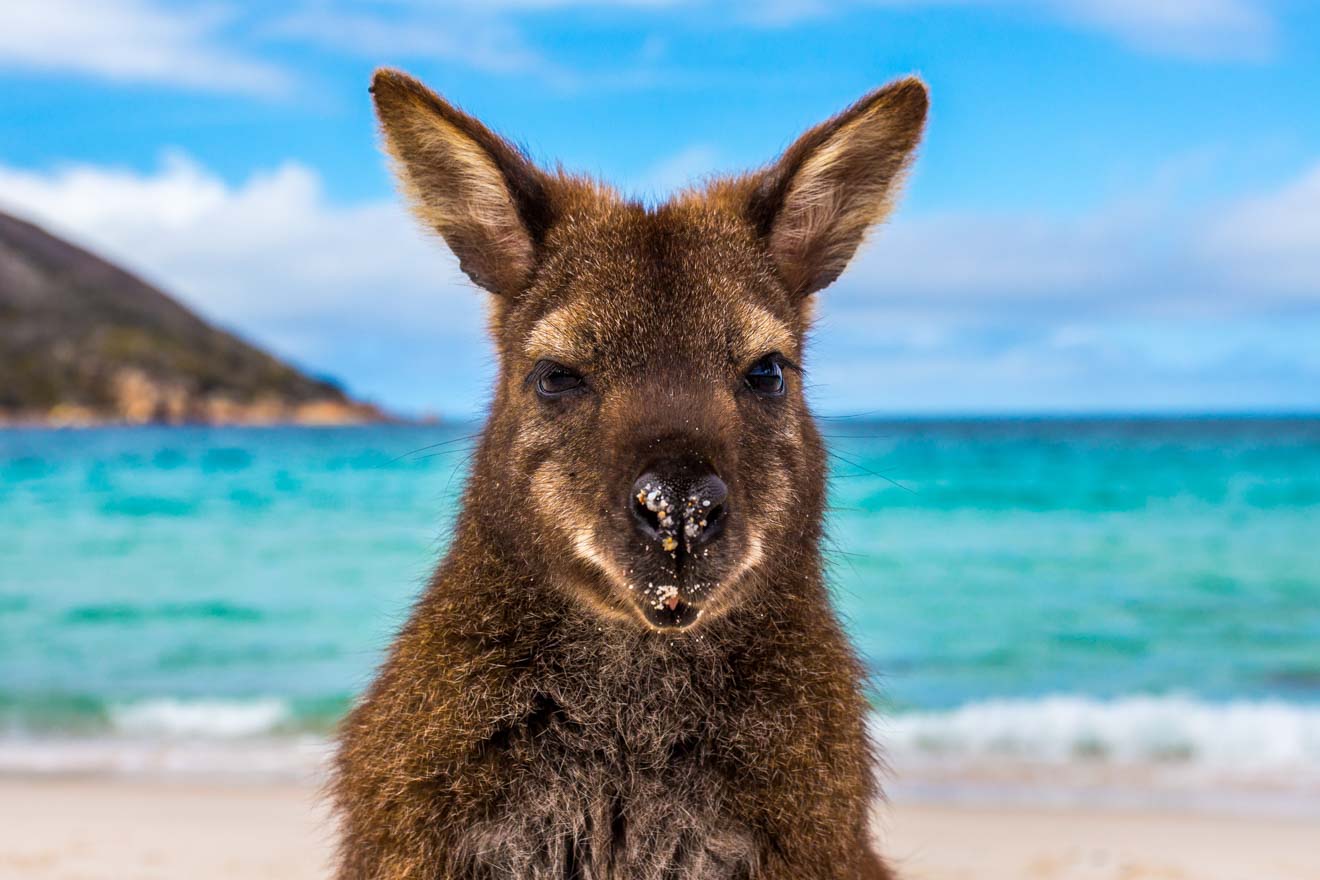 So there you have it, my top 10 Things to do in Tasmania, covering every part from the east coast to the west coast, the sea to the sky!
From the moment you step foot in Tasmania I can tell you that you'll never want to leave. Tasmania is for sure one of my favourite places in the world and I can't wait to get back.
Leave us a comment if you have any further questions and if you have already visited Tasmania, let me know YOUR favourite things to do.
Now get out there and take in the incredible landscapes, relaxing cruises, intense history and local arts and crafts of Tassie for yourself!
Kate Fletcher
---
Pin it for later!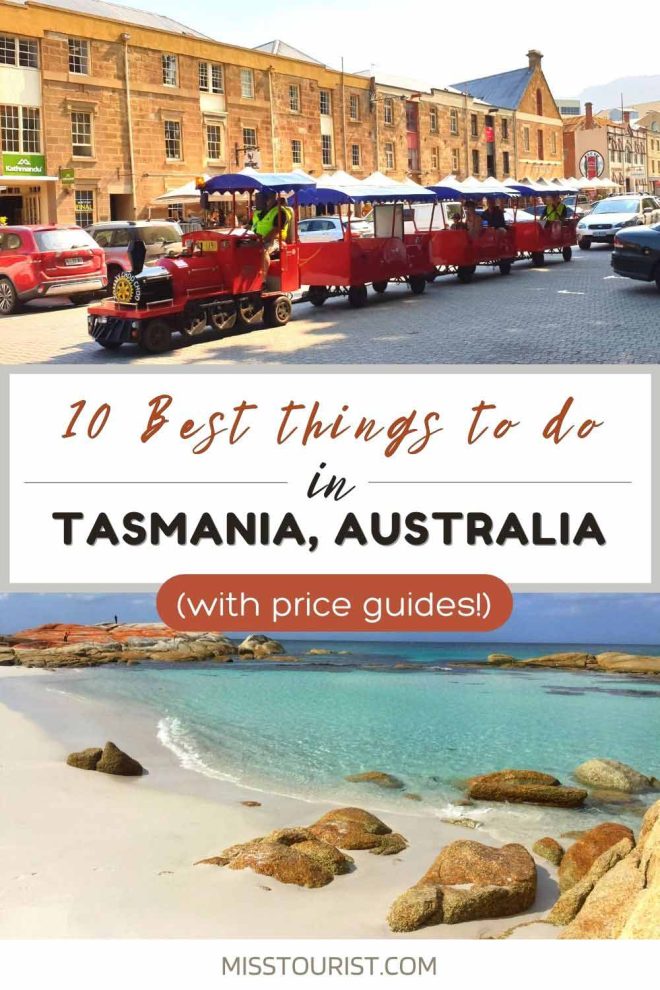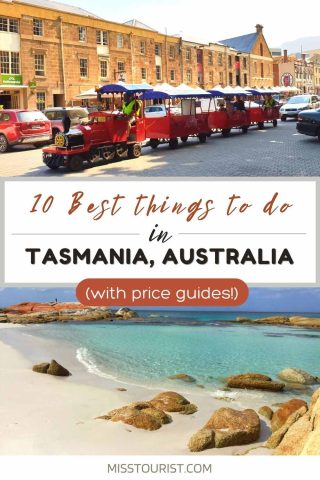 Pin it for later!