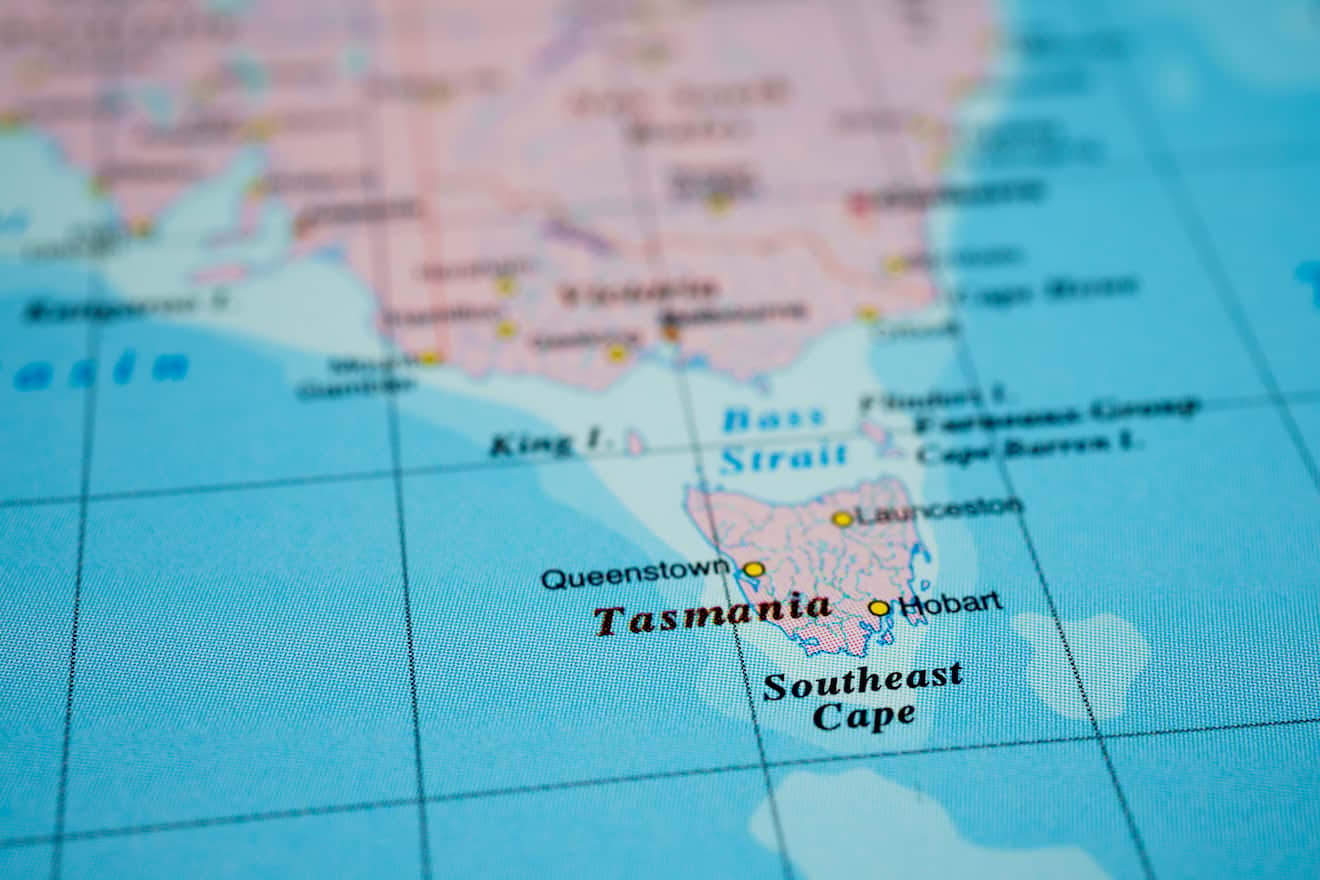 If you're a lover of the outdoors like me, the first thing you search for when looking to travel anywhere in the world is its national parks. Tasmania has 19 national parks meaning you made an excellent choice! With 42% of its total area protected by national park or world heritage status, there are nearly too many national parks of Tasmania to choose from.
Here are all the details you need to know about the top 4, best national parks in Tasmania including how to get there, where to stay and what to do!
With so many incredible things to do in Tasmania, the best way to get around the state is by car. Check out my other article for a complete Tasmania road trip itinerary but don't worry if you don't have access to a vehicle, I have included recommended tours to take you to each of the locations, stress free!
That being said, let's dive right in!
1. Freycinet National Park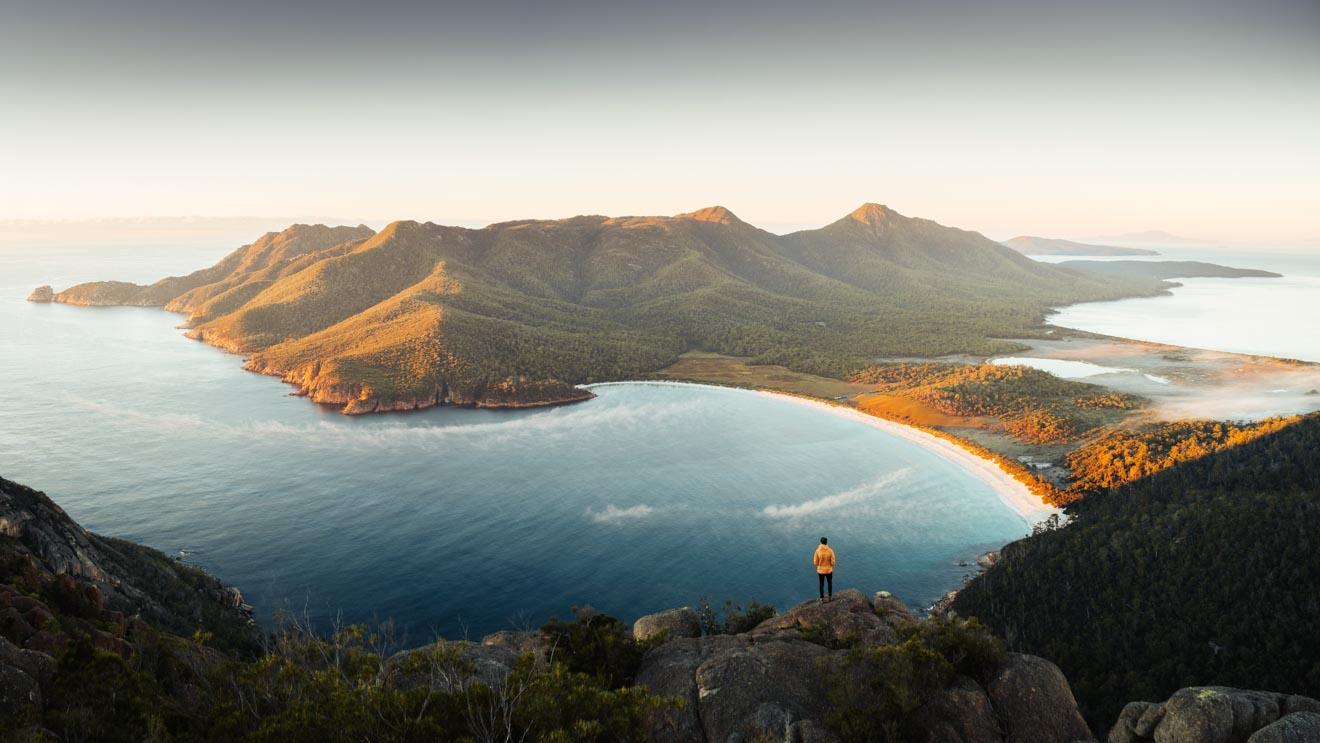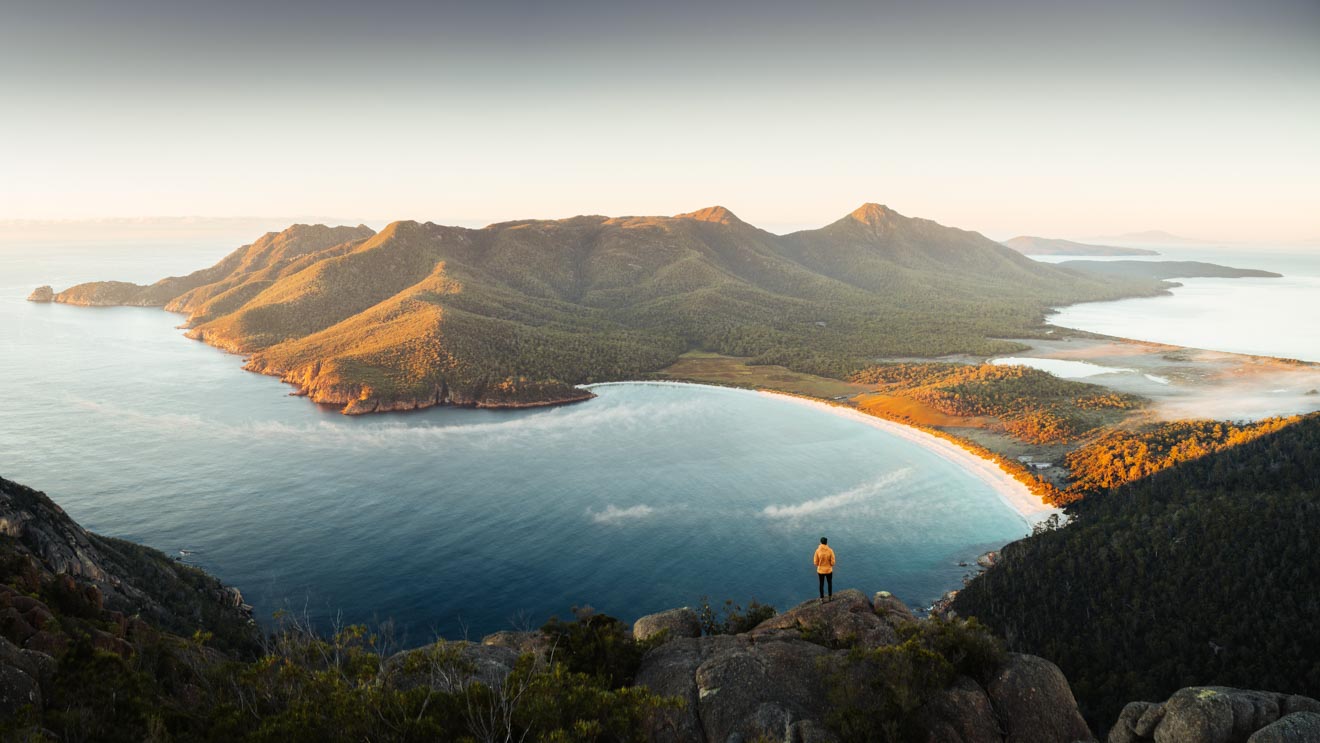 Famous for sandy beaches and turquoise waters surrounded by lush bush, Freycinet National Park is at the top of the list for most people who travel to Tasmania.
Located on the east coast of Tasmania, Freycinet has a lot to offer with hiking, fishing, swimming and close wildlife encounters to name a few. Remember to have your camera on hand to snap a selfie with a friendly local wallaby!
On their way to their Australian breeding grounds, Southern Right Whales can often be spotted off the Tasmanian coast in Cape Pillar, Port Arthur and Freycinet National Park in winter, so try and keep an eye on the horizon at all times for one of the experiences of a lifetime.
Here are my top spots to see within the park. Also, check out my more detailed blog for more walks in Freycinet National Park.
THINGS TO DO IN FREYCINET:
Wineglass Bay:
Possibly the most instagrammed place in Tasmania, not much can compare to the perfectly crescent moon curved beach that is Wineglass bay. Wineglass Bay is best viewed on the walk there with a convenient lookout point not too far from the carpark.
Be warned that the 45min-1hour hike down to the beach itself included nearly 1,000 steps but it is 100% worth it!
The Hazards:
Between the beaches of Wineglass bay and Coles Bays, you will find the mountain range known as the Hazards. Made up of 3 granite mountains, the bushy peaks give the Freycinet Peninsula it's impressive nature.
Make the steep hike to the top of Mt Amos for mind blowing 360° views of the entire region.
TIP: Just a 20 minute stroll south along the beach at Wineglass bay will give you an incredible view of the cliffs of the Hazards from the coastline.
Honeymoon Bay:
Get away from the crowds and travel to Honeymoon Bay for a more secluded beach. As a part of Coles Bay, Honeymoon Bay is a bay within a bay and perfect for swimming, bird watching and relaxing without being overcrowded by the larger tour groups who often skip this serene location.
HOW TO GET TO FREYCINET NATIONAL PARK:
Drive: 2.5-3 hour drive from either Launceston or Hobart via the Tasman Highway and Coles Bay Road.
Tour: Guided tour from Hobart
Guided tour from Launceston
COST: A Tasmanian National Parks Pass is required. Best Value = Vehicle Holiday Pass.
$60 per car, Check out my section on passes further down the page for for more details
WHERE TO STAY NEAR FREYCINET NATIONAL PARK: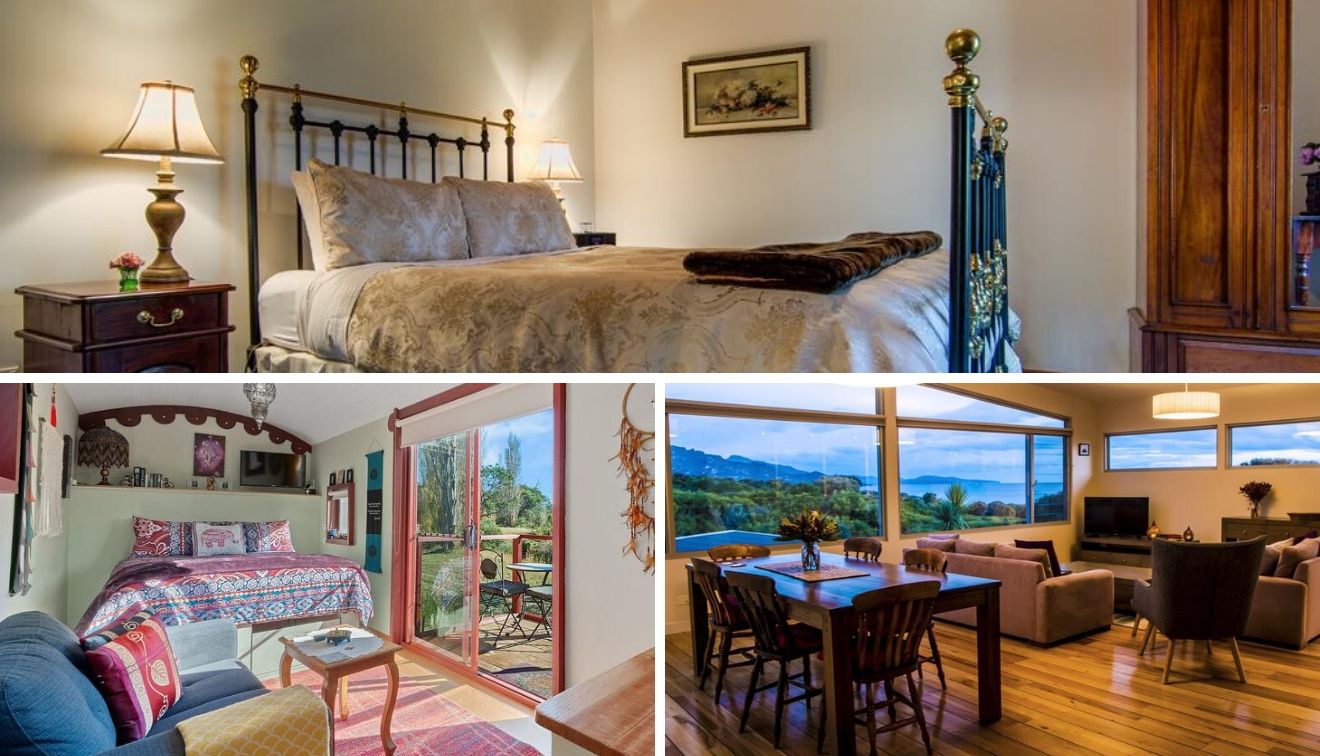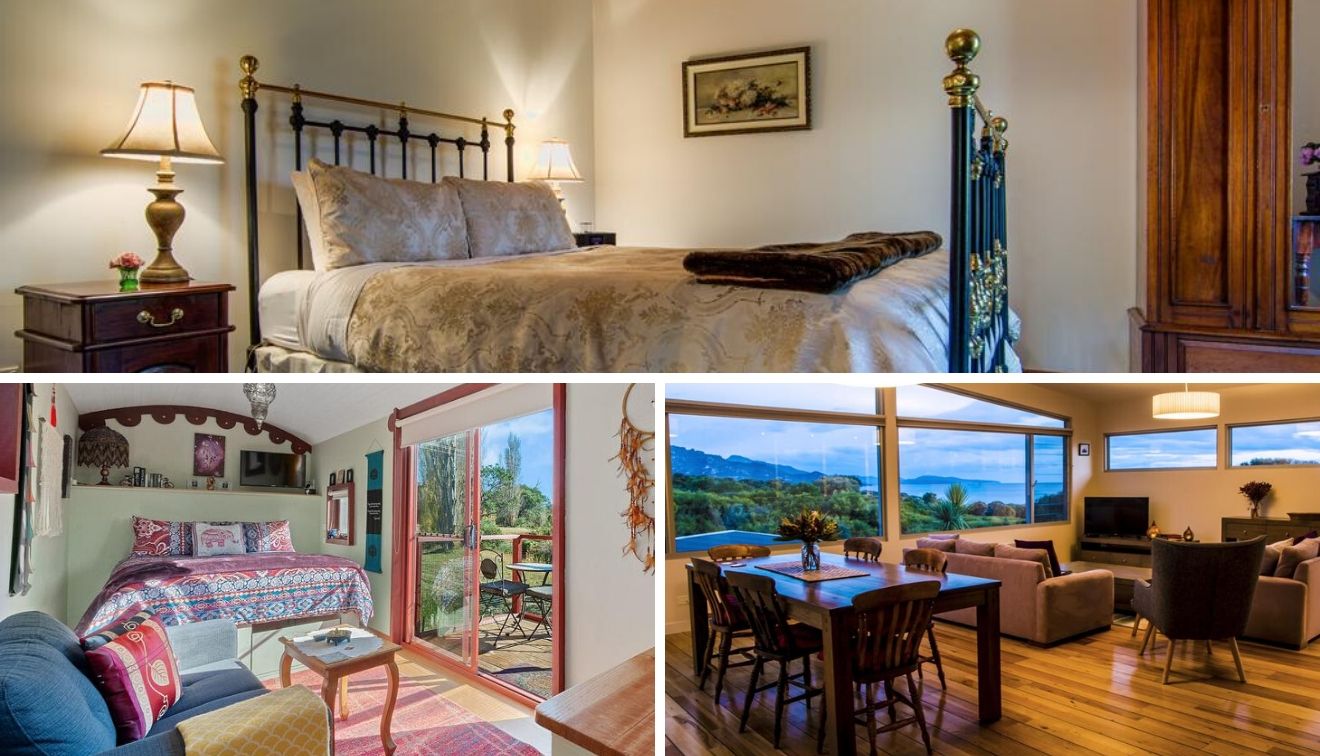 Luxury ($300+ AUD):
Located at Coles Bay. Eagle Peaks offers gorgeous self contained apartments with hiking trails on your doorstep. For your own private oasis, the luxury touches such as the incredible shower view make Blue-Sea 365 a great choice!
Middle-priced ($150-$200 AUD):
Boasting cozy open fires, Wagners Cottages is a great choice for those looking for a balance between cost and luxury. Swansea Beach Chalets' sweeping views of the Freycinet Peninsula is my other recommendation, don't forget to take a dip in their outdoor pool.
Budget (Under $150 AUD):
Head a little further a field to Belmont Homestead in Swansea for high class on a low budget. This beautiful private property offers a range of quirky accomodation options for all tastes.
Alternatively, check out the airy rooms at Harvey Farm Lodge with both ocean and garden views.
Camping: Campsites are available at Richardsons Beach, Honeymoon Bay and Ranger Creek starting from $13 for an unpowered site to $16 for a powered RV.
2. Cradle Mountain, Lake St Clair National Park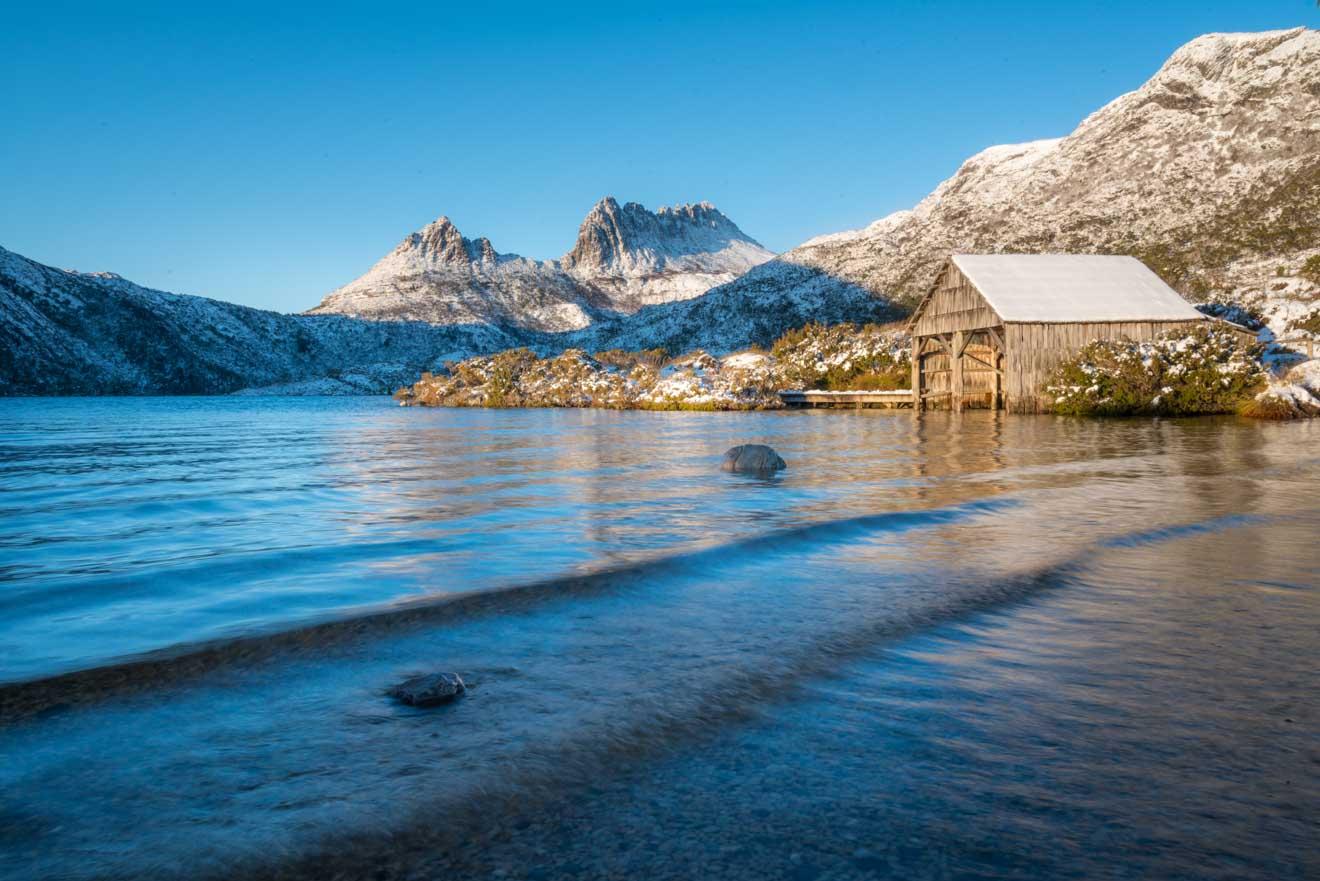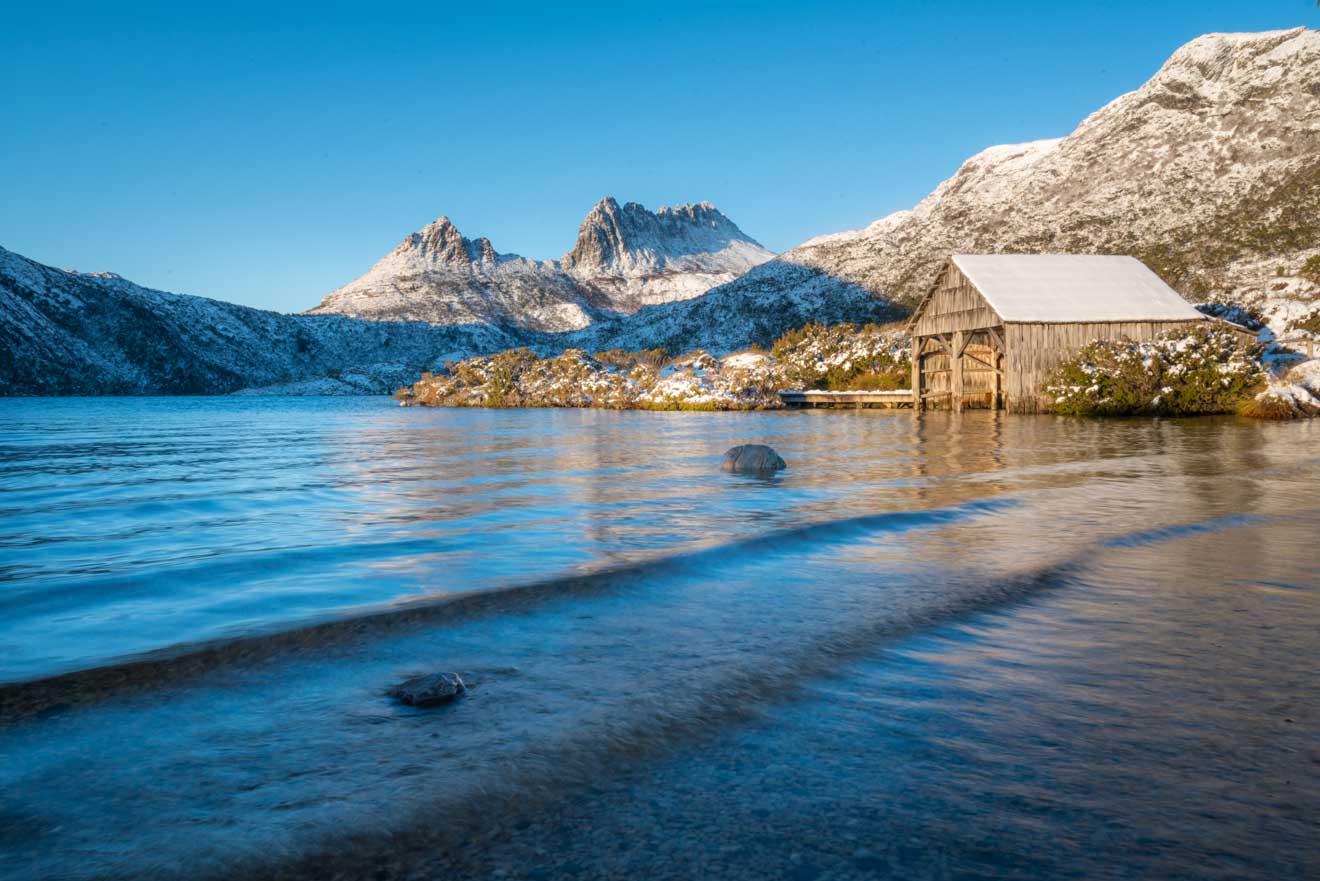 Cradle Mountain is the best place to see Australian wildlife in its natural habitat. Tasmanian devils, quolls, platypus, echidna and wombats all call this area of Tasmania's central highlands home, and it's not uncommon to encounter many of these animals on your hike.
I still remember being terrified as a child of a black currawong eyeing off my lunch at Cradle Mountain. Remember, you're bigger than them and you have nothing to be afraid of from these curios birds.
This alpine paradise has a number of hikes for everyone to enjoy. From easy strolls to the mighty 80km Overland Track, you'll easily find something to suit your time and experience.
THINGS TO DO IN LAKE ST CLAIR NATIONAL PARK:
Cradle Mountain:
Although it is only Tasmania's sixth highest mountain, Cradle Mountain is probably it's most famous. Standing at 1,545m tall, it's an icon that towers above much of the National Park. For those of you willing enough to summit, a hard 6 hour return hike will take you to the top for incredible views over the entire area.
Note: This hike is incredibly steep and rocky and should only be attempted in good weather conditions.
Overland Track:
This 5-6 day trek covers the entire National Park from end to end and is so popular that numbers are limited in summer and booking is required. If you're interested in completing this epic hike, check out my other post for everything you need to know about the Overland Track.
Dove Lake:
Dove Lake is the most visited location in the St Clair National Park. The lake mirrors a beautiful uninterrupted view of Cradle mountain as it lies at the base of the mighty mountain.
Help preserve the park by parking at the Visitor Centre and travel on the free shuttle to Dove Lake. Grab a ticket from inside the visitor centre by showing your national parks pass.
Running every 15mins during visitor centre opening hours it stops at the Interpretation Centre, Snake Hill & Ronny's Creek (refer to this map for stop locations).
NOTE: Be sure to check road and snow conditions in Winter before you travel here or by calling the visitor centre on +61364921110.
HOW TO GET TO CRADLE MOUNTAIN:
Drive: 150km, 2hrs 10mins from Launceston – 328km, 4hrs from Hobart.
Tour: Guided Tour from Launceston, Guided tour from Hobart
COST: A Cradle Mountain day pass or Tasmania National Parks HOLIDAY Pass required.
Cradle Mountain only: Adults $16.50, children $8.25, family $41.25.
Check out my section on passes further down this post for more details.

WHERE TO STAY NEAR CRADLE MOUNTAIN: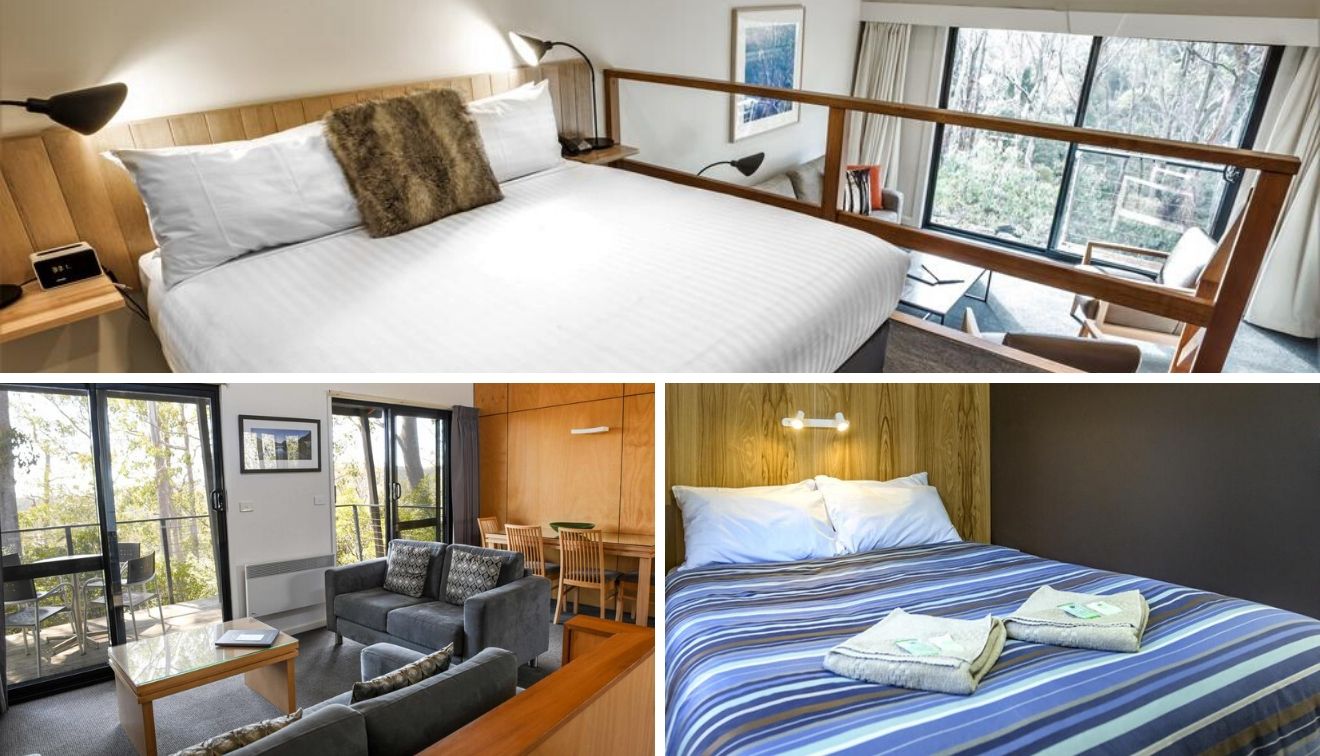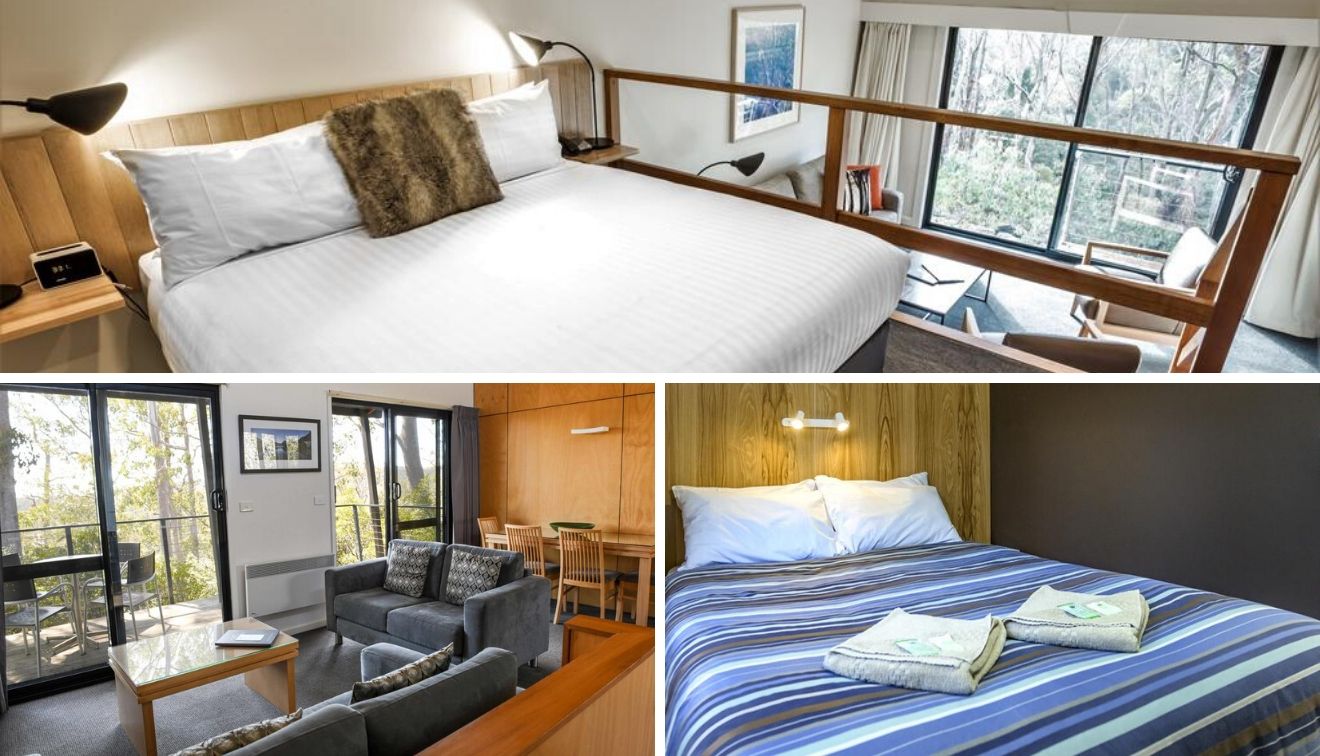 Luxury ($250+ AUD):
Cradle Mountain Wilderness Village is hidden away in the rainforest just 10 mins from Cradle Mountain and with an onsite restaurant boasting fresh, locally sourced produce, there's really no need to leave! For even more luxury, Lemonthyme Wilderness Retreat has private spa baths in each of their spacious cabins boasting beautiful mountain vistas.
Middle-priced ($150-$250 AUD):
Cradle Mountain Hotel has modern hotel style rooms hidden away in gorgeous alpine woodland for mid range prices. My other recommendation is the cozy self contained wooden cabins at Cradle Mountain Highlanders.
Budget (Under $160 AUD):
Discovery Parks – Cradle Mountain offers basic self-contained cabins close to the magical Cradle Mountain for those on a budget. If you prefer hotel style accommodation, check out Cradle Forest Inn in Moina 32km from St Clair National Park for more affordable prices.
Camping: Sites are available at Lake St Clair Park for both tents and RVs.
3. Mount Field National Park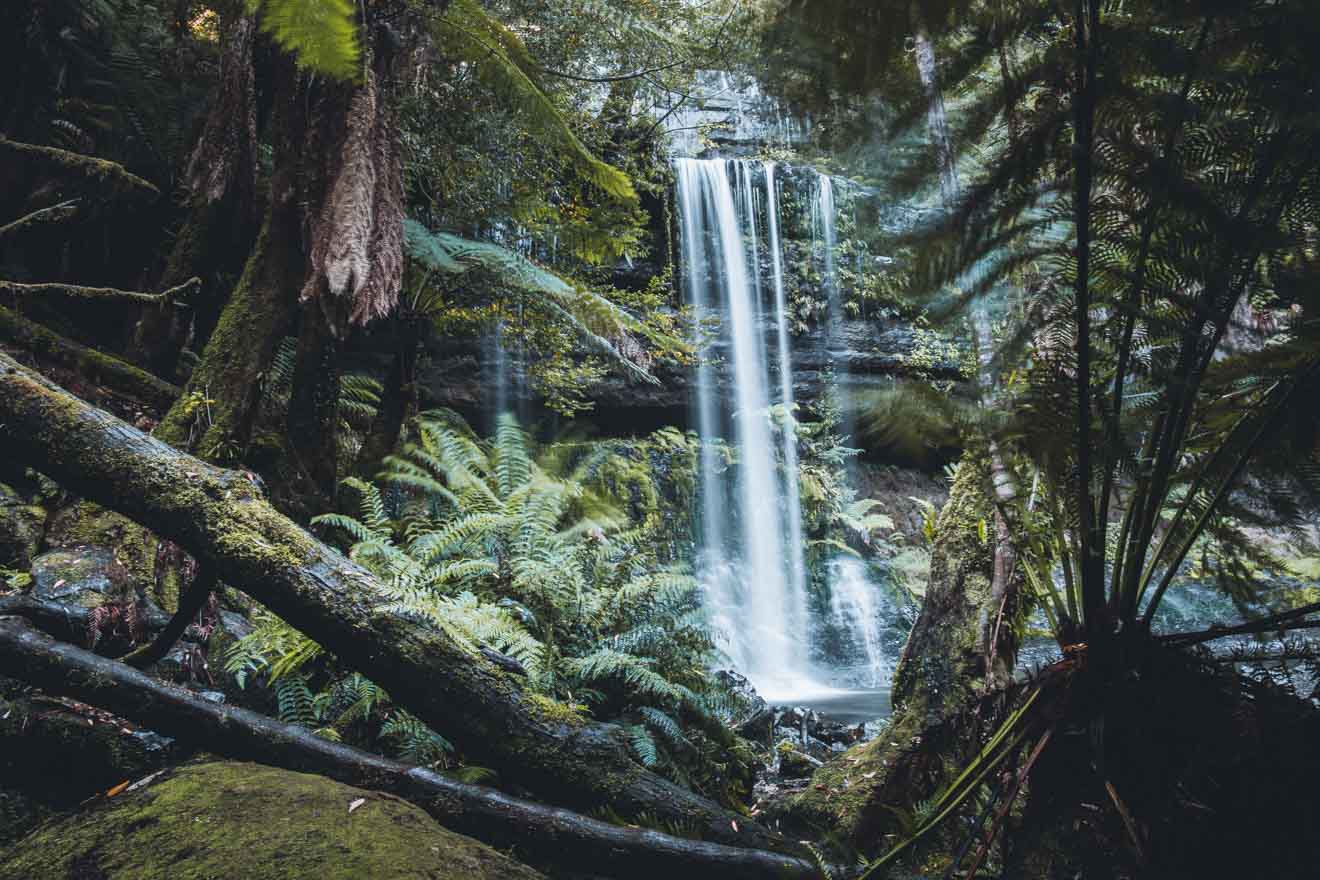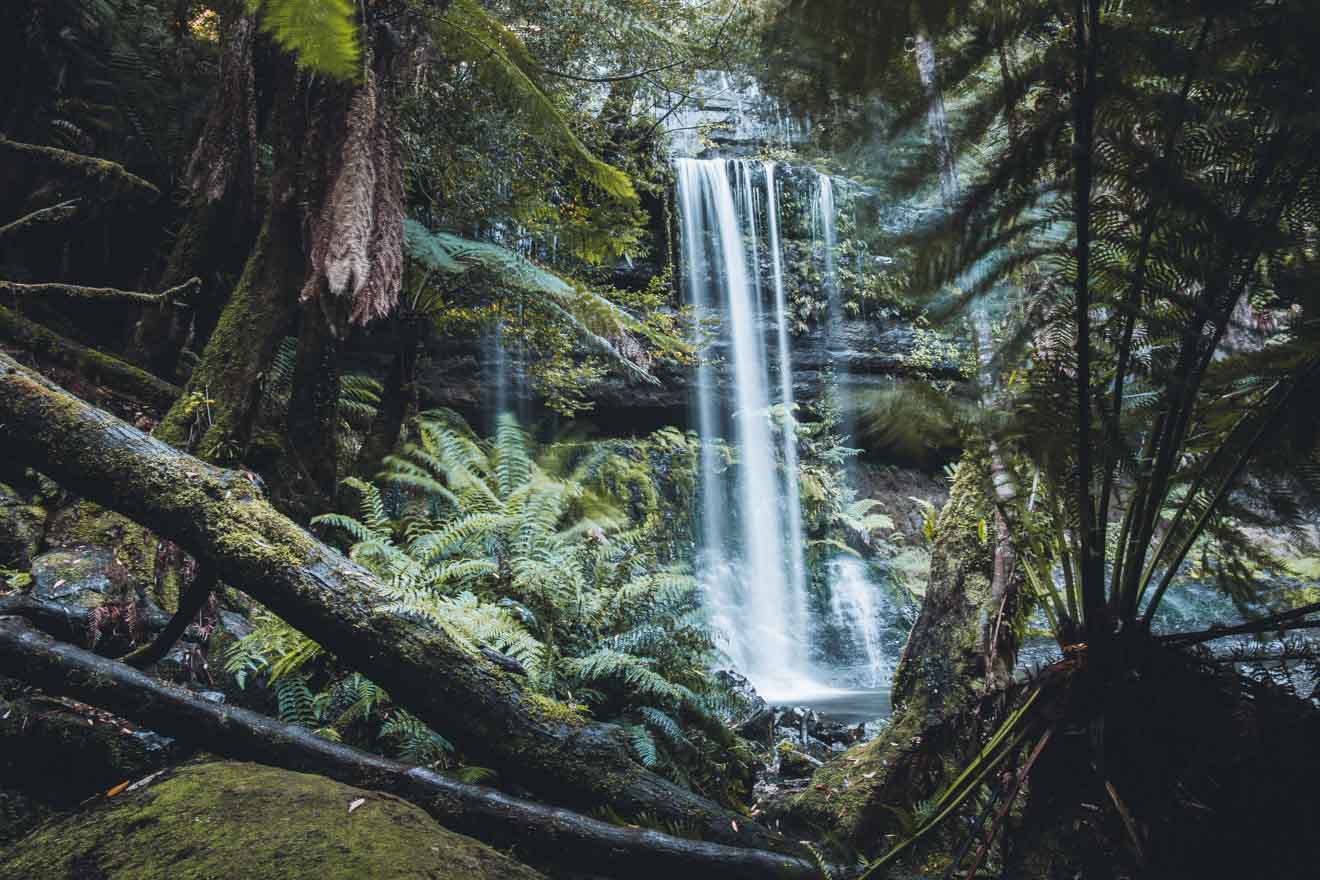 Located just 64km northwest of Tasmania's capital city, Hobart, Mount Field National Park is home to some of the tallest gumtrees in the world!
Mount Field has something different to offer all year long with spring wildflowers, autumn colours of the deciduous beech trees and even beautiful white snow in winter months.
THINGS TO DO AT MOUNT FIELD:
Russell Falls:
Known as the most beautiful waterfall in Tasmania, Russell Falls is easily accessible via a 15min trail through the mossy green forest from the visitor centre.
TIP: Return at night to see glow worms along the trail's edges. Turn off your torch and guide yourself with the handrails provided.
Horseshoe Falls:
Continue your stroll into the rainforest a further 10mins from Russell Falls for gorgeous views of the three level Horseshoe waterfalls. Information signs line the track explaining much of the wildlife and habitats in the park.
Mount Mawson:
Standing at 1,218 metres above sea level, Mount Mawson is not only a mountain but serves as a ski field in the winter months. Around this area including neighbouring Lake Dobson is where you will find longer day walks.
HOW TO GET TO MOUNT FIELD:
Drive: 64km, 1hr 10min drive from Hobart – 215km, 2hr 45min journey from Launceston
Tour: Combine Mount Field with other worthy stops on a guided tour from Hobart
COST: Tasmanian National Parks Pass required. Check out my section on passes further down this post for for more details
WHERE TO STAY NEAR MOUNT FIELD: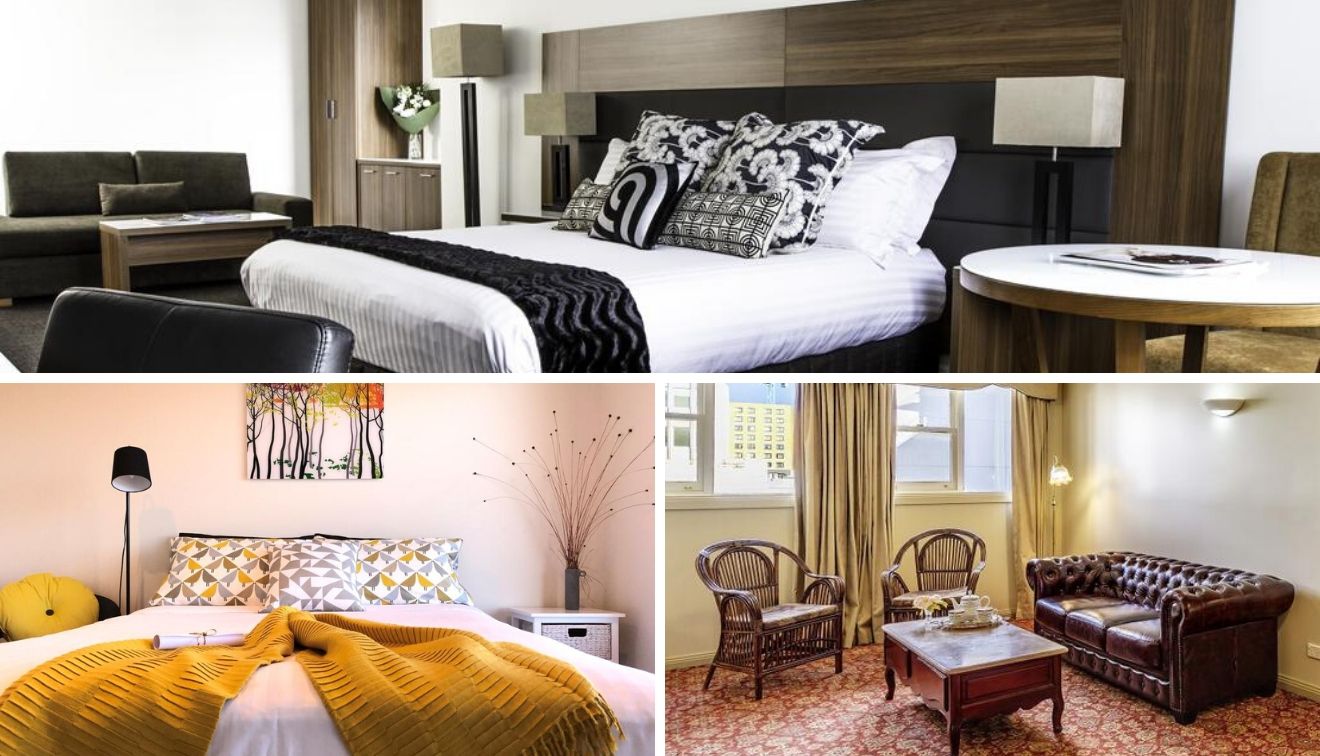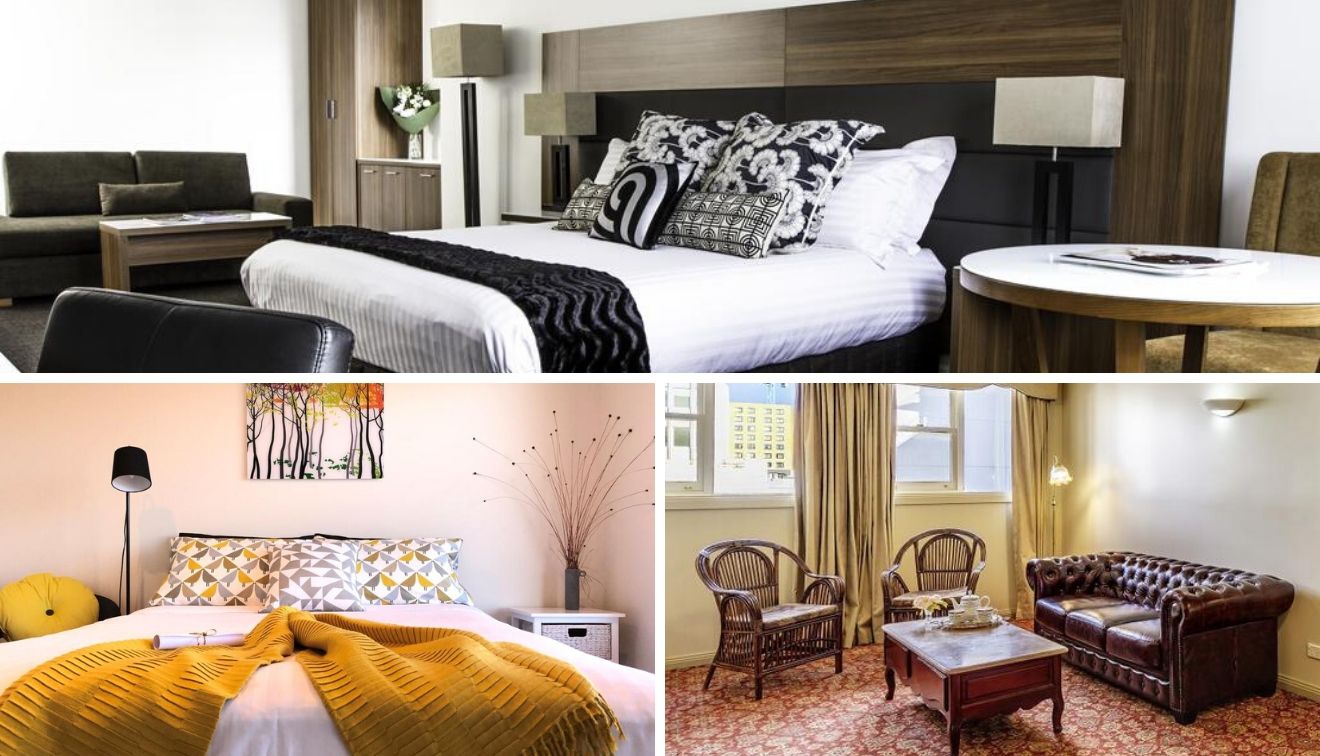 As Mount Field is so close to Tasmania's capital city, I recommend staying the night in Hobart. Whilst you're there, check out Port Arthur as well as all the other things to do in Hobart.
Luxury ($250+ AUD):
Located close to some of the biggest attractions in Hobart, Macquarie Manor Hotel is an incredible choice. Alternatively, stay in a gorgeous restored mansion at Lenna of Hobart with panoramic views of the harbour.
Middle-priced ($150-$250 AUD):
Choose history at the longest continuously operating boutique hotel in Tasmania, Hadley's Orient Hotel or head to Hotel Grand Chancellor for a range of bonus facilities such as their beautiful rooftop pool enclosed in a glass room.
Budget (Under $165 AUD):
Alabama Hotel in the city centre offers basic luxury on a budget whilst Oceana B&B is a little further out but boasts incredible views of the river Derwent.
Camping: Situated near the visitor centre inside the National Park, the Mount Field Camping Ground offers both powered and unpowered sites starting from $16 for two people.
4. Southwest National Park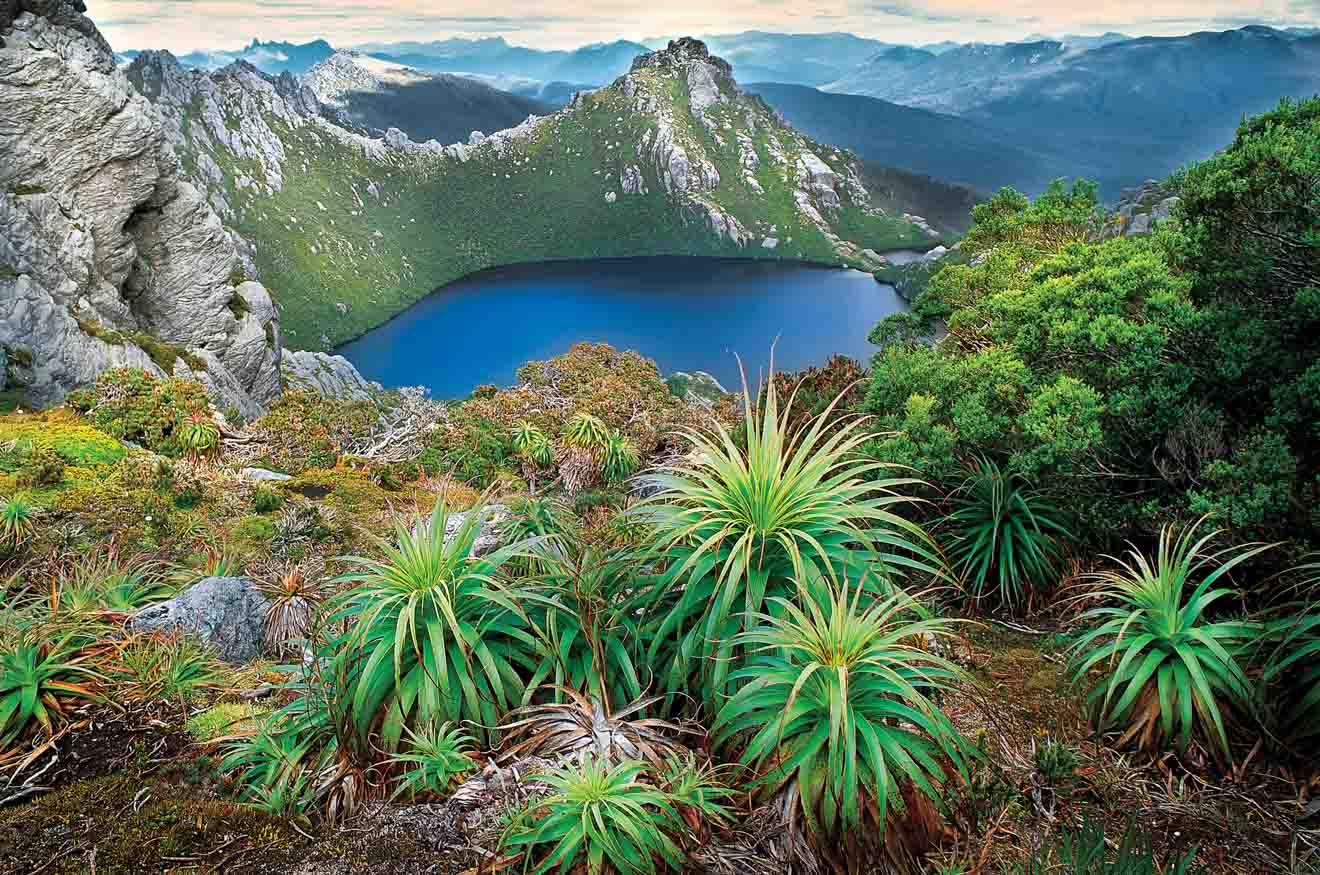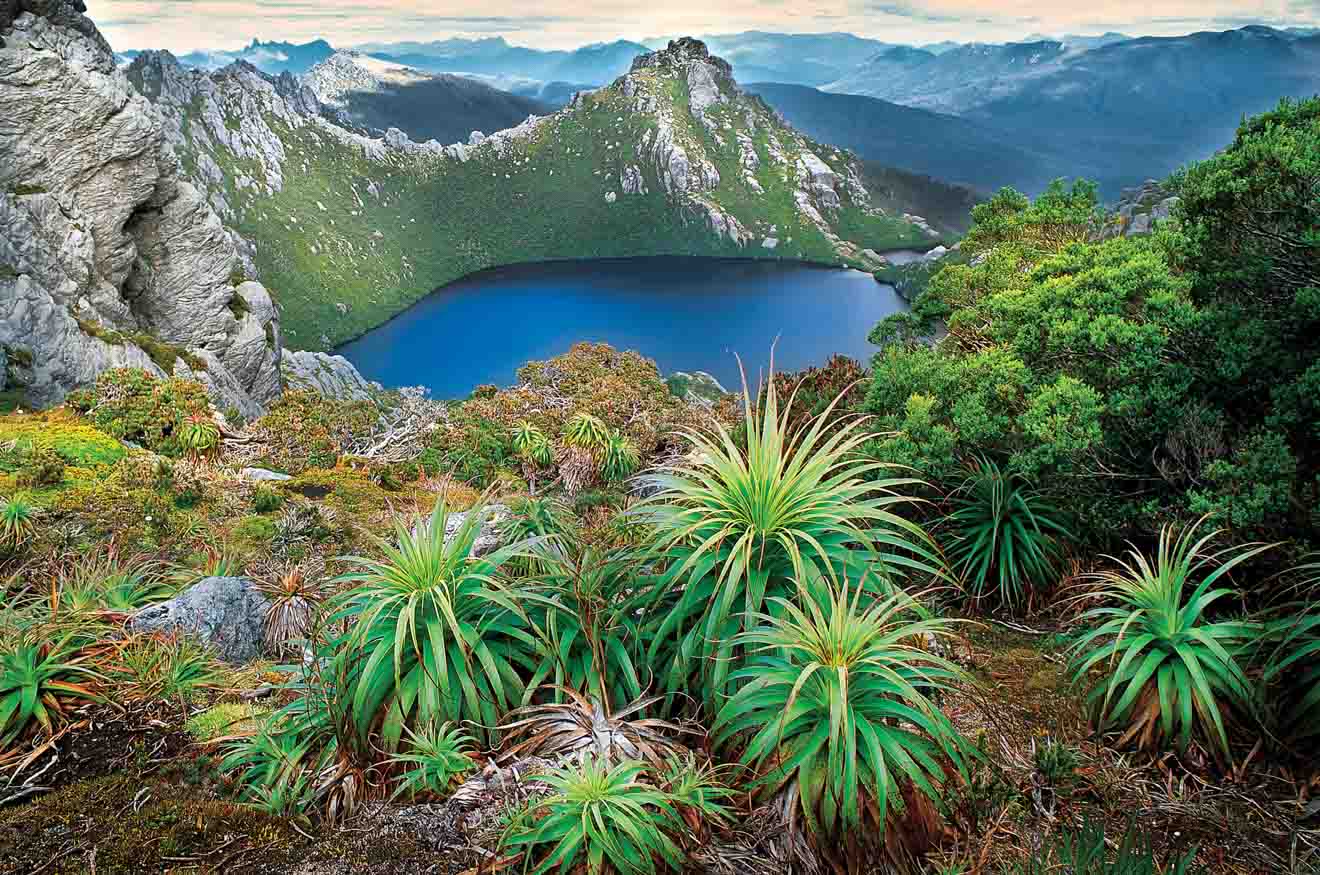 Southwest National Park is exactly where you would expect it, Southwestern Tasmania!
Sandwiched between the Franklin-Gordon Wild Rivers National Park and Hartz Mountains, the three areas make up this densely forested section of the island and is one of the highlights for many visitors who travel to the region.
Southwest National Parks' vast wilderness makes it stand out among the greats of Tasmania and because of this, you will surely run out of time before you run out of hikes. Here are some of the top spots.
THINGS TO DO IN SOUTHWEST NATIONAL PARK:
South Coast Track:
One of Tasmania's most challenging walking tracks, the South Coast Track crosses 85km of remote terrain within Southwest National Park along Tasmania's rocky coastline. There are no huts along this trek so you may well find yourself battling Tasmania's infamous winds. Make sure you have a well researched plan before setting off.
Hastings Caves State Reserve:
Although it's technically just outside of Southwest National Park. Hastings Caves had to make the list. At Hastings Caves State Reserve you can visit Australia's biggest dolomite cave that's open to the public.
TIP: Bring your bathing suit for a dip in one of the natural warm water springs!
Lake Judd:
If you're not quite ready for the South Coast Track but ready for a significant challenge, the 8 hour return hike to Lake Judd will give you a taste of Southwest National Park's rugged wilderness. Despite the fact this is a day hike, route finding skills are needed and a river fording is required so should only be attempted by experienced hikers.
HOW TO GET TO SOUTHWEST NATIONAL PARK:
Drive: 2hrs south of Hobart to Cockle Creek.
NOTE: Your last chance to refuel is Southport and the last section of road is rough but doable for a 2wd. Use caution!
Bus: For hikers in summer months, there is a bus from Cockle Creek to Geeveston where you can connect to Hobart. Check the Tasmanian Travel and Information Centre for more details.
Tours: The best way to get to this wilderness world heritage area is to fly! Take a Fly, Cruise and Walk tour from Hobart for one incredible day! Choose the amount of free time you want to hike inside the park when booking!
Alternatively, visit Hastings Caves and nearby Tahune Airwalk on a guided bus tour from Hobart.
COST: Tasmanian National Parks Pass required. Check out my section on Passes below for more details
WHERE TO STAY NEAR SOUTHWEST NATIONAL PARK: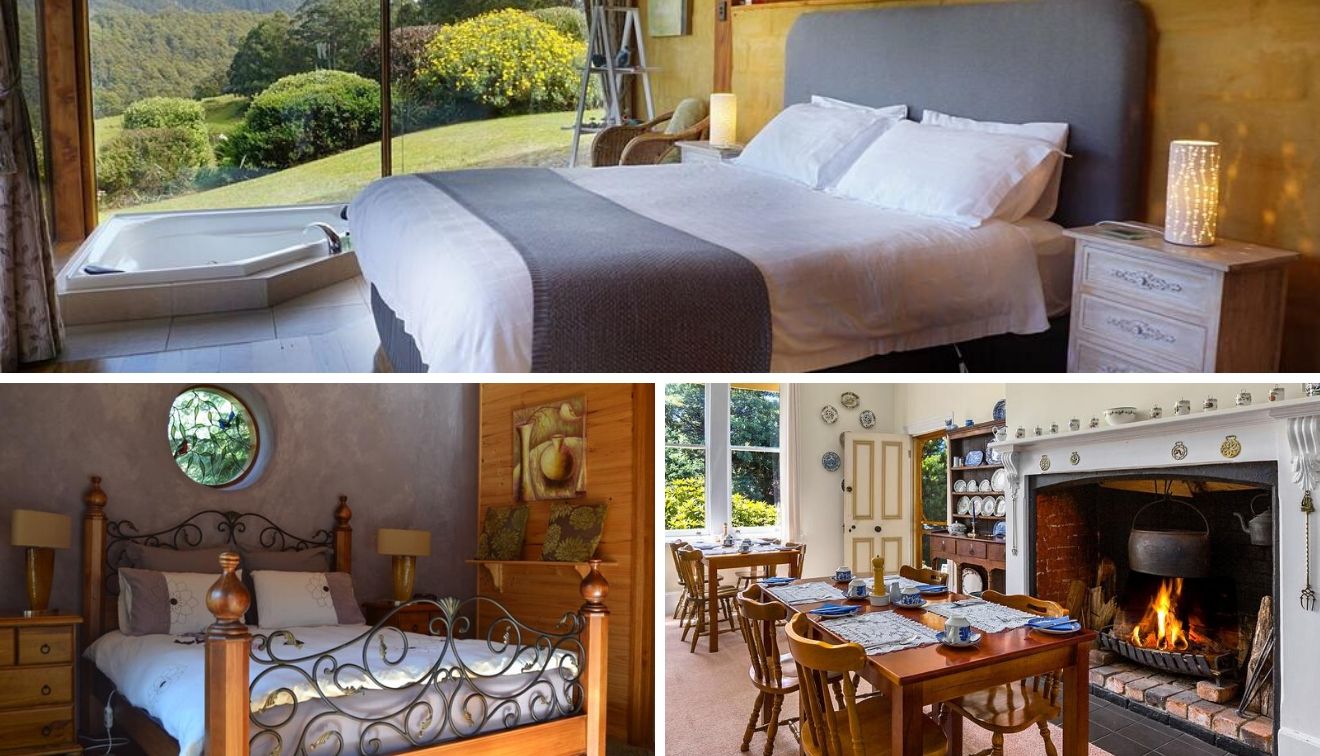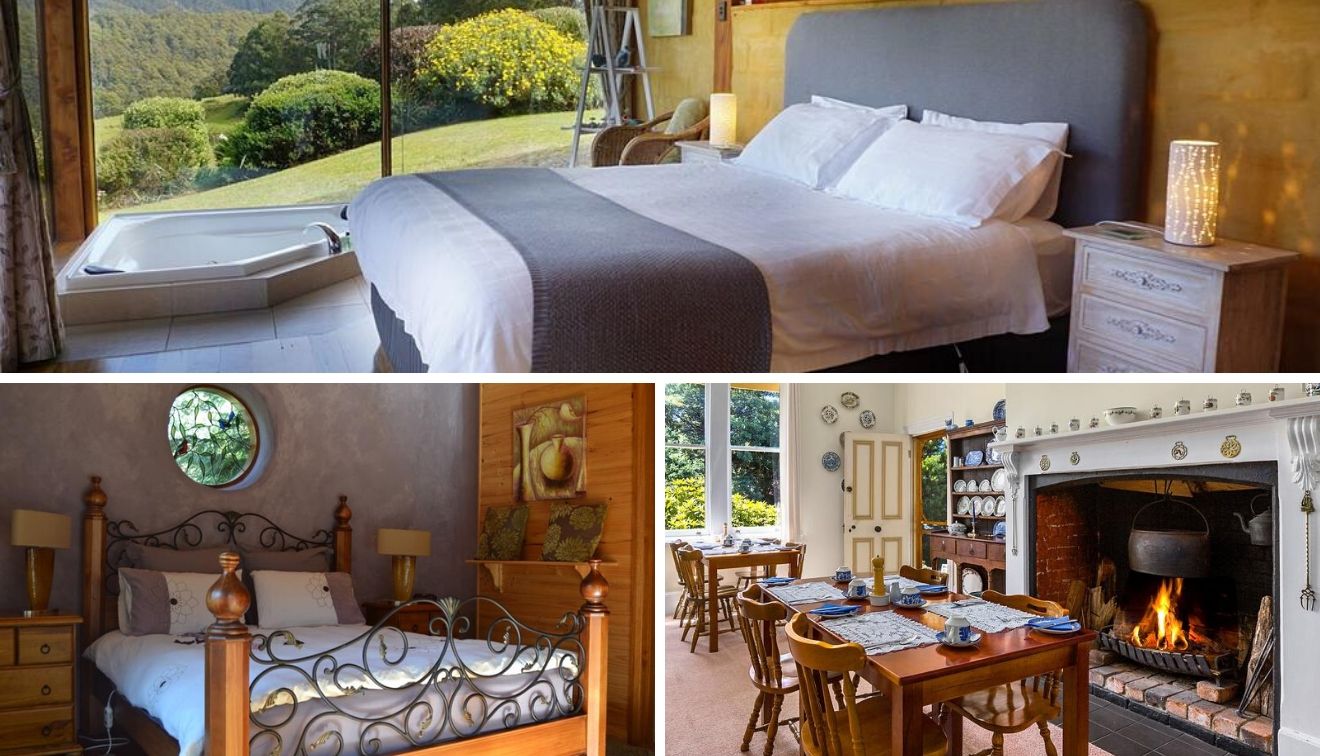 Besides camping, there aren't many options for accomodation in Southwest National Park itself. If you wish to visit the northern parts of the park, I recommend staying in Hobart at one of my previously mentioned recommended hotels.

If heading out to explore the most southern reaches of the State. Check out my options below.
Luxury ($250+ AUD):
Shanleys Huon Valley is a luxurious retreat in a hand built, mud brick and timber cottage amongst the trees near Glendevie. Alternatively, just a 30min drive from Hastings Caves you will find ocean views at Smugglers Rest Apartments in Dover.
Middle-priced ($150-$250 AUD):
Stay in a private cottage on secluded gardens with valley and mountain views at Whispering Spirit Holiday Cottages in Franklin. My other recommendation is Donalea Bed and Breakfast & Riverview Apartment. Eat your free continental breakfast whilst overlooking their 1 acre of award winning gardens.
Budget (Under $165 AUD):
The historic 1870 Cambridge House offers a cosy bed and breakfast in Geeveston and even shares its garden with a group for friendly platypus! For a seaside town vibe, head to Ashdowns of Dover for its huge breakfast and backyard sheep.
Camping: Basic free camping is available at 3 campsites spread out over the park. More details can be found here.
| | |
| --- | --- |
| 🏖️ Best for beachs: | Freycinet National Park |
| 🏞️ Best for views: | Cradle Mountain |
| 🌱 Best green space: | Mount Field National Park |
| 🌳 Best for hiking: | Southwest National Park |
BONUS: Tasmanian National Parks Pass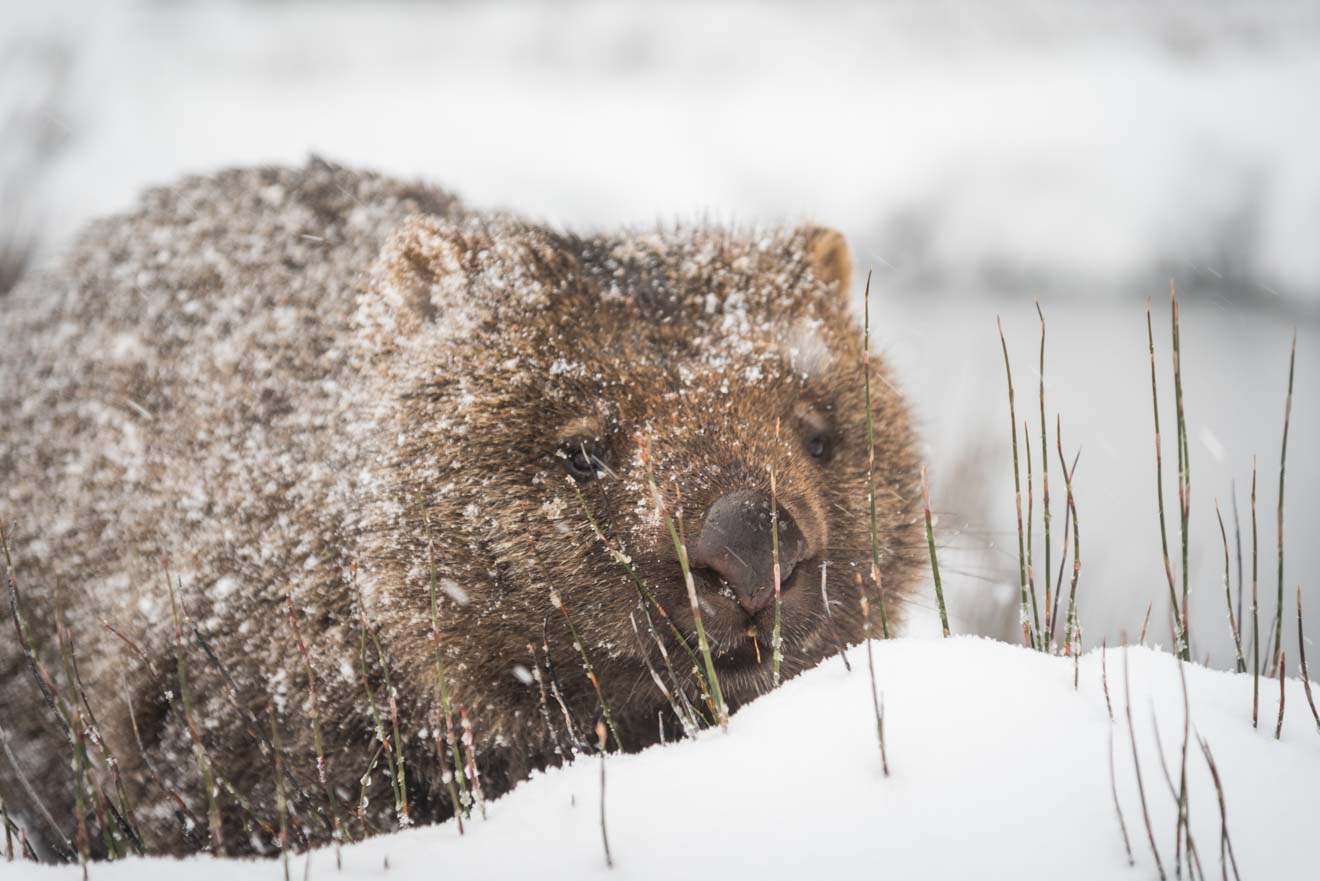 For access to any of the National parks within Tasmania, a Parks Pass is required.
TIP: The Vehicle Holiday Pass for $60 is the best value for money allowing up to 8 passengers who travel in a single vehicle, entry to all of Tasmania's national parks for up to 2 months!
Don't have your own vehicle for the trip? Rent one! Roadtripping Tasmania is the best way to see the state. I've even written a full day by day Tasmania road trip itinerary just for you!
| | | | |
| --- | --- | --- | --- |
| | Daily Pass (Excluding Cradle Mountain) | Holiday Pass(Including Cradle Mountain) | Cradle Mountain Only |
| Vehicle (< 8 people) | $24 | $60 | N/A |
| Adult (18+ years) | $12 | $30 | $16.50 |
| Child (5-17 years) | $12 | $30 | $8.25 |
| Family (2 adults 3 children) | N/A | N/A | $41.25 |
Children under 5 years old have free entry.
Passes can be purchased online or in person at each of the national park visitor centres. For any specific enquiries, contact the Tasmania Parks and Wildlife service on 1300 827 727.
Conclusion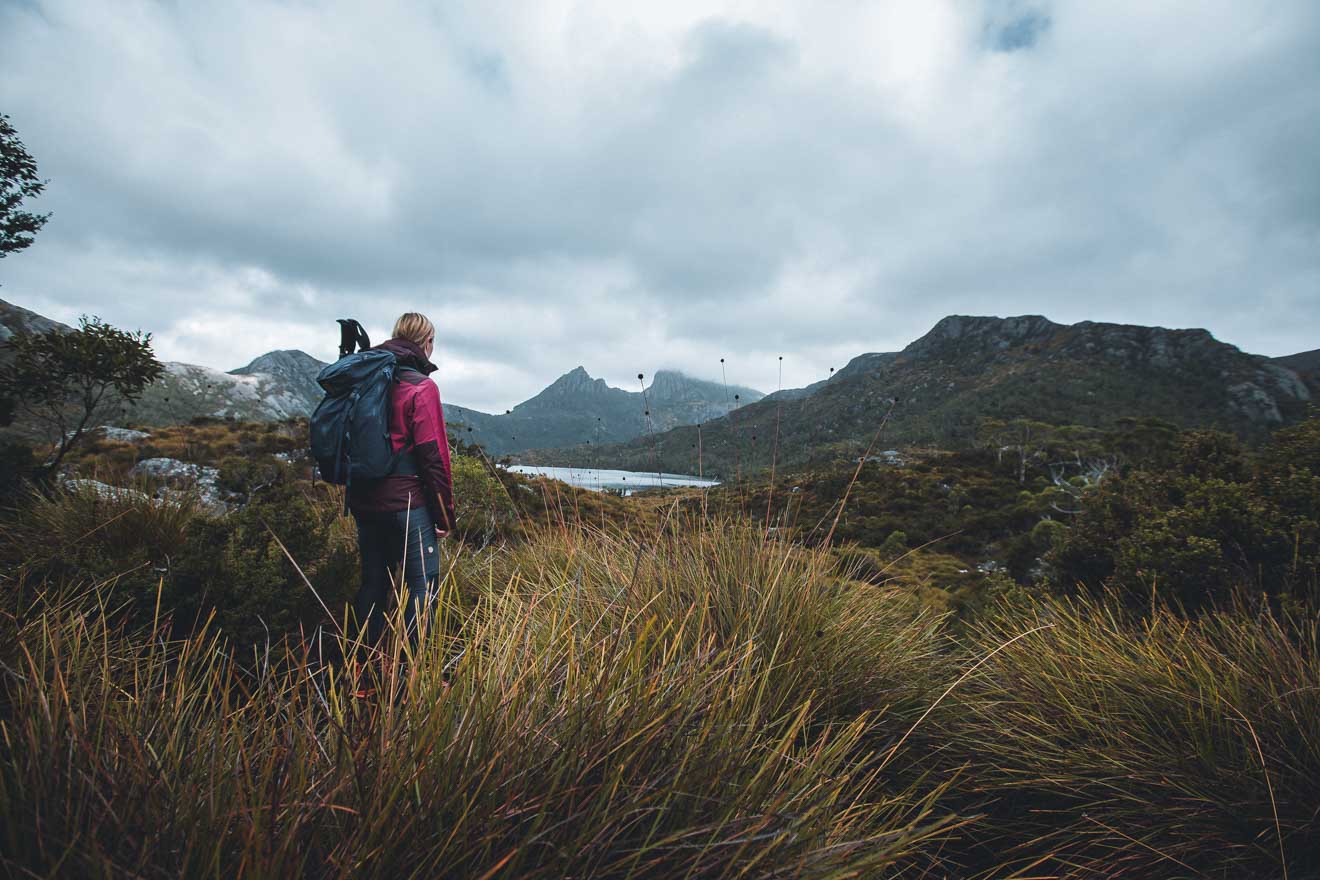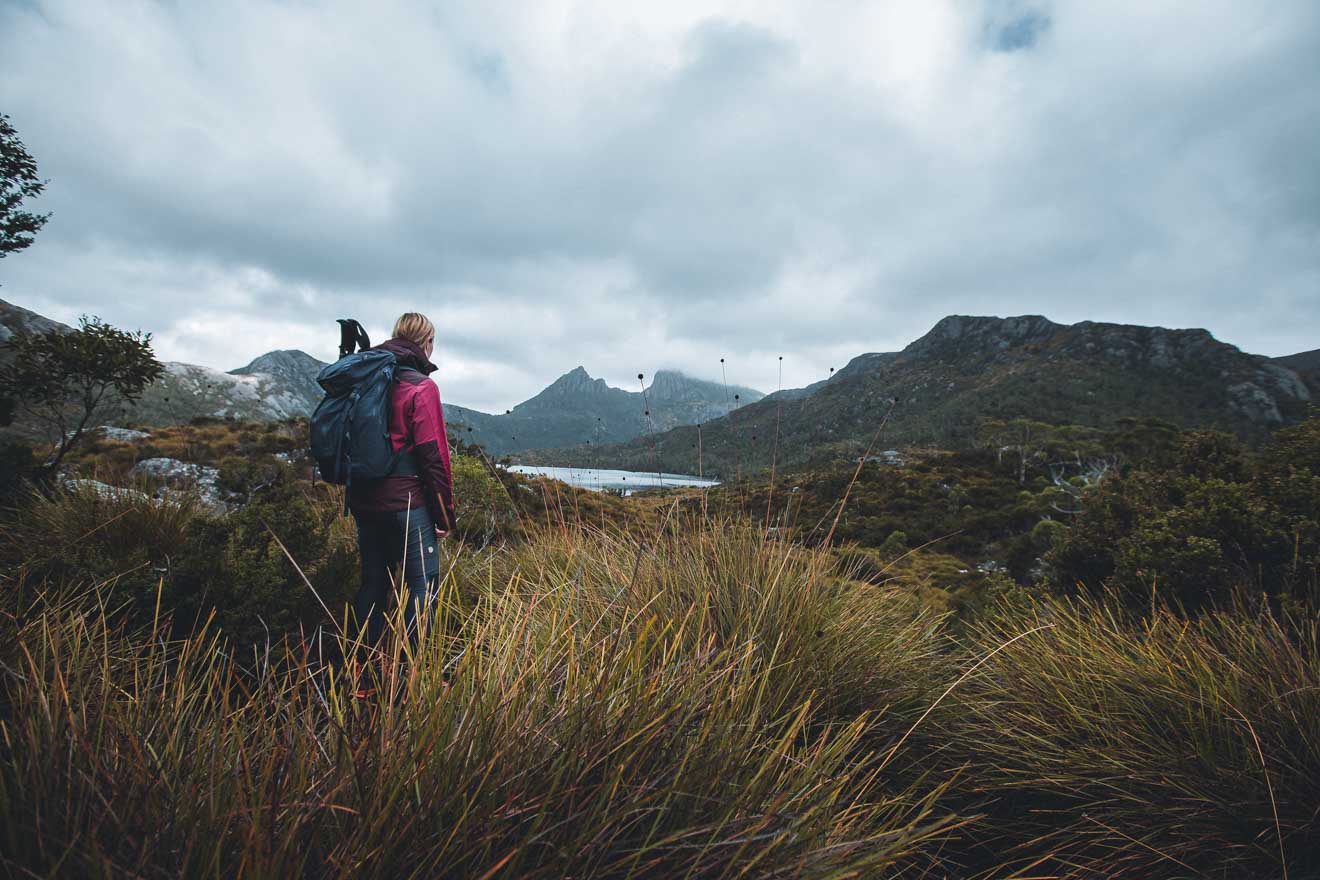 So there you have it, I've covered all the best parks and the wildlife that you might find in them, from the east to the west of Tasmania.
With some of the most amazing views of mountain peaks, alpine lakes, wild reserves and wilderness areas available in the world, doesn't it make you want to travel to Tasmania right now? I sure do!
Let me know if you have any more questions and I'd also love to hear what is your favourite national park in Tasmania in the comments. 🙂
Happy Hiking!
Kate Fletcher
---
Pin it for later!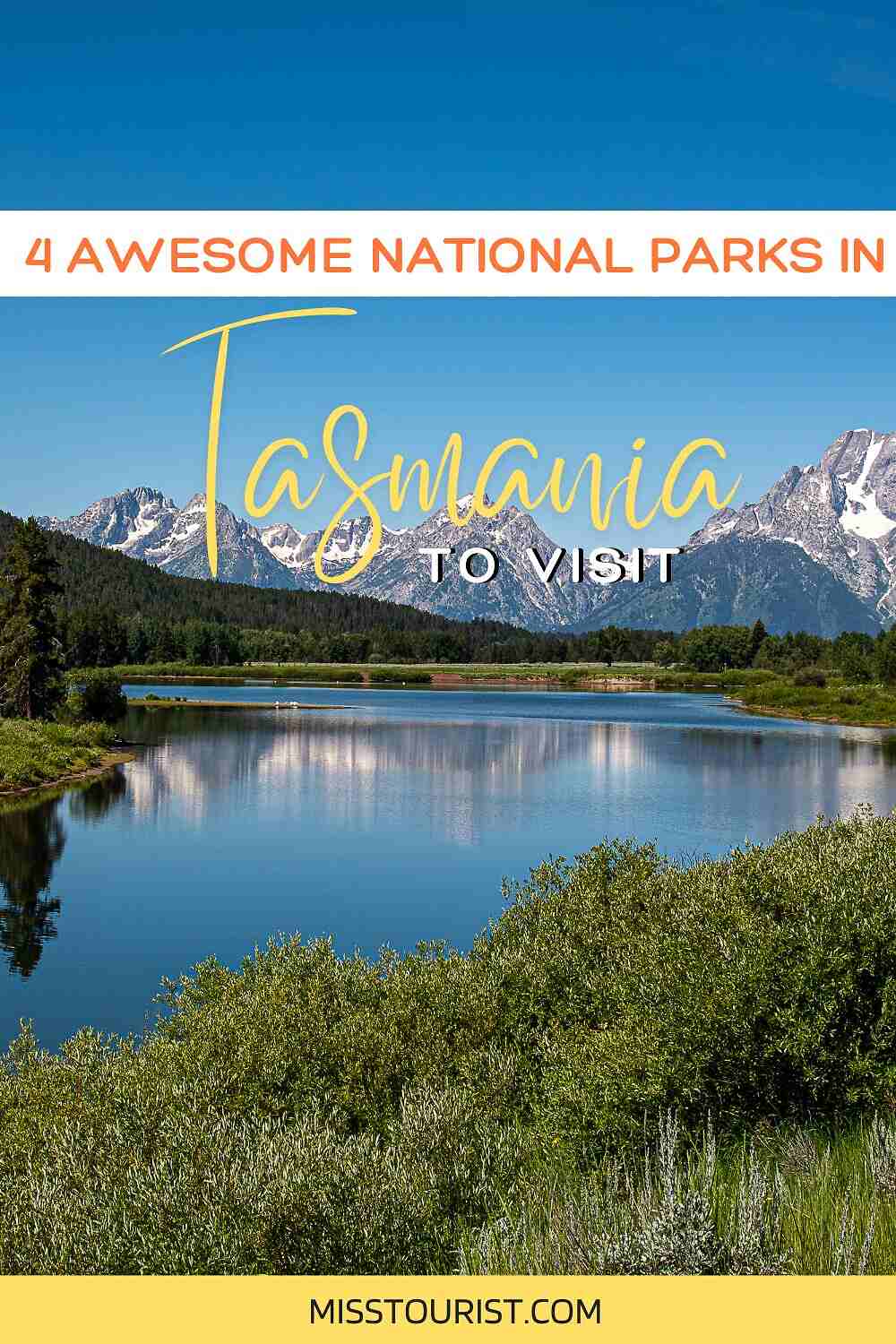 Pin it for later!