Tasmania is one of the best places to road trip in the country. With an array of historic sites, majestic mountains and cultural attractions it's impossible to get bored.
My ultimate guide will take you on a journey from the beautiful beaches of Wineglass bay, all the way to the snow capped peaks of Cradle Mountain. Discover a day-by-day itinerary with everything you need to know about how to road trip Tasmania!
The list of things to do in Tasmania is nearly endless so we better get on with our itinerary for your ultimate Tasmanian road trip!
Itinerary overview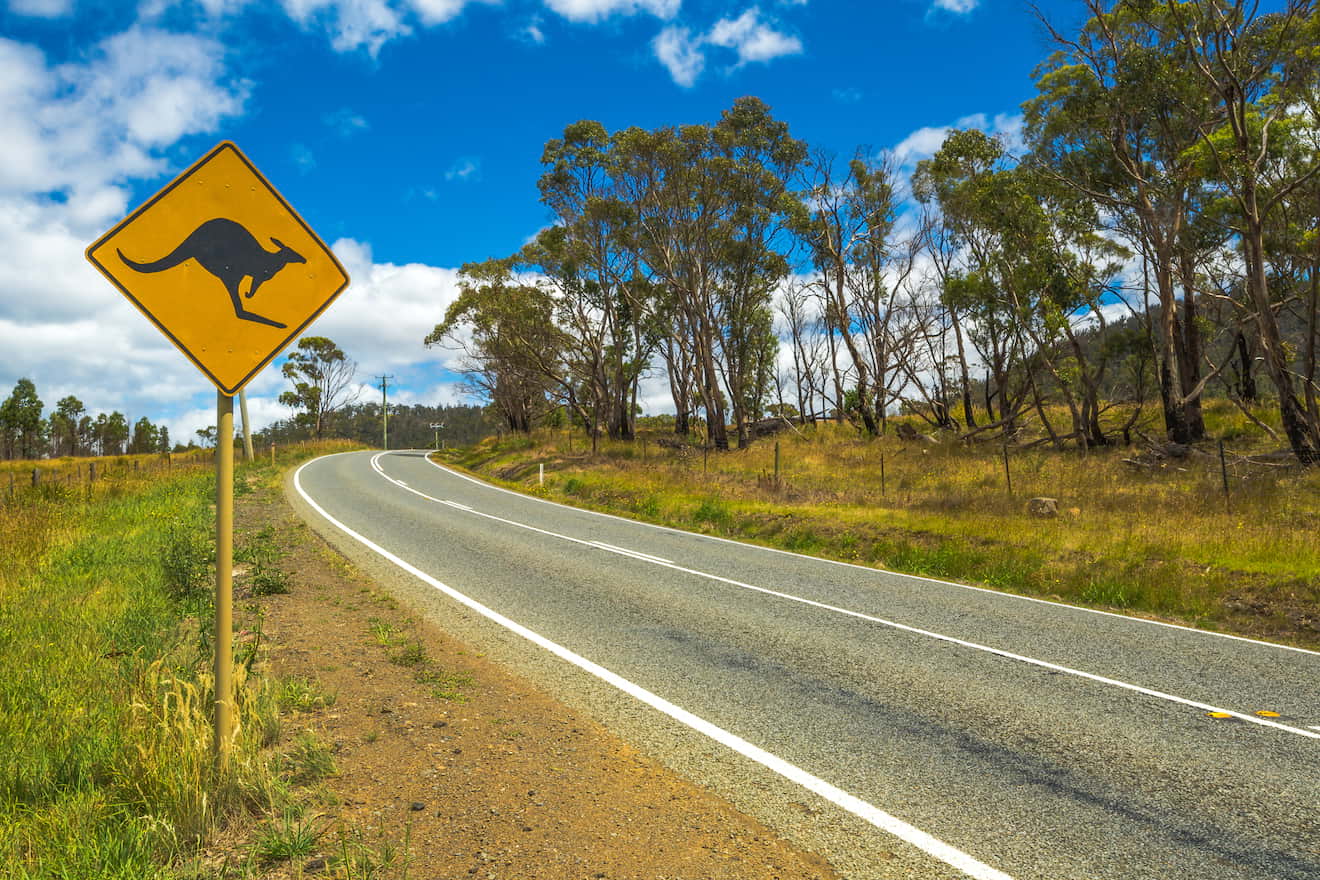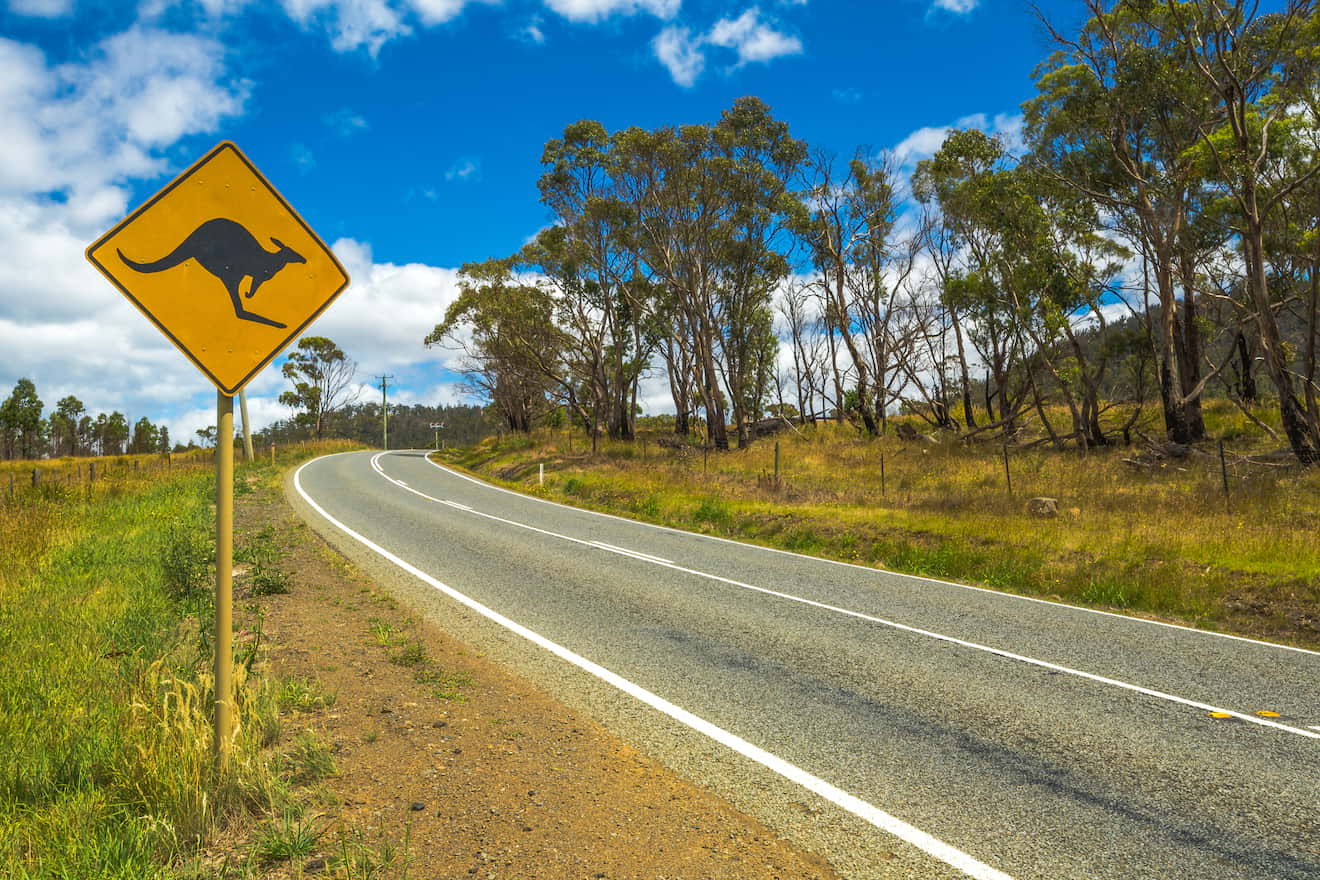 My itinerary starts in Launceston as it's both close to the interstate ferry for those bringing their own vehicle whilst also being a major airport for anyone flying into the state (check out my info for how to get to Tasmania later on in the article for more info).
That being said, you will complete a full loop on this trip so, if you choose to fly into Hobart instead, feel free to start there!
Road tripping Tasmania is definitely the best way to see everything this incredible island has to offer. Although there are bus options between a few of the major towns in Tasmania, you won't be able to reach a lot of the incredible places included in my itinerary without a car. With so many different remote national parks, hikes and historical locations, the freedom and flexibility needed for this kind of adventure is something you can only really get from a self drive. If you don't have a driver's license but still want to experience Tasmania's beauty, Intrepid Travel run tours covering most of the stops included in my itinerary.
I found 11 days to be the perfect amount of time to cover all the best things to do across the entire state in a timely manner however, any time you spend in Tasmania is time well spent!
Day-by-day I will introduce you to unique locations with detailed driving distances, things to do and where to stay. Follow along for the complete trip or choose what interests you by adapting my itinerary to fit your schedule!
Day 1: Arrive and Explore Launceston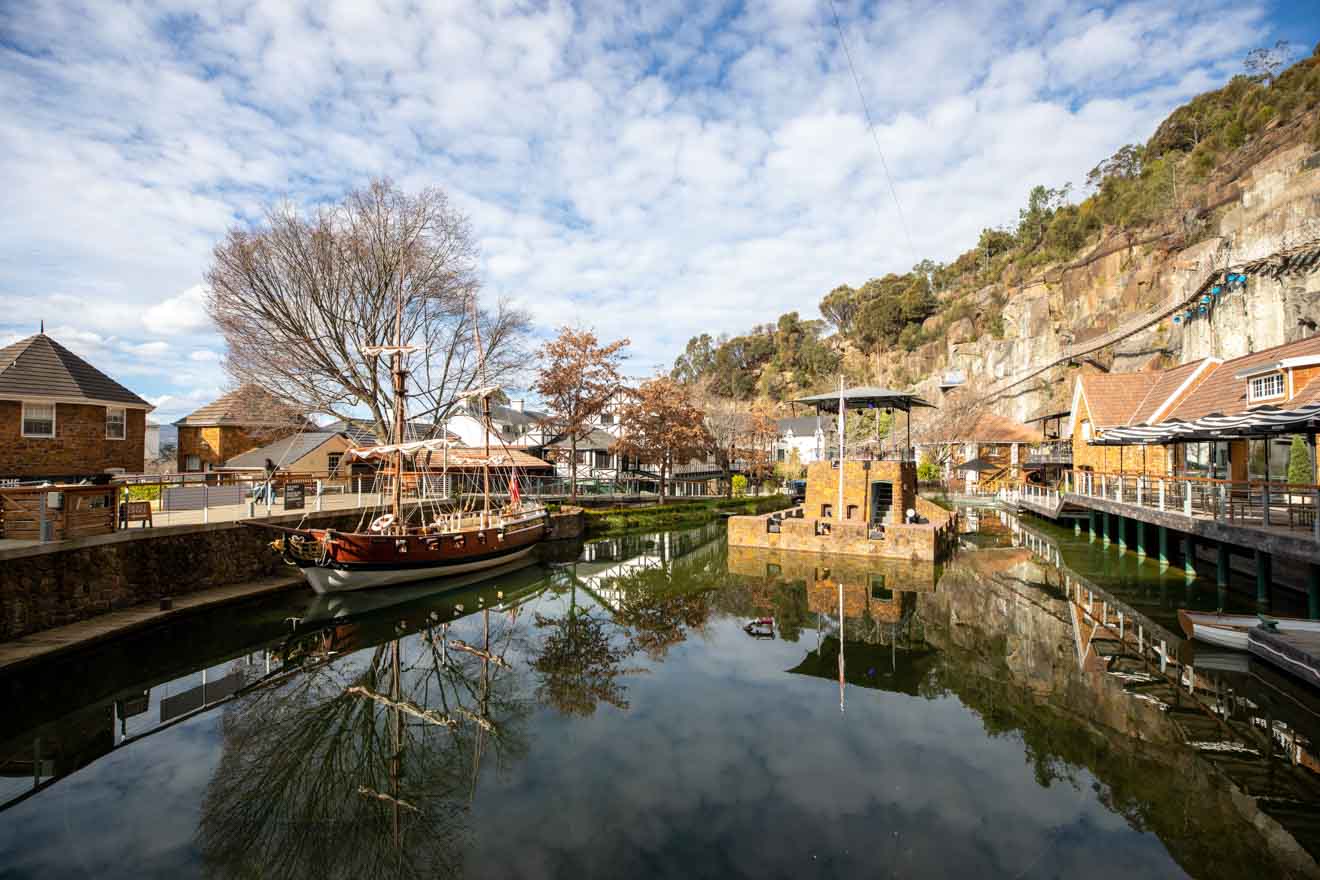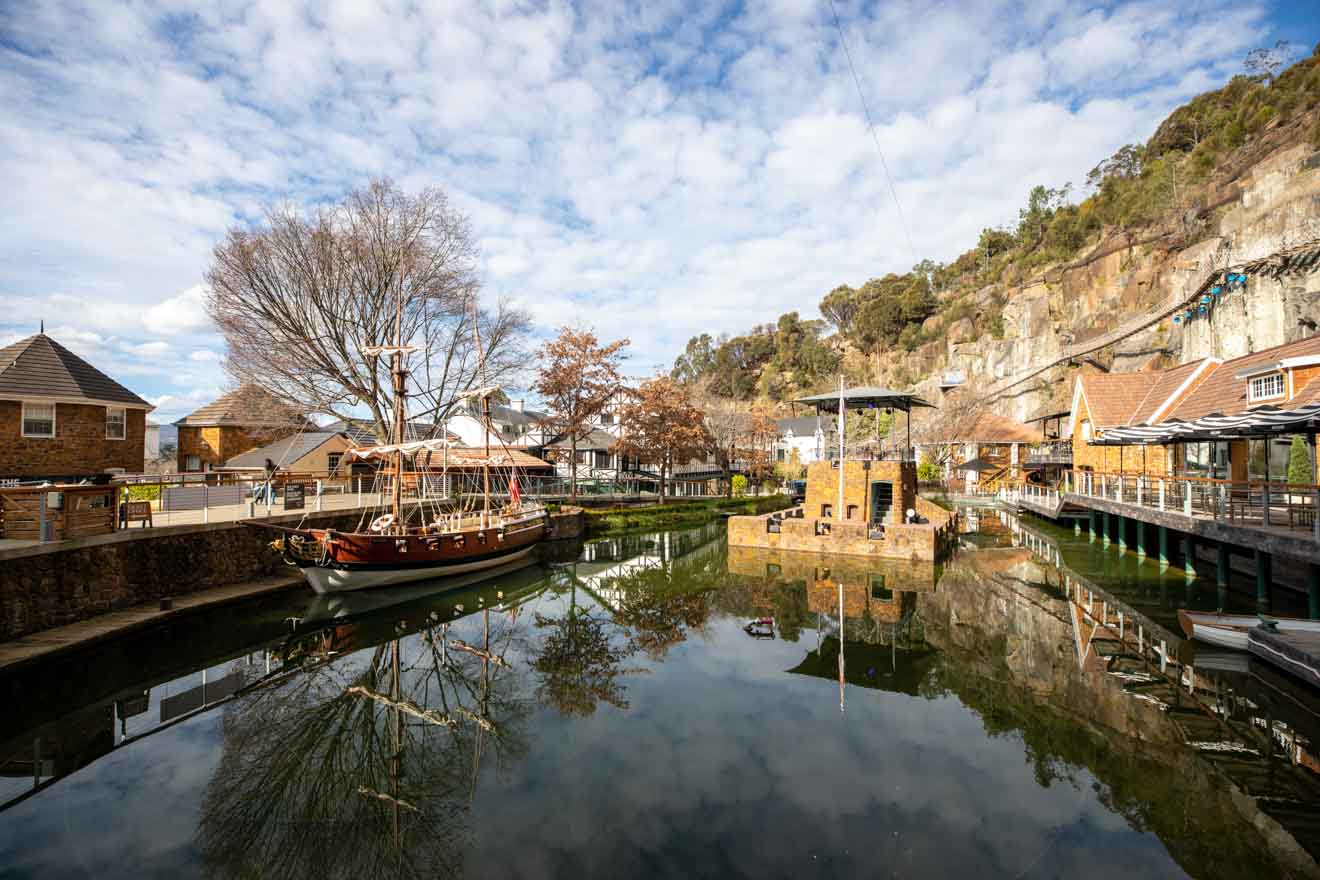 DRIVING: Devonport-Launceston, 90km, 1hr 15mins.
If arriving on the Spirit of Tasmania, hit the road and head to Launceston to begin day 1 of your Tasmania road trip. If you feel like stopping, grab breakfast at a quaint cafe or check out the Bass Strait Maritime Centre in Devonport but don't linger too long as there are so many things waiting for you in Launceston, your destination for the next 2 nights.
Things to do in Launceston:
Tamar Island Wetlands:
Drive 10 mins north of the city to start your day with a stroll along the boardwalks at the Tamar Island Wetlands. Look for native wildlife hiding in the tall grasses and make a stop at the interpretation centre (entry by donation) to learn about the area. Continue onto Tamar island for a picnic with an amazing view of Ben Lomond Mountain!
Queen Victoria Museum:
The Queen Victoria Museum and Art Gallery has something for everyone with art, history and natural science under the one roof! Free entry
City Park:
After time spent indoors, enjoy the gardens whilst having a picnic at Launceston City Park.
TIP: Don't miss the macaque monkeys. You'll find their enclosure surrounded by a moat in the centre of the park.
Cataract Gorge:
End your day with a 15min walk to the relaxing paradise that is Cataract Gorge. With victorian gardens, a free outdoor swimming pool, hiking trails and an abundance of wildlife, it's the perfect place to spend a relaxing afternoon!
A couple more things if you have more time:
Where to stay in Launceston: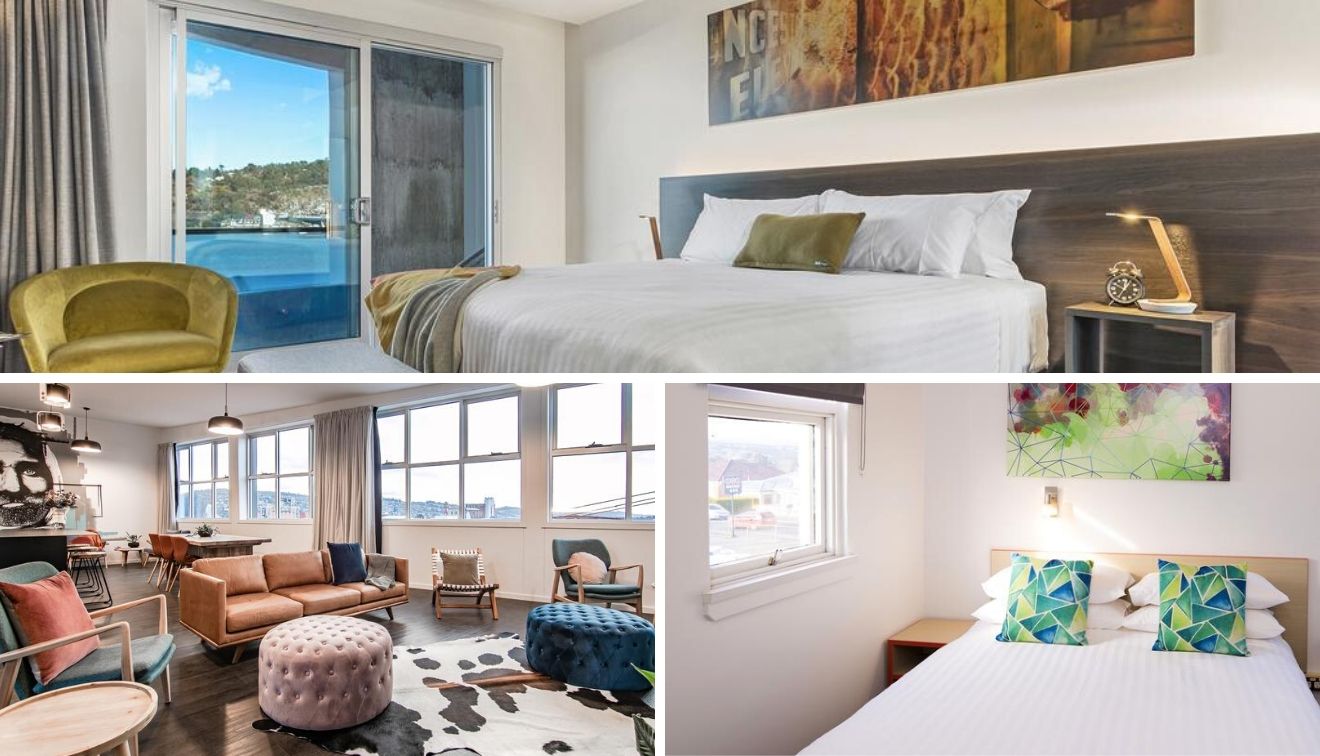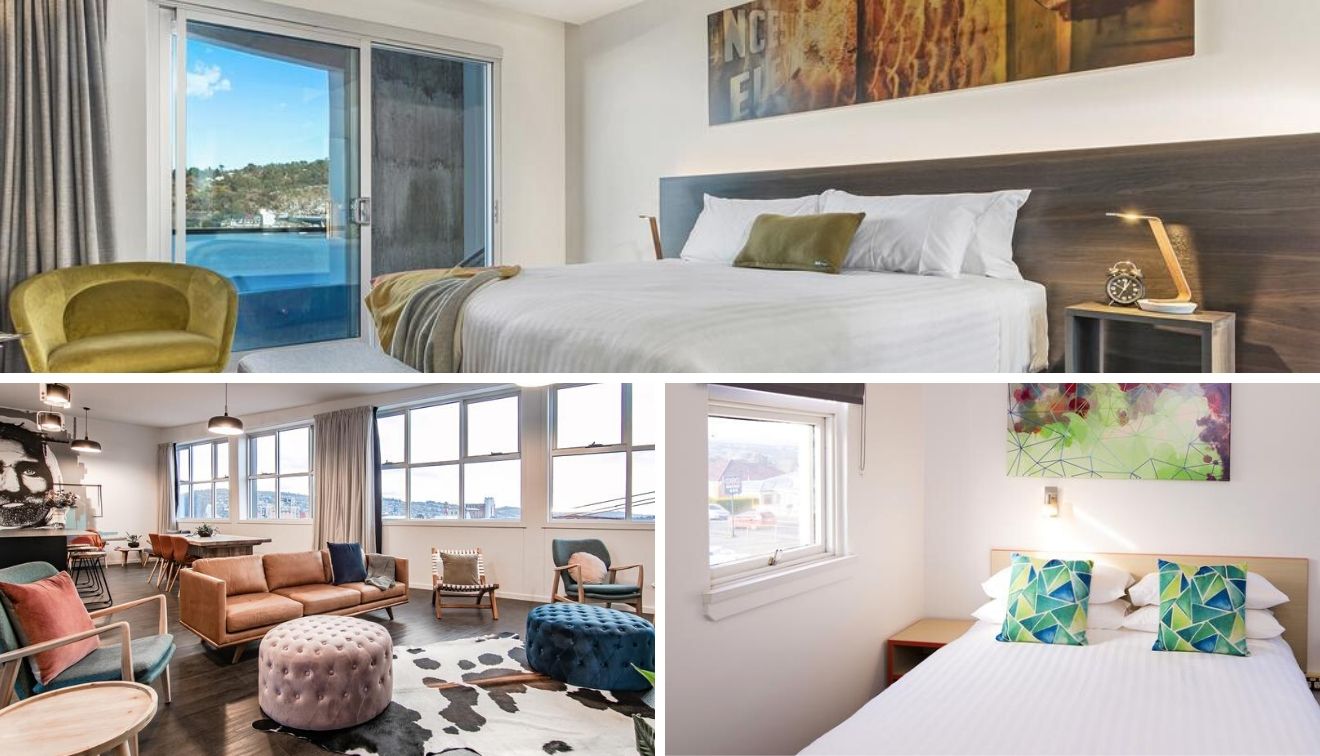 Luxury ($300+ AUD):
Stay in a beautiful historic building and make use of the spa and fitness centre to really get into holiday mood at Peppers Silo. Alternatively, people rave about the full hotel experience at Stillwater Seven and its luxury amenities.
Middle-priced ($150-$200 AUD):
For panoramic views of both the city and the Tamar Valley, Areca Launceston provides the perfect bed-and-breakfast experience whilst Change Overnight boasts a funky vibe and a location under 1km from most of the cities attractions!
Budget (Under $150 AUD):
If you're looking for class on a budget, Mowbray Hotel gives you just that with the added bonus of a restaurant and bar on site. To save money yet stay right in the centre of town, Launceston Backpackers offers private rooms with communal kitchen, bathroom and living areas.
Day 2: Take a Wine Tour Around the Tamar Valley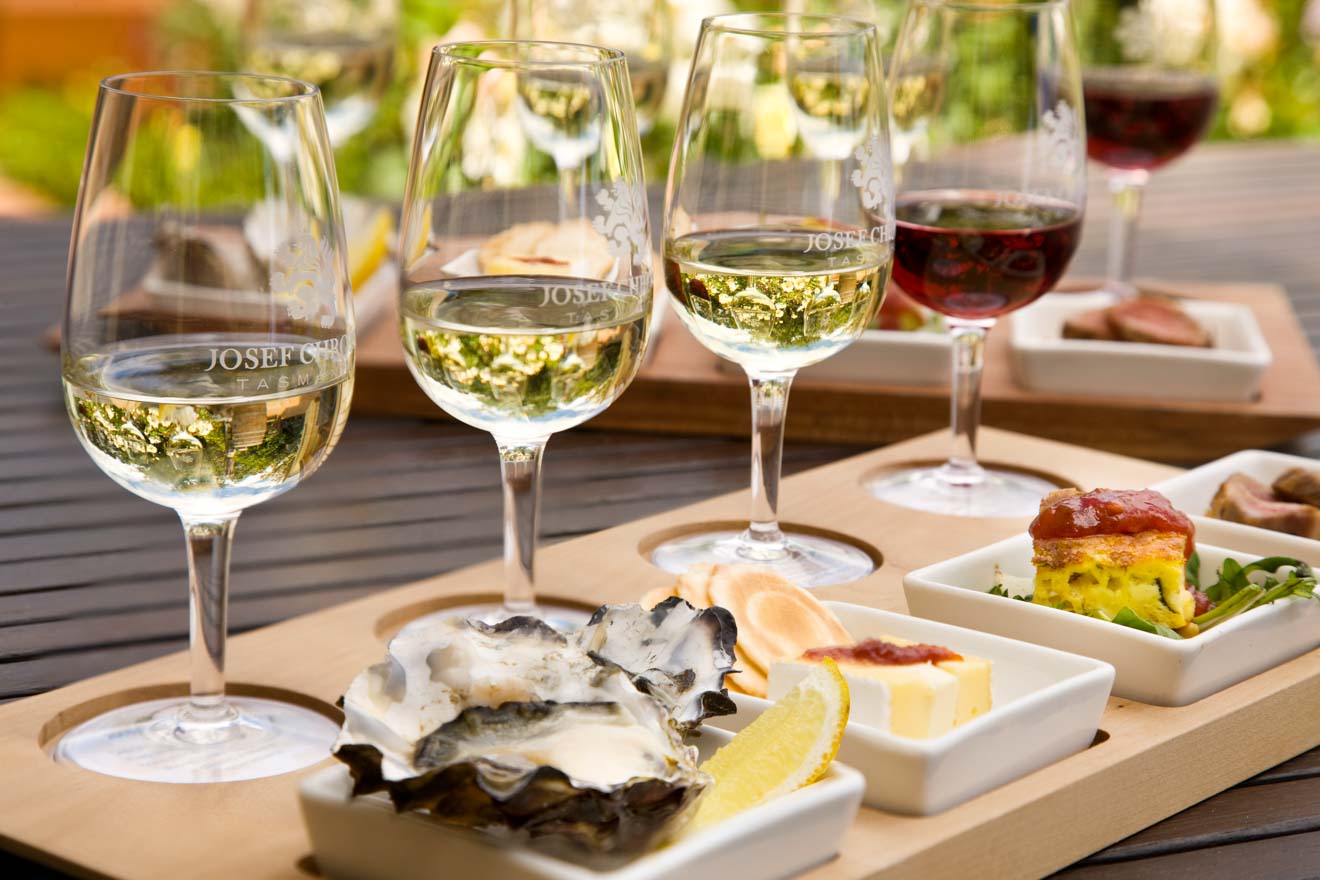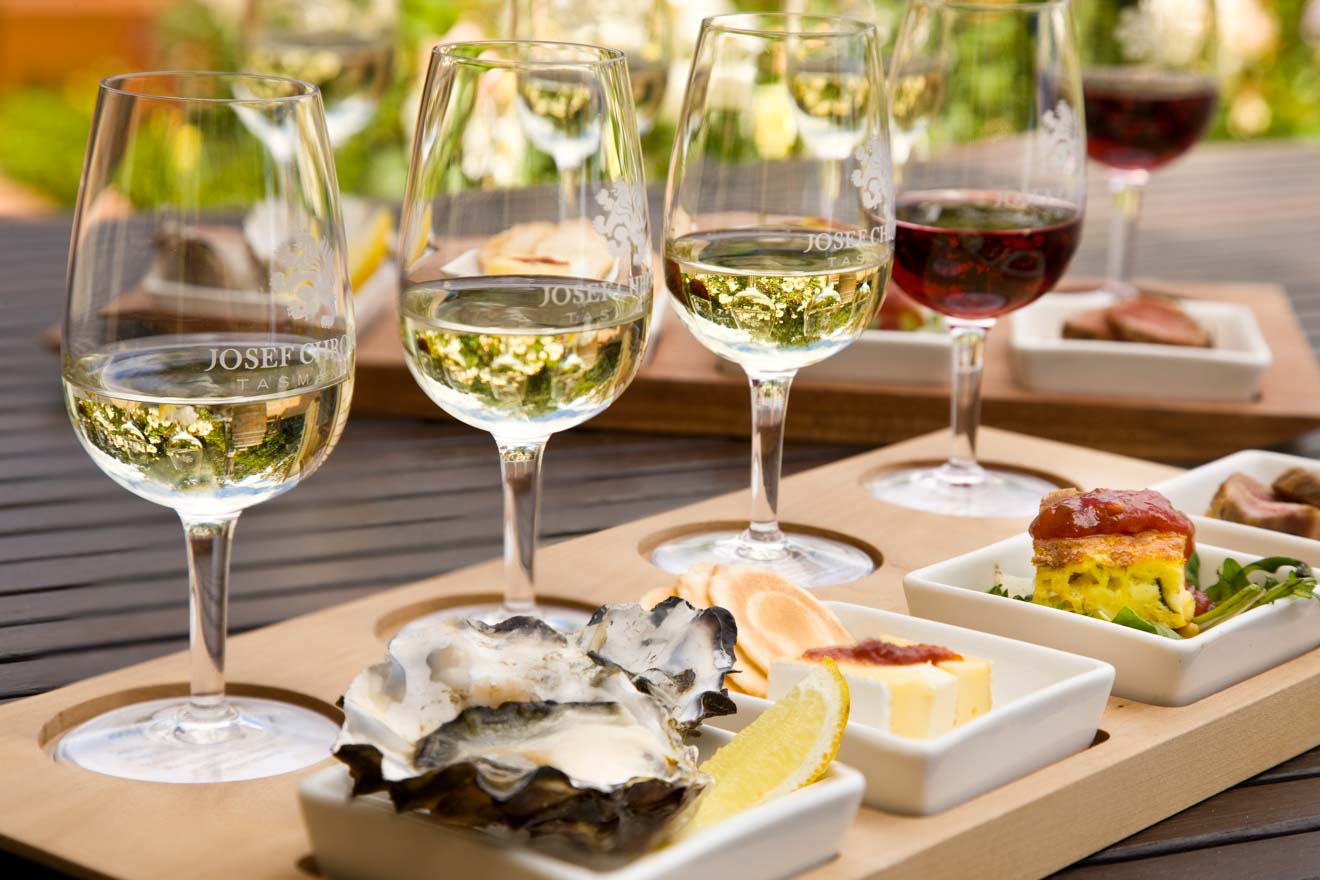 DRIVING TIME: Your choice! <170km (or have someone else do the driving on a guided wine tour).
With 30 wineries spread along the fertile banks of the Tamar River, no road trip in Tasmania would be complete without sampling some of Tasmania's wines!
Setting off north of Launceston, follow the west bank of the River before crossing Batman bridge, continuing to follow the yellow and blue signs whilst stopping off anywhere that tickles your fancy. Check out the Tamar Valley wine route's website to try out their journey planner.
For a hassle free day, leave the car at home and jump on board a small, all inclusive, guided tour. I highly recommend taking advantage of this option, just sit back and enjoy the views, sample some fantastic wines whilst enjoying a gourmet lunch and cheese tasting. The day begins at 11am with free pick up from your accommodation and will take you to 4 wineries over the space of 6 hours.
PRO TIP: On Day 2, collect bottles from different wineries along the route and your last stop will have them all sent home from Tasmania, for a small fee.
Where to Stay:
After your day of enjoying beautiful wineries and picturesque scenery, head back to Launceston to spend the night in one of our aforementioned recommended hotels.
Day 3: Drive to St Helens Via the Bay of Fires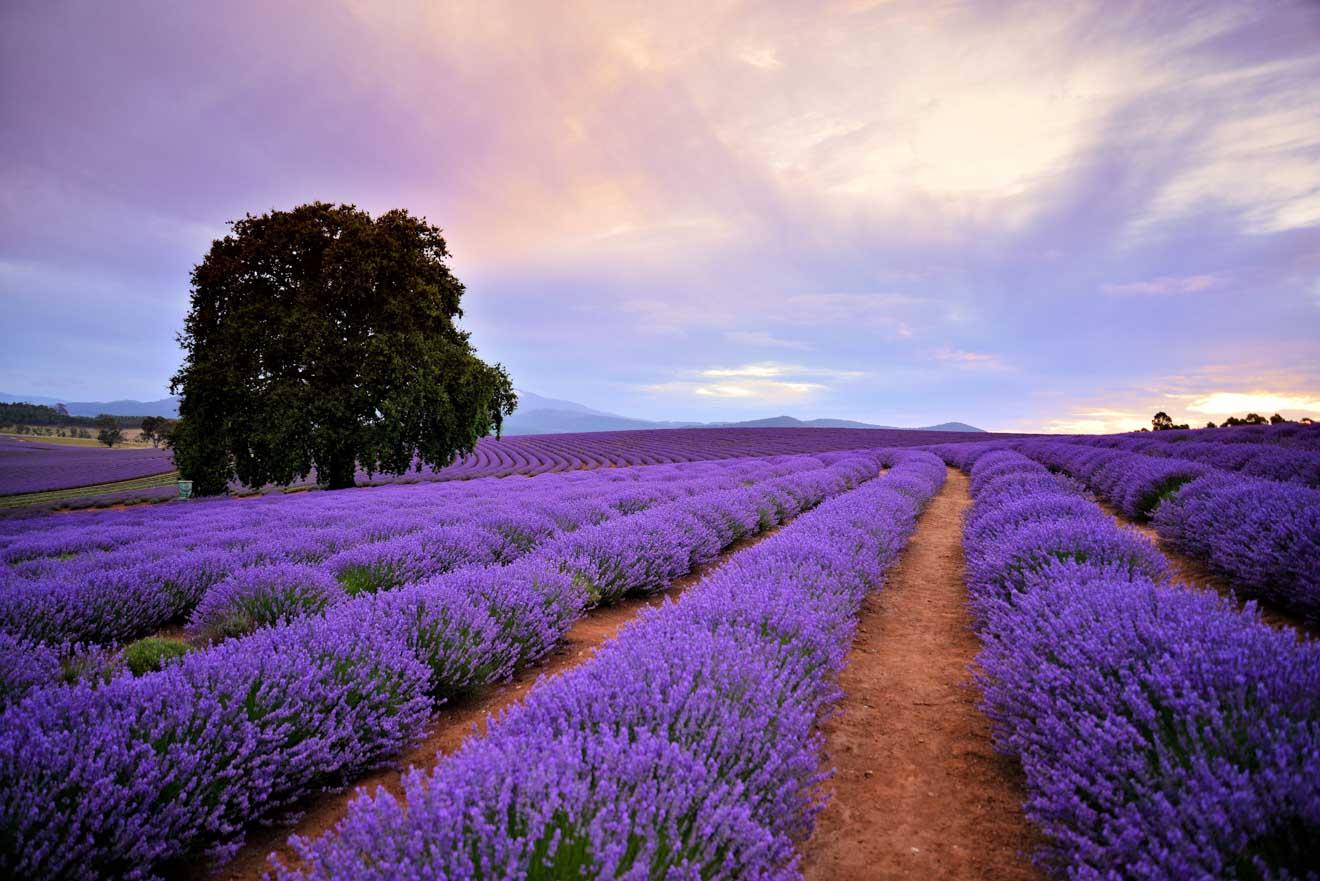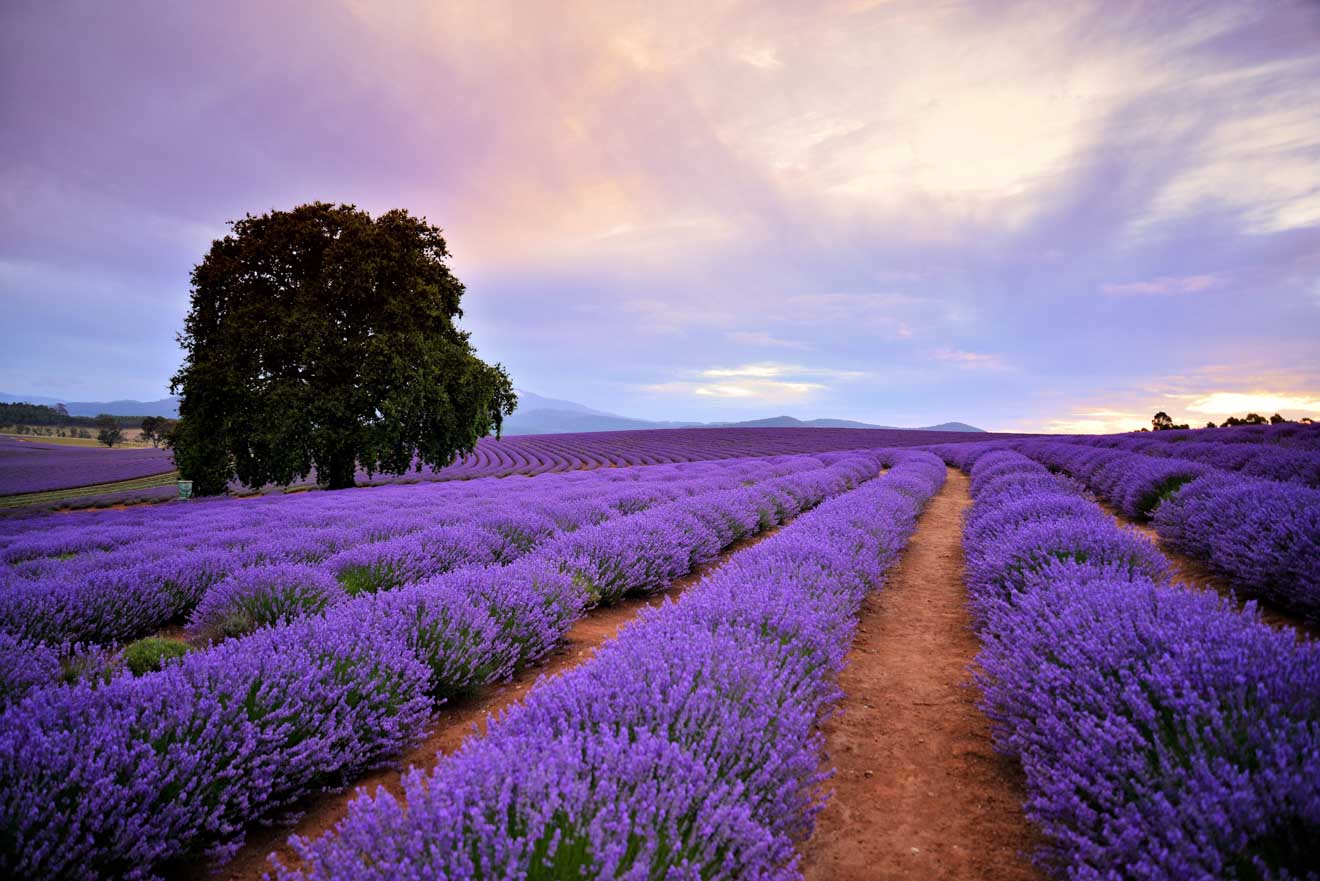 DRIVING: Launceston – Ansons Bay – St Helens, 228km, 3hrs 10mins.
Set off early on Day 3 so you can explore the incredible area of the Bay of Fires en route to St Helens; your stop for the night on your Tasmania road trip.
The Bay of Fires is renowned for its clear water and sandy beaches contrasting the vibrant orange lichen, which covers its rocks. The Bay of fires is a perfect place for swimming, surfing, fishing as well as having the state's best snorkelling spots.
After your day exploring the region, head to St Helens for a good night's rest. St Helens is the biggest town on Tasmania's north eastern coast and offers the widest range of accommodation and dining options in the region as well as being a great place to re-fuel.
Things To Do Near the Bay of Fires: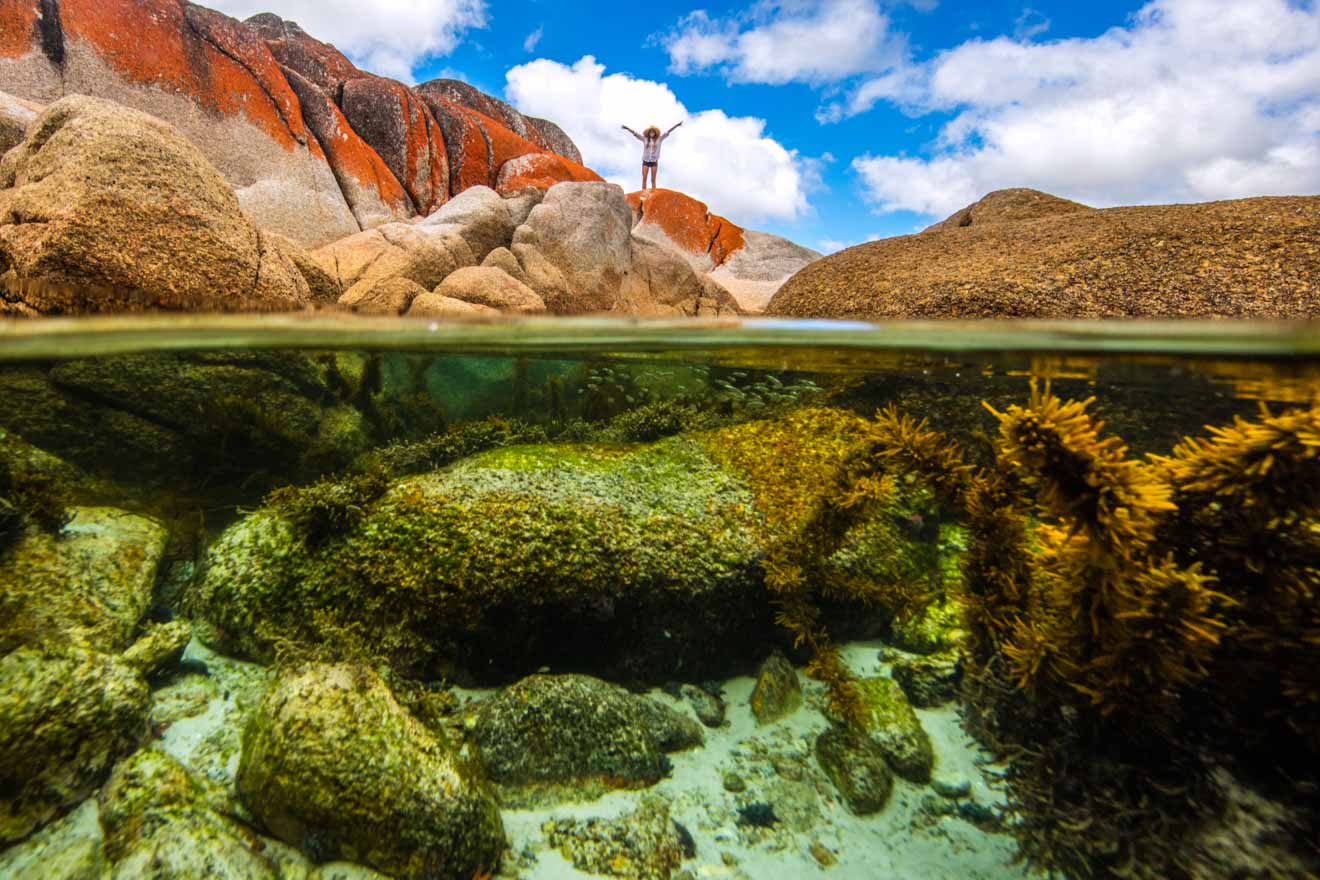 Bridestowe Lavender Estate:
When visiting in December to January, take a rest stop at Bridestowe Lavender Estate. Wander the rows of fragrant lavender at this working farm. Free entry
Mt William National Park
Mt William is Tasmania's main home for Forester Kangaroos, (the only large Kangaroos on the island) It's the perfect place in Tasmania to find secluded beaches and incredible views over the Bass Strait. Stop off at Ansons Bay for a paddle in the tidal sand flats, before driving north to reach the Eddystone Point Lighthouse.
PRO TIP: Make sure to stop at Gladstone for lunch and fuel, as you won't find anywhere to purchase food along the coast until reaching St Helens!
NOTE: A Tasmania national park pass is required for entry, purchase a vehicle holiday pass for $60 for best value.
Binalong Bay:
Everything south of Anson's bay is classified as the Bay of fires conservation area and is free to visit!
The southern and middle sections of the bay are only accessible from here so you will need to drive inland from Ansons bay to Binalong Bay to access the coast.
Binalong Bay marks the southern end of the Bay of Fires and is not only the main beach but also the start of many of the Bay of Fires walks. Binalong Bay is great for snorkeling, surfing and fishing on its perfect white sand and bright blue waters.
The Gardens
One of the best views of the Bay of Fires can be seen on this drive!
Continue driving north along the coast to reach the middle section of the Bay of Fires, also known as the Gardens. Here you will find an abundance of the famous fiery, lichen covered rocks which contrast the white sand and turquoise waters to make an incredible scene.
A couple more things if you have more time:
Where to Stay Near Bay of Fires: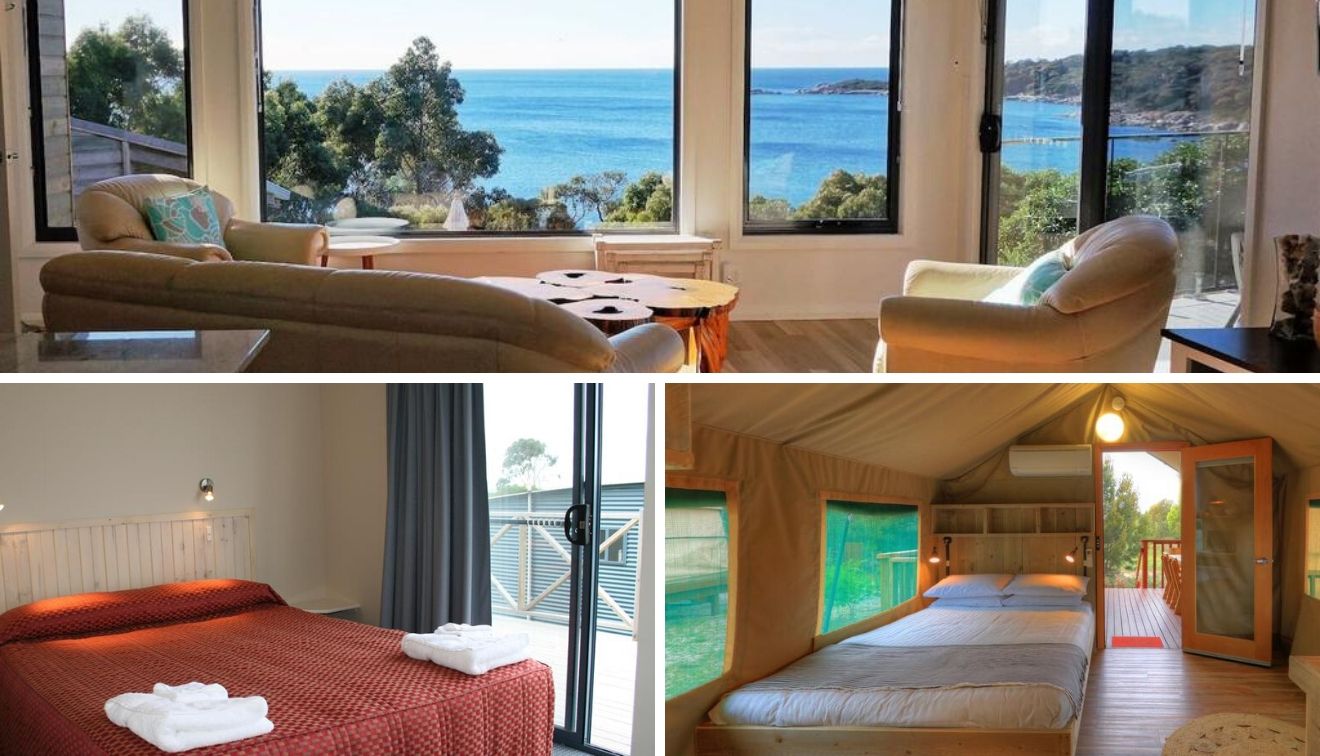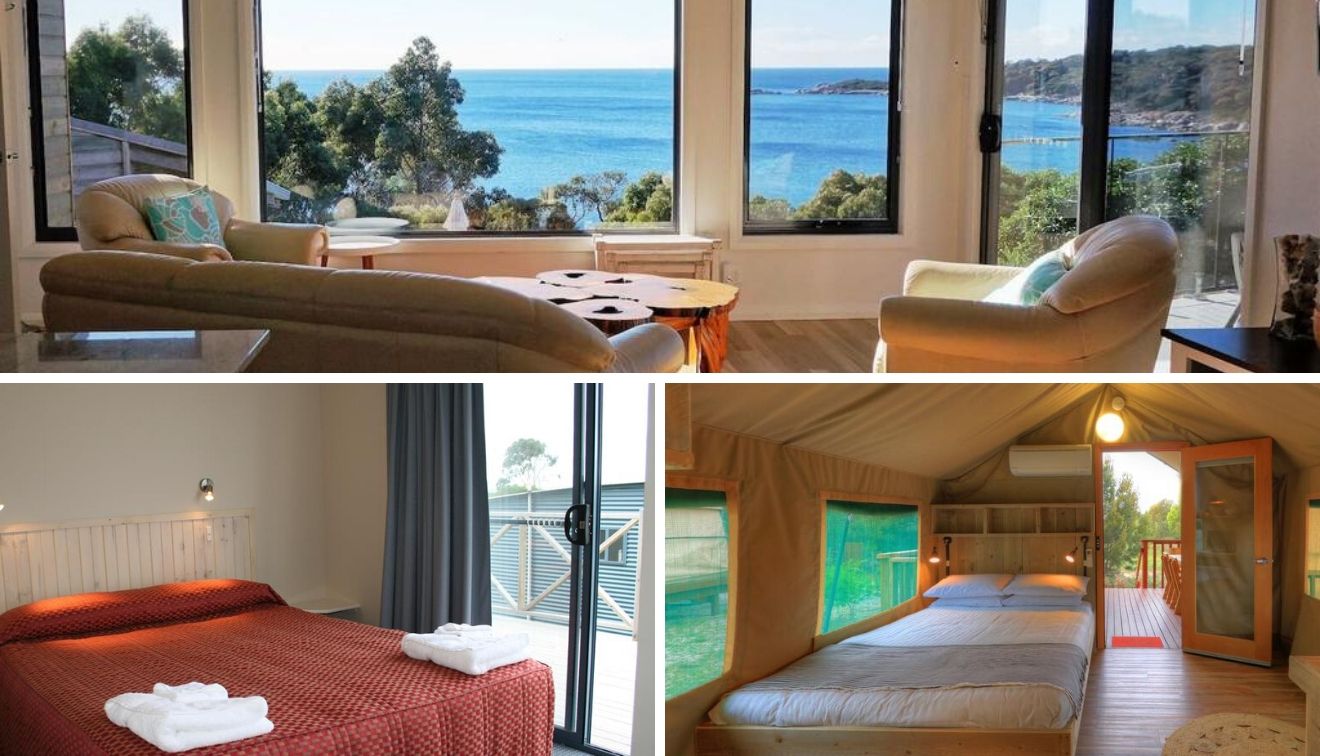 Luxury($300+ AUD):
Located on a 40-acre property, each Bed In the Treetops B&B room comes with its own private balcony and hot tub to enjoy the surrounding bushland. Alternatively, stay right on the beachfront at The Loft @ Bay of Fires Seascape where each room has a private balcony and views over Binalong Bay.
Middle-priced($150-200 AUD):
Head to Bay of Fires Eco Hut for a unique glamping experience, just 600m from the beach or head to Scamander Sanctuary Holiday Park for a cabin set in the friendly environment of a holiday park.
Budget(Under $150 AUD)
BYO tent and stay at a FREE campsite in the Bay of Fires for an authentic outdoors experience. Otherwise, For a self-contained studio for a decent price, head to Scamander Tourist Park.
Day 4: Cruise the Coast to Freycinet National Park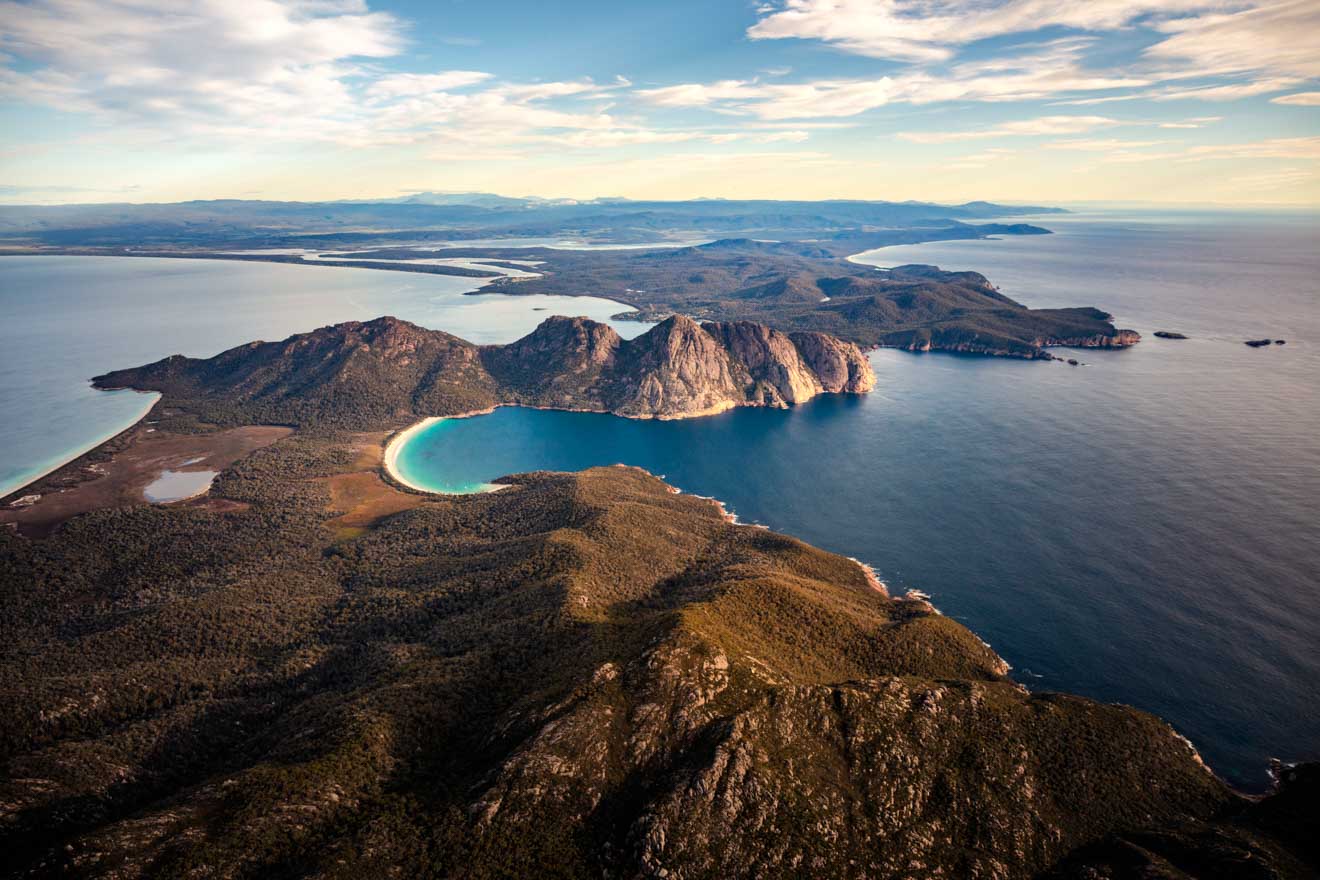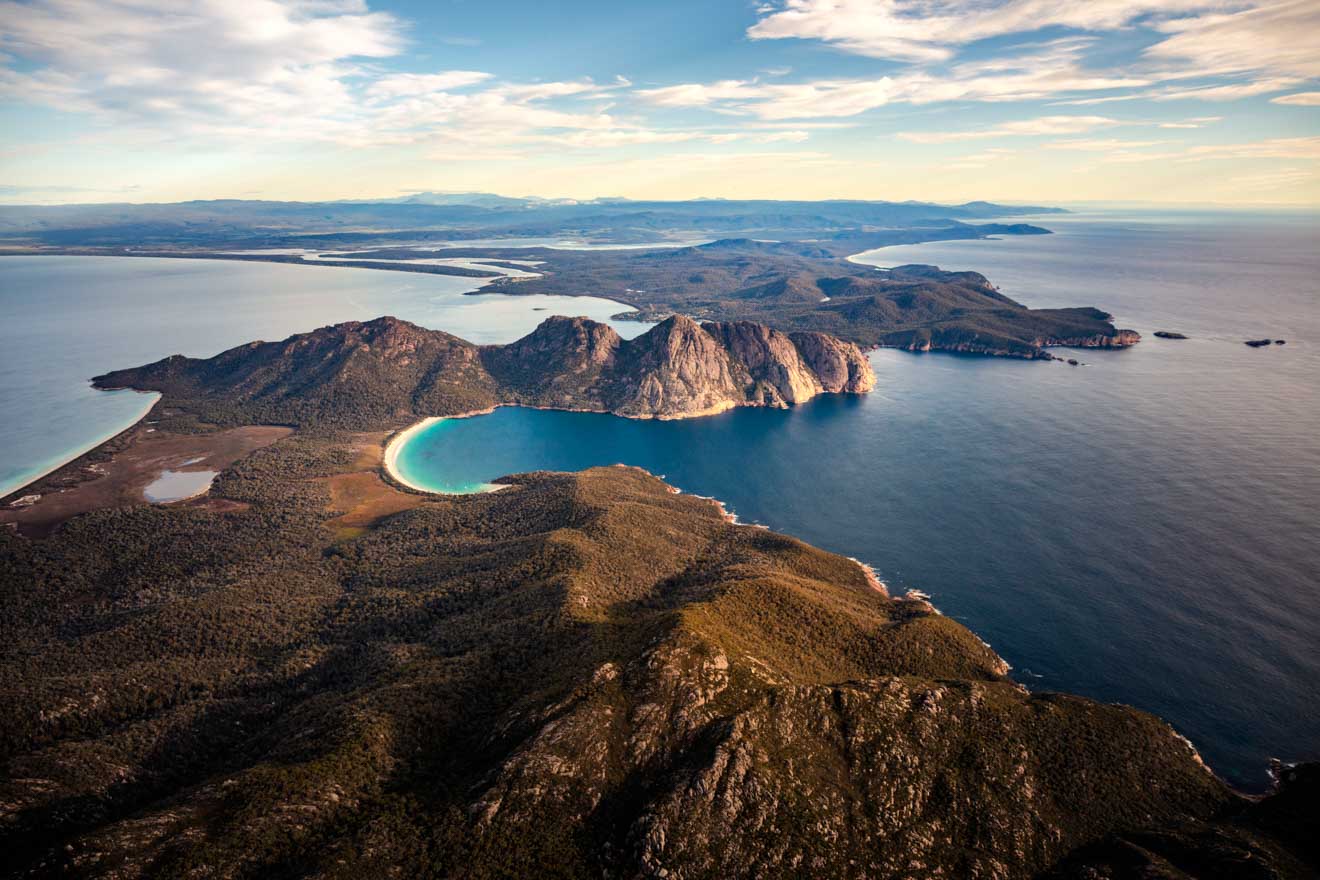 DRIVING: St Helens – Freycinet, 90km, 1hr 15mins.
Made famous for the perfectly curved, white sandy beach and turquoise blue waters of Wineglass Bay, Freycinet National Park is somewhere not to be missed. Along with its lush bushland and pristine natural beauty, Freycinet National Park has everything you could ever ask for in the form of hiking, fishing, swimming and wildlife!
A Tasmania park pass is required for entry, purchase a holiday pass for best value.
Things To Do in Freycinet National Park:
Wineglass Bay
The reason Freycinet is so famous! It's perfectly curved, white beach and turquoise waters are best viewed on the hike there! Park up at Wineglass Bay car park and follow the trail for a 3km (45mins/1hr) walk down to this magnificent beach.
NOTE: The hike is quite steep so take plenty of water, but don't stress, it can easily be done by anyone of regular fitness.
Take a Cruise From Coles Bay:
Hop on board a luxury 4 hour cruise from Coles bay to Wineglass Bay. See the granite cliffs up close as you pass by seals lounging and dolphins playing. When visiting in winter, you may be lucky enough to see Southern Right Whales breaching!
With a delicious lunch of fresh Tasmanian produce included, what more could you ask for?
TIP: Most of the large tour groups don't stop here so you are much more likely to find the beautiful beach at Coles Bay more calming and relaxing.
Honeymoon Bay
Within Coles bay you will find Honeymoon Bay, a great option if you don't want to hike to Wineglass Bay, as it's located right next to a carpark. This is also one of the less frequented beaches so you may also be able to find a little privacy here.
The Hazards
This is the name of the rocky mountain range located within Freycinet National Park and one of the most prominent features of the east coast of Tasmania. This is where you will find some of the best walks in Freycinet across the 5, pink tinted mountains between Coles Bay and Wineglass Bay.
A couple more things if you have more time:
Where to Stay in Freycinet National Park: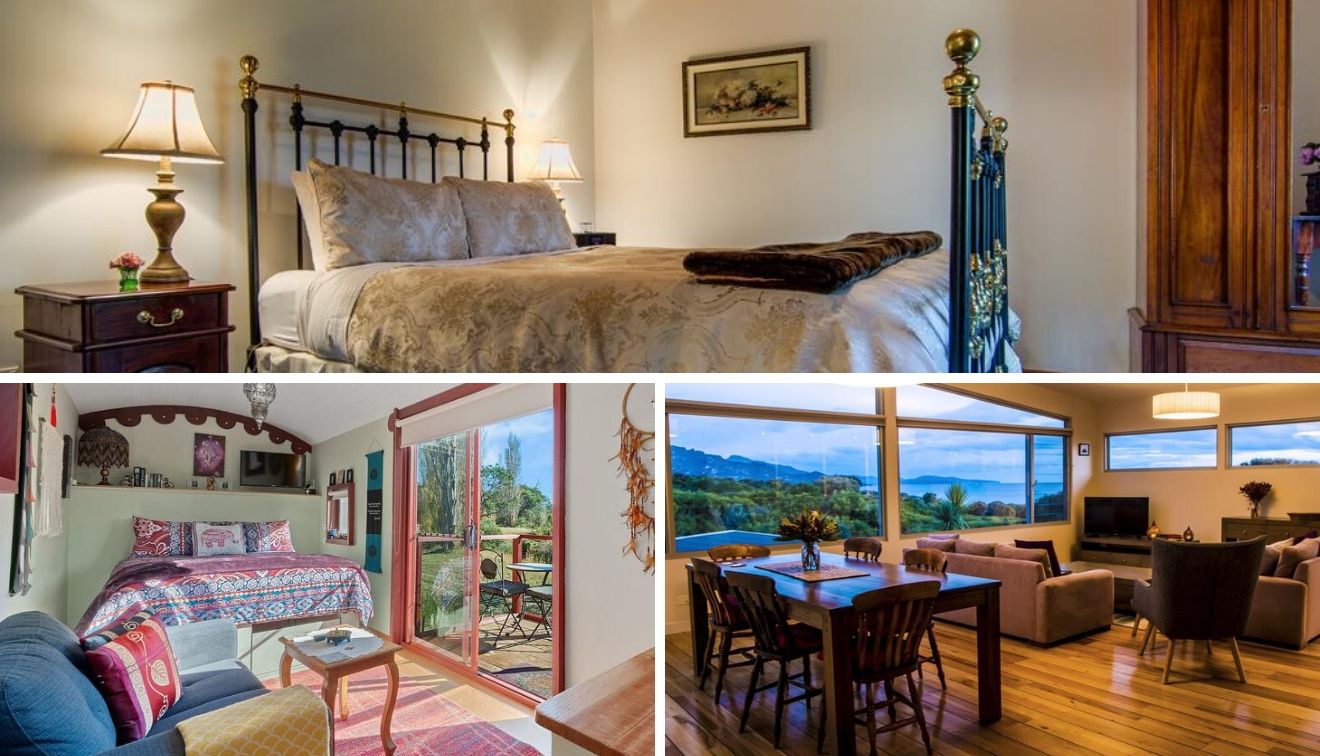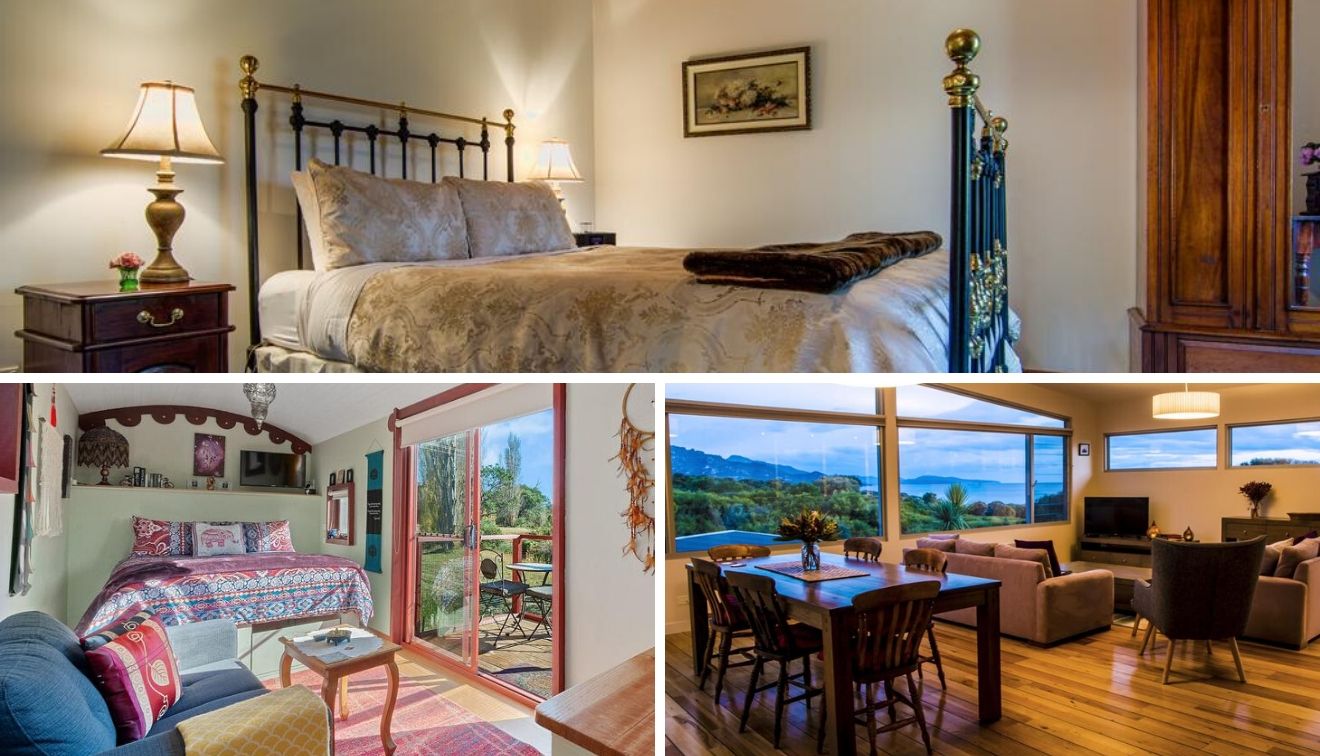 Luxury ($300+ AUD):
The beautiful self contained units at Eagle Peaks are located at Coles Bay within Freycinet, allowing you to start hiking straight from your doorstep. For a bit of luxury in a private oasis, the extra touches such as a shower with a view make Blue-Sea 365 a great choice!
Middle-priced ($150-$200 AUD):
Stay in a gorgeous private cottage and curl up in front of an open fire at Wagners Cottages or take a swim in the outdoor pool with views of the Freycinet Peninsula at Swansea Beach Chalets.
Budget (Under $150 AUD):
To keep the prices low but class high, head to Belmont Homestead in Swansea. With quirky accommodation options on a beautiful property on Tasmania's east coast, you'll be able to find a unit to suit your taste and budget. My other recommendation is the open and airy Harvey Farm Lodge which features ocean and garden views.
Day 5: Continue South to Port Arthur Historical Sites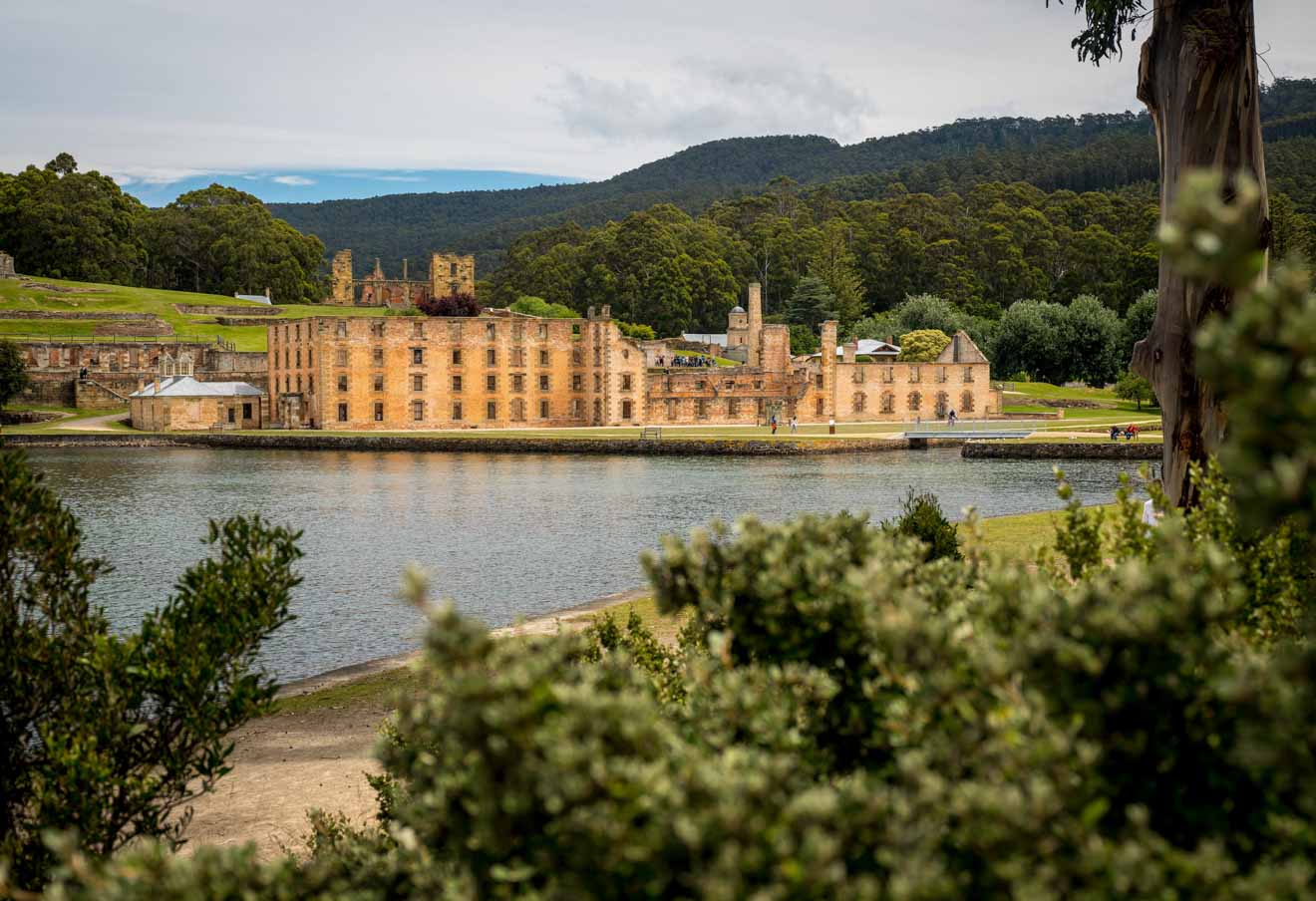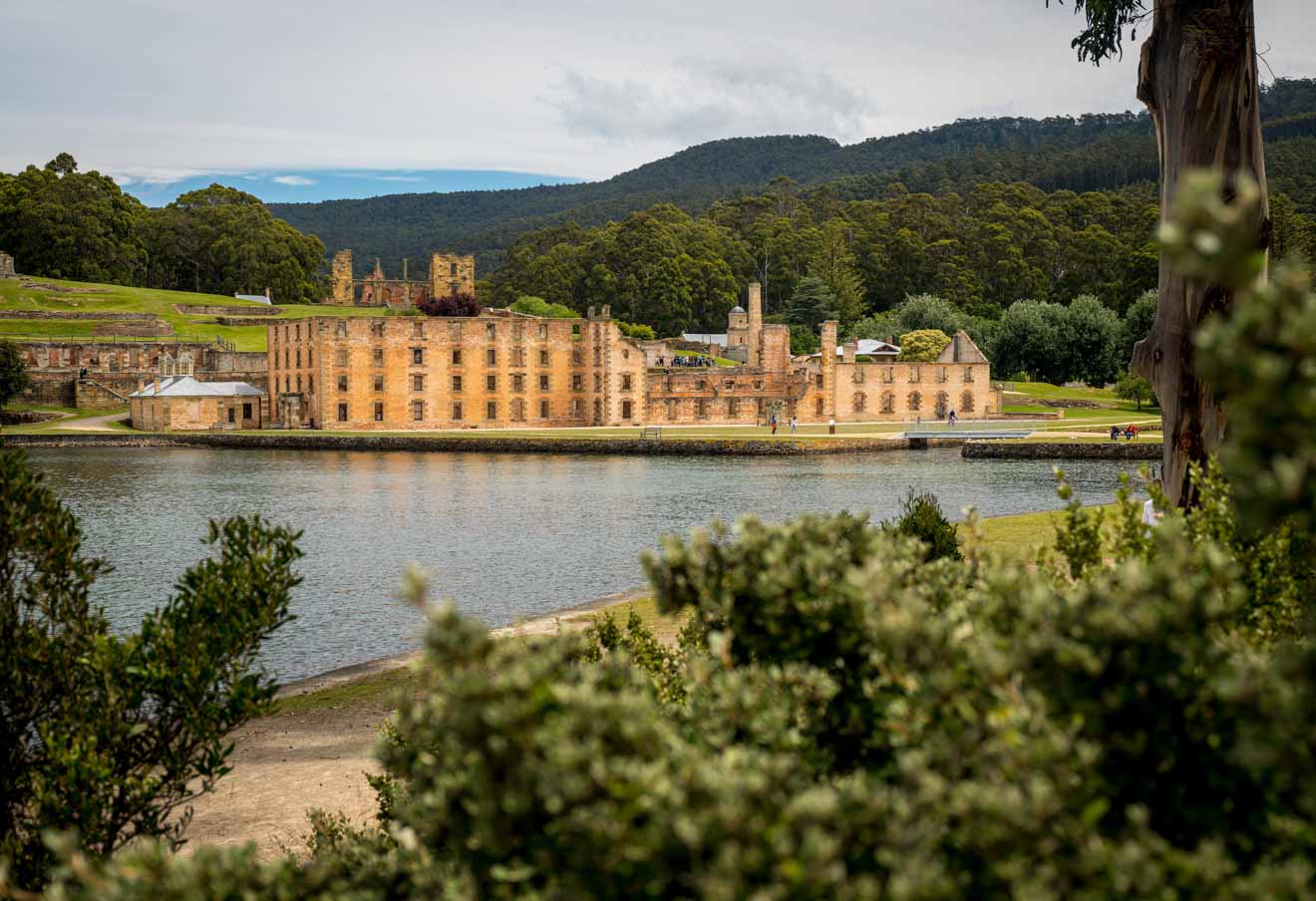 DRIVING: Freycinet – Port Arthur, 190km, 2hr 45mins.
As one of Australia's first penal colonies, Port Arthur is now listed on the UNESCO world heritage list due to their importance in Australia's past. I can say, visiting the sights definitely lives up to the title.
With 40 hectares of buildings and ruins that used to house some of the toughest criminals in the world, there is an abundance of things to do at Port Arthur; make sure you bring your walking shoes!
Your entry is valid for 2 consecutive days and includes both a 40 minute introductory tour and 20 minute harbour boat ride! Tours run frequently throughout the day so ask at the visitor centre upon arrival when the next one will be.
Things To Do Near Port Arthur:
Port Arthur Ghost Tour
Get unique, after dark access to the Port Arthur historical sites on a haunted guided Ghost Tour. Hear spooky stories of old inmates whilst you wander the very same grounds by light of a lantern.
Maria Island
If you have extra time, take a guided scenic cruise to see Maria Island and its surrounding isles. With historical commentary, a buffet lunch and guided walk on the island all included, you're sure to get the most out of your morning.
A couple more things if you have more time:
TIP: On the drive to or from Port Arthur, make sure to make a stop at the Tessellated Pavement at Eaglehawk Neck, known as Tasmania's Giant's Causeway. Other natural structures to have a look out for on your drive along the coast are The Blowhole, Tasman Arch and Devil's Kitchen.
Where To Stay at Port Arthur: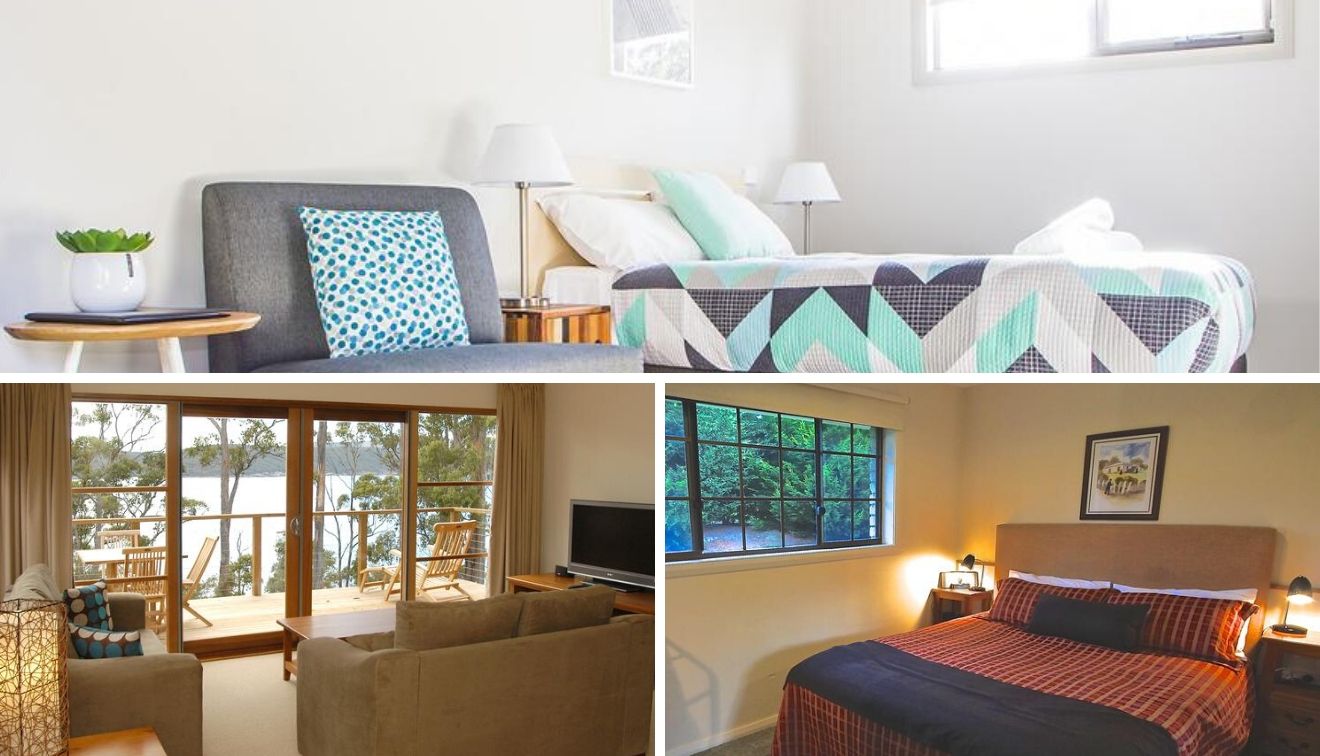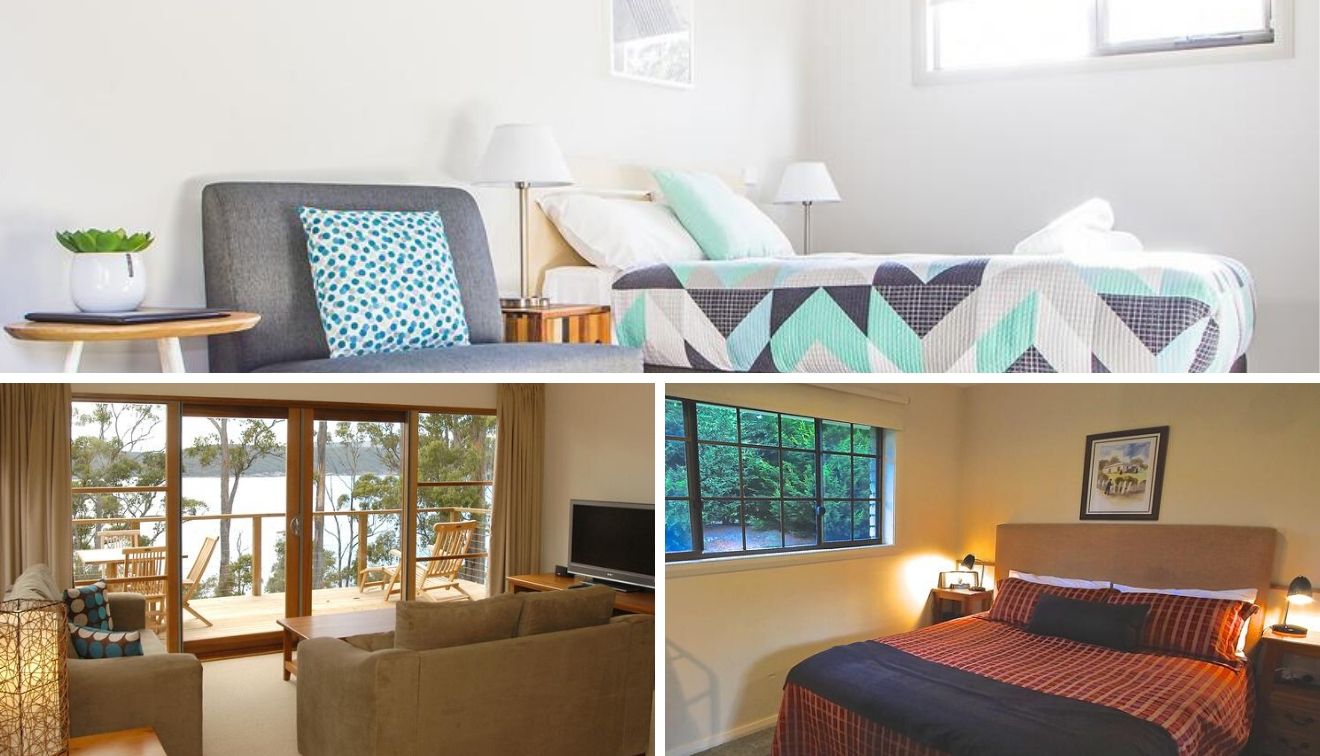 Luxury ($200+ AUD):
Relax on the beach and dine at the waterfront restaurant at Stewarts Bay Lodge or take in the magical views of Tasman Island from a self contained apartment at Sea Change Safety Cove.
Middle-priced ($150 – $200):
Port Arthur Villas is a great choice if travelling with kids as it features spacious grounds with a playground. Just a few minutes down the road the Four Seasons Waterfront Villas has a more secluded atmosphere with sea and garden view balconies.
Budget (Under $150 AUD):
Offering both cabins and tents with waterfront views, NRMA Port Arthur Holiday Park is a great choice for the budget traveller whilst Abs by the Bay has modern apartments with their own fully equipped kitchens.
Day 6: Explore Hobart, Tasmania's Capital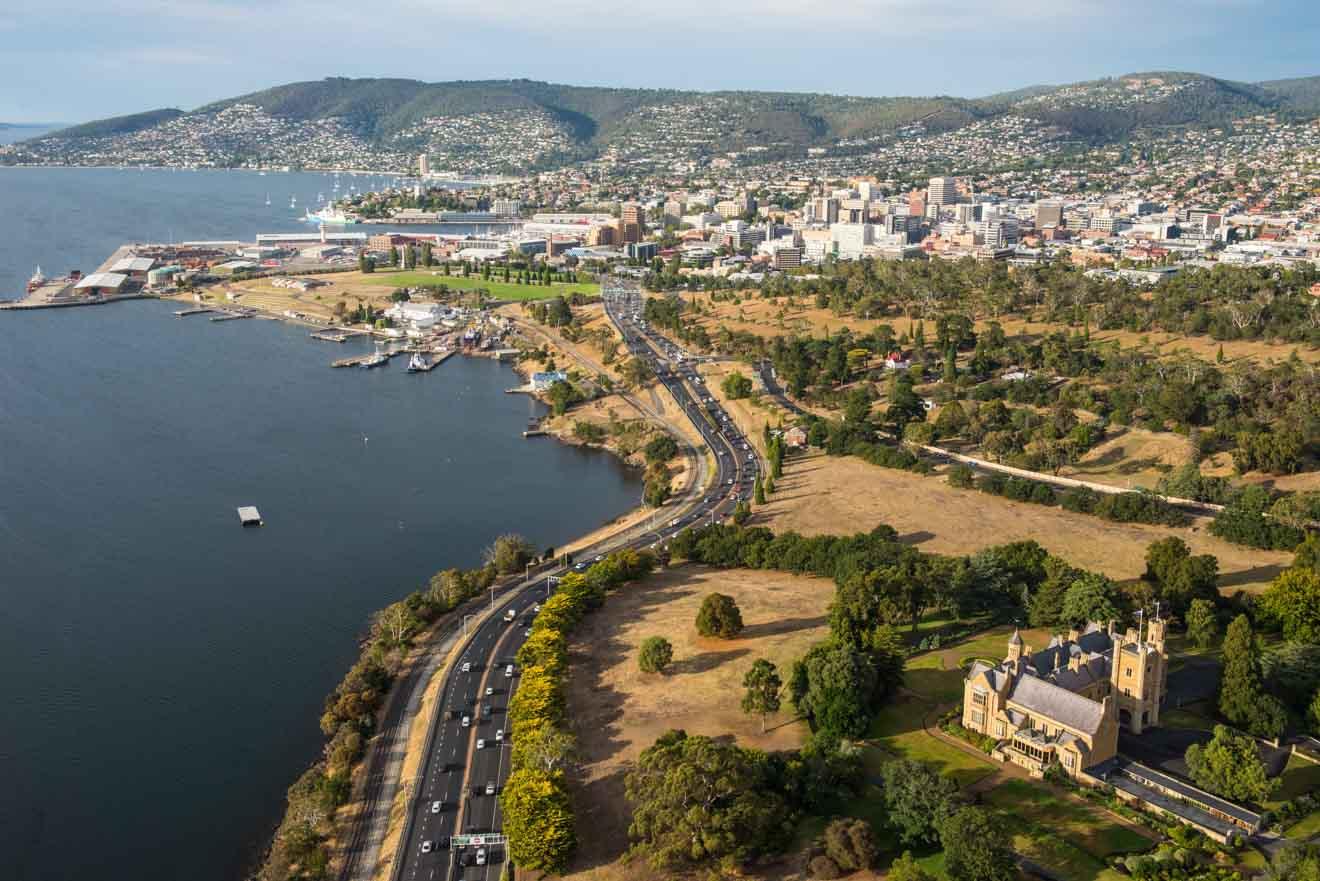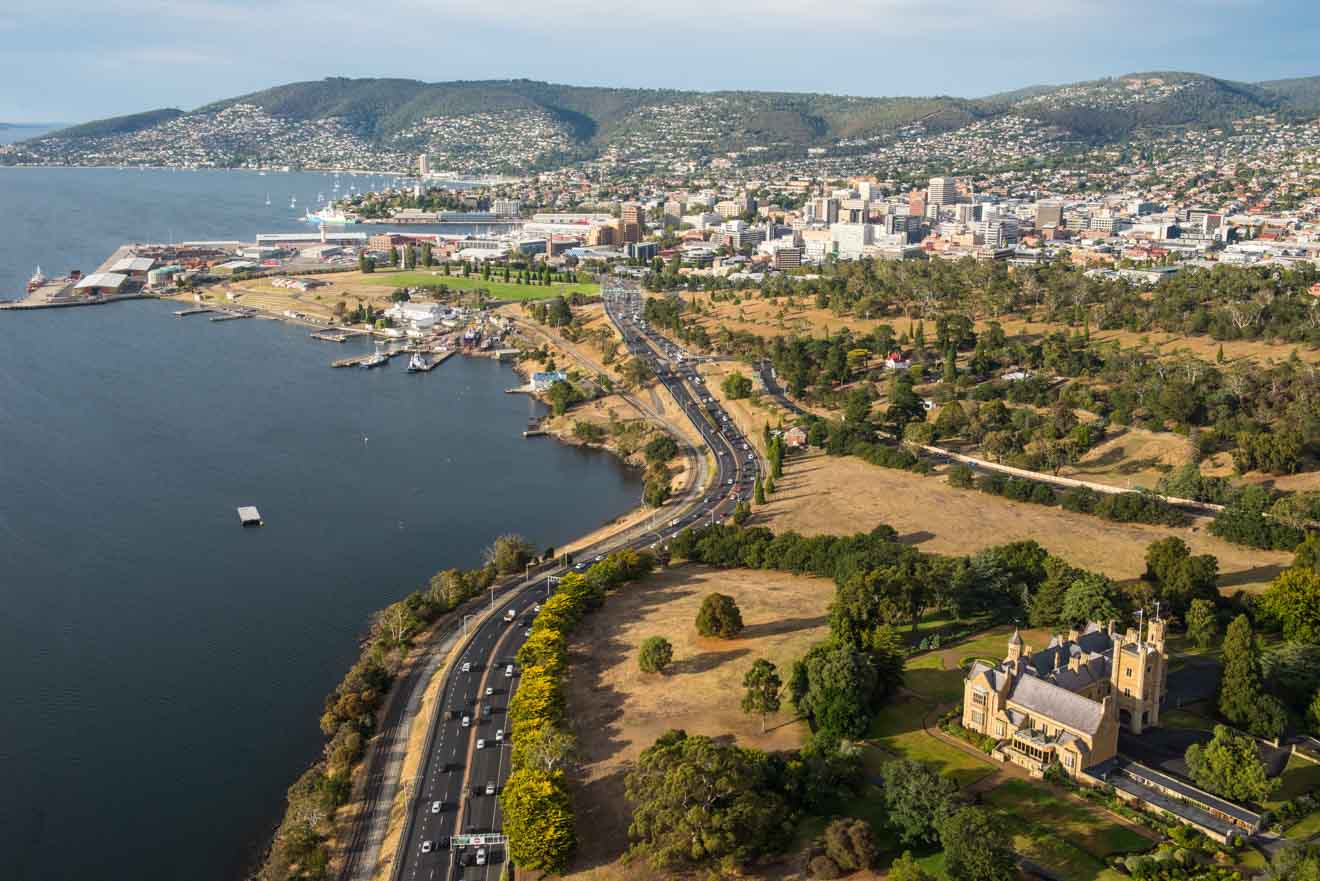 DRIVING: Port Arthur – Hobart, 100km, 1hr 30mins.
Now it's time to head to Tasmania's biggest city! Founded in 1804, Hobart is Australia's second oldest capital city and packed full not only of historical significance, but a vibrant modern culture. Below are some of the main attractions here but make sure to check out my other post for the complete guide on things to do in Hobart.
Things To Do in Hobart:
MONA
Tasmania's Museum of Old and New Art is high on the bucket list of any art lover. I actually think it is somewhere that everyone visiting Tasmania HAS TO see! The whole concept behind this interactive museum is to allow people from all walks of life to enjoy and be captivated by the displays. It even has a bar.
Salamanca Market
Have your day 6 coincide with a Saturday. Visit Salamanca Market at the historical battery point. The 300+ stall market is open every Saturday from 8:30am to 3pm and boasts a huge selection of local Tasmanian produce and handicrafts. The perfect place to find some souvenirs of your time touring Tasmania.
Royal Tasmanian Botanical Gardens
Take a break from your packed schedule of things to do in Hobart and take a relaxing stroll through the Royal Tasmanian Botanical Gardens to see the beautiful gardens of Hobart.
A couple more things if you have more time:
Where to stay in Hobart: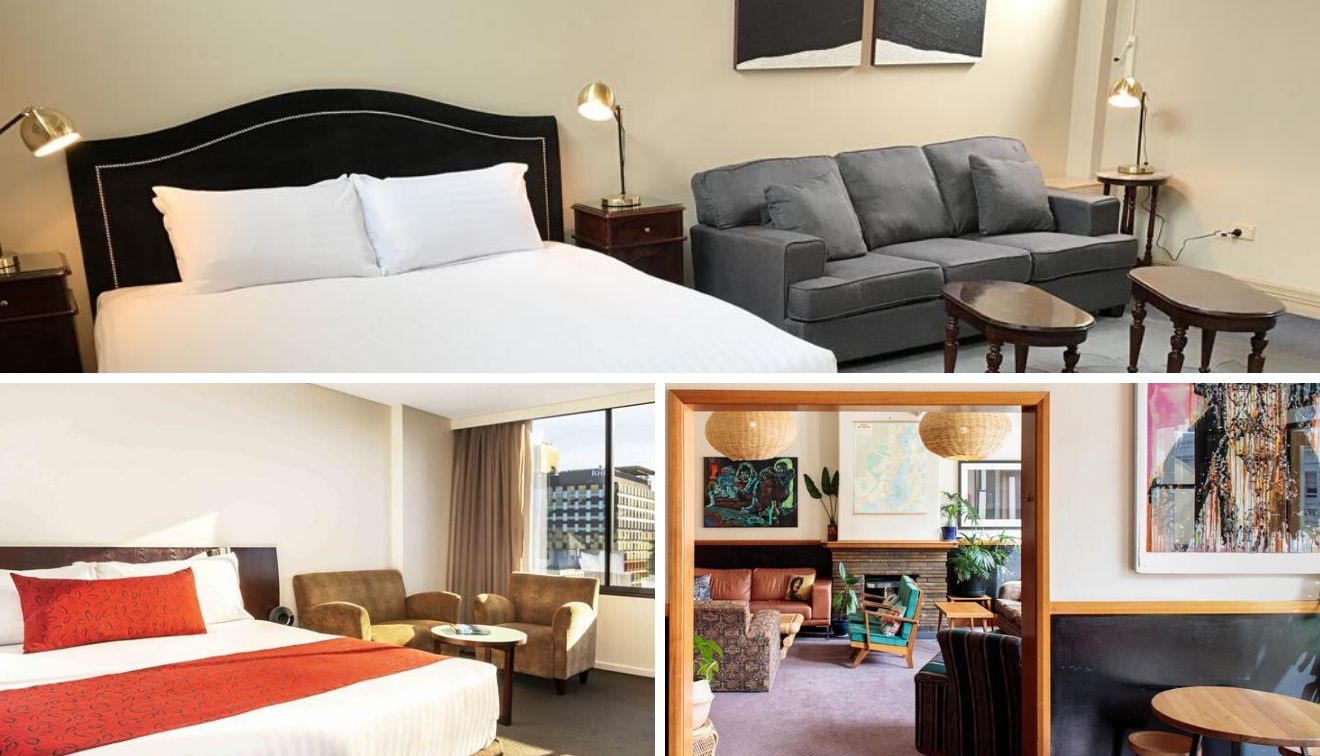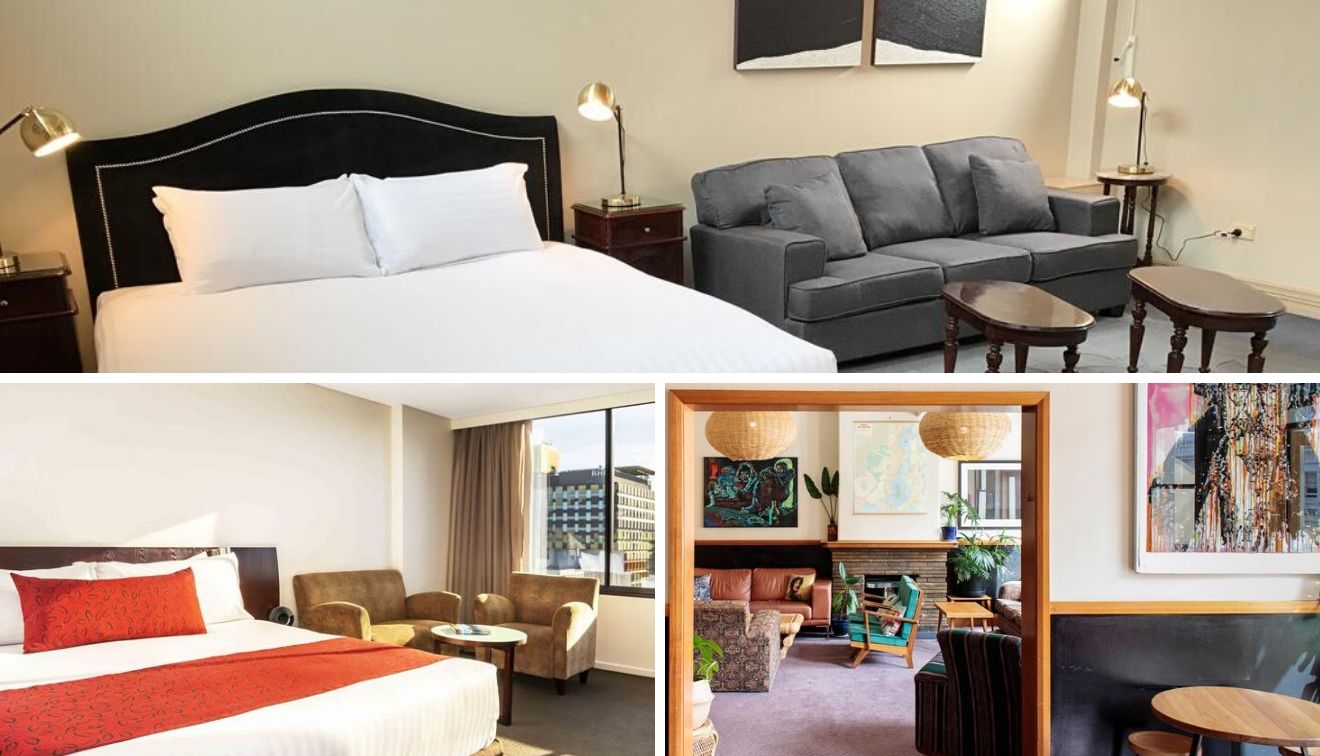 Luxury ($250+ AUD):
Macquarie Manor Hotel is located just meters from Salamanca markets and some of Hobart's biggest attractions. My other option, Lenna of Hobart, is just down the road in a beautifully restored mansion and offers panoramic views of the harbour!
Middle-priced ($150-$250 AUD):
Stay at Hadley's Orient Hotel, the longest continuously operating boutique hotel in Tasmania which boasts Hadley's Art Prize galleries. For extra facilities such as an onsite gym, head to the Hotel Grand Chancellor and take a swim in their beautiful rooftop, glass pool.
Budget (Under $165 AUD):
For luxury on a budget, check out the Alabama Hotel in the city centre or head a little bit out of the city for the incredible mountain views at Oceana B&B.
Day 7: Day trip to Hobart Surrounds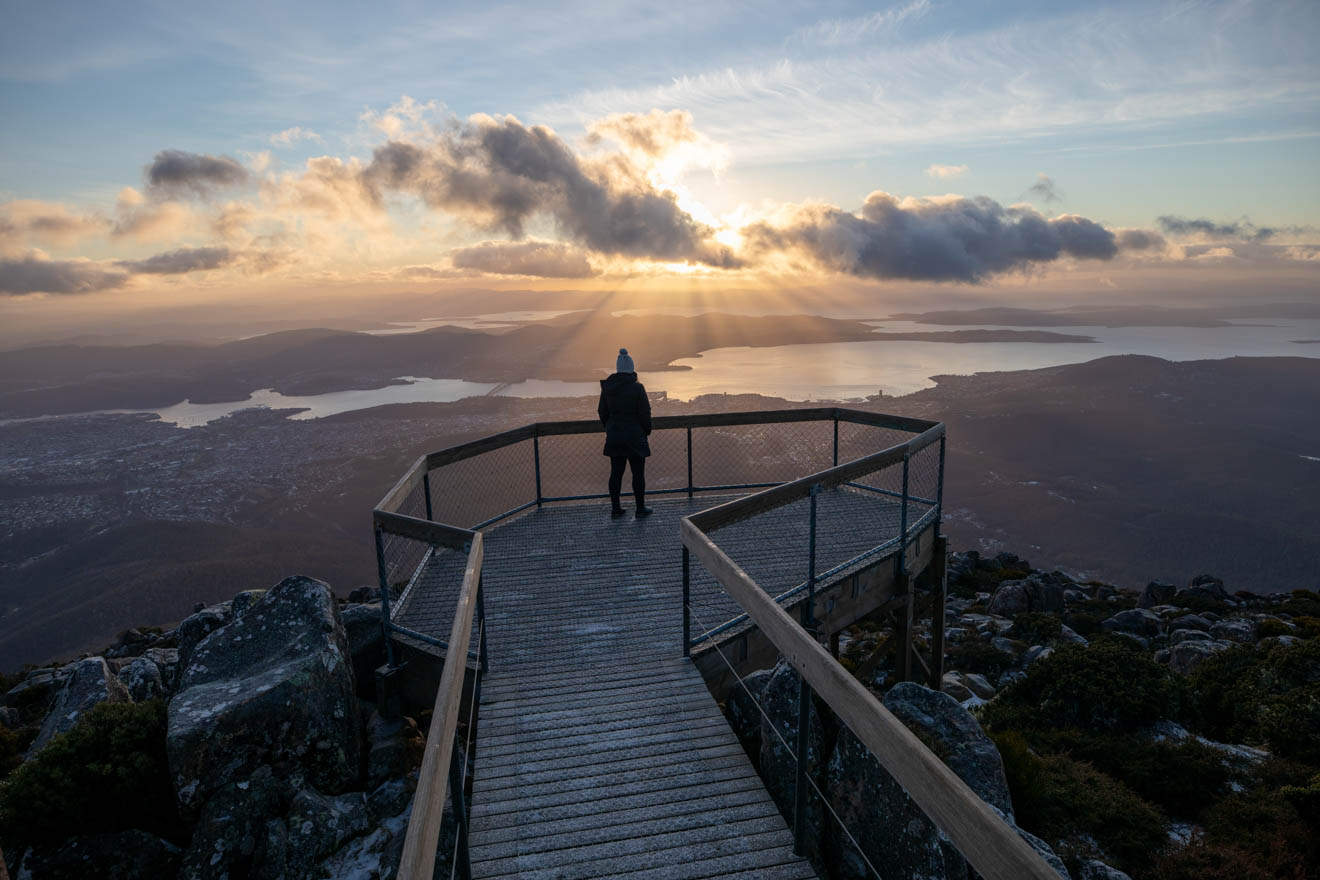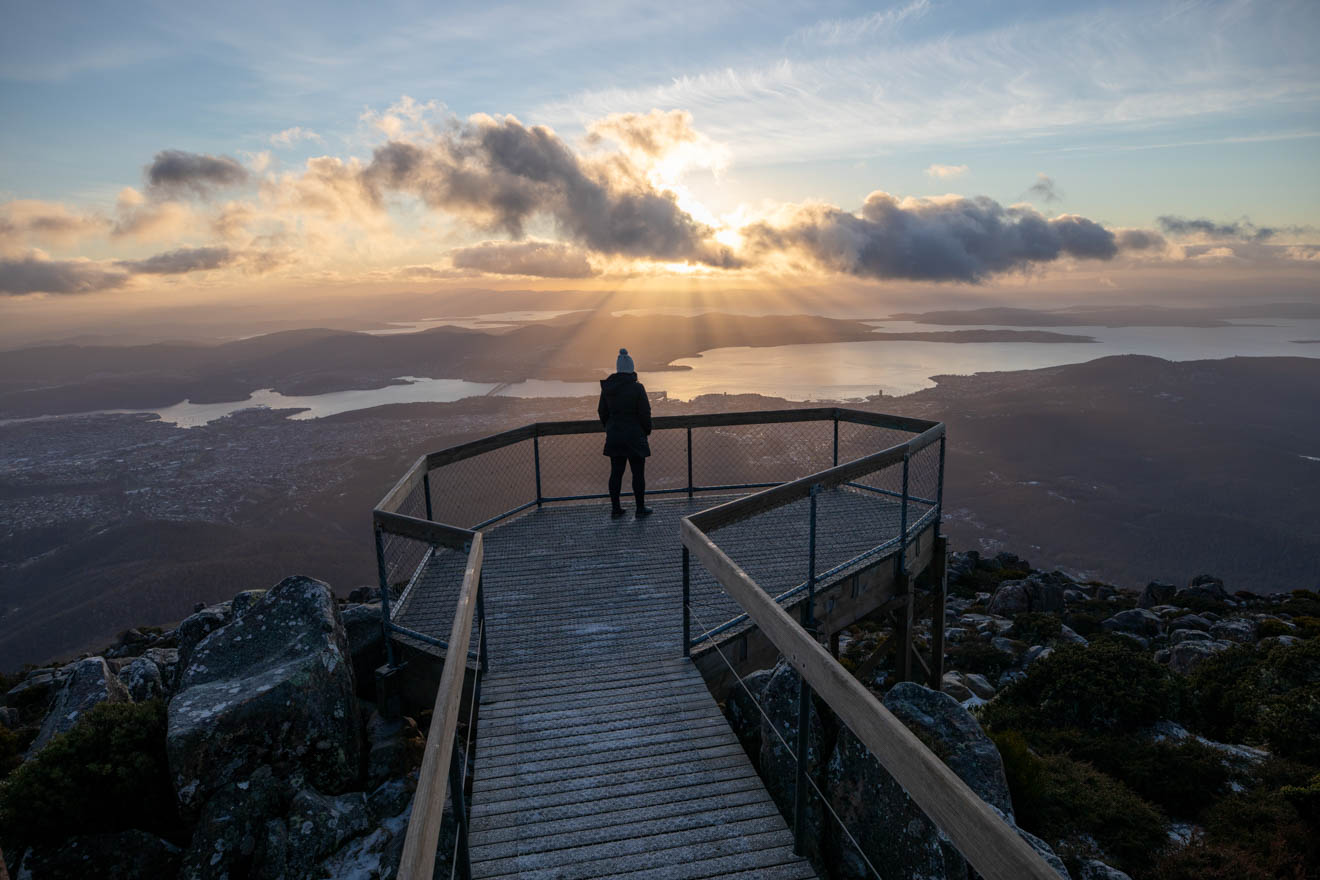 DRIVING: Hobart – Bonorong – Richmond – Hobart, 108km, 2hr 10mins.
On Day 7, get out of the city and explore some of the best spots in Hobarts close surroundings. My three stops below will help you fit the most into your day without wasting time by crossing back on yourself throughout the journey.
Things to do around Hobart
Mount Wellington:
Mount Wellington is located just 30min drive from downtown and gives you a spectacular view over Hobart and its surrounding area. Hiking, biking, horse riding and 4wheel drive tracks give you so many options to explore Mount Wellington, just pick your favourite!
NOTE: During winter months transport options are limited. Mt Wellington explorer bus runs from Hobart. Book here for all year access.
Bonorong Wildlife Sanctuary:
See some of Tasmania's unique native animals at Bonorong Wildlife Sanctuary. Your entry fees go directly to helping the sanctuary's mission; native animal conservation. Your ticket includes a bag of kangaroo food, as well as a 45min guided tour departing daily at 11.30am, 2.00pm and 3.30pm.
Richmond:
Just 25km north-east of Hobart, Richmond is packed full of history and shouldn't be skipped on your Tasmania road trip itinerary. The small town was founded in the 1800's and is now famous for Richmond bridge, the oldest bridge used in Australia. Many of its other original buildings are also still in use.
Where to Stay:
After your day of exploration, head back to Hobart to spend a second night in one of my recommended hotels from Day 6.
Day 8: Head West via Mount Field National park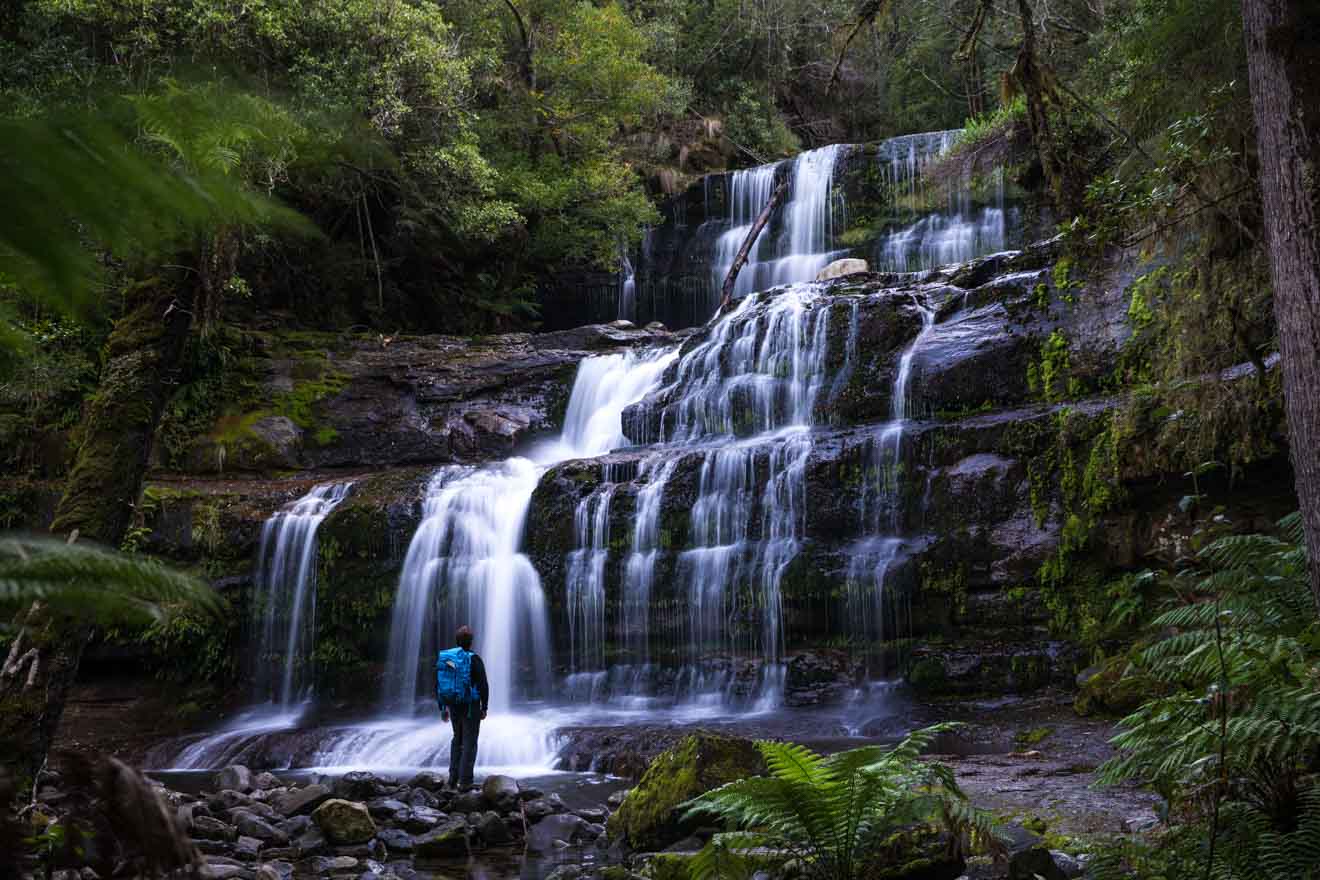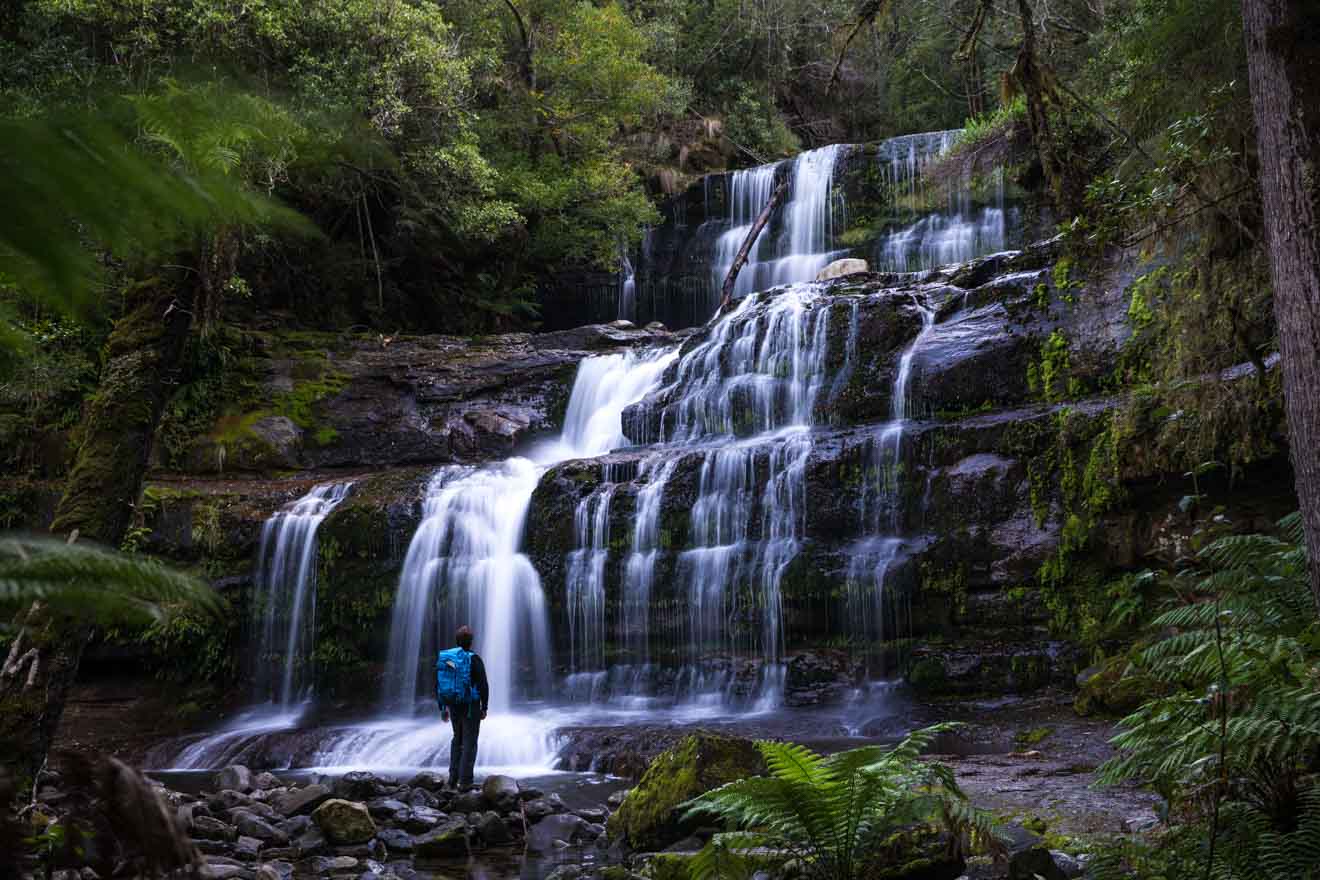 DRIVING: Hobart – Mt Field National Park – Strahan, 323km, 4hrs 45mins
The destination for today is Strahan. We're heading here to take a ride on the West Coast Wilderness Railway however, as the Steam Train only departs in the morning, there's no rush today as that will be on your itinerary for tomorrow!
To break up the journey, make a stop at Mount Field along the way. This magical old growth forest has some of the tallest gumtrees in Australia, as well as being home to the most beautiful waterfall in Tasmania, Russell Falls.
What's great about this park is that it is perfect to visit all year round! In winter you may find some beautiful white snow however, the walk from the visitor centre to Russell Falls is just 15 mins and accessible all year. Continue on from here to the "tall trees" walk to really get immersed!
Once you have your daily nature fix, it's time to finish your drive to Strahan, your home for the next 2 nights. Try not to arrive too late as you will need to get up early tomorrow!
Where to Stay in Strahan: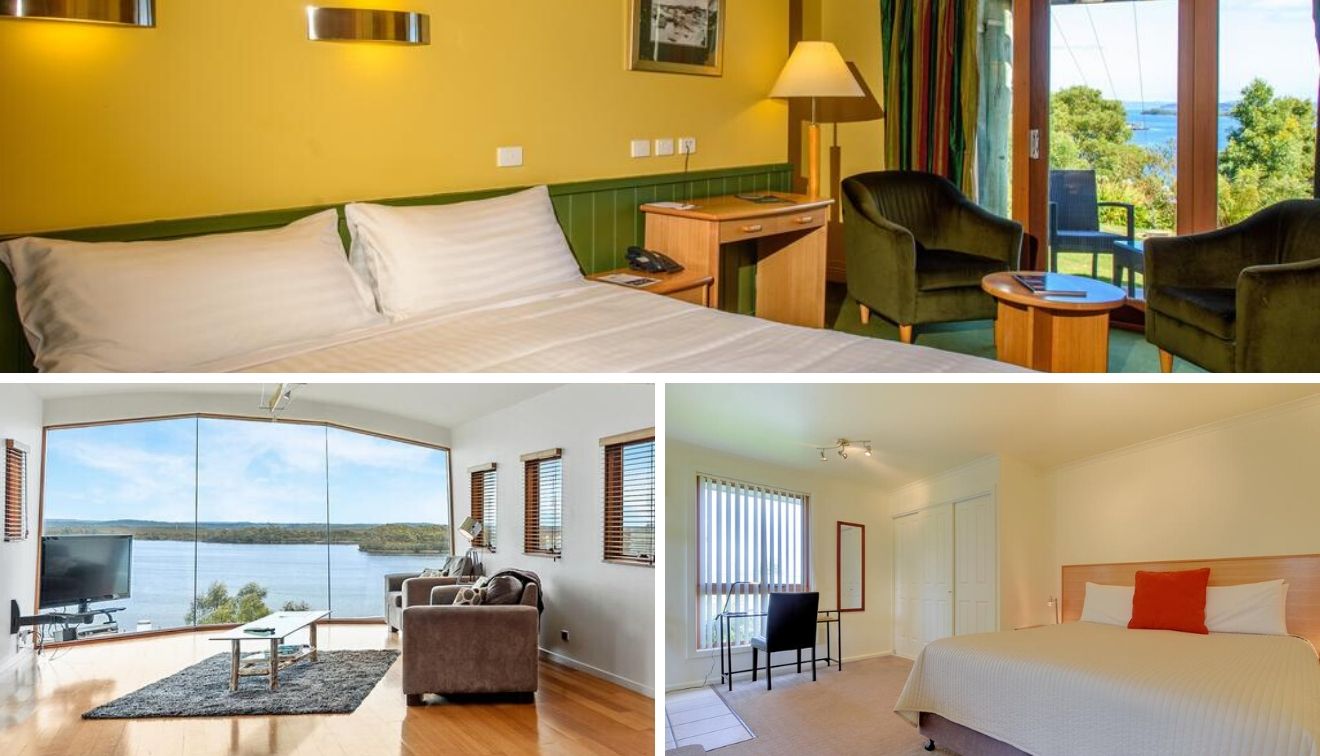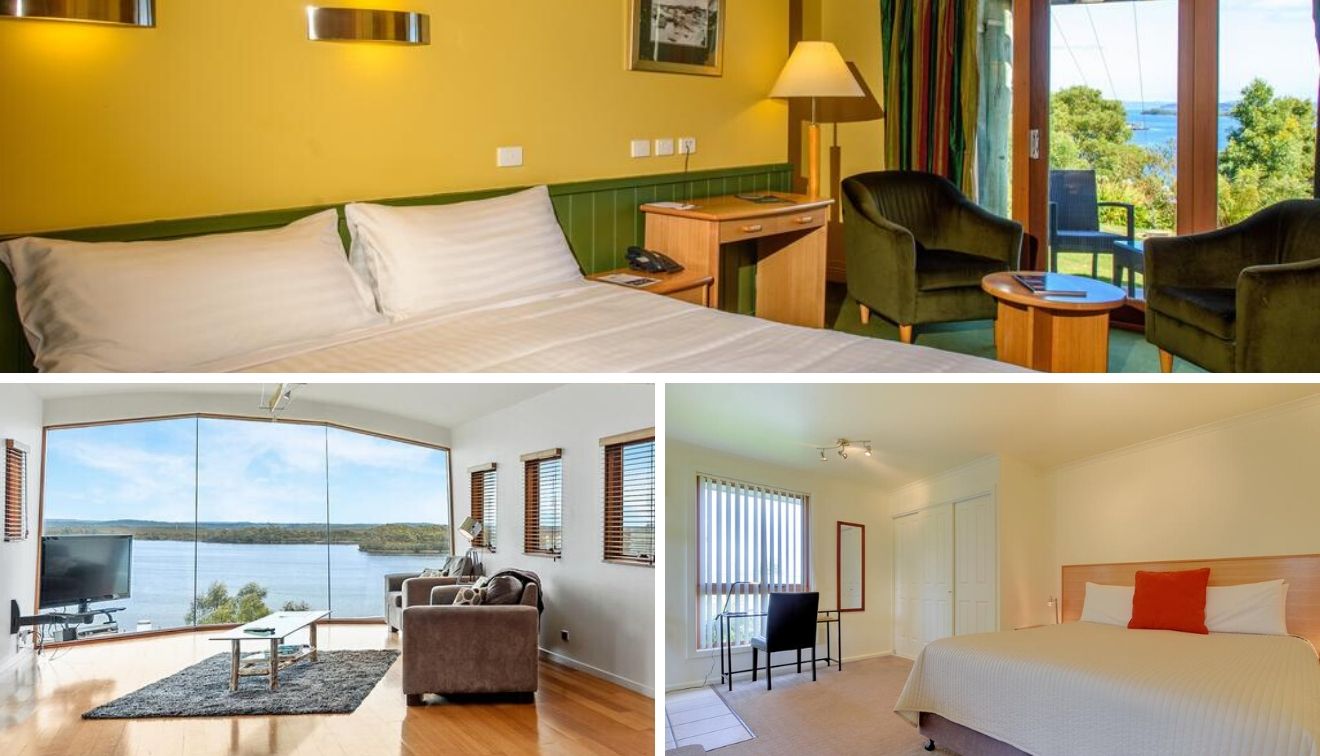 Luxury ($250+ AUD):
Wheelhouse Apartments offers boat-like apartments in an amazing location or if you prefer forest views, try Strahan Bungalows.
Middle-priced ($150-$200AUD):
Aloft Boutique Accommodation offers modern, self contained apartments with private patios whilst at Harrison House you will find the homely touches of a cute bed and breakfast.
Budget (Under $150 AUD):
For budget friendly self contained apartments, The Crays Accommodation is your spot! Just a 5 min walk to the main street and 20 mins to Hogarth Falls, it's a great location in Strahan. For a beautiful hotel experience on a budget, head to Strahan Village and enjoy the waterfront location.
Day 9: West Coast Wilderness Railway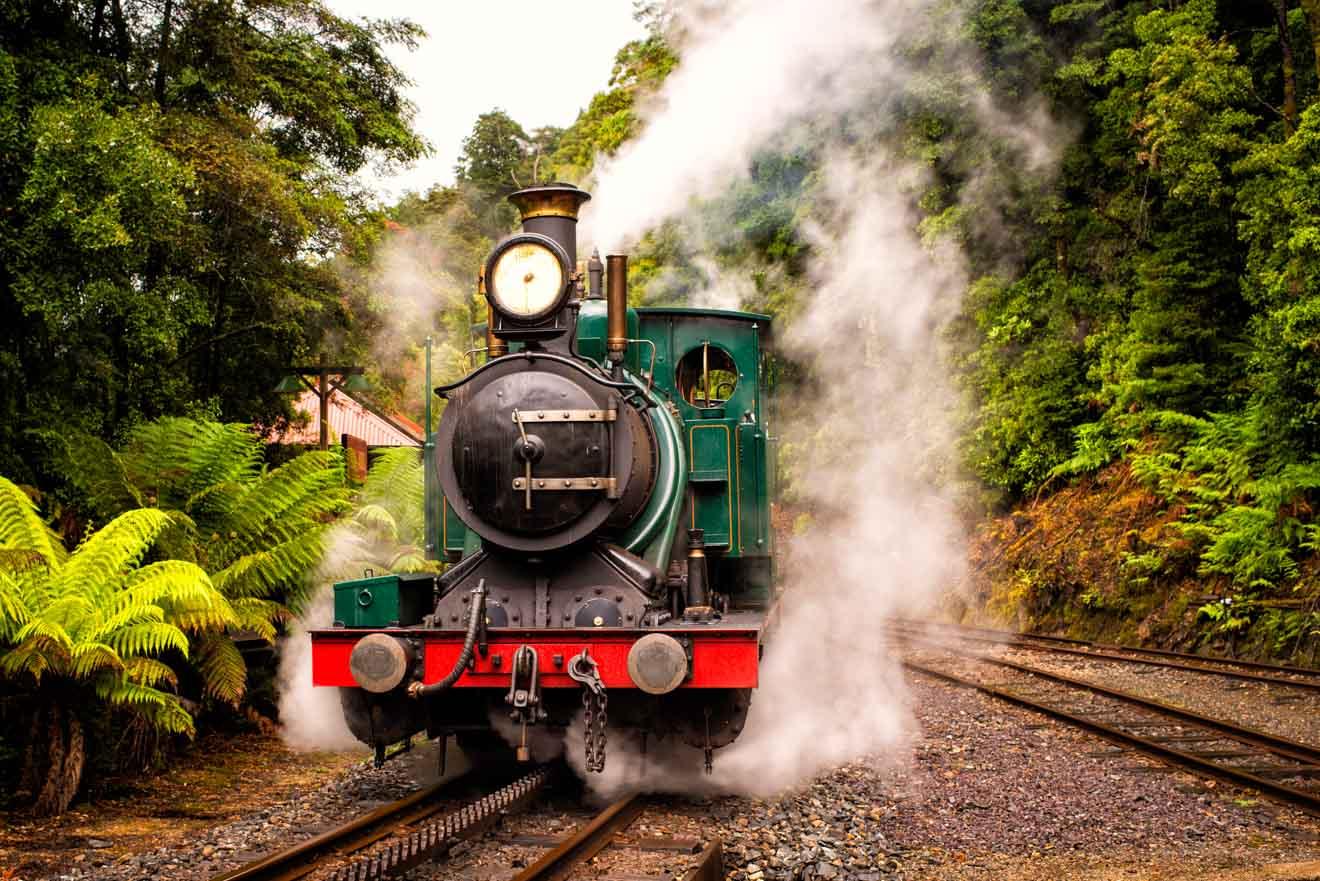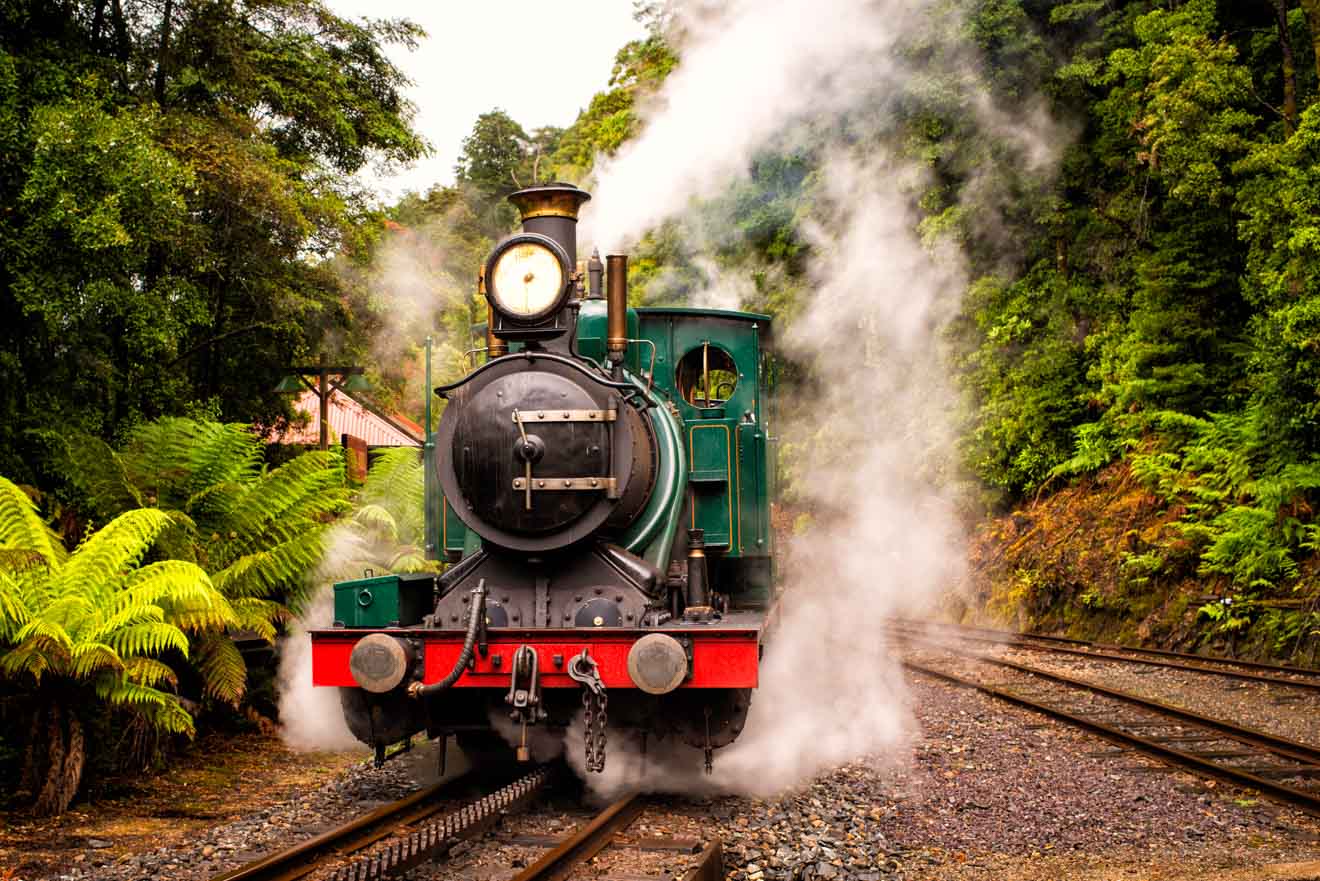 TRAIN: Strahan – Queenstown – Strahan, 70km, 9 hours (full day tour)
OR, Strahan – Dubbil Barril – Strahan, 35km, 4 hours (half day tour).
Today we're leaving the car behind and taking a step back in time on a magical steam train ride departing and returning to Strahan.
Choose either a half or full day trip (both return trips) on the West Coast Wilderness Railway and take your seat for an unforgettable journey through 35km of rainforests and gorges whilst hearing stories of the olden days.
There are plenty of activities when disembarking along the route, such as; a rainforest walk, panning for gold and a railway museum
Half day journey: Departing Strahan on Monday and Wednesday, the 4 hour trip travels along Macquarie Harbour and the King River Gorge returning to Strahan early afternoon.
Full day journey: Departing Strahan on Friday, this 9 hour trip will travel the full 35km to Queenstown with a 1 hour stop and optional tour of Queenstown before returning to Strahan early evening.
NOTE: There are some departures from Queenstown available however I recommend the trip from Strahan as there are more options for accomodation, restaurants and other activities in the area.
Bonus Things To Do Near Strahan
If you choose the half day option, there are plenty of ways to fill your afternoon near Strahan.
Day 10: Cradle Mountain, Lake St Clair National Park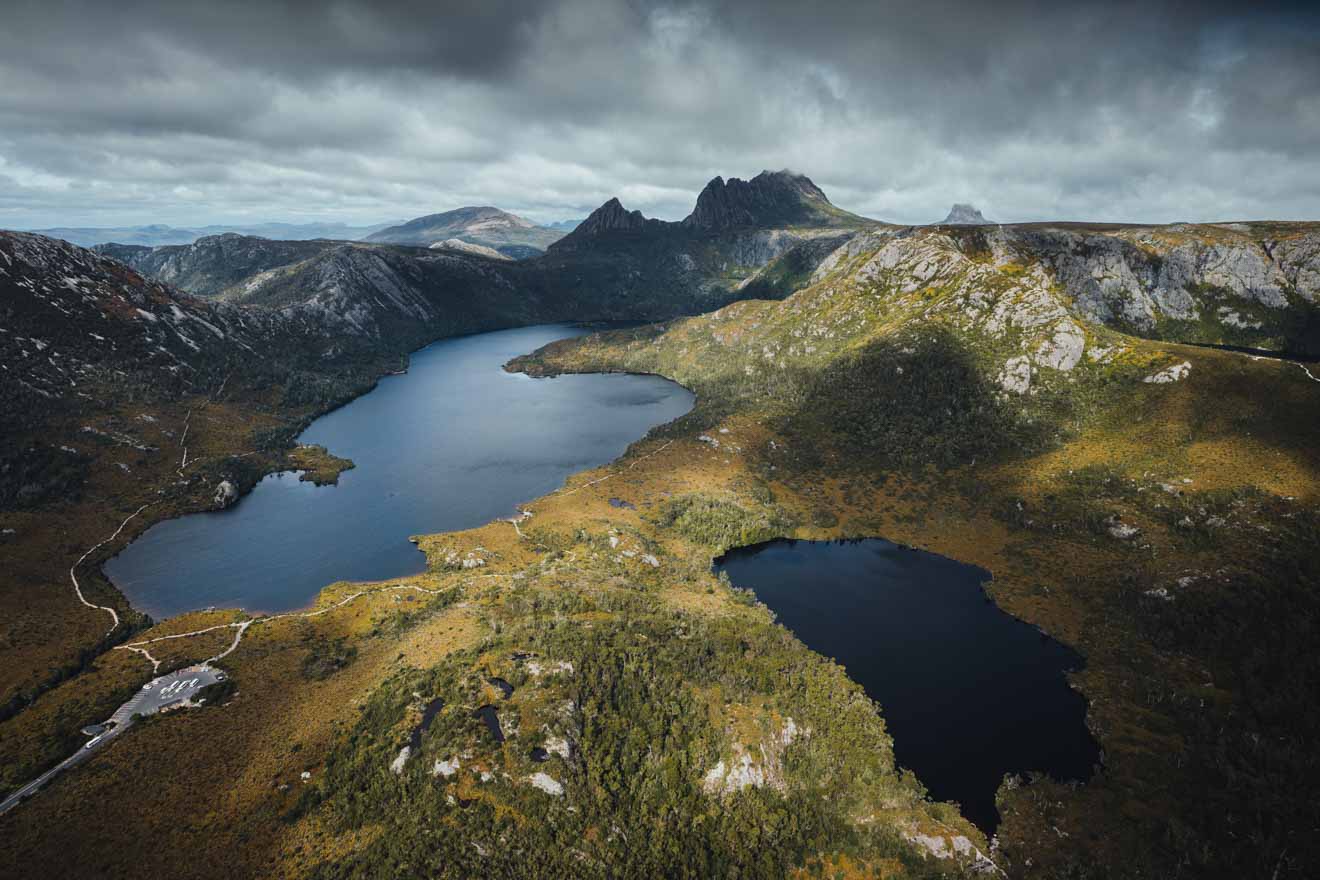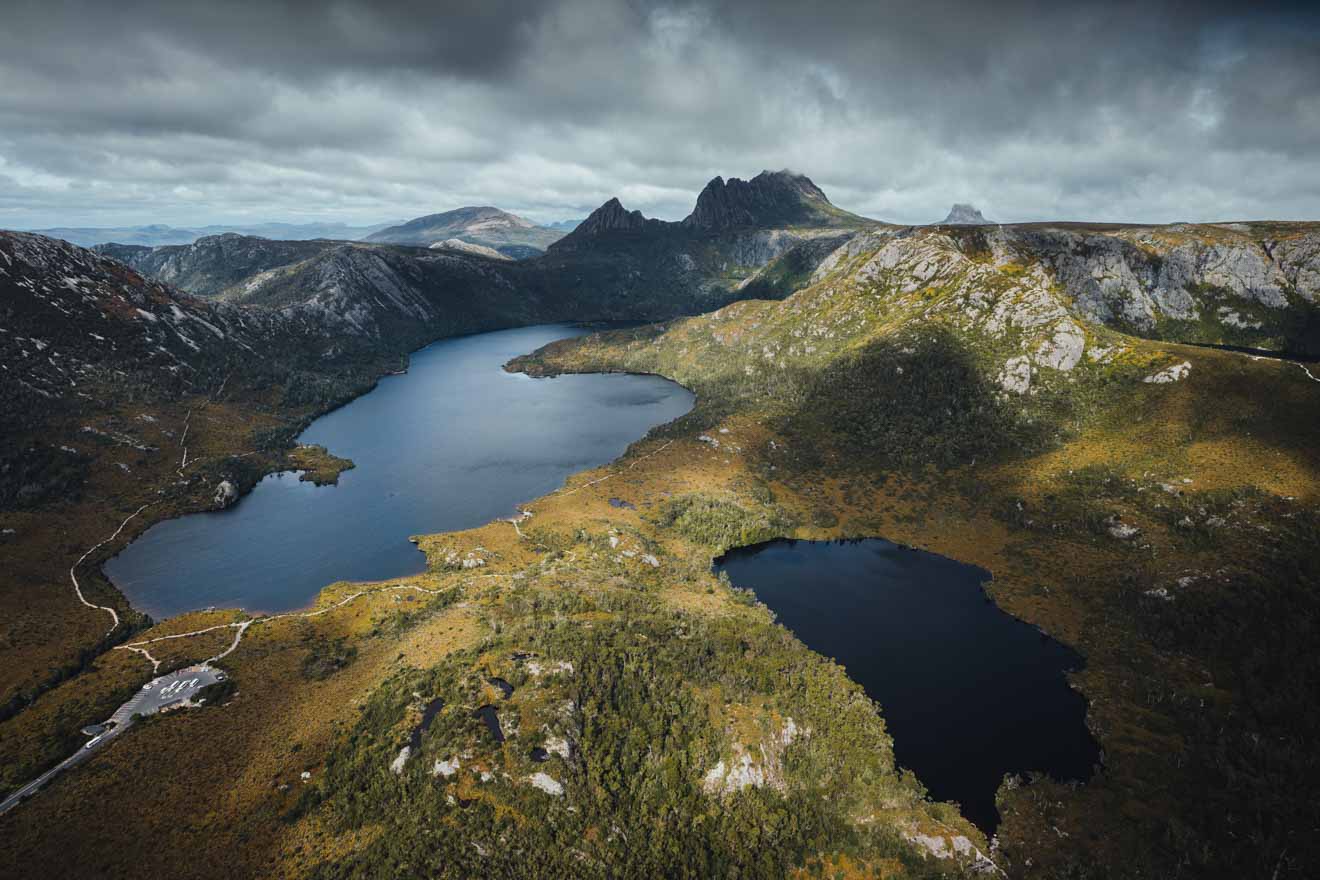 DRIVING: Queenstown – Cradle Mountain, 110km, 1hr 30mins
No Tasmania road trip would be complete without visiting Lake St Clair National Park.
Its array of rainforests, alpine lakes and snowy peaks makes it any hikers dream. Everybody will find something to suit their abilities, ranging from perfect vistas, short walks to the famous 80km Overland Track.
A Cradle Mountain day pass or Tasmania National Parks Holiday Pass is required to enter the area.
ATTENTION: When visiting in winter, be sure to check road and snow conditions before visiting here or by calling the visitor centre on +61364921110.
Park up at the visitor center, and obtain a ticket for the shuttle to Dove Lake by showing or purchasing your Tasmania national park pass inside the visitor centre.
Dove Lake FREE SHUTTLE runs every 15mins, during visitor centre opening hours. Running from the Visitor Center to Dove Lake via the Interpretation Centre, Snake Hill & Ronny's Creek (stop locations).
Things to do in Cradle Mountain
Here I've listed the top activities, but check out our other post on things to do in Cradle Mountain for all the details!
Where to Stay Near Cradle Mountain: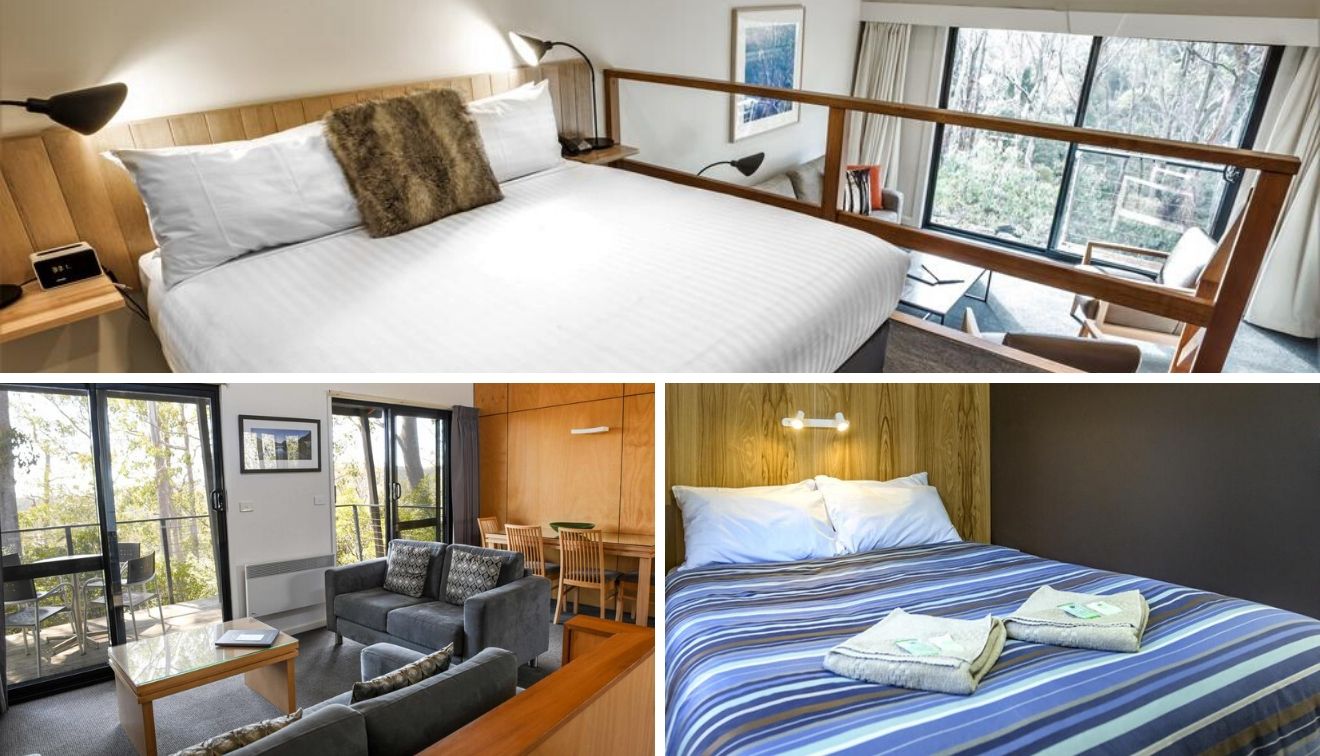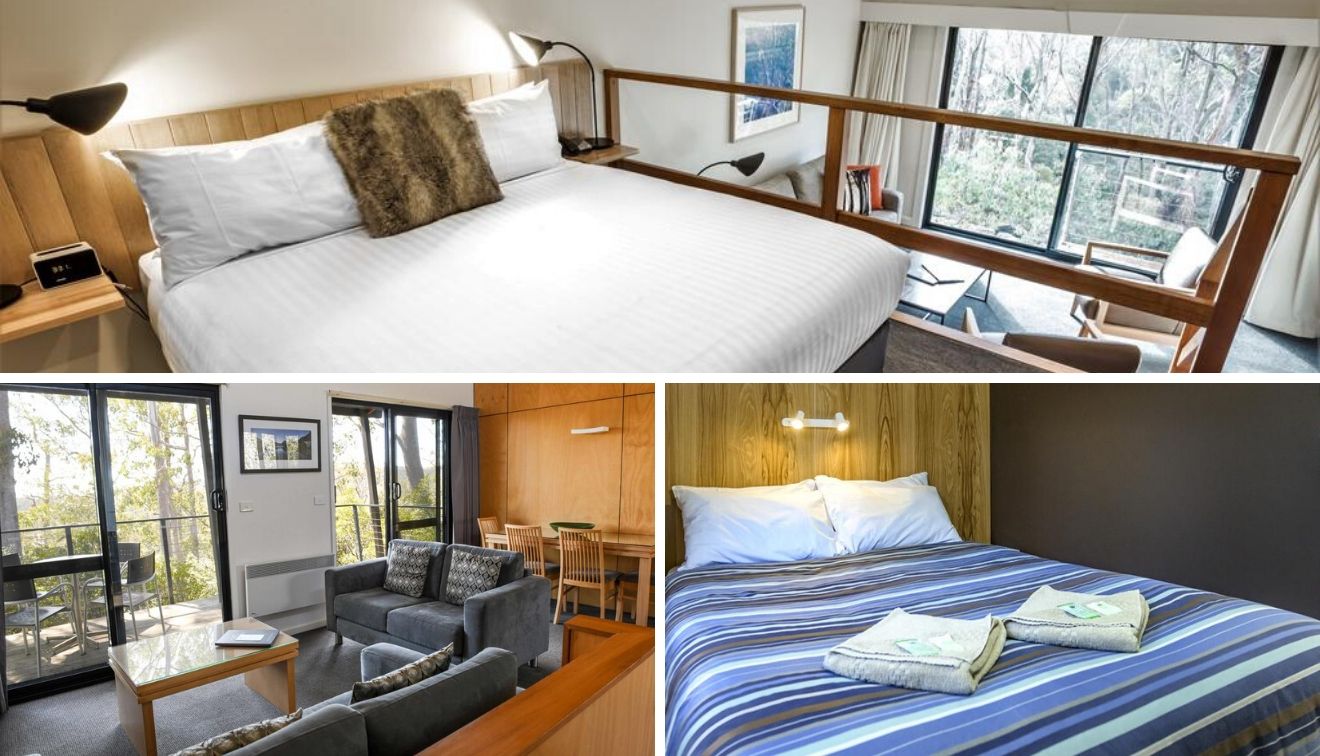 Luxury ($250+ AUD):
Just 10 min from Cradle Mountain Cradle Mountain Wilderness Village is nestled away in a rainforest. Have dinner from their onsite restaurant boasting locally sourced, fresh produce.
For more luxury, relax in the private spa baths and spacious mountain view cabins at Lemonthyme Wilderness Retreat.
Middle-priced ($150-$250 AUD):
Head to the secluded northern end of Lake St Clair for modern hotel style rooms in the beautiful alpine woodland at Cradle Mountain Hotel. Alternatively, rent a self contained cabin with a cozy fireplace and beautiful Tasmanian timber construction at Cradle Mountain Highlanders.
Budget (Under $160 AUD):
For those on a tighter budget who still want to stay close to the magic of Cradle Mountain, Discovery Parks – Cradle Mountain has you covered with basic self-contained cabins. For more hotel style accommodation for a fraction of the cost, head to Cradle Forest Inn in Moina 32km from St Clair NP.
Day 11: Return to Devonport and Head Home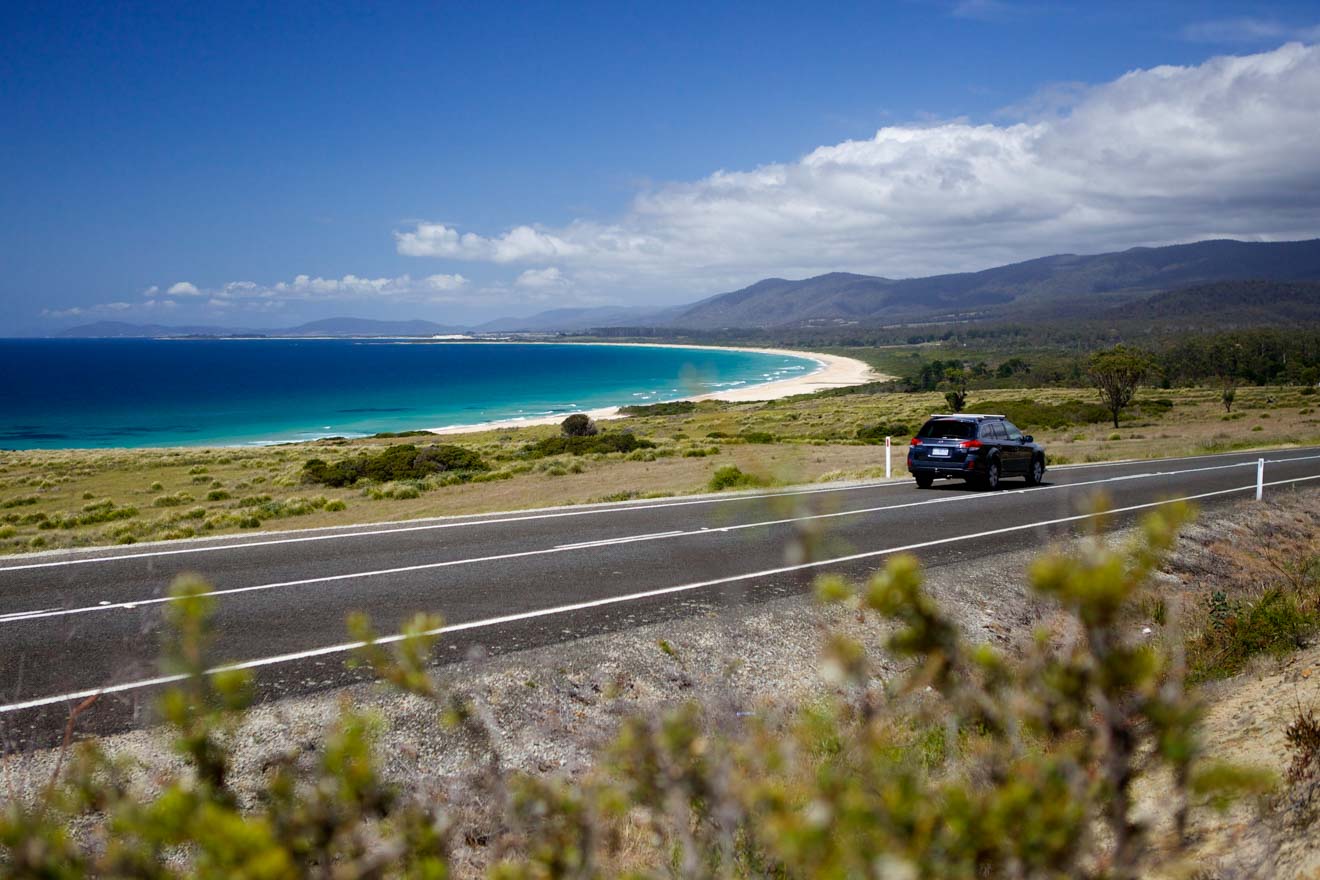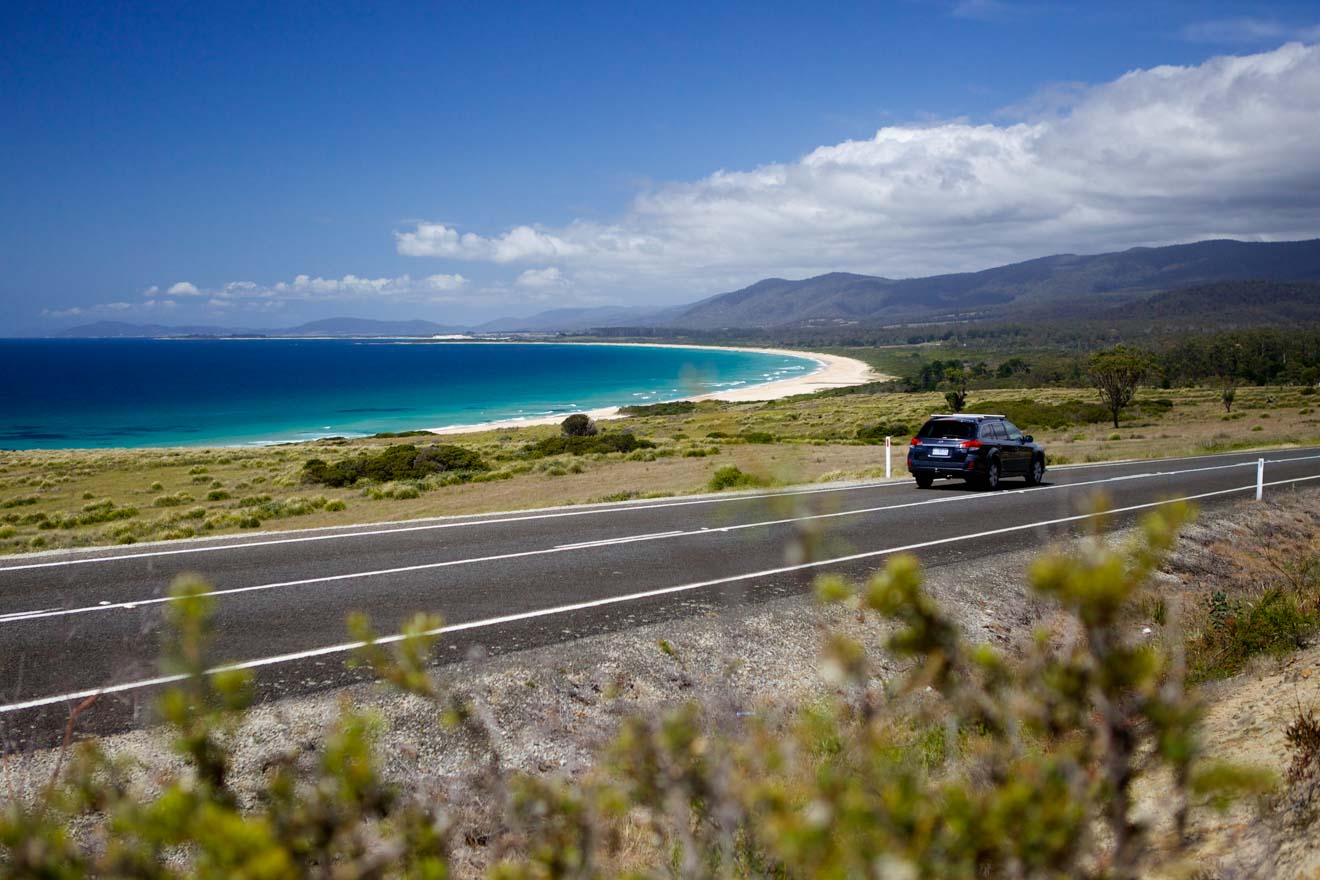 DRIVING: Cradle Mountain – Devonport, 77km, 1hrs 10mins.
Cradle Mountain was the last stop on your epic Tasmania road trip. If heading back home via Spirit of Tasmania night sail, spend your last day exploring Cradle Mountain leaving enough time for boarding in Devonport.

Alternatively, head back to Launceston airport to complete your Tasmania road trip itinerary.
| | |
| --- | --- |
| 🤩 Range of activities: | Great |
| 👪 Family-friendly score: | Medium |
| 🕠 Best for history: | Port Arthur |
| 🍇 Best for foodies: | Tamar Valley |
| 📅 How many days: | 11 |
| ☀️ Best time to go: | December – March; June – September |
Practical Information for a Tasmania Road Trip
How to Get to Tasmania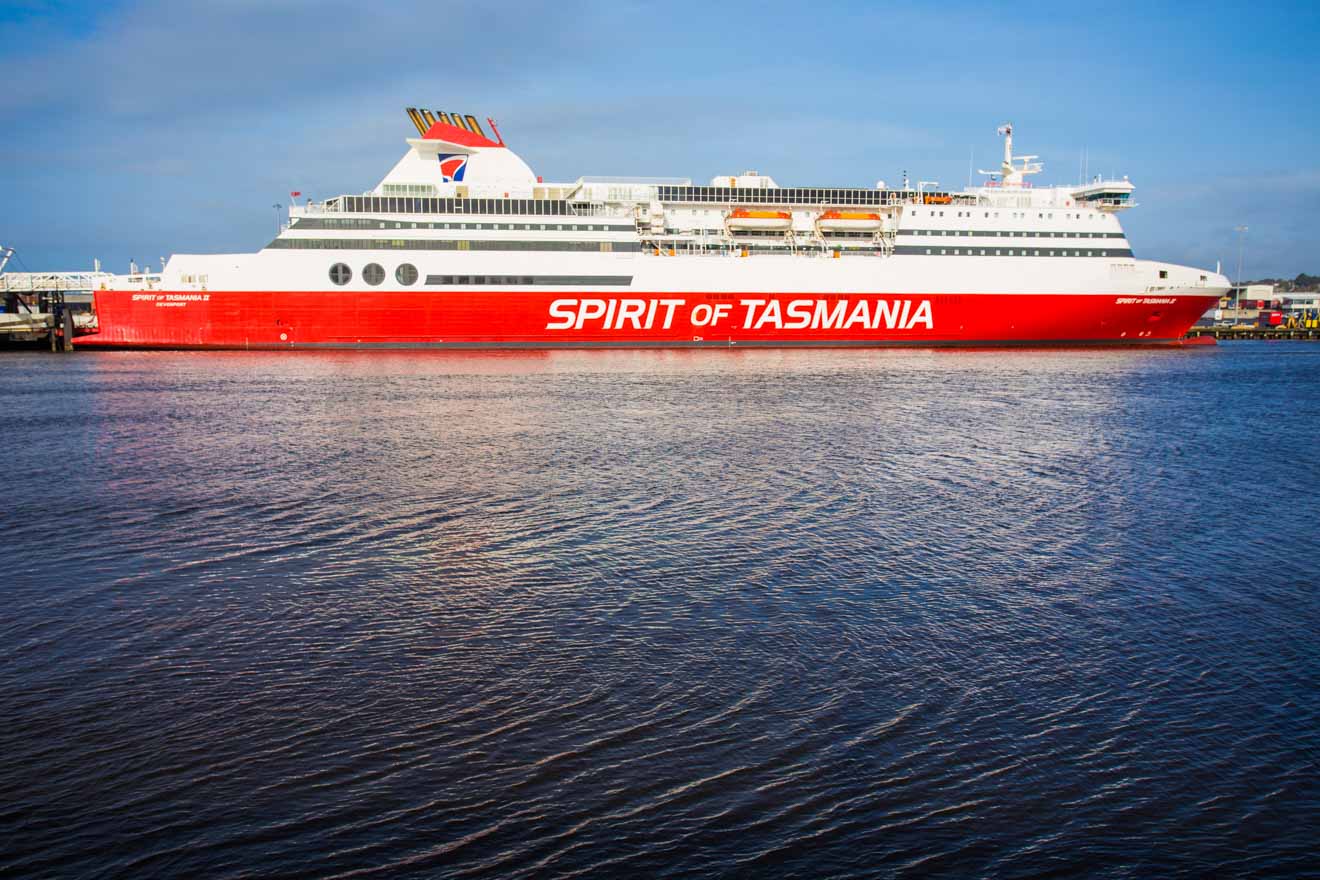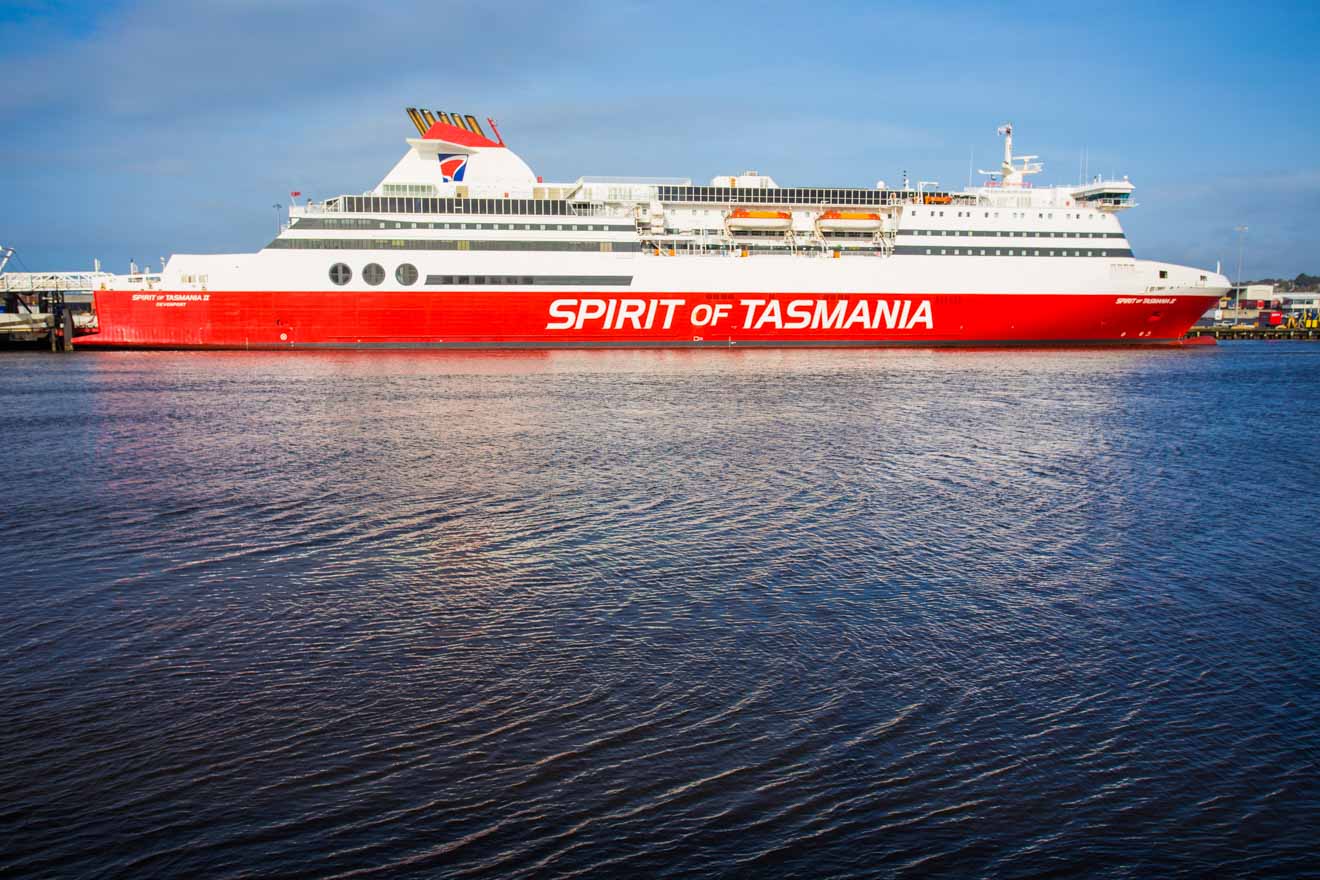 If you already live on this magnificent island, lucky you! If not, you have two options to get there from mainland Australia:
FERRY: Start the adventure early by hopping on board the Spirit of Tasmania boat. Whether a foot passenger or with a car, cruise your way across the Bass Strait from Port Melbourne to Devonport, Tasmania, with the option of choosing to sail during the day or overnight.
As the journey takes 9-11 hours, I recommend taking the night sail departing at 6:30pm and arriving at 6:30am the next morning.
Prices: Prices for the Spirit of Tasmania vary. Fares are available for walk on passengers ($89+) plus a fee for those bringing along their vehicle ($99+).
Accommodation: If crossing during the day, don't bother purchasing a cabin, there is plenty of seating around the decks plus entertainment centres to keep you busy.

When sailing at night, each passenger is required to have a designated seat or cabin.
Check out the accommodation options here.
TIP: Their fare calendar shows the cheapest times to sail!
Renting a Car in Tasmania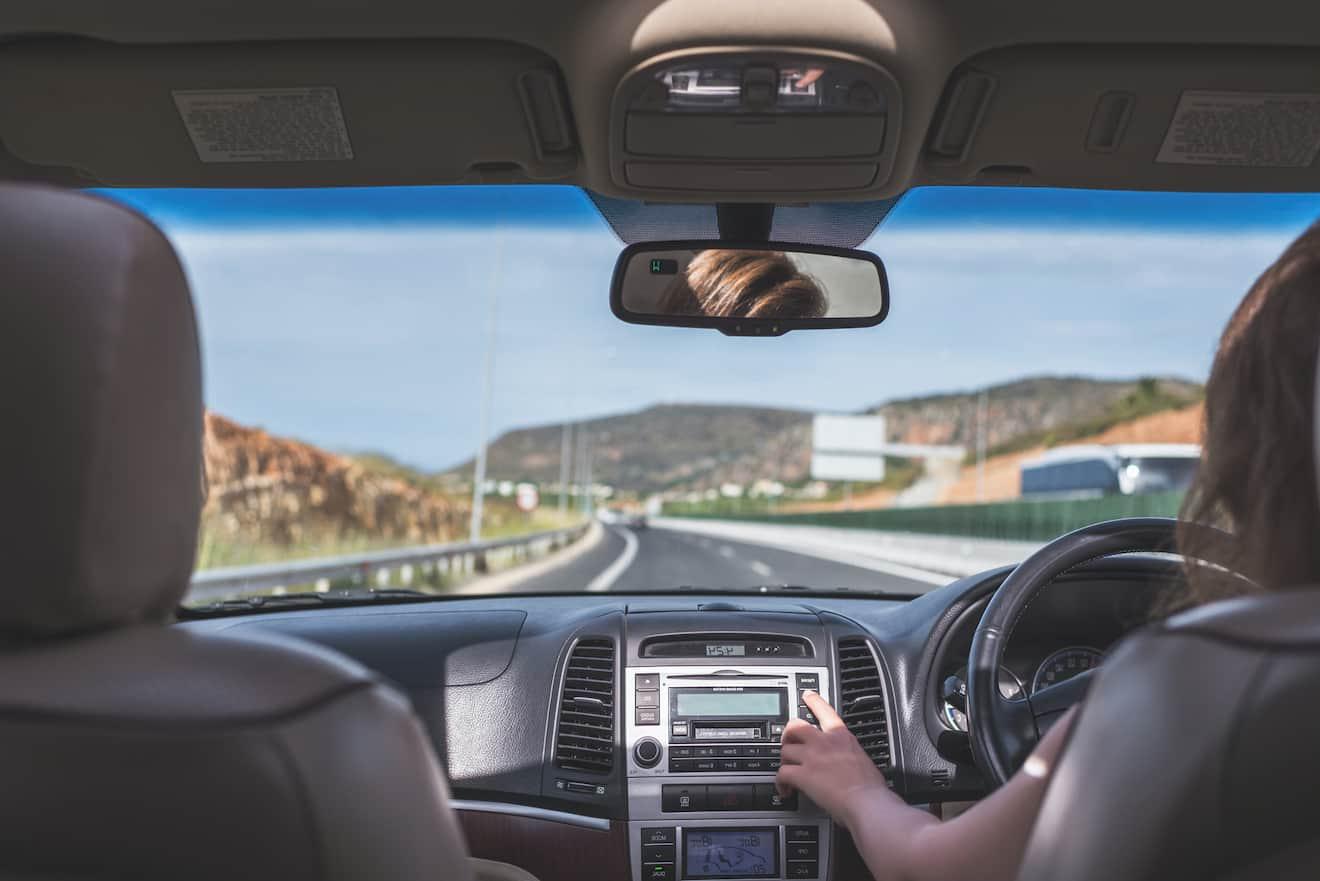 If you don't have your own wheels or plan on renting a car on arrival in Tasmania, why not fly into one of the 2 major airports located in Hobart or Launceston? Daily flights are available, with direct connections available from most Australian cities, starting from ~$50.
TIP: Flights with Jetstar and Tiger are often cheaper than taking the ferry!
Rental cars can be hired from Devonport, Launceston and Hobart. As our Tasmania itinerary is a loop, you can start anywhere!

Prices for the full 11 day itinerary start from $350 at Launceston or Hobart and $420 from Devonport
How Much Does a Tasmania Road Trip Cost?
Our 11 day Tasmania road trip itinerary totals around 1,250km.
The average cost of petrol in Tasmania last year was $1.45/l.
Rentalcars.com's most affordable hire car, a Hyundai Accent uses 6.8l/100km.
= Less than $130 in fuel for your Tasmania road trip itinerary!
---
Low Season 11 Day Total Cost:
$350 car rental + $130 fuel = $480
High Season 11 Day total Cost:

$787 car rental + $130 fuel = $917
---
Conclusion: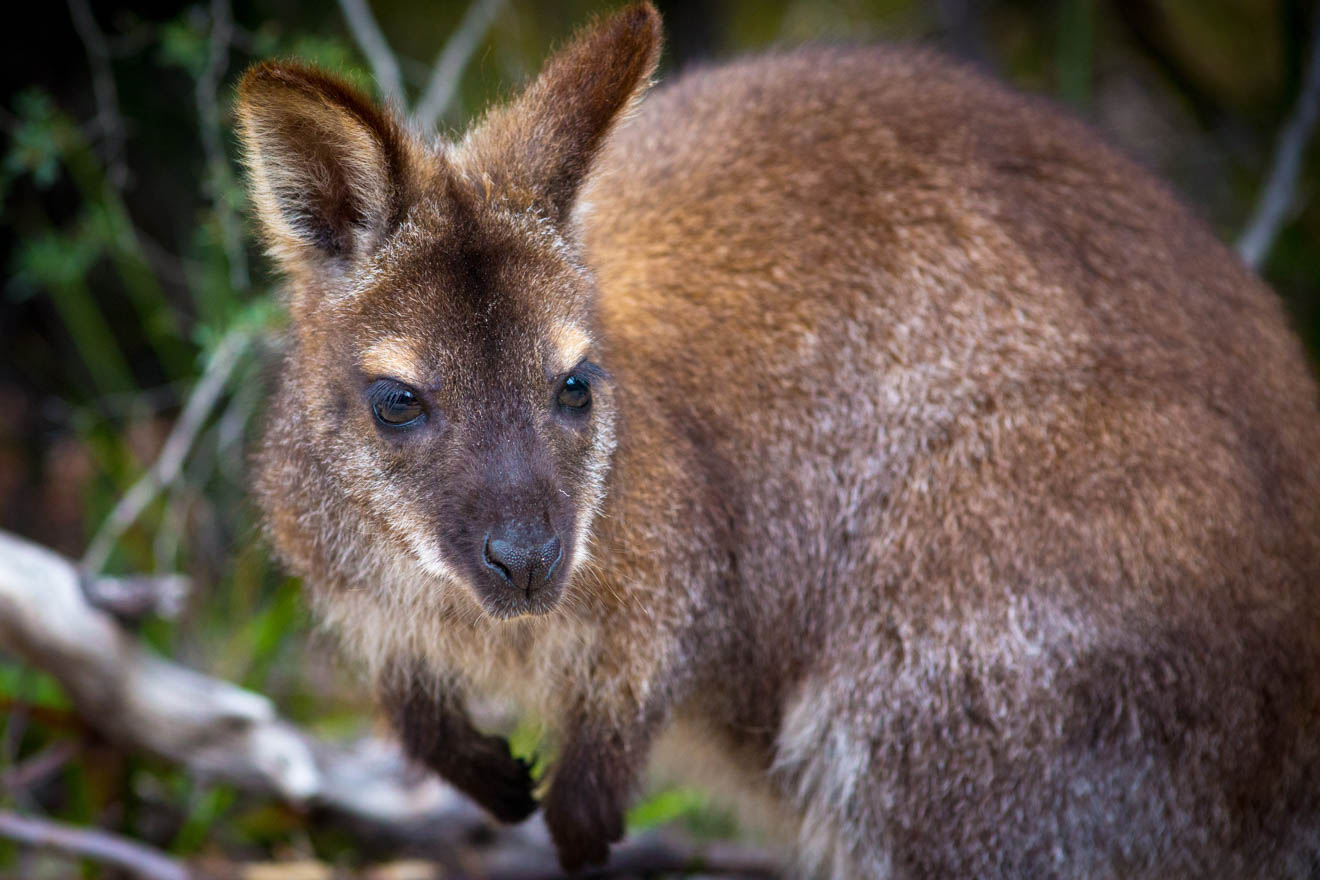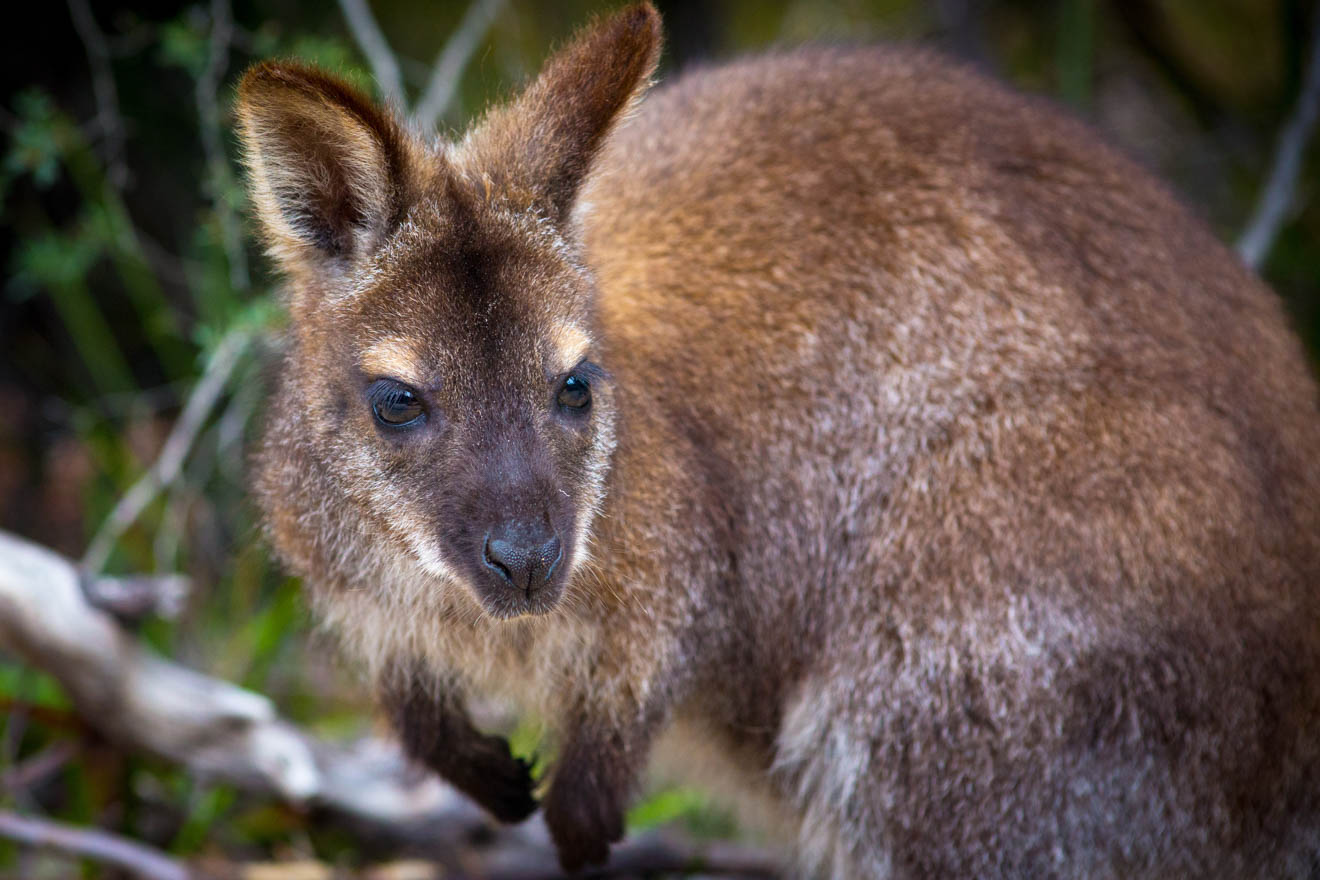 Congratulations for making it this far! We've covered the entire state with this Tasmania road trip and by now you should have learnt everything you need to know to road trip Tasmania yourself.
From the mountain tops to the ocean floors, I can't wait to hear about your adventures in the comments. I know I had the best time on mine!
Let me know if I can help you out with any more info for your Tasmania road trip itinerary.
Travel happily! 🙂
Kate Fletcher
---
Pin it for later!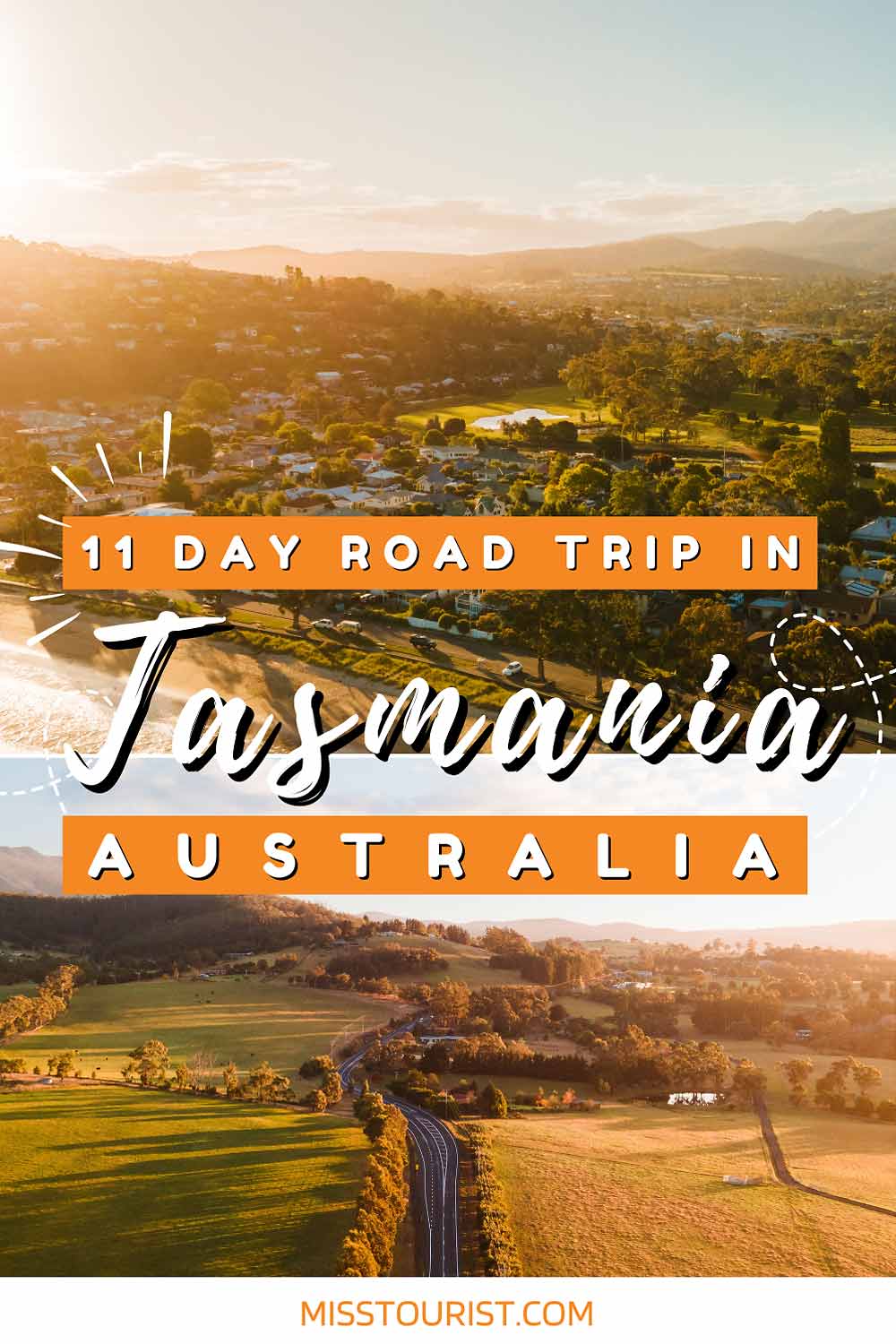 Pin it for later!