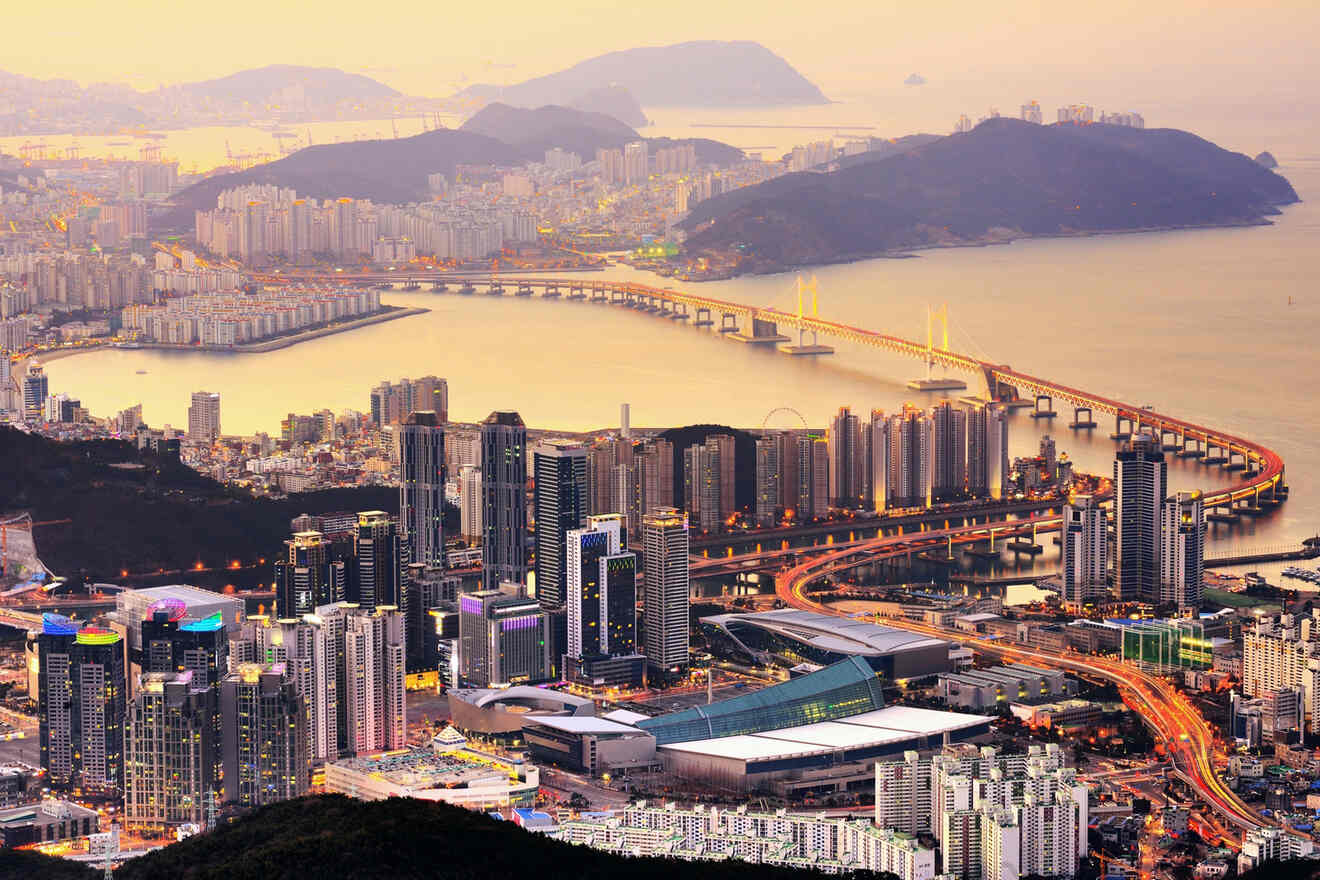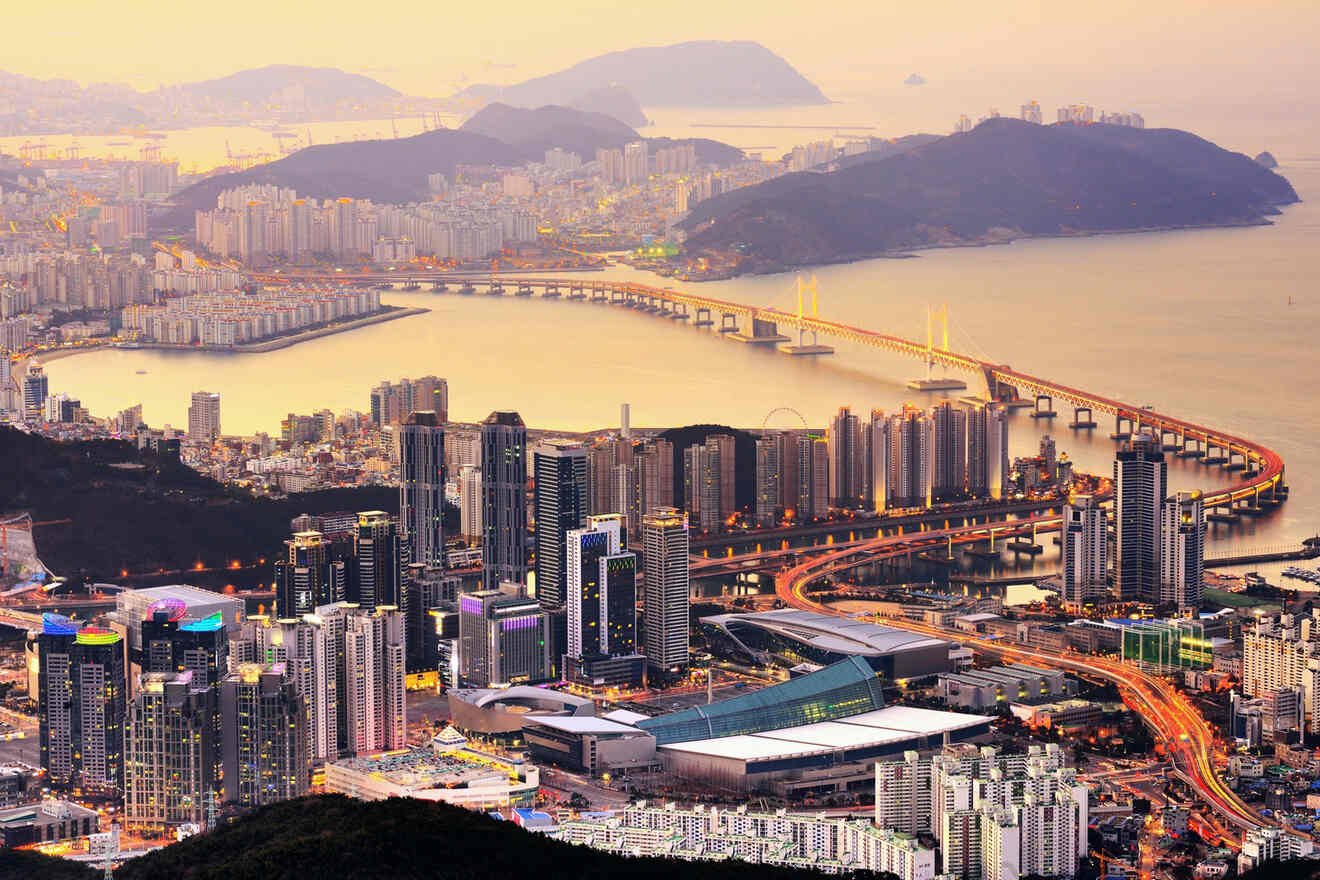 As the second most populous city in South Korea, Busan comes with many attractions, fabulous beaches, and delicious food! Finding a place where to stay in Busan can be difficult, but I'm here to help you!
The best place to stay in Busan is Nampo-dong. This area has many attractions, great markets, and some awesome hotels!
Don't worry though, that's not your only option! You'll find 5 more areas in this post that are perfect for beach lovers, budget travelers, people looking for the trendiest spots in the city and best views, and families; Nampo-dong, Haeundae-gu, Gwangan-dong, Seomyeon, Yeongdo-gu, and Sasang.
But you better not leave right after reading about those neighborhoods because you might miss out on the 2 fantastic bonus sections I added for you! The first one has the best Busan hotels on the beach and the second one has a list of great hotels with a sauna.
I know the whole list seems super long, but trust me, all these places will sell out super fast! These are the best of the best, so book in advance if you don't want to miss your favorite one!
I guess we're ready to start this Busan trip now. Buckle up!
If you are in a hurry
Who's all set and ready to book their favorite hotel in Busan, South Korea? If that's you then have a look at the list below, it has the best accommodations in Nampo-dong:
A bit confused by all the areas? Check out the map below, it will help you visualize all the areas where to stay in Busan, South Korea, that I'll talk about in this post:
1. Nampo-dong – where to stay in Busan for the first time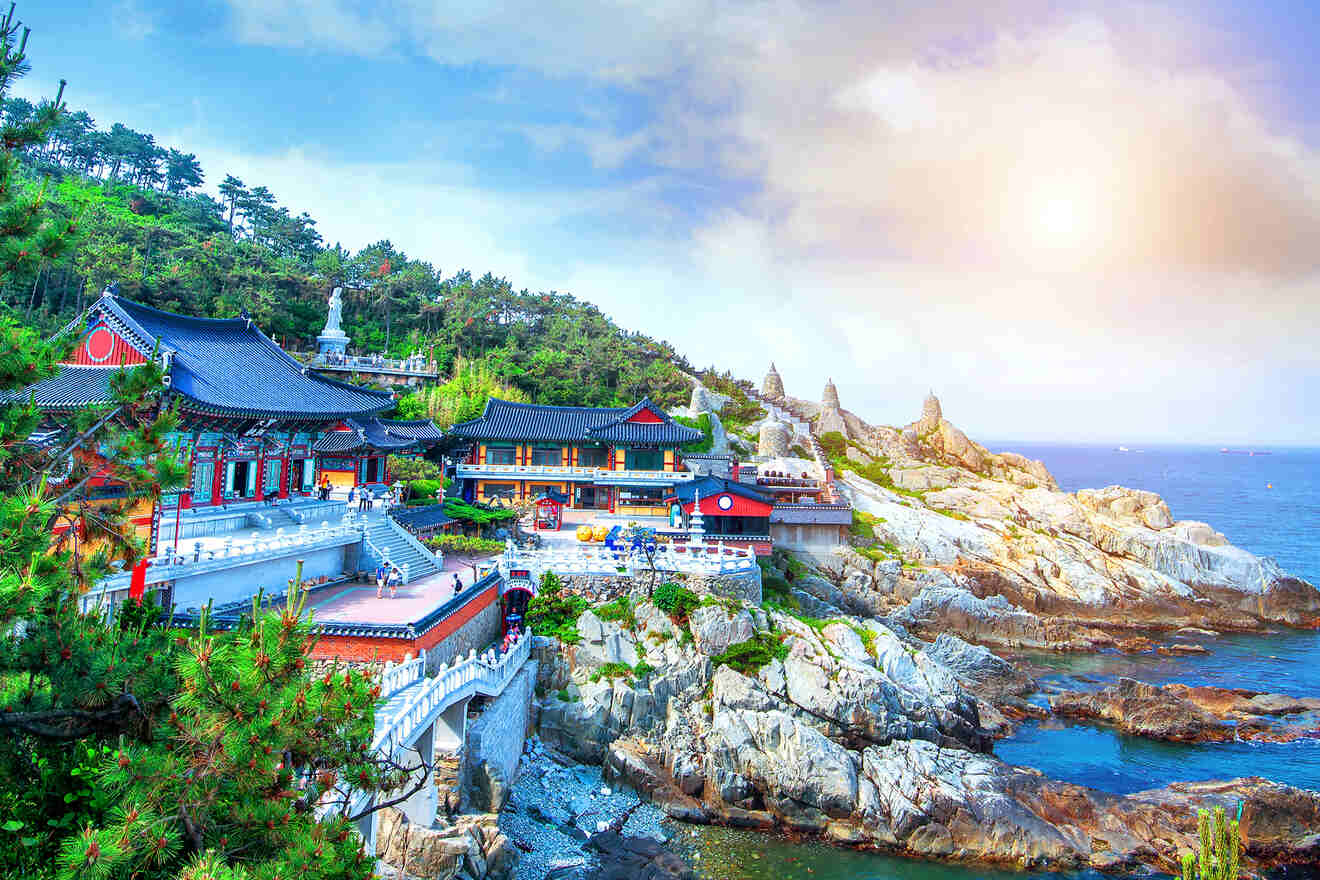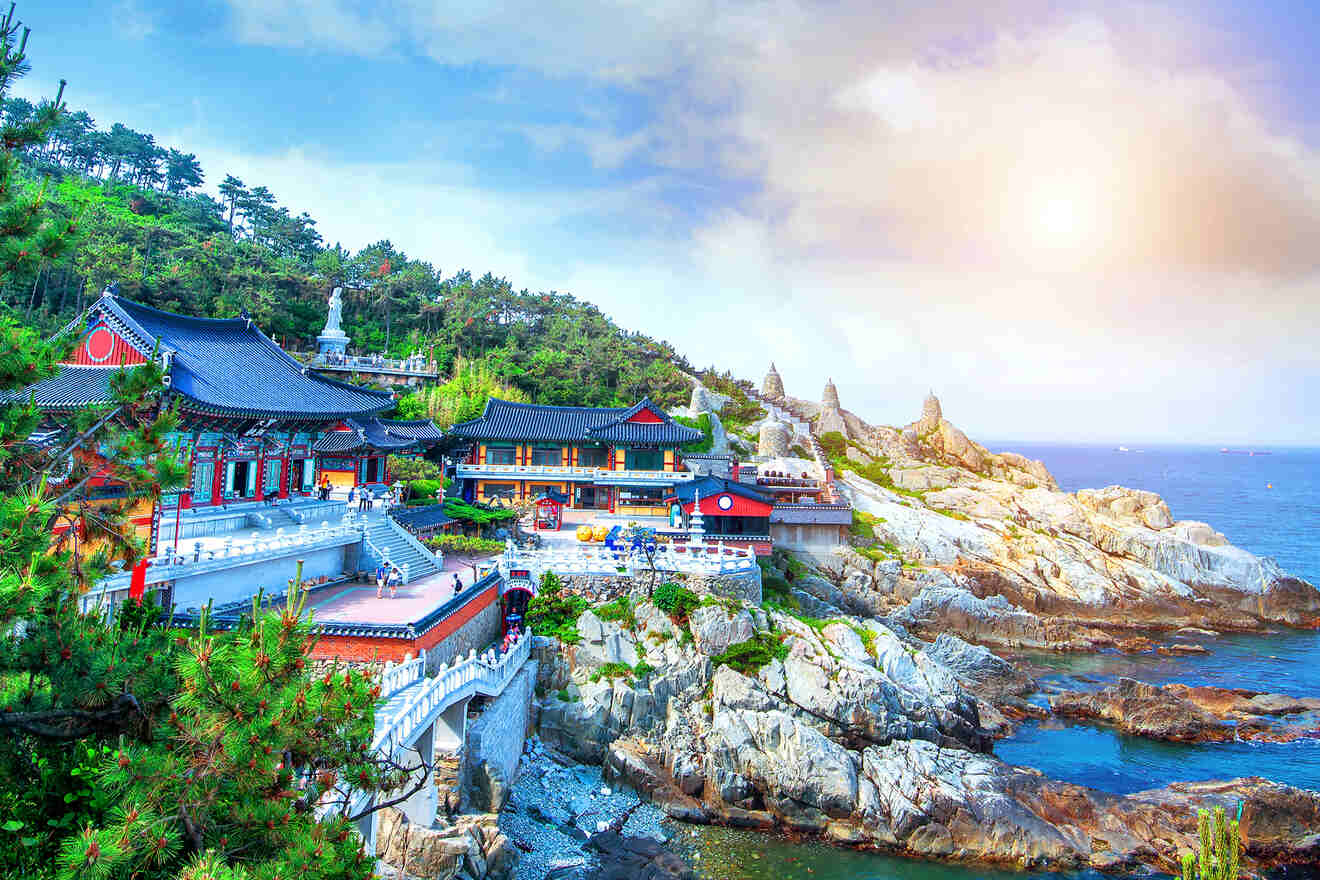 Getting ready for your first trip to Busan? You've just signed up for a pretty fabulous adventure! But you'll need the best guide you can find on the web, and I'm here to happily fulfill that role!
My top recommendation for where to stay in Busan is Namo-dong, a central commercial area in the city with everything you need during your holiday! And by that, I mean fabulous shopping sites, attractions, delicious street food, and great hotels that are close to Busan station in case you want to take a train and explore other cities!
By the way, please remember you need to book in advance! Yep, these cities are big, and there are plenty of "fish in the sea" in cities like Busan but trust me, the best ones always sell out pretty fast, and I really don't want you to end up with a bad hotel for a high price.
Now let's get back to our favorite area to stay in Busan! Nampo-dong is a vibrant area where it's highly unlikely to get bored! You'll most likely spend your days eating in Gukje Market or Jagalchi Fish Market (the largest seafood market in Korea), exploring Biff Square, and admiring the views from the famous Yeongdo Bridge and Busan Tower!
Oh yes, the fun never ends in Nampo-dong, Busan, but if by surprise you find yourself out of places to visit, you can use public transport to visit other areas or go to the beach or visit the Haedong Yonggungsa temple.
Other accommodation options in Nampo-dong
As you've heard since Nampo-dong is an area where everyone wants to stay, the hotels sell out super fast (especially the ones with great value for the price)! So that's why I decided to add 3 more hotel options for you in case the ones above sold out already. Each of these are budget hotels with prices up to $50.
Guesthouse Dear Moon – A cute name for a great accommodation! This guesthouse near Busan station offers a wide range of rooms, all equipped with a shower and air-conditioning, and some even have a patio. All guests will have access to a shared kitchen and a shared lounge as well. But the best part is the outdoor terrace with views of the city!
Funstay Inn Guesthouse – Feel like you're at home at this super cozy accommodation that's located close to the subway station and Jagalchi fish market. This guesthouse has comfortable rooms with a private bathroom and free wifi.
Stanford Inn Busan – Enjoy your stay in Busan, South Korea, at this hotel with rooms featuring a flat-screen tv, a desk, and a fridge. The accommodation also has a restaurant on-site where guests can indulge in delicious dishes, and they also offer an airport shuttle!
Things to do in Nampo-dong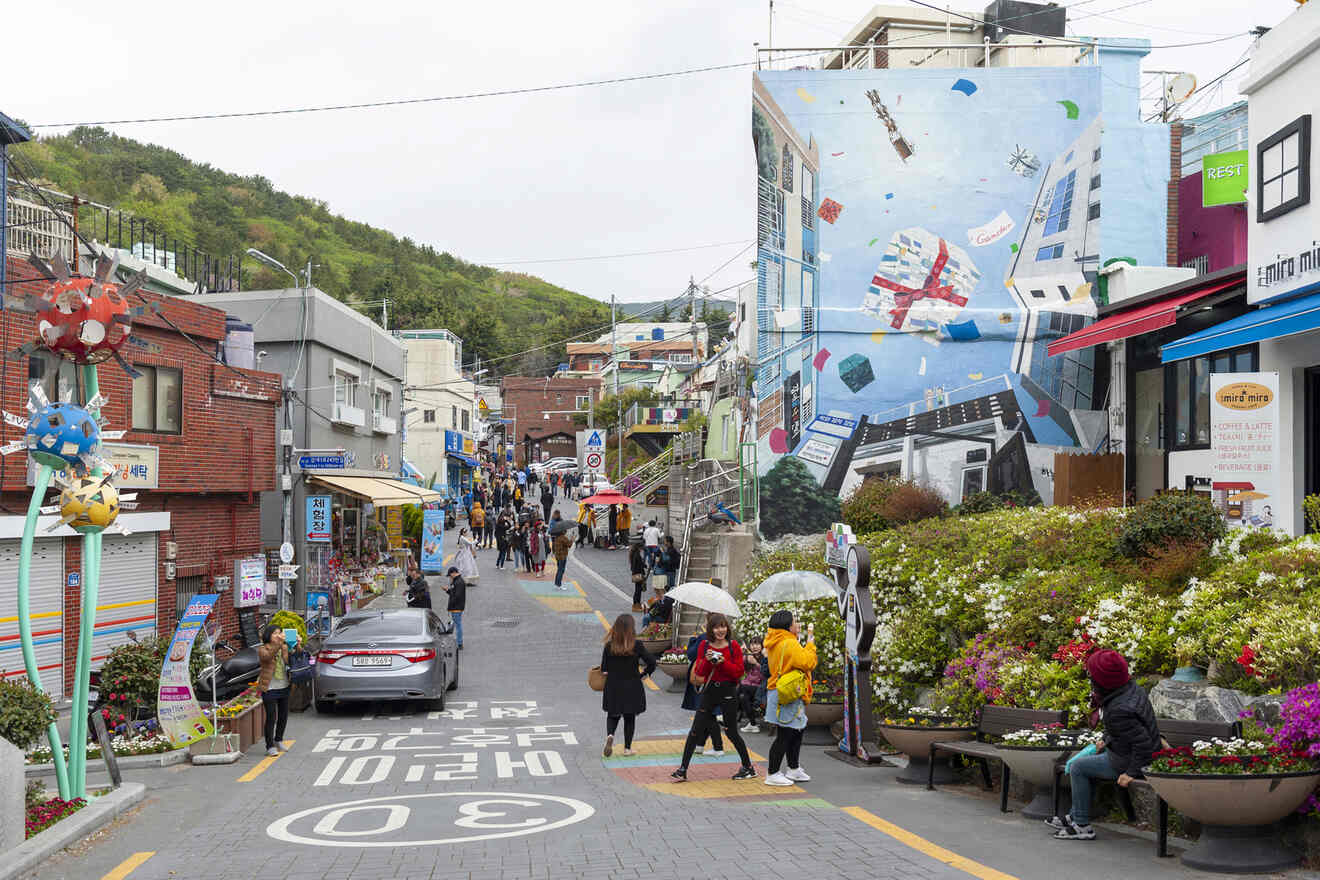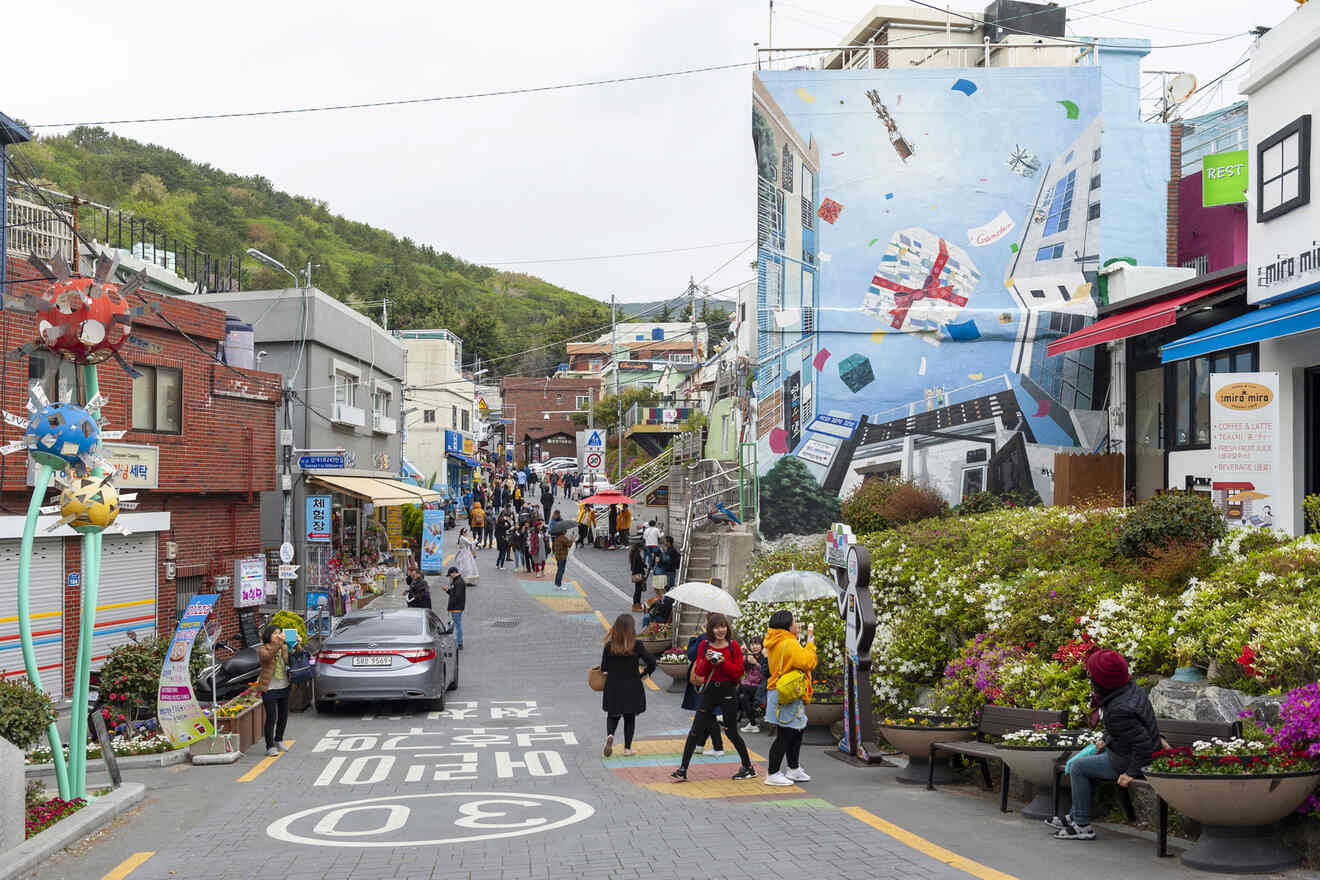 Eat delicious street food in Jagalchi Fish Market
Climb up the Diamond Tower (Busan Tower)
Buy cool souvenirs from Biff Square
Admire the views near Yeongdo Bridge
Shop until you drop on Nampodong Street
Explore around Gukje Market
Catch a movie at the Megabox Busan Theater
2. Haeundae-gu – best place to stay in Busan for beach lovers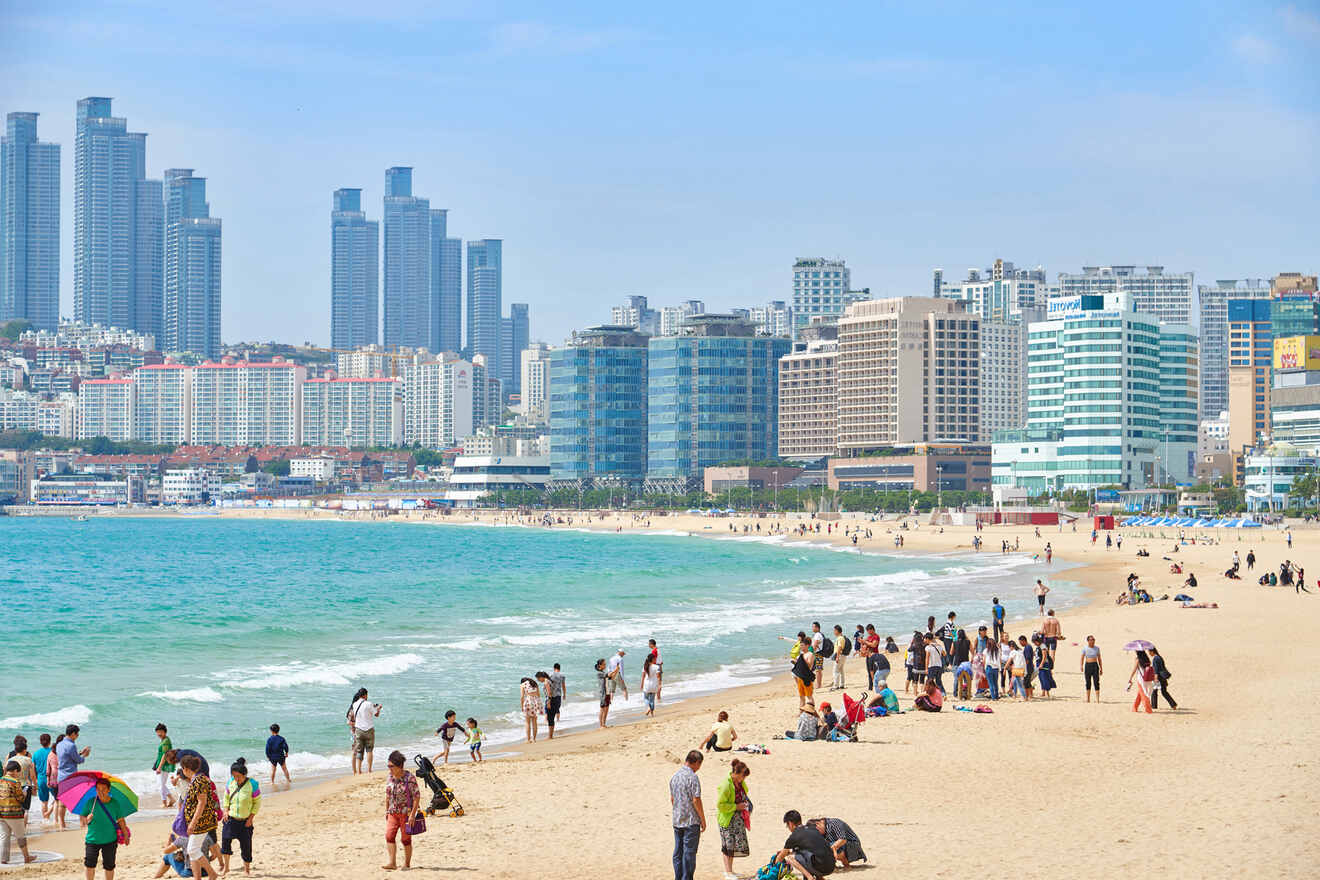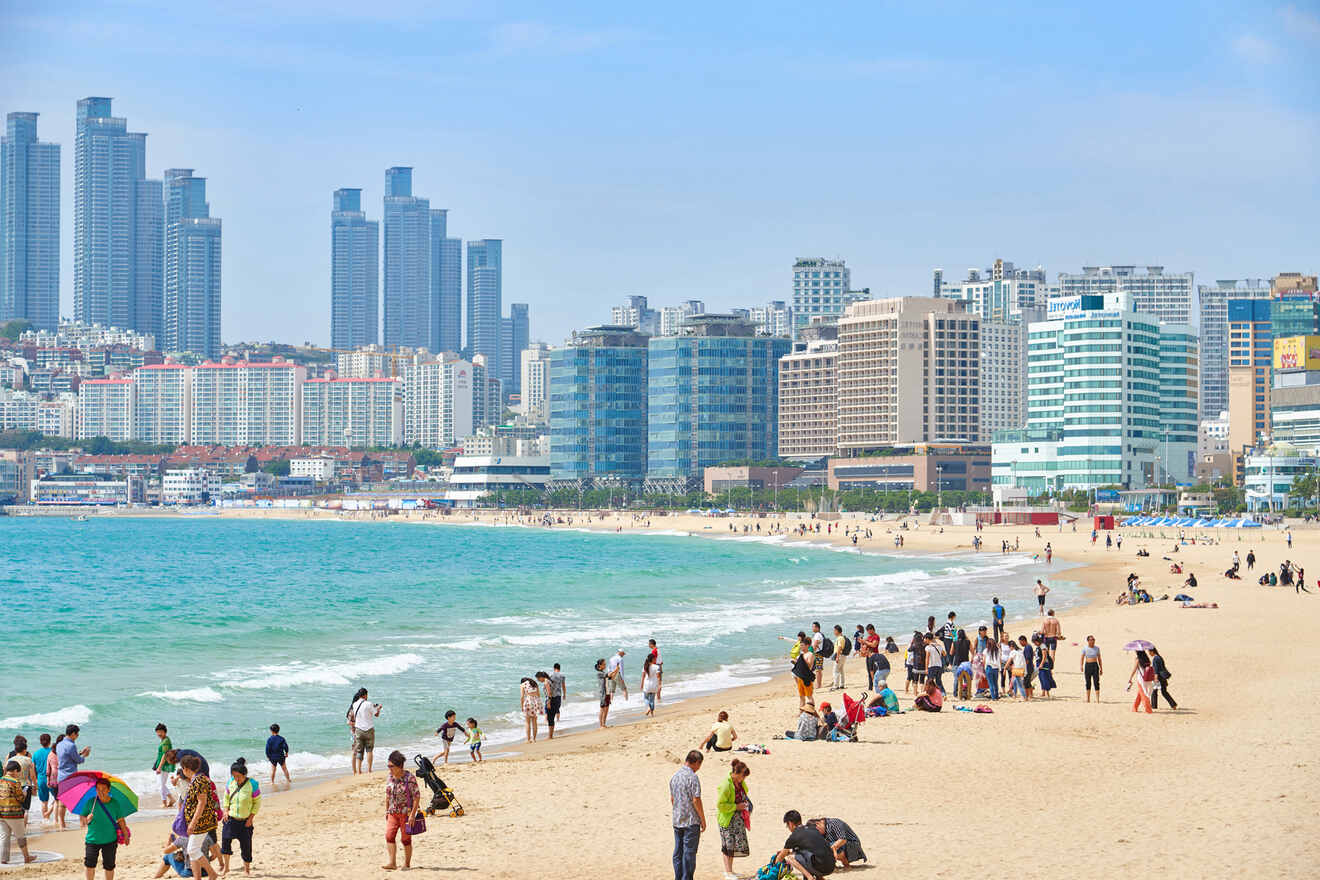 I think we're all fans of big cities with beaches where you can escape the city, sunbathe and swim all day!
Haeundae-gu is the perfect district where to stay in Busan for anyone who loves the sandy shores and also a bit of evening entertainment! Yep, Haeundae beach is the main attraction here, but the area is also known for its clubs and bars.
Known as South Korea's most famous beach, Haeundae gets lots of tourists all year round but especially during the summertime when people want to flee the city!
One of the best things to do in Haeundae-gu is catching a sunset on the beach and then waiting until it gets dark and all the city lights turn on! The views are like no other, and they kind of resemble the sights you'll get while you stay in Seoul.
As you'd expect, Haeundae-gu hosts the city's most luxurious and expensive hotels, thanks to its famous beach, but fear not, I've also found some budget places to stay in this part of the city.
While it's super tempting to spend most of your time at the beach, remember that Haeundae-gu is pretty big, and there are together things to visit like the aquarium, the markets (where you can try all the street food), the Haedong Yonggungsa temple plus many others that I'll mention below!
P.S.: If you're looking for a beautiful hotel right on the beach, make sure to check out my bonus section below. I have a whole list!
But before we do that, let's check out the hotels in Haeundae, Busan:
Shilla Stay Haeundae – As you've probably noticed Busan, Haeundae is filled with amazing hotels! I've added the best of the best ones above, but here is one more luxury option that I just had to tell you about! Located just 1 minute away from the beach, this accommodation offers elegantly-decorate rooms with large windows, an outdoor pool, and a fitness center!
Other accommodation options in Haeundae-gu
Things to do in Haeundae-gu
Go for a long swim at Haeundae Beach
Spend a fun afternoon at the Sealife Busan Aquarium
Take the kids to Shinsegae Centum City Theme Park
Visit the GoEun Museum of Photography
Eat delicious street food in Haeundae Market
Try your luck at Casino Paradise Busan
Check out the Jagalchi Market in Nampo-dong
Take some pics at the unique Haedong Yonggungsa temple
3. Gwangan-dong – where to stay in Busan on a budget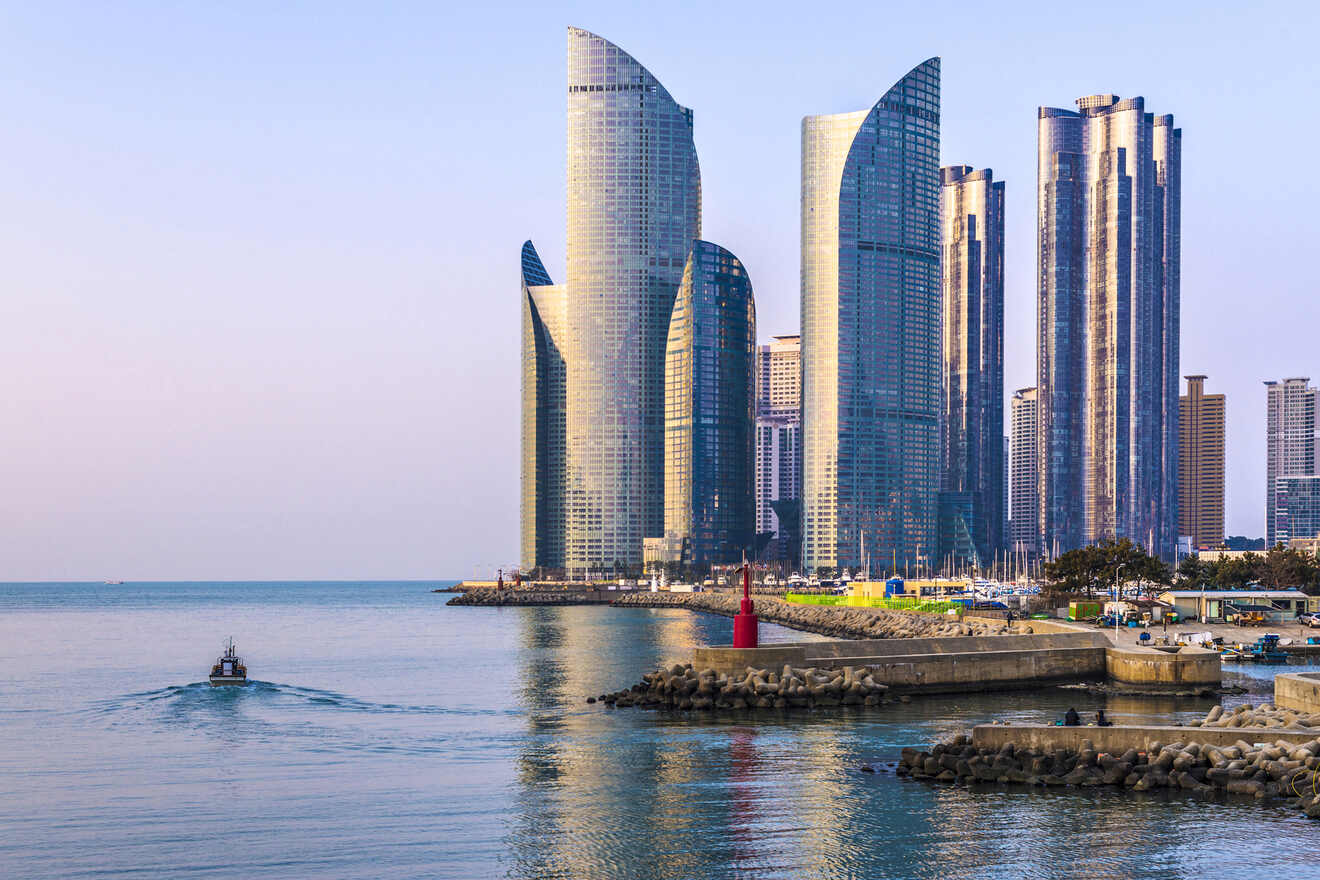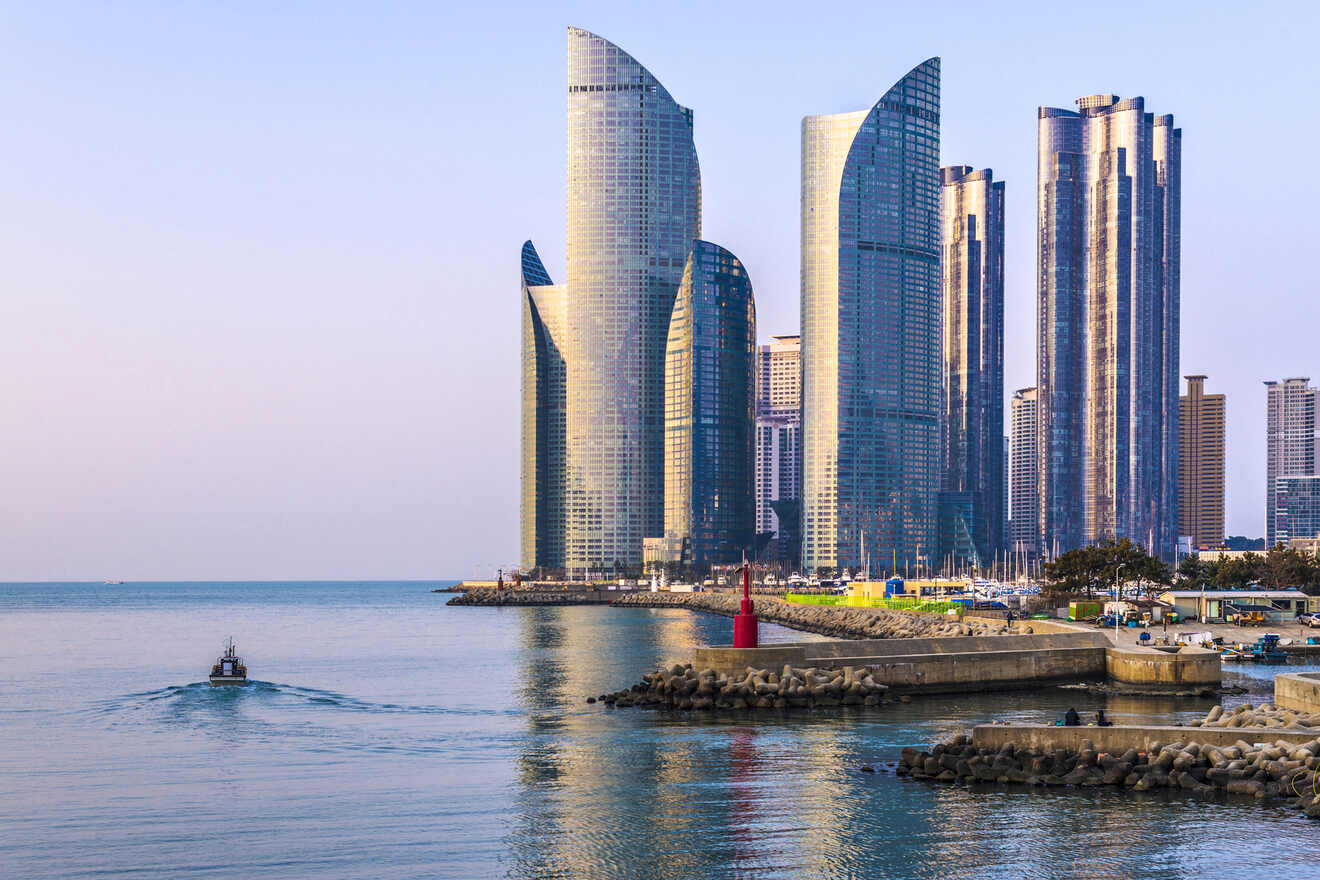 We're continuing our list with the top places to stay in Busan, with another awesome area that is perfect for people traveling on a budget!
And guess what? Just like Haeundae-gu, Gwangan-dong also has a beach! It may not be South Korea's most famous beach, but at least it's not as busy as that one.
Gwangalli beach is just as pretty, but it has more of a laid-back vibe. This is where locals come to relax, and there aren't many tourists around, so if you're looking for a more tranquil place, then this may be the right one for you!
Set just a subway station away from the city center, Gwangan-dong offers plenty of restaurant options (as well as some bars), and most of them are set near Gwagalli beach, so you can enjoy the views as well!
Resembling Haeundae in many ways (except the high price and luxury hotels), this area also offers some great views. Which you can admire all day (but I'd recommend going from sunset 'till late at night) on Gwangalli Beach! Here you can see the famous Diamond Bridge (also known as Gwangan Bridge) in its full glory!
Let's check out the best Busan hotels in this area:
Other accommodation options in Gwangan-dong
Finding an area that has a beach and many affordable hotels is always exciting. ! I gave you the 4 best options above, but there were many others, so I decided to offer 2 more hotels which I couldn't keep to myself!
Mid Range: Gray 193 Hotel – Enjoy your morning coffee on the balcony of this awesome hotel in Busan that's located near the beach. The accommodation comes with comfortable rooms that have a private bathroom, a flat-screen tv, and a coffee machine!
Budget: Gwangan Hound Hotel – Foodies, you'll love this place that's set right near Gwangalli Beach! Their restaurant serves delicious dishes and drinks which you can enjoy out on the terrace that overlooks the city! The accommodation offers a lounge area, a business center, and rooms with a work desk and free wifi.
Things to do in Gwangan-dong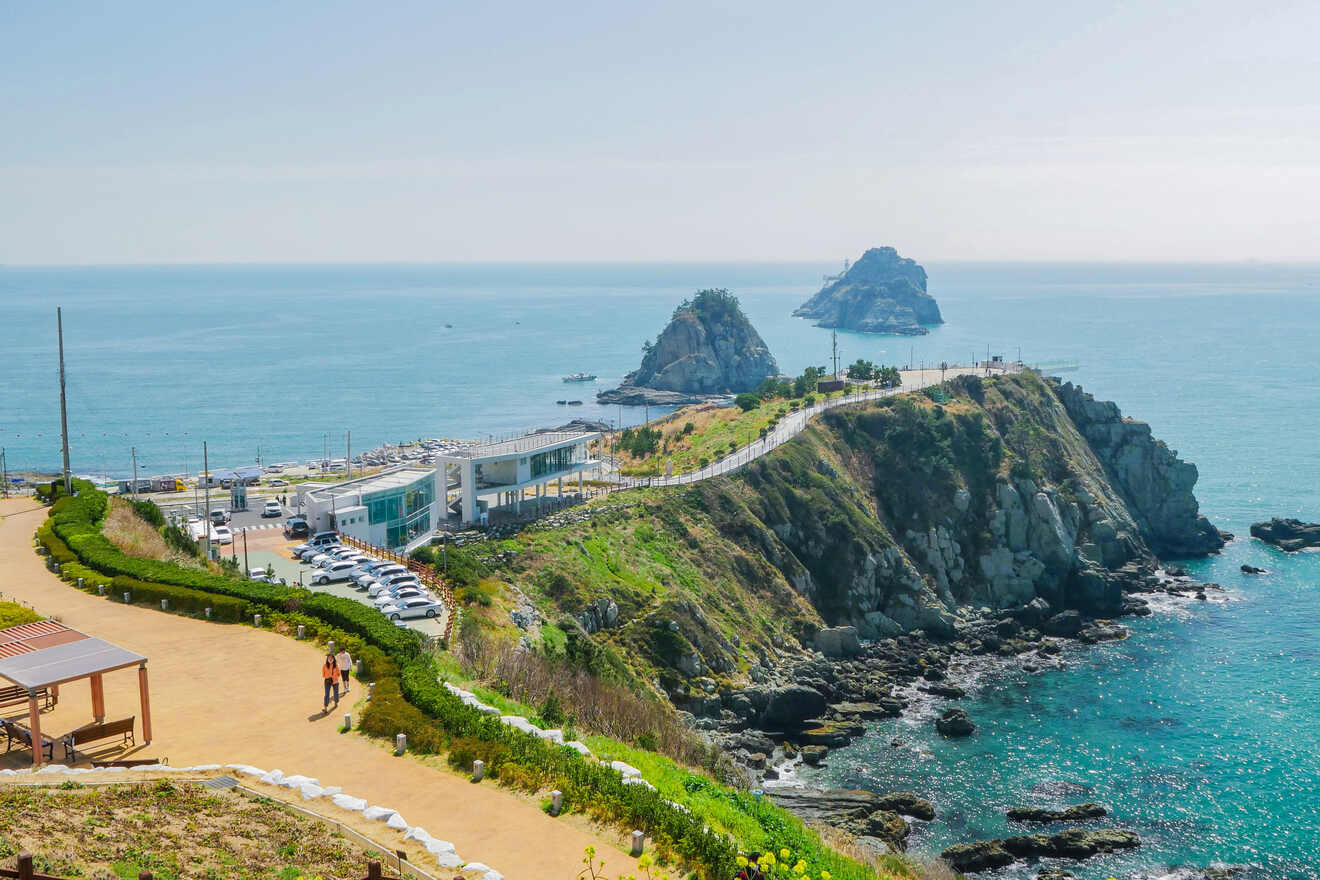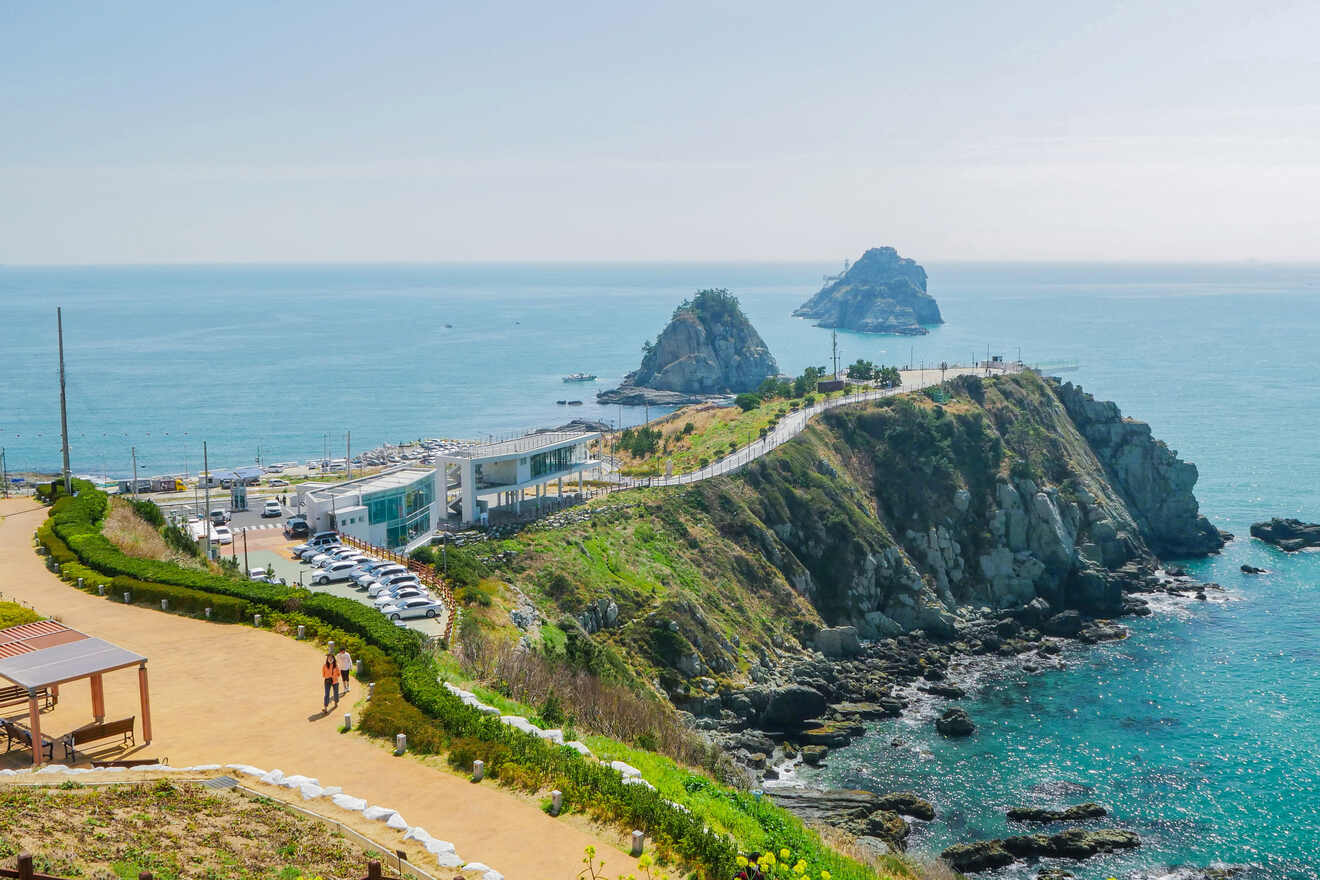 Enjoy a fun day on Gwangalli Beach
Grab a delicious dinner at The 8ble
Admire the views of Diamond Bridge
Take a trip to the Gamcheon Culture Village
Go for drinks at Gorilla Brewing
Visit the Geumlyeon-Am Buddhist Temple in Busan
4. Seomyeon – the trendiest place to stay in Busan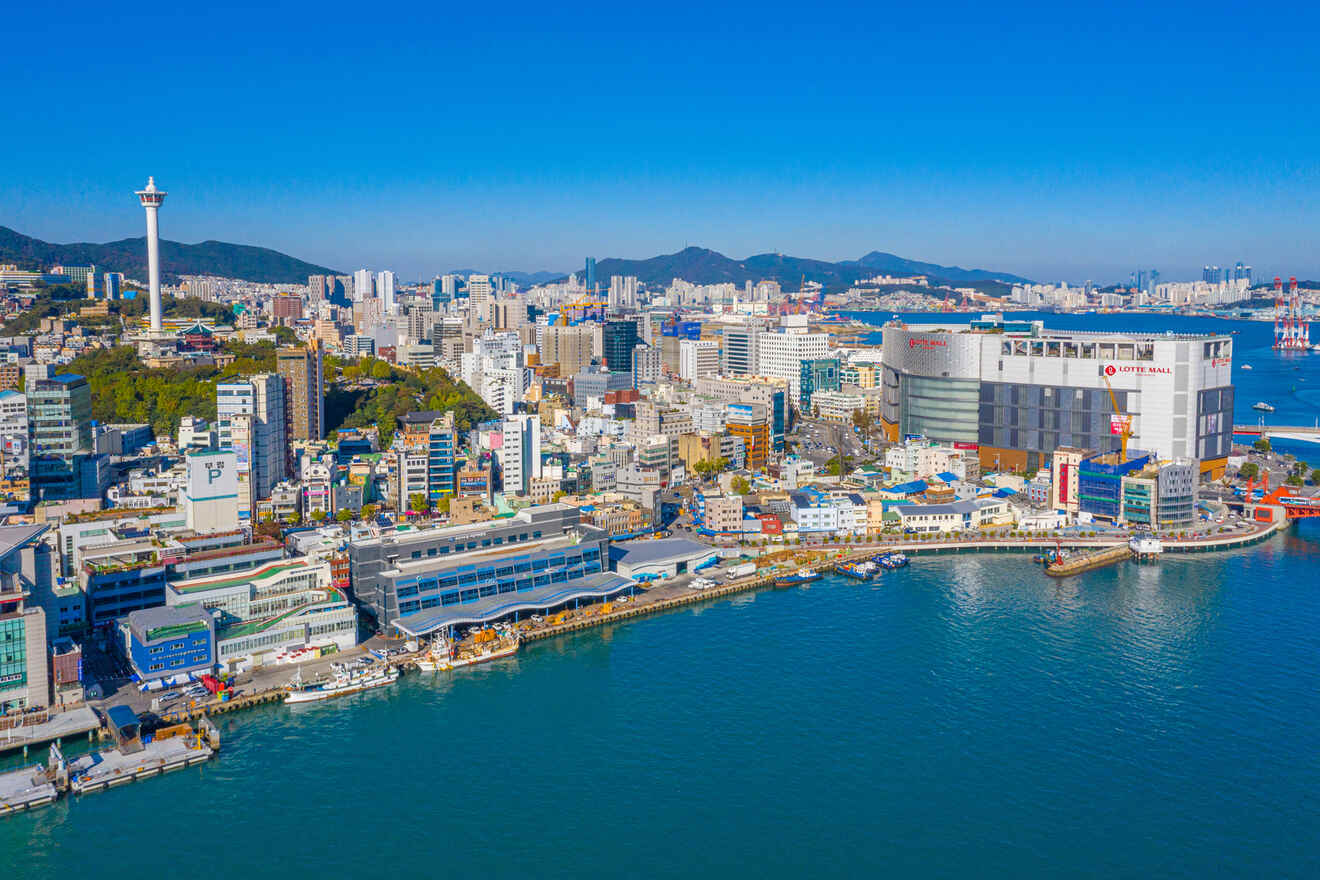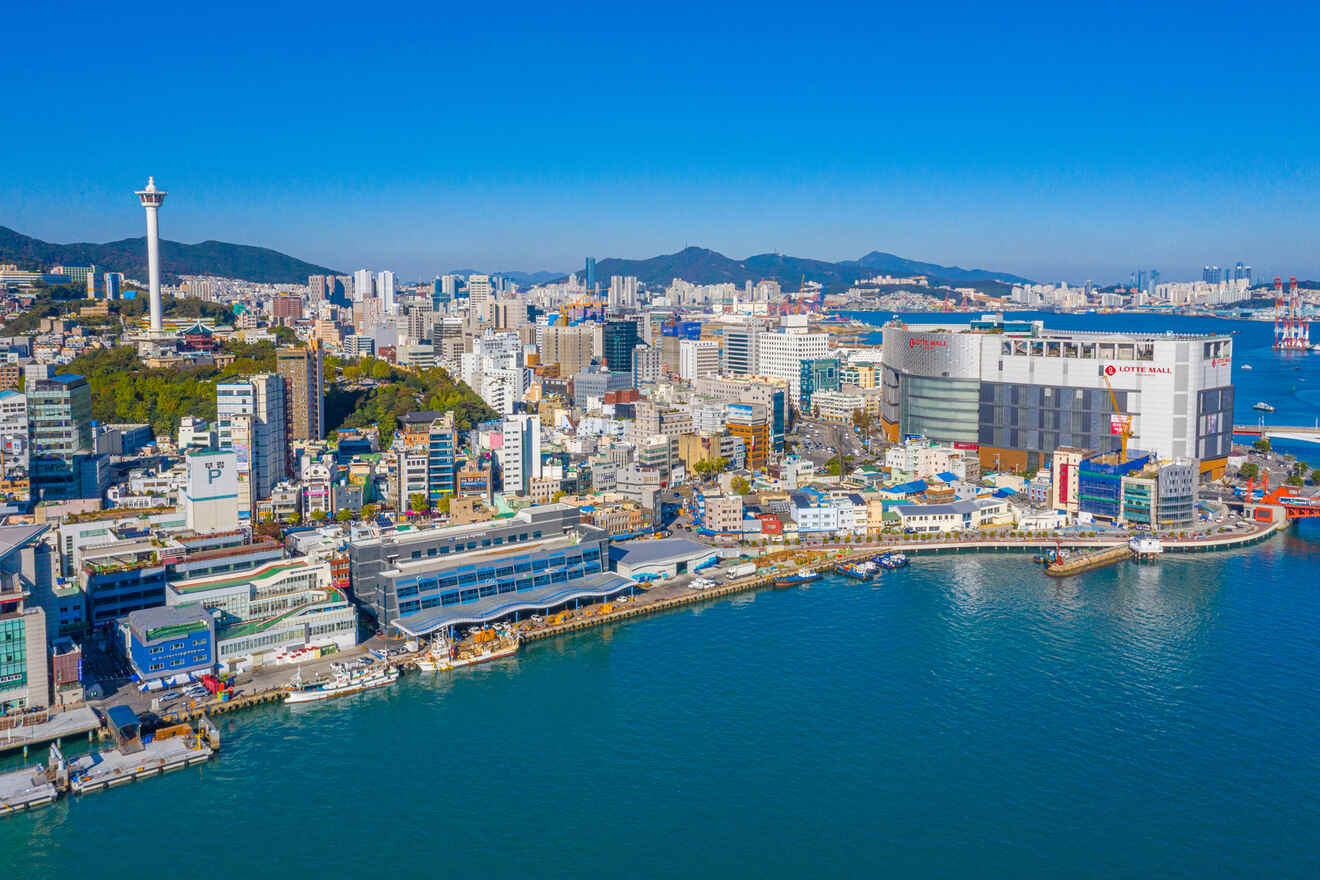 Not only one of the coolest places in the city, but also one of the most convenient ones in terms of location.
Located in the center of the city, Seomyeon is a vibrant area filled with restaurants, bars, and shops! Seomyeon Subway Station is connected to 2 of the most important subway lines (1 and 2), which you can use to easily reach important tourist places like Haeundae Beach or Nampo-dong.
Although a bit touristy at times, Seomyeon is the kind of place where you can never get bored! There's always action here, during the day and night! So I wouldn't recommend this area to people who like quiet, tranquil places.
If during the night you can hop from bar to bar (or restaurant to try the delicious food), during the day there are many things to visit in the area like the Samjung Tower Department Store, Lotte Department Store, the market or the Songsanghyeon Public Square.
Now let's find you some amazing hotels to stay in Seomyeon!
Other accommodation options in Seomyeon
Things to do in Seomyeon
Eat delicious food at Seomyeon Market
Try all the cafes on Jeonpo Cafe Street
Go visit the Gamcheon Culture Village
Get souvenirs from Lotte Department Store
Spend a fun night at Seven Luck Casino
Explore the Songsanghyeon Public Square
Shop until you drop at the Seomyeon Tower Department Store
5. Yeongdo-gu – where to stay in Busan for the best views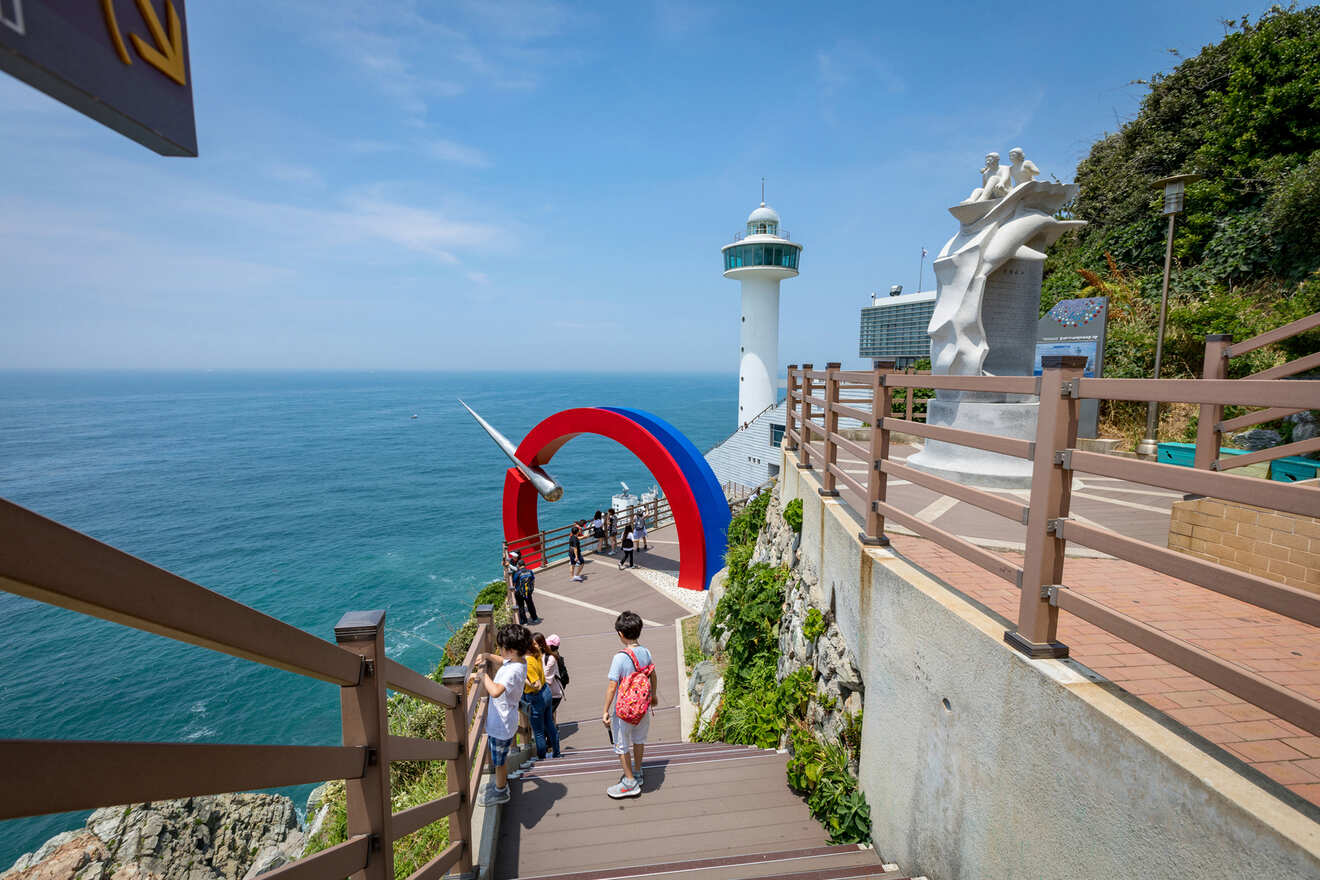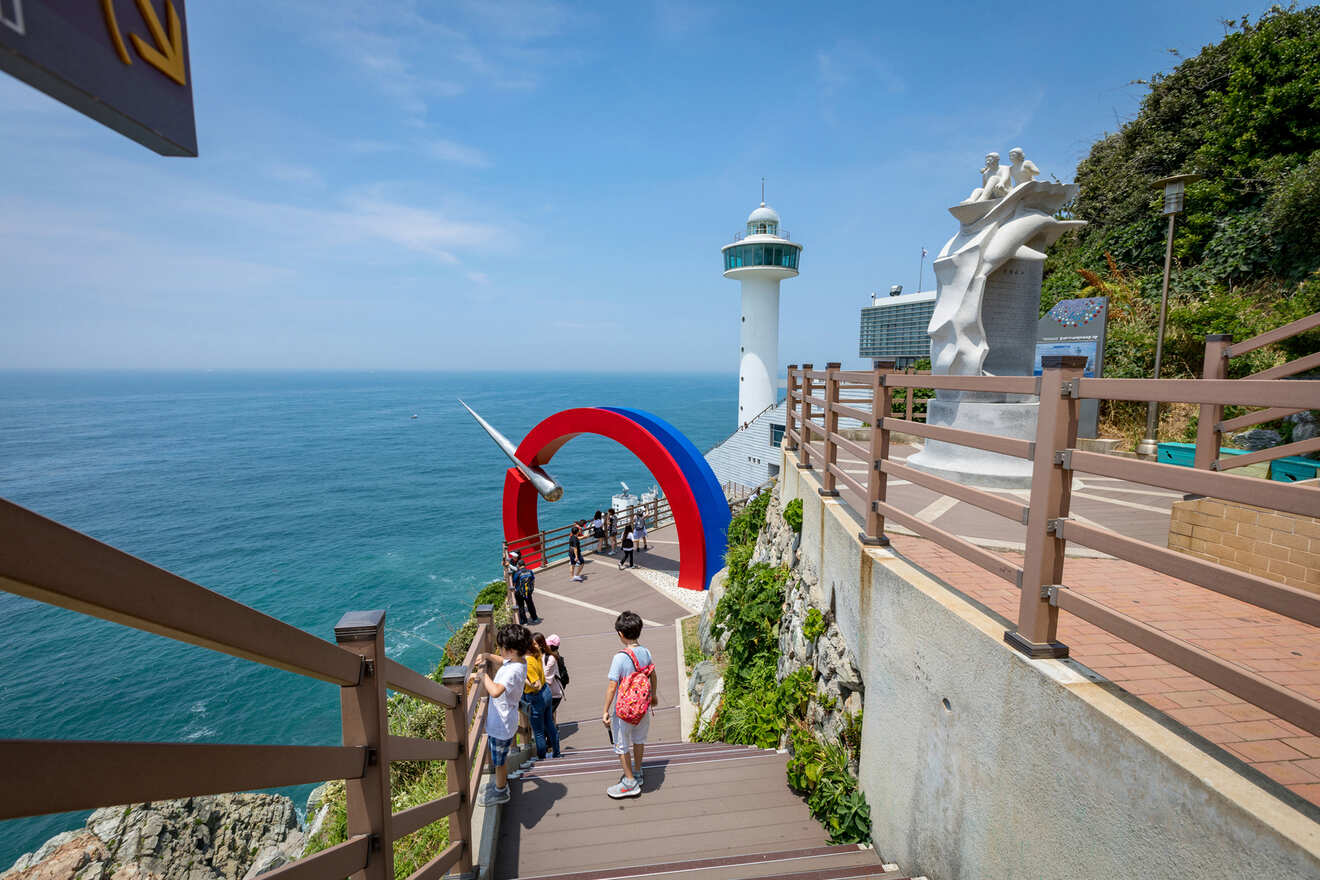 Although it's located a bit further away from the city center, Yeongdo Island is a place that you should definitely include on your list of things to do in Busan!
Better yet, find a hotel here, especially if you're the kind of person who loves having a great view!
The island is filled with amazing viewpoints and nature, and it is linked to mainland Busan by Yeongdo Bridge. Of course, you'll find many places to stay in this part of the city, which I'll talk about in a minute.
But before we head to that part, you should learn a thing or two about the main tourist attractions on Yeongdo-gu island.
As I mentioned, the island is a paradise for nature lovers, and there are a few spots that you should check out while you're here, like the Taejongdae Resort Park, where you'll also find the Yeongdo Lighthouse and some breathtaking ocean views!
Plus many others, like the National Maritime Museum, I'll add all of these to the list below so you can plan your trip properly!
Other accommodation options in Yeongdo-gu
Things to do in Yeongdo-gu
Enjoy the views at Taejongdae Resort Park
Visit the National Maritime Museum
Relax on the Taejongdae Jagalmadang beach
Admire the cherry blossoms in the City Park
Pass through the Huinyeoul Coastal Tunnel
Go hiking in the Bongnaesan area in Busan
Catch a sunset near the Taejongdae Observation Deck
6. Sasang – the best place to stay in Busan for families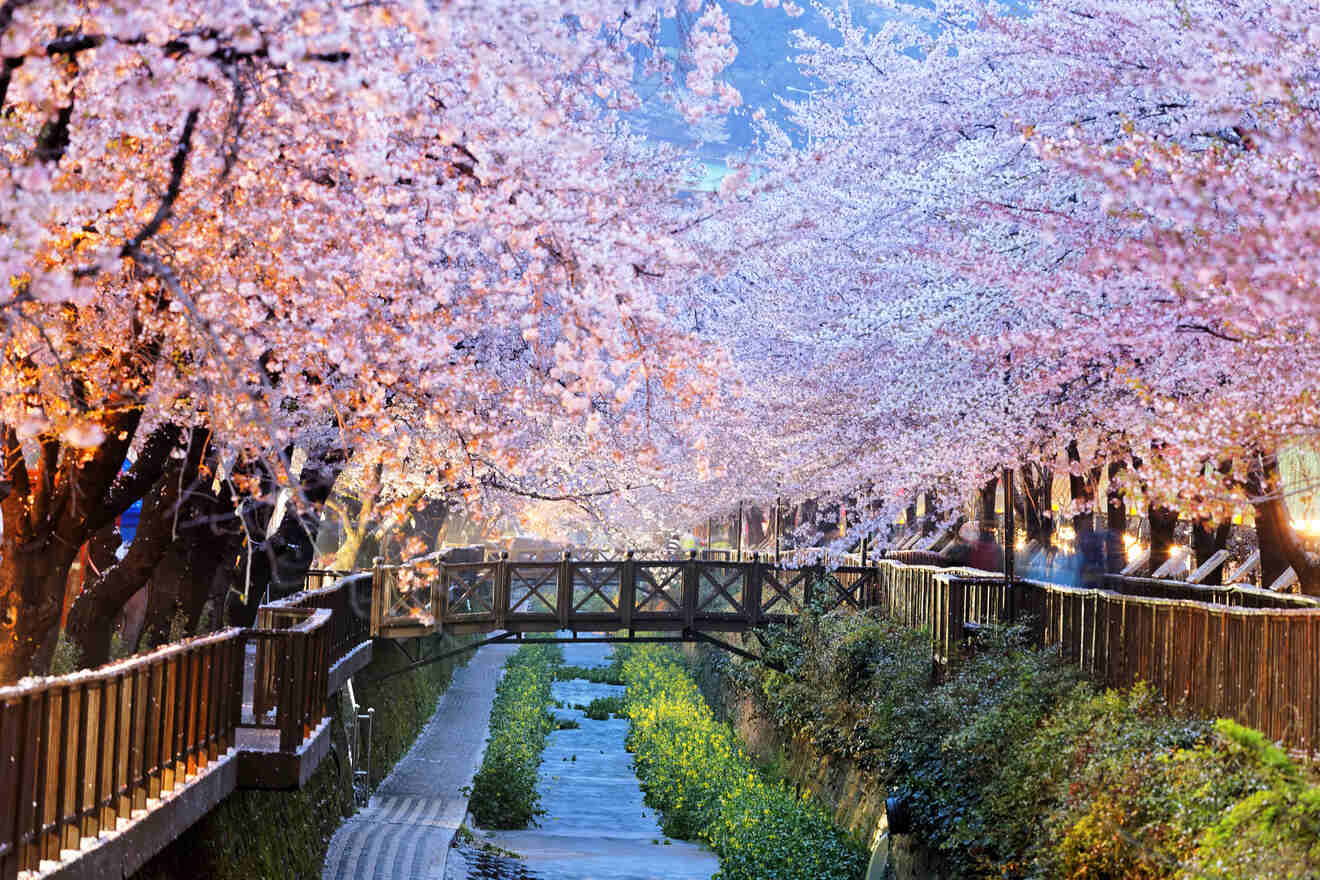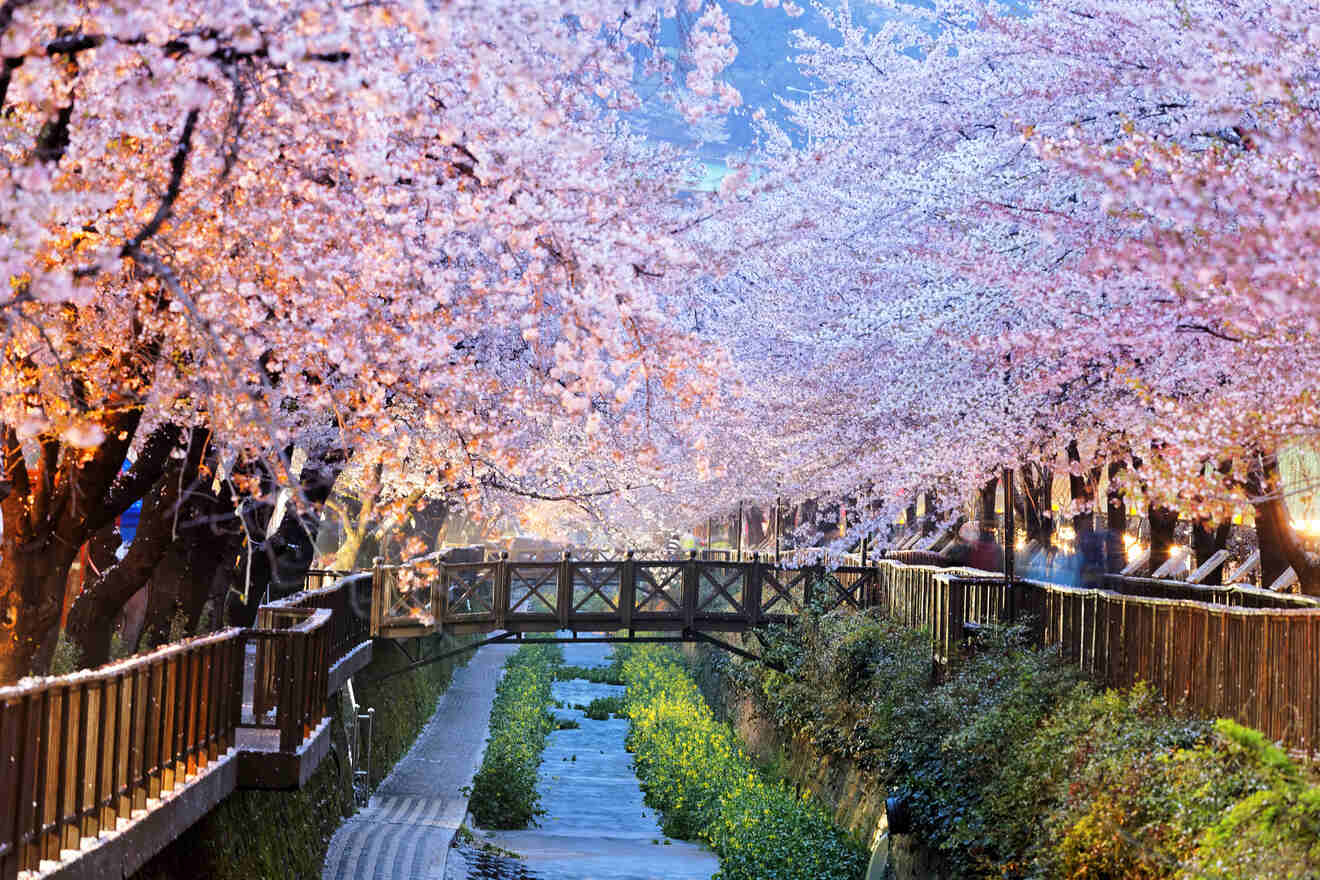 Traveling with the whole family to Busan? Then you'll need a proper area in the city that's not super crowded but still has some attractions for you and the little ones!
I recommend Sasang. This residential neighborhood is the best area to stay in Busan for families as it's not too close to the city center, meaning it's super tranquil, and it has a lot of parks and places to spend your time.
Set by the riverside, Sasang is not super popular with tourists as most choose a place to stay in the city center, but I'm sure most of you are glad to hear that. And although you won't be right in the center of the action, you can always easily reach the Jagalchi Market in Nampo-dong and Haeundae Beach by public transport.
When you plan your trip, make sure you add the Samnak Ecological Park to your list of things to do in Busan, which is huge but so worth it! Here you can walk for hours, enjoy the river sights and cherry blossomed trees, and the kids can play for as long as they want!
Other accommodation options in Sasang
Things to do in Sasang
Visit the K-Shoes Center Museum
Go for a walk in the Sasang Neighbourhood Park
Enjoy a delicious dinner at Bombay Spices View
Get on the subway and explore other parts of Busan
Take the kids to the Samnak Wetland Ecology Park
BONUS 1: Best hotels on the beach in Busan
Now that we've decided which is the best area to stay in Busan (and also gone through 5 other options as well) I think it's time to unwrap some of the gifts that I've prepared for you! The first one is a bonus with my top recommendations for hotels on the beach!
Busan hosts the most famous beach in South Korea, and I'm sure many of you will want to stay as close as possible, so let's check them out: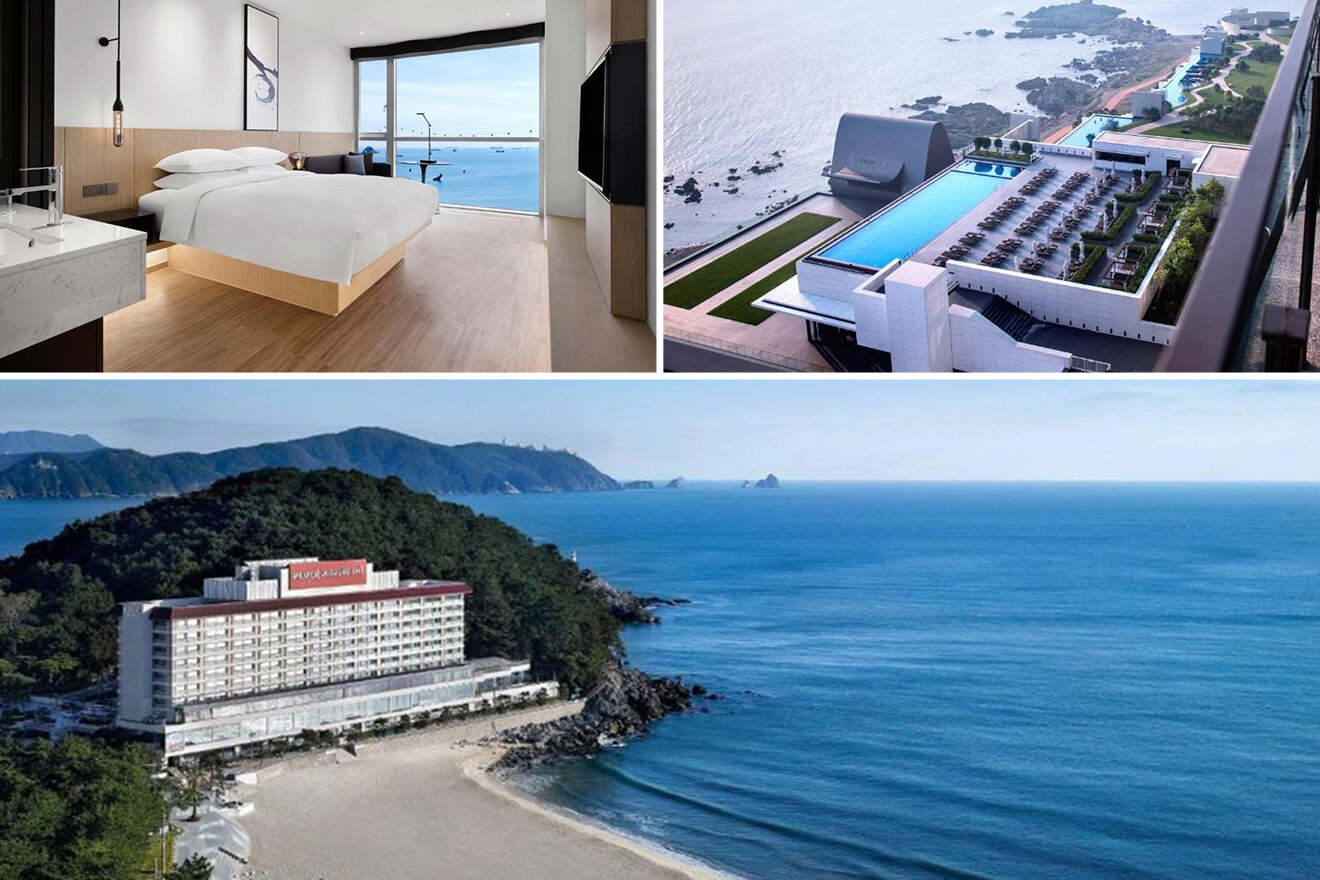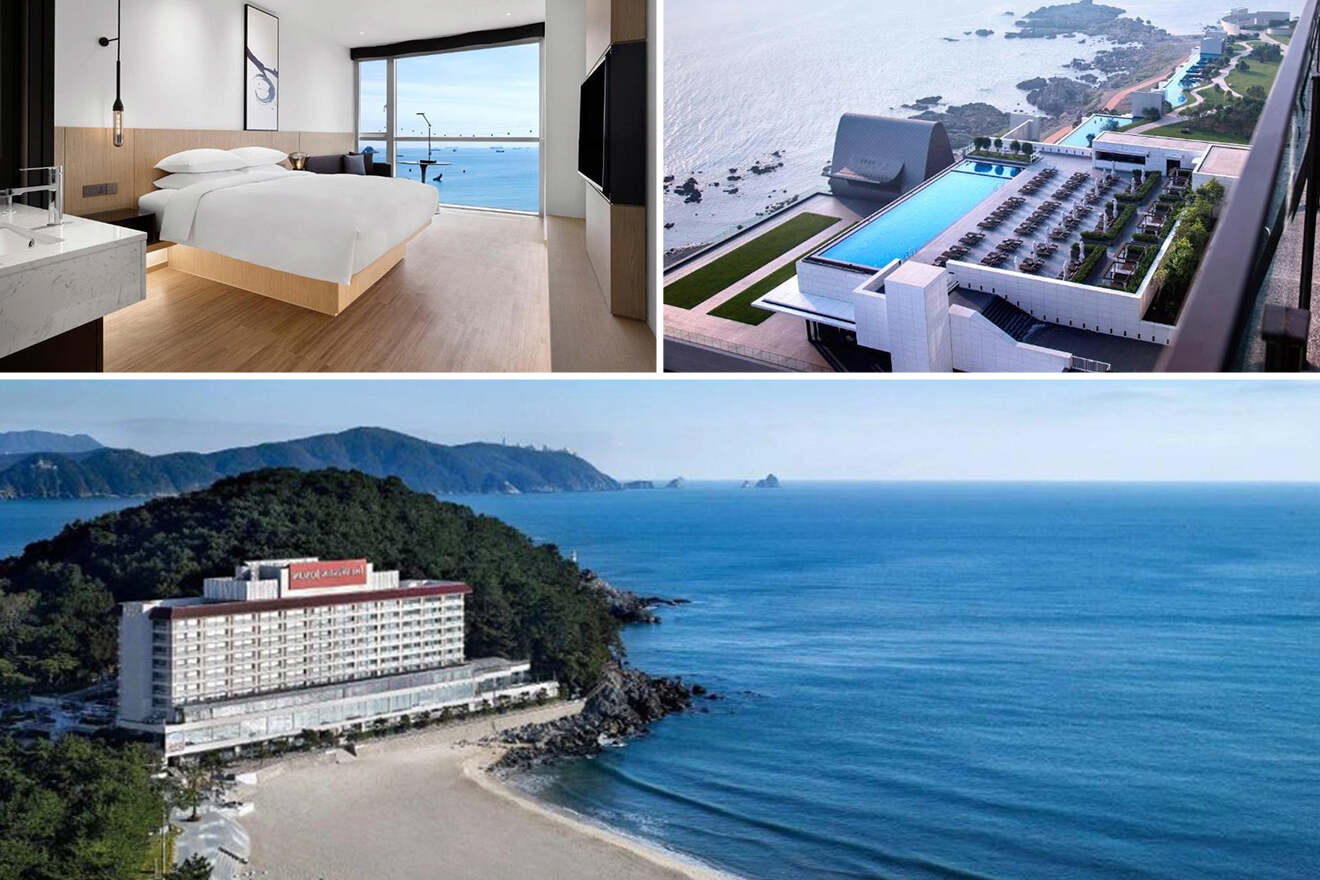 Luxury (US$250 and up)
Ananti Hilton Busan – Wow! That's all I can say! This hotel has a breathtaking design, and it resembles a kind of modern temple! Featuring rooms with a balcony and soft brown decor, this luxurious place to stay has a restaurant and a bar! Relax by the swimming pool and admire the breathtaking views. You're also more than welcome to spend a whole afternoon at the spa center trying different massages.
The Westin Josun Busan – Wake up, head to the beach, eat and repeat! That should be your motto while visiting Busan! This 5-star hotel is set right on the beach, and it offers views of both the ocean and the skyscrapers. Each room has lovely decor, but it's the indoor pool and spa center that will steal your heart, plus the 6 dining and drinking options (1 for each day you're here)!
Mid Range (US$100 – $200)
Fairfield by Marriott – Set on the sandy shores of Songdo beach, this luxury hotel offers spacious rooms with a minimalist yet super cool design and large windows so that you can wake up to the best view! The accommodation is filled with facilities that will make your stay in Busan amazing! Including a restaurant, a fitness center, and a restaurant. But you'll also find some great things to do outside of the hotel, like snorkeling and canoeing!
Budget (up to US$50)
Mipo Oceanside Hotel – From your bed straight to the beach! What can be better than that? I know. How does a location right near Haeundae beach sound? This hotel in Busan has an awesome price, and you should definitely not miss it! Especially since it offers rooms with sea views, coffee facilities, a bar, and plenty of activities like walking tours and pub crawls. Let the fun begin!
Tokyo Inn Busan – Set on the famous Haeundae beach in Busan, this hotel offers affordable but super charming rooms equipped with all the necessary facilities a private bathroom, flat-screen tv, and free wifi. Enjoy a delicious (free) breakfast in the morning, and then head out to explore the city!
BONUS 2: Best hotels with a sauna in Busan
City life can get a bit hectic sometimes, even if you're just visiting! I'm sure we all know it. This is why we need amazing hotels with facilities that will help us relax after a day of walking around crowded attractions!
So as a second bonus, I decided to add some more amazing hotels in Busan that have a sauna where you can chill and rest for a few moments. So let's check them out: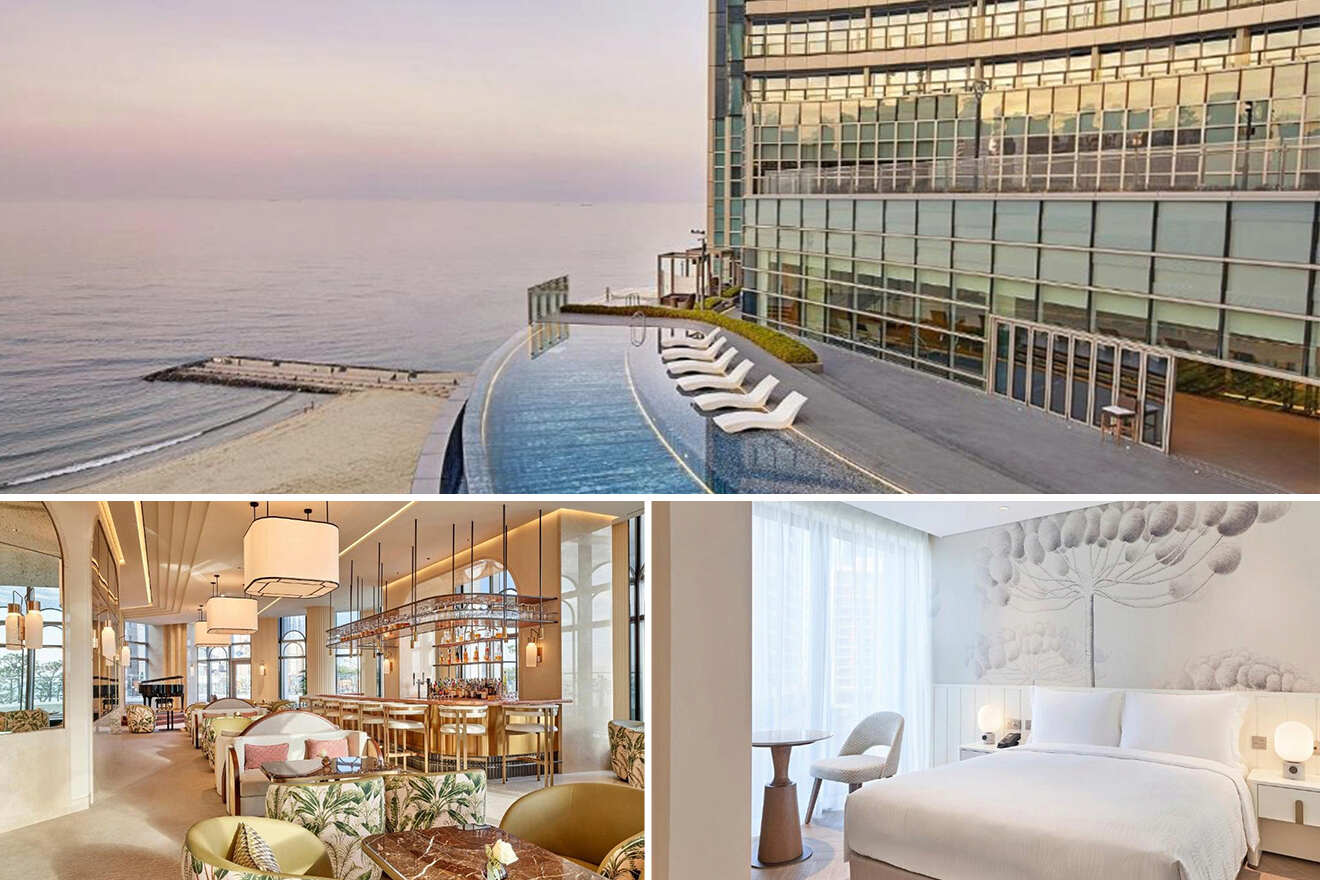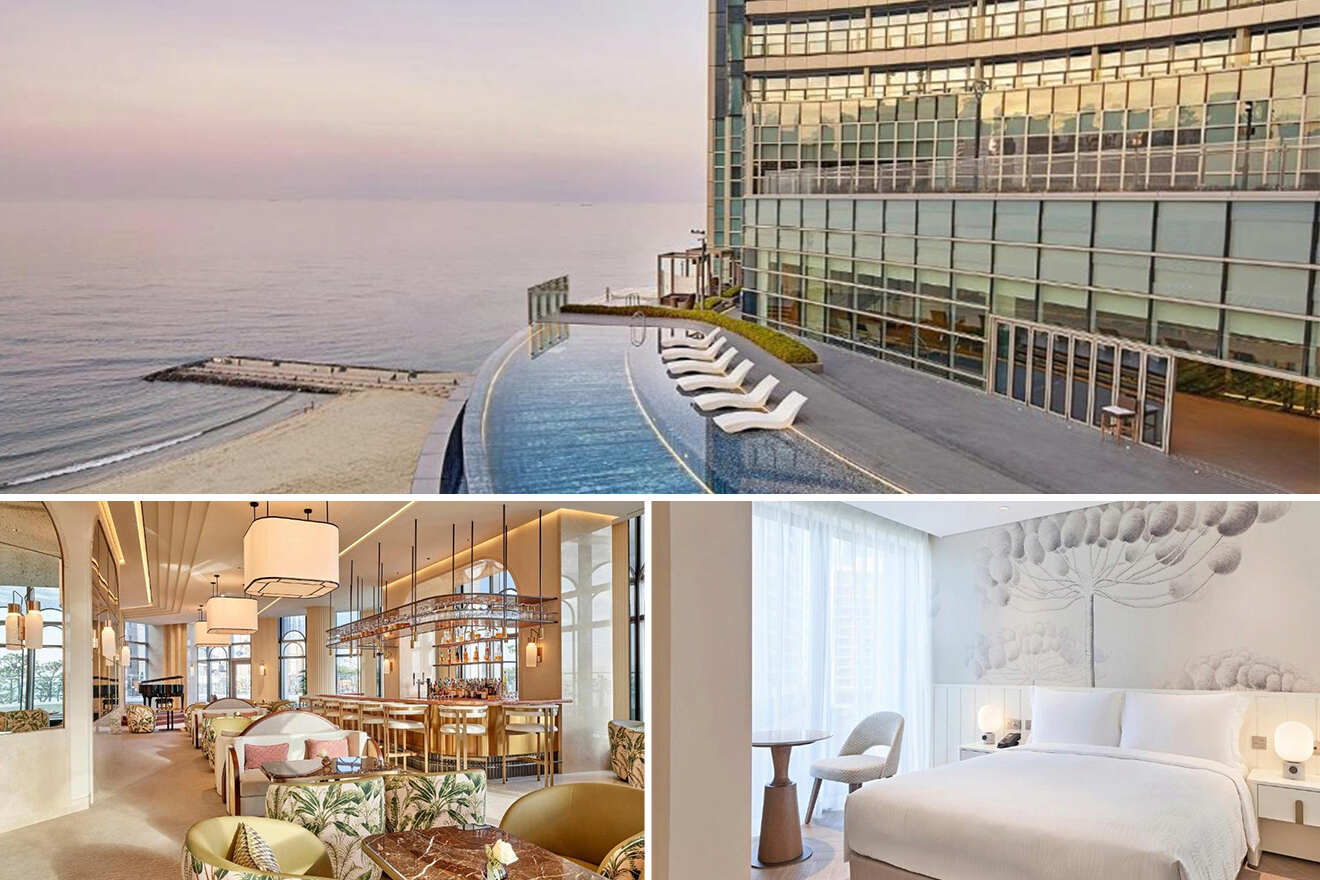 Luxury (US$250 and up)
Signiel Busan – You can never go wrong with a hotel like this one! Located in Haeundae, near the beach, this luxury hotel offers a unique infinity pool, from where you can admire the ocean and the city as well! Featuring modern rooms with a nice bath and lots of space. Perfect for families as well, as there is a kid's club, and the hotel has a spa where adults can relax and enjoy the tranquility in the sauna.
Grand Josun Busan – Another fabulous 5 star-hotel in Haeundae! Wake up to a wonderful sight of the beach in your comfortable rooms with ceiling-to-floor windows and a flat-screen tv. Start your day with some breakfast in the room service, and then head out to chill by the outdoor pool or the indoor one. After a day of exploring the beautiful Haeundae area, a sauna sesh will feel heavenly!
Mid Range (US$50 – US$100)
Avani Central Busan – Comfortable rooms? Check! Sauna? Check! Amazing city views? Oh yes! Add on top of all that a yummy breakfast, and you've got yourself the perfect place to stay in Busan! This accommodation offers comfortable rooms with a private bathroom, a flat-screen tv, and air-conditioning.
Budget (up to US$50)
Premium Ava Hotel – It's not only that fancy 5-star hotel that you may not be able to afford that offers some amazing spa services! Sometimes you'll be lucky to find affordable ones as well (but you'll have to book fast). This is one of those rare finds, and it definitely is a great place with many amenities, including rooms with private bathrooms and a spa with a hot tub, sauna, and massages!
FAQs about hotels in Busan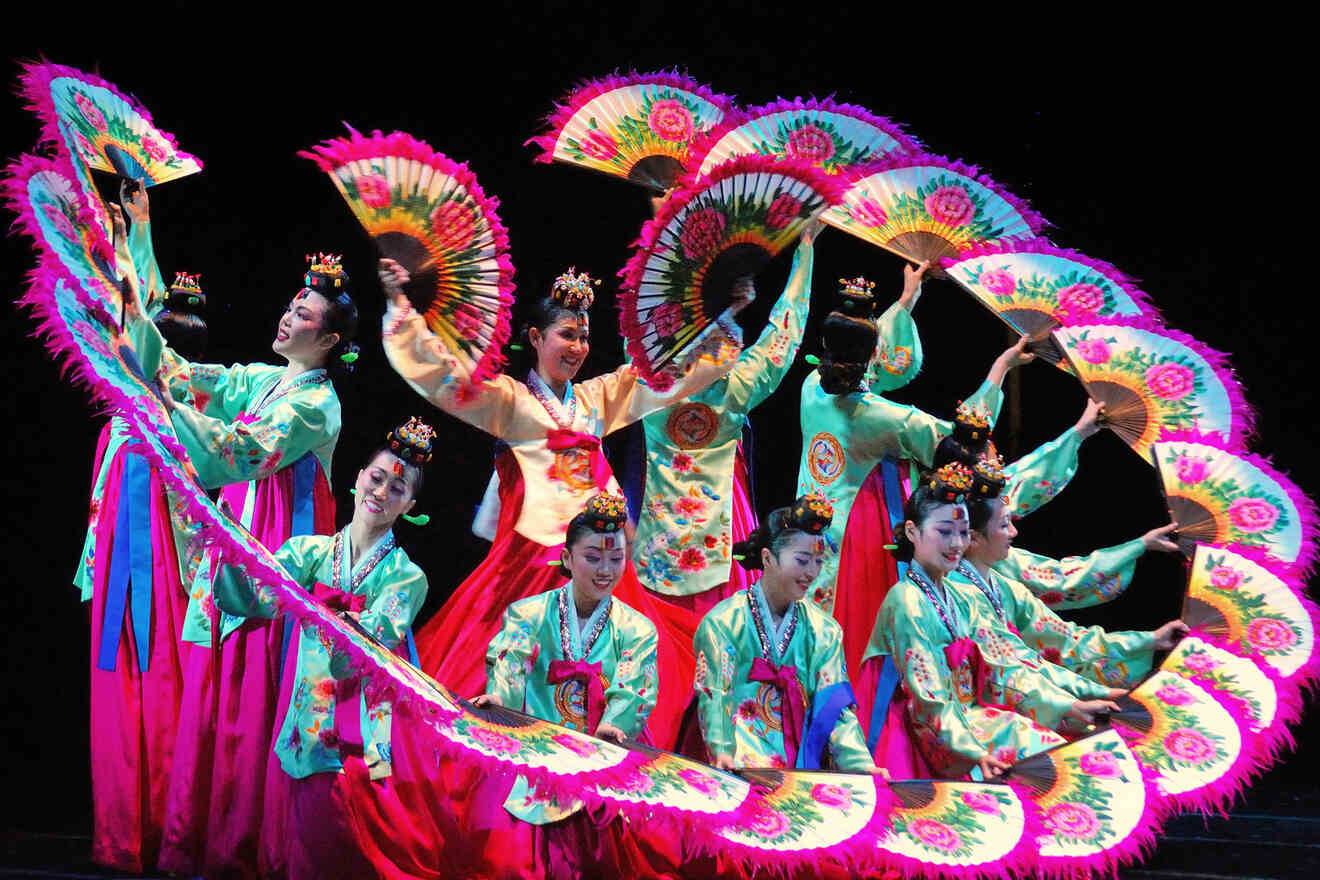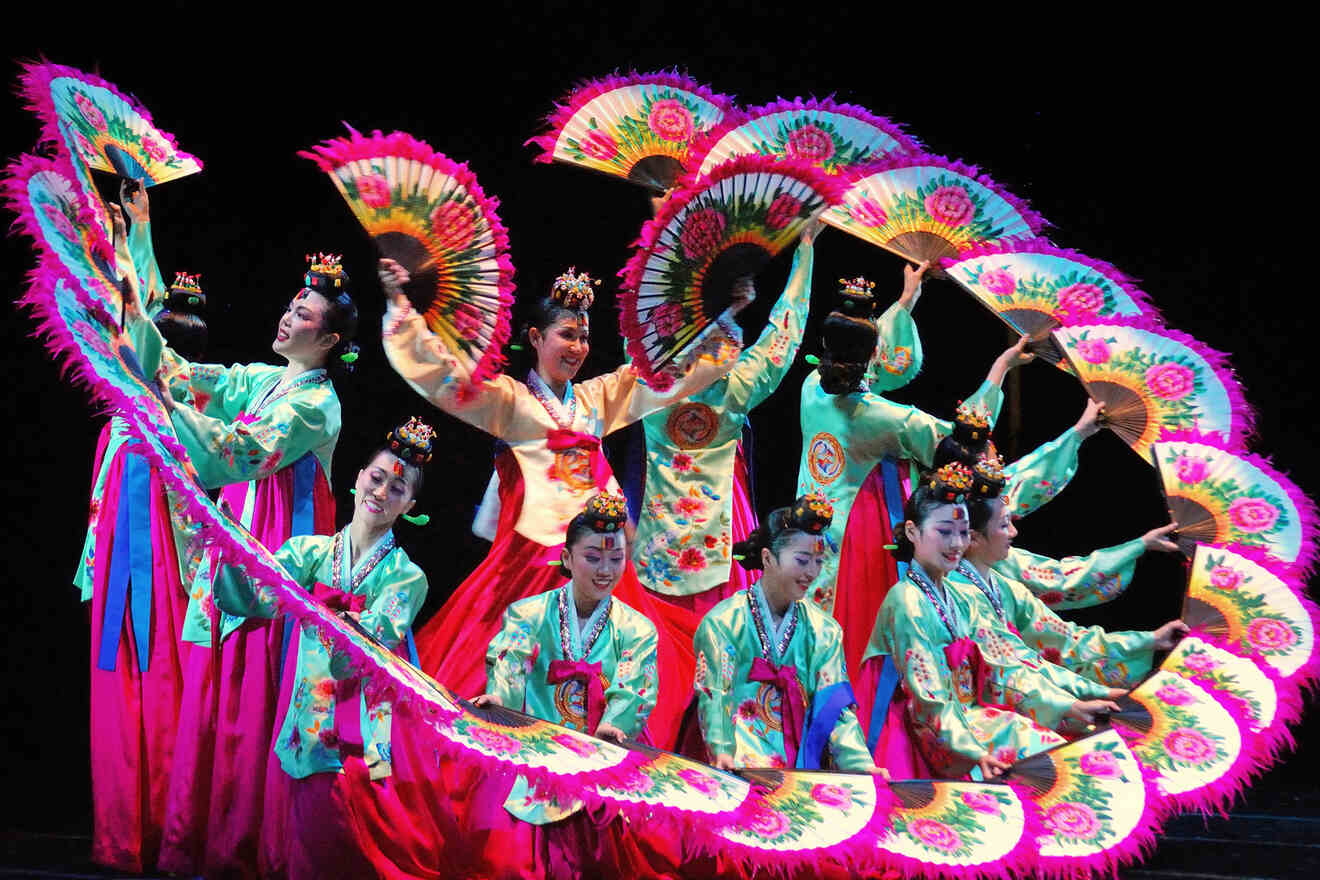 Conclusion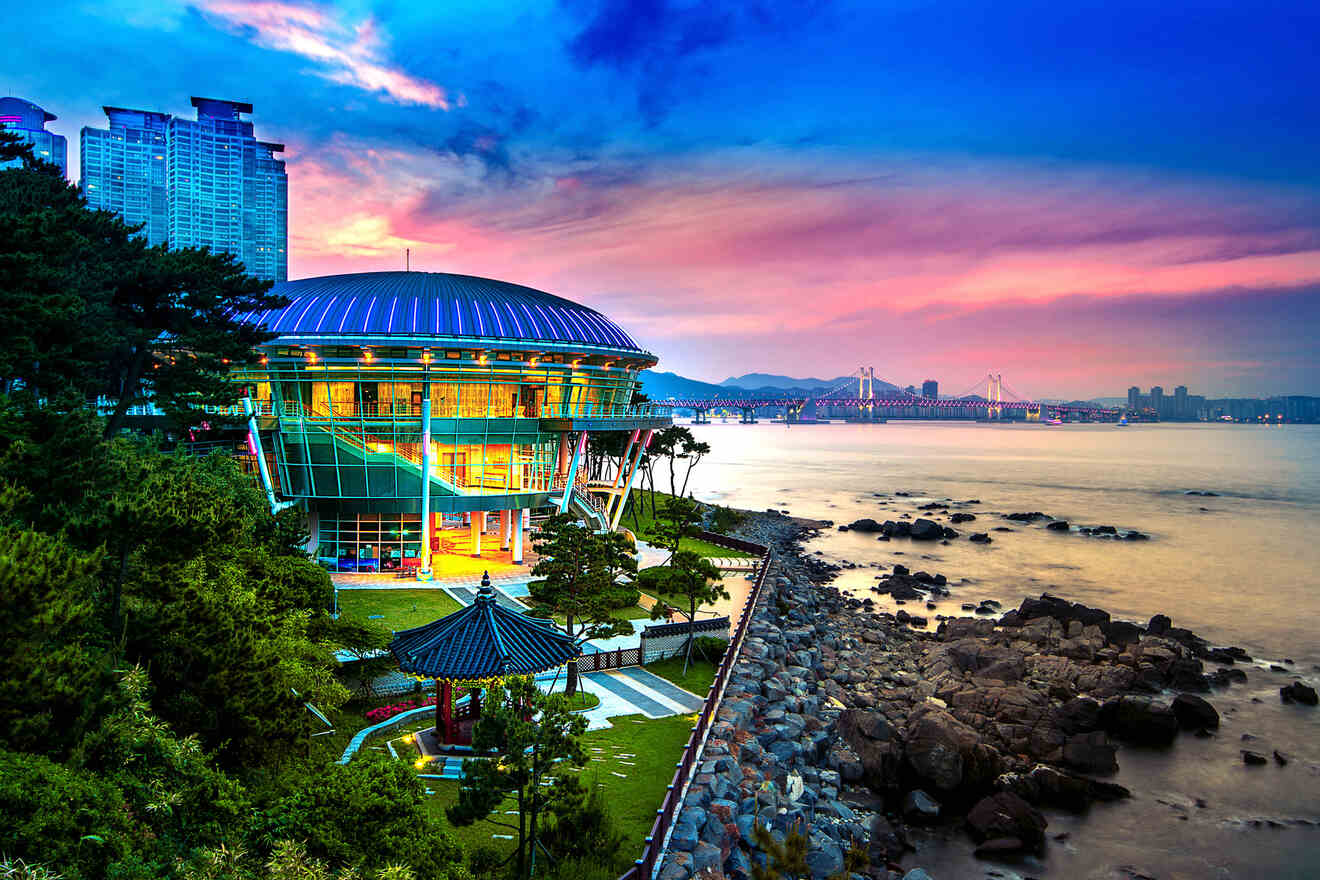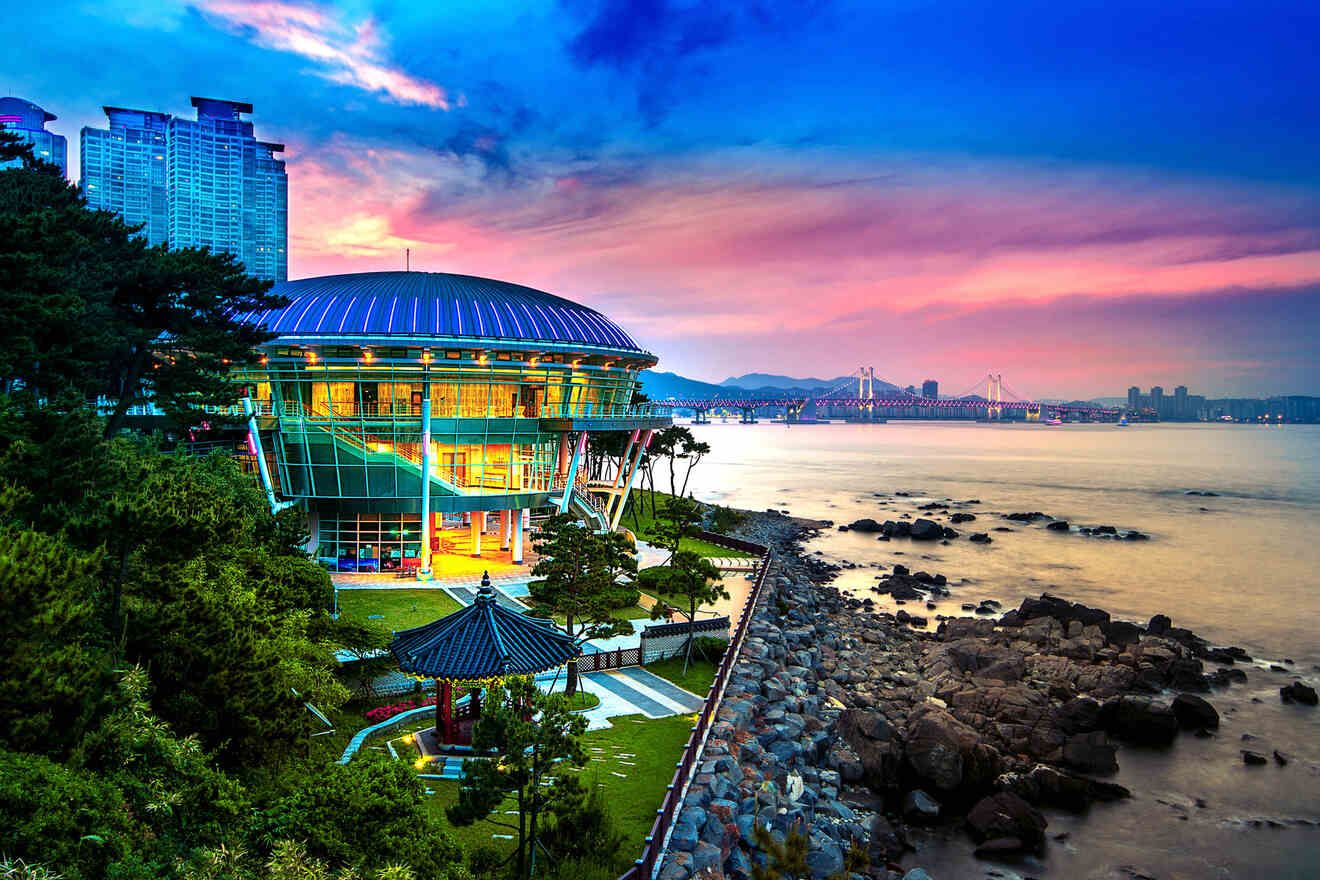 What a destination! All that street food made me so hungry! After reading this post you must be a wizard at planning your trip to Busan, South Korea!
In this article, we've talked all about the best areas where to stay in Busan, plus the top hotels for each, and 2 bonus sections. One with some amazing places to stay on the beach and the other with accommodations that have a sauna.
It's a bit overwhelming, right? Having too many options always is, but it also helps you make the best decision! If you need some extra help here are my top 2 favorite hotels in Busan, South Korea:
Nampo Ocean2Heaven – This charming hotel offers comfortable rooms with incredible sea views and a sauna
Central Park Hotel Busan – A unique mid-range place to stay in Busan that offers views of the Busan Tower and it's close to all the attractions
Remember, these are the best hotels in Busan South Korea, and although you think there are many, trust me, they'll sell out fast. Book yours in advance and avoid the high prices, or worse, ending up in a weird hotel.
Well, I guess this is where we part our ways (for now) but I'm here if you've got any questions about Busan or South Korea. Just leave me a comment below and I'll answer as soon as I can.
Happy exploring,
Victoria
---