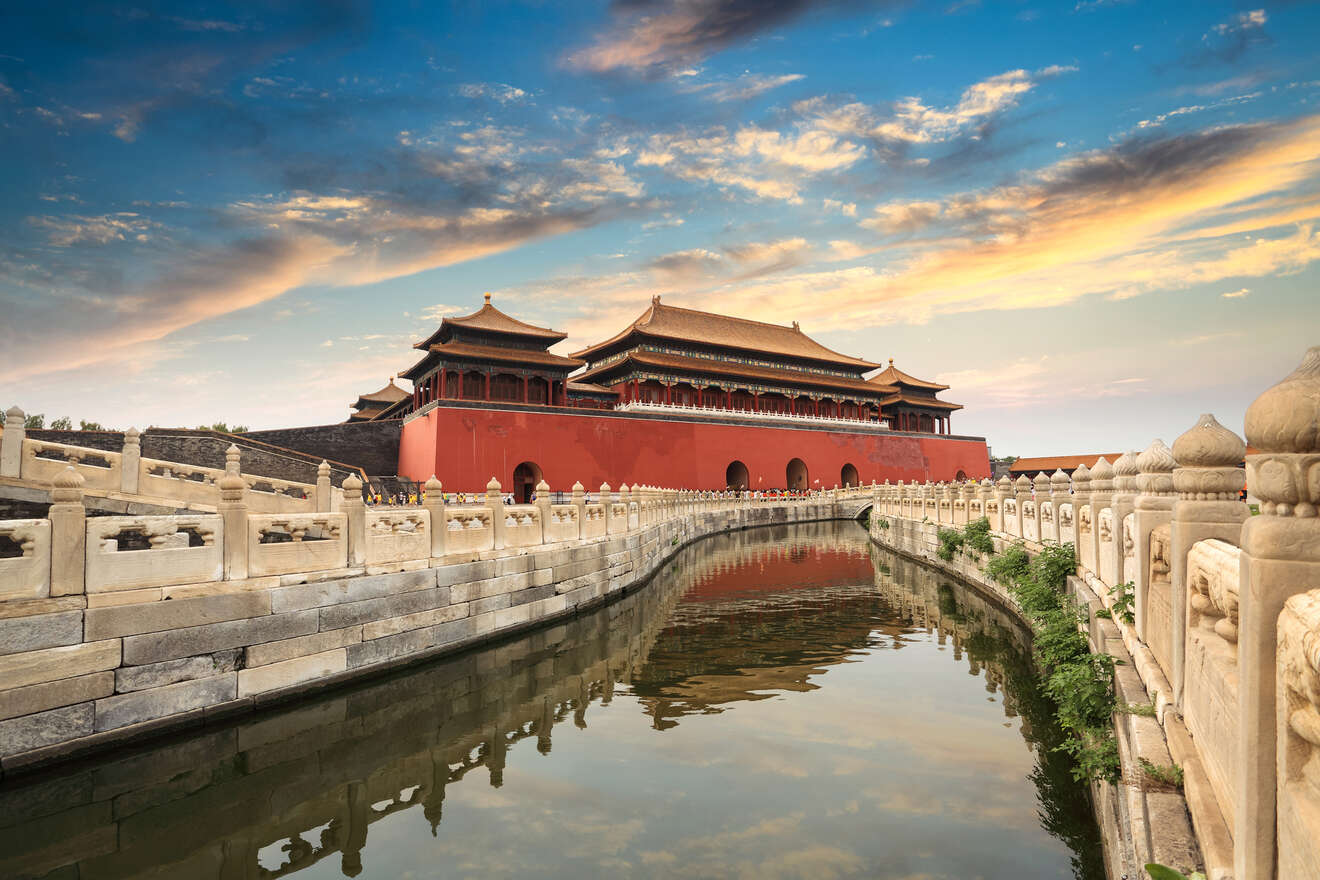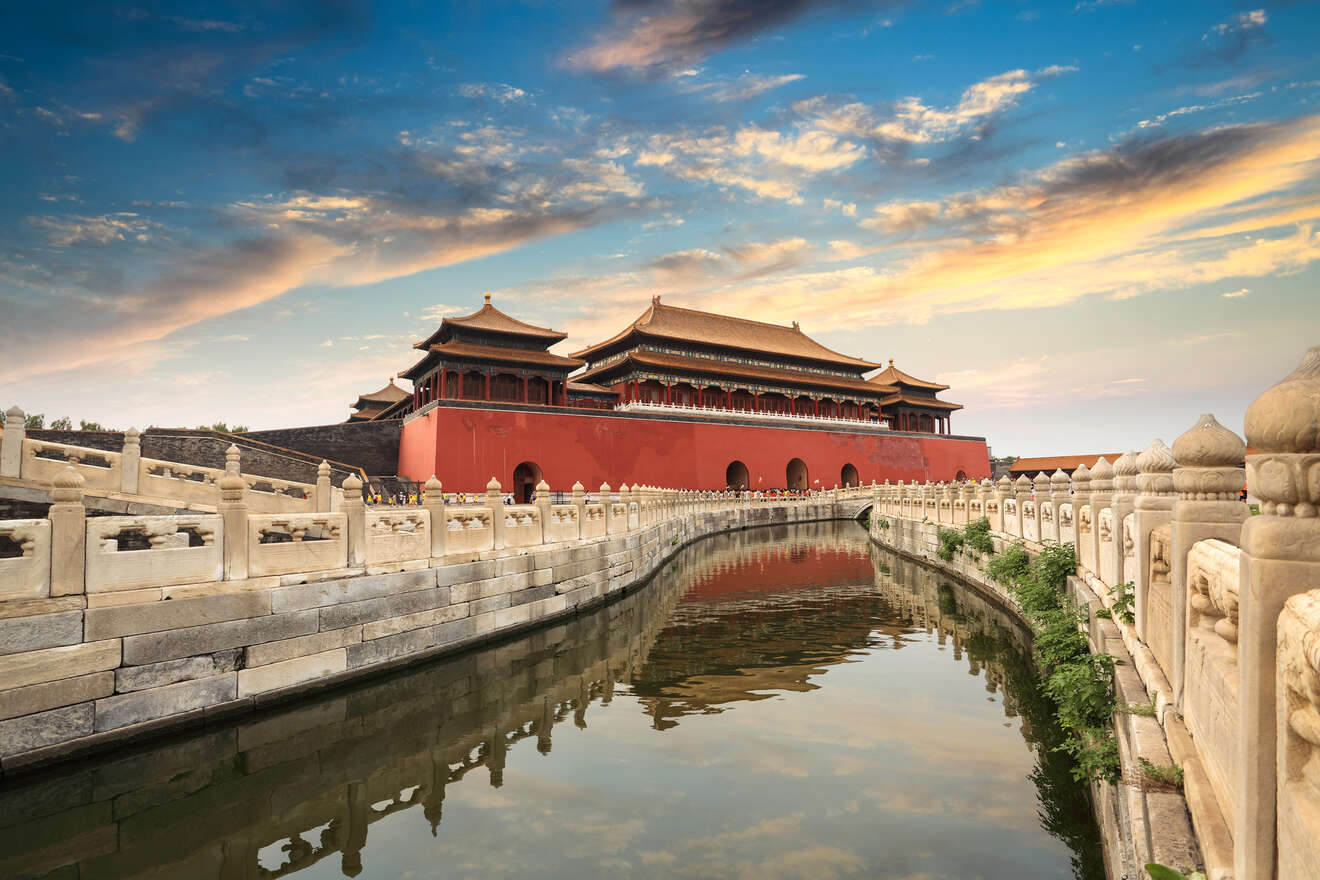 Get ready to journey to a city that doesn't look like anywhere you've been before! Temples, history, cultural landmarks, the best shopping malls, amazing local foods, nightlife – you name it! Welcome to the impressive Beijing, China!
In this post about where to stay in Beijing, China, I will talk about the 5 best areas and give you an idea of the vibes of the areas as well as list the best hotels in each area for all budgets.
While Beijing seems huge and a little overwhelming on the map, you'll be happy to know that the main attractions and hotels are all located in a line up the center of the city, making a very convenient walk for your sightseeing! I went through all of the hotels in the city and handpicked the best ones for you so you will be able to find your ideal place and plan your trip without a hassle!
Since Beijing is a very popular travel destination, I have to remind you that the hotels can often fill up quickly. That's why you shouldn't forget to make a booking in advance. By making an early reservation, you will also be able to get better deals and many of the hotels have free cancelation, so don't worry if you change your mind!
If you are ready to get around the city, let's start our Beijing, China tour!
If you are in a hurry
Here are the best places where to stay in Beijing with hotels from luxury to budget. They are all conveniently located and have great reviews!
Here is a map about the 5 best areas where to stay in Beijing that I will be talking about in this blog post so you can easily visualize them:
1. Qianmen – where to stay in Beijing for the first time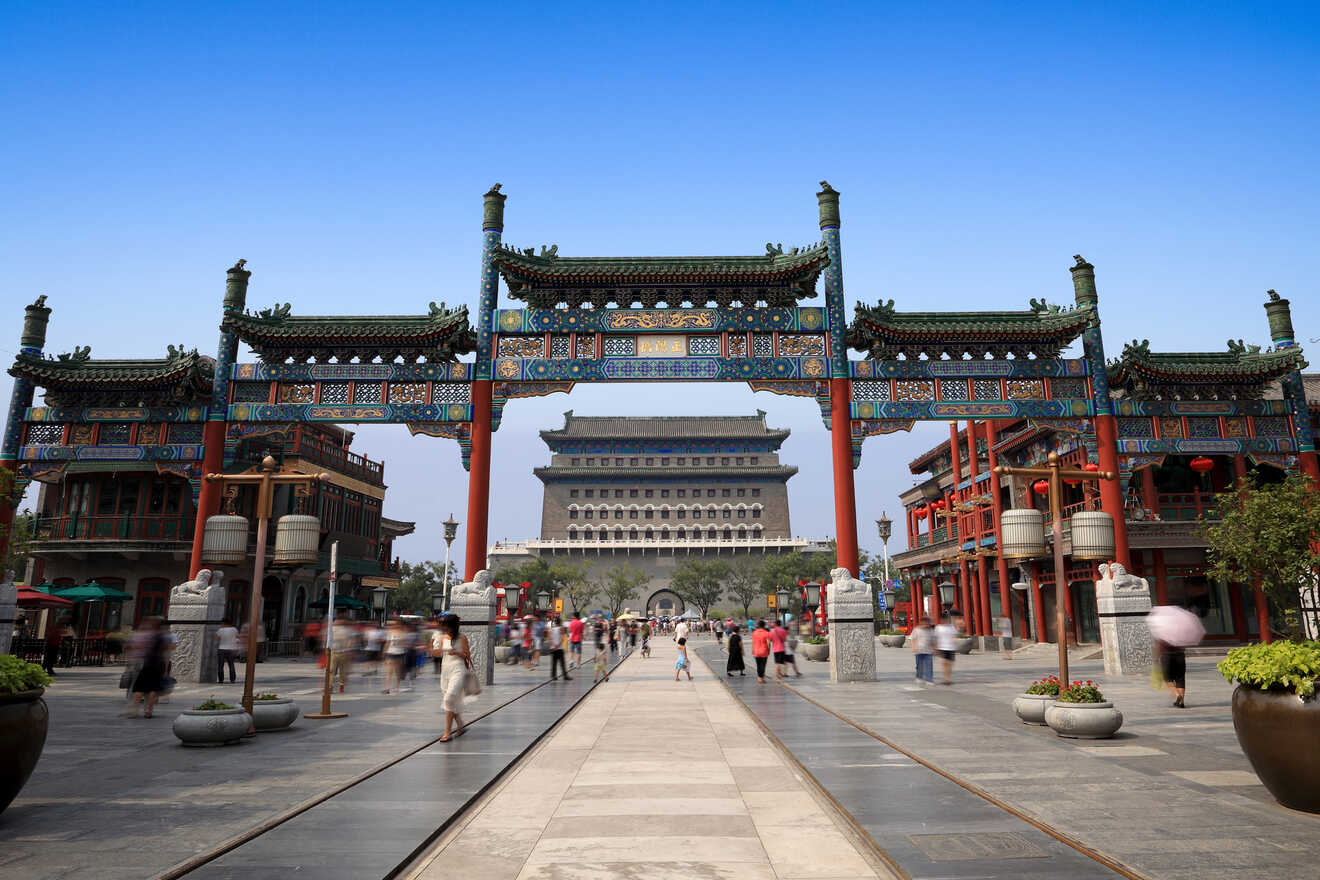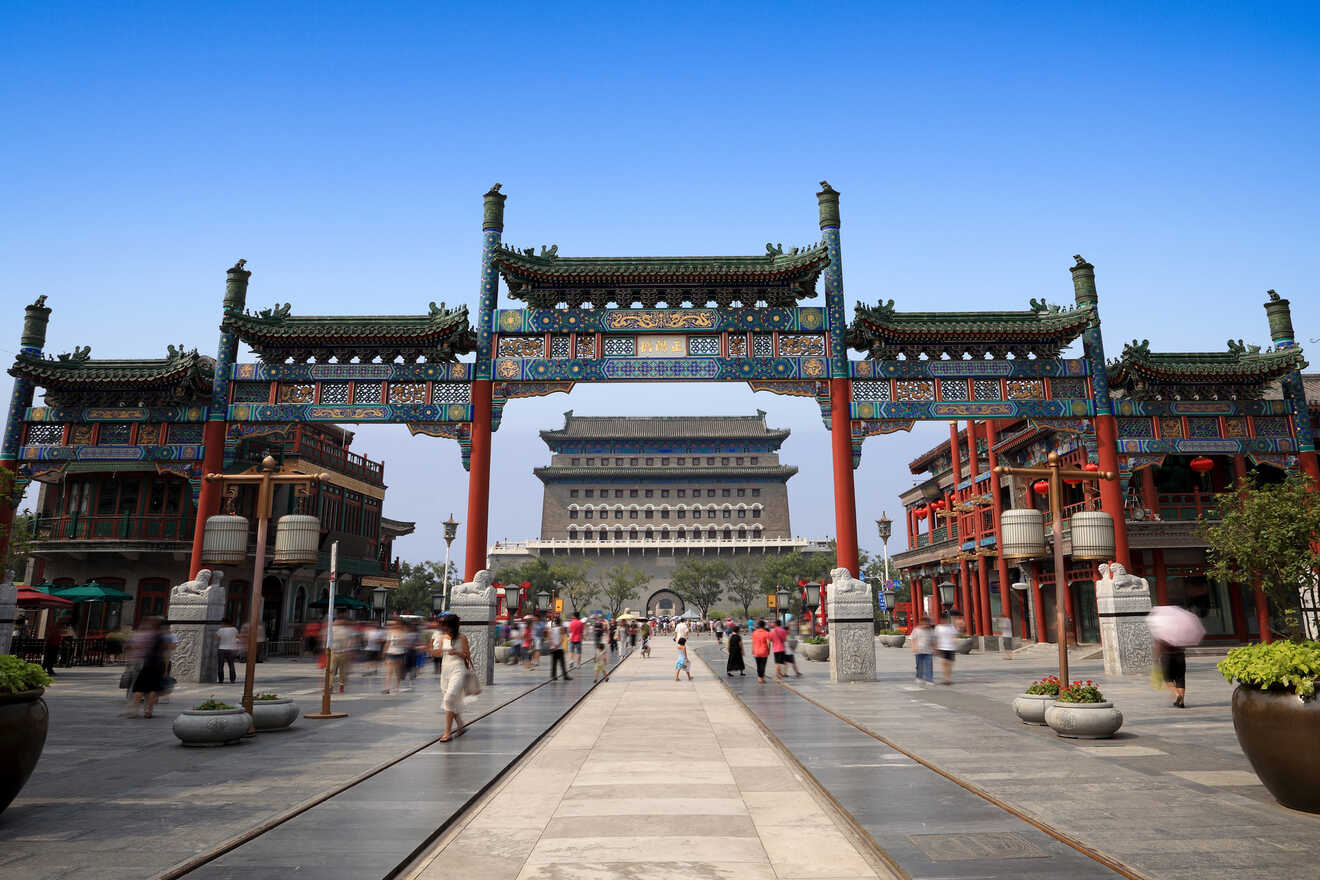 Beijing, Qianmen is in close proximity to the main landmarks and is one of the best areas to stay to experience traditional Chinese culture. The area is based around one famous pedestrian street called Qianmen street which is full of stores, workshops, and traditional restaurants.
This is also the most convenient area to start your sightseeing, whether you are a history seeker, foodie, or shopping lover, you will find it all here! That's why it's my pick for where to stay in Beijing for the first time.
Start your day discovering Tiananmen Square at the northern end of Qianmen street. Work your way down and check out the historical buildings and the famous Temple of Heaven.
In Beijing, Qianmen, it will be difficult to pick from many nice local restaurants so make sure to do your best to try as many delicious foods as possible! By staying in Qianmen you will also be close to the Forbidden City, so it is also a good base to discover the famous Palace city inside the walls.
I'm sure you will be tired enough after a long day of sightseeing so now I'll help you to find the best hotel with a convenient location for you to lay your head. I just want to remind you that Qianmen is one of the most popular neighborhoods to stay in Beijing and as always I want you to stay in the best hotels, so do not forget to make your booking in advance!
This is true with many of China's big cities so if you're heading to Shanghai too, you better book one of the best places to stay in Shanghai now too.
Other accommodation options in Qianmen
Things to do in Qianmen
2. Gulou – the best area to stay in Beijing for local experiences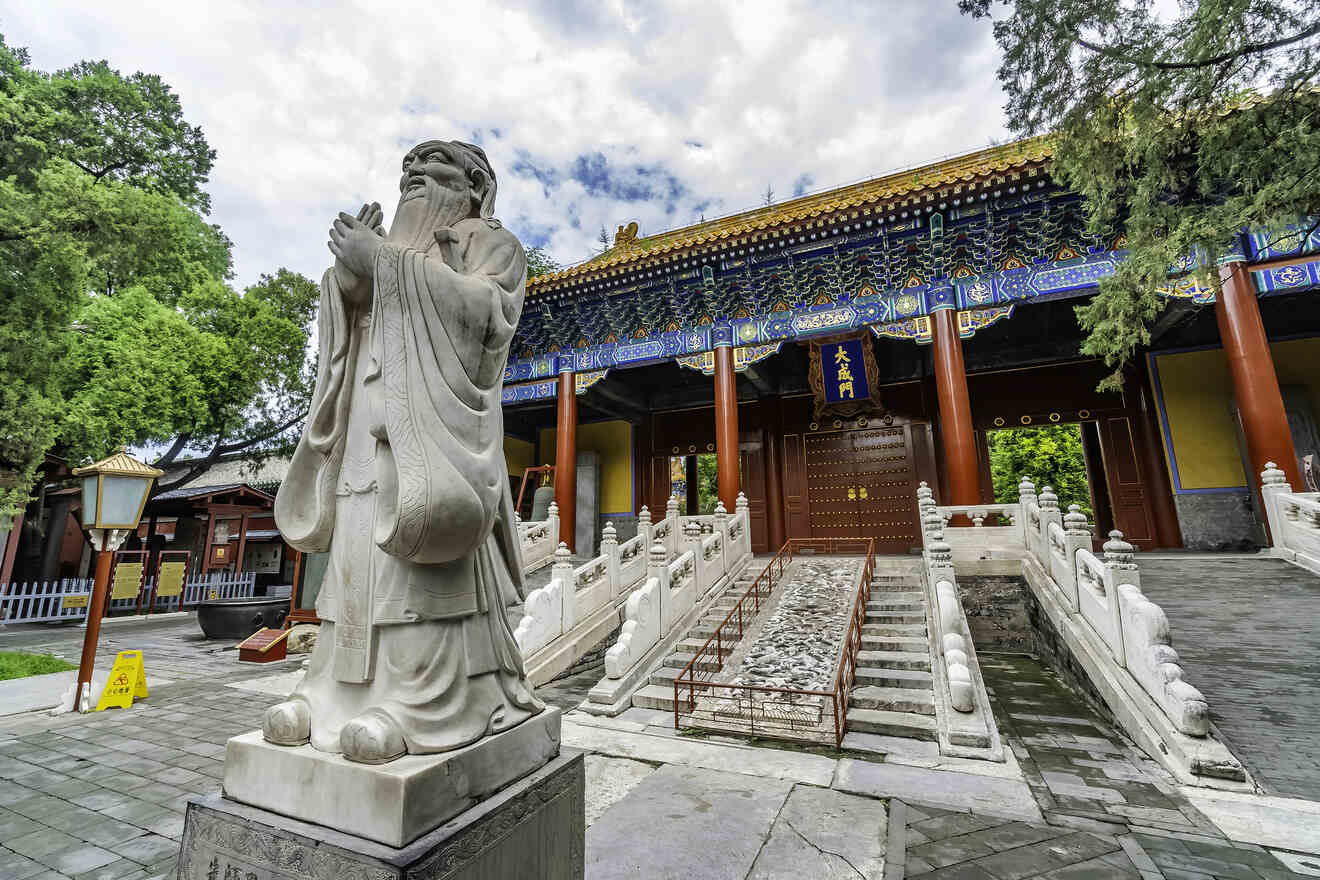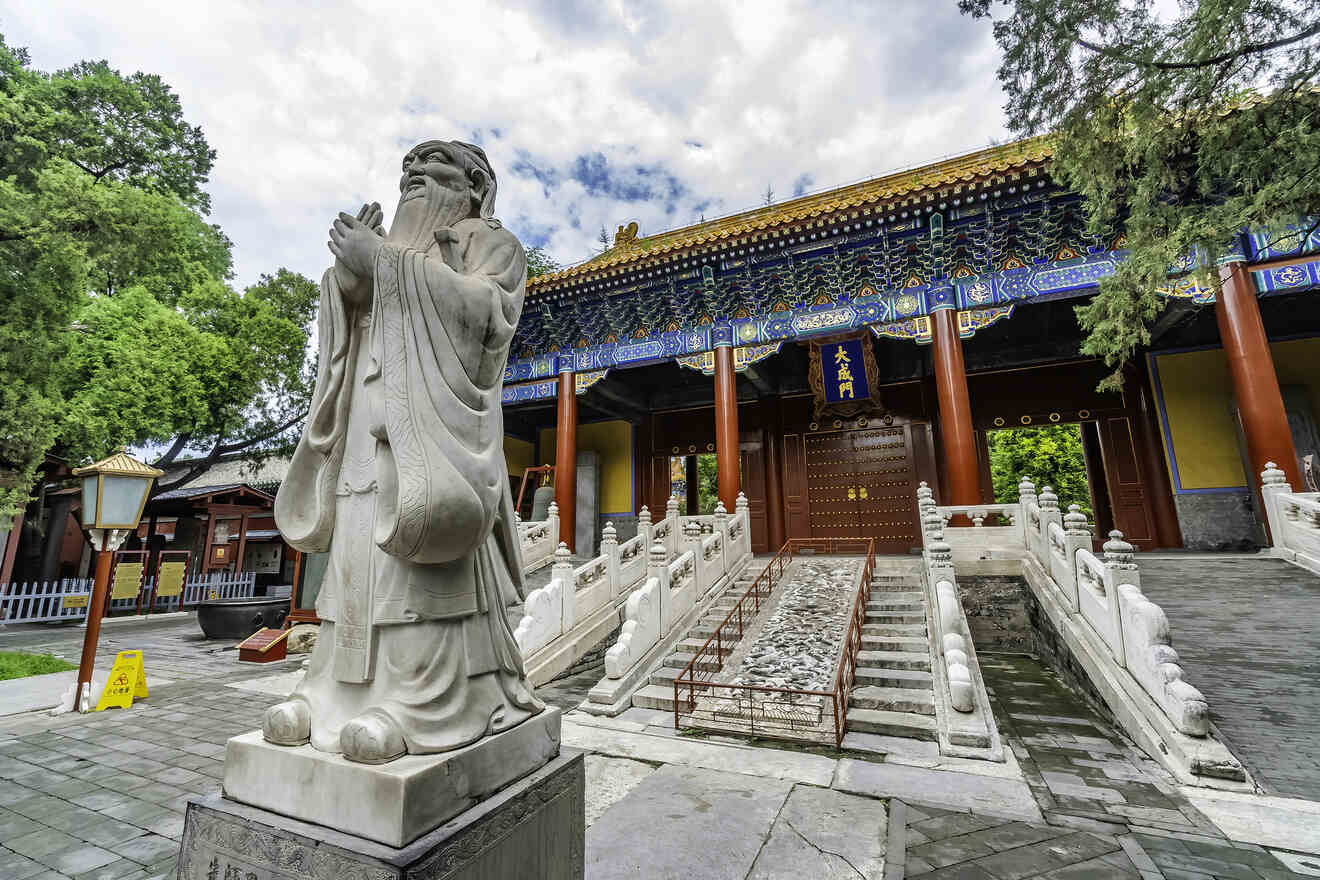 Gulou is located 6 km (4 mi) north of Qianmen and it is one of the best areas to stay in if you are looking for a traditional Beijing experience. Gulou has many traditional hutongs (small neighborhoods) that have been protected by the government.
Thanks to its well-preserved traditional facades, it is one of the coolest areas in Beijing that offers many trendy cafes, restaurants, and cool shops in interesting buildings.
The place that you must first head to in Galou is the famous pedestrian street Nanluoguxiang. Check out cute buildings with traditional Chinese architecture, shop in local shops, and eat delicious traditional foods. For photography lovers, this street is also so Instagrammable! The main landmarks you shouldn't miss here are the famous Bell and Drum Tower, the Confucius Temple, and ​​Prince Chun's Mansion.
For those who are looking for a local vibe, there is no place better than Gulou. As you're not alone here the hotels can fill up so quickly, so be quick and make your reservation now to catch your favorite hotel. Speaking of authentic places, if you are looking for more interesting destinations near China, I highly recommend Hong Kong!
Since this area is well preserved there are no luxury hotels here but I found out the 3 best accommodation options for other categories for you.
Other accommodation options in Gulou
Things to do in Gulou
Get lost on the streets of Nanluoguxiang among the Old Beijing buildings
Visit the Lama Temple and the Confucius Temple
Go to the ​​Prince Chun's Mansion
See the impressive Bell and Drum Tower
Try traditional foods like Peking Duck at Gulou Dong DaJie (Gulou East Street)
3. Xidan – where to stay in Beijing for shopping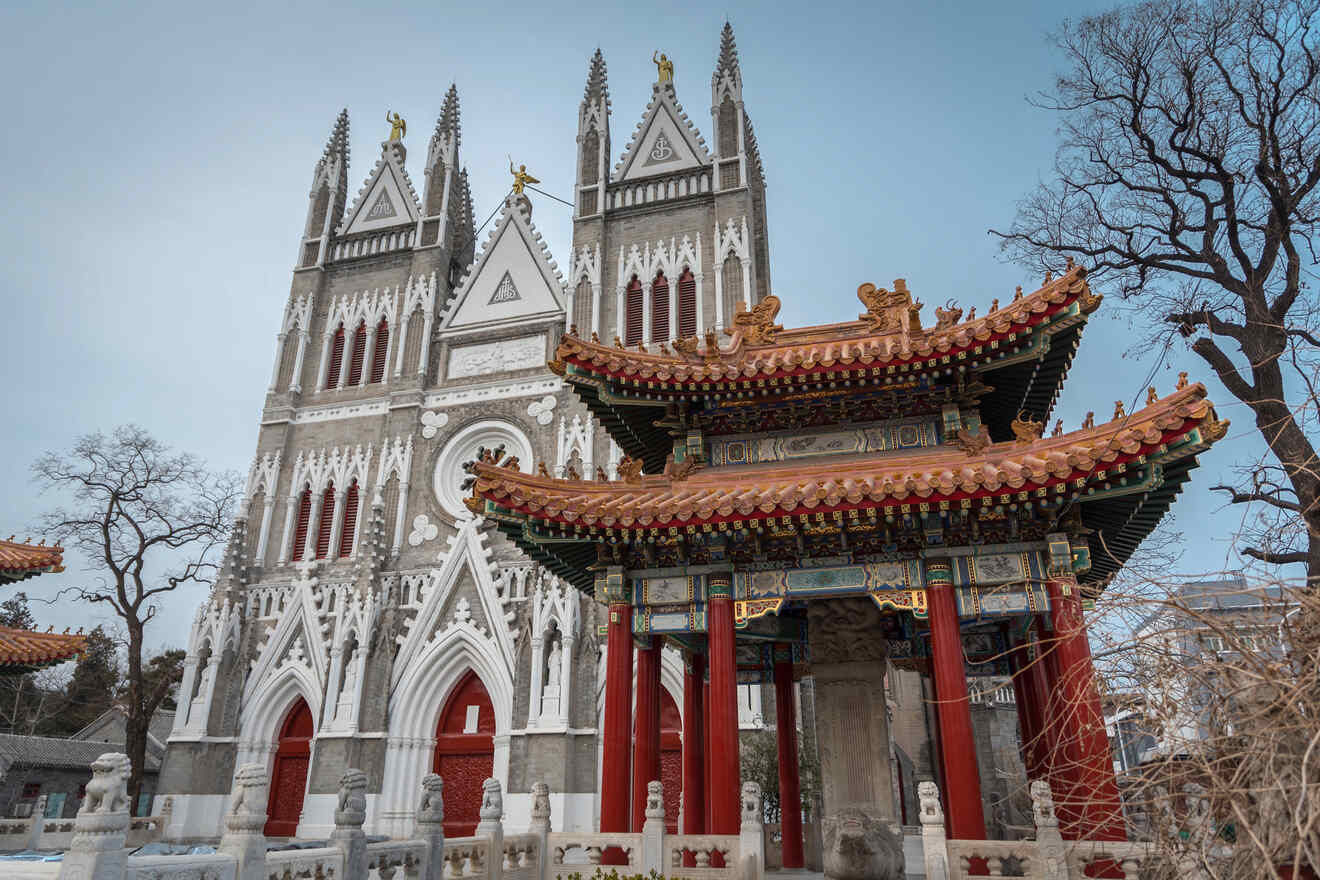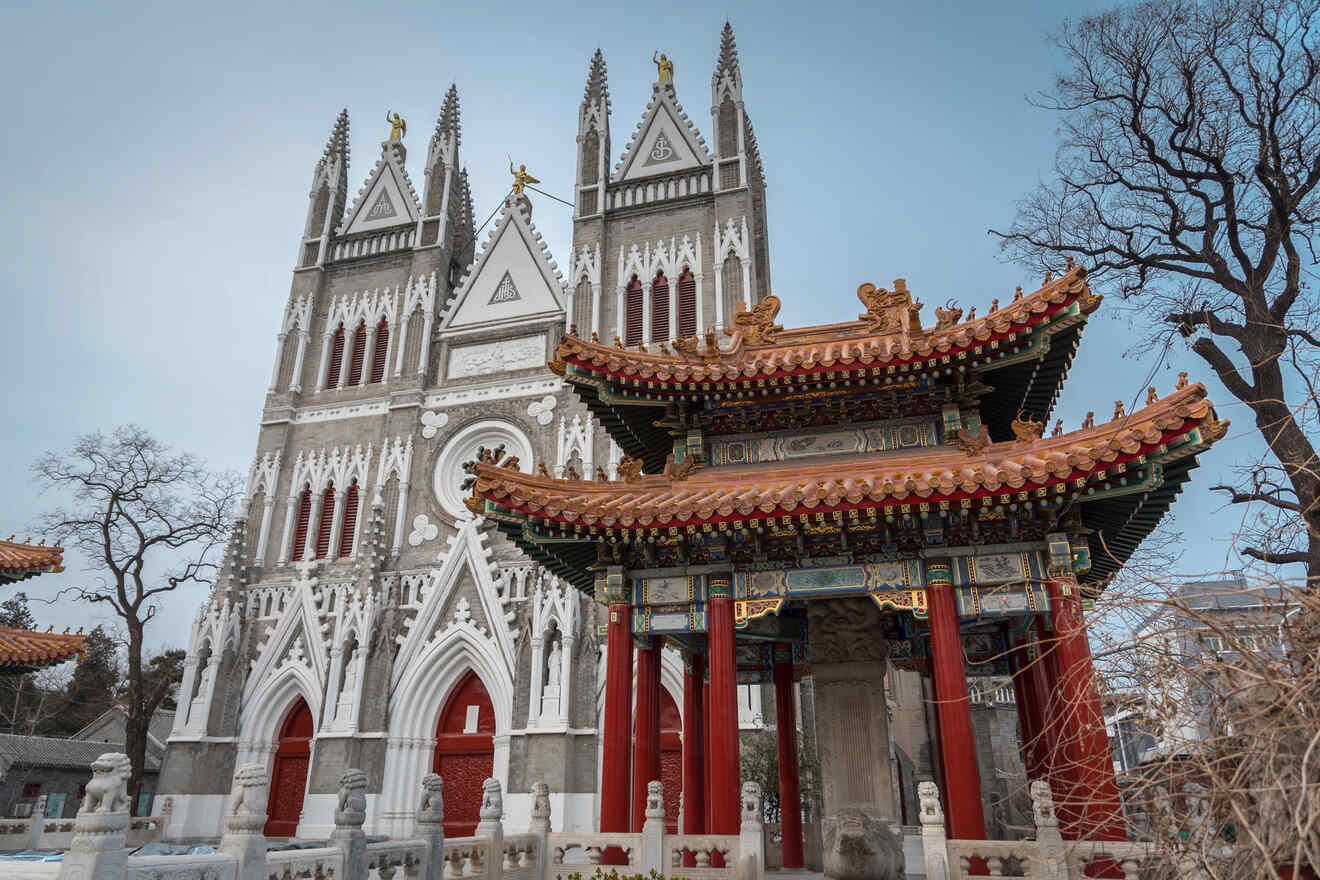 Xidan is located west of the forbidden city, 6 km (4 mi) away from Qianmen. This old commercial area is filled with numerous shopping malls that will make you go crazy.
Thanks to its proximity to the forbidden city, in the past, Xidan was an important area during the time of the Ming Dynasty. That's why you will also be able to find some historical areas as well as one of the biggest parks in China, Beihai Park, which used to be a royal palace of the Ming and Qing Dynasties.
Once you are done with sightseeing you can head back to the commercial area for a crazy Xidan shopping experience. Here you will find everything you could possibly want and most likely snag a bargain! You see, this area is a good mix of sightseeing and shopping!
Let's check out the best places to stay in Beijing for shopping:
Other accommodation options in Xidan
Things to do in Xidan
Check out the many popular shopping malls at Xidan's commercial area
Visit the Xidan Books Building
Go to the Culture Square for people watching
See the impressive ​​Church of the Saviour, Beijing
Take a boat tour at the beautiful Beihai Park
Go for a stroll of Beijing in Lingjing Hutong
4. Dongcheng District (incl. Dongzhimen) – close to the Forbidden City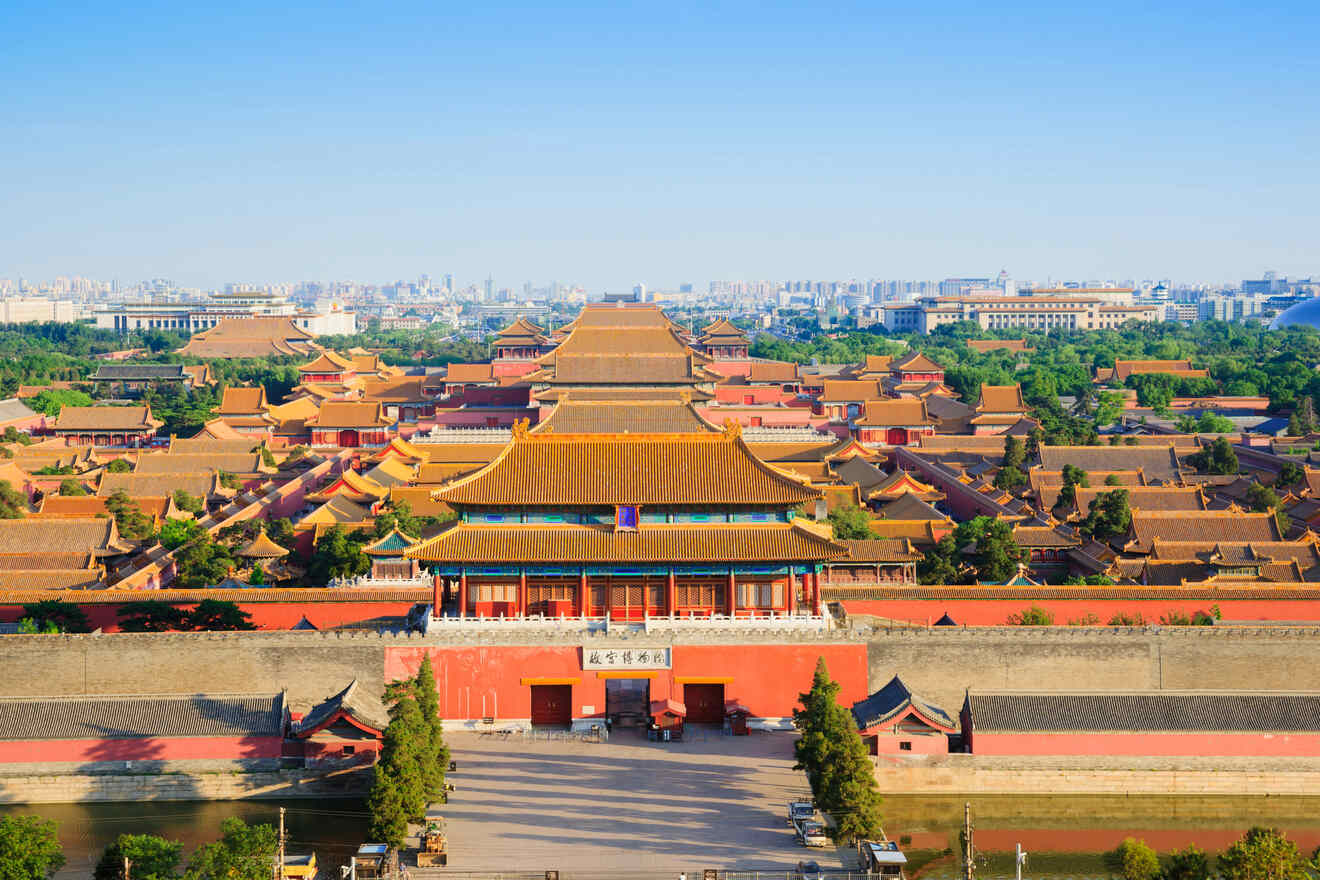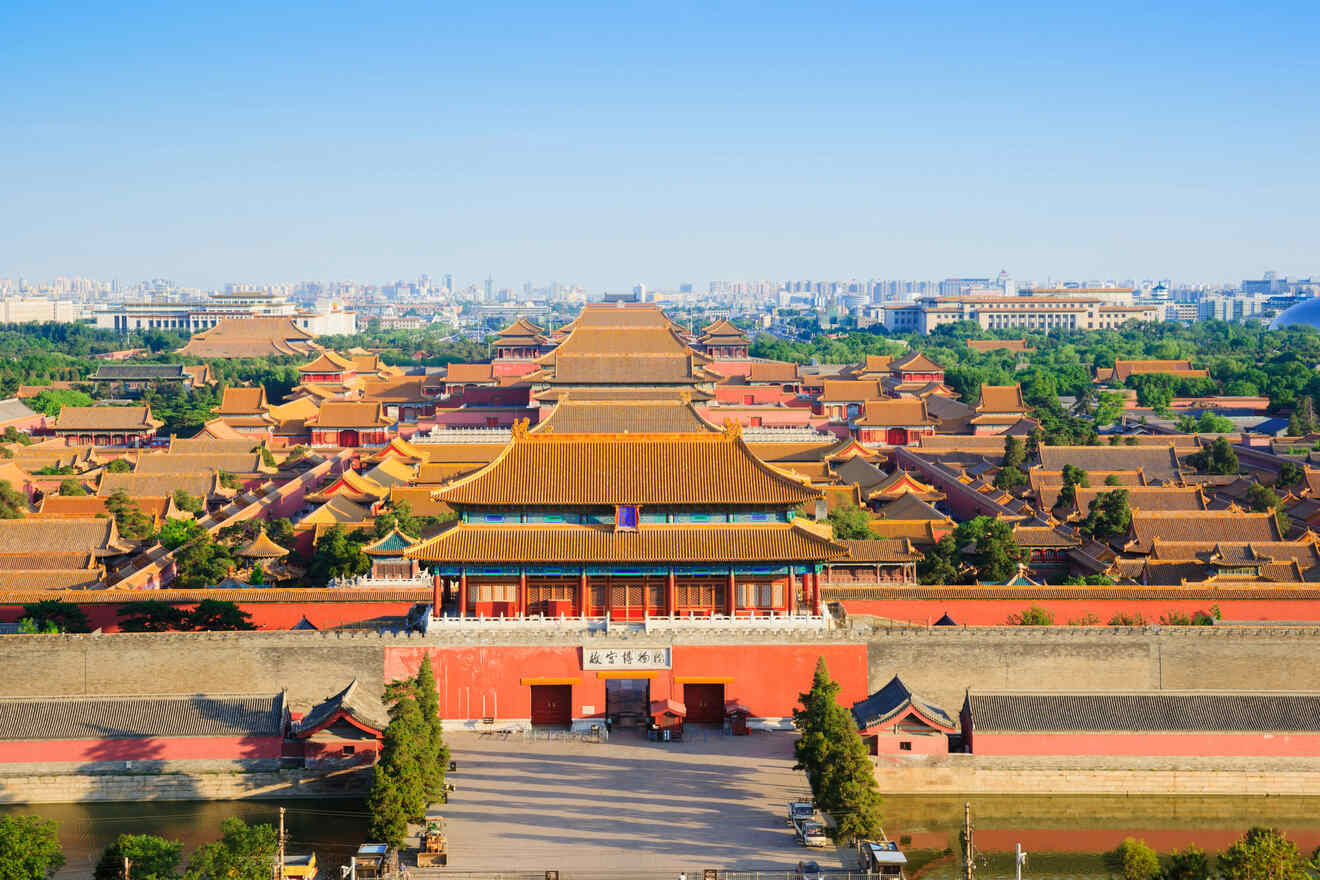 Dongcheng district is located in the eastern part of central Beijing is where you will find the famous Forbidden City and Palace Museum as well as a large proportion of the other city attractions. Starting from the northern end of Qianmen street, walk north through the district and you will find Zhengyangmen, Tiananmen square, and the Forbidden City followed by Jingshan Park.
Aside from being home to a large majority of the city's main landmarks, Dongcheng is also scattered with interesting museums for you to explore. You will have a lot to discover here so make sure to wear your more comfortable shoes!

If you've had your fill of history, head to the smaller Dongzhimen area located inside the wider Dongcheng District where you will be able to find many nice shopping places such as the historic Wudaoying Hutong street and Talkoo Li shopping center. This is a great place to stop by any of the nice local restaurants.
I highly recommend staying in the Dongcheng district as you will be able to find a bit of everything here and for sure you will have fun!
Here are the best places to stay in this colorful area:
Other accommodation options in Dongcheng District
Things to do in Dongcheng & Dongzhimen
Check out the view of the Forbidden City from Jingshan Park
Snap a picture of Zhengyangmen and walk through Tiananmen square
Go shopping at the historic Wudaoying Hutong area
Go window shopping at Wangfujing or Taikoo Li Shopping Center
Join a guided tour to explore the Forbidden City and Palace museum
Visit the National Art Museum of China
5. Chaoyang & Sanlitun – for a modern vibe with the best nightlife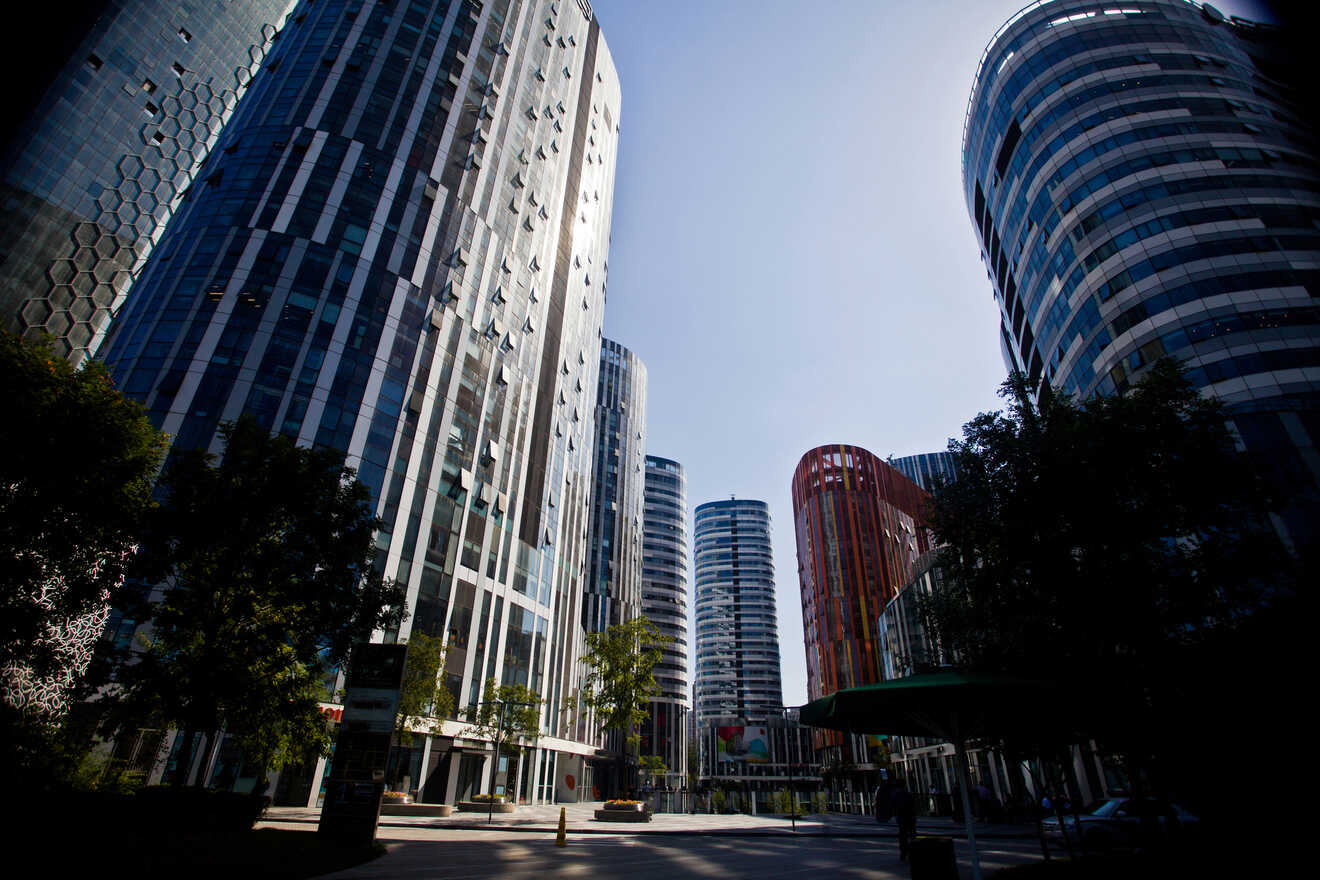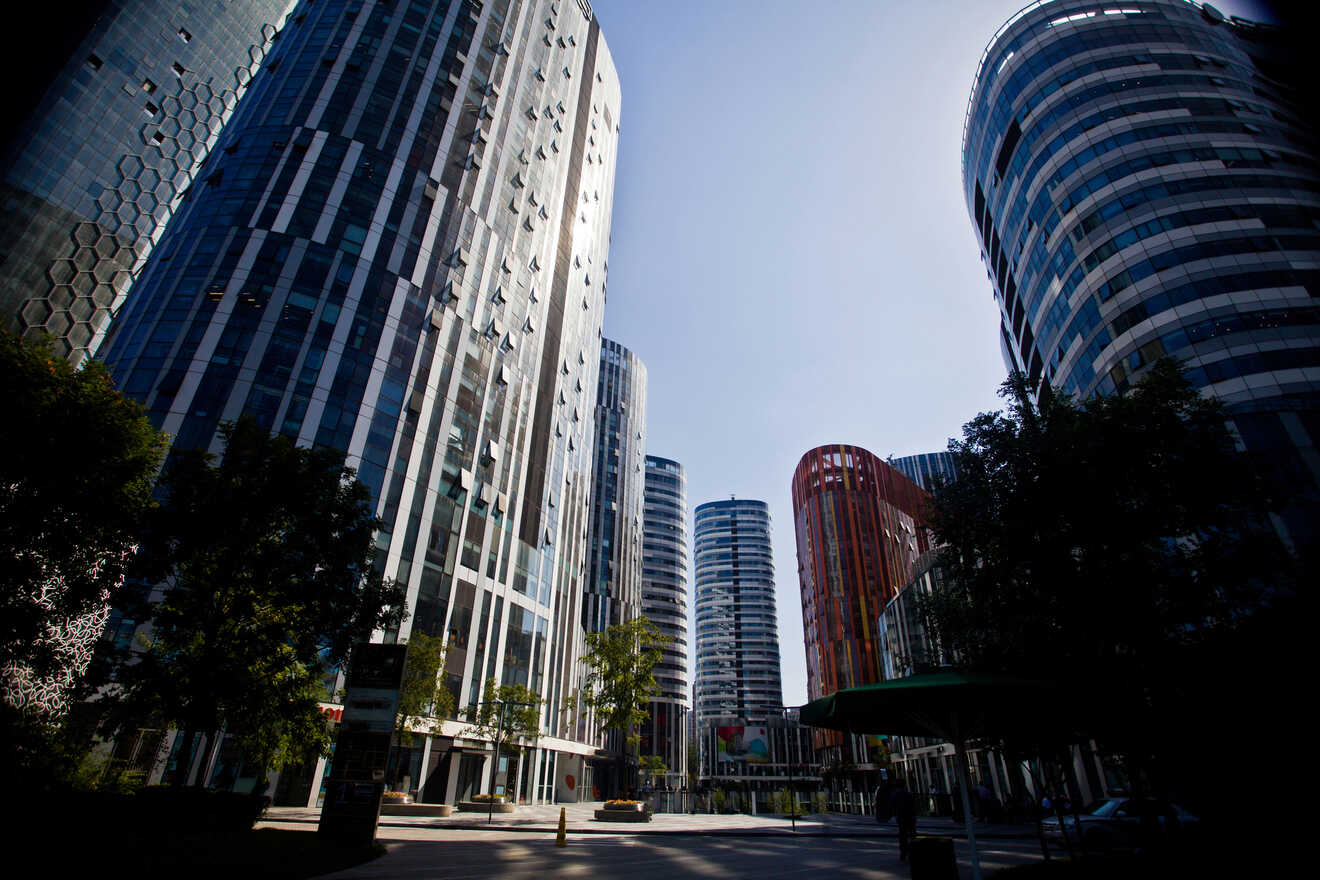 The districts of Chaoyang and Sanlitun are located side by side, just east of the Dongcheng district. Here you won't find many tourist attractions but if you like city life and want to stay in a modern area surrounded by skyscrapers, these are impressive areas to stay in.
Chaoyang district offers many nice art galleries, museums, and a great number of shops. When you are strolling through the streets you will see many impressive buildings with unique architecture, upscale restaurants, and trendy cafes.
On the other hand, Sanlitun is the heart of the nightlife in Beijing. If you head to Sanlitun Bar Street you will find a crazy amount of bars, clubs, trendy cafes, and great restaurants. So get ready to wear your dancing shoes and dance till the early hours of the morning!
By staying here you can benefit from the convenience of city life and easily make day trips to see the Forbidden City and other main landmarks of Beijing. Here you will find a great selection of hotels and I've already handpicked the best ones for you.
Other accommodation options in Chaoyang & Sanlitun
Things to do in Chaoyang & Sanlitun
Party and dance till the early hours of the morning at Lantern Club
Take a pint and watch a game at Paddy O'Shea's
Check out the artworks of the 798 Art District
Go for a stroll at Chaoyang Park
Go shopping at Panjiayuan Antique Market

Have fun at the theme park,

Happy Valley Beijing
See the impressive Today Art Museum
Check out the bars and restaurants at Sanlitun Bar Street
Marvel the architecture of the Beijing Olympic Stadium also called Bird's nest
BONUS 1: Best Hotels near the Beijing Capital International Airport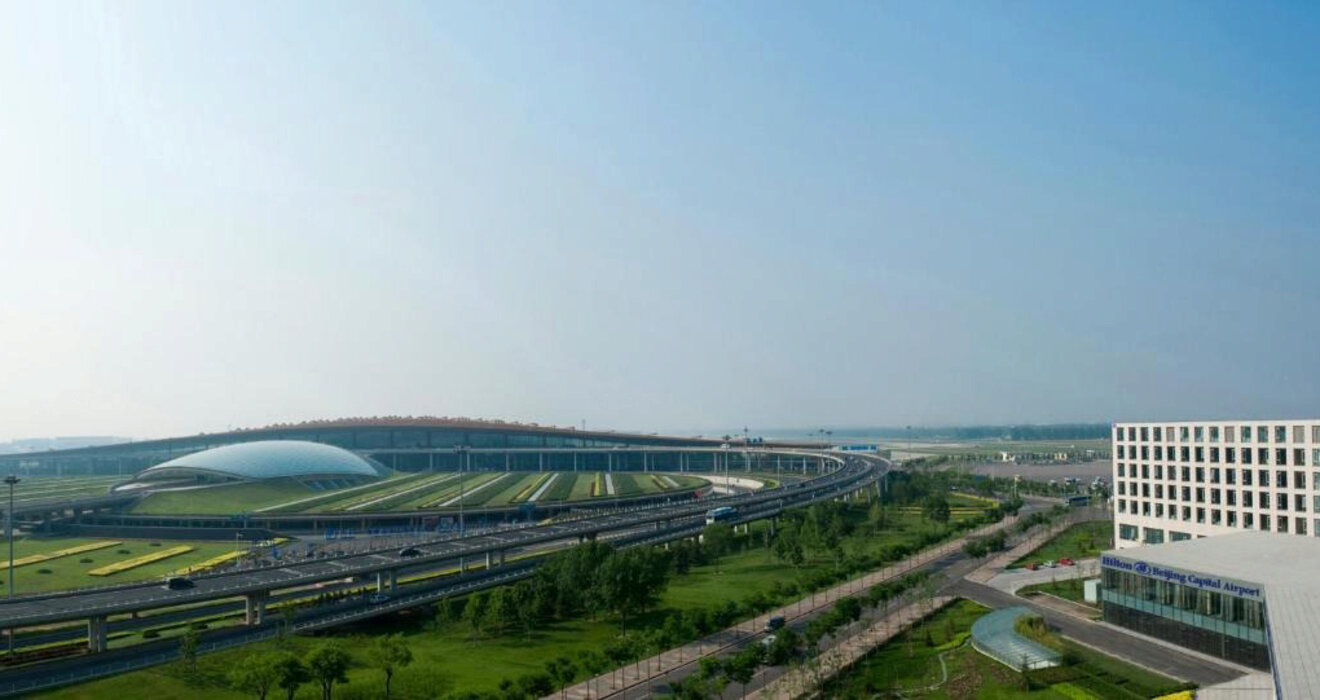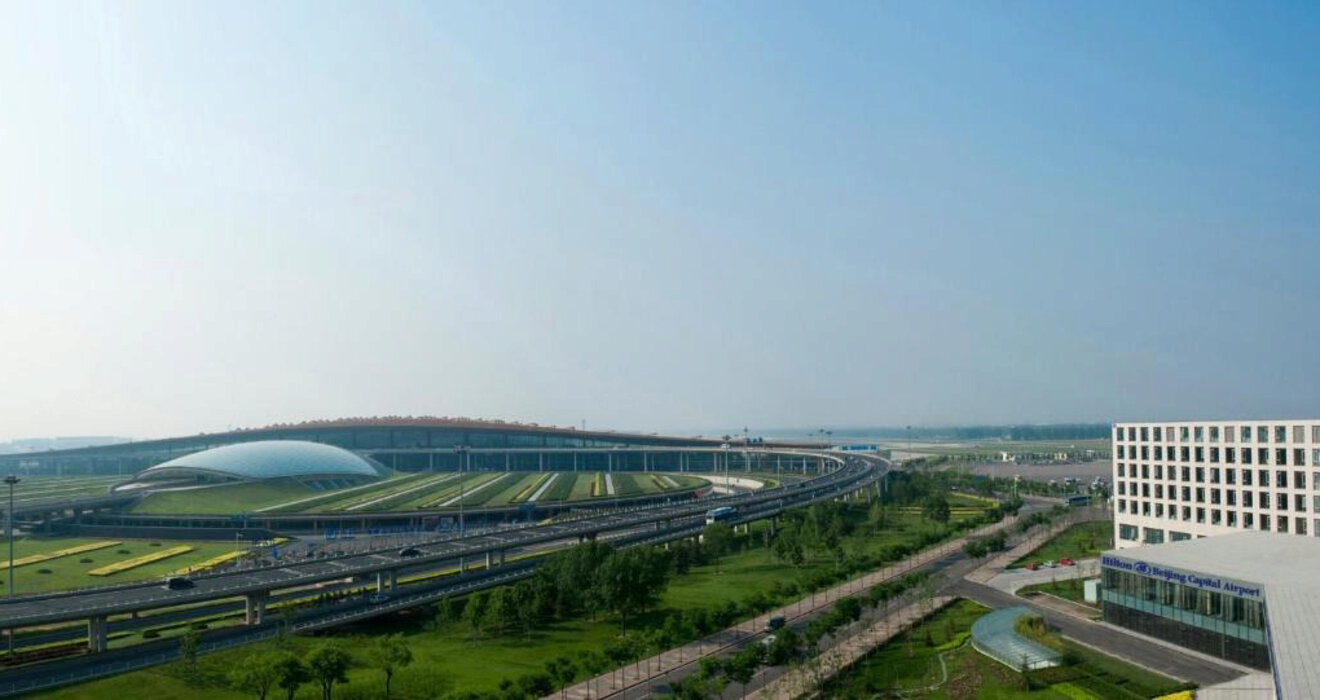 Whether you're stopping over for one night or don't want to miss an early flight, you always have the option of staying close to the Beijing Capital International Airport. Being such a large flight hub as it is, there's no surprise that the hotels near the airport can be flashy.
While there are no budget hotels in close proximity to the airport, don't be fooled by the labels. You can find 5-star hotels starting at $150 here so why not splash out for a night or two?
That being said here are your best options to stay close to the airport:
Luxury
Cordis By Langham Hospitality – Located just next to Beijing International Airport, this luxury hotel offers a free airport shuttle, spacious rooms with a balcony and free wifi, a fully-equipped fitness center, spa, wellness center, and a nice bar.
You can pamper yourself in their luxury spa with a nice massage and have gourmet foods in their delicious restaurant, or simply enjoy your incredibly comfortable bed or marble bathtub.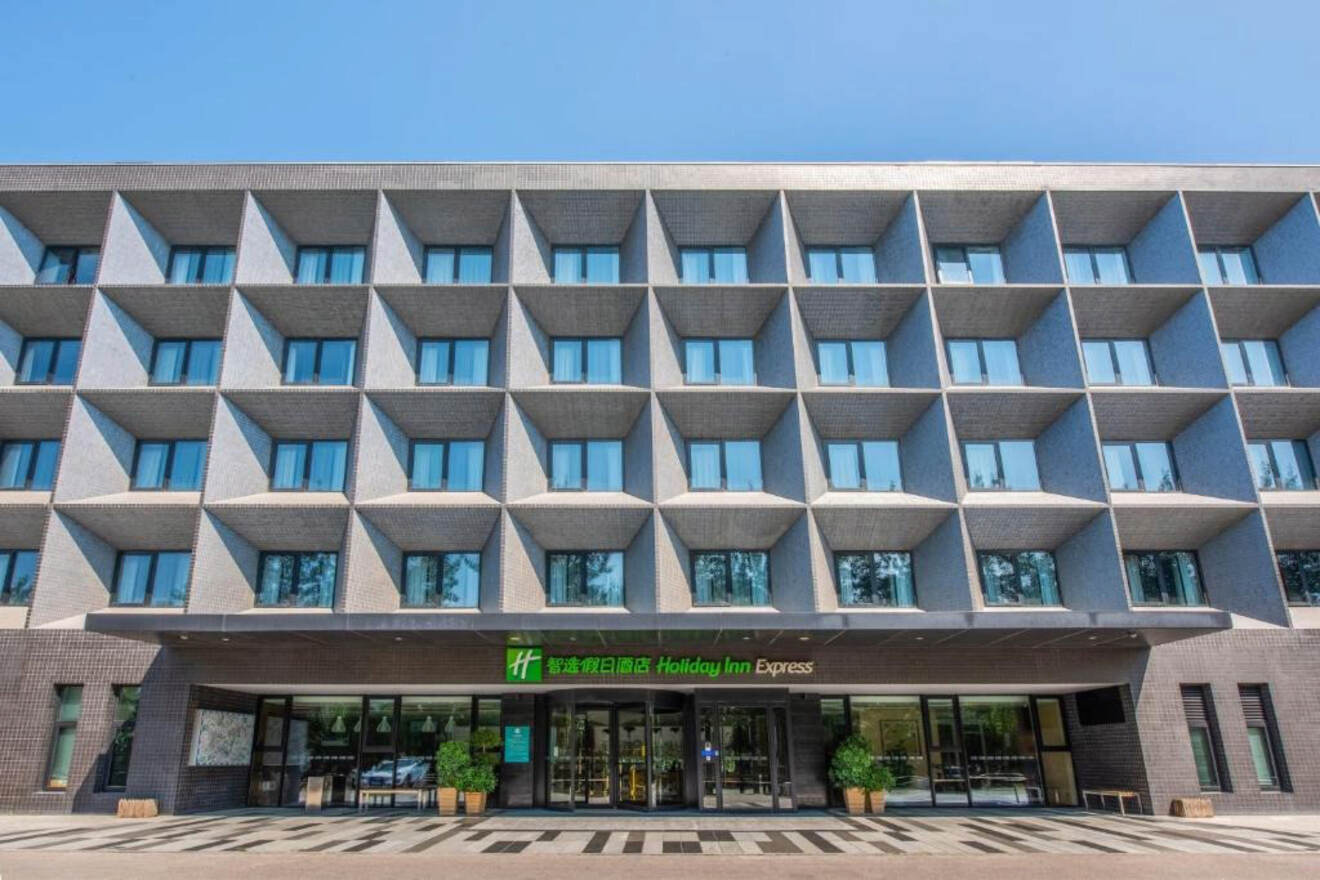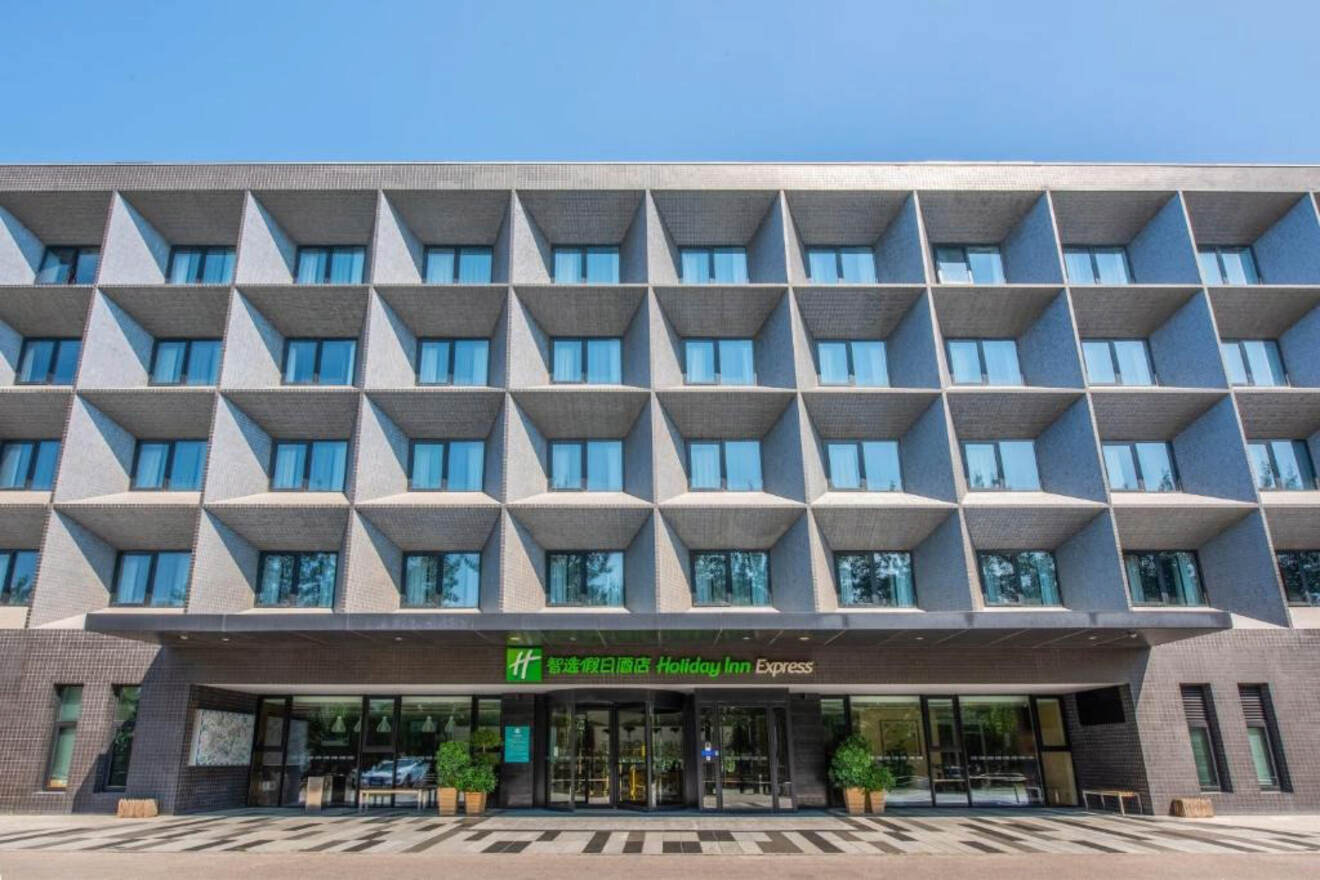 Mid Ranged
Holiday Inn Express – Holiday Inn Express is a 15 minutes drive from Beijing ınternational Airport and offers affordable rooms of good quality. This hotel has a very good fitness center, spacious rooms with modern amenities, a great breakfast, and a nice bar. After a delicious dinner, have drinks at the hotel's bar with a friendly atmosphere or get your business done with the photocopying and laundry service.
Airbnb
Family Loft – For those who would prefer to stay in a house rather than a hotel, this Airbnb will fulfill all your needs. This beautiful house has 2 bedrooms, a fully furnished kitchen, and 2 bathrooms. There is a gym available in the apartment complex and markets are nearby. Beijing Capital Airport is just a short drive and the city center can be reached with a 15-minute train ride.
BONUS 2: How to get around in Beijing City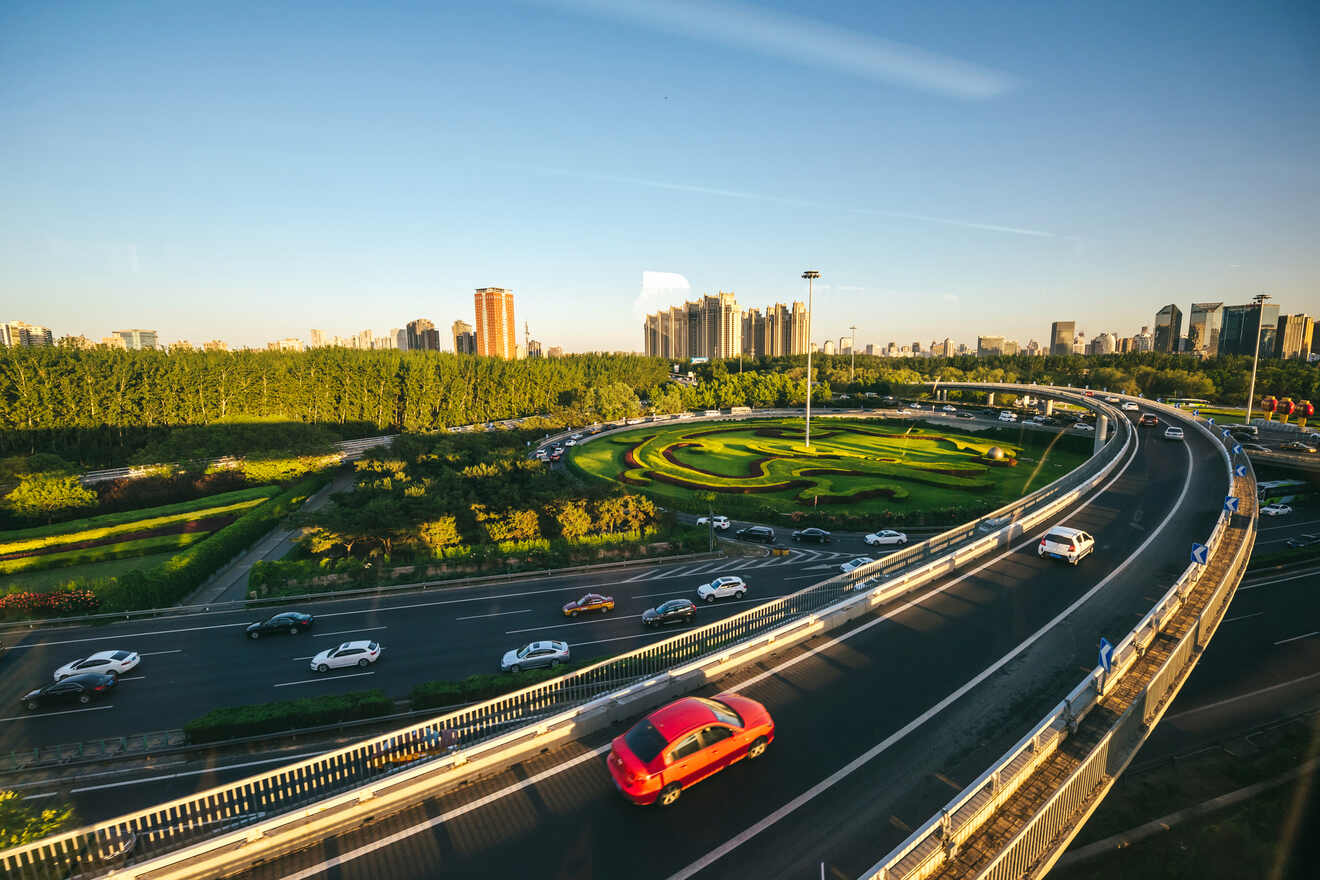 Beijing is a crowded city and some of the attractions as well as the different hotels are quite spread out. Now you've sorted where to stay in Beijing, don't worry, I've got you covered with everything you need to know about the transportation system in Beijing too.
This city has one of the most developed public transportation systems in the world so here I will talk about all the ways of getting around in Beijing to make your trip that little bit more stress-free.
Taking the Subway
Subway is the most convenient way to get around in Beijing and all the neighborhoods I talked about in this post have easy subway access. Beijing has one of the greatest subway systems in the world that is very affordable and has good standards.
One-way distance-based fares range from 3 to 9 yuan (around 40 cents to $1.40) and airport express fare is around $2. Most of the subway lines operate from 5 a.m. to 11 p.m. and in all stations, directions are written both in Chinese and English.
Tickets are available for purchase from simple machines in the stations and you can check the subway map and operation hours on the official website. I also highly recommend you to download the Metro Beijing Subway app to check out the map and easily navigate in Beijing.
Taxis and Ride-Hailing Apps
You can easily take a taxi in the city and their fares are also cheap. All taxis have a meter and the start rate is 13 yuan ($2). After that, there is a charge of 2.3 yuan ($0.30) per kilometer.
Rush hour in Beijing is from 7 a.m. to 10 a.m. and 5 p.m. to 8 p.m. In those hours, finding a taxi might be difficult and you should also be prepared for a traffic jam. There is no Uber in Beijing but there is a quite similar app called Didi. You can simply download the English app and call a ride instantly for similar prices as a taxi.
Taking the bus
There is a great bus system in Beijing and you can find bus stops in each area. The bus ticket costs around 13 yuan ($2) and you can buy it on the bus. You can check out the bus lines and timetables online.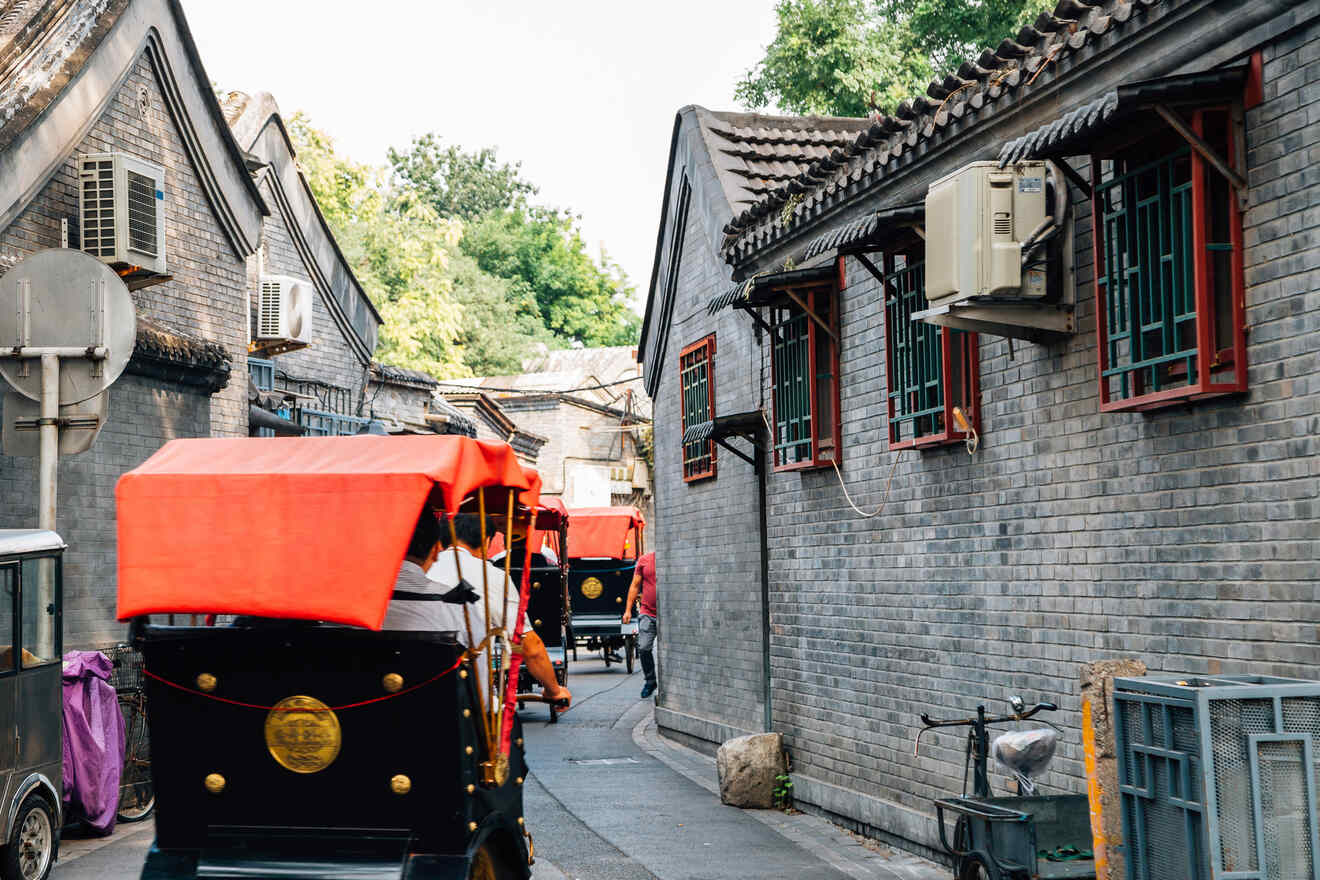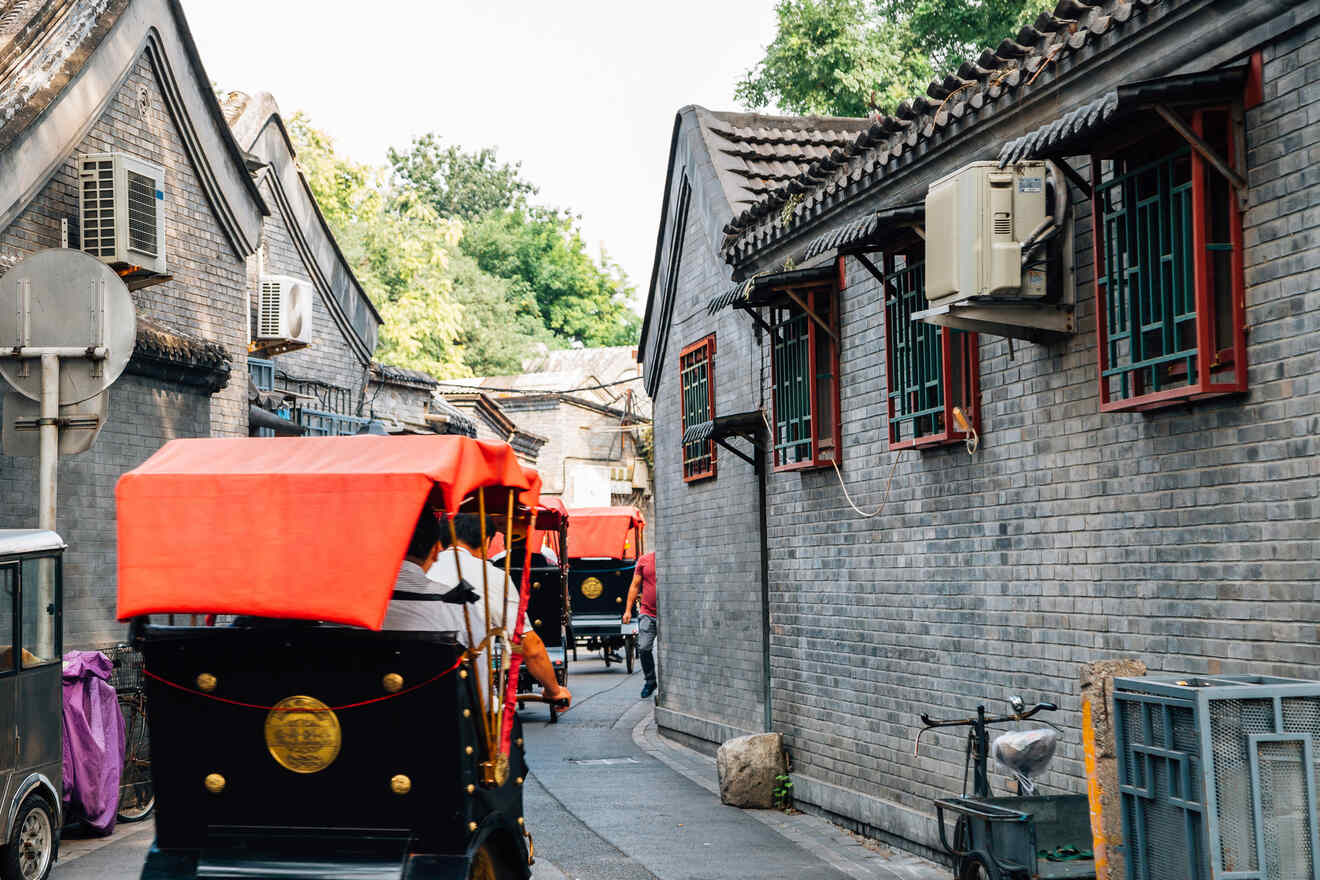 Rickshaw
Pedicabs and bicycle rickshaws are common in the city center of Beijing. Even though it is mostly used by tourists, it is a fun way of getting around in Beijing. You have to negotiate on the price before taking the rickshaws. You can also join a Rickshaw hutongs tour which takes about an hour and costs around 100 yuan ($15).
Renting a bike
Bikes are one of the most convenient and fun ways to discover hutongs (neighborhoods). Most of the roads have bike lanes and there are 86,000 public bicycles for rent from docking stations. You can easily take a bike from one of the bike stations.
The first hour of rent is for free and then costs you 1 yuan ($0.15) per hour, with a max of 10 yuan ($1.5) or 20 yuan ($3) charge per day. Since you will find a very bicycle-friendly city, I personally recommend you to rent a bike for at least one day to get around in Beijing!
Driving a car
In order to drive and rent a car in Beijing, you have to have a Chinese driving license. International driving licenses are not accepted in Beijing. That's why I don't recommend driving in Beijing due to long rental car procedures and heavy traffic.
Frequently asked questions about Beijing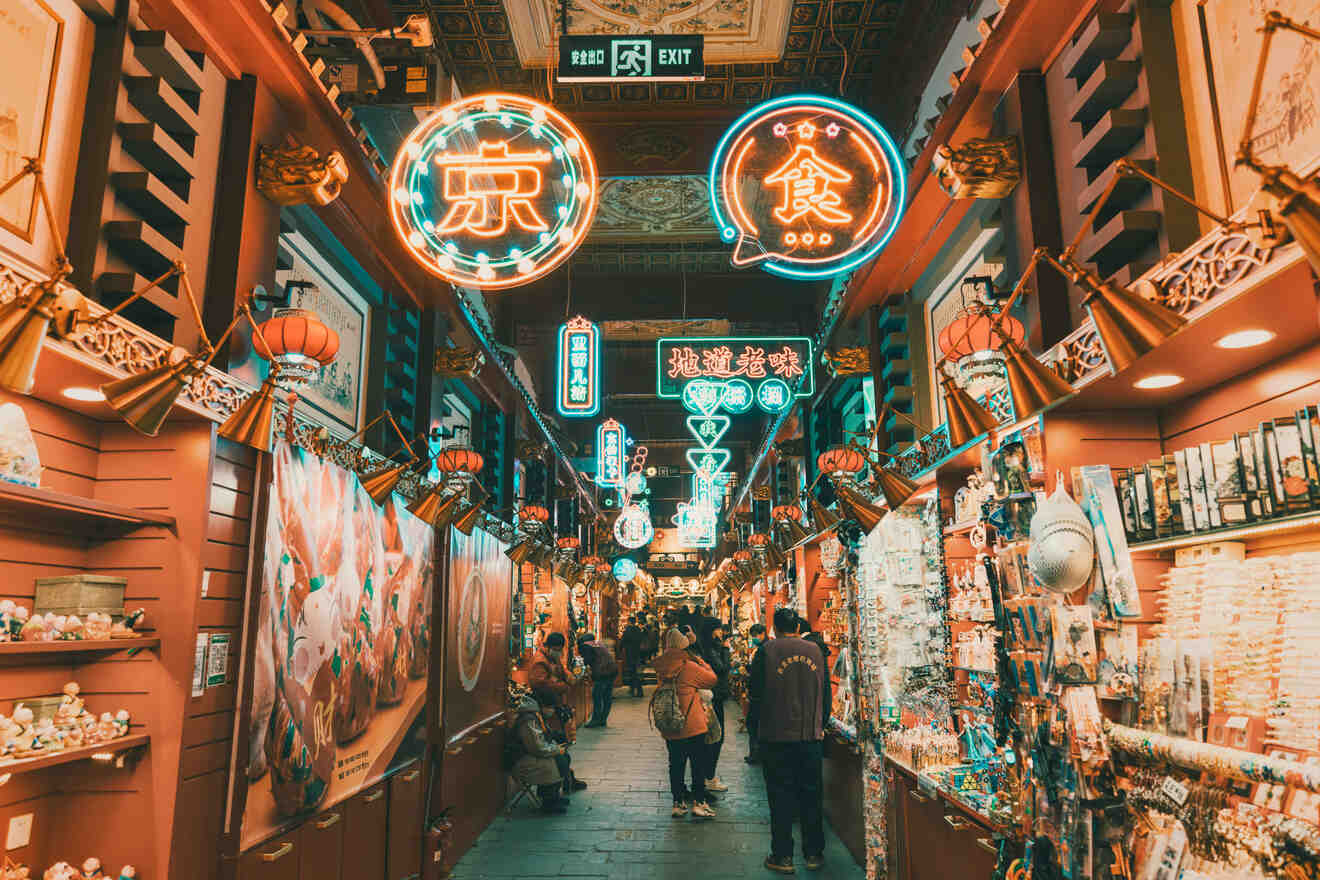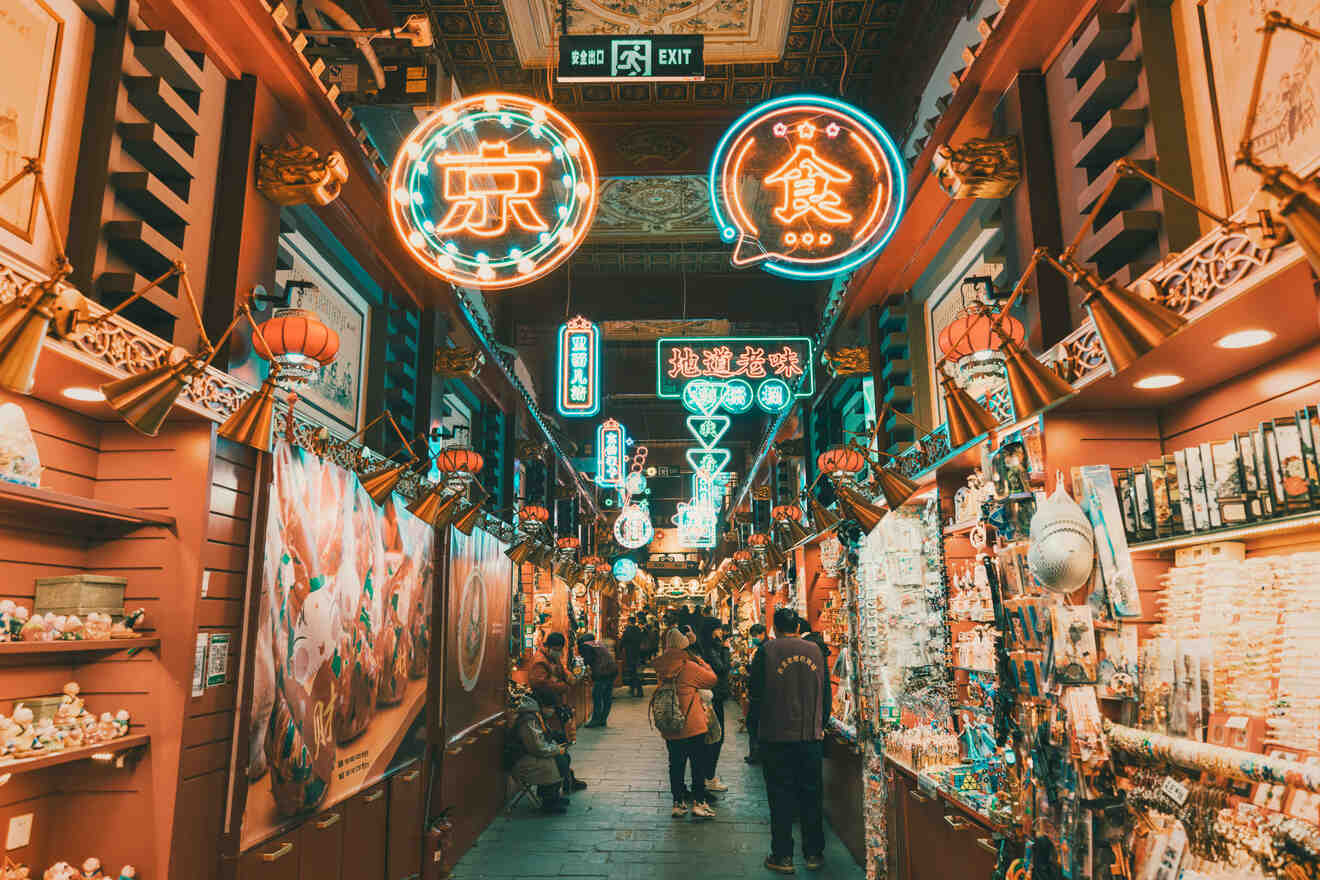 Conclusion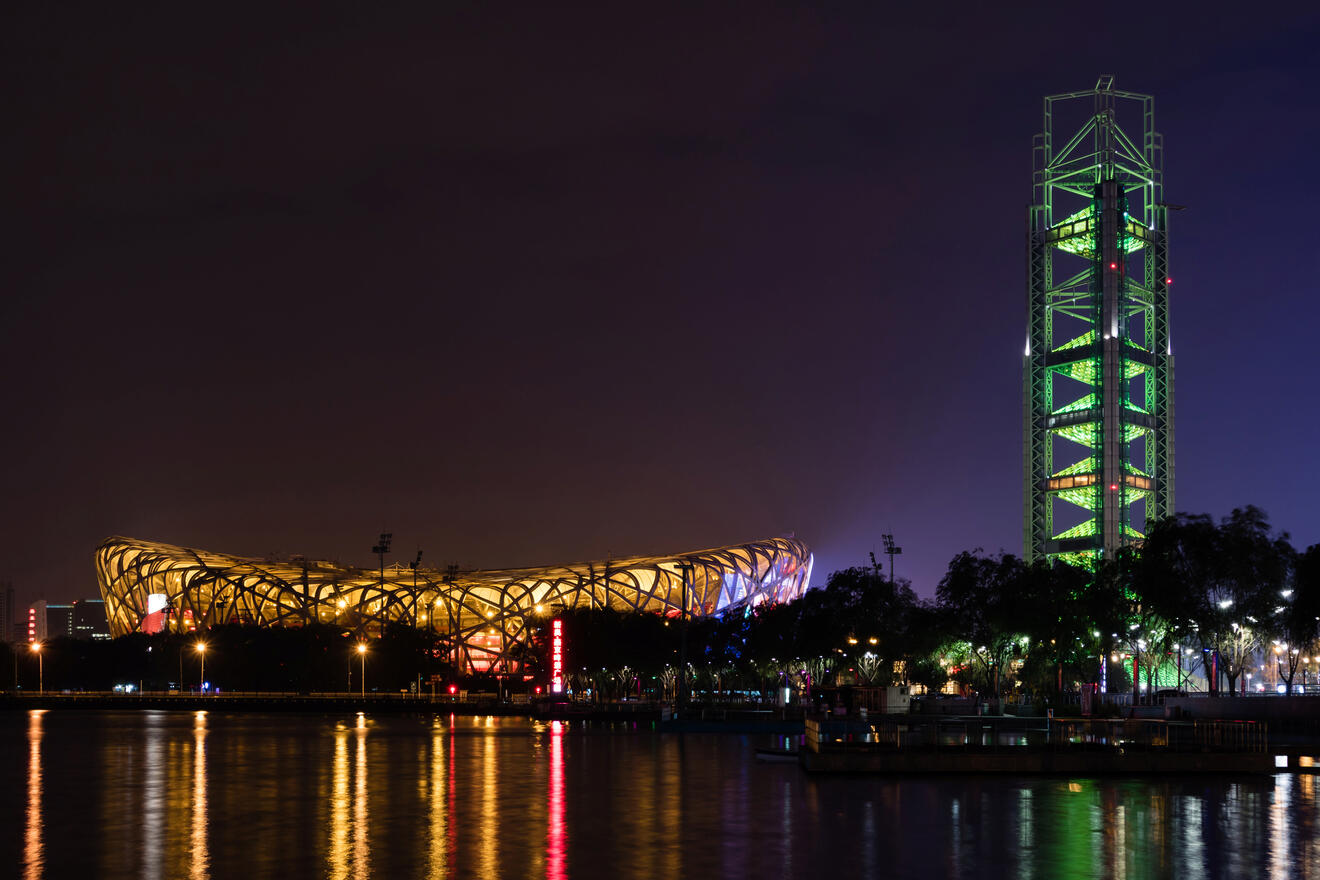 Our Beijing City tour ends here, dear travelers. In this blog post on where to stay in Beijing, I talked about the best neighborhoods with great hotels from luxury to budget as well as Airbnbs in each, I also gave information about the things that you can do there to help you get an idea of which is best for you.
As I've said earlier, Qianmen is the best area to stay in Beijing for the first time due to its proximity to famous landmarks and the attractions for all kinds of travelers. However, all parts of the city have a different vibe so you can pick a hotel that suits your taste and get around the city easily with the great public transport system I talked about.
I would like to remind you again that in order not to miss your favorite hotel in Beijing and get better deals on accommodations, do not forget to make a reservation in advance!
I know I've already given so many hotels in each area where to stay in Beijing, but to sum up, here are the 2 best hotels. Each has great locations and reviews and I can definitely recommend them for an unforgettable stay in Beijing!
New World Beijing – Located in Qianmen, this hotel is one of the best luxury hotels in Beijing with its glamours facilities
Layering Courtyard Hotel – A great mid-ranged place to stay in Qianmen, Beijing with a convenient location
If you have any other suggestions or questions about Beijing or China, don't be shy and leave a comment below. I'll be happy to leave a reply to them!
Have a great time in Beijing,
Eylul