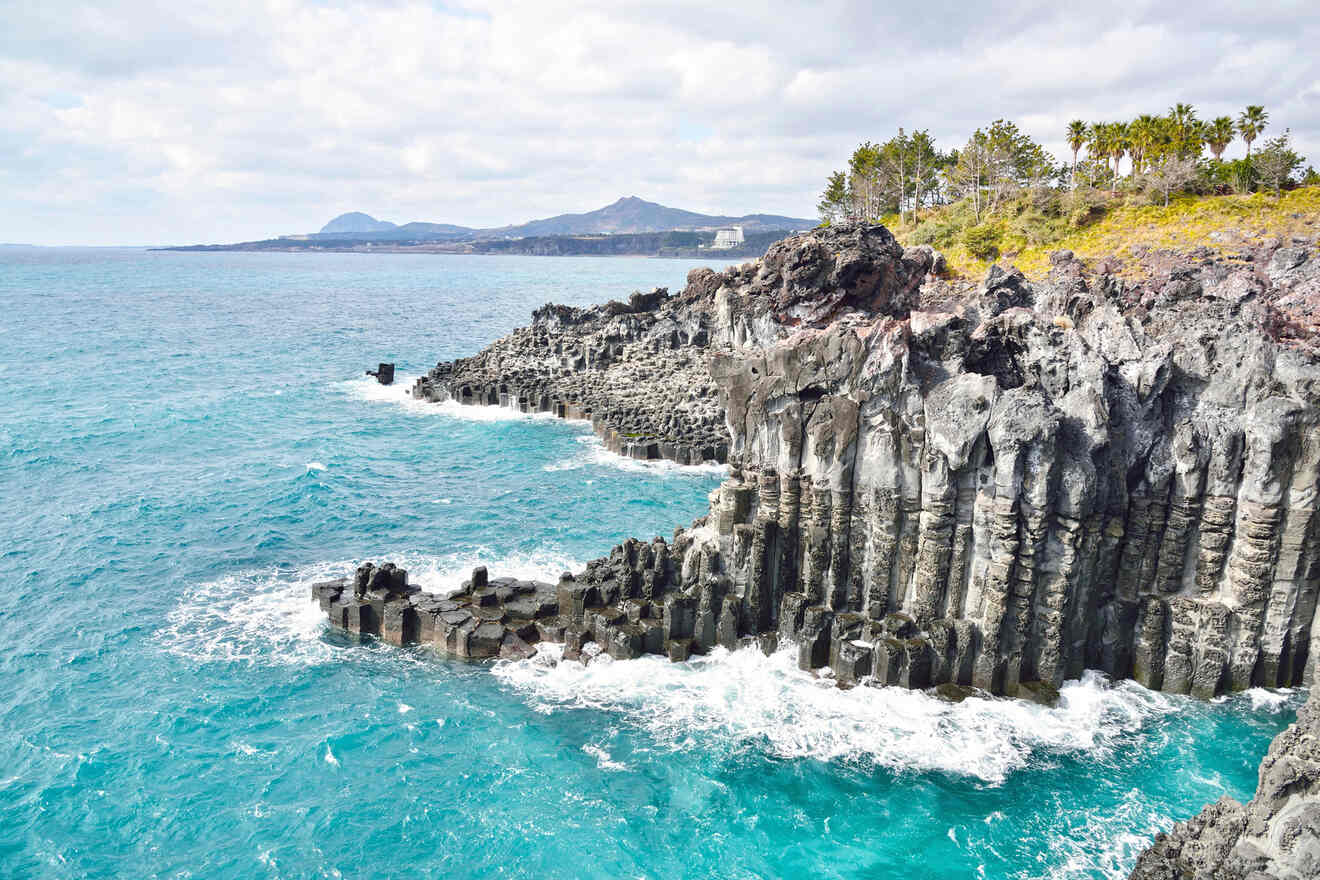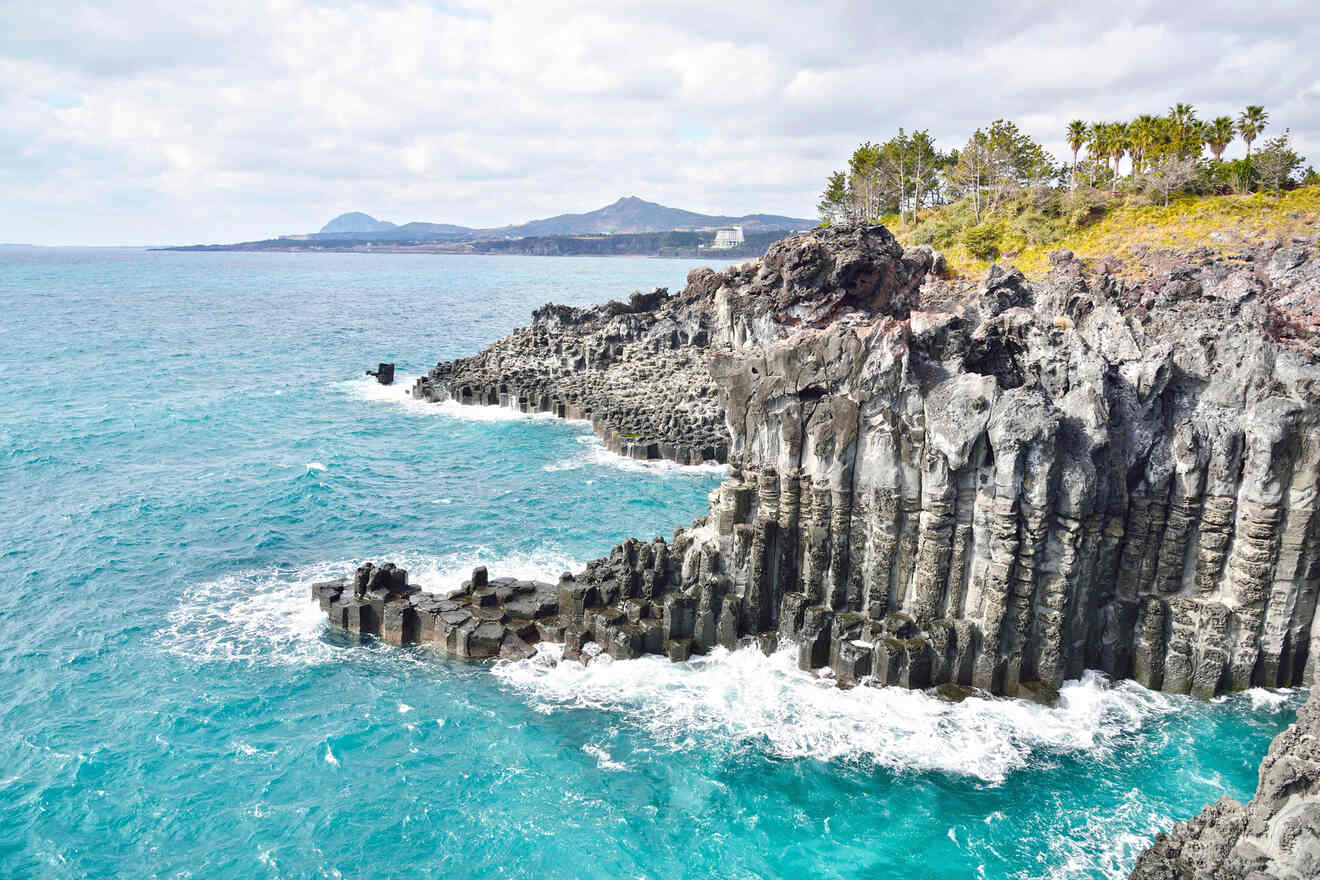 If you're planning a getaway to South Korea's main holiday island then I'm sure you'll need some useful quick tips (and more than one day to explore it) because this place is huge! Never fear, I am here to help you find the best place where to stay in Jeju for you!
Jeju City is the best area to stay in Jeju Island, especially if you're coming here for the first time! This town has countless attractions, plus it's such a great base if you want to explore the other areas, which I'll also talk about below!
They all cater to different interests like nature lovers, discovering unique places, beach fans, families, and adventures so make sure to also have a read about Seogwipo City, Seongsan, Aewol, Jungmun, and Yongmeori Coast.
Oh yes, we've got a lot to cover today because right after the main section, you'll also find 2 bonuses! Yay! One has the best beachfront hotels on Jeju Island, and the other has a short list of the top romantic places to stay in Jeju.
Yep, we better start already. But I don't want to forget one major thing which some of you may already know. If you want to visit Jeju, book your hotels in advance! This island is big, but it's one of the most popular vacation destinations in South Korea. So everything sells out super fast!
Now I'm ready to hit the road!
If you are in a hurry
Here's a short list of the best hotels on the island, all located in Jeju City, for those of you who don't have time or don't want to read through the whole post:
Already overwhelmed by all the information? Don't worry, it's normal! That's why I've made the map below, which will help you to visualize all the areas where to stay in Jeju that I'll talk about in this post:
1. Jeju City – the best place to stay for the first time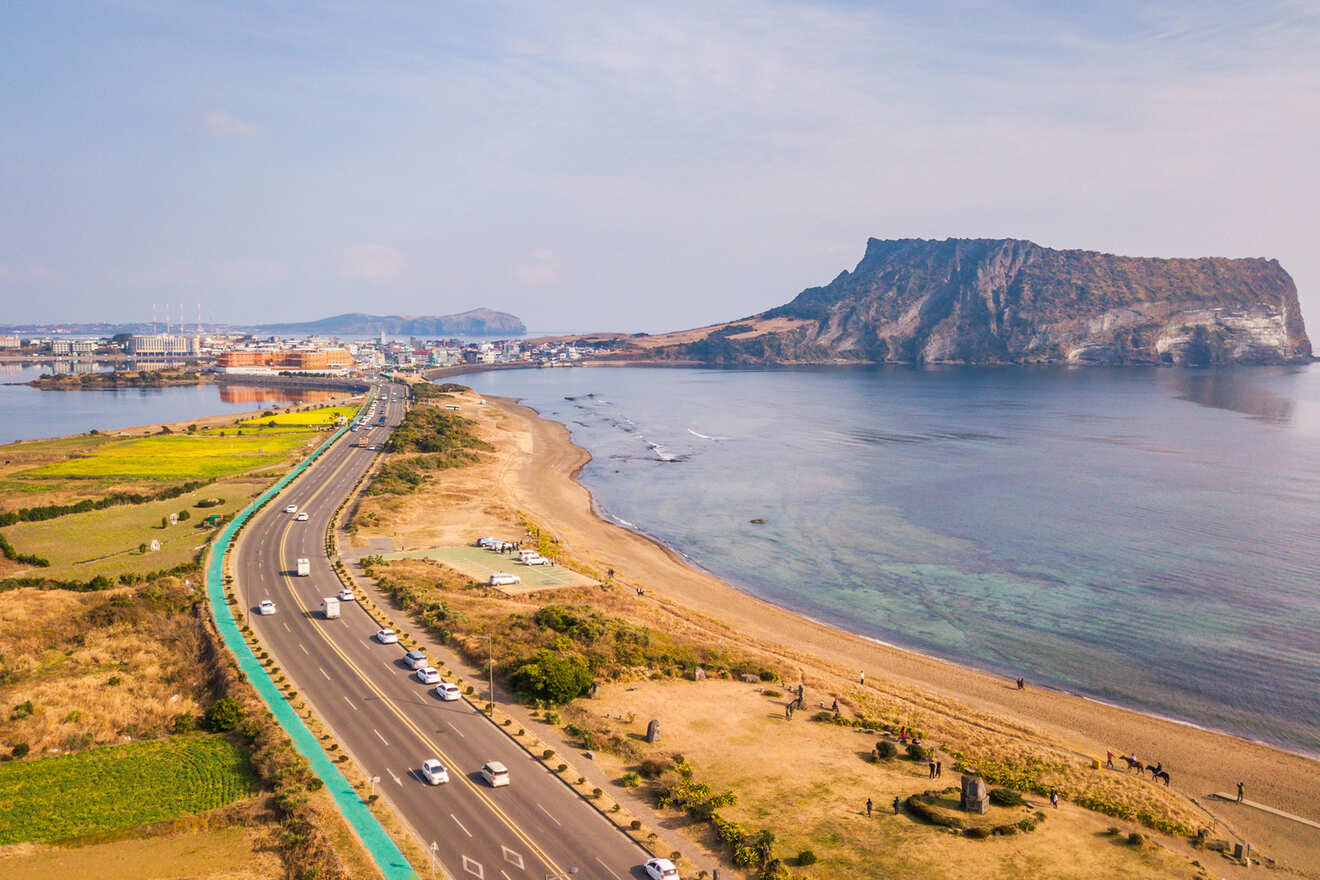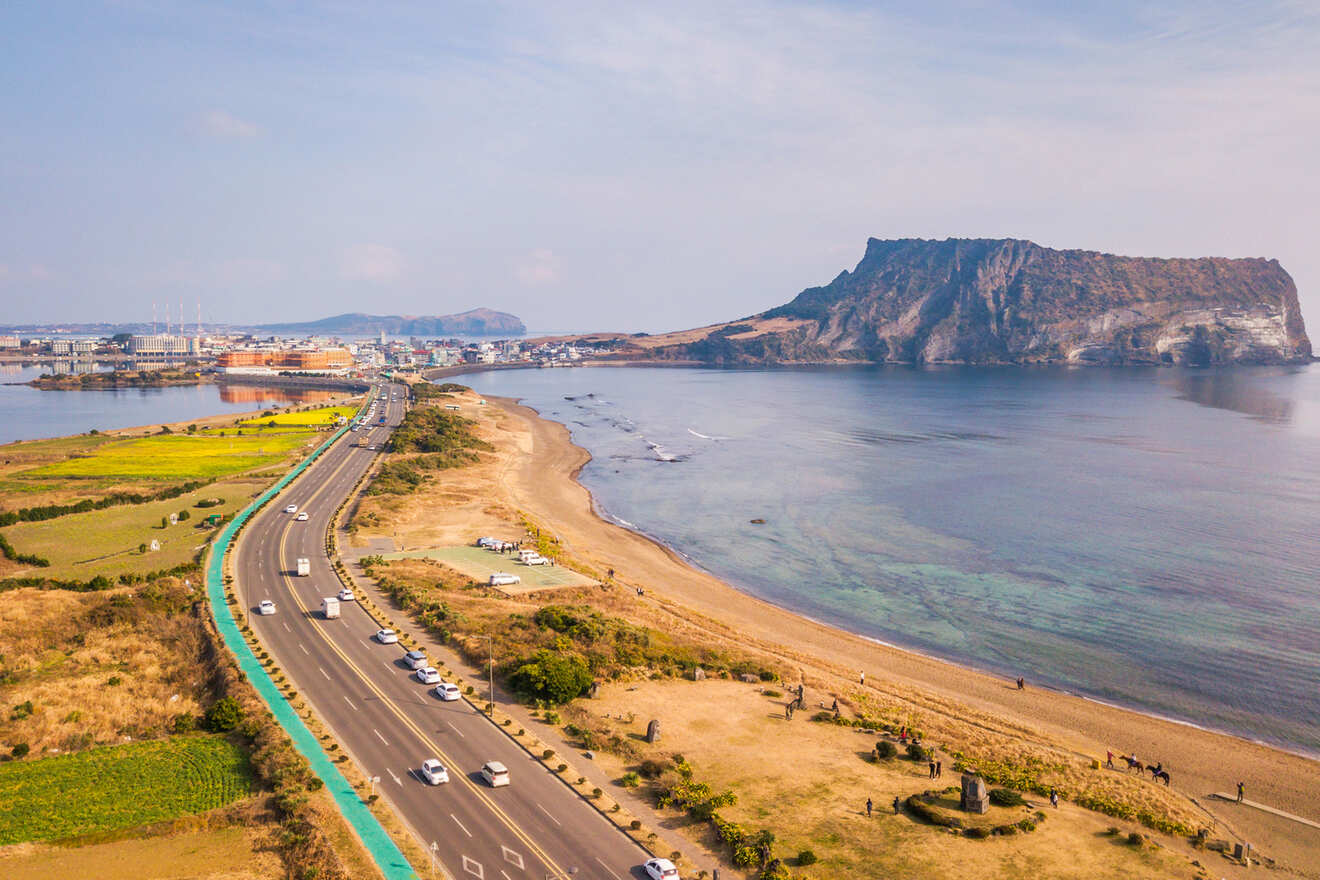 If you're getting ready for your unforgettable trip to Jeju island, South Korea's major holiday destination, then stick around as I've gathered all the important information you'll need to get around Jeju!
Everyone starts their holiday in Jeju City, the island's capital whether they're coming by plane or boat. This is where the Jeju airport is located (just a 1h flight away from central Seoul), plus many of the attractions. It's also one of the best spots as it offers tourists a great base to start your adventures!
But that's not all, set in the north part of the island, Jeju City is a great place for shopping, eating yummy food and visiting museums!
With an island so big and filled with natural wonders, it'll be a shame to stay just in 1 place! So don't shy away from using public transport, Jeju City and most areas on the island are well-connected so you can easily visit other sites wherever you want. You can also rent a car if that's more convenient for you!
But when it comes to hotels in Jeju City, the motto is, "book now, save later" meaning that if you reserve a spot now you can save some money and also get your hands on your favorite place! So let's check out the best hotels to stay in Jeju City!
Other accommodation options in Jeju City
Visiting Jeju City can become tricky when you don't find the best hotel for you! Since all tourists arrive here, the number of available hotels will probably drop significantly and the prices per night will always increase. So I thought I'd offer 3 more options just in case the main ones are already sold out: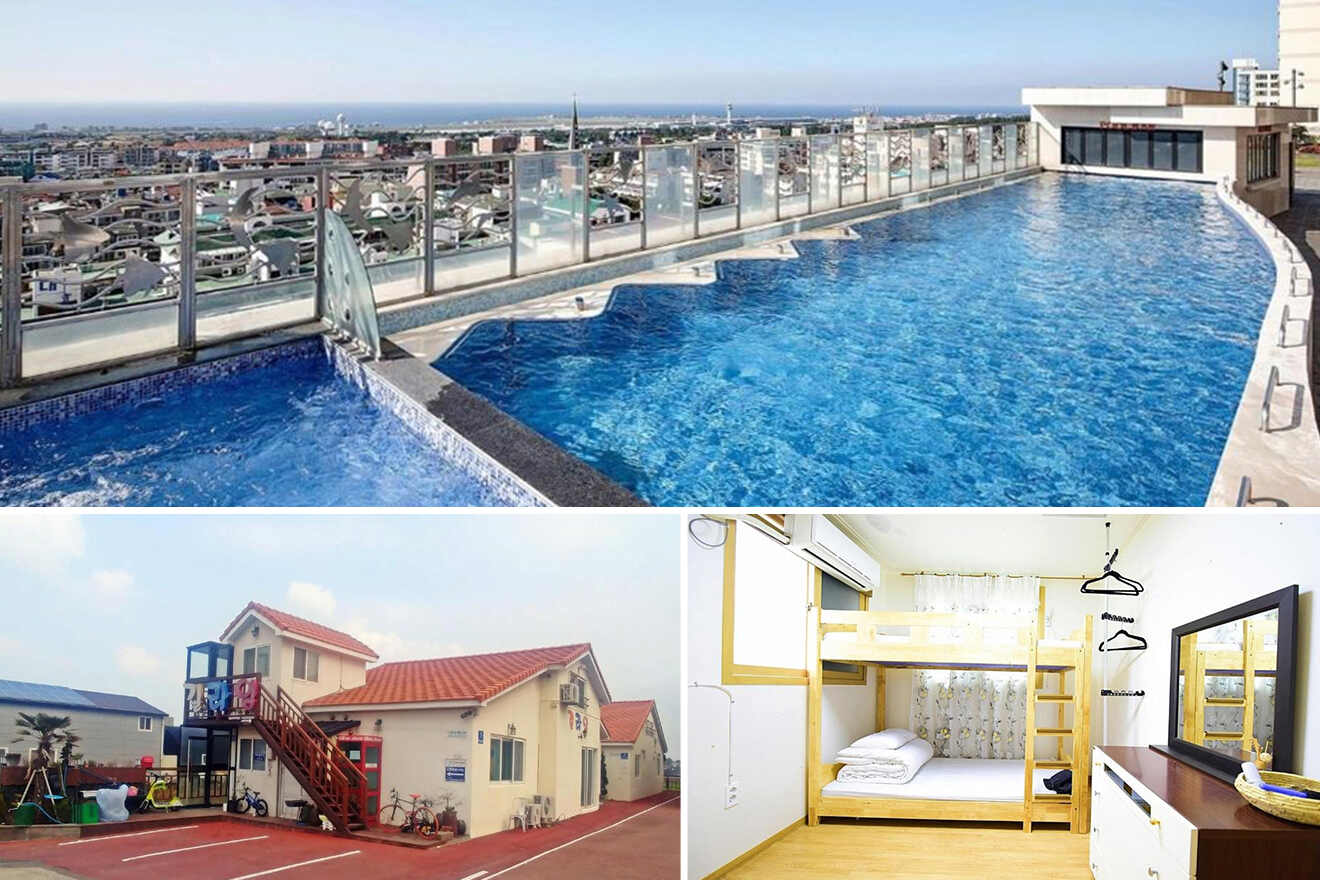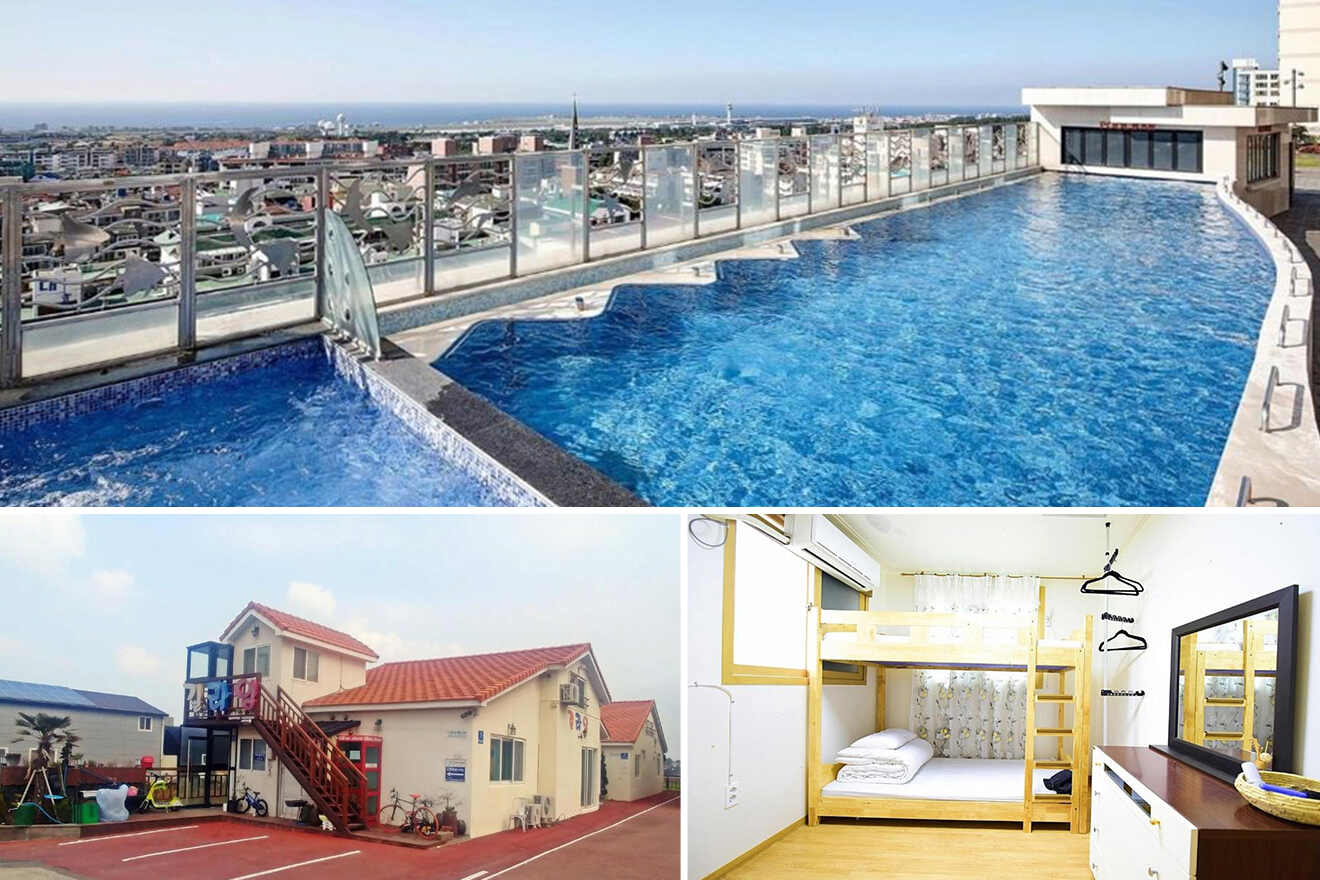 Luxury: Lotte City Hotel – Chill in the outdoor pool of this hotel that's set 40 min away from Jeju Airport by public transport. The accommodation also has a fitness center and a spa center where you can relax after your flight.
Mid Range: Jeju Gillime Pension – A super comfortable holiday home with lots of space, family rooms, and barbecue facilities. You can even rent scooters and motorbikes if you want to explore around the island!
Budget: Ganderak Guesthouse – This affordable accommodation is located on the southern side of Jeju City, and it offers rooms with air-conditioning and private balconies.
Things to do in Jeju City
Eat yummy food in Dongmun Traditional Market
Visit the Natural History Museum
Admire the rocky views at Yongyeon Pond
Visit the beautiful Udo Island
Check out the art at Arario Museum Tapdong Cinema
Try your luck at Gongzi Jeju Casino
See the Seongsan Ilchulbong peak in Seongsan
2. Seogwipo City – where to stay in Jeju for nature lovers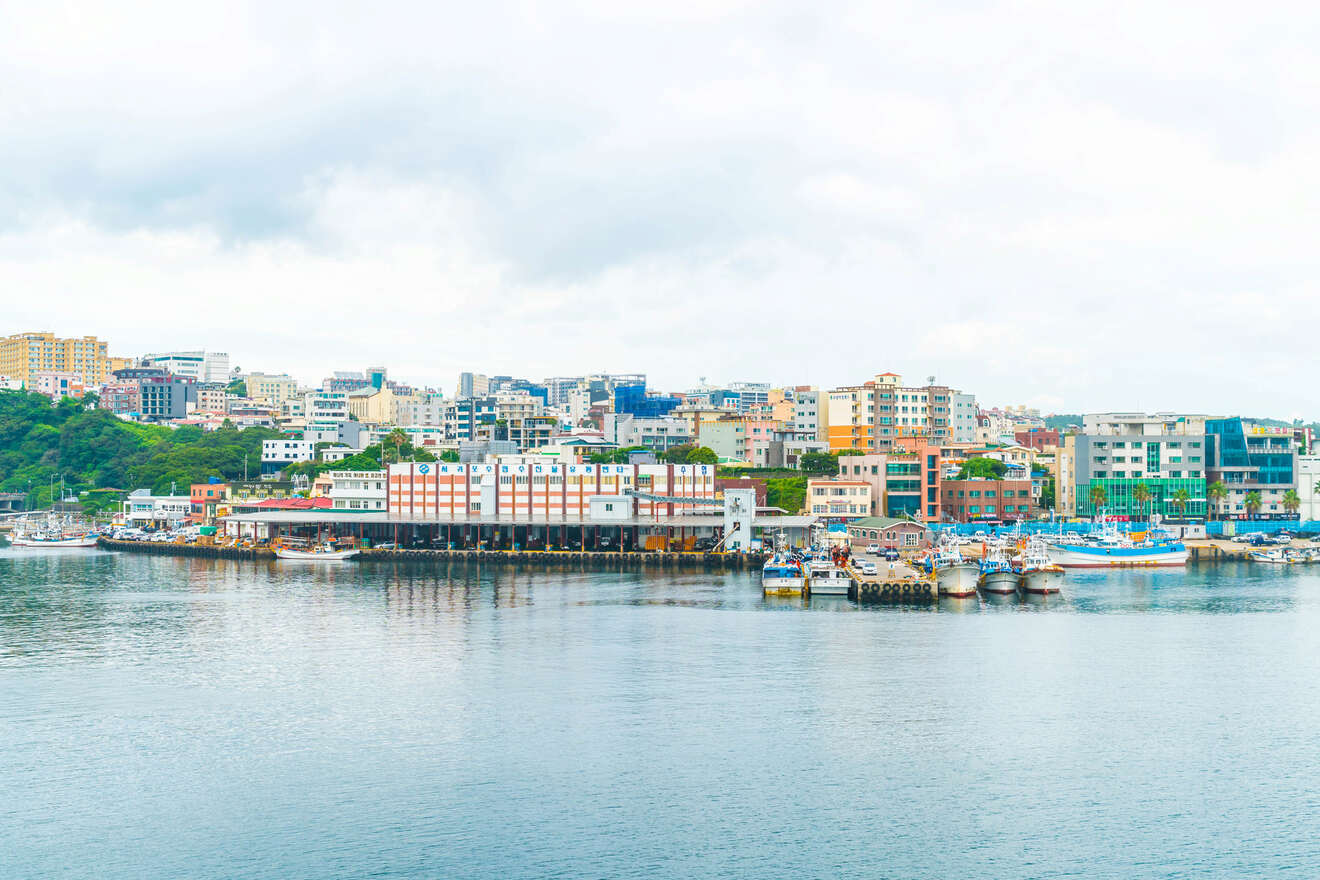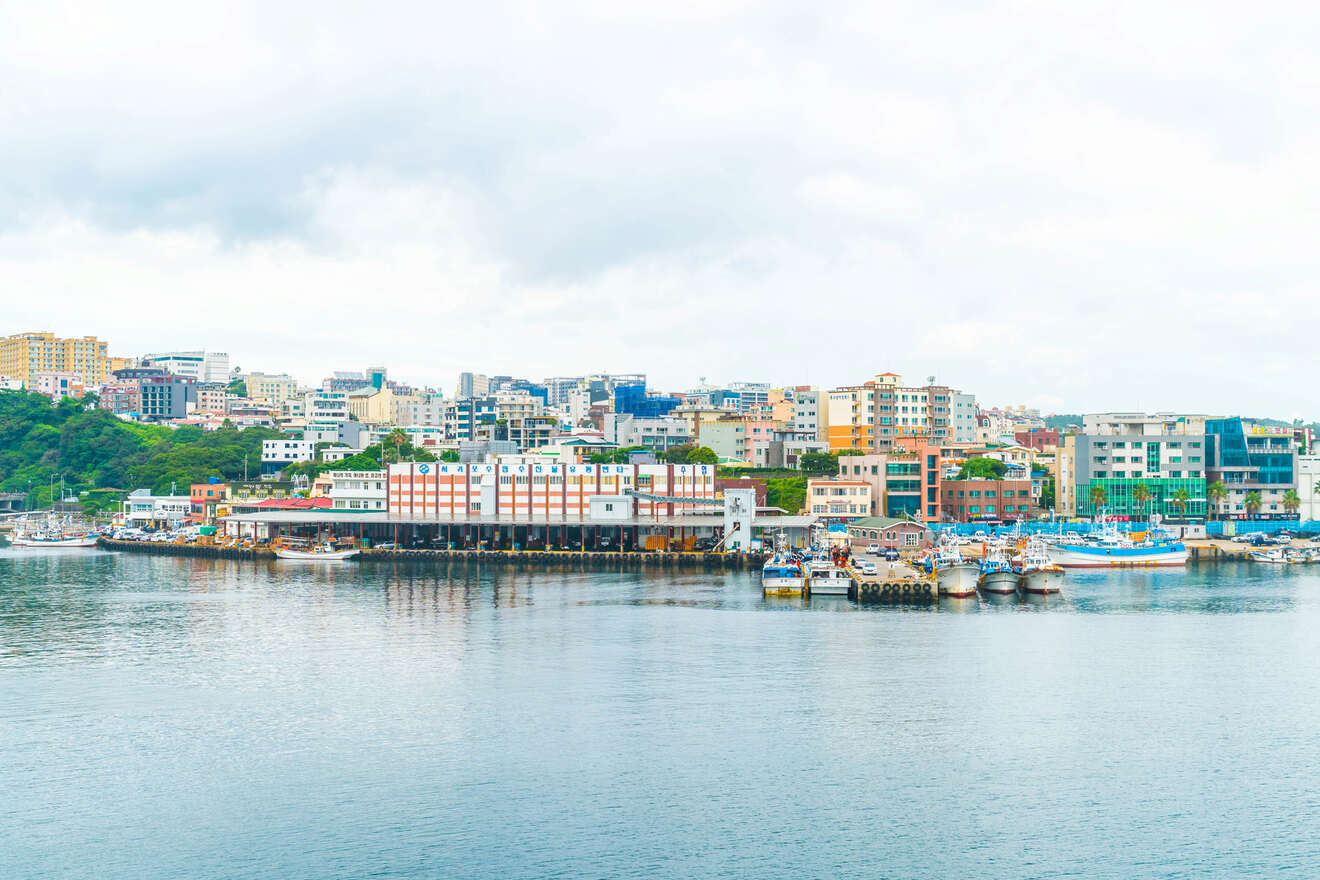 Set on a rocky-volcanic coastline, Seogwipo is the island's second-largest city and one of the best places to stay for nature lovers and adventure junkies! For just a city, this place offers almost as much to do as all the activities in Seoul!
Seogwipo is located on the south side of Jeju island, just 2h away from Jeju city. And I recommend you stay in Seogwipo if you want to see many waterfalls, explore the hiking trails, and admire the natural landscapes!
Hotels in the city center are a great base to explore all these places, from the Seongsan Ilchulbong Peak in the east to the waterfalls and parks to the west. If you stay here, you'll also be within walking distance of all the restaurants (where you can try the traditional black pork dish), markets, and bars.
But of course, the whole city is pretty amazing, and by using public transport you'll get where you need to! Or you can always rent a car to get around the island easily.
Besides all the activities on land, you'll also find many underwater ones as well! snorkeling and scuba diving fans will surely feel in their element!
Other accommodation options in Seogwipo City
Since Seogwipo is the second largest city on Jeju island, there are so many hotel options here! I've offered the main ones above, but I wanted to give you 3 more options since we've got a bunch of them which look so good!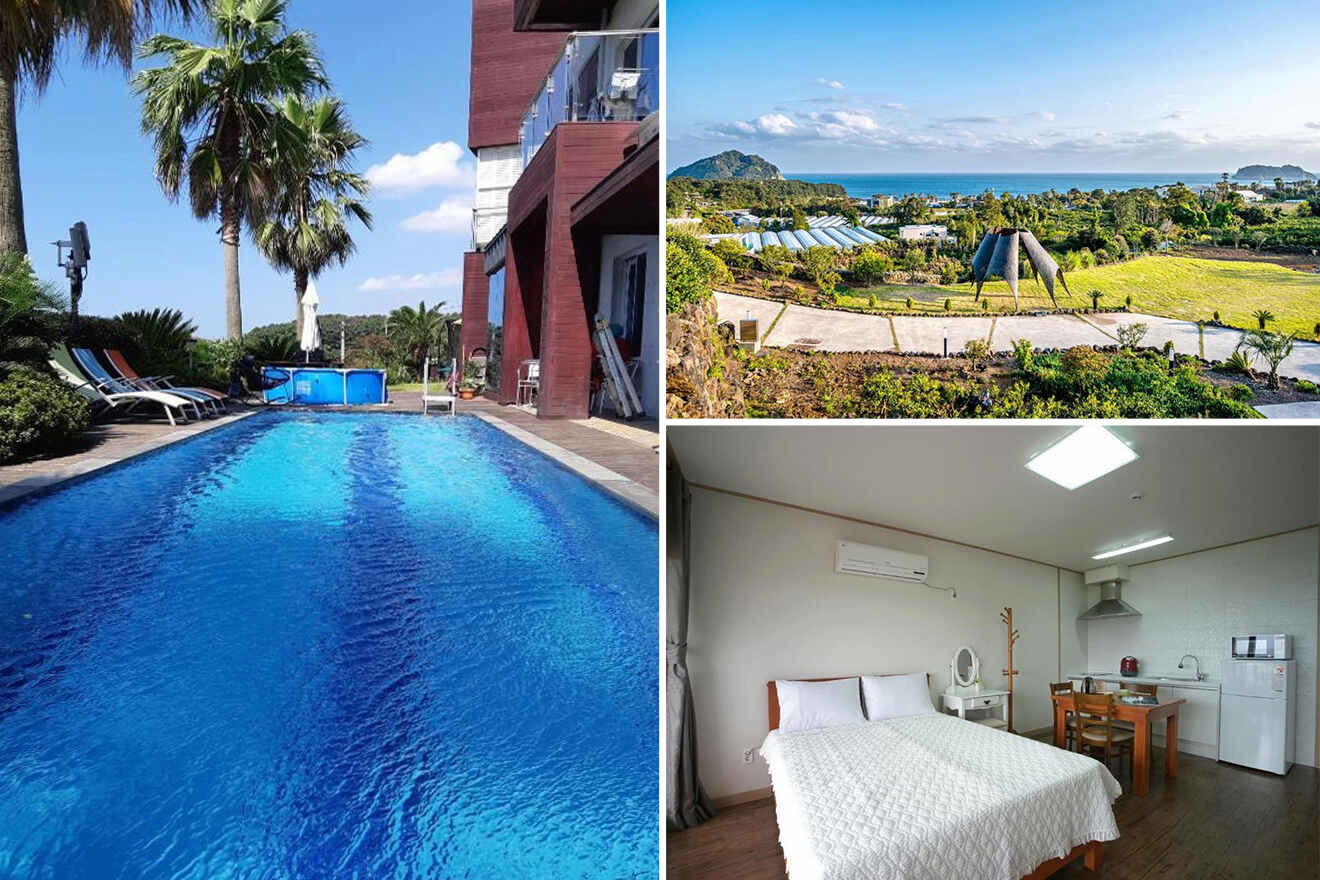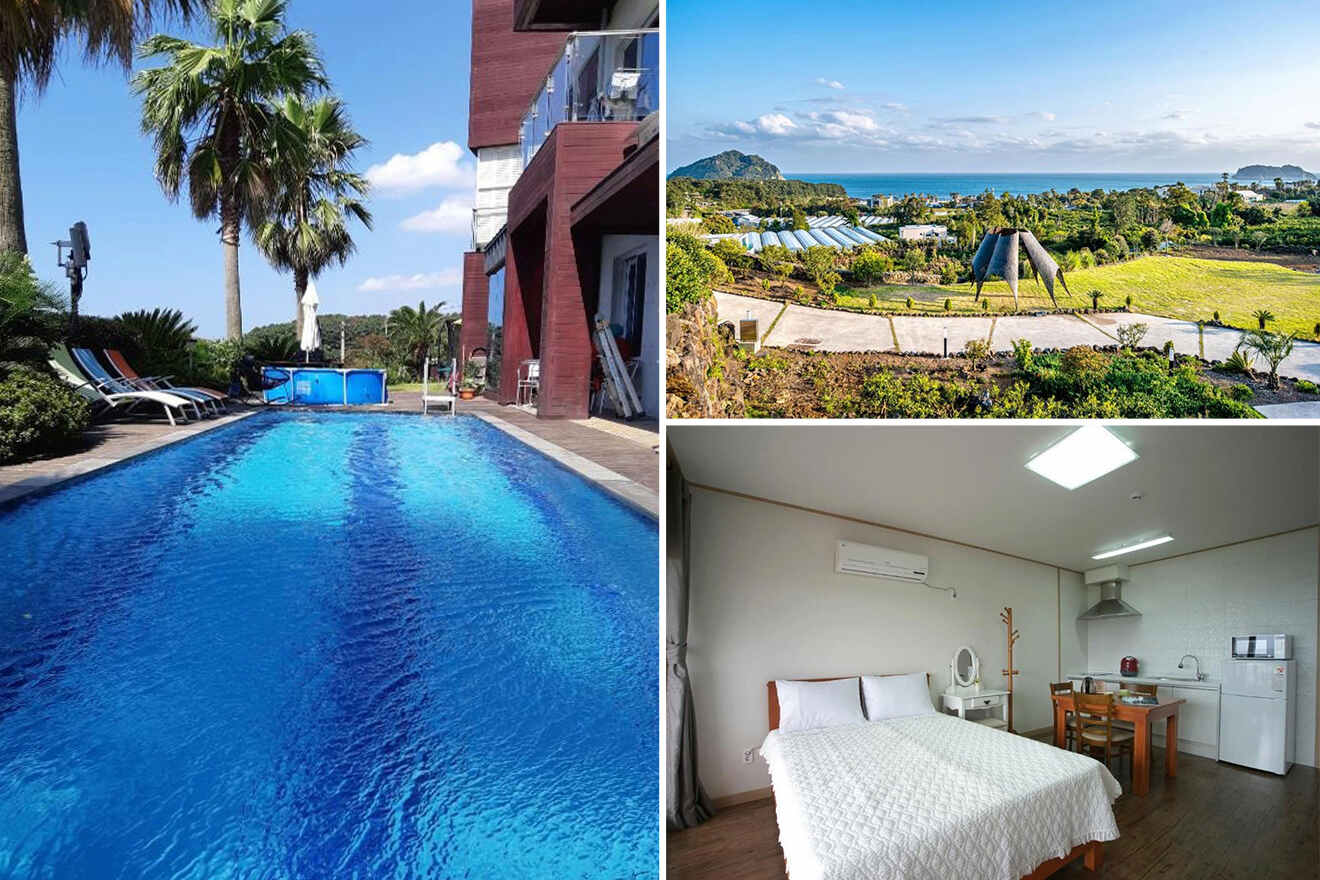 Luxury: Jeju Bom Museum – These holiday homes in Seogwipo are perfect for anyone who loves natural landscapes! The accommodation features all the facilities you need including a restaurant, spacious rooms with great views, and free wifi.
Mid Range: Casaloma Hotel – Chill in the outdoor pool of this accommodation that offers sea view rooms with a kitchen and private bathrooms.
Budget: Good Day Pension – On a tight budget? This hotel in Seogwipo is super affordable, and it has apartments with a kitchen and a dining area.
Things to do in Seogwipo City
Visit the beautiful Cheonjiyeon Waterfall
Go to Seongsan to see the Seongsan Ilchulbong peak
Eat yummy food at Seogwipo Olle Market
Go hiking around the Jeongbang Waterfall
Catch a sunset near Saeyeongyo Bridge
Check out the Lee Jung Seob Art Gallery
Take a trip to Museum Island or Udo Island
See the beautiful flowers at Yeomiji Botanical Garden
3. Seongsan – the coolest place where to stay in Jeju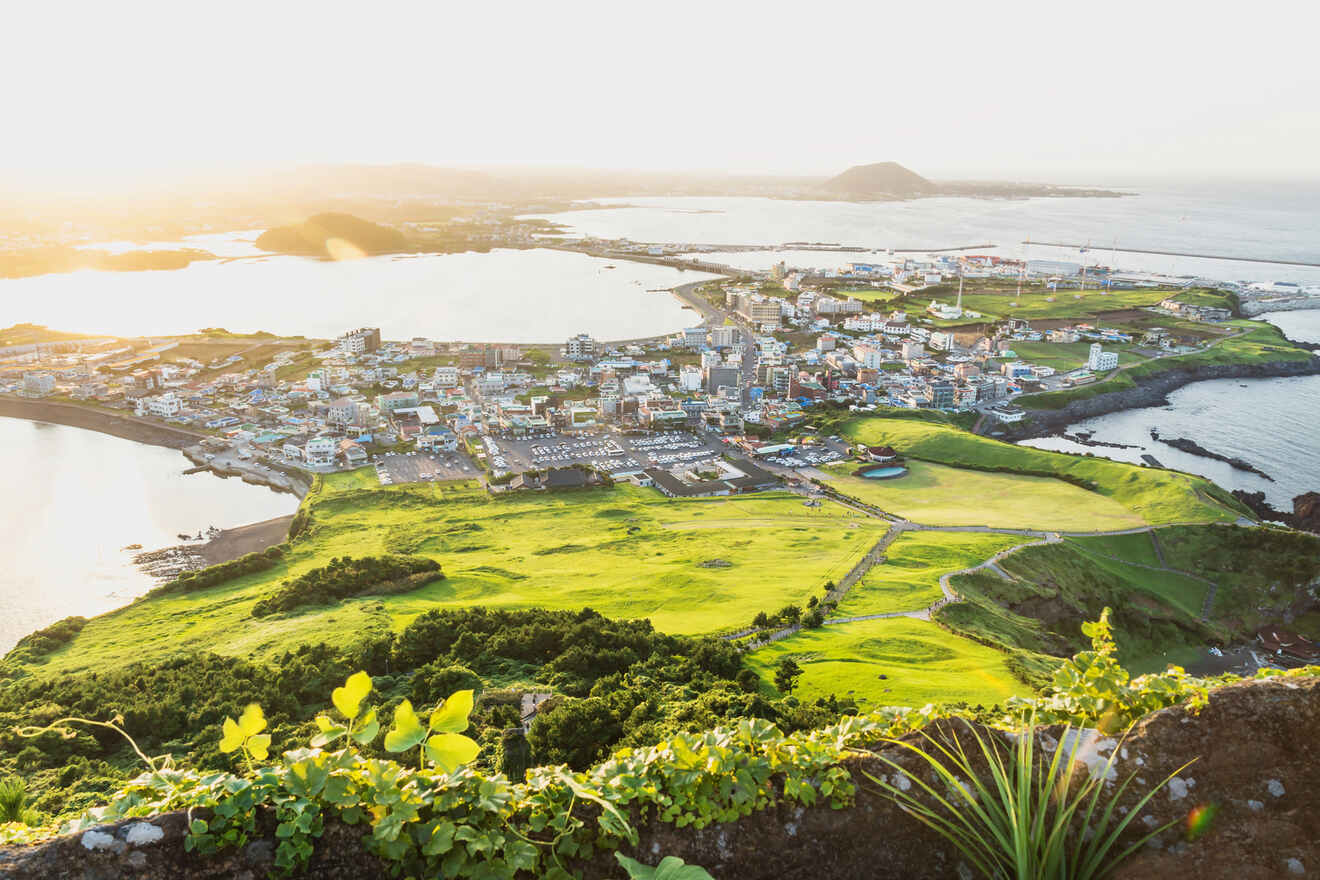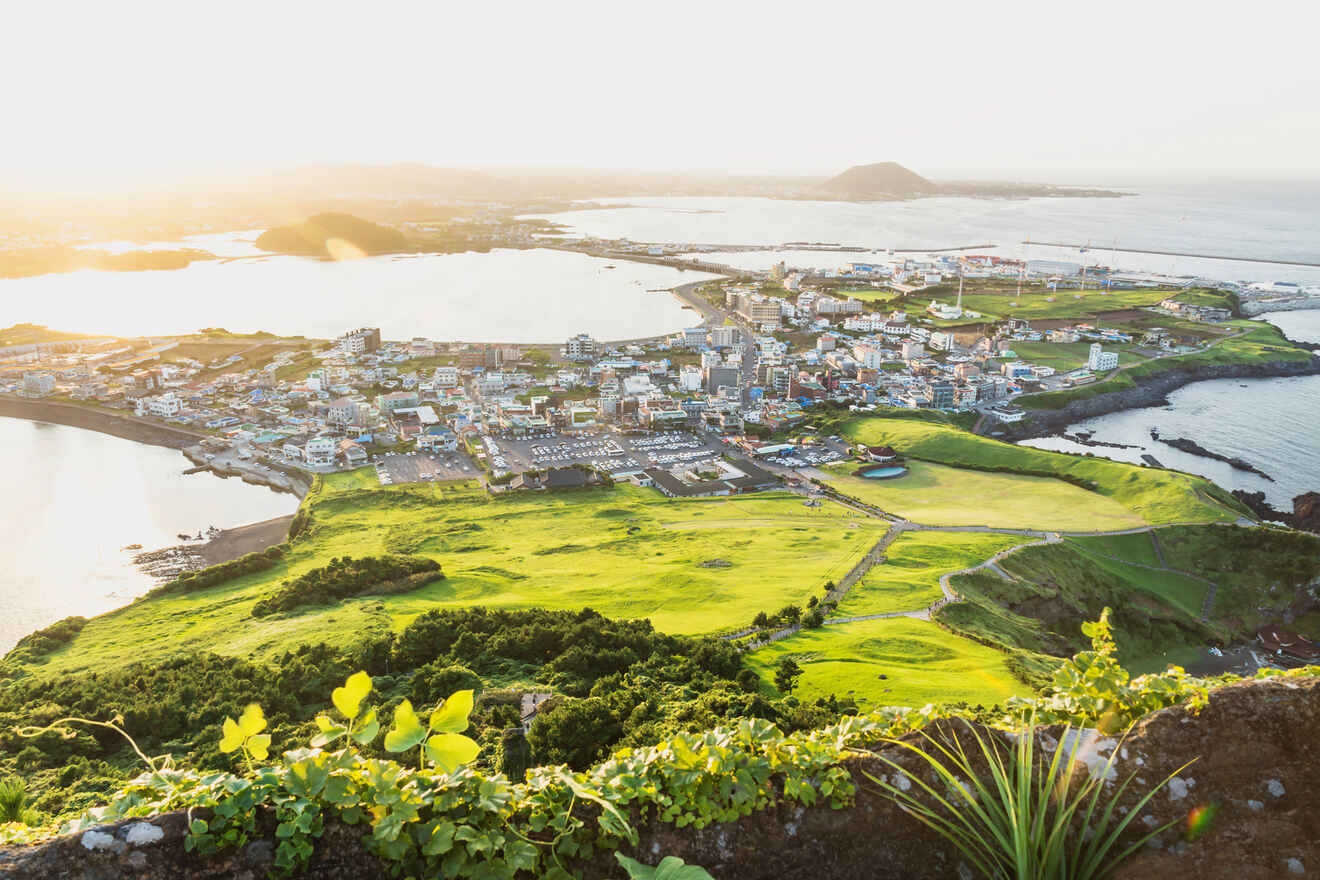 Welcome to one of the most beautiful areas on Jeju Island! Seongsan is located on the southeastern side of Jeju Island, pretty far from Jeju City, around 25 miles (40 km).
Seongsan offers the perfect combination: natural landscapes, great restaurants, and breathtaking views! Plus, that small-town atmosphere that we all love!
One of the biggest attractions here is the Seongsan Ilchulbong Peak which was created by an underwater eruption more than 100,000 years ago!
Everyone hikes around Seongsan Ilchulbong to catch the perfect sunset (the views are incredible) or the sunrise if you're an early bird!
At the mountain's base, there are plenty of restaurants and bars, where you can eat some nourishing food after you hike down. TIP: Seongsan is known for its delicious seafood, so make sure you try some while you're here!
But that's not it! This area is also known to host some of the most luxurious hotels on Jeju Island, so if you're looking for something super fancy, then check out my list below!
Other accommodation options in Seongsan
Things to do in Seongsan
Catch a sunset near Seongsan Ilchulbong
Take a trip to Udo Island
Go on a hike around the Seopjikoji area
Visit the Aqua Planet Jeju aquarium
Admire the art at Bunker de Lumières
Take lots of pictures at Seongsan Canola Flower Field
Check out the art at Yumin Art Nouveau Collection Museum
4. Aewol – best place to stay in Jeju for beach lovers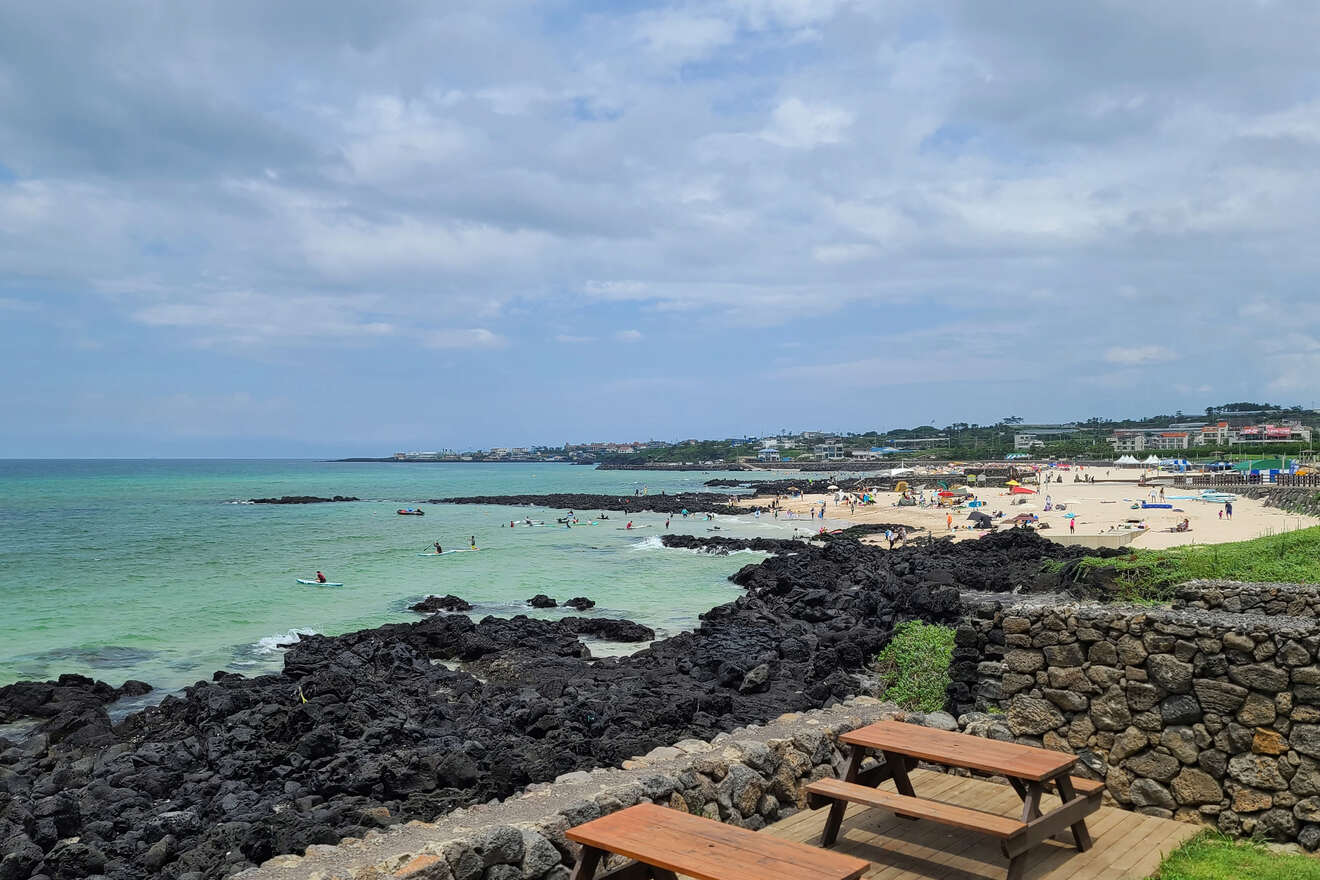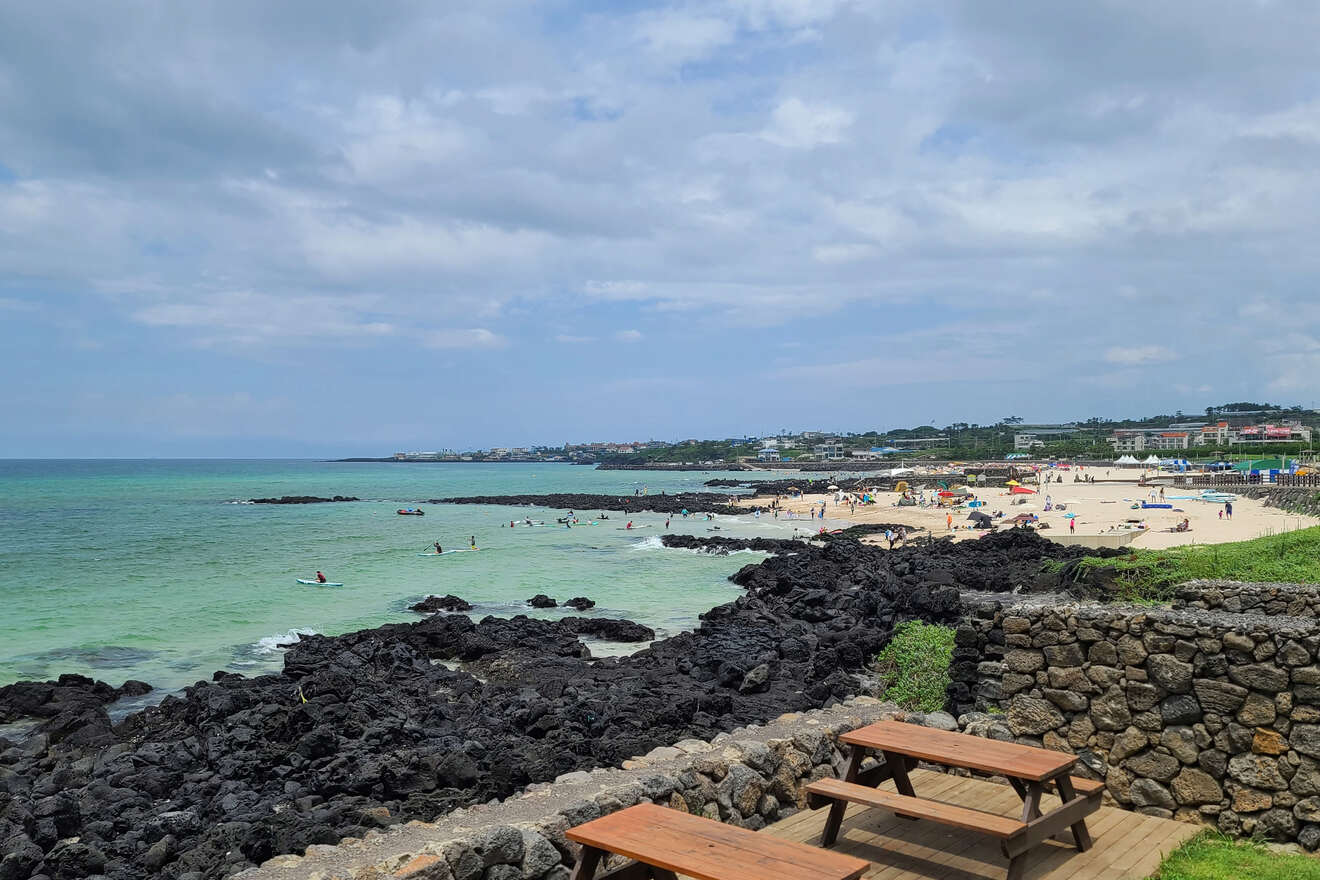 Have we got any tourists who can't stay too far from the sandy shores?
I'm sure we do, and I've found the most amazing area where to stay in Jeju Island! Aewol is an area located pretty close to Jeju City, only 1h away. This is awesome if you want to stay closer to the main city on the island.
But even if you just want to see some of the best beaches in Jeju, this is where you should come! Gwakji Beach is one of my favorites! The water is crystal blue, the shores are sugary white, and the sun shines all day long.
Pack your bags and get ready to spend a few days doing nothing, sunbathing on the beach, and trying a bunch of watersports!
The area stretches from the coast up until the middle of the island, so you've got some ground to cover as there are more attractions as you move into the island's center. You'll find parks, natural spots, and some hiking areas as well. So make sure you leave the beach once in a while if you want to see other unique spots in Aewol!
Other accommodation options in Aewol
Things to do in Aewol
Try some watersports on Gwakji Beach
Spend a fun day at Park Jeju
Go on a hike around Saebyeol Oreum
Visit the Arte Museum Jeju in northwest Jeju
Take the kids to the Jeju Teseum theme park
Check out the unique Gueomri stone salt
Explore other parts of the island like the Seongsan Ilchulbong peak
5. Jungmun – where to stay in Jeju for families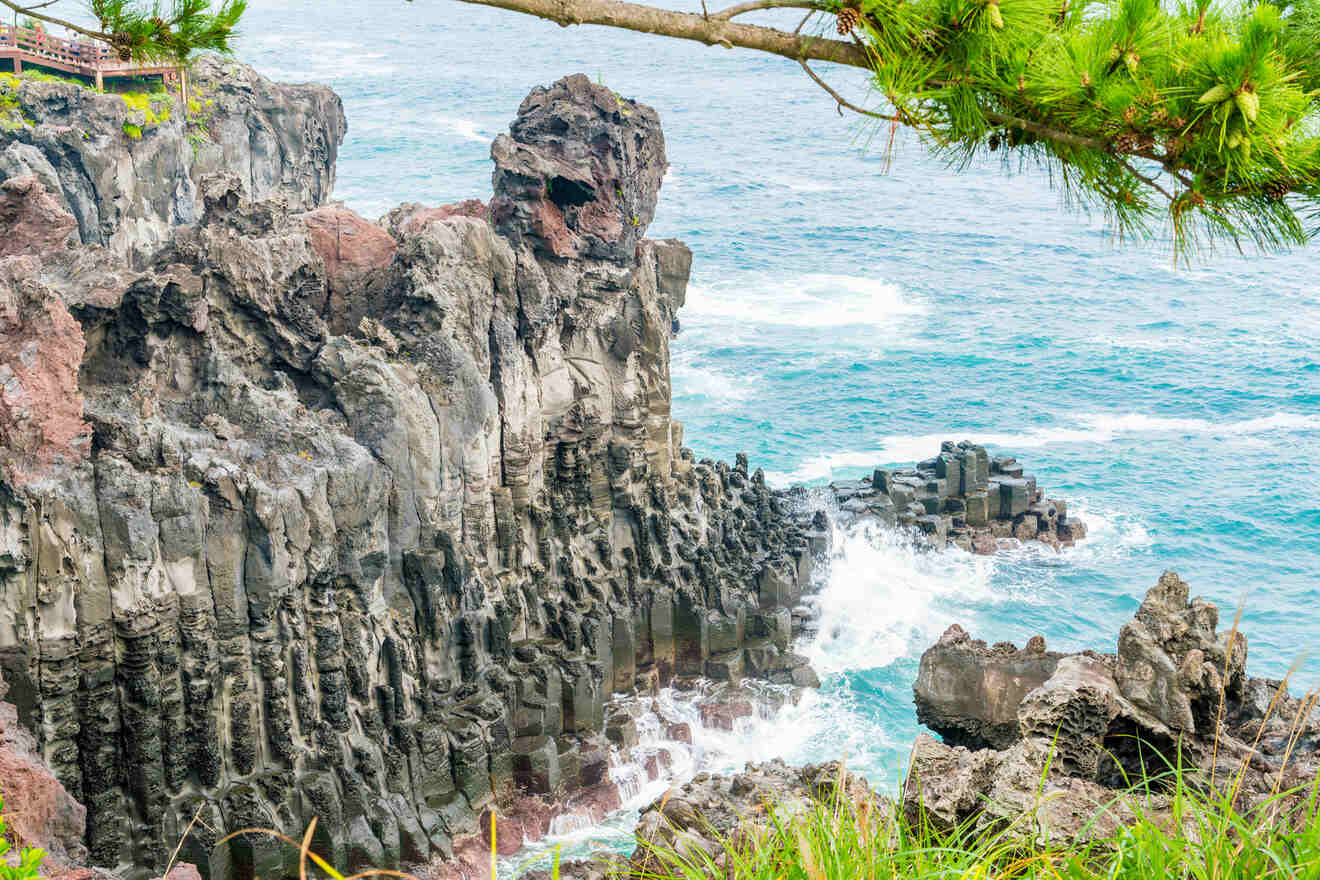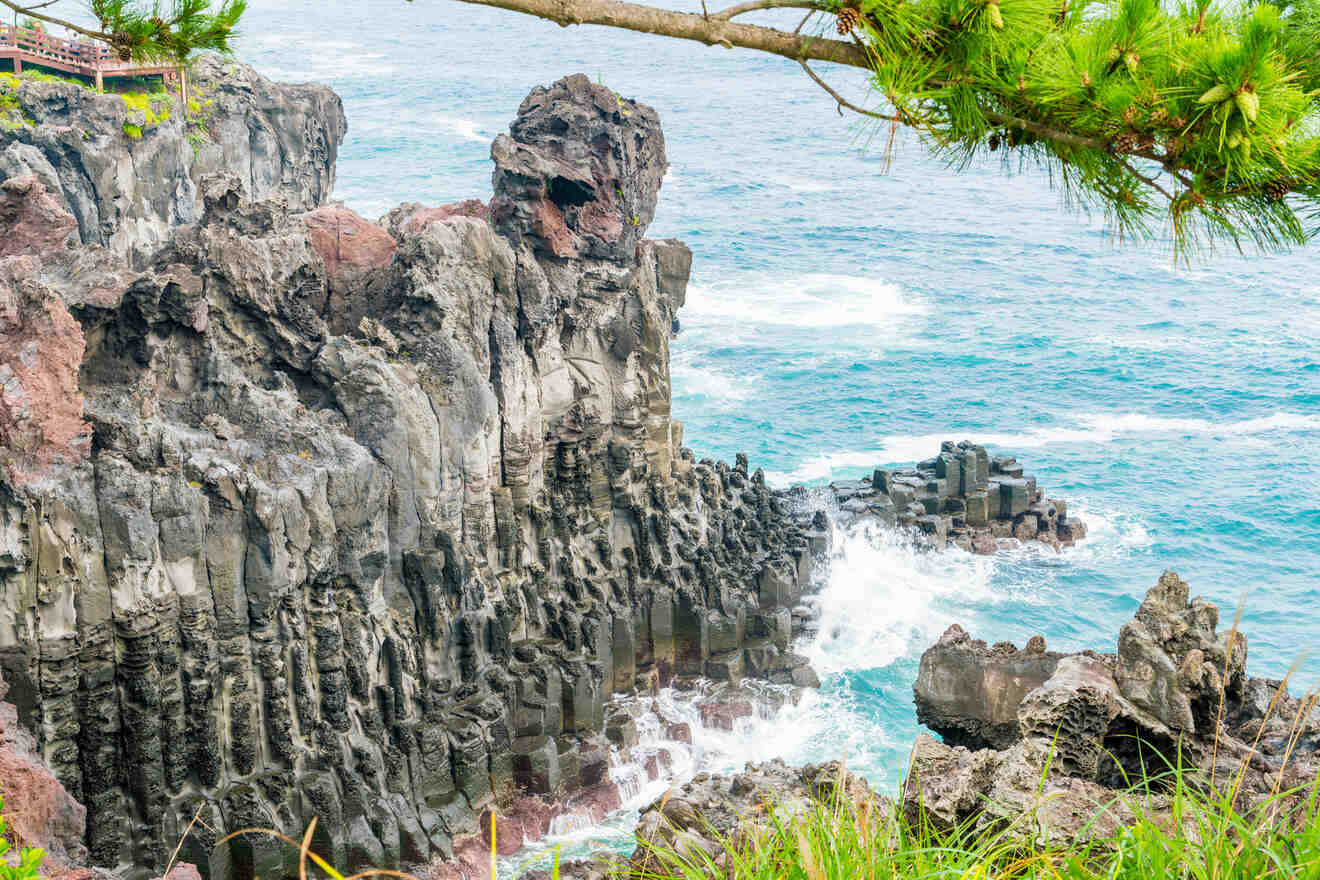 Planning a holiday with the little ones on the beautiful Jeju Island? You're in for a treat!
Although you can find many places around the island with fun, kid-friendly activities, I think the Jungmun tourist area is the best, as it offers tranquility, activities, and great hotels!
Set on the Southern coast of Jeju Island, Jungmun has nice beaches, green forests, and cool museums like the Chocolate Museum that will make the little ones fall in love with this place!
There's always something to do here, but that doesn't mean you can get a minute of peace and quiet when you want to. The Jungmun Tourist complex is known as a place for relaxation, so if you're looking to escape the crowds, this is the place to be!
Another thing that puts this place on the map is the super yummy food! Just like most coastal areas on Jeju Island, Jungmuns serves delicious seafood, so make sure you try some while you're visiting.
Other accommodation options in Jungmun
Jungmun is absolutely packed with luxurious hotels! Besides the main one I gave you in the list above, I found a few more that I wanted to share with you since they're so amazing! So let's have a look: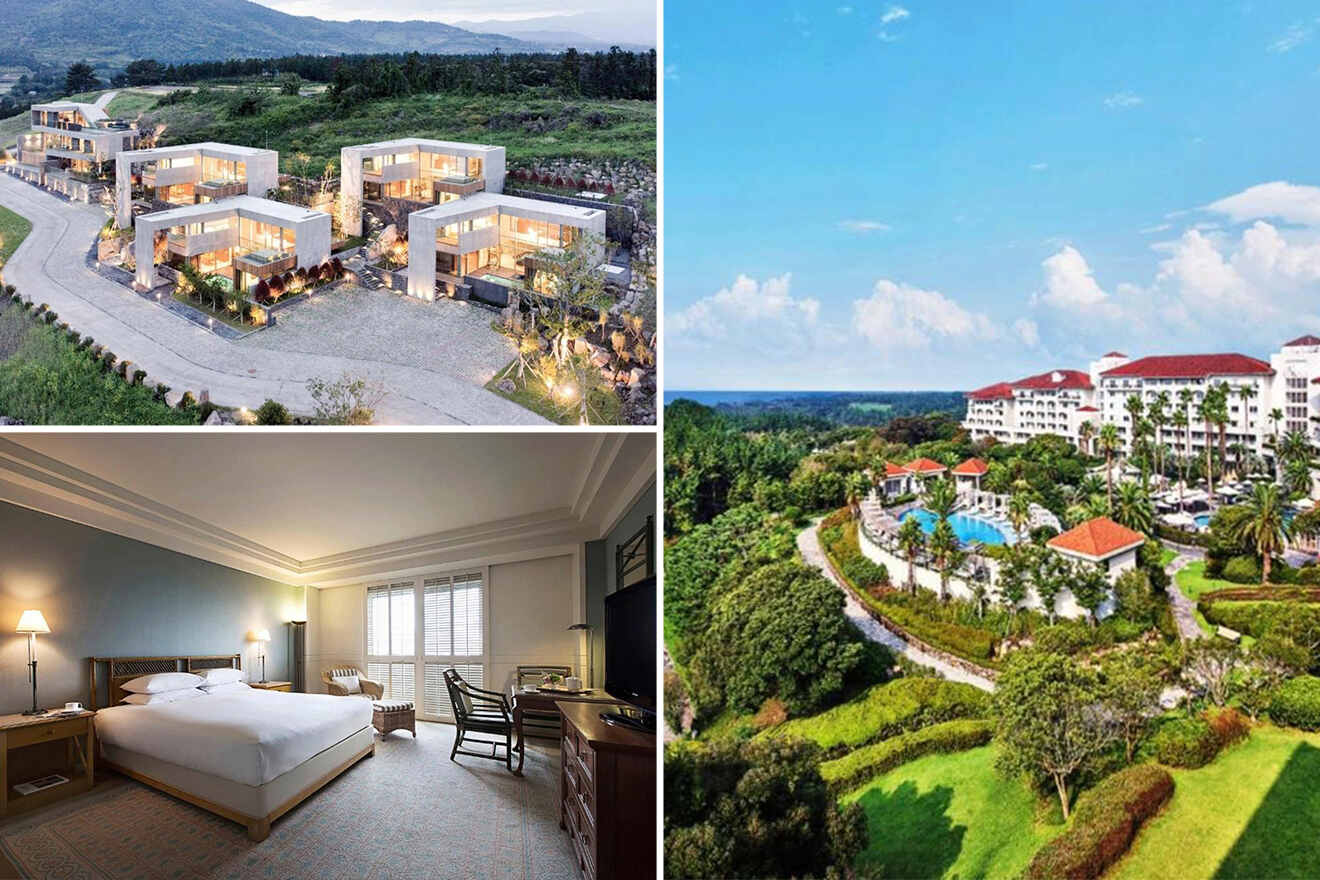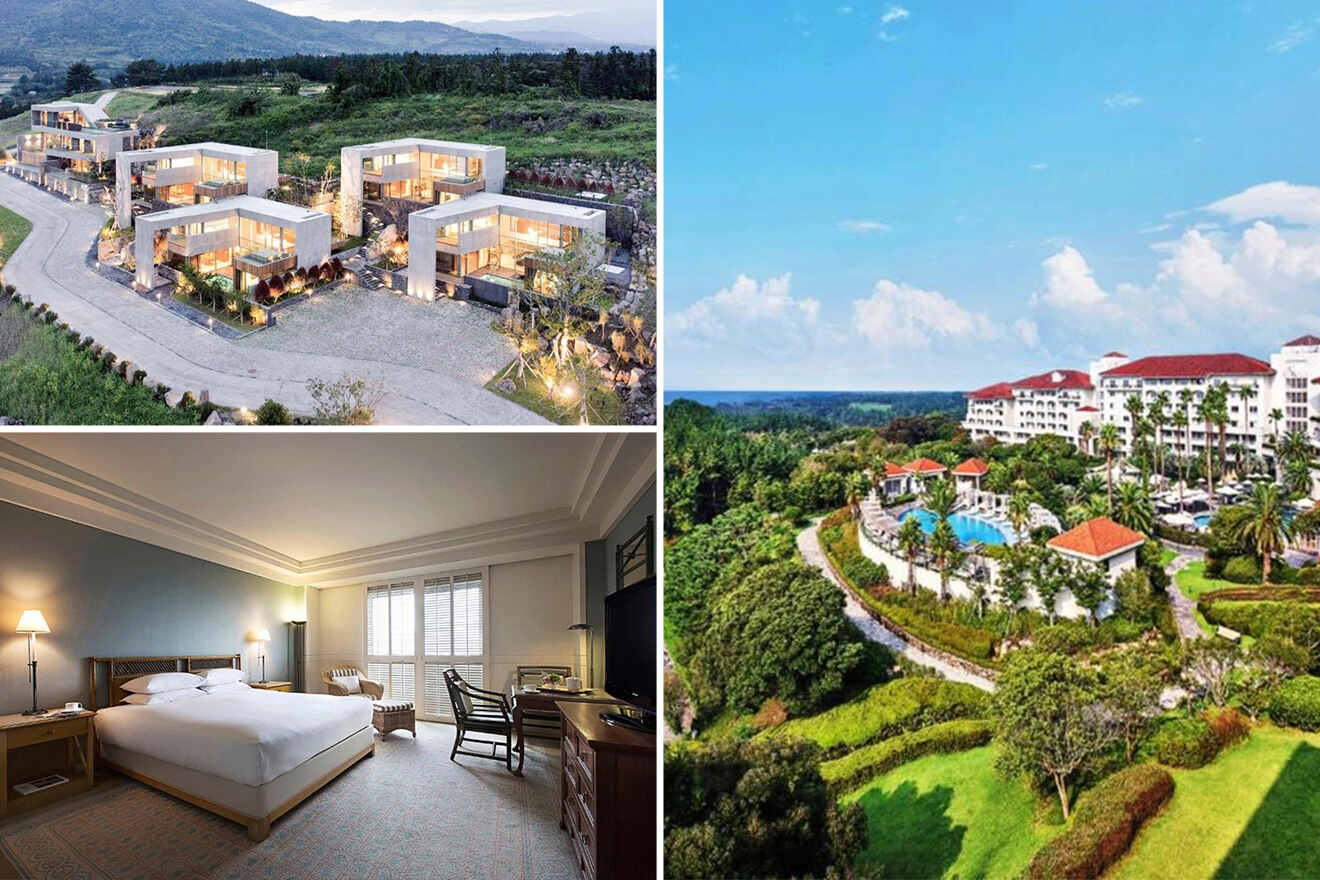 The Shilla Jeju – Set within walking distance from the beach, this luxurious Jeju hotel is perfect for your family getaway! It has playrooms, a kid's club, a swimming pool, and 6 dining options.
Bayhill Pool & Villa – This modern hotel offers spacious rooms with a terrace and a private pool or spa bath! Located just a 20-min drive from the Jungmun Tourist area, the accommodation comes with a swimming pool, a spa center, and a bar.
Things to do in Jungmun
See the beautiful Cheonjeyeon Waterfalls
Learn how to make macarons at Chocolate Land
Visit the Camellia Hill Botanical Garden
Spend a family day at Jungmun Saekdal Beach
Enjoy the views at Jusangjeollidae cliffs
Try some black pork on Udo Island
Take the kids to the Teddy Bear Museum
Check out the modern art at Bonte Museum
6. Yongmeori Coast – best place to stay in Jeju away from the crowds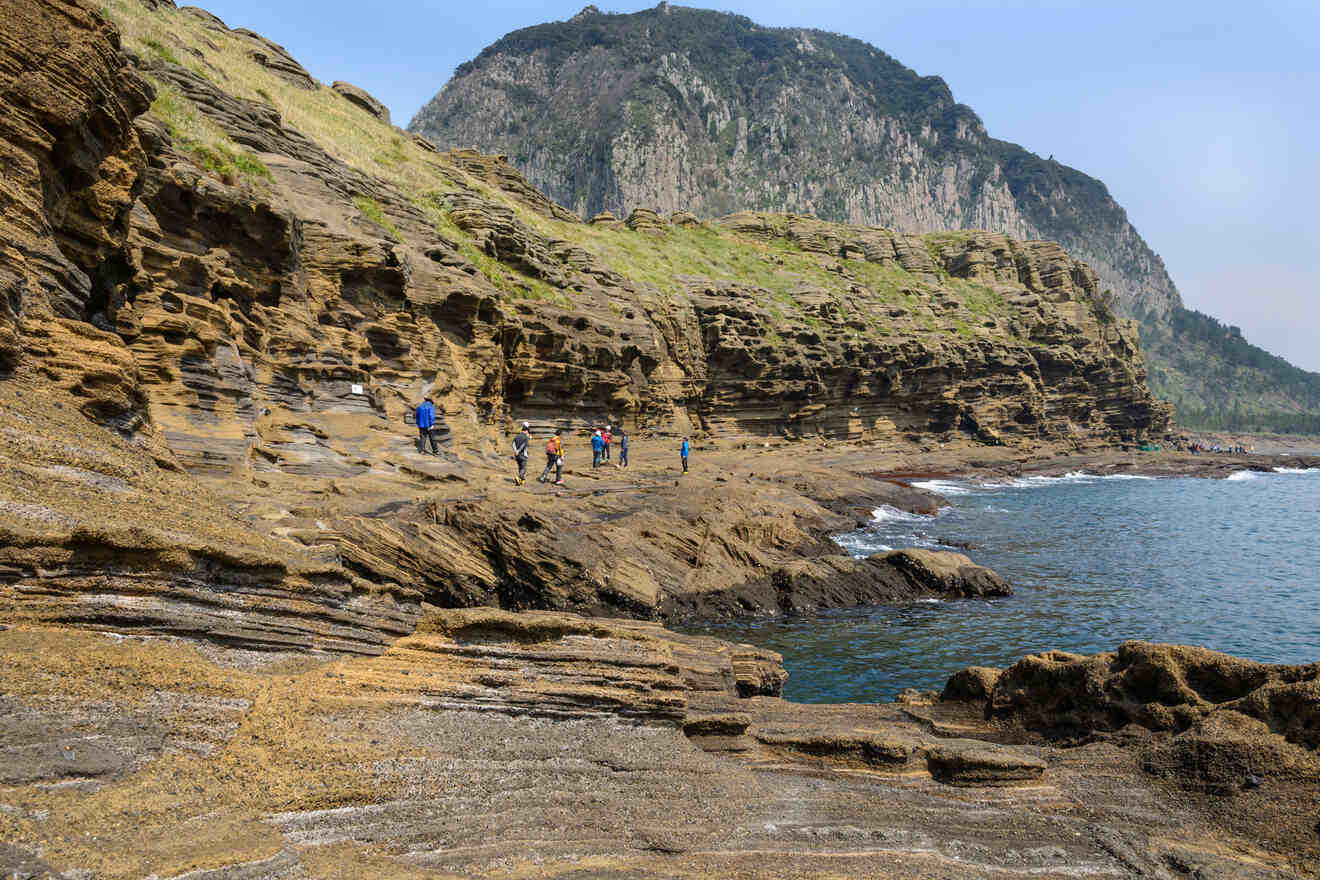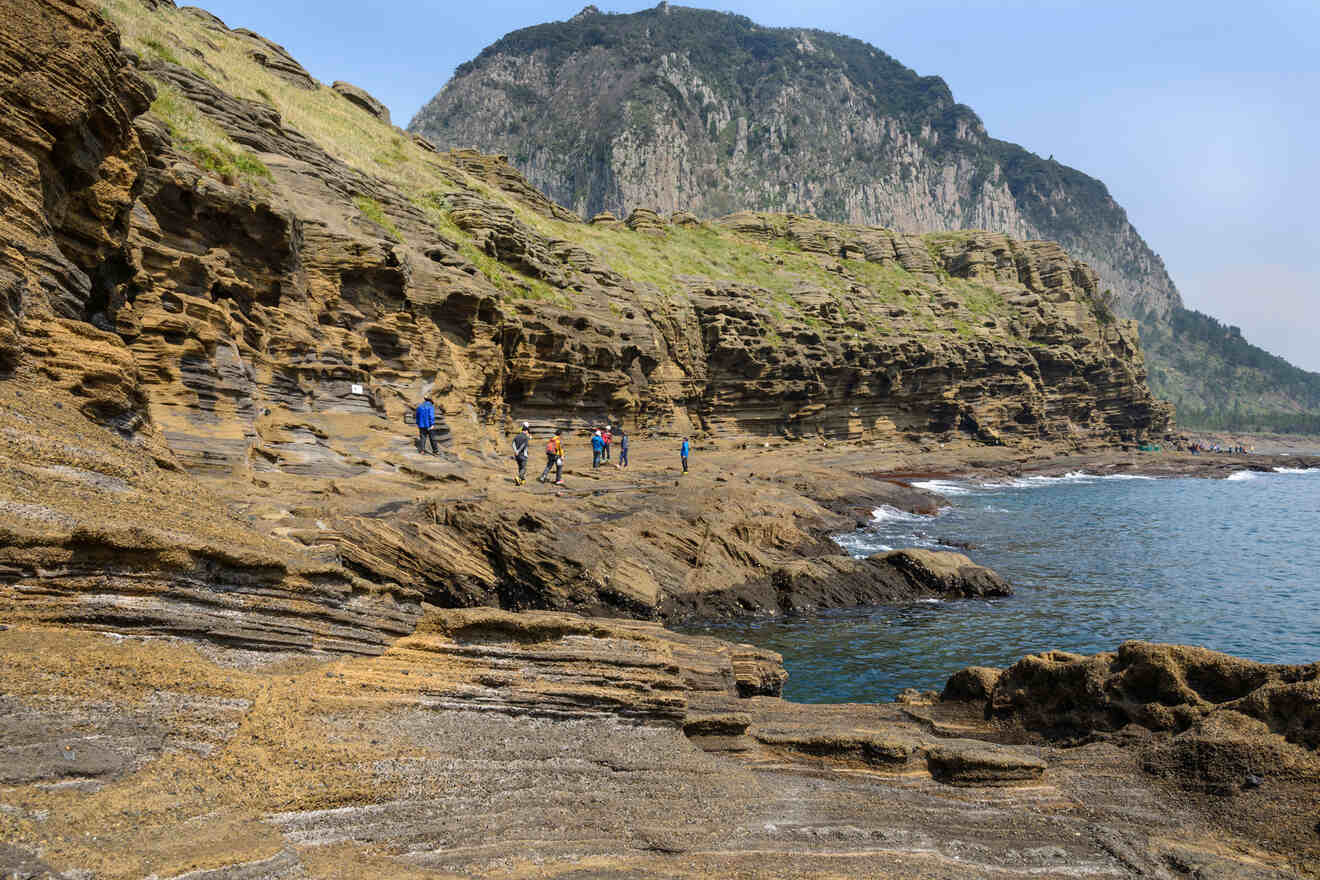 Who's in the mood for some adventure? I know we all want that, and I thought I'd finish the list of the best areas where to stay in Jeju with a bang!
The Yongmeori Coast is set on the southwestern side of Jeju island, and it is super popular as it has this unique rocky coastline that you can explore!
This area is perfect for adventure junkies who want to get around the island's coastline as much as possible! The rocky formations look unbelievable, and the sea views that you get here are breathtaking!
Of course, there are a few beaches as well, but they're not so crowded. Not many people venture to this side of the island as there's not as much to see and do besides hiking around the cliffs, swimming, and chilling on the beach!
But it's definitely worth it if you live to see and explore these places! Plus, the hotels are pretty awesome, so let's check them out:
Other accommodation options in Yongmeori Coast
Things to do in Yongmeori Coast
Visit the Hamel Memorial
Enjoy a tea with a view at Coffee Sketch
Spend a fun day at Sanbangsan Land amusement park
Explore the rocky coastline
Go for a swim at Sagae beach
BONUS 1: Best beachfront hotels on Jeju Island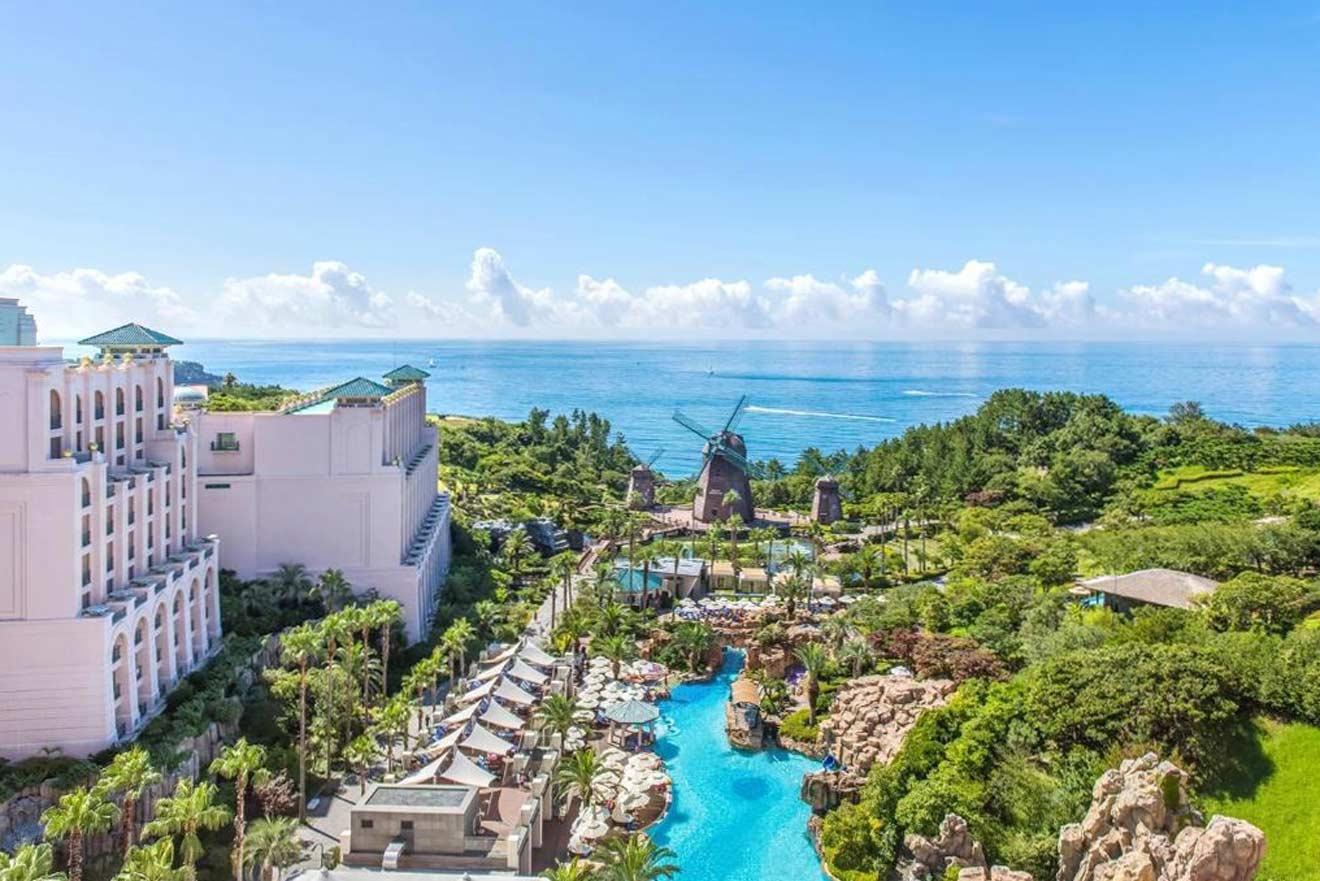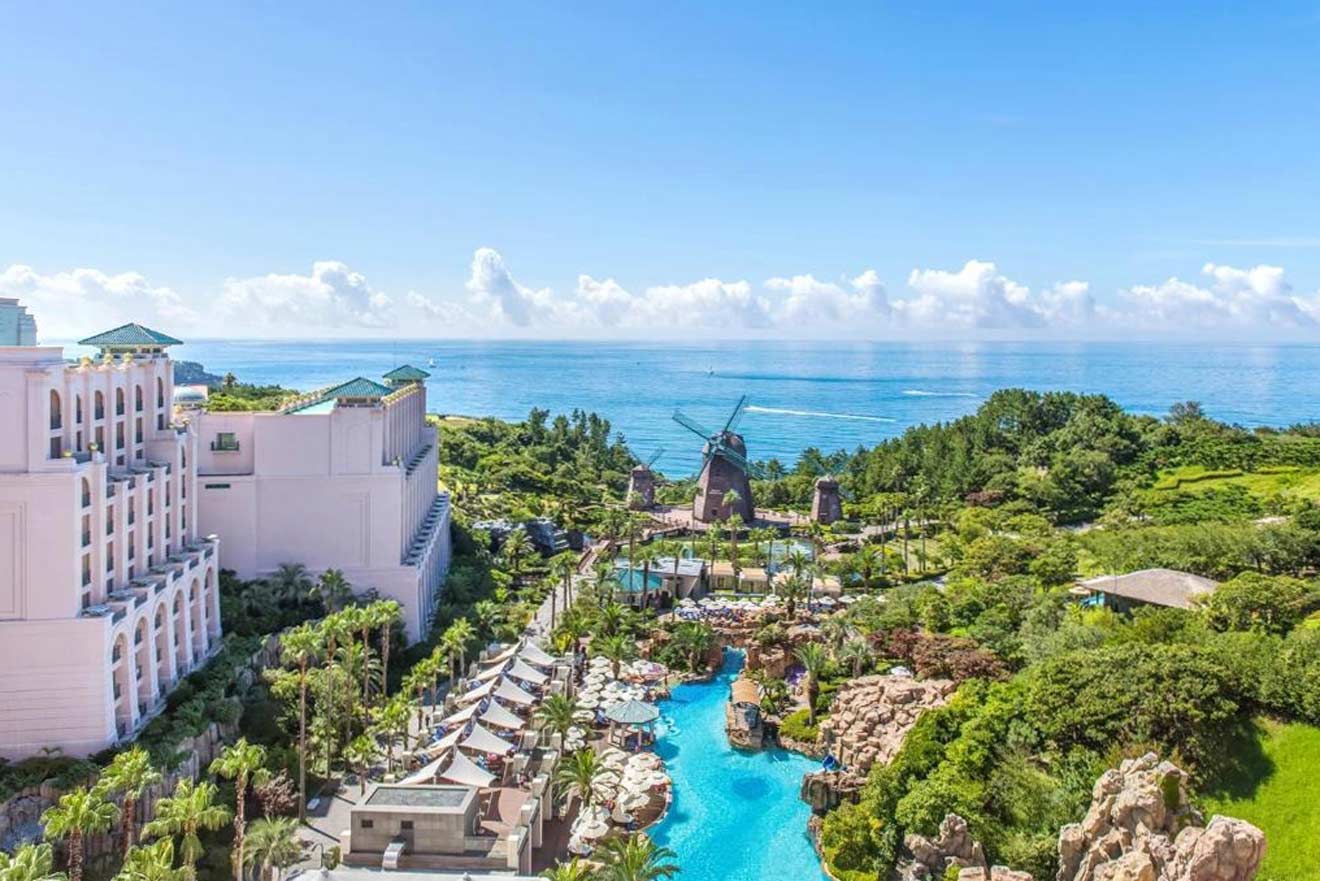 Still thinking where to stay in Jeju, South Korea? I know it's hard to decide when there are so many amazing options like Jeju City and Seogwipo! But since you're coming on an island, I'd recommend staying at a beachfront hotel! These places offer amazing views, they're right near the sandy shores and look so cool!
So if you're a beach lover or want to get the perfect ocean views, check out the list below, and find the best hotel for you:
Luxury (US$150 and up)
Parnas Hotel – Wake up to the perfect sea view in the comfortable rooms of this hotel in Jeju, that's located on Jungmun beach. Featuring spacious rooms with ceiling-to-floor windows and a balcony with a seating area, the accommodation is definitely a keeper! Just wait until you see the indoor and outdoor pools, eat at all of the 7 restaurants, and relax with a massage or facial at their spa center. You'll definitely agree with me!
Lotte Hotel Jeju – Looking for a fancy hotel to stay in Jeju, right on the beach? Then check out this one. It has elegantly-decorated rooms with large windows that overlook either the mountains or the sea in Seogwipo. Perfect for single travelers or families, this hotel in Jeju has swimming pools (with waterslides) and even a playroom for kids. The adults also have many activities like cooking classes, but if they want to relax, the spa is always open!
Mid Range (US$40 – US$80)
Jeju Holiday Home – Set in Jeju city, these holiday homes are perfect for tourists who want to be more self-sufficient, and maybe cook their own food or have more privacy. Decorated with simple yet modern furniture, the houses have lots of space and all the necessary facilities like a kitchen, a dining area, and barbecue facilities. Of course, you can see the beach from most rooms, and there's even a furnished terrace where you can enjoy your breakfast and the wonderful views!
Nice View Guesthouse – Set in Seogwipo, the best area to stay in Jeju Island for outdoor activities, this super affordable guesthouse offers the most amazing sea views! It's a bit more modest but at this price, you'll get everything you need for your stay including comfortable rooms with a private bathroom and a balcony, a continental breakfast, and free parking!
BONUS 2: Most romantic hotels on Jeju Island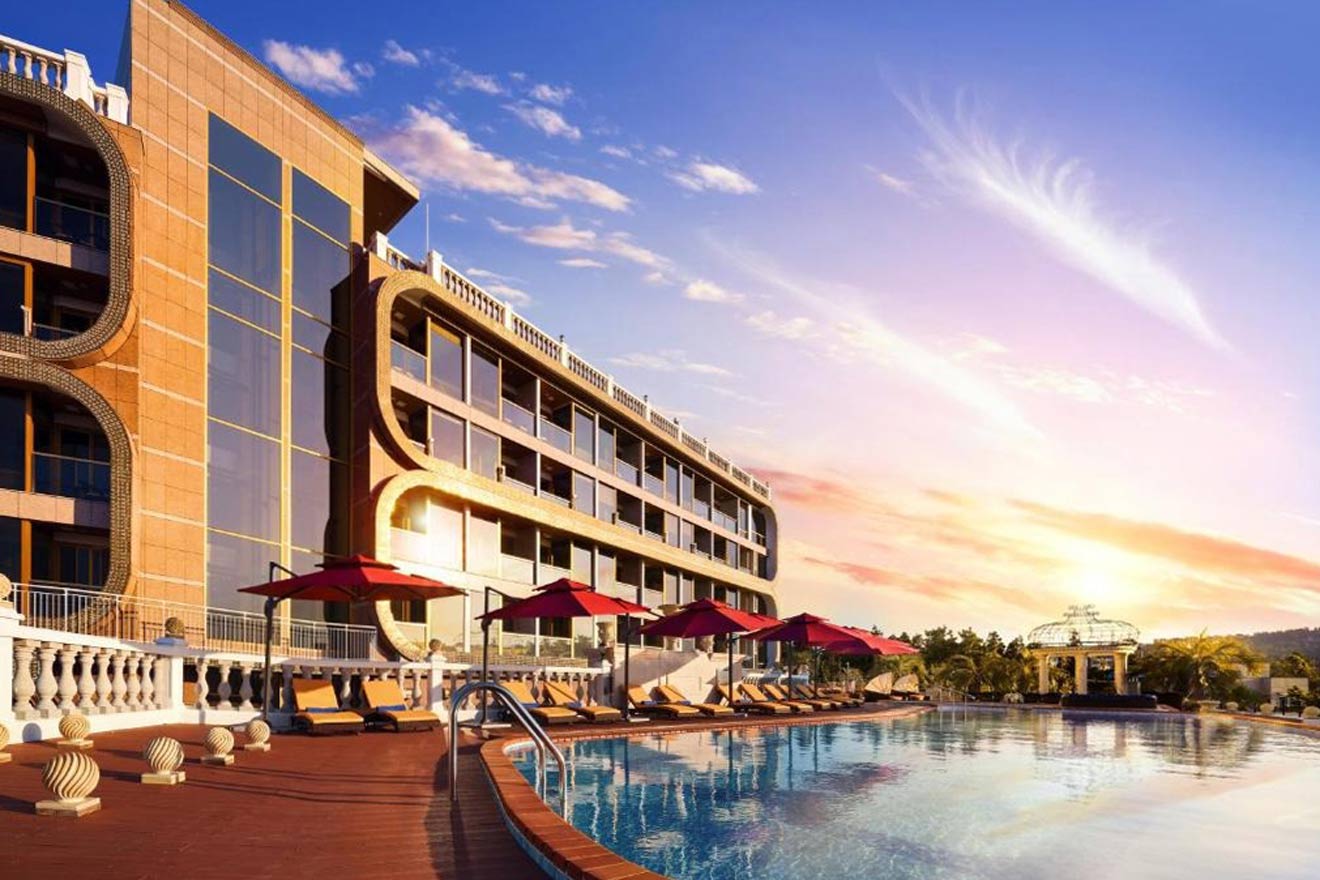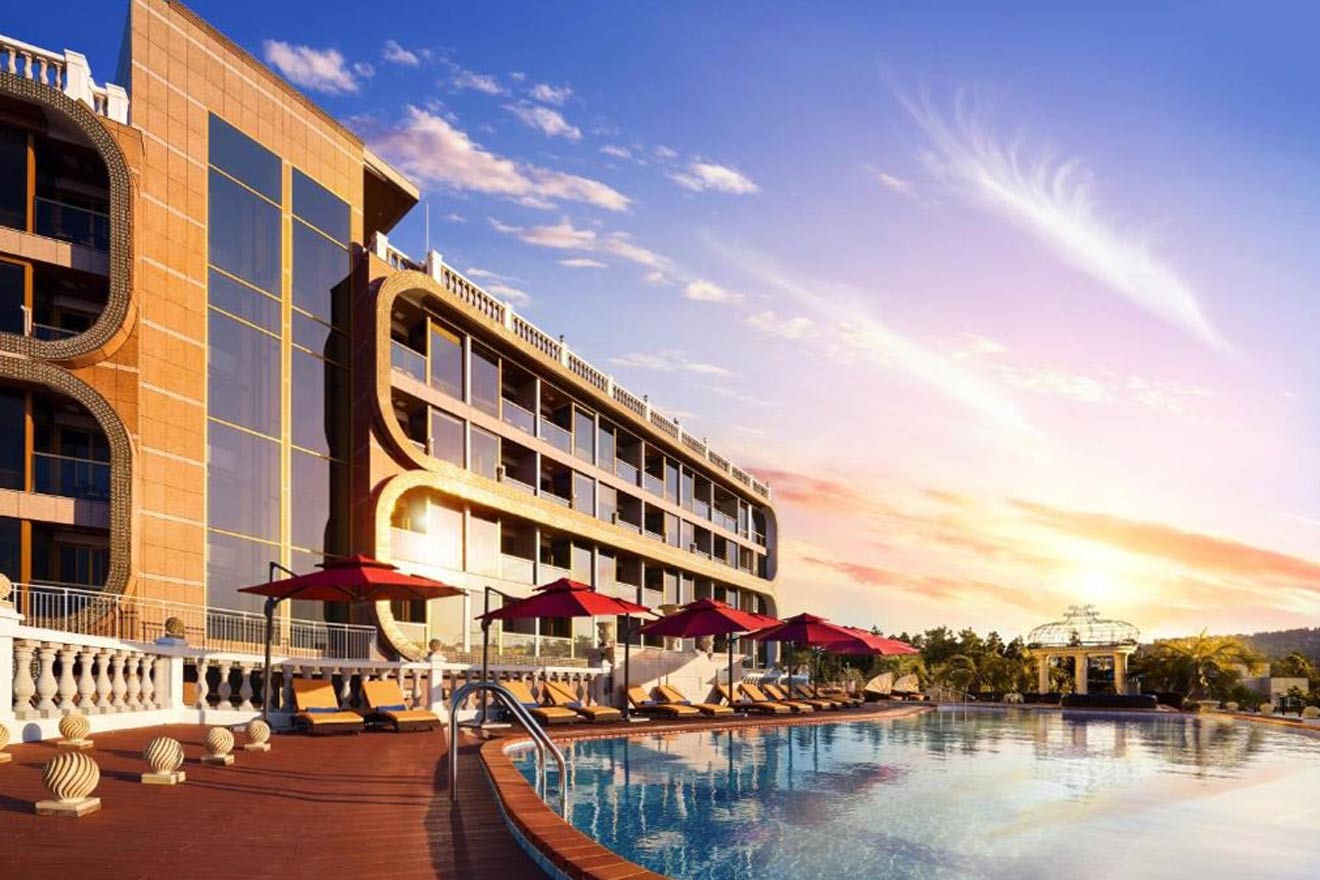 Planning a romantic getaway to one of the most popular holiday places in South Korea? Then you'll need some amazing hotels, where you and your partner can enjoy romantic dinners, couple's massages, and some relaxing time at the spa.
Luckily I've got the right places that offer that and more, so let's have a look:
Luxury (US$150 and up)
The Seaes Hotel & Resort – This green oasis is the perfect hotel where to stay in Jeju with your partner! Surrounded by natural landscapes and amazing views, the hotel offers all the privacy you need and some amazing spa facilities from couples' massages, facials and a hot tub. Start your day with some room service and then head out to enjoy the sun on the terrace, or right at the beach!
GoldOne Hotel & Suites – Relax in your own private spa bath while admiring the view from the large windows of your bathroom at this 4-star hotel in Seogwipo City! You'll never forget this romantic holiday on Jeju Island, especially after enjoying a nice couple massage at the spa center on-site. Or after enjoying a nice romantic dinner at the restaurant and a night swim under the moonlight in the outdoor pool.
Hotel Sirius – Set in Jeju City, this fabulous hotel offers everything you need for a perfect stay! Hot tubs, delicious food, swimming pools, and incredible views! During this holiday you and your partner can relax in your private spa bath, hit the gym, and sunbathe on the terrace at noon! La dolce vita!
Mid Range (US$40 – US$80)
Jubilee Chalet – If you both love nature and prefer to stay in a more homie-style accommodation then check out this place! It offers spacious apartments with jacuzzi baths, a balcony, and a small kitchenette. Here no one will disturb you and you can enjoy your romantic holiday to the fullest while admiring the beautiful sea views and exploring the Seogwipo area.
FAQs about hotels in Jeju, South Korea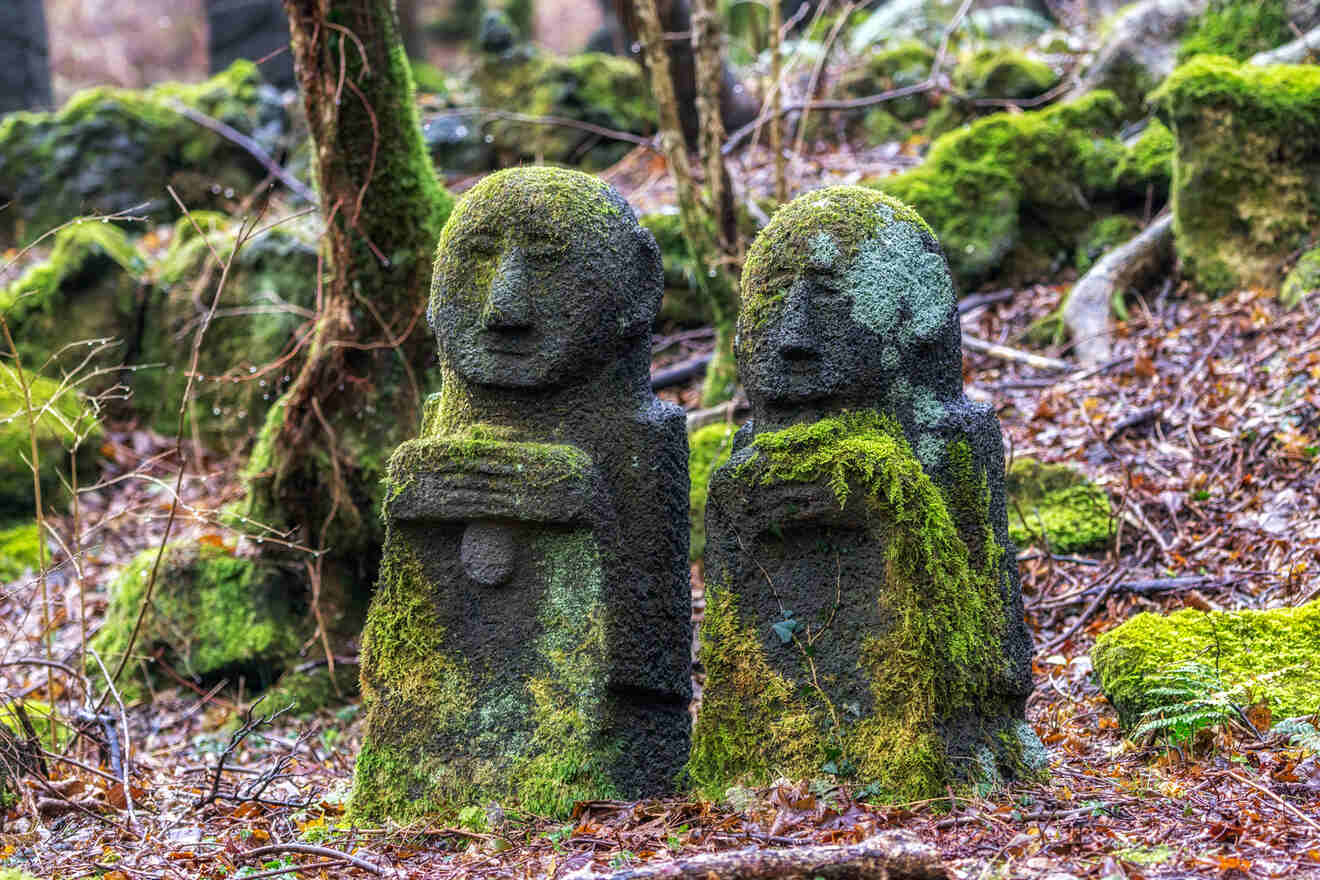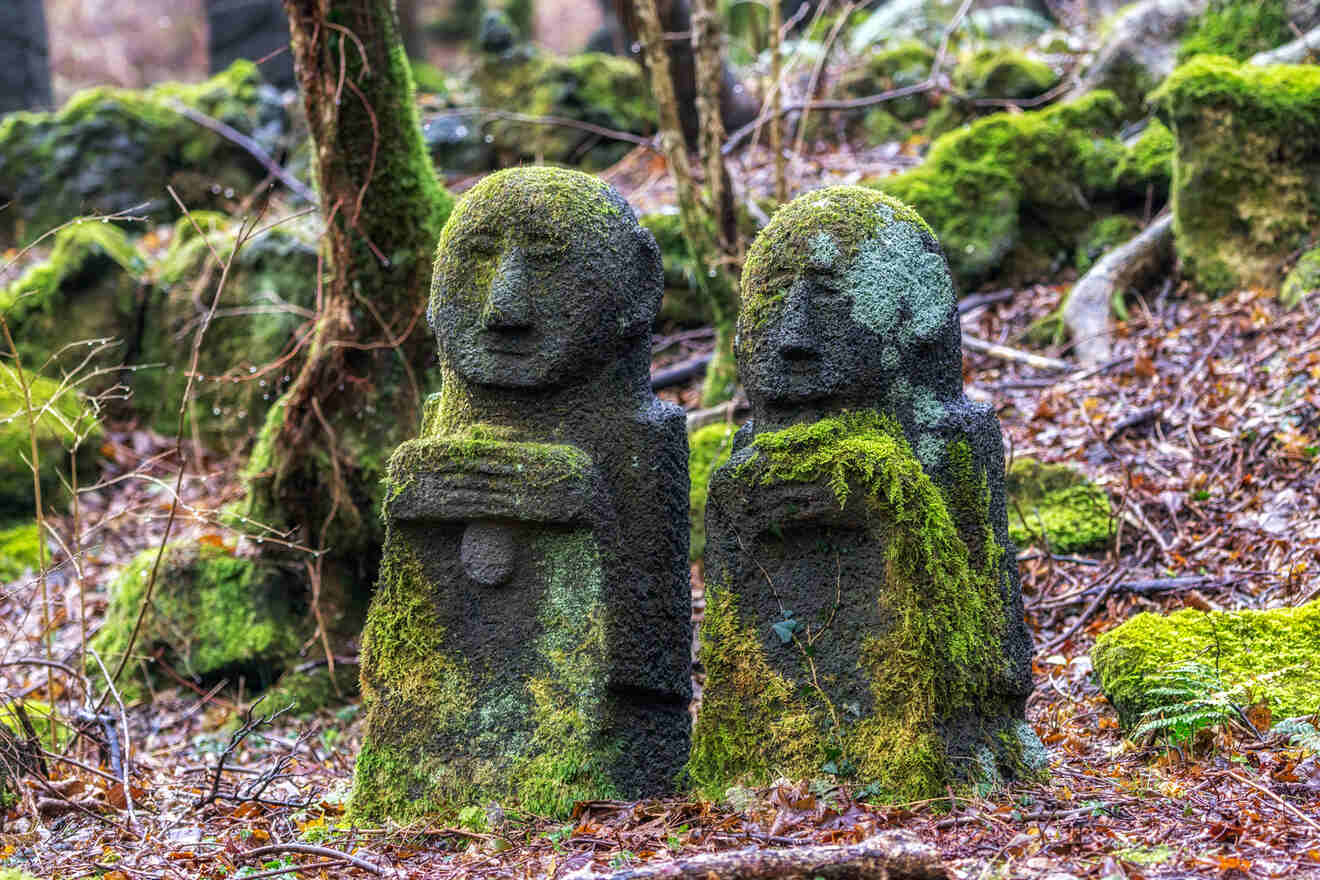 Conclusion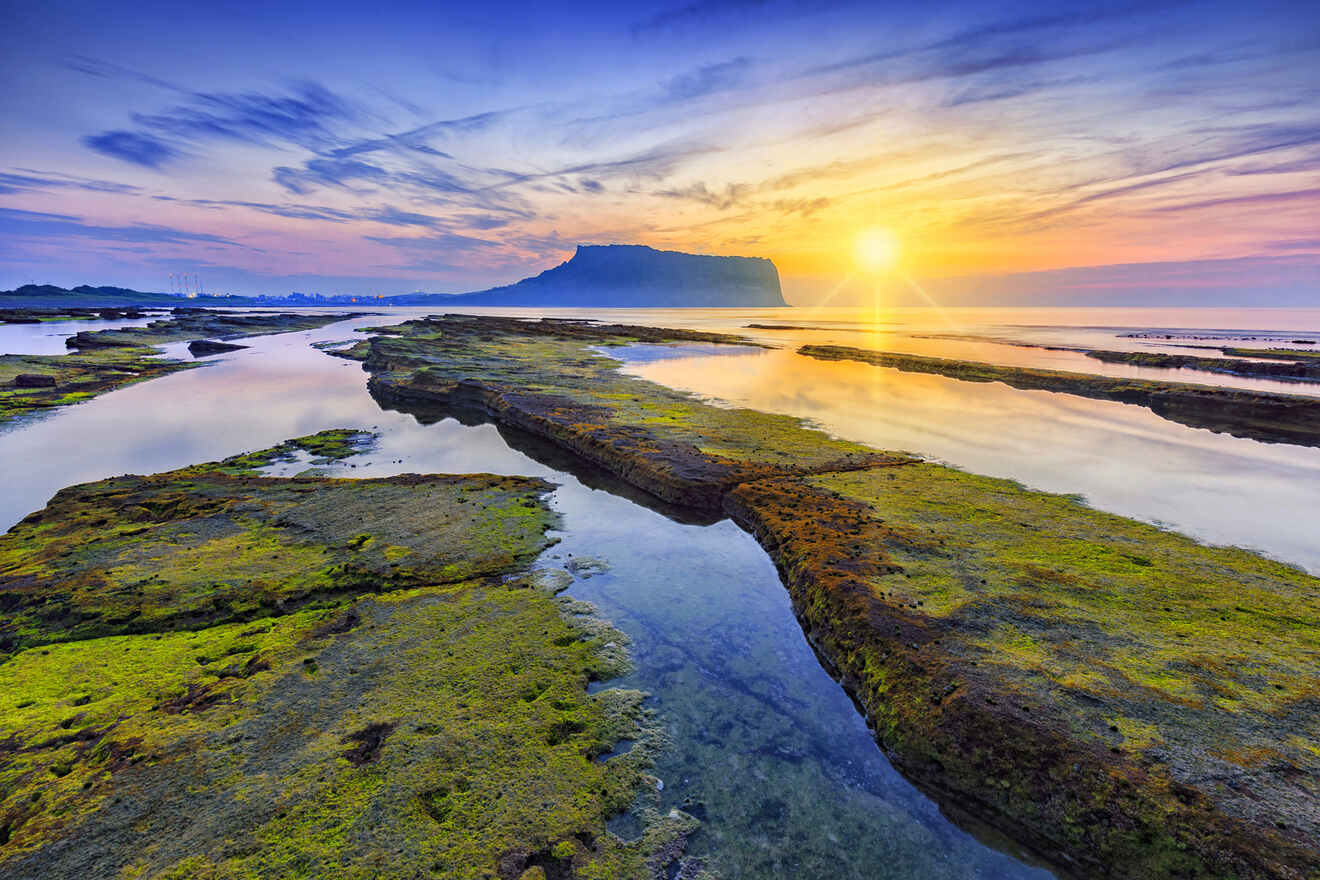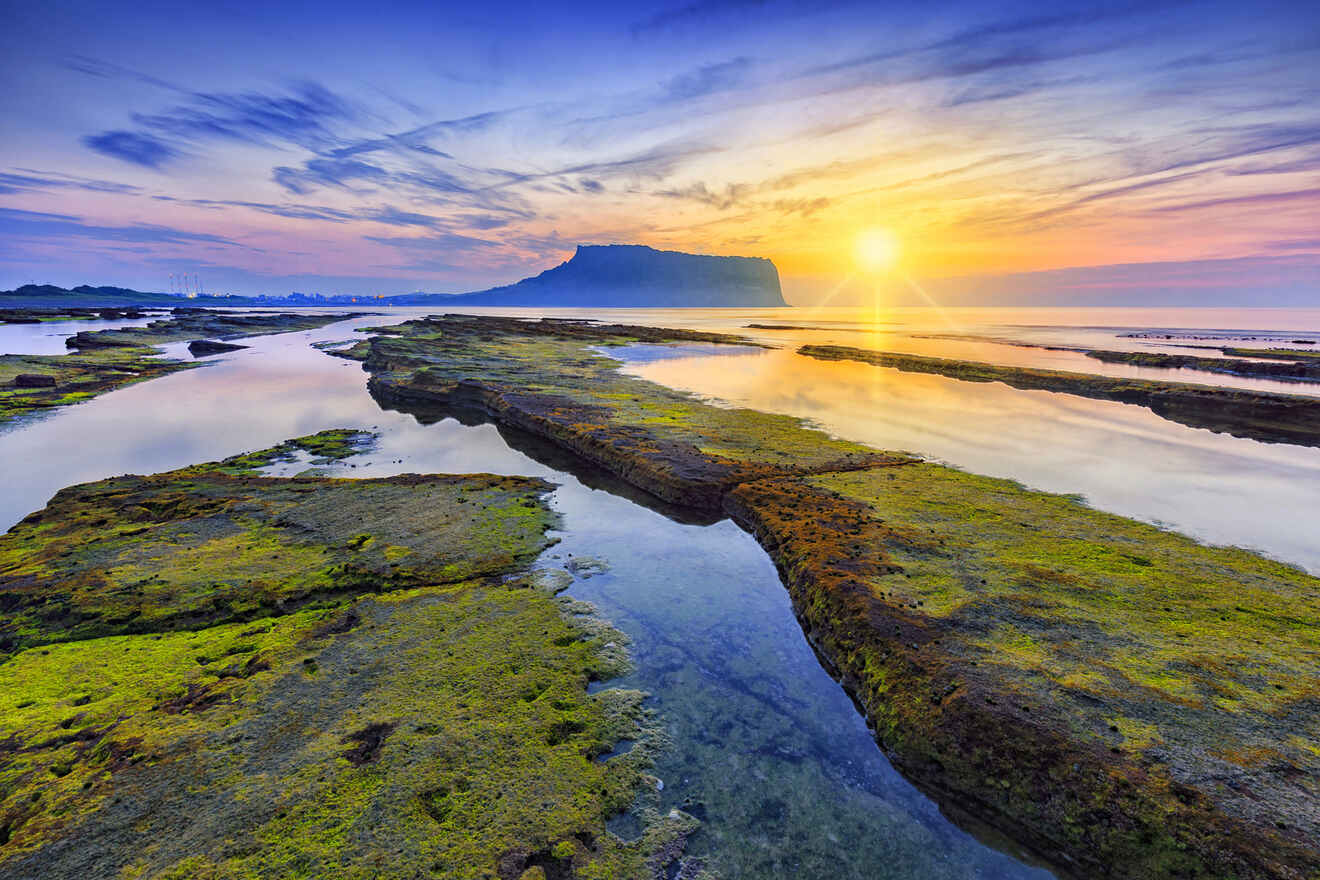 Who's feeling more prepared than ever to find a place where to stay in Jeju? I hope everyone! And if you still have some doubts whether to pick Jeju City or Seogwipo and maybe questions that weren't answered in the post, just leave me a comment below and I'll answer as soon as I can!
But until then, let's do a quick recap. We've seen all the best areas where to stay in Jeju Island, plus 2 bonus sections with some amazing beachfront hotels and the top romantic hotels here!
That's a lot of content and hotel options to consider, but you know I always want to keep you guys informed. However, if you're finding it hard to pick one, just check out my 2 favorite options below, both located in Jeju City:
Grand Hyatt Jeju – Enjoy your stay in Jeju City, at this 5-star hotel here that has a stunning outdoor pool with sea views, rooms with ceiling-to-floor windows and a spa center
Ventimo Hotel & Residence – This modern hotel has simply decorated rooms overlooking the city, a garden and a fitness center
And as I mentioned, Jeju Island is a major holiday destination, nationally and internationally, so I highly recommend booking your hotels in advance if you want to pay a fair price per night at your favorite accommodation.
Well, this is where we part ways (for now). Enjoy your trip to Jeju Island and don't forget to immortalize every moment with a picture!
Happy exploring,
Victoria
---