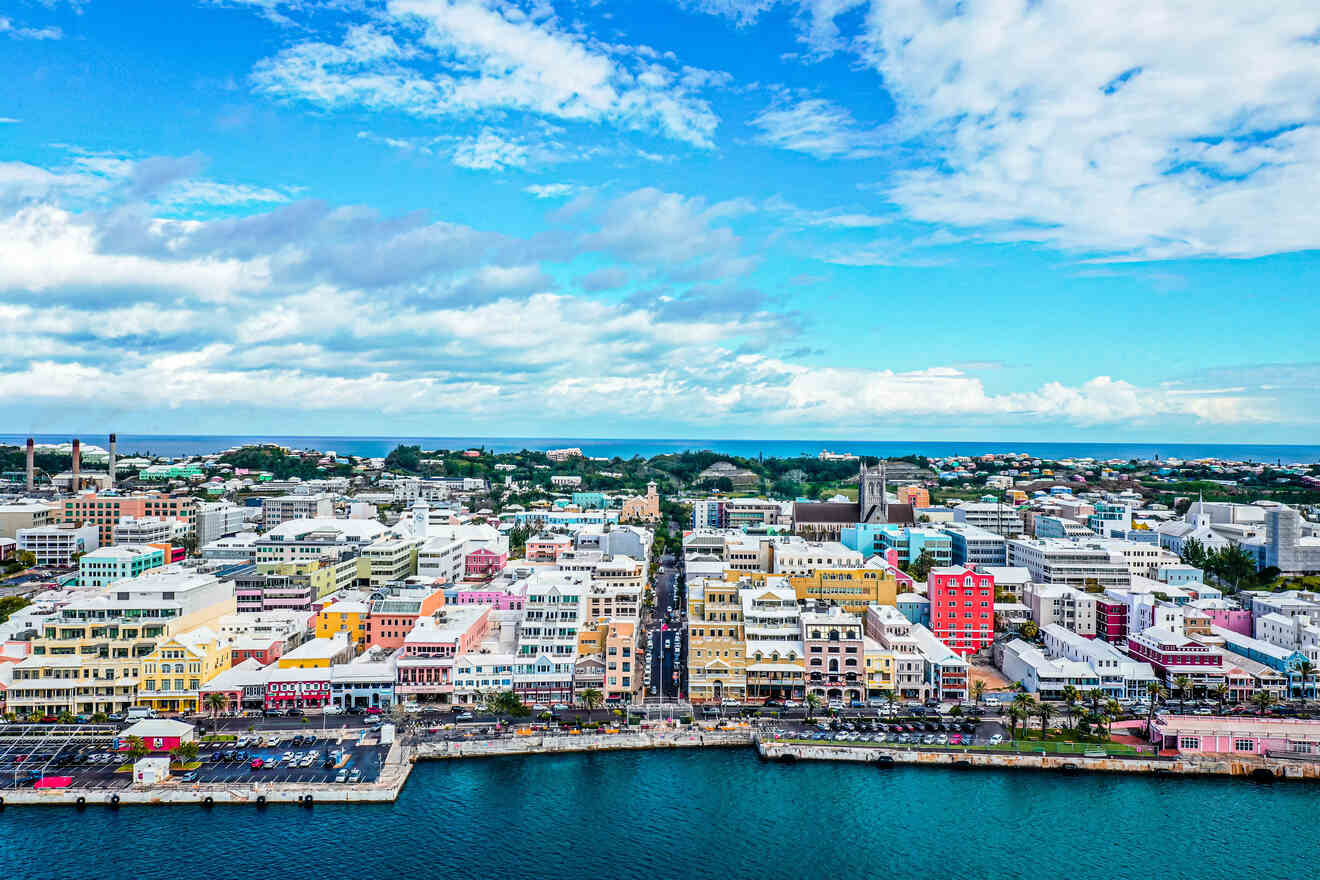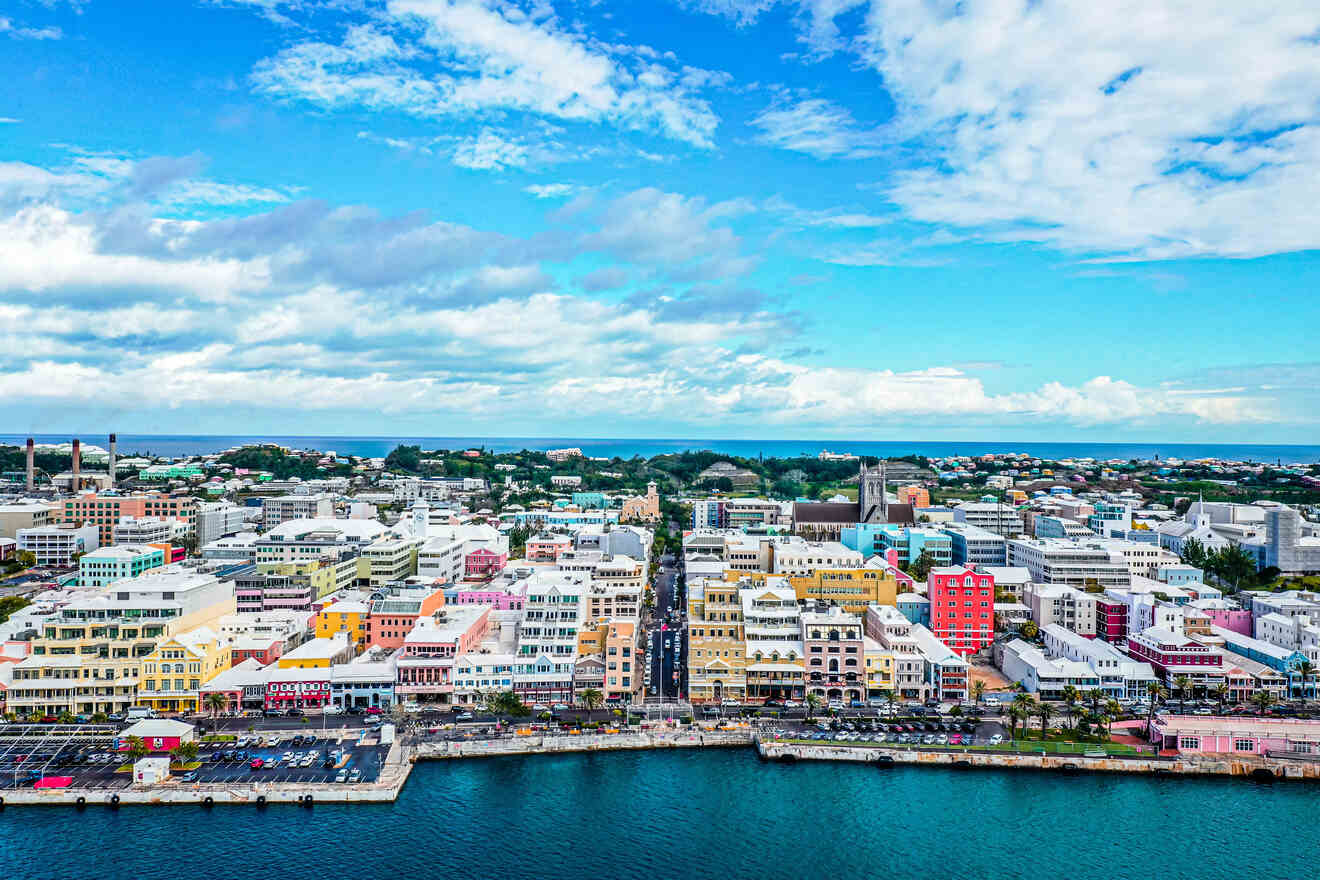 Today I won't talk about the famous Bermuda Triangle, where tons of ships have mysteriously disappeared over the years, but about the stunning island of Bermuda, whose beauty has convinced Americans and international tourists from all around the world to make it their top travel destination.
A paradise for golfers, beach, and nature lovers, Bermuda is a place that you shouldn't miss! It's also the shipwreck capital of the world, with over 300 ships found since the 1600s.
Although many of you may think that it's located in the Caribbean, that's not true. The island is much further northeast of places like Jamaica and Cuba. Now that we've talked about the logistics let's get to the fun part: where to stay in Bermuda?
The list is endless, all the areas on the island are super beautiful but I know everyone has different interests so I divided them by the activities that you can do there. The hotels and resorts are all pretty awesome but you'll have to book in advance to get the best ones as everyone wants a slice of paradise!
Let's hit the road! The pink sand beaches are calling us!
If you are in a hurry
If you don't have time to have a read of the whole post, quickly browse my list with the best hotels, all located in Hamilton
Here's a map that will help you visualize all the areas in Bermuda that I will be talking about in this post: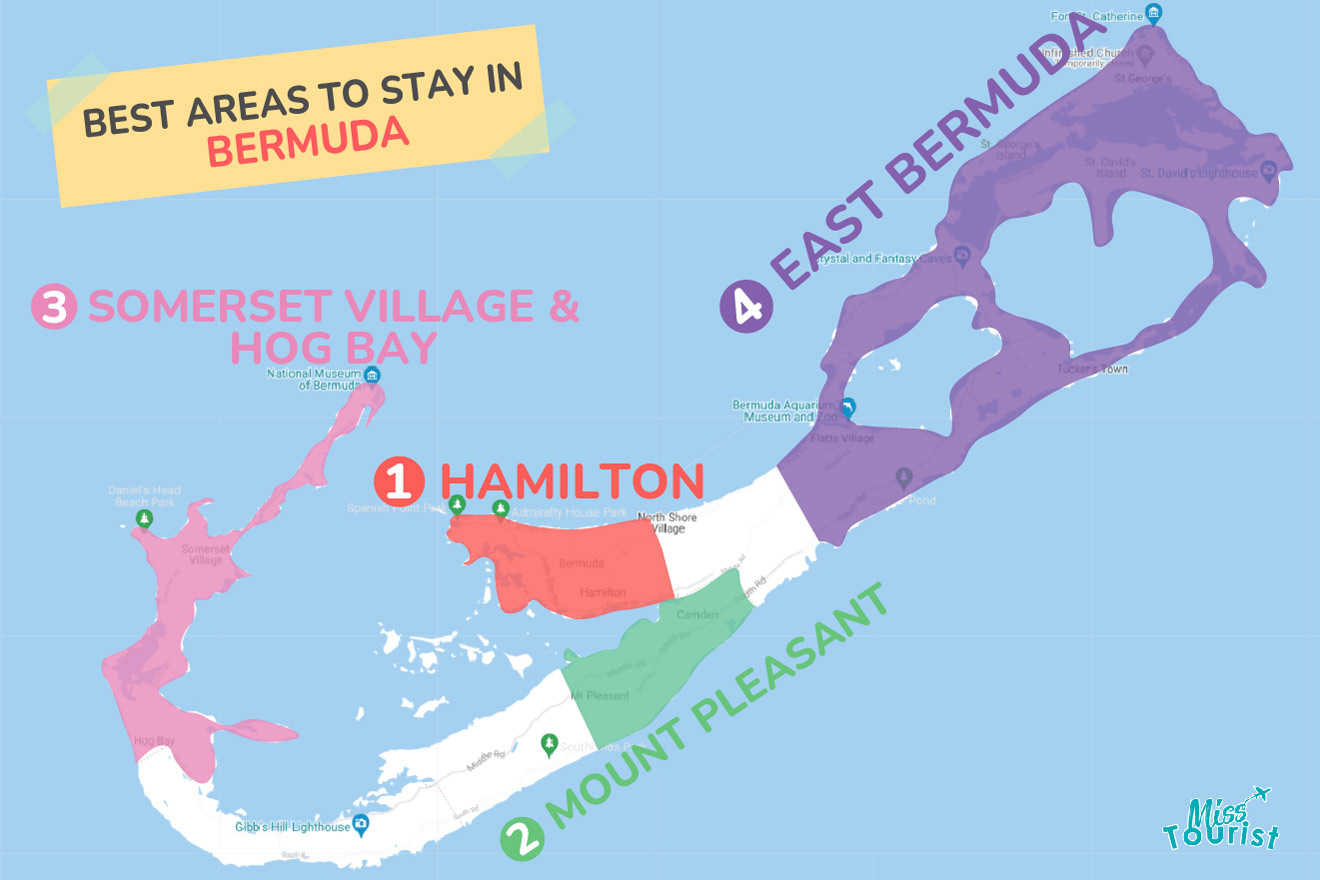 1. Hamilton – where to stay in Bermuda for the first time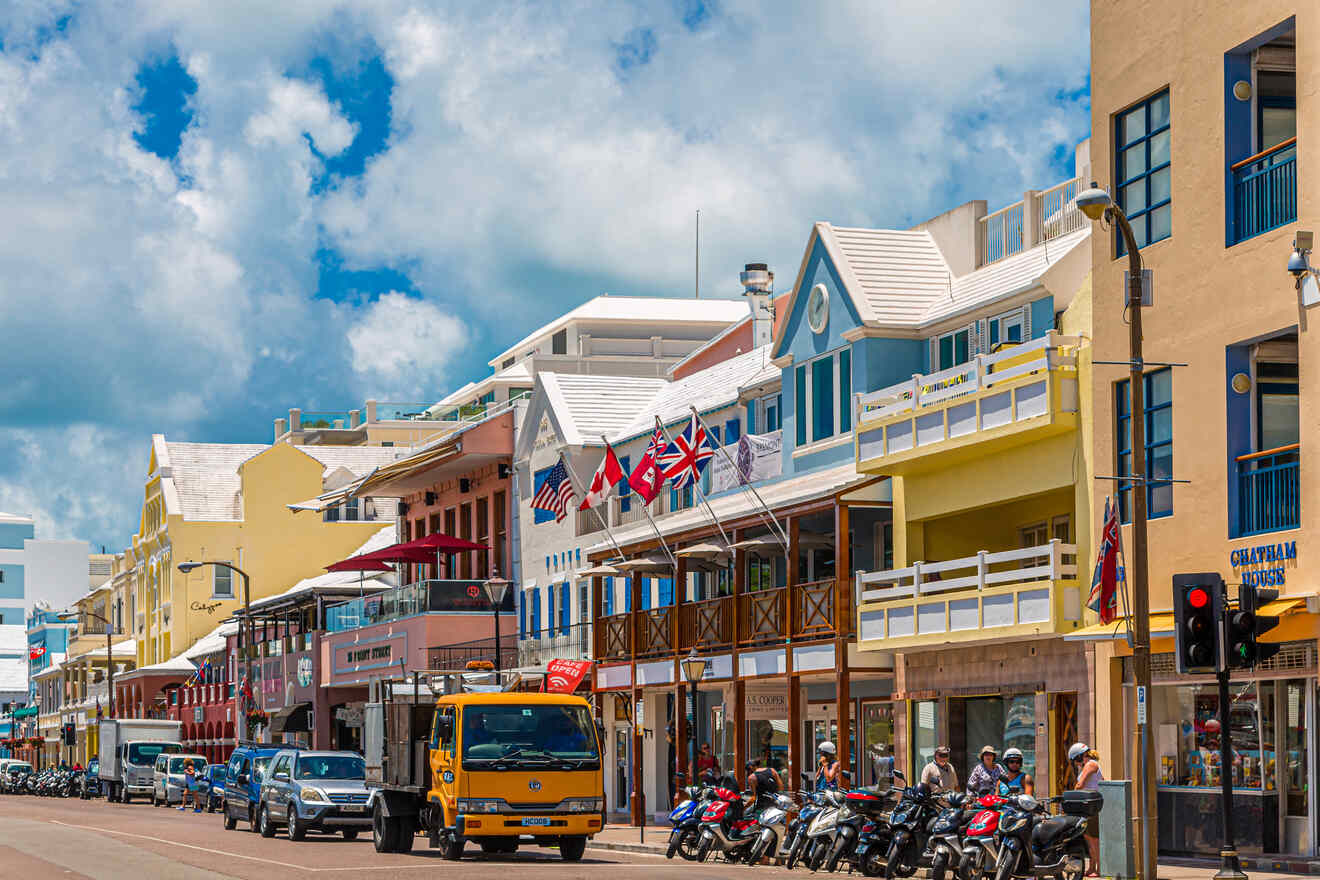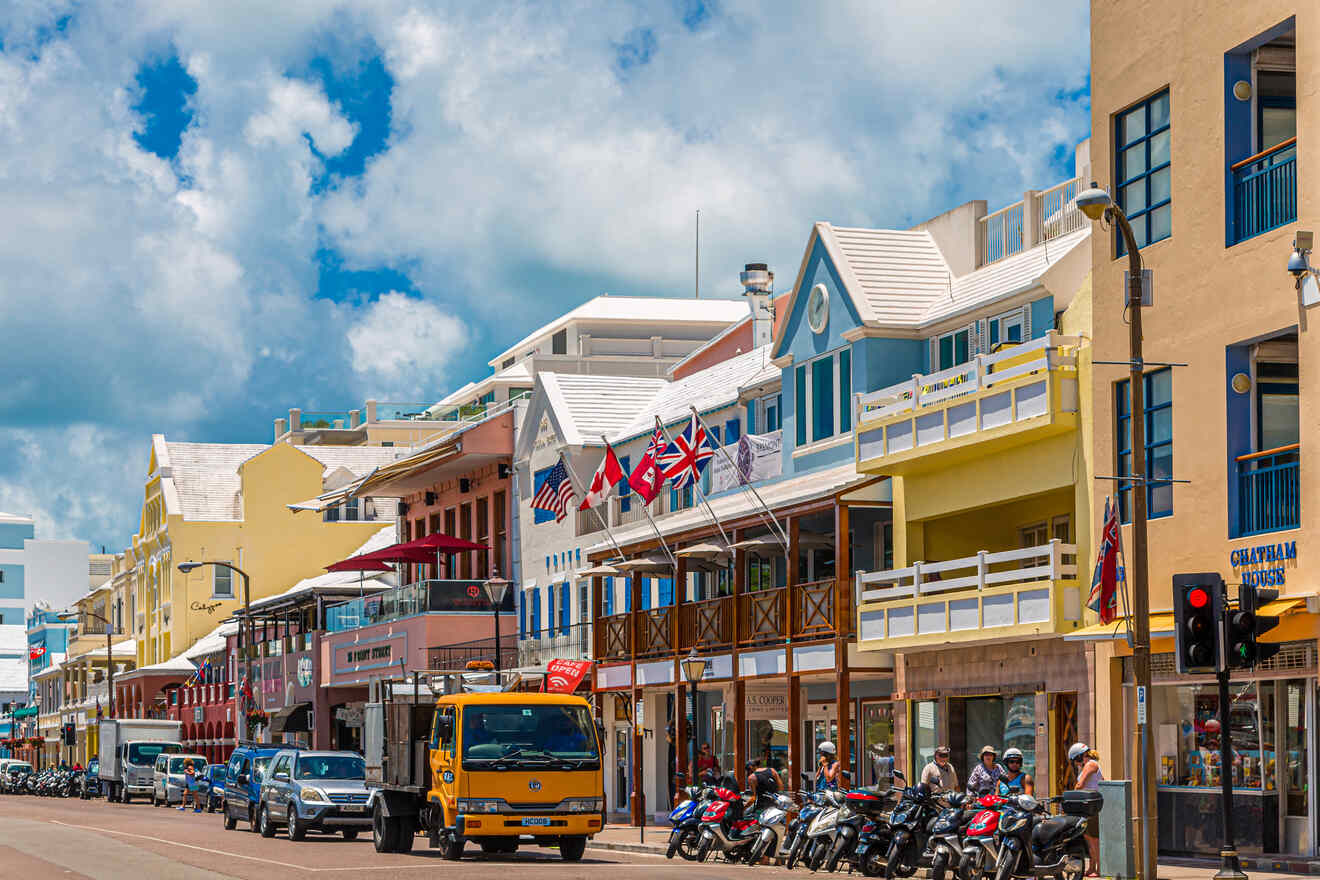 Nothing compares to island life! Sunshine all day long, the salty air and taking each day as it comes! There's something so magical about that special combination and you'll be able to experience all that in the capital city of Bermuda.
Not only is this area filled with attractions, but it also offers easy access to visit other parts of the area, by ferry, bus or taxi. Yep, Hamilton is the perfect destination, especially if you're traveling to Bermuda for the first time. And if you're thinking of adding another destination to your trip I highly recommend jumping over to the Bahamas!
What's great about this area is that you also get to learn about Bermuda's history at places such as the Bermuda Historical Society Museum and discover some interesting pieces of architecture such as The Cathedral of the Most Holy Trinity.
This island is full of surprises! Just wait until you get to the harbor and start exploring other parts of it as well. And once you come back from your day trips I'm sure you'll want to sleep and rest for the next day's adventures, at the best hotels.
I'll offer you some choices in just a minute but should tell you that these accommodations sell out super fast, Bermuda is such a popular destination that you'll have to book the hotels far in advance!
Luxury hotel
Hamilton Princess & Beach Club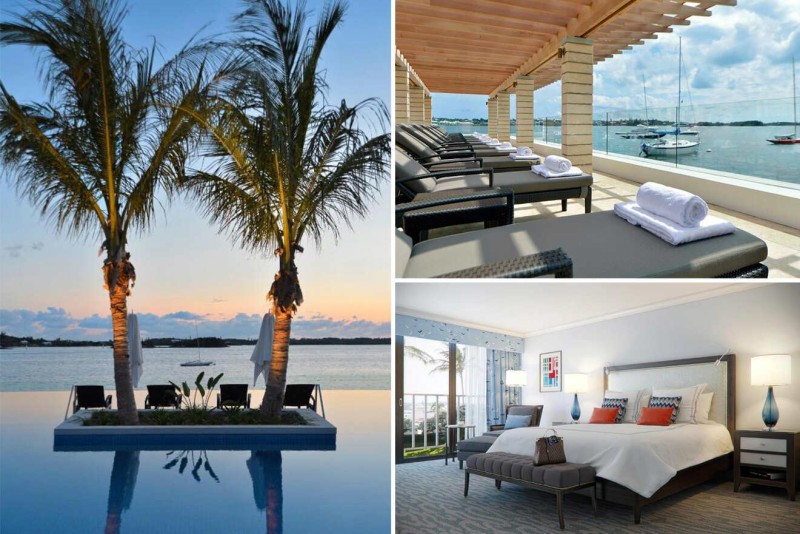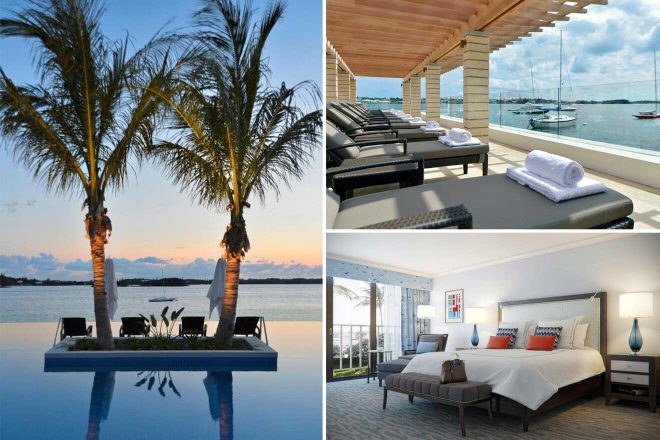 Sunsets look so much better from an infinity pool! This hotel offers a private beach area and incredible ocean views. Guests can also borrow bicycles for free and explore the area! There's a restaurant on-site and a 24-hour fitness center.
Other accommodation options in Hamilton
Mid-Range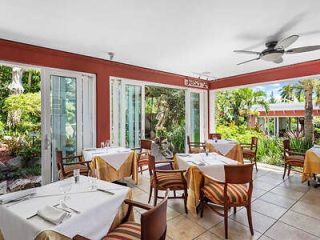 Relax by the swimming pool of this boutique hotel that has a colorfully furnished patio and 2 restaurants
Budget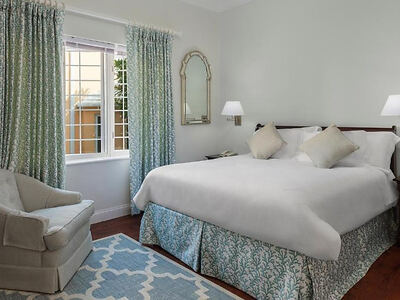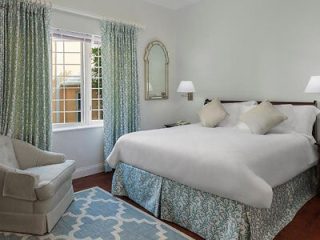 One of the best villas in the area that offers free wifi, a garden, and a terrace where you can chill
Airbnb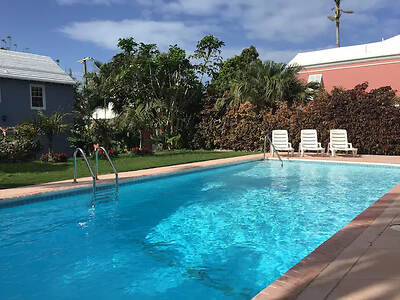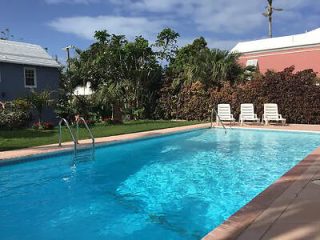 Go for a dip in the swimming pool at this accommodation that offers a kitchen, a patio, and free parking
Things to do in Hamilton
Go on a stroll around Victoria Park
Explore the Harbor area and the south shore beaches
Eat all day long during a food tour of Hamilton
Relax on the beach at Astwood Park
Take pictures in Queen Elizabeth Sculpture Park
Admire the Cathedral of the Most Holy Trinity
Visit the Bermuda National Gallery and the Bermuda Historical Society Museum
2. Mount Pleasant – best place to stay in Bermuda for beaches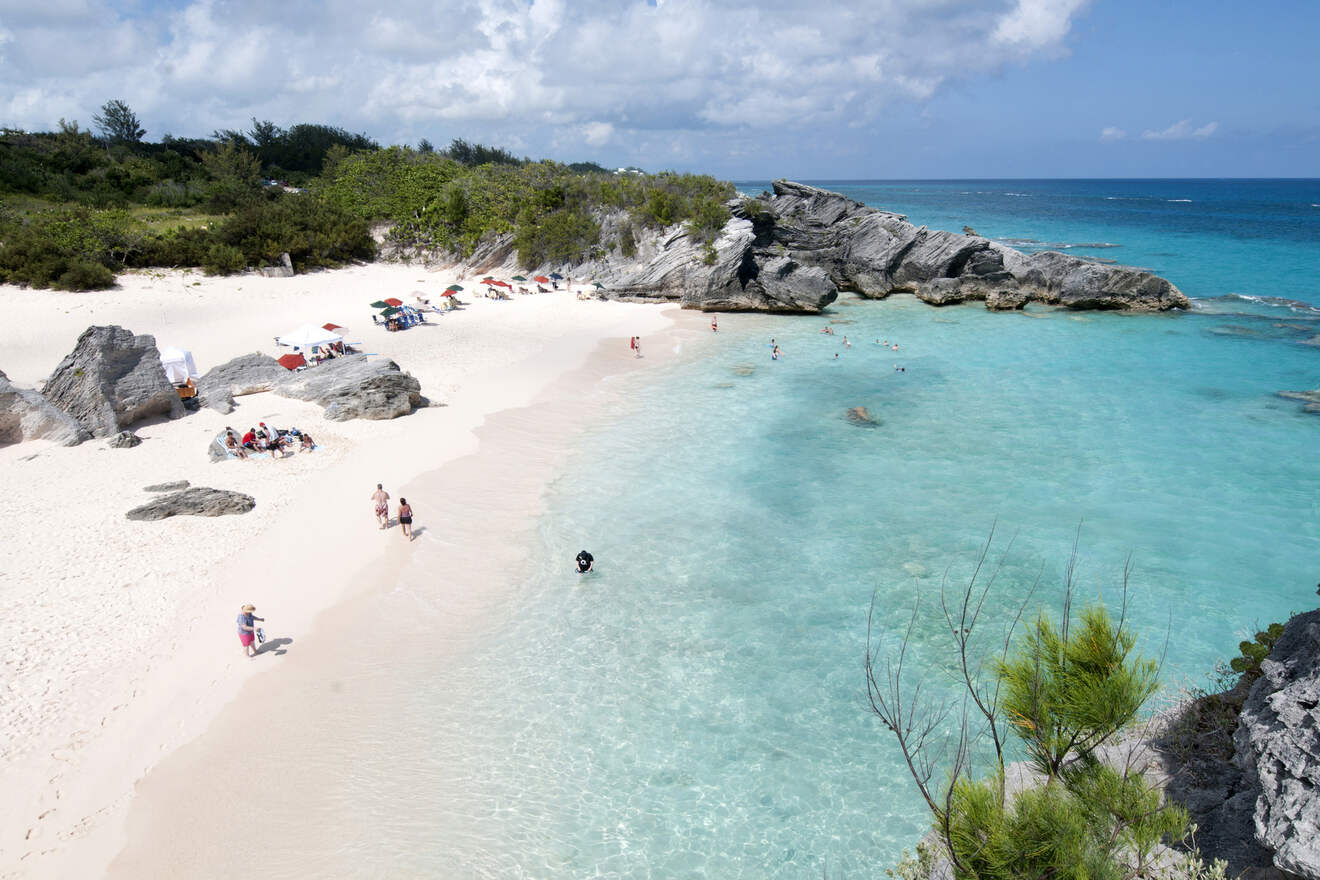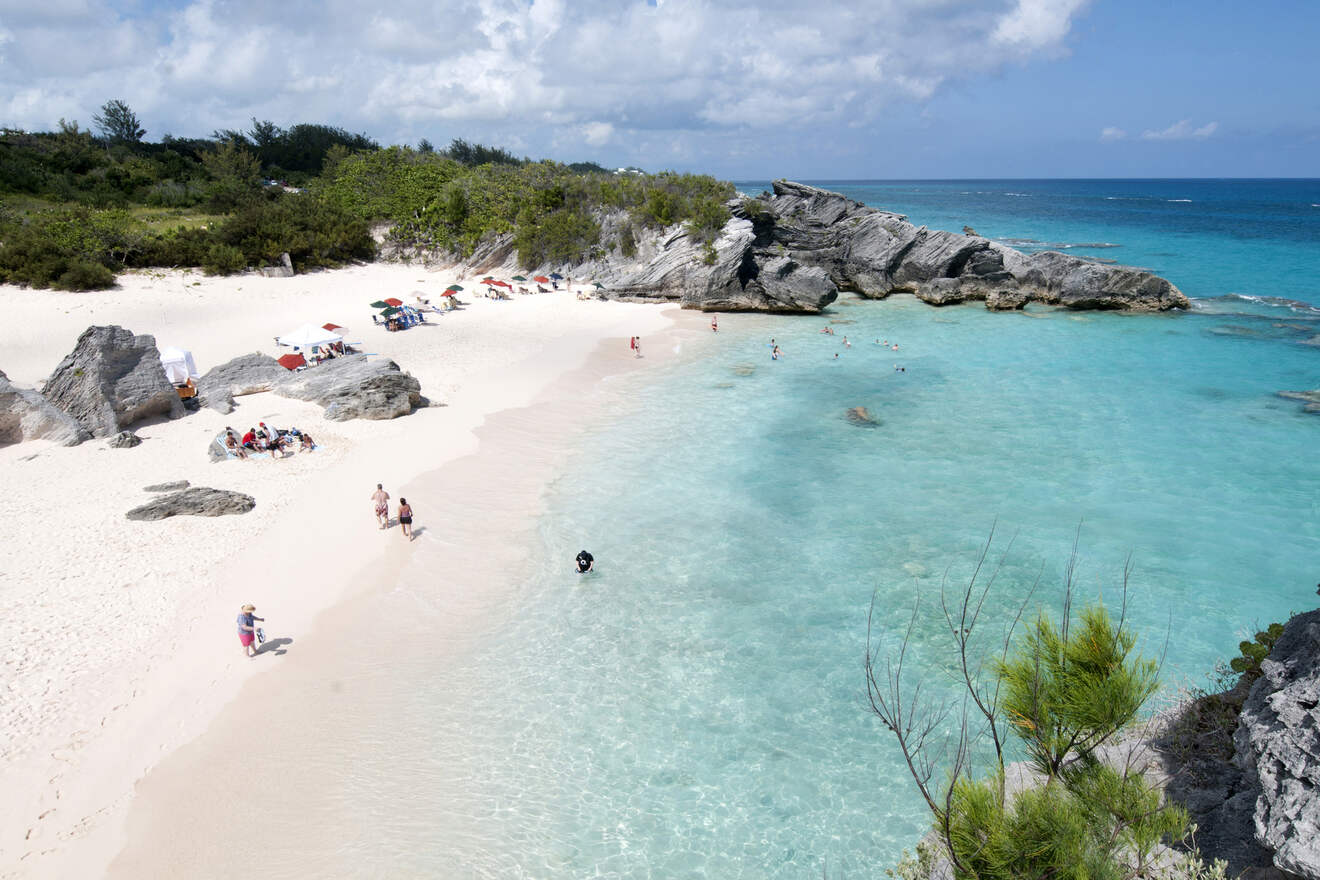 Want to be on the beach literally 24/7? Well, then I've got just the spot for you! Located 3 miles (5 km) south of Hamilton, this area has that island relaxed vibe and it's a paradise on earth for those of you who love the ocean!
You might even recognize Elbow Beach, one of the most famous beaches on the island from The Sopranos tv series!
Each beach on the island has a unique name, and they're all so beautiful, but Elbow Beach is probably the most popular one in Mount Pleasant. Just picture the turquoise waters, soft white sand, and those ocean views that are simply breathtaking!
The area also offers access to some of the best golf courses in Bermuda, such as Belmont Hills Golf Club and a few excellent shops. If you fall in love with island life (as I did), I highly recommend visiting Key West in Florida!
Luxury hotel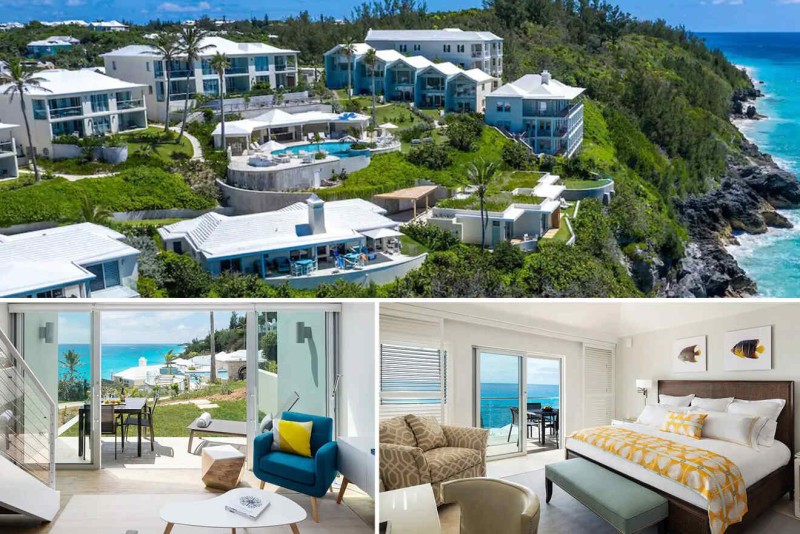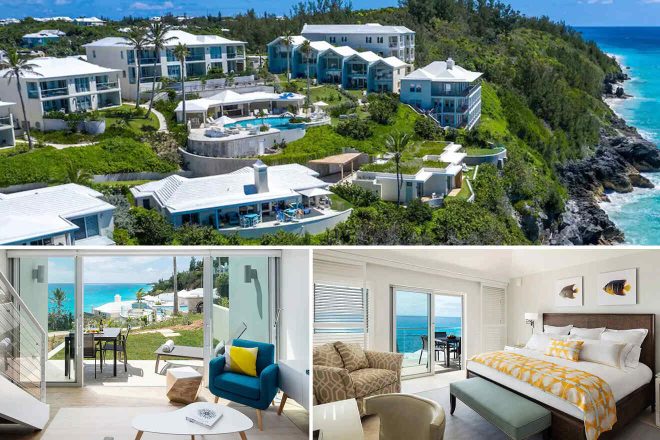 Admire the sea views from the balcony of your room at this beachfront hotel that has a swimming pool and a gym. Grab a quick breakfast and head to Elbow Beach, which is located within walking distance, or chill on the hotel's private beach.
Other accommodation options in Mount Pleasant
Mid-Range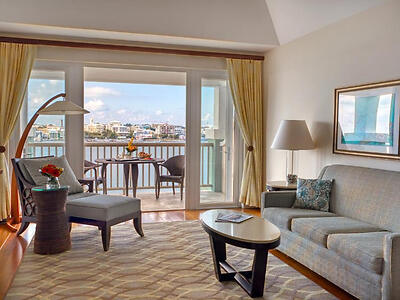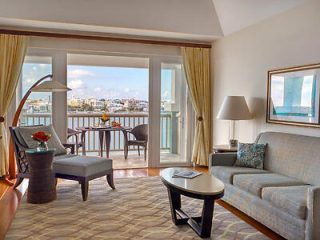 Offering access to tennis courts and a golf course, this resort has a spa and a swimming pool
Budget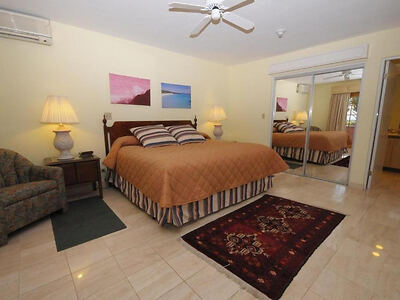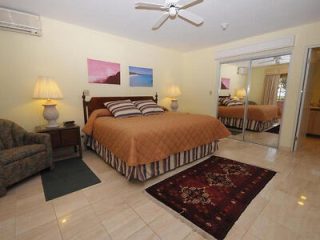 This hotel has a garden setting, and it also gives guests access to a private beach area
Airbnb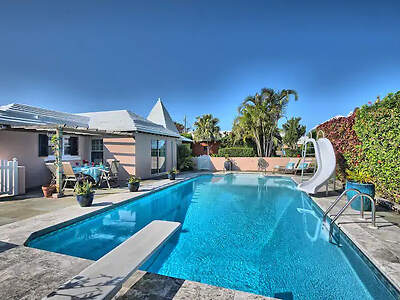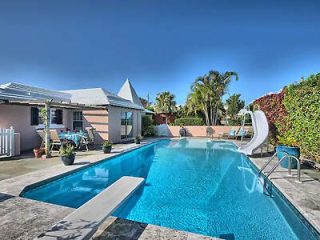 I love the design of this cottage where you can chill in the garden or the patio and swim in the pool
Things to do in Mount Pleasant
Relax on the white sand at Elbow Beach
Go for a stroll in Southlands Park
Swim all day in the ocean at Coral Beach
Admire the sea views at Surfside Beach
3. Somerset Village & Hog Bay – where to stay for tranquility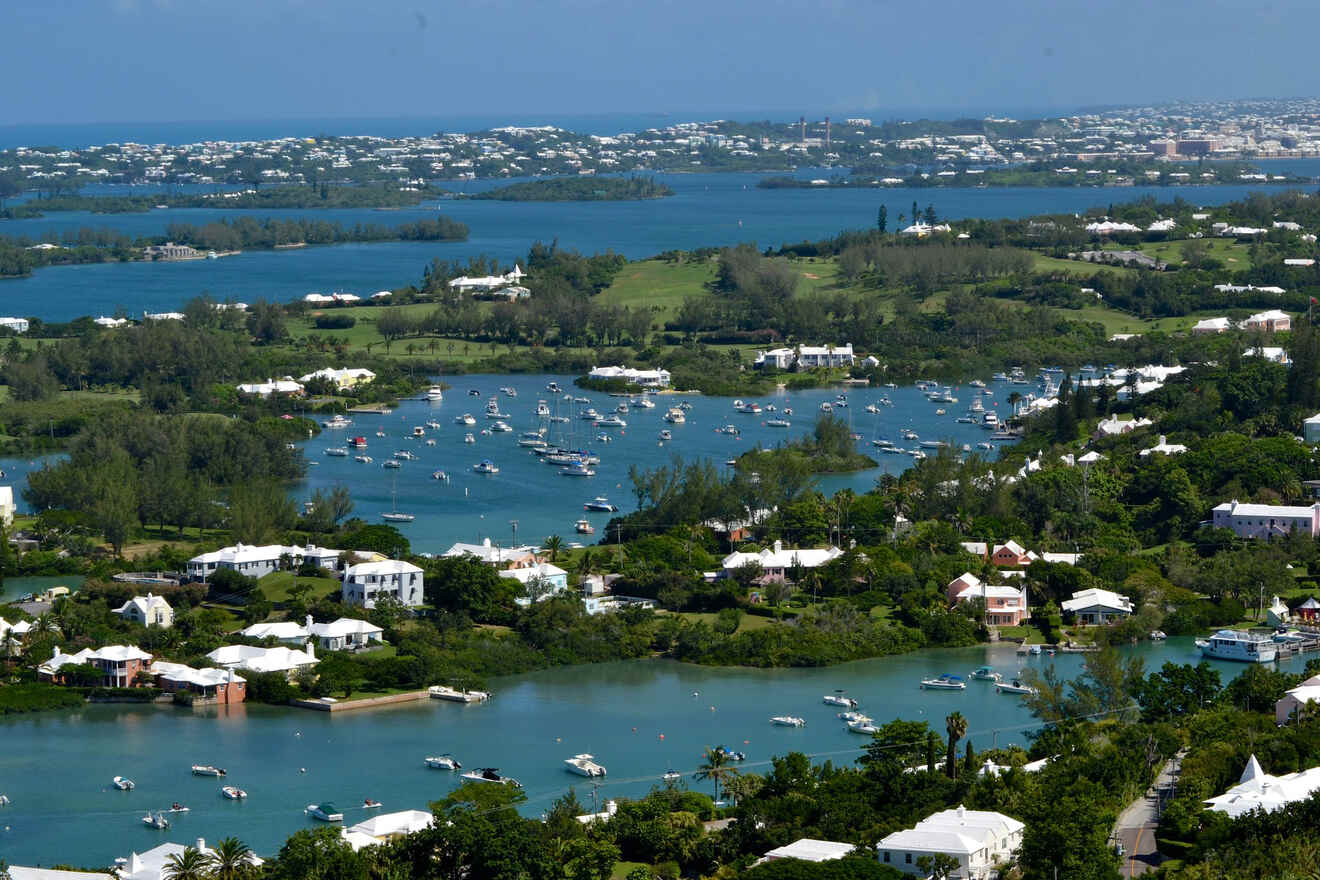 Located 10 miles (15 km) southwest of Hamilton, these 2 areas are somehow a bit more secluded and not as busy as the capital city and Mount Pleasant, so if you're looking to do nothing but chill on the beach during this holiday, then I recommend finding a place to stay in these towns.
There are so many spots that you can explore here, and of course, most of them are bays and beaches! You'll also be pretty close to places like Warwick Long Bay, Jobson's Cove, Horseshoe Bay, and the south shore beaches. However, the golf courses and nature reserves that you'll find in Somerset Village & Hog Bay will keep you pretty busy!
FUN FACT: Somerset Bridge, which connects Somerset Island with the mainland in the western parish of Sandys, is supposedly the smallest working drawbridge in the world!
The Cambridge Beaches and Sugar Cane Point Beach are also located in this area, and both offer stunning views of the ocean. Whether you're traveling with your families or maybe with your partner and you're searching for a place that's not too crowded where you can relax and enjoy some privacy, then I think you'll love Somerset Village & Hog Bay!
Luxury hotel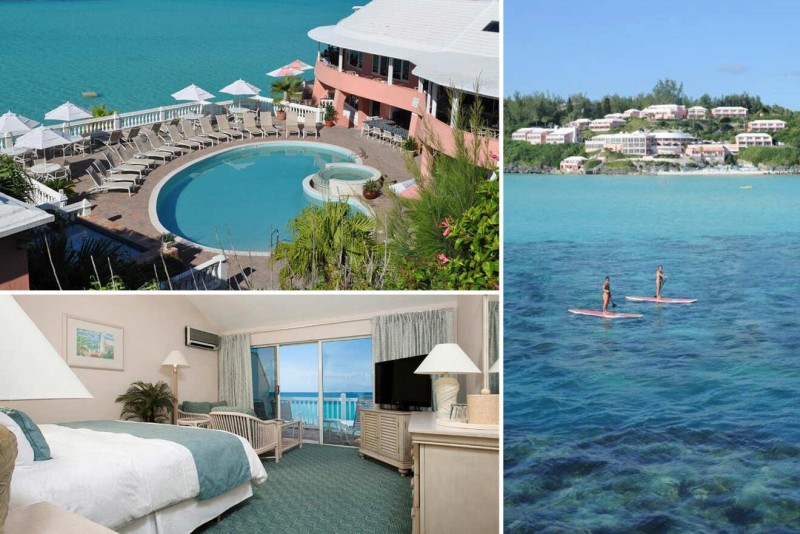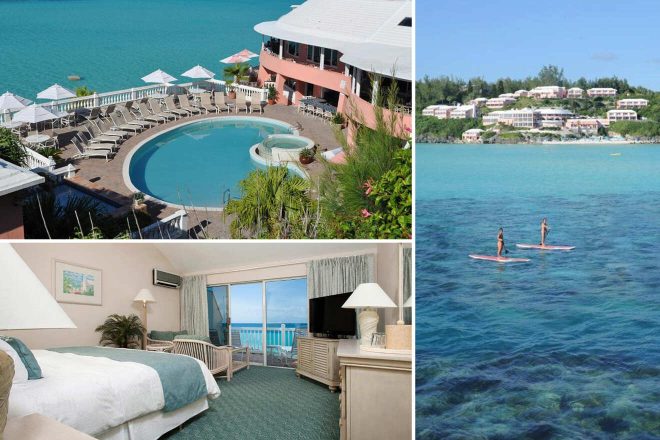 This resort offers all the facilities you need for a perfect holiday on the island: a private beach area, incredible ocean views, 3 restaurants (in case you get bored of just 1) and a tennis court. Chill and swim in the pools or talk to the hotel staff to arrange activities like snorkeling, kayaking, or sailing!
Other options in Somerset Village & Hog Bay
Mid-Range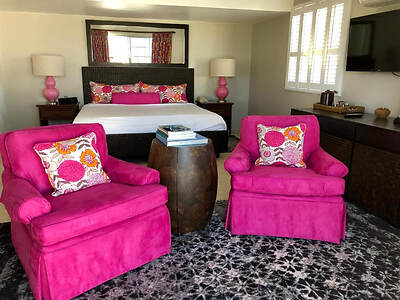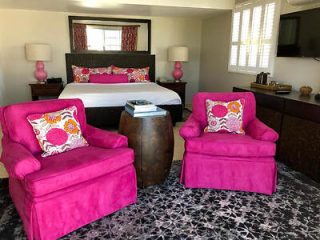 A stunning resort that features 4 private beaches, an ocean spa, a private pool, and rooms with a balcony
Budget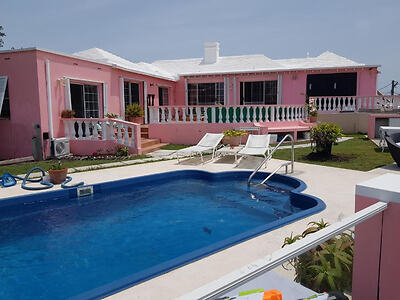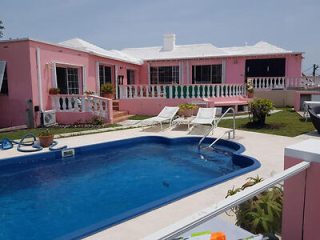 Such a cute and colorful accommodation! It has an outdoor swimming pool, sea views, and a garden
Airbnb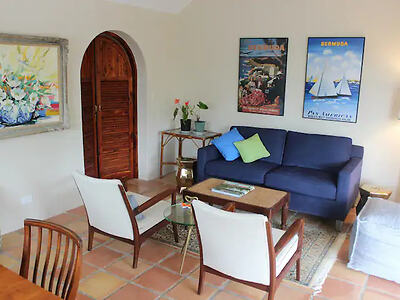 A stunning cottage located near Somerset Bridge that has a spacious room, a pool, and a kitchen
Things to do in Somerset Village & Hog Bay
Head to the Harbor and go on a tour of Bermuda
Explore the Vesey Nature Reserve
Play some golf at Port Royal Golf Course
Visit the National Museum of Bermuda
Chill on the beach at Somerset Log Bay
Spend a fun day at X2O Adventures
Check out the south shore beaches and Warwick Long Bay or Horseshoe Bay
4. East Bermuda – best place to stay in Bermuda for families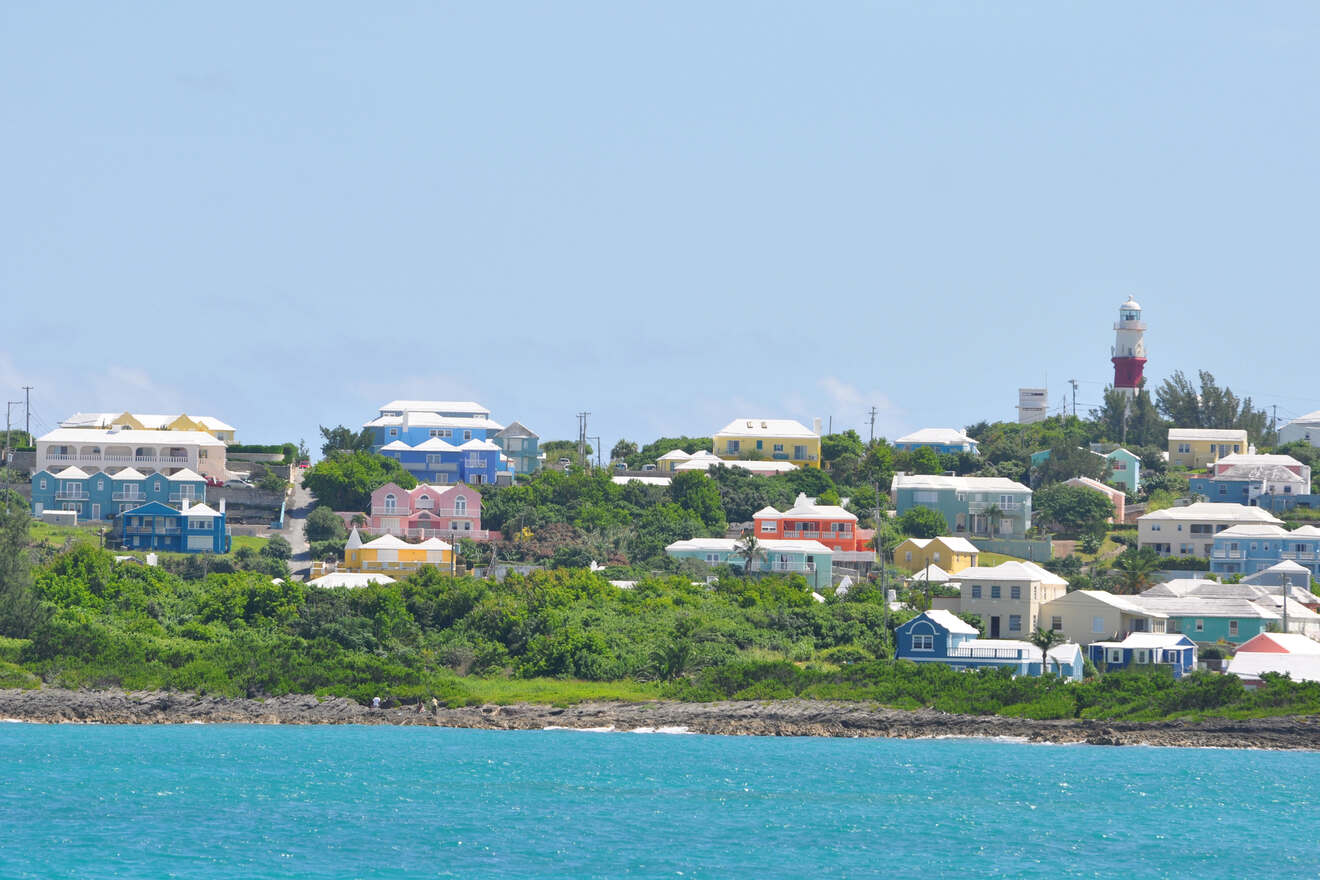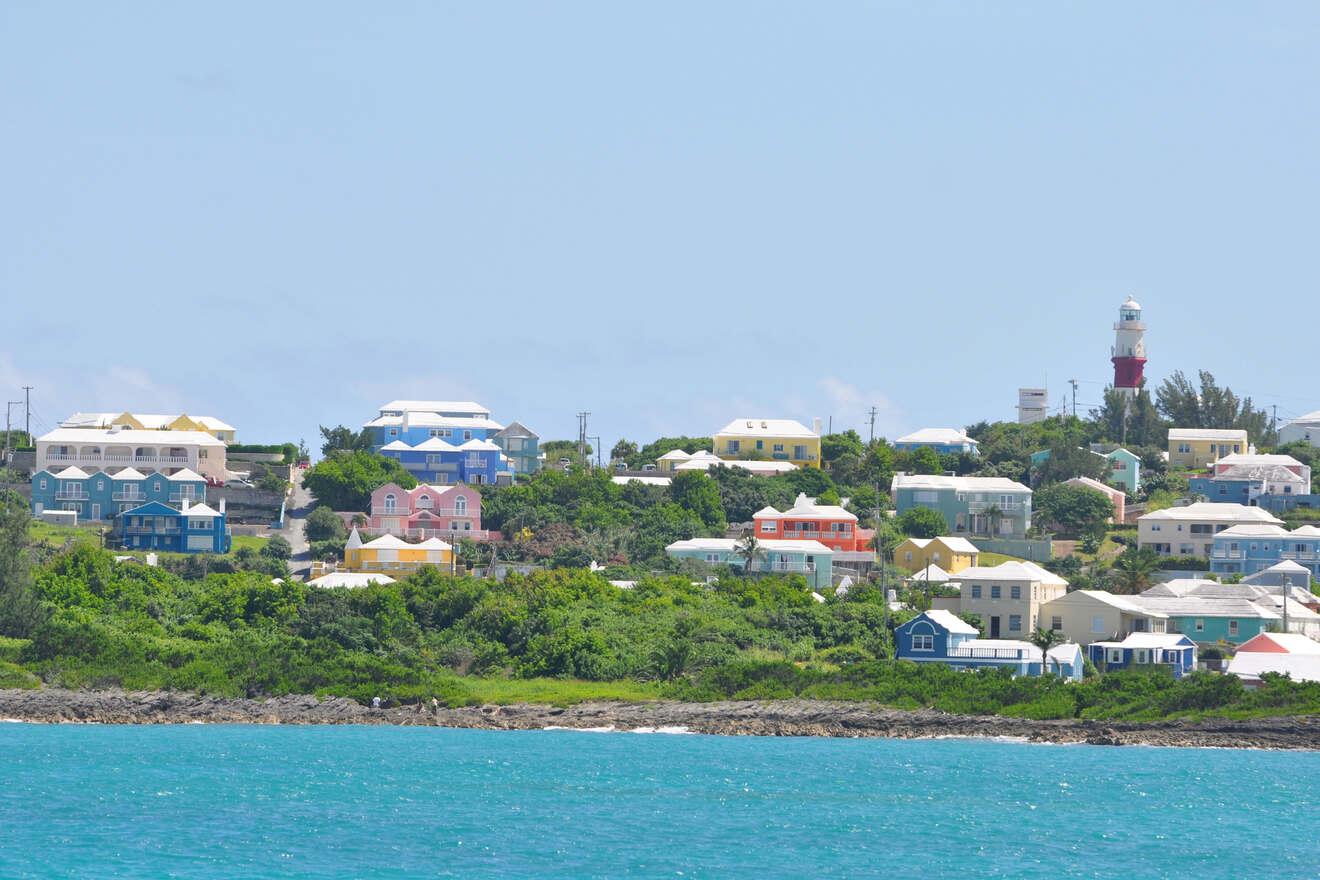 Covering a large island area, East Bermuda is located 7 miles (10 km) away from Hamilton, and it's a great place for families traveling to this fabulous island!
Featuring larger resorts, fine dining restaurants, and tons of beaches, East Bermuda is home to one of the most popular towns on the island, St George's Parish. A historical 400-year old town and a UNESCO World Heritage site, which is also the oldest permanent English settlement in the New World!
While that may be super interesting for many parents, I guess some of the younger travelers won't find St George's that exciting. Fear not, I've got something for them as well! How does a trip to the zoo sound? Or maybe the Crystal and Fantasy Caves? Those are 2 of my favorite attractions located in East Bermuda!
There's no chance you or your family will get bored here, and on top of everything else, you have the international airport here as well, so you don't have to worry about that long trip to and from the airport.
Luxury hotel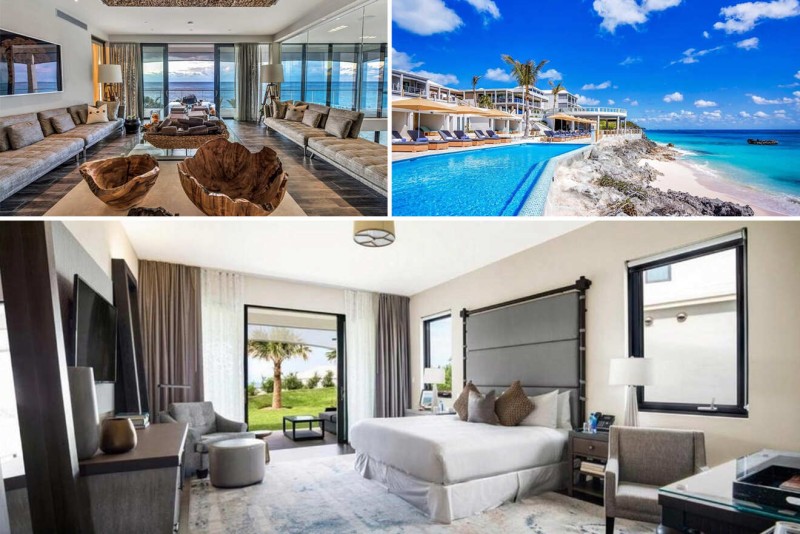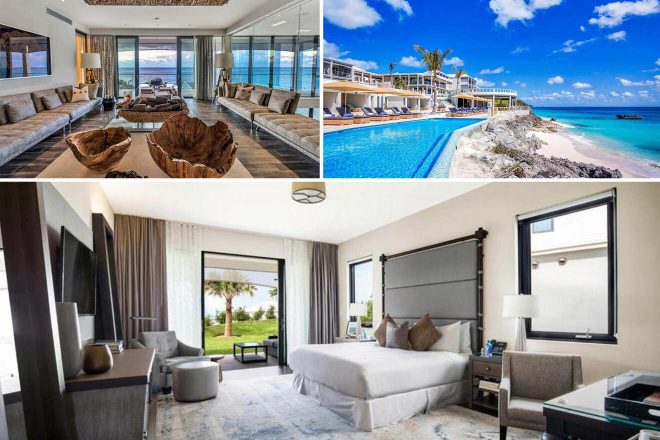 Located in Tucker's Town, just a 5-minute walk from Pink Beach, this hotel offers a stunning design, a kid's club, and incredible views. Grab a cocktail from the bar, pick a sun lounger and relax all day long. Or maybe head to the spa for some time!
Other accommodation options in East Bermuda
Mid-Range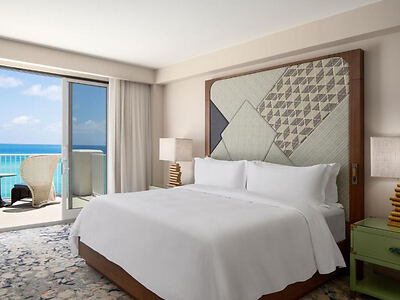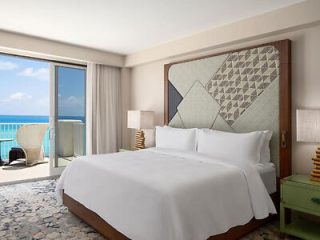 Enjoy your stay on the island at this resort that has 2 swimming pools and rooms with sea views
Budget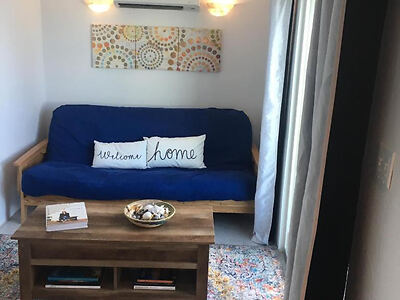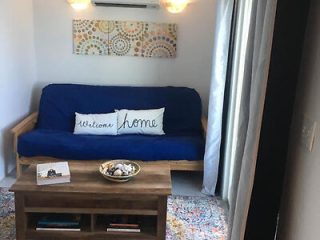 A budget hotel that has air-conditioning, a terrace where you can chill, and a fully-equipped kitchen
Airbnb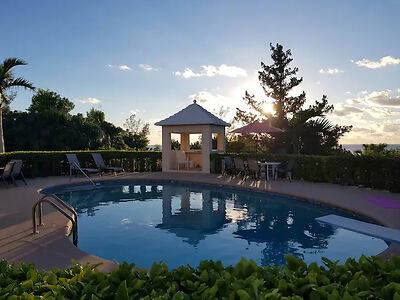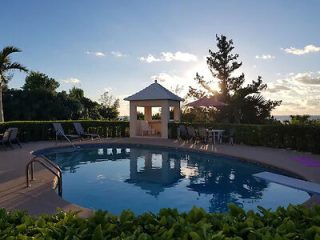 Such a lovely and comfortable house that offers guests access to a pool and to a private gym
Things to do in East Bermuda
Sunbathe on St Catherine's Beach
Check out the historic St George's town
Visit the Blue Hole Park
Take the kids to the Bermuda Aquarium, Museum and Zoo
Explore the beautiful Cooper's Island Nature Reserve
Go on a tour of the Crystal and Fantasy Caves
Play golf at Mid Ocean Club in Tucker's Town
Have dinner at Island Brasserie, a fine dining restaurant
BONUS: Best hotels on the beach in Bermuda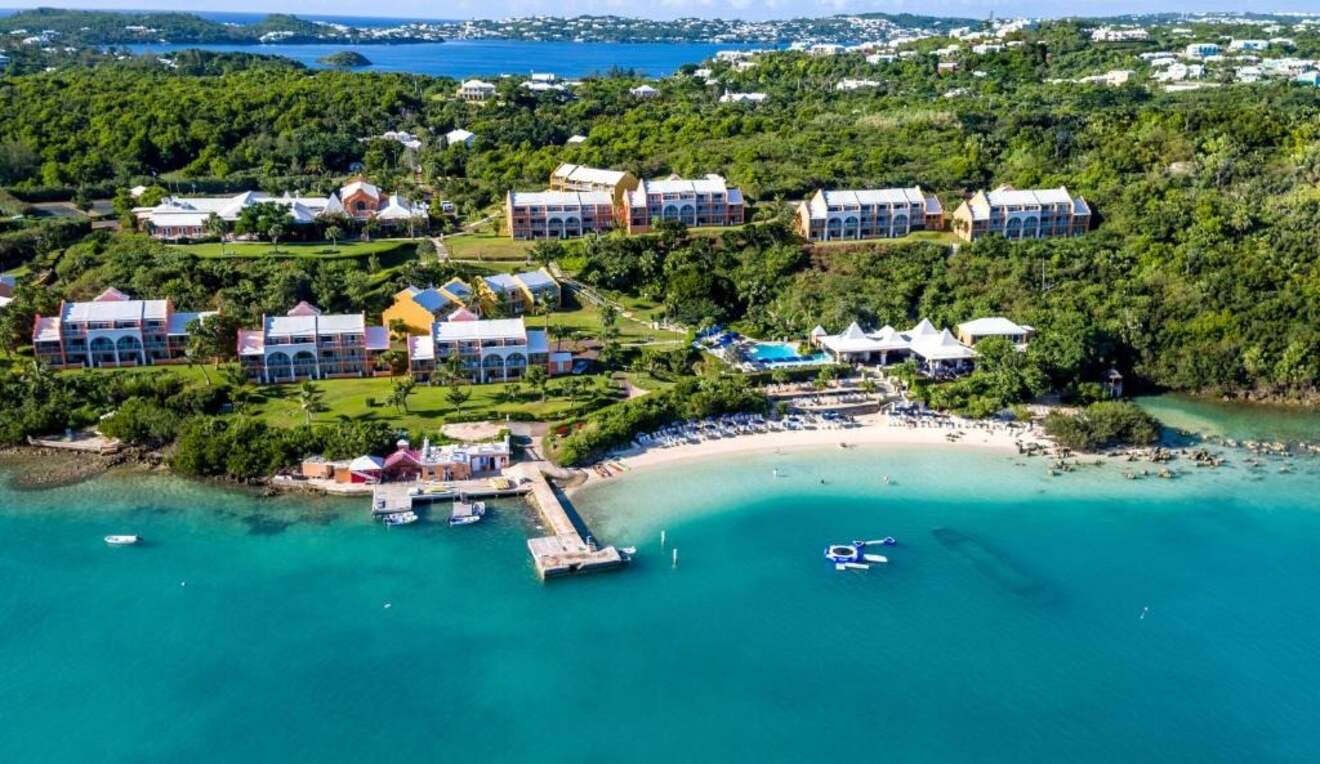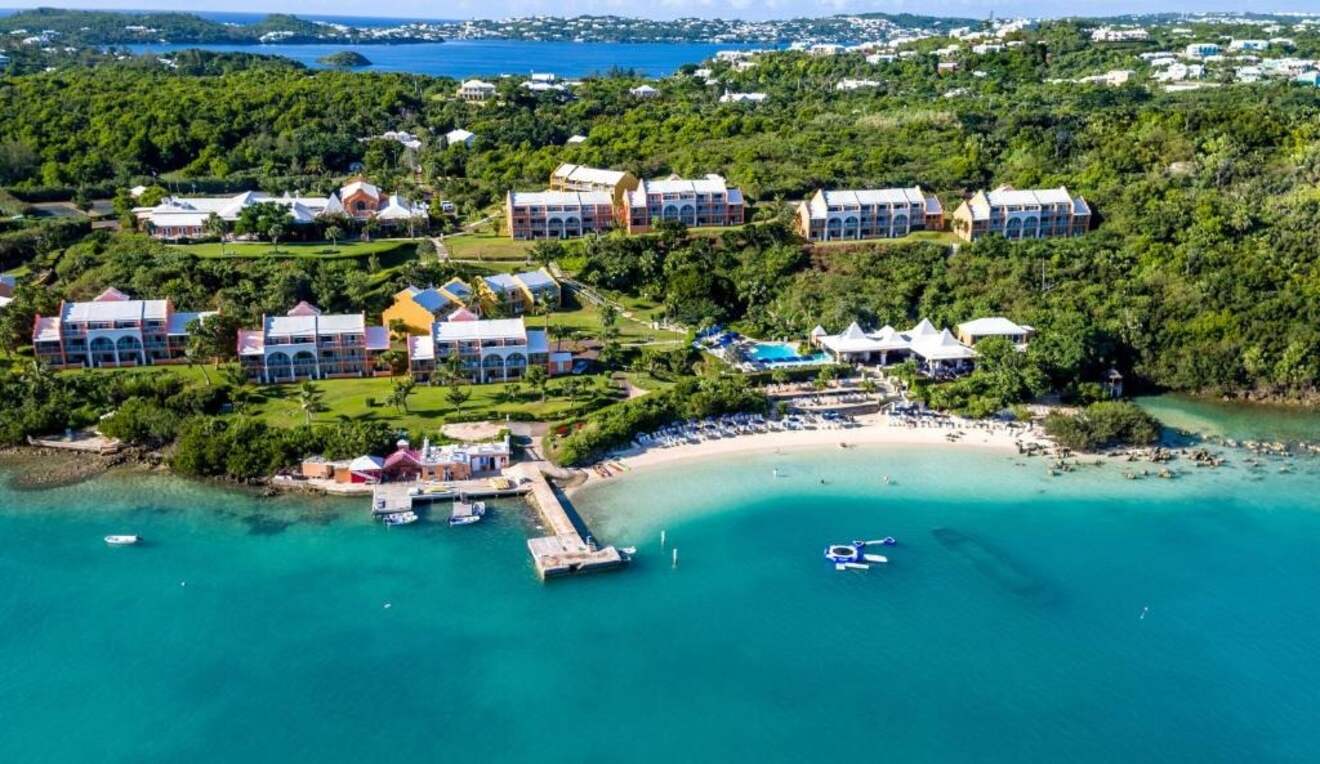 Finding the perfect accommodation for your island holiday can prove to be difficult, especially if you're looking for A-list hotels that have many facilities like tennis courts, a private pool, or gardens!
But it's even harder to find great hotels that are located on the beach because they all go so fast! More reasons why you should book in advance! That's why I thought it would be of great help for everyone to make a list of the best hotels in Bermuda on the beach!
All the hotels below are a mix of luxury and mid-range.
1. The Reefs Resort and Club – Your holiday pics will look stunning in the infinity pool of this resort! The resort offers everything you wish for from your Bermuda accommodation, plus an on-site restaurant and a fitness center. Wake up and see the sunrise from the balcony in your room! Nothing beats that feeling!
2. Rosewood Bermuda – Eat, sleep, sunbathe, repeat! That's what I would do if I were you! This unique resort offers incredible facilities, including 2 pools, 3 restaurants, a private beach area, and a full-service spa.
3. Grotto Bay Beach Resort – Ever wondered what a hotel with an underground cave might look like? Here's your answer! This Bermuda resort offers spa services in the cave! That sounds super exciting, plus it also gives guests access to a private pink sand beach!
Frequently asked questions about Bermuda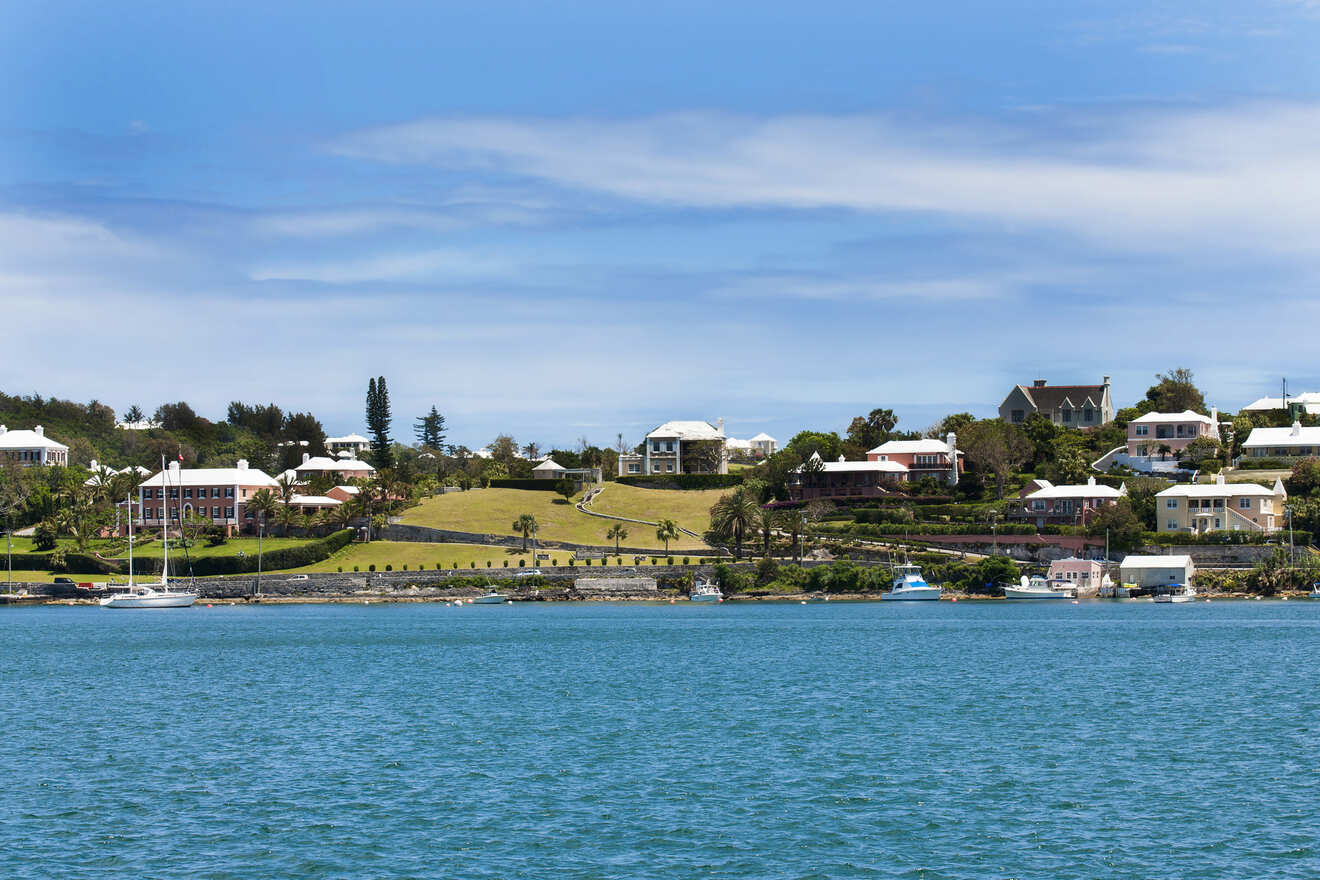 🌅 What is the best area to stay in Bermuda?
Hamilton is one of the best areas to stay in Bermuda, as it's the capital city and the place where you'll find most of the attractions plus some great hotels such as Hamilton Princess & Beach Club.
🏖️ What part of Bermuda has the best beaches?
Mount Pleasant and East Bermuda have the best beaches on the island. The famous Elbow Beach is located in Mount Pleasant, and East Bermuda features some pink sand beaches! 
📅 What are the best months to go to Bermuda?
It depends on your preferences. If you visit in March – April, the weather is nice, and the hotel prices are lower, but if you visit from May – October, the costs will get higher, but you'll benefit from perfect weather.
🤔 How many days do you need in Bermuda?
You should spend at least 4 days in Bermuda but if you book 1 week there, that will give you plenty of time to visit all the beaches, attractions and the nearby islands.
Conclusion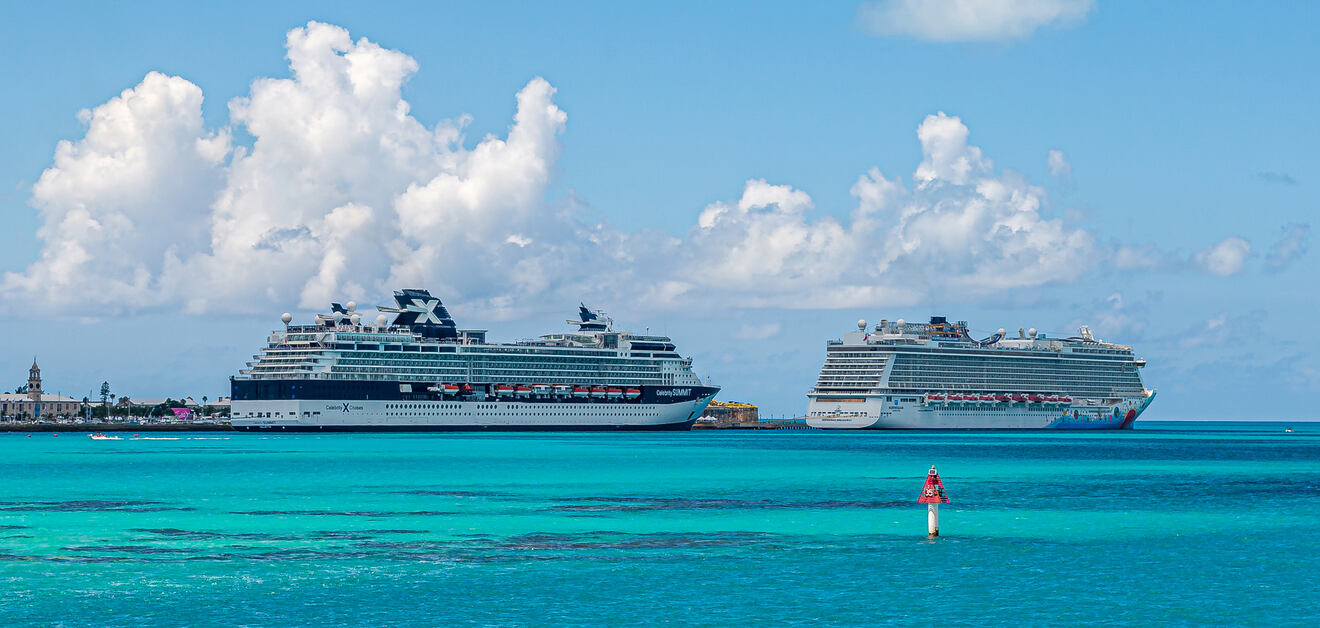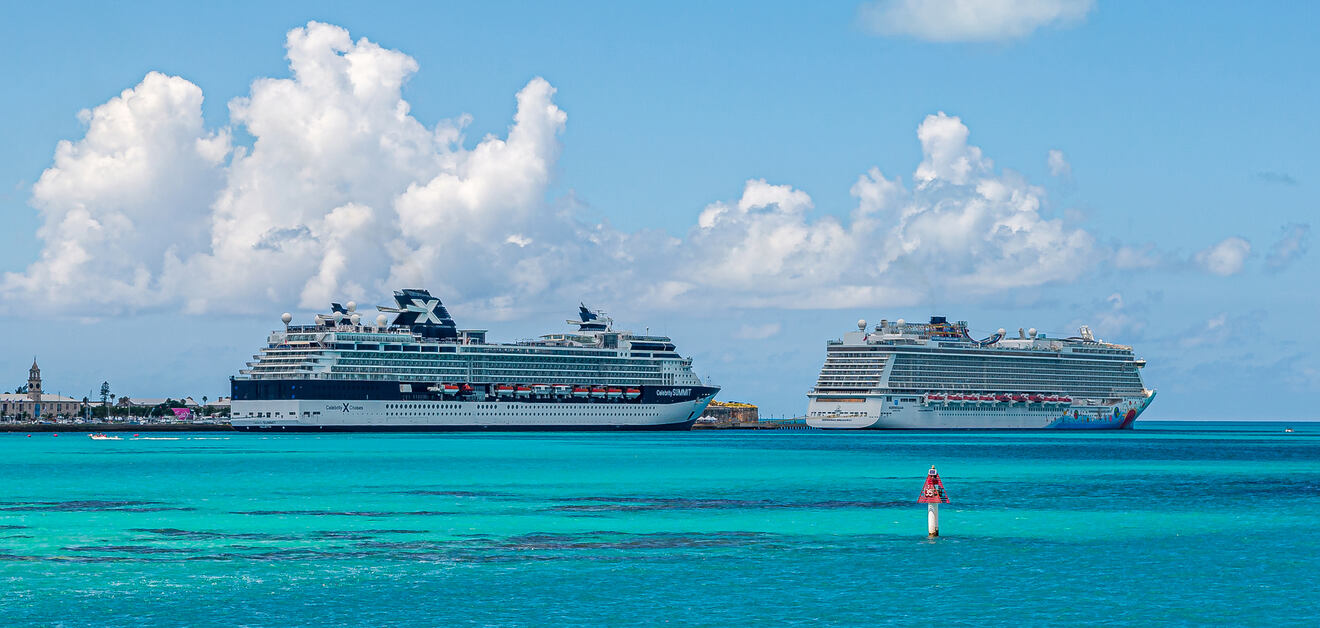 Am I the only one who wants to teleport to a beach like right now? This island, which is situated a few miles above the Caribbean, is such a great holiday destination, and I hope that this post helped you decide where to stay in Bermuda!
The post has so many unique Bermuda hotels that it may be hard to make up your mind. So here are my top 2 favorite accommodations to help you decide quicker:
Now there's nothing left to do, other than to book your hotels! Remember, if you do that in advance, you'll get the best deals and prices!
Enjoy your time and paradise! And don't forget to leave the south shore beaches and explore other attractions such as the Bermuda Botanical Gardens and Gibb's Hill Lighthouse. You won't regret it! And if you have any questions about the hotels, drop me a question below, and I'll make sure to answer it ASAP!
Have a great trip,
Victoria