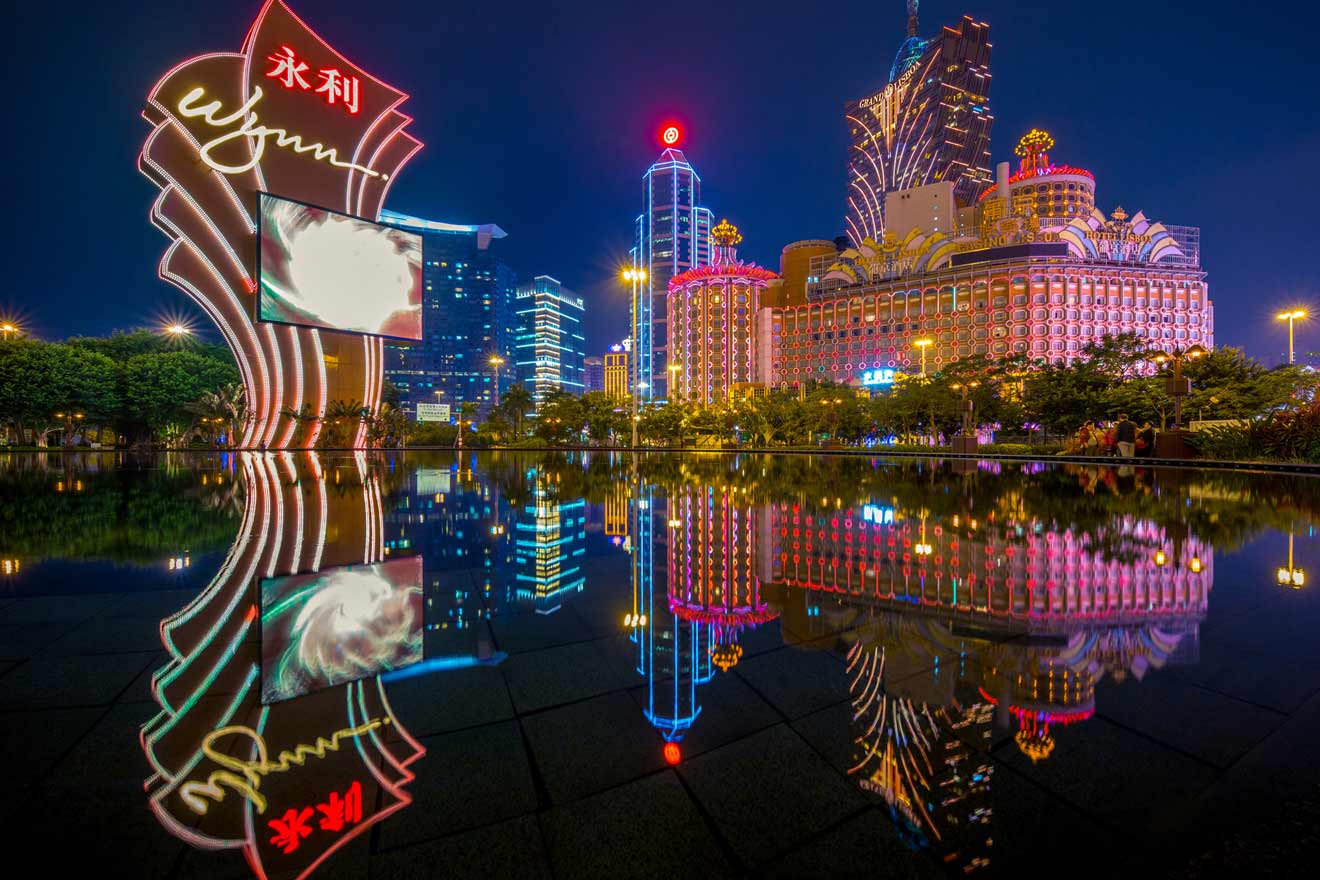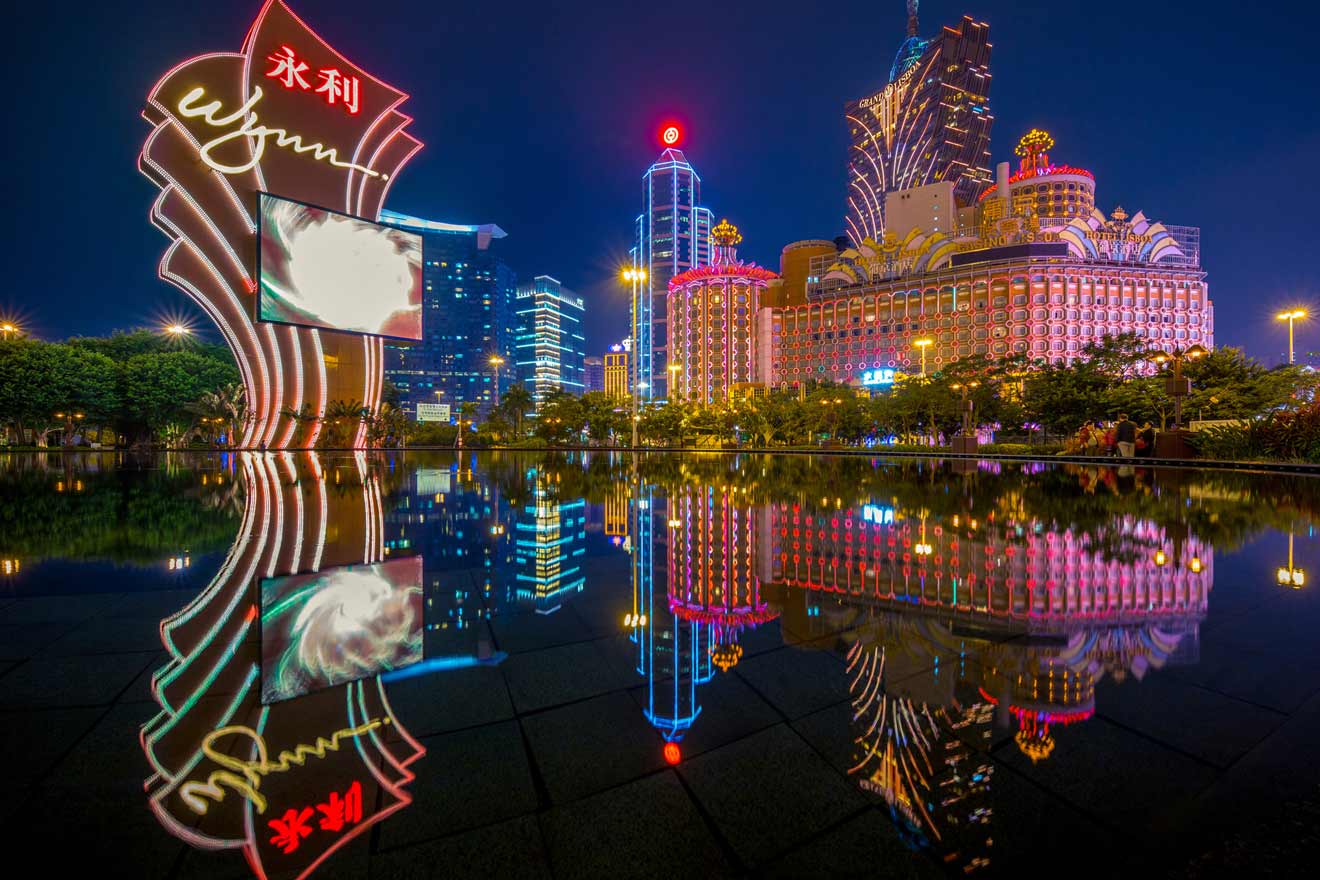 Planning a trip to fabulous Macau (Macao), the gambling capital of the world? Also known as the "Las Vegas of the East", Macau is made up of a peninsula, two islands, and a strip of reclaimed land.
The best area where to stay in Macau is Macau Center (incl. Old Macau)! Here you'll find the best hotels and fantastic attractions from casinos to historic sites. But don't worry if that doesn't appeal to you, I've added 3 more areas to this post perfect for nightlife, culture lovers, and nature lovers; Cotai, Taipa, and Coloane.
Make sure you don't skip the last part of this post (that would be like missing the jackpot)! I've added a bonus with some incredible 5-star hotels in Macau, China, for those of you who want to visit in style!
Okay now it's time to start, but I can't go on without mentioning that you should absolutely book your Macau hotel in advance! This place is super popular with tourists from all over the world, so hotels sell out fast.
Let's go!
If you are in a hurry
I know some of you are ready to book your hotels where to stay in Macau, right now! Have a look at the list below, it has the best hotels in Macau Center and Old Macau for each price point:
Check out this map which will help you visualize all the areas where to stay in Macau that I'll talk about in the post: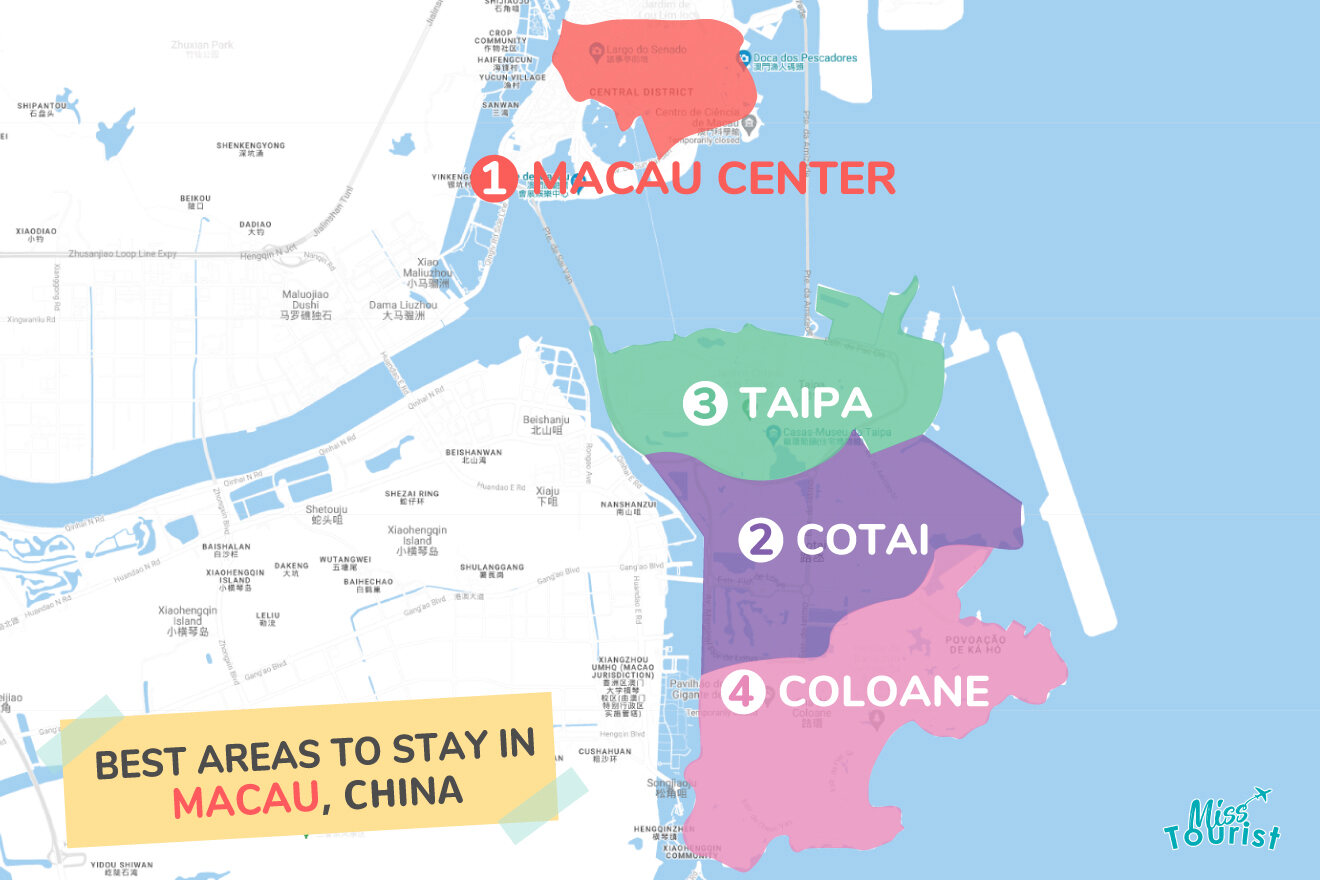 1. Macau Center (incl. Old Macau) – where to stay for the first time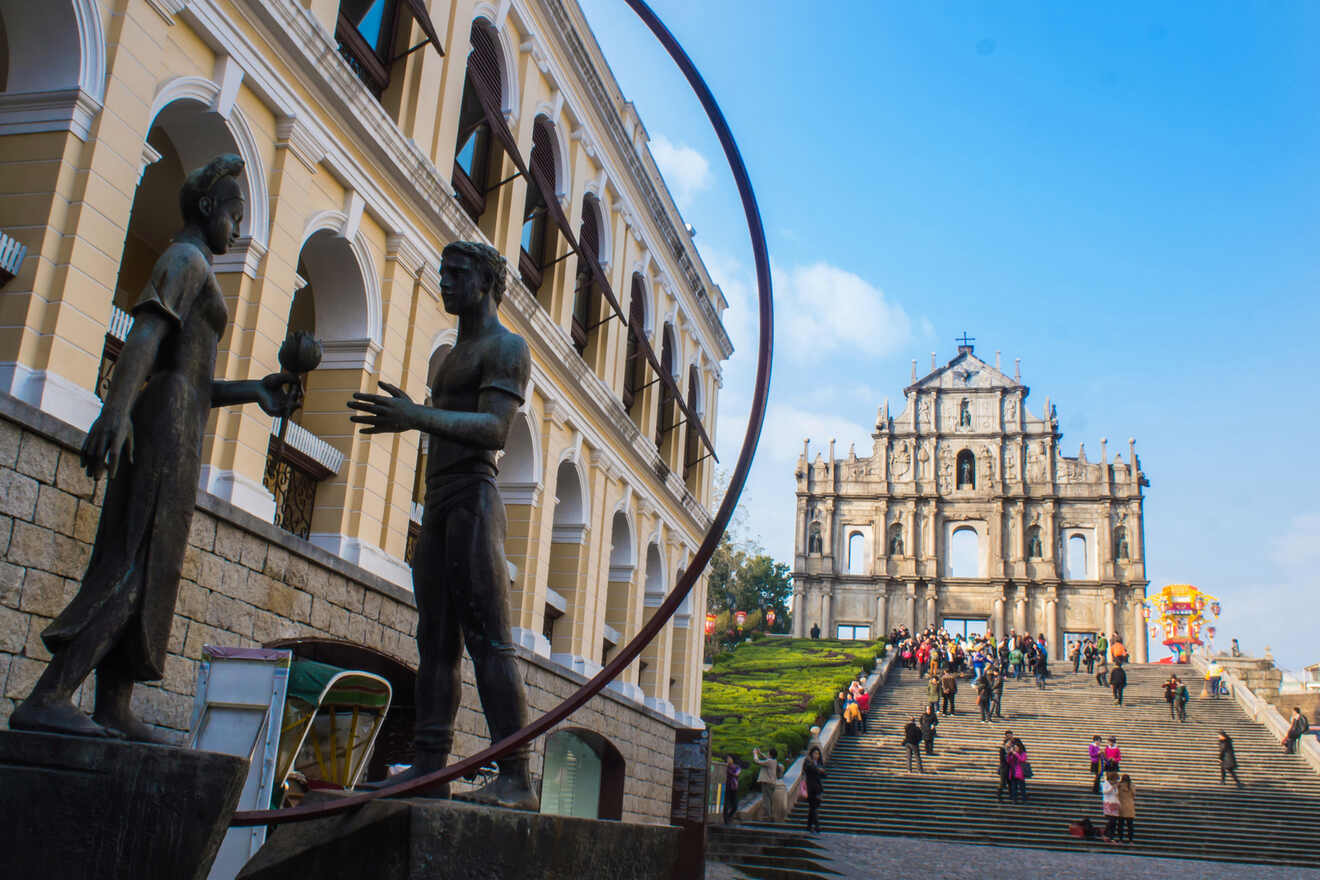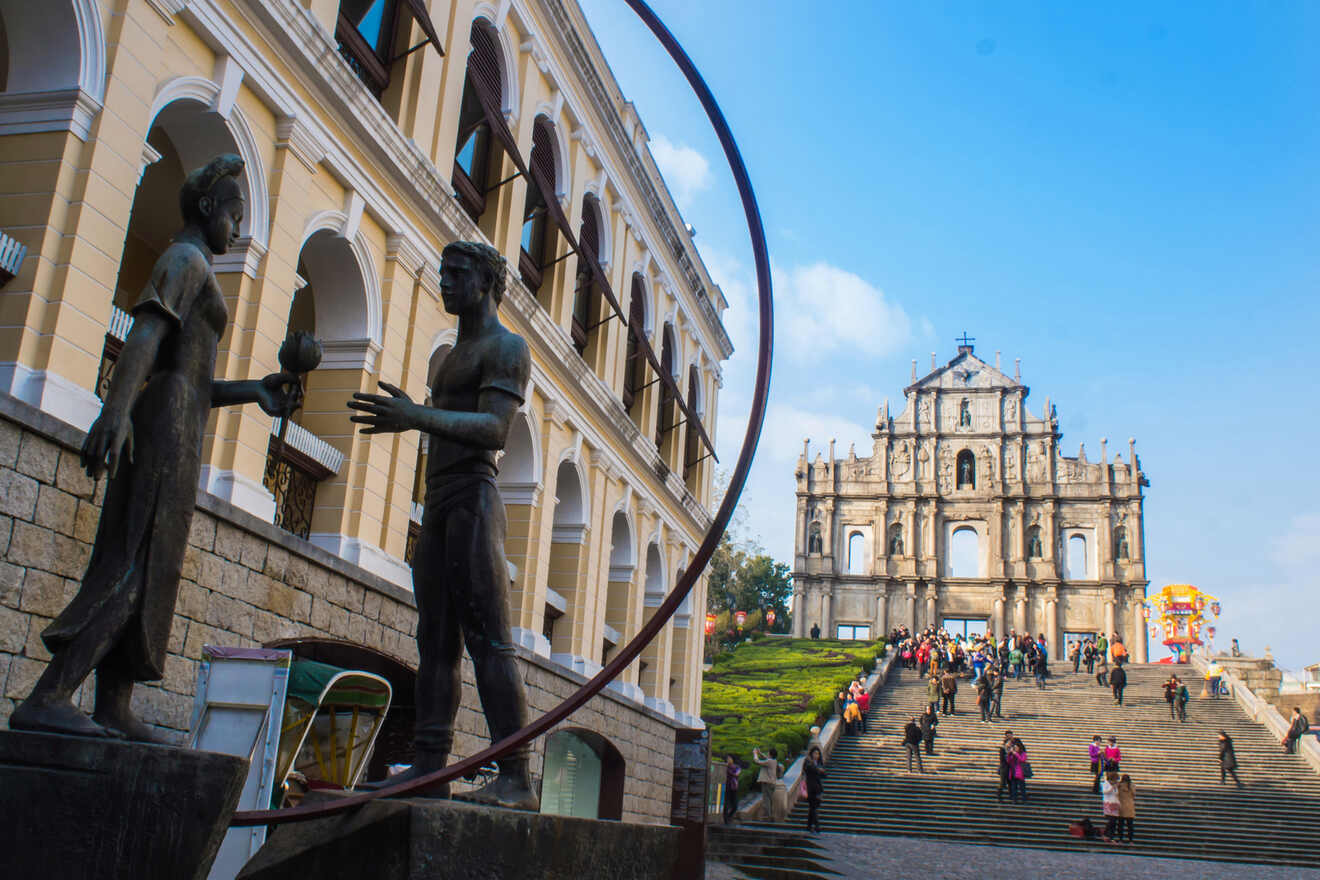 Thinking of visiting Macau? Then there's no better place to start your holiday than the center of Macau, also known as the Macau Peninsula. This area includes the historic Old Macau, a UNESCO World Heritage site filled with cultural attractions!
The Outer Harbour Ferry Terminal is also located in this area, so for anyone including a visit to Macau in your list of activities in Hong Kong, this is where you'll arrive!
Macau City Centre is perfect for first-time visitors as it has a bit of everything! Firstly, Old Macau, China is a paradise for anyone who's into history. This area has many Chinese temples, Catholic churches, and old administrative buildings.
While it may seem that the whole area is home to ancient sites, you'll also find a few casinos, high-end shops, restaurants, lots of unique attractions, and amazing hotels! And luckily for us tourists, these parts of Macau are pedestrian-friendly so you won't need to use other means of transport to get around.
As you might know, the Macau Peninsula gets lots of tourists so I highly recommend booking your hotels in advance here, as you'll risk running out of good options if you book late.
Luxury hotel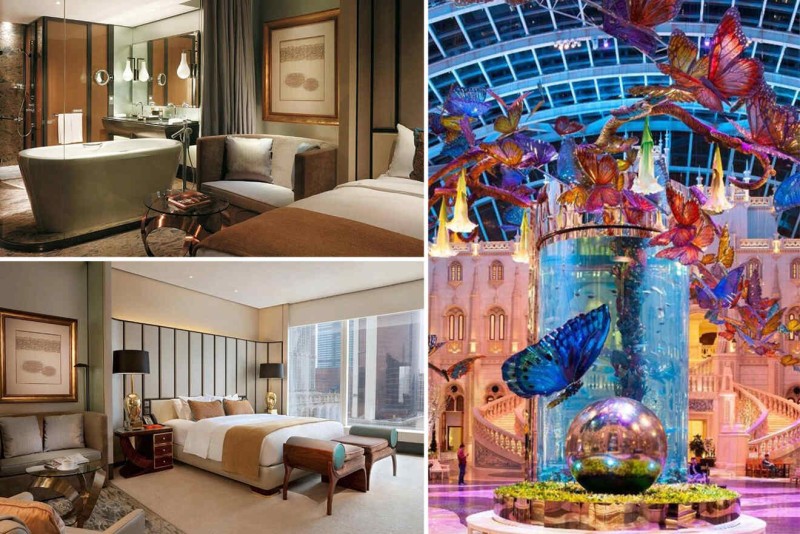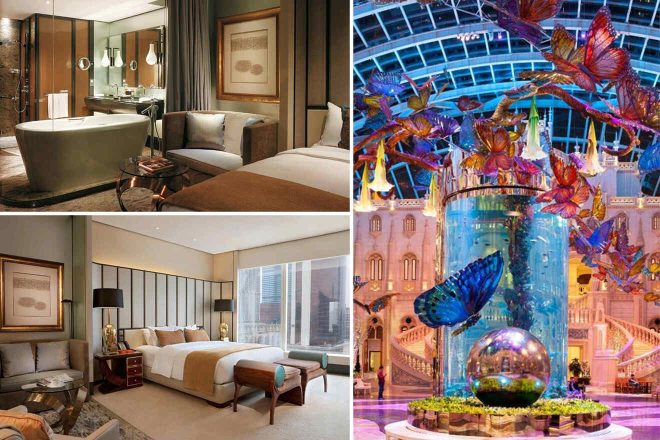 You will love the fabulous rooms here with a fusion of modern and Asian styles, large windows with panoramic views of the city, and bathrooms with a rain shower! This five-star hotel looks more like a museum and it even has a nightclub! Relax by the infinity outdoor pool which offers great city views, or at the spa after a fun night in the casino!
Other options in Macau Center (incl. Old Macau)
Mid-Range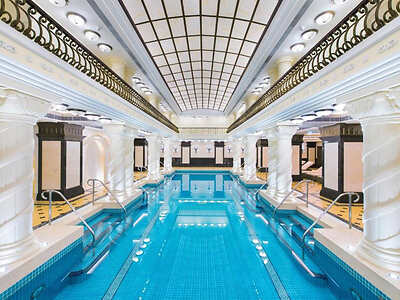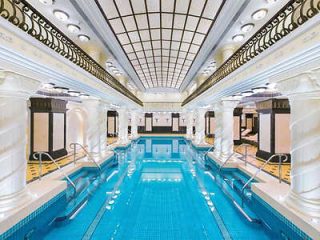 Guests will love this elegant hotel in Macau that has spacious rooms, a fitness center, and a swimming pool
Budget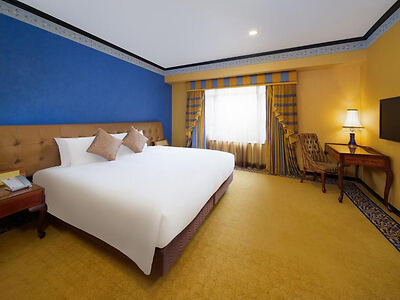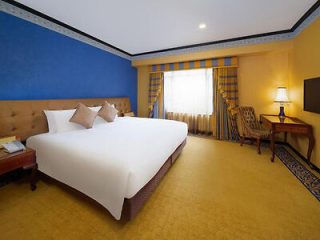 This is the best hotel for those on a budget in Macau Peninsula which offers a casino and a free shuttle bus
Airbnb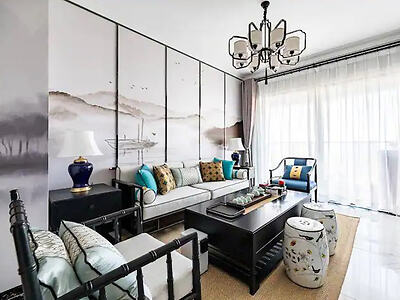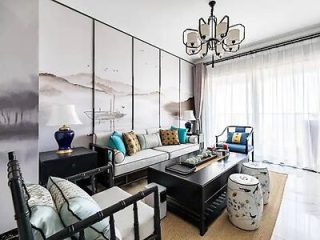 Enjoy all the privacy you need in this big apartment that offers panoramic city views and a kitchen
Things to do in Macau Center & Old Macau
Shop until your drop at Senado Square
Visit the Ruins of St. Paul's in Old Macau
Learn new things at Macao Museum
Try your luck at Casino Lisboa
Admire the beautiful St. Dominic's Church
See the Na Tcha Temple on Macau Peninsula
Check out the Monte Fort historic site
2. Cotai – the best place to stay in Macau for nightlife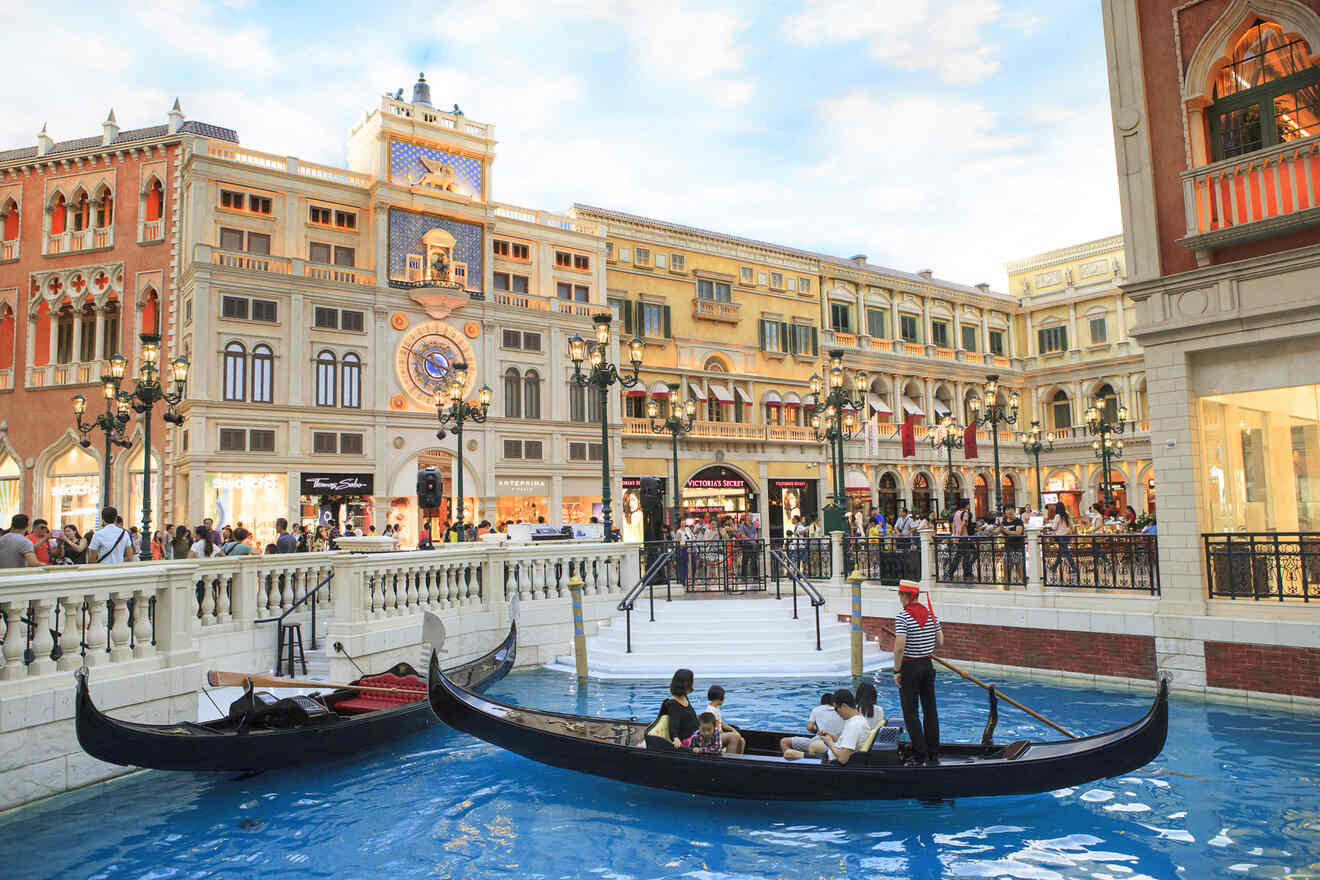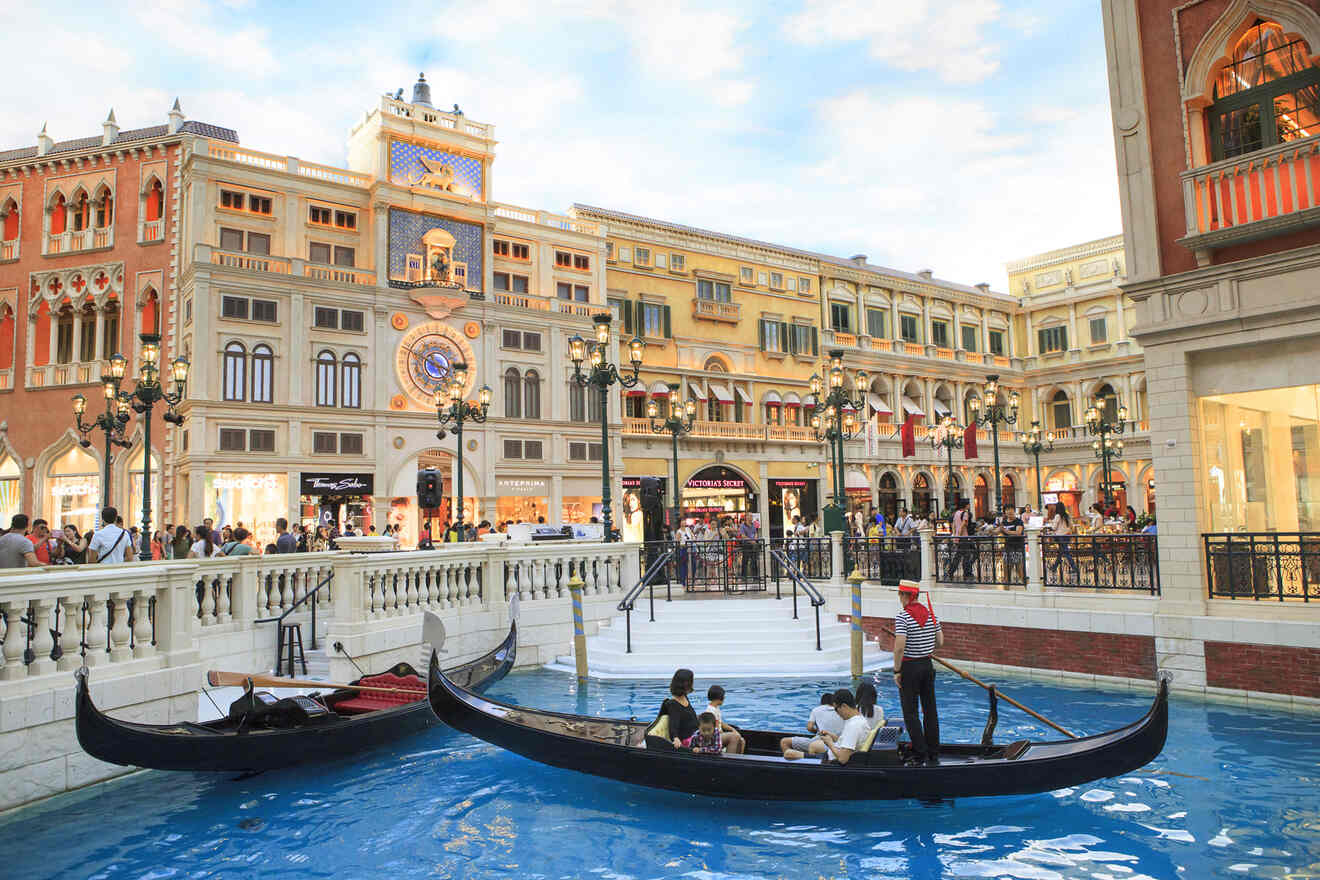 This area is the place to be for anyone who's into casinos, gambling, and wants to enjoy Macau's nightlife. This is what makes the area super famous with tourists!
Also known as the Cotai Strip, this is Macau's version of the Sunset Strip in Los Angeles!
Built on reclaimed land between Coloane and Taipa (which used to be separate islands), Cotai Strip doesn't have any history or cultural spots but it is one of the most popular areas here hosting some of the top hotels. This area is super modern, and you can quickly notice that a lot of money was invested in making Cotai Strip the place it is today!
The entertainment options are never-ending on Cotai Strip! You can spend your days gambling at City of Dreams Casino and The Venetian, which is the largest casino in the world (wow, I guess these casinos kick all the casinos in Las Vegas)! Or you can try bowling and, of course, eat delicious meals in all the high-end restaurants!
Although Cotai isn't super big, it's not as pedestrian-friendly as the Macau Peninsula, so you'll most likely need a taxi or bus to get around Cotai Strip.
Luxury hotel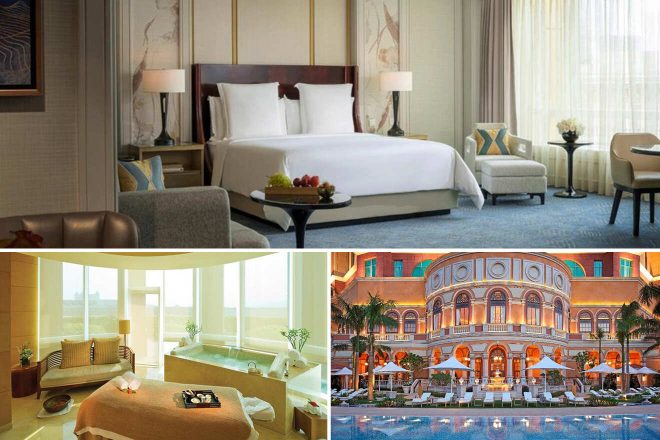 Class and elegance at its finest! Located on the reclaimed land of Cotai, this 5-star hotel has the most impressive rooms, chic design, lots of space, and breathtaking views of the Strip! This accommodation also has tons of luxurious facilities like 5 swimming pools, a spa center, and a games room!
Other accommodation options in Cotai
Mid-Range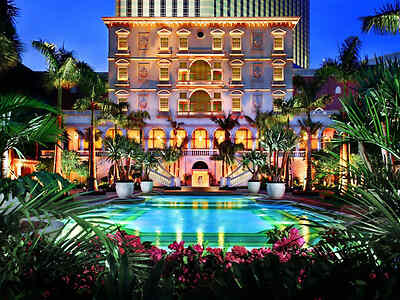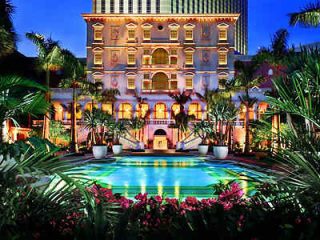 This five-star hotel offers stylish rooms with great views, dining options, a spa center, and a pool
Budget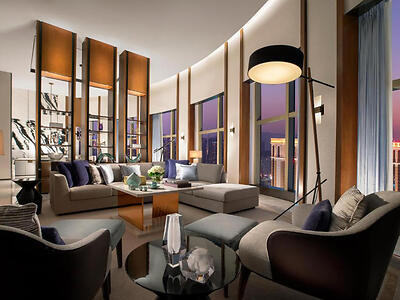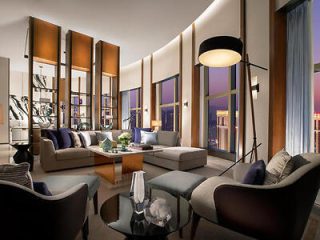 This modern budget hotel in Macau is equipped with many facilities including dining options, big rooms, and a spa
Airbnb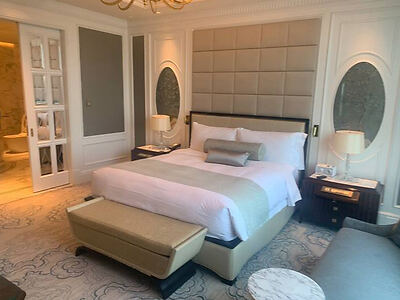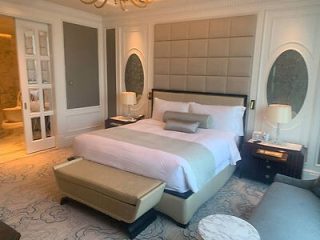 A spacious apartment with free wifi and air conditioning that offers guests access to a pool and a hot tub
Things to do in Cotai
3. Taipa – where to stay in Macau for culture lovers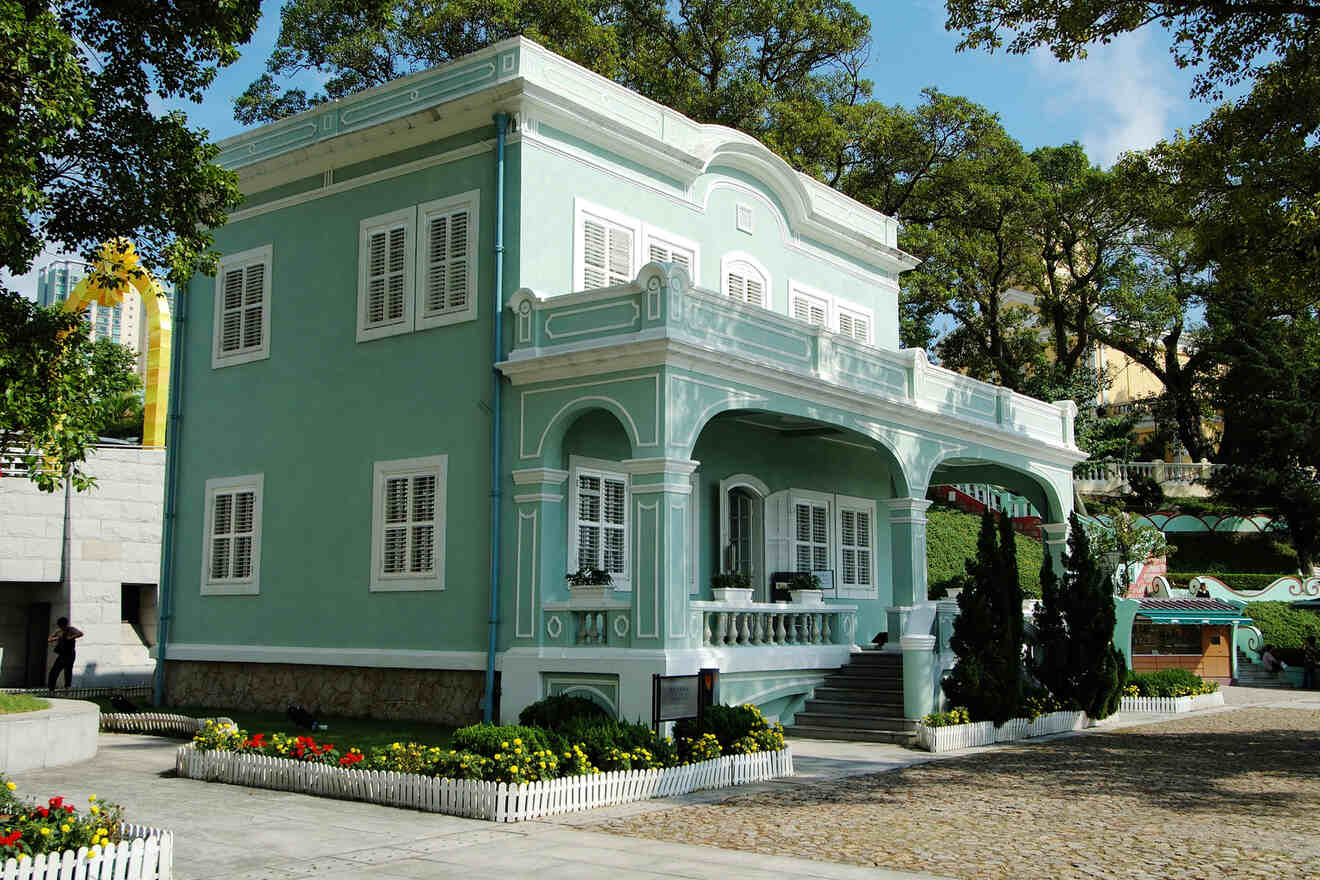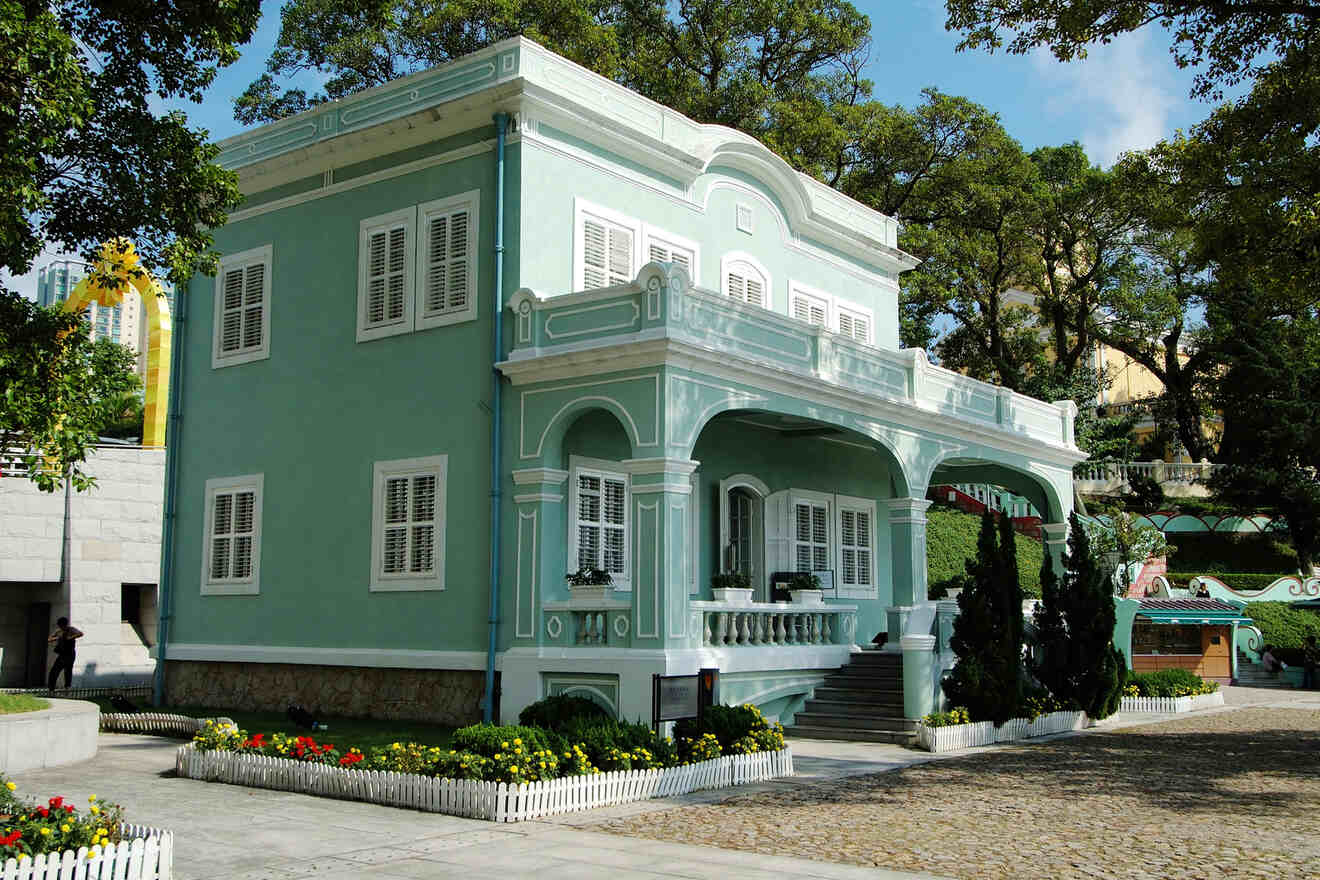 Just like Coloane (which I will talk about next), Taipa Village is a bit more tranquil than the bustling Macau Center and Cotai. Connected to Macau Pennisula by bridges, this area is also home to the Macau International Airport, so is a great spot for those who are only visiting on a layover.
Although Taipa used to be the rural side of Macau, recently the area was developed and is now home to a few more shopping places, restaurants, and hotels. But this is not what makes Taipa one of the best places to stay in Macau, China…
In Taipa Village, you will notice Portuguese influences in some of the buildings alongside the traditional Chinese elements (there are also quite a few temples in the area which you can visit of course)!
If you're into cultural attractions and want to learn more about Macau's past, there are many places you should check out here like the Museum of Taipa and Coloane History, or the Taipa Houses Museum. But if you need a break from all these cultural attractions, don't worry. There is also a casino or two in Taipa as well, so you don't have to go all the way to the Macau Peninsula!
Luxury hotel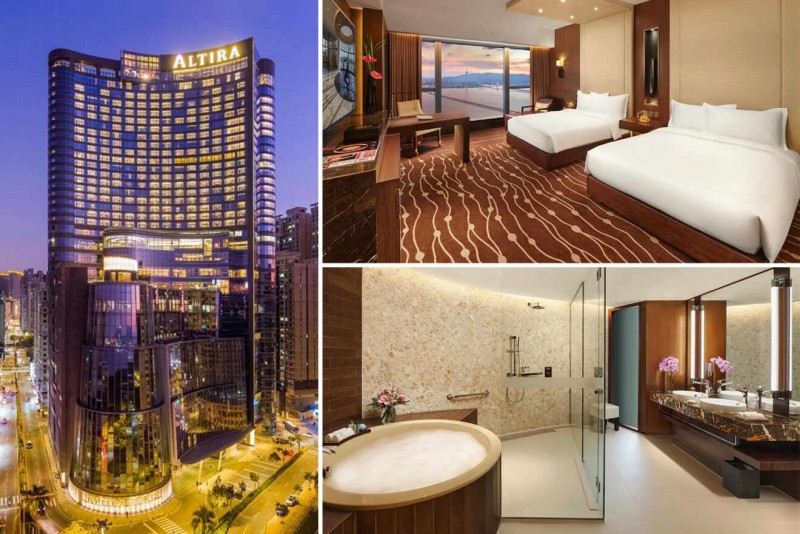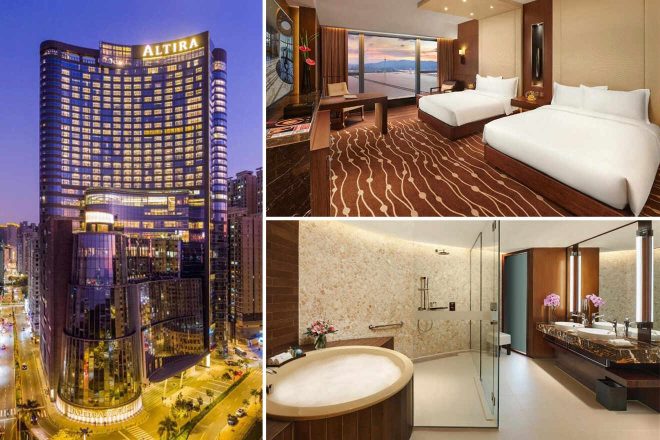 This is the best hotel in Taipa and it has modern rooms with lots of space, a comfortable bed, and a tv with free Hollywood movies. When you're not out exploring Taipa, you can go for a swim in the indoor pool or try your luck at the casino on-site. The accommodation also has 4 restaurants and a bar to keep you occupied!
Other accommodation options in Taipa
Mid-Range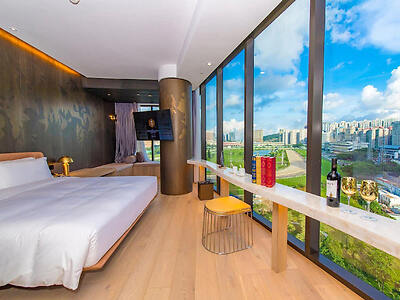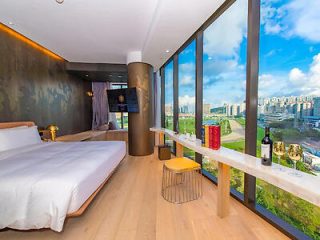 This great mid-range hotel has spacious rooms with unique city views, a pool, and offers bicycle rental
Budget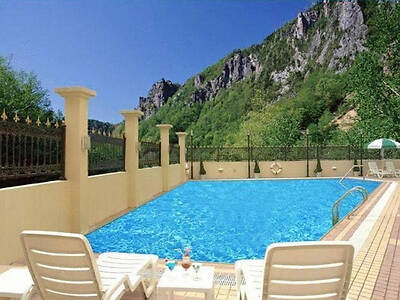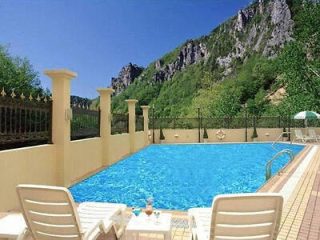 Simple yet so chic! This budget Macau hotel is located near the airport and has a pool and a restaurant  
Airbnb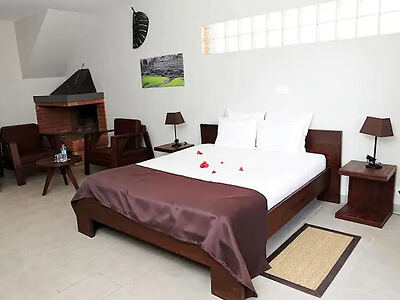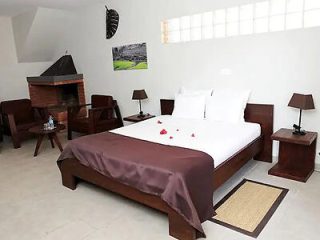 This comfortable condo is perfect for 2 – 4 guests, and it offers breakfast and free wifi
Things to do in Taipa
Admire the architecture of the Lady of Carmel Church
Visit the Historical Museum of Coloane and Taipa
Go for a walk in the Garden of Flower City
Check out the swimming pool in Taipa Central Park
See the Pak Tai Temple
Enjoy the views from Taipa Grande hill
Grab a quick bite on Taipa Food Street
4. Coloane – best place to stay in Macau for nature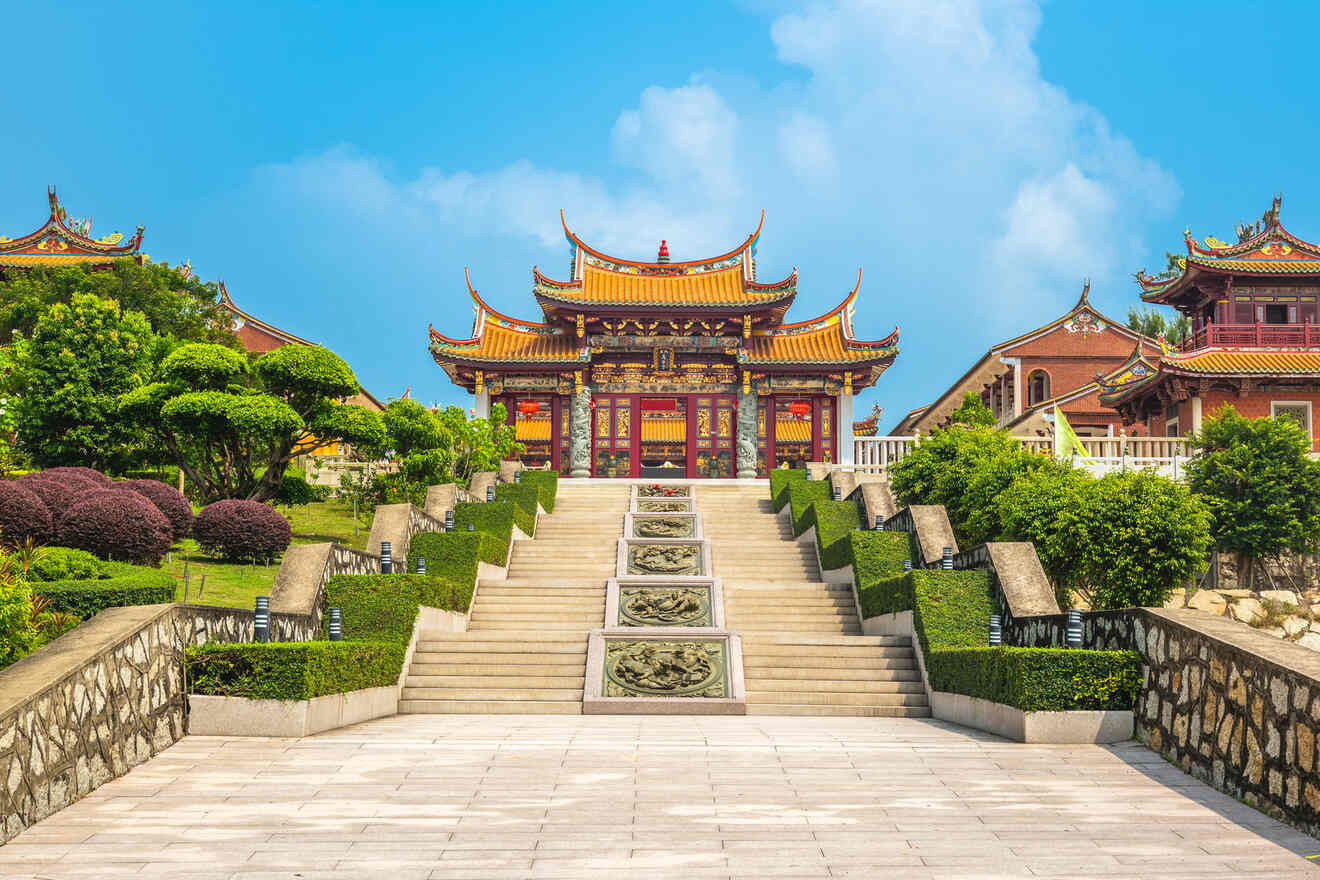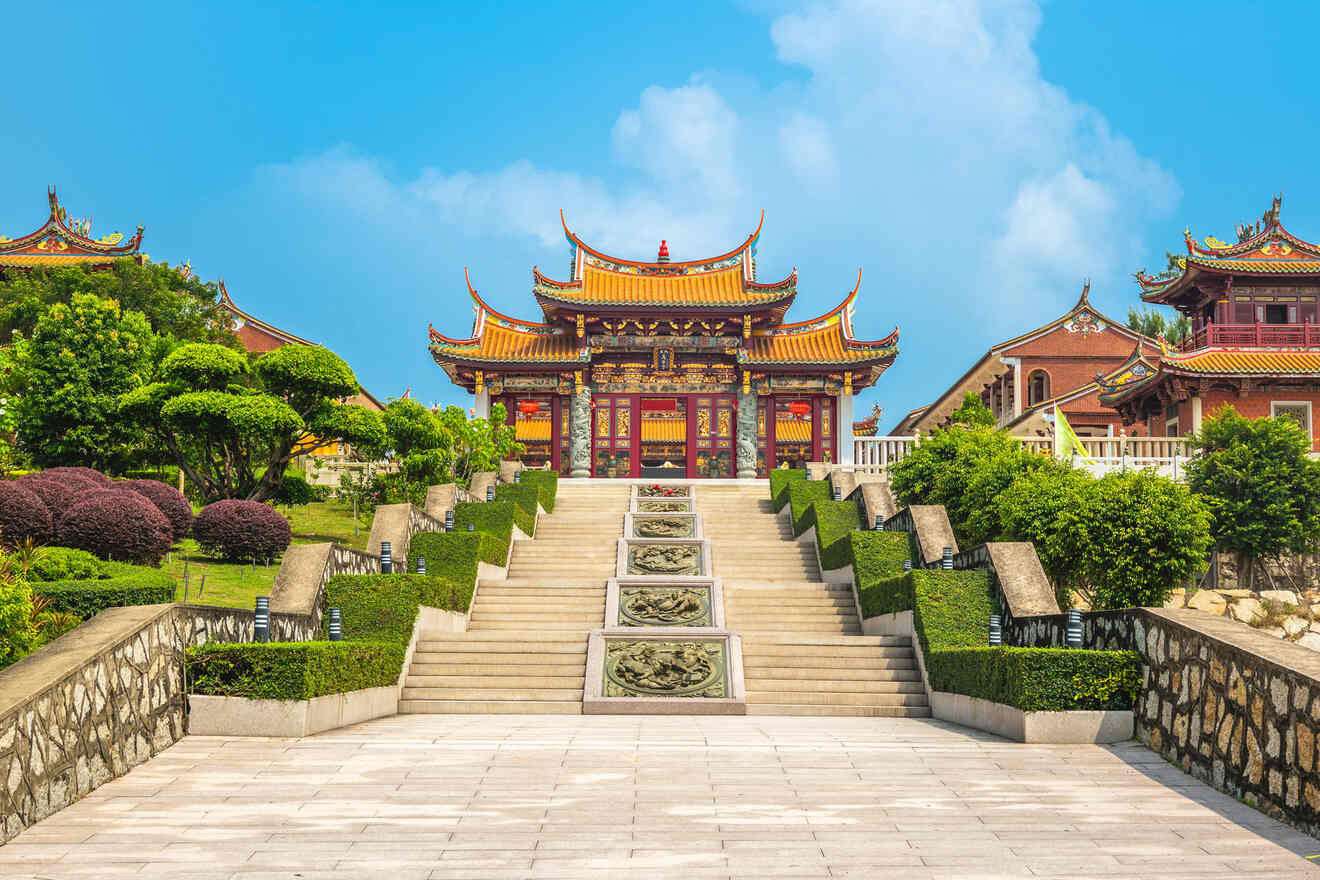 If you need a break from all the casinos and stores, then I think you'll love this area which is not too far from Macau Peninsula. Located south of Old Macau, this area is filled with lots of hiking trails, beaches, and parks! All this makes Coloane one of the best places to stay in Macau, China!
Coloane, Macau is the most mountainous region of the peninsula, and you know what that means, right? Lots of areas where you can hike. Some of the best ones are the Seac Pai Van Park and also the Long Chao Kok Coastal Trail!
As you might've guessed, here you won't find as many attractions as you would in Old Macau, but that also means you'll get to relax and enjoy some peace.
There's nothing like a trip to the beaches in Macau, China to put you in a good mood! Hac Sa Beach and Cheoc Van Beach are open to the public and trust me, you don't want to miss out on a day spent here!
Although I already mentioned that you won't see as many attractions here, there are still some temples you can (and should) visit, like the A-Ma Cultural Village and Tin Hau Temple.
Now let's check out the best places to stay in Coloane, Macau!
Luxury hotel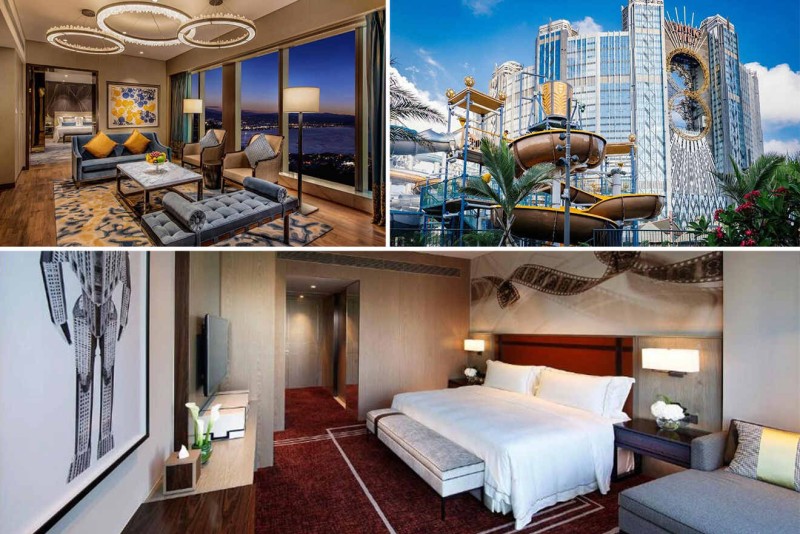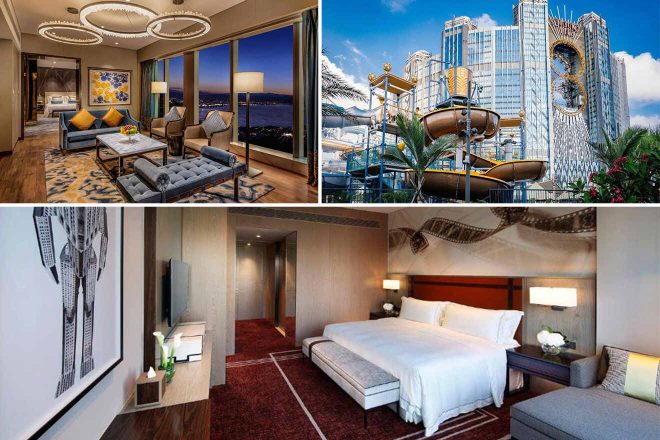 With a fabulous waterpark and many amazing amenities, this luxury hotel in Macau in China, is a keeper! Besides the waterpark, guests will also have access to a casino, a spa, and 8 restaurants. The rooms at Studio City come with garden or city views, lots of space, and large windows!
Other accommodation options in Coloane
Mid-Range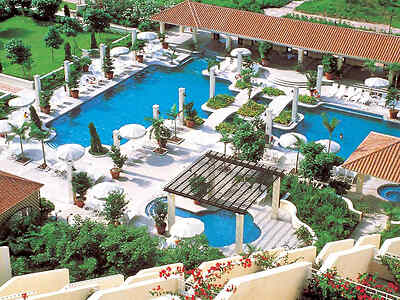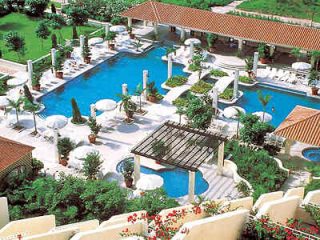 This Macau resort offers rooms with a balcony, an outdoor swimming pool, and spa services
Budget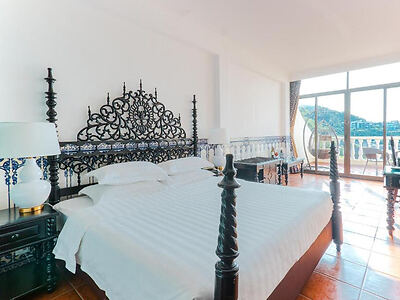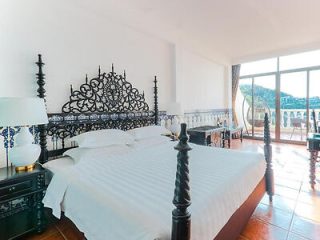 A fabulous boutique hotel that has a pool, a bar, and rooms with a balcony overlooking the sea
Airbnb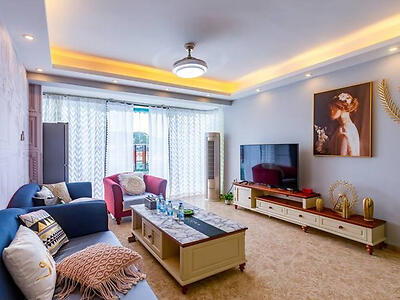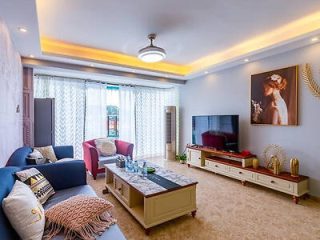 Perfect for 6 guests, this place to stay in Macau has a kitchen, air conditioning and free wifi
Things to do in Coloane
Spend a fun day on Hac Sa Beach
Visit the Seac Pai Van Park in Macau
Go for a swim at Cheoc Van Beach
Check out the Coloane Karting Track
Take the kids to the Hac Sa Grass Slide Playground
Enjoy some tranquility at Tin Hau Temple
Explore the hiking trails in Parque de Merendas de Cheoc Van
| | |
| --- | --- |
| 👑 Luxury price: | $150 |
| 💵 Mid Range: | $80 |
| 🛏️ Budget: | $40 |
| 🏠 Airbnb: | $80 |
| 💰 Accommodation prices: | Low |
| 📍 Best area: | Macau Center & Old Macau |
| 👪 Best area for families: | Coloane |
| 🛎️ Best luxury hotel: | MGM Macau |
| 💵 Best mid-range hotel: | Harbourview Hotel |
| 👛 Best budget hotel: | Grand Lisboa |
BONUS: The coolest 5-star hotels in Macau, China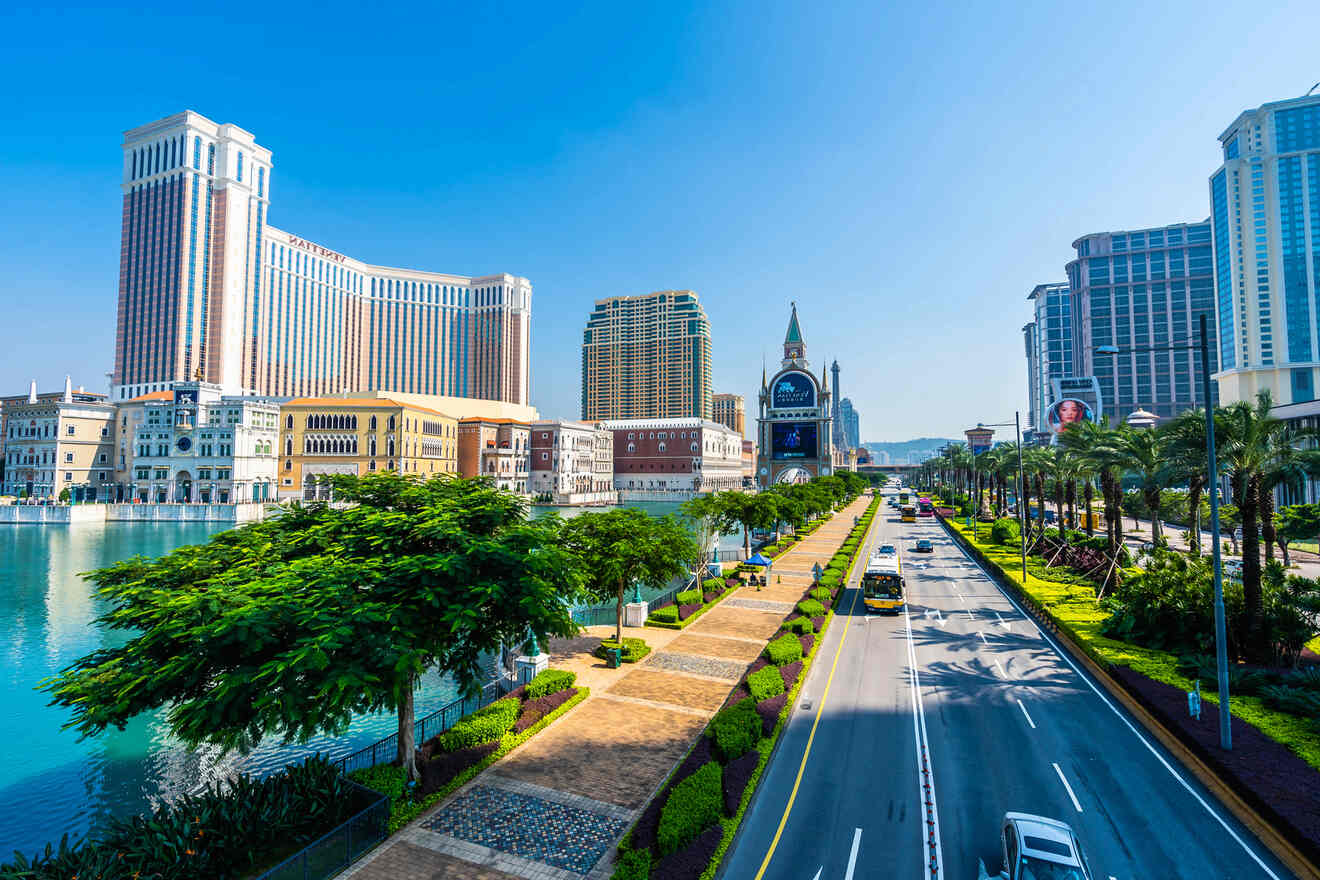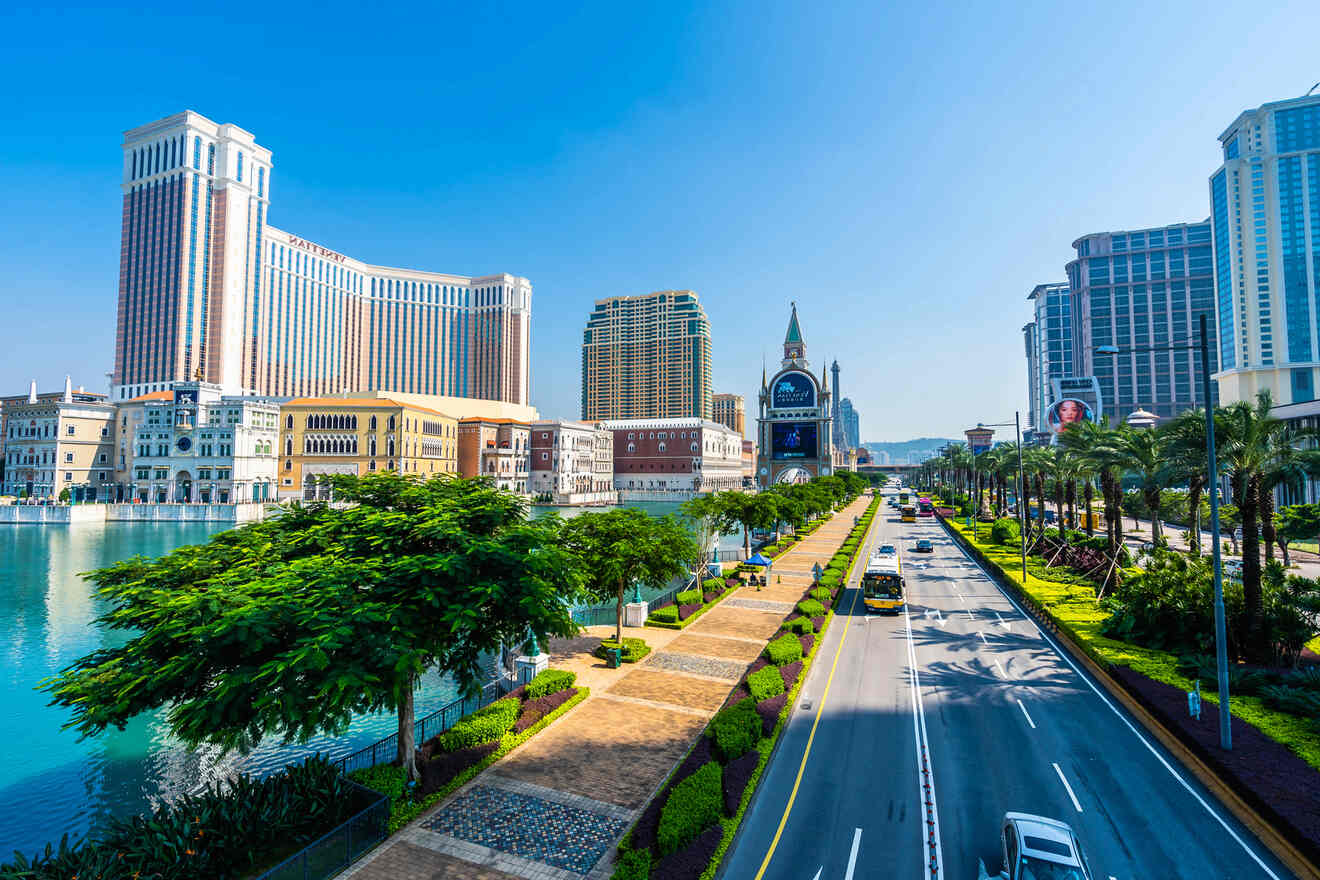 Macau is such a cool destination and it makes a fabulous day trip destination from Hong Kong, but to really enjoy it you should spend at least 1 night, and why not spend it in style!?
Although you'll find some incredible places to stay in the first part of this post, I wanted to offer you three more fabulous unique 5-star hotels in Macau city!
All these luxury hotels have prices starting from US$350 to US$130 and are listed in descending price order:
The Ritz-Carlton – If you love luxury and fancy decorations then you won't want to miss this 5-star hotel in Macau, set within Cotai's Galaxy integrated resort! Decorated with unique elements, marble, and lots of other beautiful features, this accommodation offers access to a waterpark, designer shops, and a cinema!
City of Dreams – With a design focused on simple shapes and brown aesthetics, this unique hotel has rooms with ceiling-to-floor windows and a private bathroom. Located in Macau, Cotai the 5-star luxury accommodation offers guests evening entertainment in a nightclub and a casino. The next day you can relax at the spa or by the pool!
Grand Hyatt – Indulge in all the delicious food at this hotel located in Cotai, Macau city, that has beautifully-decorated rooms with large windows offering stunning views! Start your day with a quick breakfast, a long bath in the tub, and then head down to enjoy all the perks at the hotel, including spa services, a casino, and a nightclub!
FAQs about hotels in Macau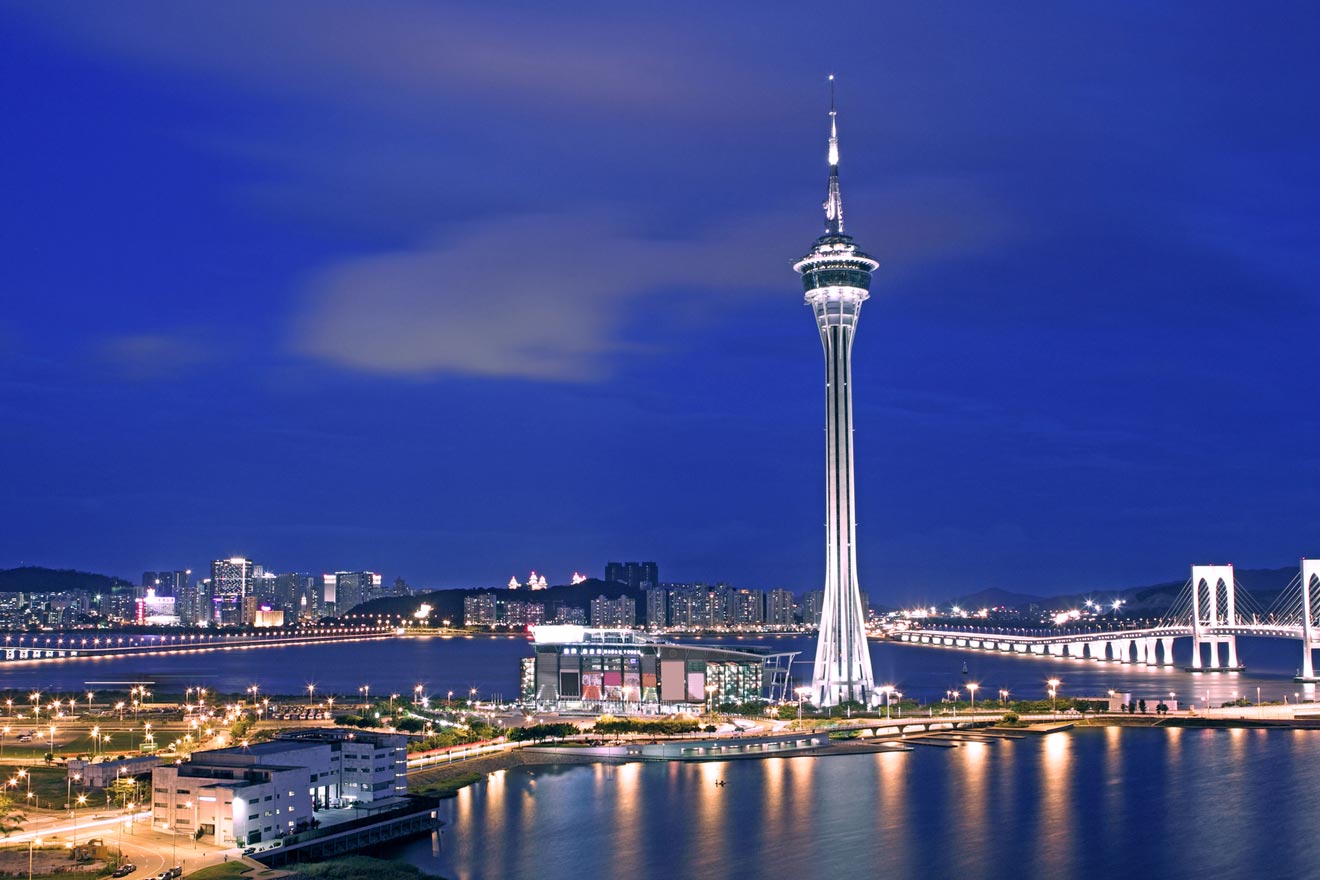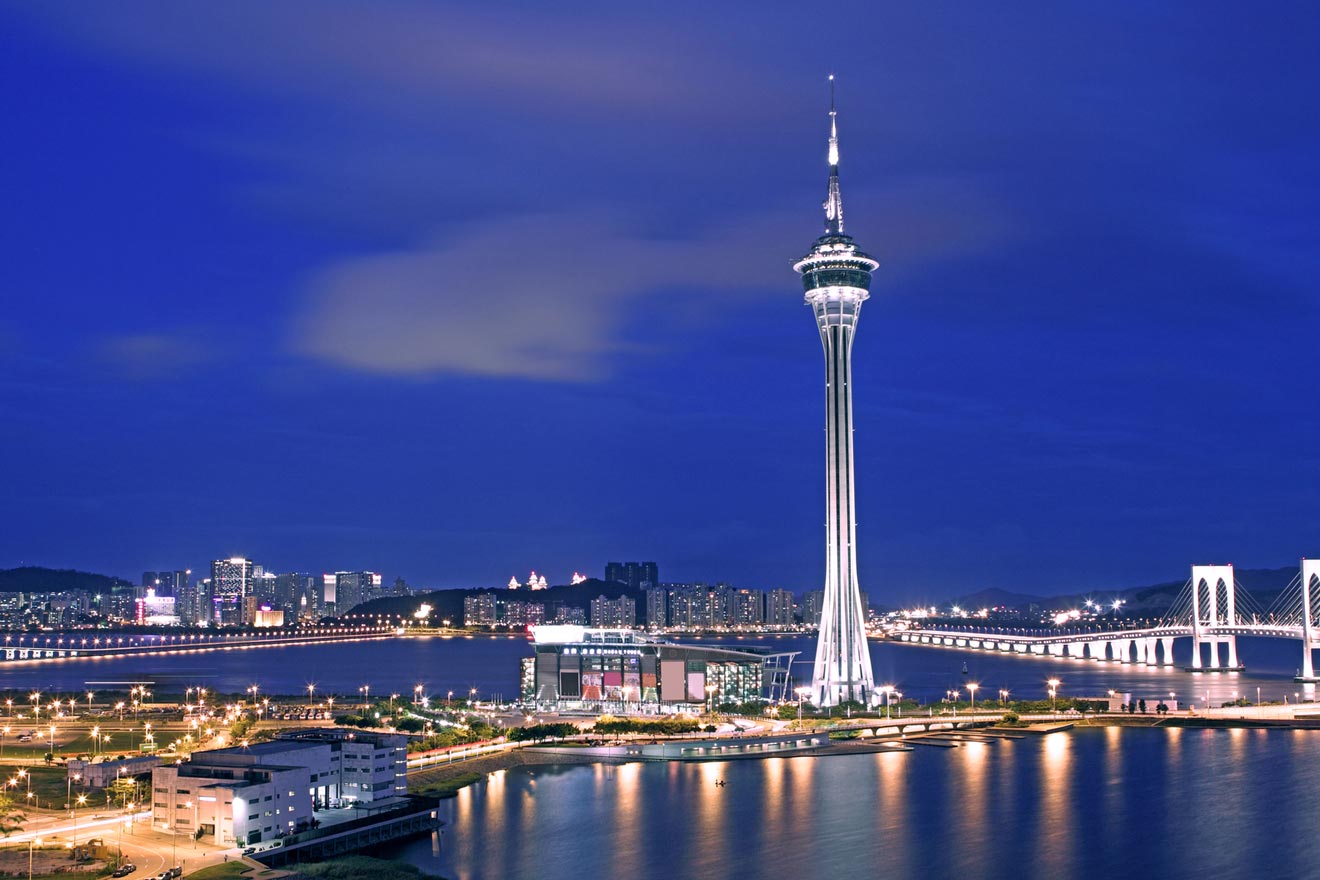 🤔 What is the best area to stay in Macau?
Macau Centre (incl. Old Macau) is the best area where to stay in Macau, China. Also known as the Macau Peninsula, this area is perfect as it has lots of cultural attractions and casinos, and it's just a ferry ride away from Hong Kong! 
💰 Is Macau expensive for tourists?
Not necessarily, you can visit Macau on a budget if your want, but you can also splurge by gambling and stay at some of the most expensive luxury hotels! Both options are available for tourists. 
🎰 Is Macau an ideal destination for tourists?
Macau which is also known as Asia's Las Vegas, is an awesome destination for tourists. Being the only place in China where you can gamble legally, this place has lots of fun attractions including world-renowned casinos, beaches, and historic sites. 
🌟 Which are the best 5-star hotels in Macau?
Conclusion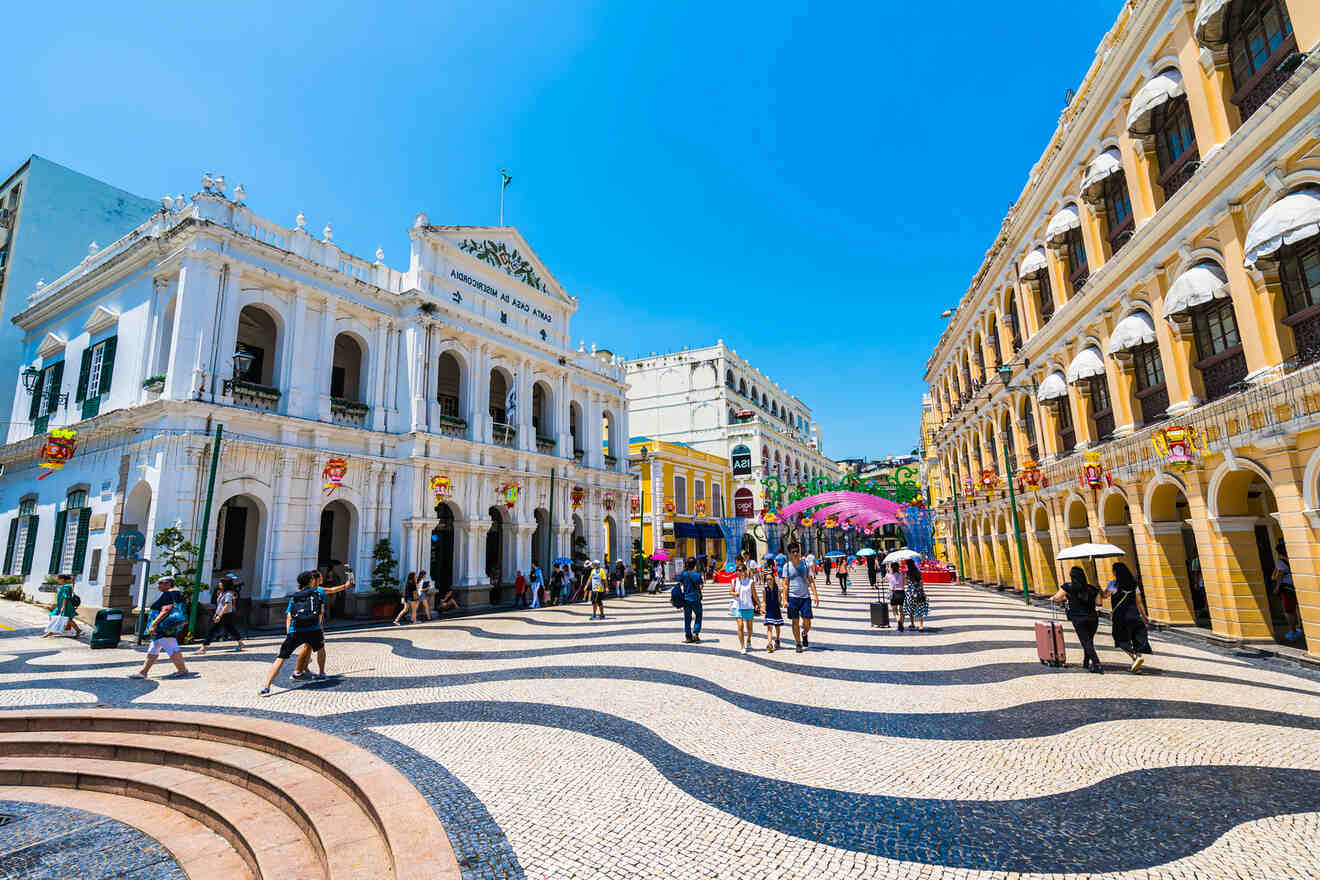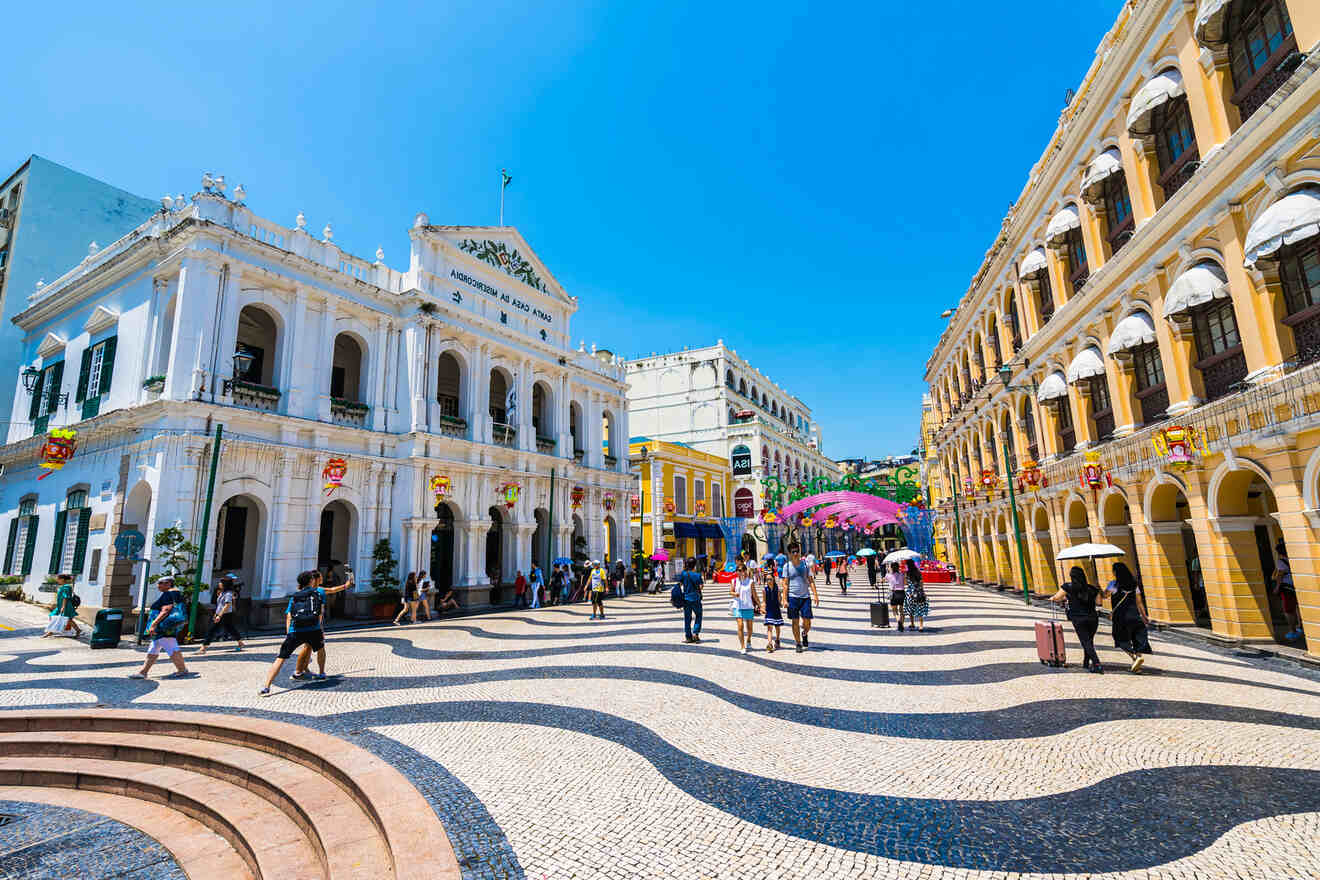 Already packing your bags to visit Asia's own Las Vegas? I know the feeling! But first, don't forget to book your Macau hotels or resort in advance, as this place is popular with tourists from all over the world!
I hope this post helped you decide which are the best places where to stay in Macau, China! We've gone through the top areas in the city plus a short bonus section with some unique 5-star luxury hotels in Macau city if you are looking for an unforgettable stay!
I know there are lots of hotels in this post and it can be hard to decide since all of them are so amazing! So here are my 2 favorite ones (I hope this will help you with your decision):
MGM Macau – This fabulous luxury hotel in the City Centre has an infinity pool with breathtaking views of the city, and elegant rooms with lots of space
Harbourview Hotel – A unique hotel near the Harbour area that comes with an indoor pool, classy decor and spa facilities
Well, I guess our virtual adventure ends here (for now), but for anyone who's got any questions about an area to stay in Macau, China, or any of the hotels. If you leave a comment below, I'll answer it ASAP!
Safe travels,
Victoria
---
Pin it for later!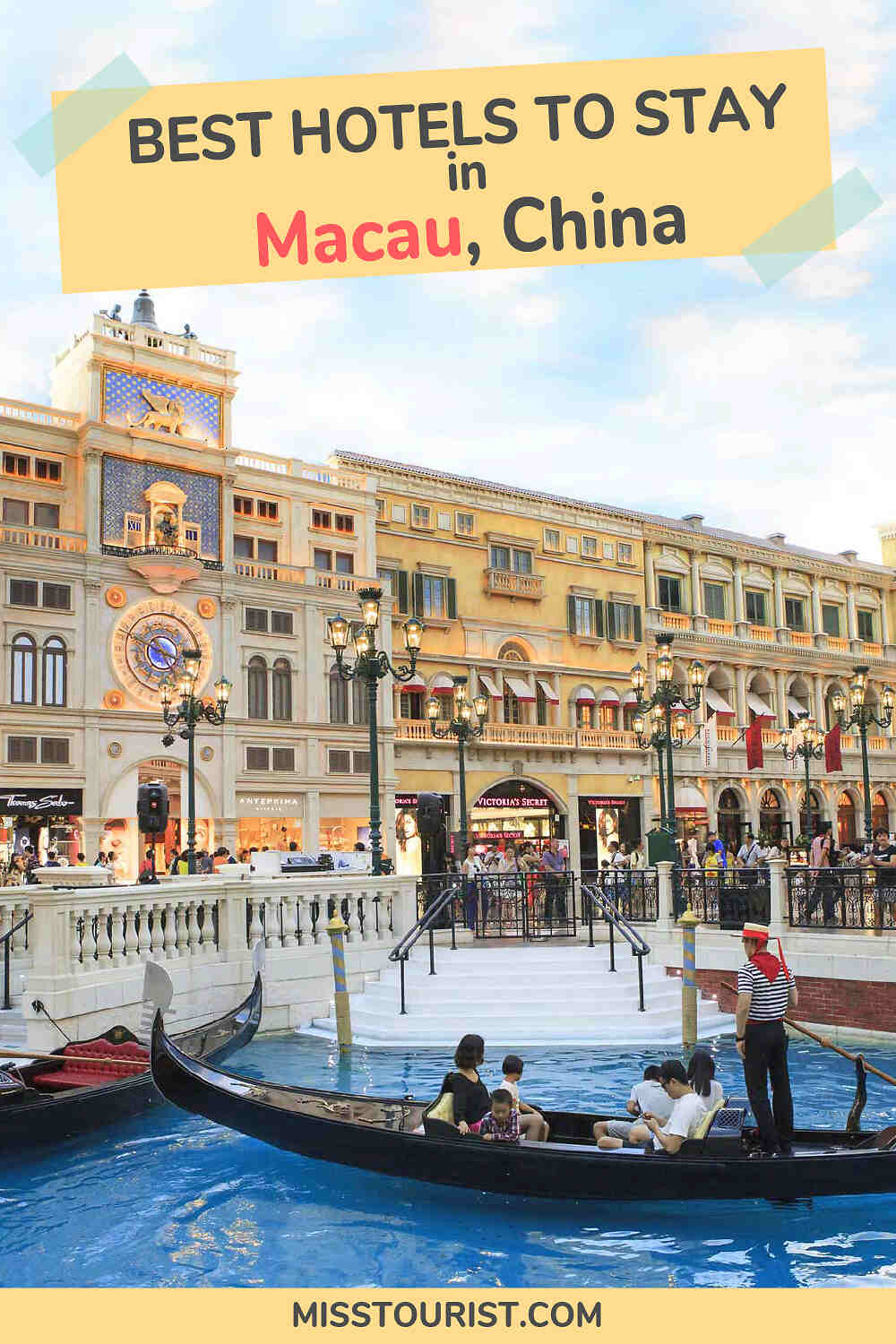 Pin it for later!