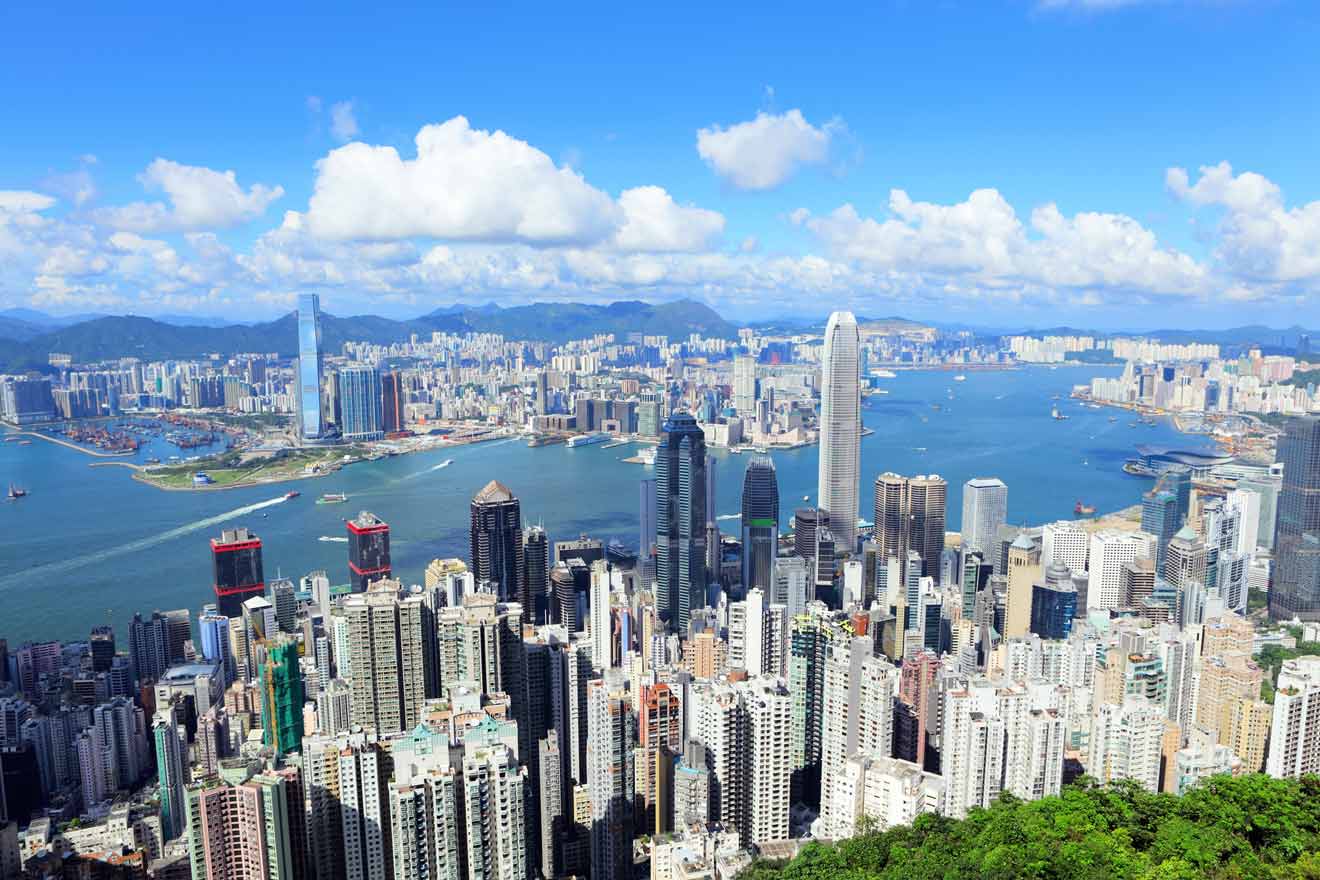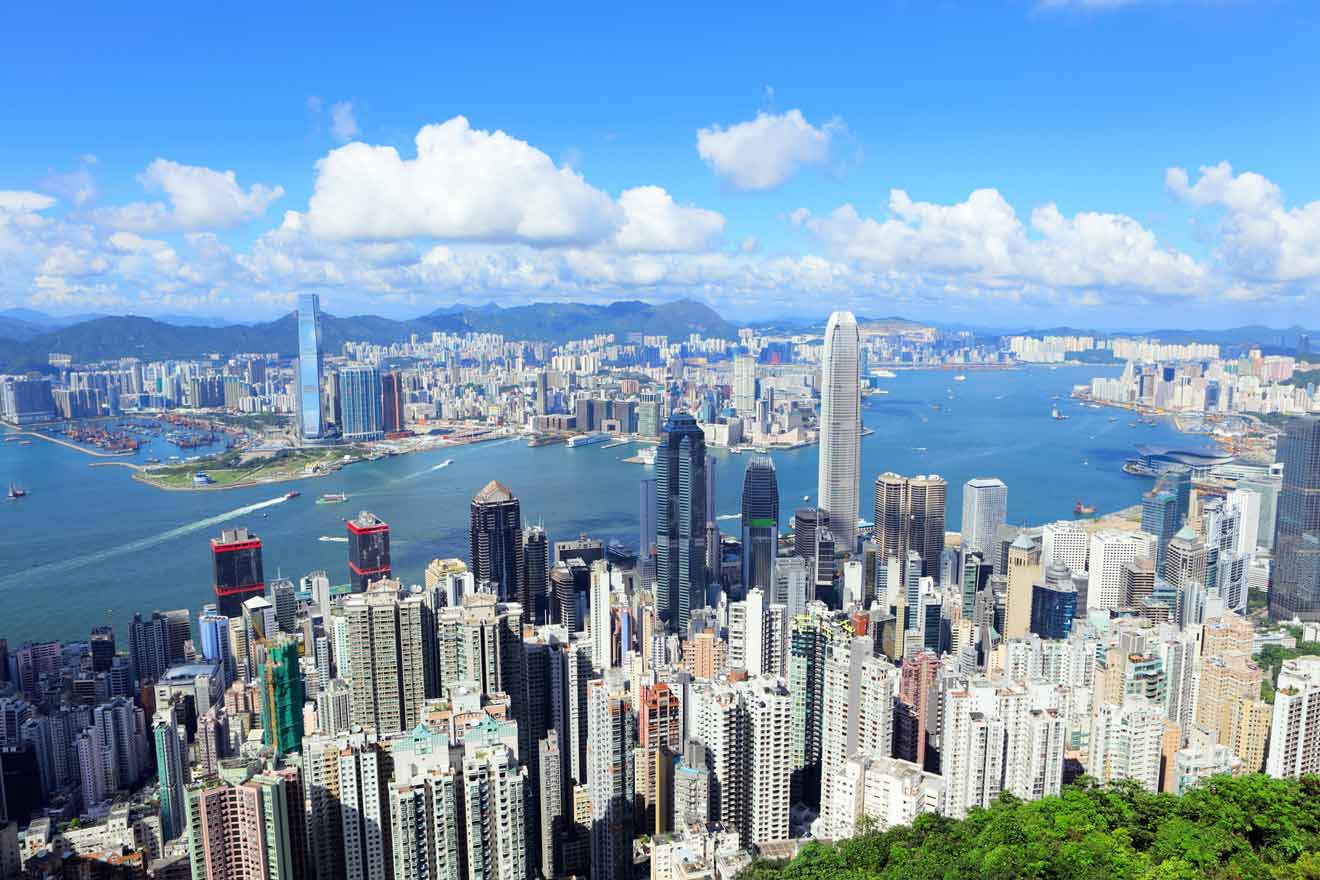 I'll be honest, I never actually had any intention of visiting Hong Kong. I've never really been a city person but trust me when I say, Hong Kong is so much more than just a city! What was supposed to be a few days waiting for a visa, quickly turned into a month of hiking mountains, island hopping, and exploring the endless list of things to do in Hong Kong.
Technically referred to as a special administrative region of China, there's great debate as to whether Hong Kong is actually its own country or not. Whatever it is, I can tell you you'll never have a dull day in this city full of surprises! Hong Kong has undergone massive, rapid changes in the last 50 years or so, from being mostly sparse lands to now having the most skyscrapers in the world!
With lush green mountains standing in the middle of the city, I found it incredibly bizarre to be able to stand on summits and watch the sunset over an endless ocean, yet turn 90 degrees and feel like I could almost touch the skyscrapers that light up the valleys.
This incredible metropolis really does have a Hong Kong attraction to suit literally any type of traveler (even me, as a city adverse mountain lover)! As I discovered, the more you look, the more you find. I certainly discovered a lot during my time in the city and that's why I have put together this ultimate list of the top 13 things not to miss during your trip to Hong Kong.
There's a lot to see so let's go!
1. Join a city walking tour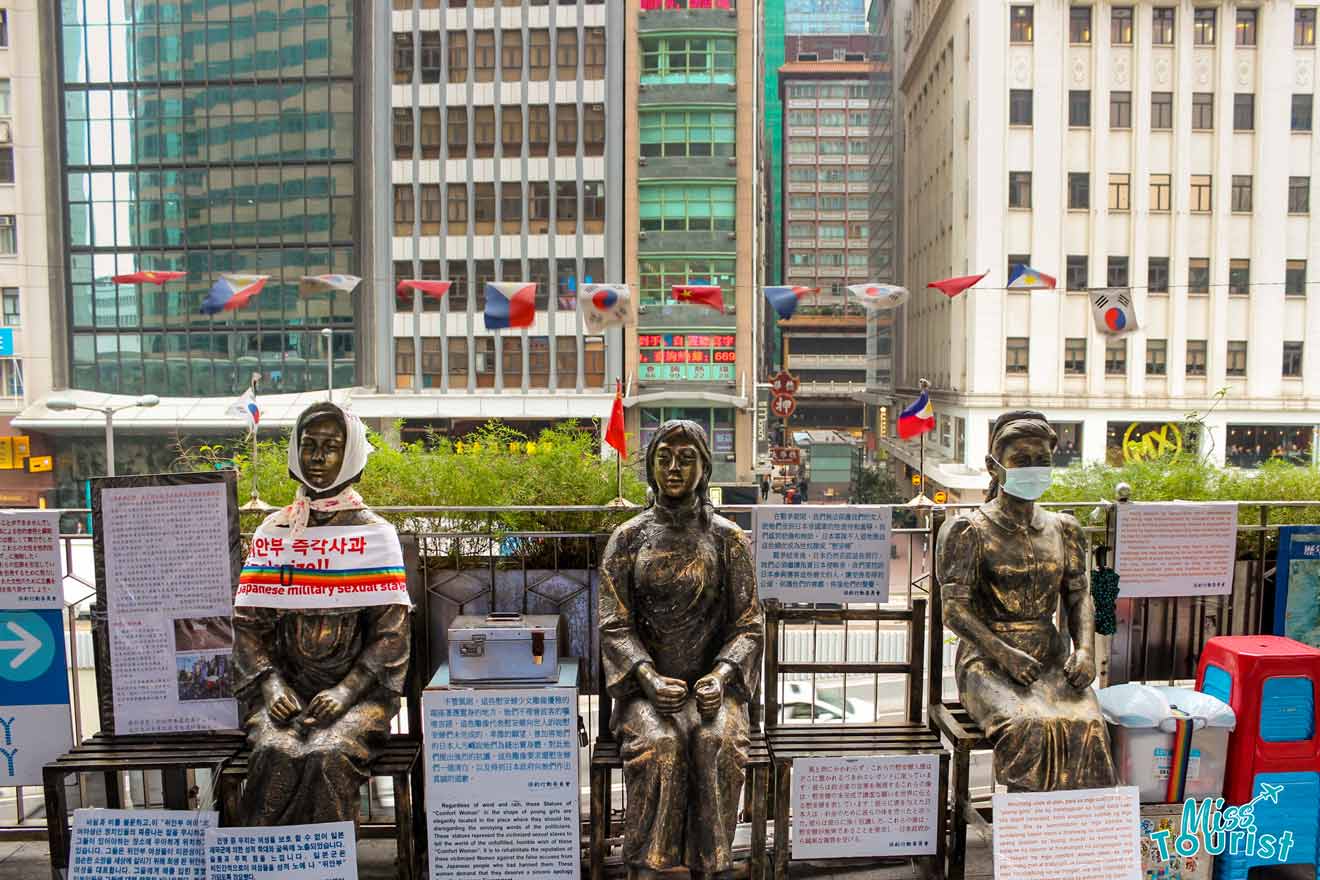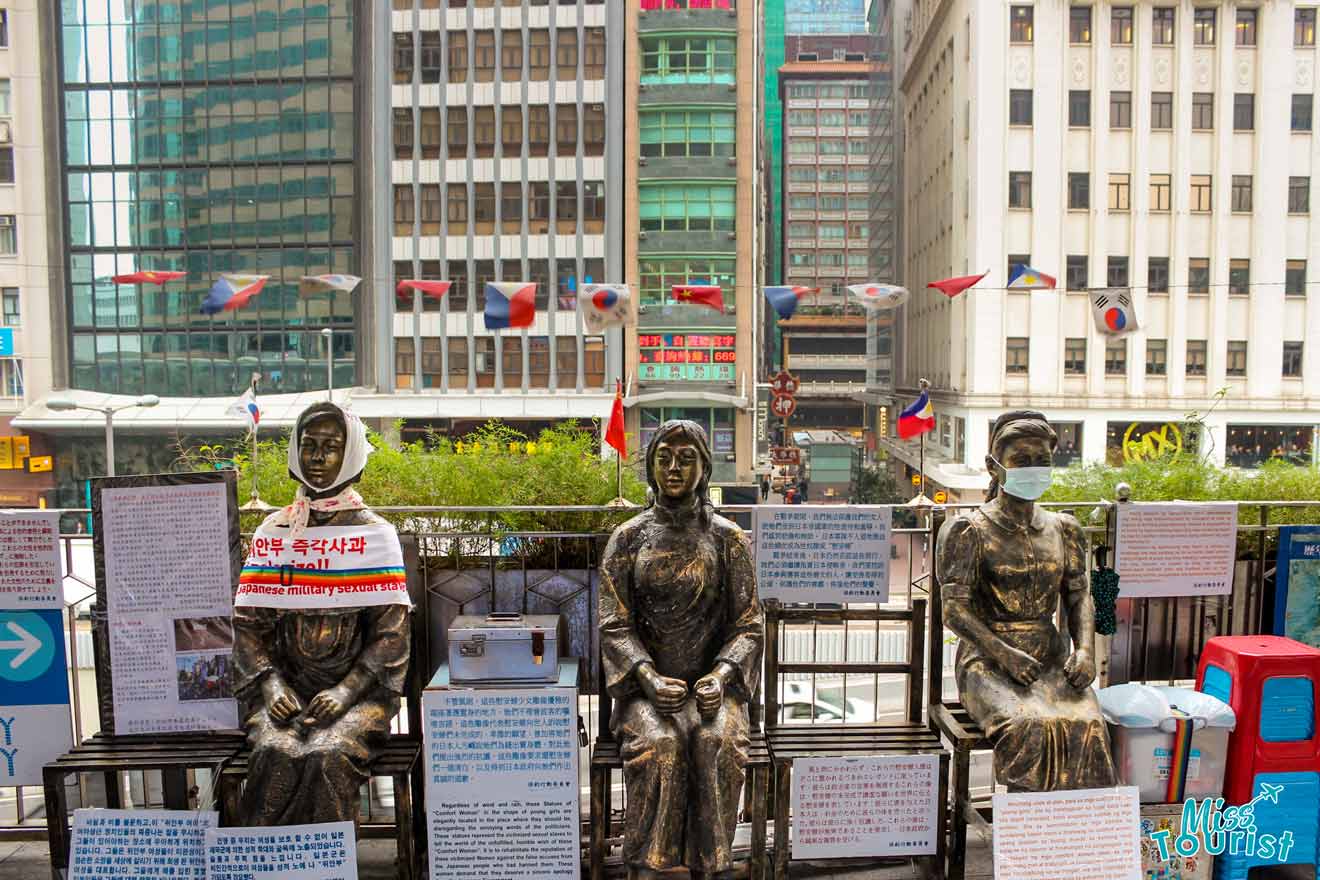 My favorite thing to do whenever I visit a new city is to take a walking tour. If you are like me and have taken a lot of these tours in the past, you may be thinking, "city walking tours are a bit hit and miss". Trust me I know, I have been on my fair share of 3-hour snore fests.
But, over my 8 years of traveling, I can honestly tell you that the walking tours in Hong Kong were by far the best I have ever experienced. I loved the tours so much that I took 3 different ones!
FUN FACT: Everything from Queen's road central (the first road in HK) to the waterfront is reclaimed land and used to be underwater! (Yes I learned that on a tour.)
There are many companies that offer different types of walking tours around the city but I can highly recommend the guys at Hong Kong Free Tours. These interactive walking tours are guided by Hong Kong locals who know the ins and outs of the city and are keen to share all the gritty details with you.
They offer 5 different group tours each focusing on different aspects of the city's culture but if you only have time to take one tour, the Dark Side of Hong Kong Tour had the biggest impact on me. It's pretty easy to discover the flashy touristy parts of a city on your own, but this tour pulled back the layers and opened my eyes to what it is really like to live in Hong Kong, one of the most unaffordable cities in the world!
Each of the tours lasts from 2.5-3 hours and costs between 250-350 HKD (US $32-45) per person. If you prefer, private tours can also be arranged to cater to your particular needs and interests.
2. Eat everything!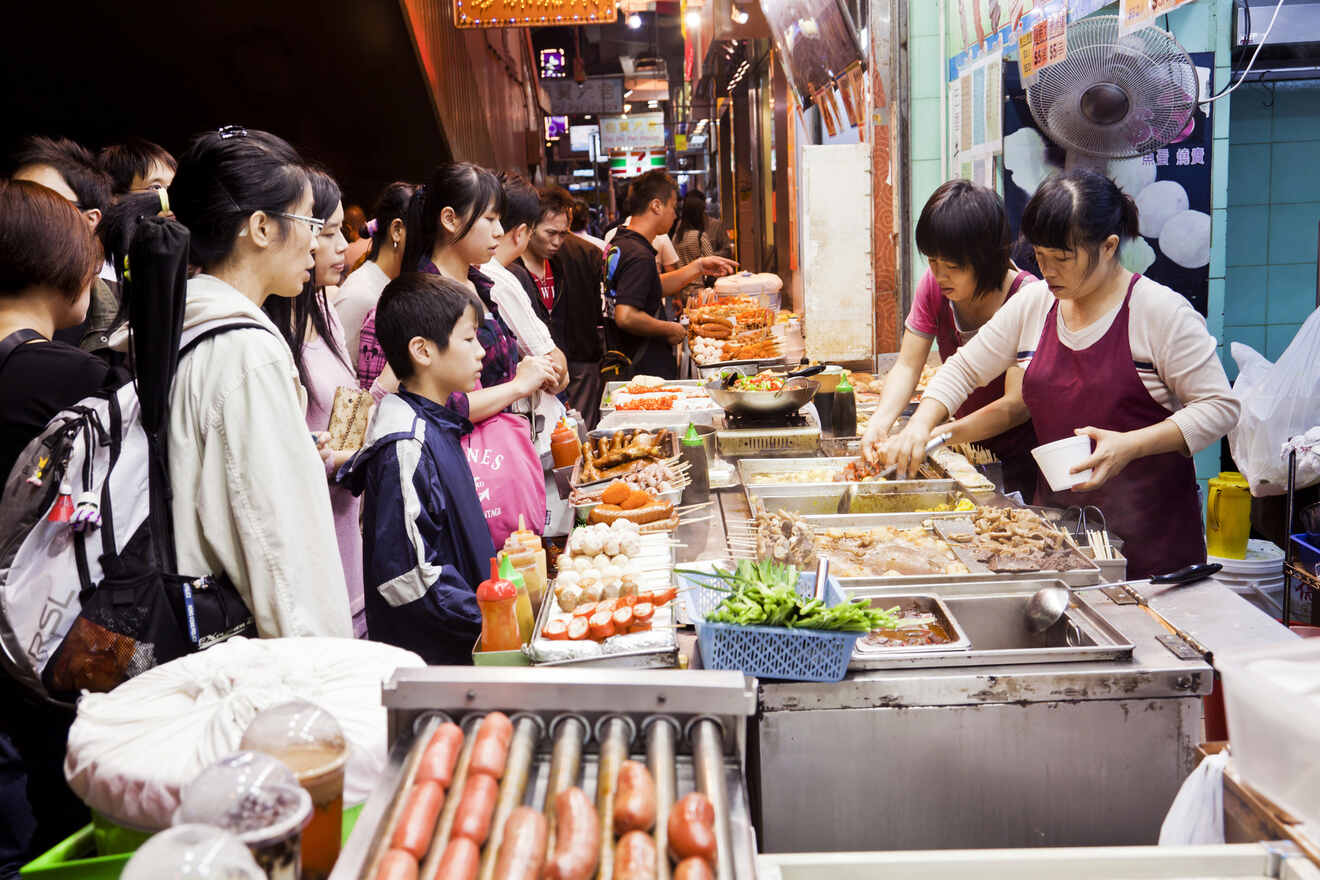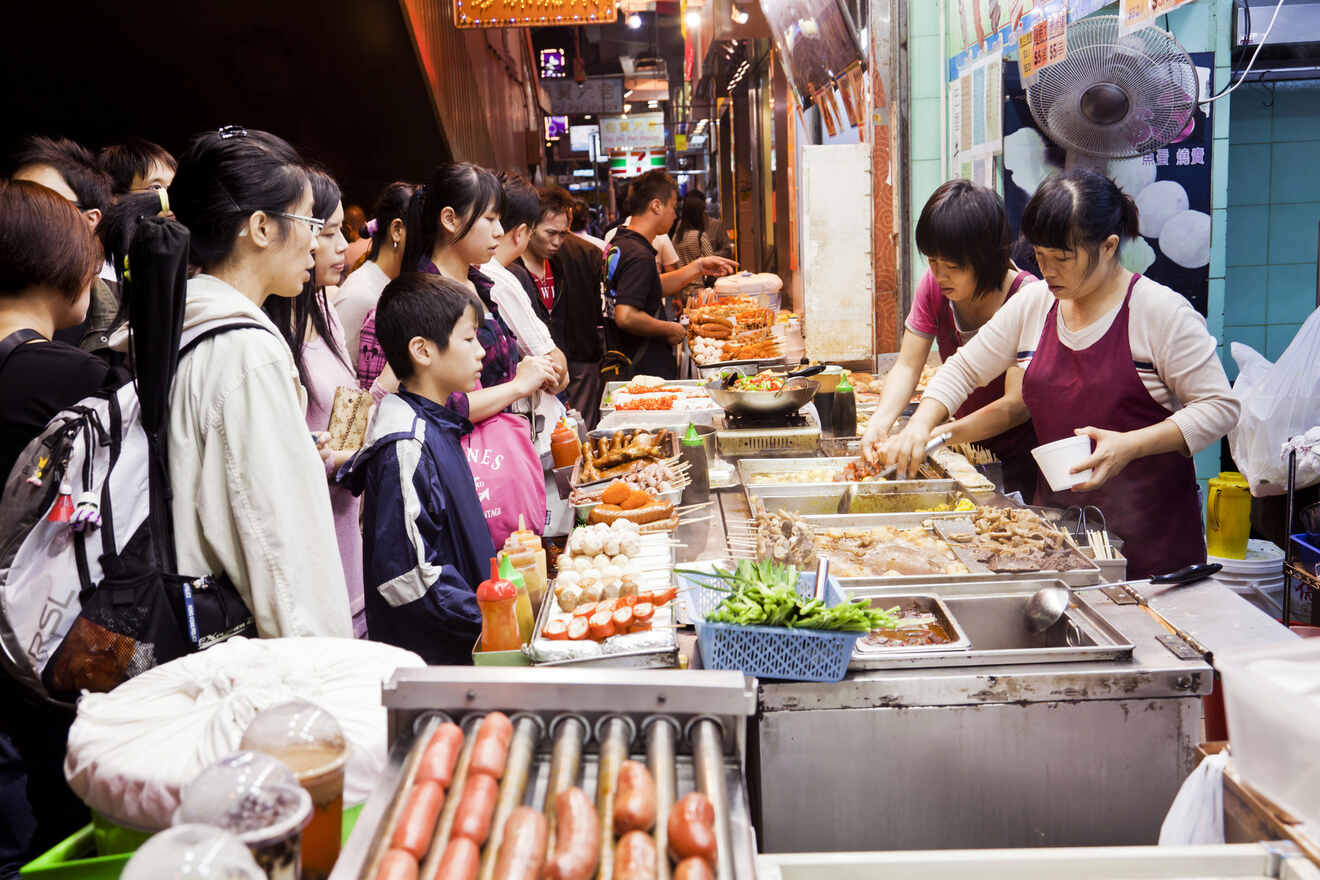 It's no secret that Hong Kong is full of some certainly unique foods and you don't have to go far to find them! I am not a massive foodie but one of my favorite things to do when traveling in countries known for their bizarre foods is to simply stroll the supermarket shelves in search of some stand-out items that are part of everyday life.
In Hong Kong, 2 things that stood out to me were the fact that stores here often had an entire wall of different flavored Pocky (a Japanese treat) as well as endless different varieties of chips available like salted egg yolk!

With so many crazy options to choose from, I've made a list of some of the most popular food and restaurants to try during your trip to Hong Kong. And don't worry, even if you're vegetarian like me, there are still some delicious local cuisines for us too!
What to eat in Hong Kong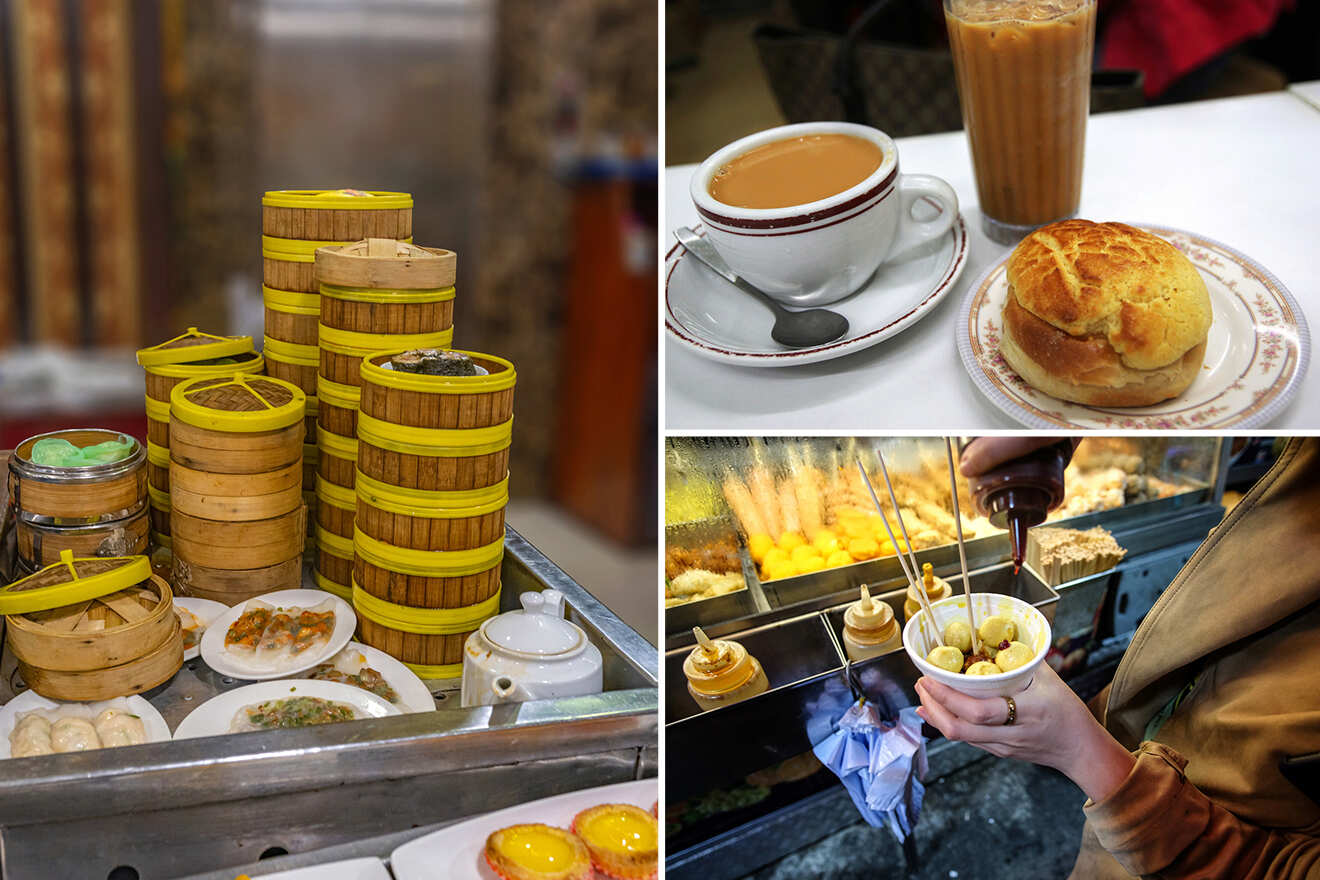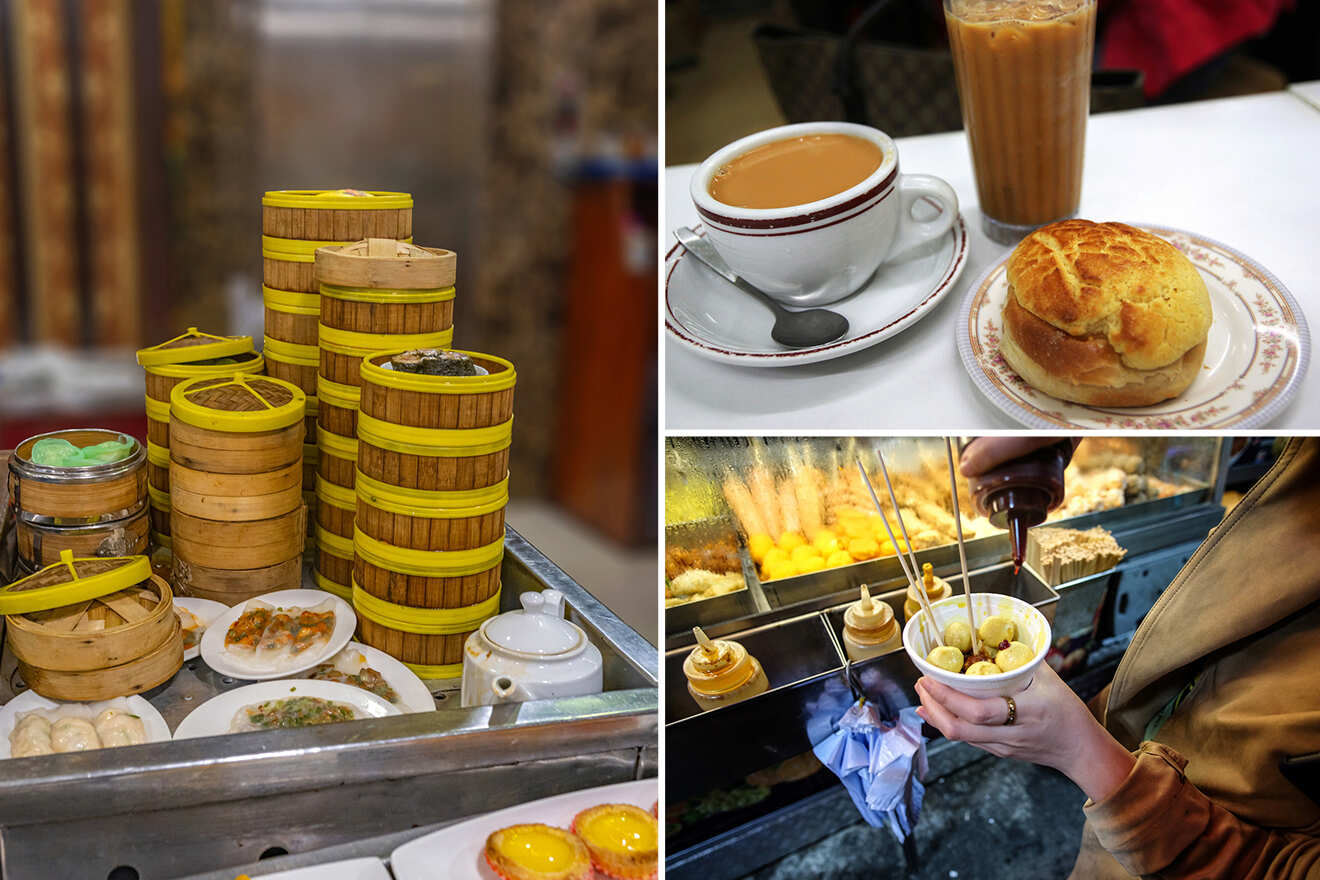 Egg waffles – egg batter that resembles the shape of bubble wrap and is sold in street stalls everywhere.
Milk tea – made with a mix of black teas, condensed milk, and sugar (warning: it is incredibly sweet!). Try the milk bubble tea too!
Pineapple buns – No they don't actually have any pineapple in them, pineapple buns are simply sweet bread buns with a crunchy topping made of sugar, eggs, flour, and lard which gives it the pineapple look.
Egg tart – Have you noticed that Hong Kong really likes eggs? With a pastry crust with an egg and custard filling, egg tarts are much tastier than they sound!
Fish balls – One of the most popular street foods in Hong Kong, fish balls are just that, boiled or fried meatballs made from fish paste often served plain or with a curry sauce.
Sweet and Sour Pork – Made from Spare ribs or pork loins, Sweet and Sour Pork is a Cantonese dish that has become one of the national dishes of Hong Kong and is served in nearly all local restaurants.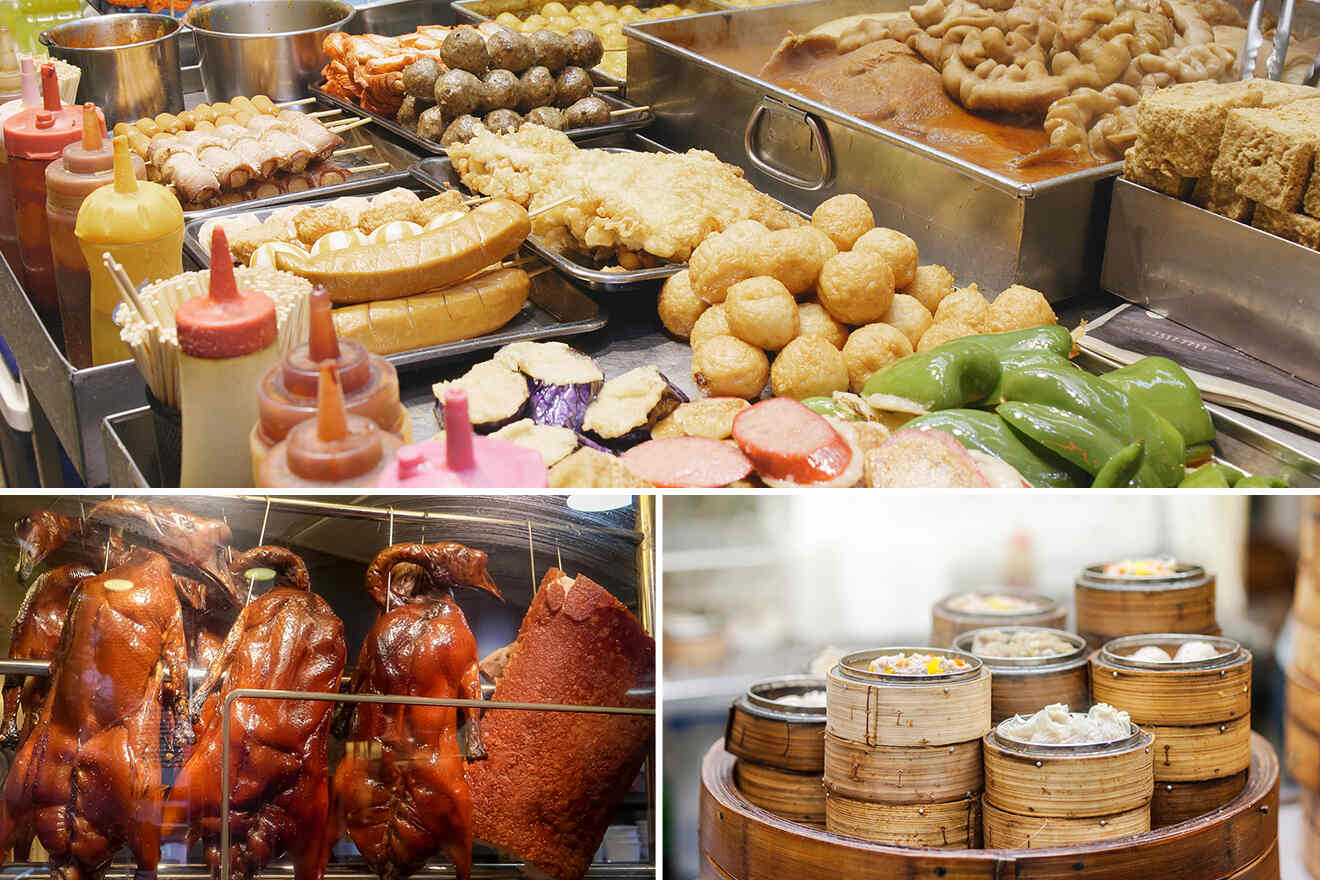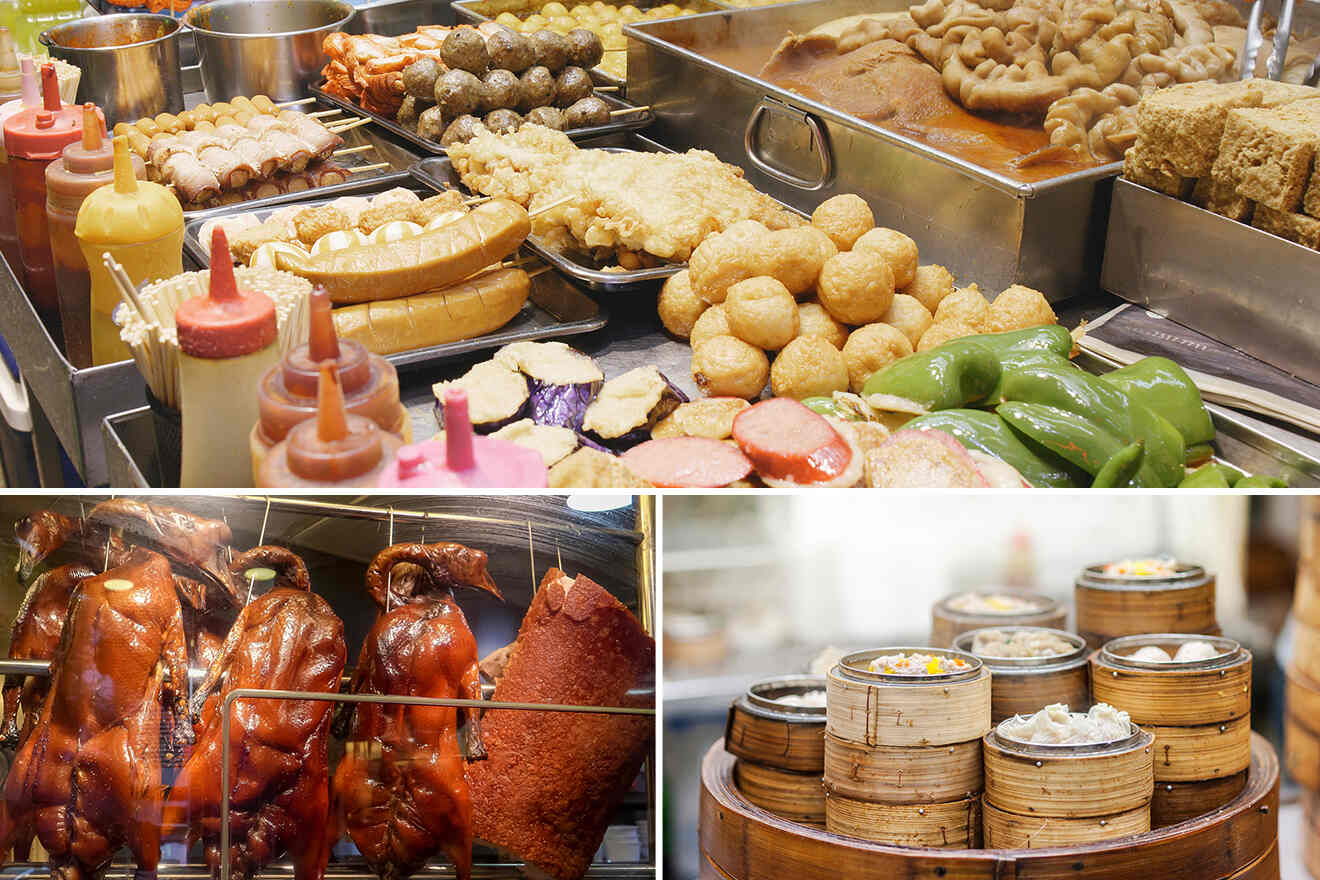 Roast Goose – Something that is hard to miss while walking the streets of this city is the hundreds of geese you will see hanging in shop windows. If you eat meat there is no better place in the world to try it. Head to Yung Kee or Yue Kee for the best in town!
Steamed Shrimp Dumplings (Har Gow) – Every part of Asia has its own variety of dumplings and in HK steamed shrimp dumplings are it!
Dim Sum – the Chinese version of tapas, dim sum is a variety of small Chinese dishes served in restaurants for breakfast or lunch.
Wonton Soup – a clear soup with dumplings and often noodles floating in a broth made of dried shrimp and pork bones.
Snake Soup – exactly what it sounds like, with up to 5 different types of snakes and a mixture of other meats, this hearty soup is super popular during Hong Kong winters
Stinky tofu – a form of fermented tofu which lives up to its name, you will smell this one before you see the food stalls selling it. Stinky tofu is a deep-fried snack served with hoisin sauce. Apparently the worse the smell, the better the taste but not everyone agrees.
Fun Fact: Stinky tofu vendors in Hong Kong have actually been fined for violating the rights of others to fresh and clean air in the past!
Where to eat in Hong Kong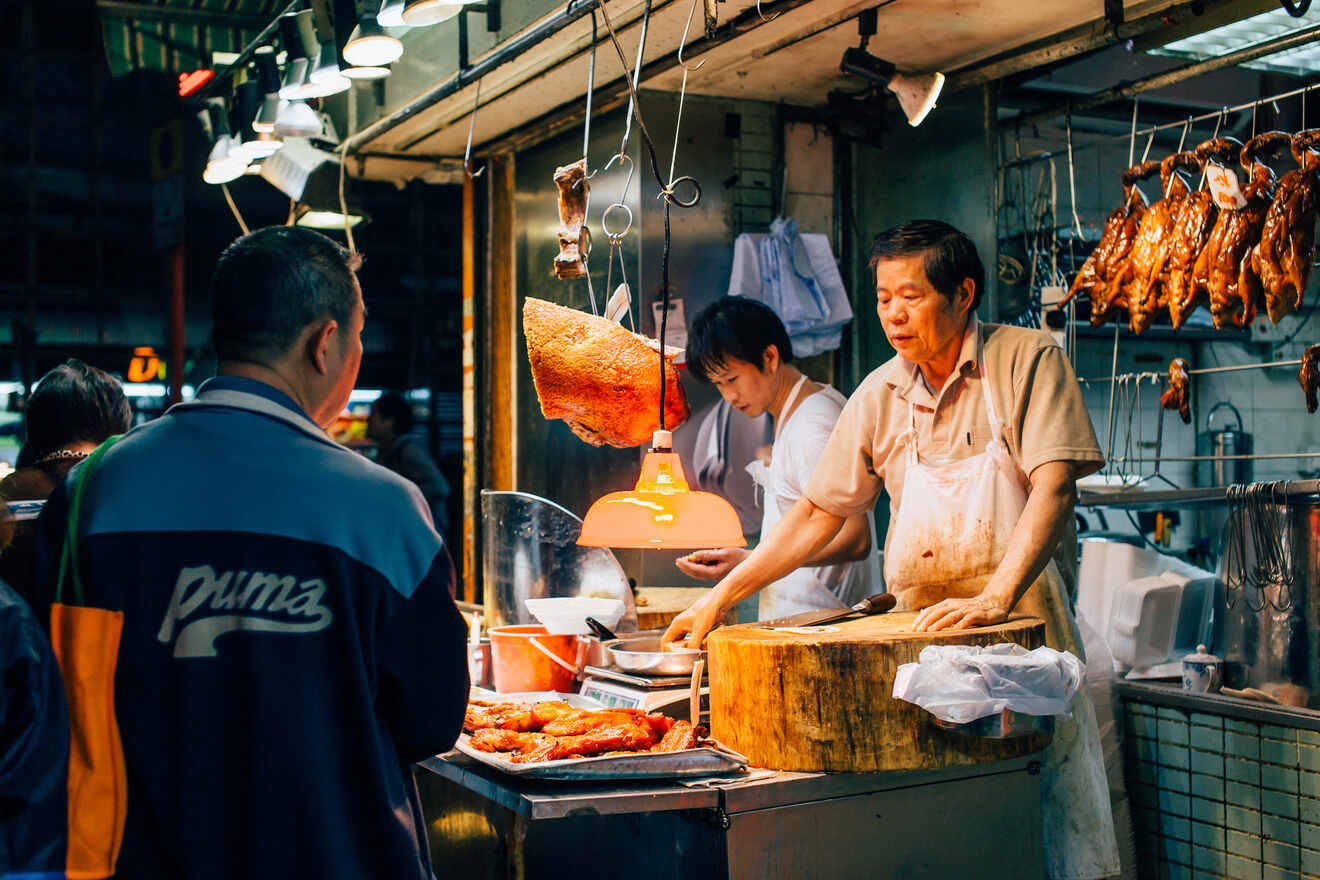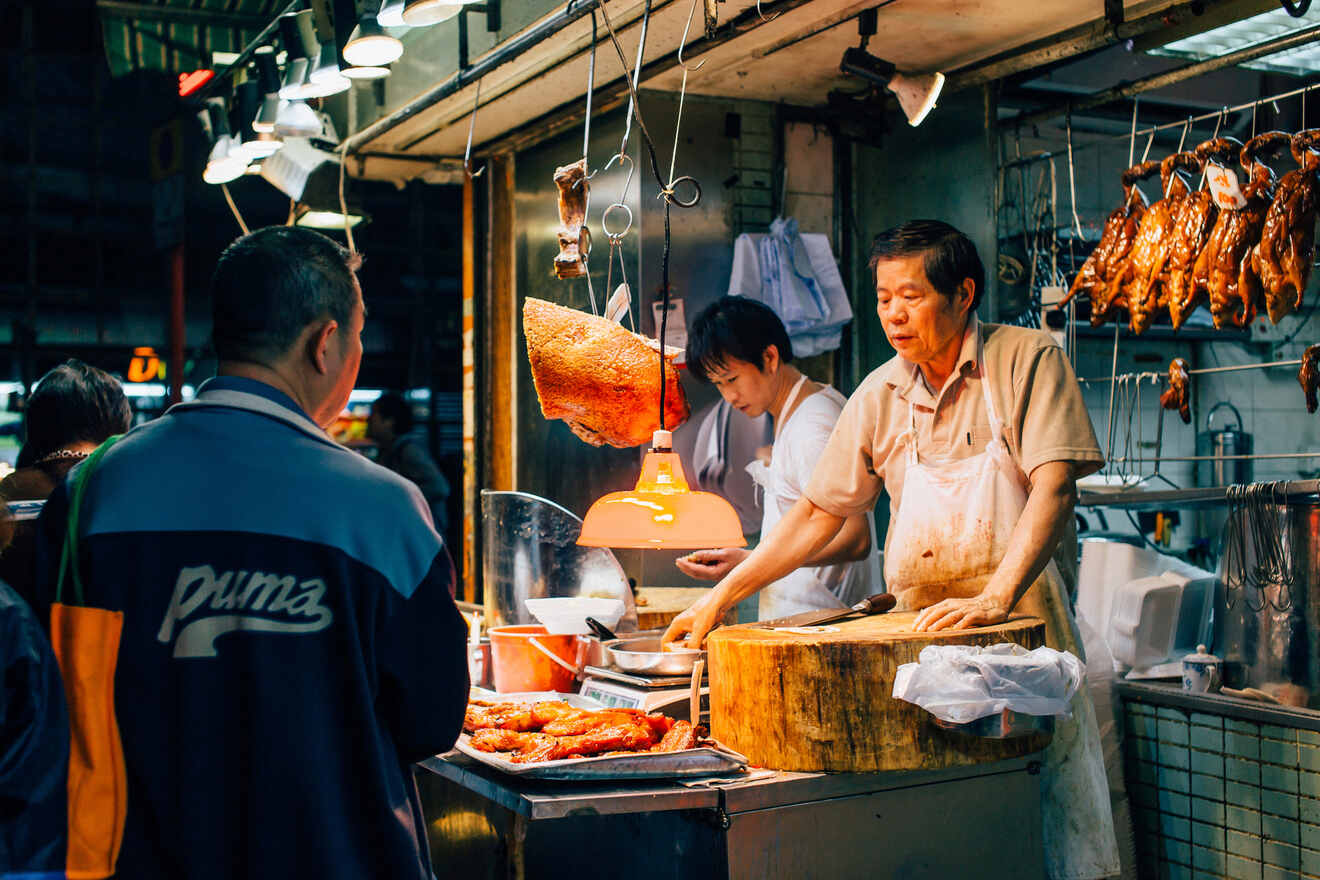 Tim Ho Wan – Ever wanted to eat at a Michelin star restaurant? Tim Ho Wan is officially one of the cheapest Michelin-starred restaurants in the world and serves different dim sum meals in its chain of restaurants around Hong Kong.
Yung Kee – One of the most famous roast goose restaurants in Hong Kong which have been in operation since 1938 and are currently located in Central
Yue Kee – A family-run restaurant in Sham Tseng that has been selling its famous roast goose since 1958 and still uses their traditional family recipe.
Mui Wo market – located at the ferry terminal in eastern Lantau Island, this is the best-cooked seafood market in Hong Kong!
Shau Kei Wan Main Street East – Head to the residential neighborhood of Shau Kei Wan to find some of the best street food in Hong Kong. You can find nearly any food you could possibly think of on most streets in Hong Kong but Shau Kei Wan Main Street East takes the cake for the best in town.
Din Tai Fung – it is an internationally renowned brand known for its dim sums originating from Taiwan. It was awarded a Michelin star at its Hong Kong branch, so you should definitely check it out!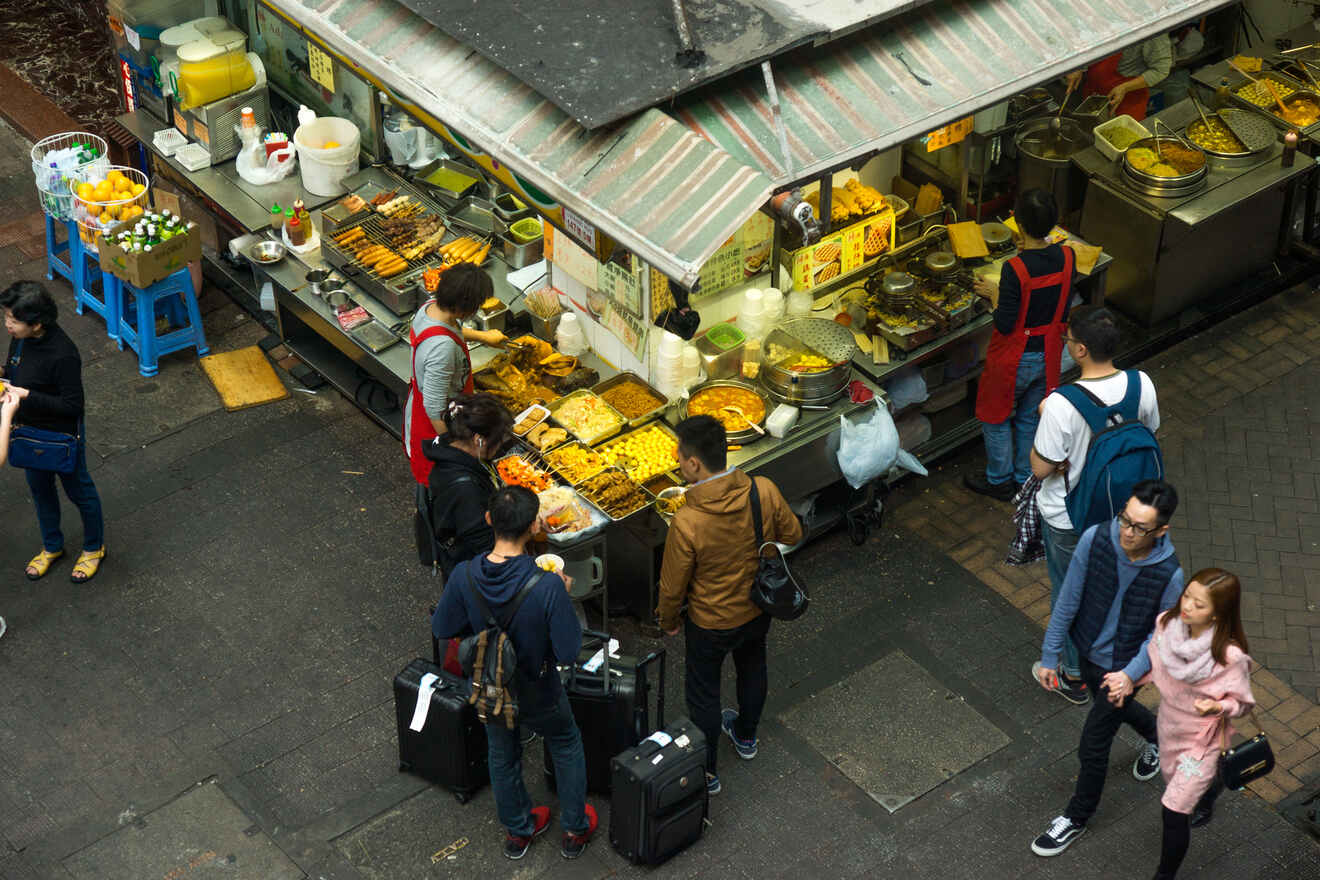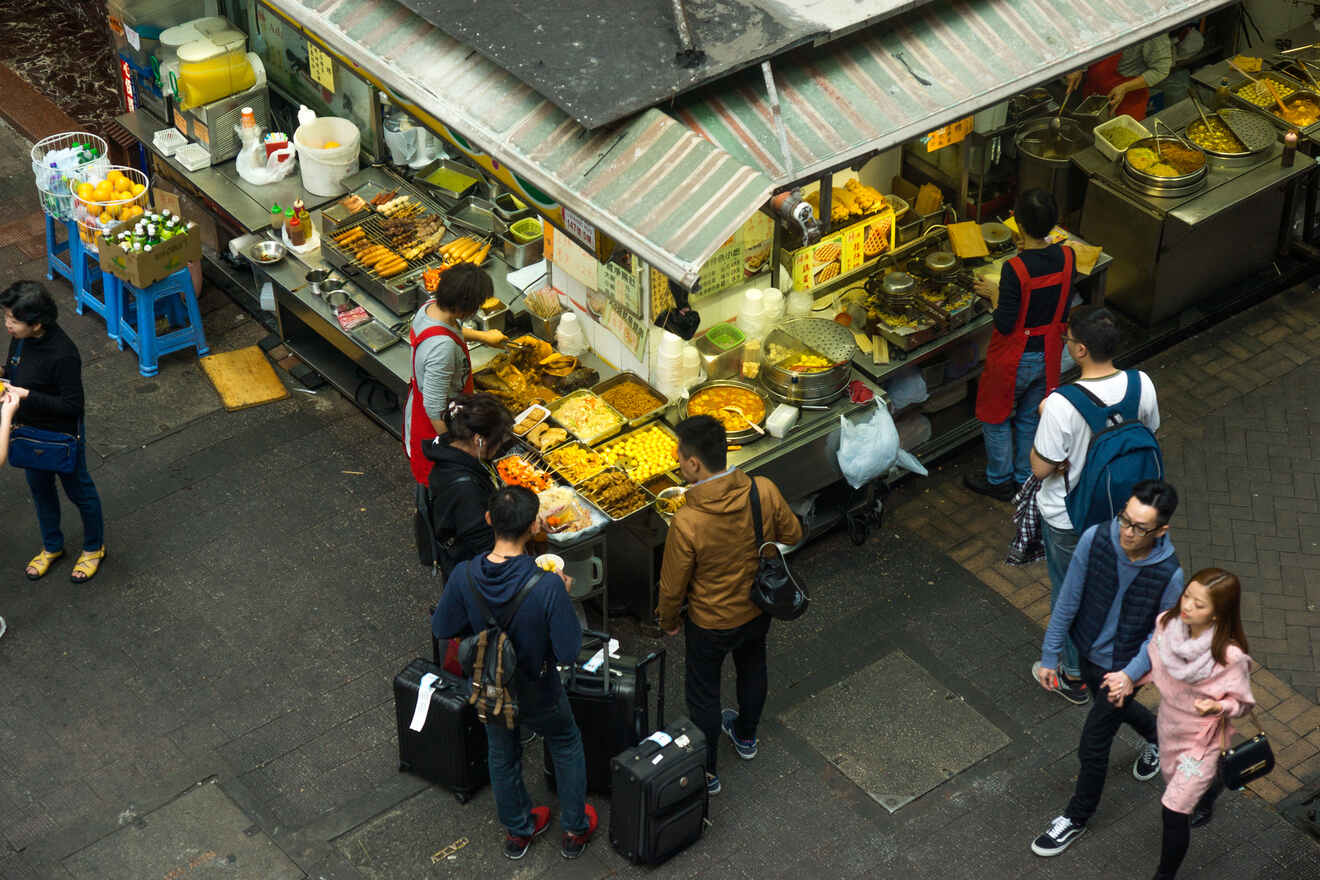 Yum Cha – for the cutest dim sums in town (try the piggy buns!)
Hong Kong Mcdonalds – Some people may be screaming at me considering you have traveled around the world to discover interesting cuisine, but hear me out. Even though I don't actually eat Mcdonalds in my home country, I always find it super interesting to visit popular fast-food chains while traveling to see what unique varieties are offered depending on the culture. When I was in Hong Kong I found seaweed seasoned fries and shrimp patty burgers!
Take a tour – Taking a Hong Kong food tour is the best way to discover this unique cuisine without having to try and guess what you're eating. Eat like a local who can take you to some of the best food joints in the city!
PRO TIP: If you see a long line for a food stand or restaurant, get in line! With so many alternative options in the city, there is a reason there's a line!
3. Shop 'til you drop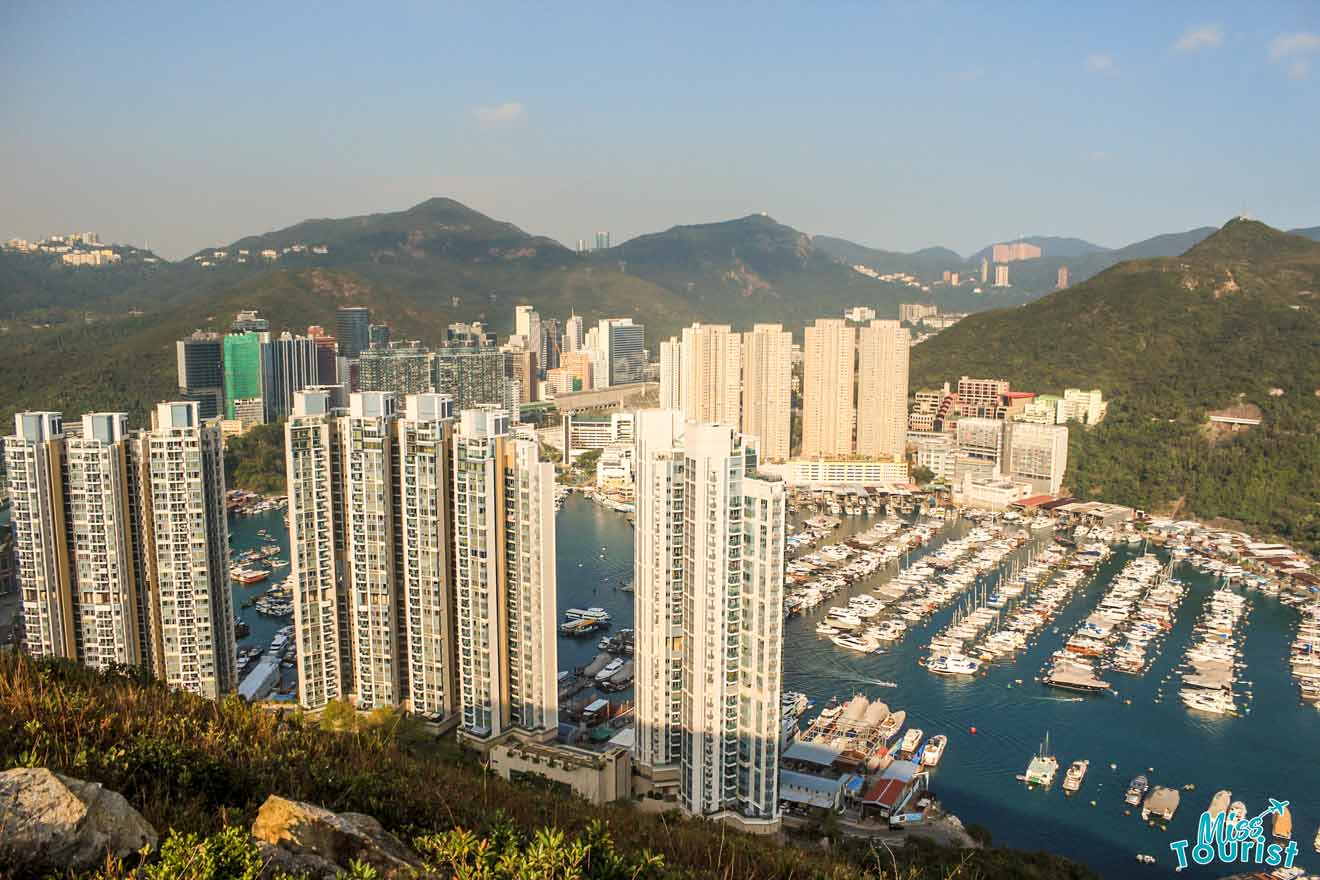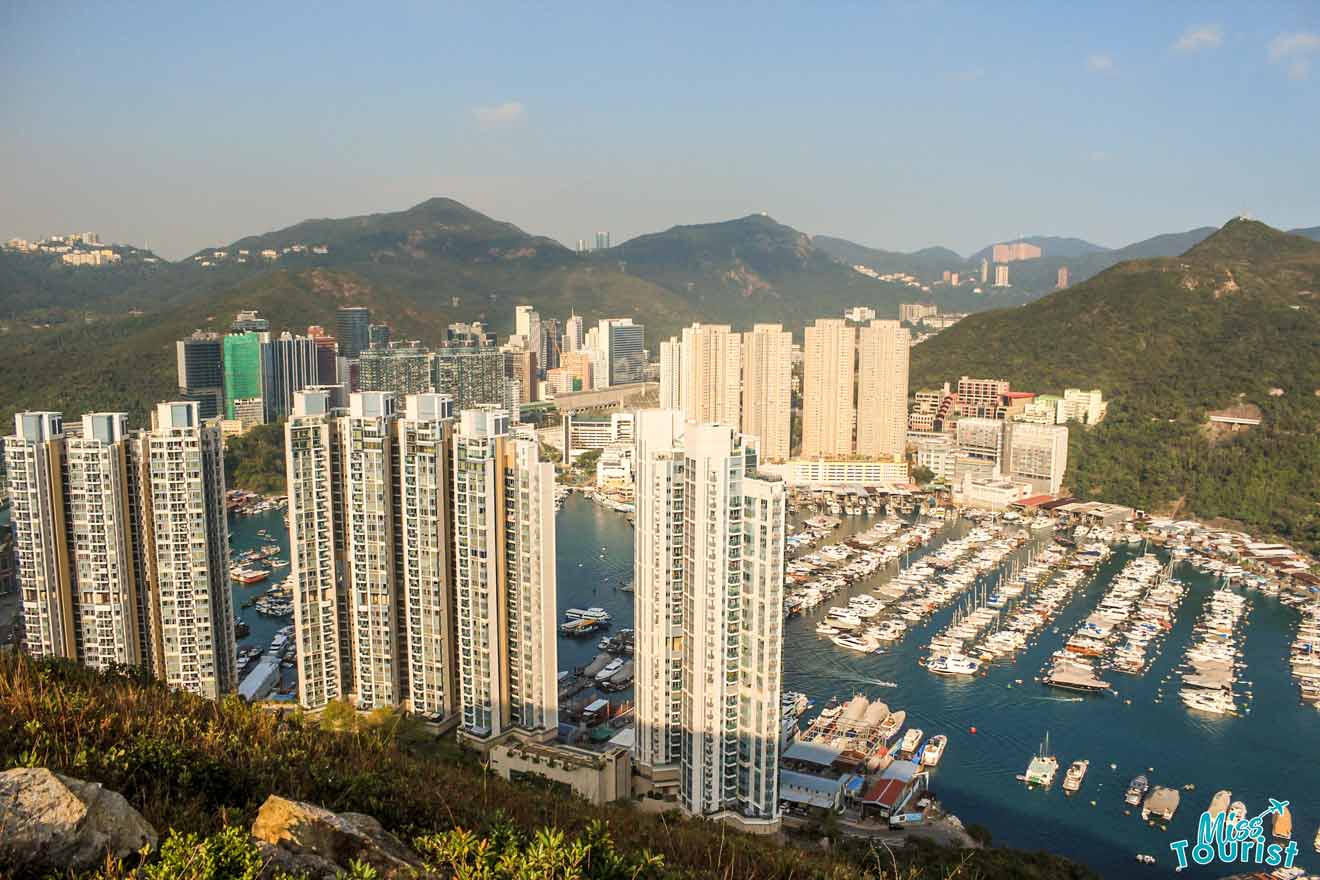 When I was younger my aunt used to work in Hong Kong and her husband, he shopped! Hong Kong is probably one of the most diverse places in the world when it comes to shopping. I mean it when I say you can find literally anything you could possibly be looking for here! From glamorous designer brands to colorful street markets, cheap knock-offs, and everything in between, here are some spots to check out if you are looking to shop 'til you drop!
Landmark Hong Kong
The Landmark shopping mall is THE place to go for designer brands. With over 200 luxury brands that can be hard to come by in other parts of Asia, it's no wonder this mall boasts some of the most prestigious prices to match. Located in Central, Landmark is open from 10 am -10 pm giving you plenty of time to fit it into your schedule.
Temple Street Night Market
Also known as the men's market, Temple Street night market lights up the streets of Kowloon with around a hundred stalls selling mainly men's clothes, second-hand goods, antiques, and souvenirs (and of course food) from 4 pm daily. The entire street is pedestrianized during market hours but the best time to visit this lively market is around dusk when there are the largest crowds and don't be afraid to bargain the price down!
Mong Kok Ladies' Market
The Ladies' Market is the female equivalent to the temple street night market. While this one focuses on feminine clothing, bags, jewelry, and beauty products, I still suggest visiting both and trying your hand at some bartering! The ladies' market runs all day on Tung Choi Street in the Mongkok district of Kowloon.
Goldfish market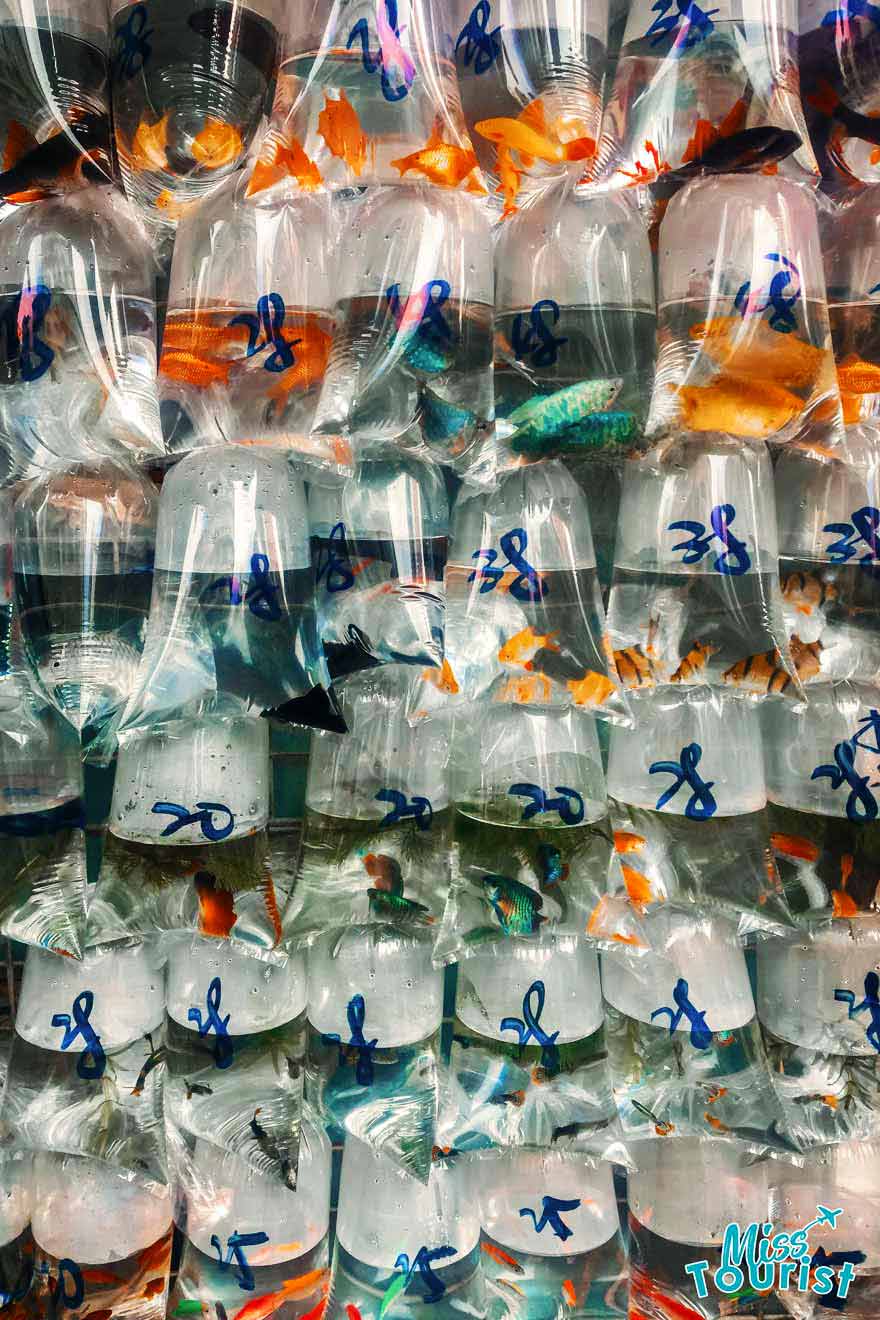 Remember how I said you can buy everything in Hong Kong? Head to Tung Choi Street for an incredibly unique experience. Thanks to the Feng Shui culture in the city you will find hundreds of bagged fish and other aquatic animals lining the stalls of the Goldfish market. Fish are incredibly important animals in Hong Kong society as they are said to bring prosperity and abundance so it is not uncommon for locals to be frequent shoppers at the Goldfish market. Even if you aren't looking for a little fishy friend of your own, this is a must-see in Hong Kong!
NOTE: If you take the Dark Side of Hong Kong Tour that I recommended earlier you will walk through the Goldfish market and your guide will tell you about its interesting significance.
4. Hike to the top of Victoria Peak (The Peak)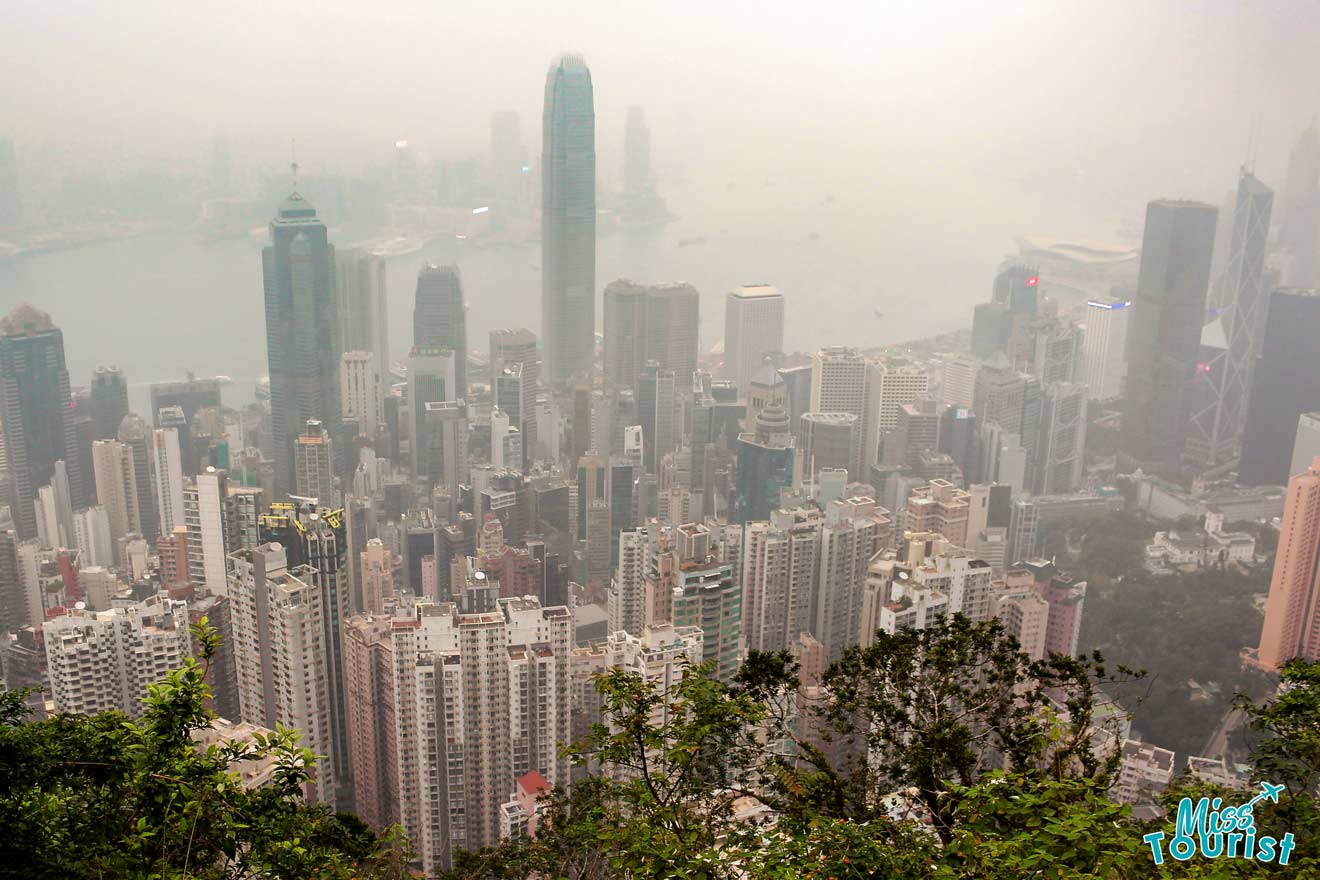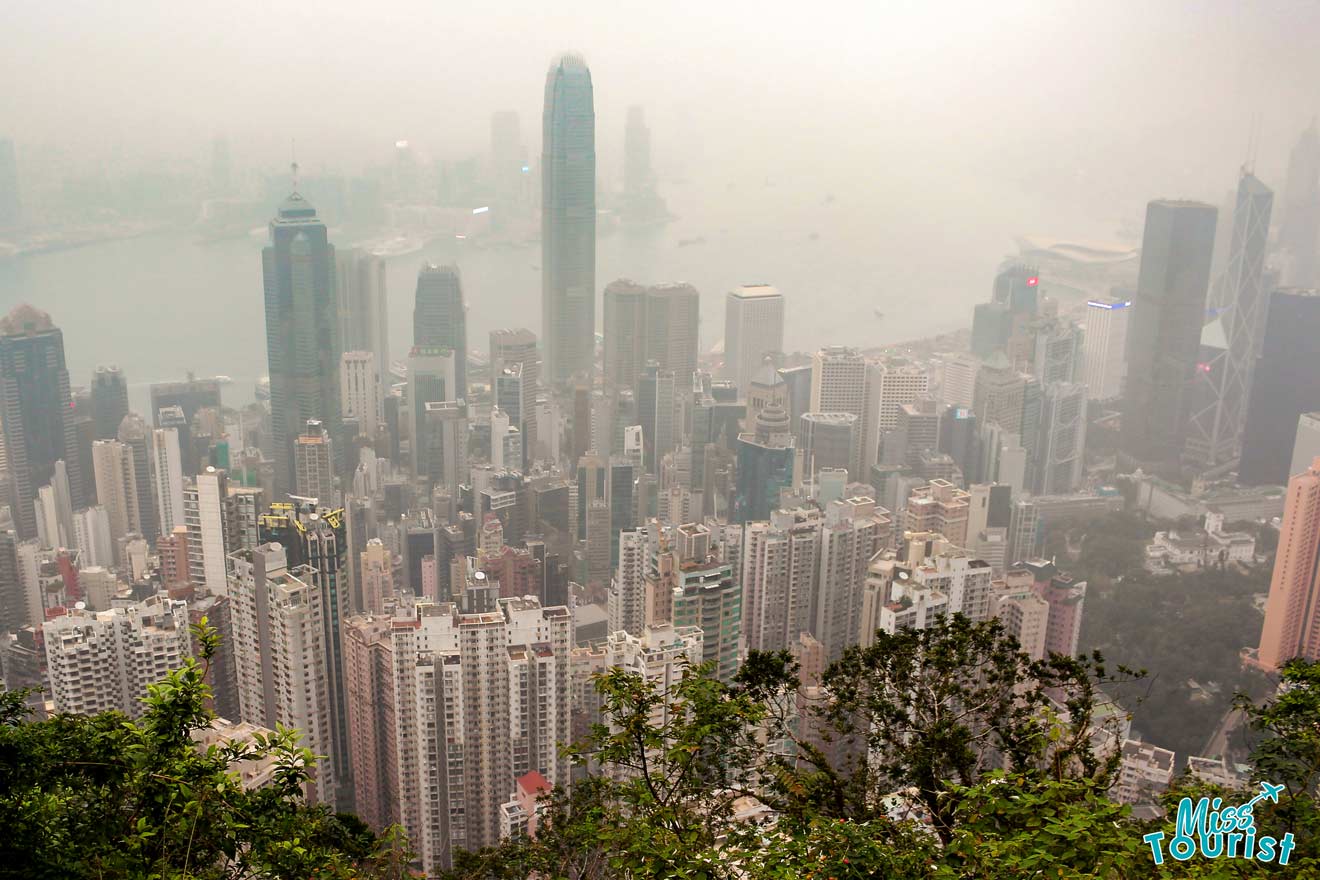 If you know anything about me it's probably how much I love the outdoors. If you don't, hi, I'm Kate and I love hiking!
As I may have already mentioned, I was heading to Hong Kong for purely bureaucratic reasons, not sightseeing. So after having done 0 research into the country I was incredibly surprised to arrive to see lush greenery and majestic mountains in the center of the city! Yep, now it seems silly that I had no idea but one of the most popular things to do in Hong Kong is to go on outdoor adventures!
Located just south of central Hong Kong on Hong Kong Island, Victoria Peak is the most popular mountain to climb in the city. At 552m (1811 feet) it is the highest point on Hong Kong Island and being so close to the downtown area, I probably don't even have to tell you that Victoria Peak (also known as The Peak) offers some of the best views of Hong Kong's Skyline and outlying islands.
You can enjoy the skyline for free or you can pay to go up further – Sky Terrace 428 has the highest panoramic view of the city.
PRO TIP: Check the smog forecast in addition to the weather on the morning you are planning to hike in Hong Kong. Some days the fog is so thick you can't enjoy the view and others you can see for miles.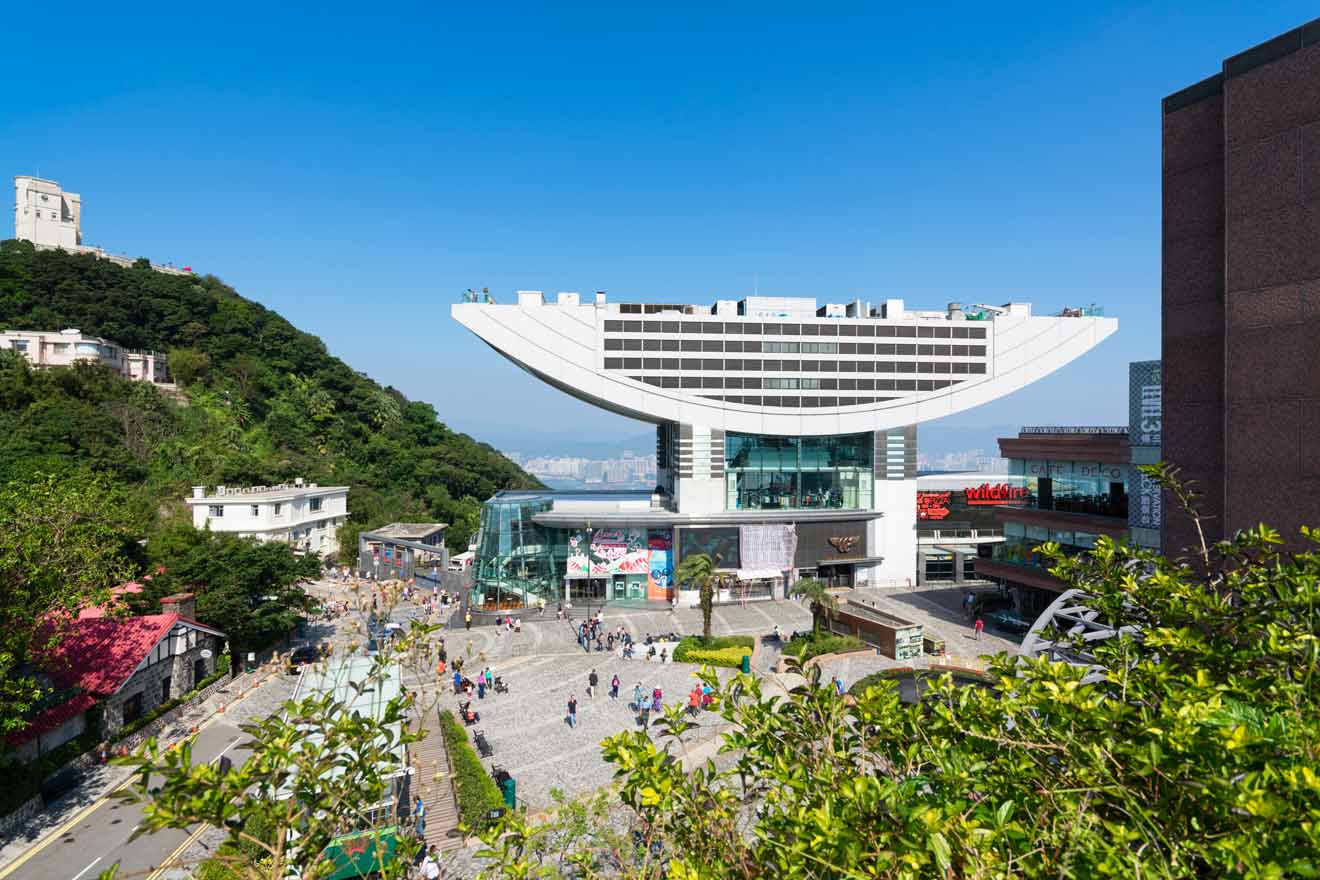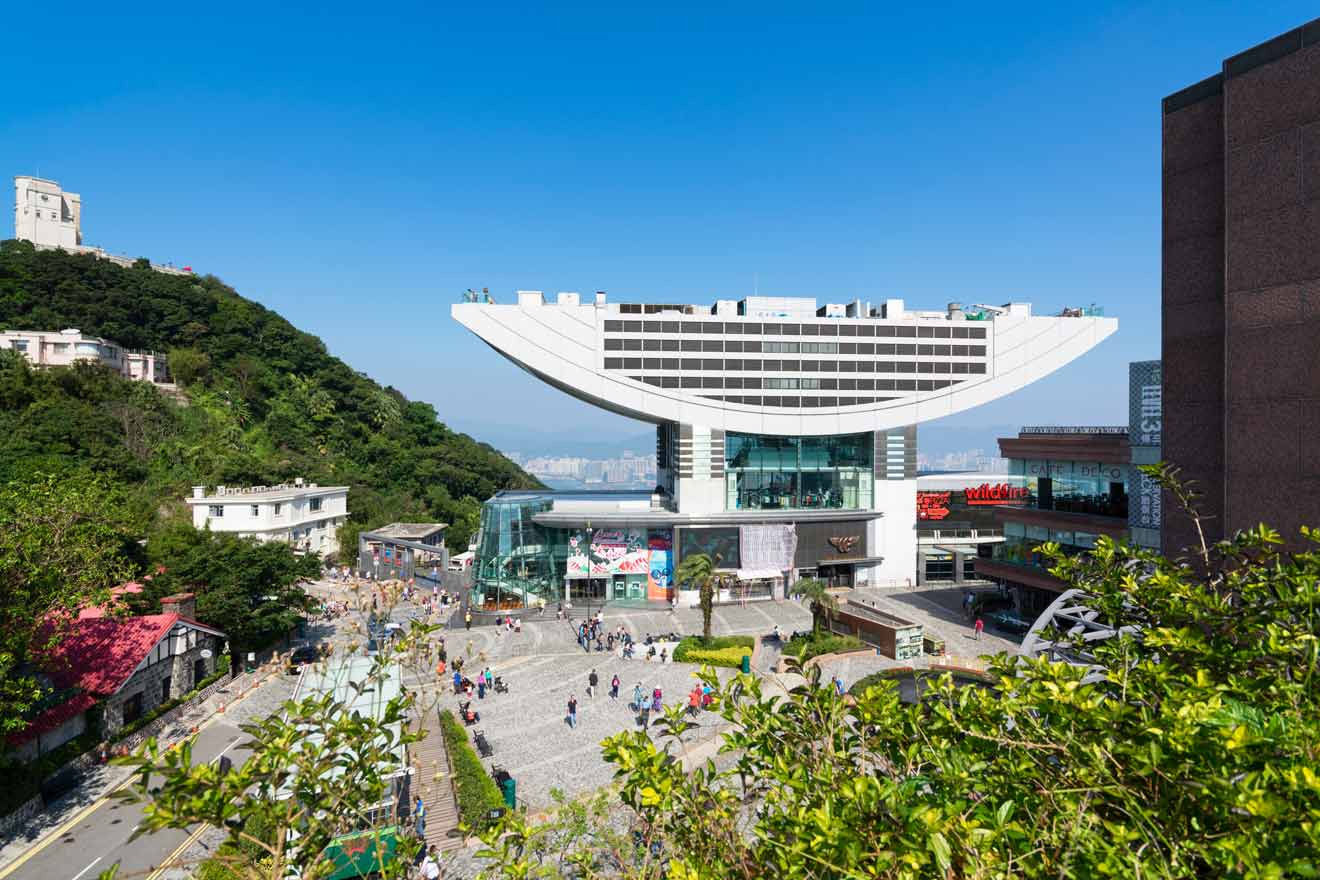 Once you reach the top there is more than just the view of the city skyline and surrounding islands to entertain you. In true Hong Kong style, you will find a swanky restaurant, a shopping mall, a Madame Tussauds wax museum, and the Sky Terrace observation platform. While it's nice to have all these options, I highly recommend you take some time to walk the 4km (2.5 miles) Circle walk around the mountain ridge. It's super well signposted and really easy for any age or ability taking under an hour to return to your start point!
When you visit the peak, you can send a postcard to yourself (or someone else?) in the future – it is for anywhere in the world and I think you can send it a year in advance 🙂
If you're looking for more great hikes in Hong Kong I highly recommend the Sha Tin area, in particular Lions Rock. While you are there you can also visit Chi Lin Nunnery and the ​​Ten Thousand Buddhas Monastery.
Getting to Victoria Peak
To get to the top there are many nature trails that wind their way up to the mountaintop but if you prefer not to work up a sweat you also have the option of taking bus #15, a taxi (approx 82 HKD / US $11 one way) or the Peak Tram which I will talk about shortly.
Hiking the morning Trail
If you choose to hike, the nicest trail to the top is called the Morning Trail. Starting from Kotewall Fire Station, the 2.8 km (1.7 miles) path winds its way up 350 m (1148 feet) of elevation and takes around 1.5 hours.
While it is certainly going to get your lungs working, the trail is completely paved with sections including steps and you will pass some interesting historic buildings and sites like the Pinewood Battery and workout stations along the way. So make sure to stop and explore this interesting area of Hong Kong and remember to stand to the side if you come across dedicated local runners powering up the hill!
The Peak Tram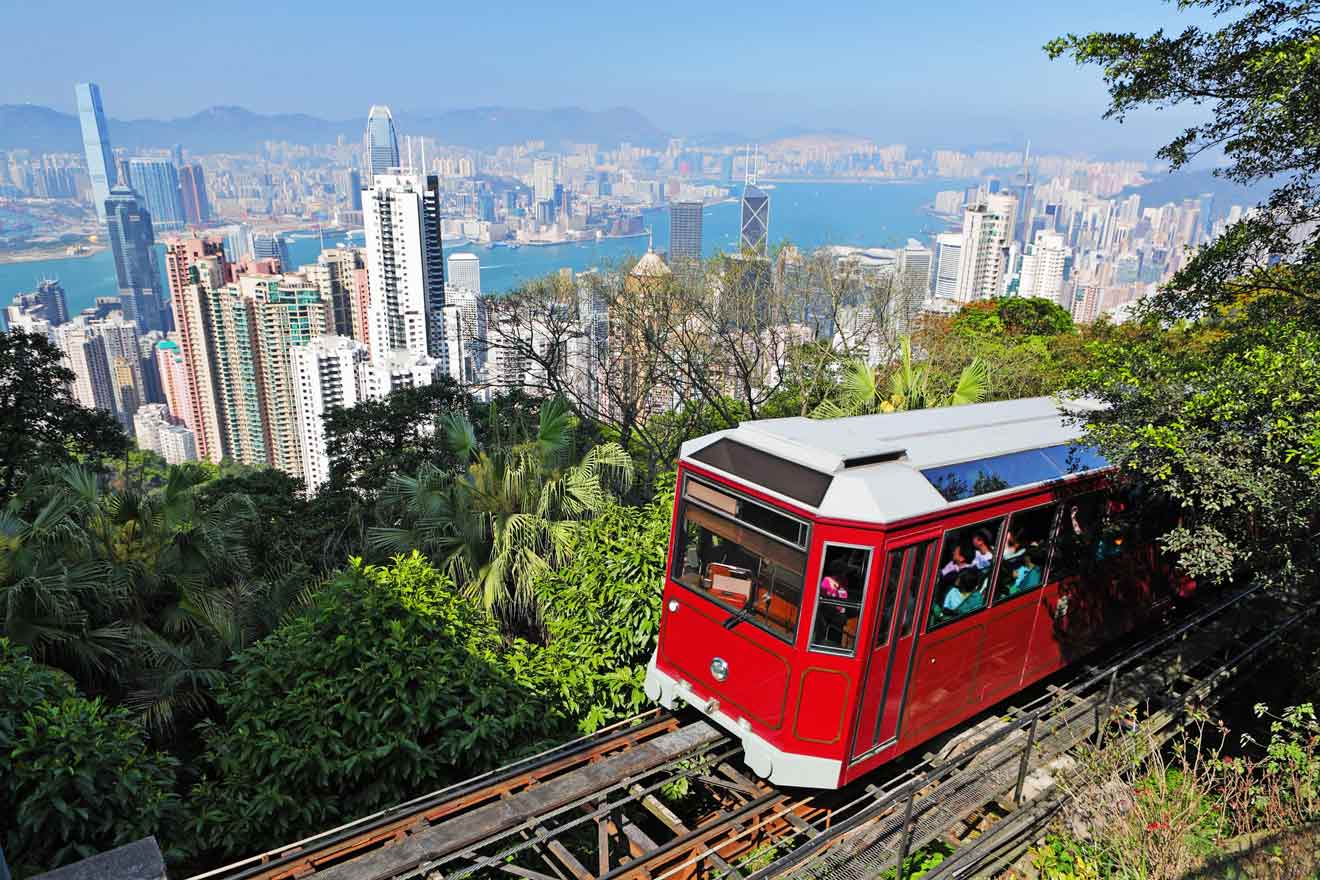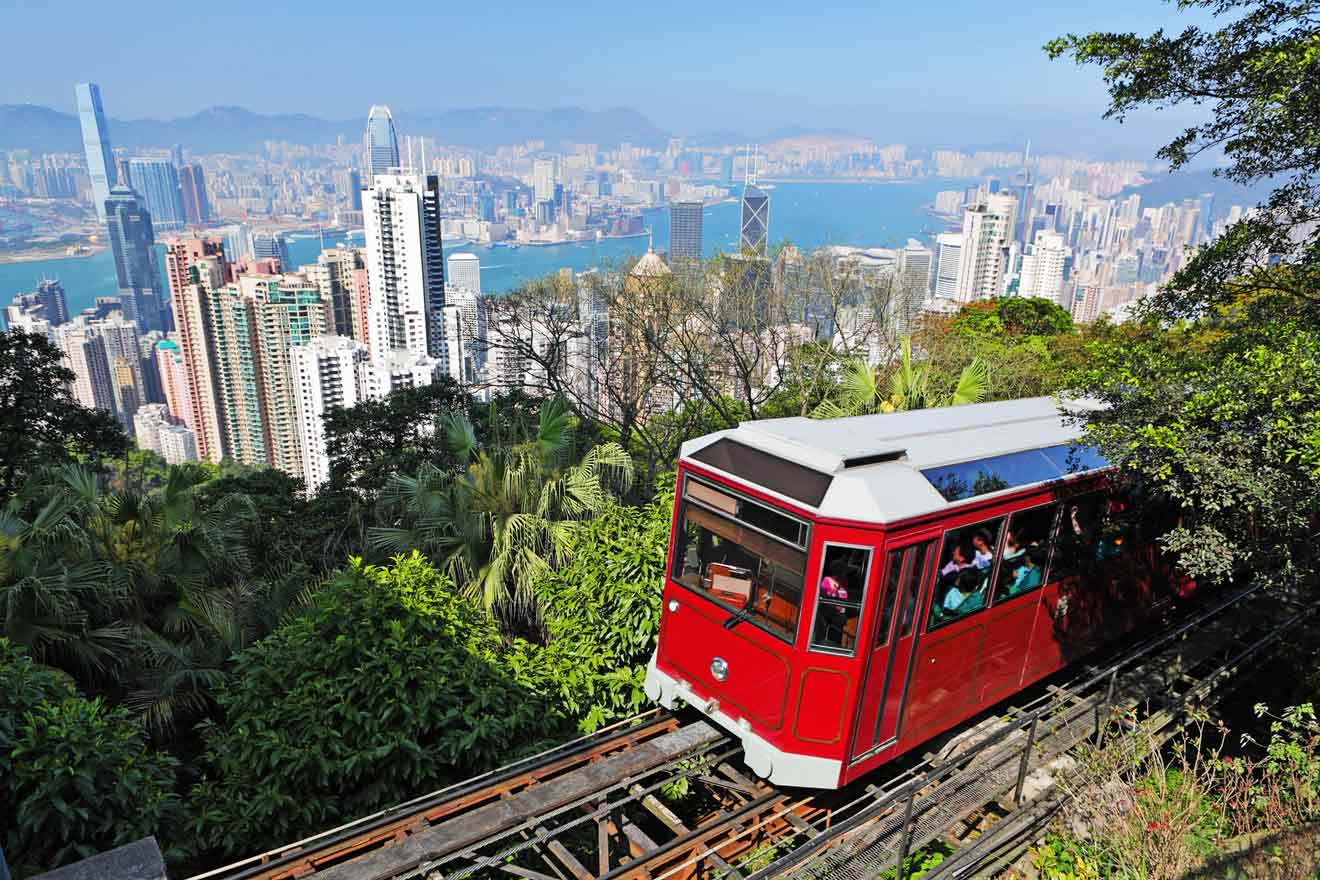 The Peak tram is Asia's first funicular railway (built in 1888)!
This iconic, old-fashioned red tram transports hundreds of guests a day from Hong Kong Park in Central to the top of Victoria Peak and is in itself another of Hong Kong's famous attractions! Being over 130 years old, The Peak Tram is one of the oldest funicular railways in the world and is so steep that when you pass by the Hong Kong skyscrapers they appear as if they are leaning!
NOTE: This is one of the most popular attractions in the city and almost always has huge lines but there are a couple of ways to skip the lines that I will tell you about.
Hack 1 – Purchase a combo pass in advance. If you buy your ticket to the sky tram in combination with entrance to the Sky Terrace 428 online you will get to skip the line and save up to 39% of the price.
Hack 2 – If you don't want to pay to go to the Sky Terrace you still have a chance of skipping at least one of the two possible lines. You can pay for the Peak Tram with the same rechargeable Octopus card that you can purchase to use for regular public transport in the city. While this means you can skip the line to buy tickets, it doesn't guarantee that there won't be a huge line of people waiting to get on the tram itself (like there was when I visited).
If you are looking for a nice place for a family picnic, I recommend checking out Hong Kong Park, located at the base of the Peak Tram. There is plenty of calm green areas, playgrounds, sports courts, and even an aviary with free entry!
5. Visit the Wong Tai Sin Temple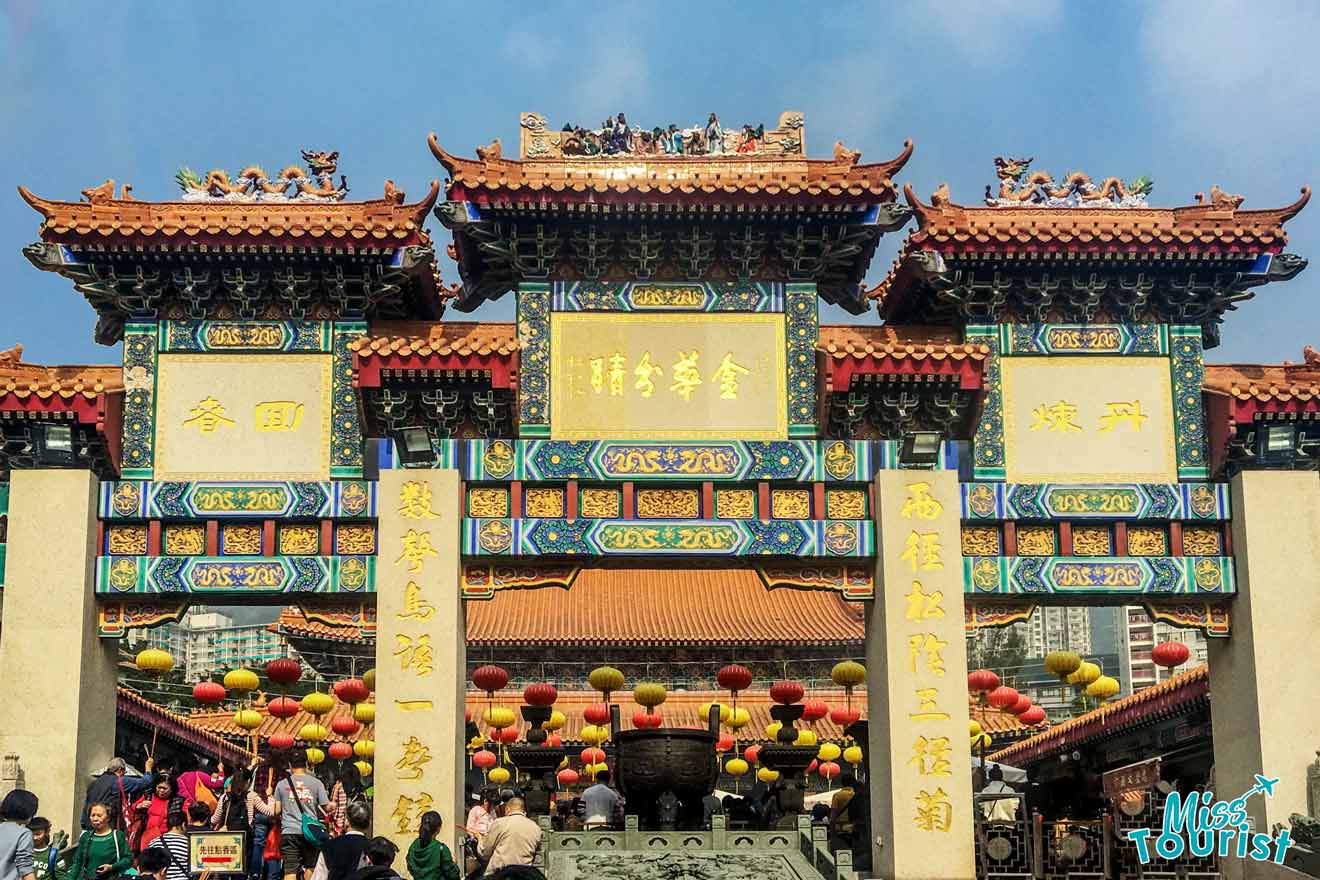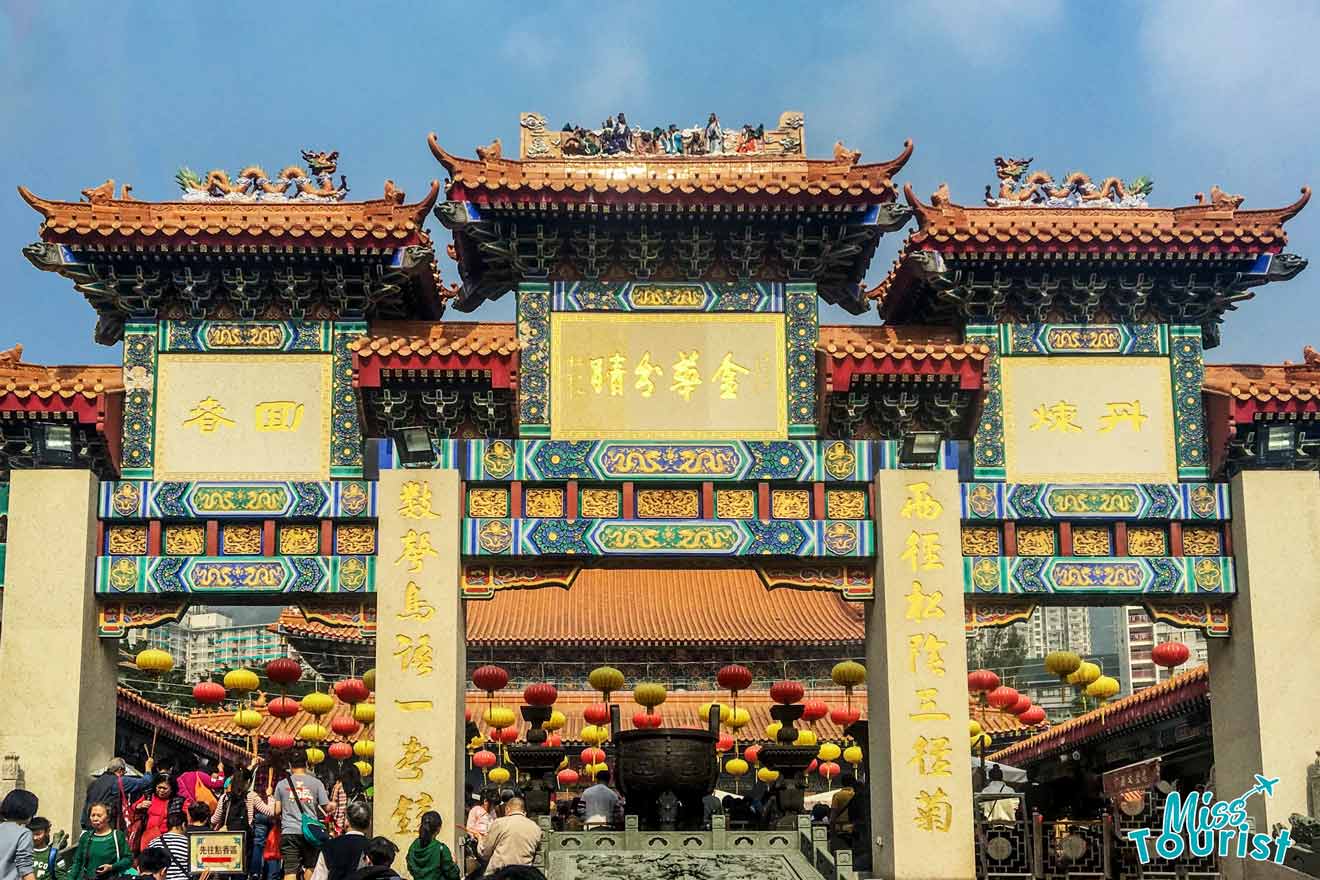 There are countless shrines and temples throughout Hong Kong but the Wong Tai Sin Temple complex is quite possibly the most popular amongst visitors. Maybe that is because the temple is not dedicated to a particular religion and claims to answer the prayers of anyone!
Dedicated to the Great Immortal Wong, this huge complex opened in 1921 is a colorful display of the multicultural nature that is so ingrained in Hong Kong culture. Elements of Taoism, Buddhist, and Confucianism are all represented at the Wong Tai Sin Temple but even if you don't practice religion, it's a great place to snap some colorful pictures and have your fortune told!
FUN FACT: Legend has it that Wong Tai Sin started practicing Taoism at age 15 when he met an immortal. He then spent 40 years in solitude honing his craft until he himself also became immortal and could cure all illnesses.
Open: 7:30 am – 4:30 pm
Entry: Free
Located: 2 Chuk Yuen Rd, Chuk Un, Hong Kong
If you would like to visit more religious sites I recommend Chi Lin Nunnery and the ​​Ten Thousand Buddhas Monastery both located close to Sha Tin, or Man Mo on Hollywood Road.
6. Explore the Tsim Sha Tsui Waterfront Promenade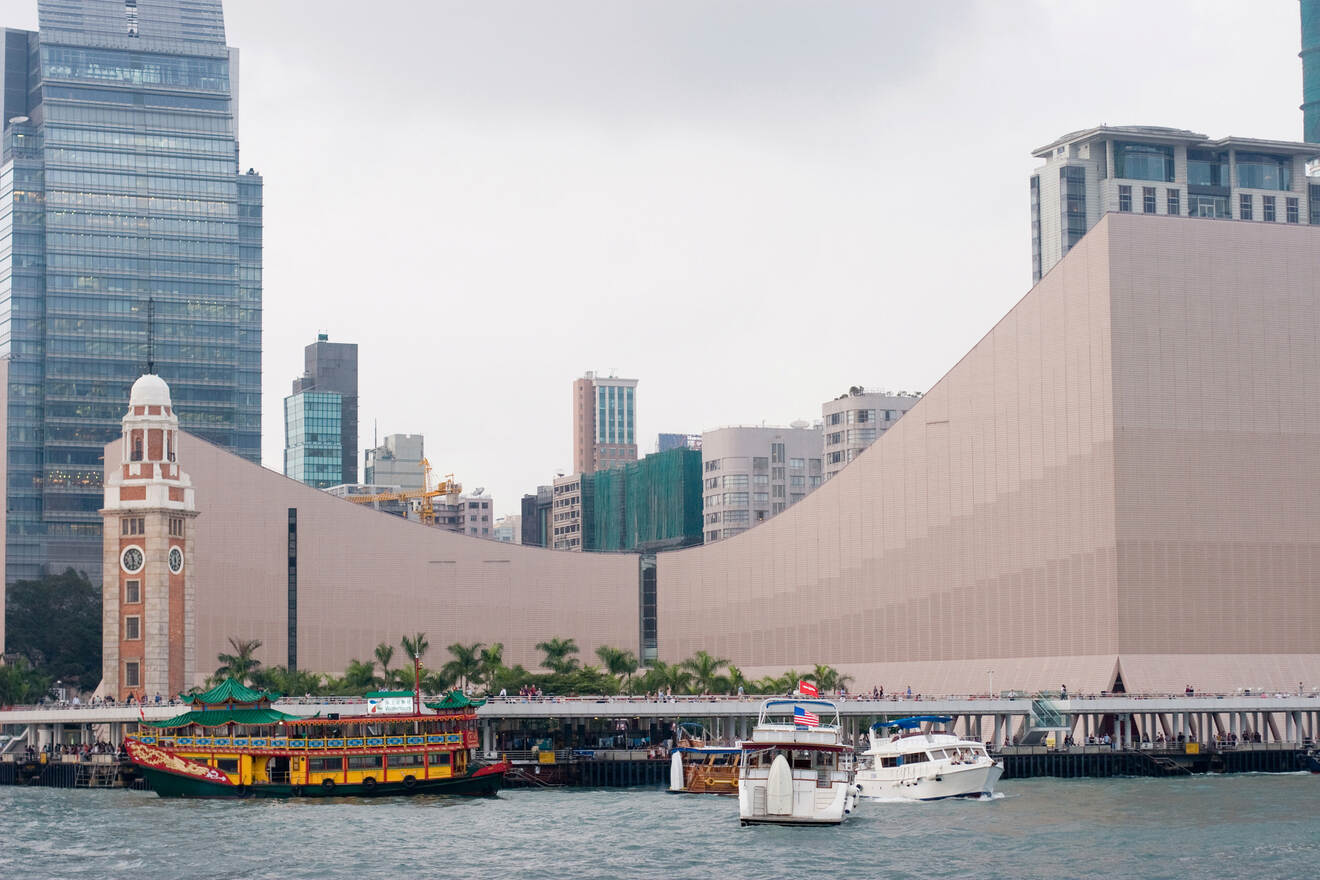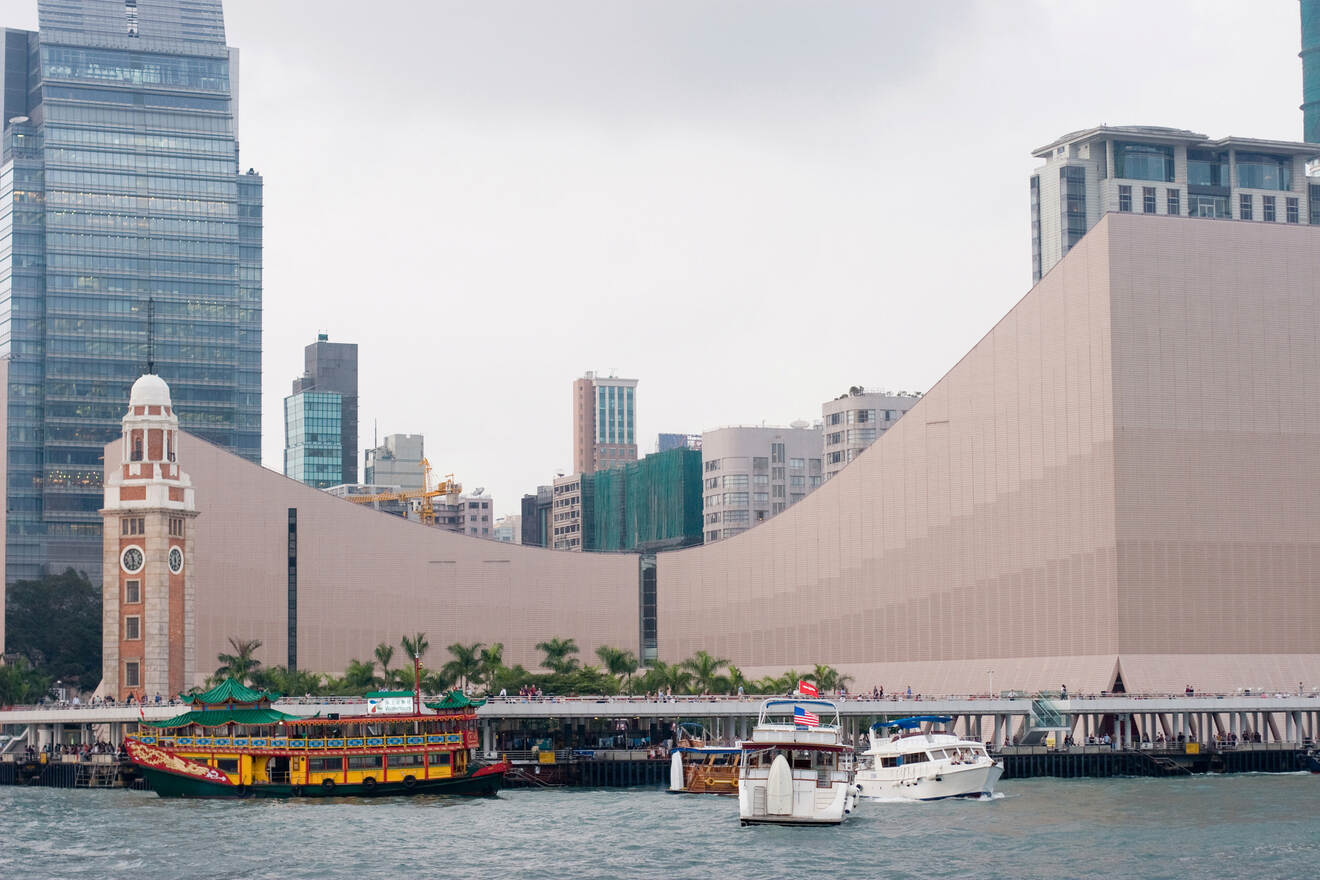 Located along the waterfront of Kowloon, the Tsim Sha Tsui Promenade is the best place to get a view of the Hong Kong skyline and Victoria harbor. Starting from the star ferry terminal and winding its way to the avenue of stars, this upscale area is alive at all times of the day. In the morning you will see everything from groups practicing tai chi, to casual joggers and grandma's gently stretching their tired bones. At night the area is full of tourists and party people getting ready for an action-packed night.
Here are a few things you shouldn't miss along the Tsim Sha Tsui promenade:
6.1 Symphony of Lights on the Hong Kong Skyline
The show is recognized by Guinness World Records book as a world largest permanent light show
The Symphony of Lights is a sound and light show which lights up the Hong Kong skyline every night of the year. In fact, it is actually the world's biggest permanent sound and lights show and certainly the best I have ever seen! And the best bit? It's free!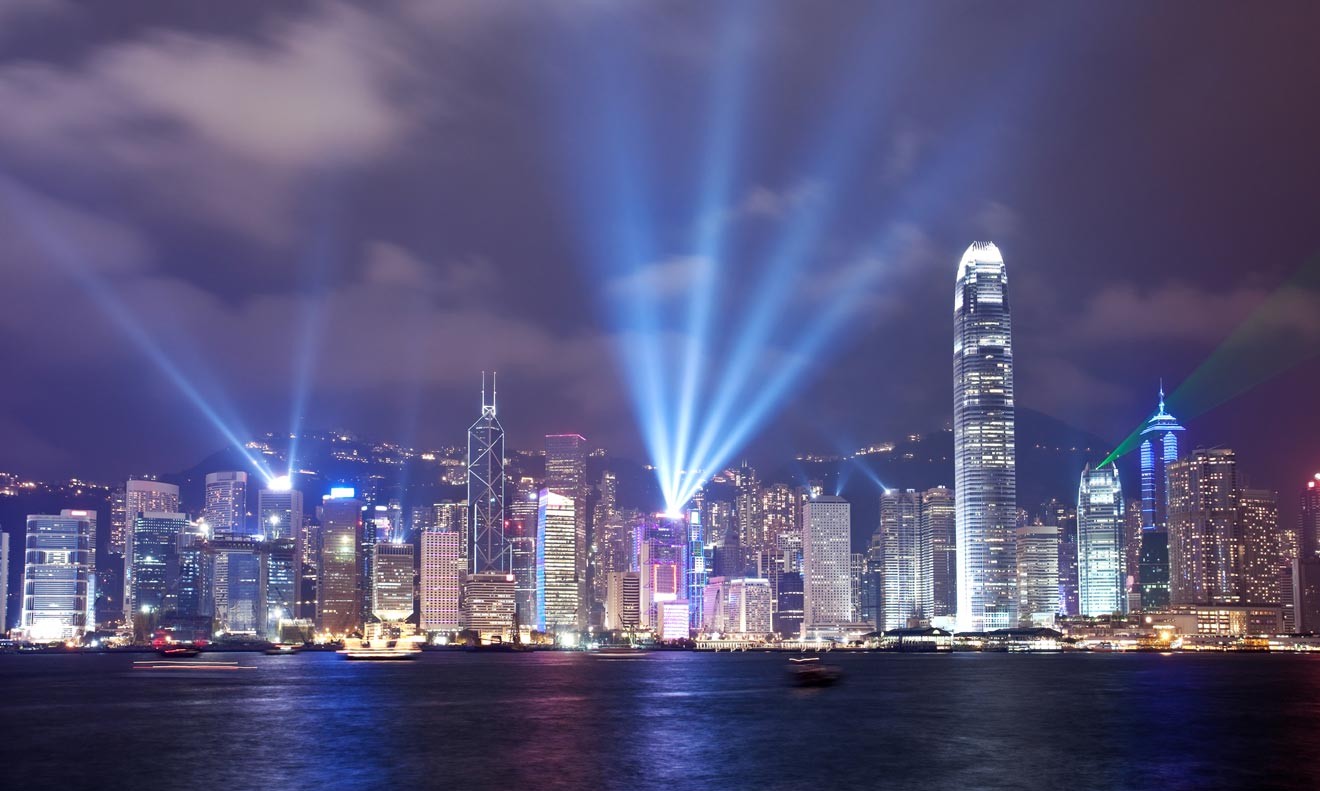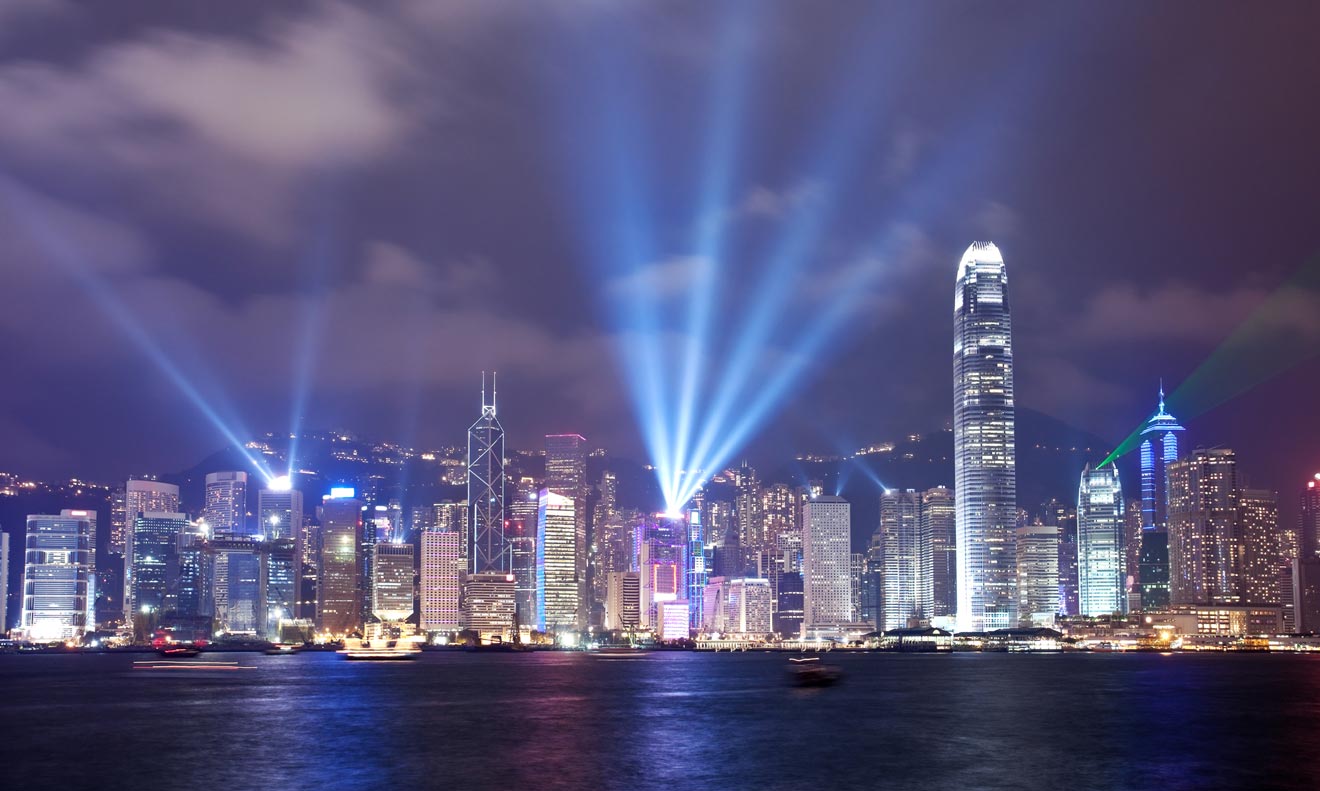 The show starts at 8 pm but you should arrive much earlier if you want to grab a good spot as the area is pretty much always full. Once you have arrived, relax and get ready for 15 mins of lasers, colorful lights, fireworks, and a symphony of sound dancing around 46 of Hong Kong's most prominent buildings! (Check out this video if you want a preview.)
Try and catch the show on Mondays, Wednesdays, or Fridays for the English version.
Although the show actually lights up both sides of Victoria harbor, the best place to see the show is at Avenue of Stars, the clock tower, golden bauhinia square, or at the Hong Kong Cultural Centre on the edge of the water. Here there are permanently placed speakers which play the soundtrack from the Hong Kong Philharmonic Orchestra. If you are watching from somewhere that doesn't broadcast the sound, you can listen along on the official app on Apple or Google Play, or on the radio channel FM 103.4 MHz.
PRO TIP: If you arrive late and can't find a spot, head to the Ocean Terminal pier just north of the star ferry terminal.
NOTE: The show can be canceled for extreme weather, or on days of mourning or national emergencies without notice.
6.2 Ride the Star Ferry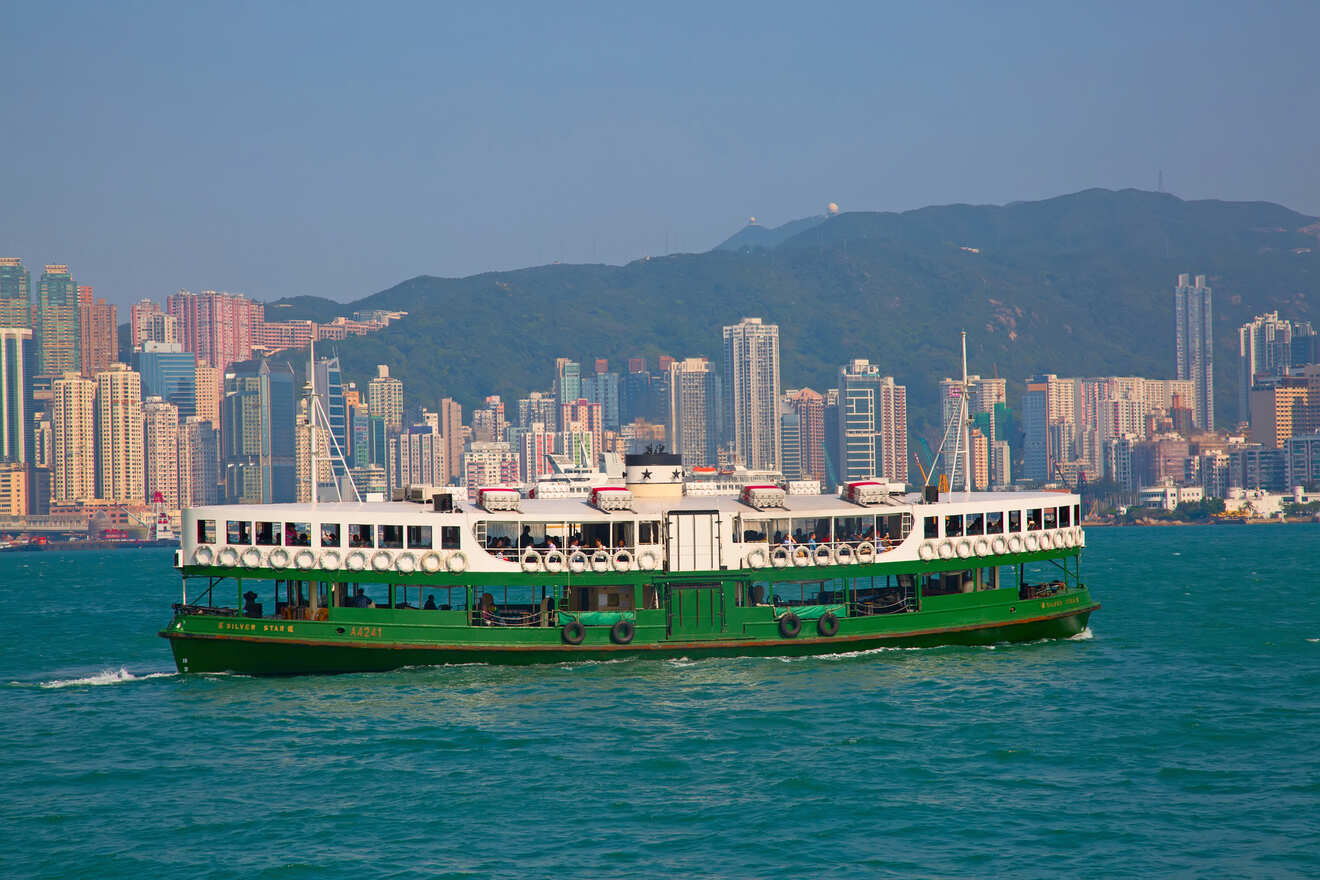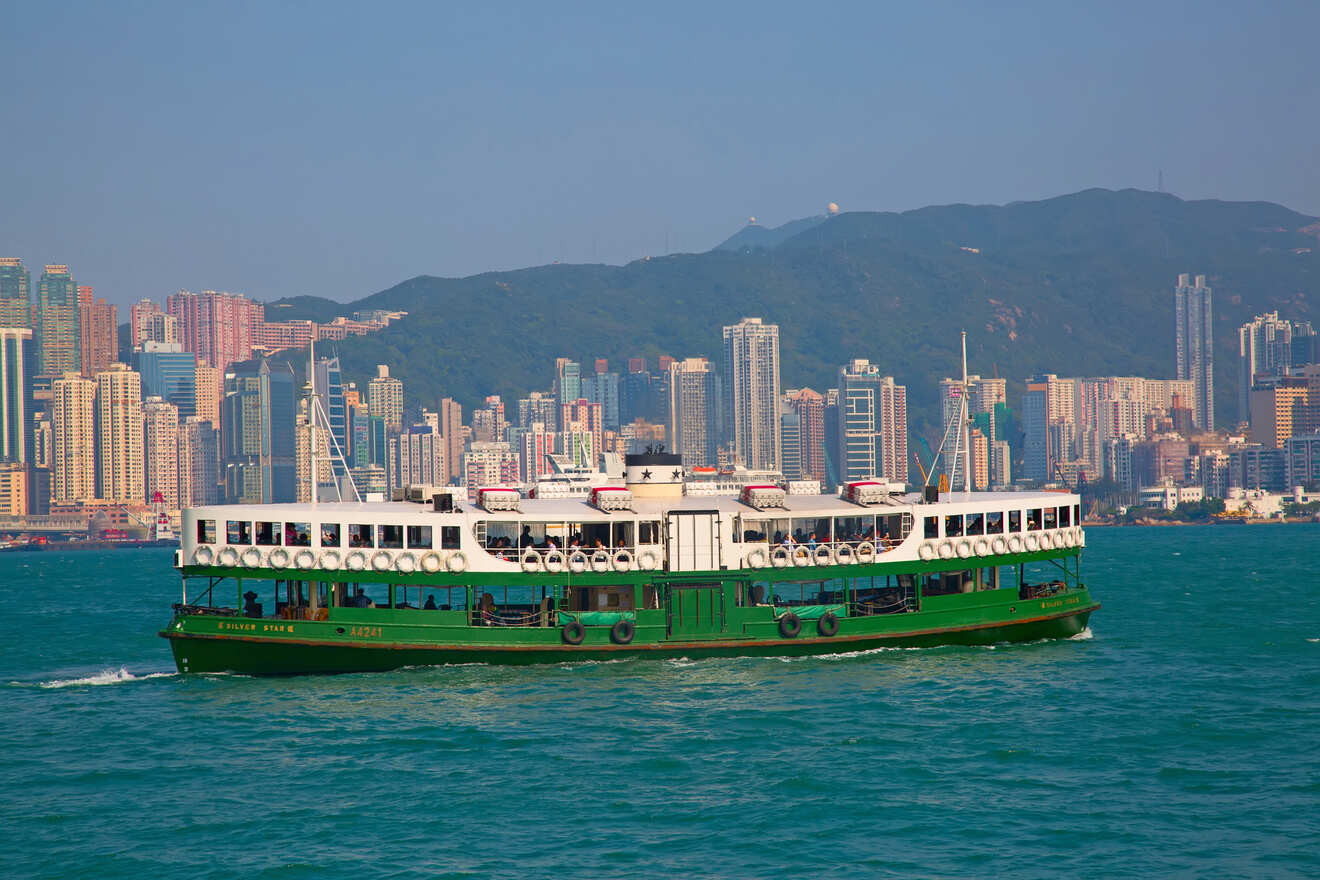 Another must-do activity in Hong Kong and the Tsim Sha Tsui Promenade is taking a ride across Victoria harbor. The Star Ferry has been a Hong Kong icon since 1888 and connects Hong Kong Island to Kowloon. Although it's not the only option for those needing to cross the harbor, it certainly is a super popular one thanks to its inexpensive price. Don't believe me? Ask one of the 70,000 passengers who ride the Star Ferry per day!
My favorite thing about the Star Ferry is that it is not intended to be a tourist attraction (so don't expect a glamorous cruise), yet it simultaneously gives you an amazing view of the city and provides a glimpse of everyday life in Hong Kong! I guess it can be compared to riding a red double-decker bus in London.
There are two different types of tickets for the Star Ferry, the upper deck (3.2-4.2 HKD / US $0.40-$0.60) gives you the best views of Victoria Harbour but costs a little more and the lower deck which has more restricted views but cheaper prices (2.6-3.6 HKD / US $0.30-$0.50). Tickets can be bought from ticket counters at the terminals up to 10mins before departure.
PRO TIP: Prices are more expensive on weekend journeys so if you want to save a little bit on tickets, take a mid-week trip (but avoid rush hour between 7:30-9:30 am and 6-7:30 pm)
Times: 6:30 am – 11:30 pm
Prices: Adults: 2.6 – 4.2 HKD (US $0.30-$0.60), Children (3-12 yo): 1.8 – 2.5 HKD (US $0.20-$0.30)
Terminals: Central Star Ferry pier, Wan chai, Tsim Sha Tsui
You can actually watch the symphony of lights from the Star Ferry. It can be a bit tricky to get the timing right but if you manage to get on a ferry around 8 pm, it often pauses in the middle of the bay to let you soak it all in!
6.3 Sail on a traditional Junk Boat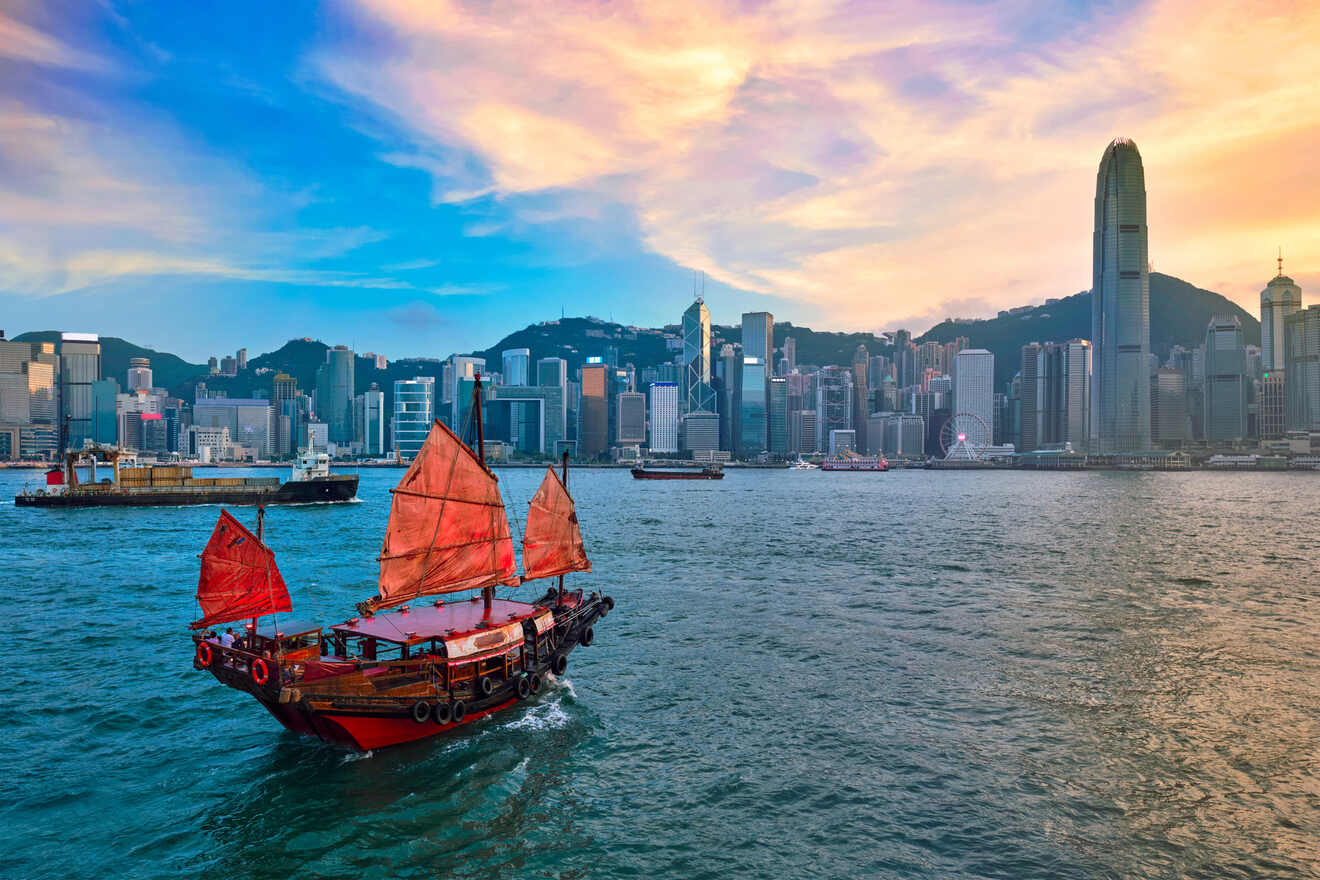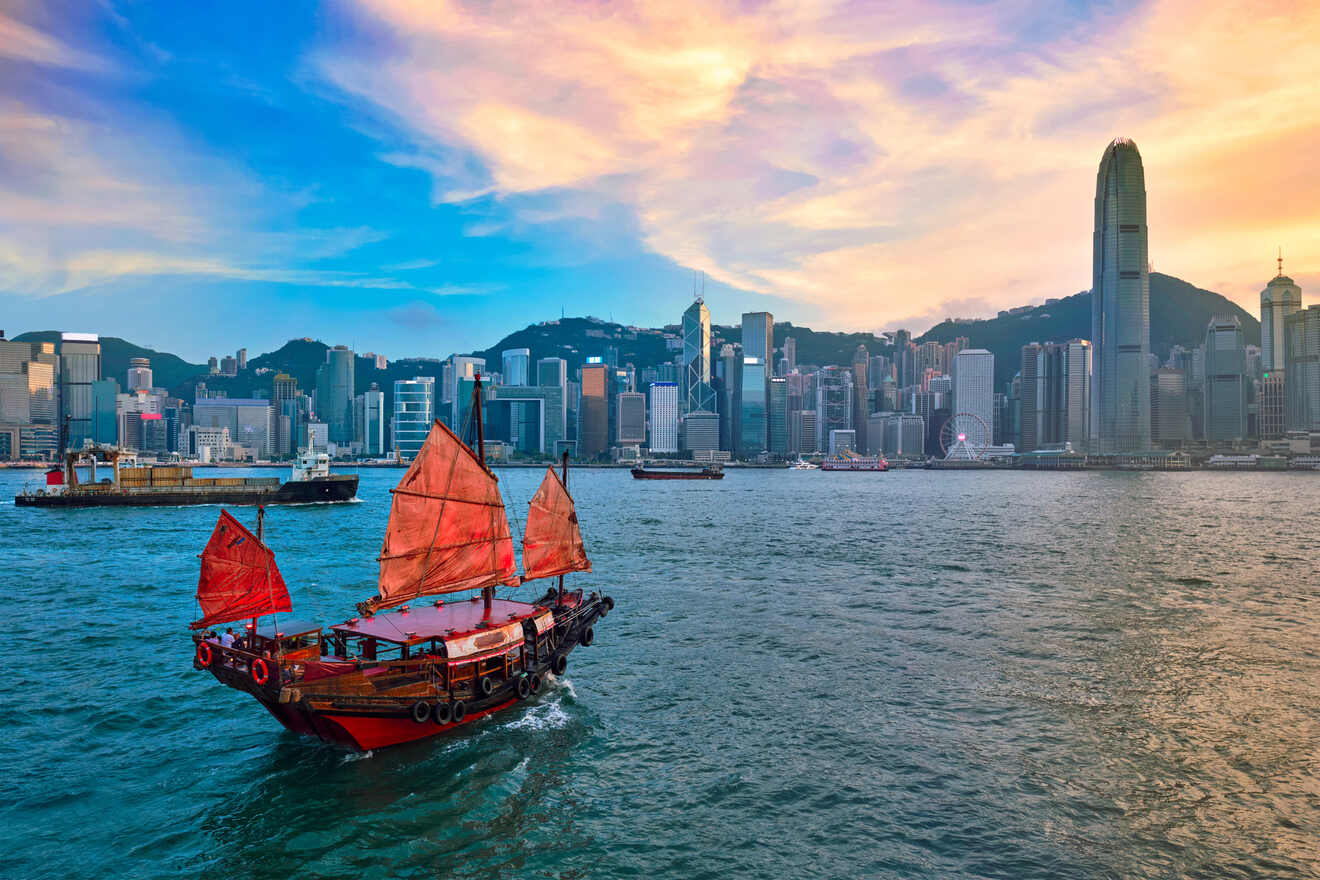 Don't worry, no, a Junk Boat is not trash, nor will it leave you stranded in the middle of the harbor. Junk Boats are traditional Chinese sailboats typically portrayed with large red sails which likely got their English name from the Dutch and Spanish words for medium to large-sized boats, jonk or junco.
The Junk Boat is one of the symbols of the city and definitely one of the most iconic things to do in Hong Kong. Traditional Junk Boats can be traced all the way back to the Han dynasty (202 BC to 220 AD) and only a few still remain today which makes sailing on one here even more special.
PRO TIP: Get the one called Aqua Luna for the most authentic experience!
Sailing times: Departures between 5:30 pm – 8:30 pm
Prices: Adults – US $30, children (3-11 yo) – US $21, under 3 – free
Length: 45 min
Location: Departs from Tsim Sha Tsui Pier 1 or Central Pier 9
6.4 Walk the Avenue of Stars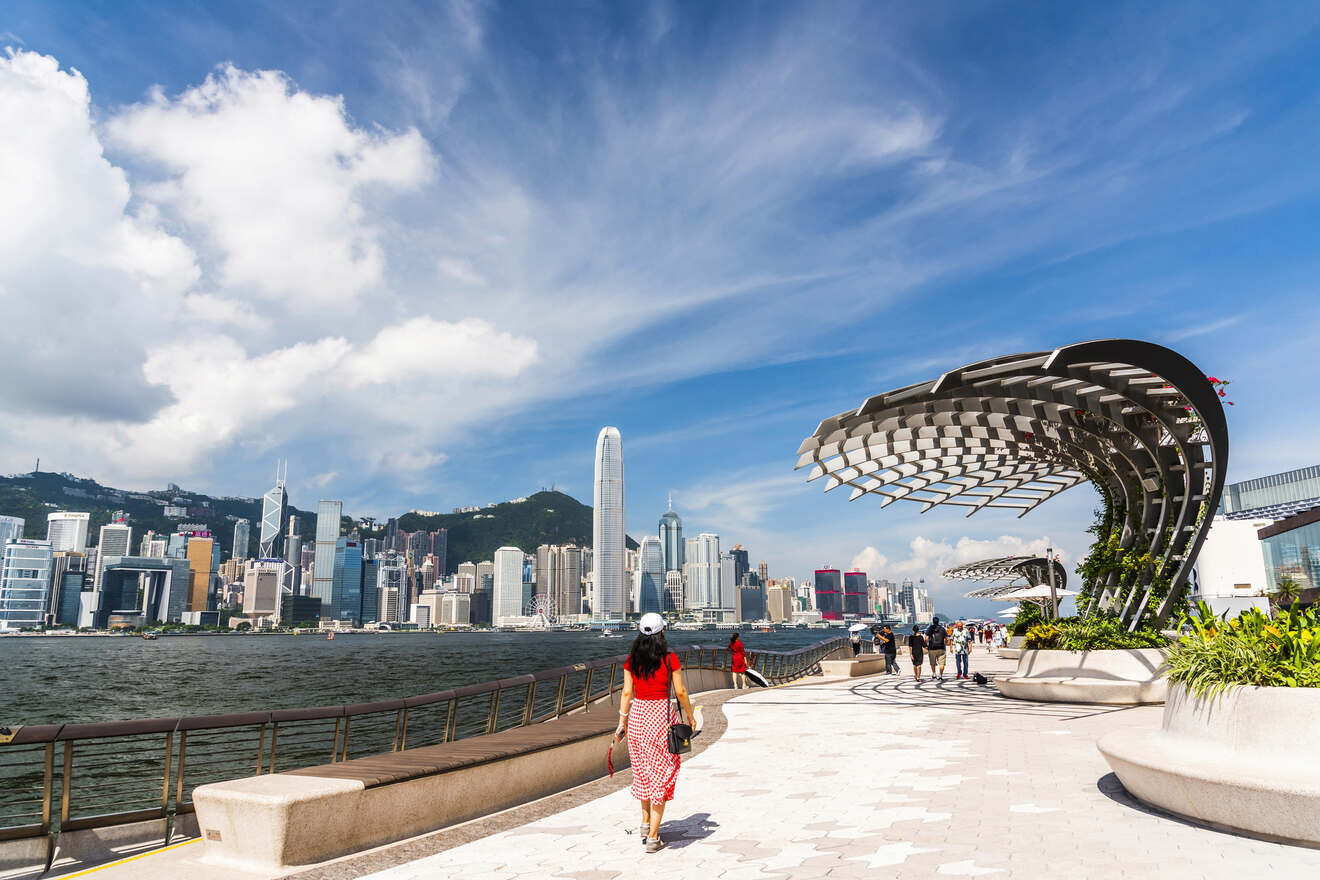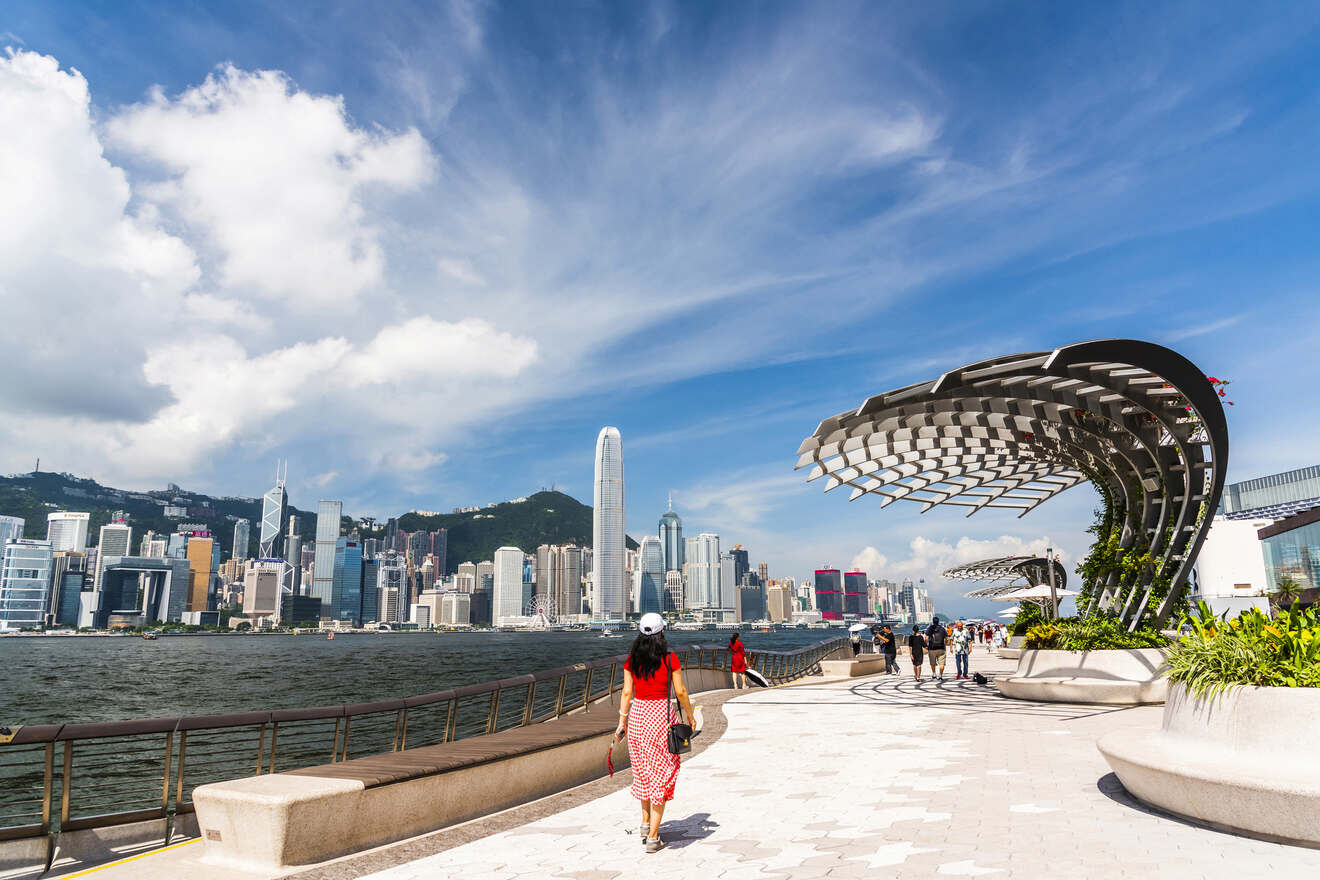 Forget the Hollywood Walk of Fame, Hong Kong has its own Avenue of Stars in Tsim Sha Tsui!
Walk along the promenade and make sure to look down. Here you will find star plaques commemorating the celebrities of the Hong Kong film industry.

You will find the Avenue of Stars at the eastern end of the Tsim Sha Tsui Promenade. When entering from the Salisbury Garden you will be greeted with a giant replica of the trophy awarded to recipients of the Hong Kong Film Awards.
Walk along the 440 m (~1400 feet) of the walkway and take a moment to stop by each of the 9 red pillars. These tell the interesting story of Hong Kong's 100 years of filmmaking. While you may not be familiar with many of the stars that are eternally memorialized here, it's pretty hard to forget the international king of Hong Kong film, Bruce Lee. Just in case he didn't stand out enough, there is even a 2.5 m statue of him! 😉
7. Learn something new at a Hong Kong museum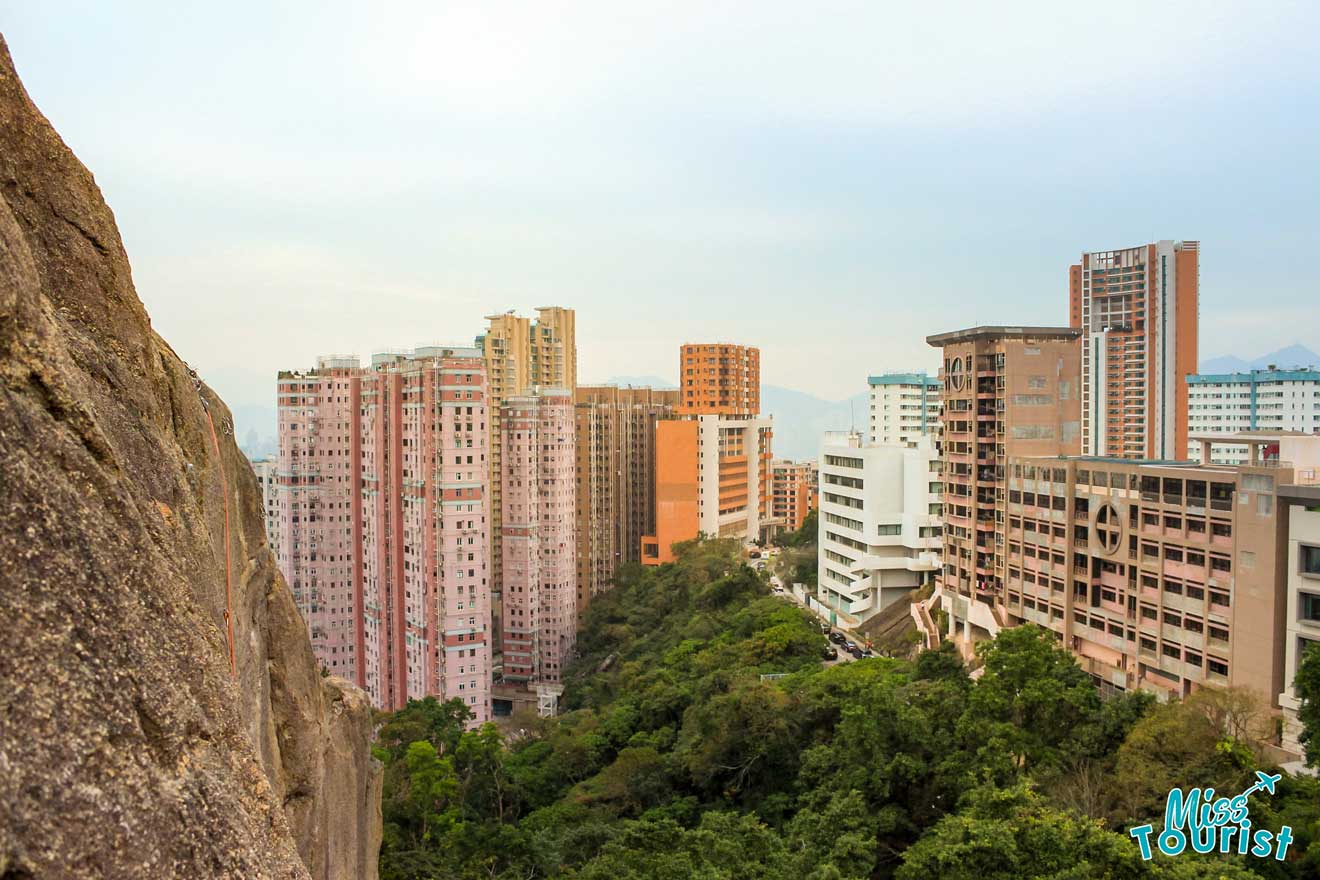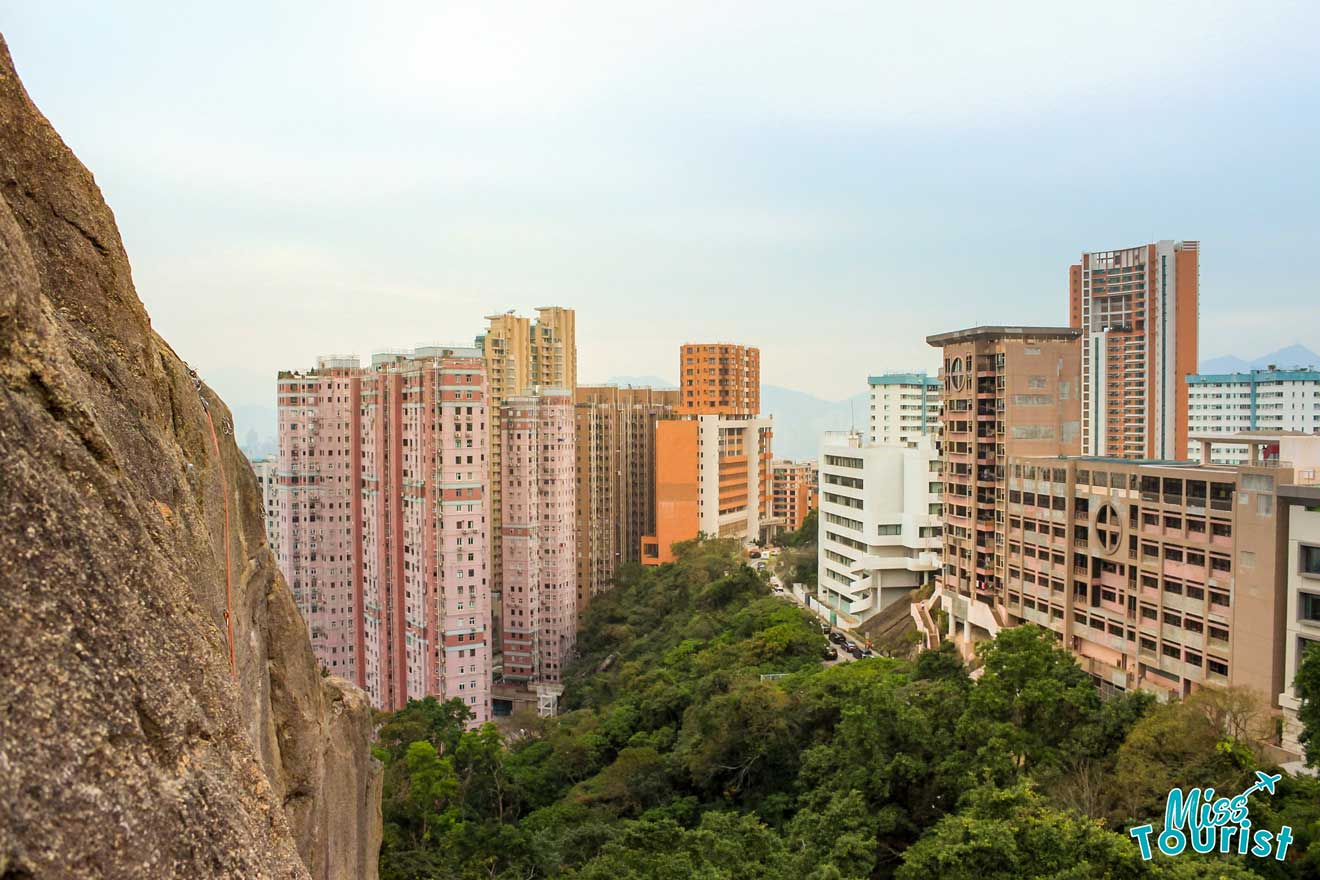 Whenever you visit a new city it's always a good idea to head to a museum to learn something new. Hong Kong's history and multicultural society lend to their being a lot of interesting museums in the city! With all that history and so little time on vacation, it's best to sift through the list to find the ones that most interest you to visit.
PRO TIP: Most major museums in Hong Kong have free admission on Wednesdays!
If you're really not sure where to start, here are my recommendations for the top 3 museums in Hong Kong:
Hong Kong Museum of History
The Hong Kong Museum of History is responsible for preserving the city's historical and cultural heritage and has both permanent and seasonal exhibitions that present Hong Kong's story in a tangible way. If you're looking to get an overall insight into the backbone of Hong Kong's history, this is a good place to start.
Open: Monday, Wednesday to Friday: 10 am – 6 pm, Saturdays, Sundays: 10 am – 7 pm
Price: Free
Location: 100 Chatham Road South, Tsim Sha Tsui East, Kowloon
Hong Kong Museum of Art
With 17,000 pieces, the Hong Kong Museum of Art was the first public art museum in the city and is home to an eclectic blend of Chinese and international, modern, and contemporary art. With an emphasis on making art accessible to all, this museum is a great choice whether you're super into galleries or not.
Open: Monday to Wednesday, Friday: 10:00 am – 6:00 pm, Saturday, Sunday, and public holiday: 10:00 am – 7:00 pm
Price: 10 HKD (US $1.30)
Location: 10 Salisbury Rd, Tsim Sha Tsui, Hong Kong
Hong Kong Space Museum
If you're interested in astrology the Hong Kong Space Museum is THE place to be. With half of the building shaped like a giant egg, you will be able to see incredible projections of space in a realistic setting thanks to the OMNIMAX film projector and learn about the universe in interactive displays throughout the halls of cosmos and space exploration.
Open: Mon, Wed to Fri from 1:00 pm to 9:00 pm, Sat, Sun and public holidays from 10:00 am to 9:00 pm
Price: Standard – 10 HKD (US $1.30), concession – 5 HKD (US $0.65)
Location: 10 Salisbury Rd, Tsim Sha Tsui, Hong Kong
8. Ride the longest escalator in the world (Central-Mid-Levels Escalators)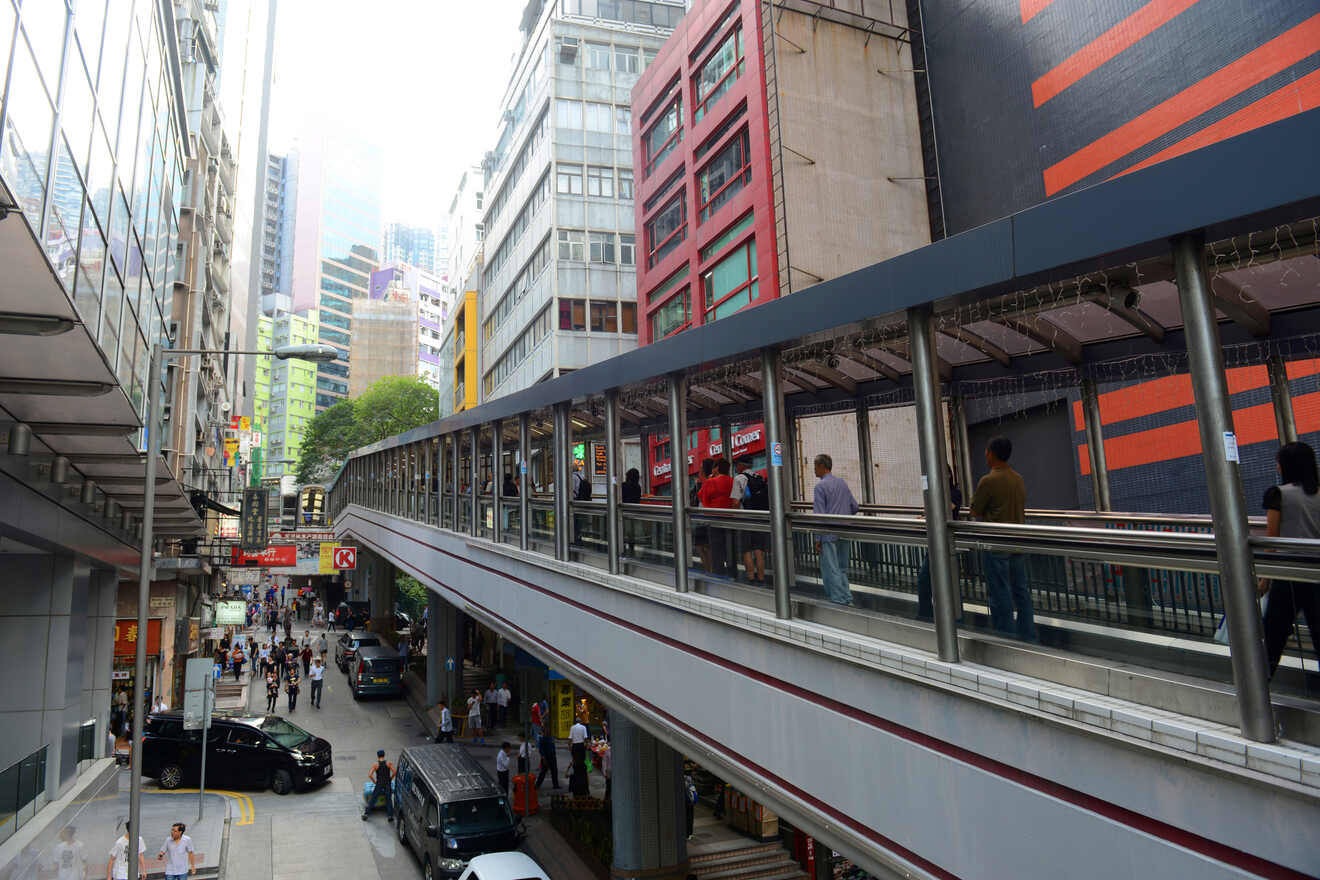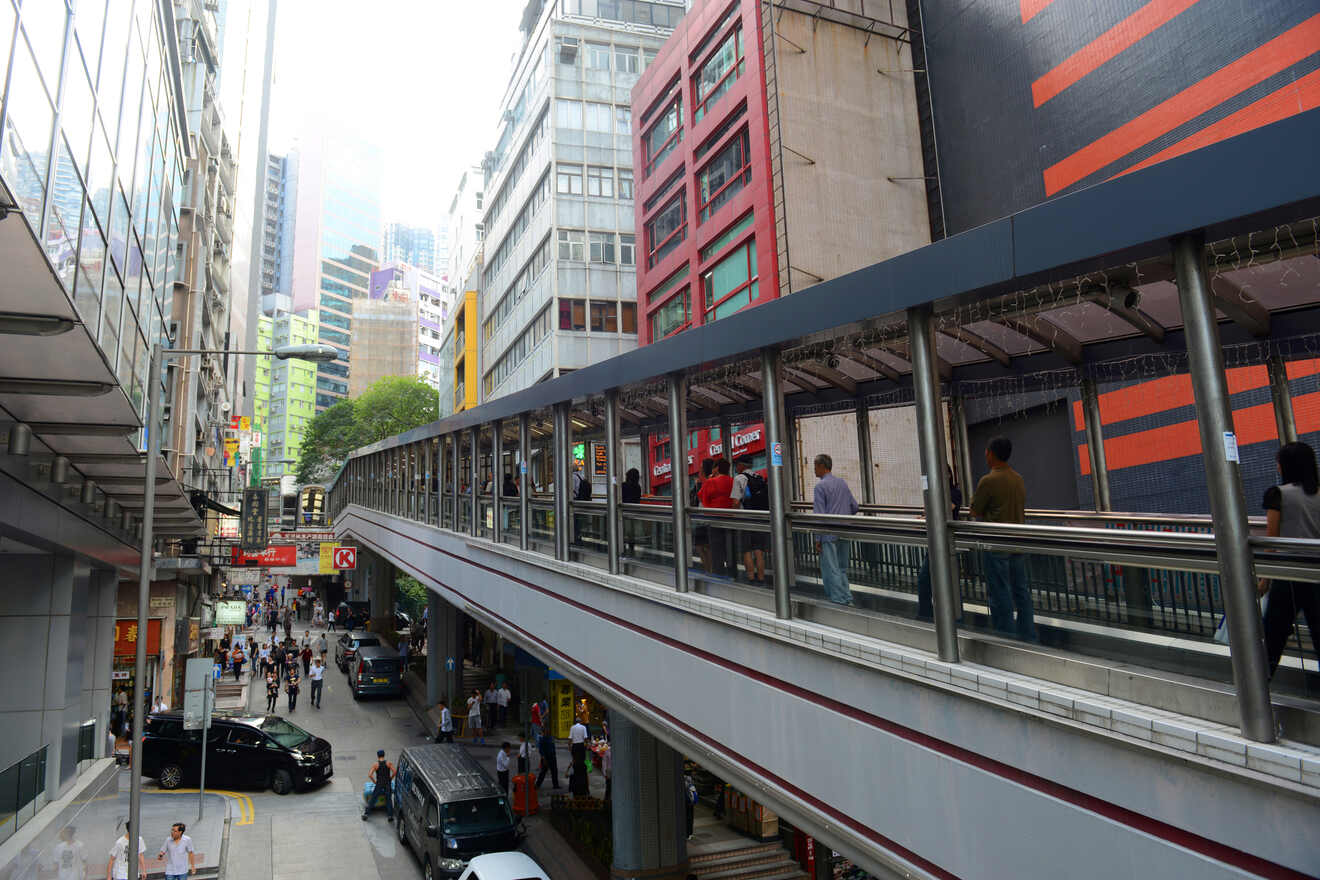 Yep, you read that right, the Central – Mid-Levels Escalator system, is the world's longest outdoor covered escalator system and you can tick off this one bizarre bucket list item right here in Hong Kong.
While I wouldn't personally say that the escalators are anything to write home about, I do think it's a pretty cool novel thing to be able to say you have done!
The name is in fact a little misleading as it is not one continuous escalator but rather is made up of 20 different escalators and 3 travelators stretching a combined length of over 800 meters (2625 feet).
Now you may be thinking this is a pretty strange thing to have outdoors in a city right? Well, the escalators were built with the aim to ease congestion by transporting people on foot through the hilly district between the two regions, central and Mid-level Hong Kong, passing some of the most important streets in Hong Kong like Queens Road and Hollywood Road.
If you ride them all, the escalator whisks you up a whopping 135 meters (443 feet) of elevation and takes around 20-25 mins. As I said, it might not be at the top of everyone's list, but if like myself you're a big fan of people watching while you travel, this is a great spot to do it!
9. Place a bet on the Wednesday Races at Happy Valley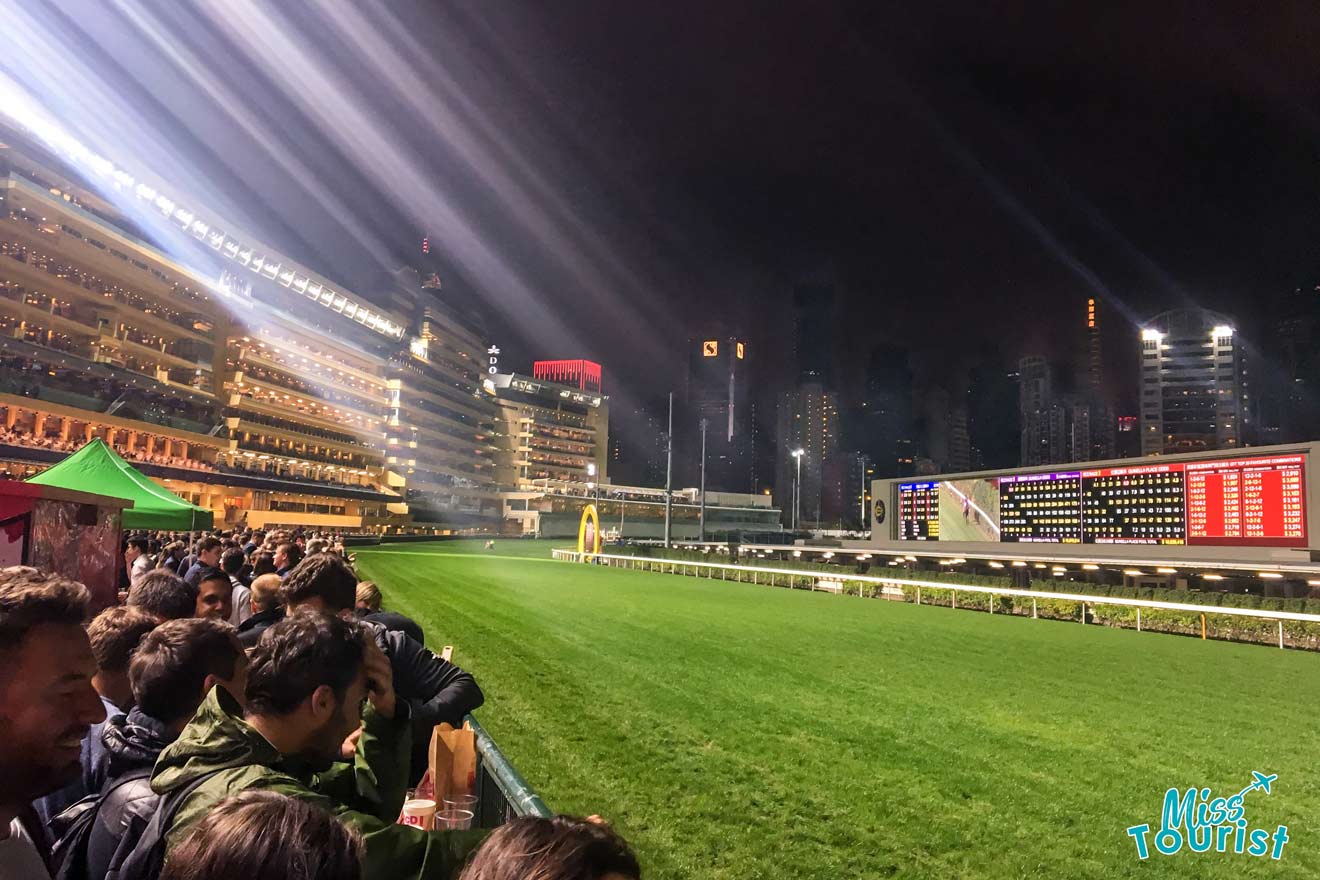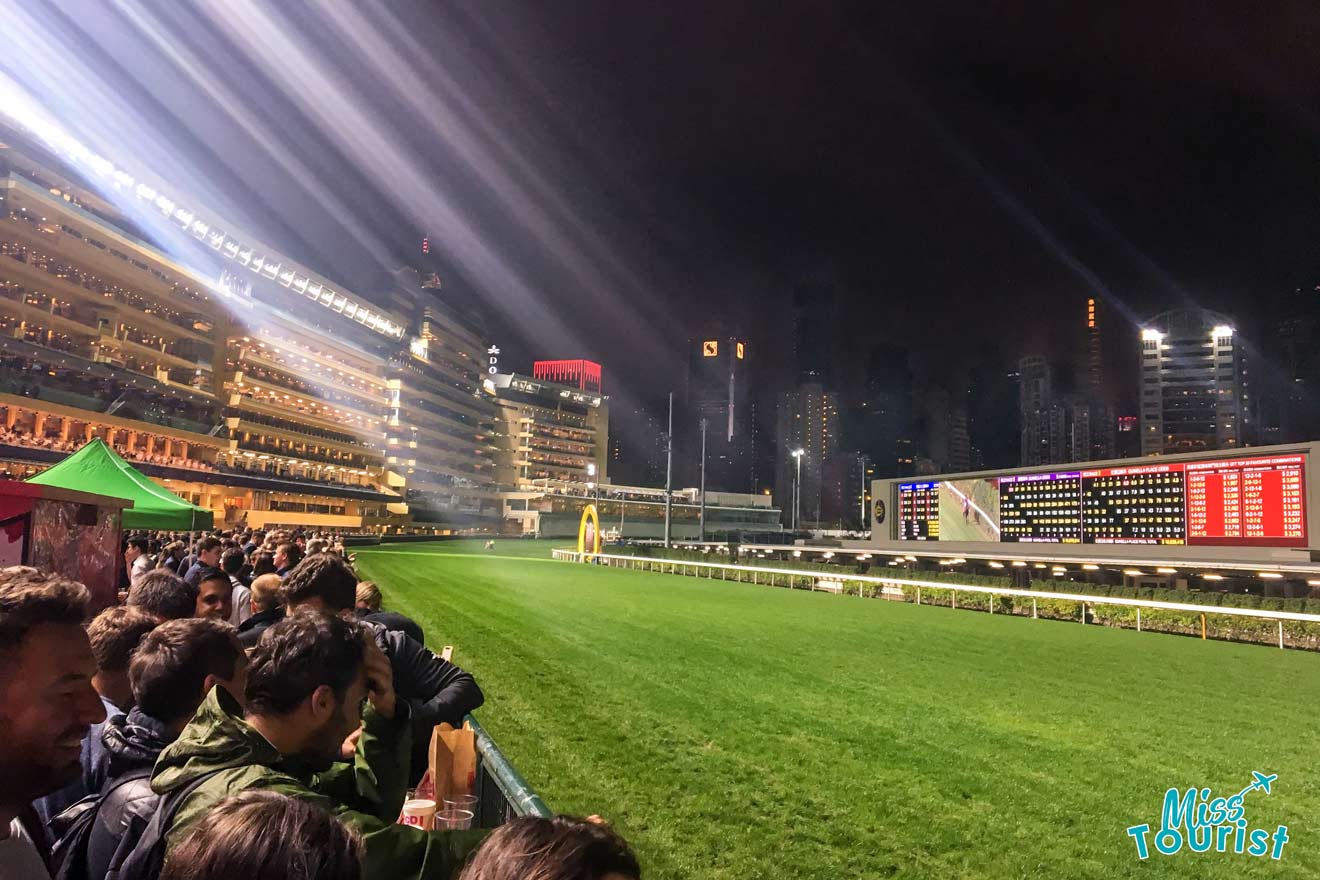 Did you know that there is a racecourse in the middle of Hong Kong? Neither did I! I actually arrived at my hostel in Hong Kong on a Wednesday night just as everyone was getting ready to head out to Happy Valley and when they said they were going to the races, I didn't think they were being literal.
But yes it's true, there are horse races every Wednesday night at Happy Valley racecourse and it's a great place to start the pre-party for a night on the town. Happy Wednesdays are not just about the race track, it's more of an open-air festival, every Wednesday night!
With DJs, live performances, pumping bars, and of course betting and horses, I have never experienced anything else like it!
The best way to experience the atmosphere of Happy Wednesdays is by going with a group and dressing up. If you are traveling alone or simply want a few more friends, joining a tour is always a good idea!
General entrance to the track costs just 10 HKD (US $1.30) at the door and gives you access to the Grandstand, betting hall, and public restaurants.
Gates open: 5:15 pm
Races: Between 7:15 pm – 10:50 pm
Entry: 10 HKD (US $1.30)
Location: Happy Valley Race Course, Wong Nai Chung Rd, Happy Valley, Hong Kong
10. Party all night long in Lan Kwai Fong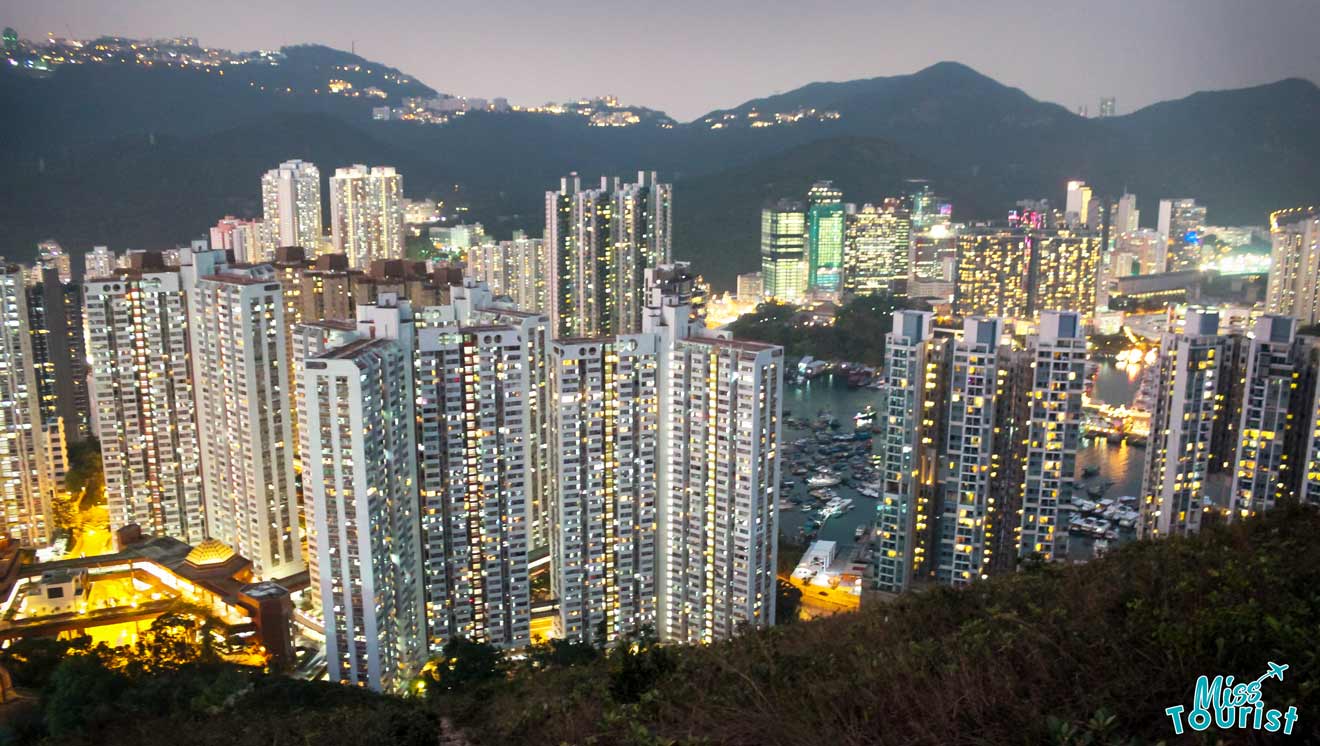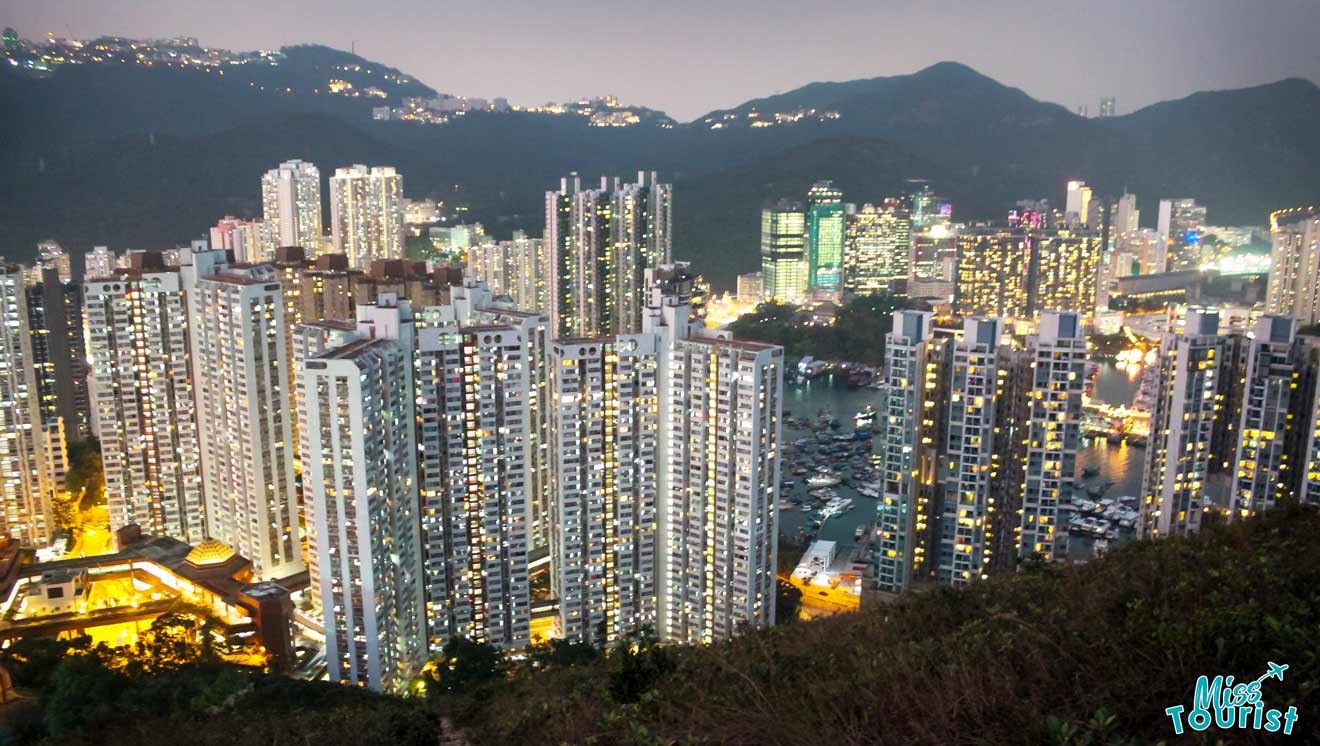 Once you've got the party started at Happy Valley it's time to experience the nightlife of Lan Kwai Fong. Lan Kwai Fong is the nightlife district of Hong Kong and you can find lively bars, restaurants, and nightclubs here to suit any taste, every day of the week!
Located just uphill from the Central MTR station, the party center of Lan Kwai Fong is in the perfect location no matter where you are staying in the city.
While I always say the best way to explore the nightlife of a city is simply to walk along the streets and take a look inside the doors that pique your interest, here is a list of some of the top bars and nightclubs in the district to get you started.
The China Bar – Don't miss happy hour at one of the best bars in Hong Kong. Open every day of the year, China Bar serves discounted drinks until 10 pm as part of their happy "hour". Later on, a DJ livens up the place and the large dance floor is the perfect place to dance all night long.
PONG LKF – Did someone say beer pong? Yep, this bar is the king of tournaments and the perfect place to get in the party mood but not like you would expect. Open 5 pm-4 am Monday to Saturday, Pong is actually an interactive electronic game that allows you to play with party-goers in other venues all around the world!
Insomnia – As you may have gathered from the name, this bar never sleeps. Insomnia is open 24/7 so no matter what time of day it is you can come here to let loose and have a boogie. While it isn't the most flashy bar on my list, it's the perfect place to go if you're suffering from Jetlag!
If you really want to see the best nightlife in Hong Kong, I love joining local pub crawls to be guided for the whole night while you visit countless happening spots and make some new friends to party the night away with. Whatever your style, you'll have fun in Lan Kwai Fong!
PRO TIP: If you are not much of a party animal, but still want to go somewhere fun at night, I highly recommend Ozone Sky Bar at Ritz Carlton – fancy cocktails and AMAZING views of the city guaranteed (be sure to follow the dress code). Another alternative? Eyebar
11. Spend some time on Lantau Island


Lantau is the biggest island in Hong Kong and one that is visited by nearly every one of the city's visitors thanks to its exciting range of attractions for all interests. If you arrived in Hong Kong by plane you would have driven along the coast of Lantau to reach central from the Airport, this means there are plenty of connections to reach Lantau throughout the day.
Since Lantau Island is so big there are 2 main forms of transport to get there depending on what you are trying to visit. The majority of attractions can be found in the North of the island which is reached by metro (MTR) on the Tung Chung line or bus E11 from Central or Kowloon to Tung Chung (45 mins – 1 hr). Once you arrive at Tung Chung you can take the local buses listed below to your desired destination.
Let's take a look at the best things to do on Lantau Island:
11.1 Disneyland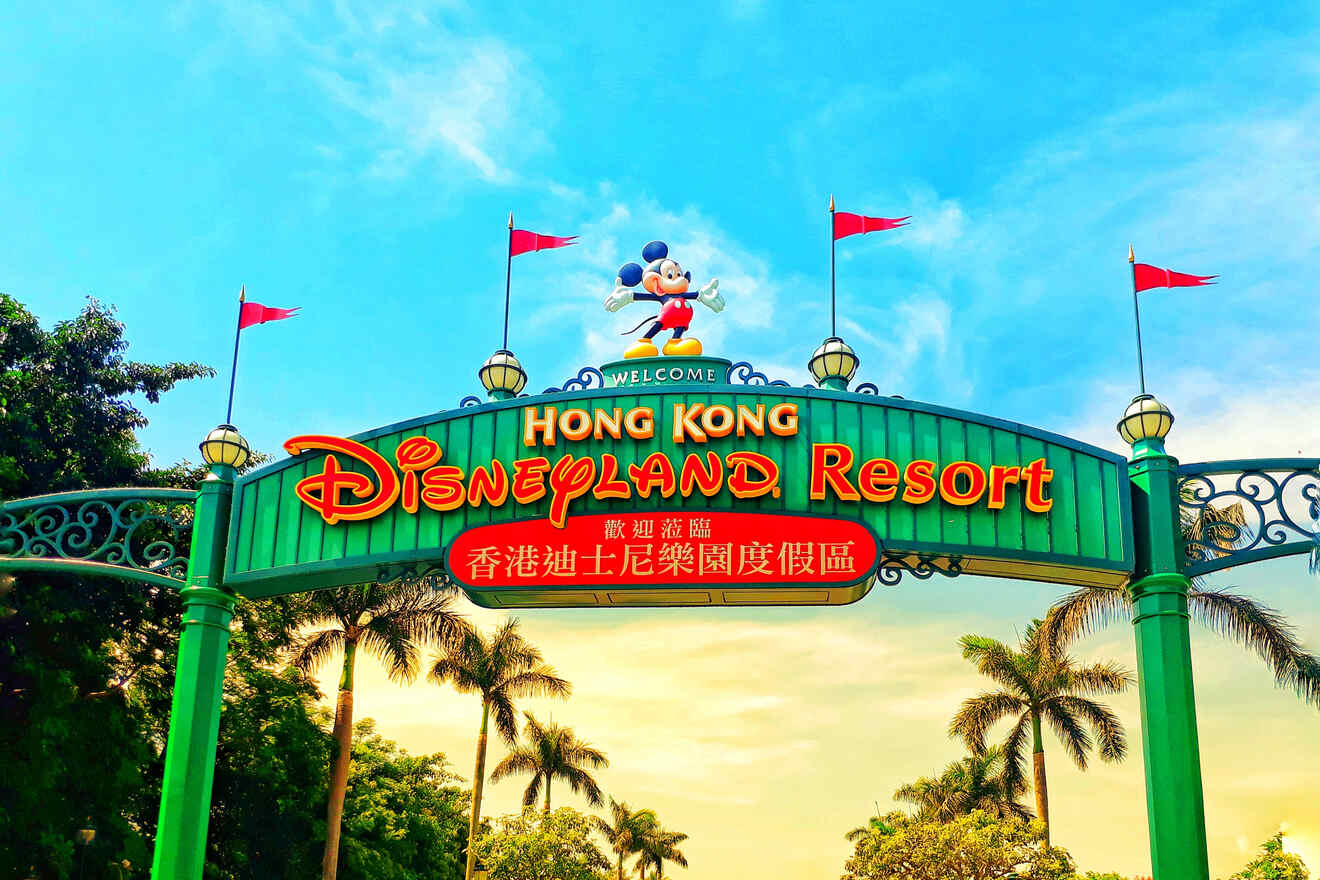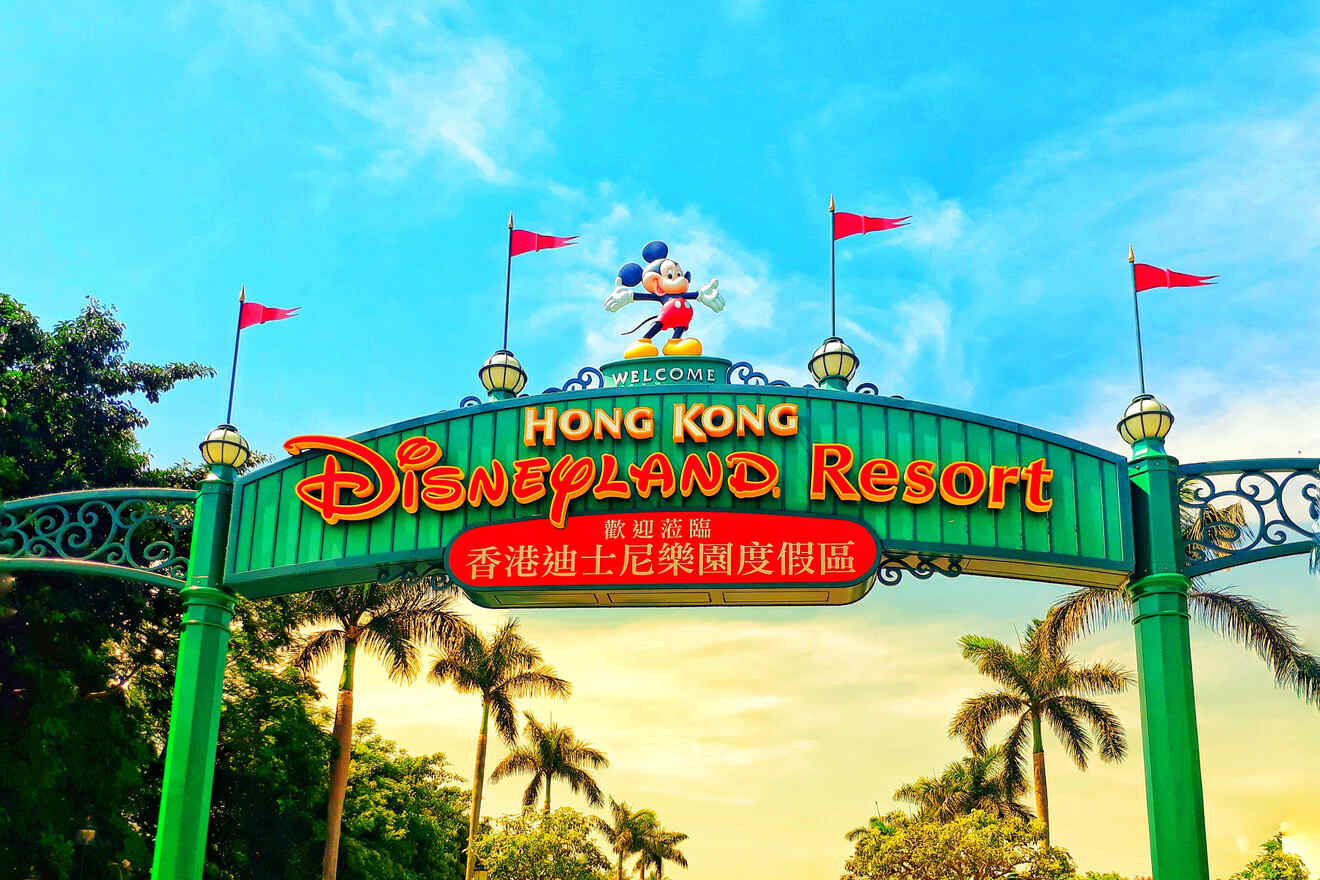 Does Disneyland really need any more of an introduction? Yes, there is a Hong Kong Disneyland and you should go!
Located in eastern Lantau Island, Disneyland is the closest attraction to central and truly is one of the most magical places on earth (and in Hong Kong) as they say! Hong Kong Disneyland is home to 7 different lands: ​​Adventureland, Grizzly Gulch, Mystic Point, Toy Story Land, Fantasyland, Tomorrowland, and Main Street, USA. So no matter which fairytale it's your dream to live, you'll find it here.
TIP: Download the official Disneyland app to see up-to-date wait times for your favorite rides!
Open: Mon, Wed, and Fri to Sun 10:30 am – 7:30 pm
1-day standard entry: Adults 639 HKD (US $82), Children 475 HKD (US $61)
Getting there: Take the Disneyland Resort Line MTR at Sunny Bay Station (30 mins)
11.2 Big Buddha (Tian Tan Buddha) and Po Lin Monastery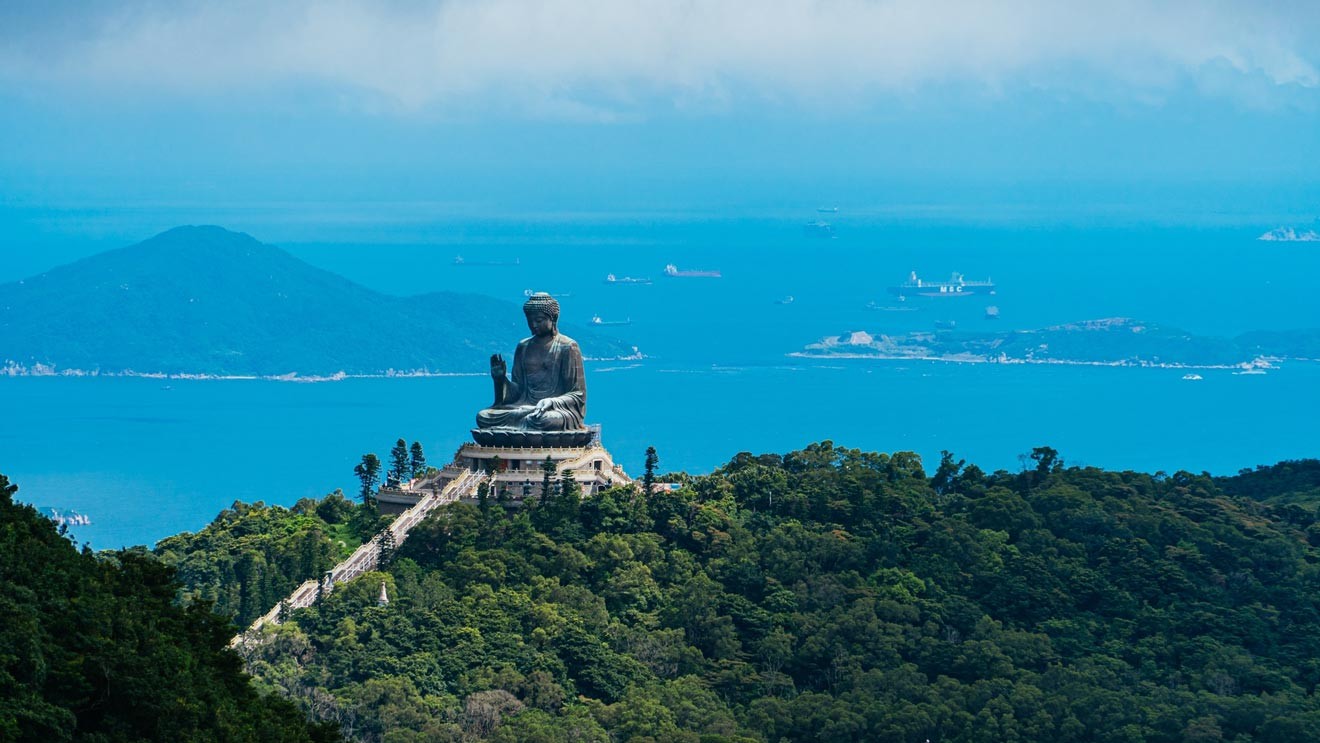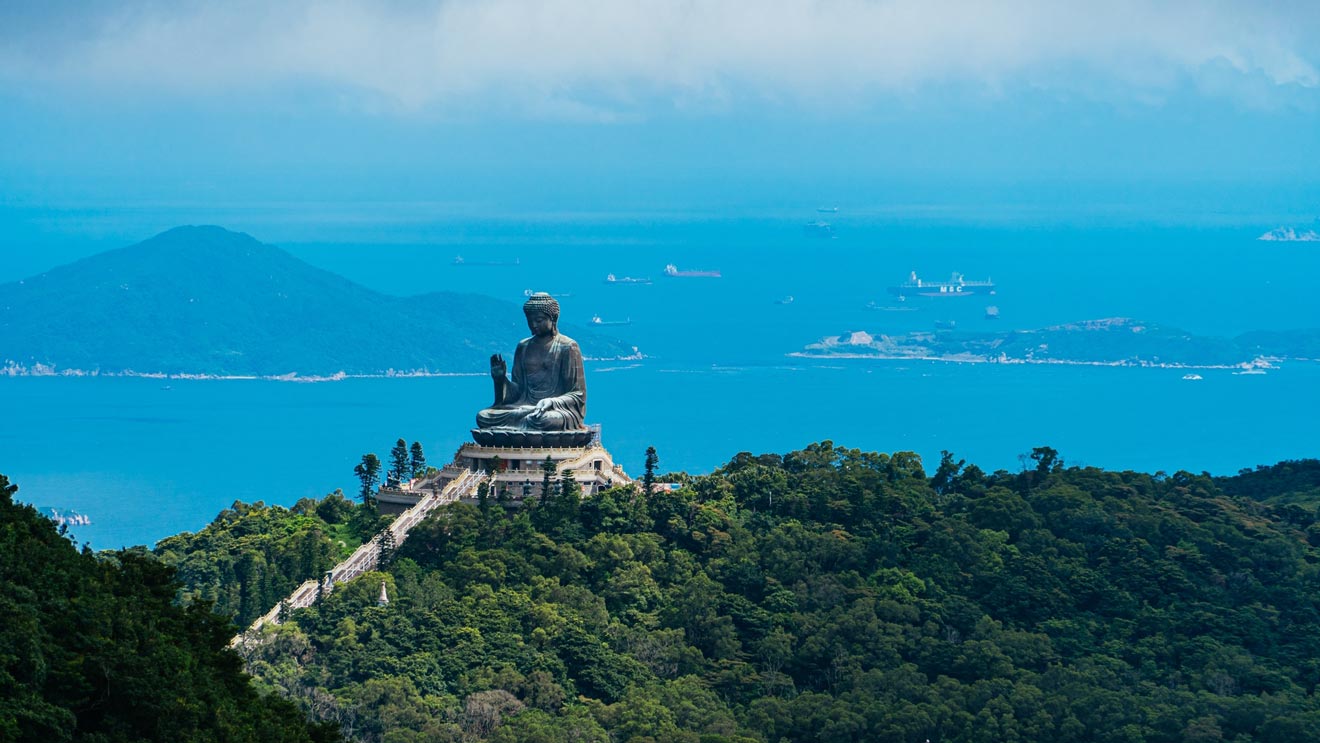 Please keep in mind that it takes 268 steps to reach Tian Tan, the largest sitting Buddha in the world!
The Big Buddha, also known as ​​Tian Tan Buddha is the most popular attraction on Lantau Island and also one of the most visited places in this bustling city! This 34m (112 ft) tall bronze statue sits high above the island atop Mount Muk Yue and is an iconic symbol of the city.
Walking up to the Buddha is free but you can pay 38 HKD (US$5) to go into the base if you choose. Inside you will find a number of plaques in Chinese and with your ticket you also get a small meal at the Monastery kitchen. Honestly, I don't think this is really worth going inside unless you can read the language since you can always simply pay for your food separately.
Next to the impressive statue is Po Lin Monastery. The Po Lin Monastery complex which faces the Big Buddha is made up of a number of different buildings including the Grand Hall of Ten Thousand Buddhas, the bell and drum towers, and the meditation hall. You can pick up a map at the entrance and walk through the complex on a self-guided tour.
TIP: If you're looking for some amazing vegetarian food, the Monastery has a kitchen open 11:30 am – 4:30 pm selling delicious (and cheap) meals.
Open: Monday to Sunday
Big Buddha – 10 am to 5:30 pm
Po Lin Monastery – 9 am to 6 pm
Price: Free
Location: Po Lin Monastery, Ngong Ping, Lantau Island
Getting there:
1. Take bus E11 or the MTR from Central to Tung Chung
2. From Tung Chung, you can either take bus 23 to Ngong Ping Village (1 hr) or ride the Ngong Ping 360 cable car (25 mins) see below for more details
3. Follow the signs for the 10-minute walk to Po Lin Monastery and the Big Buddha
11.3 Ngong Ping 360 Cable Car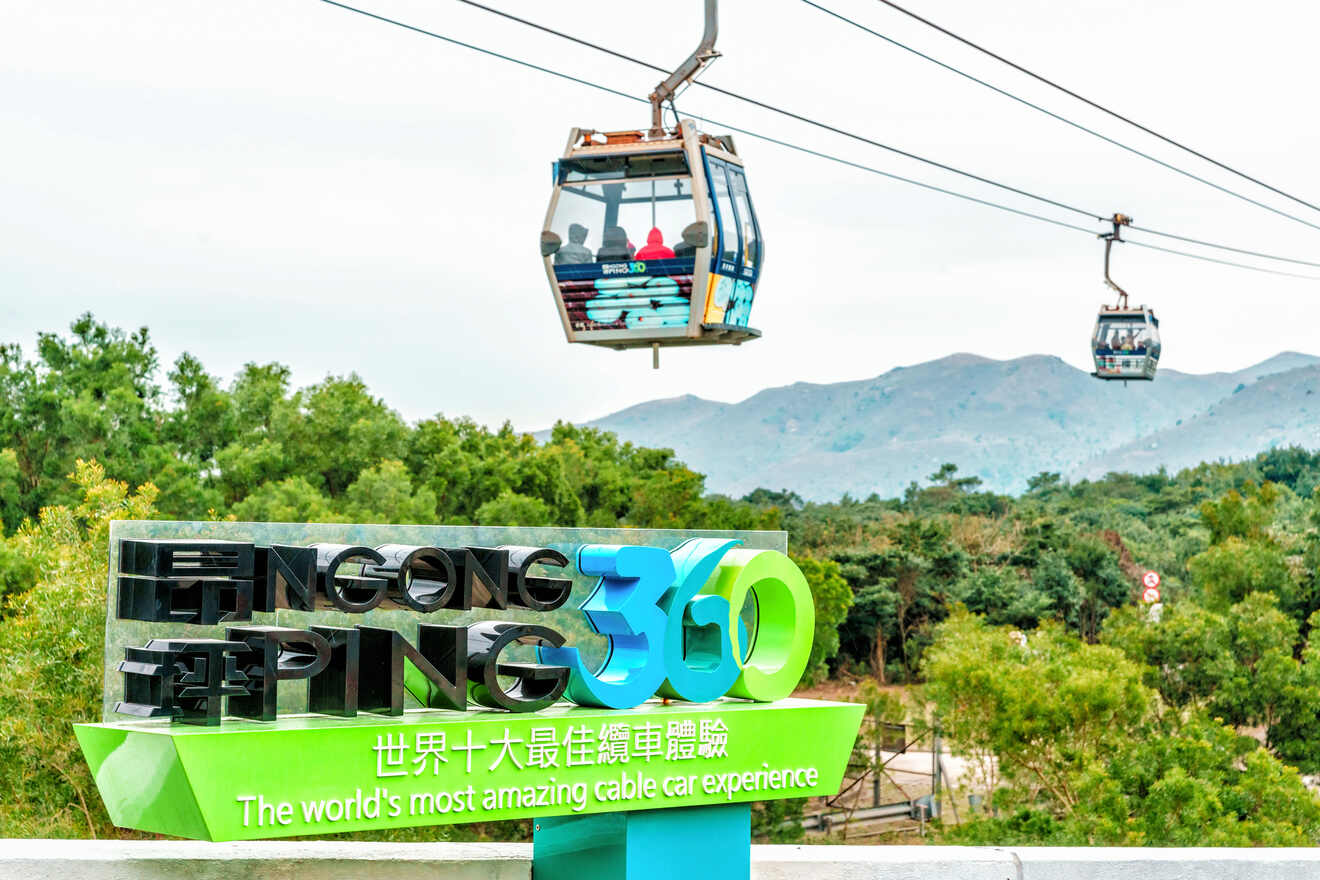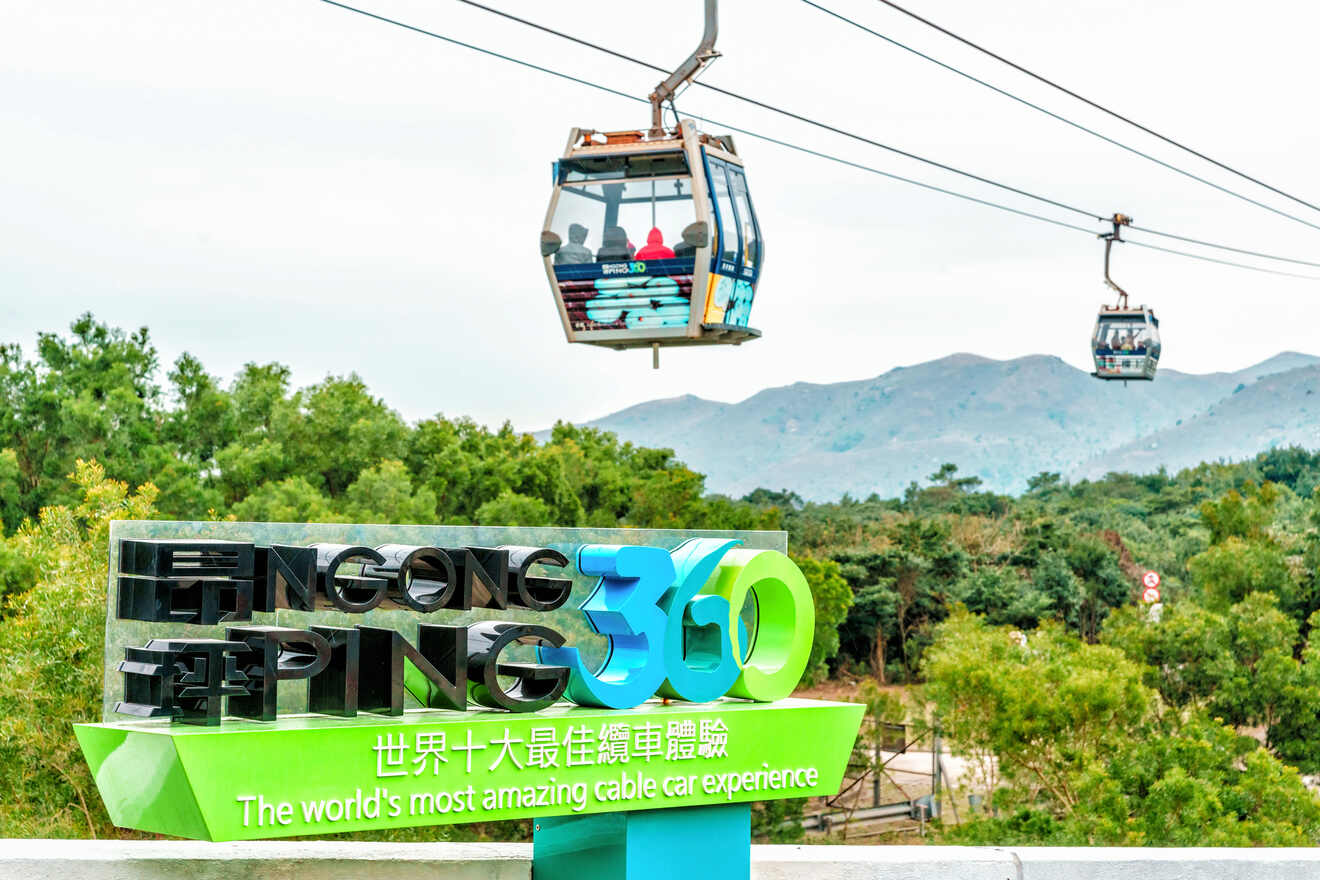 At 5.7km (3.5 miles), Ngong Ping 360 is the longest bi-cable ropeway in Asia!
If you're looking to add to the adventure and always wish you could fly (who doesn't?), you'll be pleased to know that you can swap the windy 1-hour bus ride to Ngong Ping for a scenic 25 min cable car ride to the top!
Most people choose to take the Ngong Ping 360 cable car at least one way of their trip to the Big Buddha and Po Lin Monastery and some even say it stole the show for their favorite part of the day!
The Ngong Ping 360 gondola will whisk you from the town of Tung Chung across the bay and up to the adorable village of Ngong Ping Village, all while giving you a spectacular aerial view of the island's scenery, including Big Buddha! What could be better you ask? Well, you also have the option to upgrade to a "Crystal Cabin" which has a glass floor so you can even see below your feet!
Open: Monday to Sunday, 10 am – 6 pm
Price (Standard/Crystal Cabin):
Single Trip – Adults 160/215 HKD (US $21/28), Children 3-11 yo 75/135 (US $10/17)
Round Trip – Adults 235/315 HKD (US $30/40), Children 3-11 yo 110/190HKD (US $15/25)
Location: Tung Chung – Ngong Ping village
Getting there: Take bus E11 or the MTR from Central to Tung Chung
11.4 Tai O Fishing Village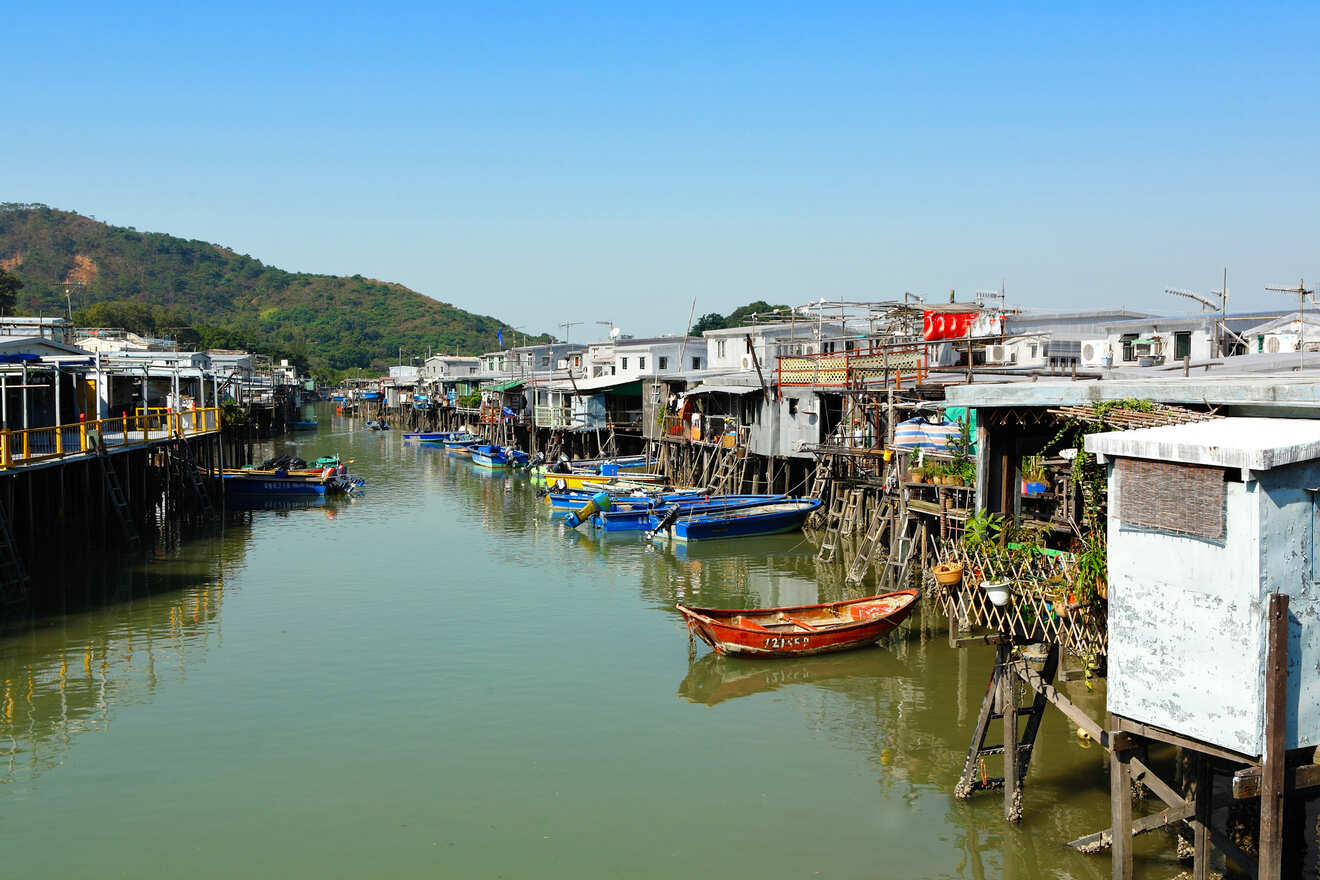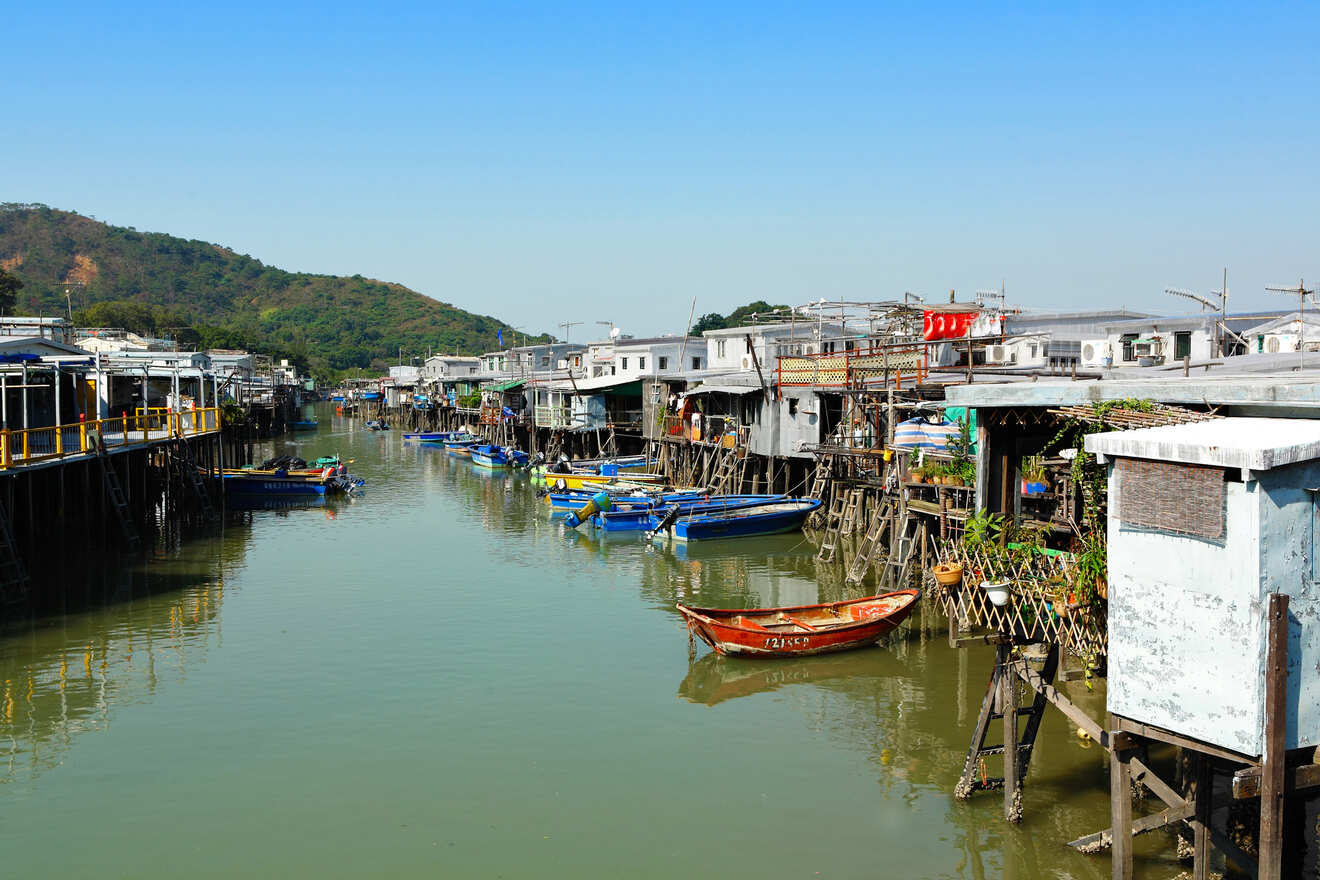 Now you may be thinking that Hong Kong, in general, seems like one huge fishing village and you would be pretty accurate in that.
That being said, the city is made up of a number of small villages that came about because of their access to fresh seafood and if you're only going to visit one fishing village, Tai O should be it!
Tai O village (directly translates to "​​large inlet) is the oldest fishing village in Hong Kong and actually sits partly on its own island. This picturesque village is home to the Tanka people who have built their unique homes on stilts over the water! Besides the 100% instagrammable pictures you can take here, the village also has a great market and offers boat rides through the waterways of Tai O where you have the chance to see the rare Chinese white dolphins!
Being a working fishing village, be prepared to see and smell fish in all states and forms as you will see the entire process of the sea to table being carried out on a daily basis here. If you try not to judge a restaurant by its cover you just might be able to discover some of the best seafood of your life!
Getting to Tai O Village:
By Bus/MTR – Take bus E11 or the MTR from Central to Tung Chung then bus 11 to Tai O
By Ferry – Take a Mui Wo ferry from Central Pier, then take bus 1 to Tai O
From Big Buddha – ​​Take Bus 21 to Tai O
12. Go Island hopping and discover Hong Kong's beaches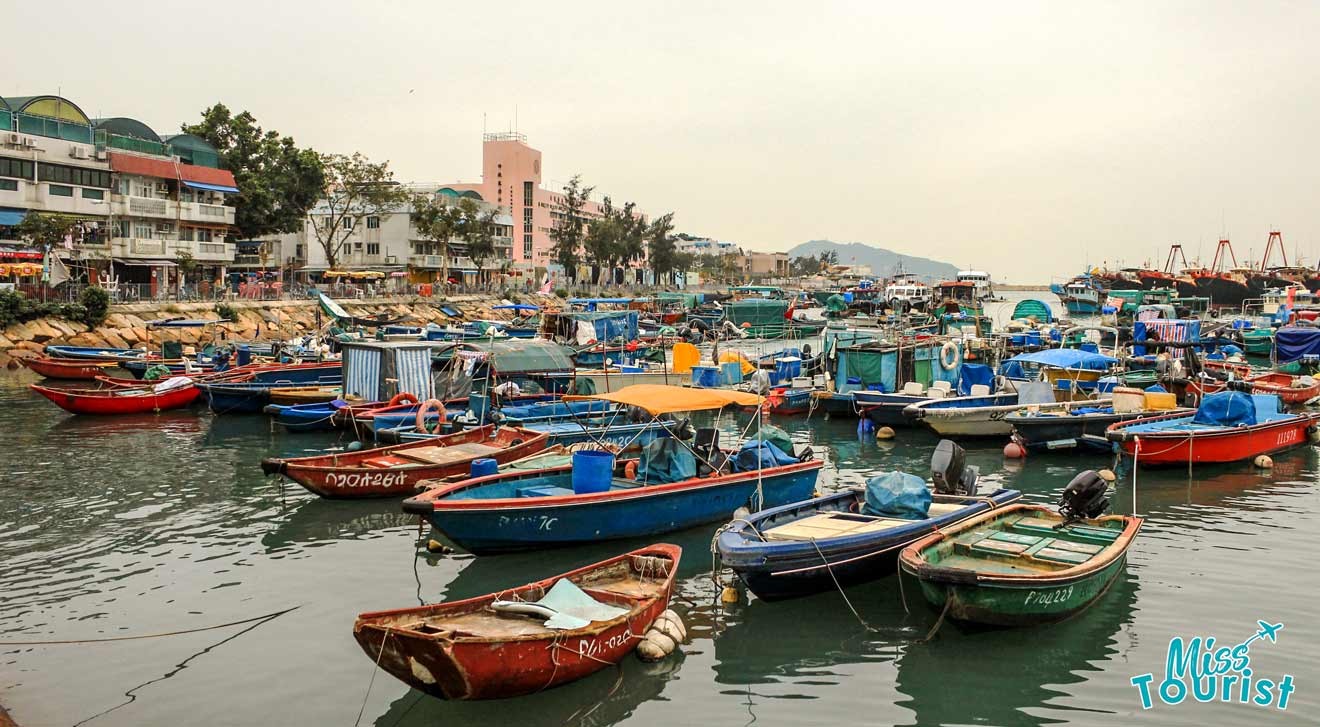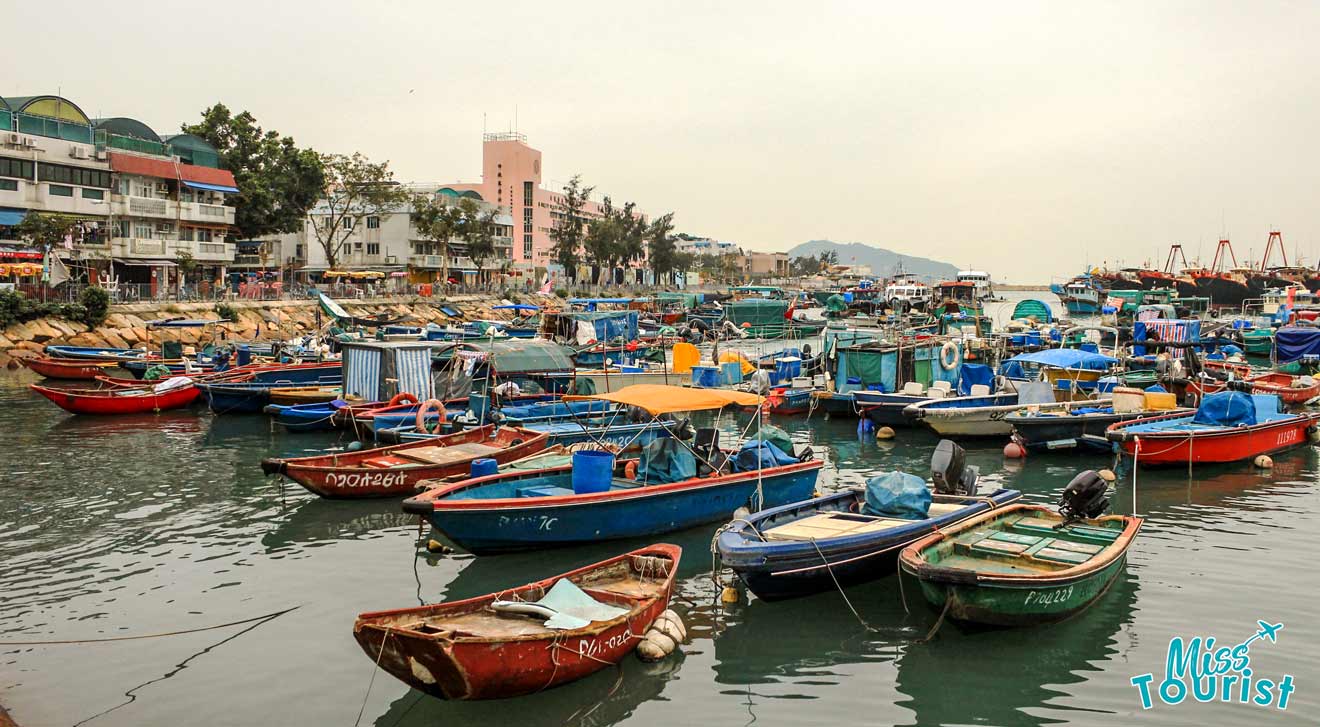 What do you think of when you hear the words Hong Kong? Skyscrapers, shopping malls, flashing lights, and lots of people right? What if I told you to add remote islands, beautiful boat trips, and sandy beaches to that list? Yes that's right, there are more than 250 islands making up Hong Kong and many of them are dreamy paradises you would never expect to see in the middle of such a booming business city (or at least I didn't)!
Most islands are connected to the mainland by ferries that make up part of the regular public transport system of Hong Kong. Each of them can either be visited as a day trip or for a few days at a time if you wish to stay on an island itself.
Although I visited too many to mention, here are my top islands to visit on your Hong Kong Island hopping adventure!
12.1 Beaches of Hong Kong Island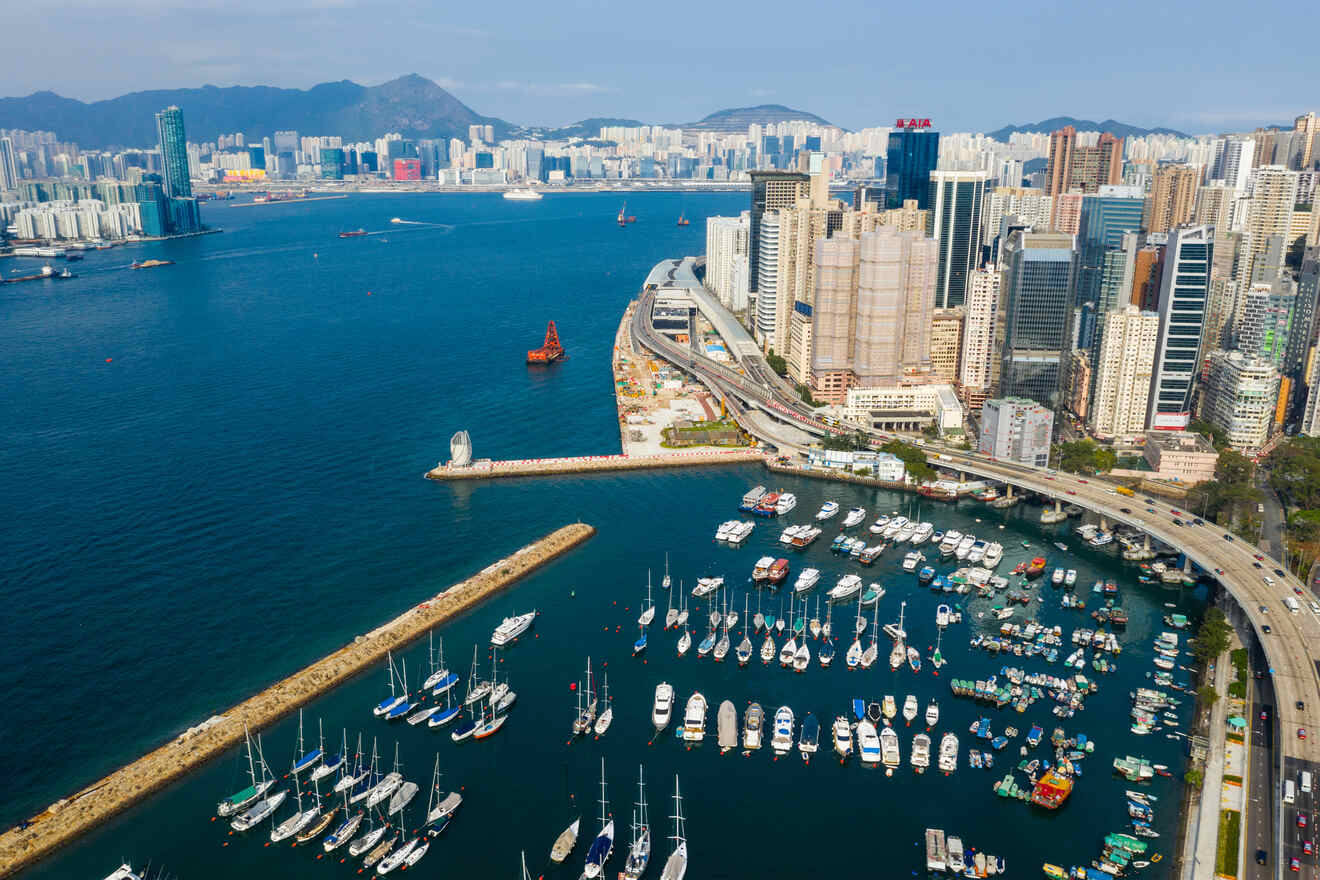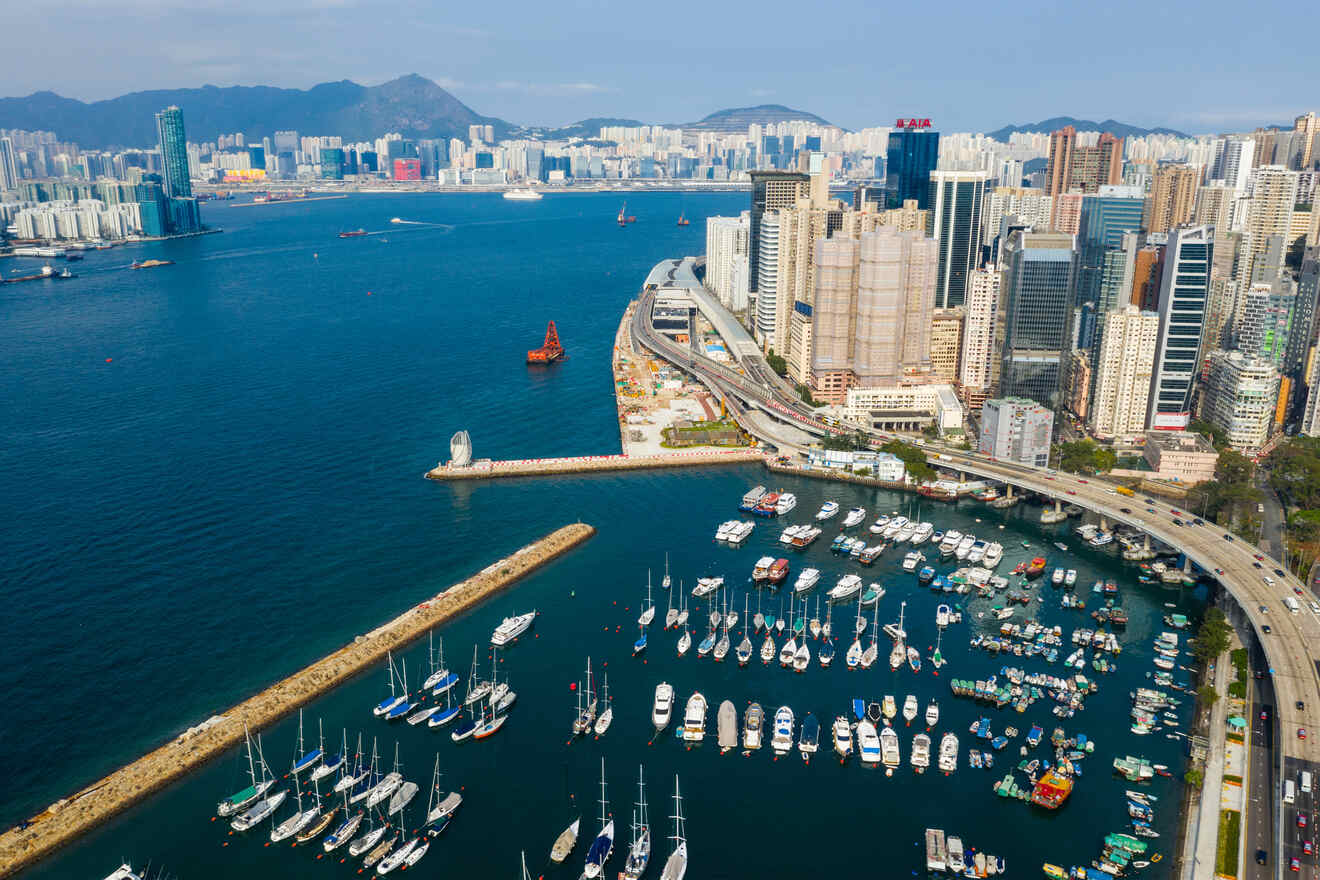 Central Hong Kong and Causeway bay, which are the most popular places to stay in Hong Kong, are located in the north of Hong Kong Island. Since it is a large, well-connected island, people often don't even realize they are on an island here but if you head to the southern part you will start to see why I added it to my list.
Repulse Bay (Tsin Shui Wan) is certainly a spot not to be missed. Its 292 meters (958 feet) of golden sand makes it one of the longest beaches in the region! This combined with its easy access from the city center makes Repulse Bay Beach one of the most popular amongst the HK locals. Repulse Bay is an upscale area with everything from BBQs and food kiosks to volleyball courts, bathrooms, and showers on the beach.
Getting to Repulse Bay
Tour: Repulse bay is a stop on the green route of the Hong Kong hop-on hop-off bus tour which takes visitors to all of the popular tourist attractions in the city.
Public Transport: From Central Hong Kong, take bus 6 at Exchange Square Bus Terminus. From Causeway Bay, take minibus 40 at Jardine's Bazaar and get off at the Repulse Bay Beach stop. Either journey will take around 40 mins.
If you are looking for more white sand beaches on Hong Kong island check out Stanley Beach close by or Big Wave Bay (Tai Long Wan) on the Sai Kung Peninsula. Big Wave Bay is a bit more difficult to reach but anywhere along the Sai Kung is worth it!
12.2 Hippy village and Kamikaze Caves of Lamma Island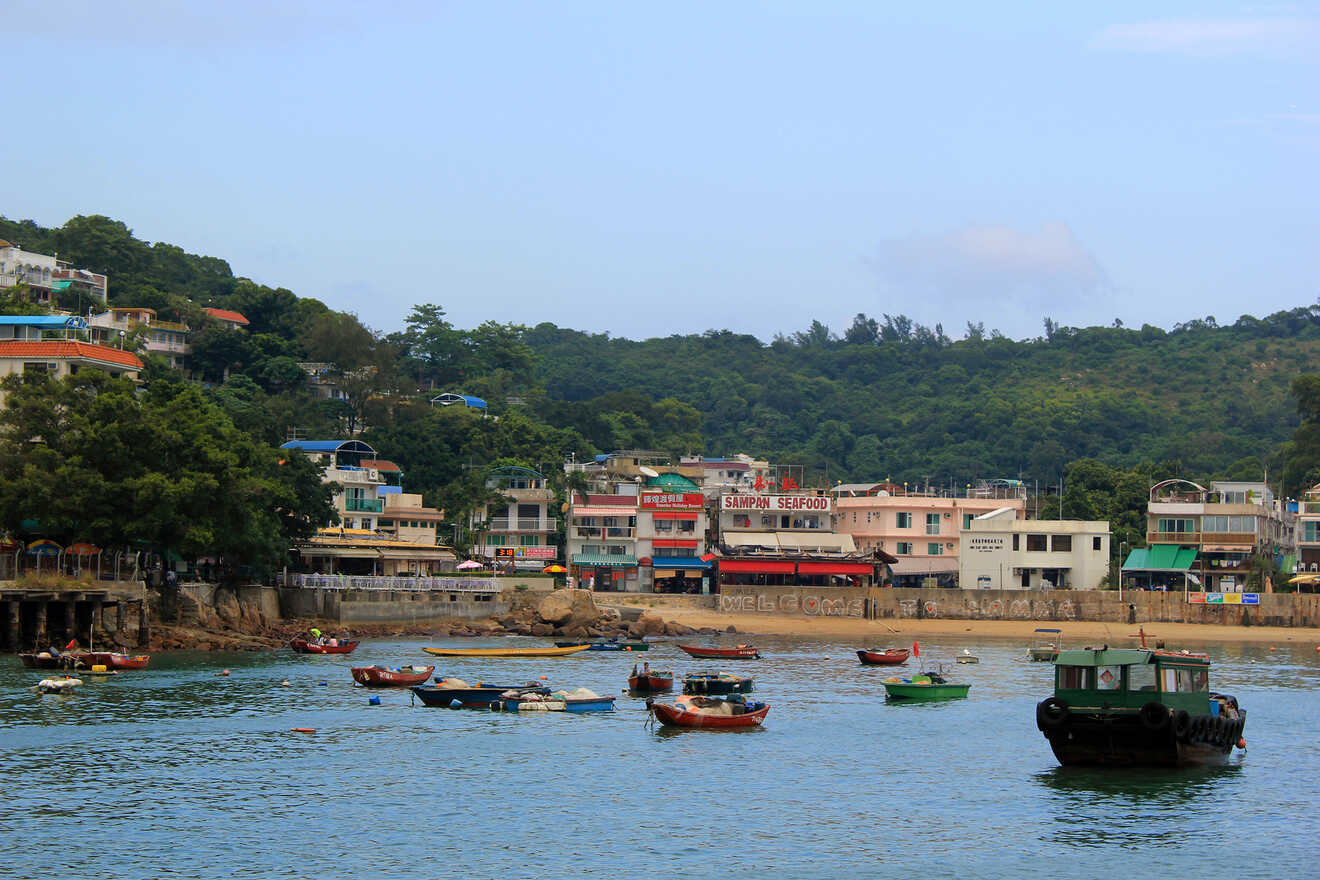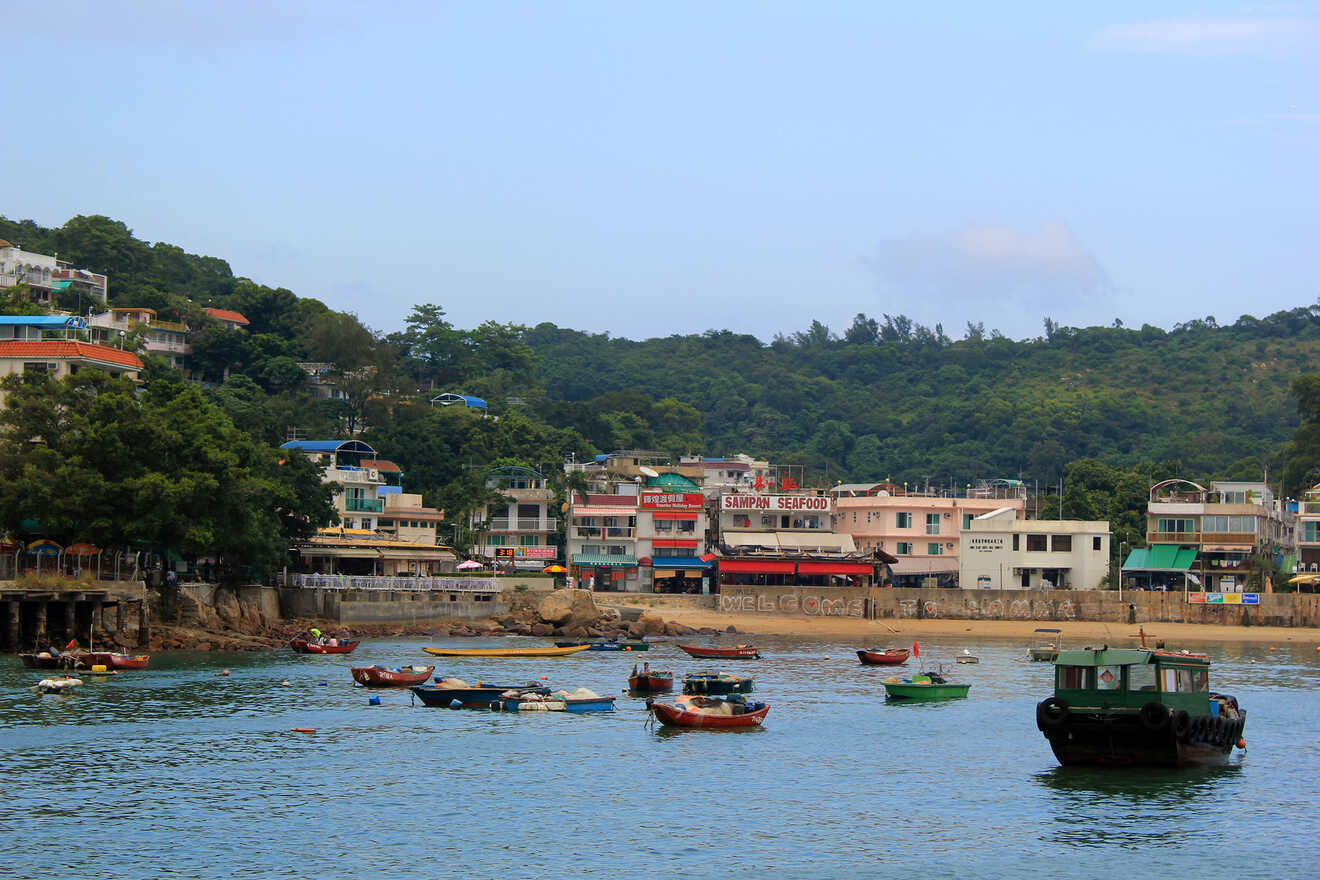 Lamma Island is the third-largest island in Hong Kong one of the more popular outer islands of Hong Kong amongst tourists, and my personal favorite!
Forget what you think you know about Hong Kong culture and step into an alternative realm with a uniquely hippy spirit. Lining the main street of Yung Shue Wan on Lamma Island you will find countless cozy coffee shops and independent boutiques selling handmade crafts with good vibes all around. I personally didn't even know a place like this existed in Hong Kong but I loved wandering the narrow streets and visiting all the smiling faces of Lamma Island.
After you have finished exploring Yung Shue Wan, take the easy 3km (1.8 miles) paved trail called the "Lamma Island family walk". The 1-hour trail is very well marked and connects Lamma Island's two biggest towns leading from Yung Shue Wan in the north to Sok Kwu Wan in the south.
TIP: Bring your swimsuit if you're visiting on a warm day as the two main sandy beaches here, Hung Shing Yeh Beach and Lo So Shing Beach, have beautiful clear waters, perfect for a dip on a hot day!
About halfway through your walk, you will even get the chance to explore some Kamikaze Caves. These caves and their connecting underground tunnels were dug out by Japanese soldiers in WWII to hide their boats. Today, some of them are still accessible if you dare!
NOTE: Besides a small sign at the entrance, the tunnels are not built up for tourism as you may expect. Make sure to bring a torch and be prepared for dark confined spaces and surprised faces when you pop out of a small hole on the other end! Seriously, I certainly scared an unknowing family looking in when I appeared from the ground seemingly out of nowhere!
Getting to Lamma Island
Tour: If you're not comfortable taking the ferries by yourself or simply would like a guide, this tour takes you all the way from Central and back to discover Lamma Island without a worry
From Central: Take the Yung Shue Wan Ferry from Central Ferry Pier No.4 (30 mins)
Return from Pichic Bay, Sok Kwu Wan on the Central – Sok Kwu Wan Ferry (40 mins)
From Aberdeen: Take the Pak Kok Tsuen – Yung Shue Wan ferry from Kai to Pier (15 mins)
Return from Pichic Bay, Sok Kwu Wan on the Aberdeen – Mo Tat Wan – Sok Kwu Wan ferry (20 mins)
NOTE: Ferries depart every 20-30 mins during peak times and every 45-60 min during the middle of the day.
13. Take some super Instagrammable photos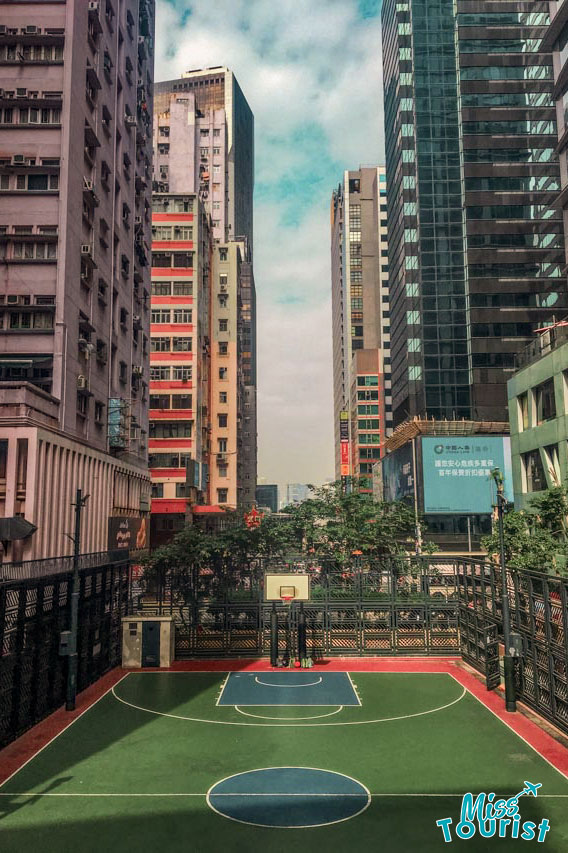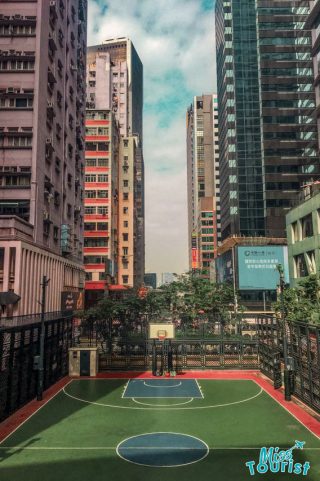 If you've been researching your trip to Hong Kong there's no doubt you've probably come across some of the awesome photos on Instagram of colorful buildings and busy city scenes. Well, I am here to tell you exactly where those popular spots are so you can take some cool photos yourself!

PRO TIP: Arrive super early (6 am) if you want to get the shots without other people ruining your photos. These places are really famous on Instagram, which means you won't be the only one trying to get Instagram perfect photos 😉
Here I will talk about the two most popular Instagram locations in Hong Kong but I always say the best thing to do if you're looking for a cool shot, is just to walk around and keep your eyes open. There are tonnes of unique and colorful spots like this basketball court that I walked by while on the hunt for the perfect dumplings!
Yick Cheong Building (Yick Fat Building) / Monster Building
The Monster Building goes by many different names like the Yick Cheong building, or Yick Fat Building but in reality, the "Monster Building" is a residential complex made of 5 buildings that are grouped so close together it looks like one giant transformer!

It's no surprise thousands of visitors flock to the Yick Cheong Building every day to snap a picture because it pretty much sums up Hong Kong's crazy overpopulation and huge skyscrapers in one photo.
Please remember that these are residential buildings and respect the hundreds of people who live here. Despite the location's popularity on social media, it's not the set of a photoshoot.

NOTE: When I visited my walking tour guide advised us that they had actually banned taking pictures in the inner courtyard to protect the privacy of the residence from the huge numbers of people who come to take pictures.
Getting there:
Take exit A at Quarry Bay MTR Station and walk along King's Road toward Tai Koo. Look for the entrance to Montane Mansion and Oceanic Mansion to find the courtyard.
Choi Hung Estate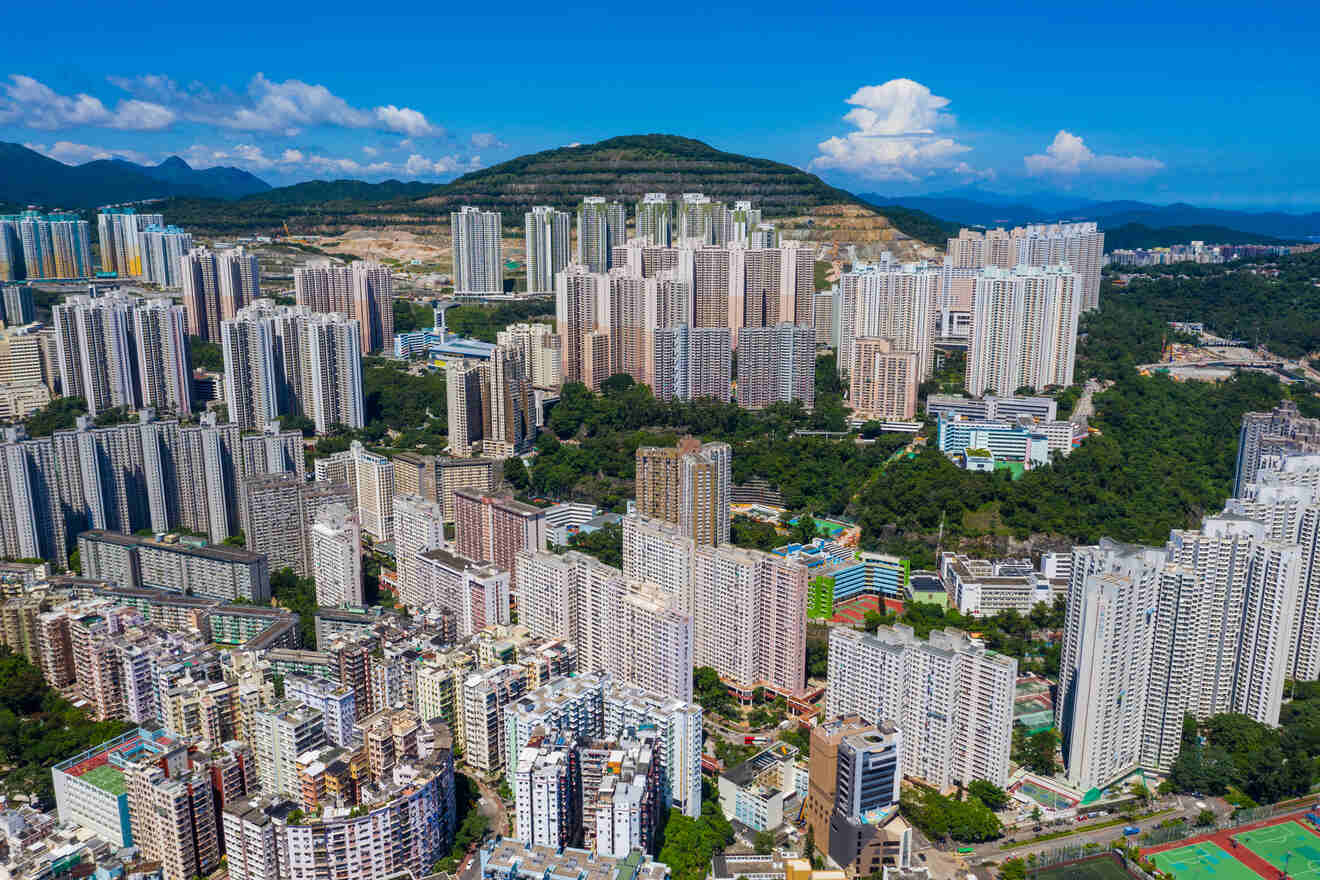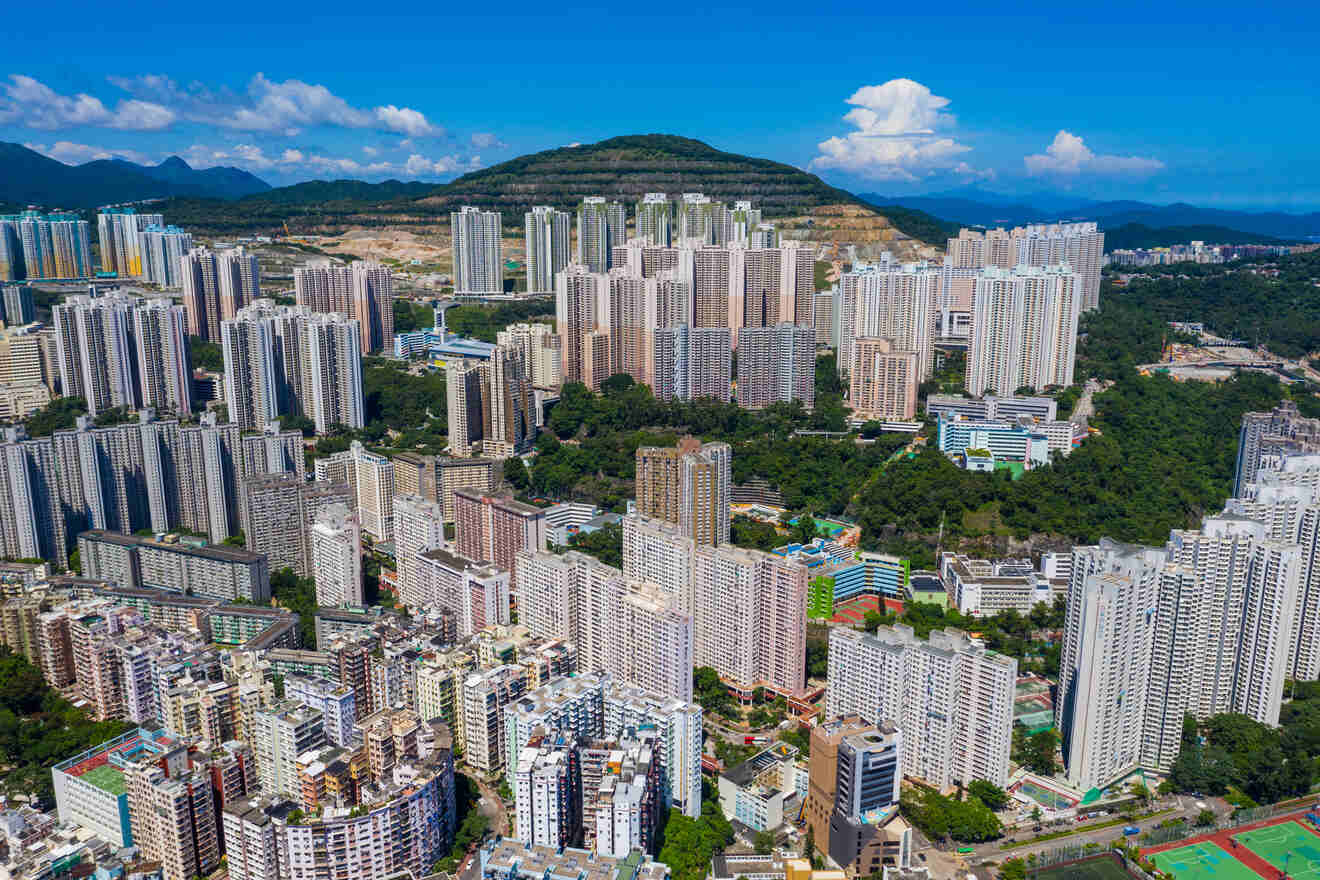 This one is a little far from the city center but it is truly worth the trip. Choi Hung Estate is actually one of the oldest public housing estates in Hong Kong and is home to over 18,000 people.

But its modern stardom comes thanks to its rainbow colors and picture-perfect symmetry. The best spot to take a truly Instagram-worthy shot is at the basketball court on the roof of the car park.
Getting there:
Take the MTR to Choi Hung Station on the Kwun Tung Line and exit via C3 or C4. There are signs to the basketball court and all you need to do is climb the stairs!
| | |
| --- | --- |
| 🤩 Range of activities: | Large |
| 👪 Family-friendly score: | High |
| 🏛️ Best museum: | Hong Kong Space Museum |
| 🎢 Top paid attraction: | The Peak Tram |
| 🚶🏽‍♂️ Best free activity: | Tai O Village |
| 👧 Best attraction for kids: | Hong Kong Disneyland |
| 🕺 Nightlife: | Lan Kwai Fong |
| 🥟 Must try food: | Fish balls |
Practical Information about Hong Kong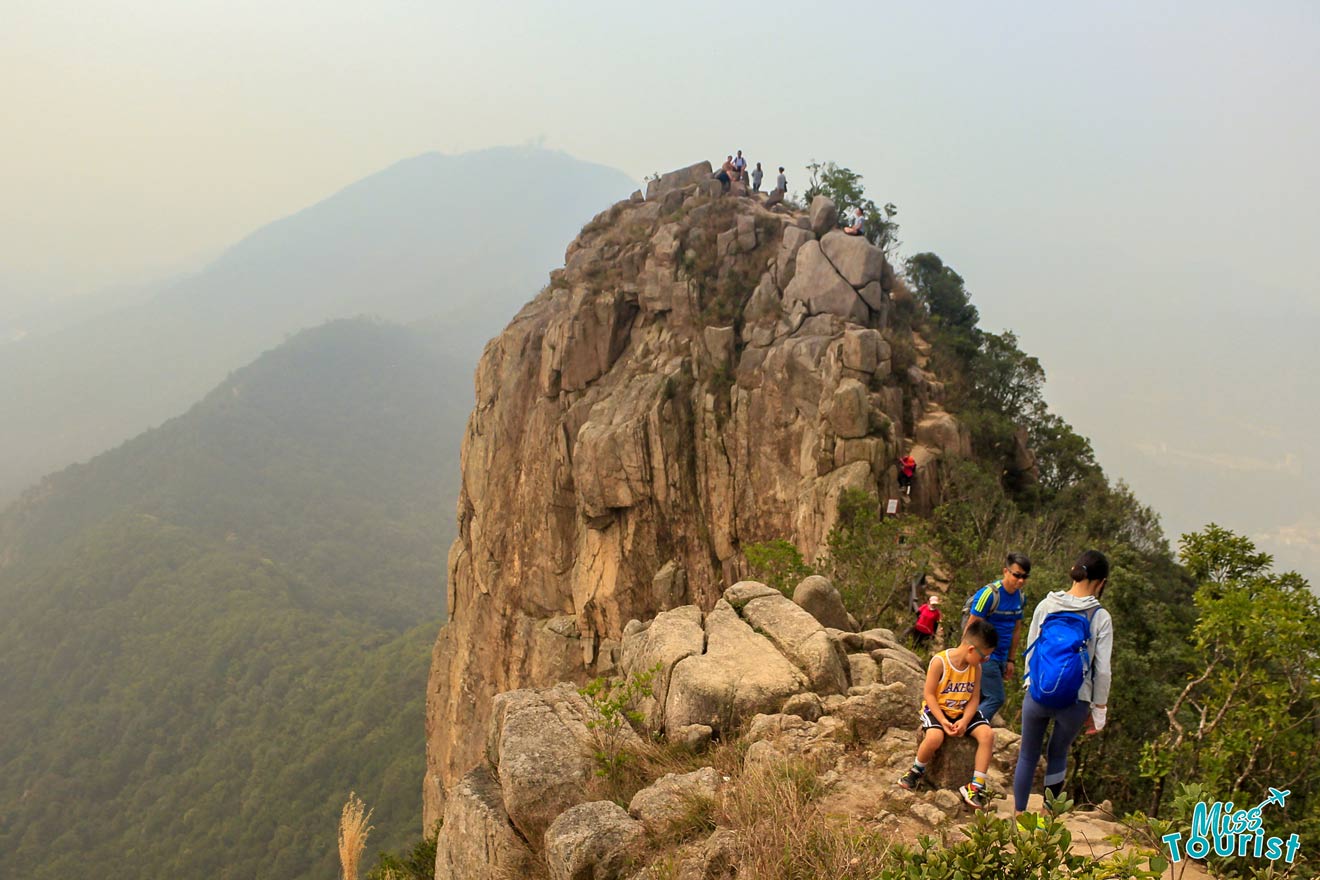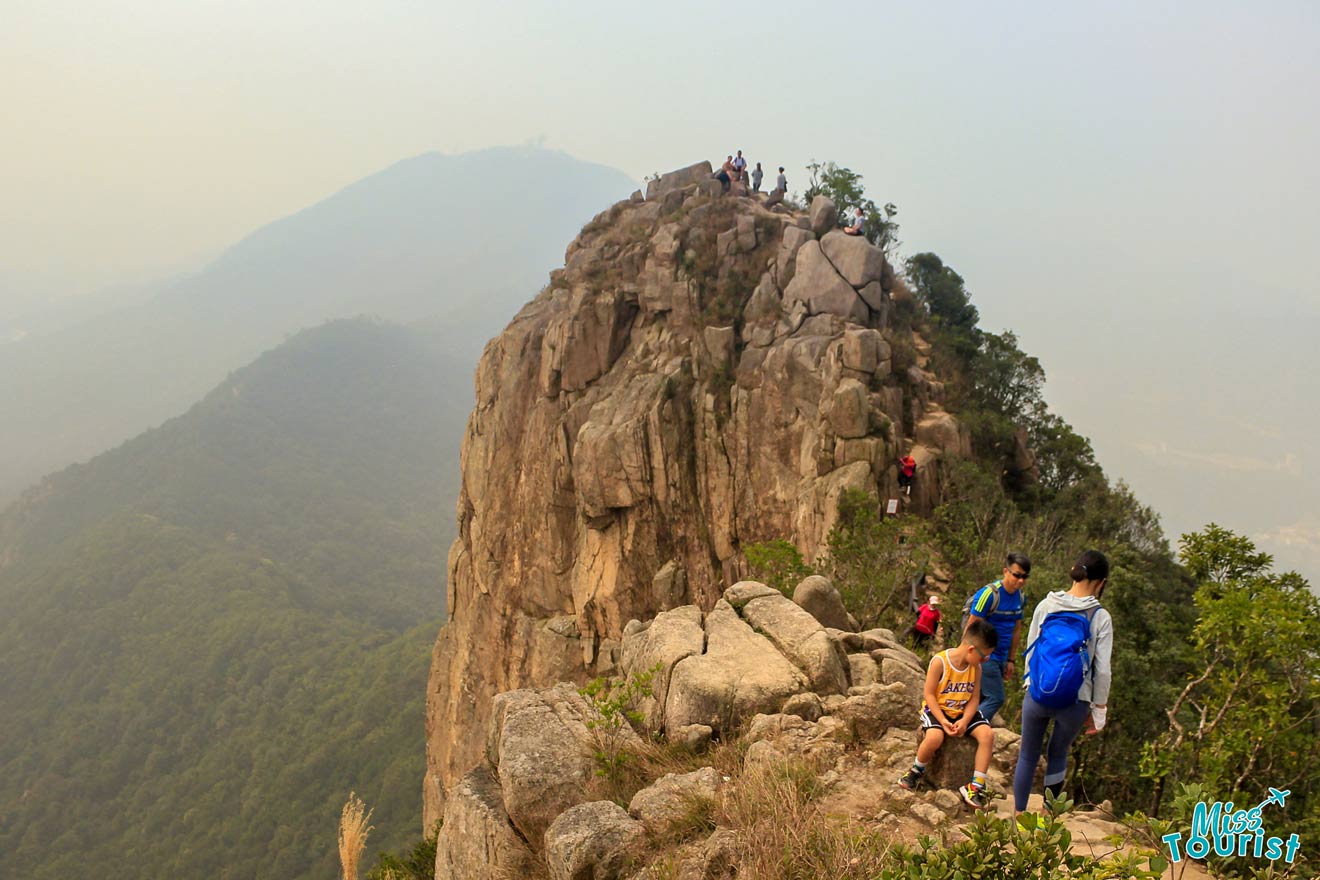 Now that you know about all the exciting things to do in Hong Kong, it's time to learn about logistics. Here is some helpful info to help you plan where to stay and how to get around!
Where to stay in Hong Kong
So you're going to need a good place to rest your head after all this exploring! I have gathered together a small list of the best of the best hotels for each price range here, all located in a central area, but if you are looking for more options, we have an entire post dedicated to Hong Kong accommodation!
NOTE: While attractions here are relatively affordable, accommodation in Hong Kong is generally on the pricier side due to the overpopulation in the city. So don't be surprised if your room is a little smaller than you expected.
Luxury (US$400 and up)
The Peninsula Hong Kong – If you're looking for the celebrity treatment, look no further than this incredible 5 star hotel with no less than 8 restaurants and bars right on Victoria Harbour. It's going to be hard to beat waking up in this super elegant, modern rooms with a killer view!
Four Seasons Hotel – Enjoy the spacious, floor to ceiling windows of this absolutely luxurious hotel located on Hong Kong island. With a perfect blend of Chinese and Western elements, this hotel will give you a taste of the sophisticated culture while at the same time providing you with all the comforts of home.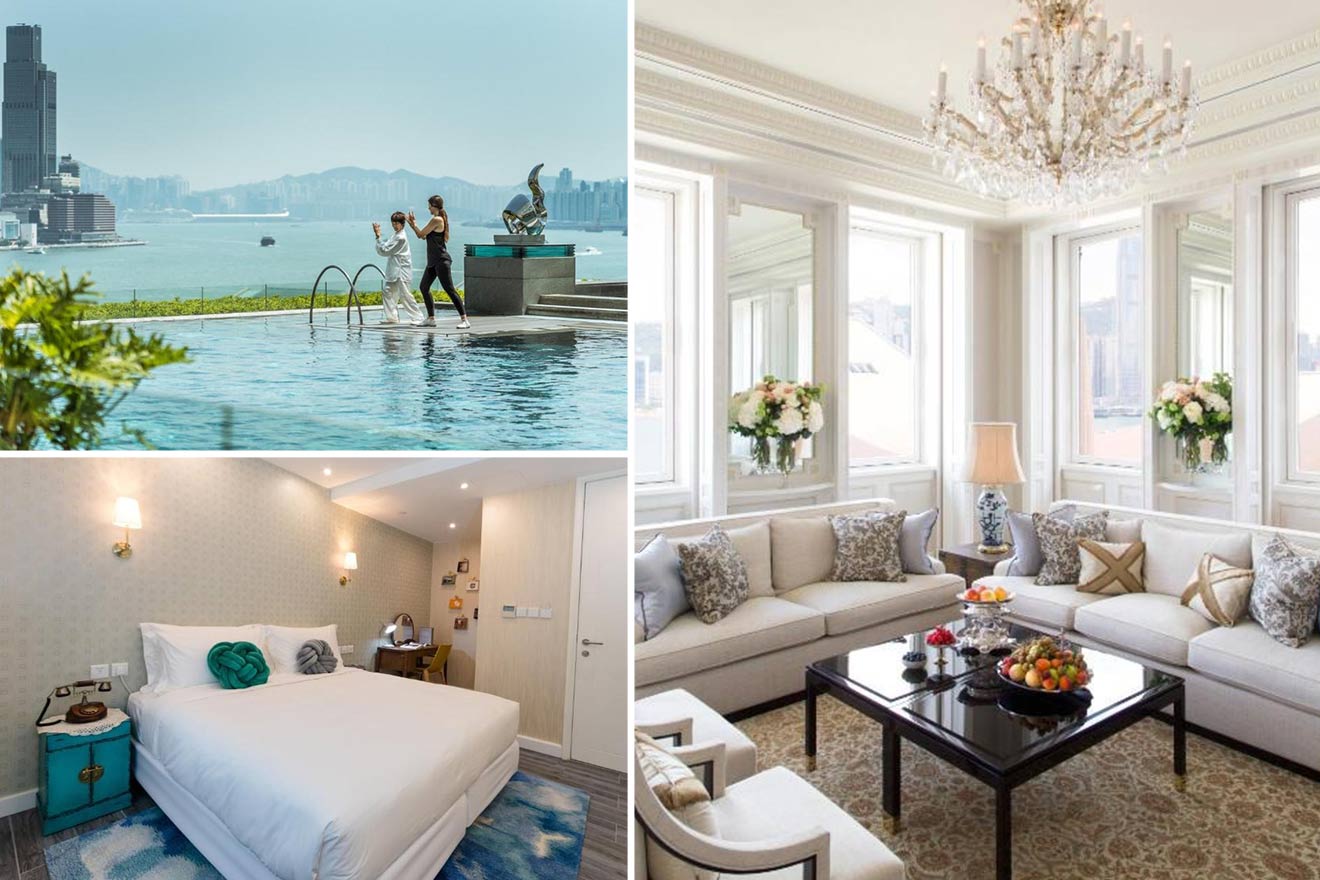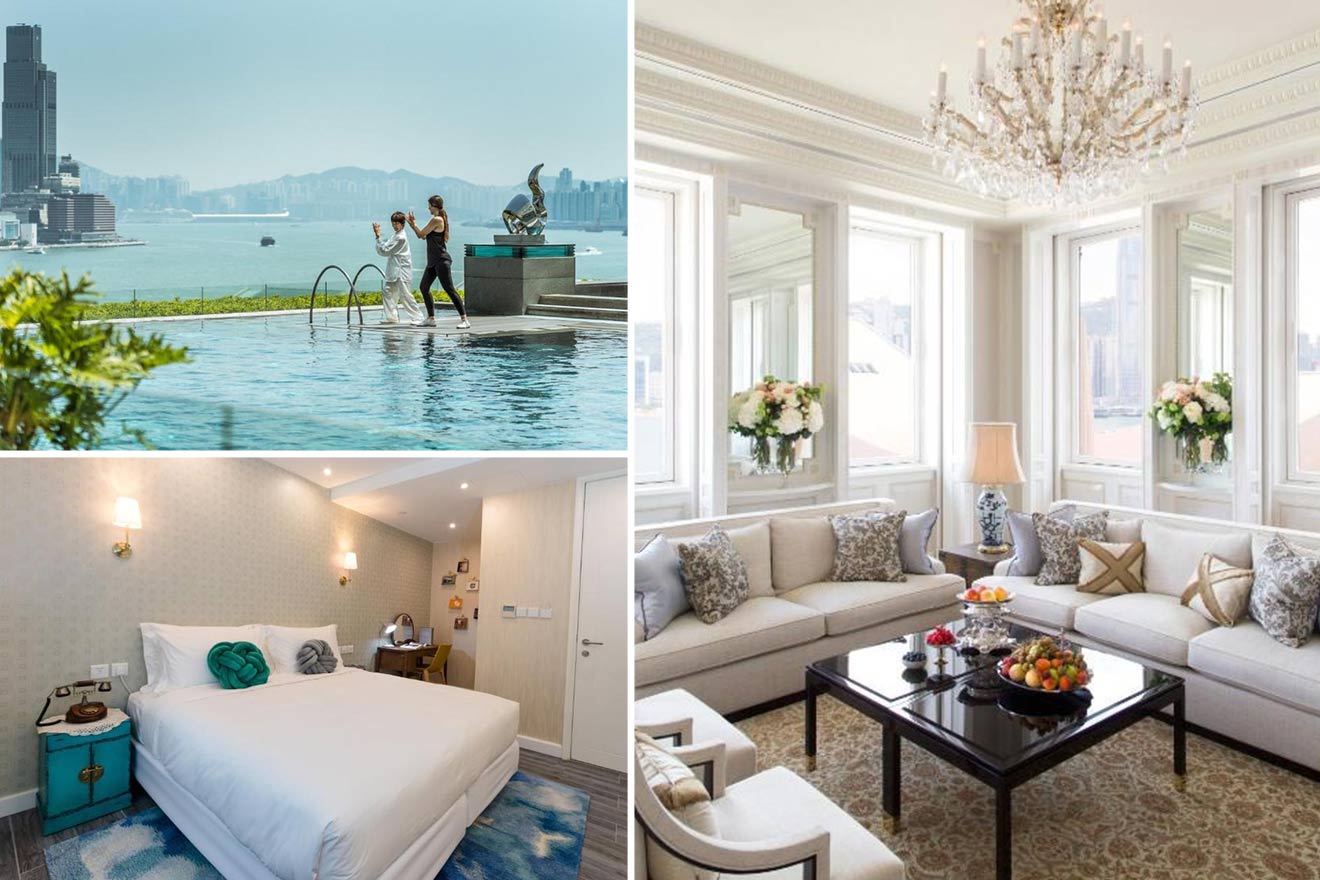 Mid Range (US$140 – US$200)
The Salisbury – Located in Tsim Sha Tsui, the Salisbury YMCA is a haven for anyone looking for an active holiday. Offering a rock climbing room, lap pool, and two different dining options in a great location, it's going to be hard to beat this hotel if you're looking for the ultimate value for money.
Butterfly on Wellington – This 4 star, boutique hotel located in Central boasts stylish rooms with antique furniture. The caring staff really have thought of everything and even provide their guests with portable pocket wifi devices so you can always stay connected.
Budget (up to US$120)
Tung Nam Lou Art Hotel – Pick your theme and enjoy the art at this adults-only hotel in Kowloon. With a shared dining area and great places to work, this would be my pick if you need to get some business done but don't want to spend a fortune.
Yesinn – This was the first hostel I picked for my stay in Hong Kong. It is one of the most modern options for backpackers on a budget looking to stay right in the heart of Hong Kong. The cozy common area is perfect for making new friends and the clever use of space in the dorm rooms ensures everyone has their privacy.
How to get around Hong Kong
Public Transport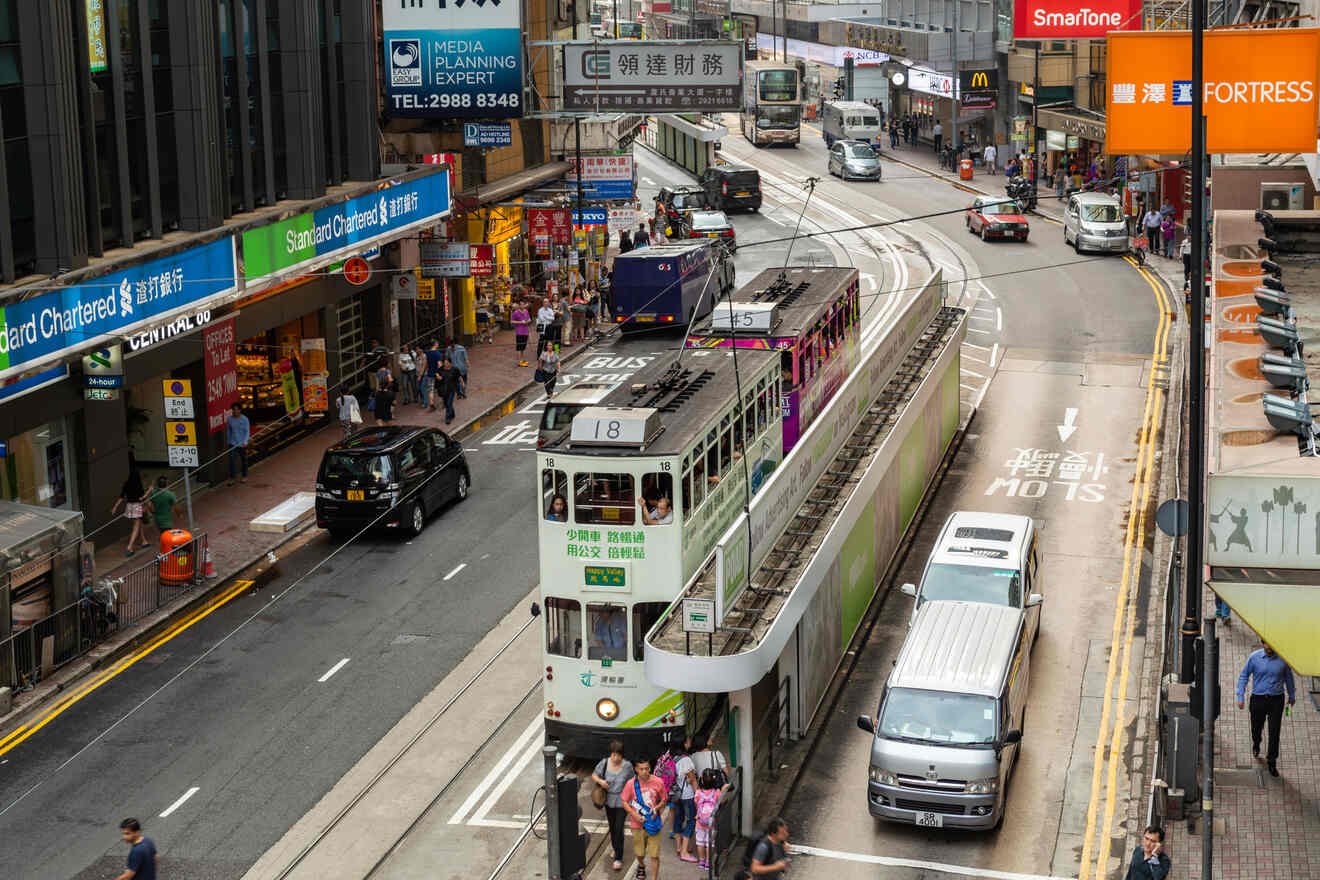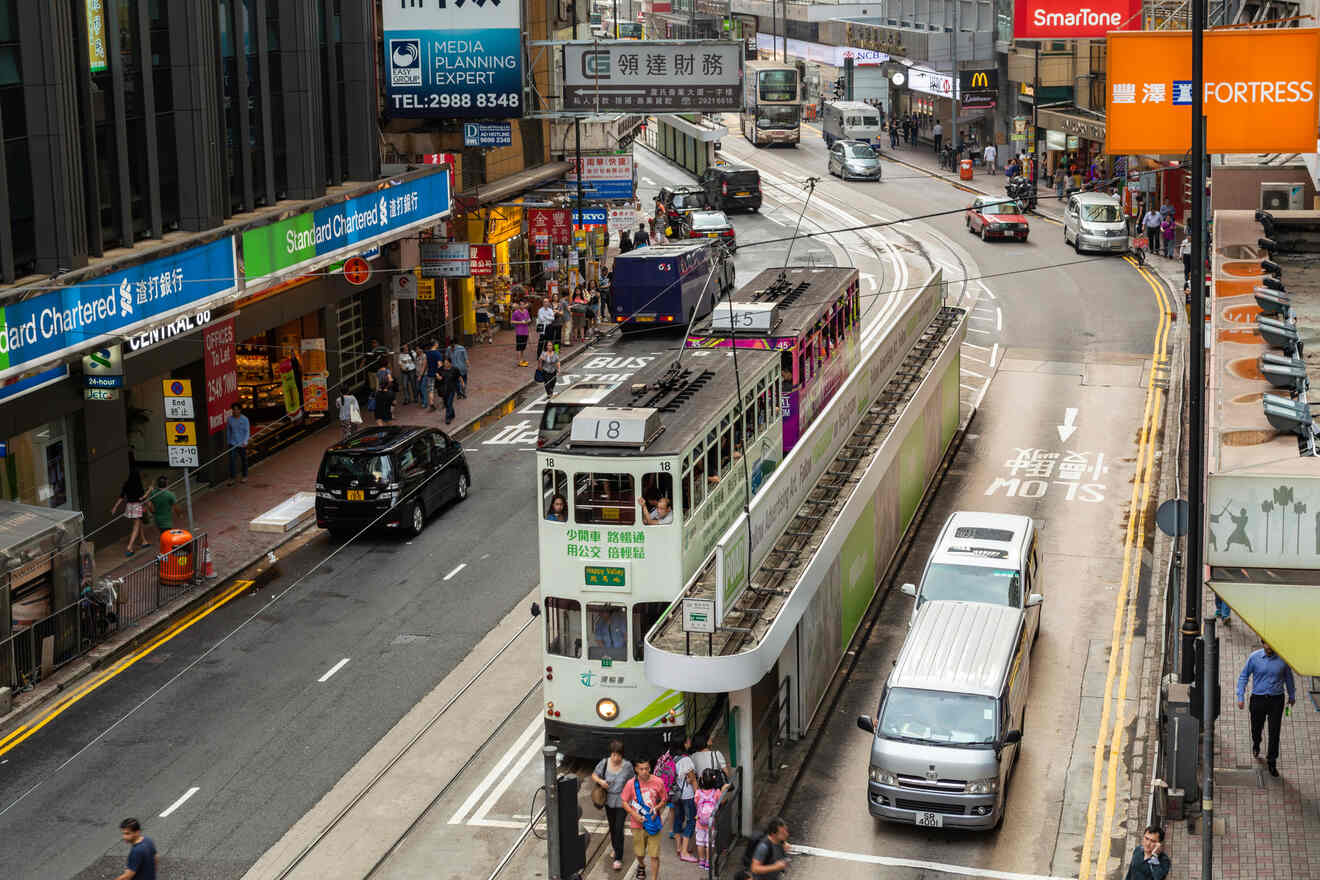 Public transport by metro, bus, and ferries is by far the easiest and most efficient way to get around the city. All the signs and announcements are in English which makes it really easy to navigate, but remember that Hong Kong is a very crowded place and with half of the population using public transport every day, you probably want to avoid rush hour between 8–9 am and 5–6 pm.
Unlike in other cities where there is a large overlap between different types of public transport, in Hong Kong, you will probably find that you need to use all three to get around. Luckily, you can easily pay for all types of transport with one convenient card, the Octopus Card (which I will talk about shortly), and rides cost between 5 – 55 HKD (US$0.65 – $7)
You can easily use google maps to plan your route on public transport in Hong Kong. Just put in your location and destination and it will show you your options!

MTR (metro) – The metro is called the MTR in Hong Kong and it is extremely well organized and can connect you with most of the city in minutes. The MTR runs between 6 am -1 am and provides the skeleton of the public transport system in Hong Kong and is best used for longer distances, for example, between islands. Often you will then connect with a local bus to take you to your final destination.
Buses – For short distances around Central and Tsim Sha Tsui, it's best to take buses as you will be able to get much closer to your destination than on the MTR. You will also most likely need buses in combination with the MTR to get to hikes and other attractions on the outskirts of the cities. Don't worry, bus stops are clearly marked with signs and numbers corresponding to the routes and there are electronic screens onboard most which tell you the next stop so you know when to get off!
Ferries – Ferries are a staple experience in Hong Kong, if you don't take at least one during your trip, you're doing it wrong! Ferries are also part of the public transport system meaning you can use your Octopus Card and often, they are the quickest way to get between islands.
Taxies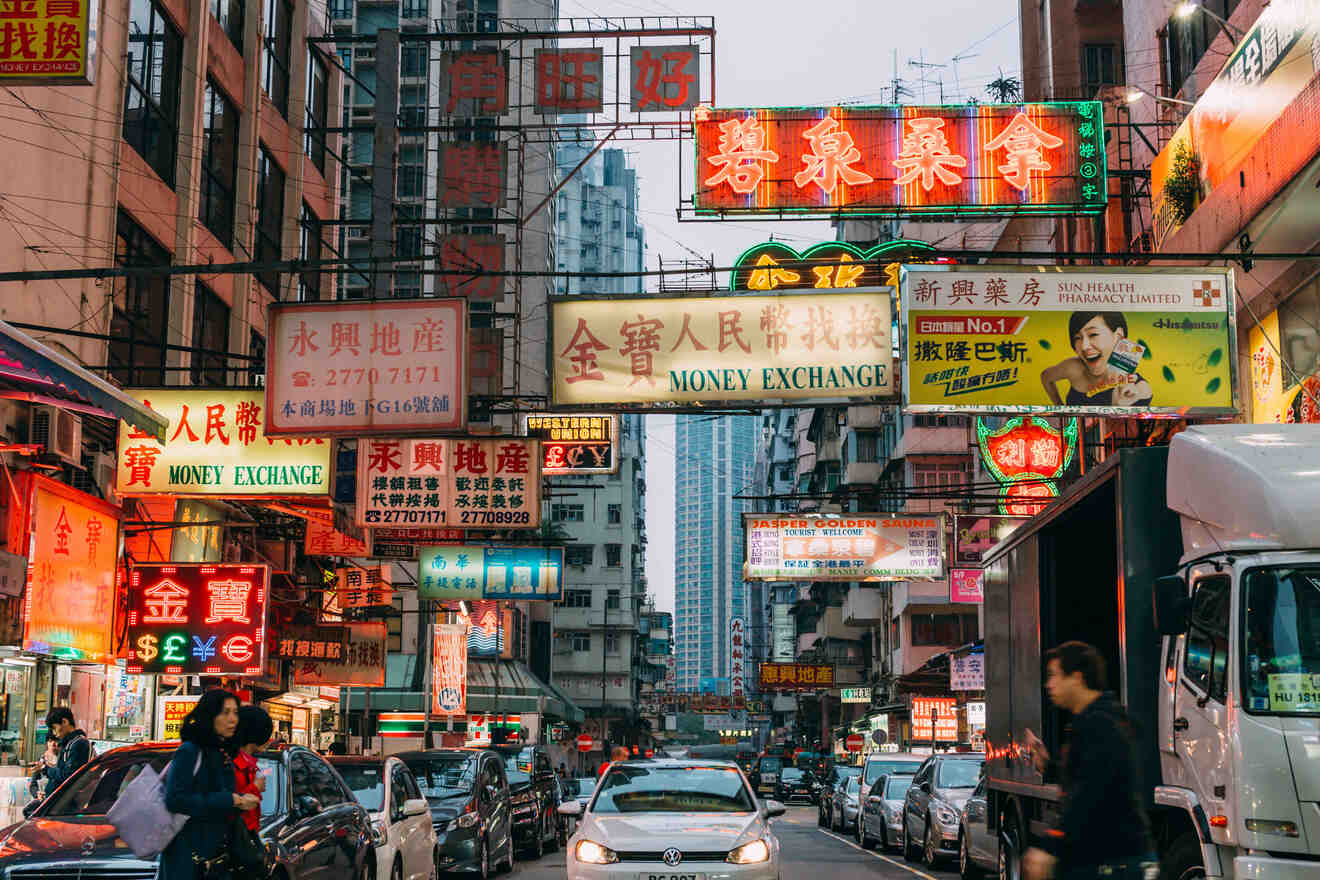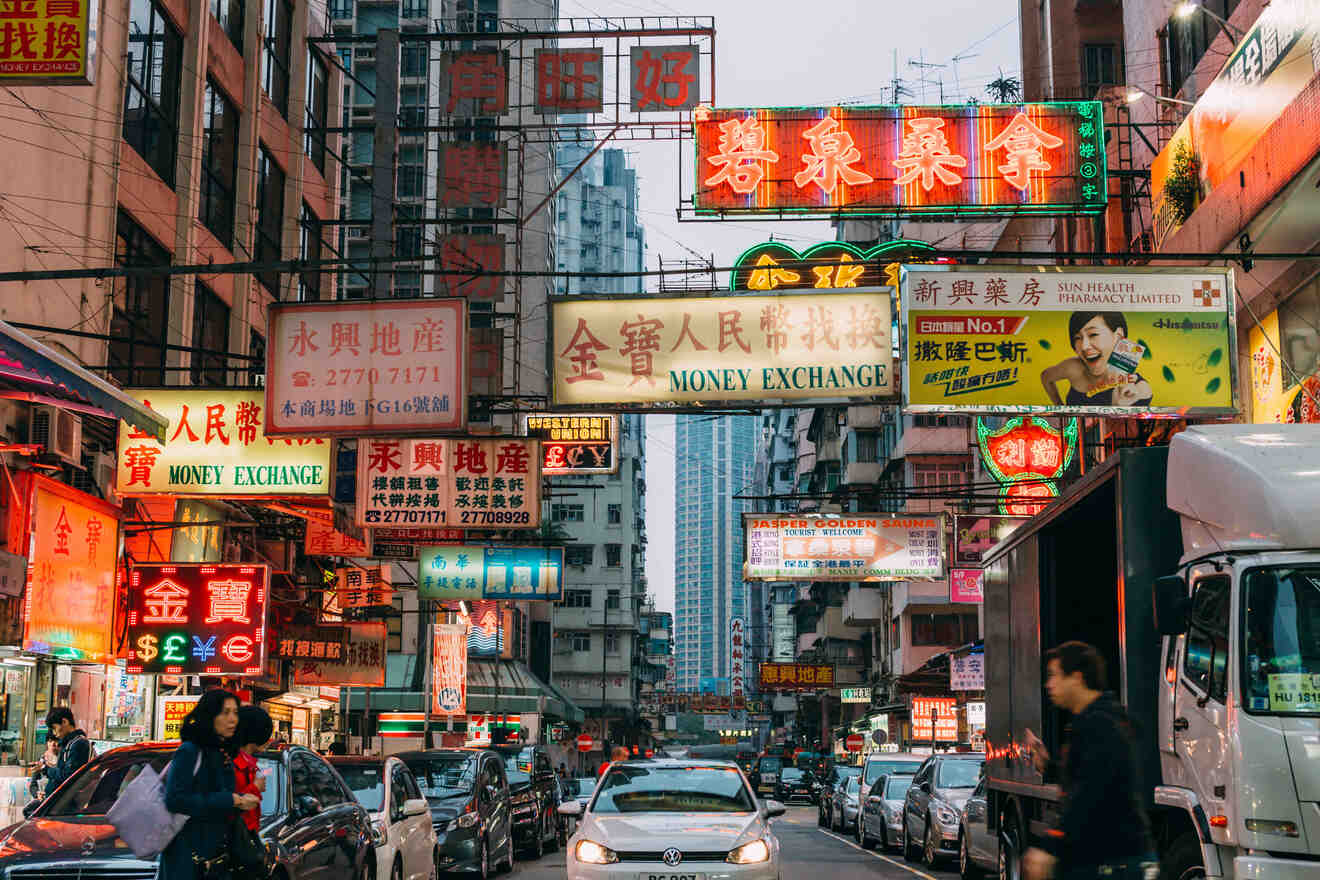 While I recommend taking public transport to most of the popular attractions and hotels if you are trying to travel somewhere a little more specific which would take lots of connections, taxis in Hong Kong can be quite inexpensive and easy to use. There are three types of taxis in Hong Kong, all color-coded:
Red taxis – Urban areas (Central Hong Kong Island)
Green taxis – New Territories (northern Hong Kong)
Blue taxis – Lantau Island
While the taxis are restricted to their licensed area, all taxis are able to pick up and drop off at the airport, Disneyland, and the bridge to Macao. Taxis in Hong Kong use a meter system and you can easily hail one on the street as there are always plenty driving around. Taxis in Hong Kong are heavily regulated so you don't have to worry about being ripped off, if the meter is on then you will be fine.
NOTE: Often taxi drivers won't speak English however in this case, they will often hold out the radio for you to speak to their depot who will translate your destination for the driver.
Each trip will start with a flat fee of between 15 – 20 HKD (US $2-2.60) for the first 2 km (1.25 miles). Every 200 meters (~660 feet) or minute of waiting after this costs 1.3-1.5 HKD (~US $0.20) after this, depending on the type of taxi you take. It isn't necessary to tip your driver however it is always appreciated.
PRO TIP: Make sure to carry smaller changes as taxi drivers don't have to give change from HKD 500 (US $65) or HKD 1,000 (US $130) notes.

Most taxis that you hail from the street will only accept cash however you can also pay with your Octopus card if you order a taxi through the HKTaxi app. Alternatively, you can now also pay by credit card for a hailed taxi through the app once arriving at your destination.
While it is less common, you can also try to book a ride on many apps such as Uber, HK taxi, DIDI, God Taxi, SynCab, and Fly Taxi. Because of this, it's common to see drivers with up to 10 phones on their dashboards.
Octopus card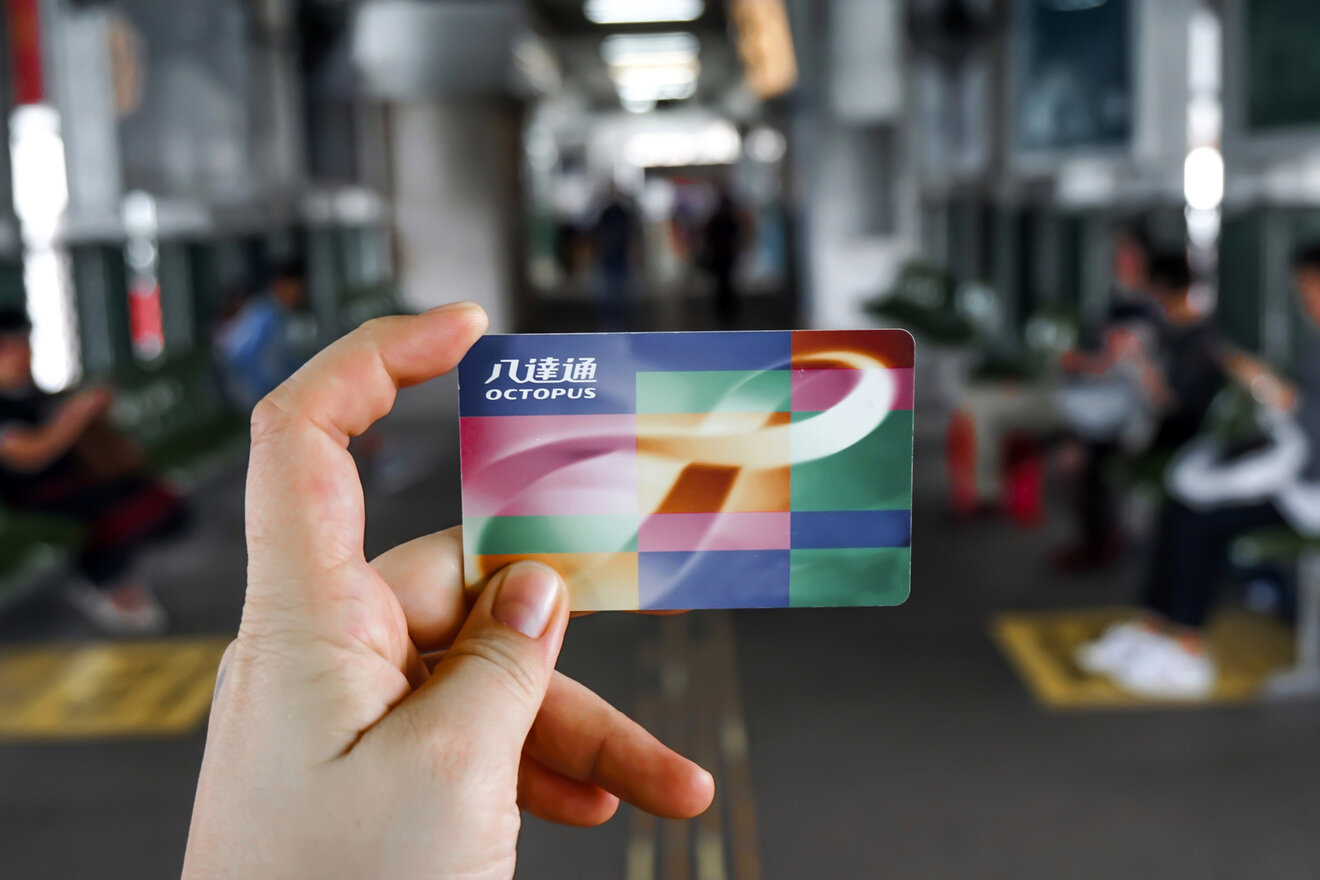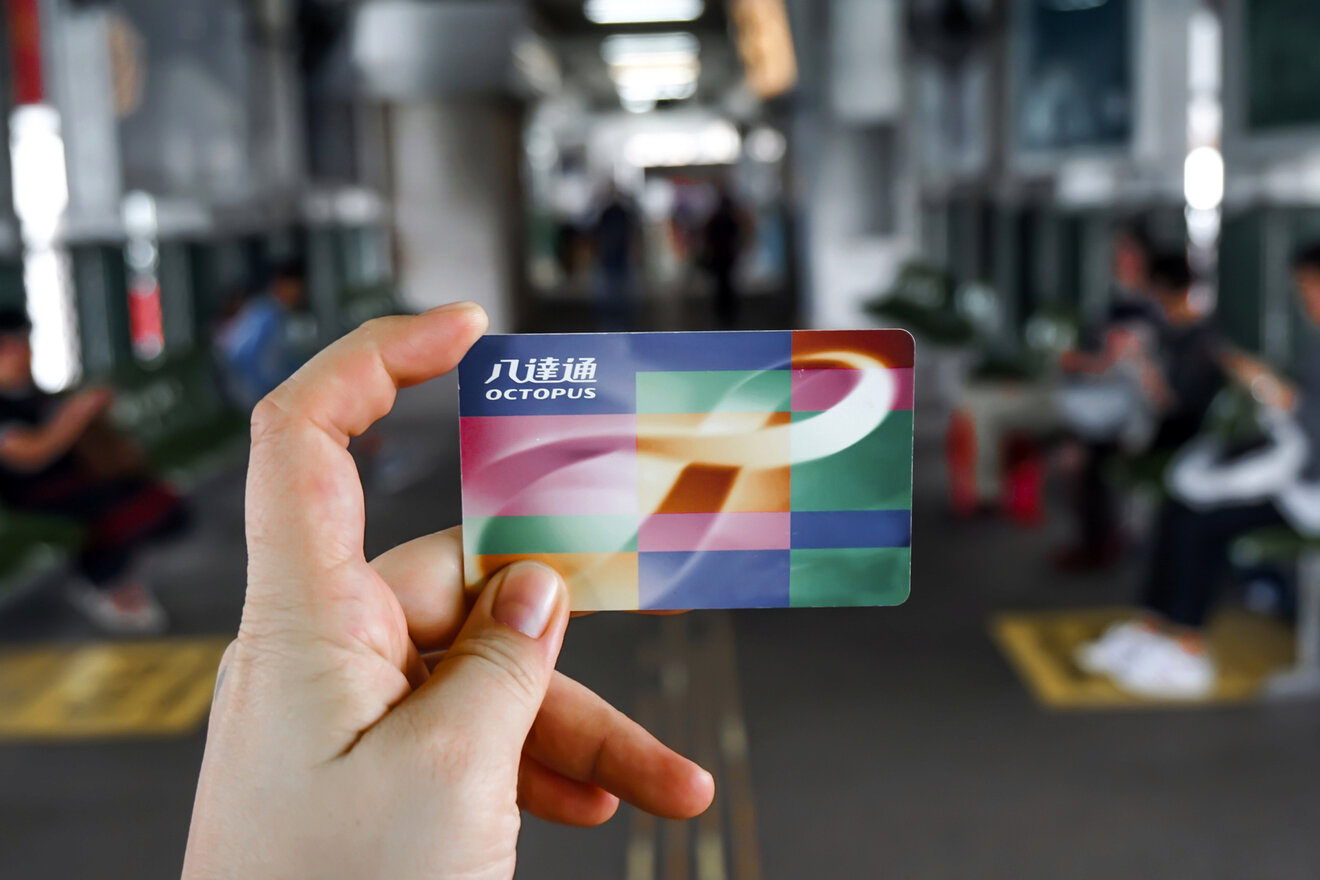 My advice to you is to pick up an Octopus Card as soon as you arrive in Hong Kong. An Octopus card is a reloadable card that you can top up with cash. By using the card you receive an 8% discount and the fare will be deducted every time you tap on and off throughout your journey. Not only that, many shops and attractions throughout the city also take Octopus cards meaning you can avoid those pesky international transaction fees.
You can easily get these from the ticket desks at the airport or any MTR station in Hong Kong. As a tourist you have two options, to buy or rent a card.
Buying a card – Purchasing a new Octopus Card costs 39 HKD (US $5) + credit. The card can be bought at 7 eleven, Circle K, or the MTR ticket machines at Airport Station and Kowloon Station. If you purchase a new card you will not be able to exchange the cost of the card but you can always re-claim any remaining balance when you leave HK at MTR customer service desks. This way you get to keep the card as a souvenir!
Renting a card – If you are staying for less than 90 days, visit an MTR Customer Service desk at the airport or any MTR station and ask for an "On Load" Octopus Card. You will pay a 50 HKD (US $6.50) deposit and can add between $20-$100 HKD (US $2.5 – $13)​​ of credit. When you are leaving, you can simply return the card to any MTR service desk and reclaim your deposit plus any remaining balance minus 1% or 11 HKD (US $1.50) handling fee (whichever is more).
NOTE: You can now also get an Octopus card on your iPhone or Apple Watch so you don't even need to carry a physical card!
All about sim cards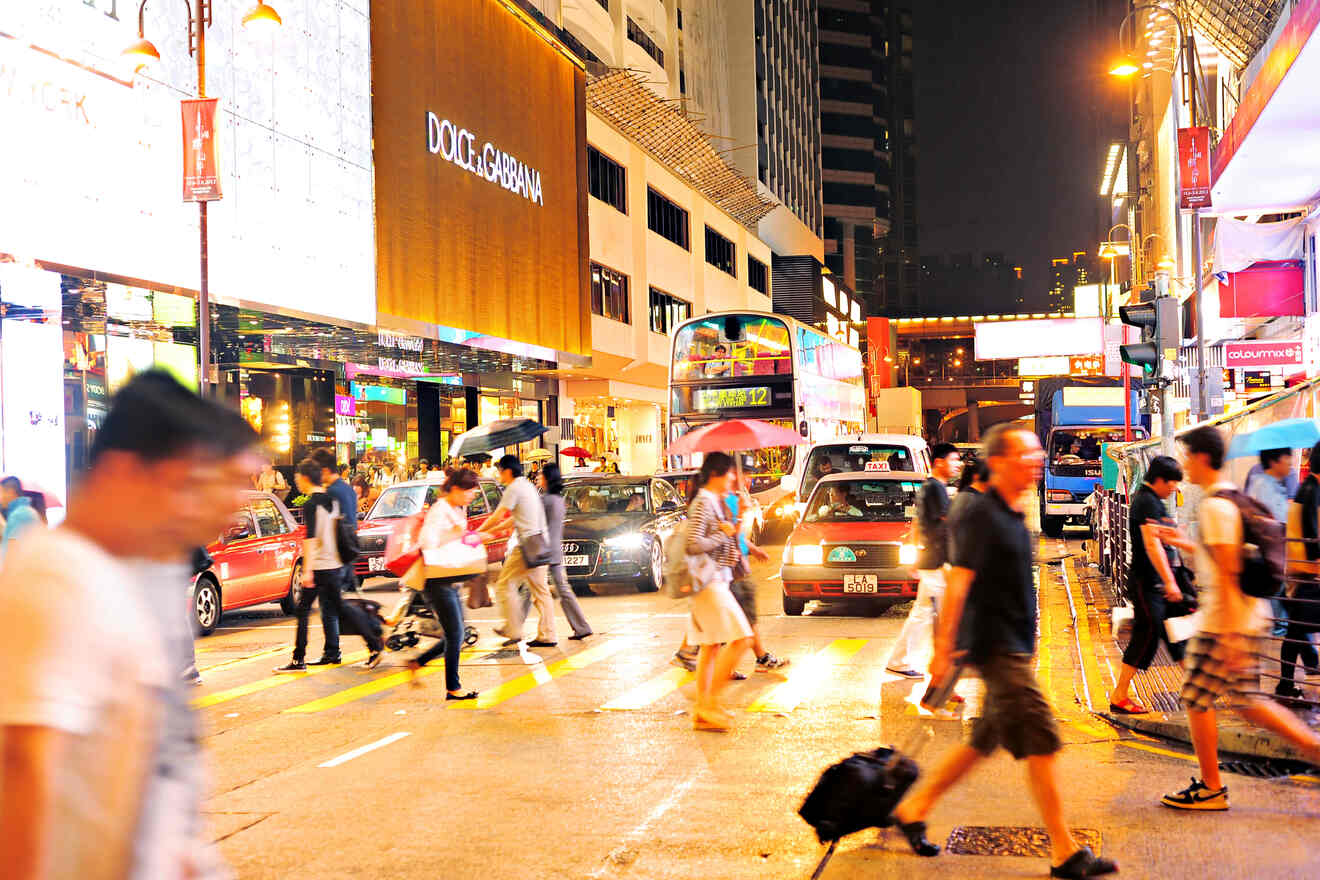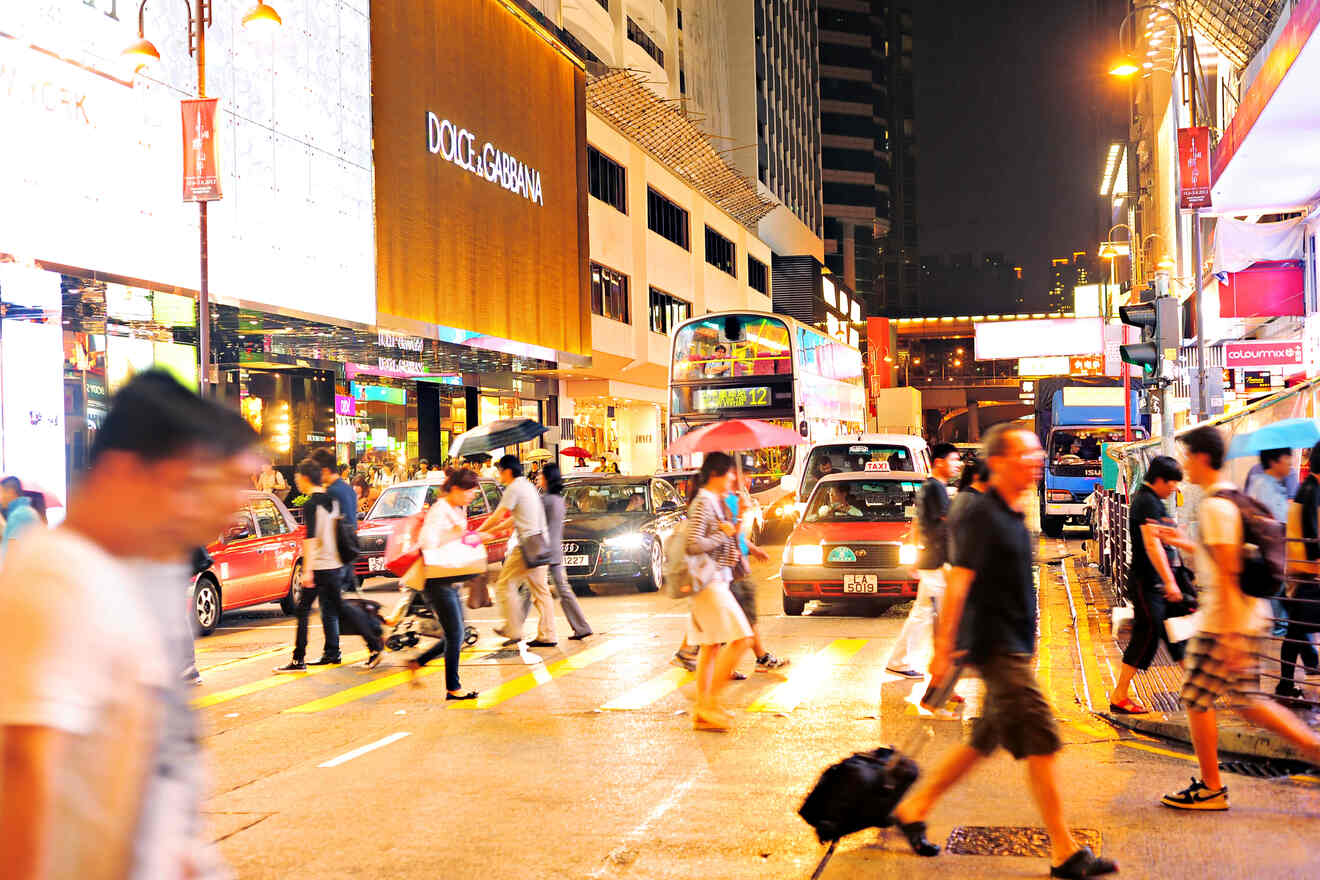 It is really easy (and cheap) to buy a pre-paid sim card in Hong Kong as a visitor and pretty much all of the city has great reception. At the moment, you don't even need your passport or any ID although this is changing in 2022 so I recommend you bring your passport when you pick up your sim card just in case.
There are 4 prepaid sim card providers for you to choose from:
CSL – Hong Kong Telecom
China Mobile Hong Kong – CMHK
SmarTone
Three – 3
SmarTone is the best value for money for short trips and gives you unlimited data for 24 HKD (US $3) per day.
You can buy prepaid sim cards at the airport when you arrive in many different stores such as 7-Eleven, Circle-K, SongWiFi, China Mobile. If you are already in the city center you can pick most of these up at any 7-Eleven, Circle-K, or directly at the phone store.
TIP: If you purchase your sim card at an official store they will help you register it there on the spot.
Unlike mainland China, there are no censorship laws in Hong Kong which means you can browse the internet and all social media apps just like at home!
Frequently Asked Questions about Hong Kong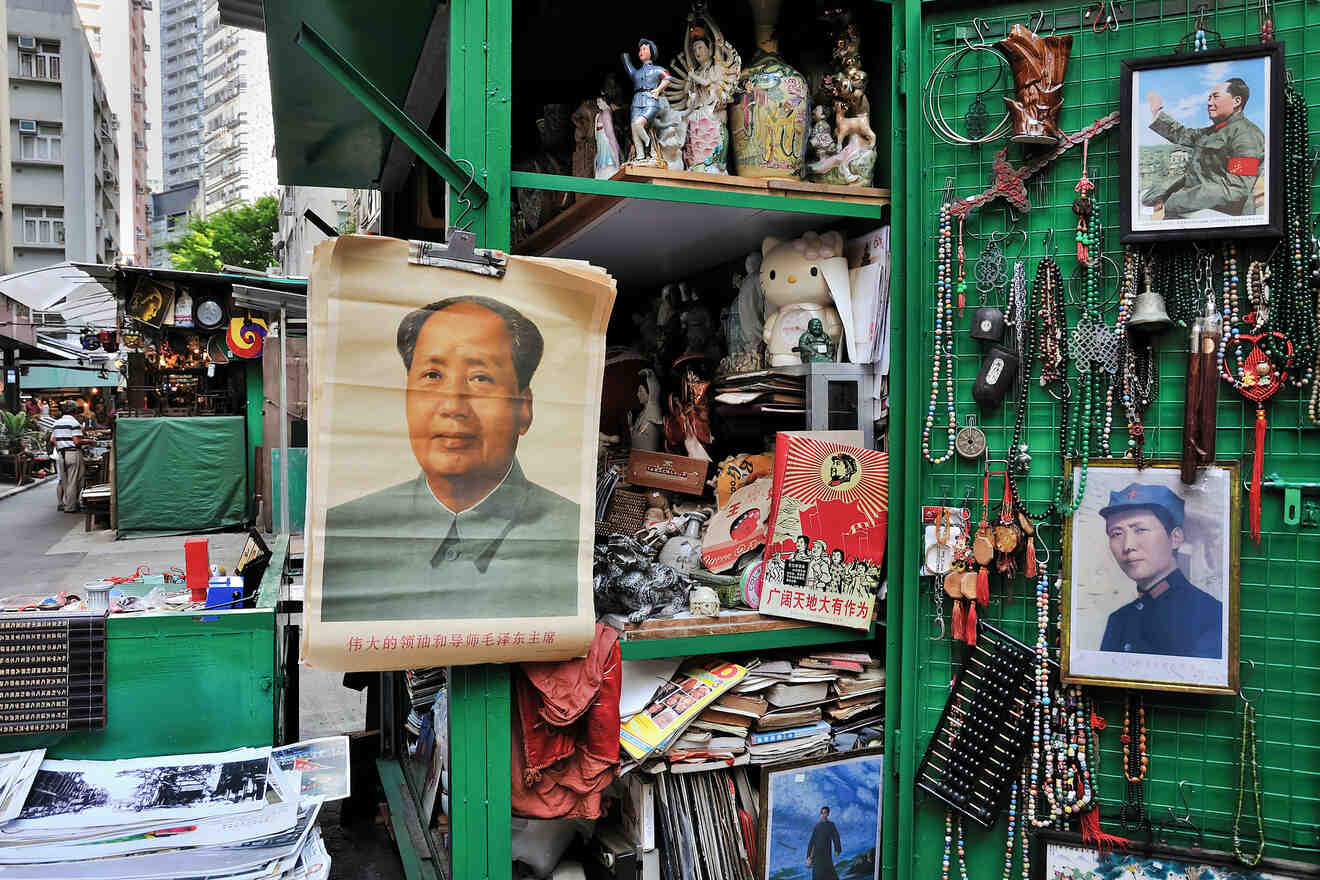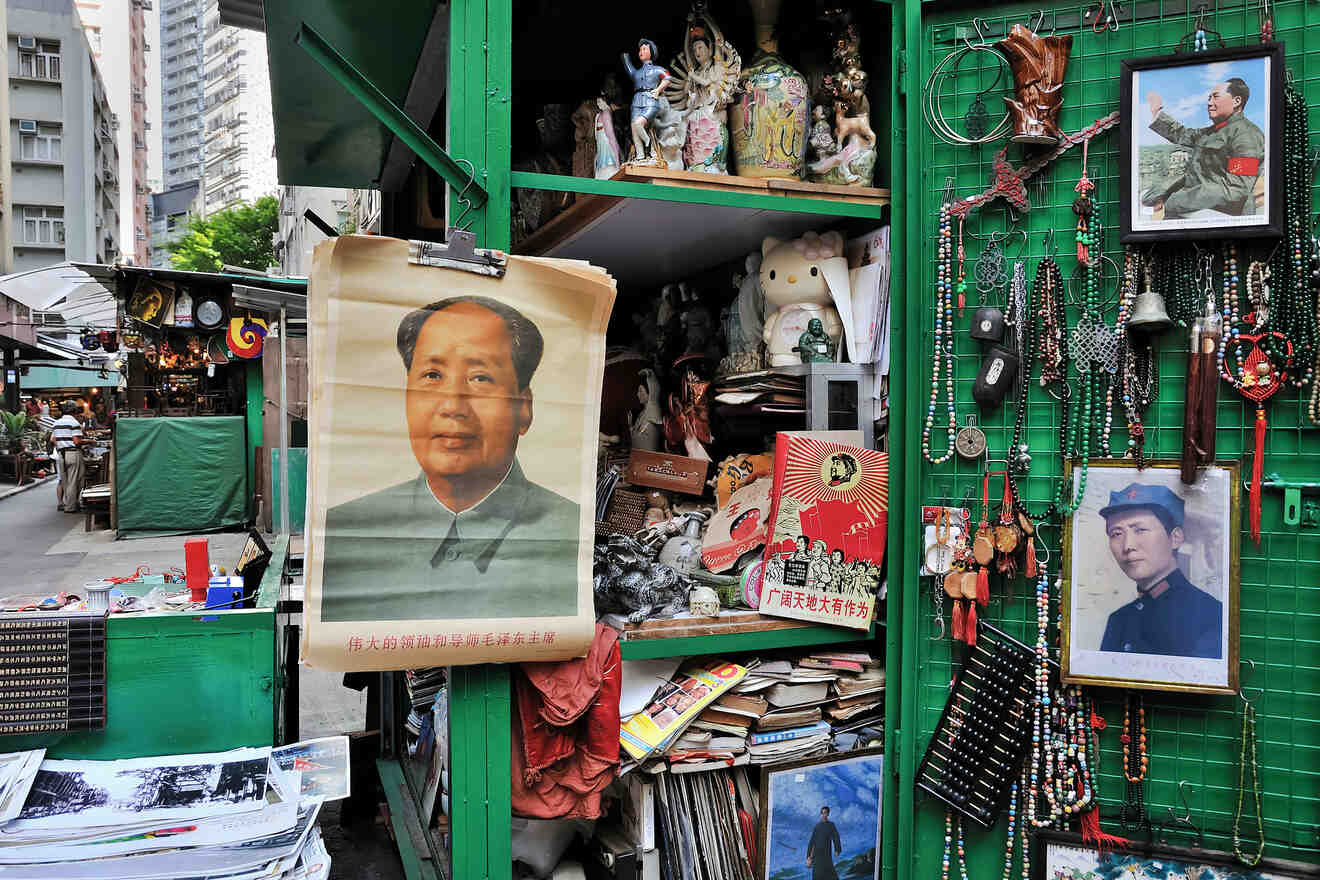 😄 How can I have fun in Hong Kong? 
There are so many ways to have fun for all interests; party all night in Lan Kwai Fong, go island hopping through the outer islands, visit Hong Kong Disneyland Park, go hiking or rock climbing, visit local markets or check out the Hong Kong Space Museum.
📆 How long should I stay in Hong Kong?
I would recommend 3-5 days to see all that Hong Kong has to offer but if you want to spend time seeing the less touristy parts you will need at least a week. 
❌ Do and don'ts in Hong Kong?
Do have an open mind and try new and unusual foods and experiences. Don't stay in one small area, get out and explore!
🧗‍♀️What are some adventurous things to do in Hong Kong? 
Hong Kong is full of mountains right here in the city so you can go hiking every day of the week. There are also plenty of cliffs that offer great rock climbing and paragliding opportunities as well as theme parks with thrilling rides to discover. 
🥾Which are the best hikes in Hong Kong? 
Lion Rock is my favorite hike in Hong Kong as it has easy access from the city, provides an interesting hike and an epic view from the top. Dragons back is another great hike with ocean views!
Conclusion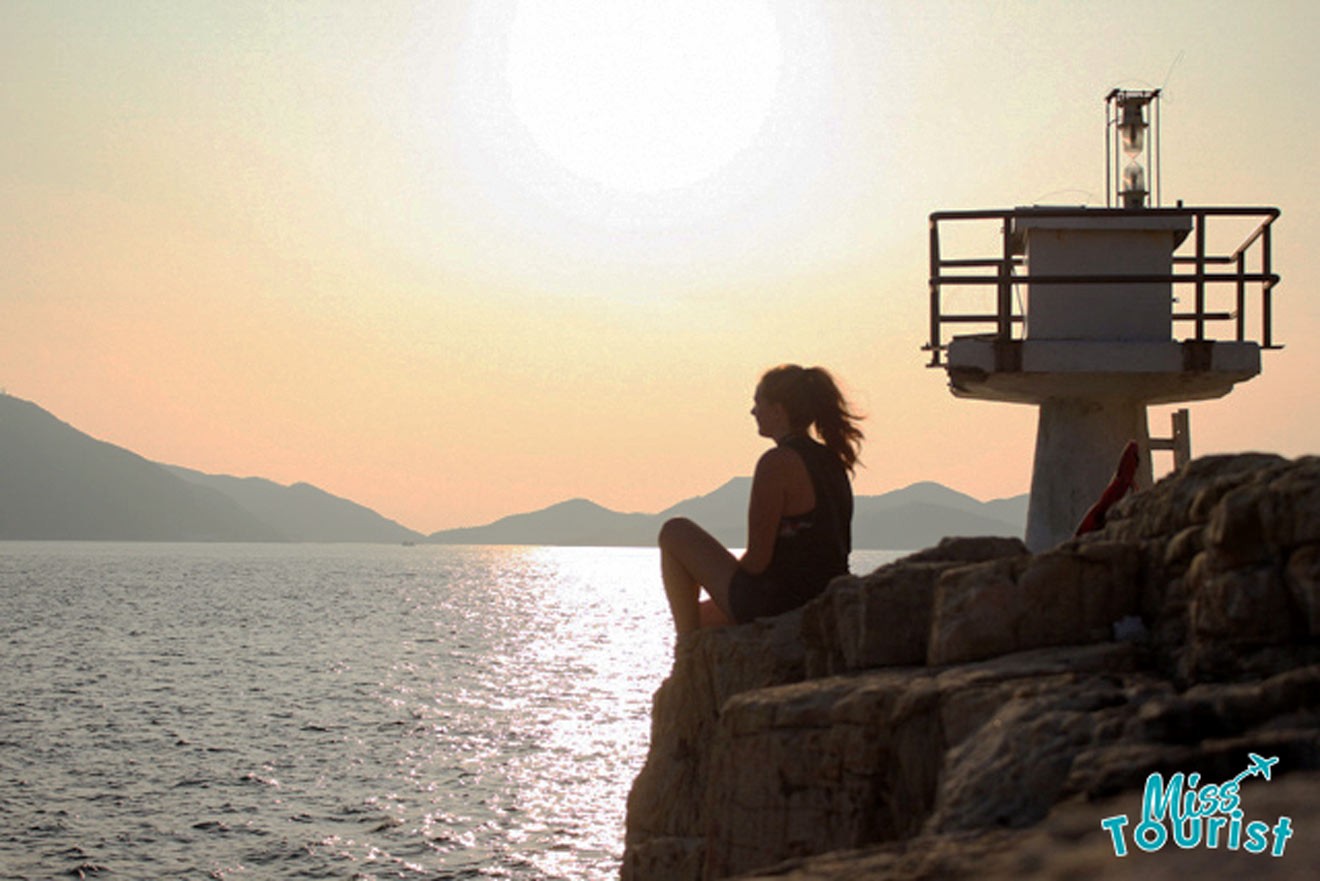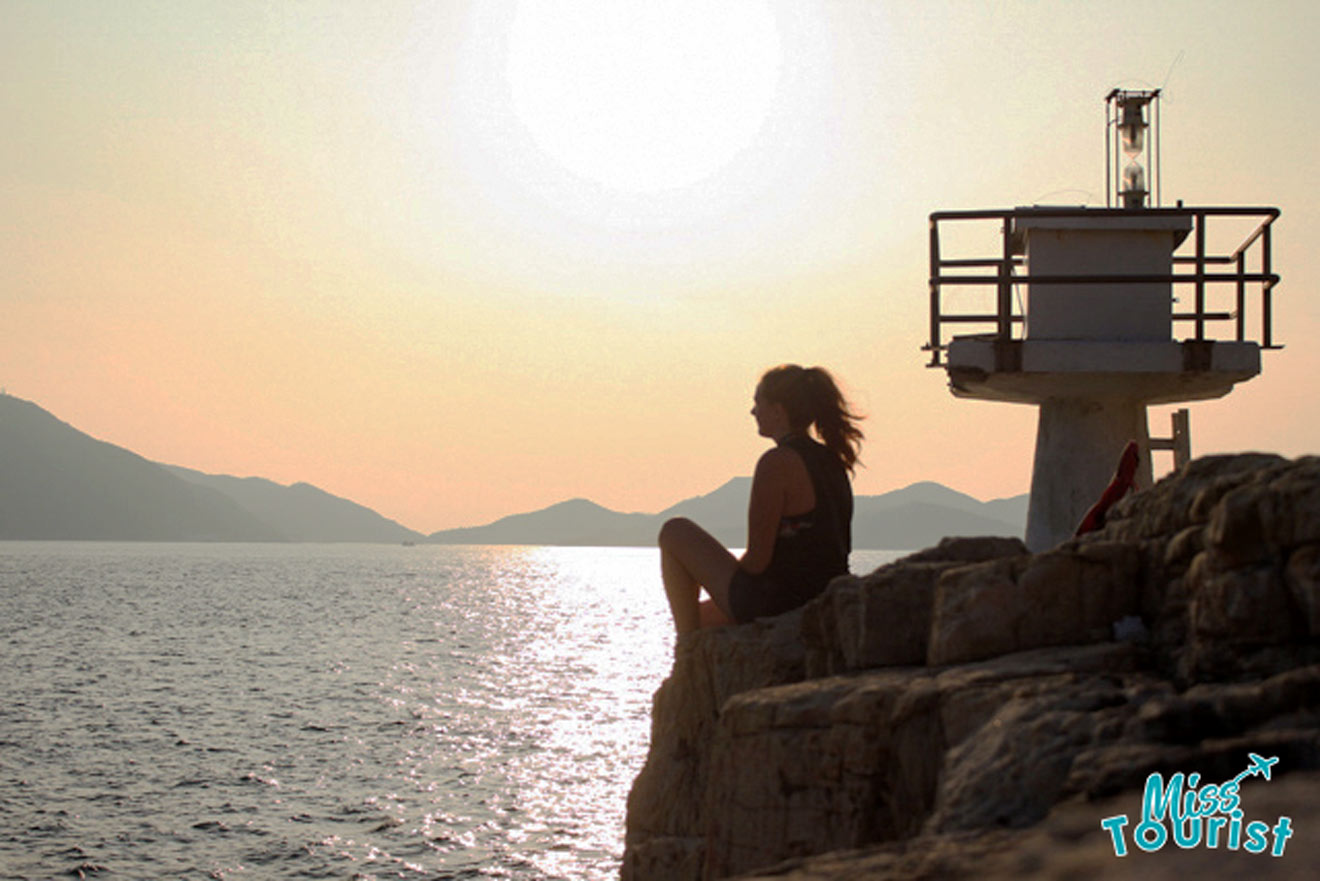 Wow, what a journey! As you can see there are so many aspects to learn about when you visit Hong Kong. I can say that before I went there I had absolutely no idea there were so many things to do in Hong Kong and instead of running out of activities, I ended up extending my stay.
I hope this guide helped you find some interesting things to add to your itinerary. With everything from theme parks to hiking trails, with a traditional Chinese garden and some remote beaches thrown in, you have the perfect holiday no matter your interests!
Being such a popular international destination it's a good idea to book some of your tours now so you don't miss out (you might even save money in the process). If you have any more questions or suggestions about Hong Kong, leave me a comment and I will happily reply to you as soon as possible!
Happy adventuring,
Kate
---
Pin it for later!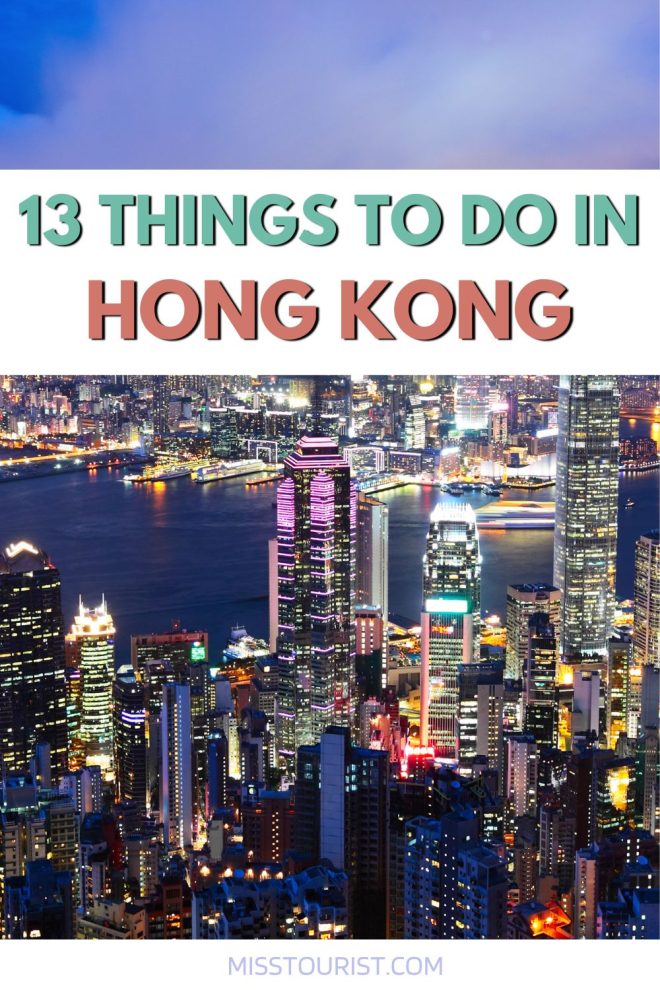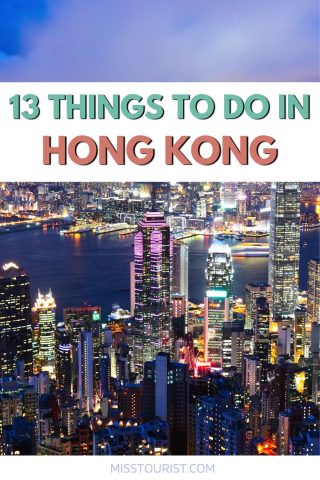 Pin it for later!