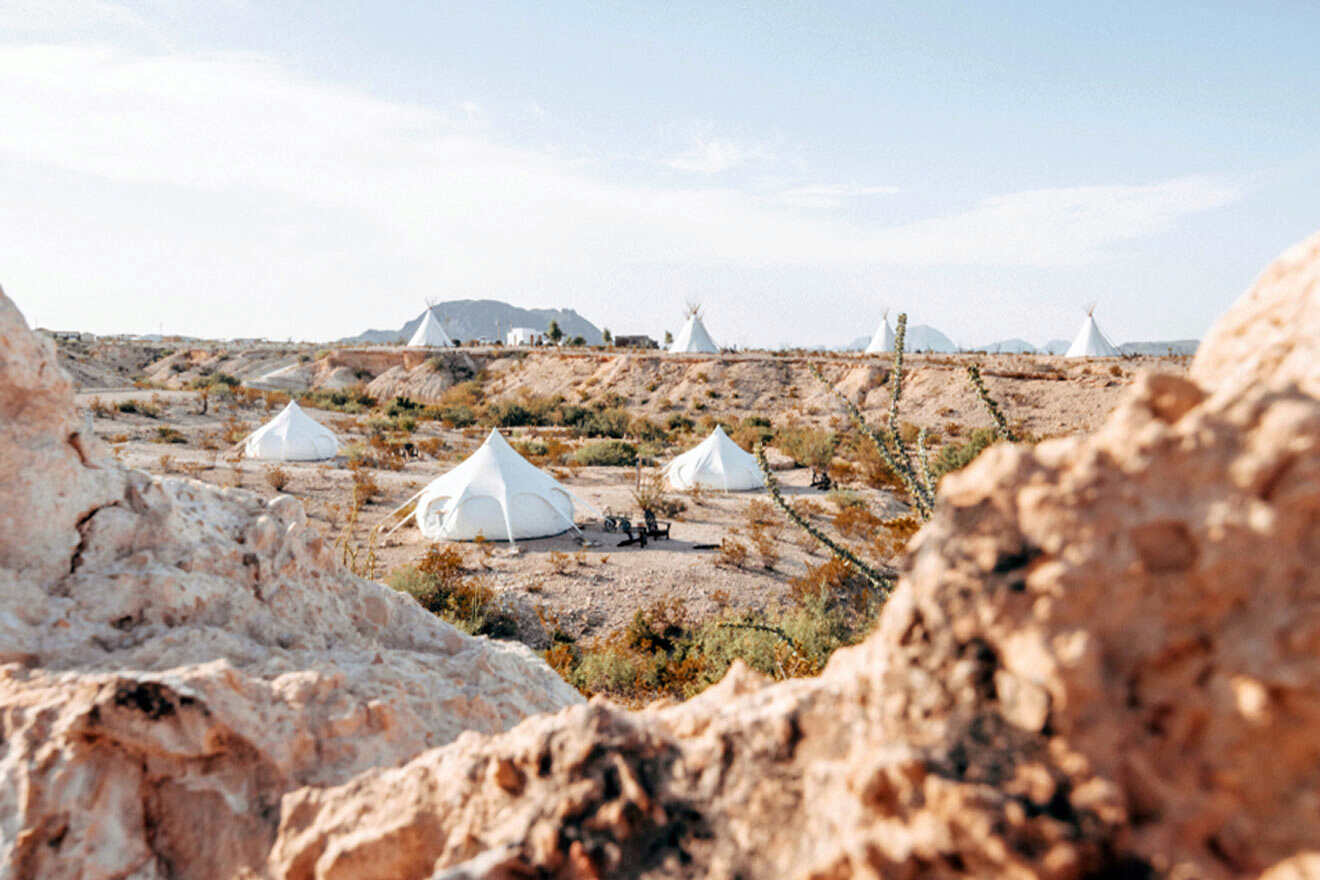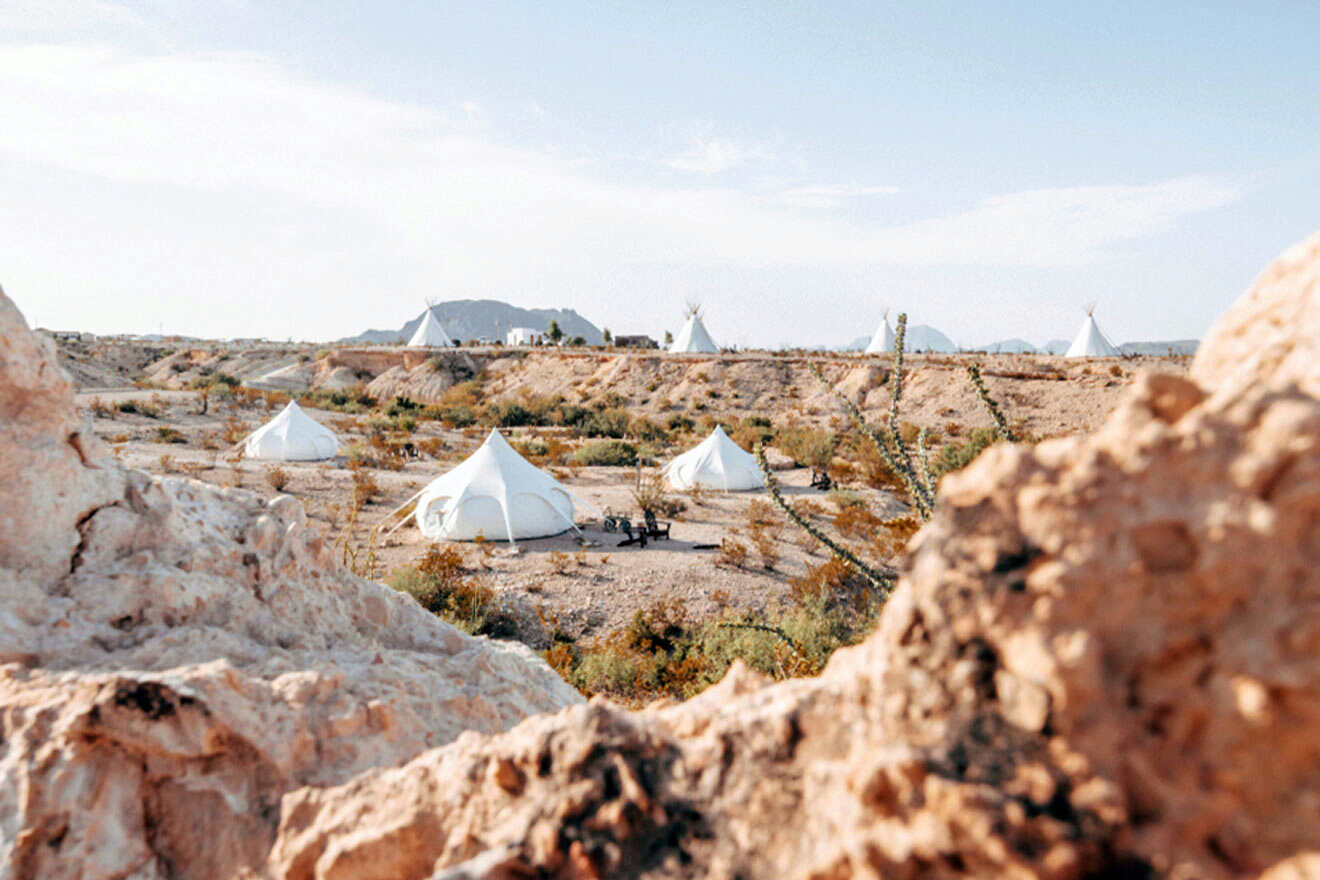 Do you want to stay in one of the coolest places in all of Texas on your next trip? Yes? Great! Because I have been looking for the best unique places to stay in Texas for hours until I came up with the gorgeous list of cool properties with amazing amenities, so you and your fellow travelers can make the most amazing memories together!
The way this post is arranged is by price, starting with the luxury options, followed by the mid-range options, and last but not least, the budget options, which are as amazing as the rest. In the end, I added 2 bonuses: the best treehouses in Texas and the best romantic hotels in Texas.
Texas is a popular destination, you have vibrant cities full of art and beautiful natural sceneries that will make you fall in love with the state! So, if you want to secure any of these special and unique accommodations, book your hotel room as soon as possible!
Are you ready to check out some incredible accommodations?
Let's dive in!
If you are in a hurry
If you don't have a lot of time and need to book your hotel room in only one click, here are the top 3 unique places to stay in Texas!
The lone star state is quite huge, and these unique hotels are located all around the state, so here you have a map to help you understand where each property is located!
---
Here is my video of best unique places to stay in Texas to help you choose visually:
---
Luxury (US$300 and up)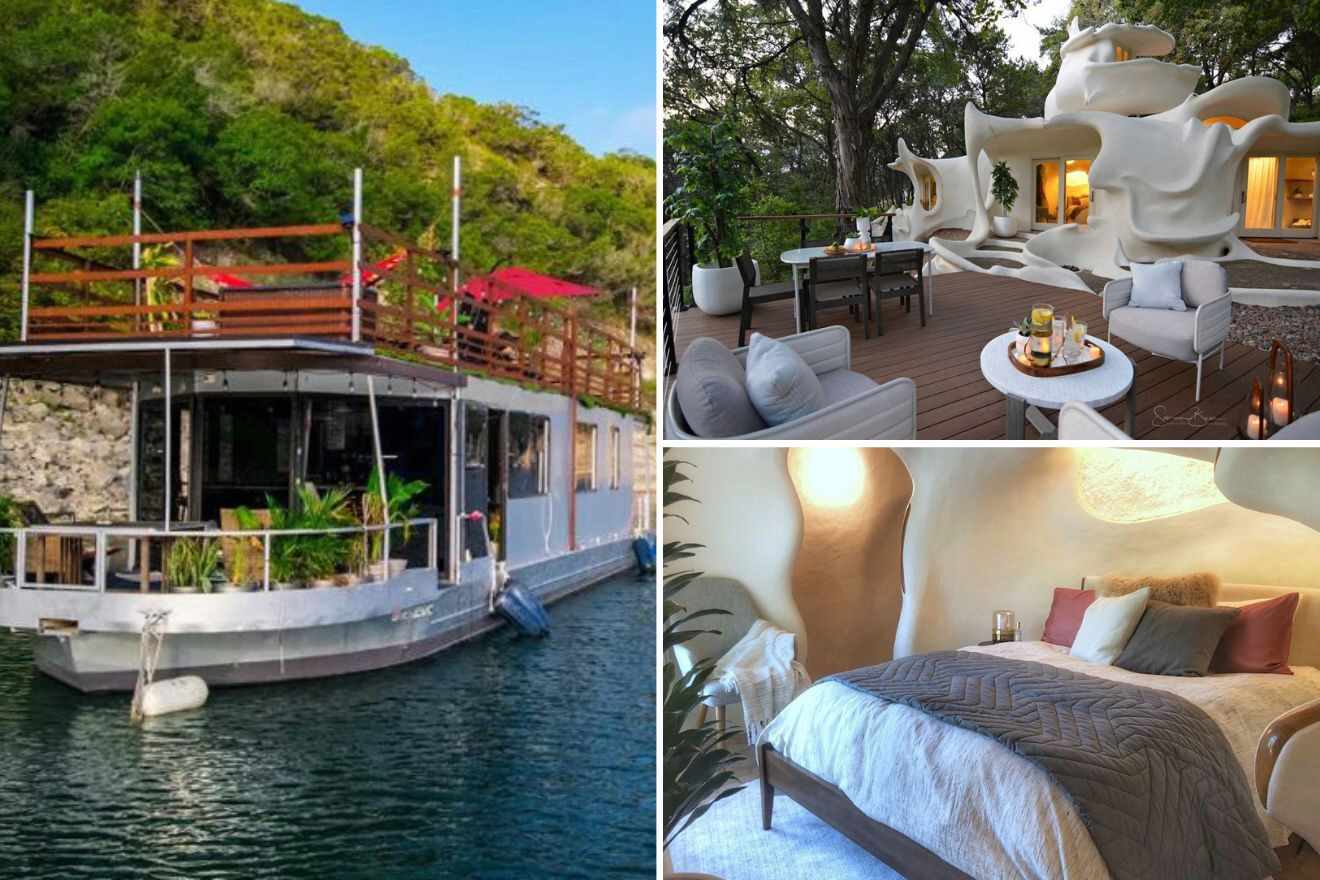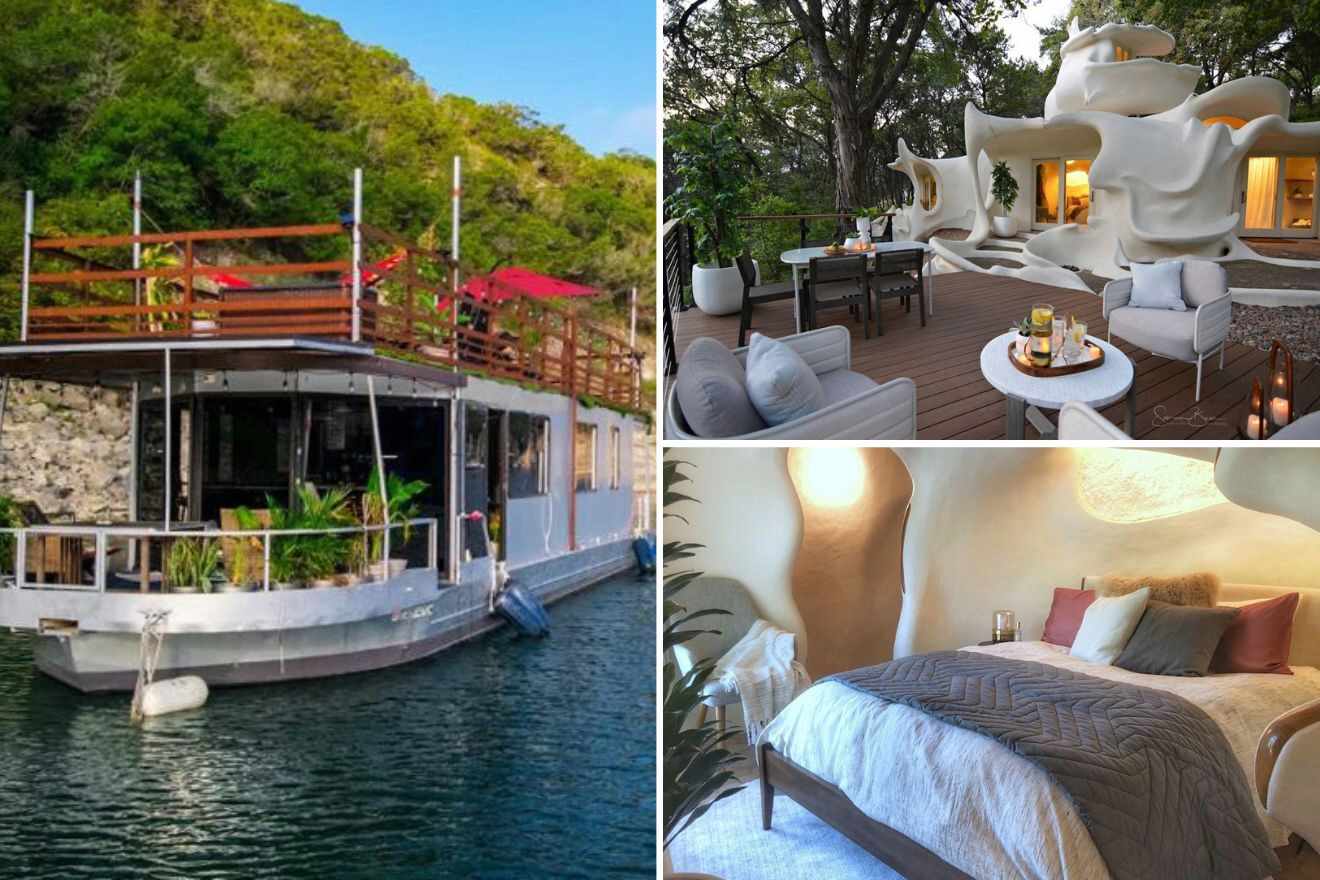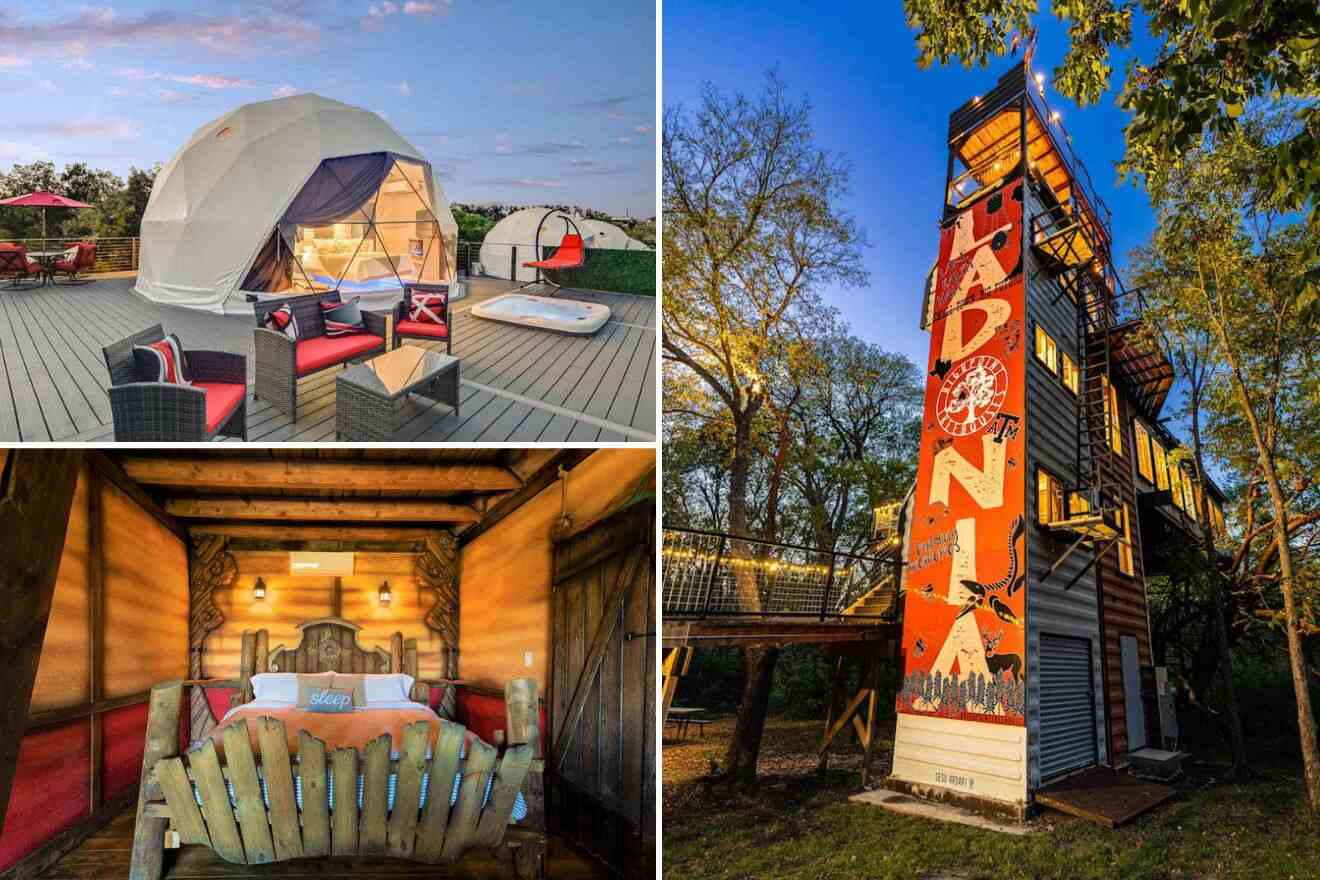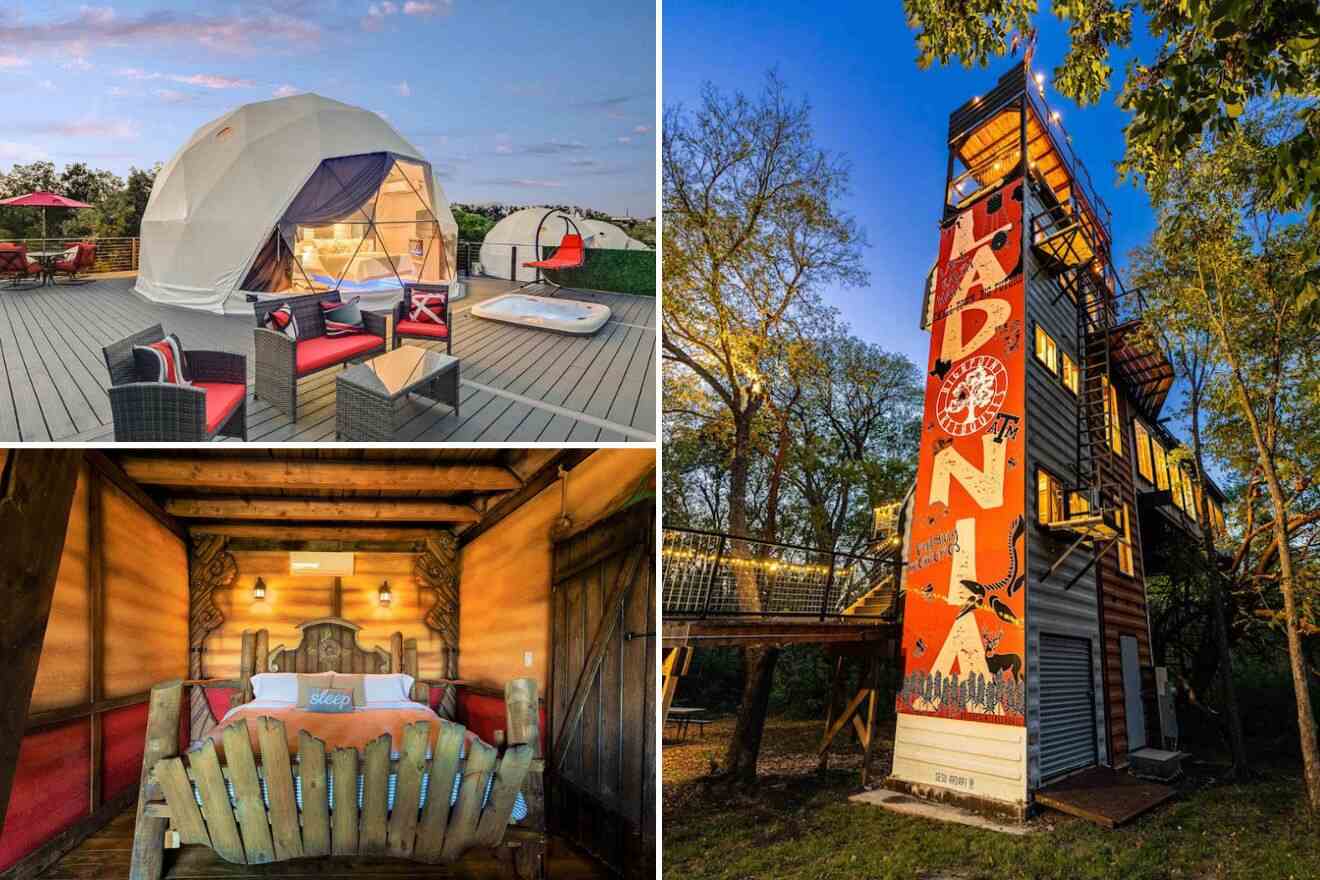 Mid Range (US$200 – US$300)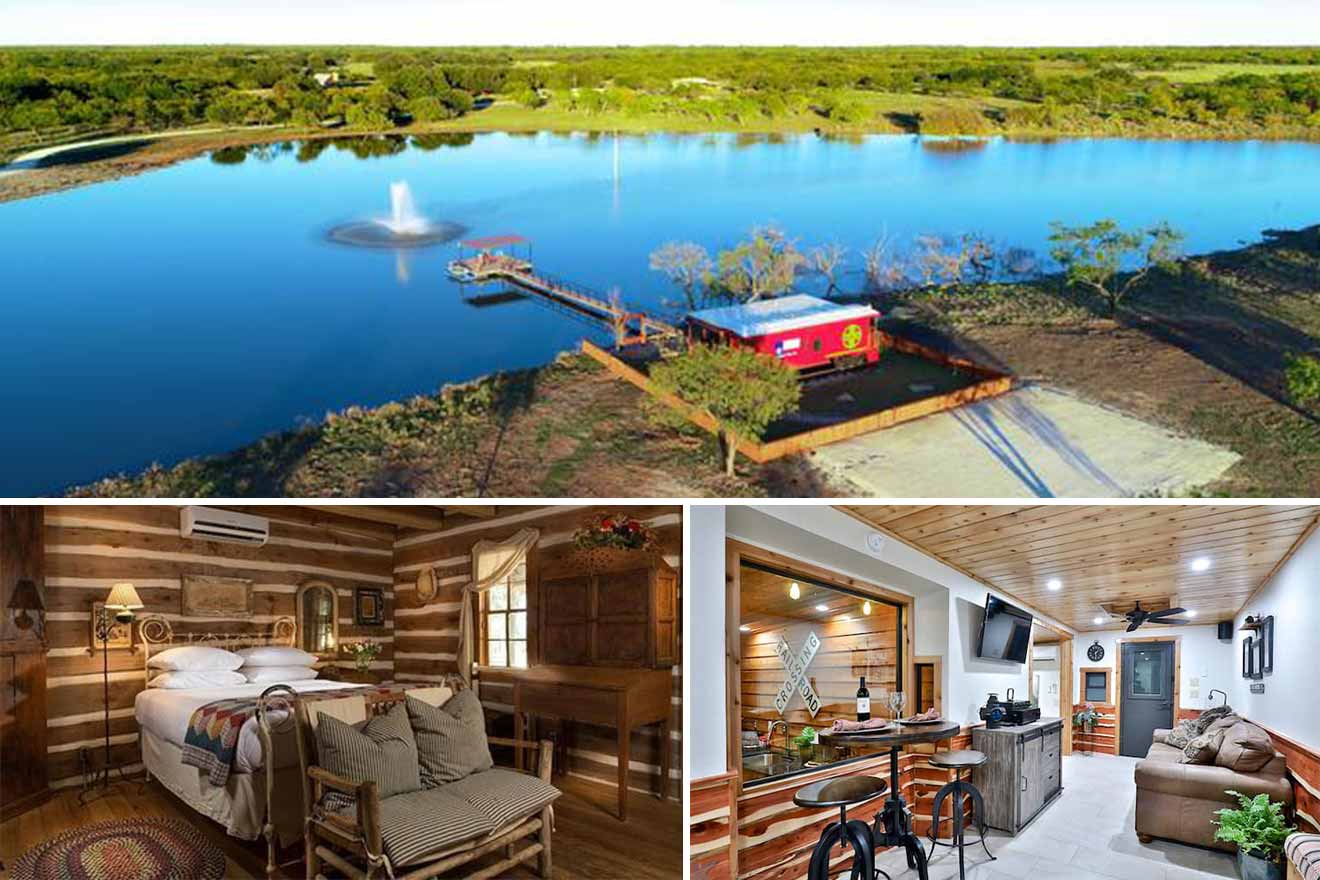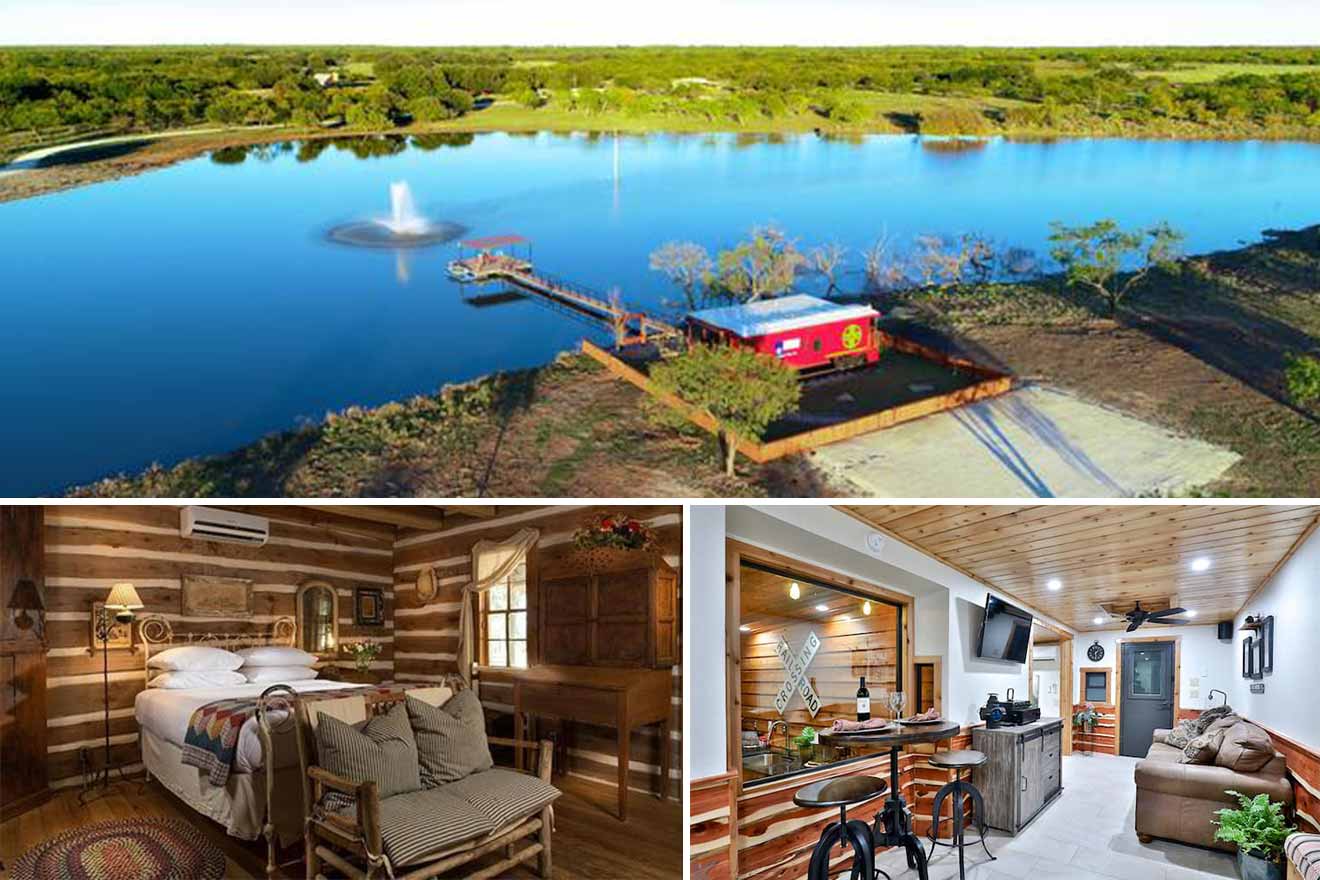 Budget (up to US$200)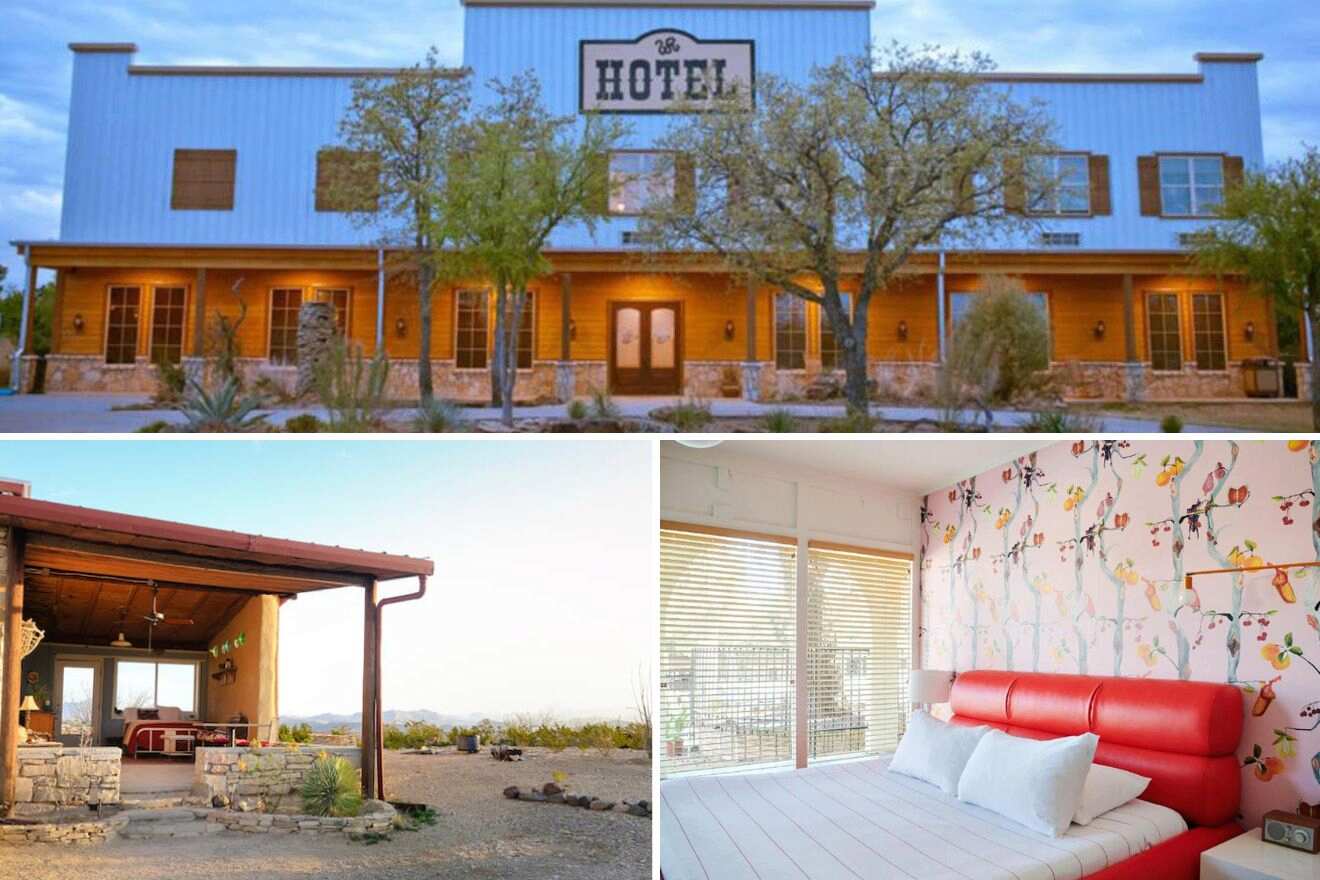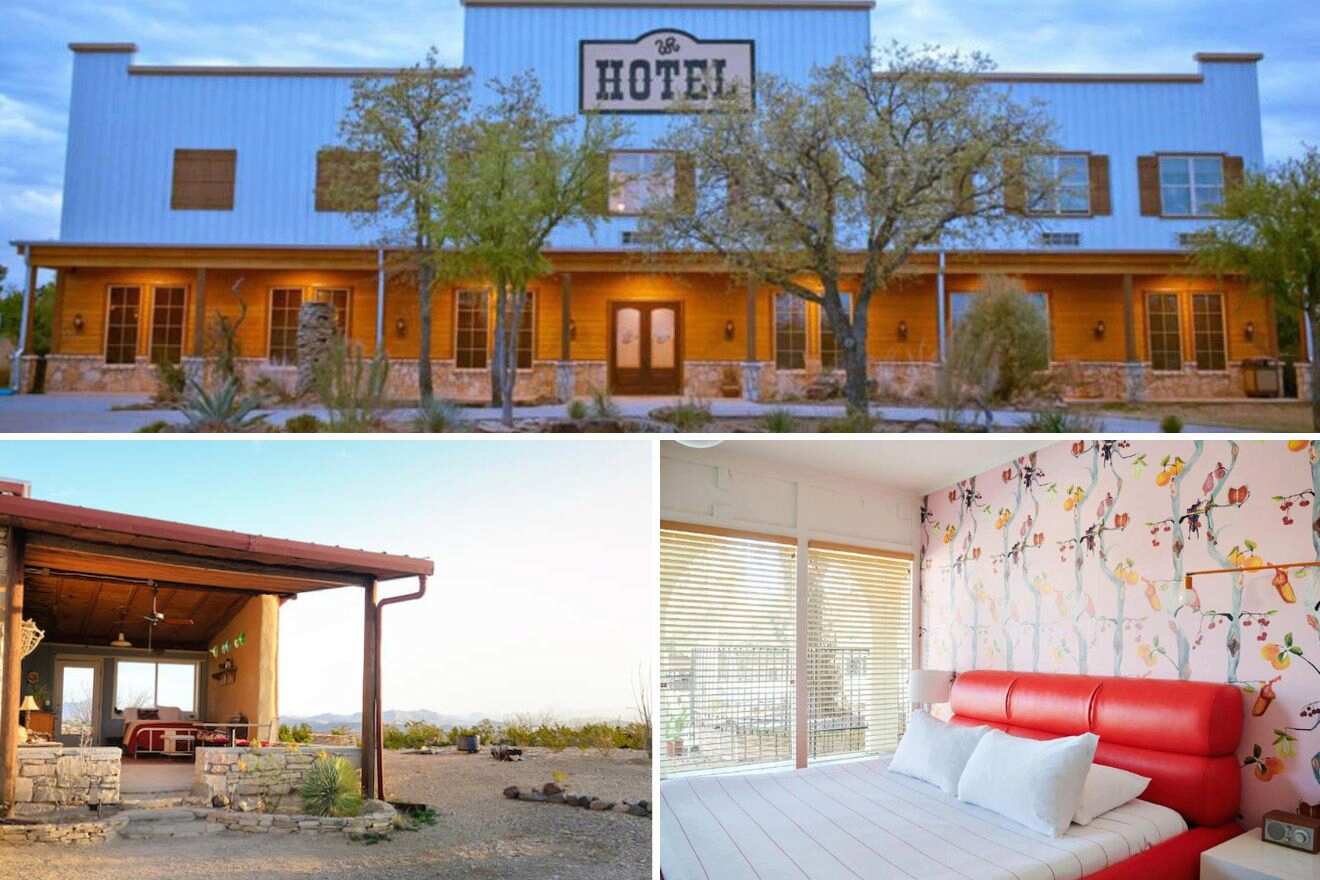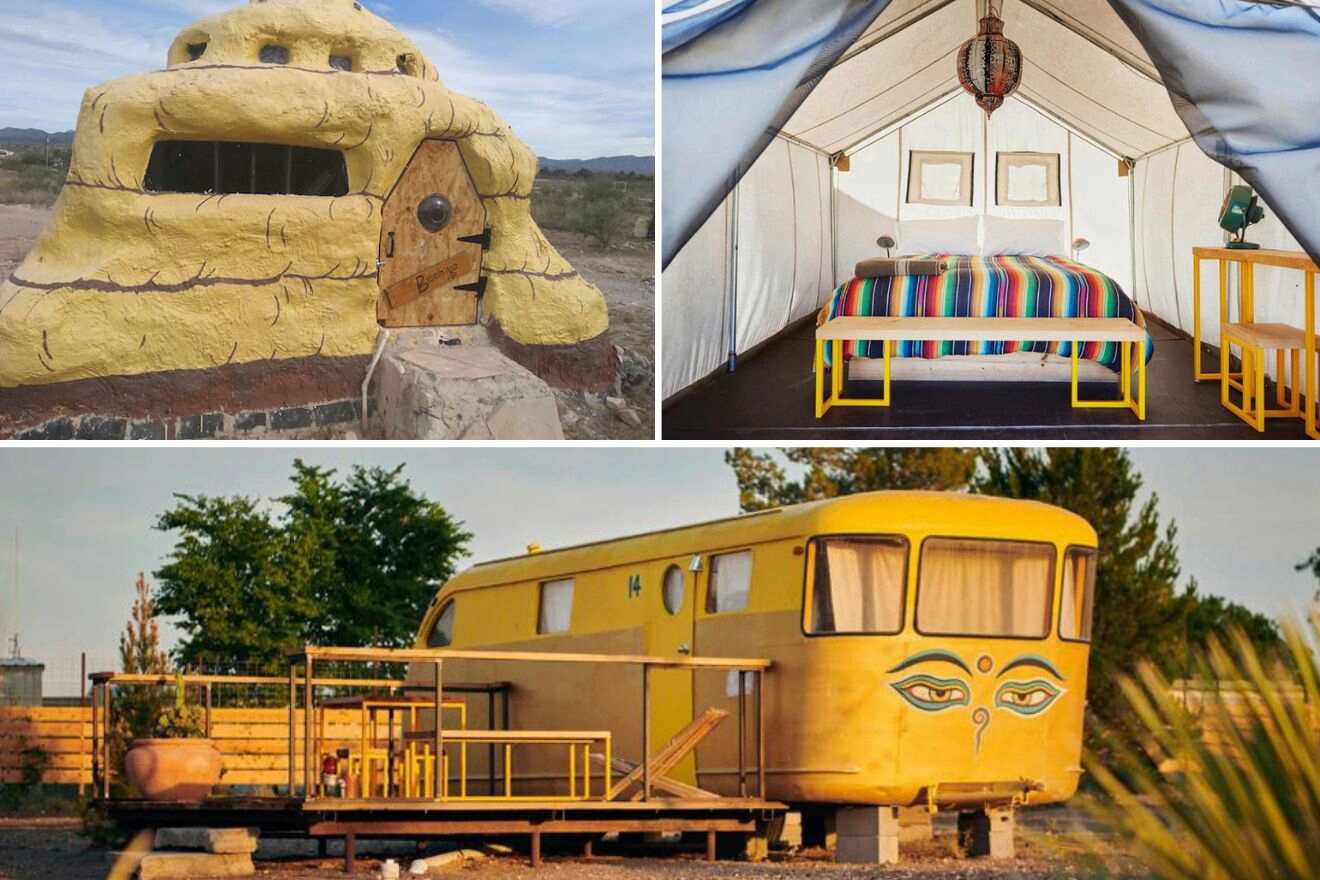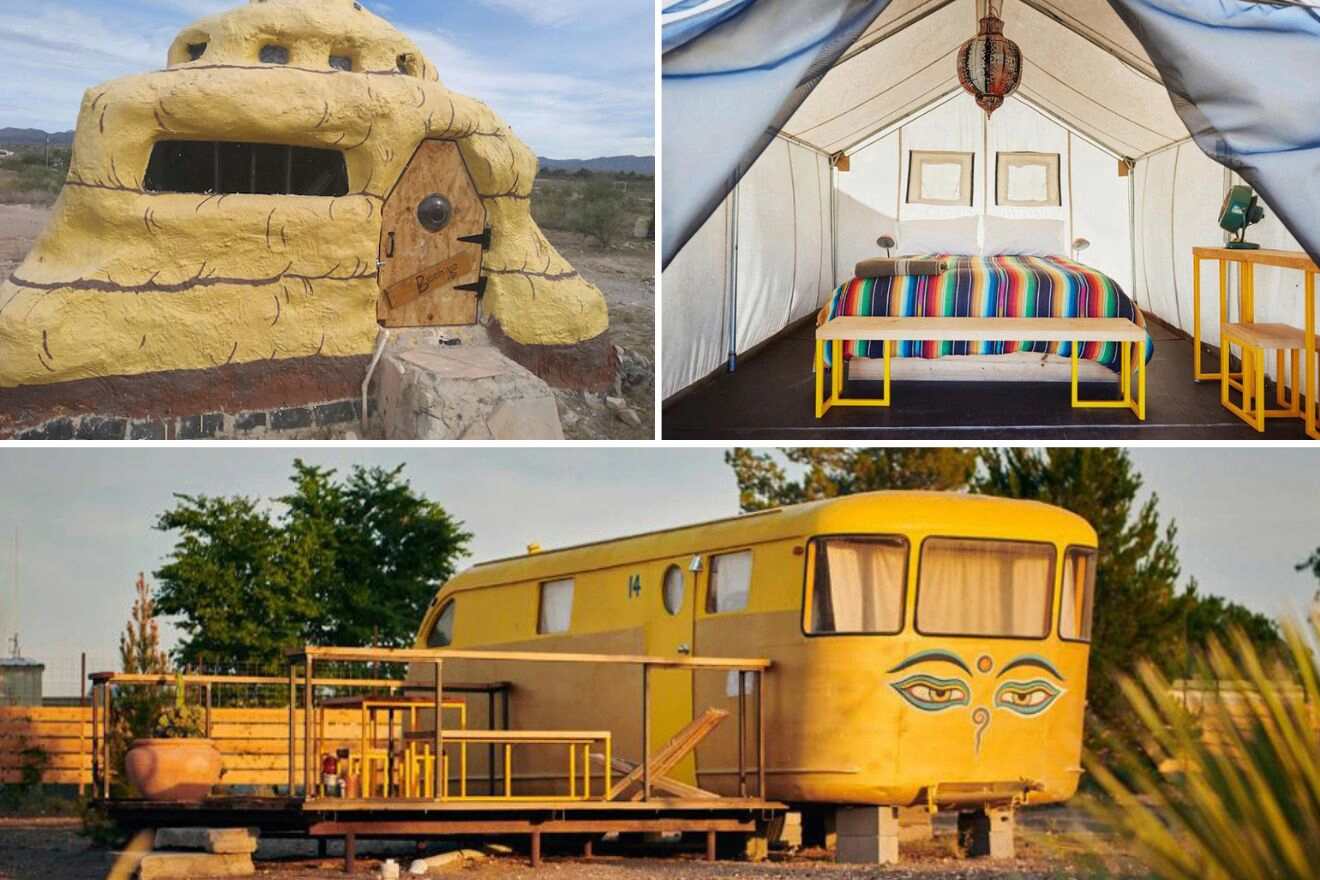 BONUS: Best treehouses in Texas
You know me! I love to spoil you, and that is why I want to give you more options; apart from the most unique places to stay in Texas, I want to share with you the best tree houses in Texas! This is your opportunity to fulfill a childhood dream and discover the best treehouse rentals!
I have gathered 6 amazing properties from most expensive to cheapest, and the prices go from US$500 to US$200 per night. Let's check them out!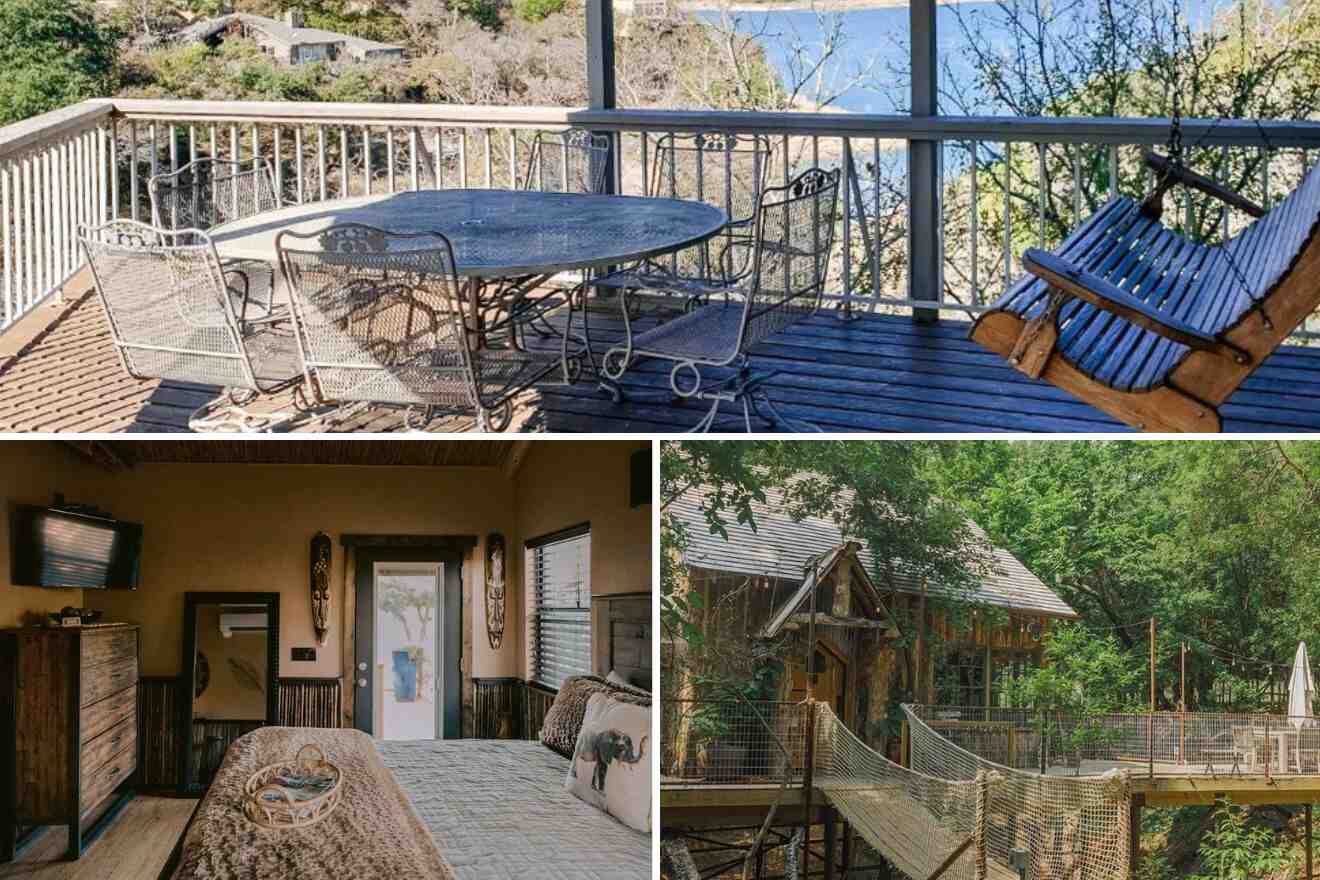 1. Spicewood Treehouse
Located in Spicewood, with San Antonio less than a 2 hours drive away and Austin less than an hour's drive away, this stunning and luxurious treehouse will make you feel like a royal fairy! This property can host up to 15 guests and comes with 4 bedrooms, 5 bathrooms, and even hot tubs. The lake views from it are simply gorgeous!
2. Hobbit Treehouse With Waterfall
This absolutely magical stay is perfect for families! It's pet-friendly as well so you can take the pooch on vacay with you! It's located in Weatherford, Texas, and boasts a room for kids and 2 other bedrooms with queen size beds. There's a hot tub AND a grill, so you definitely won't be bored in this gorgeous treehouse!
3. The Machan Treehouse
Such a romantic property! The decoration and style of this treehouse are simply beautiful! The house is made out of dark wood, and inside, everything has an earthly tone; you will feel like a forest fairy! The treehouse is located in Dripping Springs and comes with a double bed, a private bathroom, and a mini fridge and coffee maker!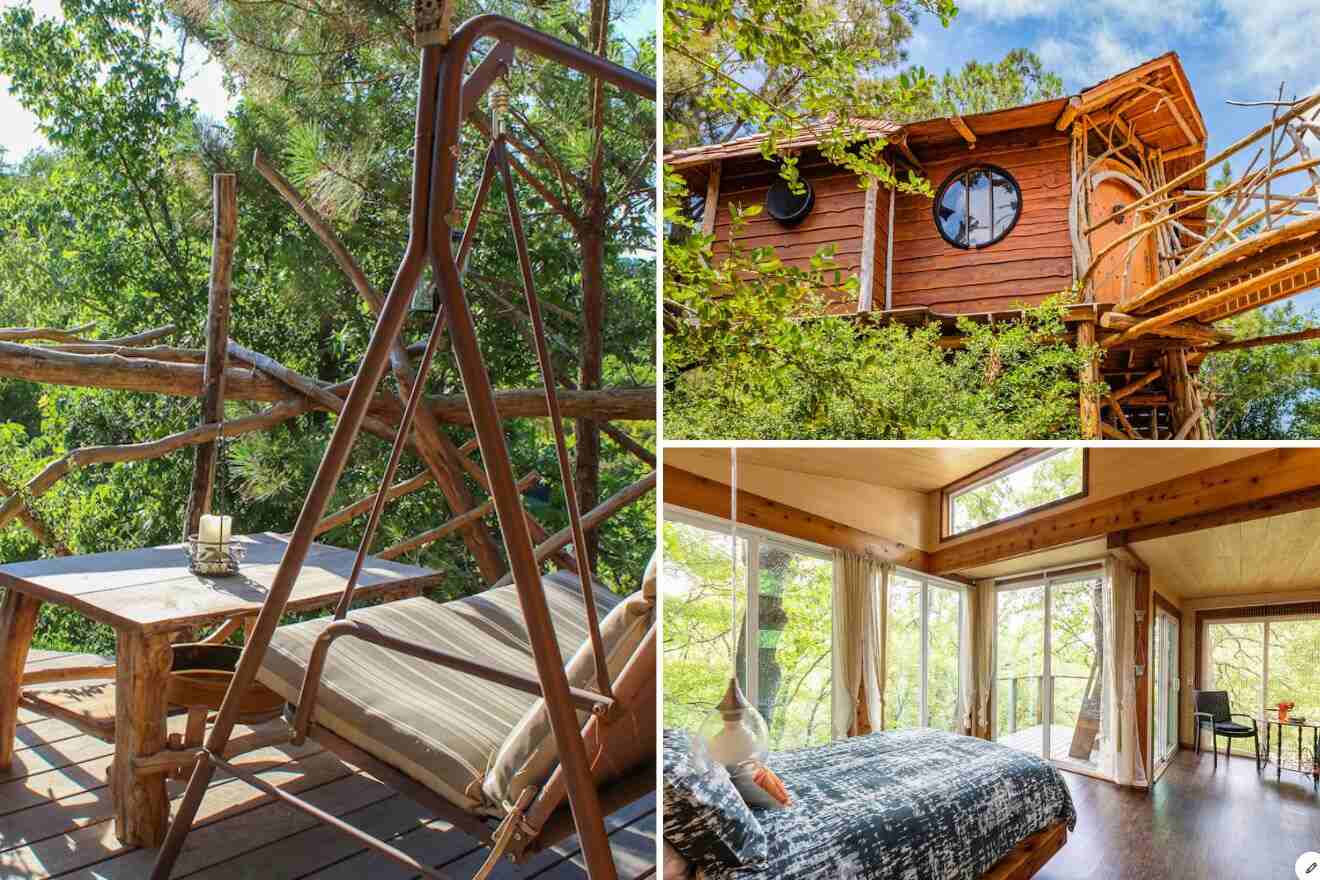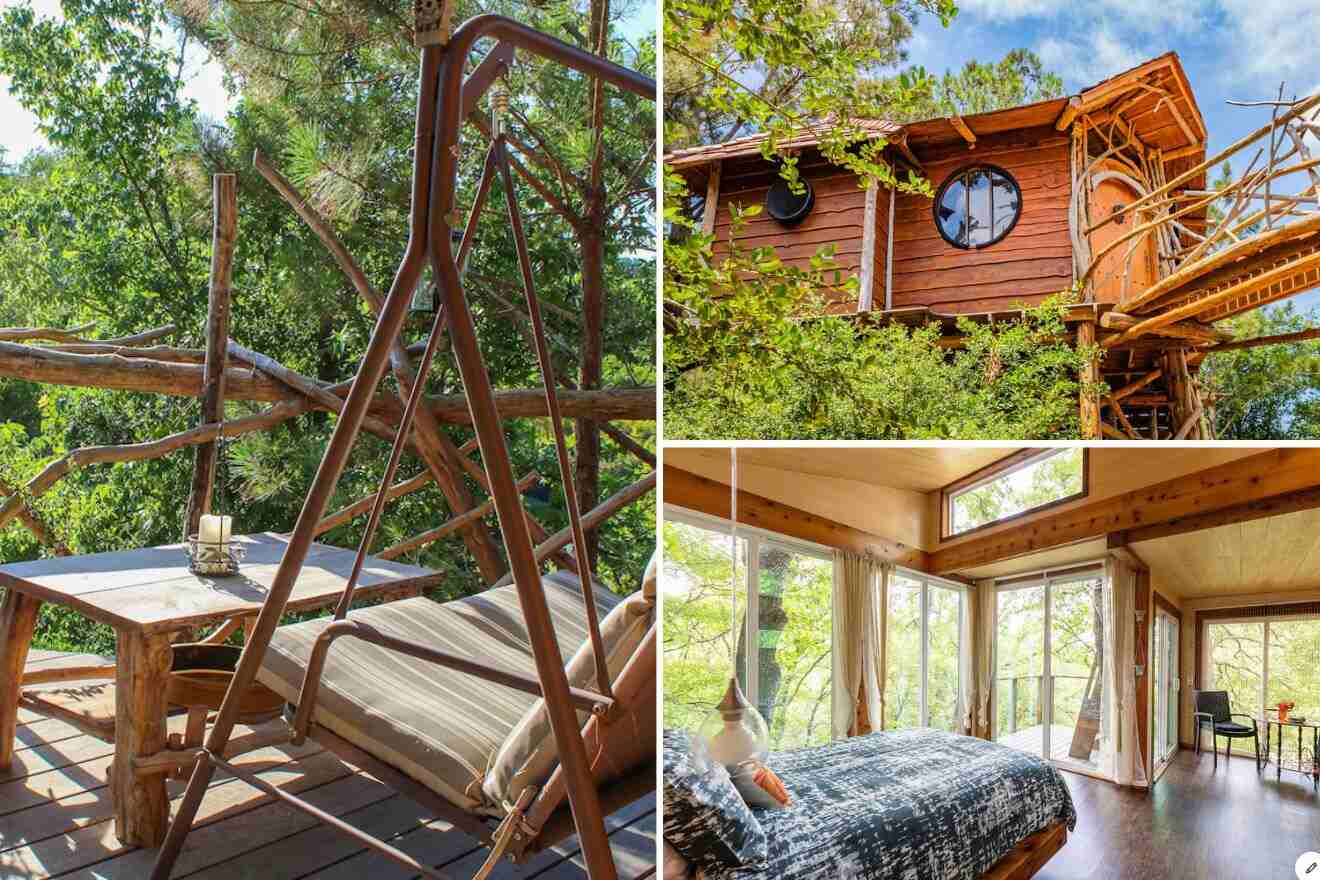 4. Grandview Treetops
This hotel located in Grandview offers 3 types of accommodations to its guests, 2 of them are adults-only houses, and the farm fantasy room is family-friendly and can host up to 5 guests. I recommend this property to everyone who would like to spend time in nature hiking or cycling!
5. Skybox Cabins
Located in Glen Rose and with many attractions nearby, for example, a golf course, a big rocks park, and the opportunity to join a tour in the area. I recommend staying at the hive, this treehouse comes with a private bathroom, a kitchen, and a big balcony with furniture overlooking the beautiful woods!
6. Hobbit's Nest Treehouse
This treehouse, named after the amazing book and later film The Hobbit, is made out of natural materials that will make you feel connected with mother earth! This property can host up to 4 people and comes with everything you need for a cozy time with your loved ones!
BONUS: Best romantic hotels in Texas
Okay, okay! One last bonus for you, my dears! Apart from an exhaustive list of unique places in Texas and the best treehouses in Texas, I have 6 of the best romantic hotels in Texas, so all the love birds can have a wonderful time in the state!
The accommodations' prices go from US$700 to US$200 per night and will make you and your partner feel like you are in a movie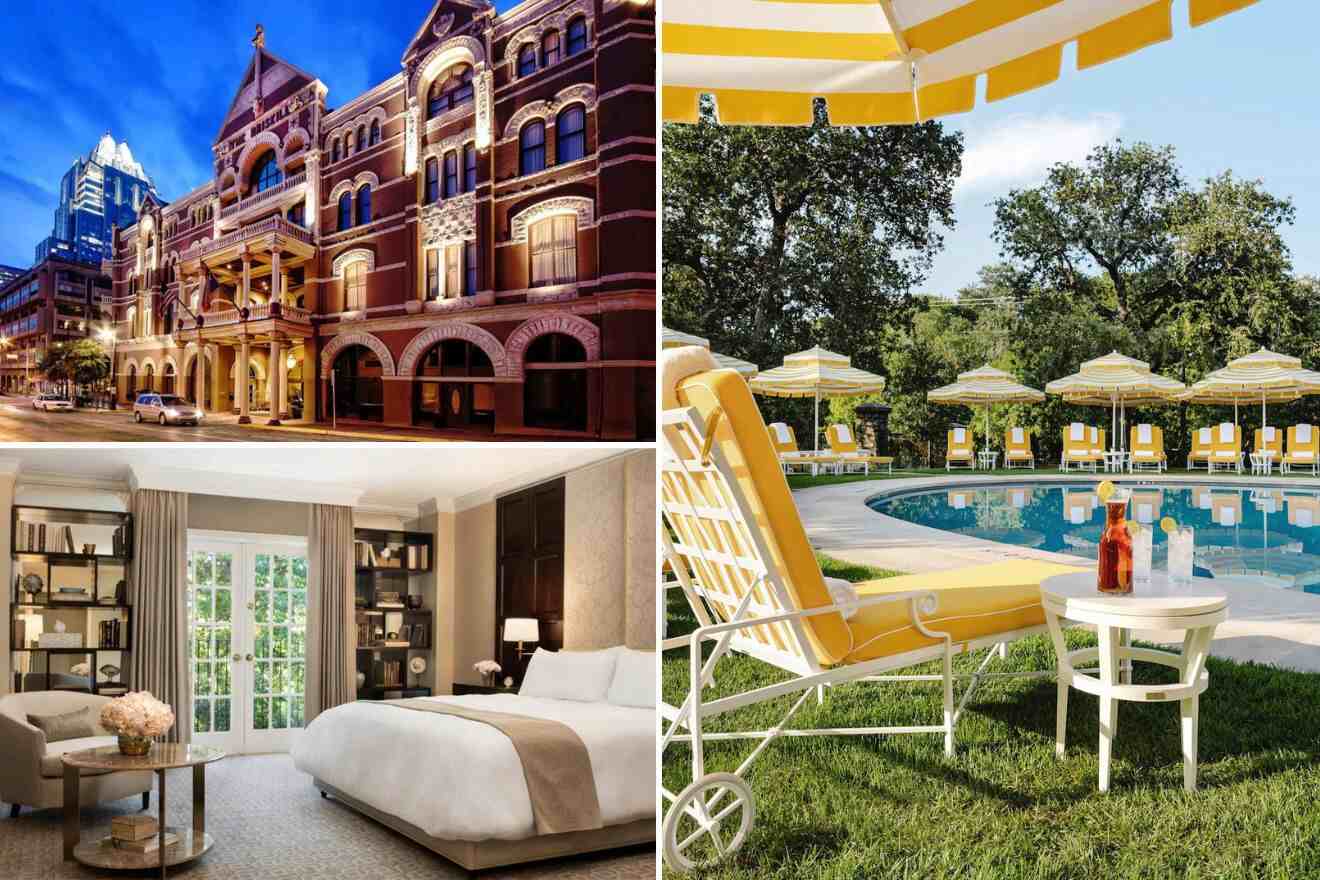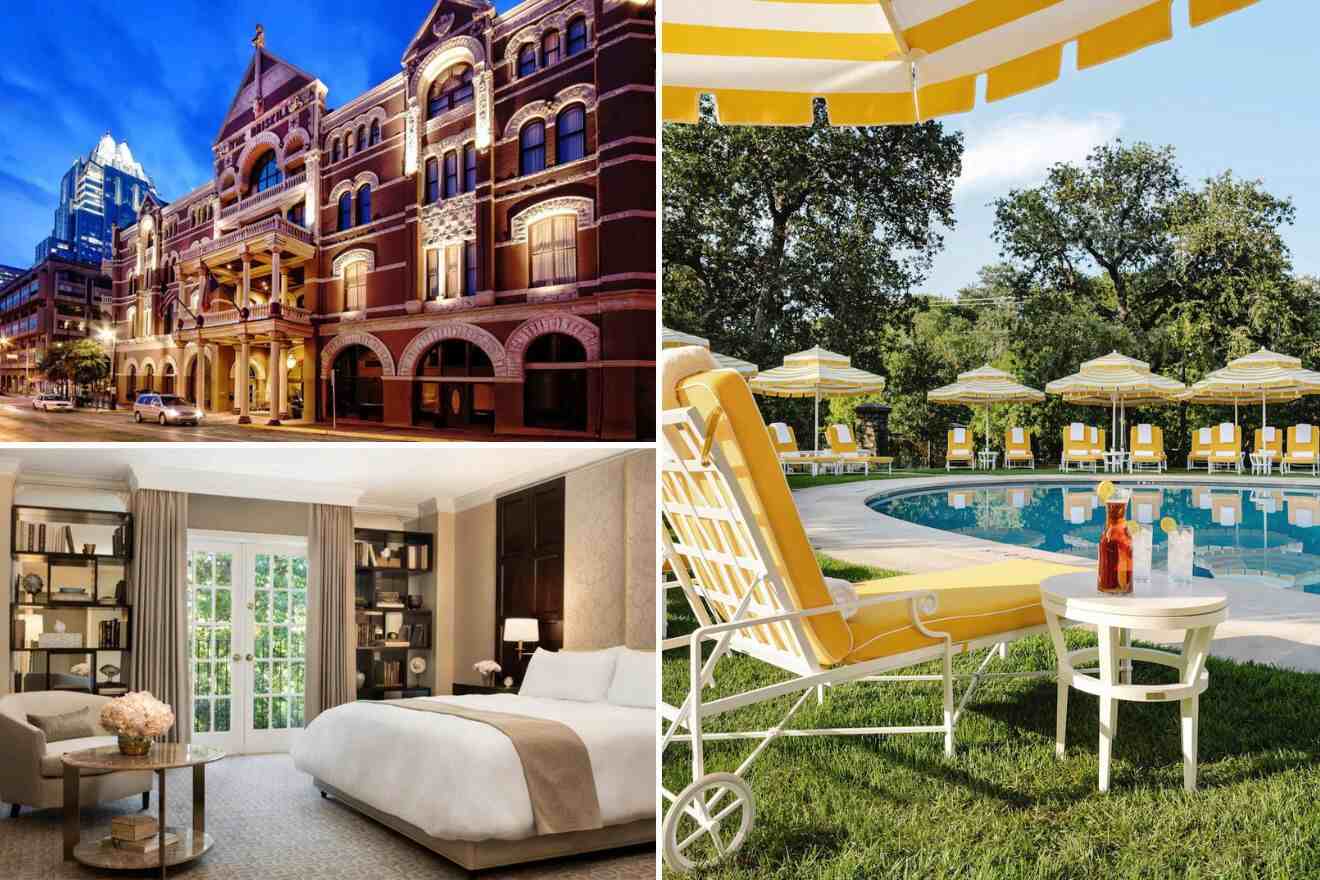 1. Rosewood Mansion on Turtle Creek
This 5-star hotel feels like a palace! You and your partner will feel like celebrities with all the luxurious amenities this hotel offers. You can enjoy a refreshing swim in the outdoor pool or indulge in a relaxing sauna session. The hotel comes with an onsite bar, restaurant, and room service available to all guests; what better to start the day ordering in-room breakfast?
2. Commodore Perry Estate
Oh my god, stop everything! This place looks like a beautiful French winery state, decorated with the most exquisite style and furniture! I highly recommend the LaVerne suite, the beautiful wallpapers, high-end furniture, and spacious bathroom with the most stunning tiles and soaking tub!
3. The Driskill, in The Unbound Collection by Hyatt
Located in downtown Austin, and with a million restaurants and bars just steps away, this property looks like a proper mansion; the decoration inside is up-scale, luxurious, yet trendy! I suggest couples stay in the suite with a balcony to enhance their romantic getaway experience!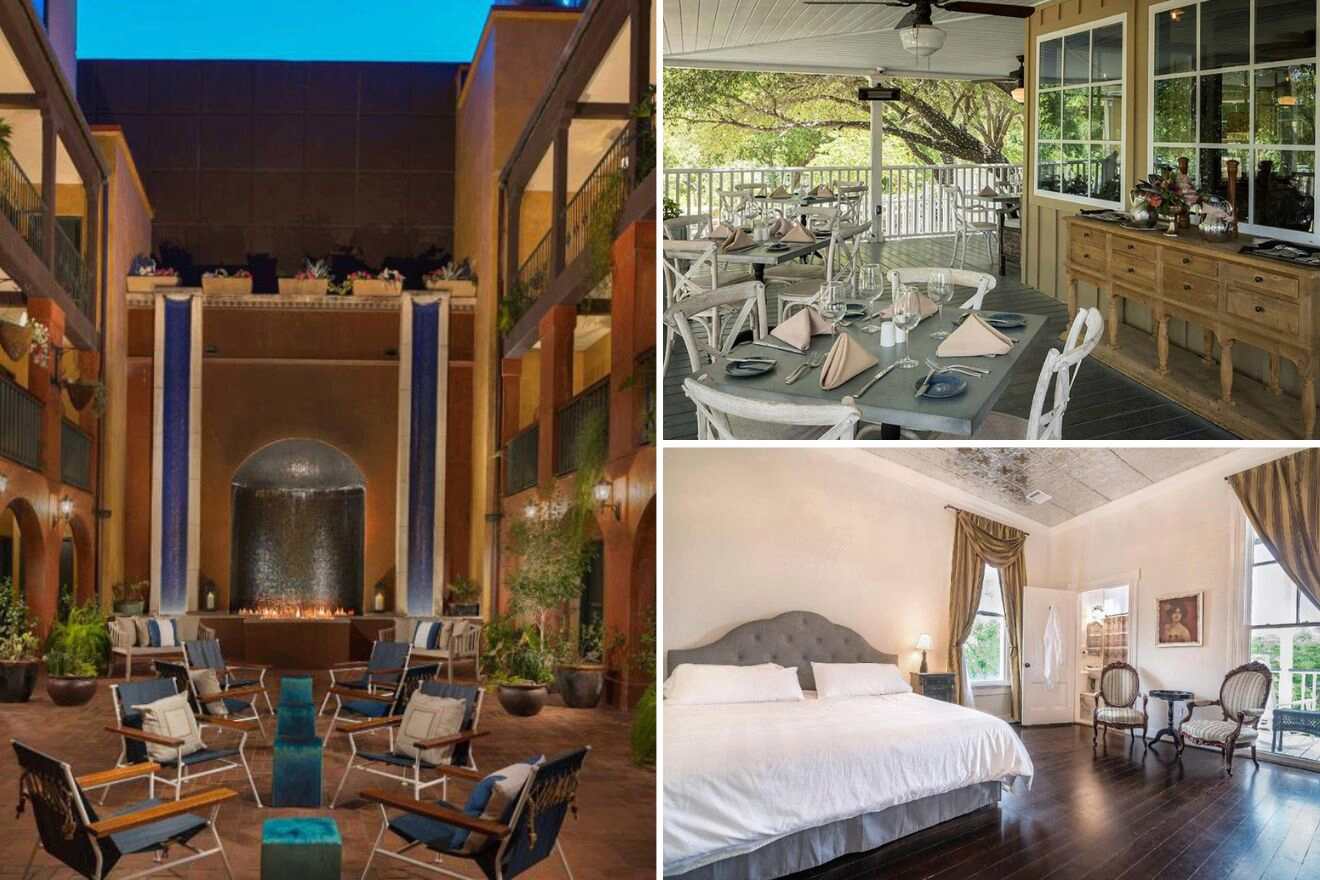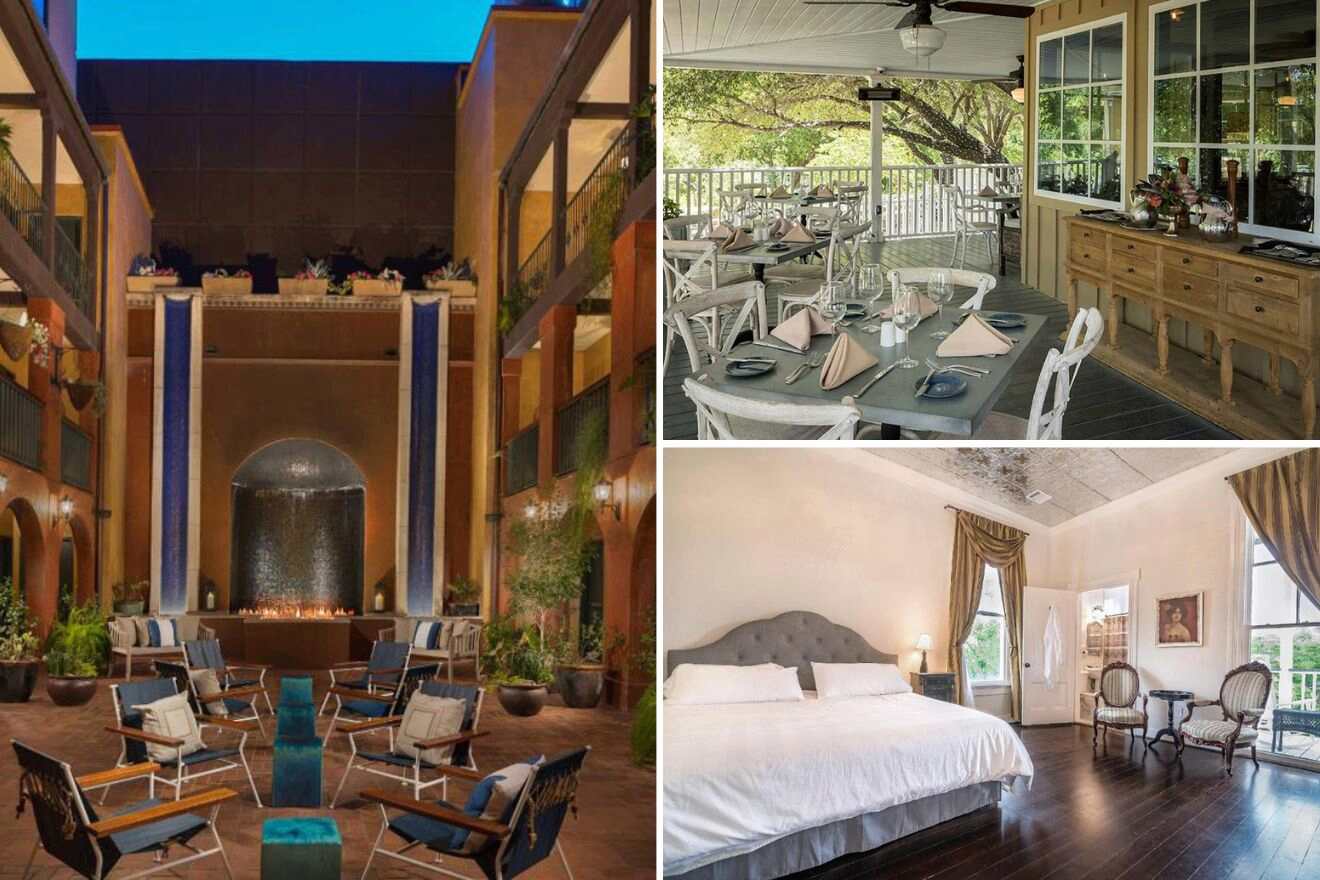 4. The Mansion on 17th, formerly Schaefer Haus
What an incredible hotel, truly stunning! Located in Galveston, it features an amazing modern Victorian-style vibe and comes with a complimentary breakfast which is served each morning. I recommend the king room with a balcony to all couples looking to spend some amazing time in private on their own terrace!
5. Hotel Valencia Riverwalk
This hotel has a really charming old classic vibe going on, it is located in San Antonio, and San Antonio Riverwalk is only a 10-minute walk away. The hotel comes with a fitness center, a spa and wellness center, and an onsite bar and restaurant. Rooms can have a city or river view; which one is more romantic for you?
6. The Kendall
I love this hotel's style, it is the perfect combination between luxury and natural wonder! Located in Boerne, this hotel comes with a free airport shuttle, a swimming pool, and an onsite bar and restaurant, so you don't have to go anywhere for a great meal! All the rooms have an amazing style that looks upscale and cozy!
FAQs about unique places to stay in Texas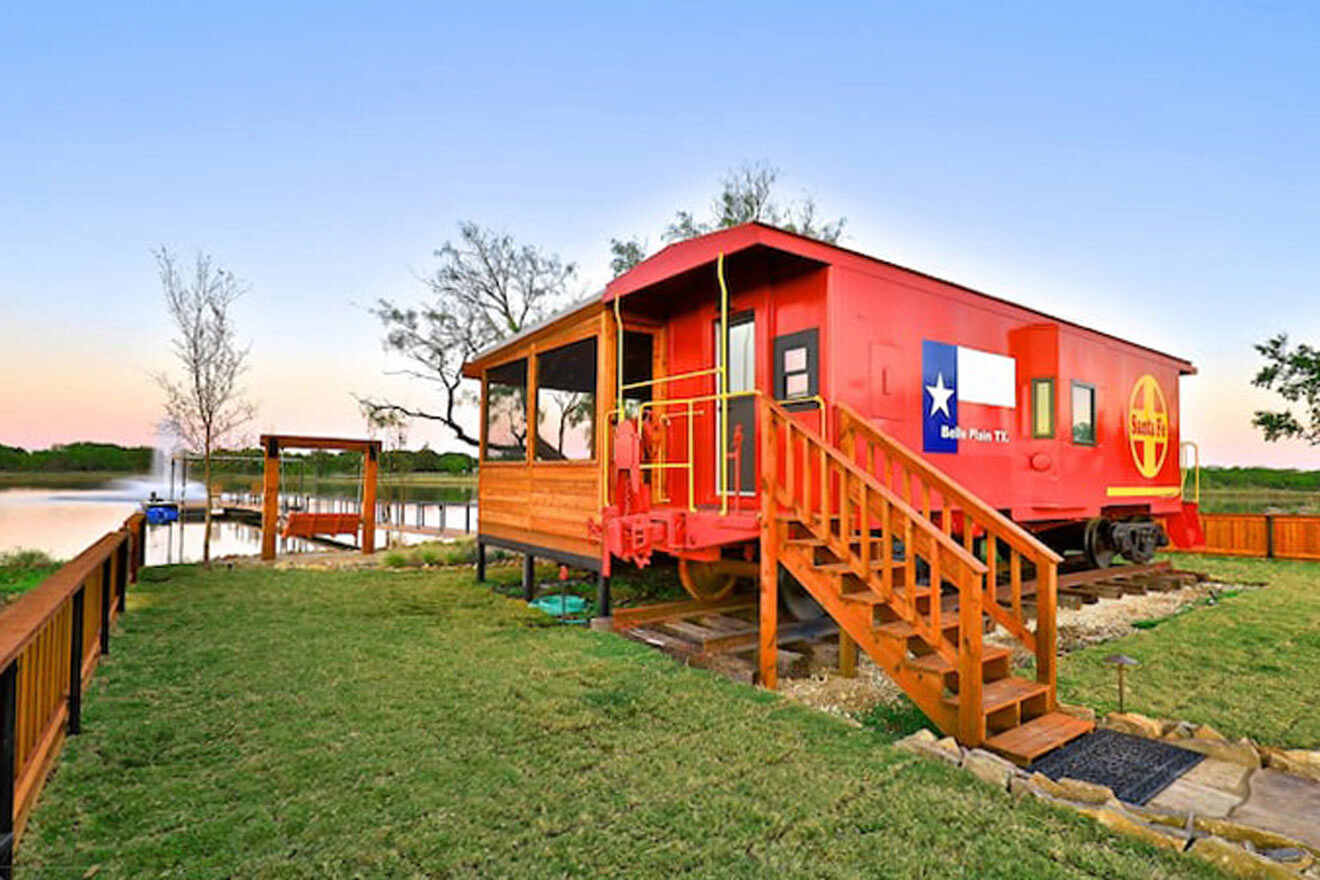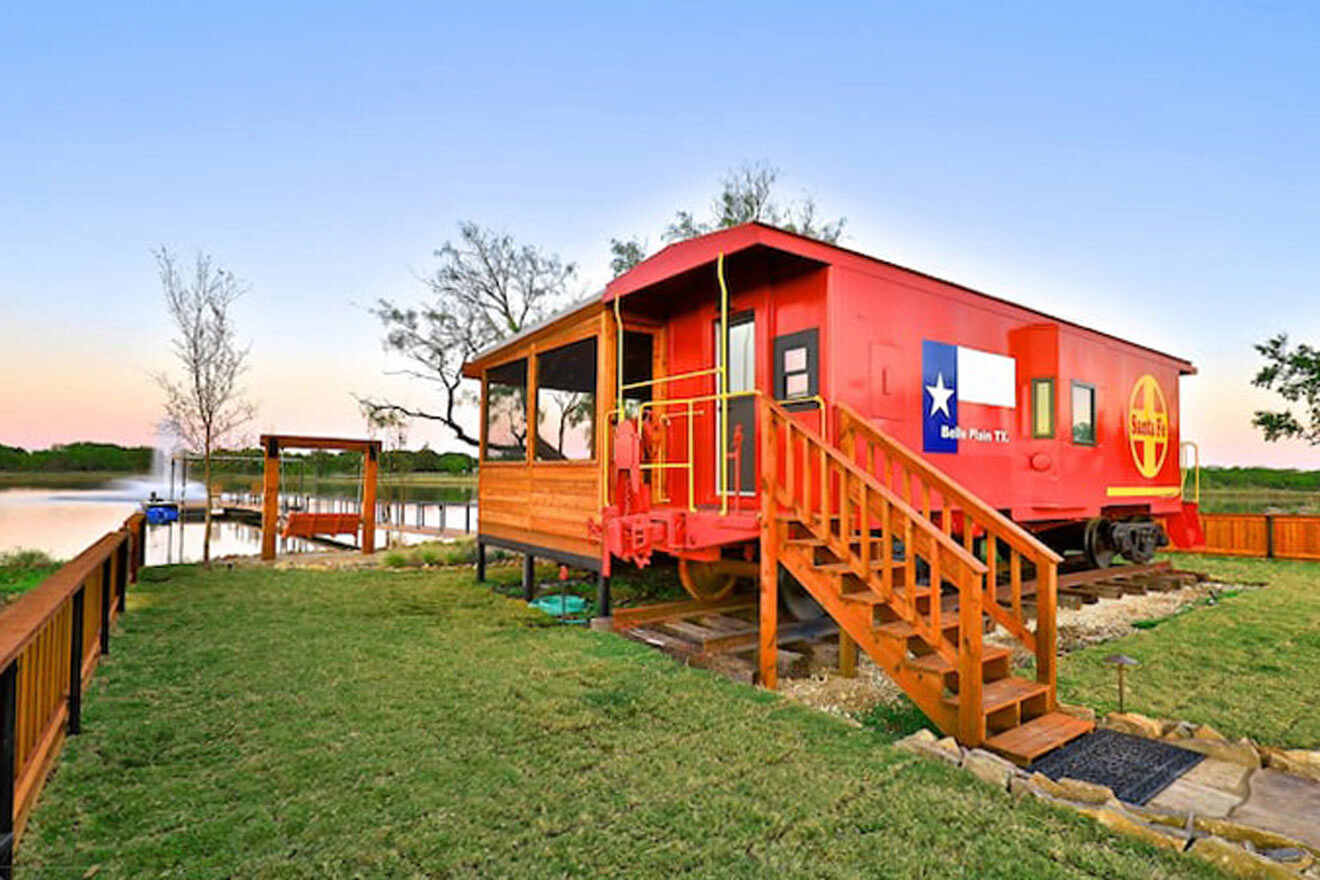 Conclusion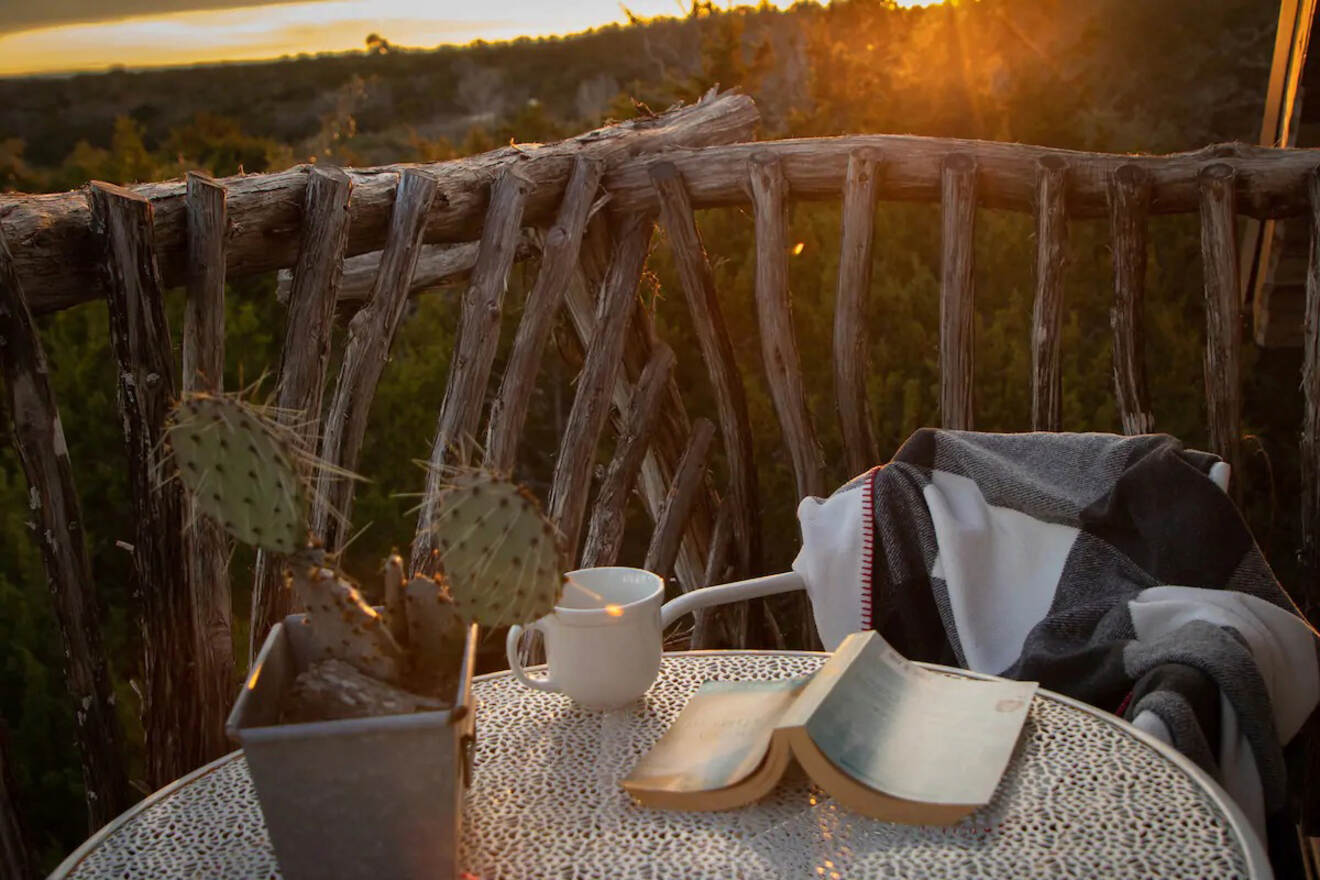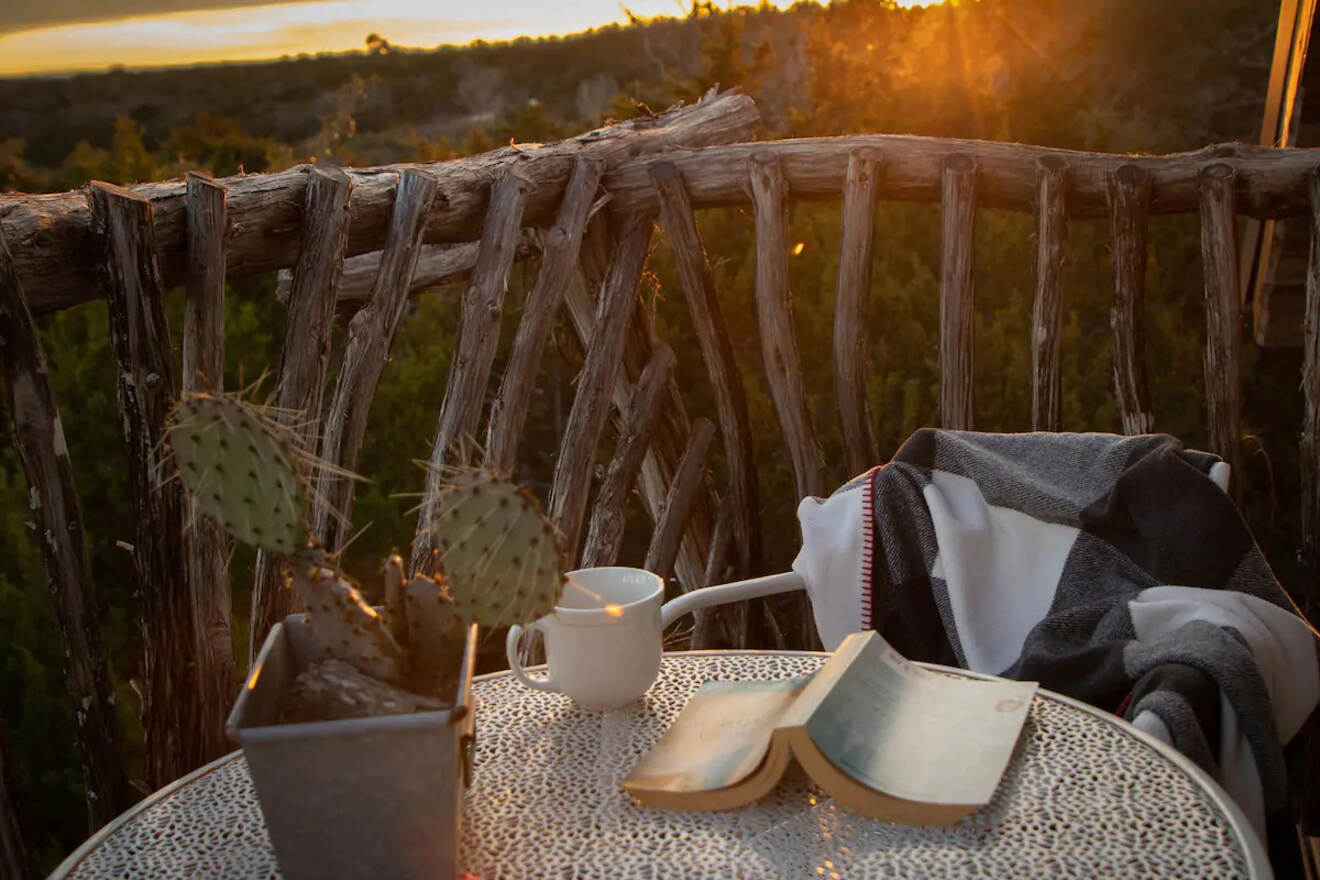 That is a wrap for today, my lovely humans. Those were the most unique places to stay in Texas, plus 2 amazing bonuses of the best treehouses in Texas and the best romantic hotels in Texas. So many amazing options to choose from for all tastes and budgets!
Honestly, these unique hotels are simply beautiful, and I would be more than happy to stay in any of these cool hotels, but if I had to choose my top 2 favorites, I would go with:
Which of these unique places to stay in Texas was your favorite? Have you stayed in any of these? Let me know in the comments if you have any questions, and right after, go and book the hotel room of your dreams before somebody else does!
Until the next adventure,
Daniela
---
Pin it for later!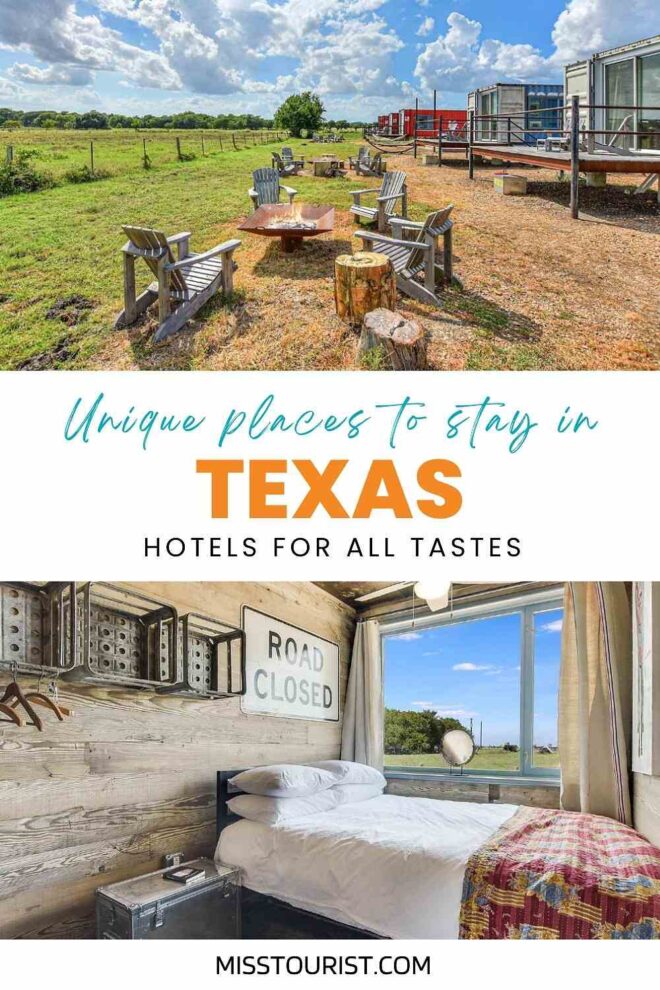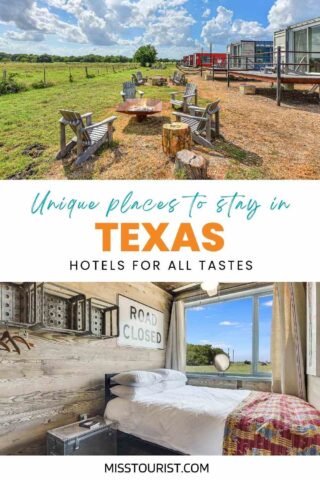 Pin it for later!